Roads? We Don't Need Roads
The trick to watching rallycross is to remember to keep your mouth closed. Yes, the dust kicked up by a combined few thousand horsepower of purpose-built rally-bred supercars is one reason why, but this is a motorsport where your jaw will often drop on its own, and you wouldn't want any insects to fly in there now, would you?
I've been following the Red Bull Global Rallycross series (GRC) since its very beginning back in 2009, and my rear end still puckers up while watching the 10-lap finals races. Despite only being five-minute sprints, I'm not sure any other form of wheel-to-wheel racing offers as much excitement as rallycross does.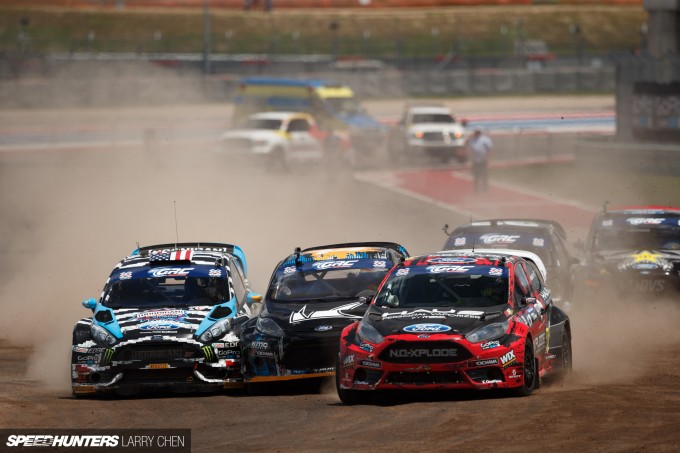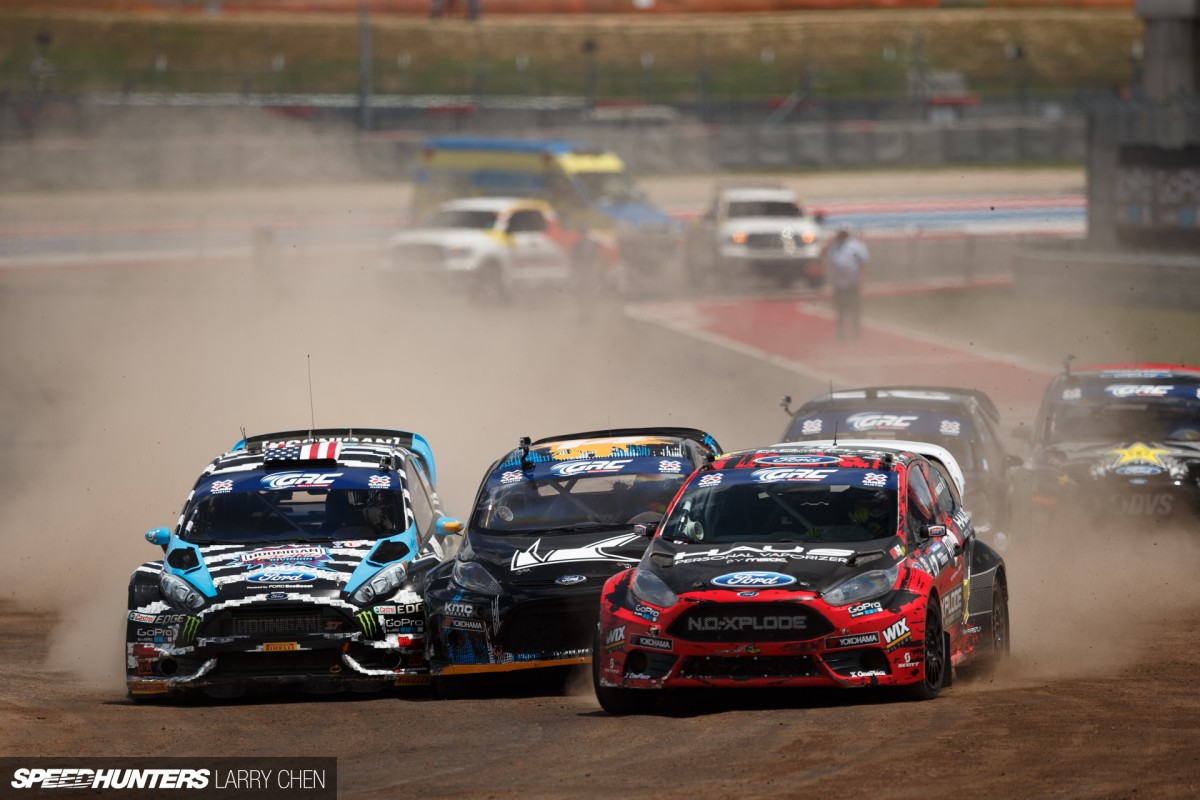 Of course, that's to be expected. Setting a modern day interpretation of a Group B machine loose on a mixed-surface course is a spectacle in itself, but when there's a bunch of them rubbing carbon fiber while being driven at ten tenths, well… I'm sure you get the picture.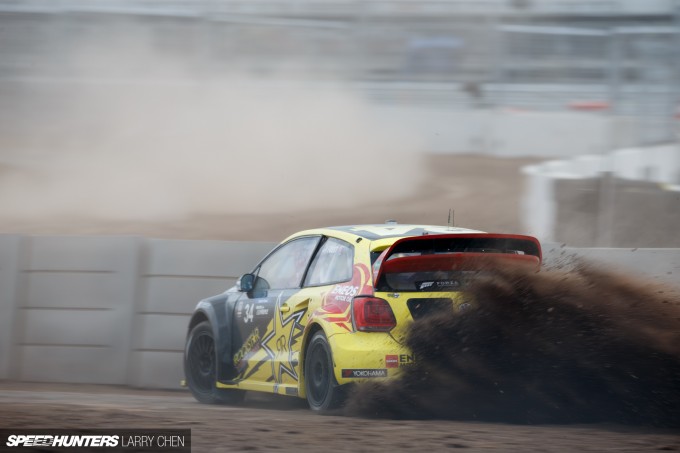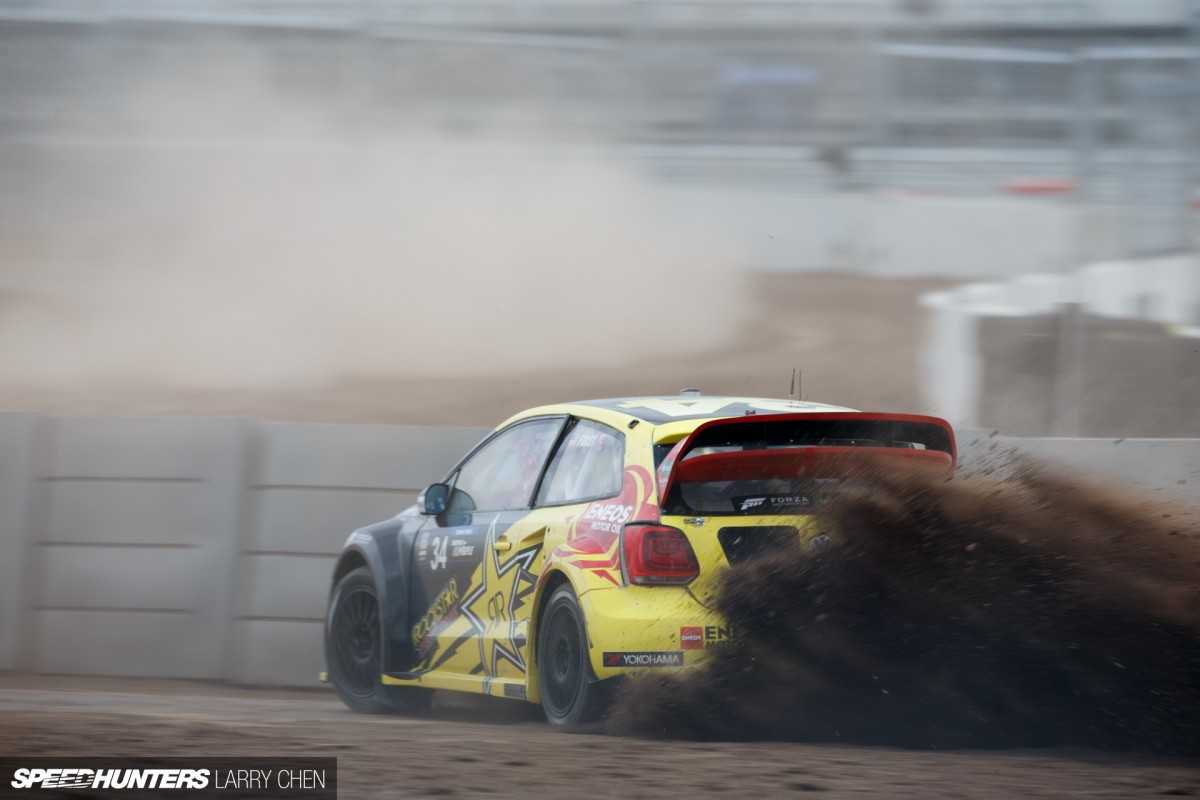 In a normal stage rally scenario the only time drivers ever need to overtake is if the car in front is slow, by incident or otherwise. But in rallycross you need to pass to win, so technique is very important.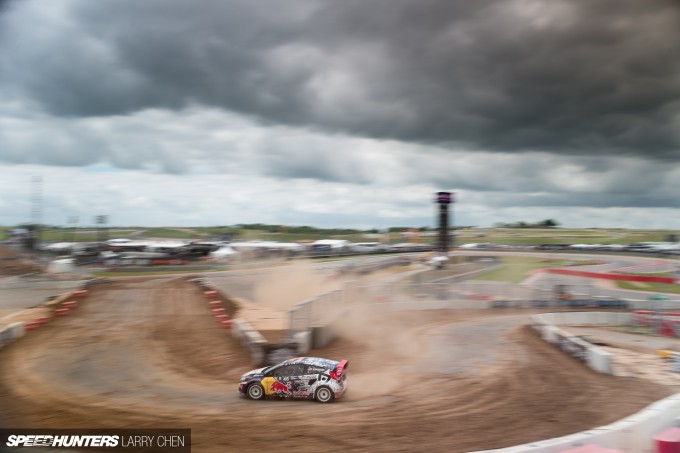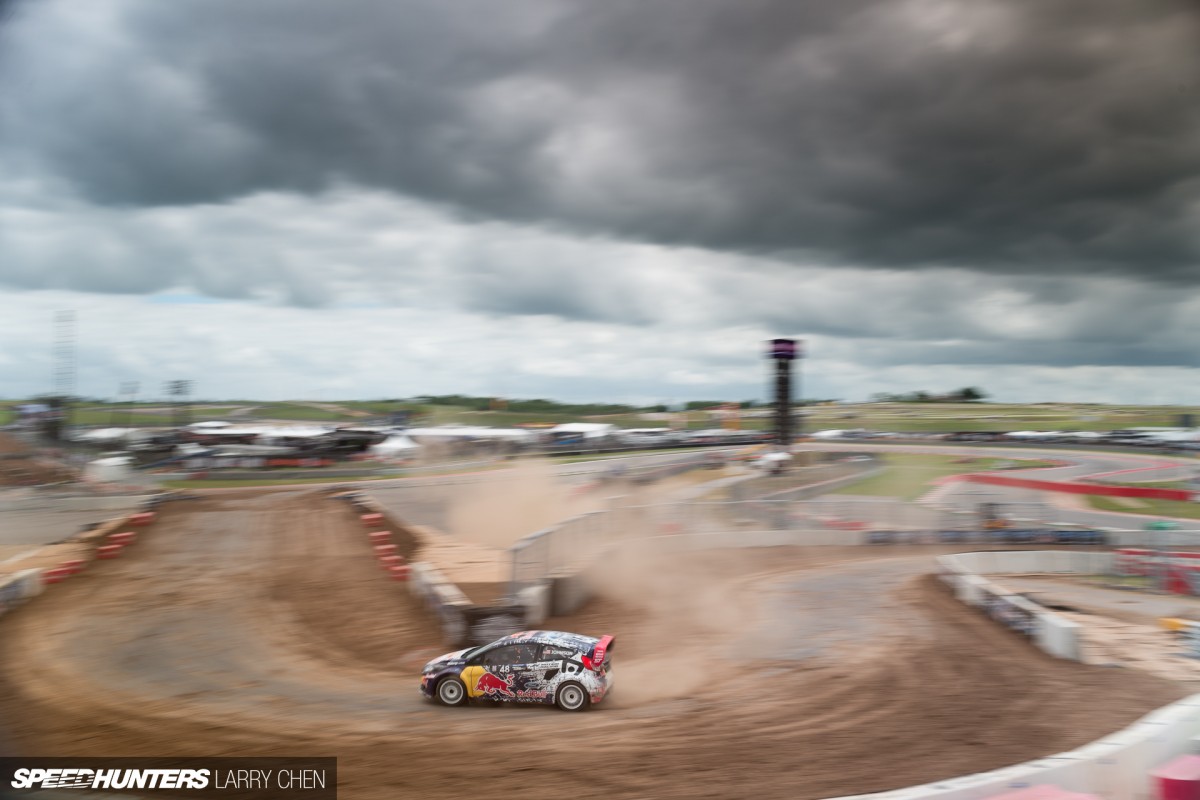 These include literally flying over the top of fellow competitors, or simply pushing them out of the way. After all, rubbing's racing, right?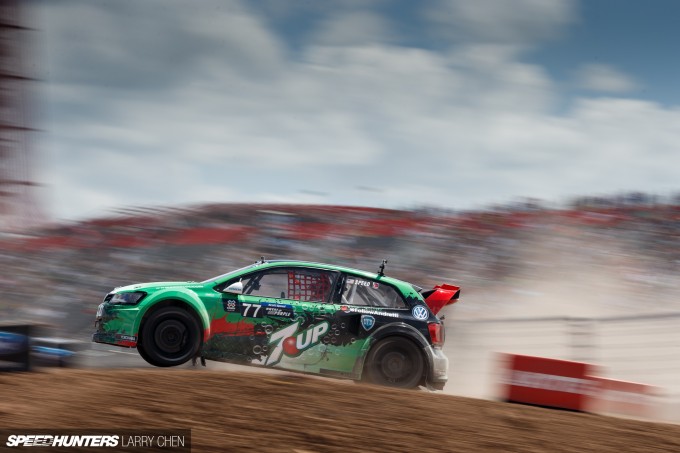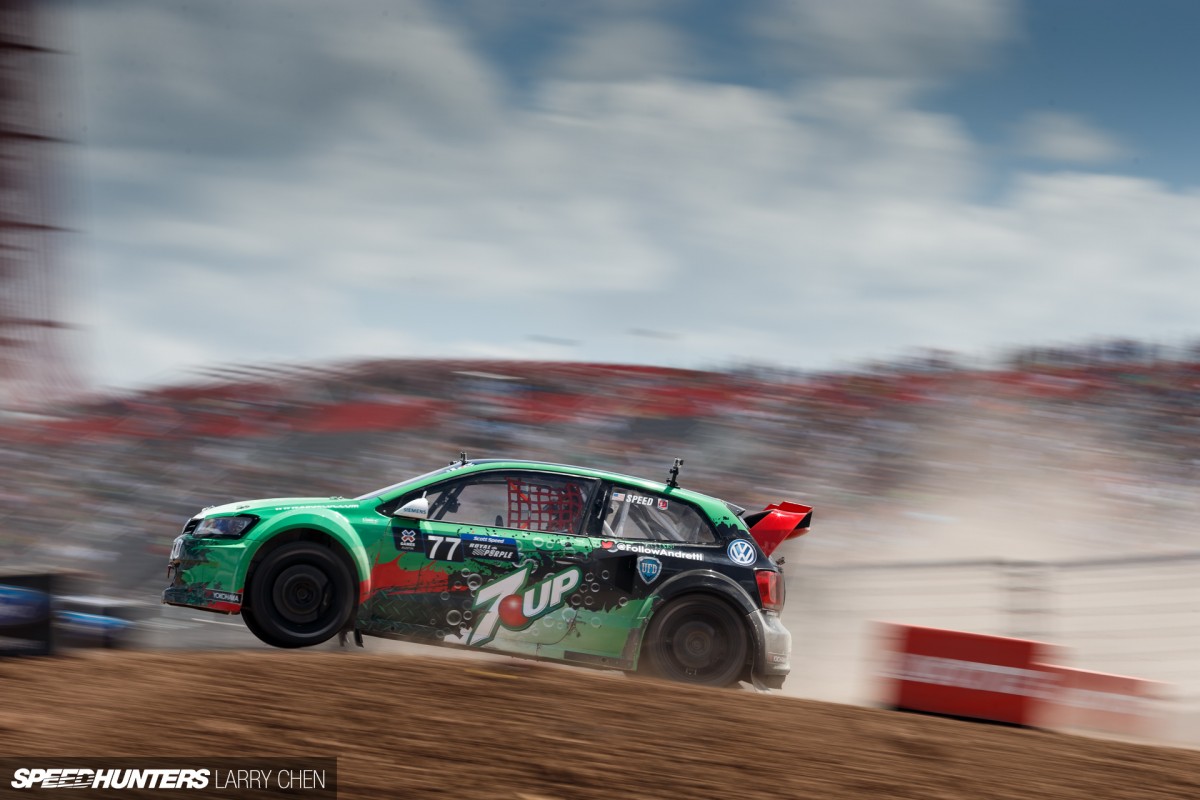 My first impression of this action motorsport was a bit skewed, because Global Rallycross has always been known for its big show elements. And that, of course, means big jumps. No, make that huge jumps.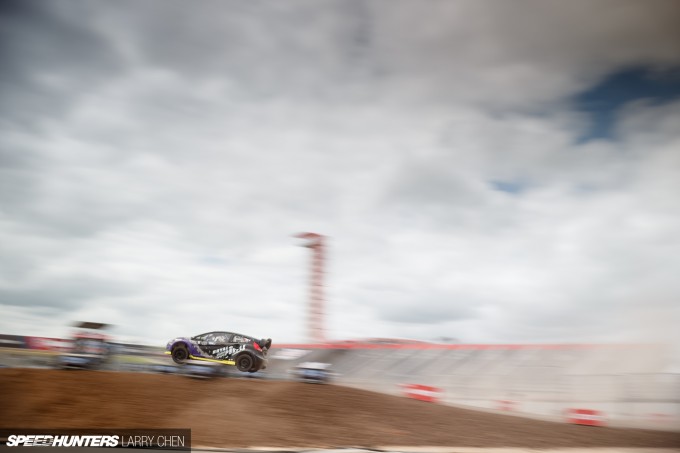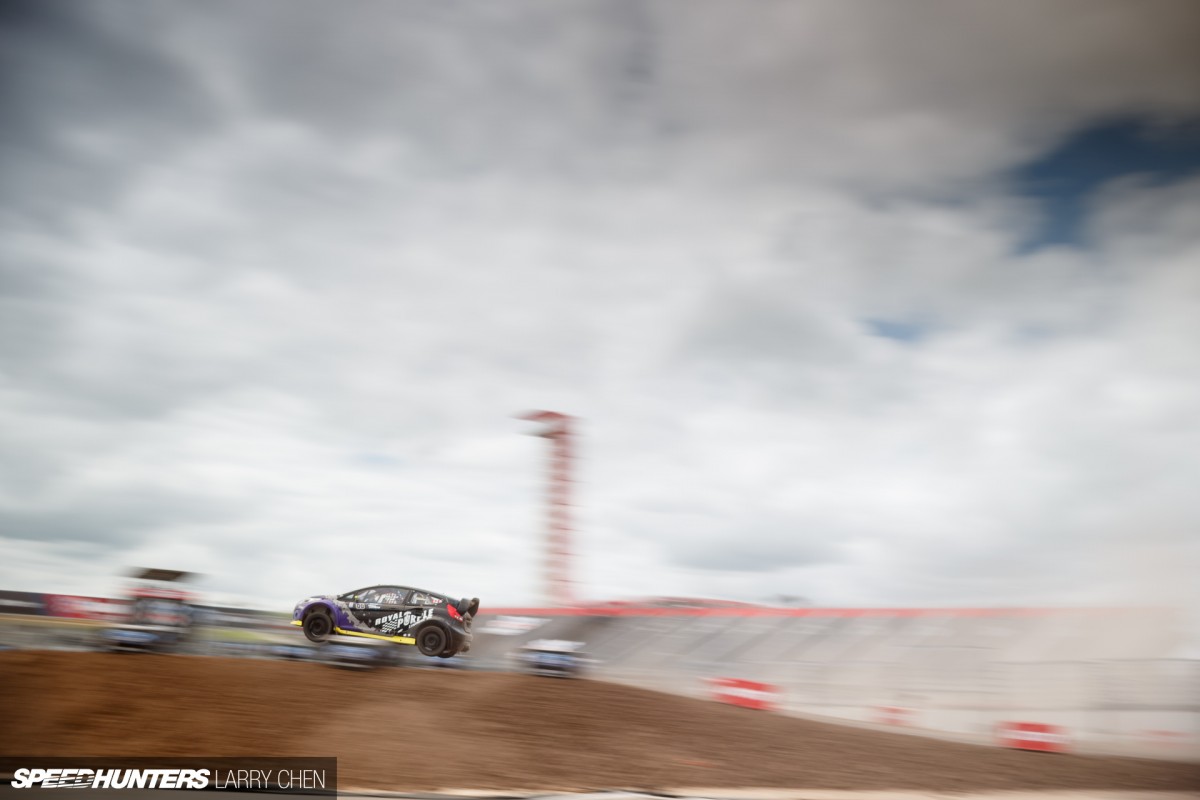 Stupidly, I assumed that all rallycross was this way. It's not of course – but I wish it was. The jump definitely adds another dimension to its already unpredictable nature.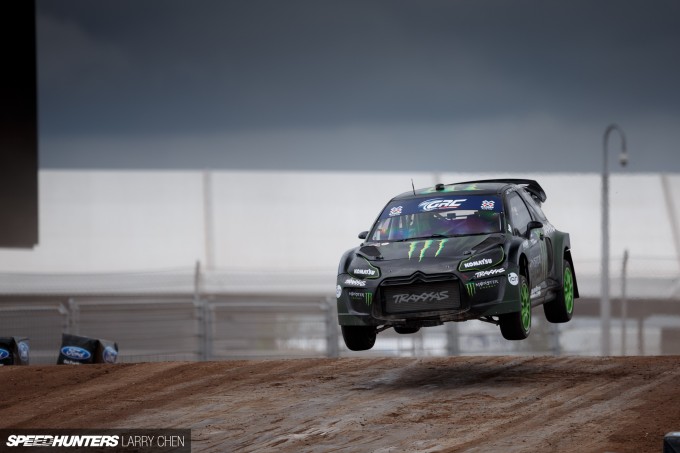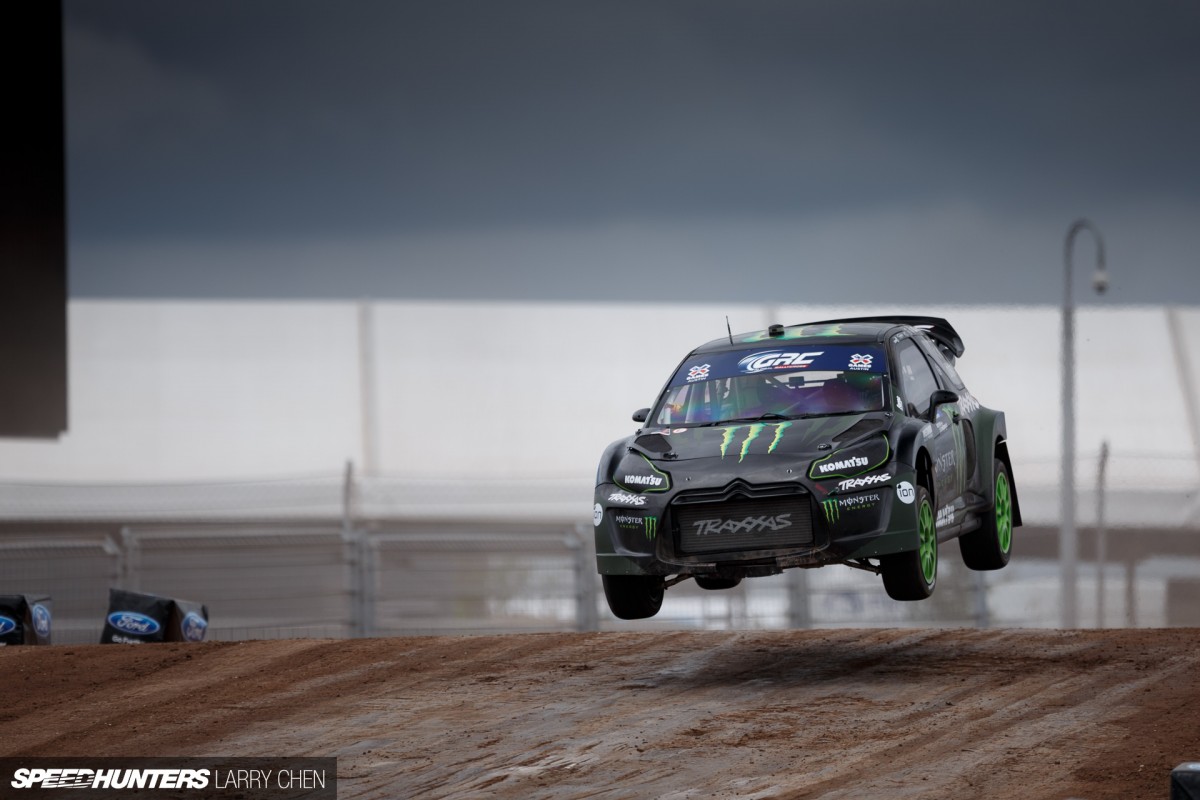 To me rallycross versus traditional racing is like MMA versus traditional boxing. With boxing it's not unheard of to be undefeated with a crazy win-loss ratio for much of your career.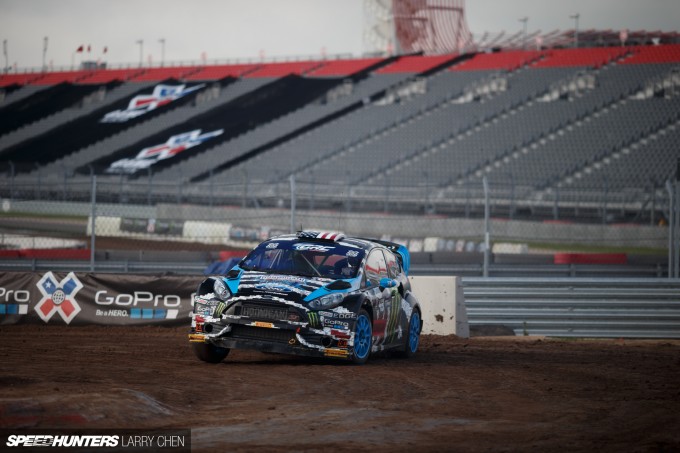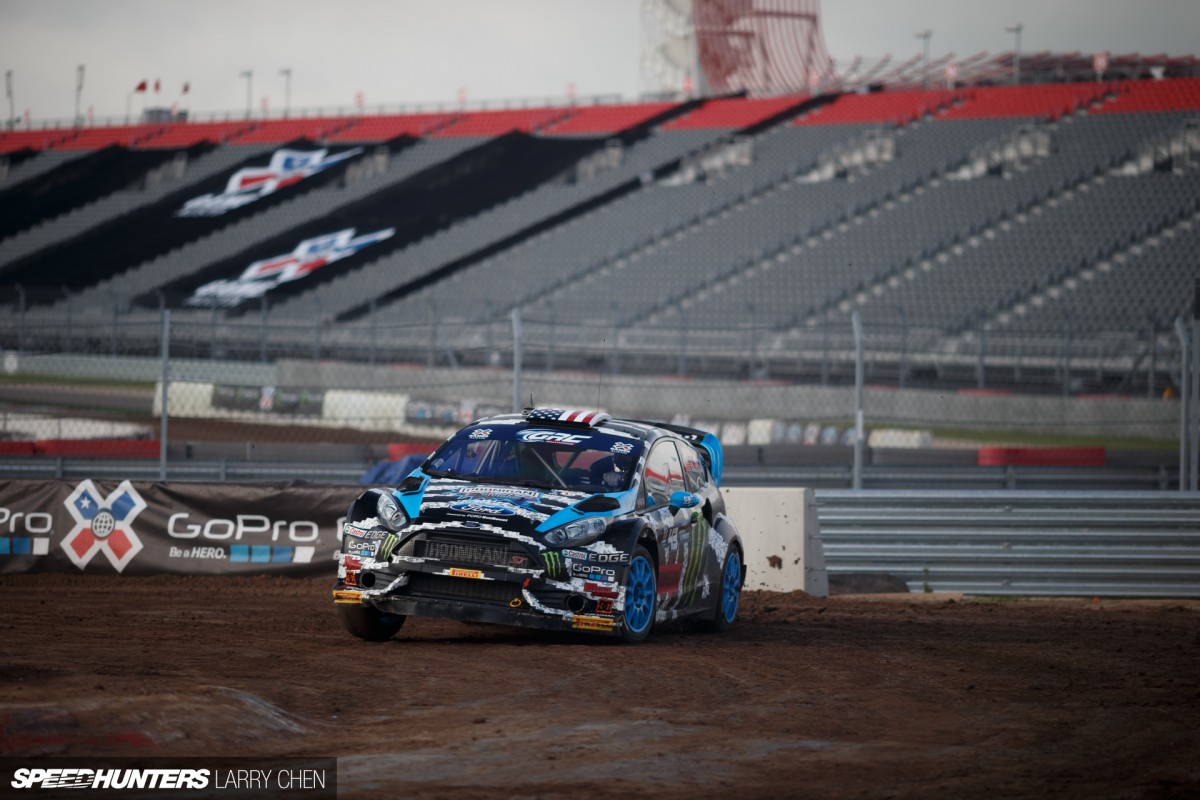 With mixed martial arts it's very rare to find someone who hasn't had their fair share of losses, or knock-outs.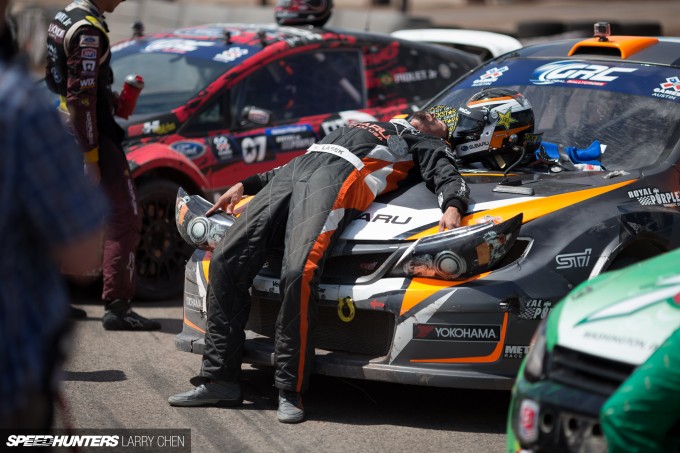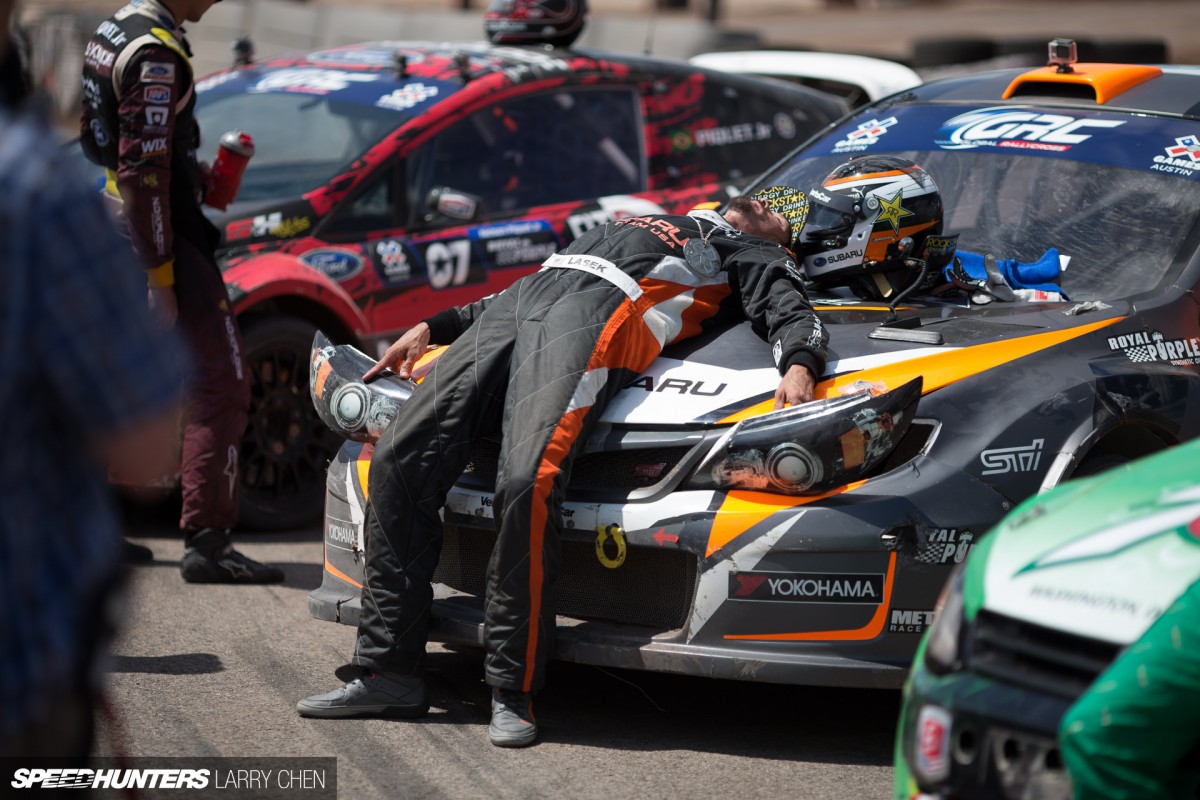 And this is why I love it so much. Because even the underdog can sneak up and win it all.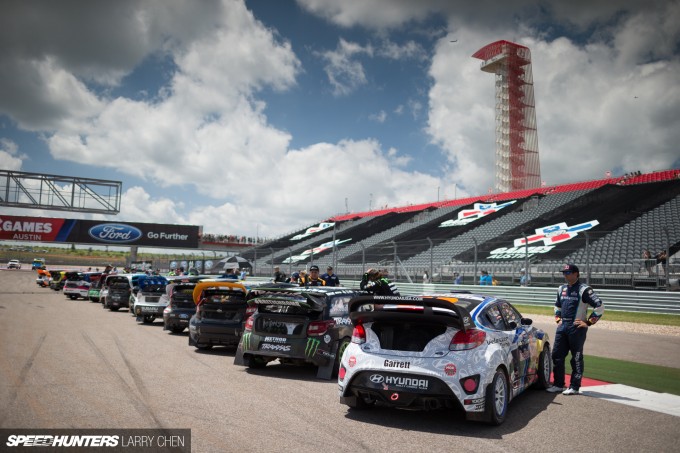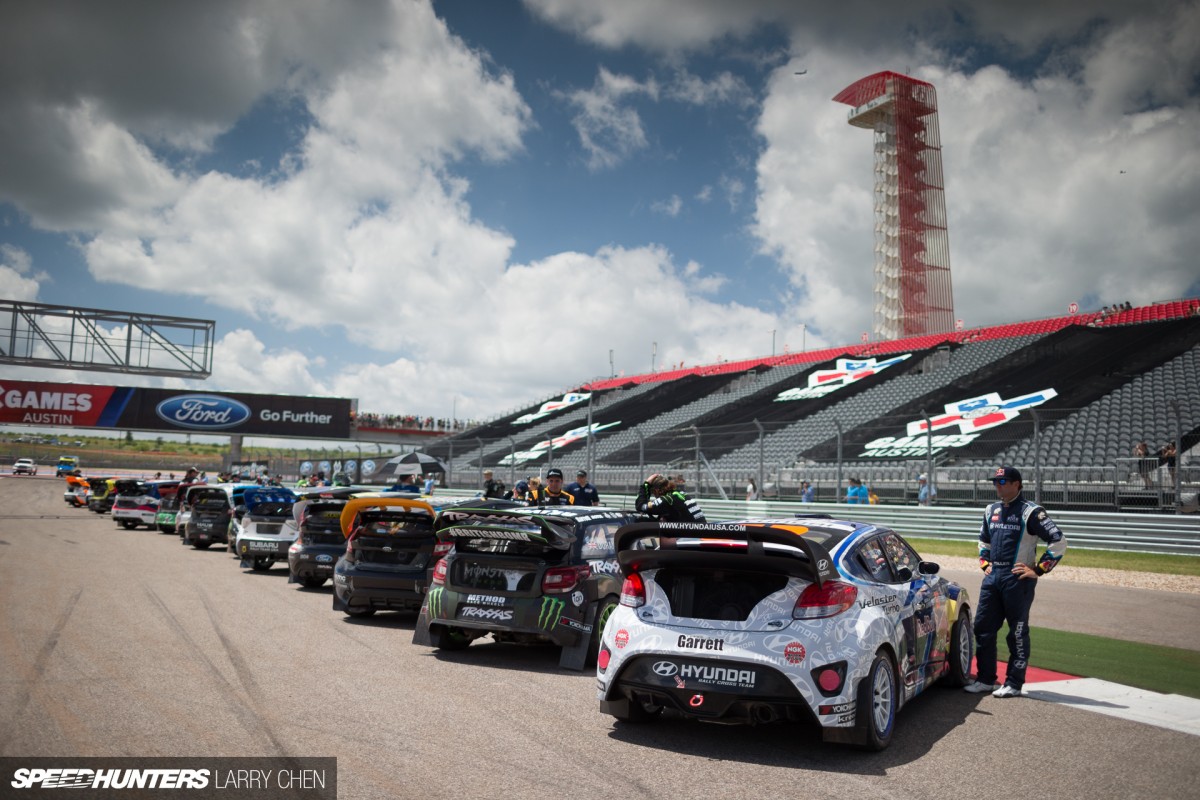 For the very first time, X Games Global Rallycross was held at the Circuit of the Americas in Austin, Texas. As always, the field was stacked with top tier teams and big name drivers.
Hollywood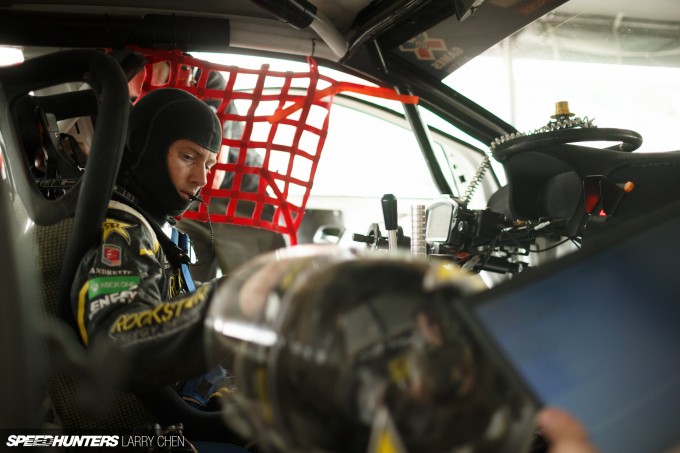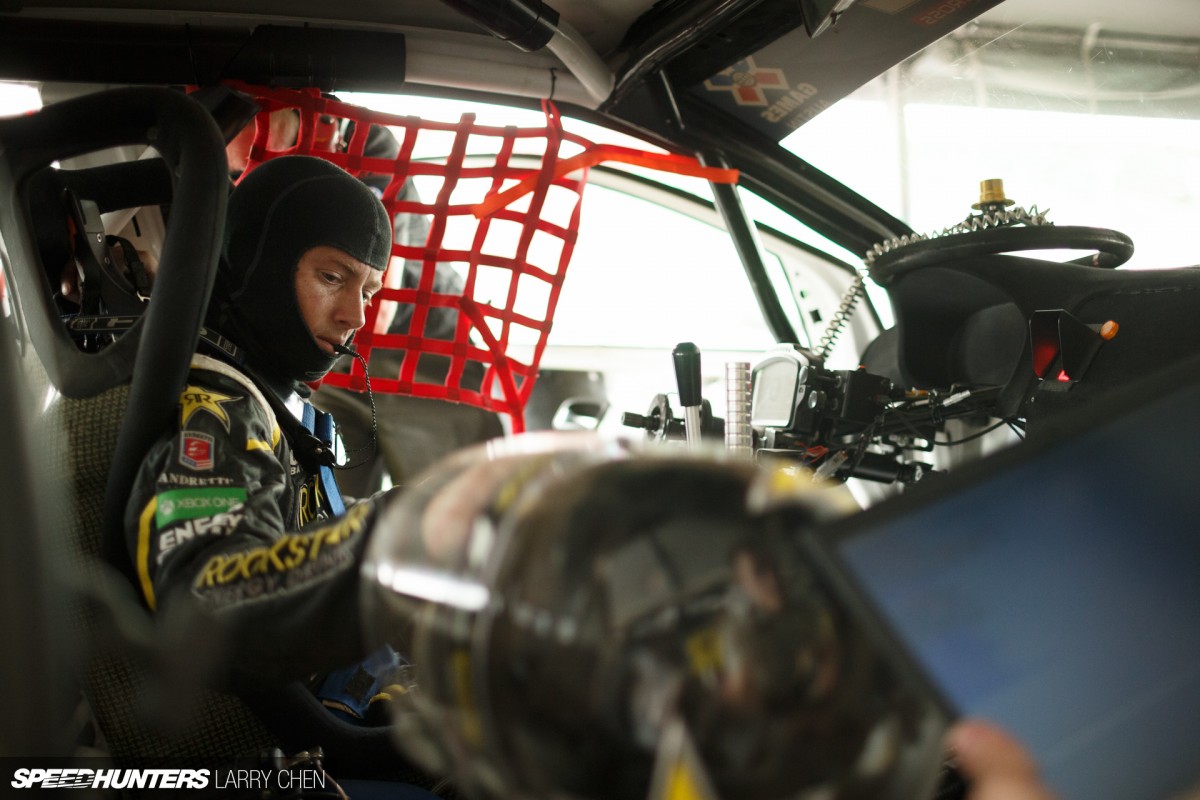 It's great to see Tanner Foust behind the wheel of any machine, whether it be a drift car or a rally car.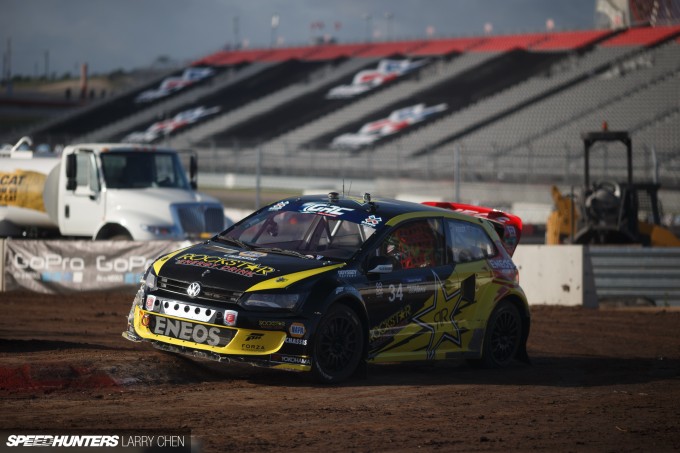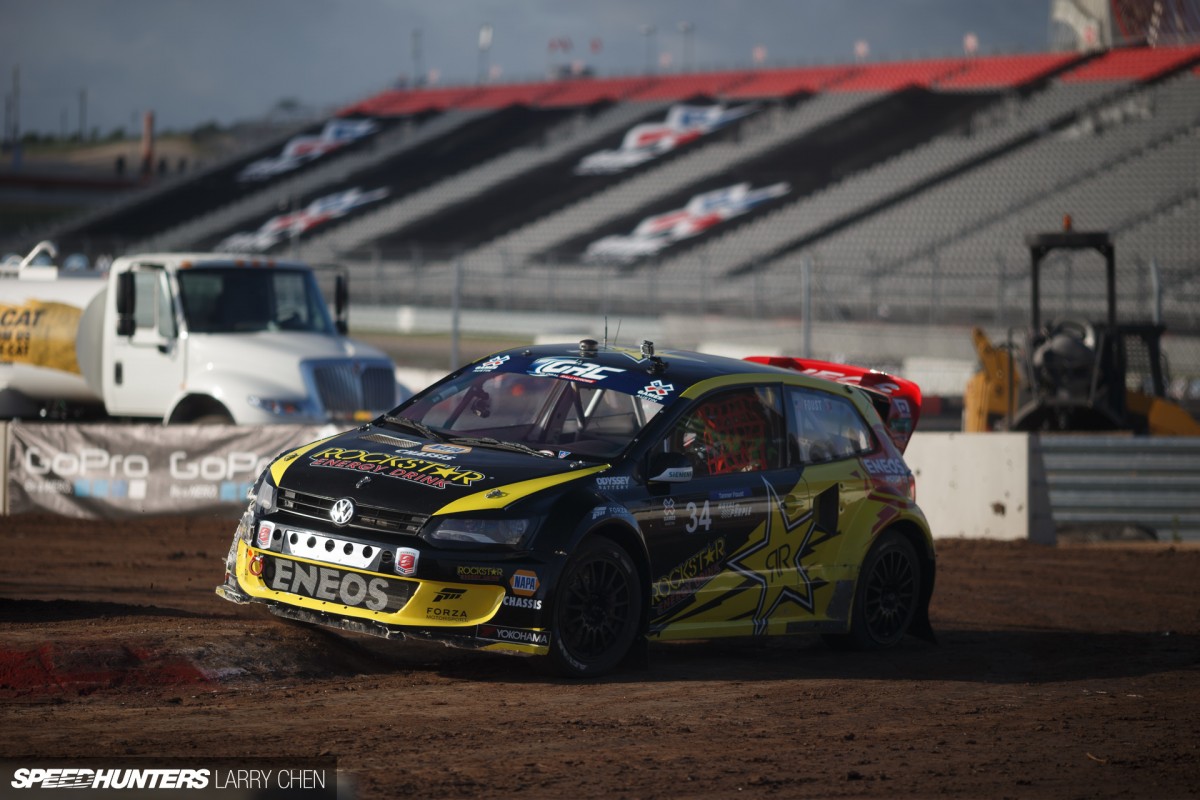 Regardless of the four-wheeled creation, he really has a sixth sense when it comes to driving. He was very quick during the event and if I had to put my money on anyone to take the win in the final race, it would be the 'Golden Child.'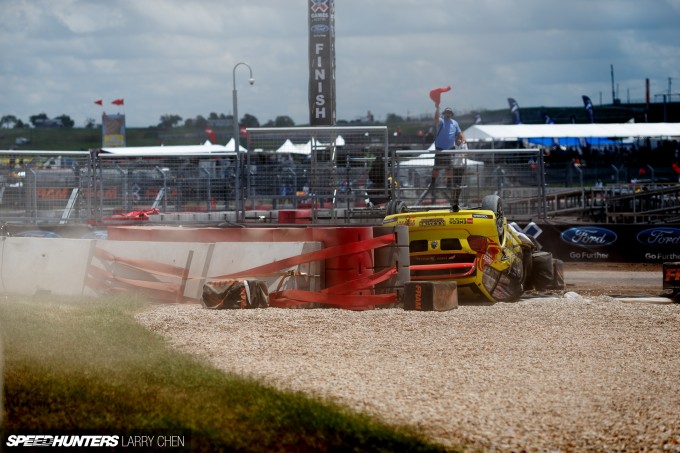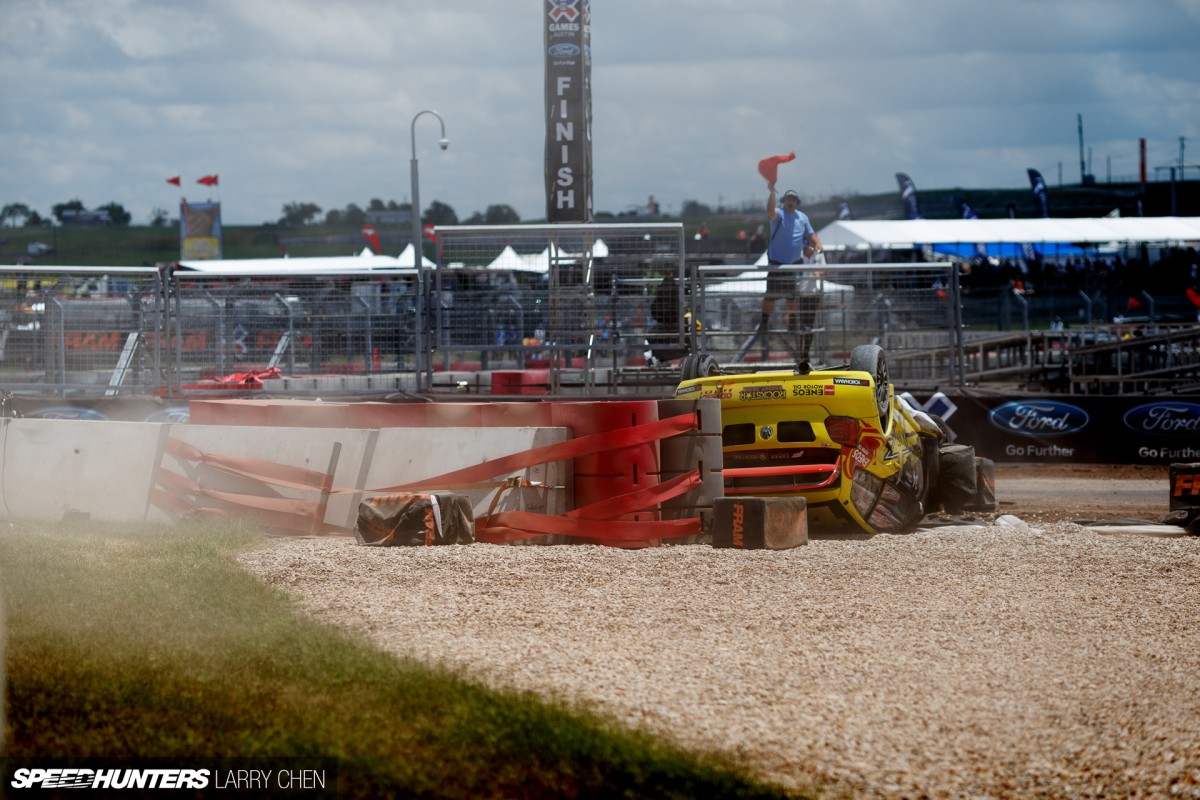 But unfortunately for Tanner, he didn't quite make it that far after an unassisted incident in the quarter finals landed his VW Polo shiny side down on the exit of the first corner.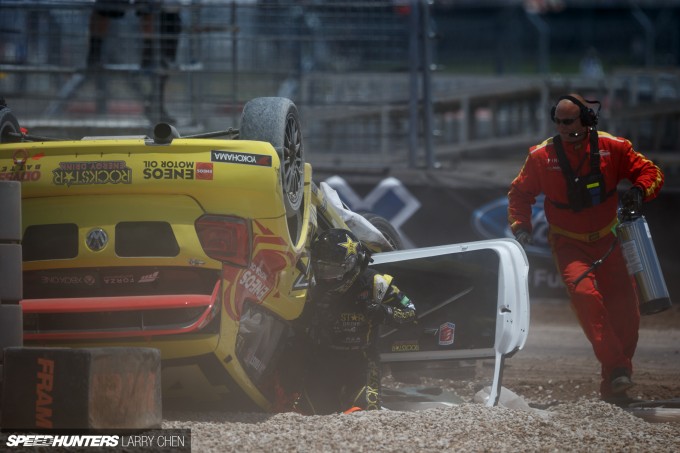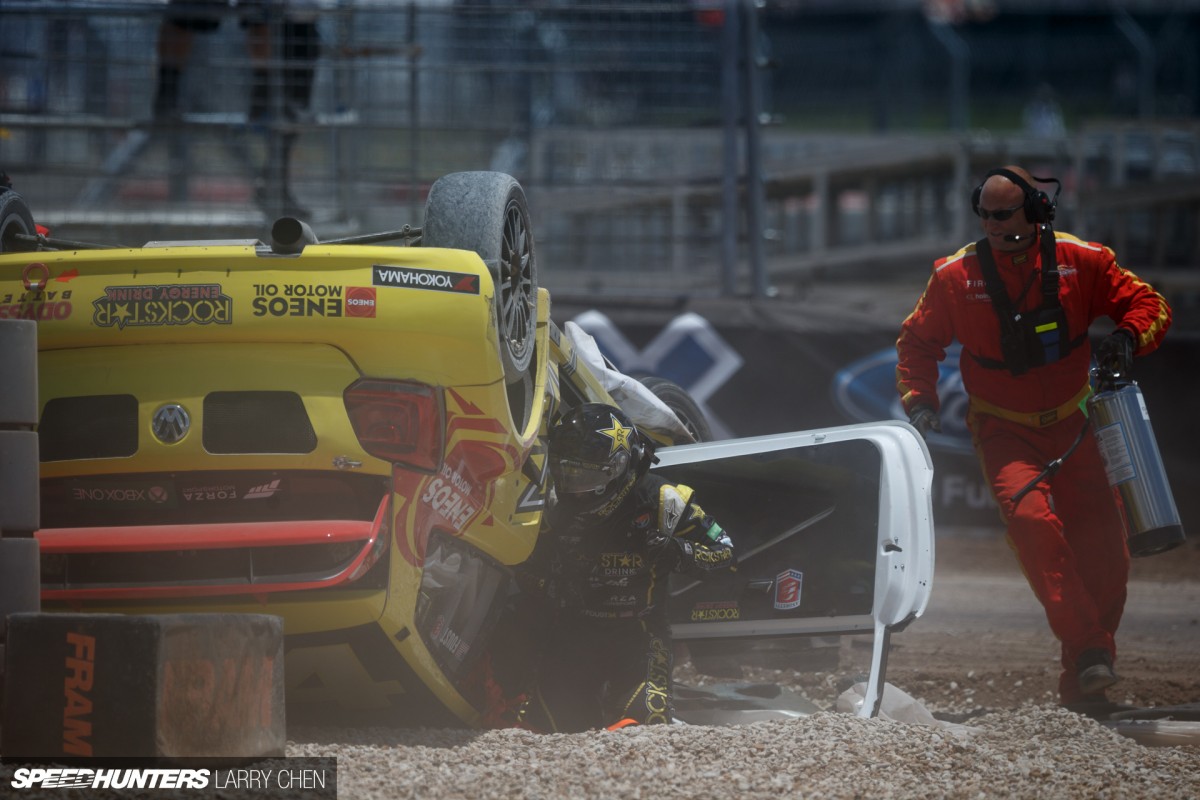 He wasn't hurt in the rollover, but as everyone in the paddock said – making such a big mistake in the first heat of the final eliminations was very uncharacteristic of Tanner.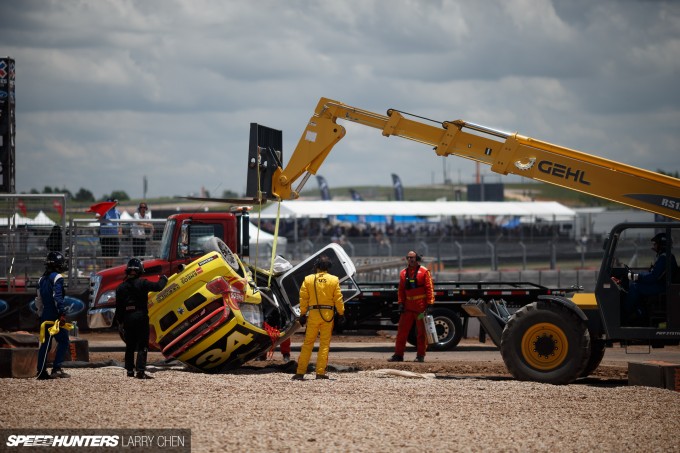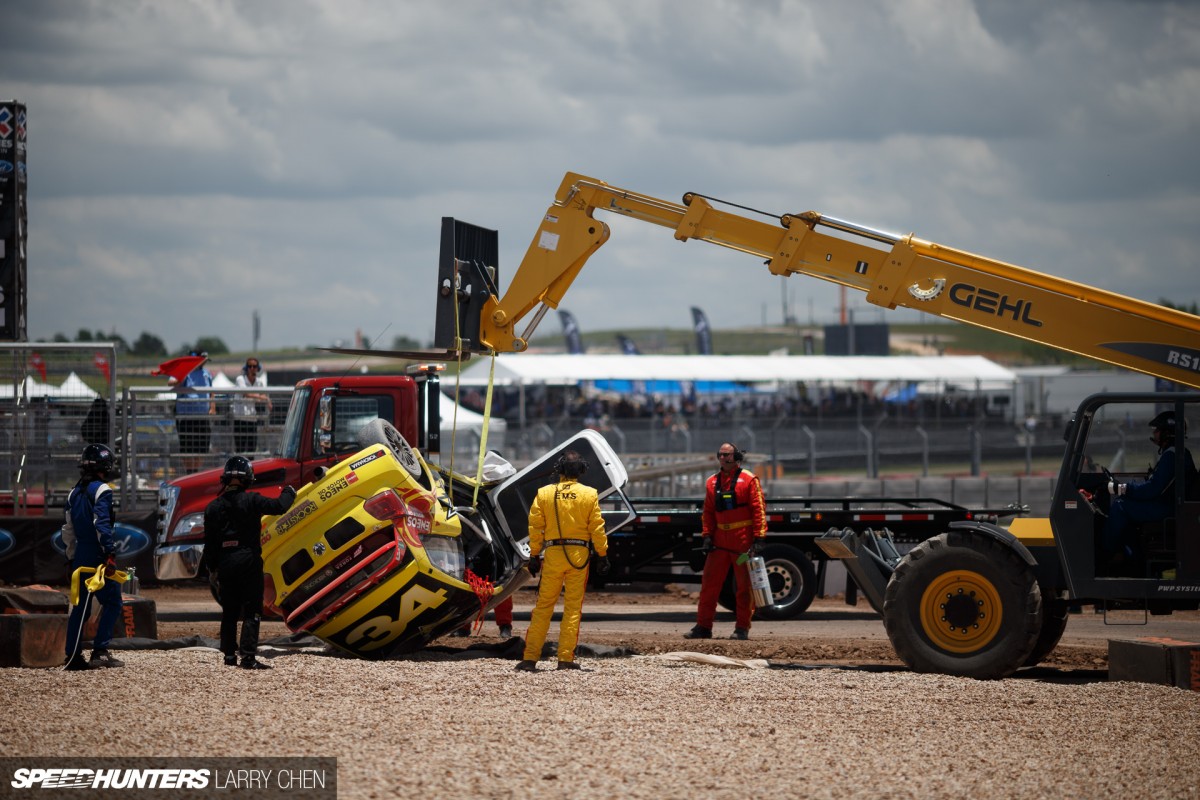 So why did he crash? My theory relates to a massive change in track conditions. To limit dust the surface was being wetted down after every few heats, but due to the intense Texas sun beating down on the track it didn't have much effect. I could be wrong, but the track looked far more slick for this race.
In this clip you can see that his rear end just came around unprovoked. What do you guys think?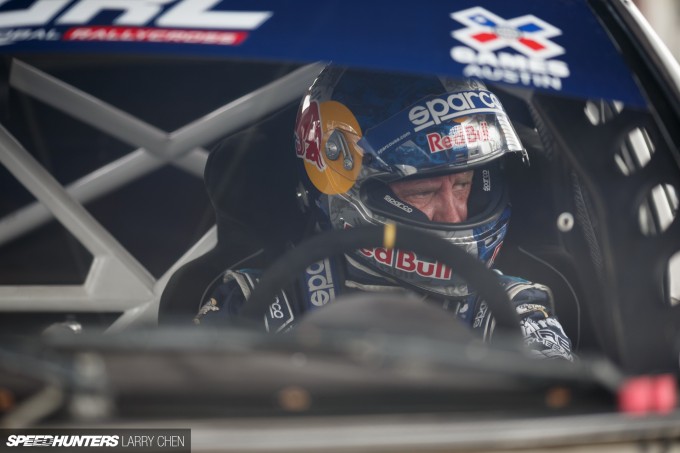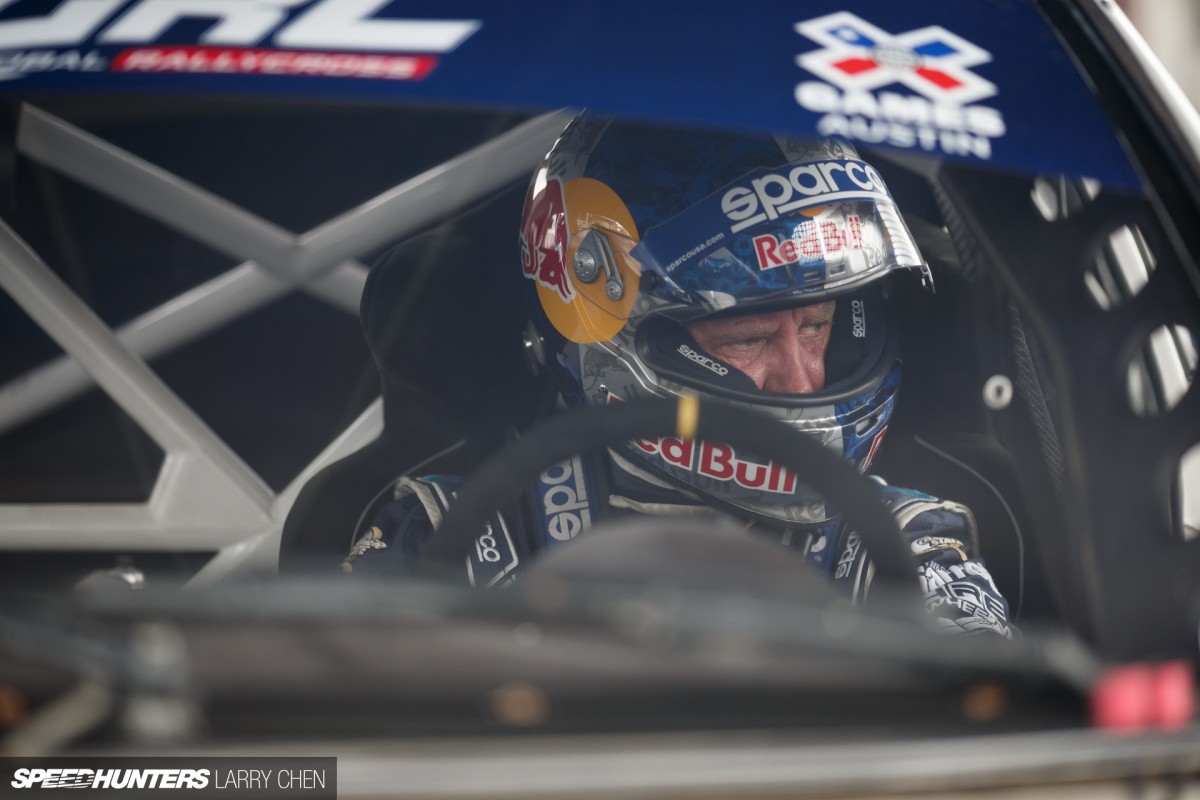 Along with Tanner, I definitely miss seeing Rhys Millen in the Formula Drift paddock. What I'm going to miss even more is seeing Rhys in the Pikes Peak paddock.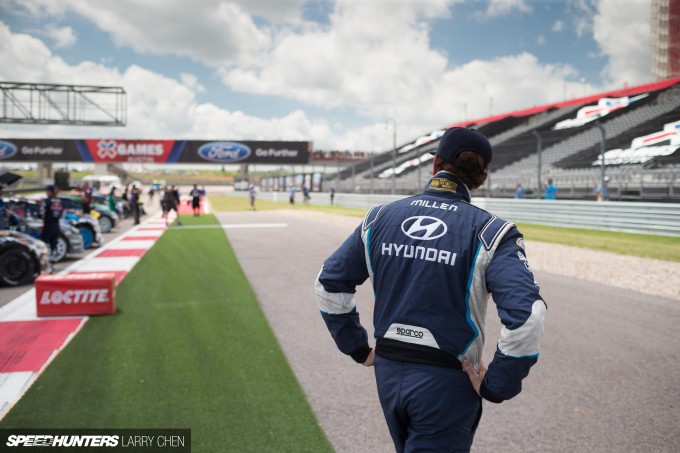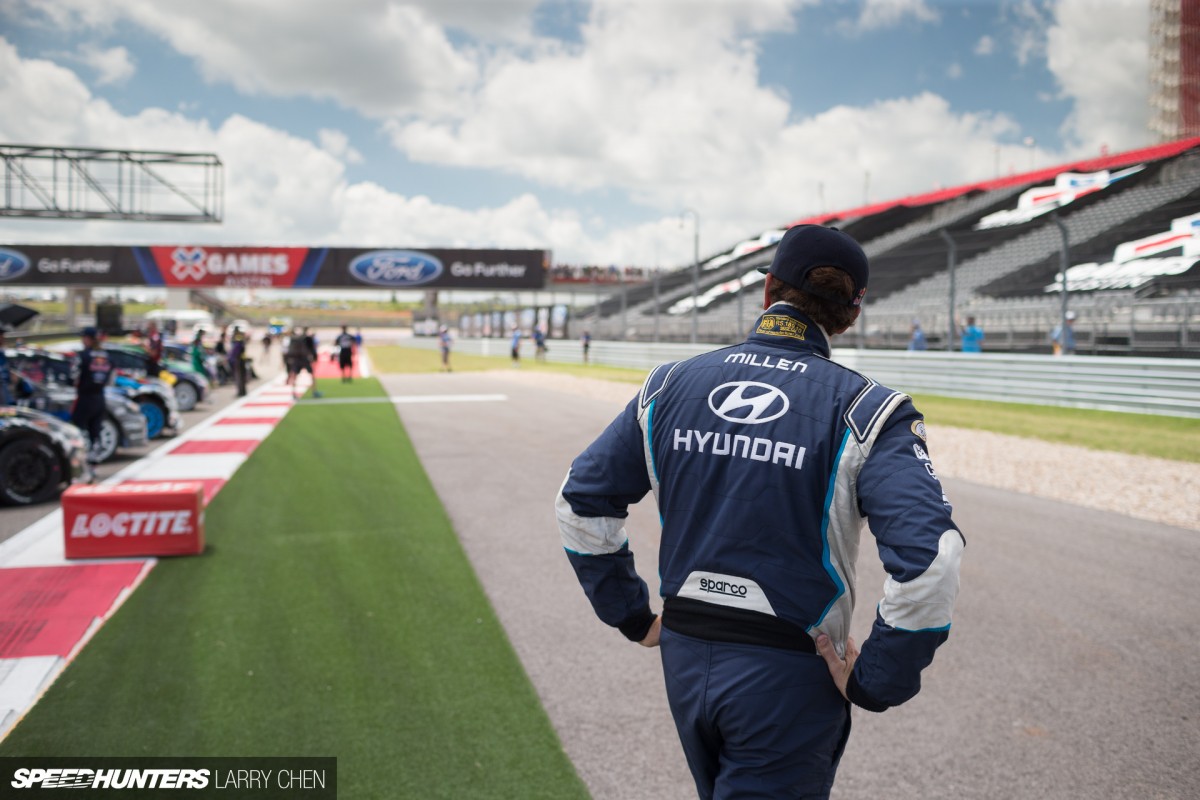 This year will be the first time Rhys will not be competing in the iconic hill climb since he began his racing career 20-odd years ago.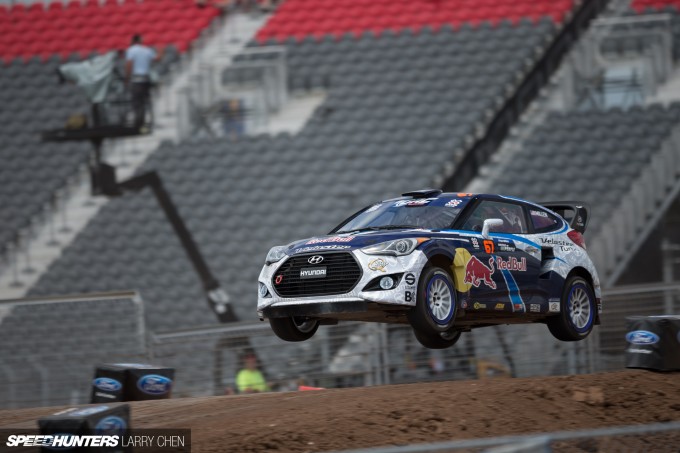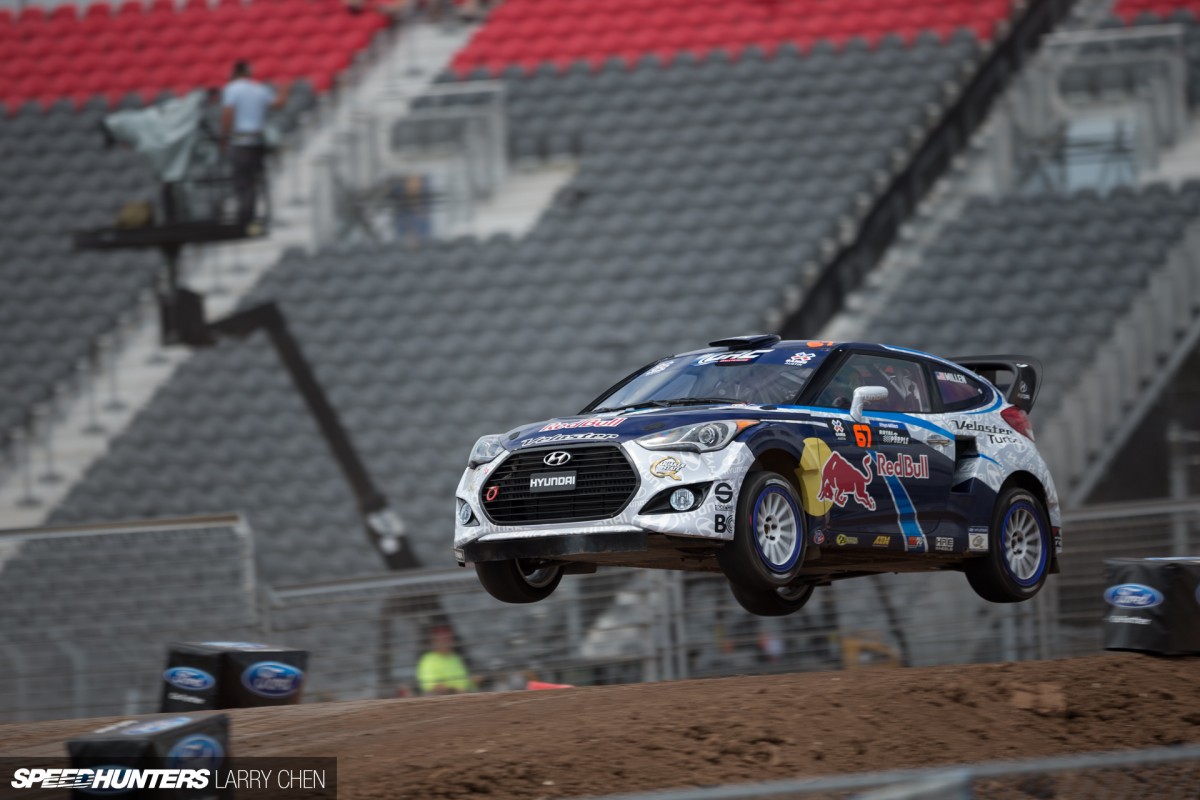 I don't like it one bit, after all, Rhys became the overall record holder in 2012 using his Formula Drift car. I really hope he makes a return next year.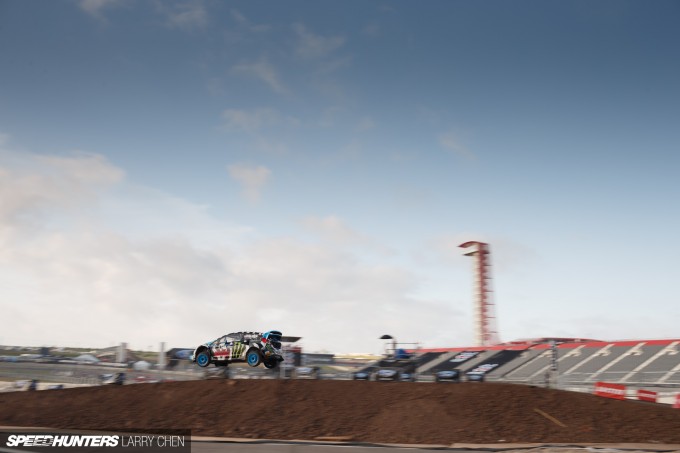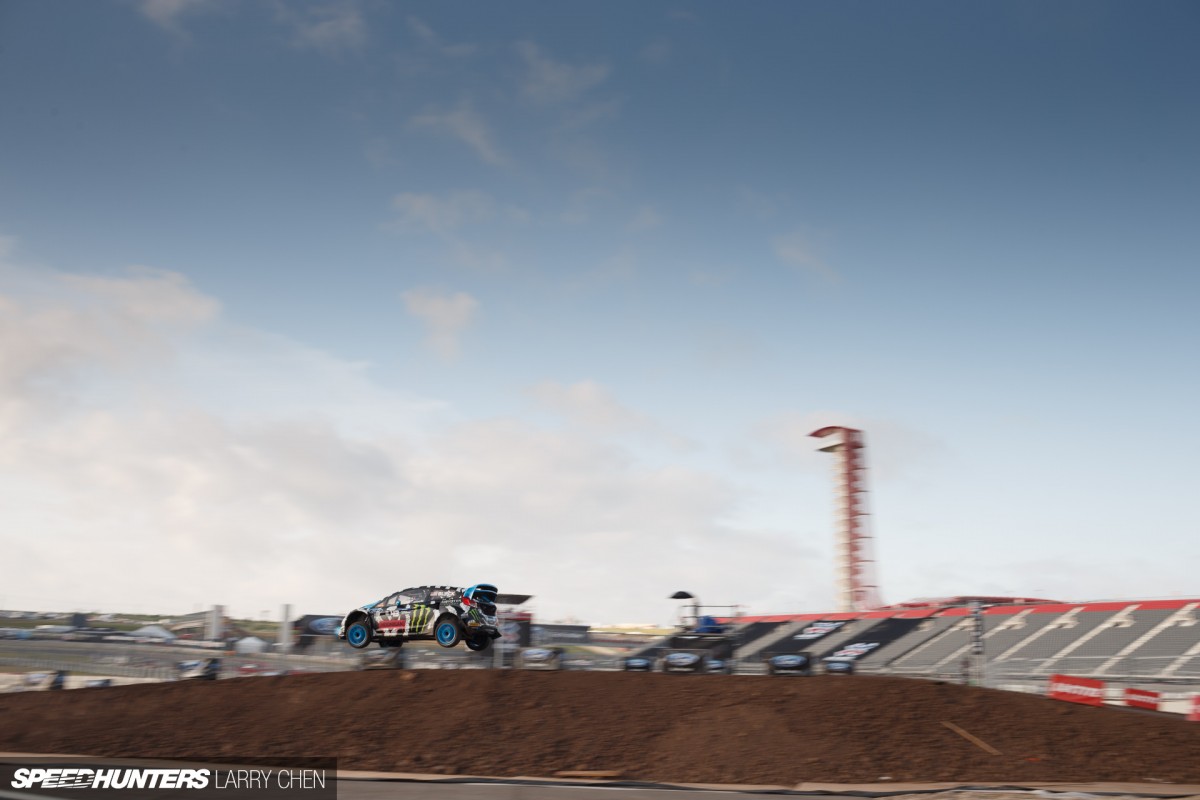 Of course, everyone's favorite Hoonigan was on deck ready for some action after his major incident at the previous GRC round in Barbados.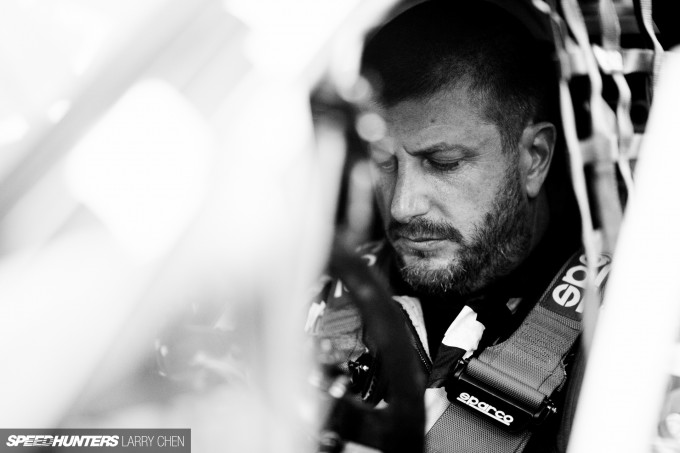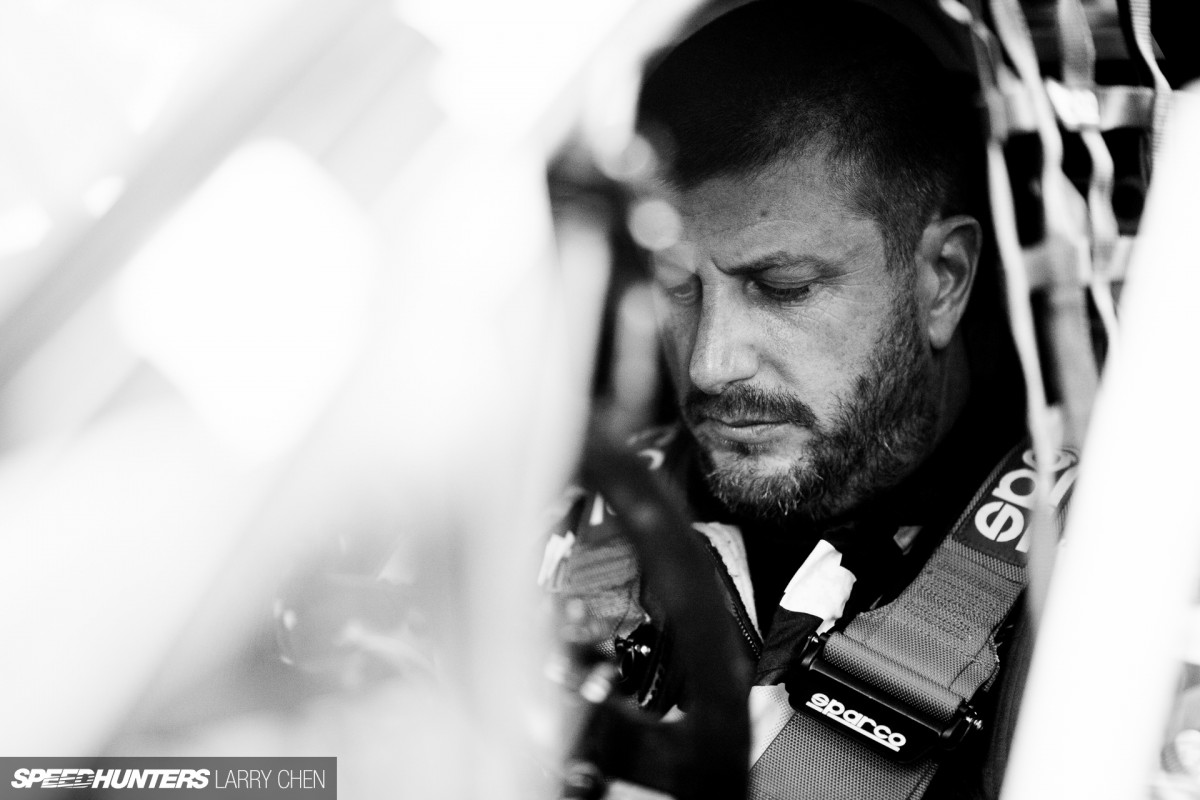 It looked like a pretty big hit, so I'm glad Ken walked away unscathed.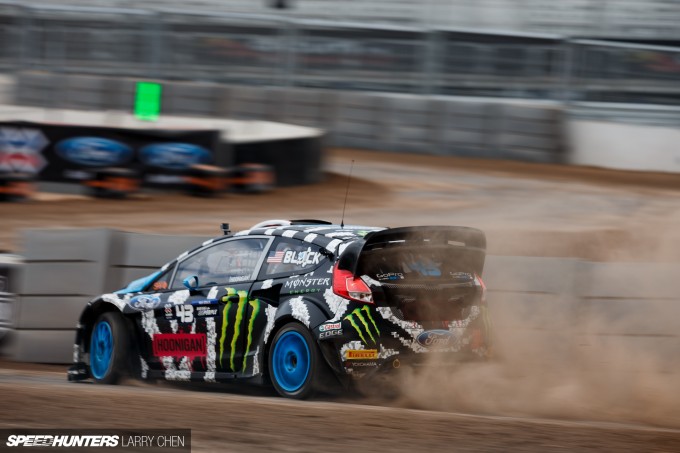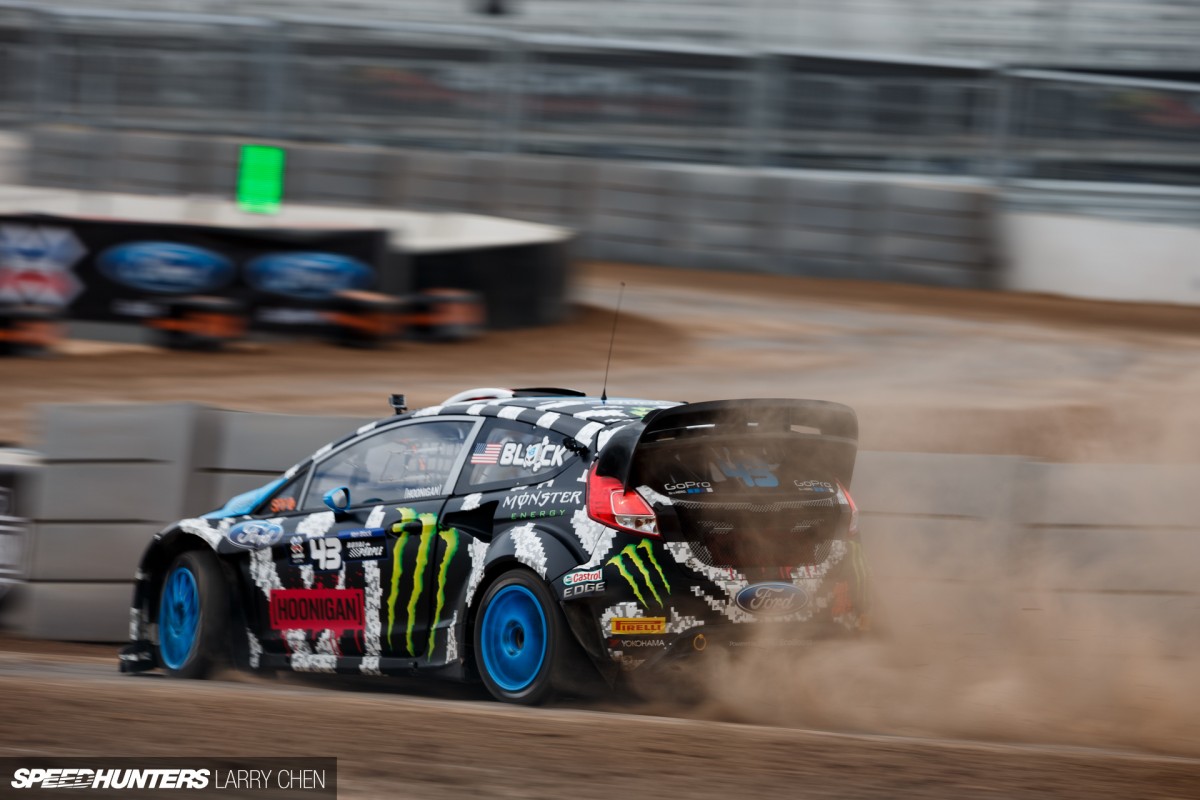 These machines are very safe, but they have to be considering their crazy power-to-weight ratios. Zero to 60mph? Less than two seconds…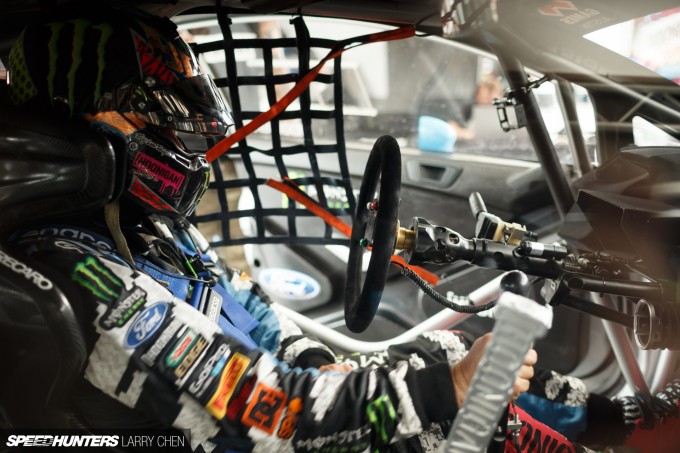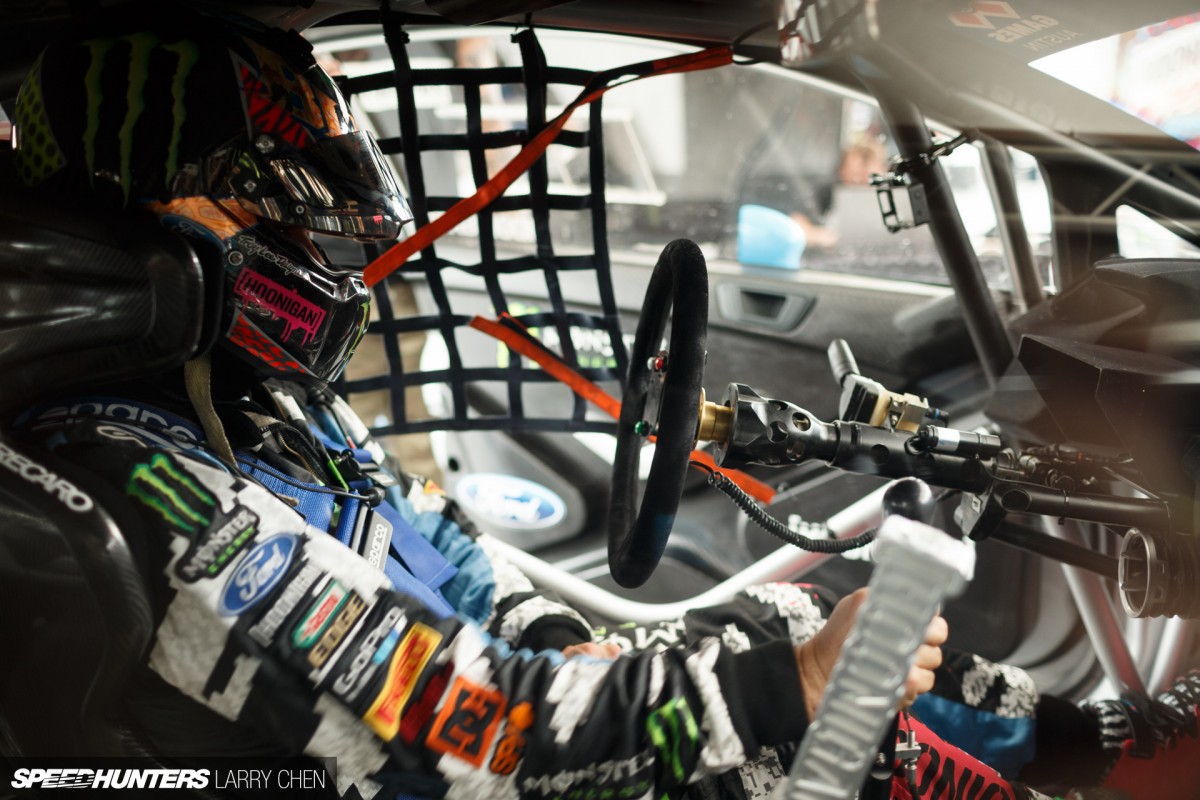 I know some off-road racers wear mouth guards, but up until the weekend I was not aware that some drivers in GRC wear them as well. My question is, how does one talk to their spotter? Is it kind of like how you talk to your dentist while they're drilling into your teeth?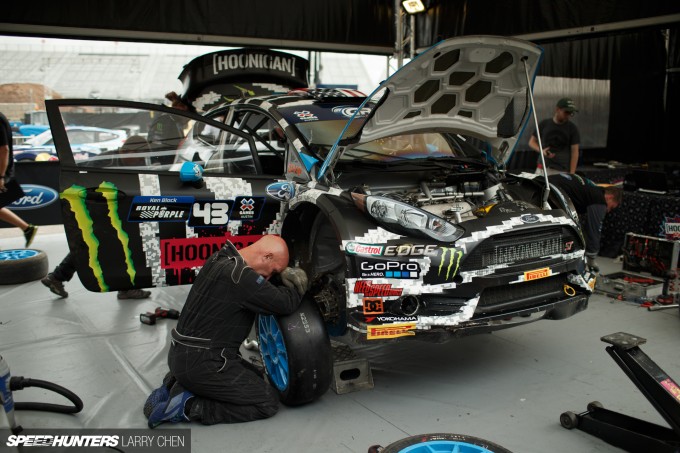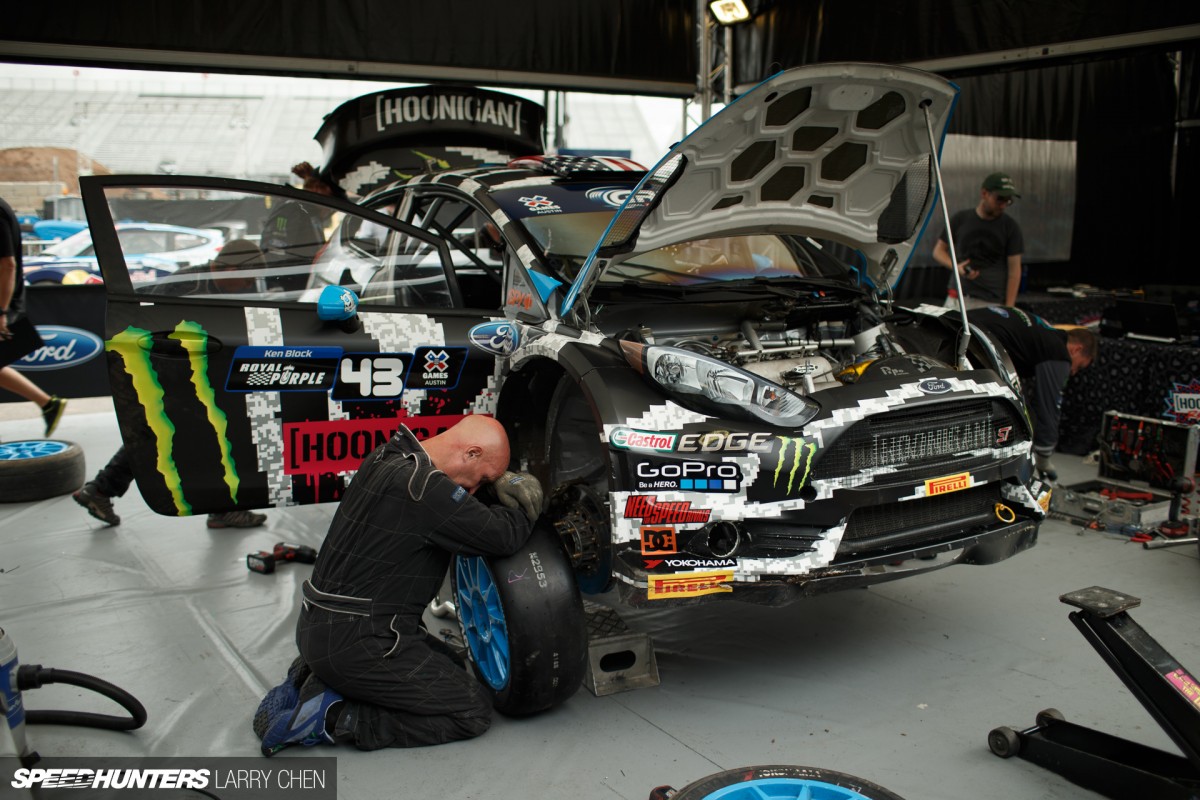 It's amazing how hard the Hoonigan Racing team works to keep their Monster Ford Fiesta running right.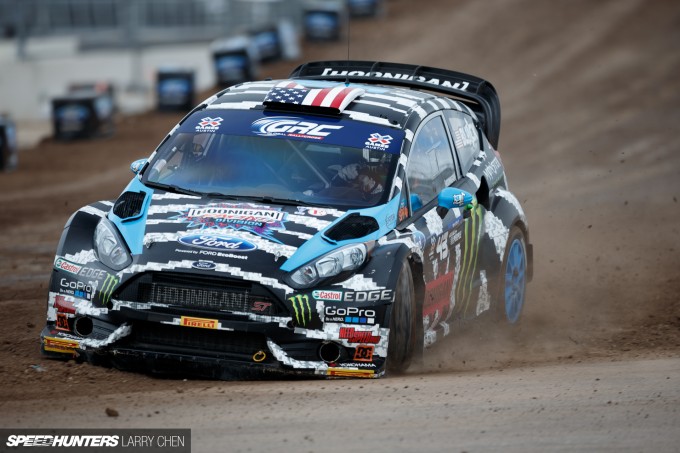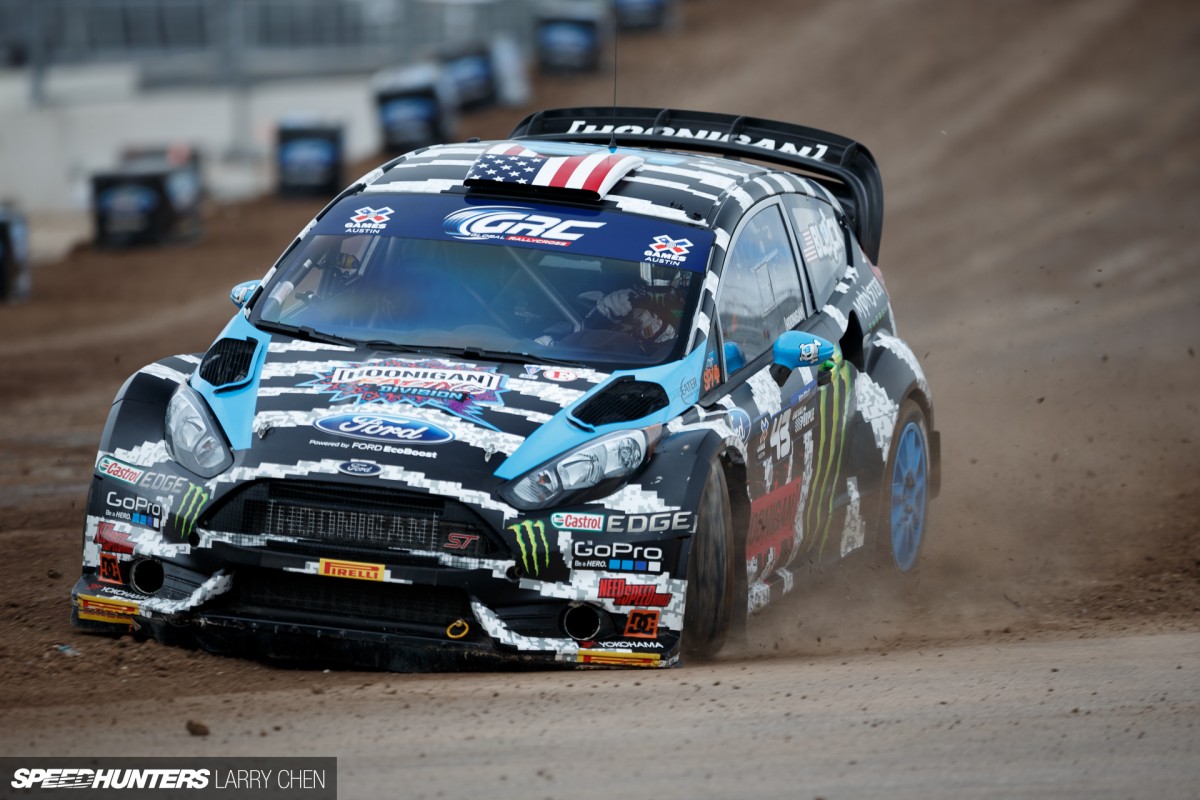 In this motorsport even the slightest of errors can disable the car completely. As an example, Ken took the massive jump just a smidgen too fast, which resulted in some broken suspension and steering components.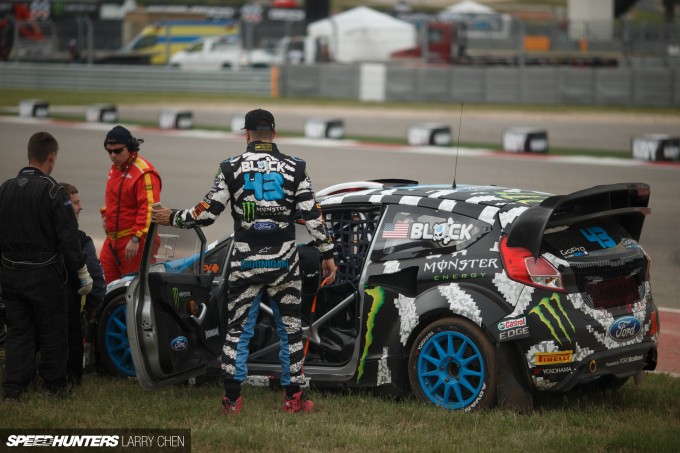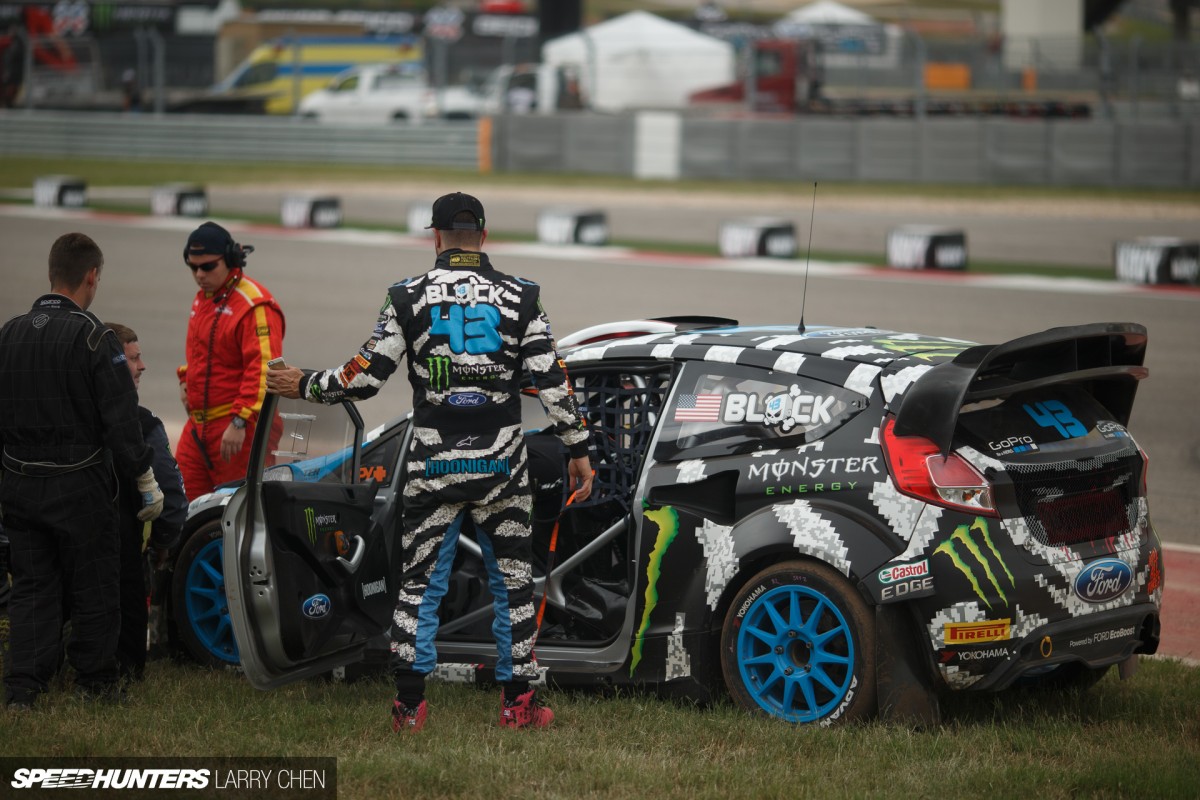 The team rushed over and decided that it was best to flat-bed the car to the pits for repair rather than try to tow it.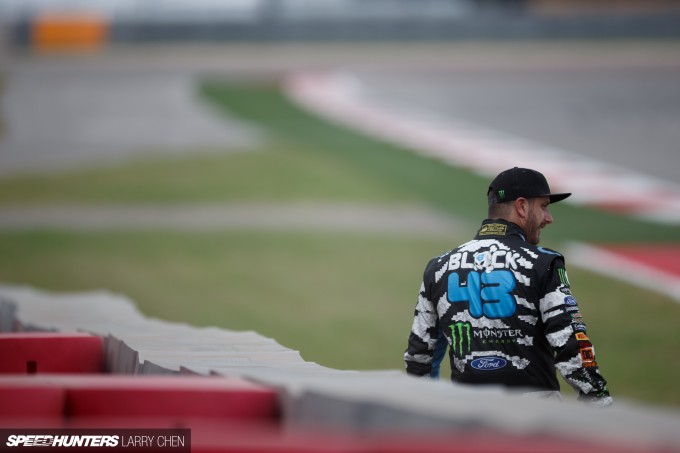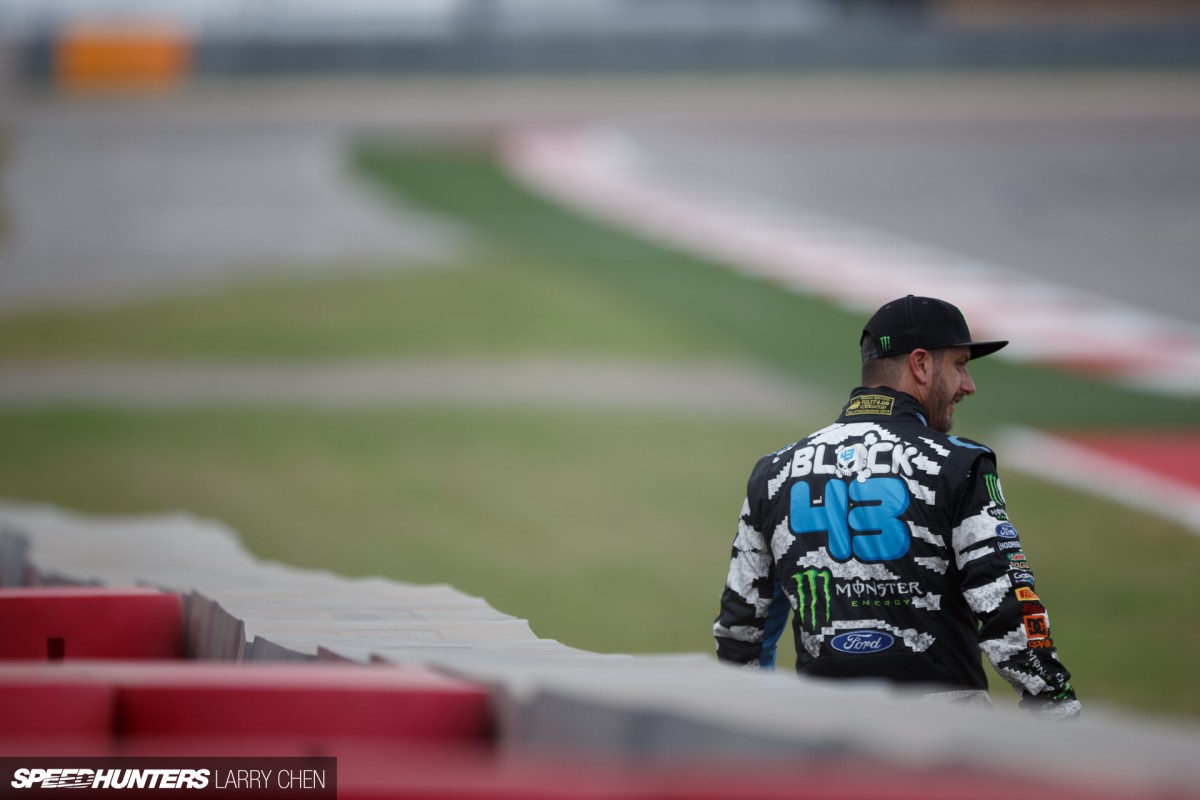 Lucky for Ken this all happened during practice, and not when it counted. I guess it's better to get these sort of incidents out of your system before the main event.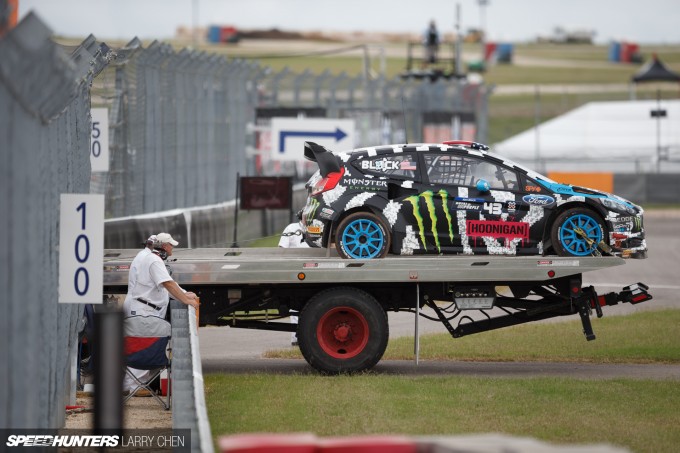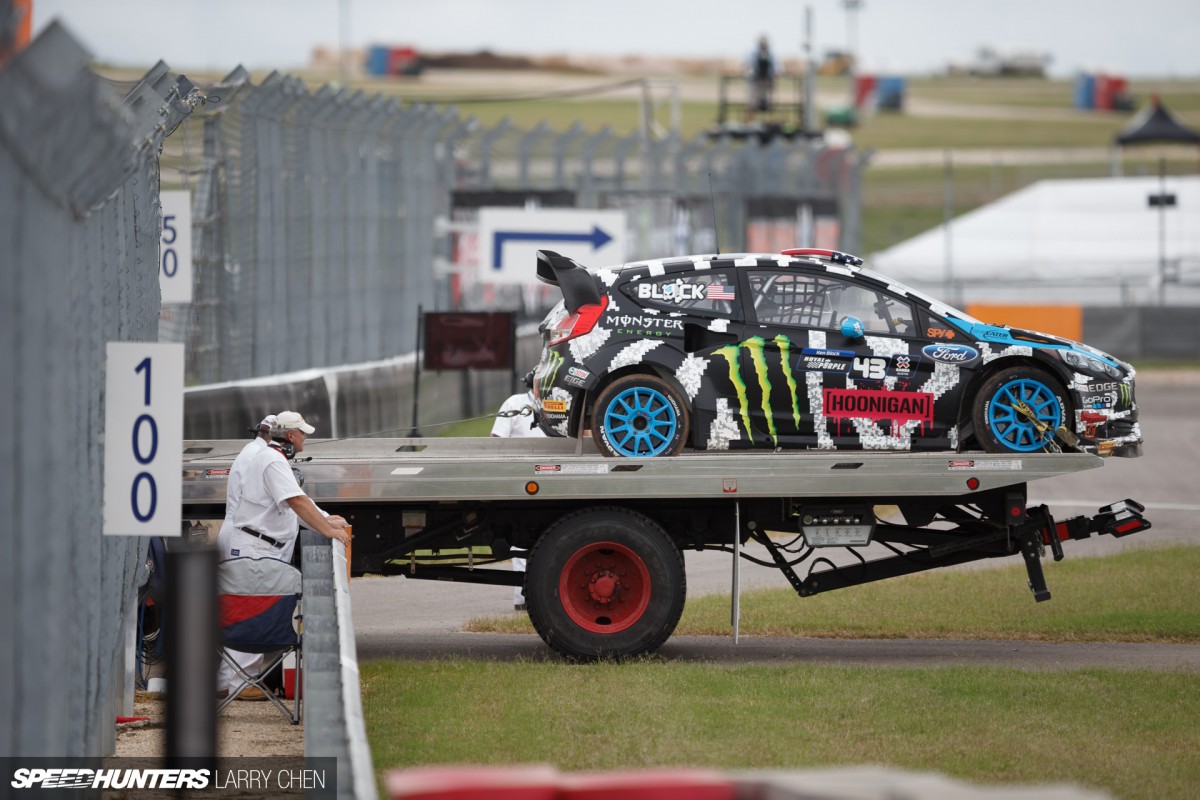 The Fiesta looked like it was in really bad shape as it crabbed to the side of the track, but within just 30 minutes it was back to its best.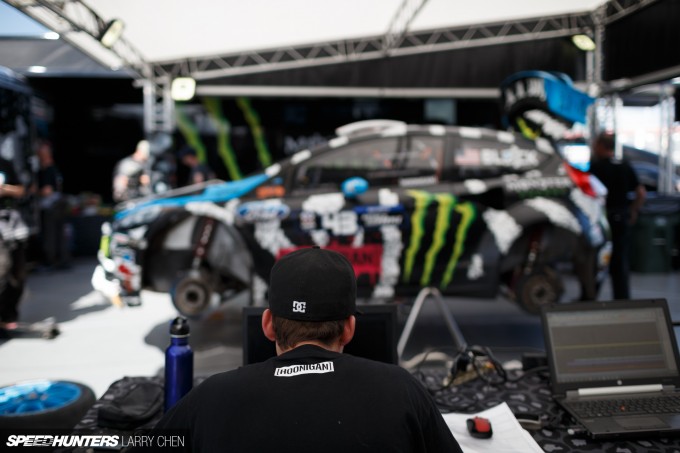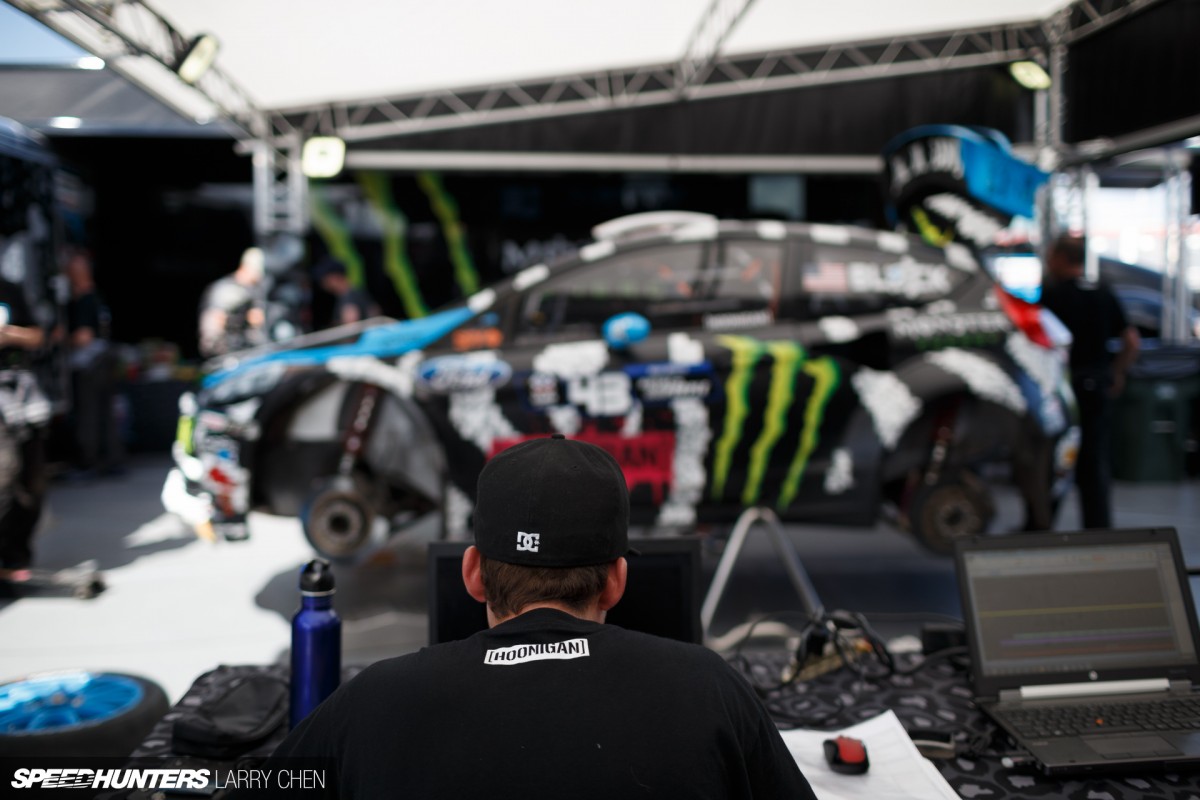 Having one of the best teams in the GRC definitely helps when unplanned stuff like this happens.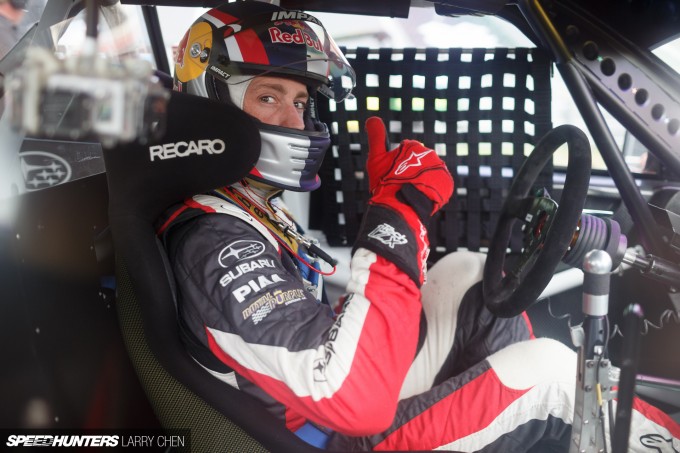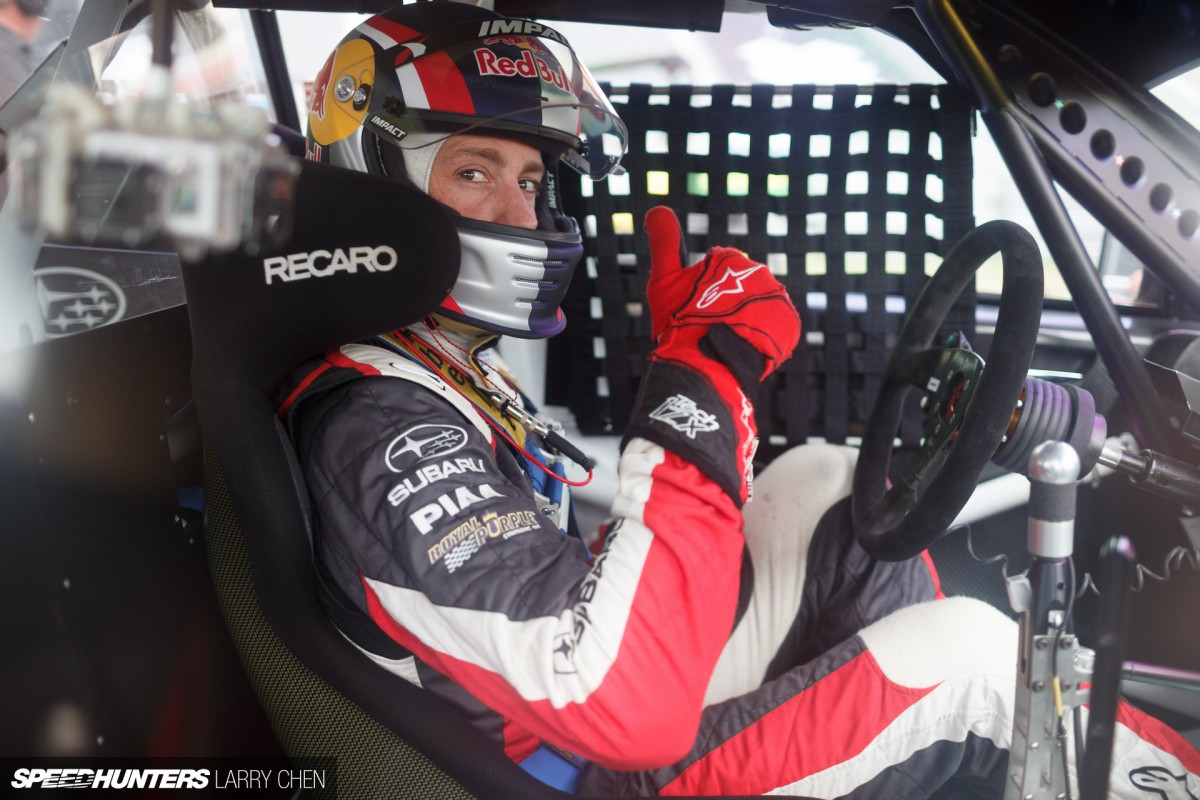 Mr. Block's best friend and X Games legend Travis Pastrana was also competing. The last time I saw him was when he drove the Mint 400 while wearing a cast. I wish I was that hardcore.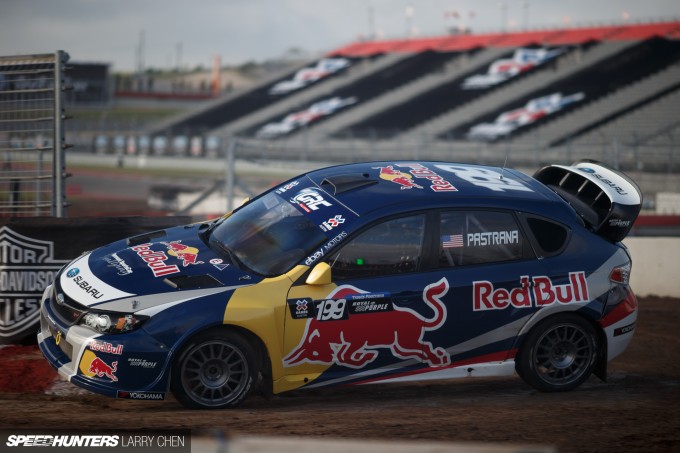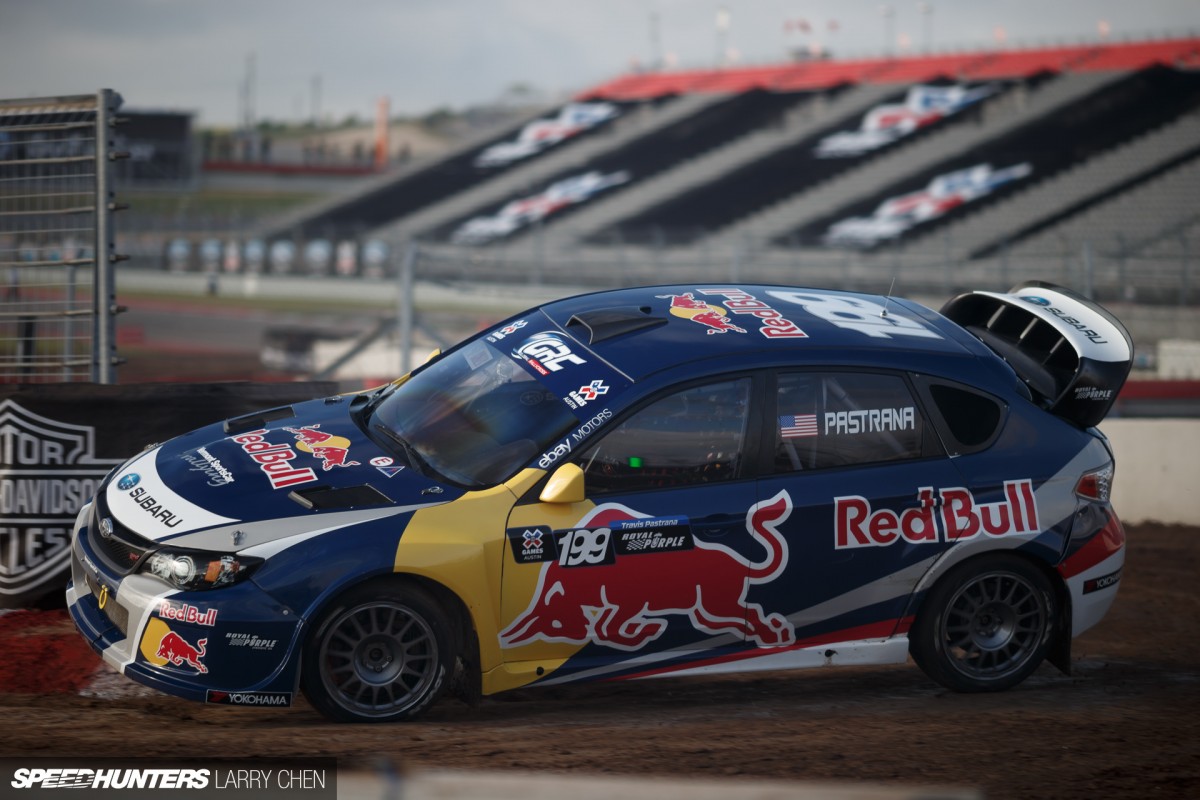 I followed him for a while when he was driving the Dodge Dart, but it's interesting to see him back in a Subaru now.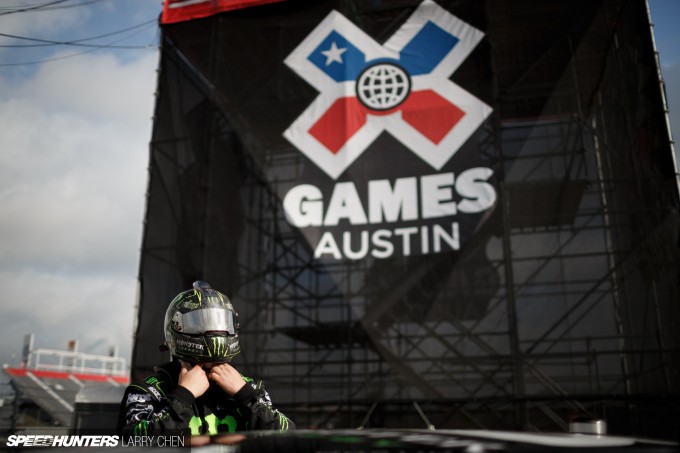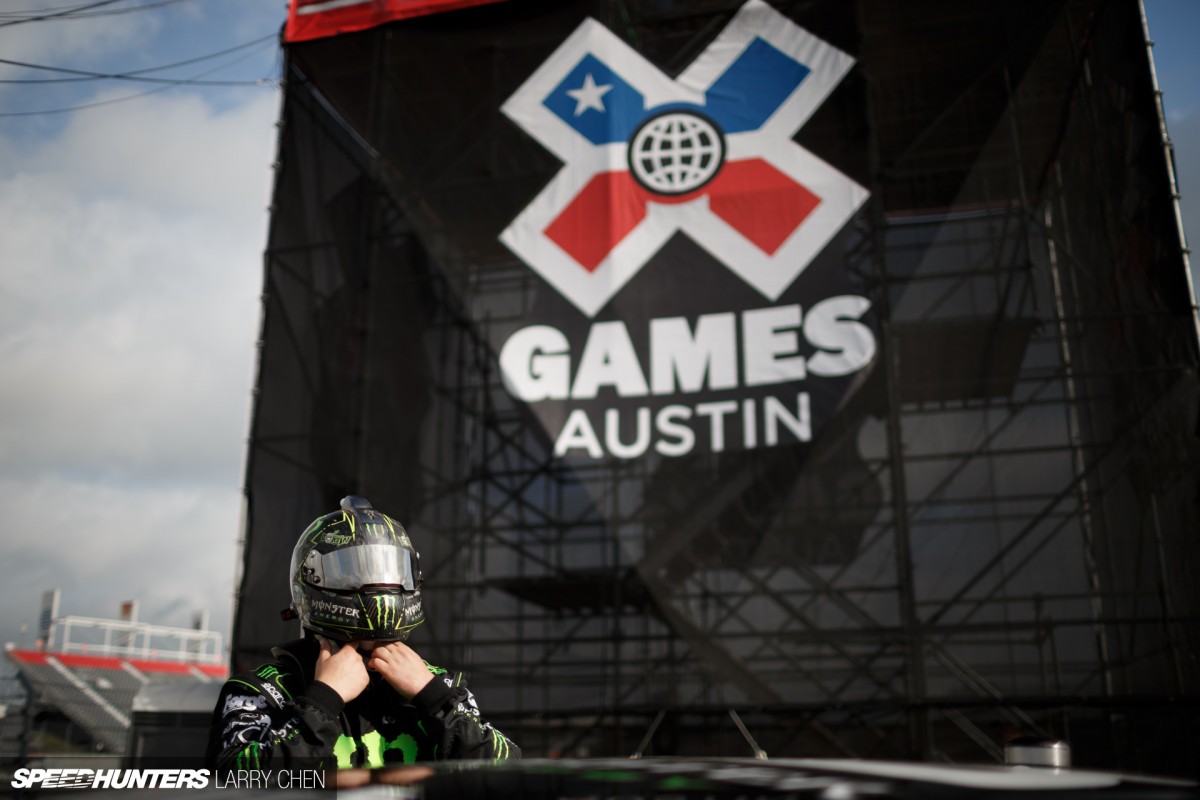 Probably one of the most aggressive drivers in GRC is Liam Doran, AKA the British Bomb.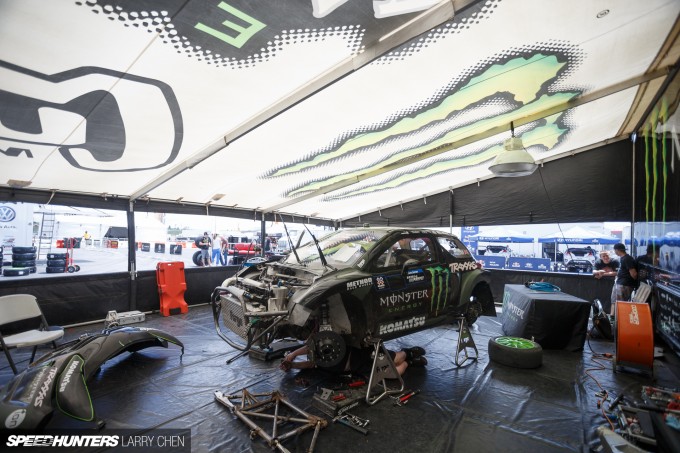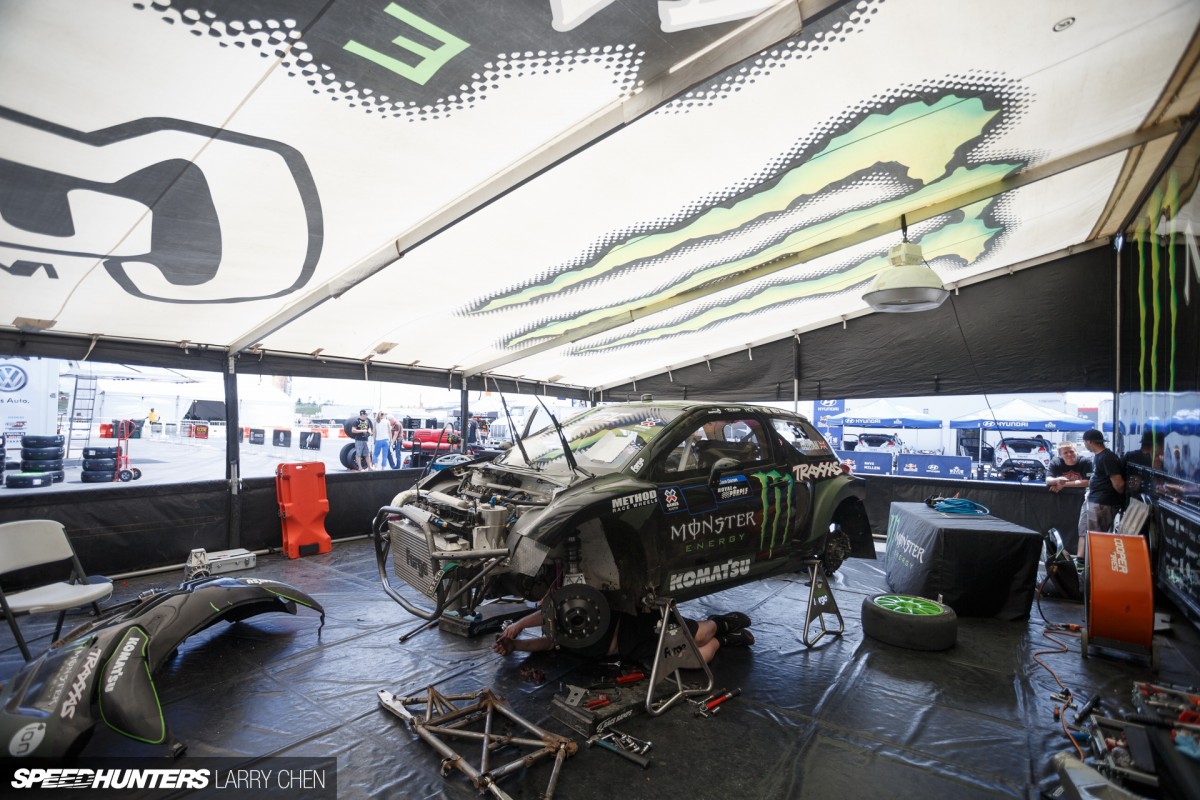 To quote Ayrton Senna, "And if you no longer go for a gap that exists, you are no longer a racing driver because we are competing, we are competing to win."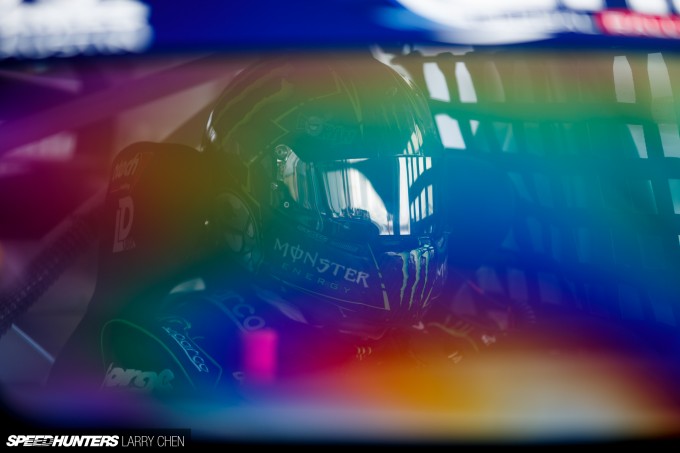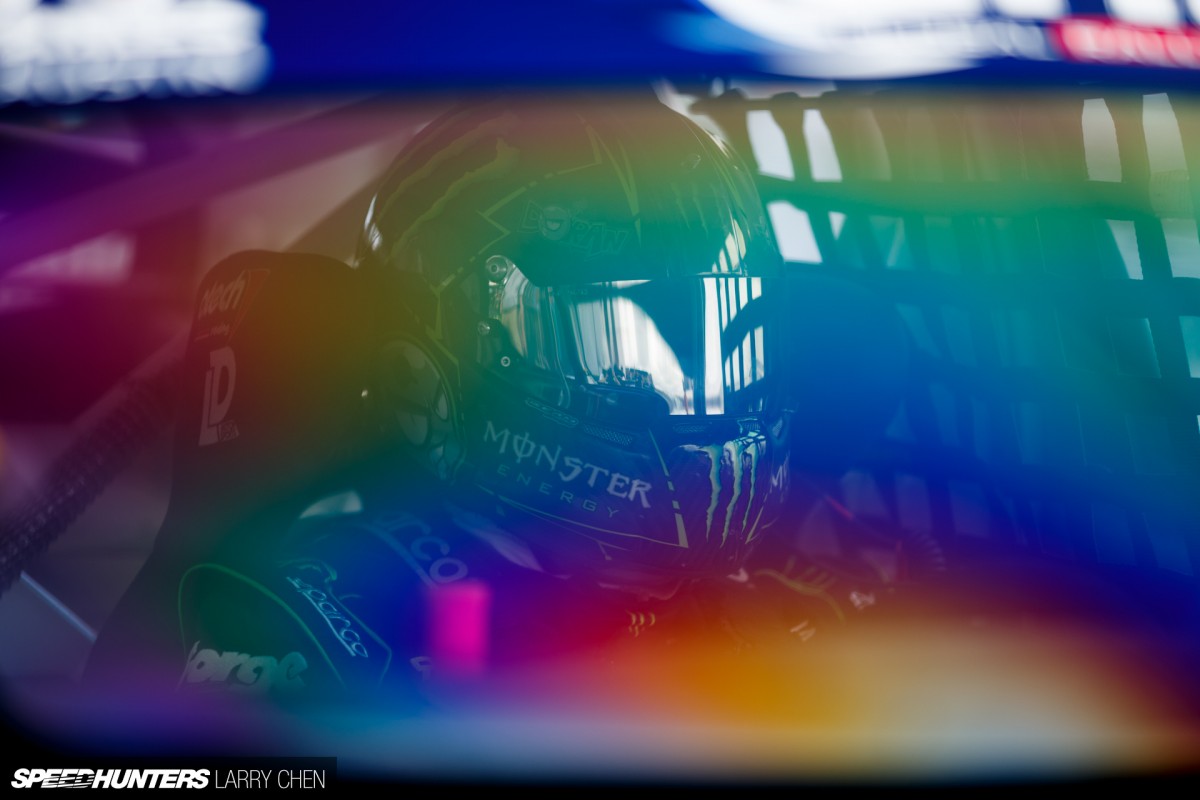 Liam takes those gaps. And if that gap is too small he will make it larger. What a fun driver to watch.
When Pigs Fly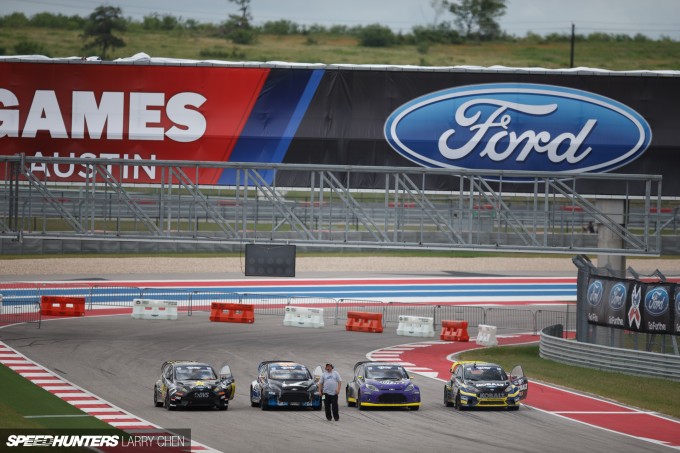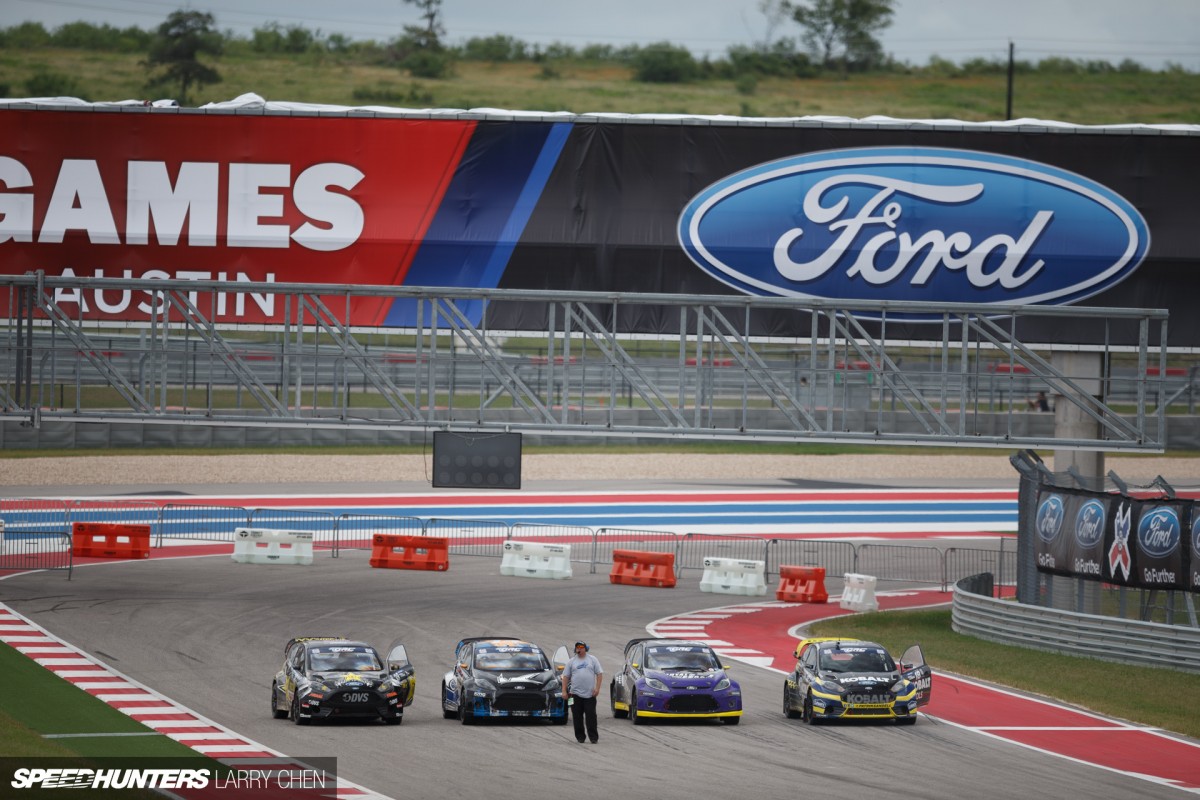 Because they're only a few short laps long, the most crucial part of any GRC race is the start. The order at the end of the first lap doesn't necessarily determine the final result, but it does have a bearing on the order of carnage.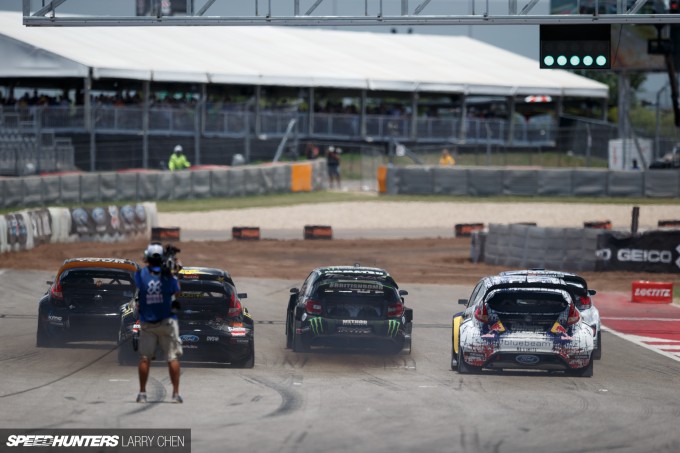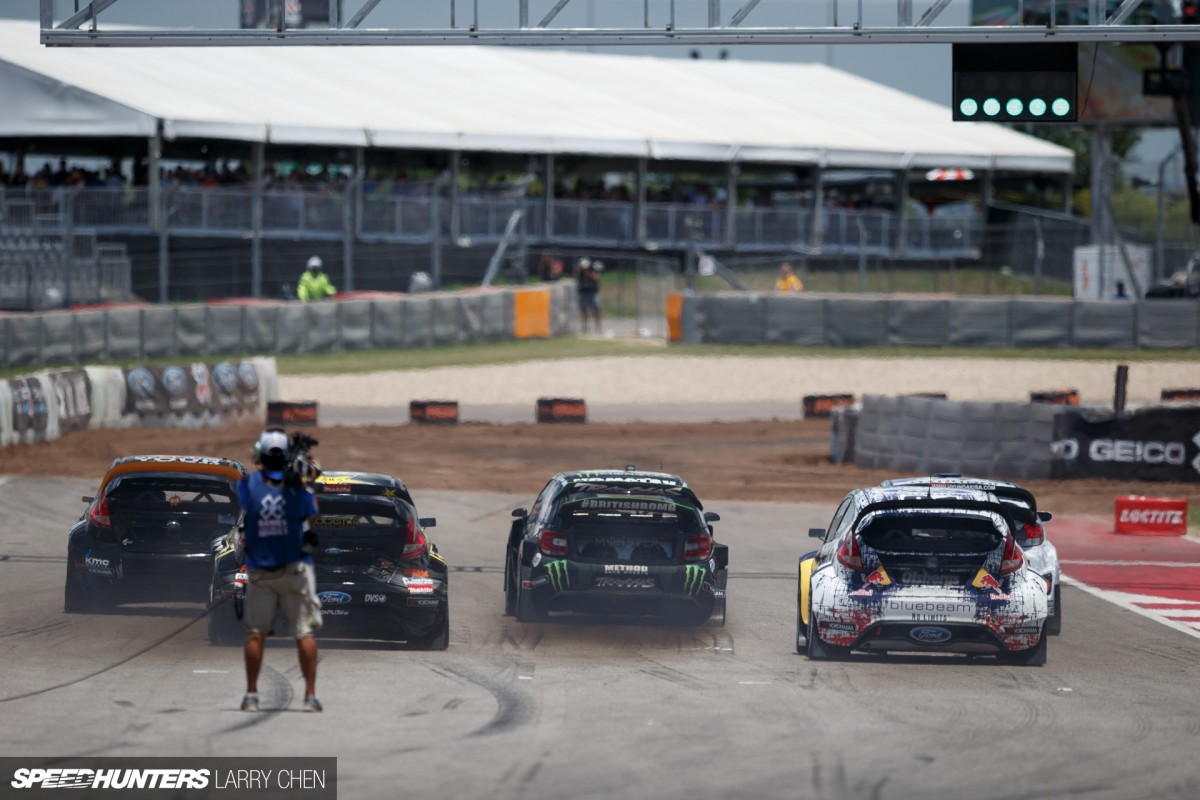 If you're out in front of the pack then there is a good chance that you'll avoid crashing going into the first corner. On the flip-side, it puts you in a prime position to be punted off the track from behind. I guess it's a crap shoot either way.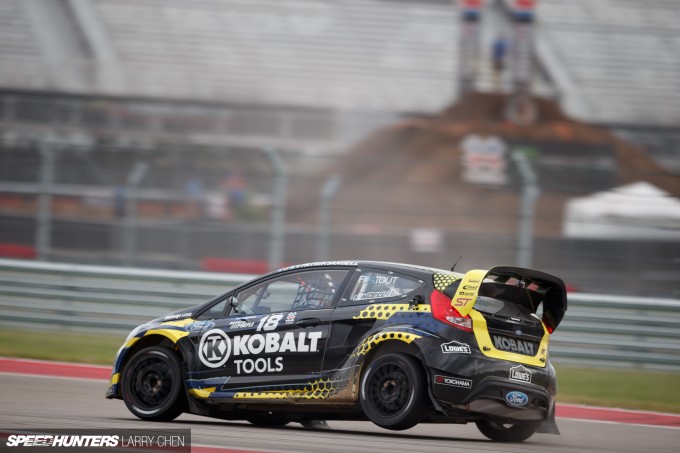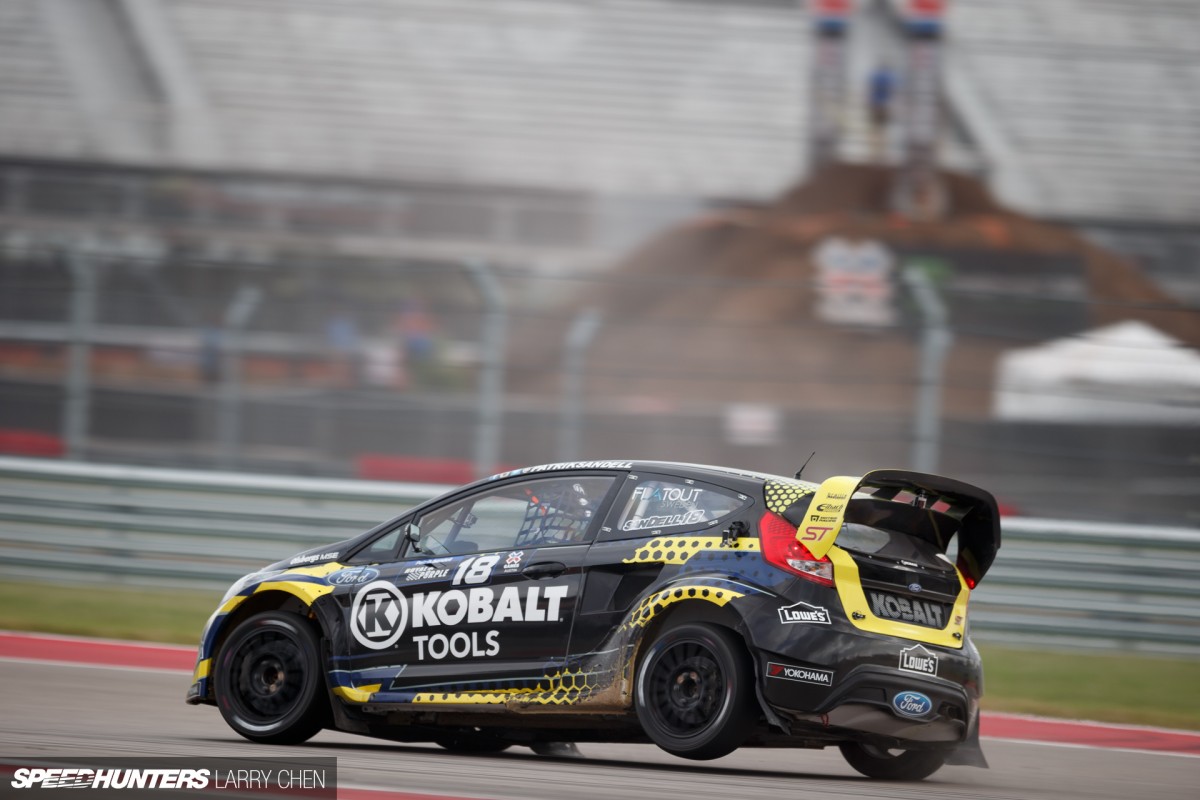 Even though most of the track was pavement, because of the super bumpy sections a soft suspension set up is required, meaning the cars were three-wheeling on almost every corner.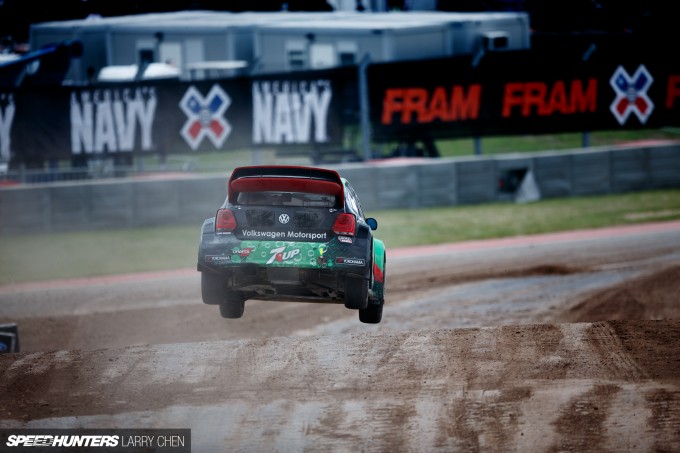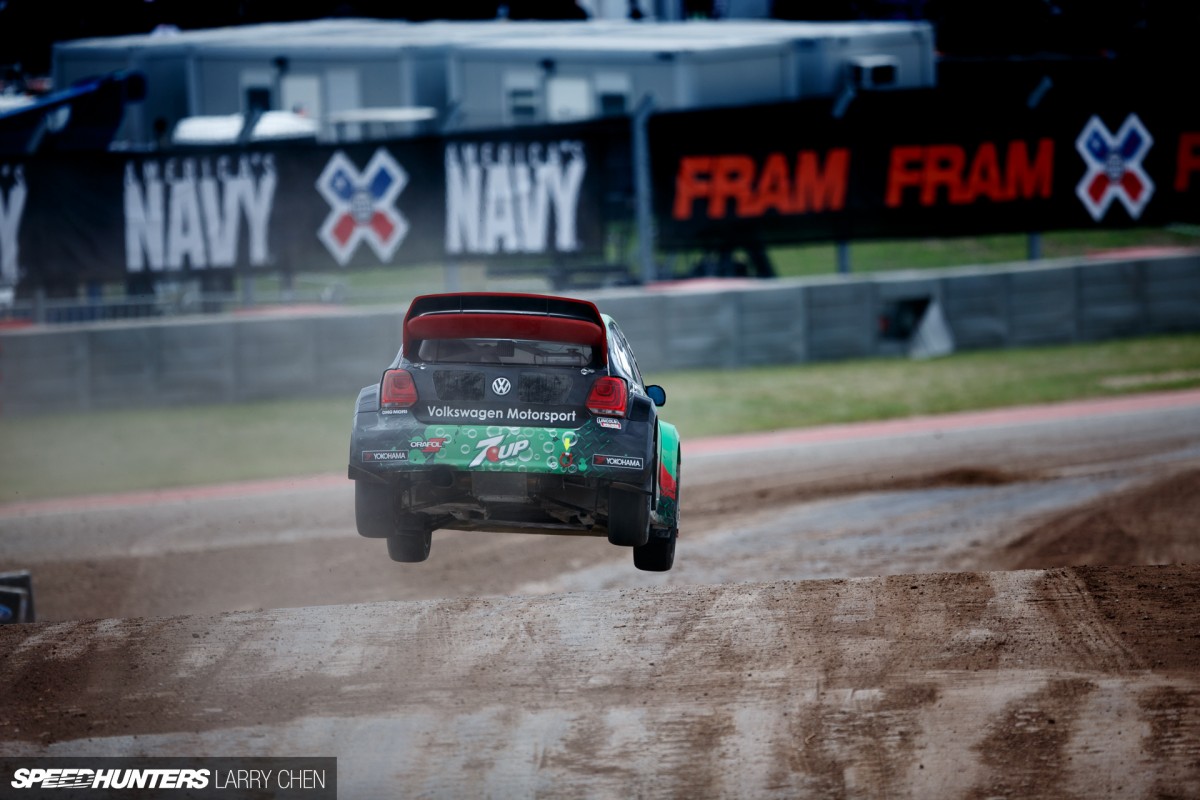 Teams also have to account for the massive speed bump. Suspension travel is key.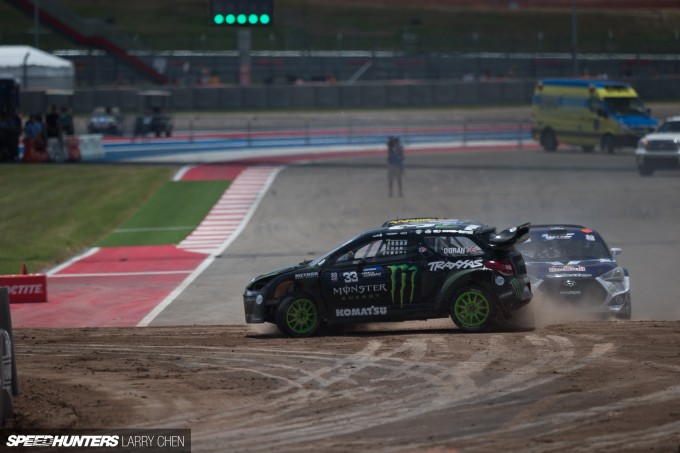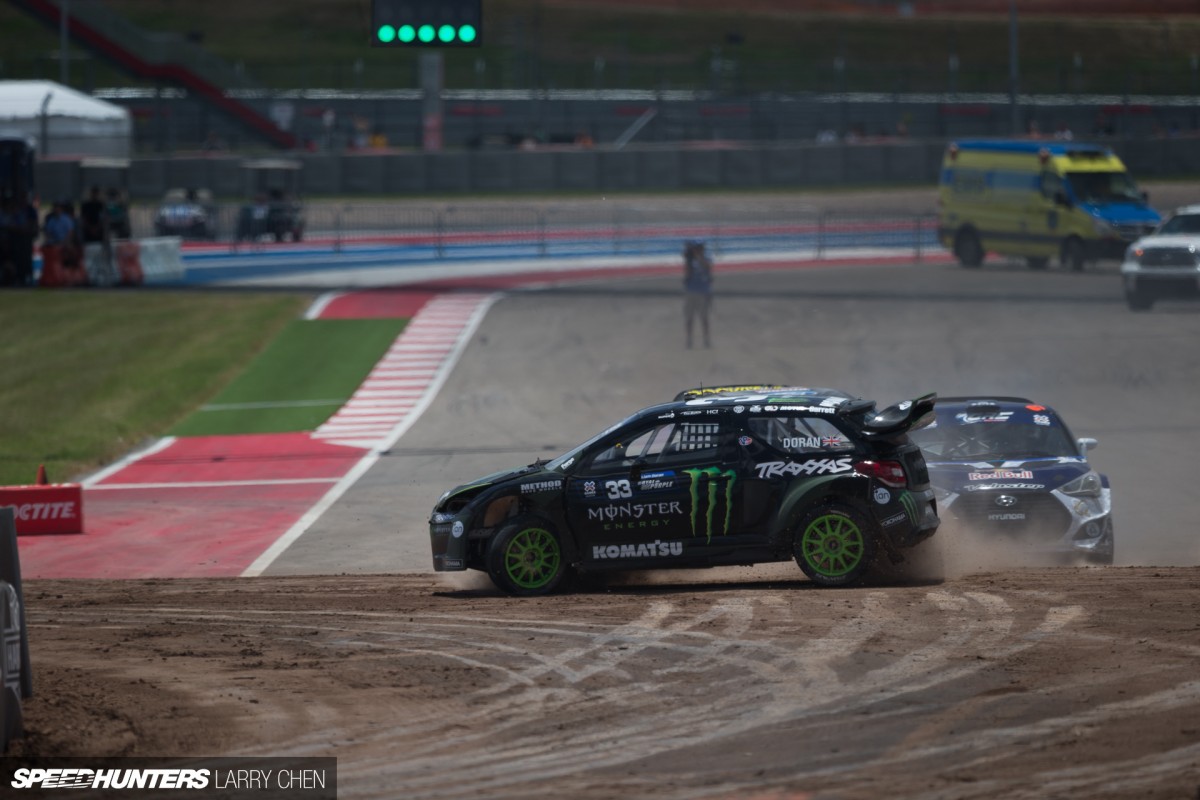 While I am all for a little bit of contact in wheel-to-wheel racing, sometimes it can get a crazy as tempers flare.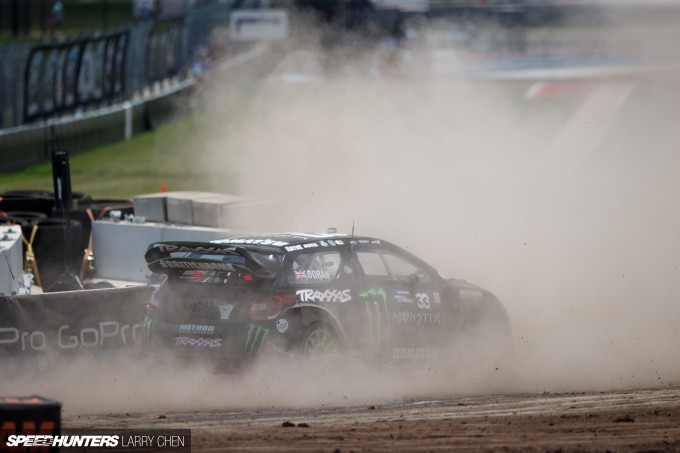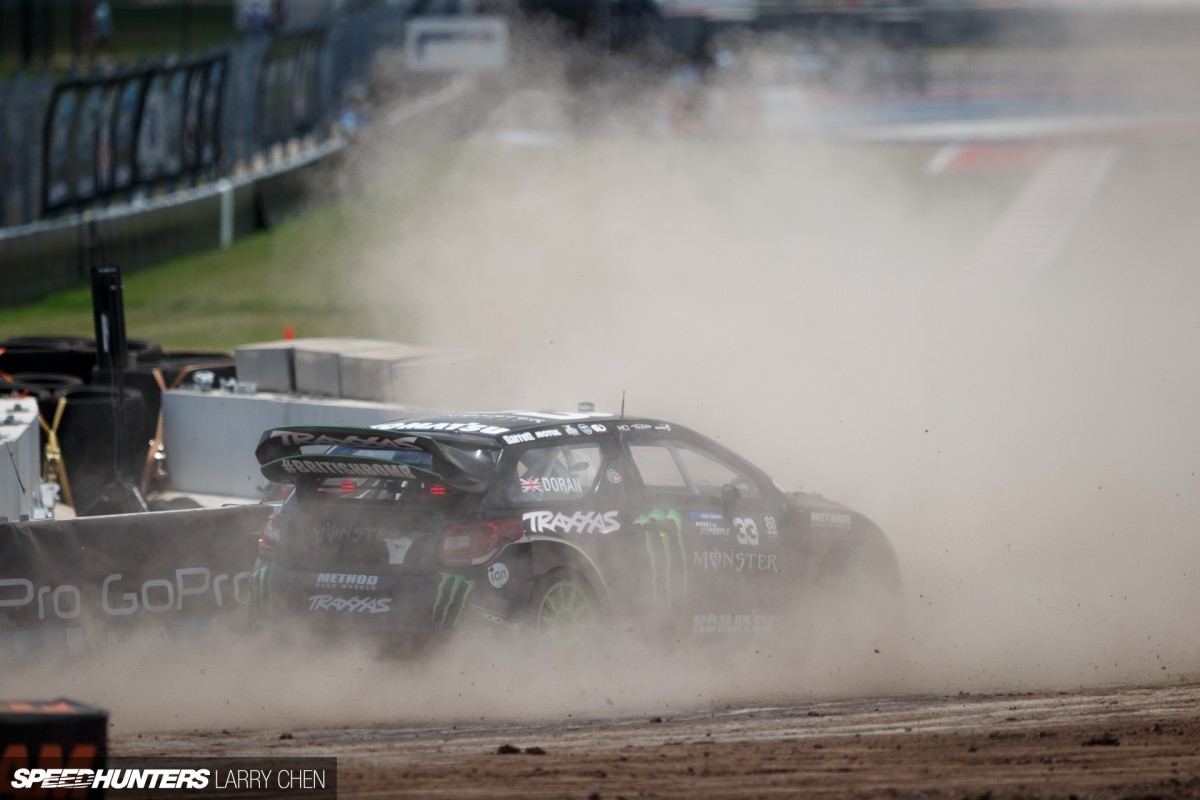 In this incident, it looked like Rhys did a little pit maneuver on Liam Doran, which sent him sideways. Luckily for Liam he didn't come into contact with any k-rails or other car-killing sharp edges.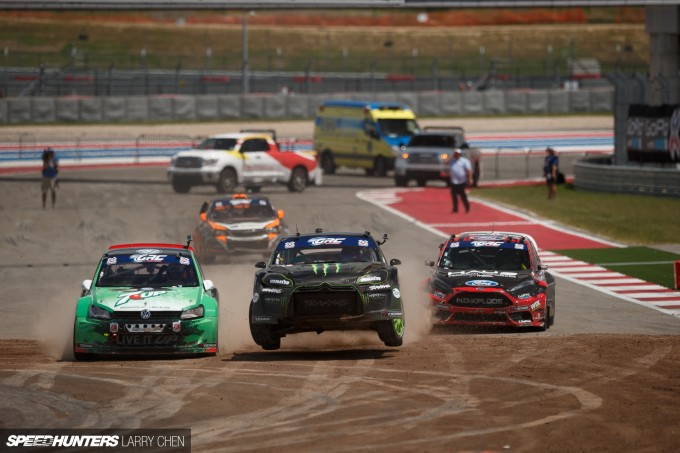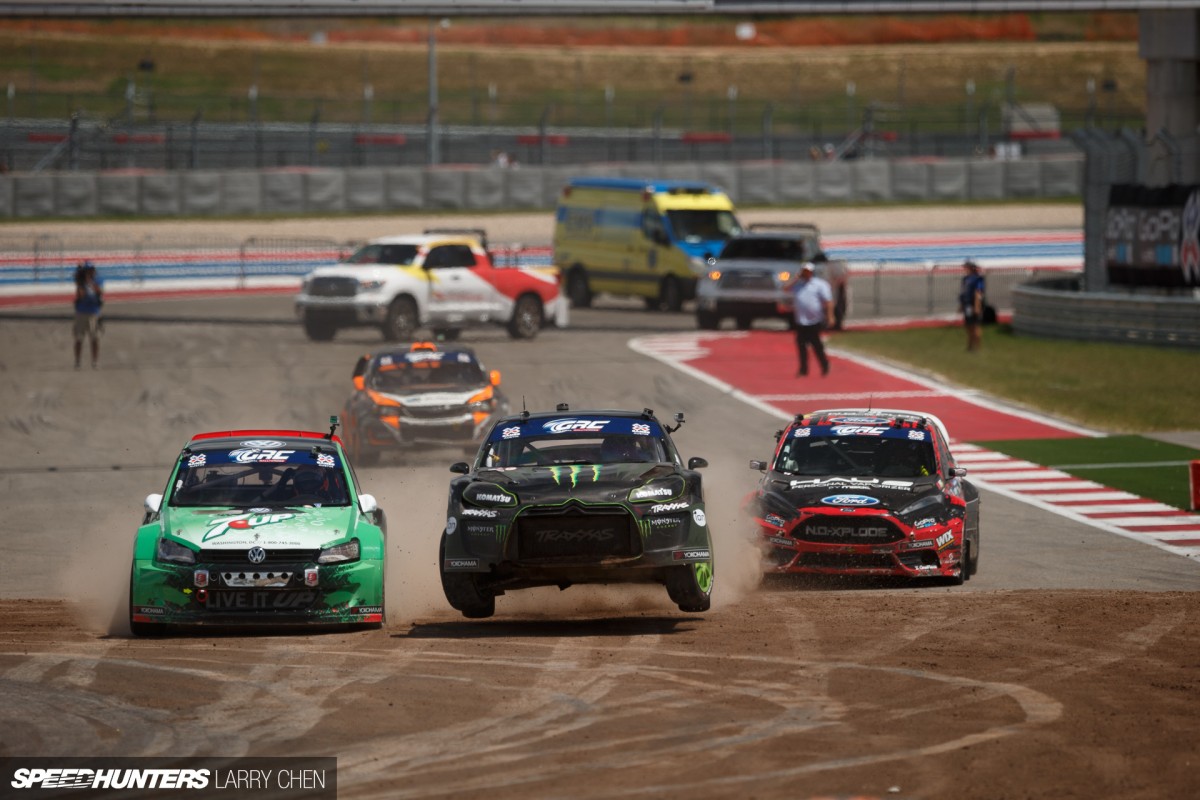 One of the biggest changes going into this GRC season is the reduced number of cars that can run in the final race. It used to be 10, but now it's down to six.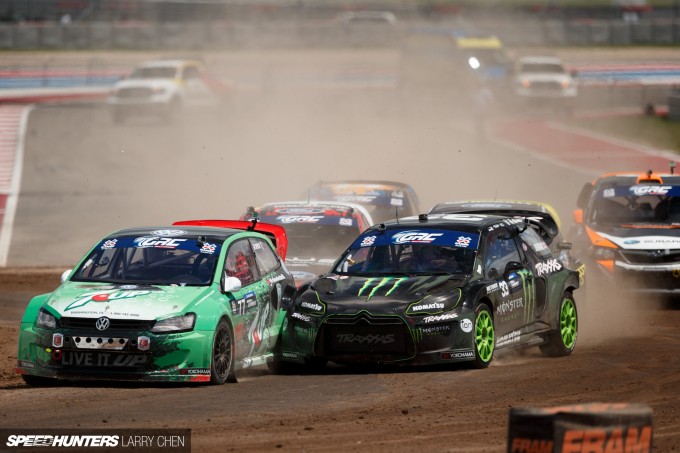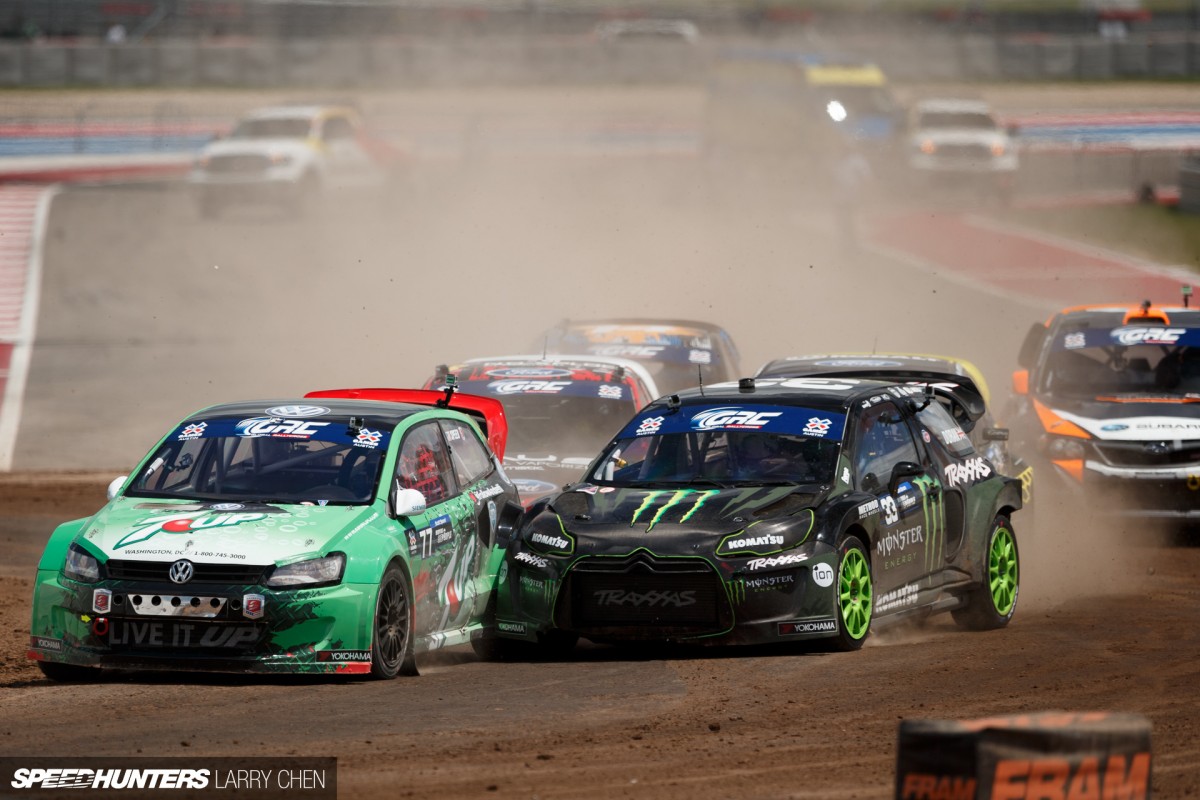 Things got real messy real fast with so many cars jostling for position on a short and tight course, so I can understand why the change was made. But I will definitely miss the awesome sight of 10 cars squatting and bouncing off their rev limiters as they wait for the start lights to go green.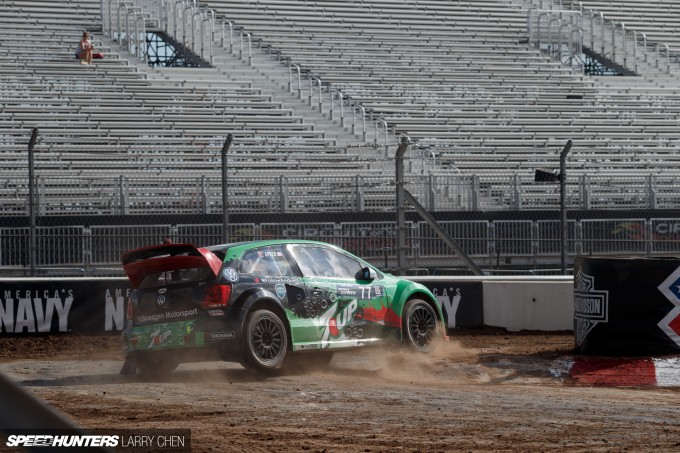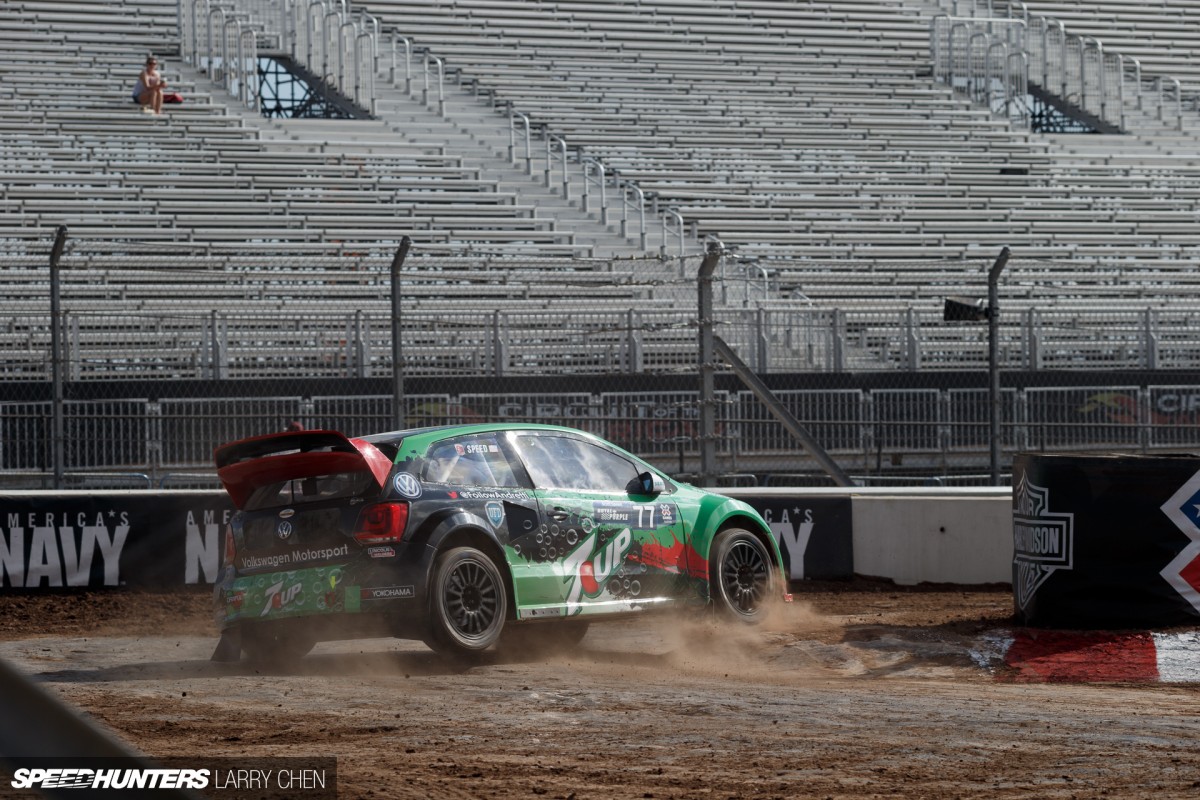 At the end of the day, once all the dust had settled, Scott Speed in the Andretti Racing VW Polo took home the X Games gold.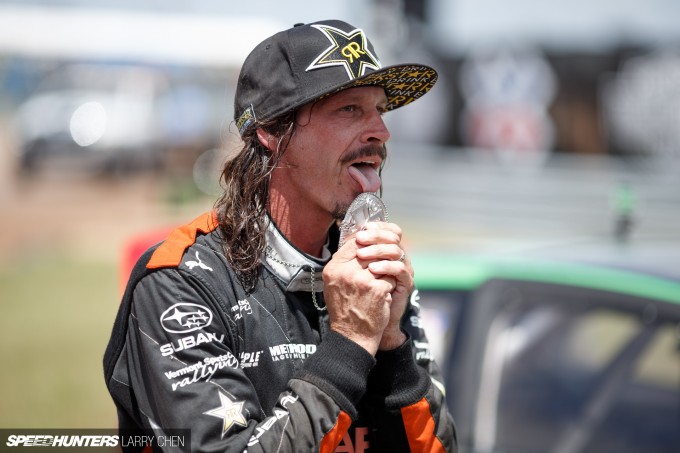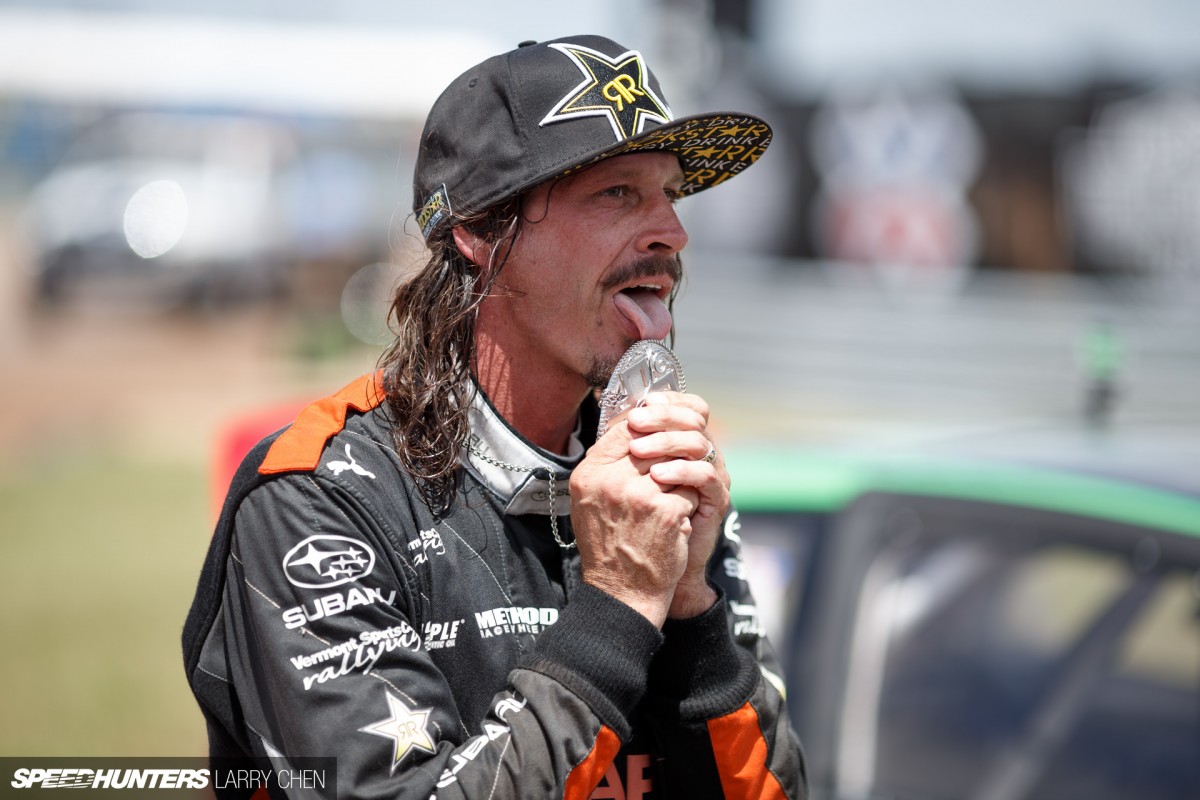 Silver went to crowd favorite Bucky Lasek who finally earned a podium after 15 race starts.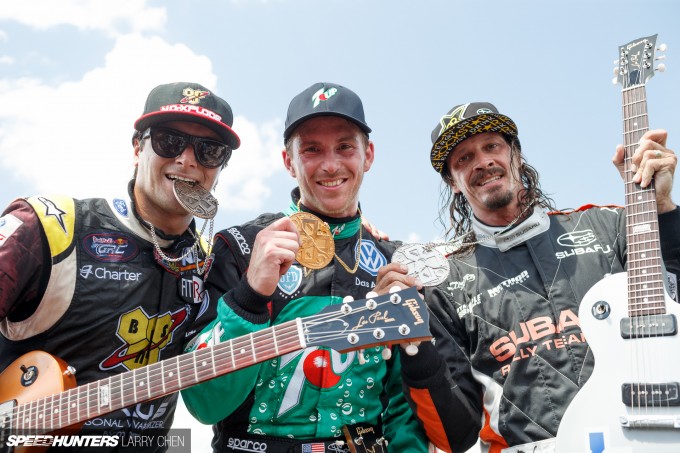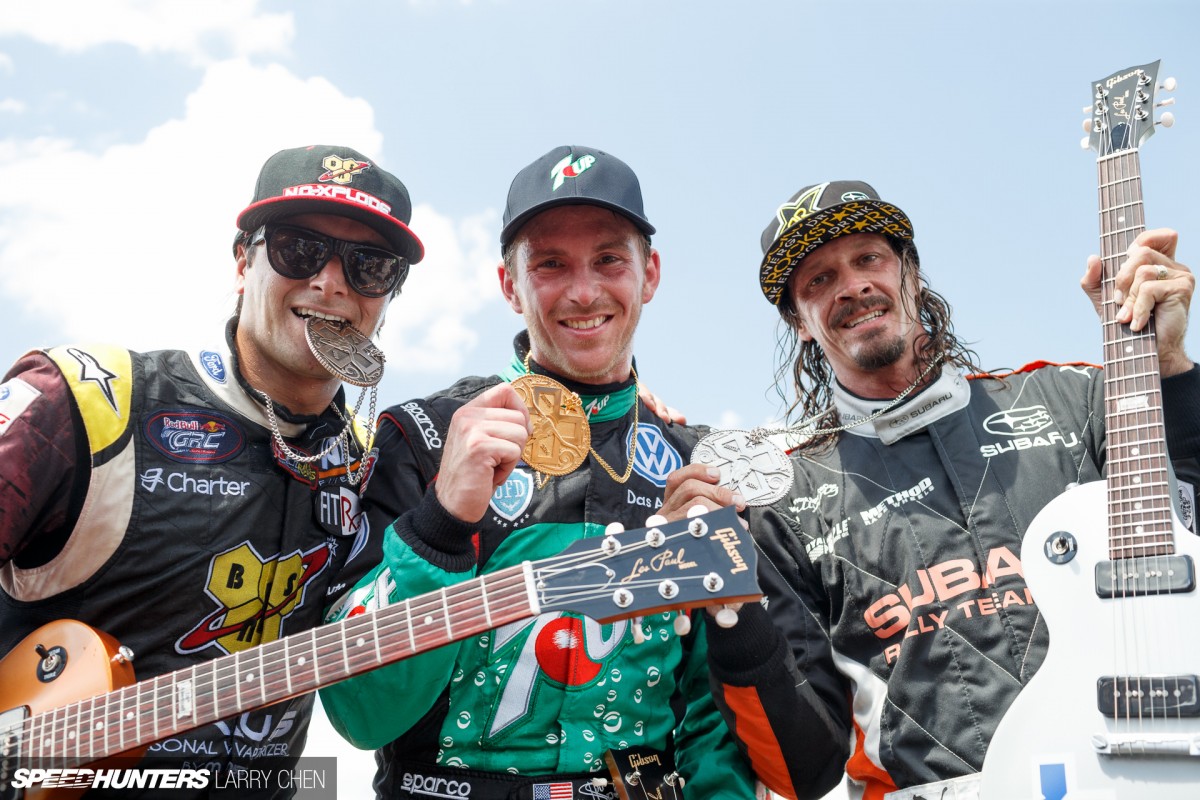 And third went to Brazilian driver Nelson Piquet Jr. It really was a picture-perfect race weekend – exciting and so unpredictable. It definitely reminded me why I love watching GRC.
Larry Chen
Instagram: larry_chen_foto
larry@speedhunters.com
Cutting Room Floor