Hawaii & Its Treasures
When I flew over to Hawaii from Japan a few weeks ago I really didn't know what to expect. It's place I've actually ventured to quite a few times in the past, but on those occasions cars weren't really the focus, and I assumed the only ones I'd really see on the streets would be rentals driven by tourists on their tropical adventures. On other words, never would I have though that the small island of Oahu would be hiding so many automotive treasures. It was at the Offset Kings show that I had my first encounter with a certain yellow machine I had heard many people talk about during my first days on the island – a rare Honda S2000 CR owned and driven by Sara Choii.
Sara's affliction with the Honda brand started years ago when she picked up an Civic EK Coupe – although that ended up being quickly sold and replaced by one of her favourite Hondas of all time: the CR-X. In Sara's eyes there's only one other car that ticks all the right boxes for her, and that's the S2000. So when the chance presented itself to get into a Candy Apple Red AP2, she jumped at it.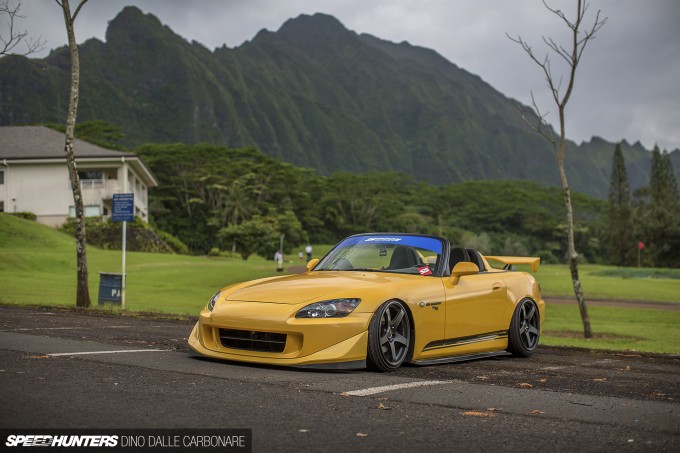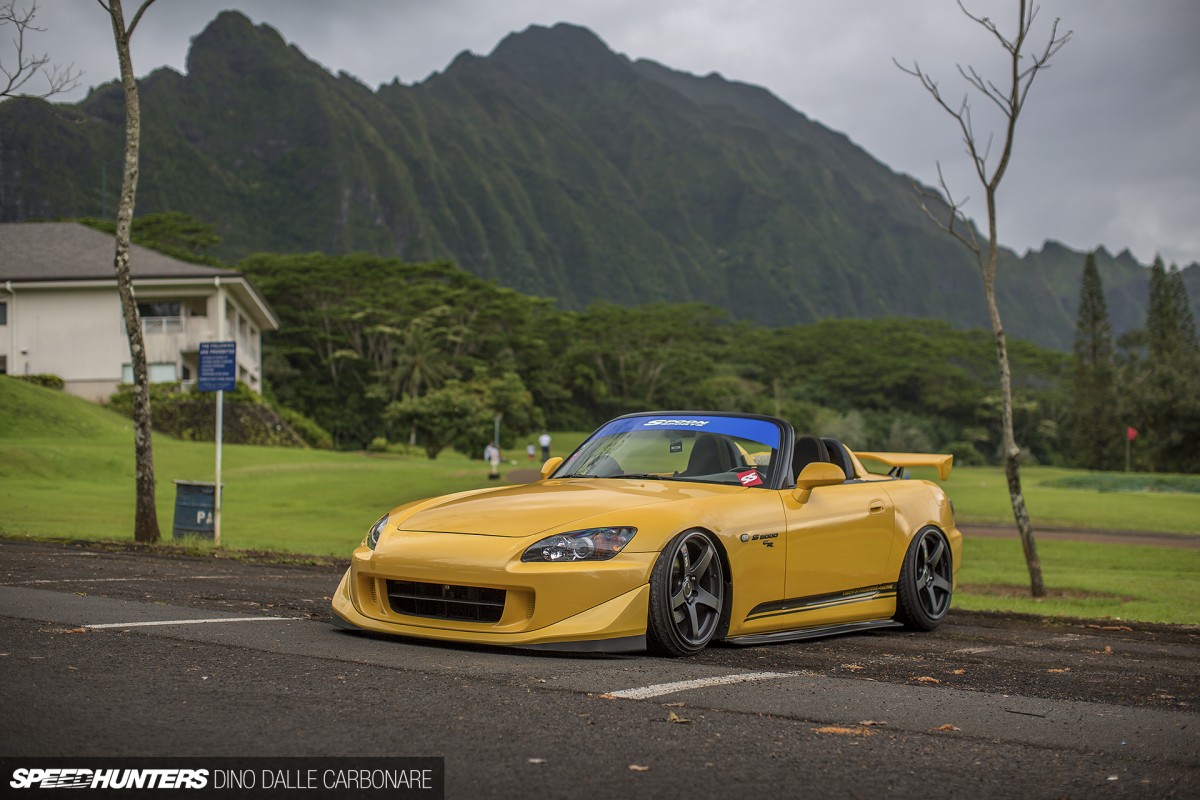 The dream was short-lived though, and that particular car came to a tragic end on a wet night that Sara would rather forget about. A black S2000 replaced it and became a car she enjoyed for a while, until one of her friends put her onto a 2008 S2000 Club Racer (CR) – a special edition AP2 of which only 1400 examples were made. A quick trade later and Sara was the proud owner of the car you see here.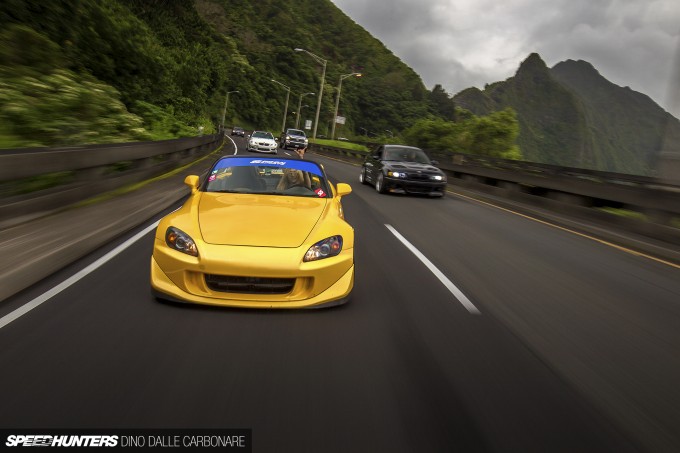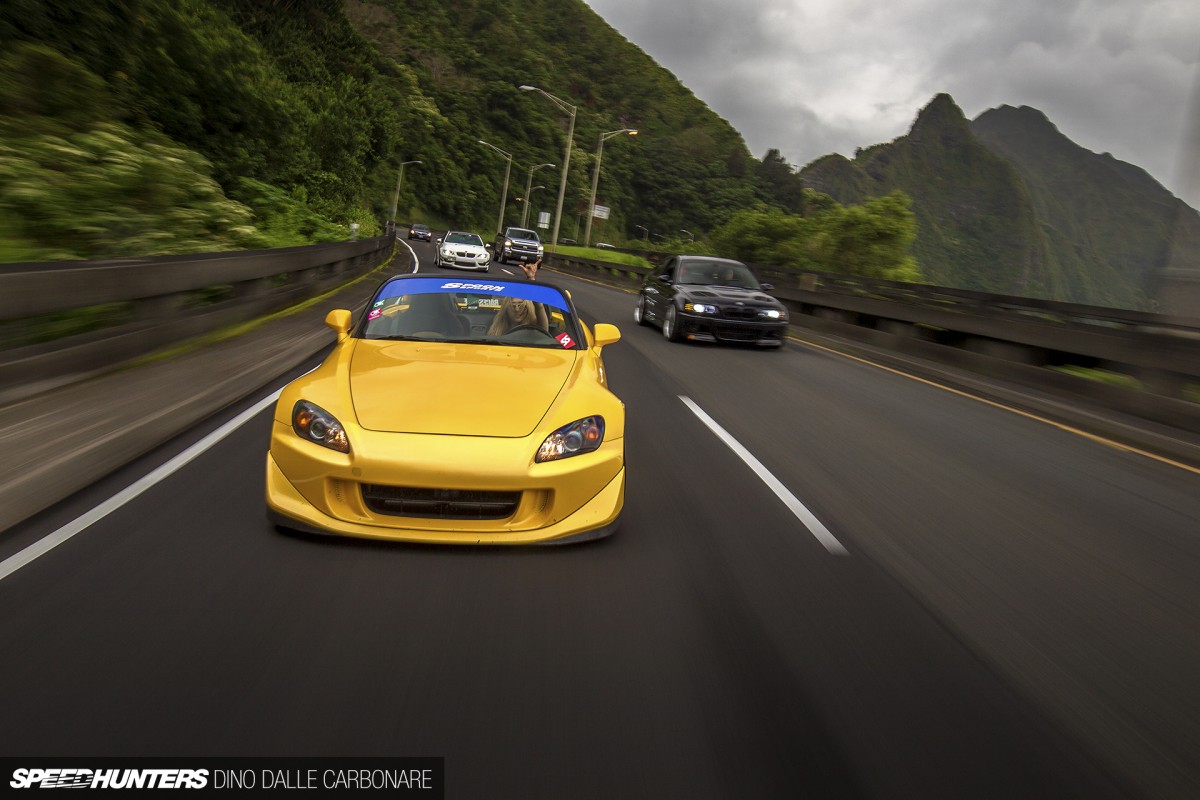 Sara has literally only started giving attention to her new S2000, and despite just few modifications thus far, it's a car that has already made quite a name for itself in Hawaii. So after seeing it at the show, I knew I should meet up with Sara in some impossibly-Hawaiian location and do her yellow roadster justice. After deciding to head away from busy Honolulu and its surrounding areas, we jumped on what can only be described as some ridiculously scenic roads that cross the island, and headed westward towards Kailua – a quieter beach town which would provide an amazing backdrop for the shoot.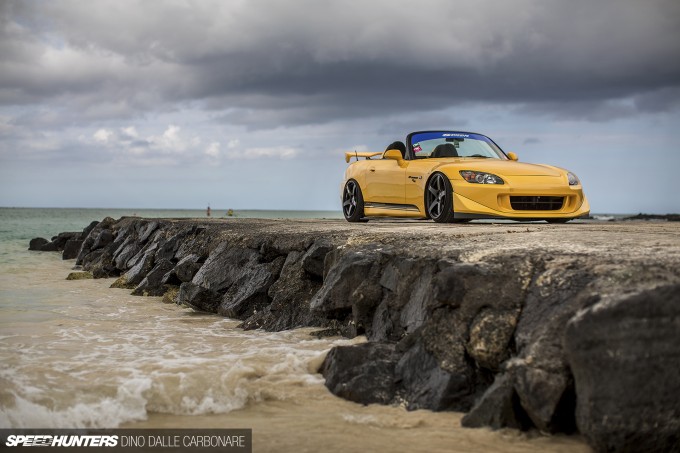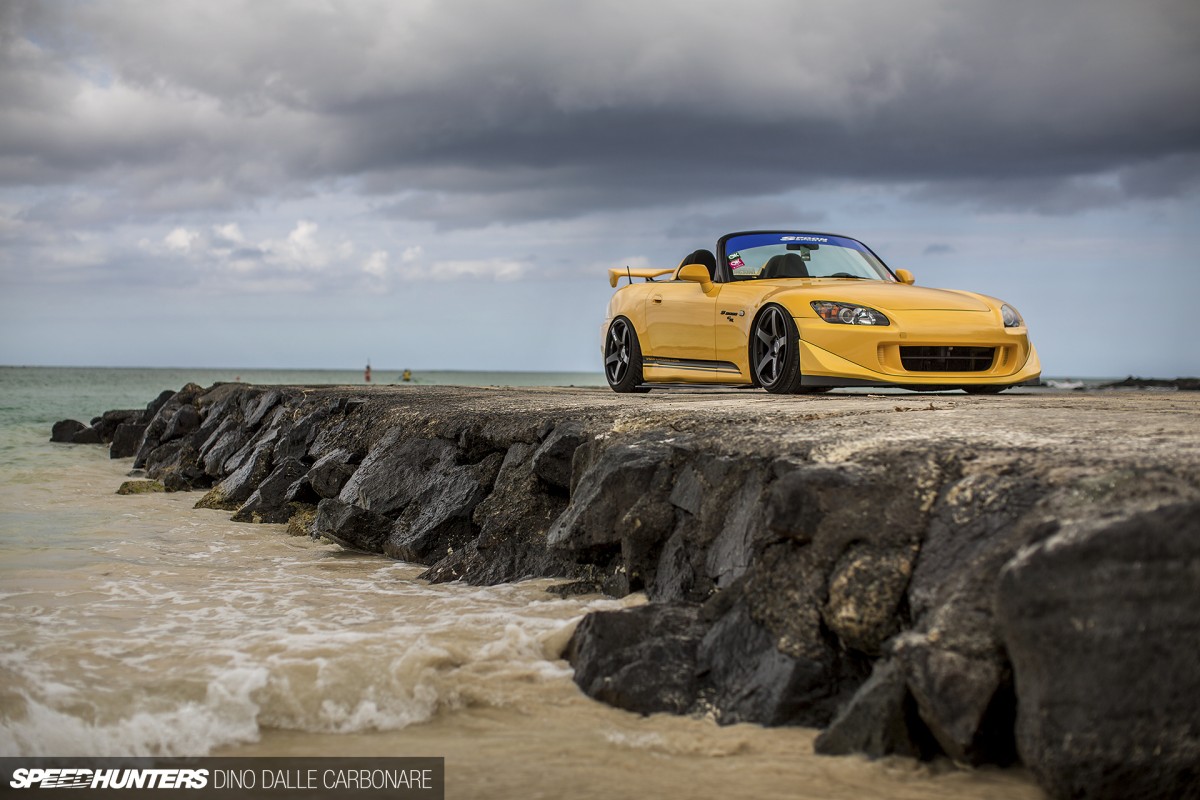 If you've read my stories before you'll probably already know that when it comes to car modification I'm someone who believes in simple and basic touches. This is precisely where Sara has nailed it.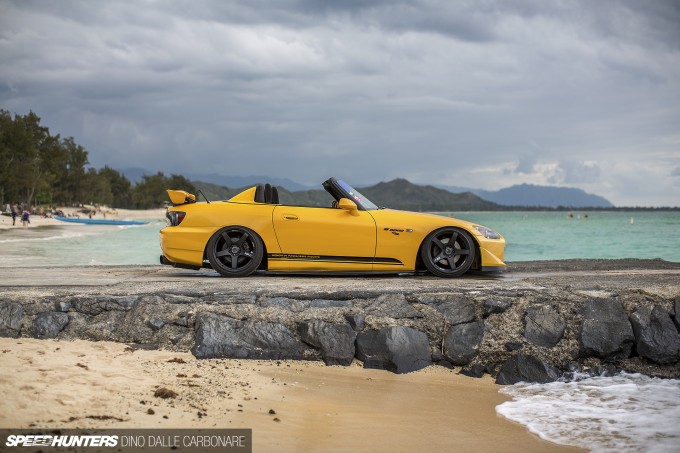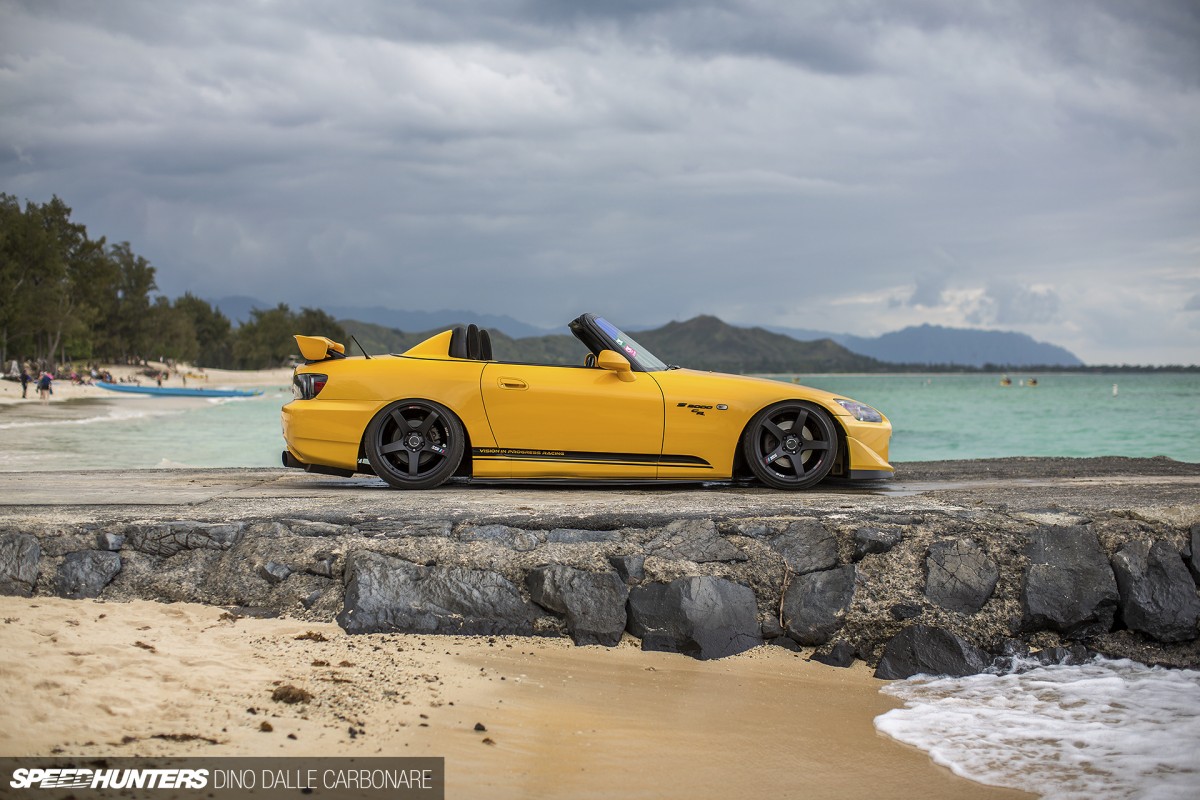 The CR aero additions provide a real boost to the S2000's exterior, while height adjustable Function & Form Type II coilover suspension and SPC camber ball joints take care of the slammed look that Sara craved, along with the required handling to cope with riding so low. In stock form the CR actually came with some trick upgrades including stiffer sway bars, a slightly quicker steering ratio (13.8:1 vs 14.9:1) and additional chassis strengthening braces. So consider it very well specced in that department.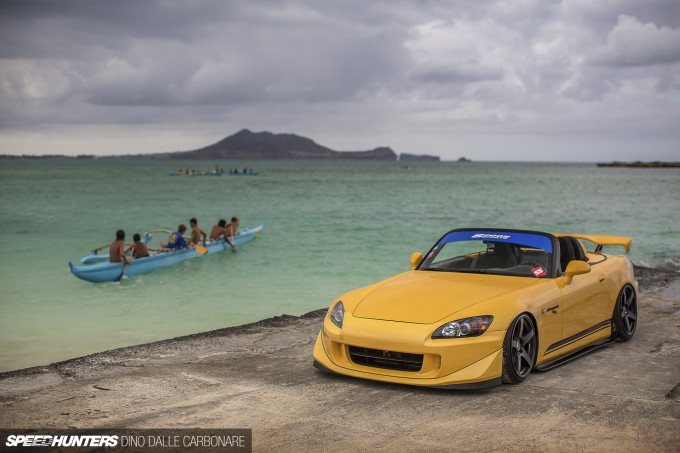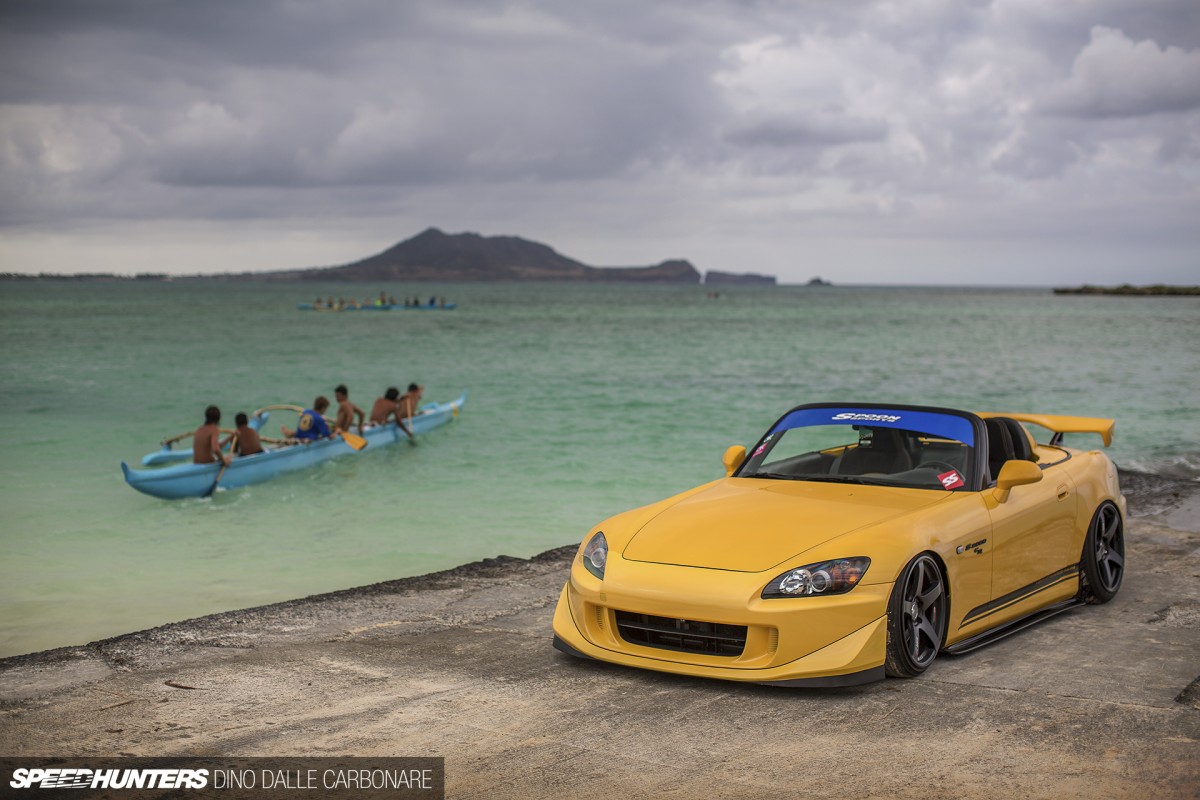 Sitting literally an inch off the ground the massive CR front bumper spoiler does a lot for the S2000's outward appearance. It makes it look angrier, more focused, and is a true track-oriented addition that is there to boost front end downforce at high speed.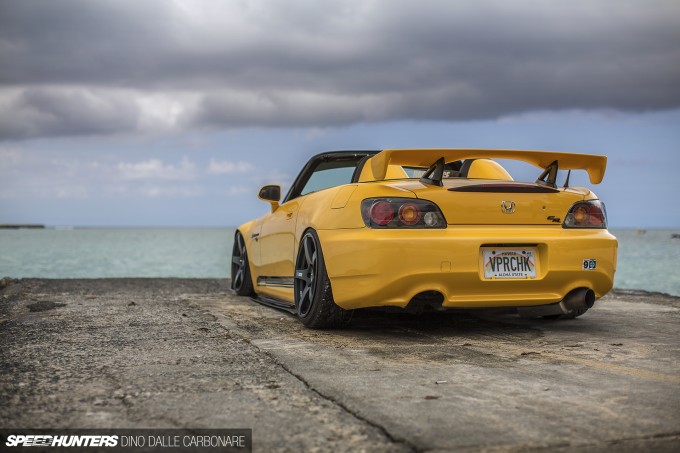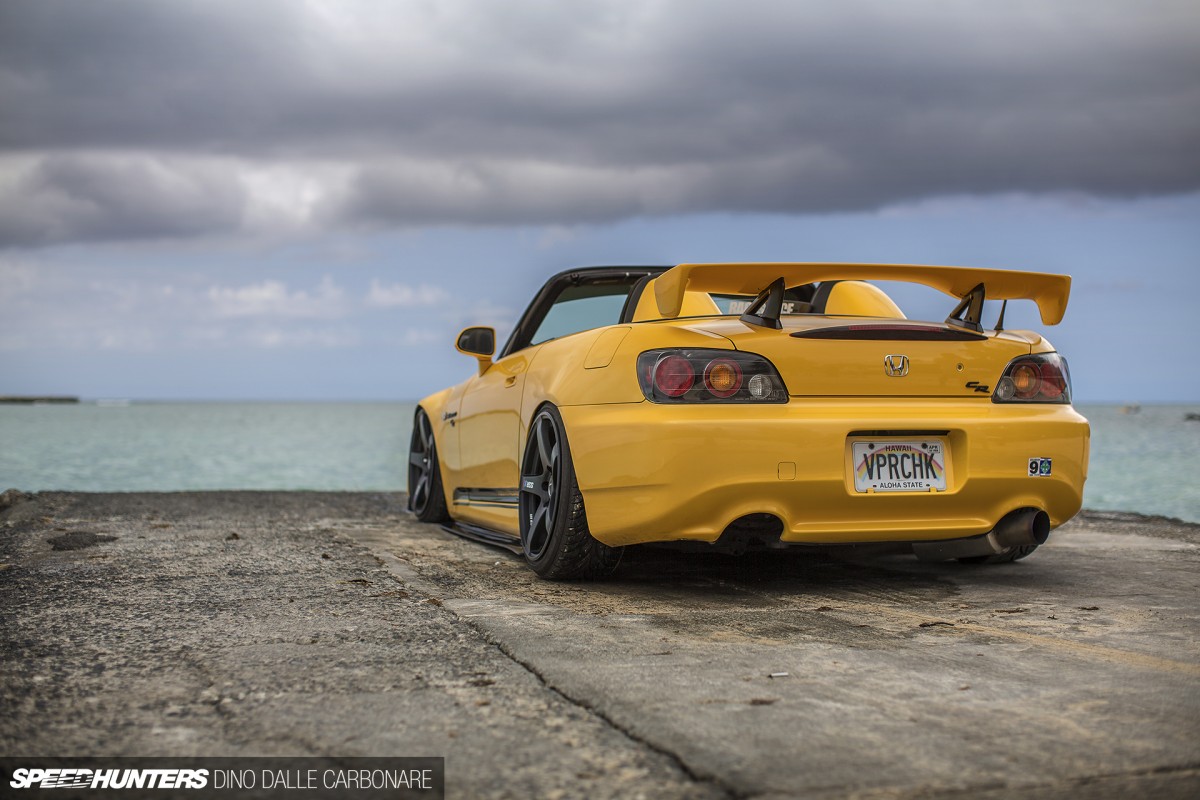 The CR-spec rear spoiler is there to keep the rear end planted through those fast turns too – not to mention make it instantly recognisable as one of the most sought after S2000s ever produced.
A Few Details Are All That Were Needed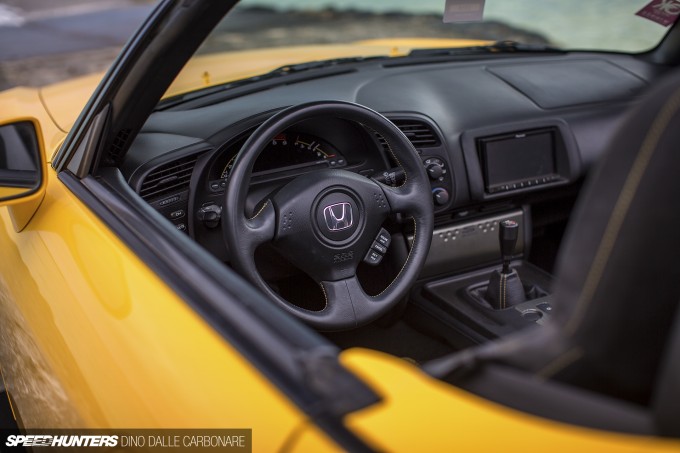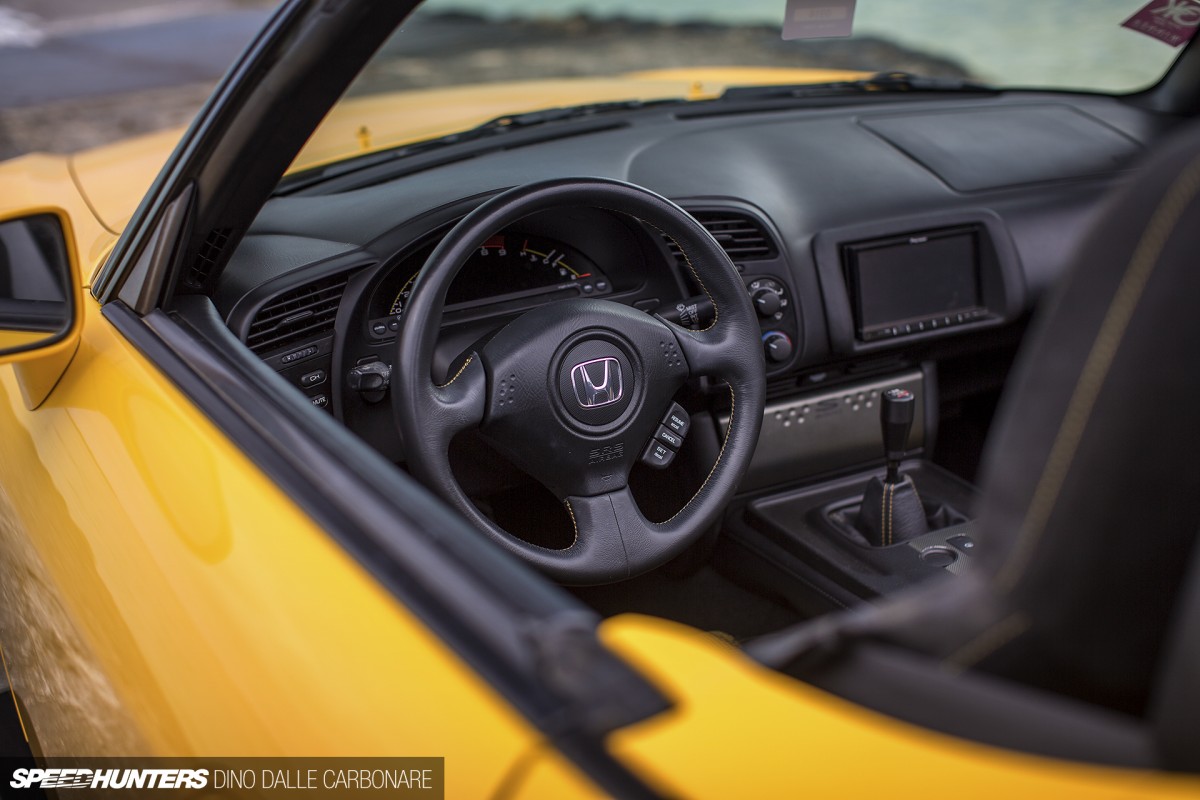 For now the interior remains mostly stock, although Sara has made a couple of minor upgrades – a JDM 2-DIN navi conversion included.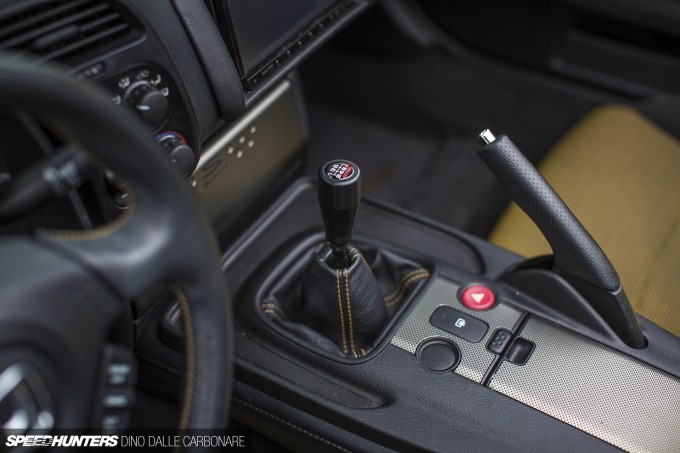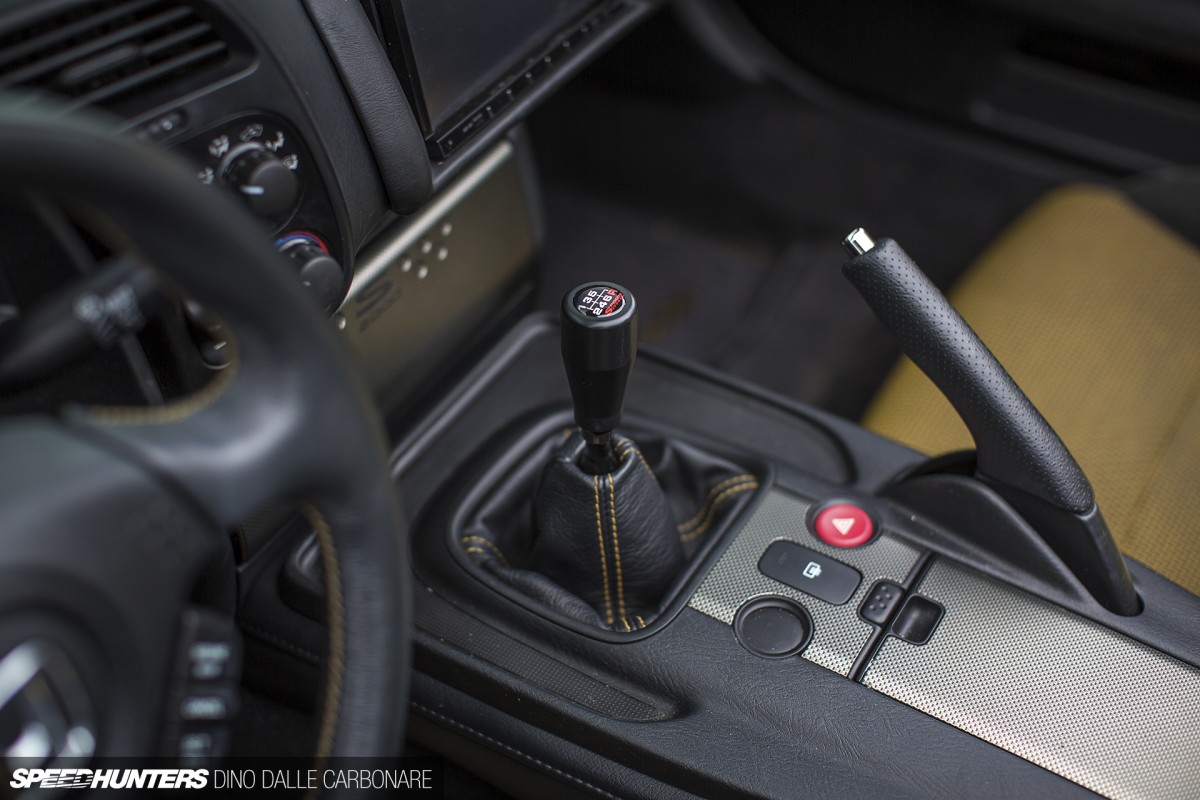 The other is a Spoon Sports shift knob, a small detail that I'm sure true Honda otaku will appreciate.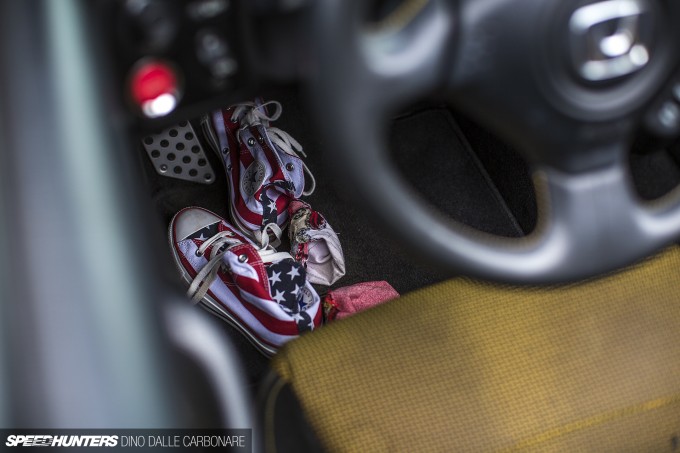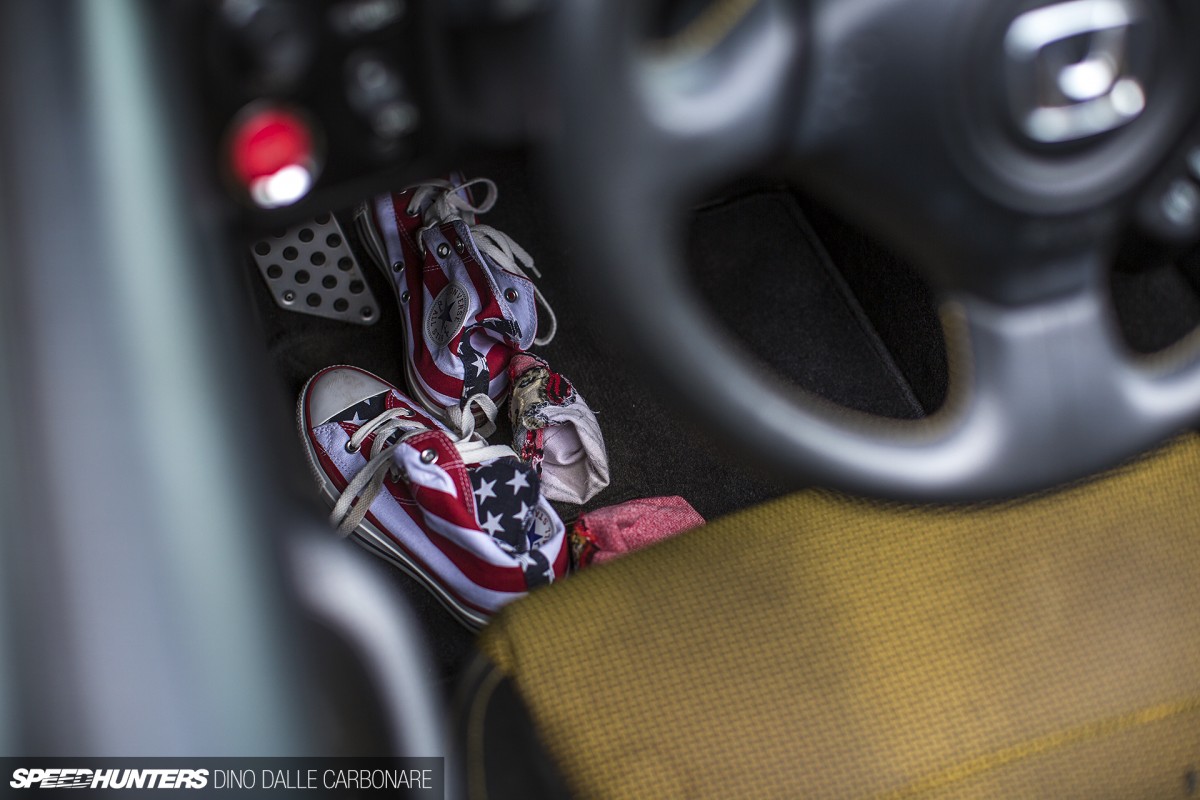 Of course, any decent sports car requires the right sort of footwear for it be driven the way the designers and engineers intended, and Sara's kicks certainly seem to fit the bill rather well.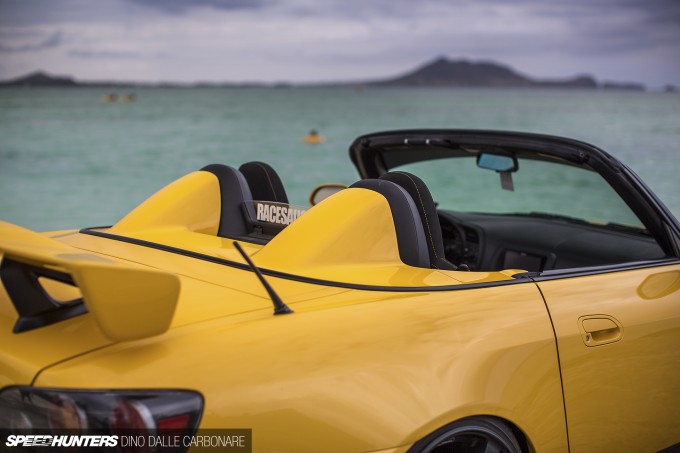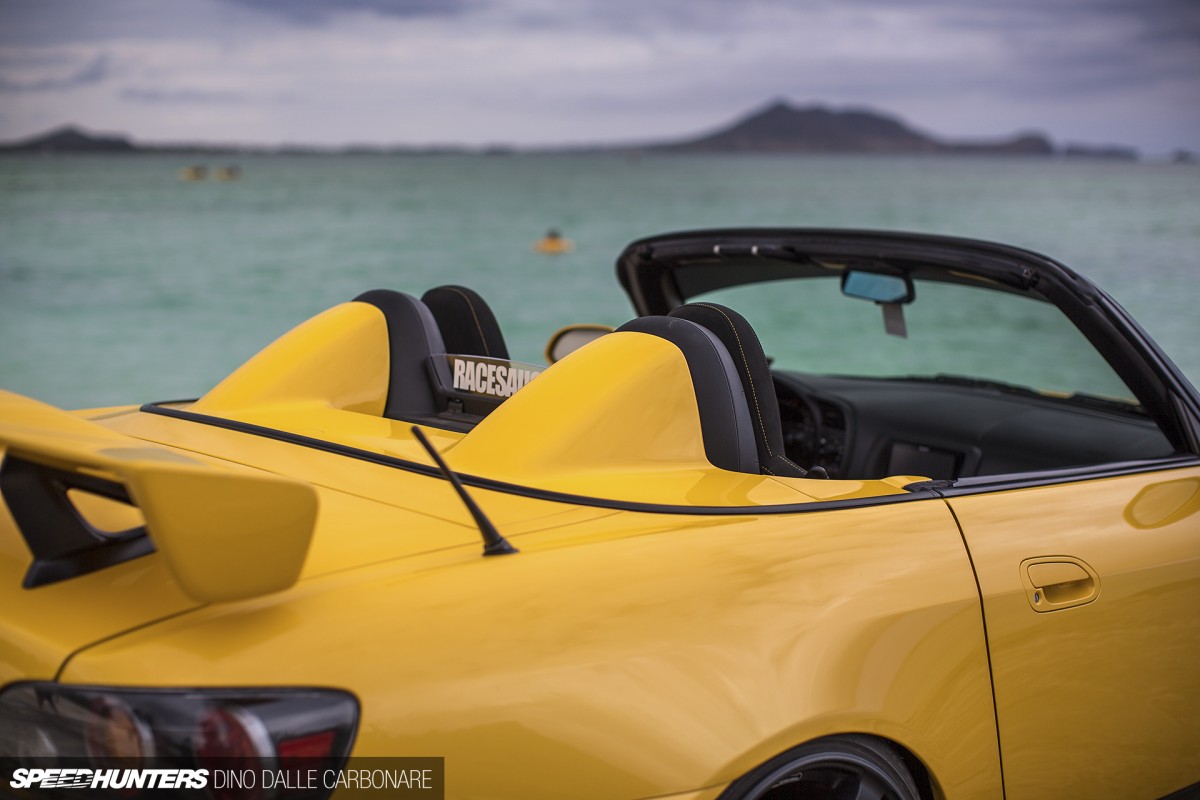 One thing that differentiates the CR from a regular S2000 is that it doesn't actually have a power folding roof. The omission not only helps shave weight, but it allows for a twin-humped cover which gives a real visual boost to the roadster. Of course, while Hawaii does enjoy some pretty epic weather all year round, it actually does rain quite often and unexpectedly, so Sara normally rides around with the OEM hardtop the car came equipped with.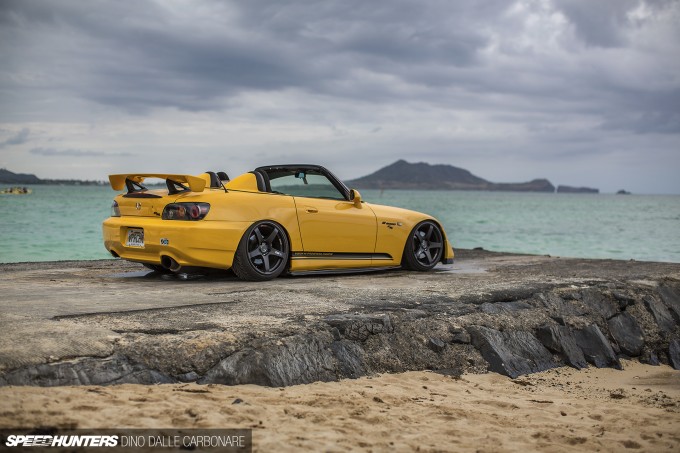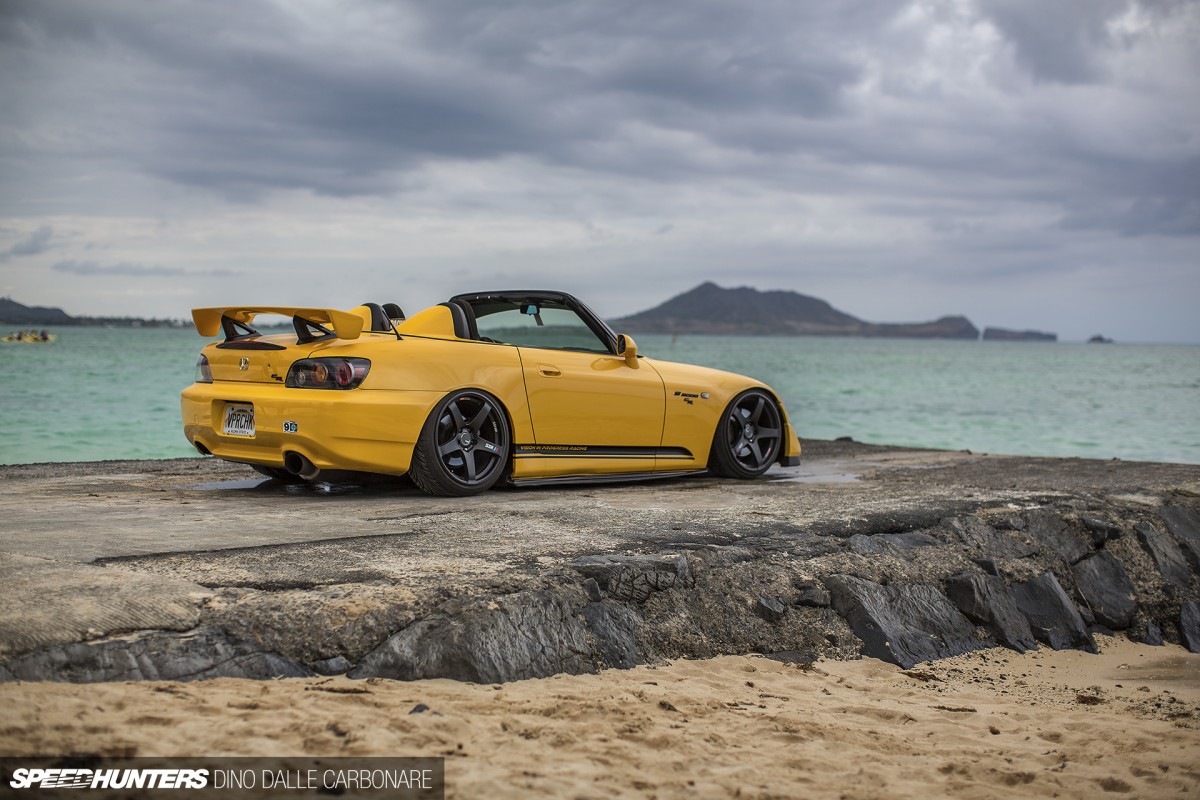 As the VPRCHK license plate suggests, Sara's S2000 is looked after by Vision in Progress Racing (VPR). On the exterior side of things, the guys were responsible for fitting the carbon fibre under skirts, which were originally designed for a Mazda RX-7.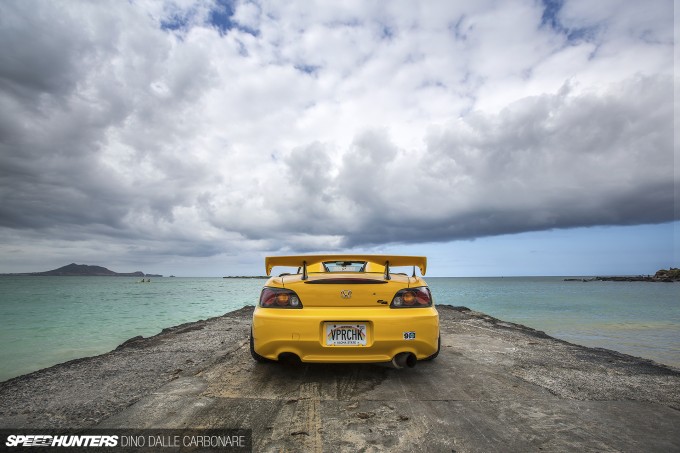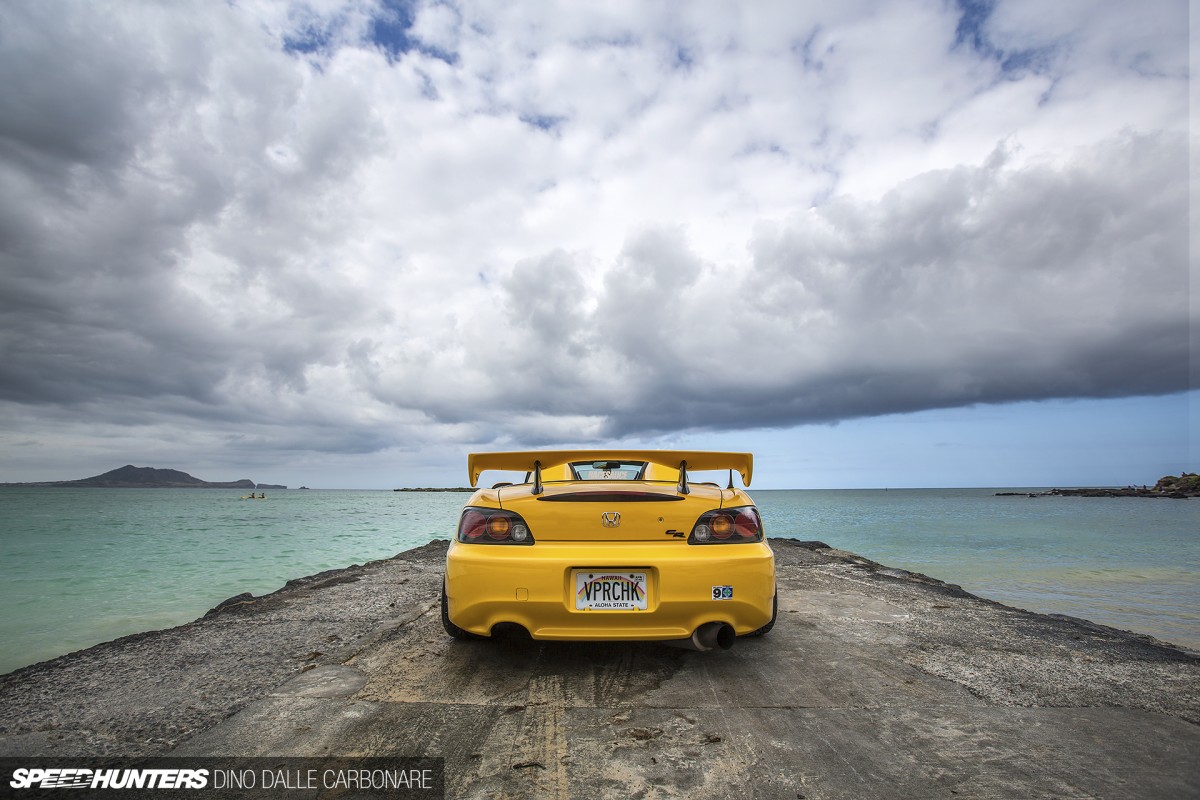 Sitting there on the Kailua beach boat ramp the S2000 looked so menacing. It was also like a people magnet, and it was hard to shoot around a constant stream of people wandering up to take a closer look.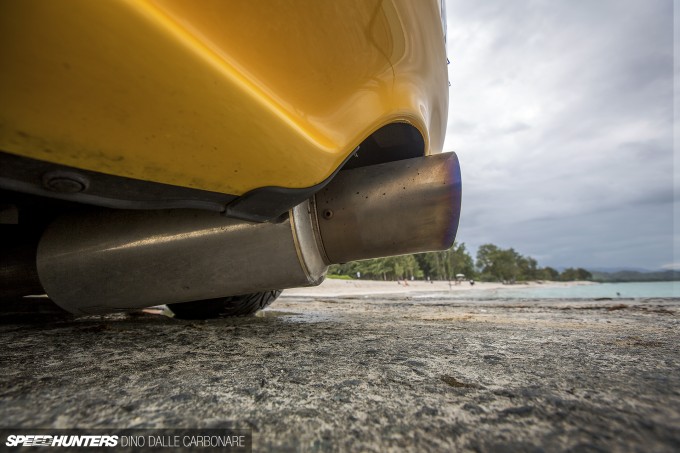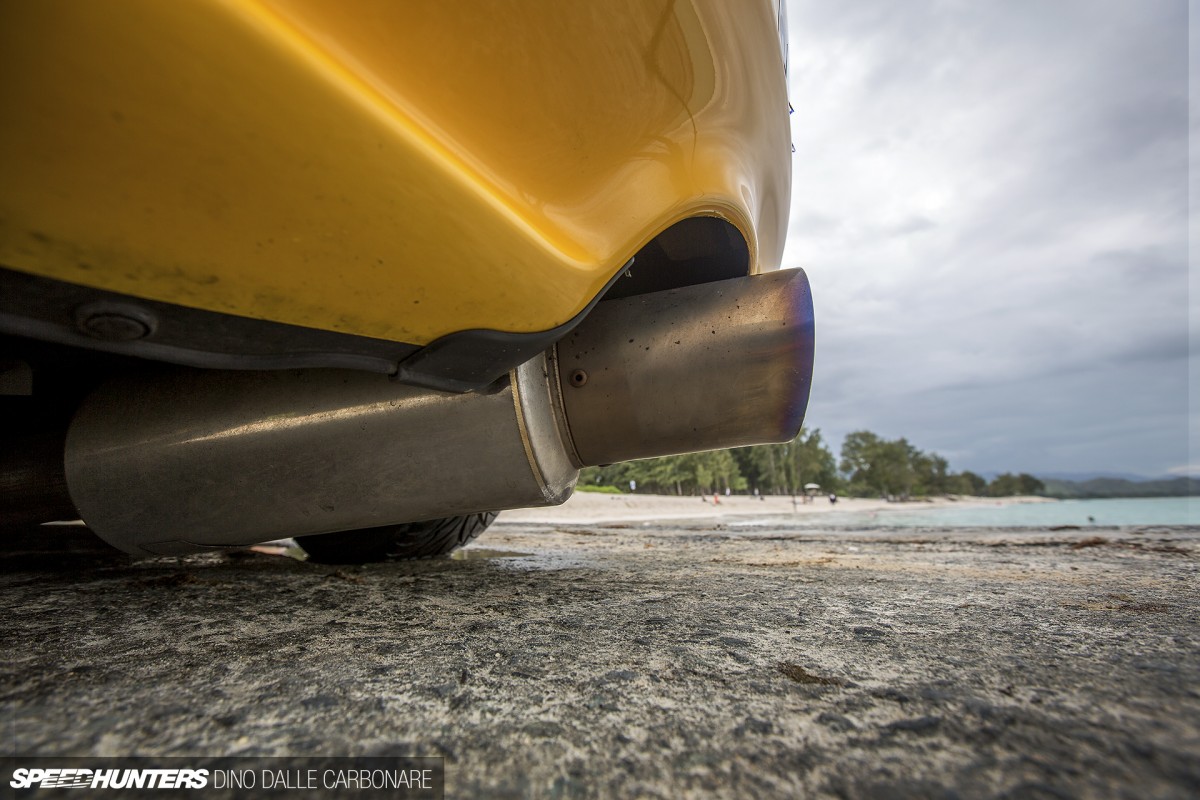 Sara opted to step away from the factory-spec twin-exit exhaust set up and run with a more JDM-oriented angled single silencer. To that end an Invidia N1 titanium system does the job nicely.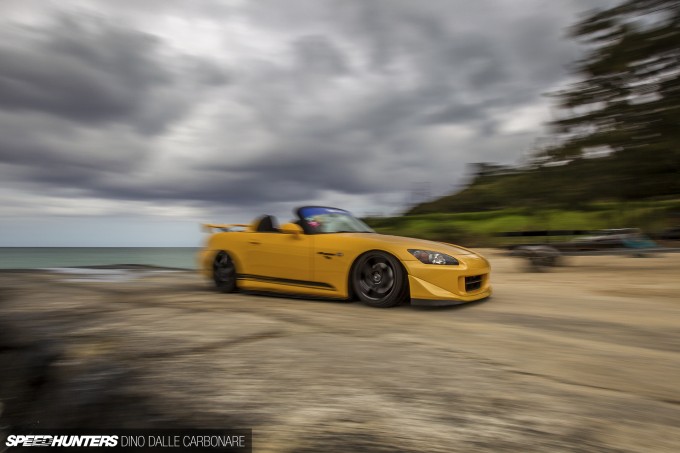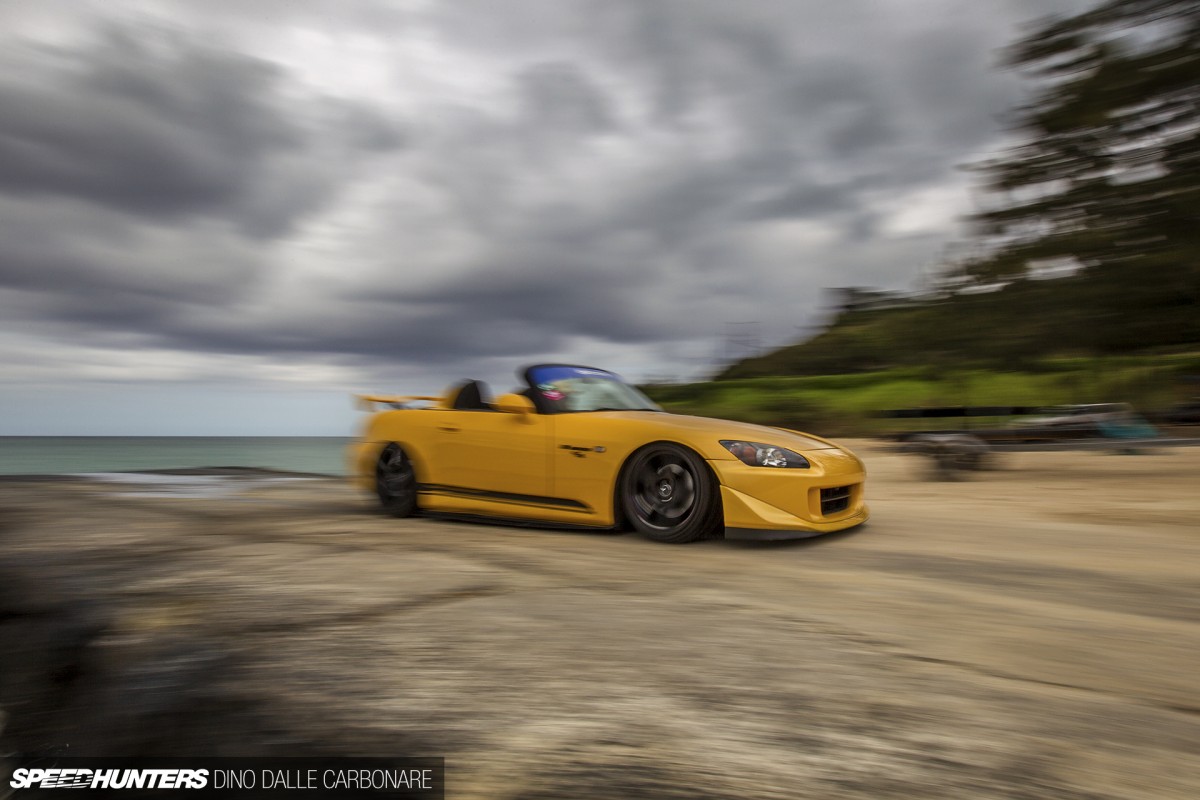 After all, you can't have a car that looks this good not making all the right noises too, right?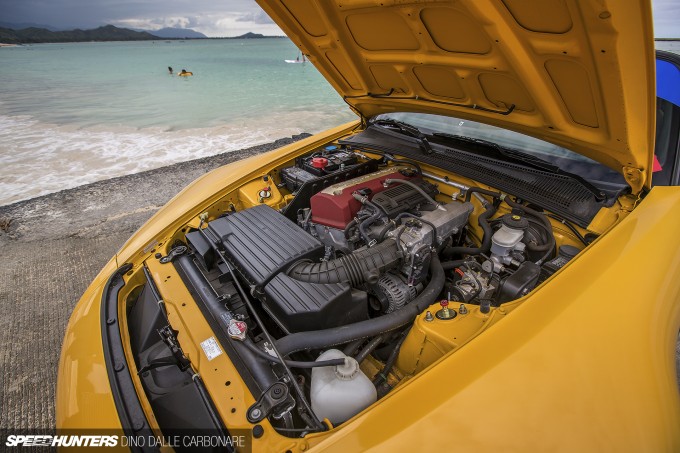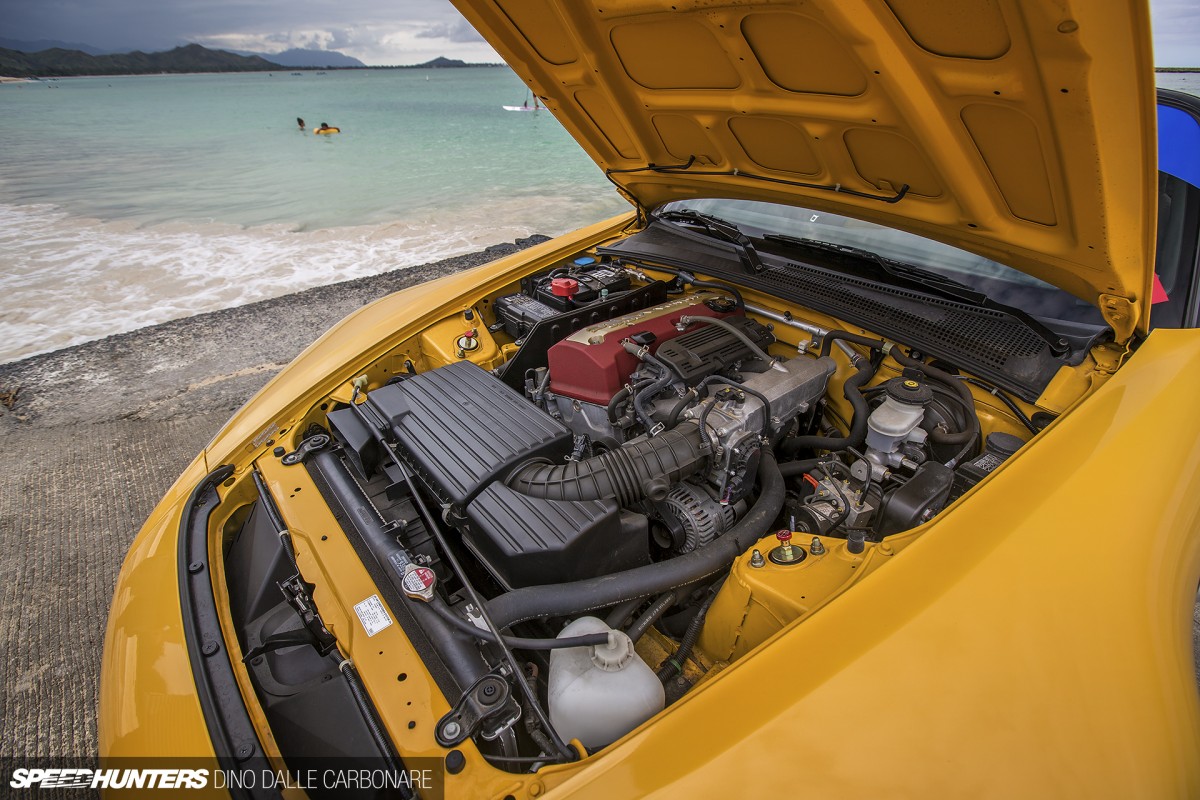 Since she purchased the car Sara has only had the chance to upgrade the exhaust, but there are quite a few aftermarket items currently being shipped to Hawaii which will be fitted in the next few months. Included in the parts haul is an AEM V2 cold air intake – something that will not only boost performance, but also spice up the engine bay.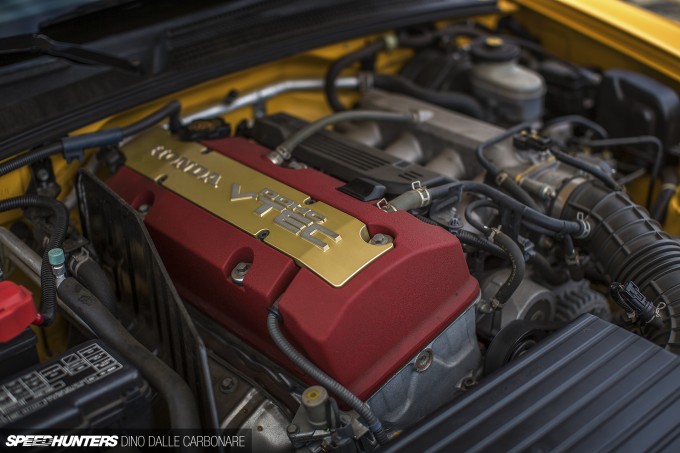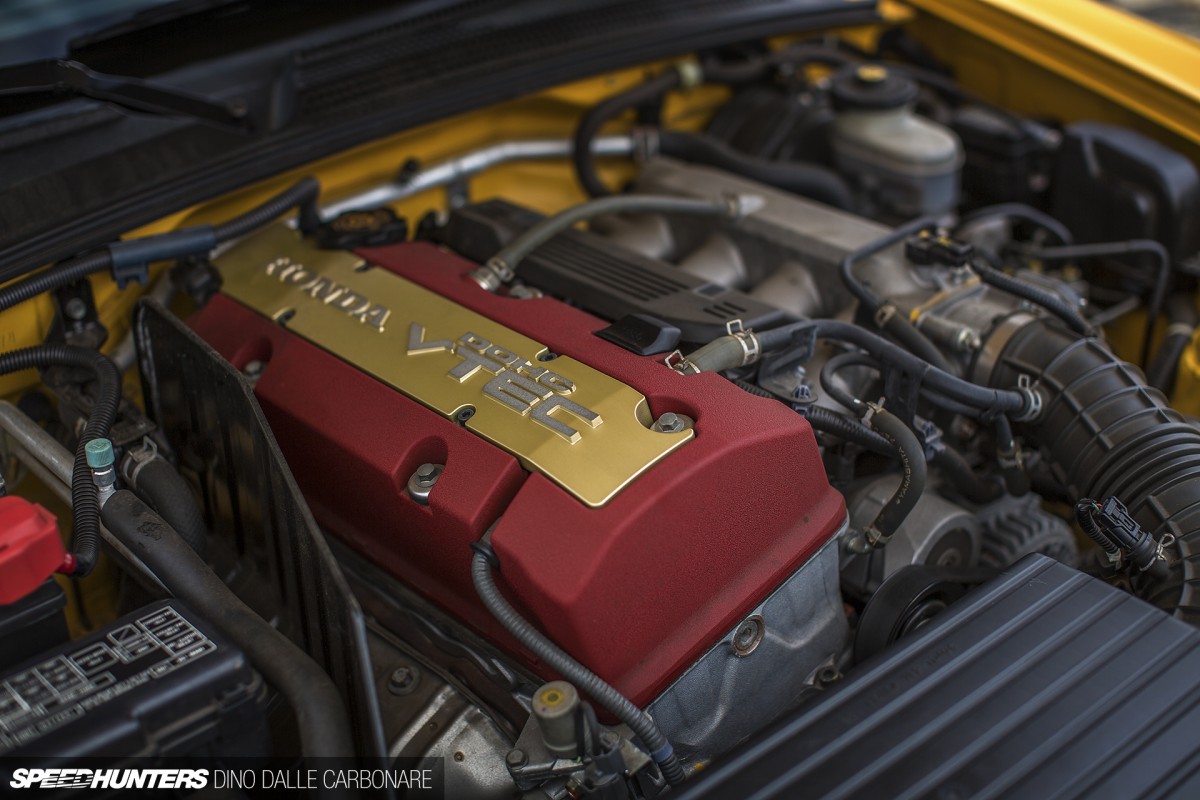 The upgrade plans extend to turbocharging as well – a guaranteed way to provide Sara with all the horsepower that she craves. It's definitely going to be cool to see how the car evolves over the next while.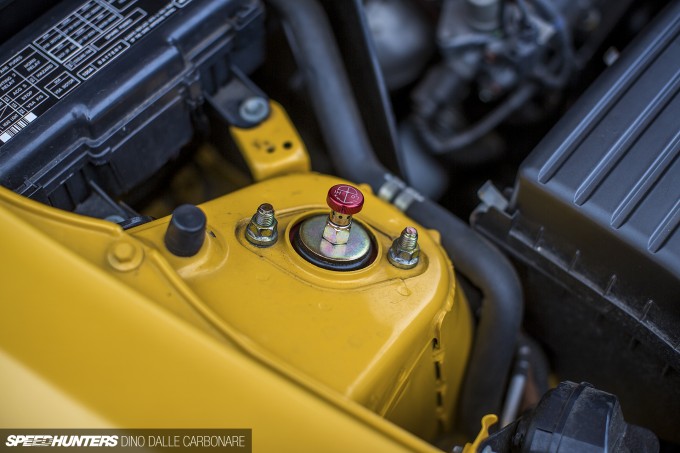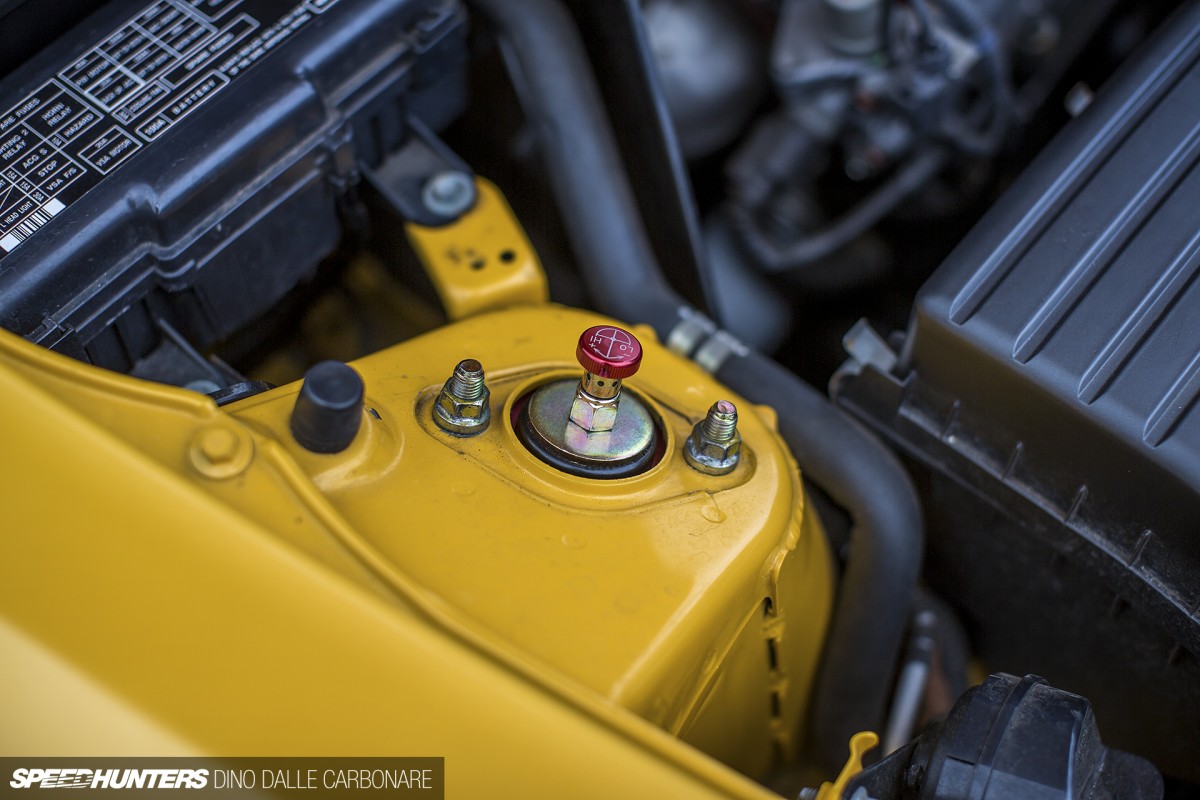 Obviously, the focus thus far has been on getting the S2000 to look and sit just right, so along with the aforementioned adjustable coilovers and a massive drop in ride height, wheel choice was of utmost importance.
Wheels Can Make Or Break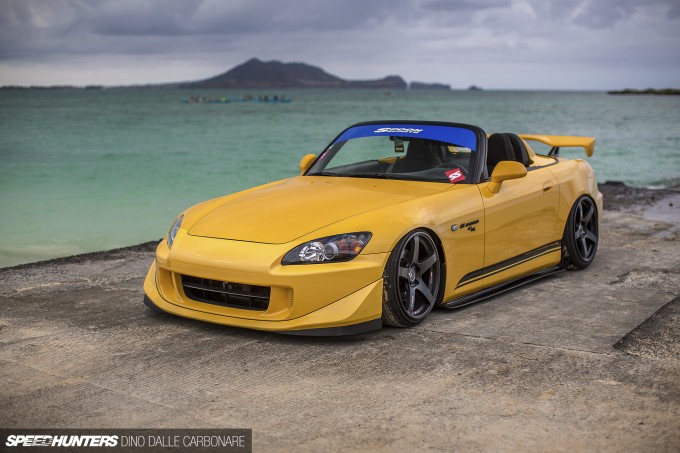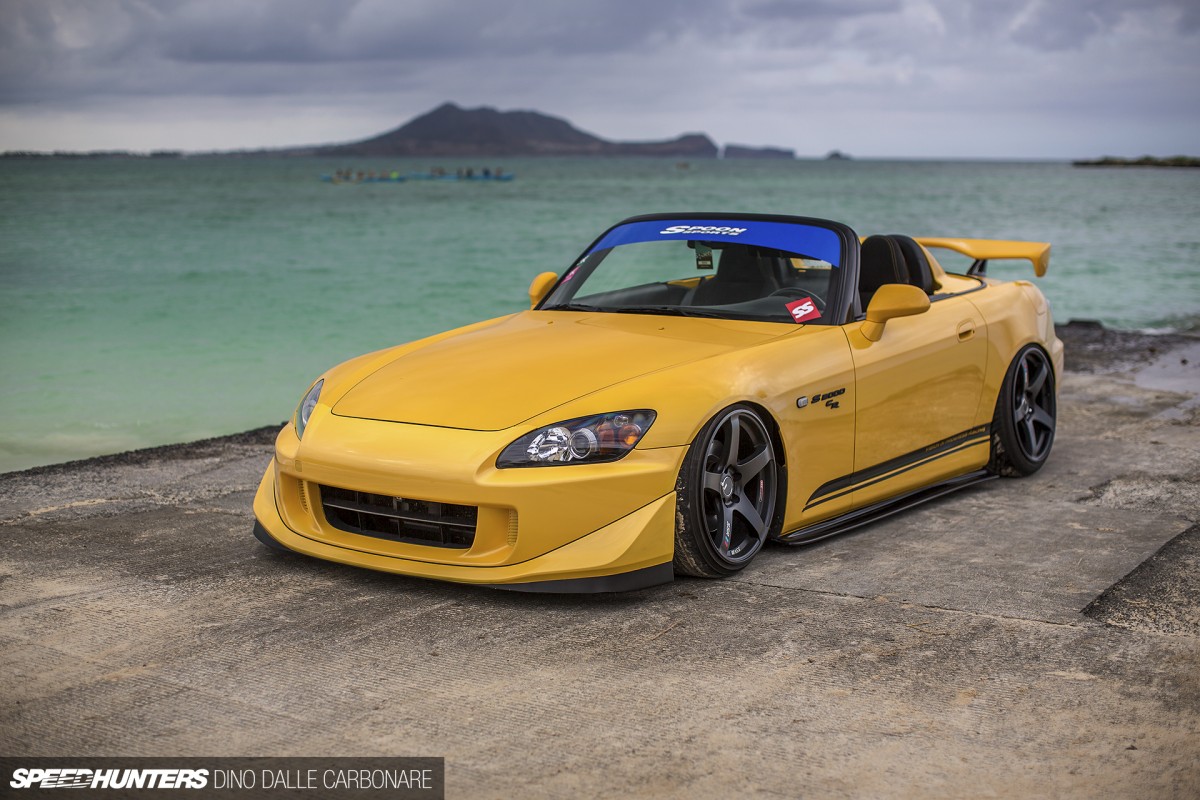 Prior to fitting the wheels that grace all four corners of the CR now, Sara already been through a few different sets of rims in varying styles. But she's very happy with how the newly-released SSR GTV01 wheels look – and for good reason too.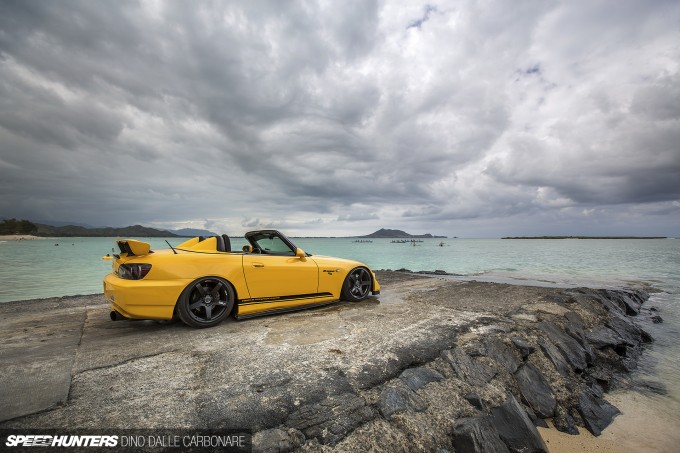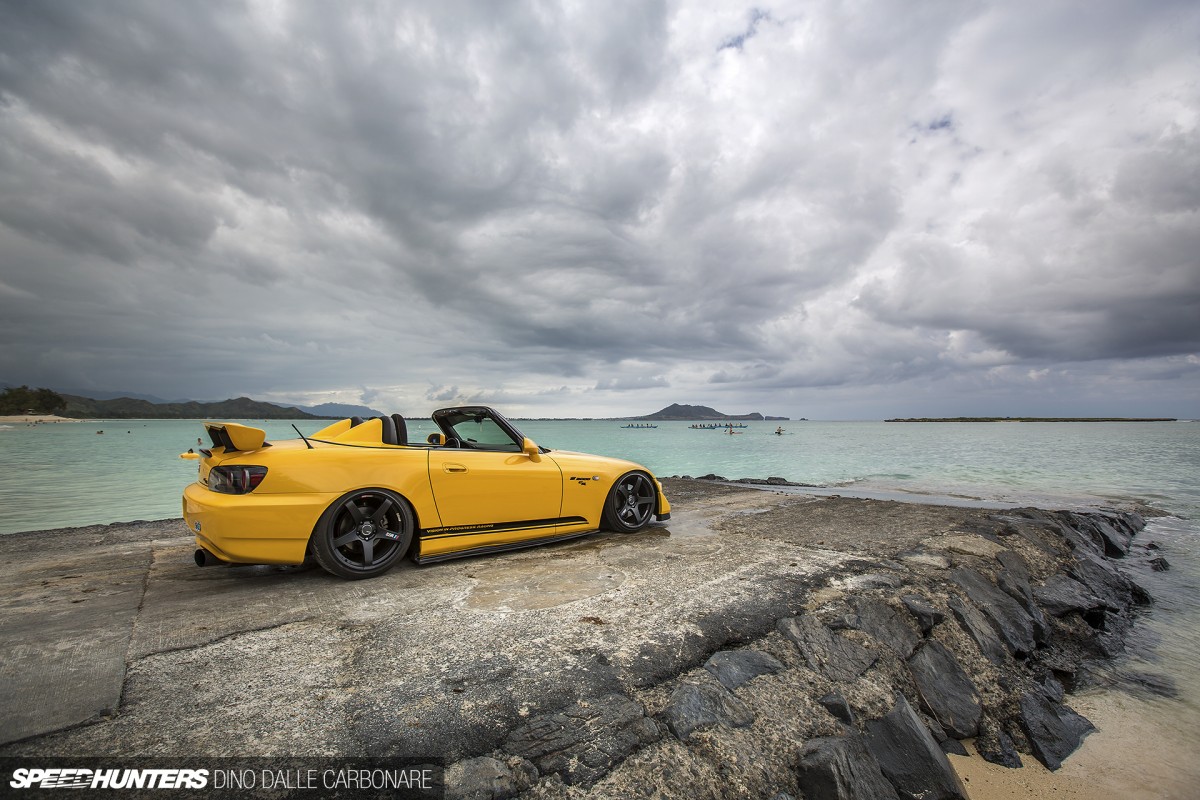 As you might have guessed, it wasn't a straight fit though. With an aggressive stance on the agenda, the guys at VPR had to pull and roll the front and rear fenders to accept the flush fitting wheel and tyre combo.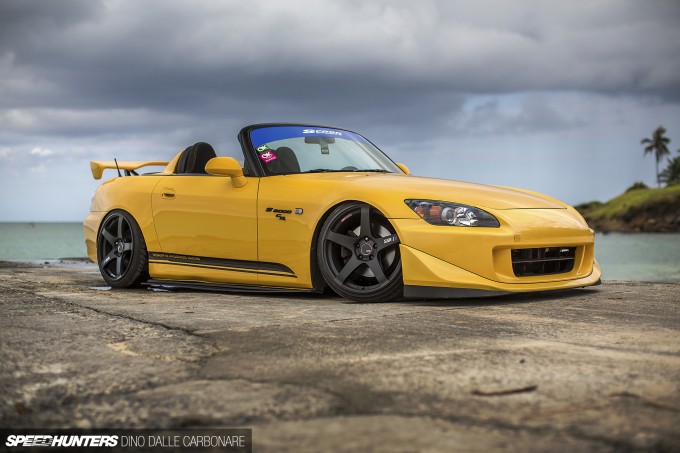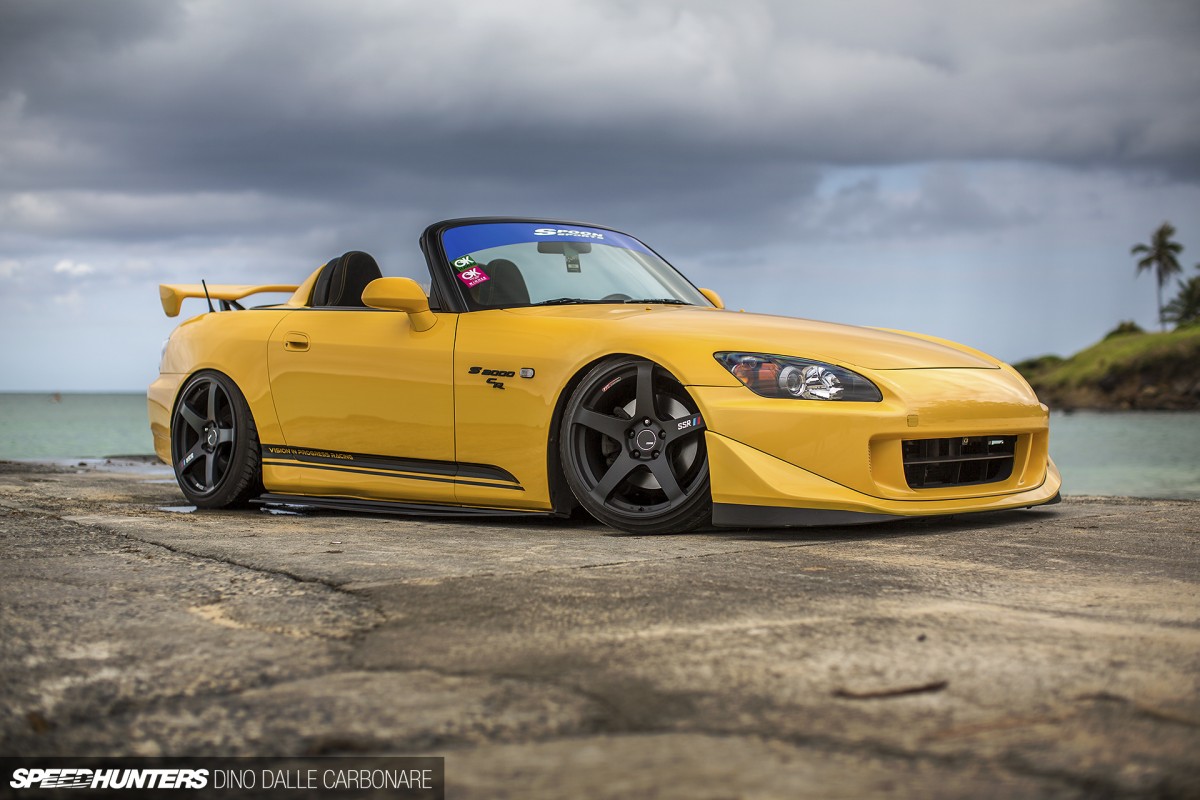 The look, however, has definitely been achieved. The GTV01's flat Black finish is spot-on and matches in nicely with the other black accents around the car.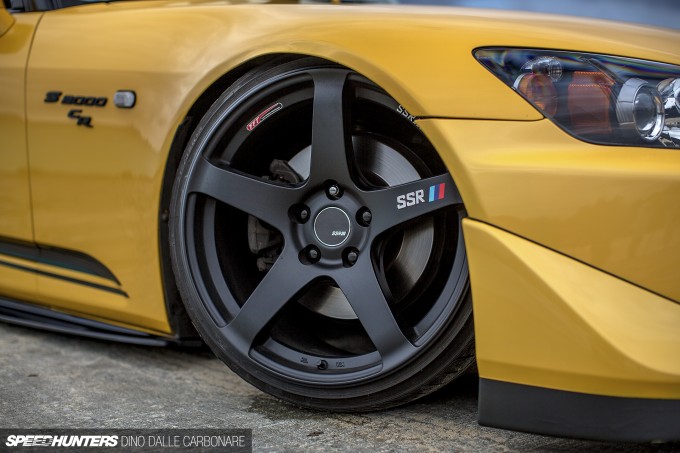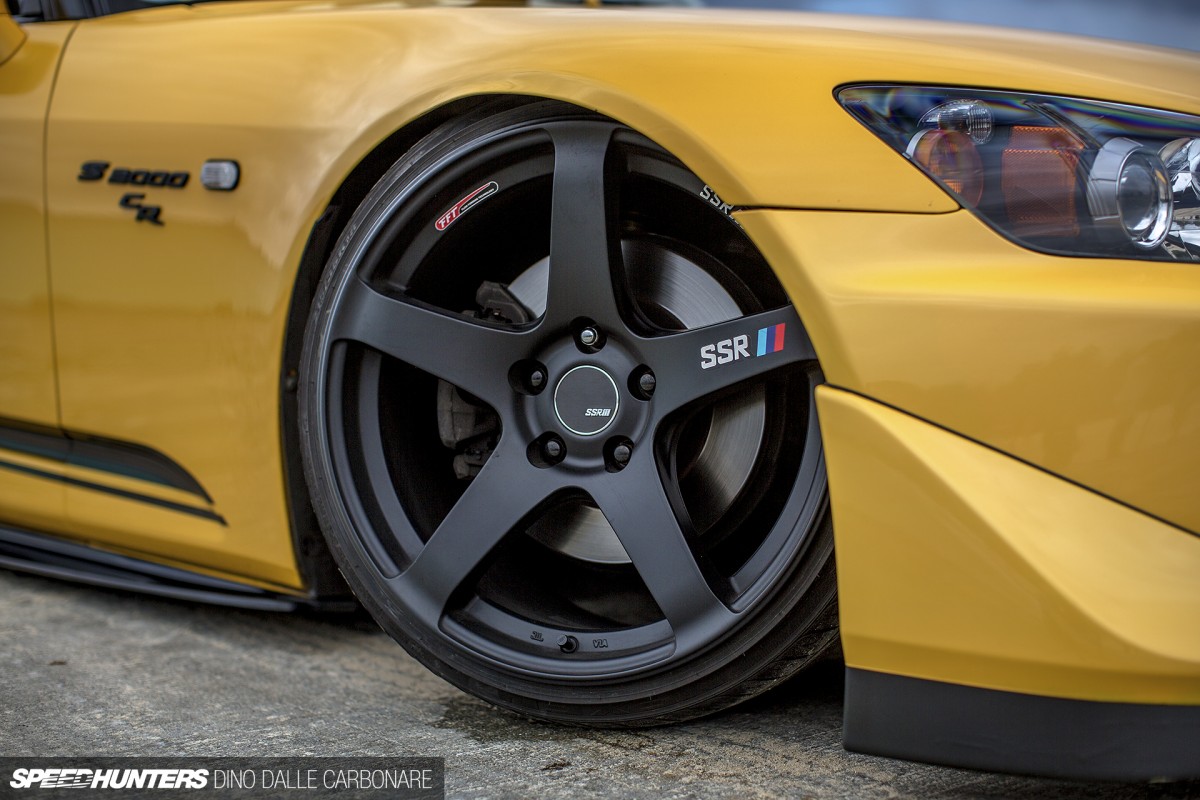 At 18×9.5-inch with a +45 offset, they're suitable sized too. Federal SS595 rubber is fitted and stretched quite aggressively to allow for that little bit of tuck into the fenders.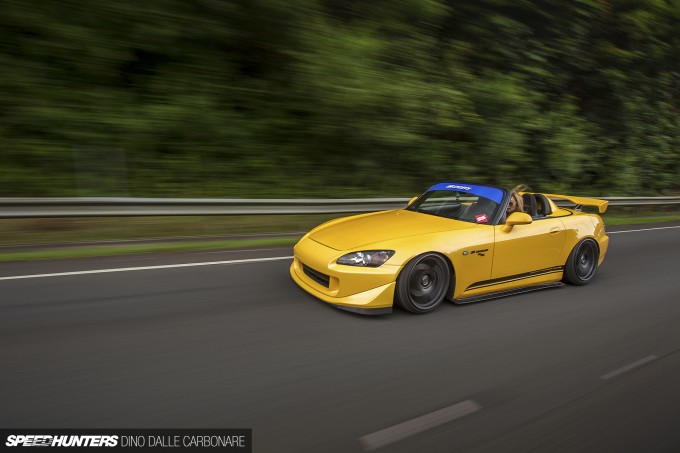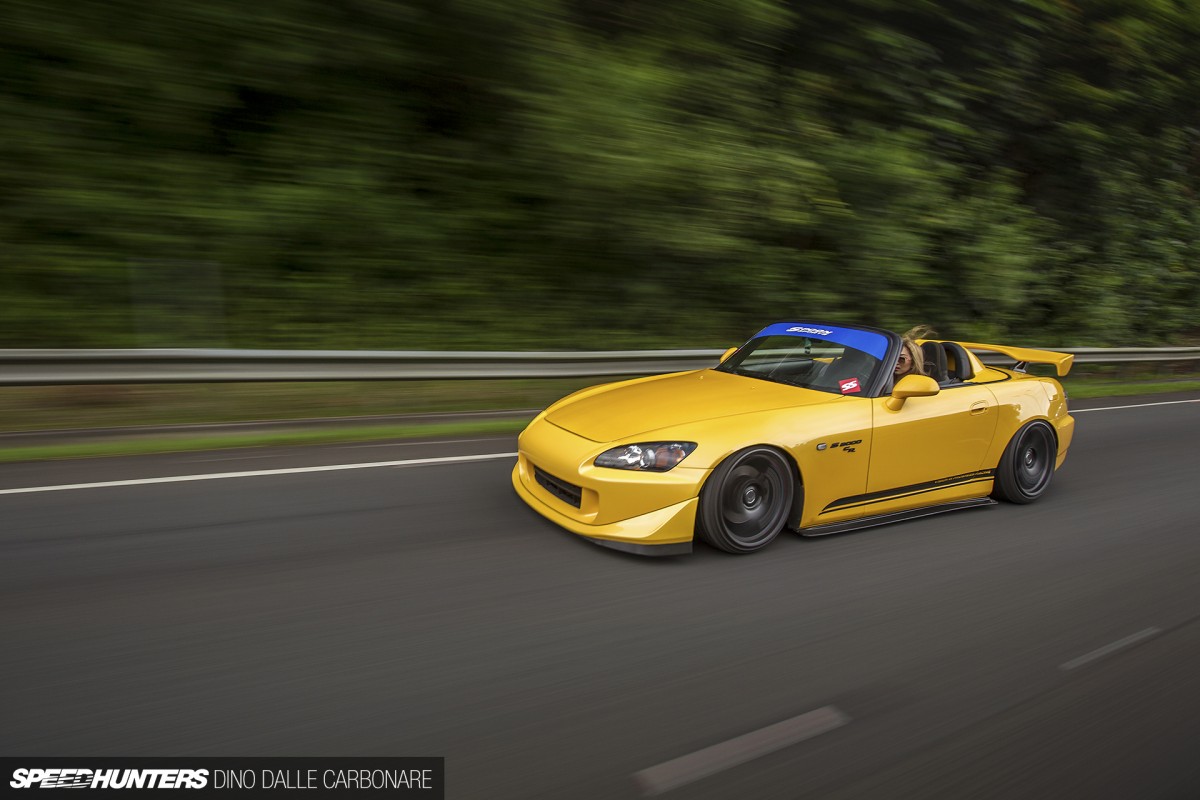 On the roads of Oahu the S2000 sticks out like a sore thumb – but in the best possible of sense.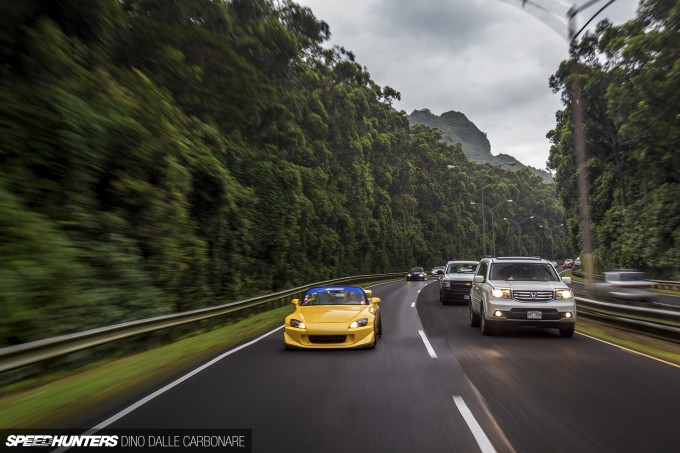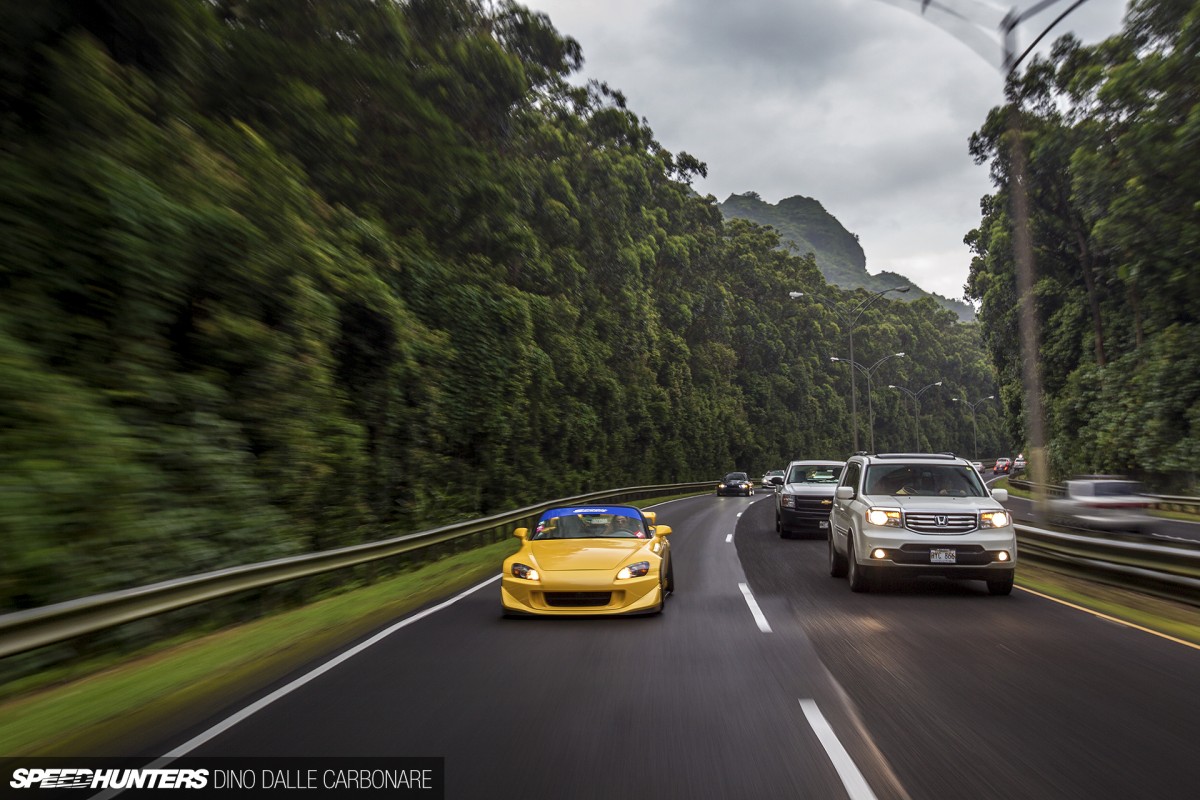 As if it wasn't low enough already, the sheer size of most of the US-sized vehicles on the road (mostly pickups and big SUVs) only emphasise the way the Honda sits.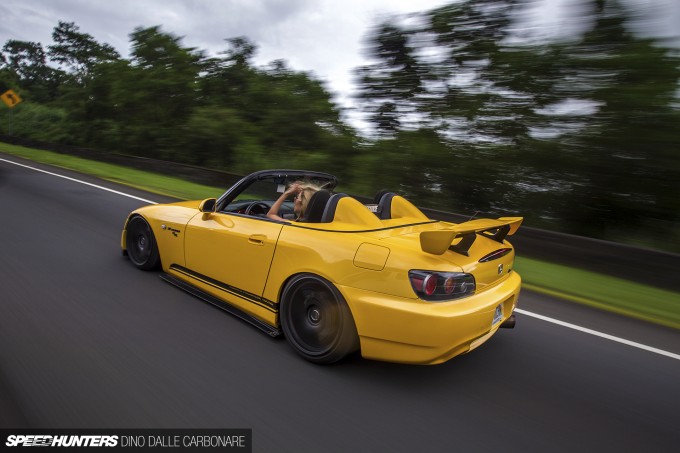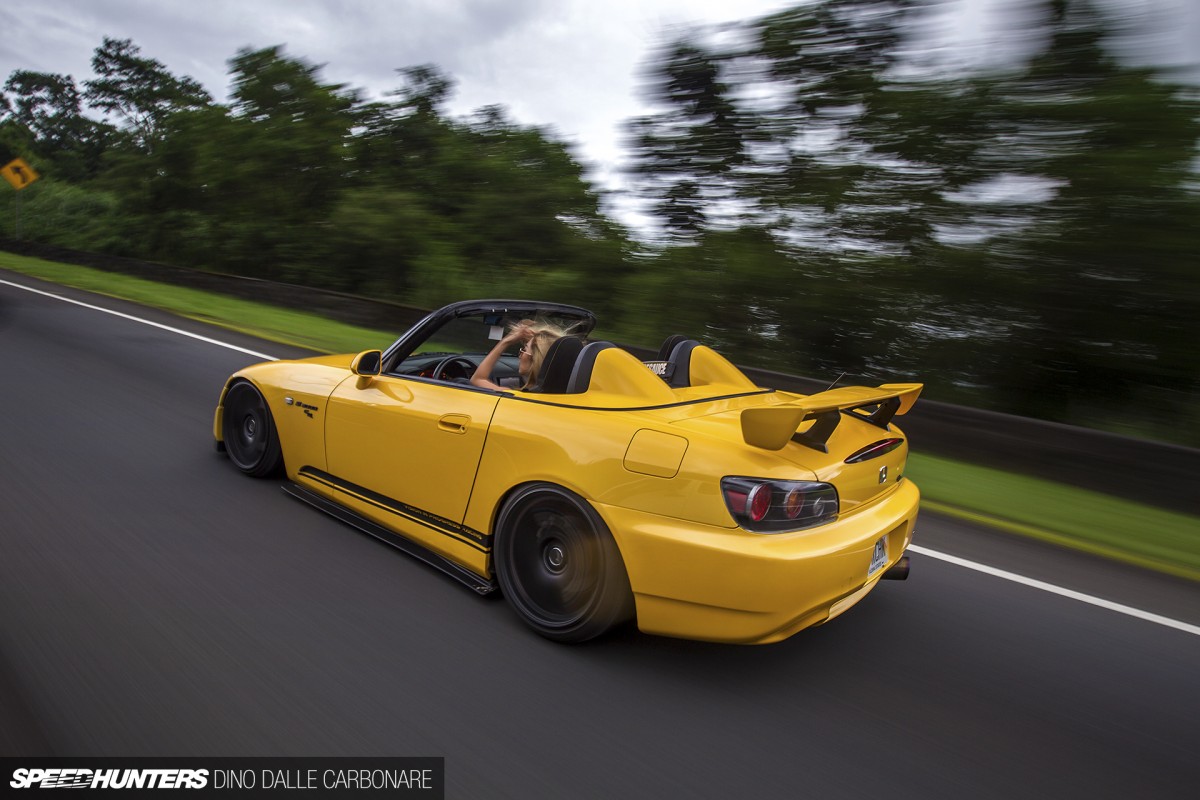 It's obvious Sara is someone that knows what she likes and isn't afraid to go out there and get what makes her happy. A few simple touches have turned an already unique car into something even more special, and with the list of upgrades soon to become very long, her S2000 will certainly cement itself as one of the most important cars in the region.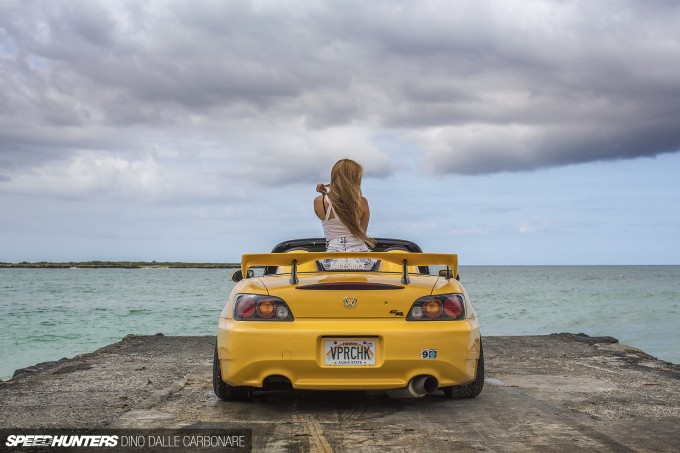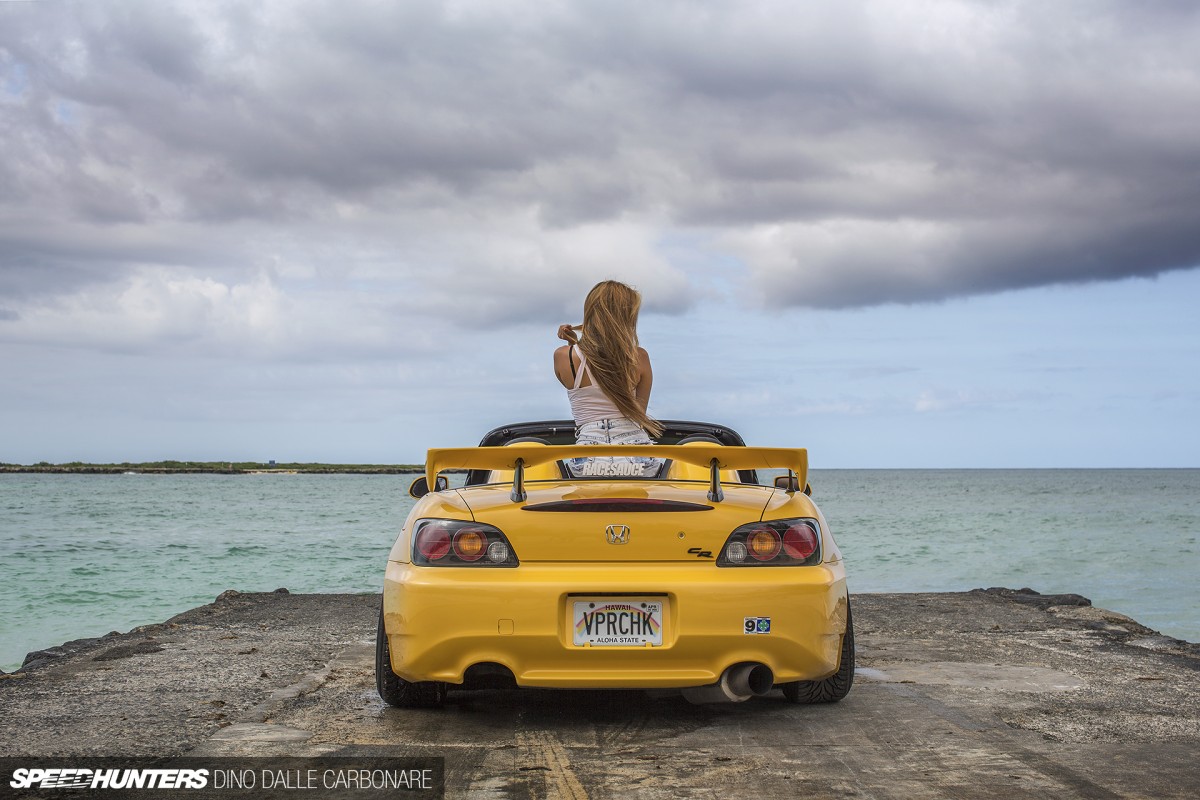 Hawaii certainly did not disappoint, and I'm sure you'll be happy to hear that along with this yellow AP2 there were quite a few other cars I ended up featuring. Keep an eye out for those…
Dino Dalle Carbonare
Instagram: speedhunters_dino
dino@speedhunters.com