A Golden Opportunity
The original Cannonball Run had one rule according to the legendary Brock Yates – "All competitors will drive any vehicle of their choosing, over any route, at any speed they judge practical, between the starting point and destination. The competitor finishing with the lowest elapsed time is the winner". If you think that sounds awesome, you're not the only one. There was serious adrenaline amongst these friends doing what they love during the sixth installment of the goldRush Rally last weekend. Drive, party, sleep, repeat…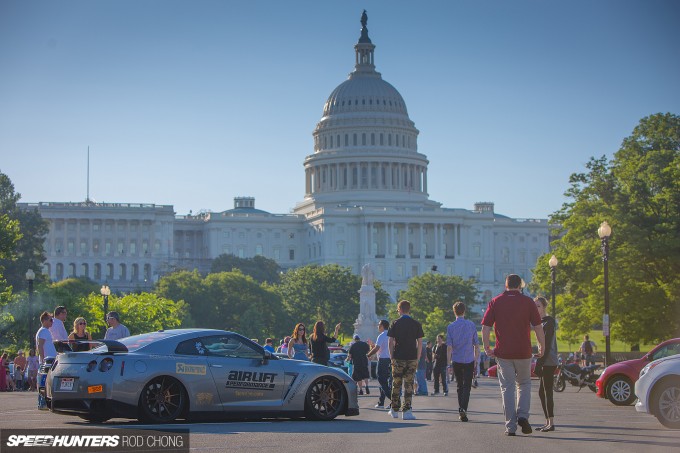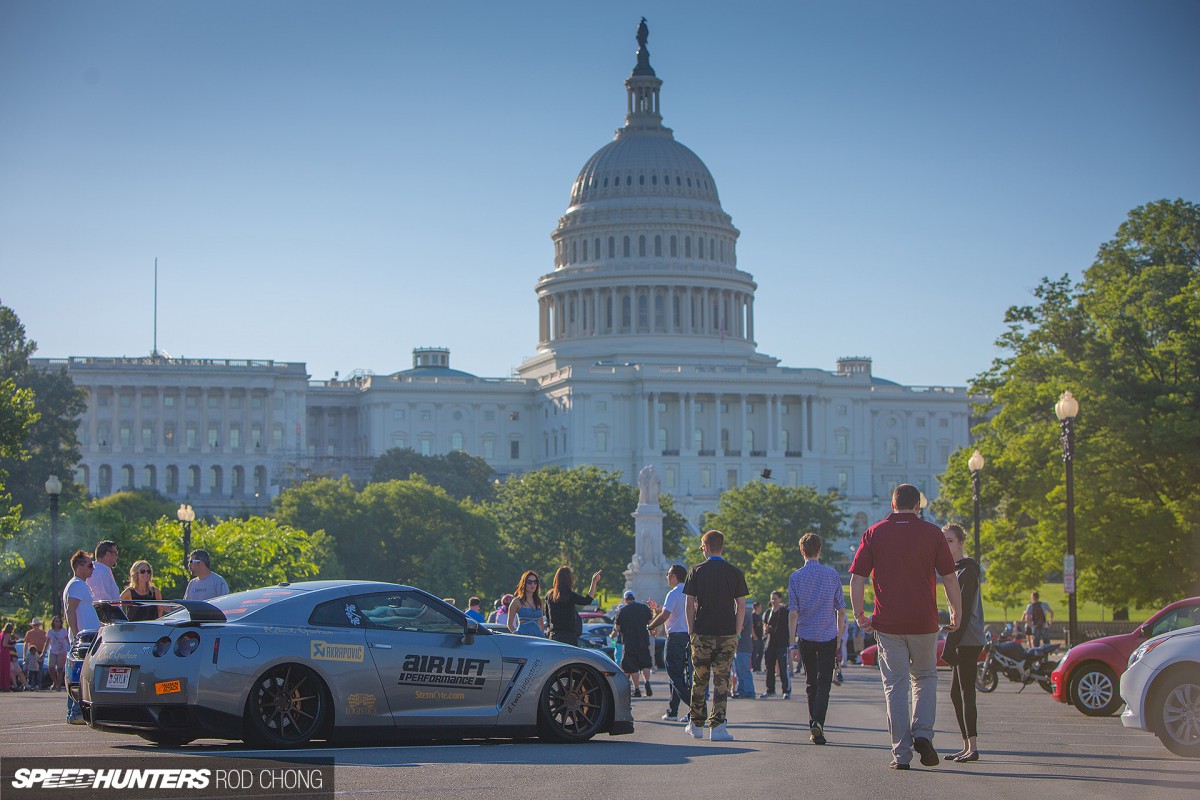 If you caught my first post from the event you'll already know that we lined up an R35 GT-R for our adventure. Not an ordinary Godzilla though, but one the guys at D2 IND had given a decent work over. On top of a few basic engine mods and a custom ECU tune from Forged Performance resulting in 575hp at the wheels, the Nissan came packing a carbon fiber wing (to keep us planted at supersonic speeds), deep concave Strasse wheels with Pirelli P-Zero tires, and an air ride suspension system courtesy of our friends at Air Lift Performance.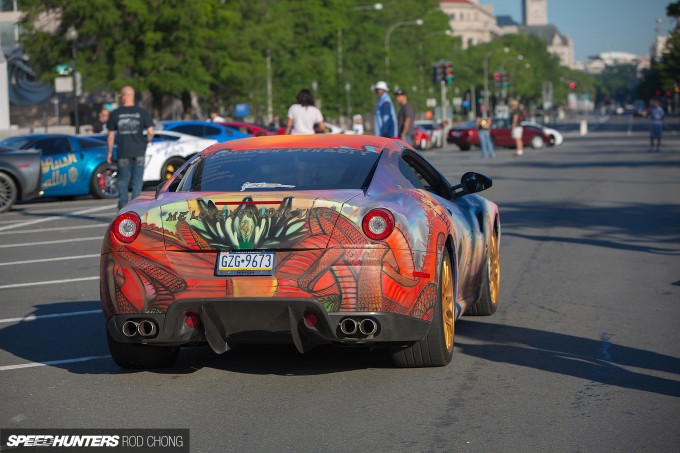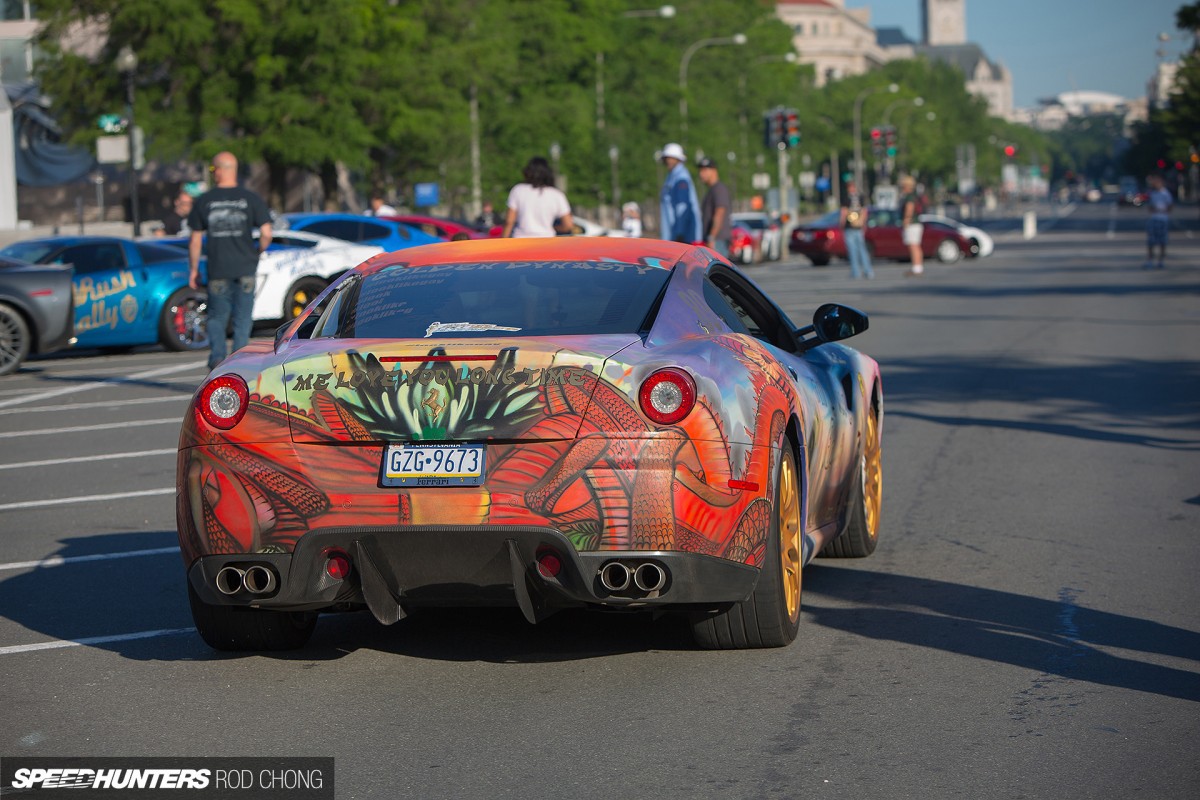 While our car had a nice mix of performance and styling upgrades, many competitors just concentrated on bold visual mods to make their statement and one-up their fellow goldRush competitors. Team Golden Dynasty's concept for their Ferrari 599 GTB was only a dream until late April when Brooklyn graffiti artist @_capsize took to this Italian to China. All we can say is mission accomplished!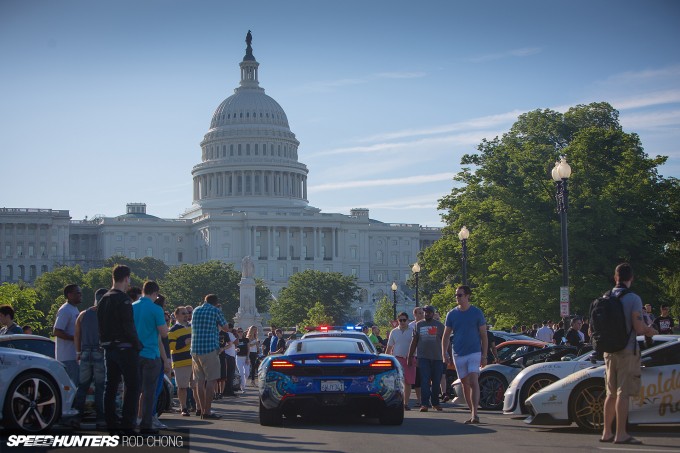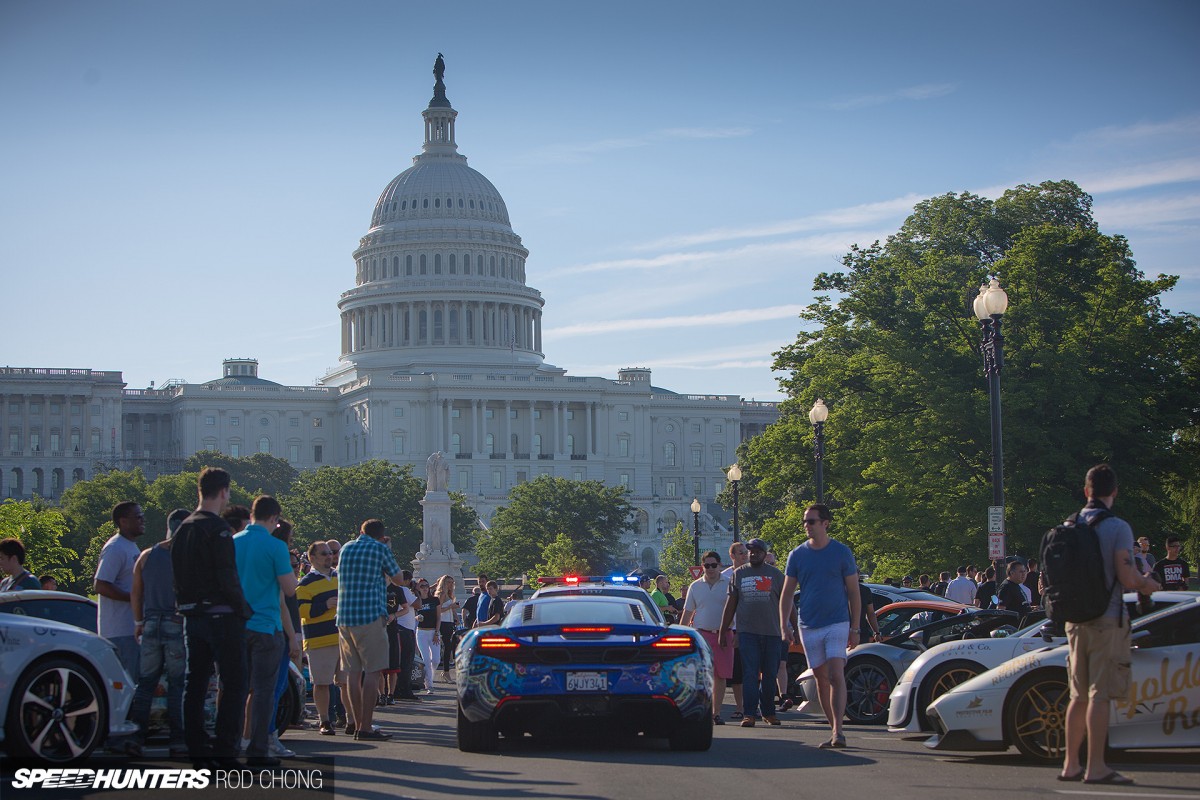 This rally has been growing over the past six years and the stories just keep getting better with every edition. While most would agree that just seeing a Bugatti Veyron and McLaren P1 on the road is a jaw-dropping experience in itself, this year's goldRush drive-along gave us front row seats to perhaps the world's most expensive drag race ever between those two very cars. These owners know how to take it to the max. It's goldRush stories like this that have long-captivated our interest, so we decided to sacrifice ourselves to this year cover the event.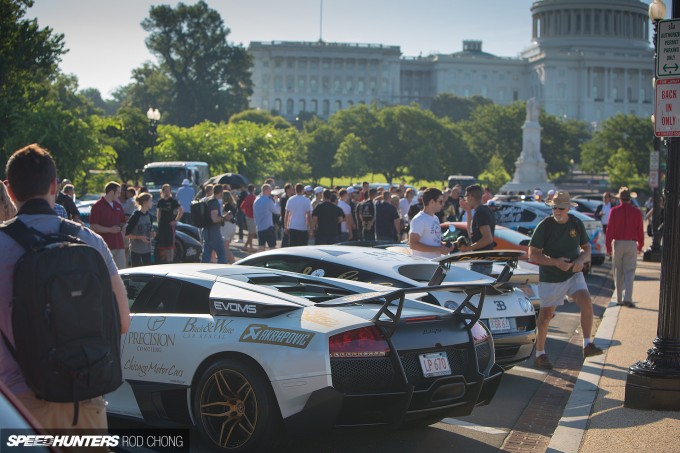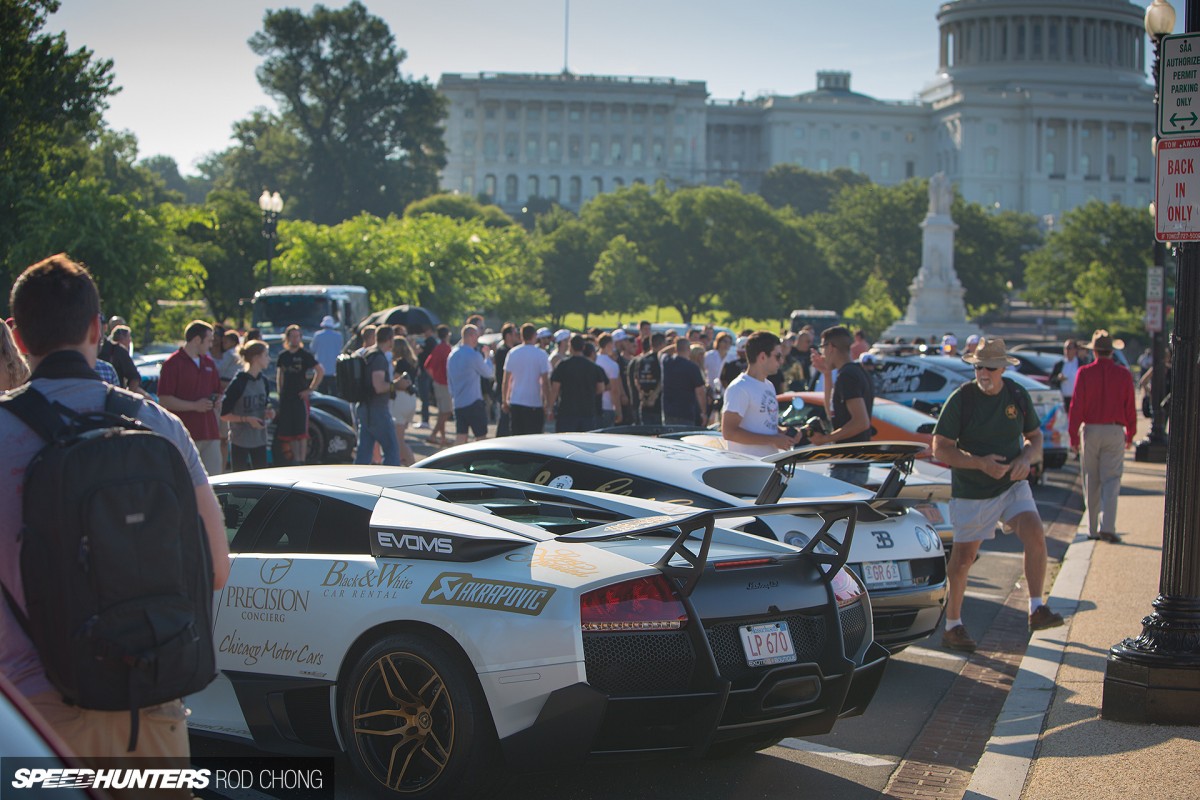 The admiring locals came out in full force to catch the action up close and personal, and many even tried to become part of the 'Rush by jumping into their rides and joining us on the road. After a greeting from the goldRush staff and a quick review of the rules, route cards were distributed and Rod and I were on our way with the rest of the GoldBlooded teams for the final DC to NYC leg of the rally.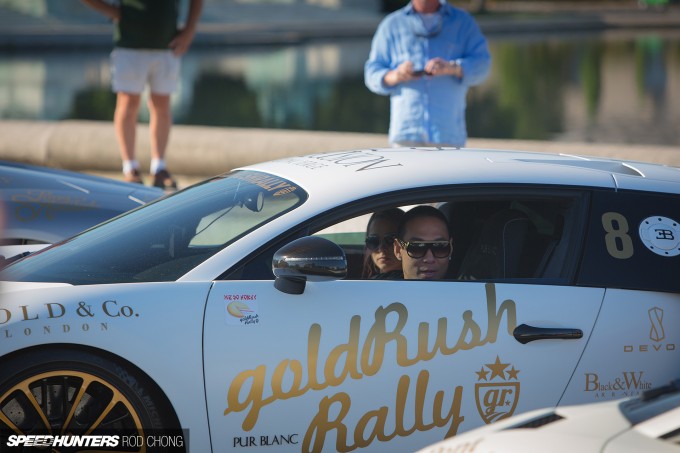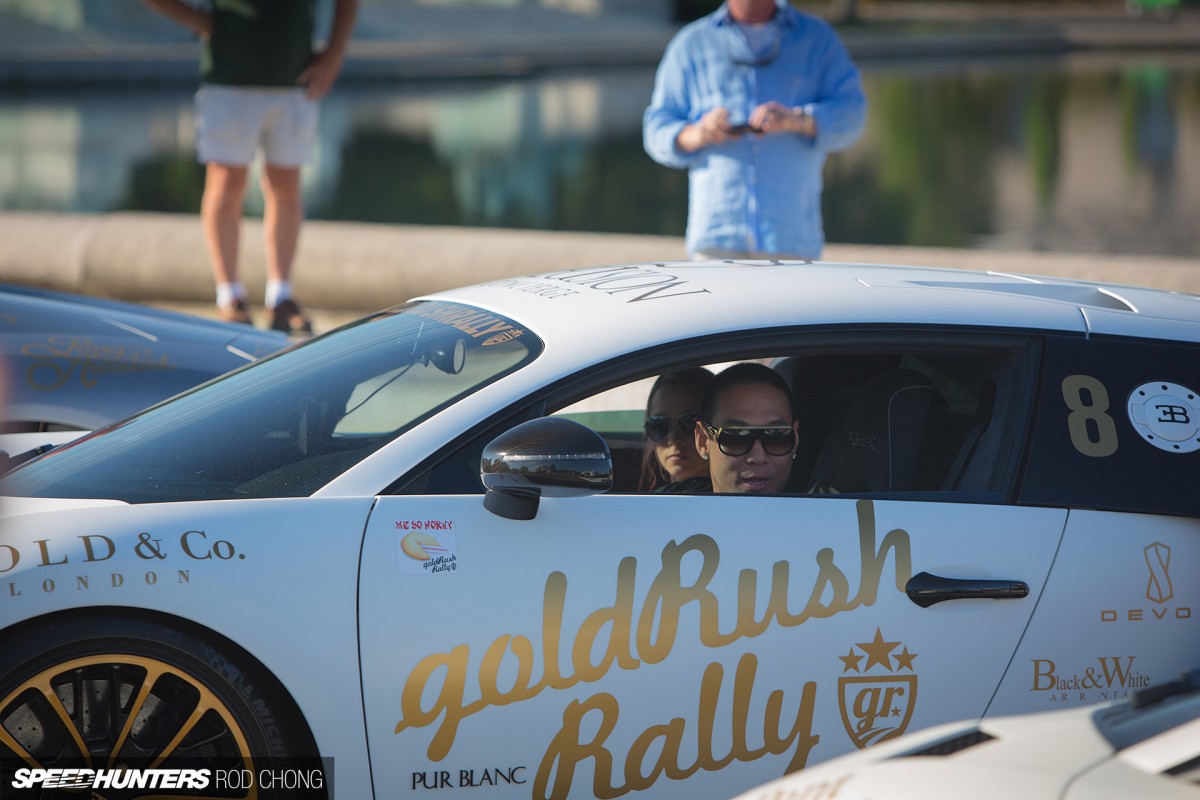 The organizers said we were 30 minutes behind schedule but Co-Founder Ben Chen looked relaxed as he pulled of the parking lot in his Bugatti Veyron Super Sport Pur Blanc Edition. Knowing that he had 1200hp to unleash with his right foot and a chassis capable of 267mph probably had something to do with that.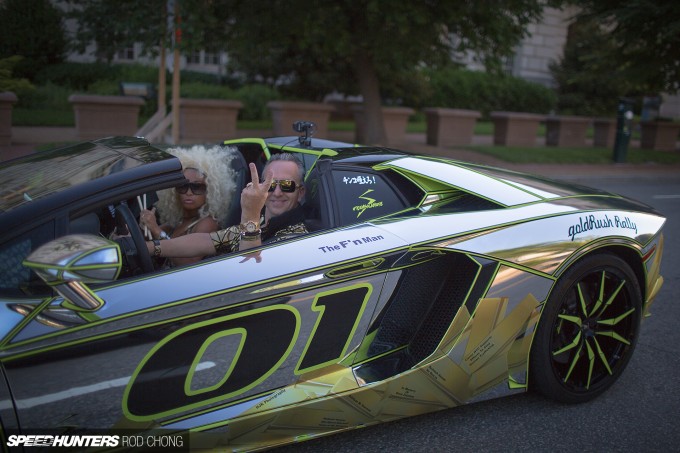 Team Salamone were a main attraction at this year's goldRush and proudly wore the coveted #01 rally number. Whether you celebrate their style or merely tolerate it, the chrome-wrapped Verde Scandal Lamborghini Aventador Roadster was as shiny as the team. With a license plate reading WINNING they are the life of the party and are always prepared for a photo op.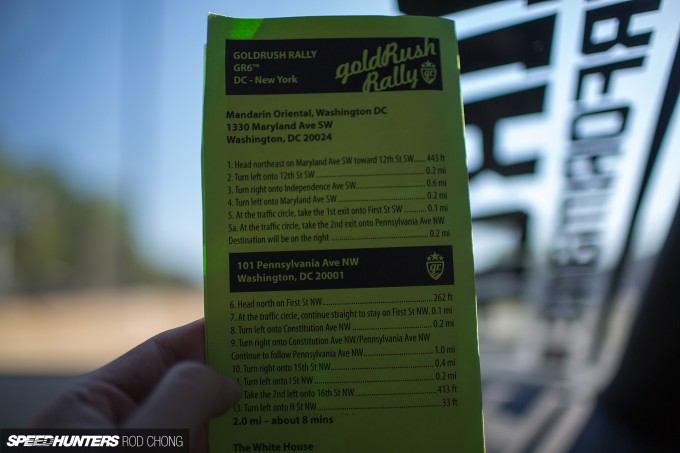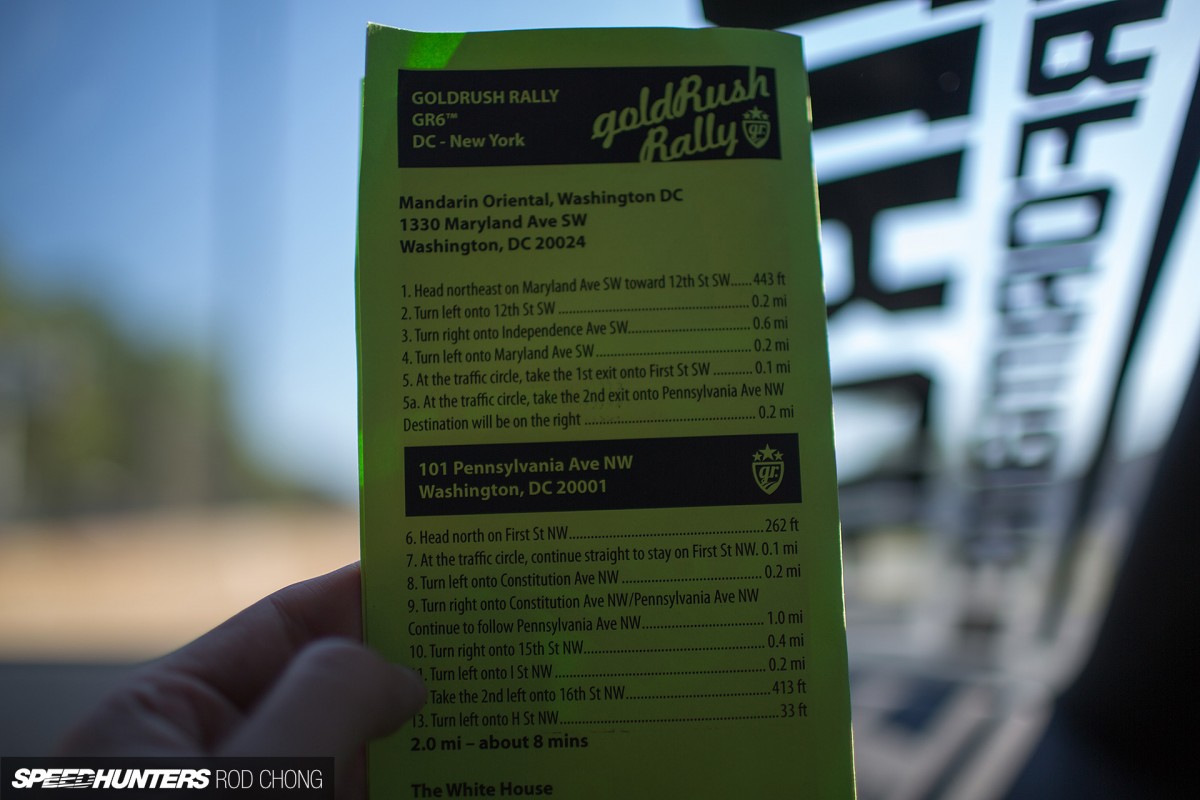 Let the navigating begin! Or not. As I was driving I relied on Rod to follow the directions to keep us on the right roads, but in true Cannonball fashion we took a few shortcuts – mostly unintentional. Let's just say that if he was a GPS, I would have continually been recalculating my route…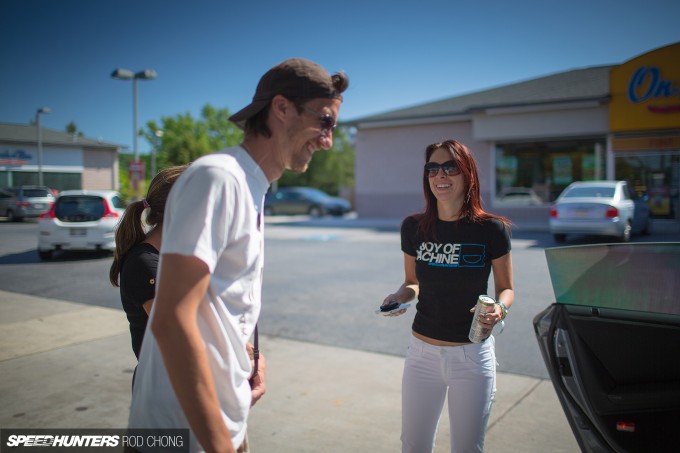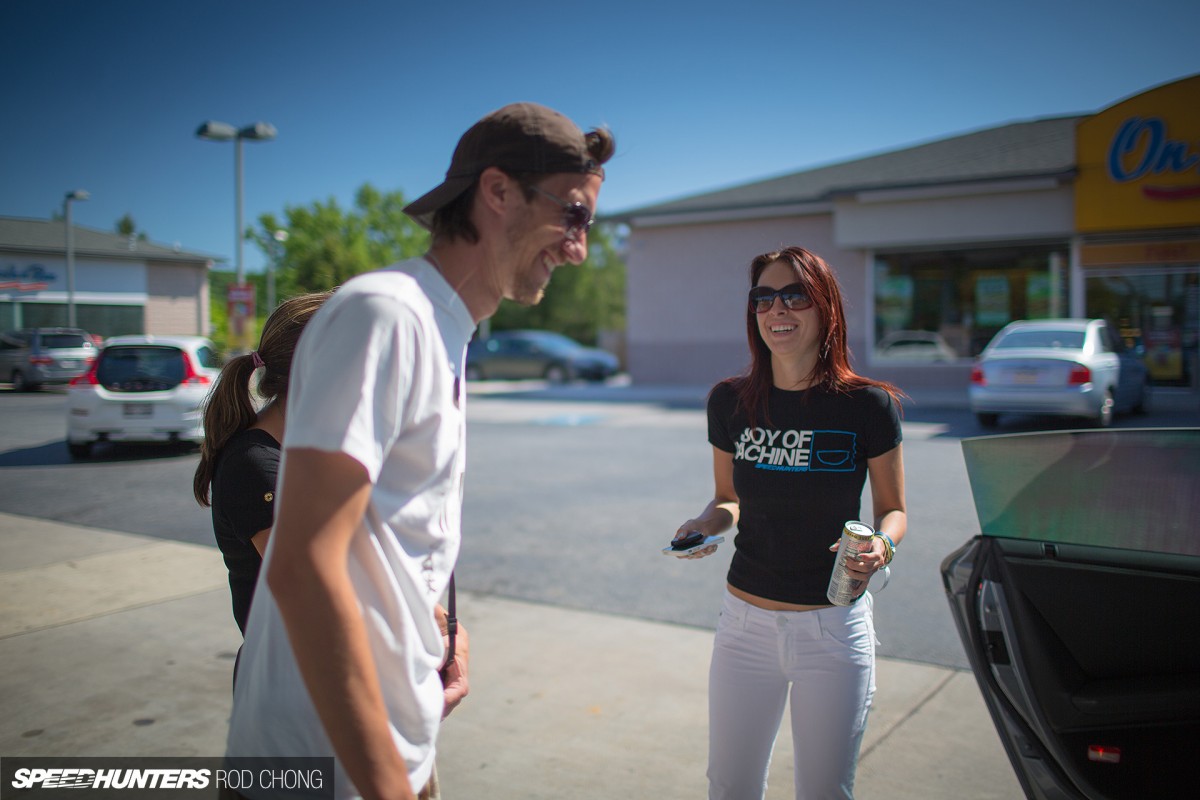 We finally made it onto the highway and were back on track. Knowing we were headed in the right direction I pulled over to fill up, and while I was at it grabbed some Red Bull to offset being up very late the previous night writing. Our car is hard to miss with your eyes or ears, and when many see a girl jumping out of the drivers seat, well…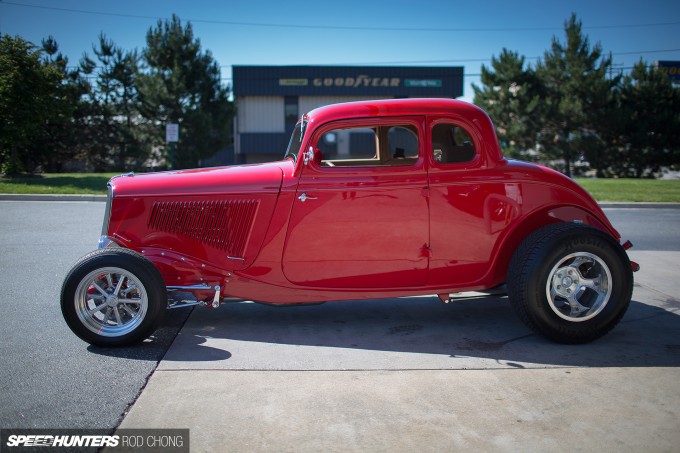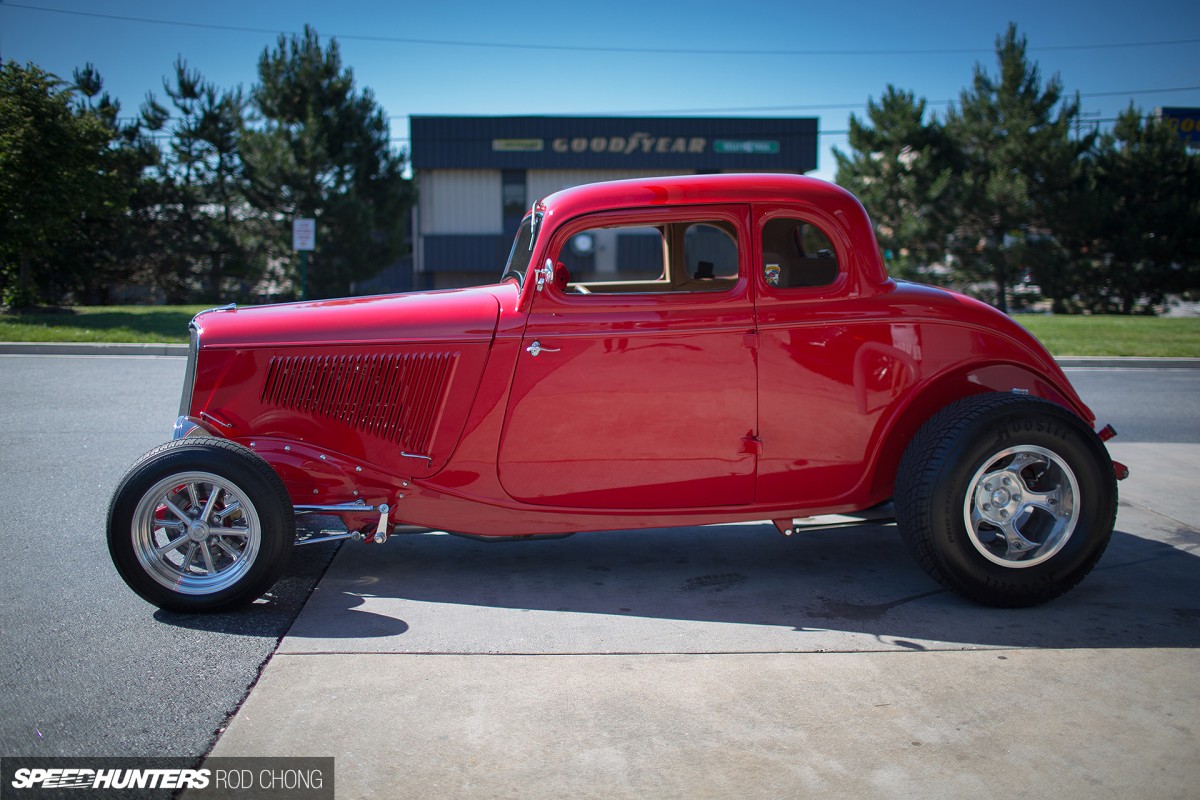 A red hot rod caught our attention as we pulled in, and it seemed as though some other event was going on nearby. It all made sense when the couple who owned this chopped coupe said there was a Cars & Coffee meet was happening just down the street. In the life of a Speedhunter you do not let these opportunities pass by, so we tagged along with them for a little side journey.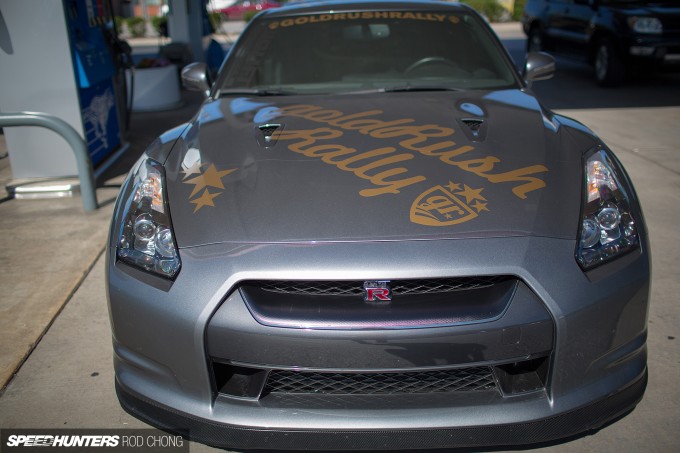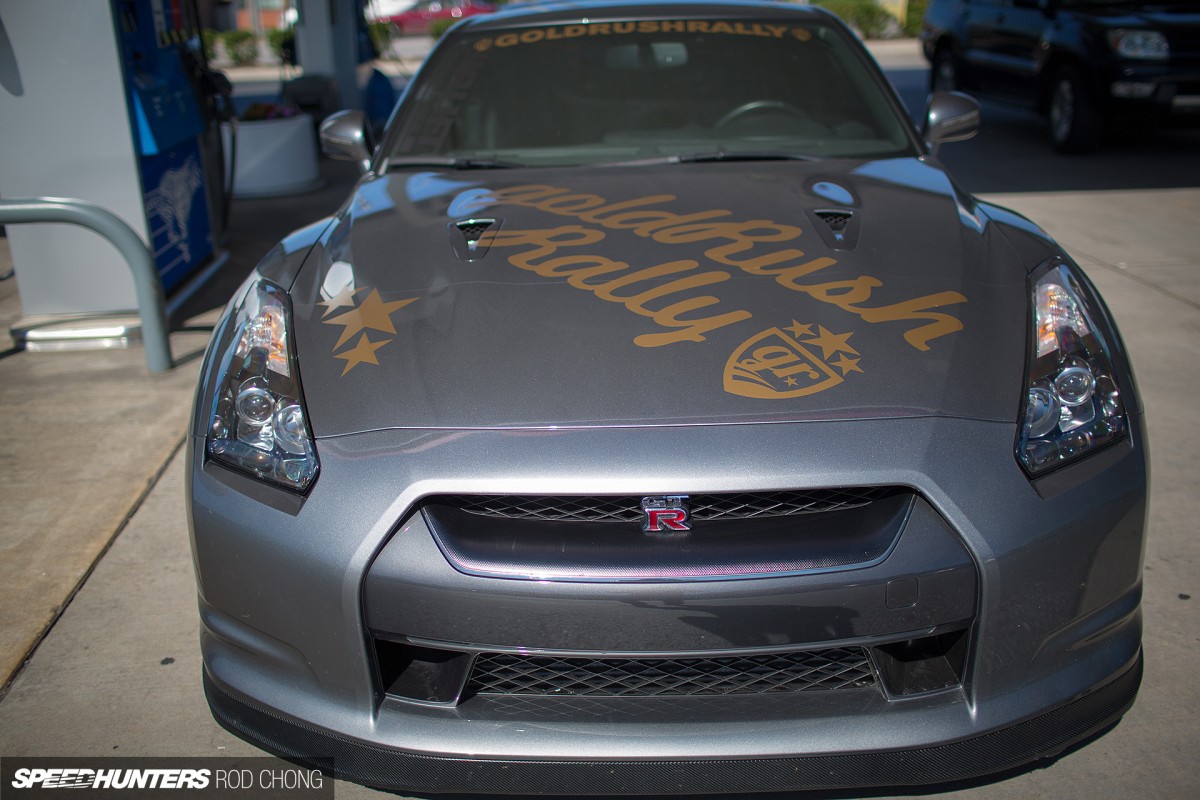 But wait – the gas! We still had to fuel up…
A Speedhunting Side Trip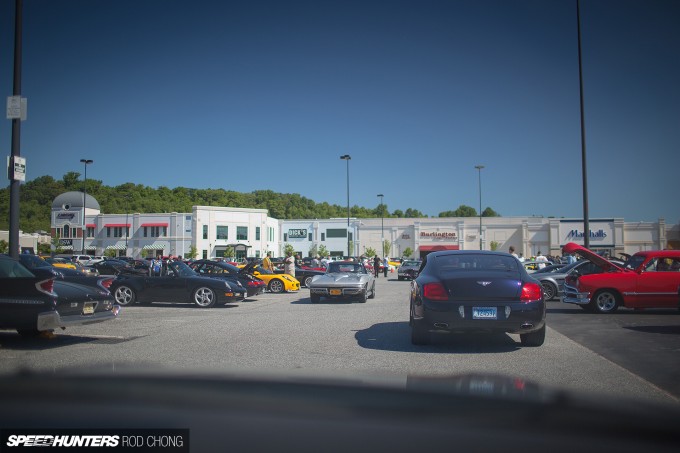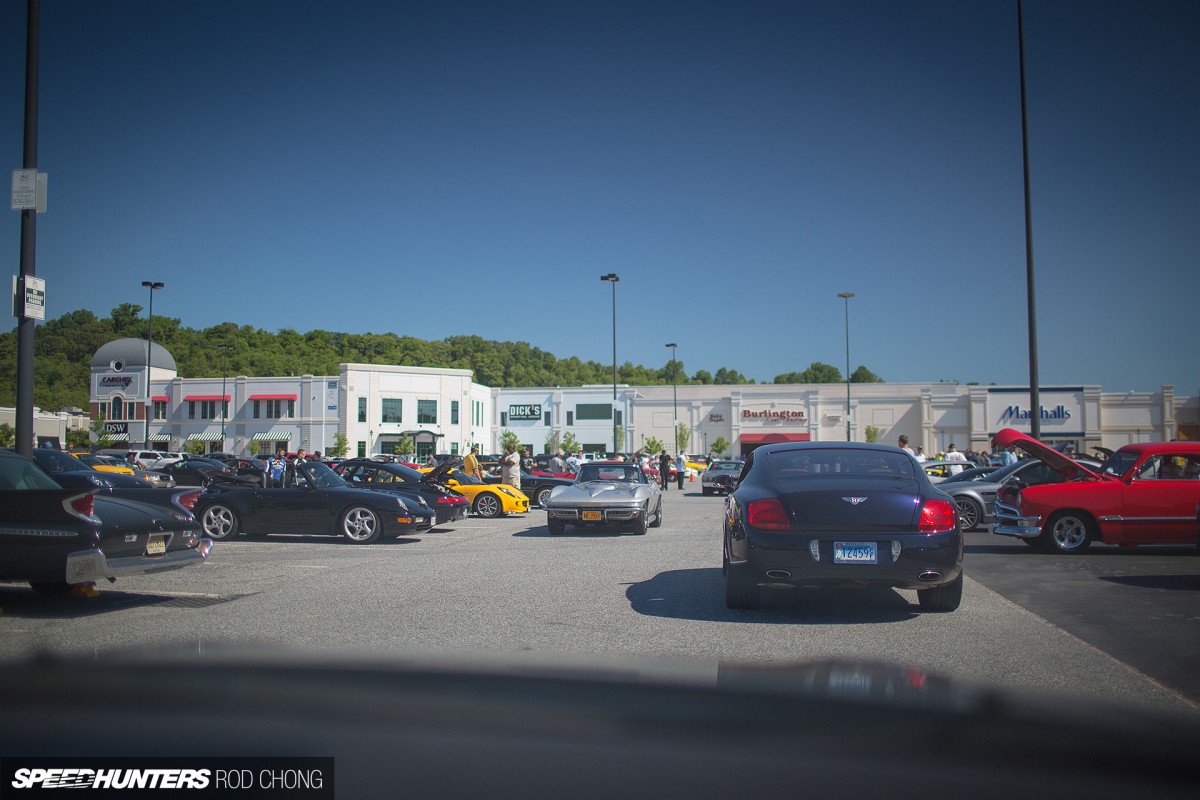 We made a couple of other new friends at the fuel stop too, and followed their Damson Purple Bentley Continental GT through the parking lot. Cars & Coffee is a normal Saturday morning ritual for the thousands of auto enthusiasts around the globe, but the eclectic collections at each C&C location varies. Check out how Japan does it.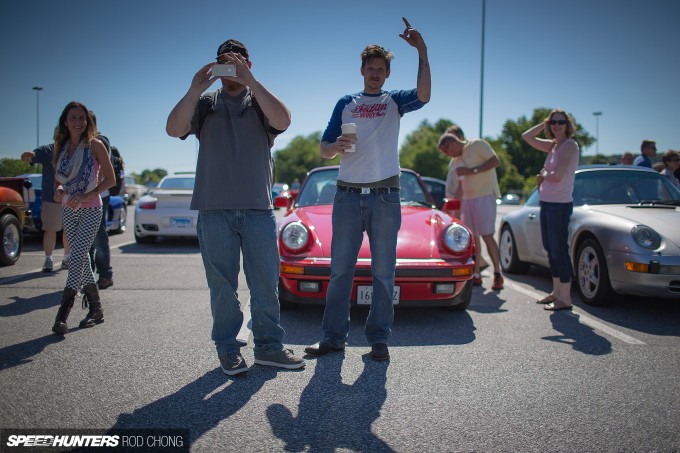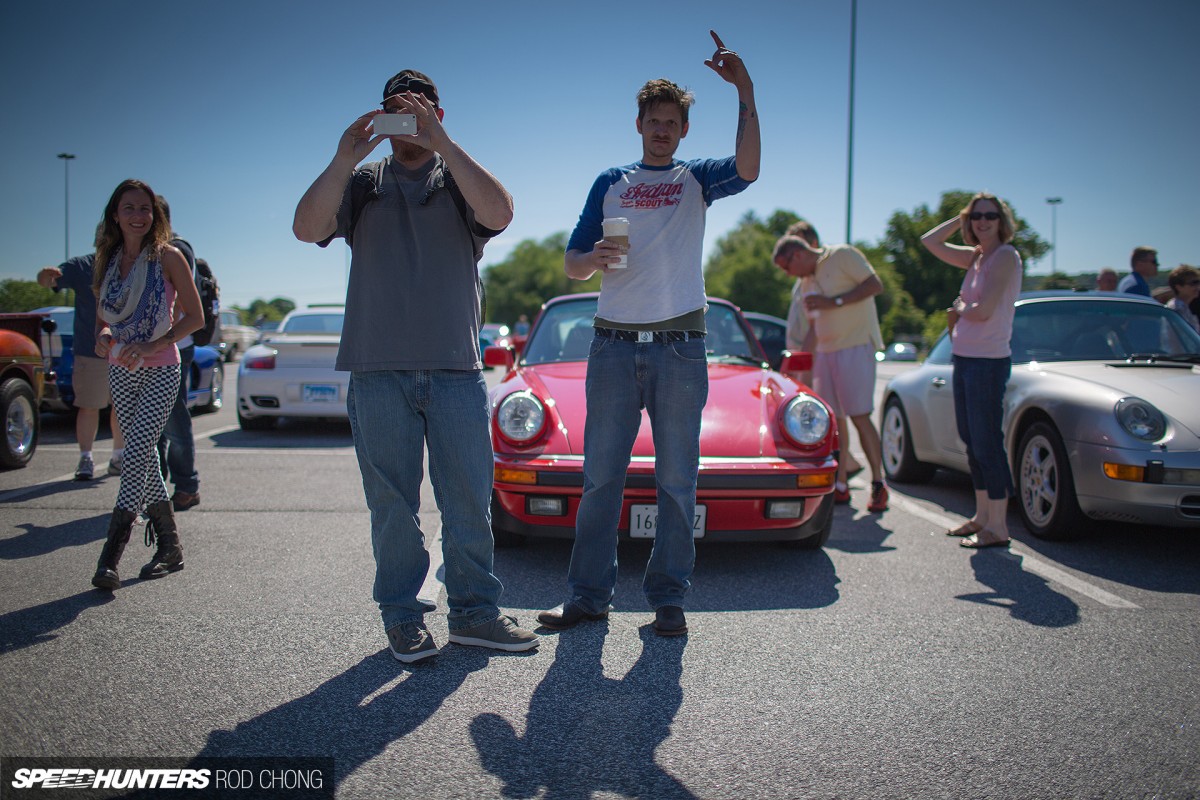 Porsche 911s were represented strongly as we went down the final row before exiting the parking lot. Our GT-R was quite a site and brought a distinct flair to their event. It was even deemed photo-worthy by some Porsche folk! Our return was requested by the organisers, so it looks like time to cover an East Coast Cars & Coffee event. What do you think?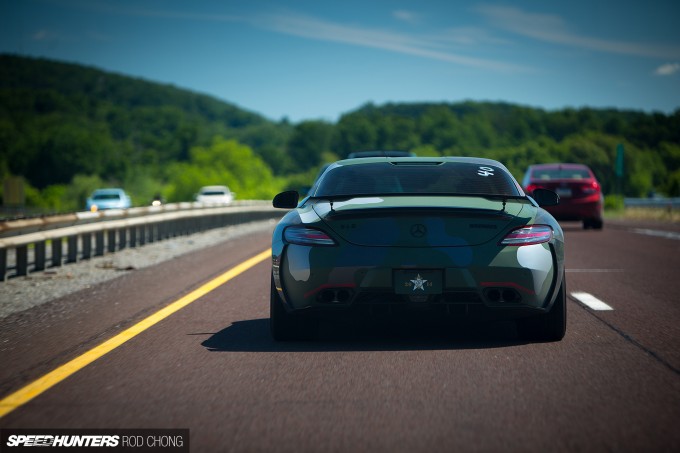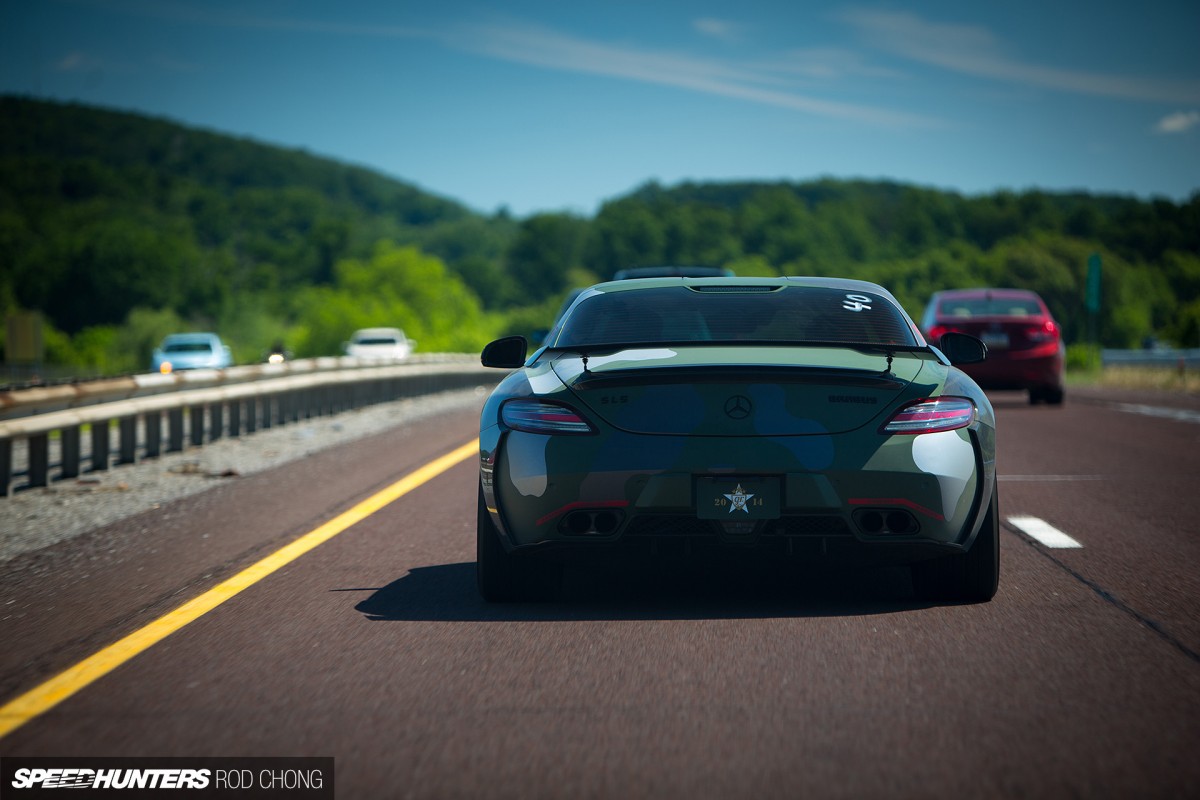 Back on the road we caught up with one of the Team Coors Light machines – an army green camouflaged 700hp Brabus SLS. The AMG SLS Black Series with its mighty V8 and stripped down waistline is one of the most visceral, yet defiant drives I have experienced. When you drive it you must own it – or it owns you. I can only imagine what it must be like to nail the throttle in this gull-wing with the AMG knob in 'Race' mode. Rally driving is much different than driving a performance car alone, and all of your senses are constantly bombarded and heightened when you're sharing the road with others. Whether it's pure speed or maneuvering through traffic, the goldRush Rally participants were demanding of their machines throughout the seven day journey.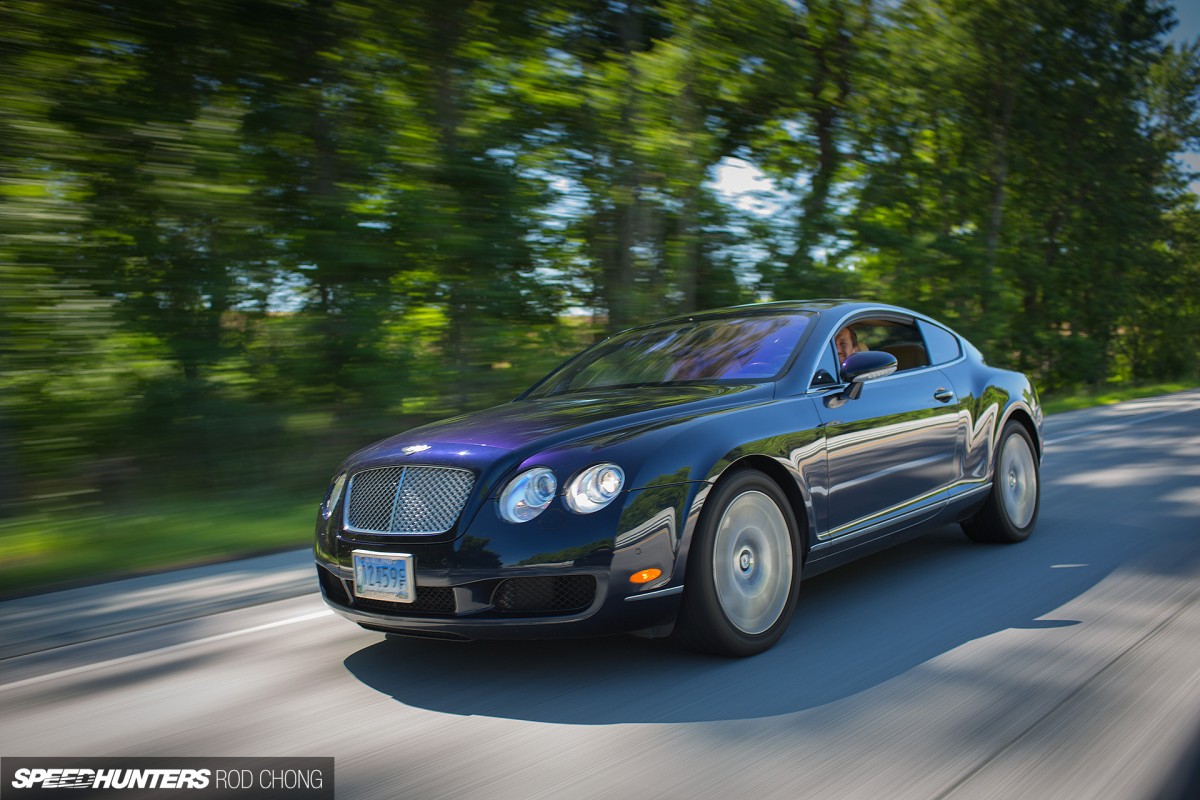 The couple with the Damson Continental GT tagged along for the ride to our next stop: Amish Country in Pennsylvania. Everyone wanted to get in on the action, from a Fiat 500 to a new Porsche 911 turbo. The goldRush Rally cars scream 'look at me' and seemingly everyone listens. They couldn't help be intoxicated by all the fun we were having and had to join us for a taste of the experience.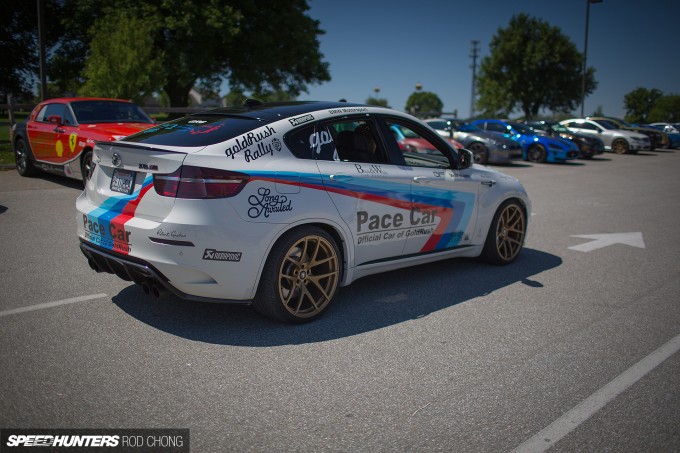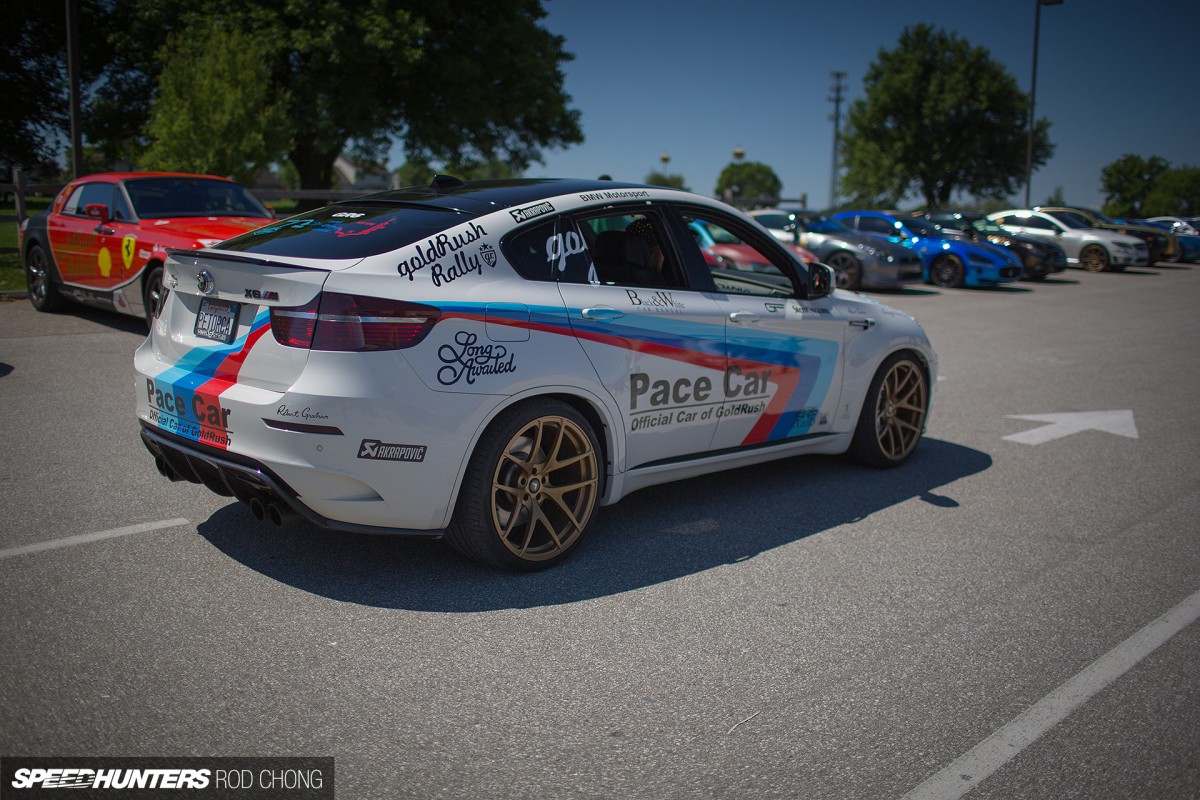 The heads of carriage drivers pulling on the reigns of their one horsepower buggies turned as the goldRush Pace Car rolled into the parking lot of the small quaint town known as Intercourse, PA. The Amish have not adopted many modern conveniences, but that did not stop them from appreciating the 555 horses pulling this BMW X6 M. I think more than a few of them may even have wished they had a chance to pilot one of the goldRush's extreme machines!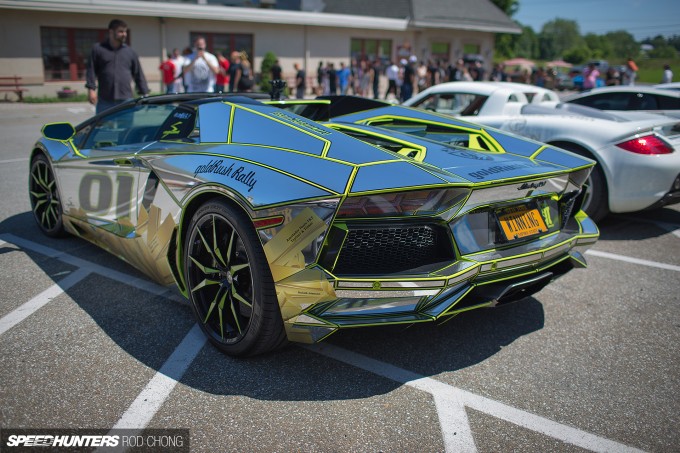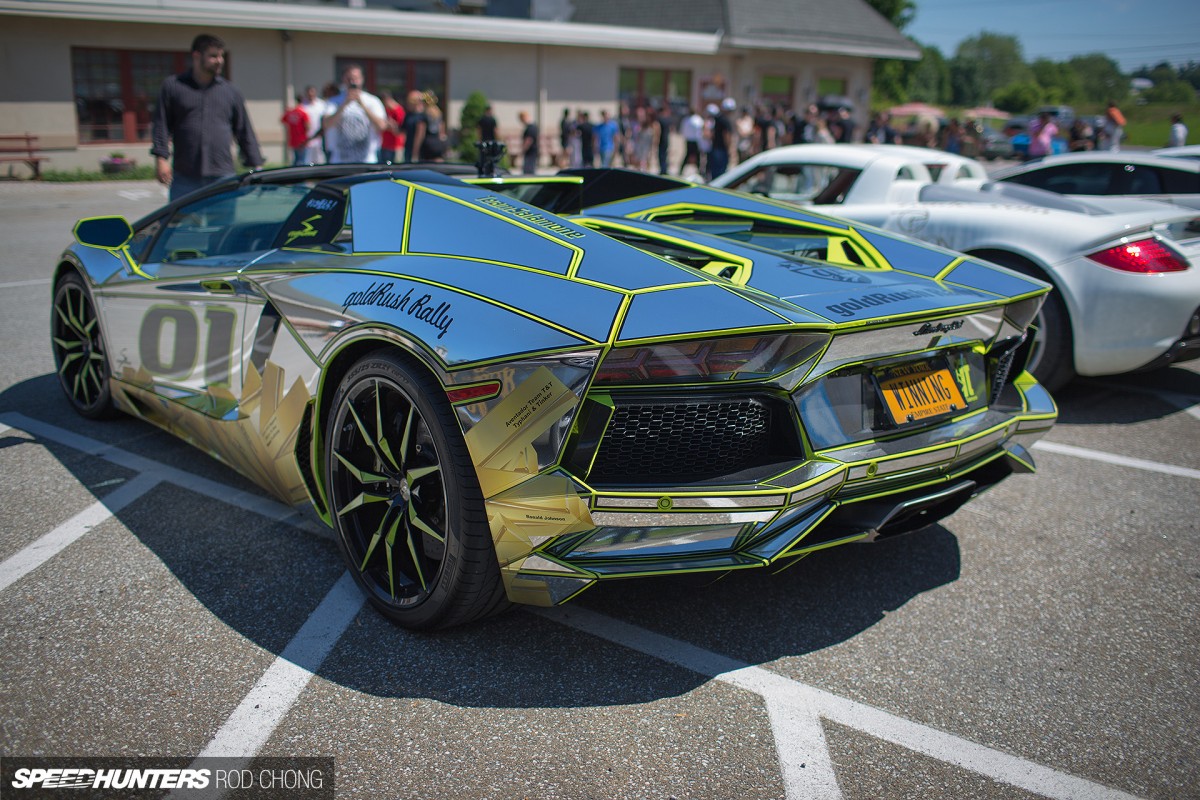 With the population of Intercourse listed at 1,274, the Aventador Roadster and Carrera GT almost matched that number with combined horsepower – just over 1,250hp. There are a few dos and don'ts in this culture's etiquette. Most Amish consider posing for photographs to be an unacceptable act of pride, but with the opportunity to make a stop in Intercourse, there was no way we would let that one slip through.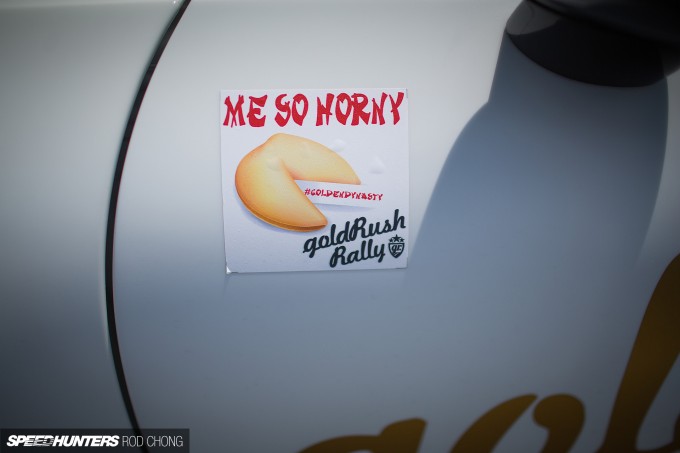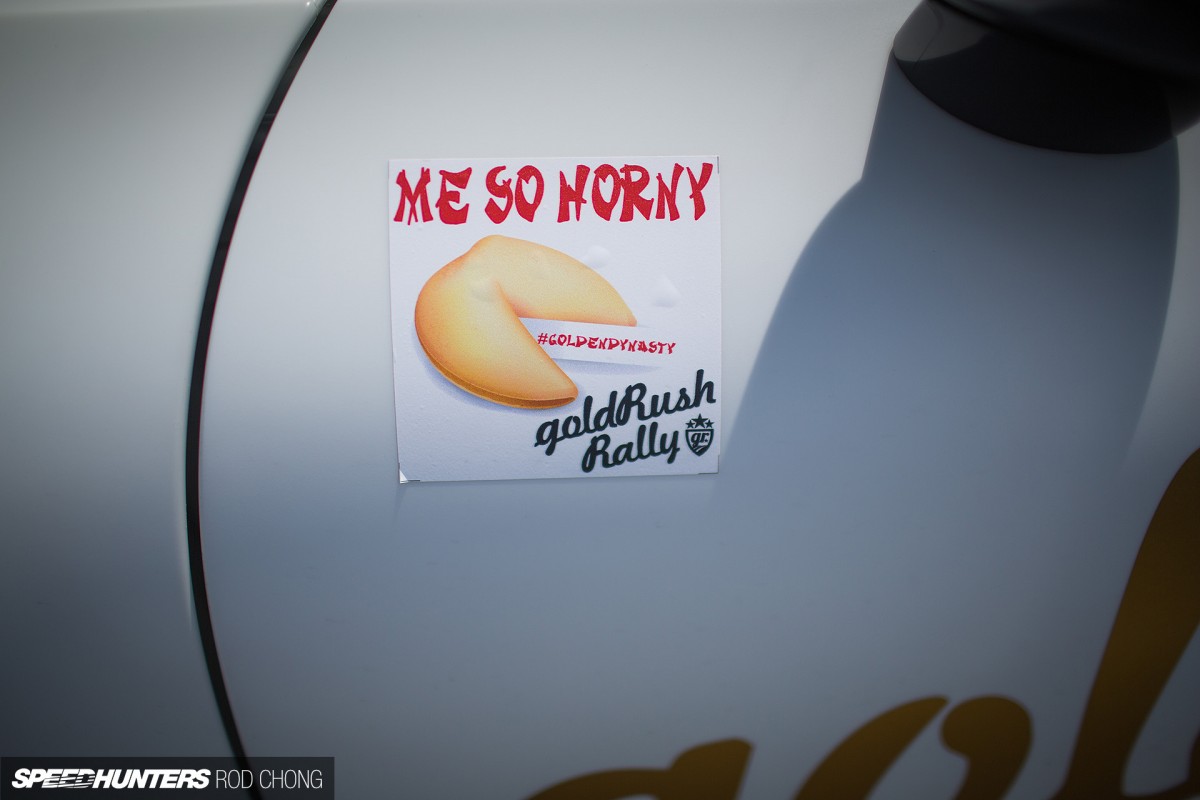 Expressions on participants cars like 'Me So Horny', 'No Lambo, No Sex' and 'RBR SUX' evoked mixed responses, so it was probably good that this particular stop was a short one. Who needs to eat when you are filled with adrenaline anyway, right?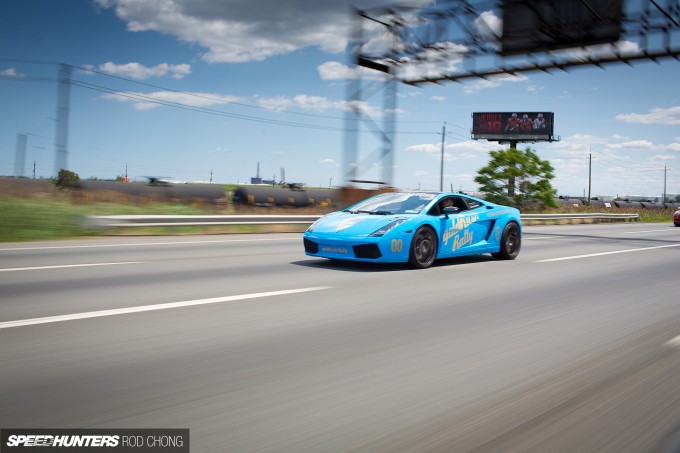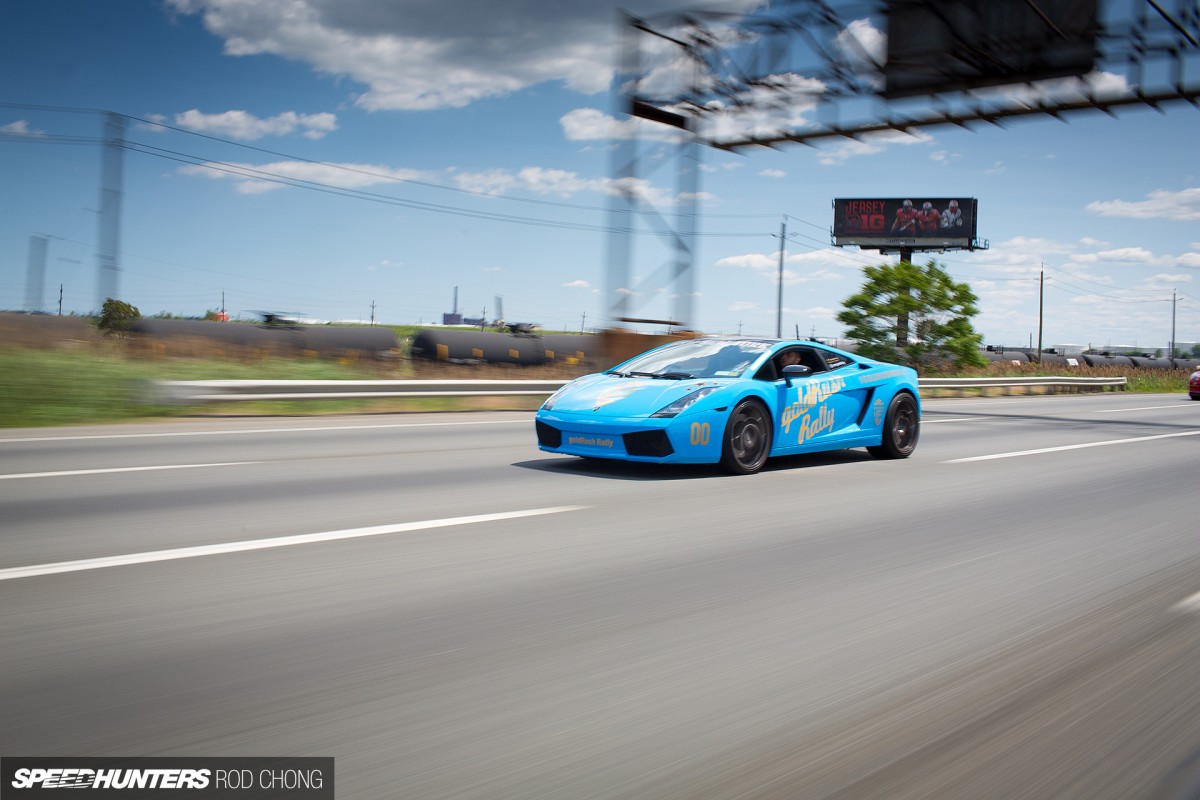 The route North continued and we had our eyes firmly set on the prize. At this point NYC was only 2.5 hours away according to Rod's GPS, but as any New Yorker knows, just driving through any one of the tunnels into the Big Apple could take 2.5 hours alone. Even with a fully-loaded corral of supercars, the final location we are aiming for in Greenwich Village was still at least 3.5 hours away.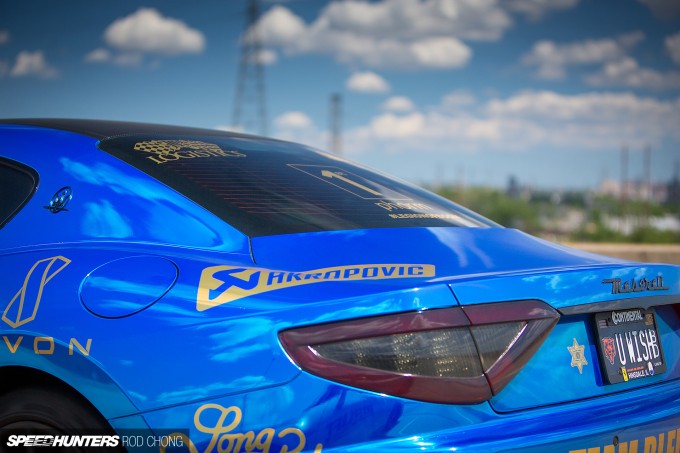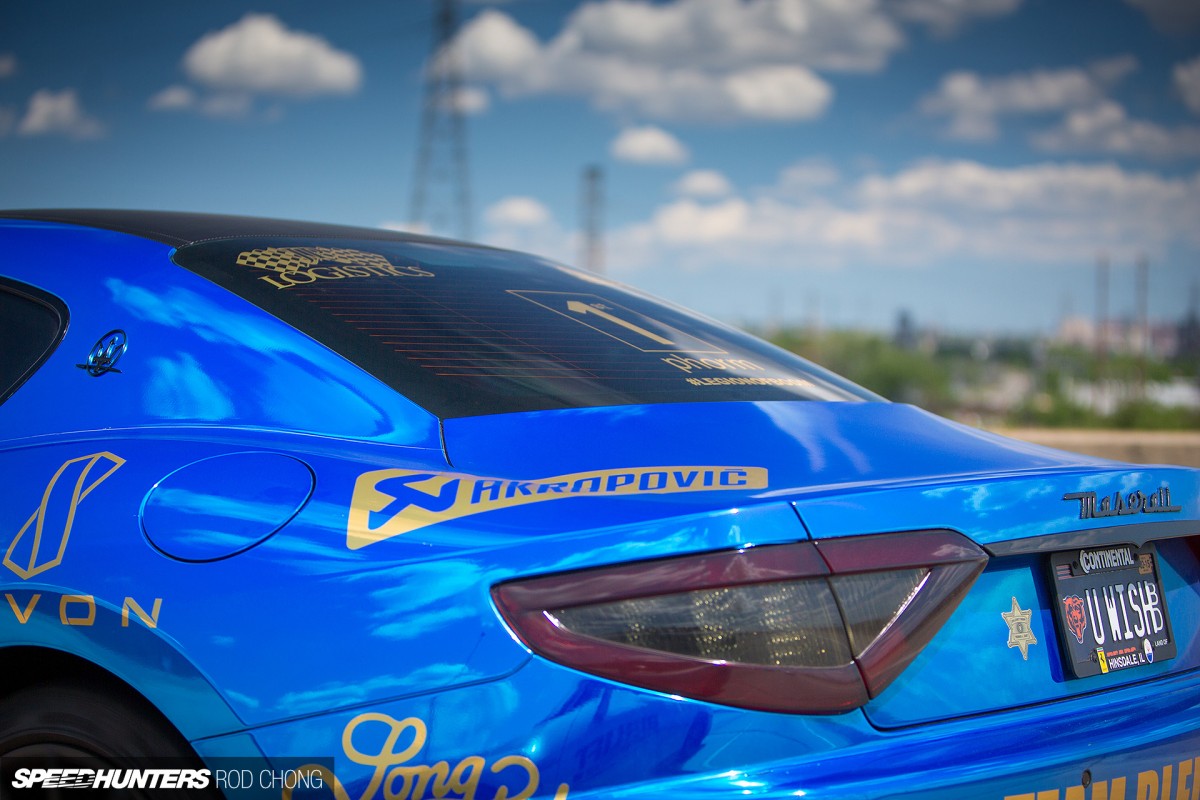 The goldRush celebrates its sixth year and team Bleu Balls celebrates Maserati's centennial with this outrageous Gran Turismo. No that isn't a typo – it is Team Bleu Balls from Illinois – and they actually hung a 'set' from the back of their ride. We enjoyed the enthusiasm but didn't want to get them too excited, so stayed off their rear for much of the drive.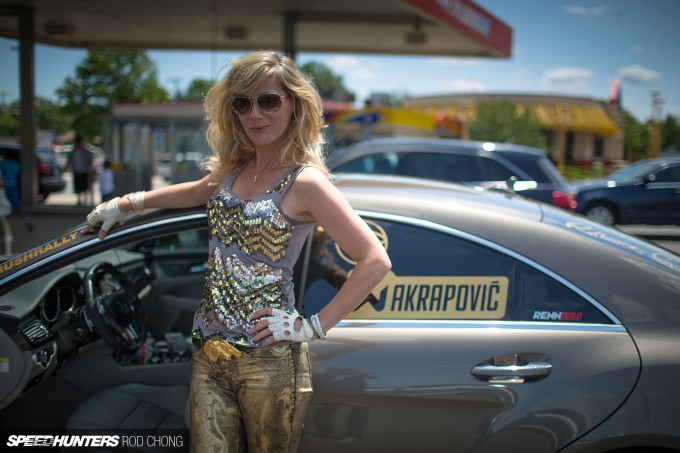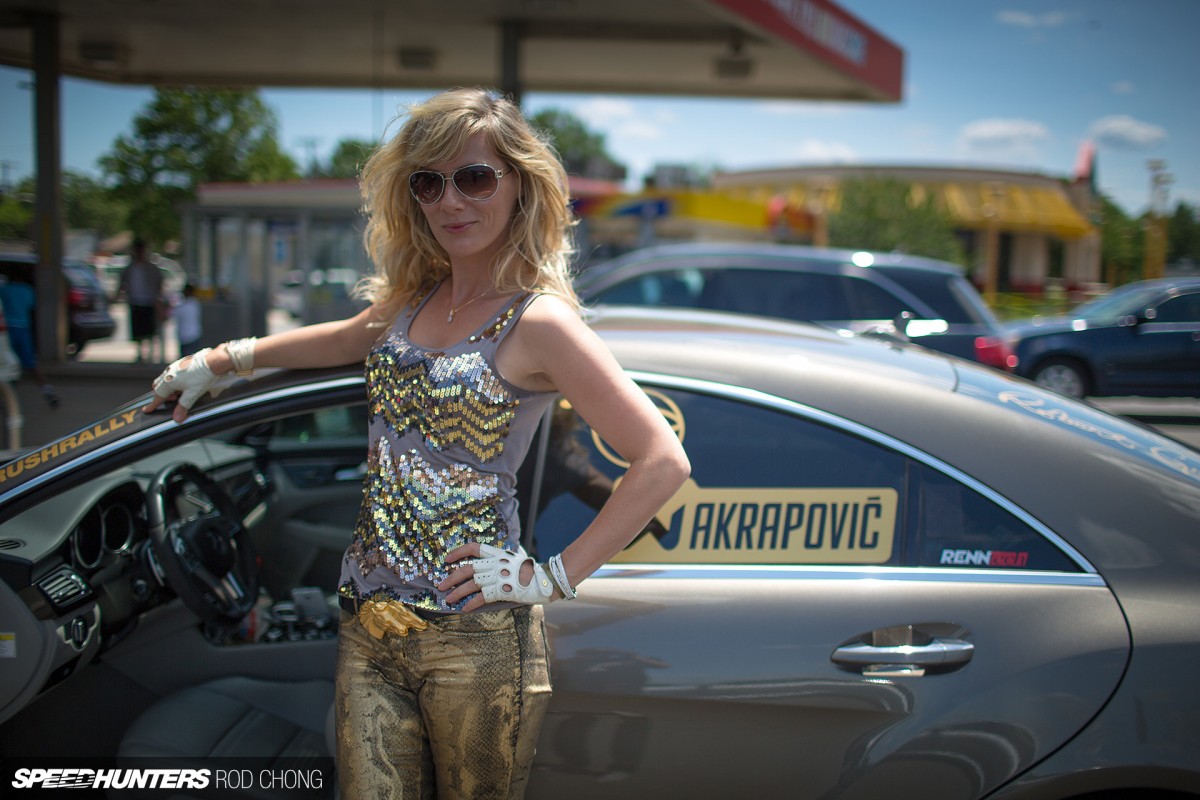 This wild lady not only looks the part, but she drives the part too. We followed behind her Mercedes as she deftly maneuvered across three lanes of New York City-bound traffic and back. We were only here to document and didn't have the nerve to keep up, so we stayed in our lane until we needed to fill up the tank and meet one last time before the finale.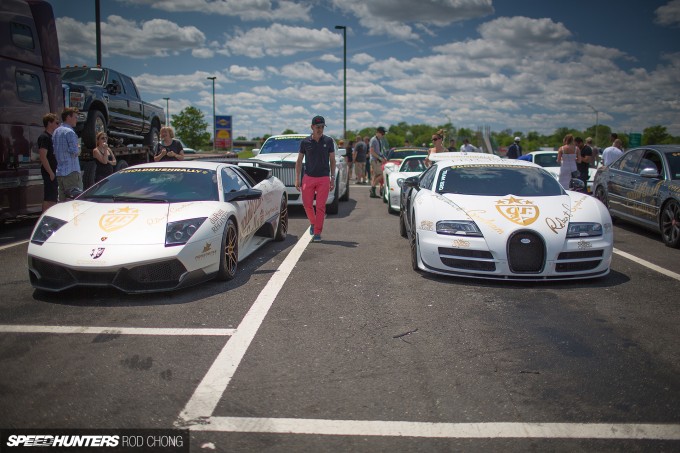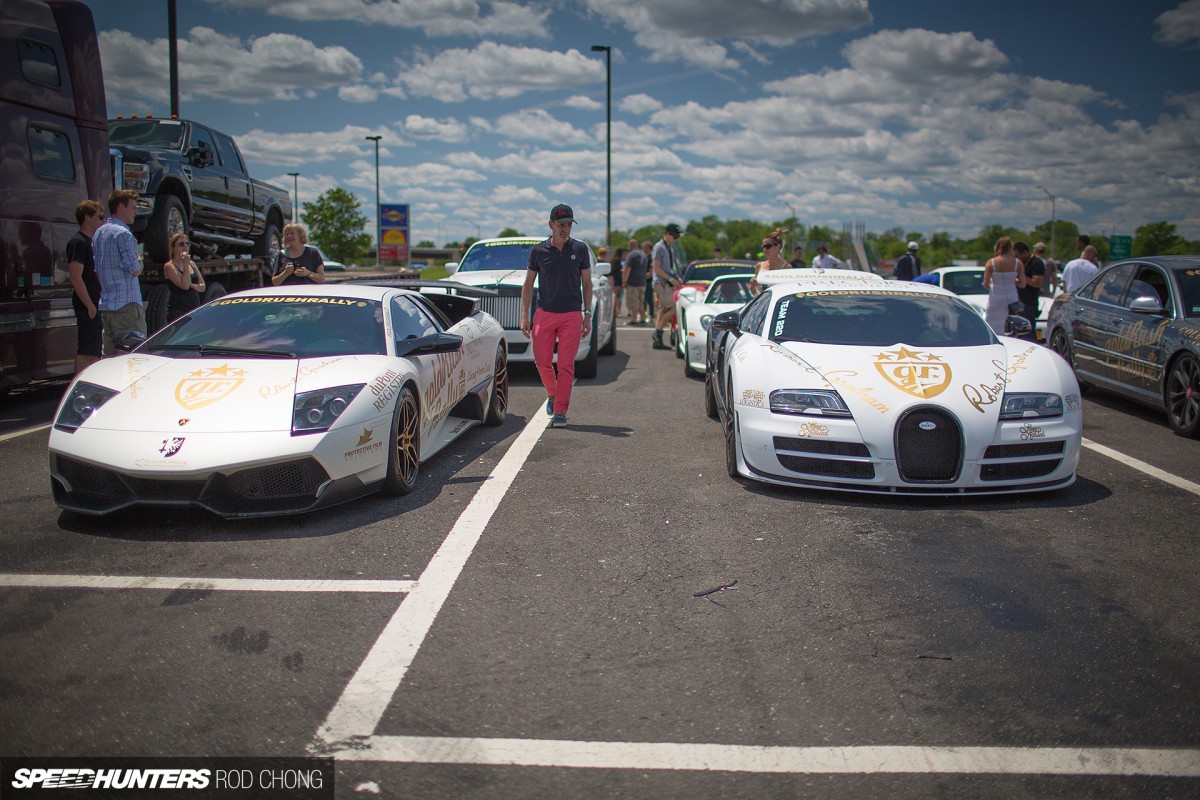 Imagine looking in your rearview mirror and seeing this mass of white noise and horsepower behind you. Who said the good guys always wear white?! This quick stop gave everyone the chance to catch up grab some water and wait for some unlucky participants who were pulled to the side to have a talk with some 'revenue agents.'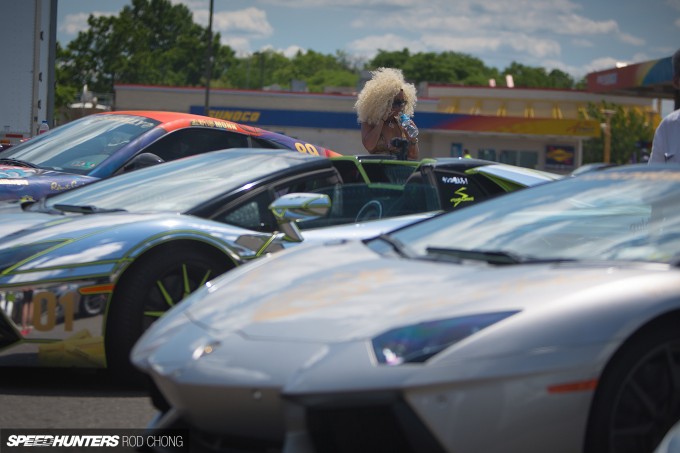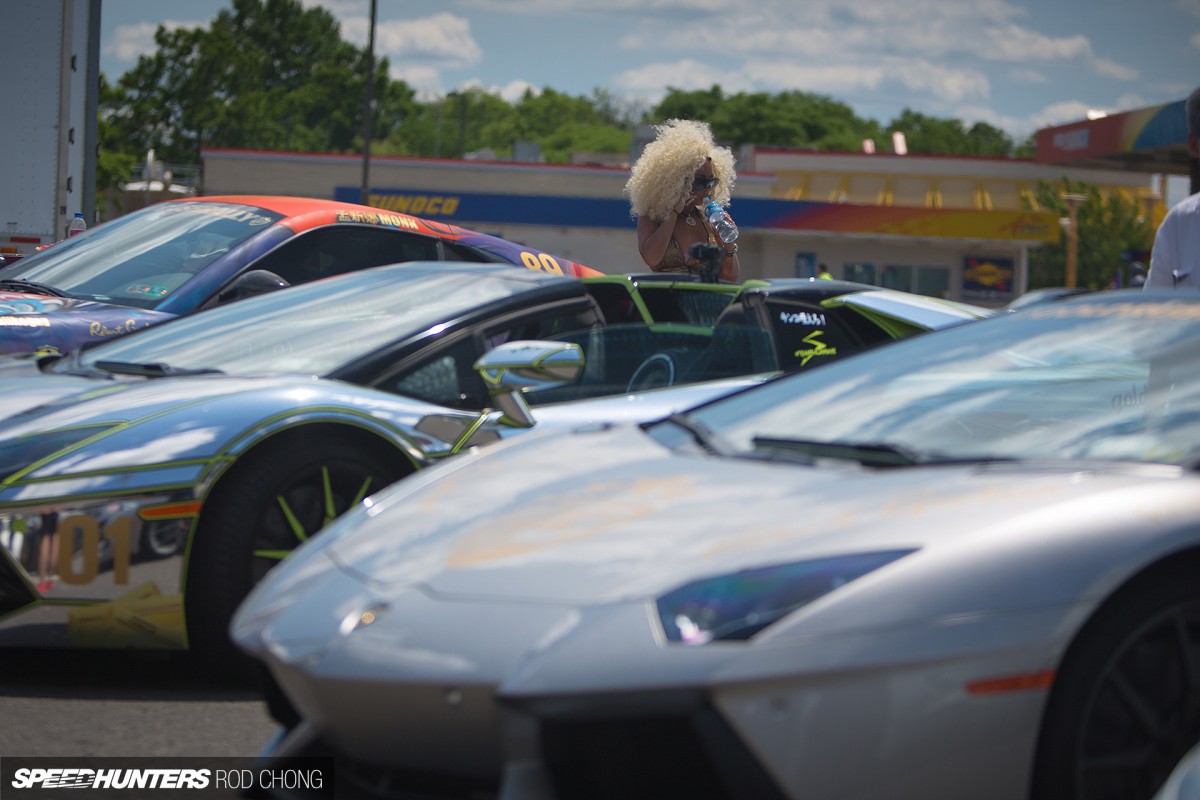 A driver's dream – seven days in seven cities. A partier's dream – seven evenings in seven of the hottest nightclubs. A luxury seeker's dream – seven nights in seven world class hotels. Count us in for the full seven days next year!
The Last Blast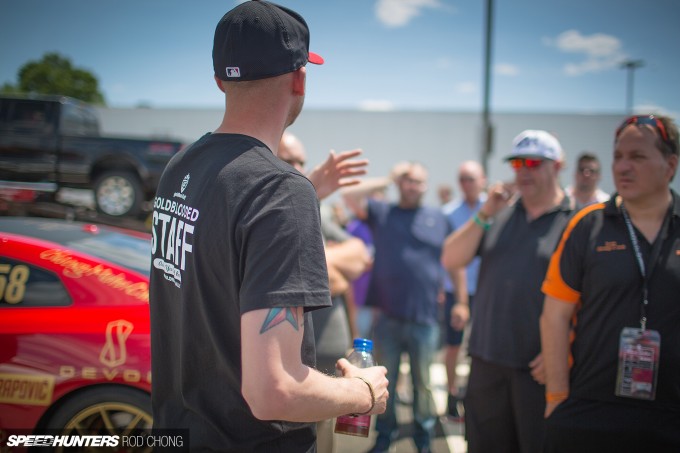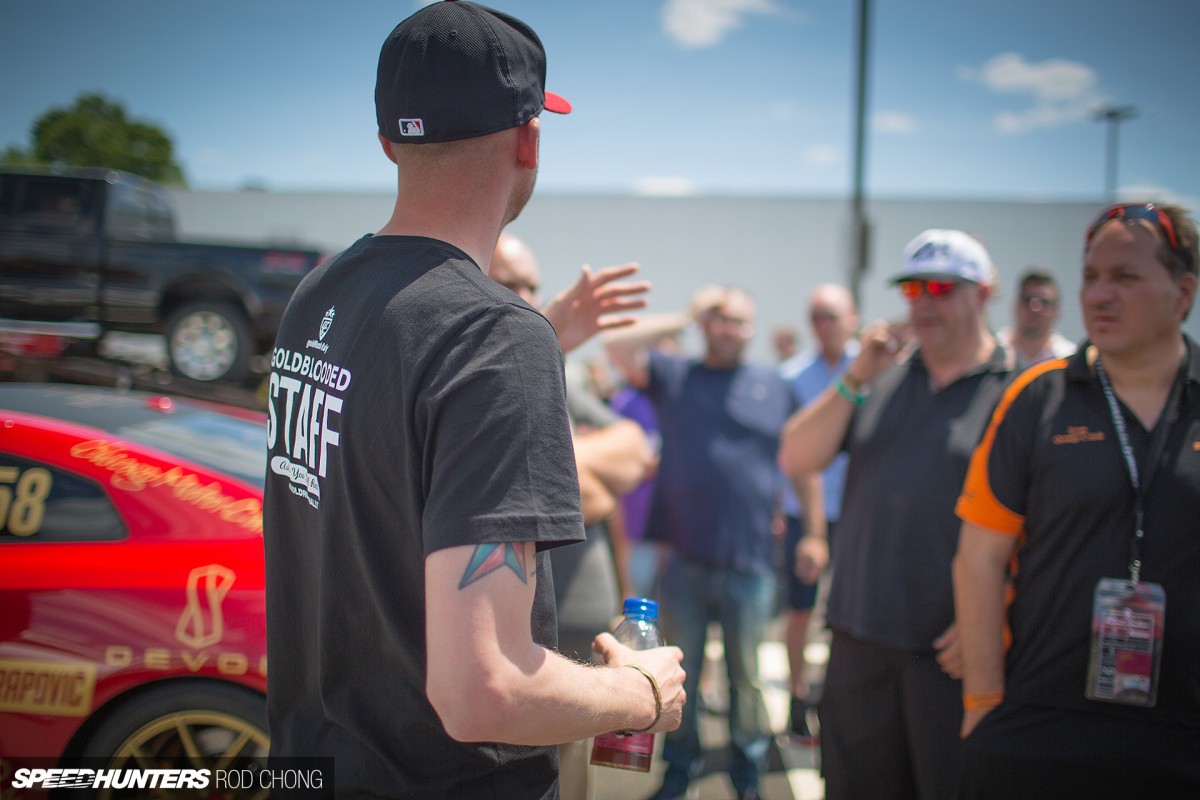 The organizers gathered the group together at the last truck stop in New Jersey to set the scene for tearing into the city and making a scene. The instructions were simple: keep the speed to around 60 miles per hour and drive three cars wide where possible. 'Take it easy' was the final instruction before the drivers started their engines and busted the eardrums of the gas station attendants.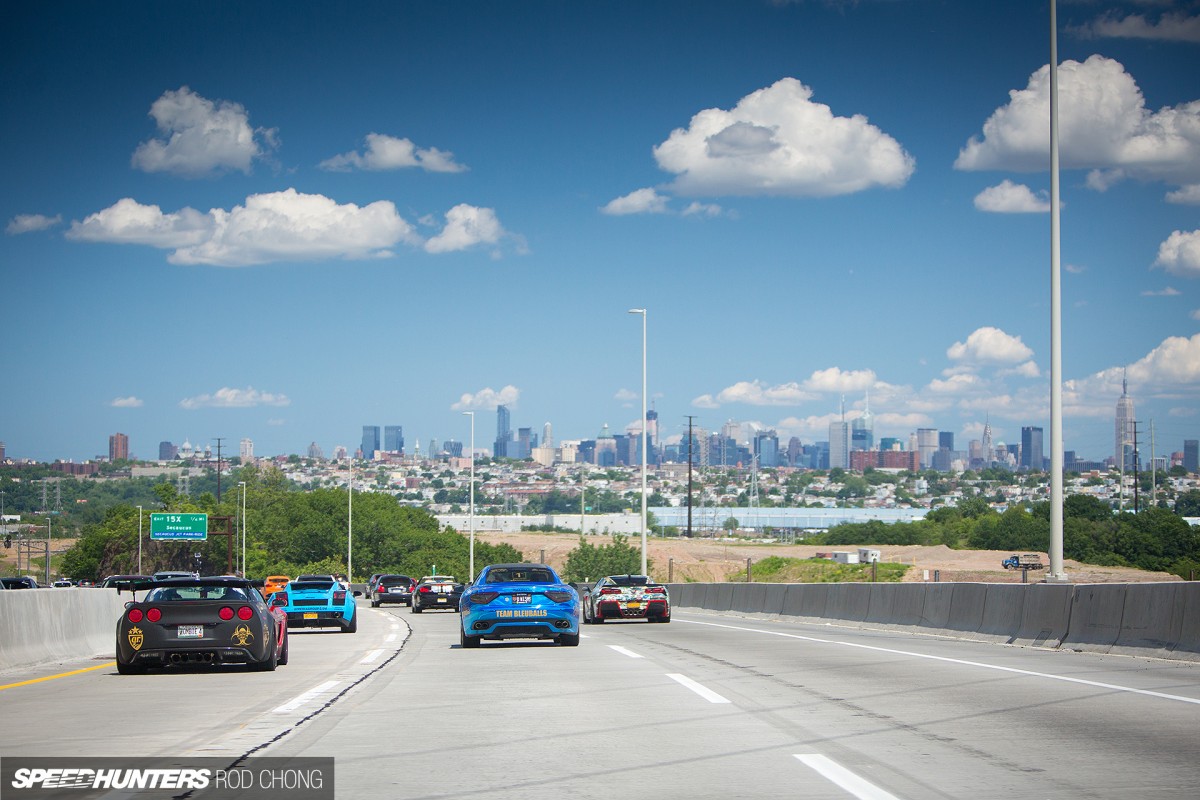 An awesome procession to an amazing city on a spectacular day. As you can imagine, it's tough to keep these machines under the speed limit so… time to drop the hammer.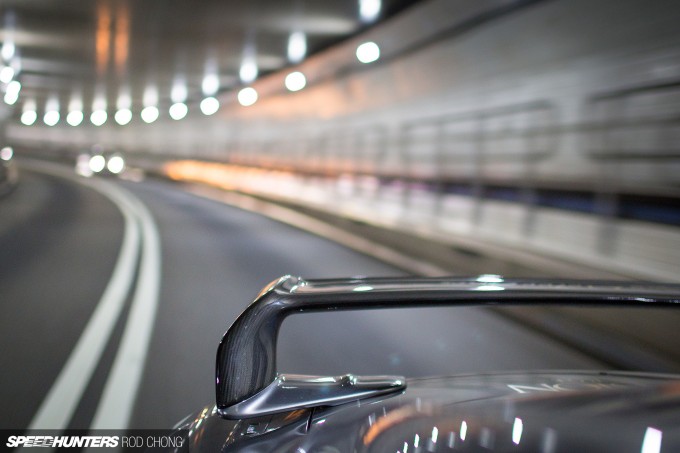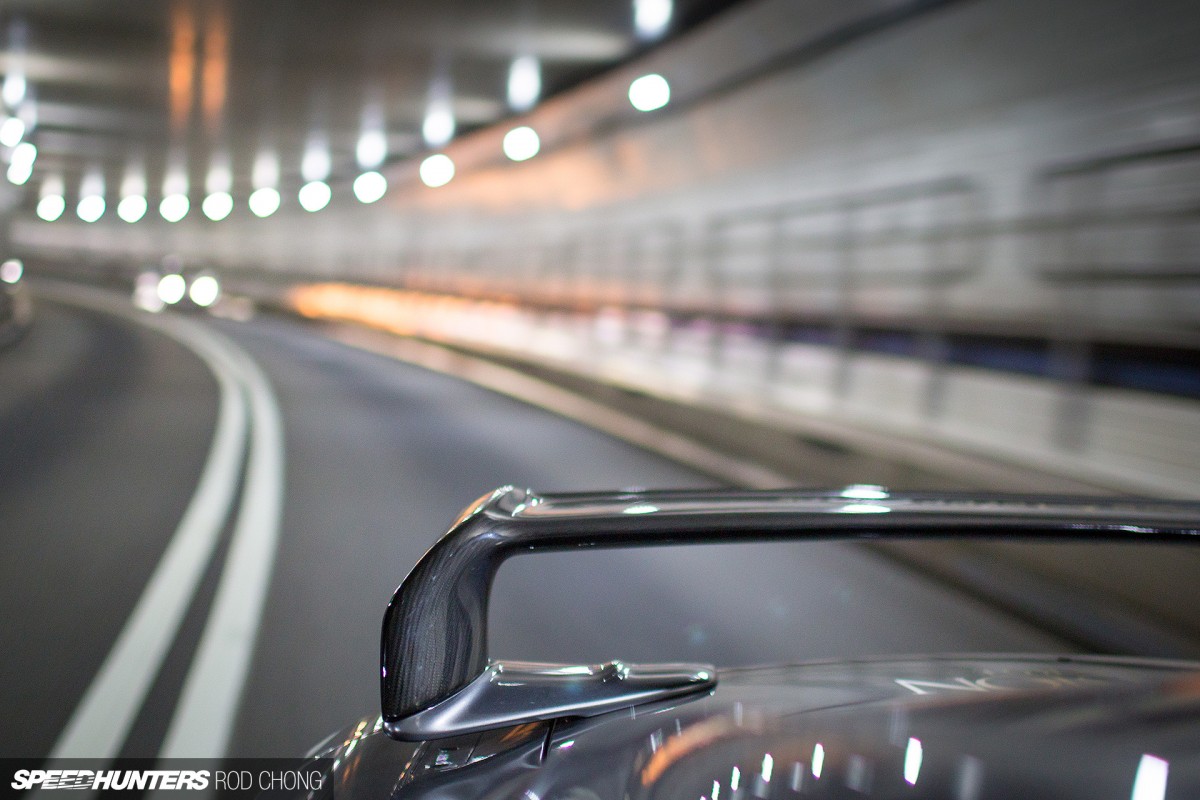 Not a delay, but only an obstacle now stood between us and the finish line. We were pros approaching the tunnel, and the EZ Pass I brought along came in handy as we were able to use the benefits of the dedicated express lanes.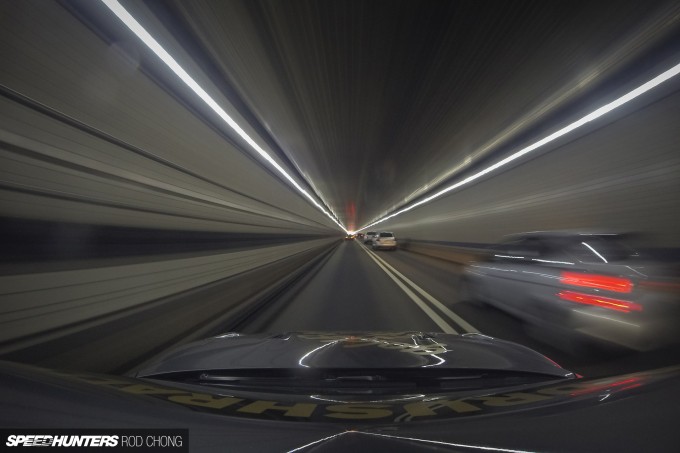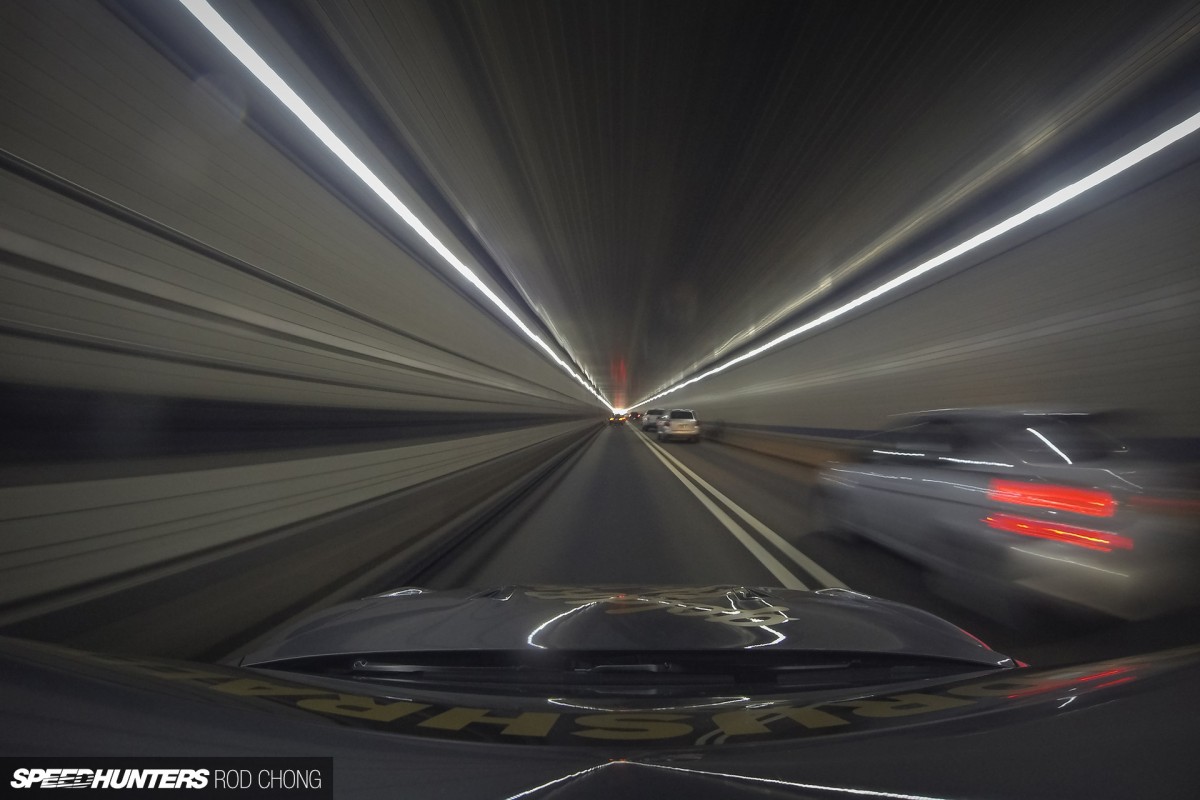 Good bye New Jersey! There was only 1.5 miles to go under the Hudson River until we came out on the West Side of Manhattan. You could taste the satisfaction, or maybe that was the exhausts…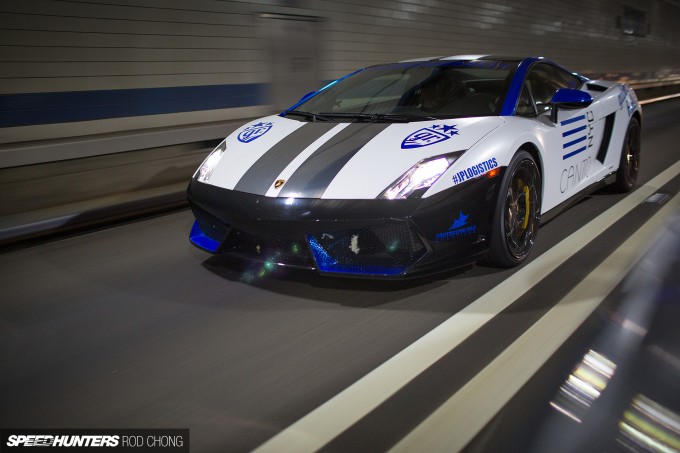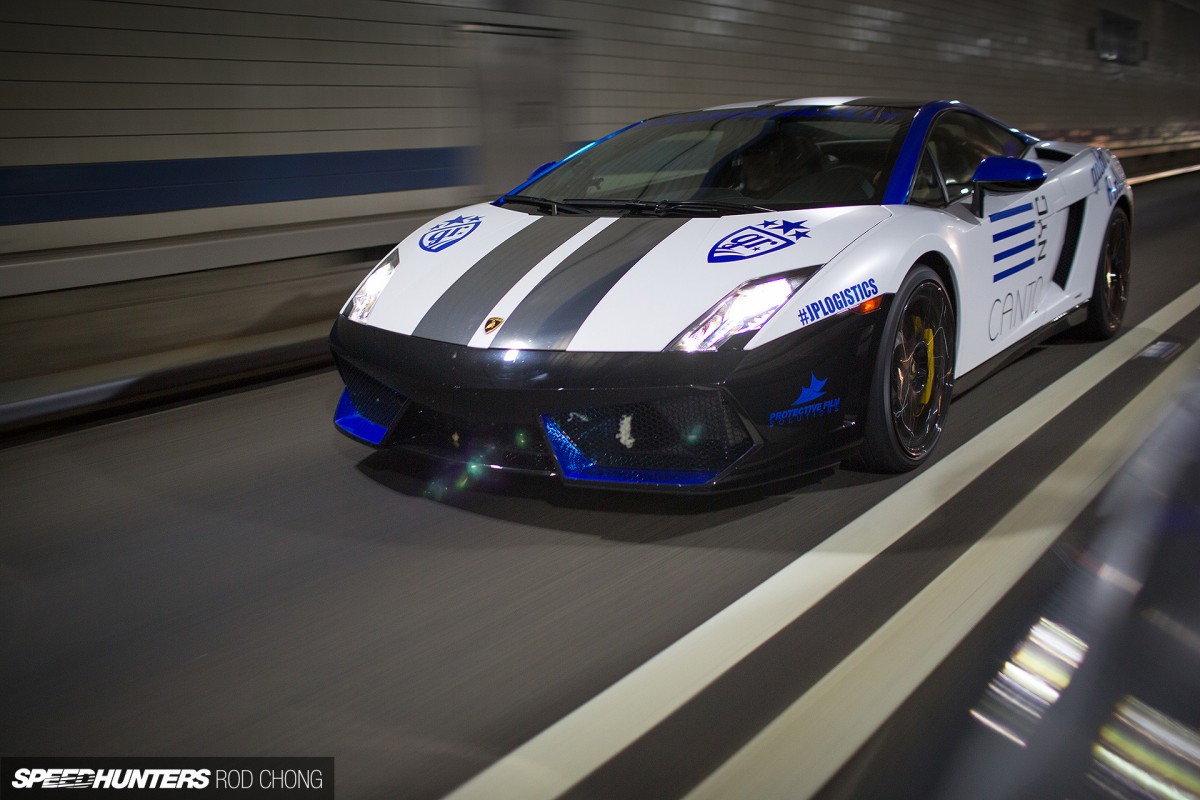 New York City's own Canto was sharing the Lincoln Tunnel with us. At this point it was hard to believe that only eight hours prior we were acting like tourists in DC, but now we had made it to NYC.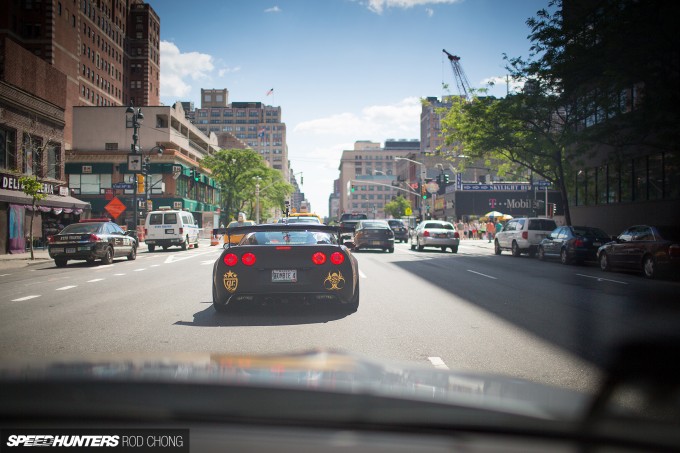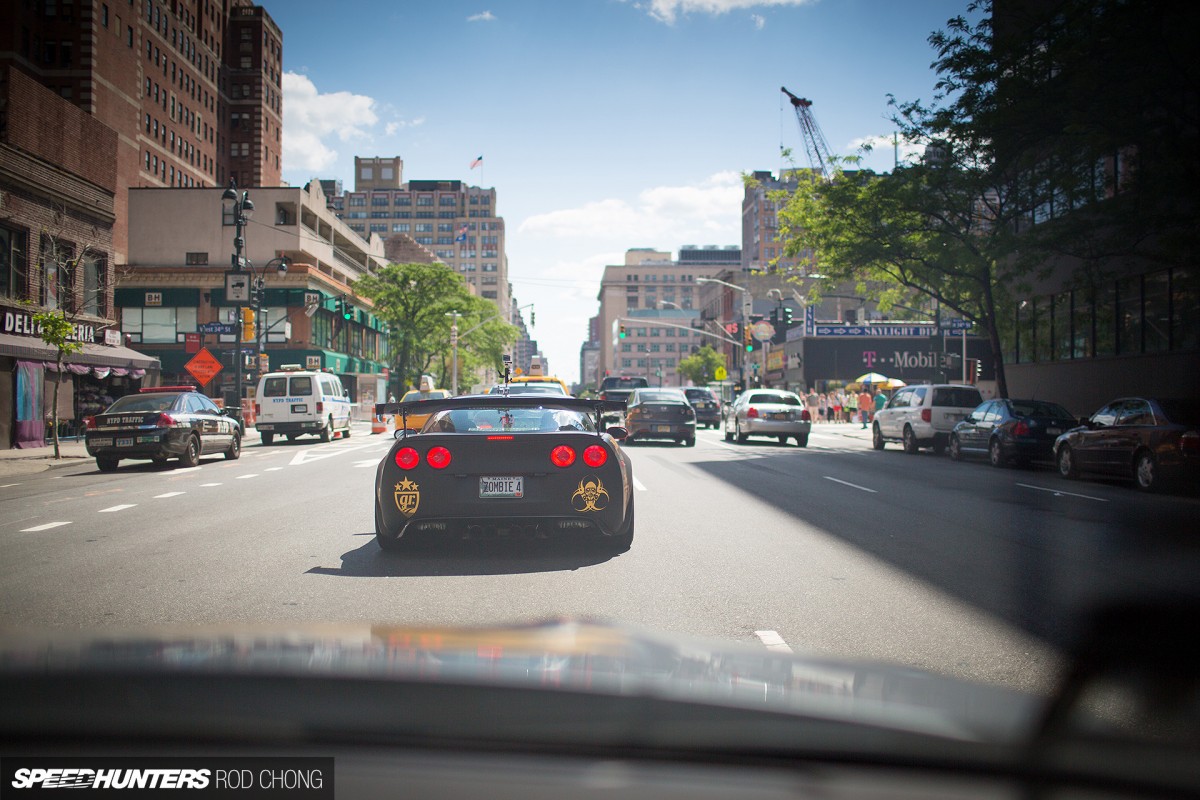 We followed Team Zombie Killers down 9th Ave; being especially careful and respectful on the city streets – no blocking the grid or red light camera fines for us.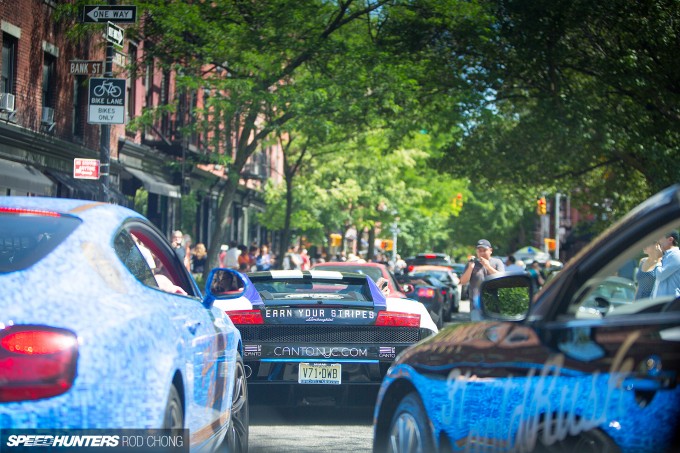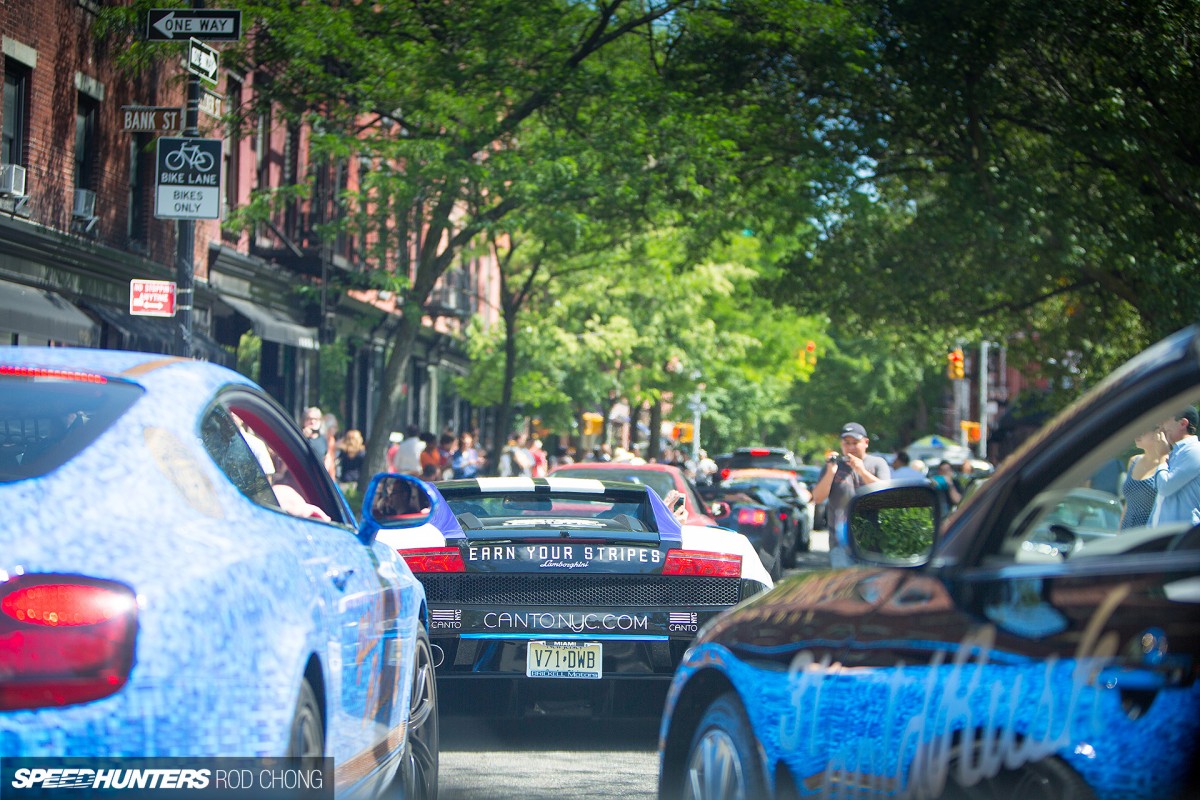 The ultimate finish line was in the distance a few blocks across town on Bleecker Street, but first a battle for position between the Bentley and the Infiniti. The Contenential goes left – the Q60 goes right. But but the driver of the Infniti had other plans – namely picking up two lucky ladies for a ride through the packed street ahead.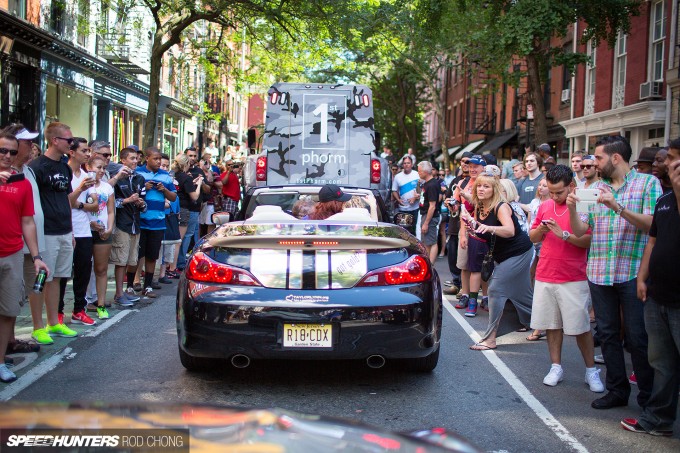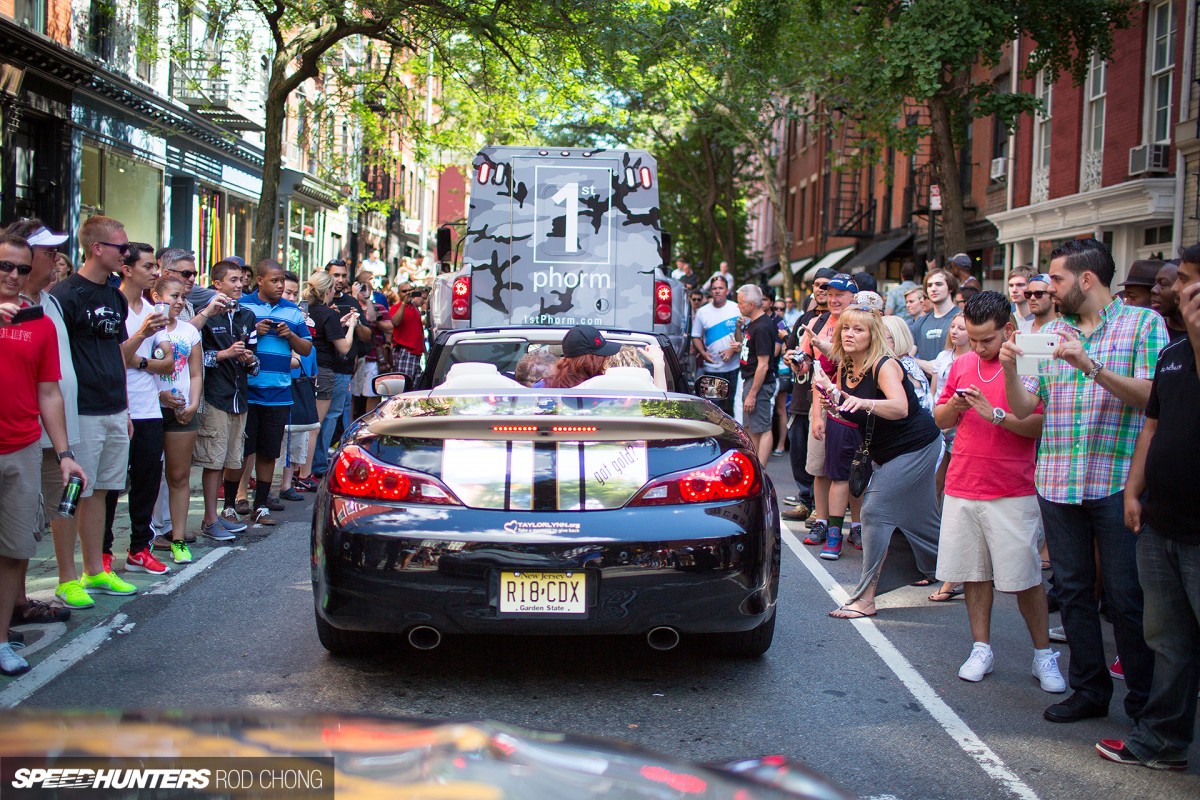 With all the spectators lined up and ready, the Infiniti owner had his choice of beauties to fill his drop top. He ended up pulling in a blonde and a red head. As impressive as that is, the oversized Team 1st Phorm truck ahead of it was a hard act to follow. They had another huge truck, plus an Aventador and an SLS, and attacked the rally as hard as their athletes. The driving portion of our day was all but over.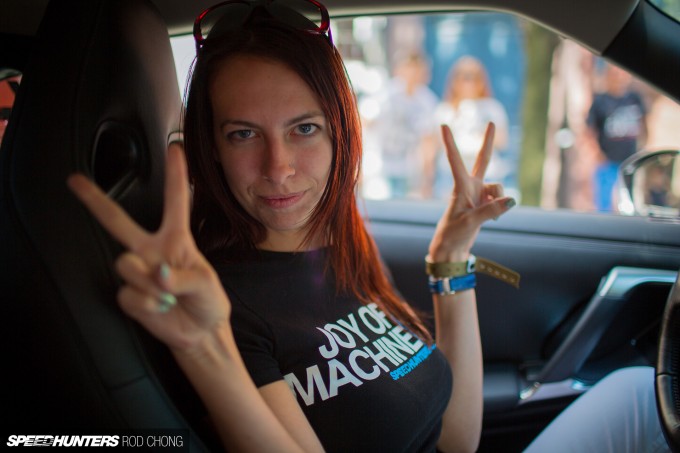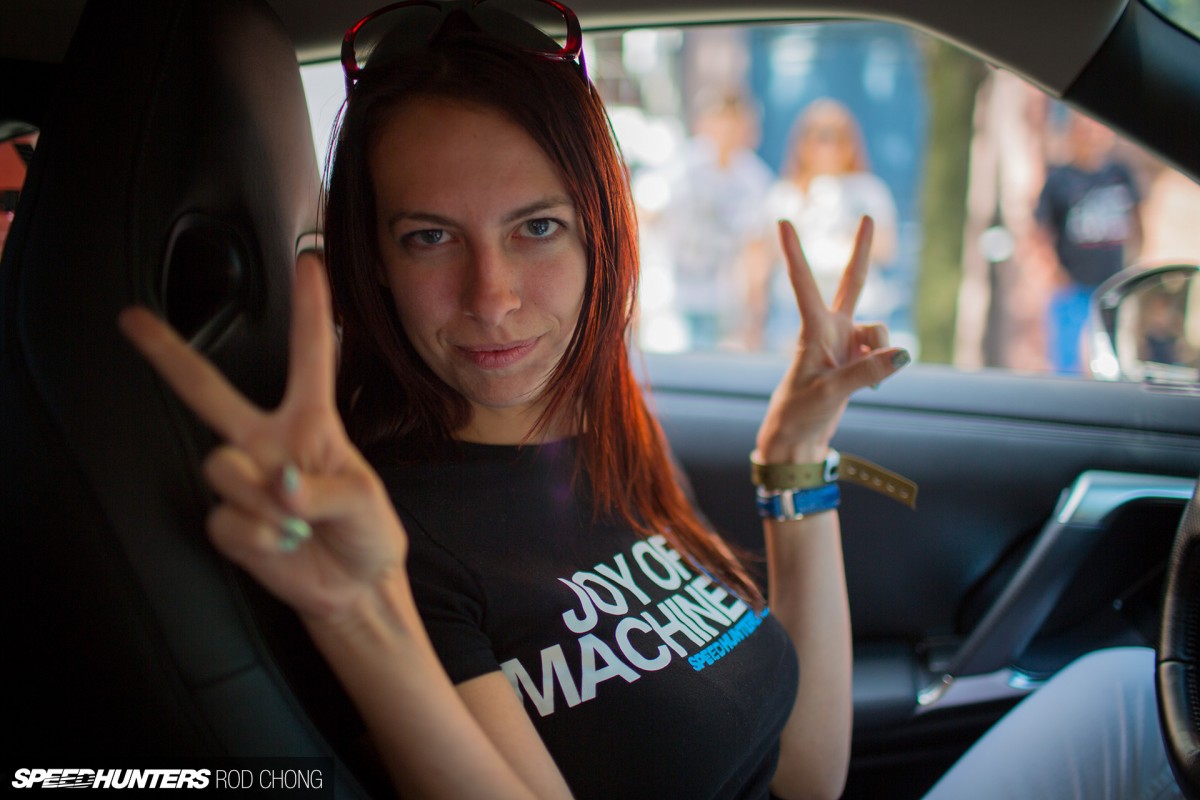 While others were shooting flames and revving their engines the crowd wanted more so we broke out our secret weapon. We took the our Air Lift Performance AutoPilot V2 controller and dropped the R35 to the ground. Ooohs and Ahhhs followed – but wait for it, back up in minute. A round of applause for the Speedhunters! Our day of MaximumAttack ended as the teams took over the Meat Packing district for their closing ceremonies.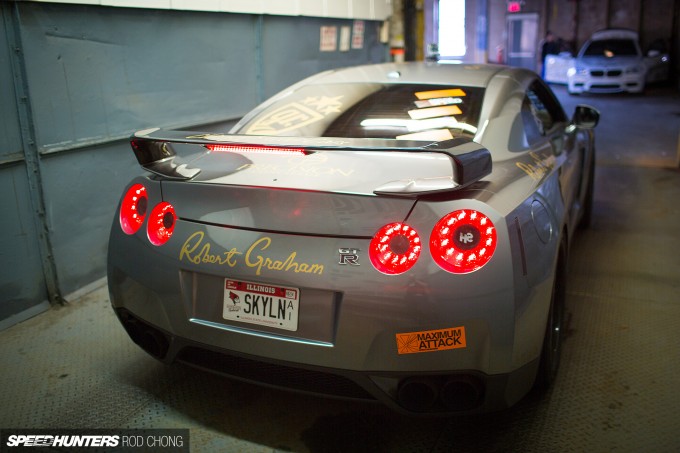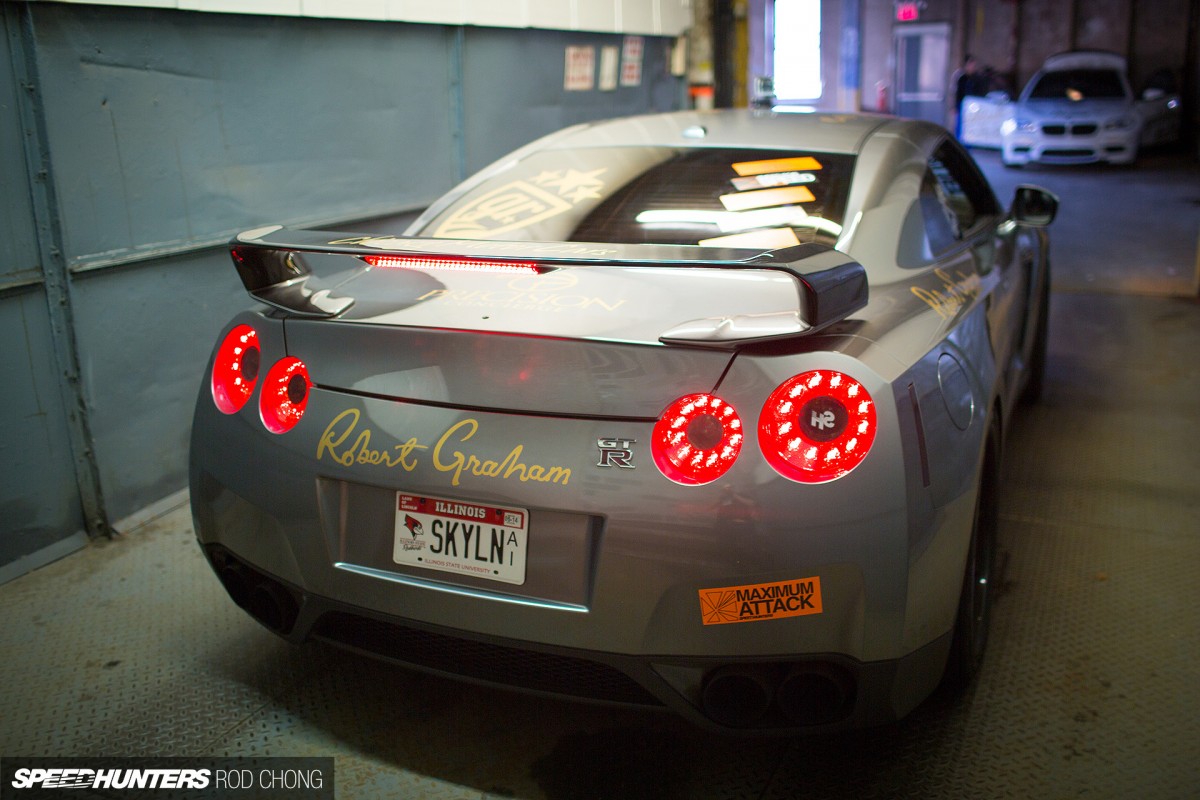 We parked up the R35 for a well deserved night off as the next day it would be headed to D2 IND, who we can't thank enough for the loan! Til next year then, with a party in the city where the heat is on – Miami! We hear rumors that the goldRush will be invitation only. Will your team make the cut?
Elizabeth White
Instagram: itswhitenoise
Photos by Rod Chong
Instagram: speedhunters_rod
Twitter: @rodbotchong
Cutting Room Floor