A Great Collaboration
The last time Garage G-Force collaborated with body kit specialist Varis, all sorts of wonderful things happened. If you cast your mind back to 2011, you might remember a certain white CZ4A Lancer Evolution X built with the knowledge and expertise of handling specialists Sunbeam, that quickly became the talk of the time attack world when it blasted a 57-second lap at Tsukuba. In the process it also became the quickest Evo X around the legendary circuit, stealing the crown from the Koyama Racing Labo CZ4A. At the time I remember being quite impressed at the pace of progress 4B11 tuning had taken – the real-world results speaking for themselves. Fast forward a few years and we find G-Force applying lessons learnt on the race track to more street-oriented Evo builds.
The car I'm about to show you could well be the perfect embodiment of Mitsubishi Lancer Evolution X – a great mix of performance and looks, plus all the functionally and ease of use its SST dual-clutch transmission throws into the mix.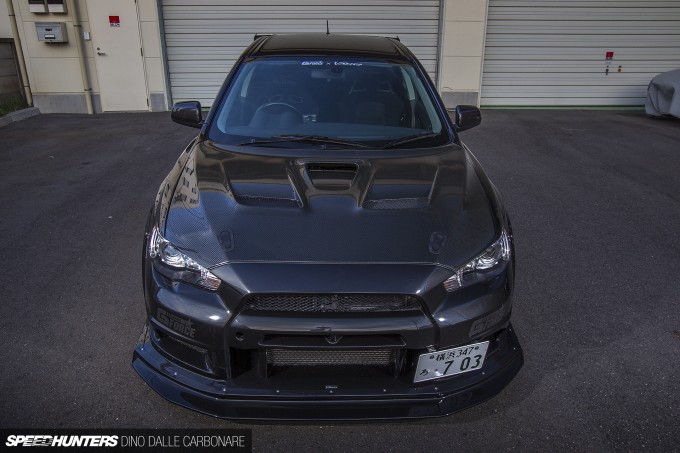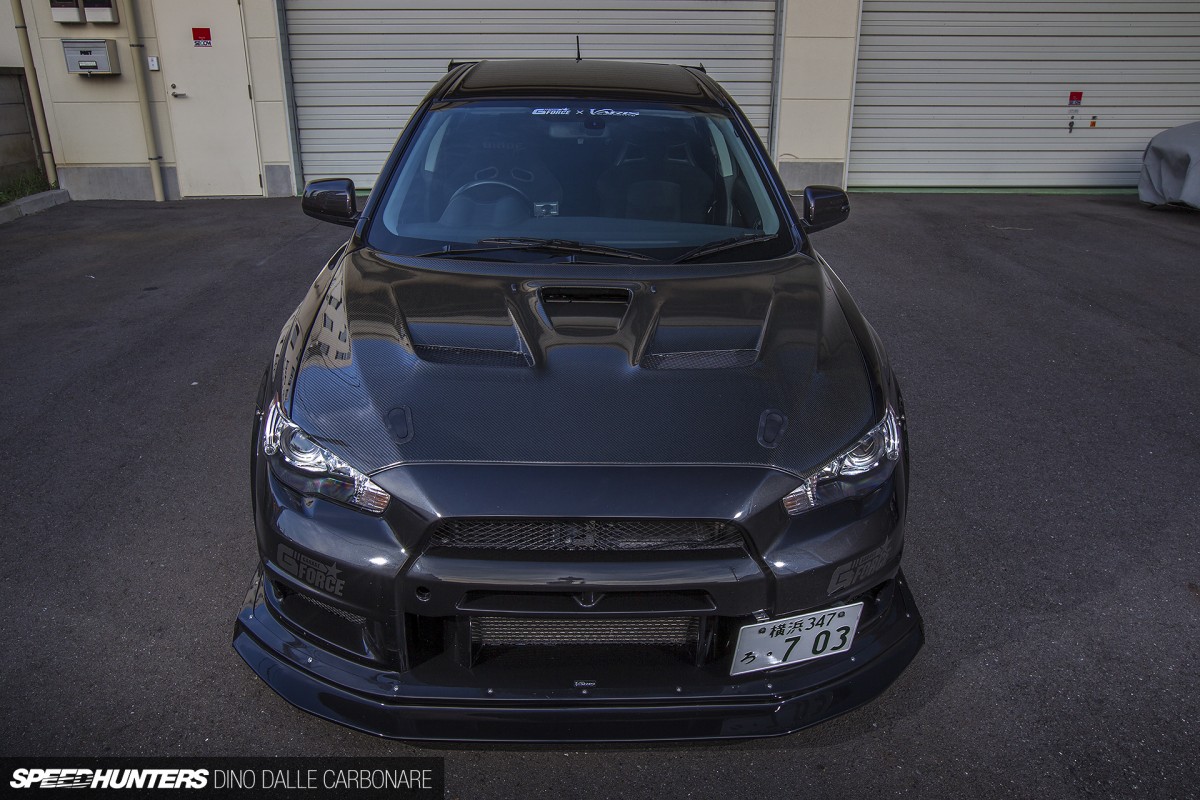 You know, when I actually look at an Evo X I can't help but feel pretty sad, and maybe a little angry. Here's a model that arrived seven years ago, and one that – if rumours are indeed correct – won't see a successor for years, or perhaps ever. It also makes me sad to see that in seven years its closest and fiercest of rivals – the Impreza WRX STI – never really fought back with any real attempt at pushing the technology of these AWD beasts forward. Subaru never even bothered to develop a dual-clutch transmission option, which to me at least made the Evolution X the instant winner in the battle that's been going on between these two rally-bred specials for 20 years. The 'If it ain't broke, don't fix it' approach might be working for Subaru, the STI is still, after all, a very capable car, but as an enthusiast it's hard not to call them out for avoiding to step their game up. Replacing the 4G63 was a commendable move by MMC and it's obviously paid off because this an engine that has proven to have plenty of potential for tuning. To illustrate the point, with this car Garage G-Force decided to show us what an explosive street machine the Evo X can be turned into.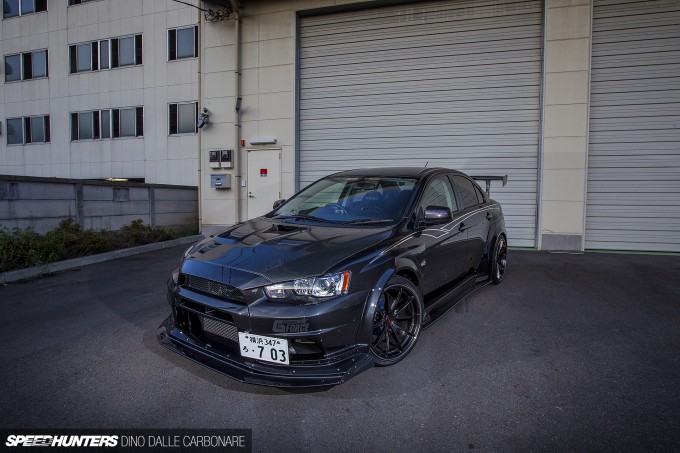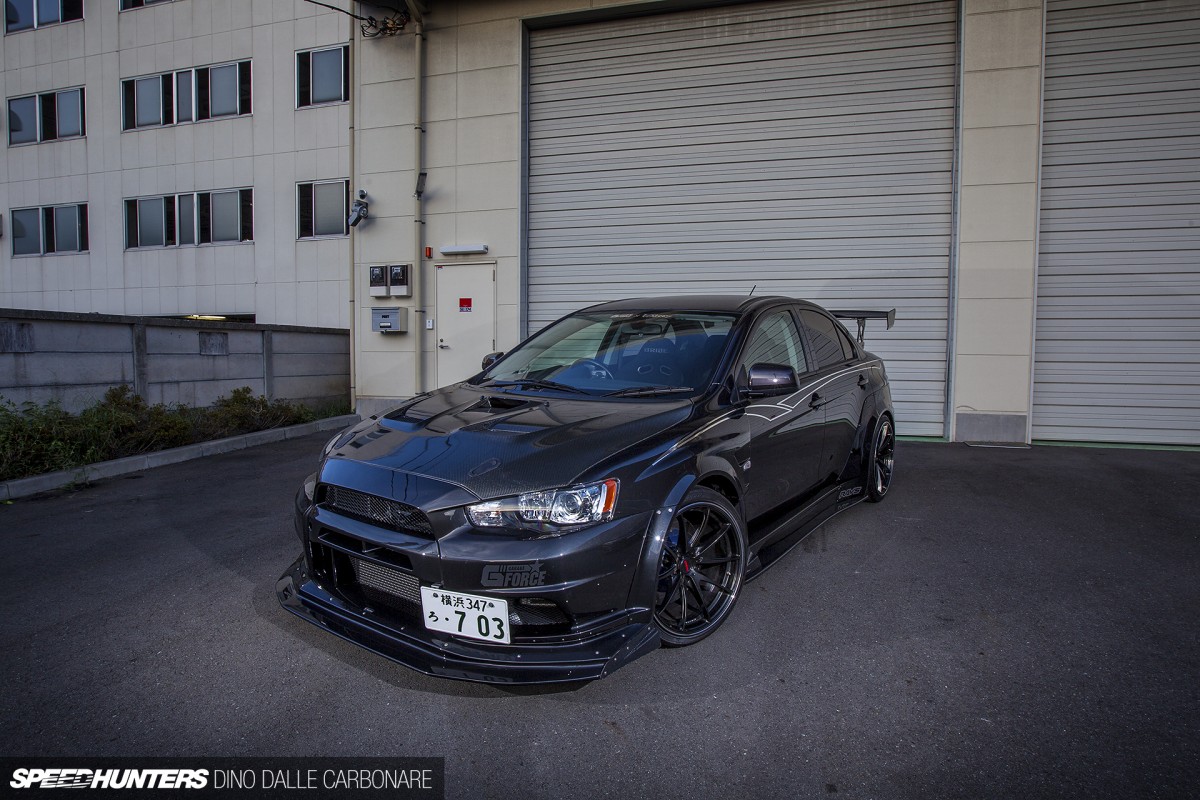 To address the looks of their demo car, G-Force's collaborator for the build, Varis, sent over their complete wide body aero kit. It's an comprehensive package of meticulously-manufactured bits and pieces that turn an already pretty aggressively-styled car into something that looks even angrier.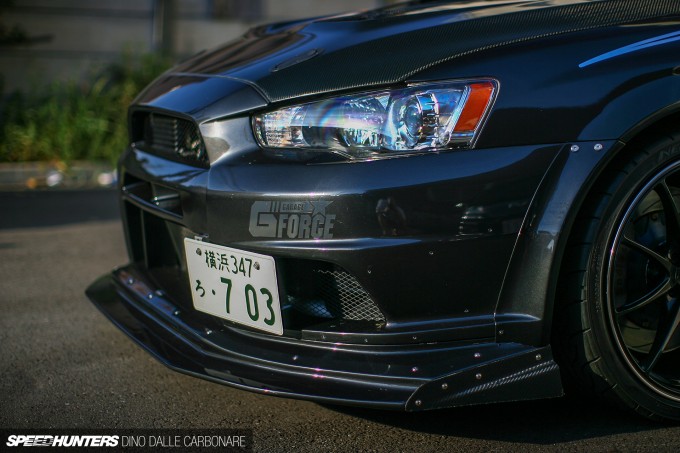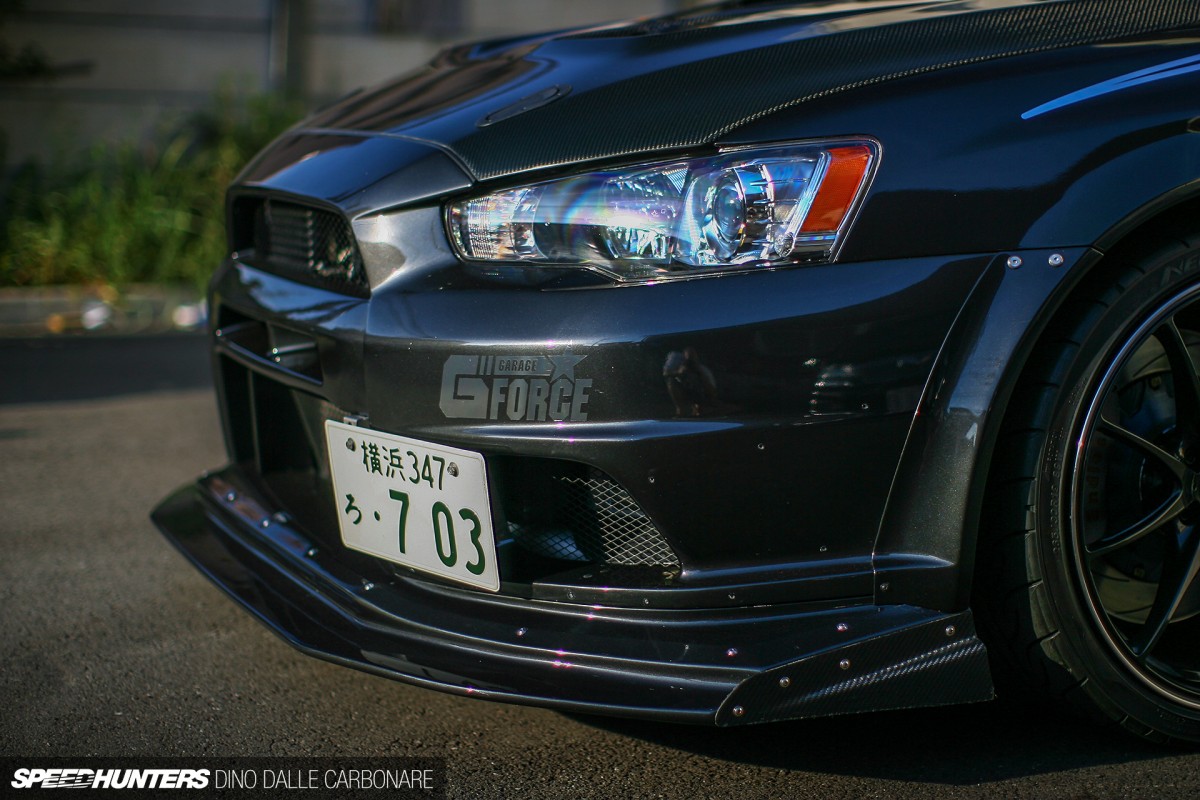 The front bumper received an in-your-face lip that stretches well outside of its factory dimensions, topped off at both sides with carbon fiber end-plates/canards. This sets everything up for the addition of the wider front and rear fenders: one-piece blended and vented items up front.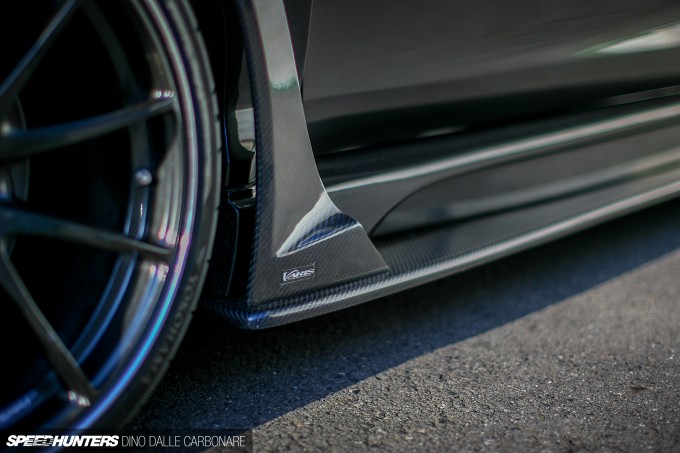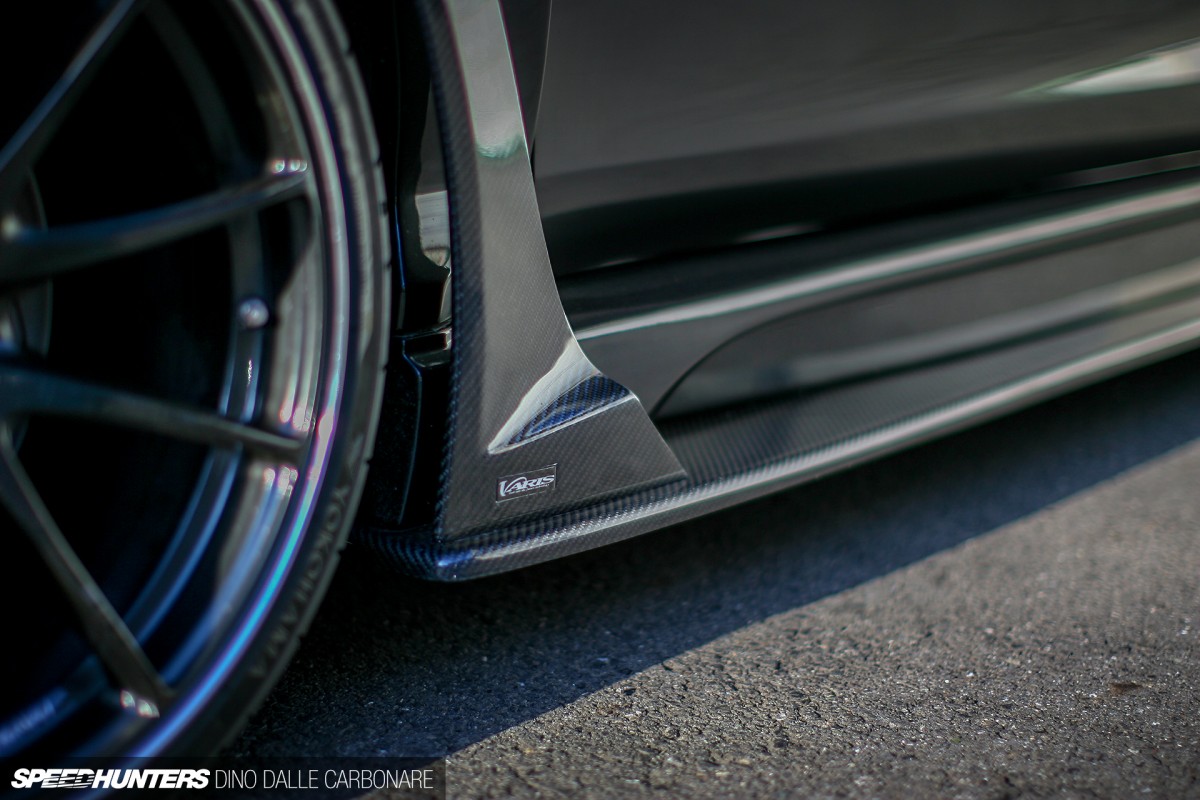 These are tied into the rest of the car's profile with a carbon fiber finish. A little touch of Super GT race car perhaps?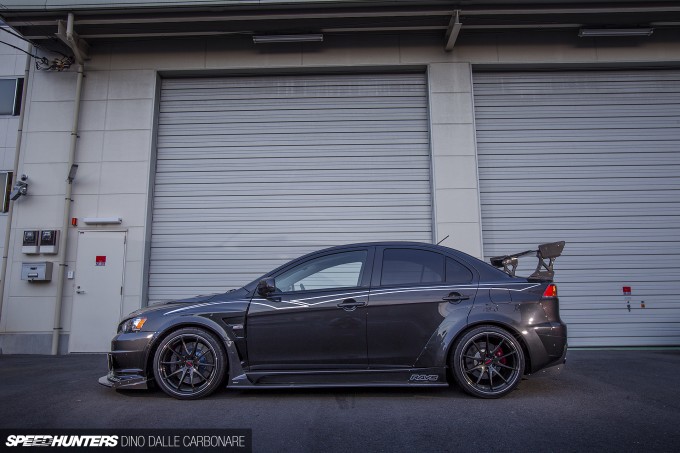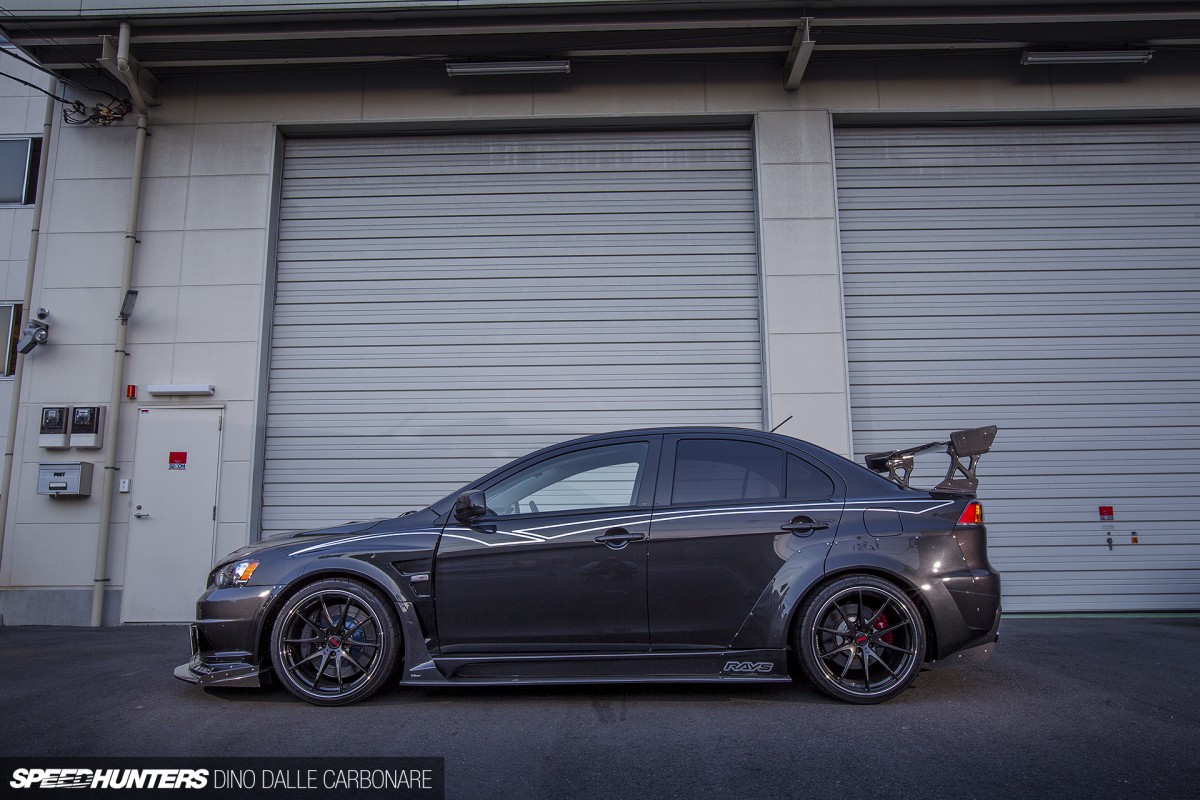 The rear widening is executed with a two-piece riveted-on flare that begins deep into the rear door for a more integrated look. Vented side skirts are also fitted along with a carbon fiber underskirt, making the Lancer appear lower than it actually is.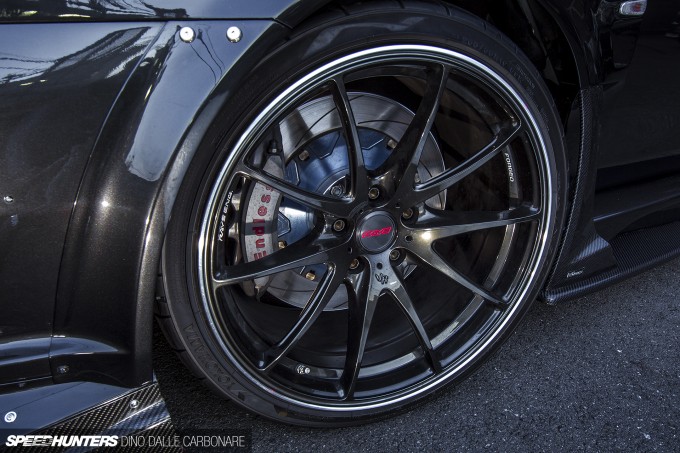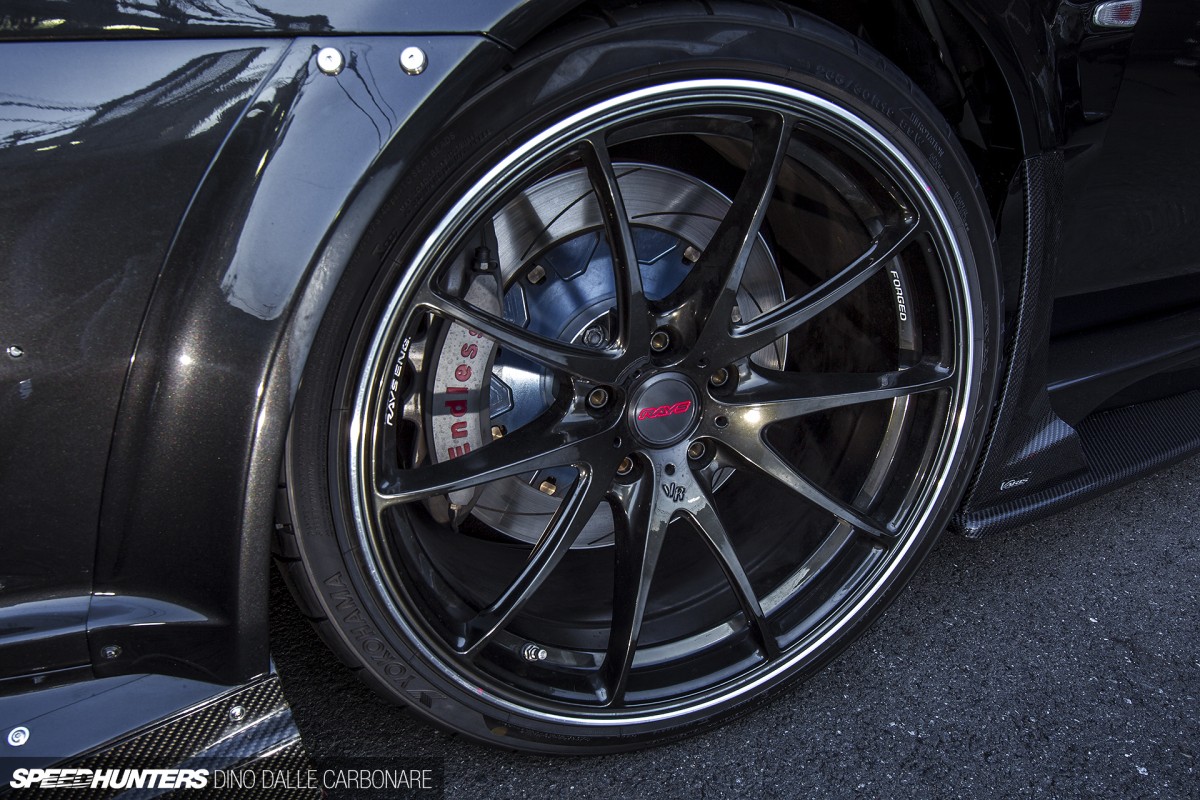 The black RAYS Volk Racing G25s in a 19×10.5-inch fitment all round are a very nice choice, and a perfect match for the Evo's angular body and aero upgrades. Now that Yokohama finally makes its grippy ADVAN Neovas in 19-inch sizes, Garage G-Force didn't need to think twice when it came to tyre choice.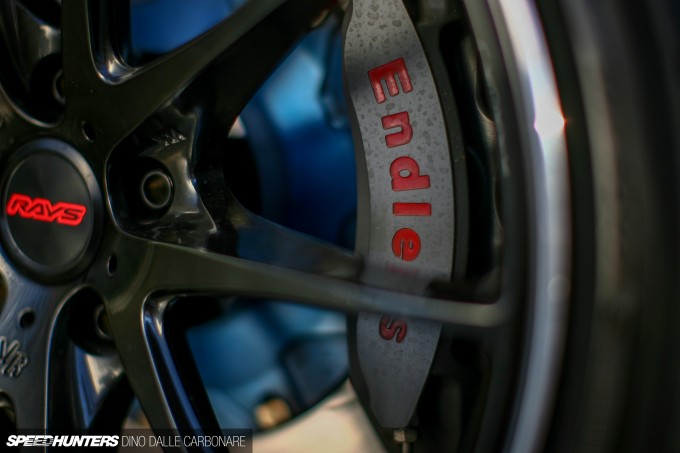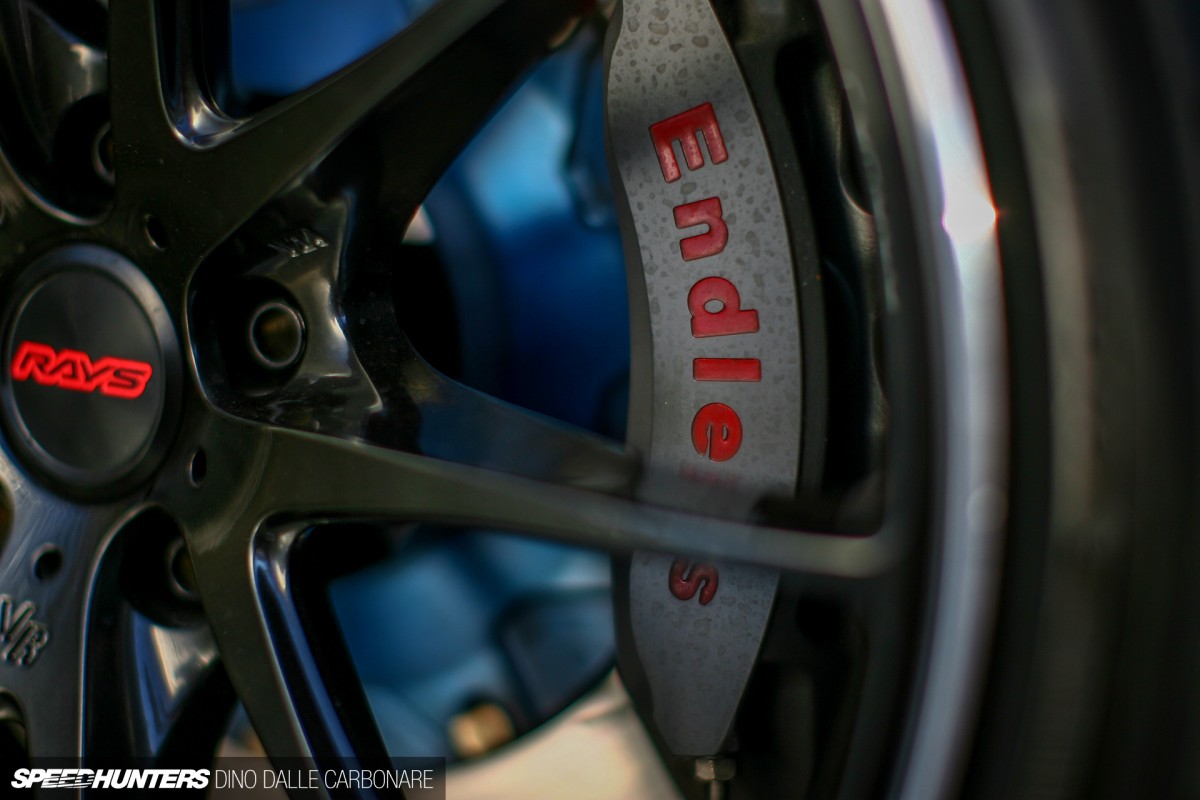 It's not hard to notice that the factory Brembo front brakes have been replaced with a package more capable of dealing with close to double the horsepower of the stock Evo X. The Endless 6-pot monoblock calipers continue to be the ultimate in Japan-built brakes and – despite their prohibitive purchase price – they offer reliable brake performance without impacting on unsprung weight. Like at the front, Endless 2-piece discs are also fitted at the back end, slightly boosting the braking capability of the Lancer's factory Brembo rear callipers.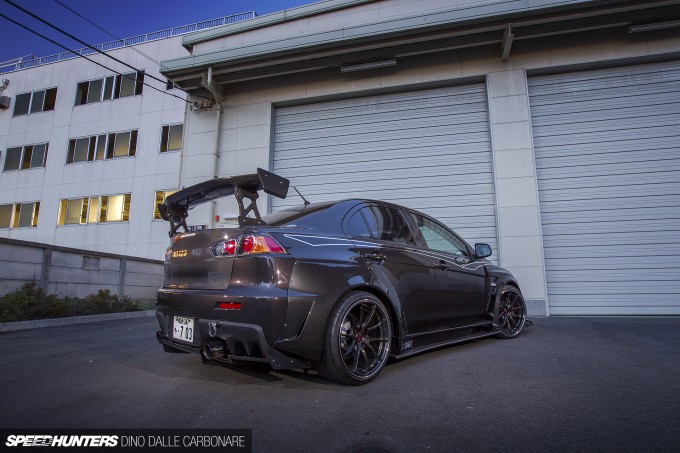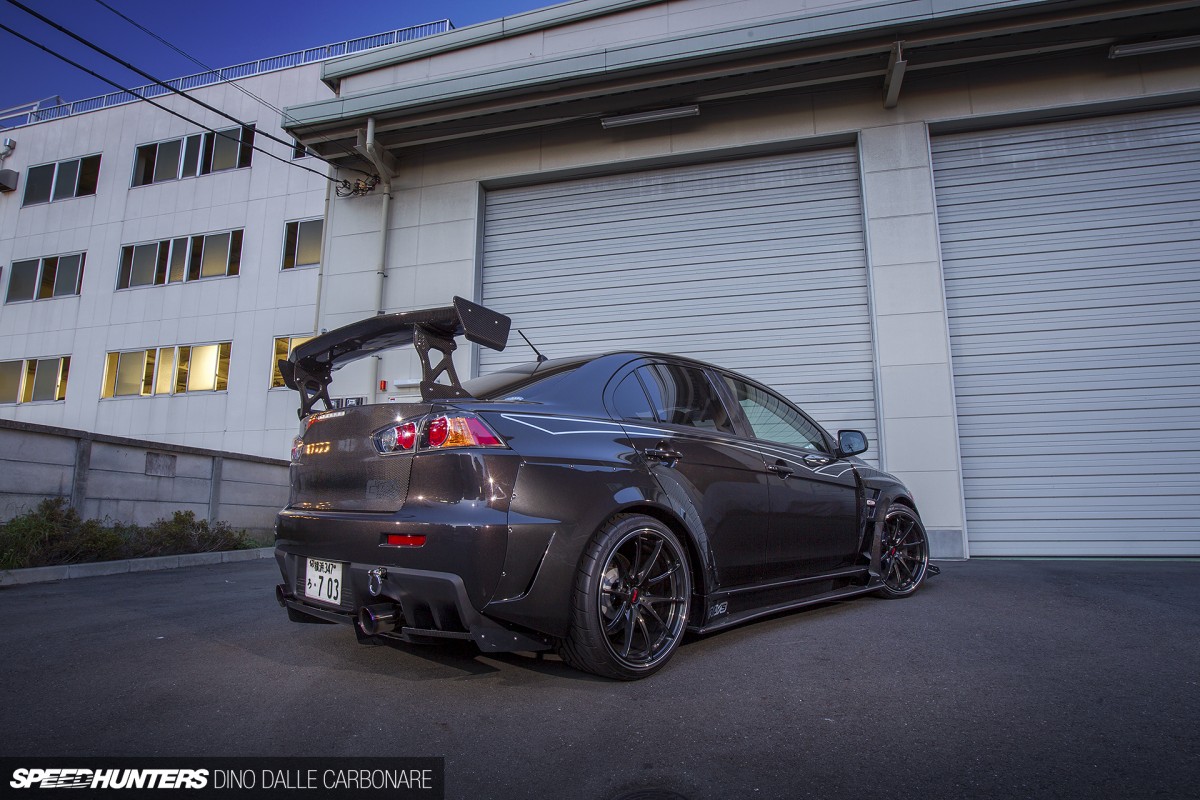 The exposed glossy fibers of the Varis carbon trunk lid and GT wing are almost an identical shade to the rest of the Graphite Gray body, so it's only really when you step closer do you notice all of the aftermarket additions.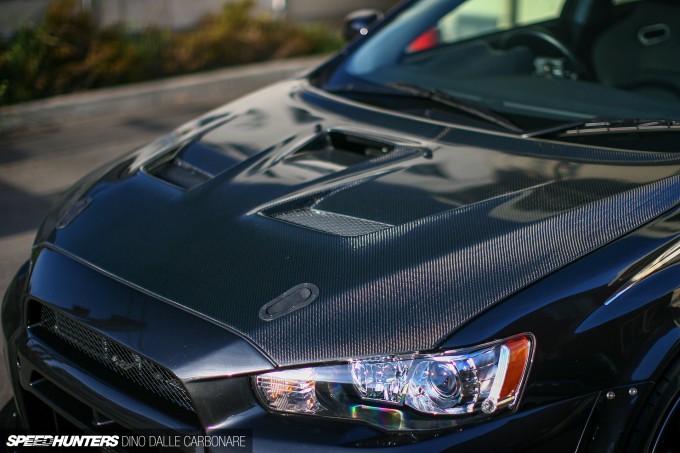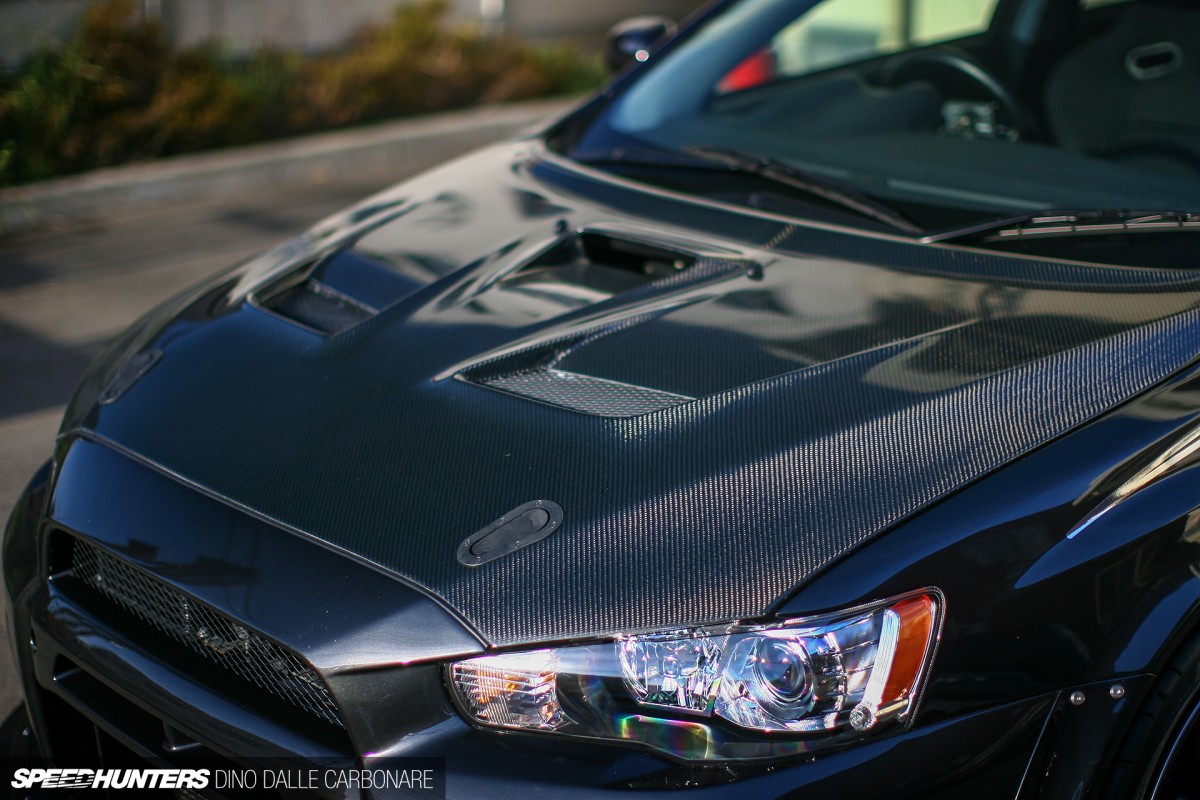 That includes the Varis bonnet – vented to help expel as much heat as possible, and for safety held in place with a pair of Aerocatch latches.
550 Turbocharged Ponies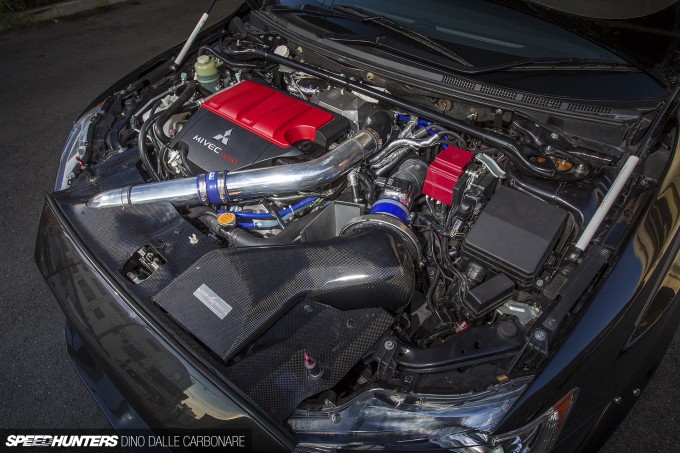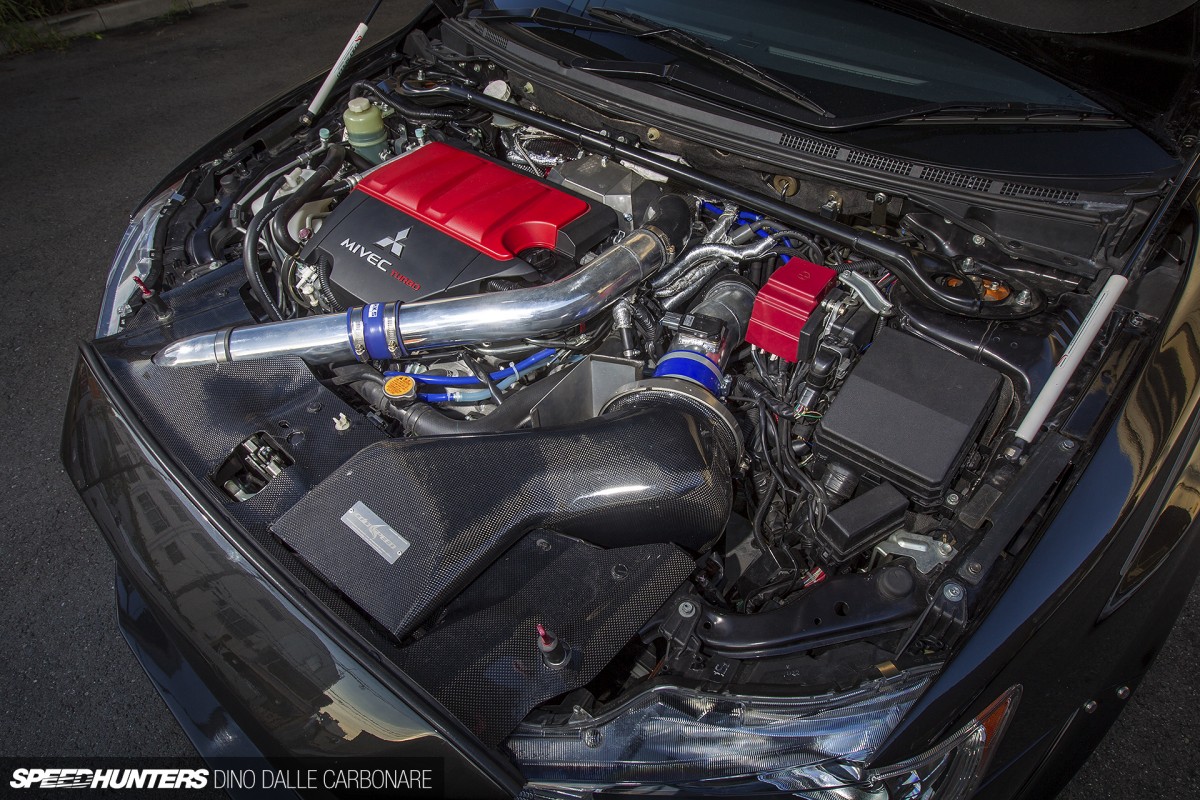 Lift the bonnet up and it all gets even more interesting. One of the things I like most about the presentation of this Evo's engine bay is how high-end it all looks.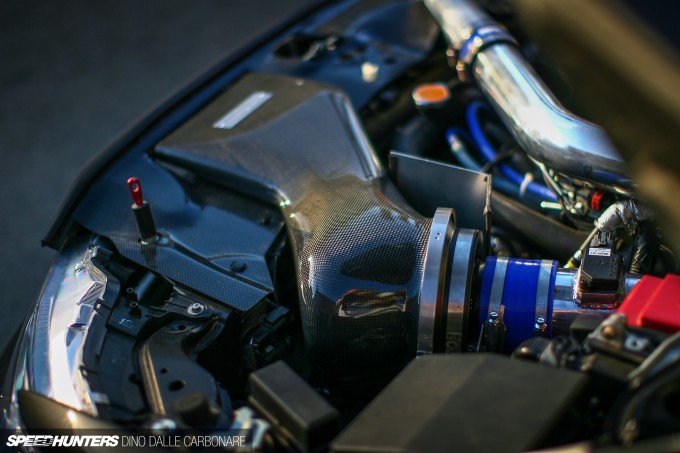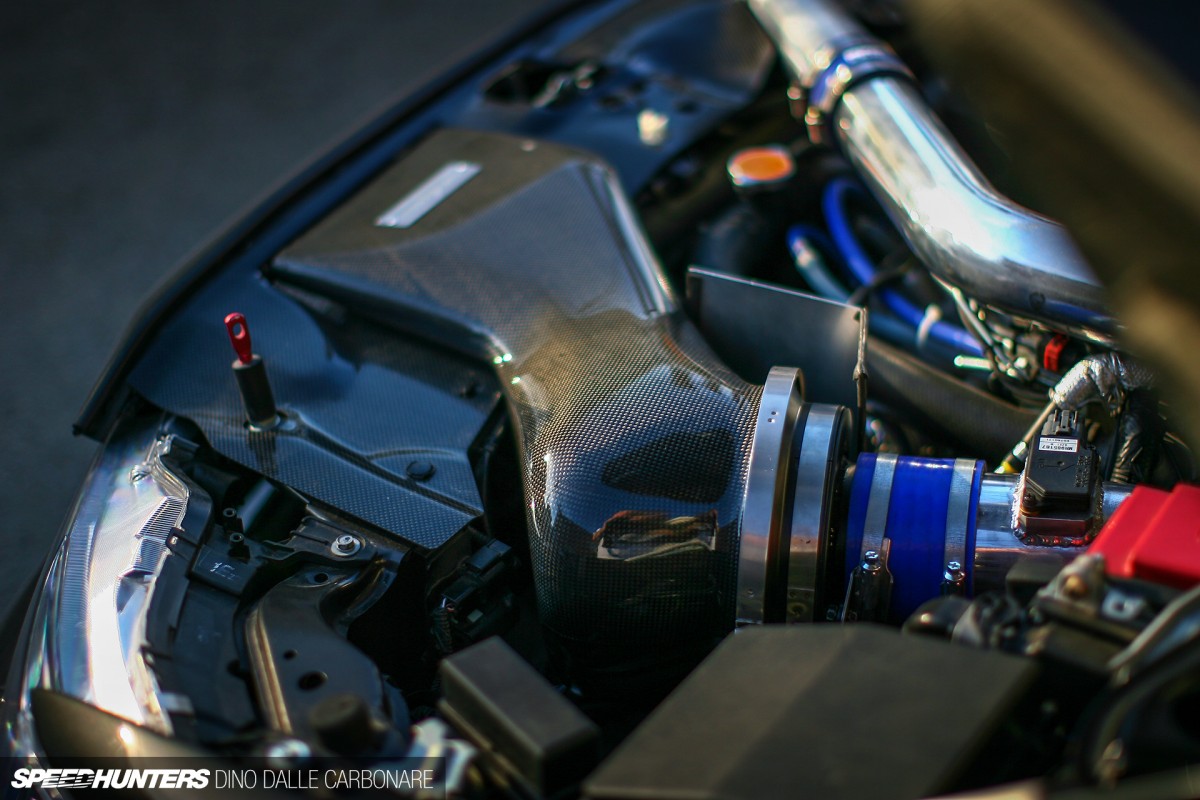 The Colt Speed carbon air box with built in ram-air guide, carbon radiator shroud, and shiny HKS piping were all well-chosen parts that turn what is a pretty ordinary-looking bay into something quite exciting. The 4B11 isn't much of a looker compared to the 4G63 it replaces – something that can be said for so many new-gen engines – so G-Force ended up using the stock engine cover to keep all required pipes, lines and connectors hidden away.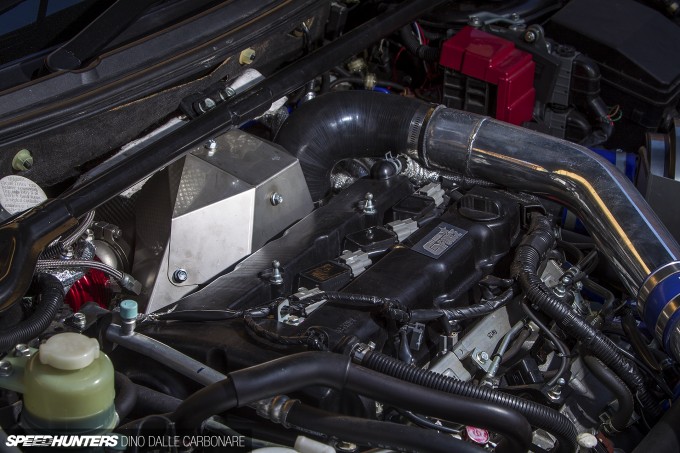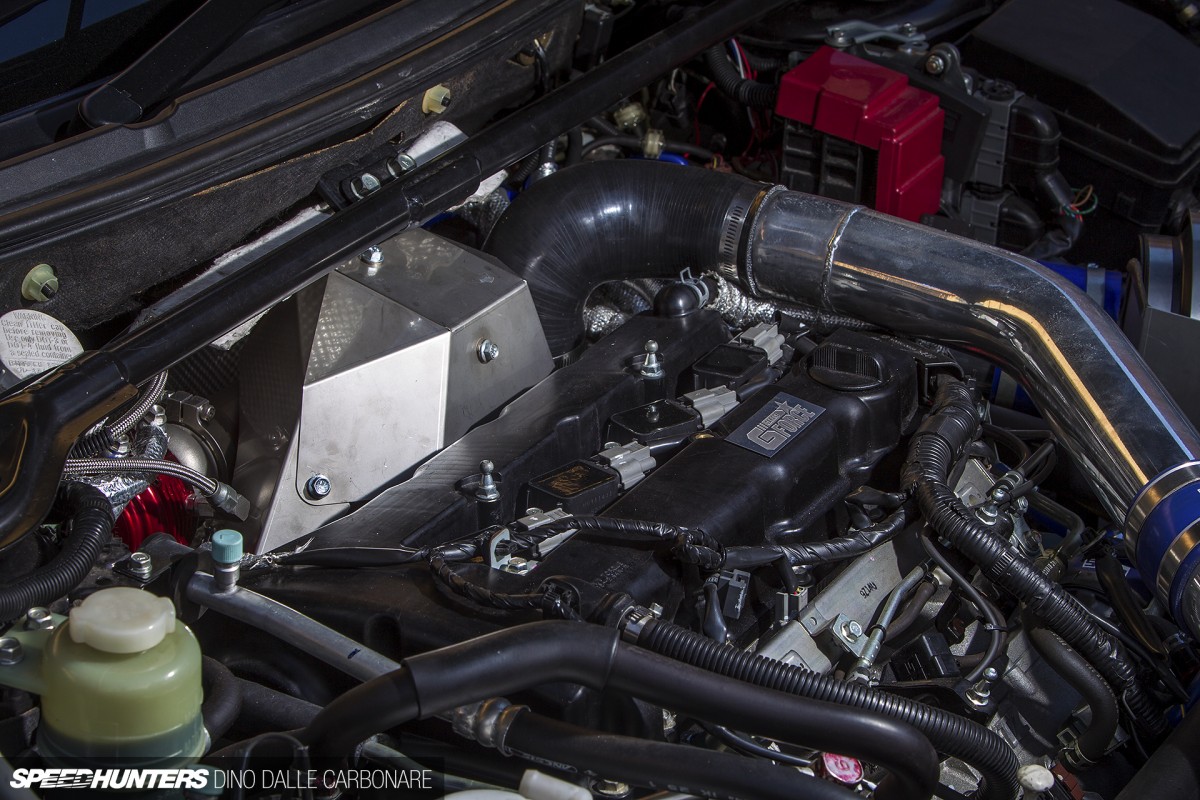 However, it's very easy to pop-off and expose the 4B11's composite cam cover. It might all look pretty stock-like, but that couldn't be further from the truth. The 2.0-litre engine was pulled out, stripped down and fitted with an HKS 2.2L stroker kit that replaces the entire bottom end with extra-strong components. Unlike the 4G63, the Evo X motor has its hot side against the firewall, which is why G-Force fitted a pretty hefty heat shield around the upgraded turbo.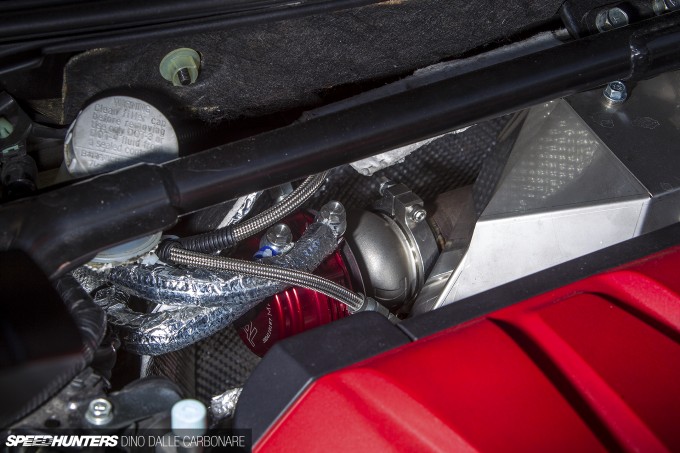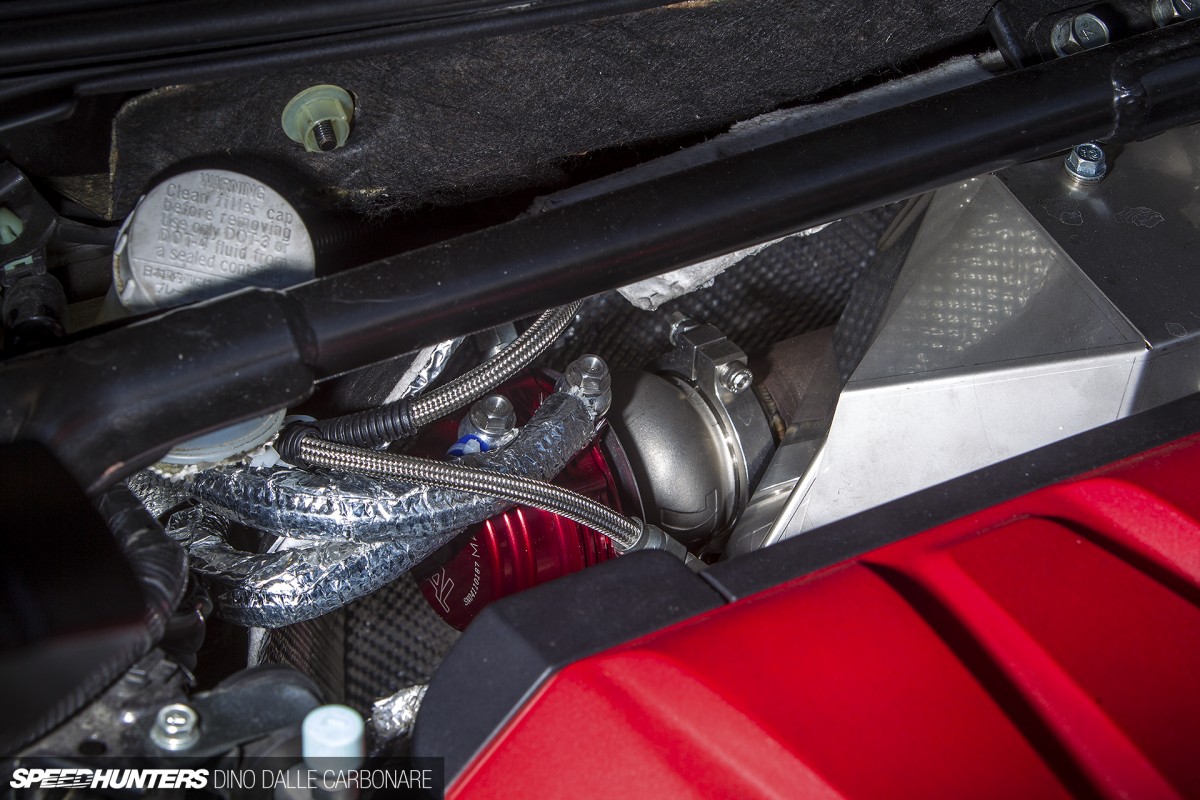 The Precision Turbo 5830 is fitted on an exhaust manifold of the same brand and controlled by a TiAL external wastegate. It's a pretty large kit offering plenty of boost – enough to help the engine push out a solid 550PS with a very useful 589Nm of torque to play around with in the midrange. An HKS F-CON V Pro – a very popular choice amongst JDM tuners – takes care of controlling the 800cc/min injectors and ignition maps; maximising the engine's response at the same time.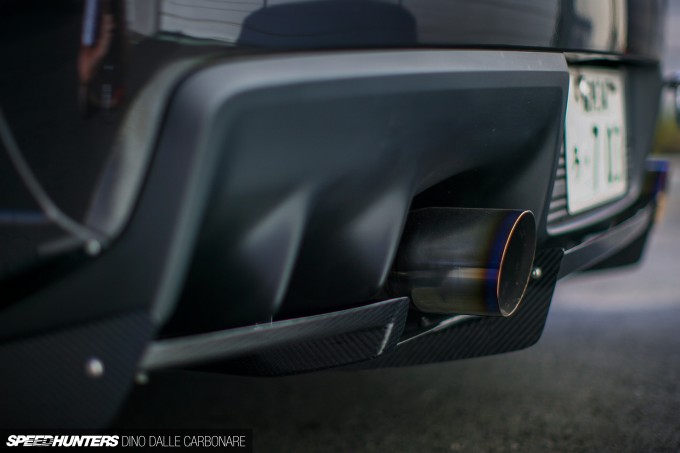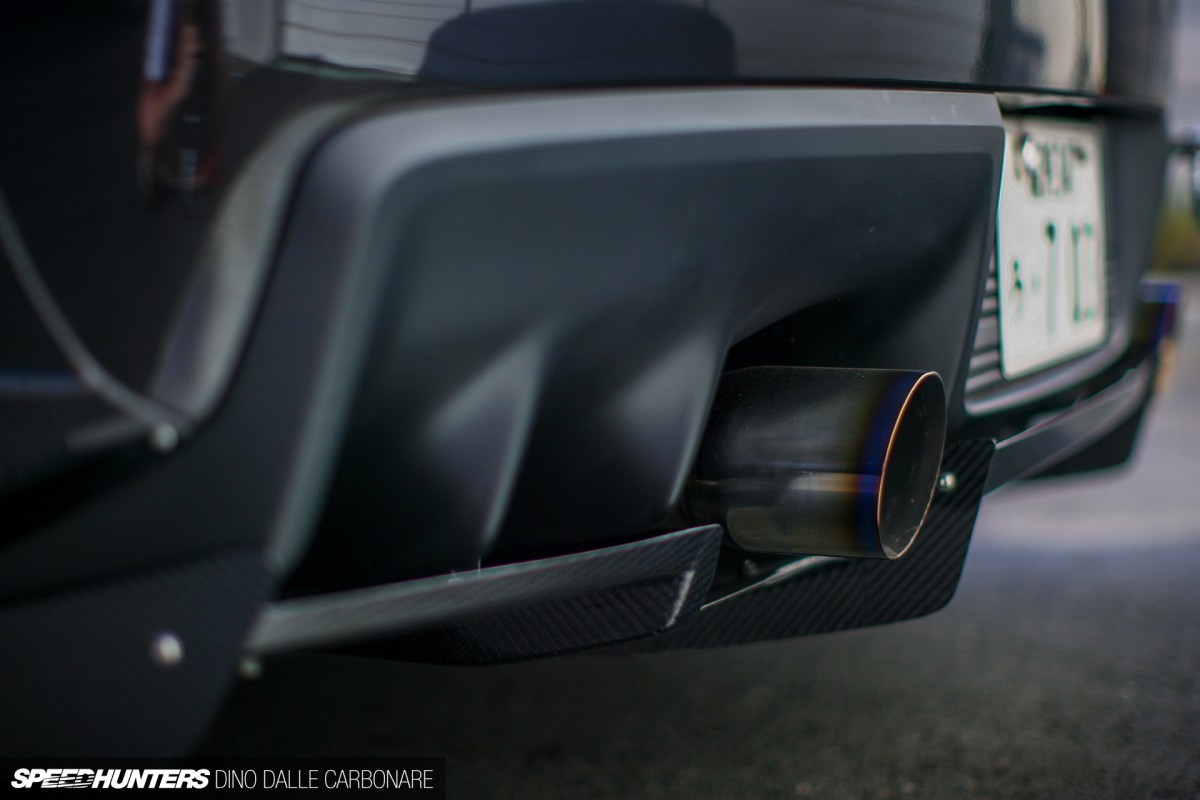 The turbo dumps spent gasses down to the G-Force titanium exhaust system which features a valve controlled by an actuator to help it remain quiet when it needs to be, and sing properly when surroundings allow. It's yet another touch that makes this a very modern take on what the ultimate street-tuned Evo X should be like.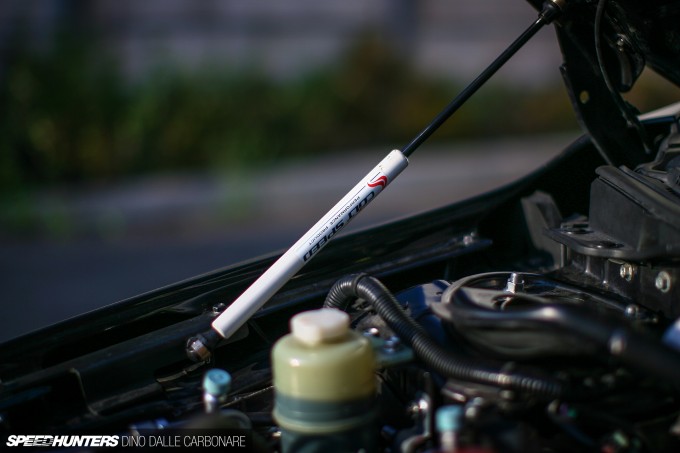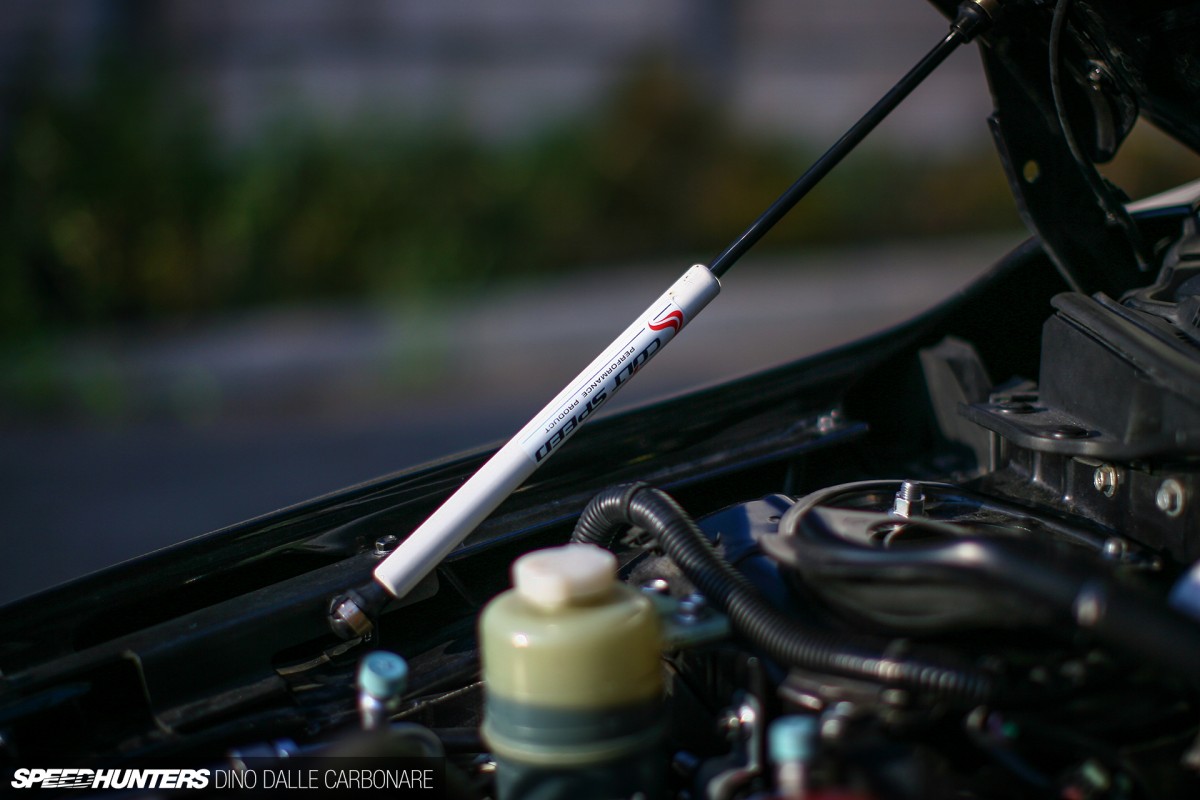 It even has bonnet dampers – a rarity on Japanese cars!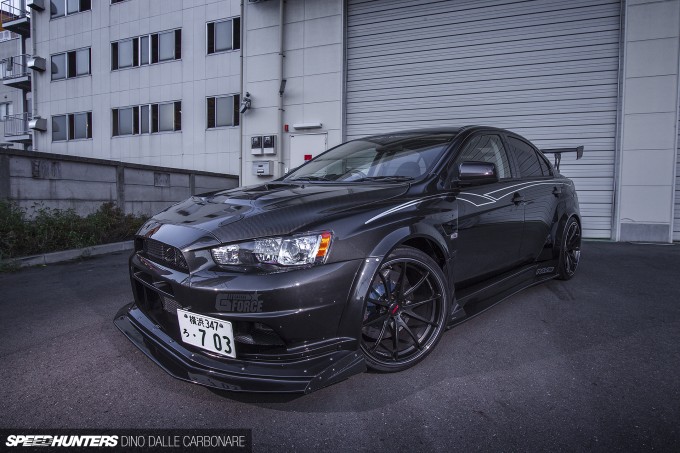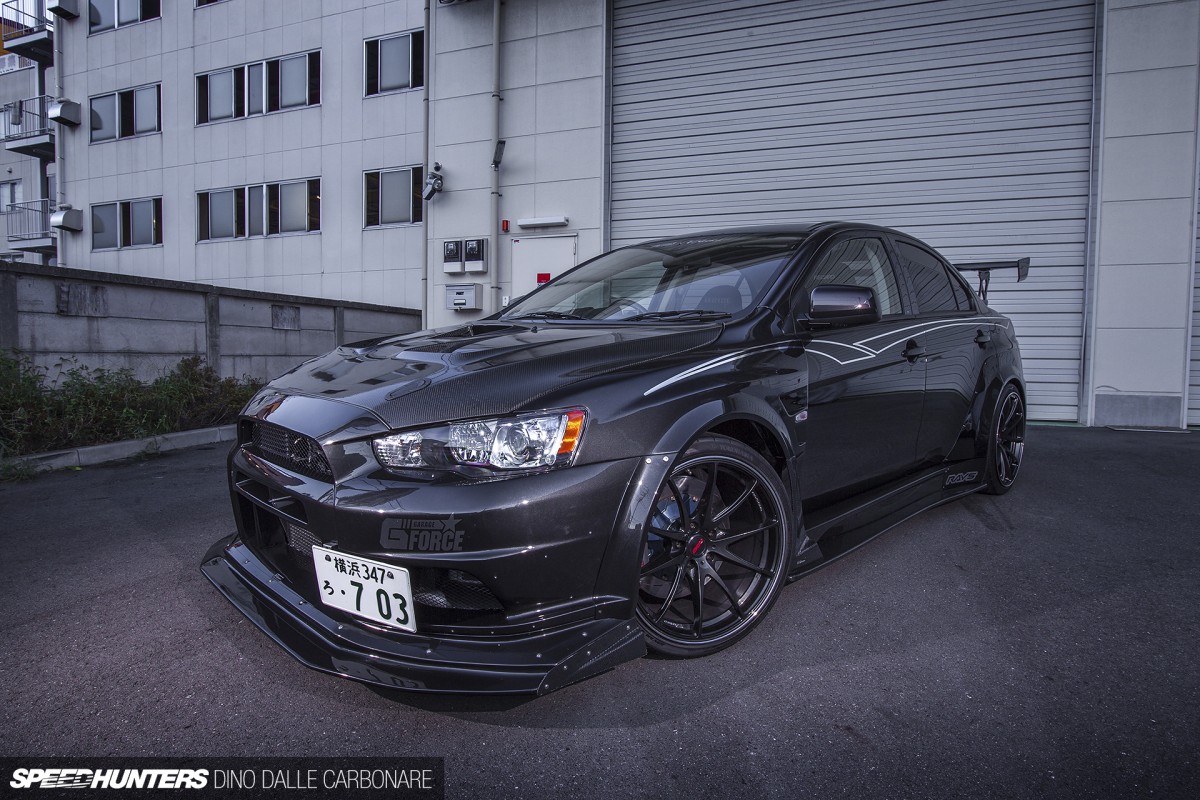 The rest of the magic has been worked on the driveline. The Getrag-built, transversely-mounted SST dual-clutch transmission that was offered on this model has never been know for its ability to handle much power over stock. In fact, I've been in cars with 380PS or so that had pretty evident clutch slip. So it's a good thing that G-Force got rid of the stock clutch plates and replaced them with an HKS upgrade kit as well as fitting a transmission oil cooler to keep the DCT nice and happy. That translates to reliable and instantaneous shifts, even when the car's being pushed hard on the track.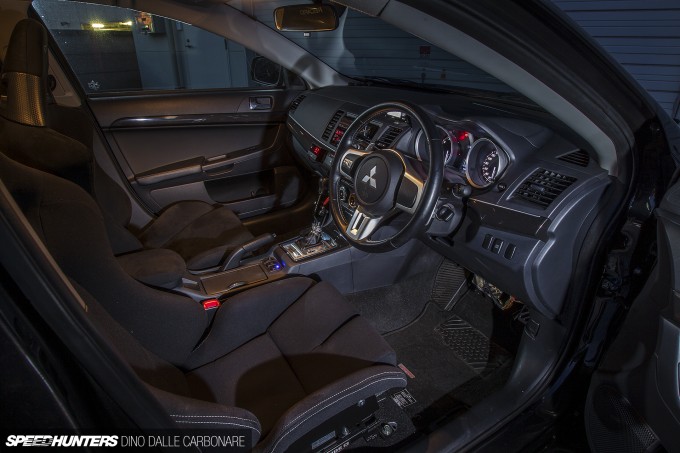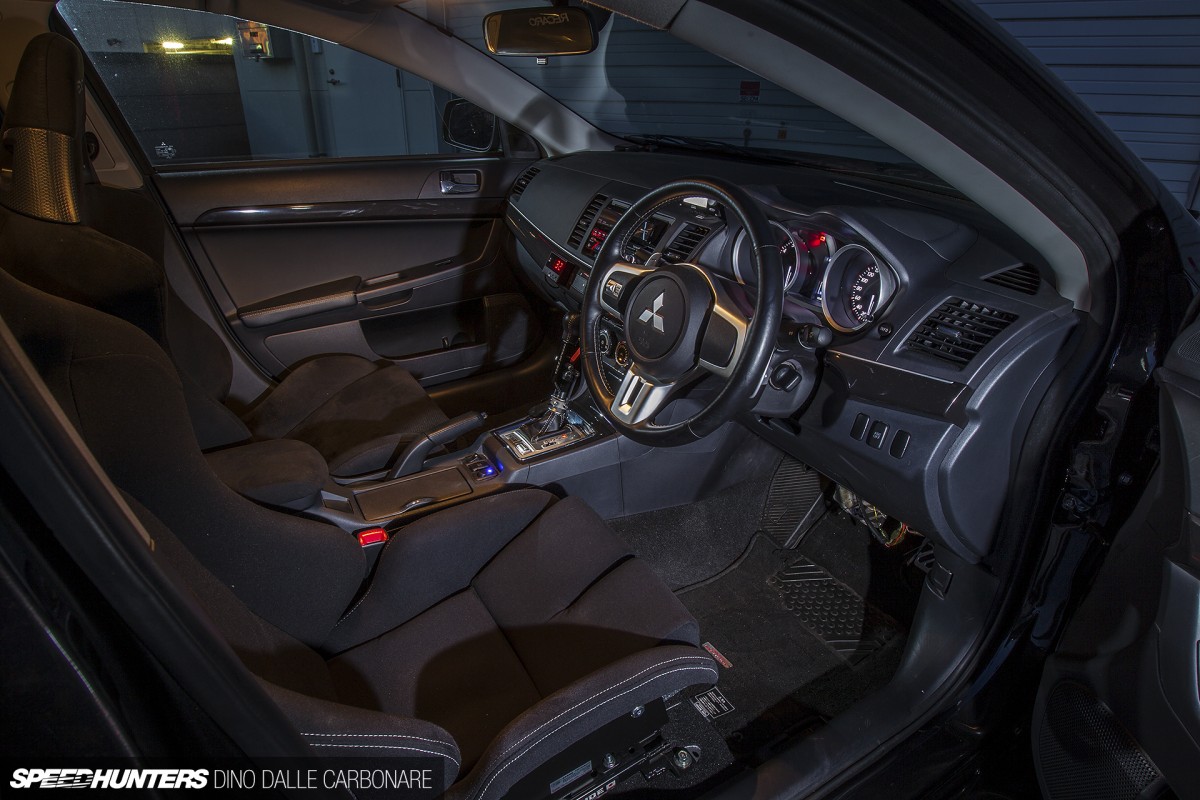 A few changes were also needed in the interior. For some odd reason the factory front seats sit way too high, but that was quickly sorted with a Bride bucket fixed onto lower mounts on the driver's side.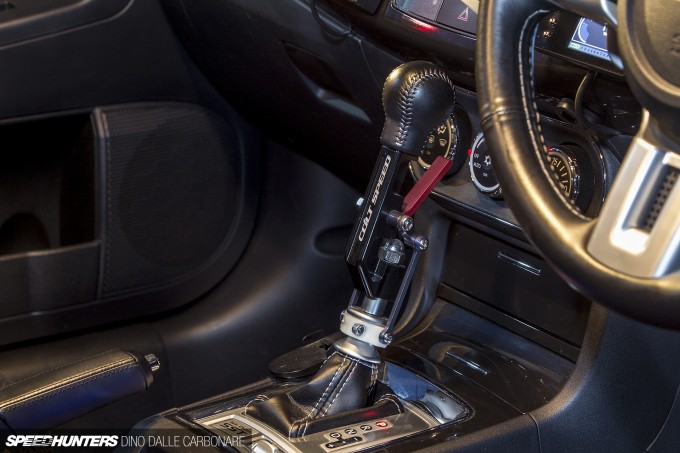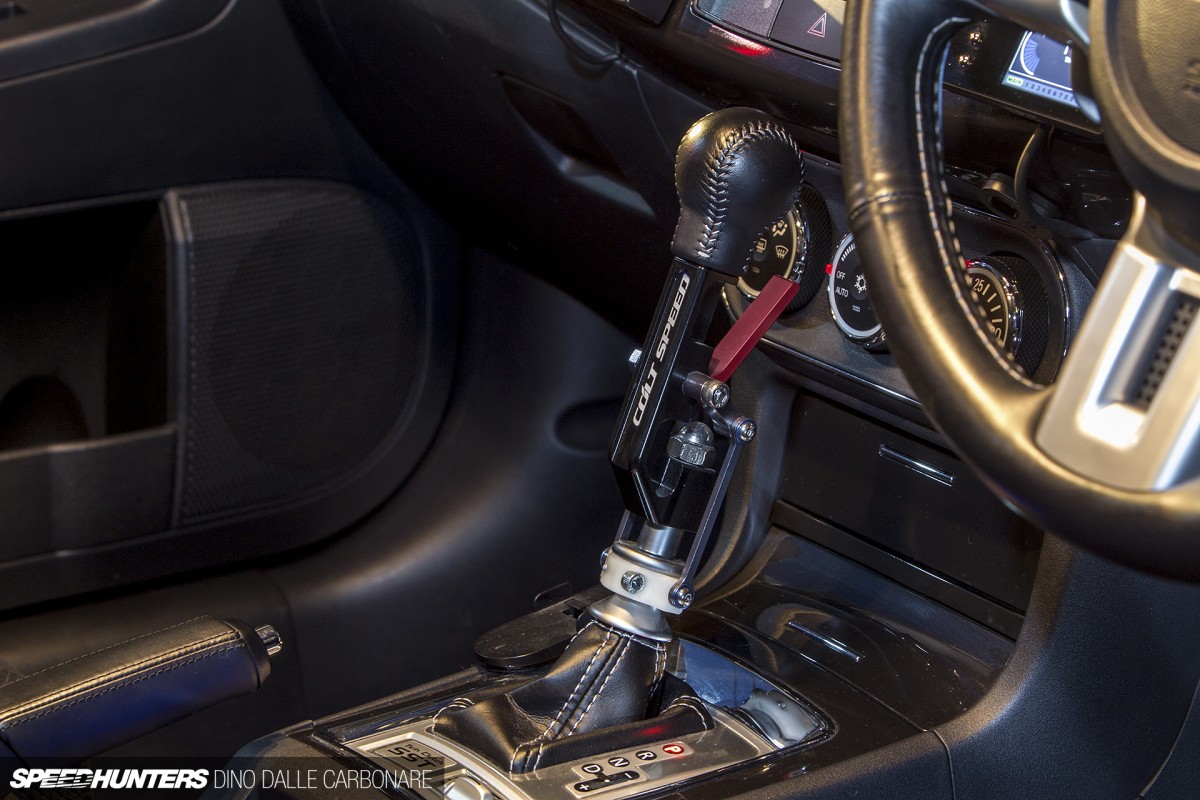 Then came the most interesting addition of all – a Colt Speed  GT Shifter. It's essentially an extension which raises the shift lever so it sits a little higher and falls easier to hand when the car's being driving hard. The red switch pulls up and releases the shift lock so you can move the lever out of P or into R. Of course, SST-equipped Evo Xs also have paddles behind the steering wheels, but I guess the guys at G-Force prefer to actuate shifts the old fashioned way. Kind of.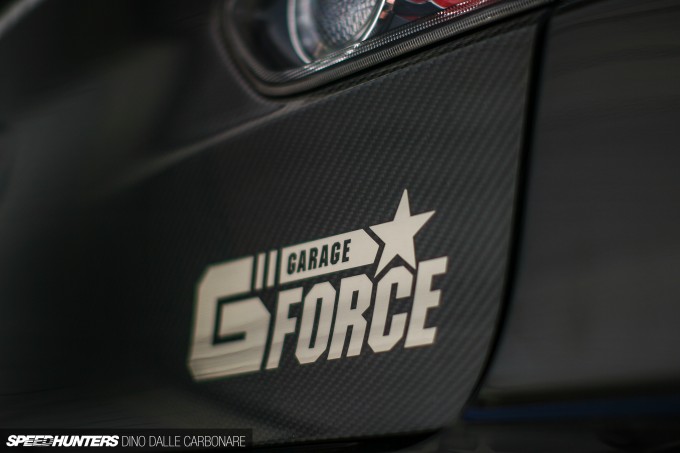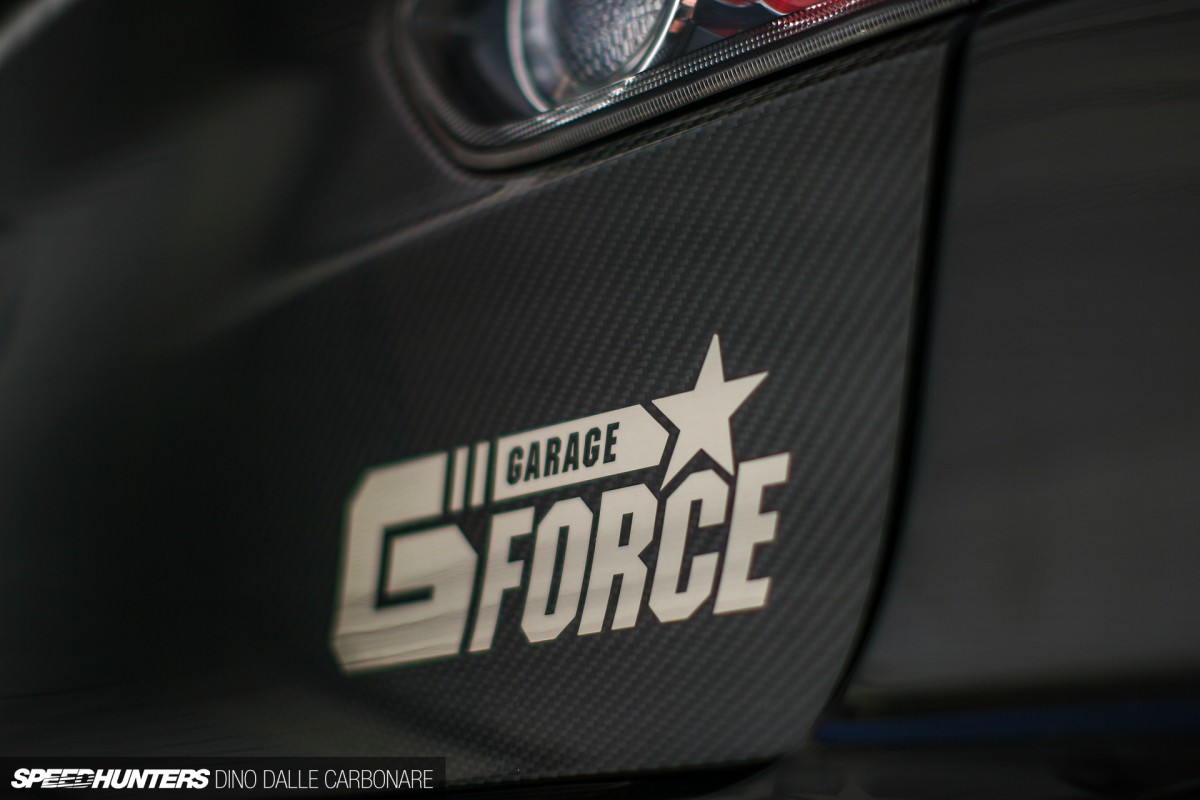 You could call it a learning curve, G-Force first going and building a reliable 700PS time attack car, and then applying what it learnt to create the perfect Evo X street package. This car is a great reminder why Mitsubishi should really continue to make the Lancer Evolution. Too bad that probably won't happen any more…
Dino Dalle Carbonare
Instagram: speedhunters_dino
dino@speedhunters.com
Garage G-Force Mitsubishi Lancer Evolution X
Numbers
Max Power: 550PS, Max Torque: 589Nm
Engine
Mitsubishi 4B11, HKS 2.2L stroker kit, HKS forged pistons, HKS H-section connecting rods, HKS billet crankshaft, Tomei Powered camshafts 260º in/ex, Tomei Powered adjustable cam pulleys, Precision Turbo exhaust manifold, Precision Turbo PT5830 4B11 turbo kit, TiAL external wastegate, Precision Turbo front pipe, Garage G-Force sports catalyst, Garage G-Force 80mm valved exhaust system, Colt Speed carbon air box, ram-air intake, HKS aluminium piping kit, HKS Type R intercooler, Blitz large volume intake manifold, SARD in-tank fuel pump, SARD 800cc/min injectors, Colt Speed bonnet dampers, HKS F-CON V Pro engine management system
Driveline
Mitsubishi SST dual-clutch transmission, HKS SST clutch upgrade kit, HKS transmission oil cooler
Suspension/Brakes
Garage G-Force SPL Öhlins DFV adjustable suspension, Hyperco springs 14kg/mm (front), 12 kg/mm (rear), Endless 6-pot monoblock front calipers, Endless 360mm 2-piece floating front discs, Endless brake pads
Wheels/Tyres
RAYS Volk Racing G25 19×10.5-inch +20, Yokohama ADVAN Neova AD08 265/30R19
Exterior
Complete Varis wide body aero: Varis front bumper, Varis front lip spoiler/diffuser, Varis carbon bonnet, Varis front wide fenders, Varis wider side skirts, Varis rear wide fenders, Varis carbon trunk lid, Varis carbon GT-Wing & carbon stays, Varis carbon rear diffuser; Garage G-Force rear tow hook
Interior
Bride adjustable bucket seat, Bride seat rails, Colt Speed GT Shifter kit, HKS AFK A/F & Knock Meter
Garage G-Force
Other Garage G-Force related posts on Speedhunters
Other Lancer Evolution related posts on Speedhunters