Welcome To Hampton, Georgia
Once a week, in a small rural town about an hour south of Atlanta, an event takes place. One where the heritage runs strong and a standard drivers license and a set of wheels is all you need to join in the fun. This my friends, is Friday Night Drags – a casual, homegrown, eighth mile drag event which has been taking place under the radar in middle Georgia for just over nine years.
In an attempt to fulfill your ever-so-sought-after need for speed, I recently grabbed my newly acquired Speedhunting credentials and threw myself into the wild in an effort to explore and exploit the horsepower wars that take place every week at Atlanta Motor Speedway. Make no mistake, this form of racing and the culture that surrounds it may not be for everyone – but I feel it's an aspect of motorsport that everyone should know about.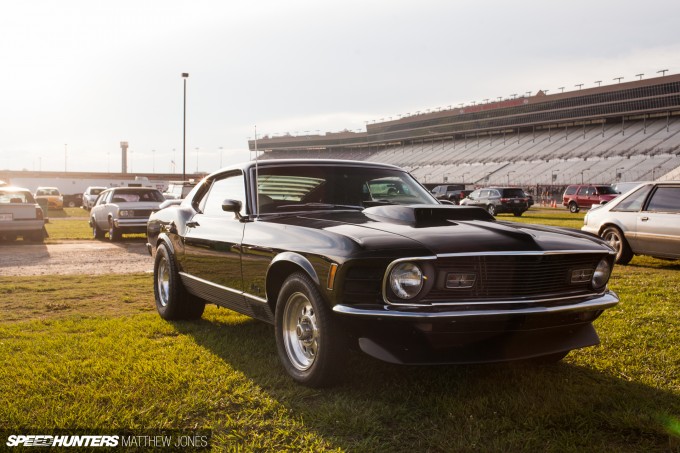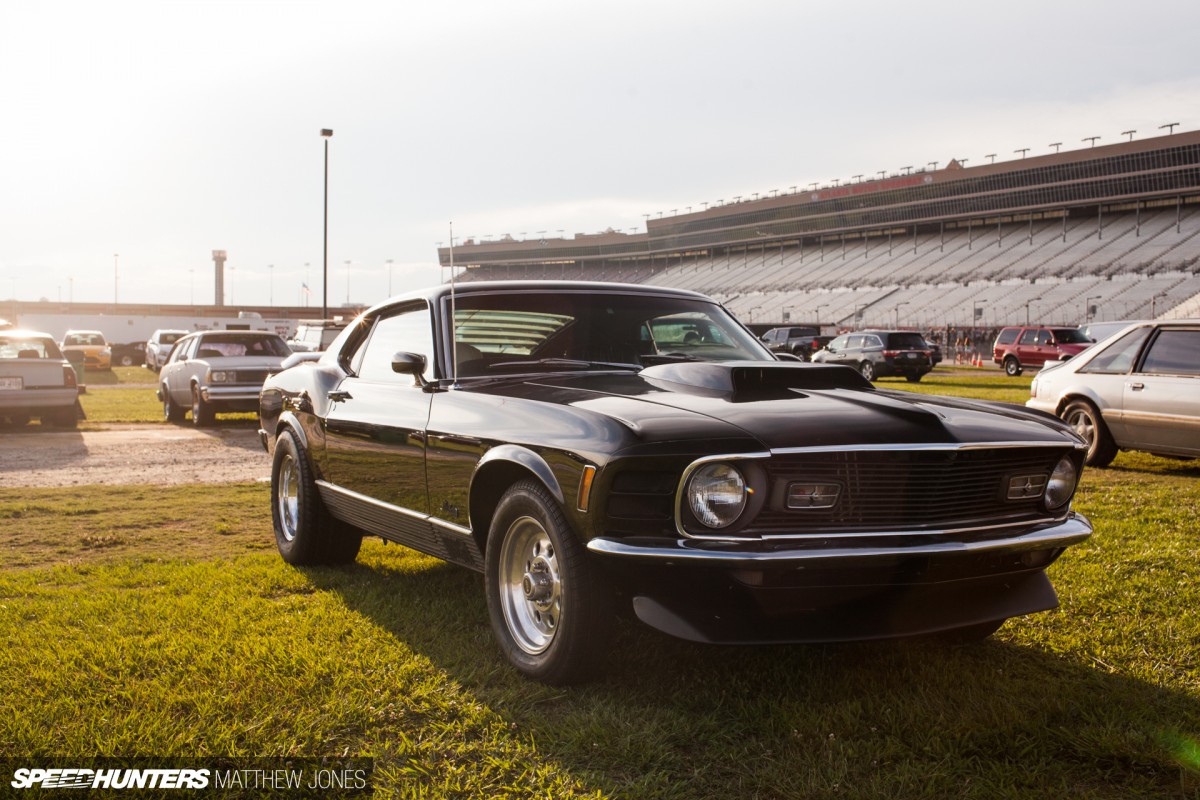 With that all said, I'll be the first to admit that I really had no idea what I was getting myself into – or what to even expect from this event. I've previously attended nighttime drag racing at Irwindale Speedway in California, and I've certainly spent some time around some gritty Southern car folk in my day, but mixing the two? Could it be a recipe for disaster? A massively failed attempt at hunting speed? Or could it possibly be all that I had hoped for? A tire slaying show with culture exploding from every angle.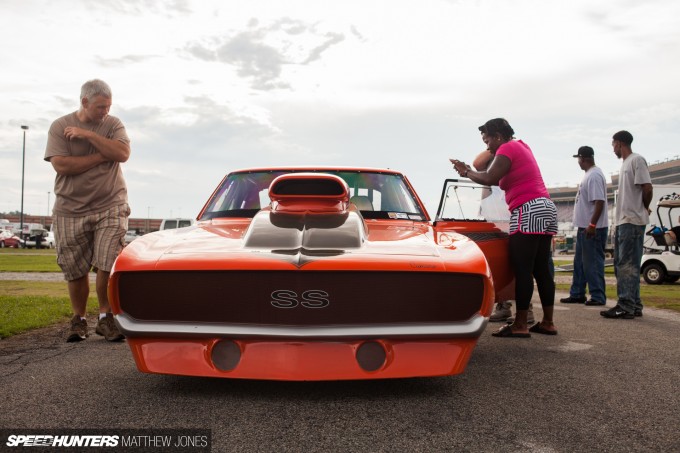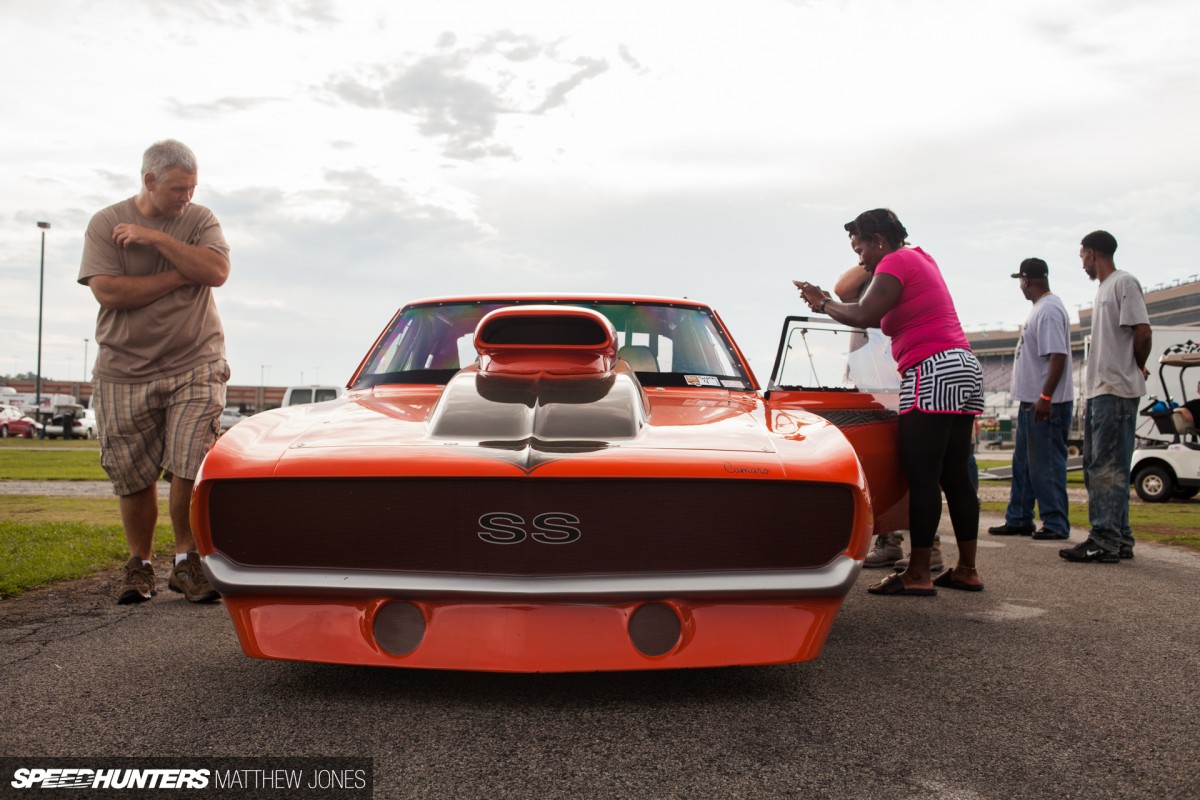 But five minutes of circling around the AMS infield was all it took for me to discover that the Friday Night Drags were exactly what I had imagined the would be. Not only was the culture absolutely out of this world, but it seemed with every step I took, I was stepping into a completely separate realm of the automotive world. There were the expected high-end, American shop cars and heavy hitters who have invested their youngest son's college fund in effort to build the ultimate quarter-mile machine, of course.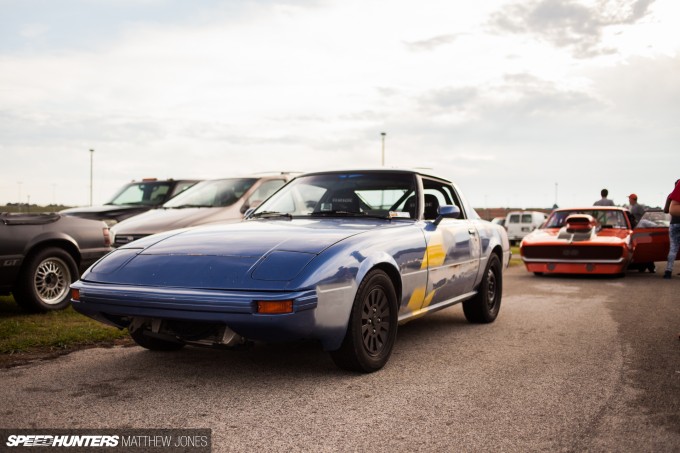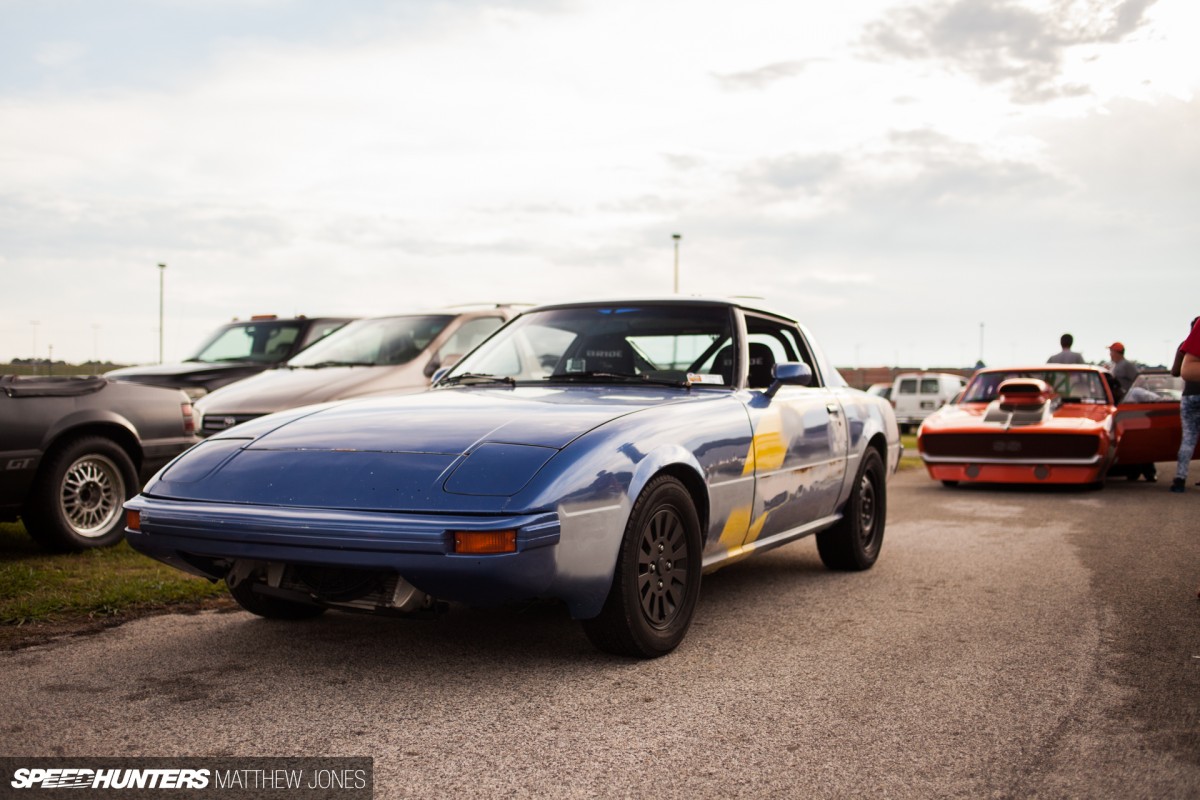 But within a few paces of those cars I'd be smacked in the face with a grassroots garage-built creation, like this junkyard RX-7. Makes sense, right? Not to mention the unexpected abundance of stretched Suzuki Hayabusas and modified golf carts all in attendance… It only took me about 30 minutes to fully acclimate to the scene, and after that point the only thing that really could've surprised me would've been a nitrous injected lawn mower!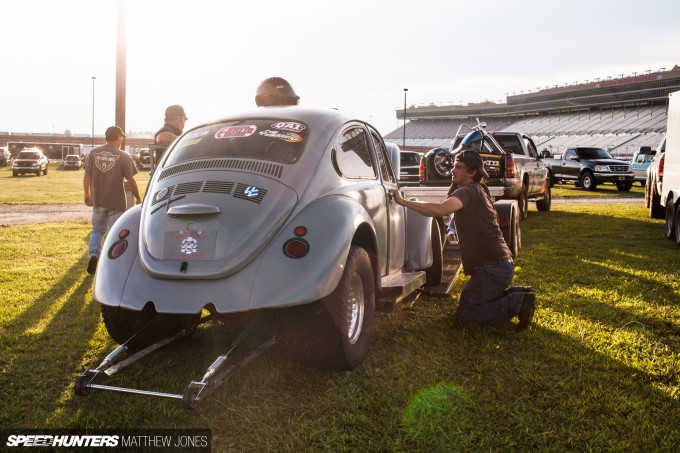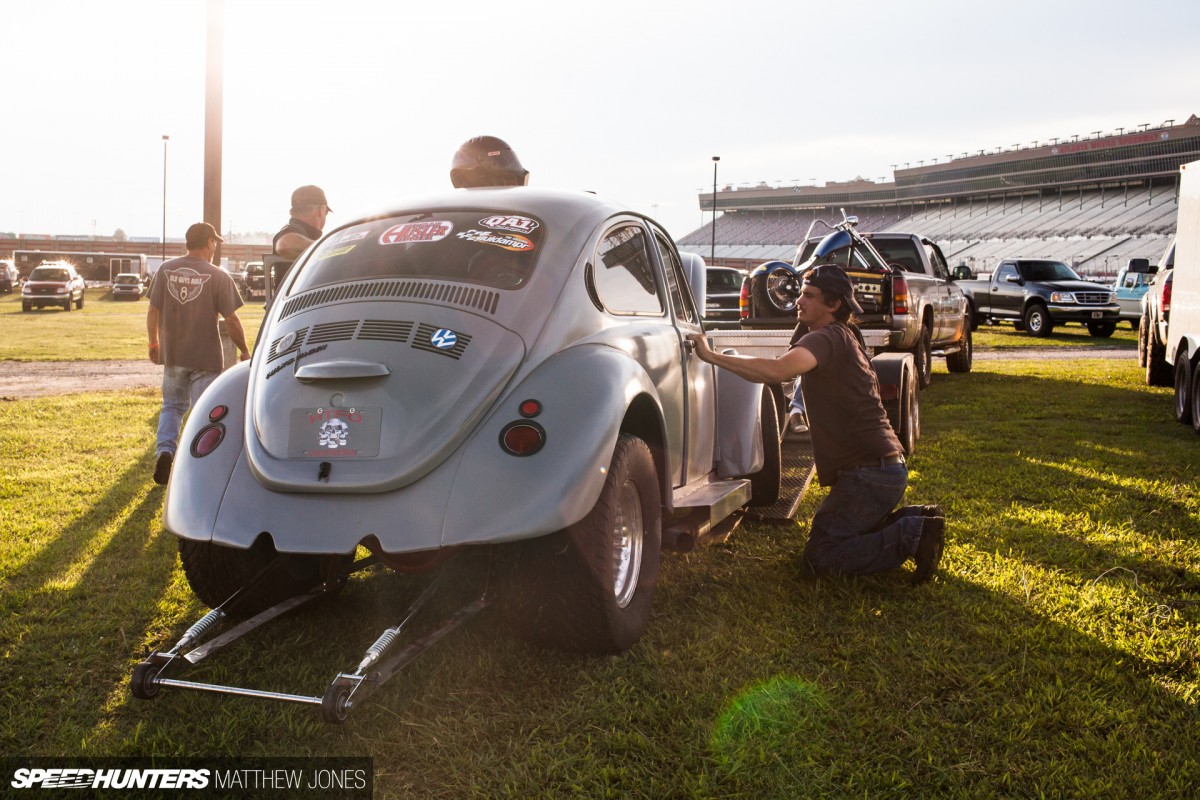 So go ahead, call this redneck racing and call these builds 'junk', because in reality that's exactly what some of these creations are. This 1300hp-plus Bug, for example, was literally built with random go-fast parts laying around one man's shop.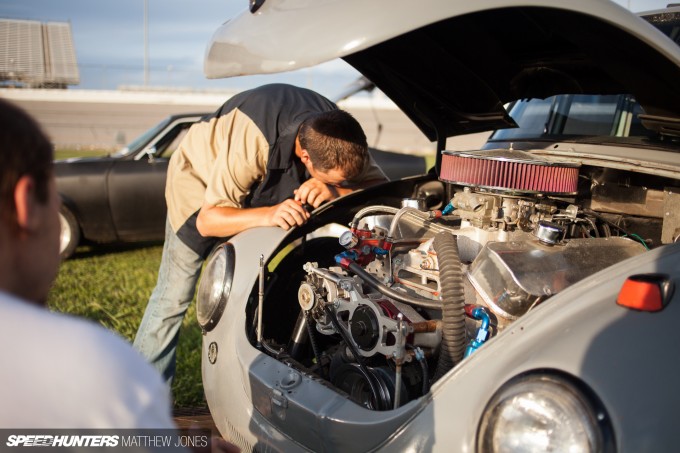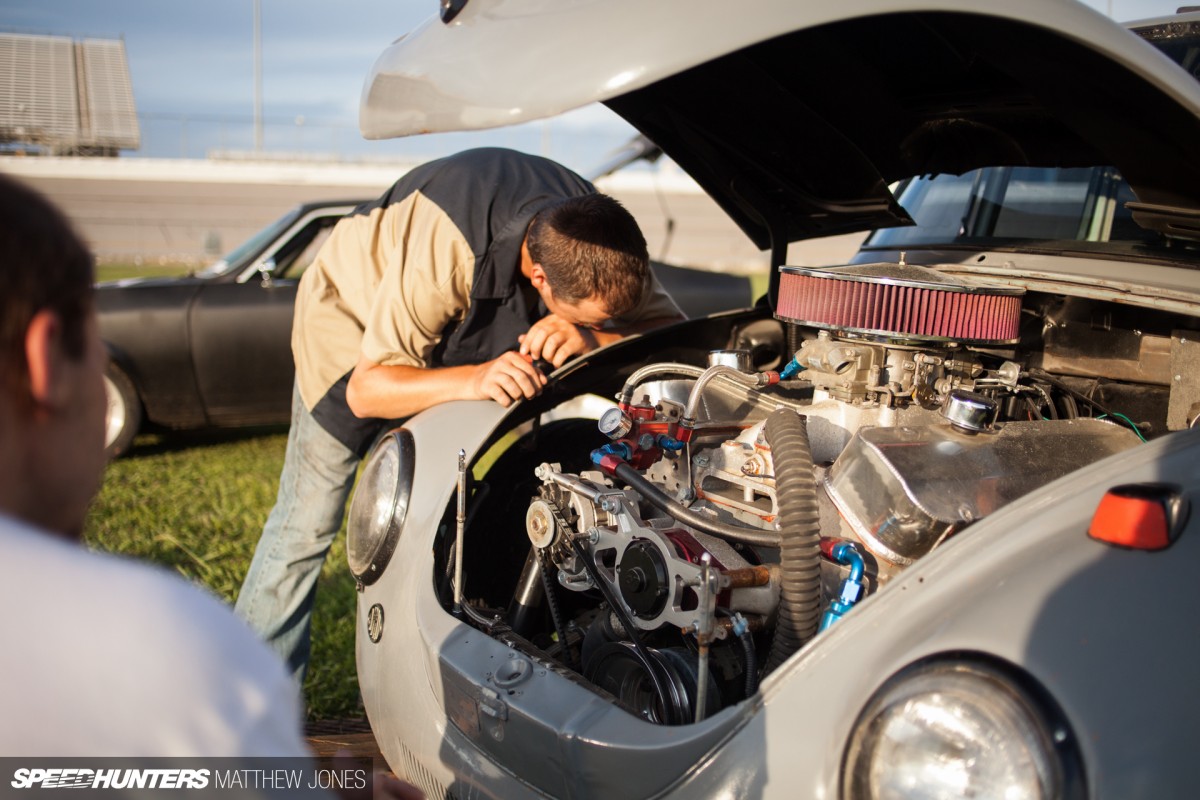 So calling it junk could be as accurate as it gets.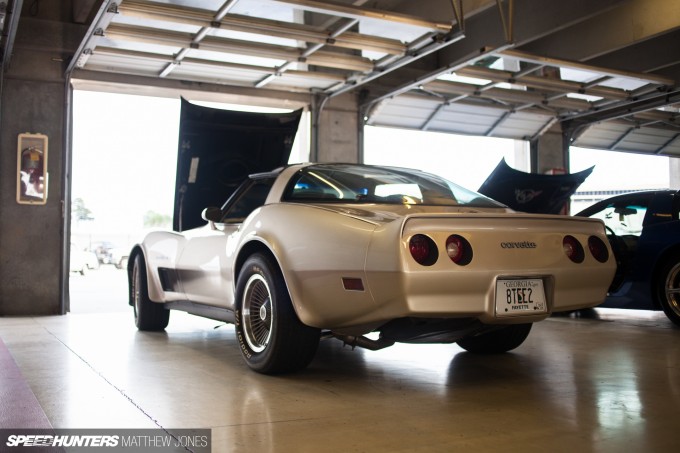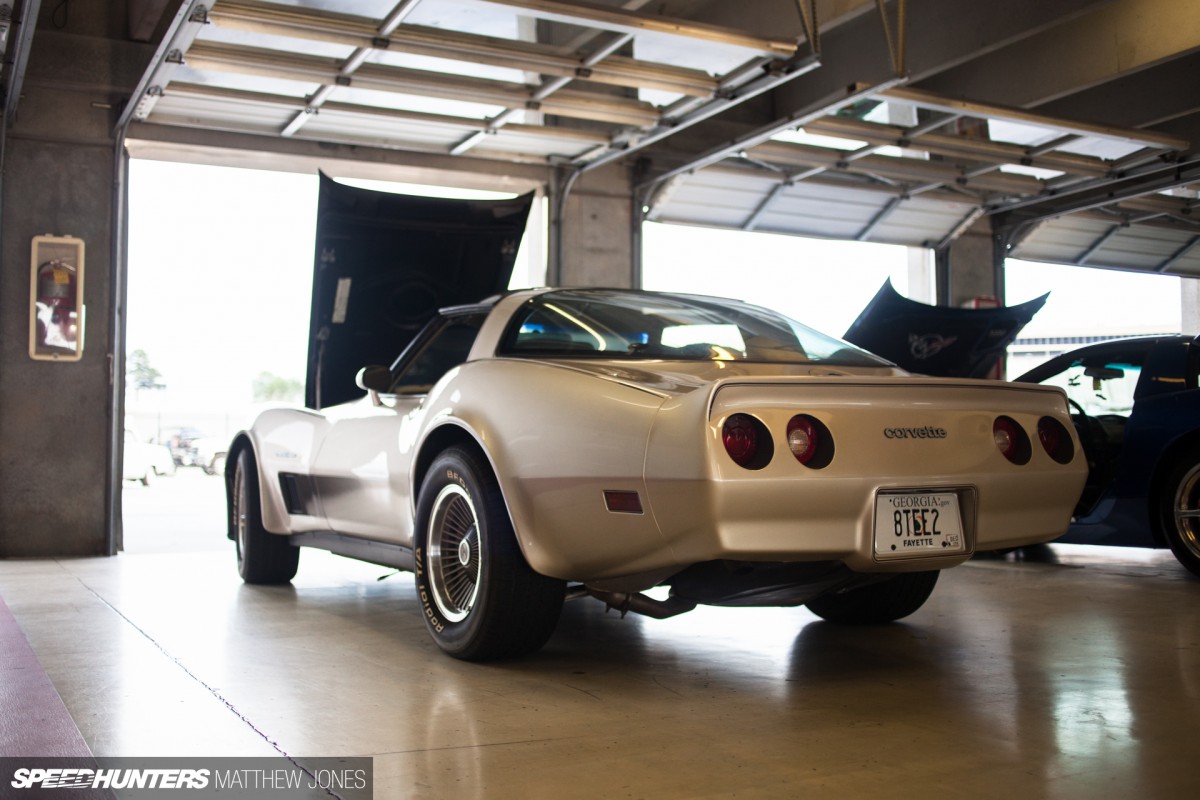 But don't get too hung up on the trash factor, because although a nitrous injected lawn mower may barely be a surprise, the truly unexpected was easily found in the centerfield garage. Fancy a cream puff  82′ Corvette? Yes, I know, to the purists this is one of the worst Vettes ever made, but would you ever expect to see such a clean piece of history at an event where even a middle-aged white-boy wearing a stars and stripes t-shirt (that would be me) was rendered out of place?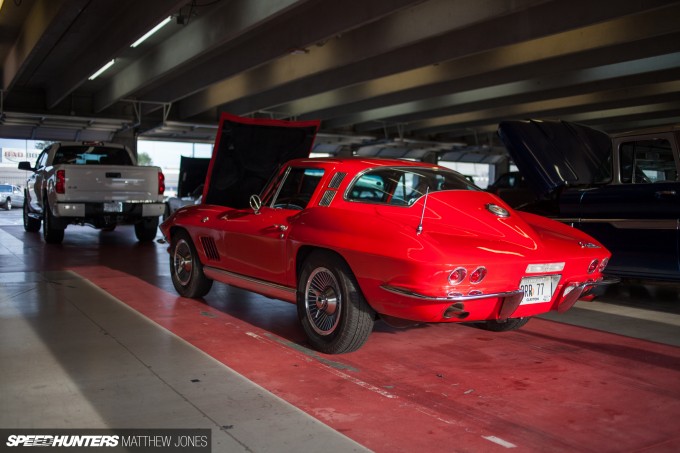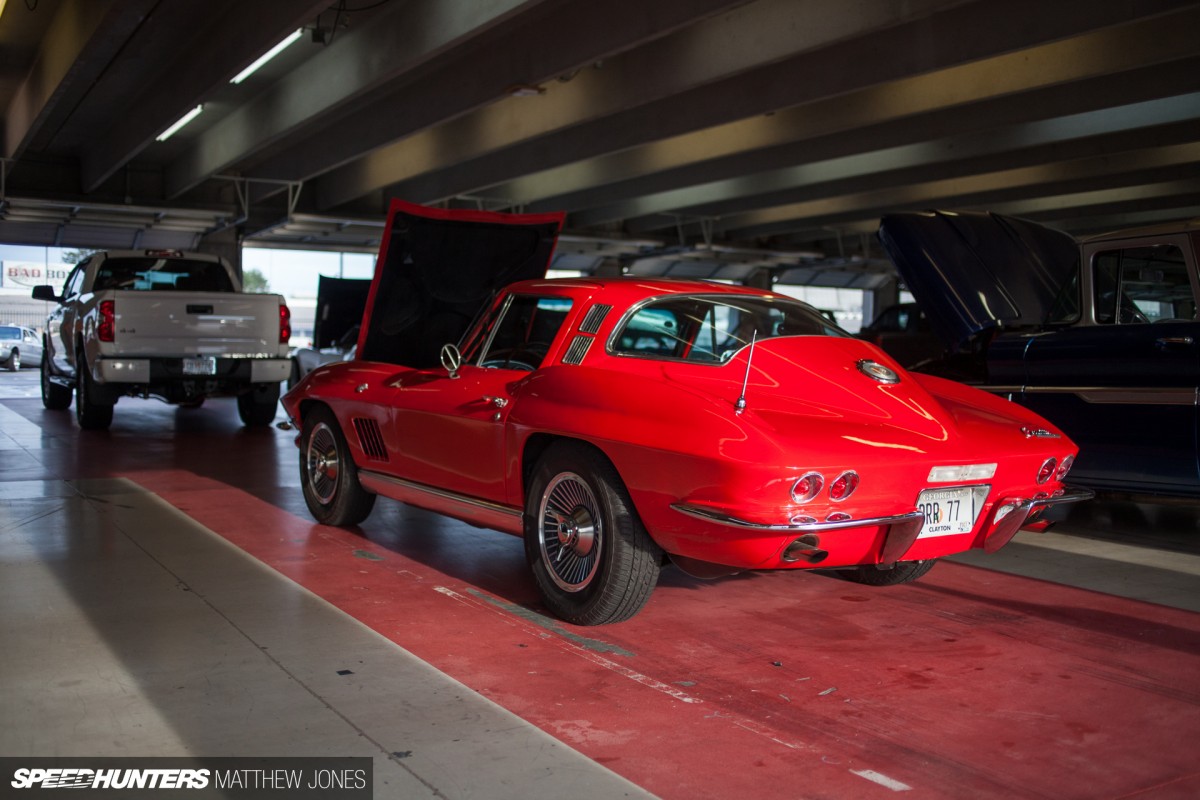 Doesn't do it for you? Okay, let's jump back even further with this '64. Hold your horses and have no fear – more images and details of this pristine bad boy will be addressed in an upcoming Spotlight-O-Rama…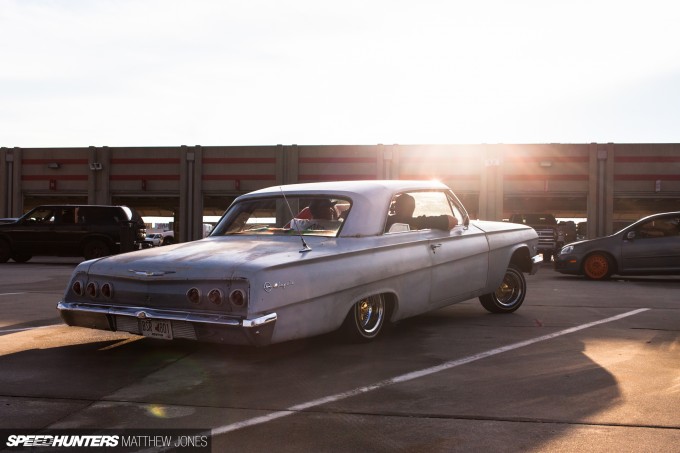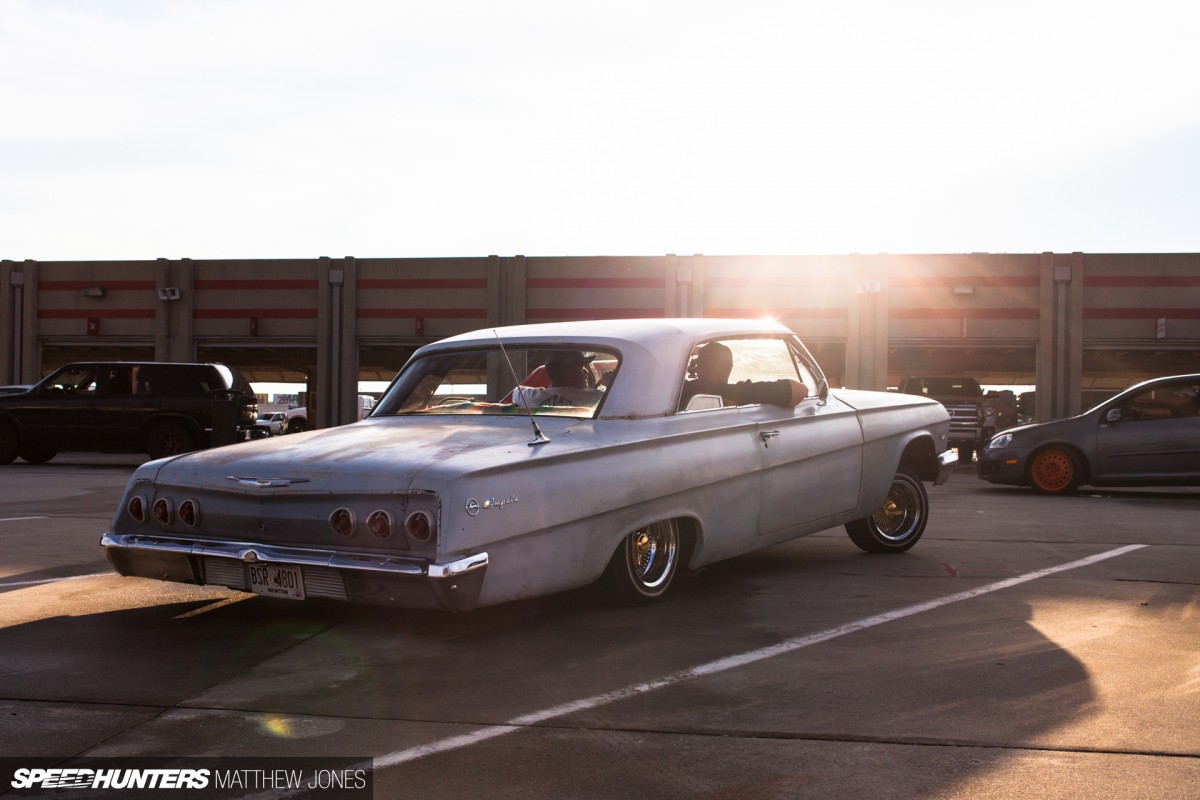 Speaking of the unexpected – and in complete contrast to the red Corvette – waiting outside the garage was a young local and his beloved lowrider; patiently itching for any bystander to take the slightest bit of interest so he could punch the buttons on his hydraulic system's controller and boogie till the oohs and aahs disintegrated.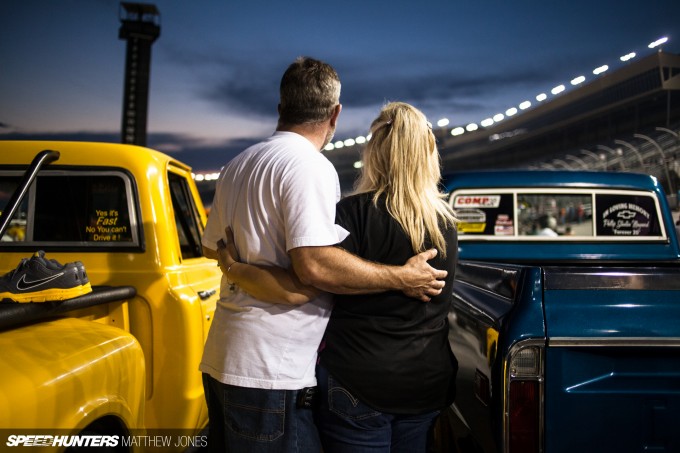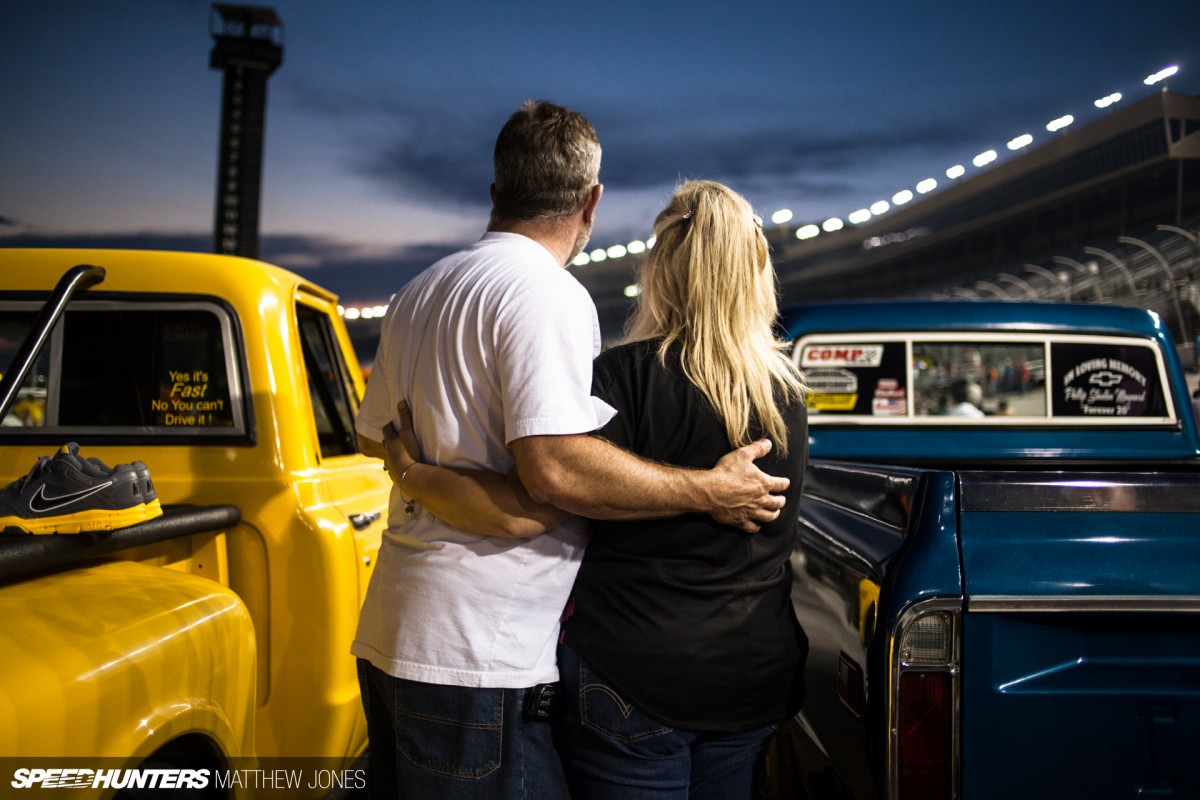 But beyond the vast waves of diversity, outlandish culture and Southern slang was an undeniable sense of camaraderie. Or better said – from start to finish this event was really nothing but a massive family affair. This is an event that for every other day of the week is anticipated by each household in attendance. This my friends, is down South, middle Georgia, high horsepower, get squirrelly and let's freakin' race with the family, motorsport. Again, this form of racing and culture may not be everyone's cup of tea, but it sure as hell is about as pure as it gets.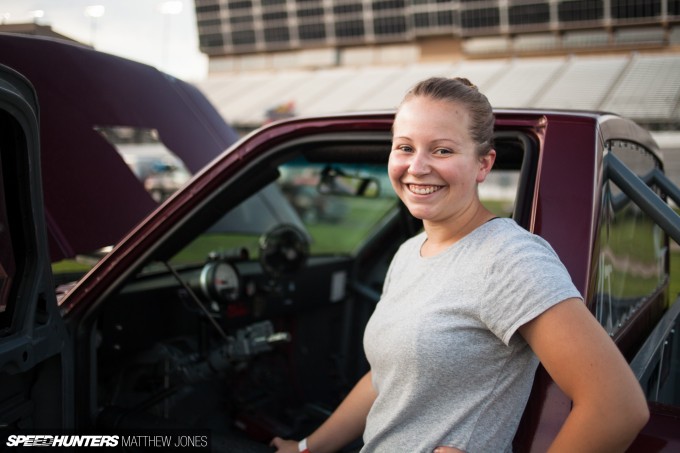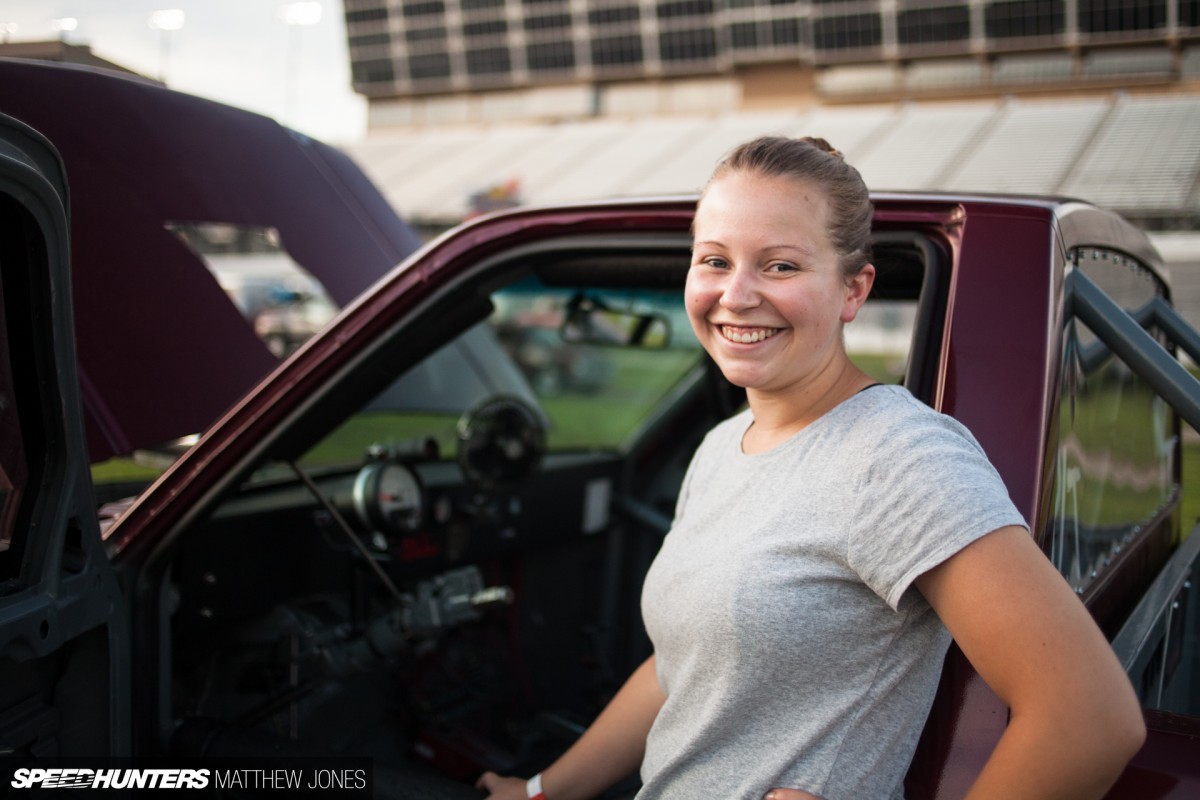 Take Bonnie here for example. She's been slangin' this Frankenstein of a Dodge pick-up with her mom and pop at this very strip since she was 15 years old.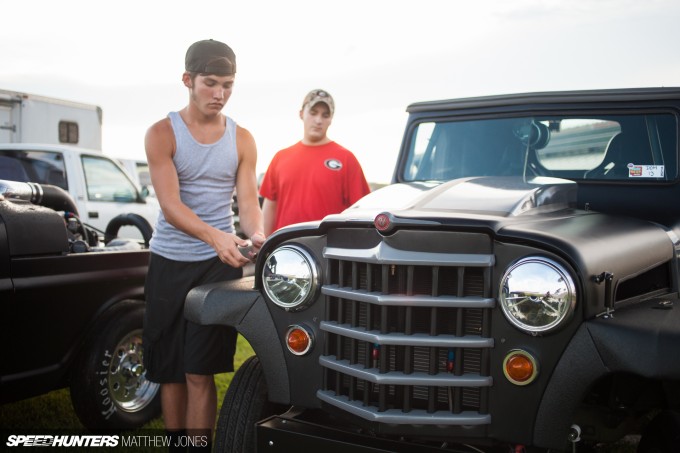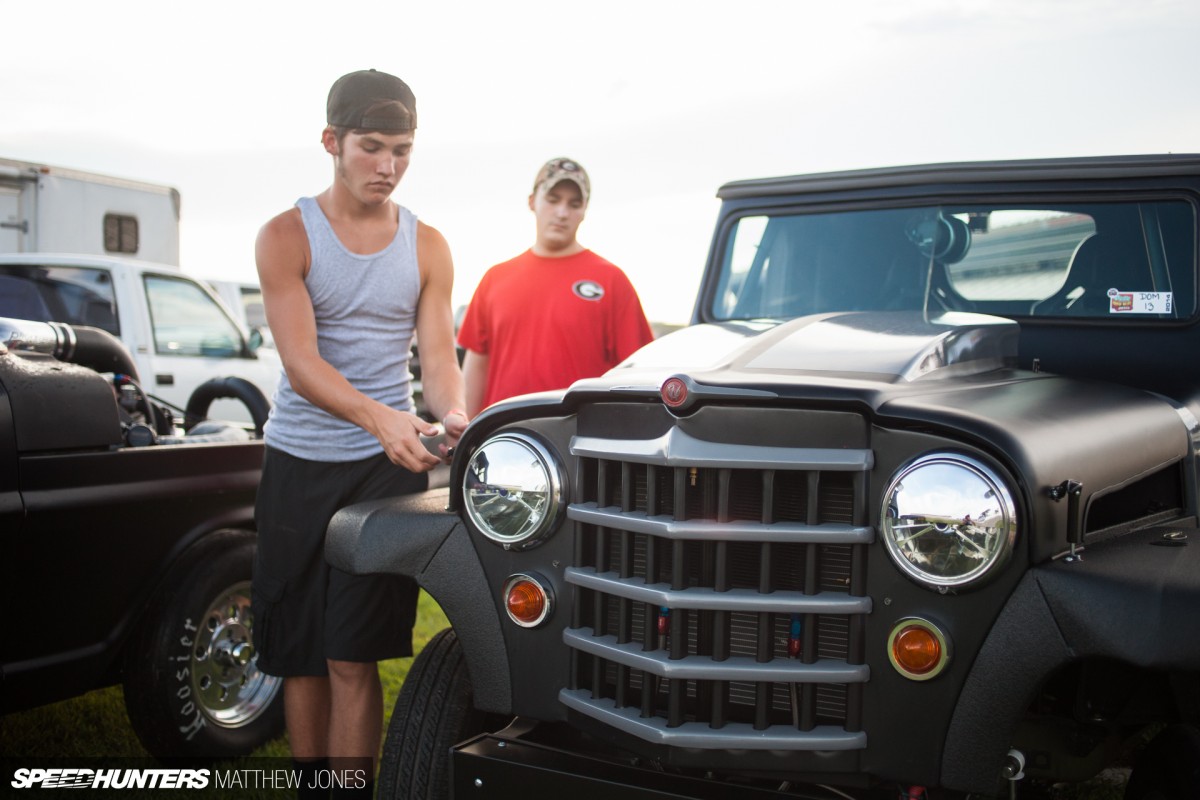 Or the young gentleman piloting this 1955 Willys Jeep Truck, who had spent every single night for the past three months with his brother and his father preparing this garage-built contraption for battle. The best part? He just turned 16. Can you even begin to imagine the lunch room debates at the local high school as to whose car is faster? I'm 99 per cent sure just about each and every deliberation is ended with a stern, 'See you Friday night'.
Show N' Shine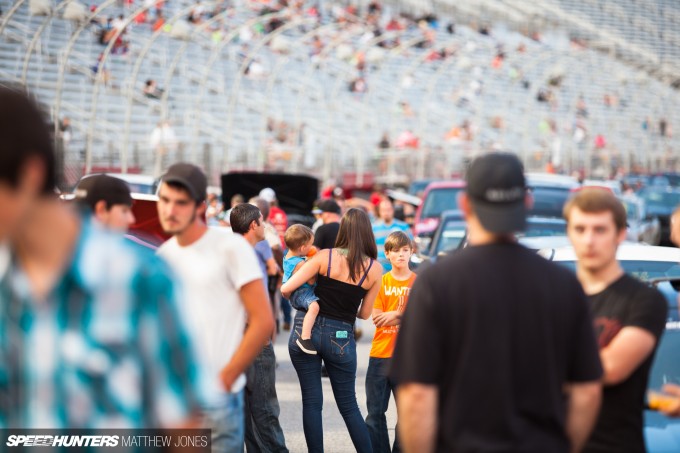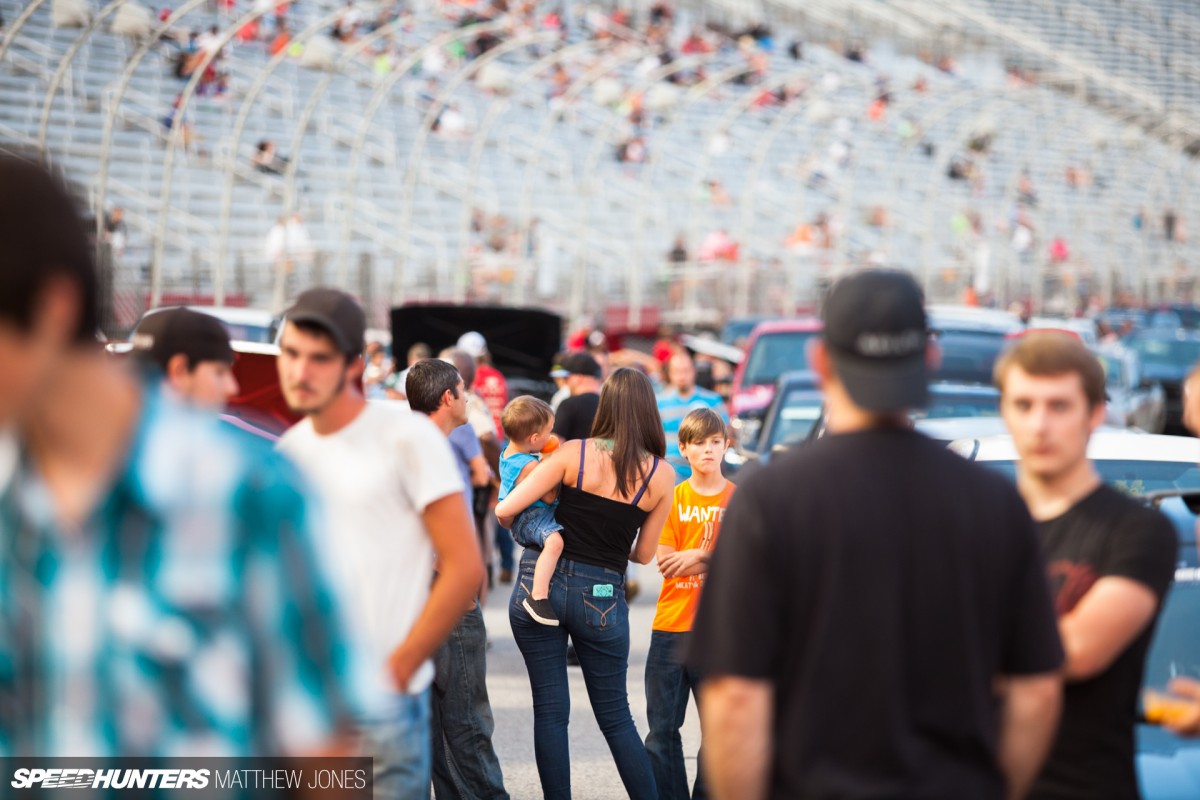 As if things weren't already interesting enough, before the main event kicks off there's Show N' Shine event where all infield contestants go for a short cruise around the NASCAR-spec oval before parking their cars up in front of the starting grid in order to be judged.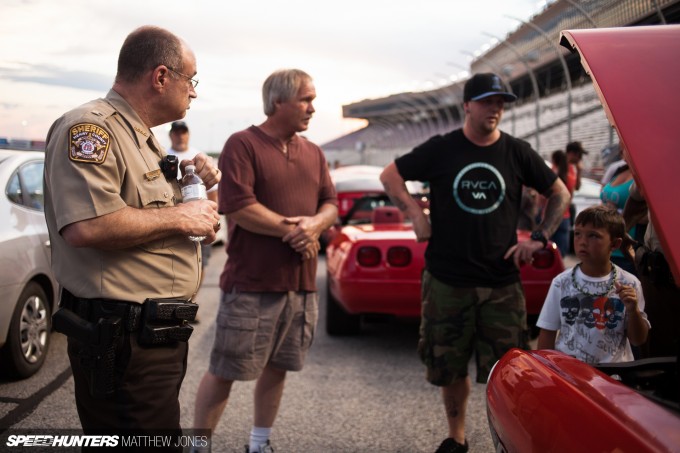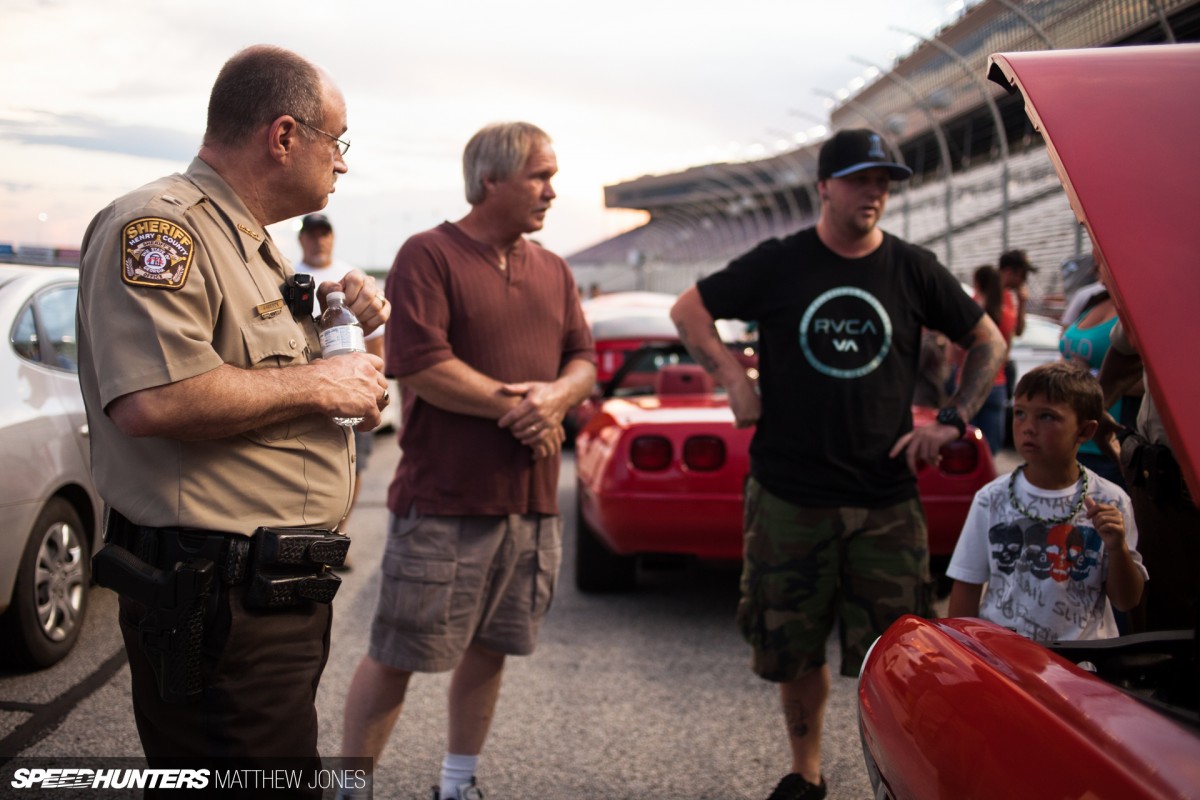 It's at this point where all attendees are able to take a break, stretch their legs and get an up-close-and-personal look at a good majority of the builds that would be slinging rubber at their faces throughout the evening. Even the local police officers in attendance couldn't help but jump into conversation over some of the flawless fab work.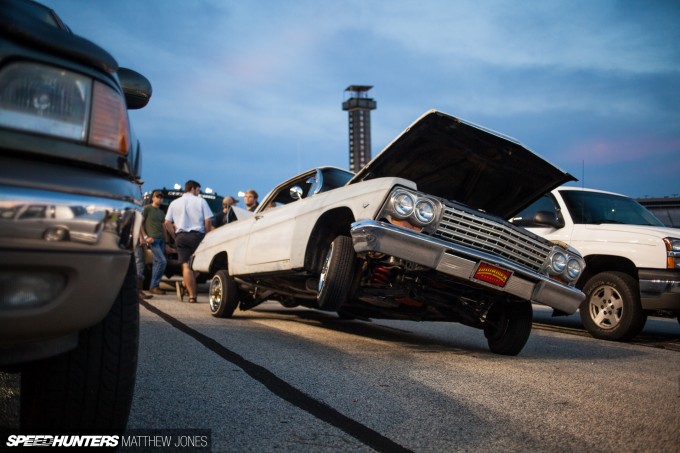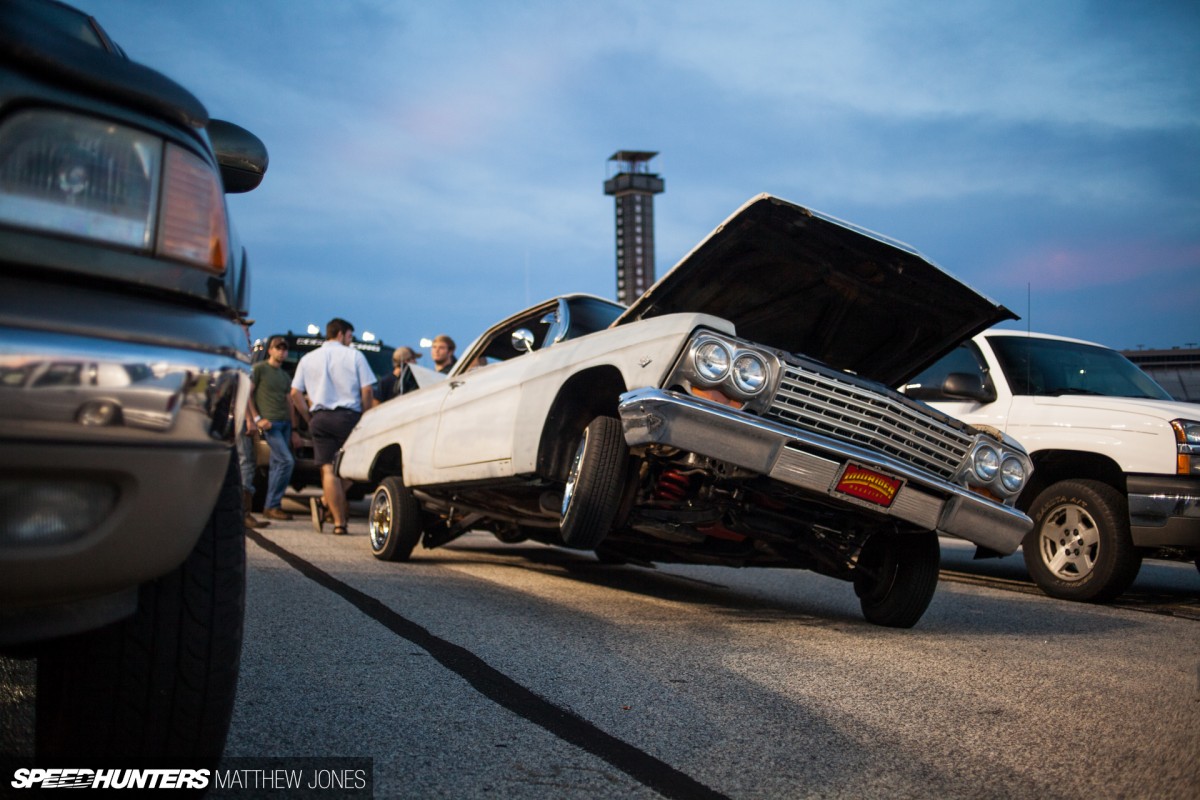 Again, where else in the world are you going to see a lowrider with one wheel in the air, parked between a pair Ford F150s and a ratty Honda Civic holding up the rear…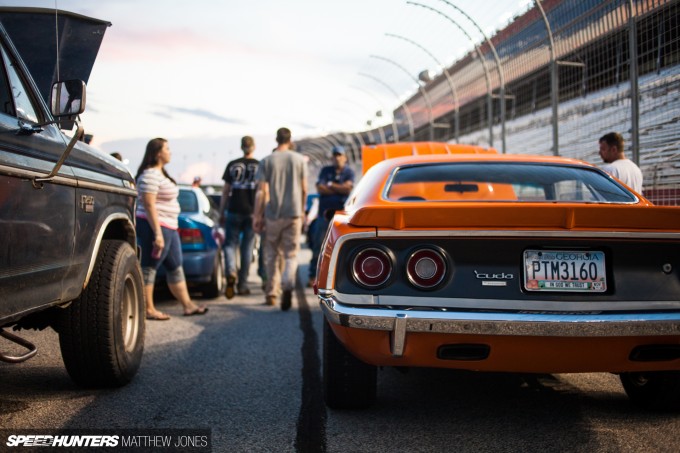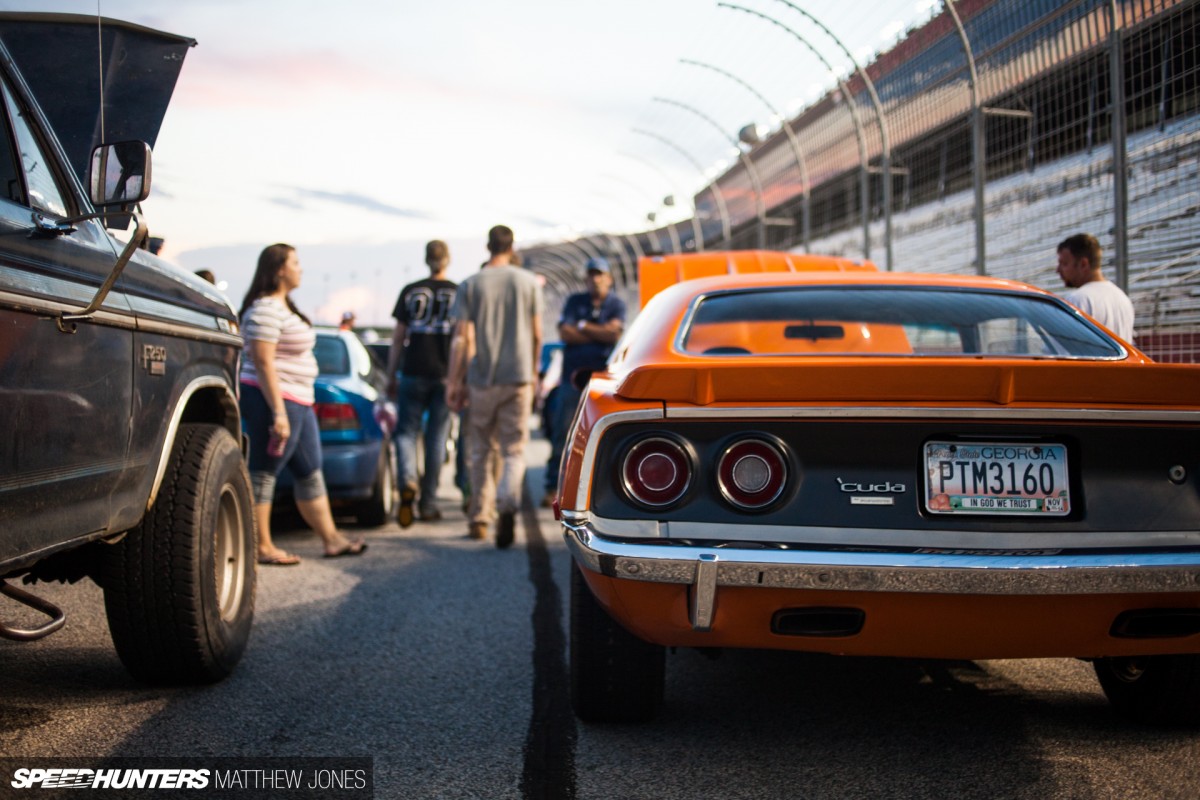 Not to mention having a mint condition Plymouth Barracuda within arms reach… Georgia – that's where. Okay, maybe Mexico too, but generally just Georgia.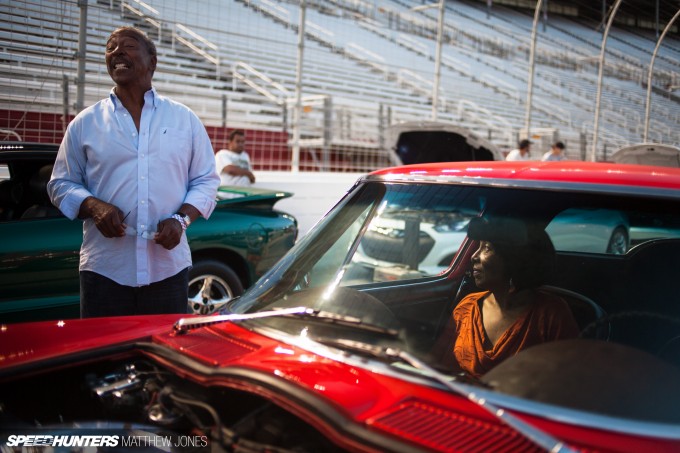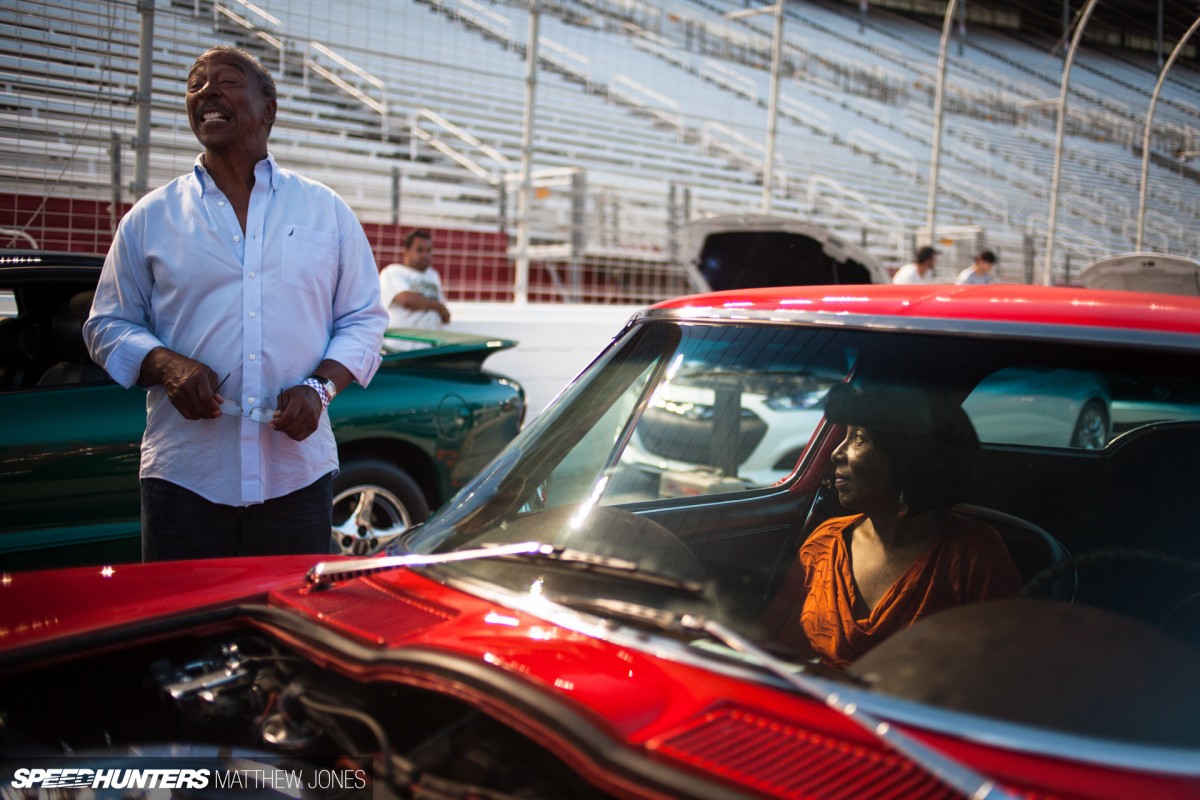 Though it seemed like there were enough classes so that every entrant could take home a prize, the main award clearly went to the most luscious car in the house – that gorgeous 63′ Corvette I showed you earlier. It really was a beauty. The owner and his wife probably felt entirely out of their element, but it barely phased them as they were there for the same reason I was: for the love of all things automotive. For JoyOfMachine. Nonetheless, he was also kept thoroughly busy answering questions throughout the entirety of the night.
Let's Talk About Racin'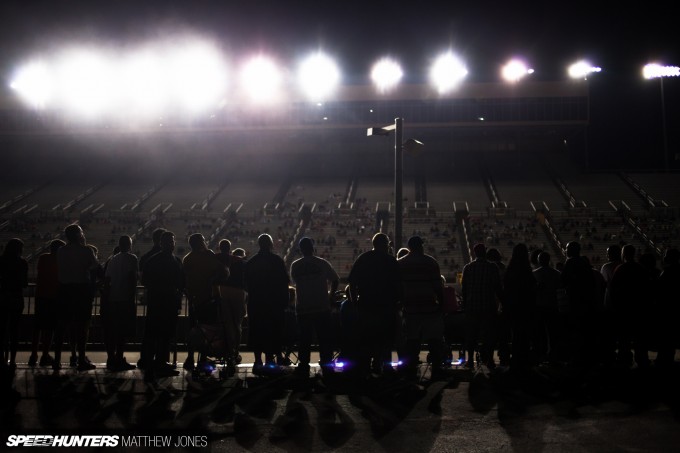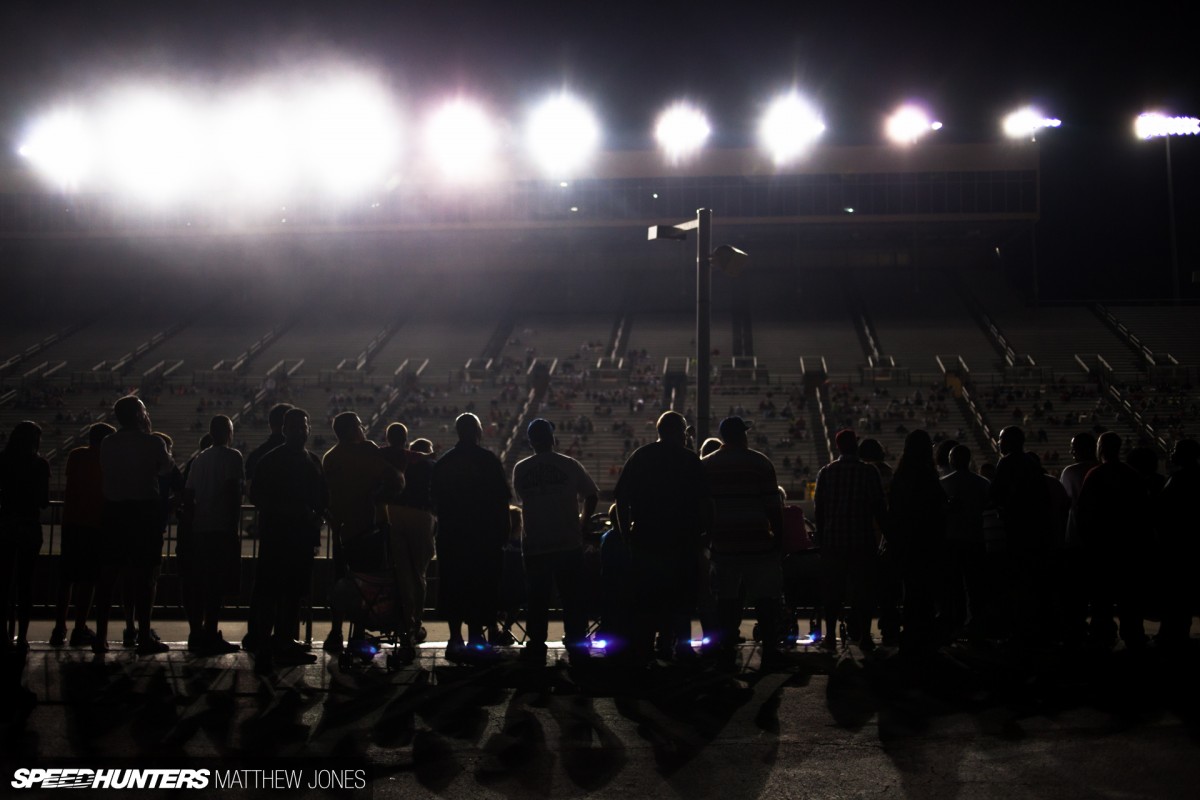 Once the Show N' Shine ceremonies were officially complete, the engines began firing up, spectators were scrambling to the best available views in the house, and every competing machine was lined up by class and preparing for battle. The smell of race fuel was strong in the air and the sole presence of energy was overwhelming. It was officially time to get down to business!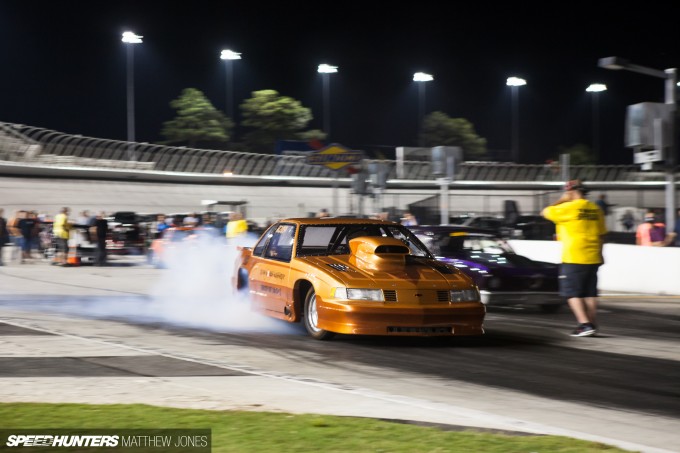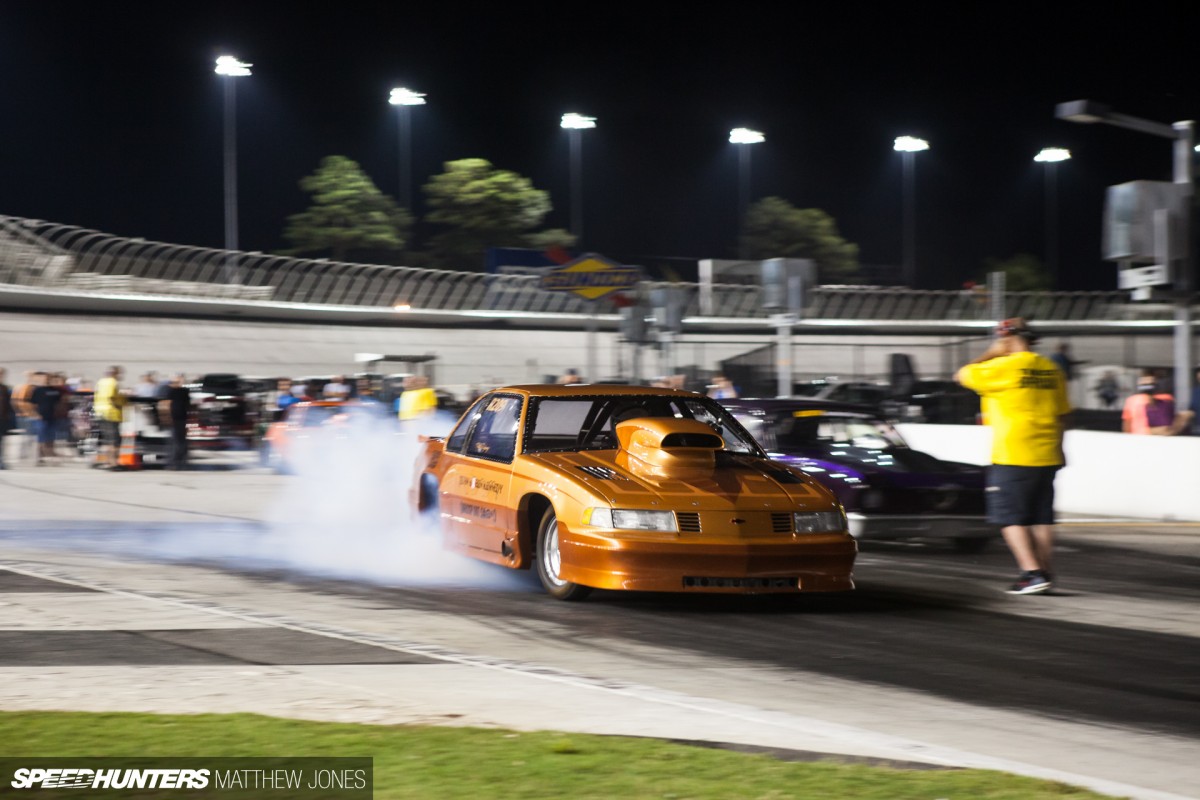 This event is broken up into a whopping 18 separate classes spanning every single tire-whipping form of transportation imaginable. Diesel trucks, sport compacts, dirt bikes, ATVs… you name it.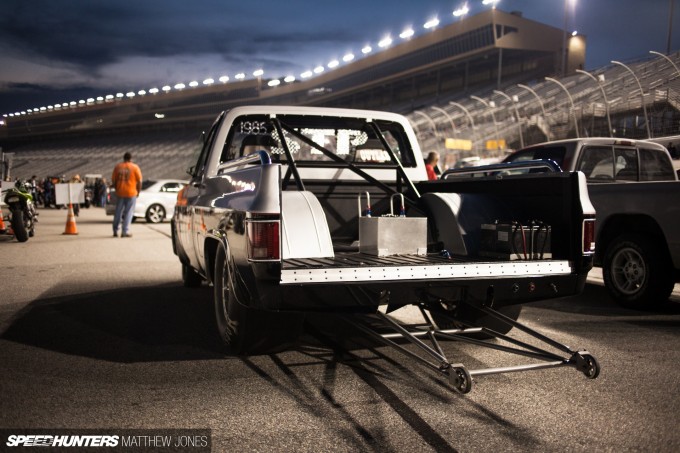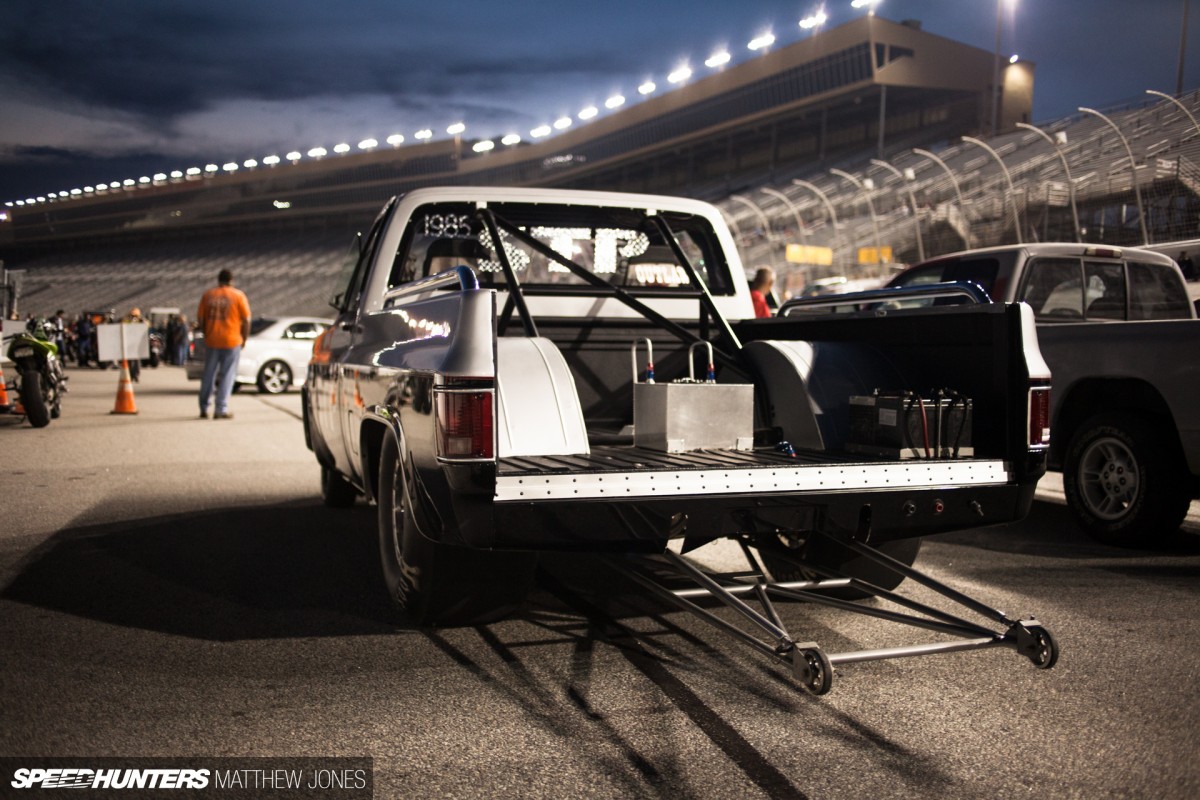 The ones that reign the strip? In my opinion it was the Truck Advanced category, where any and all full-sized modified trucks are accepted.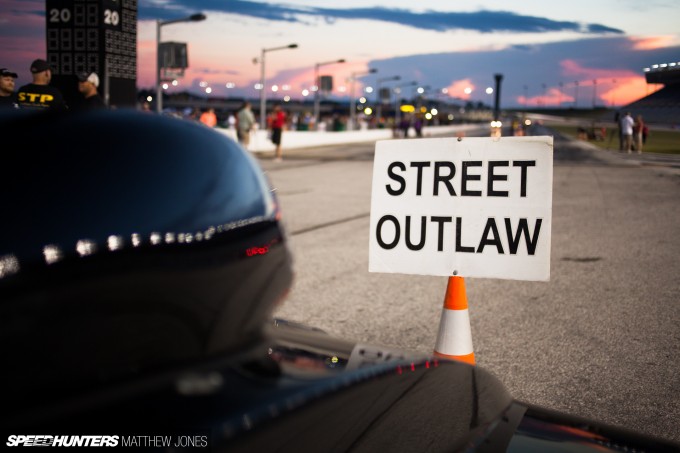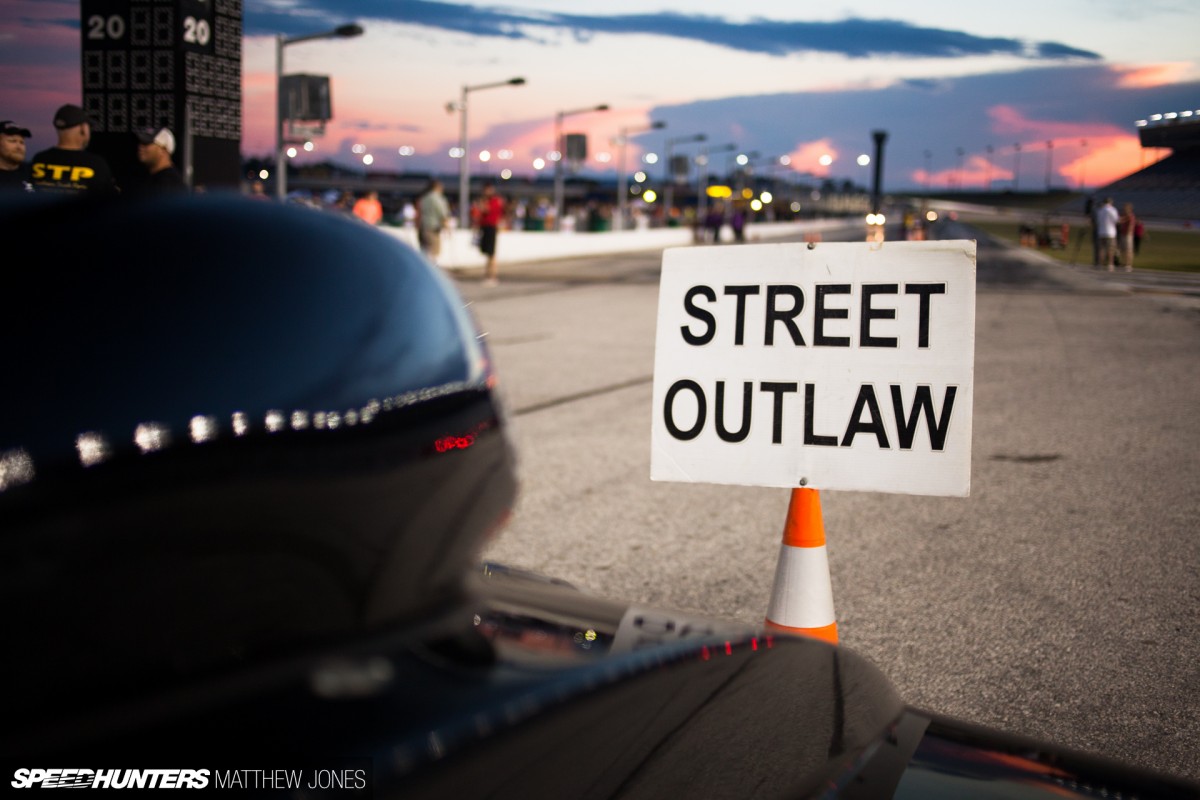 Then there's Street Outlaw, which allows just about everything but full fiberglass bodies and a wheelie bars.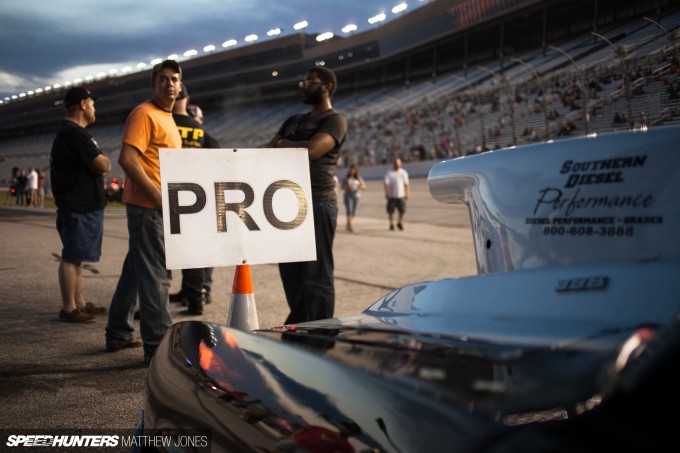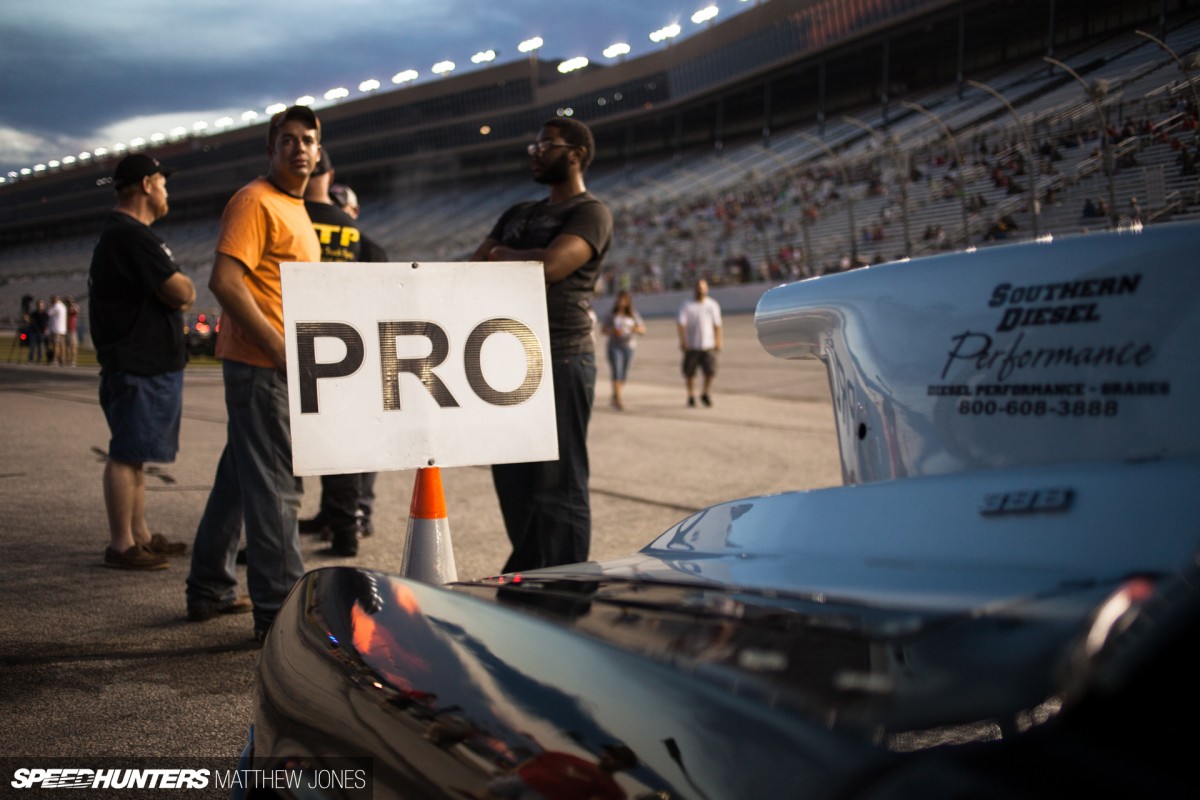 And Pro, which is designated for naturally aspirated engines only. Nitrous isn't allowed but chassis modifications are entirely open.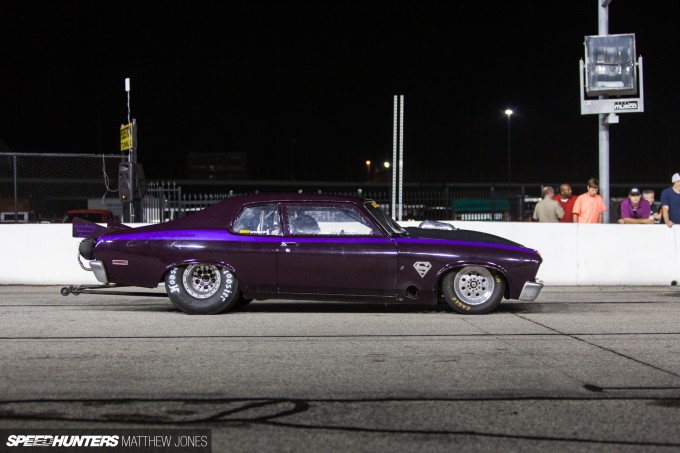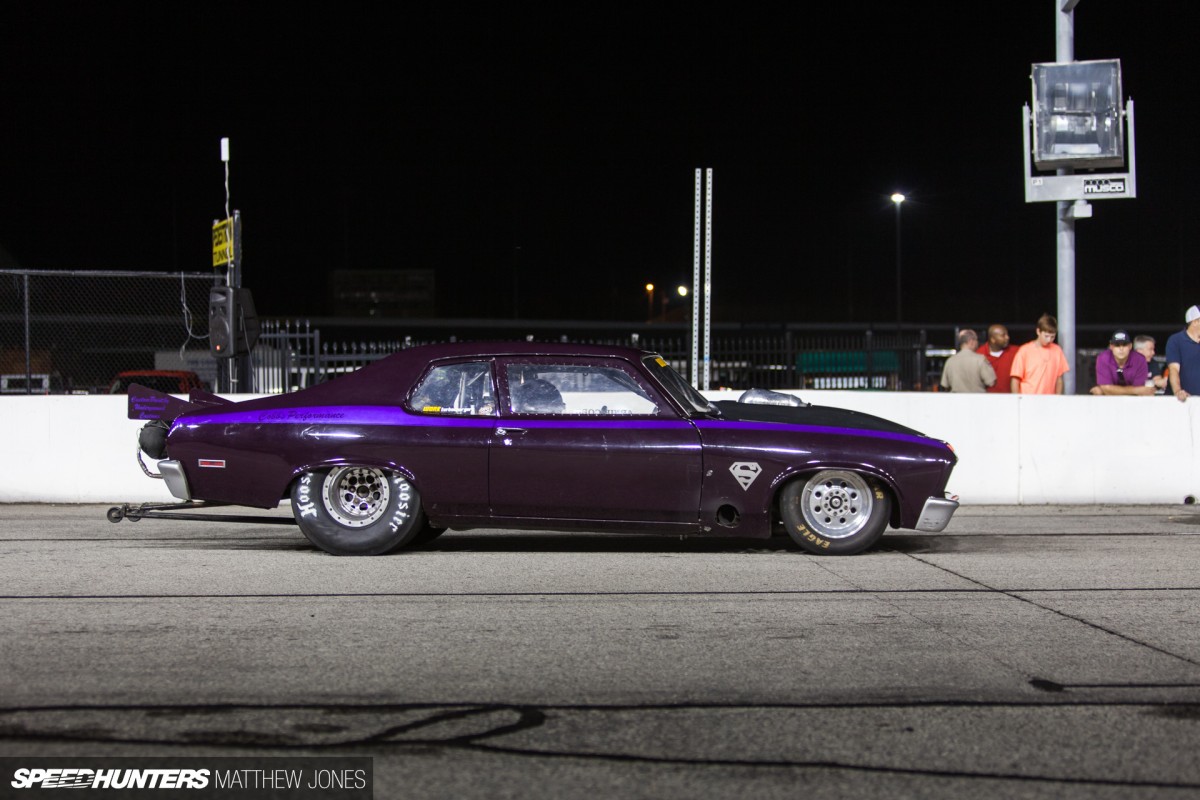 Finally, it's the class where things start to get really gnarly: Super Pro. Here anything and everything goes, or as the folks at Atlanta Motor Speedway like to say – and I quote, word-for-word – 'Run what ya brung and hope ya brung enough!' Glorious, aint it?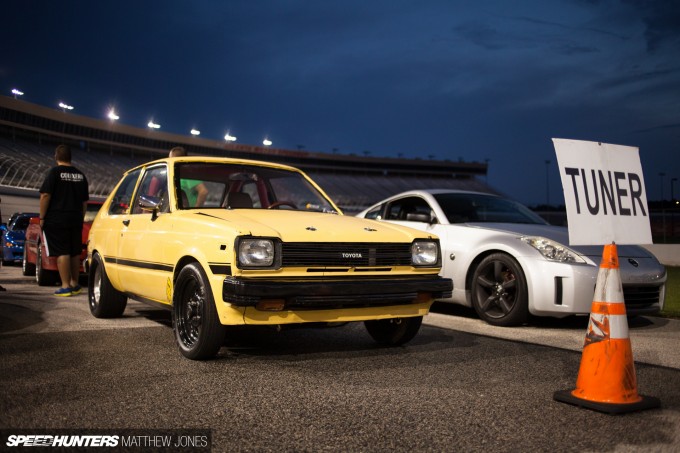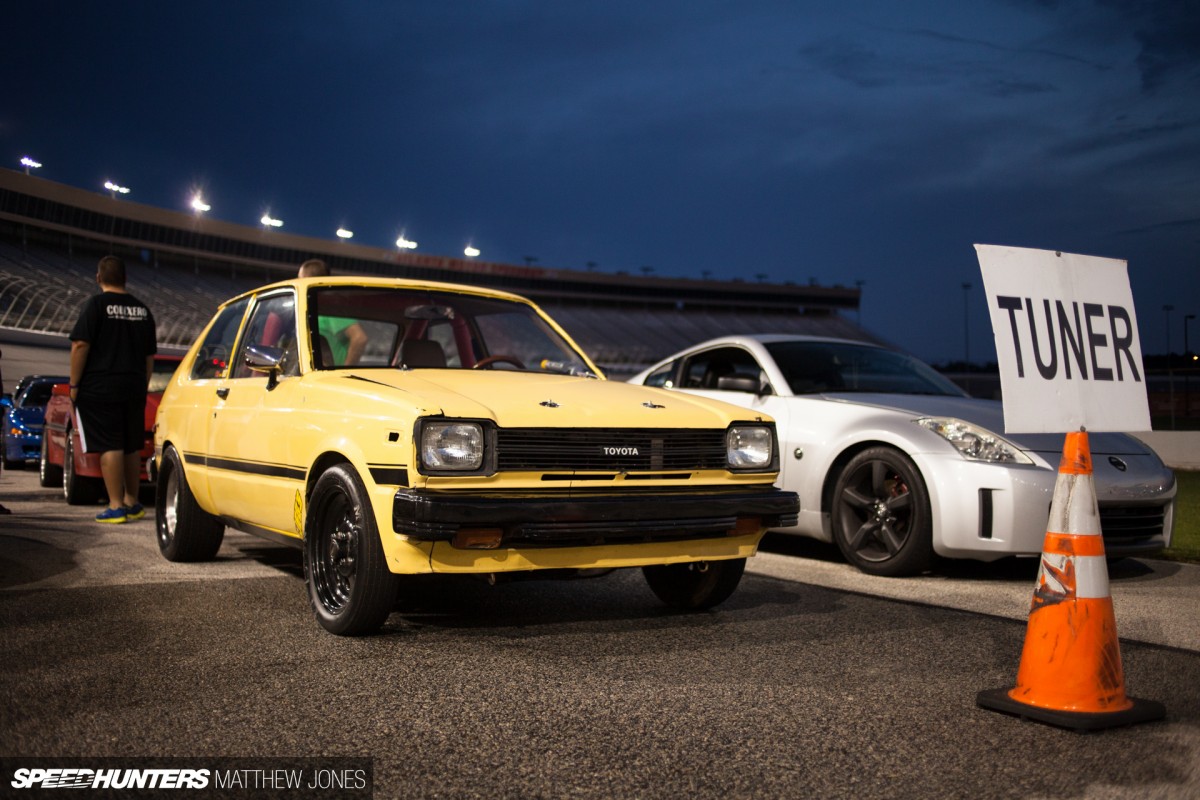 All classes aside, one of the most interesting aspects of the event was the blatant diversity displayed throughout the starting grid. In one row I found a Puerto Rican-built, 13B-swapped Toyota Starlet, followed by a mysterious Supra.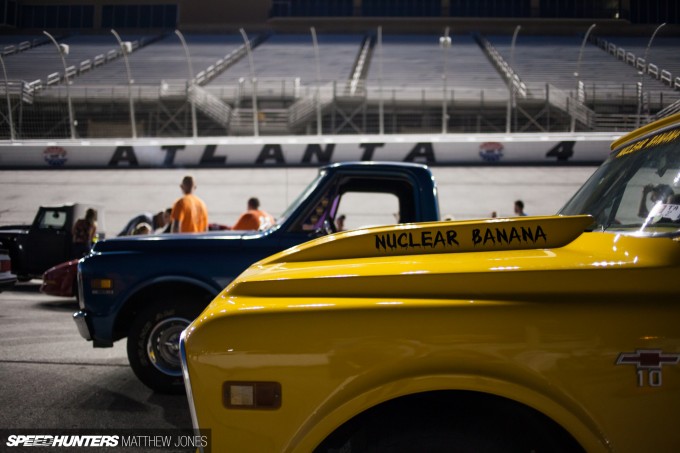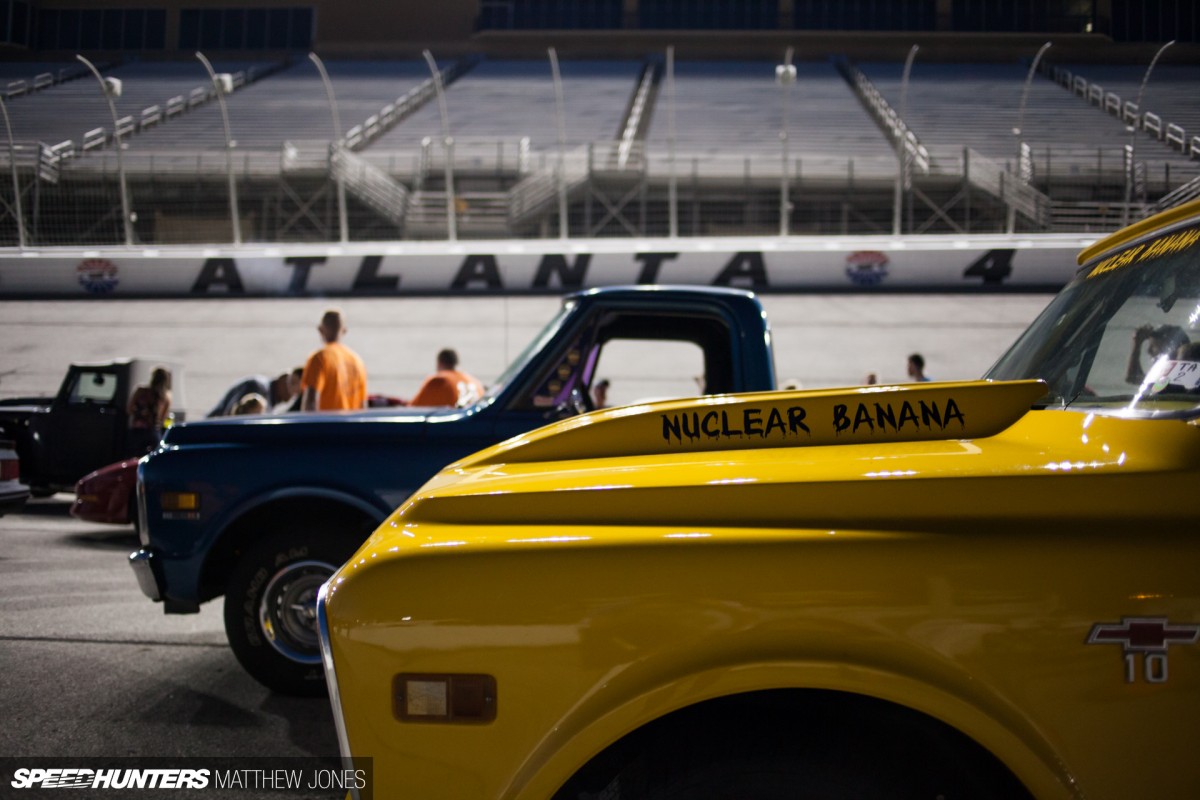 And in the next lane there'd be a slew of pure bred American racing trucks ready to stampede the tarmac.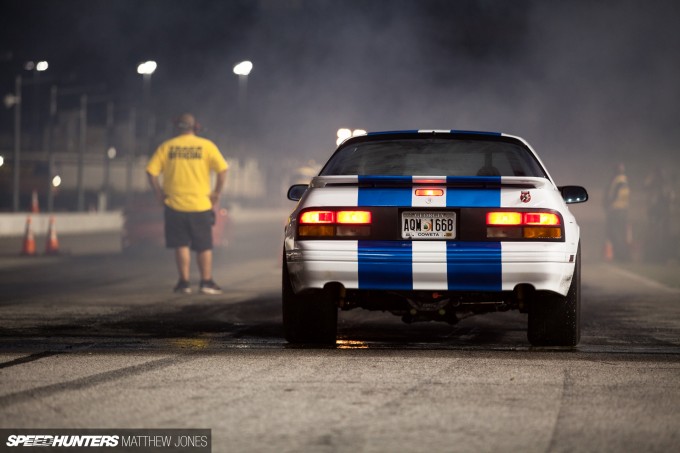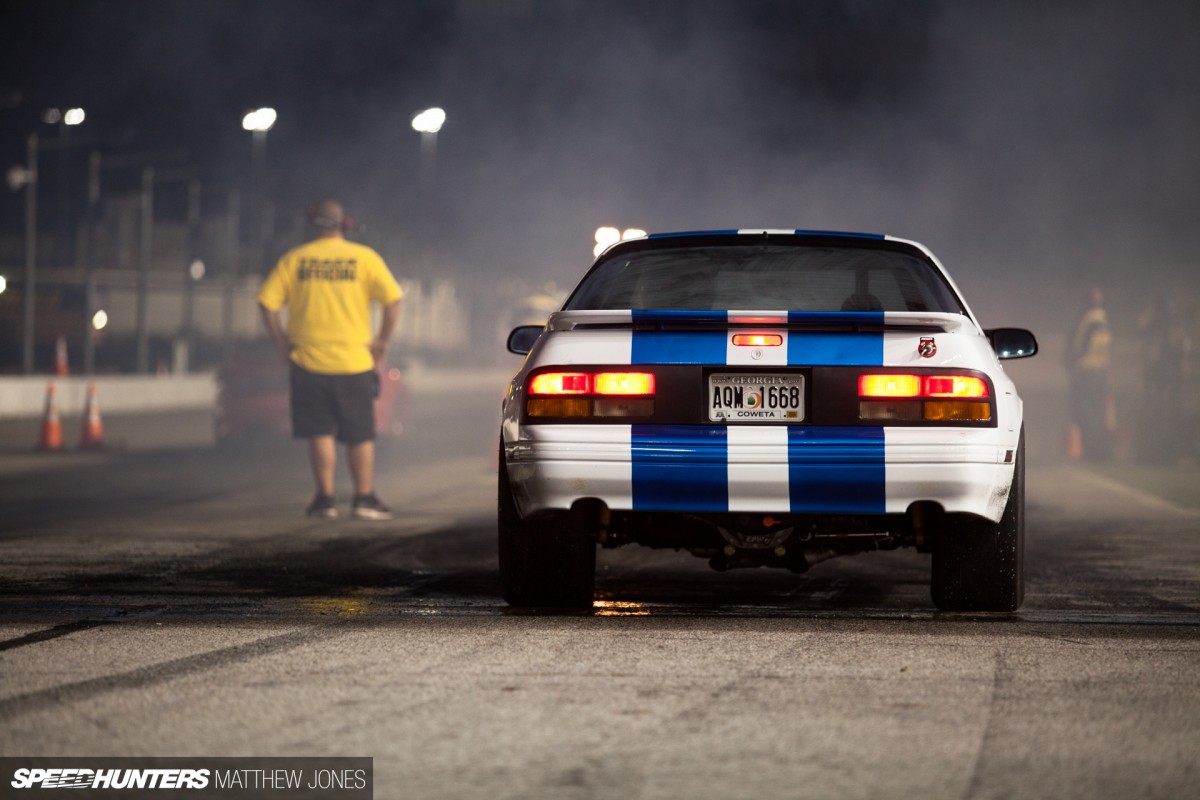 Alas, one of the key factors aiding to the gloriousness of Friday Night Drags is the fact that it's all in good fun. Sure, there may be some small bets taking place on the sidelines, but from a competition perspective the event is solely based on a points system. And the winner of each heads-up race is determined by a finish line official, not a time clock.
No Cameras Allowed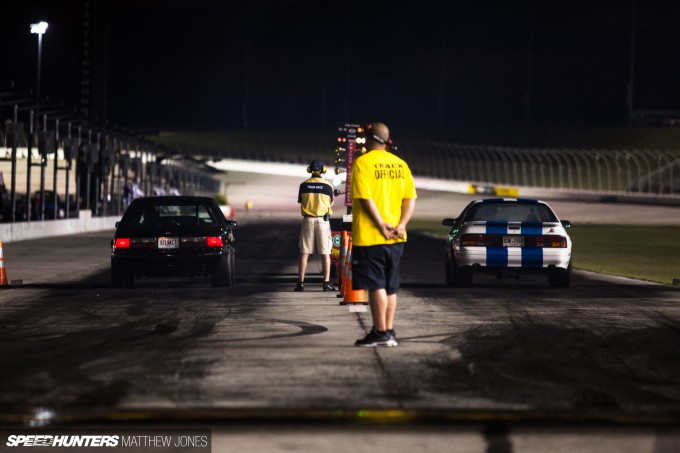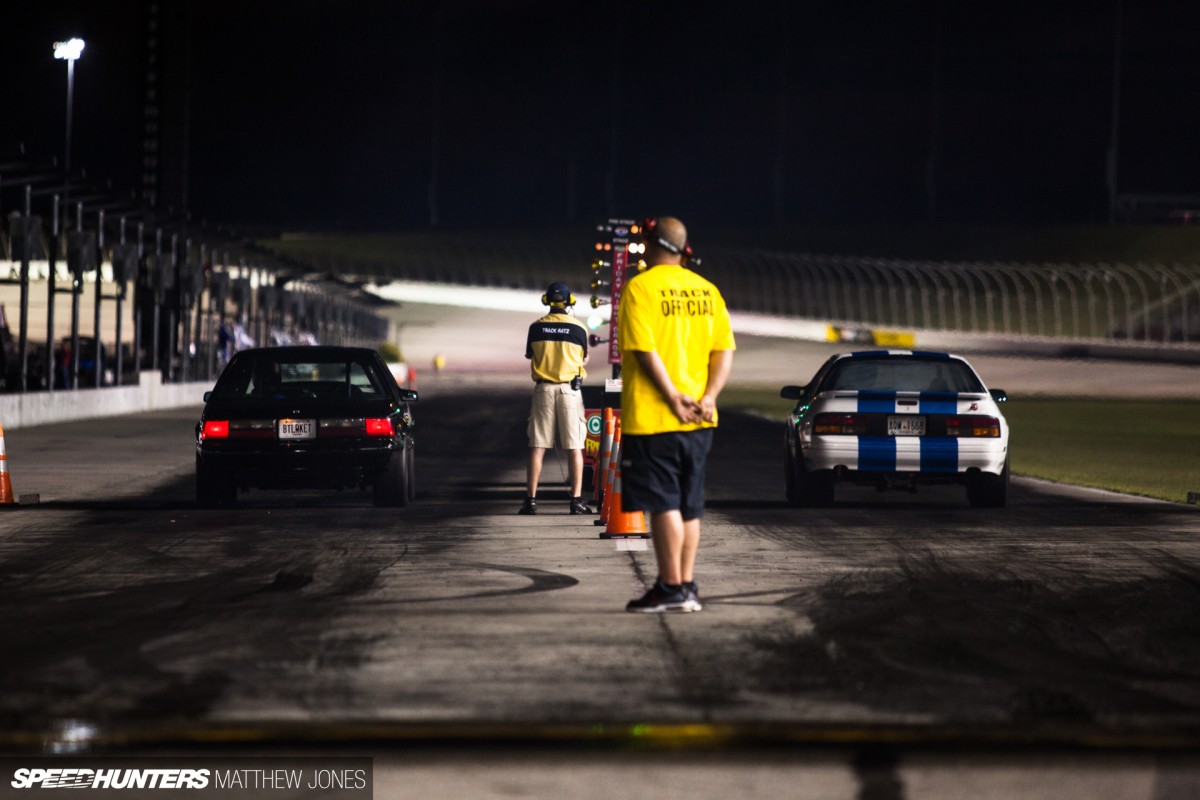 Not only are the times not recorded here, but I couldn't find a single driver willing to divulge their power, ET or MPH numbers either. One response went along the lines of , "No offence, kid, but I've spent way too much money on this thing to give out that sort of information"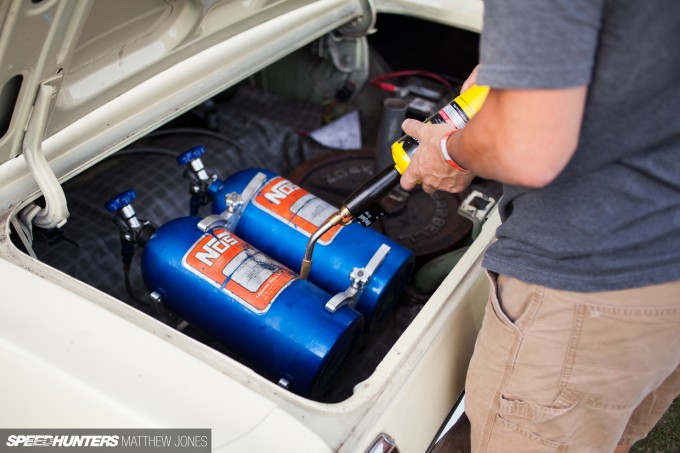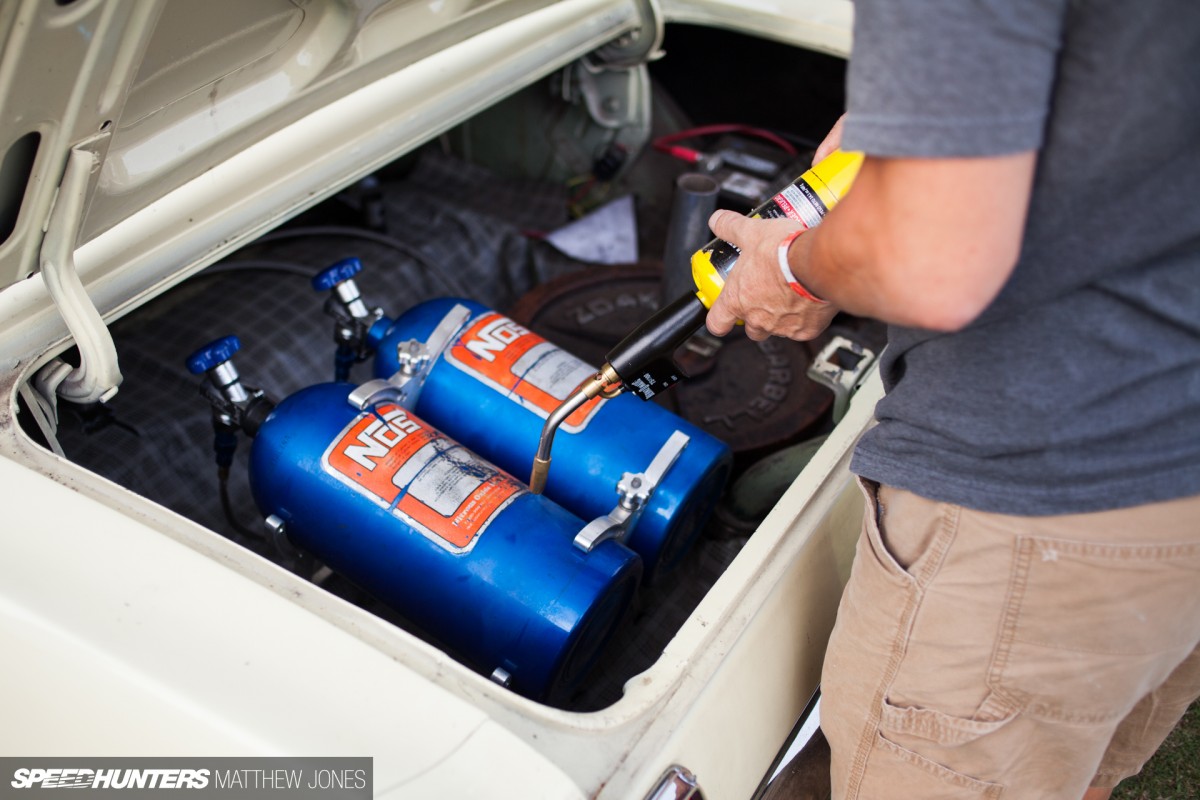 Yet, that didn't mean there still wasn't a general lightheartedness grazing the topic. Like after snapping a photo of this gentlemen earlier in the day carefully prepping his sleeper Mustang, he turned to me and half jokingly stated, 'Well it ain't a secret anymore, is it!?" We shook hands with a smile and I was on my way.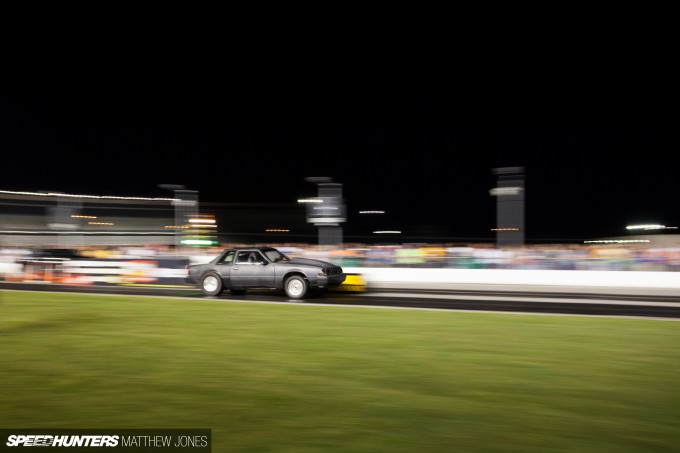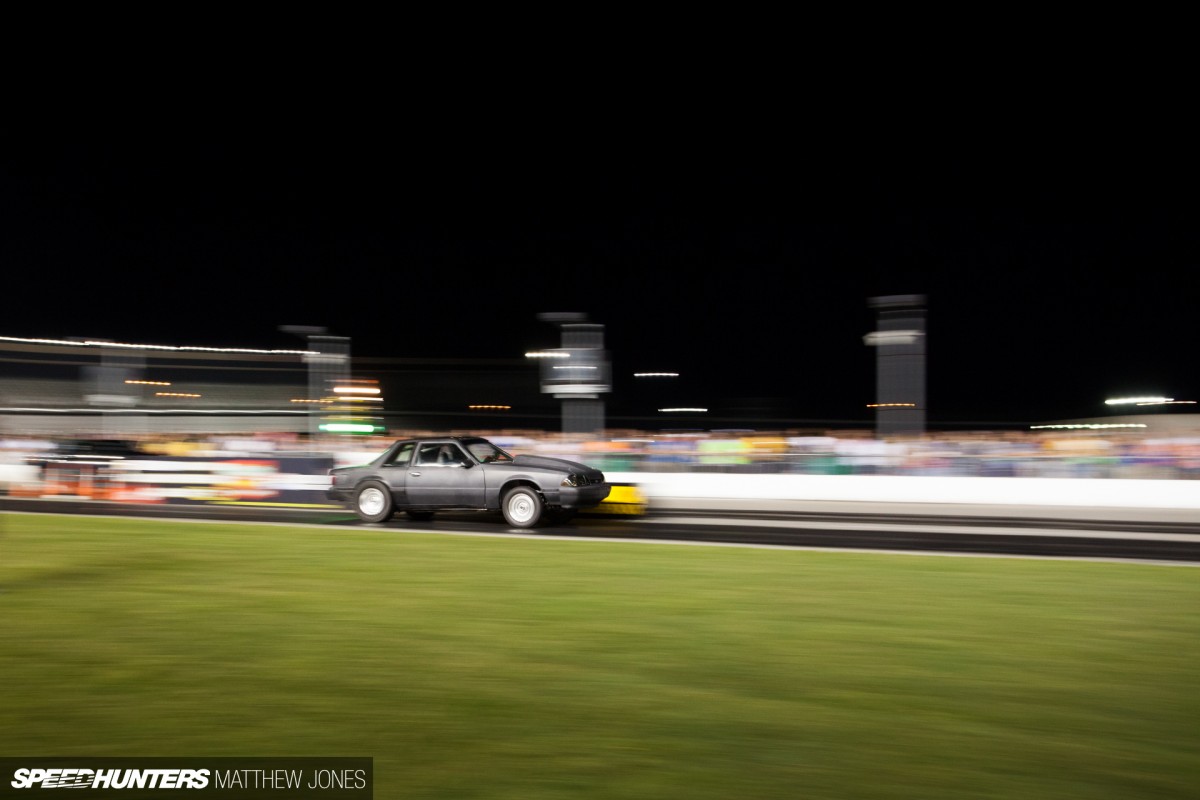 As I mentioned earlier, as Southern as I may be, I definitely felt out of place at the event. And once the actual racing began, it wasn't long before I was reprimanded for being so by the official track photographer. Believe me when I tell you I did my research prior to turning up. I called the track multiple times well over a week in advance trying to get clarification on media credentials with no response or call back. I even called up multiple buddies who had experienced the event in the past to get a further rundown. And I asked the ticket attendant at will call what the shooting policies were and was given the go ahead. Yet, regardless of my professionalism it was all too clear I was on his turf. Even Larry Chen wouldn't have stood a chance.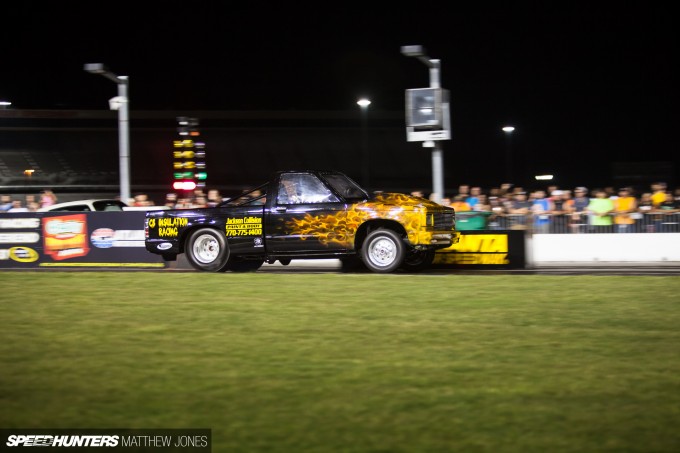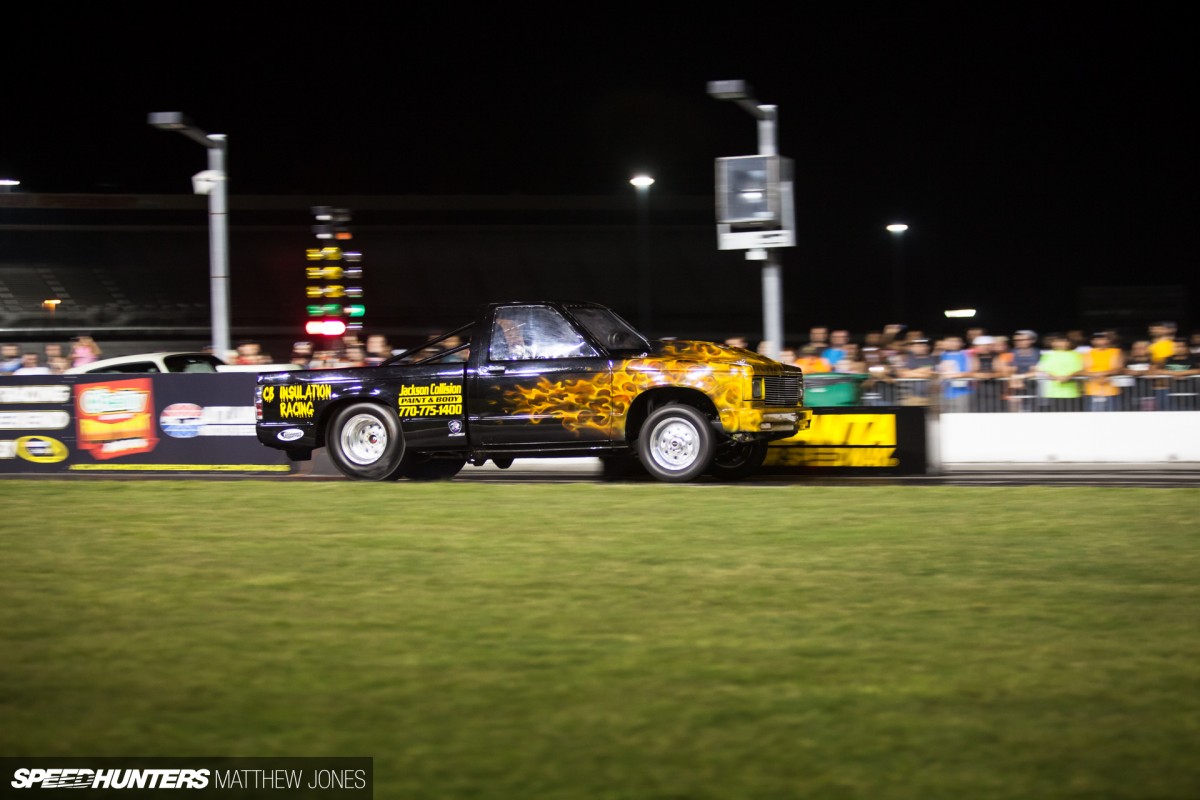 So after a lengthy chat filled with swift charm, the intentions were explained, the betrayal was relieved and I was jumping back on schedule. Though, it wasn't but five minutes later that I had another official breathing down my neck demanding an explanation for why in the world I had come to Atlanta Motor Speedway on a Friday night to take photos of 1000hp-plus nitrous sprayin' dragsters. Seems crazy, right? But after explaining my purpose once again and extending the blessing I had received from Joe John, the track shooter, I was back at it.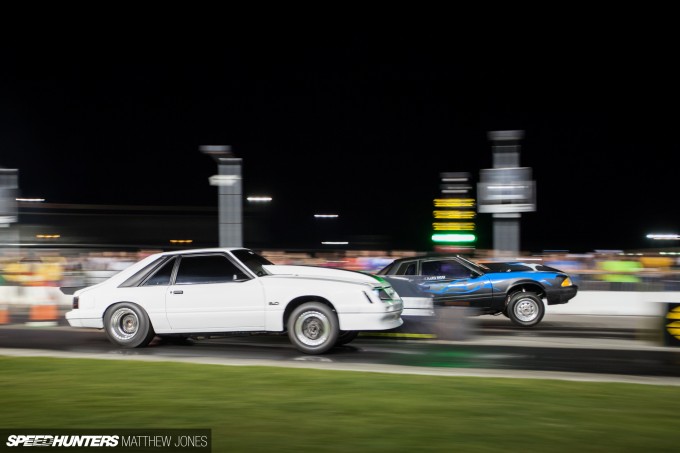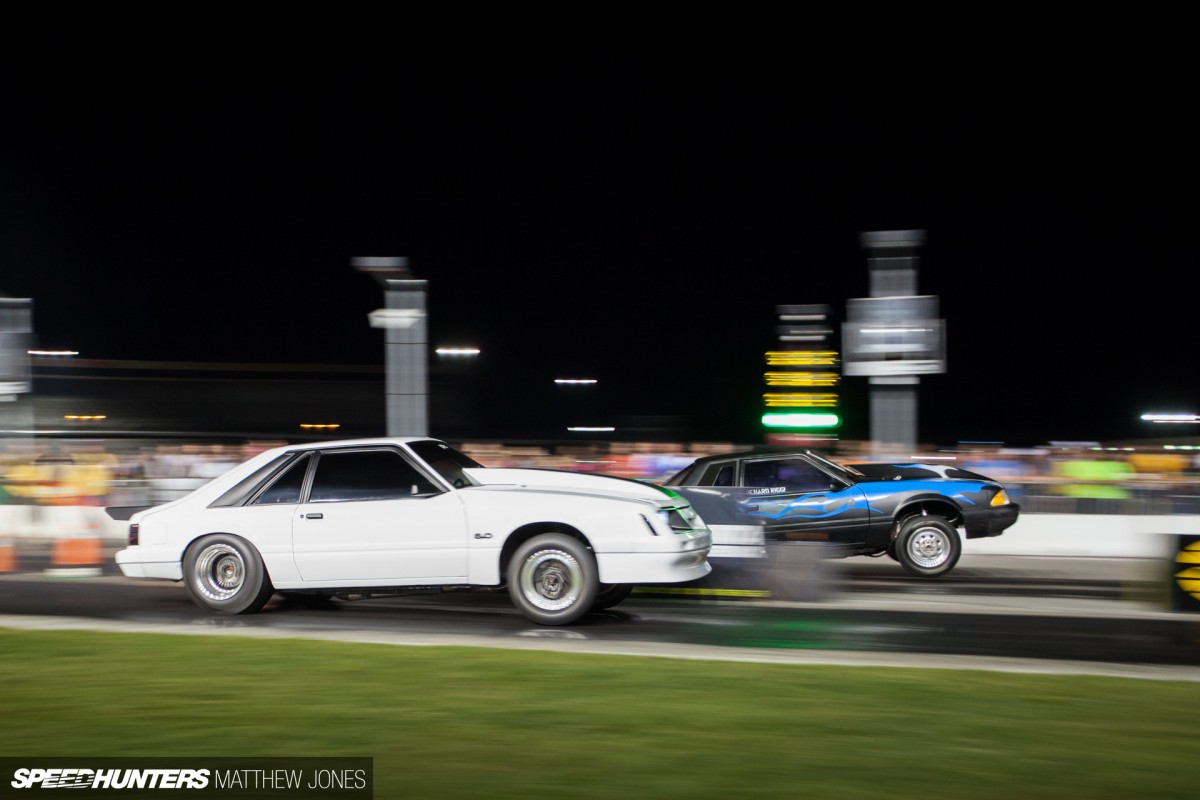 Amidst the political chaos, I was able to escape long enough to witness a crash, which I've been told rarely happens at these events. The run down? Exactly what you'd expect. The black Fox Body Mustang lost control about midway, slamming into the rear quarter of the opposing white Fox Body Mustang, running both cars off the course. I quickly grabbed my camera bag and sprinted down the sideline of the track to document the carnage, but of course, as soon as I finished the lengthy dash and picked up my camera, I was stopped in my tracks by yet another track official. Seriously?! I couldn't even snap one photo I was so busy explaining what had been going on for the past hour and who I'd been talking to. Then just like that, the car was loaded on a flatbed and hauled away. It was at this point that I figured it was finally time to get out of these people's hair. Speedhunters problems, right?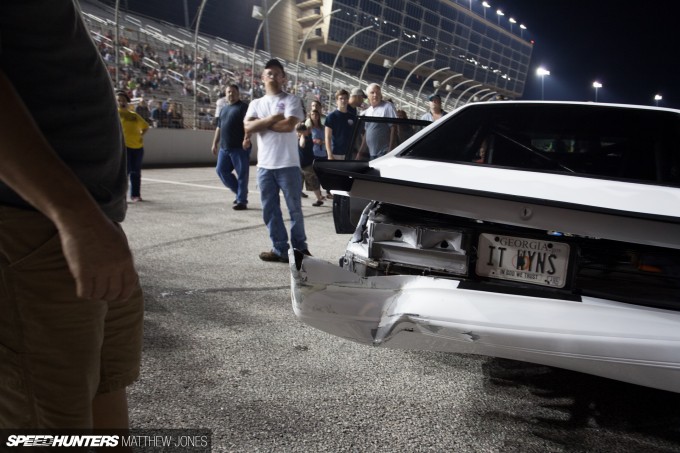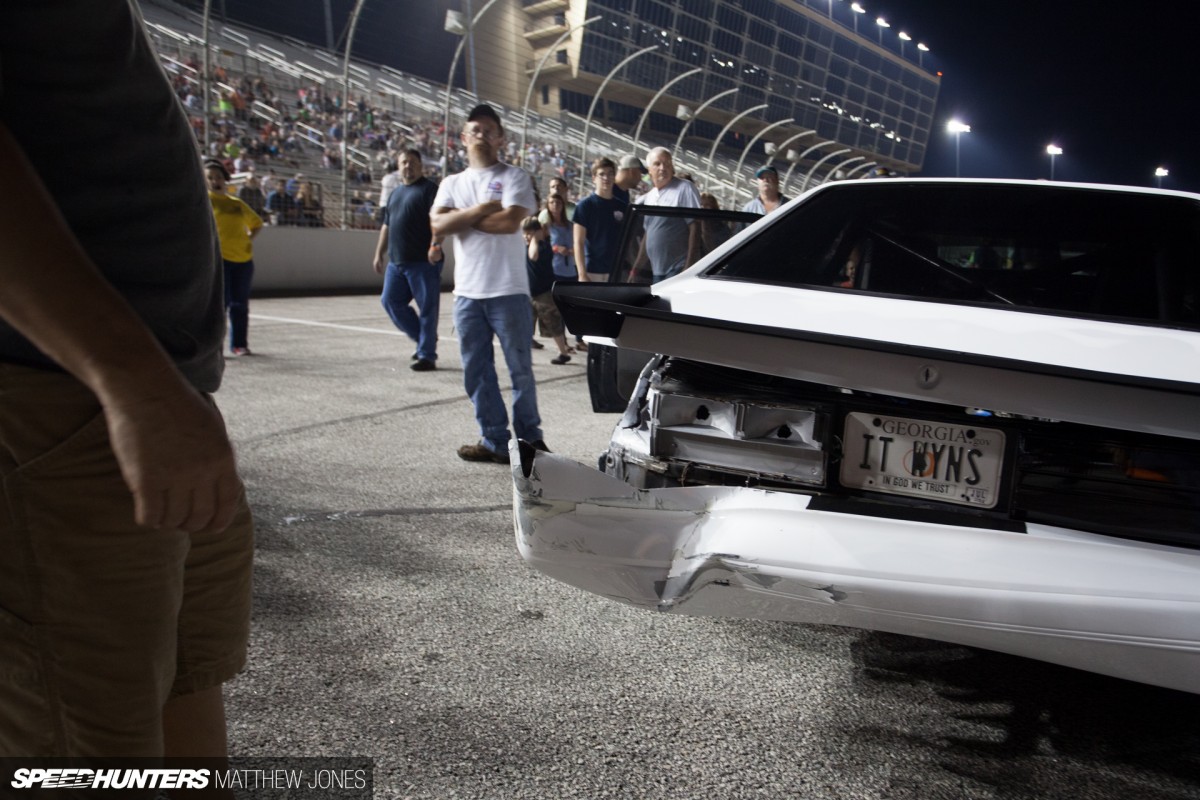 Though walking back to the grid I was actually able to capture one final piece of glory – the aftermath of the victimized Fox Body.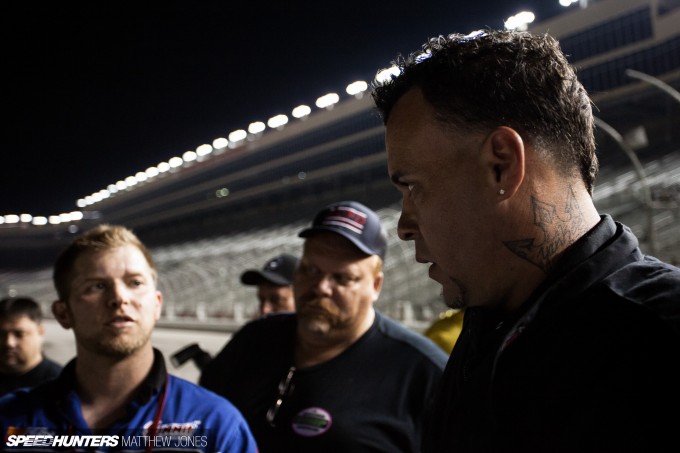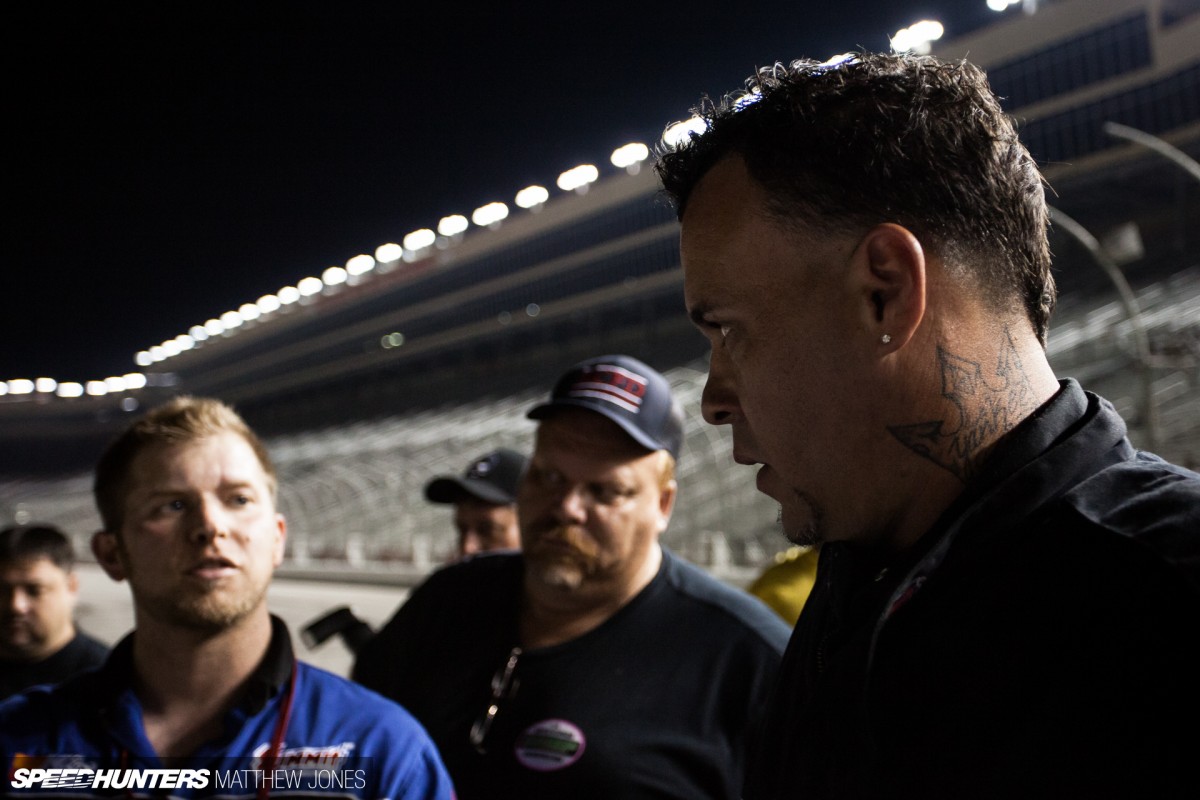 And moments later, both drivers were in each others face about the situation. The owner of the black Fox was claiming he lost control due to a retune they did earlier in the week…
Regardless, though it seems I'll be spending more Friday evenings at this track hunting speed than I could ever desire, (and I'll certainly be doing a 35mm film piece on this event in the future) it seems there's a reason why this event has never been properly documented in the past.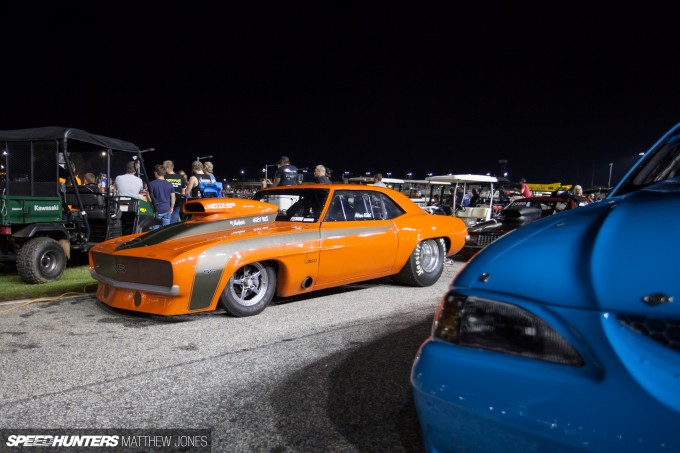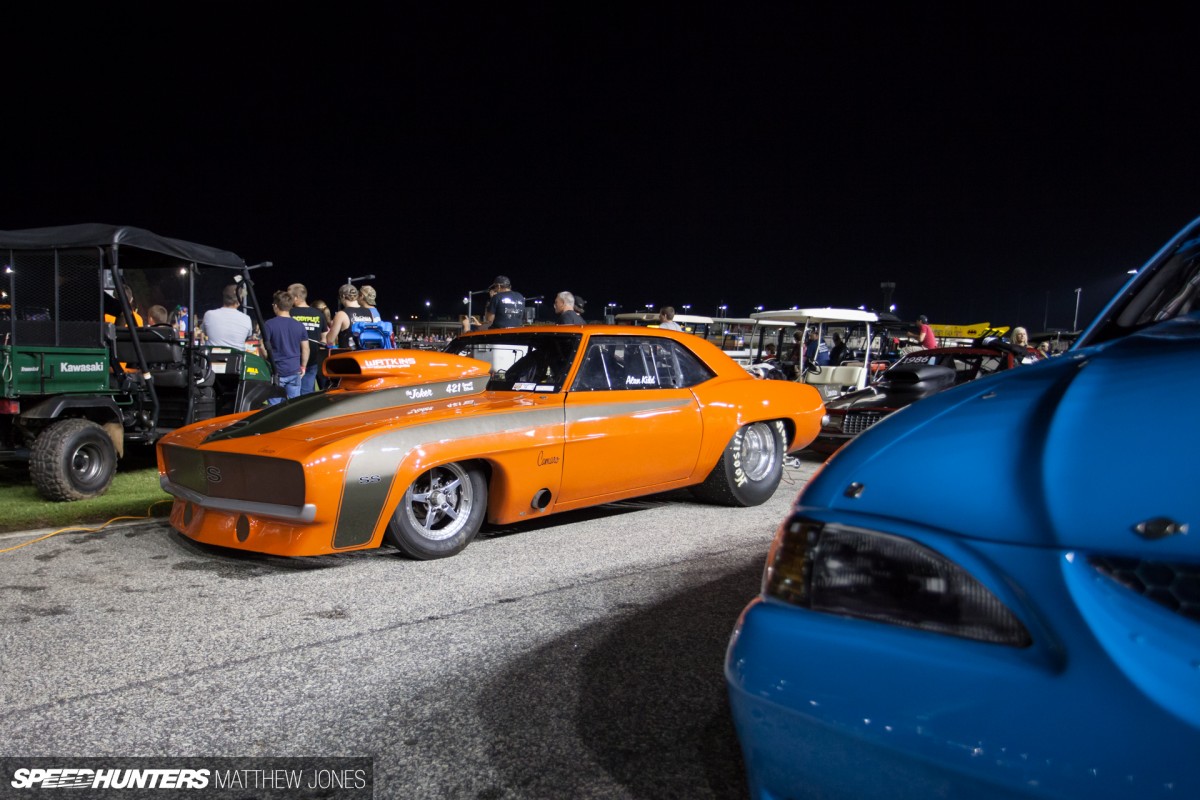 Maybe it's due to a territorial power trip? Or could it possibly be due to the fact that the event holders want to do everything they possibly can to keep Friday Night Drags as pure and unexploited as possible. You be the judge. Either way, it's undeniable that there's a large mass of homegrown horsepower hiding away in Middle Georgia. I'm here to uncover it, one Friday evening at a time.
Matthew Jones
Instagram: matthewjonesphoto
matt@speedhunters.com