Circle Burners
Picture for a moment that you have access to drive some of the most powerful race cars in the world. Then, imagine being given free reign on an open race track. What would you do?
Would you go for a fast lap? What about burning some rubber? Or how about a massive tire shredding burnout, or even better – circle burners! And some power slides while you are at it? Sounds like fun, doesn't it?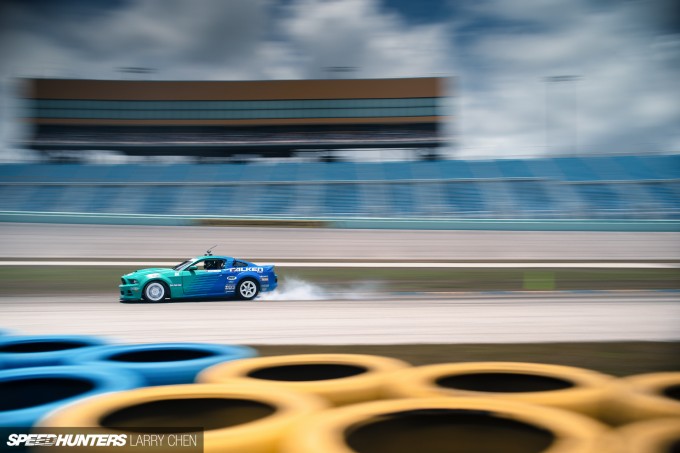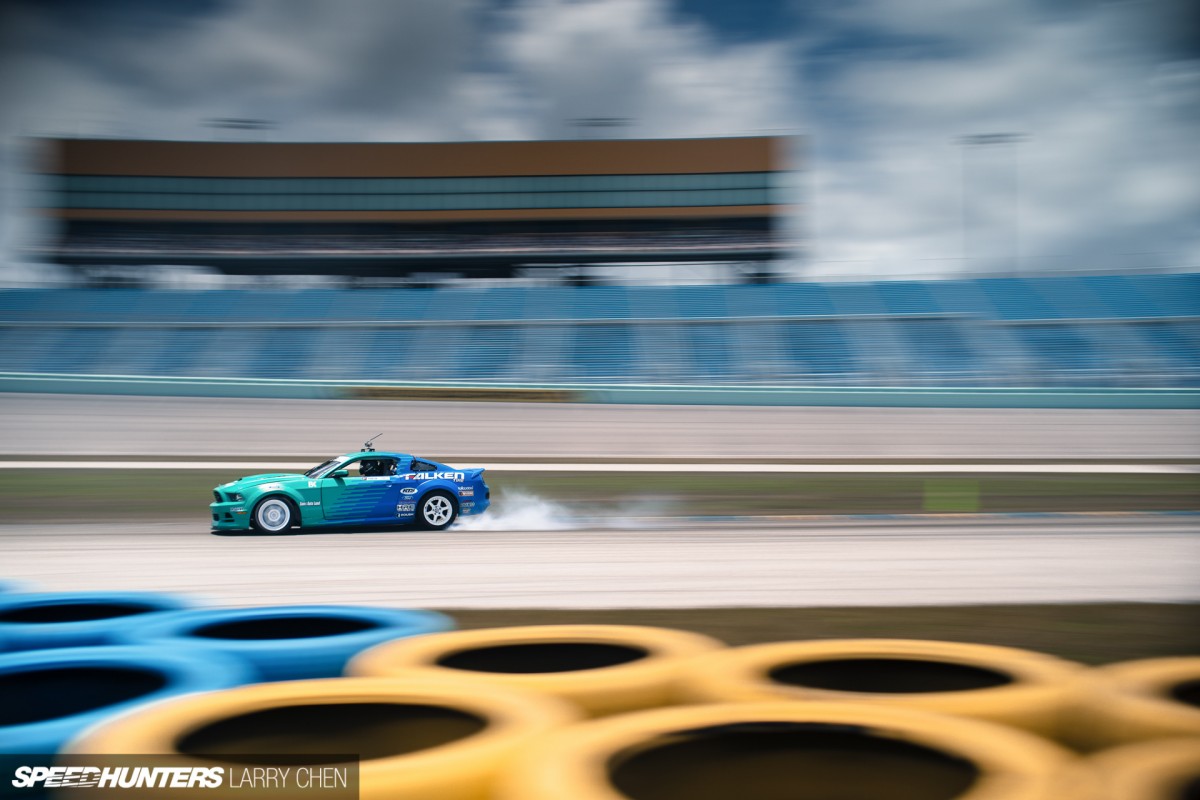 I don't see how naysayers fail to see the appeal of professional drifting. In essence, Formula Drift is about one weekend of driving high power race cars with one purpose – to destroy tires and to make little puffy clouds in the process.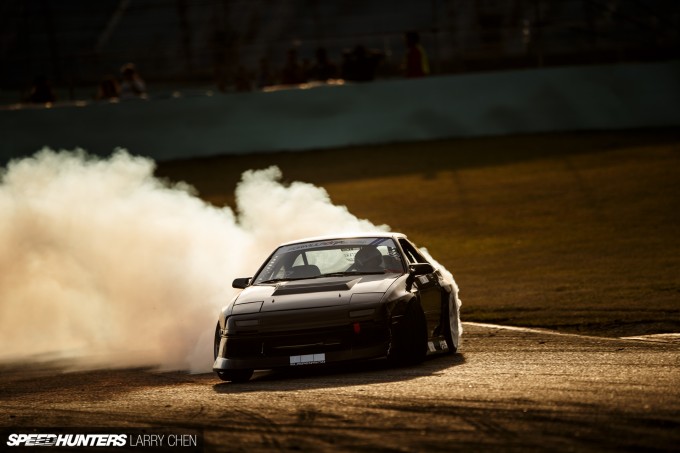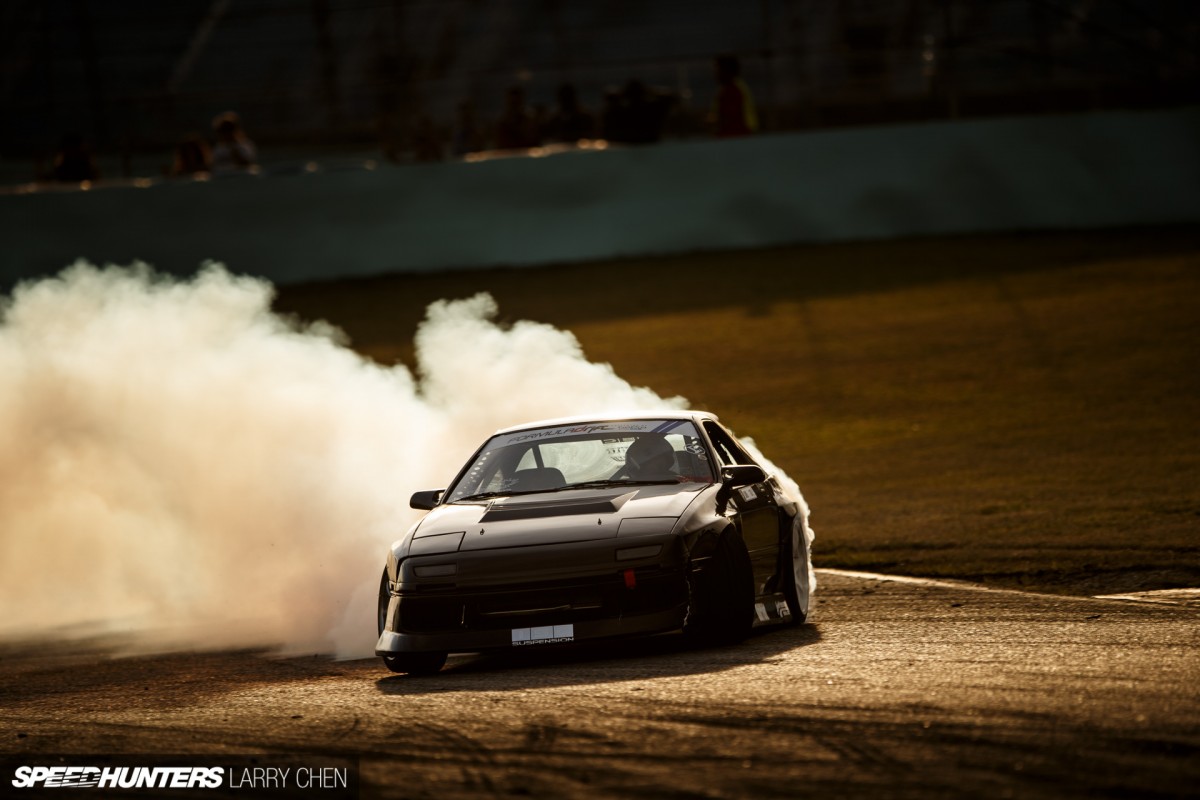 Watching tire smoke billow out from under the wheel wells of these drift machines provides a spectacle unlike any other motorsport.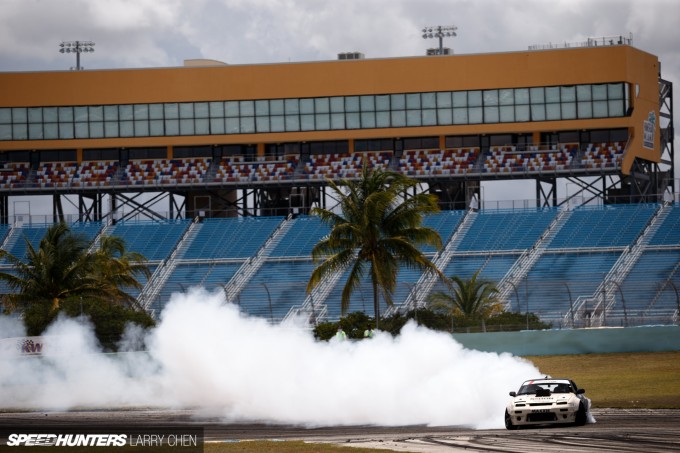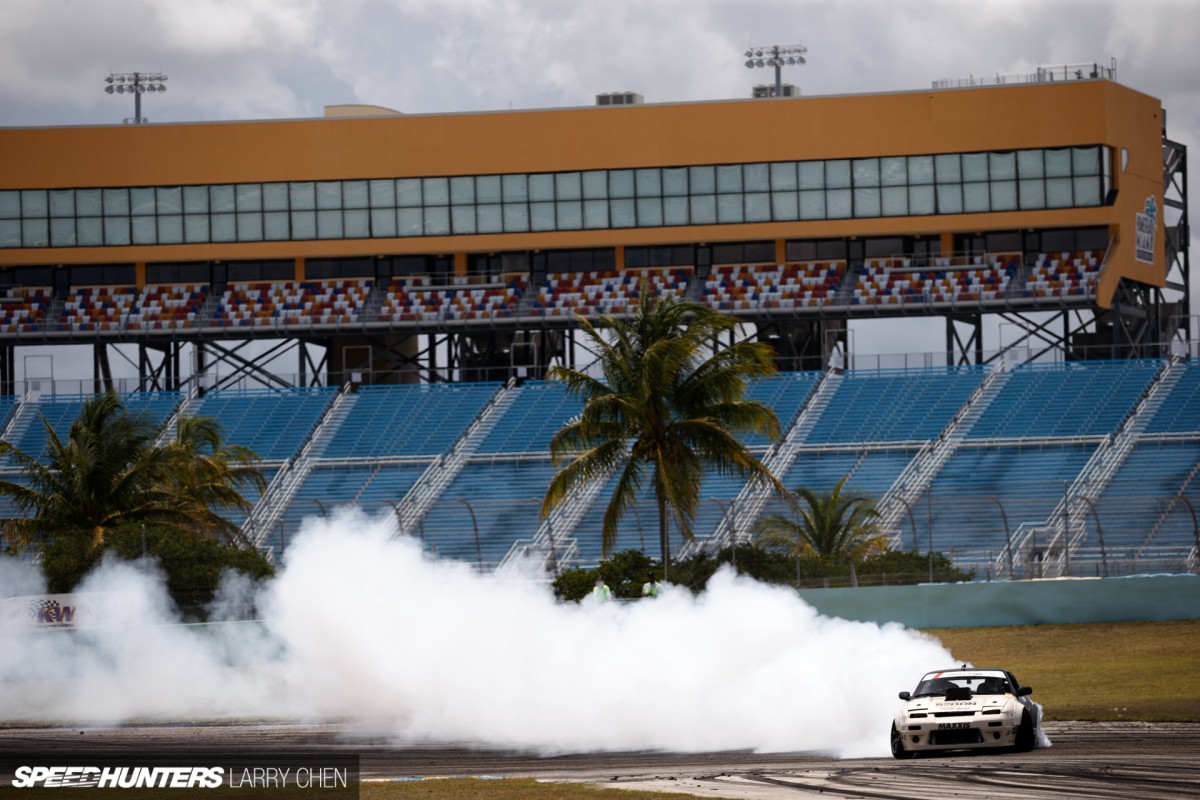 What amazes me is how much the sport has evolved in just a few short years.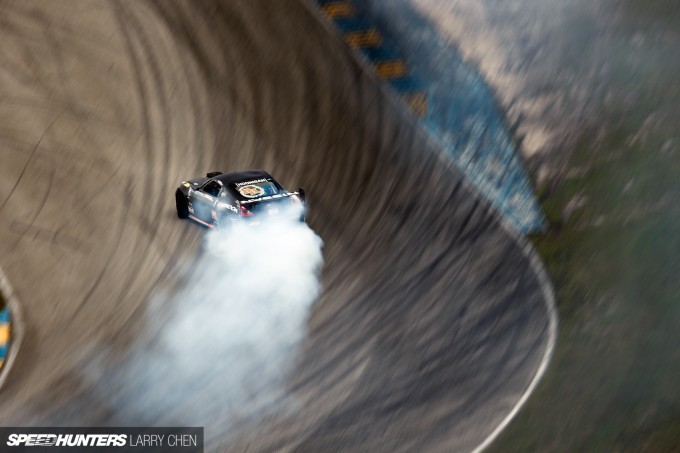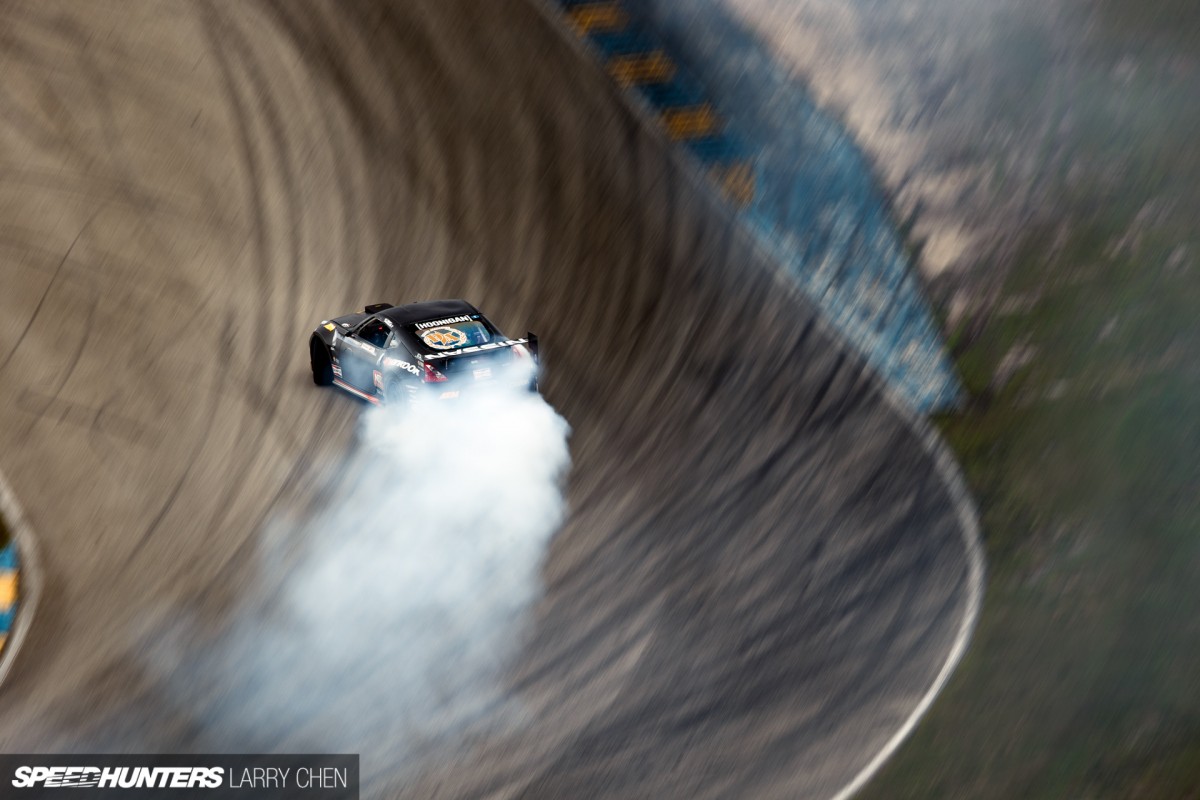 I remember watching the first years of Formula Drift and D1GP thinking it was the coolest thing ever. Today, when I watch those videos from way back when, it's really evident how different it is now.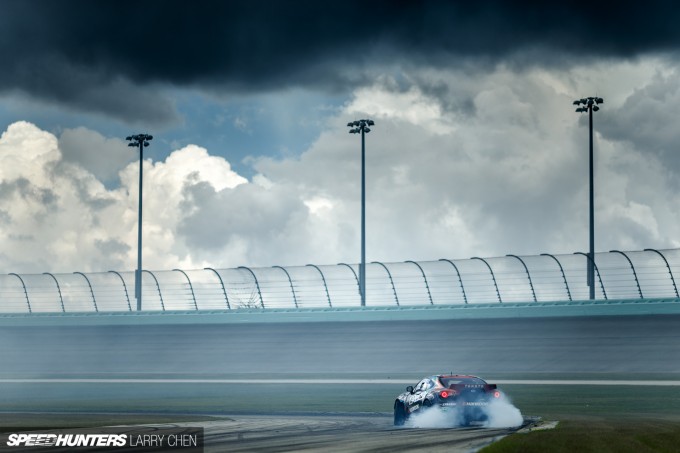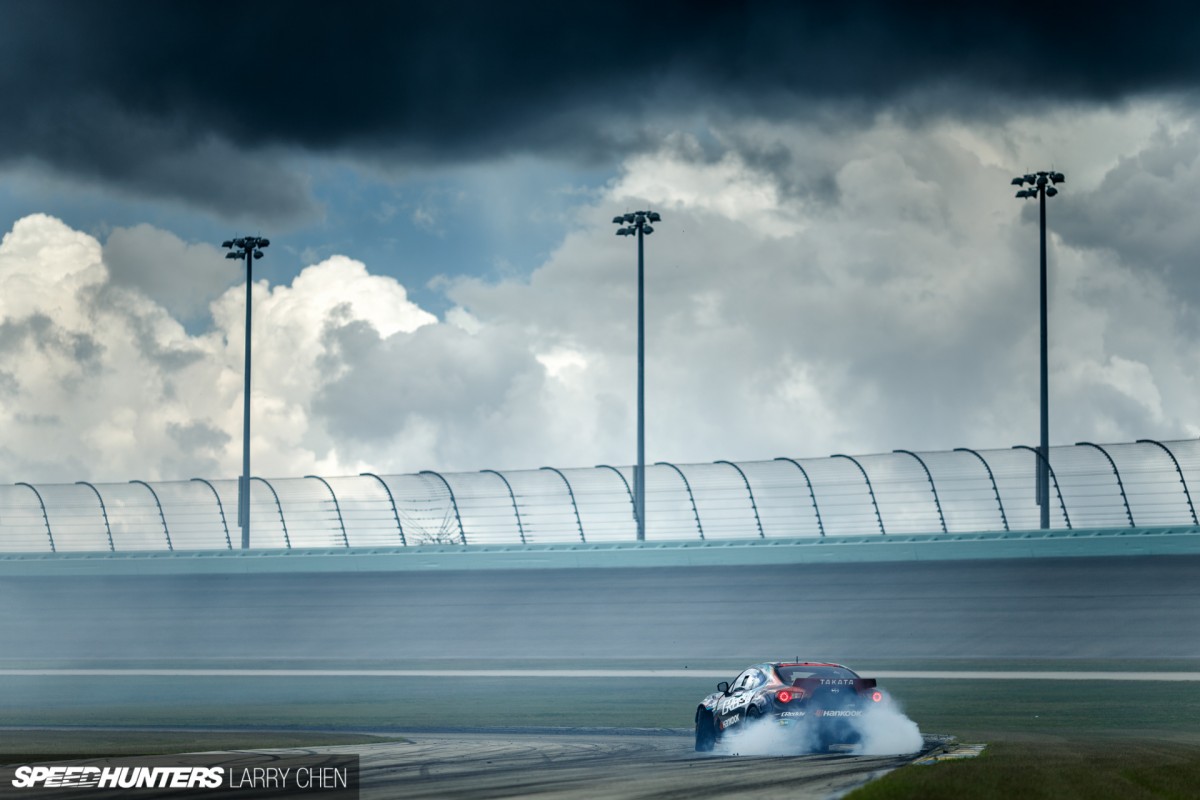 Driver skill has improved tenfold. The Ken Gushi of today would run circles around the Ken Gushi from 2004.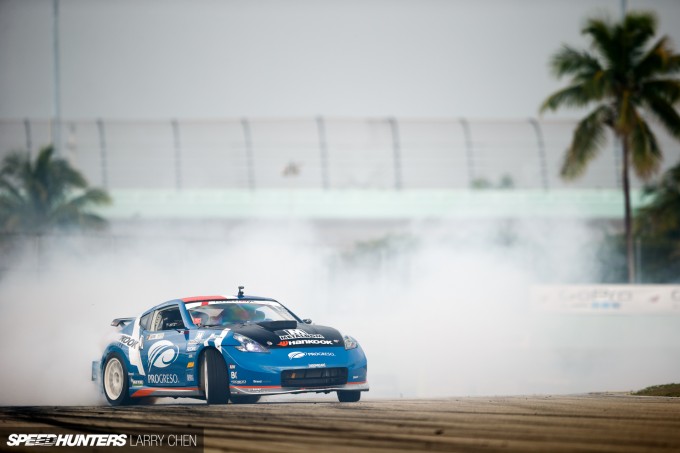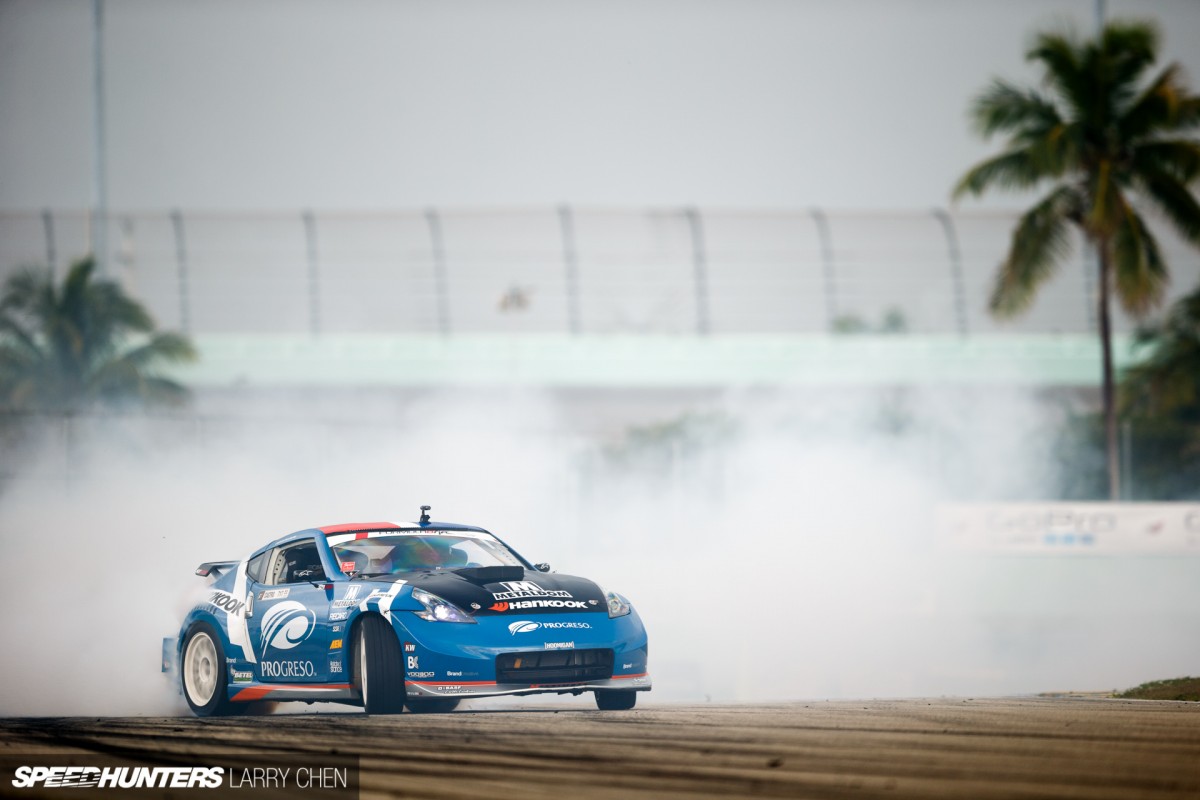 The biggest difference of course, are the machines. With horsepower levels pushing four figures and proper race car suspension setups, these are not street cars anymore. No more driving to the track and home again afterwards in your competition car.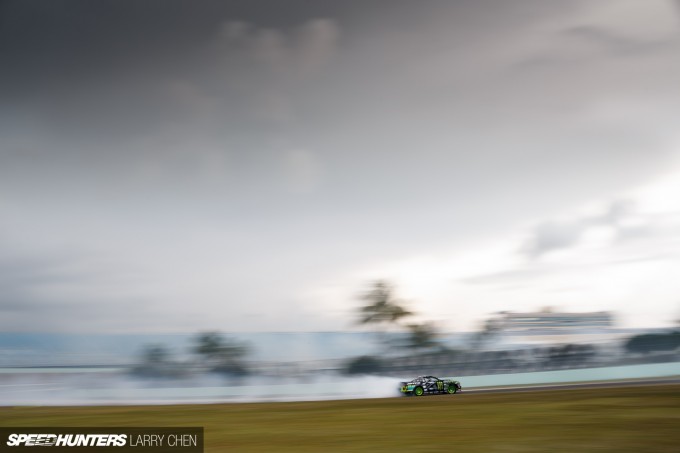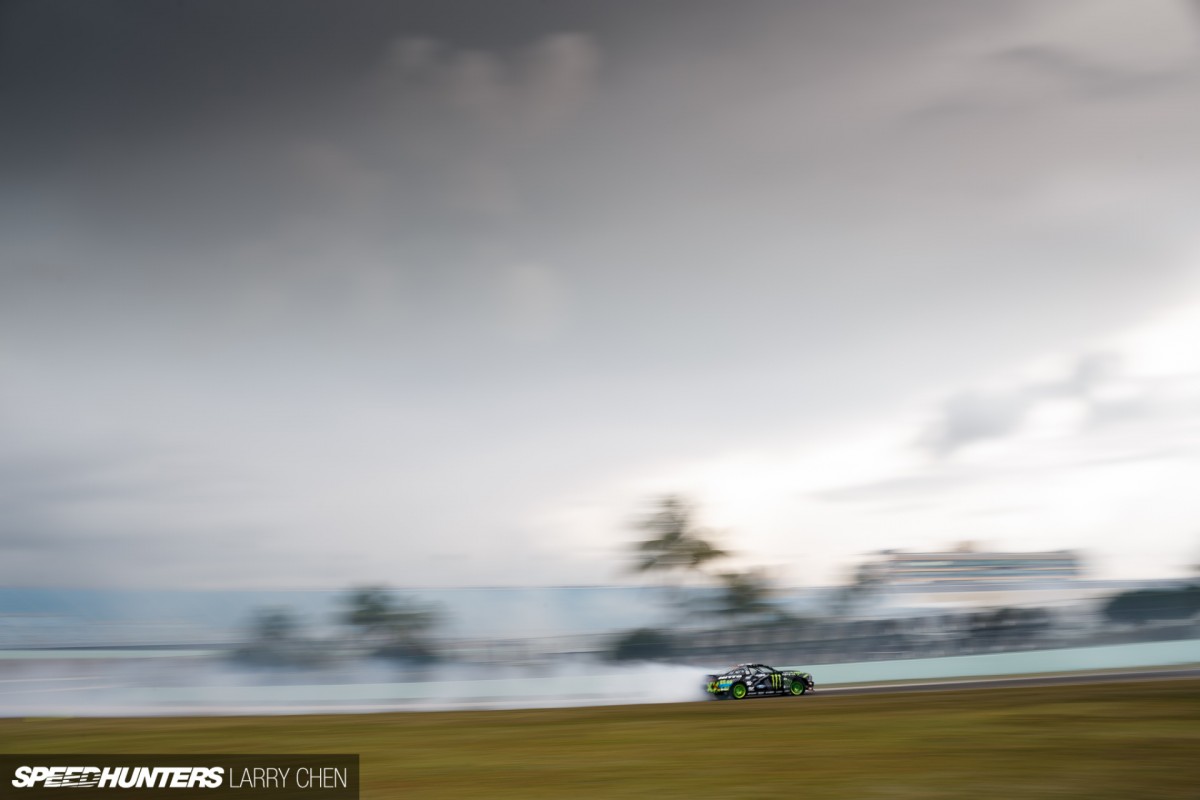 To think that Vaughn Gittin Jr. used an open trailer with a borrowed truck to tow his S13 to these very events many years ago, is pretty amazing.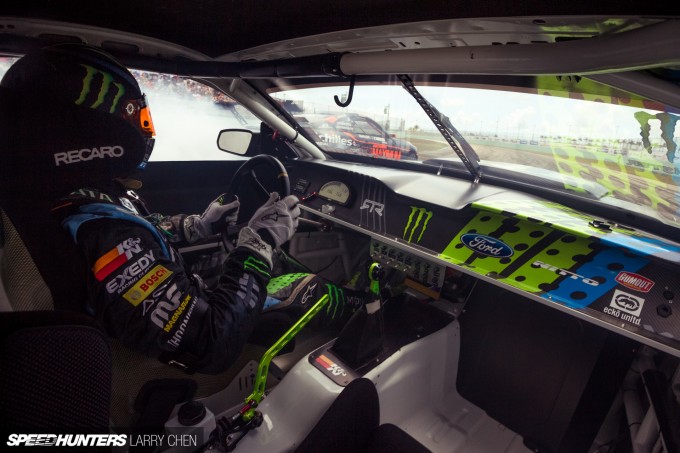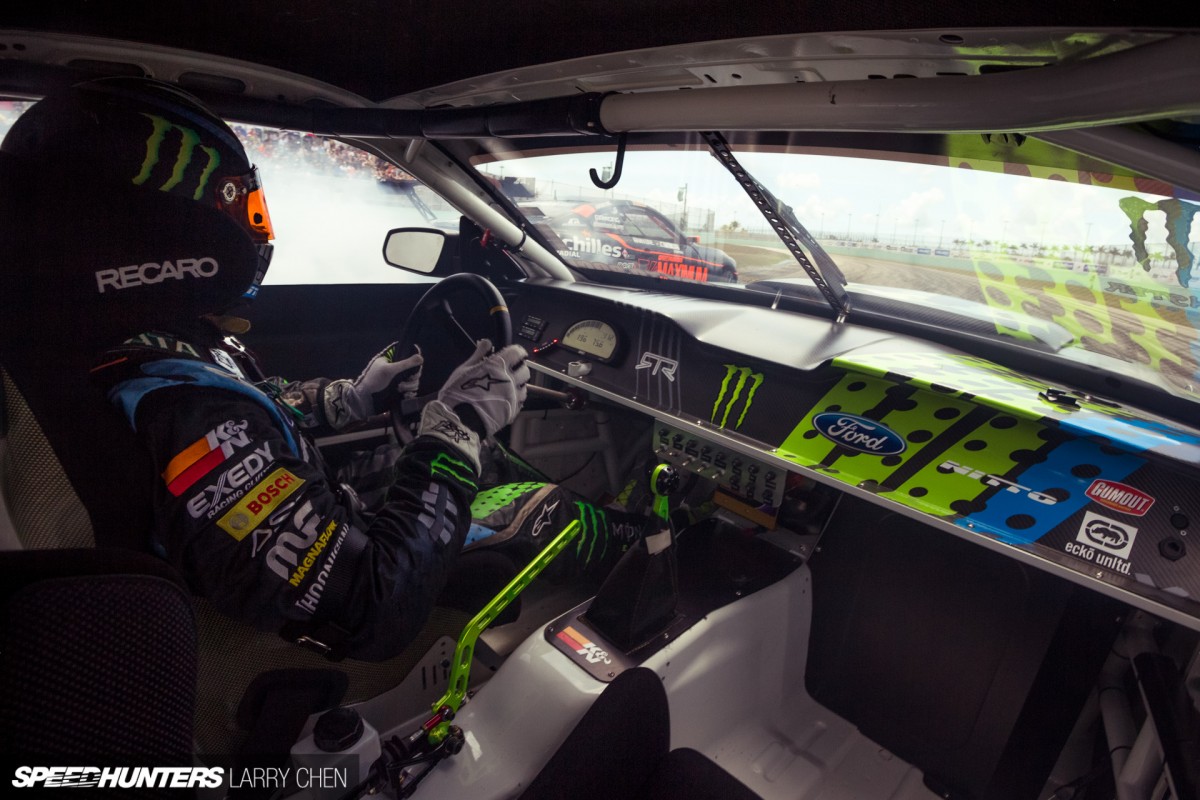 He made the right moves when it counted back then, and now he is gunning for his second Formula Drift Pro Championship title.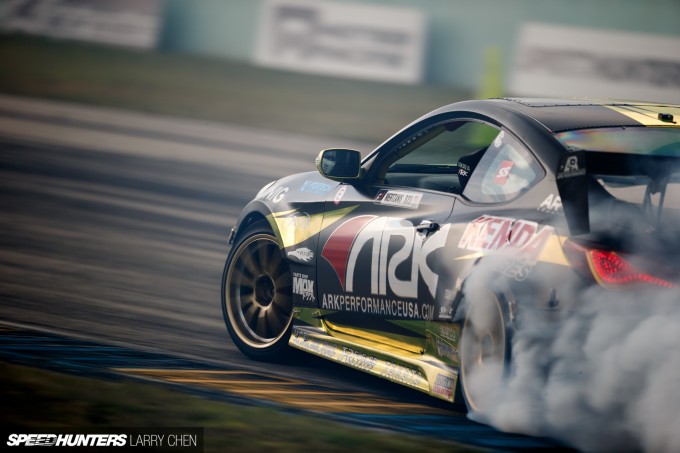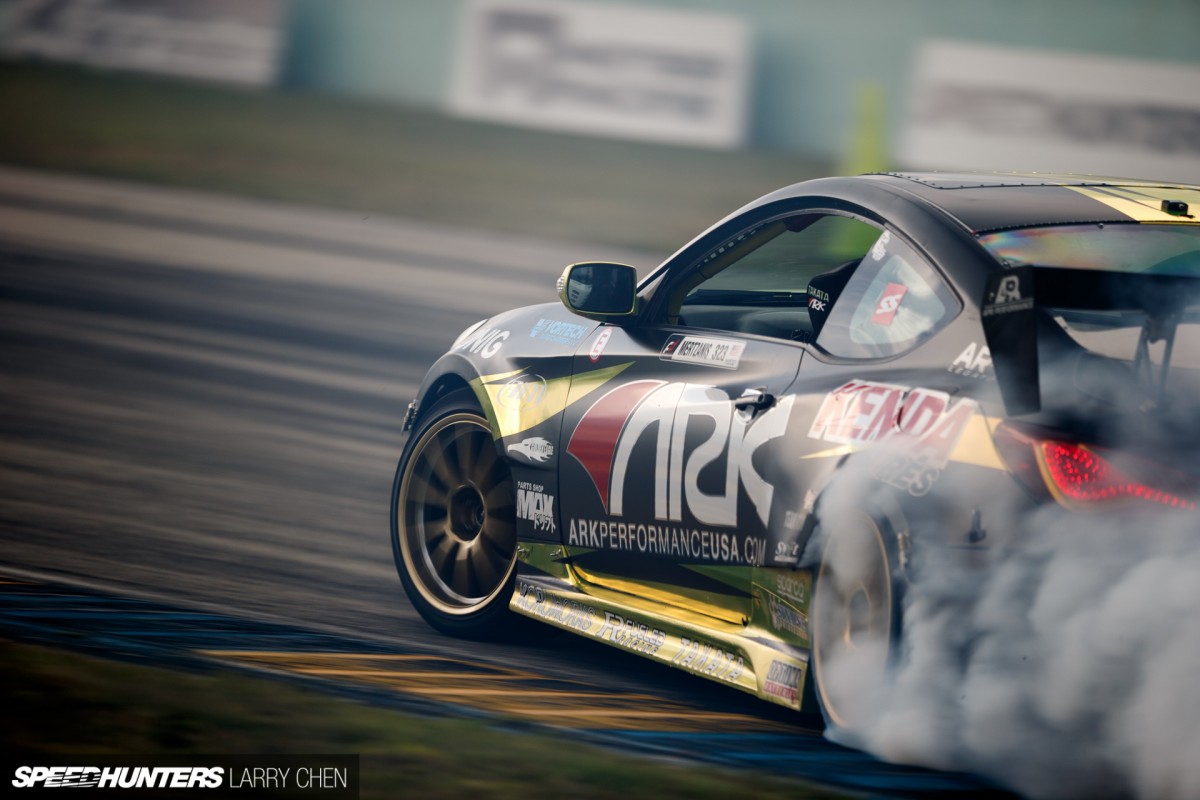 The cars have changed as well as the strategy. I remember hanging out in a tire changing area back in 2006, when I overheard the teams yelling at the workers saying that tires do not go on the cars unless they have 50psi of air in them.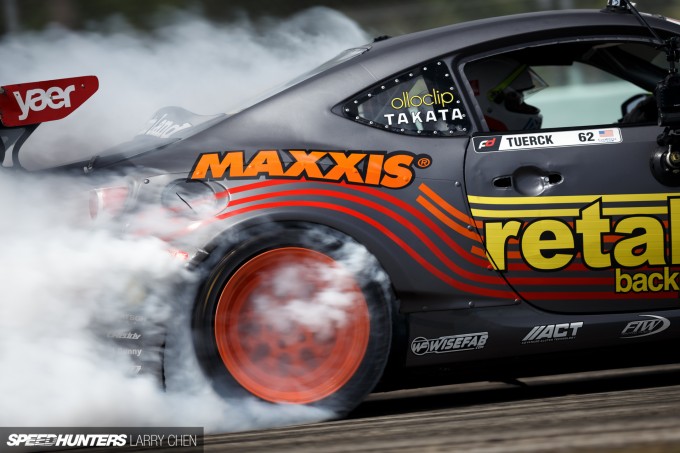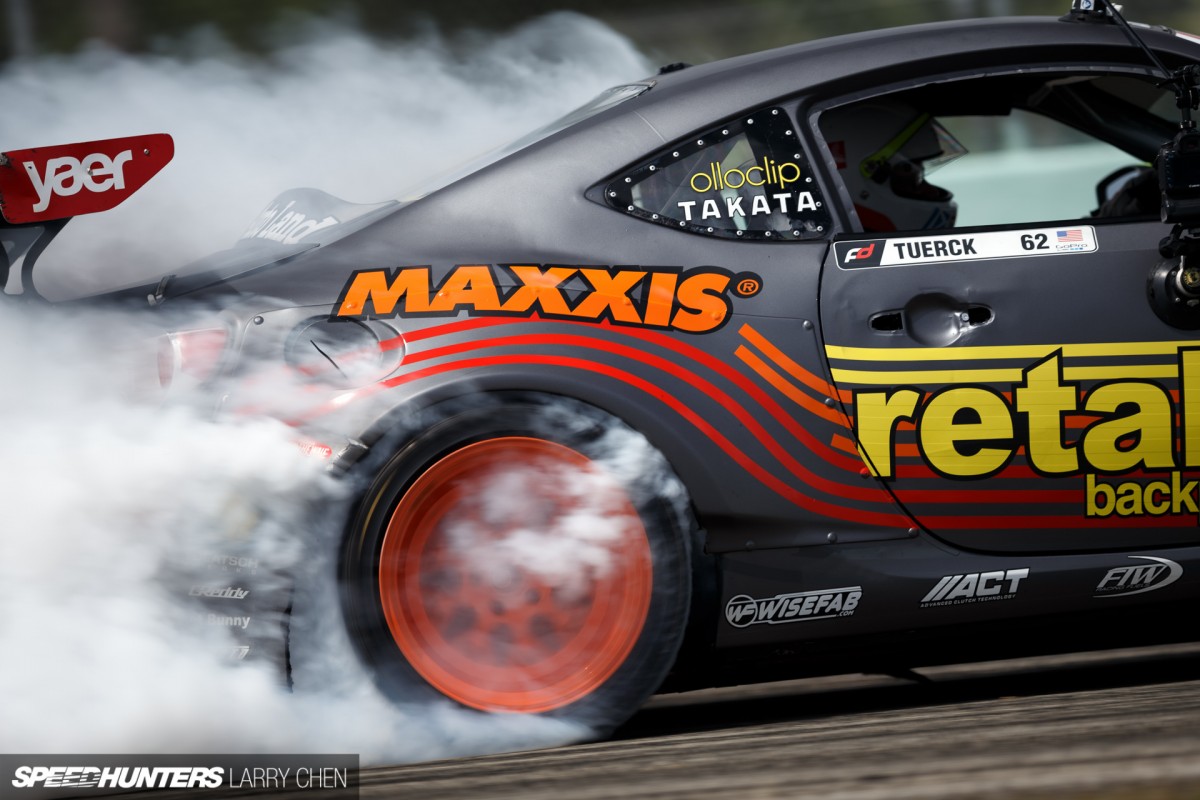 Of course, back then the cars didn't have nearly as much power and it was hard to get high wheel speed if they were running low tire pressures. There were no thoughts of having forward grip in order to drift faster.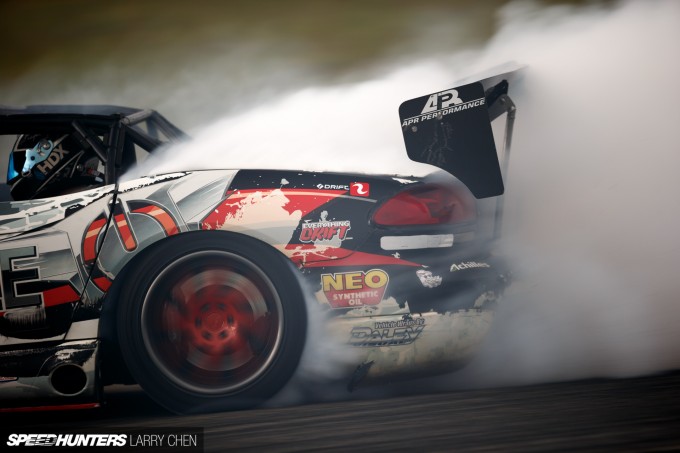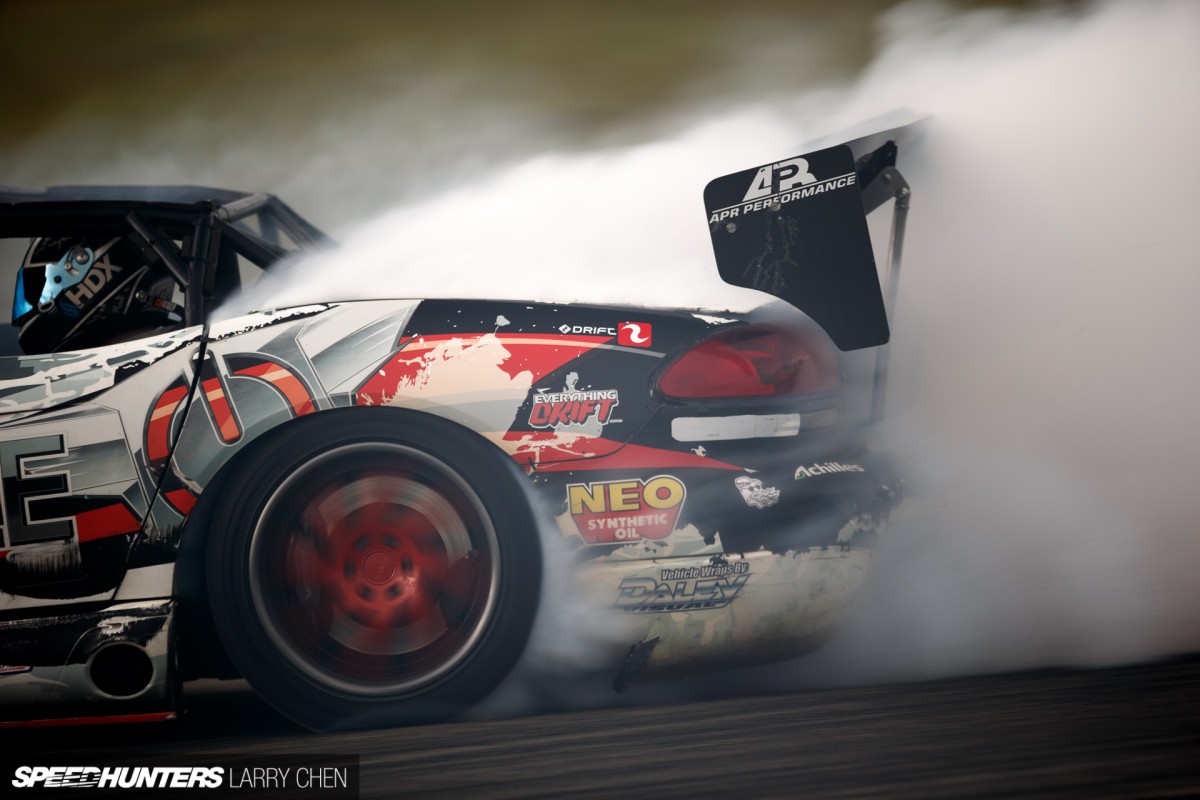 Now, it's all about trying to get as much bite as possible. At almost every event, someone debeads a tire due to running such low tire pressure.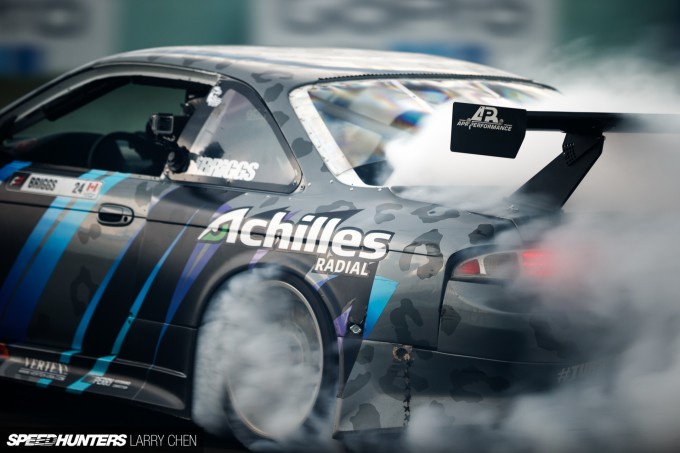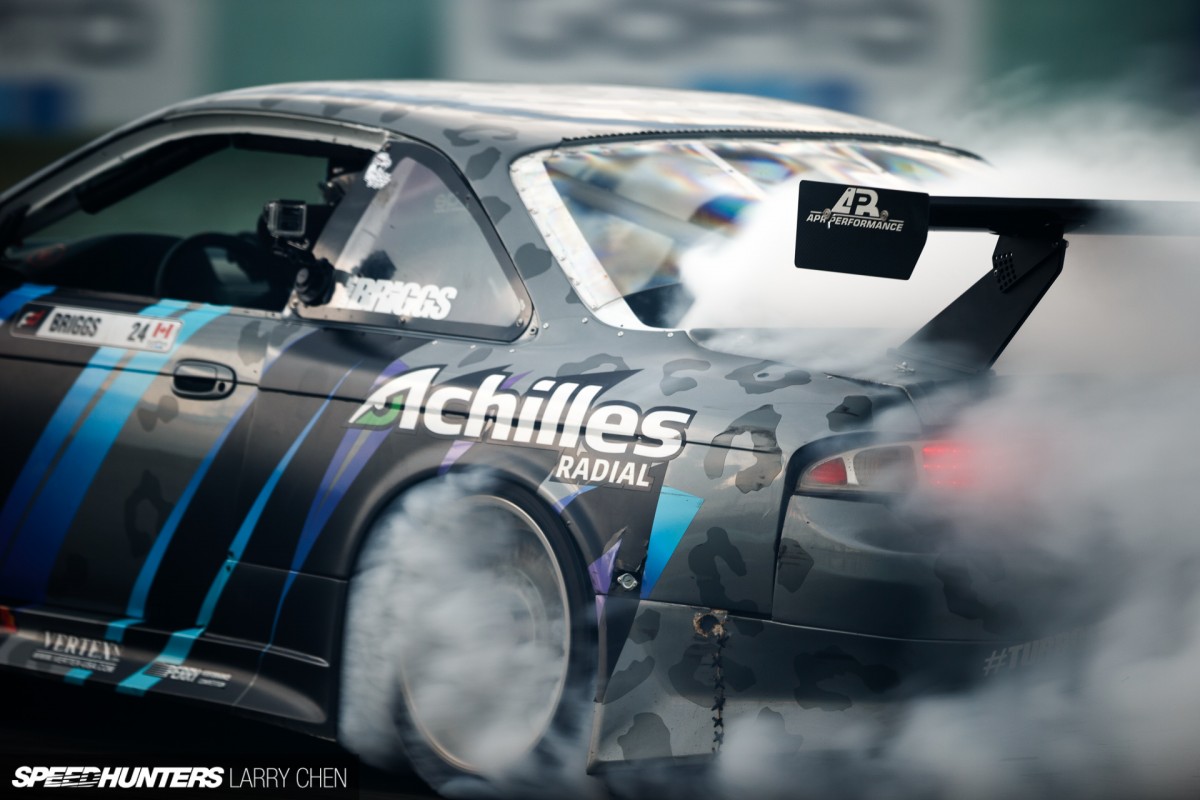 One of the side effects of todays wheel speed and grip, is the amount of smoke that's produced.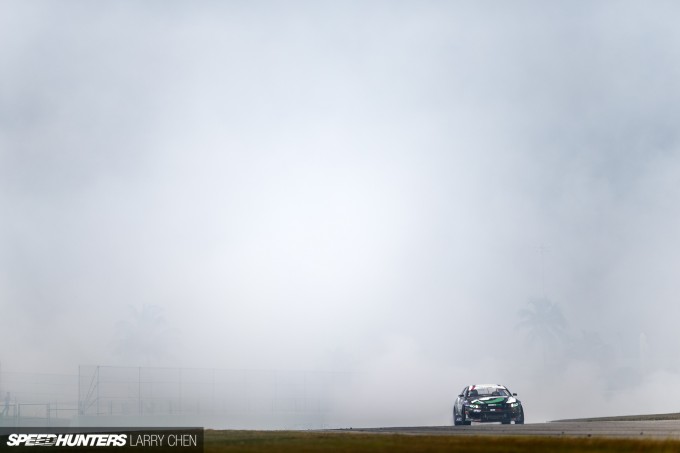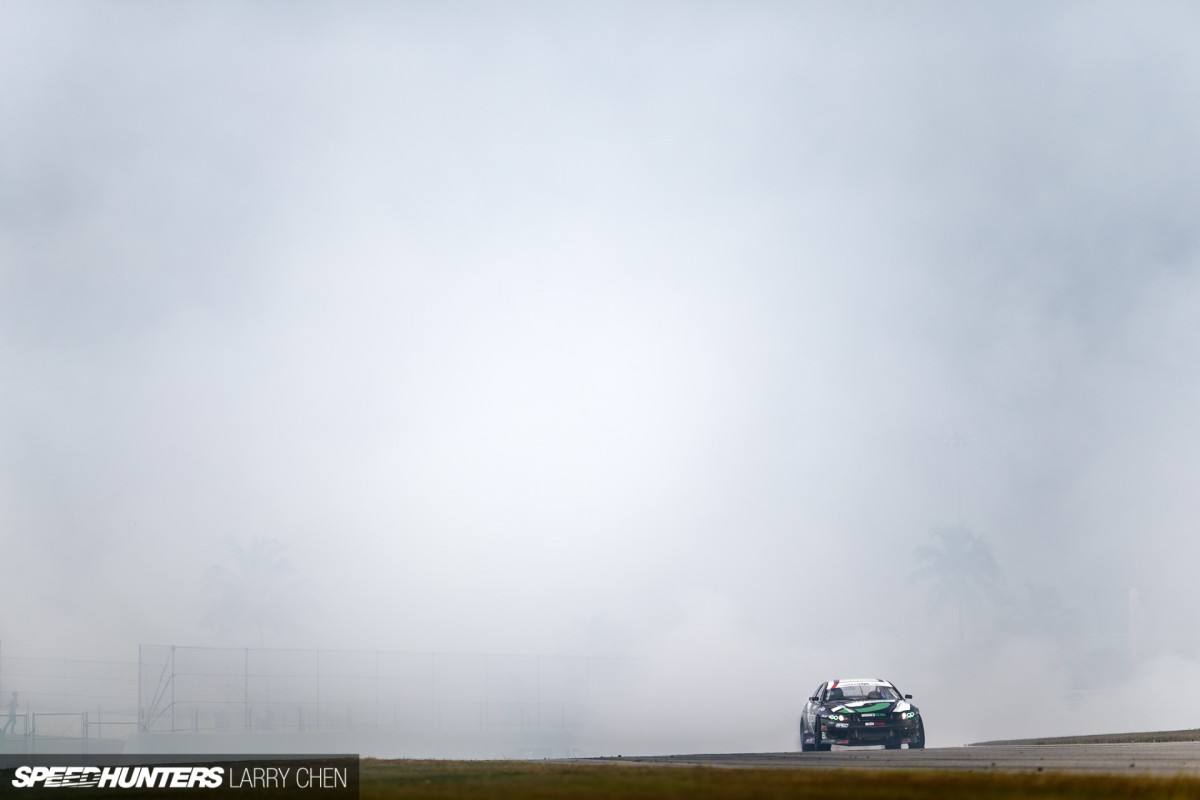 At one point during practice last week in Florida it was almost a complete whiteout in front of the judges tower. The smoke was so thick sometimes that you couldn't see more than a few feet in front of you.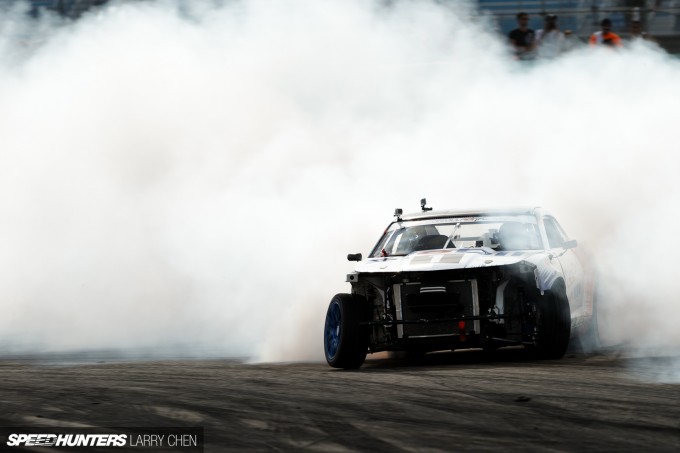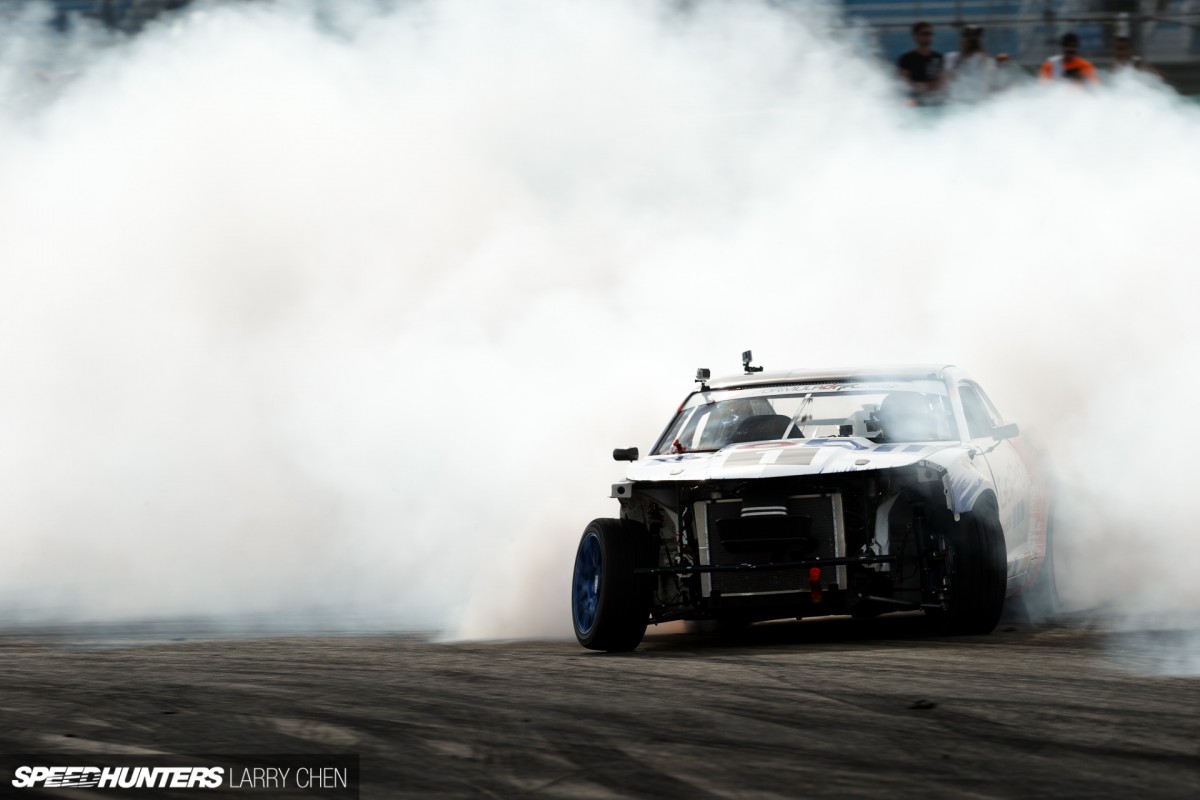 I remember the first time I saw professional drifting. I wondered how the person following in a tandem battle could see anything. Now more than ever, drivers have to rely on experience and memory learned from previous runs, and pray they can keep up with the car in front of them.
Homestead-Miami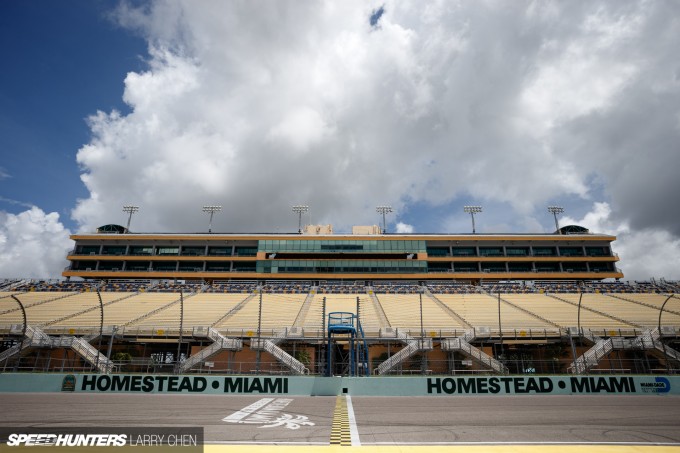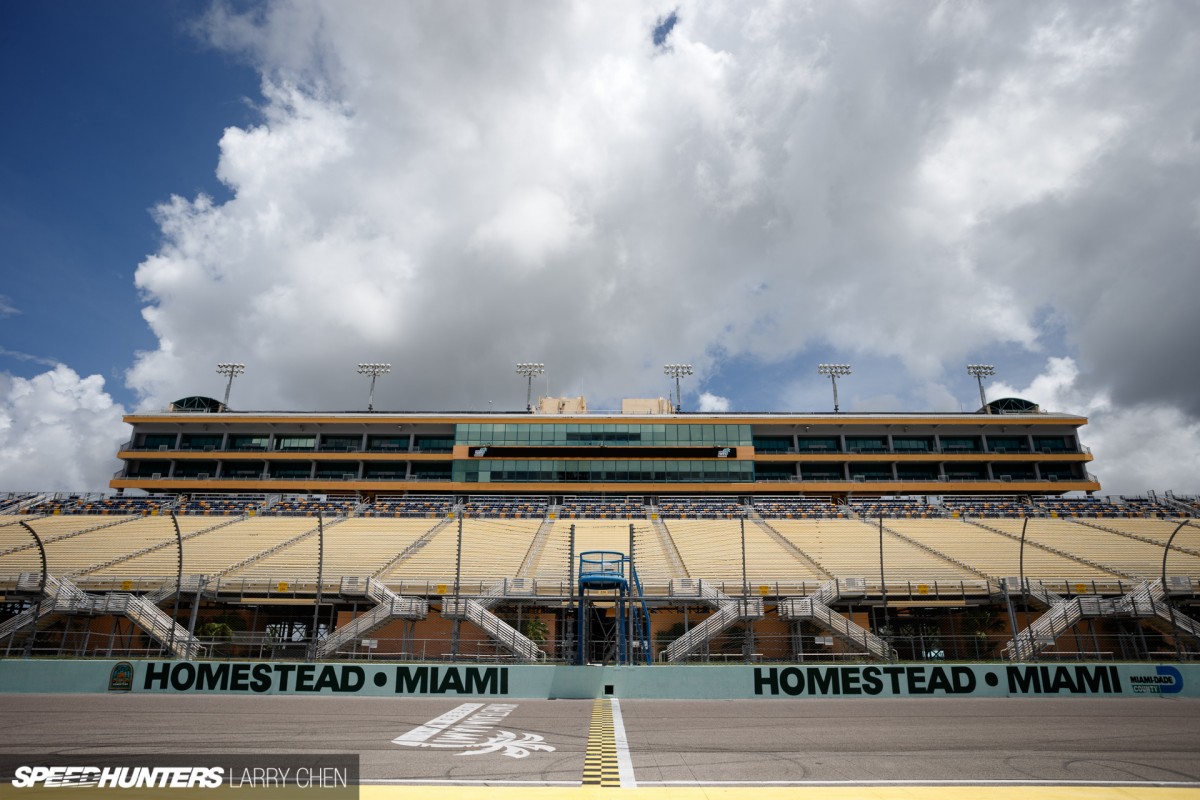 The Homestead-Miami facility that played host to the third round of the 2014 Formula Drift season is probably one the nicest places the series has ever held a round at.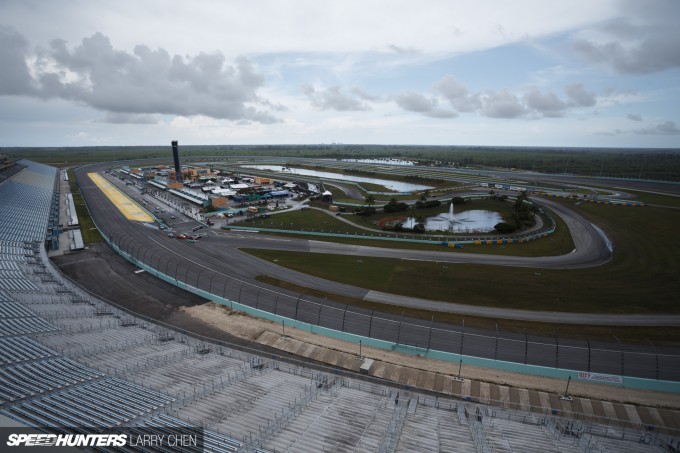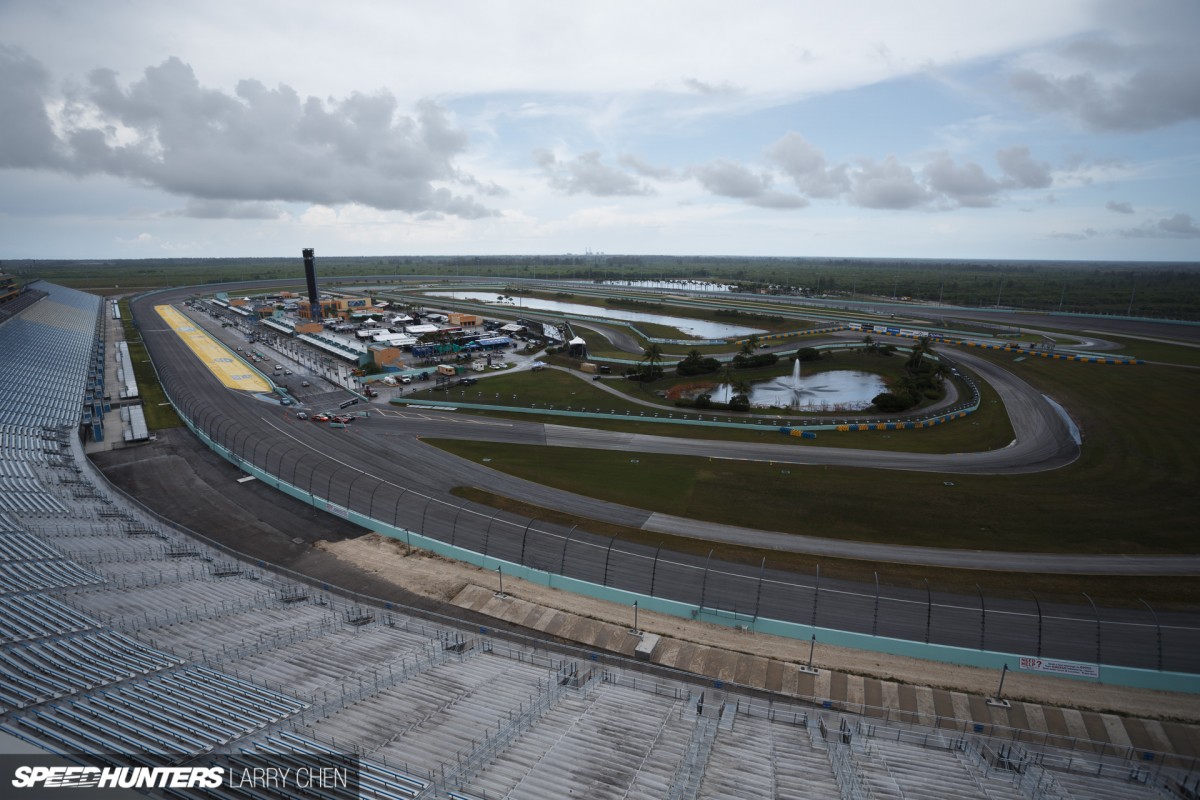 It's a 1.5-mile long NASCAR oval, located just a short drive away from downtown Miami.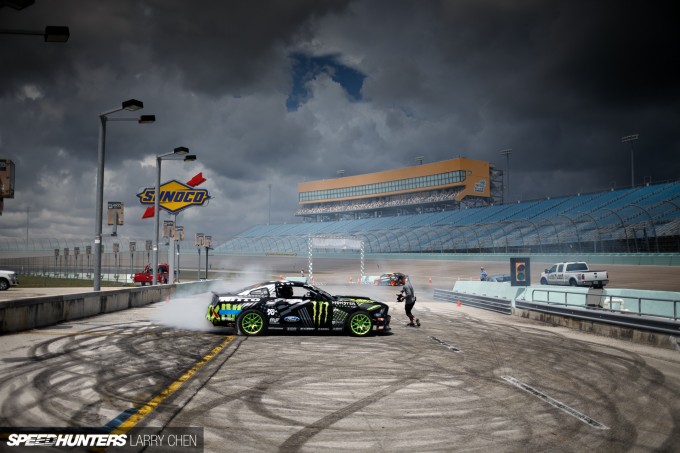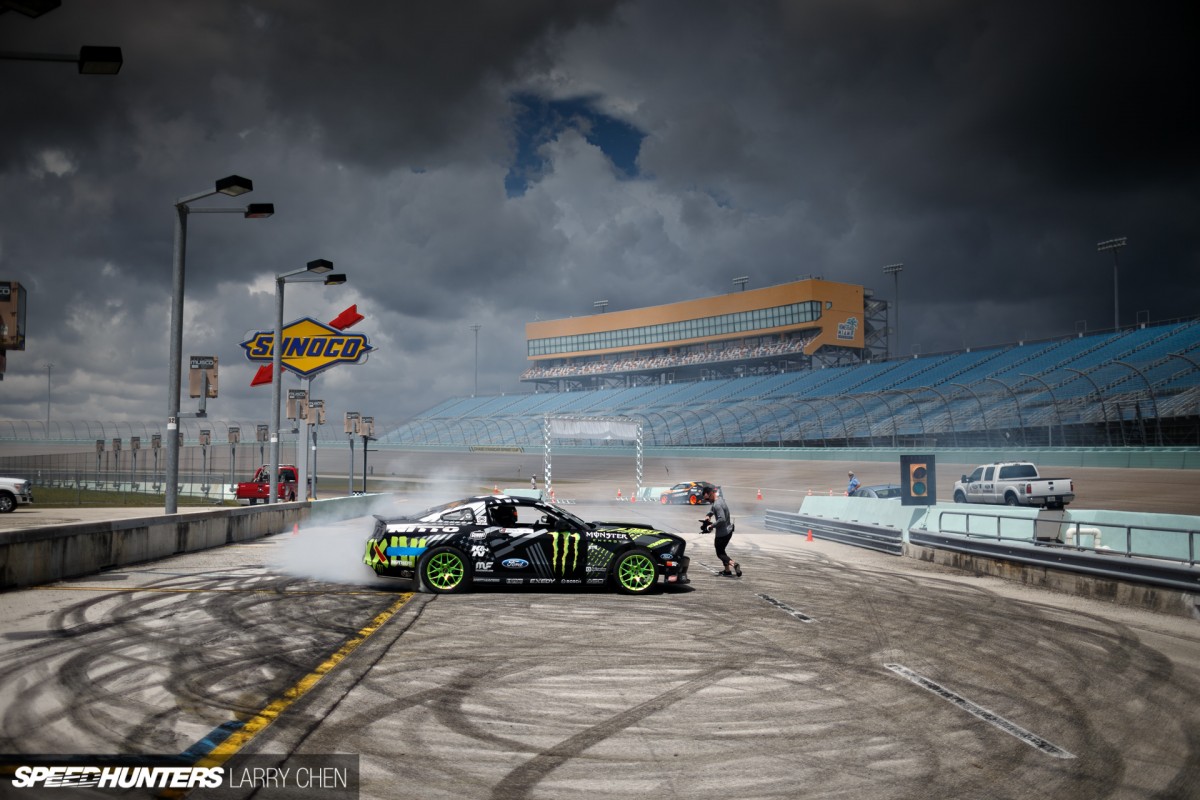 It's nice when a historic track accepts this new form of motorsport.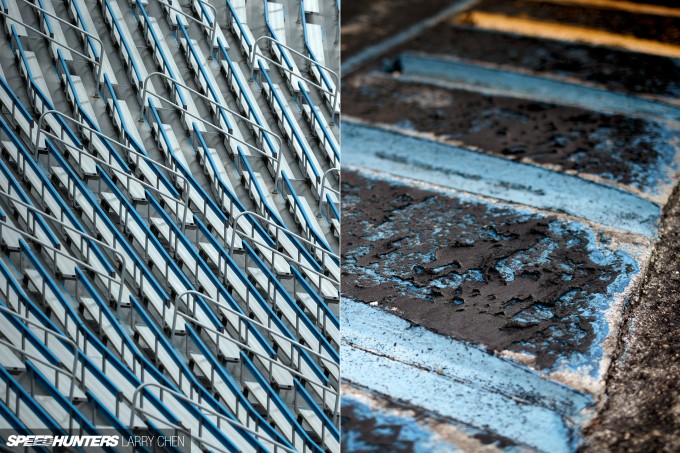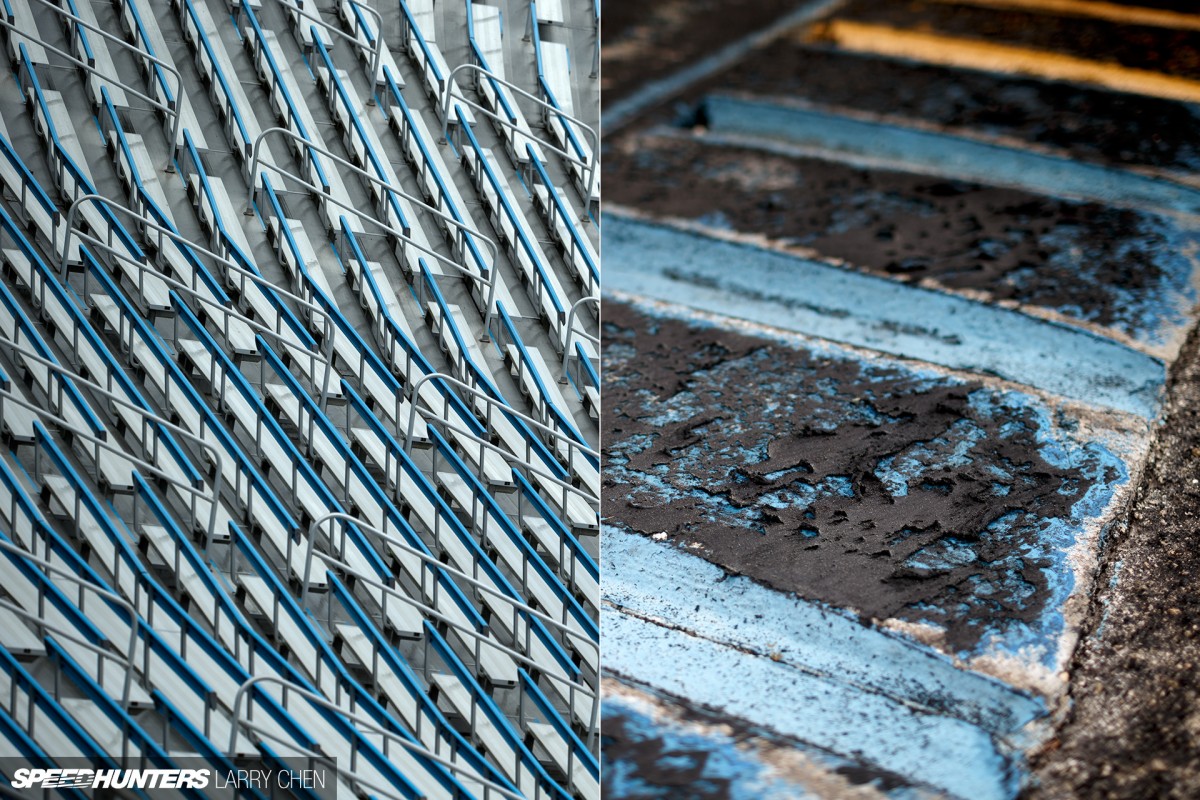 Who knows, maybe later down the line Formula Drift will start filling some of the grandstand seats when they run out of room in the infield.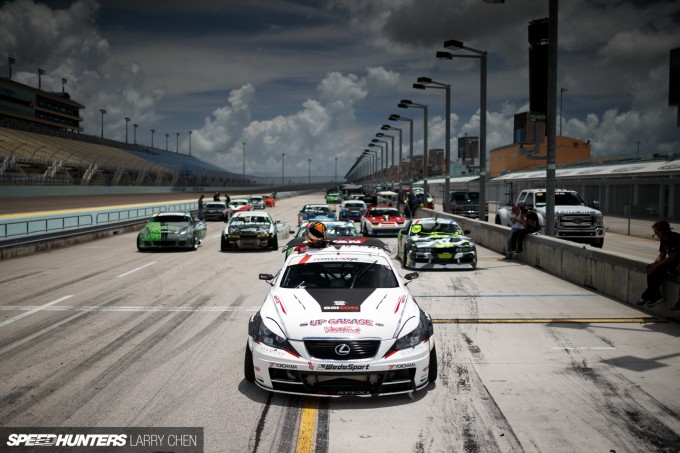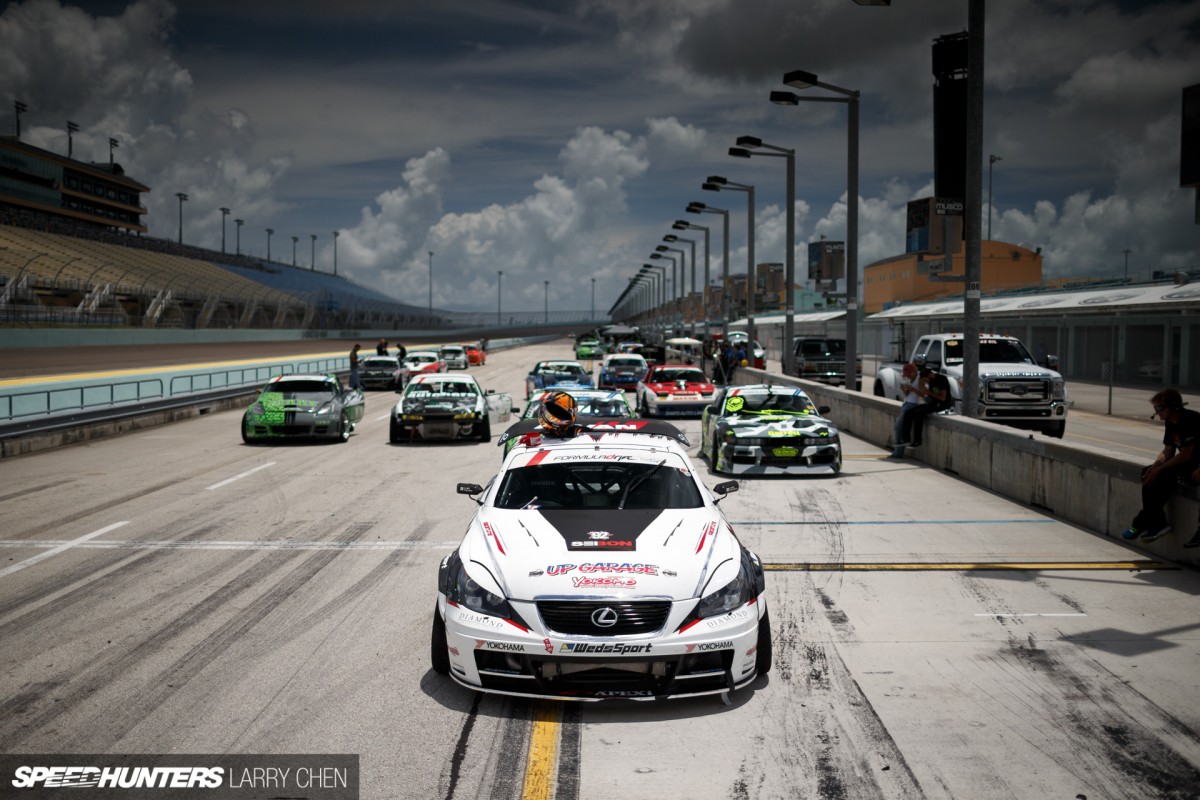 They let the boys line up and do burnouts on the NASCAR pit lane. How cool is it that there are drift cars lined up instead of Cup cars?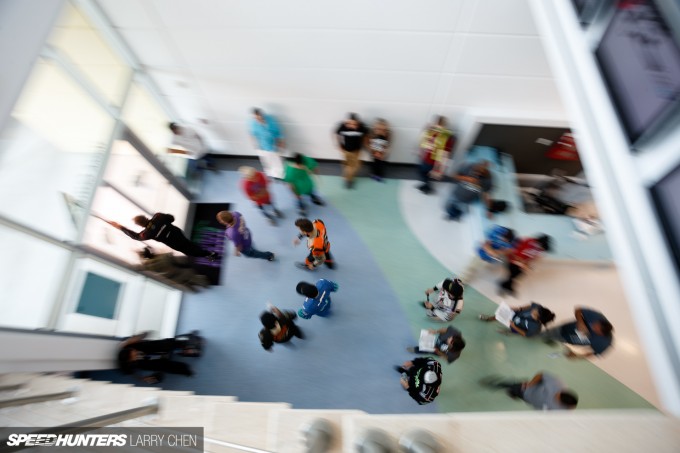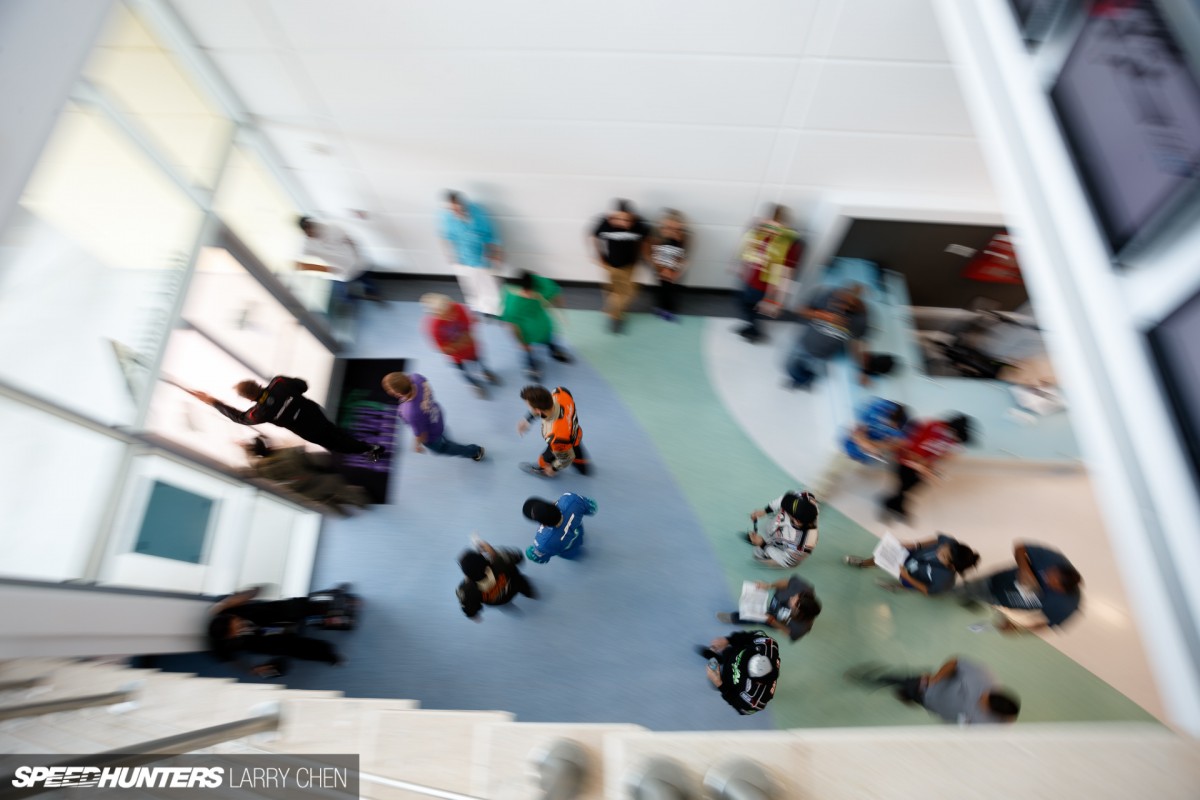 The drivers and teams really liked the top-notch facilities as well. It was also nice to have a place to escape from the sun and cool off.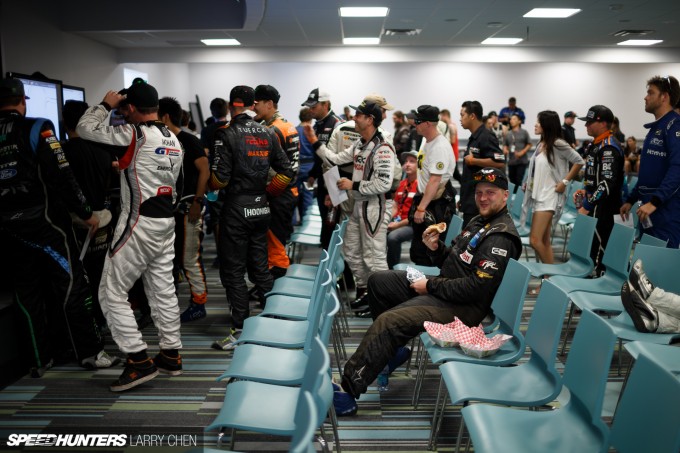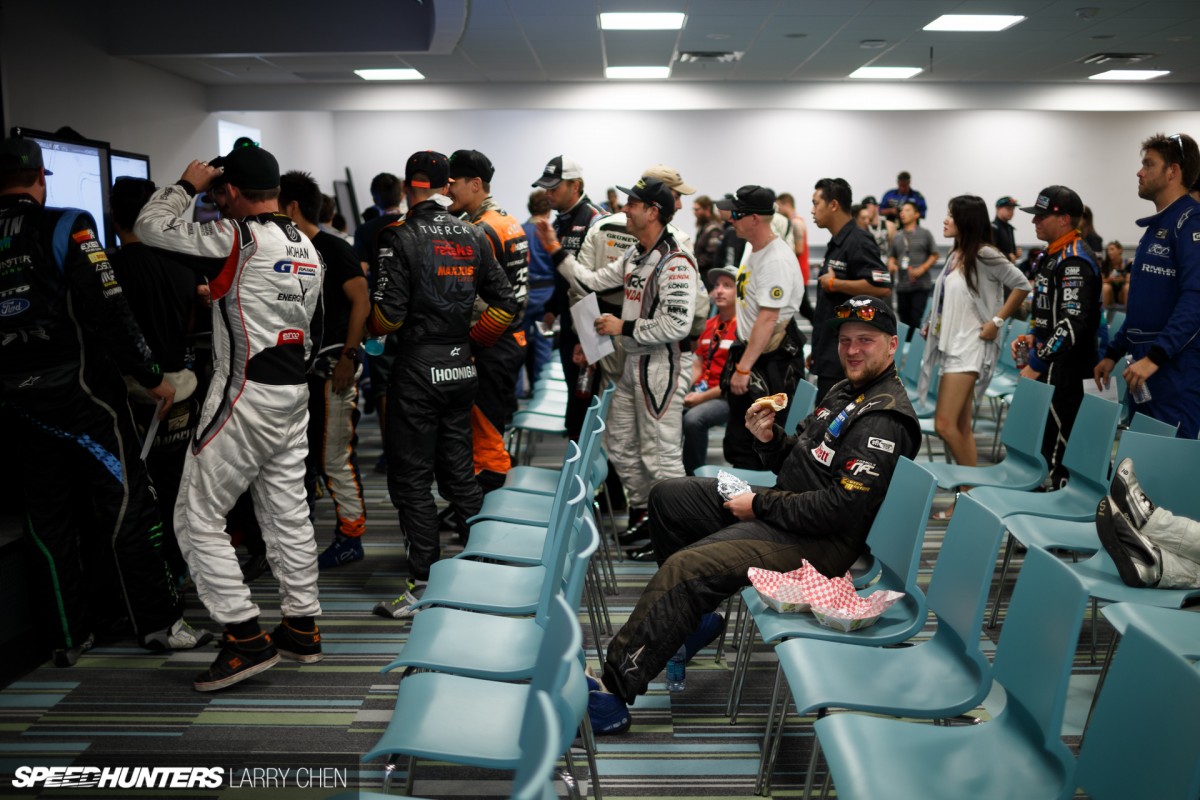 Not to mention having a nice quiet place to have a driver briefing and eat a meal – or both at the same time in Mats Baribeau's case.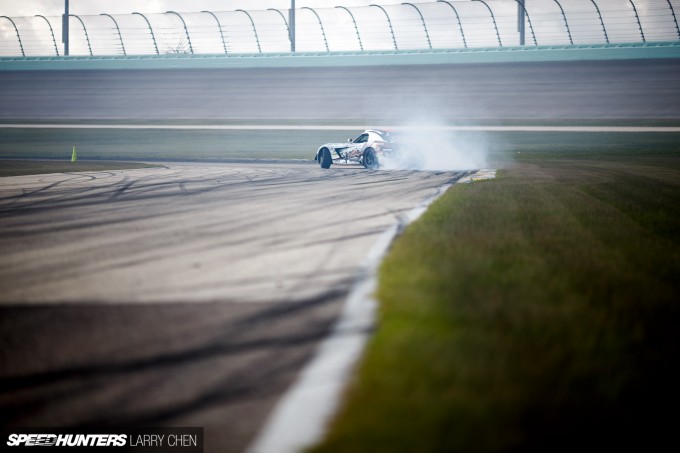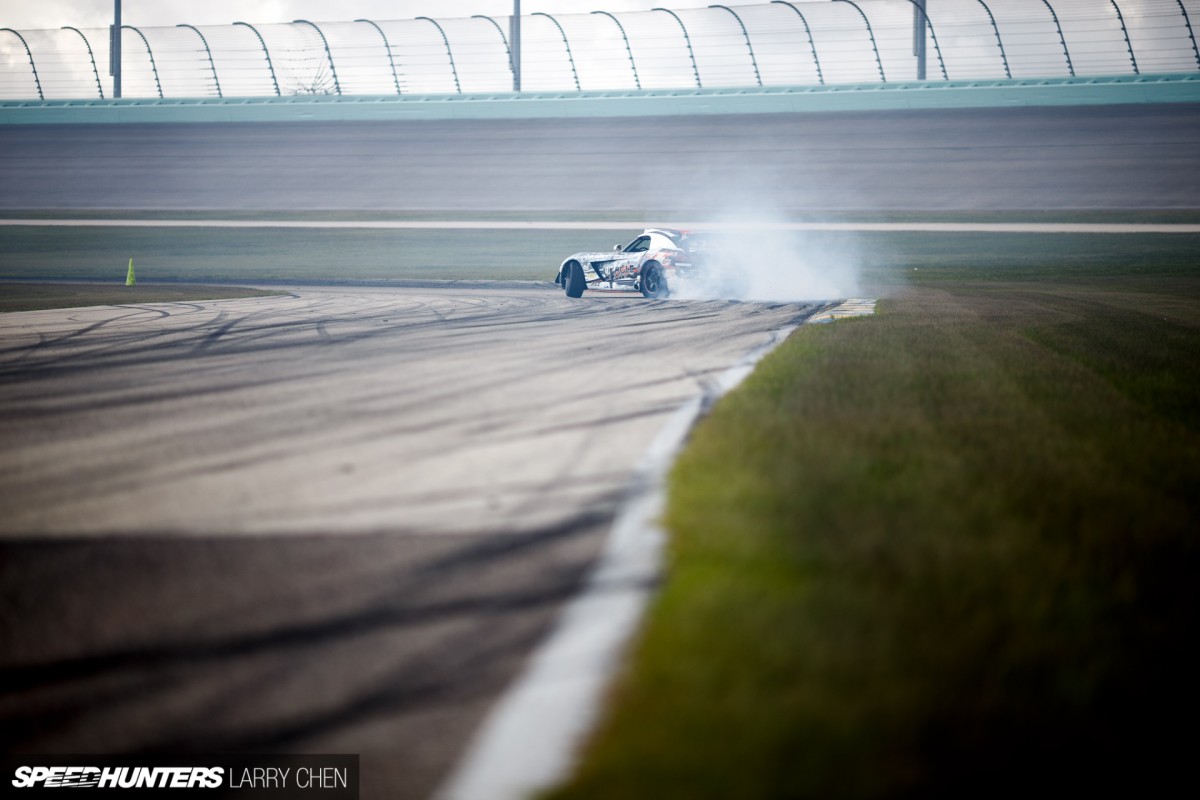 As always, it's refreshing to shoot at a new track and learn all the nice angles and photo spots.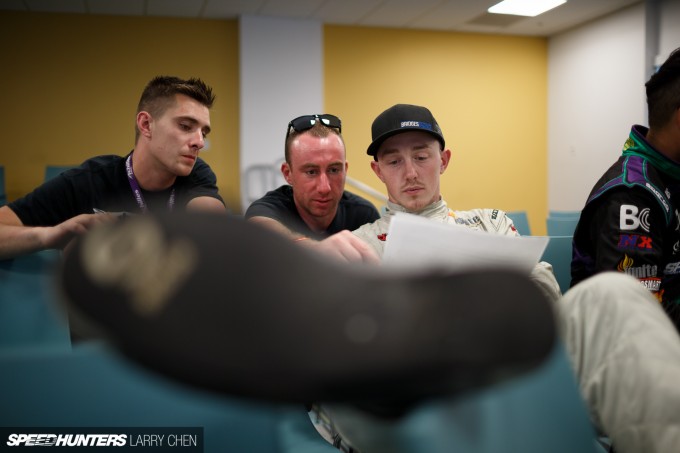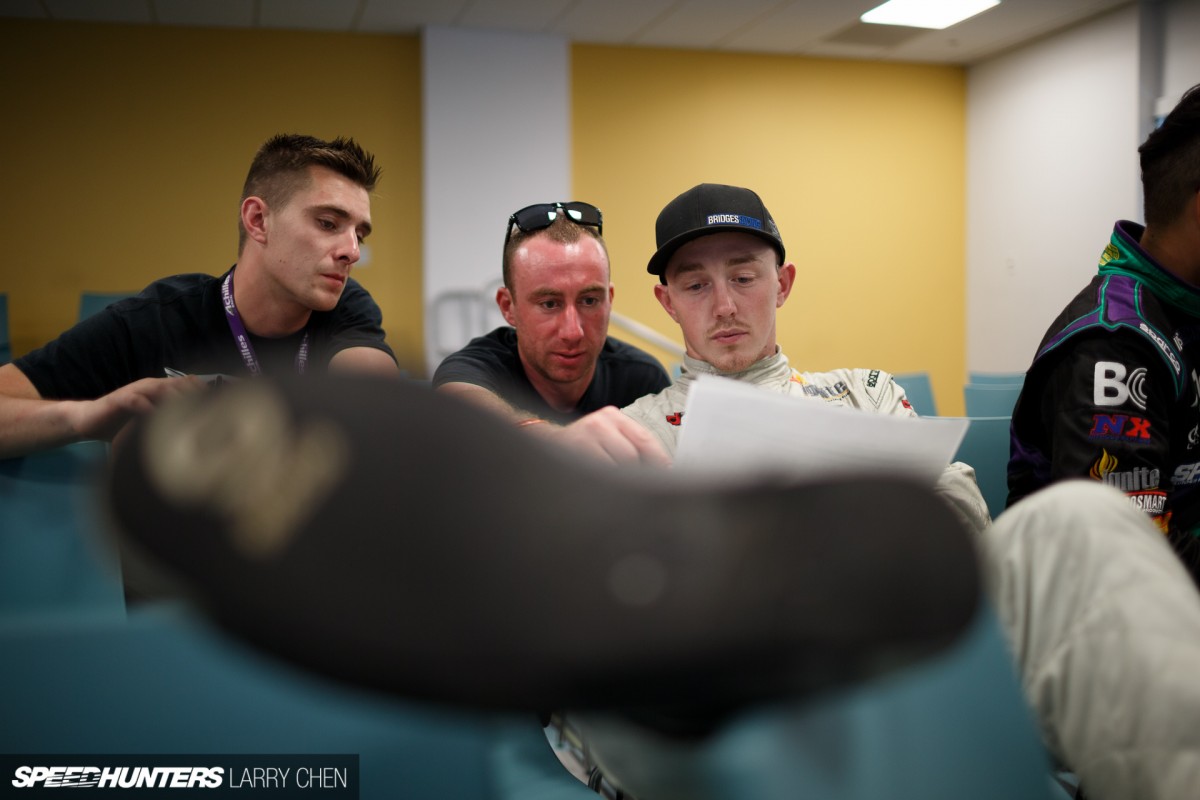 It's also a challenge for the drivers, but the nice thing is that it evens out the playing field. The big name teams always have large amounts of data that they've gathered over the years, but at a new track everyone's in the same position.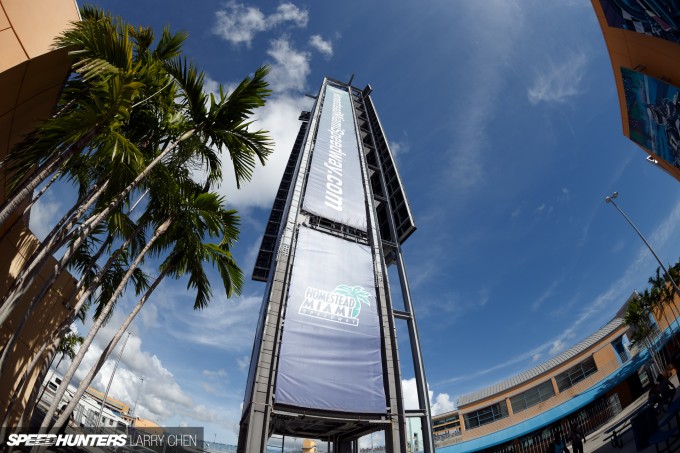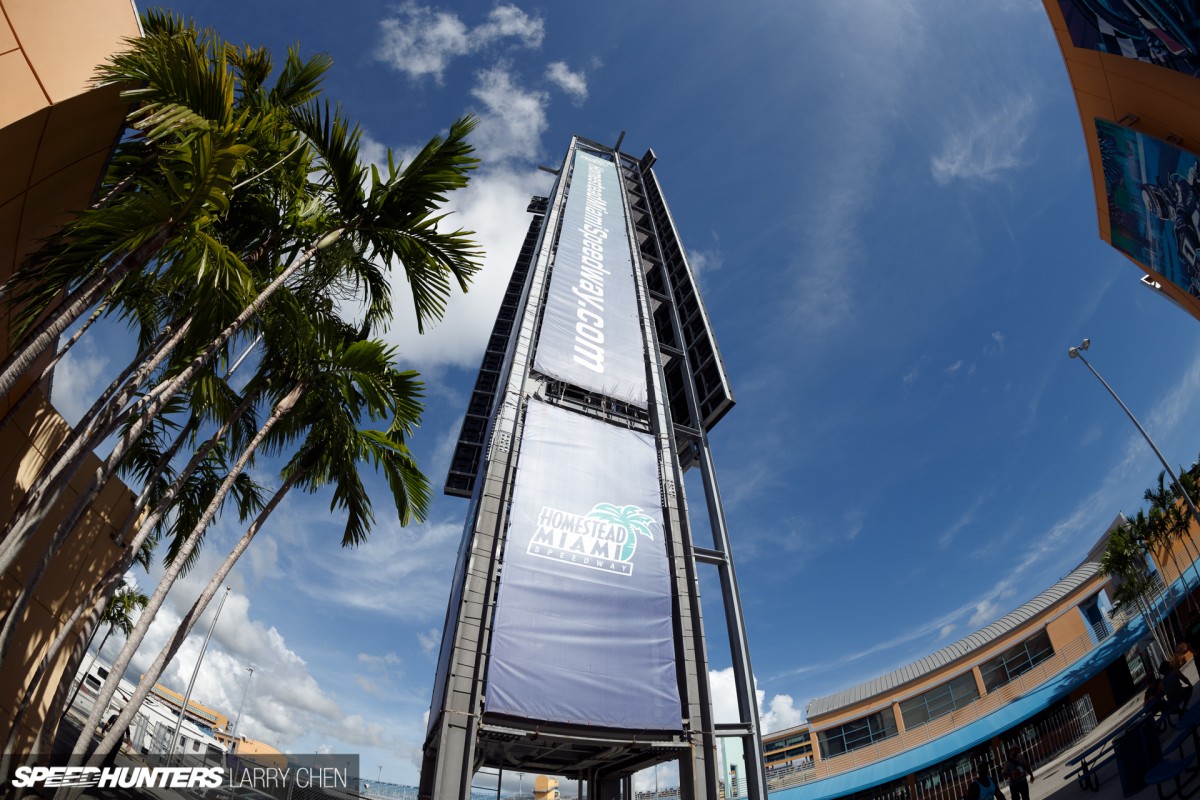 Being the avid explorer and amateur climber, I really wanted to get a good birds-eye view of the track from the 158 foot high scoring tower.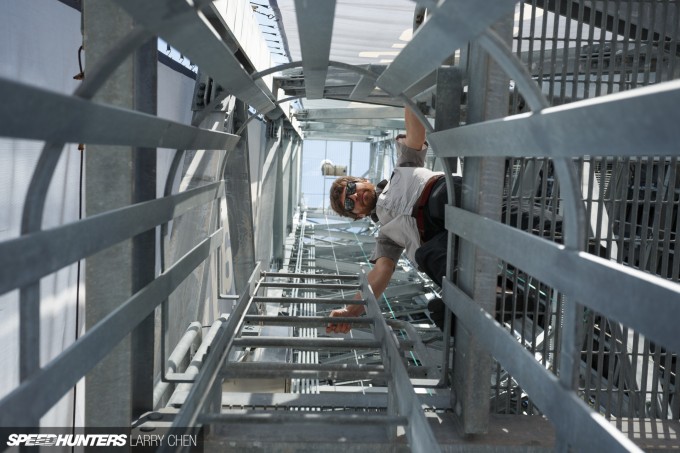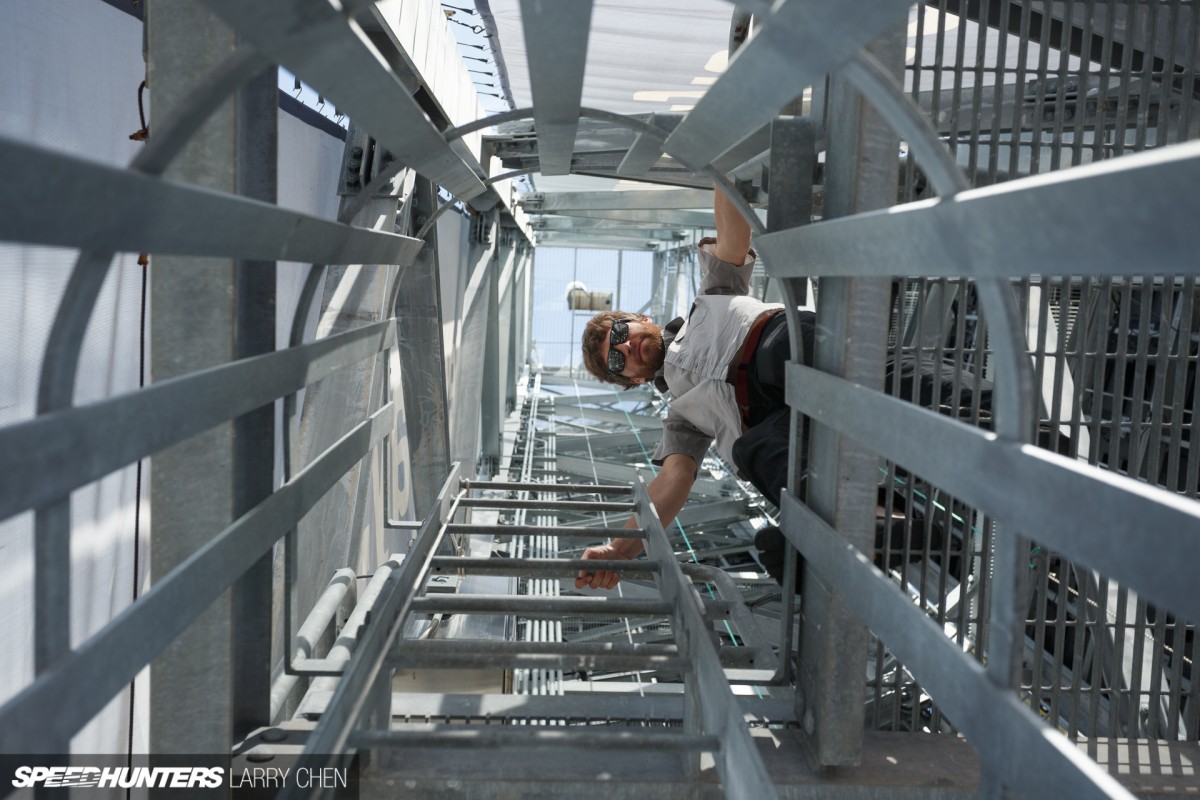 Formula Drift safety steward, Doug Artus, wanted to tag along to see the view as well.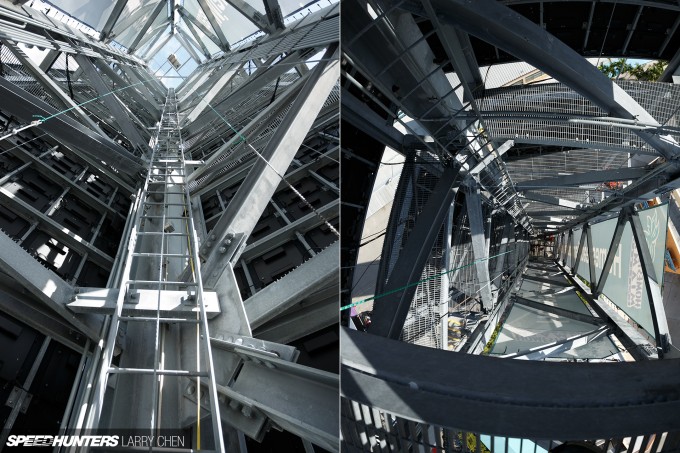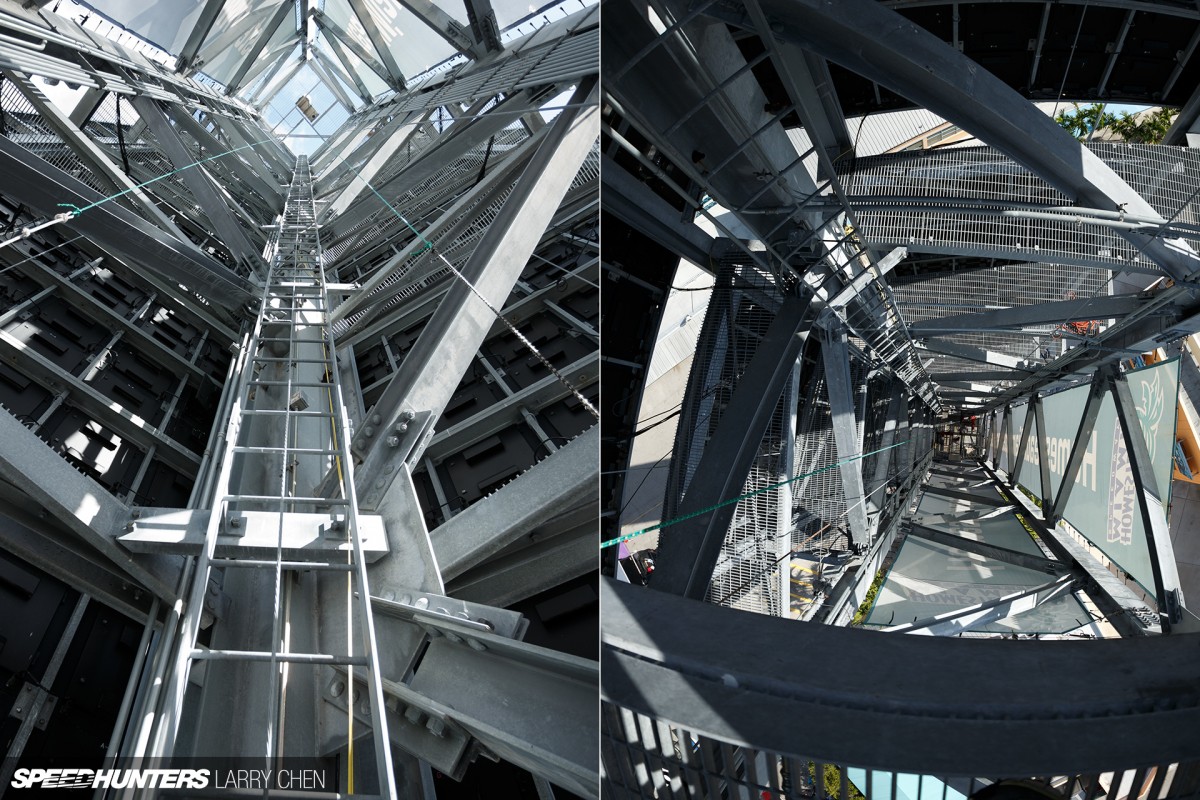 It was a nice and easy climb, but I quickly worked up a sweat because of how hot and humid it was.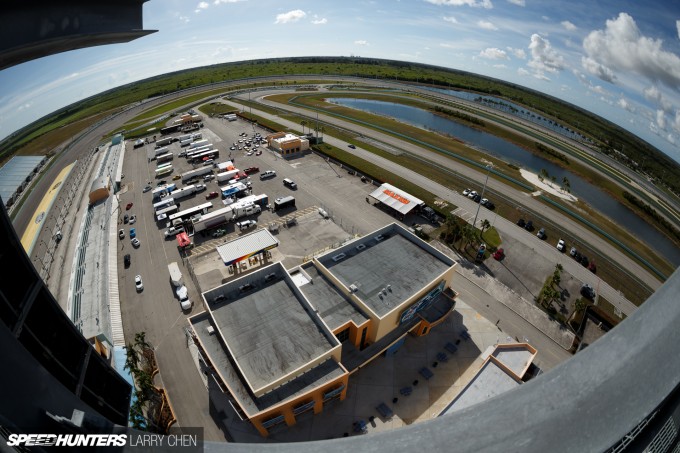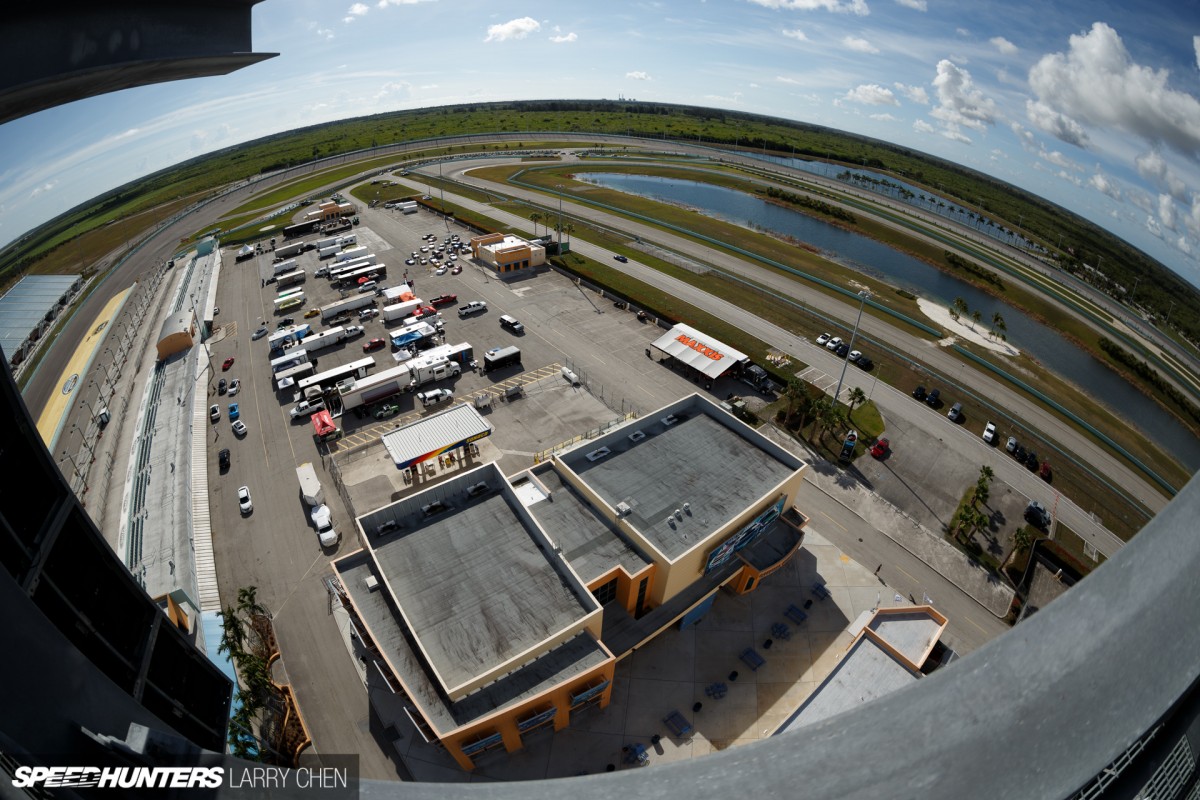 It was worth it though as the view was incredible. I could clearly see downtown Miami in the distance.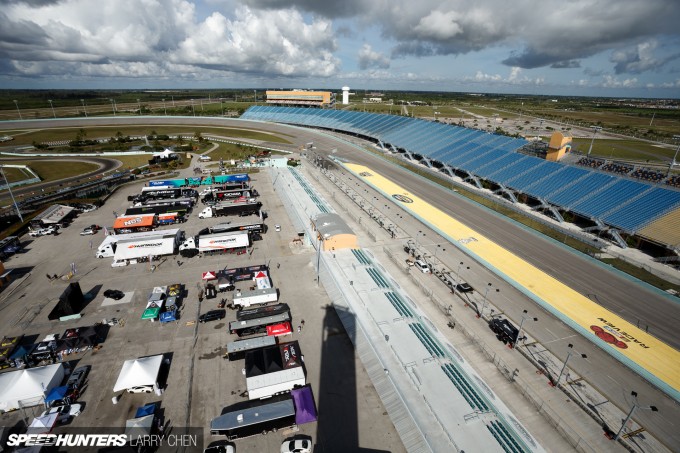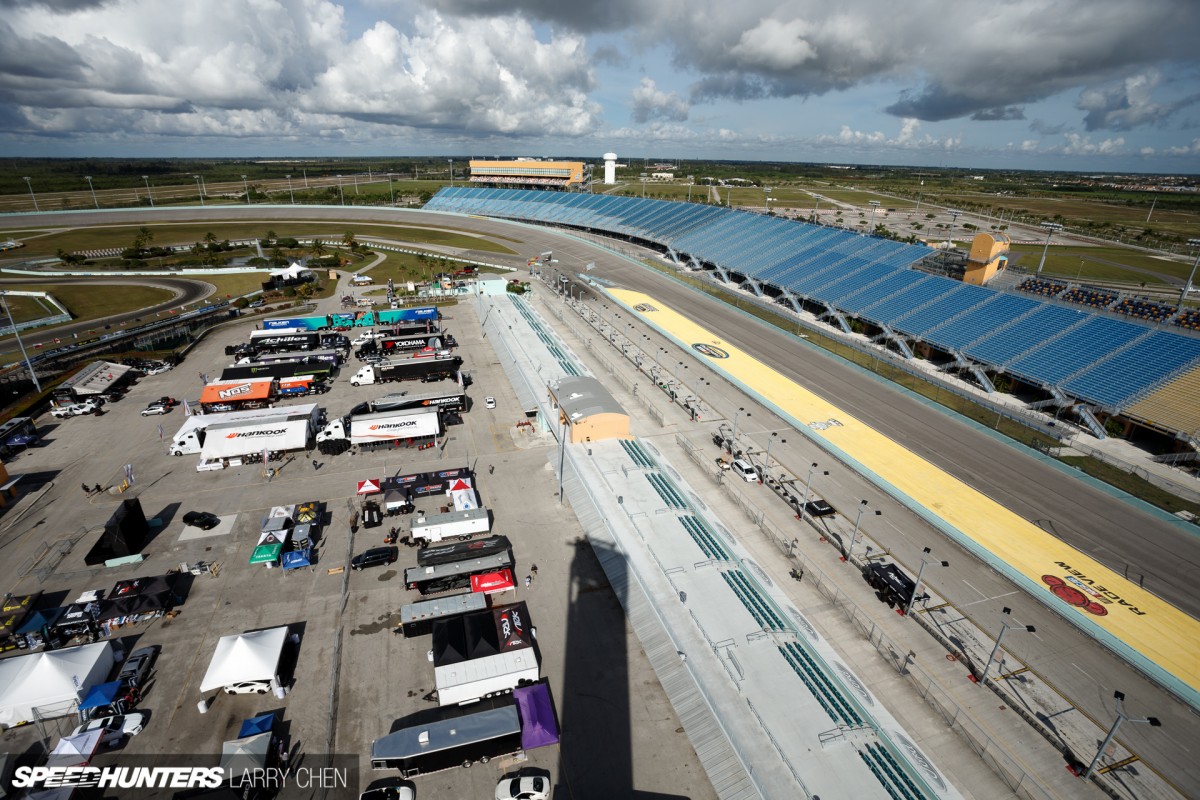 The paddock was very large, but it was split in half due to the way it is shaped.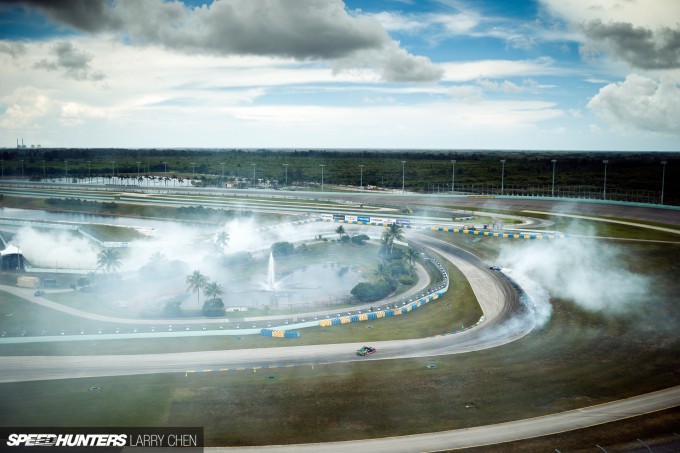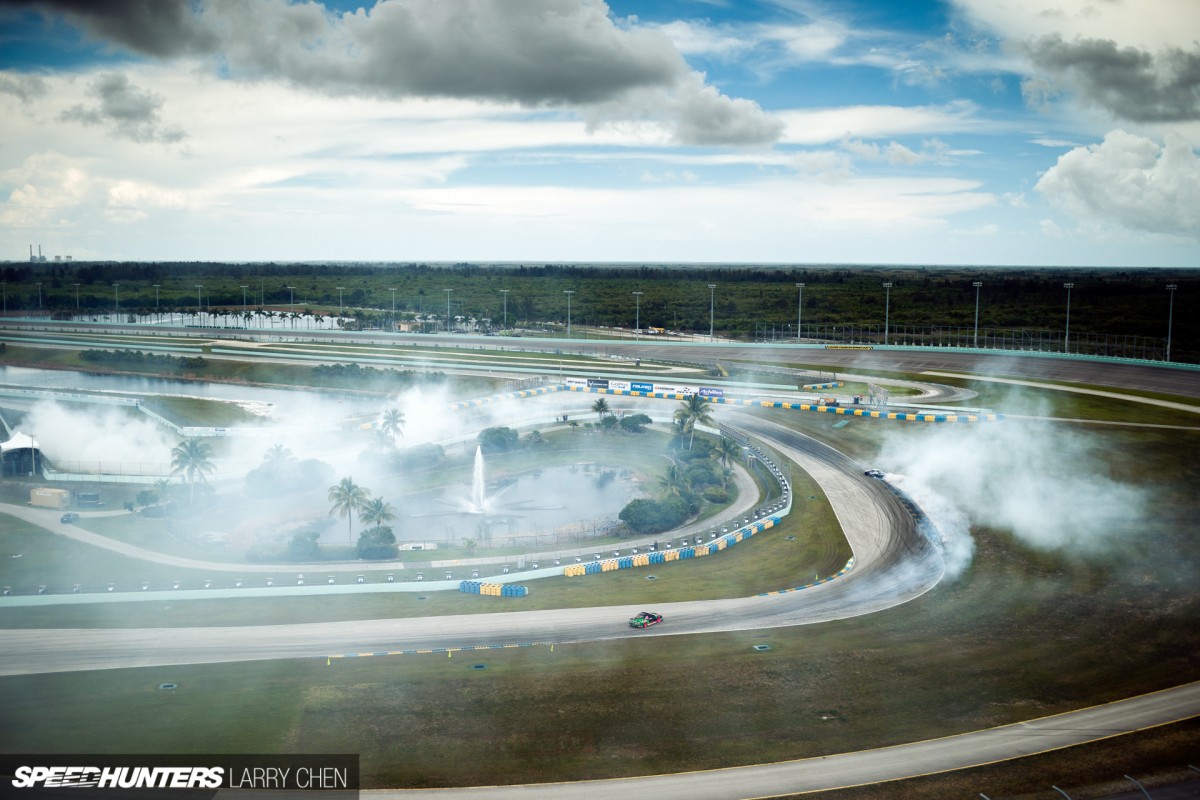 When the teams started practicing and doing back-to-back runs, the entire area got filled with tire smoke. It probably looked like a massive fire from far away.
Very Bad Things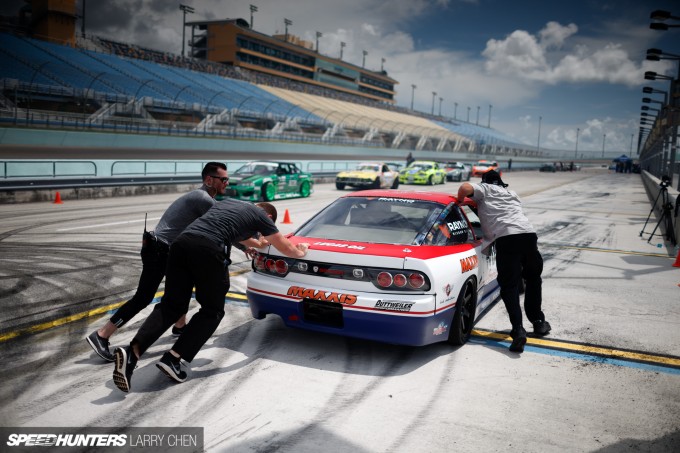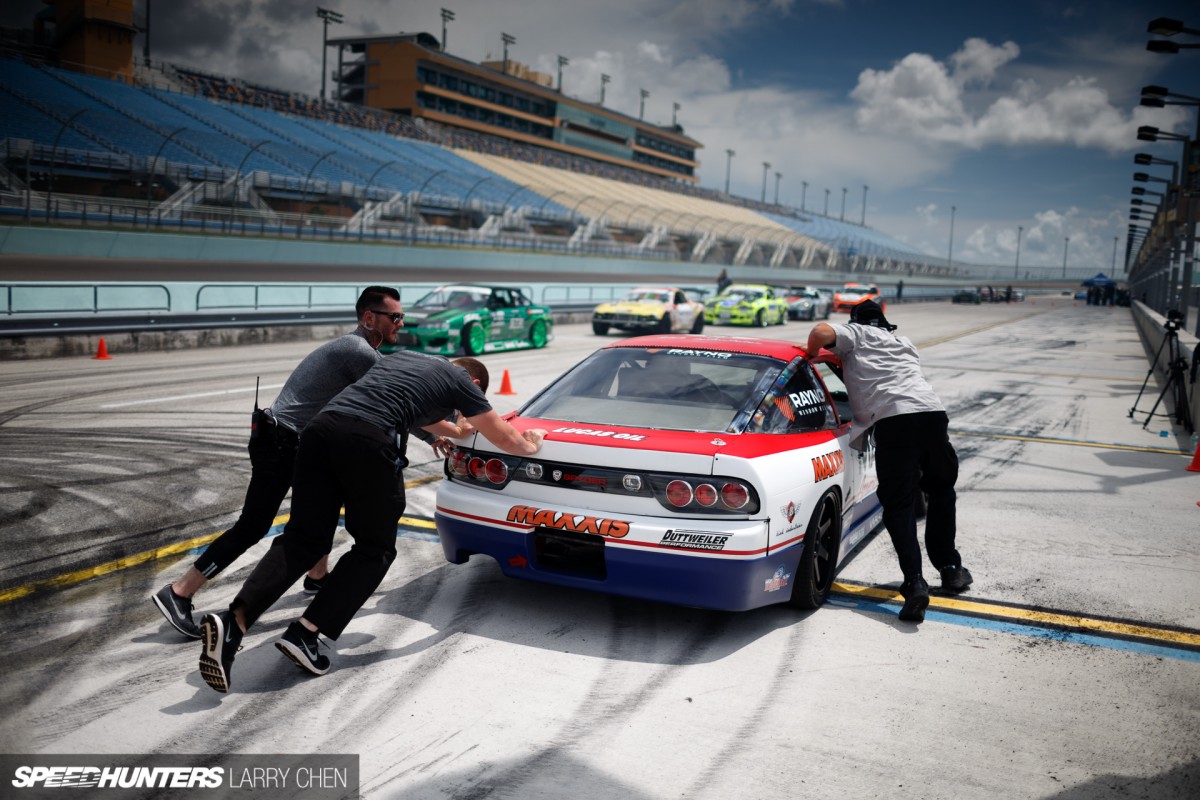 I might be sitting in an air-conditioned room as I write this, but I'm still having flashbacks to being on the grid in the intense heat. For the first time that I can recall, one of the drivers dropped out of competition due to suffering from heat stroke. The struggle is very real.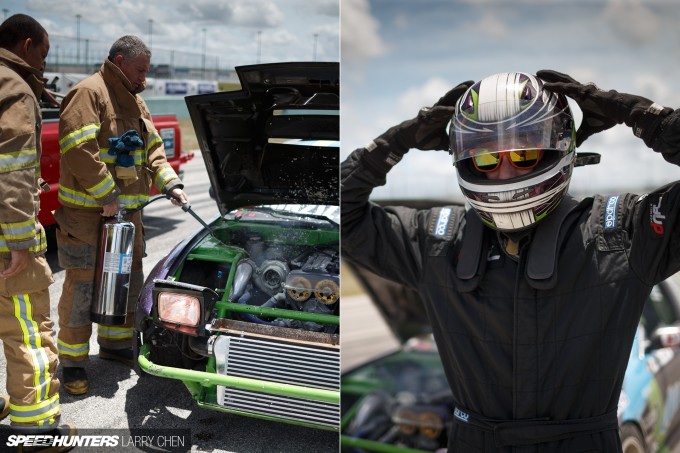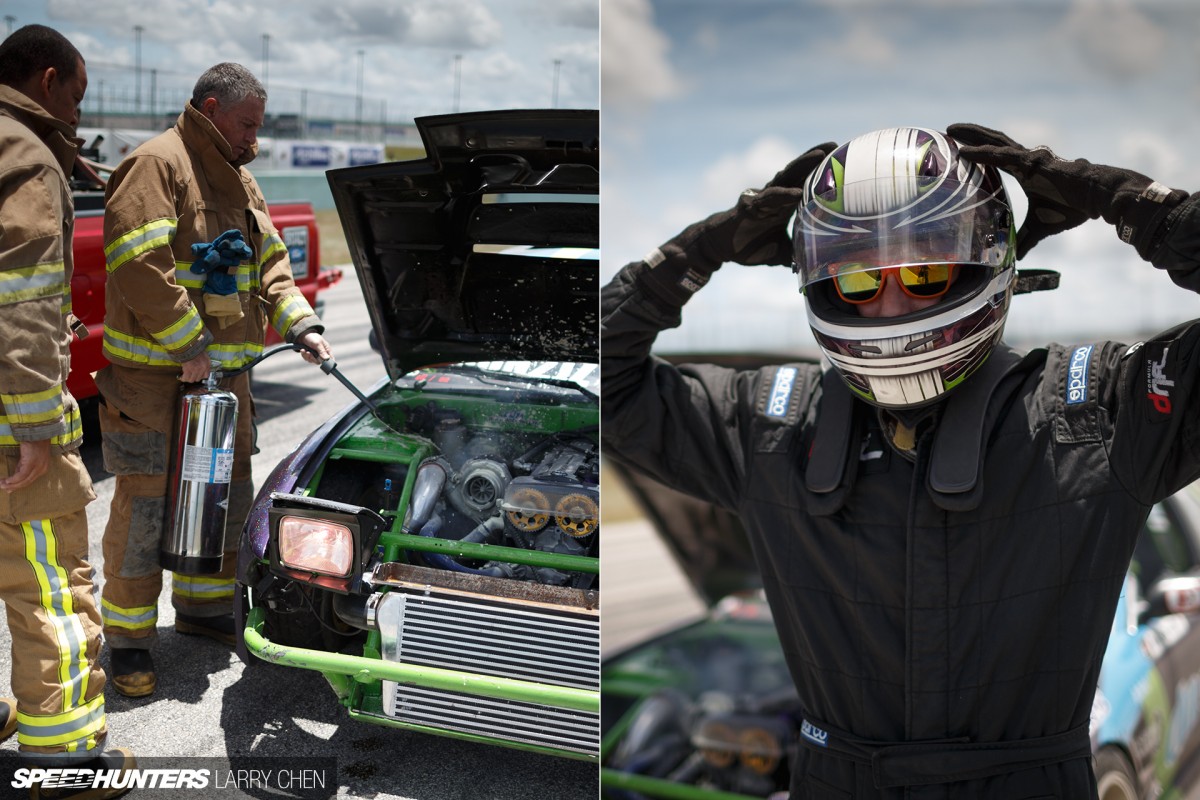 There were also two fires on course throughout the competition. It seems like privateer Brandon Wicknick just can't catch a break.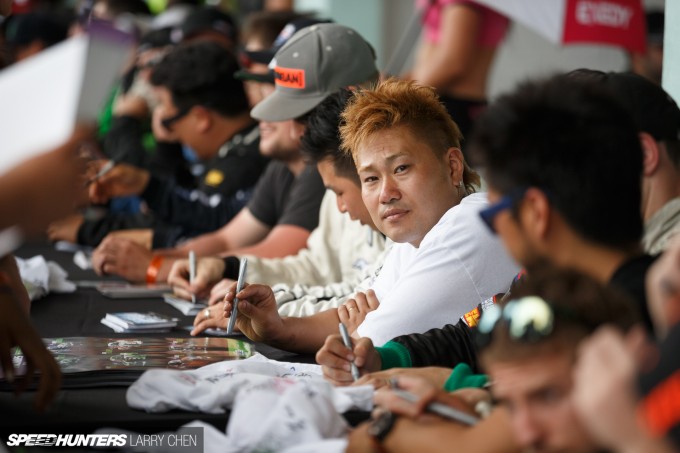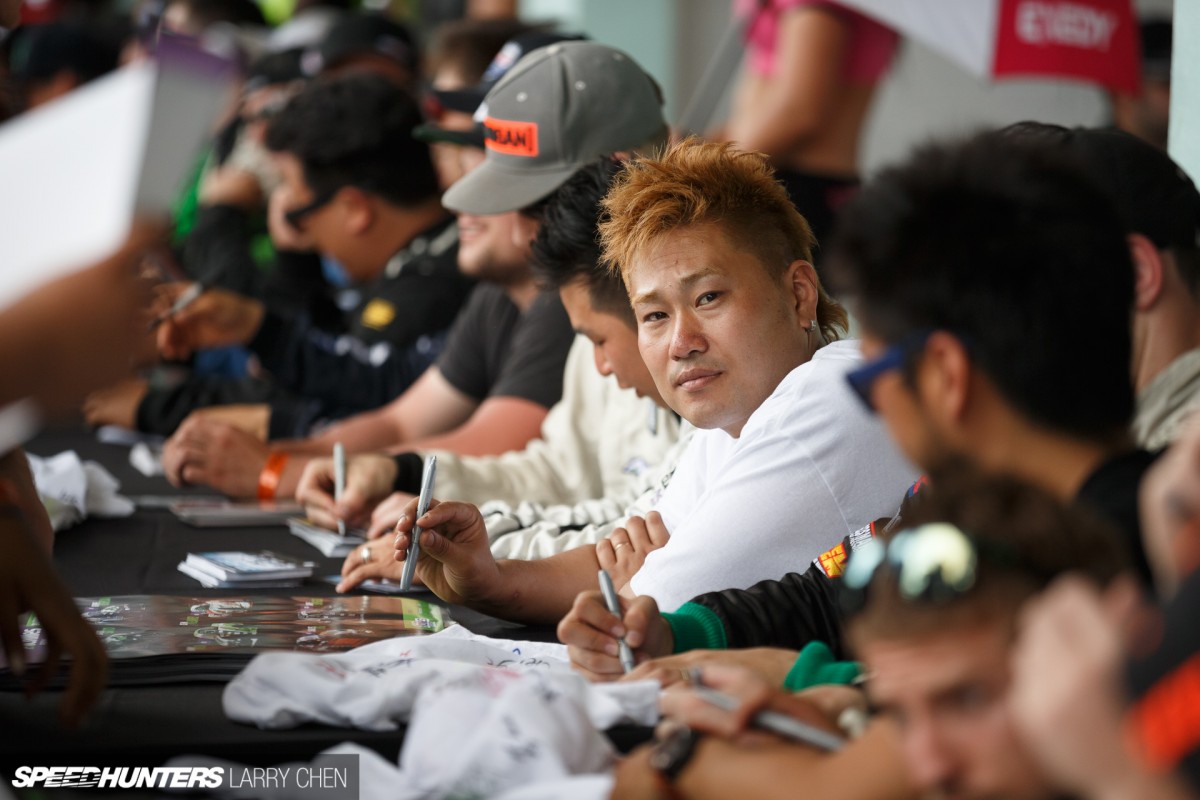 As for bad luck pertaining to mechanical issues, I think it's fair to say that with the amount of horsepower that the cars in the field are making, it was bound to happen eventually.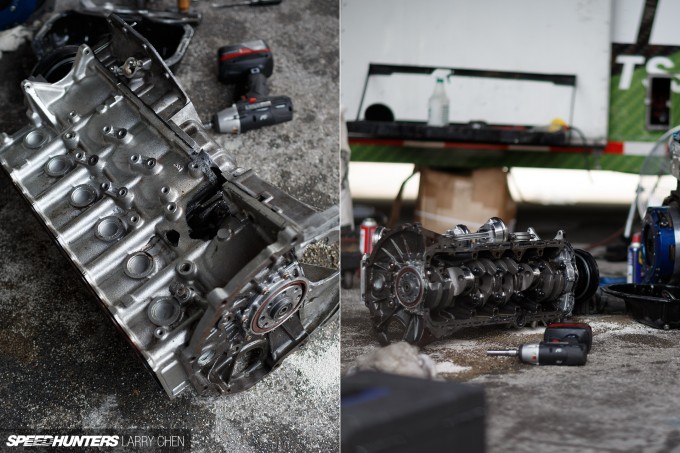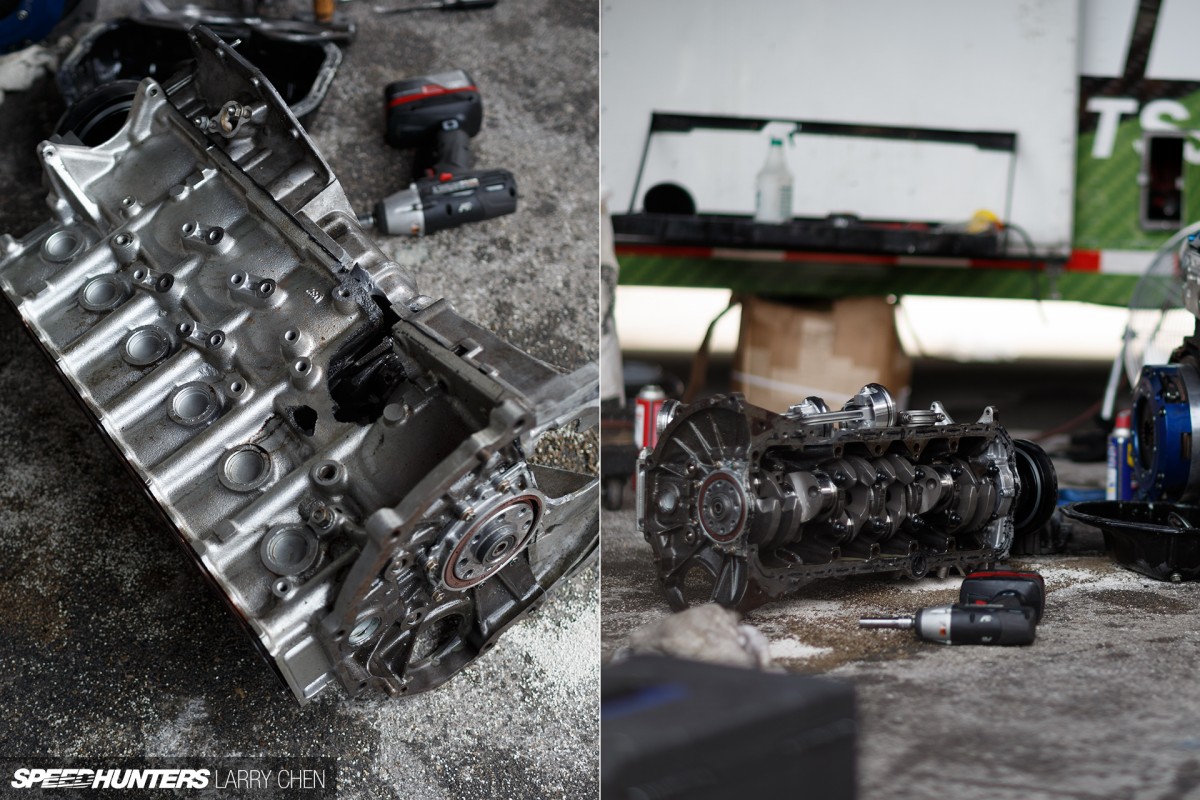 A crater-sized hole opened up in Daigo Saito's block right after initiation during his first qualifying run.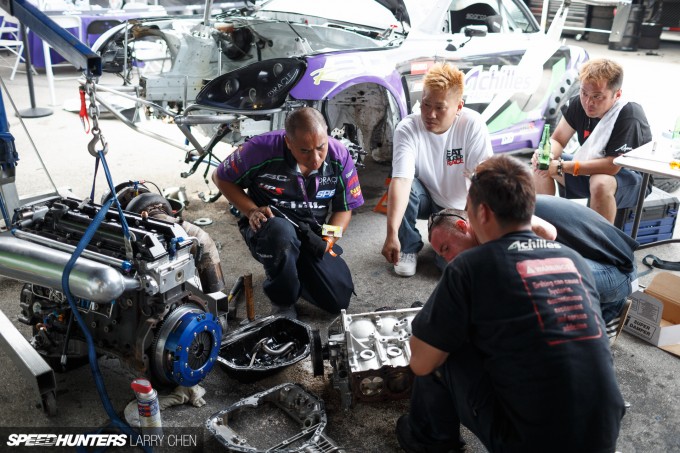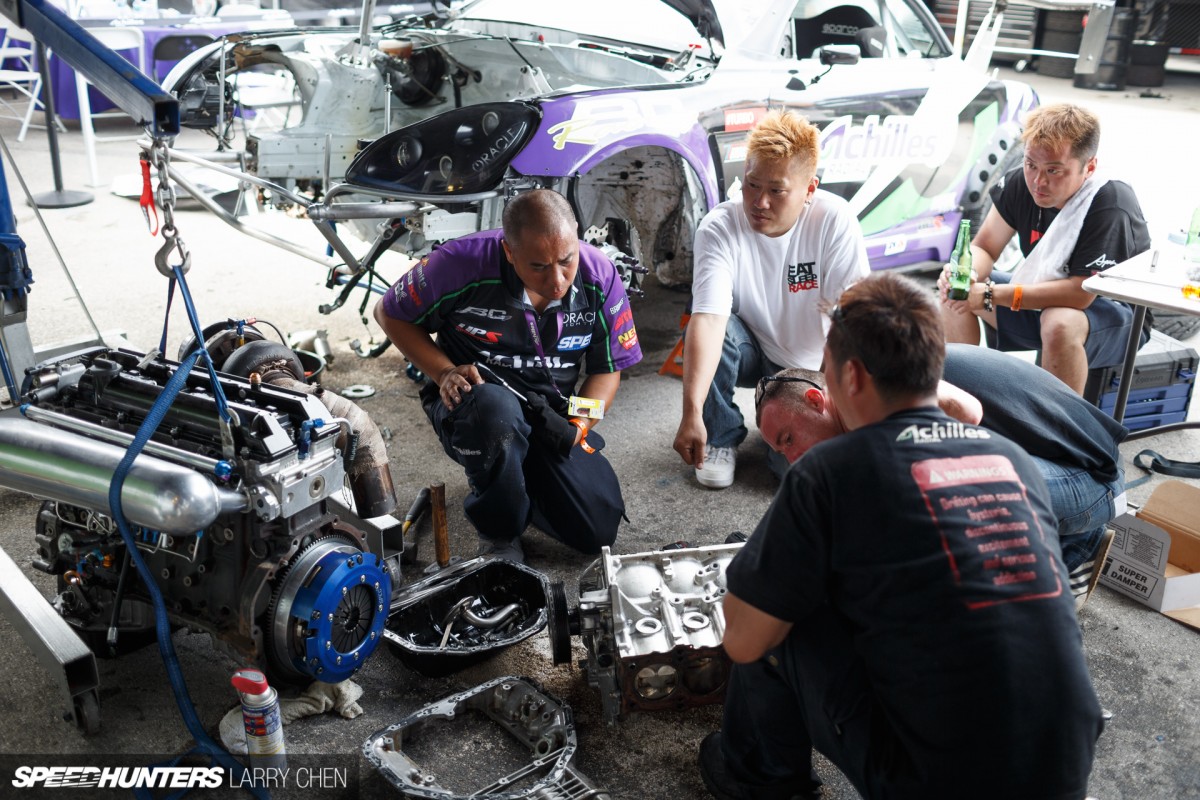 He tried his best to finish the course, but the car was spitting out all sorts of metal bits and pieces. Could it be time to turn the power down a little?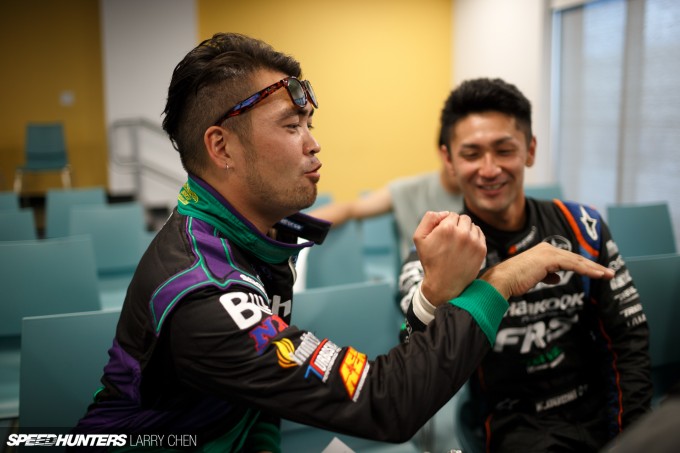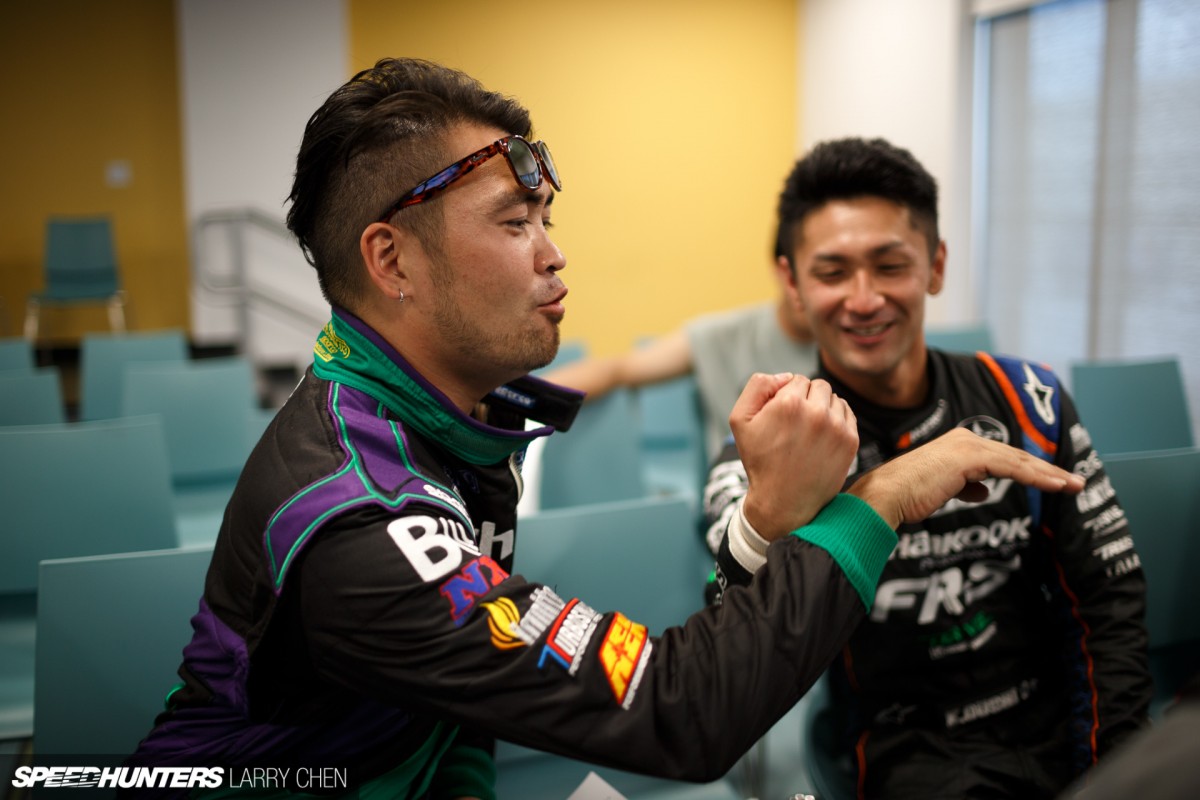 It's funny, because during every pre-event meeting all the Japanese-speaking drivers tend to sit in one area. It's been dubbed the J-Corner.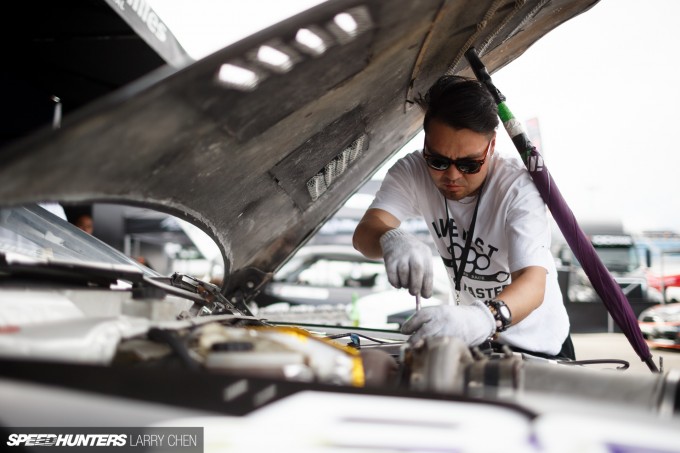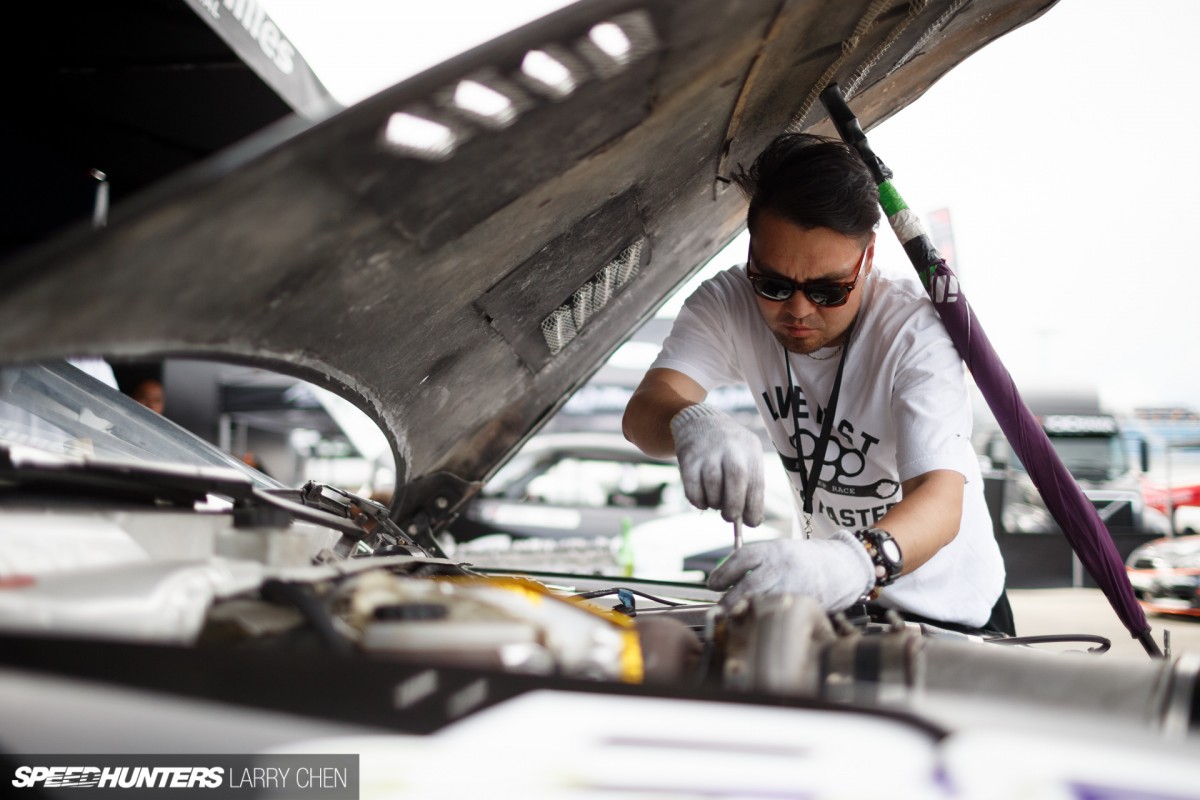 Most of the drivers in the corner have been struggling in one way or another – except for Robbie Nishida. He's really been holding his own in recent events, and finished in the Top 8 in Miami.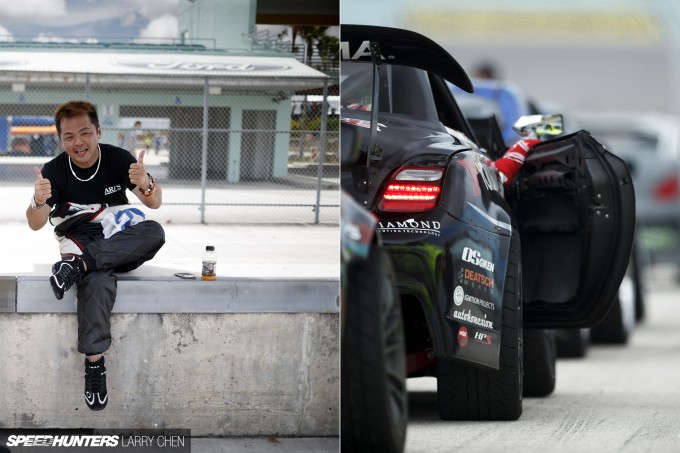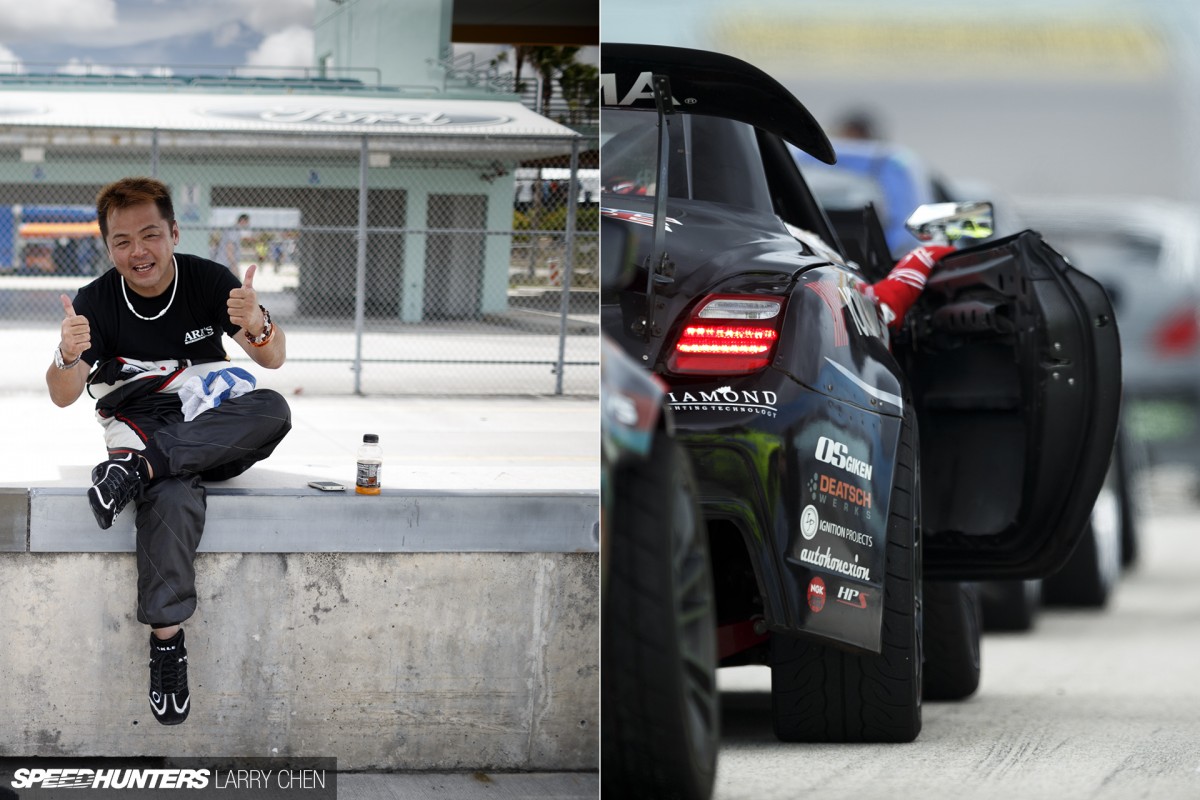 There was a lot of buzz surrounding the news of Kuniaki 'Kunny' Takahashi competing in Formula Drift this year, but after three rounds he has yet to qualify for the Top 32. That said, he's been noticeably improving with each event.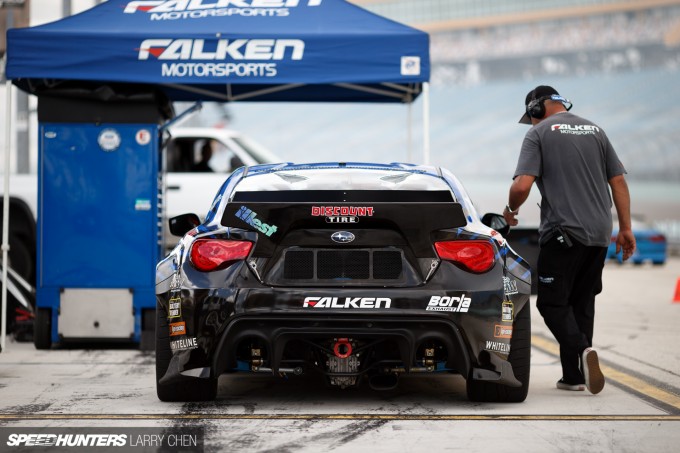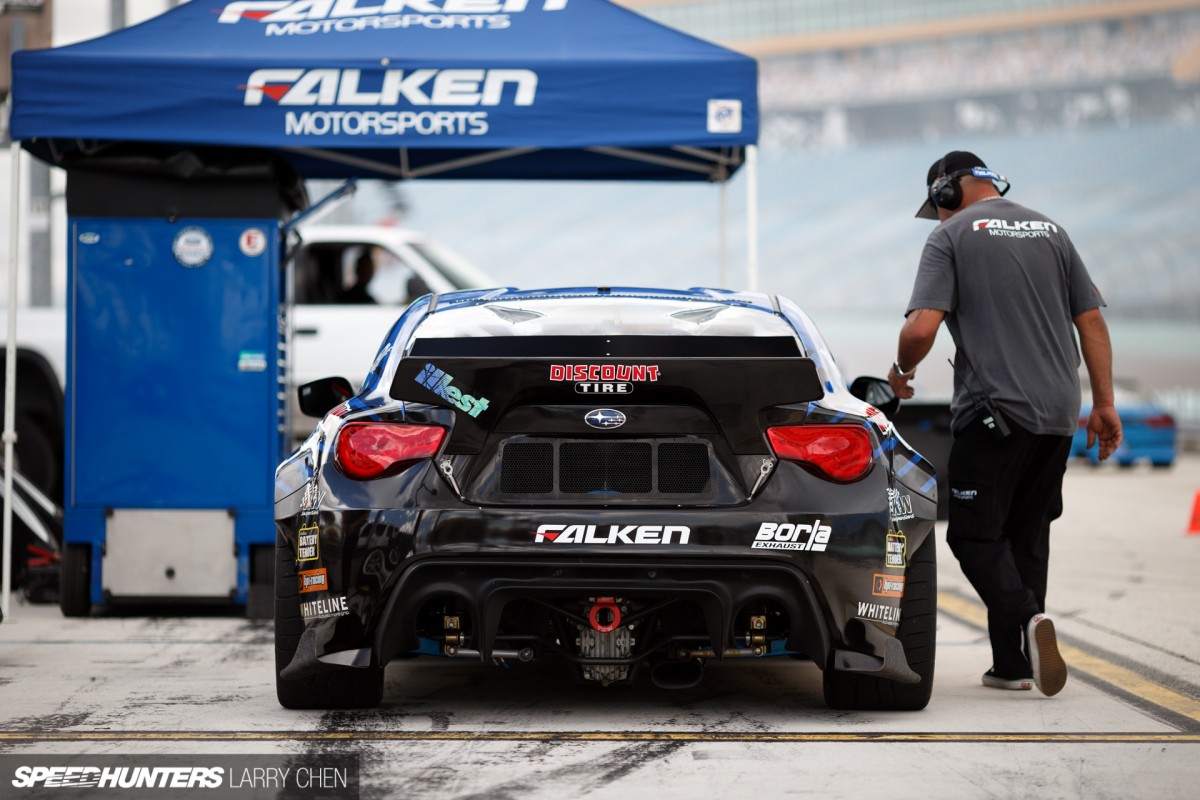 It was a big upset for the Falken team when Daijiro Yoshihara's BRZ decided to have major mechanical issues right before qualifying.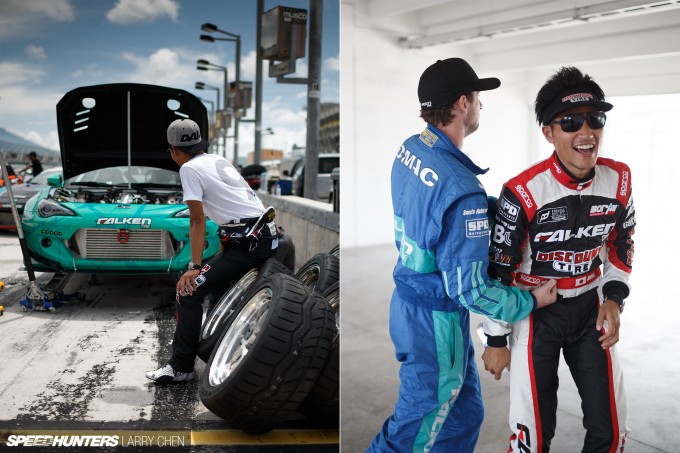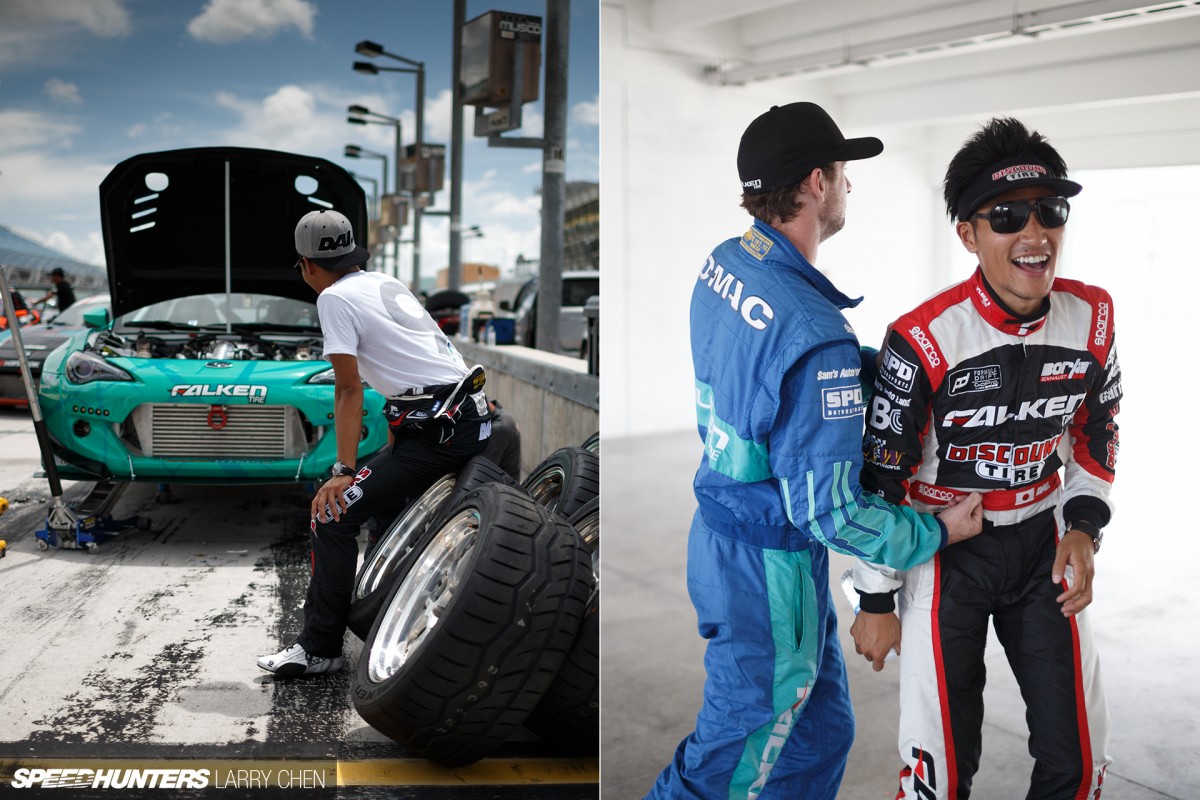 The brand new build has been giving all sorts of problems to the 2011 champion. As if one punch in the guts wasn't enough…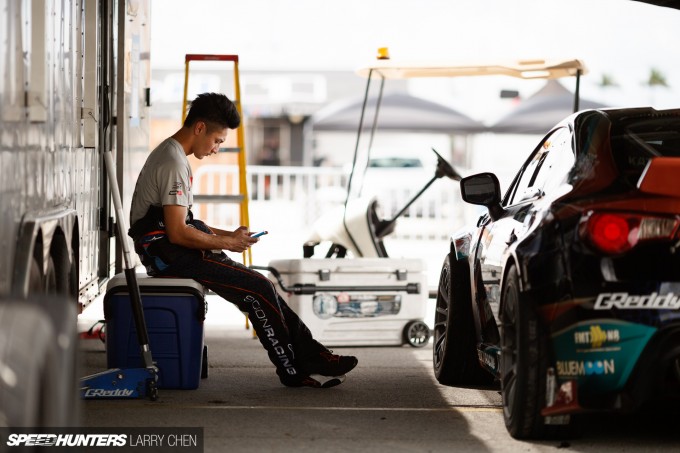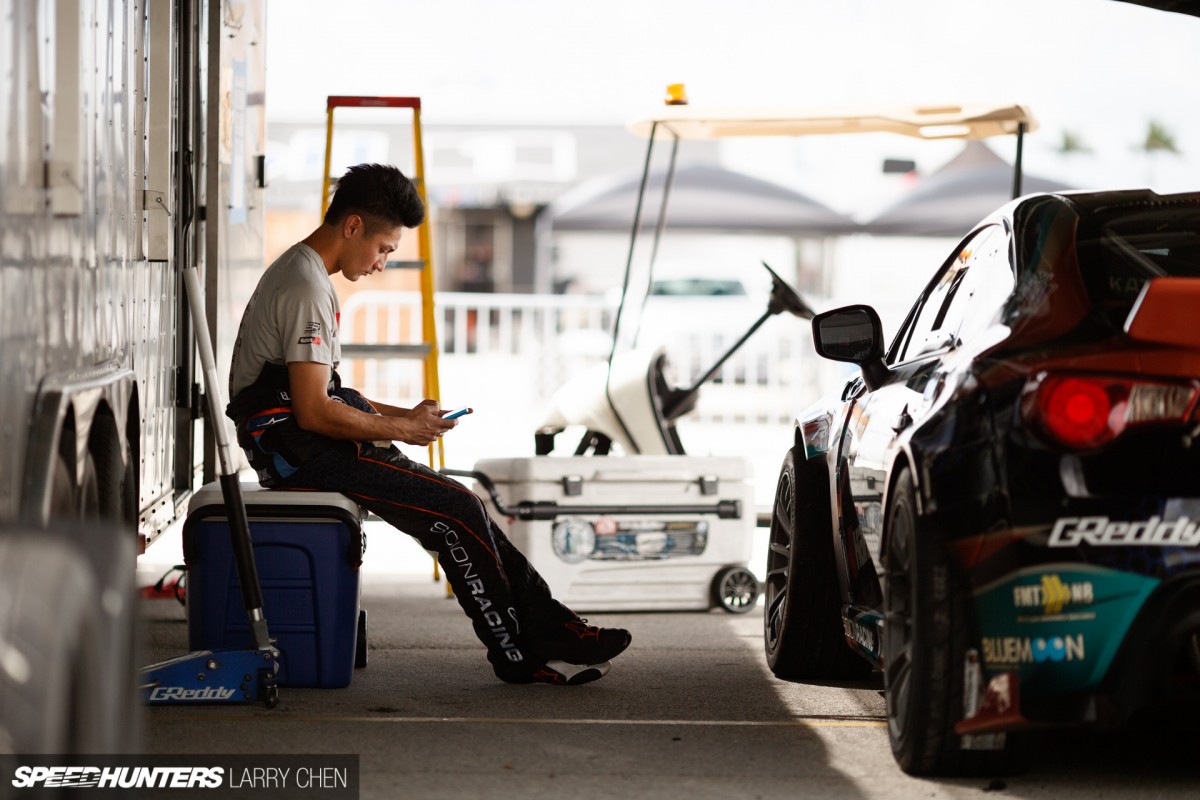 Fellow J-Corner driver Ken Gushi knows all too well about the struggle with mechanical issues. We have seen him podium in Formula Drift Asia recently, and even win battles while on fire. It will just take a little bit of luck for Ken to get back on the podium.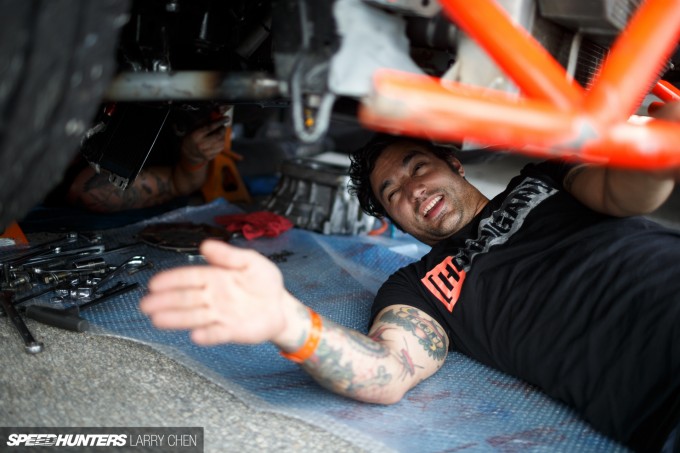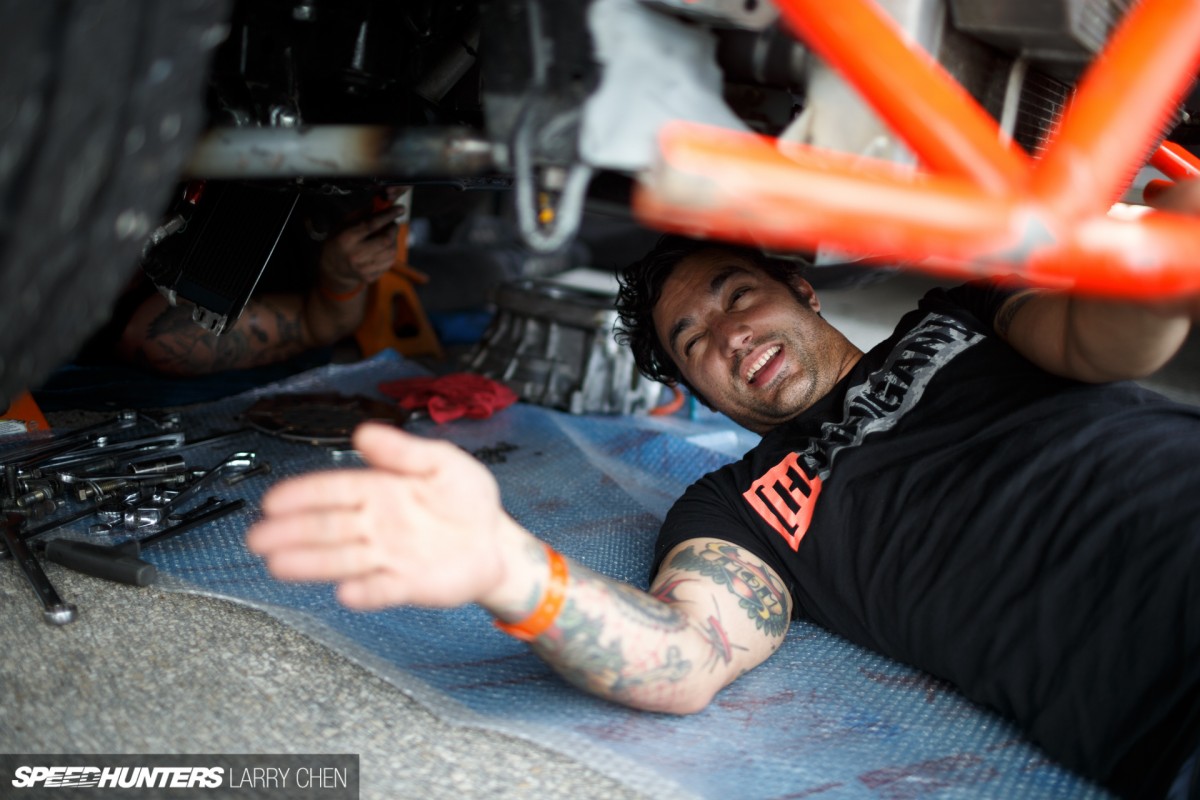 Fellow Scion driver Tony Angelo says his car just won't stop breaking. It's like a leaky wooden ship, and as you fix one thing, another leak springs up elsewhere. There's no stopping it.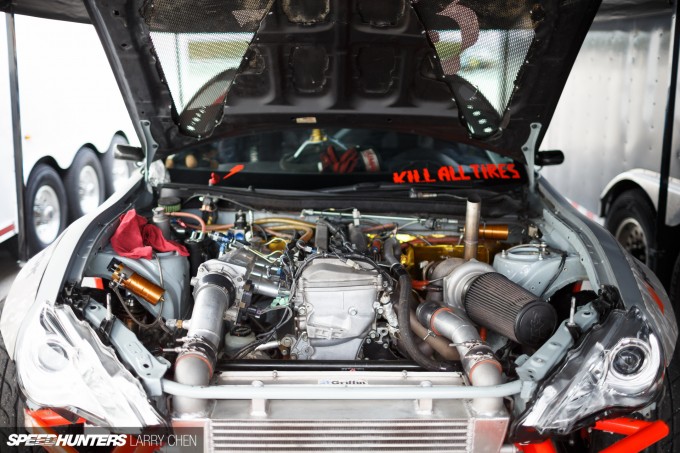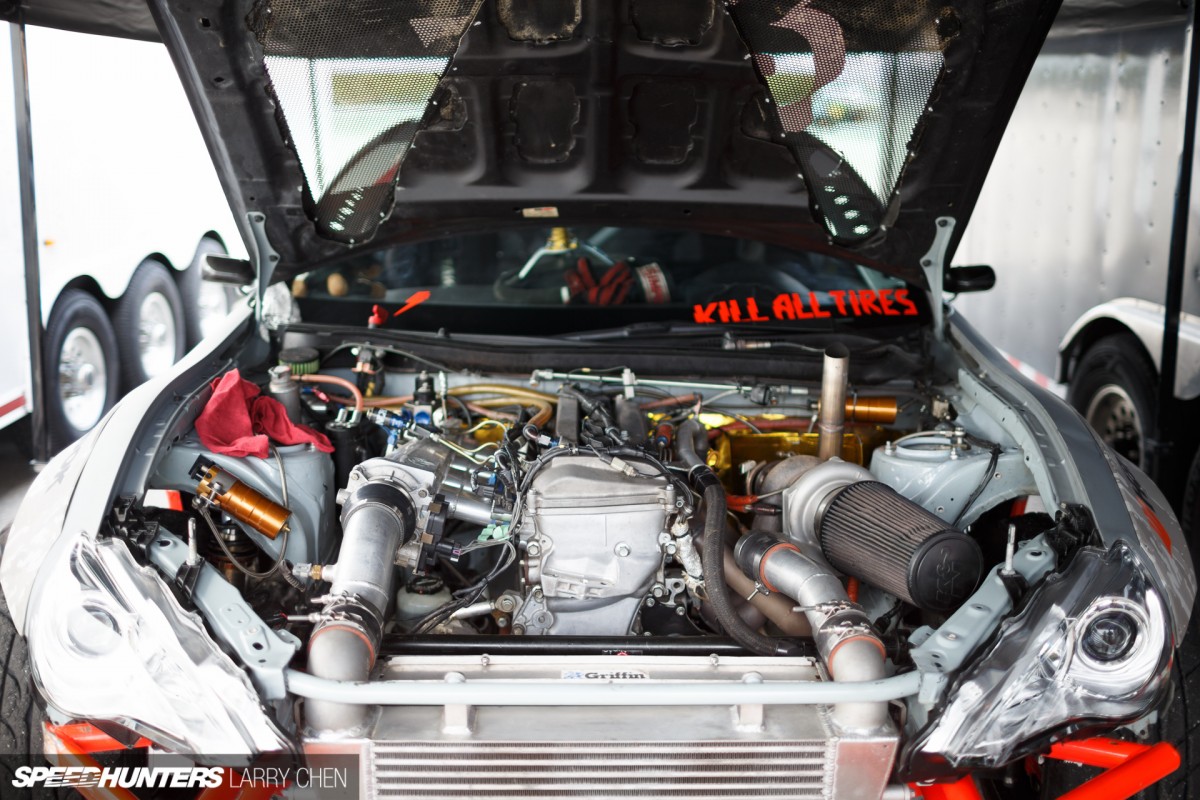 Although, it's surprising to me that given the amount of power and boost they push through in these four-cylinder engines, that he and others in the series do not grenade their motors more often.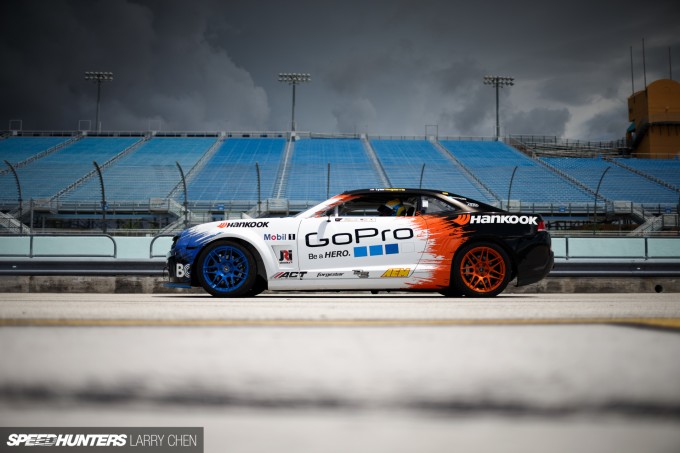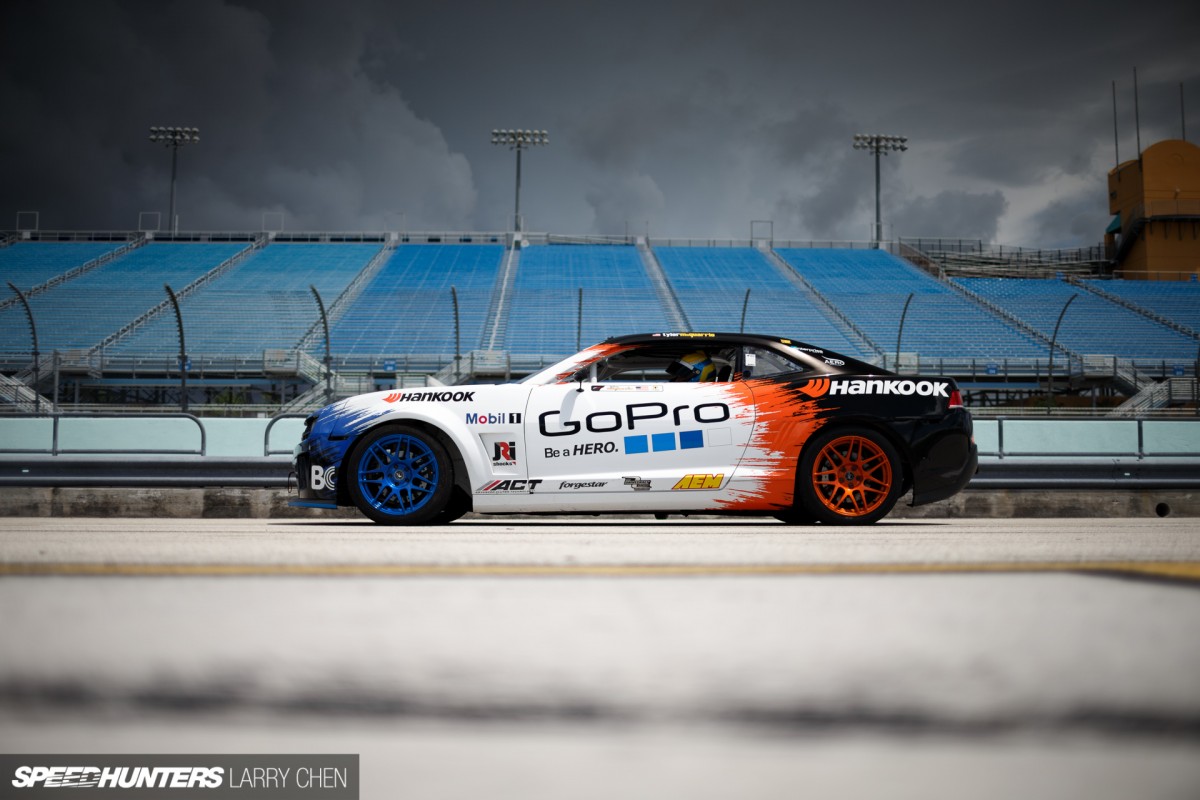 It's been a couple tough years for Tyler McQuarrie, and his last win was at Irwindale in 2011. Ever since he's taken ownership of his team, he has only seen the podium once and that was after an intense battle against Daigo Saito in Irwindale in 2013. He put the car into the wall that time and gifted Daigo the win in the process.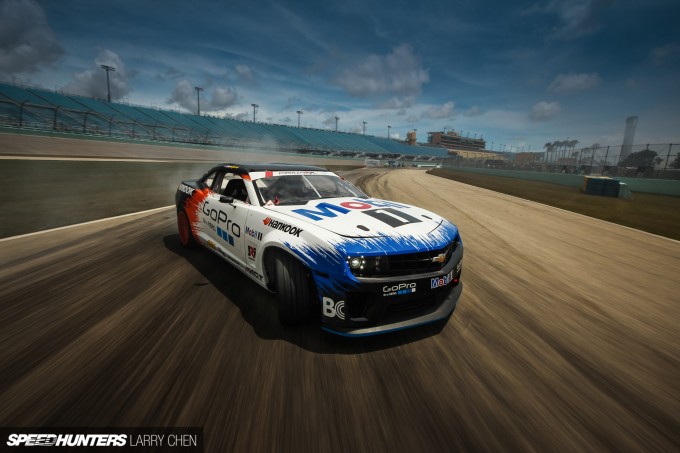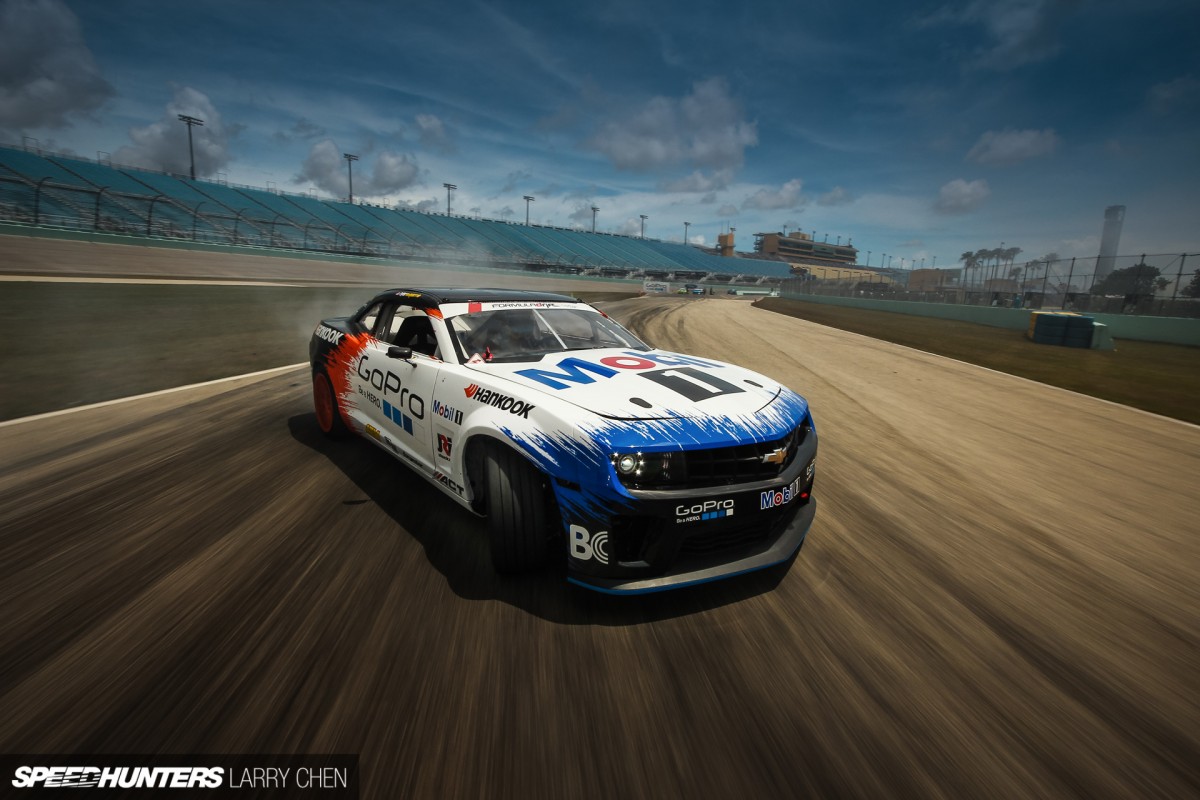 In Miami, he was absolutely on fire. I had a feeling he was going to taste that sweet champagne once again, but after his car was damaged, it just didn't drive the same. Without a doubt, Tyler is one to watch this year.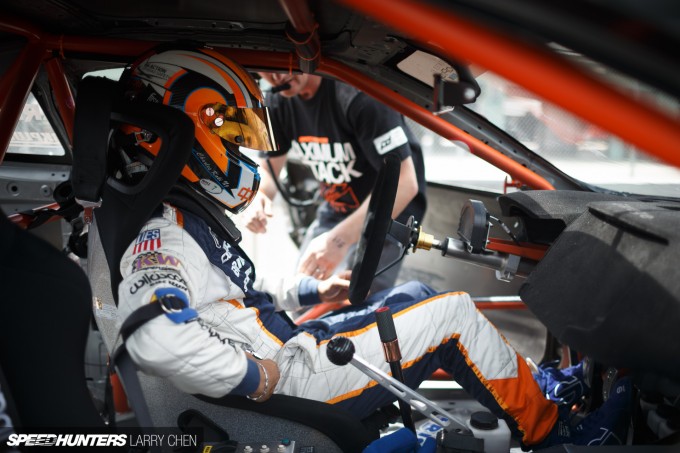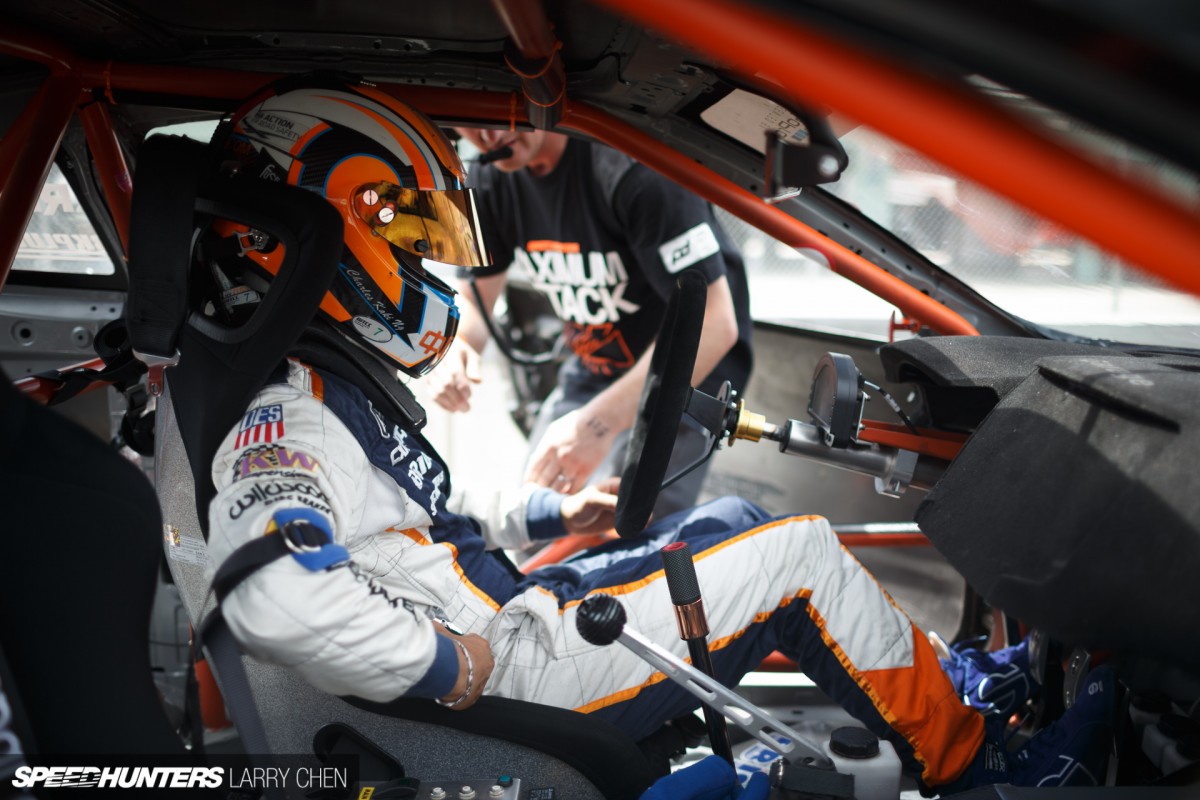 I know that Miami was hard for Speedhunters driver, Charles Ng. Over the past year he's had to transition from the World Touring Car Championship back to Formula Drift.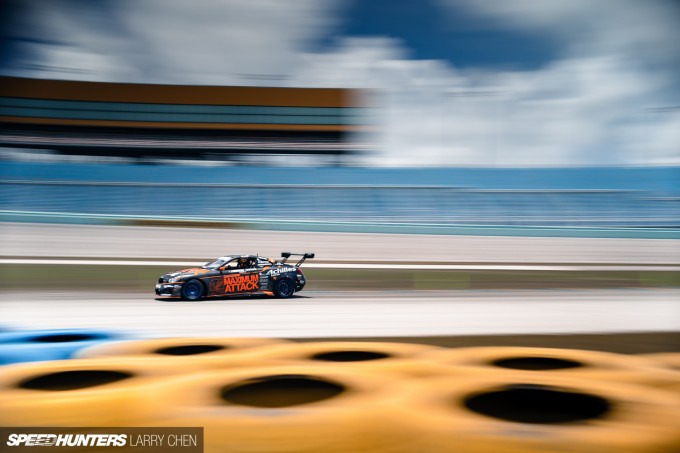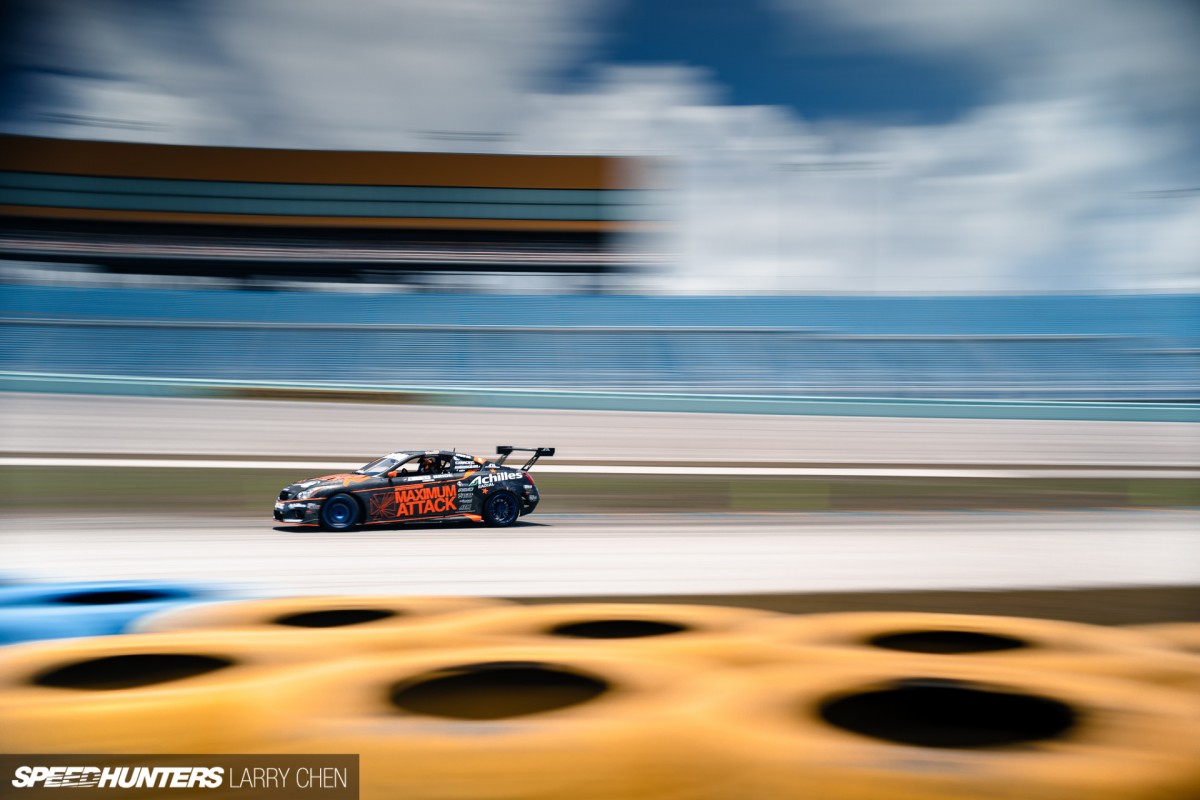 Unlike the WTCC where you're in the main show regardless of where you qualify, in drifting your weekend can be over in a split second if you don't make qualifying, or if you get knocked out of Top 32.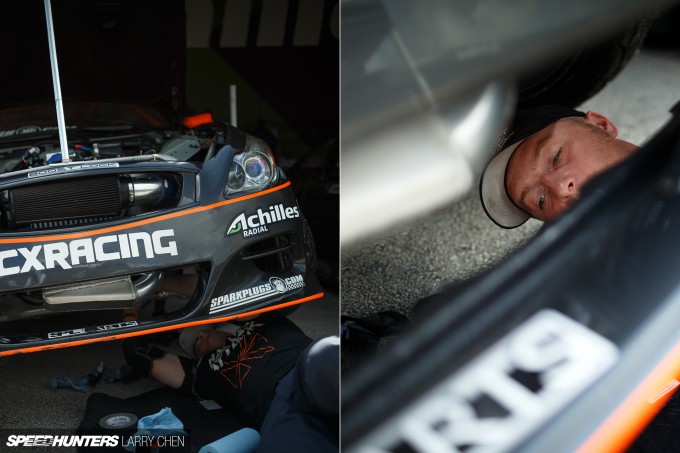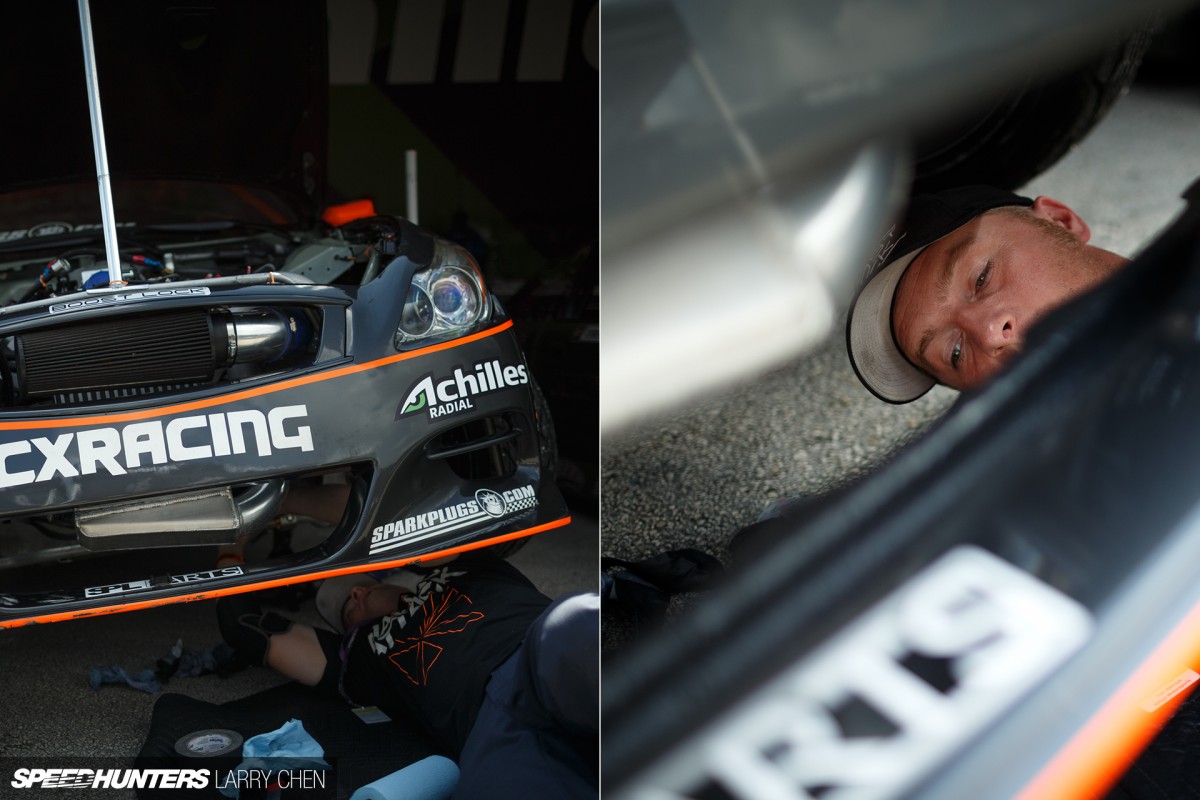 It doesn't help that Charles has been through two motors already, due to some issues with the car's original plumbing.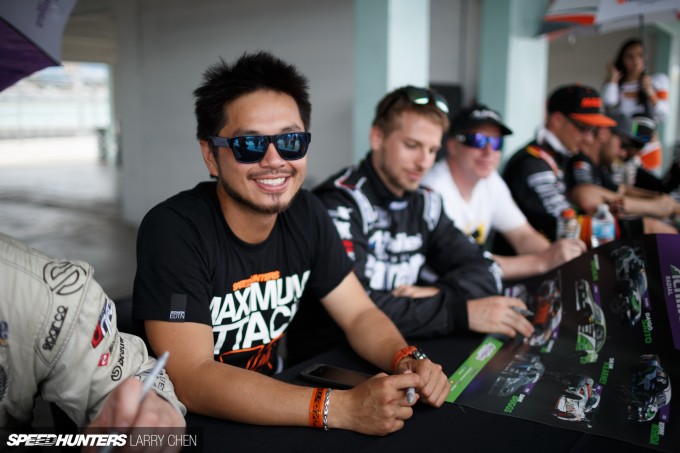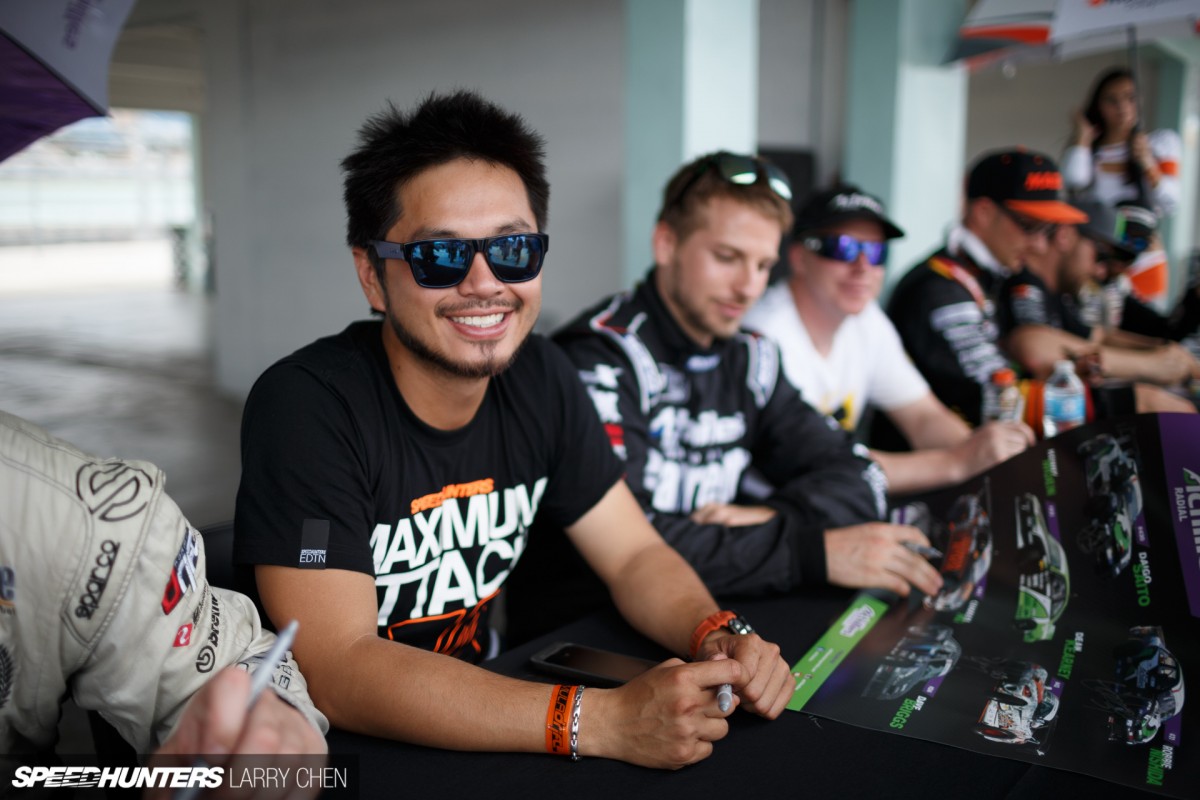 Even with the problems, the Hong Kong native still manages to crack a smile.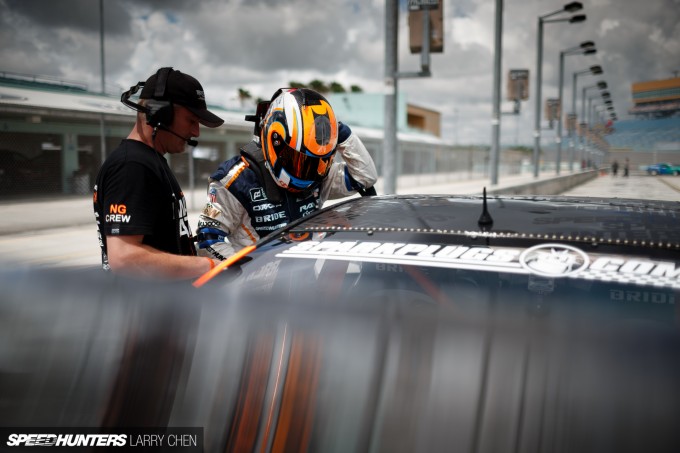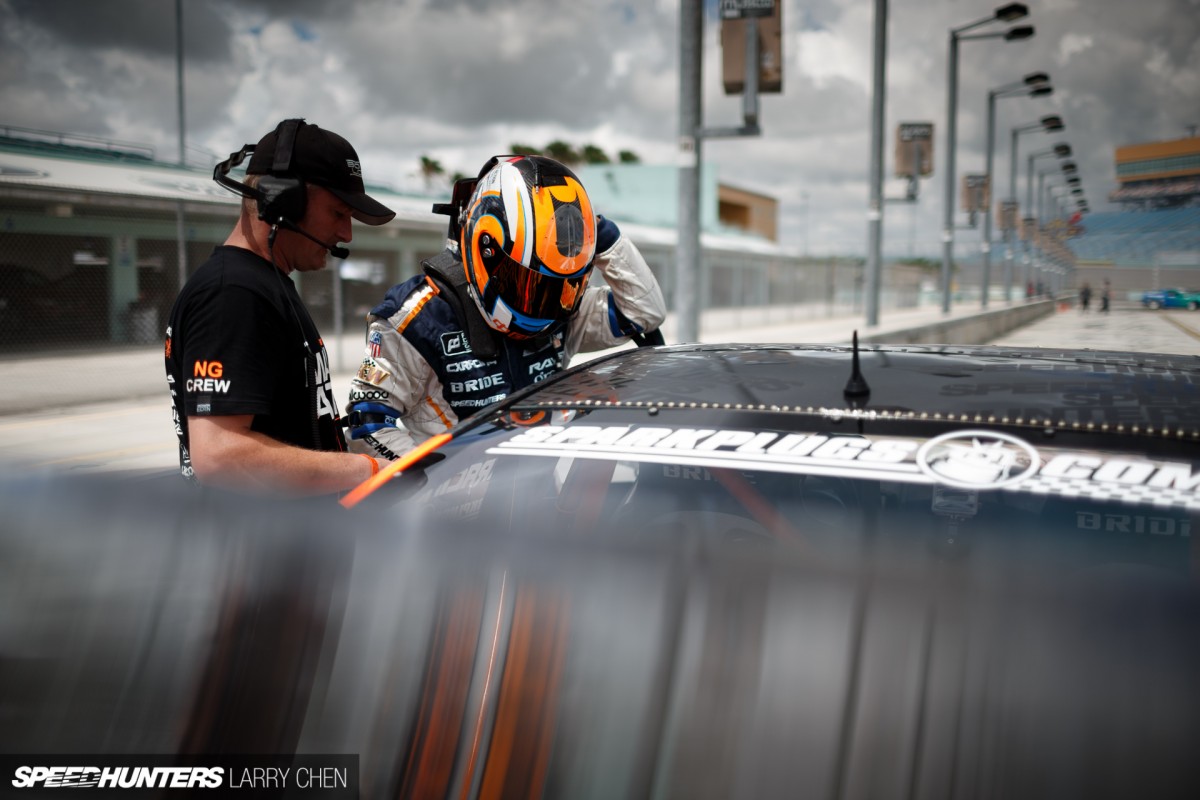 Because the game has changed so much since he left for touring car racing in 2011, it's just going to take time to develop the unproven chassis and new motor package.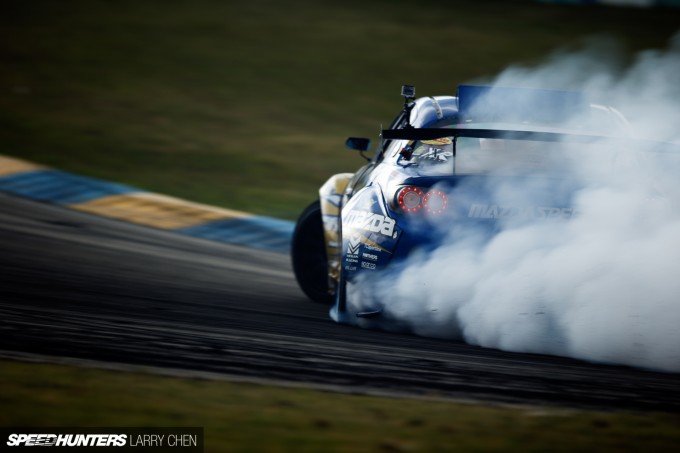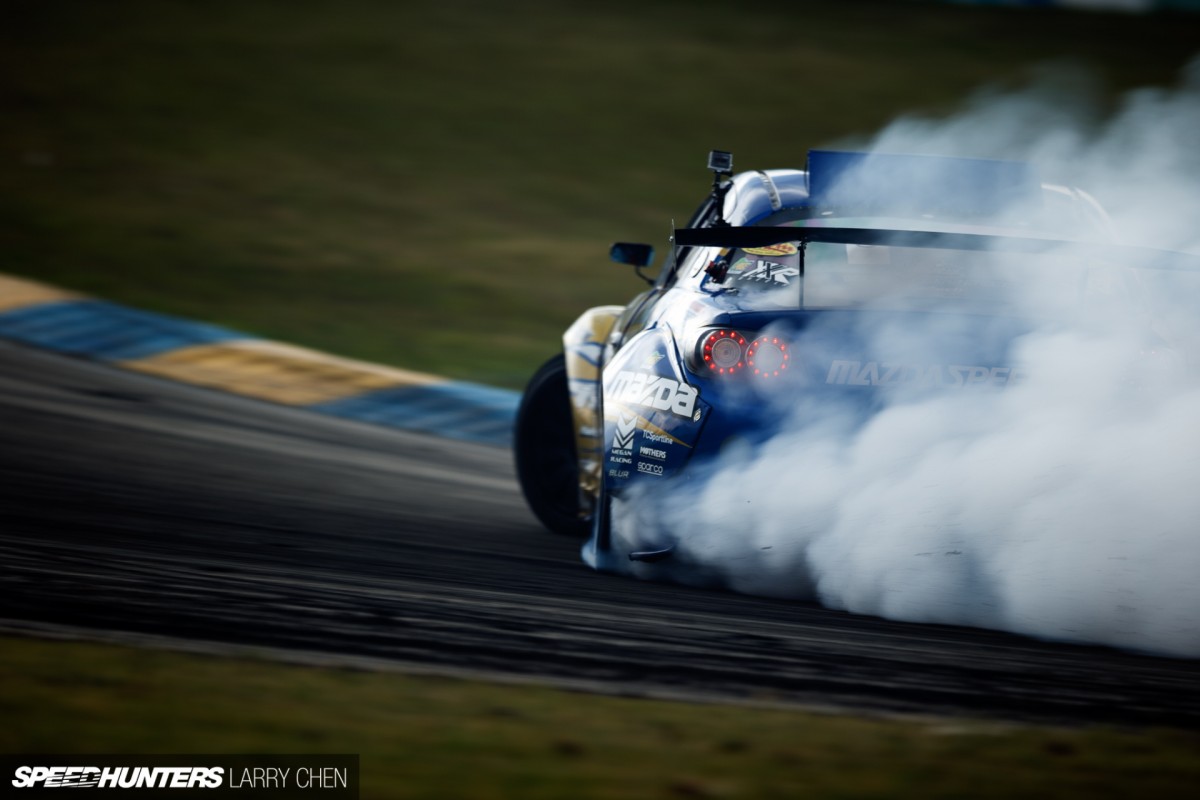 When I think of Kyle Mohan, I picture him tearing apart a 13B piece-by-piece. I think I've seen him change out more motors at events than anyone else.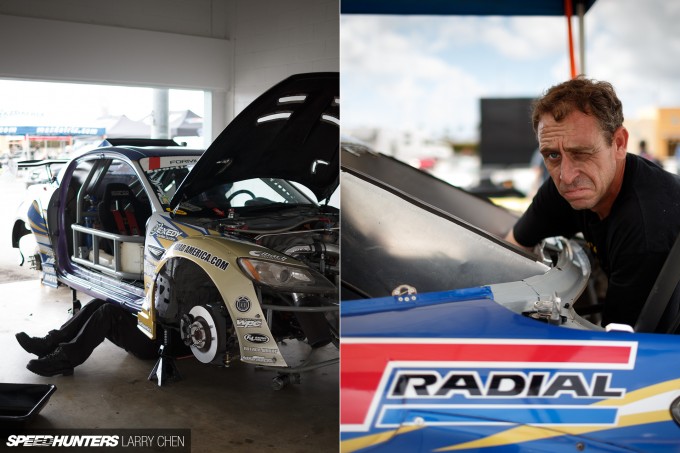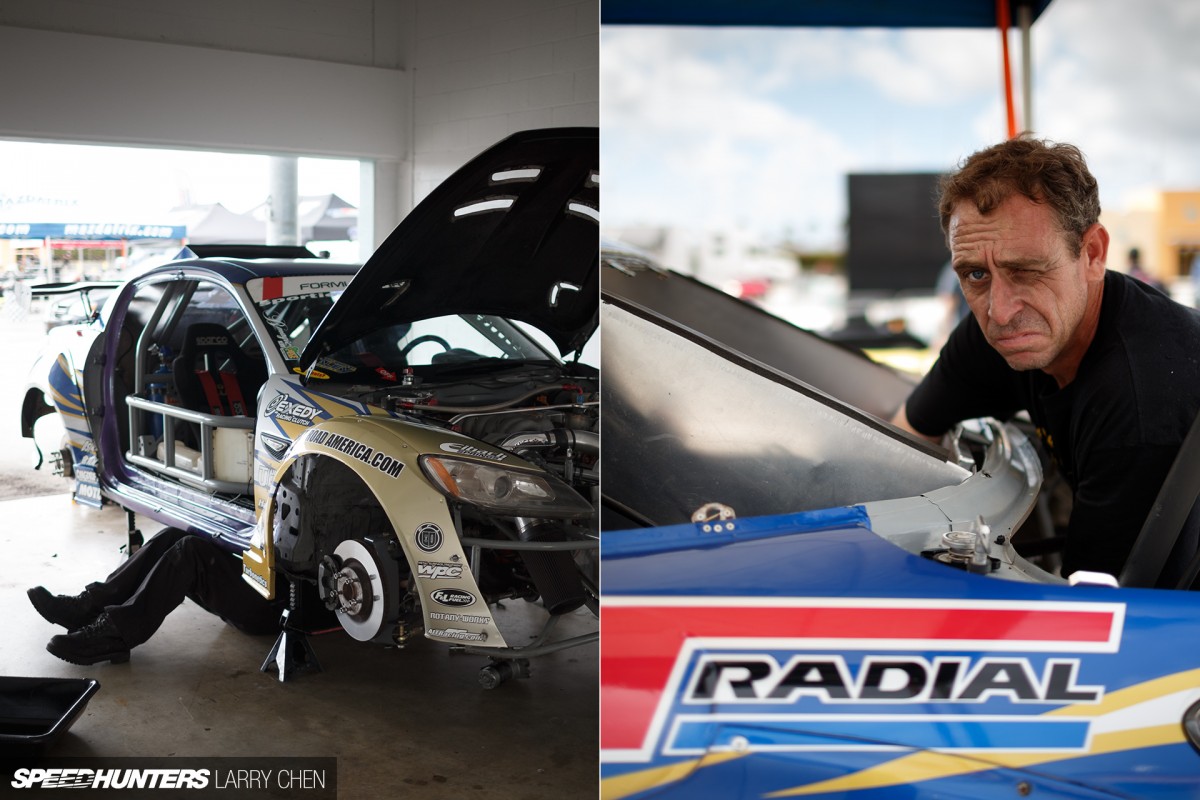 I guess persistence is key, because the team seems to have finally figured out a good rotary motor package in the form of a 20B.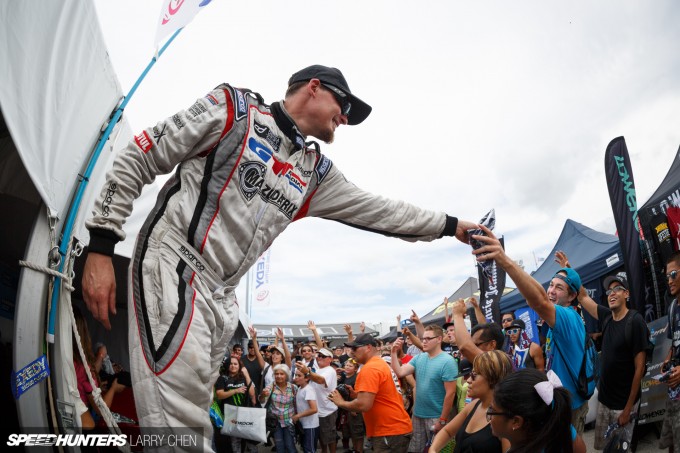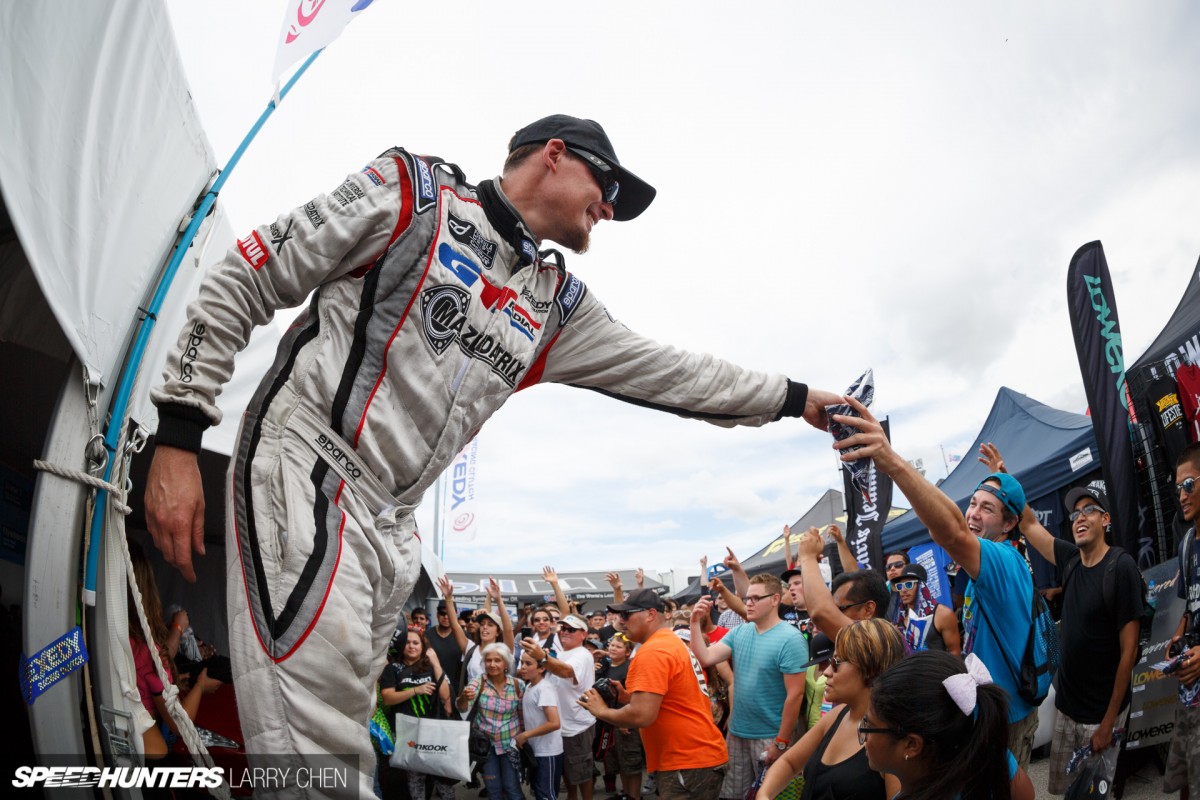 They're putting down more power than ever before and have enjoyed three rounds with no engine troubles.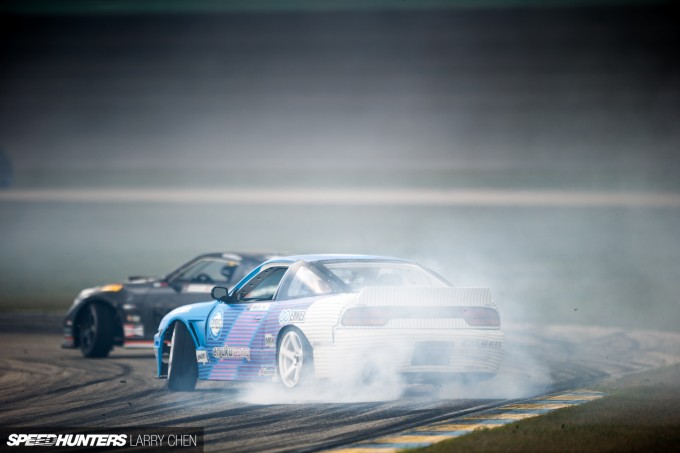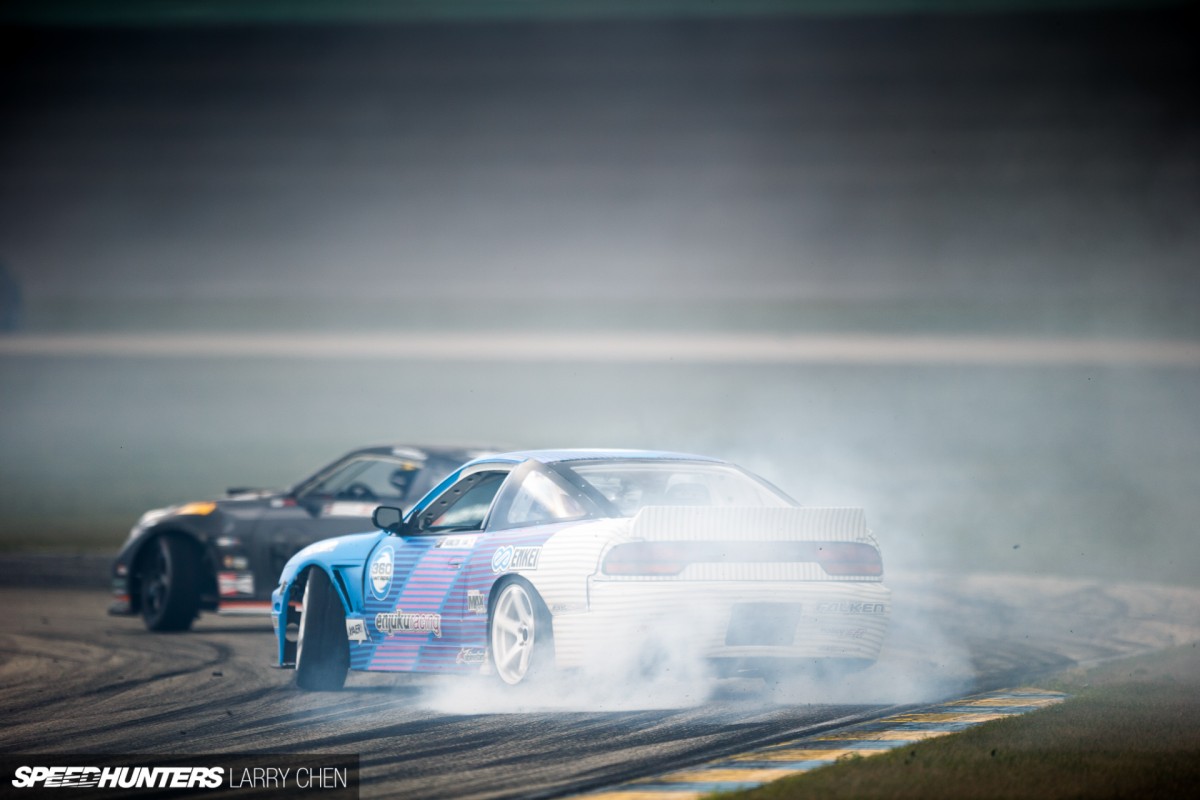 As the series gets more and more competitive by the year, it also means it gets more expensive.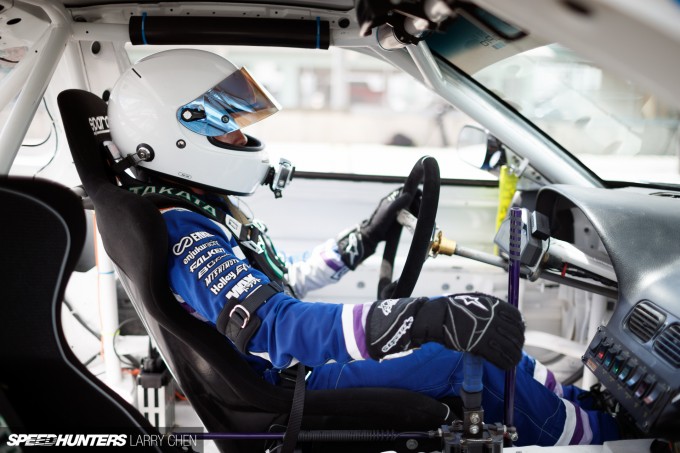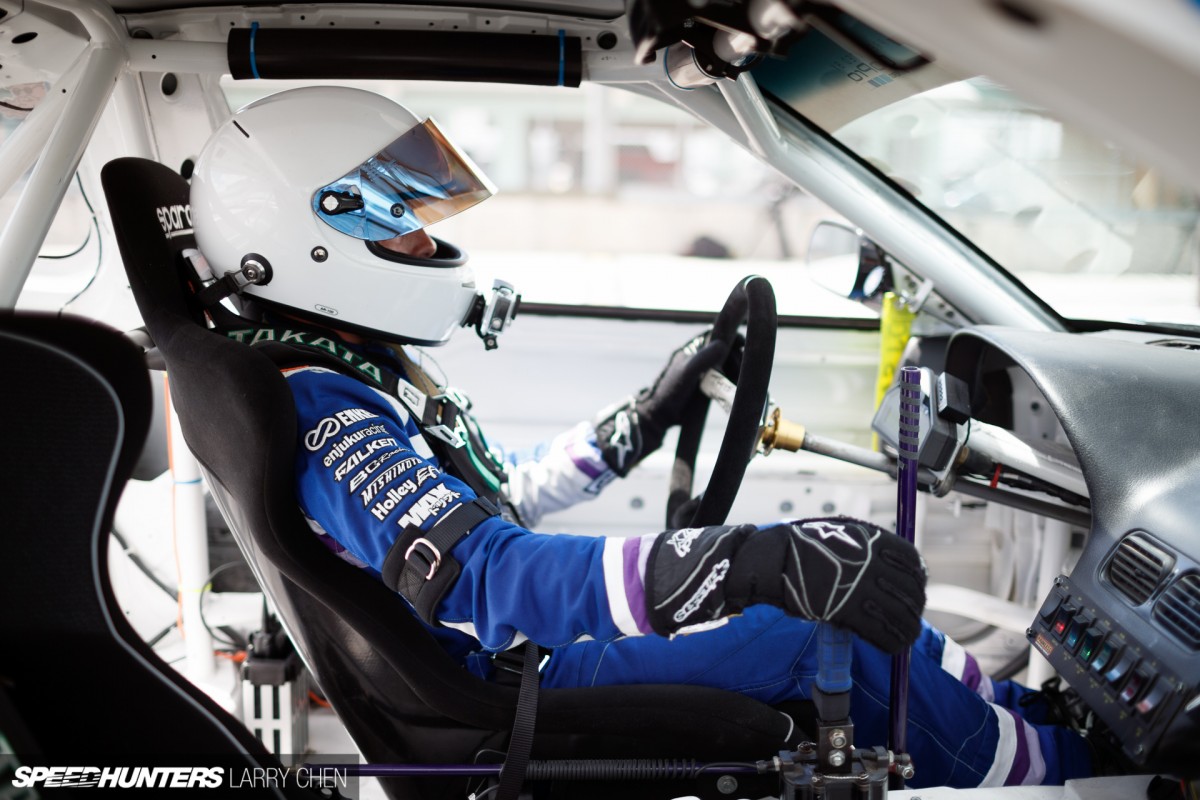 Cost affects the privateers more than anyone else and drivers like Nate Hamilton have to pay out of their own pockets to continue doing what they love.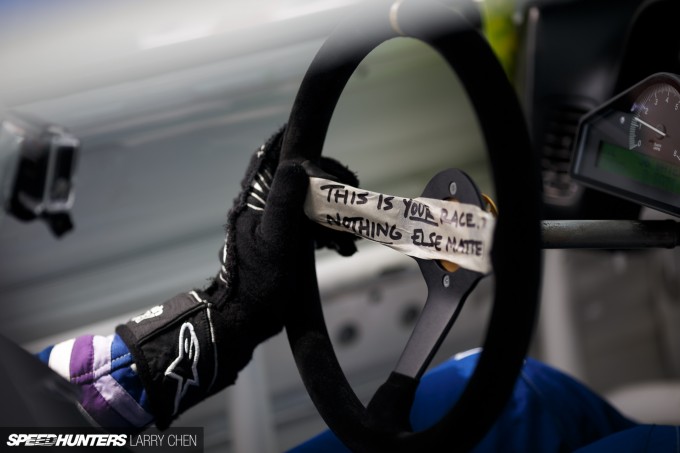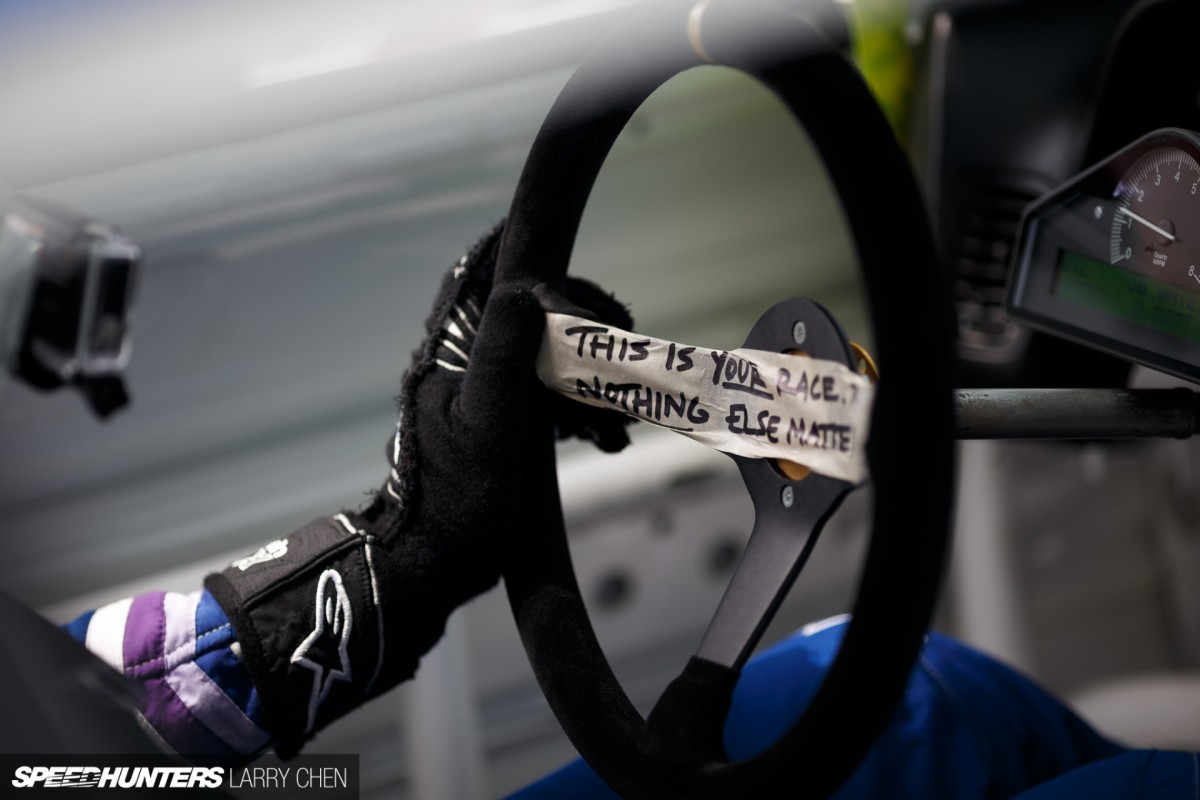 When things are not going your way, just a small reminder can keep you on track and pushing to achieve your goals.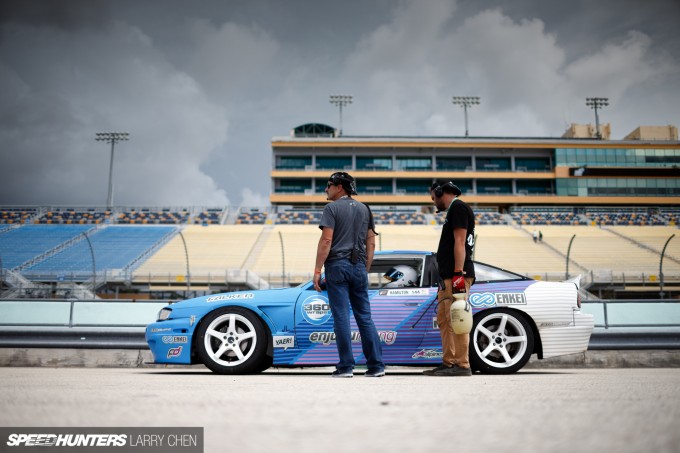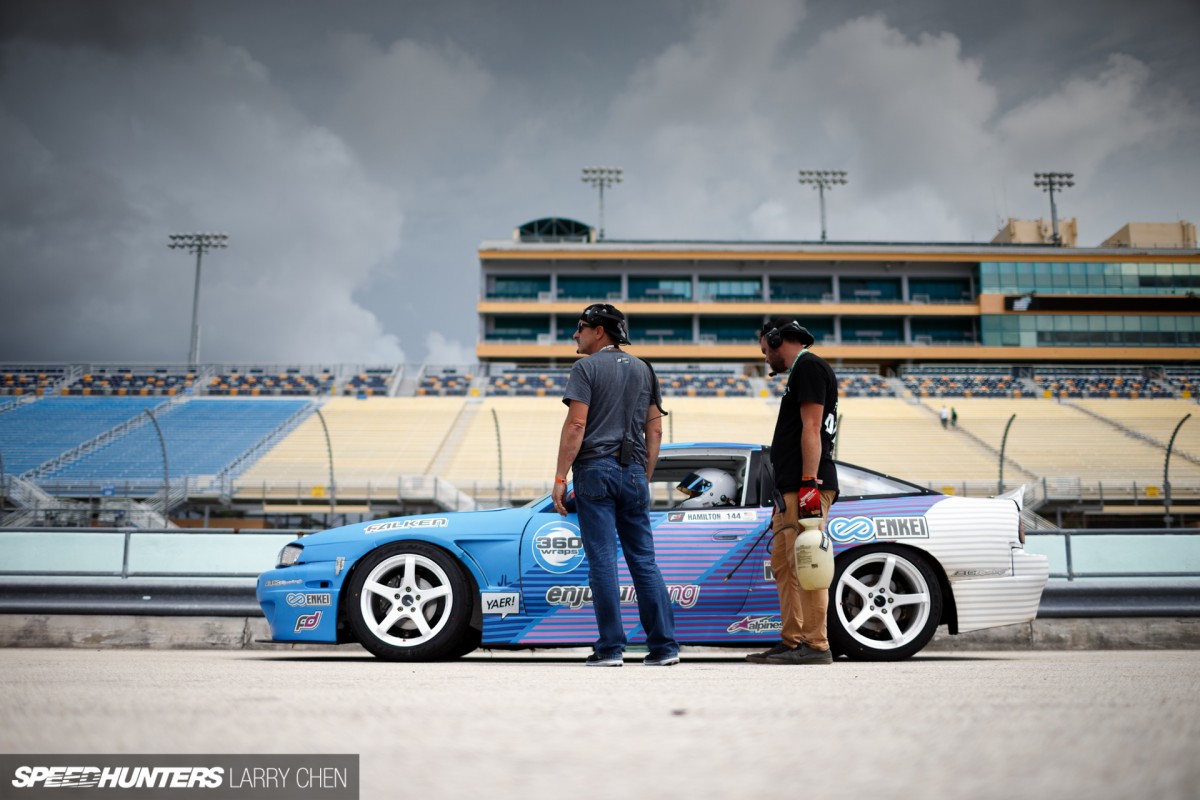 Nate saw the podium for the first time this event as he finished in second place in Formula Drift Pro 2 competition.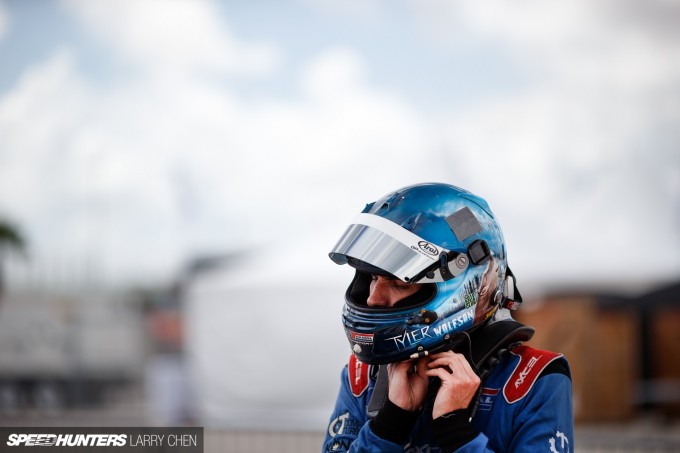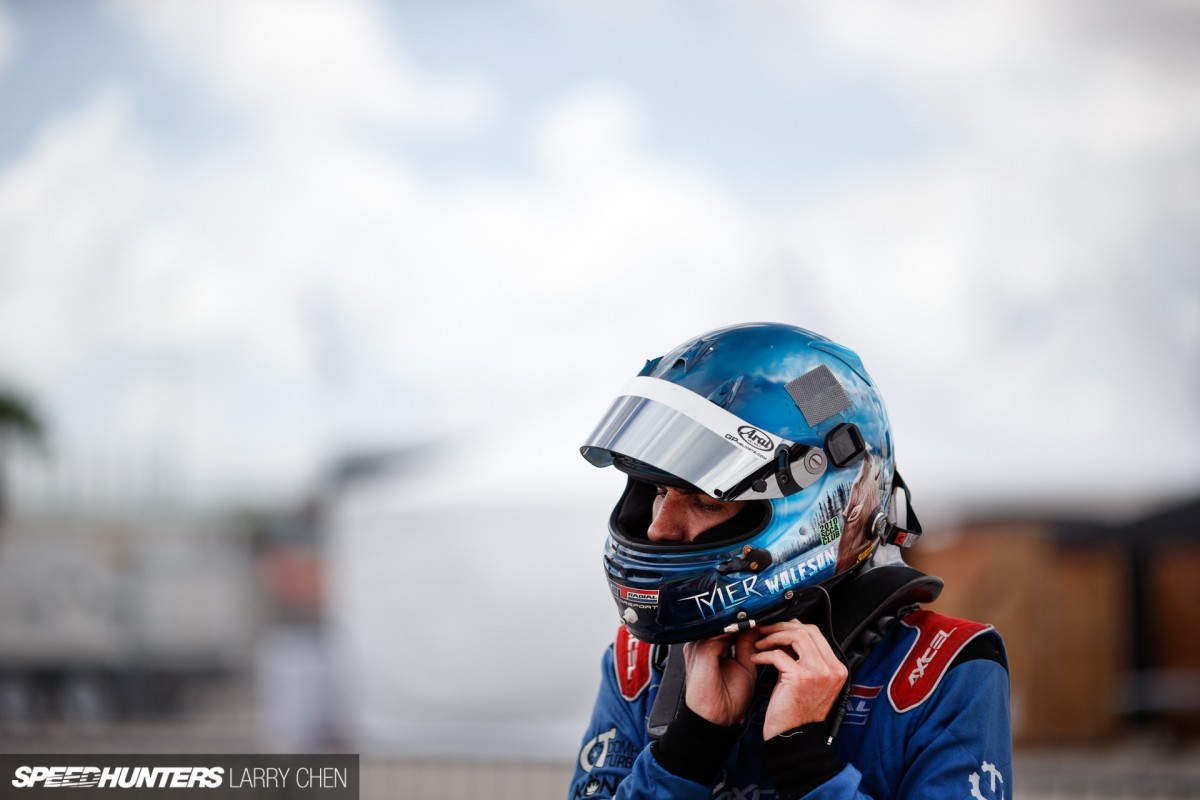 In the beginning, 90 percent of the top drivers had a day job, and only 10 percent were career racing drivers. Now, it's pretty much the other way around. It's getting increasingly rare to find drivers saving all their pennies just to compete in Formula Drift, and many rookies are spending years lining up sponsors to fund their program.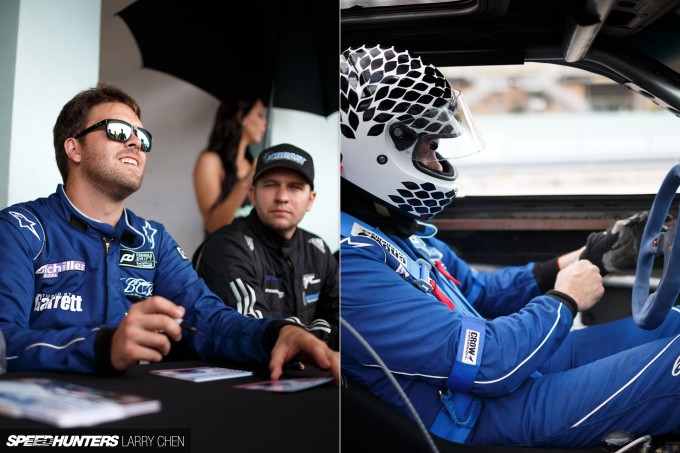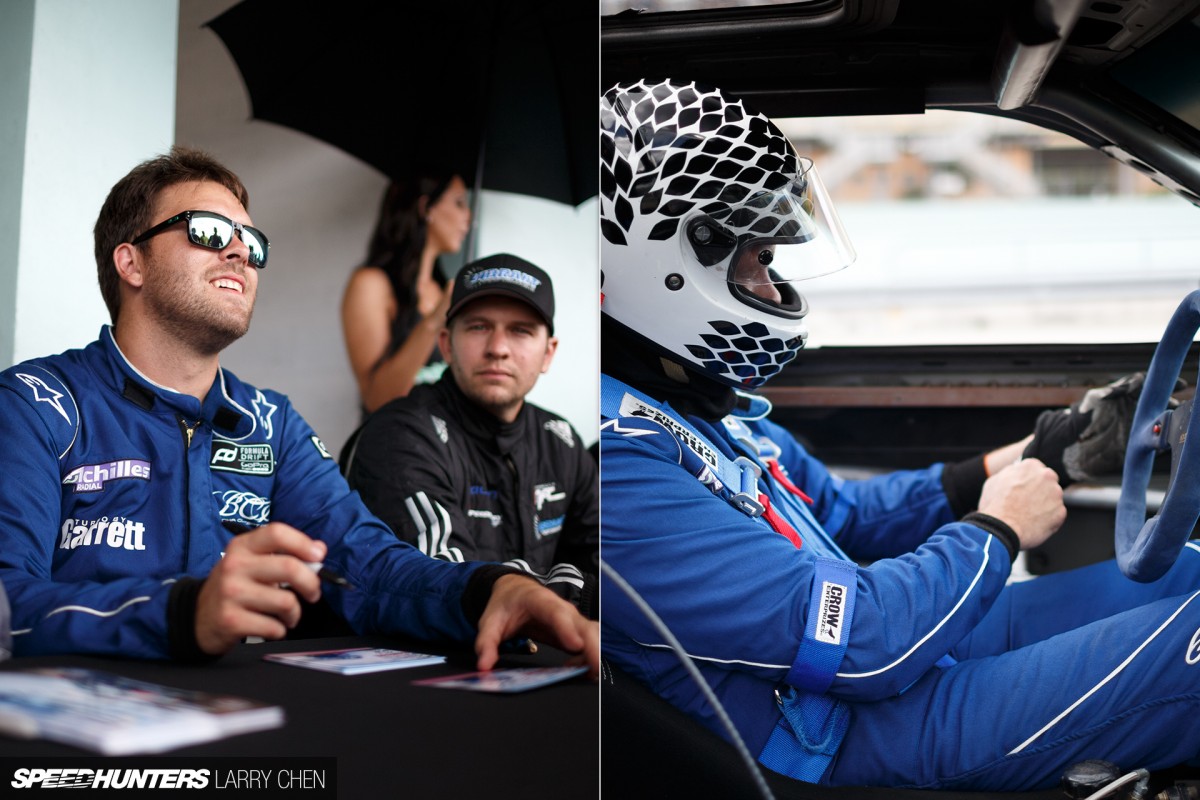 FD rookie, Eric Hill, is one of those few who work solely to pay for their drifting program. Day and night, all he thinks about is his car. How to keep improving it, and how to keep it from breaking is a full-time job in itself. This is why I think Formula Drift Pro 2 is the best thing to happen to the sport this year. It's much more affordable to run in, which makes it's the perfect stepping stone for privateer drivers.
Pro & Pro 2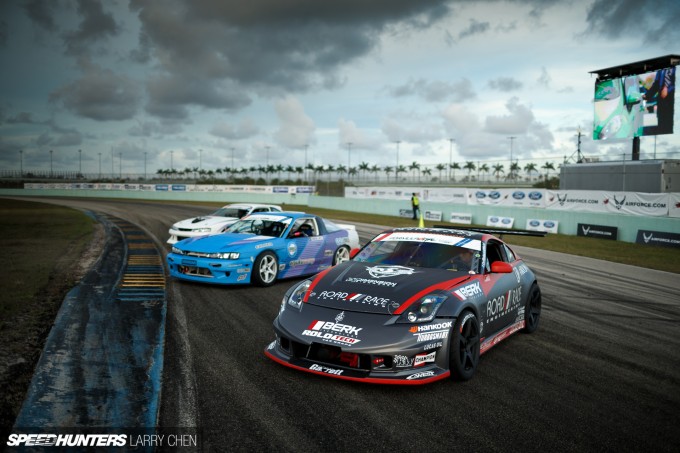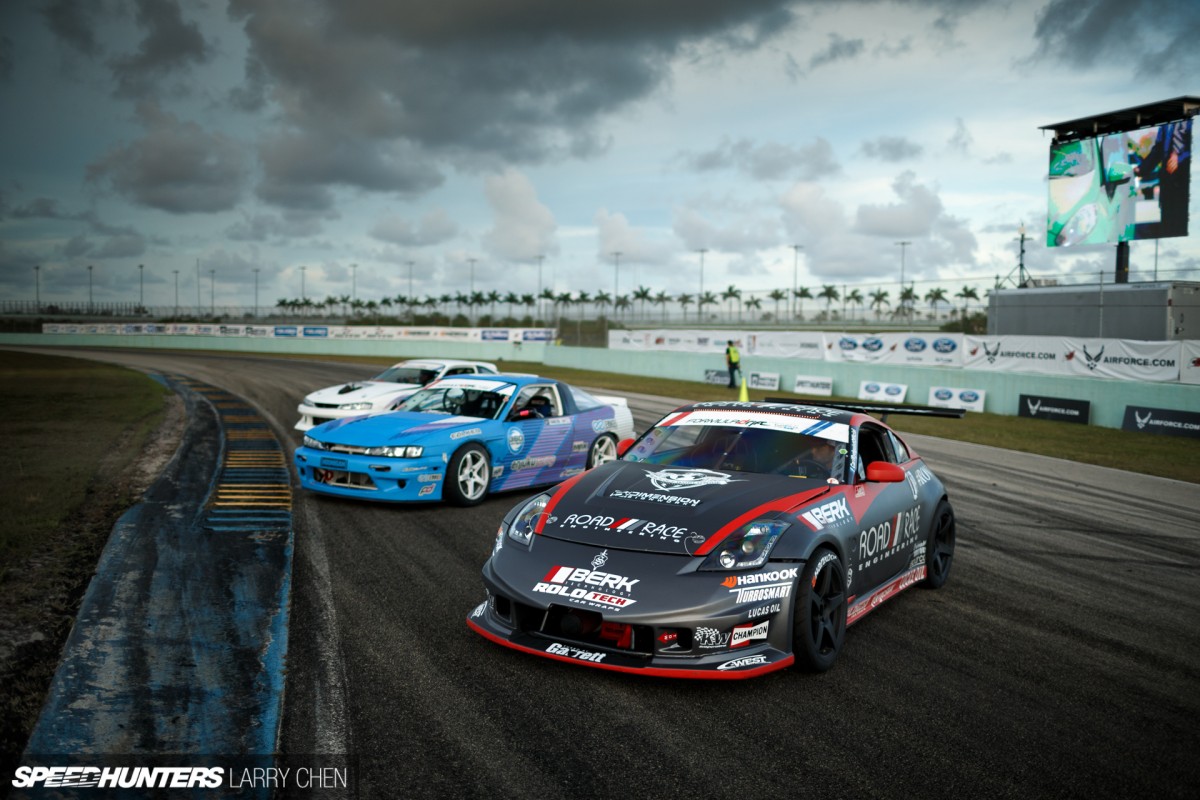 As I mentioned in my recap article, Miami was the inaugural round of the Formula Drift Pro 2 competition.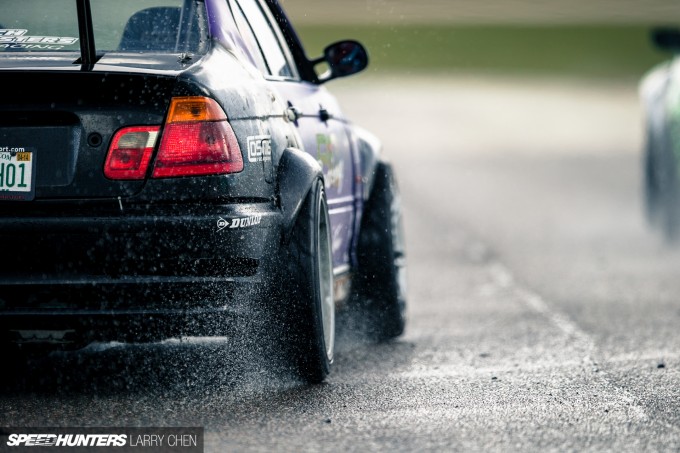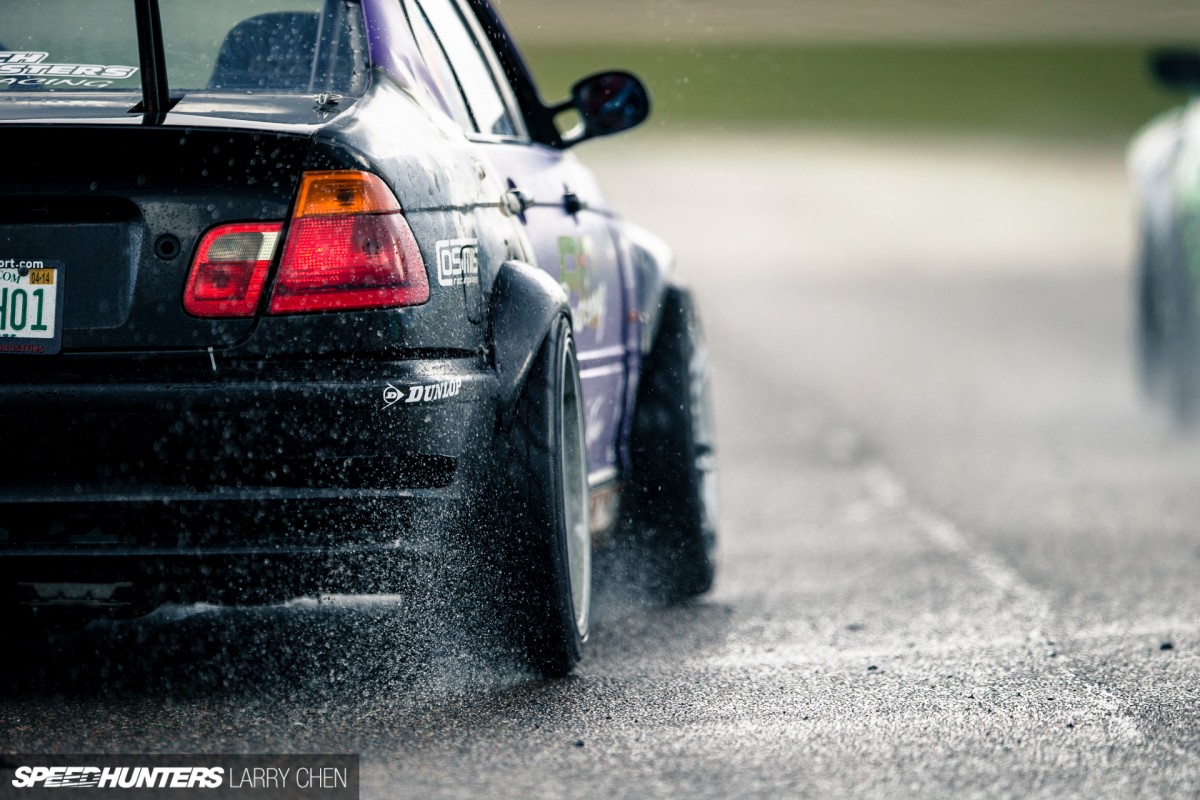 I was very skeptical about this, as I just couldn't see see how this would improve the series, or if anyone would actually even go for it.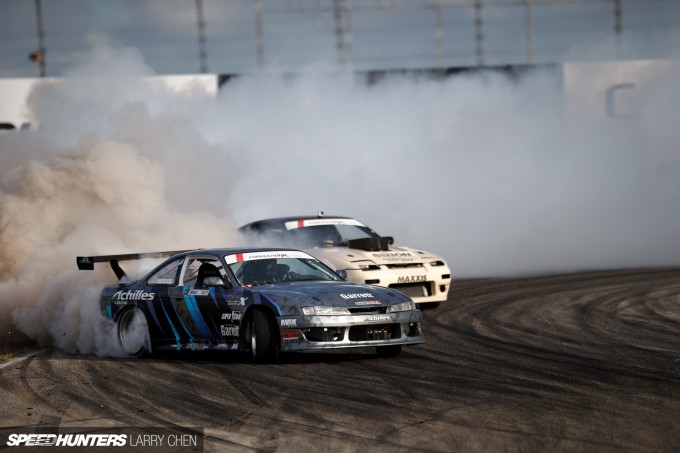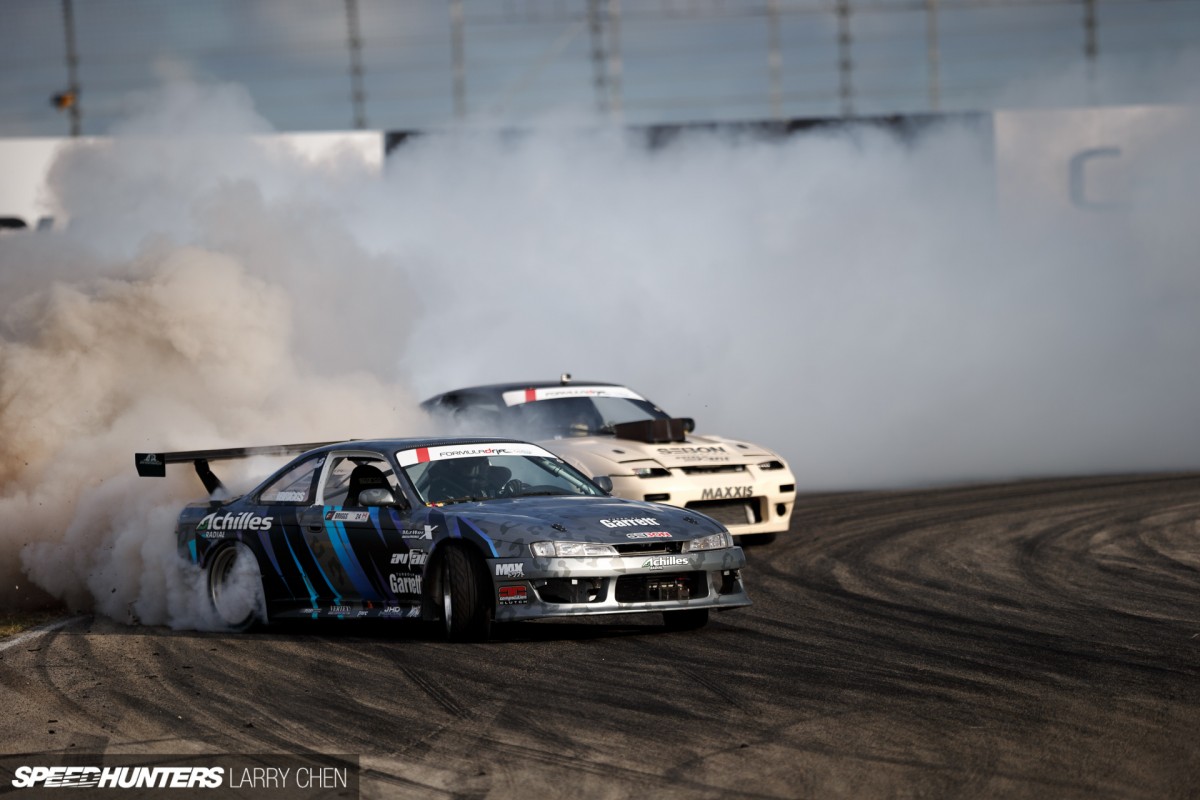 But I was wrong. Now I see that this is precisely what Formula Drift's up-and-coming drivers needed in order to gain a little bit more experience.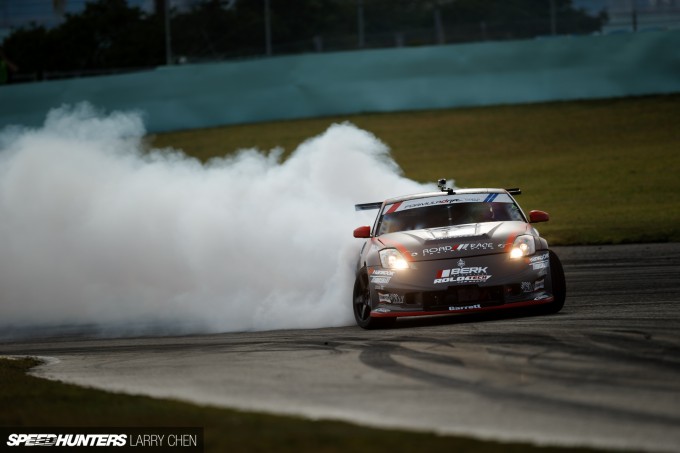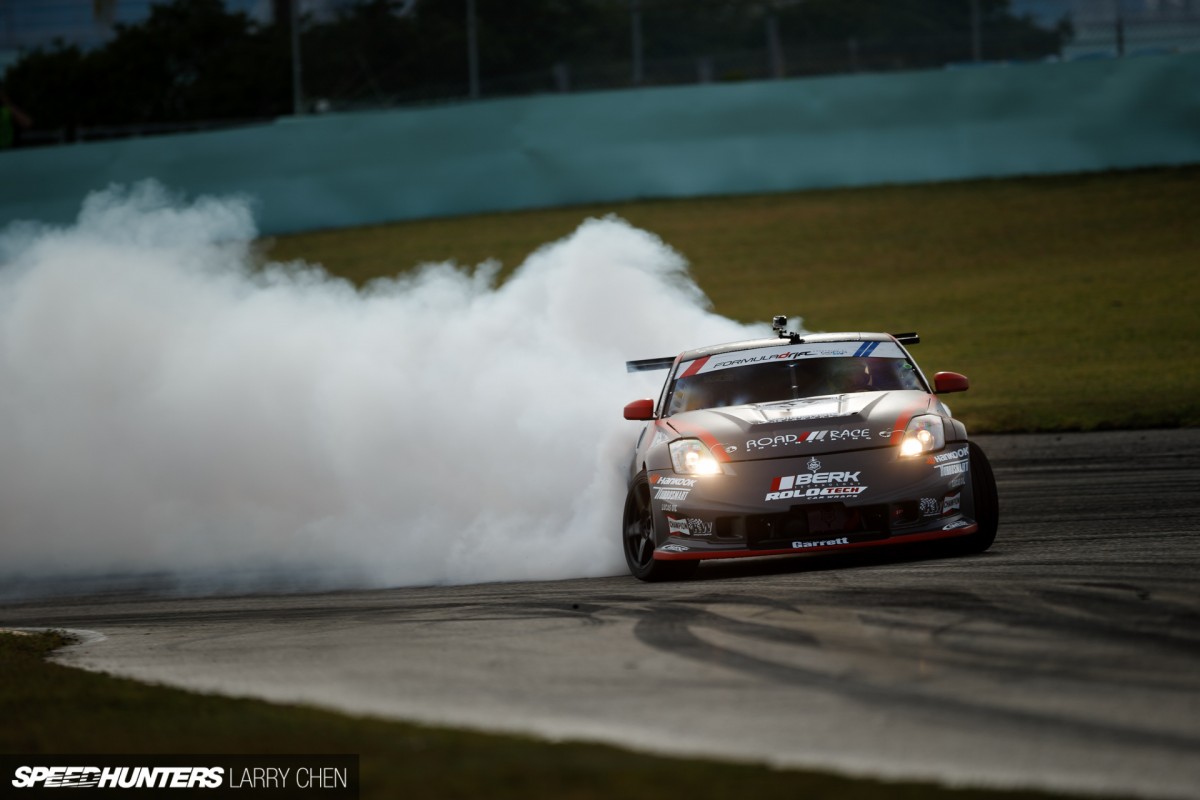 Typically, the drivers who don't qualify in the Top 32 in Pro have to call it a weekend right then and there. But when they compete in Pro 2, it gives them a chance to practice in battle conditions. They can feel what it is like to be under pressure to perform, and they can get comfortable driving right up on someone else's door in an FD environment.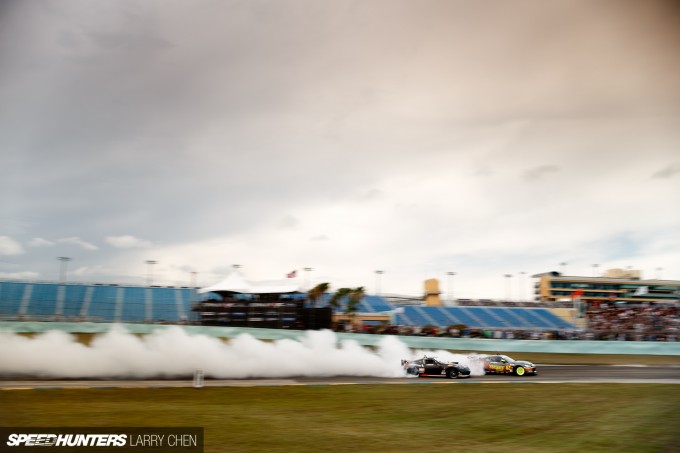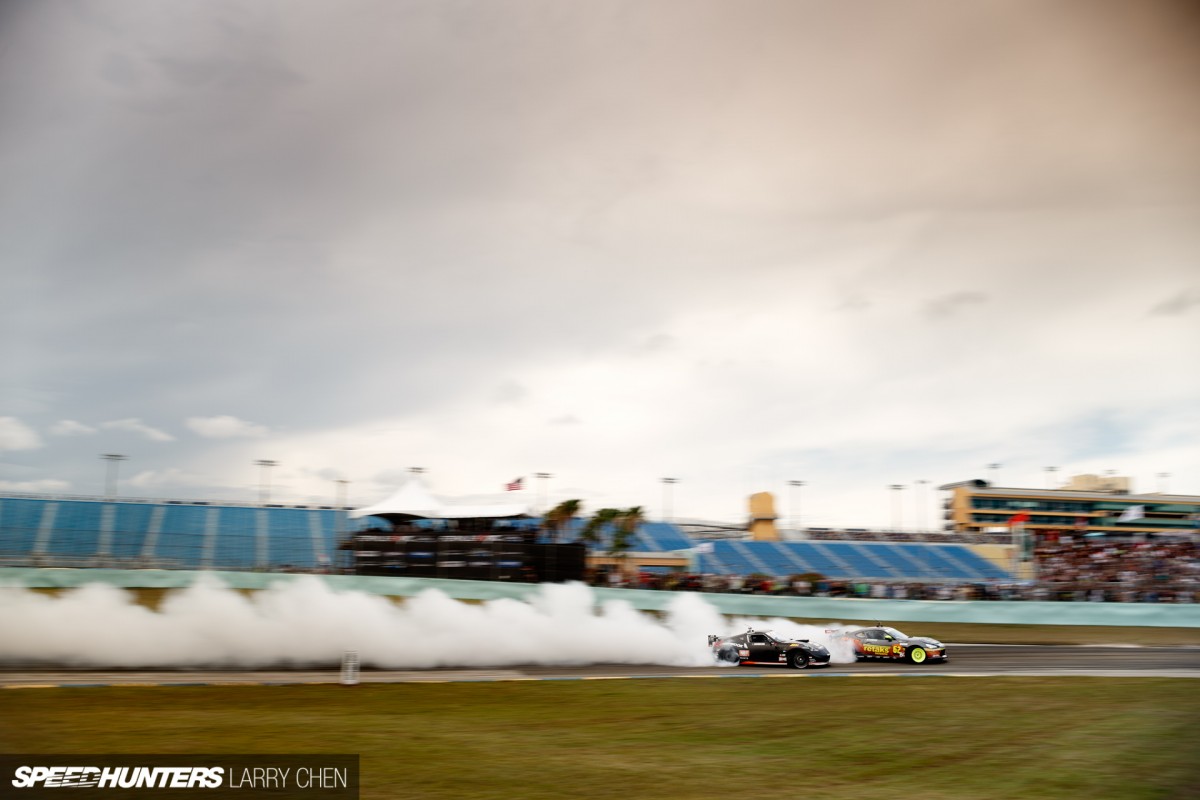 I keep hearing comments saying that Round 3 in Miami was one of the best and most exciting events to watch in a while.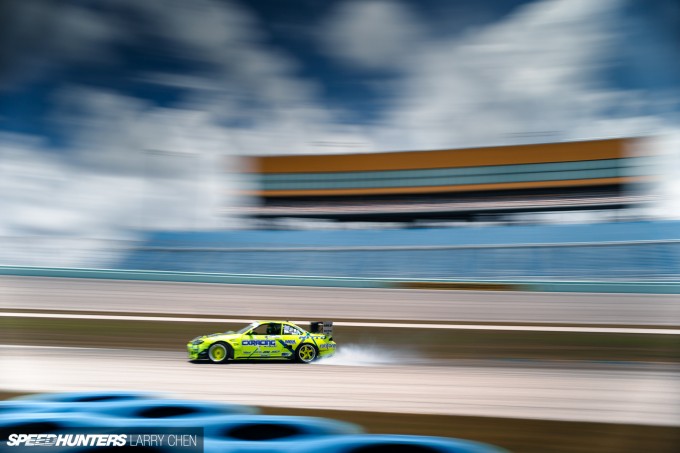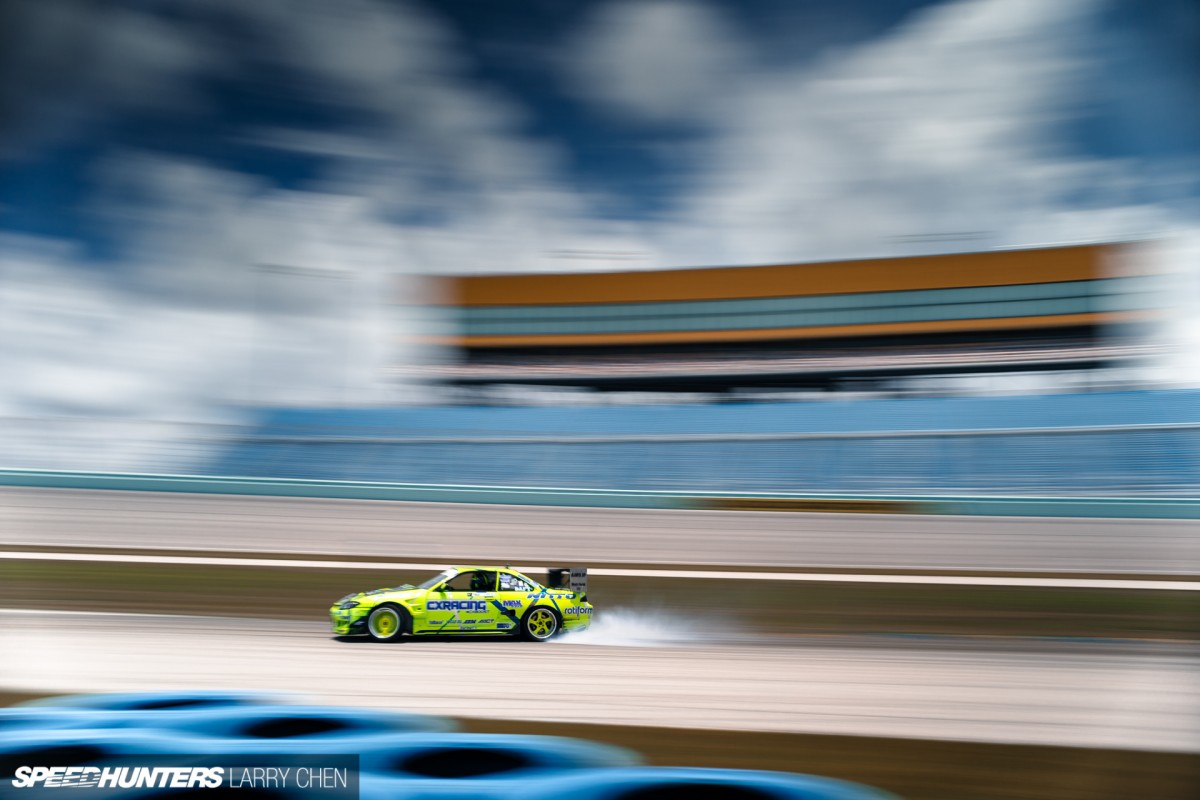 This was partially due to the excellent driving from Matt Field in his retina-burning S14.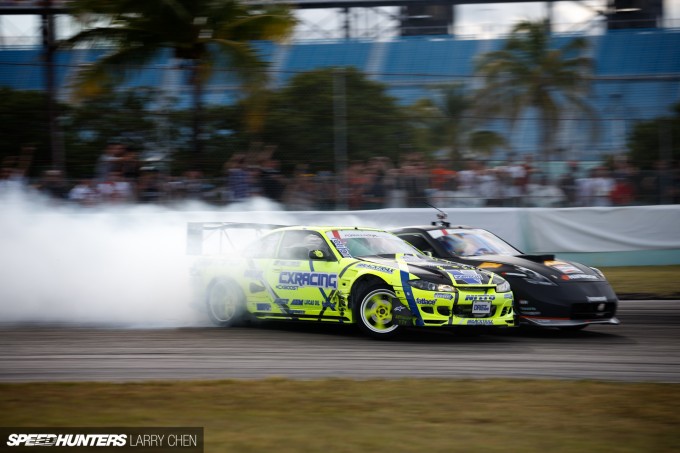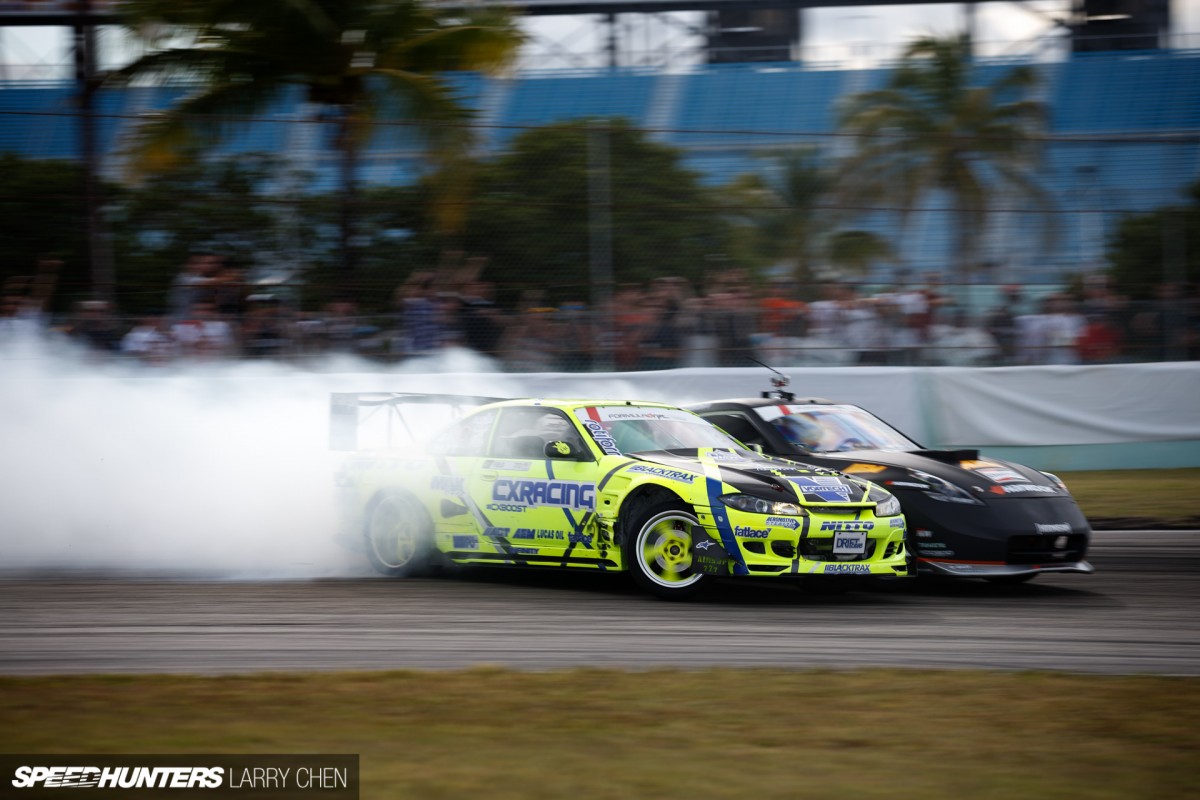 He put on an excellent show and sucked up to Chris Forsberg's door with much style and grace.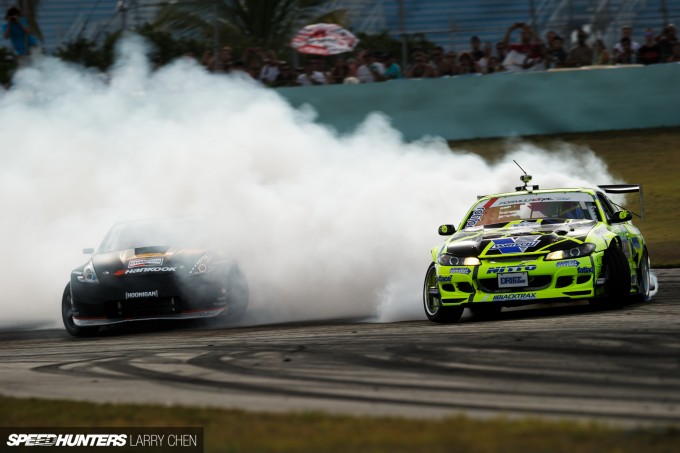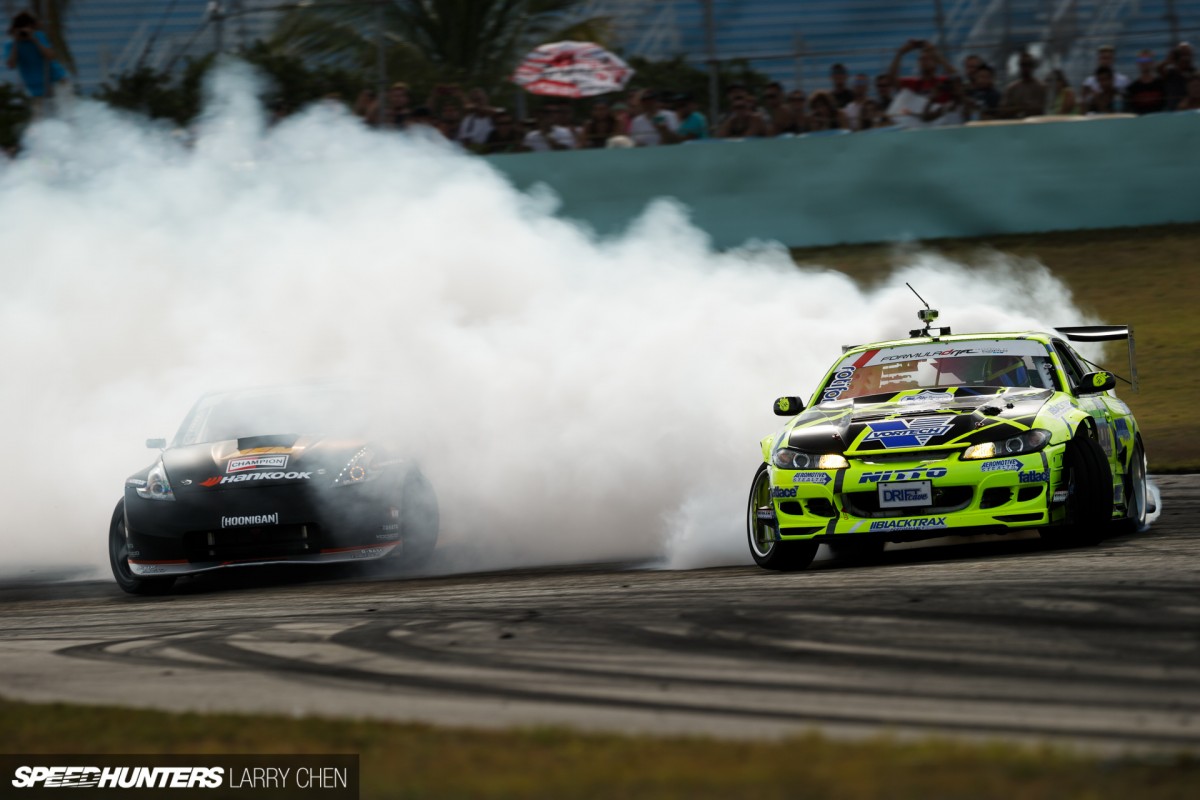 This was the most controversial battle of the event, as the fans were very disappointed that it had to go One More Time.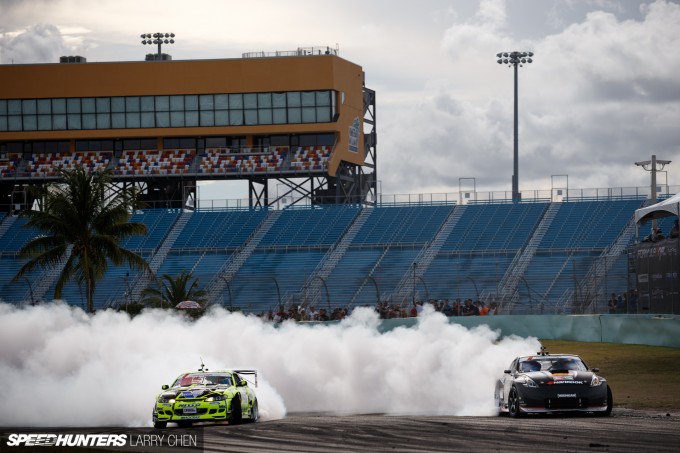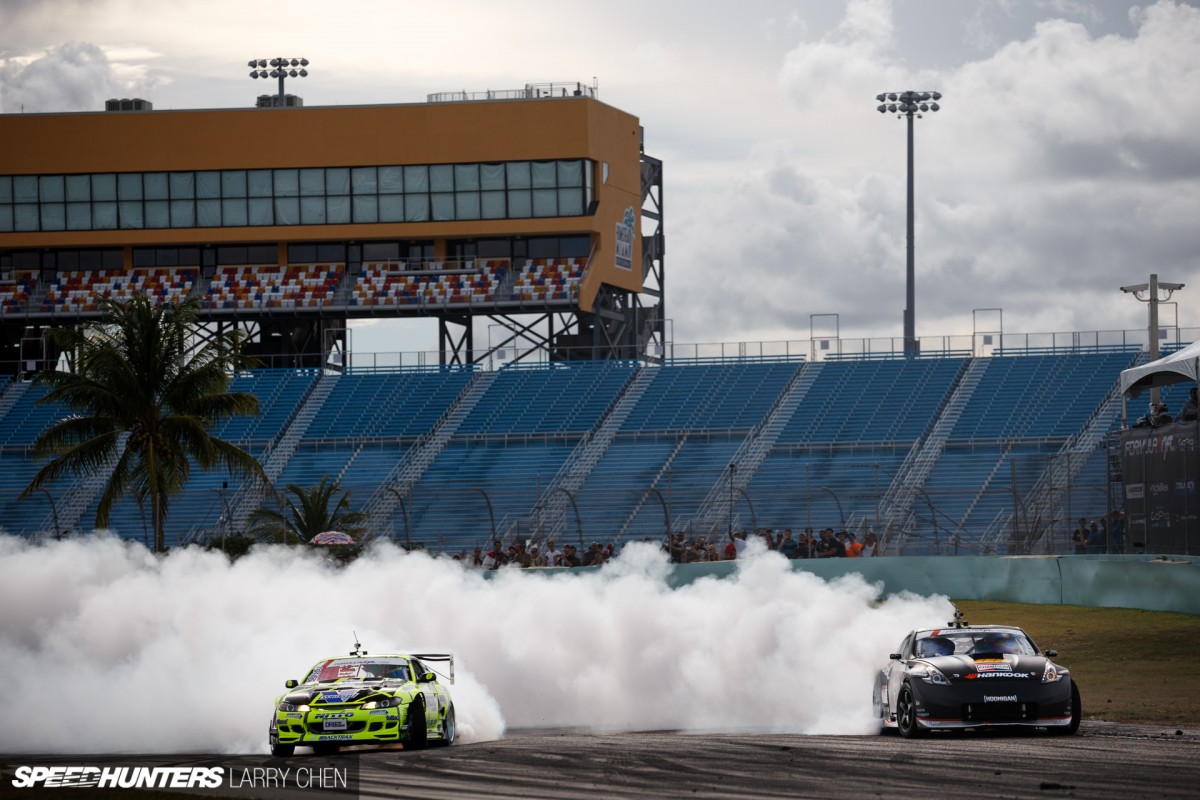 Chris Forsberg knew he had the advantage because one judge voted in his favor, while the other two wanted to see them run again.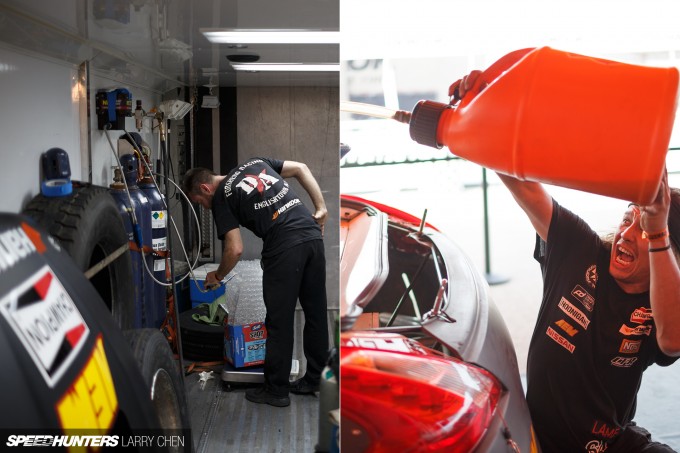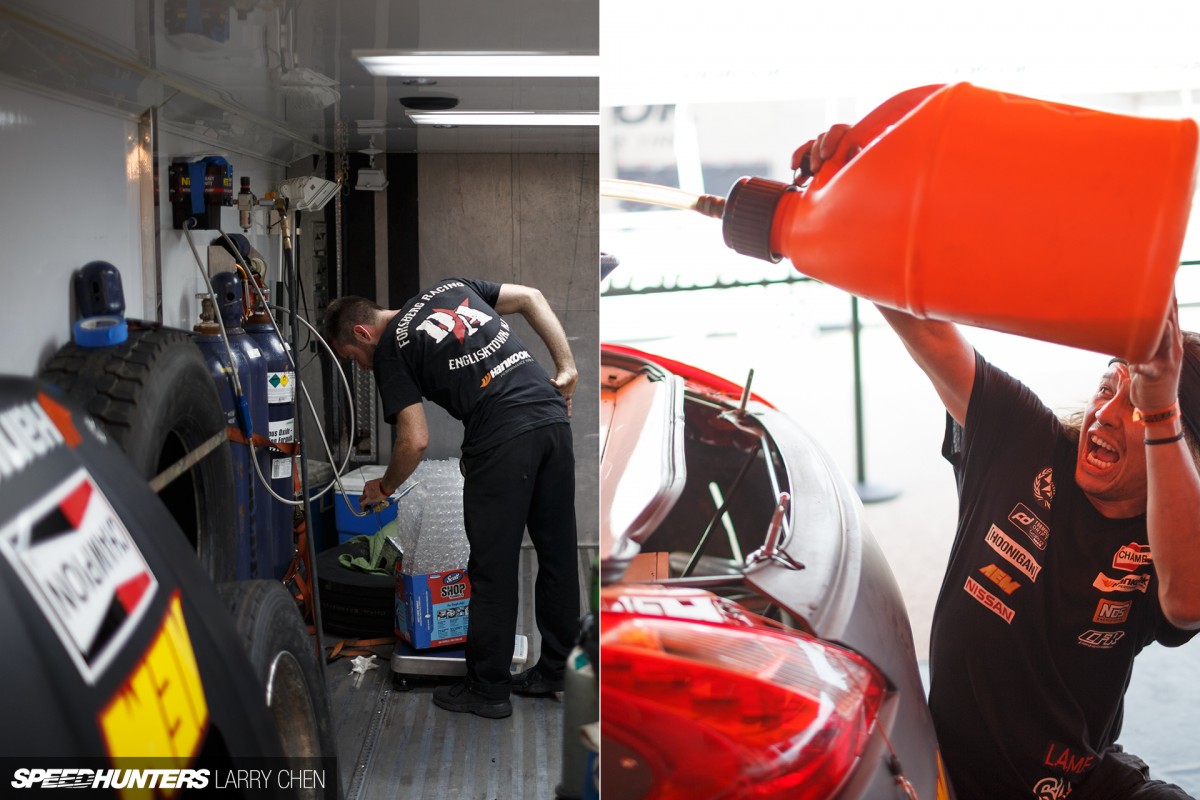 Forsberg now has a 10-point lead over the rest of the field, but he and his team are going to have to work extra hard to keep Vaughn Gittin Jr. at bay.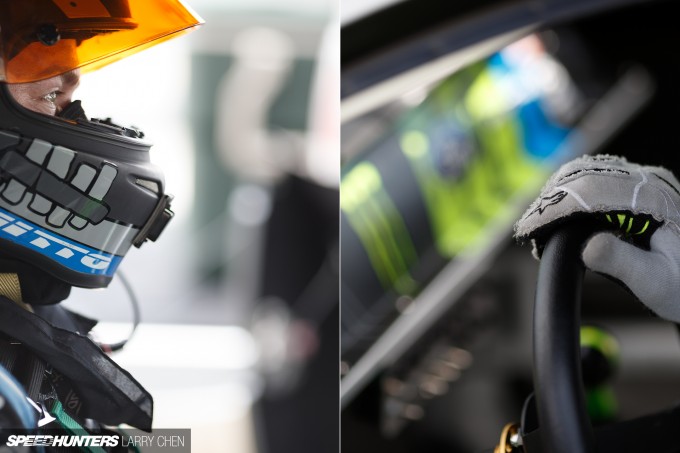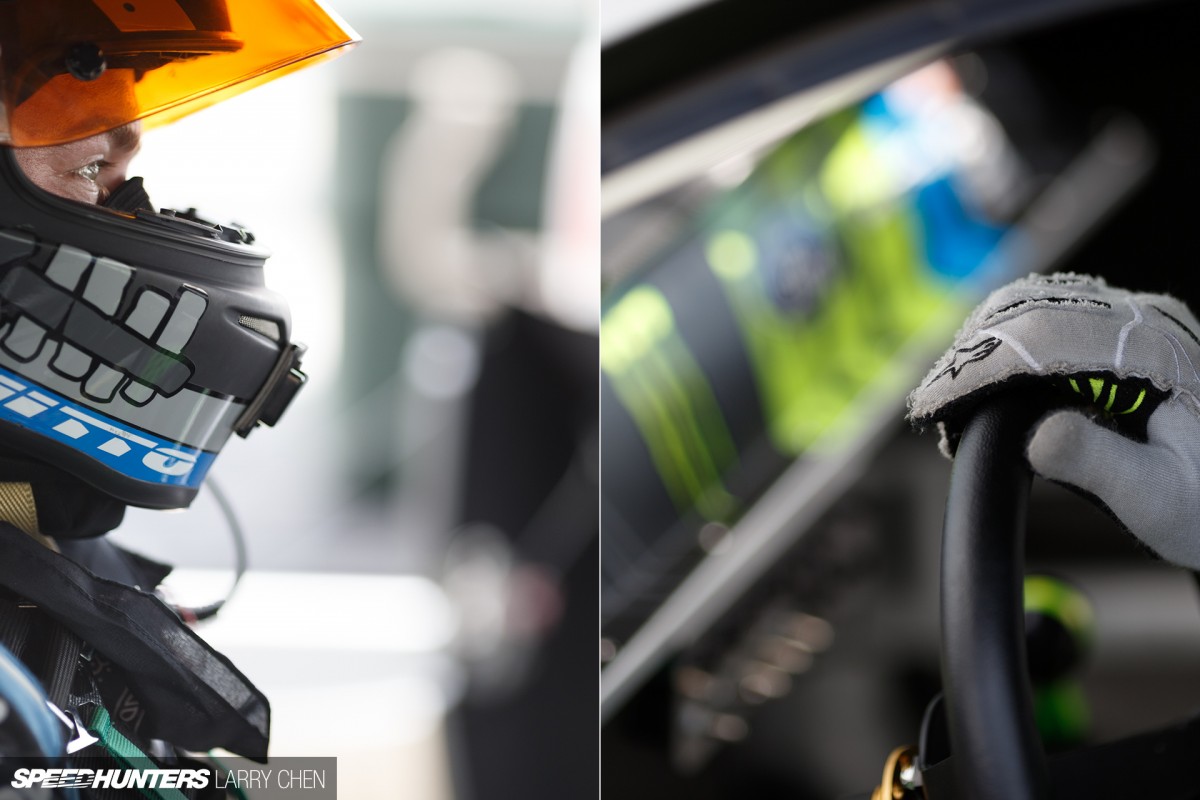 With back-to-back wins it seems Vaughn has a lot to prove.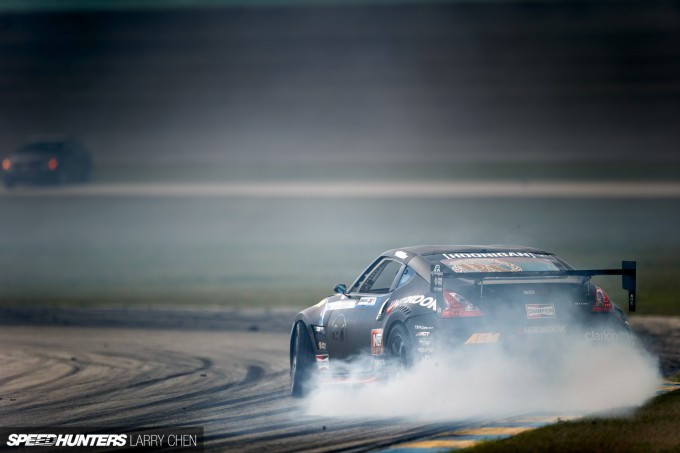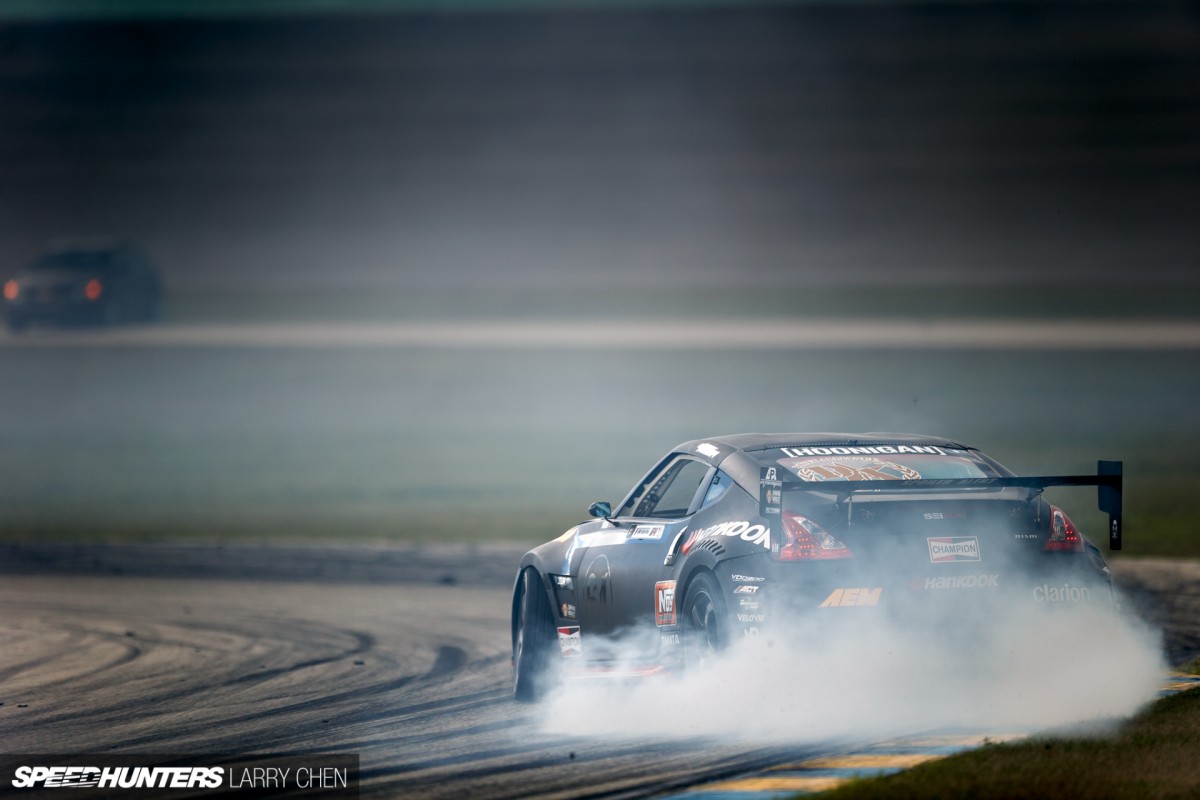 With three Formula Drift events out of seven in the bag, I think we are getting a preview of what the rest of the season has in store for us. Each event is worth the world to the drivers, because this year the points system is weighed more towards rewarding the winners.
With that in mind, who do you guys think will take the title this year? To be honest, I don't even know where to start. Between Kenny Moen getting on the podium two out of three events, and a Speedhunters driver always knocking on Vaughn Gittin's door, it's going to be a good one.
Larry Chen
Instagram: larry_chen_foto
larry@speedhunters.com