The Beck Kustoms Kuda
Hey fellow Speedhunters! My name is Aaron Beck and I've been invited to share some of the progress on my project car – a 1973 Plymouth Barracuda. My 'Kuda' may be familiar to long time readers as it was featured in a Readers' Cars themed month about four years ago, but since then a lot has happened. So let me fill you in…
I'm about three and a half years into a full rebuild of the car. It's the first time I've done anything like this and it's been quite a steep learning curve and a very rewarding and enjoyable experience. As far as plans go, I wanted to build a car that was as fun to drive as possible; something that handled well, went hard, and looked rad, while still being true to its old muscle car roots. I also wanted to do all the work myself and learn as much as possible as I have big plans for more involved builds in the future – including crazy scratch-built race cars (I'm a concept designer, it's what I do). I always had big plans for this car but at the start it was just going to be chucking a big block in it for summer. Things, of course, got out of hand.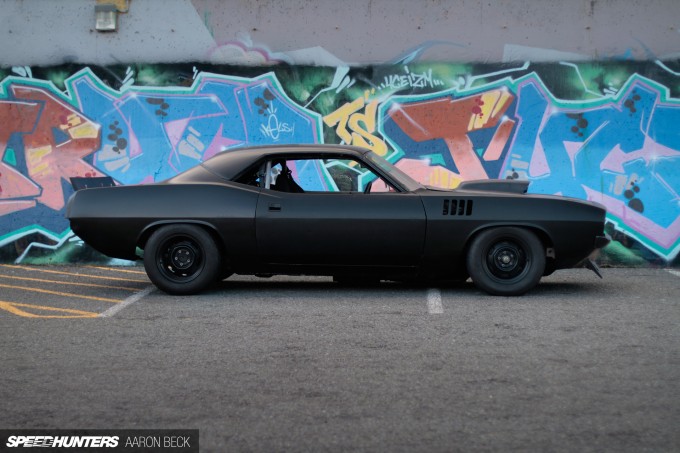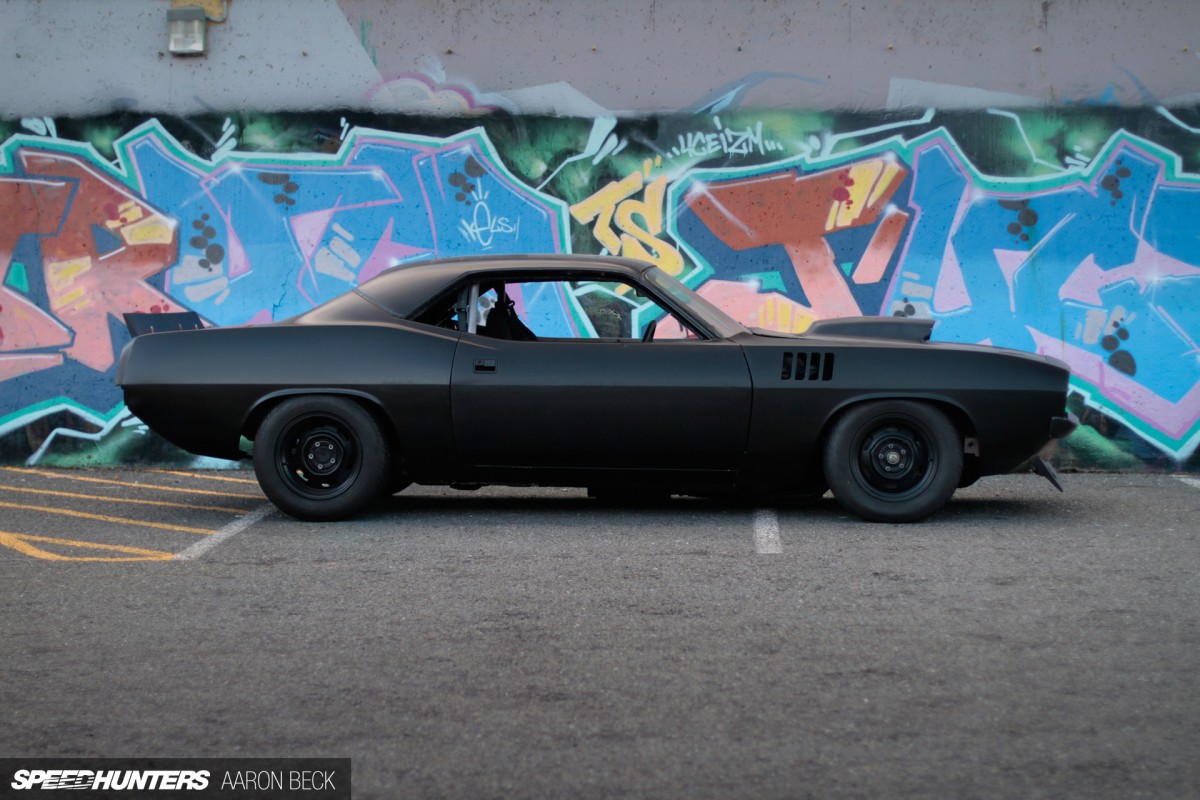 Late last year I was feeling gutted that the car wouldn't be ready for summer for the fourth time, so I decided I'd put it together as the bare minimum for a shakedown run. It was a way to test things – and then modify them if needed – before the body and paint was finished, and also to get some extra inspiration for the remainder of the build.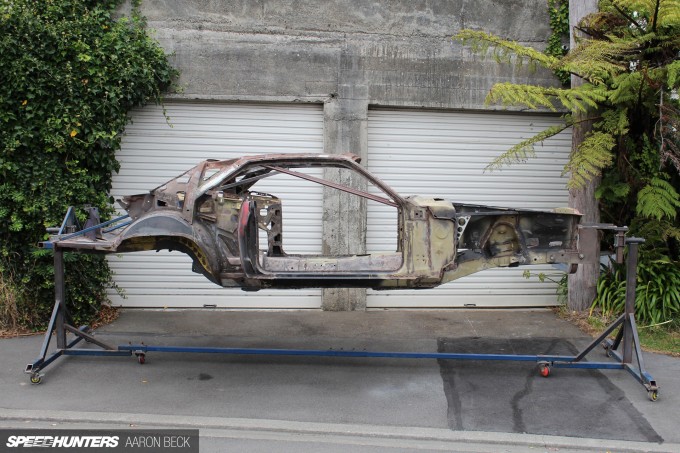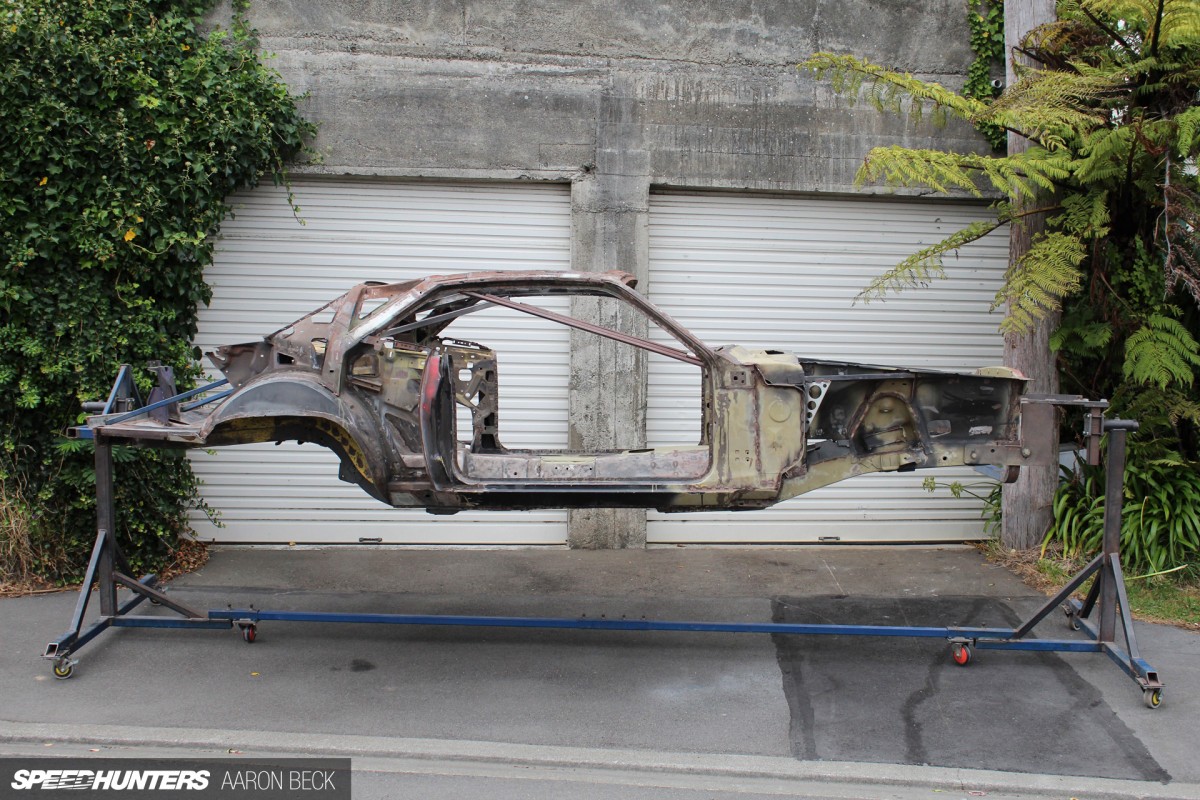 This is the car about a year ago. I cut all the rough old sheet metal off it, as, like the rest of the car, it was full of rust, crappy old repairs, and a thick layer of body filler. I stitch welded the seams over the entire shell, added lots of custom bracing and modifications, and repaired all the rust.
I was fortunate enough to do a lot of this stuff at my workplace, Weta Workshop, in Wellington, New Zealand, where I work as a concept designer for films like Elysium and Avatar. The head of Weta Workshop, Richard Taylor, is literally the best boss in the world and is incredibly supportive of employees who have crazy passions for creative projects. Weta is a super inspiring place to work, and seeing the fantastic things being built there daily was a big inspiration for me. I'm always amazed that a dream job enabled me to create a dream car!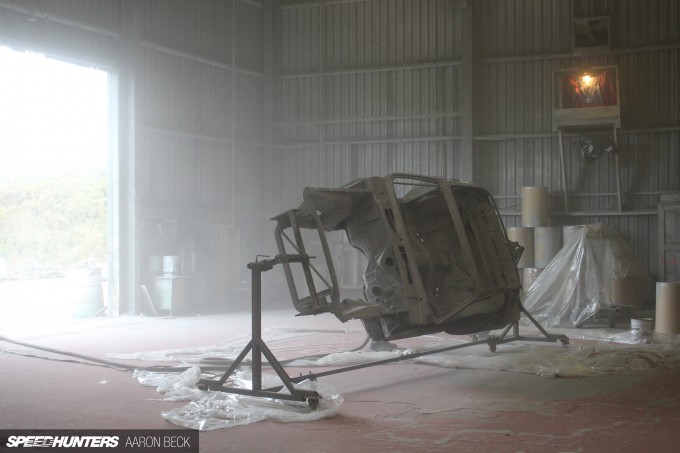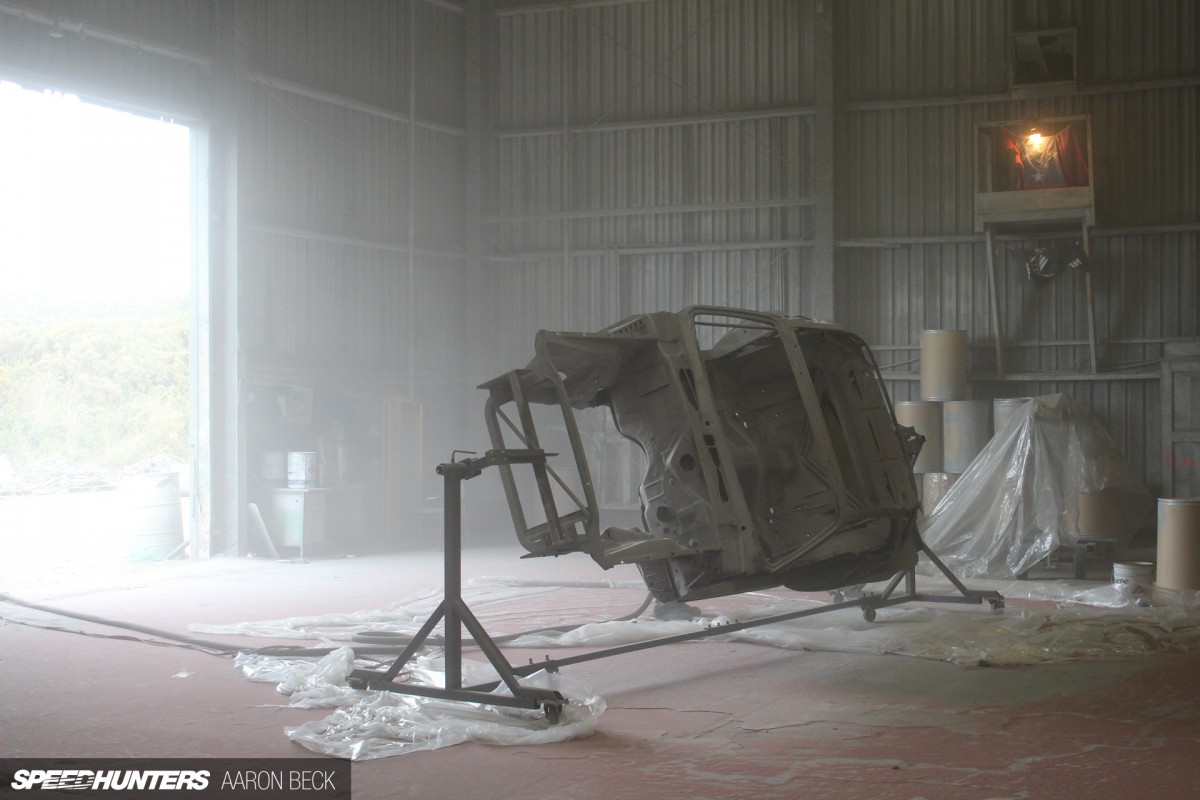 Once I'd finished working on the shell and fabricating all the custom parts like the rollbar and exhaust (more on those later), it was off to the sandblasters.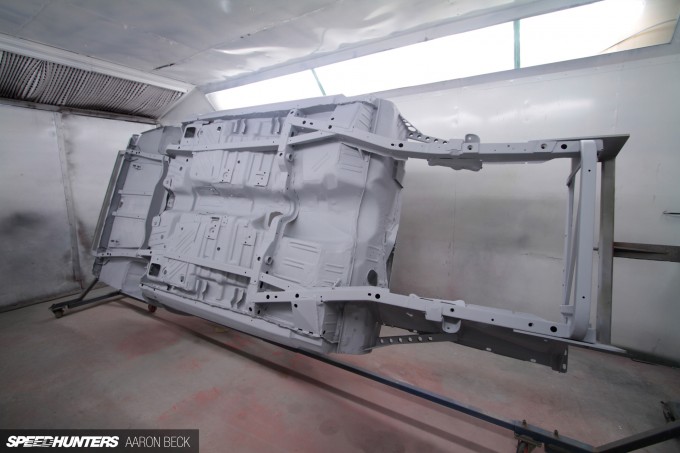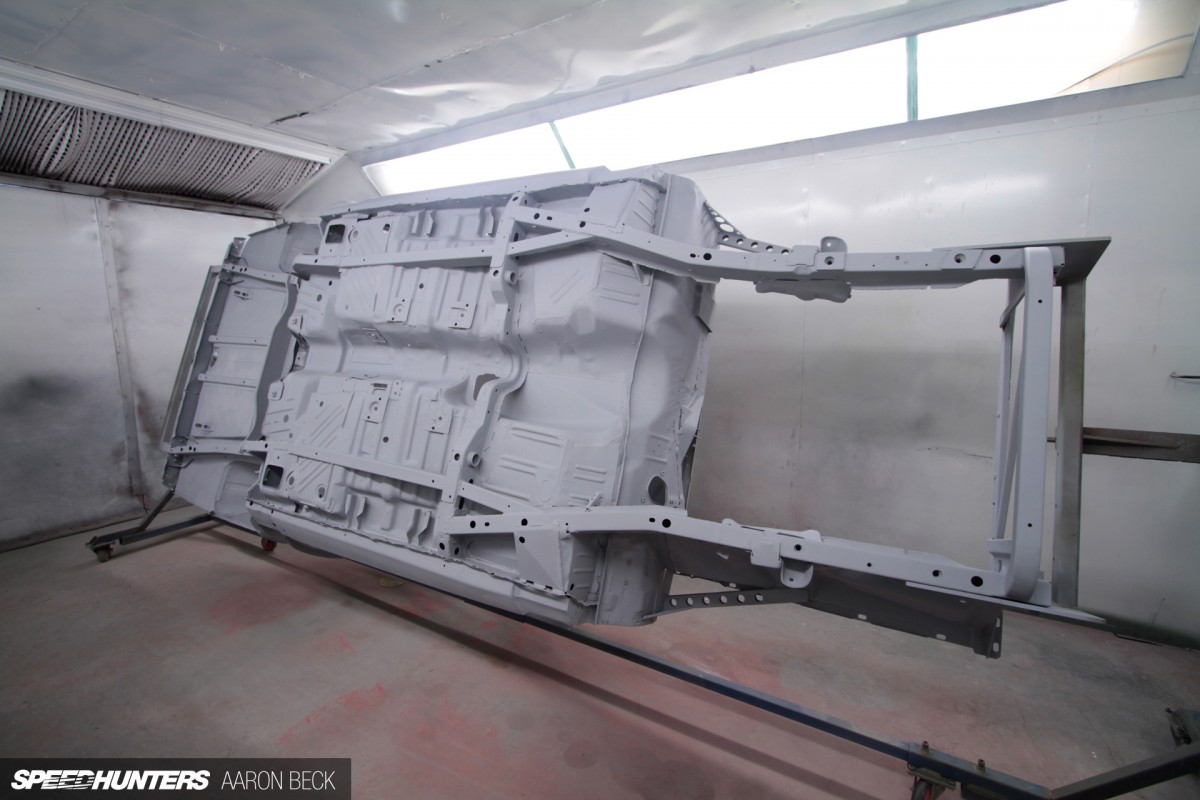 Once blasted clean I took the shell to a local spray booth that I rented for a couple days and painted and seam-sealed the body. The rotisserie frame I fabricated came in super handy once again. I can't recommend one highly enough.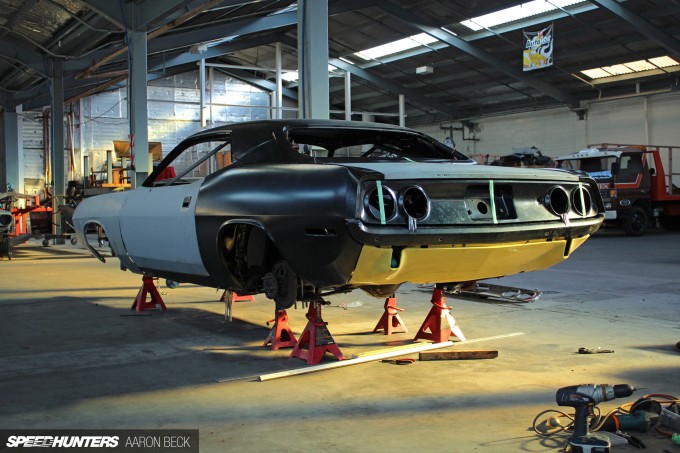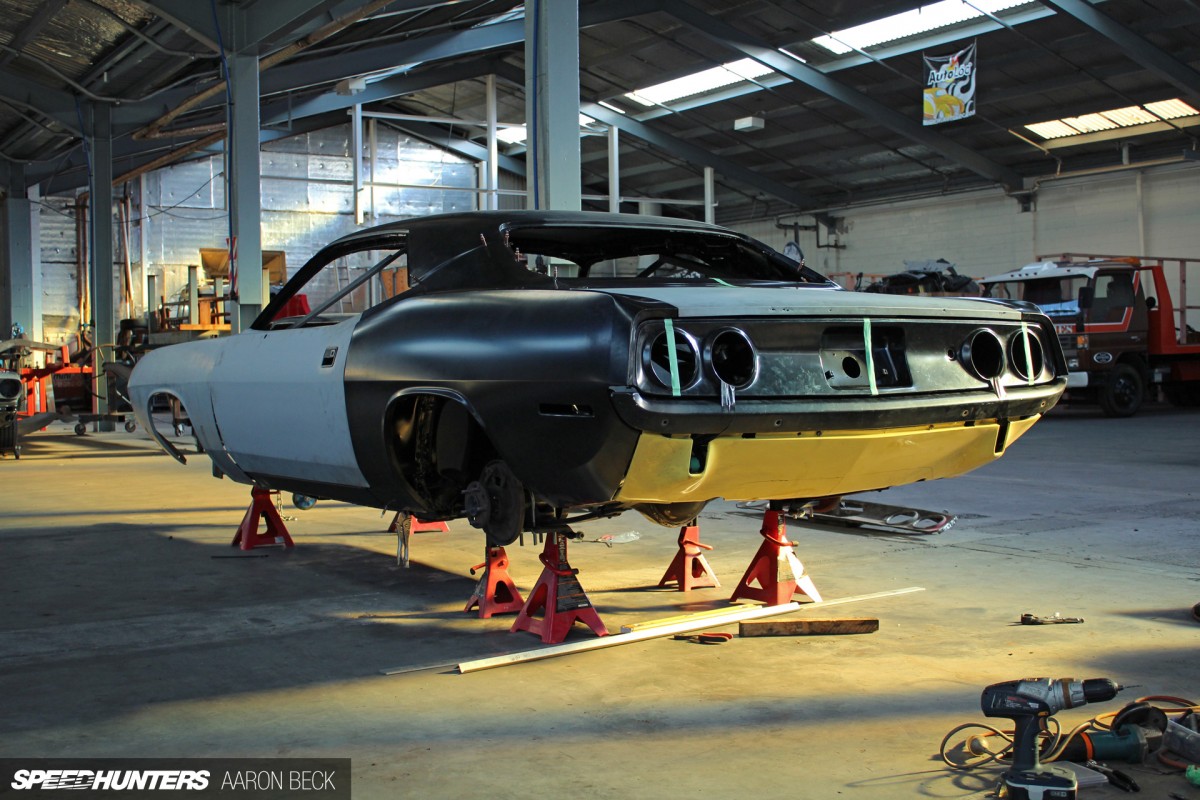 I've been fortunate enough to have received some awesome support from a few local businesses, including being allowed to clutter a corner of a local hot rod shop while I muddled my way through replacing all the sheet metal on the body.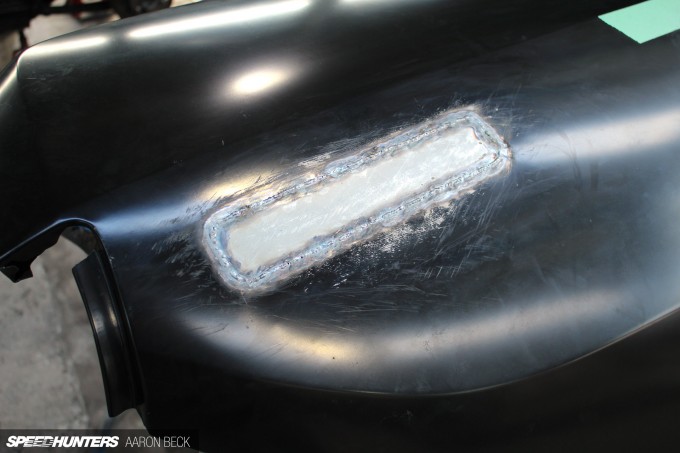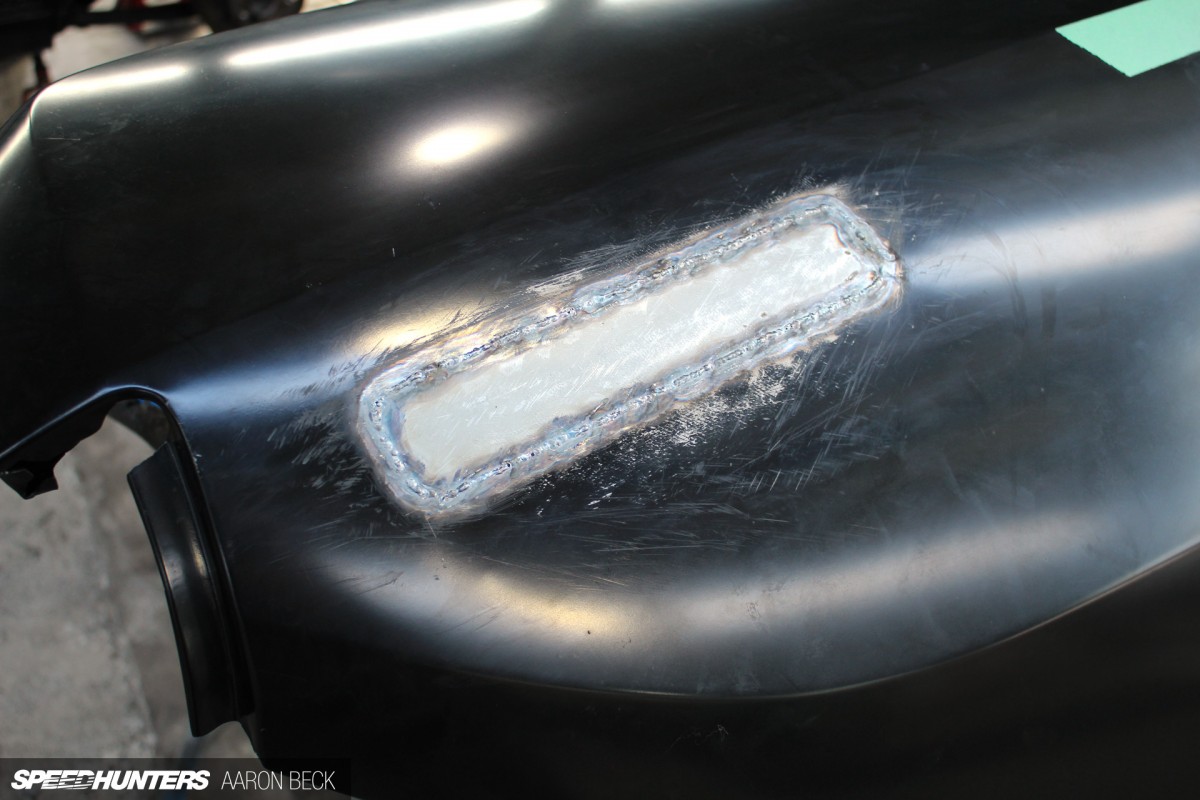 The body shop had master panel beaters and fabricators that I could pick the brains of. This included a crash course in proper 'hammer and file' body finishing and I practiced the taught technique by shaving the side marker light openings of the new quarter panels. Once I had TIG welded a patch of steel into the hole left by cutting out the stamped section, Rex, the master panel beater, showed me how to hammer and file the area into a smooth and seamless panel that needs only a coat of high-build primer to finish. No body filler needed.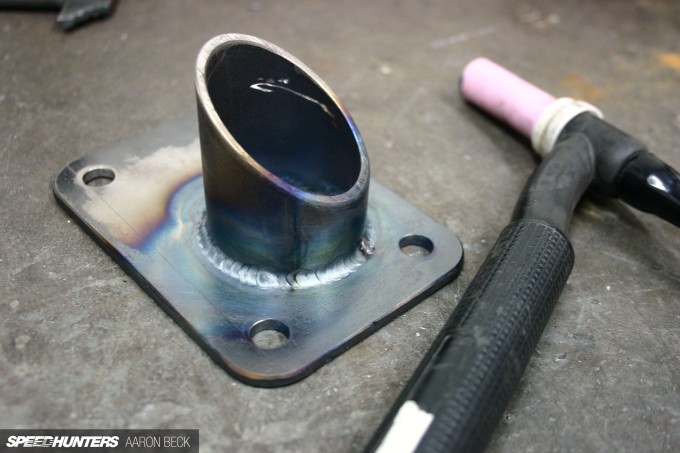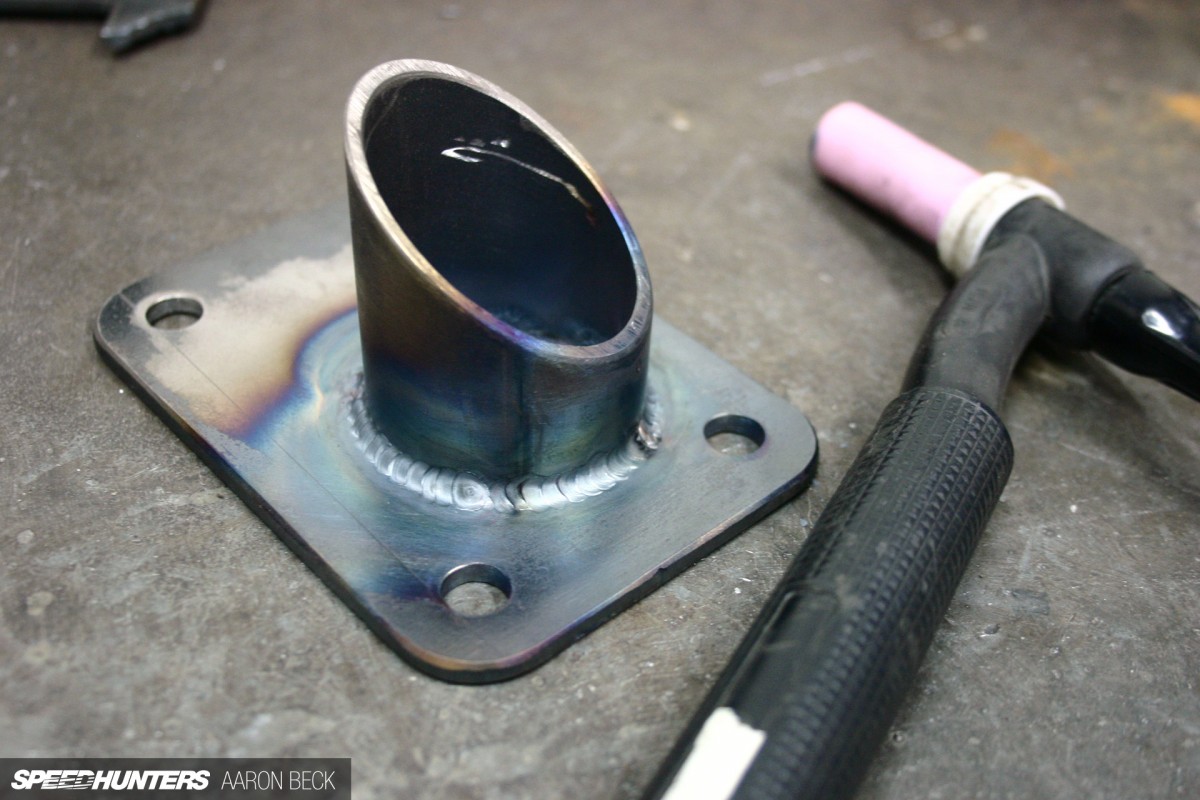 Before all that bodywork though, I designed and fabricated a bolt-in four-point half cage, which was my first go at TIG welding. I practiced after hours on the TIG welder at Weta until I was confident in my skills.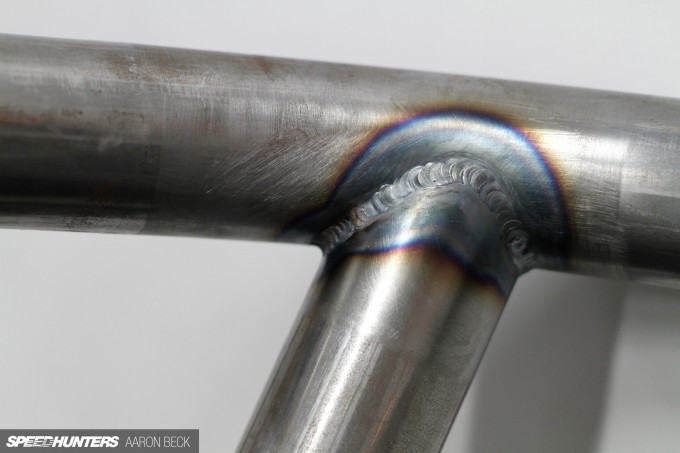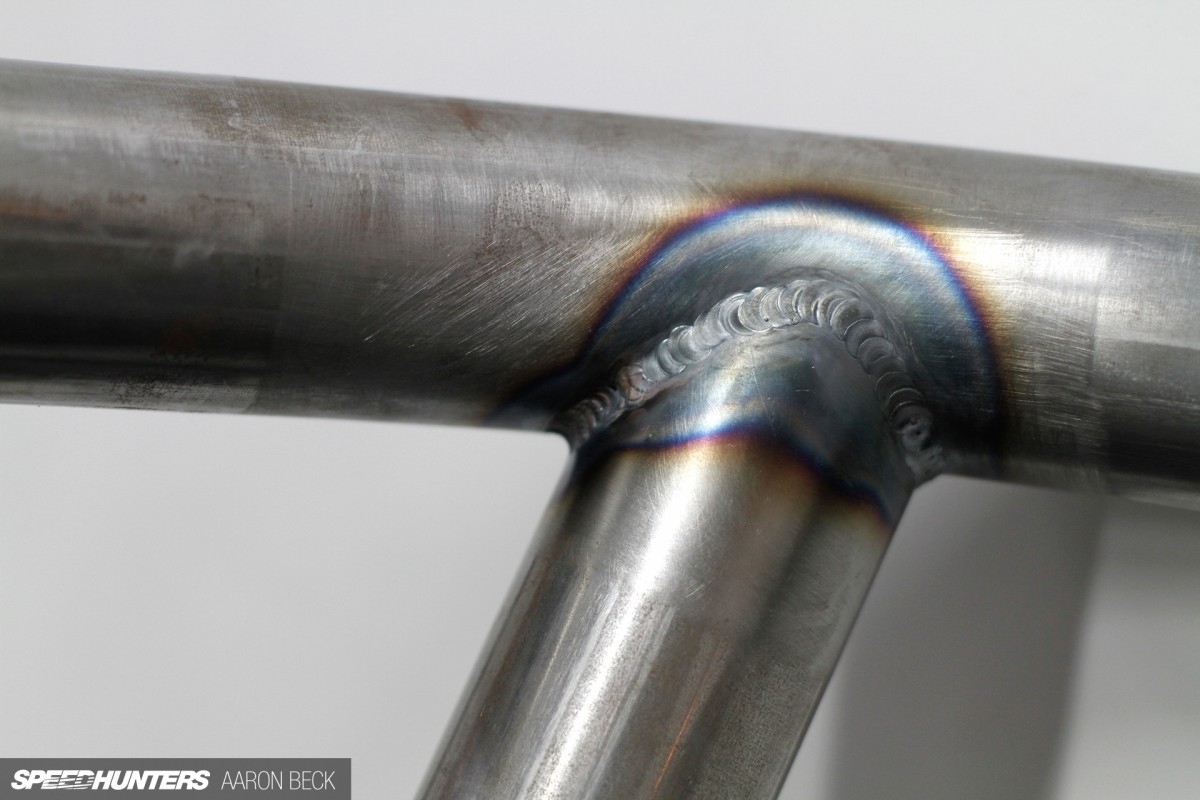 I'm pretty happy with the result considering it's my first time doing this sort of thing. TIG welding is such an awesome process and so much more relaxing and meditative than MIG welding, which I love too. There's nothing like stitch welding all the seams of an old car to improve your skills at it either!
440 Cubic Inches Of Awesome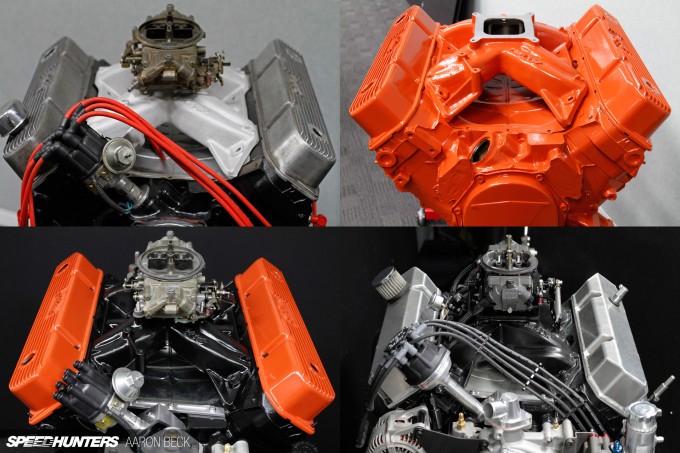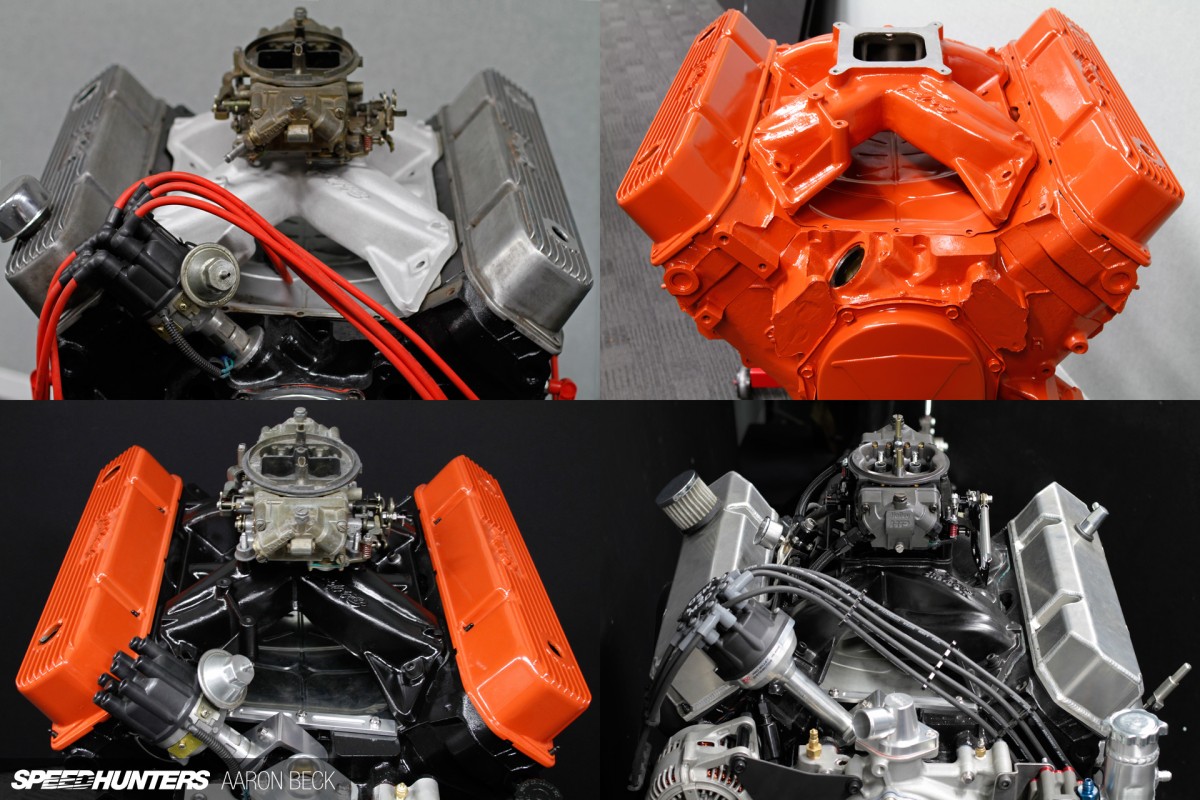 While all the bodywork and custom fabrication was going on I was also working on the motor. It's a 440ci Mopar big block with forged internals and ported heads. I stored the motor next to my desk at Weta, and the above image shows why a designer shouldn't have a motor stored next to their desk.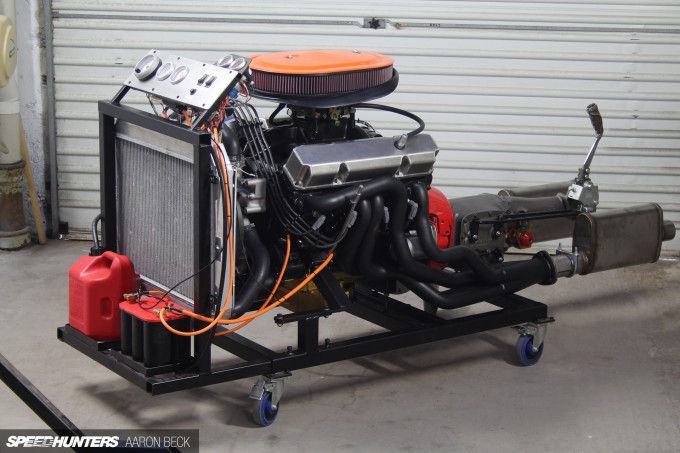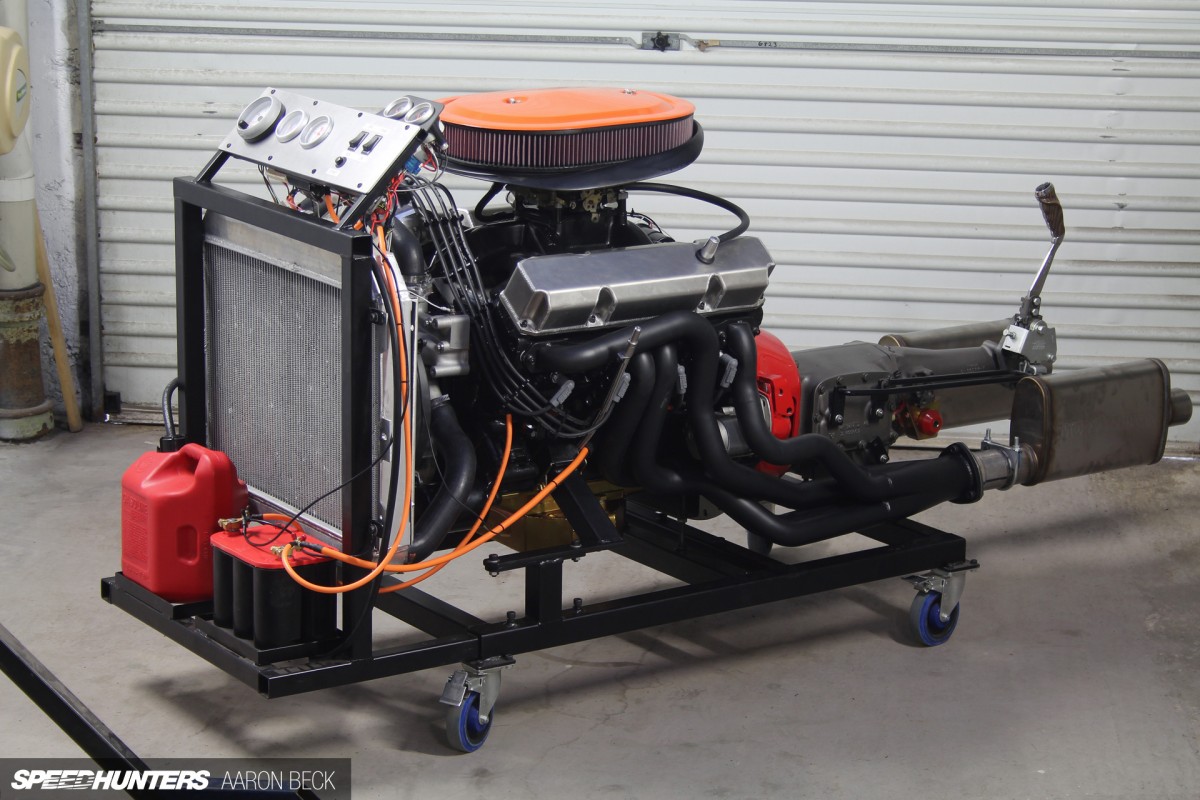 I built this trolley frame to carry the whole motor and gearbox assembly and it turned out to be one of the handiest things I've done on the project. The removable front section carries the radiator, fuel tank, battery, and electronics needed to run the motor on the trolley. Perfect for breaking in the cam, and setting off car alarms down the road.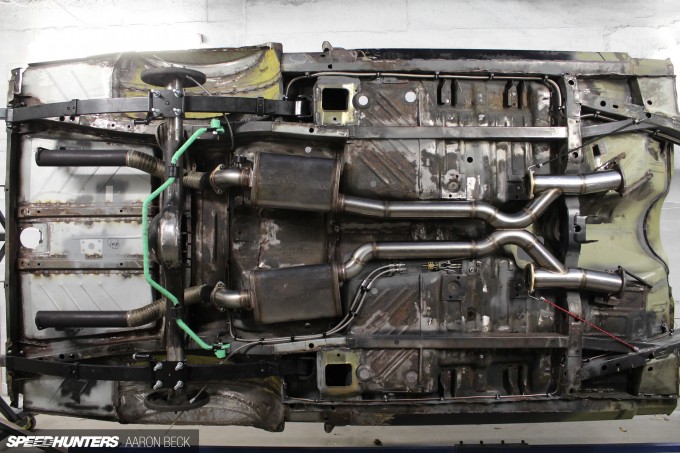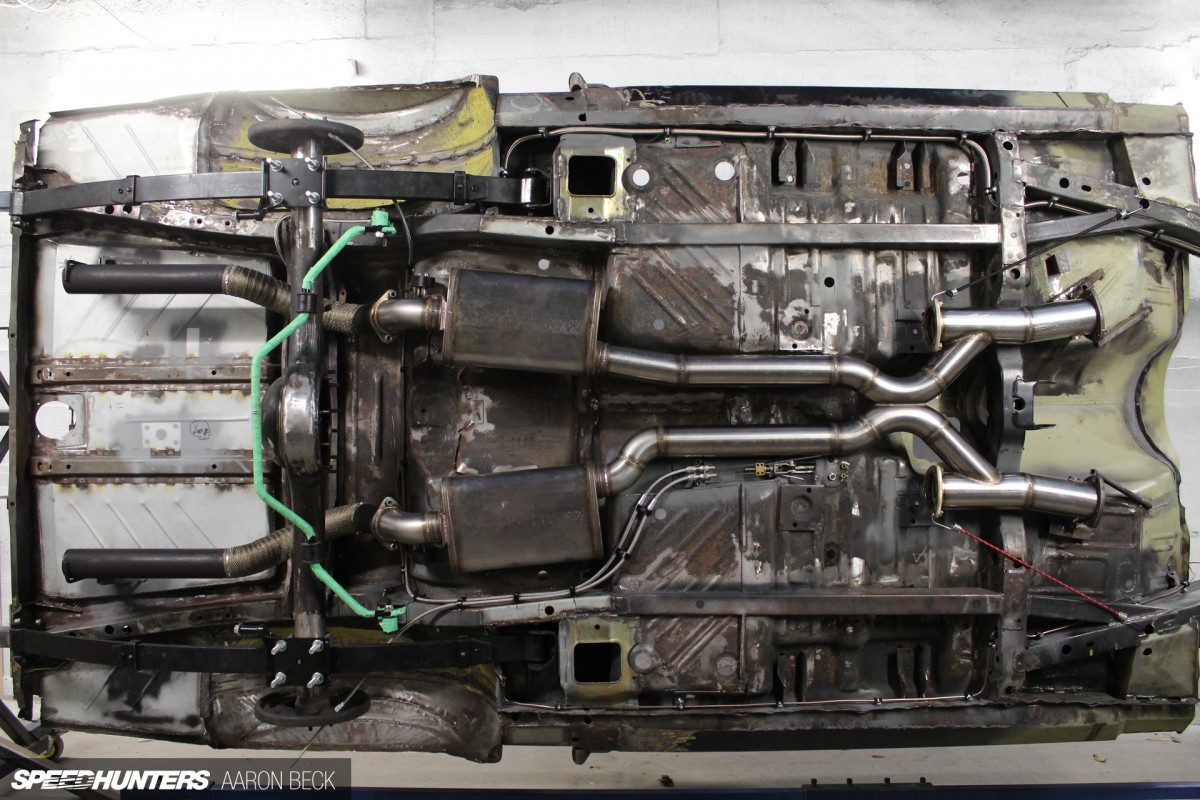 Here's the underside of the car just prior to getting sand blasted. I fabricated the exhaust out of 3-inch 304 stainless tube with mandrel bends and 3.5-inch dump pipes. I think the exhaust project was probably the most enjoyable single element to build, and going from a Photoshop design and a pile of pipe and bends, to a fully TIG-welded and millimetre-perfect exhaust was a lot of fun. It did take me a month, though! You can also see lots of other custom stuff in this photo, like the handbrake, fuel, and brake lines, as well as some of the bracing like the subframe connectors.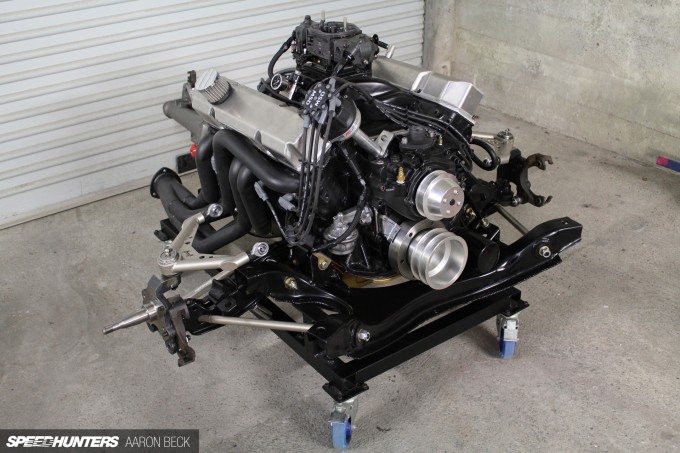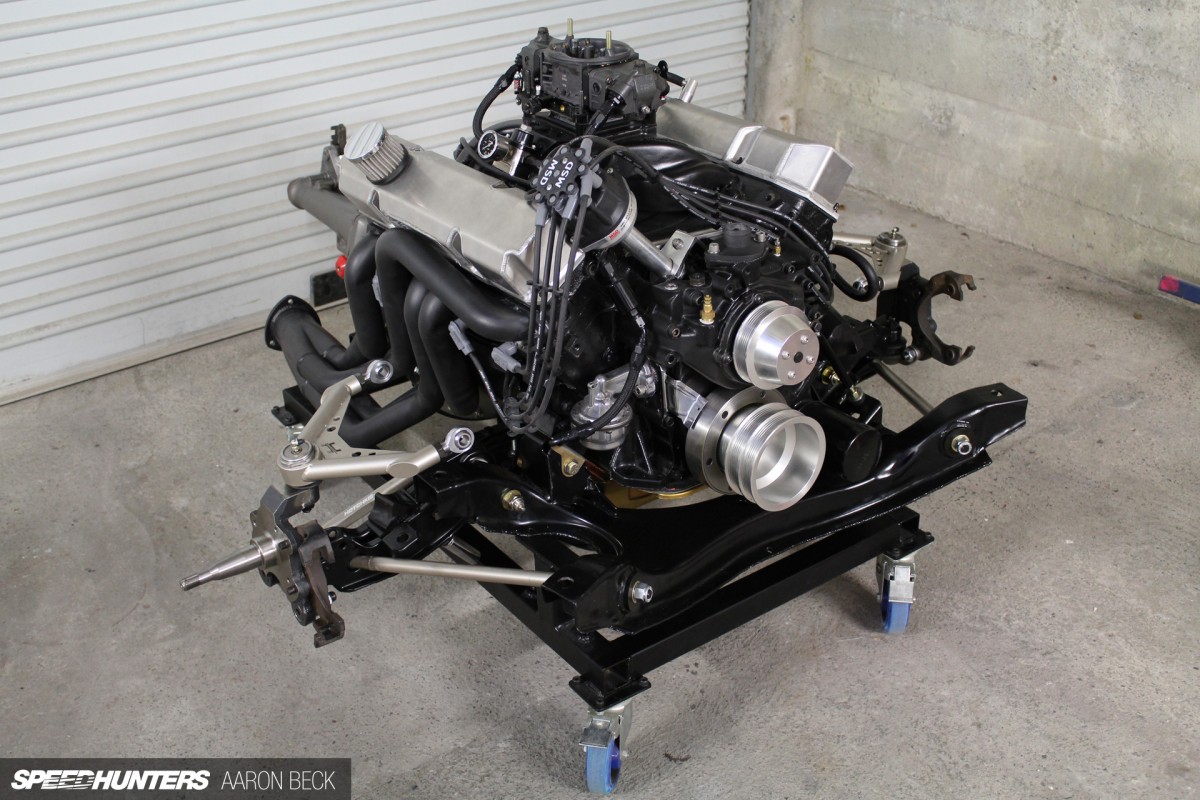 Once the shell was painted and the new sheet metal welded on, I started prepping the car for its shakedown. This photo shows the final drivetrain, front cross member, and suspension ready to be installed in the car.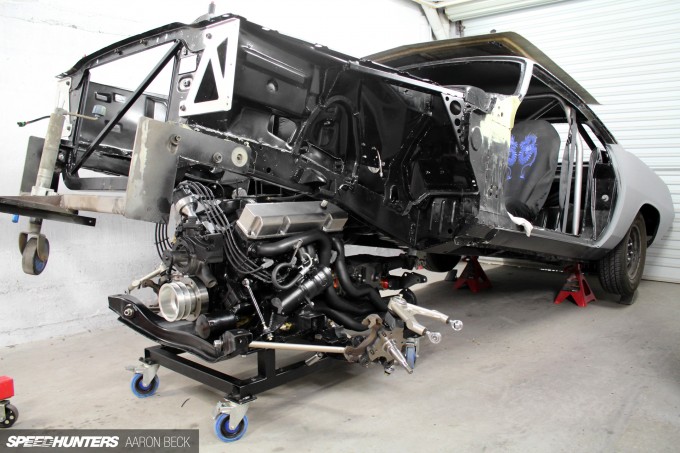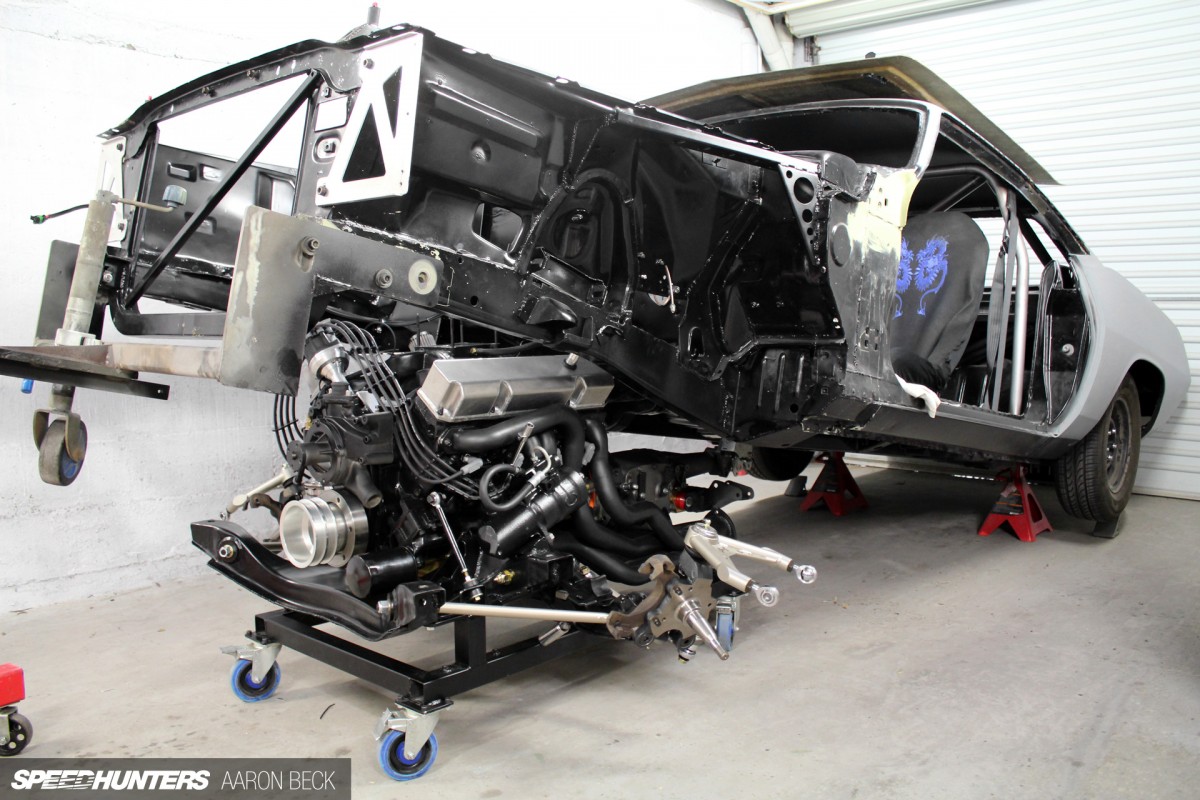 It was a piece of cake to install everything like this. I just had to be careful as there was only about 5mm (0.2″) clearance on either side.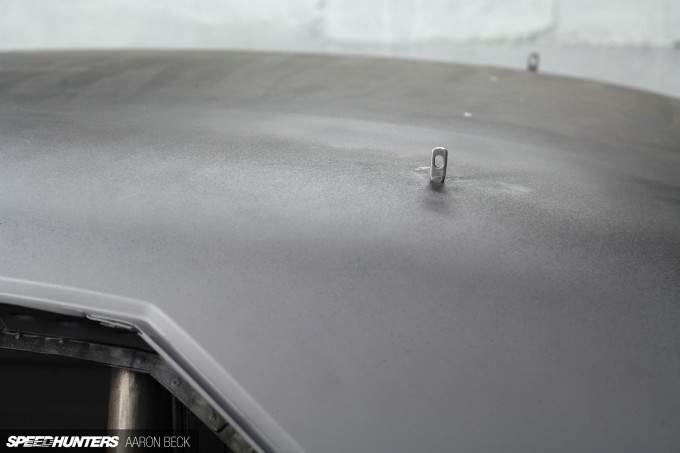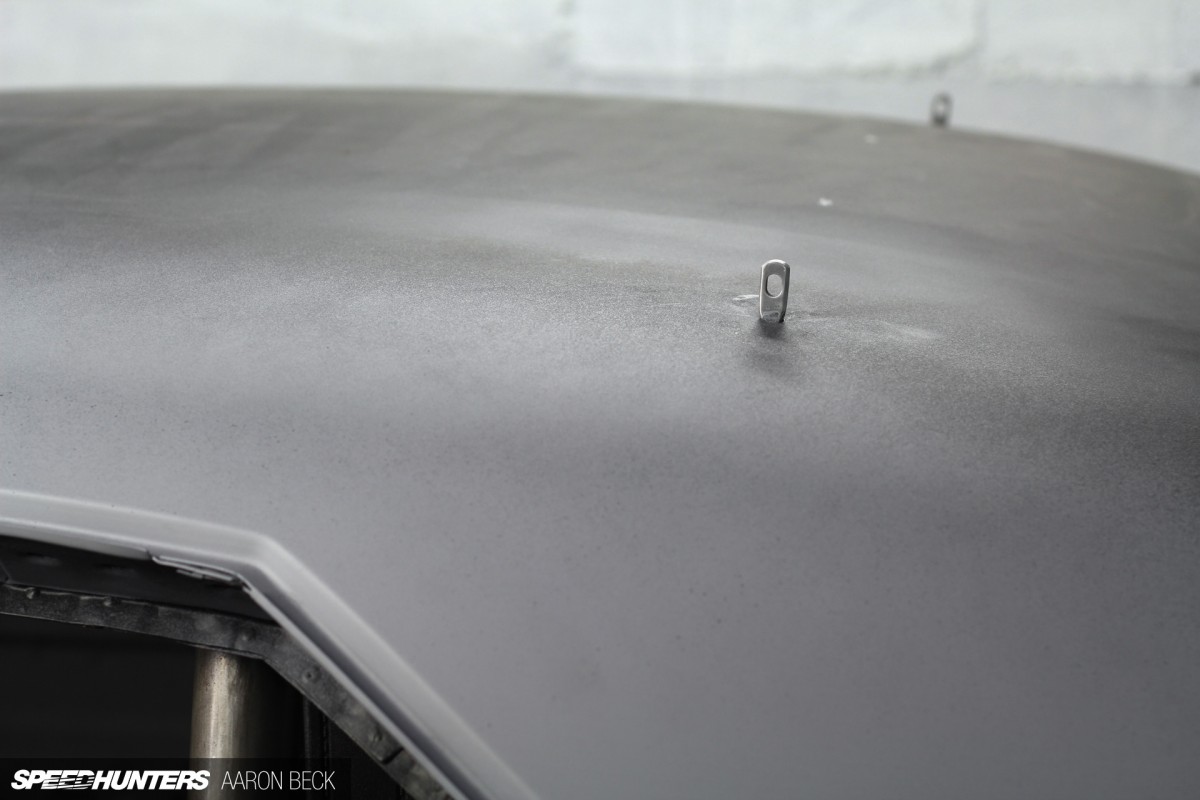 Some of the other custom touches on the car include these AeroCatch pins I installed in the roof. Why do that you ask? Wellington is a notoriously windy city and the hood of the car is a lightweight lift-off fibreglass unit that would blow away without somewhere to put it when removed. So I added these to have a secure place to put the hood when I need to access the engine bay. I'll be adding a hook to the front that will allow you to drive around with the hood firmly fixed to the roof. Perfect for New Zealand's annual Beach Hop!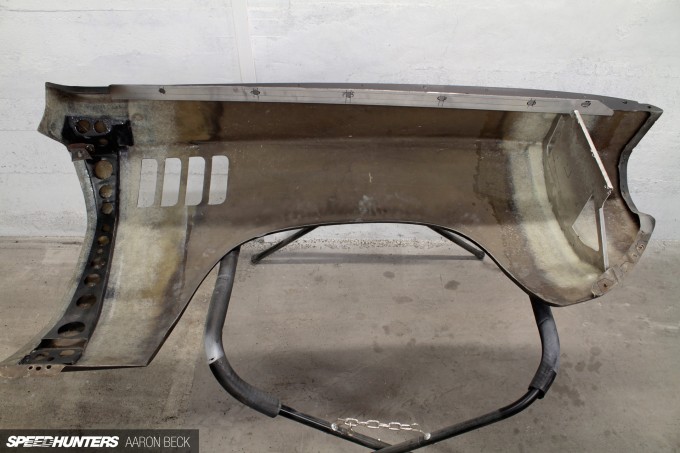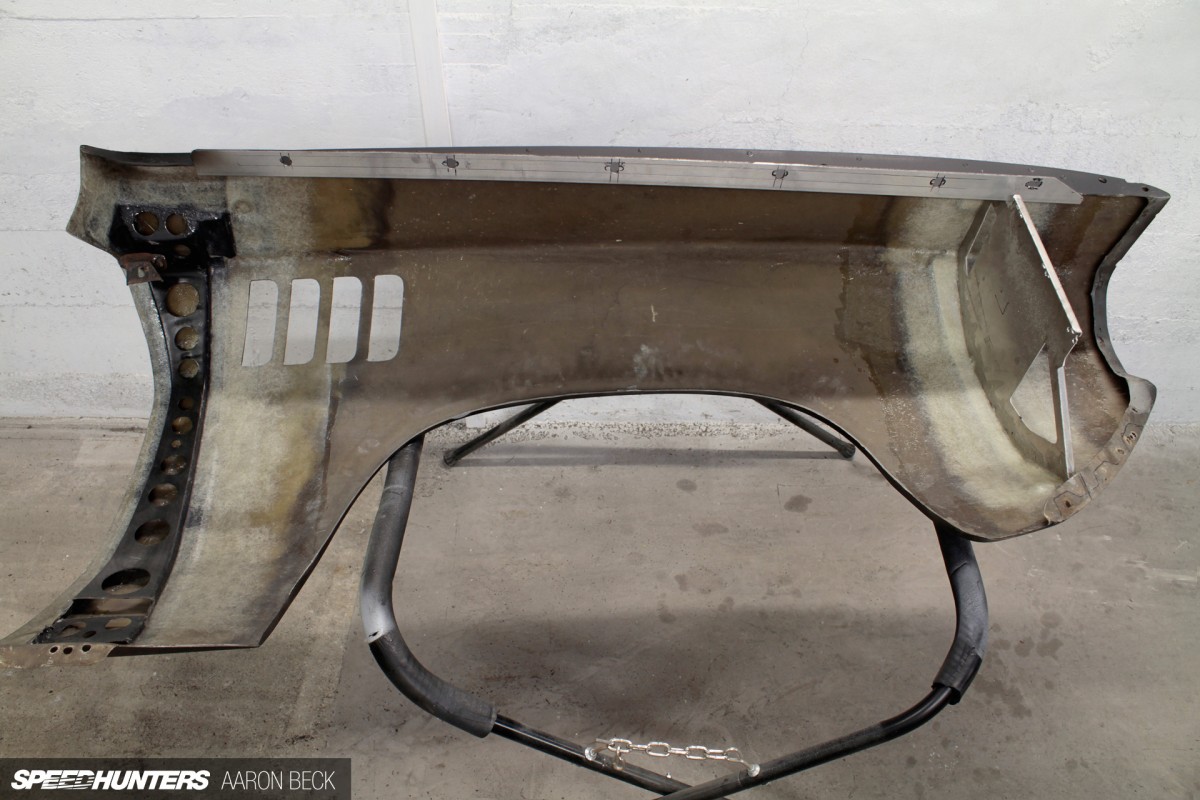 Along with the fibreglass hood I have these 'race weight' fibreglass fenders. Like the hood they were pretty old and beat up, but never run on a car. I fabricated some alloy brackets and reused the rear brace from my old junk fenders to fix them on. They save a fair bit of weight off the front, and I need all the help I can get with that big block sitting up there! To shave more weight I fabricated some alloy bumper brackets and made a fibreglass bumper.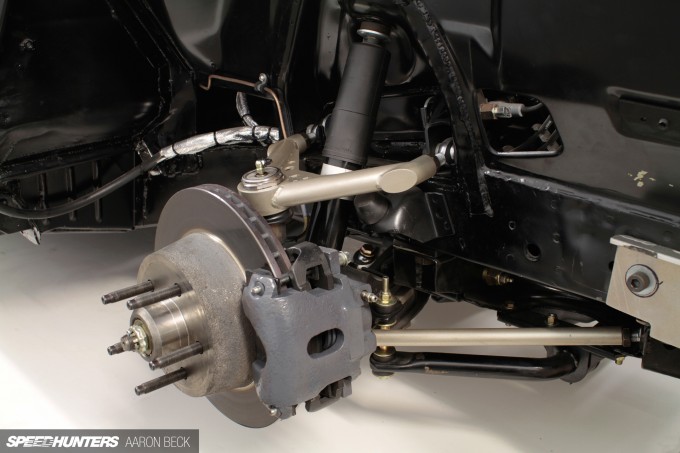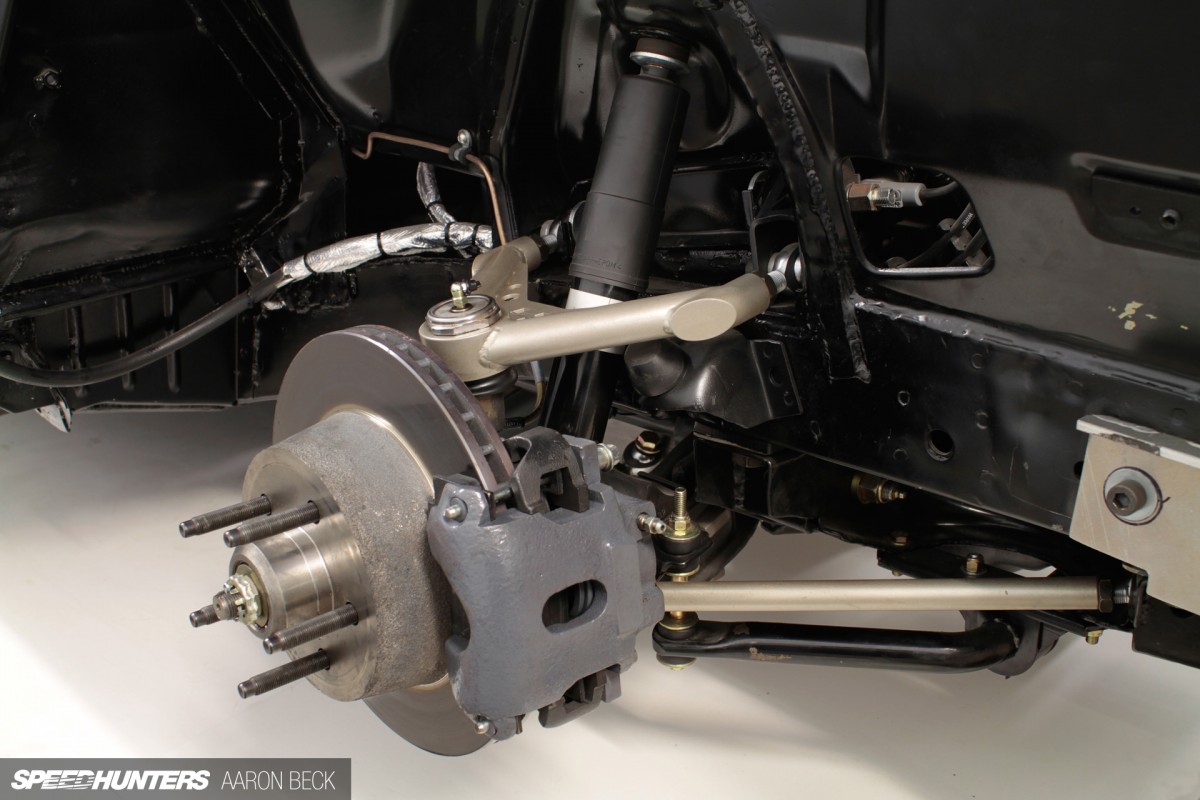 The suspension is built around components from Hotchkis as I was impressed by the reviews their 'E-Max' 1970 Dodge Challenger had garnered. Two independent reviewers described the car as feeling like a big go-kart, and I couldn't imagine anything further from a go-kart than how my car used to handle! Along with the Hotchkis upper control arms, strut rods, tie rods, and sway bars, I've reinforced the cross member and lower control arms, added Bilstein shocks, big 1.12-inch torsion bars, and 2-inch drop spindles. The brakes have been upgraded with 11.75-inch 'Cop' rotors and race pads, and form a minimum upgrade until I know if I'm sticking with 15-inch wheels or going to 17-inch or 18-inch. I love the look of the 15s and tyres and think they suit the look and feel of the car the best, but if they are holding the handling back too much then I'll go bigger. Once I've decided either way I'll then stuff the best brakes I can fit into the wheels.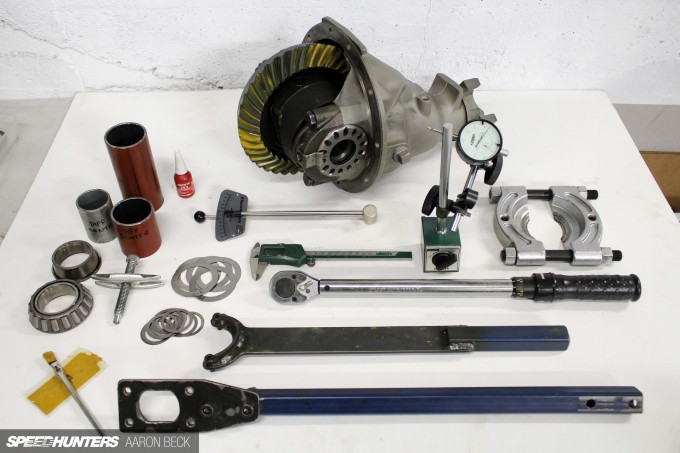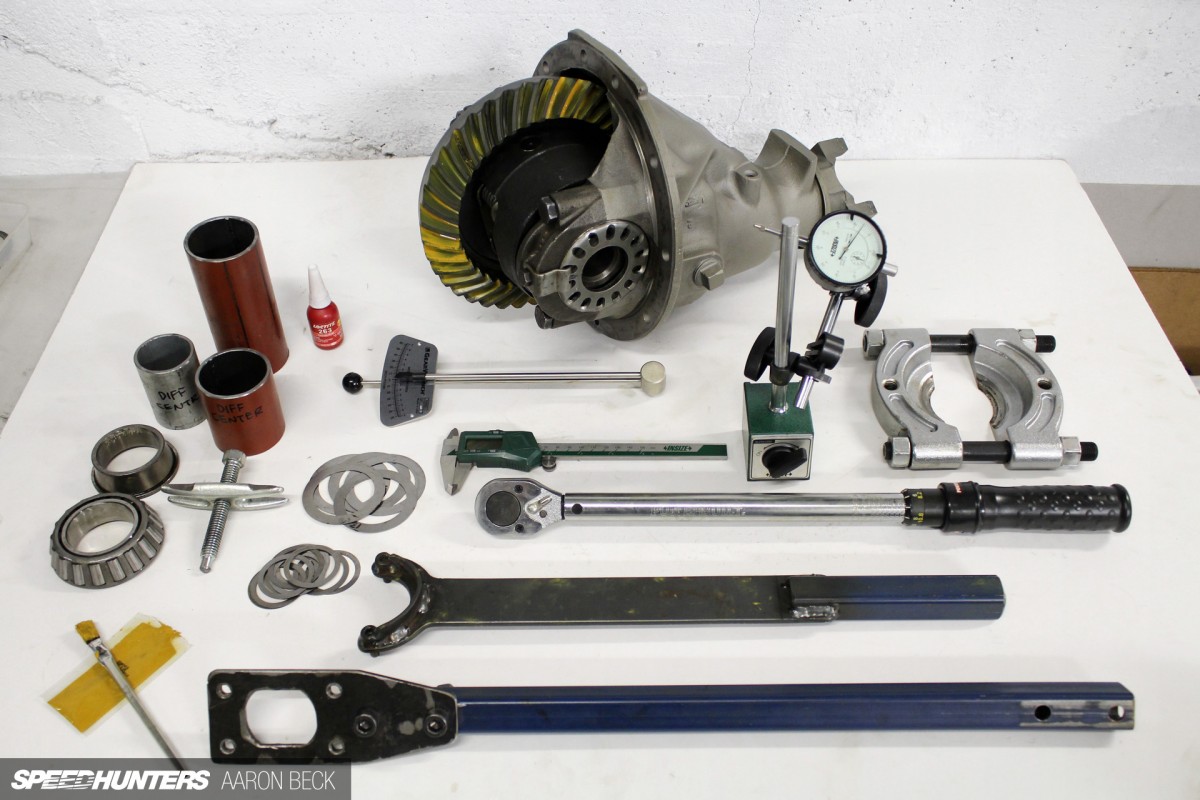 I restored and rebuilt the diff with new 3.55:1 gears and a limited slip centre.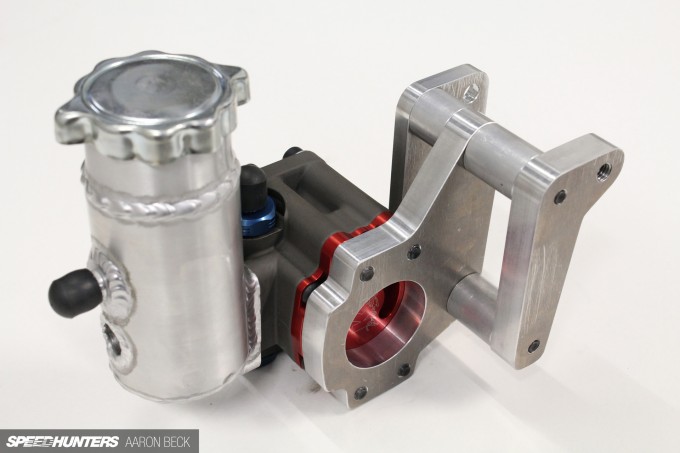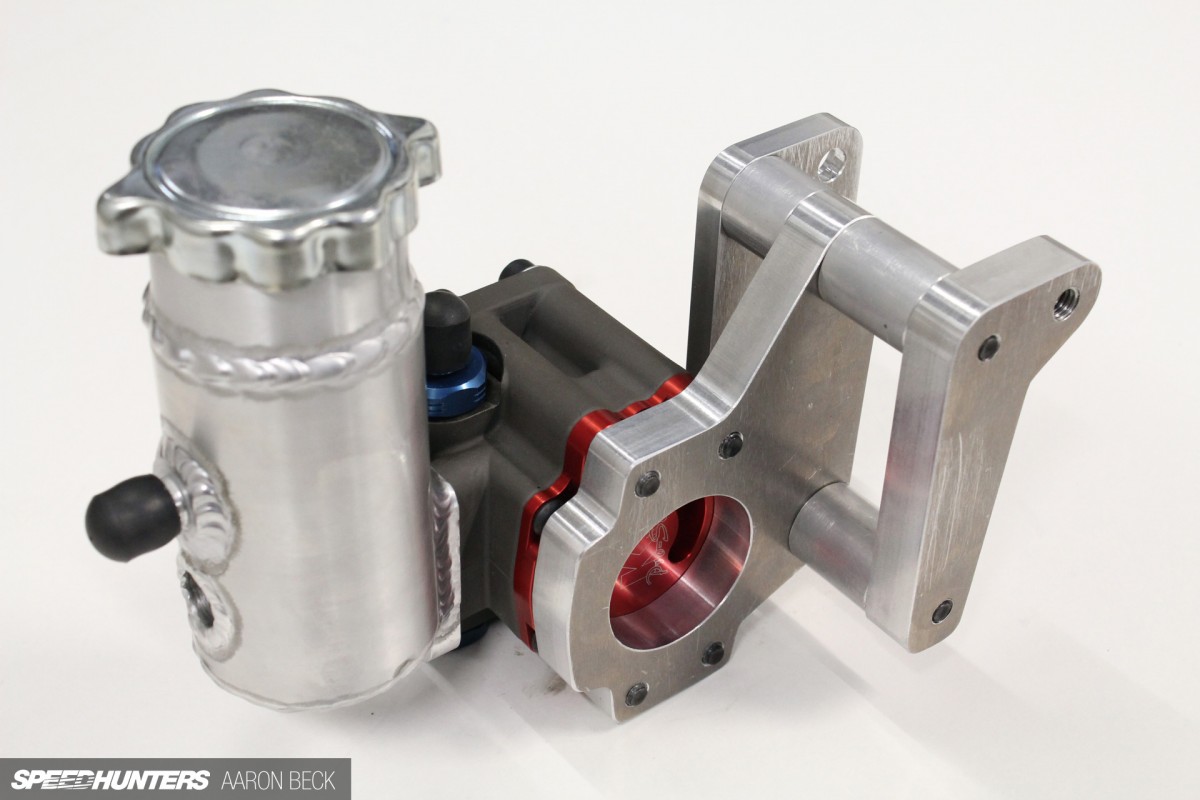 Here's the KRC racing power steering pump on a custom CNC cut alloy bracket I designed, and that Jordan – one of my ultra-talented Weta co-workers – milled out for me. Jordan builds machines that build machines that build jet engines. True story!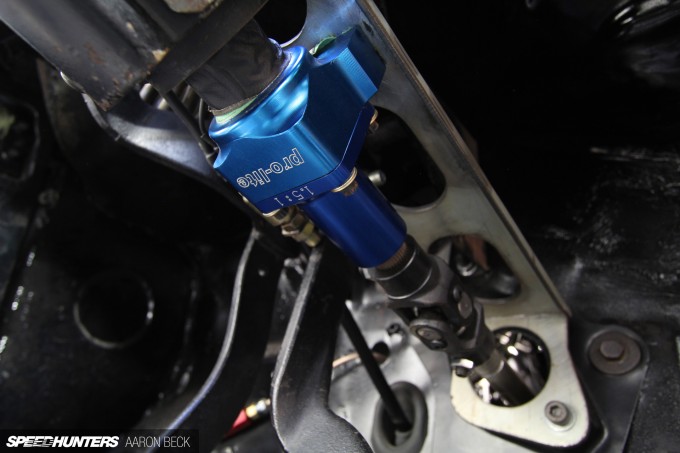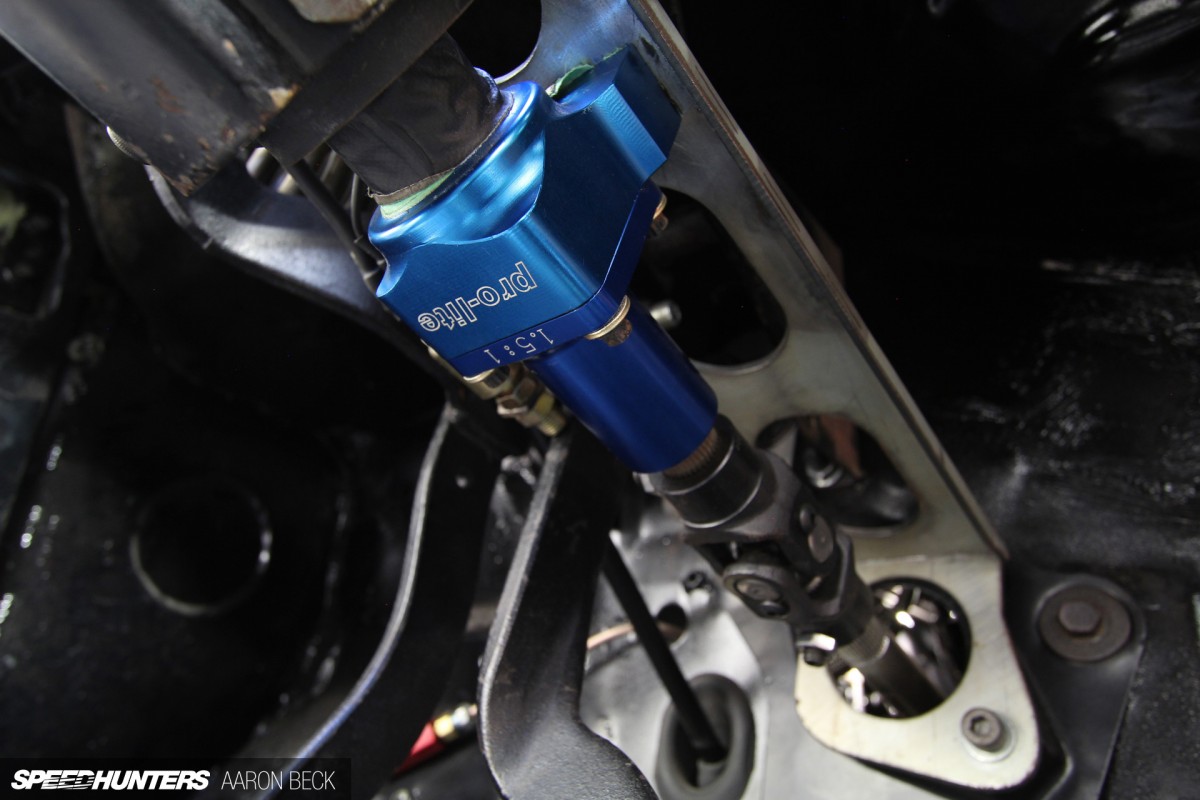 I went with a racing-type power steering pump because along with a hydroboost brake assist unit (which uses power steering pressure instead of engine vacuum to boost the brakes) I'm also running a 1.5:1 steering quickener, and I didn't think the old factory pump would be up to the task. Here's the awesome little Pro-Lite quickener spliced into the steering column on a custom bracket I made.
The Final Temporary Touches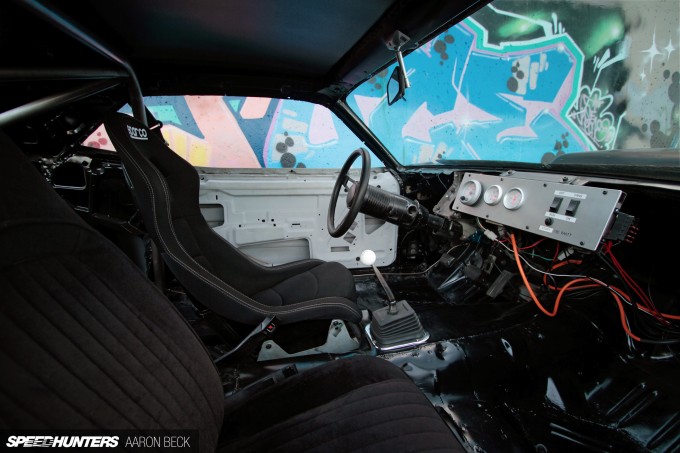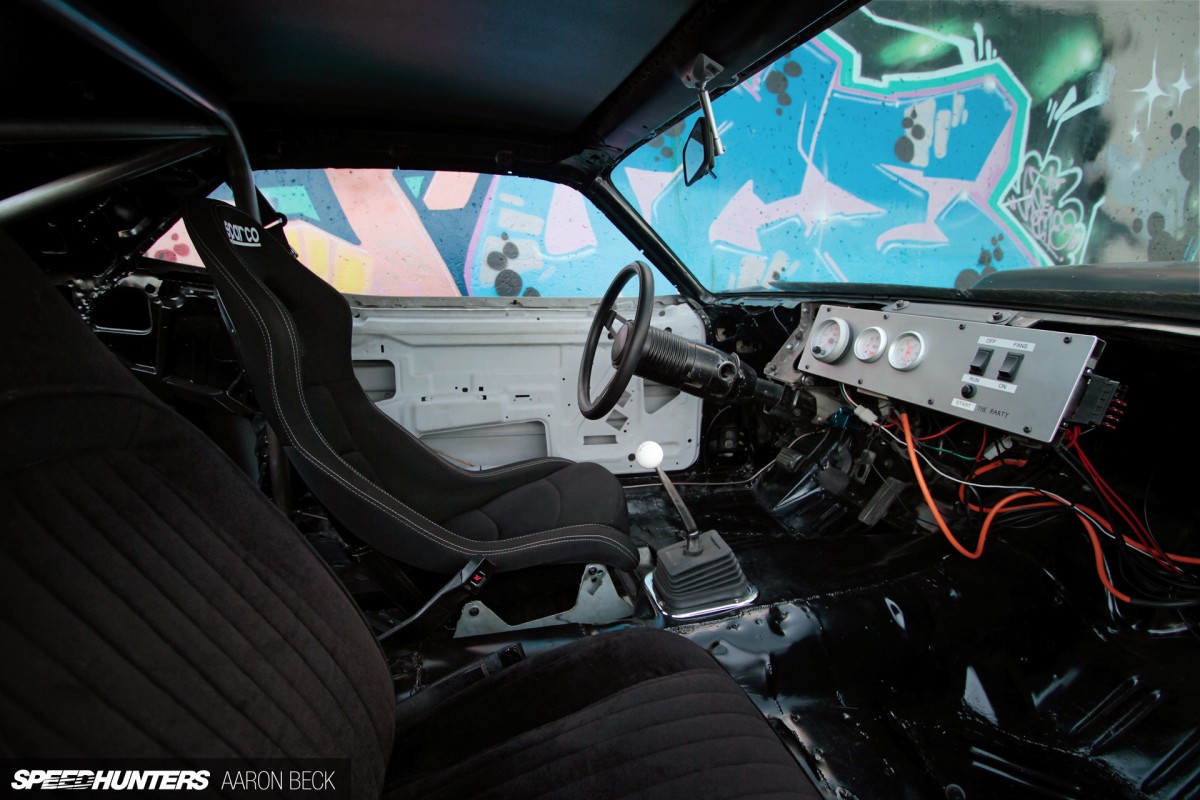 Here's the interior as it was for the shakedown – the bare minimum! All a car like this needs in terms of electronics is just making the motor run, and I had everything I needed on a handy little panel I built for the engine stand, so I just chucked it in the car. The push button start was good fun too.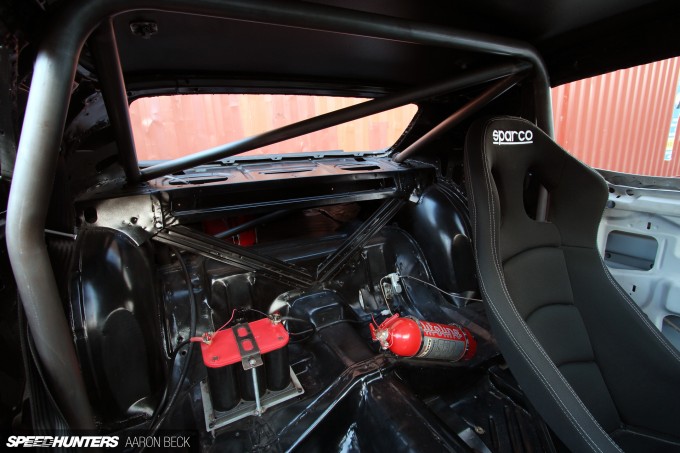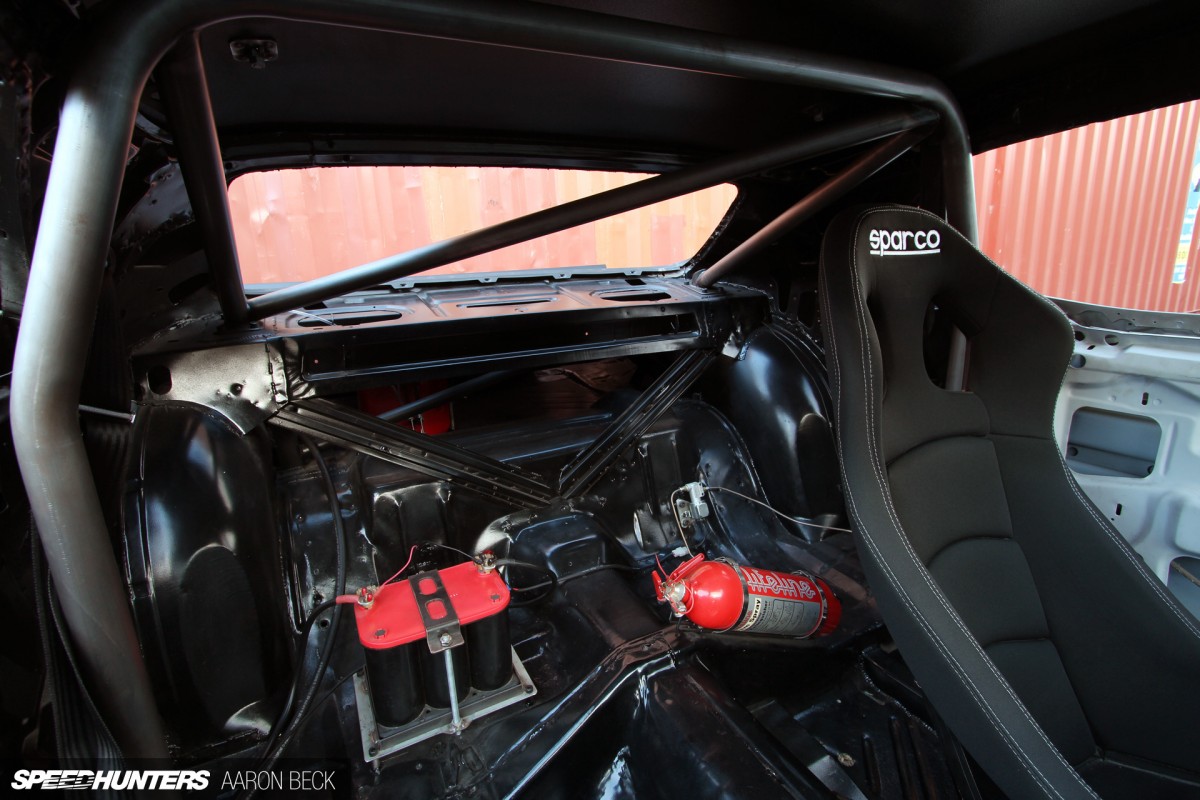 I bolted the battery down behind the passenger seat on a temporary bracket, and made another bracket to mount a little plastic fuel tank into the trunk.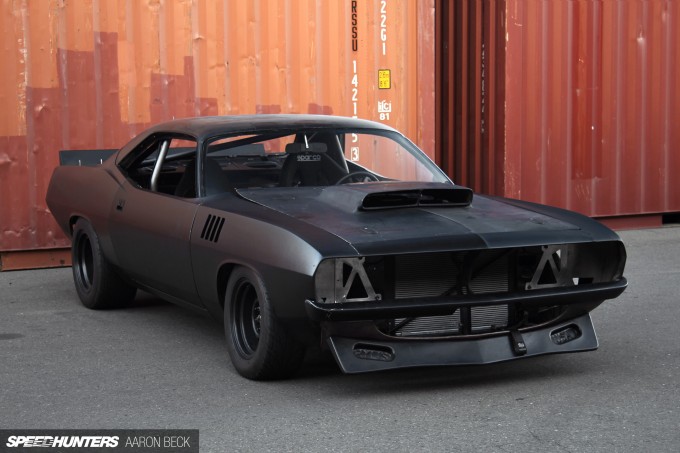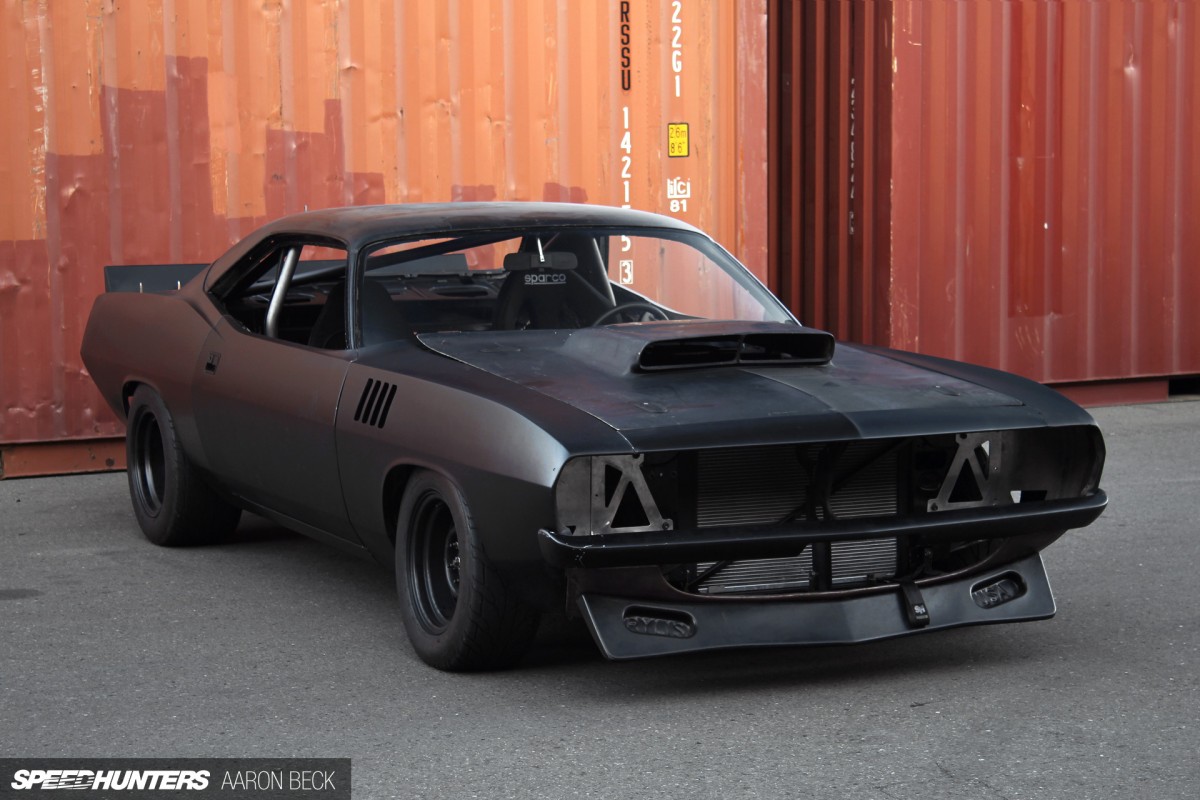 Once things were broken in the car totally lived up to my hopes and goals. It is incredibly fun to drive! The steering is amazing, fast and tight, and the car corners flat and feels very predictable. What amazed me was how enjoyable the car was to just putter along in – no hooning necessary. The fast steering and the wicked engine torque are the key to this I think.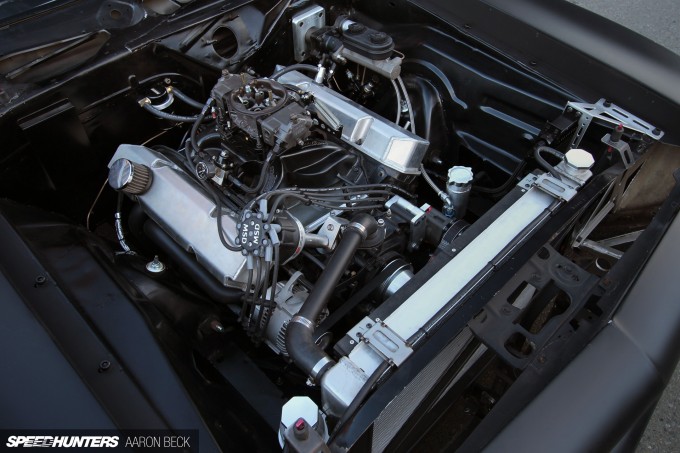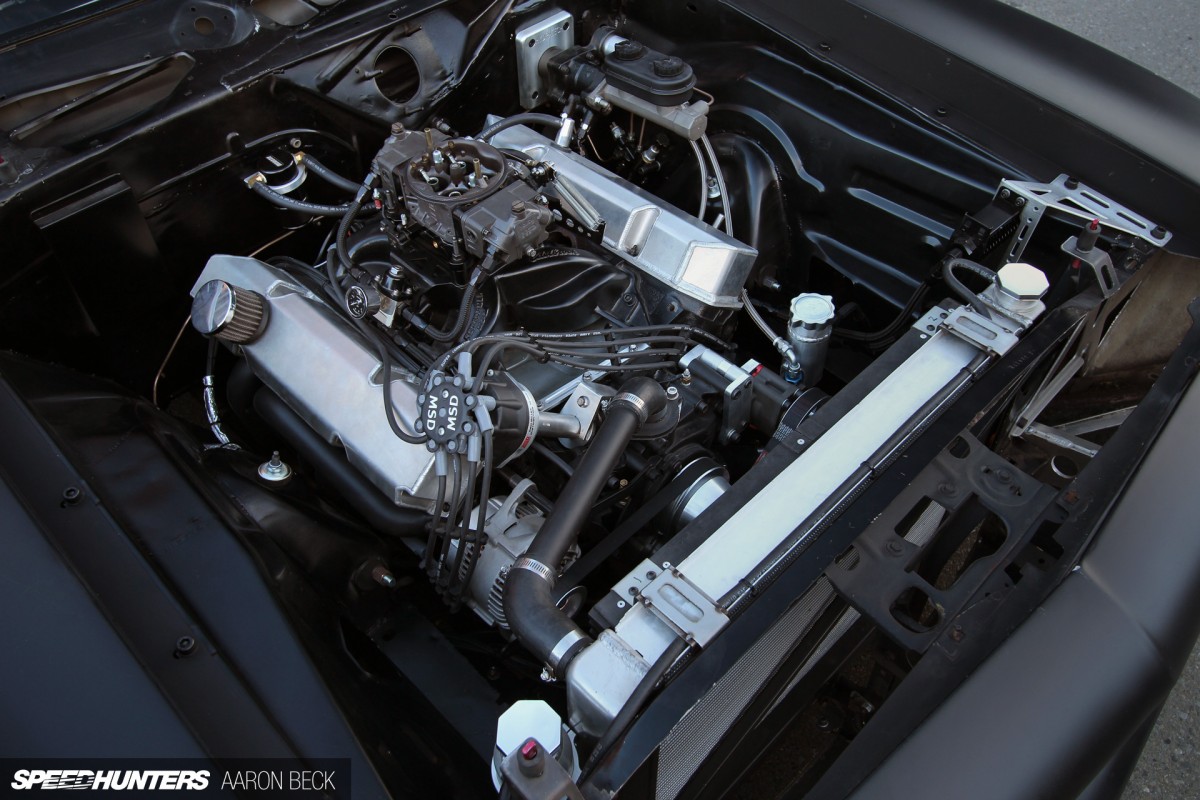 Speaking of the engine, here it is at home in the car. This stuff is a dream come true for me, as I've long had a fascination with race cars and hardcore functional mechanics in general – a trend also visible in my artwork (I draw similar looking robots for a living). The motor made 444lb/ft of torque to the rear wheels on a chassis dyno, so well over 500 at the motor, and should make similar horsepower numbers once I've got everything dialled in. The car weighs 1375kg (3031lb) as is.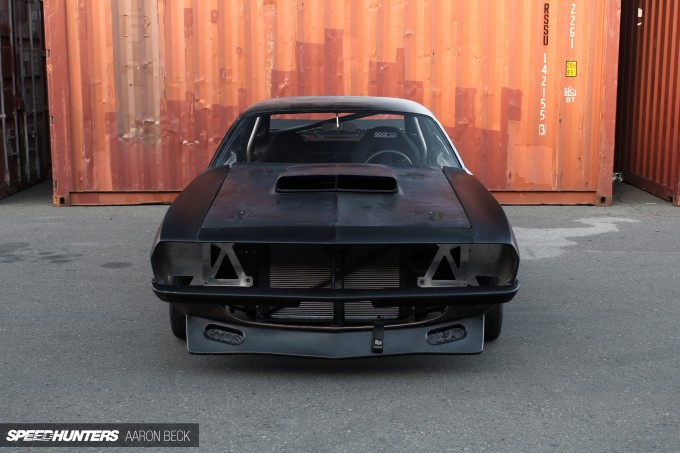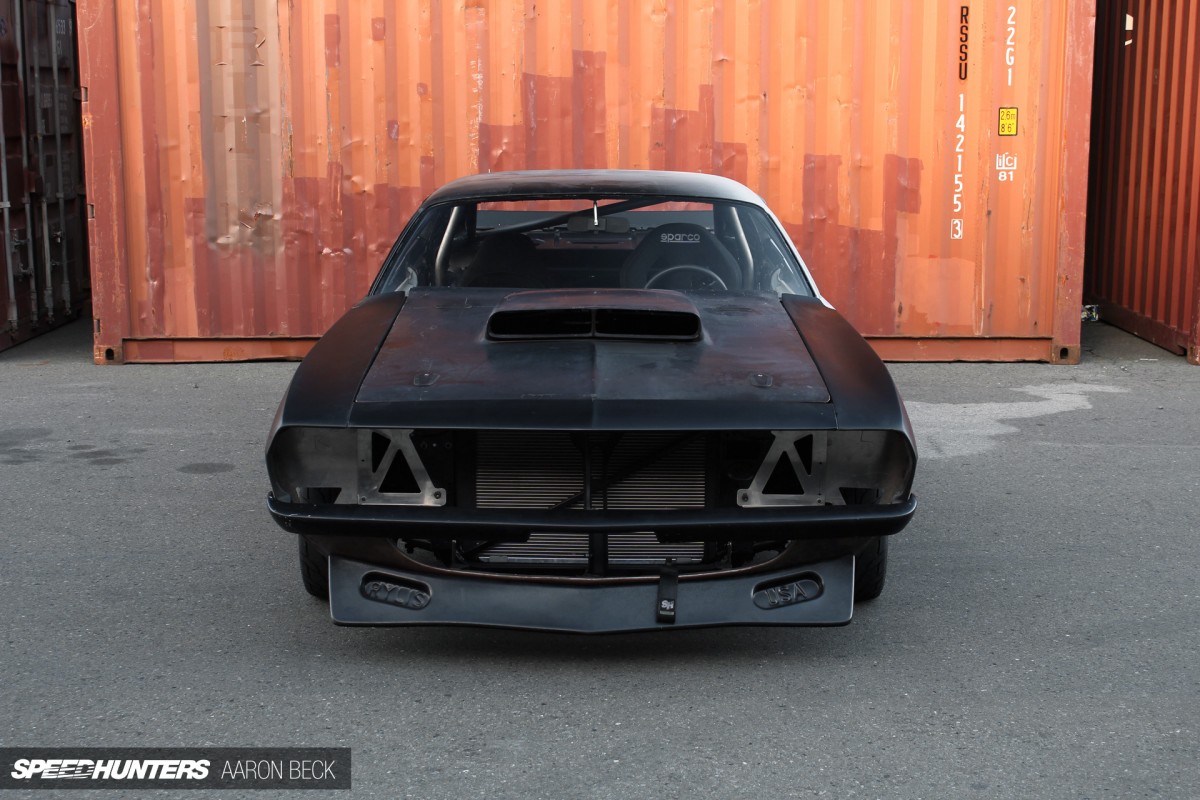 Overall I'm super happy with how the car felt, and have fallen in love with the stripped look of it in this state as well. I think I'll leave the front bare like this when it's done, with LED indicators and driving lights in the bumper, and detachable headlights for night driving when needed.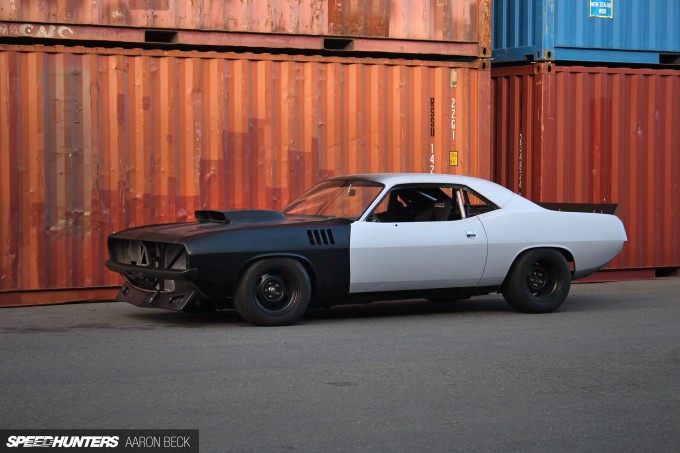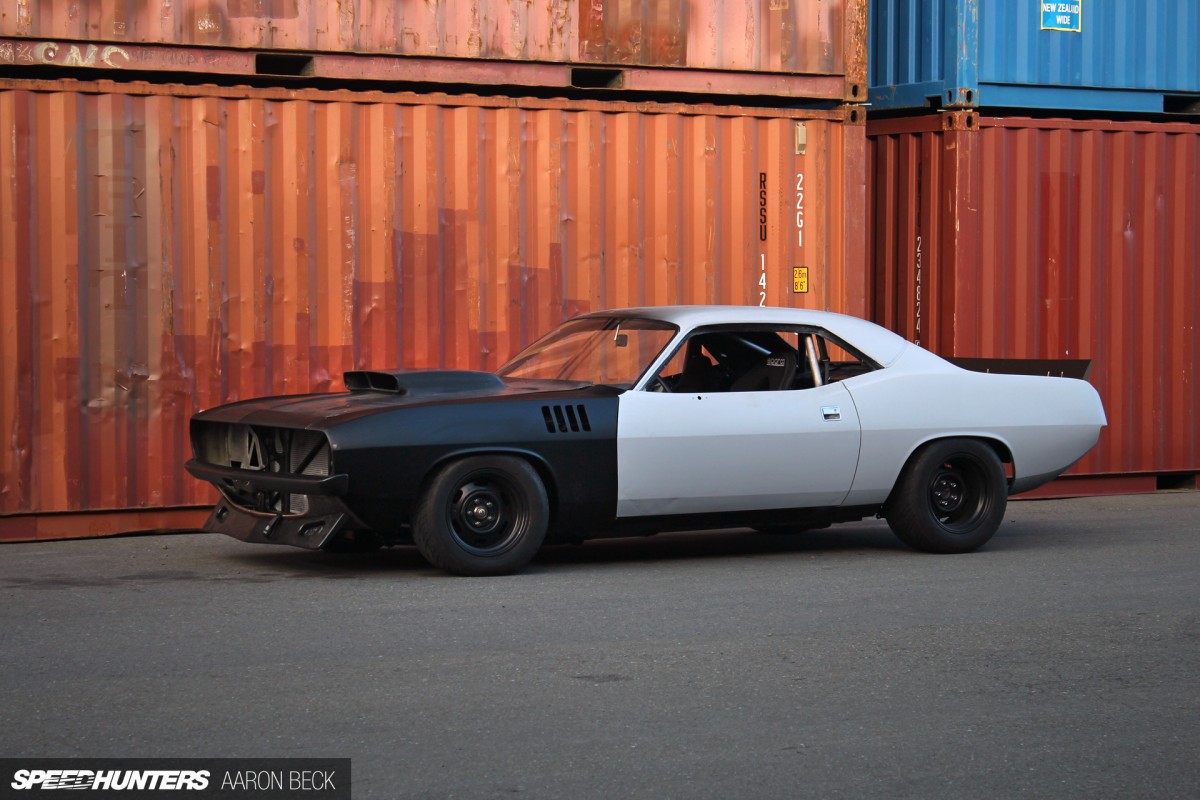 To be honest, it kind of feels a little unreal that these are photos of my actual car, no Photoshop needed! I must have Photoshopped literally hundreds of variations of ideas over the years, but to me this photo of the real thing looks even better.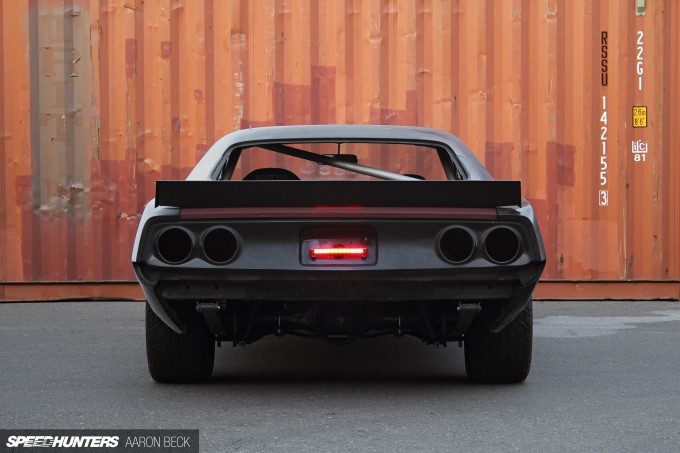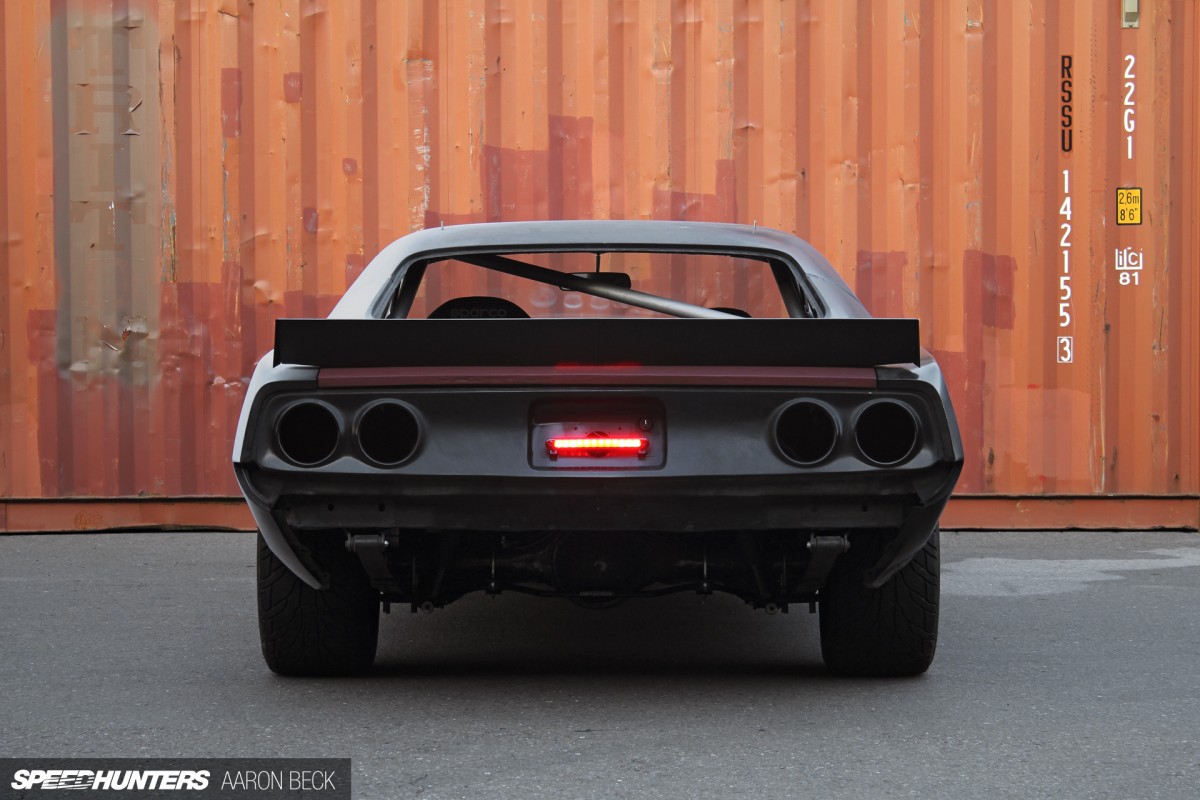 I definitely have the inspiration I was hoping for to continue the build and finish the car as soon as possible.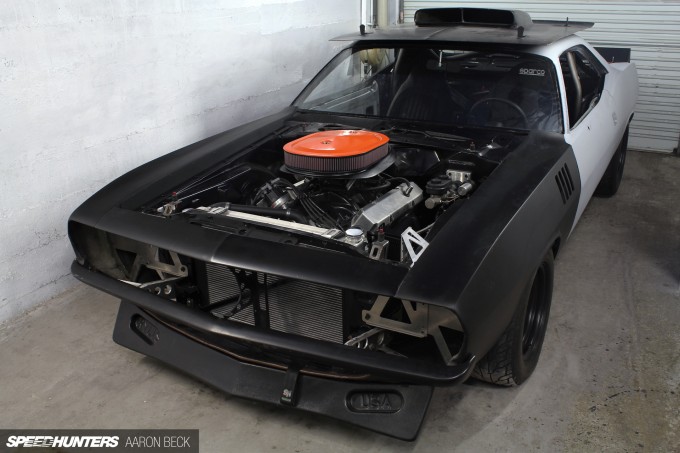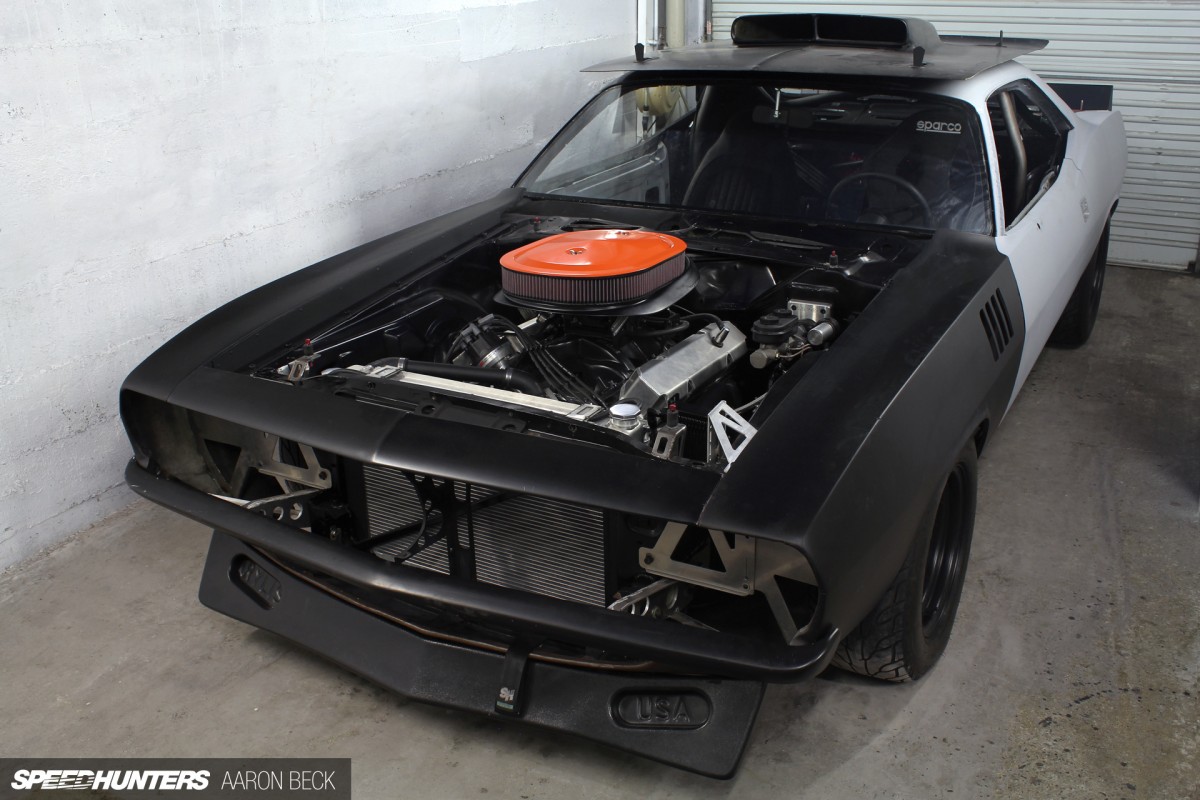 I took this last photo of the car in its shakedown guise moments before I began to strip it right back to a bare shell so I can start to finish the body.
I have a bunch more custom touches to add as well, including a NACA duct in the hood for the power steering cooler and a tach setup that will poke through the hood. So I better get stuck back into work if I want to get it all done by this summer!
Thanks for reading!
Aaron Beck
Beck Kustoms
aaronbeck.com
More stories from New Zealand on Speedhunters