Quality is always supreme
You know the drill by now. No show or event in Japan could ever possibly be complete without one quick tour of the surrounding parking facilities. While it doesn't matter what venue you are at, Port Messe in Nagoya never fails to disappoint when it comes to turn out – probably due to the sheer size of the actual car park. And that's good, because it's like there's second show going on right alongside the main one you are there to see.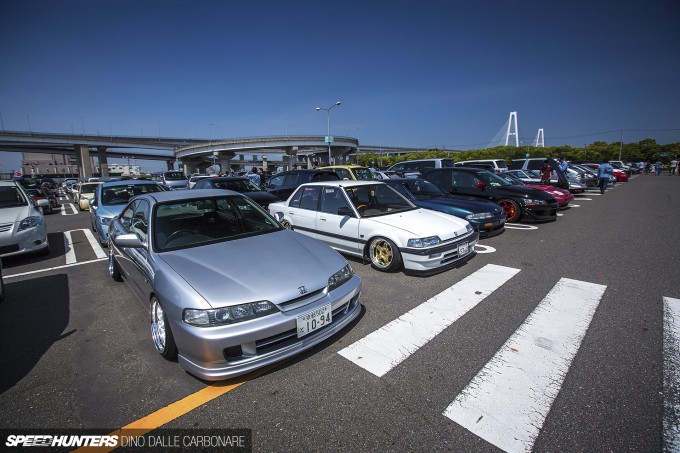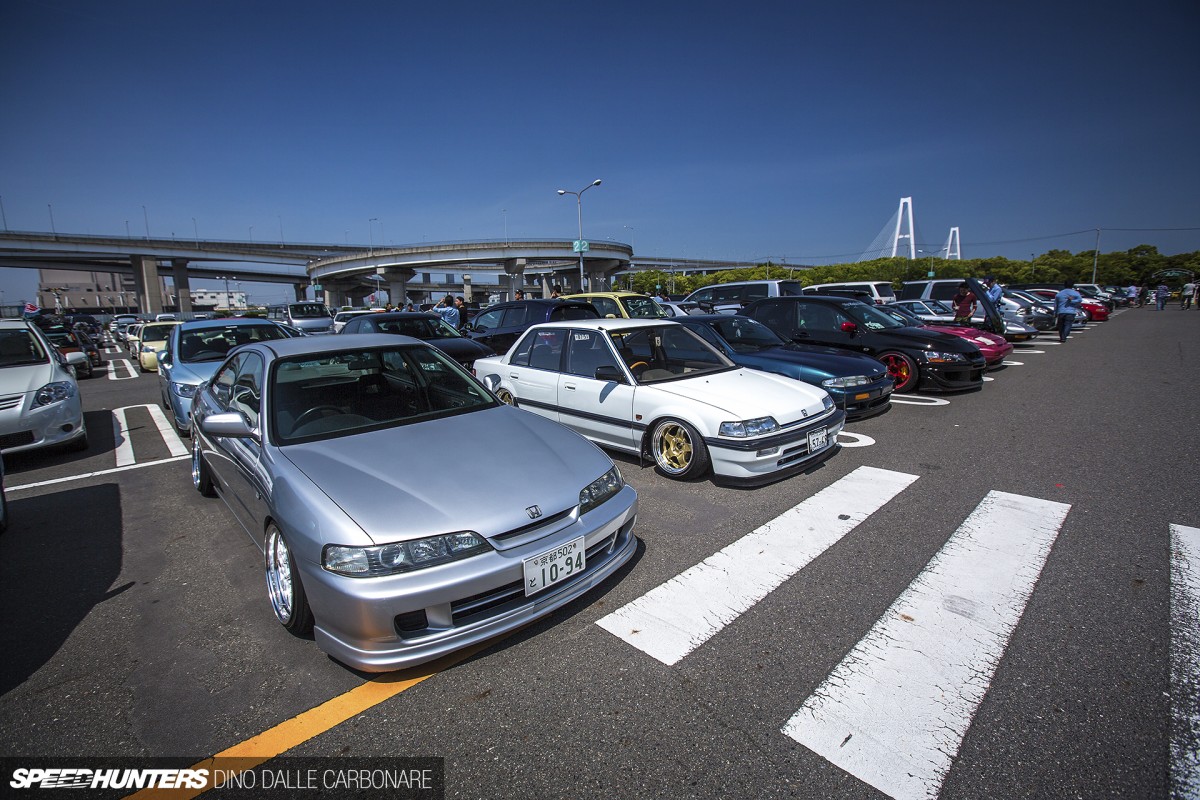 Okay, so not surprisingly the style of cars that you get to see parked up are usually always pretty similar to what is going on in the show. As you'd expect then, there was no shortage of stanced cars.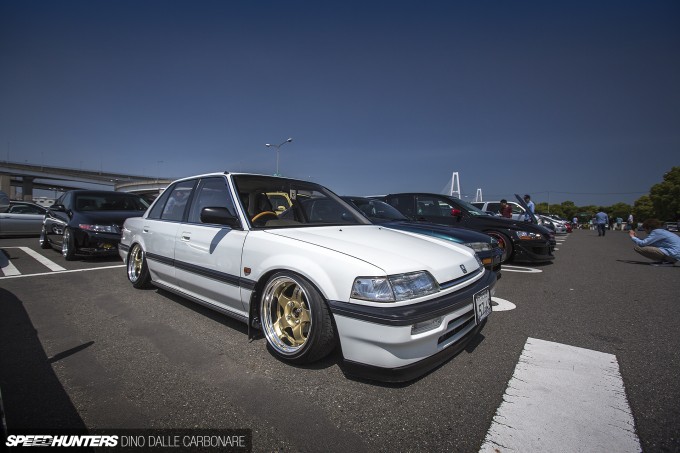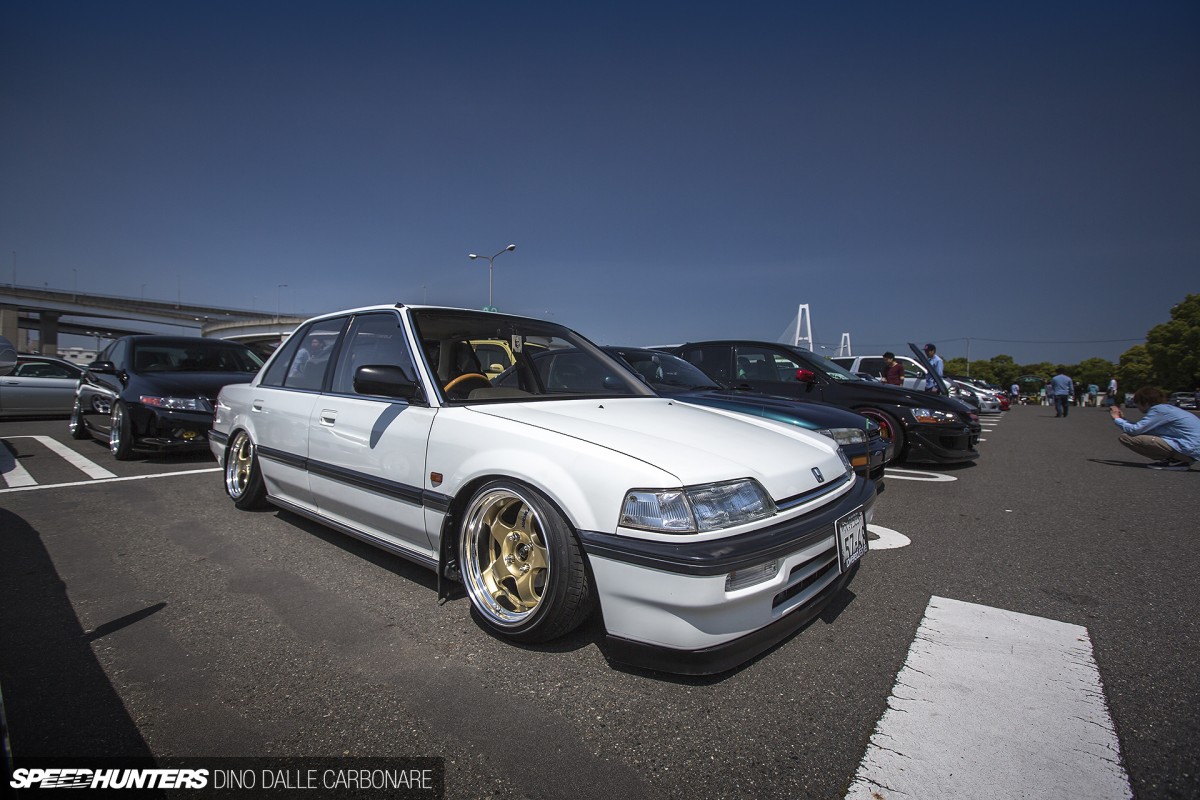 As always seems to be the case in Japan, many of the cars you come across on these walk arounds could have easily been displayed in the show itself and probably only didn't purely because of the limited number of spaces, and the speed that shows like Wekfest, StanceNation and Hellaflush always sell out at. This EF sedan was a good example. It would have been such a great addition to the line up of other '80s Civic sedans I had been checking out in hours before. You gotta love Meisters!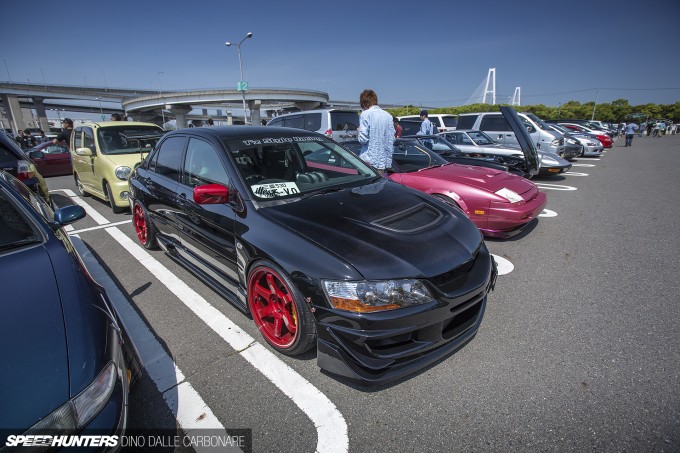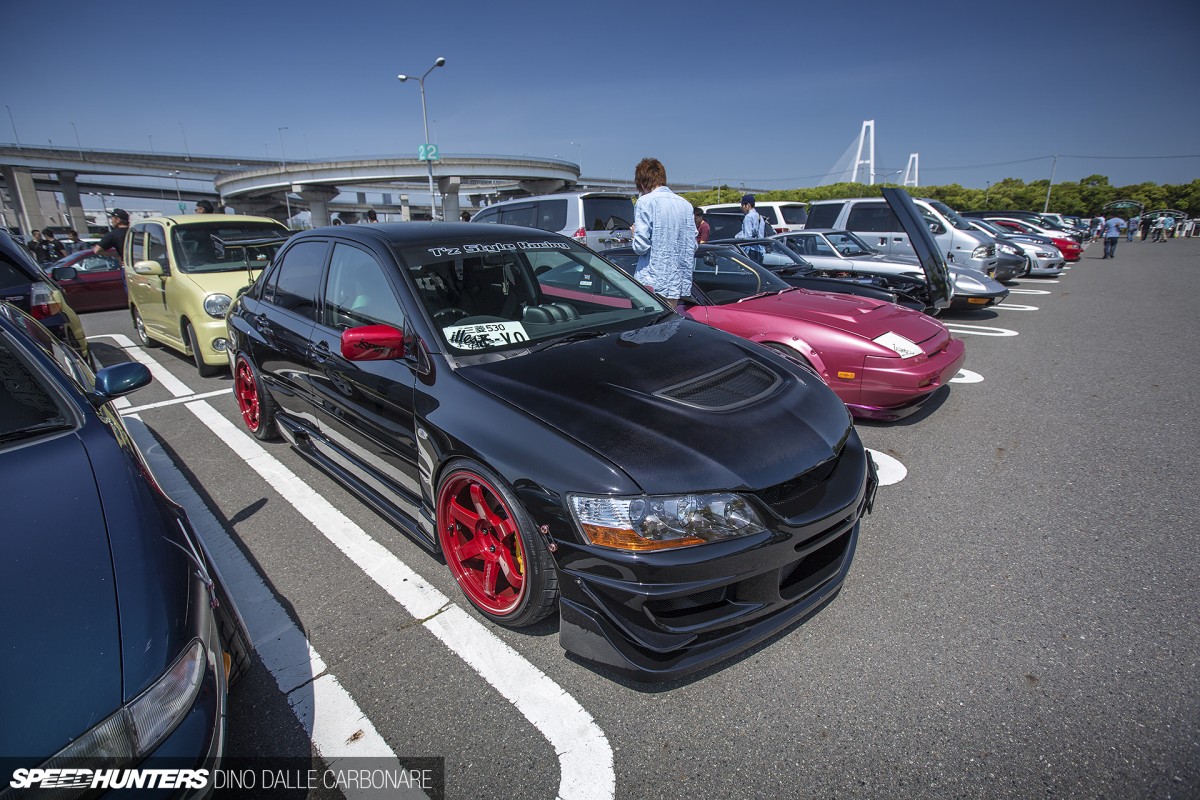 I thought it was cool how the owner of this black Mitsubishi Lancer Evo color-matched his mirrors to his red RAYS Volk Racing TE37RTs. A great choice of wheel, if I do say so myself!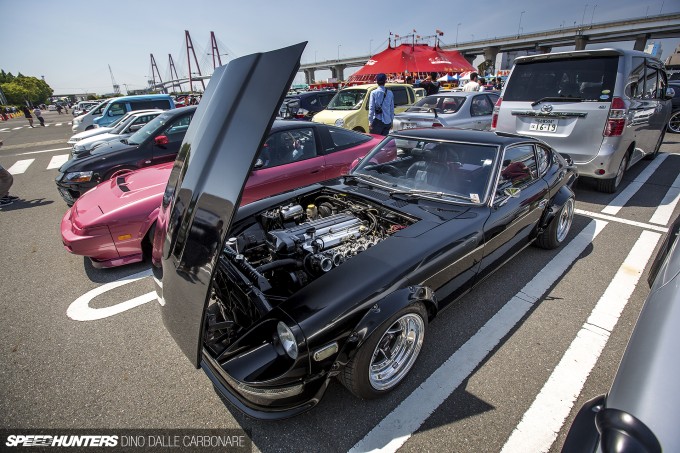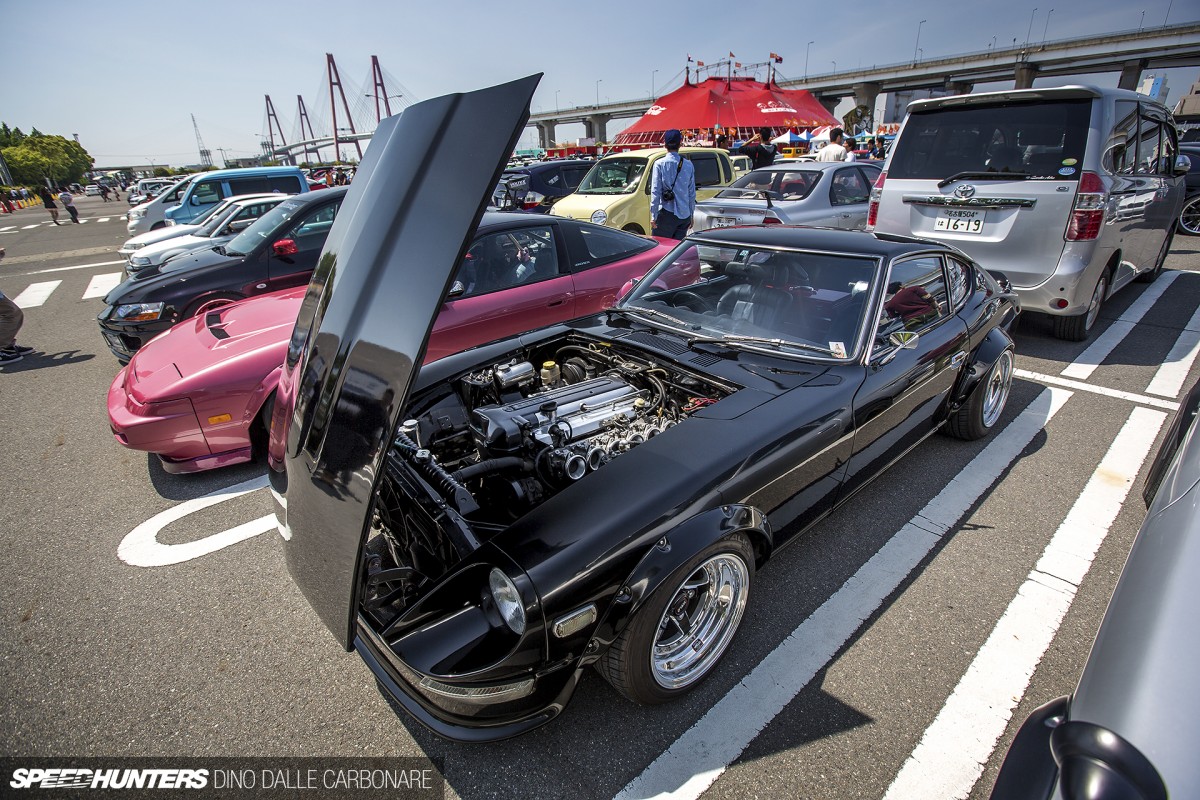 I spotted the owner of the Daddy Motorworks 2JZ-powered S30 at the show wearing a #MaximumAttack t-shirt, so I knew that I was going to come across his immaculate Z outside. It was cool to see that he parked it up with the bonnet wide open so people could check out the unusual engine-swap.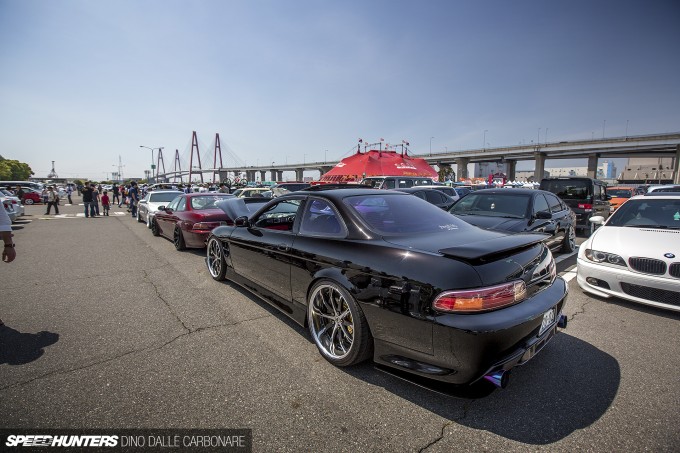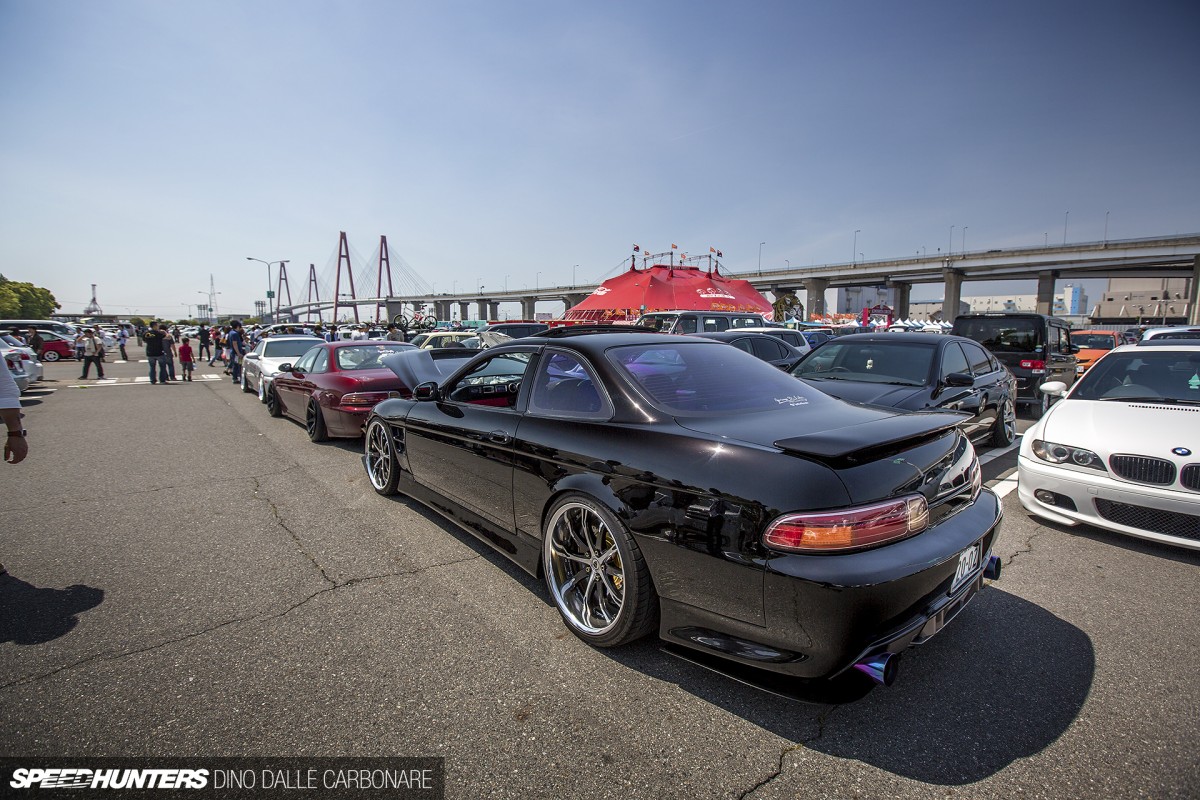 As I walked through the rows upon rows of parked cars it was obvious that many clubs had rolled in together and attempted to park up alongside each other so they could set up their own little areas. With no spaces left towards the very top of the lot, these Soarer owners decided to temporarily park along the access road. All three examples were pretty tough and the black Z30 at the end was as clean as they come.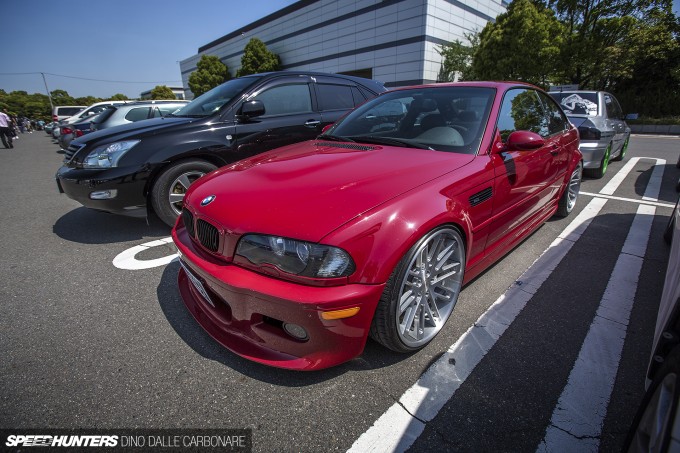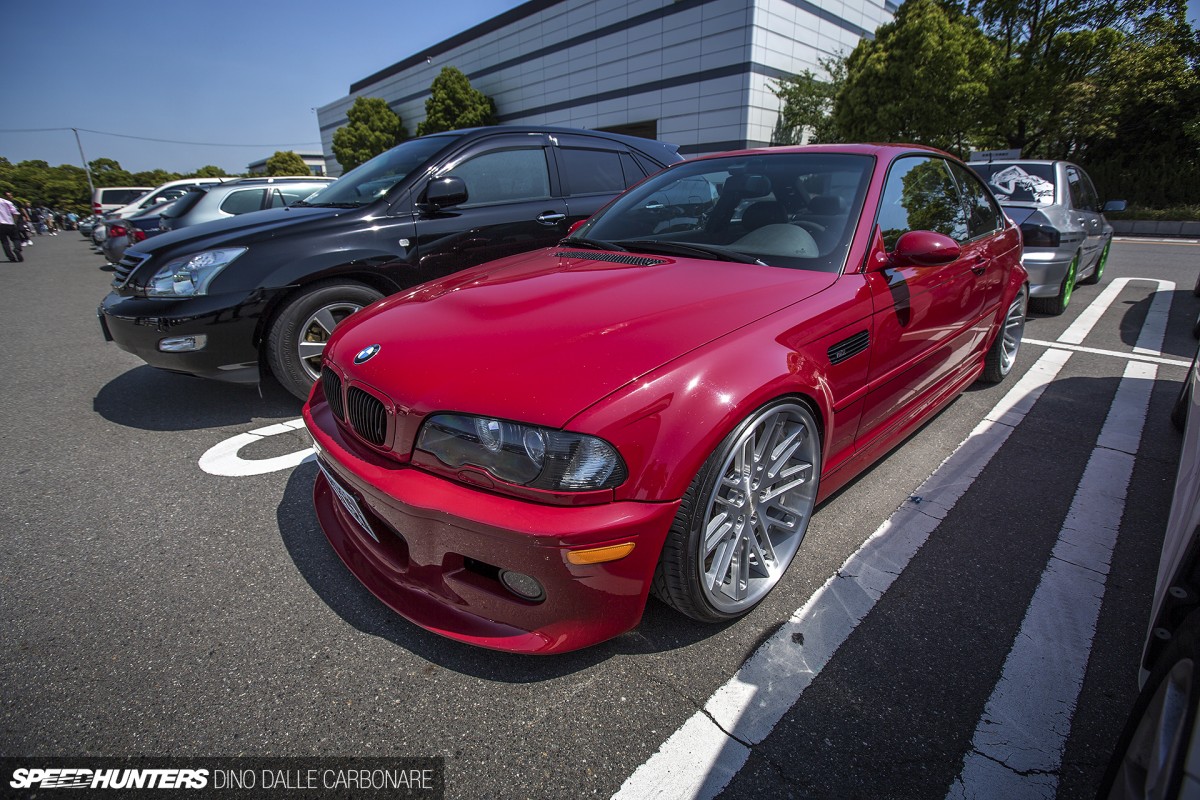 Don't laugh at what I'm about to say, but the E46 M3 continues to age so well it might as well be described as the MILF equivalent of the sports car. Or maybe comparing it to a fine bottle of aged red wine would be a more suitably comparison? It doesn't seem to matter what look or style you go for, when modified this model always seems to work just right.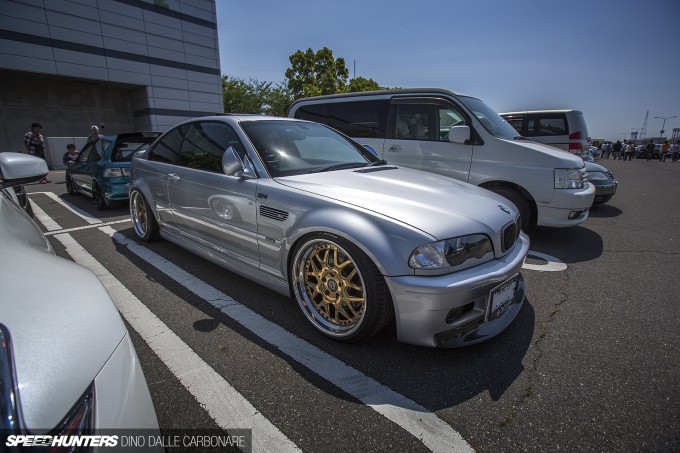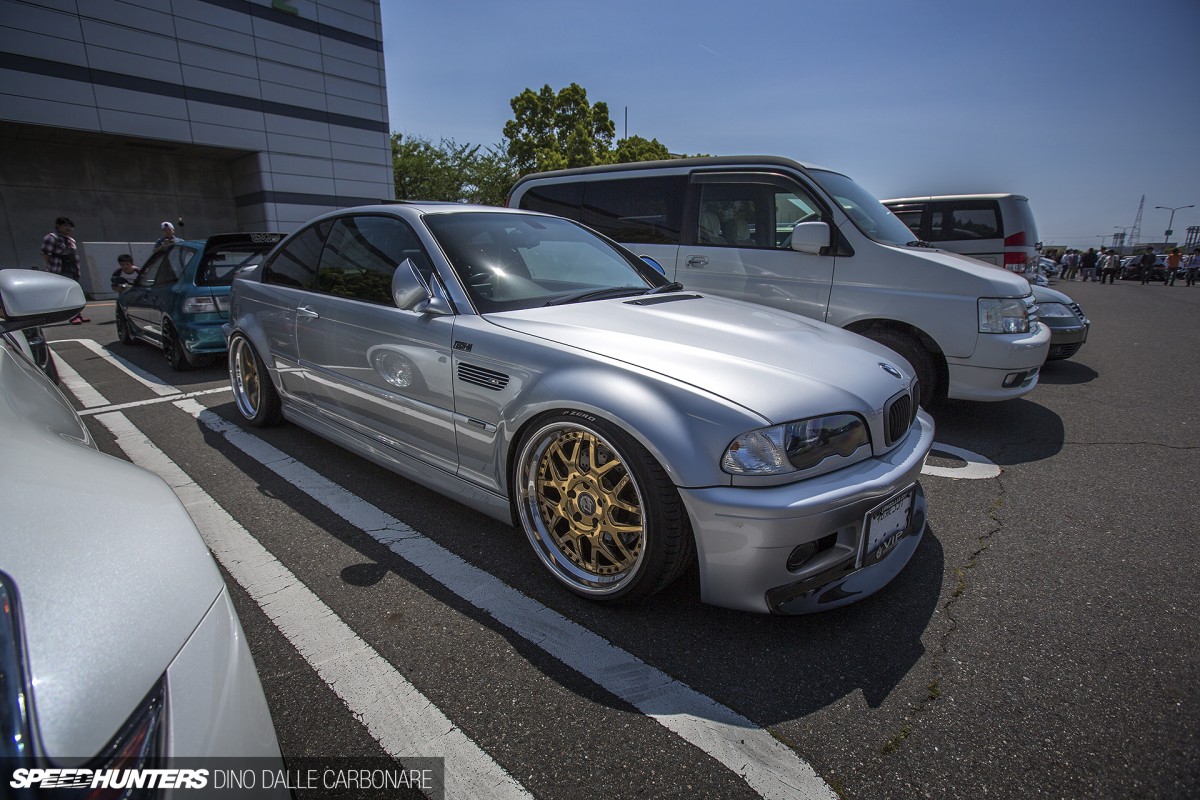 The red one definitely wasn't the only example either! What do you guys think – is my analogy a good one?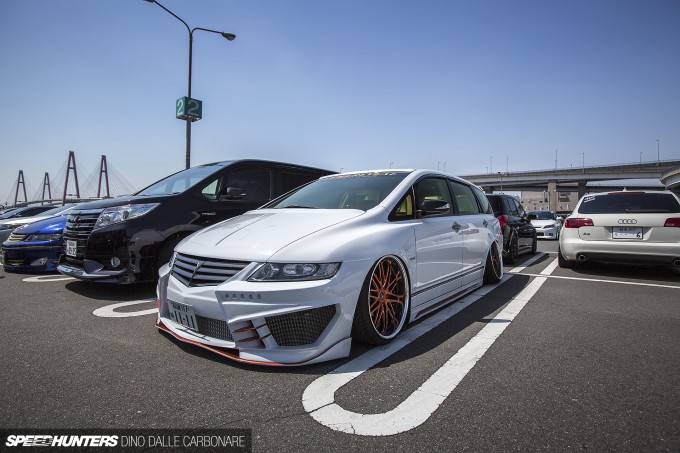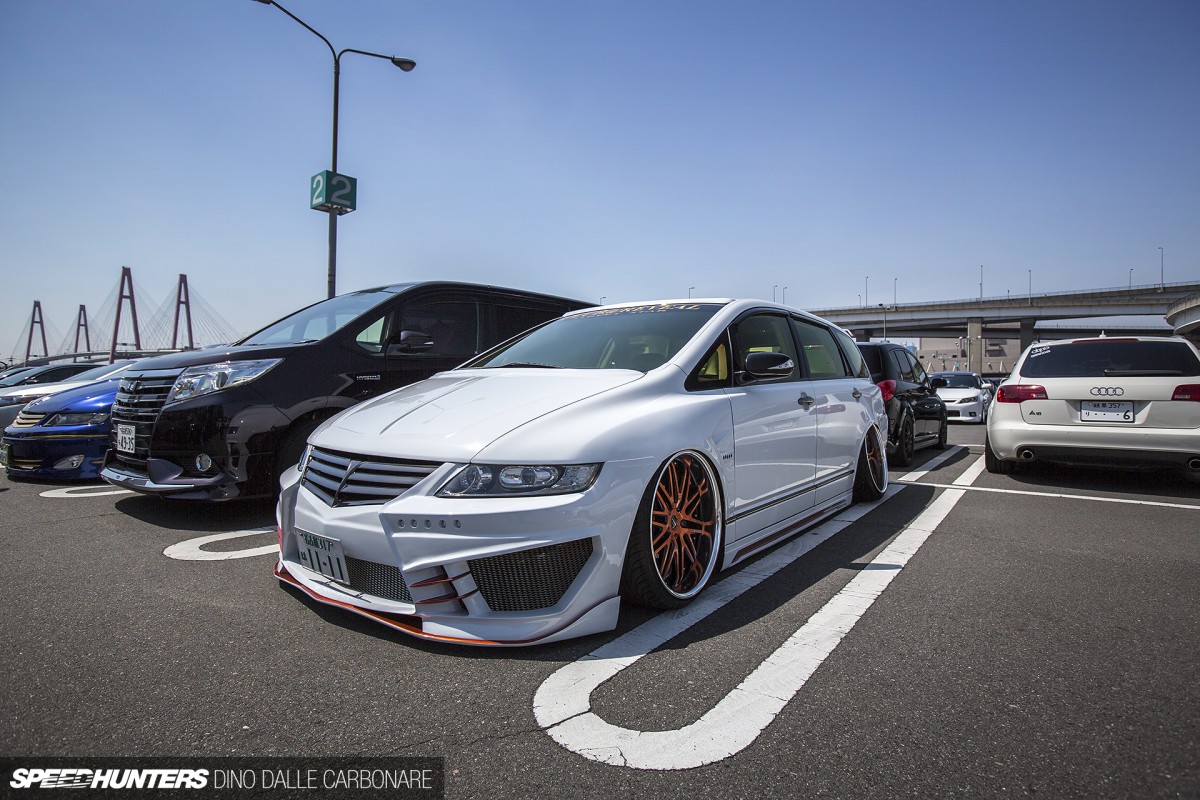 Like I mentioned in my first Wekfest Japan post, compared to other stance-themed events I did notice a lack of VIP rides during the weekend in Nagoya. In some ways that was a bit sad, as it's always one area of the JDM style-oriented movement that always turns up unique builds. Still, it was cool to see this badass Odyssey representing the scene rather well.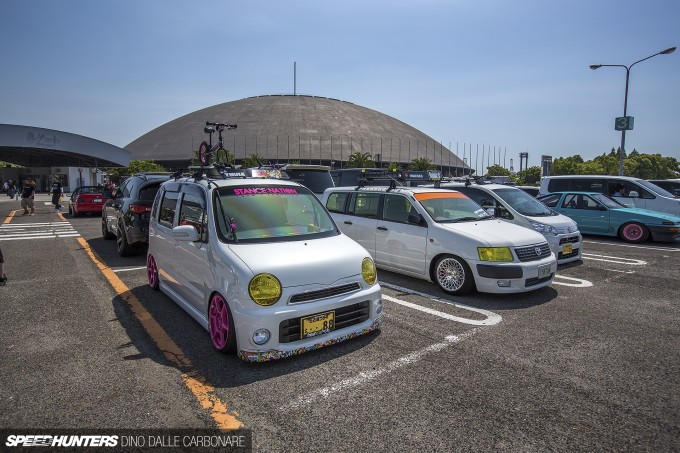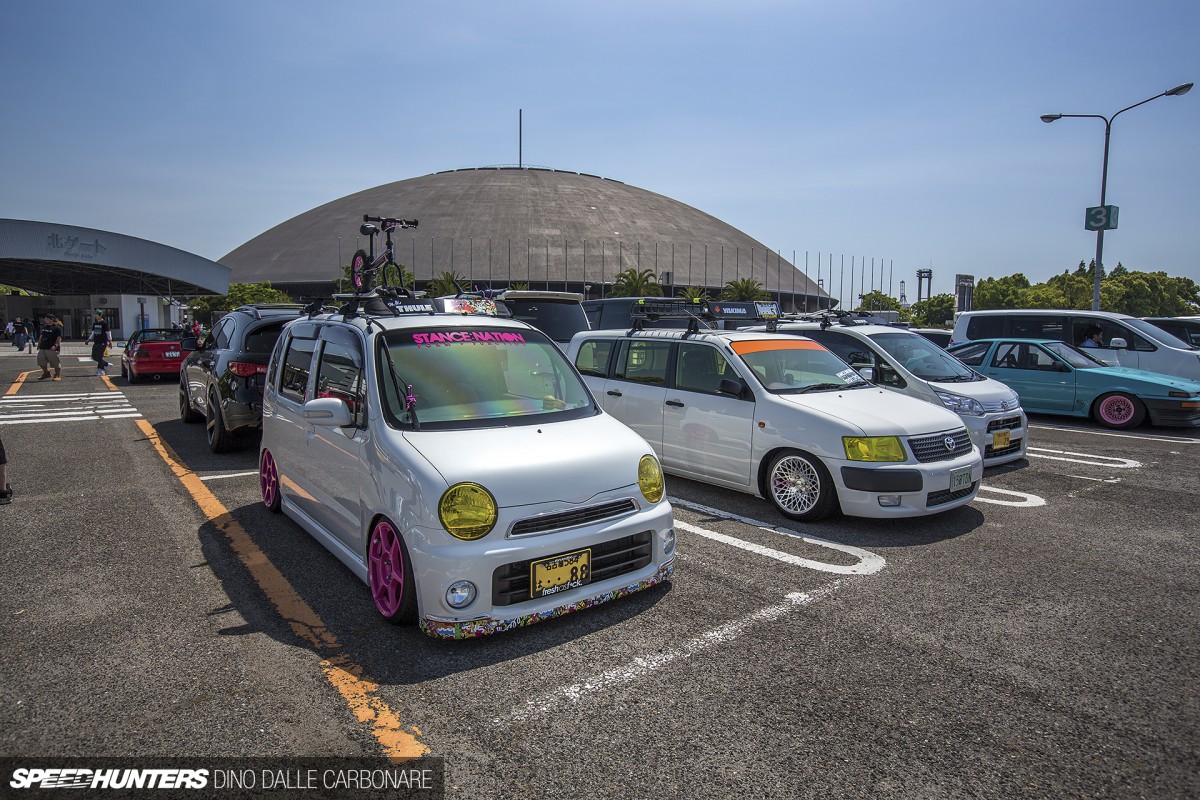 And of course, vans come in all shapes and sizes.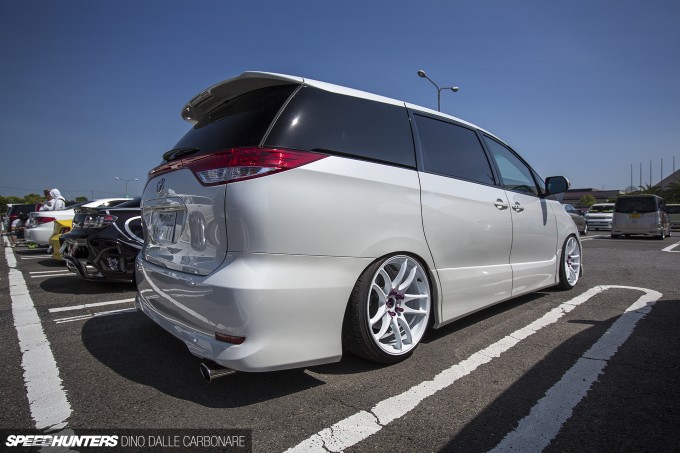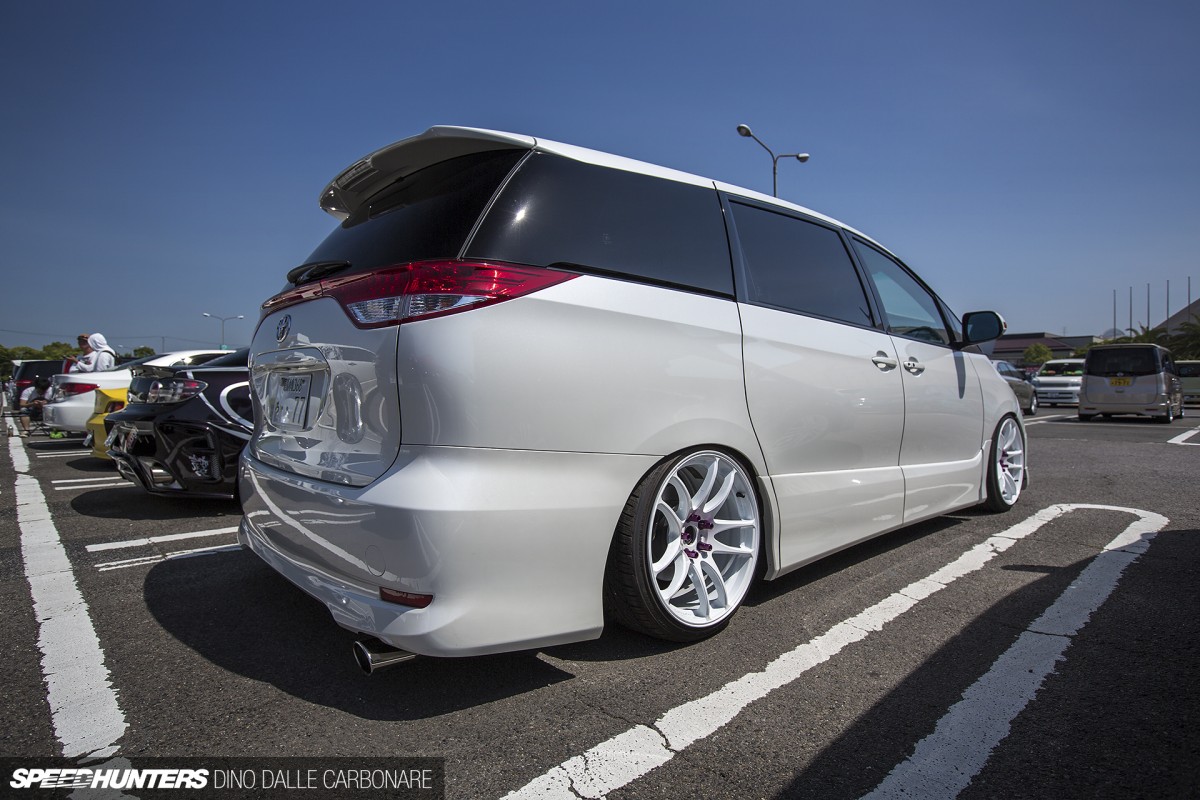 You couldn't really label this Toyota Estima on Work Emotions as VIP – or anything else for that matter – but it just looked so right. To me, this is a great example of how you can take something as mundane as a minivan, and transform its appearance with a simple drop and some tight wheel fitment.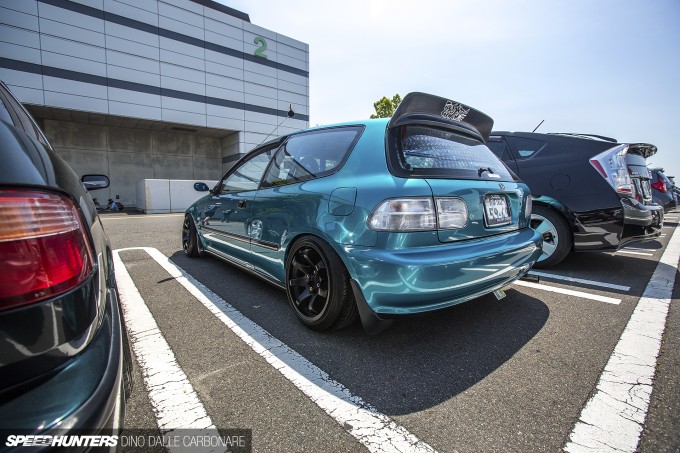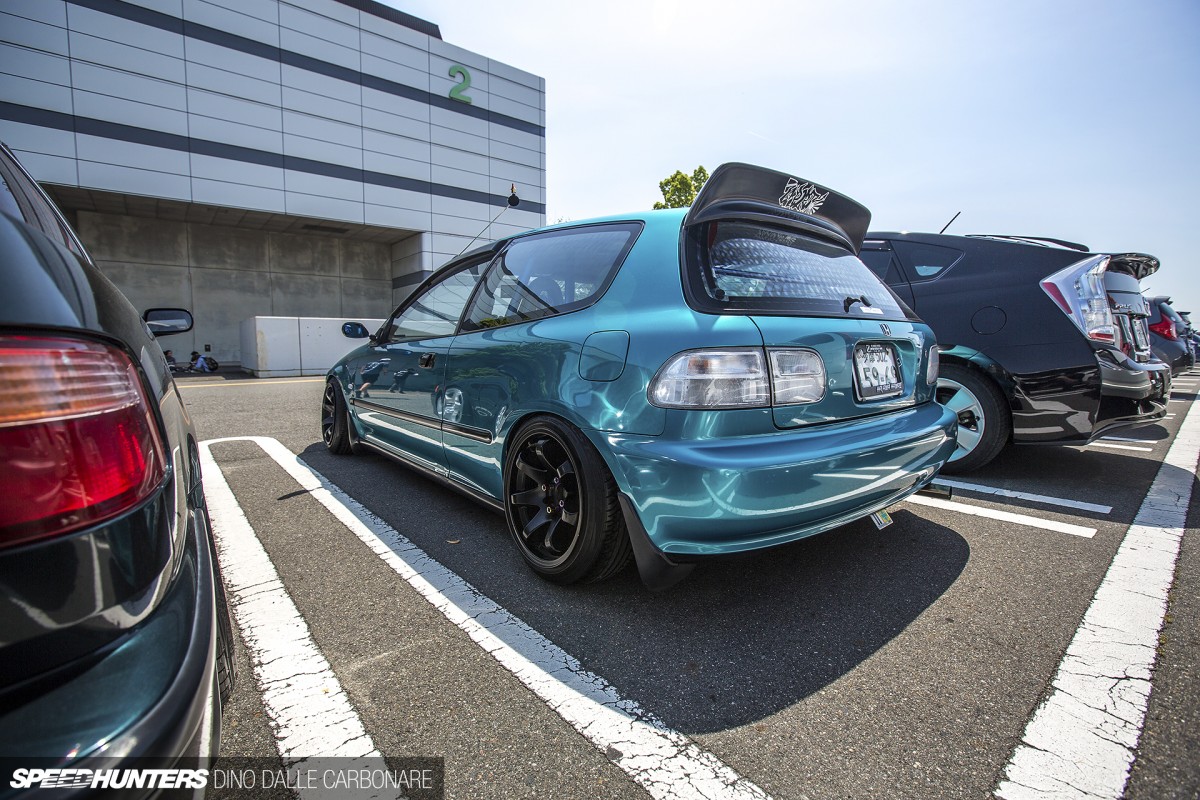 This EG Civic was sitting so low I walked behind it a few times before actually realising it was there! It's a nice, clean interpretation, don't you think?
A few surprises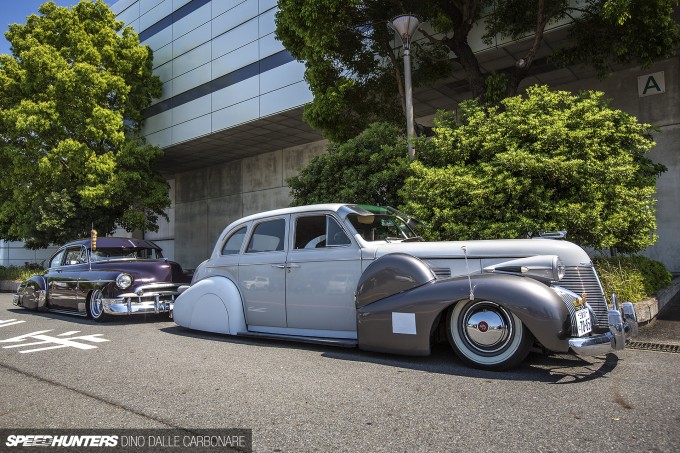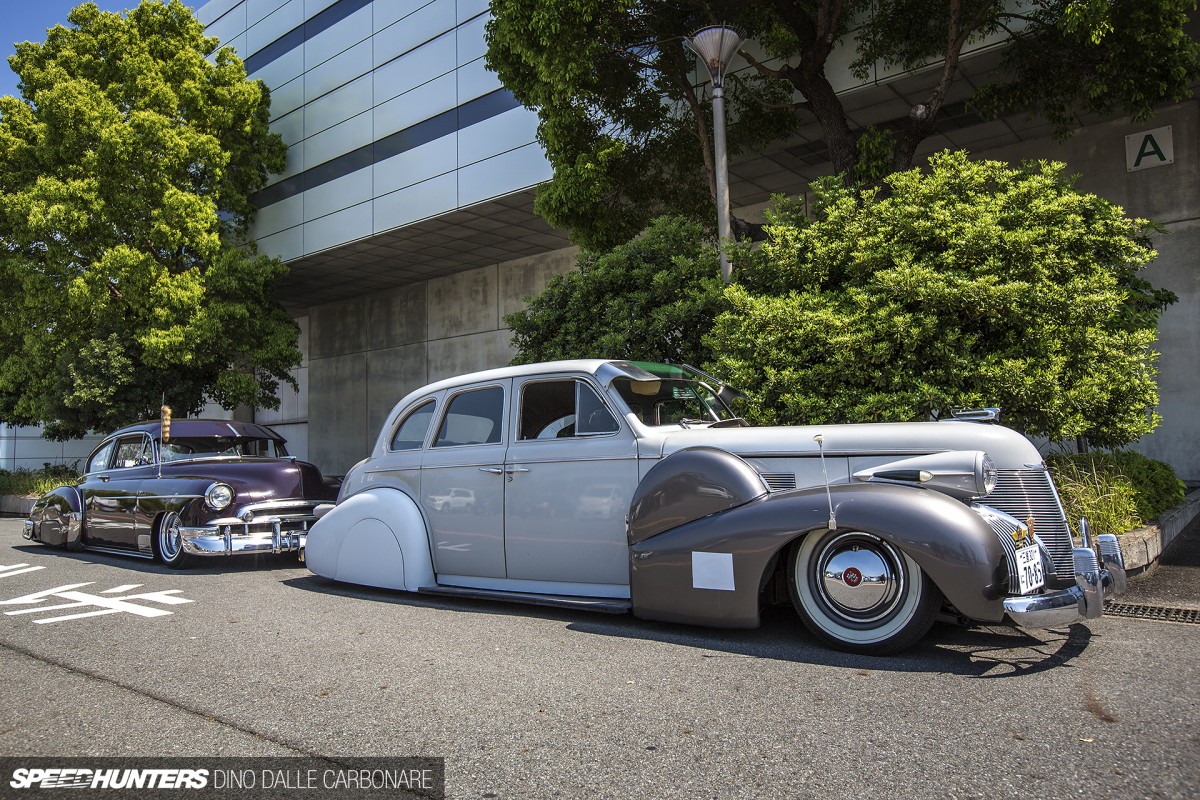 Ah yes, if there's one thing you can always count on finding in a Japanese show car park it's an unexpected surprise. So maybe it should be expected, then? Anyway, seeing that Toshi from The Local Hero was at Wekfest I knew I'd come across some cool customs, and I wasn't disappointed.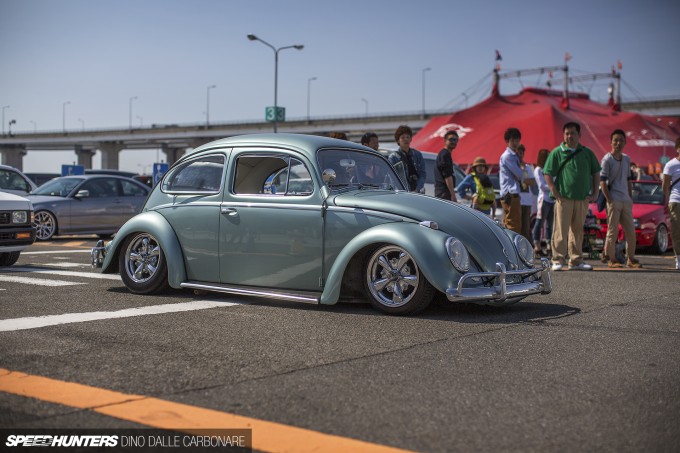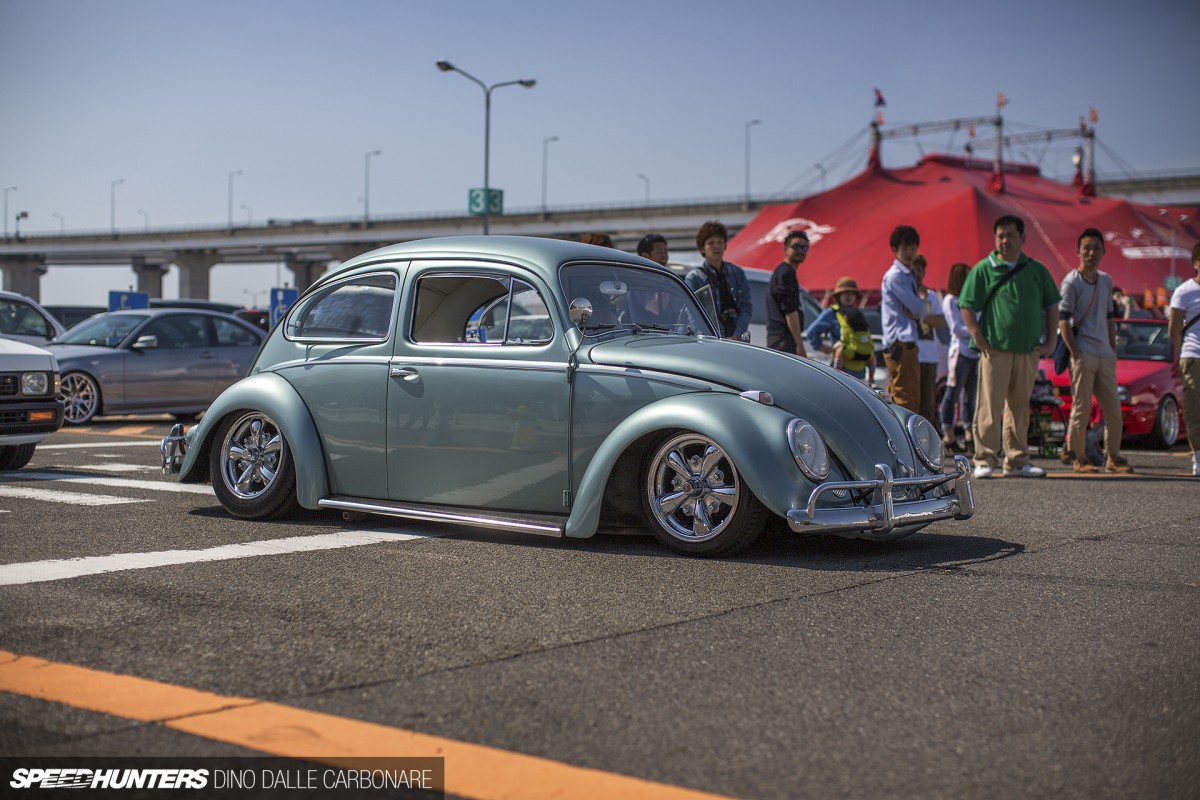 Check out this slammed Bug! It hits the mark in a variety of ways.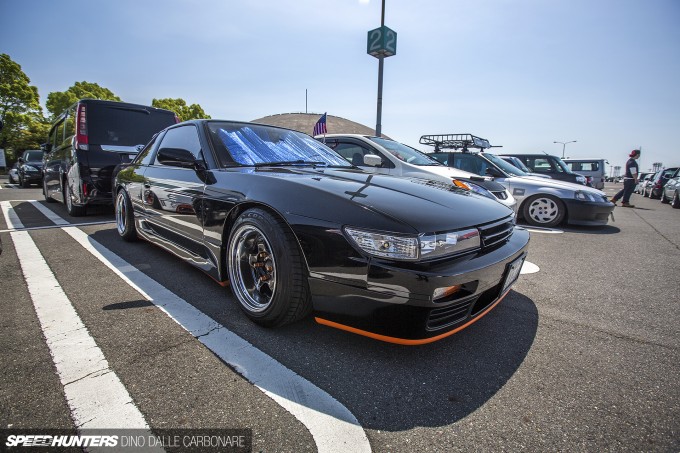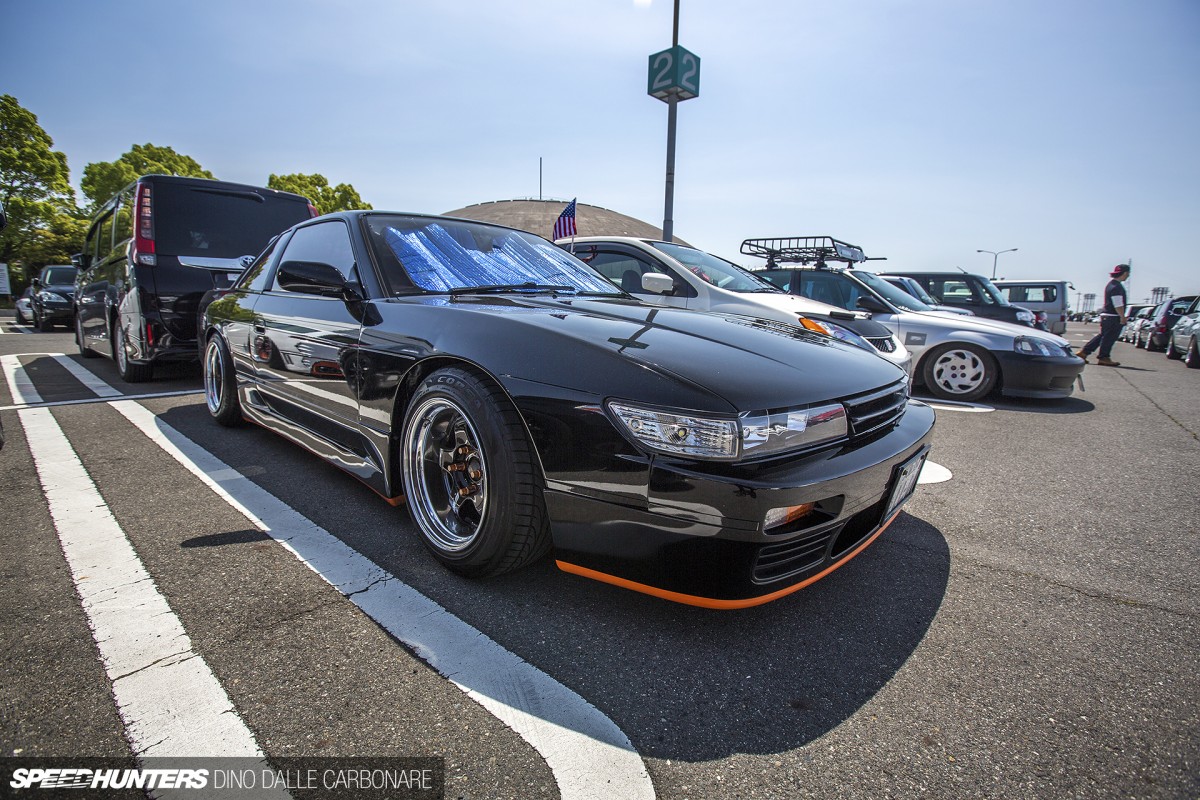 One thing I love about car park tours is the opportunity they allow to witness pure, undiluted, JDM car culture. These are the cars that people are driving on the street, and this is what they are doing with them. Take this S13 for example. Aside from the fact that it looked like it just rolled off of Nissan's production line, I really liked the super-clean aero additions, the deep dish Meisters with chunky rubber, and even the orange strip along the bottom sections of the bumpers and skirts.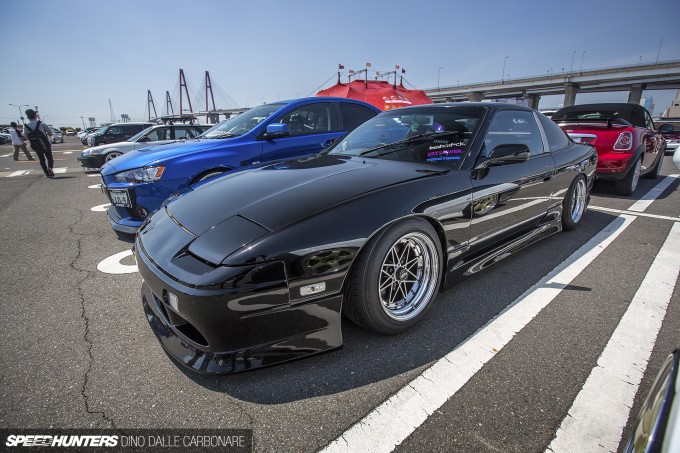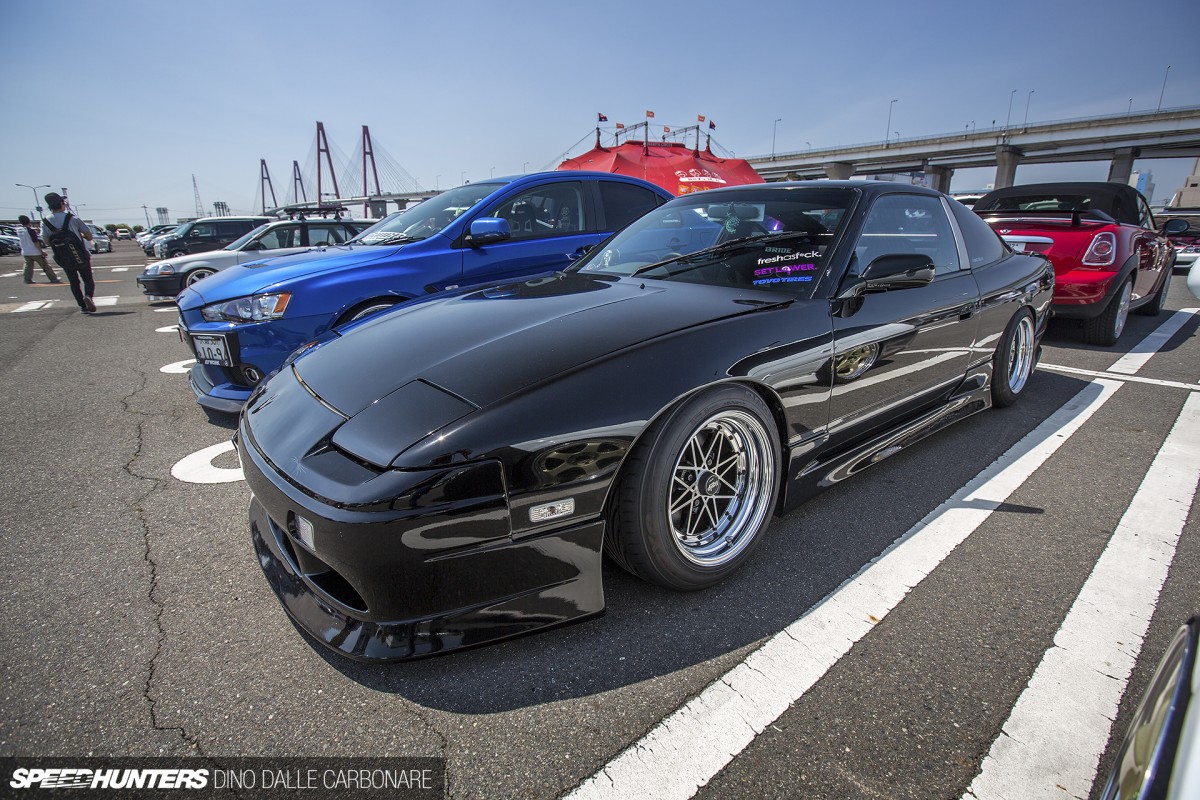 Another S13 chassis – this time a 180SX going for a similar look. And again we find Work wheels in the mix.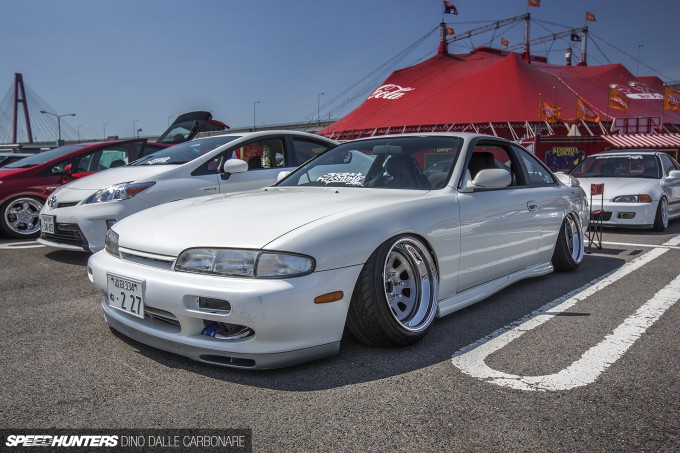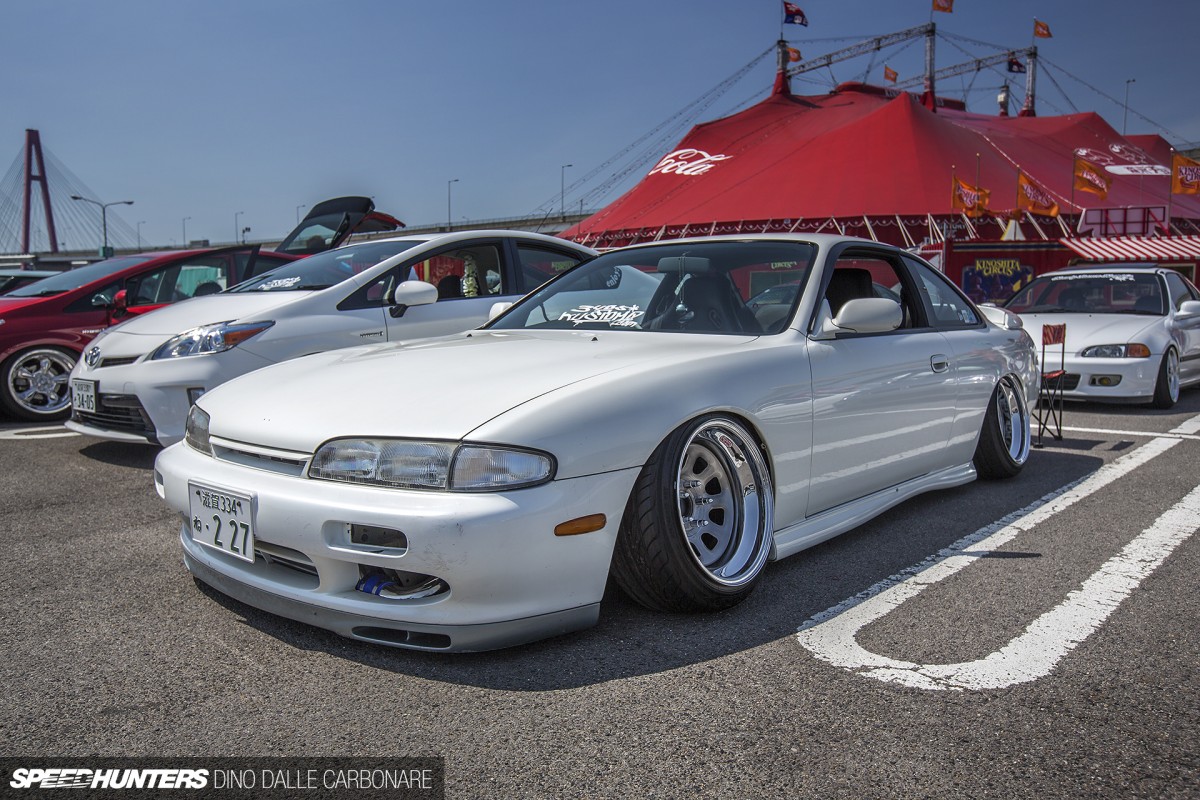 I'm a great fan of steelies and the look they can provide when chosen in the right sort of size. This zenki S14 certainly wore its Diamond Racing Wheels very well; a good handful of negative camber helping things along.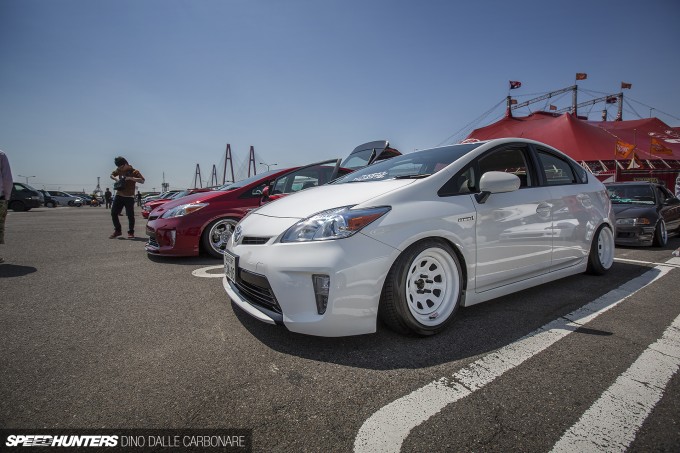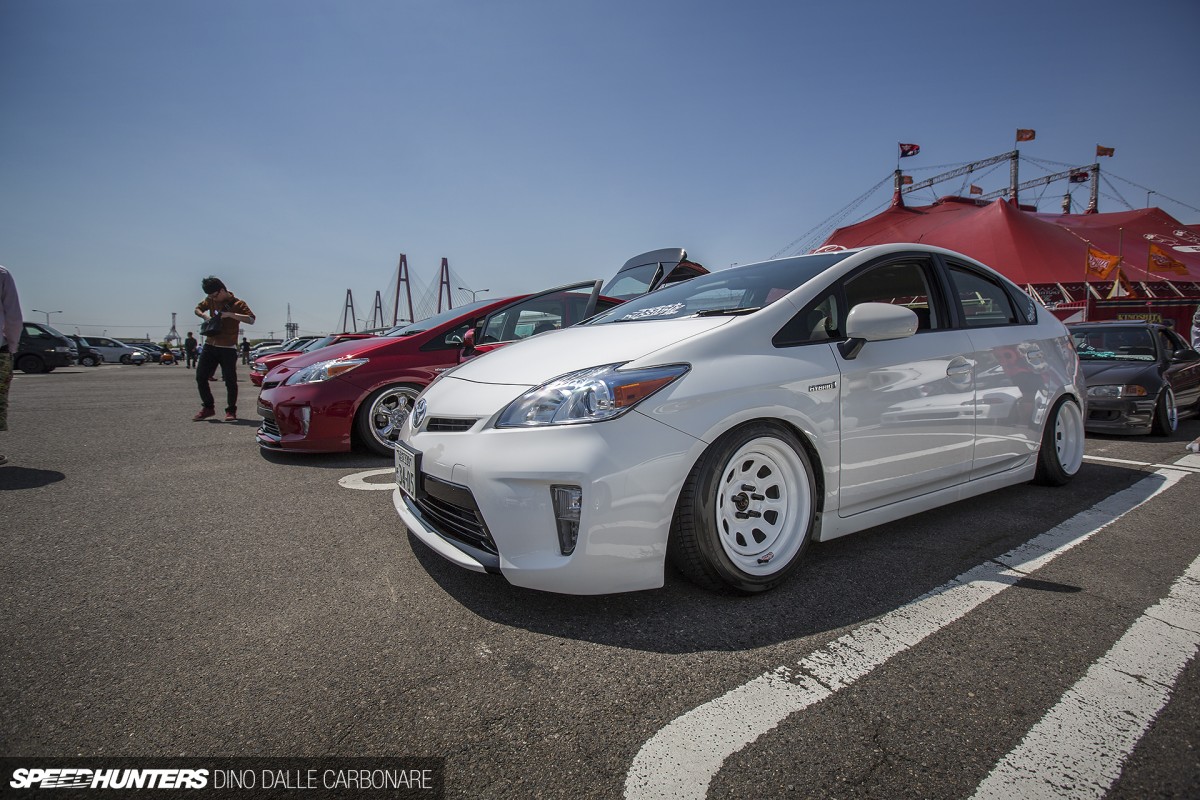 And yes, that is indeed a Prius right next to it, wearing a similar set of rims. So hybrids can be cool?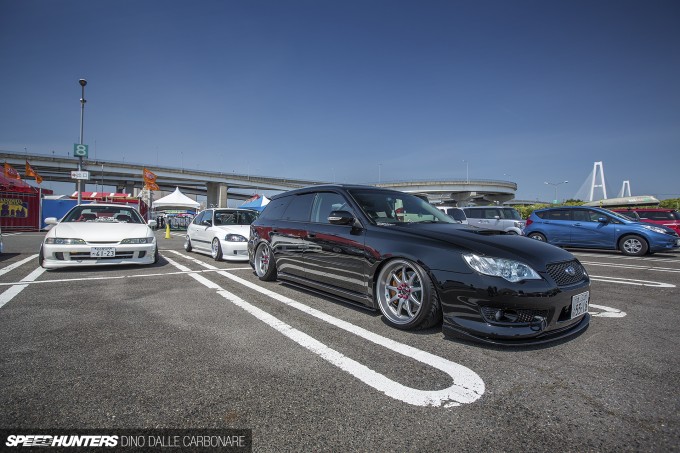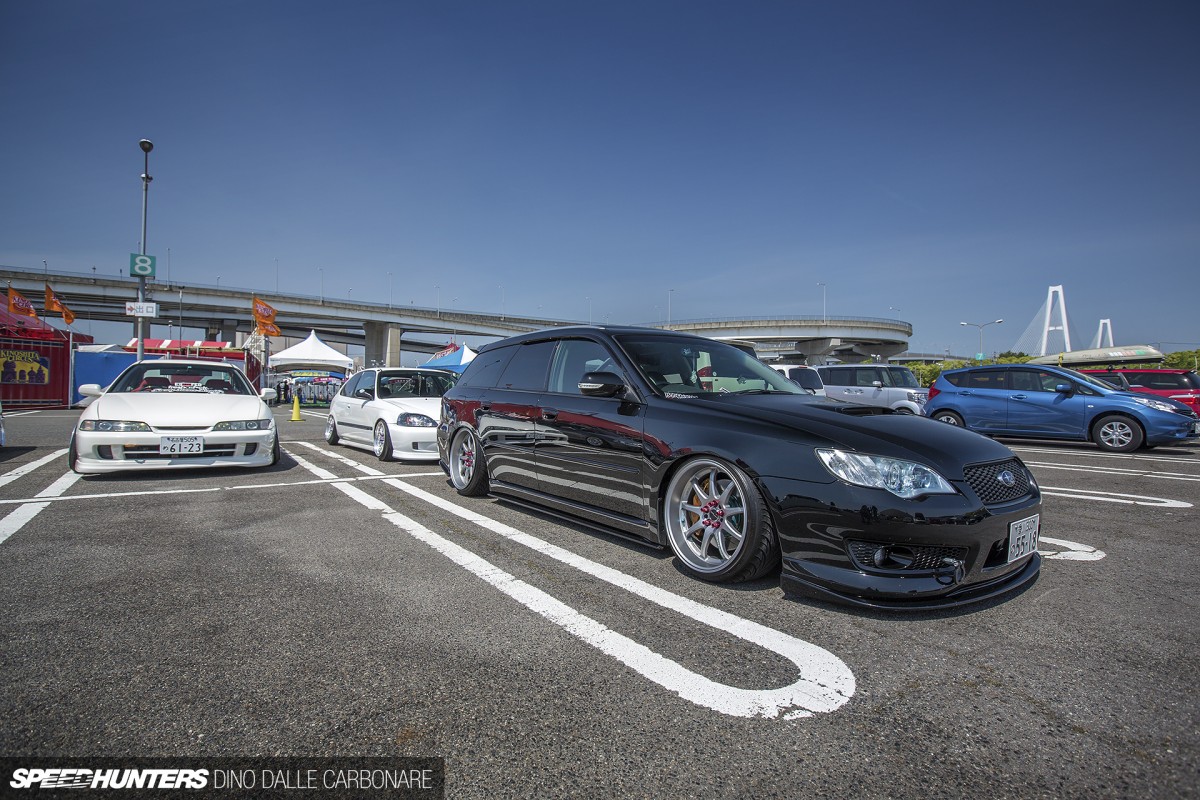 As far a Japanese wagons go, nothing is better than Subaru's Legacy in my mind. We saw this black BP variant at StanceNation last autumn, and with all its presence I can't help but show it to you again. I think we can consider this model the last of the real Legacies, as the new ones are now CVT-equipped and therefore are compromised in so many ways. How long before we see an Impreza WRX with a continuously variable transmission too? I hope never…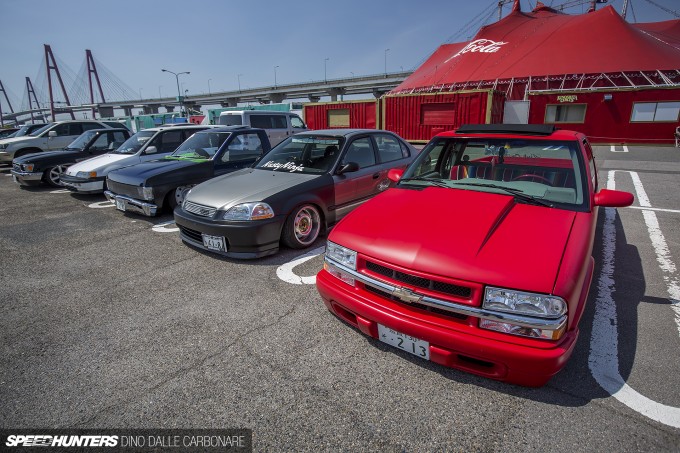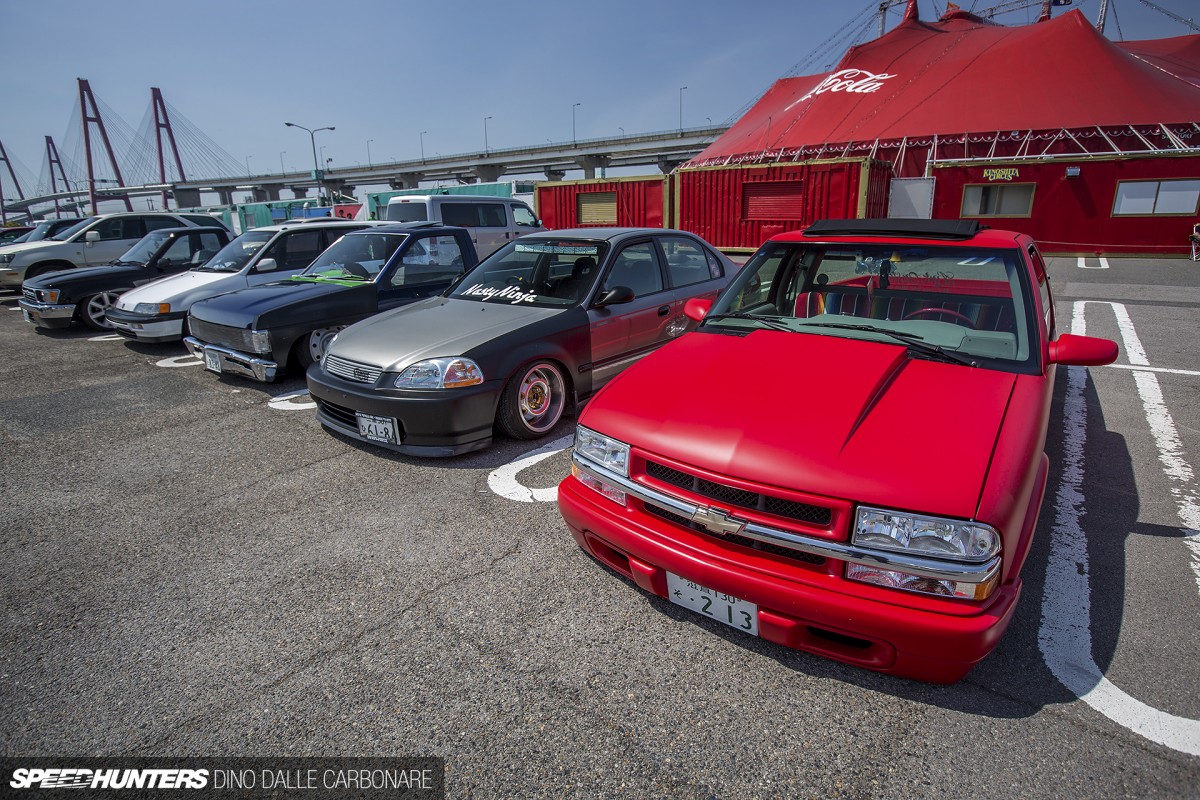 This line up of cars was representing USDM modifying methodology rather well. Oh, and in case you are wondering, that big red tent you see in some of the shots was a circus being held in the same car park. I wasn't joking when I said the place is huge!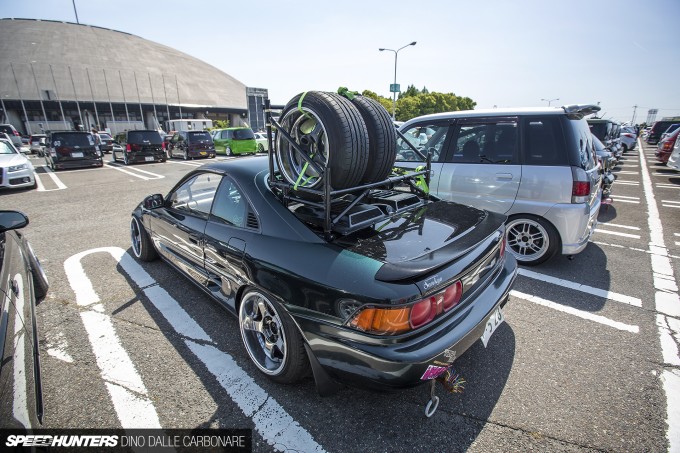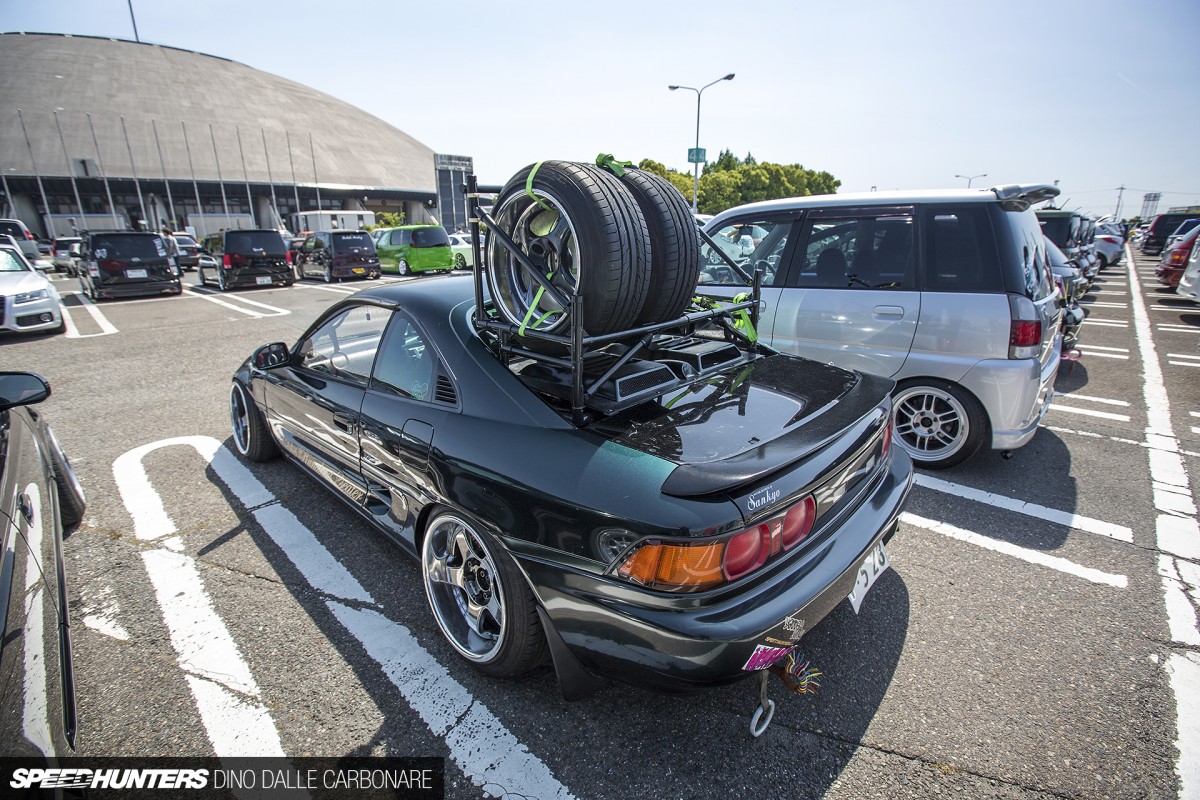 When you don't have the trunk space or rear seats to accommodate the odd spare wheel or two, you have to take matters into your own hands. Whether this SW20 MR2 is actually used for drifting, I'm not sure. I suspect not though, given how tricky the SW20 is to slide around, and how straight and shiny its panel work was.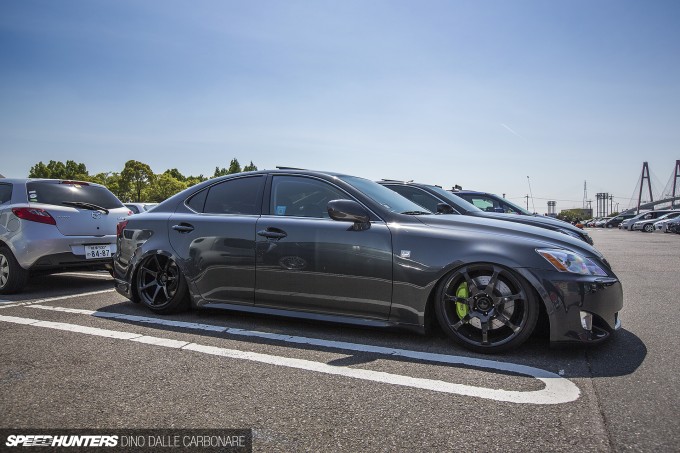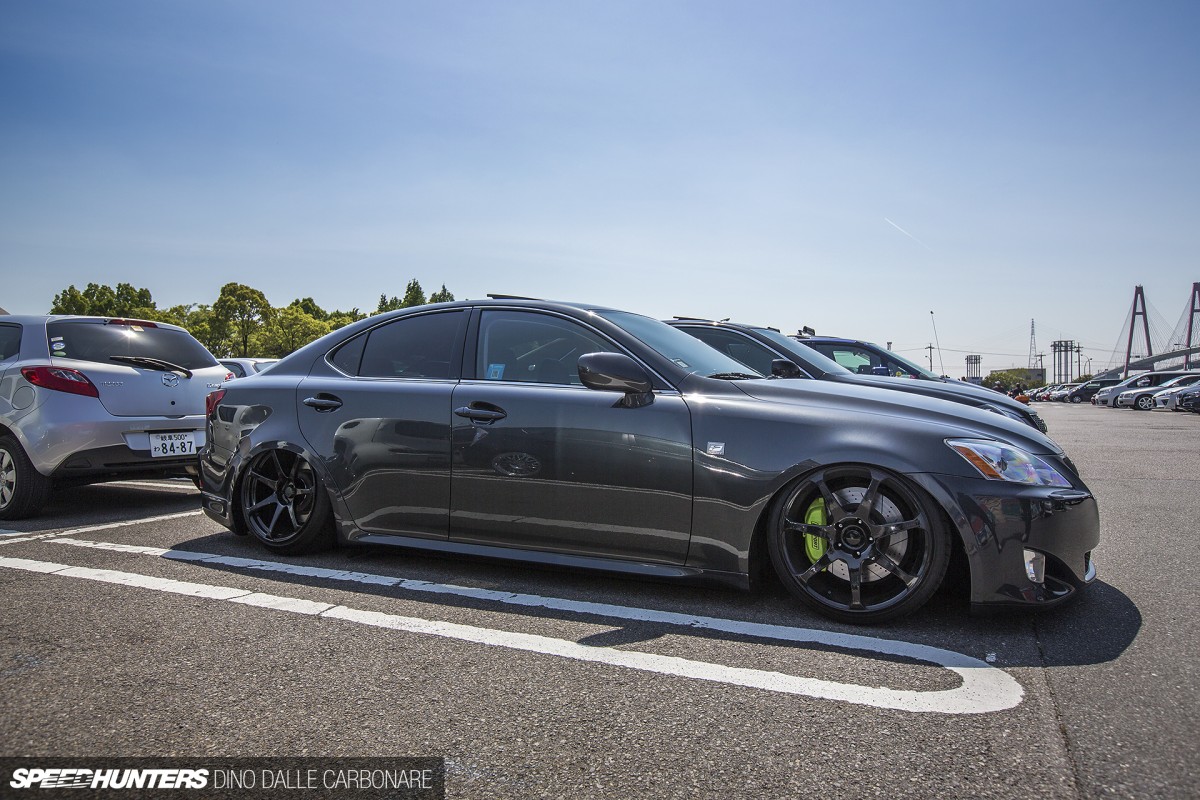 Lexus, plus air ride, plus plenty of tuck, is a proven recipe for slammed perfection.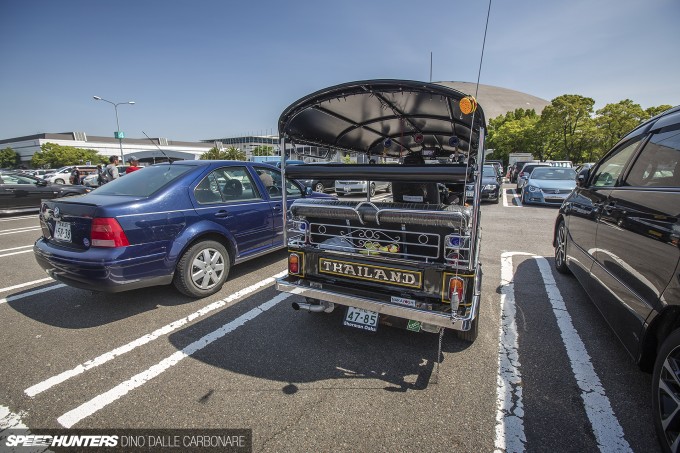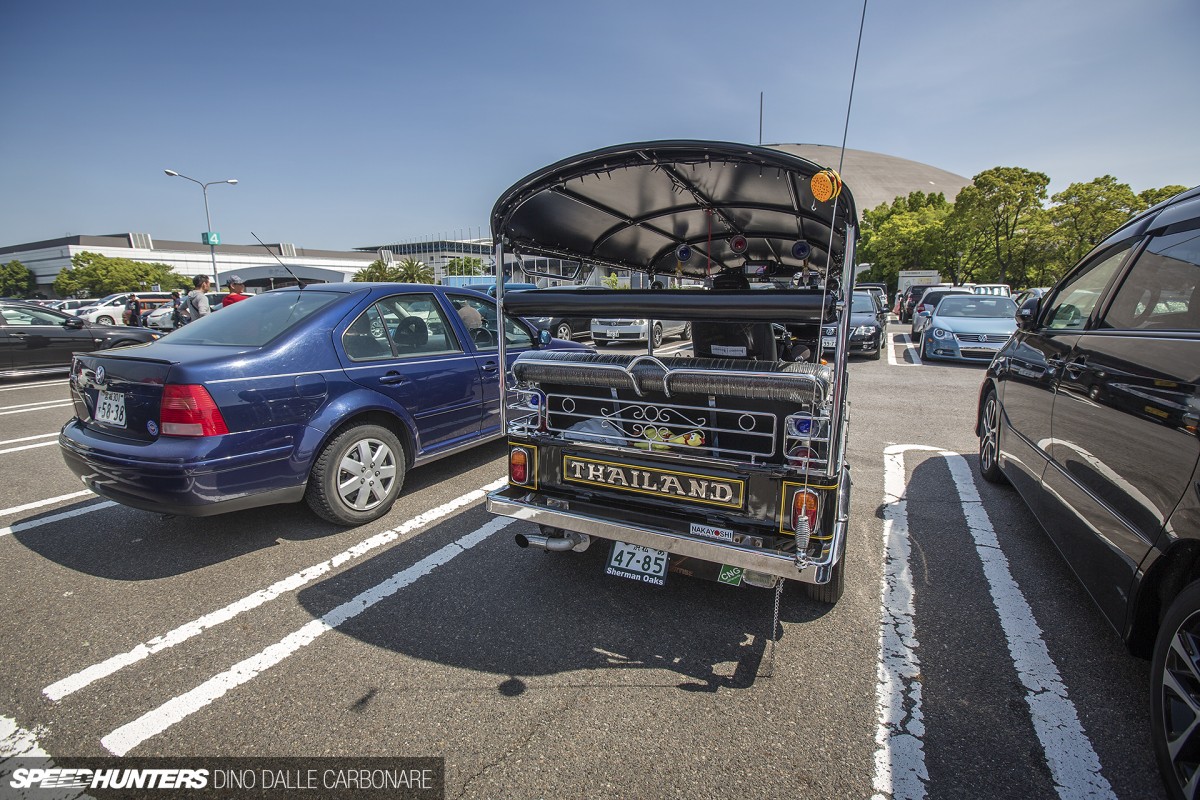 Okay, now this literally made me utter out the words 'WTF!' Bringing in a vehicle from abroad is a painless and relatively inexpensive proposition in Japan, which is why you see so many personal imports on the street. But this? A tuk-tuk from Thailand?!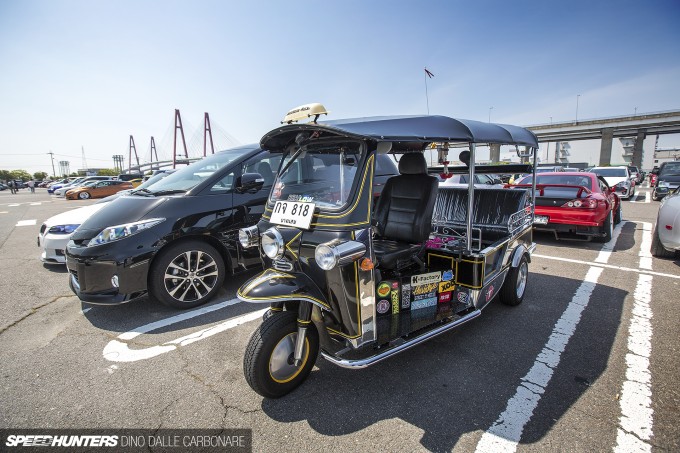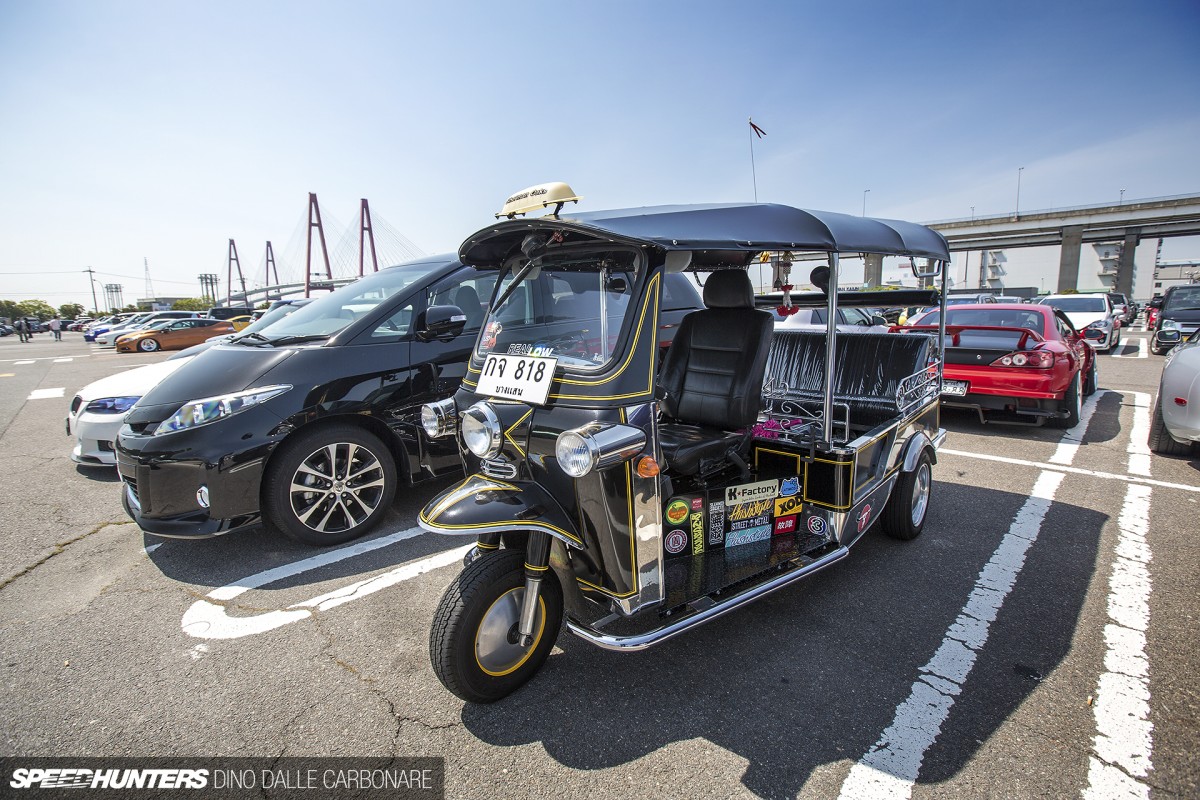 No matter what the reason for this may be, the owner obviously has a sense of humour, and I give him a big thumbs up for that. While I was exploring the car park, this thing had the biggest crowd of people milling around by a long shot.
Hondas done differently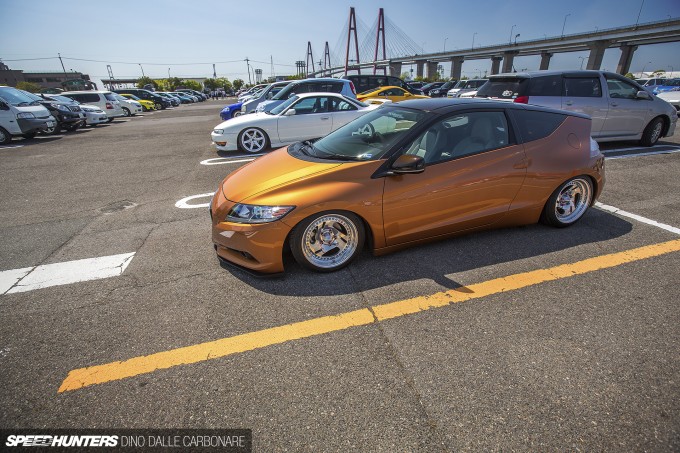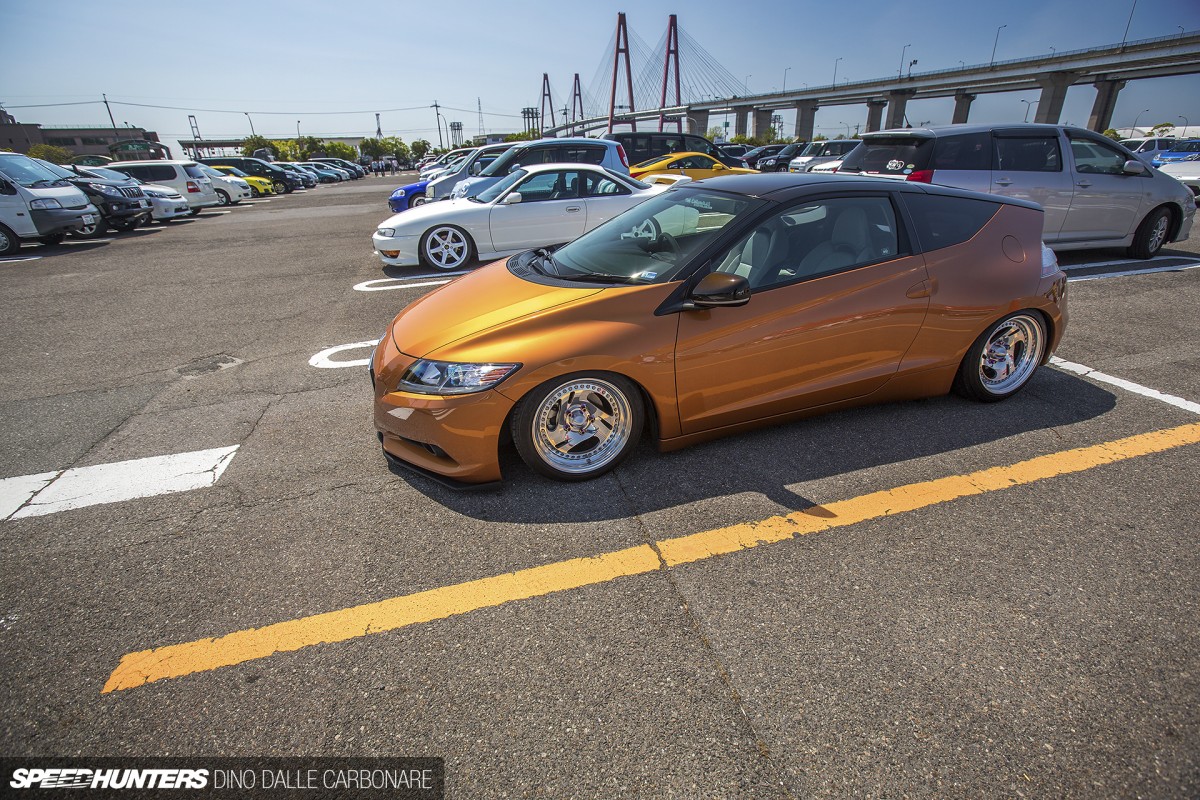 There were a few cool CR-Xs to indulge in at Wekfest, but no CR-Zs. This was the only one I spotted on the day and a stark reminder that Honda really should reconsider their definition of sports car. There's nothing wrong with the design of the CR-Z – it just needs more power.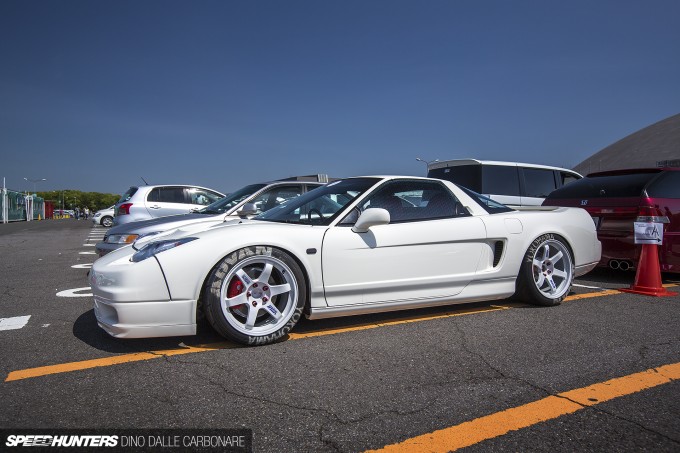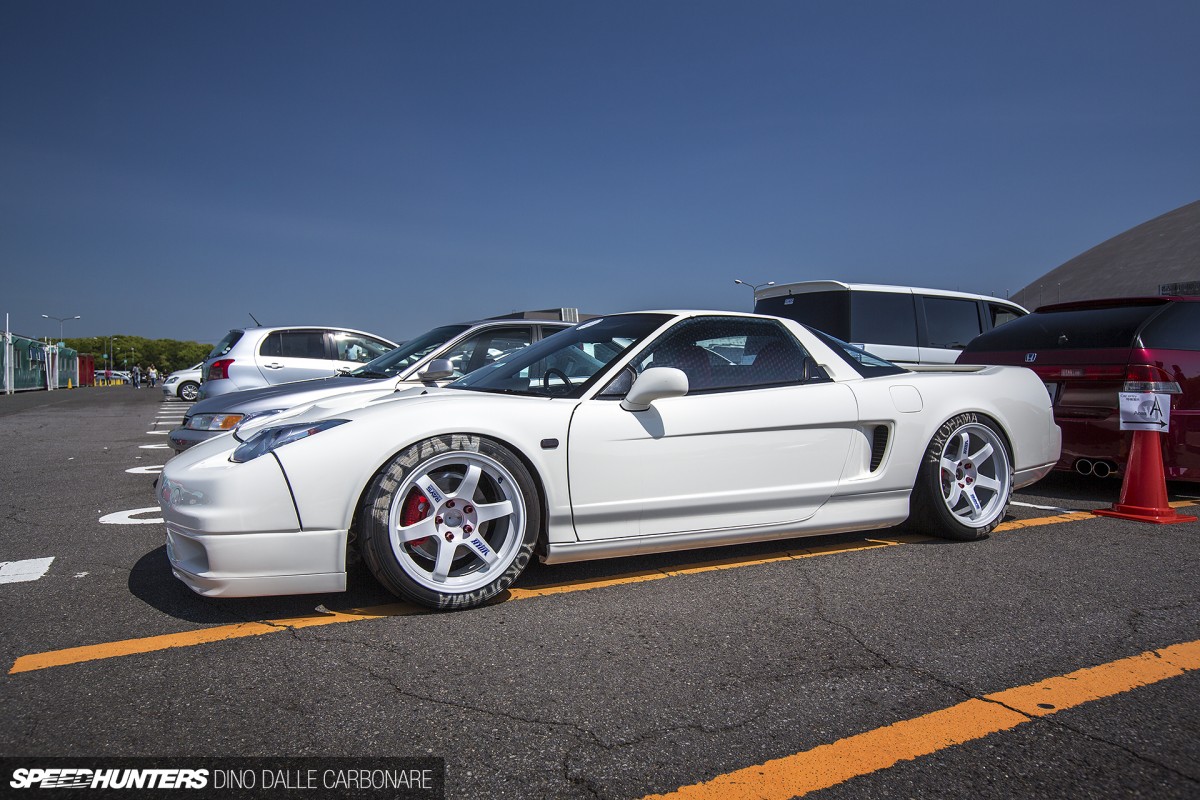 Something like this maybe? Now we're talking! As Mike just pointed out, maybe Honda is beginning to realise the error of its ways? Not everyone is looking for an eco-toaster on wheels. Let's see how the S660 and NSX do first I guess…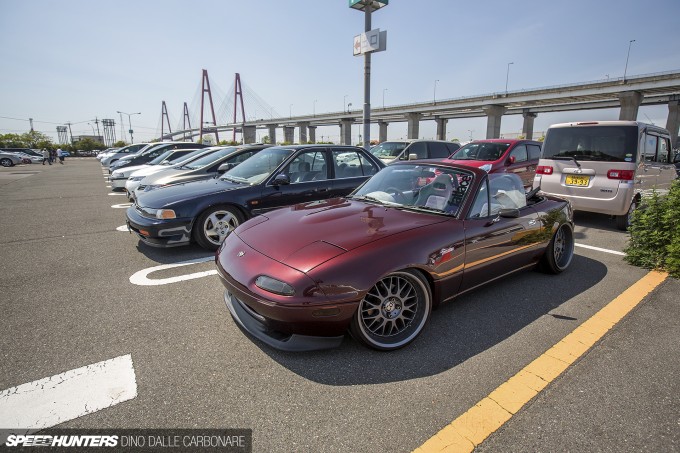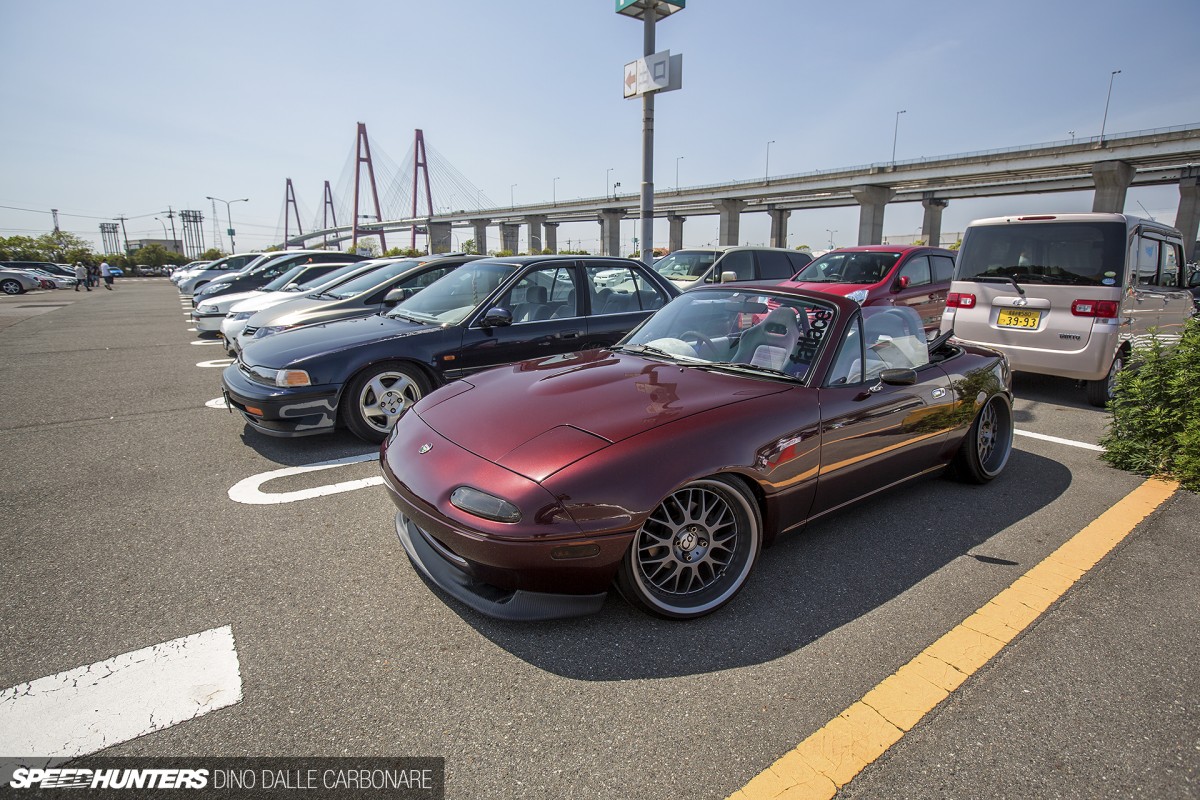 Miata love? Again, there were not many of these cars at the show or in the car park, which I found quite strange.That said, the NA/NB and NCs have always appealed more to racers and those into proper driving, rather than the show side of things.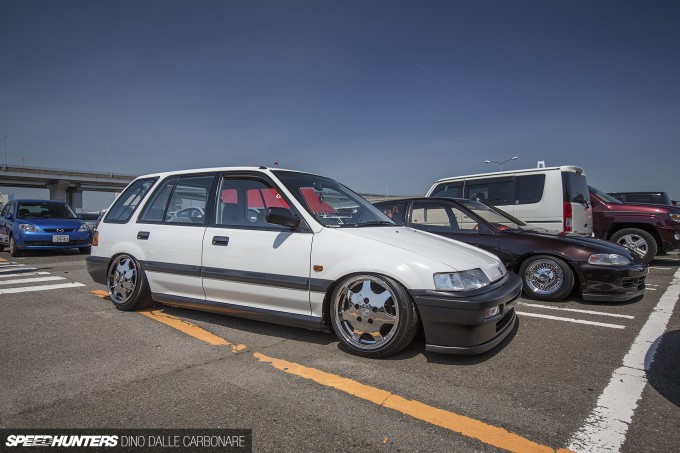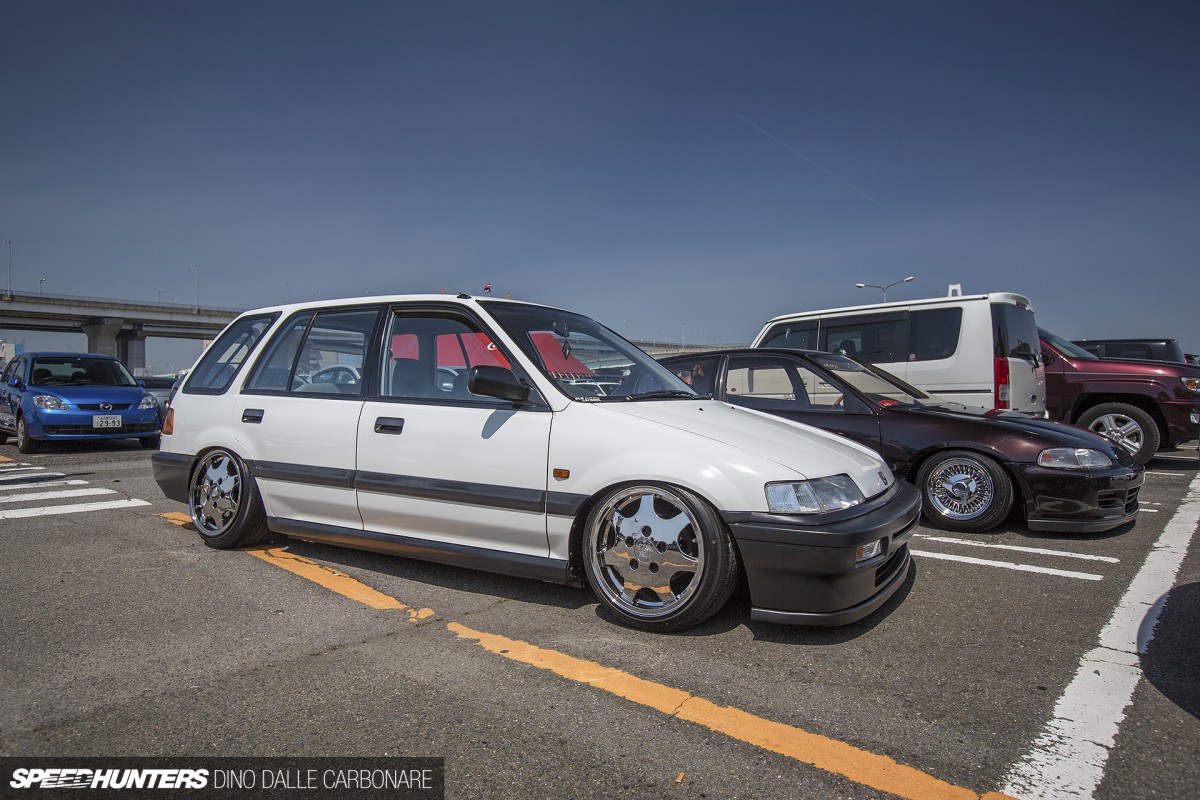 I'm not quite done with the Hondas yet, as there is this cool EF Shuttle I want to show you. It was nothing special except for the fact that it was fitted with a set of chromed Porsche rims – or more specifically – the ones fitted on the 944 S2, the 928 and some entry models of the 911 back in 1989. For some reason I really liked this match.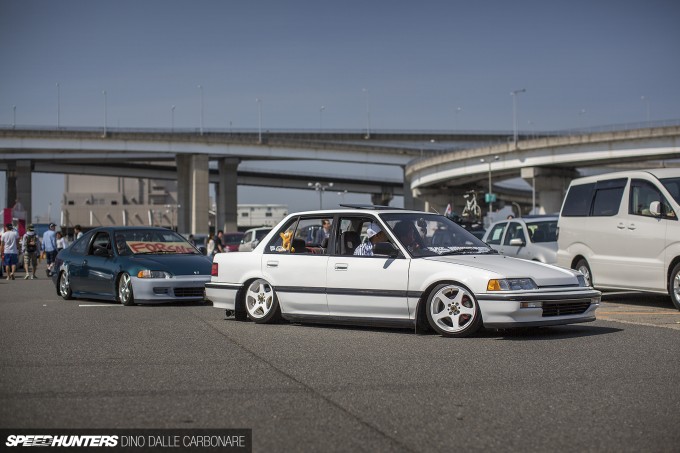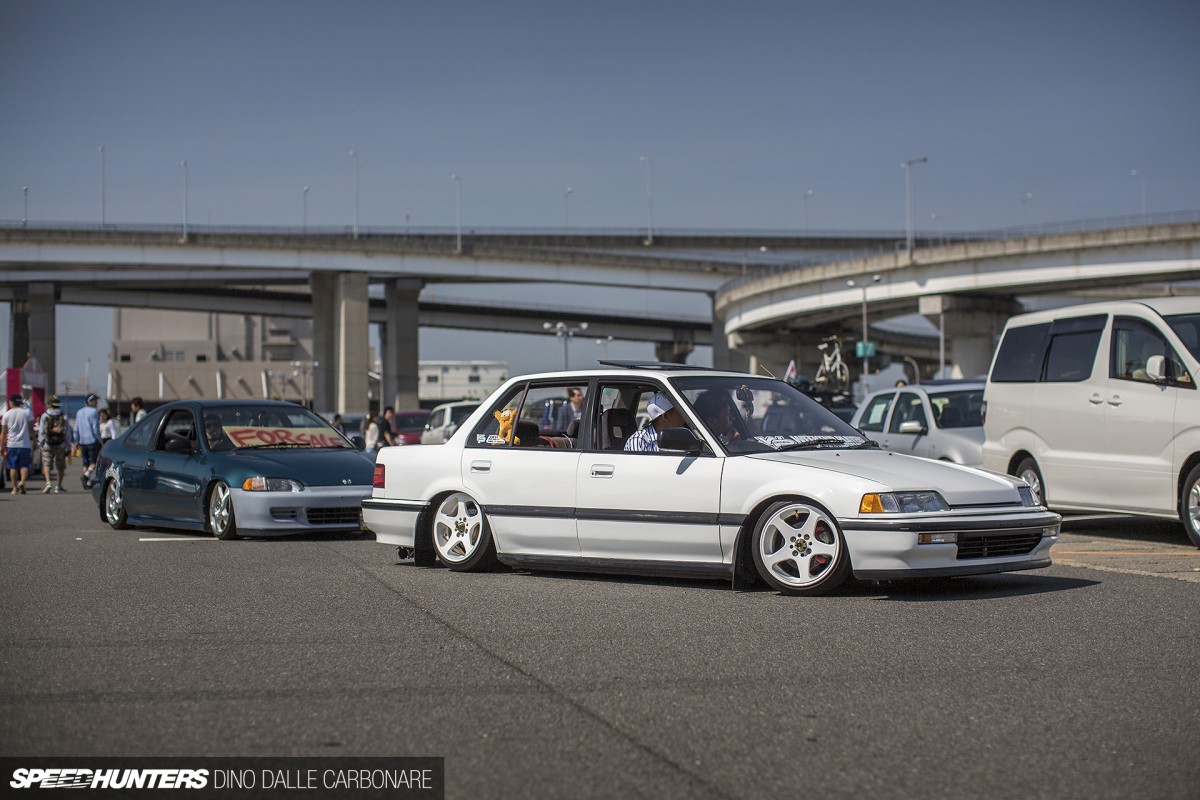 More Hondas! These guys kept driving around and in the process made a bit of noise revving their engines, which was just a bit of fun that added to the atmosphere of it all. This being Japan, no one ever really spoils things with burnouts or other such antics to upset the organisers.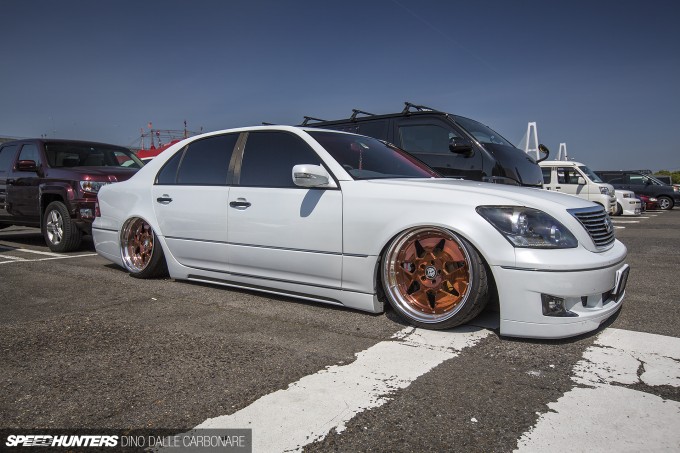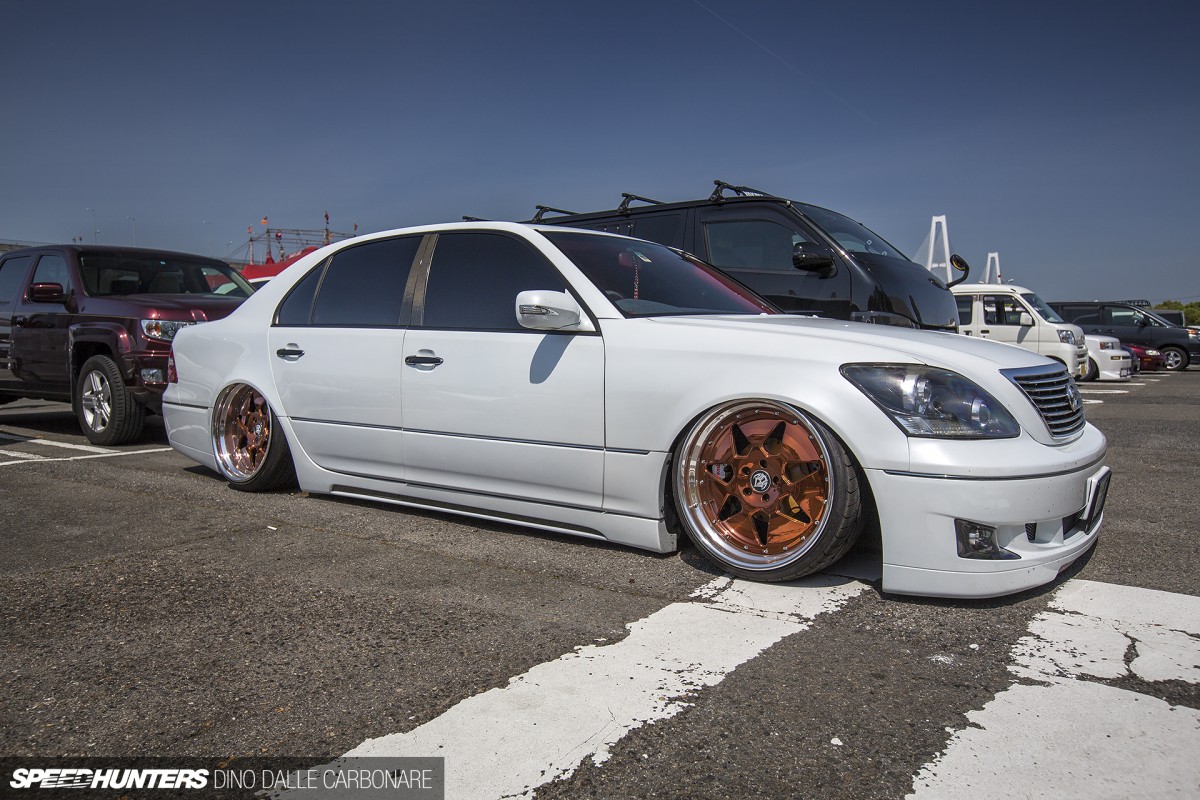 VIP meets USDM? Maybe, but then again things continue to progress in bippu circles so I'd probably just describe it as modern VIP ride.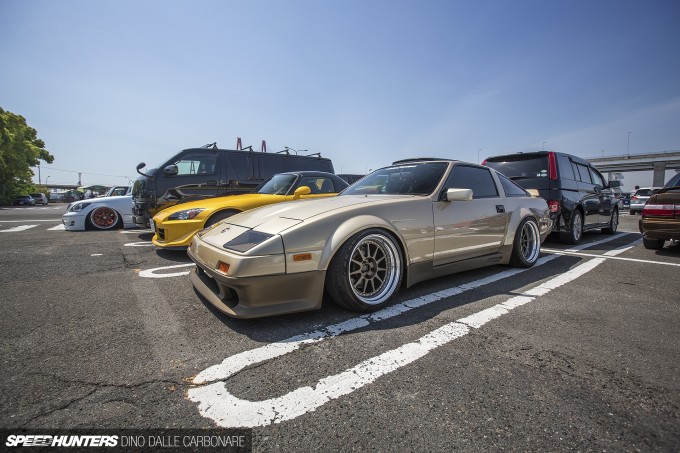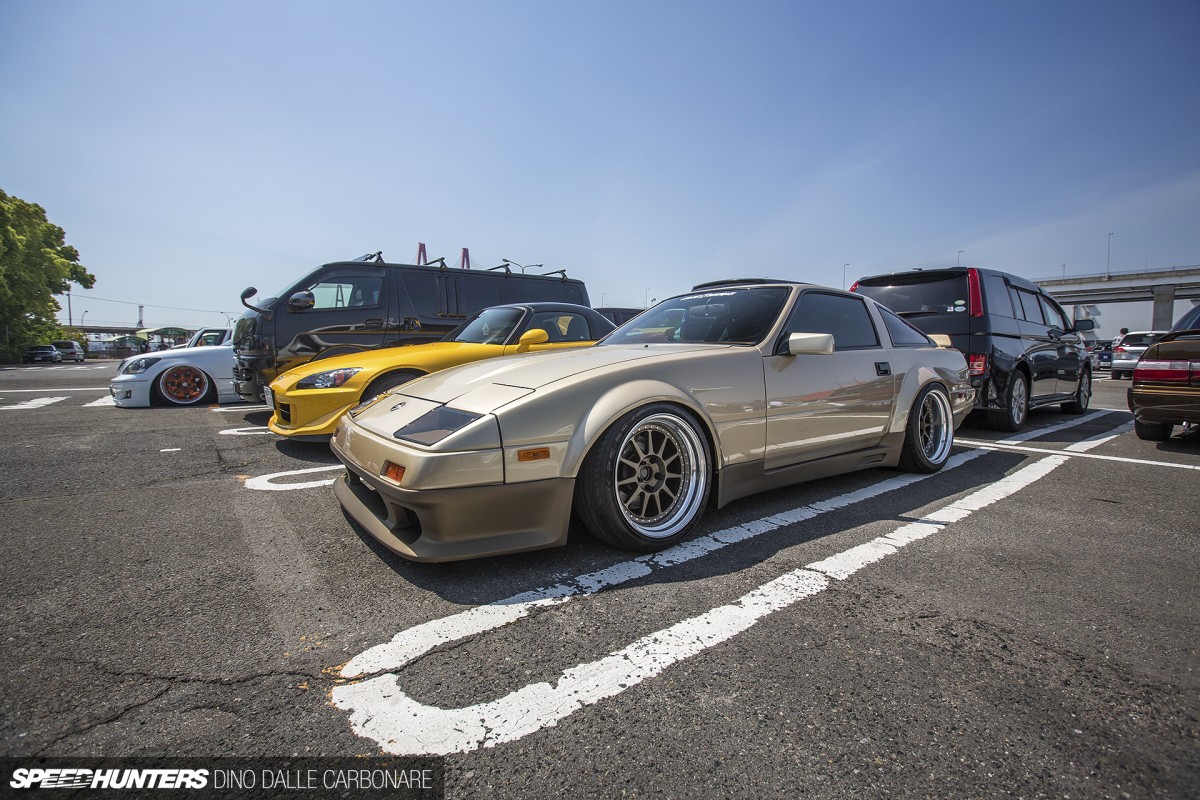 I was missing the old school stuff on the day, but at least this Fairlady filled that void rather well.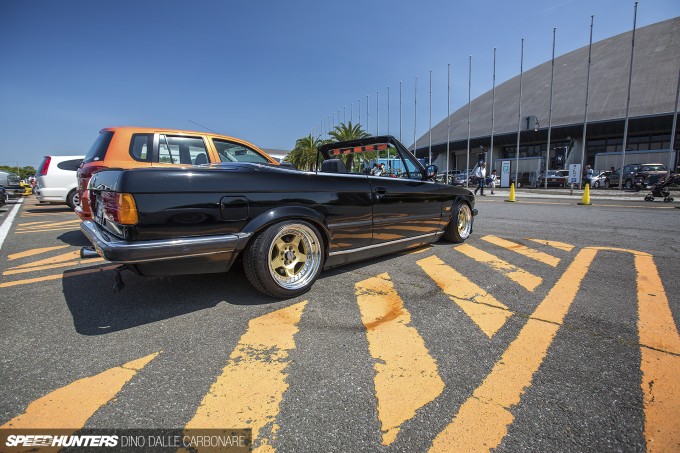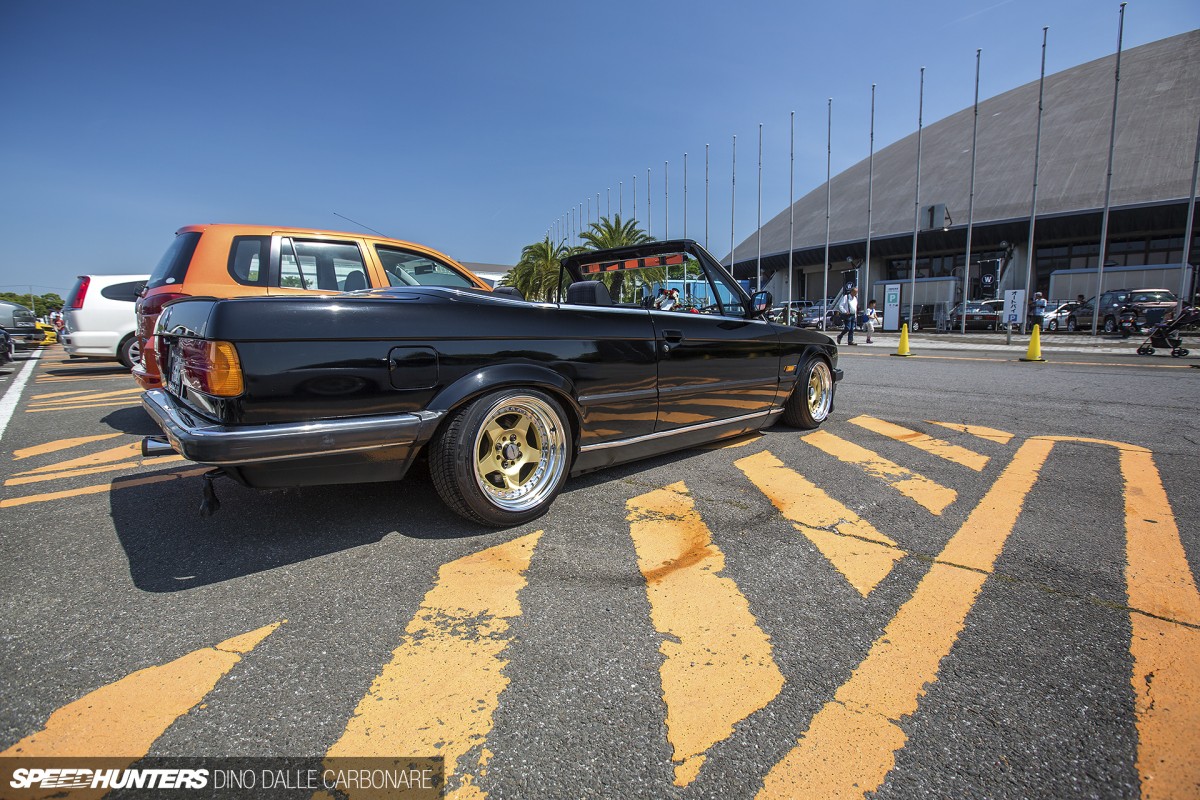 I love seeing the use of Japanese wheels like these Work Meister CR-01s on a variety of imports; and this E30 convertible shows why.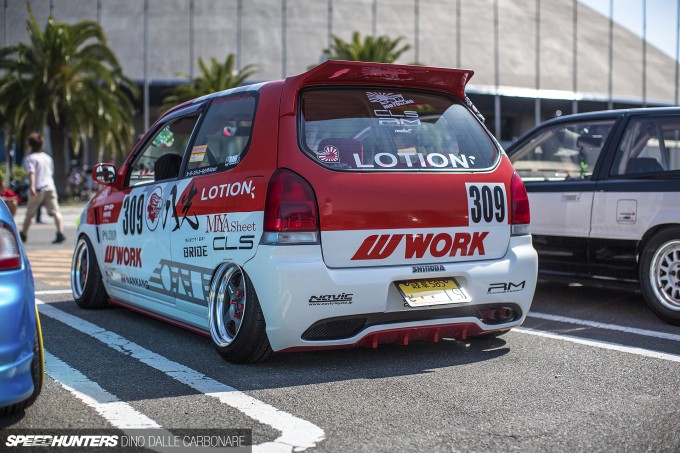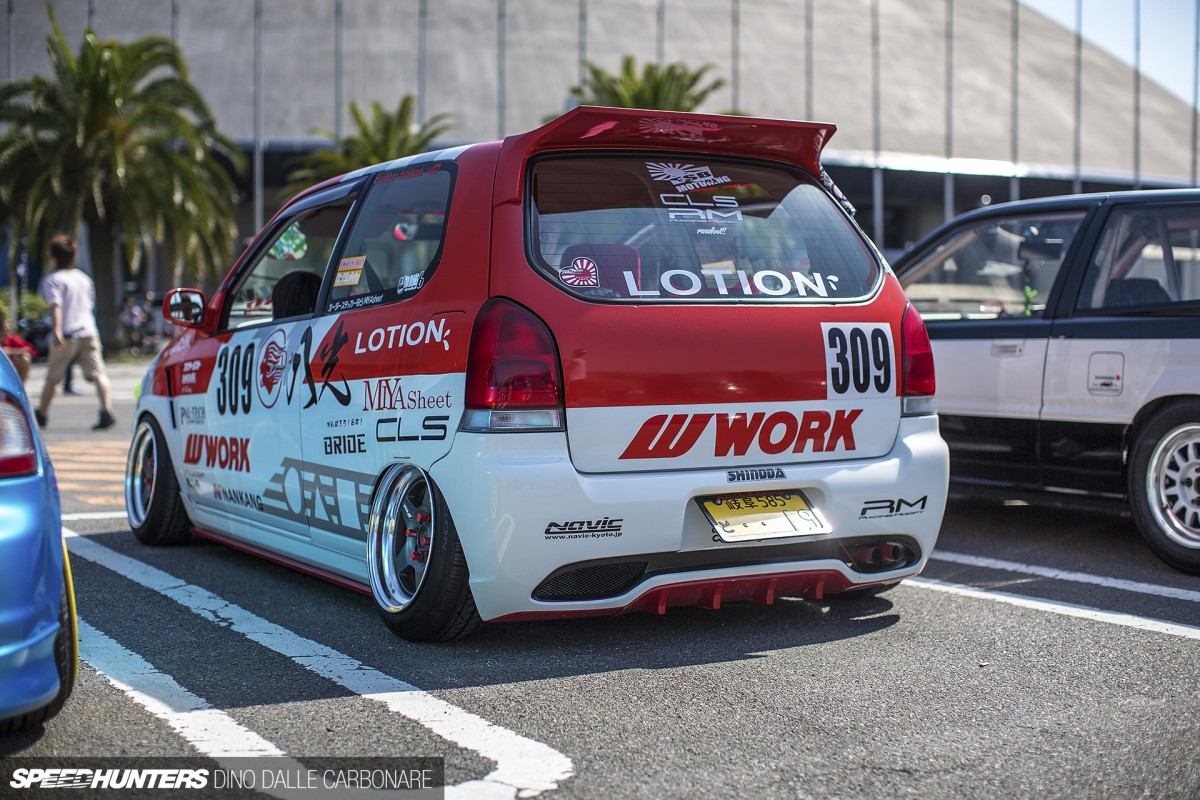 Same wheel – very different application.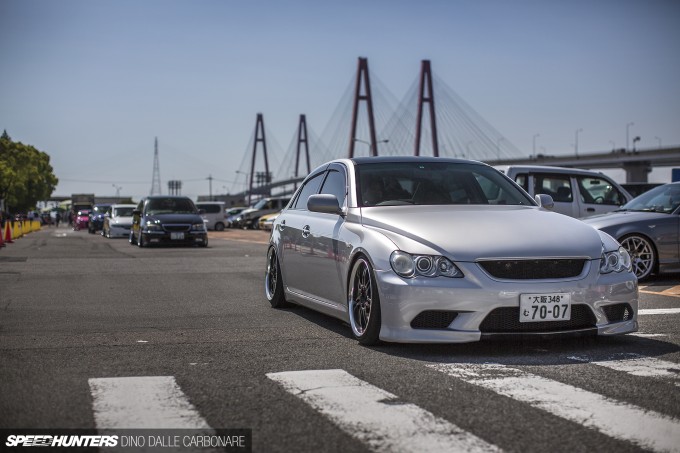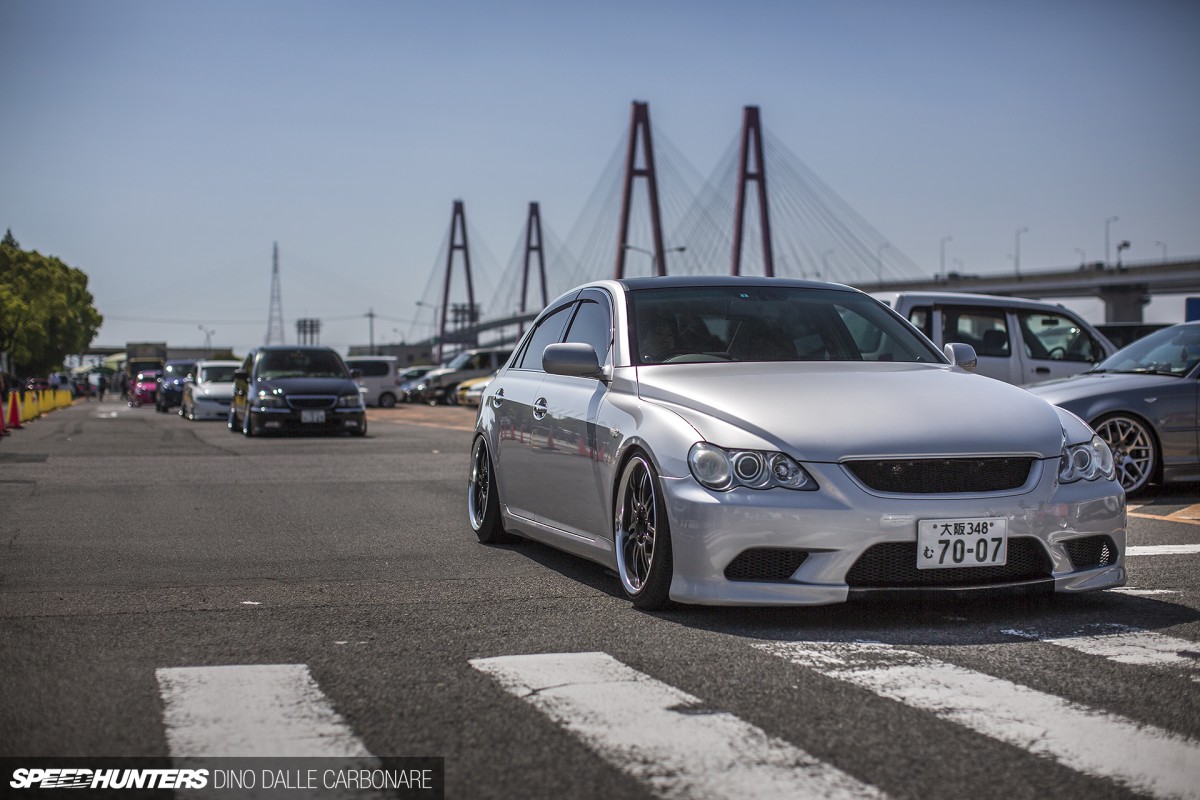 By late afternoon, as the show was winding down, a lot of people began to leave in an attempt to beat the traffic. With lot of cool cars cruising out, it turned into a bit of a parade through to the car park exit.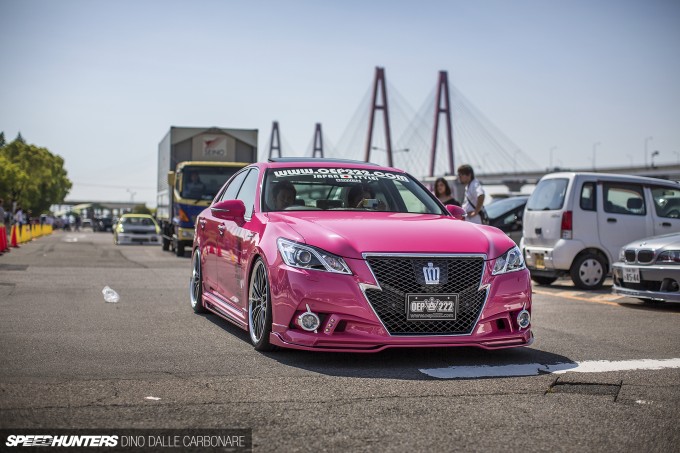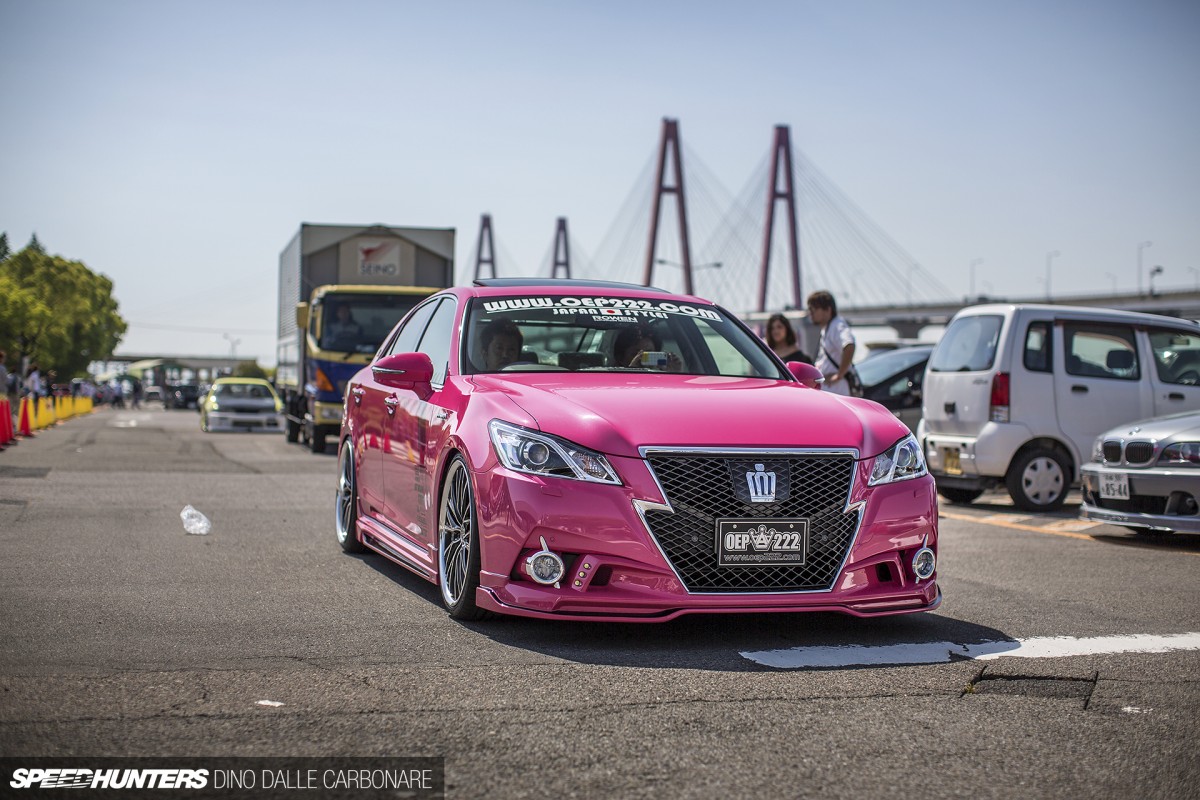 Aside from the fact that I don't get the whole pink car thing, what really surprises me the most is that Toyota actually offers the color as an option on the new Crown. This was one of three that I spotted in the car park, but the only one that was driven by a girl. Gotta love Japan!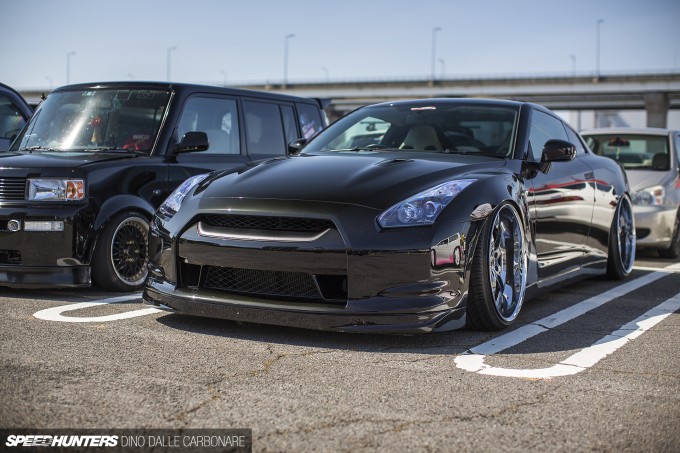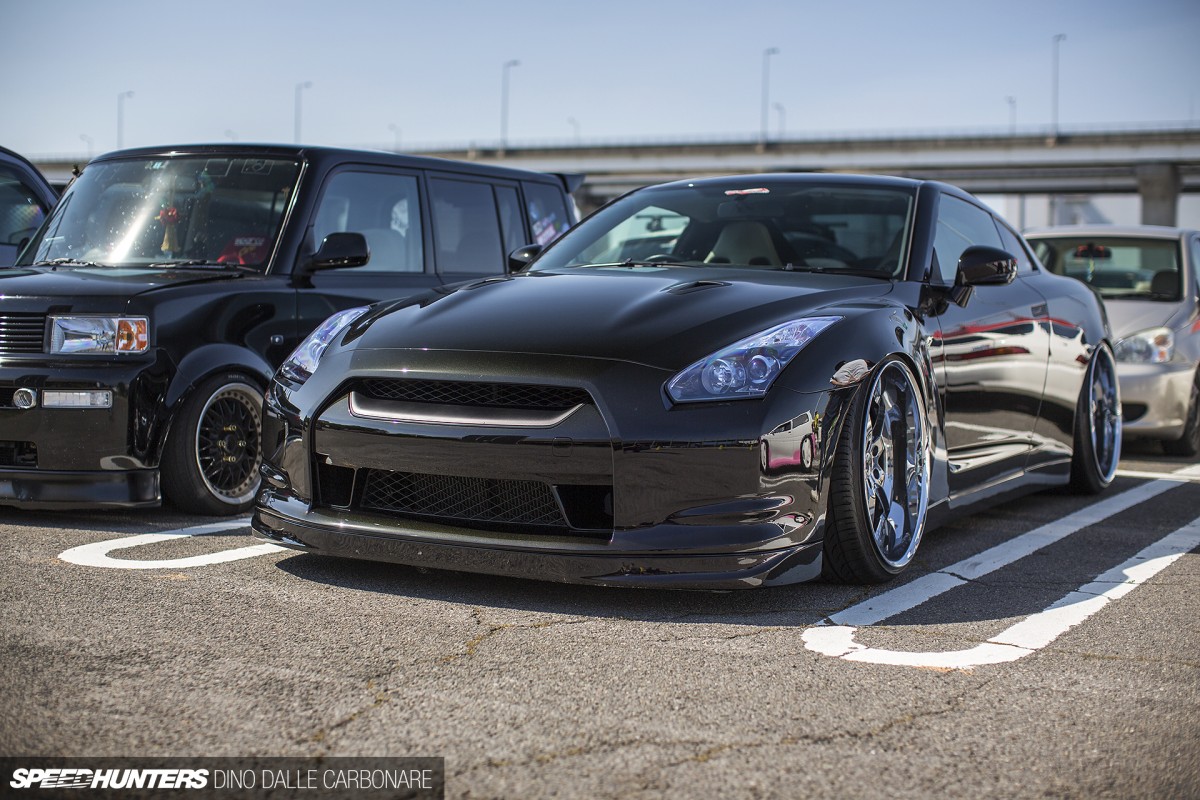 I'm not going to say too much about this GT-R as I'm sure a lot of you will have enough to add in the comments section. But to get the massive 22-inch wheels to fit, the front and rear fenders had to be pulled and rolled. With the rear spoiler gone, the look is pretty smooth.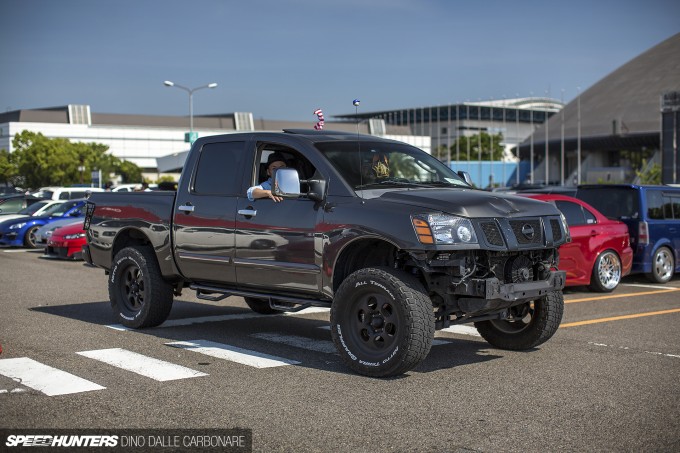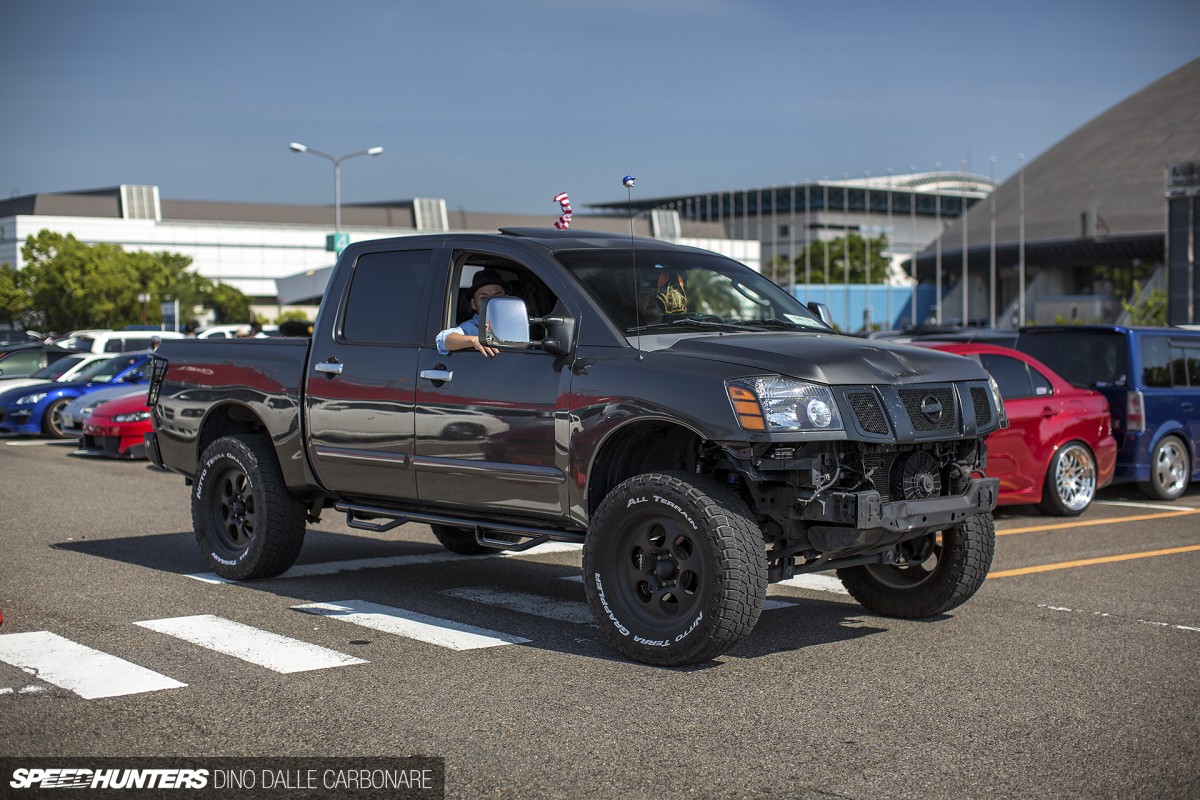 Here's an example that the Japanese really are into anything and everything!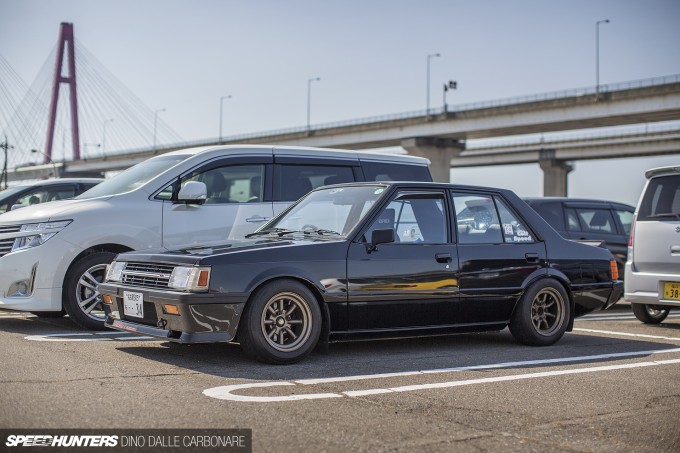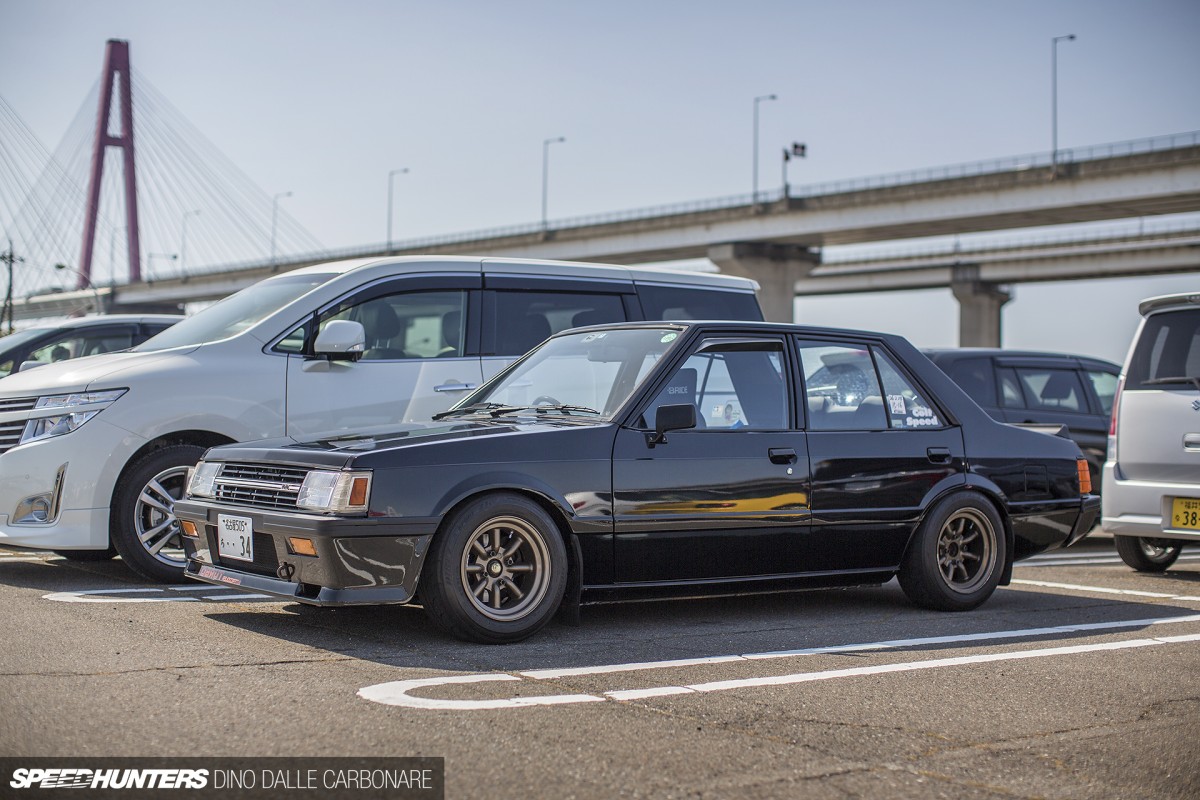 I'll end the Wekfest Japan coverage right here with a shot of this cool Mitsubishi Lancer EX Turbo on Watanabe rims – another golden find in that massive Port Messe car park. I hope you've enjoyed seeing such a unique selection of cars from Japan. Now I'm off to Hawaii to check out the scene there, so don't miss the coverage from Offset Kings Honolulu coming next week.
Dino Dalle Carbonare
Instagram: speedhunters_dino
dino@speedhunters.com