Old school stanced
In yesterday's post from Wekfest Nagoya I purposely left out five pretty important cars from the inaugural Japanese event. These were cars that I felt best represented – with a variety of different approaches – what Japan has to offer within this style movement. And what better way to present them to you than all tucked into a neat little Spotlight-o-rama post.
There's no particular order to how I'm showing the cars – it's pretty much the order in which I came across them. So let's begin with this BMW 2002…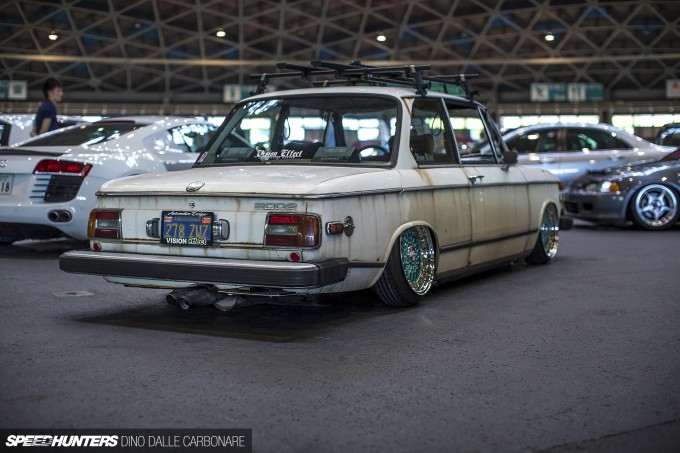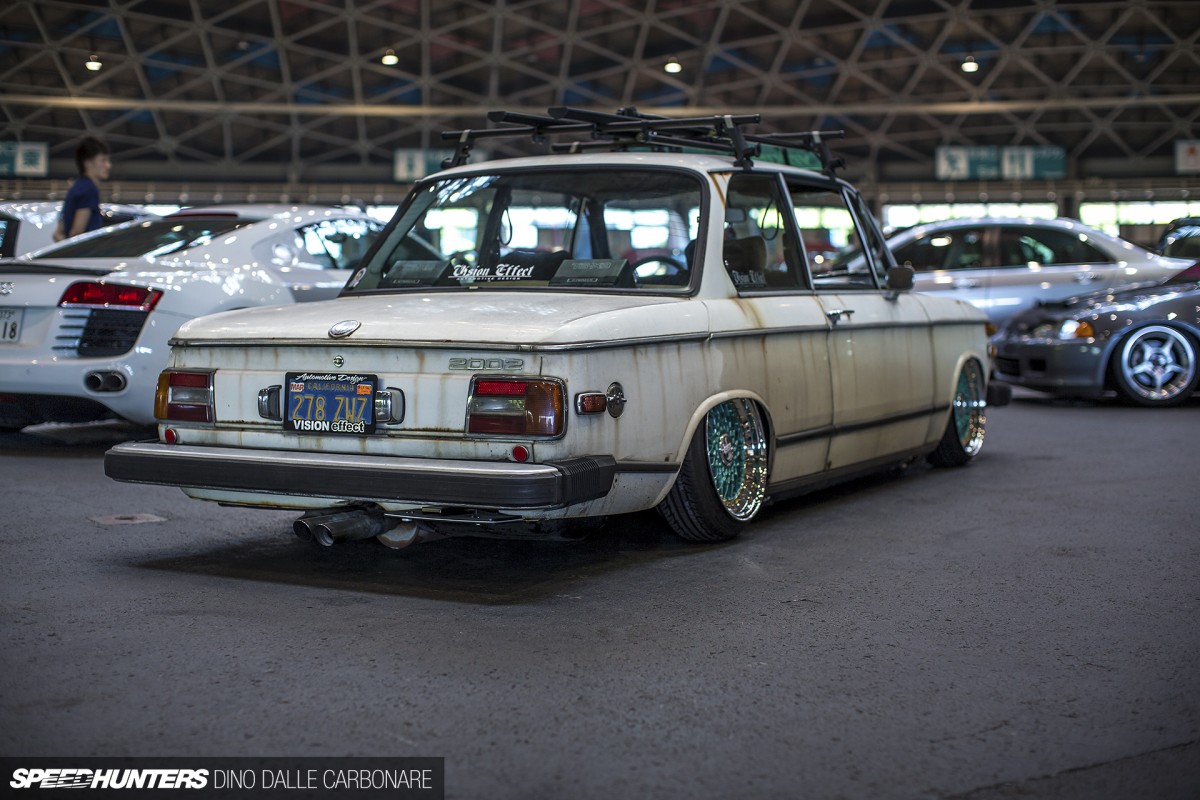 My initial thought might have been something along the lines of 'Oh, here we go again – the old semi-abandoned look redone in a different flavour', but not wanting to fall into that terrible trap of dismissing a car based on a fleeting glance (something nobody should ever do), it quickly became obvious that there were many cool touches that truly made it different. To begin with, it was a US import, and therefore automatically super cool in Japan. Nothing will win you more props than starting off with a hard-to-source import. Second of all, the rust runs and the patina really seemed to be authentic, and I guess if you are going for that look it's far better than having to fake it, right?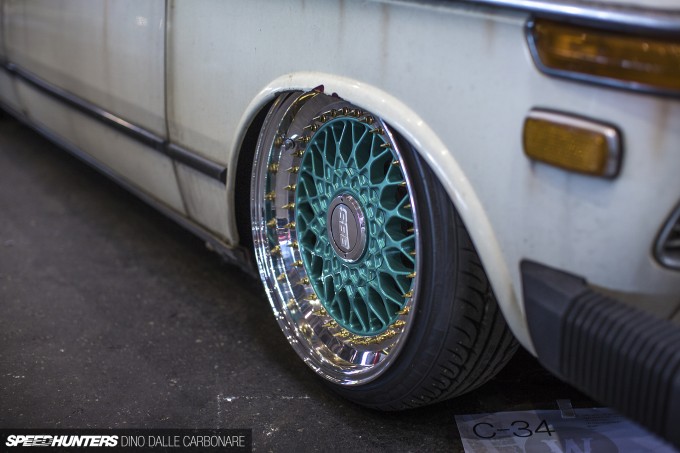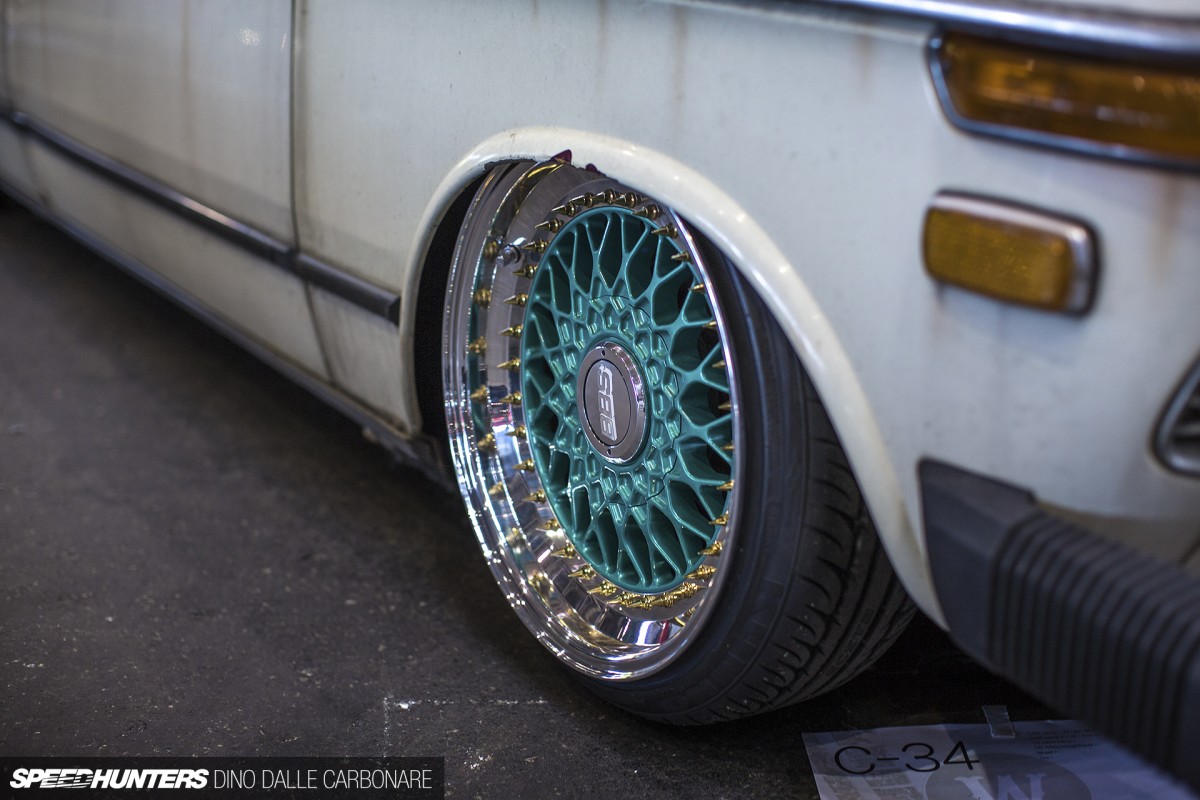 Then there was the wheels. Like I mentioned in the first post, I don't think any car can look bad when lowered on a set of nicely-fitted BBS rims. That is very much true here – especially when the wheels in question are beautifully restored and have been treated to a modern touch of color.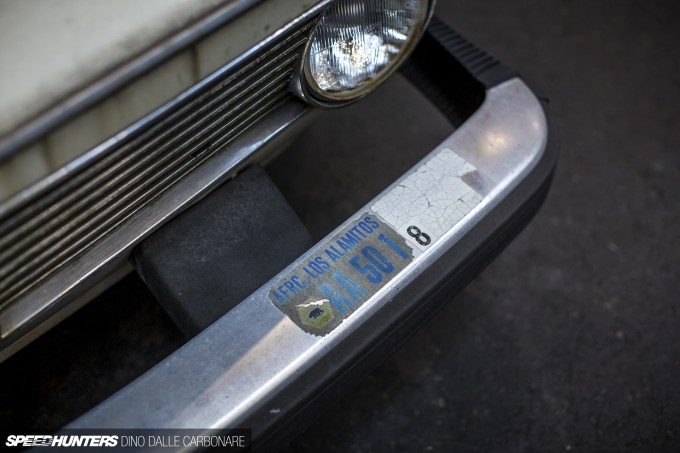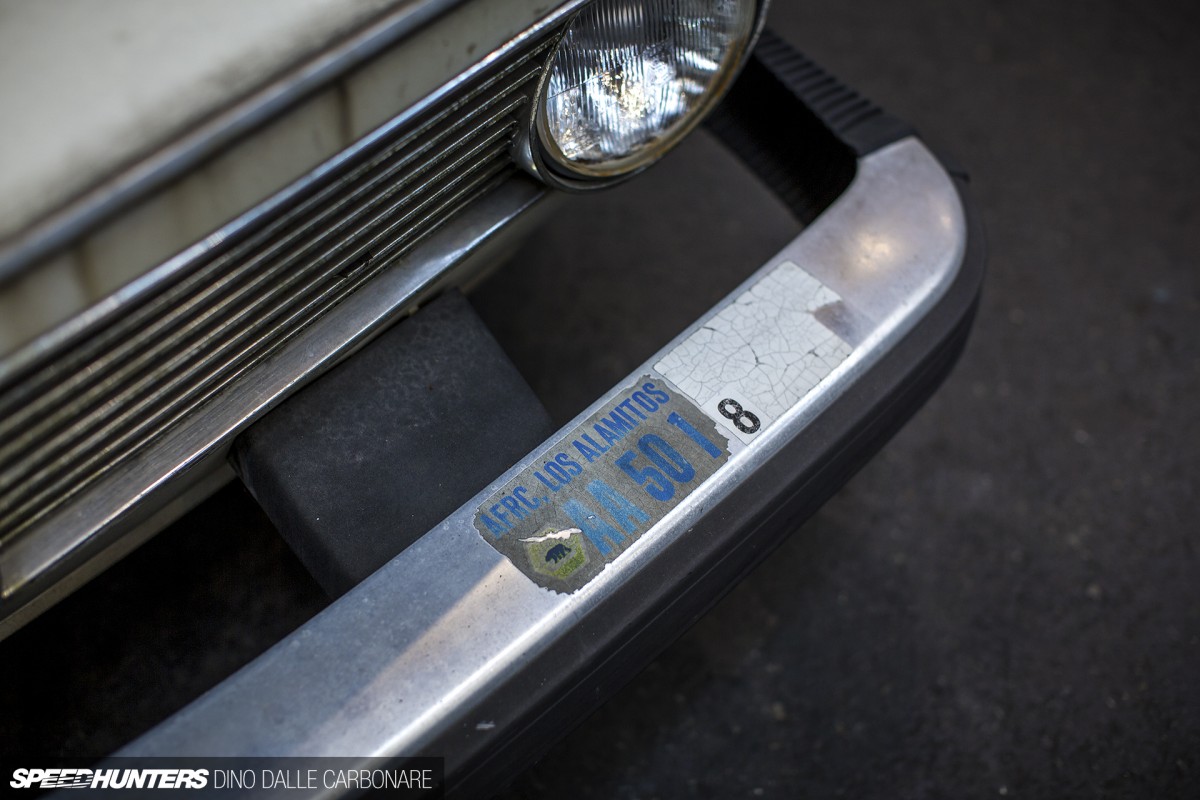 Further emphasis that this is not your usual Euro or Japan-spec 2002 are the laughable bumper-car-like front and rear bumpers. What on earth were the US authorities thinking by making all car manufacturers equip cars with these monstrosities? I guess not much was understood about crash testing, crumple zones and other such things back in those days…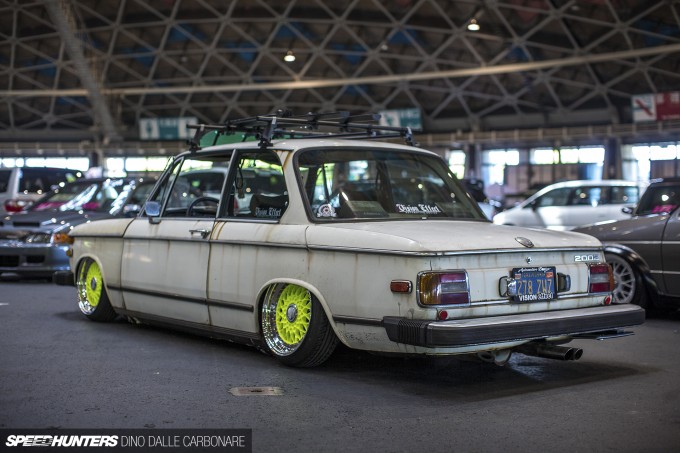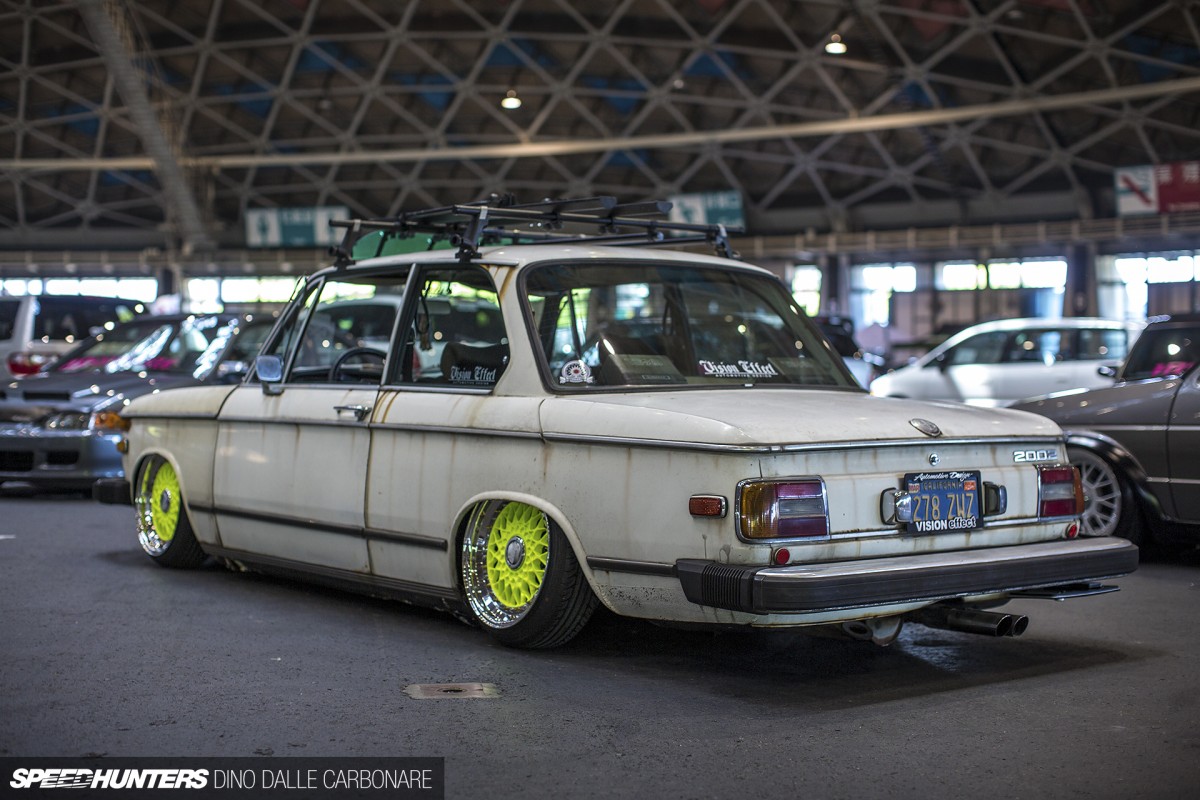 To finish it all – and in true show car style – the wheels were painted a different color on the driver's side. Add lots of tuck for good measure and the BMW was a real standout in a sea of slammed goodness on the Port Messe floor.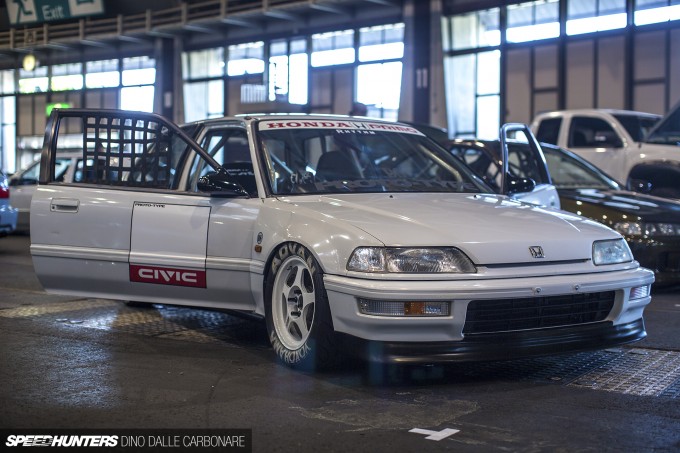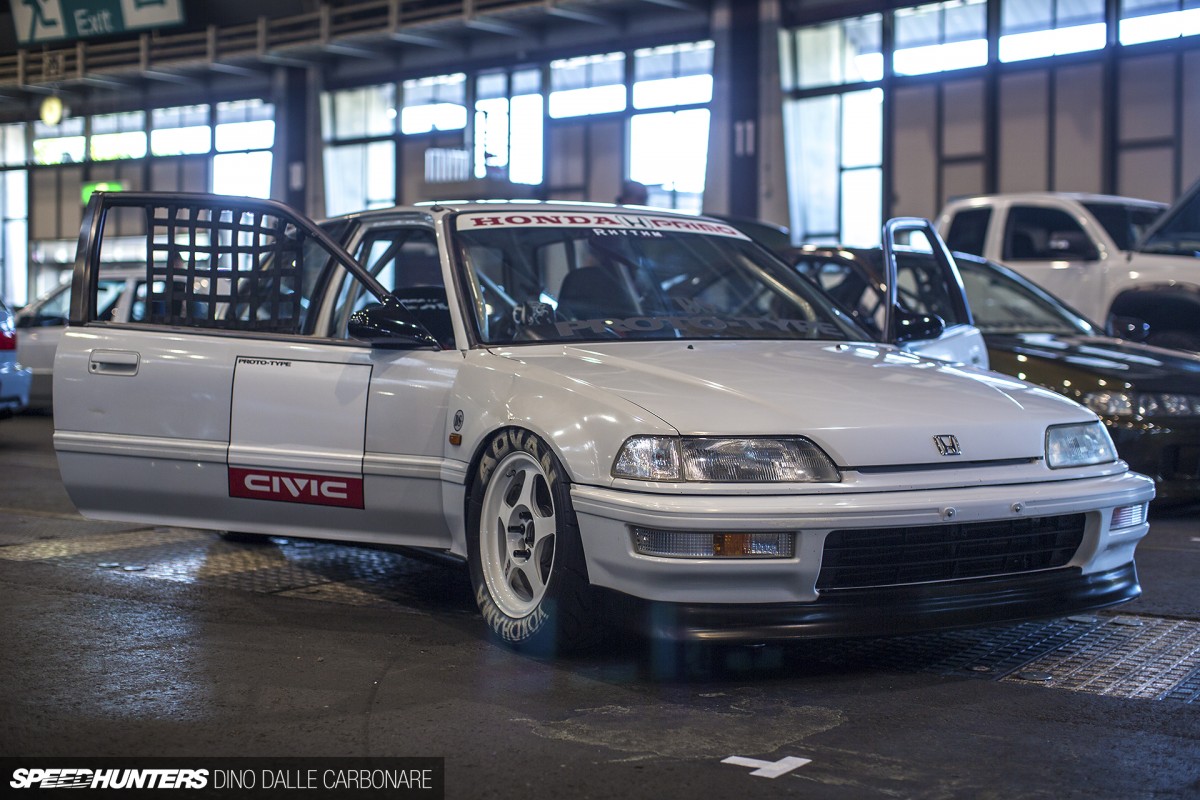 Okay, so I've seen some of the comments from the first post calling us Stancehunters. Now while I can understand where some of you are going with this, would you rather have us not cover these events all together? What you have to understand is – in Japan at least – a 'stanced' car isn't necessarily an show car that sits so low it becomes completely unusable. So why do cars that sit well need to be categorised in the same group? Do you think that this Kanjo EF Civic built by Rhythm Motors can't be driven? Race cars have a nice and tight fitment, but that doesn't mean that they're not functional. Makes sense, right?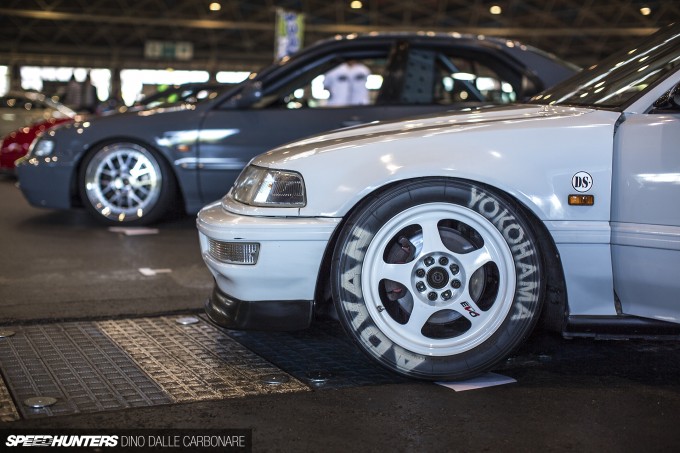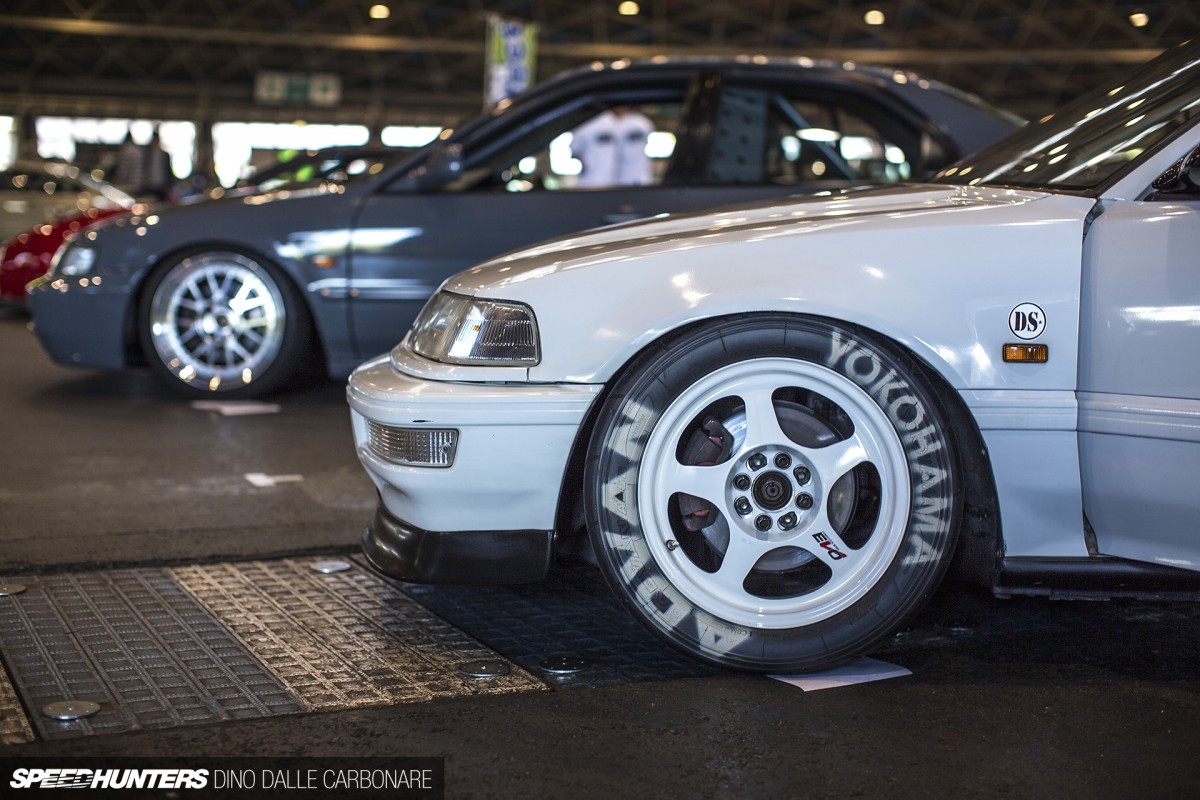 The reason the Honda sits on chunky Advan A050s is because it gets thrashed on both the road and the track. Everything you see on this car is there to allow it to function its best.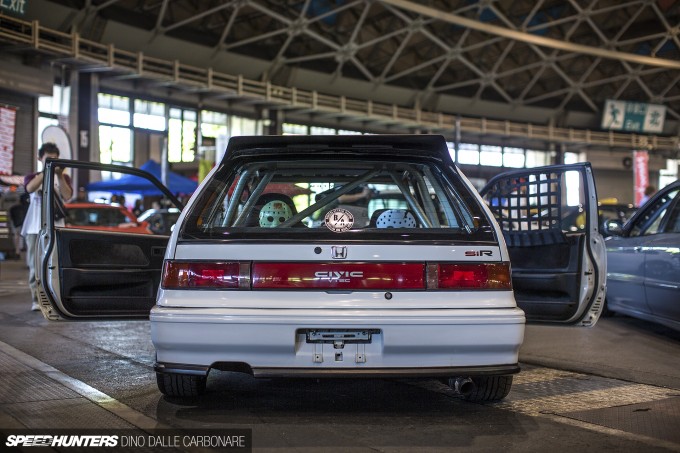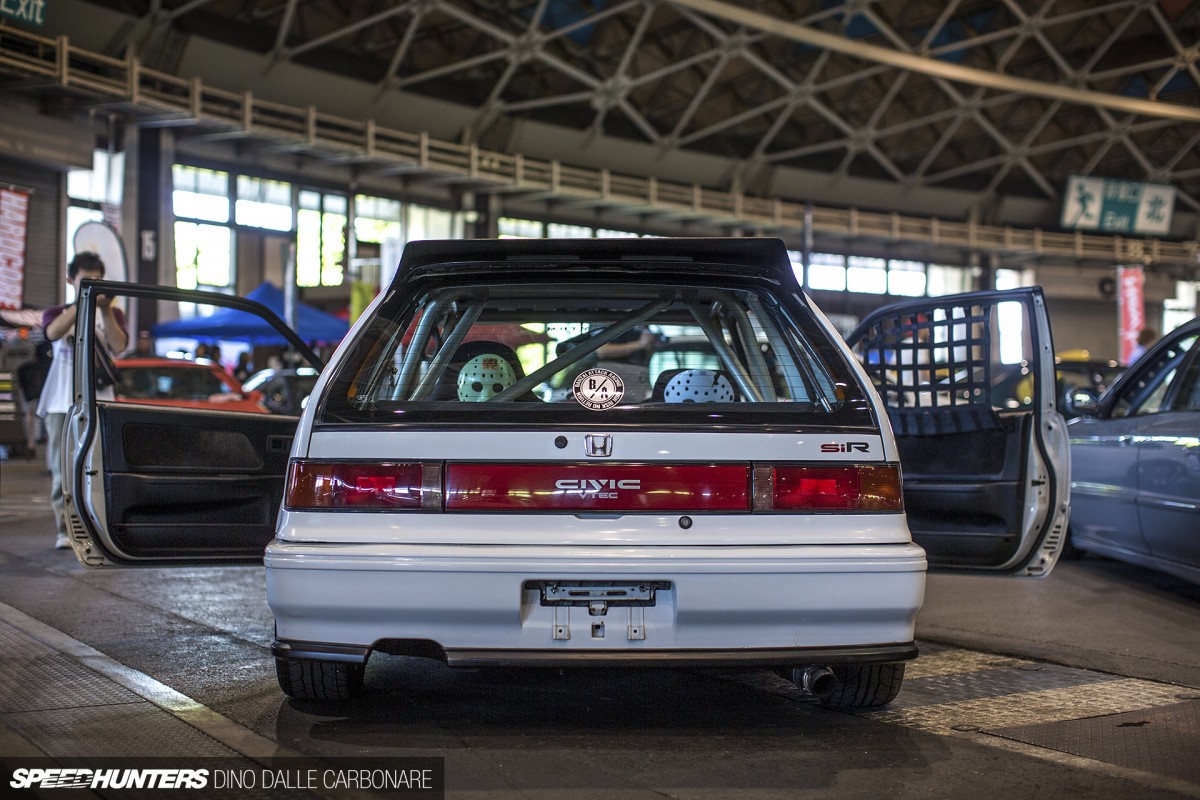 In total Kanjo style the exhaust pops out on the driver's side where there isn't even a recess for it. But that's the way you keep it as straight as possible.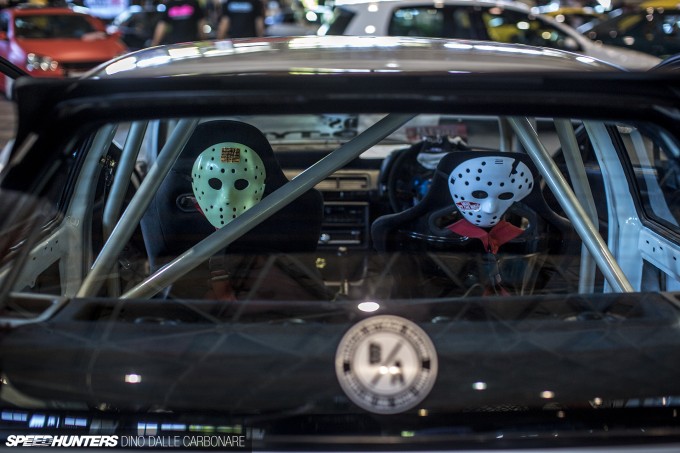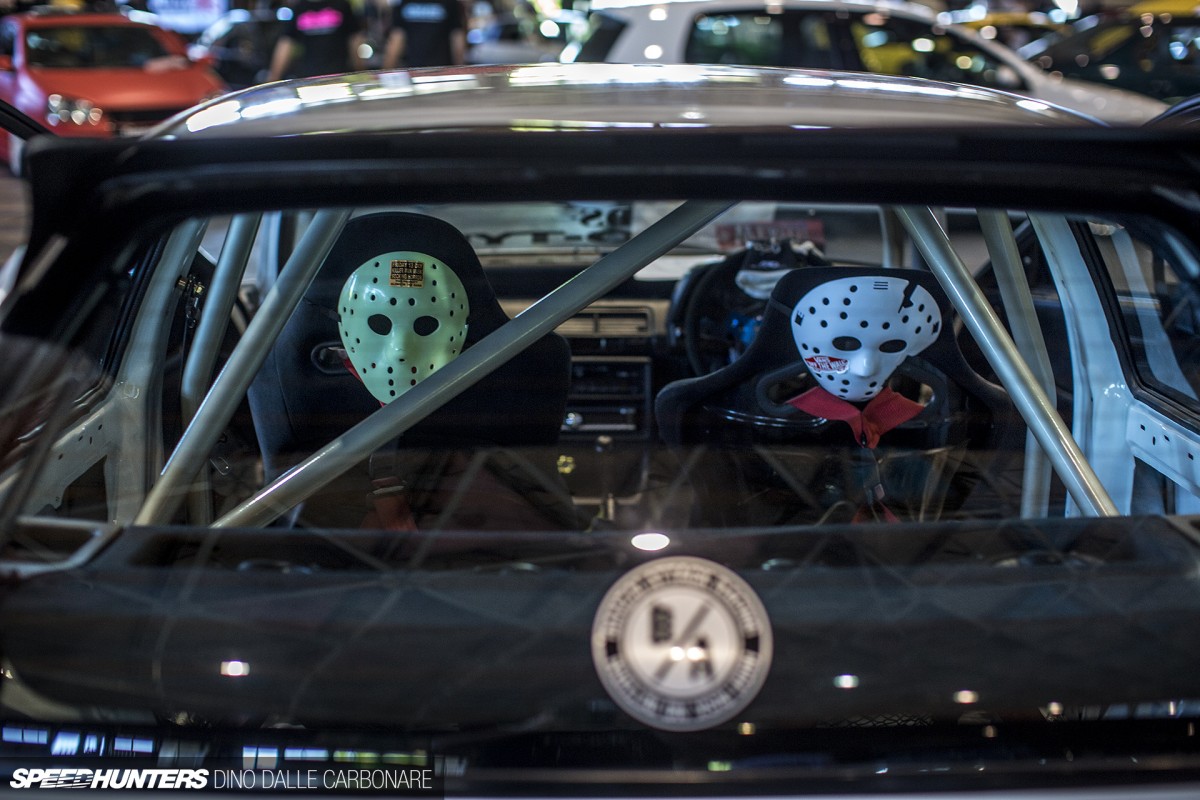 Can you spot the other must-have Kanjo racing essentials?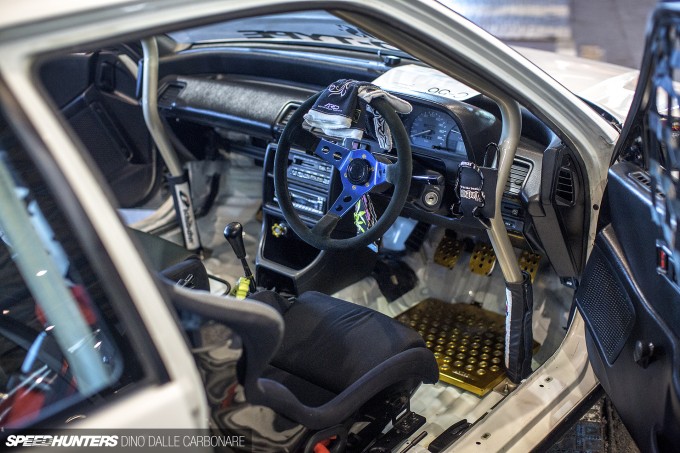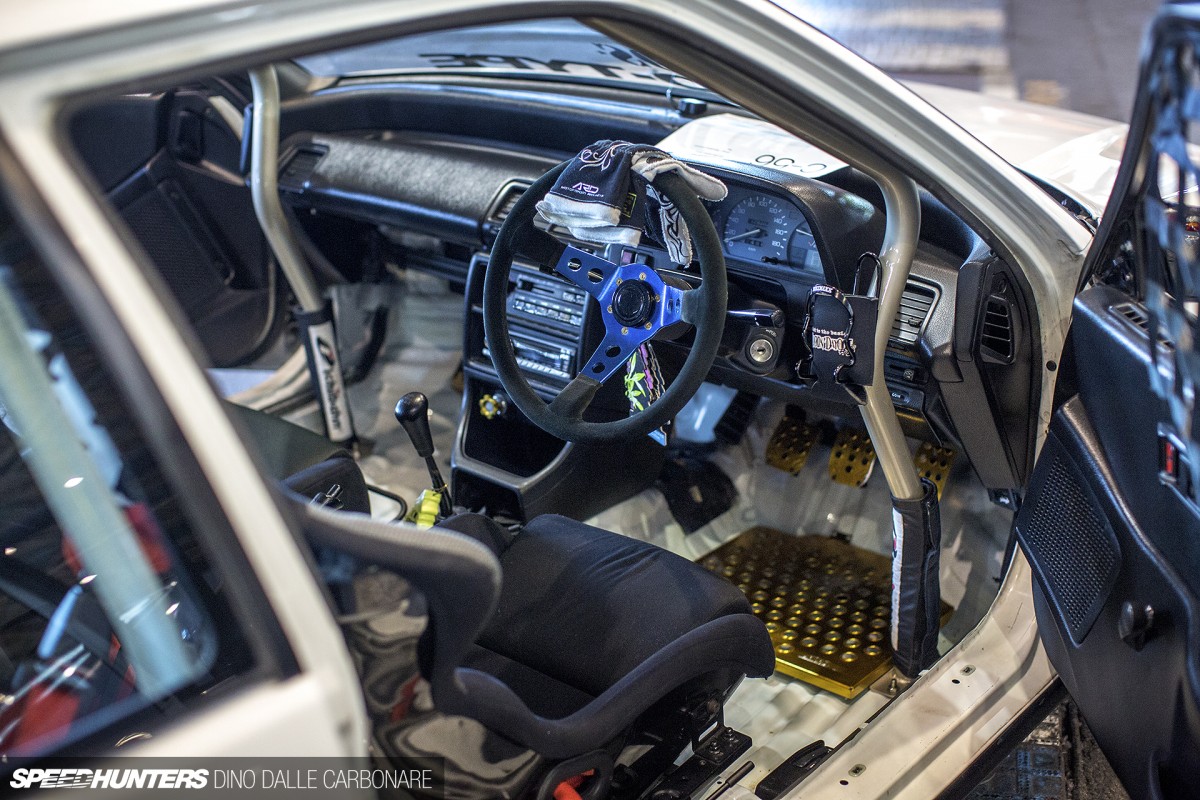 The best way to describe the interior is semi-stripped. All carpeting and much of the trim has been removed, while a pretty simple and straightforward bolt-in rollcage adds a bit of stiffness and safety to the ageing chassis. There are only two seats as well, and they're both fixed-back buckets. Trust me, Japan is different. If people build cars for Kanjo they do it because they race there – not because they simply like the look. It's all about the lifestyle and most of these guys embrace it all the way to the Osaka Loop.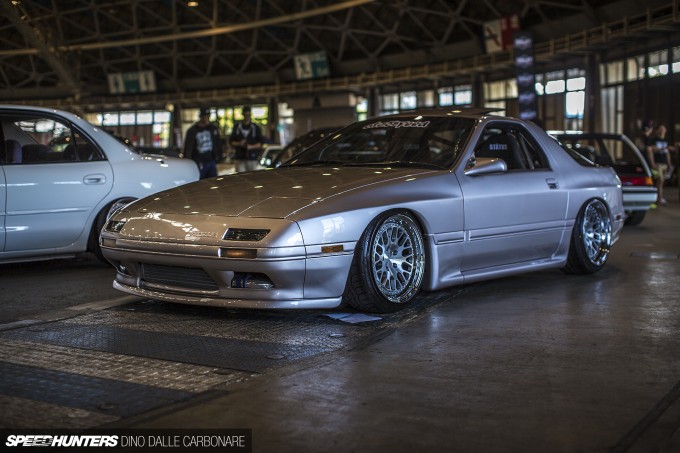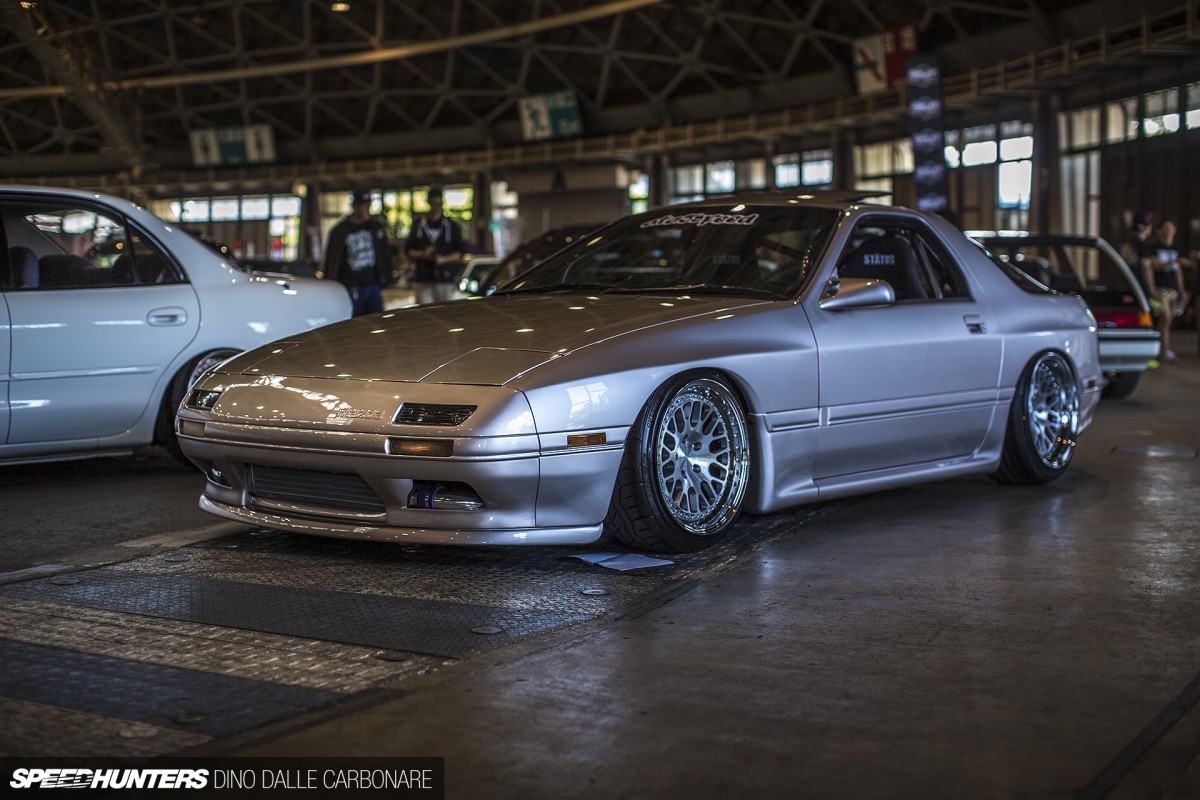 It was bit sad that there weren't that many RX-7s at the show. In fact, this FC3S was actually the only one, but my word did it make up for it with an indescribably amount of presence. The older these old 7s get, the weaker they make me go at the knees when I spot one that's been looked after as well as this gleaming example.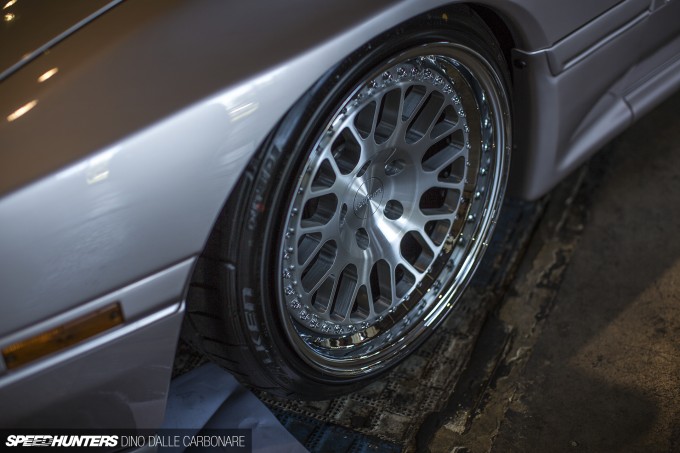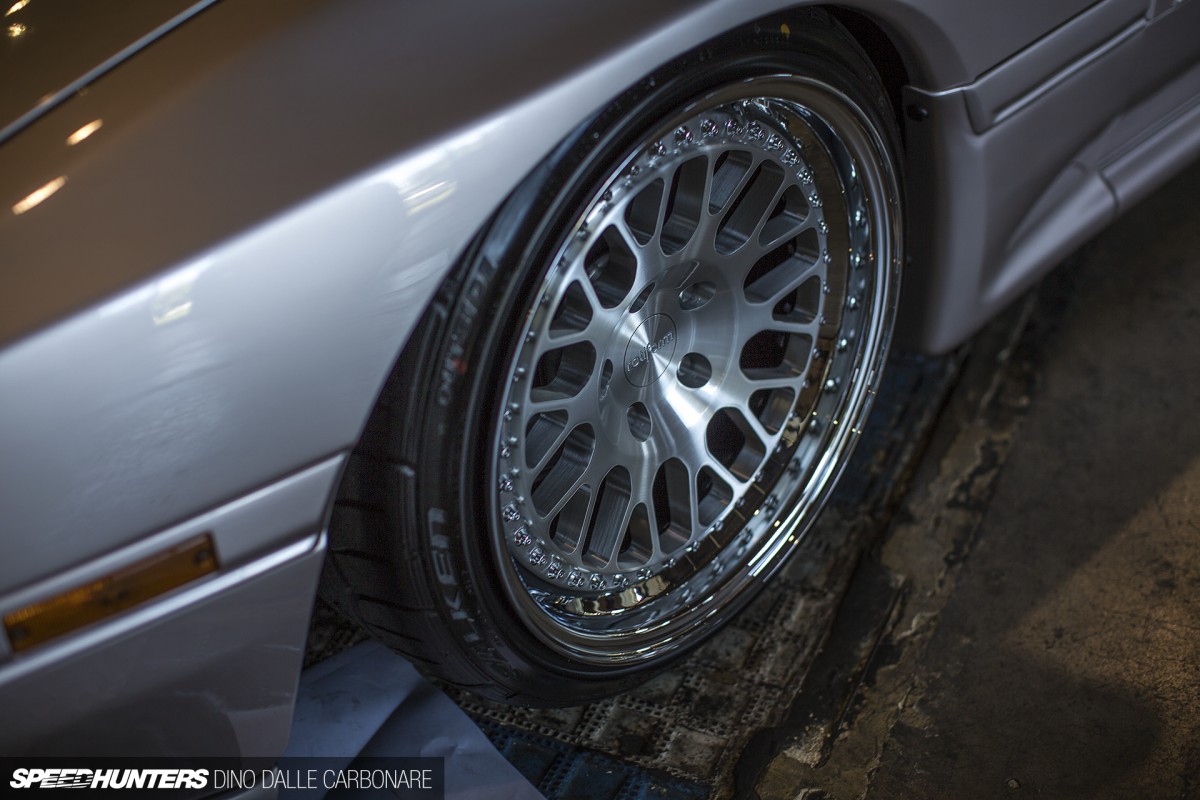 The mostly stock body, which was only spiced up with a few little aero touches like the front lip and mirrors, was highlighted with a set of Rotiforms. The offsets weren't extreme, but I liked that aspect. It almost reminded me of old school '80s wheel fitment, which is perhaps what the owner was going for.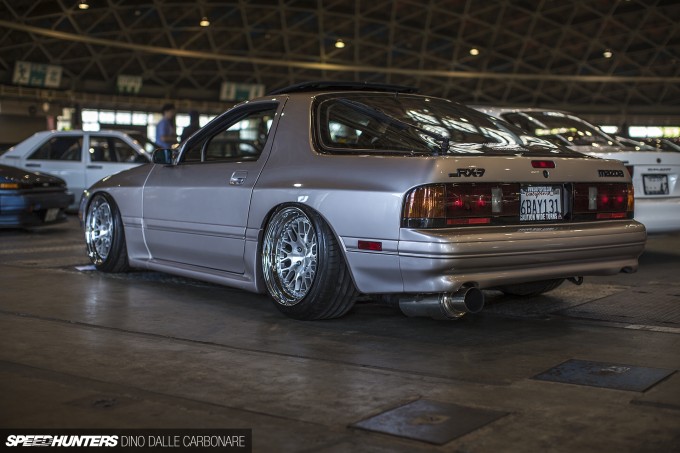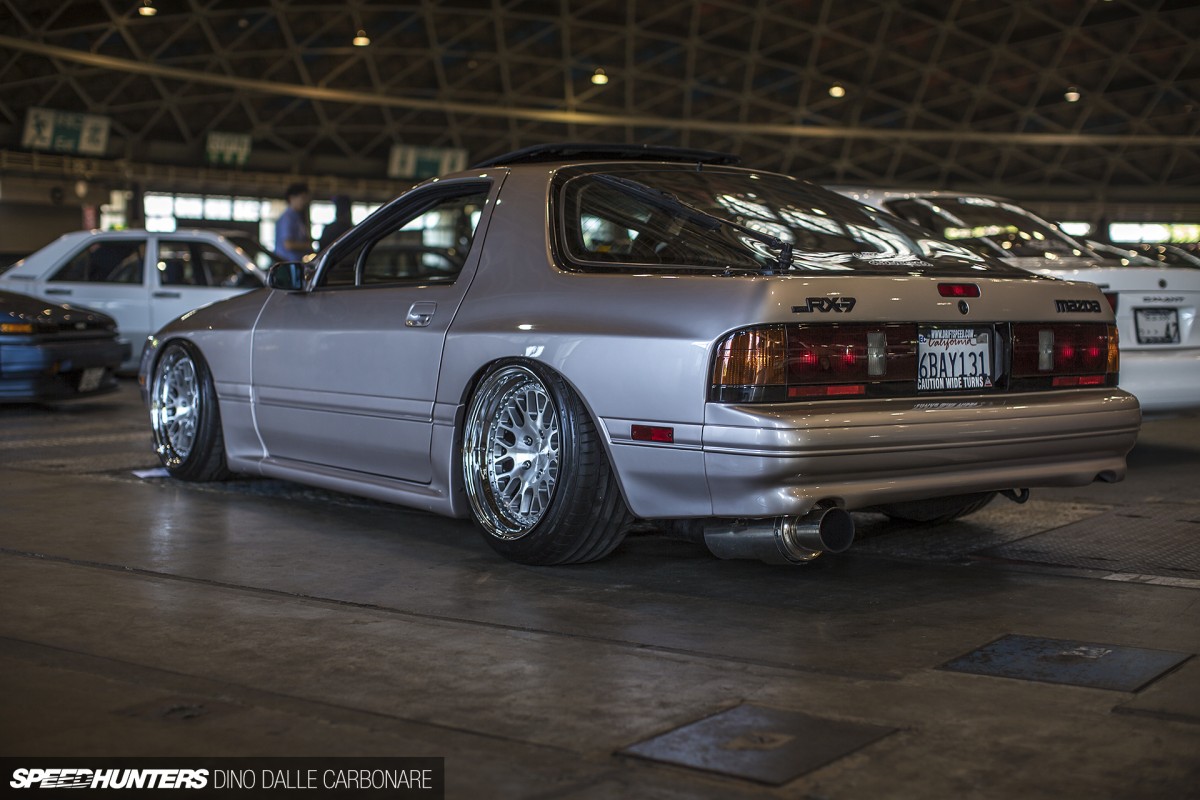 There really isn't any need for an FC to warrant the use of additional aero enhancements – the stock body just does such a great job. I love how all the factory badges were retained at the rear too.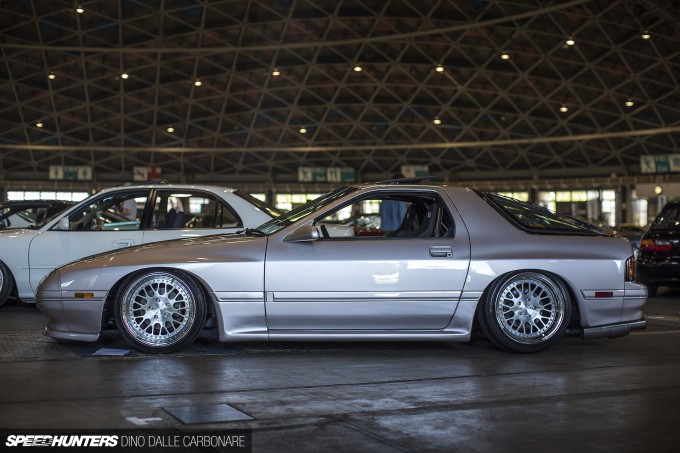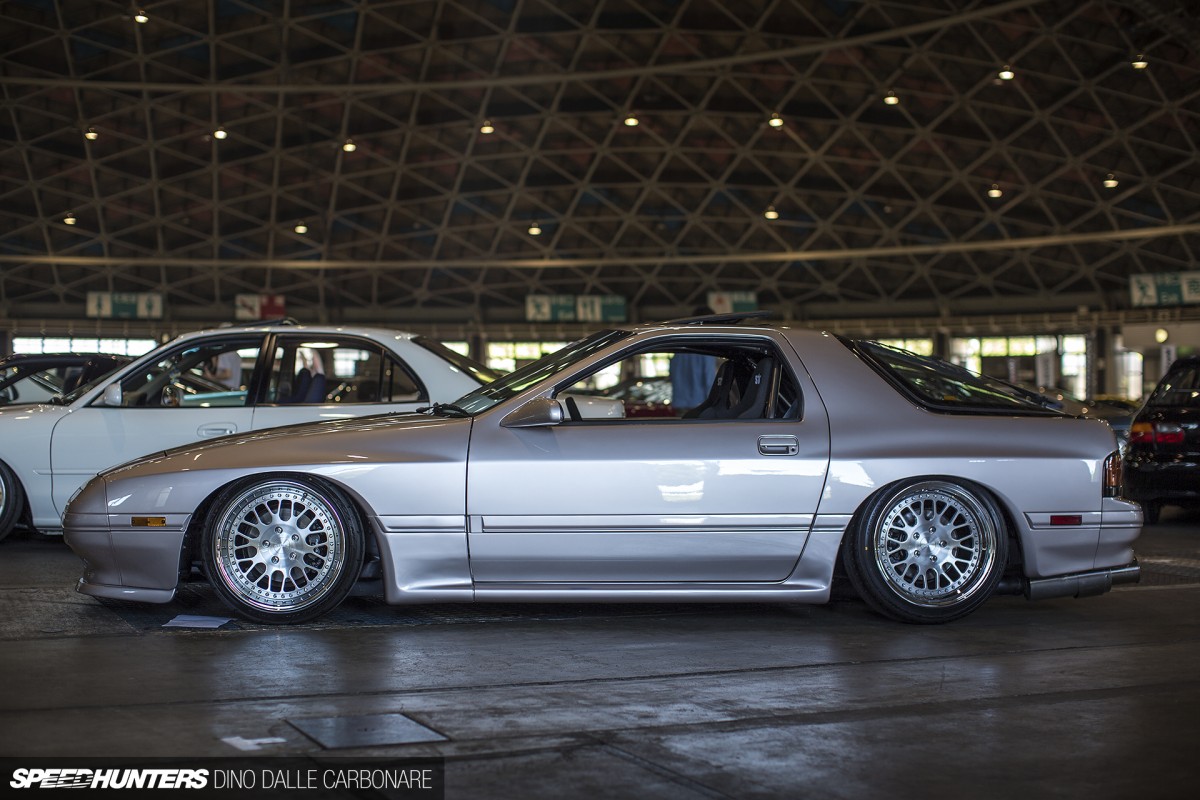 A nice touch to add to the flowing clean profile was the naturally aspirated FC3S bonnet which came minus the air intake.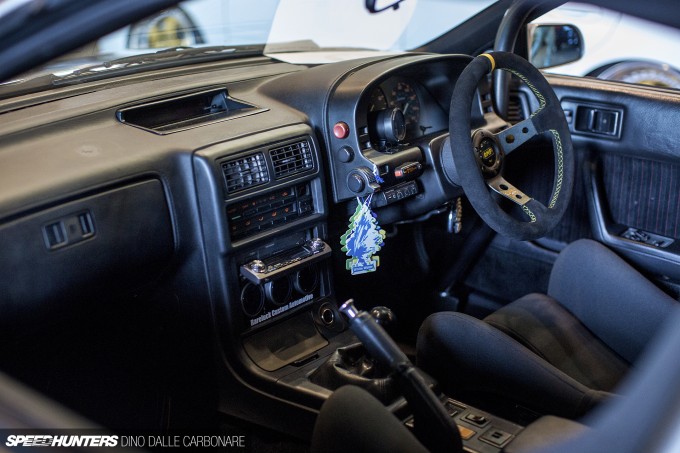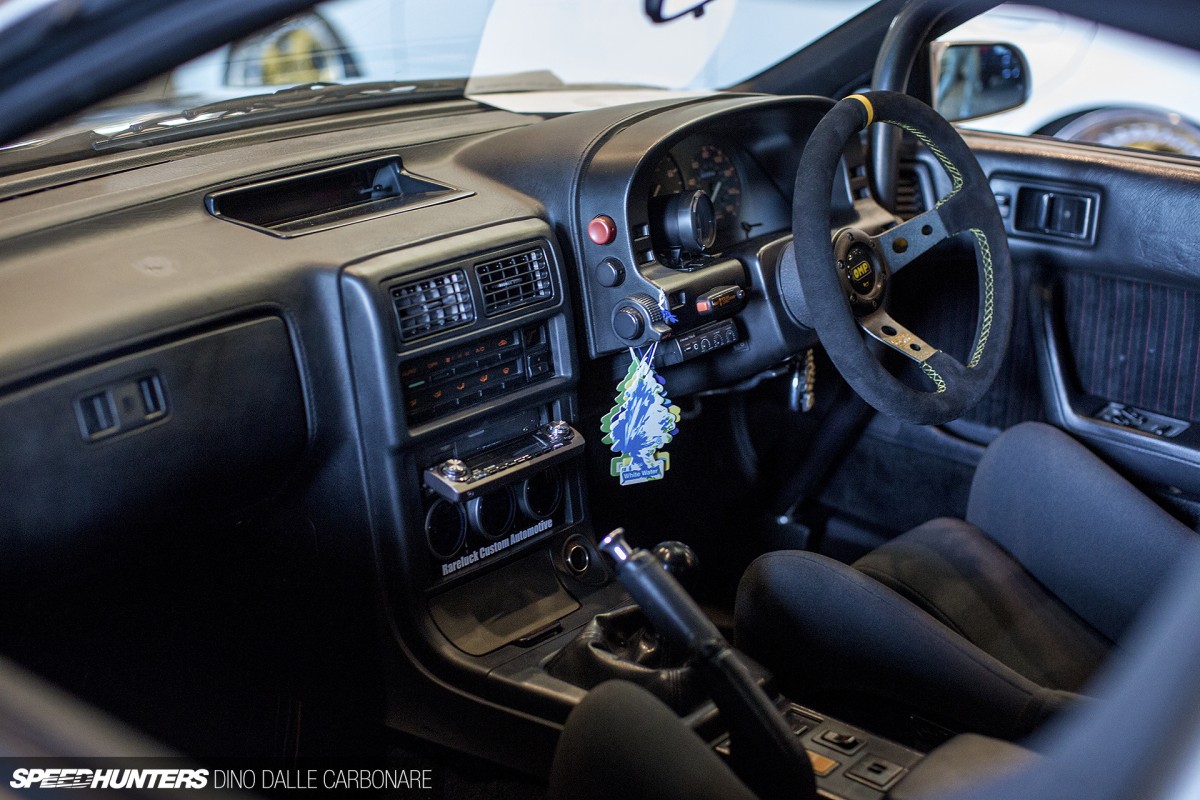 I was impressed at how well looked after the interior was. Obviously this car has spent much of its life garaged or covered, as all the trim was really clean. A nice and chunky OMP deeply-cupped steering wheel and modern seats all add a touch of class to what was, without doubt, one of the best cars at Wekfest Japan.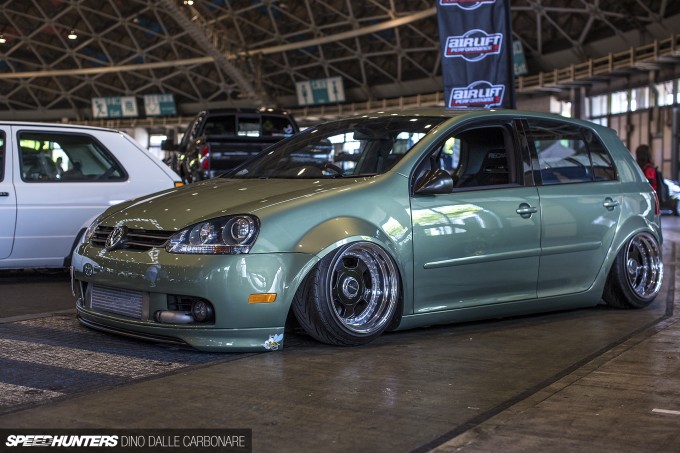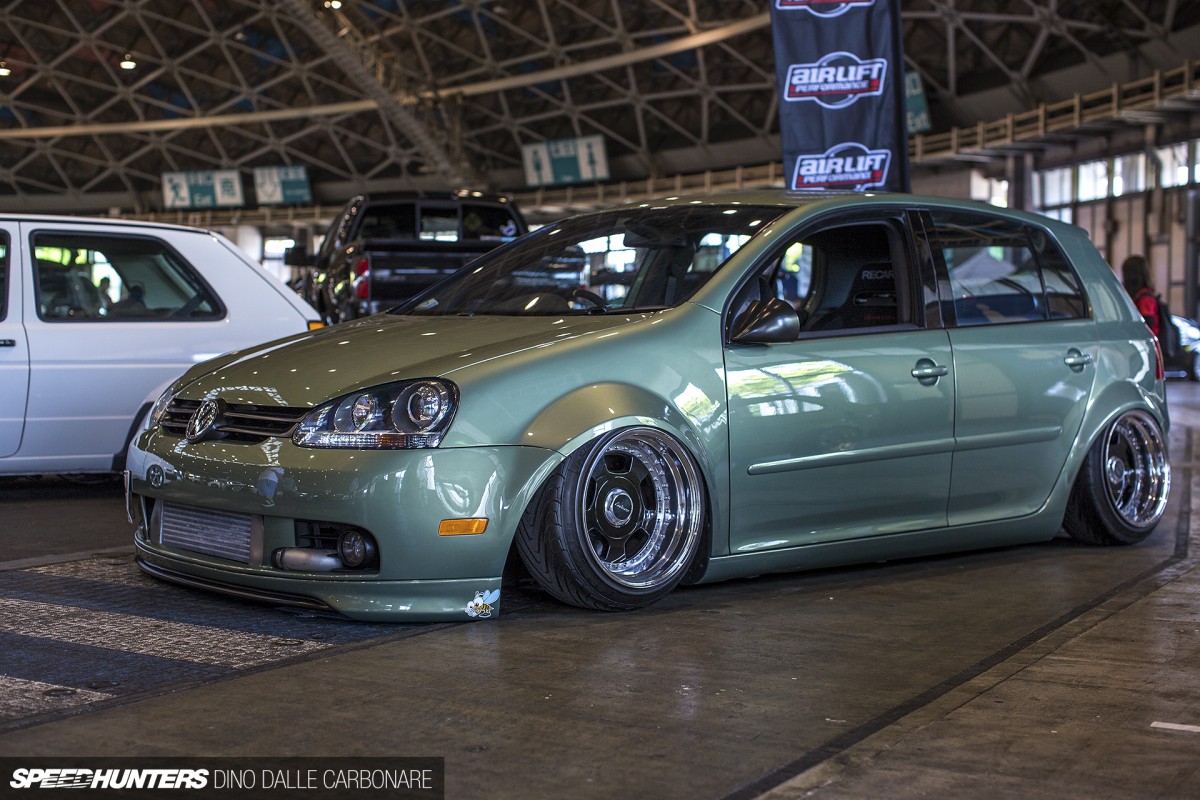 There was much lowness going on with this 84 Base Motor Works-built Golf thanks to a complete Air Lift Performance suspension system. If you look closely, that big intercooler peaking its shiny core through the grille is a little clue that the engine hasn't exactly been forgotten either.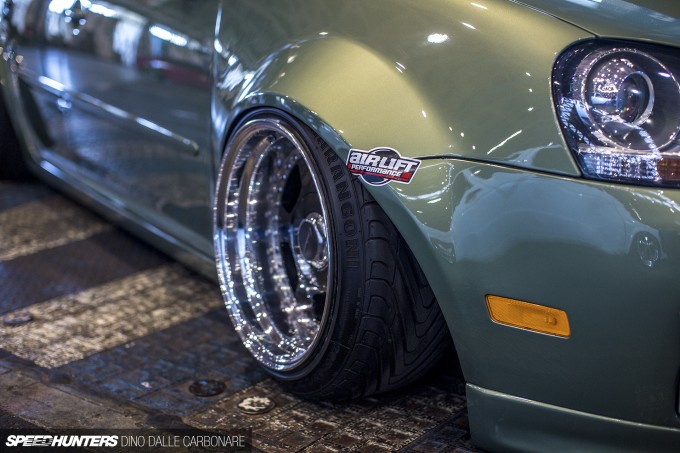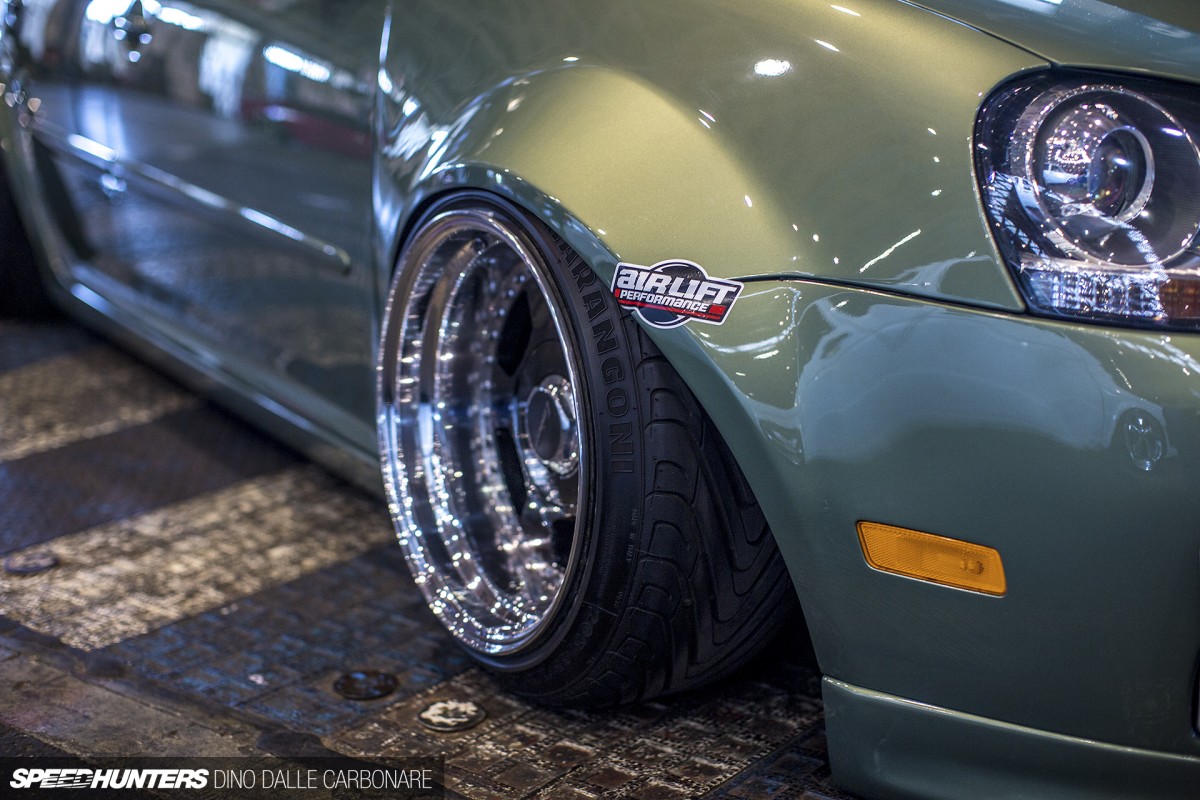 Of course, what everyone was taking about was the sheer size of the custom flared fenders, which were all fabricated in metal and nicely integrated into the bodywork. The old school Lorinser wheels (made by BBS) are also a very nice touch.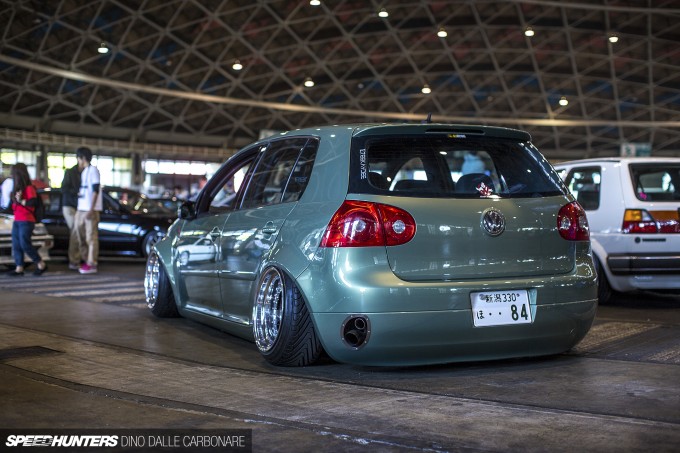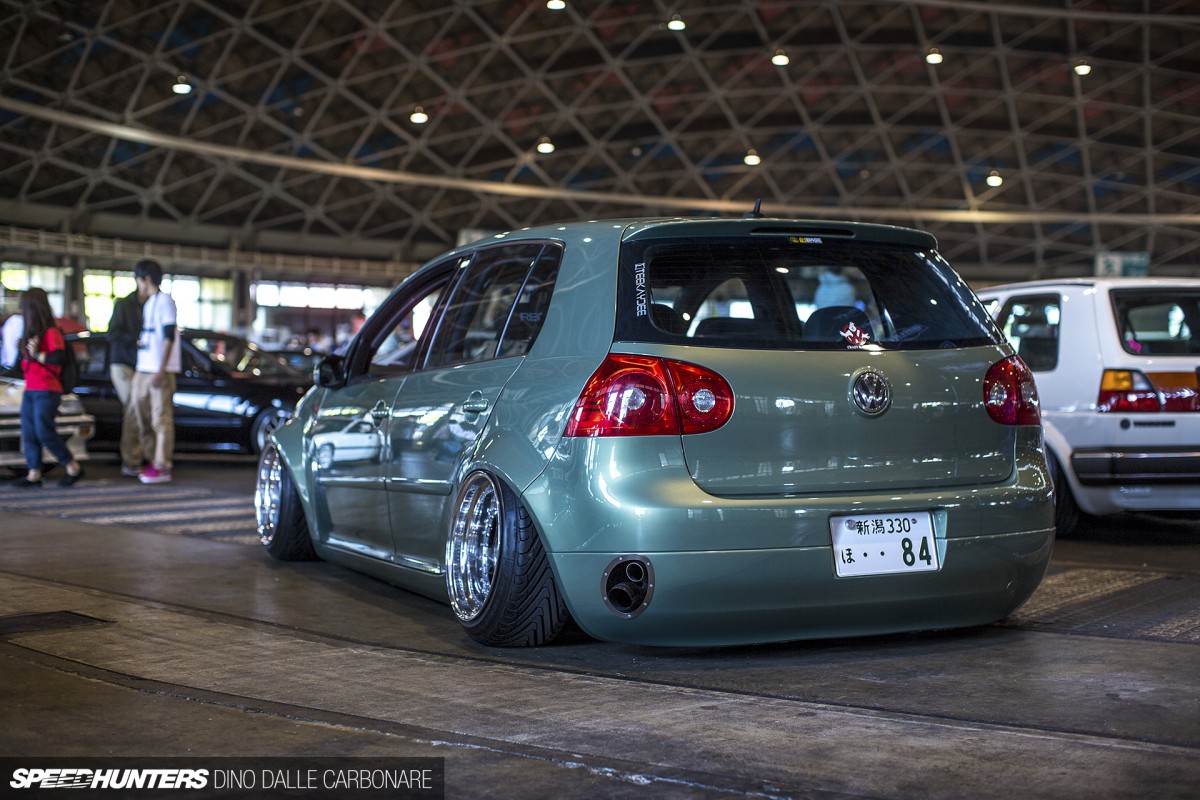 Of course, super-wide wheels were a must as there's a hell of a lot of space under those ginormous guards.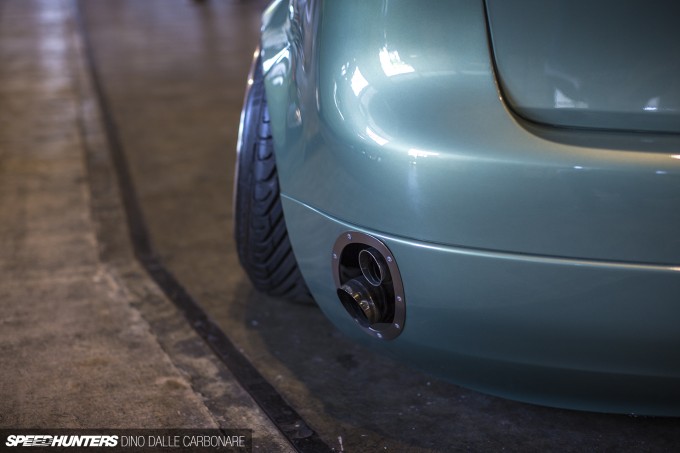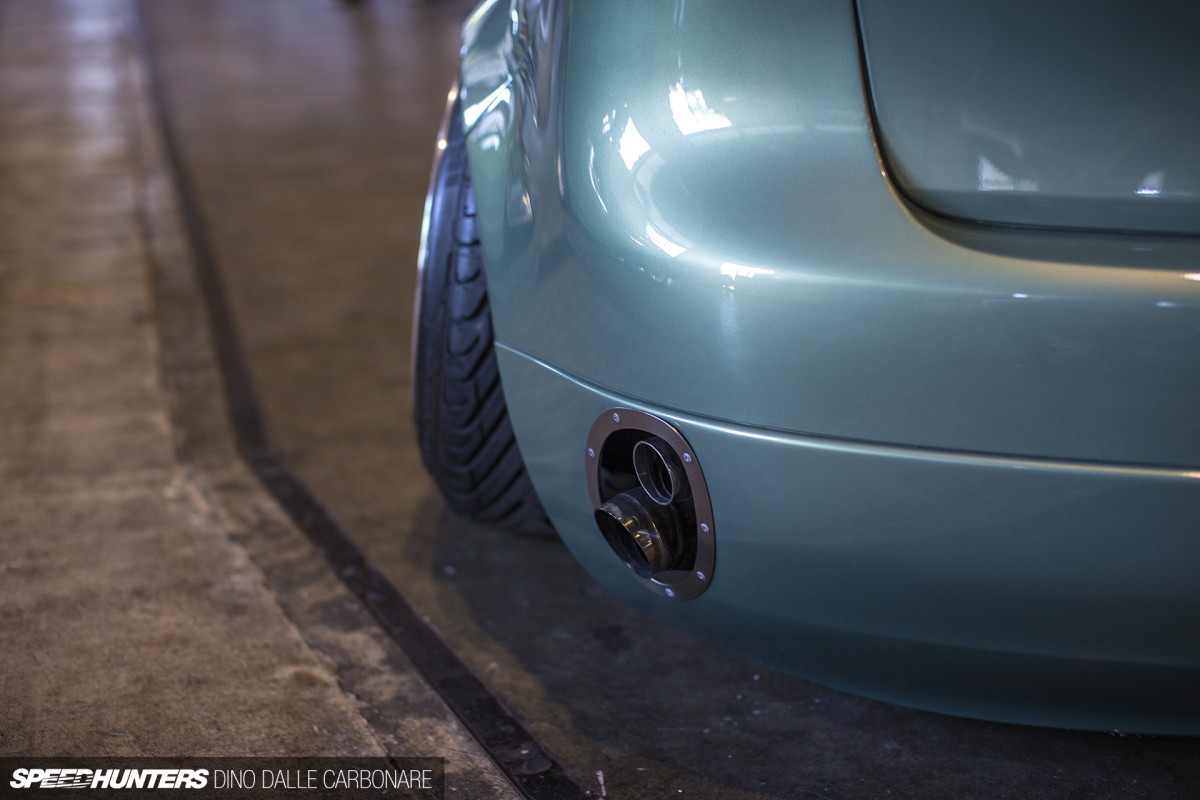 The owner didn't want to divulge too much information on the engine as it's far from finished, but this is one car I'll definitely be keeping my eyes on!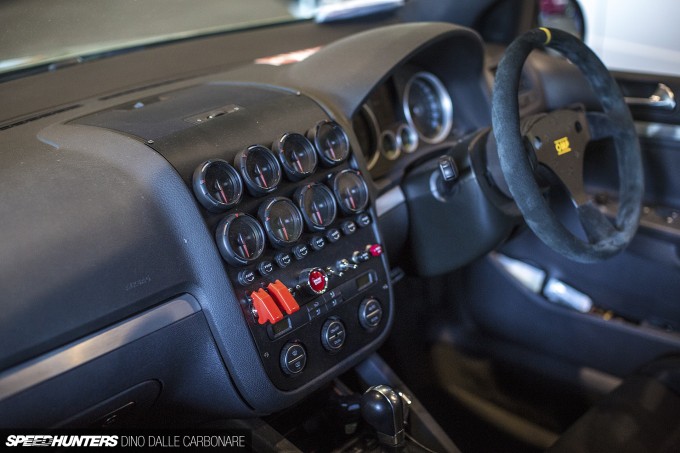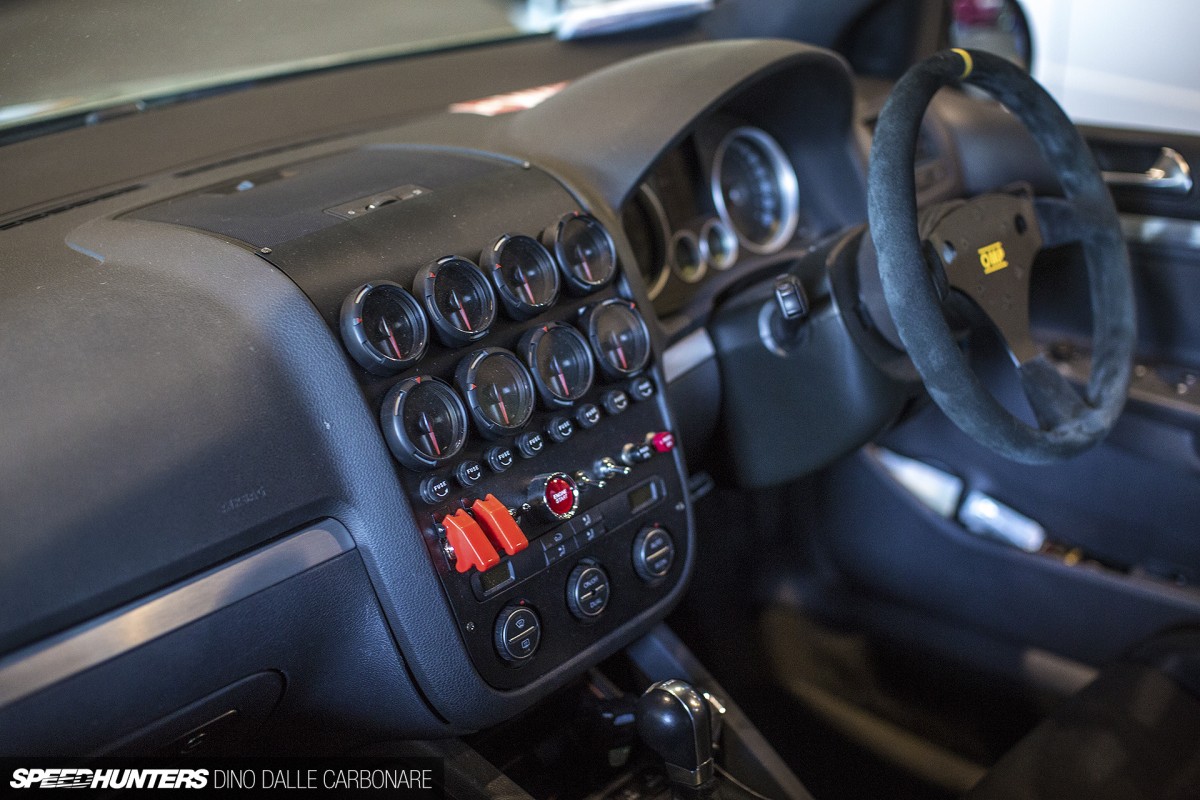 Houston, we are ready for take off.
The art of tactical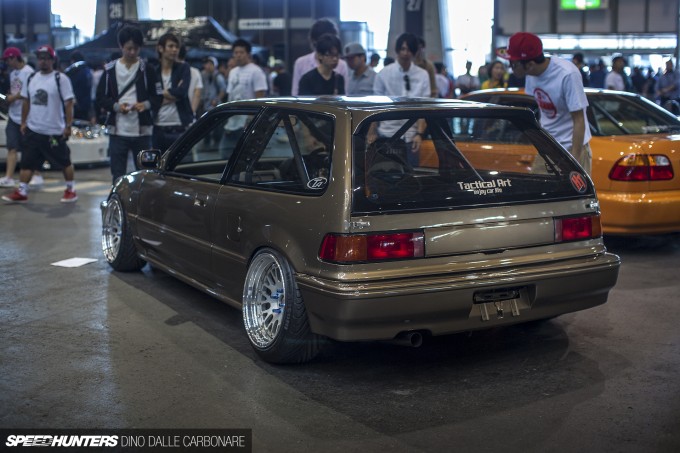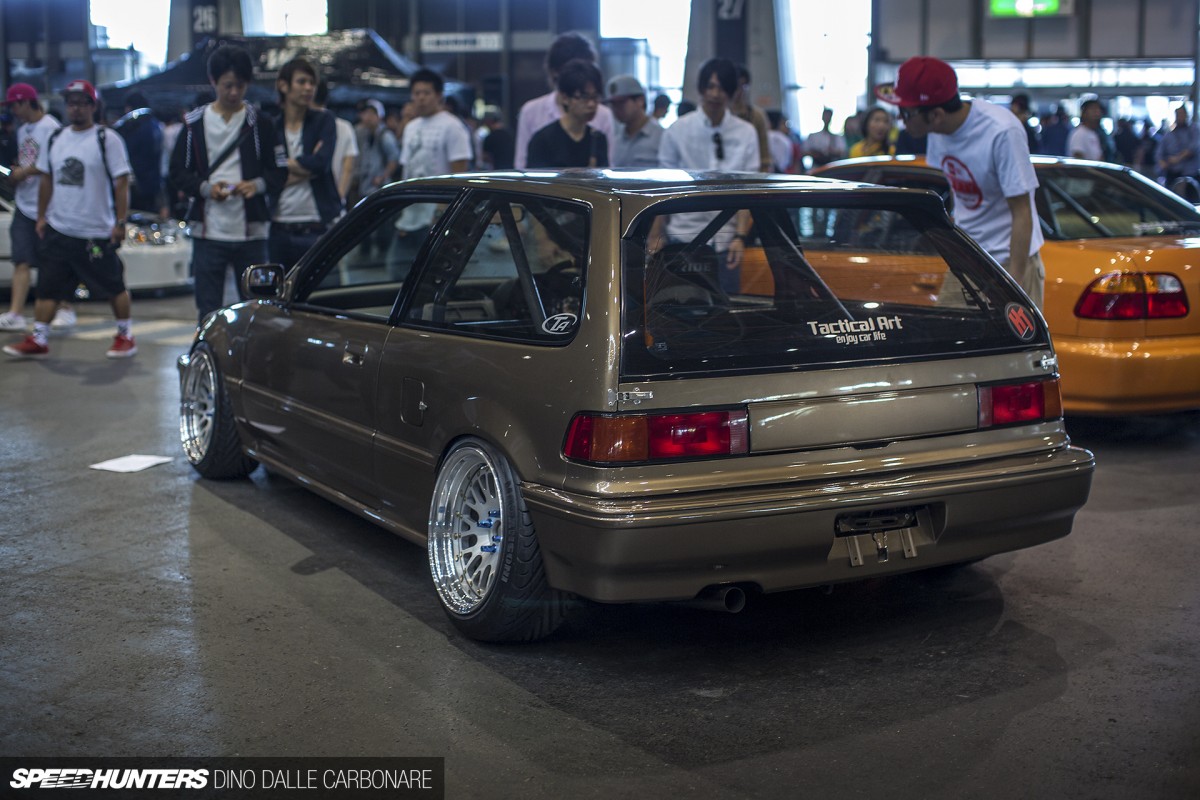 We all know that when Tactical Arts build a car, nothing gets overlooked. This bronze Civic was not only testament to the fact – for me it was by far the most impressive EF at the event.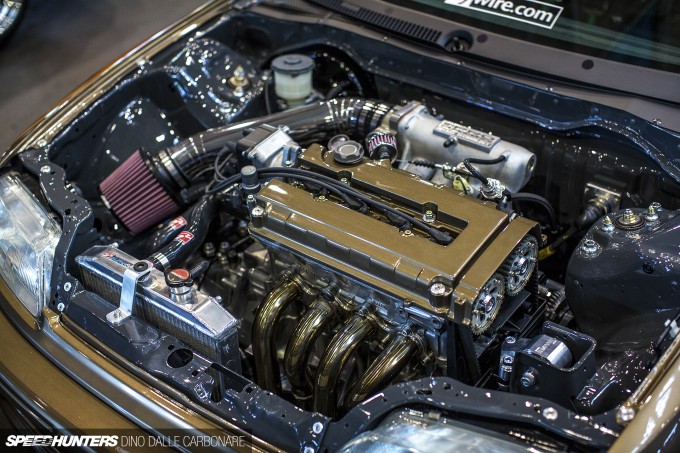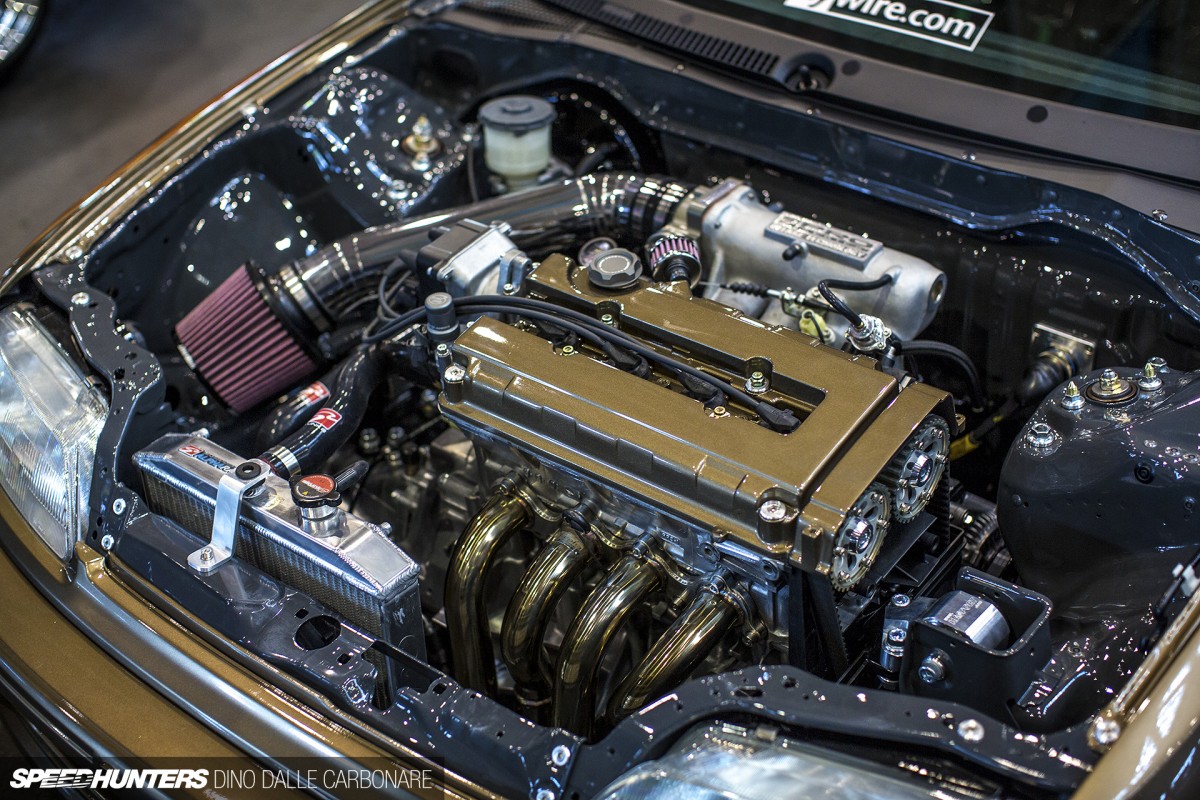 No matter where you look, the attention to detail is amazing. Not one surface hasn't been prepped and painted,  altered, or smoothed. Everything is neatly and cleanly laid out and at no point do you get the idea that anything has been sacrificed, or modified purely for looks.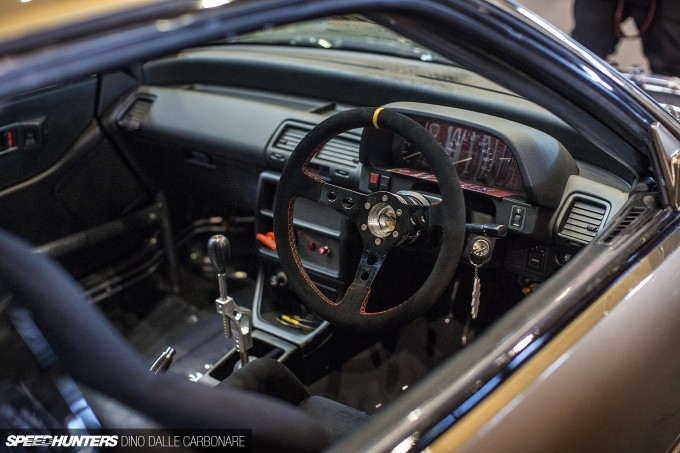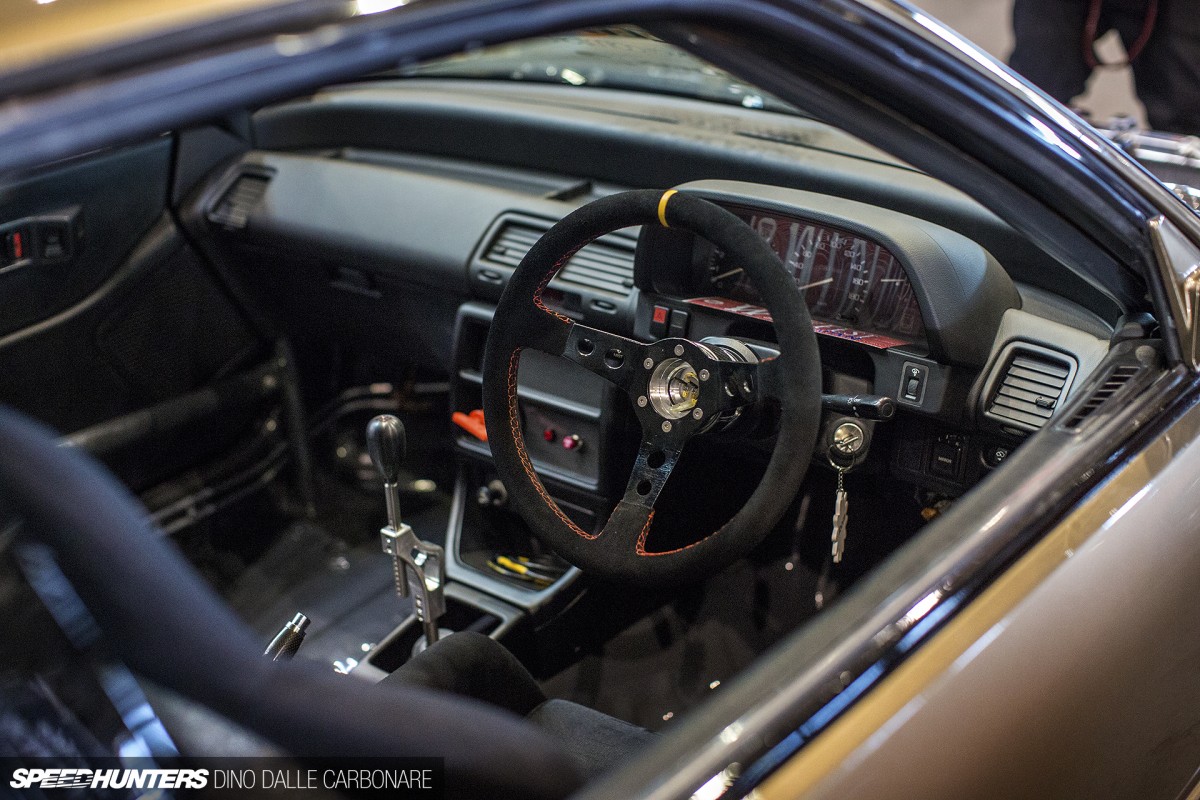 The stripped cabin is just the same – there's only one seat in there, along with a custom welded-in rollcage gusseted to the front pillars in a totally unobtrusive way. I loved the adjustable billet shifter assembly and how the centre console has been stripped of the audio and ventilation controls, and simply covered with a few sheets of carbon.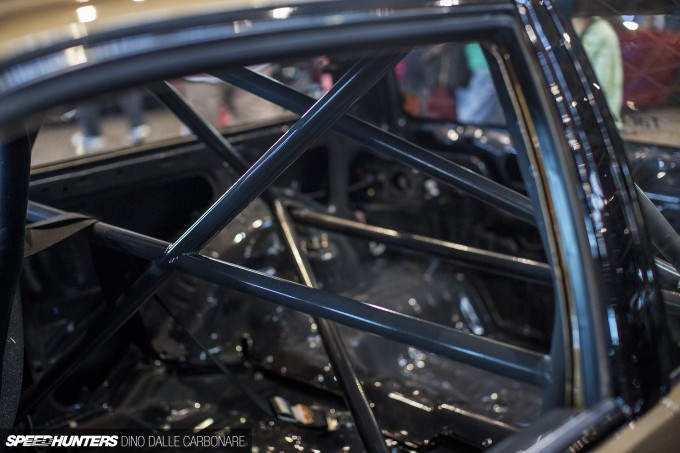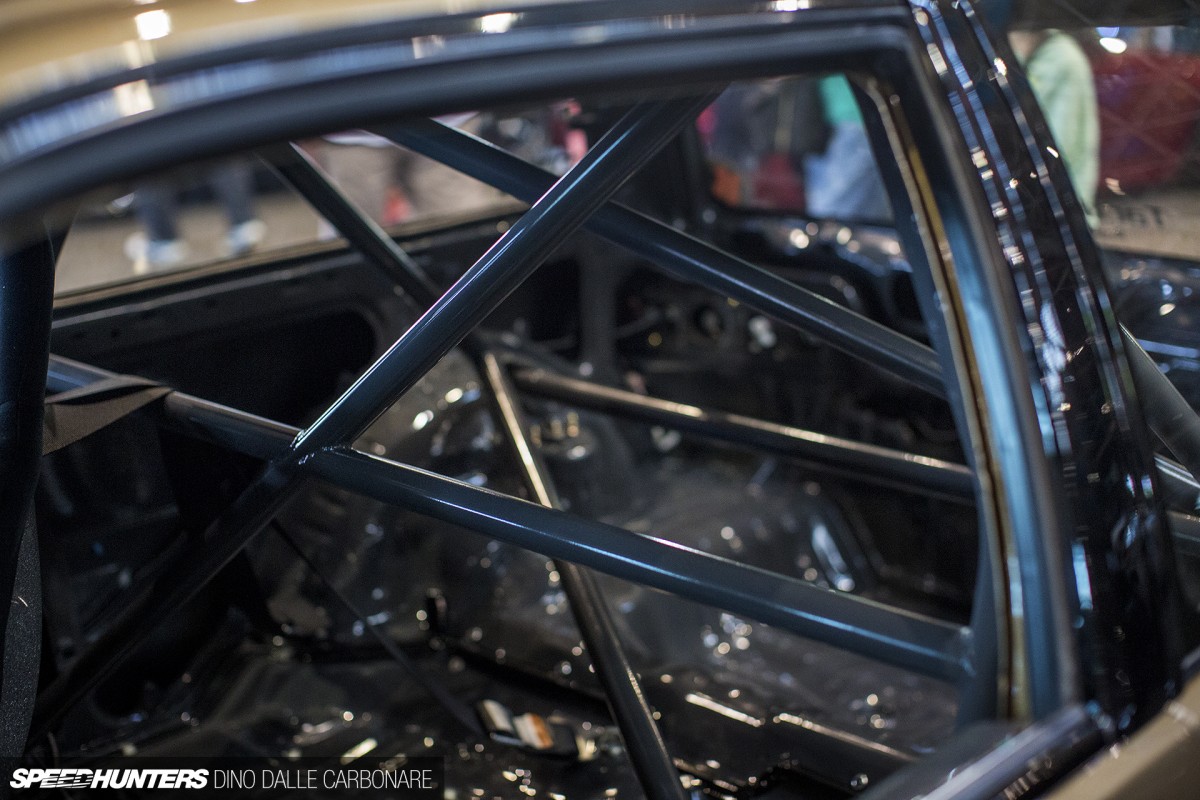 Much stiffness. Lots of safety.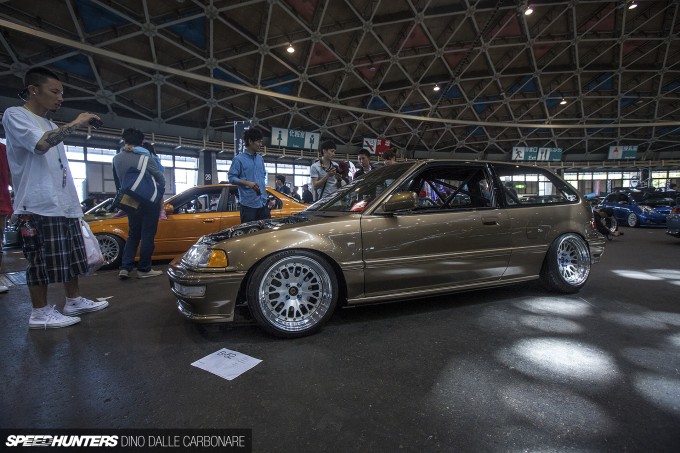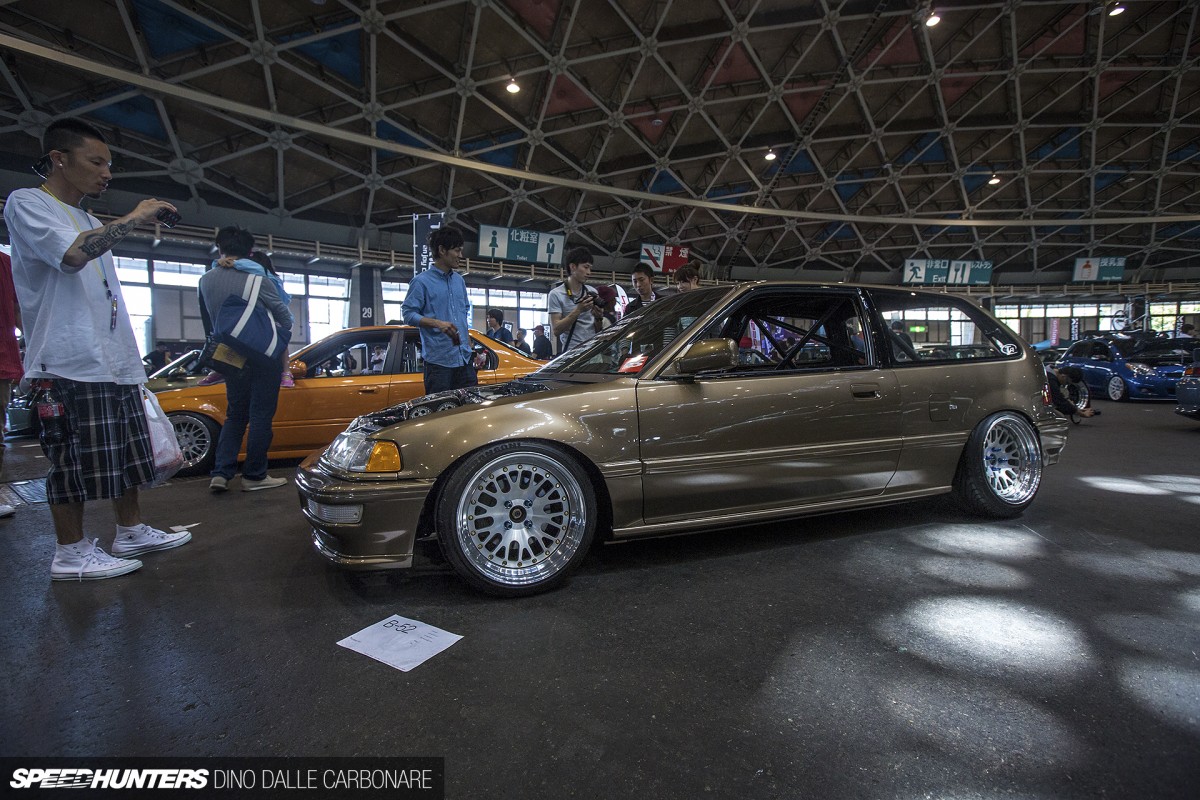 It also serves as the best possible car to end this second post from the Port Messe with. And once again a very obvious reminder of how the Japanese scene just keeps on evolving and improving.
Next up it's the car park, so stay tuned for a nice dose of variety under the sun!
Dino Dalle Carbonare
Instagram: speedhunters_dino
dino@speedhunters.com