Welcome to Helen, GA
Have you ever heard of Helen, Georgia? Probably not. It's a small, one-horse, Bavarian-themed township tucked away in the Appalachian mountain range in the northern part of the State. The total population just barely exceeds 500; there's not a single stop light and the entire town primarily consists of two main roads – one of which is called Main St… Come to think of it, Helen probably has more horses than one could count, and every year this quaint little community that sits alongside the the luscious Chattahoochee River is torn upside-down by thousands.
The reason? One of the most anticipated VAG enthusiast meets in the entire country: Southern Wörthersee.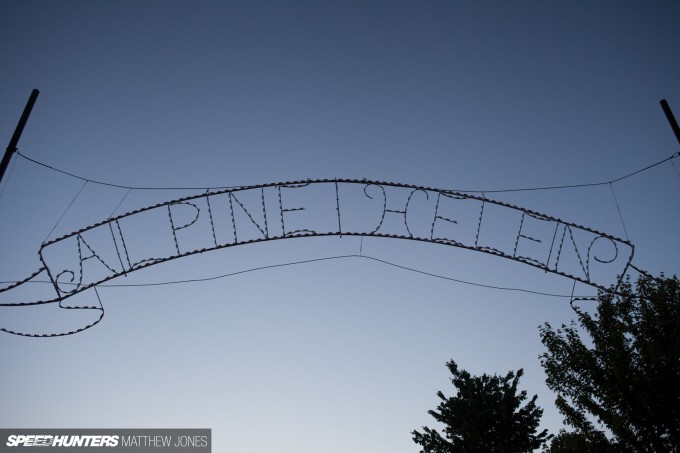 Forget what you know about that famous Wörthersee event in Austria. Forget what you know about 'turning up'. And forget what you know about the South. This is so much more than a mere spin off…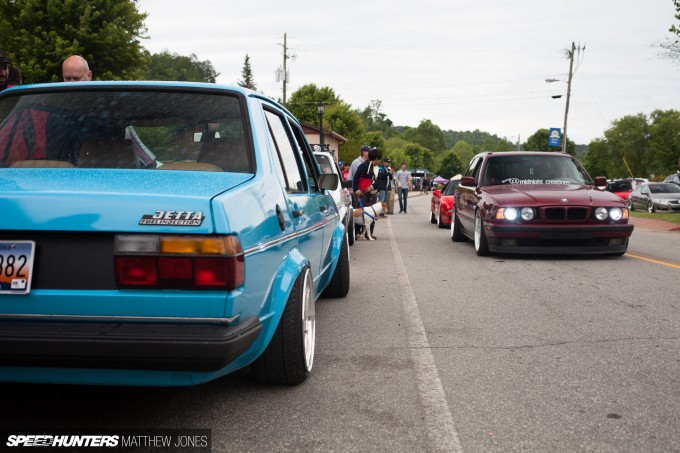 Sure, SoWo (as it's more commonly known) it may have started that way – a bunch of dudes looking to have their own Wörthersee experience without the need to stick their pride and joy in a shipping container and travel across the globe.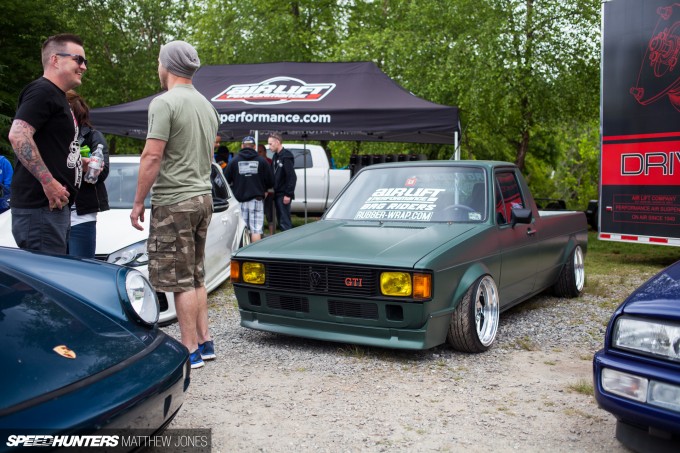 But it's so much greater than that now. Not only has the annual event been around for eight years – its popularity has never wavered in that time. In fact, it just keeps getting bigger and bigger; expanding from parking lot to parking lot and gaining new vendors every year.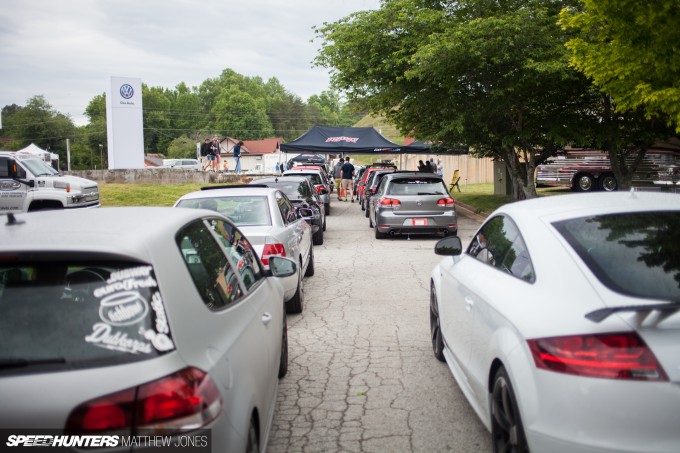 The fact that Volkswagen set up a booth, and that a company like APR was offering on-site ECU upgrades should give you an indication of just how big it's become.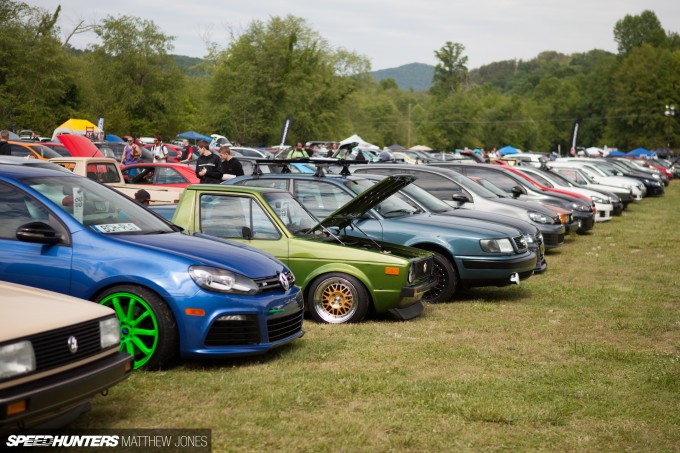 SoWo may not be as extravagant as the event it was originally modeled off – one Bryn began checking out 2014's preparations for earlier in the week – but for the folks in attendance this is one of the biggest weekends of the year. An event where life's problems can be put on hold and swapped for a few days of pure hooning bliss.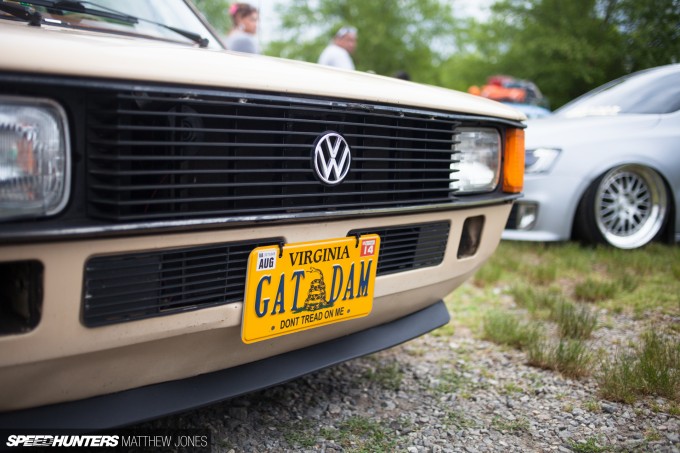 To be honest, I really had no idea what to expect as I've actually never attended this event in the past. I suppose that's due to my previous work being primarily driven by modified Japanese cars, but believe me when I say that SoWo will be on my annual must-attend list from here on out.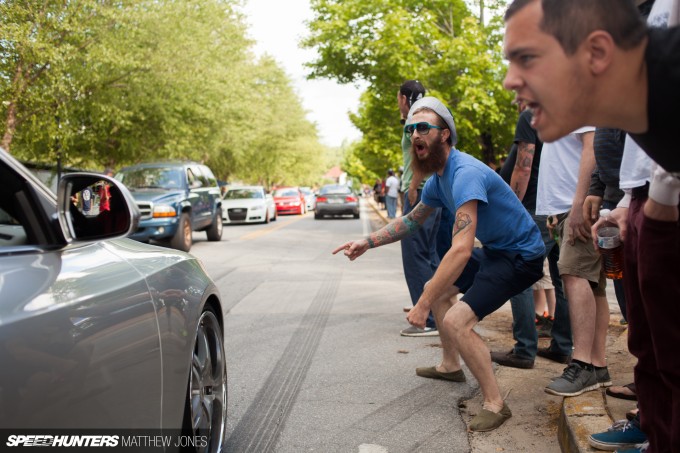 Maybe it's because the vibe was completely different than what I'm used to. Instead of groupies walking around with shirts along likes of, 'Drive Slow!' and 'Your burnouts ruin car meets!', the roads were lined with young rowdy folks screaming for the passersby to lay some solid tread and exercise their ponies. So much so, that the catch phrase for the weekend quickly developed into 'BURNOUGHT!'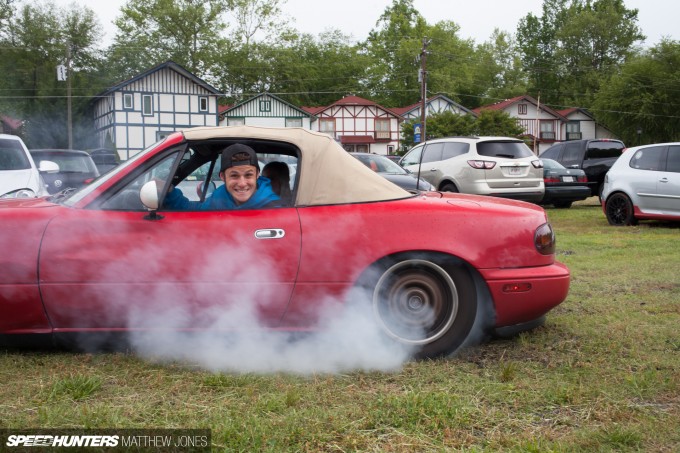 You may stick your nose in the air in reaction to this kind of behavior, but it was all in good fun and there wasn't a sore face in sight. Even some of the older participants were itching for a solid sideline scream – and not once did the tire frying antics ever really ruin the meet. Yes, a few folks got tickets and they were expected, but sometimes you've got to pay to play. It is Southern Wörthersee after all..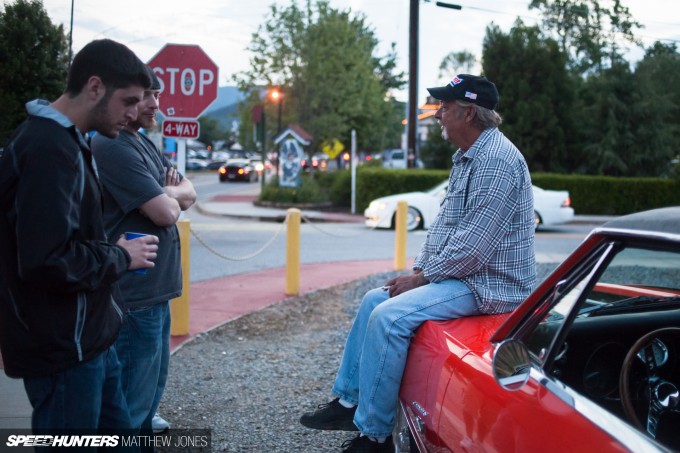 Past the shenanigans there was an undeniable sense of camaraderie spread across all generations and genres of auto enthusiasm, and it made you feel right at home.
The Grassy Knoll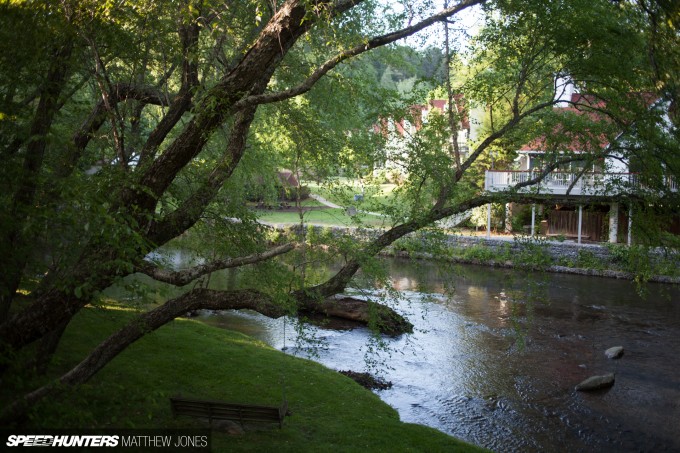 One great thing about Southern Wörthersee is the effort put in to make the event as authentic as possible. As I mentioned at the beginning, the show itself is held in a Bavarian-themed town. Can't have a meet around an Alpine lake? That's okay, it's been replaced by the Chattahoochee. And just as with the original Wörthersee, the main competition only extends to VW, Audi and Porsche models.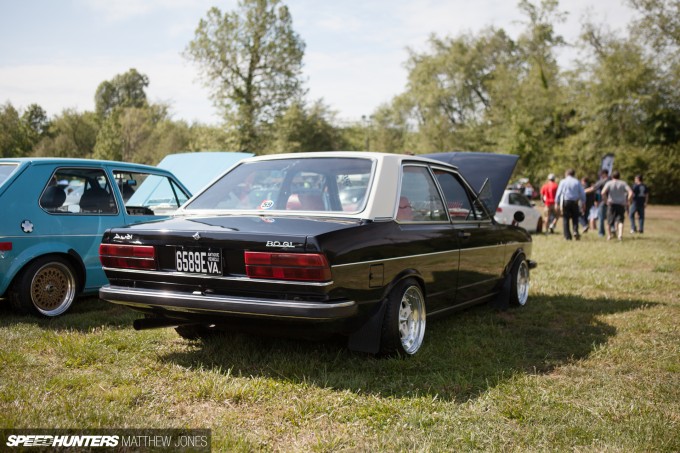 Even with the selection being trimmed down to a single auto group, the variety was still impeccable. There was a place for everything – old school cream puff Audi Foxes included.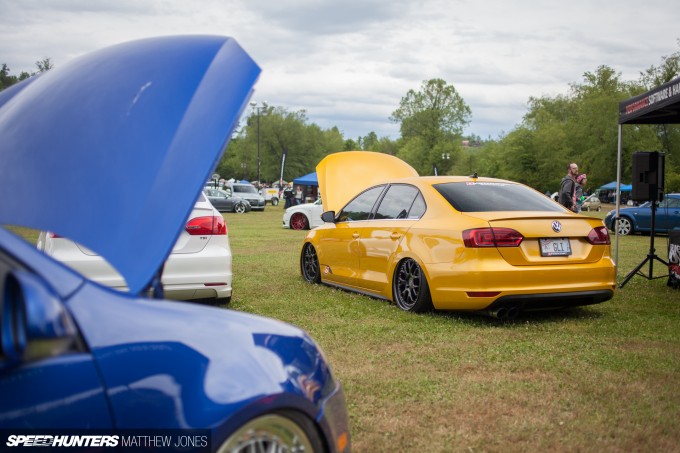 Right through to all-out Volkswagen show car builds.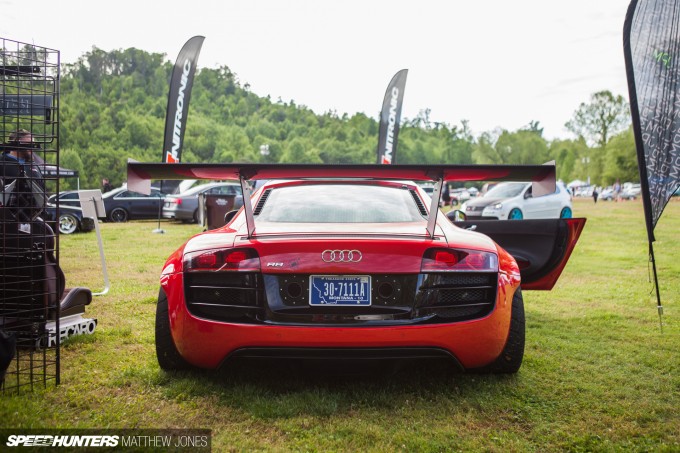 Speaking of all-out builds, this twin turbo, wide-bodied Audi R8 by TopSpeed Motorsports had to be one of the most talked about cars of the show – but don't call it a show car. I'd love to go further into detail about its immaculate paint job, its fresh set of HRE wheels and how a local body shop out of Randomville, GA, was trusted to sculpt and construct the custom kit entirely from scratch – but I'll save all the juicy details for its upcoming feature…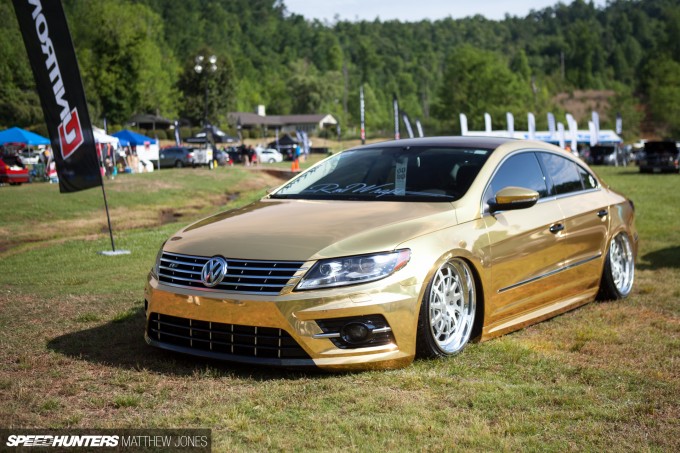 I've never really been into wraps, and as a photographer, the thought of shooting a car completely drenched in highly-refective gold vinyl is on the same level as gouging my own eyes out. But I'd be lying if I didn't admit that this CC was a definite show stopper.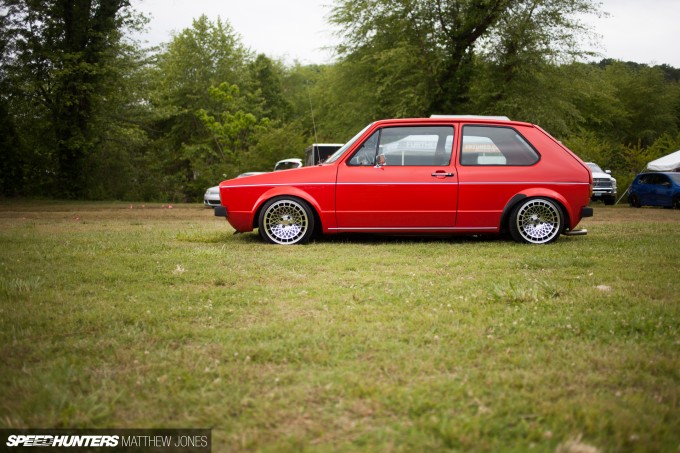 If you're into Mk1s, there was certainly no shortage of those scattered over the large grassy knoll.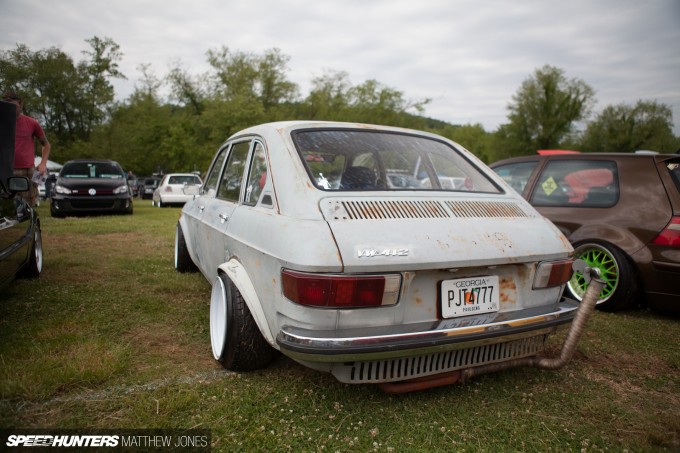 Aside from the R8, one of my personal favorites from the main competition had to be this absolutely raw Volkswagen EA 142 coupe, complete with a little hint of bosozoku styling in the rear.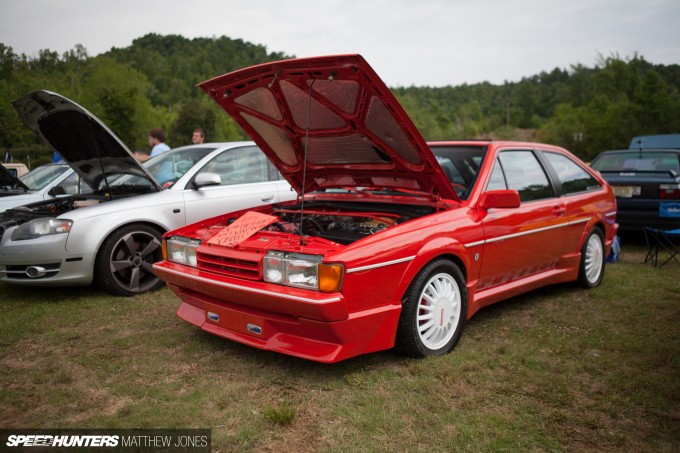 Well, that was until I spotted this 1984.5 Wolfsburg Scirocco sporting Kamei X1 aero, Ronal R8 wheels and a Calloway Stage II turbo setup. Absolutely immaculate doesn't even begin to describe this thing.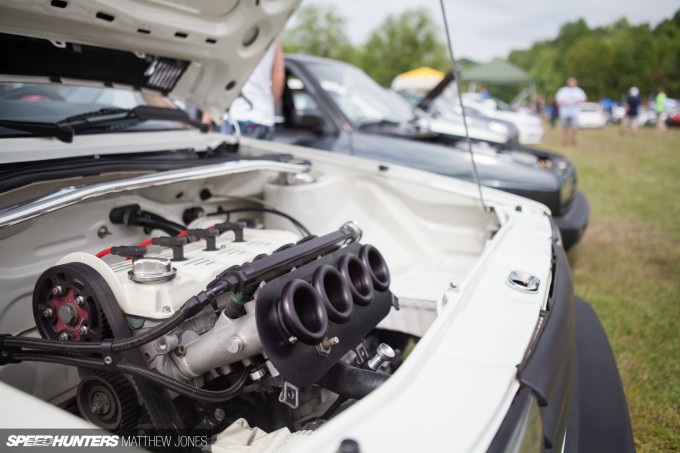 And check out the attention to detail in this MK2's engine bay. Perfection.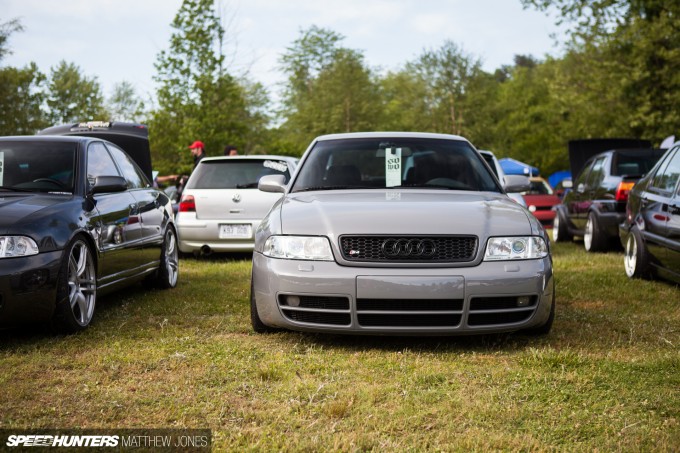 Amongst many high profile cars, there were those that went largely unnoticed – unless you knew what you were looking at. Can you guess the paint? It's not Nimbus, nor Aviator, but actually one of the only B5 S4s in the country sporting the new RS7's exclusive Nardo Grey. Along with many others, I'll go more into detail on this hard-tuned bad boy in my upcoming Spotlights of SoWo post later this week.
Walk it out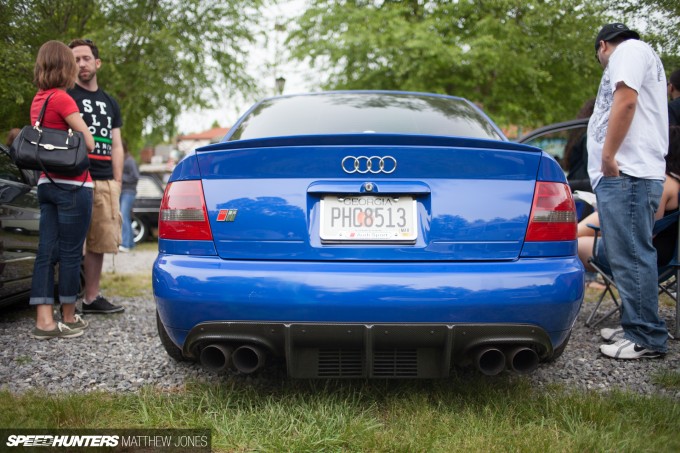 The main competition field was definitely an awesome sight, but the cars I found around the outskirts of the event were equally as impressive.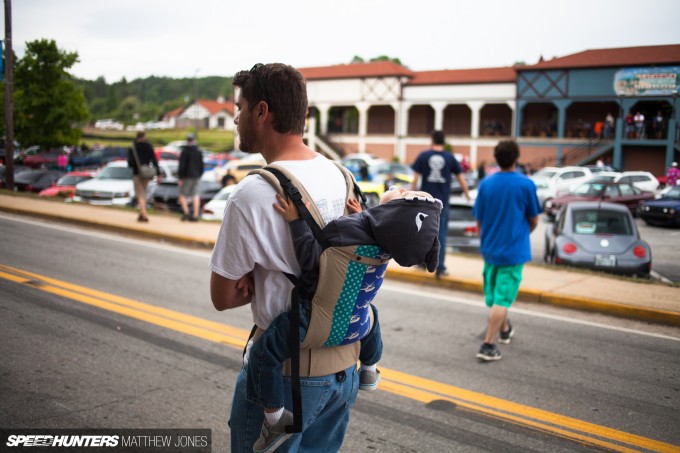 At first glance, you might think that if a car's not in the actual show, it wouldn't be seen by many people. Wrong! Not only did the outer areas provide enough available space for all of the enthusiasts that converged on the town, but there was just as much foot traffic – if not more. Too bad this lil' guy just couldn't hang!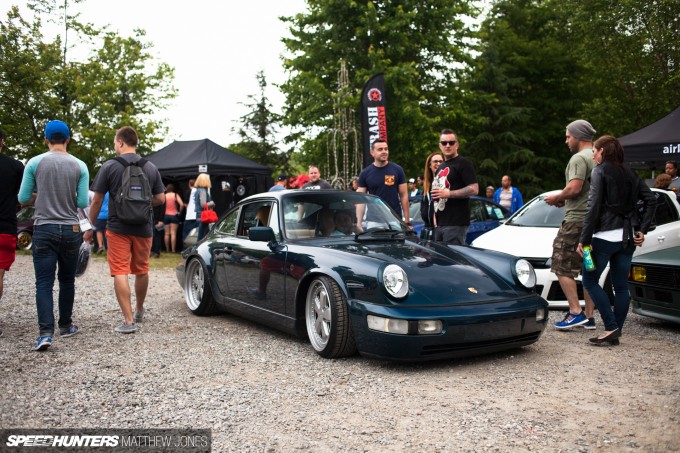 One moment you'd be stopped dead in your tracks over car like this flawless 911 on the Air Lift Performance booth.
Only to turn the corner and spray your drink over a Caddy with a mid-mounted turbo VR6 engine, parked outside of one of the many overflowing hotels located directly on Main St.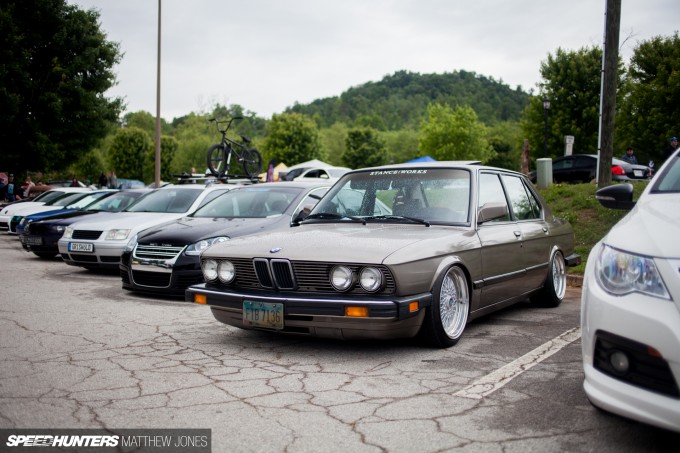 In fact, the variety out and around Helen almost exceeded that of the main show's grounds. Eliminating restrictions, the town was filled with just about every style of build under the sun.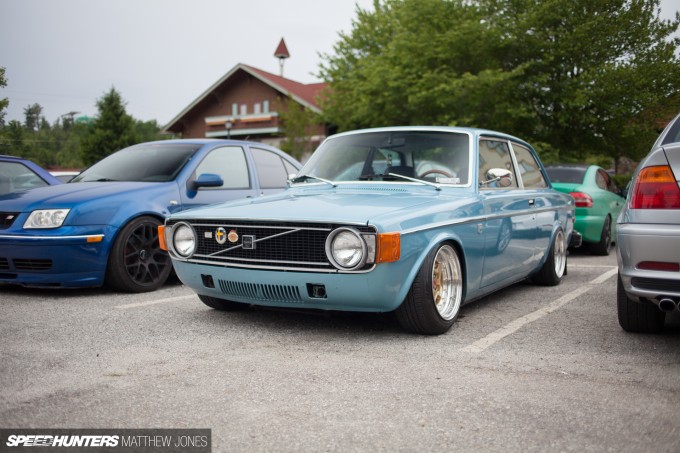 My favorite? This mint condition baby blue Volvo 142 on Gotti 55As.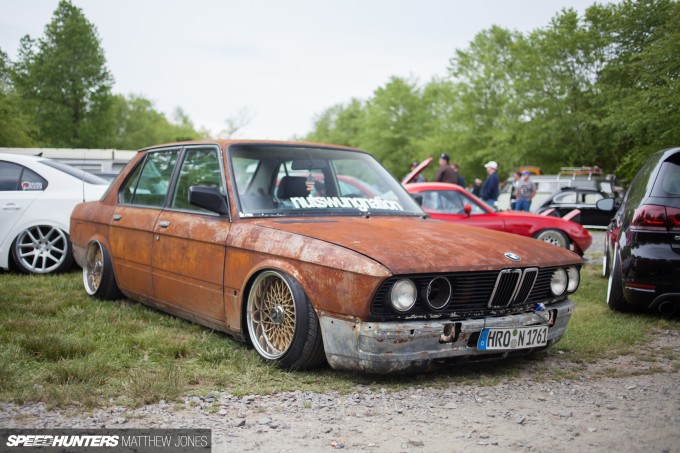 Even though the style is not for everyone, there was a rusty, rat rod influenced build on every corner that either made you think, 'What the hell were they thinking'. or 'Sh*t, why doesn't my car look like that?!'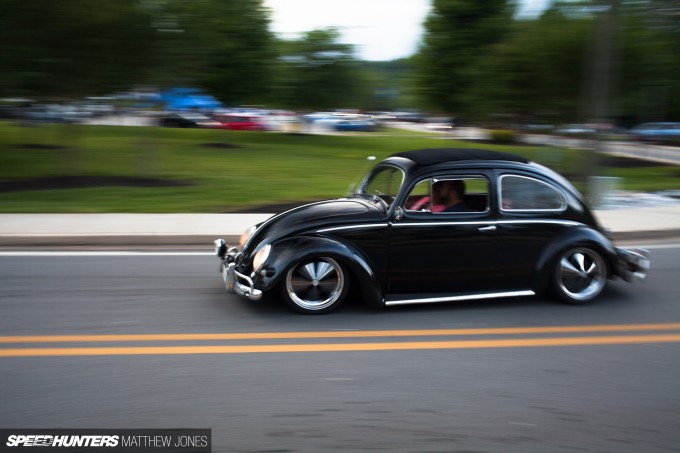 When I finished sifting the town and made the call to walk back to the main event, every exhaust note that greeted me came as a new surprise.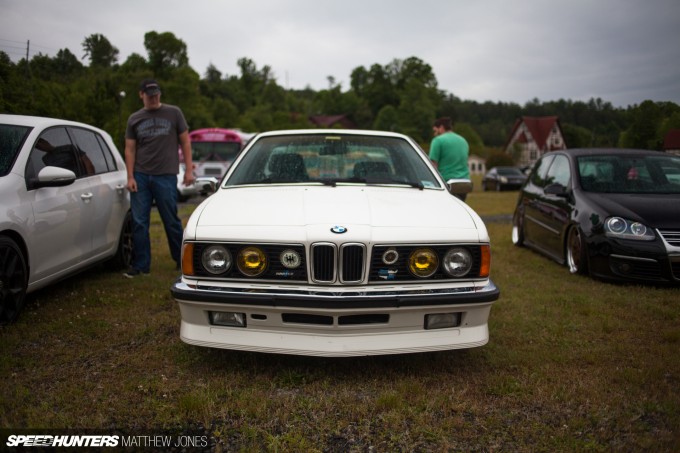 Even the overflow had lots more than a few solid gems tucked away.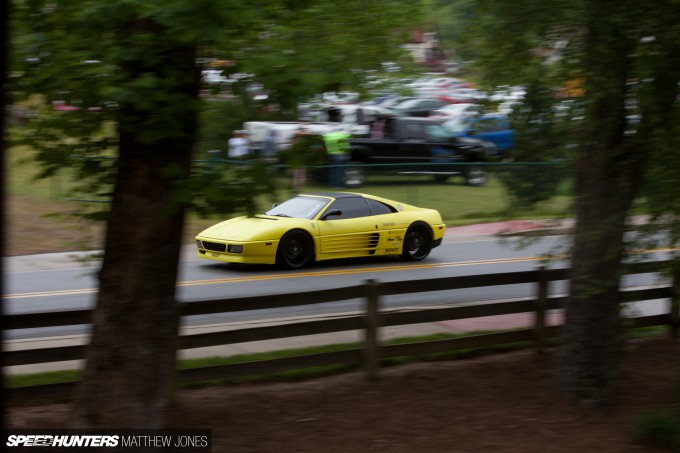 The best part about the event outside of the main competition? It never stopped. I was never able to set my camera down. There was no escape. Even when I was sitting on a balcony trying to recoup, there was a constant stream of cars I hadn't yet seen driving past.
The Oddities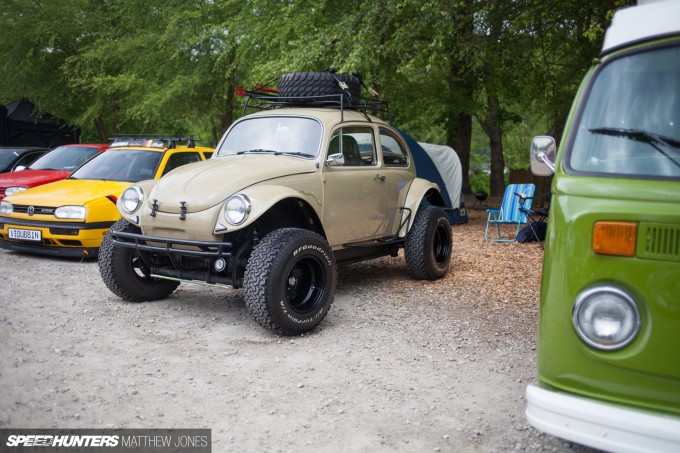 Though the show was an incredible experience, I'll be the first to admit that it was definitely a bit – for lack of a better word – stancey. Maybe that comes with the Euro territory, but with how much frustration I've picked up on from ya'll since joining the Speedhunters team, I knew I had to make a solid effort to overcompensate and showcase the more meaty side of things. Just remember… you asked for it!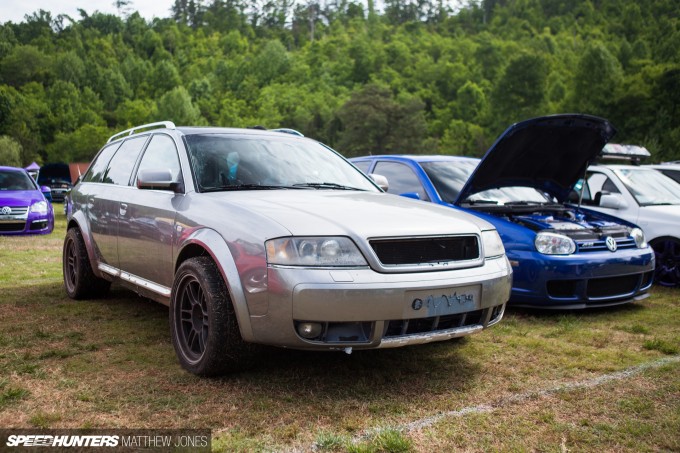 Remember what the Audi brand originally stood for? This lifted Allroad on Enkei RP-F1s is the perfect example. Just look at the mud splattered about the side. That's #JoyofMachine at its finest!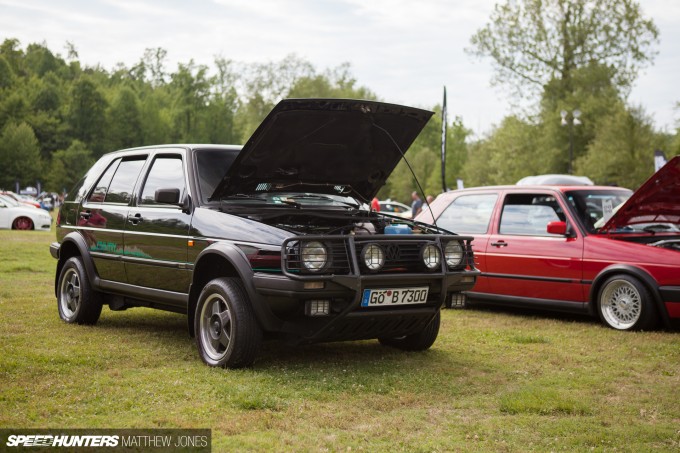 And how about this rare four-wheel drive Mk2 Golf Country just aching for an off-road excursion. Sure, it's definitely not the sort of VW you'd normally find at at event like this, but tell me you wouldn't love to get behind the wheel of this thing and fling some dirt in the air.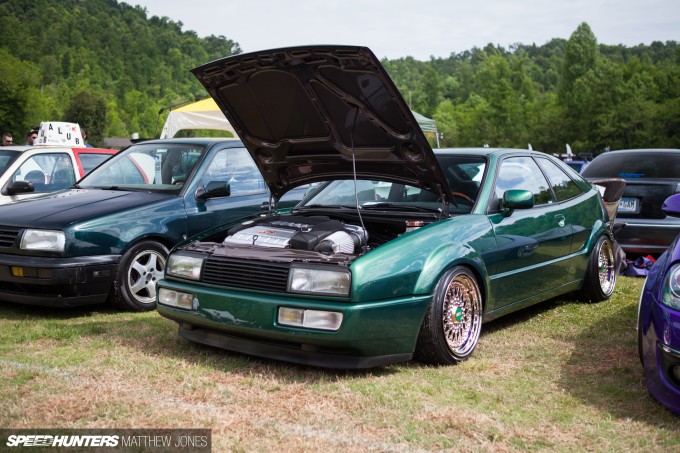 Got that out of your system yet? Hope so, because we really do care about your interests. And with that out of the way, let's get back to shaking your knees with this R32 engine swapped Corrado.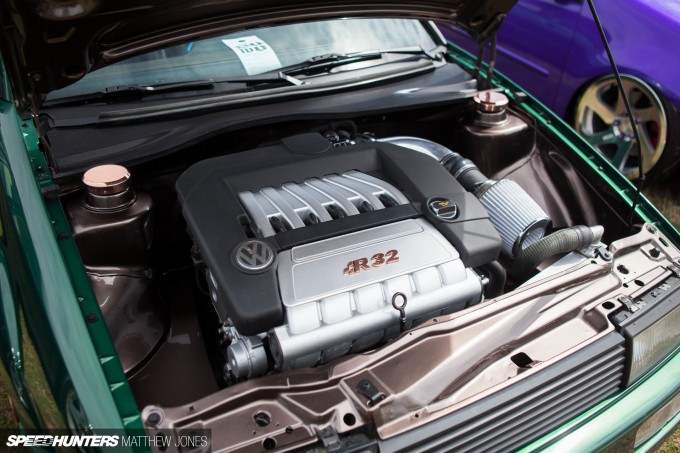 A flawless bay with power in mind, wet paint and a set of gold BBSs. Really, what's not to love?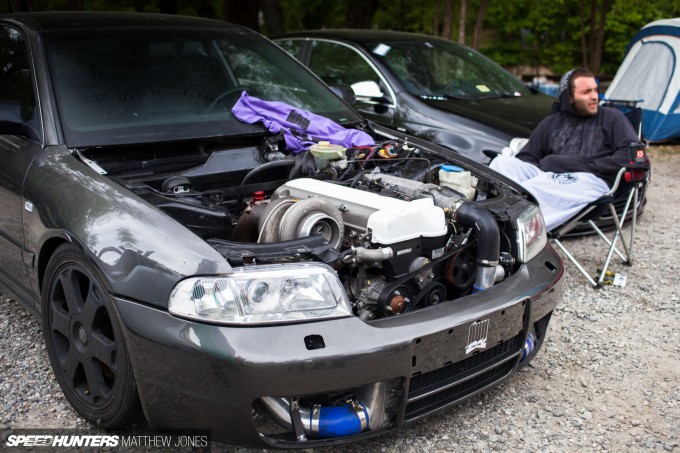 Need more power? Love the B5 S4 but are terrified of having problems? No worries, a 2JZ conversion with a huge turbo will take care of that…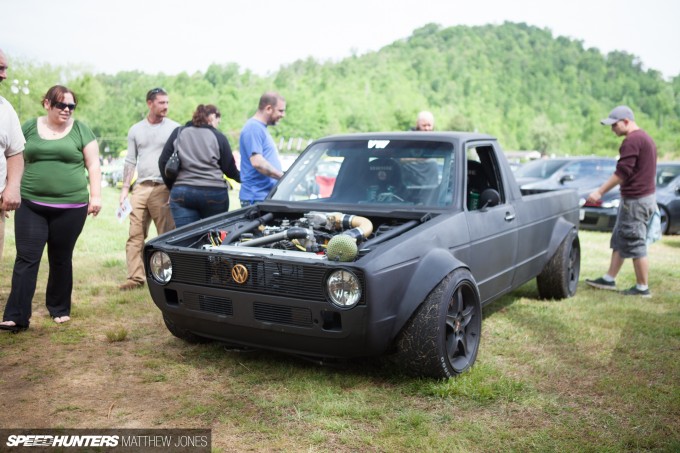 Still not enough!? Fine. I present to you the gnarliest Caddy I've ever seen in my life. Think rear-wheel drive, think 5.4L Triton swapped, think enough character to put even the hippest of cars to shame. And you'd better believe we have a full tire-slaying feature coming soon!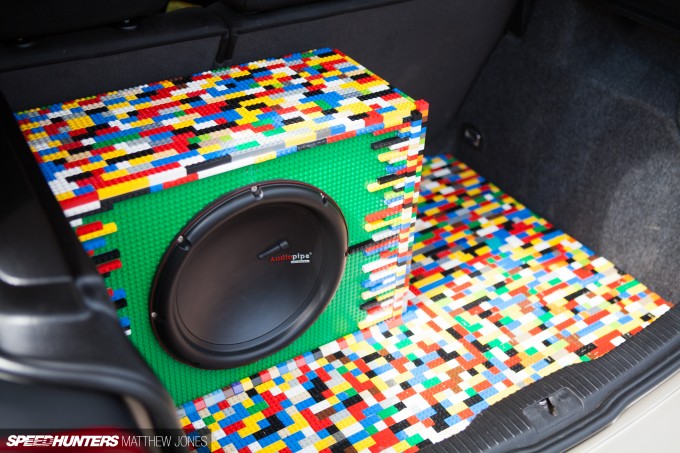 Let's not forget about all the slightly off-beat details present though – like this LEGO-lined trunk and sub box display.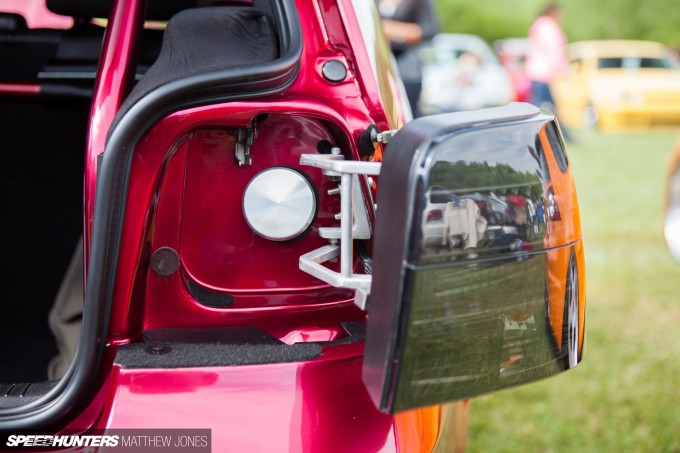 Or this R32, which has gone the completely shaved route and creatively had its fuel outlet relocated behind the tail assembly.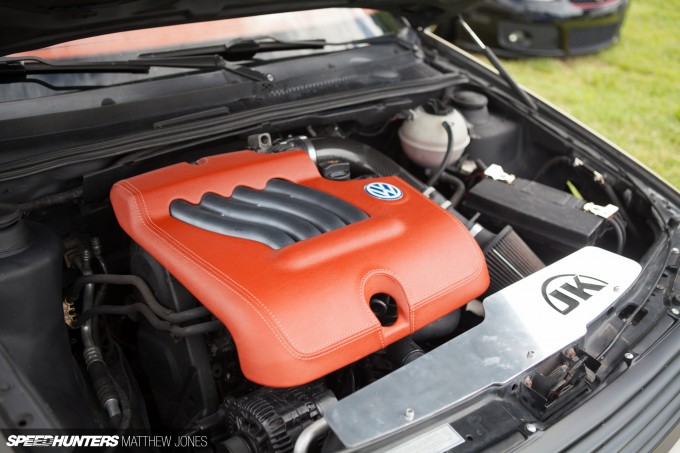 A few of the bays even had their own touches of individuality. To each their own, but I'll have to hand it to the owner of this particular car for pulling off a leather-wrapped engine cover, which of course matched the interior.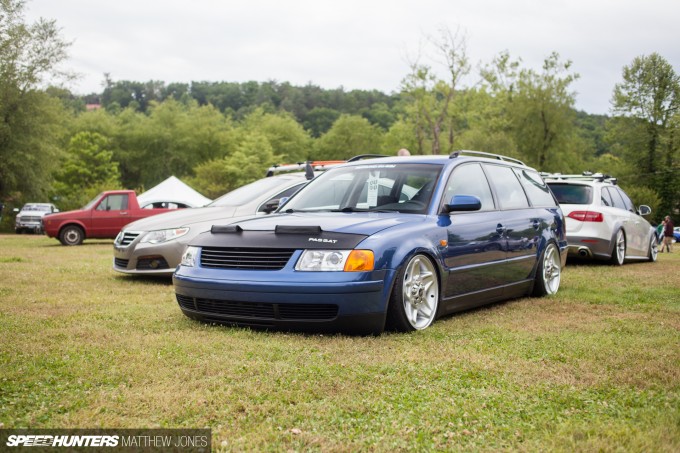 Another aspect I found myself growing very fond of throughout the show was the versatility of the VAG group. To me, this slammed Passat on OE Landrover wheels was a perfect example of that.
As a Western-influenced guy in pretty much his first fully-blown Euro getaway, I'll be the first to admit that selecting images for this post was a challenge. But I hope I clearly portrayed all the joy that is Southern Wörthersee. And if you're sitting in front of your screen thinking, 'Could this possibly be all SoWo had to offer?', be patient because round two is just around the corner. In the meantime, check out a load of bonus images in the next chapter.
Matthew Jones
Instagram: matthewjonesphoto
matt@speedhunters.com
Cutting Room Floor