Built, Not Bought
 It just wouldn't be right if we ran our Scale Model Theme without talking about a very cool 1/24th kit that's now available in the Speedhunters Store. Merely talking about a model though? No… actually making one and showing you how it comes together was a much better idea – save for the fact that no one on the team thought their model-making skills (or lack of) would be worthy of a such a guide. Luckily though, our good friend Aaron Mai – co-founder of Maiham-Media – is pretty handy when it comes to this sort of thing, so before he had a chance to say no, we had a brand spanking new Aoshima GReddy & Rocket Bunny x Speedhunters Toyota 86 kit over to him, and a note with a smiley face saying we needed it built in a week. As we knew it would, it turned out really nice and Aaron's kindly put together a few words and photos about how he got into modelling, and how this one all came together…
I have been building models for just over 25 years. As a young kid I remember watching my father build his 1/24 scale race cars and I was utterly fascinated by them. This was my first experience with models, before, at the age of five, I tackled my first build – a biplane that ended up with red and orange wings and with blue wheels. As time moved on I started to work with more difficult kits, and before long had moved away from aircraft and into race cars.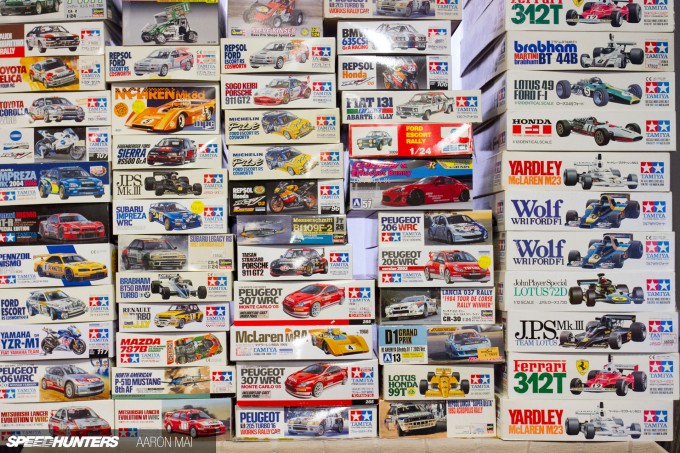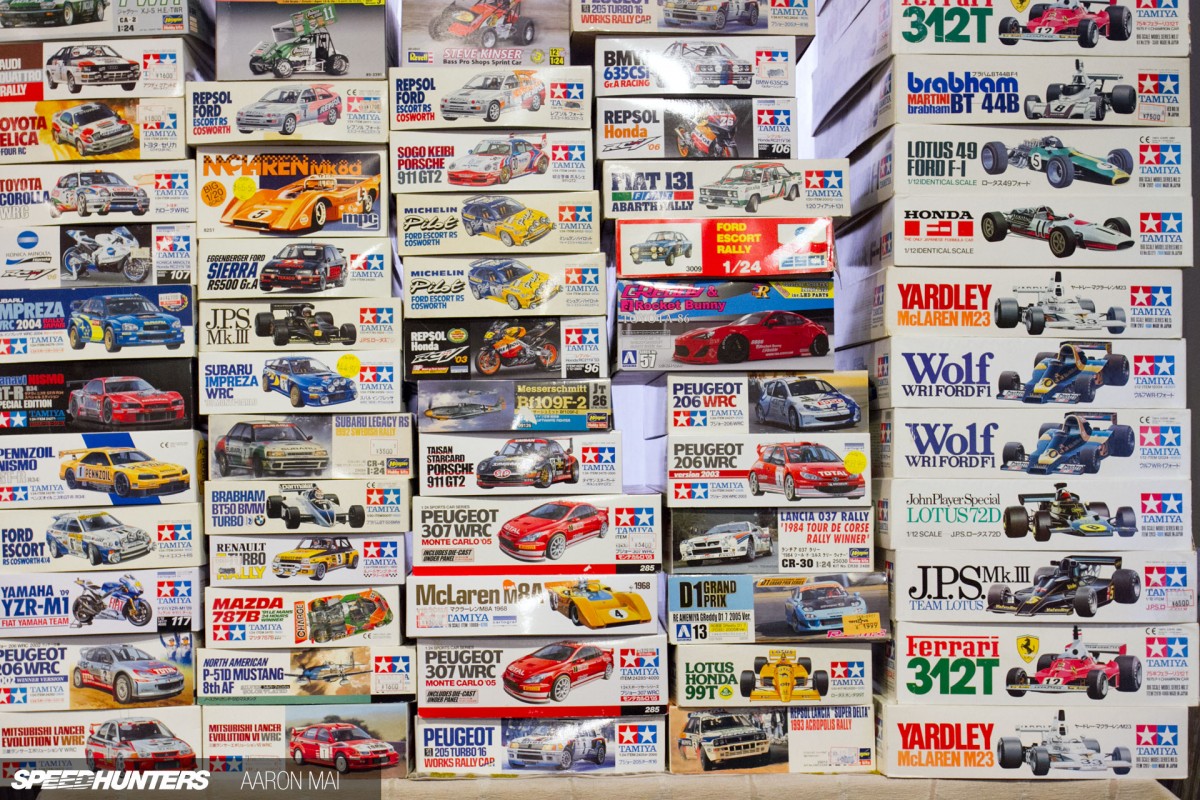 I made a strange challenge to myself 10 years ago which has ultimately been my downfall with model building. The deal was, if I came face-to-face with an iconic race car that was available as a plastic kitset, I was to purchase the model and then build it.  My reasoning was to build up a collection of small-scale 3D memories to remind myself of seeing the real cars either at a show, or being hammered around a racetrack.  Unfortunately, I am seeing iconic race machines at a quicker rate than I can build them and my still-in-the-box-and-unbuilt inventory currently stands at 97 kits. What you see above s is just a little taste of the collection…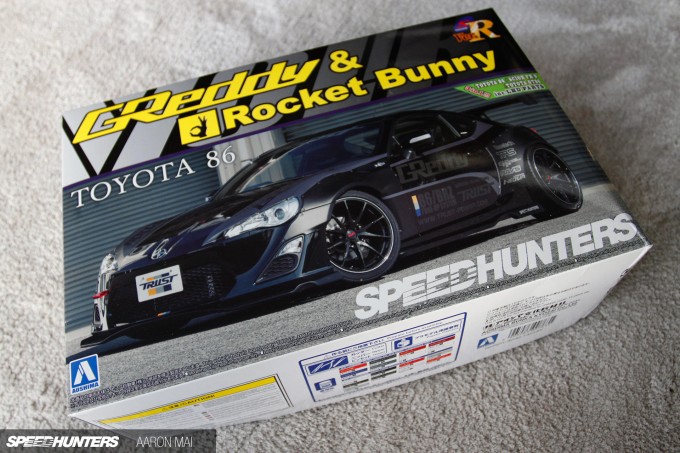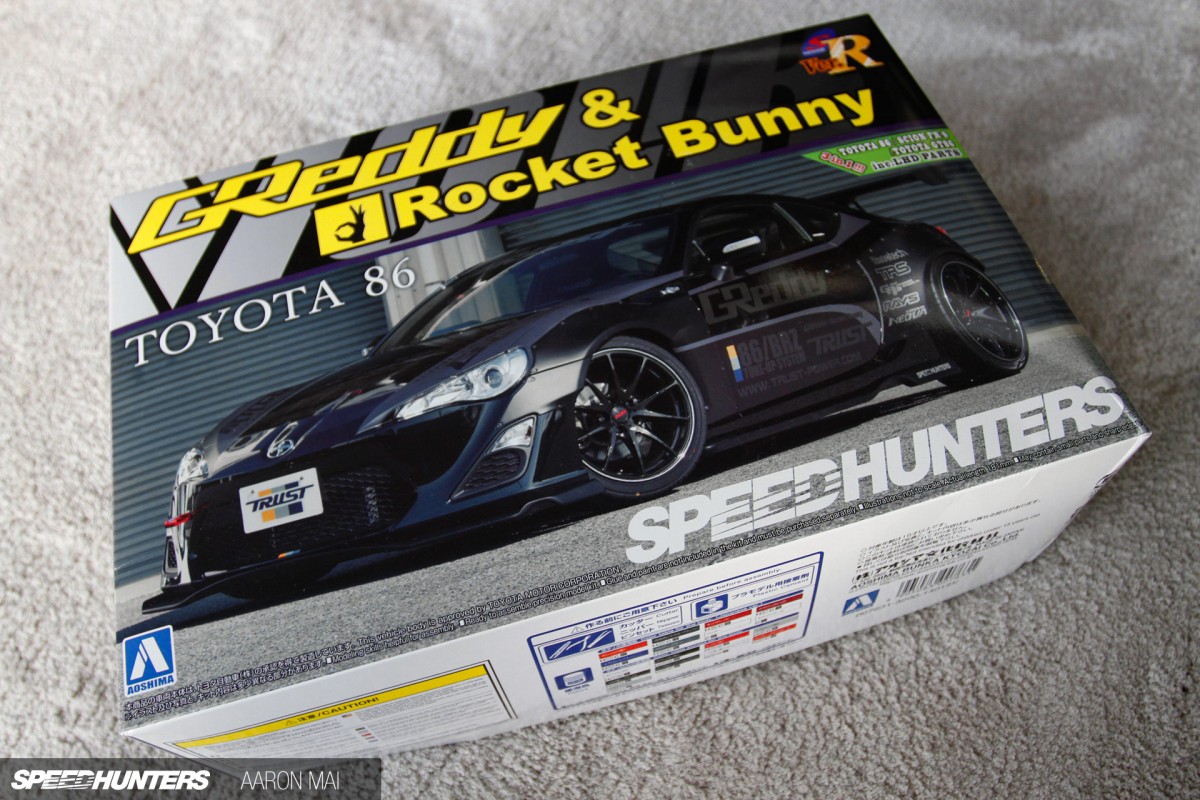 The global automotive scene is no longer just centred around those who own tuned cars or work directly with them. You can be a part of it whether you're behind a camera, getting your fix as a spectator, posting on a forum, or even building scale models. This is one of the appealing things for me as a model builder. So today I am here to briefly walk you through a quick build I did for Speedhunters, and let you in on a few tips and tricks I used along the way.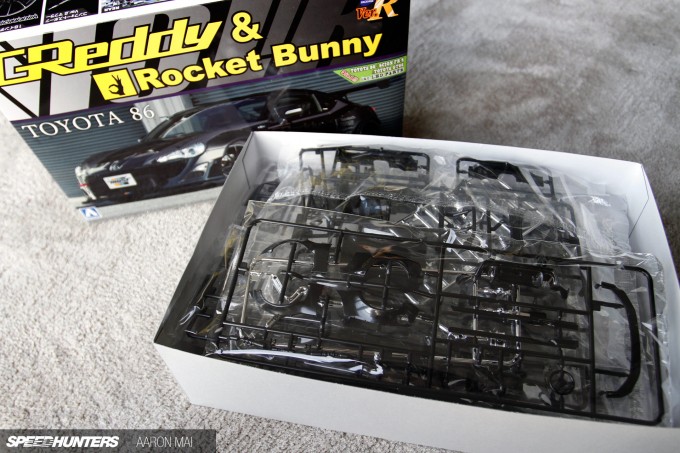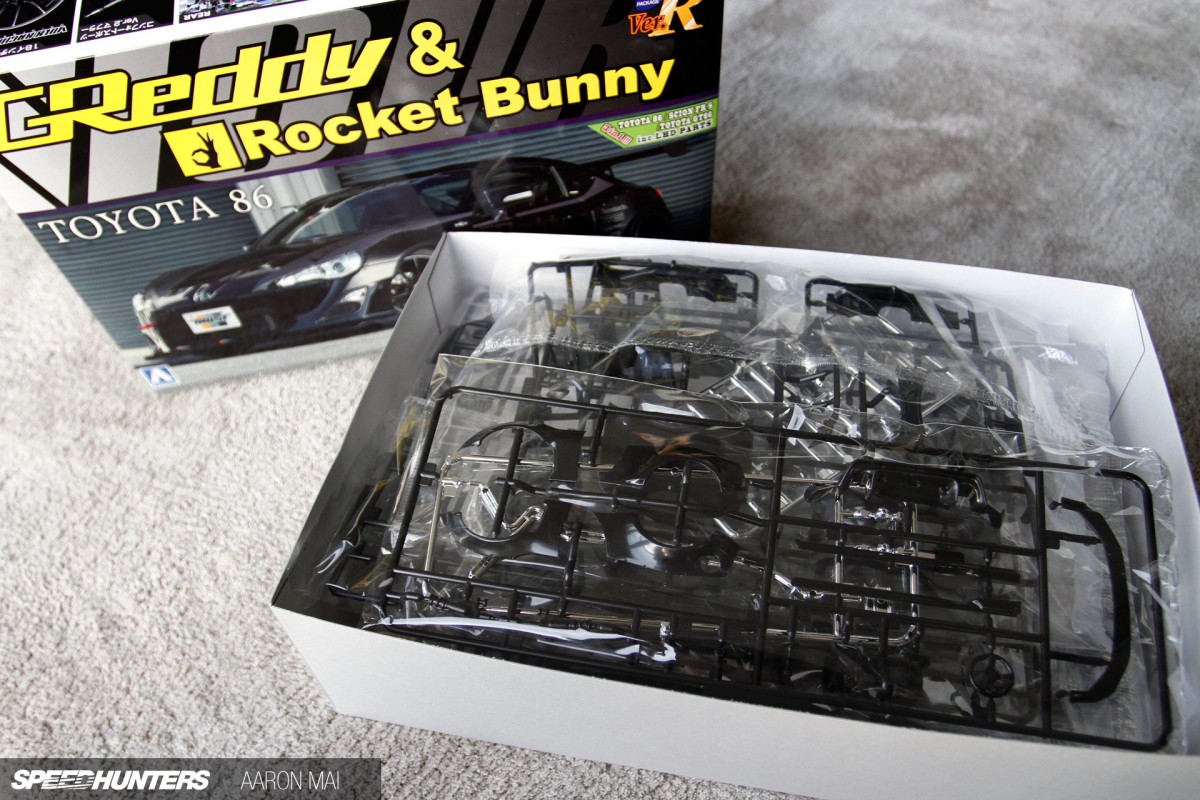 Our project is the GReddy & Rocket Bunny x Speedhunters Toyota 86, produced by Aoshima. Looking at the contents it's bursting full of tuning awesome.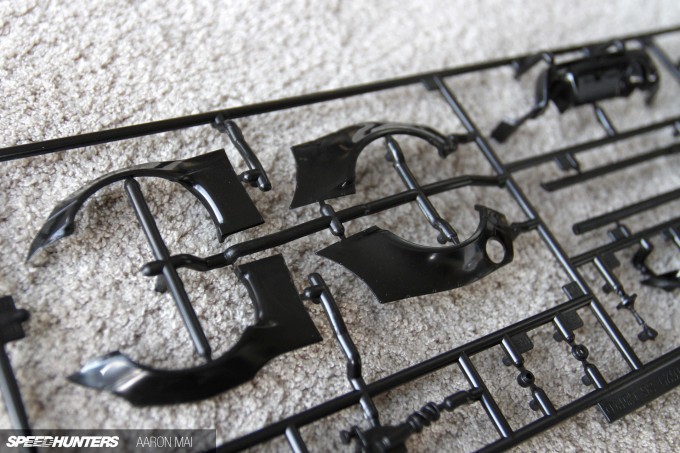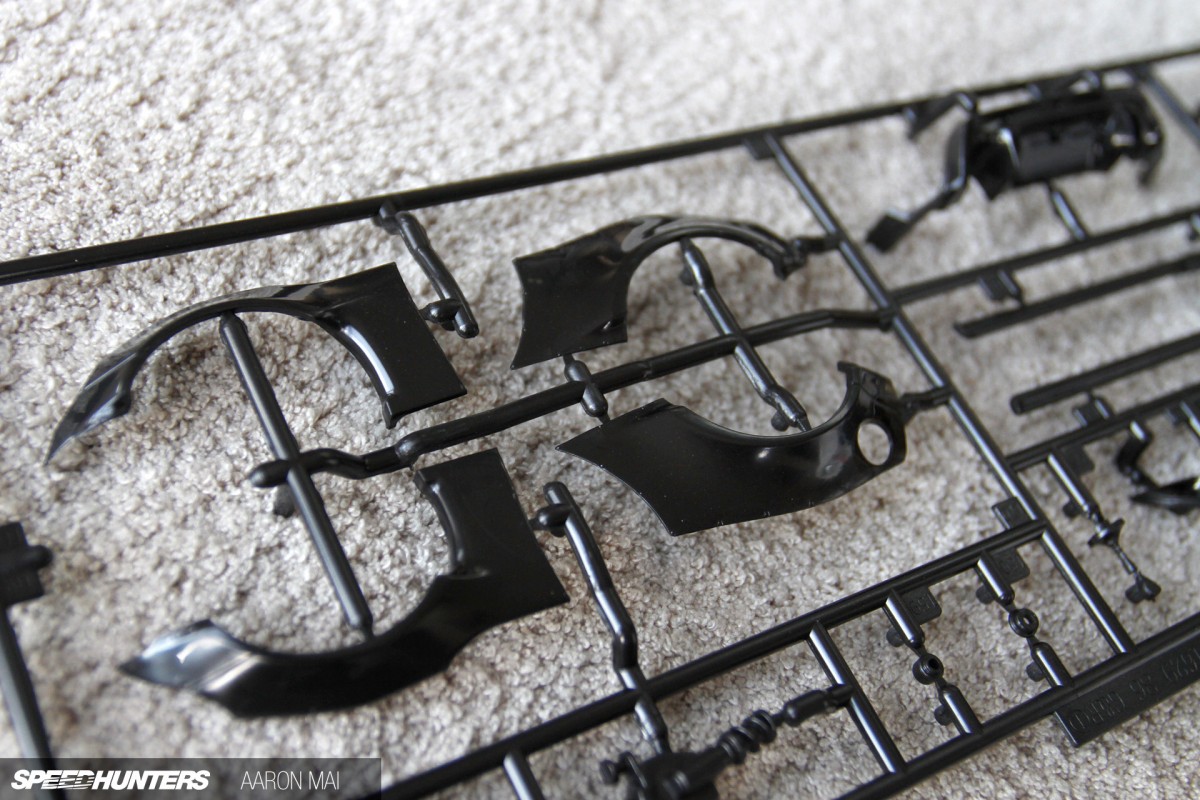 In 1/24th scale you get TRA-Kyoto's Rocket Bunny full 86 kit, options that allow you to run the car as a Toyota or a Scion in right-hand or left-hand drive guise, as well and all kinds of add-on parts.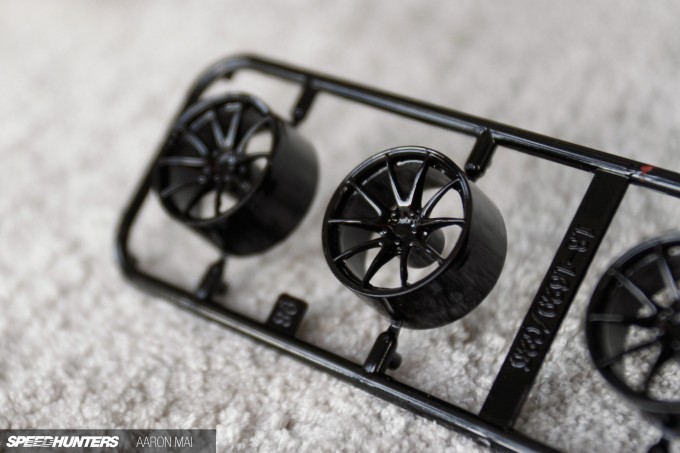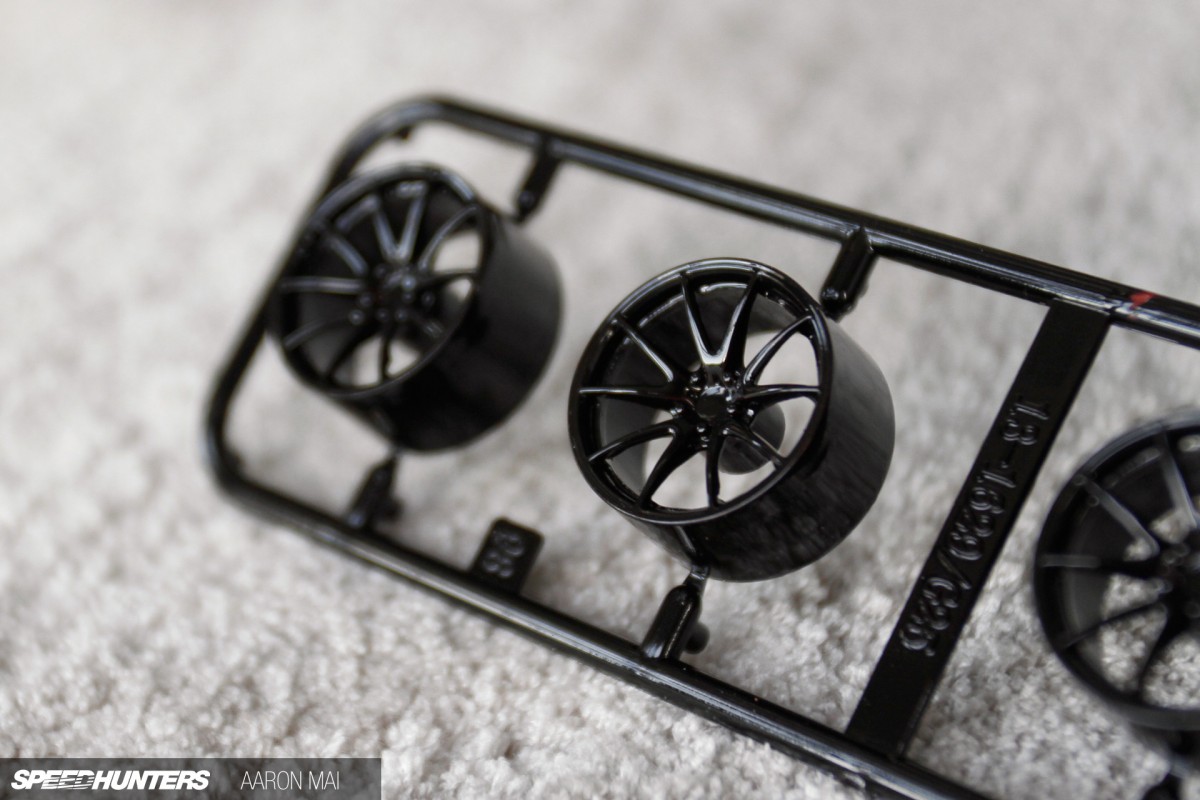 You even get a set of realistic RAYS Volk Racing G25 wheels and proper rubber tyres to wrap around them.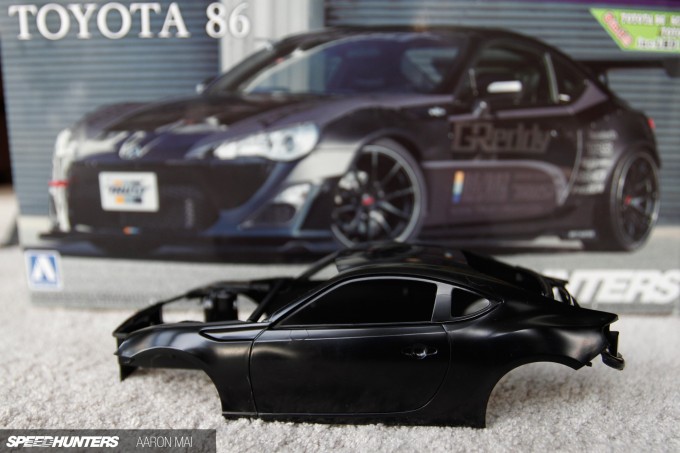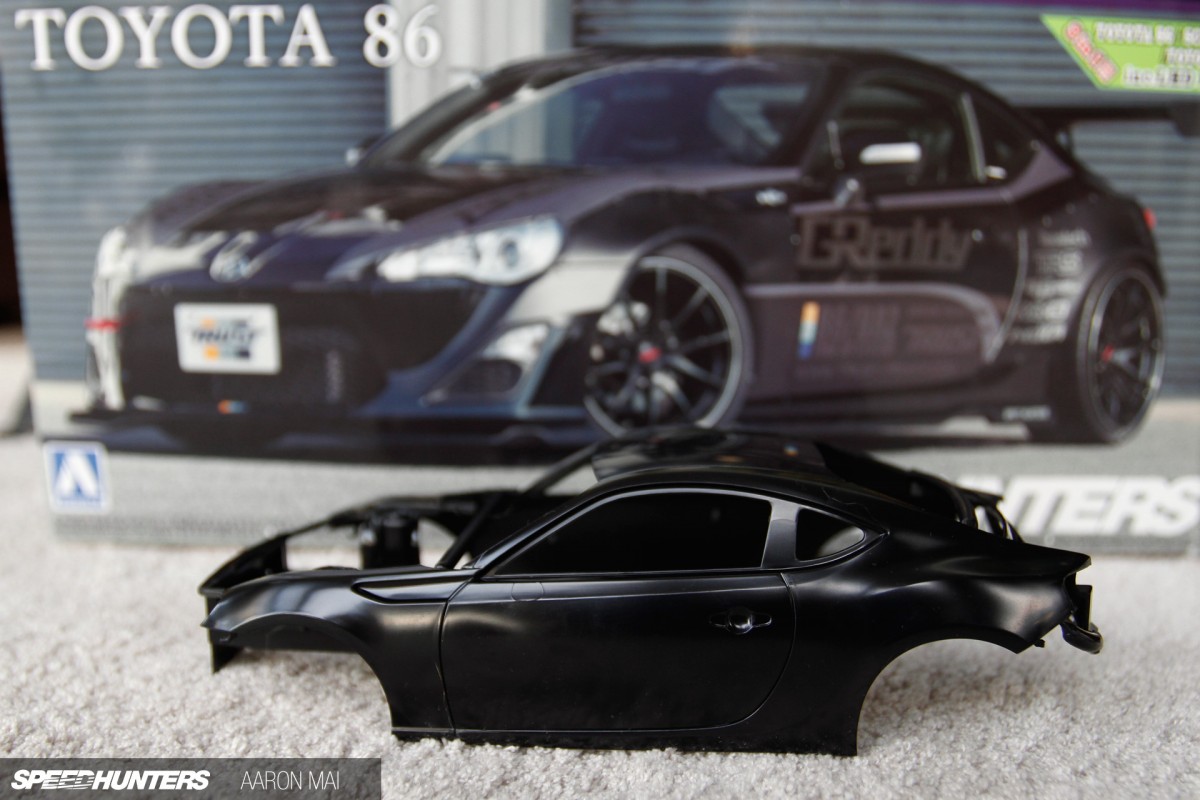 I decided to build this one exactly as it comes with no aftermarket bits or overly-fancy procedures, so you can see exactly what you get if you pick up one from the Speedhunters Store and build it up yourself. As with any scale model car build of this nature, your first steps are painting the chassis, and assembling the suspension, exhaust, and drive train. When you remove all the individual parts off the sprue (the plastic frame that they're manufactured on), make sure you trim off any extra plastic bits from the mounting points to ensure everything is going to fit nicely together.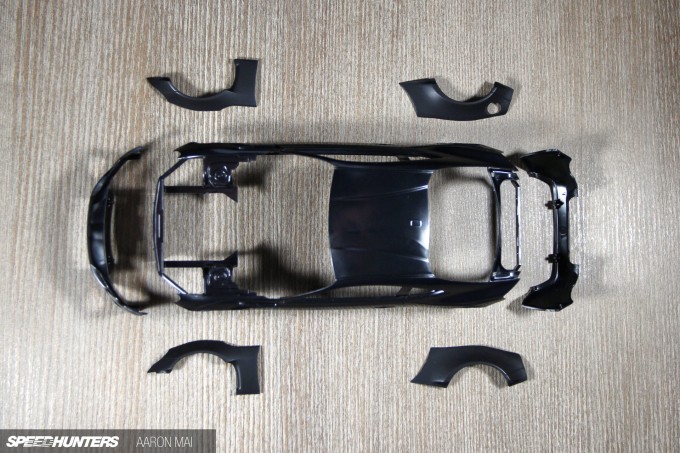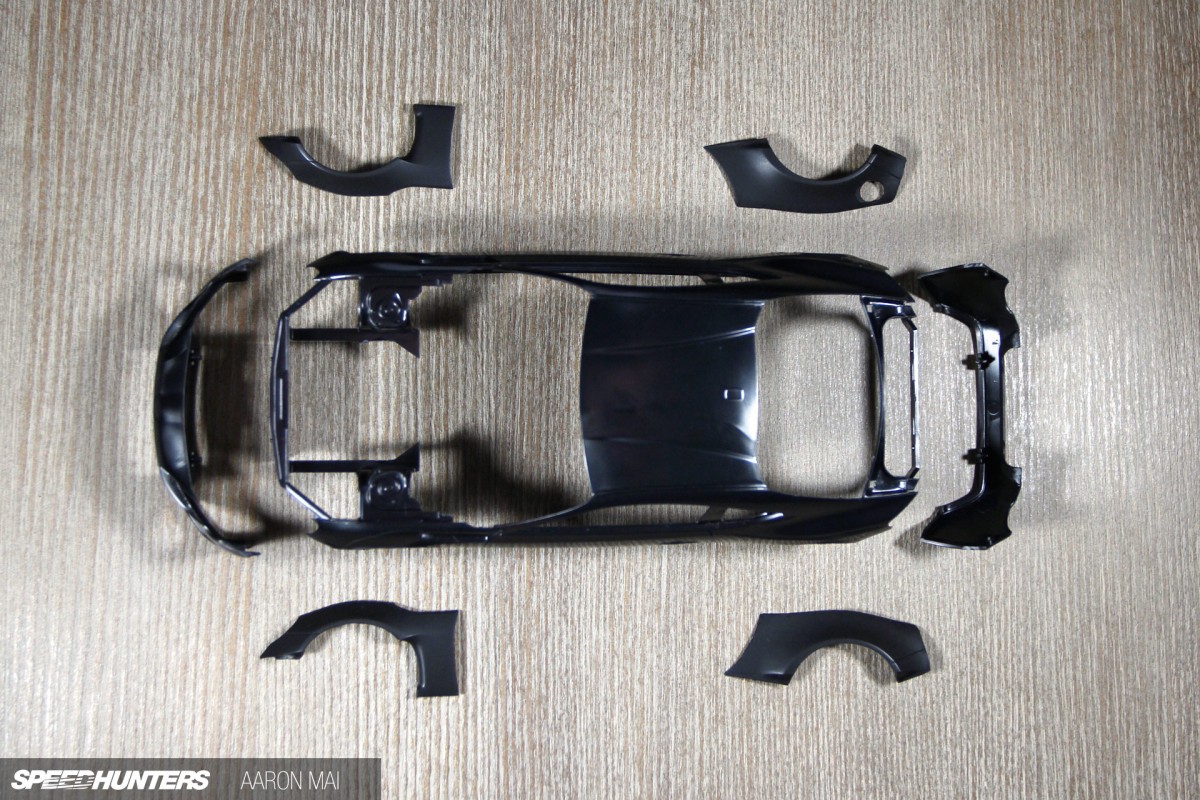 Despite owning an airbrush, I tend to paint most of my models with a spray can. Like any paint job the key to a good finish is in the preparation, and I always wash the plastic parts in light dishwashing detergent to remove any leftover oil from the manufacturing process, and then allow them to completely air dry. Once you are ready to go, heat your spray can up in warm water as this will give you a nice smooth glossy finish when you spray your paint. Tamiya's TS series paint is the go to for all of my models.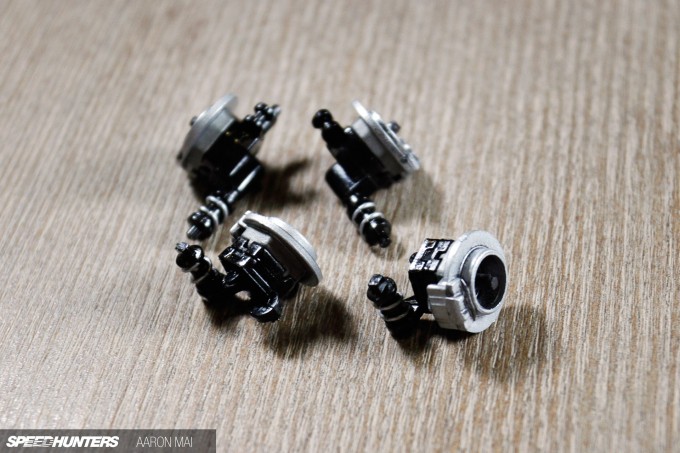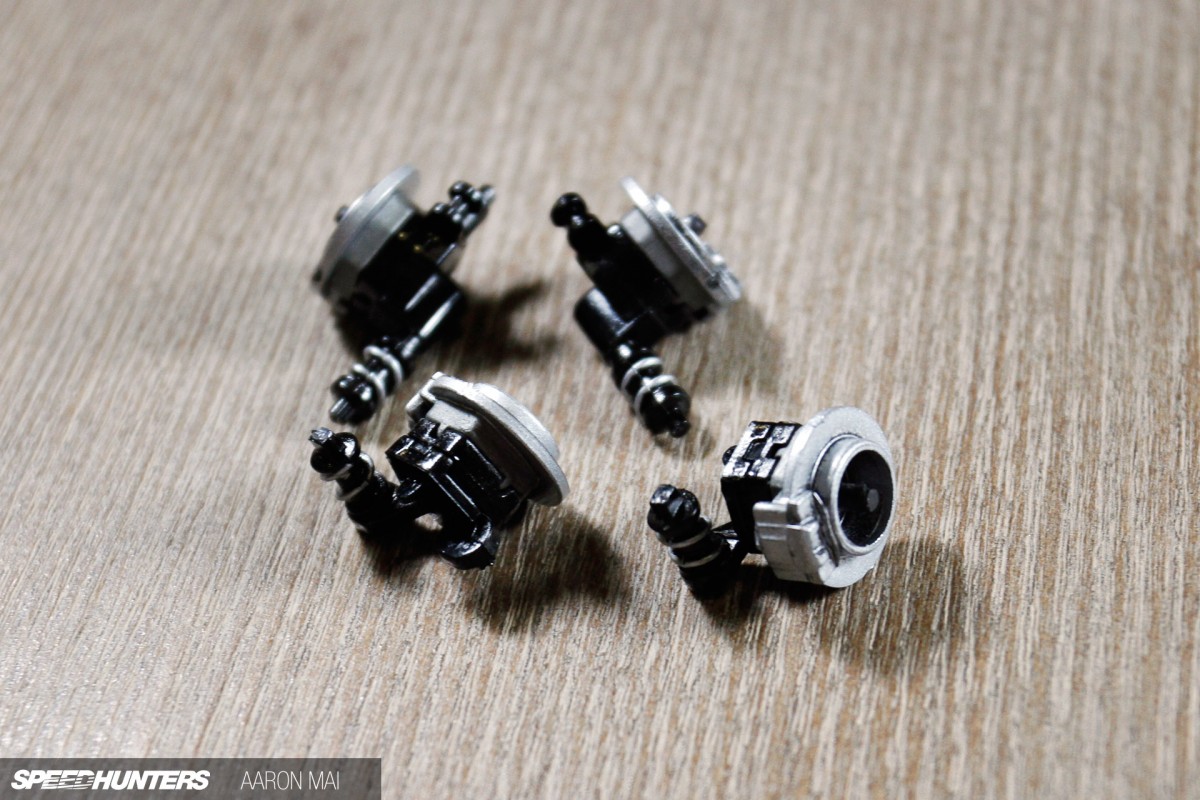 It's a good idea to get two or three paint brushes – one fine, one medium and one thicker brush for painting all the smaller details on your model. The instructions tell you – via a paint code system – which parts need to be what colours, but of course it's up to you whether or not you follow suit. Feel free to run with some creative licence! The best thing is, you can be as simplistic or as detailed as you like in your building.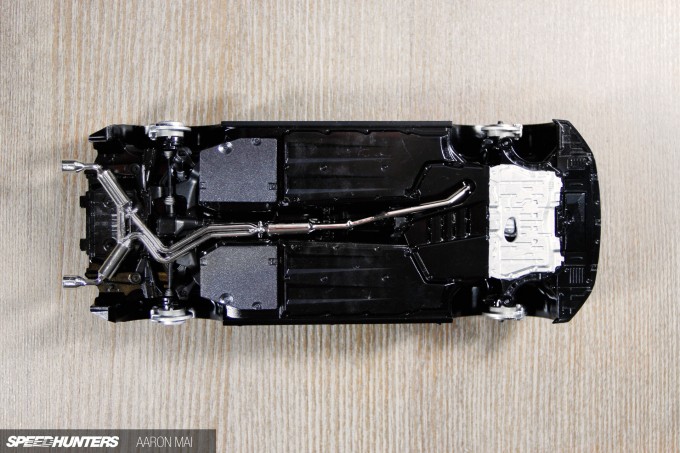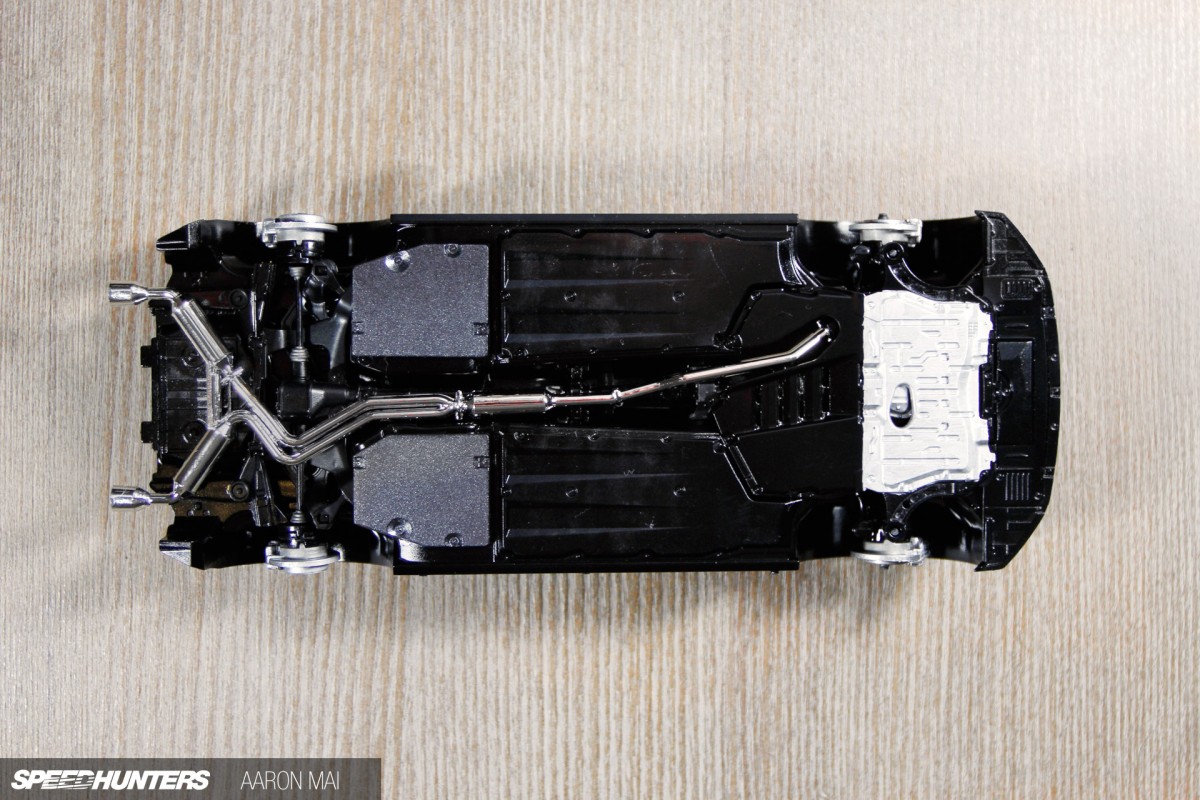 Once you have painted all the suspension and drivetrain you get to add the exhaust. At this stage the chrome-plated additions really start to make the underneath of the car pop. Many might not think it, but the suspension is the most crucial part of the kit and before painting and gluing things in, ensure you do a 'dry-fit'. That way you'll get to see if everything is lining up as it should, otherwise later on you may have a three-wheeling ZN6!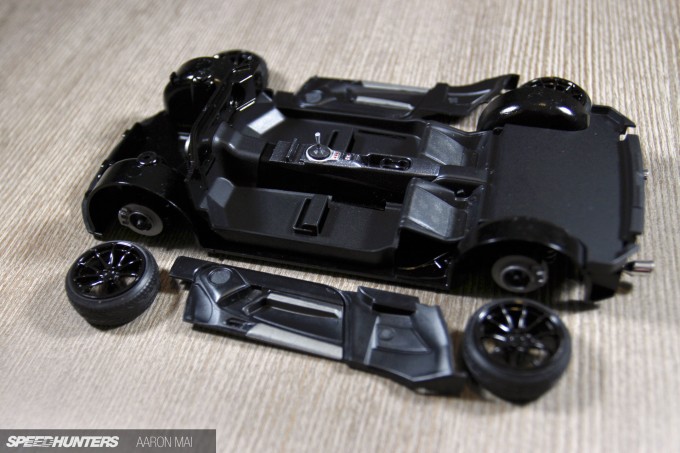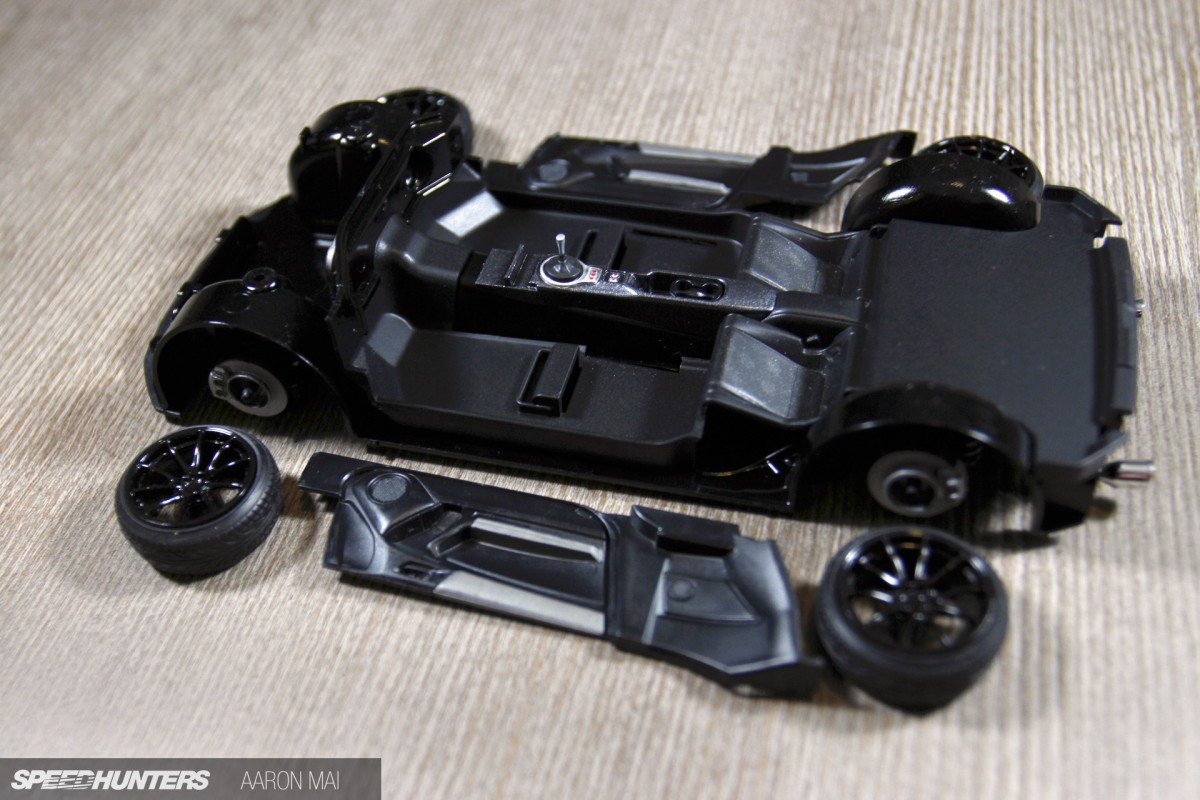 Moving inside, it's pretty cool and quite surprising what's included. Optional dashboards for the aforementioned LHD and RHD options, cup holders, and the choice of a sports or standard steering wheels. This is where your fine brushes come in super handy. I sprayed the seats, interior floor, and dash in matte black and semi-gloss black, then added additional details with a fine paint brush. The hardest part was ensuring everything didn't disappear into a black abyss. I really wanted to be able to see the detail upon completion, which is why I went to two slightly different black finishes.
It's All In The Details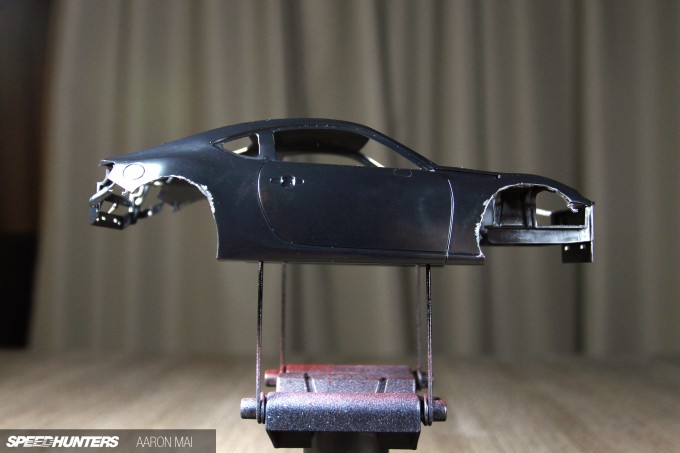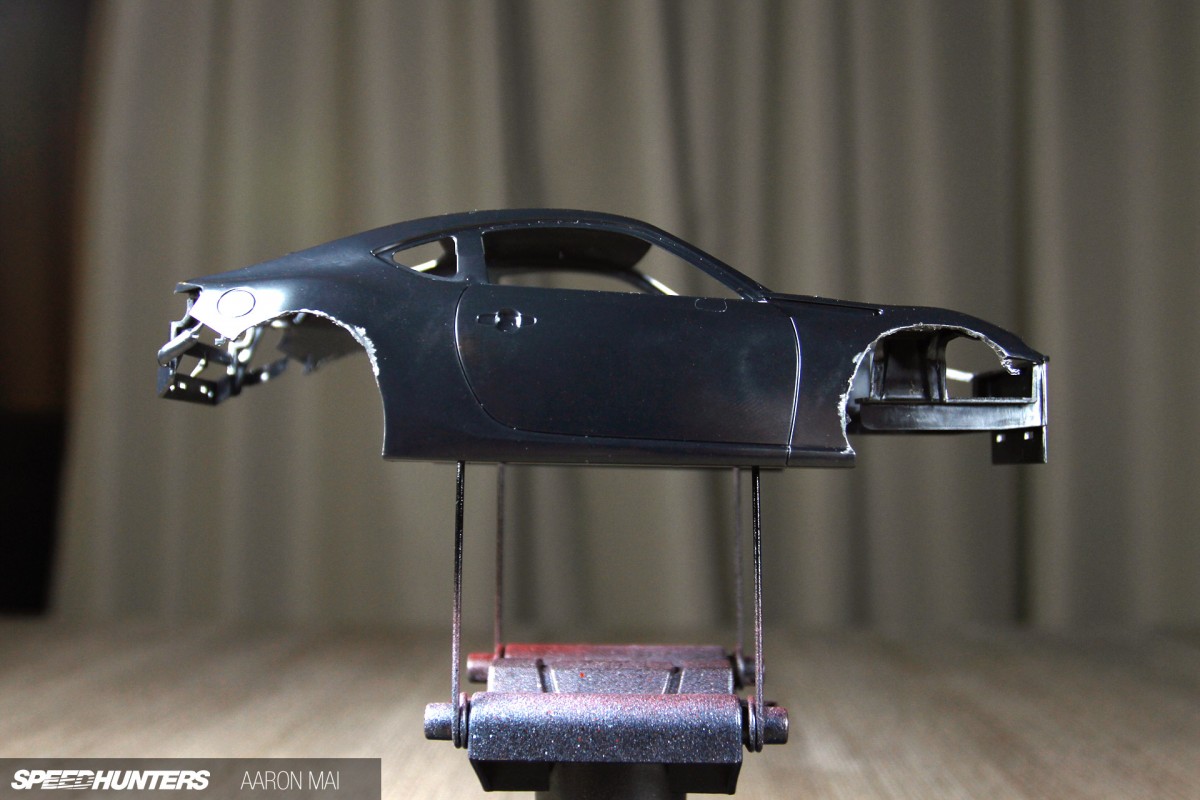 The body is possibly the scariest part of any model and this one has the added challenge of needing the stock fenders to be cut back to accommodate the Rocket Bunny overfenders – just like the real thing! To me, that's a really cool little feature… A small Dremel and sanding tool is perfect for the job, otherwise a nail file or some sandpaper will work just as well. I decided to paint the body gloss black and then do the fenders matte black so the car would have some contrast.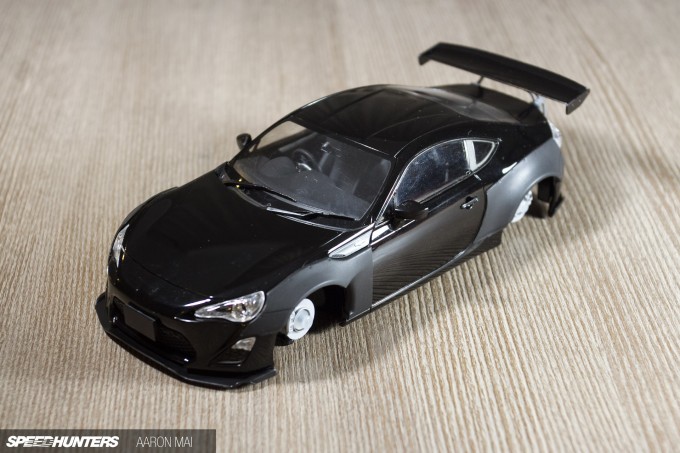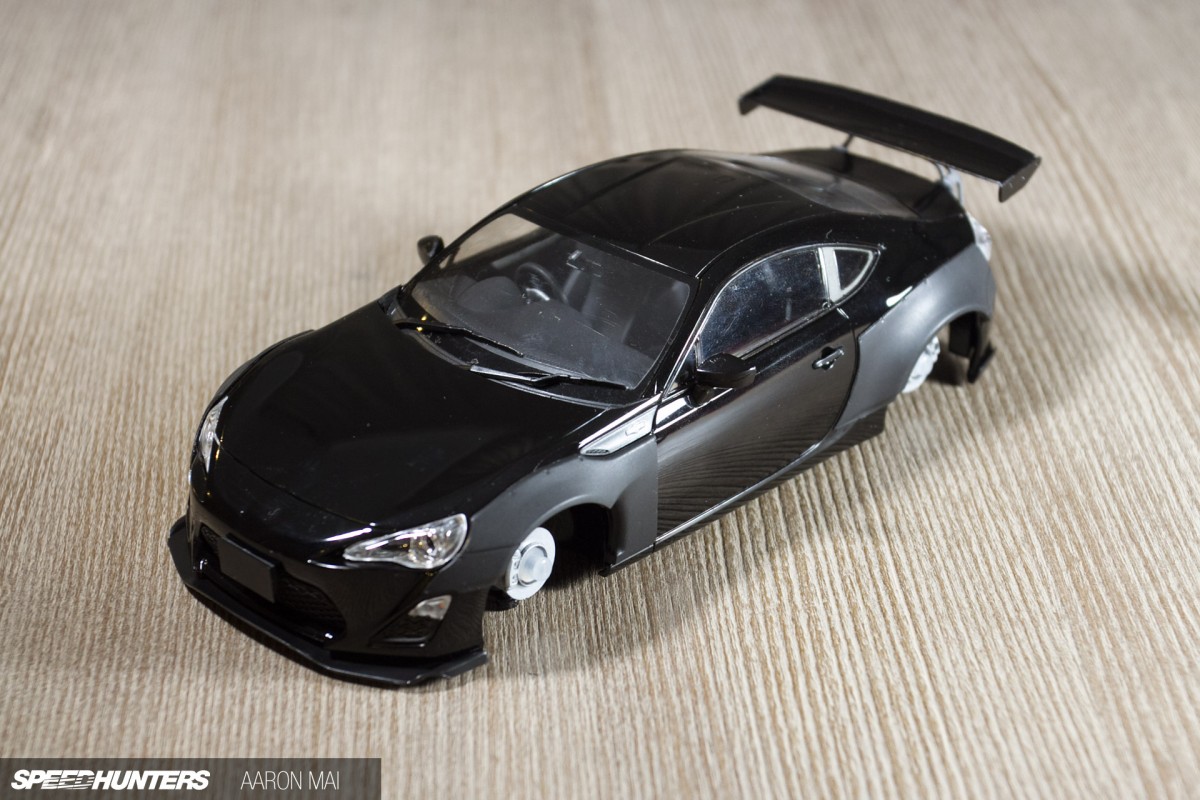 Once you have the windows masked and painted up and the body installed onto the chassis, you just have the small minor details like wing mirrors, rear spoiler, door handles and the light covers. Then it's just the G25 wheels and stretched tyres to fit and you're onto the livery.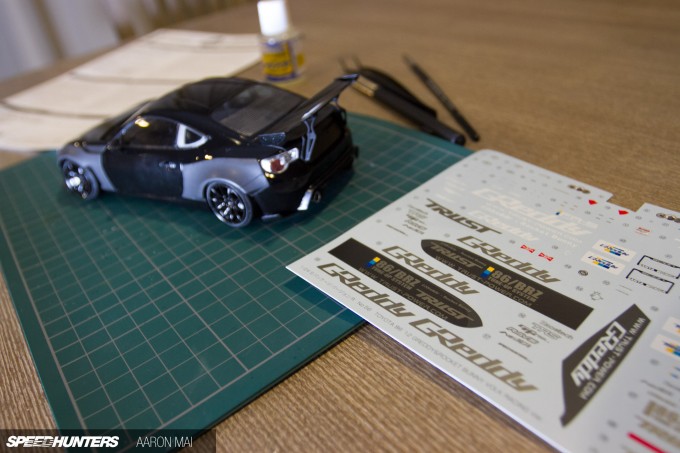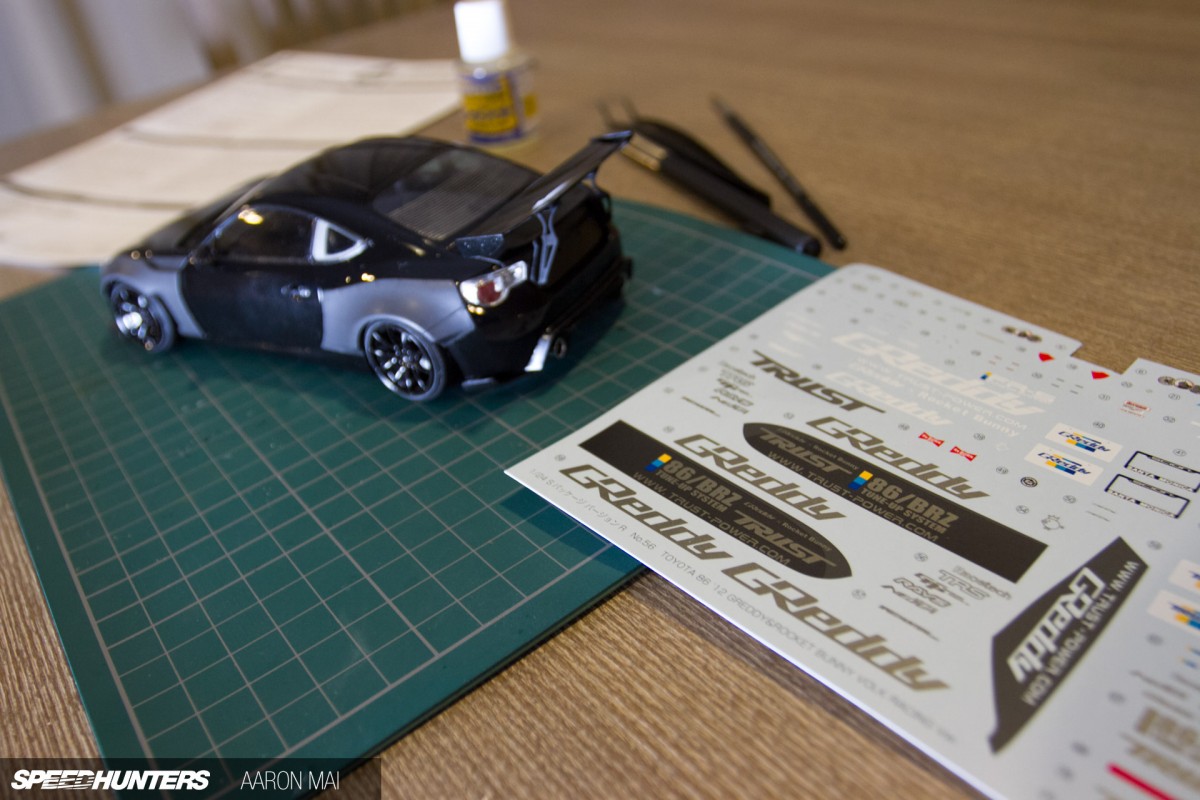 Again, it's completely up to you what you want to do here – leave the car totally sticker-free; throw a few on; or go all-out and replicate GReddy's actual demo car right down to the very last detail – including the little Speedhunters logos on its flanks.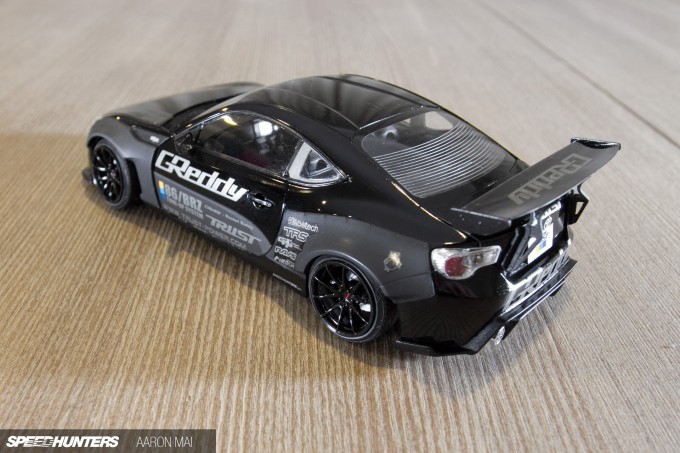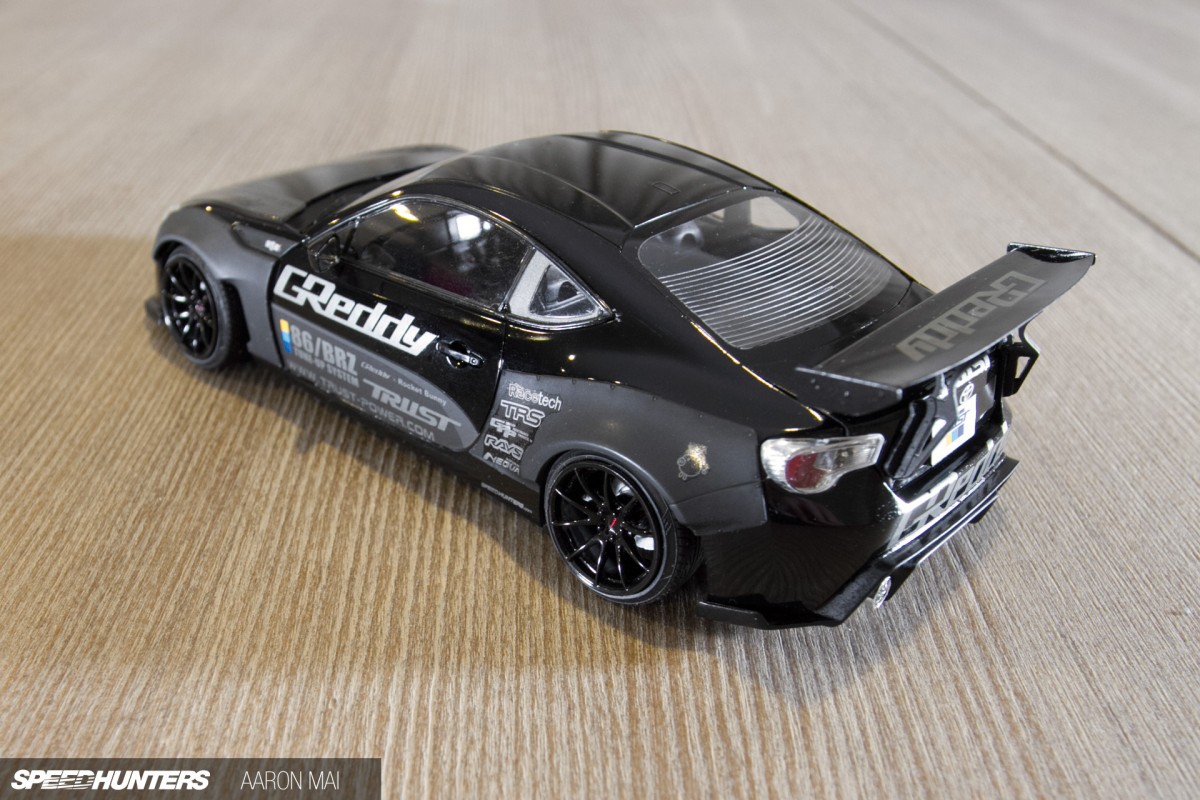 As it was always the plan with this build, the latter is the look I went for.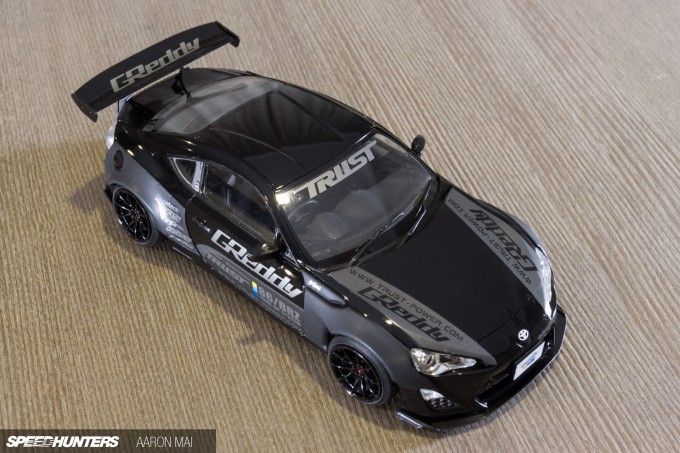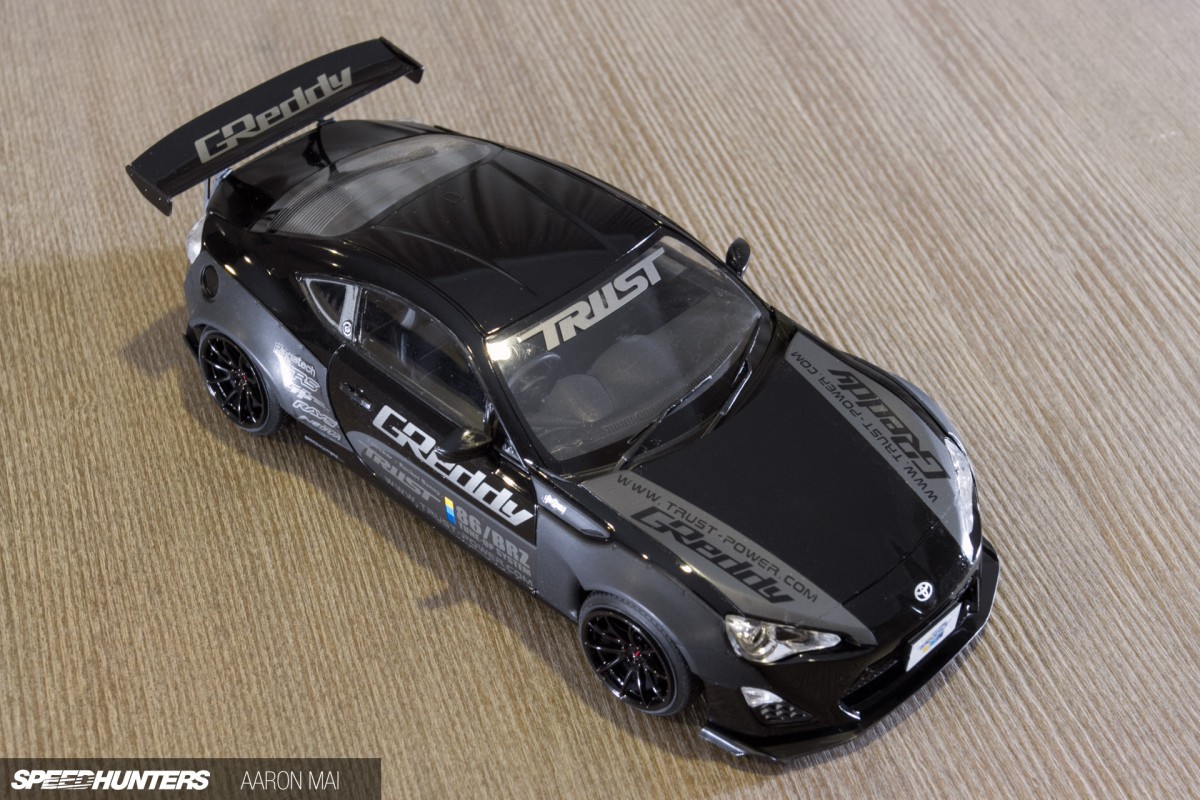 And after about 24 hours of work spread over the week, this is what I ended up with. Hey presto – your very own baby-scale Rocket Bunny 86!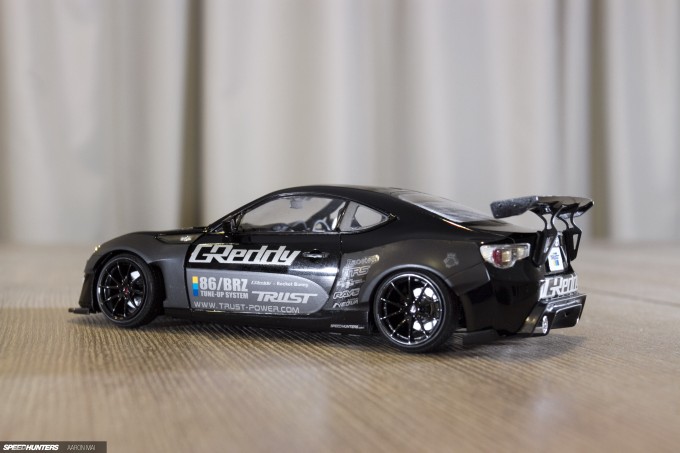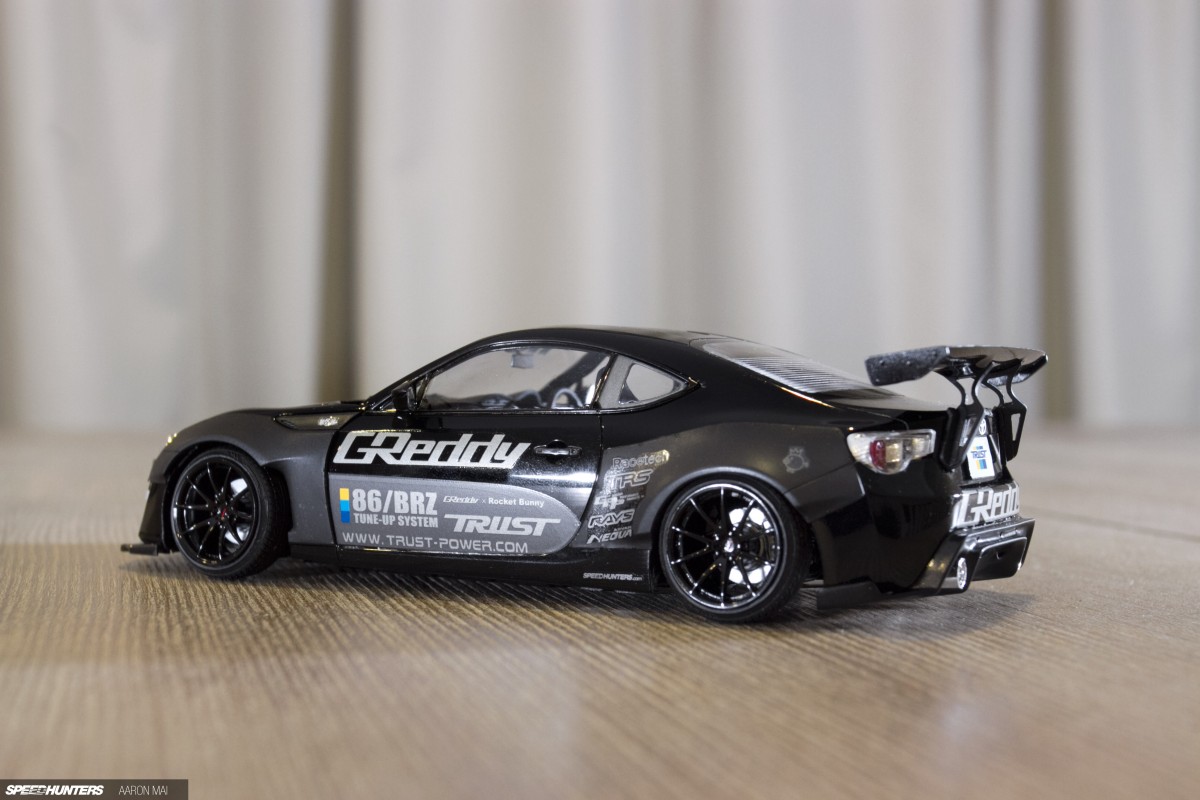 For anyone keen on having a go and building one of these models themselves, here's a list of what I believe are the minimum tools you'll need to complete it the intended way. A hobby knife, model paint for the small parts (black/silver/gunmetal), one black spray can for the body, three model brushes (fine/medium/wide), sandpaper or a small file, and finally some model glue.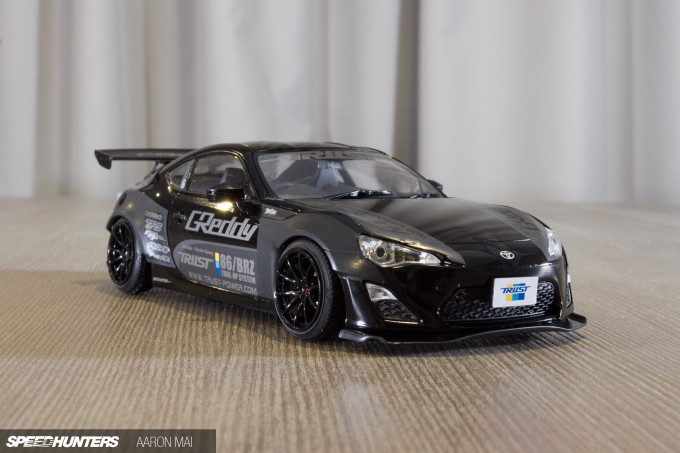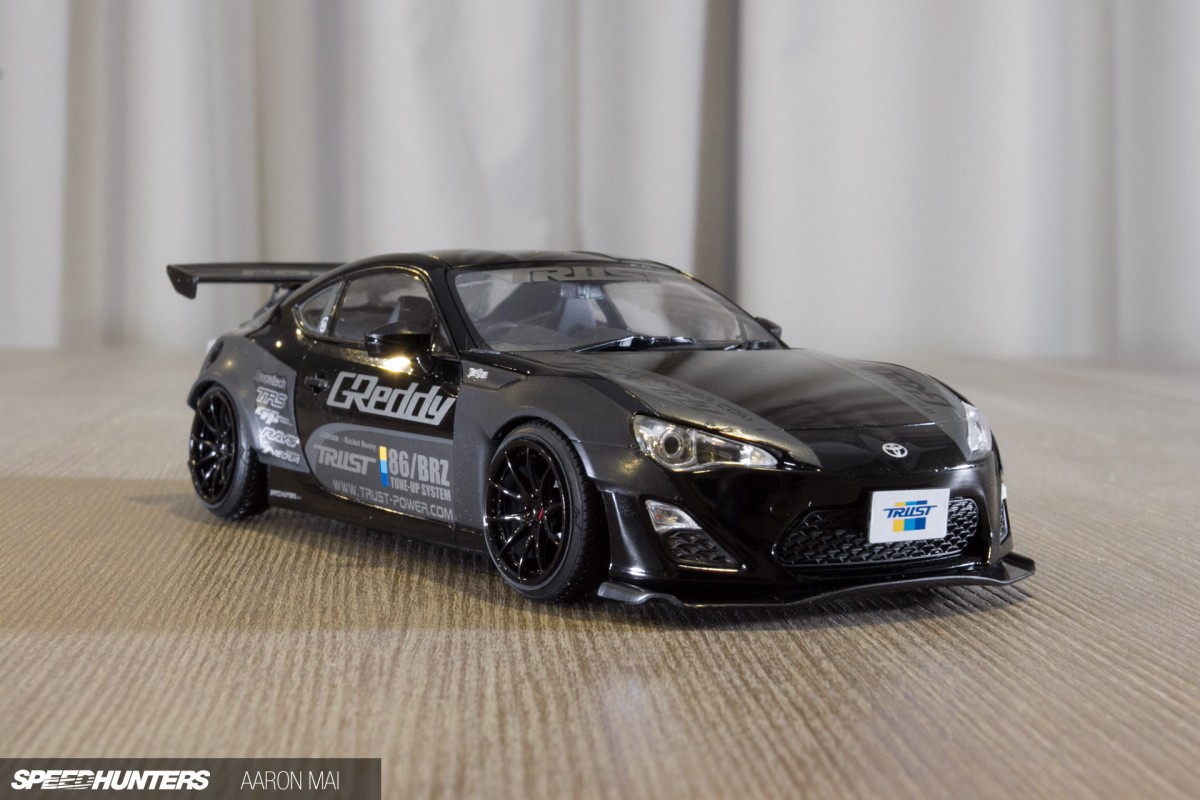 And don't forget the most thing: patience. By taking your time and not rushing things you'll end up with the best result possible.
I hope my little insight was helpful for anyone interested in giving this one a go!
Aaron Mai
Instagram: MaihamMedia_Aaron