Mating a gorilla with a poodle
I love my smart phone. It's laden with technology and does everything. It's a faster computer than laptops were just a couple of generations ago and it looks modern and sleek. But when I want to actually my a call – to use it as a telephone – that's where the frustrations start. My beard often activates buttons on the touchscreen. It crashes mid call. Drop it and it's often more expensive to repair than it was to buy it in the first place. It's almost hamstrung by all its technology. I then yearn for something that's just a telephone that just works. Something that simply does what it was designed to do.
I feel this way about cars, and it's why I love giant-killing rally classics like the Renault 5 Turbo so much.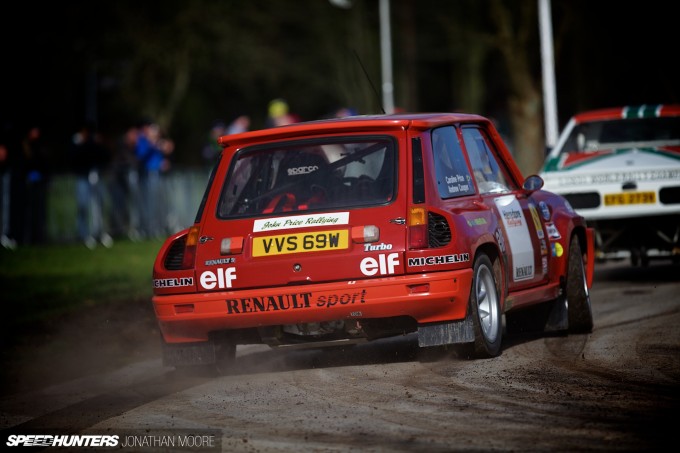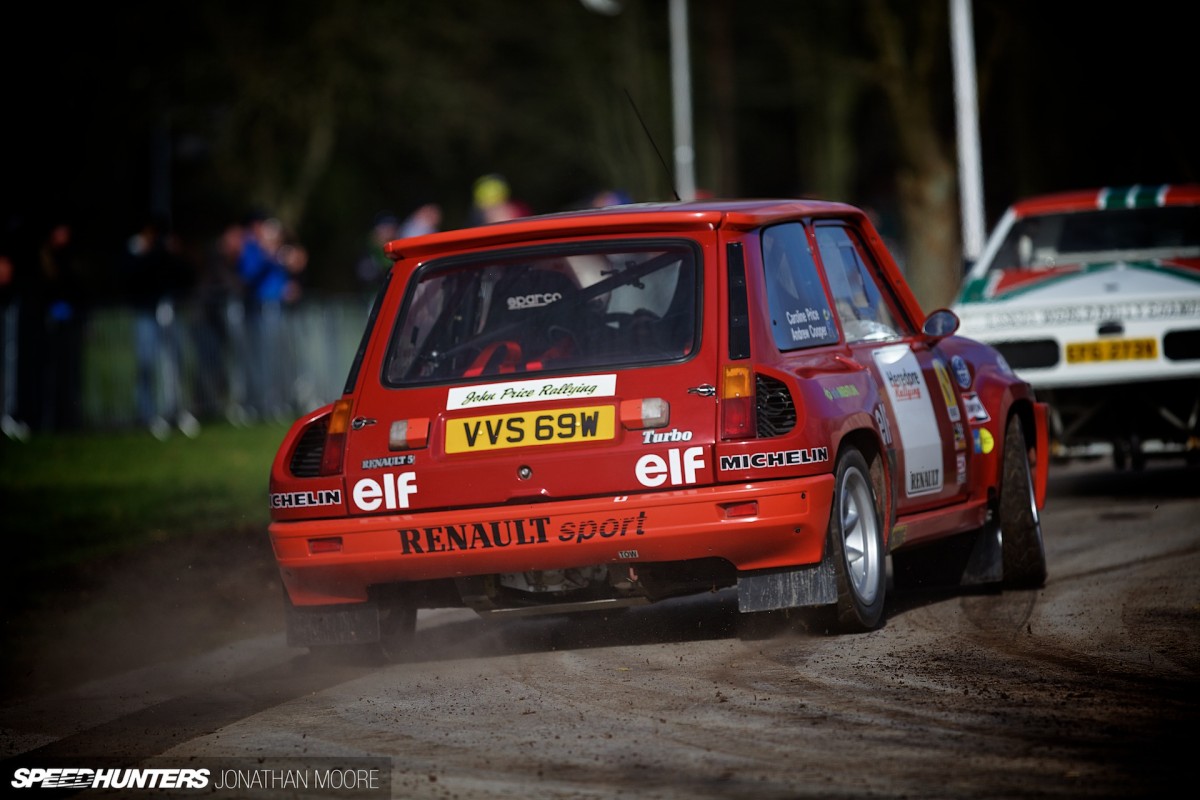 When you turn the wheel, it's you and the front wheels having a direct conversation. Press the accelerator and the cable you're pulling opens that magic valve on the engine behind you. There's a constant battle to keep the rear in check. The sound just behind your ears is raw, honest power – and it's only delivered after the lag has had its proper allocation of time. This car does everything you could ask of it, but on its own terms.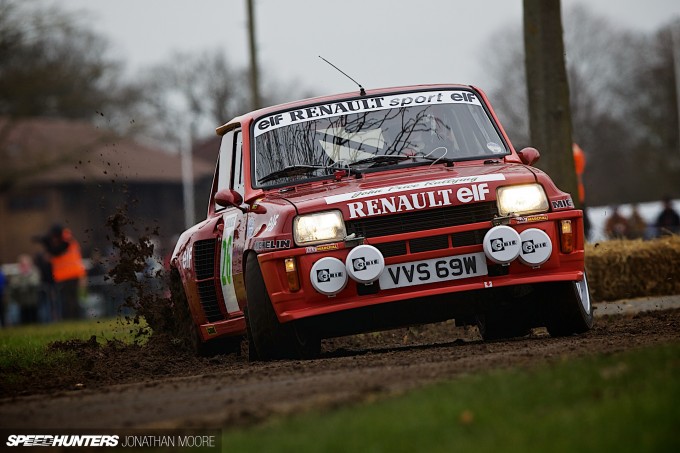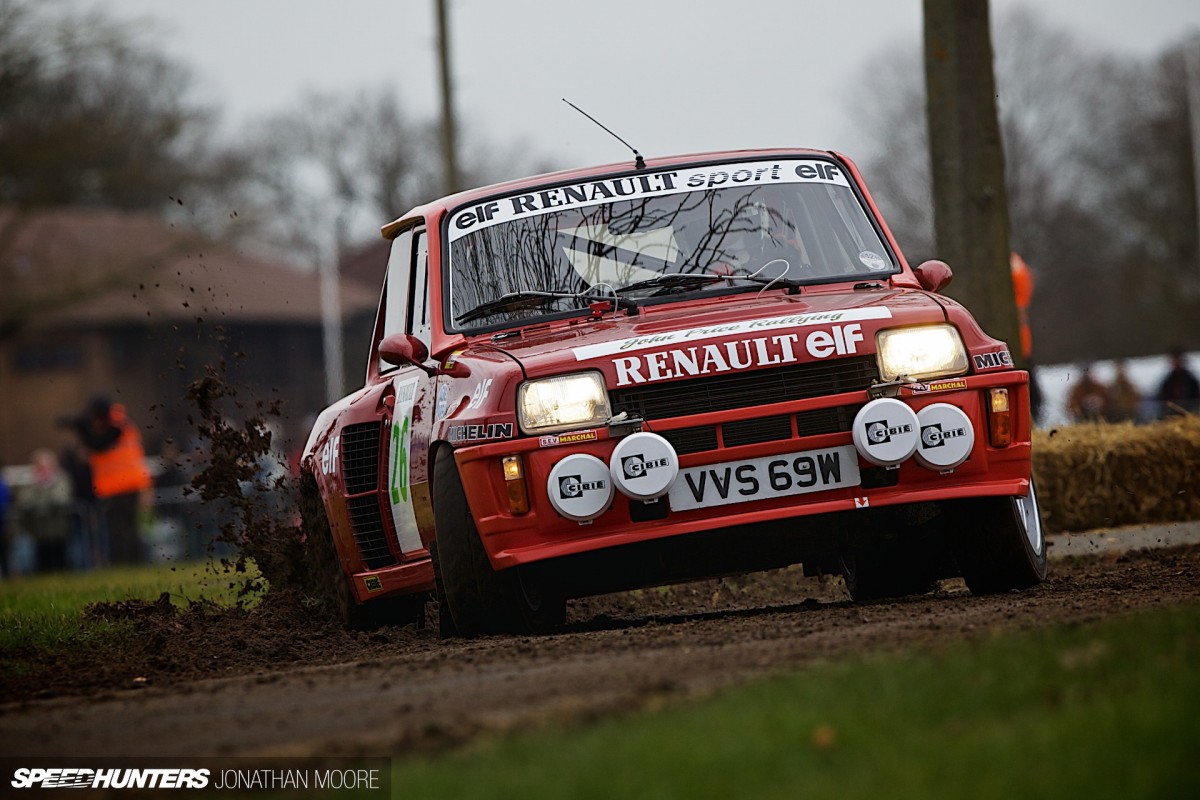 This particular rally-prepared Renault 5 Turbo is campaigned by Andrew Cooper. I first came across it hooning around at Race Retro in the UK last spring, where is was throwing up big gobbets of mud and just generally being awesome. It it was one of those moments that make you pause and realise you've remembered a car all wrong.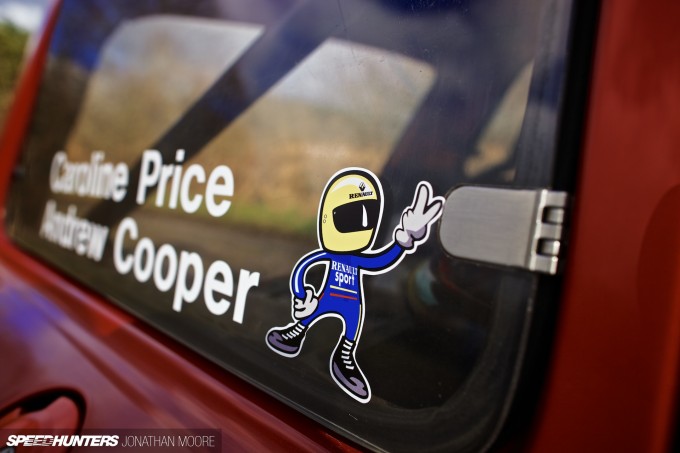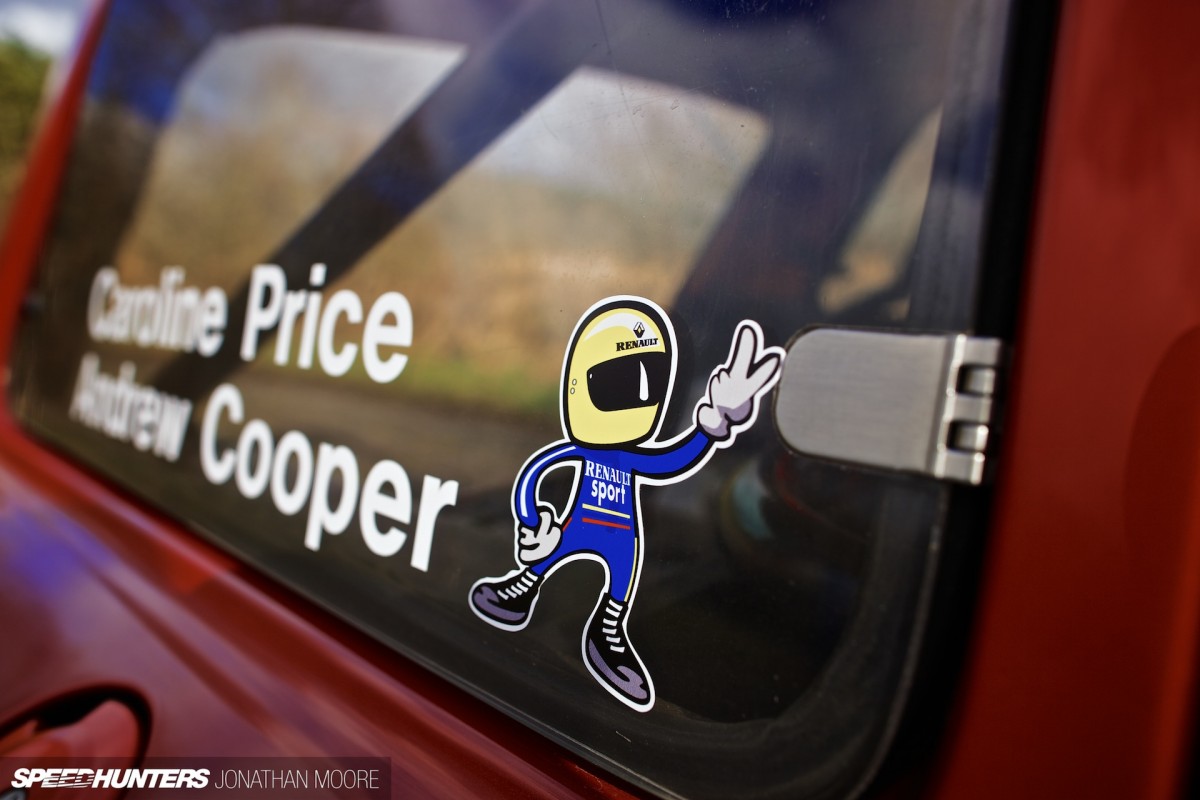 It was built it up from an original roadcar platform by Renault specialists John Price Racing, who also maintain and run it now. Team owner John is not just a preparation wizard, but he's also the UK's most successful tarmac rally driver, having competed in over 800 events and won 12 championships during a near 50-year career. He built his first Renault 5 Turbo 1 in 1981, before adding MG Metro 6R4s to his repertoire in '86. His wife is also an experienced co-driver, and has been helping Andrew get to grips with his 5 Turbo.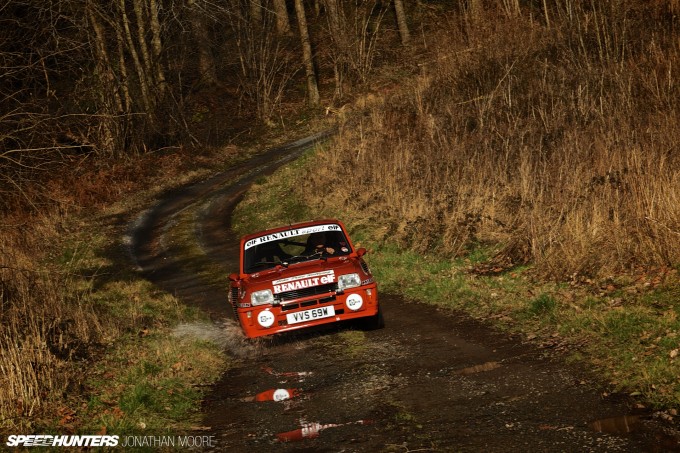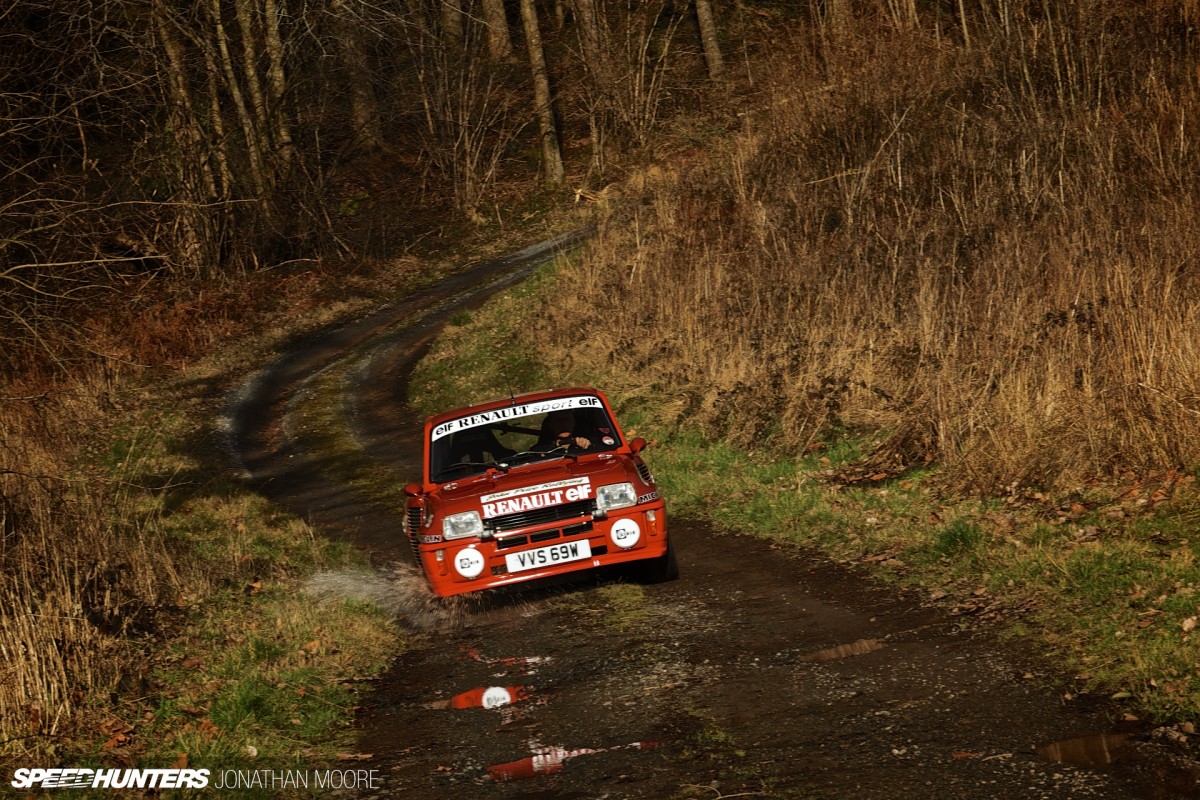 I had pretty much the perfect experience with this car: first a shoot on home turf at John Price Racing in Hereford (complete with the slightly unnerving sounds of the SAS blowing stuff up echoing across the nearby hills) followed by seeing the 5 driven in anger on a stage, and finally a ride along in the car itself to really get a sense of what a machine like this means.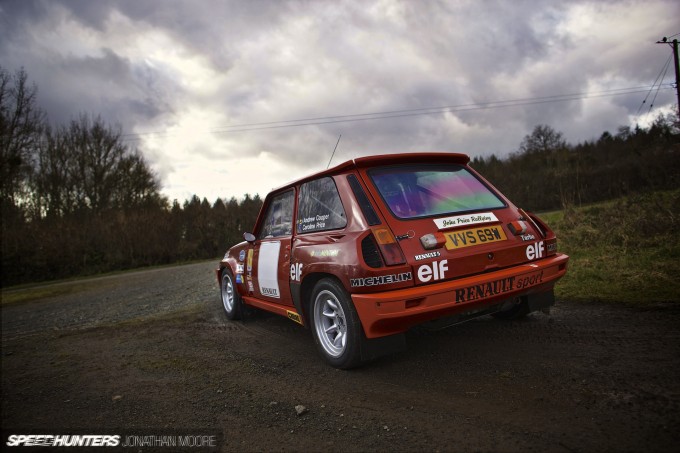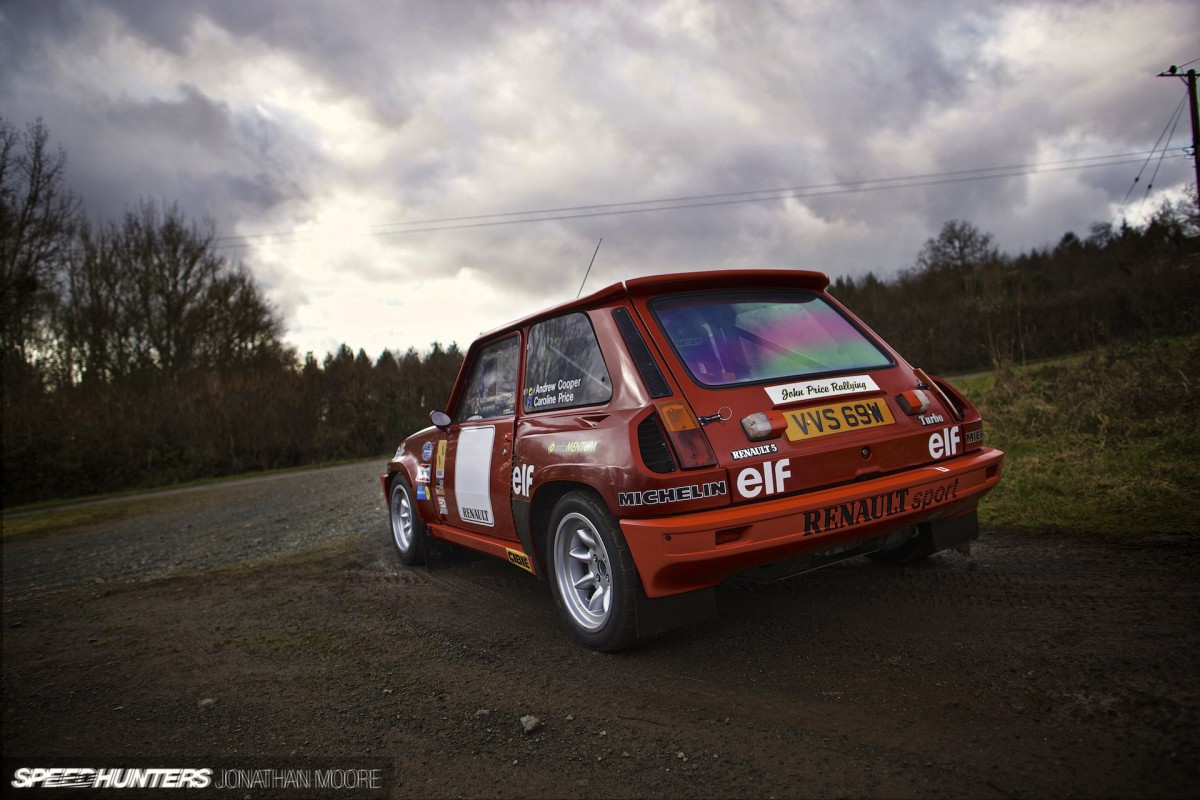 So why wouldn't you want to have your own Renault 5 Turbo? Well, okay, the standard Renault 5 might not be everyone's – okay, anyone's – idea of a pure driver's car, with its diminutive, boxy form, slab sides and tiny engine that hills just laughed at. Originally launched in 1972, a more sporty Alpine version in 1976 still didn't really hint at what was to come. But a programme aimed at the World Rally Championship changed all that. Turbocharging was what was coming. And that meant handing the 5 back to Renault's in-house tuners Alpine with a far more aggressive brief. Bertone (rest their soul…) was drafted in to help with designing the new bodywork, and the result was like mating a gorilla with a poodle.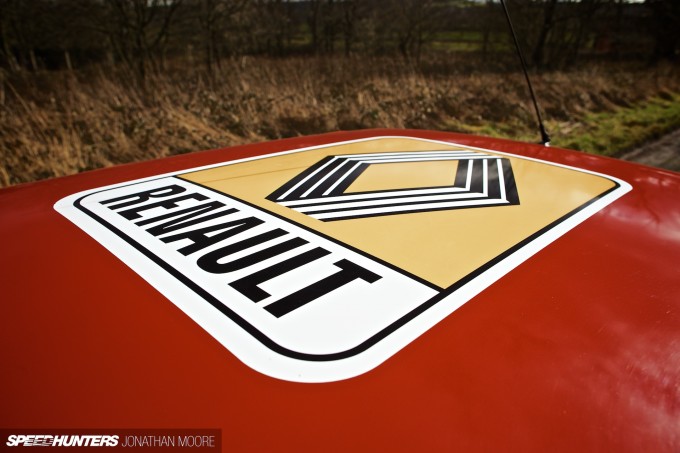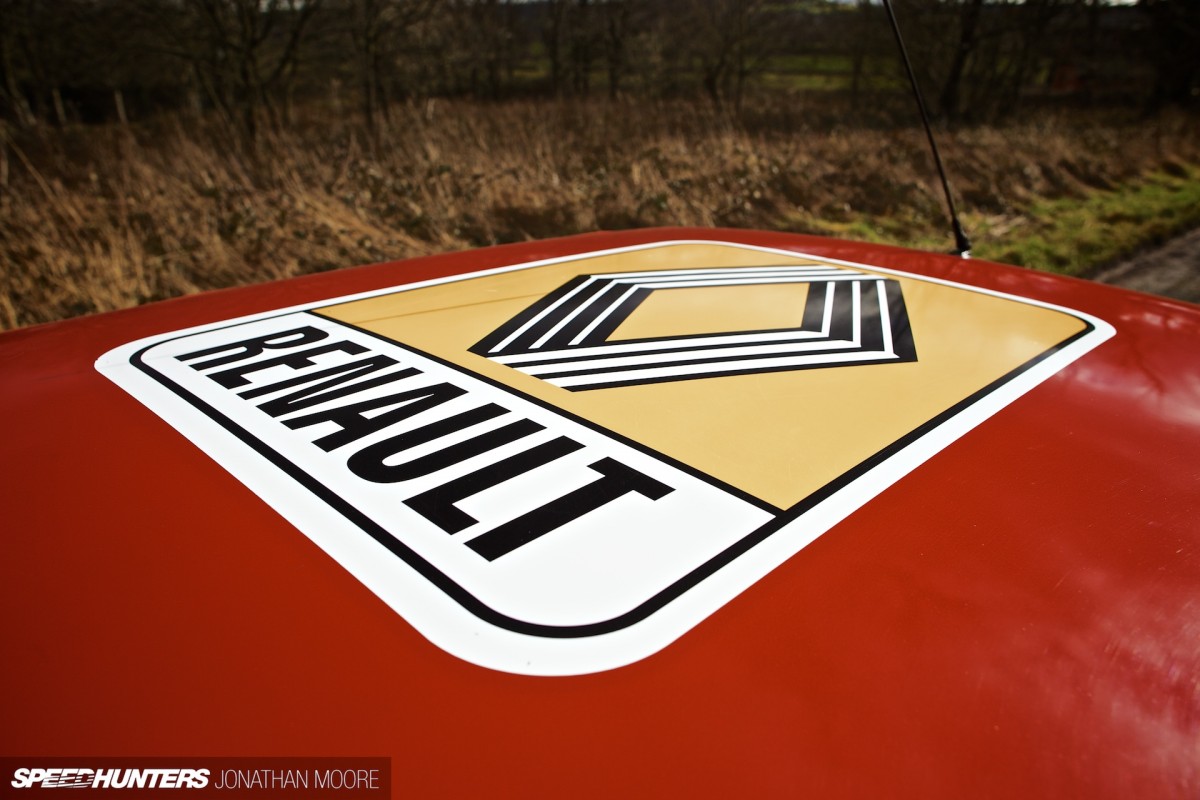 Datsun, Talbot and Ford must have been laughing when they heard that Renault were developing the 5 to take them on in the WRC. Sure, Lancia's futuristic (but now almost decade old) Stratos was still winning rallies as the 1980s dawned, but how could something like a pathetic little hatchback challenge them? But Alpine laboured away, pulling and twisting the 5 into its new Group 4 shape. The laugh would have been wiped off when this beast rolled off the trucks in 1980.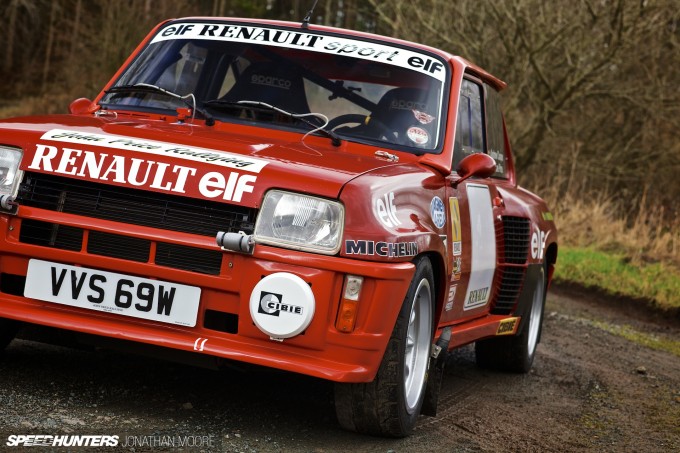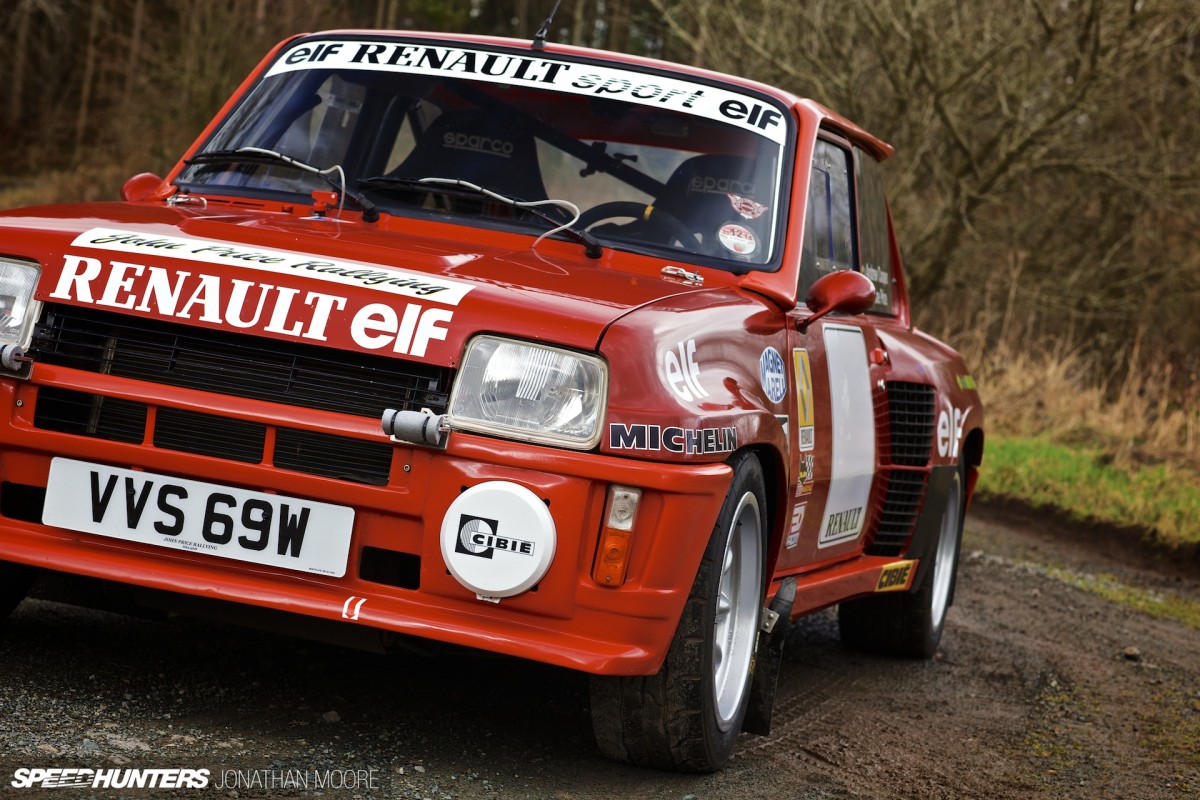 Hot hatches were one thing, but this was Hell's own hatch. A volcanic hatch. Although the original 5 was now buried under a ton of battle armour, it was still recognisable as one. This was one 5 you weren't going to pick on. It won first time out at the Monte Carlo rally in the hands of rallying legend and Renault specialist Jean Ragnotti – someone I met at the Montlhéry oval near Paris last year, and what he hasn't done in a rally car is hardly worth talking about.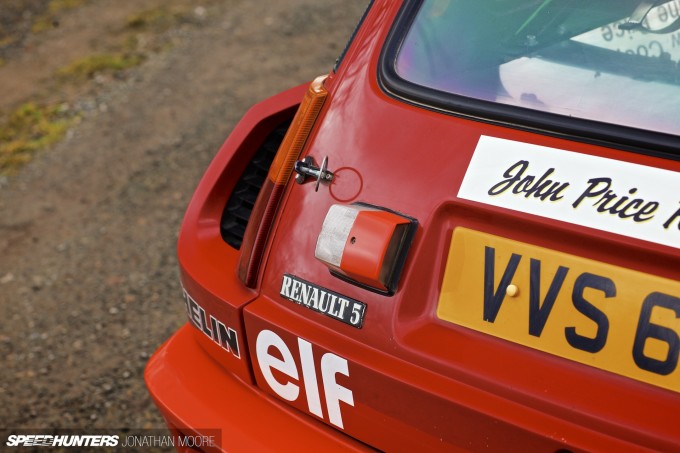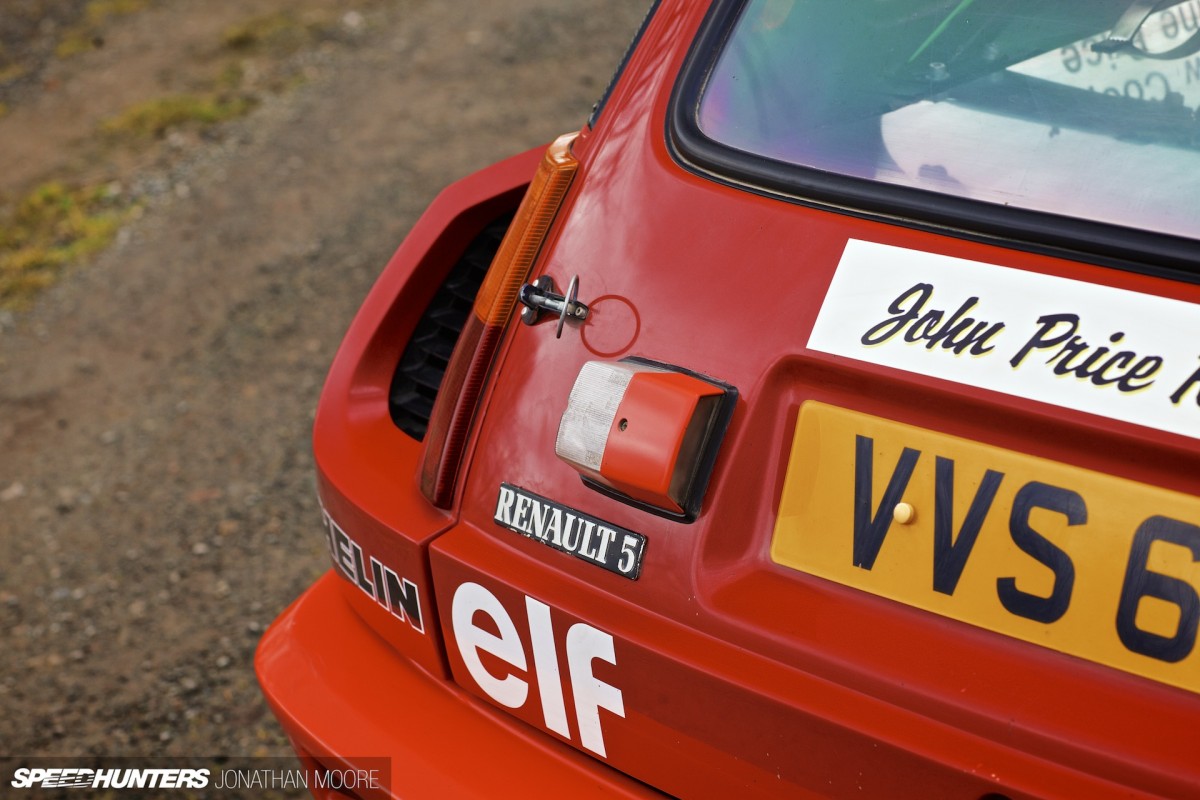 Rules dictated that road car homologation was required, so Renault Alpine dutifully produced its quota of cars (unlike the majority of its opposition, whose maths wasn't necessarily up to scratch). And then they kept going. The requisite 400 were sold easily, and in the first three years of production almost 2,000 first generation Renault 5 Turbos rolled off the Dieppe production line and into the hands of a new generation of boy racers across Europe. The cheaper 5 Turbo 2 that followed was even more popular, meaning that by the end of production in 1984 over 5,000 Turbos had been built in total.
Period drama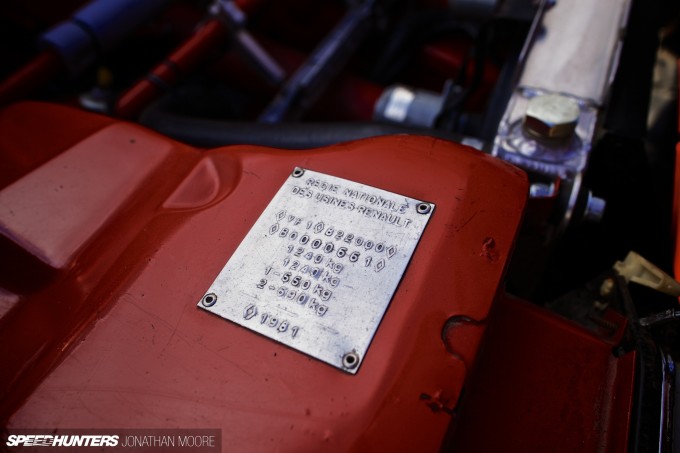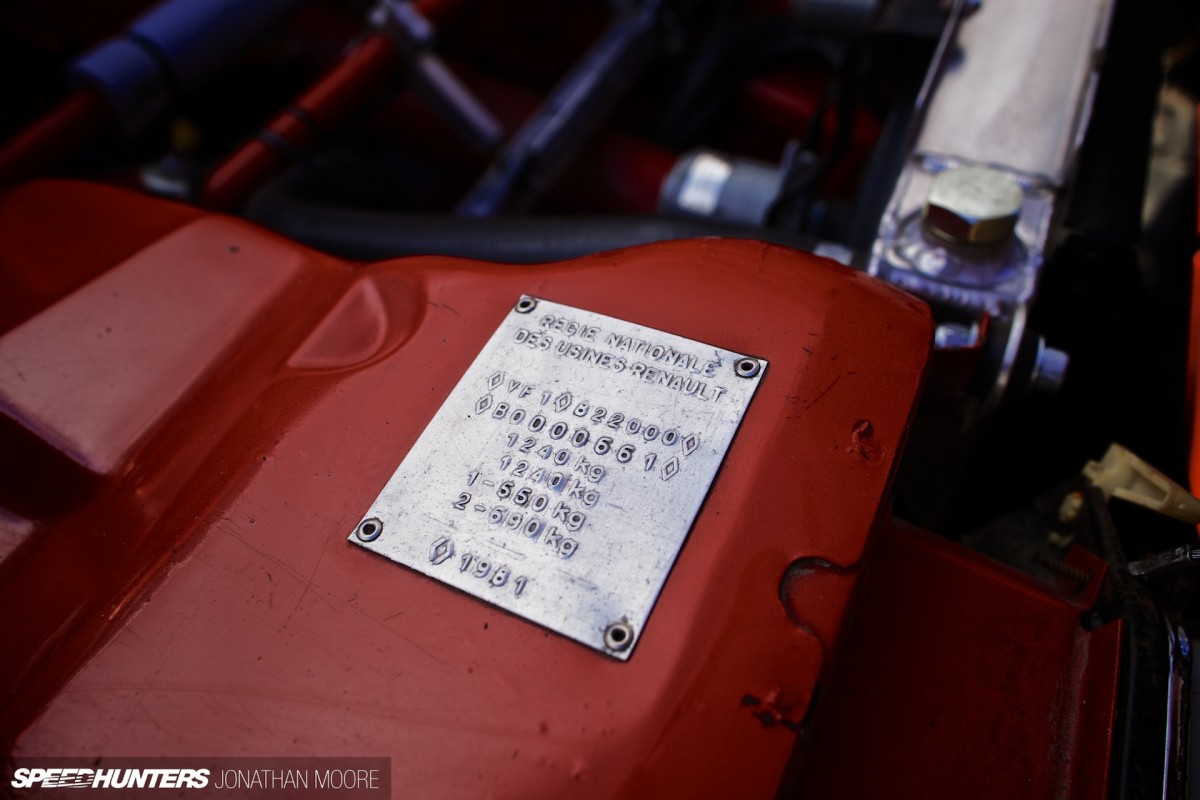 Andrew's car started off as one of those standard Turbo 1 road cars from Alpine, produced in 1981, though it lived most of its life in the USA. Surprisingly, there are a fair number of Renaults out there imported in period, and John Price Racing supply spares to a number of American R5 Turbo owners. It came to the UK in 1999 and was maintained by John until he bought the car and decided to convert it to full rally spec to add to his stable of Renaults and Metros.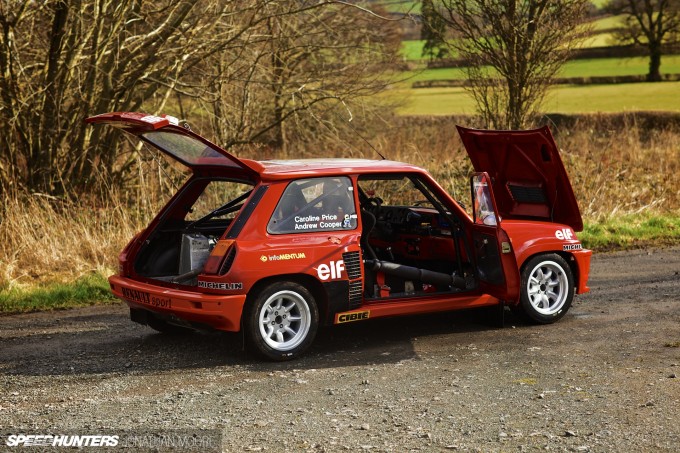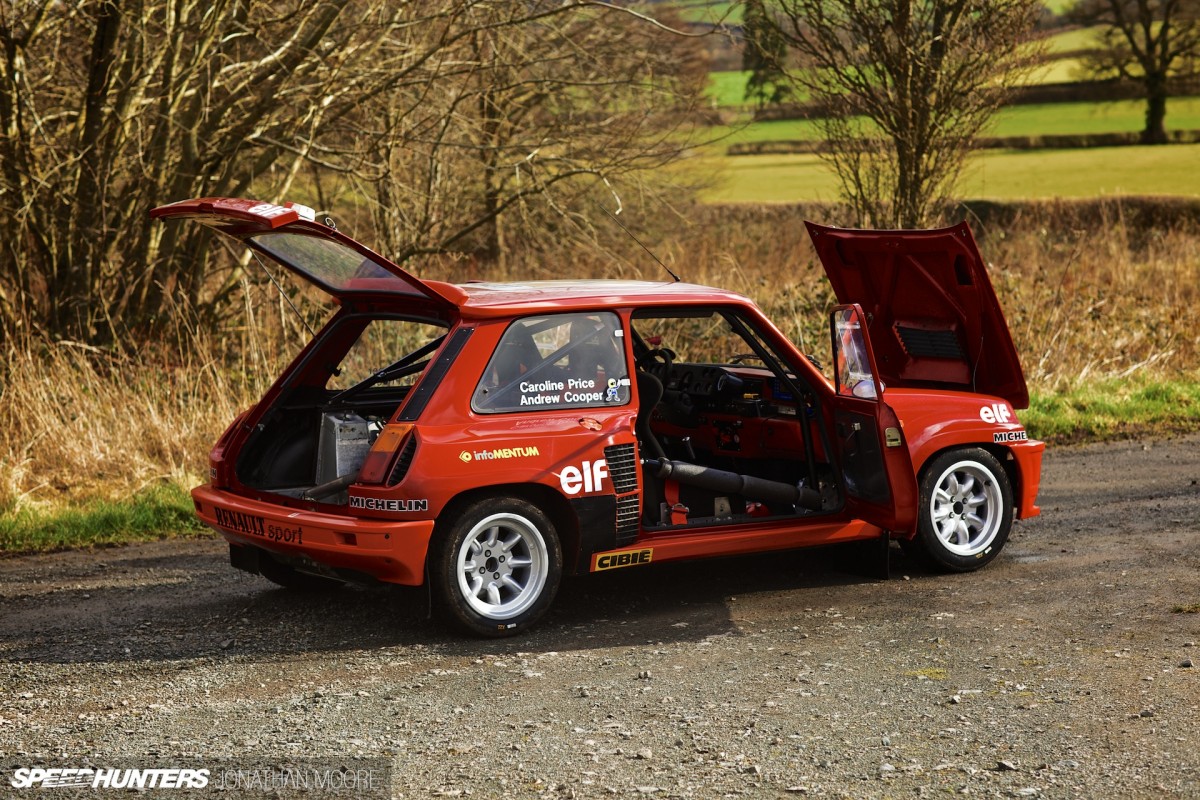 Although not stripped right back to the shell, all the important strengthening work was carried out including a bolt-in rollcage and bracing added, along with a new floor. The idea was to make it as period correct as possible; to keep the rawness and purity of the original and to effectively base it on Ragnotti's Monte-winning car.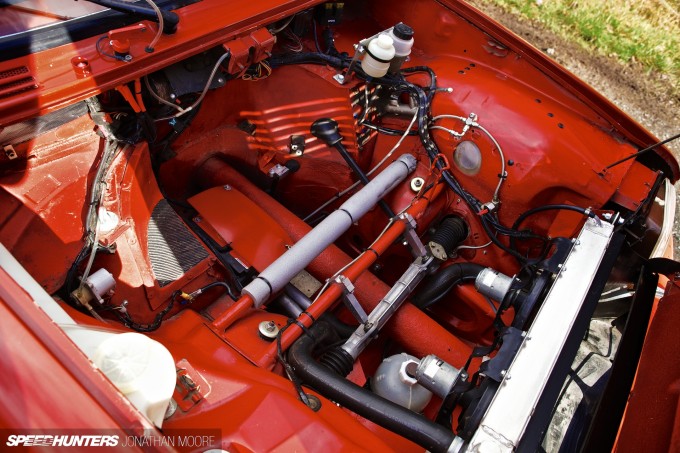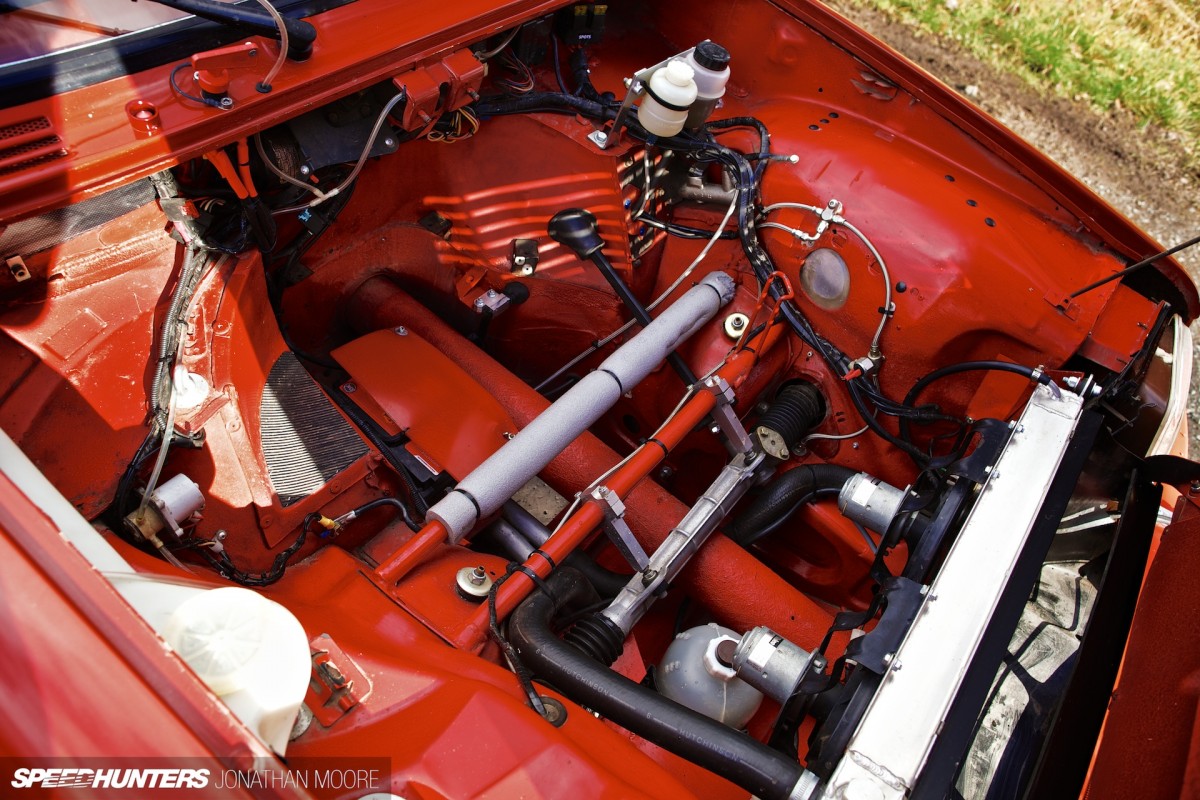 Although the party, as they say, might be out back, the front is a good place to start. Pop the bonnet, and of course there's virtually nothing to see. Just a big empty space… Gone is the engine, banished to the middle of the car, and instead there's just a clear view of strengthening braces and the simple steering rack. The wiring is pretty much standard, but has evolved with bits put in or taken out as necessary. The layout is generally pretty much as per the Turbo 1 and 2 cars were stock, with the battery mounted right down low and to the rear.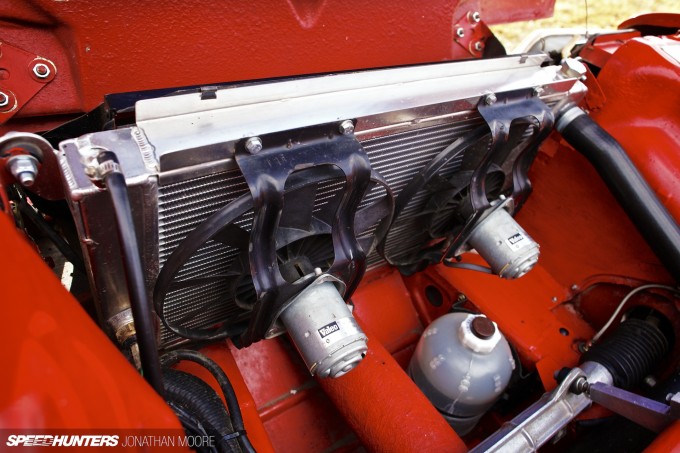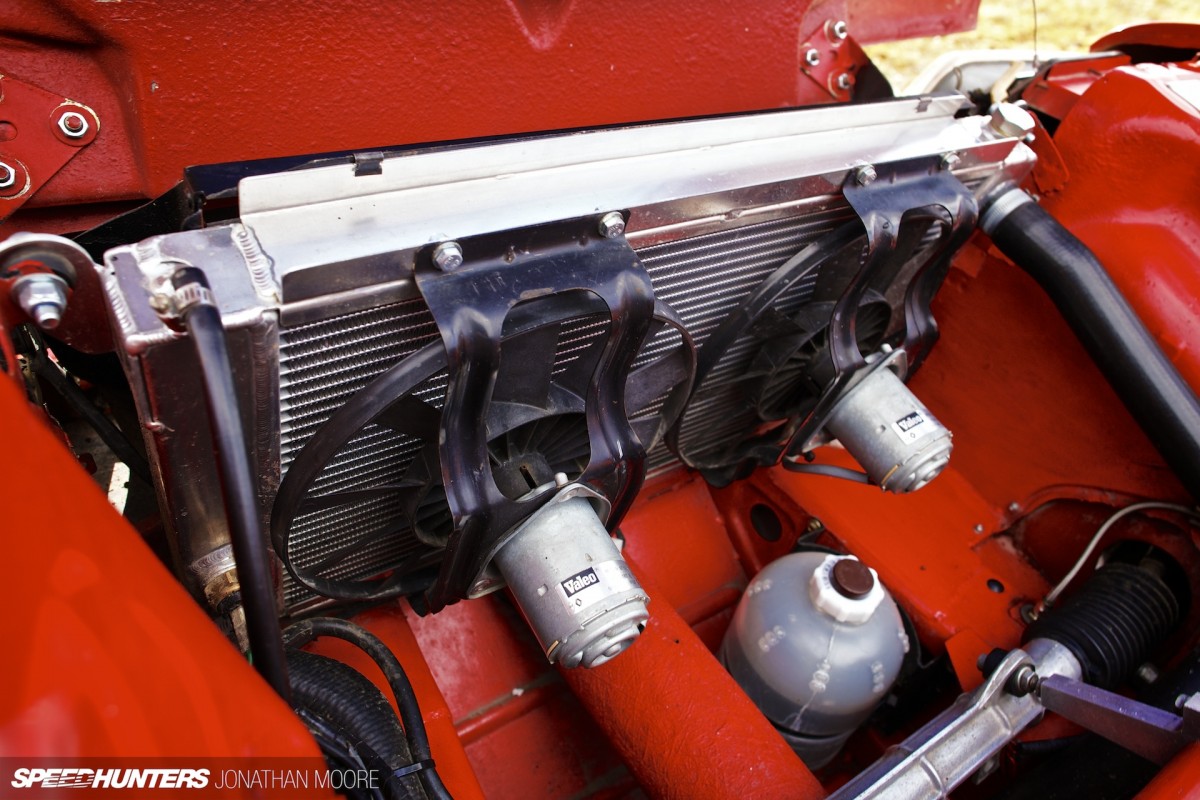 John added in a new aluminium radiator up front with twin cooling fans – one of the few concessions to modernity in the car, as we'll see.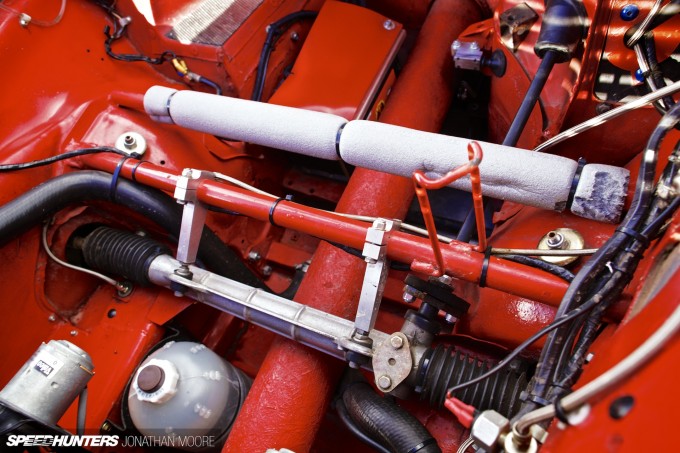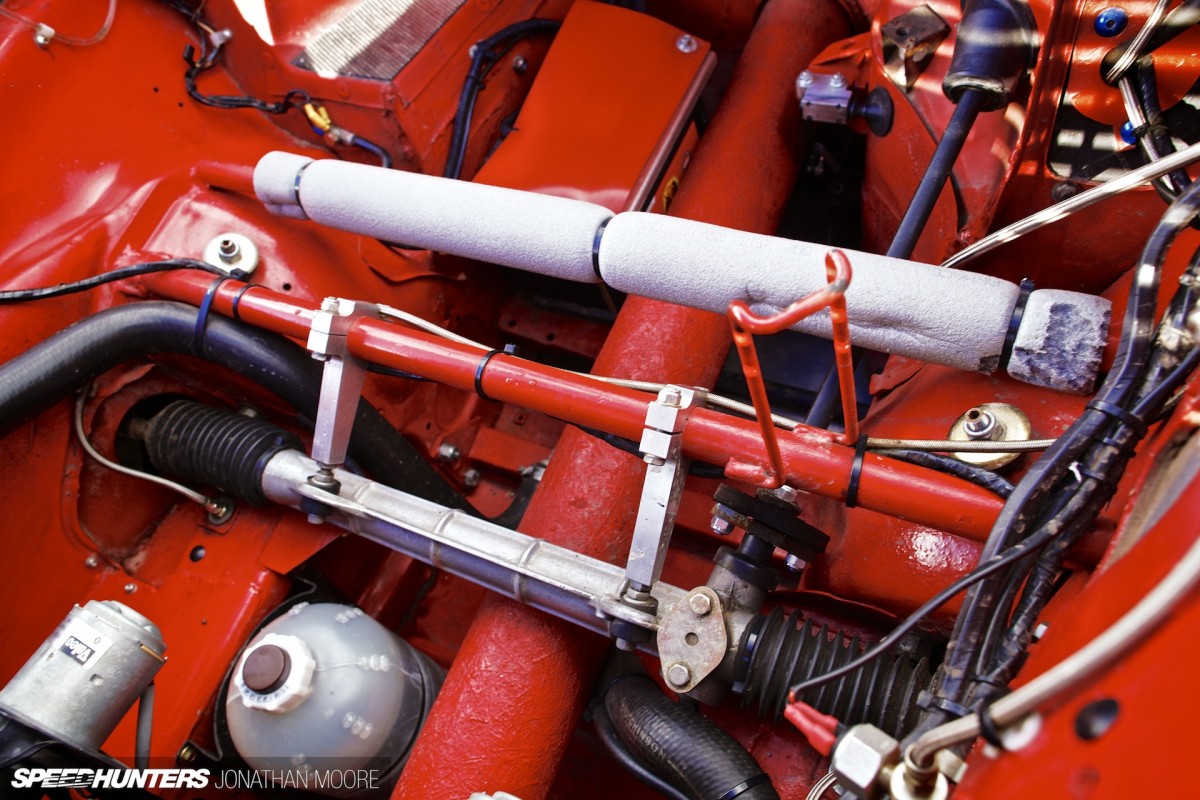 One of the strange things is the tube running down the middle of the car, which is actually a fibreglass piece added as part of the front crash structure to help absorb impacts. John has also seen Works cars with a small filler cap on the tube, which it turns out was used to fill the tube with sand to add weight to the front of the car and help with balance.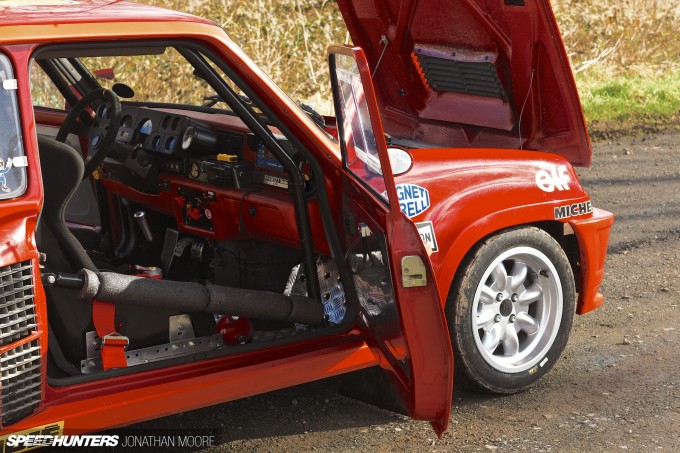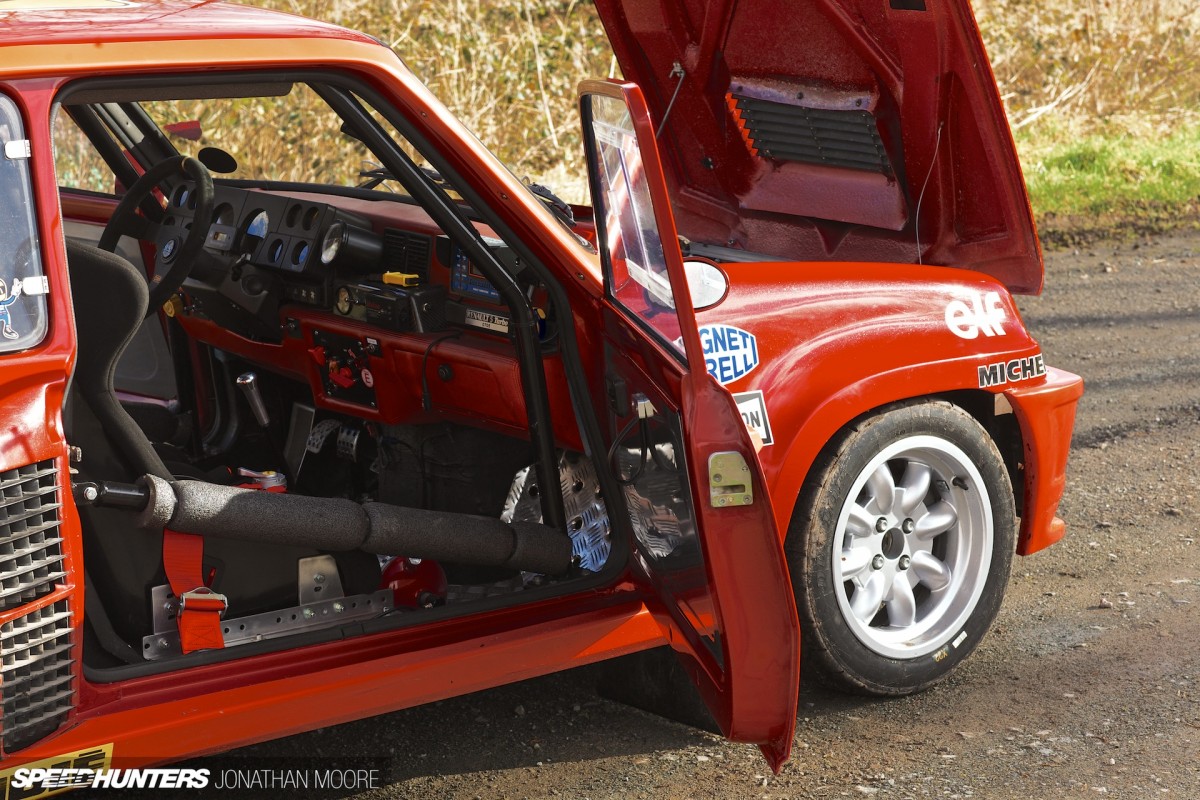 Inside the happy place is where contemporary concessions had to be made due to current rules and regulations. Constantly evolving rules even in the historic arena mean that these classics need frequent changes made after the fact – like the addition of the door bar here.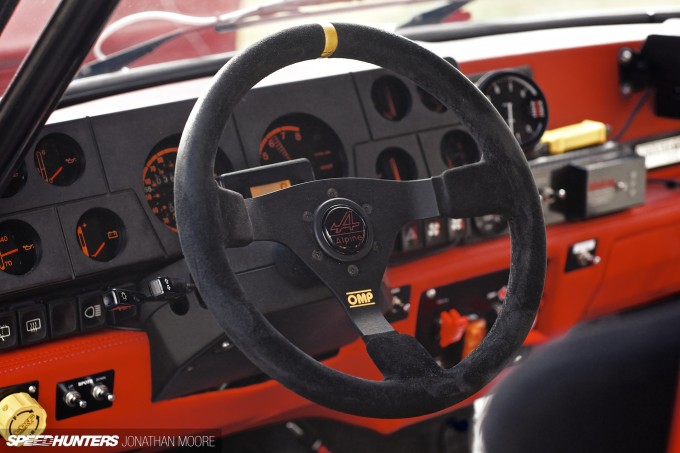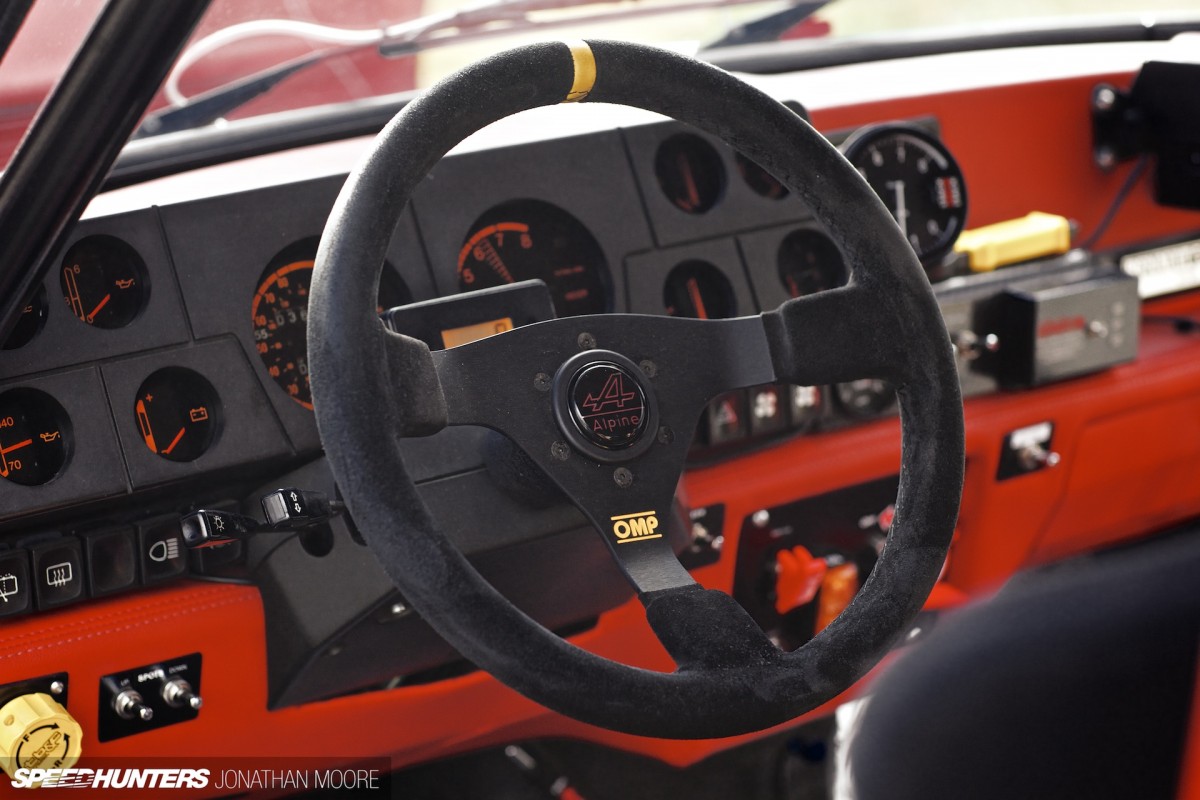 But beside the right and proper installation of new competition race seats, harnesses and extinguishers, there's still that glorious period dashboard, reeking of the heady '80s with its geometric layout and dials.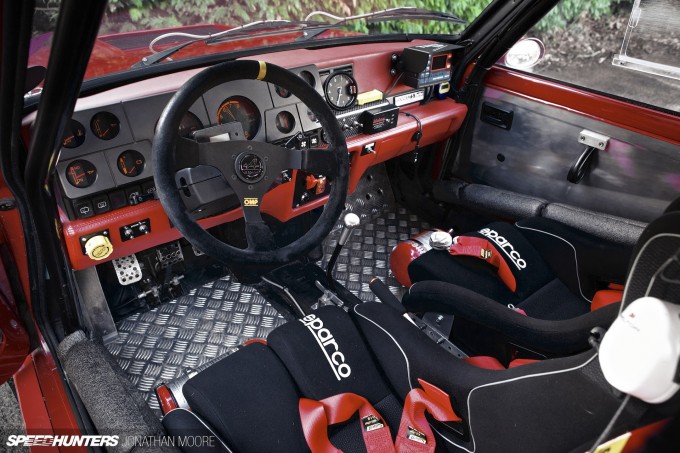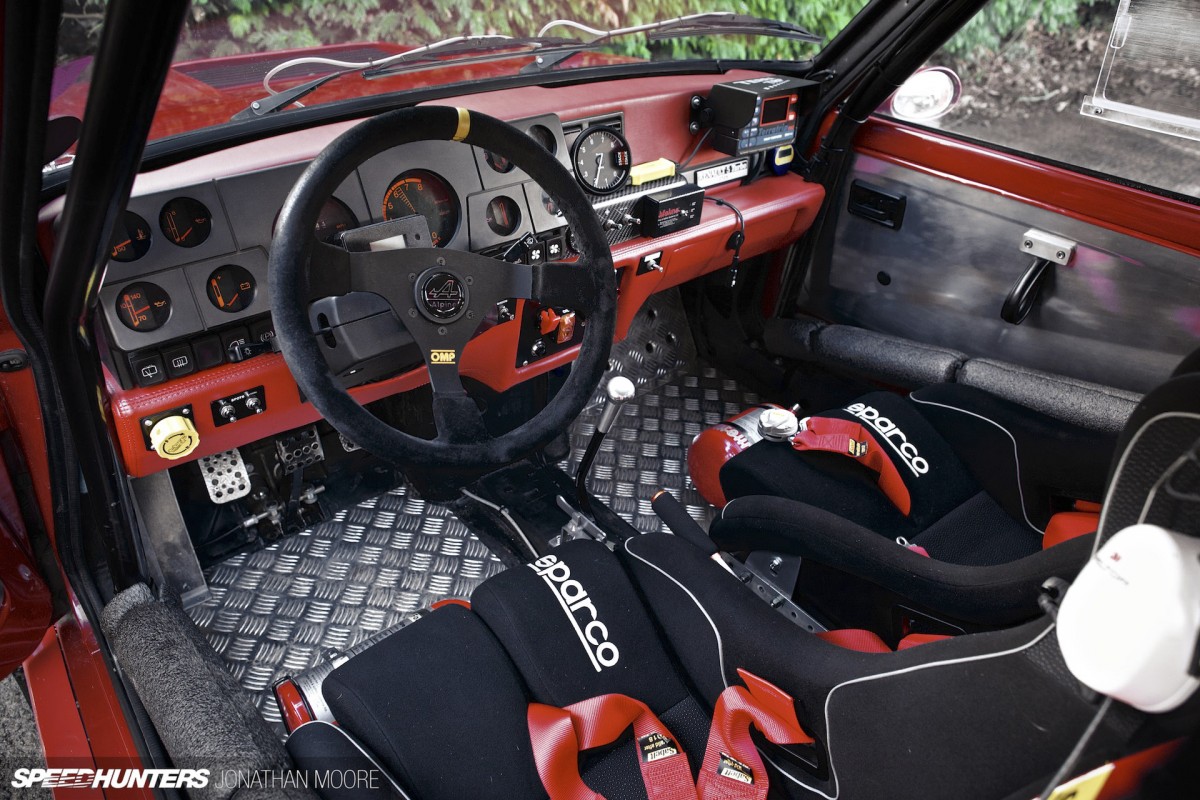 The co-driver's workload is also well represented, with trip computer, stopwatch, intercom, fire suppression system, cut-offs, map lights and seat-belt cutter all to hand.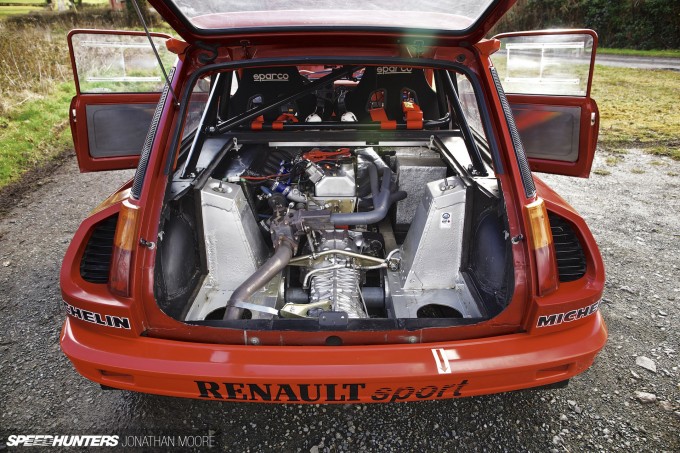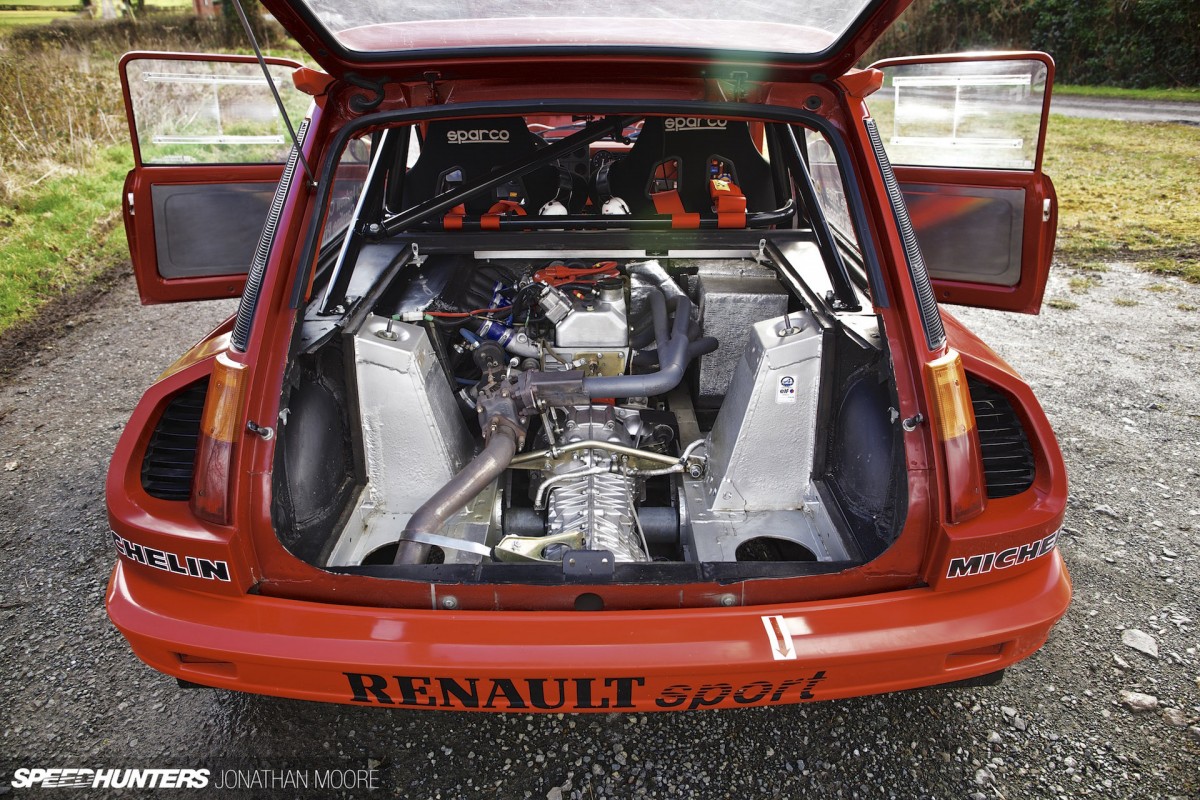 To the back then, my friends. Opening the rear hatch you're not presented with an overwhelming sight. To be honest, there's no Death Star engine or mass of industry – nestling in there is an unassuming straight four, a little snail turbo, some tidy exhaust work and the gearbox. There's even room for a suitcase or two. Underpowered and unimpressive? Hardly. As ever, it's not the size, but what you do with it…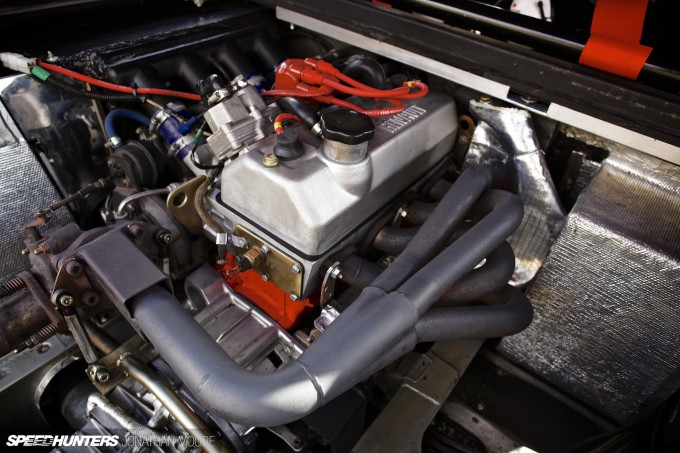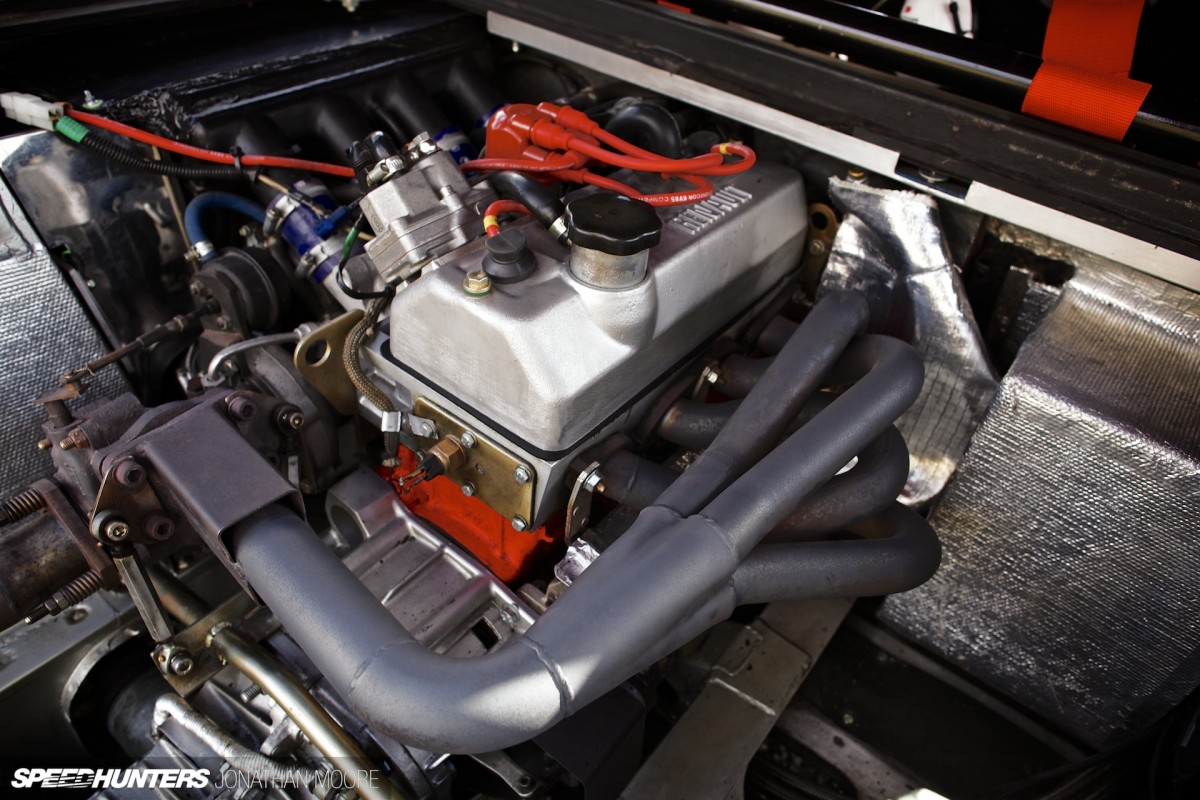 John took care of all the engine work in-house.The base engine is still the original 1,397cc Gordini with a Garrett T3 turbo and Bosch mechanical fuel injection, but it's been heavily tuned and worked on to bring it up to rally spec. It looks like you could put it in a briefcase: it is a beautiful little thing to behold. Alpine did produce tuning kits in period, but naturally for a car that's over 30 years old original Renault Sport parts are difficult to come by now. So, this Turbo was crafted using parts from John's copious spares supply along with newly manufactured items, like pistons, liners and a different head gasket.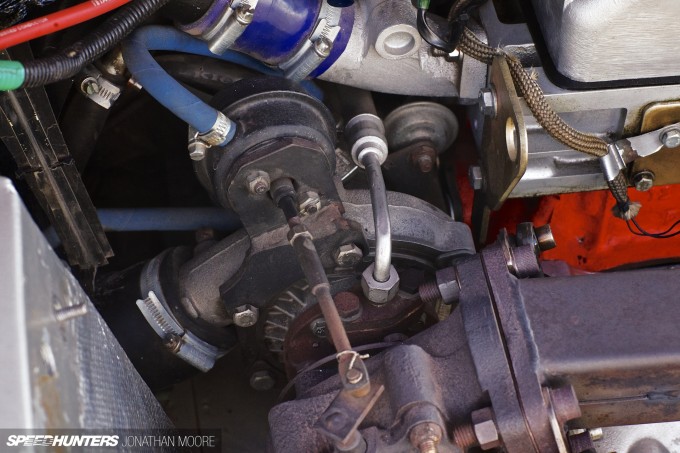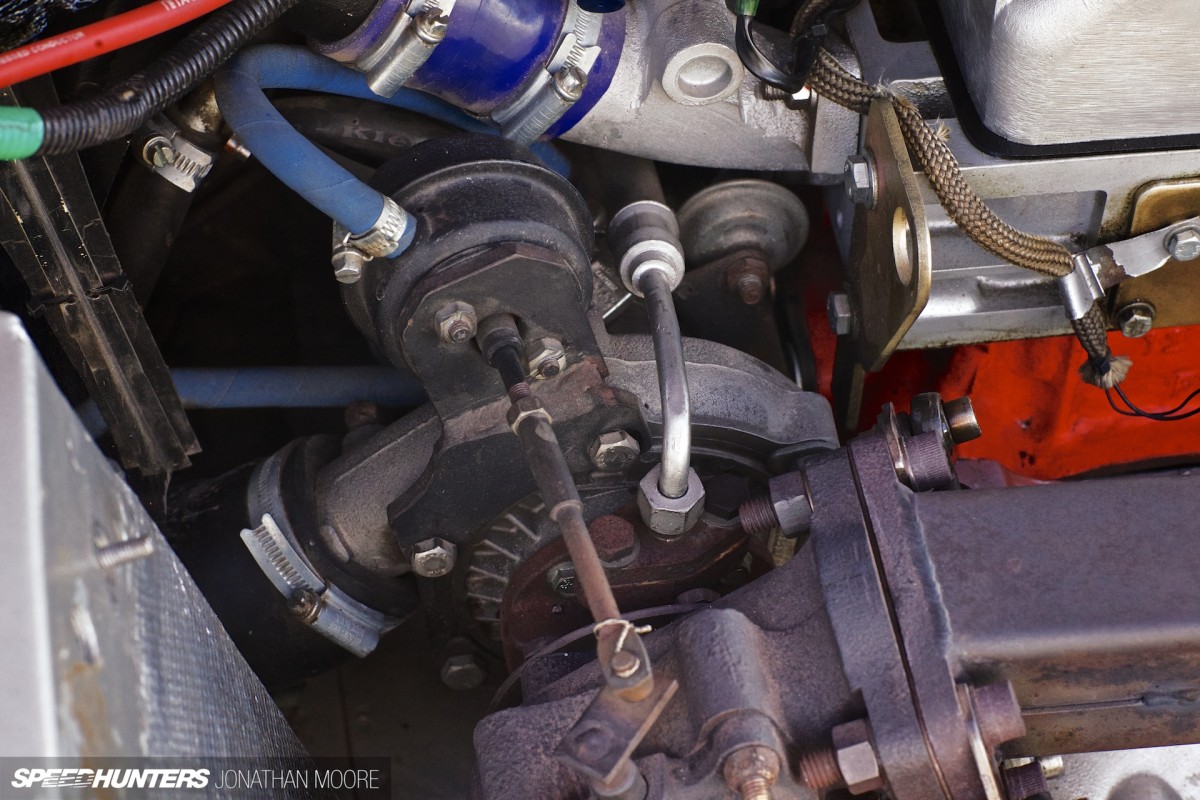 No shortcuts have been taken, and modern components were only used where they'll make a real difference rather than just being thrown into the mix by default. This 5 Turbo all about finesse and what's appropriate, rather than muscle and glitz. For instance, the T3 turbo isn't big or fancy, but it's perfectly suited to the car. John has just massaged the ancillaries to improve performance, with a new intercooler and fuel metering unit.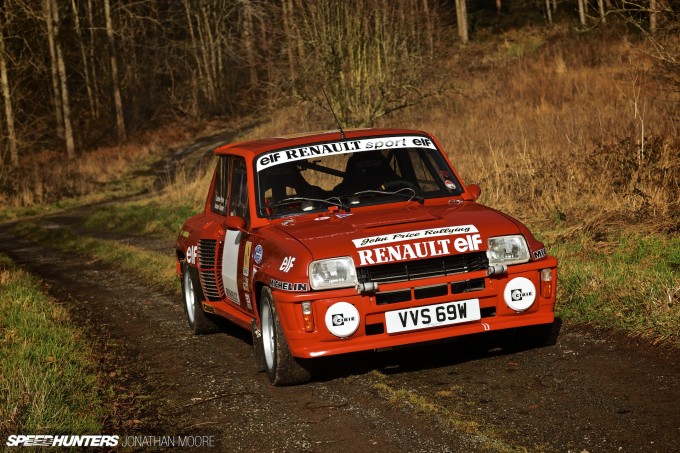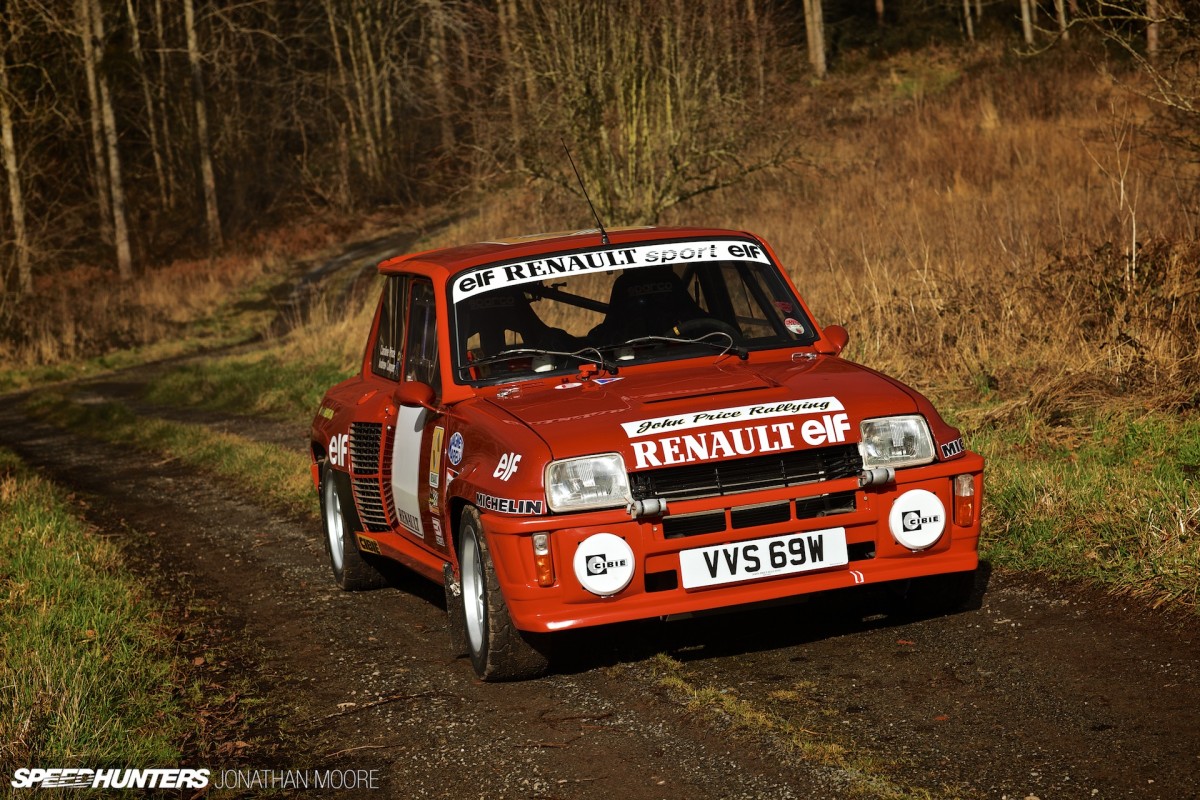 More power always means more heat and during last year's season the 5 Turbo was suffering from a bit of an oil temperature issue. For this year, John's added a fan to the oil cooler taking a feed from the exterior vents on the driver's side.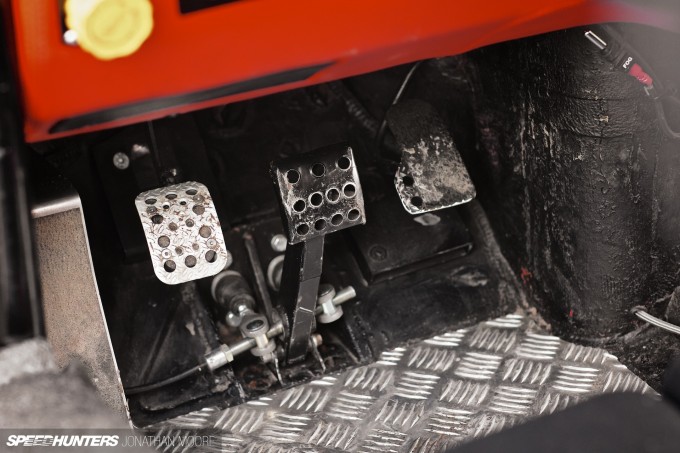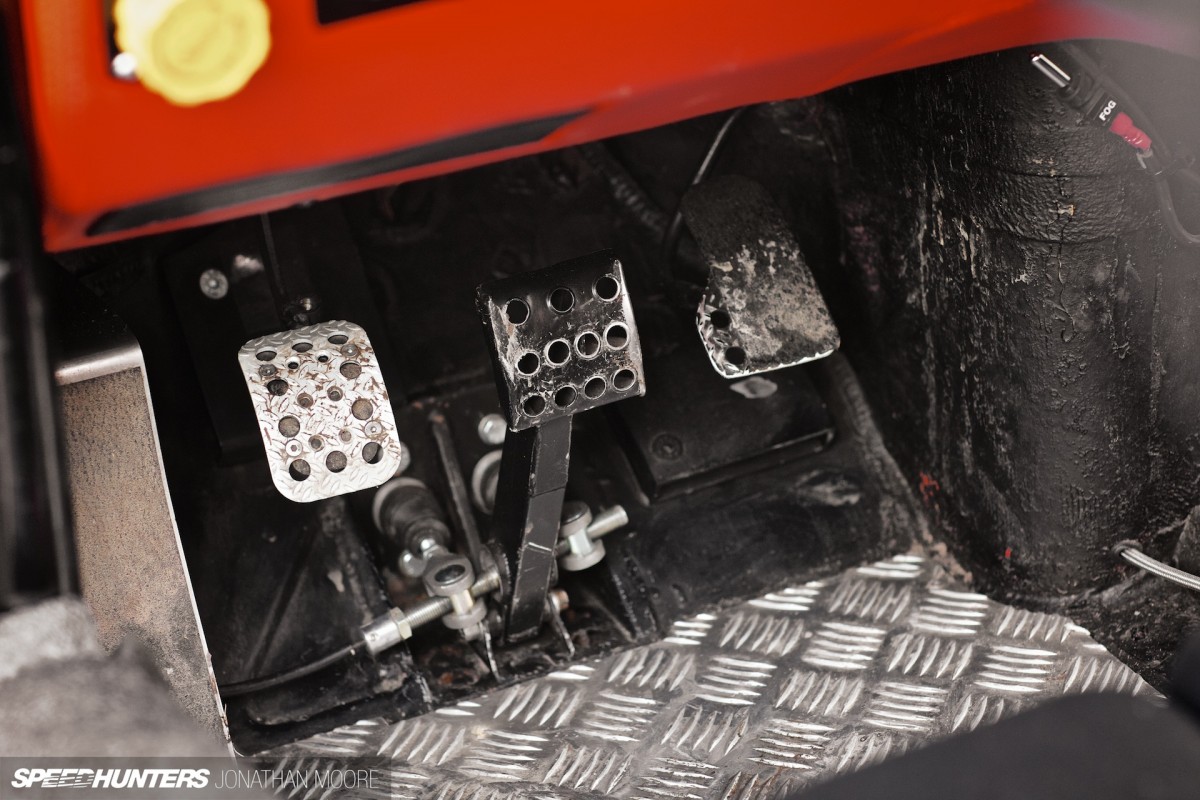 This all means the Renault 5 Turbo now produces 240hp – which in a car tipping the scales at just over 900kg and with the wheelbase of a shopping trolley, is plenty. The issue, as ever, is turbo lag: ever a problem in period, and still almost deliberately left as a challenge now. After all, if you want easy then buy a modern all-wheel drive with a sequential. The Renault 5 Turbo is about delivering a very specific, connected experience.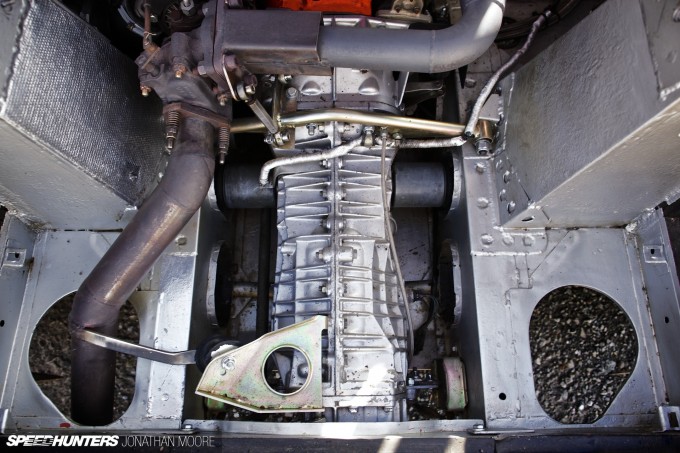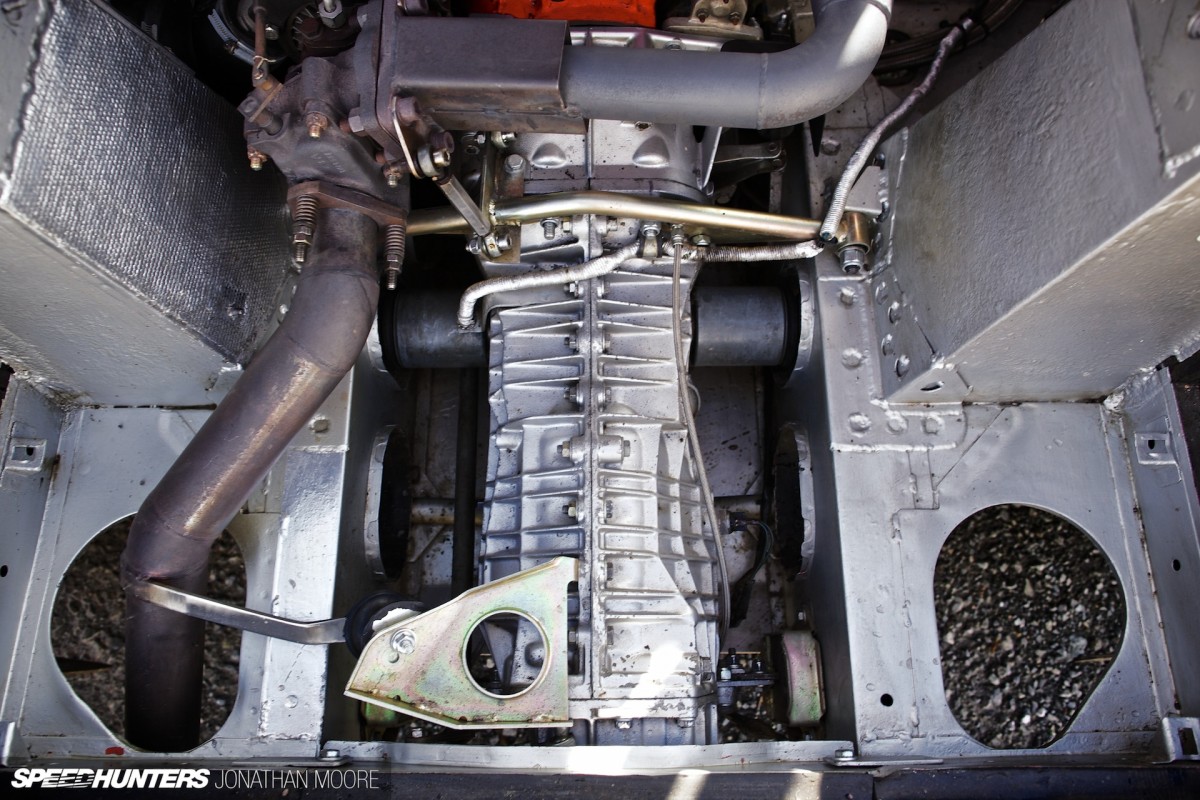 Gearing is through a close-ratio Tour De Corse kit, which edges into the Renault 5's second generation Group B territory. All the ratios are that much shorter, which is ideal both for rallying in general and the specific behaviour of this little terrier. A limited slip diff helps with traction, and a rose-jointed gear linkage setup and new rod ends make everything that bit more precise.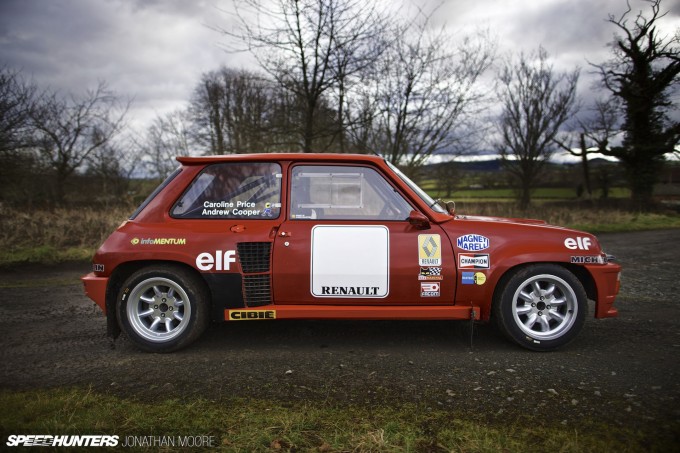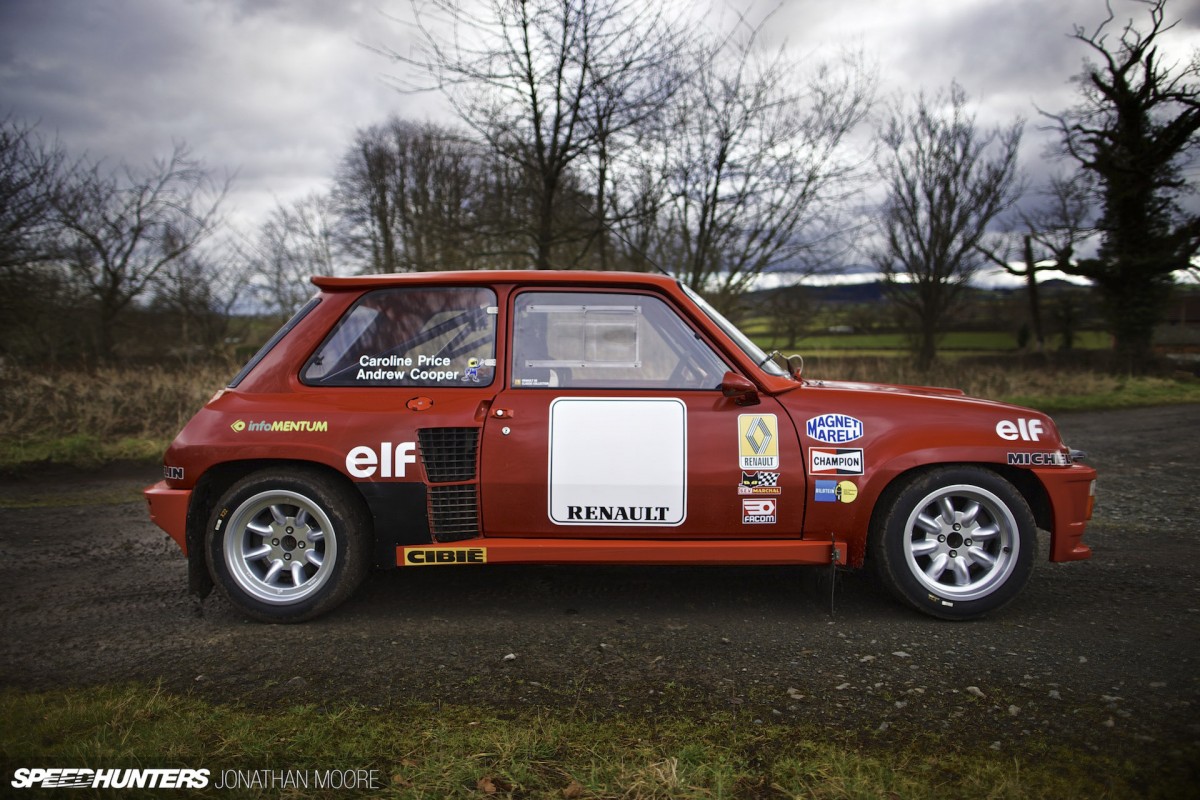 Classic AP Racing four-pot Monte Carlo brakes sit behind the 15-inch Minilite wheels and help keep speeds under control. The floor-mounted brake pedal goes through an adjustable master cylinder and there's a hydraulic hand brake, so the driver can have plenty of confidence in the 5's ability to stop.
Going straight is so last year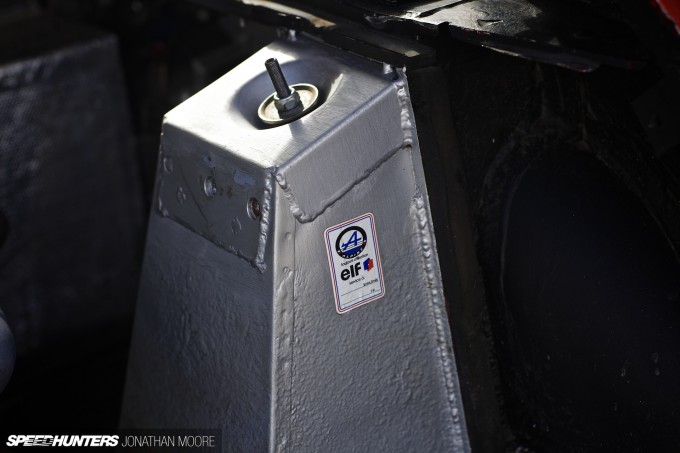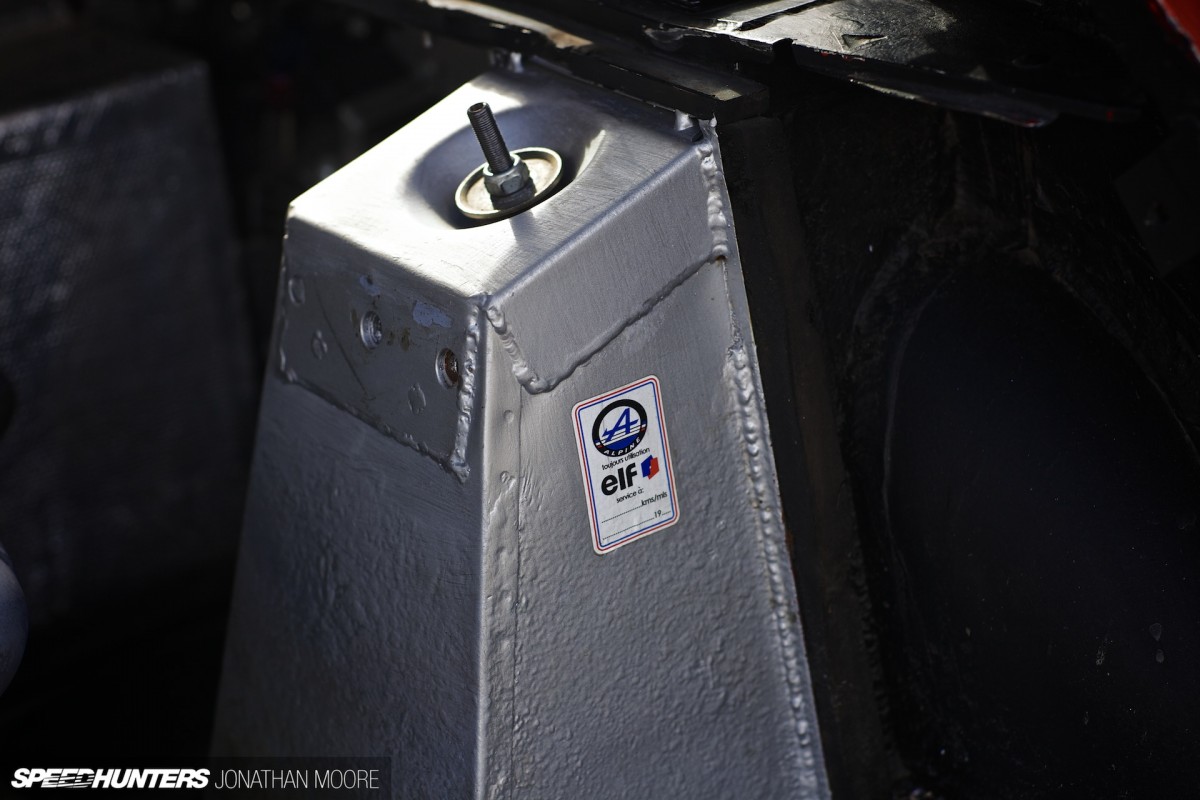 Bilstein coilovers support the car, and it uses up-to-date Eibach springs and rates. The wishbones are heavy-duty units, built to take the hammering off being on stages. Being so short the Renault is quite nervous and it kicks up a little bit under acceleration with the engine in the back, particularly on bumpy terrain.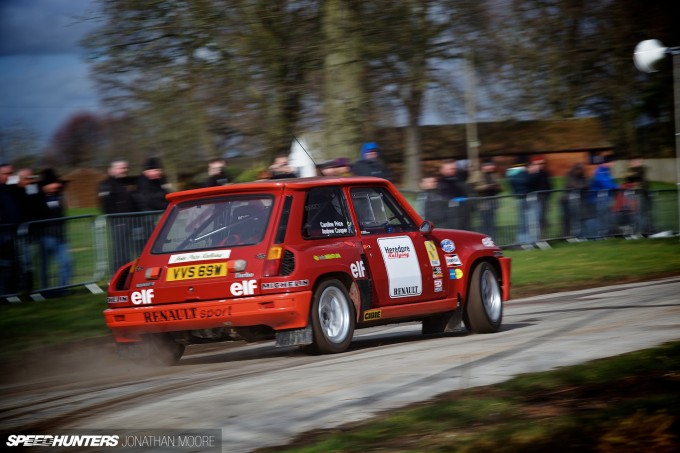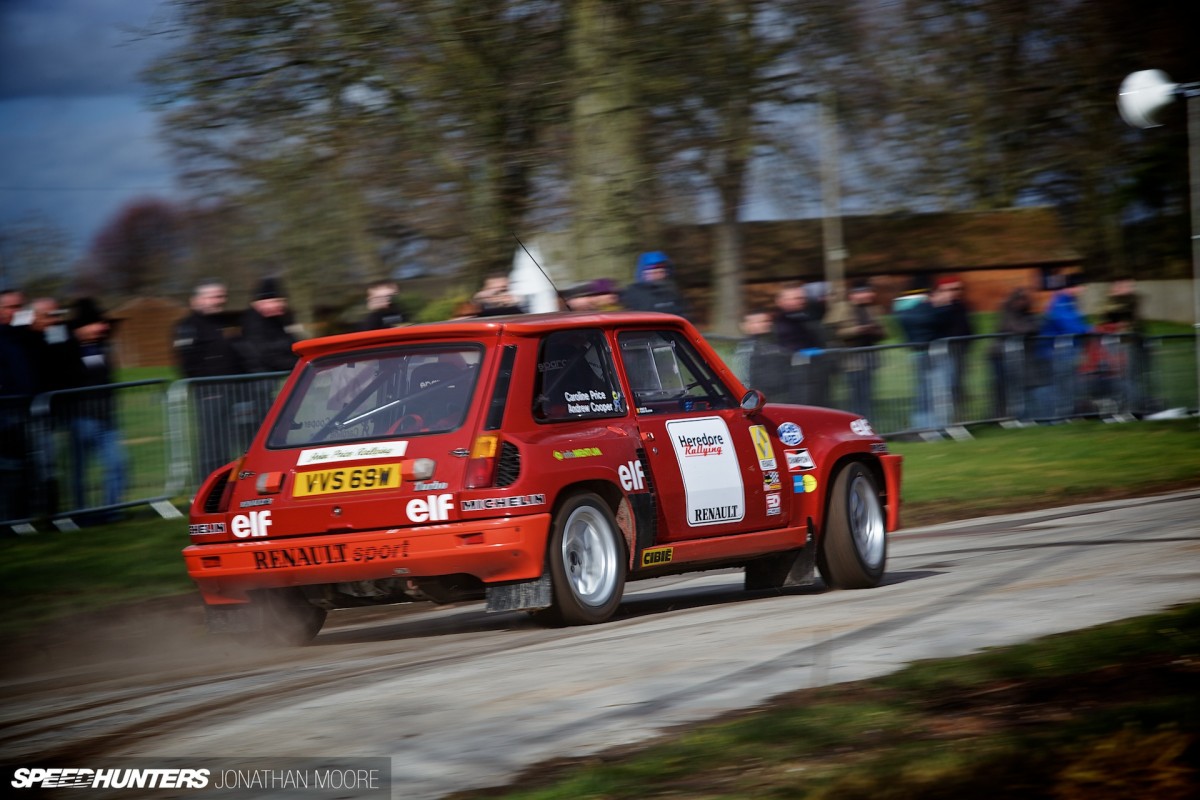 It doesn't like standing water, or a greasy surface coming out of a tight corner, which will put the back out – so you need that quick steering rack to be able to catch it.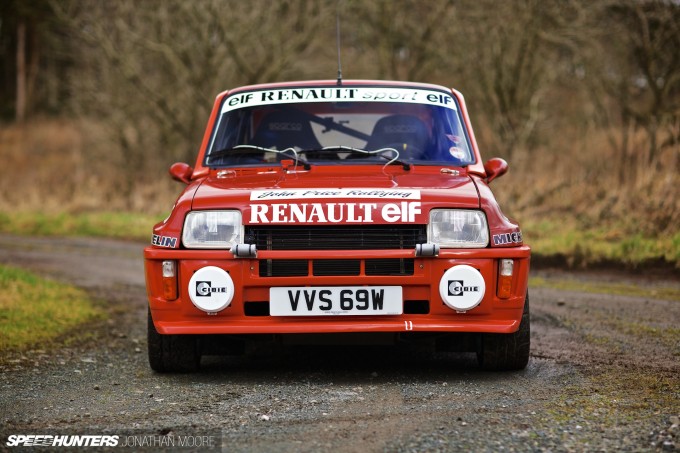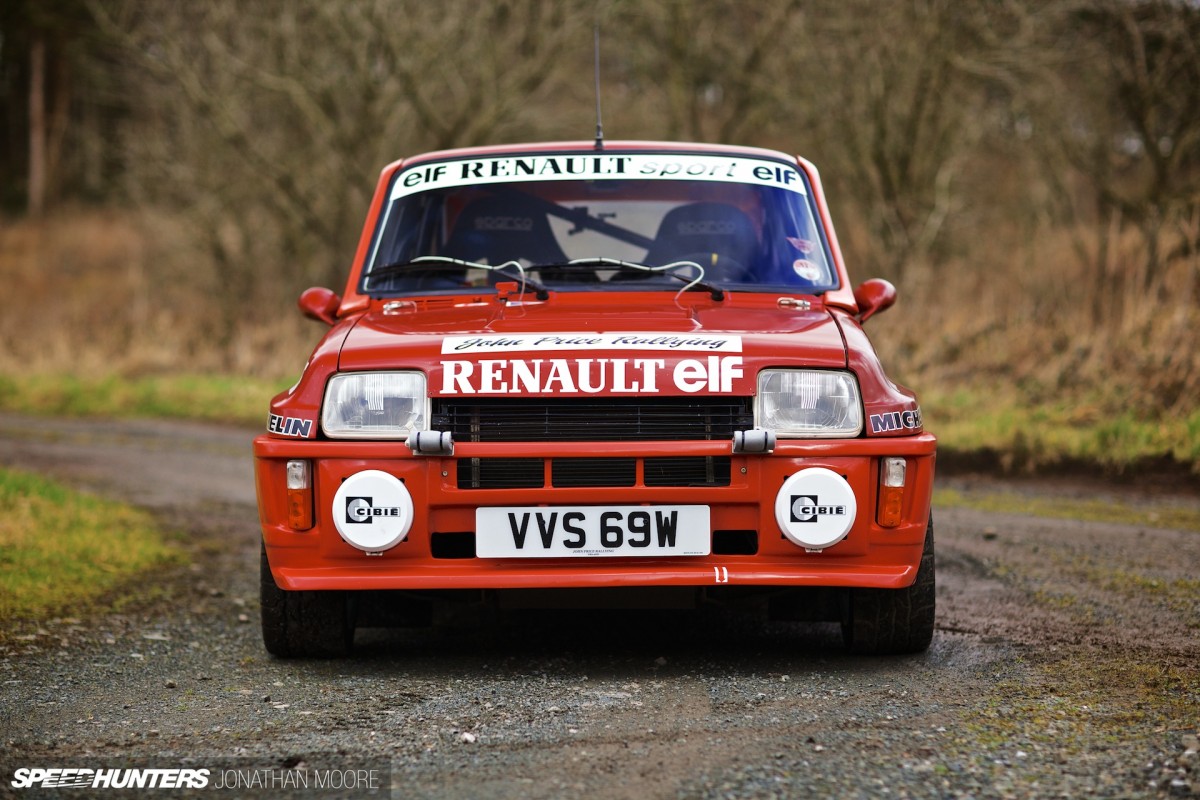 What Andrew has ended up with is as damn-it a car that could have come from Alpine in the '80s, with all its quirks and character intact. A racing OAP with no more than a minor hip replacement perhaps, but who's still faster and more dynamic than most.
http://youtu.be/QS7H_R_dbqA
My ride along in the passenger seat at this year's Race Retro was wild to say the least – and that despite it turning out that we'd been literally only firing on three cylinders. The next day Andrew was back on full form, nipping at Audi heels, as you can see in this clip. Not a bad sound for such a little engine, huh?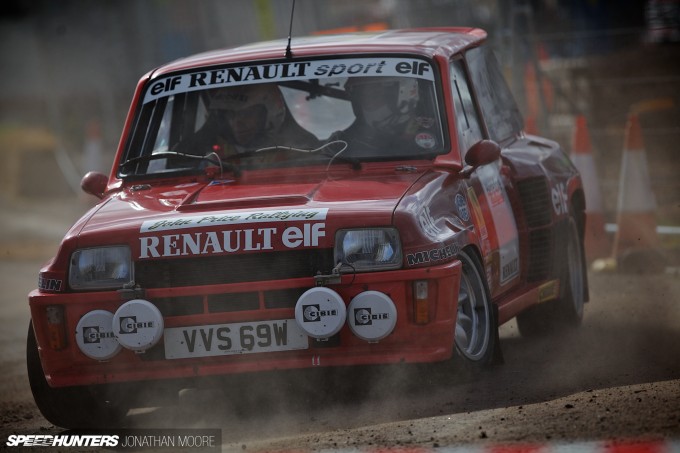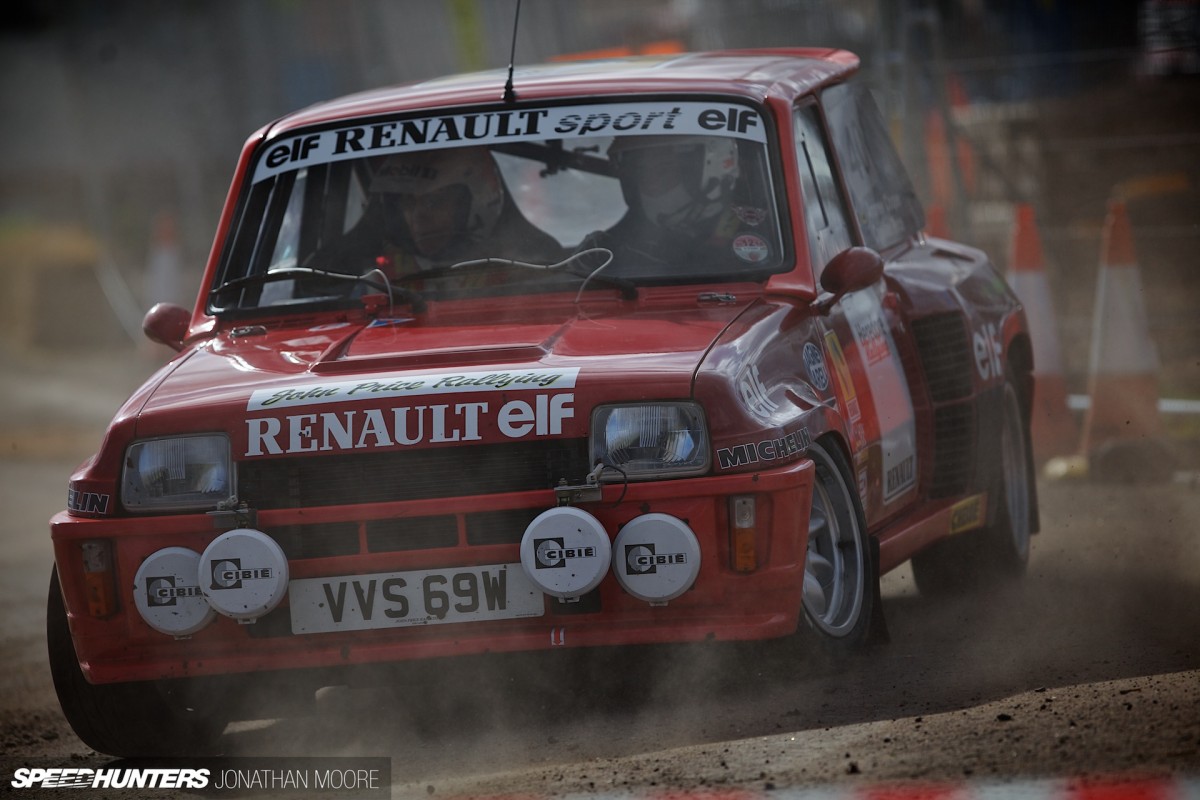 The 5 Turbo wrote new rules for what you could do with a hot hatch both on the street and the stage, fundamentally changing the original front-engined, front-wheel drive layout for a mid-engine, rear-wheel drive platform, yet still using the standard base chassis as a starting point. Brutalised it might be, but the Turbo is no silhouette: 5 DNA runs through it, and it's provided the template for all the supercar-baiting hot hatches that have followed.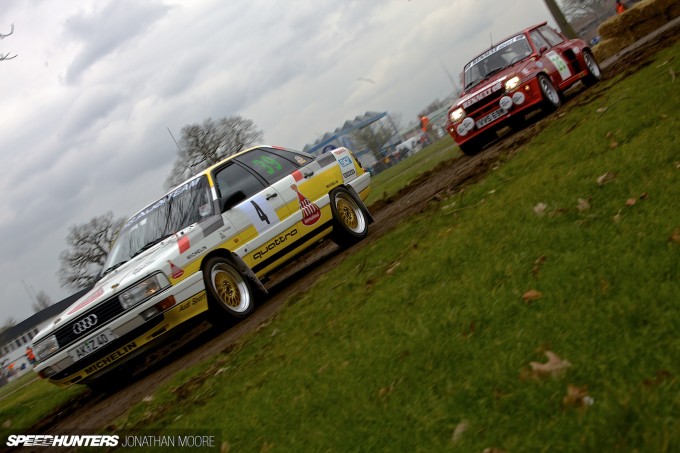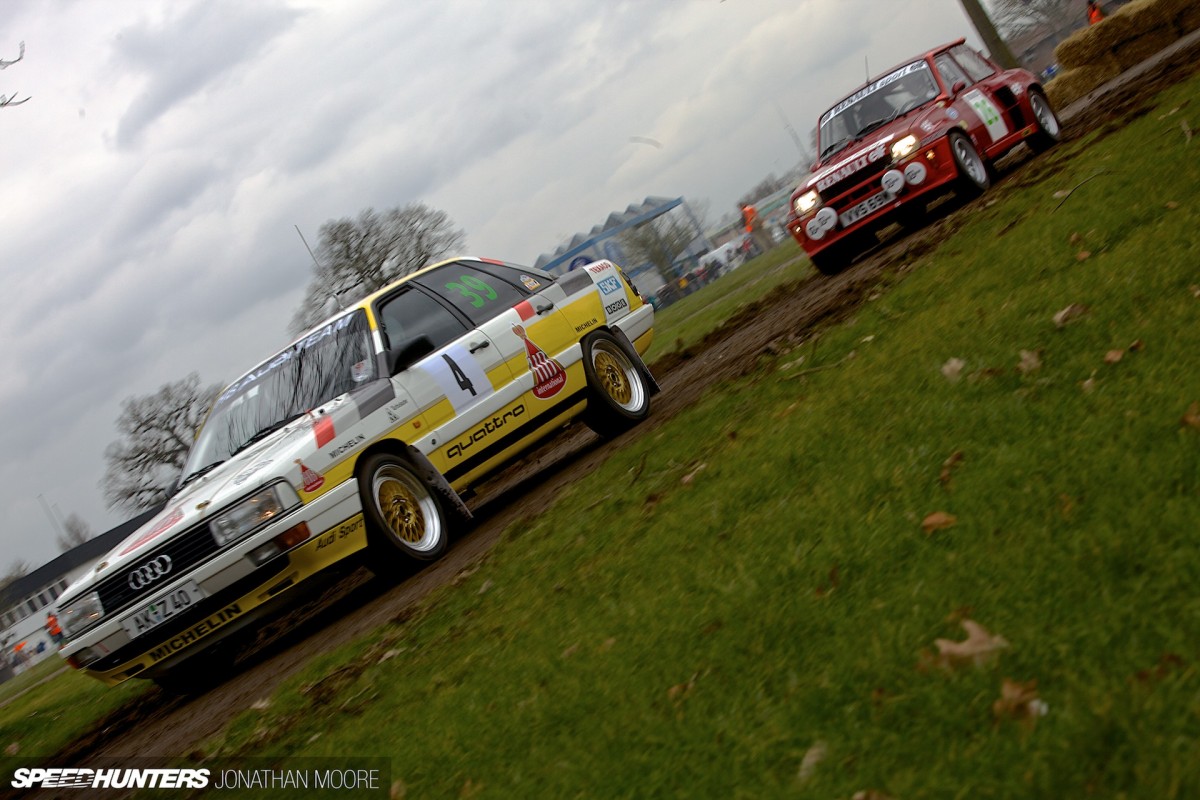 So what next for this car? In period the 5 Turbo's problem came in the shape of Group B and specifically the quattro: rear-wheel drive and nimble handling couldn't match the sheer grunt and all-wheel traction of the Audi. Next Renault were depth charged by fellow countryman Peugeot with their wild 205 T16. Ragnotti still wove his magic with the Group B Maxi Turbo though, winning the Tour De Corse as was his usual style, with 345hp on tap by the end. Three hundred and forty five horsepower, you say?…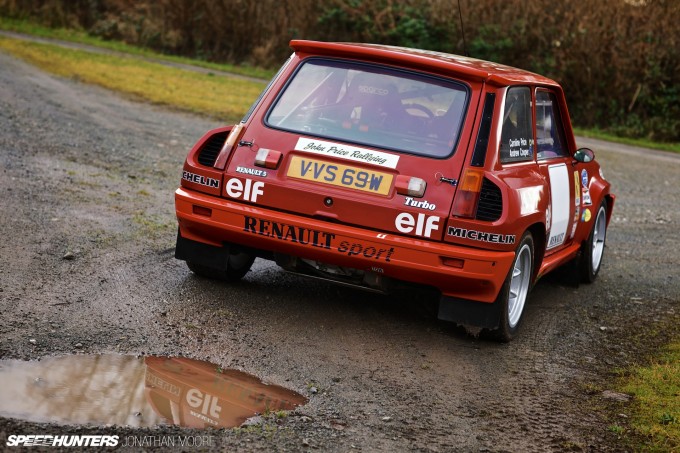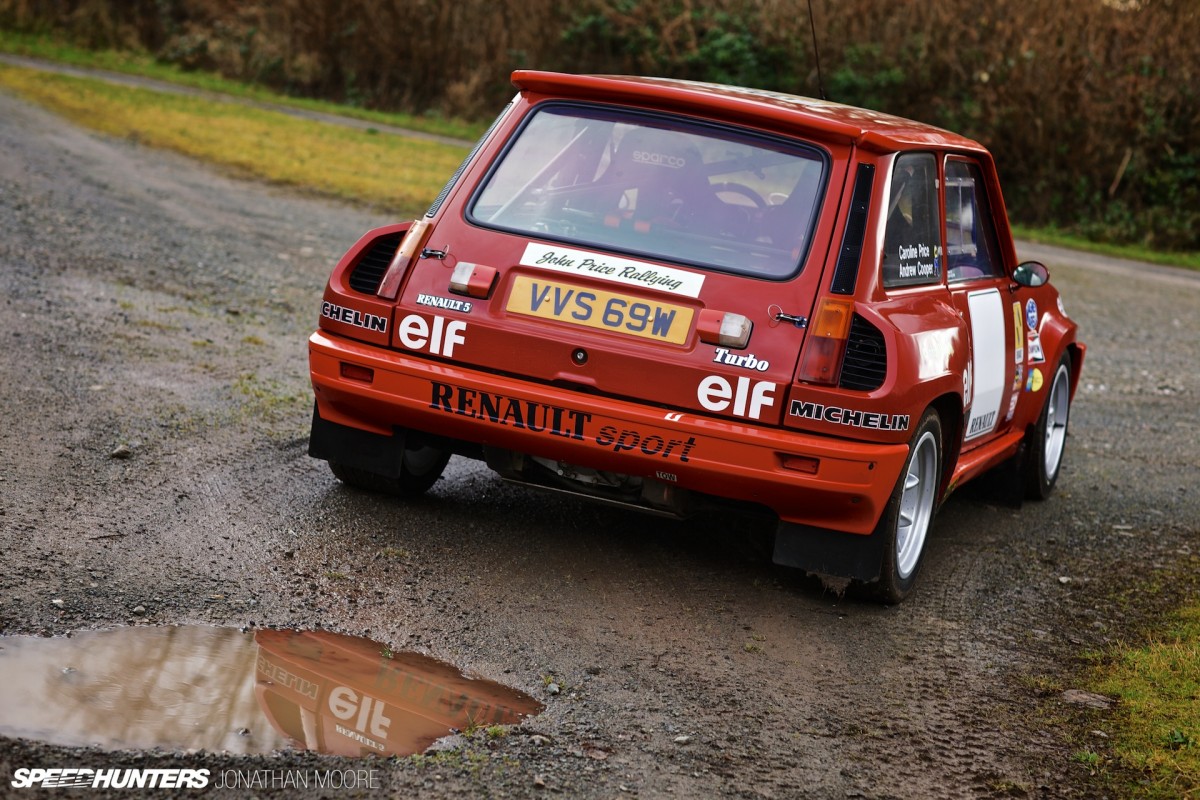 So, Andrew is now in the process of upgrading his Renault to full Group B spec, which will create an even more furious experience both inside and out. But even before the promised upgrades, here's a car that simply performs. It does what a car should do – and you can do it in the trees if you want. Oh, and he's also got a Metro 6R4 to tame, but that's another story…
Jonathan Moore
Instagram: speedhunters_jonathan
jonathan@speedhunters.com