The West meets the East
First it was Fatlace, then StanceNation followed, and now the USDM movement in Japan is all but complete with Wekfest having stamped its mark on Nagoya over the weekend. It's a great thing to witness; seeing two different cultures separated by a rather big language barrier come together in a way only cars guys know how to.
Japan has a style all of its own in pretty much any scene you care to mention, but when it comes to stance there are quite a few things I picked up on this time around. So let's dive head-first and see what the crew behind Wekfest managed to put together for their first-ever Japanese event…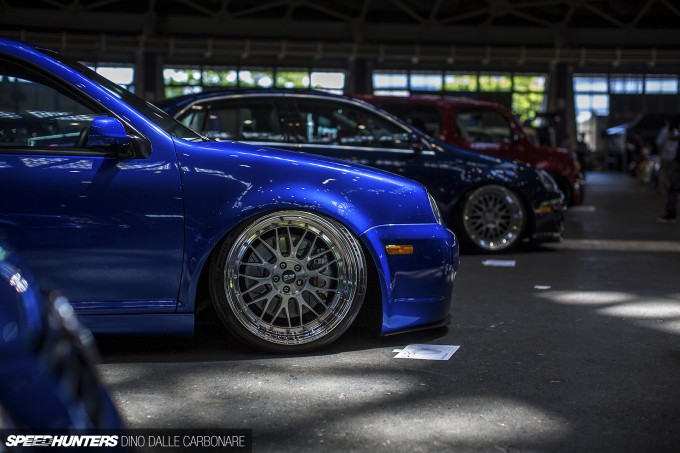 When it comes to making cars sit their best, regardless of make or model, the Japanese are true global leaders. No vehicle is looked down upon and there's no attitude, which in-turn allows people to do what ever they feel like doing. I might mention this all the time when it comes to shows like these, but it's an interesting observation, don't you think?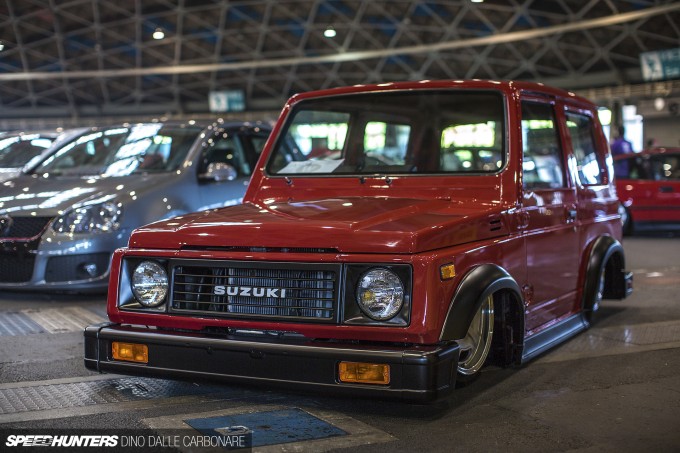 Of course, low takes on very different interpretations. This little Suzuki Samurai that we first saw at the Mooneyes Hot Rod & Custom Show last December, takes extremes to the next level.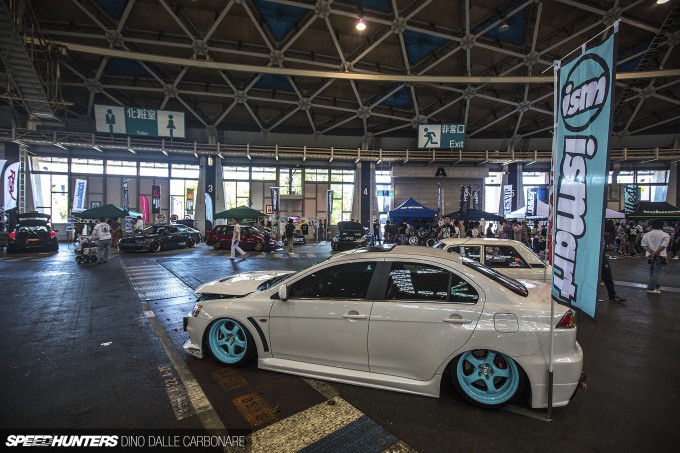 Then of course there are those occasions that purists will feel flustered and hurt because someone will choose a more performance-oriented car as their base to make a statement. But there is no need to judge – people do different things to different cars for different reasons, and it's all fun to observe.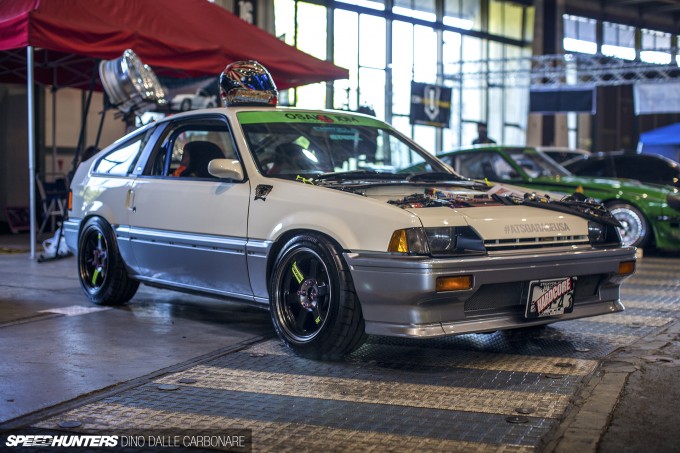 Take Osaka JDM. They're one Japanese company that have embraced USDM styling methodology, but at the same time have managed to make it all their own. They still focus on performance but are just as driven by style, and of late have really stepped up their game. At Wekfest they were showcasing both new builds and restyled cars, like this fresh-looking CR-X on RAYS Volk Racing TE37s.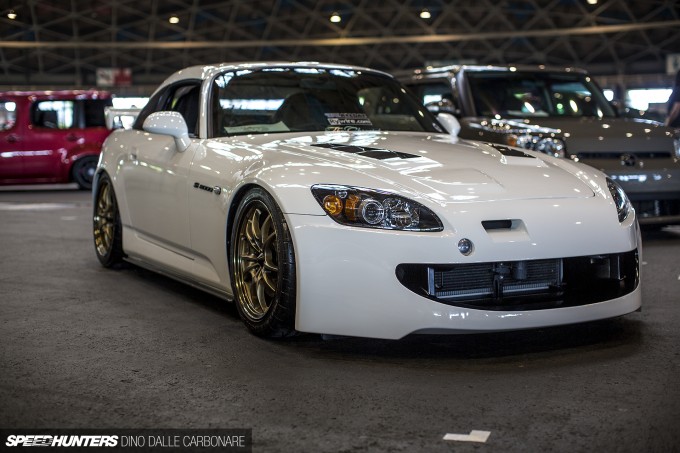 Honda enthusiasts had a lot to look at, and one car that really made me stop in my tracks was this extremely clean Mugen-kitted S2000 on Mugen wheels. Honda, please wake up and realise how your diehard fans want to you to come up with a worthy successor to this legendary car!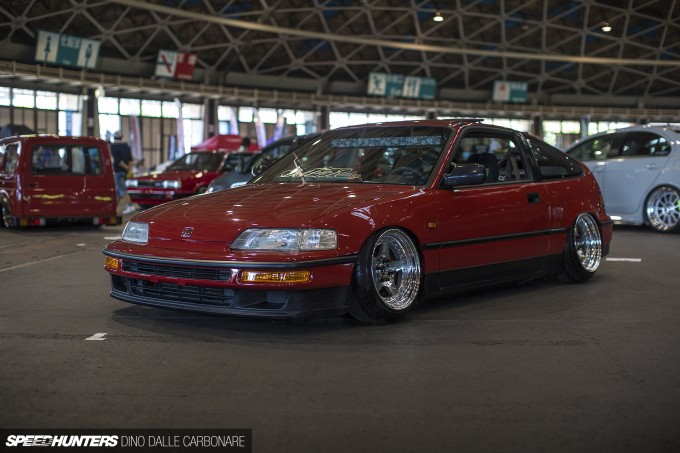 The CR-X is one car that just refuses to show its age. The CR-Z may have replaced it, but I only saw one example at the event and that was outside in the car park.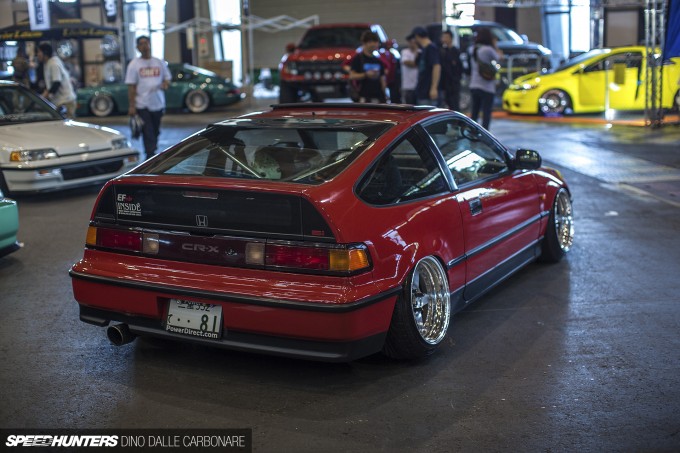 This US import had been appropriately dropped on a set of Work Meister CR-01s with plenty of shiny lip to attract those all-important looks.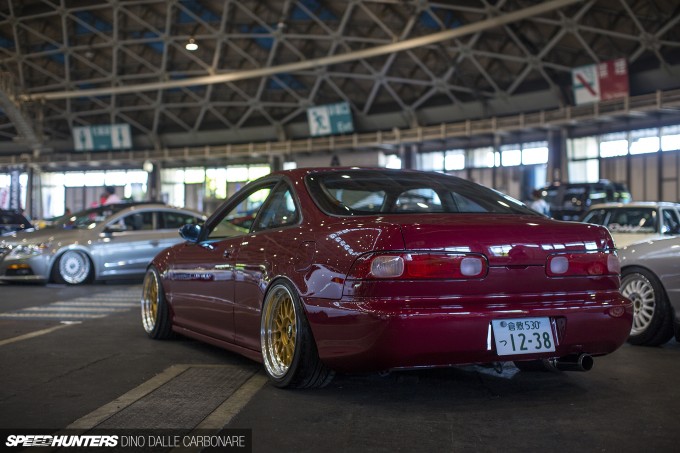 You know when you walk past a car and in your head utter something along the lines of, 'Damn, that sits perfect'? Well, that's exactly what I did when I noticed this Integra. Forget your negative camber and exaggerated offsets, this DC2 sat nice and square; aggressively lowered to emphasise the spot-on fitment that had been chosen. Simplicity always works for me.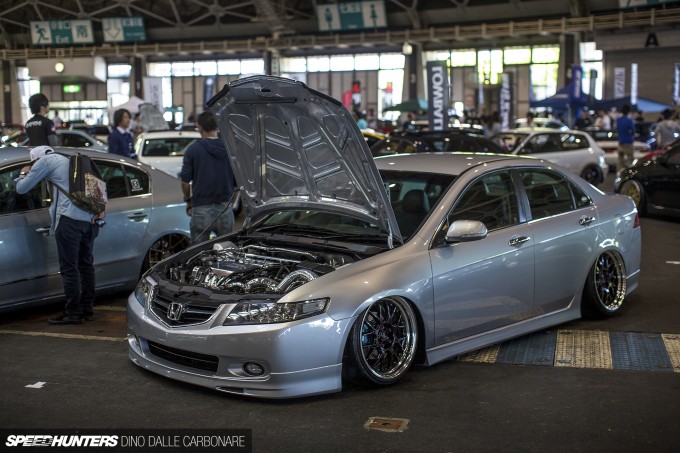 And that's precisely the point I want to make with this Wekfest post. There may be a lot of criticism of this scene and the loyal supporters of function over form. But you know what? This infusion of USDM style has had nothing but a positive effect on the Japanese tuning world, and I'm not just talking about all the new business it's brought shops that may have been struggling beforehand.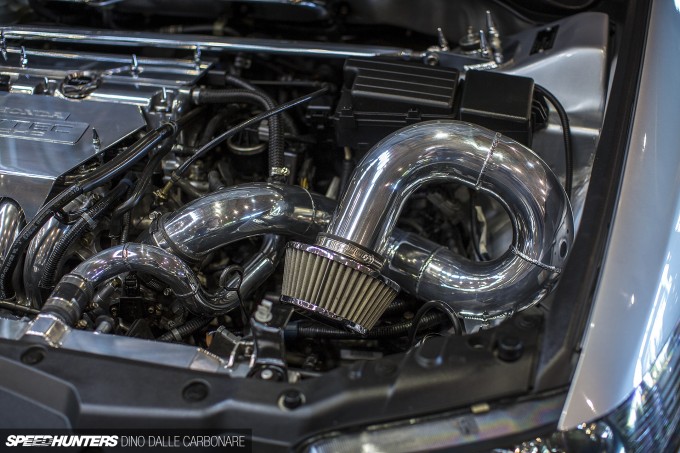 Walking past all those meticulously prepared cars, it became instantly obvious that in a space of just a few short years the movement had really helped to raise the bar here. Performance and big-power cars have always defined Japan, but at times there was a big lack of quality when it came to presentation and the all-important fine details. This scene has – or is right now – taking care of that. People are now striving for perfection and aren't afraid to try out new ideas either. Sure, sometimes they're completely silly and pointless, like this Accord's looped intake pipe, but it made me smile, that's for sure.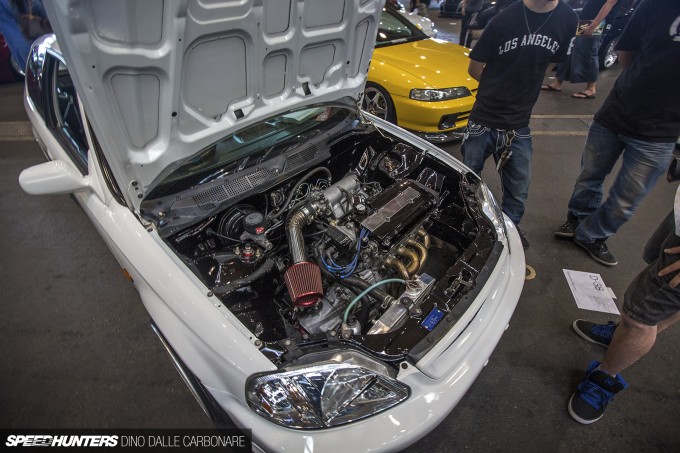 The sentiment rang true in almost every car I looked at, to the point that I felt bad for some of the owners as I knew I wouldn't be able to show each and every car present.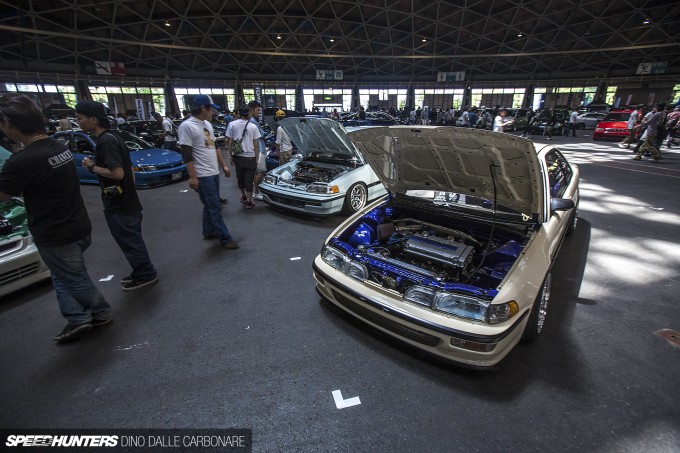 As I walked past the endless lines of well prepared cars I couldn't help but hope that some other more old school guys in Japan take notice of what these guys are doing – especially when it comes to engine bays.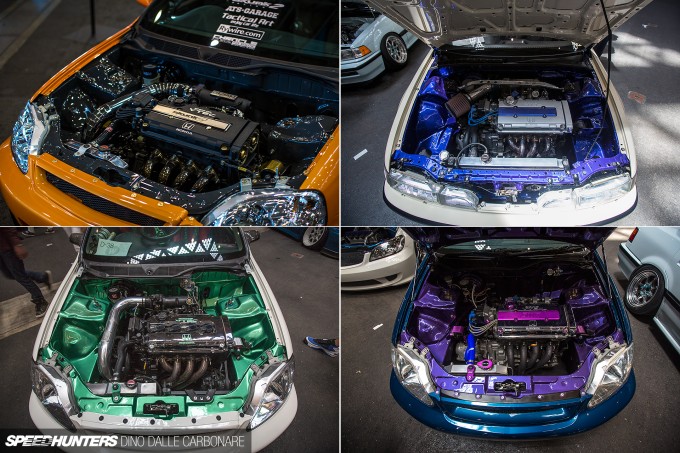 So many times I've turned up to shoot an impressively built car with tons of power and all the right parts selected, but then you open the hood and it's like the engine bay has received little to no attention. No such thing at Wekfest, where I was just curiously walking around to see how the Honda guys managed to make their motors stand out from the crowd.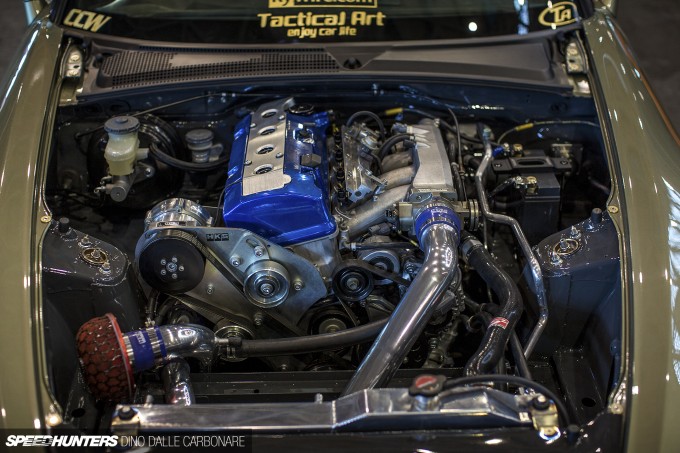 One that really impressed me was the Tactical Arts S2000 that you can see in the opening picture. These guys reign above all when it comes to meticulous attention to detail – something you will see on the next post from the event, in a spotlight of one of their customer cars.
We heart Germany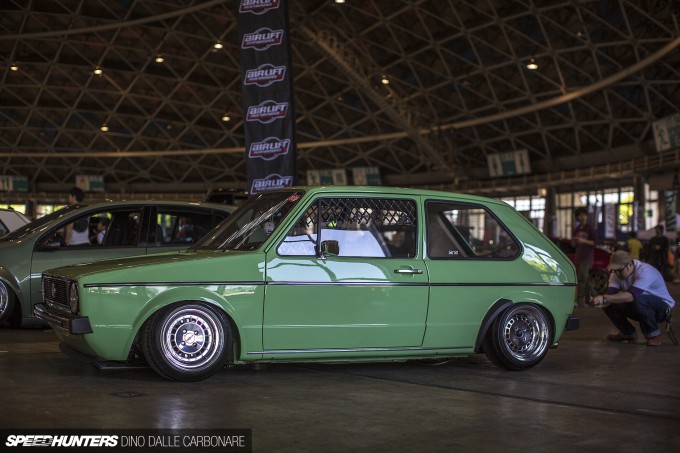 And then, of course, we have the German cars. There's lots of cool stuff happening on this particular slice of JDM car culture, and one car I was really happy to see was the '84 Base MK1 Golf that came all the way to Niigata, taking full advantage of its economical diesel engine. I hadn't seen it since the Hellaflush Kansai event, so was a nice surprise – but not as much as the turbo wide body one next to it. Spotlight coming!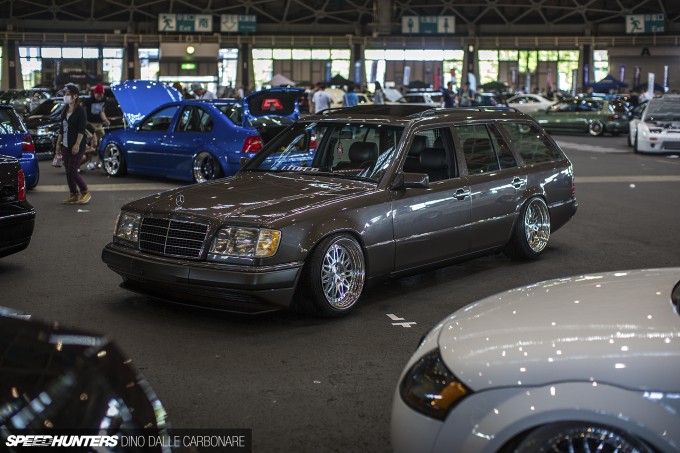 You guys know me, I can't resist the lure of a nice wagon – even these old Benz tanks from yesteryear. These things were built so well I have no doubts that they'll still be here when humans become extinct! This particular example was sitting on a set of i.force FD-11SM wheels.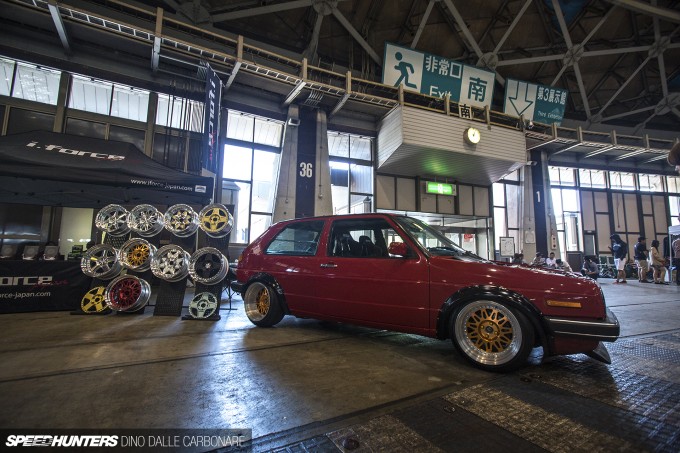 It wasn't until later in the day that I discovered i.force had a display booth with a collection of their rims, along with a pretty cool MK2 Golf demo car wearing the same model as fitted to the Mercedes-Benz above – albeit with gold anodised centres.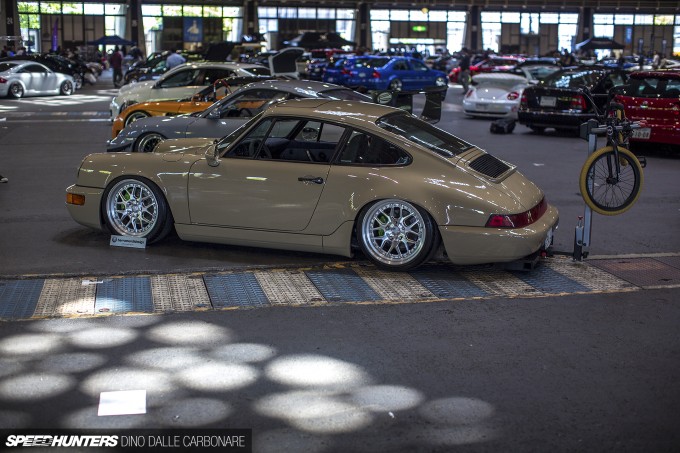 That's a novel way carrying your bicycle! I have yet to figure out the link between bikes on roofs and this particular car scene, but I guess it's a lifestyle sort of thing. But it still baffles me, especially when I'm attempting to take a picture of a car but have to reposition my camera to get the bike in the frame too!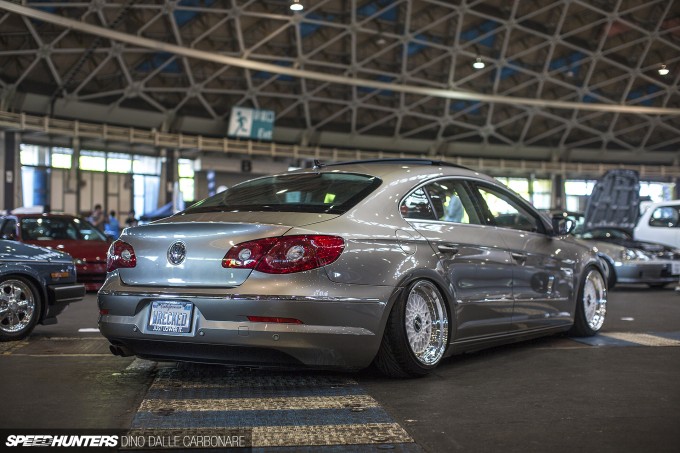 Is it just me, or does anything lowered on BBS wheels just look fantastic? Please VW, never stop making the Passat CC!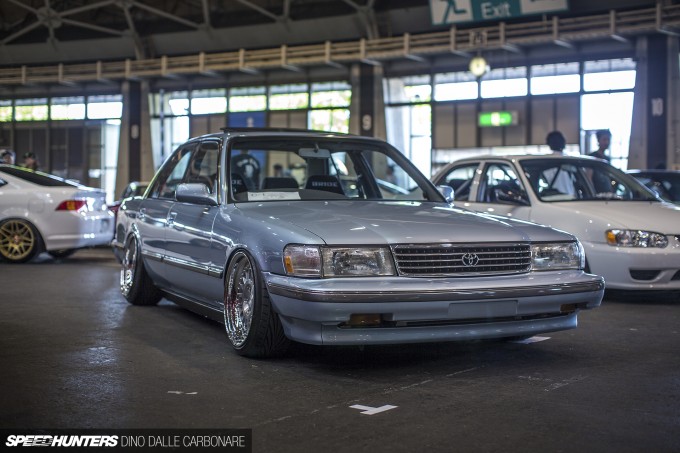 This was one of the top award winners at the show, commended for having executed the JDM-to-USDM conversion faultlessly. That's everything but the driving position.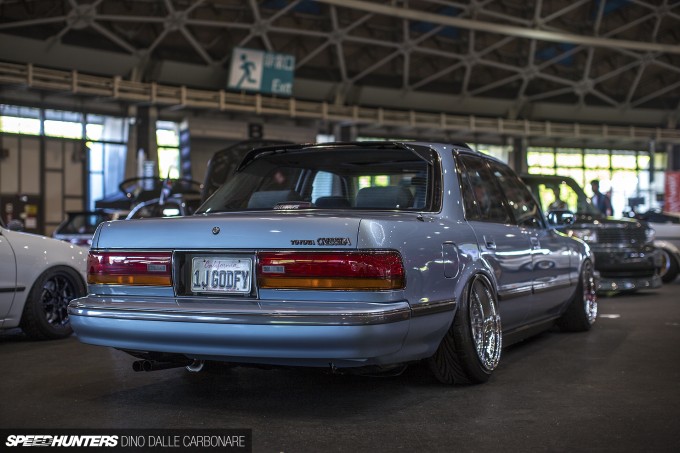 It was hard to disagree with the judges call, as the attention to detail was close to perfect.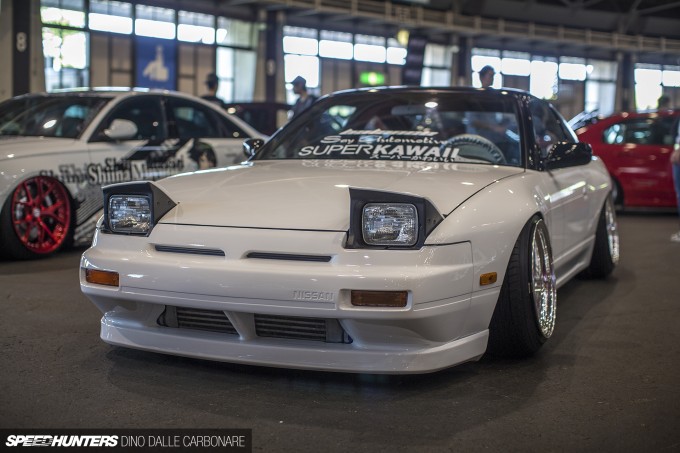 Now while USDM conversions or USDM touches are all the rage in Japan (while the US guys continue to go crazy on the JDM details – human nature as they say), if you are going to do it well you might as well just ship a whole damn car over.  Which is precisely what the owner of the Super Kawaii 240SX did.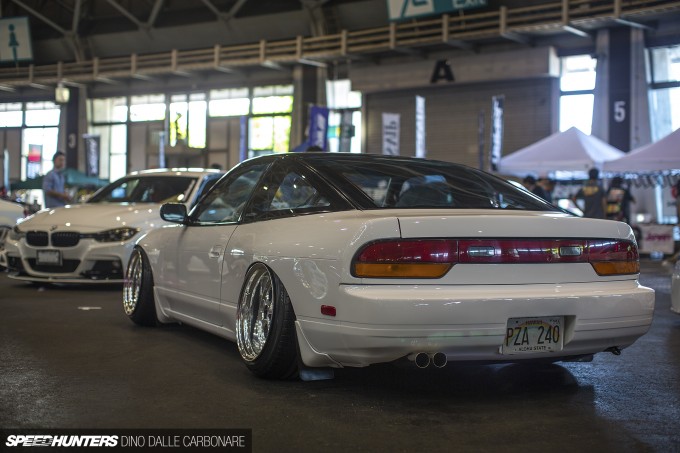 Of course, he couldn't help but inject copious amounts of JDM staunchness into it too. Damn this car sat good!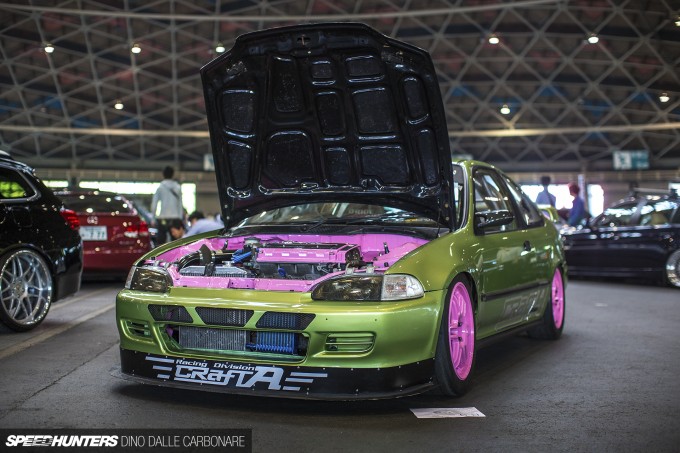 You know the saying, 'Only real men wear pink'? Well if that's true, the Craft A Civic EJ from Tokyo is about as masculine as it can get. I shot this car many years ago for the cover of a US magazine and it's nice to see that it evolved, yet still looking damn unique. I'll be visiting Craft A for a shop tour soon as I hear they have some cool new cars.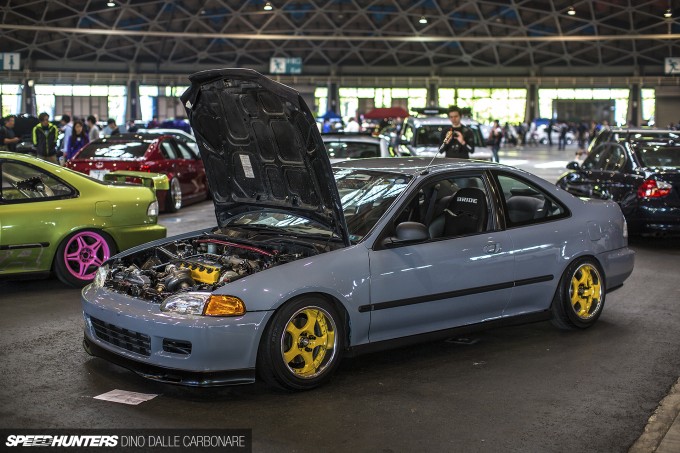 One of them is this EJ Civic coupe which didn't stand out because of an injection of colour – but rather that its style was met with an equal amount of performance.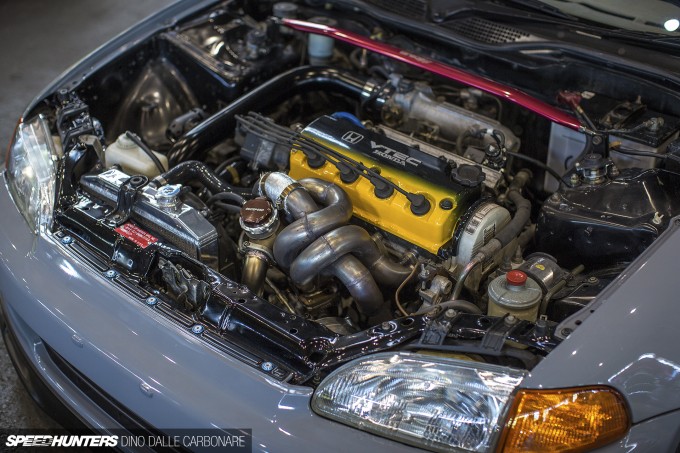 Judging by the size of the turbo tucked in front of the engine, the owner of this car must be a master at dosing his throttle pedal. I'd be surprised if it didn't light up the front wheels in anything under fourth gear!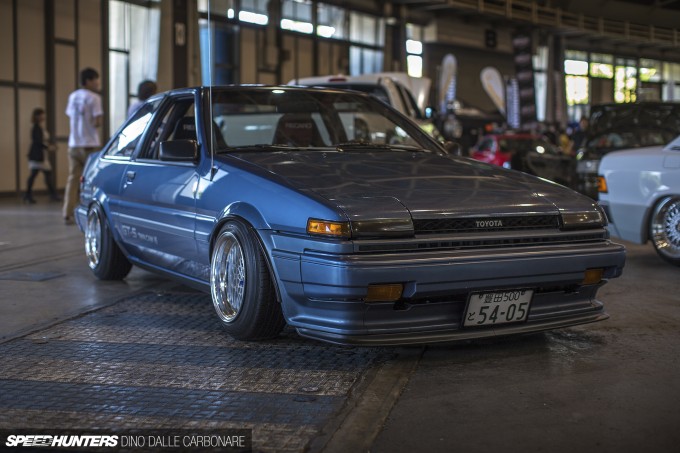 Surprisingly, there weren't that many old AE86s to check out at the show – well not as many as I expected to see at least. This light metallic blue Trueno coupe on SSR Formula Mesh wheels was further proof that the quality of finishes and execution is really on the up. It was a stark contrast to the hachirokus we see at drift events, that's for sure.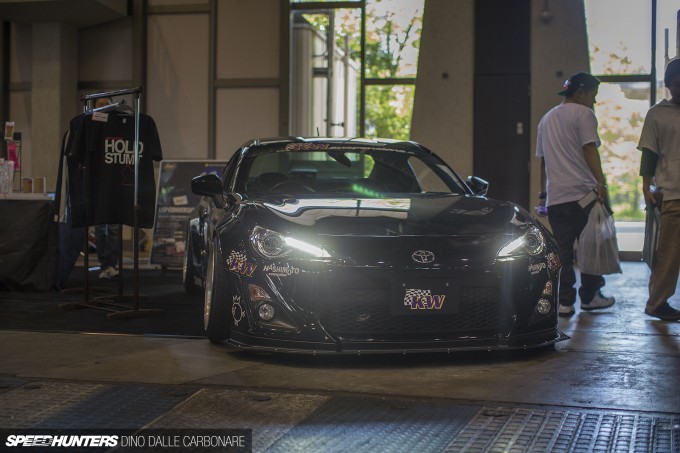 And from the old to the new with the KM4SH ZN6 demo car on display at our Speedhunters booth.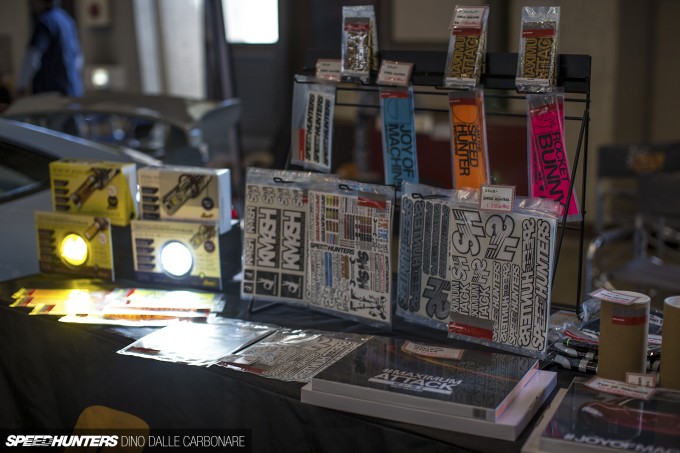 It was the perfect chance for SH readers and followers to pick up some of our latest merchandise and get those precious few last copies of the #MAXIMUMATTACK and #JOYOFMACHINE books.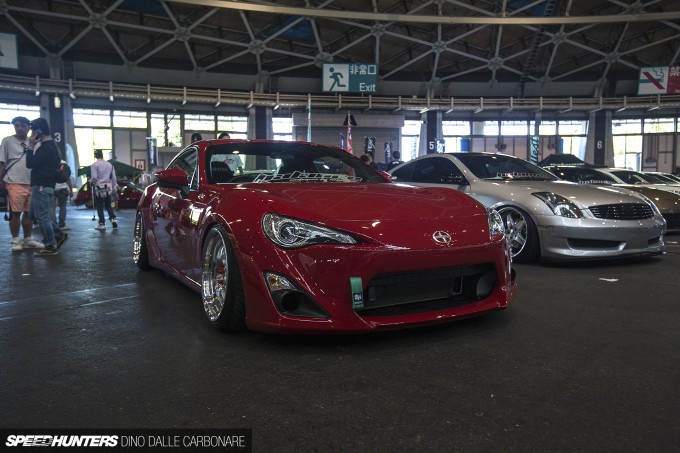 And while on the subject of SH merch, it was this Scion-badged 86 that caught my attention. It was cool to see a Takata x Speedhunters tow strap complementing the clean lines of the stock body.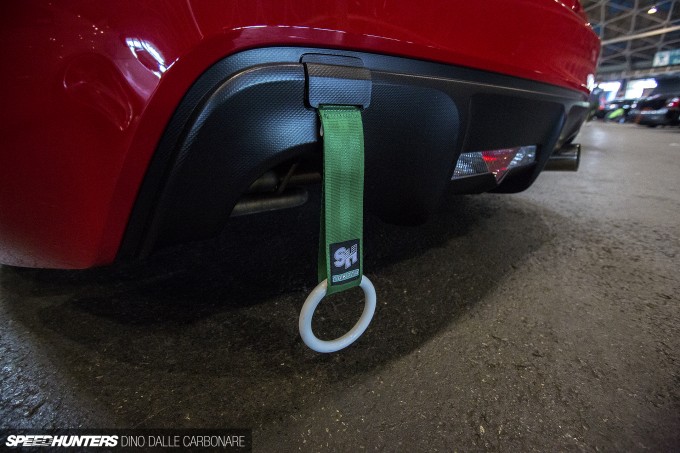 But seeing the rear one converted into a tsurikawa (Japanese train handle) made me laugh! It's a great touch – maybe we should be making these?!
Airing it out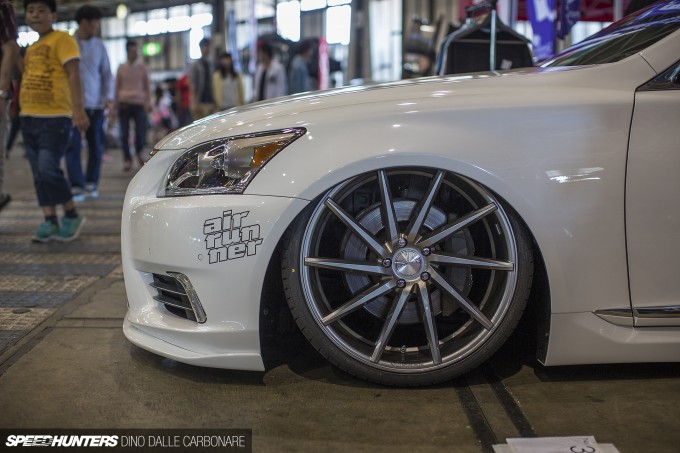 My trip down to Nagoya for the show began the day before with the guys at Lexon in Sagamihara. I dropped by their shop at a ridiculously early hour in the morning and jumped in one of their demo cars. Our destination was a really cool shooting location where I got to immortalise a few of their Vossen-equipped cars.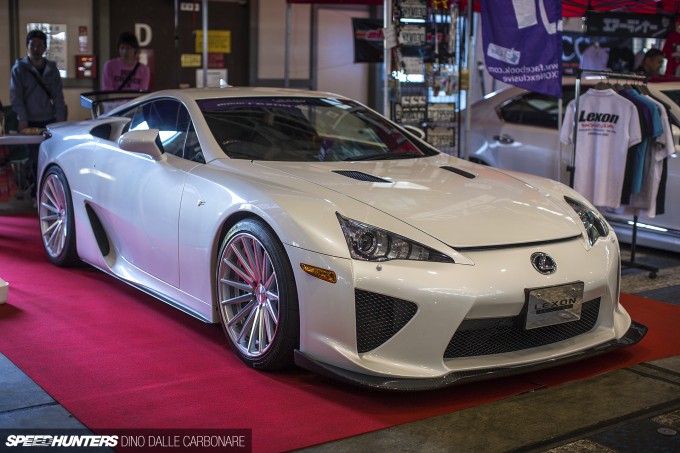 The highlight of the day however was spending hours riding shotgun with Takemi-san of Lexon in his Lexus LFA demo car which was just fitted with Vossen's new VSF-2 wheels. I'll save all the details on this car for the full feature I have coming…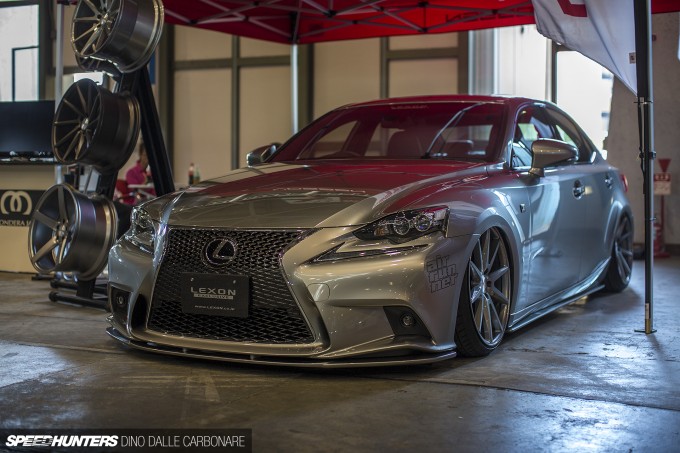 Another car that was part of the Lexon crew was this IS350 F-Sport. As you can probably tell, thanks to air ride it can be dropped to the ground with a touch of a button.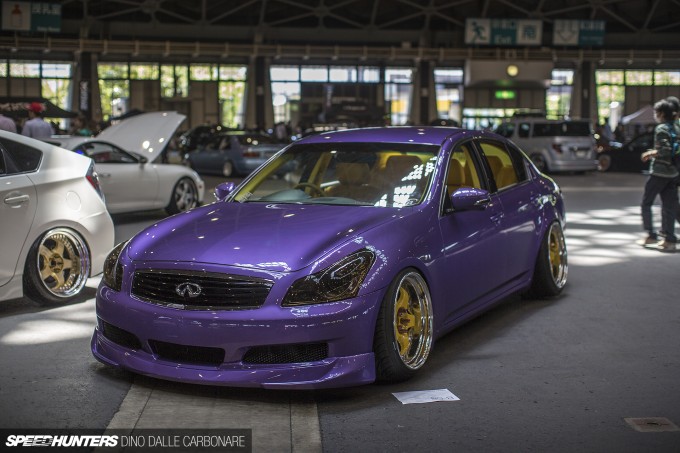 Anyone wanting to see some cool Japanese VIP rides were sort of out of luck. Not that many VIPs were entered at Wekfest; I could only spot a few on the show floor and a few more outside in the vast Port Messe car park. There were however, a good example of two extremes to see – the more colourful and progressive take on the bippu way with this Infiniti-badged V36 Skyline.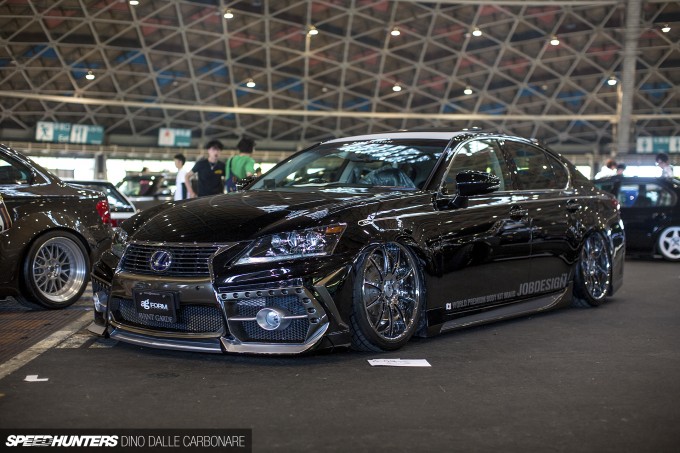 It was, however, the Job Design LS that definitely stood out. This is one hell of an imposing car that ticks all the right modern VIP boxes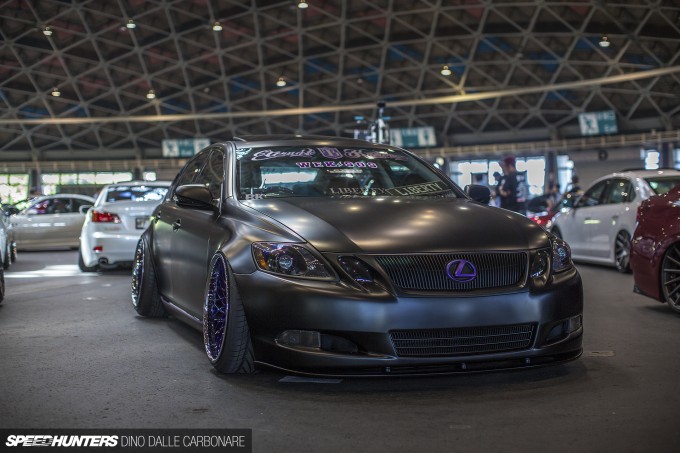 Shibuya-san's Lexus GS was another standout and showing off how effective custom-cut and widened fenders can be to get that evil look just right. In case you are wondering, it rides on air – not static suspension – unlike some of the crazier VIP cars we saw last year at StanceNation event.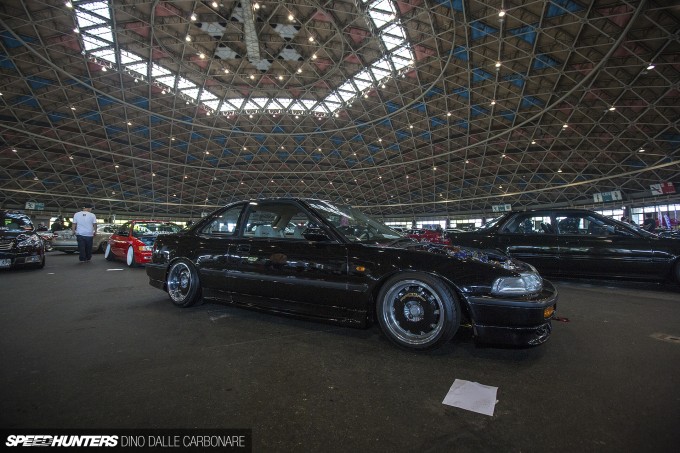 I was also missing some old school '70s love, but I guess the cool '80s cars just had to do. That's fine with me as there was plenty of awesomeness to observe, like this Integra coupe sitting on sweet Mugen CF-48s with the optional aero discs. Honda guys, drool away!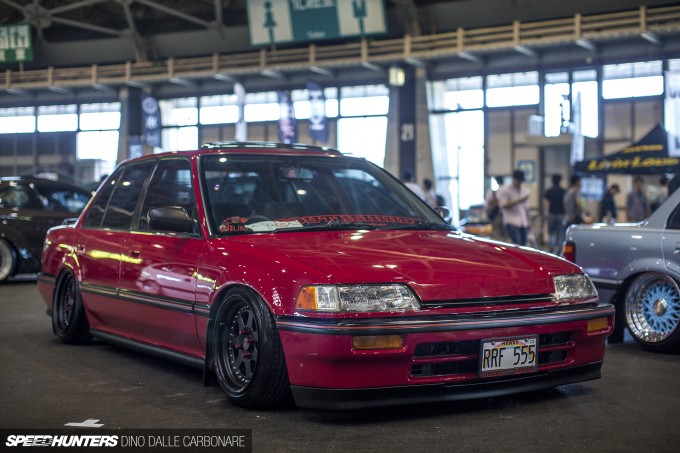 EF sedan on air? This car really executed it perfectly.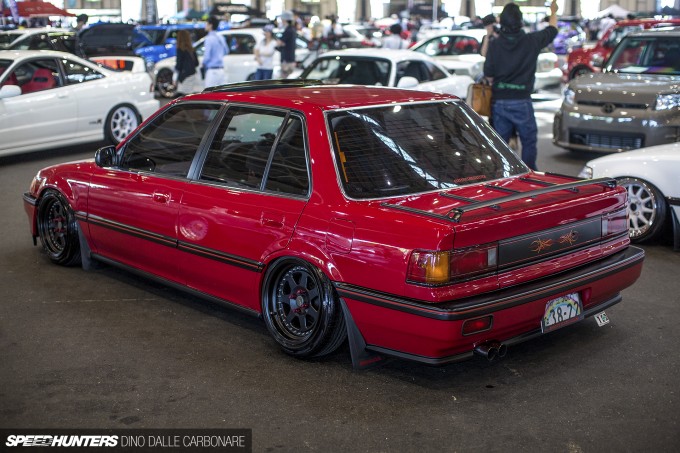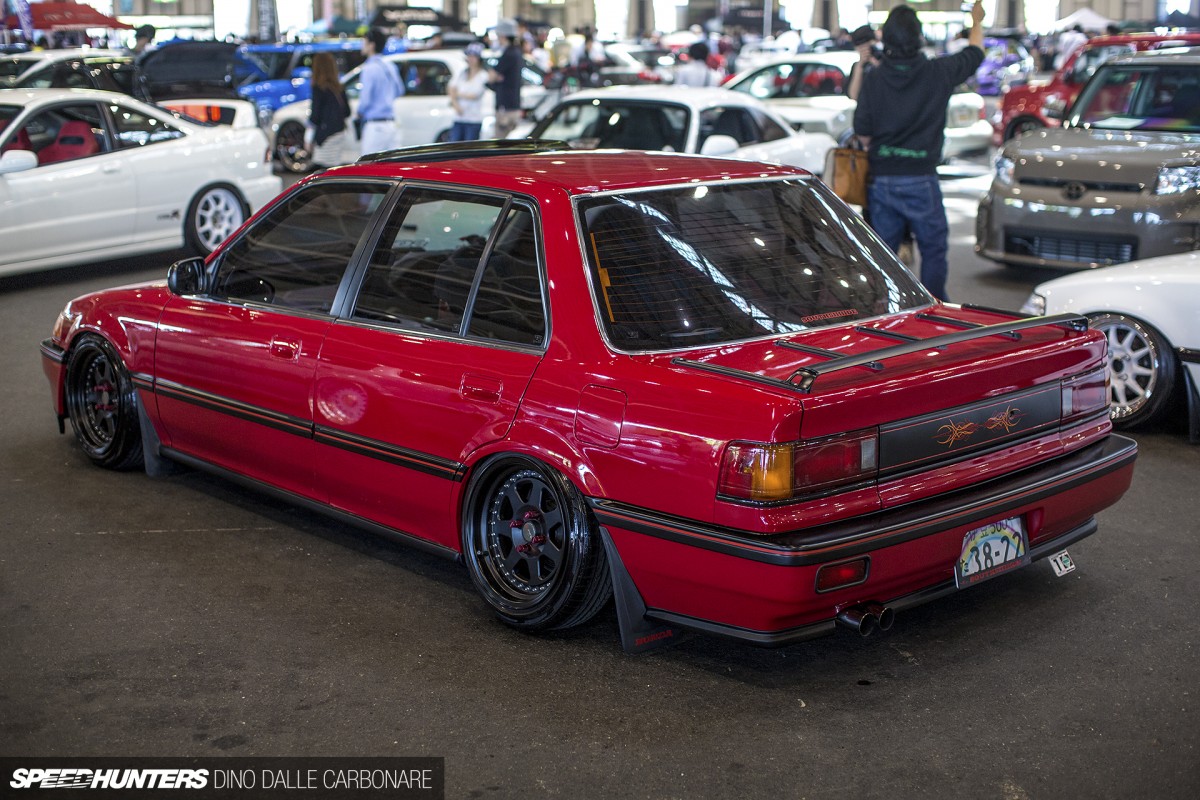 I think it was the trunk rack that did it for me. It's impressive to see these cars so well cared for; every bit of interior and exterior trim looking like it just came out of the factory.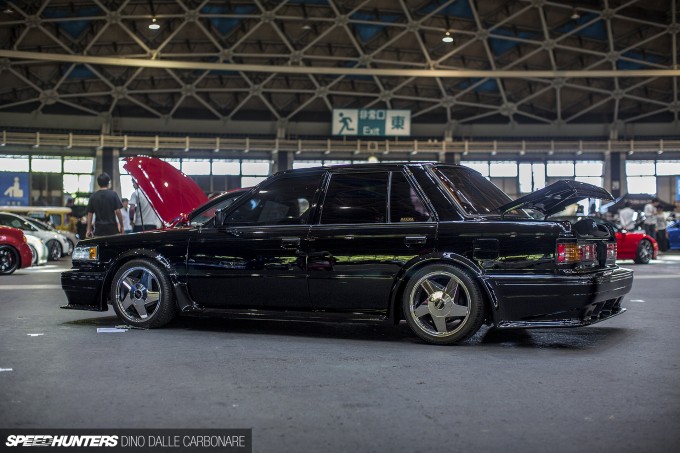 And if vintage stuff is what's getting everyone's attention, then this Maxima sitting on period-correct Riken wheels is one that should get anyone into '80s styling very excited.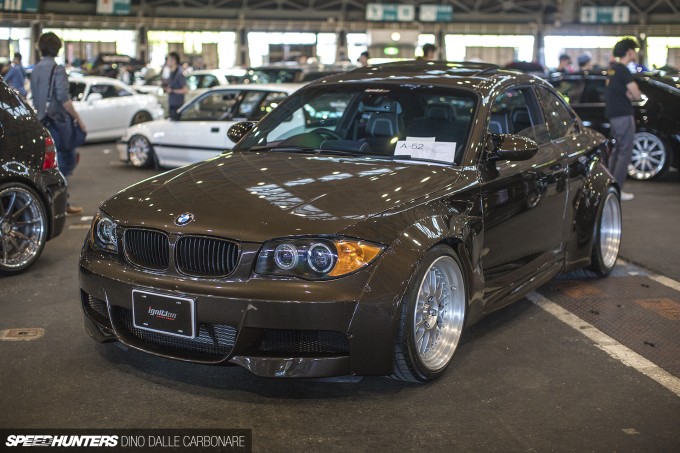 Missing the Miura overfender Works look? Not to worry, the guys from ignition have you covered with their 1 Series coupe.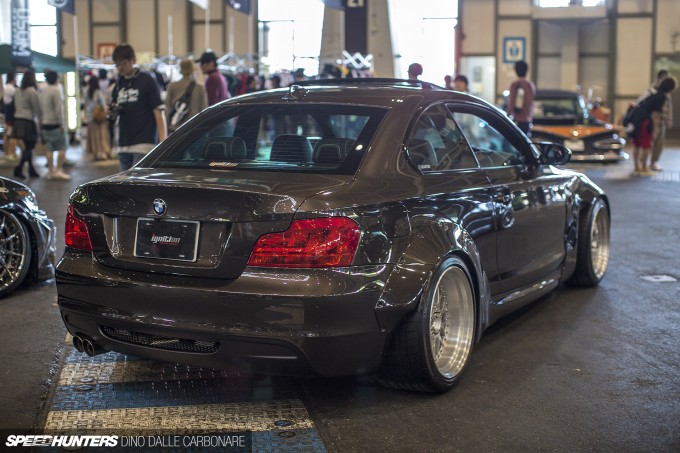 It certainly is a dramatic way to beef up the compact BMW and proving that the Works look just never gets old. Or does it? You guys tell us…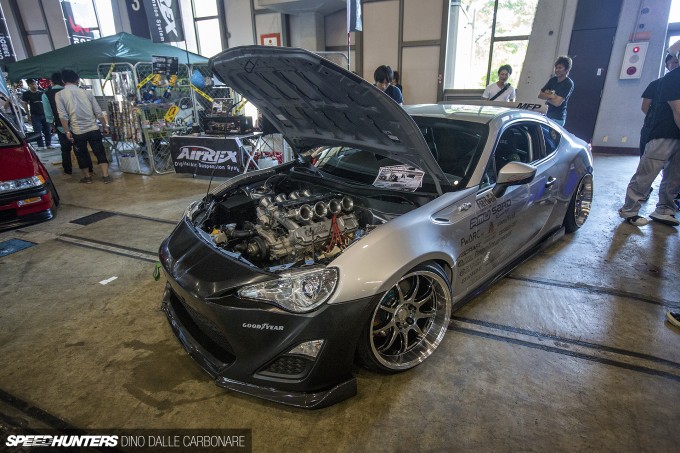 I was very happy to see that the Todoroki Jidousha on display at the Work Wheels booth took home the Best in Show award; the Wekfest organizers impressed by this one-off LS-swap built for drifting. It might not get you guys in the US all that excited given this sort of thing is commonplace stateside, but here in Japan we take notice – especially when the engineering is executed so beautifully.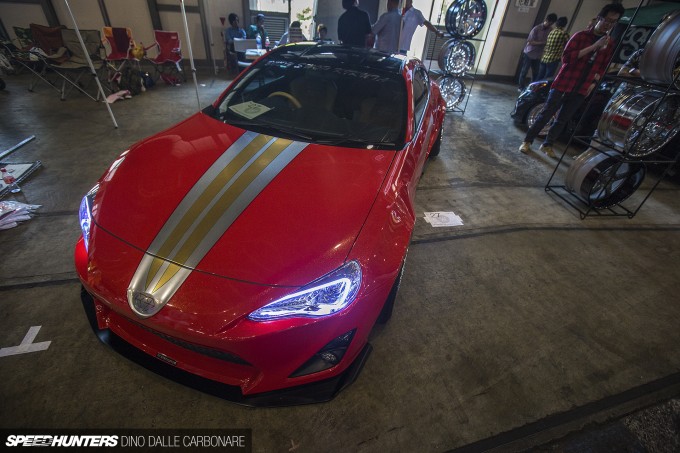 It was nice seeing the VIP Modular 86 is still doing the rounds at shows after we first saw it at last year's Tokyo Auto Salon. It makes me very jealous to see the attention these new cars are getting in the headlight and taillight department. I really wish more people looked towards the older cars too, because I for one would love to see more options for R34 GT-R headlights. Equip them with bright twin Hella HID projectors and some nice DLRs to help keep that front end nice and modern. VIP Modular guys, pretty please?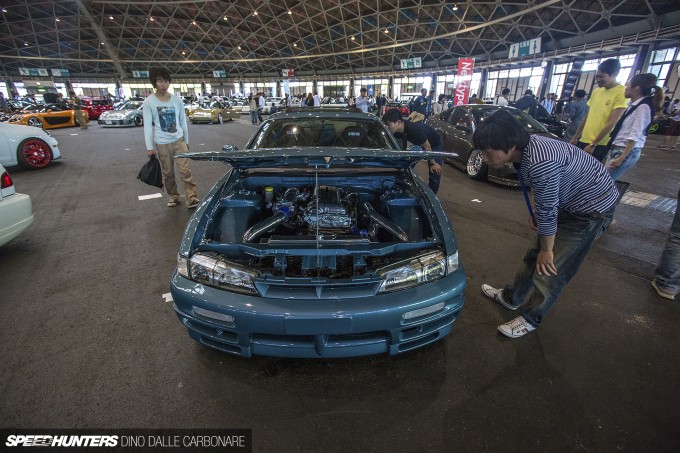 After spending the whole day walking the show floor countless times I really did come away satisfied seeing how this whole scene is progressing.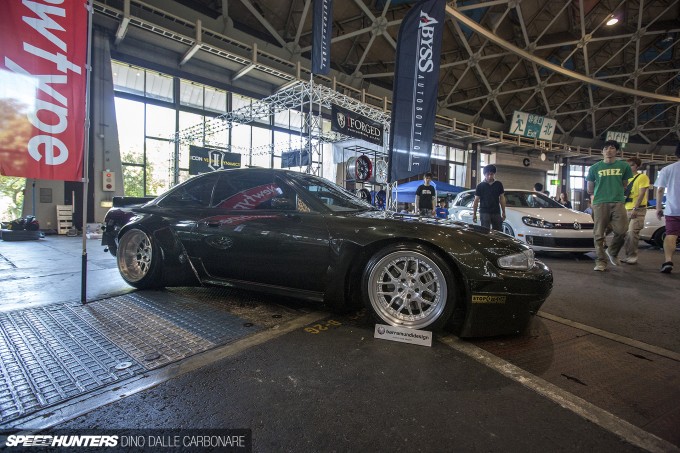 With the need to shock and impress there is a ton of cool stuff happening, including plenty of experimentation and a great deal of attention being put on presentation. Cars like this S14 Silvia that was brought down from Hokkaido is a great example. It's fitted with Rocket Bunny 180SX new-style aero that's been adapted to fit this particular chassis, and dropped on a set of Barramundi Design wheels.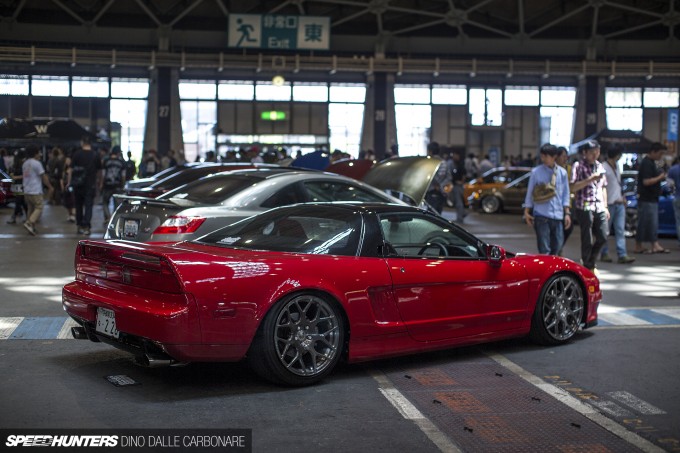 Japanese icons; now becoming somewhat more affordable, are beginning to make it into this scene too. I really liked this NSX on Agio wheels.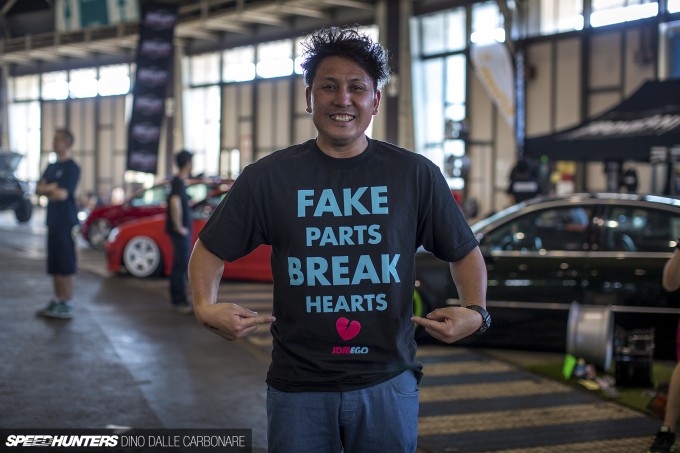 Before I move on to a five-car spotlight from Wekfest, I'd like to leave you with this picture of Furukawa-san of Osaka JDM who was giving us all a very important message. Let's not forget to follow this guys!
Dino Dalle Carbonare
Instagram: speedhunters_dino
dino@speedhunters.com