Aloha from Honolulu
I may have only been in Hawaii for a couple of days, but it hasn't taken me long to embrace the pace of life here. Coming from a high-strung city like Tokyo, the relaxed atmosphere of the Islands couldn't be any more different. That said, I don't think anyone would have any issues winding down and embracing it all – something especially true of the local car scene if what I saw at Offset Kings Hawaii on Sunday is anything to go by. Having just attended Wekfest Nagoya the other weekend, I really didn't know what to expect from the 50th state stop on the Offset Kings calendar. But needless to say, the guys and gals over here in the Islands really showed me how deep and true their passion for custom and modified cars is.
Just like in Nagoya, I came away from this event reassured that the whole stance-oriented movement is so much more than what some people make it out to be. The whole fascination with riding low goes so much further than actual aggressive fitment. Innovation when it comes to style plays a big part, and it's precisely for this reason that it's all so much fun…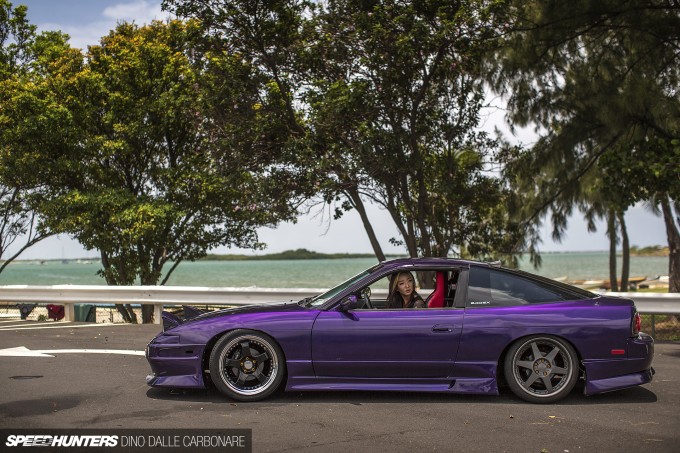 It's all about the end result; what people want to achieve with their cars and the way the go about doing so. After seeing the Japanese taking cues from the USDM 'way', I found pretty much the opposite in Honolulu. It's obvious that Japanese tuning and styling methodology provides a lot of inspiration for many owners here.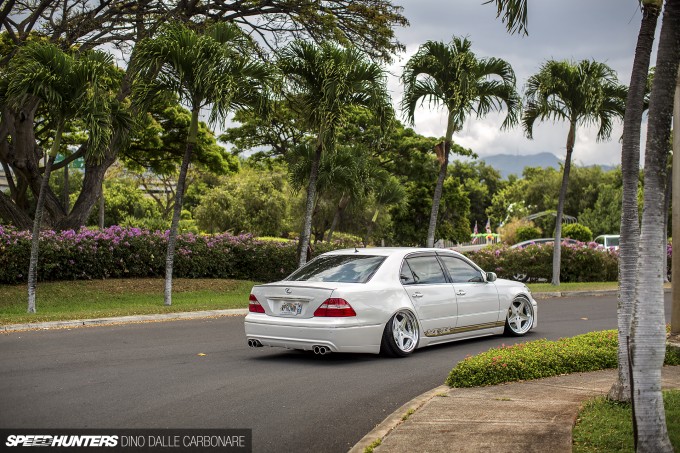 Some owners have really gone out of their way to do it like they do it in Japan. I take my hat off to builds like this Vision In Progress Racing LS430, which looks like it came straight from the streets of Osaka.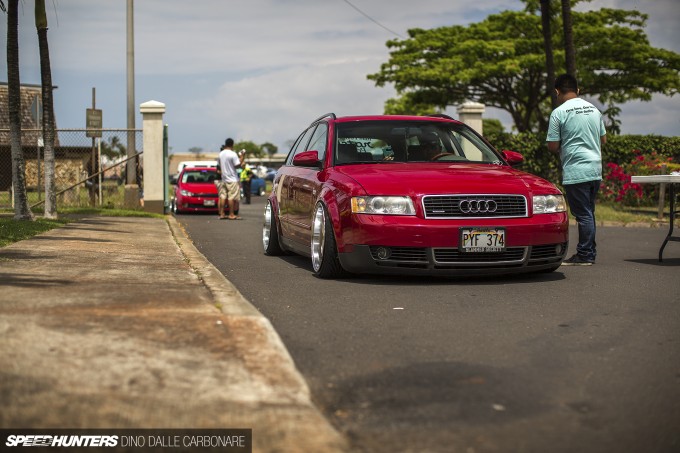 I was surprised but at the same time impressed to see Euros getting lot of attention out here too. This Audi A4 Avant slammed on custom-painted Work Meisters was the first of many examples I came across.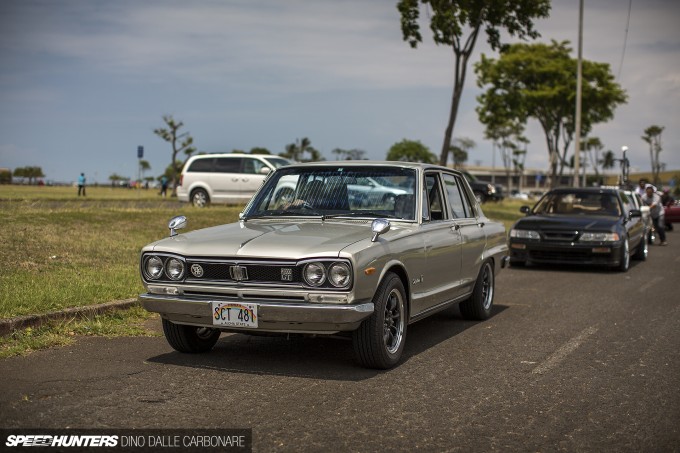 I'm not sure if it was to do with the relaxed pace of life, but with the show opening its doors to the general public at 2.00pm, I took my time to get there in the morning. But straight away, I couldn't believe what I saw. While I've seen Hakosukas in the UK and Australia, and know of some in mainland USA, seeing one wearing that iconic rainbow number plate was something I was just not expecting. This 2000GT four-door was in immaculate period-correct condition inside and out, and a superb addition to the rest of the cars that were lining up to get in.
It wasn't long before I bumped into Mark Arcenal from Fatlace – the man behind it all – riding alongside his son and his crew on a little golf cart. People often don't realise this, but it takes a lot of organisation and coordination to put on an event like this, and these guys were buzzing around most of the morning to make sure things ran smoothly.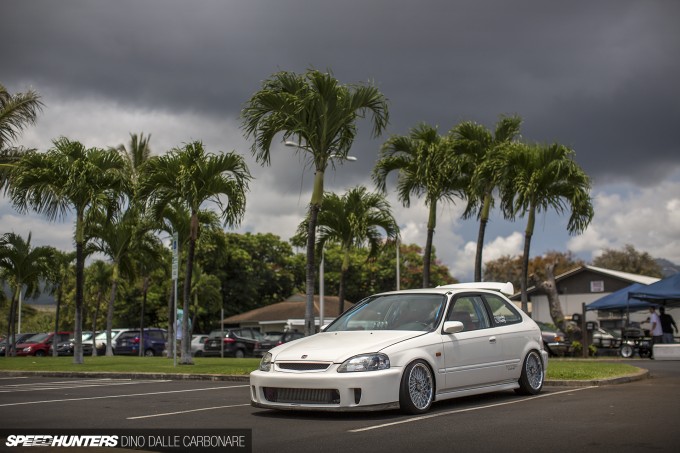 The venue itself was the parking lot of the Ke'ehi Lagoon Memorial Park, with some of the buildings used for the merchandise and shop stands as well as the place for the B-Boy dance-offs that Fatlace always likes to include as part of their events. With the beach on one side and palm trees scattered around on the other, this had to be one of the coolest show locations I've ever been too.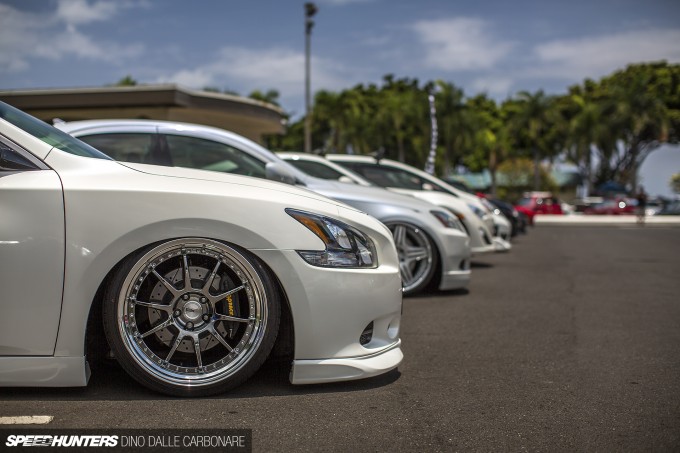 Throw in the warm and breezy climate and everything felt just so right.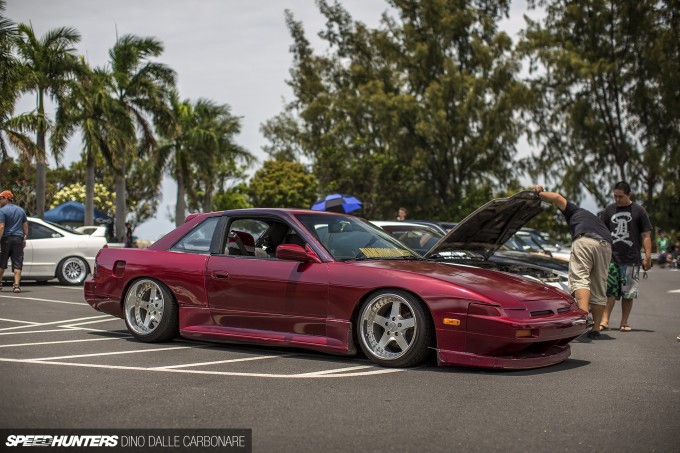 It was so cool to see how differing JDM trends from different periods have influenced a lot of guys here. Cars like this S13 from the Diamonds on a Budget crew was spot-on with its old five-spoke Work Equips and widened fenders.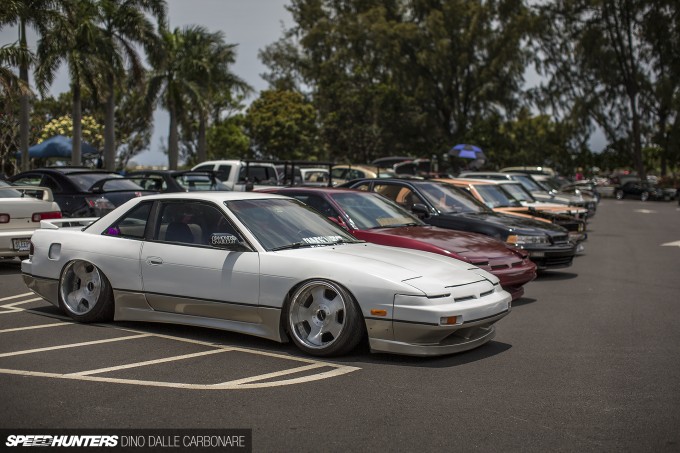 The S13 right next to it went for more of a VIP feel with the RAYS Victrix Kreutzer wheels tucked tightly under the fenders, and finished off with a nice dose of onikyan.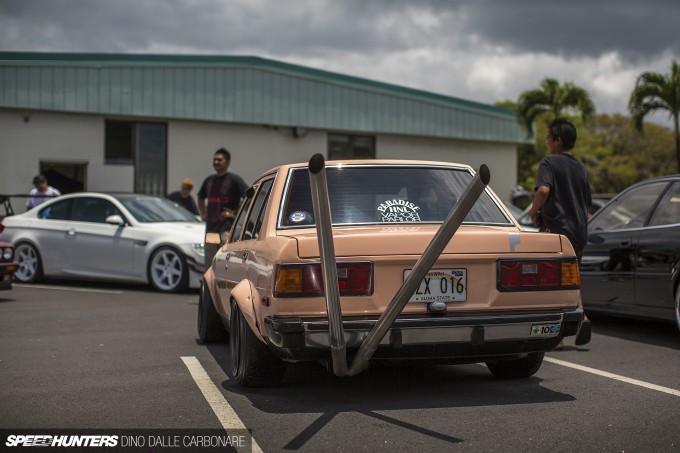 And you can't have a true JDM feel without some takeyari extensions, as seen nicely executed on this KE70 Corolla.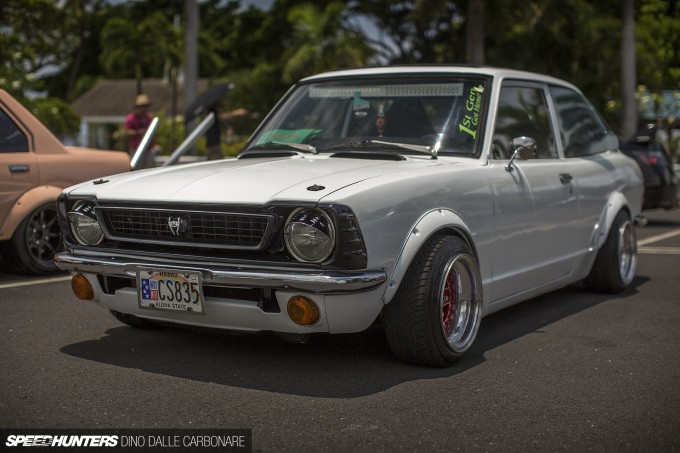 The old school theme continues with this KE20 Corolla – a model that I definitely don't see in Japan too often. It's a cool little thing, and I saw some of you guys on our Instagram thinking it was an Mazda RX-3. There's definitely a resemblance there!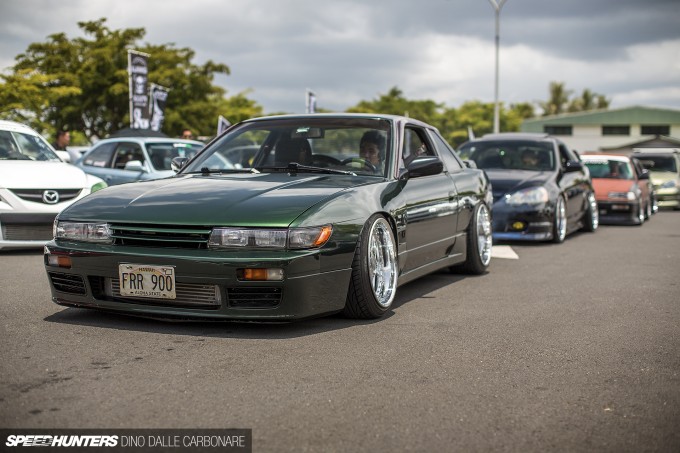 By late morning I had made first walk through the cars that had arrived and parked up, but there was still a pretty long line of machines slowly making their way in; owners patiently waiting for their individual spots to be assigned by the Fatlace crew.
The Euros aren't forgotten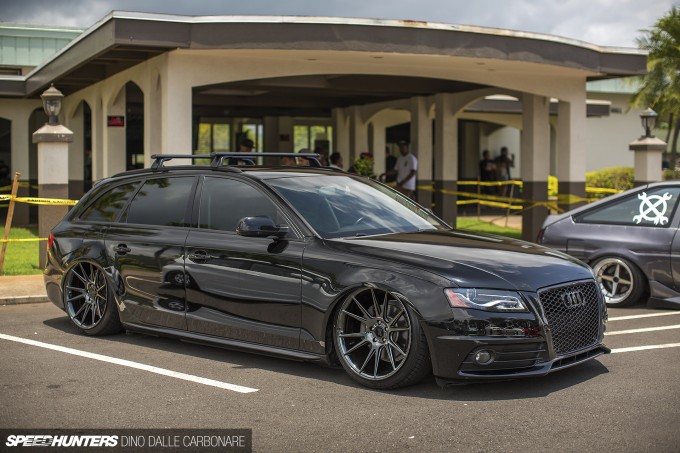 I need to talk more about the German cars at the show as there were a few that really stood out. Plus, I can never pass up showing you a smooth wagon dropped on some nice wheels!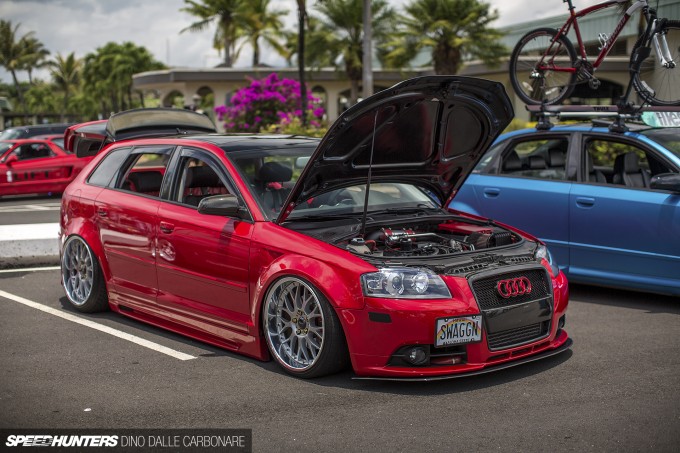 Here's an Audi A3 Sportback for those that like them a little more compact.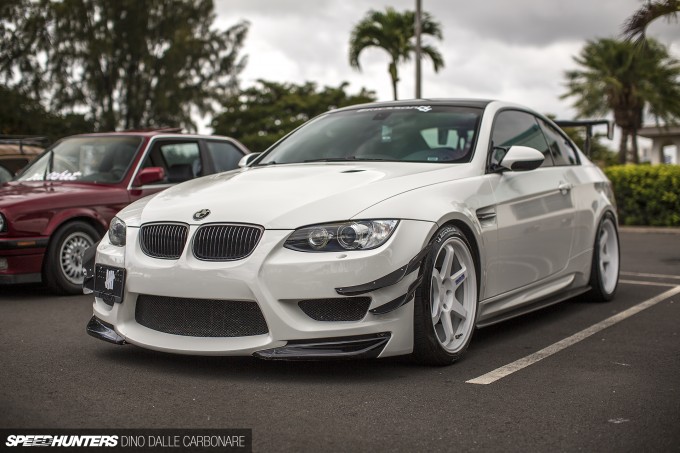 As soon as I spotted this E92 M3 roll in, I knew I had to take a closer look. Really, what is there to fault on this thing? Perfect 19-inch RAYS Volk Racing TE37 wheels with true JGDM (yes, I just made up a new acronym!) fitment, an Ericcson front bumper with Varis and Studie goodies to spice things up, and an exhaust note to match. Too bad there's no longer a race track on the Island for the owner of this car to really enjoy this beast.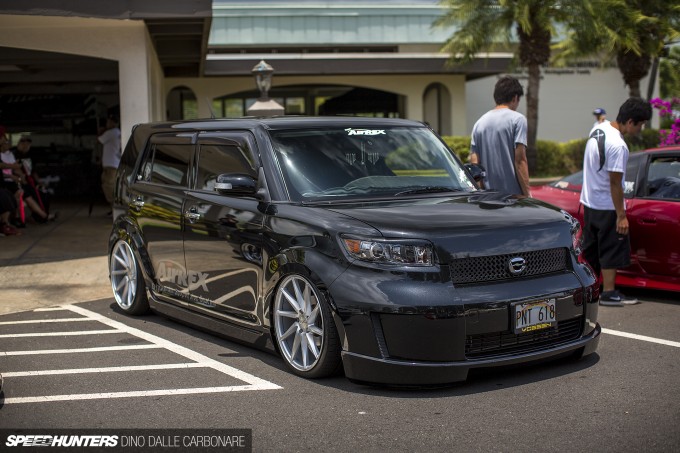 Much like at Wekfest last weekend, Vossen had a good presence at Offset Kings and it was cool seeing its CVTs fitted on plenty of cars, like this second generation Scion xB on air.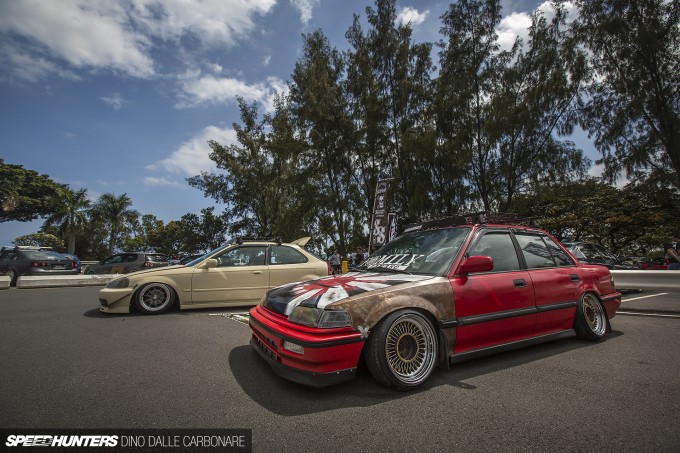 How about the Hondas? Of course, there were plenty of those to see; the brand well represented by a variety of models and styles. It was this Civic EF sedan that really dared to be different with a Kyokujitsu-ki Japanese military flag painted on the bonnet.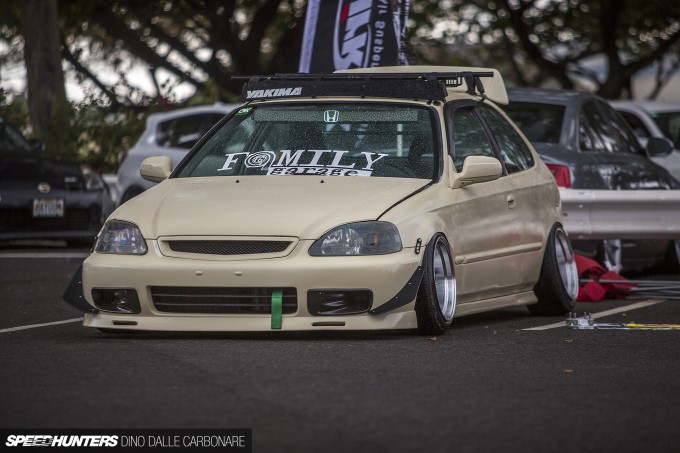 Next to it was this EK showing that low is never low enough, until it's crazy low!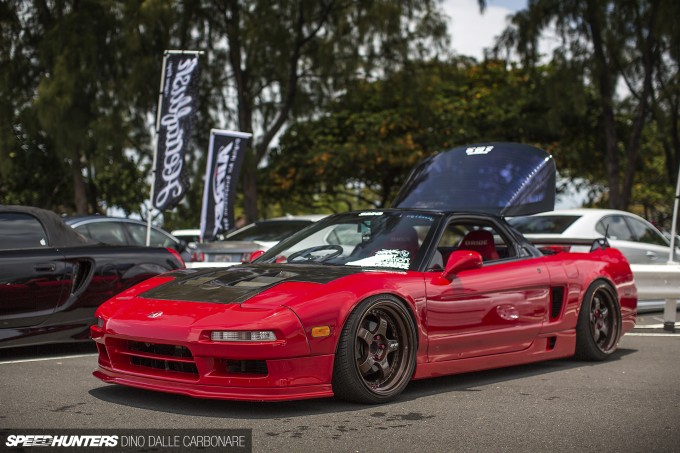 It was pretty sweet to see a few NSXs show up at the show too. From afar I thought this car was sitting on bronze anodised Work Meisters, but upon a closer look it turned out that they were finished in brown paint. It's always interesting to see different colors being used.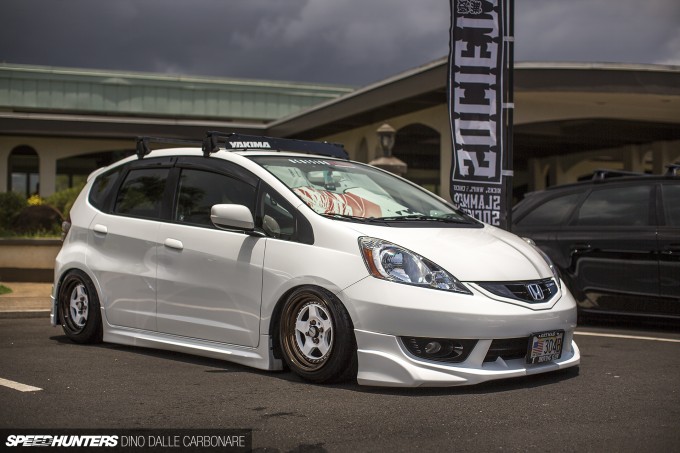 The lips on the Meister CR-01s fitted to this air suspension-equipped Fit sport the anodised bronze I mentioned above, but here are mated to white centers. This car is about to receive a boost in performance thanks to some form of force induction. Maybe we'll see it again at next year's event!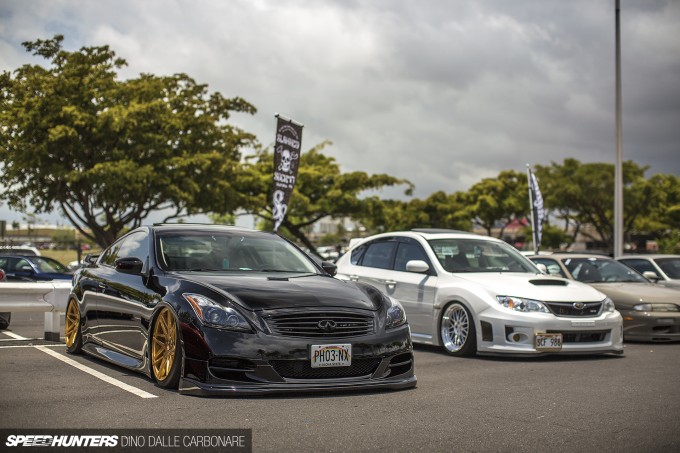 Air suspension is pretty popular on the Island, and after spending a few days driving around it's pretty obvious why. I always need to remind myself just how lucky I am in Japan to have so many smooth roads – especially in the cities. Without the advancements in air systems, these sort of looks would be impossible to achieve without a hell of a lot of damage.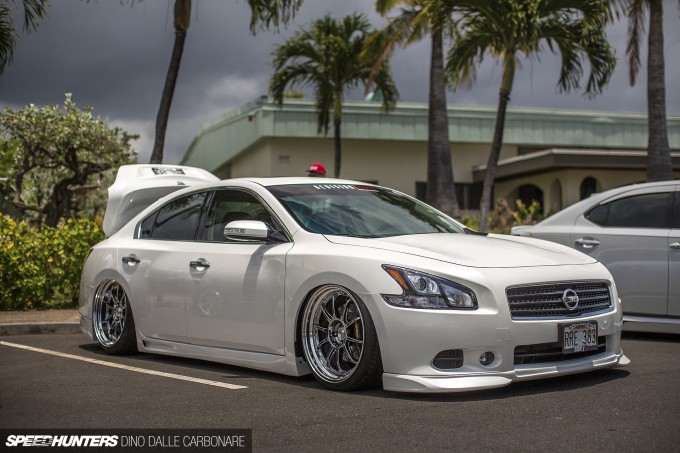 I've been spending a lot of time with the Revision Audio guys since I've been here. I shot their LS430 demo car yesterday, so it was cool to see some other cars they have built – or helped build – at the event, like this Maxima on SSRs.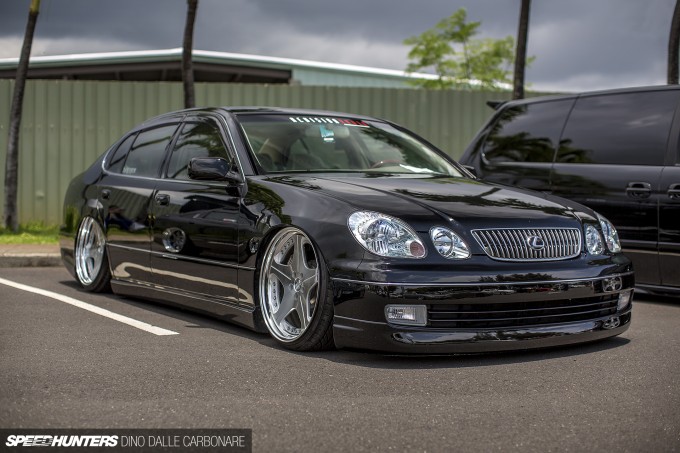 This Lexus GS of theirs even took home an award in the VIP class, and rightly so as it scored high for Japanese authenticity.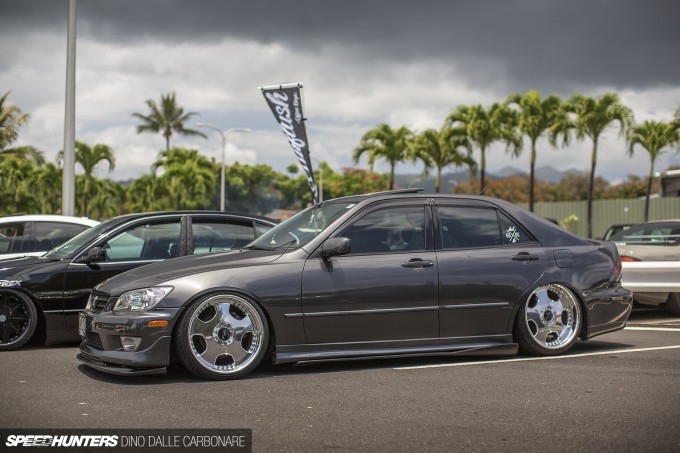 I can't say that we see a lot of VIP Altezzas in Japan, so I thought this Lexus IS was pretty cool, and definitely a stand out.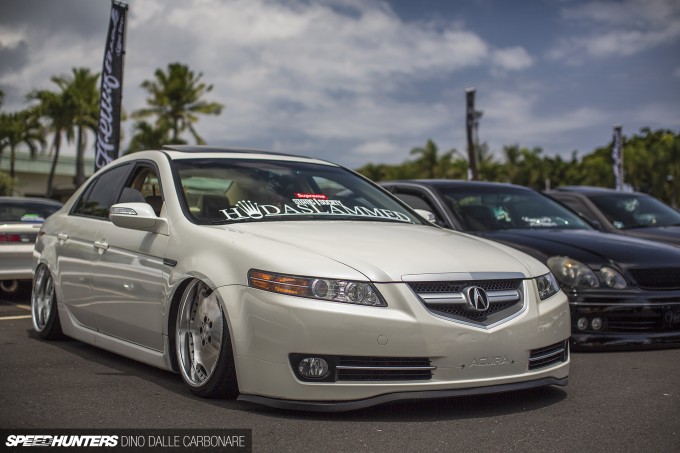 However, seeing that I live in Japan it was the USDM models that I was taking more time looking at, for the simple reason that they just look so bizarrely different to what we get in the domestic market. I wonder if Japanese manufacturers have ever thought about doing global models much like the Germans do…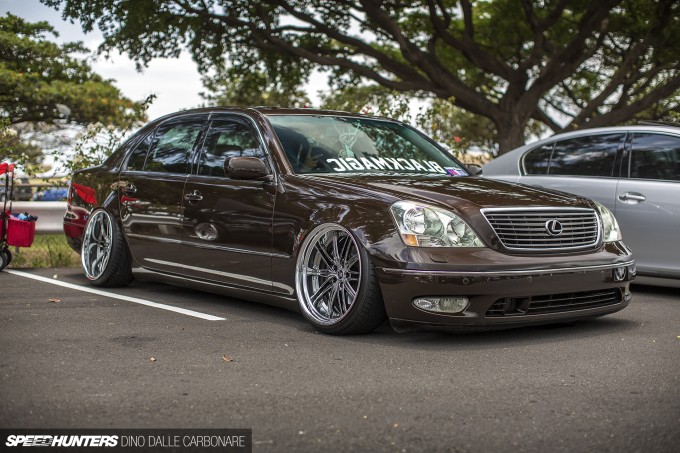 Lexus has a different take on this however, as this LS430/Celsior shows. Mind you, I bet there are lots of people in the US that would love to get their hands on some of the JDM Crowns, which of course are only sold in Japan for some odd reason.
The VPRCHK slammed S2000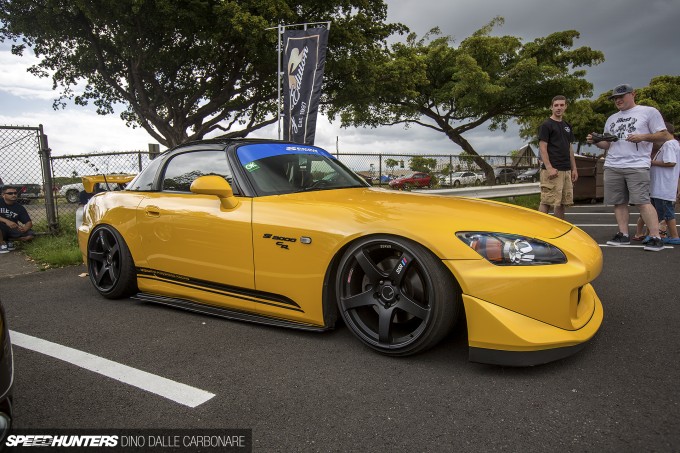 Here is one car that Honda never saw the need to vary too much between various continents. After having been fitted with countless wheel combinations, the girl that owns this slammed S2000 has just fitted these new satin black SSR GTFs.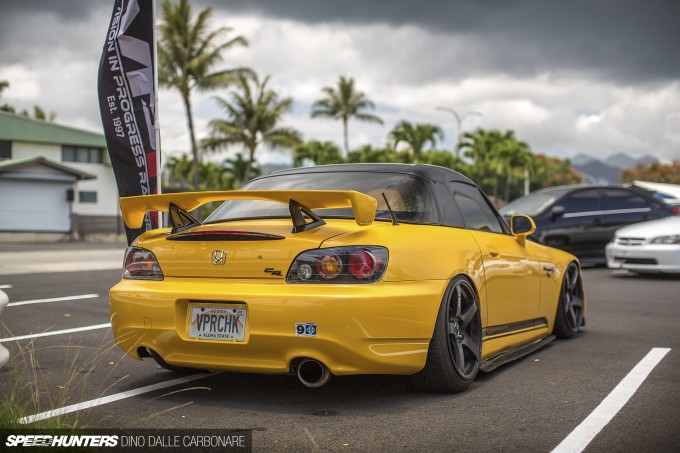 I think the general consensus was that they did the job mighty well; adding to the other black contrasting additions like the skirts and front lip.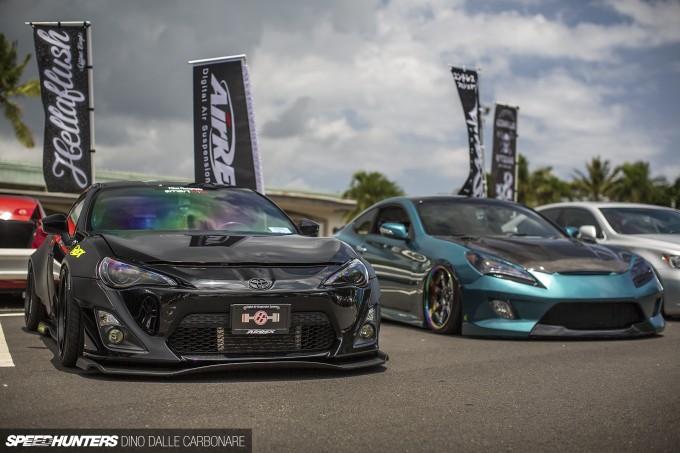 It seems that no matter where I go I'm never too far from a car running one of Kei Miura's creations. Although there are quite a few ZN6s roaming around on the streets, this FR-S is actually the first on the Island to wear the V1 Rocket Bunny aero kit.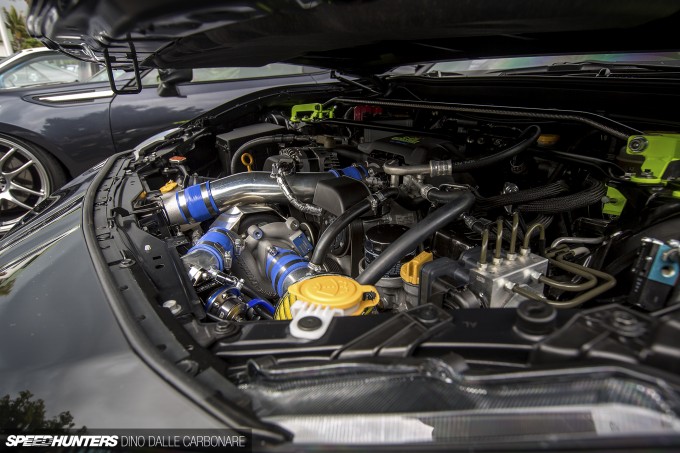 And when looks are matched with added performance under the bonnet, that's when a car assumes a whole different attitude. Depending on boost levels, GReddy's bolt-on turbo kit can easily persuade the FA20 to develop an additional 50hp-plus, which begins to really make this chassis a lot of fun.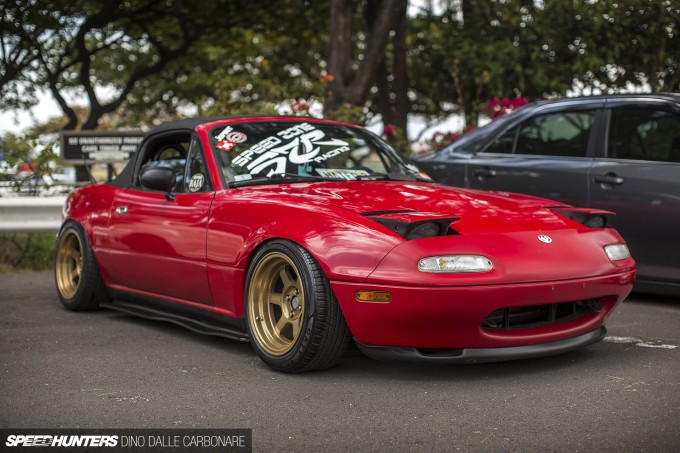 No matter the meet, there's always a Miata to be seen. I thought this NA was really well executed.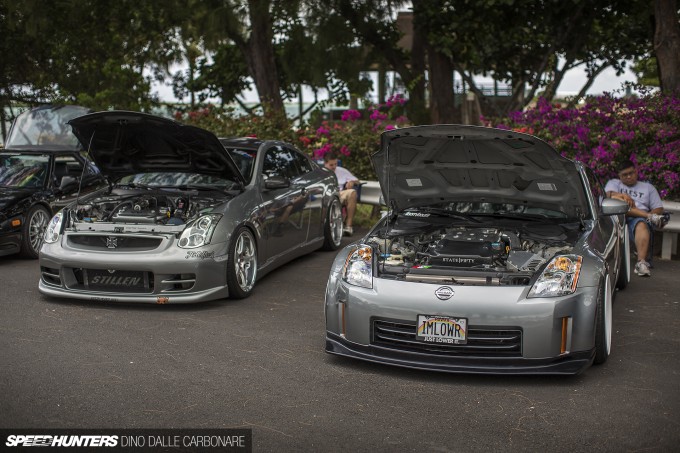 Nissan has really done well with VQ-powered Nissans and Infinitis in the US and it was interesting to see how these engines are approached stateside – or in this case, in Hawaii.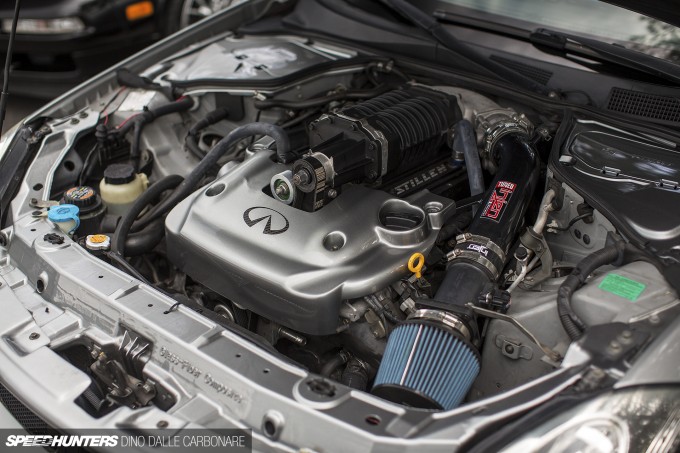 HKS and Ogura offer supercharger kits for the VQ in Japan but they aren't as popular as good old NA tuning. It was cool to see a Stillen blower fitted to this G35, though.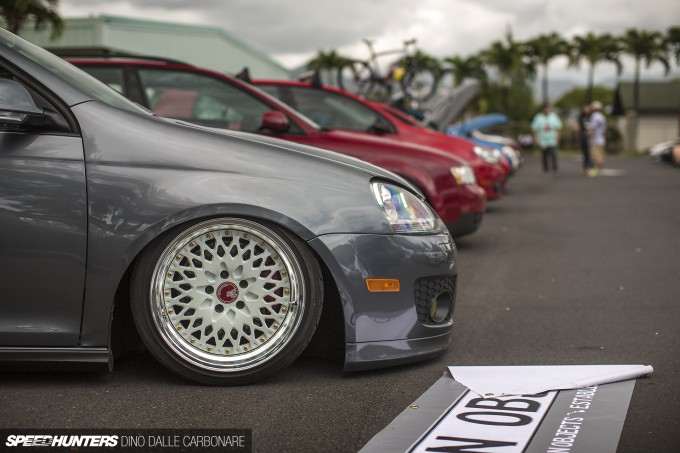 You may have noticed changing light conditions in these images and that's because grey clouds that slowly descended from the mountains above, eventually made their down onto the coast where the show was held. Rain started to fall but then it quickly stopped, but it wasn't long until the heavens really opened up.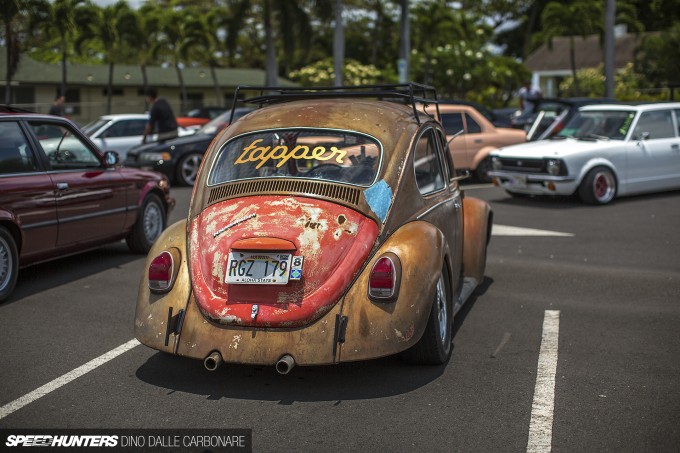 Thankfully, I had done the bulk of my picture-taking while it was still dry and that also meant grabbing a few shots of this cool slammed rat-style Bug on Fuchs wheels. Seeing so many older cars on the Island have suffered pretty serious paint damage due to constant exposure to the sun, why not just forget about it and let the UV rays do their worst – or best, depending on which way you look at it. Patina indeed!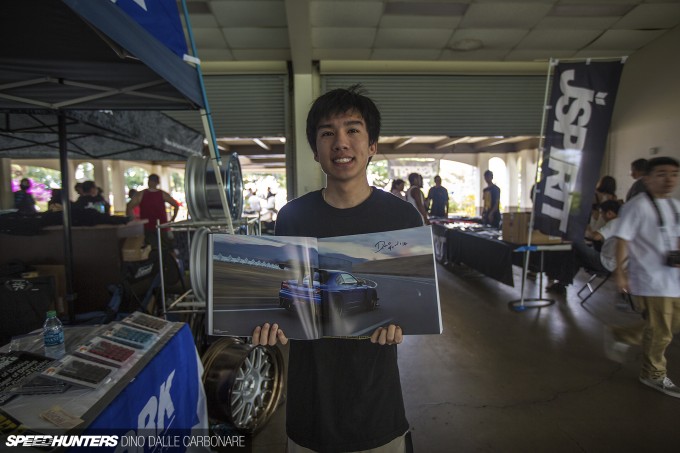 One of the highlights of the day for me was begin hunted down by one of our readers who had brought his Speedhunters Volume One book for me to sign. I hadn't looked at this monster collection of pictures in years and it certainly brought back tons of memories!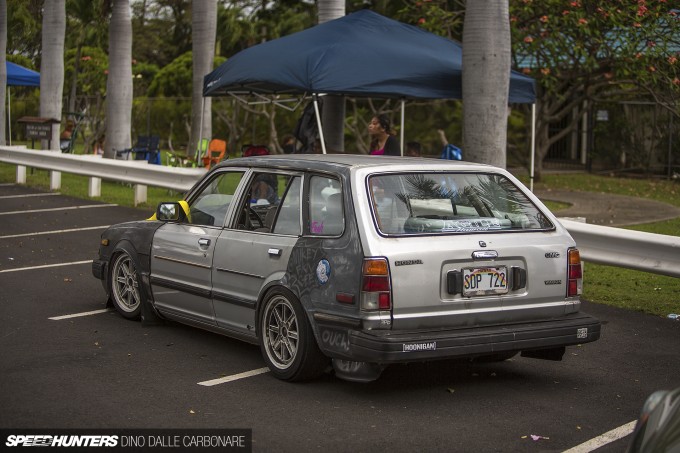 At the end of the day, when the awards were given out, one was saved for this old Civic wagon. The car broke down in the morning after bottoming out on its transmission on the way to the show, and had to be towed in. Props to the owner for not packing up and giving up on bringing his car to the event.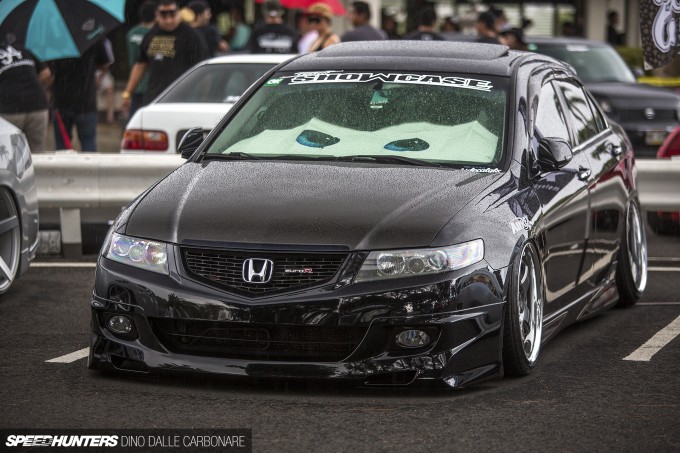 I'll conclude this first post from Offset Kings Hawaii with this image of a JDM Euro R converted Accord, which to me further emphasises the big inspiration the Japanese market seems to have on cars in this little corner of the world. Next up will be a selection of spotlights, so make sure you don't miss that. There is much more awesomeness still to be seen!
Dino Dalle Carbonare
Instagram: speedhunters_dino
dino@speedhunters.com