Video Game Racers
Like most of you Speedhunters out there, I've spent countless hours in front of a glowing screen, fingers raw from the control pad or steering wheel, lapping Mazda Raceway Laguna Seca over and over again… Virtually of course.
It's fun to think about it, but we live in an age where almost anyone can experience the joy of driving the best race tracks in the world without leaving the living room. That magical thing that plugs into your television can transport you to the best race tracks in the world. You have memorized all those tracks, yet you have never stepped foot on them in real life. What an amazing world we live in. What's next? Ordering pizza over the internet?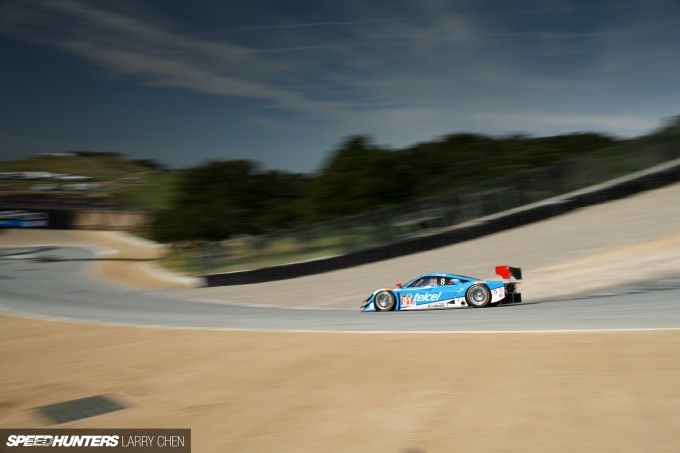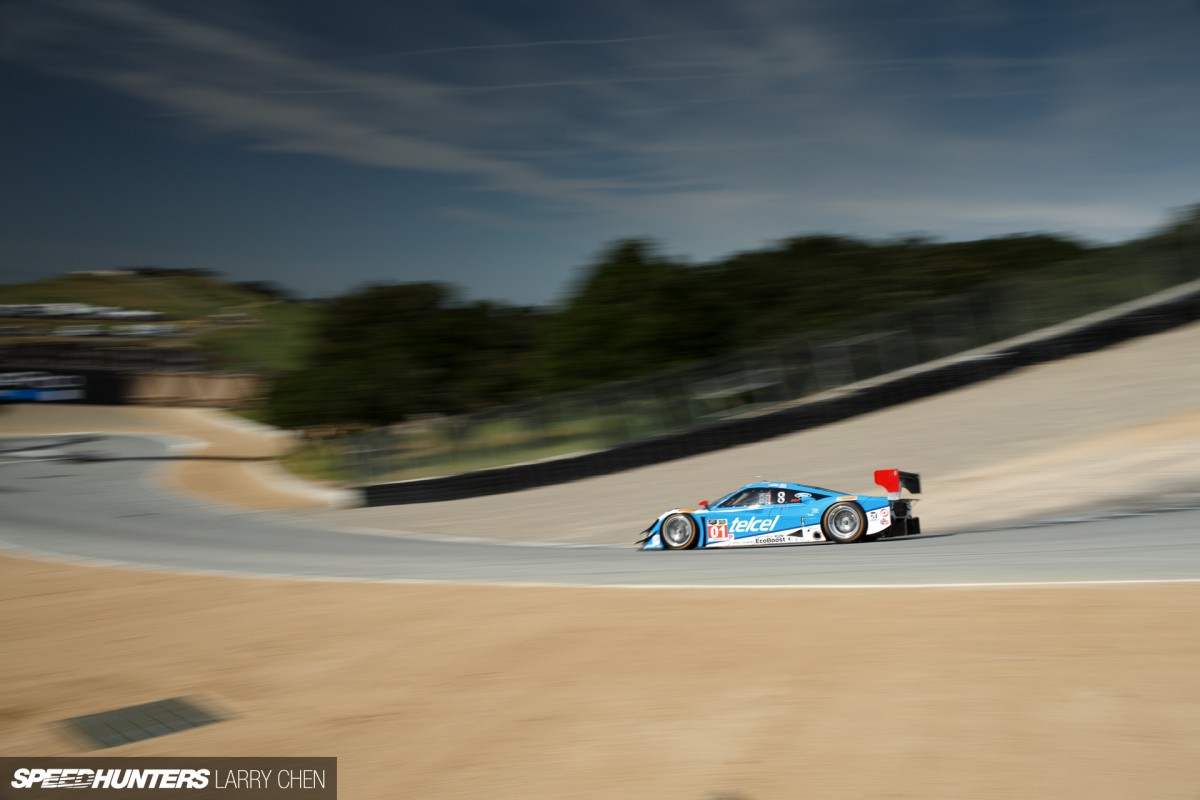 It's a phenomenon that has been happening of recent. Fans of car culture like me drive racing circuits virtually as a child, and then get to try them out for real later on in life. Last year I got to do just that when I raced in the 12 hours of Motegi.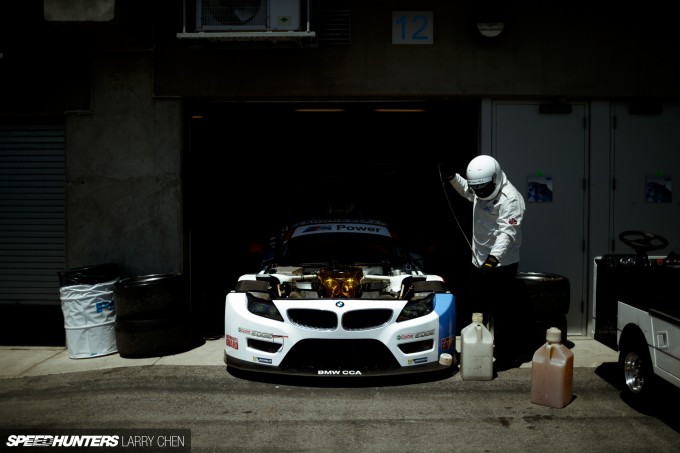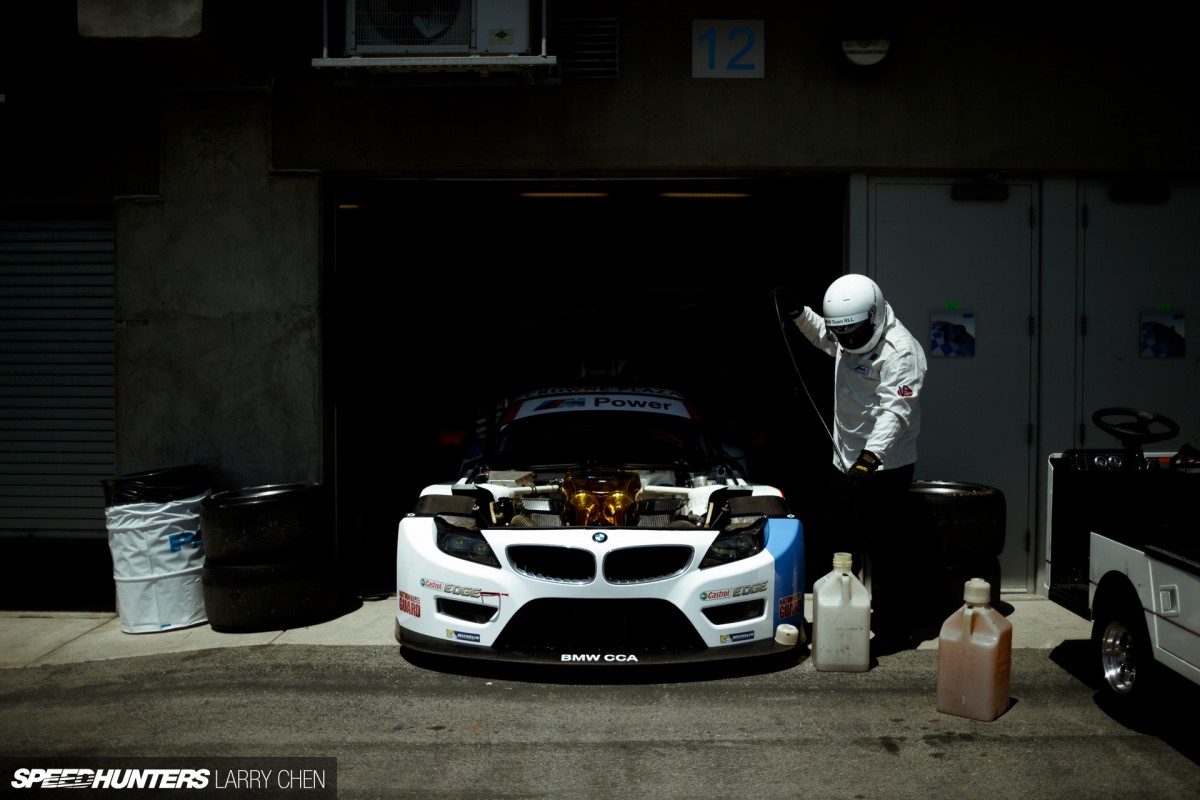 I must have put in hundreds, if not thousands of virtual laps at Twin Ring Motegi, while not having the slightest idea that later on as an adult I would actually get to participate in an endurance race on that very circuit, in real life.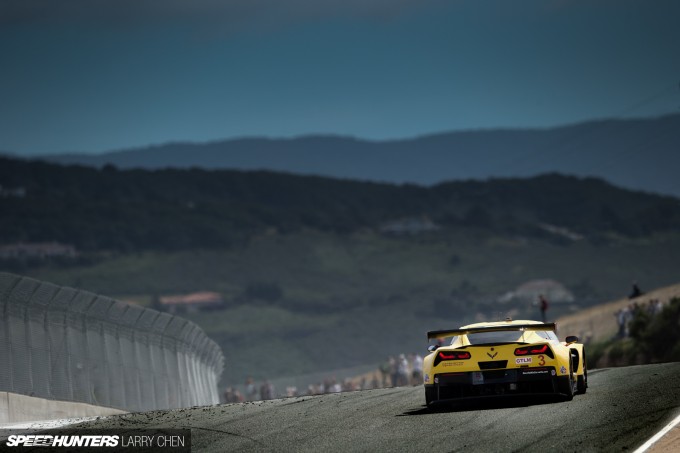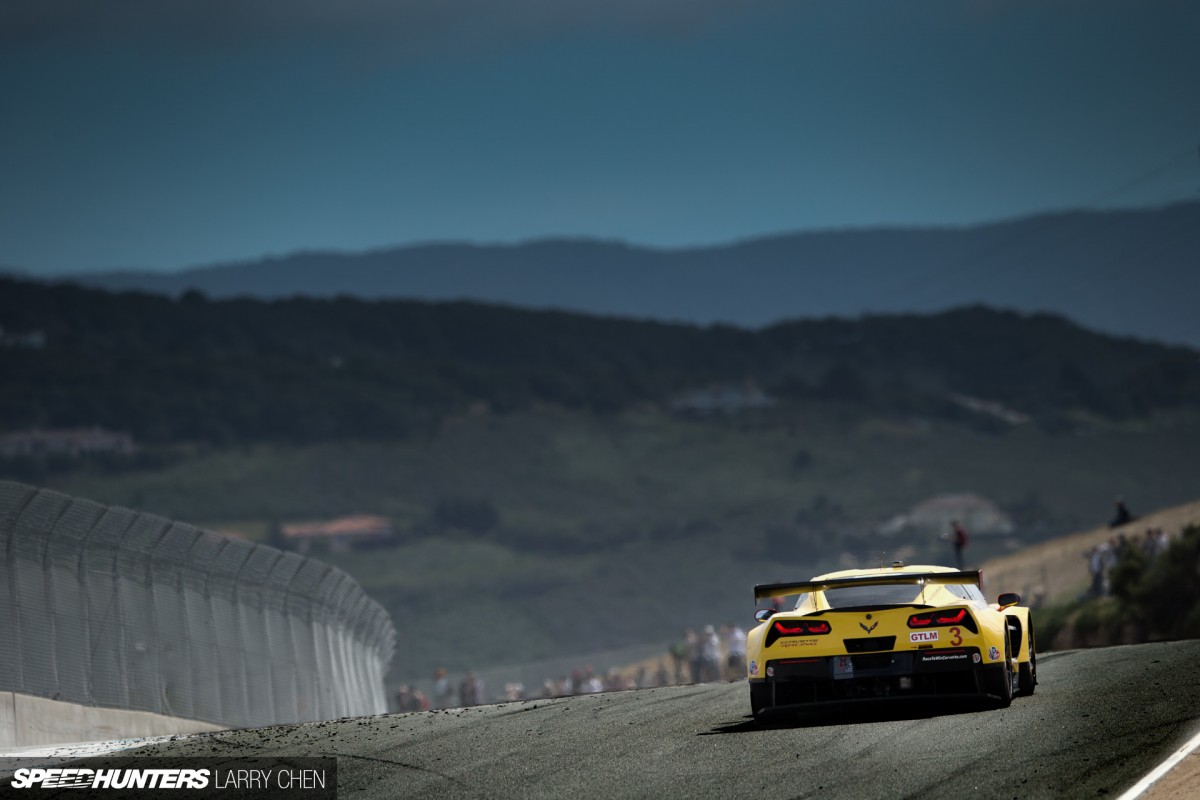 Whether you're just some dude in his underwear hot lapping in a lounge, or you're Corvette Racing driver Tommy Milner; we are all part of this generation of car nuts who get to experience Laguna Seca on different levels.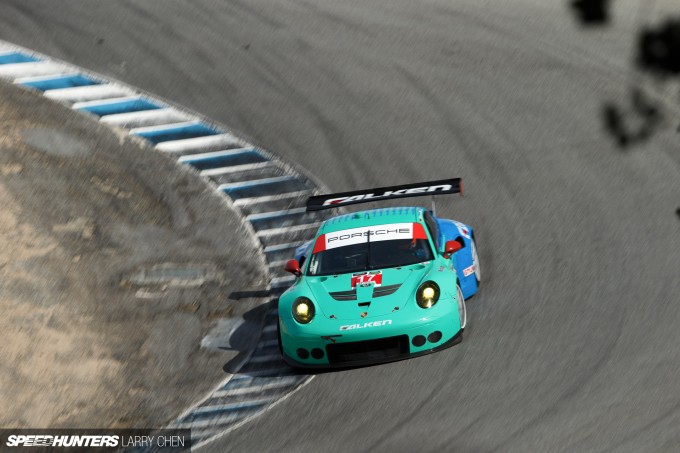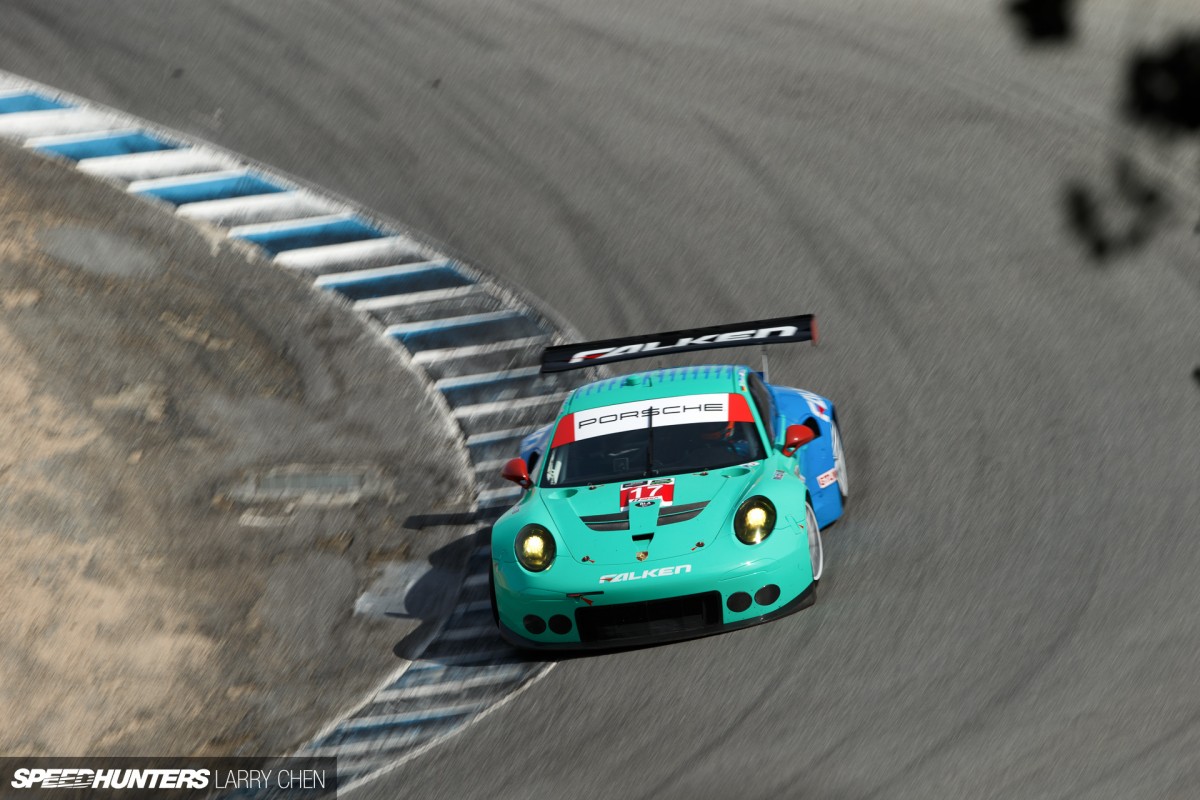 I asked a few of my friends, fellow journalists, as well as some racing drivers – including Tommy – what their favourite Laguna Seca moments from over the years have been. But before I get into that, let's talk about the track itself…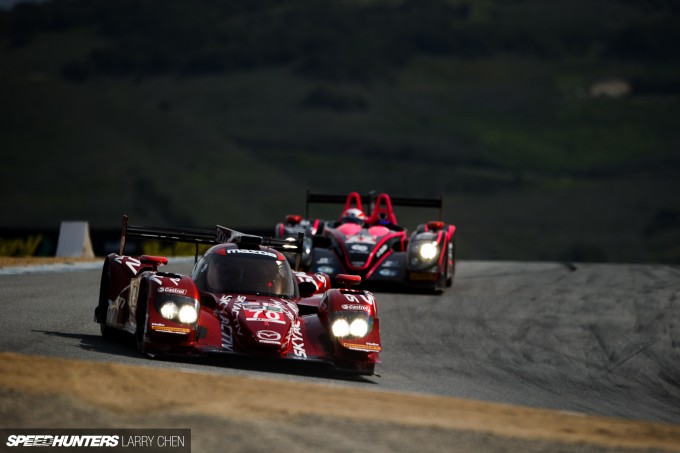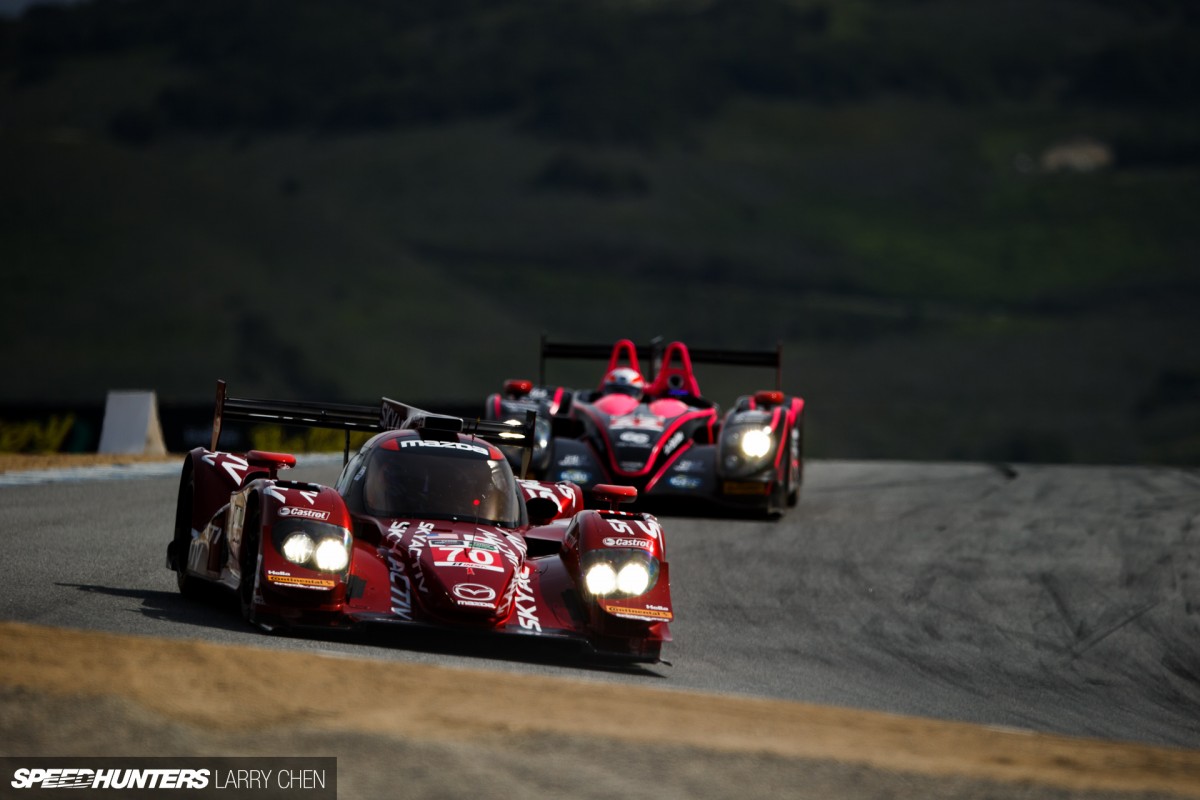 Two weeks ago at the Monterey Grand Prix, I had a chance to shoot trackside at Mazda Raceway Laguna Seca – something I haven't done since 2006.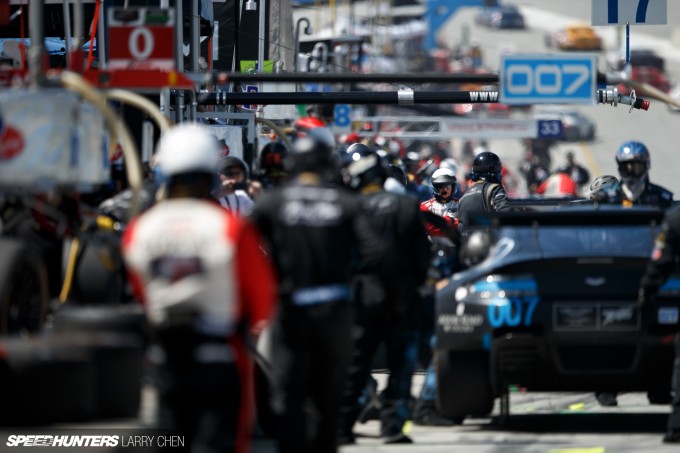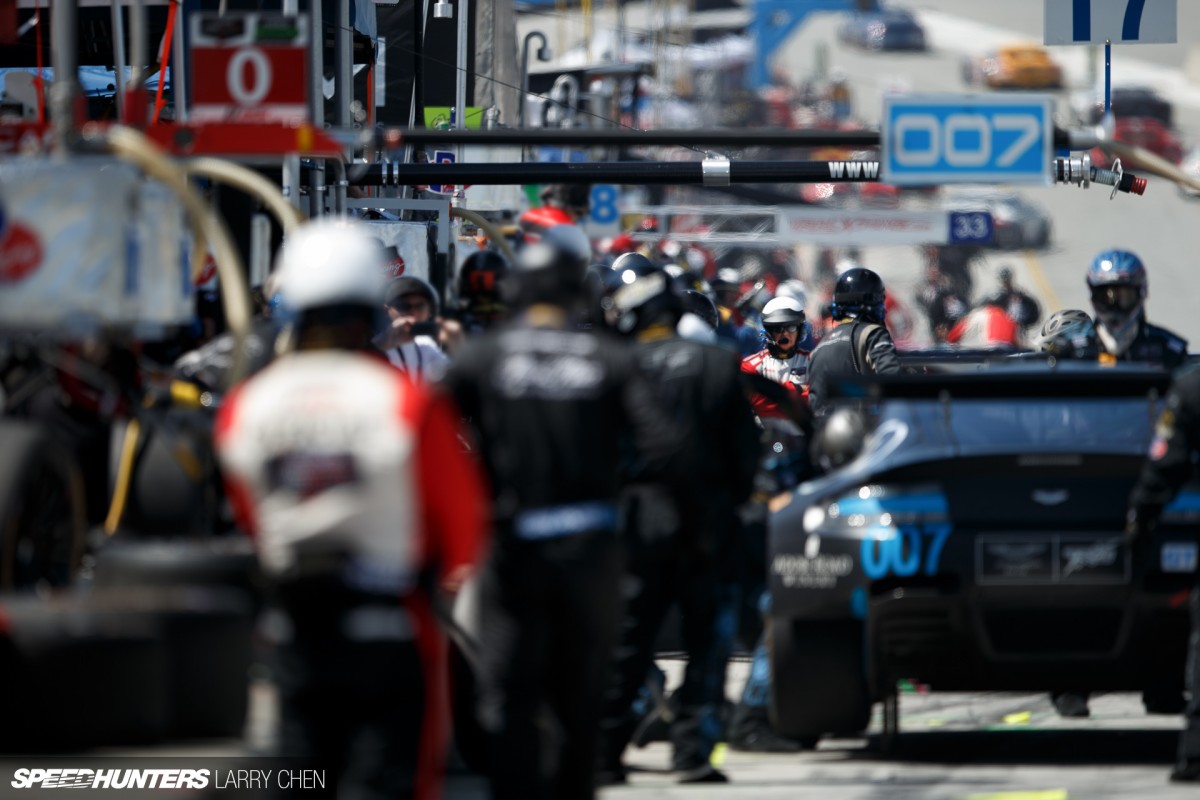 Back then I was just starting my lust for motorsports photography, and with my entry-level camera I shot Champ Car practice from the spectator areas. I ended up with around ten useable shots from that day.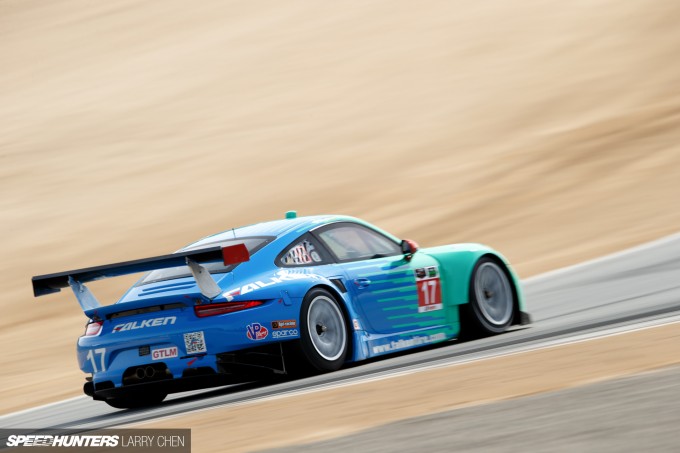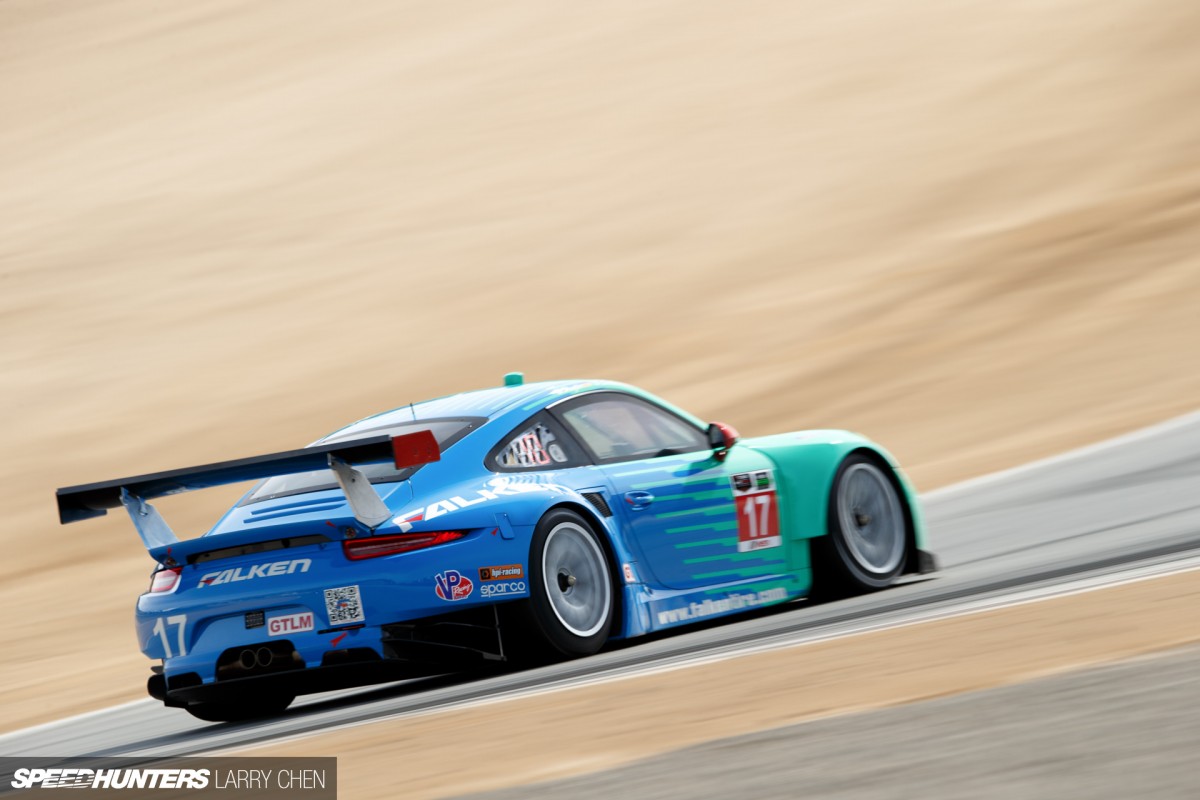 It's been all too long, and I have been meaning to come earlier to shoot MotoGP or some other sports car race. But even though it's just a few hours away from my house, I've always had a scheduling conflict.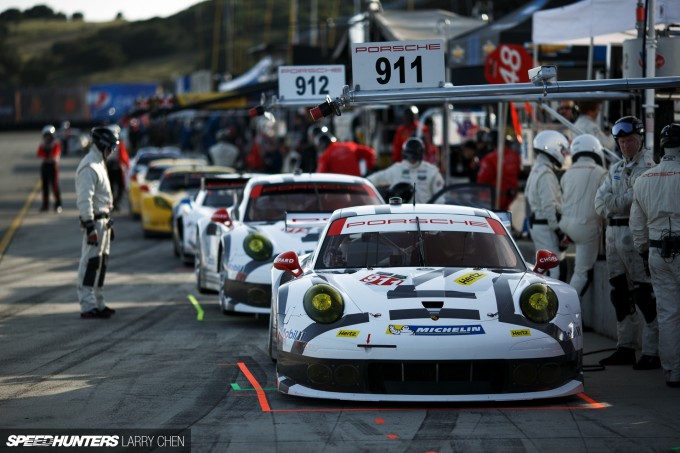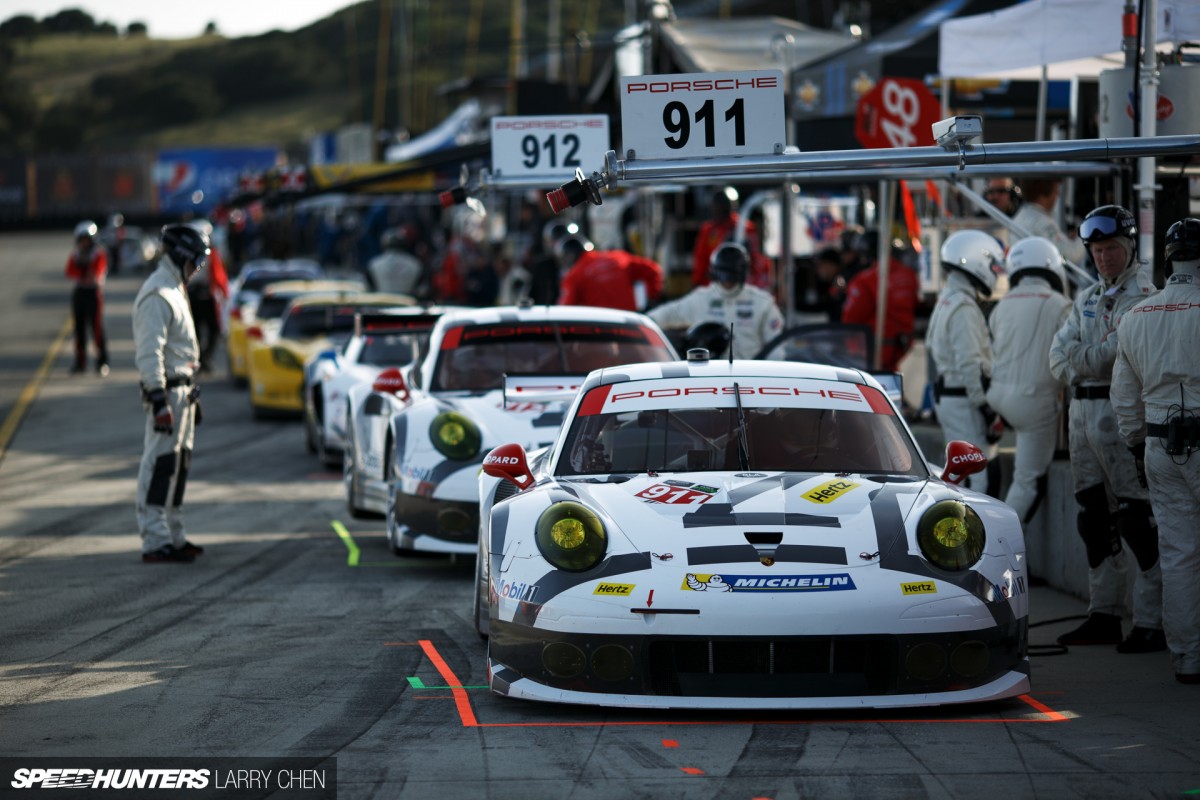 I even tried to make a trip out there to drive the course during one of the open track days, but something always came up. So you guys can imagine how stoked I was to attend the recently first running of the TUDOR United SportsCar Championship.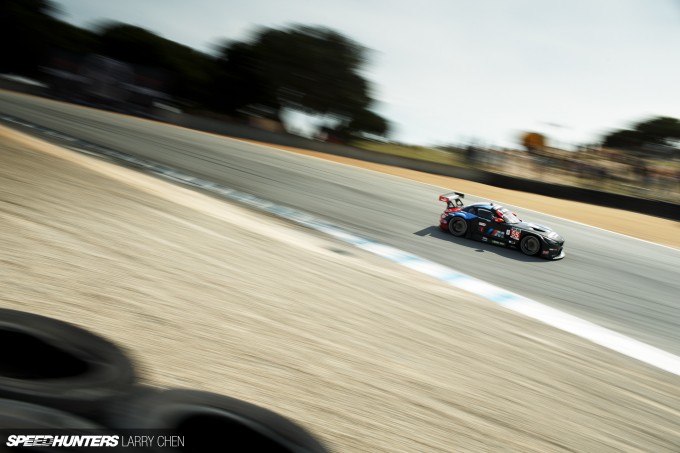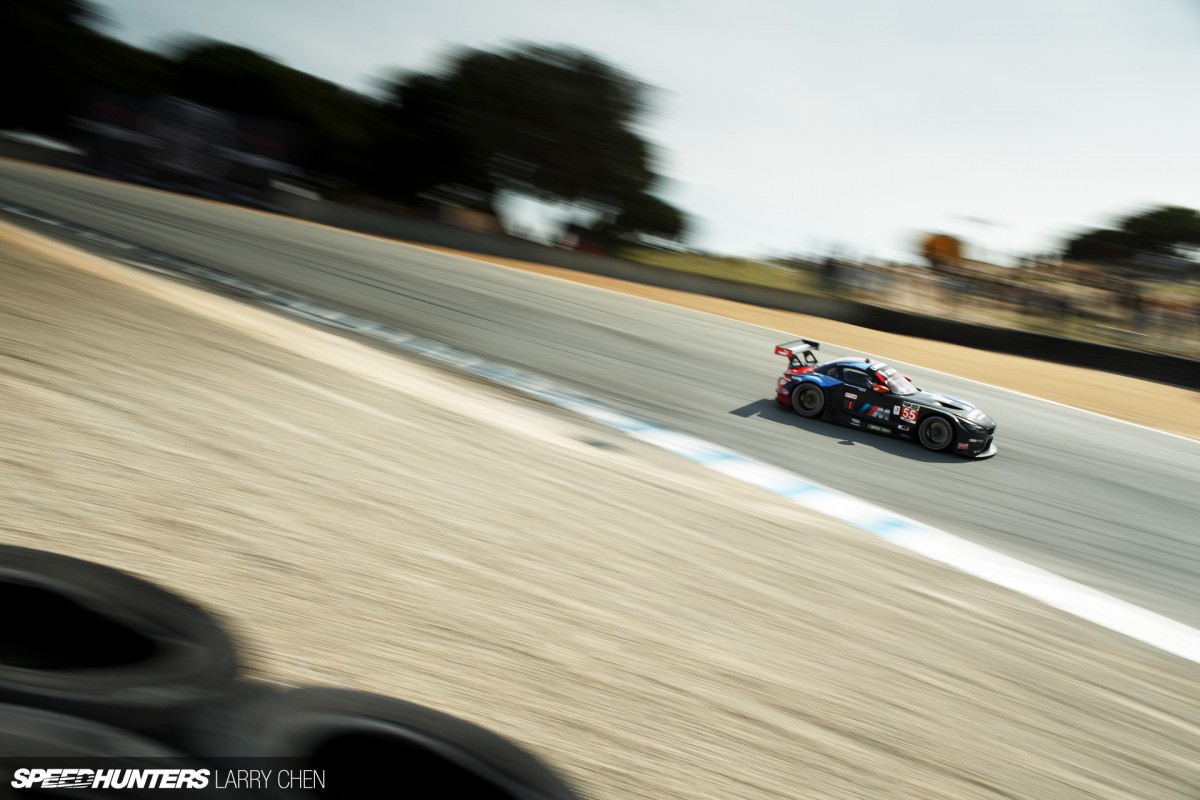 Laguna Seca, of course, is home to the most famous corner in motorsport. It's instantly recognizable to any real motorhead.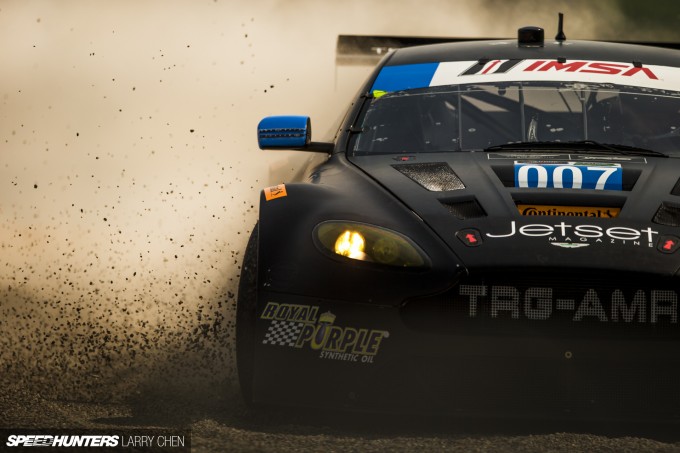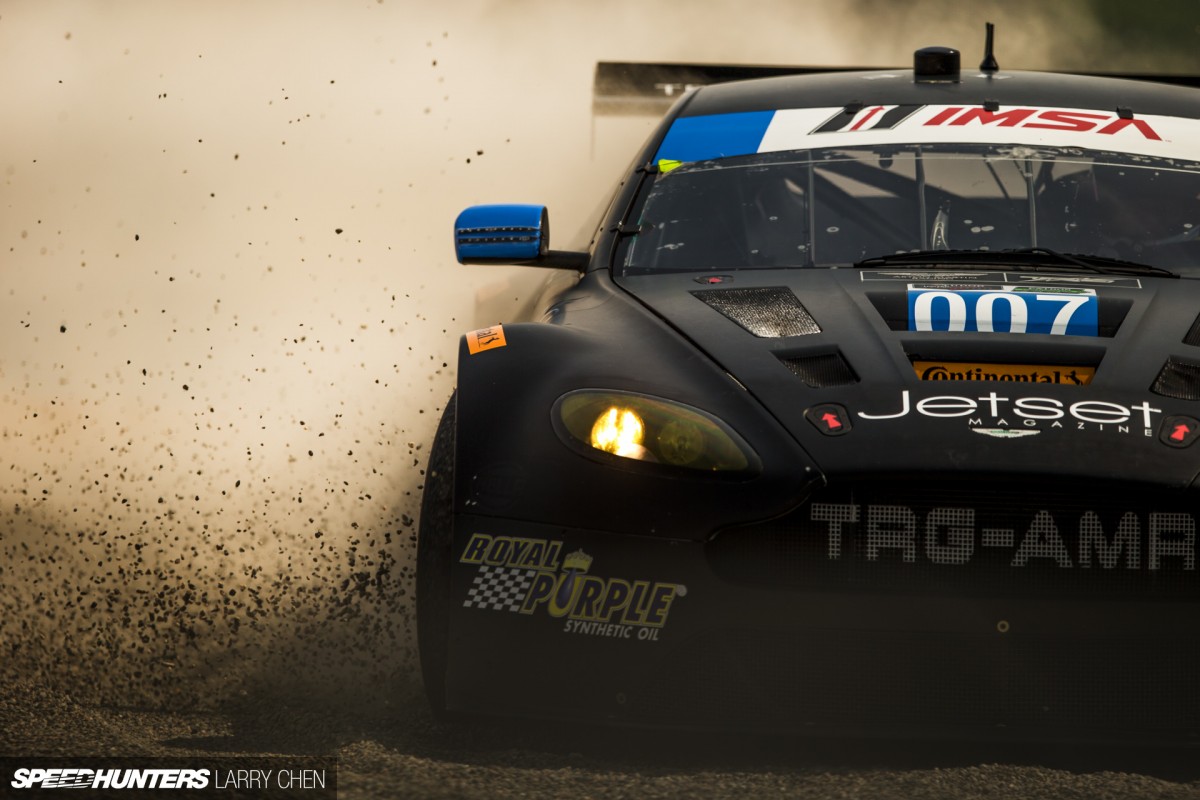 It has claimed human life, and it also has given glory to those who were brave enough to stare at it in the face and say, 'Screw you, Corkscrew.'
The most famous pass happened nearly two decades ago when Alex Zanardi slipped by Bryan Herta on the last lap of the last race of the '96 CART season. Like Achilles says in the movie Troy, "Immortality! Take it! It's yours!" Well, Alex took that risk, and now that will be forever known as the best pass to ever occur on that track.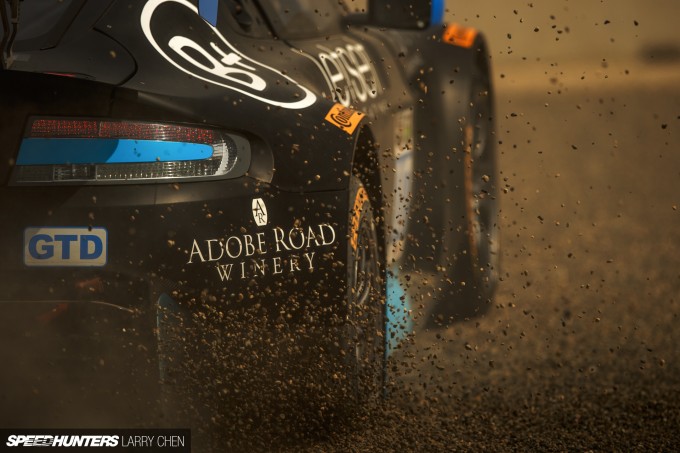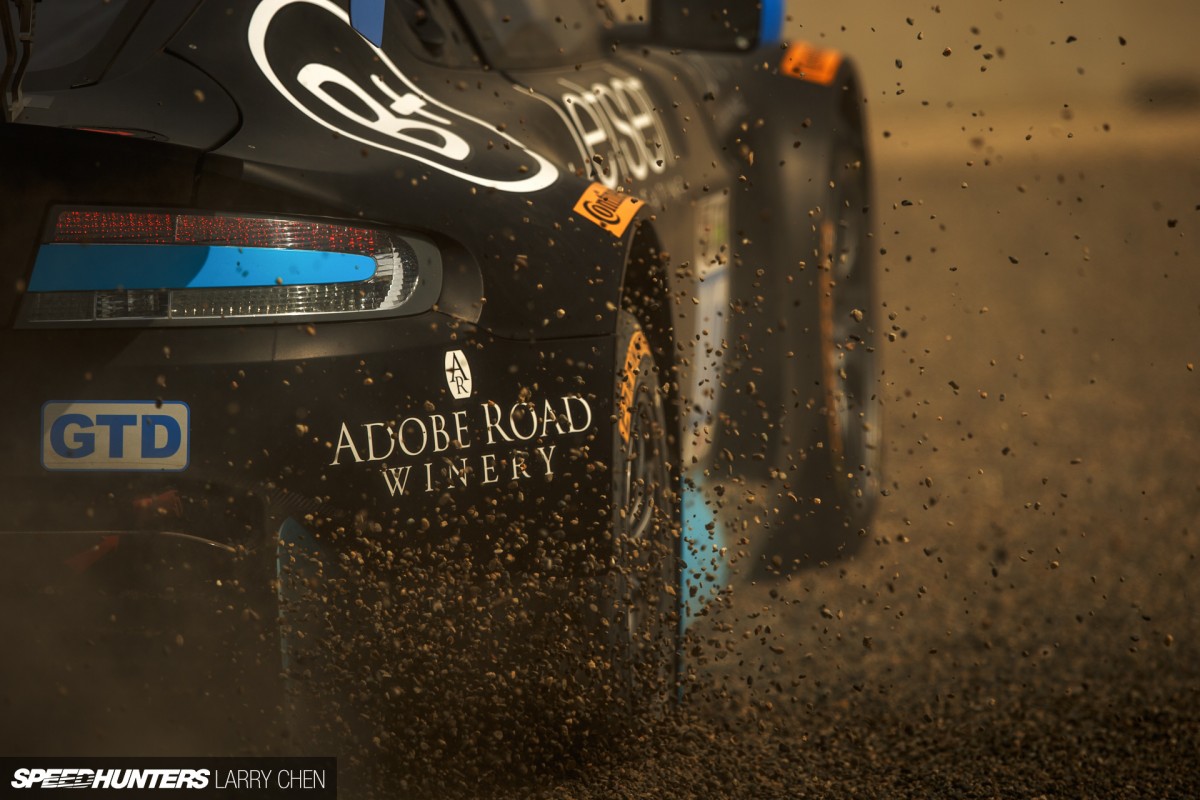 When I saw the Karussell at the Nürburgring for the first time, I just put down my camera and soaked it all in. I listened to the bodies of the race cars scraping the concrete blocks. I did the exact same thing at the Corkscrew, except here I watched drivers go off in a spectacular fashion.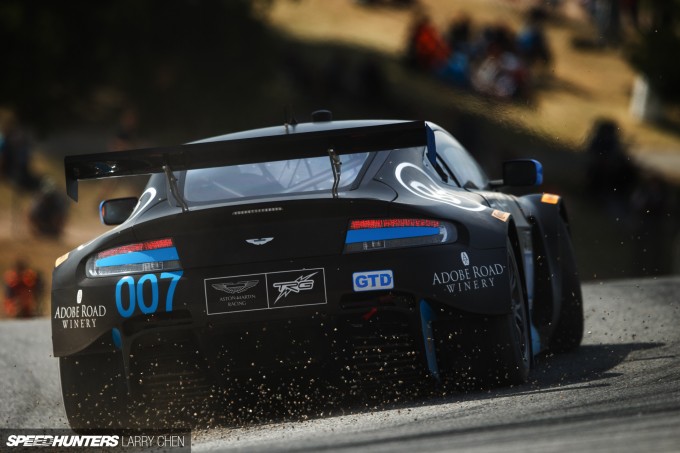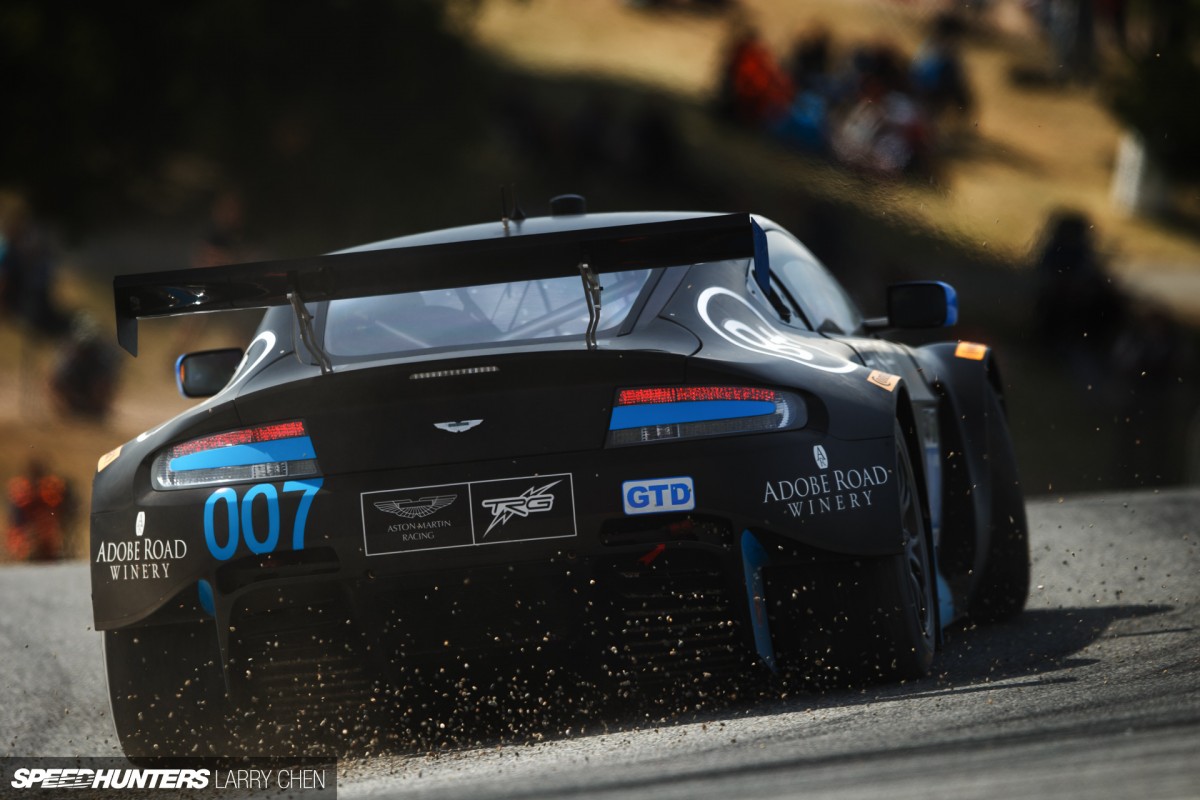 Even after getting towed off, this Aston Martin was bleeding gravel from every tiny orifice.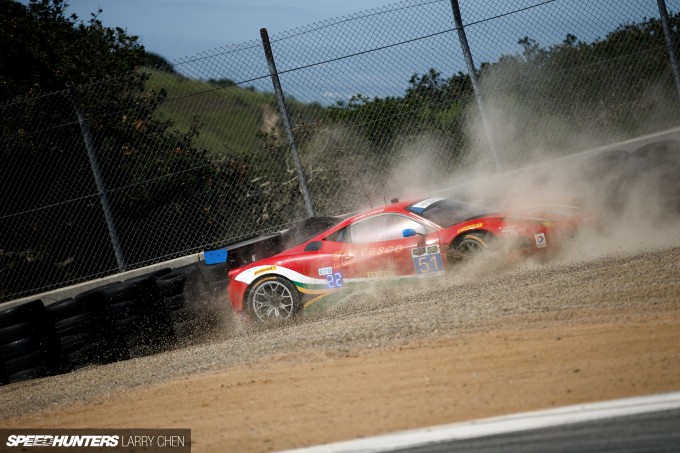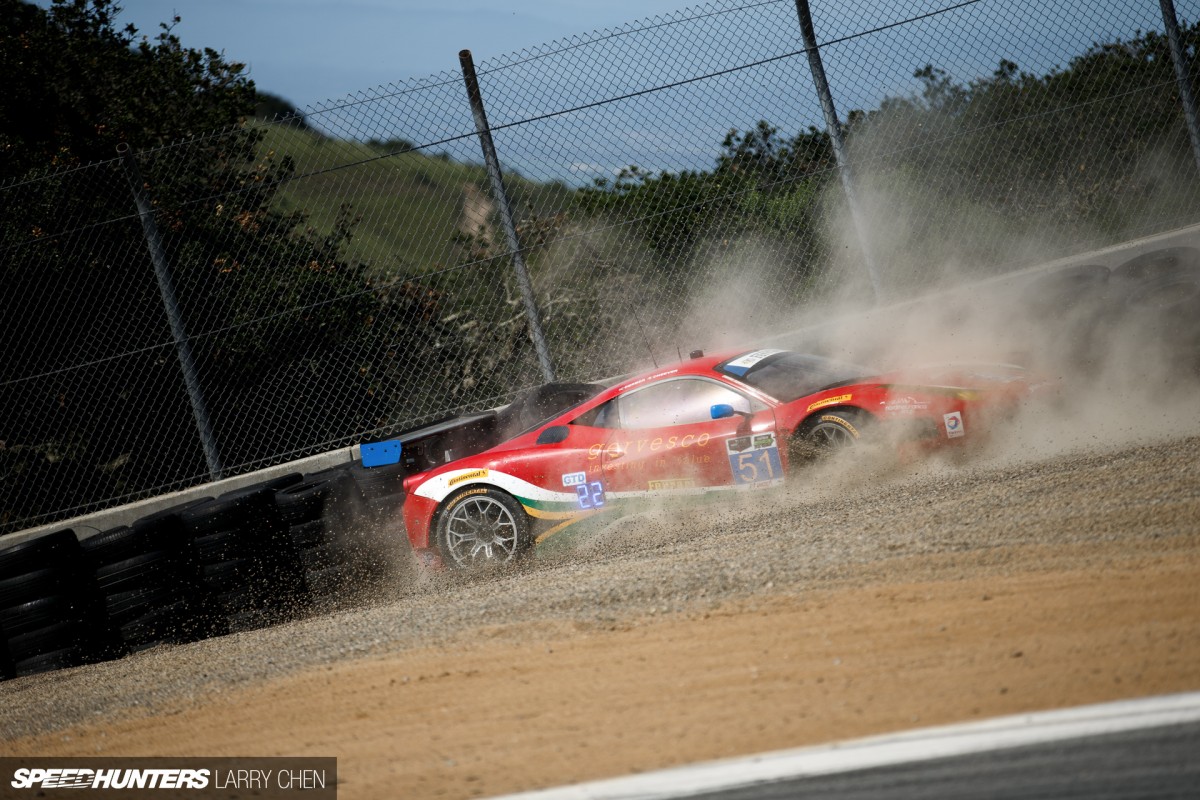 Do you guys ever watch track and field during the Olympics? Well this Ferrari went off in such a way it looked like it was doing a triple jump; skipping a few times and eventually landing in a big pile of sand. The driver was unhurt.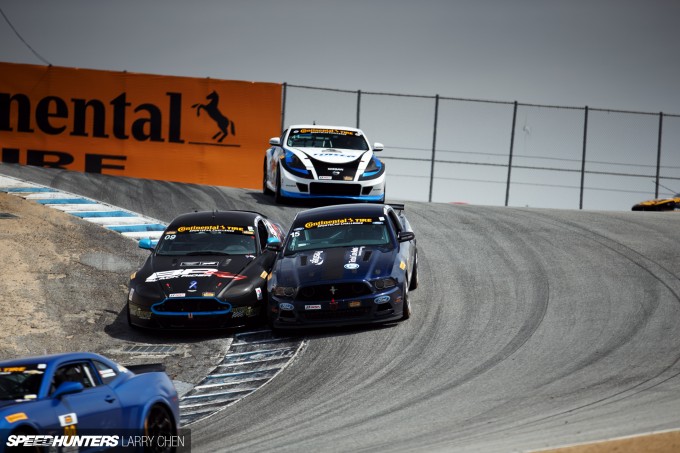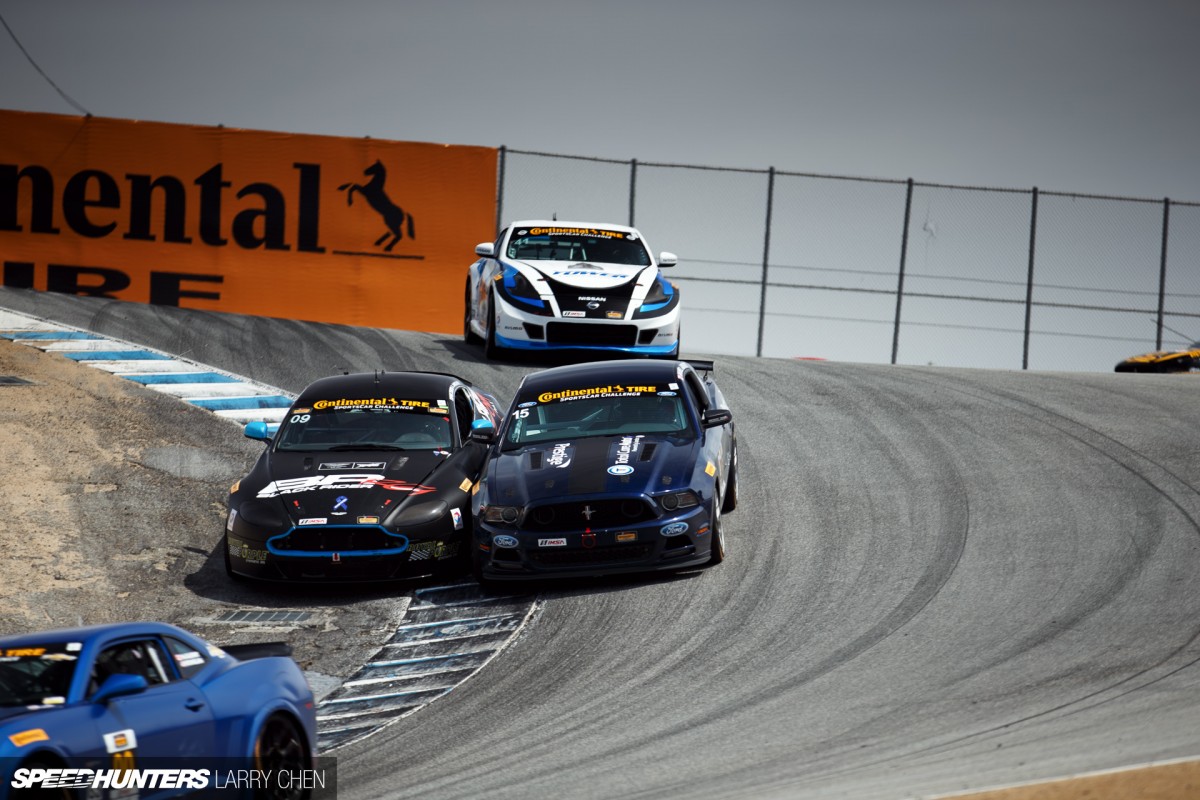 One of the scariest moments of the weekend was this pass on the inside of the Corkscrew. The Mustang driver got punted in the wall and the car flipped immediately.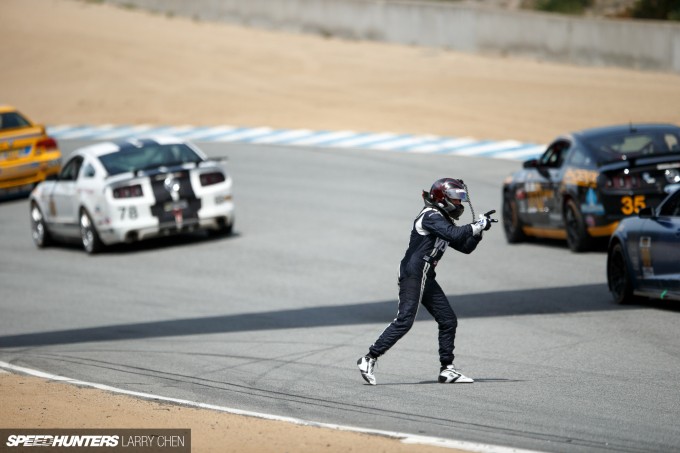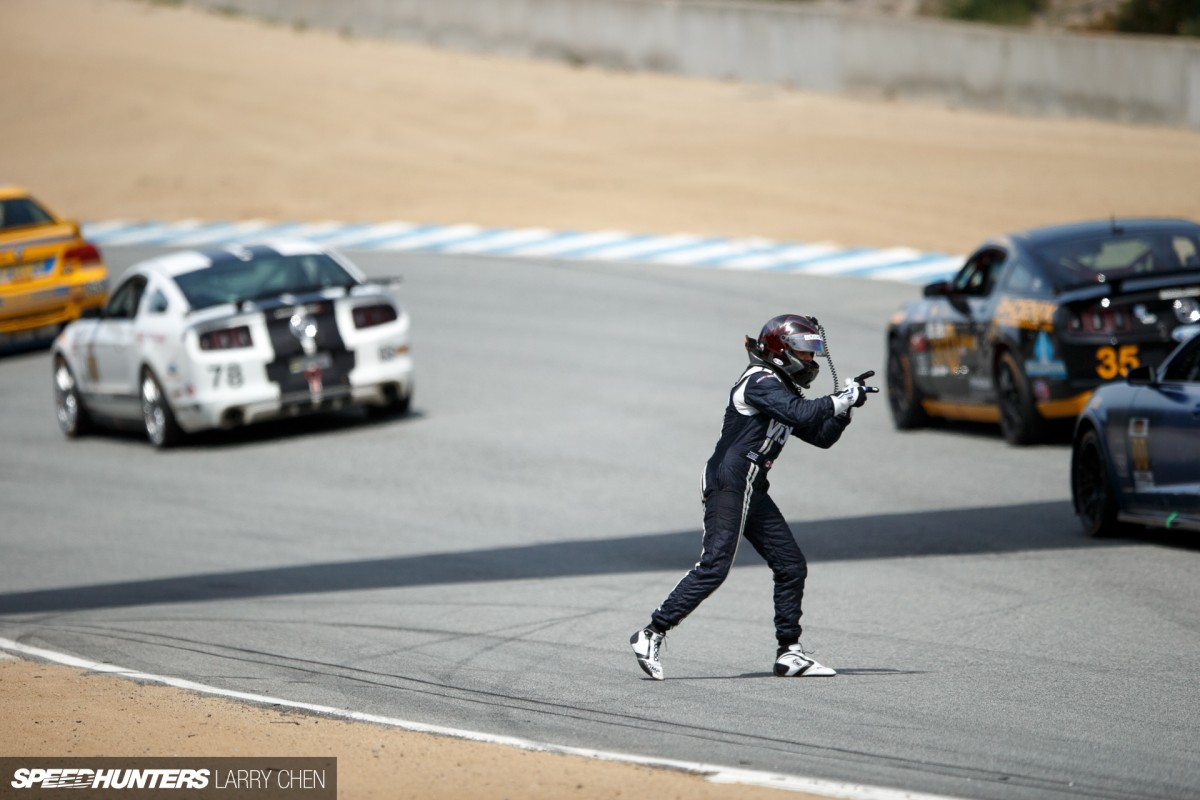 The driver of the Mustang got out, and my heart dropped for a moment as I thought he was going to run into race traffic. But he stopped and just pointed at the Aston Martin driver, shaming him for what he had done. It's definitely a moment I will never forget.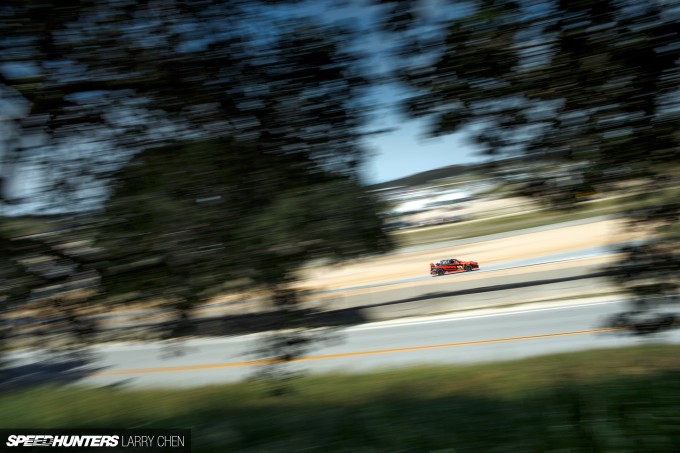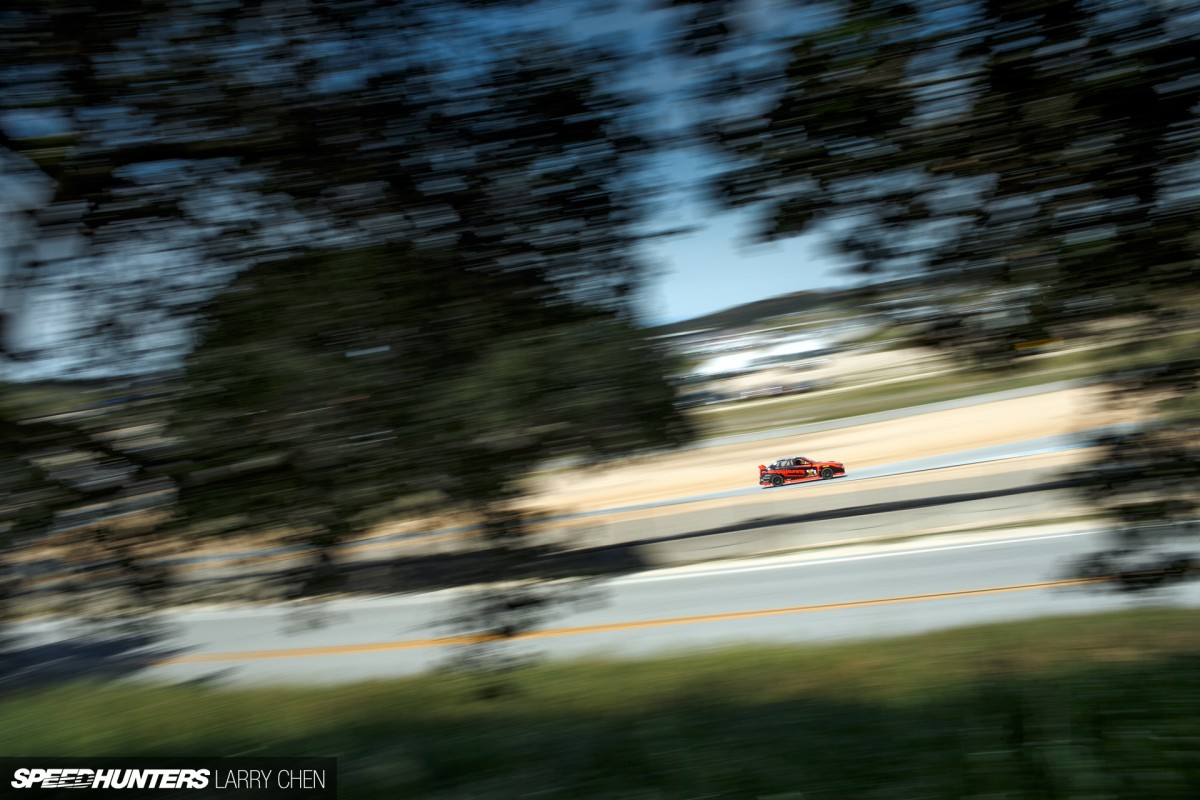 A racing circuit is really just a series of paved roads – most of the time in the middle of nowhere. What makes places like Mazda Raceway special are the memories made over time.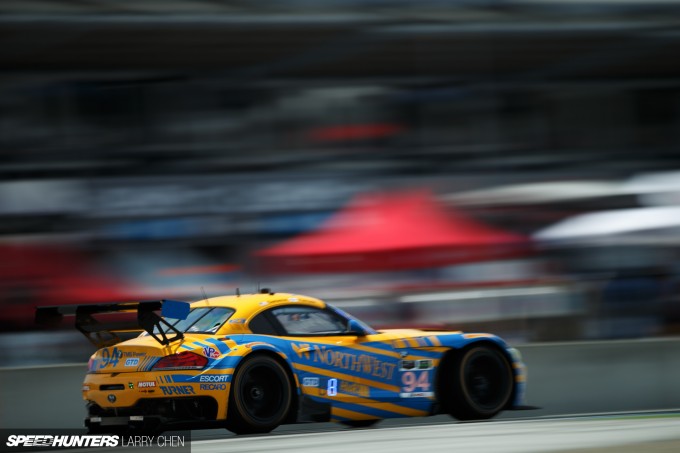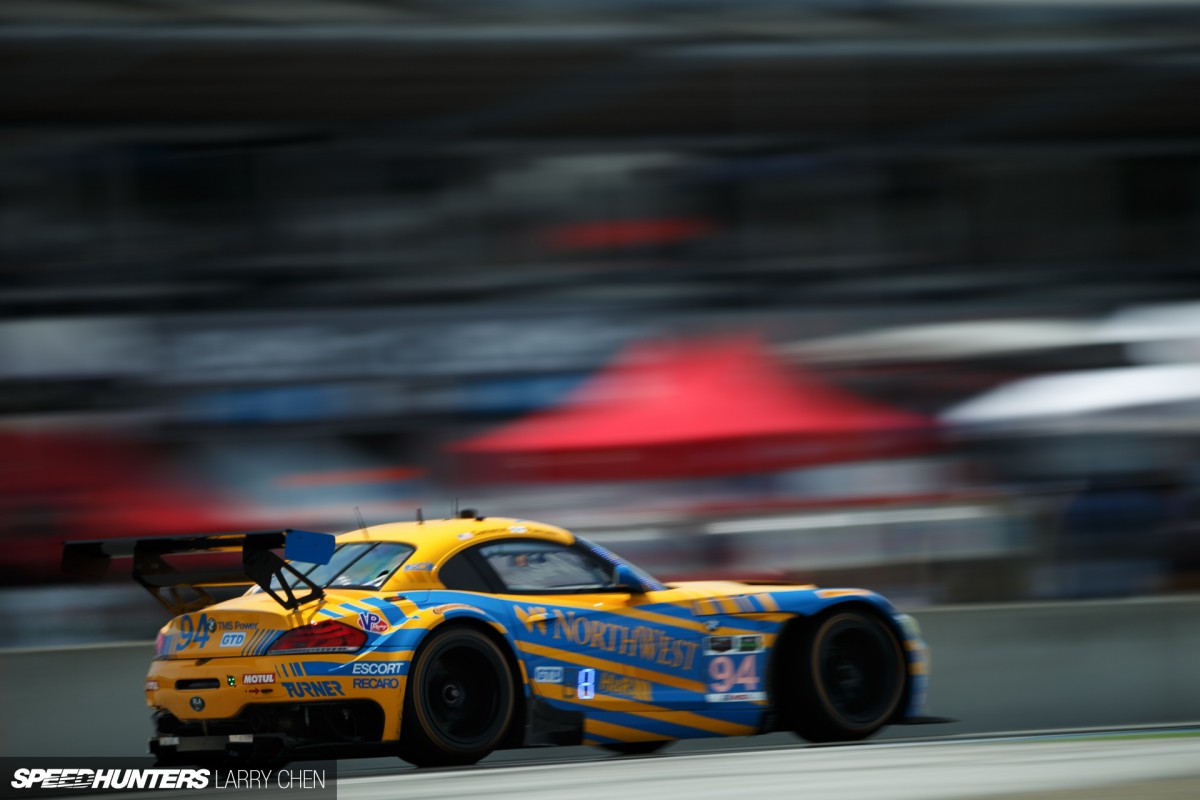 The course was originally built in 1957 and is currently the only race track located inside of a National Park.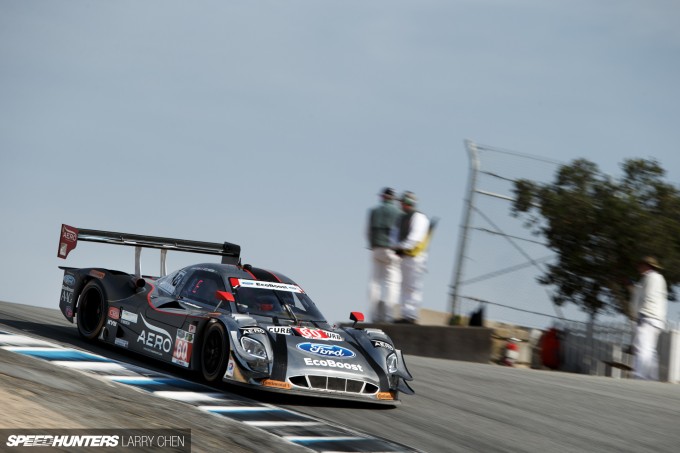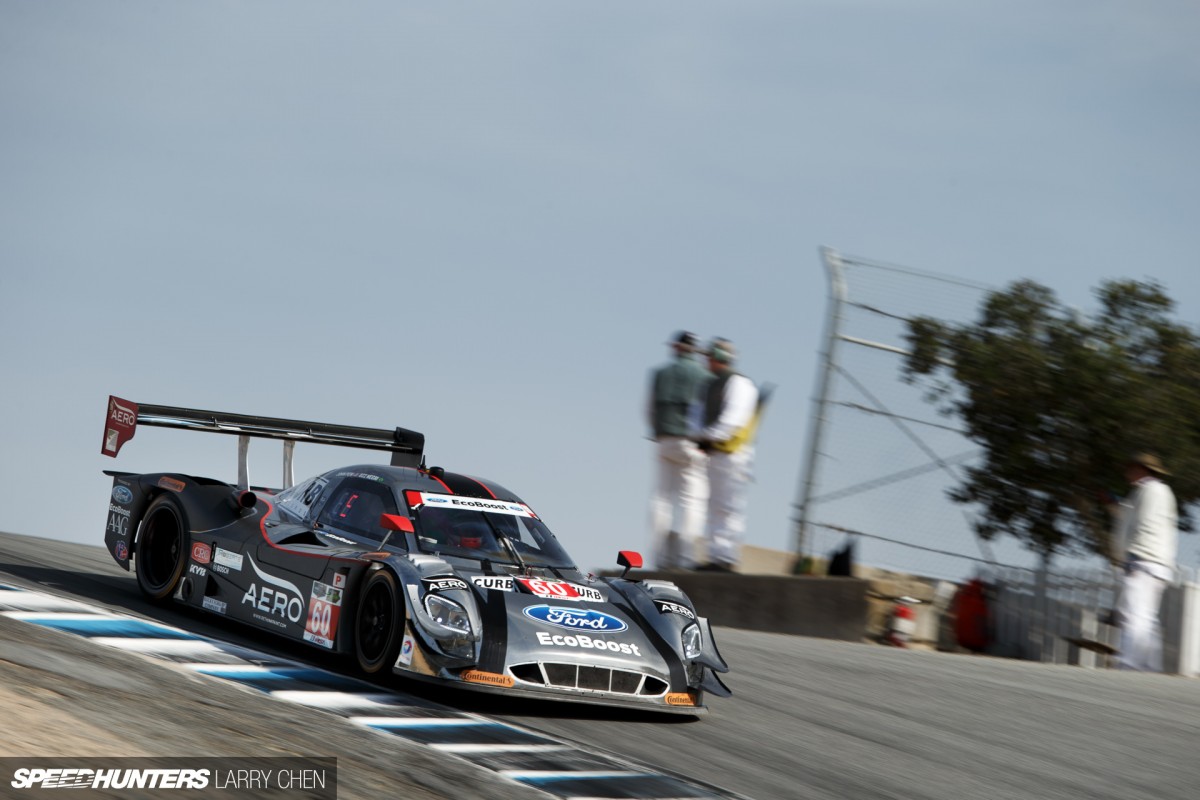 Laguna Seca is Spanish for 'Dry Lake' which is what the area was originally. That's an interesting fact, because the course actually follows with the natural elevation of the area.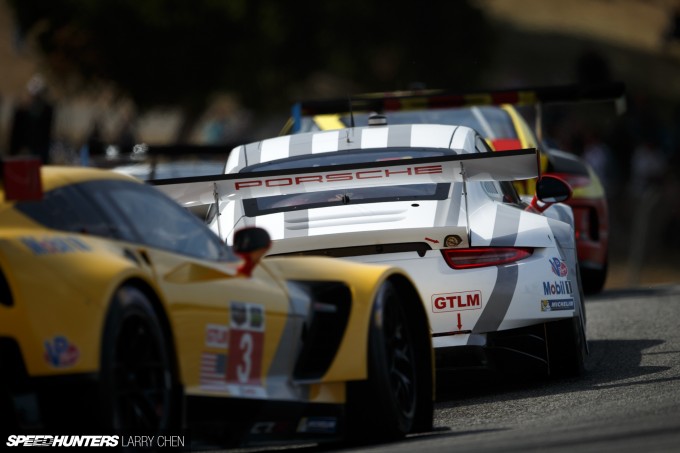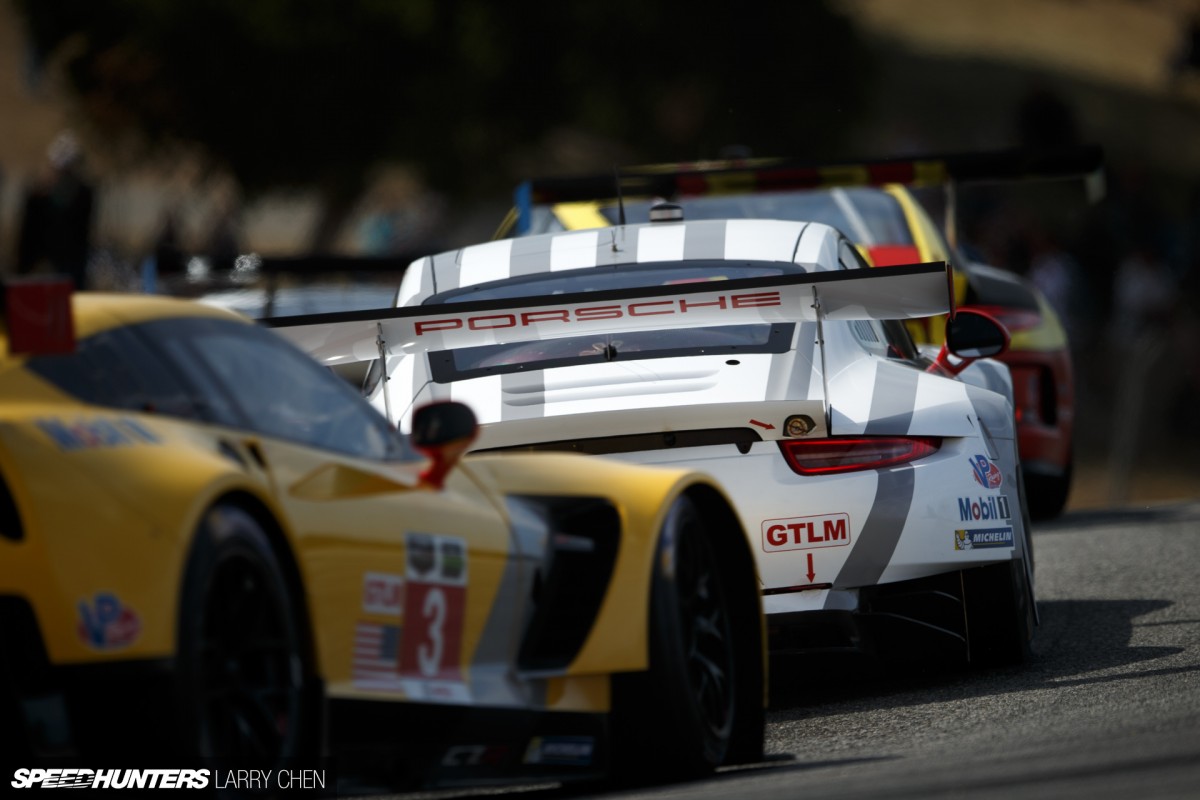 What's even more interesting is that the Corkscrew was not originally in the construction plans back in the late 50's. It was only after they begun building the circuit that they realized that there was no way they could continue the straightaway because of the steep ridge on the other side. So they just decided to turn left, which in turn created one of the most unique corners in the world.
Bedtime Stories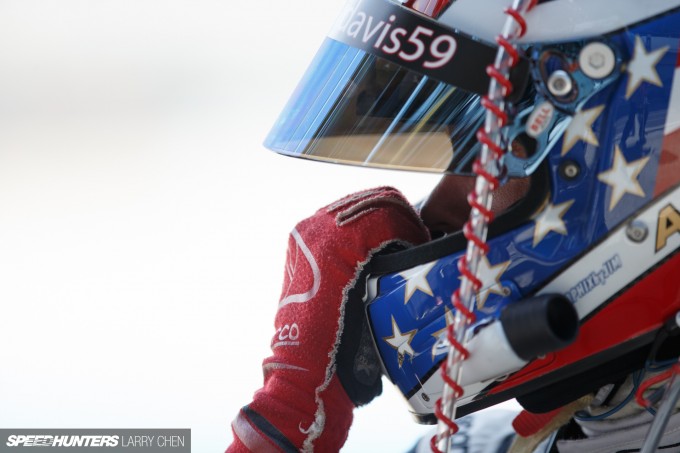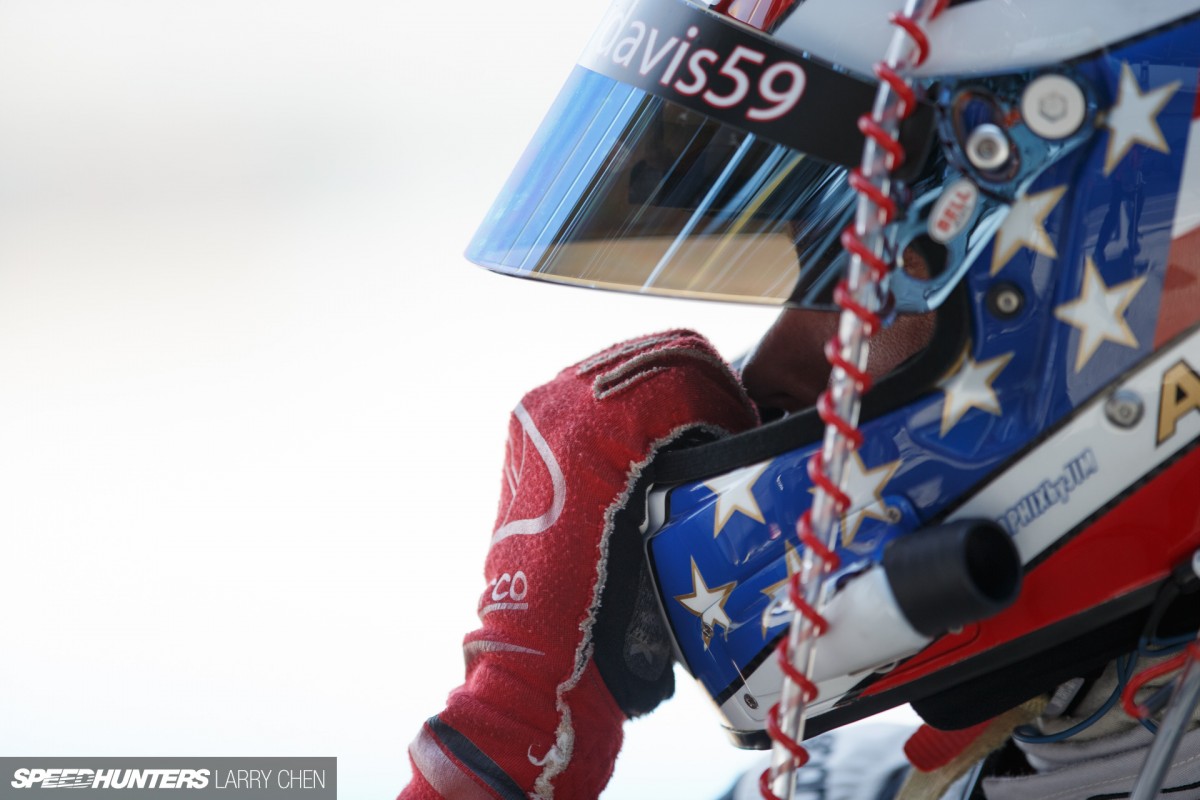 As I mentioned before, even though it's just a series of paved roads, the racing circuit has touched many lives.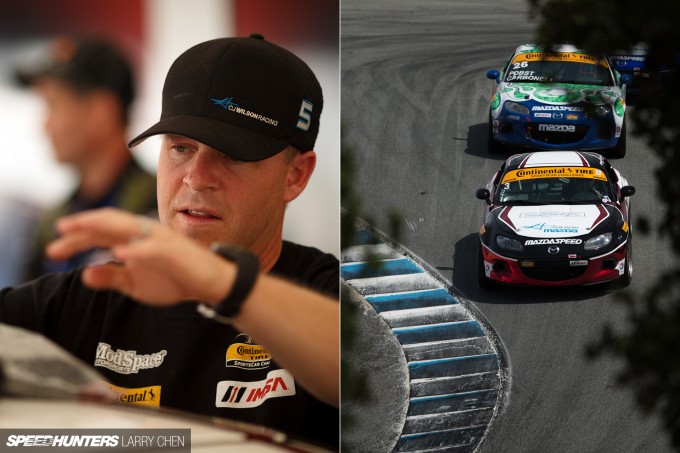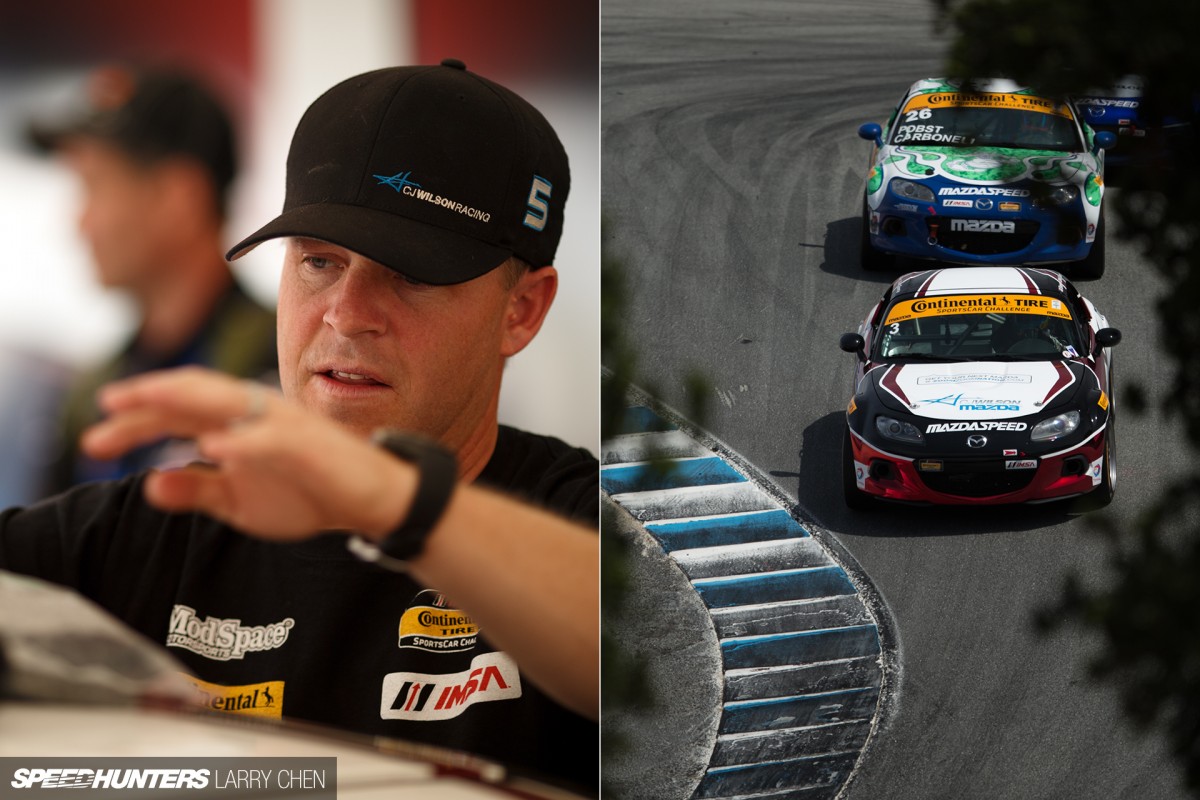 I asked Tyler McQuarrie what his favorite memory was, and it turns out he used to go to the track with his father as a little boy. That is where he first fell in love with racing, which led him to drive go-karts.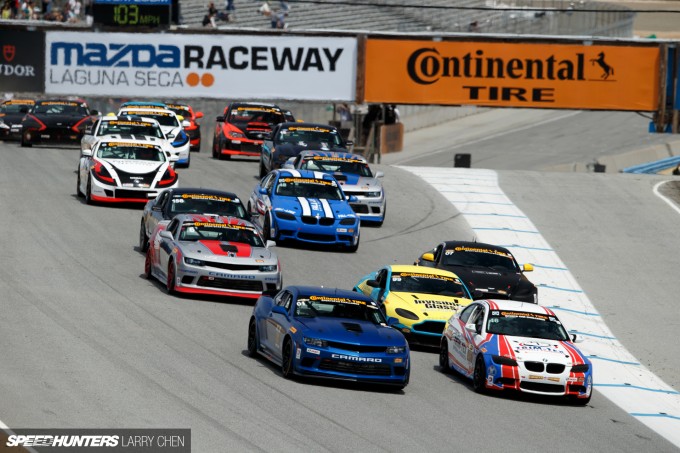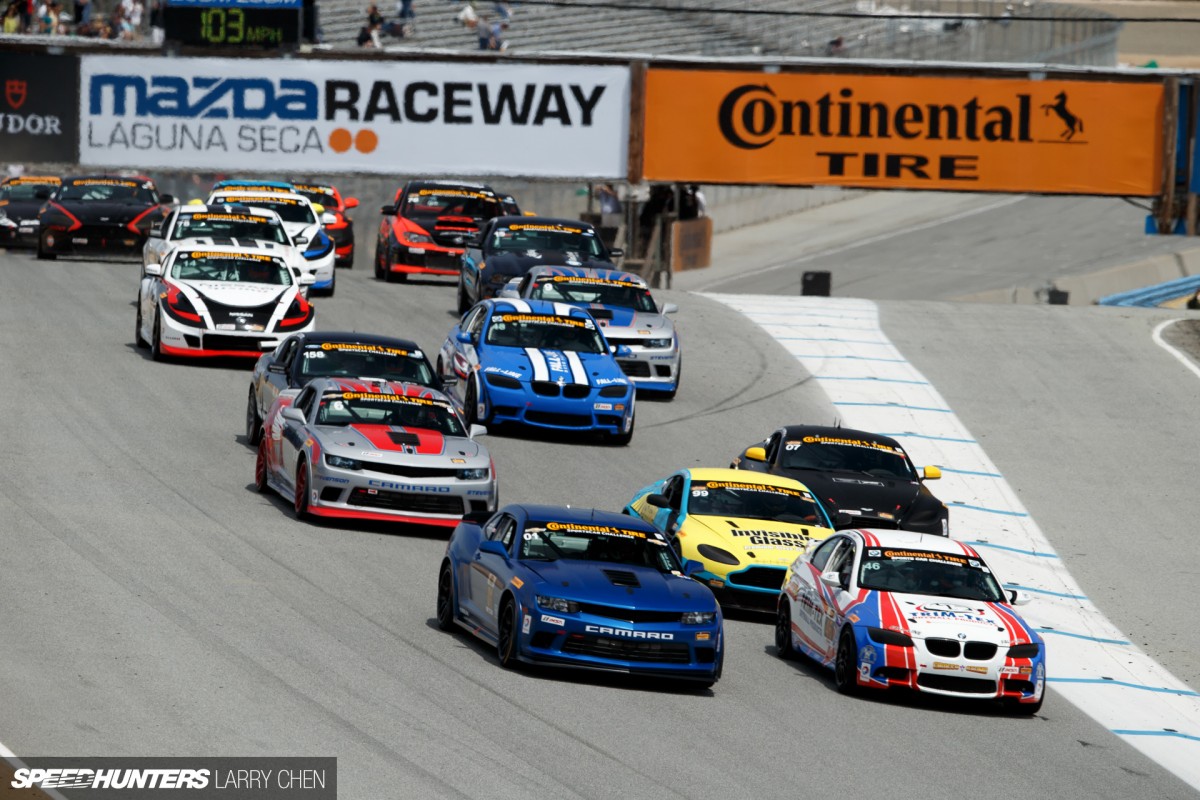 Fast forward a few years and in 1995 Tyler found himself at the Jim Russell Racing School at Laguna Seca. It was the very first time he got to drive on a real racing circuit and the stuff he learned from that class was ingrained in his head, and helped make him the racing driver he is today.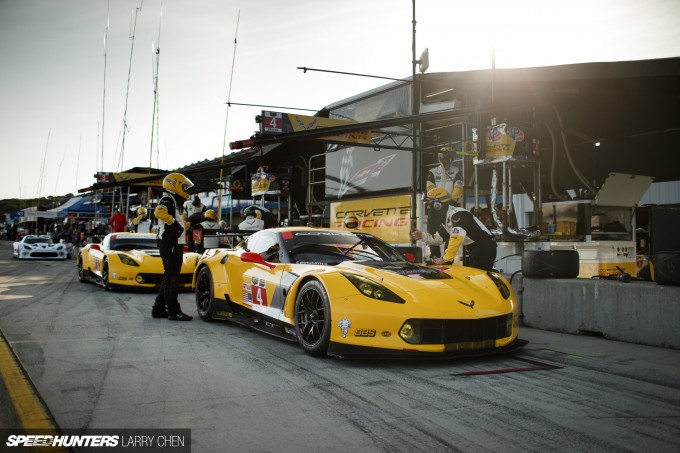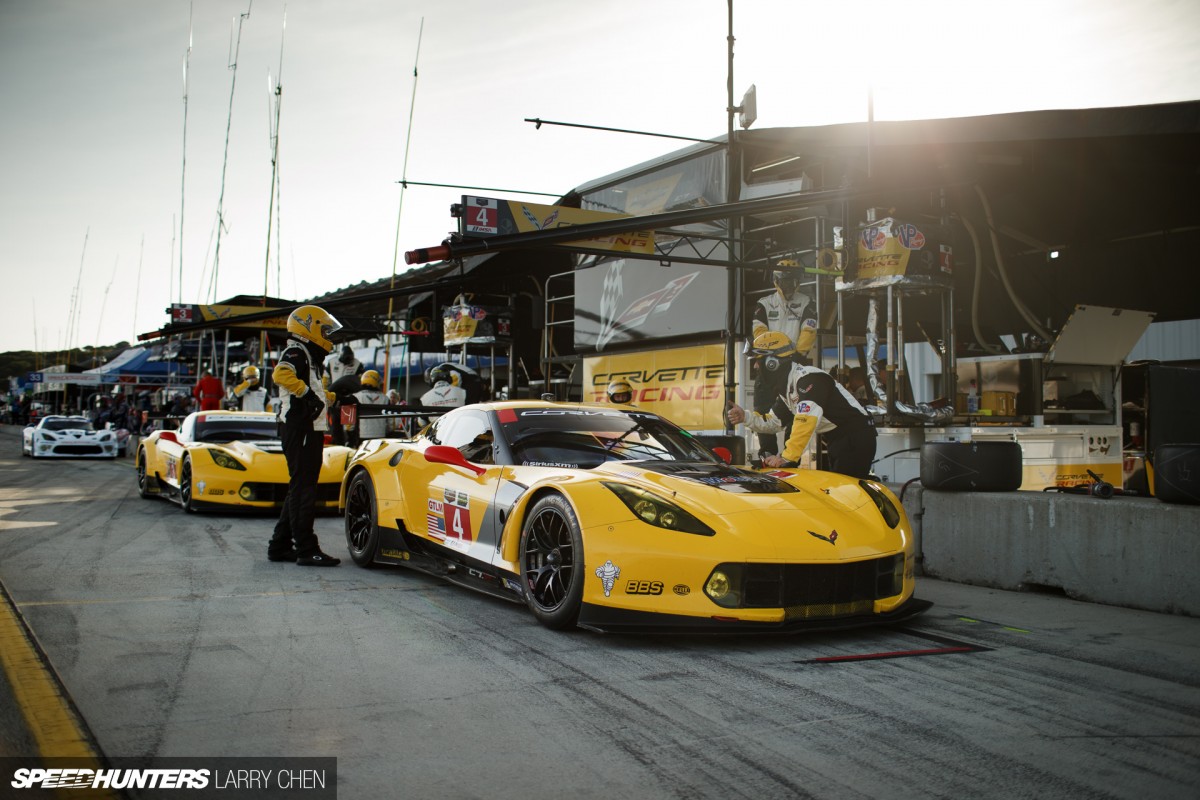 I asked a friend of Speedhunters, Tommy Milner, the same question: what is your favorite memory from this historic race circuit?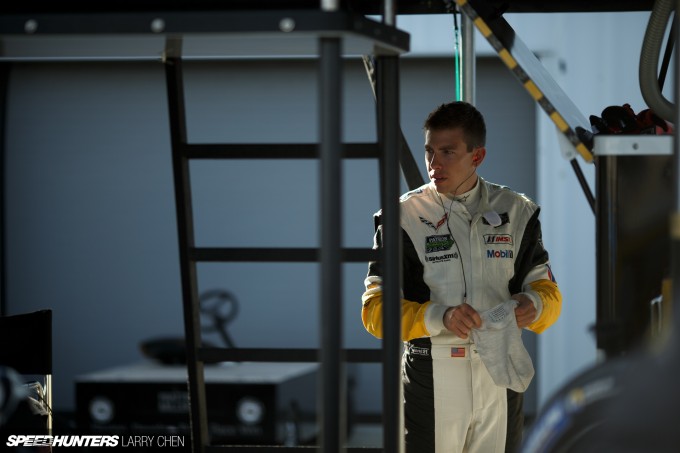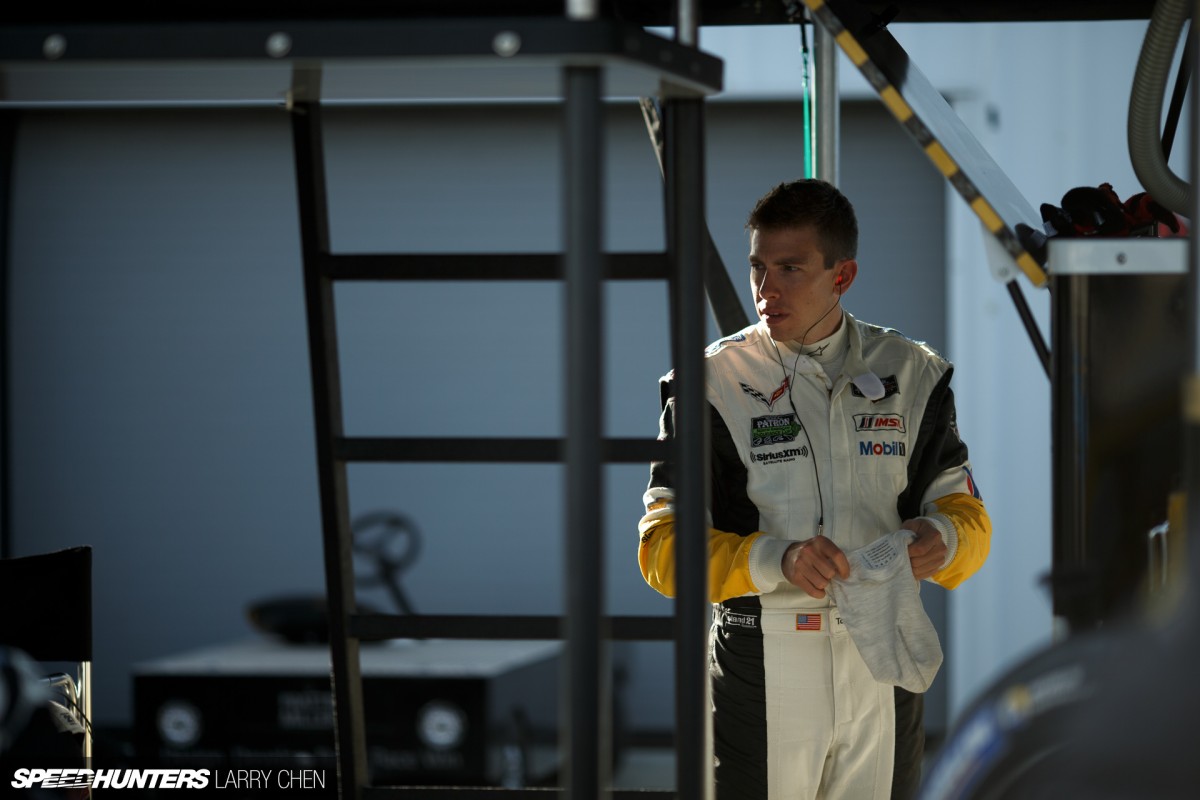 Tommy: "My favorite memory was last year at the Historic Festival. I was a guest speaker with Jackie Stewart and I got to drive the Corvette Racing C7.R in its first public appearance."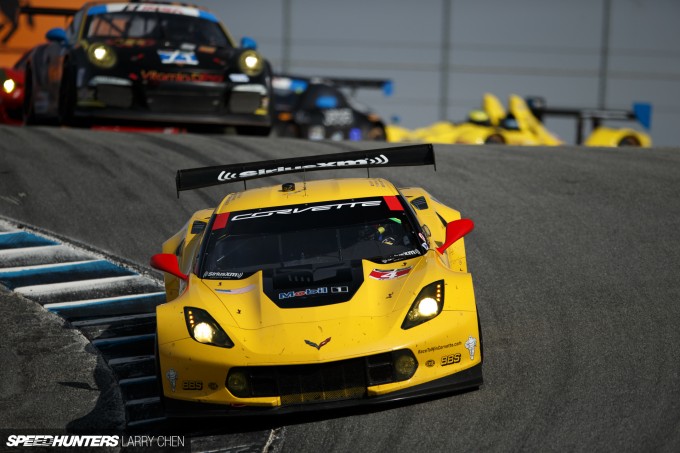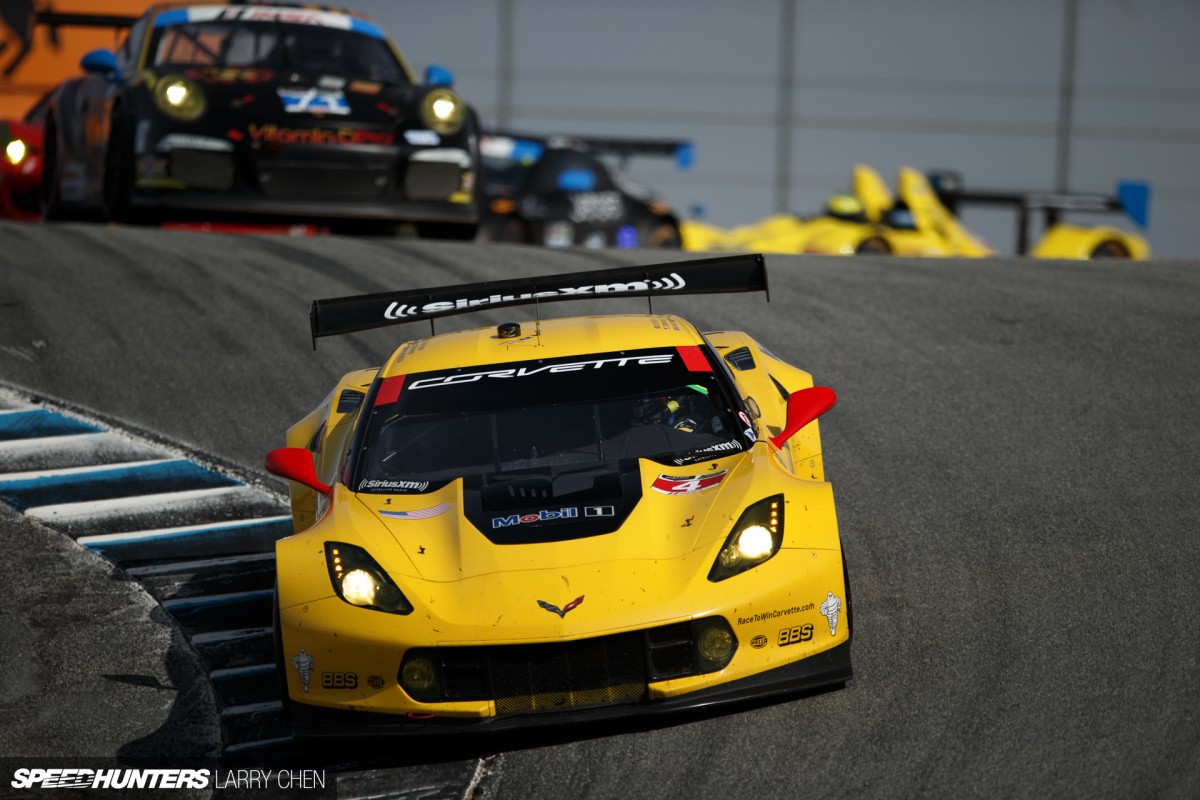 It's interesting because I remember that exact moment last year. I did not have trackside access so I was just walking around the pits as a fan, and was not shooting anything. Tommy came up to me and told me that in exactly one hour he was going to debut the C7.R to the public. I felt a little helpless, as I didn't even have my gear with me.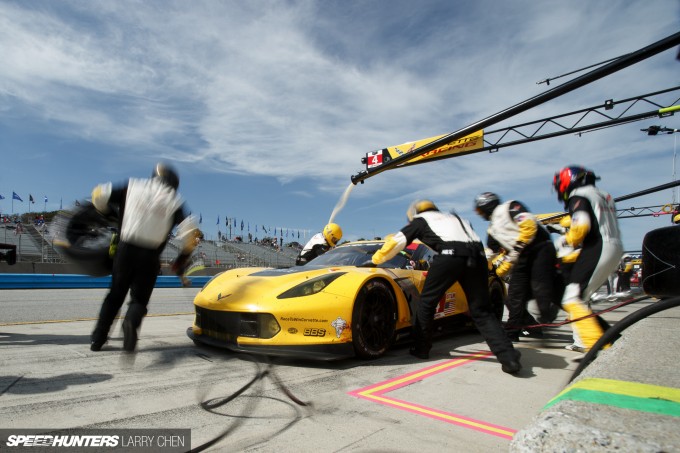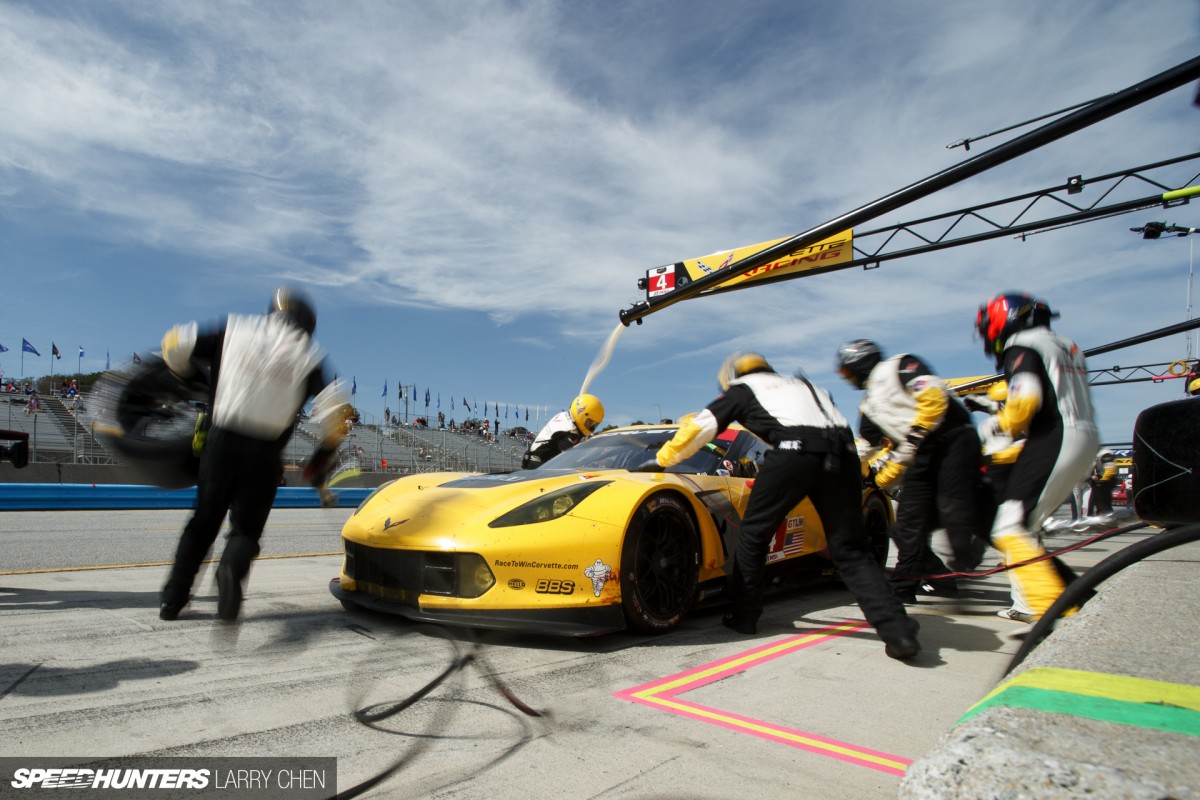 I asked him again what he was thinking when he was driving it and he said he just was trying not to put it in the gravel. Nice one, Tommy!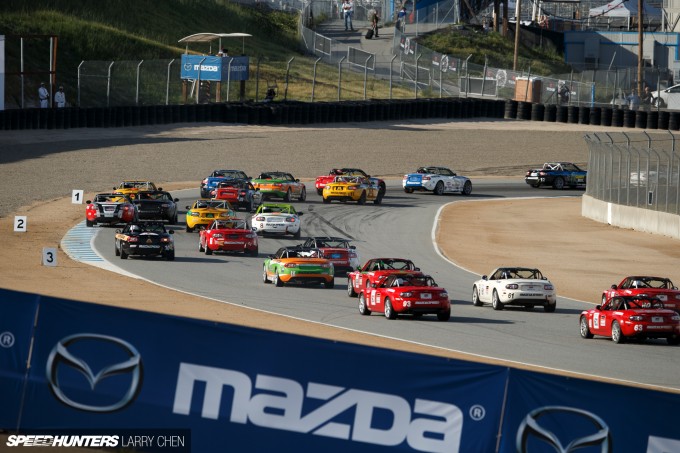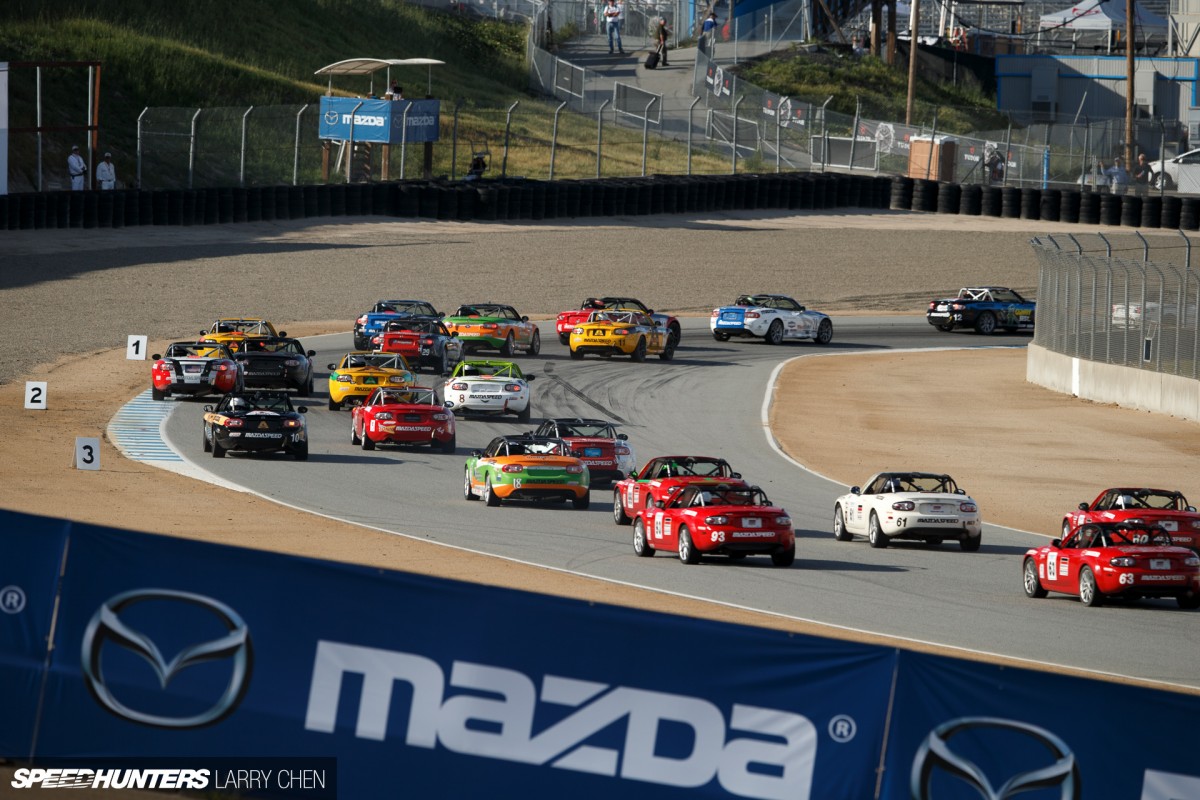 As it turns out Speedhunters driver Charles Ng also has some history at Laguna Seca. He won the MX-5 Cup here back in 2008.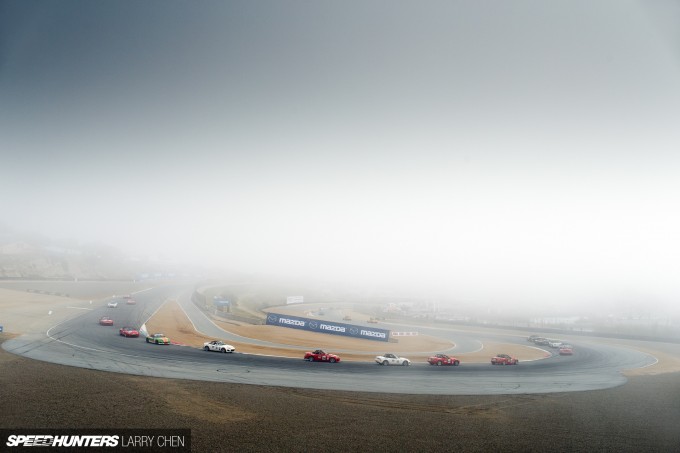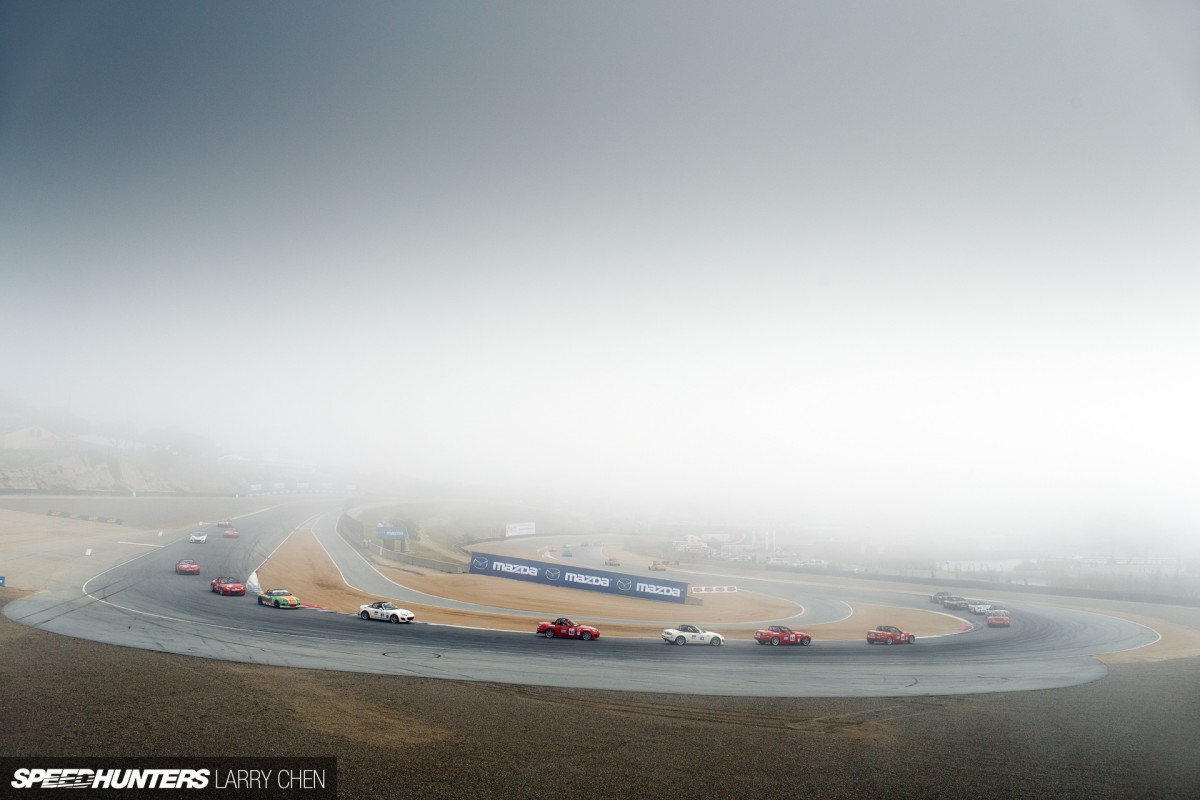 For his victory lap he went ahead and drifted the entire course with that little underpowered Mazda. At that point he had won a few small races here and there, but had only just fully committed himself to a full season of racing.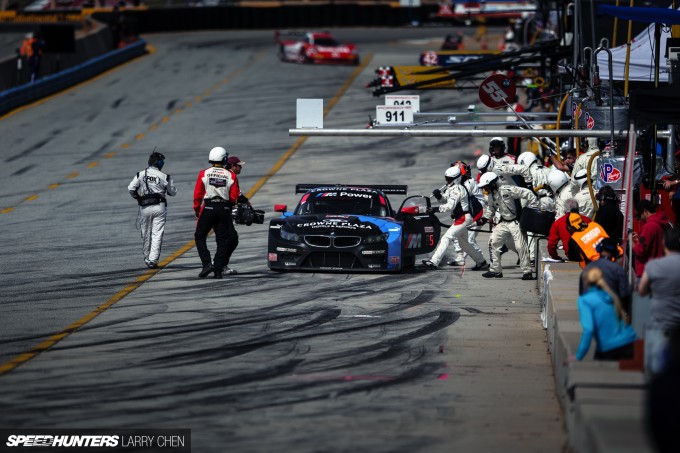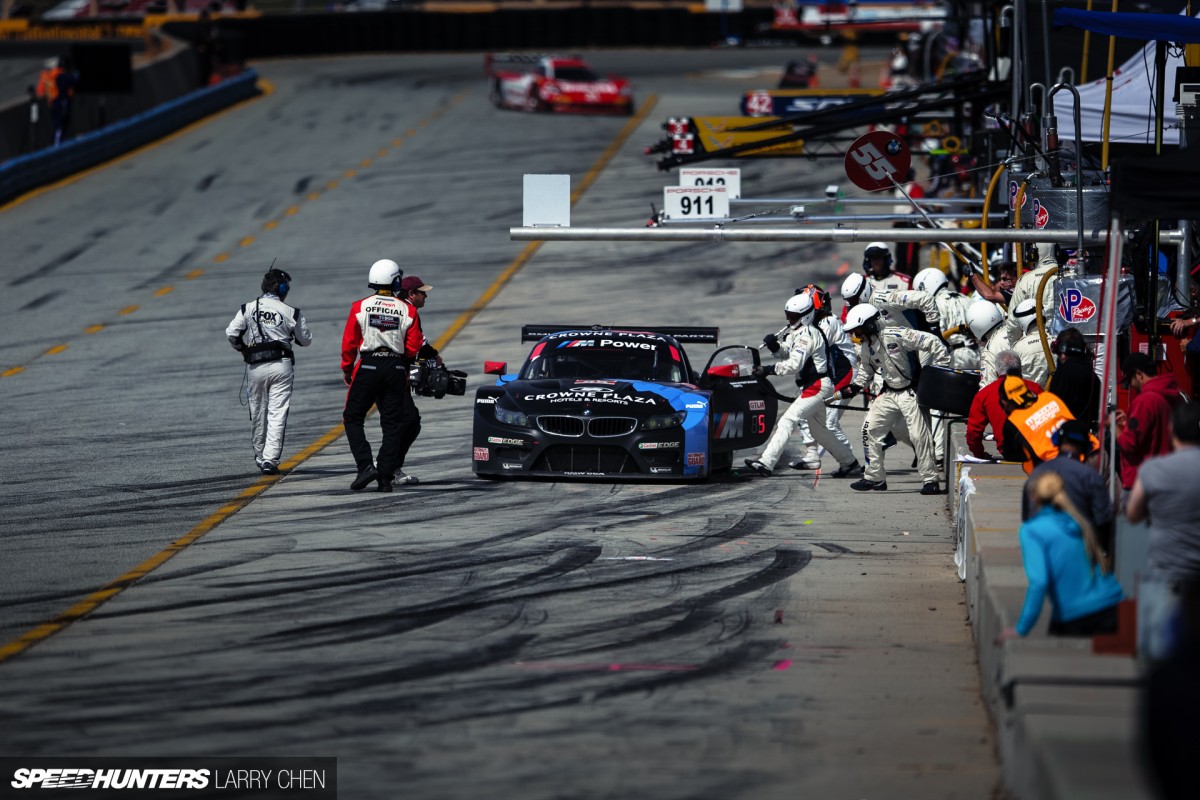 It seemed apparent that this raceway has impacted the lives of my friends who are racing drivers, but what about my peers? What about the guys that I spend time with in the trenches?
Dreamers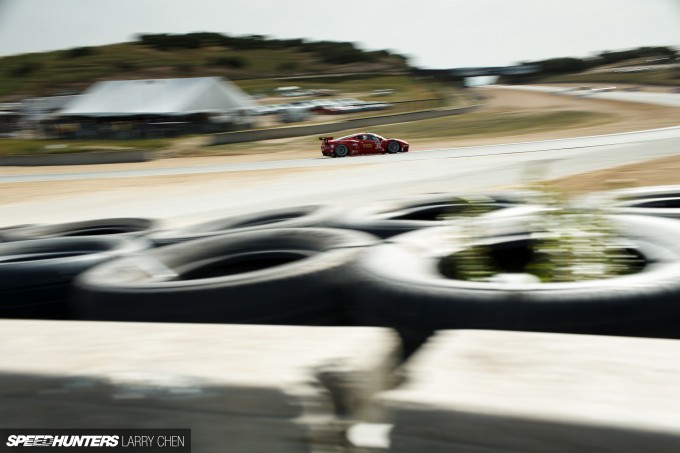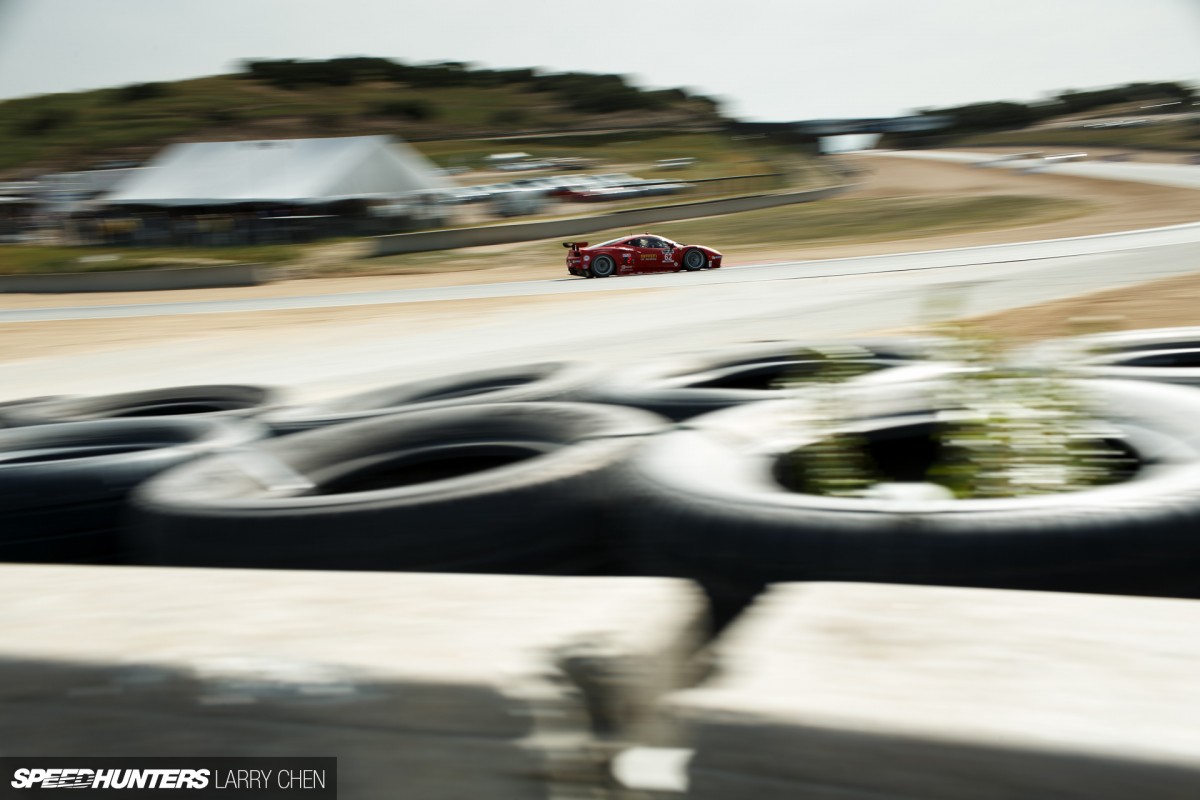 I asked my dear friend and journalist Kenneth Stouffer from My Life At Speed what his favorite experience was. I had an idea that it would be a good one since he is a racing driver himself. Linhbergh has even featured his car here on Speedhunters before.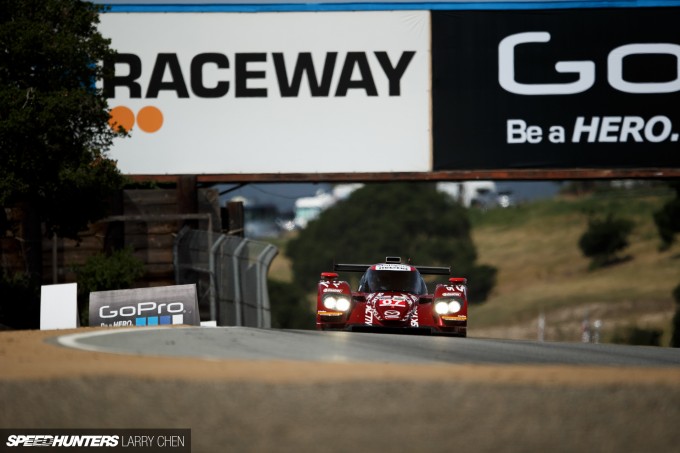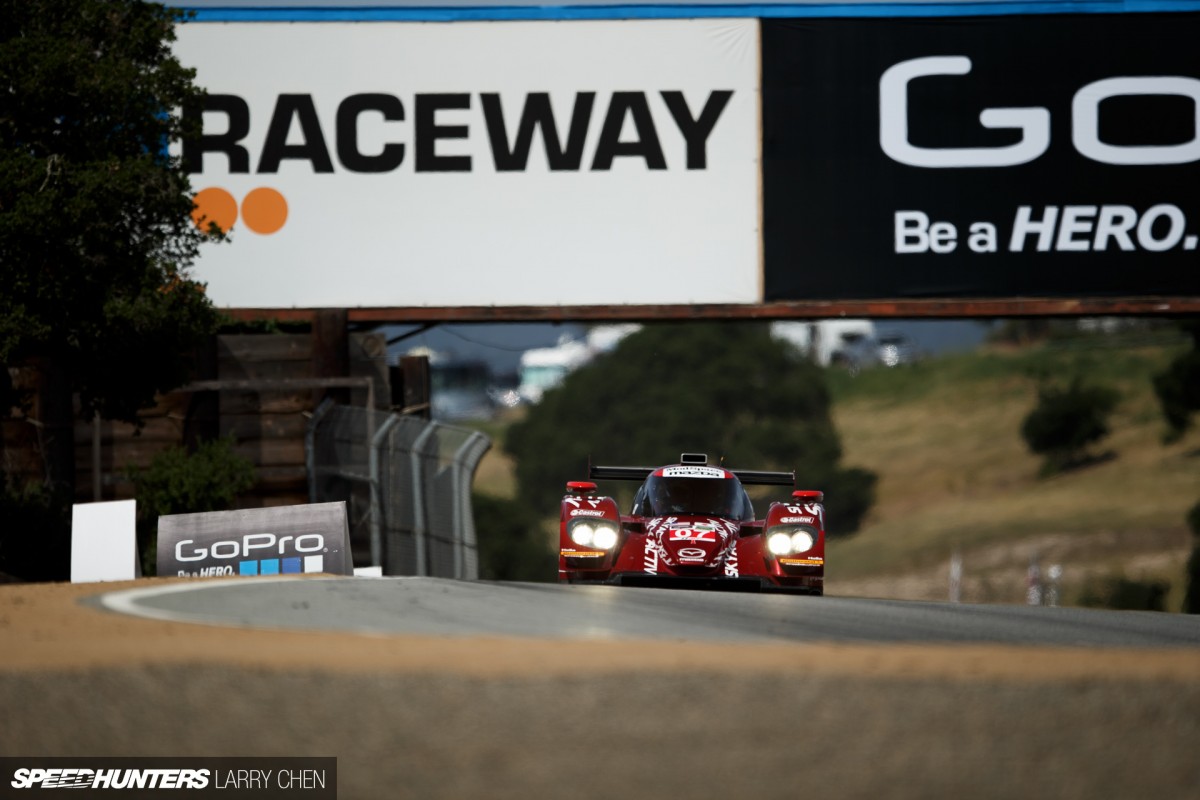 Kenneth: "It happened this past Saturday at the Ferrari Challenge race – I got a ride along with Anthony Lazzaro in a 458 race car. It was incredible. You really don't get a sense for how fast the course is until you're in a car capable of exploiting every nuance the track has to offer. We came up over the hill through Turn One, hitting over 133mph, and he was still accelerating well past where you felt it was responsible to do so."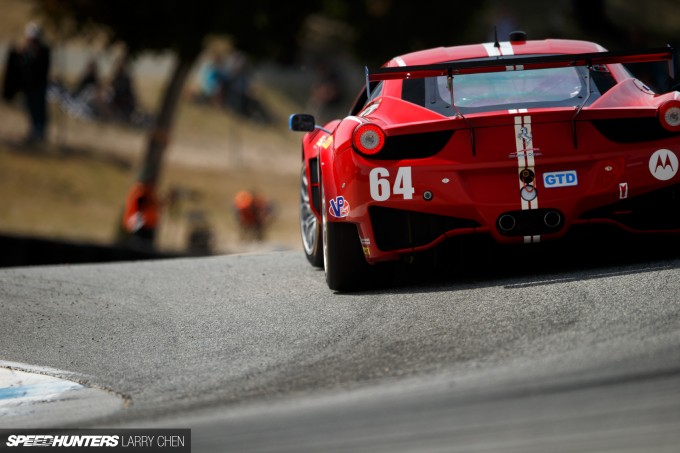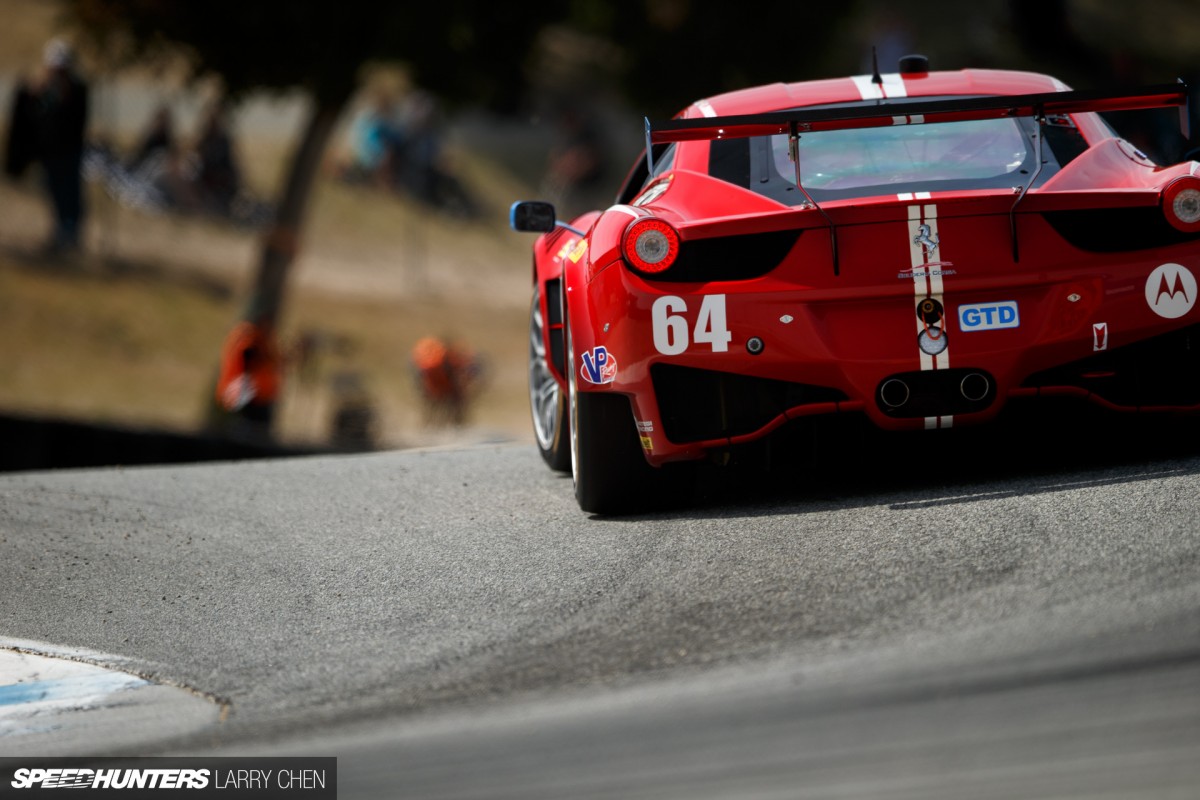 "Then hard on the brakes and smooth through the corner. Incredible. I was never scared, but after riding around in that car I realized just how poorly the brakes on my race car work. Anthony is a driver I've looked up to for years."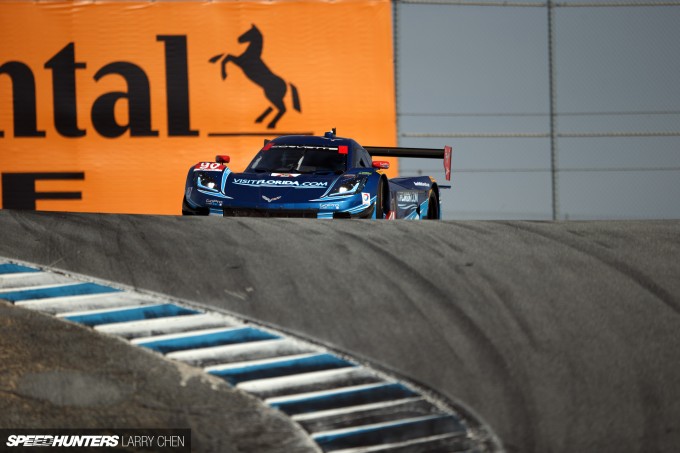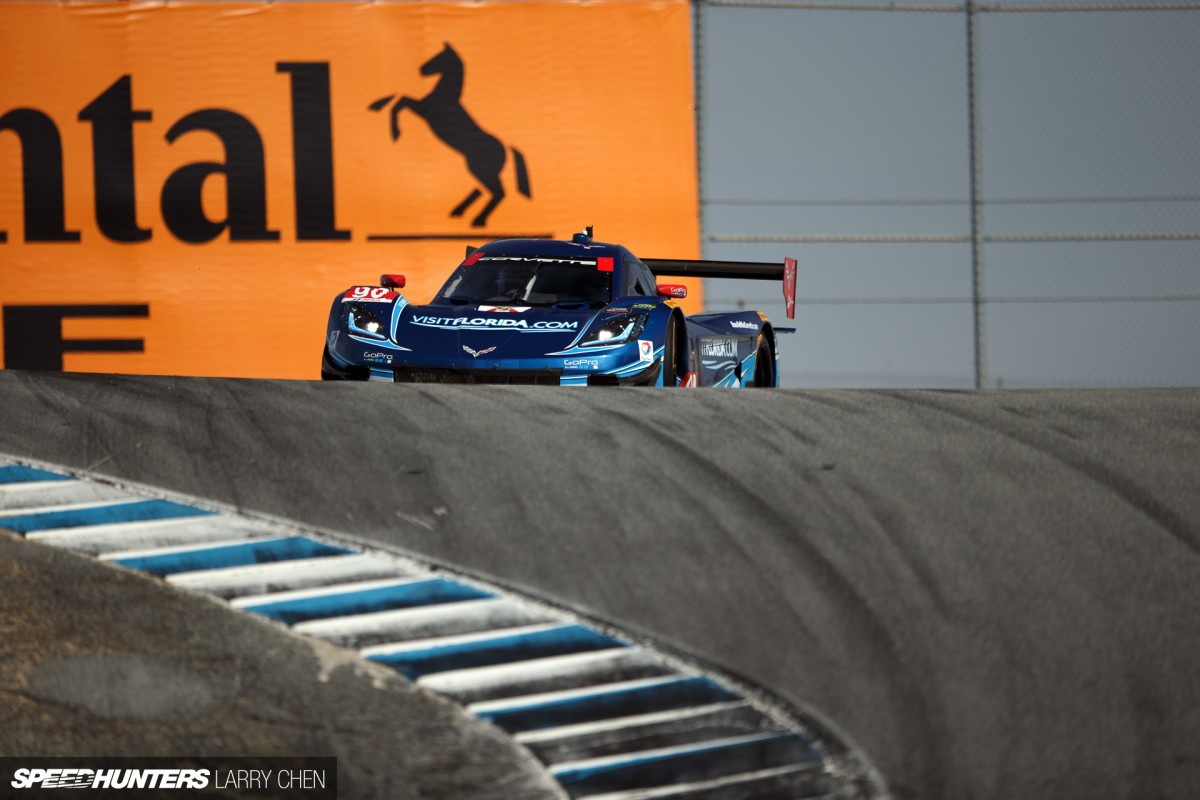 "To get a ride along with him was really special. Oh, and cresting the Corkscrew and not being able to see the bottom of the turn over the edge – wow."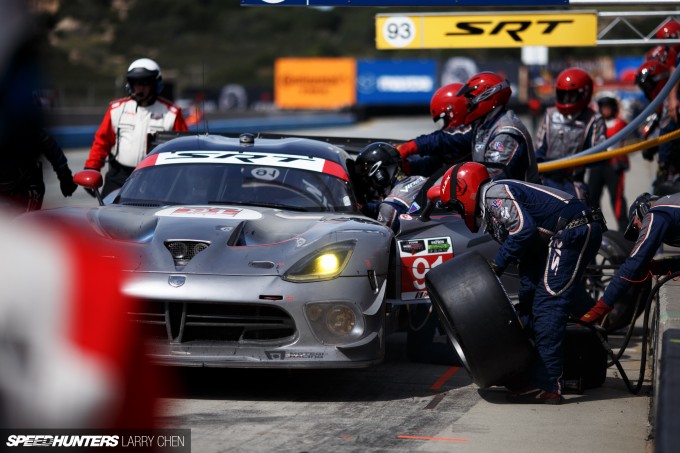 I'm so jealous that Kenneth got to ride around in a race car, but hopefully I will get to do the same soon. Speaking of Linhbergh though, I figured it would be appropriate to ask some of my fellow Speedhunters as well…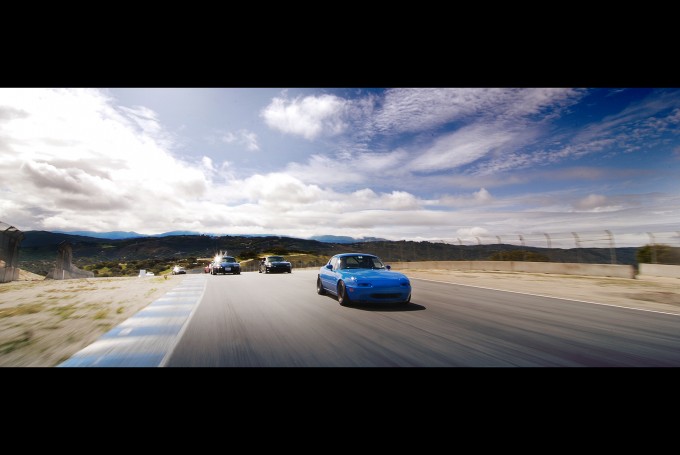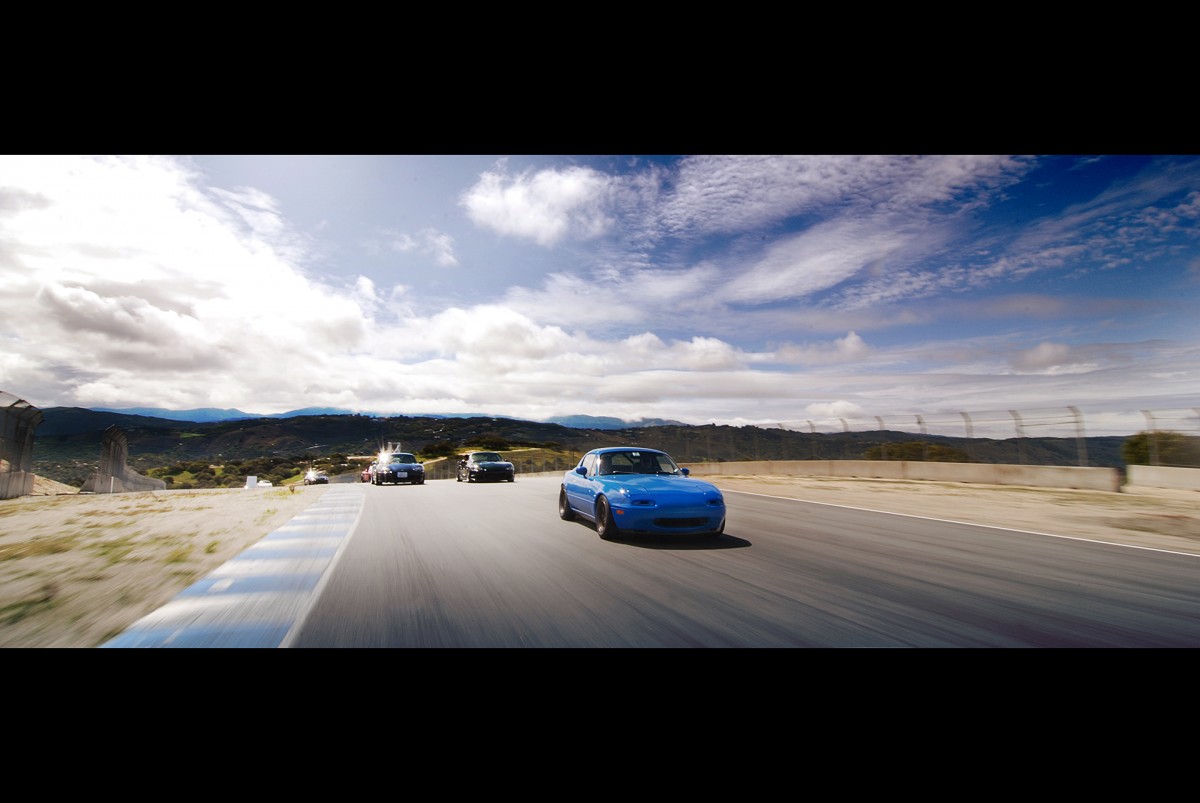 According to 'The Eater of Light', his favorite moment was when he was doing car-to-car shots from the passenger seat of a Miata, shooting other Miatas.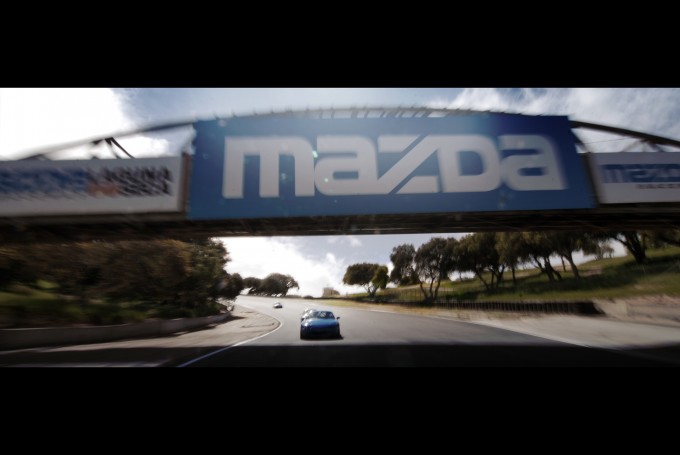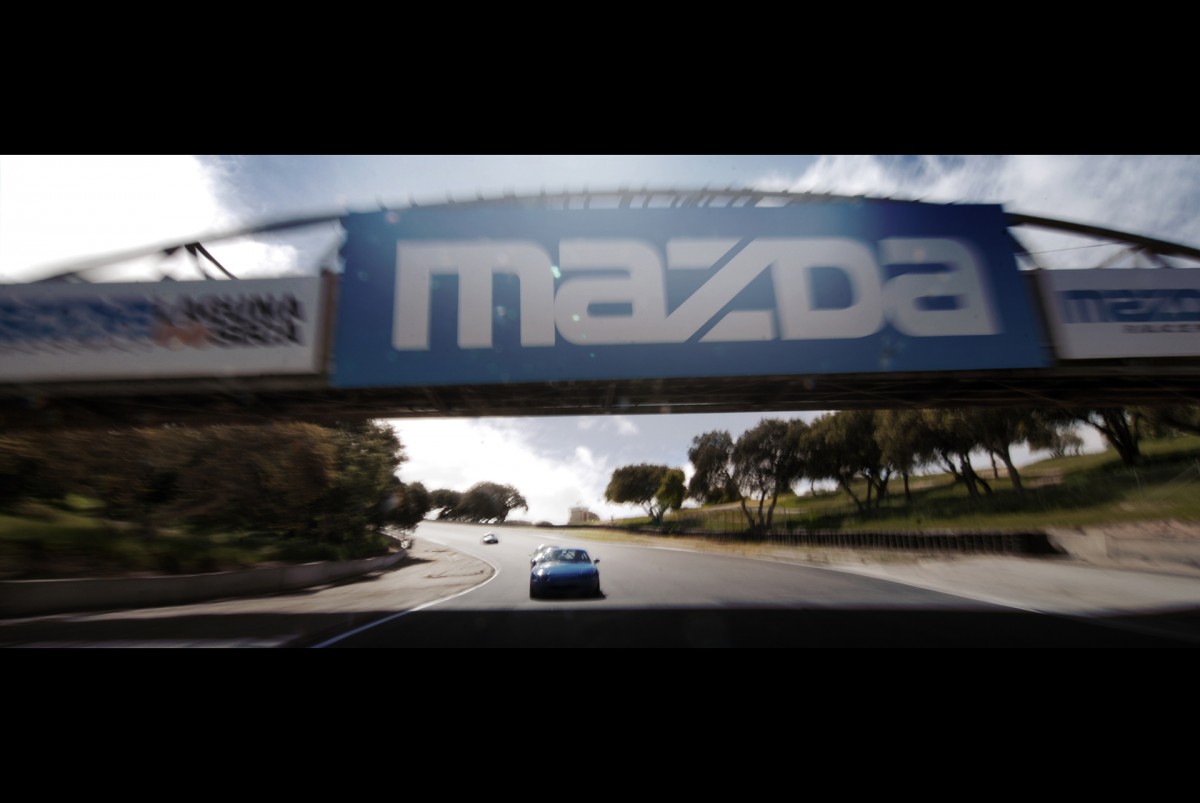 He even went down the Corkscrew standing up facing backwards at speed without a seat belt, and thought he was going to fall out. Nice one Linhbergh – anything for that shot, eh?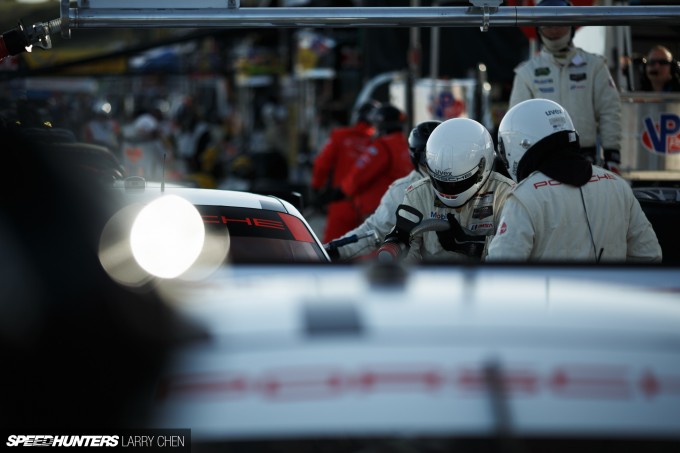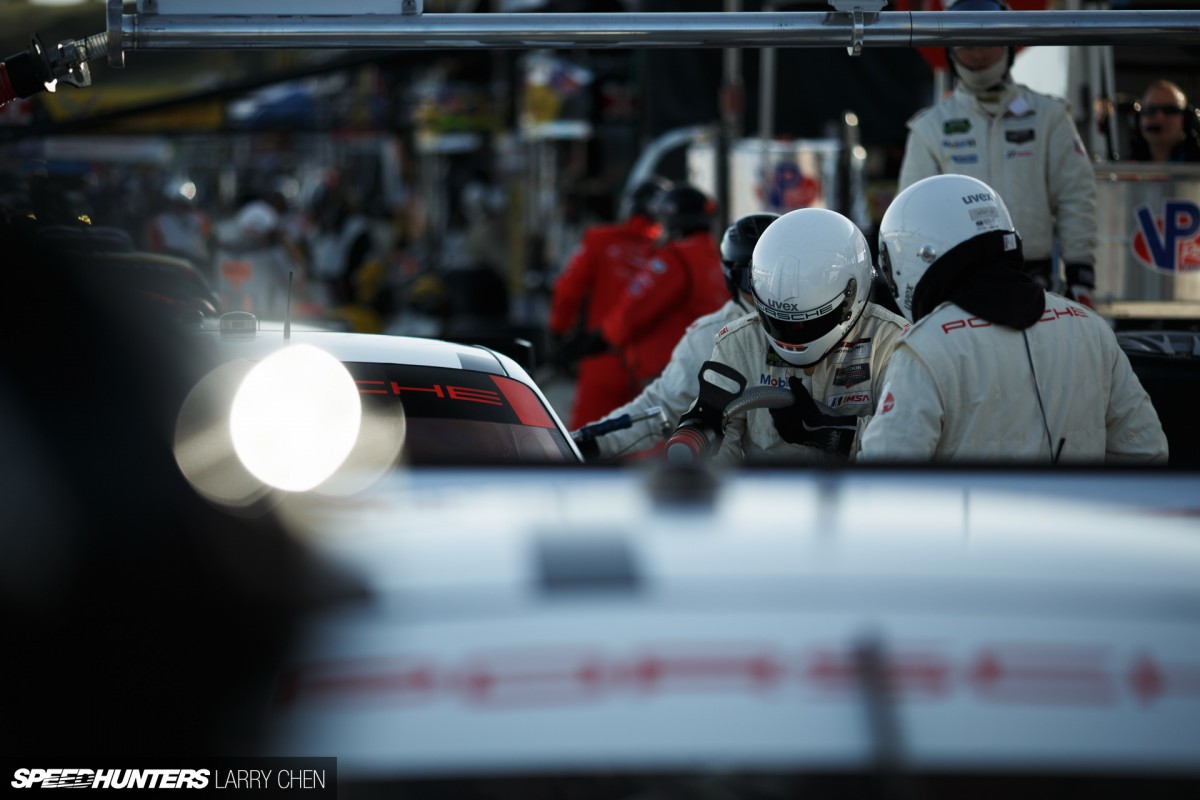 Of course, I had to ask resident Porsche lover Sean Klingelhoefer about his experience with Laguna Seca. His perspective, however, is purely a virtual one as he's never actually stepped foot on the hallowed ground.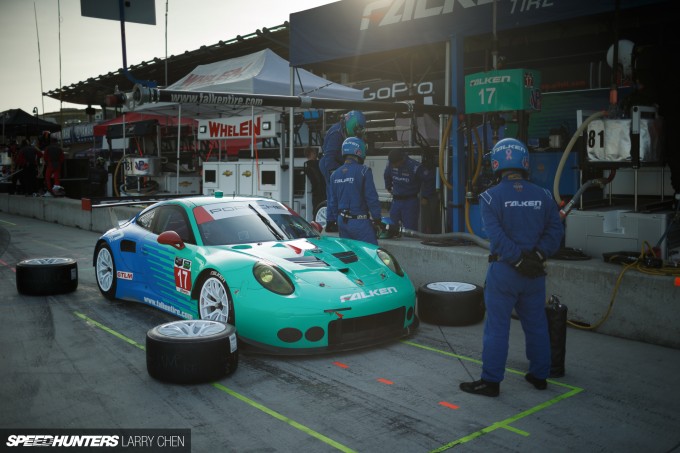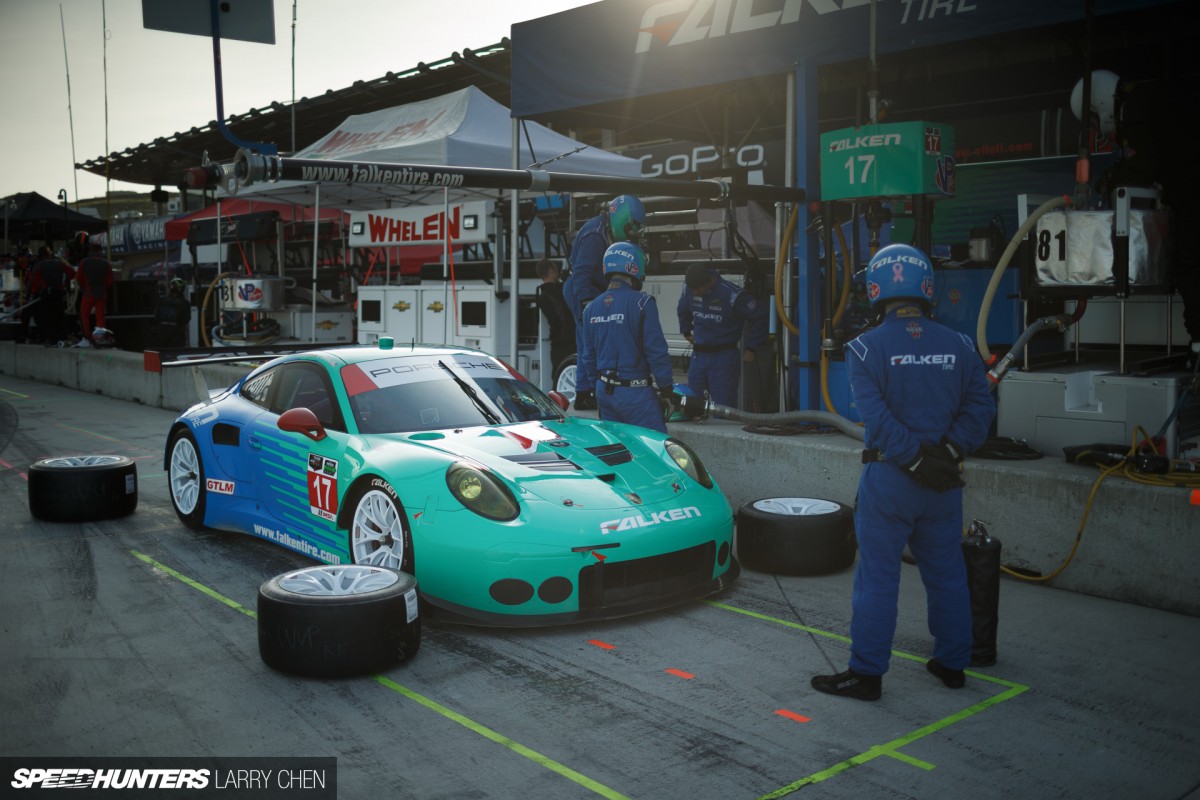 At 14 years of age, like the rest of us, he was into R/C car racing. I remember having those three to five minute backyard bashing sessions too, because battery technology was crude back then. However, Sean got a head start on me playing racing games on the first generation PlayStation.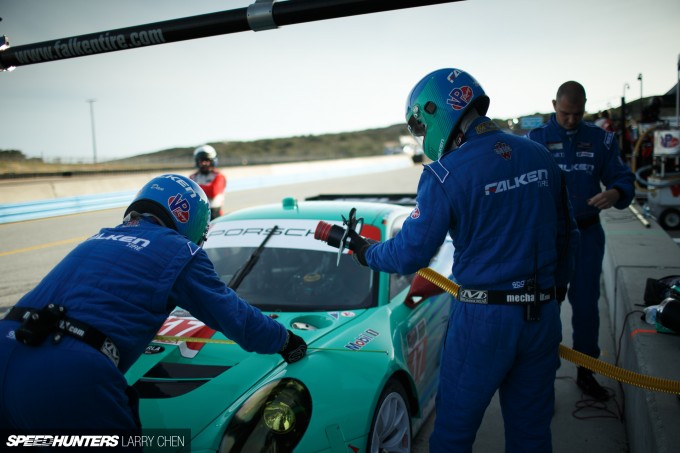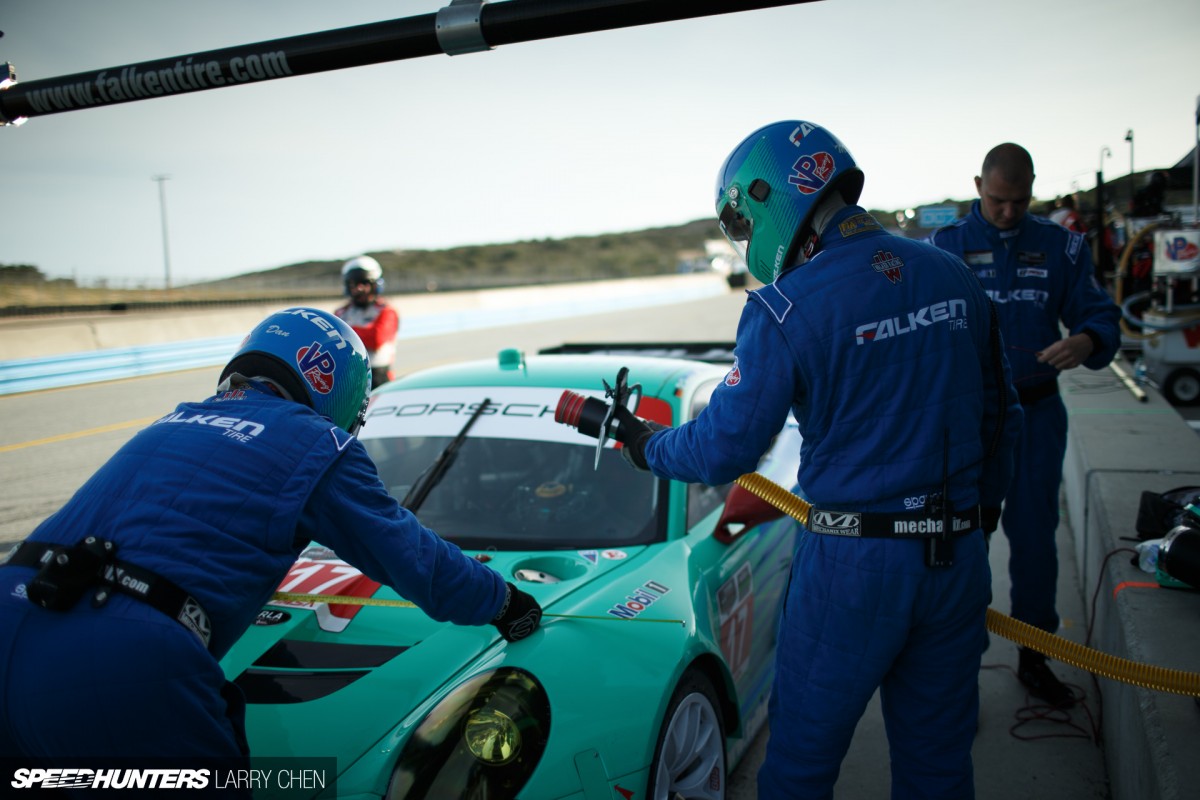 His favorite car to hotlap hours on end? A Saleen Mustang race car, because it would slide around all over the place and was generally just a handful to drive. Hours everyday were spent in front of the tube trying to achieve a faster lap.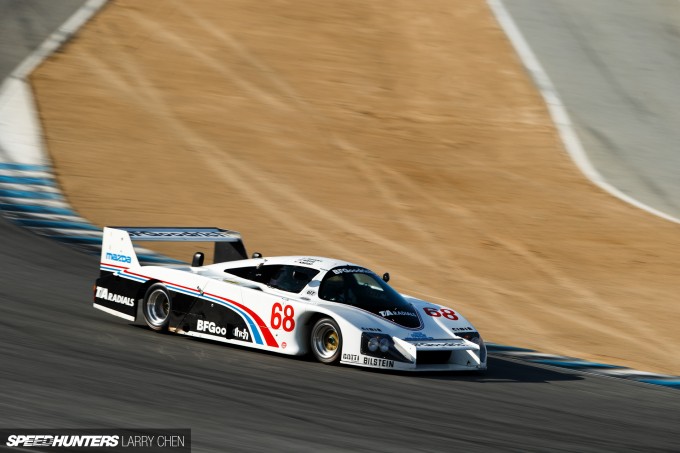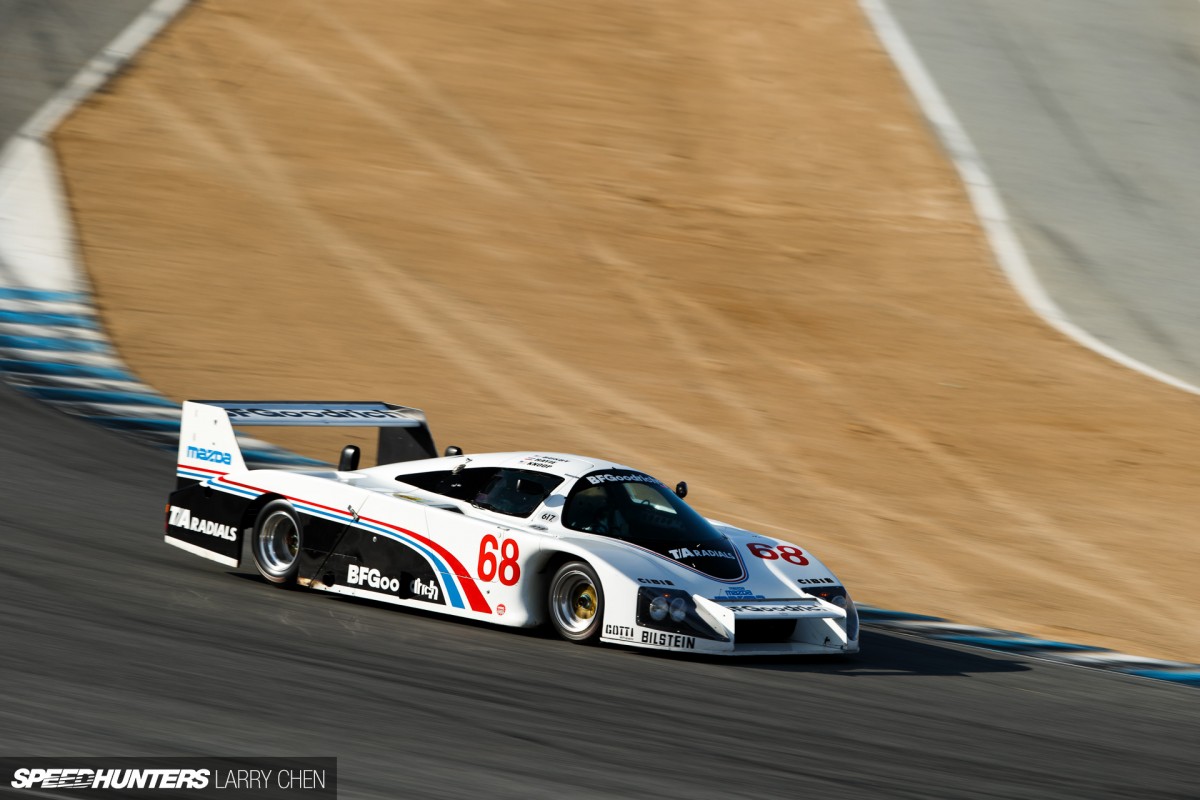 Sean brought up an interesting point about Laguna Seca, and that is, there's not one easy corner on the track. It doesn't help that anyone playing a racing simulator just thinks about how they will take the Corkscrew while forgetting about the rest of the corners. In essence though, the Corkscrew is the easiest to tackle in the virtual world, because when you go off you can just hit the reset button.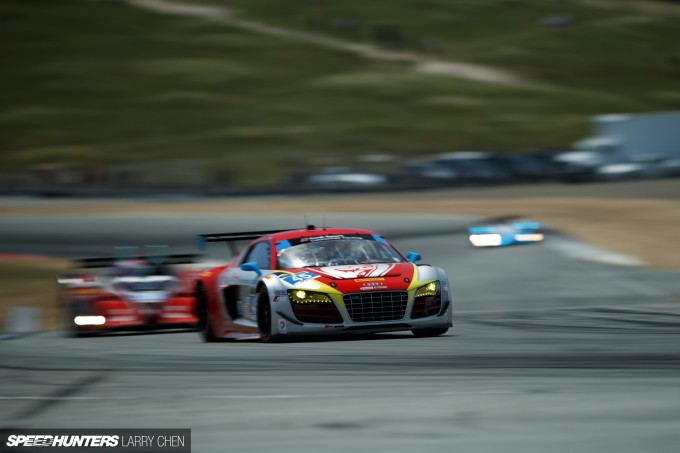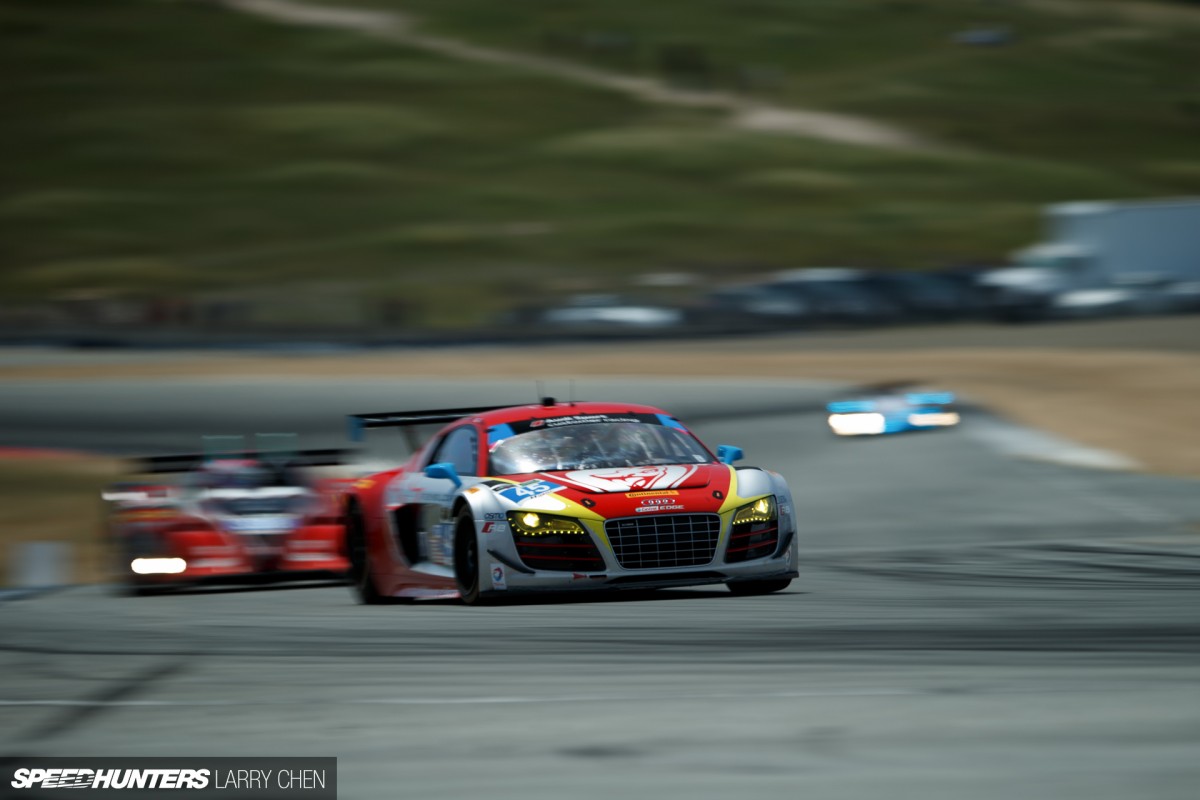 Sean also mentioned that it's one of those tracks where you always leave each corner exit feeling unsatisfied, and thinking that you probably could have gone faster. Of course, if you actually did go faster, then you'd just plow straight off the course.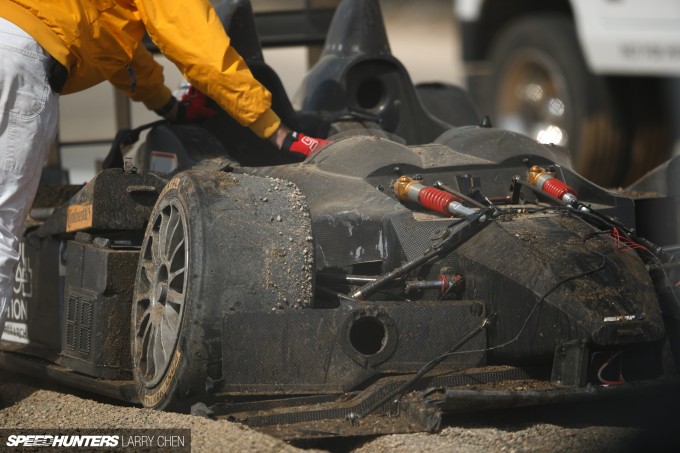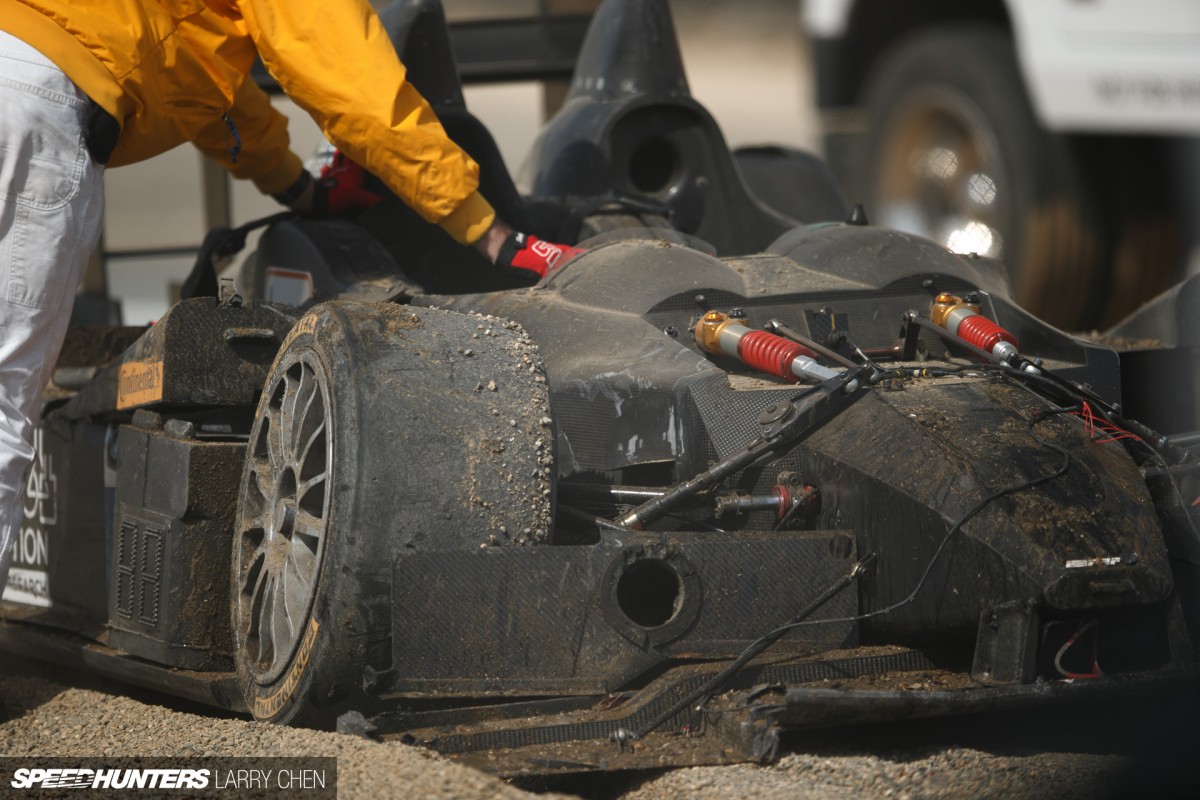 I completely agree on this point. I remember when I used to play time attack with my roommates. We would be so focused on beating each others times, we would always forget that we still had to take the final corner fast, without going off. Messing up that last corner resulted in so many botched lap times.
Hitchin' A Ride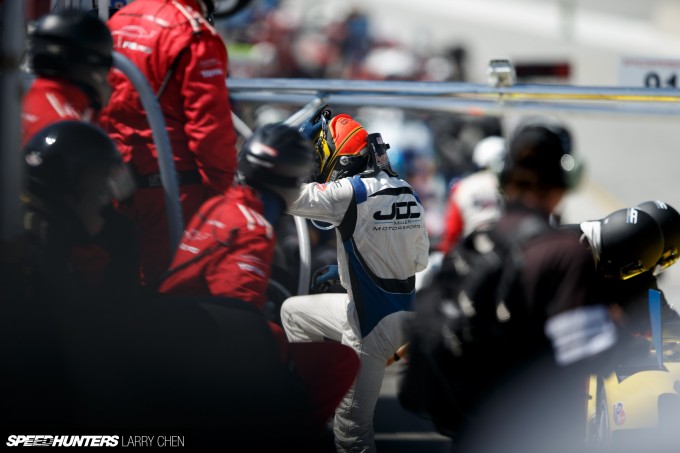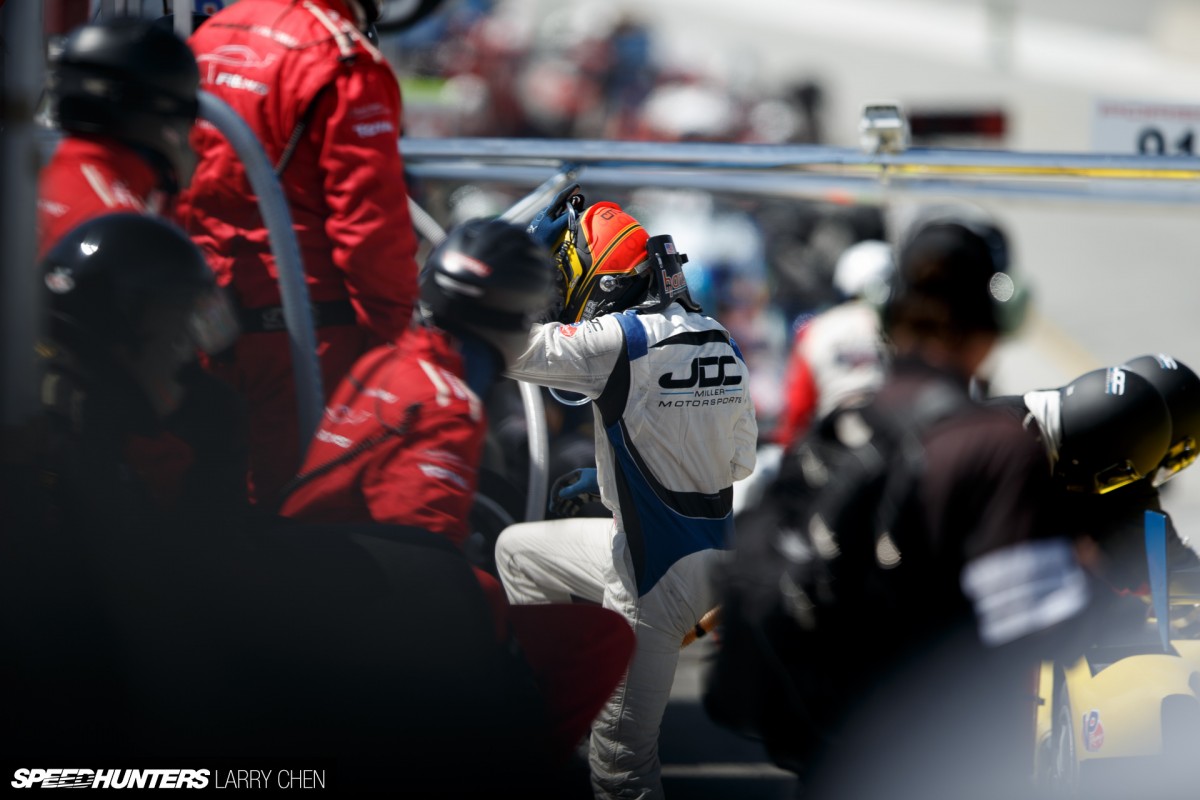 I asked one last driver the same question, and I thought his answer was funny because it doesn't even have anything to do with driving on track. There was a drift demo at Laguna Seca back in 2005, and Vaughn Gittin Jr. was driving with Chris Forsberg.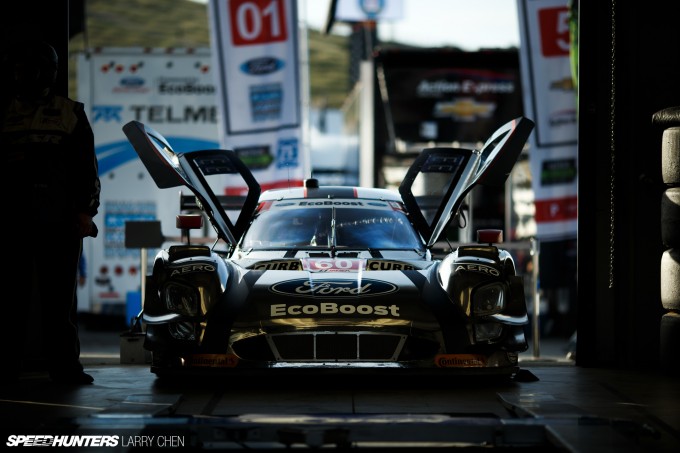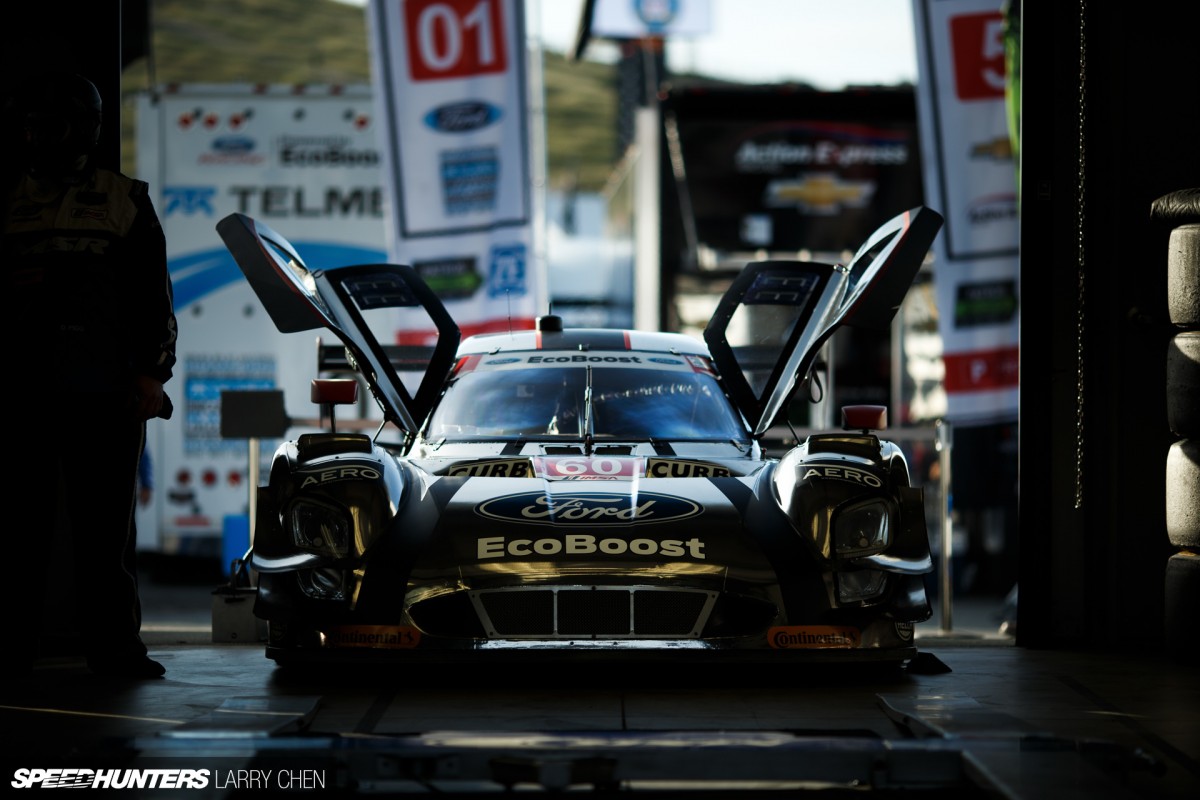 The two Drift Alliance brothers were leaving the track in their rental car, which happened to be a PT Cruiser of all things. As they were about to exit two drift fans asked if they could take them home, because somehow they got a ride out to the track, but they did not have a ride back. Of course, Vaughn agreed and all the way to the destination he was yanking that e-brake around corners like it was his job. He said it was almost as fun as driving on track. Looking back on it today, Vaughn was wondering how the story would go from the perspective of those two fans. I guess we will never know…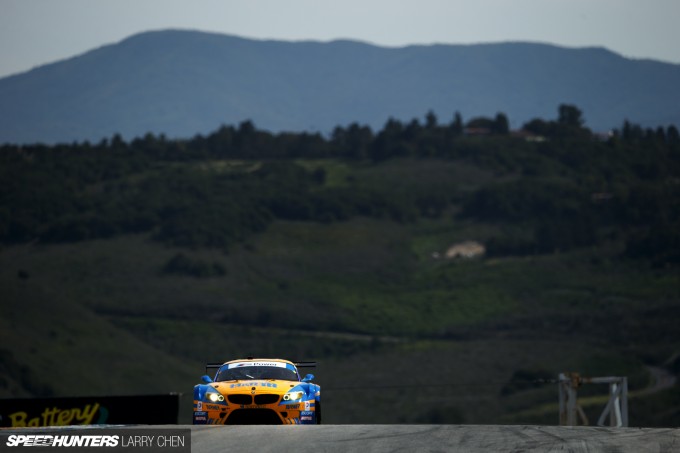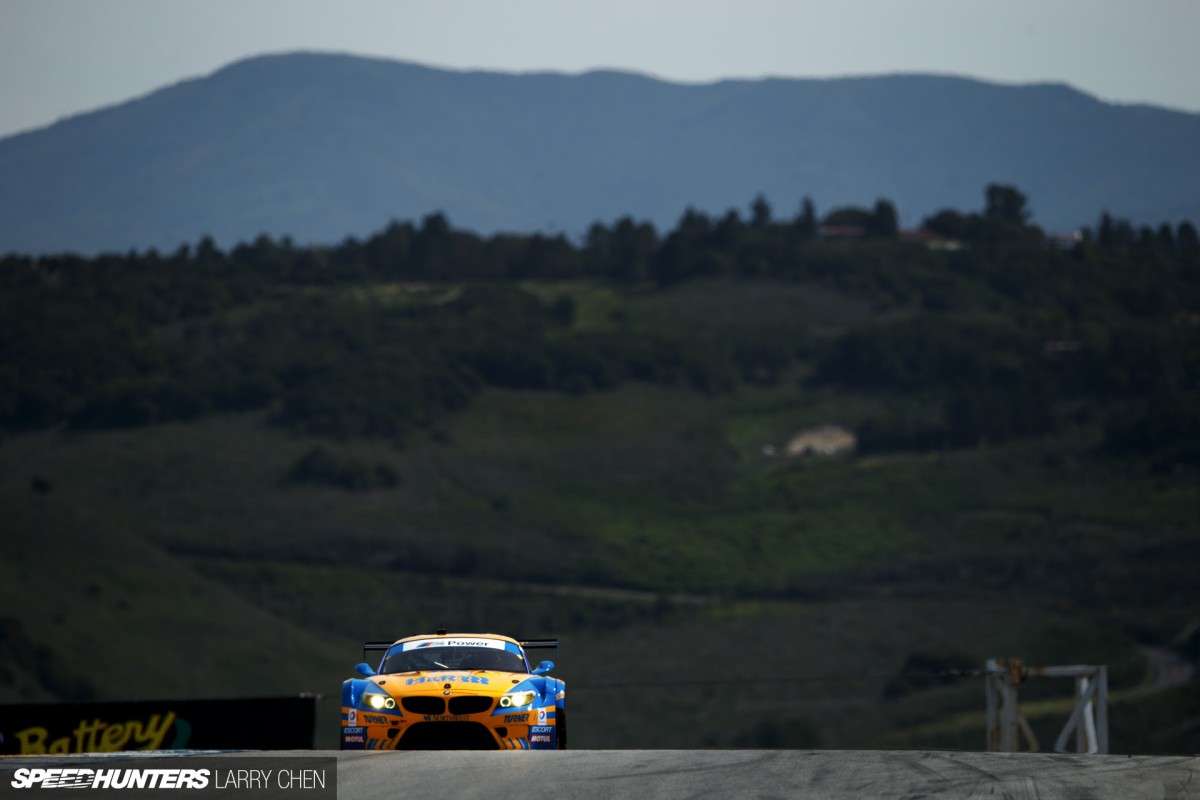 Out of curiosity, I posted my Laguna Seca memories question on Facebook to see what people had to say. Speedhunters videographer, Will Roegge responded with his first experience in his Porsche going down the Corkscrew. "It felt like I had the wrong line even at half speed – like there was no way the track would continue in front of me and that I was about to nose-dive off the track to the right into the dirt. The Porsche continued forward and magically the track was there! A huge smile came to my face."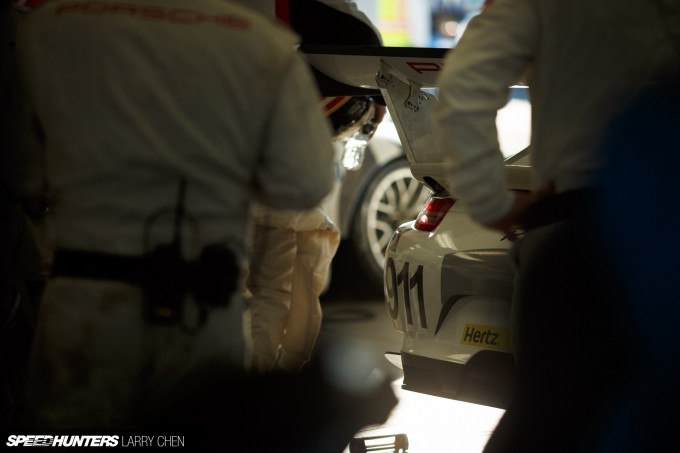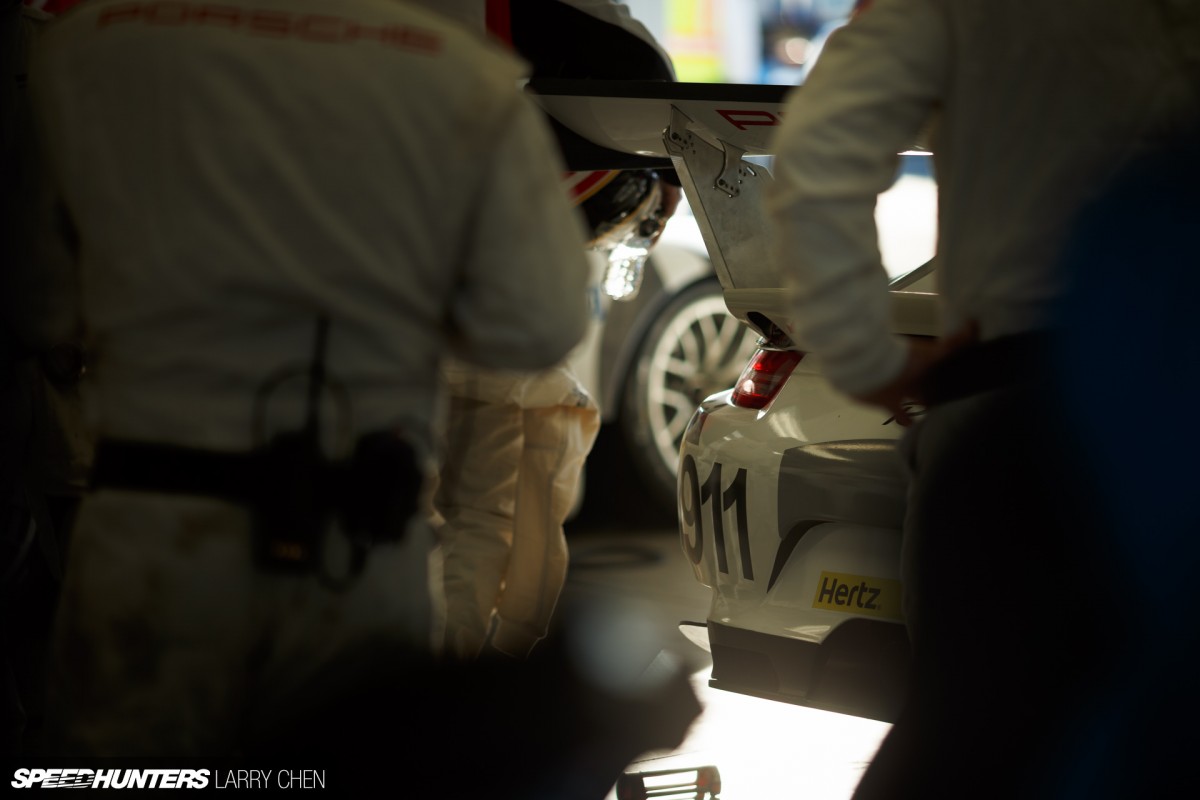 Just when I thought I've heard it all, my Facebook friend John Mueller replied. "Marrying my wife while standing on the Corkscrew, and letting my father's ashes go above the Corkscrew. Fifty years of my family winning at Laguna!" I think this guy just won…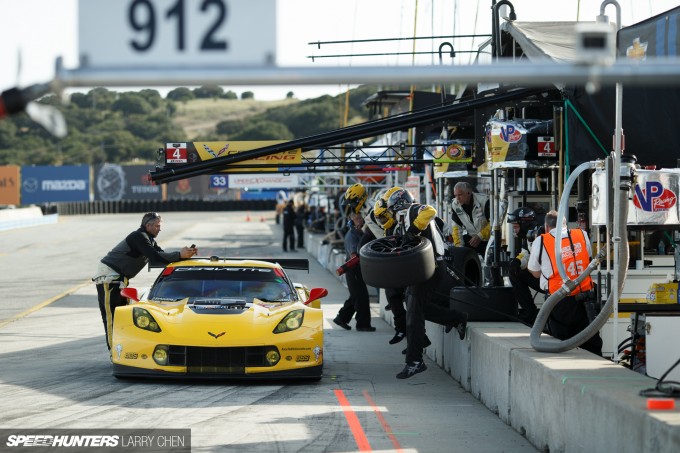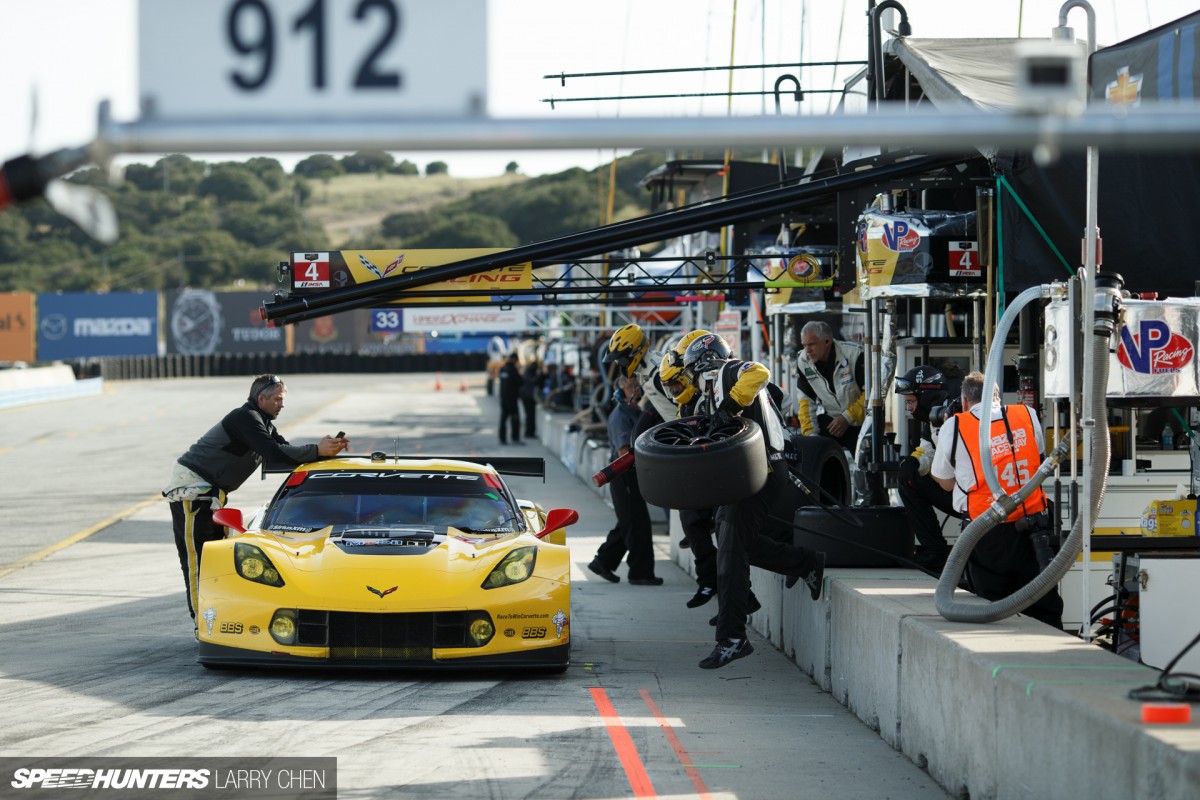 There are so many stories out there, and it seems like no matter where you are in the world, people have something to say about Laguna Seca.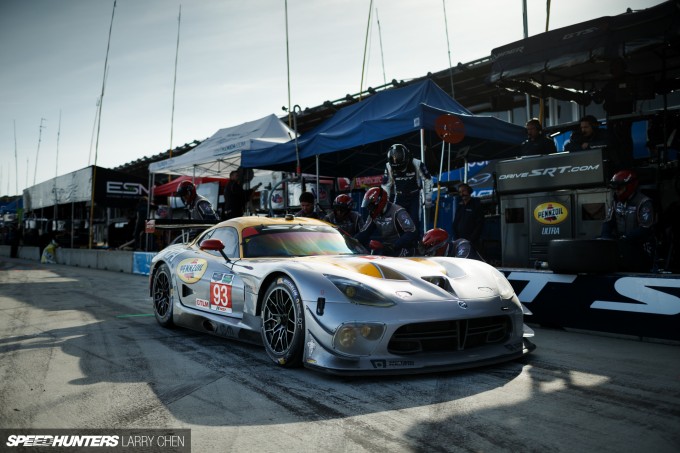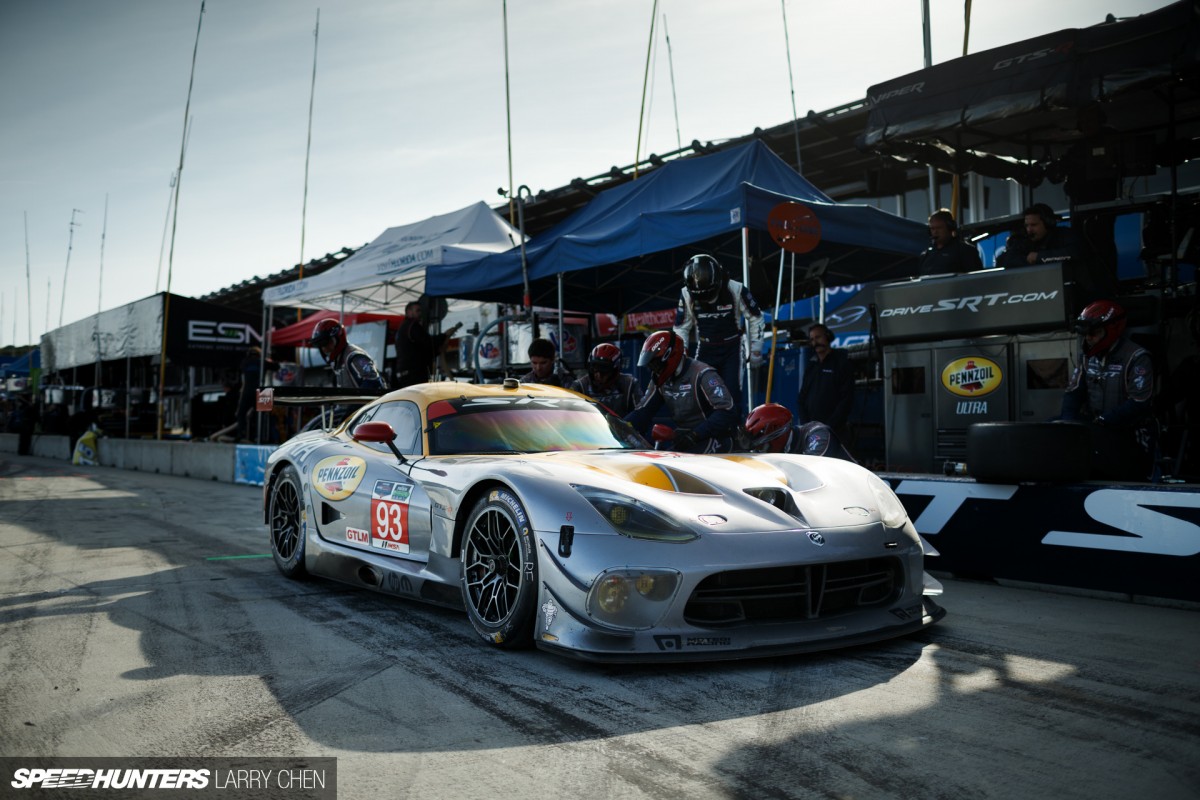 Whether it be the fastest lap in a production vehicle (which is held by a Dodge Viper in case you're wondering), or sitting at home playing video games with your friends.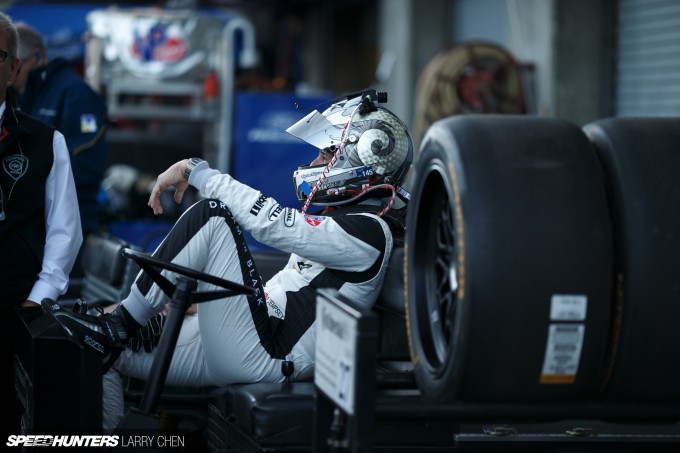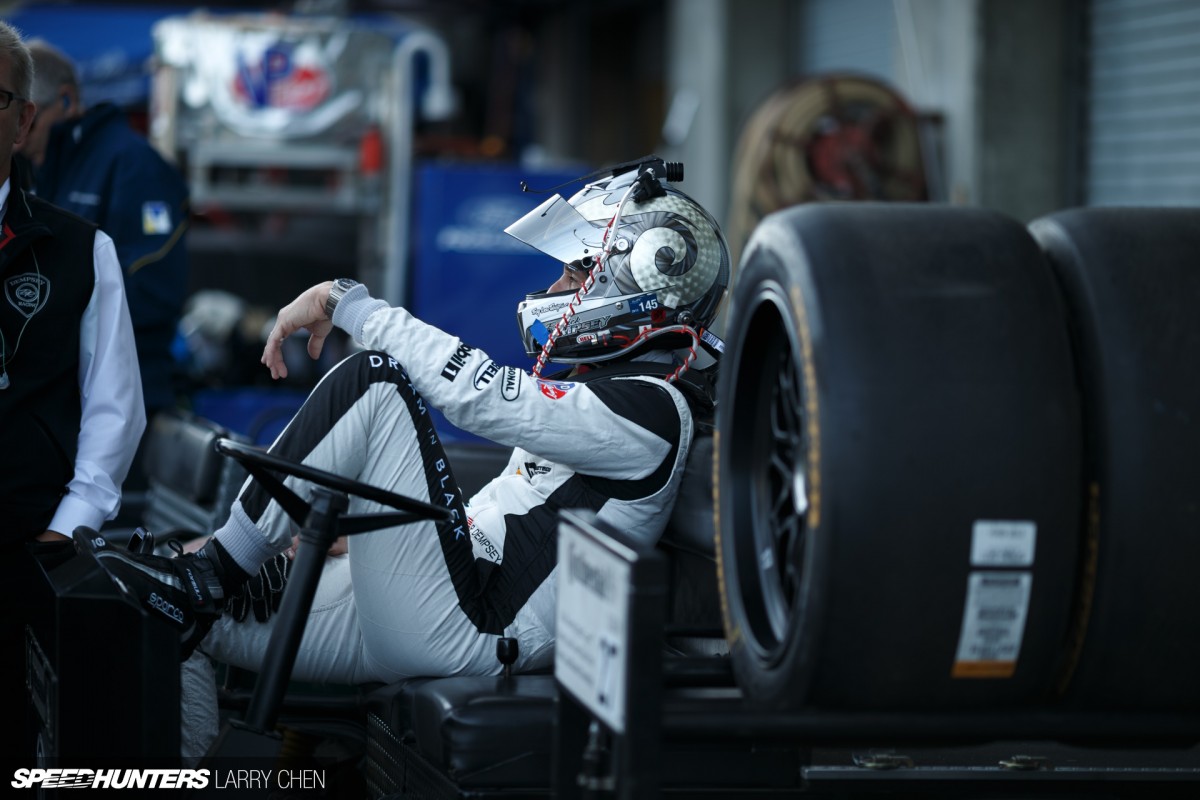 For the fans that actually come out to the races, it could be something as simple as their first time meeting Patrick Dempsey – aka McDreamy.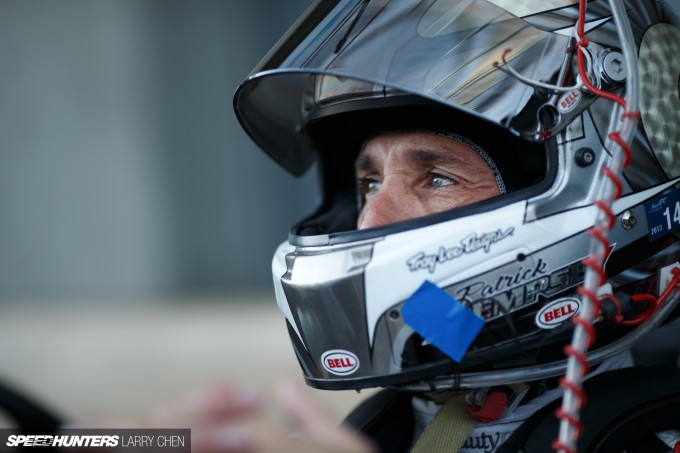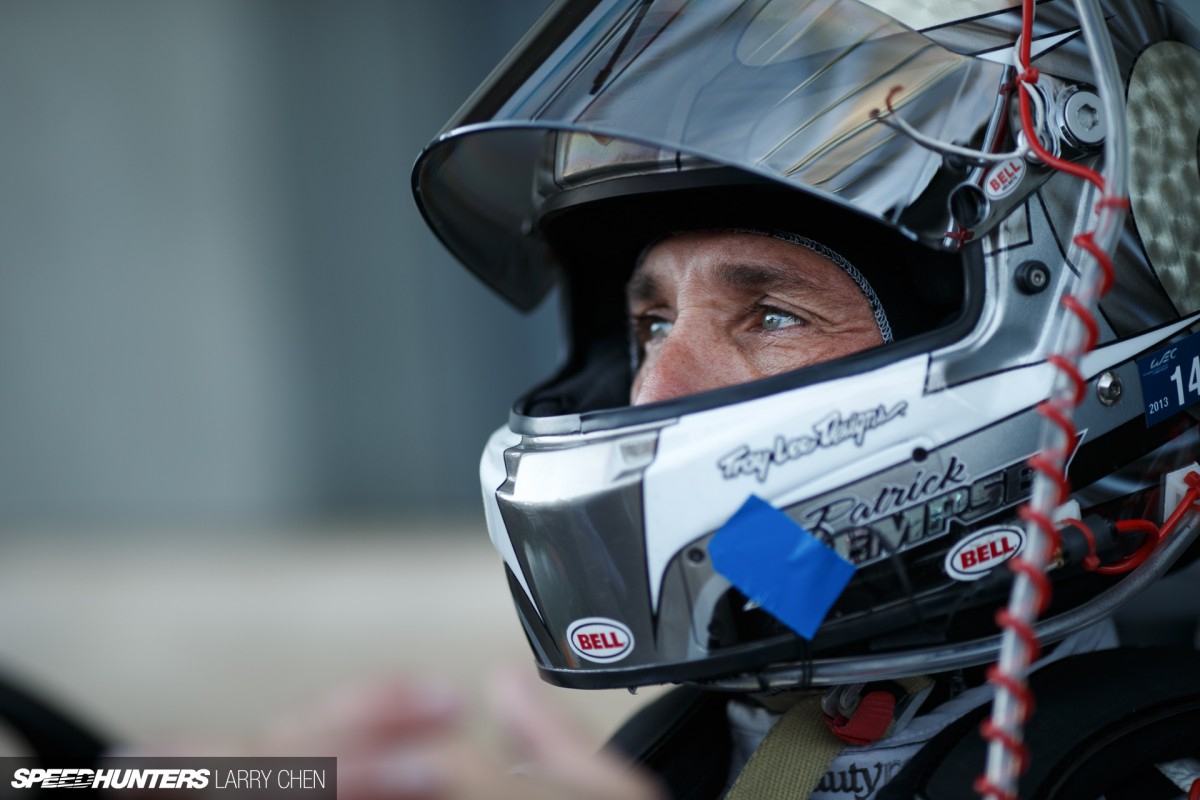 I really respect what he has accomplished as a racing driver, and I know for a fact that if he had to choose between racing and acting he would be behind the wheel.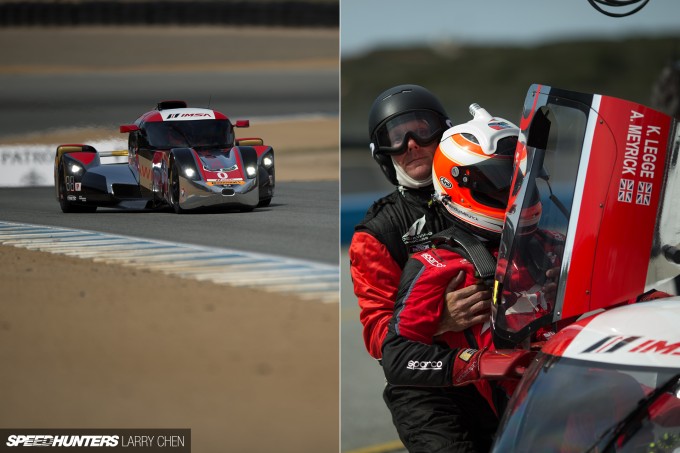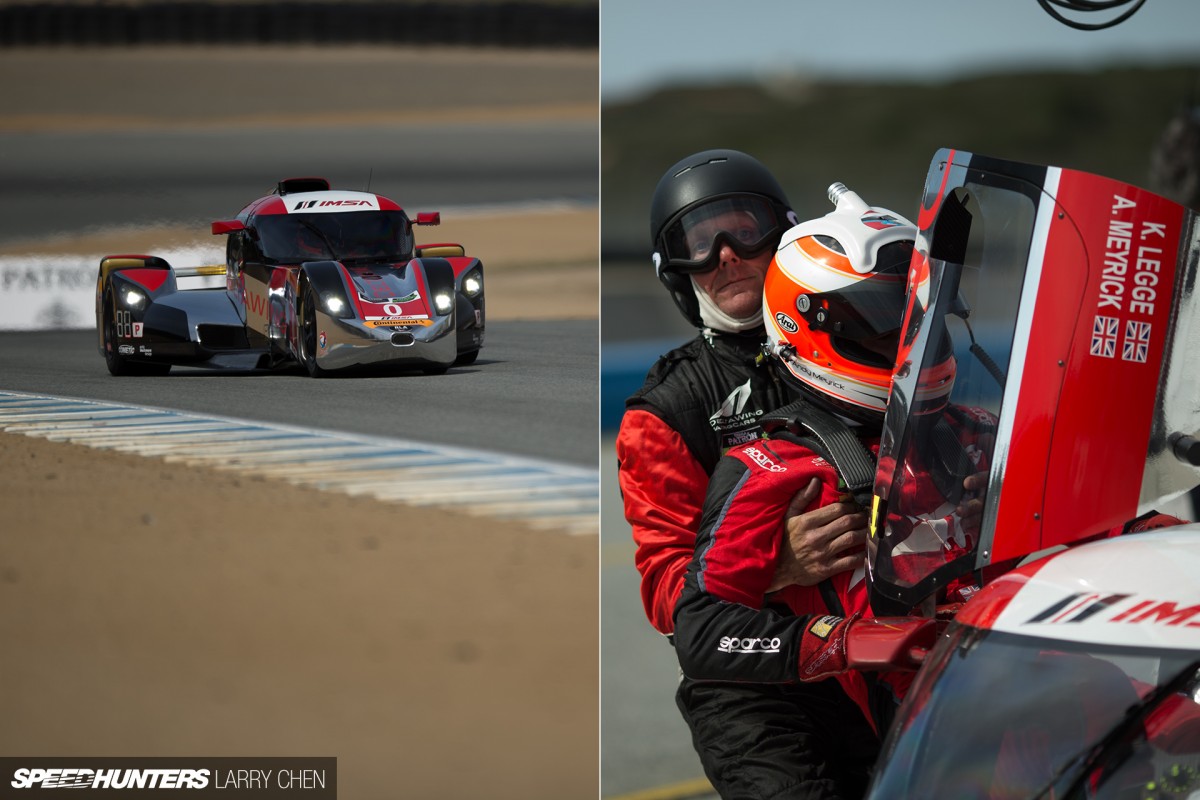 Here's a question that I get asked quite often in the photography trenches. Would I rather drive race cars for a living or would I rather continue to shoot race cars for a living? I don't try to hide my love for driving, as it was the first thing that I truly enjoyed doing. I was competing on autocross long before I even picked up a professional camera.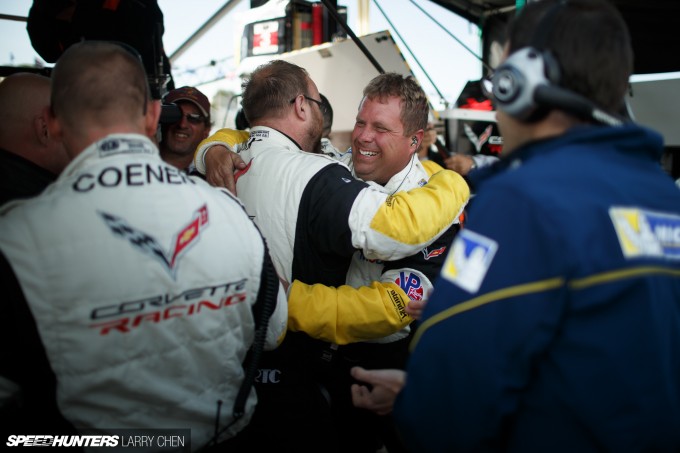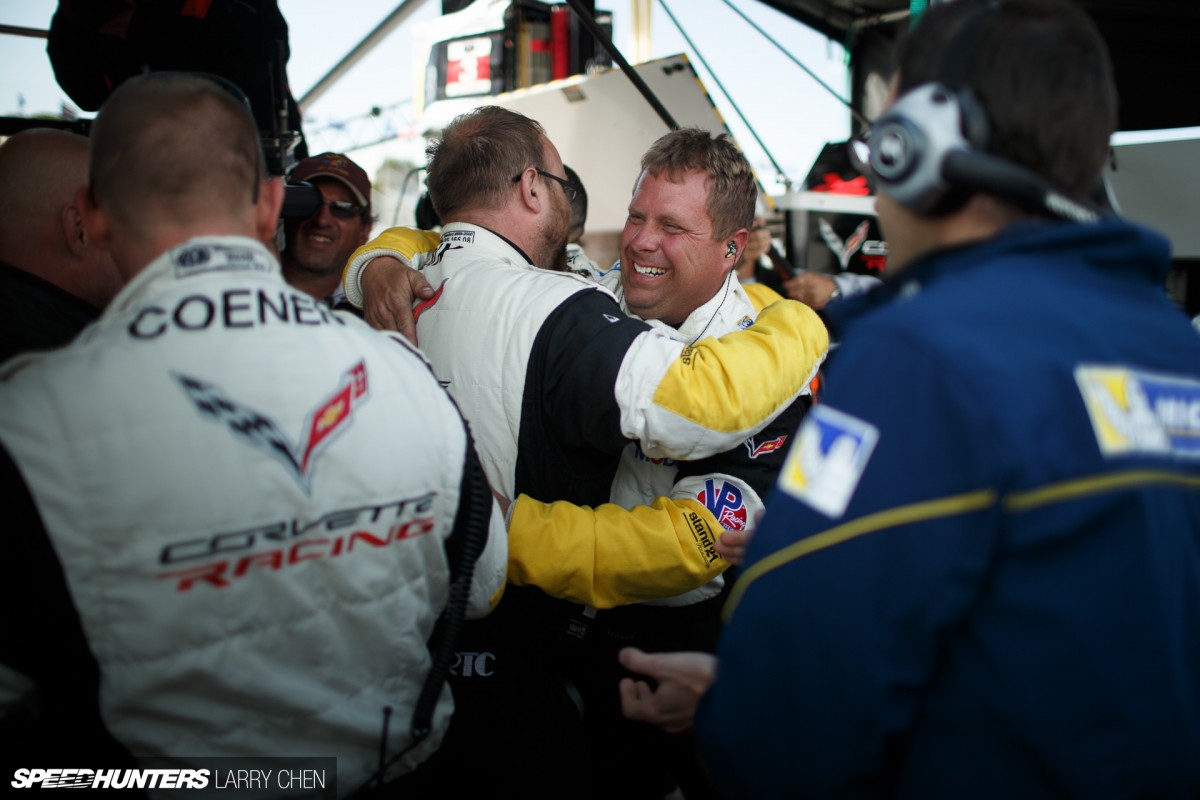 So, would I trade in my camera for a shot at glory? Realistically, no. I know I am not that fast, and I don't feel like I have the pure natural talent that lots of my friends do. The clock does not lie.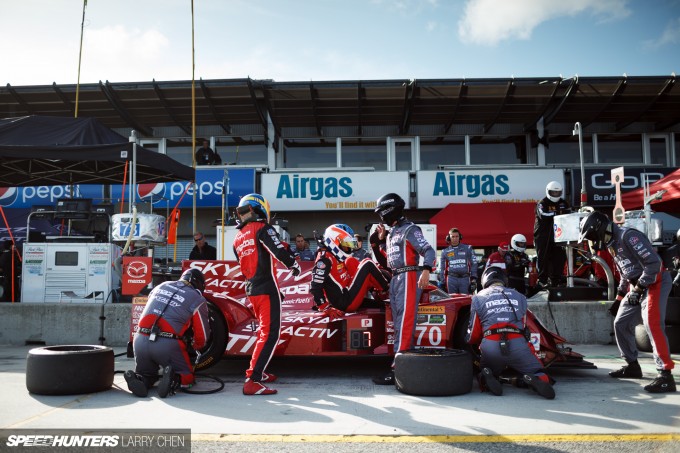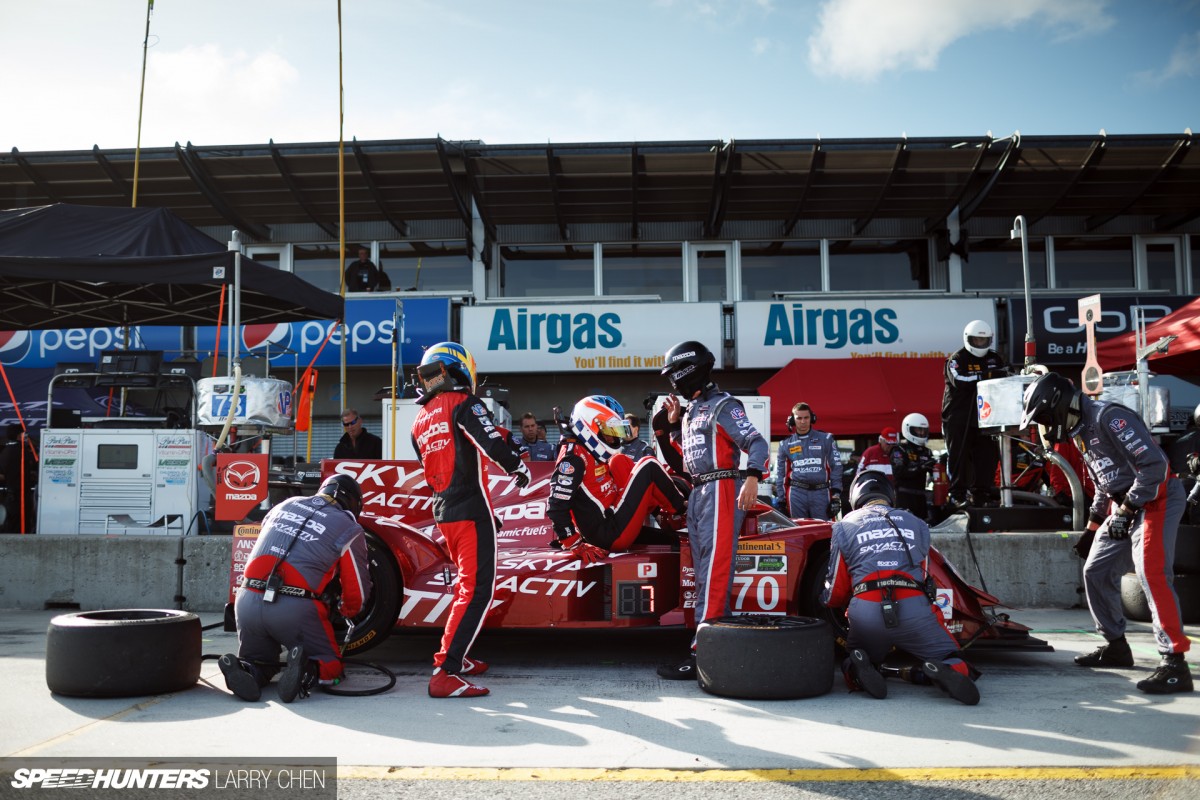 However, when I close my eyes at night and drift off into a deep sleep, I do find myself dreaming about shifting through the gears in a full-on GT car. I guess that is why my favorite memory of Laguna Seca is staying up all night with my roommates hot lapping race cars over and over, and going off at the last corner – again and again. What's your favorite memory of Laguna Seca?
Larry Chen
Instagram: larry_chen_foto
larry@speedhunters.com