The birth
Vehicle manufacturers are continuously improving the quality, design, comfort and performance of the models they have on offer. As cars get more advanced and powerful, getting that power onto the road becomes more and more of a challenge in itself. We all know how important tires are when it comes to handling, but one part that is very often overlooked is the suspension. I recently had a chance to visit KW Automotive in Fichtenberg in order to take a look at how their yellow and chrome wonder sticks come into being.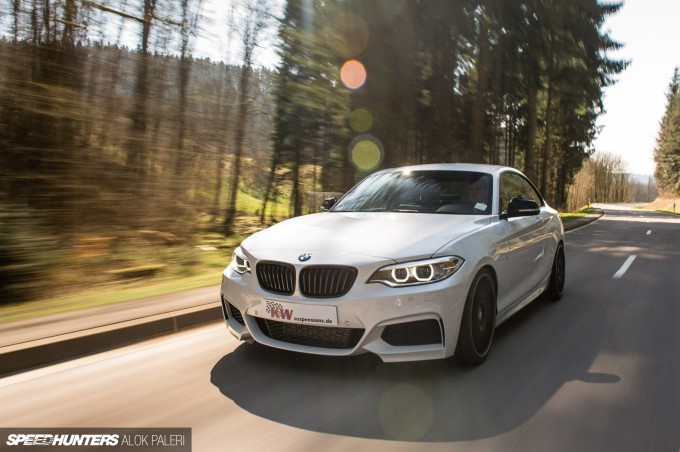 When it comes to high quality aftermarket performance-oriented suspension components, the KW name needs little introduction. The German company designed and manufactured its first set of coilovers in 1995, and certainly hasn't looked back since; now providing suspension solutions to some of the world's top motorsport teams in a wide range of motor racing disciplines from FIA GT1 to the WTCC and everywhere in between. There was much to discover, and I couldn't wait for Speedhunters' behind-the-scenes tour to kick off…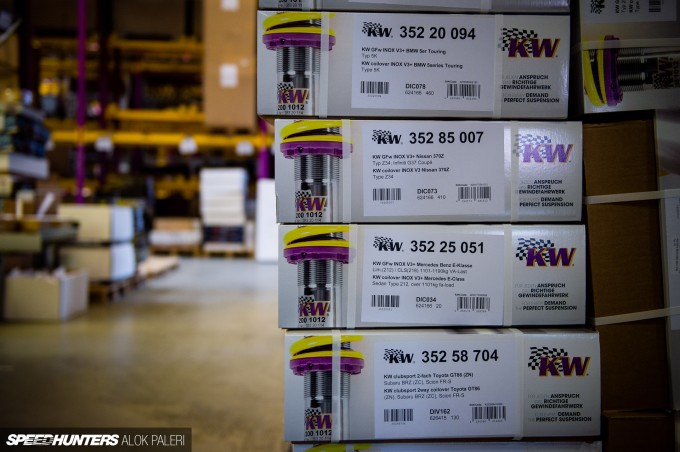 Over the course of my day at KW HQ there was a lot I learnt, the first thing being that regardless of where in the world you are, if you order a KW suspension unit it would have started its life here – handmade by select few craftsmen and precision engineers.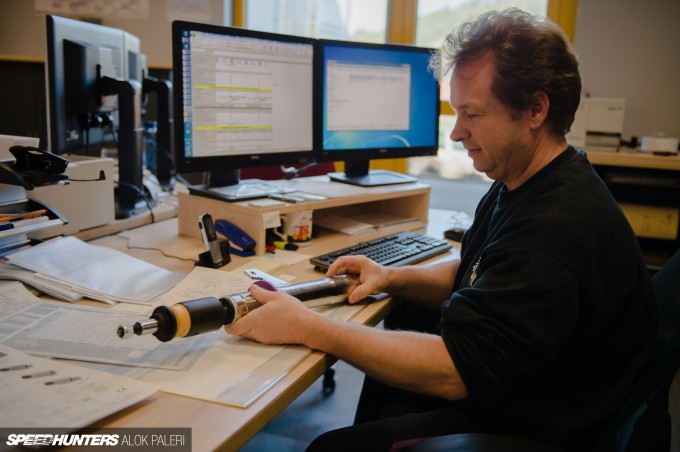 Head of the KW Suspensions R&D is Thomas Wurst – a guy who knows has been building shock absorber and spring packages for a very long time. Every newly-developed coilover from KW has been touched by him.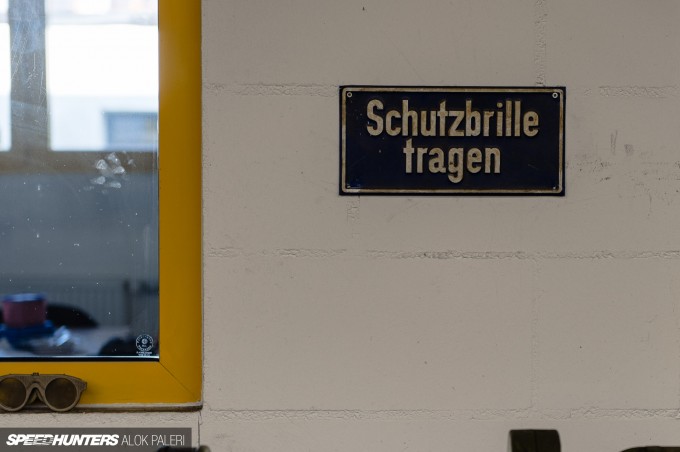 The KW plant is an interconnected system of multiple halls where parts go through different stages of fabrication, assembly and packaging.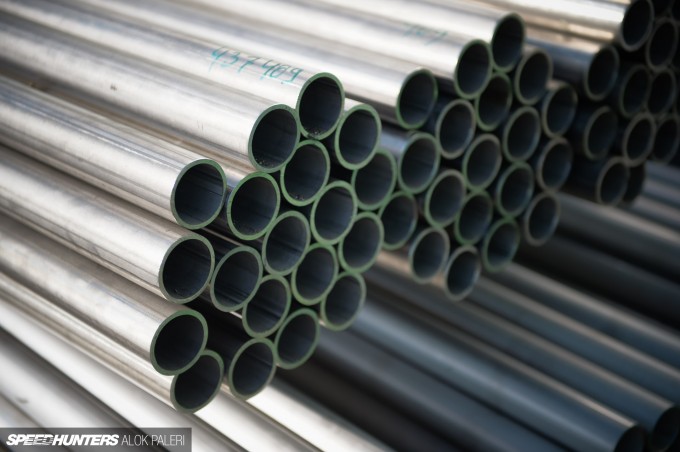 No, we aren't in the home of the famous Italian plumber brothers Mario and Luigi. This is where it begins at Fichtenberg, with the delivery of steel pipes that'll later form the basis of the suspension units.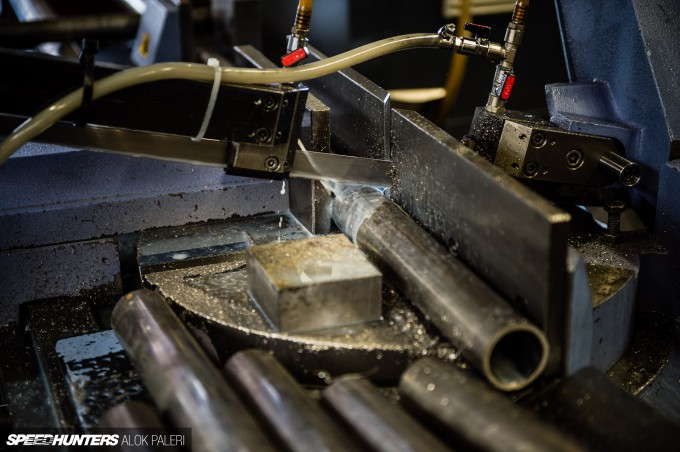 These pipes are fed into an automated saw that cuts the pipe at the precise length required for fabrication.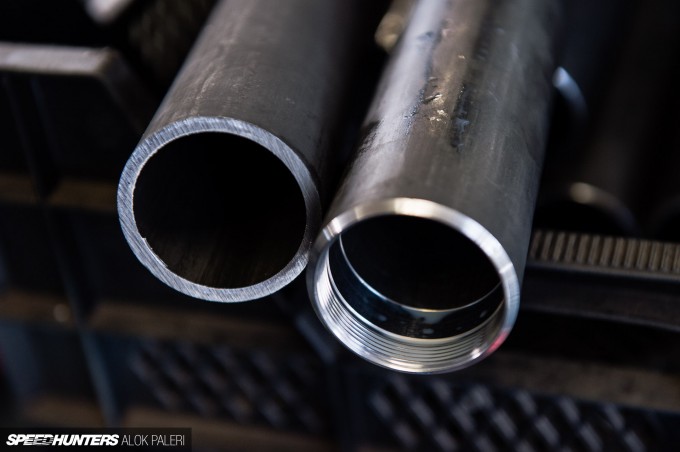 At the next station, a machine polishes a tip contour and carves a thread on the inside.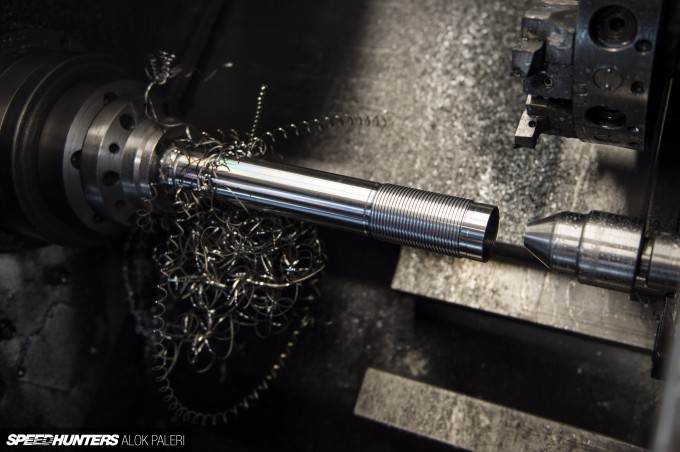 This is followed by even more polishing and threading, this time on the outside.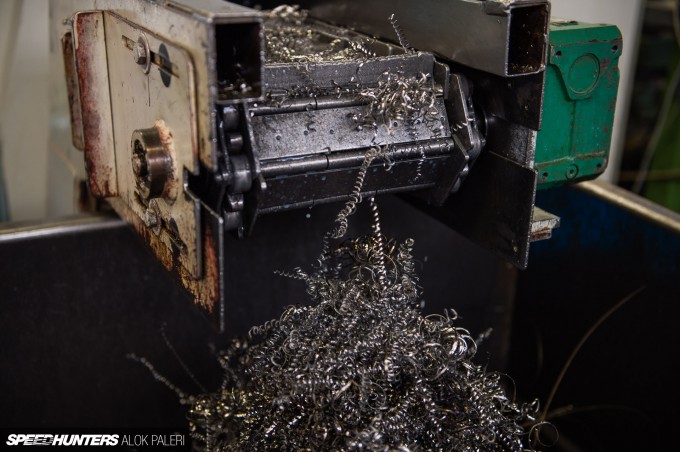 In order to reduce wastage, the trimmings are collected and sent back to the steel factory be melted back down and recycled.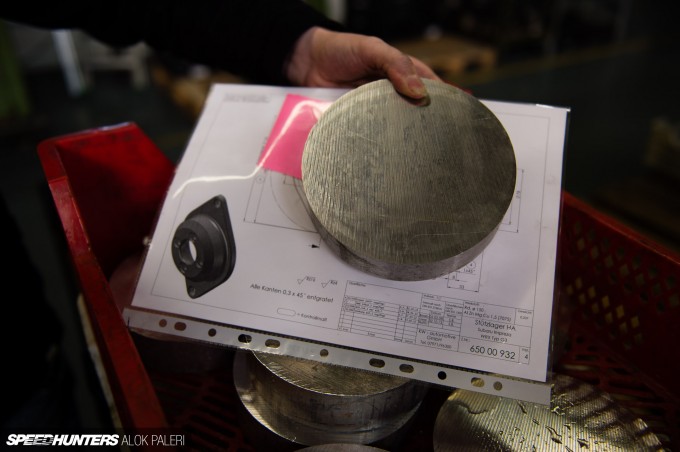 Here you can see how a slice of metal starts its life, before being transformed into various different top mounts.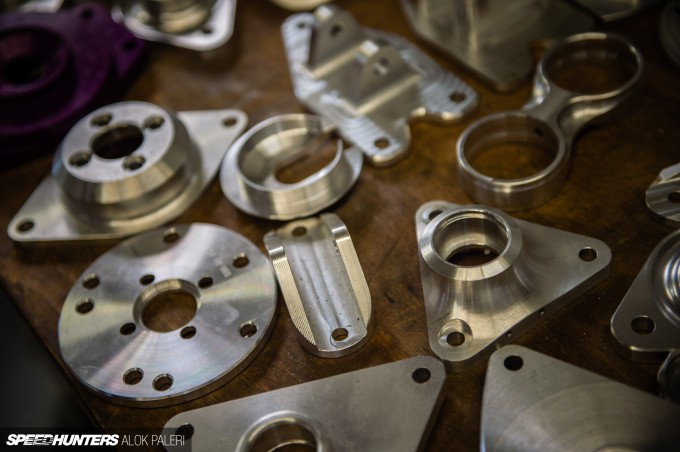 Of course, they come in all shapes and sizes depending on the vehicle and the intended end use.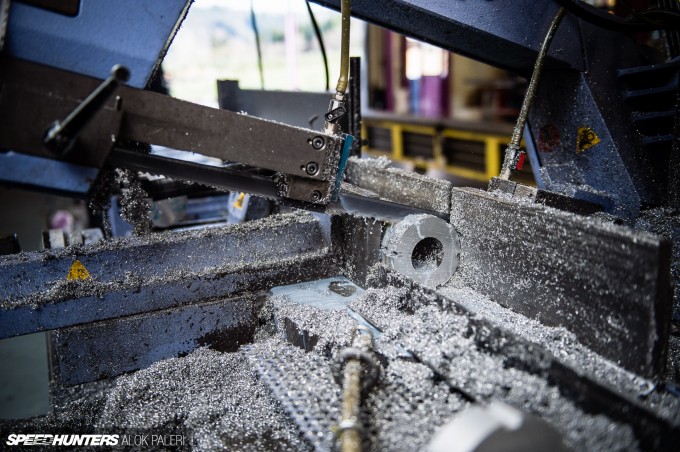 Everywhere I looked, there was sawing and polishing of some description going on, be it slicing of pipes or the drilling of mounting points.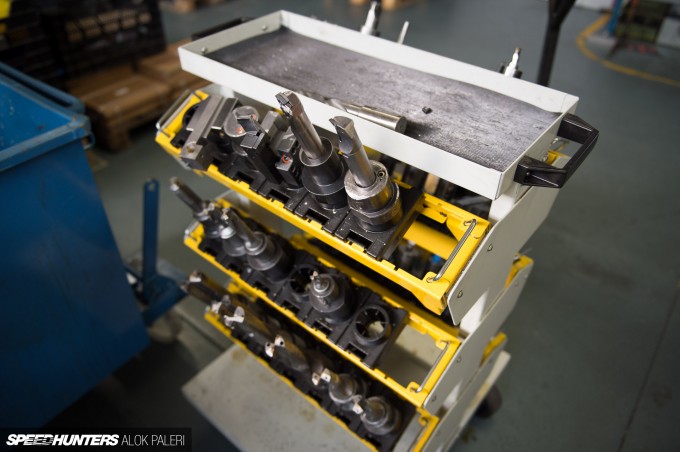 Rarely have I seen such a diverse amount of machinery dedicated purely for fabricating precision equipment all under one roof.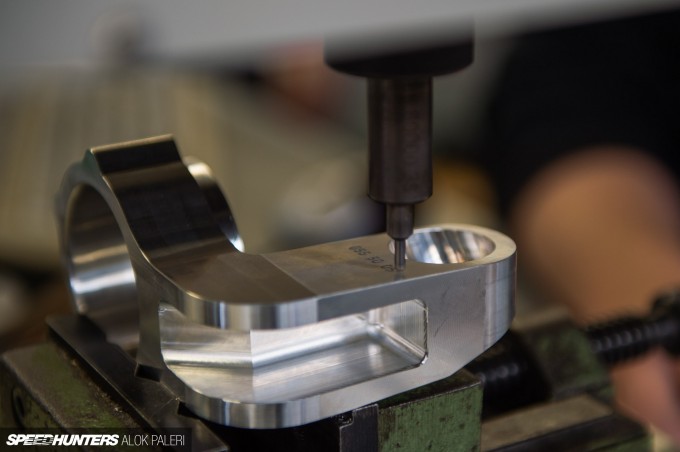 Each part is engraved with its own serial number so as to coordinate the assembly process. So many different suspension units of differing specifications are assembled in this one factory that it is essential that there are no mix ups whatsoever.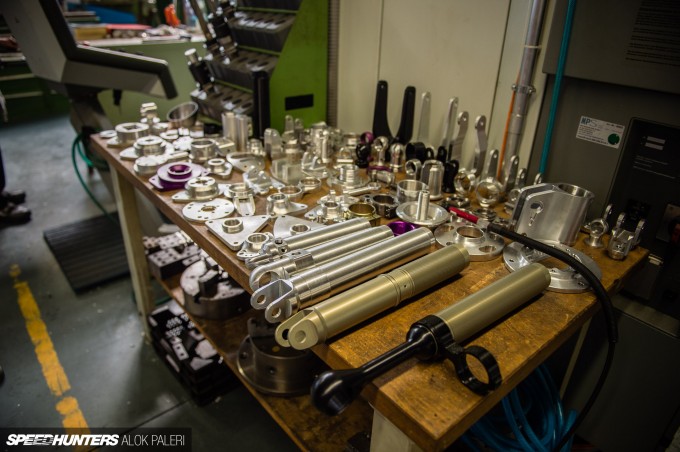 To give you an idea of the scale of production, these are just some of the parts that emerge out of the fabrication plant.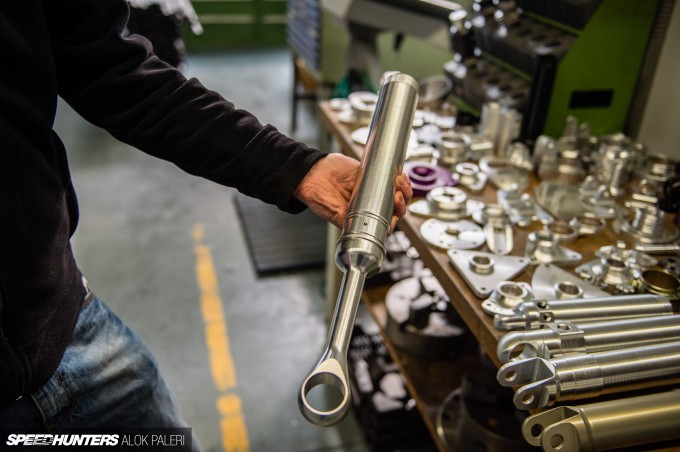 More than half of the components that are manufactured here will never to be seen by any ordinary driver in their entire lifetime. Here, for example, is the coilover for a Mercedes-Benz SLS AMG.
Putting the pieces together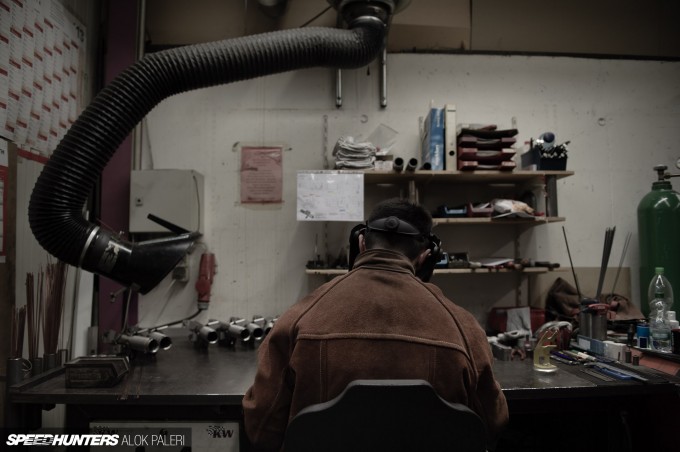 Over by the welding department, there are a couple of men work in the corners. It's their job is to make sure the suspension units remain firmly attached to your car, no matter how much of a beating you give it.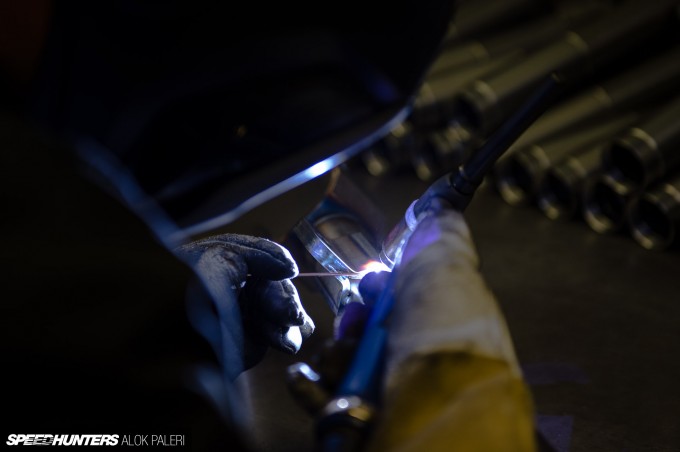 It's here where all the suspension struts are welded together with the mechanical fasteners.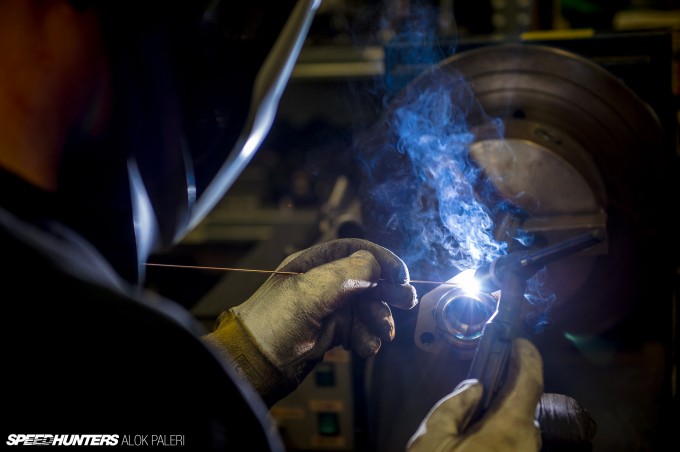 At that particular moment, top mounts were being welded on a set of XTA coilovers from KW's ST Suspensions line.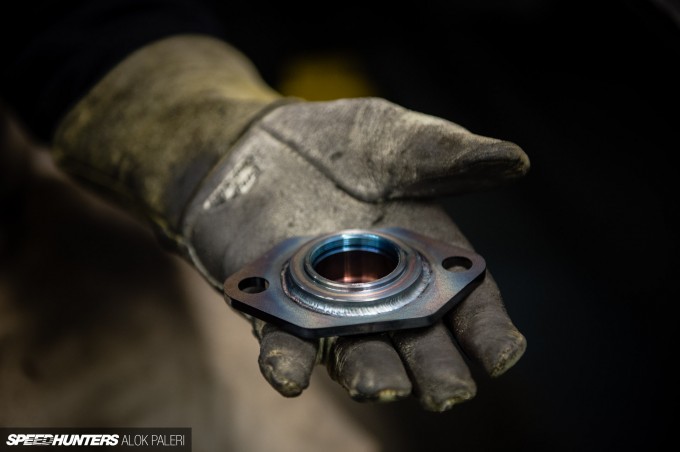 This is the finished part. I'm not sure about you, but to me there is something innately beautiful about a hand-welded product.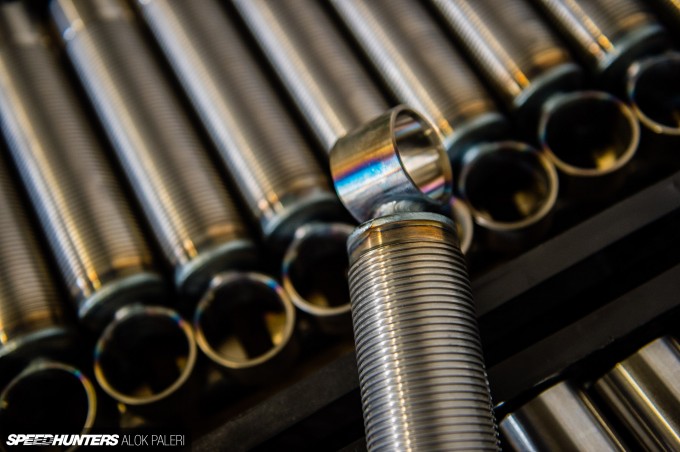 Here we have the outer tube, which is part of a rear suspension. The hot welds give it that cool blue sheen.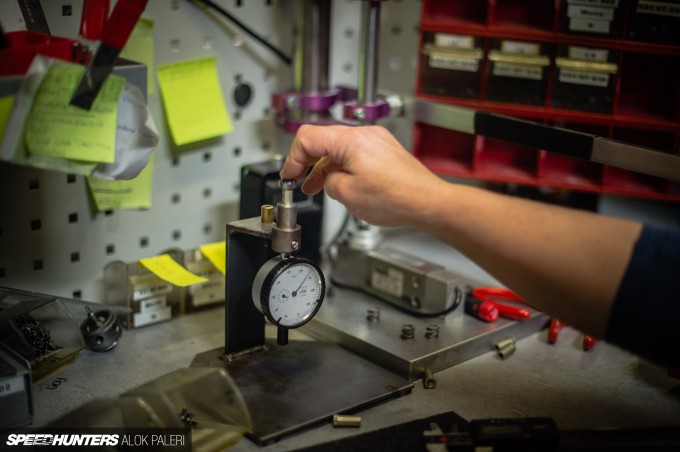 What you see here is the production of the adjustable compression valve of a KW Variant 3 shock absorber.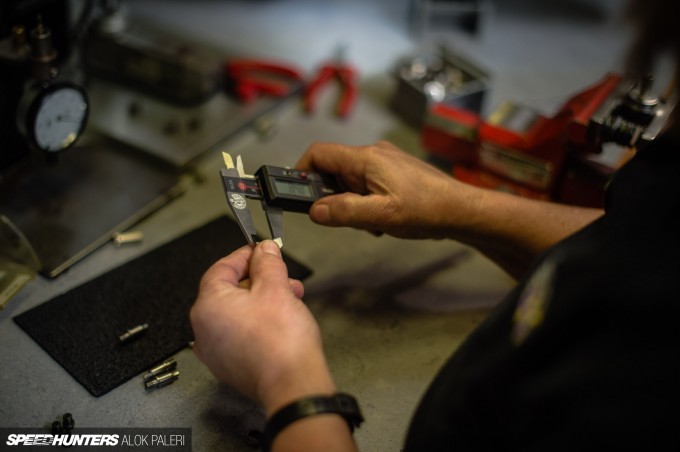 This is one of the precision parts that go into the suspension, so the tolerances are extremely small.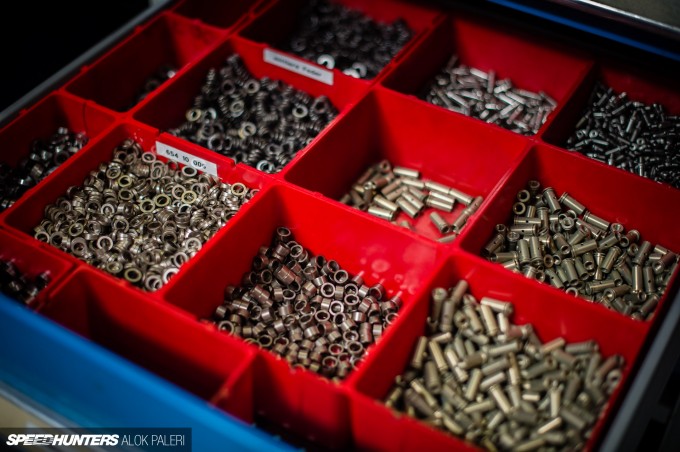 All the parts needed are within an arm's reach and sorted into their specific little trays. No time is wasted here looking for the right washer or screw.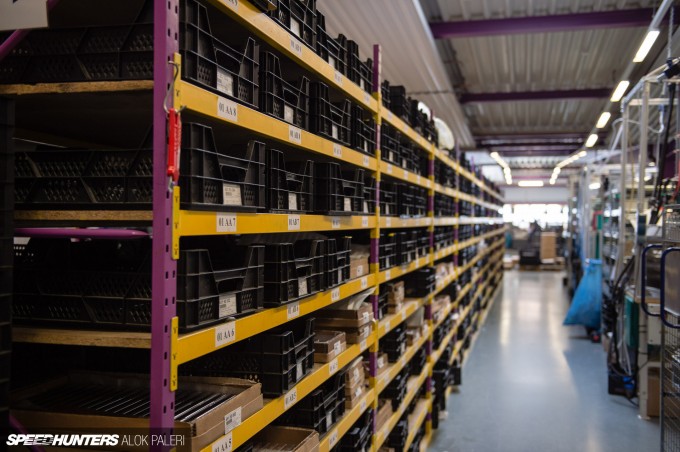 In fact, wherever you look you can clearly see the near-pedantic level of German precision. Each and every part is carefully catalogued and stored for a instant access.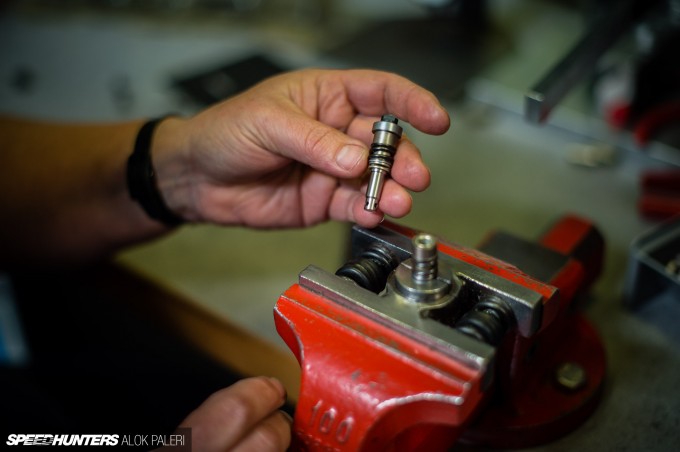 This is the finished product, which will later be located at the bottom of the inner tube.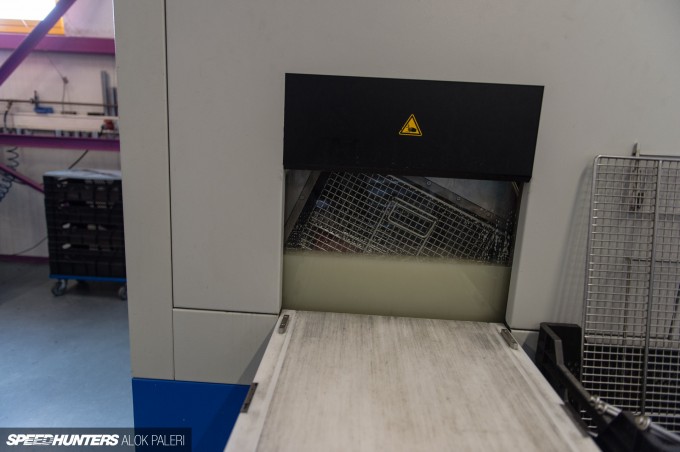 In the suspension wash department every inner tube and strut will be cleaned with an special liquid before being assembled with the valves and piston rods. This removes any traces of dirt and fat that might have collected from the manufacturing process so far.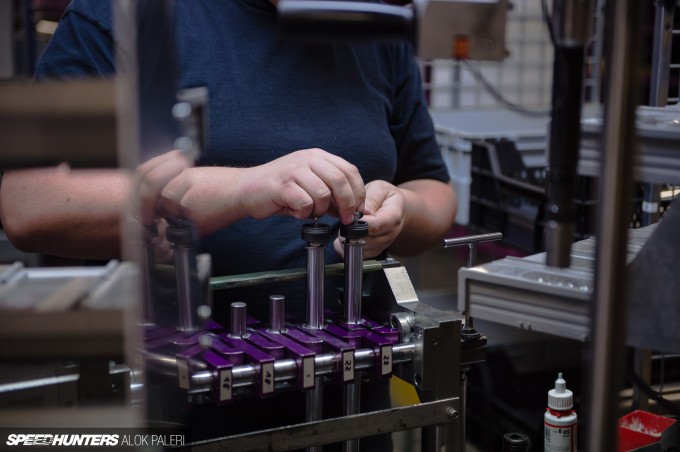 Round the corner, the piston rods are mated to the adjustable rebound valve. KW does a different rebound package for each specific car model and suspension kit.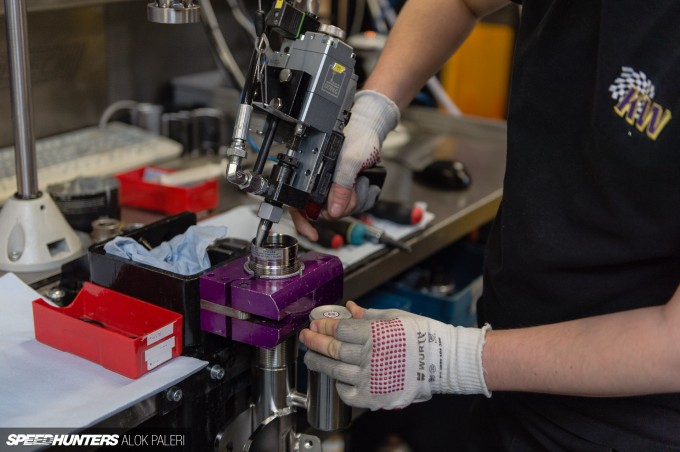 The strut then gets filled with damper fluid. This is a critical process as any air bubbles will tarnish performance.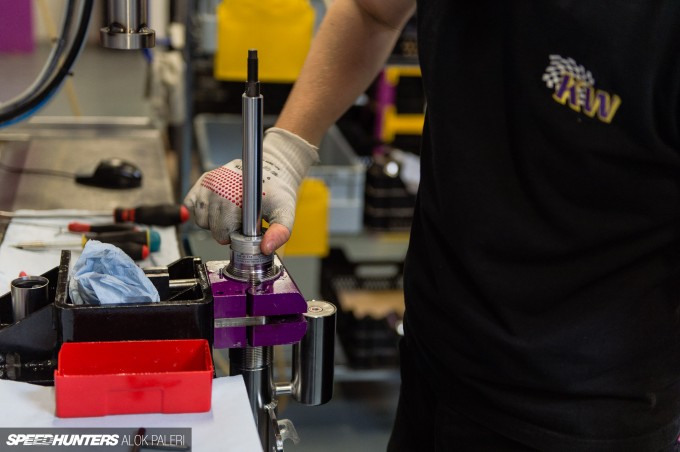 Once the damper fluid is filled, the assembled piston rod is installed in the strut.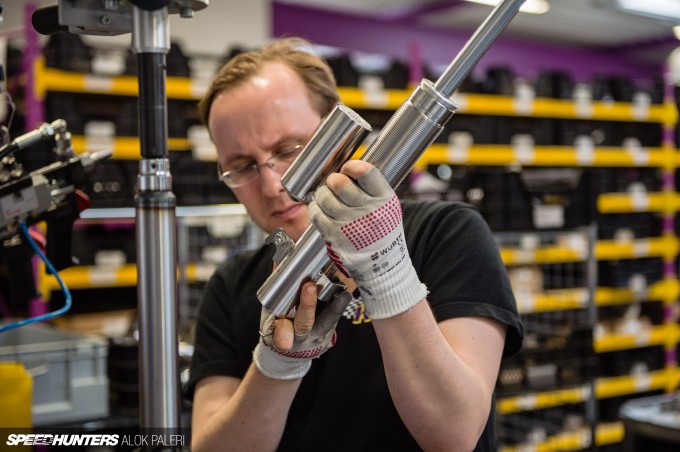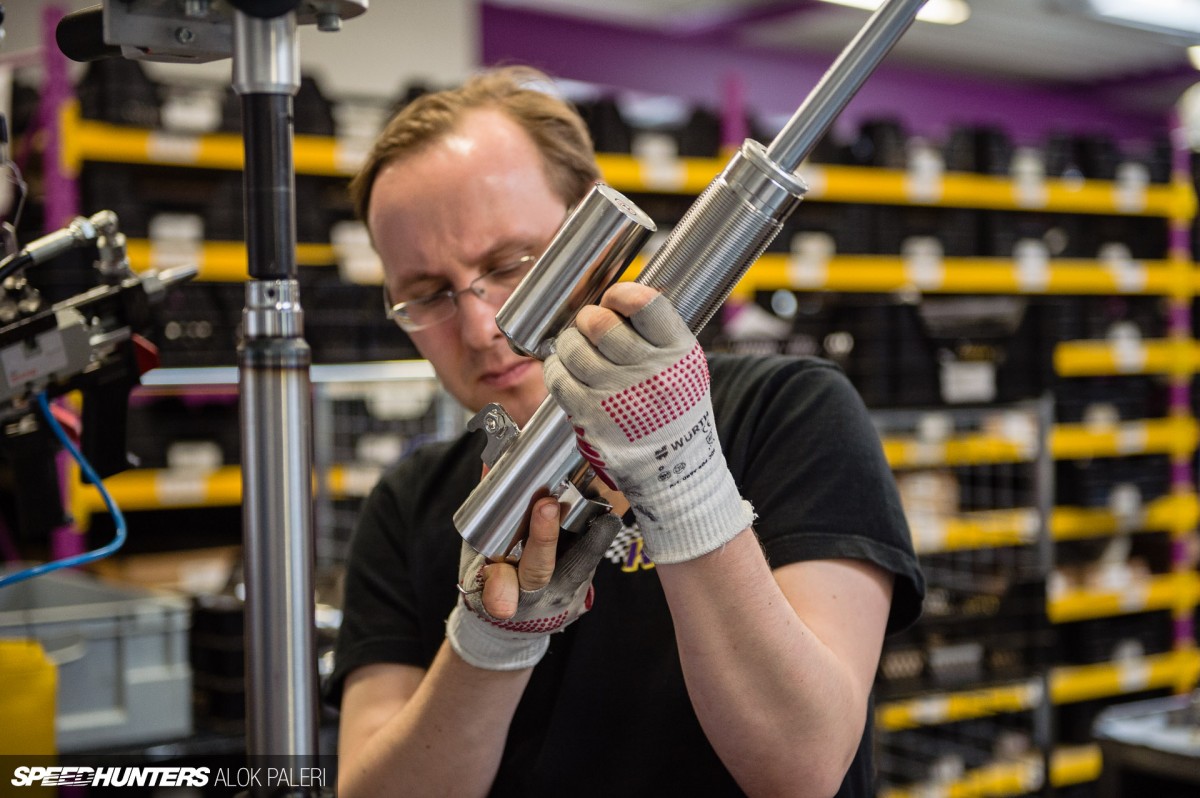 The compression valve is then adjusted to the KW pre-setup.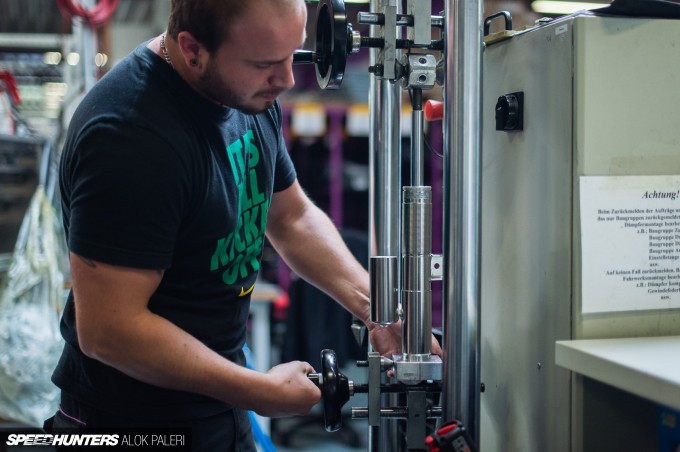 The assembled damper is then mounted to a testing rig and put through its paces.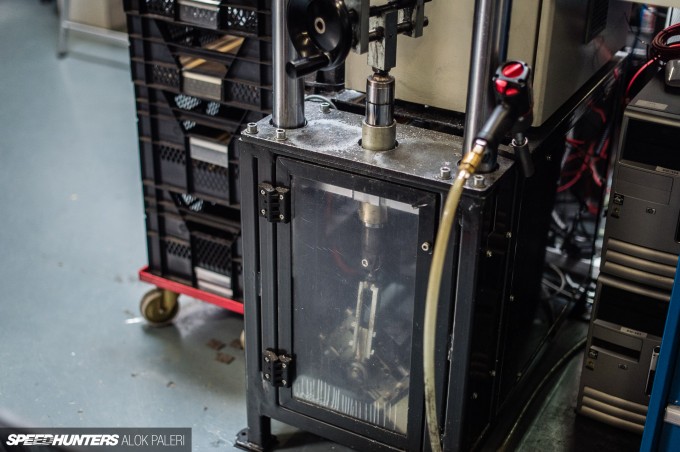 Every single damper the KW engineers build must survive this test. Here, checks are made to ensure the product meets KW's stringent quality standards.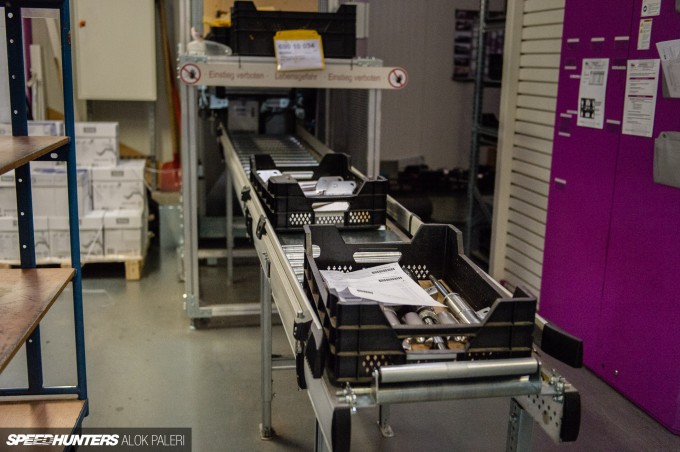 Once this test is passed, dampers are moved via a conveyor belt to the next level.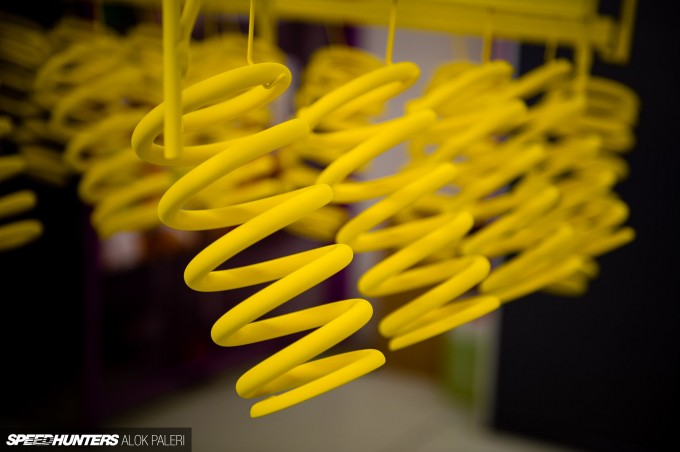 Meanwhile in the bakery, springs receive their trademark KW yellow powder coating, before being cooked in the oven.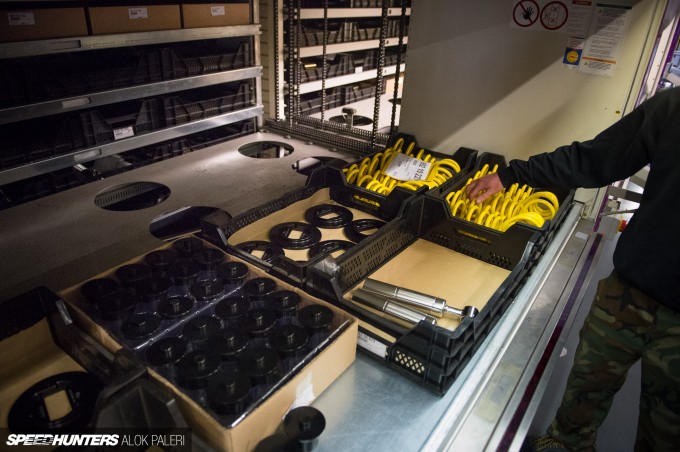 Certain types of springs and finished top mounts are stored in lean lift racks which are available to the assemblers on demand. Here we have ST Suspensions components.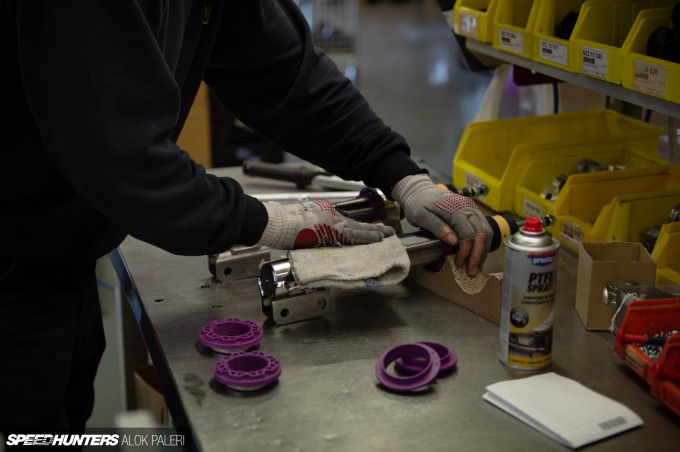 At each stage the struts need to be cleaned of any dust that might have collected along the way.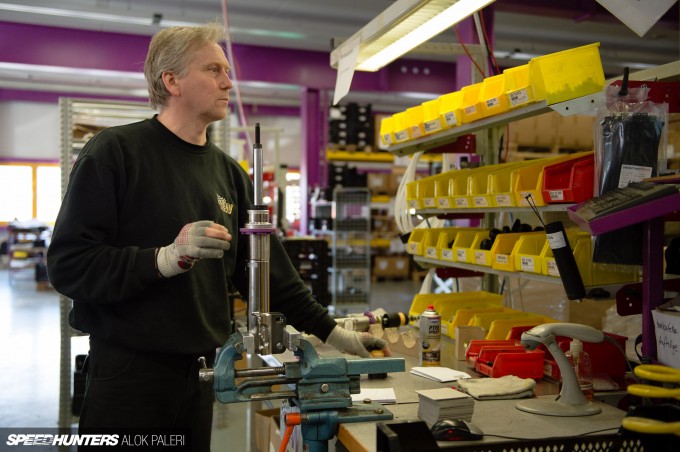 Here the struts are mated with a KW polyamide composite collar, springs, bump stop with dust protection system, polyamide intermediate ring and spring plate.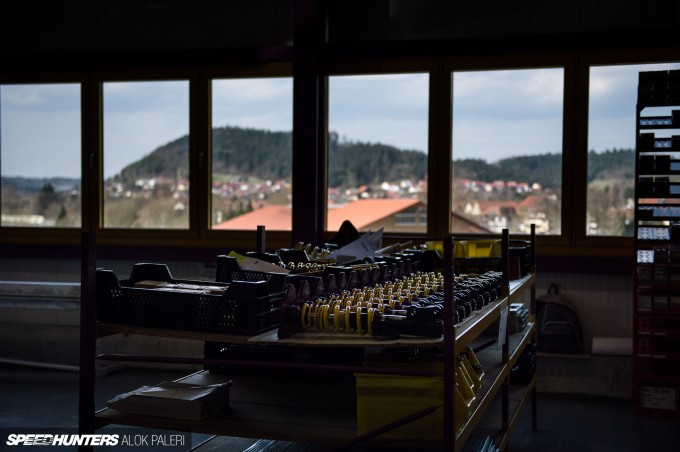 Unlike most factories, the craftsmen at KW get to enjoy a good view of the German landscape while they work at the assembly.
Labels are put on the struts indicating the part numbers and additional information such as on which side of the vehicle the part is to be mounted.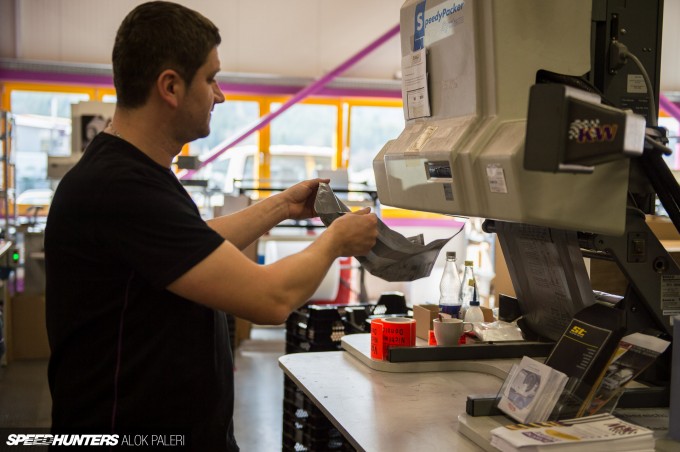 Like the suspension itself, final boxing is completely custom too. Expanding foam fills the packaging to take shape of the free space, and cushions the suspension in place when hardened.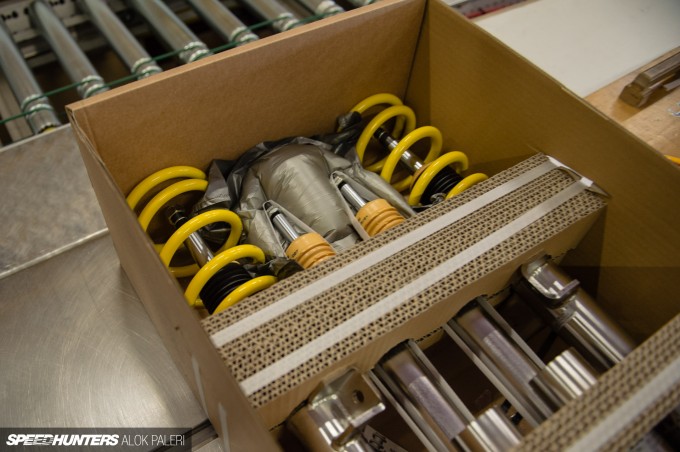 The whole process takes just a few seconds. Speed is key here.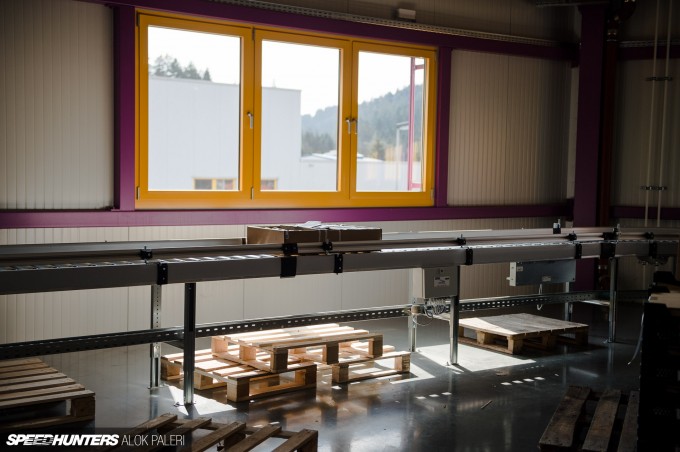 Once packed, the box is tagged and sent off to the final packaging station in the adjoining hall.
Making them work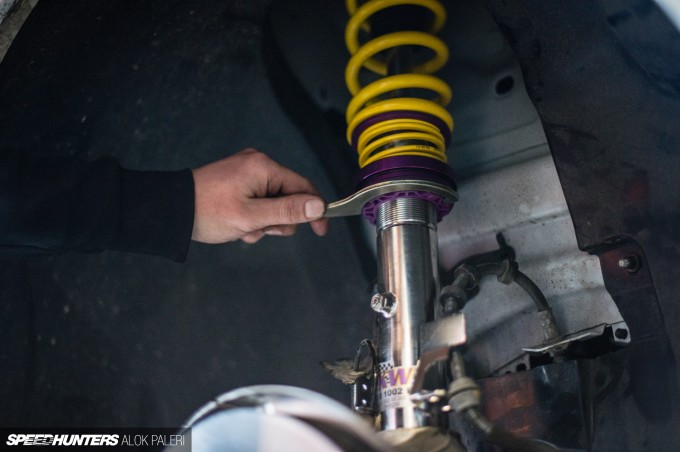 Street kits in general contain a do-it-yourself manual which explains everything you need to know in order to get the suspension mounted and correctly set up.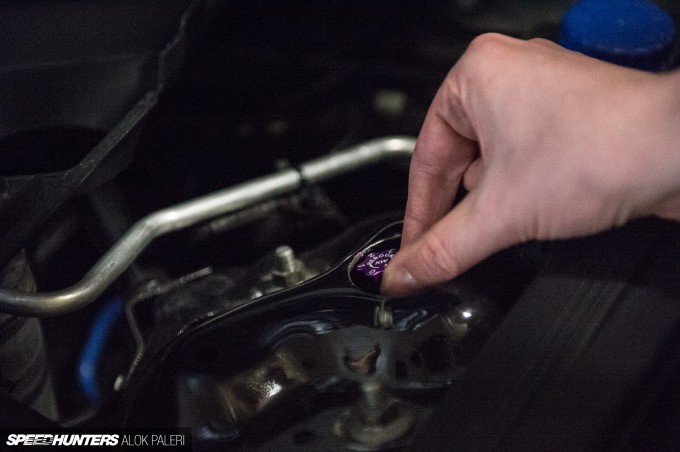 The rebound can be easily adjusted from within the engine bay with just a few clicks of the provided KW adjustment tool.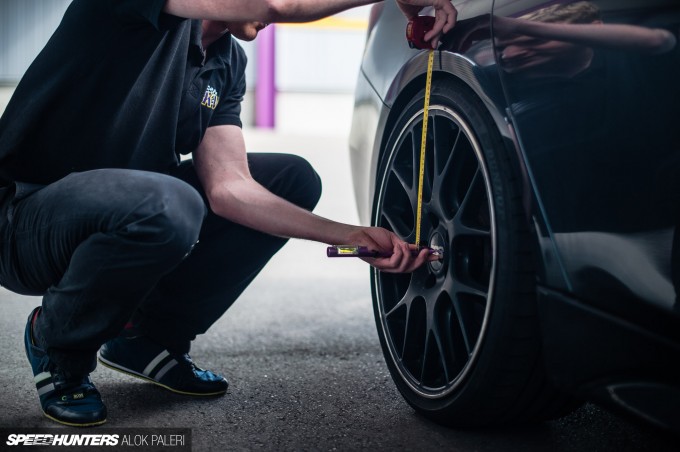 The maximum lowering offered by KW is always based on things like tire scratching, drive shaft issues, wishbone/steering rod collision, German TÜV regulations and further factors which might shorten the lifetime of your car.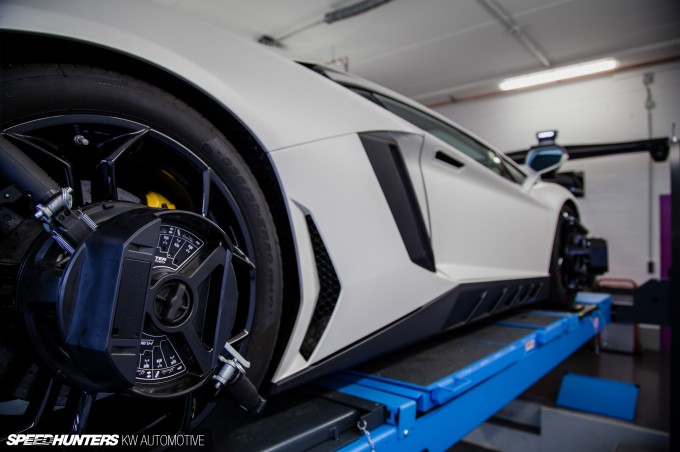 For more advanced setups, you can bring your car to KW and have a professional measurement and calibration undertaken by the skunkworks team. Here you see a Lamborghini Aventador getting its axle measurements done.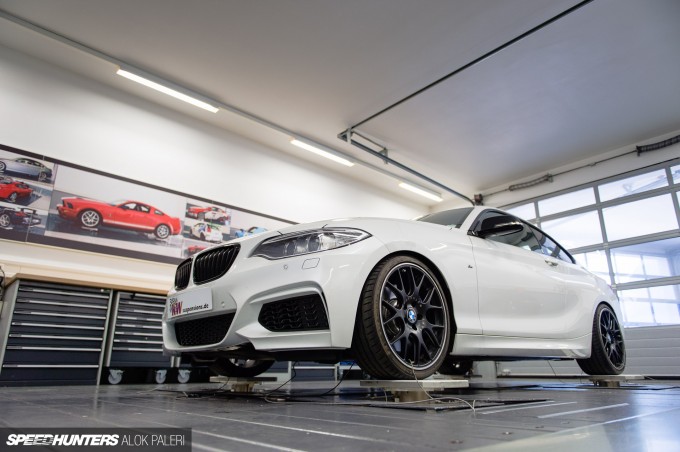 In addition to the manufacturing, KW also has a seven-post rig where technicians perform suspension mathematics – just like in a laboratory.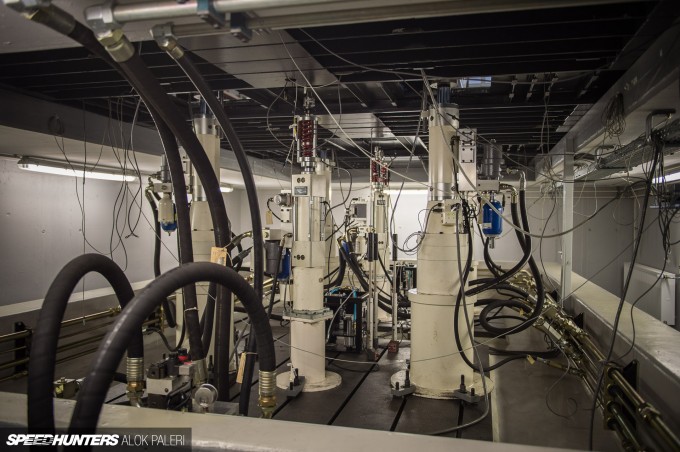 Here they can simulate the suspension travel of every car on different road surfaces, like country roads or even race tracks such as the Nordschleife.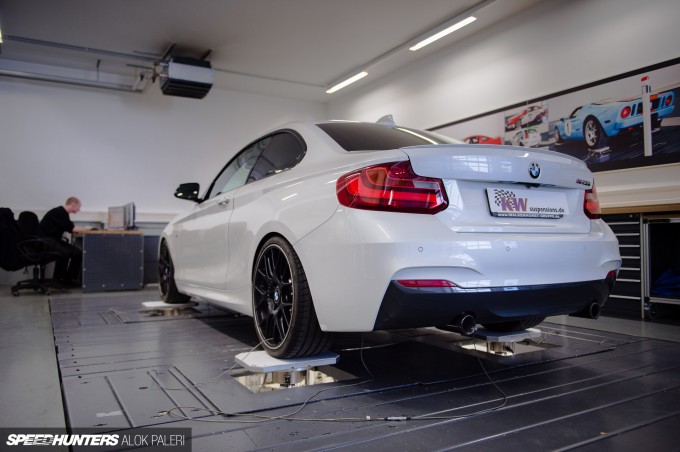 The car is wired up with sensors and the simulation data is recorded for detailed analysis.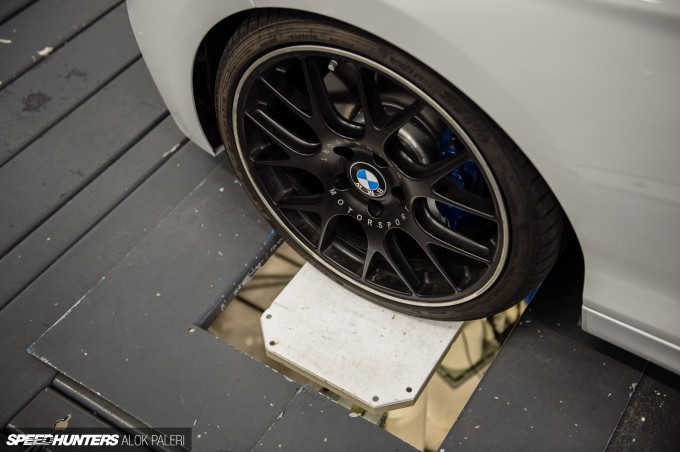 In this case here, just four posts are used for a basic sweep. Additional posts can be used to simulate varying levels of load on the car.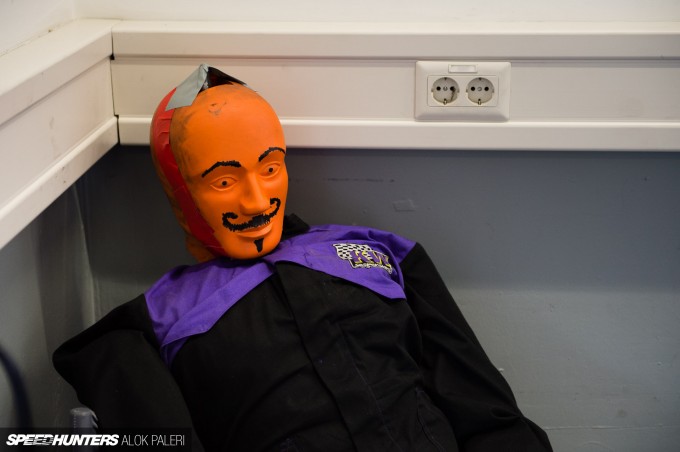 KW even has a resident dummy with a configurable body weight that is used for even more precise calculations and data acquisition.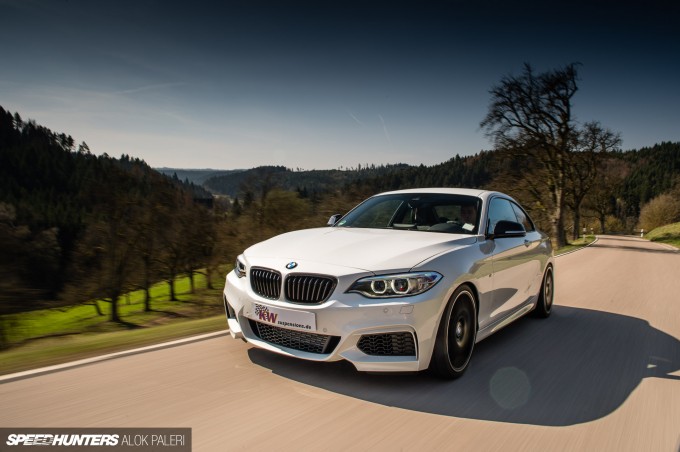 After witnessing KW's entire suspension manufacturing process, I finished the day in the best way possible: putting that freshly KW-kitted BMW M235i coupé from the rig room through its paces on the country roads surrounding the Fichtenberg plant. It's hard to believe a drop of just an inch or two changes the look of a car this dramatically, wouldn't you agree?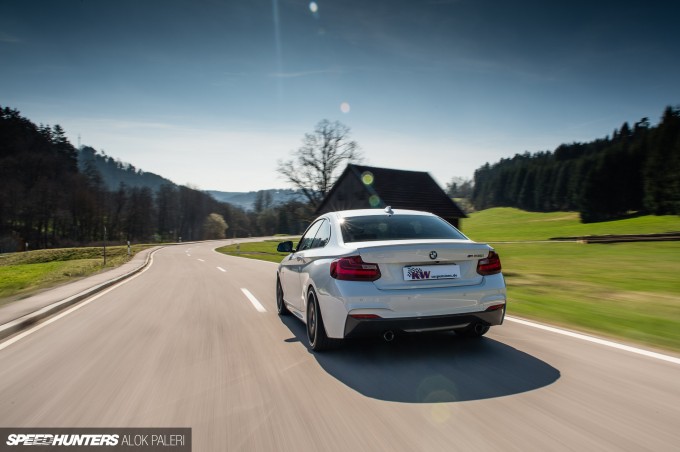 There is no perfect suspension configuration, but there are numerous options that are there to match the customer expectations. In terms of adjustable suspension solutions, almost all of KW's are sold with the basic adjustments already made. This means the setup supplied out of the box has been driven and proven already, removing the need for any trial and error.
To me, it's still mind boggling that no matter where in the world you are, whether you are racing in Sebring or Le Mans, shredding tires at Formula Drift or building a project street car – if you're running a KW suspension kit, it has come from this quiet little town in the German countryside.
Tune safe!
Alok Paleri
Instagram: rennworksmedia
alok@speedhunters.com