Deep roots
Part of the fun working here at Speedhunters is getting an inside look at the tuning industry we all enjoy so much, and meeting the people who make it tick. During a recent chat with Ravi Dolwani from CSF's Racing and High Performance division we realized that people most likely aren't aware of the huge infrastructure behind the brand. Since this performance division is relatively new on the scene it might be tempting to assume it's a small start-up operation, so we wanted to take the opportunity to explore the history of the company. Much like our recent history piece on Air Lift, CSF goes way back too. 
The true start of it all came in 1947 in Bombay, India and this picture captures it perfectly. A bunch of dudes who could swing wrenches opened shop changing tires and doing basic repairs. Ravi runs the CSF Racing and High Performance division today, and that's his great-grandfather on the left along with three of his brothers and the rest of the employees on the right. As part of their repairs these guys started fixing copper/brass radiators, and before long became the local experts. They were the go-to shop for radiator repairs, which naturally built on itself until they started manufacturing them.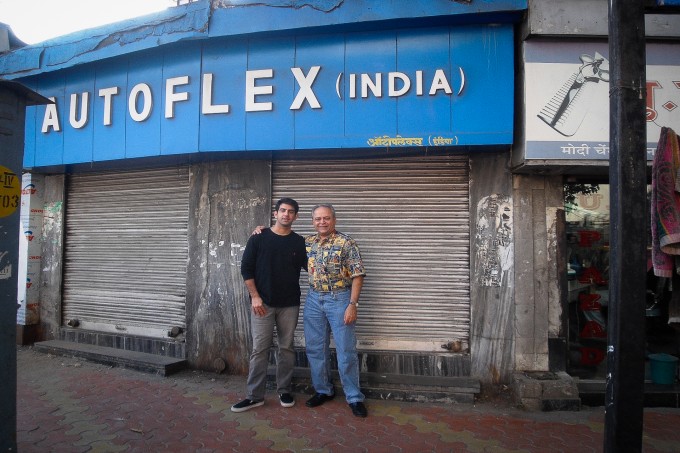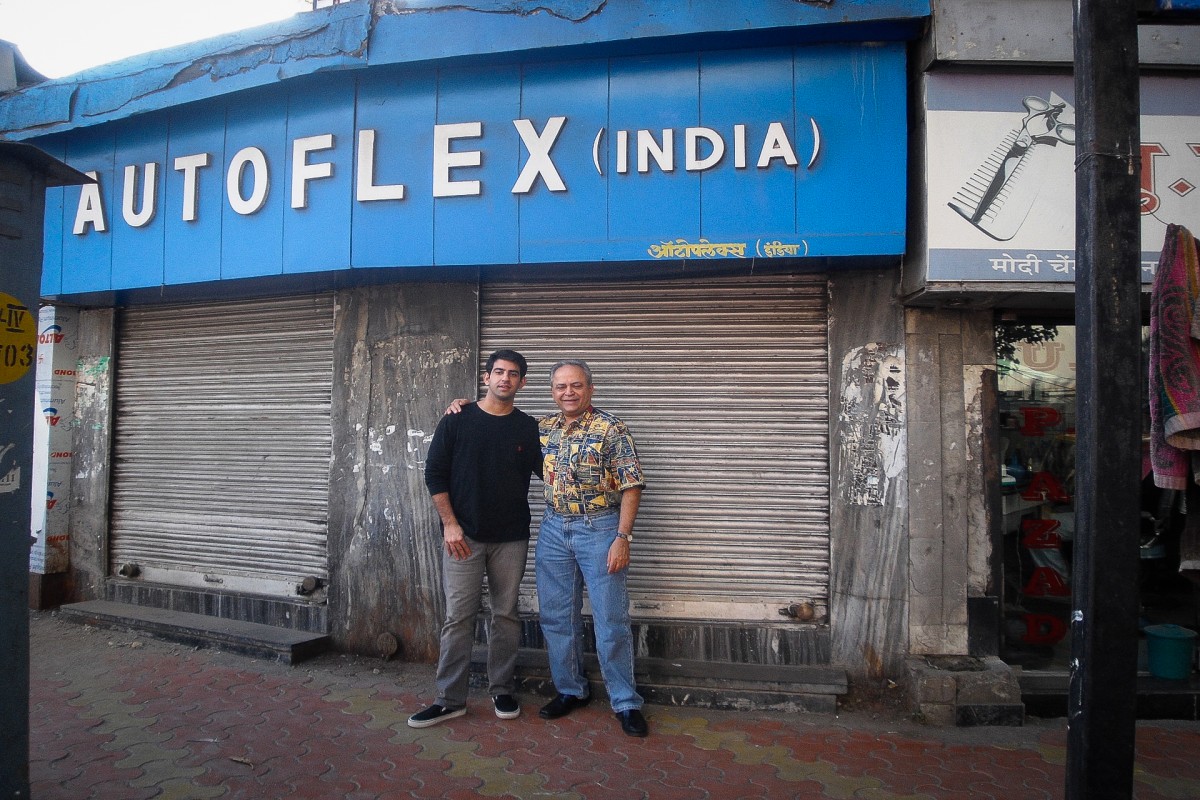 Fast forward to the year 2010, and we have generations three and four, Ravi and his dad RJ standing in front of the very same building. Although the city has a new name (Mumbai) and the building belongs to someone else now. Because, as you're about to see, there's no way this little workshop could have contained the big things that were in store for their family business.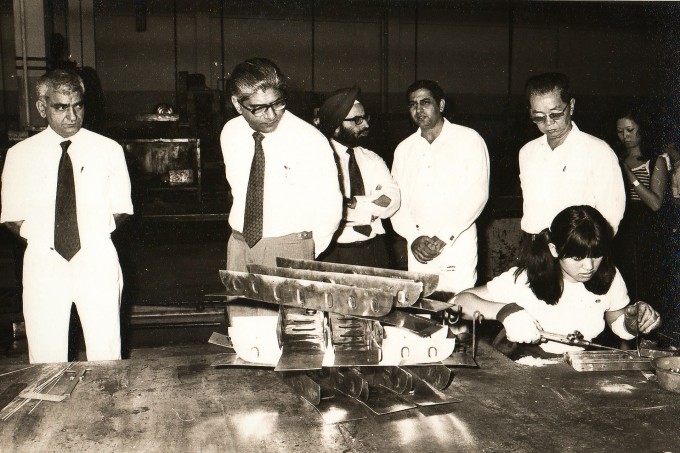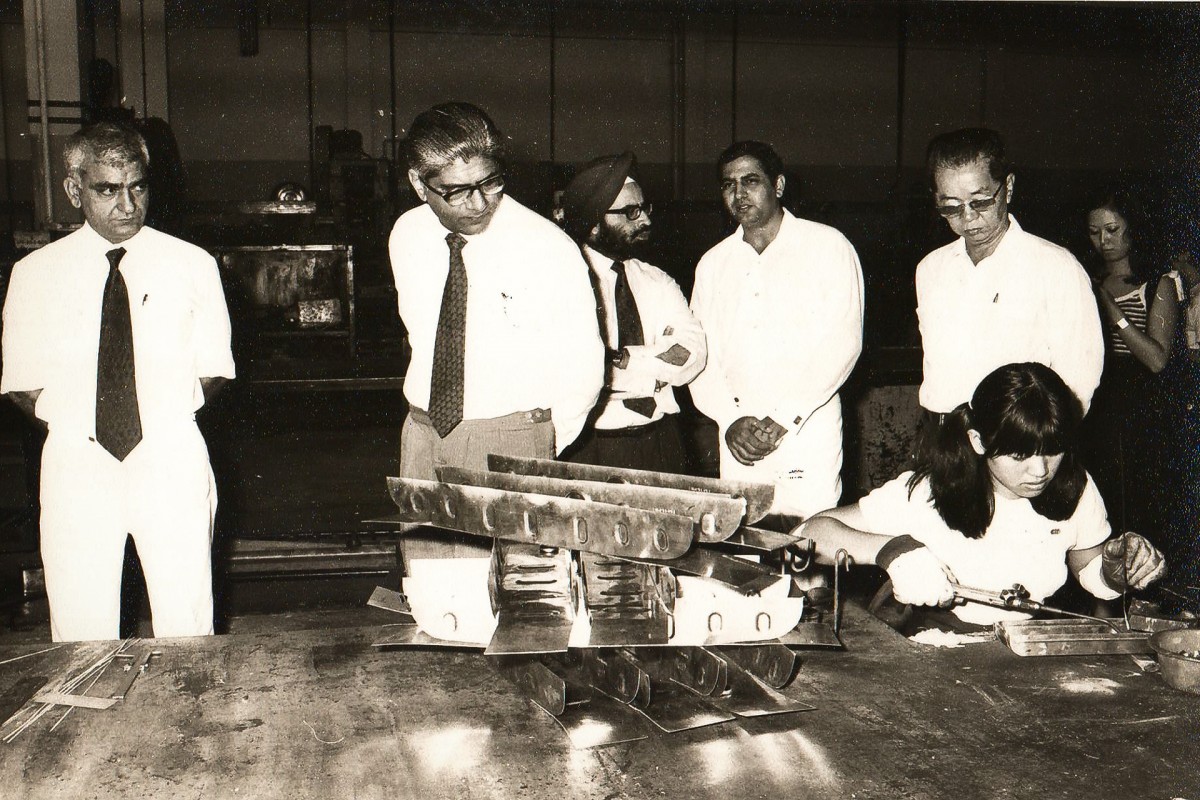 Unfortunately photos of the early days are scarce. In fact, the Dolwani's are especially proud of the leading image in the story because it's one of the very few they have from the post-war beginnings of their family's company. So we have to fast forward to 1973 in the new Singapore factory, with Ravi's grandfather Jadev looking very serious to the left of the frame. CSF started out manufacturing in India, but as the skill level and economic status of their country rose, so did the costs of production. In a shrewd business move (the first of many) Jadev saw opportunity in Singapore. It was a fledgling country in terms of industrialization, but the government was giving away land grants to attract work, and the labor was cheap.
I asked Ravi if he was comfortable showing this picture, considering the young lady is soldering with zero safety equipment, but he didn't shy away from showing the realities of industry back then. Besides, CSF is a tightly-regulated ISO 9001 manufacturer today, something that takes a serious effort to accomplish and puts your company in the top tier of manufacturers.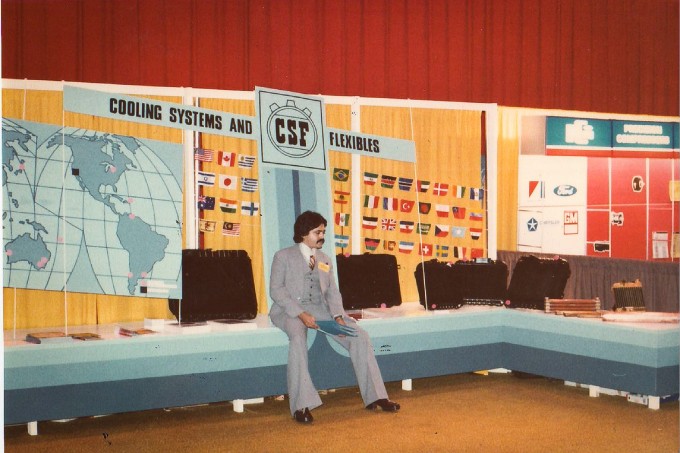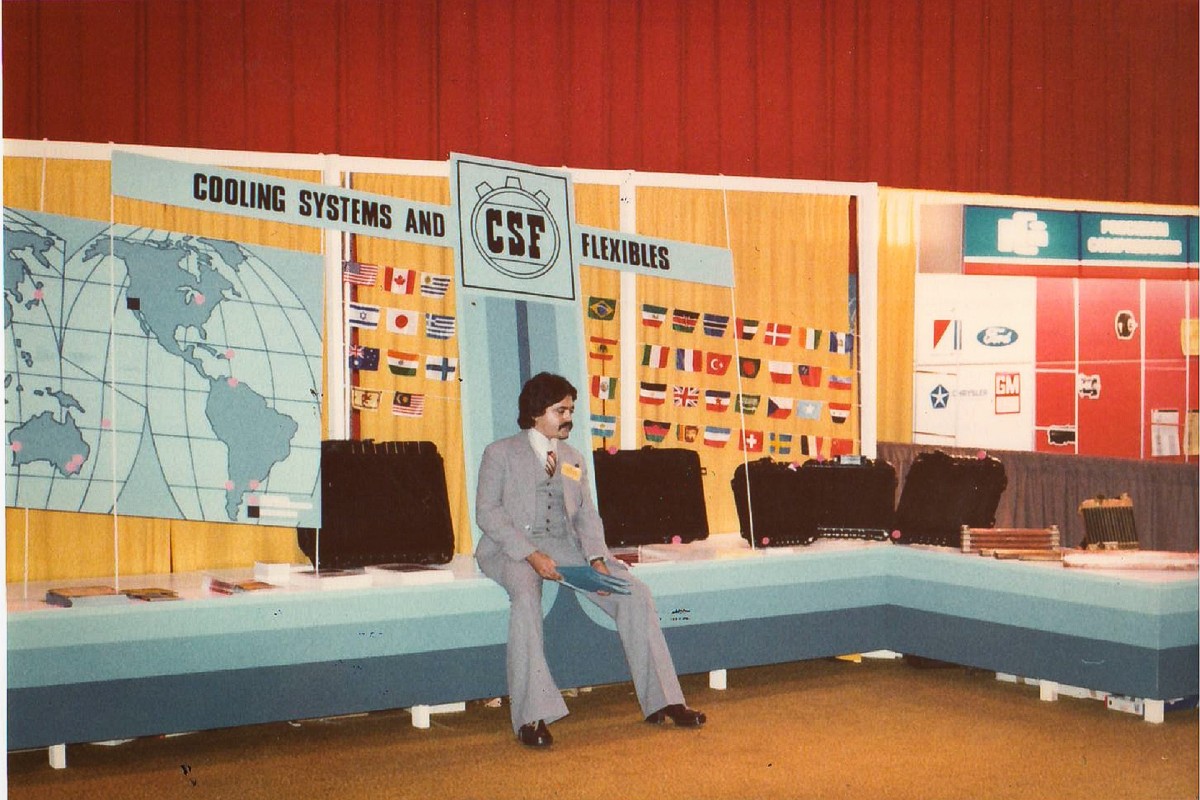 By the late '70s CSF was ready to have a presence in North America, and it was Ravi's dad RJ who started that branch of the company. He's seen here rocking his bell-bottom suit at the 1979 AAPEX show in Miami, ready to cool the United States.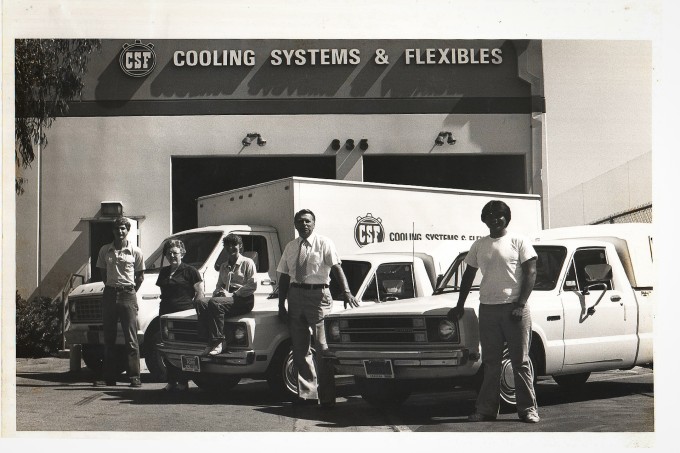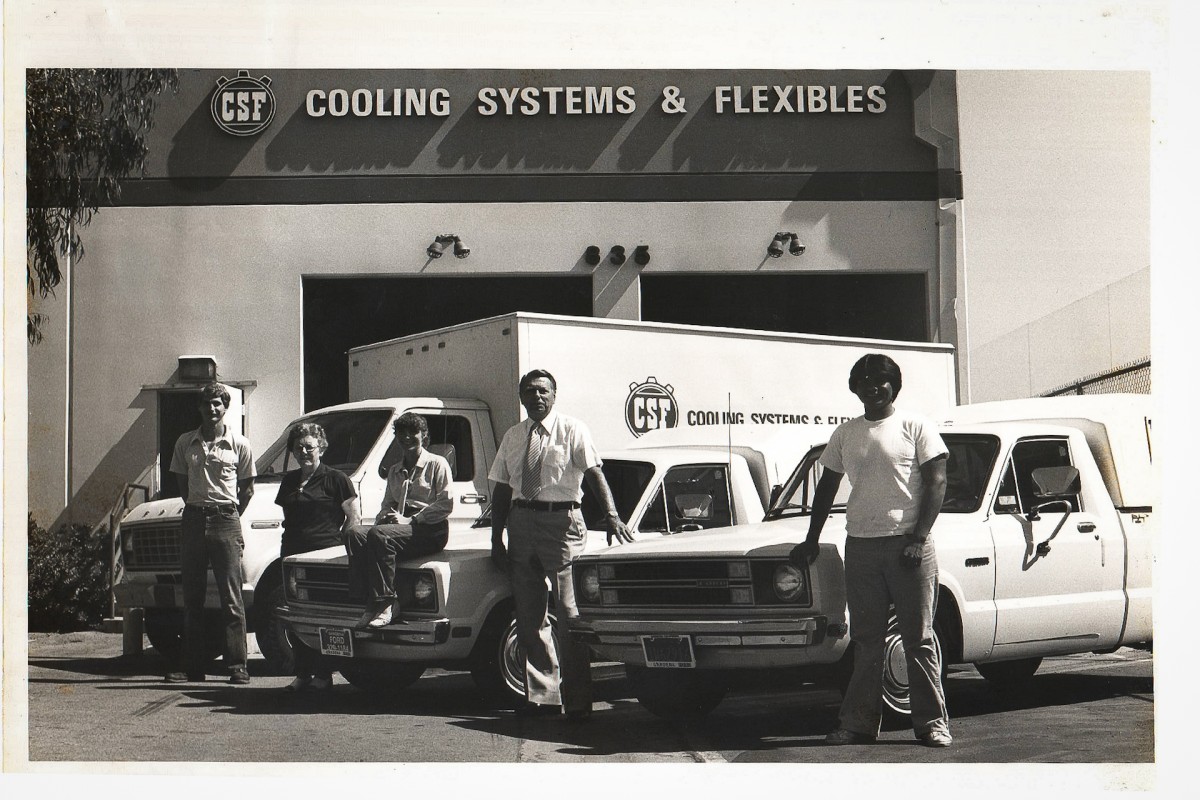 The company kept growing and in 1980 the first CSF office opened in Carson, CA. If you think about the emergence of imports in the United States around this time and the fact that most aftermarket parts were tailored towards the ubiquitous domestic vehicles on the road, you'll see why CSF actually had an edge as an overseas company. All they knew were imports and as that segment grew in the US, they were the only supplier with parts ready to repair them.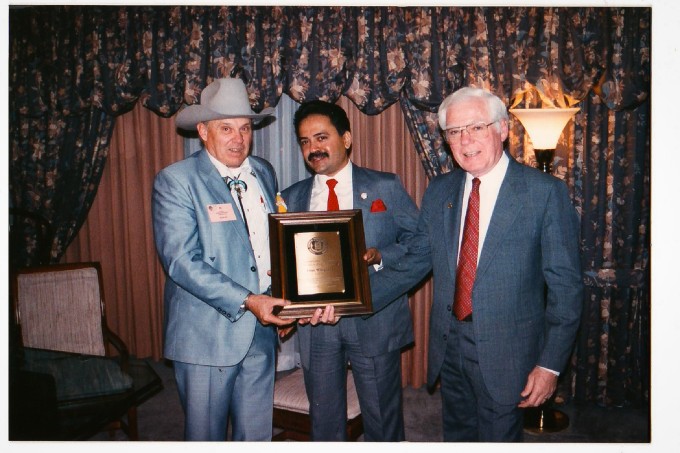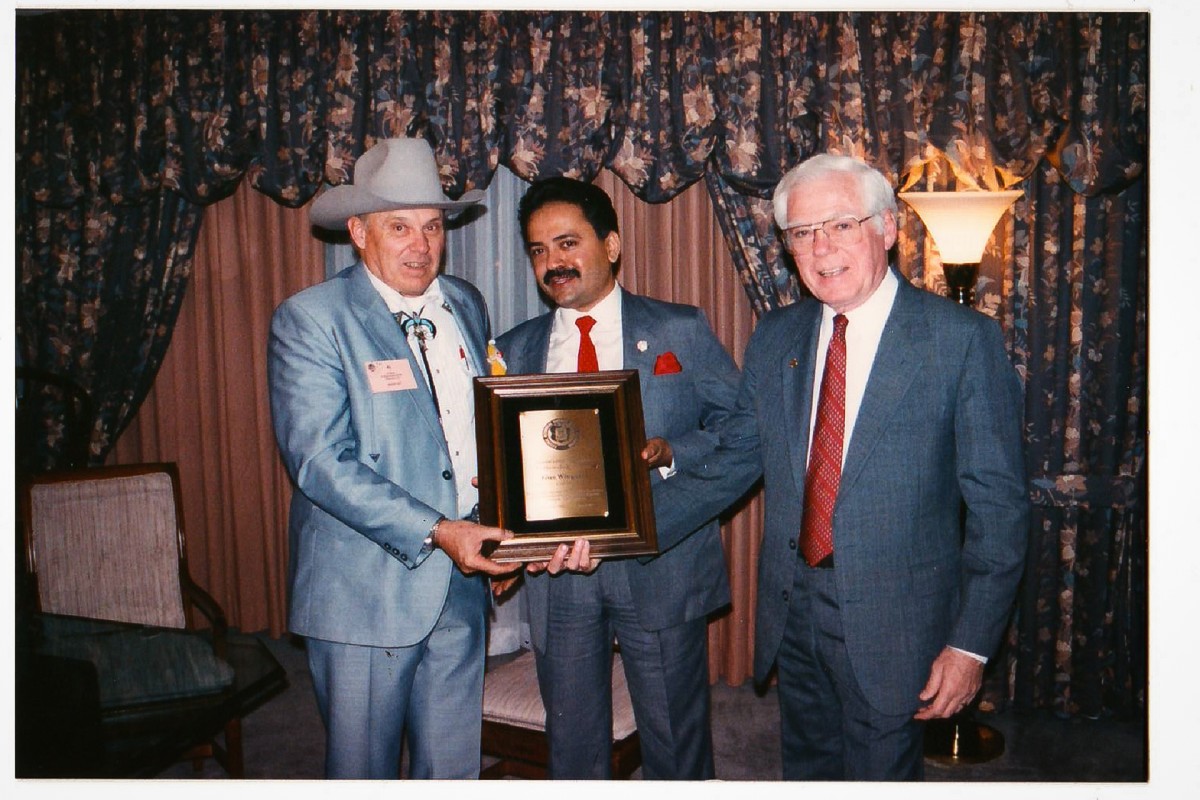 It was this foresight to make replacement parts for the import cars that everyone else ignored that helped RJ become accepted in the aftermarket back then. He even won an award for Best New Company in 1985 for his visionary efforts.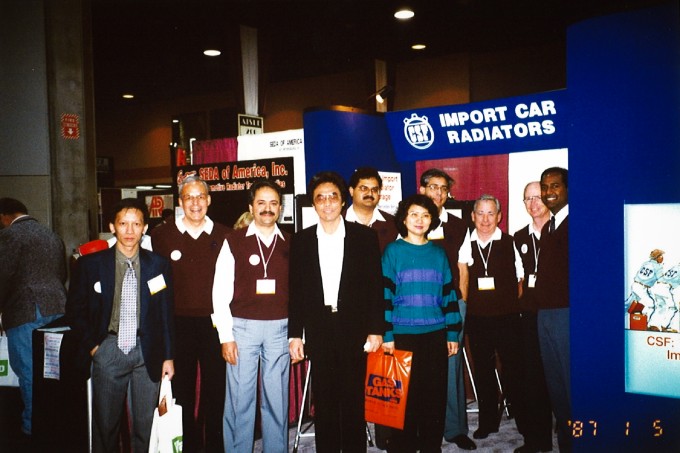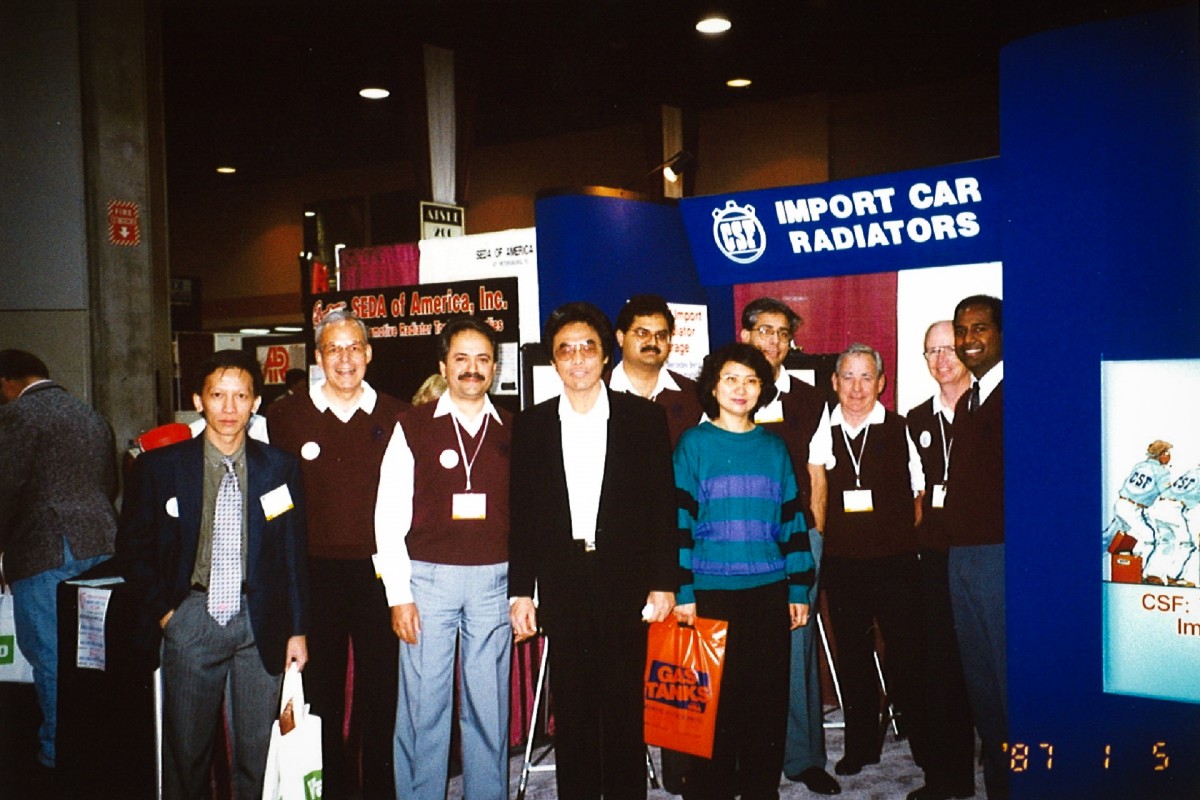 Now we're getting into the late '80s, and we have another team photo taken at the AAPEX show, a manufacturing expo that's always held during SEMA. Most of the employees seen in this photo are still with the company today. RJ Dolwani is in the middle with the mustache and the Asian guy on his left is Mr. Eddy, the guy behind CSF's third factory in Indonesia.
Mr. Dolwani and Mr. Eddy are still partners today, and Mr. Eddy has been fortunate enough to amass quite a car collection. He's got one of every Mercedes model (in silver), a Maybach, a Rolls-Royce Ghost and a Bentley. But his favorite car? It's a coach-worked Toyota Sienna minivan that he uses to stretch out and get his work done!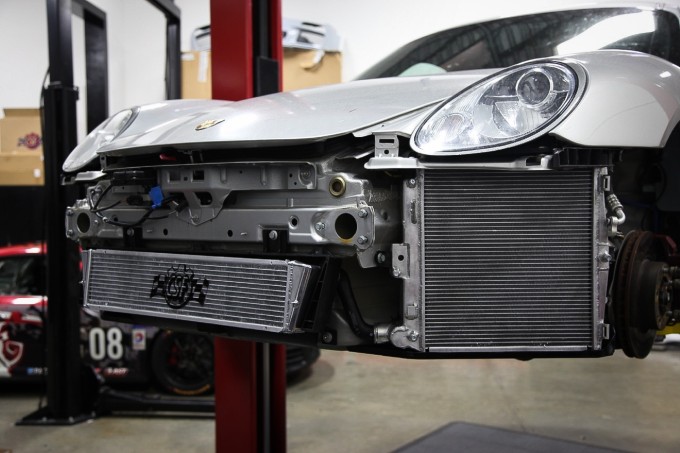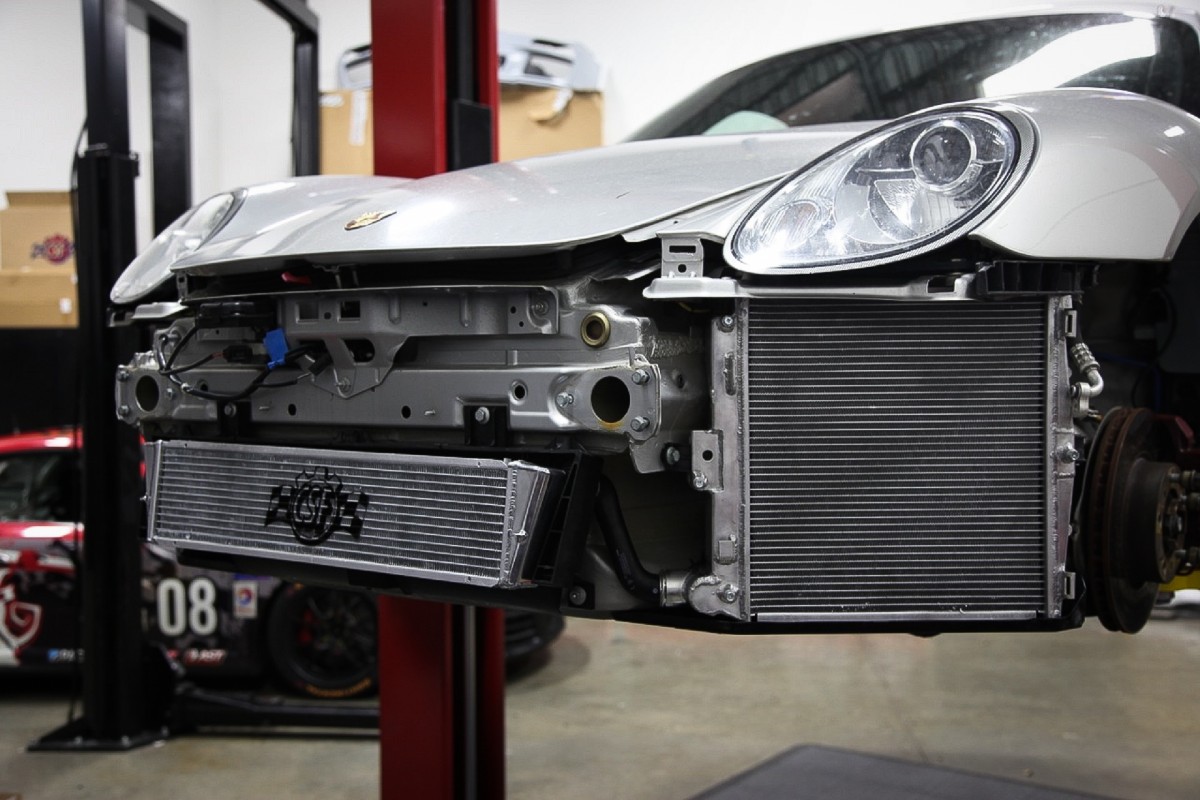 If you'll forgive the brief history, I want to jump right into today, because I think this is the part that will really interest our readers. Today Ravi has taken the reigns of the Racing and High Performance division of CSF, and as a true gearhead he's been leveraging it to his advantage to work with a bunch of cool cars. Wouldn't you do the same if given the opportunity? One of his most successful projects to date has been his water-cooled Porsche line. He first worked with Michael Essa to develop 996 radiators, and now covers the 997's as well.
Cooling the future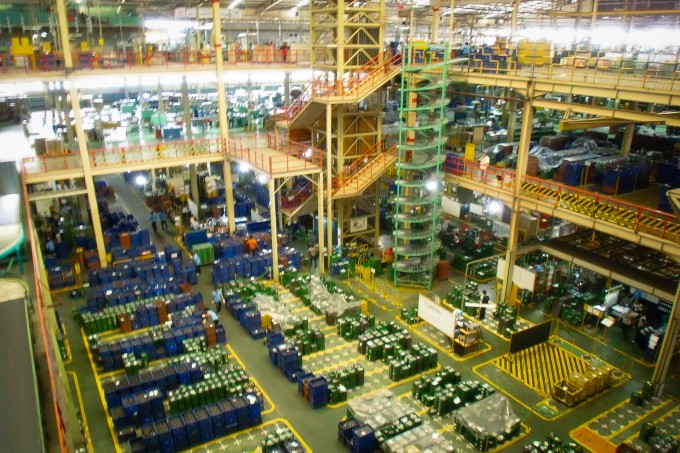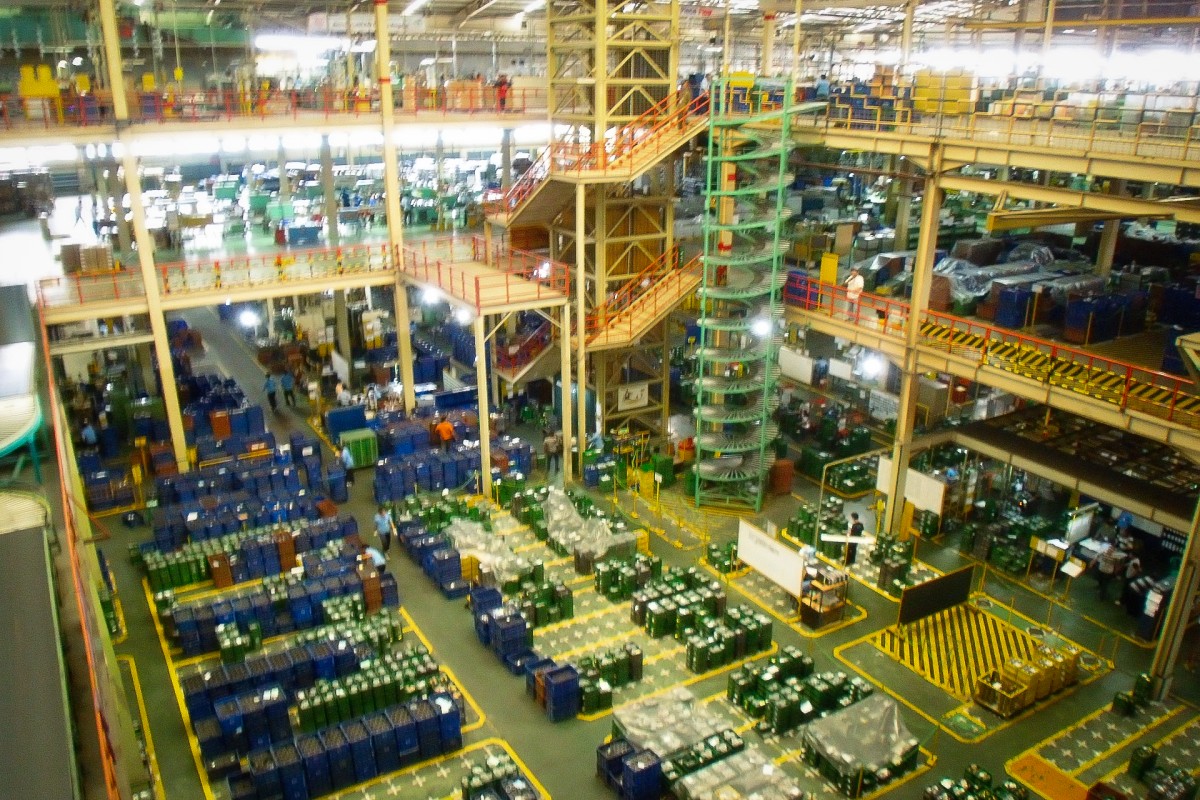 Of course, a big part of running an international business is travelling the world to stay on top of things. RJ gets out to their Indonesia factory about every six weeks, with Ravi visiting quarterly. All of Ravi's aluminum racing radiators are made here, and this factory cranks out about 90% of production these days.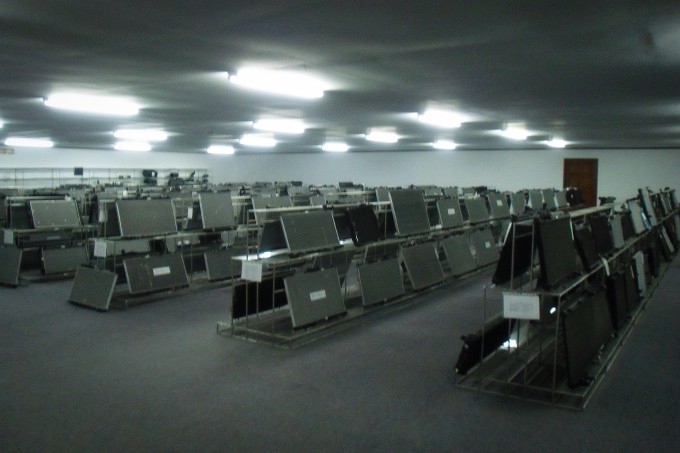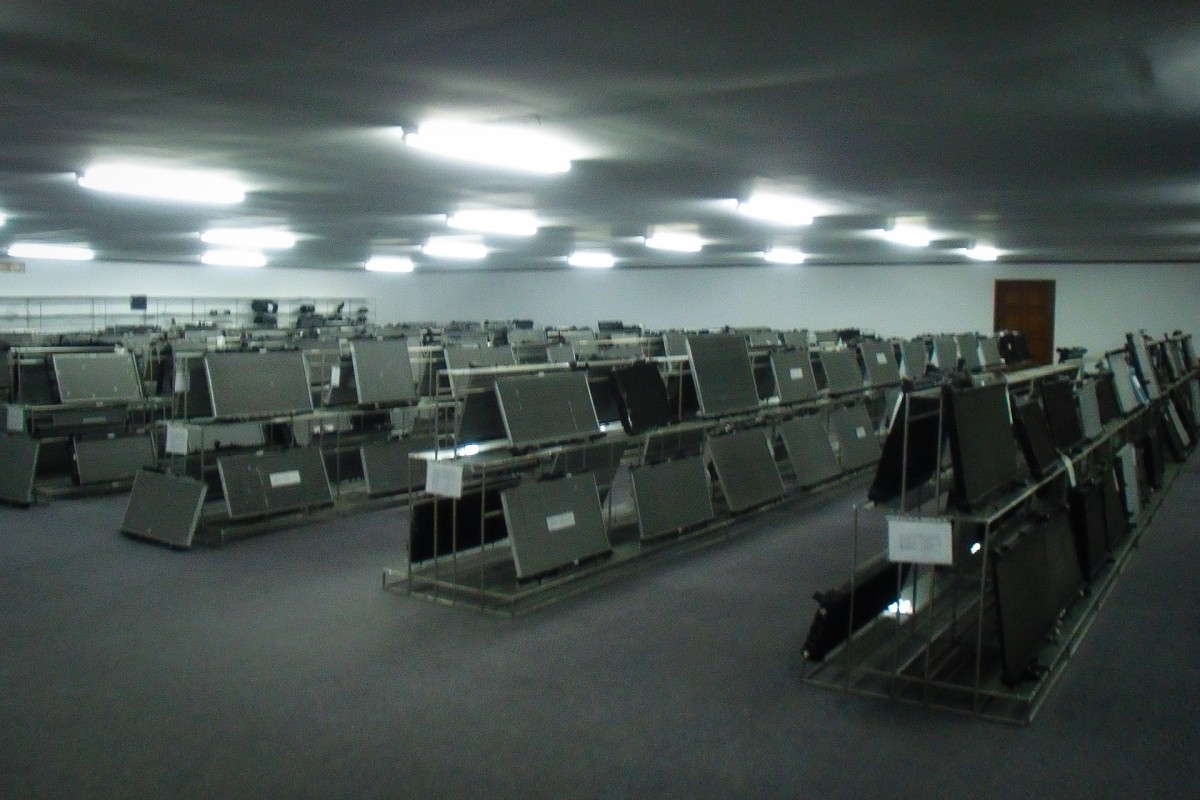 In addition to their aftermarket line, CSF makes a ton of private-labelled parts for the OEs too.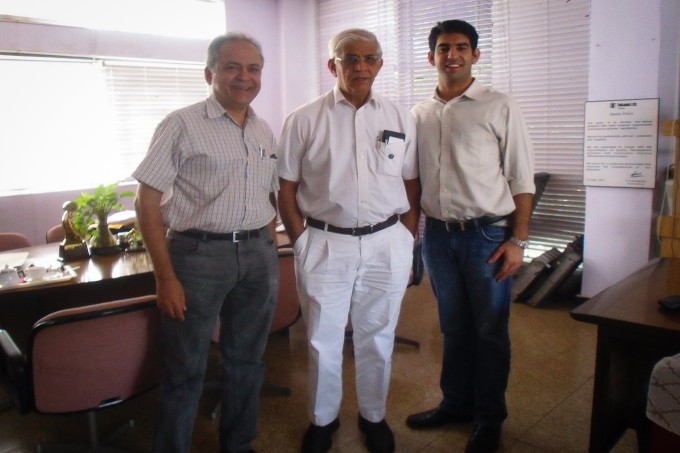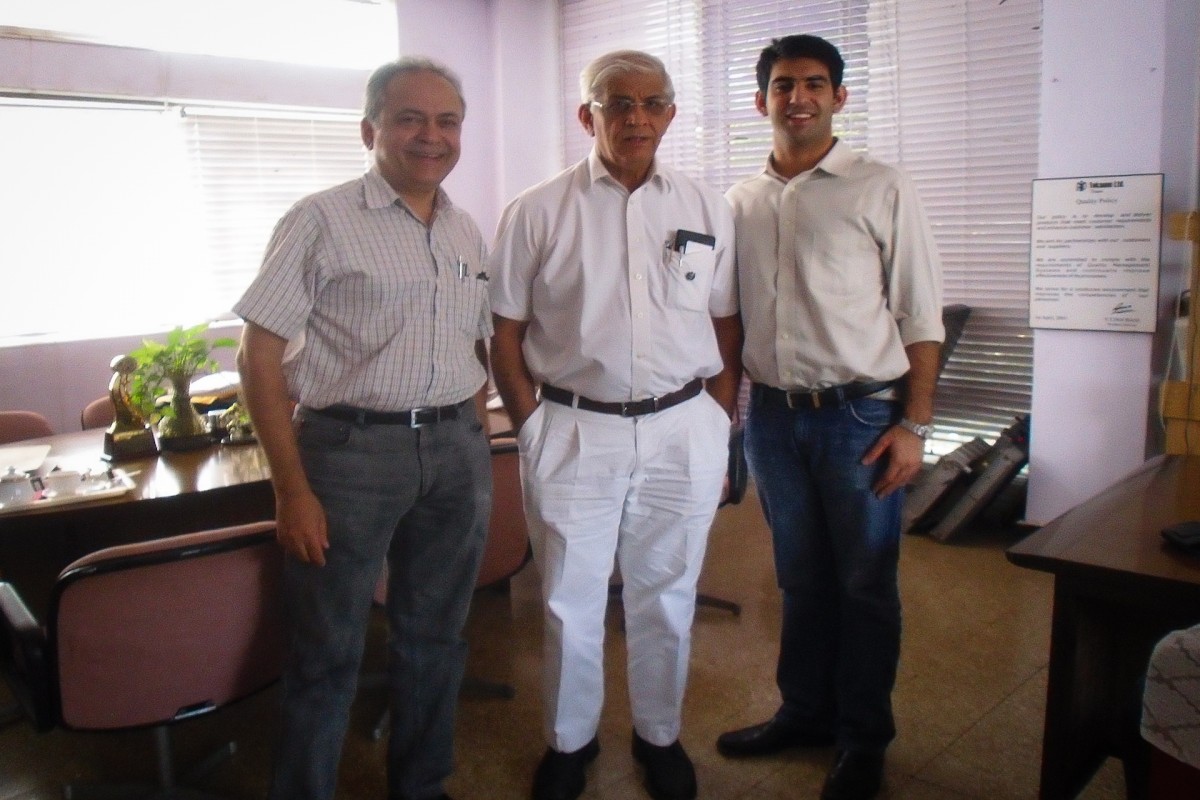 Ravi's great uncle Vishu runs the India factory.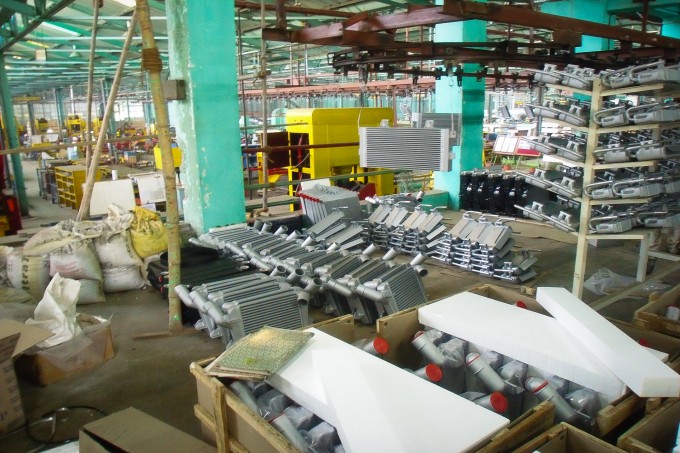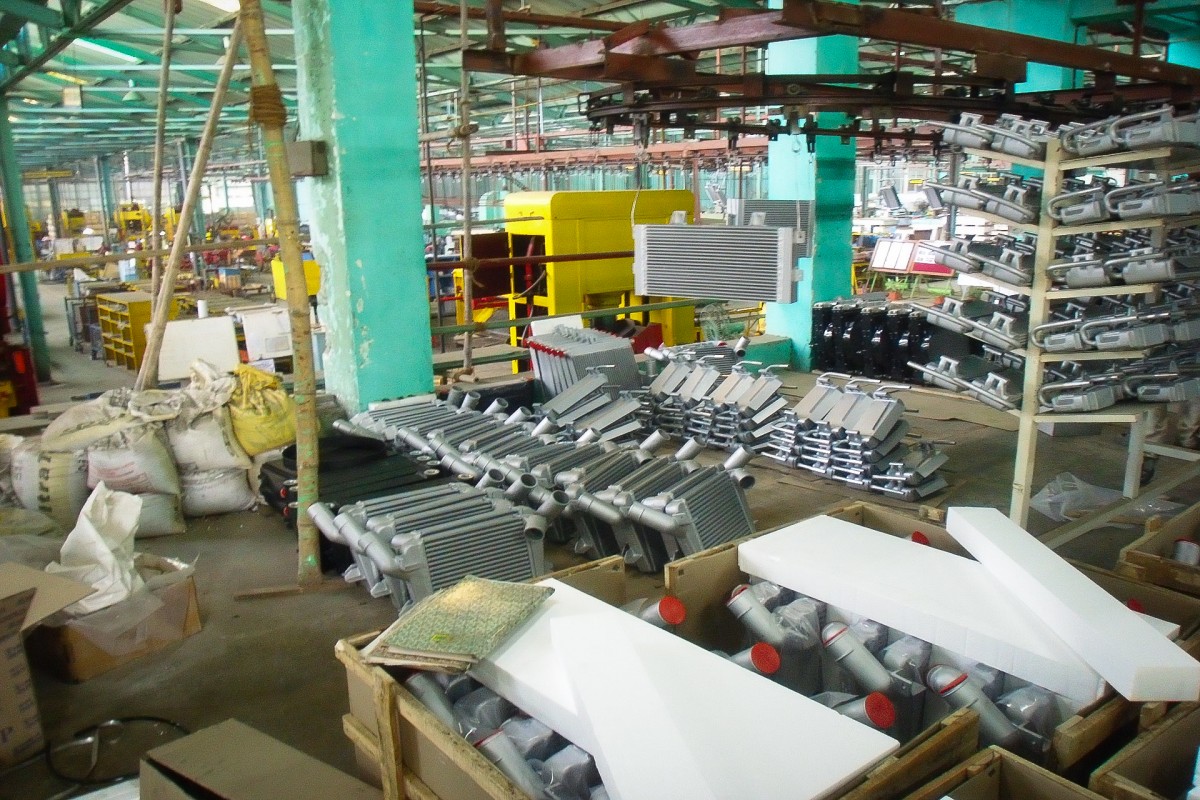 It's here that they make charge air coolers for OEs, such as these units built for Caterpillar.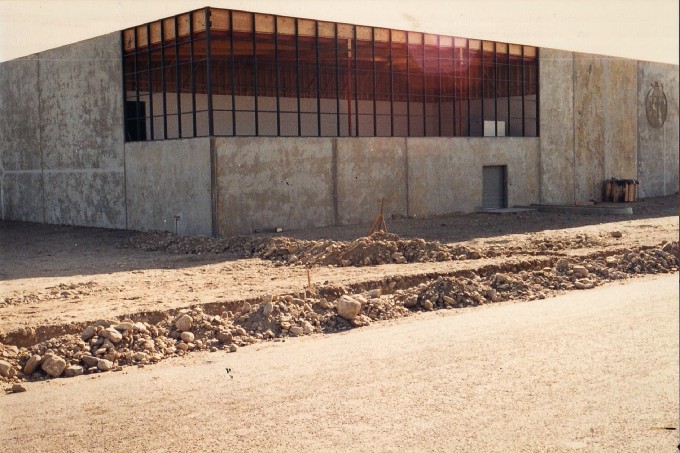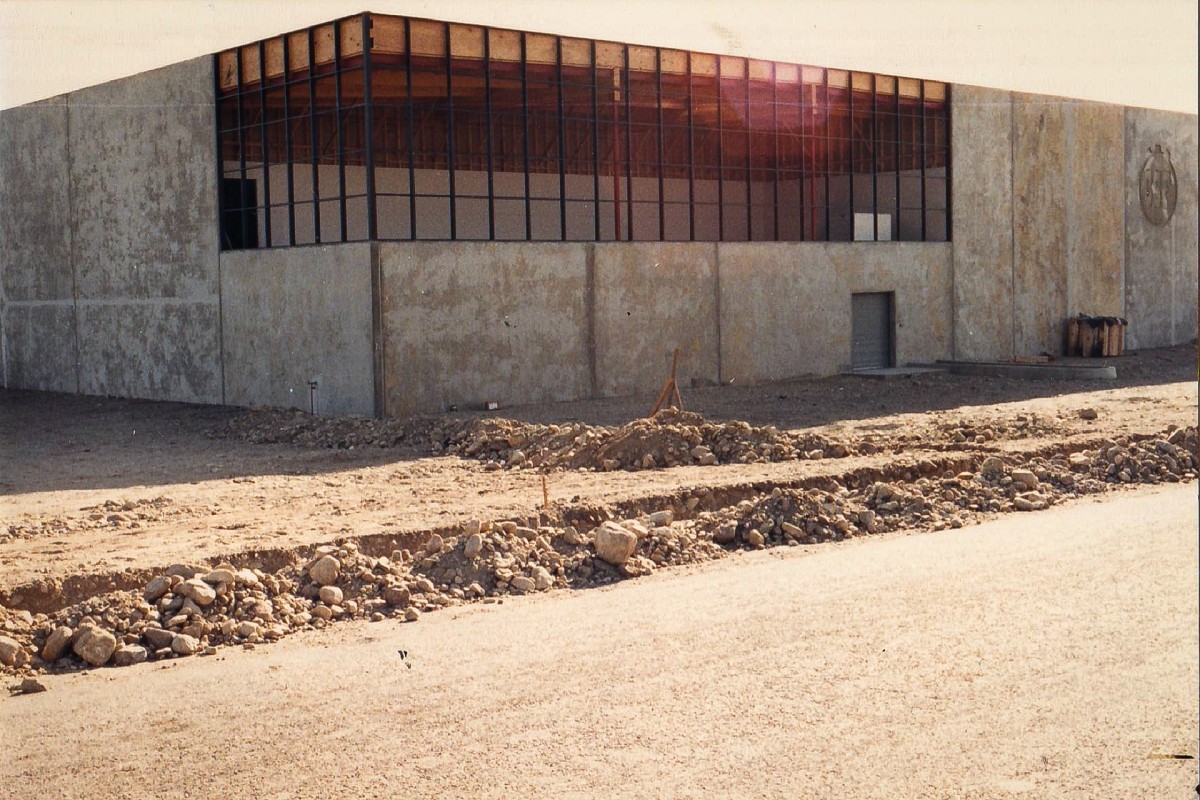 In 1987 CSF built a new US headquarters in Ontario, CA. It was originally built to be a factory – hence the mammoth 50,000 square foot floor plan – but now it's used for distribution and office space.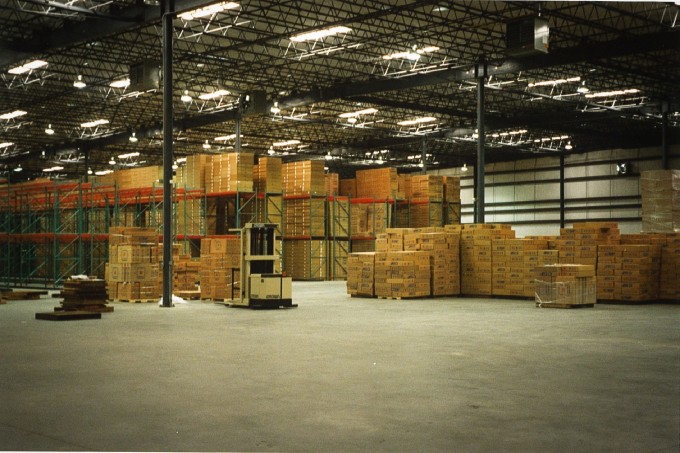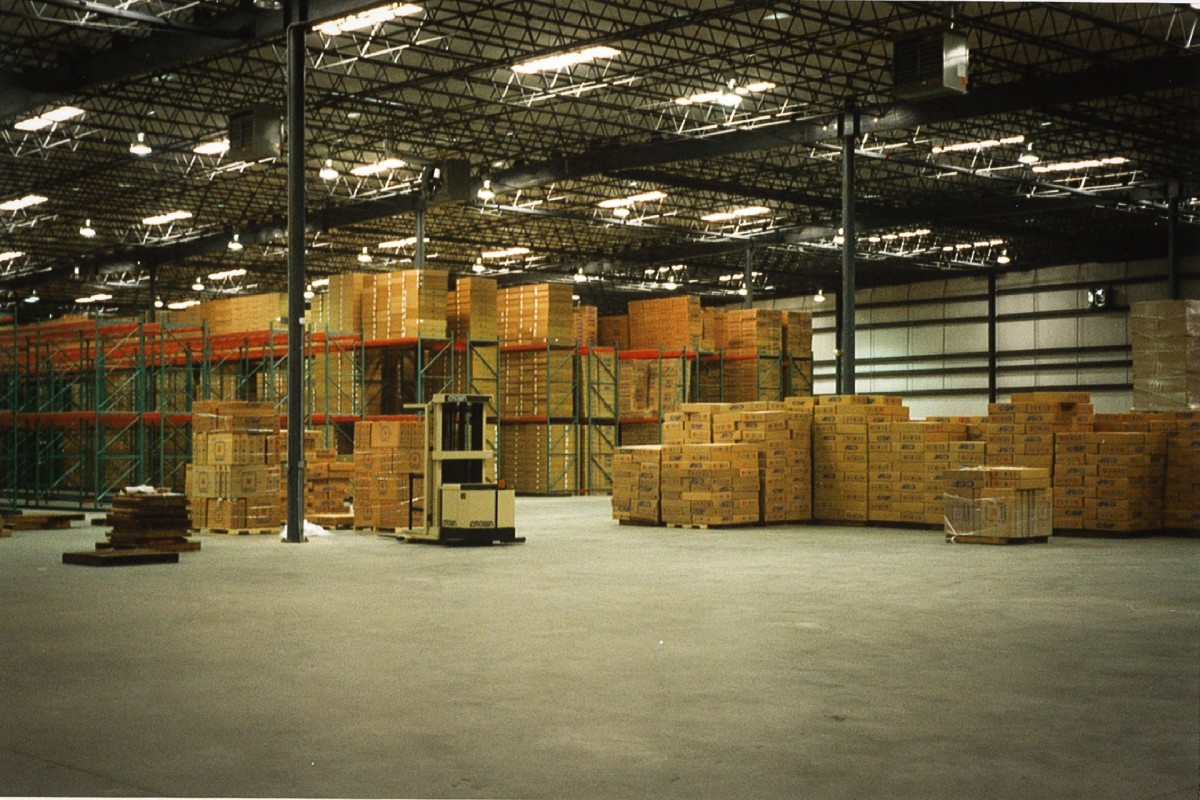 On the East Coast, CSF has a warehouse in Virginia so it can satisfy next day fulfillment on both ends of the US. This 70,000 square foot building houses about half of the 150,000 units that are ready to ship in North America at any given time.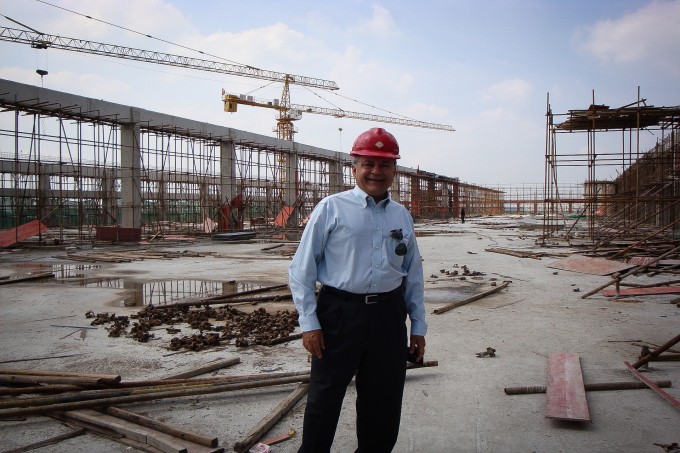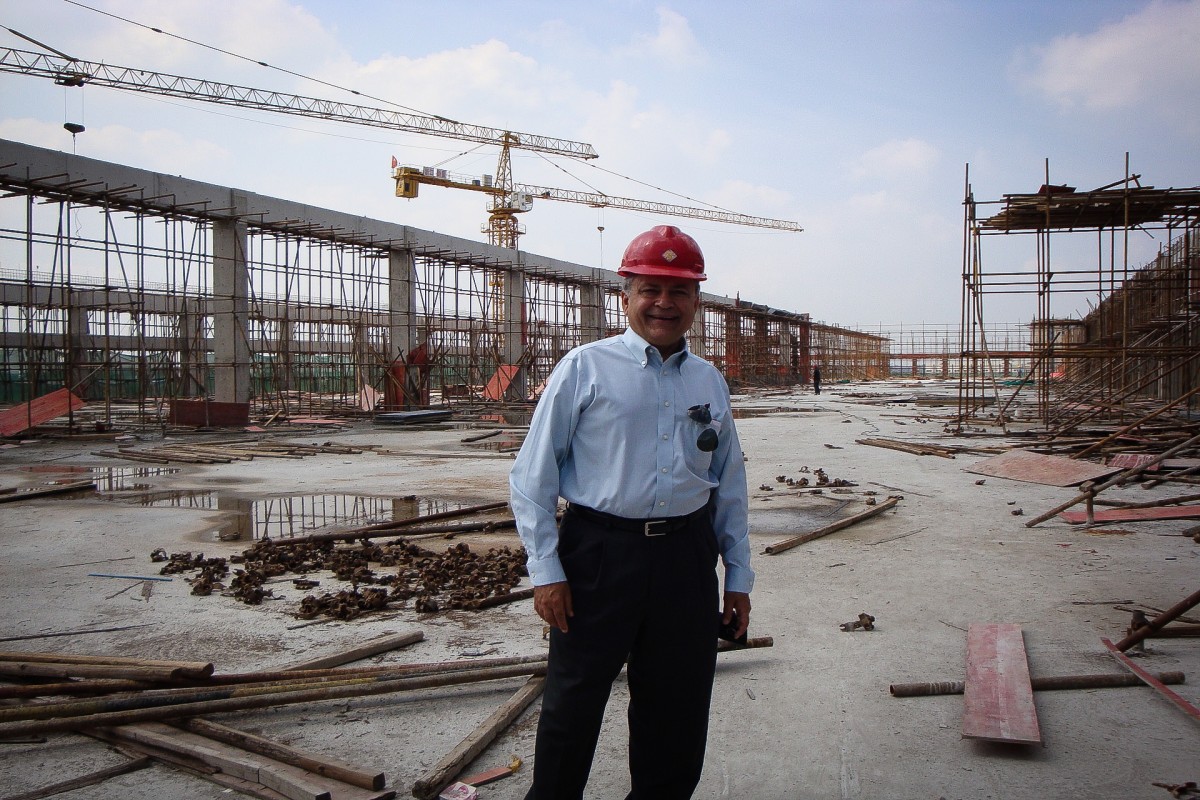 Think CSF has enough buildings scattered around the globe? Well here's one more. Their most recent factory was built outside Shanghai in 2012 and set up to make intercoolers with Mr. Eddy.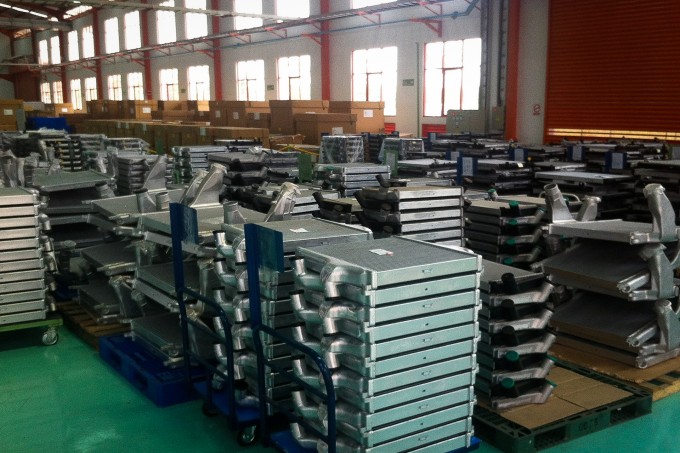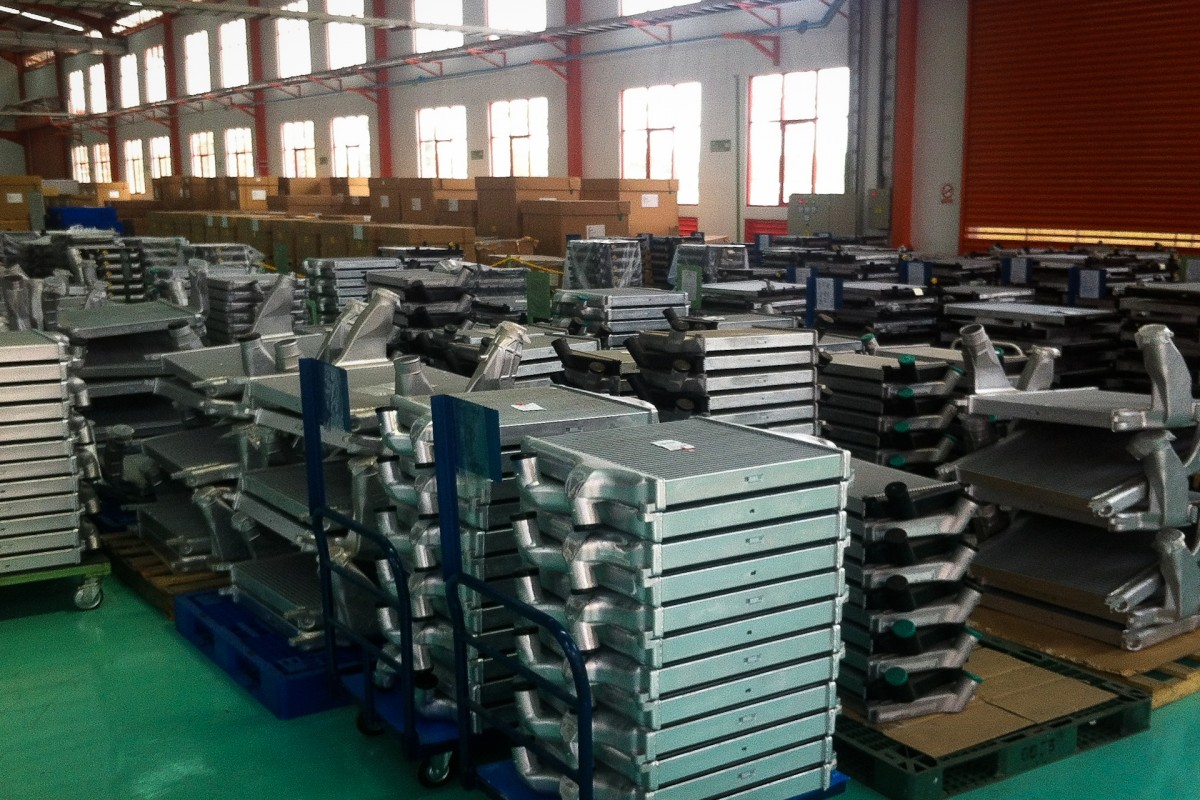 And as you can see – they're well underway now.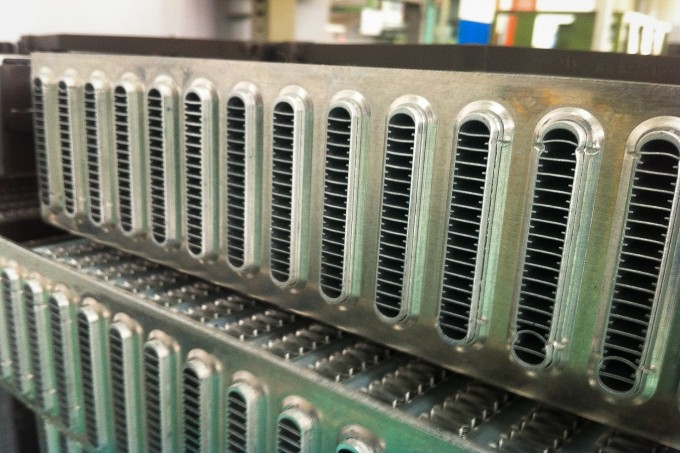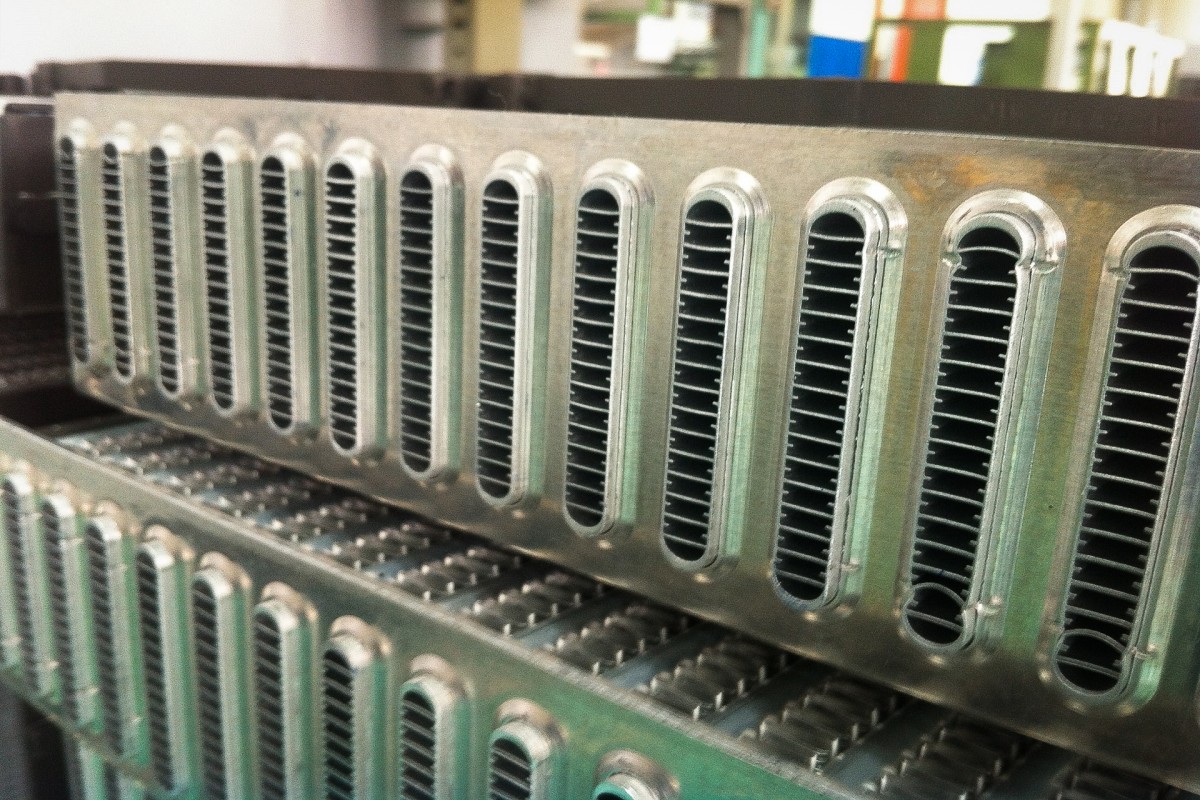 Besides four generations of smart business, the biggest thing that sets CSF apart is the proprietary technology used in their cooling products. They engineer their own cores and tubes to make their radiators and coolers more efficient than anything else. It's something I'm eager to learn about, and fortunately something our buddy Ravi likes to talk about too, so we'll be digging deeper in a future story.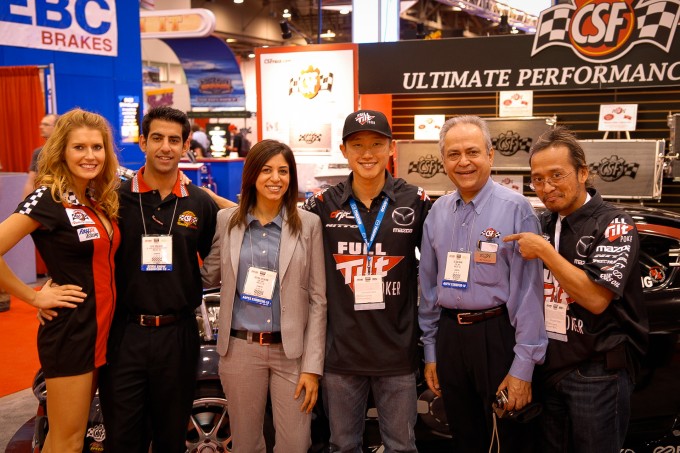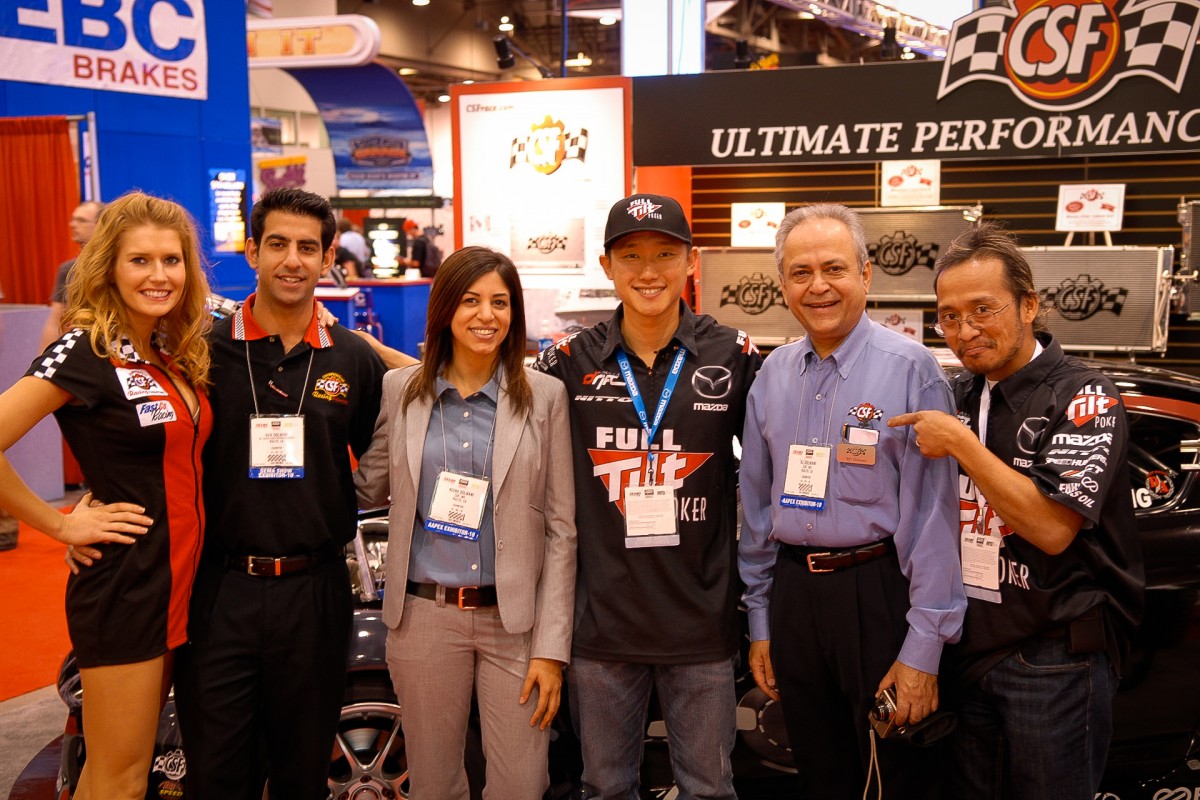 Like I said, Ravi has leveraged his position in the aftermarket to work with some of the fastest guys out there. In 2010 CSF sponsored drifter Joon Maeng and import-drag-racer-turned-crew-chief Ron Bergenholtz.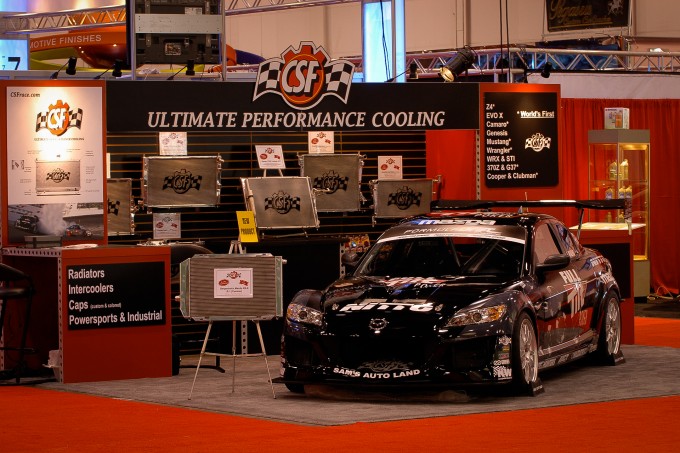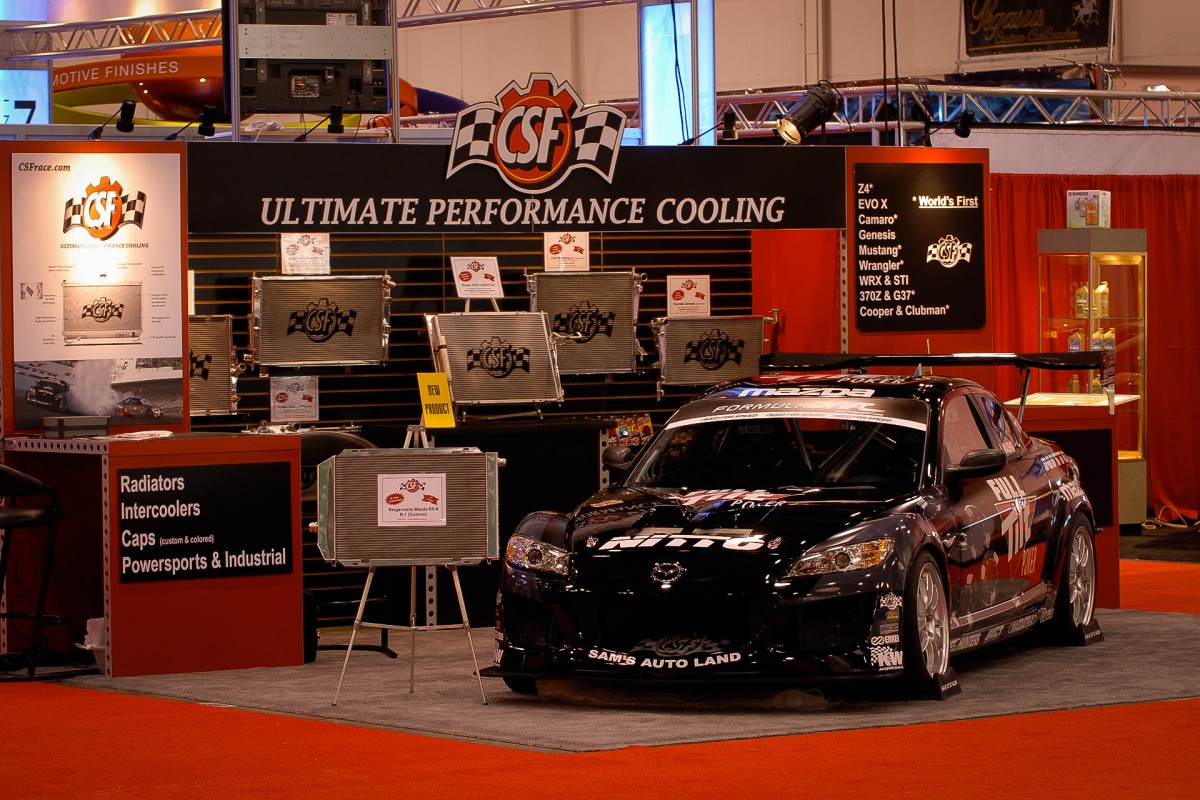 Together they developed the now-legendary R1 triple-pass radiator and ran it on Joon's drift car. This is the same radiator Essa won with last year too.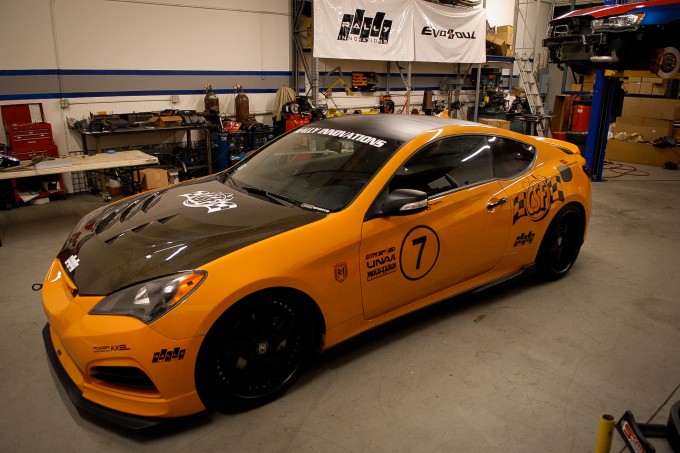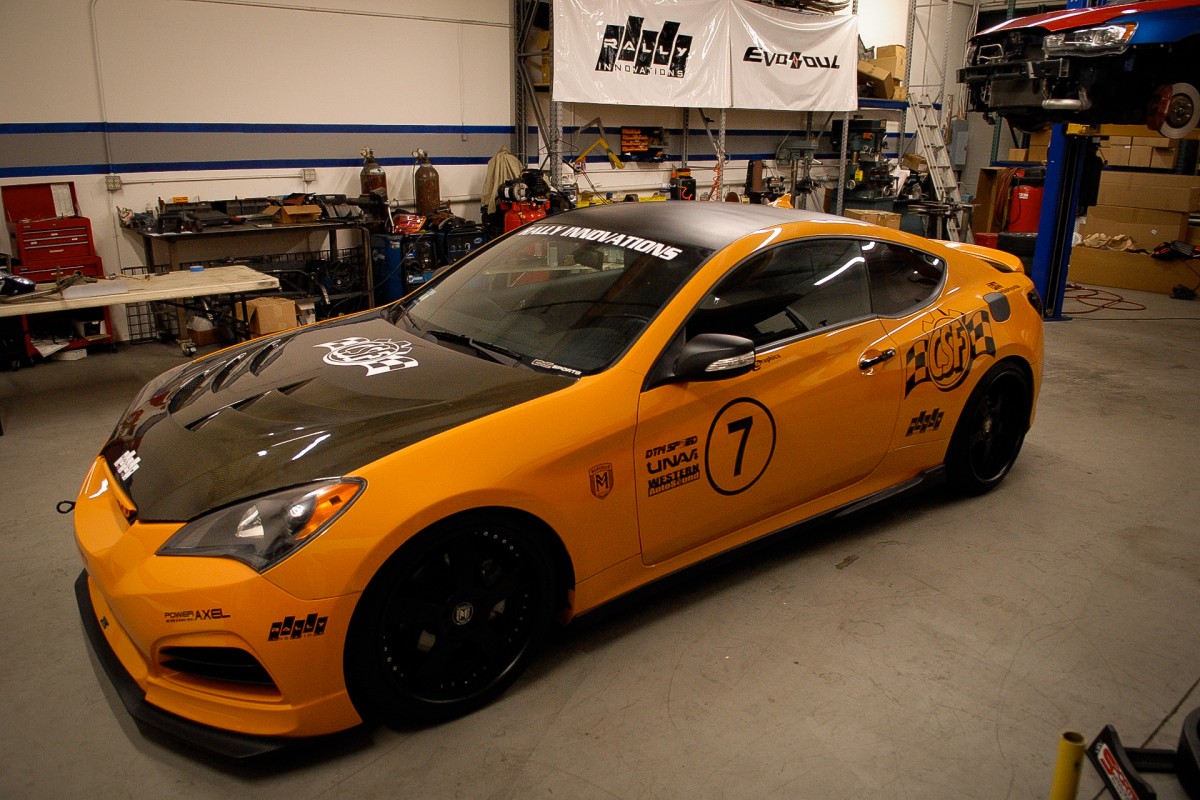 Joon's drift car wouldn't be the last to grace a CSF SEMA booth. They backed it up with a Genesis built in conjunction with Rally Innovations and Power Axle.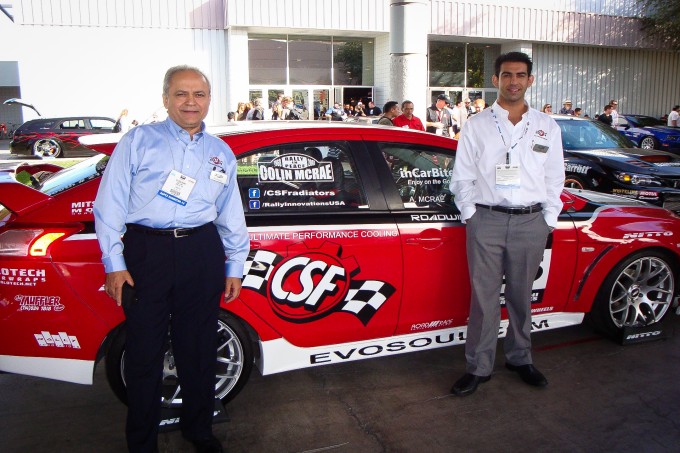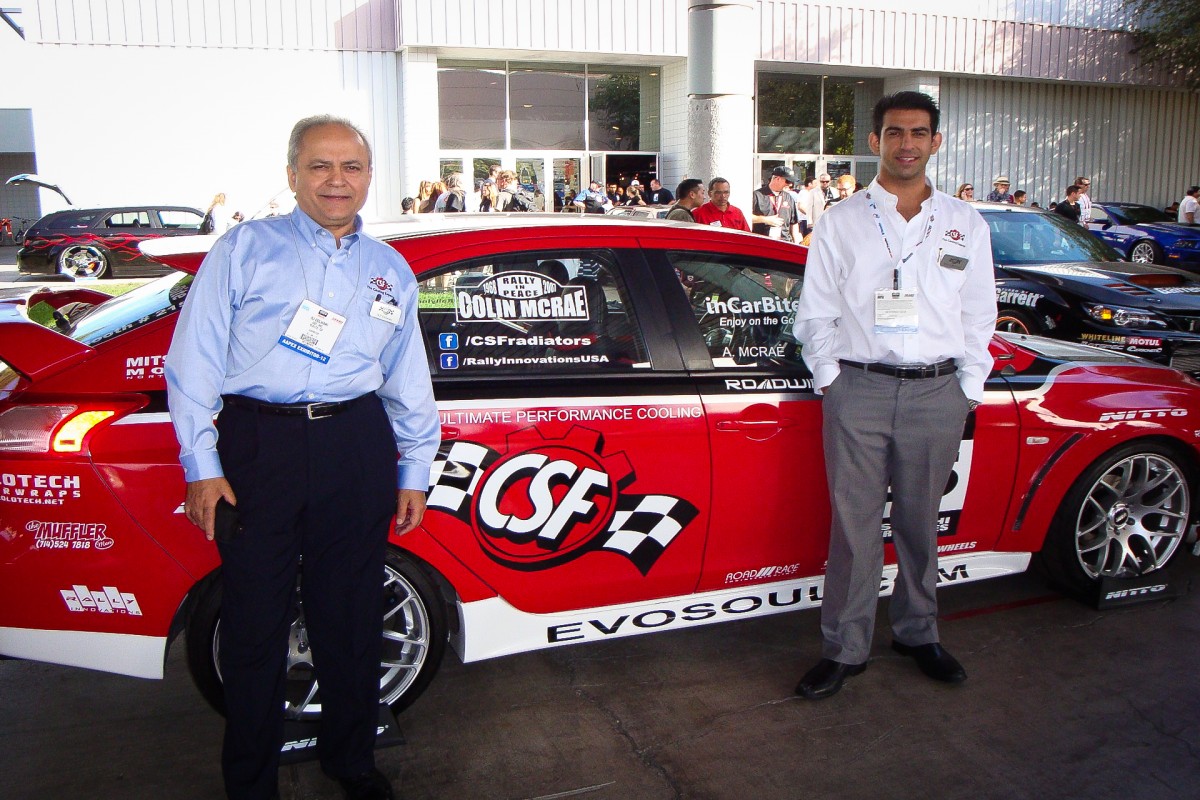 The next year Ravi was back with a very special Lancer Sportback, because Mitsubishi stuffed in an Evo drivetrain just for SEMA. CSF and Rally Innovations poured their hearts into this one, but sadly Mitsu called one day and wanted it back, as they didn't want the specially-built car getting out into public hands. This one met its fate in the crusher.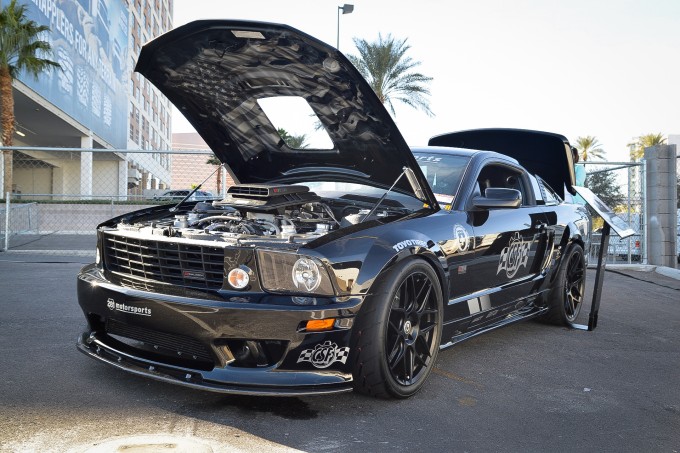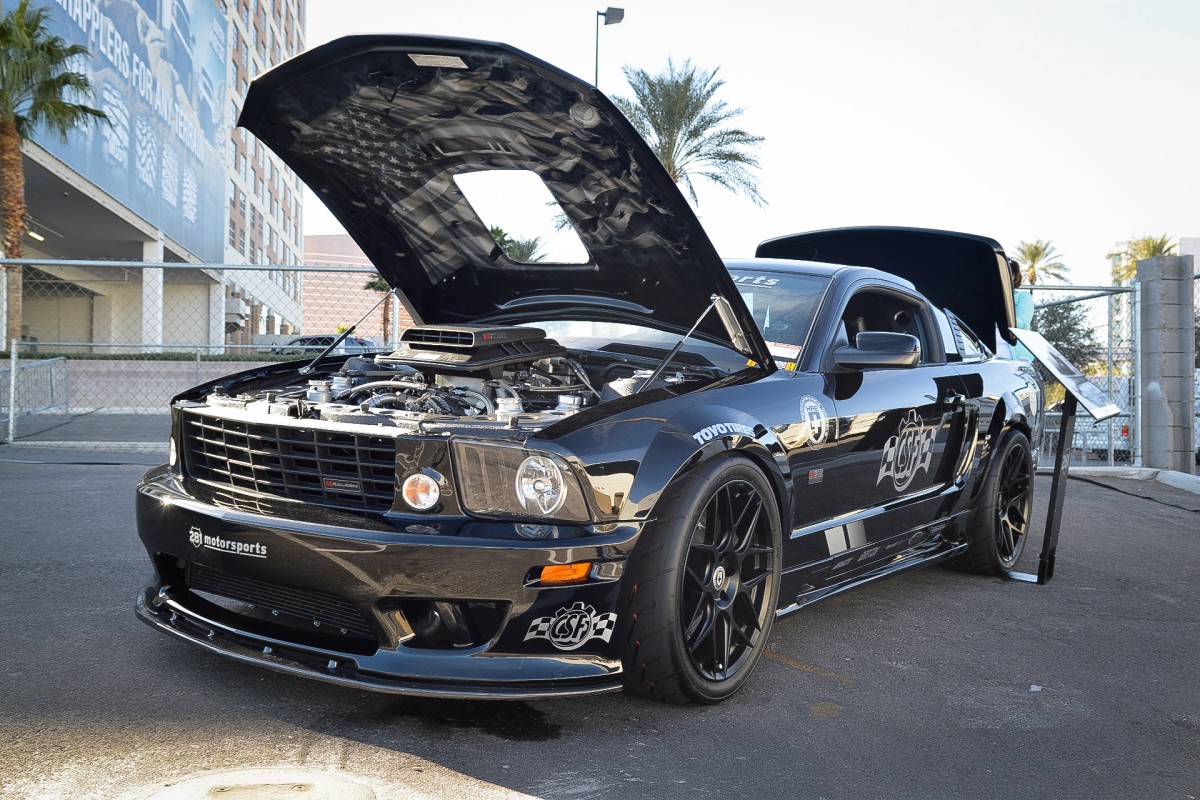 Proving that they like all sorts of cars, CSF teamed up with HRE and 281 Motorsports to build this military tribute for fallen Special Ops soldiers. This car is getting a fresh wrap as we speak that features the names of every Special Ops soldier who has lost their life at war.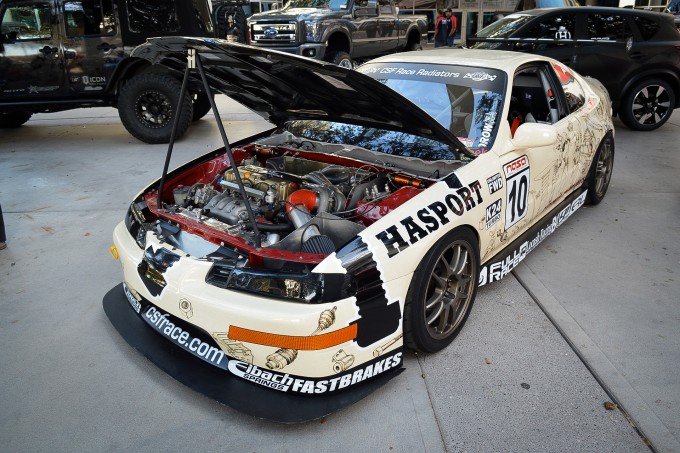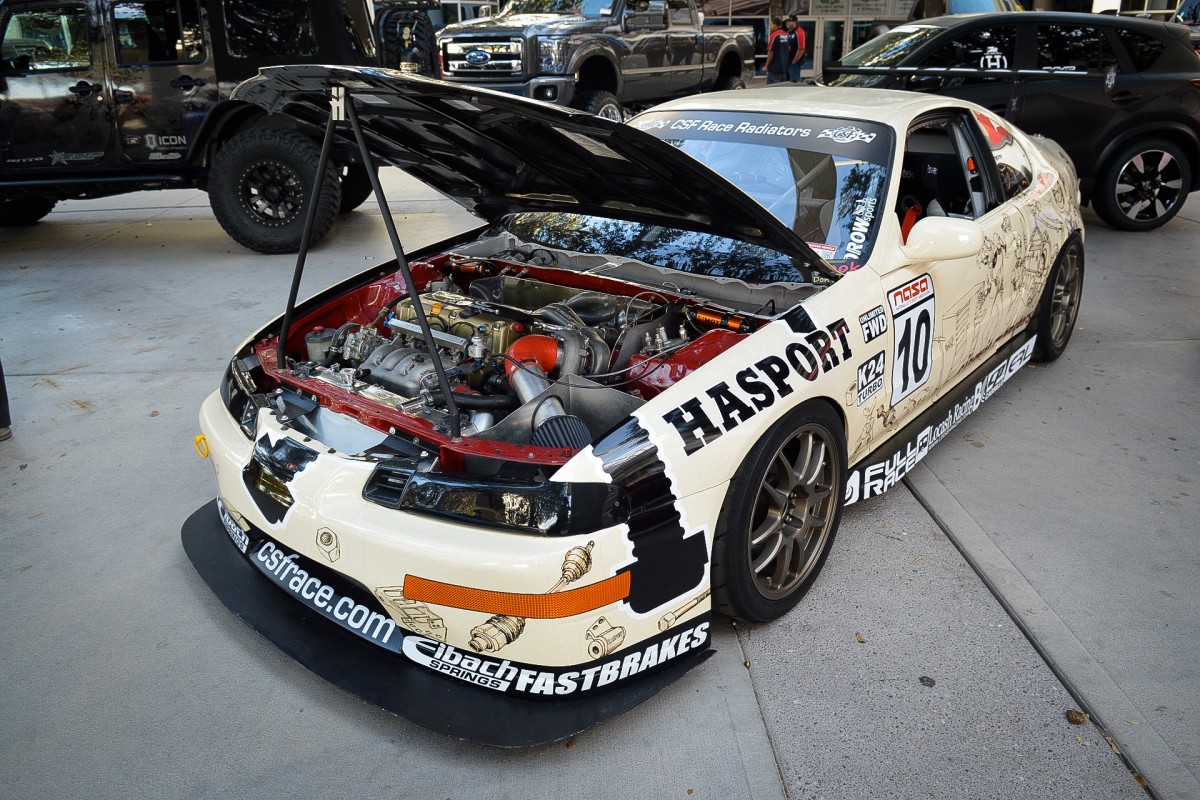 Another product that CSF is especially proud of is the Ultimate K-Swap radiator, which was designed to handle the cooling needs specific to that engine in the multitude of platforms it gets swapped into. Once again, Ravi aligned himself with an industry leader and developed the system with Hasport's help.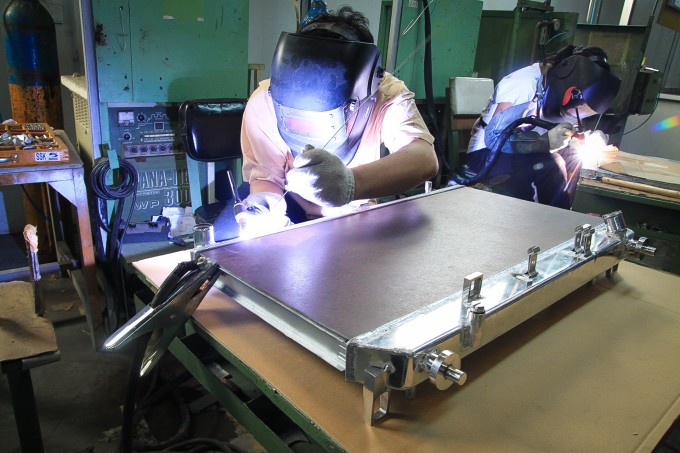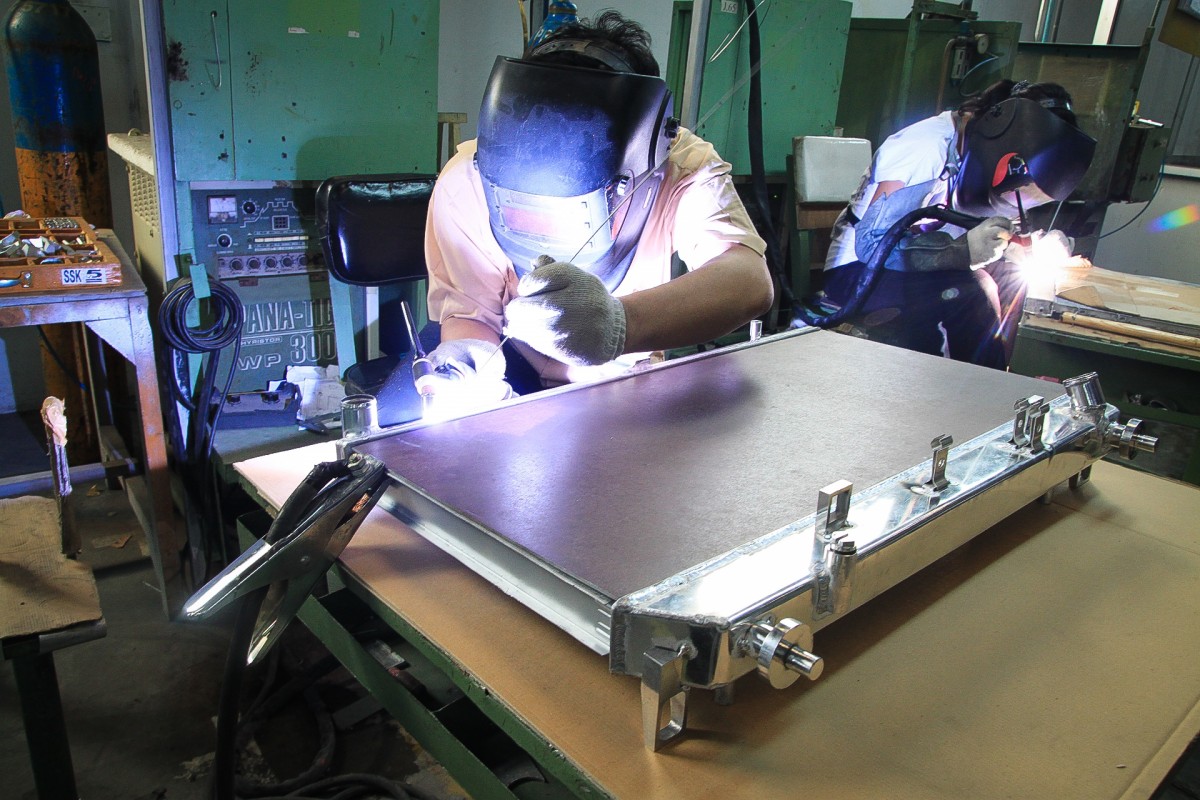 So clearly CSF's been around the world and back in an effort to make the best aftermarket cooling products. They've got the facilities to do it, and now the youngest Dolwani is out to bring the technology to our high-performance, modded drivers and drifters. There's more to it than just copying a factory radiator and calling it a performance part. CSF designs their performance aluminum radiators and intercooler from the ground up. We can't wait to learn what goes into making a CSF radiator, so be on the look out for the next special feature soon.
Keith Charvonia
Instagram: SpeedhuntersKeith
keith@speedhunters.com