The future is now
There's no getting around it – today's cars are good. Ridiculously good in fact. They are safer, faster, more fuel efficient, and more comfortable than they've ever been – and they are getting better everyday. The modern car enthusiast is spoiled. Plain and simple.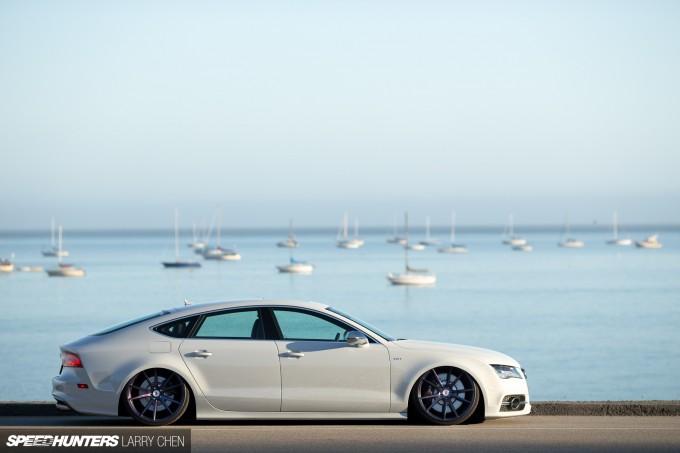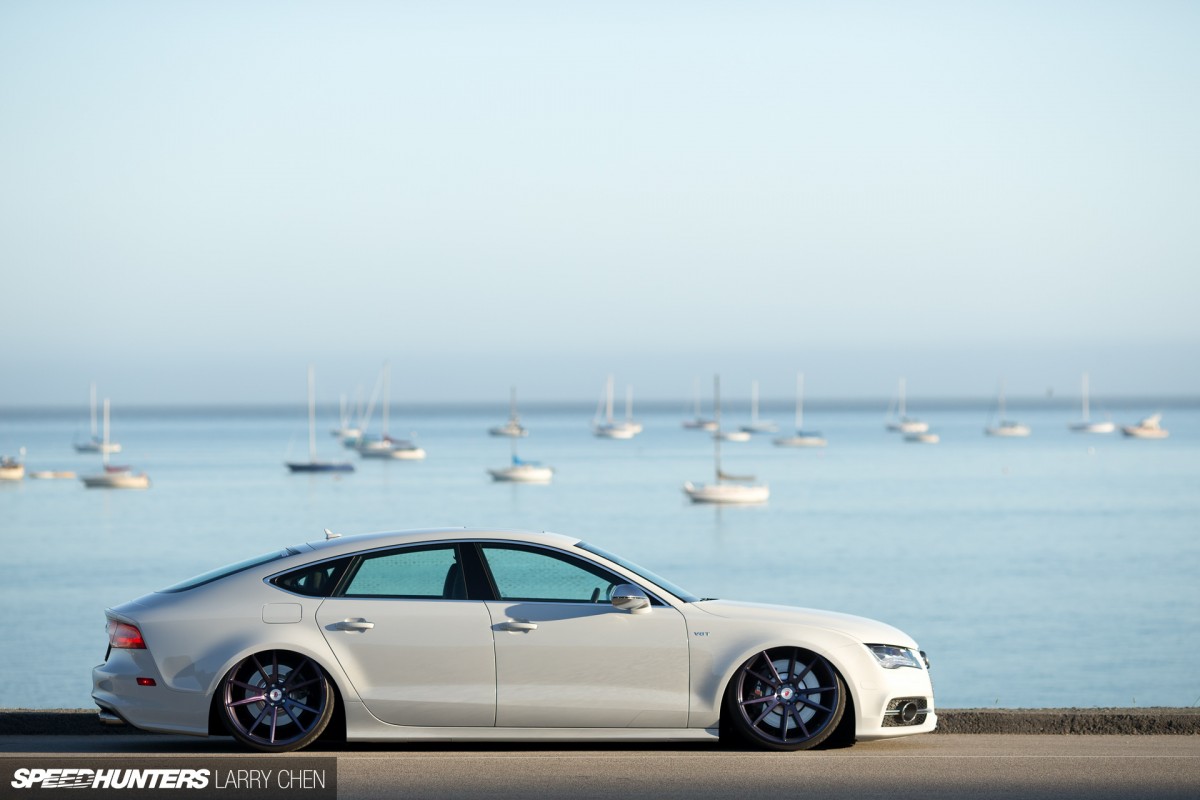 Just think about it. Today's average family sedan can outperform many of yesterday's great performance cars, and the modern economy commuter car can be had with features you couldn't even find on luxury flagships 15 years ago. I'm not even that old, and I've been able to see these cars improve exponentially before my eyes.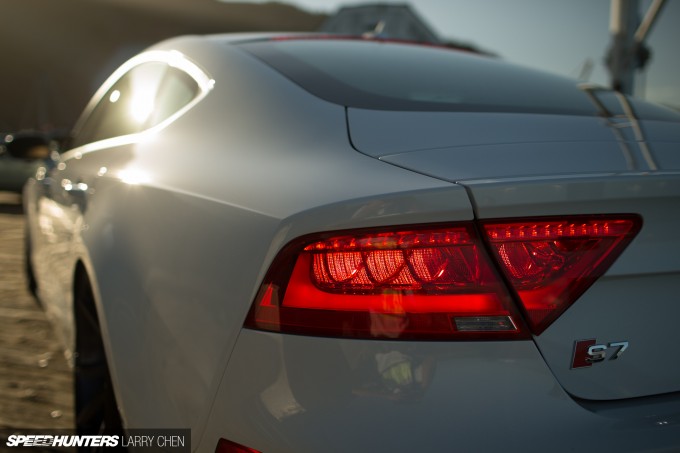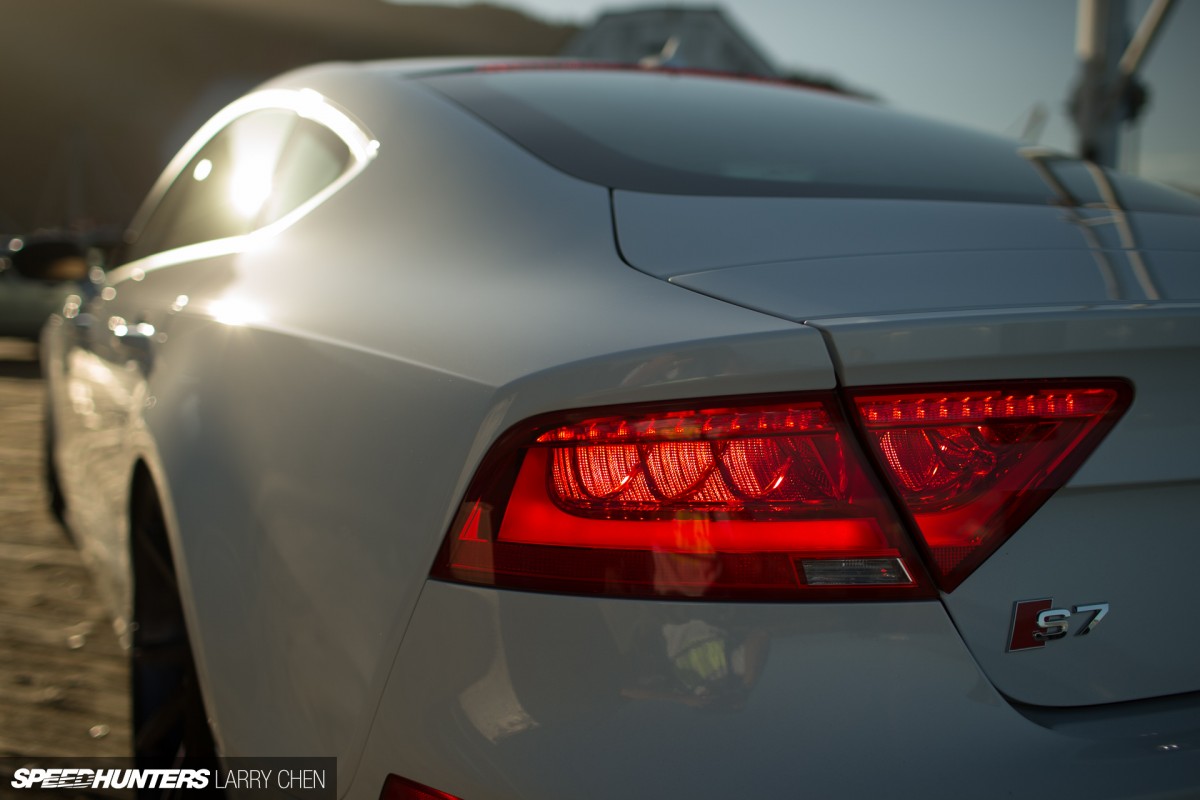 The Audi S7 is a machine that perfectly embodies this. It can carry several people and of all their gear in extreme comfort, and it will hit 60mph in about four seconds and rip off 12 second quarter mile ETs without breaking a sweat – right off the showroom floor. Not long ago, those were supercar numbers.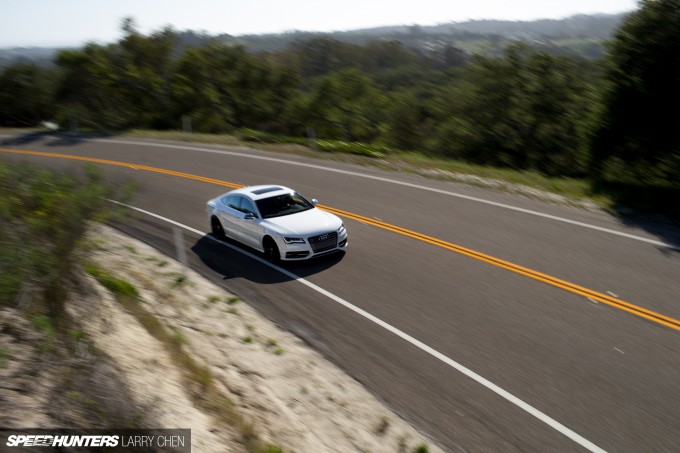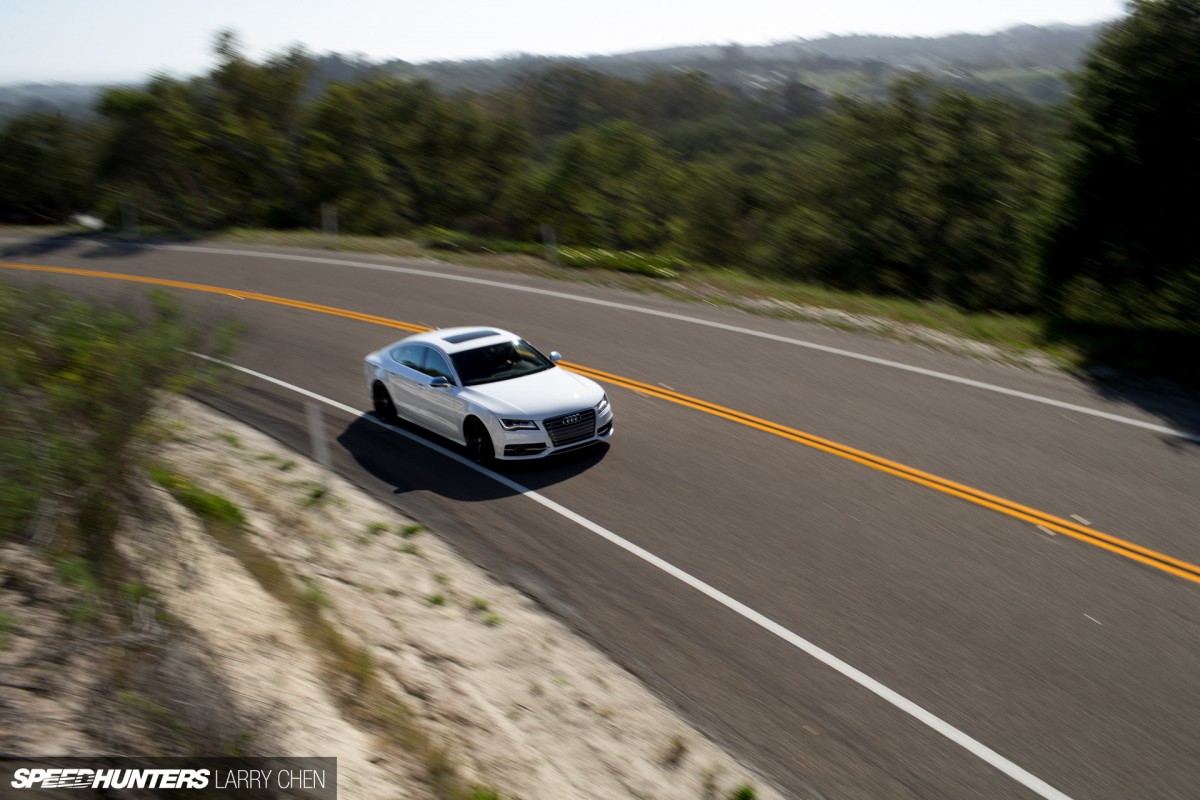 Better yet, thanks to its AWD system this car can do all that in the rain, in the snow or any other condition you throw at it. It's so civilized that your grandma could drive it. And on top of all that it looks amazing.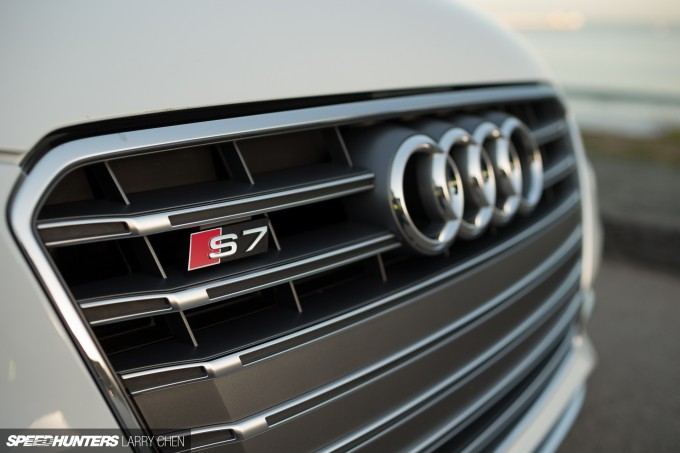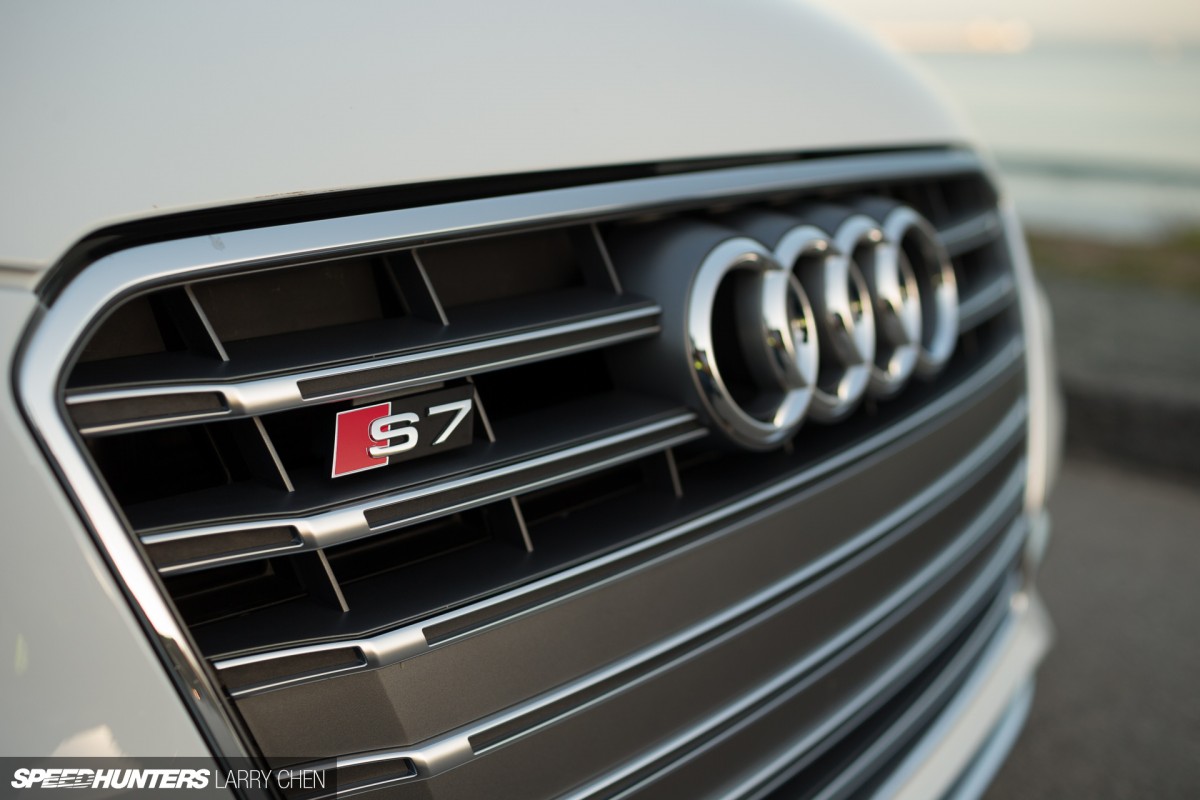 But with today's great cars comes a problem. As car enthusiasts we love tinkering with and tweaking our automobiles to our liking, but modern-day machines might be too good.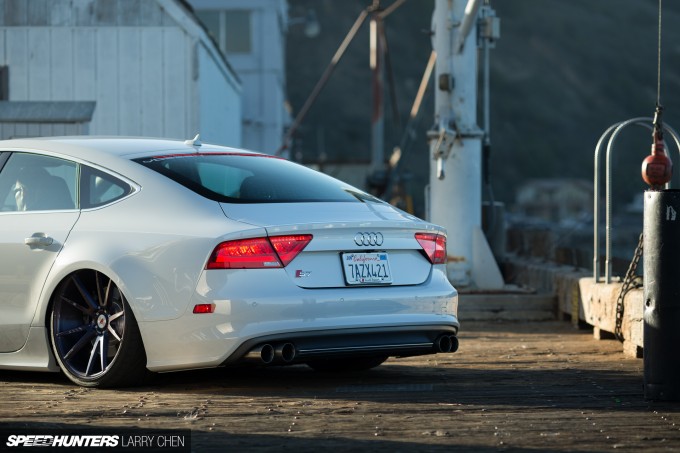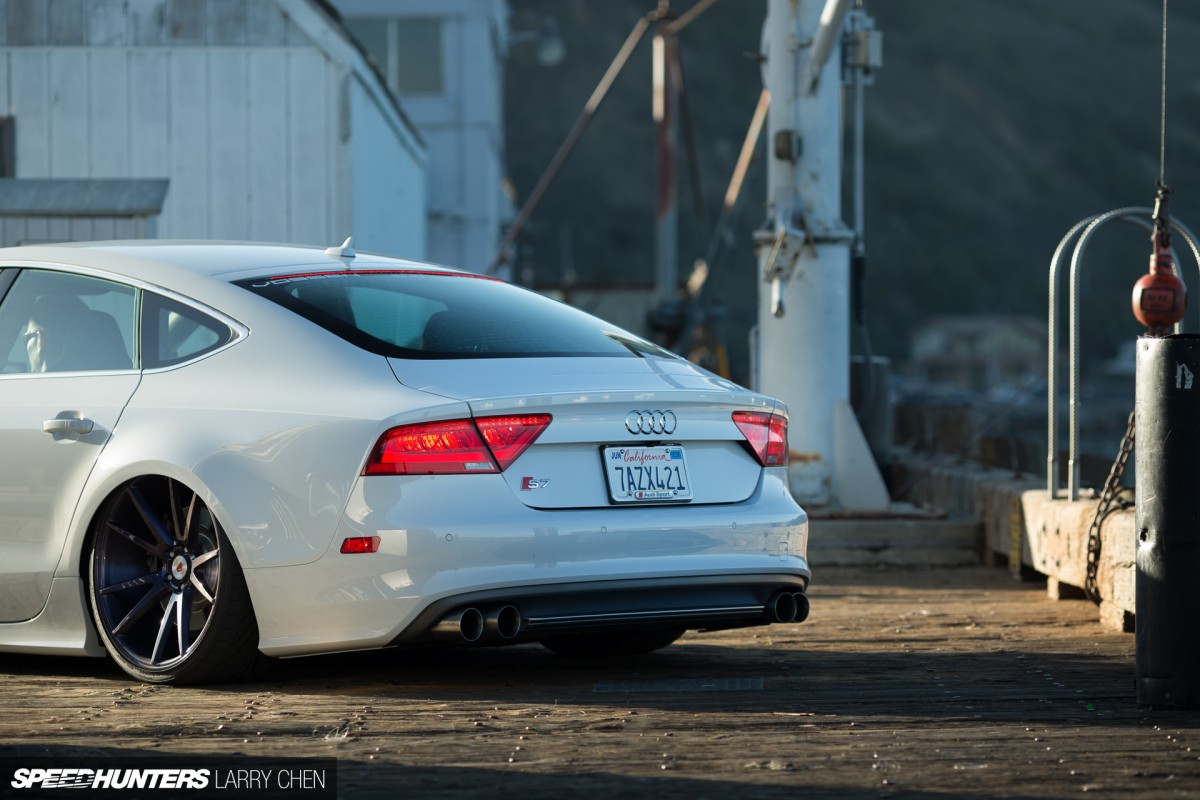 You often have to ask yourself if you can actually make them better? And if you can't, well what's the fun in that?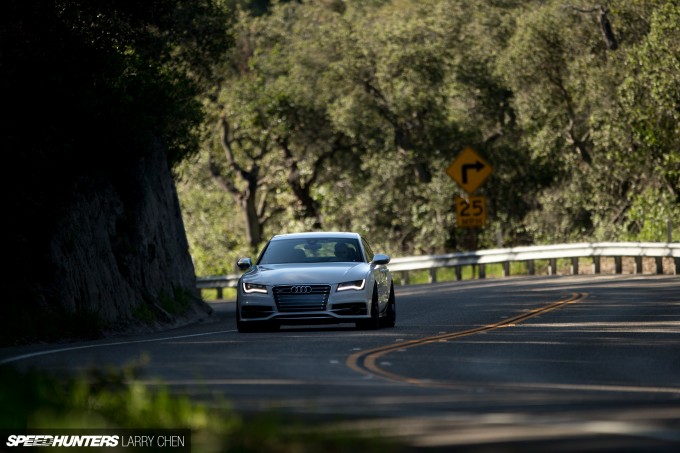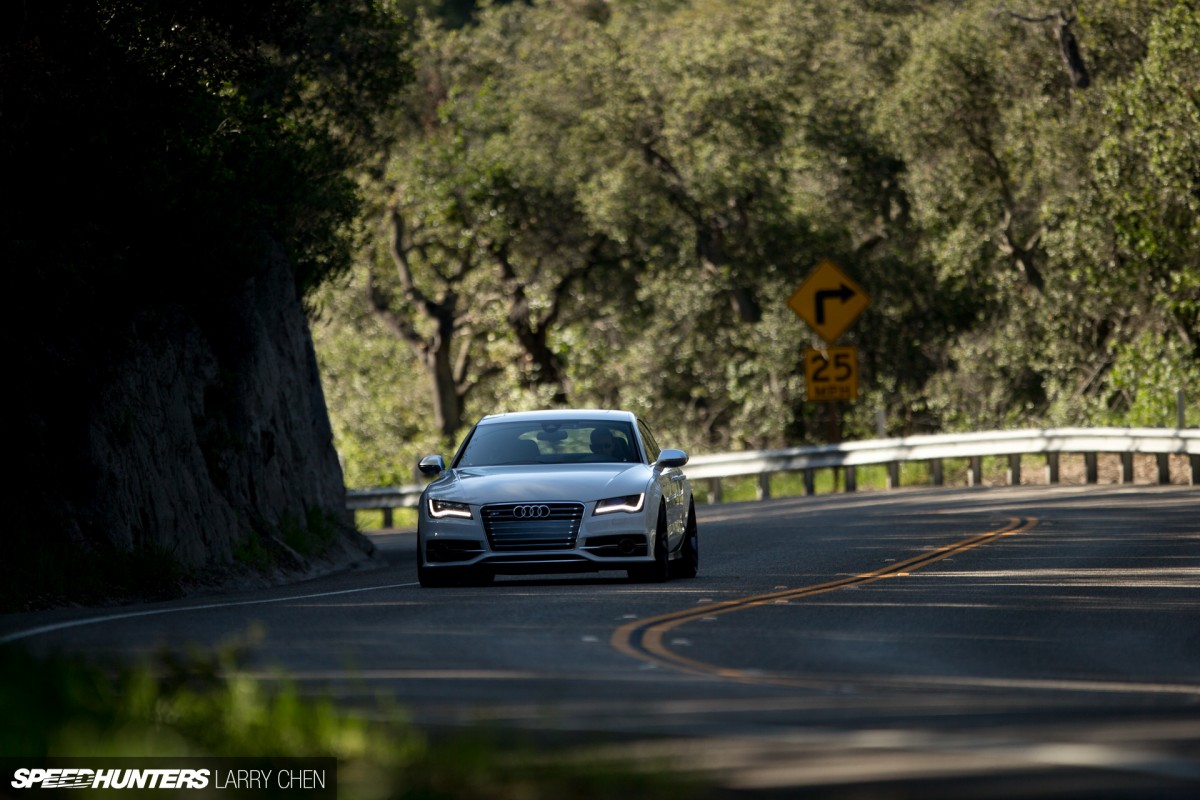 It seems like in the past you could go out and get all sorts of stuff for your car, and whether it was a set of springs or a new bumper – you'd always notice a difference. Not just a difference, but an improvement in performance or in style. Today it's not so simple.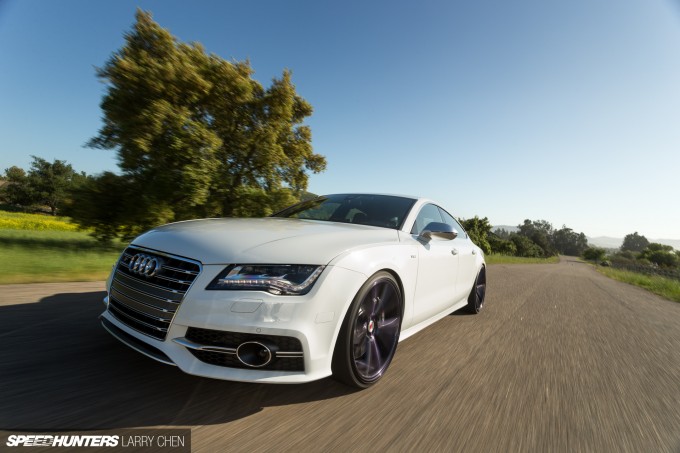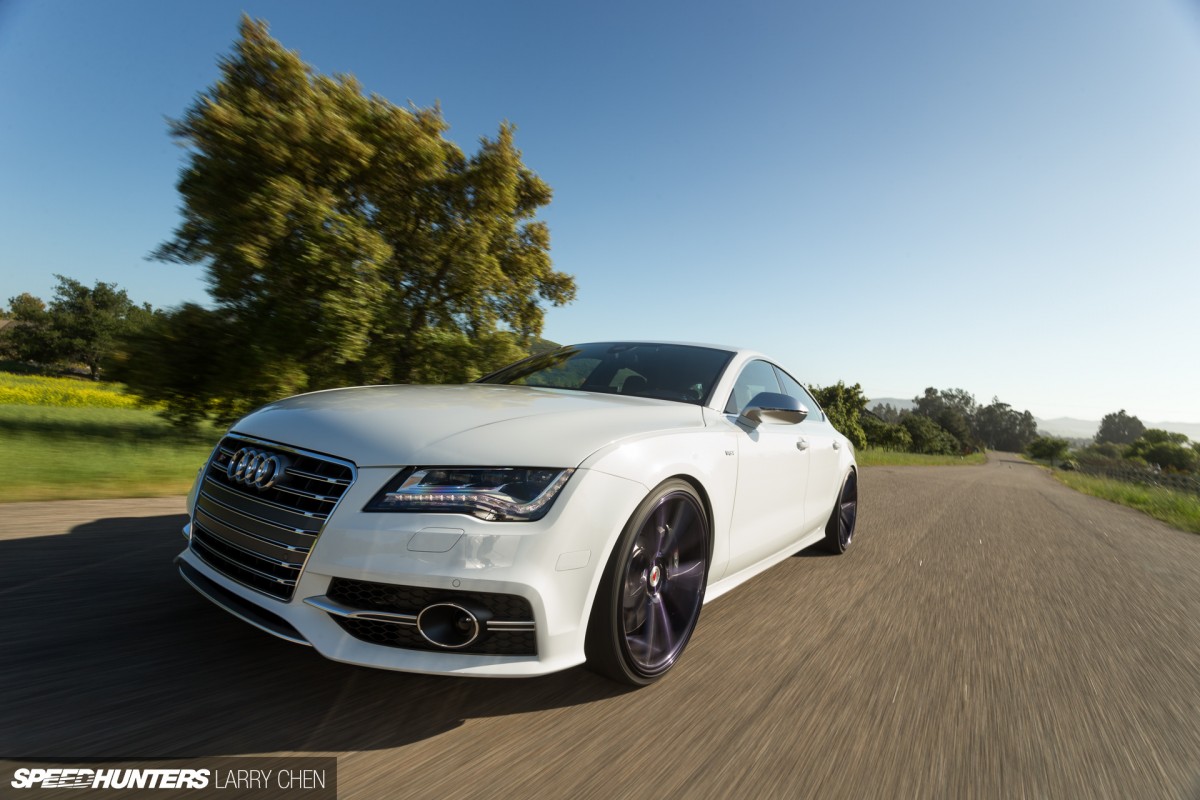 However, that doesn't mean that today's cars can't be improved. It just means that it takes a little more work and a little more research to get them there.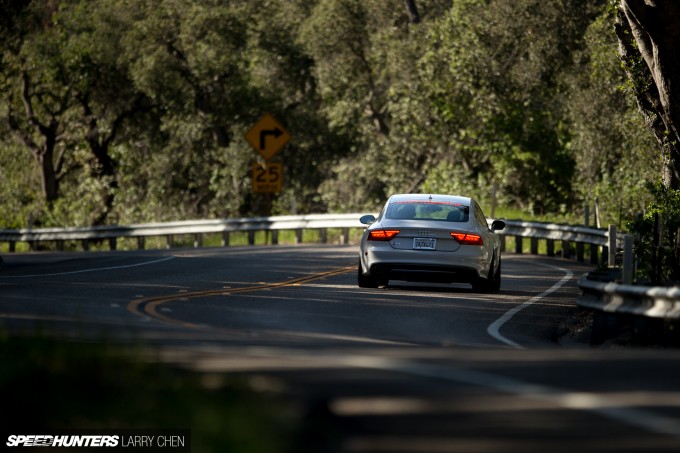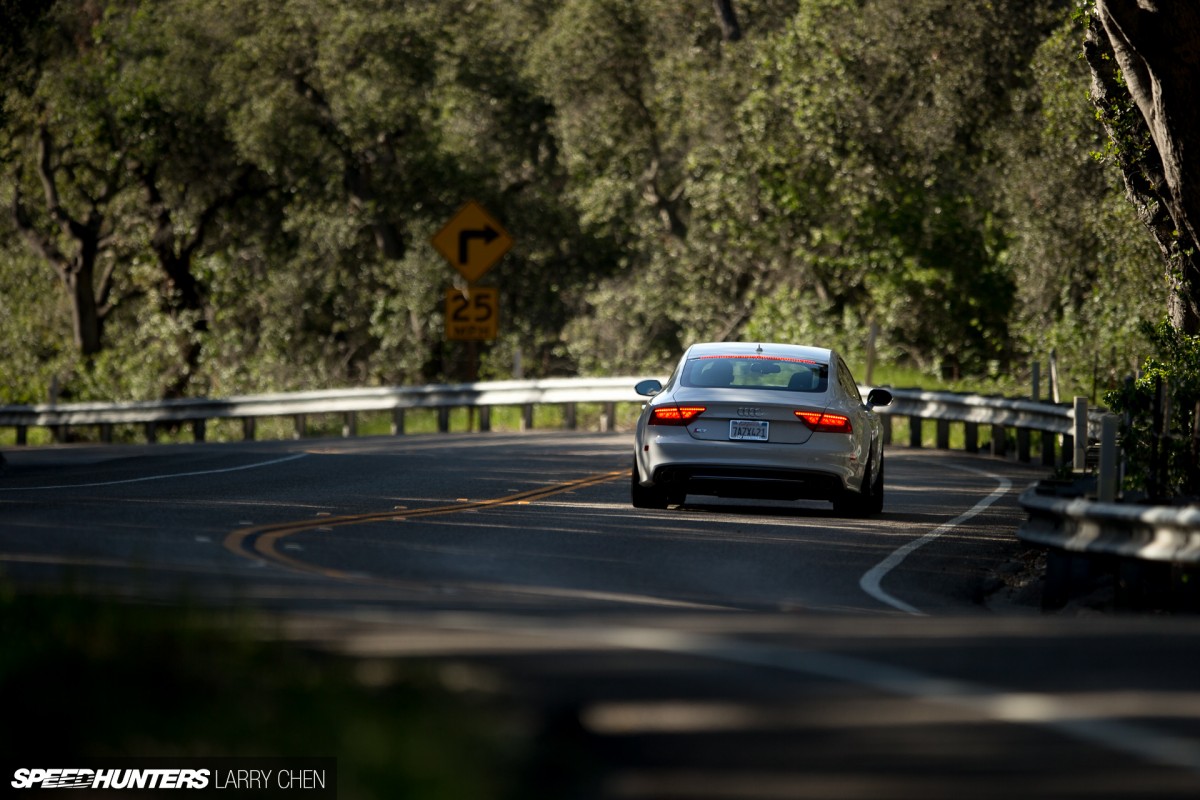 As I'm about to show you, the payoff of this extra effort is definitely worth it.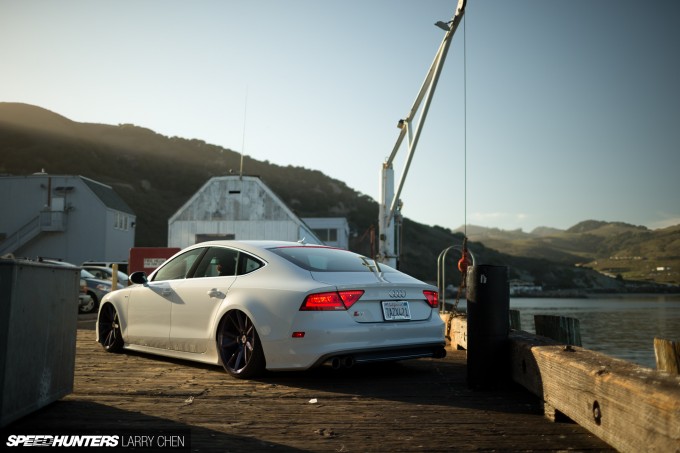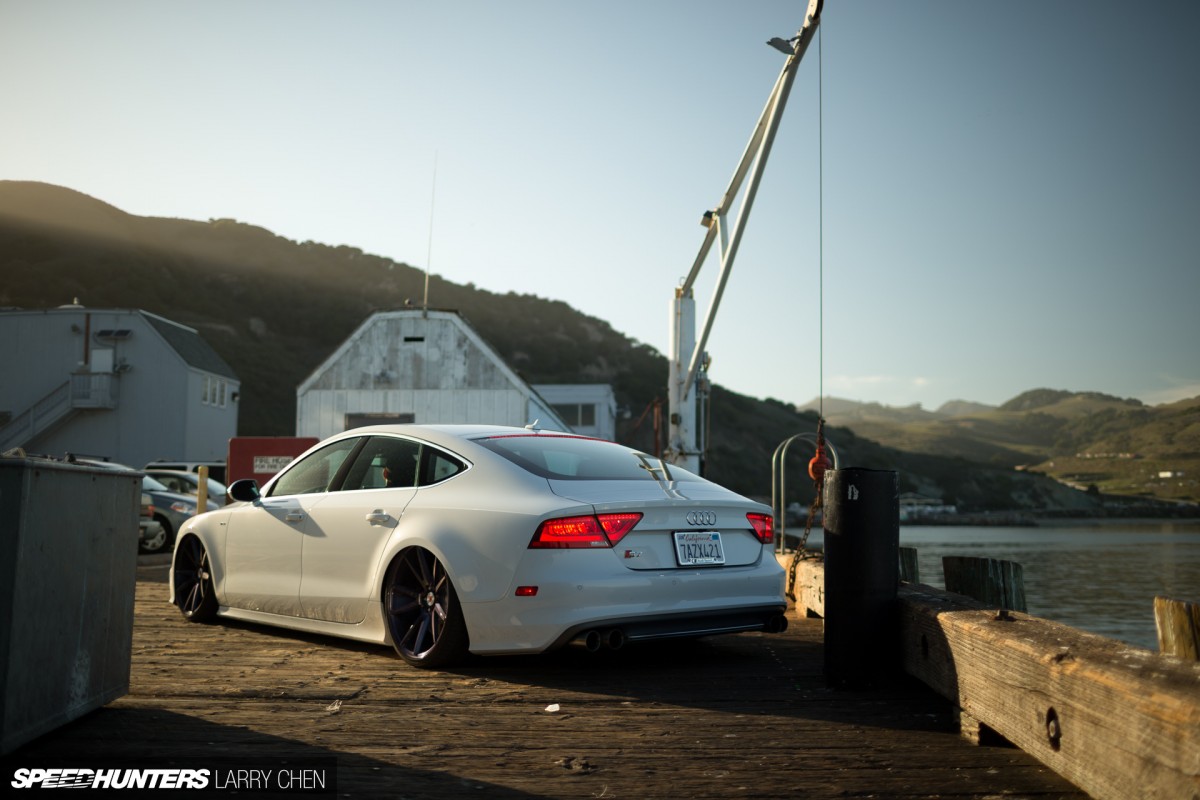 Which brings me to this 2013 Audi S7, built as part of a collaboration between the crew at Vossen Wheels and AccuAir in California.
Simple, but effective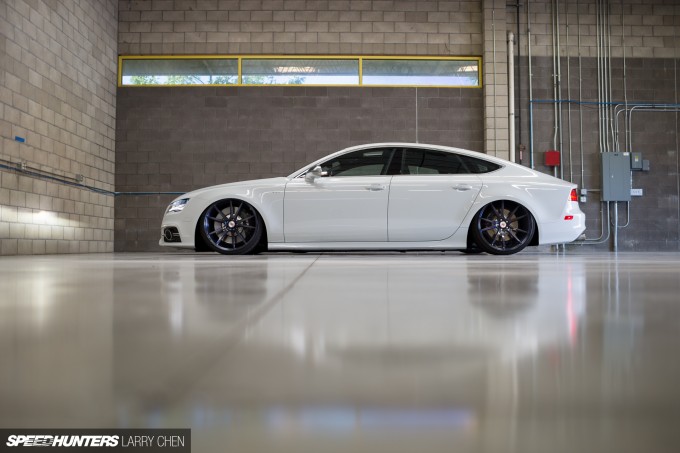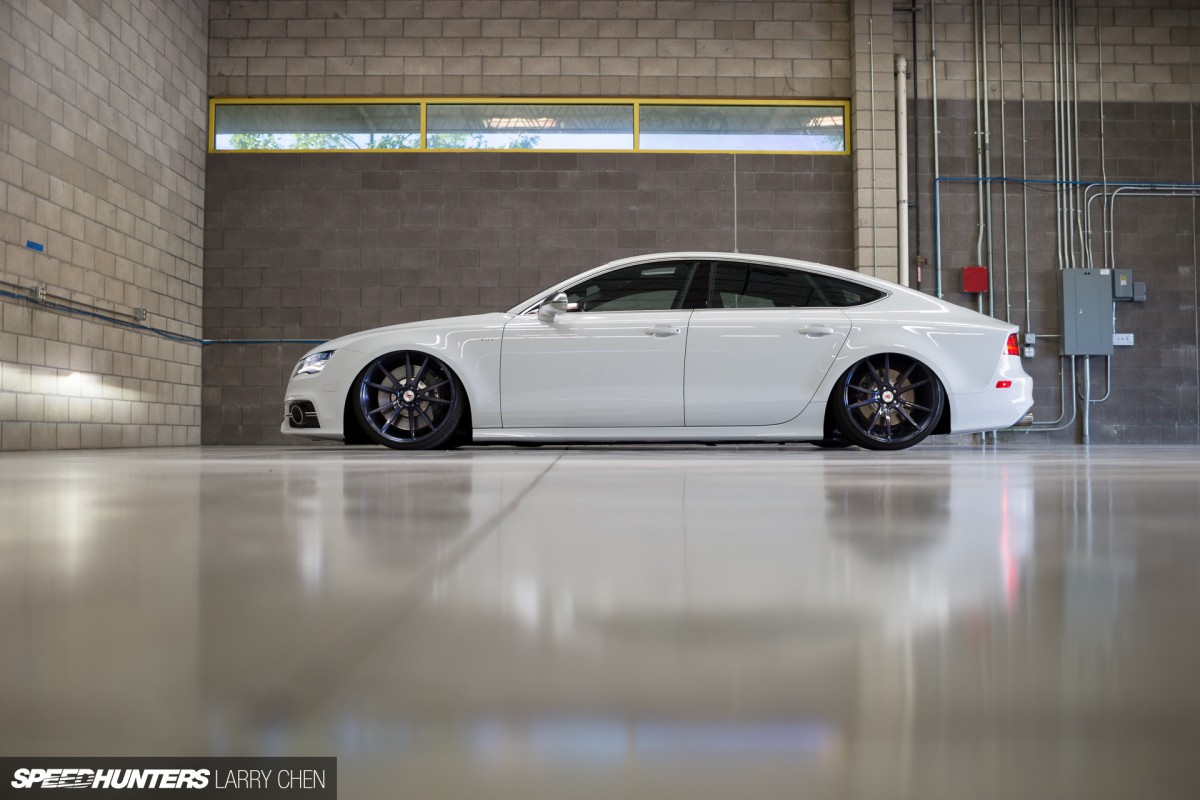 In terms of feature cars, the modification list on this one is small – but if I'm honest that's totally fine. That's because an S7 doesn't need much to be great.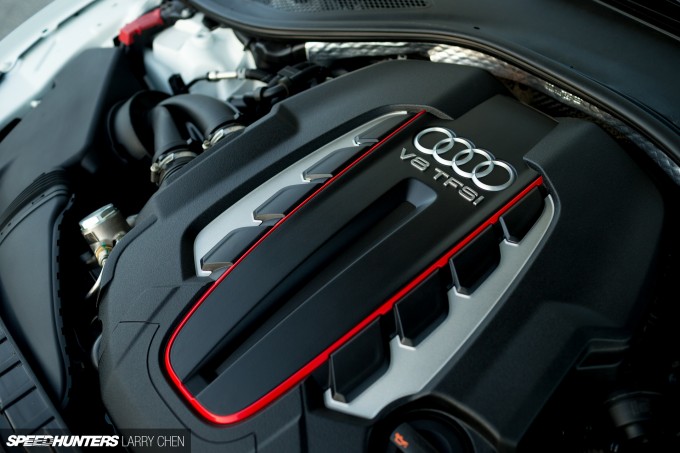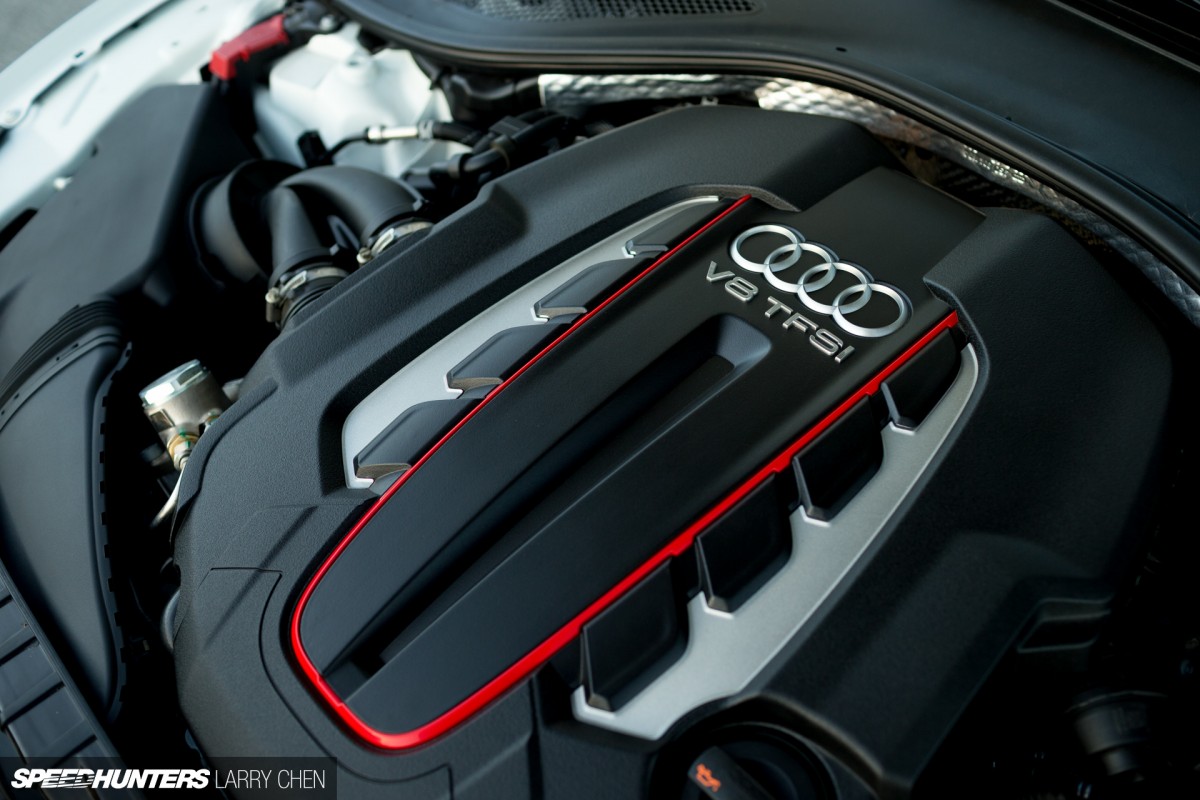 Beginning under the hood, the S7's turbocharged V8 remains mostly stock, but there's has been some minor work done to extract a few more ponies.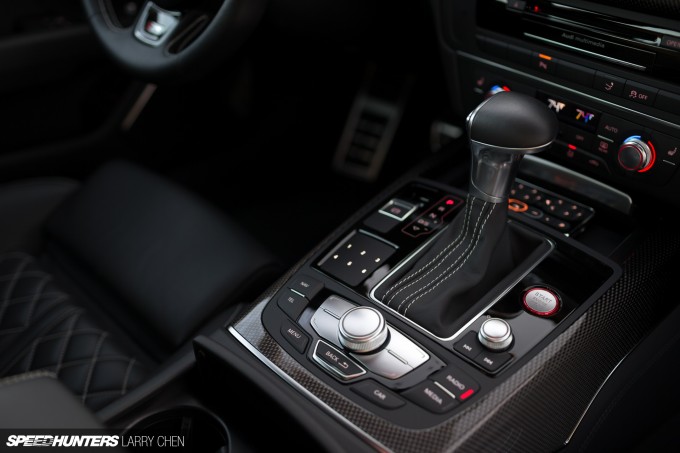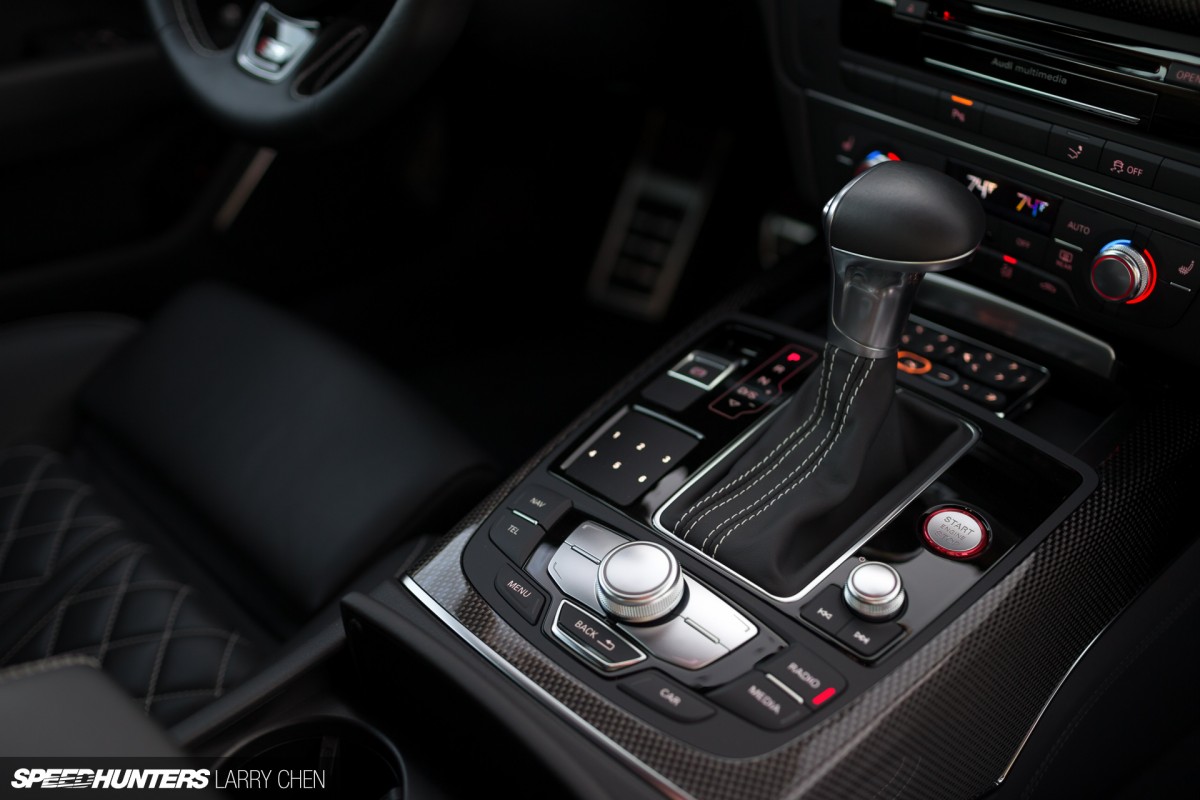 Thanks to a tune from APR, the big Audi is now making 569 horsepower and 605 pound feet of torque. It's a noticeable improvement over the stock output, with no drawbacks in reliability or street manners either.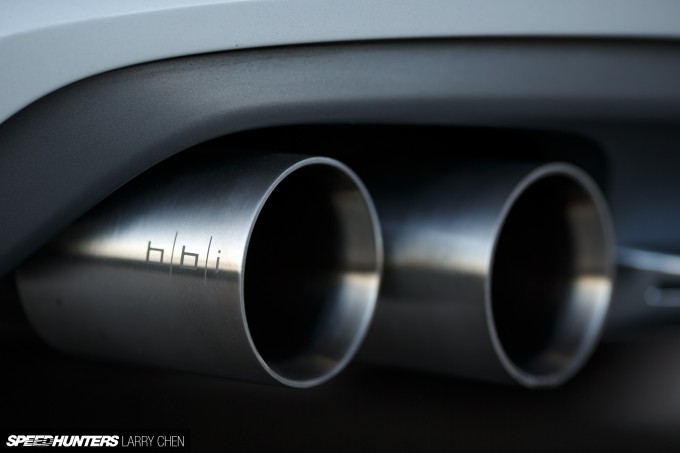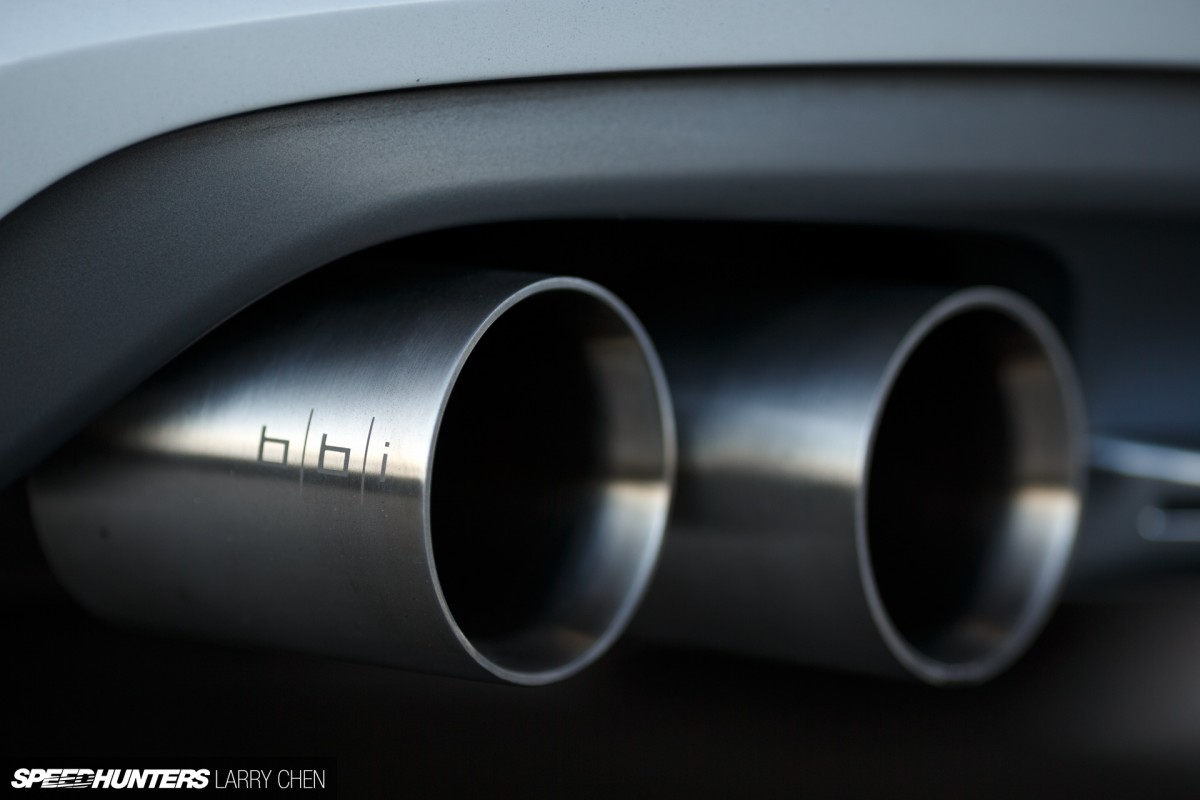 Further helping in the power department is a custom three-inch stainless steel exhaust system from BBI that uses integrated factory cut outs for better flow and an angrier sound from the V8.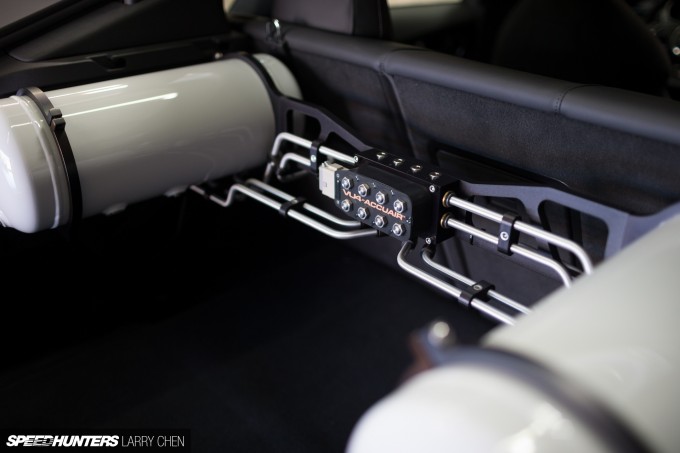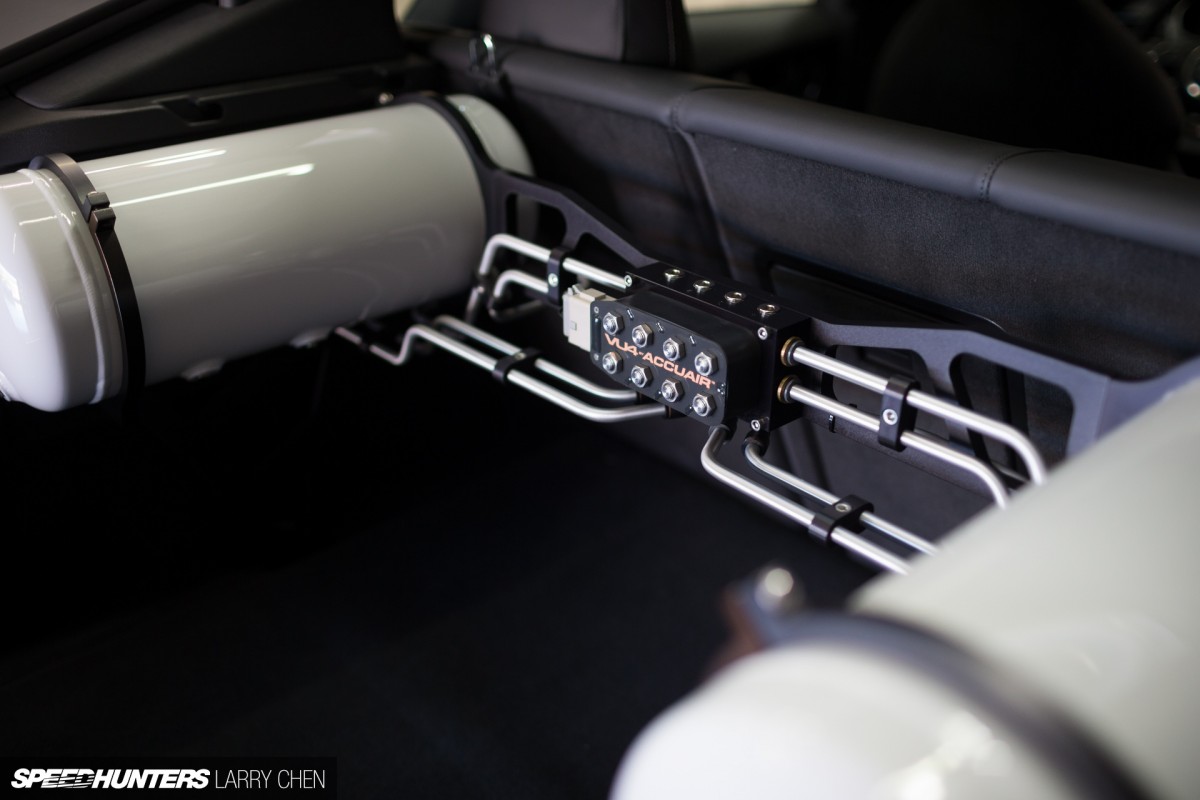 Because the Audi is owned by AccuAir, it's only natural that the car would be equipped with one of the company's full air suspension kits.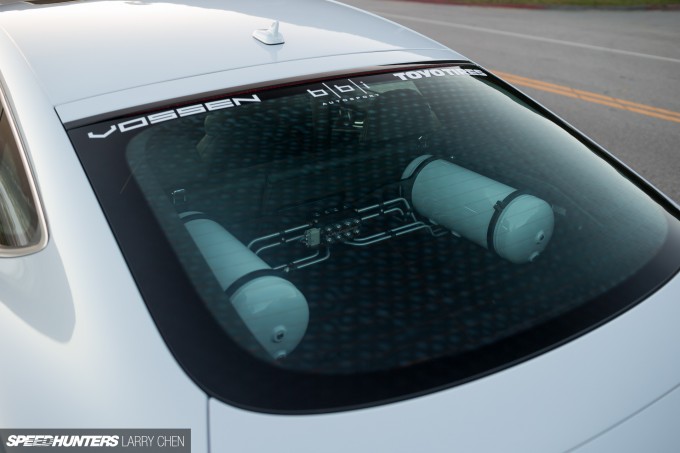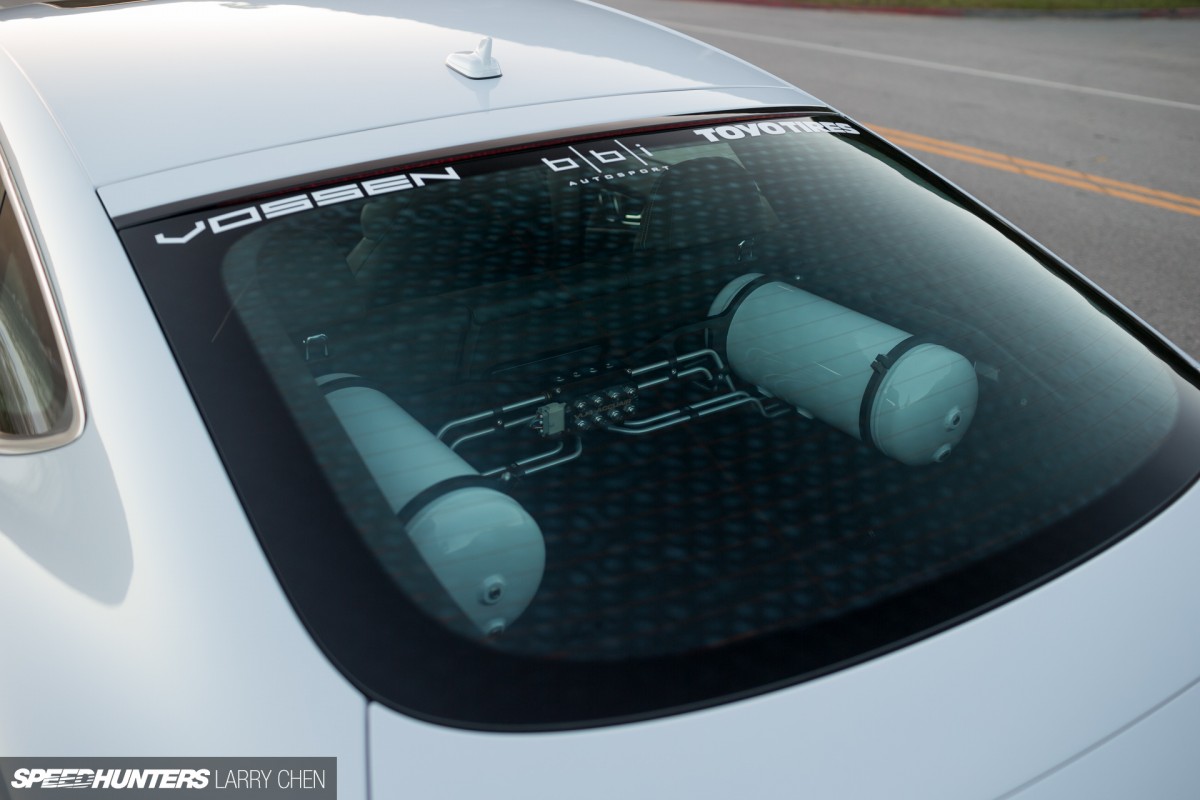 Here you can see the custom air tank setup the occupies the Audi's large hatch area. Along with a complete AccuAir Sport Air Suspension kit, there's also an e-Level setup and an iLevel wireless (Wi-Fi) controller to keep everything dialed in.
It's all in the wheels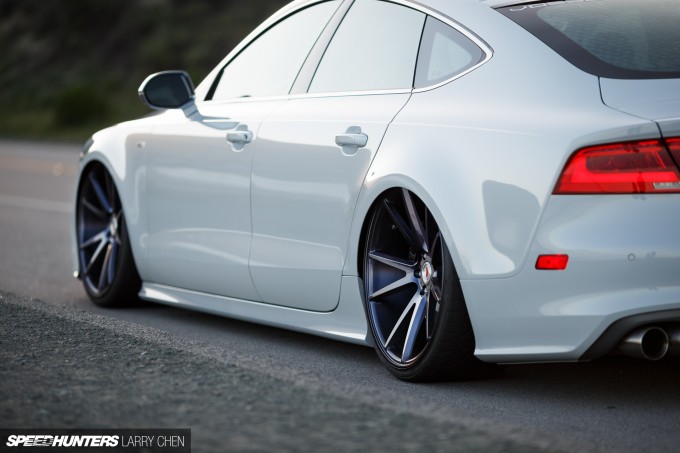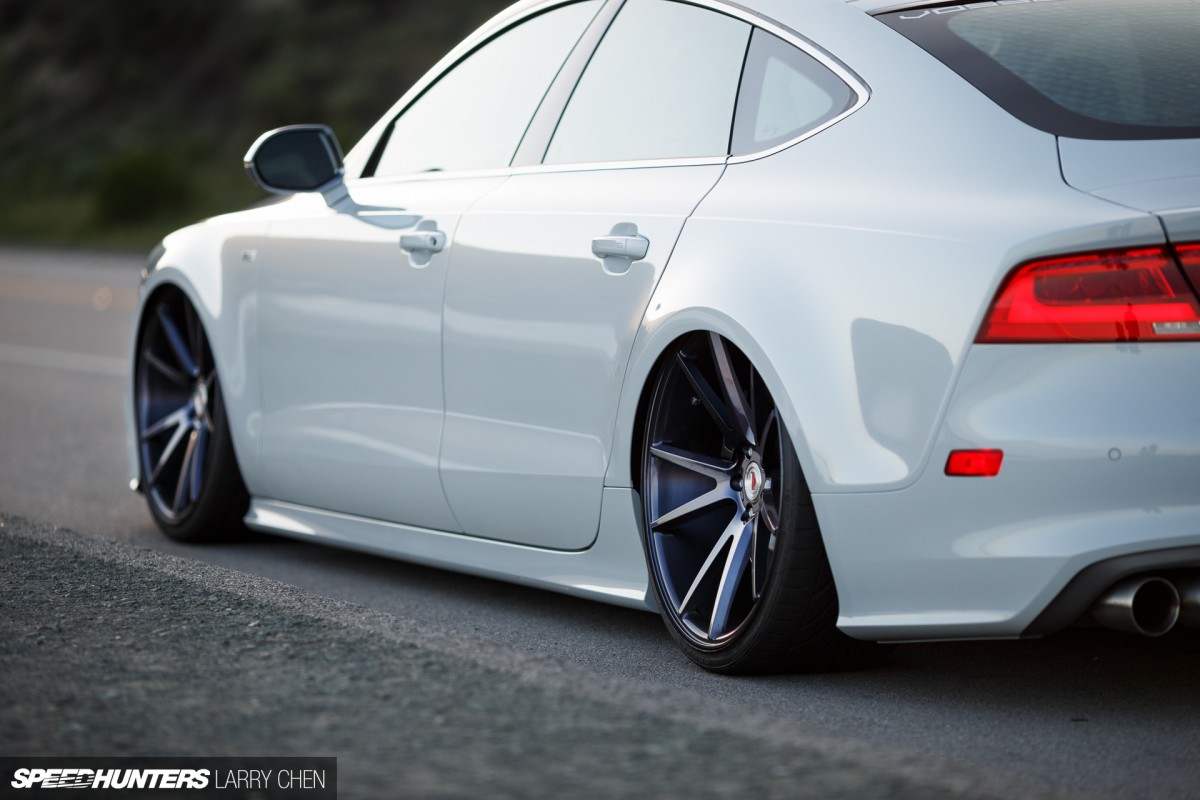 As we all know, wheels make or break a car, and this statement rings truer today than it ever has before. The factory wheel and tire setups on today's performance cars are usually quite good, and a lot of care needs to be taken when choosing an aftermarket combination.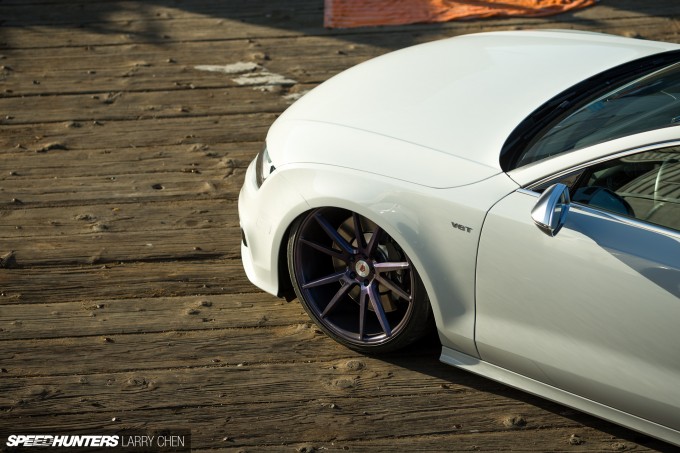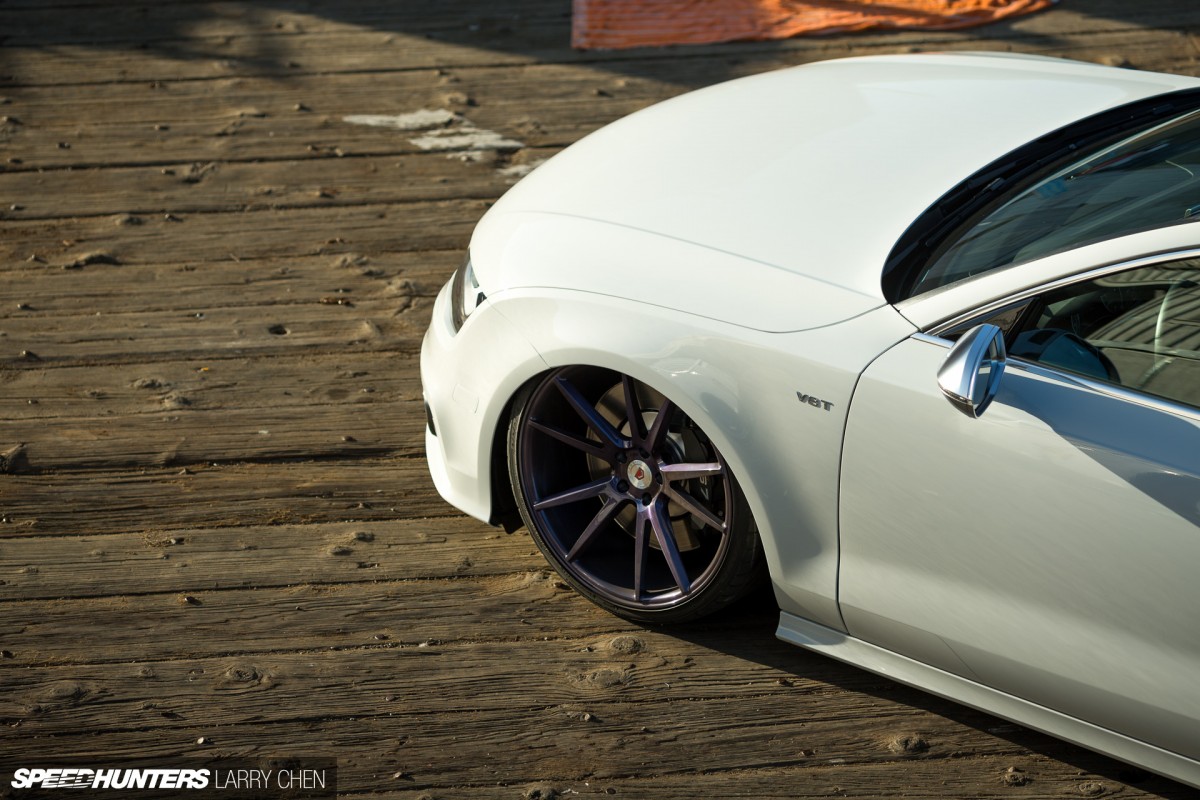 I don't know how many nice cars I've seen where nice factory alloys and high grippy tires have been removed in favor of something cheap and aftermarket just because it's 'different'. That's certainly not the case here.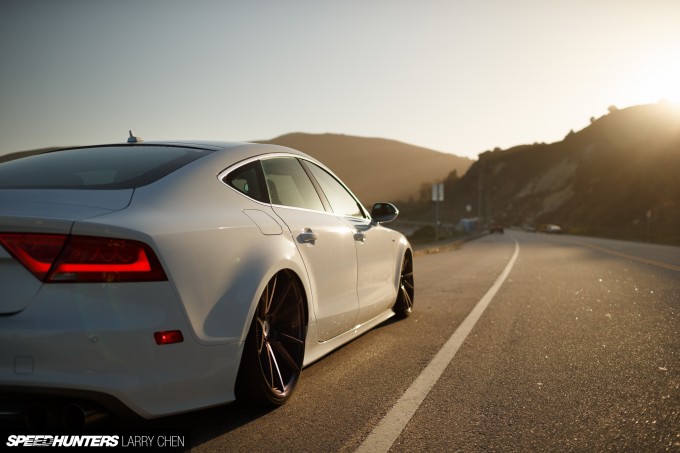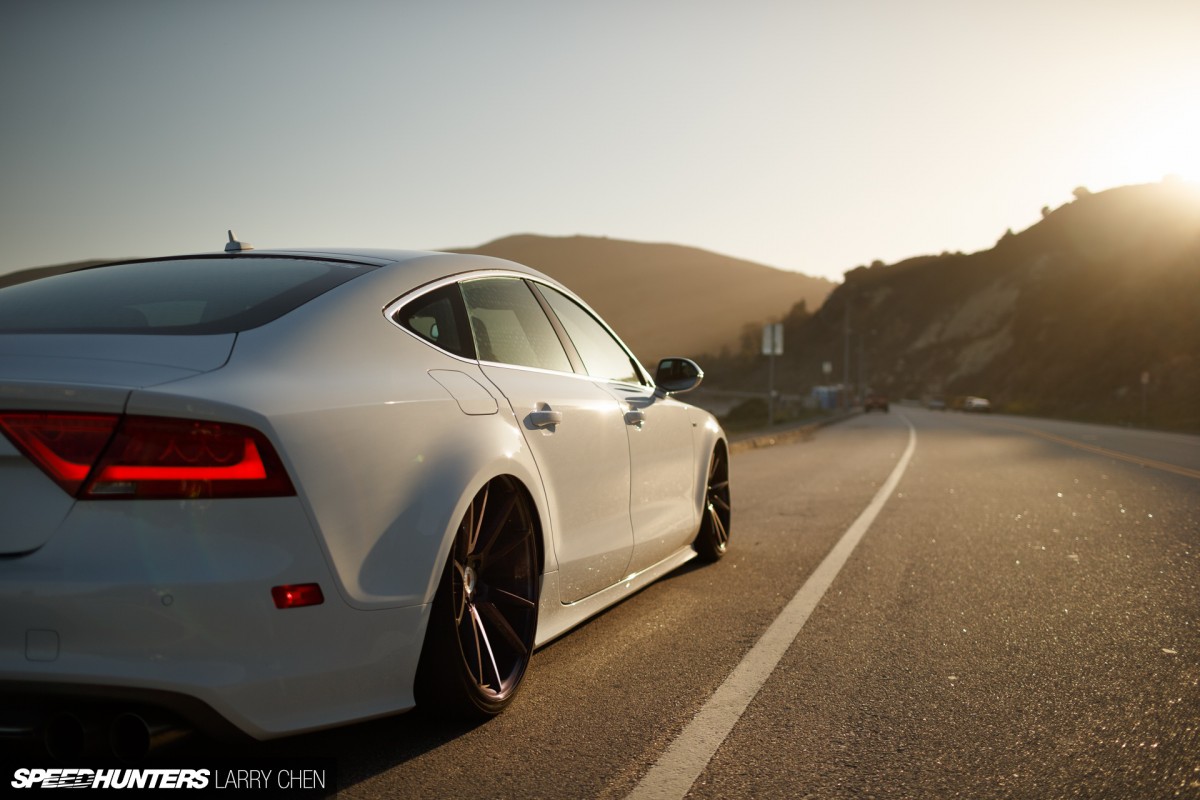 The S7 is running a set of Vossen Precision Series VVSCVT wheels that measure 21×10.5-inch at each corner and are further set off by a unique lavender finish which is available as part of Vossen's custom wheel services.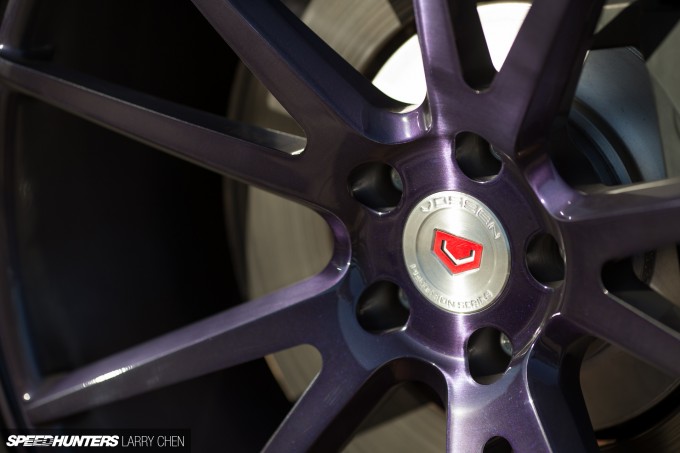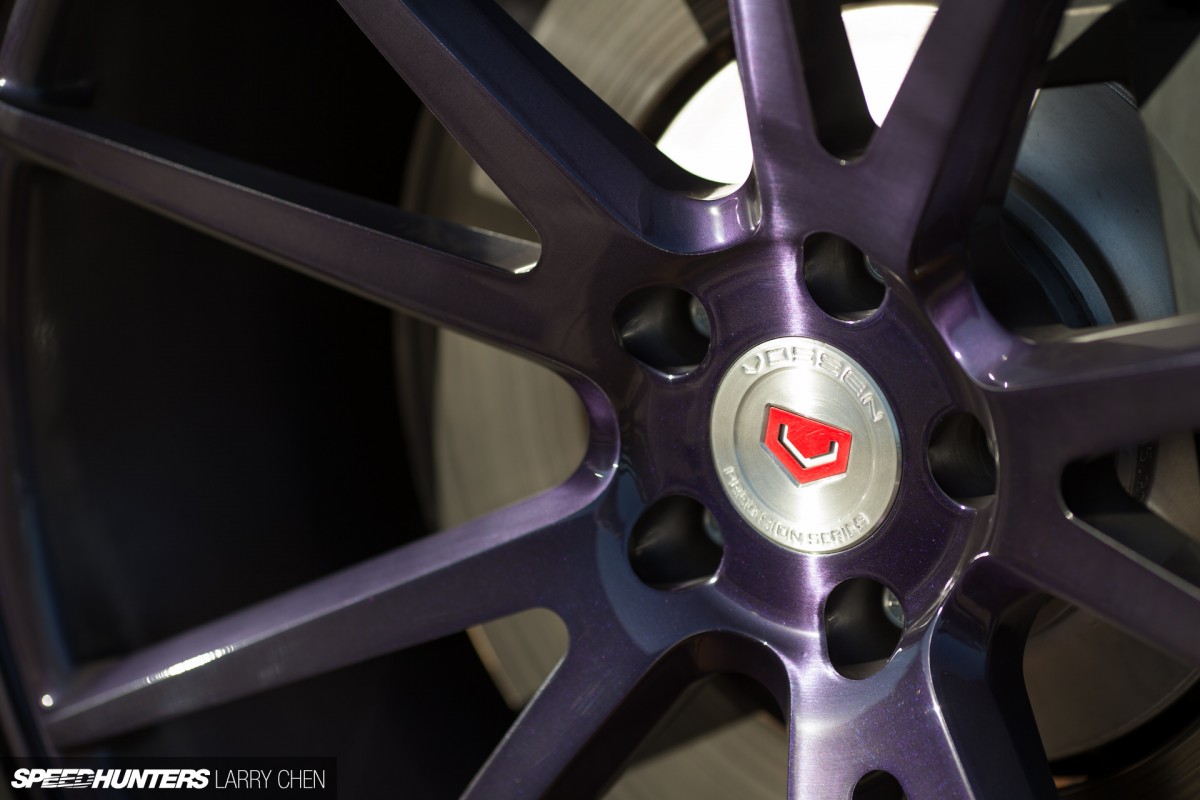 It's not a particularly loud color, but I have to say it's one that works very well against the S7's Glacier White bodywork.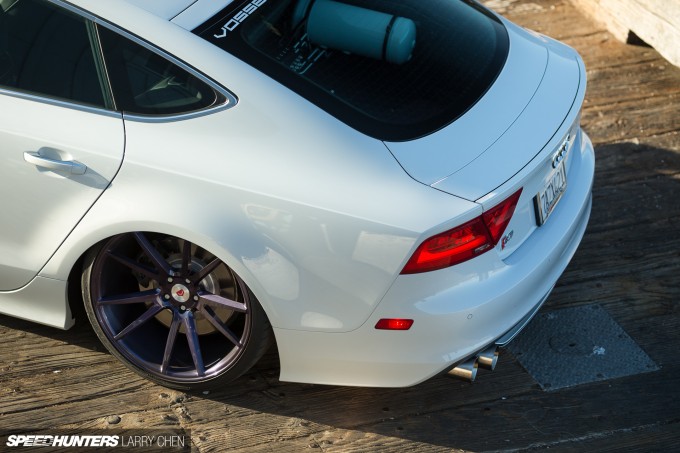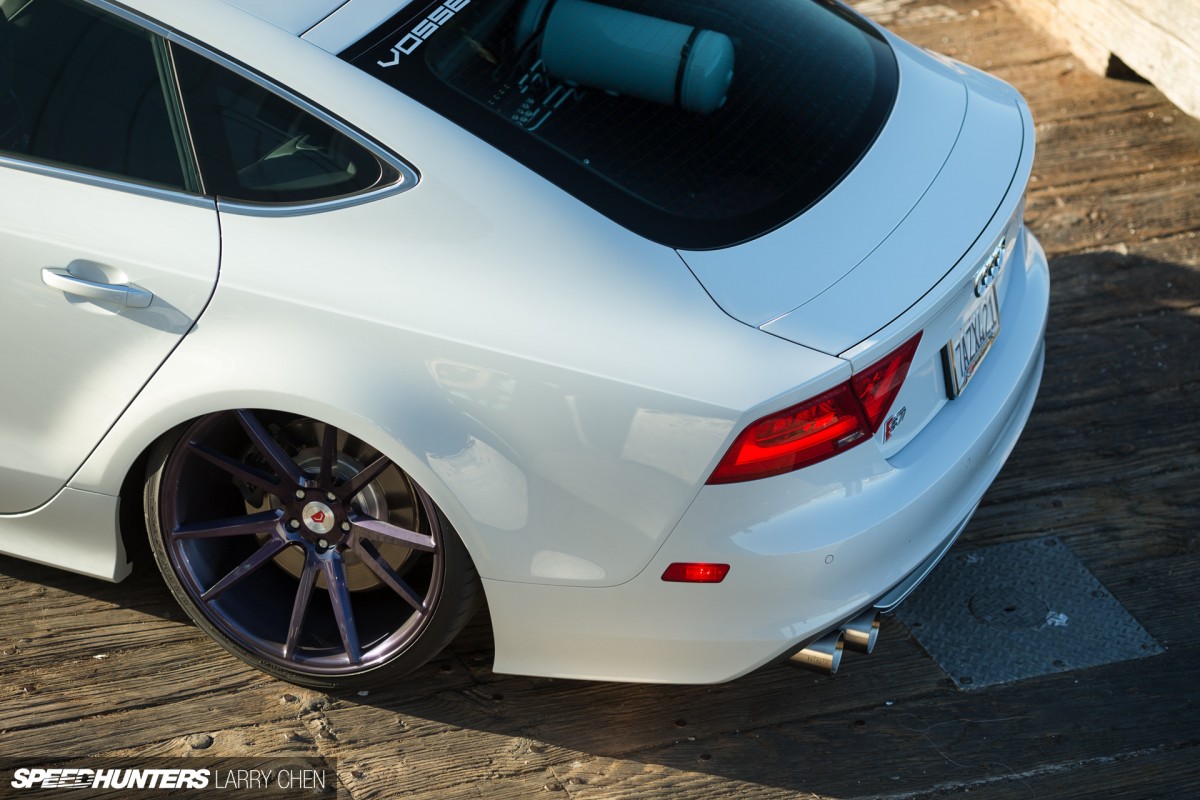 The tires are Toyo Proxes T1Rs – 295/25R21 all around. Somehow I don't think you'll find that size in stock down at your neigborhood tire shop.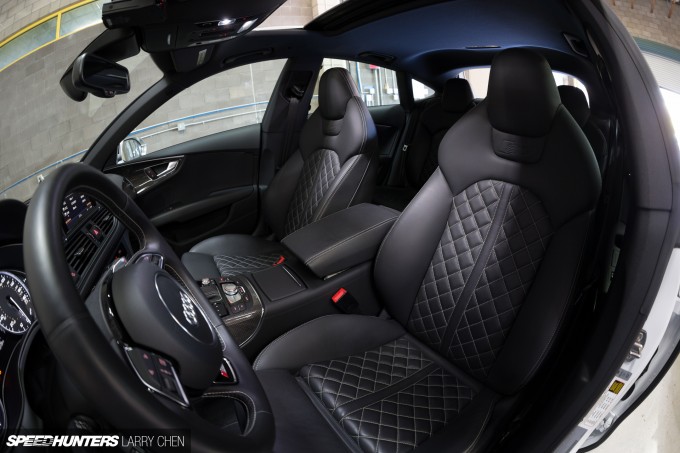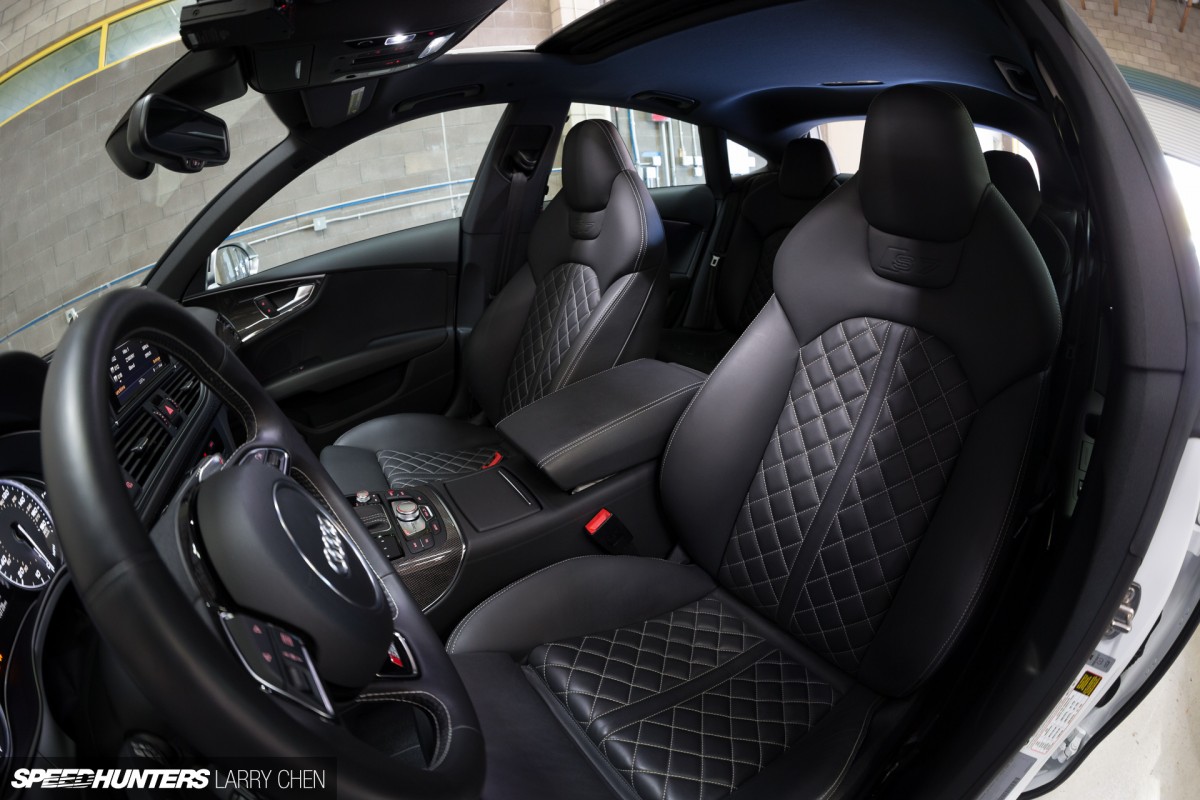 As for the interior, it's all pretty stock. And why shouldn't it be? You won't find many who will disagree that a factory S7 cabin is a nice place to be.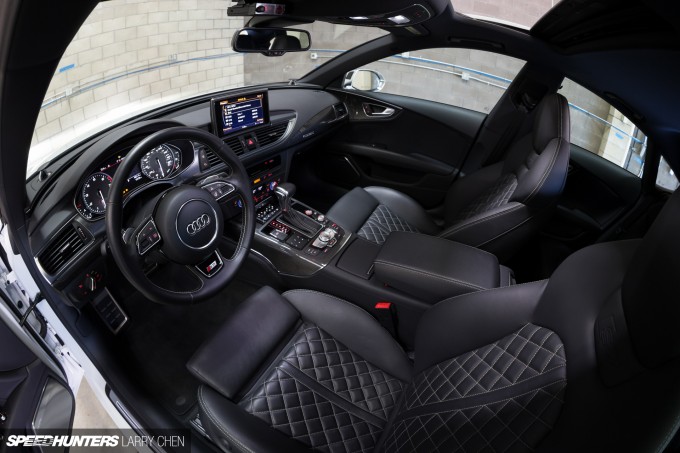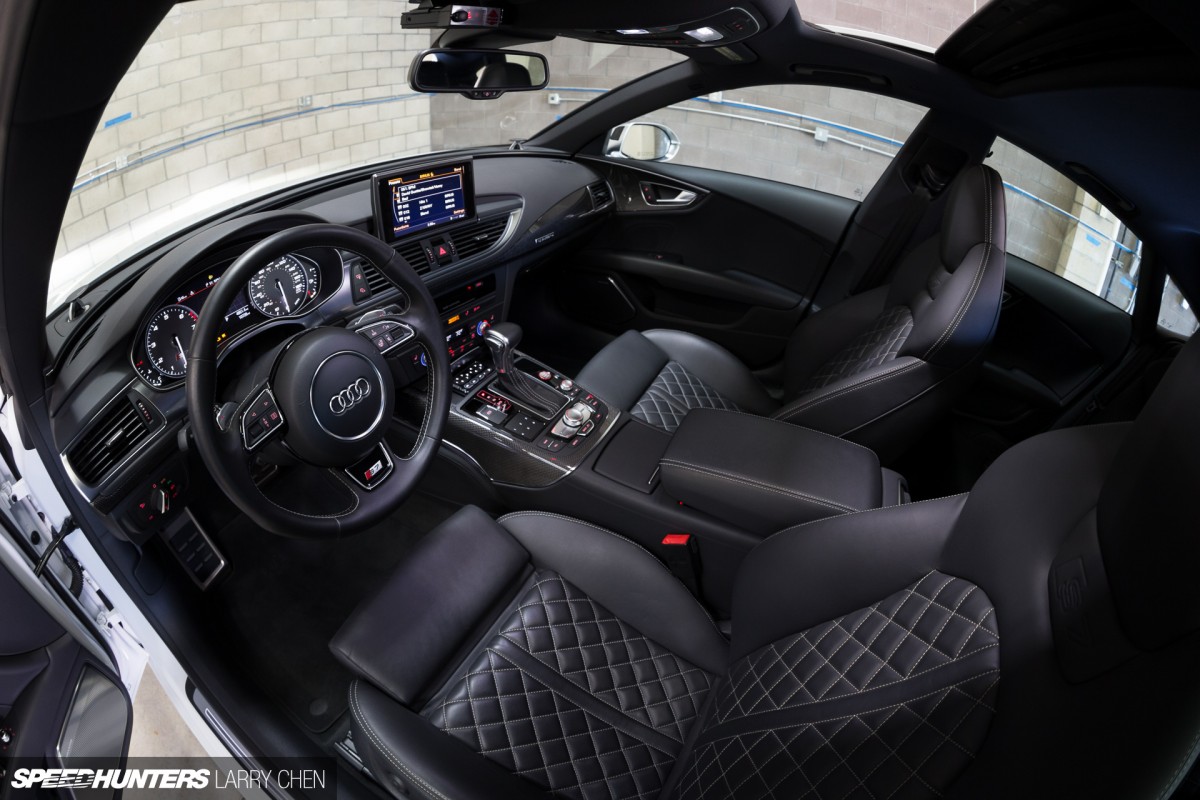 One important addition to the cockpit is an integrated Valentine One radar detector.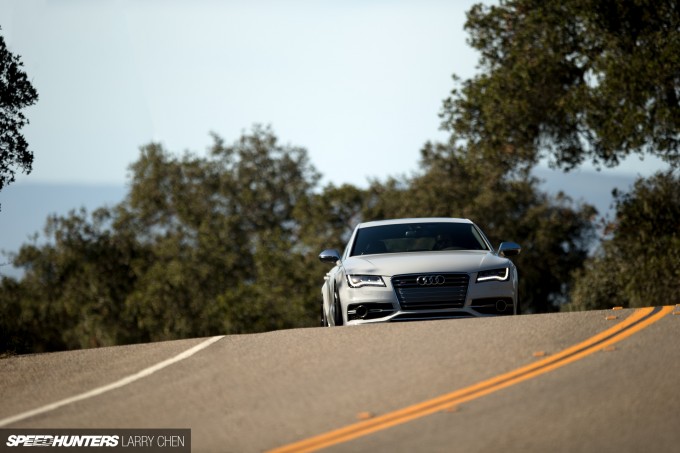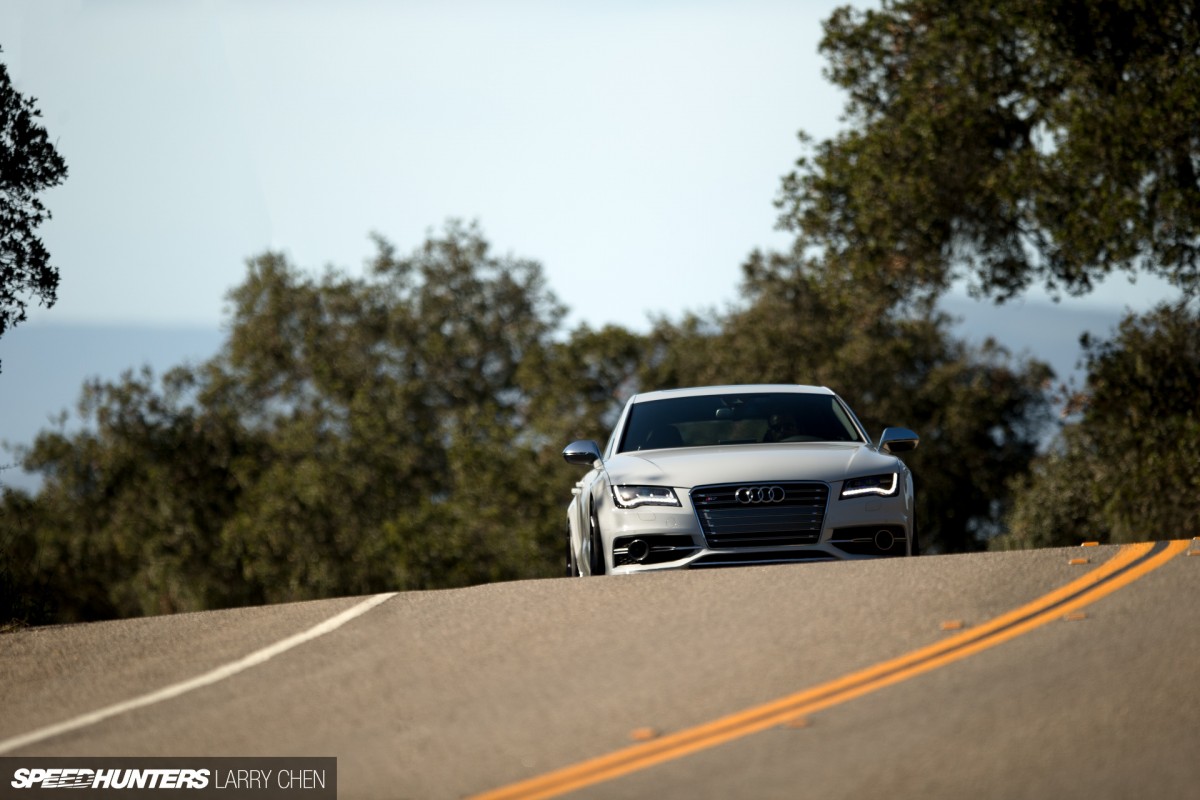 If you've ever driven something like a new S7, you'll know just how easy it is to unknowingly get above the posted limit. First world problems baby.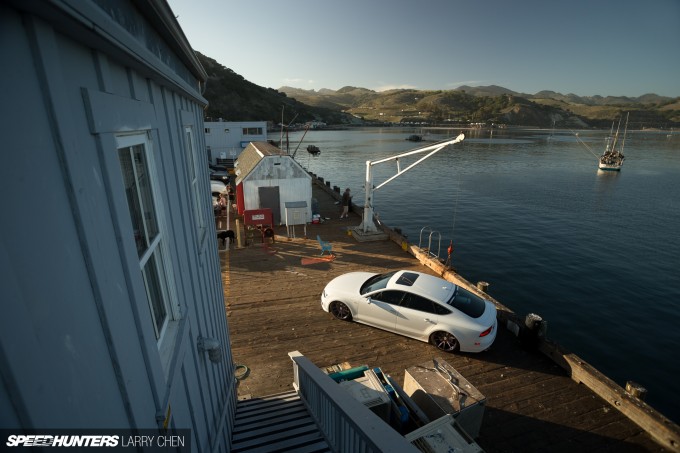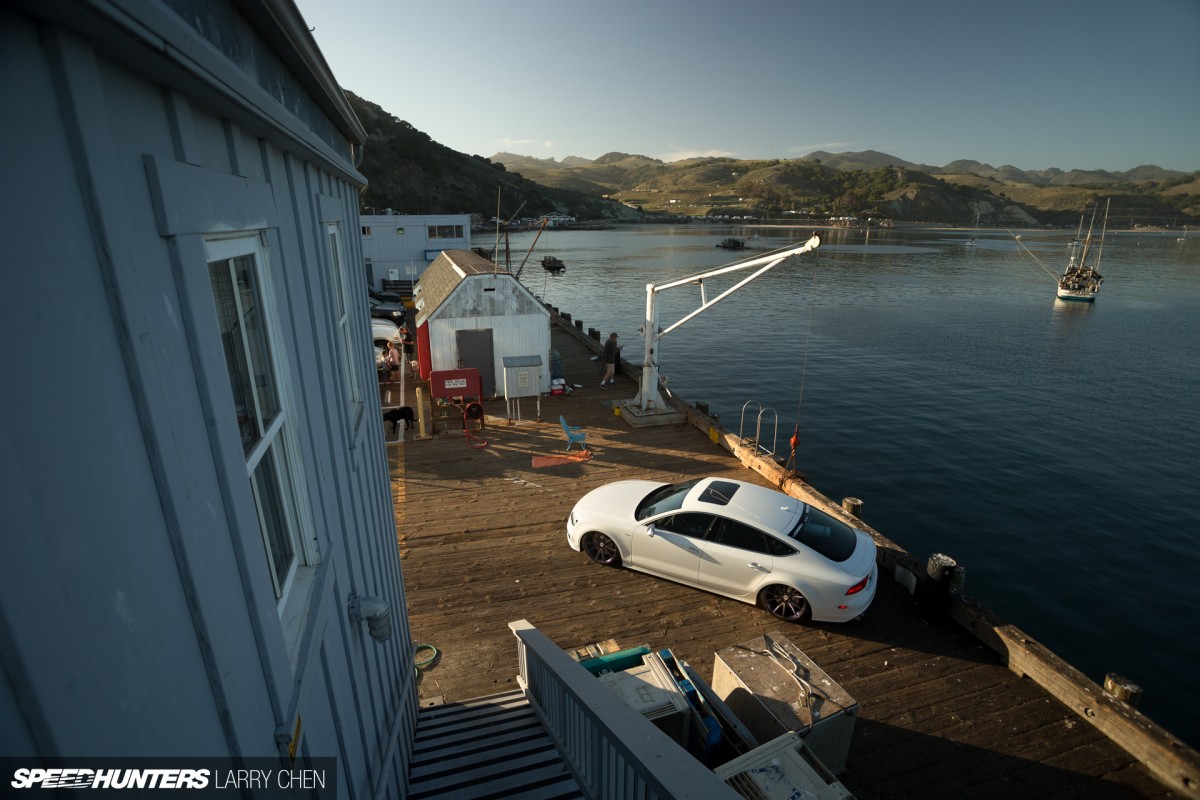 As for the S7, after appearing in AccuAir's SEMA booth last year the plan is to keep the car cruising on the road and also hit some track days to put the suspension to the test.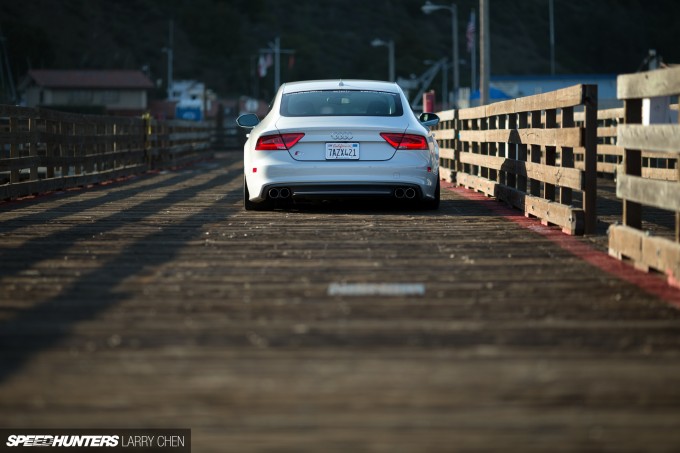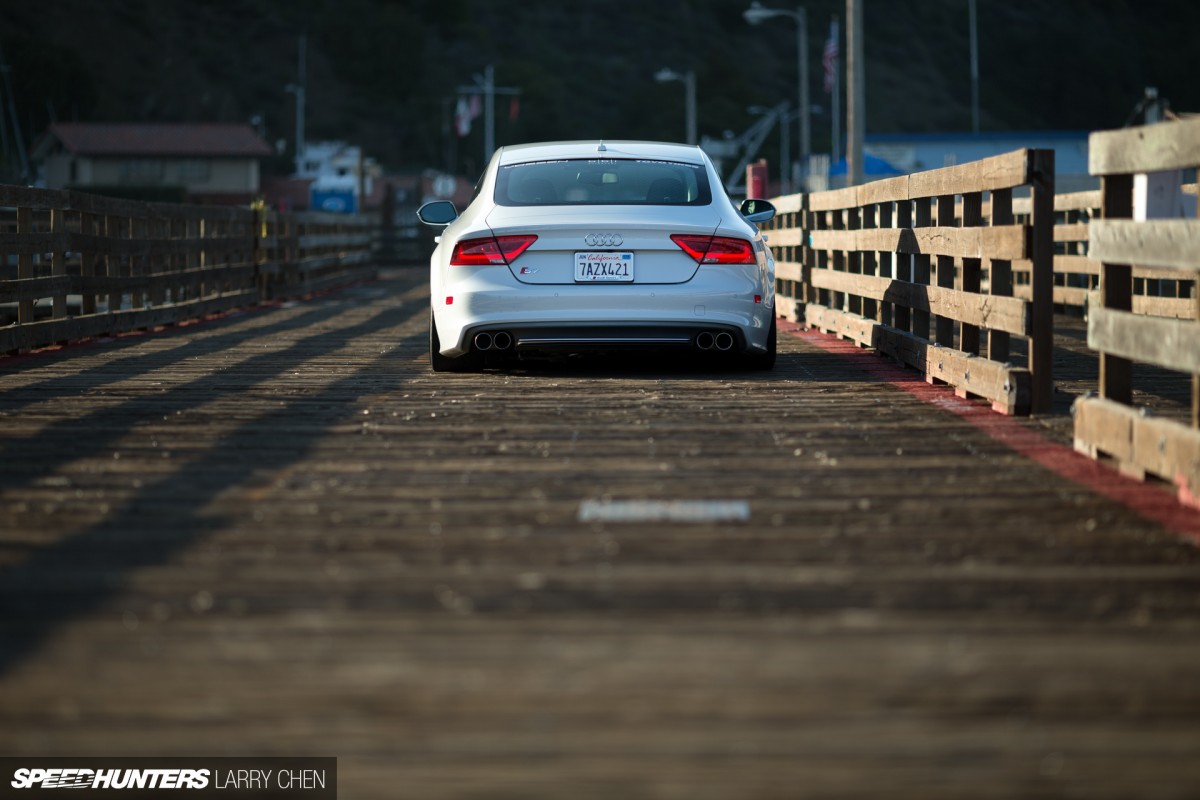 So yes, the S7 is a fine modern automobile, and despite being a stunner right off the showroom floor, one that can absolutely be made better with the right aftermarket gear.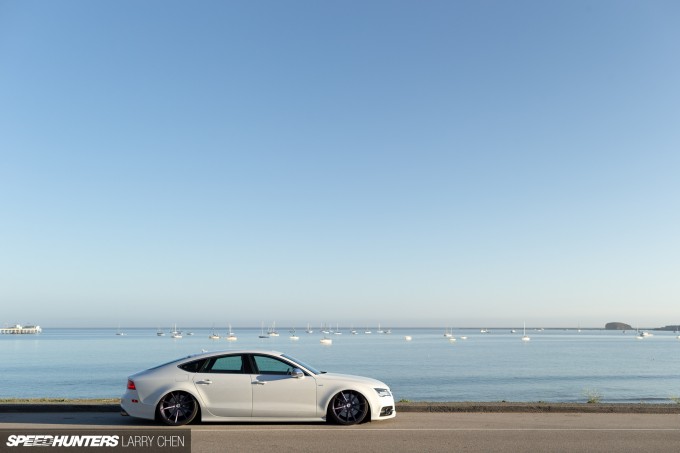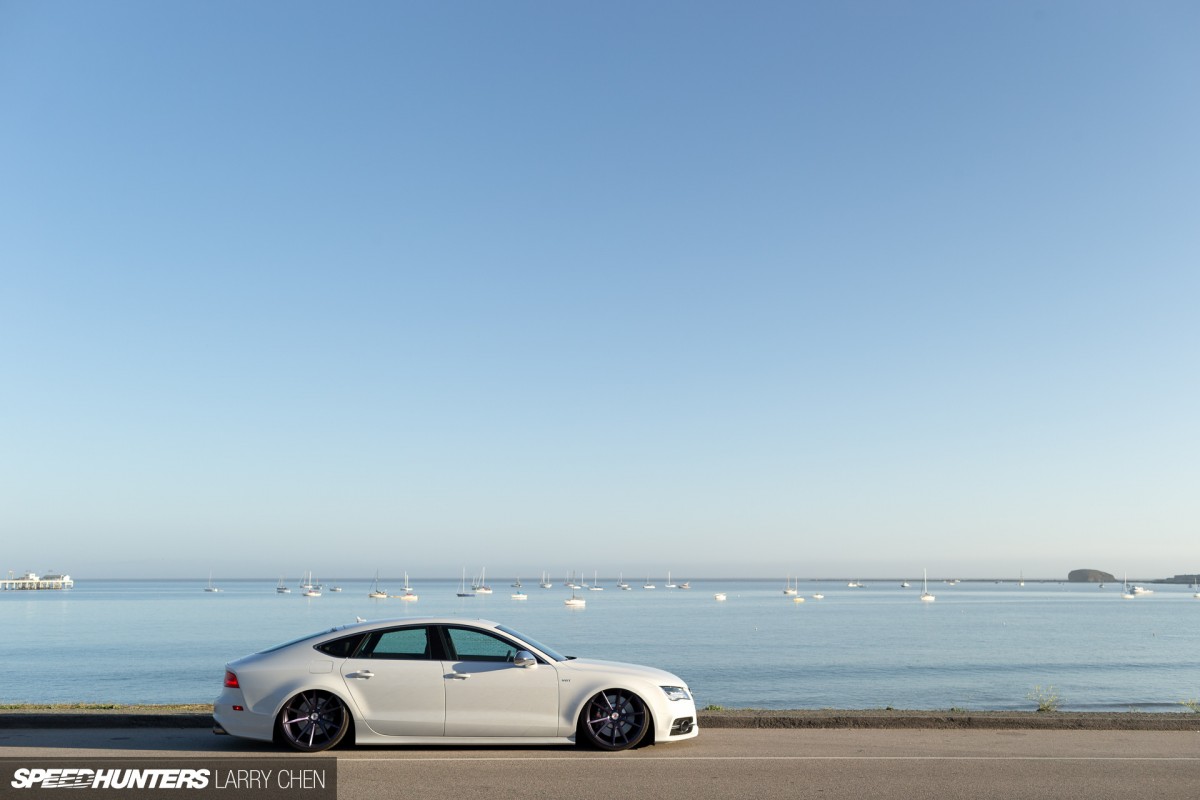 It may not have taken a ton of work to get the Audi to where it is, but that's the beauty of modern cars. A few simple and well-chosen modifications can take a good car and make it great.
Mike Garrett
Instagram: speedhunters_mike
mike@speedhunters.com
Photos by Larry Chen
Instagram: larry_chen_foto
larry@speedhunters.com