Gotta Get That Feeling
To me, automobiles might be the most emotional objects on the planet, and if you are reading this I'd say there's a good chance you'd agree. For us, cars are much more than just devices to get from point A to point B, and the emotional responses they bring out in us can be overwhelming.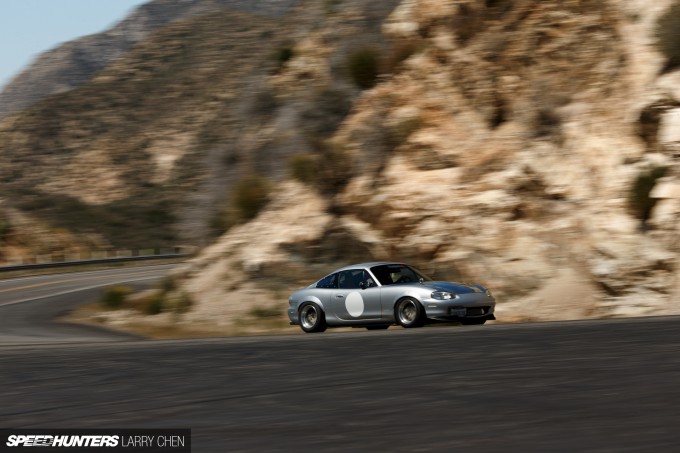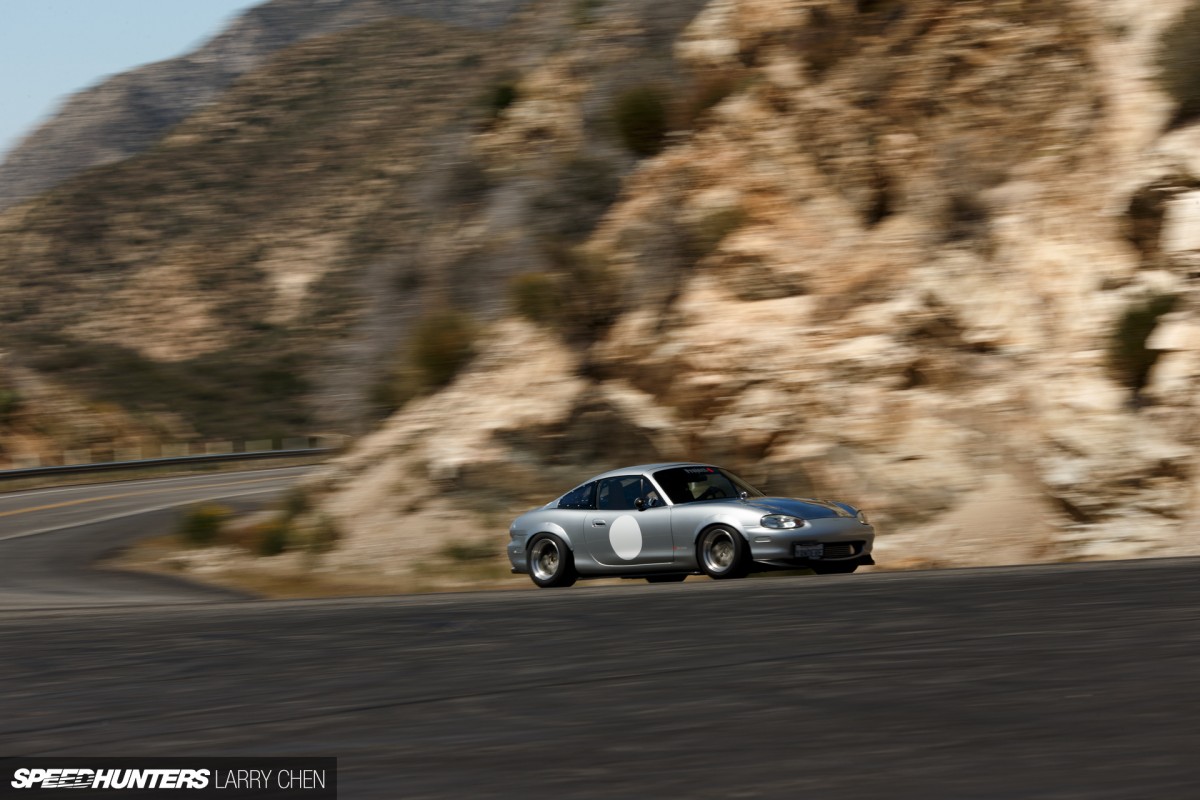 What kind of responses do they trigger? Well, that depends on what type of car it is. Some vehicles can blow our minds while simply standing still. A Lamborghini Miura for example, is an automobile so beautiful that it need not move to make us fall in love.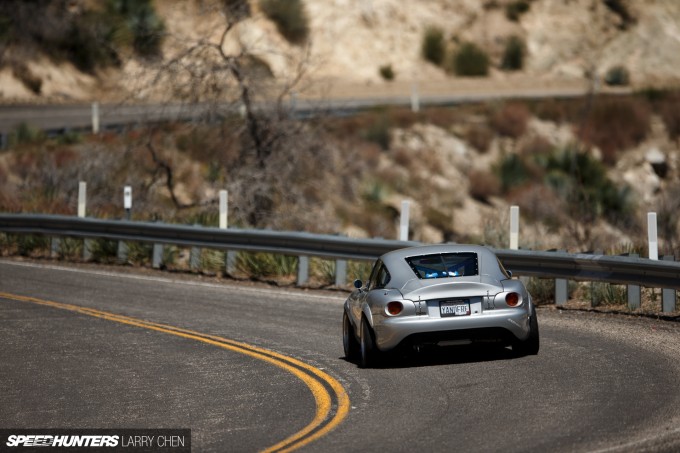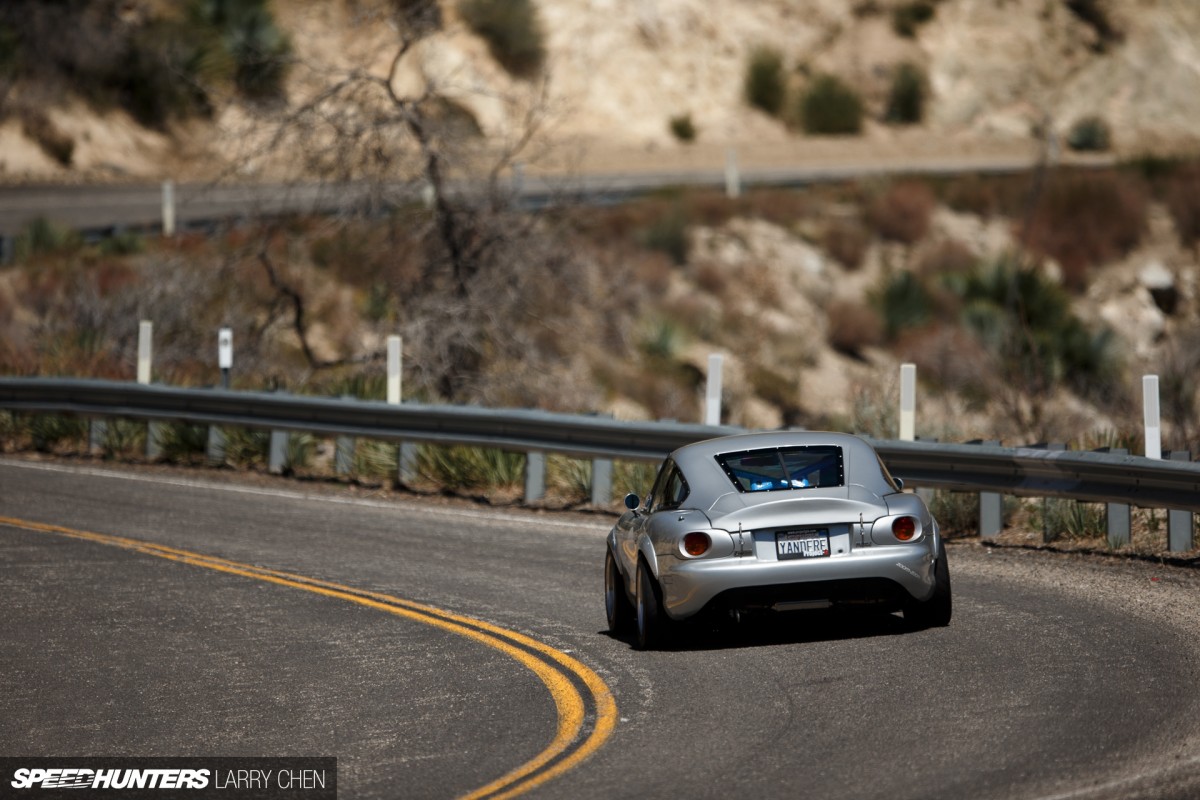 Other cars win our favor through incredible feats of engineering – whether it's a modern race car designed in a high-tech laboratory, or something created by the hands of a skilled backyard fabricator.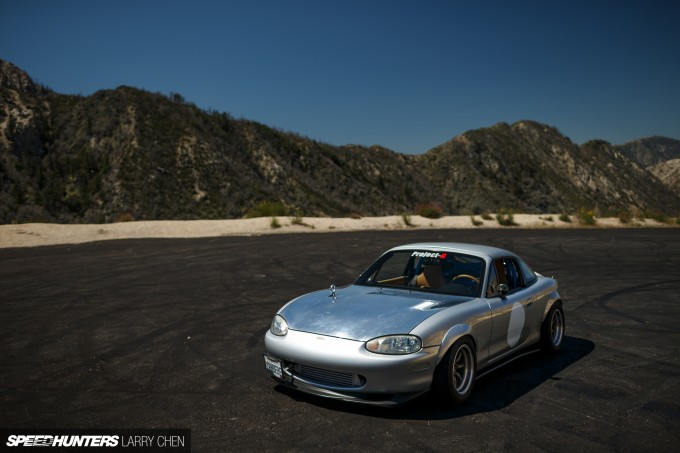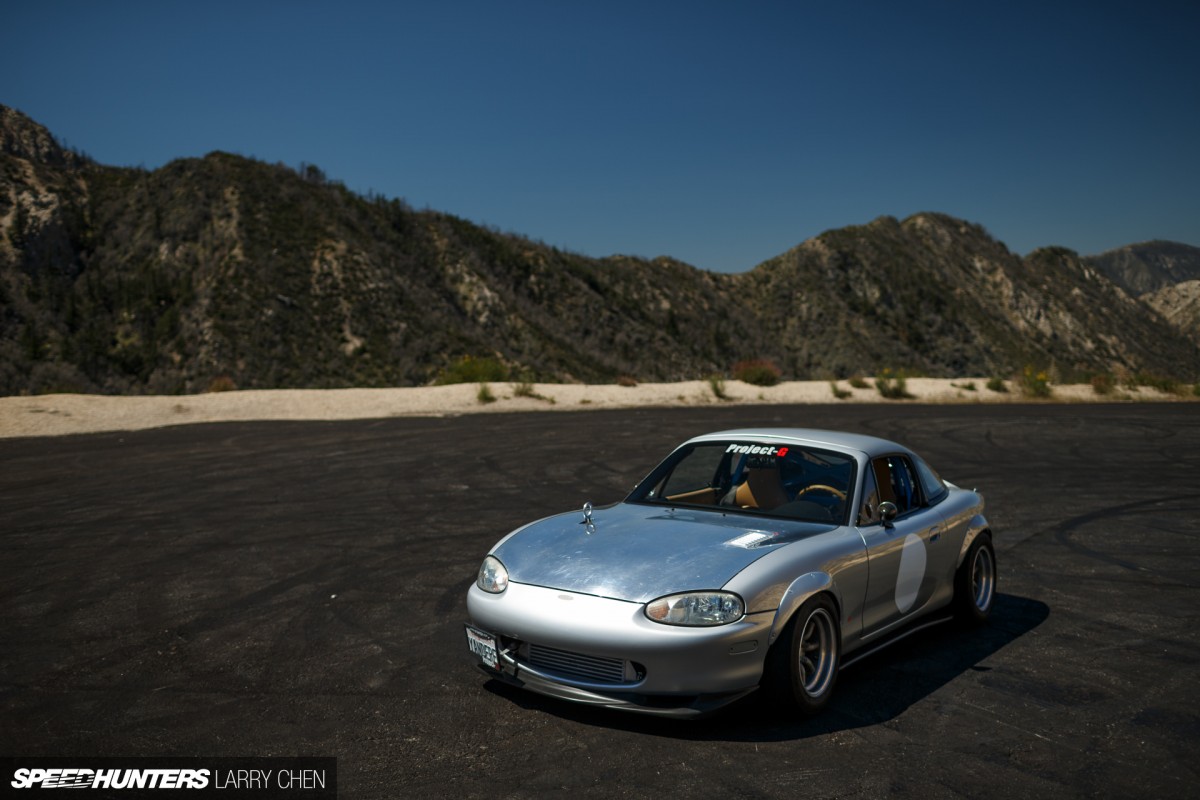 A classic car might appeal to our interest in history, and then there are those cars that are so fast that they instill genuine fear in us. The point is, cars aren't just machines to us – they are objects that produce powerful emotional reactions.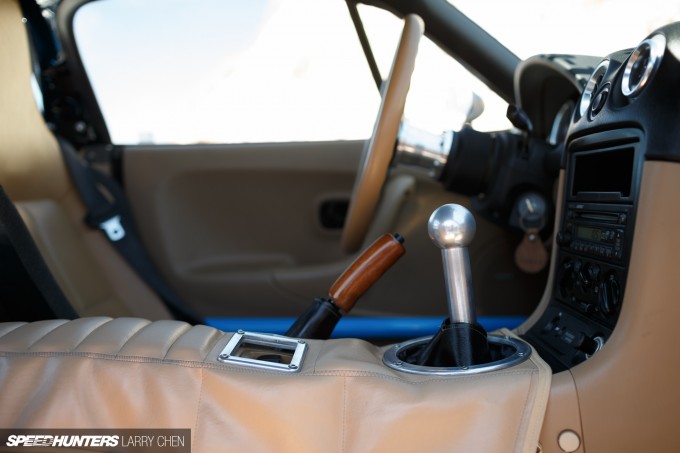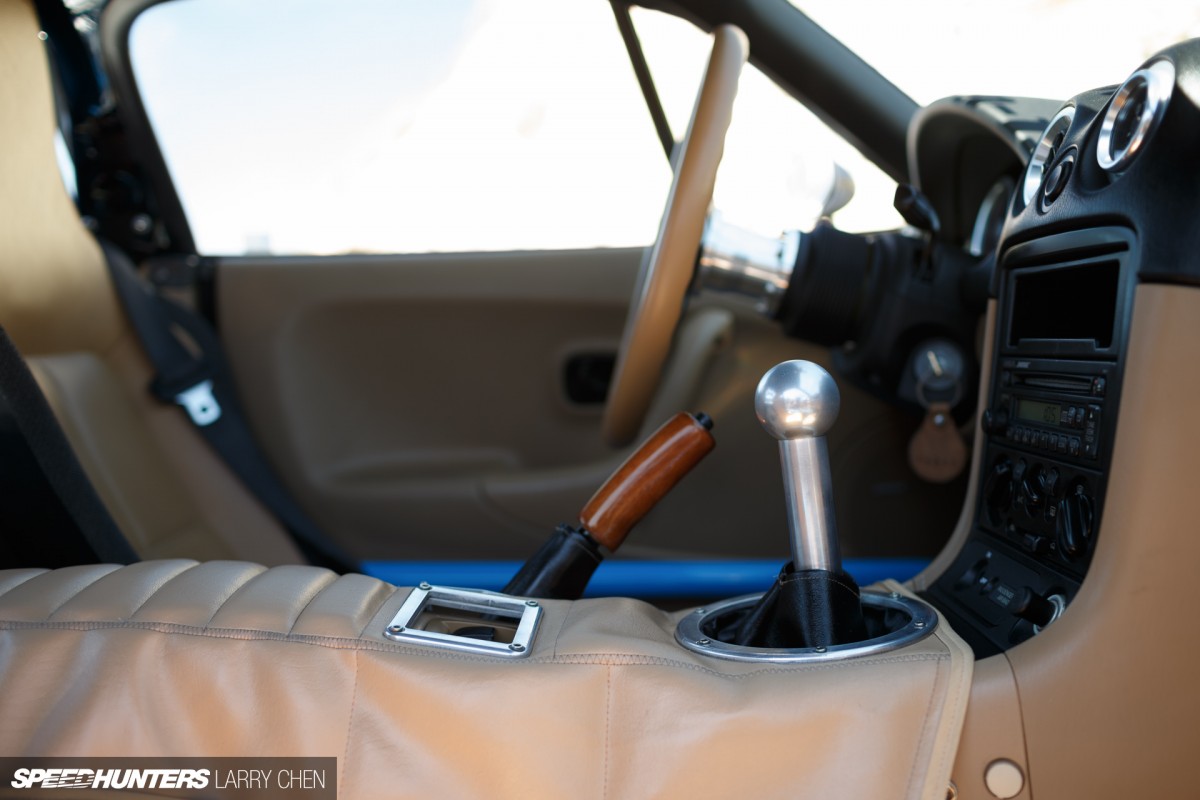 And of all these emotional reactions, none is more powerful, or more basic, than the one that says, 'I want to drive this!' The car in question might not be the most beautiful you've ever seen, nor the fastest, but it makes you want do nothing more than hop behind the wheel and drive it. It's a feeling that's hard to put into words, but you certainly know it when it happens.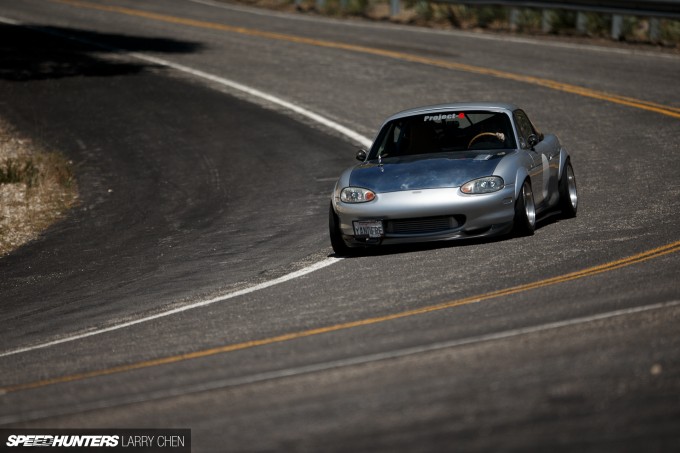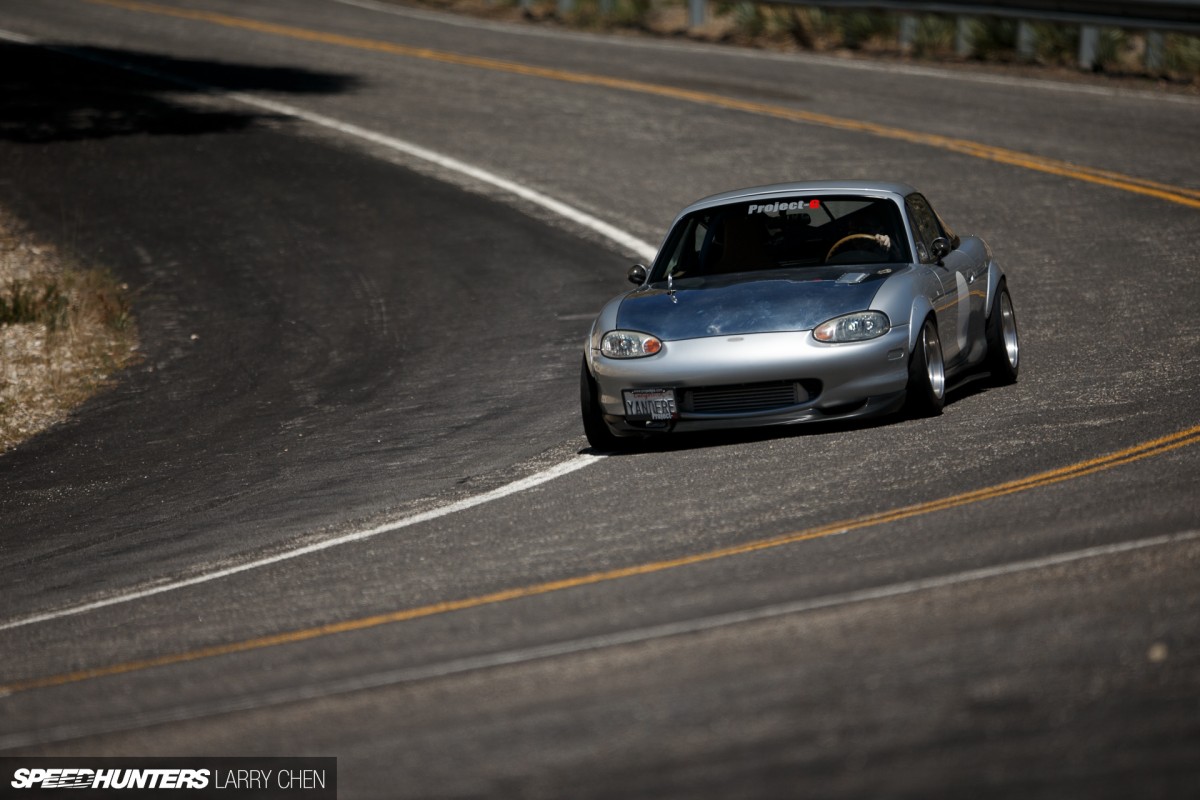 This brings me to a car we recently had the chance to spend some time with in the mountains above Los Angeles. It's a 1999 Mazda Miata built by Jeremy D'Ambrosio, and I'm not exaggerating one bit when I say that this one of the coolest and most well-rounded Miatas on the planet.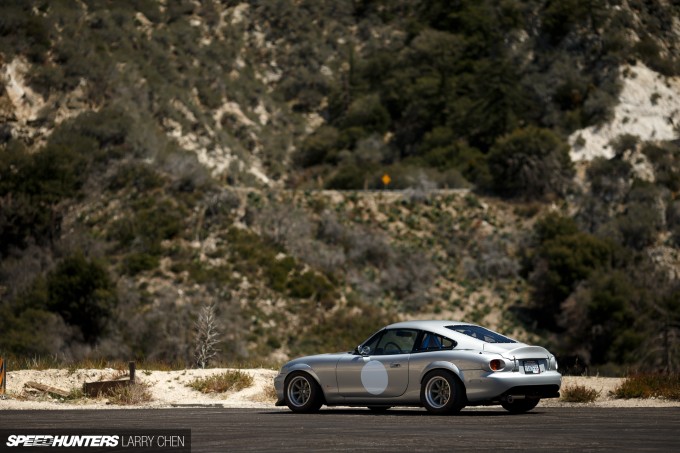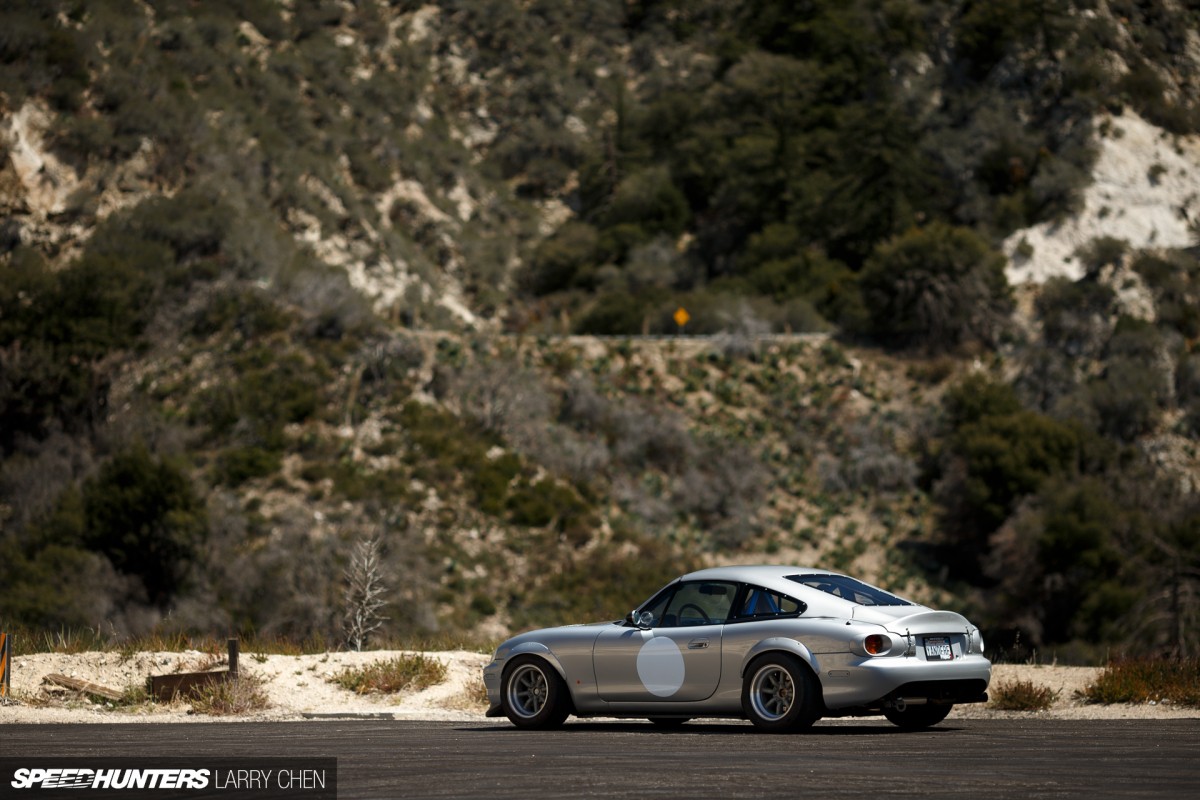 Jeremy picked up the NB-chassis Miata four years ago when he relocated from Pennsylvania to Southern California for school. USC? UCLA? No, Jeremy came to SoCal to attend the Art Center of Design in Pasadena – a educational facility that's turned out some of the world's best automotive designers.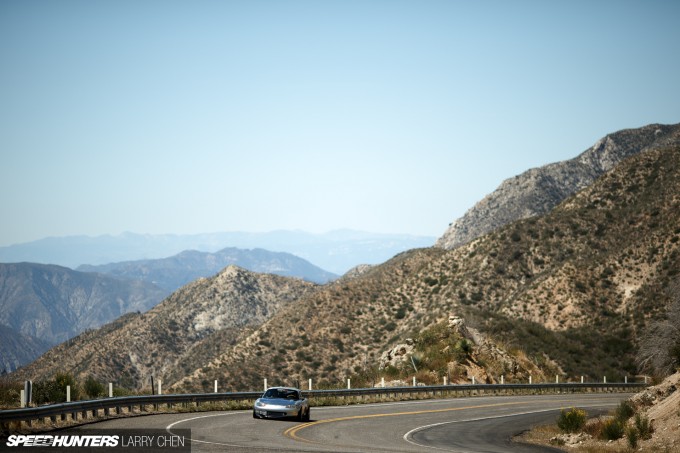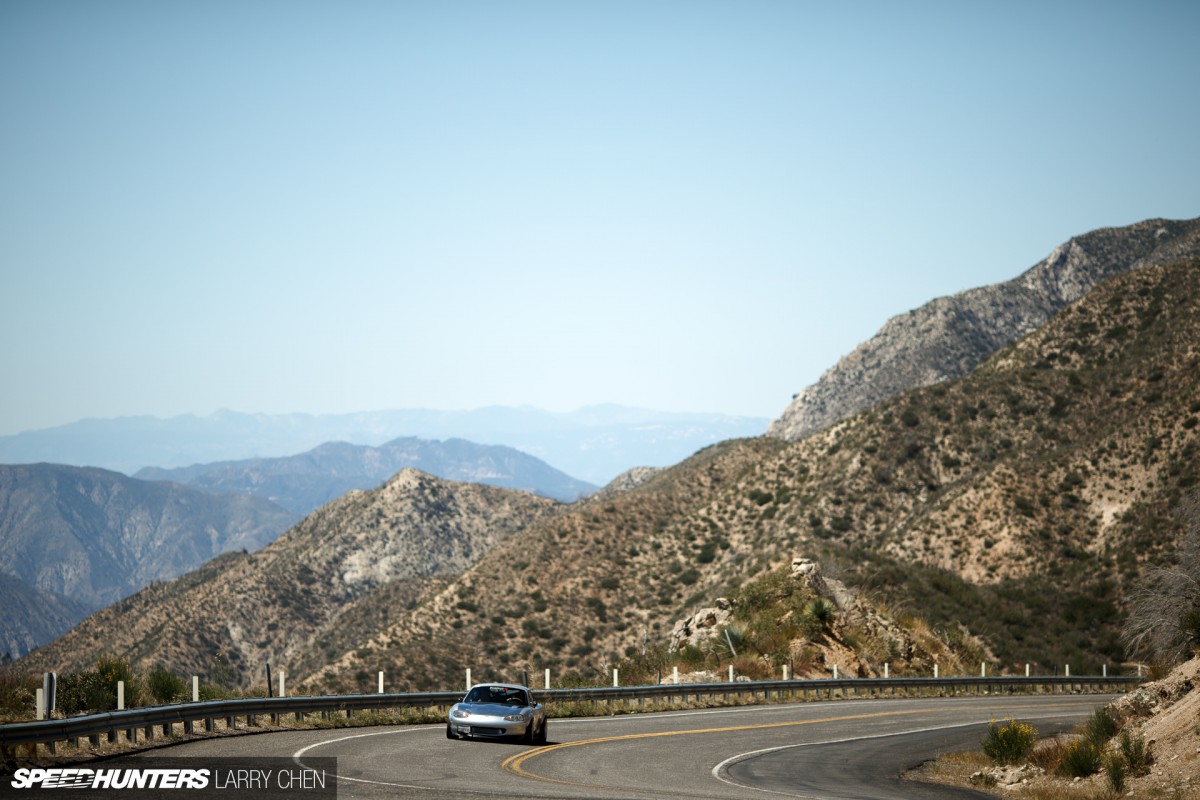 It's reasonable to say that many of the students that pass through the halls of the Art Center are huge car enthusiasts and Jeremy is no exception. He chose a Miata not only for its renowned handling, but because the simple and attractive aesthetics of the car allowed him to go in any direction he wanted.  A true designer indeed.
An Exercise In Design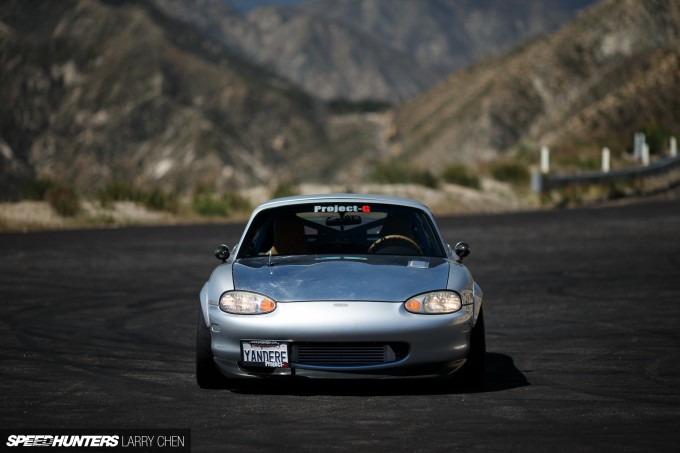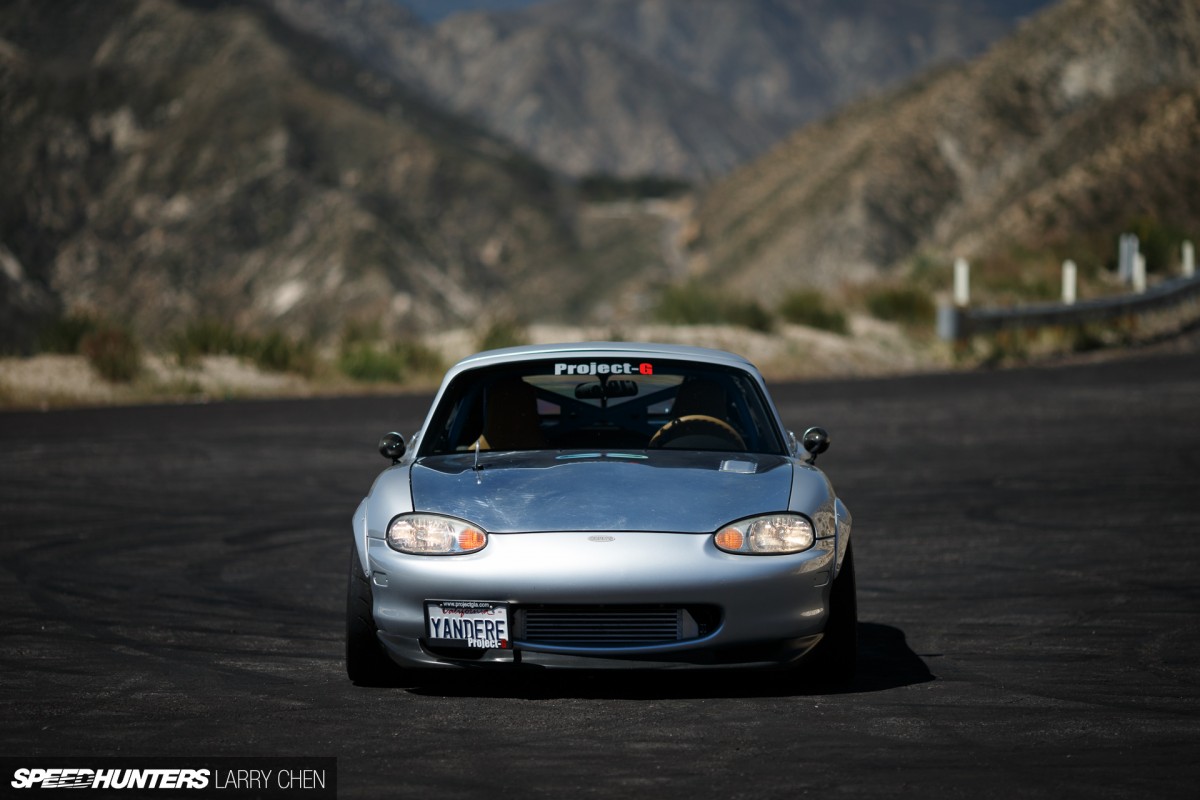 In fact, a big part of Jeremy's goal was not just to have a car that he could take to local track days or SoCal's great mountain roads, he wanted to use it as a test subject for various styling ideas that passed through his mind.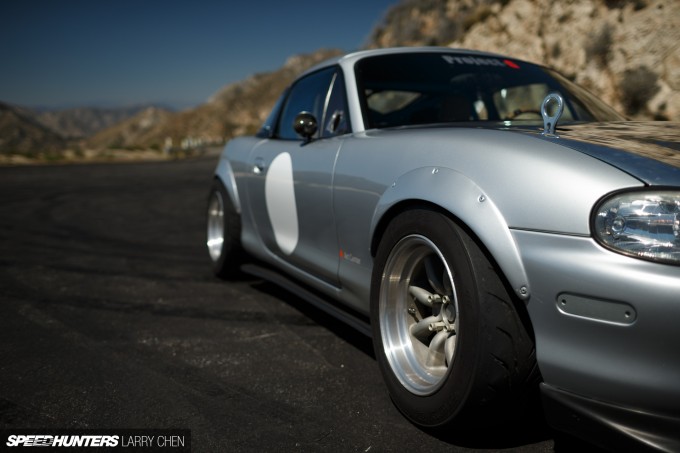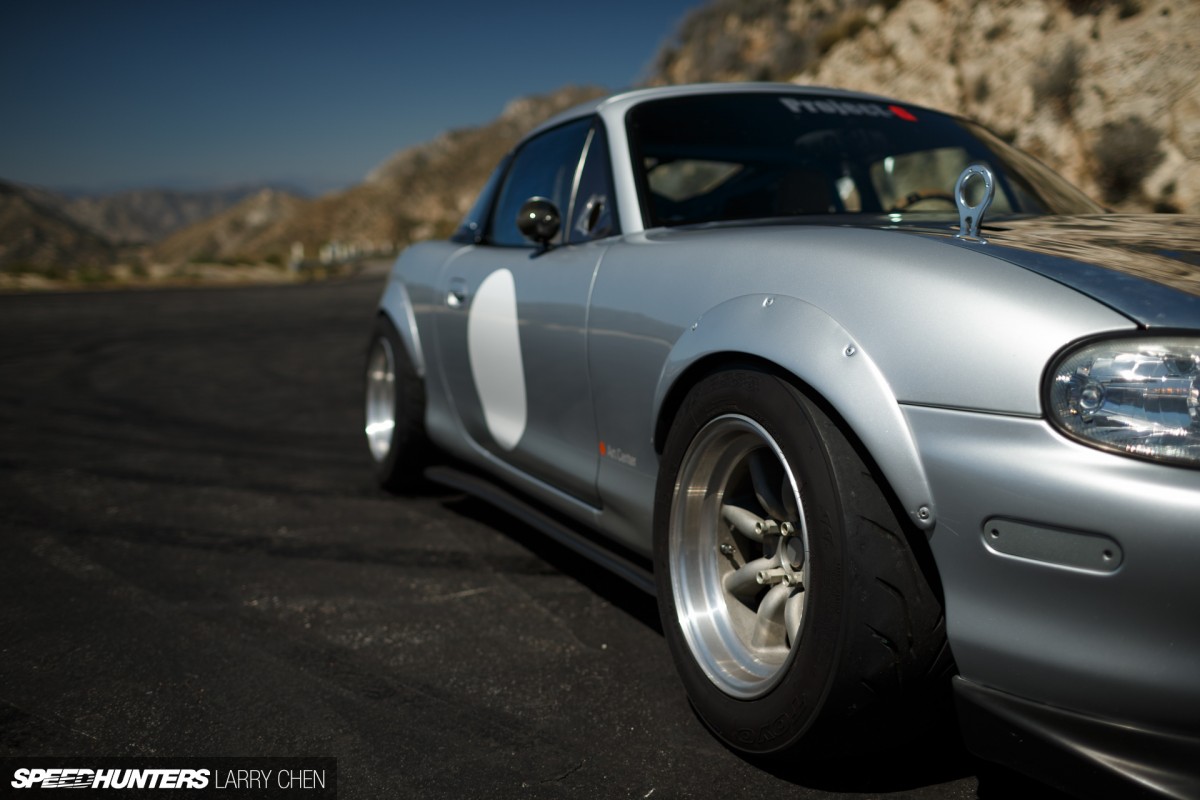 A big part of his inspiration came from vintage Japanese race and street cars – namely the distinct look of wide fenders and fat tires. Combine that with the Miata's original goal of being the modern British roadster, and you've got a pretty good idea of Jeremy's theme with the build.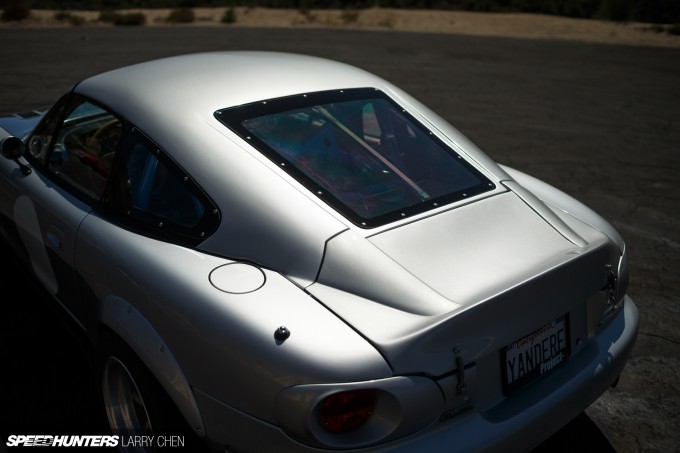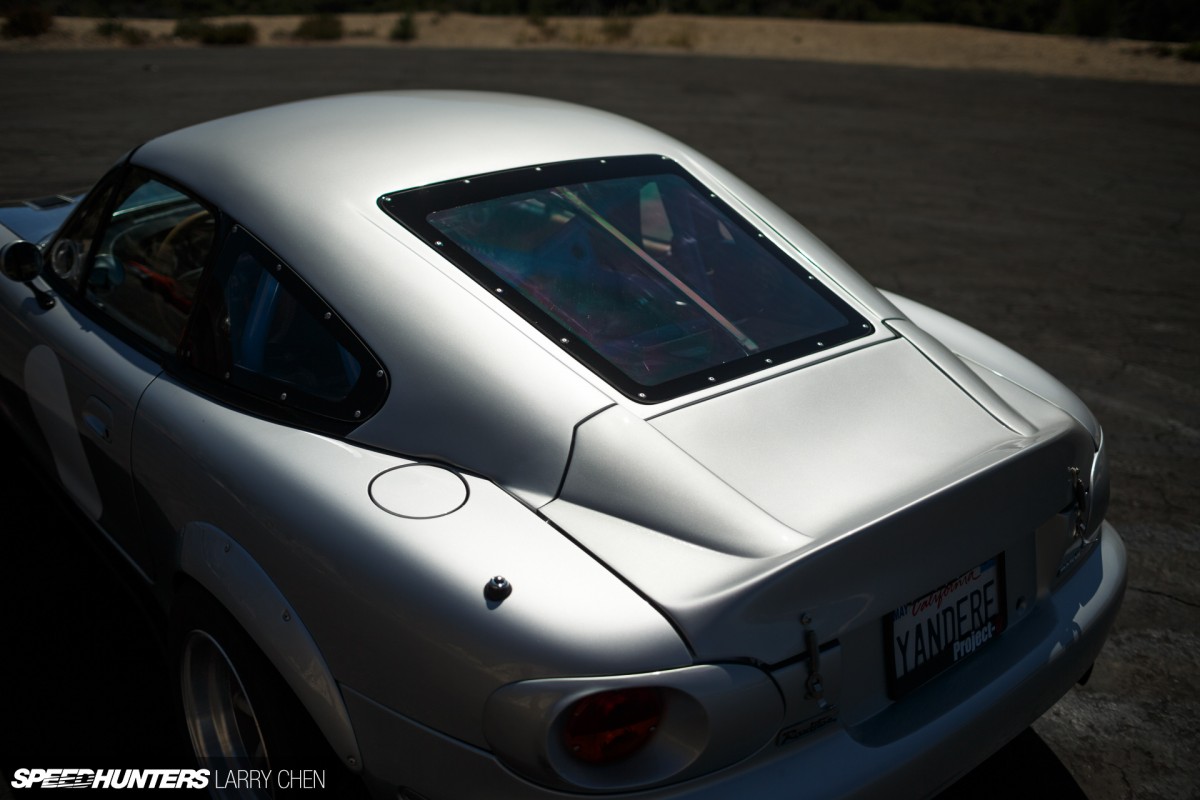 In terms of styling, the most outstanding feature is the roof line. The car is running an Autokonexion fastback hard top that gives the car a completely different look from the standard Miata. There's certainly some Datsun 240Z and maybe even a little Corvette in there…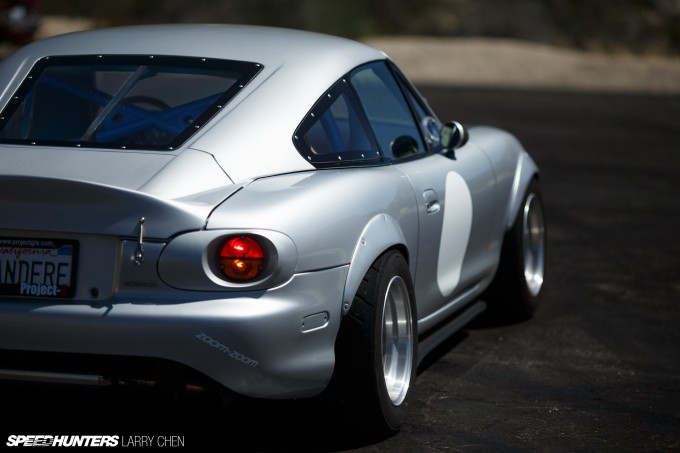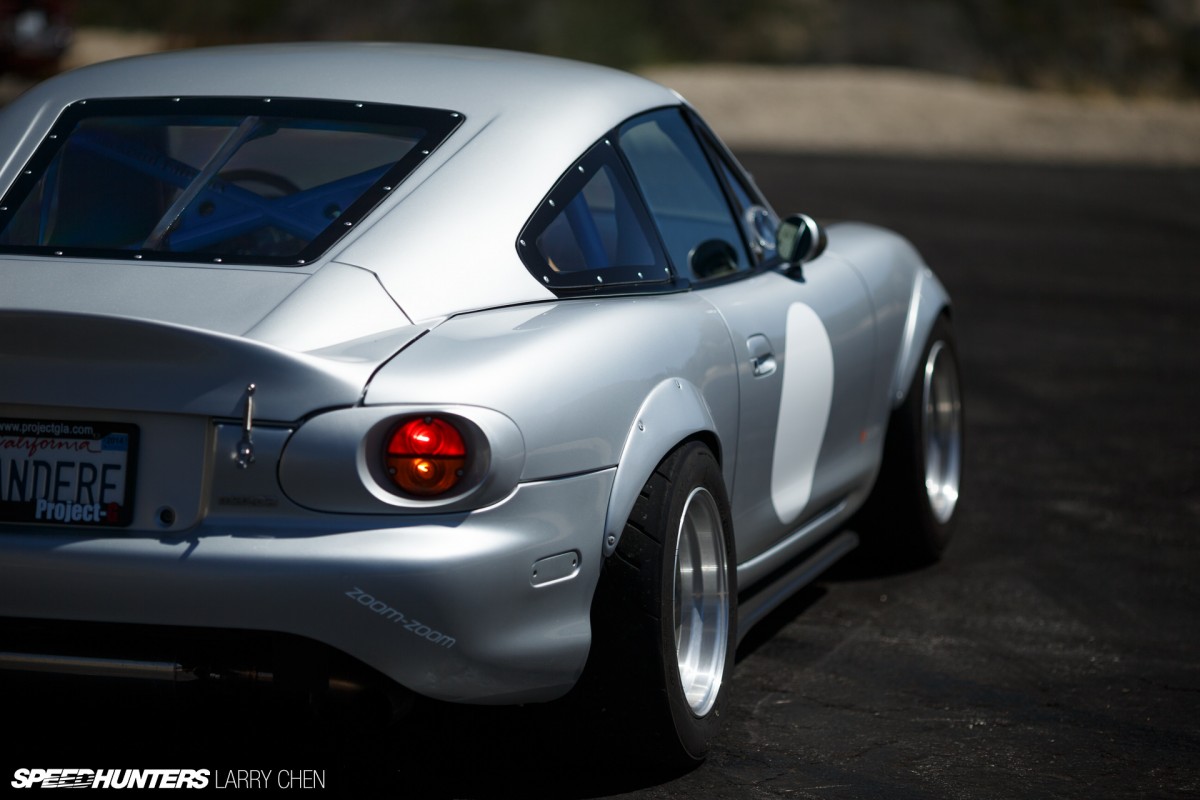 With its unique, sweeping roof many people mistake the car for being something other than a Miata – and it's only the true Roadster nerds that can quickly identify the car's origins.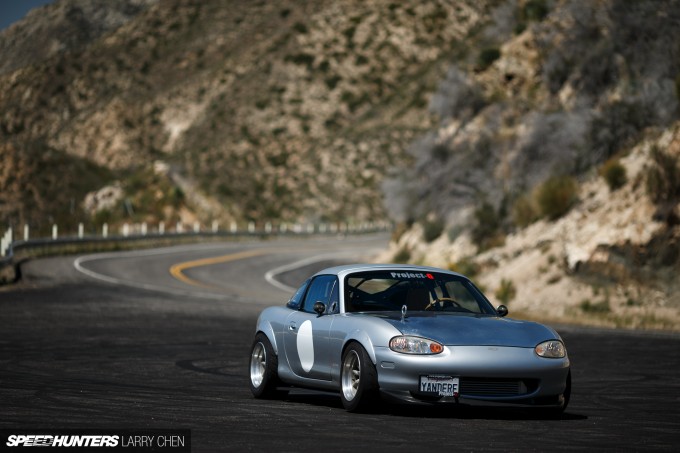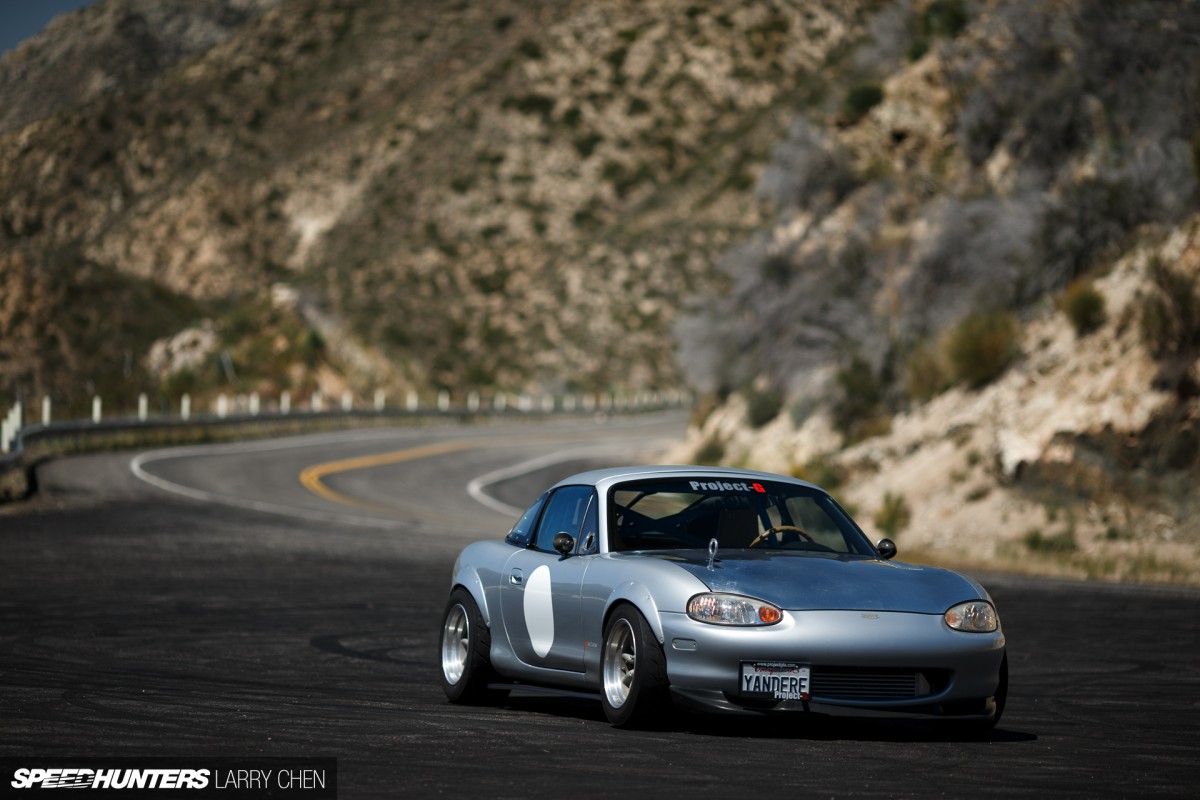 Aside from the altered bodylines, the once feminine NB Miata shape is made more aggressive through a set of Autokonexion fender flares, Project-G G-Fuser side skirts and Project-G vented quarter windows. If you needed a refresher on Project-G and what they do, make sure you check out Taryn's story from last year.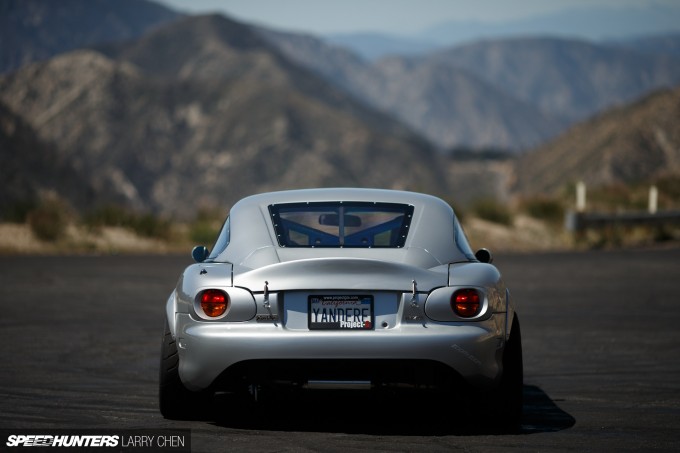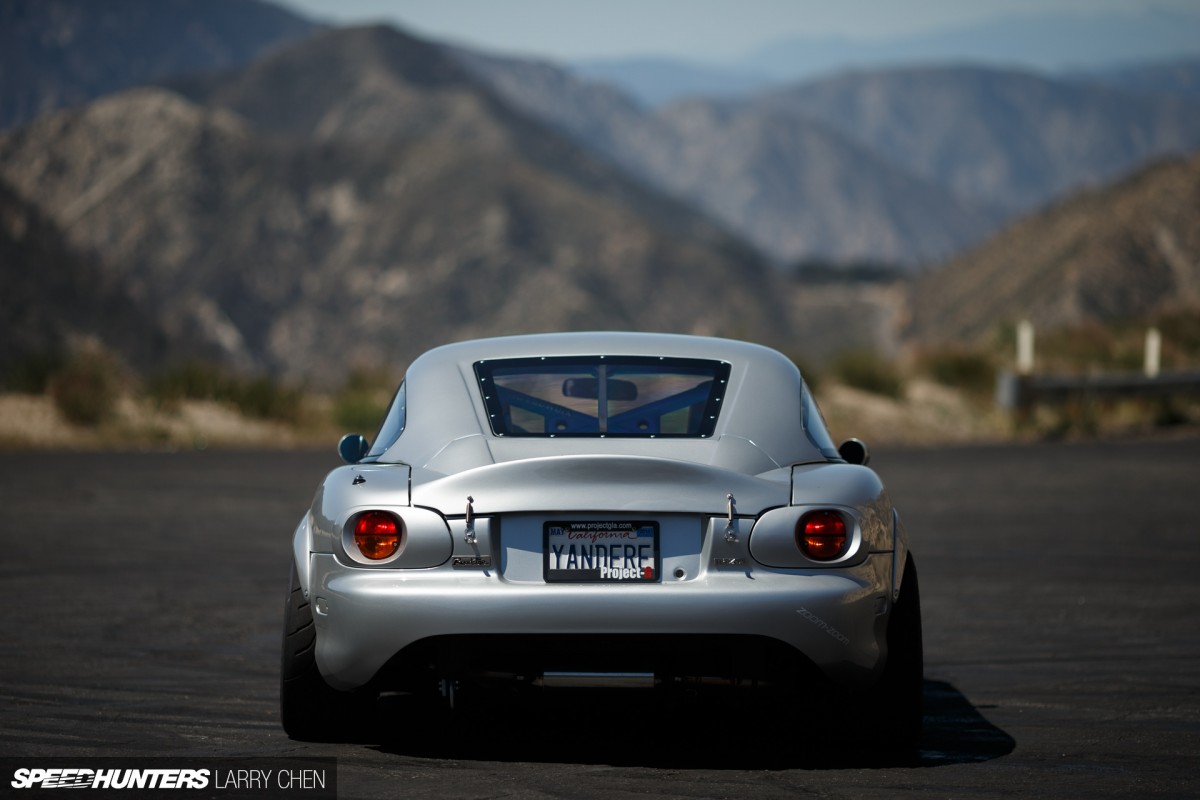 Other details that add to the retro racer look include a set of Garage Vary nostalgic tailights, a Garage Vary front lip and a set of carbon staggered mirrors from Japanese Roadster speciality shop Zoom Engineering.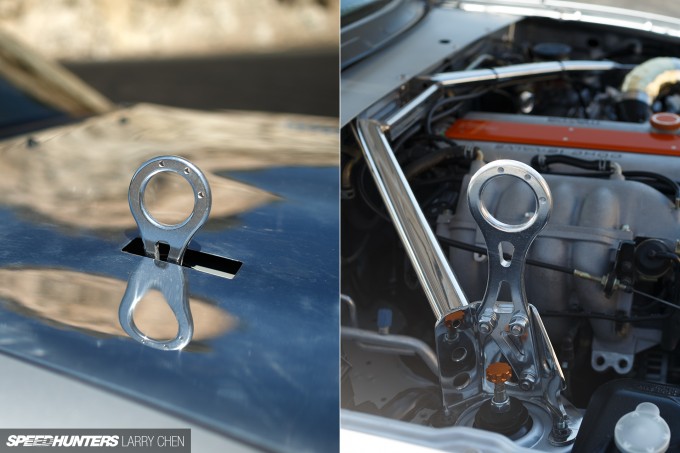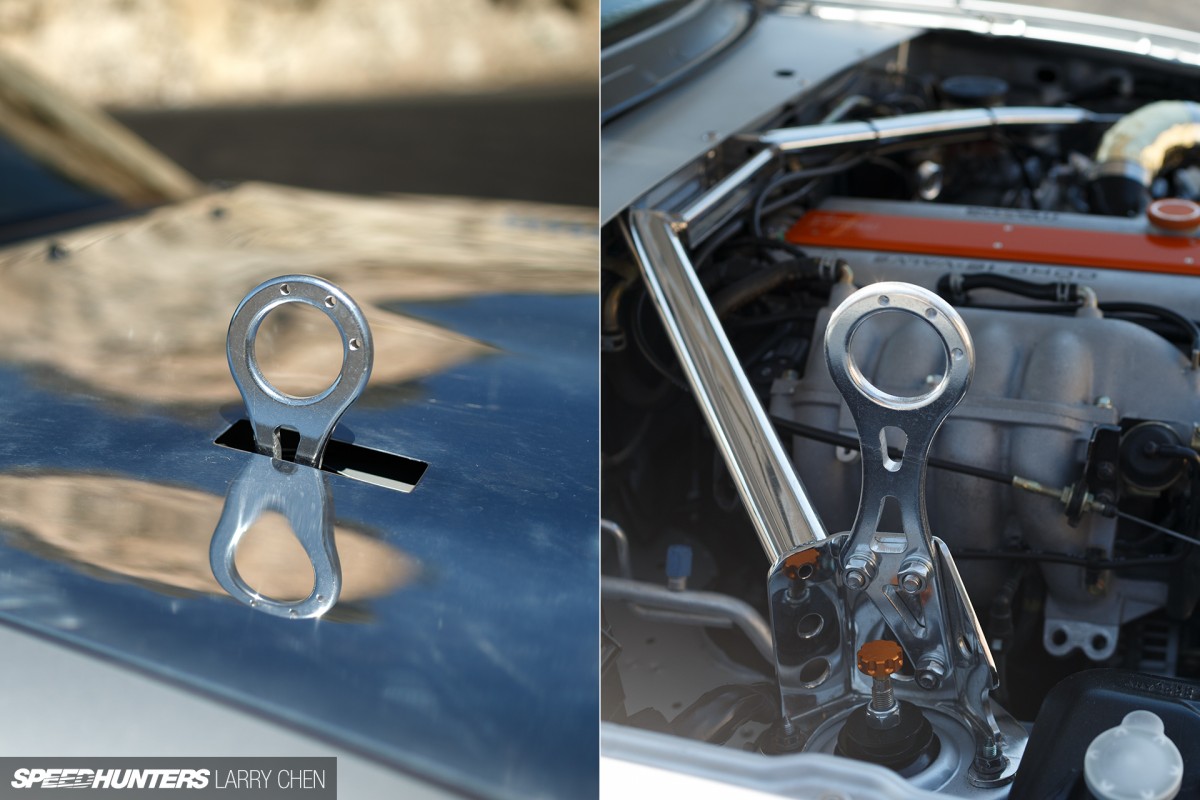 Jeremy says he's completely okay with having an overstated car, and other exterior touches – like the polished aluminum hood and oversized rivets – help give the Miata a rough, in-your-face look.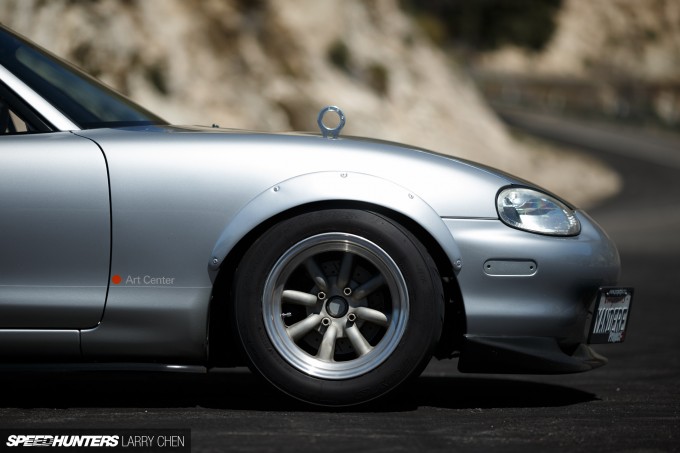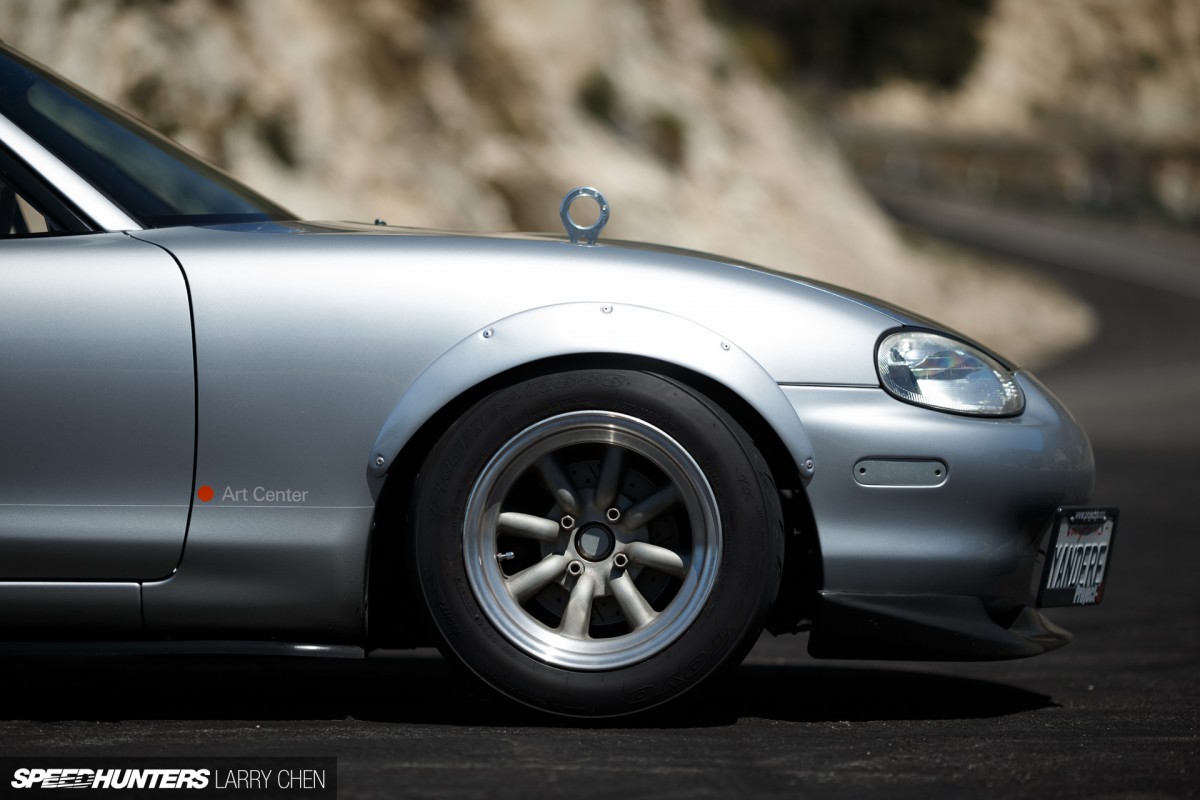 As for wheels, the car is running a set of R-Type RS Watanabes measuring 14×8-inch in the front and 14×8.5-inch in the rear with sticky Toyo Proxes R888 rubber all around. In my mind there's just no beating the look of 14s and meaty tires on a Miata.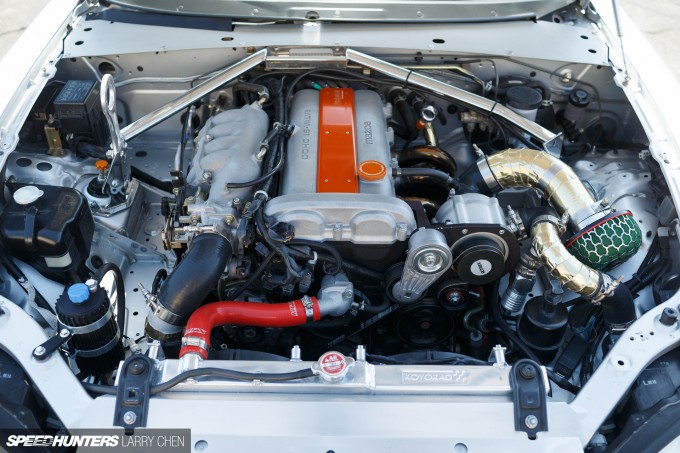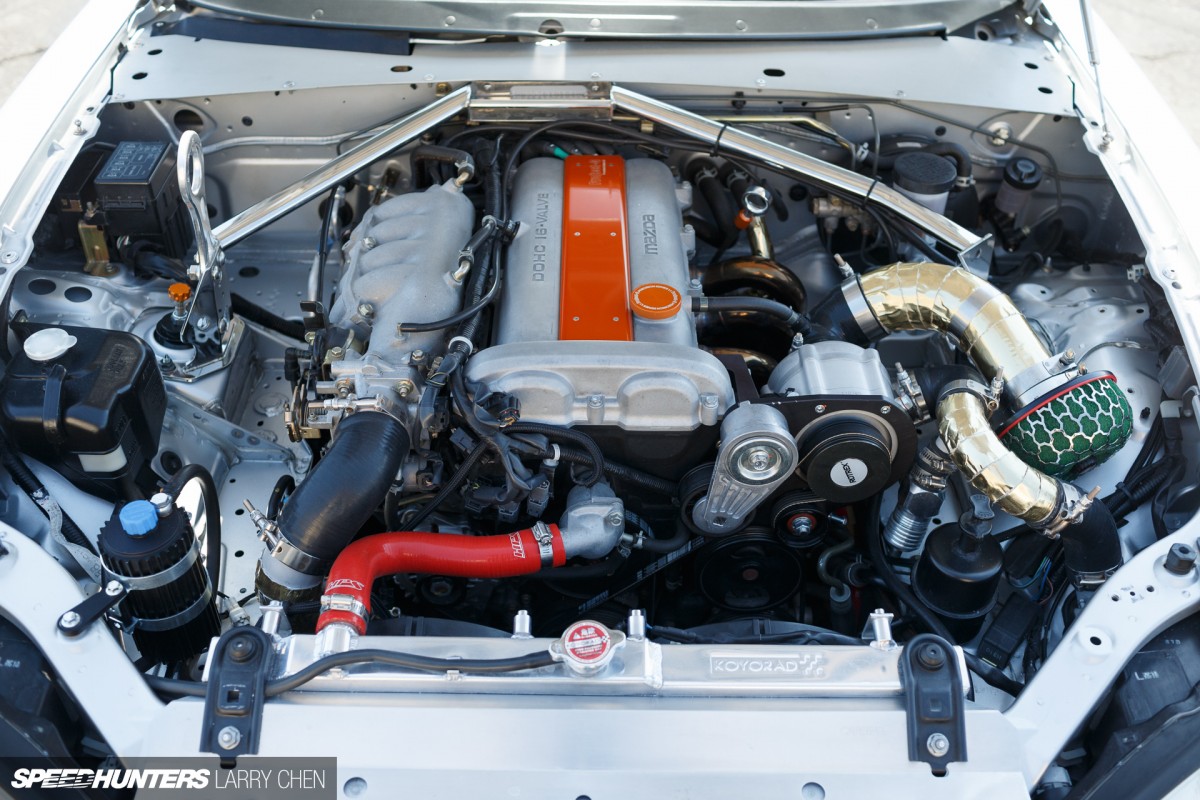 Today's Miata scene is full of people that build their Roadsters simply to look cool and cruise at a leisurely pace. But Jeremy is not one of those guys. This becomes immediately apparent when you open the hood and find that the Mazda's 1.8-liter four-cylinder engine is fitted with a Rotrex C30-74 centrifugal supercharger.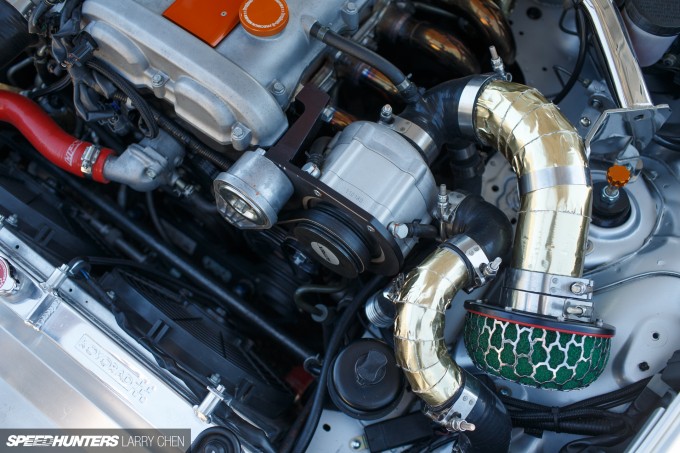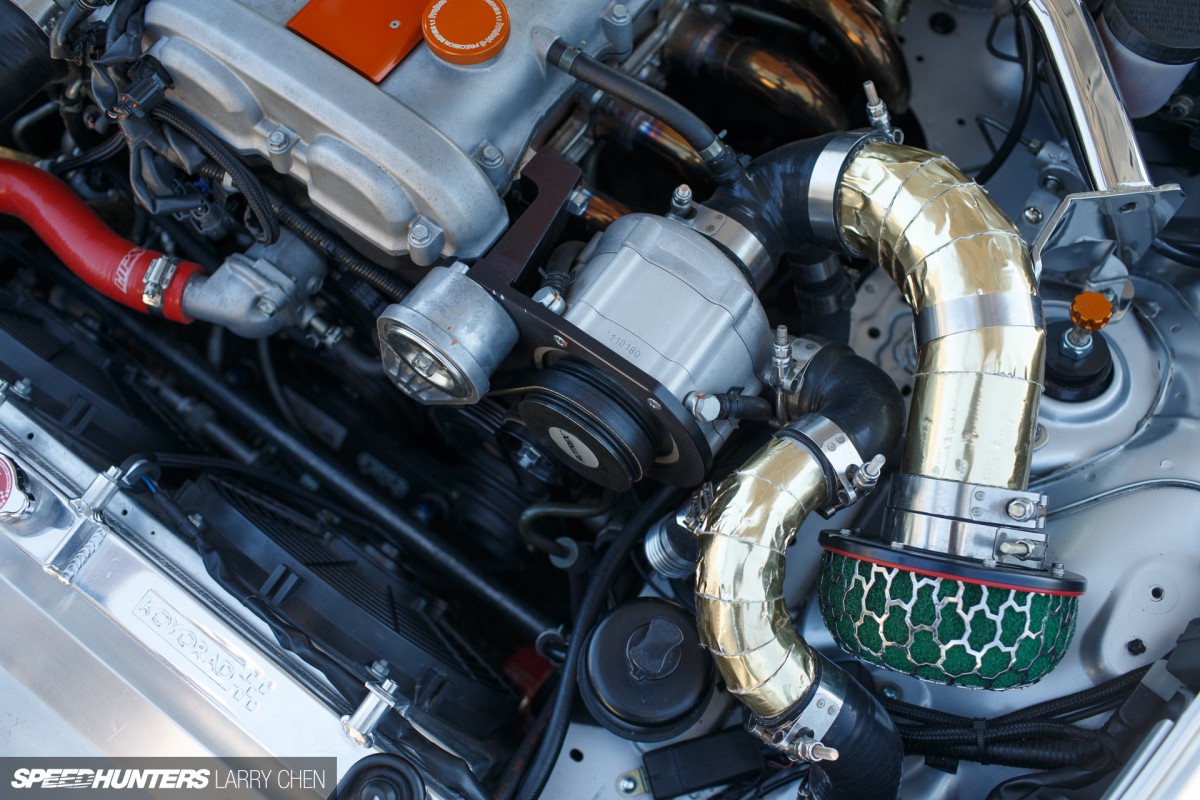 Other engine work includes a Mazdaspeed intake cam, a Racing Beat header and mid pipe, along with Mazdaspeed engine mounts. As for electronics there's a full Megasquirt DIYPNP engine management system along with an AEM UEGO wideband controller. When everything is dialed in, the set up sends an impressive 235 horsepower and 183lb/ft of torque to the rear wheels – more than enough to allow the featherweight NB to keep up with more powerful modern machinery.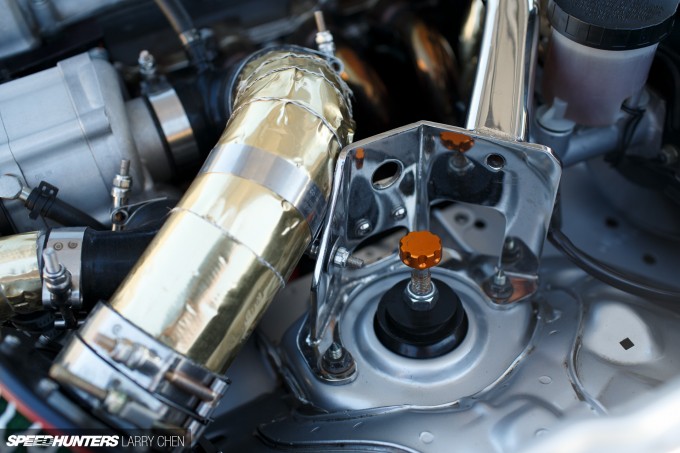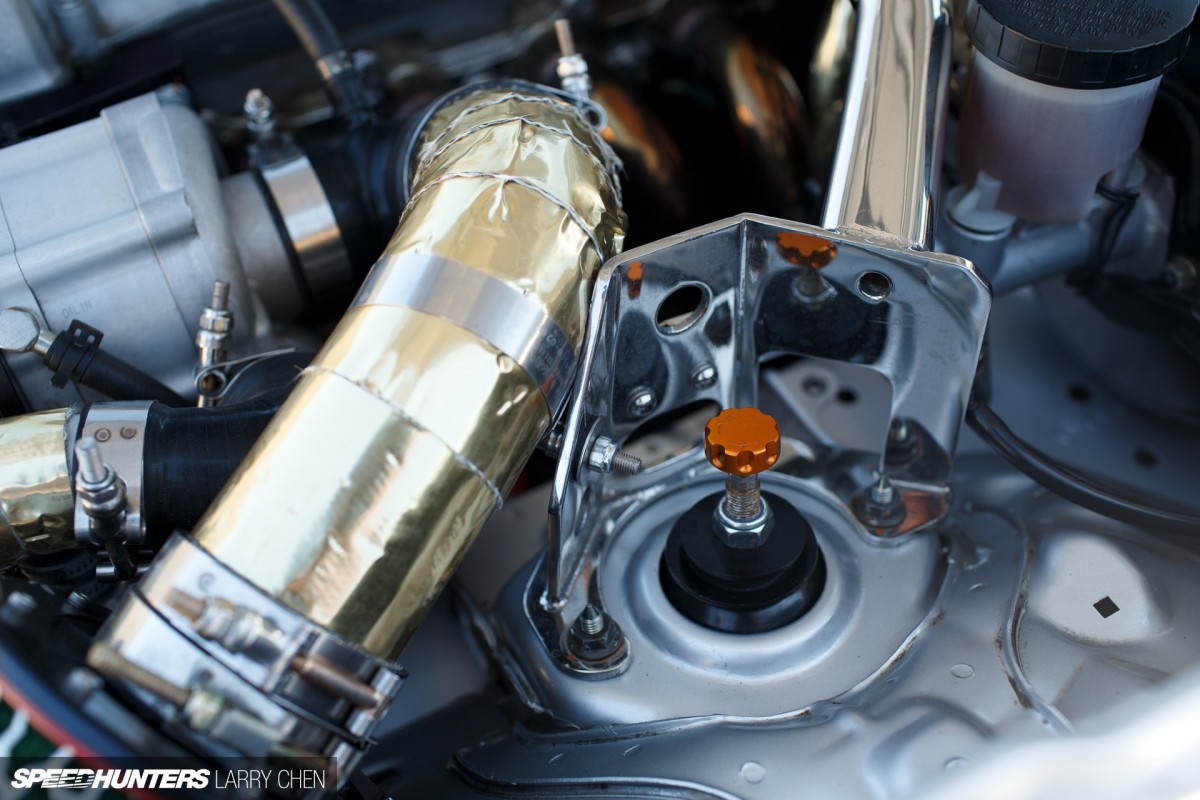 Aside from the performance upgrades made to the motor, Jeremy has also approached the Miata's engine bay with a similiar eye for aesthetics. Visual upgrades include a Garage Star cowl cover and Project-G Precision Series plug cover, oil cap and dipstick handle. In this shot you can also spot the Cobalt three-point brace.
Style + Function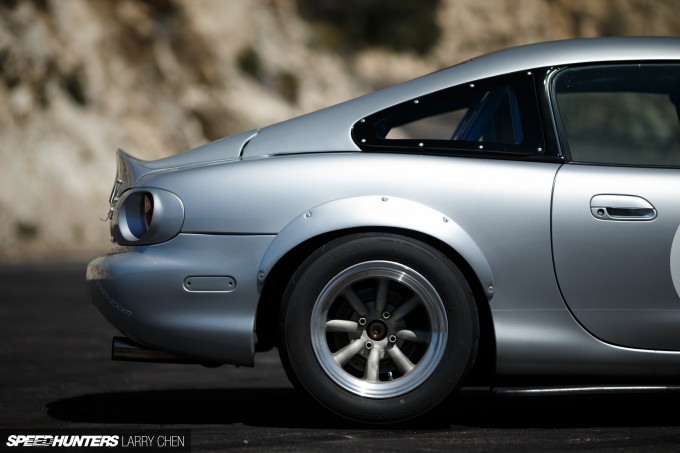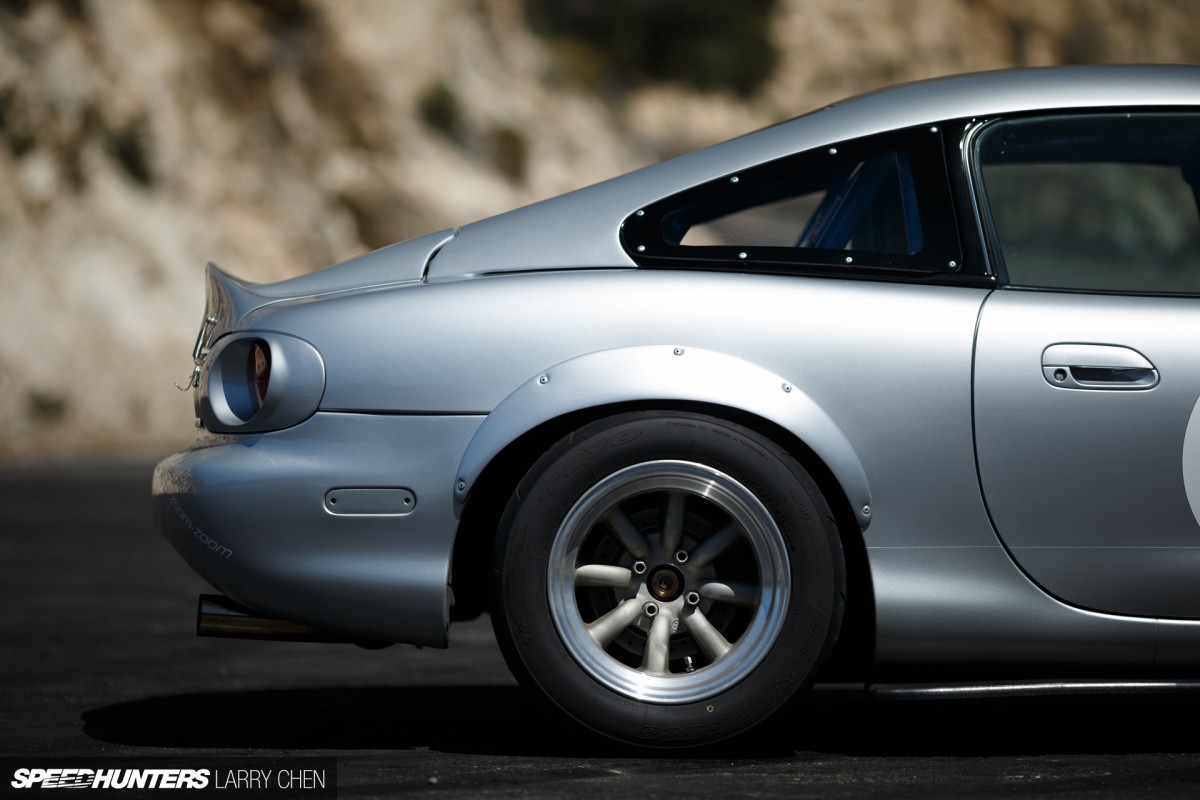 Having the right footwork is a huge part of having a proper Miata experience, and Jeremy's car does not disappoint in this area. It's running a set of XIDA Clubsport coilovers from AST, along with Flyin' Miata sway bars and 949Racing adjustable end links.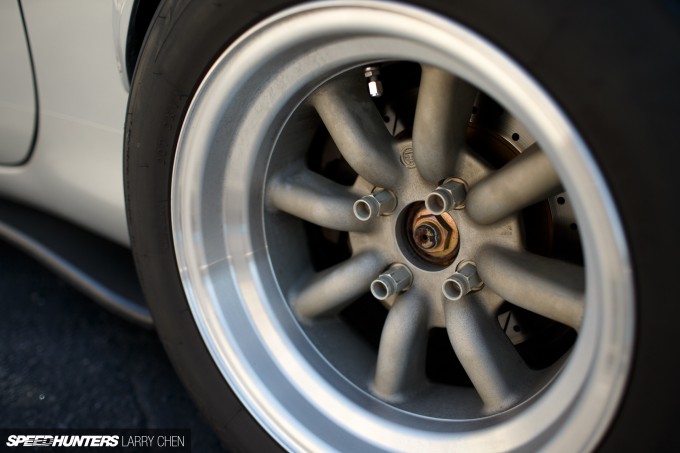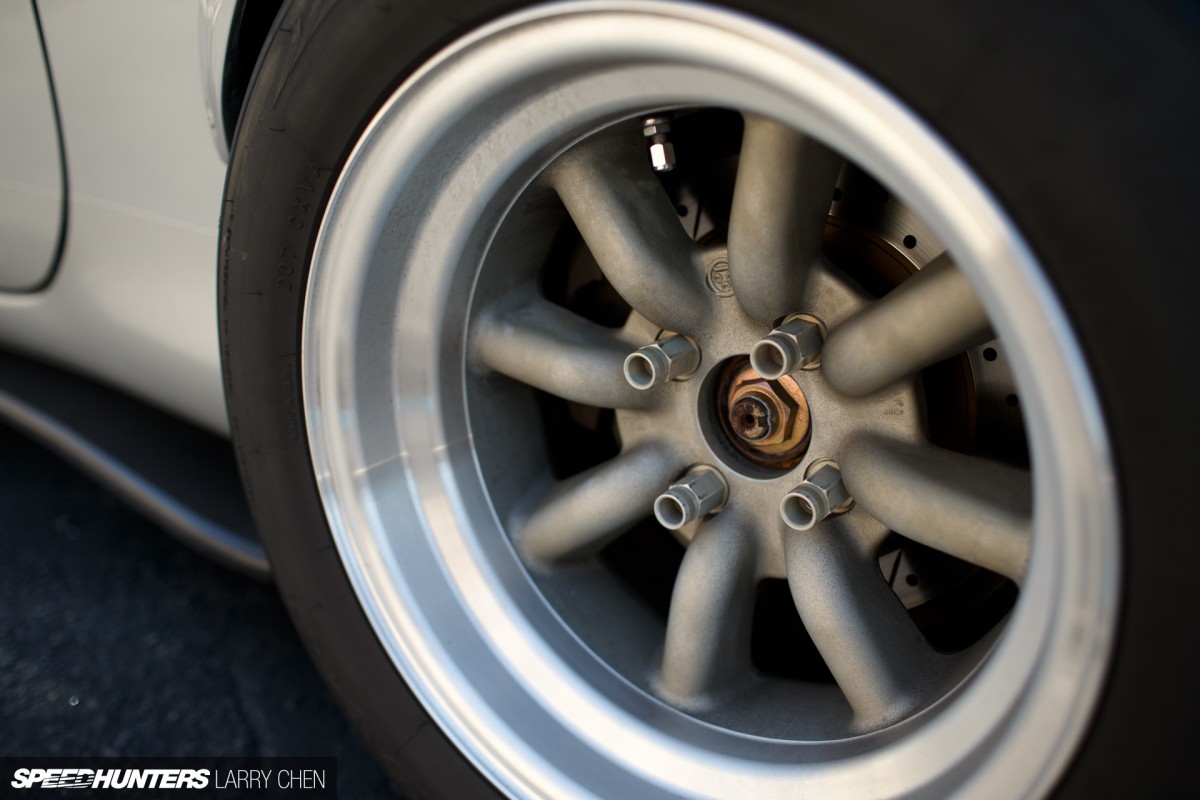 Braking ability is enhanced by a set Hawk HP Plus pads with DBA X-Gold rotors and StopTech braided brake lines.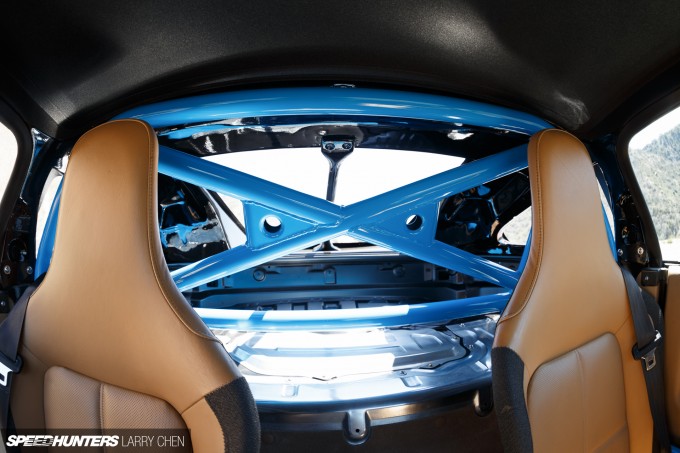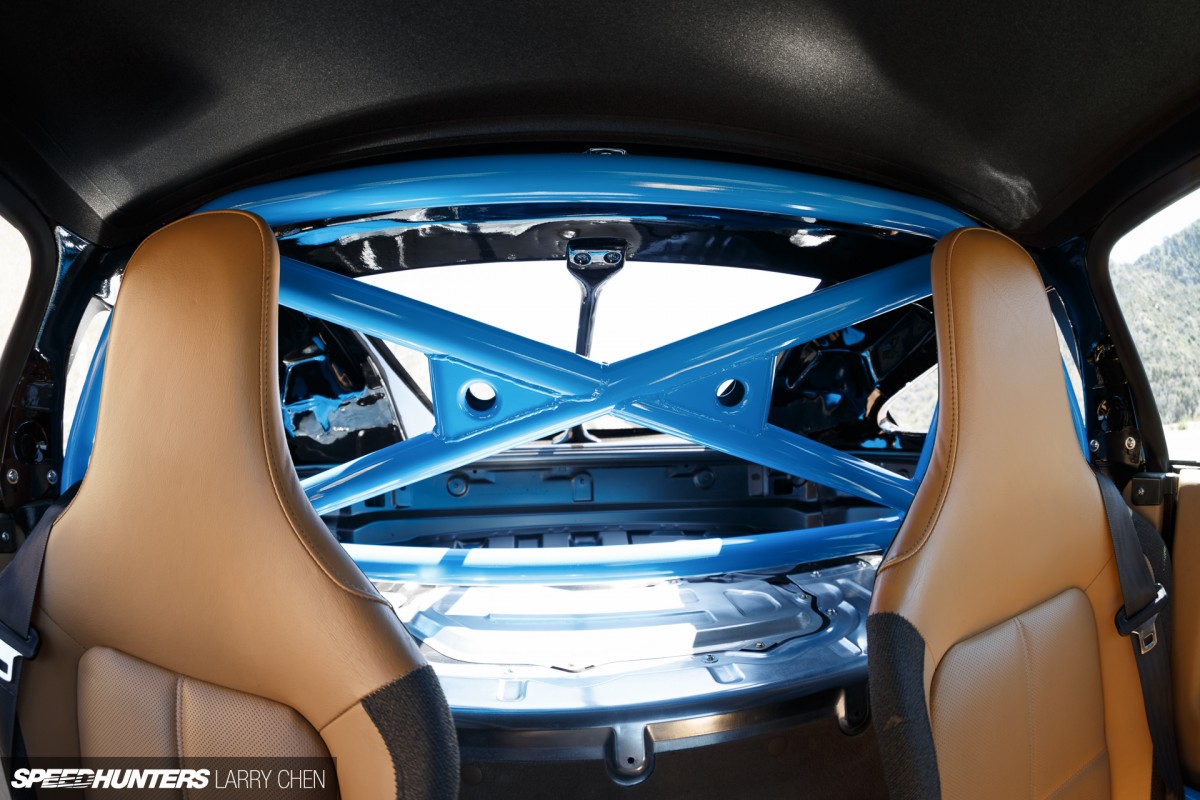 As with a lot of the world's great Miata builds, the interior on this car is just as impressive as the exterior. Starting on the safety side, there's a Blackbird FabWorx GT3 roll bar and Bethania Garage door bars.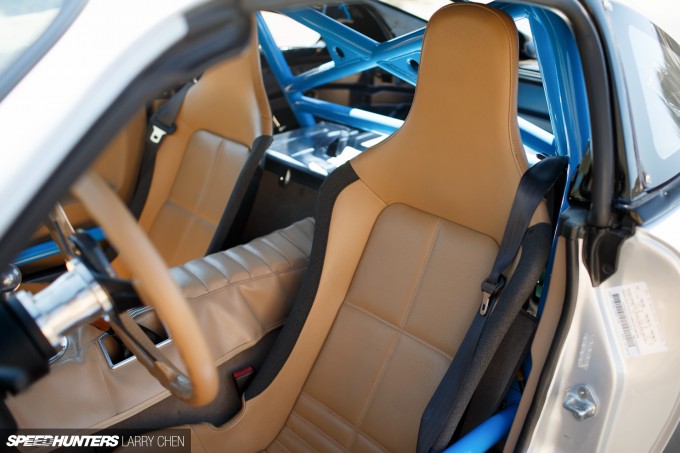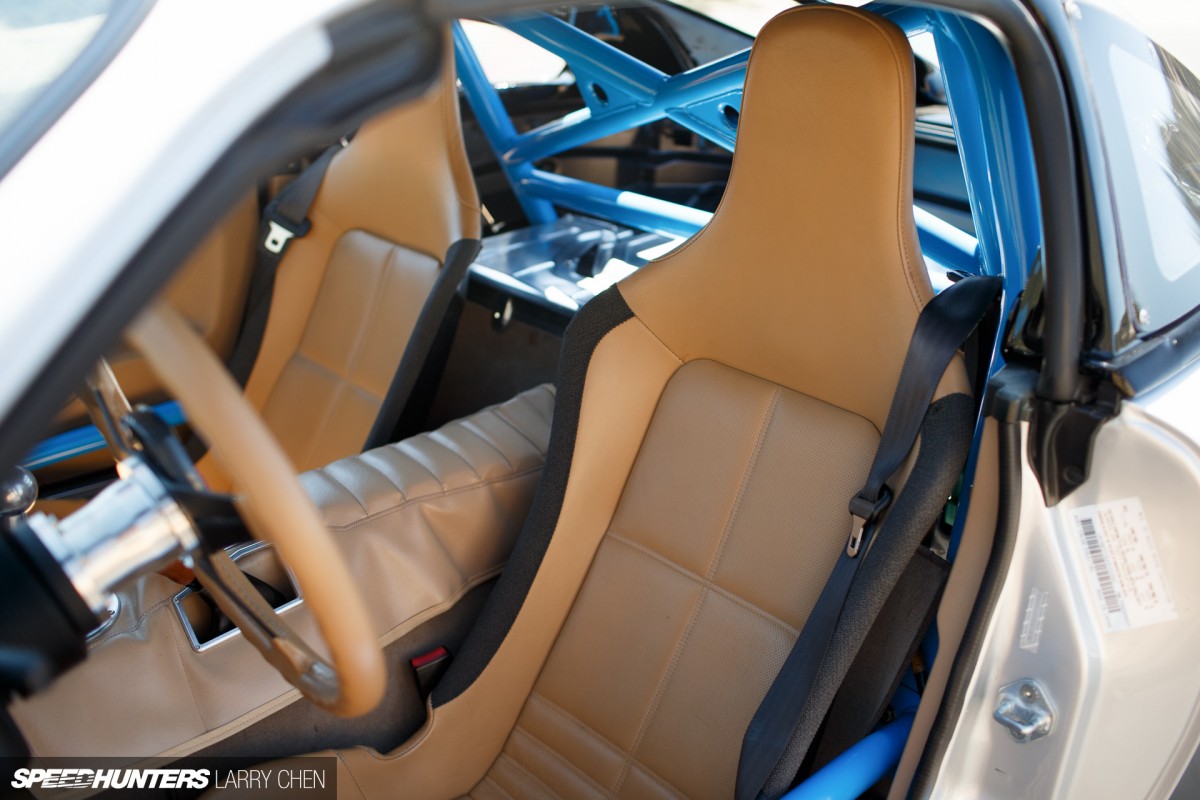 The seats are factory buckets from a Lotus Elise mounted on RyokuRob brackets – together a very popular retrofit modifcation for Miata owners around the world.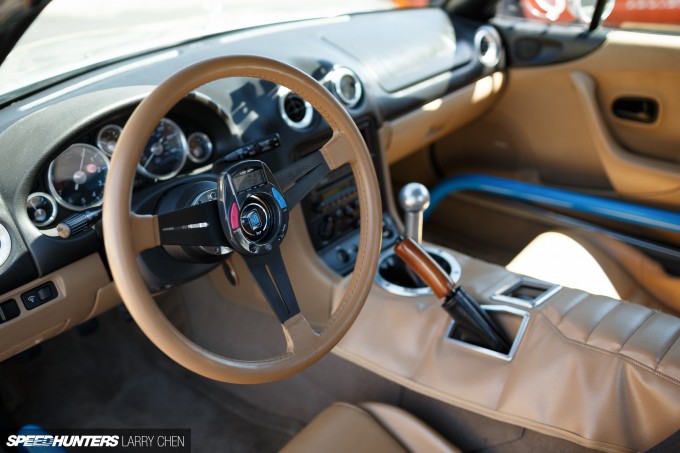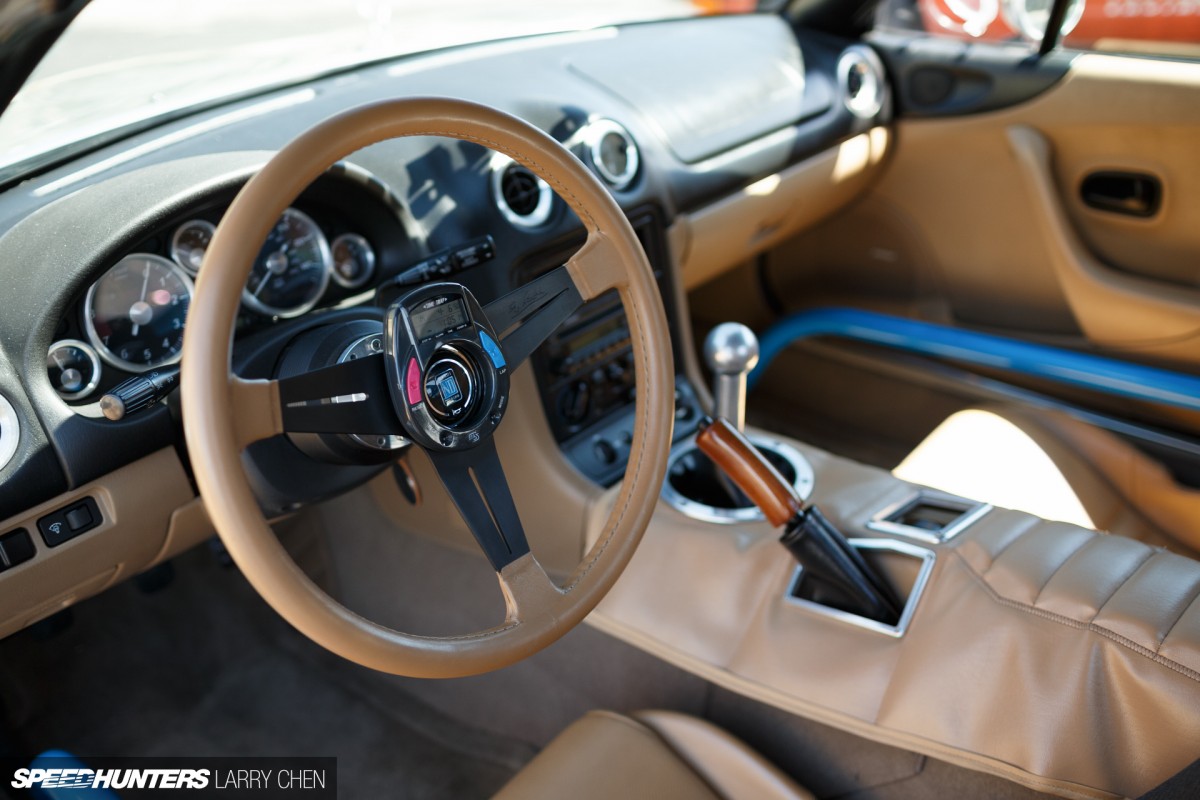 The steering wheel is a custom-trimmed 375mm Nardi mounted with a Garage Star hub extender, which matches perfectly with the old school theme.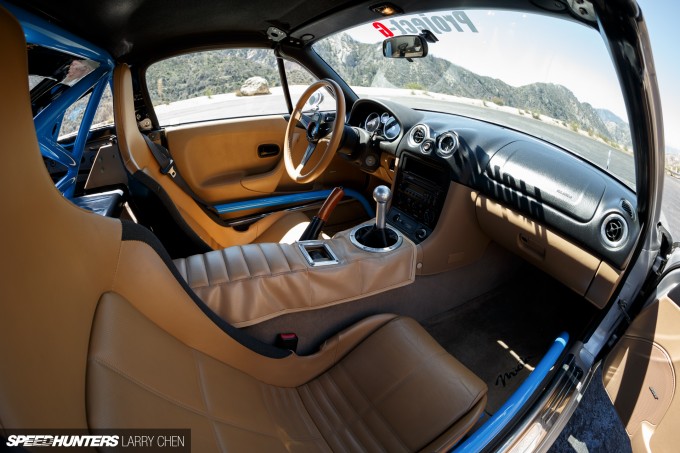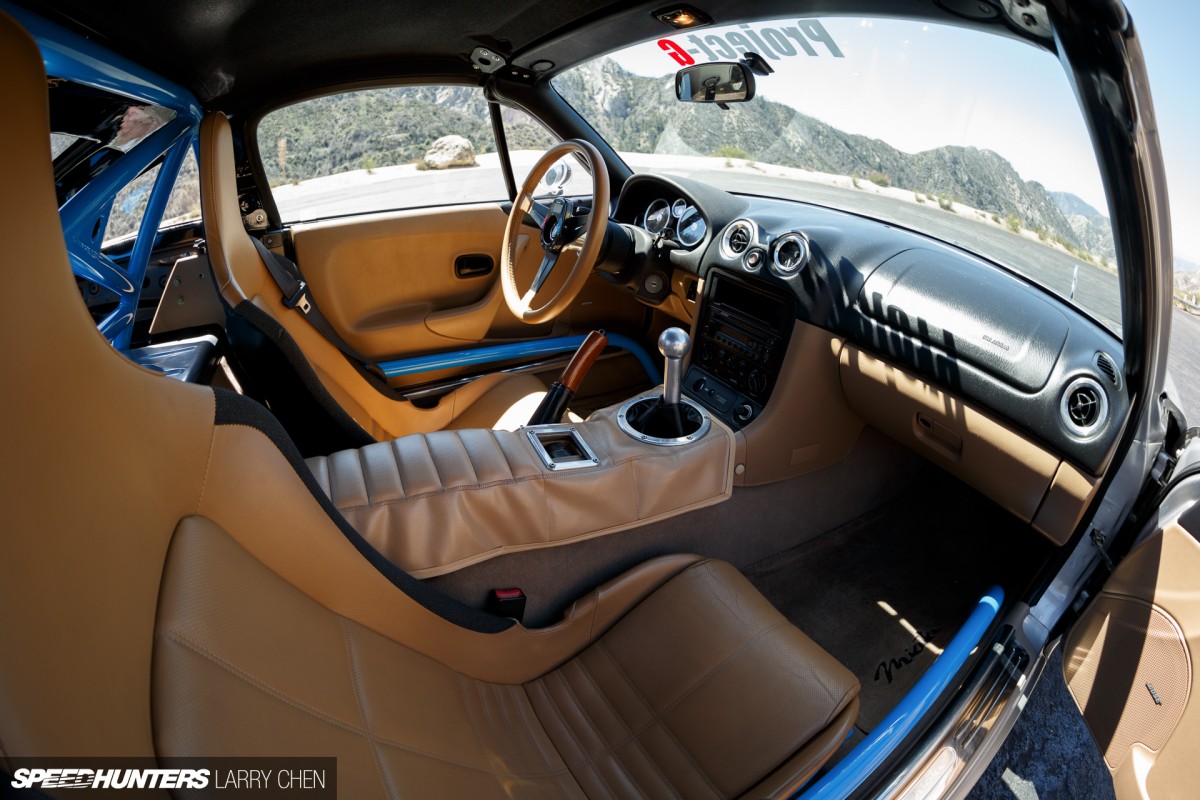 Further retro style is added by a custom self-upholstered center console with RyokuRob trim rings. RyokuRob also provided the stainless steel shifter which lends a raw and functional look.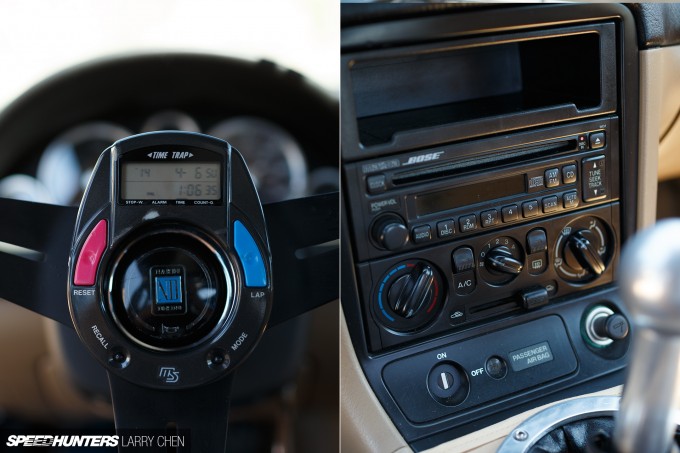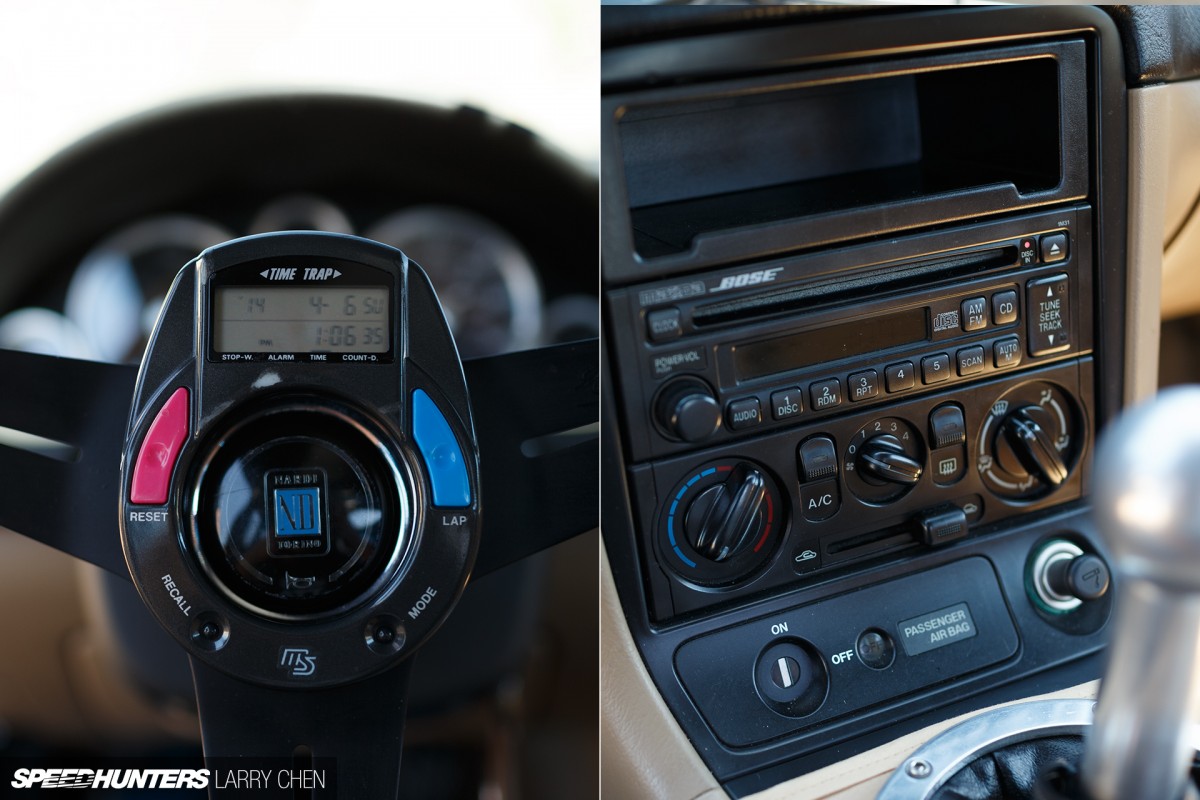 Other little details in the cockpit include cool items like a set of revlimiter gauge faces and a rare Mazdaspeed lap timer.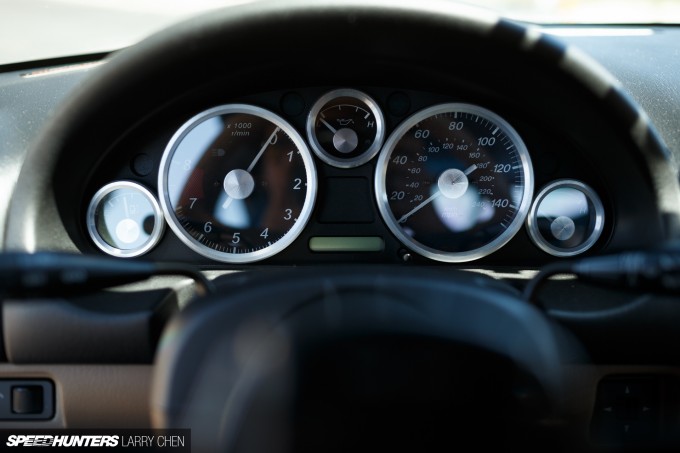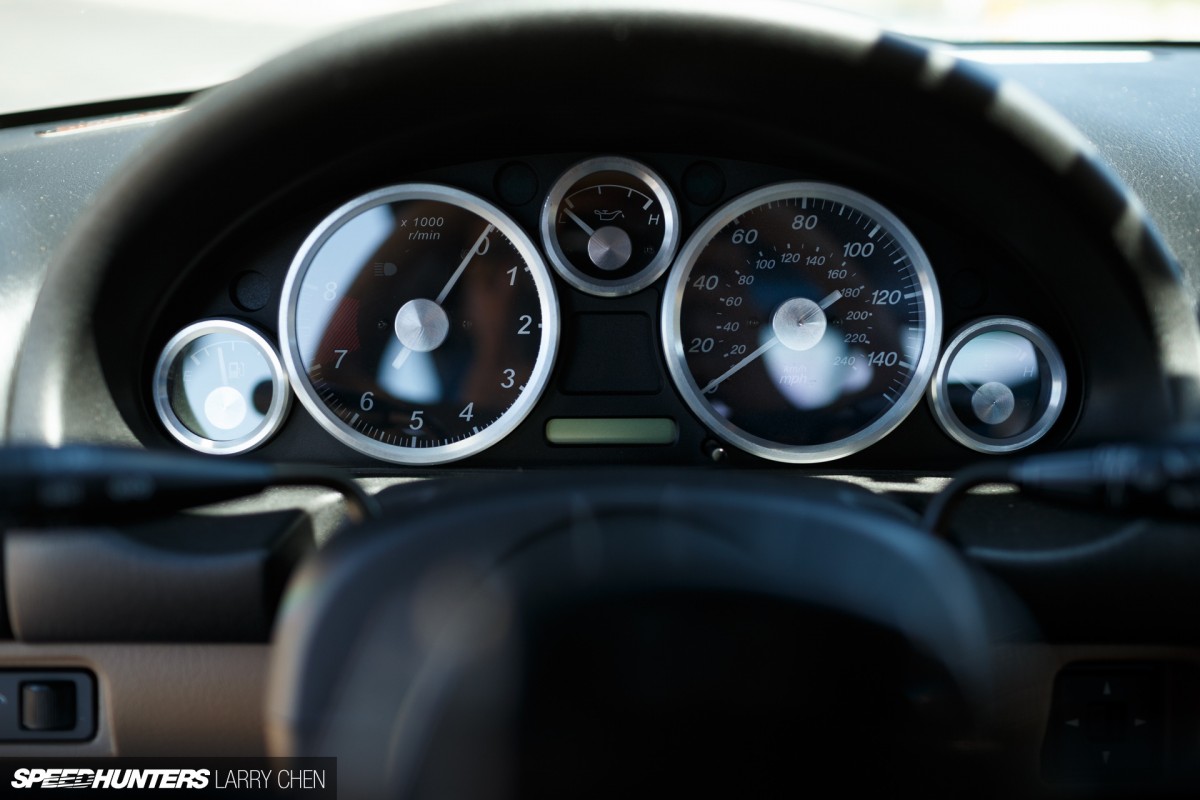 Overall, the design cockpit just begs you to strap in and find a cool road. This is something that goes back to that 'I need to drive this' feeling I spoke of earlier.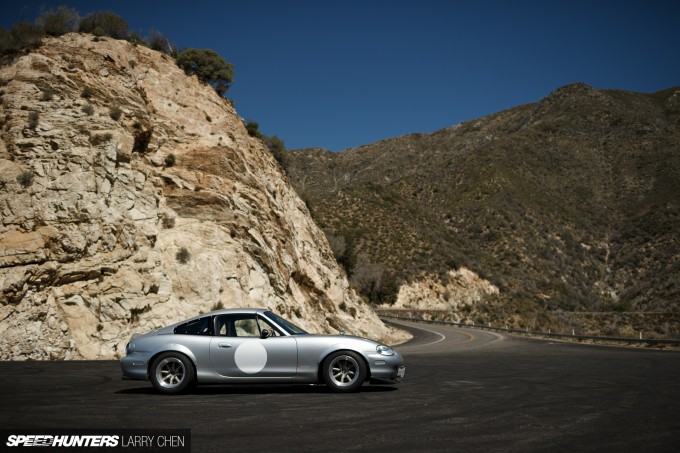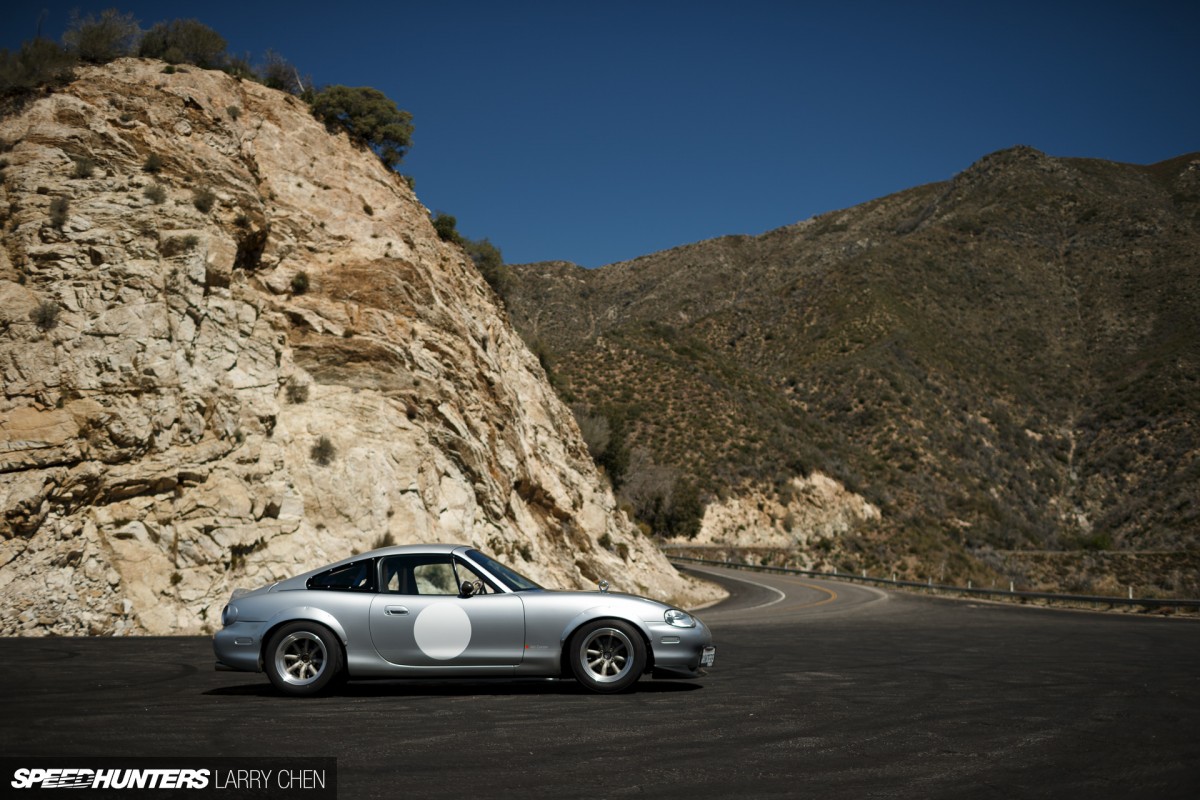 Being a design student, Jeremy is always looking for ways to change and improve upon the car's setup. At the moment he's working on wider, more aggressive bodywork and also considering stripping down the interior even further.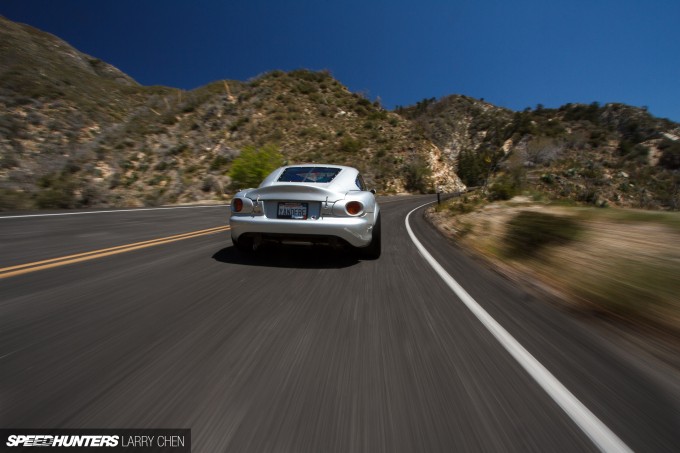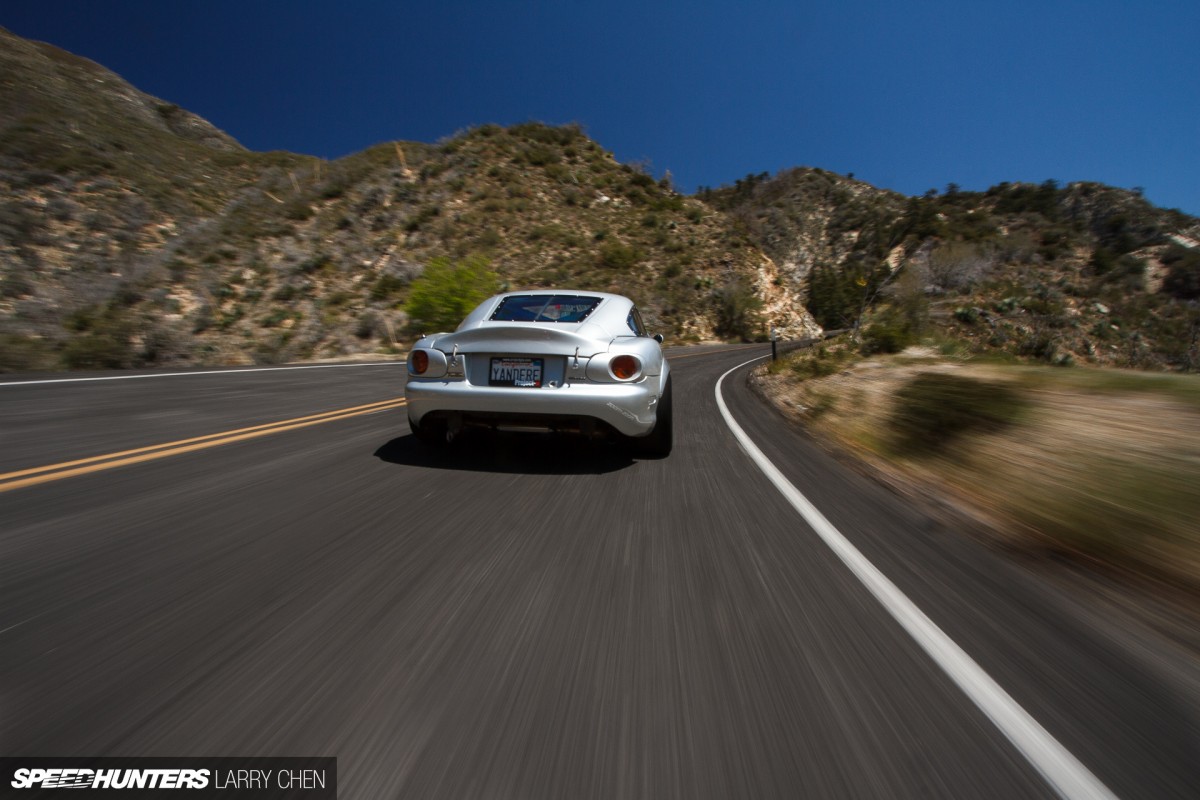 While this Mazda is no doubt impressive both on paper and when you see it in person, the car itself is just one part of Jeremy's Miata experience. Even more valuable are the memories and the friends he's made during his journey with this car. It's a list that includes everything from late-night canyon sessions, to long road trips and lots of hanging out in parking lots.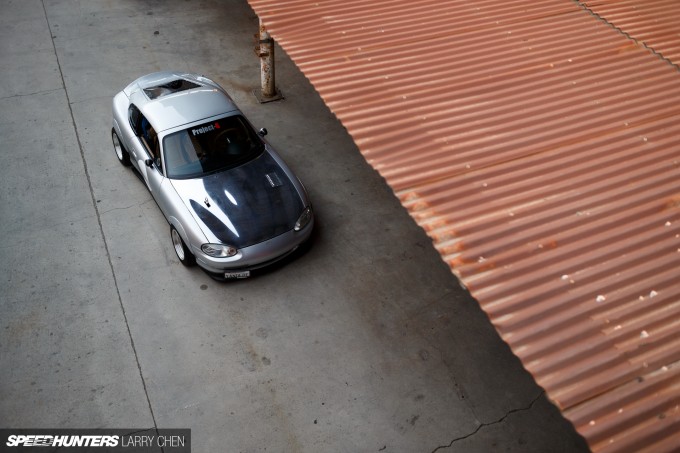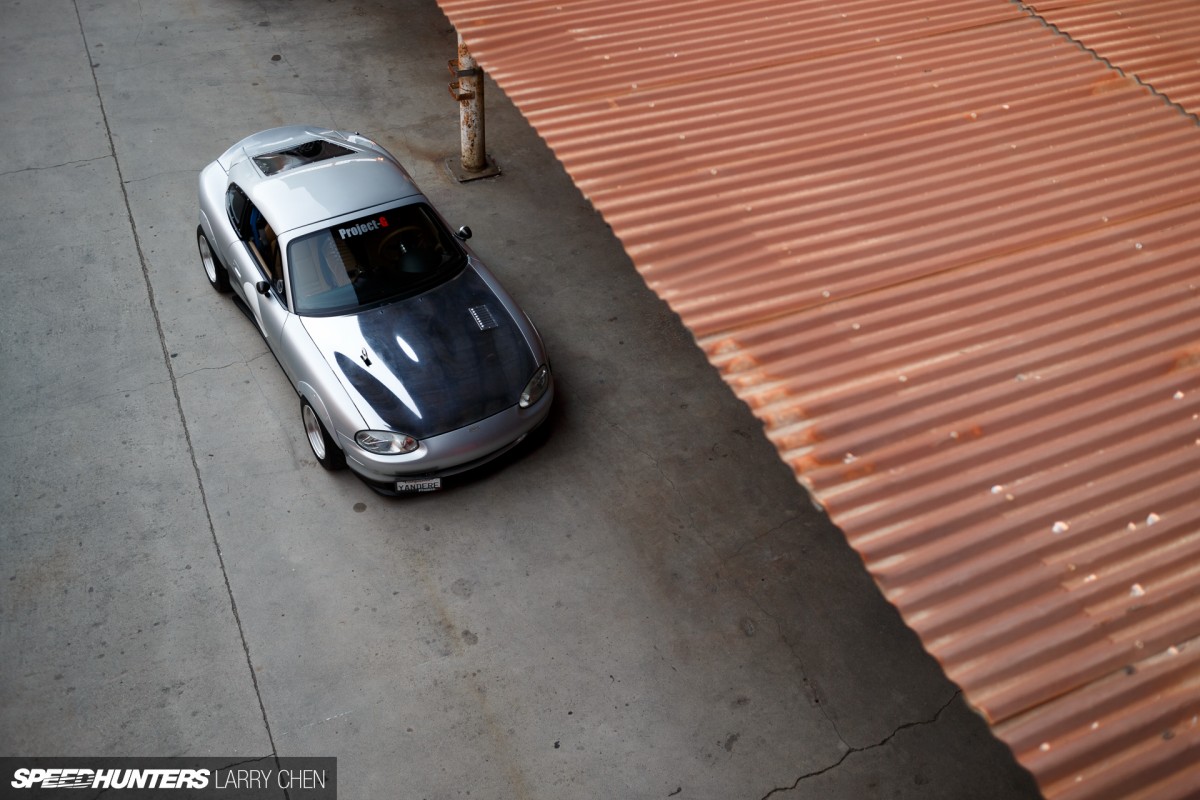 Jeremy's Miata is a car that is fast, functional, cool and unique. More than anything though, it's driver-oriented nature just makes you want to hop in and find an open stretch of pavement to wind it out on. The way I see it, there's really no greater praise you can throw on an automobile than that.
Mike Garrett
Instagram: speedhunters_mike
mike@speedhunters.com
Photos by Larry Chen
Instagram: larry_chen_foto
larry@speedhunters.com
Bonus images