This is how it's done
Planning to modify or tune up a car is a common thing amongst the Speedhunters audience. Building your own car completely from scratch, however, is more likely edging into dream territory. So when you not only turn that dream into a production reality, but do so in such a way that it's more an inspiring showcase for the power of commitment and collaboration than about personal success or ego, then you truly deserve maximum respect.
This is exactly what the Briggs Automotive Company have done with the wildly awesome Mono. They've shown it can be done, and done well. It's all about belief.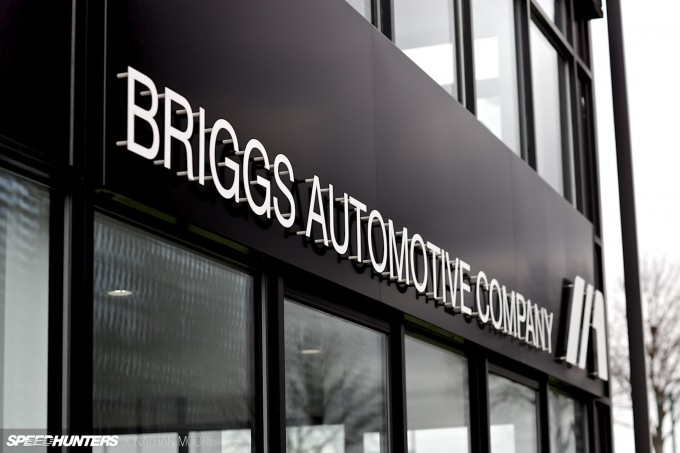 Founded back in 2009 by two brothers from Widnes in the north-west of the UK, the new BAC headquarters is located just three miles from where the pair grew up, and Ian and Neill Briggs are passionate about making sure that if the Mono is successful, then the local Liverpool area will be part of it.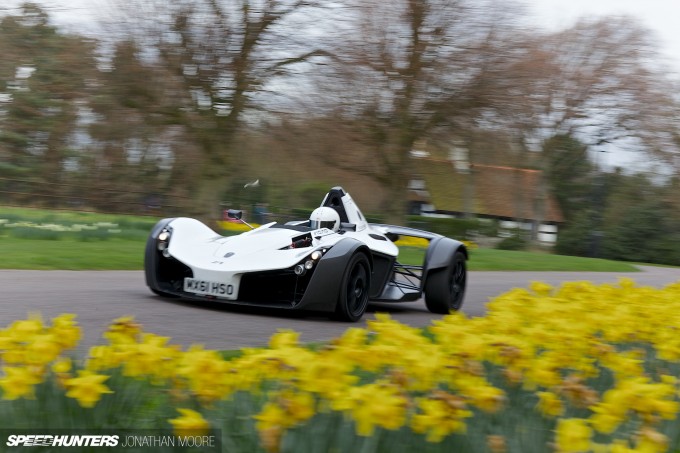 There must be something in the water. The Brits seem to find an obtuse delight in making high-performance, lightweight, 'open-top' sportscars – and perhaps it's due to all that water that falls from the sky on our islands. Soggy brains that mean the seemingly impossible becomes possible? Well, if nothing else, all that rain creates the ideal conditions to showcase the premium put on sublime handling characteristics rather than overwhelming firepower. Then in the dry, it's something else…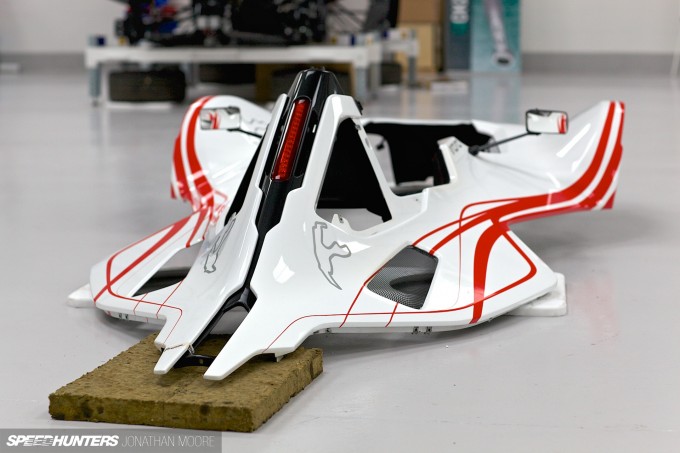 Bryn paid a visit to BAC's original facility back in 2012, a small unit buried in the wilds of Cheshire, and followed that up with a soaking wet blast around the Anglesey circuit in Wales. BAC haven't stood still though: the Mono project is entering its next phase, their target the world, and I travelled up to Liverpool to see the changes for myself.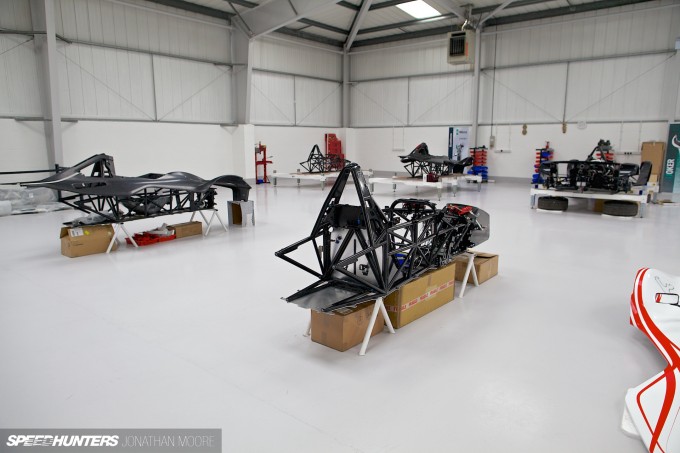 Gone are the size limitations of the original facility (though that location is still used as an overflow) and in have come stark white floors, infrastructure and, most importantly, space.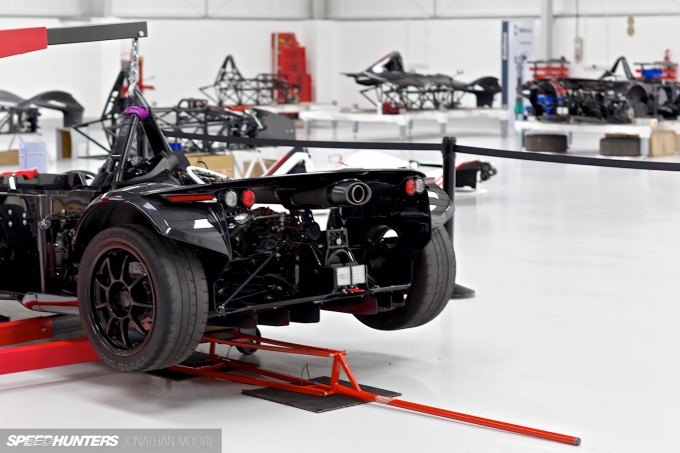 That's really the key, and shows that BAC's eye has now very much turned towards the future – Neill and Ian reckon that the new facility will see them through the next two years of production. It's really interesting to see the steady evolution of the project, sensible and measured in approach.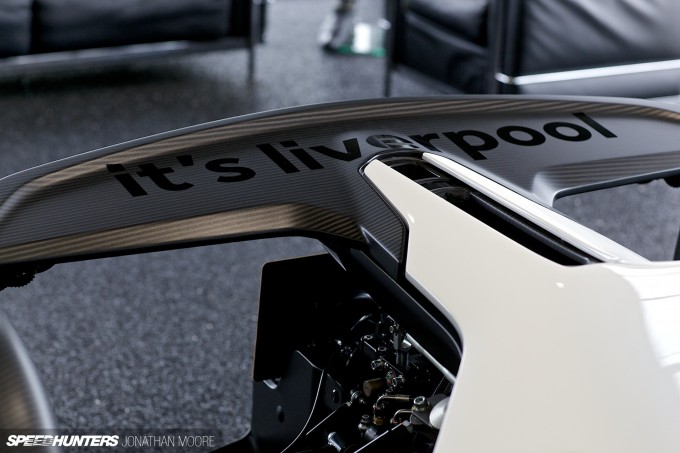 But there's also the huge pride in the local area which was reinforced time and time again during my visit through talking to BAC's growing family of staff. The move to Liverpool was helped by a grant from the local mayor and has led to some great media exposure, but talking to Neill it's clear that the decision was as much based on his passion to give something back to the place where his roots are.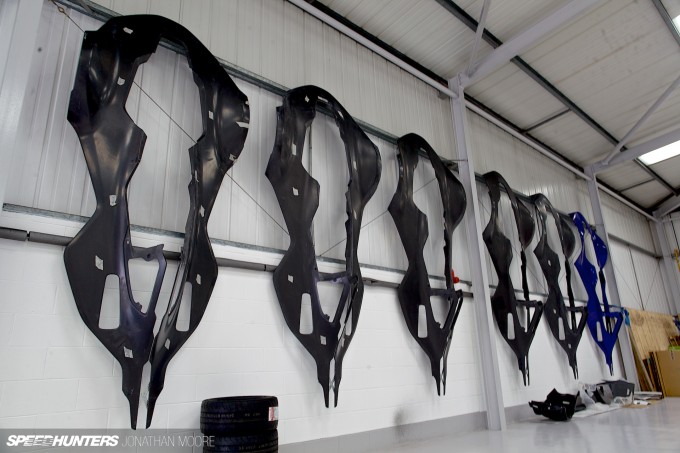 At first thought, you might not think Liverpool is a hotbed of automotive manufacturing, but BAC actually have rich pickings right on their doorstep. Jaguar-Land Rover has a major plant nearby, producing Evoques and Freelanders, and Vauxhall and Bentley aren't that far away either. BAC have been able to tap into the supply chain that supports these large-scale manufacturers, cherry picking the best.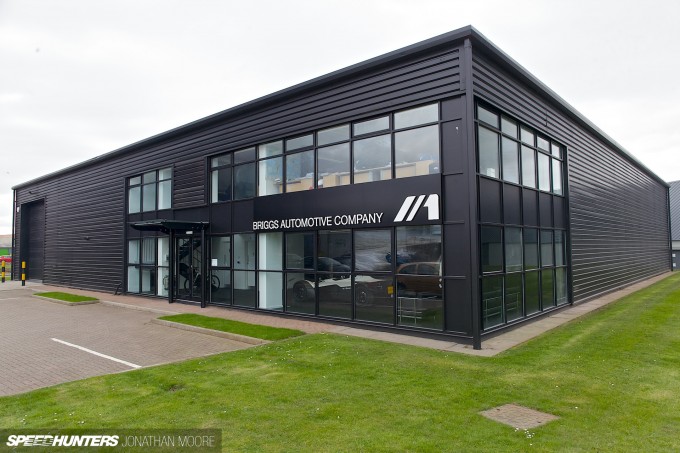 Even better, the factory is a stone's throw from Liverpool's John Lennon airport. A phone call from one of their now many friends in high places, and BAC now have the opportunity to book a runway as a test track. There's also a rather lovely old manor house with a nice long, straight drive just round the corner, which is quite useful for cheeky demo runs…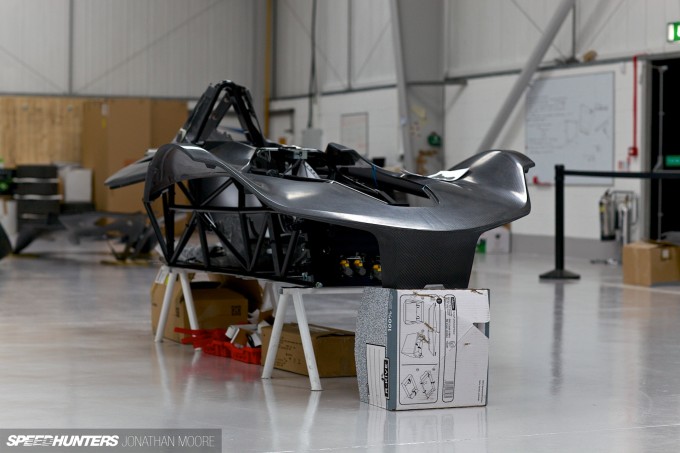 It's impossible not to be in awe of a Mono. They are incredible pieces of engineering for sure, but it's that beautifully organic shape and outrageous reality of the Mono being specifically designed for driving on normal roads that lifts it above equally out-there machinery like the Ariel Atom or many overly-hot Caterhams.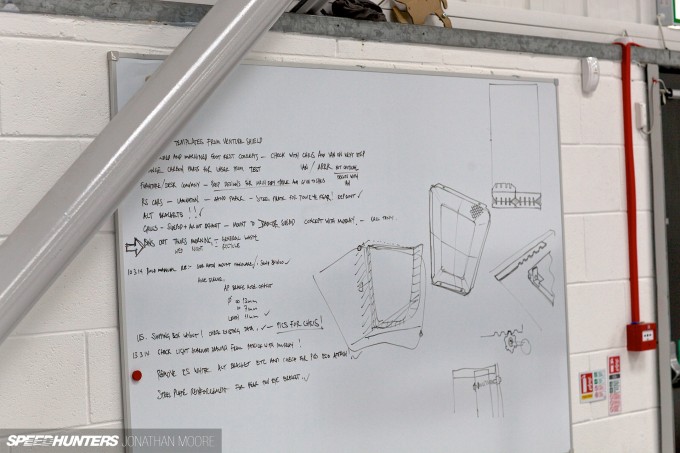 Walking round the BAC factory showed off not only the number of Monos now in build, but also the evidence of the constant prototyping of new ideas and the evolution of a build across the jigs. The environment might have changed significantly, but that obsessive attention to detail is still at the core of every Mono.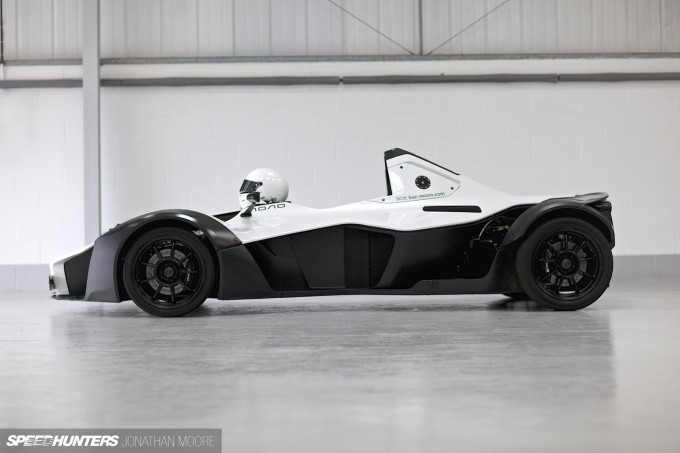 I've seen Monos before, at events such as the Goodwood Festival Of Speed and Autosport International for instance, but this was an opportunity to get under the skin of the car and see the meticulously detailed construction that lies underneath.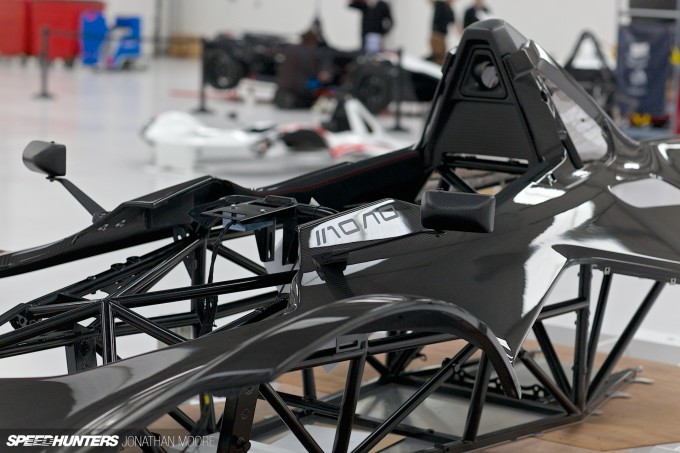 How does one get put together? Follow me…
Five steps to heaven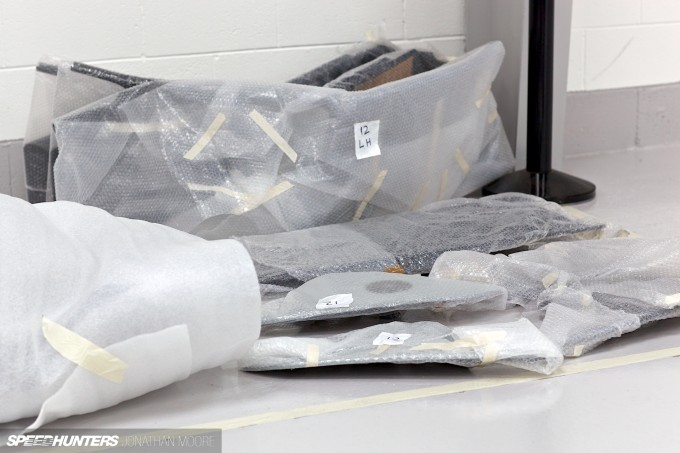 Each numbered chassis has its own kit of carbon panels on hand, ready to be assembled.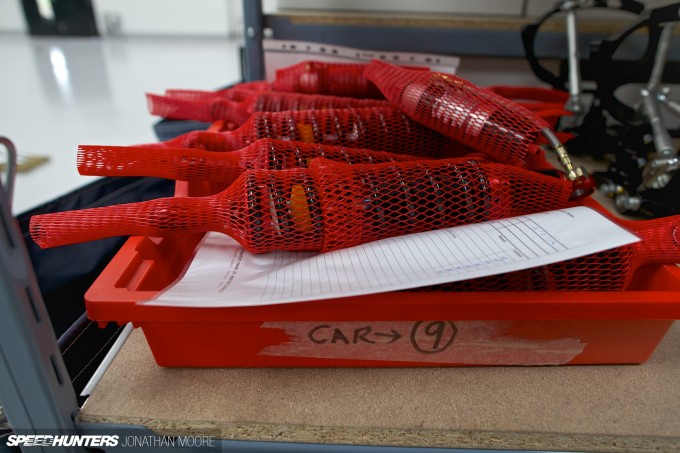 The layout of the factory follows a clockwise assembly process, with racking holding all the goodies involved in bolting a Mono together – including all the bolts.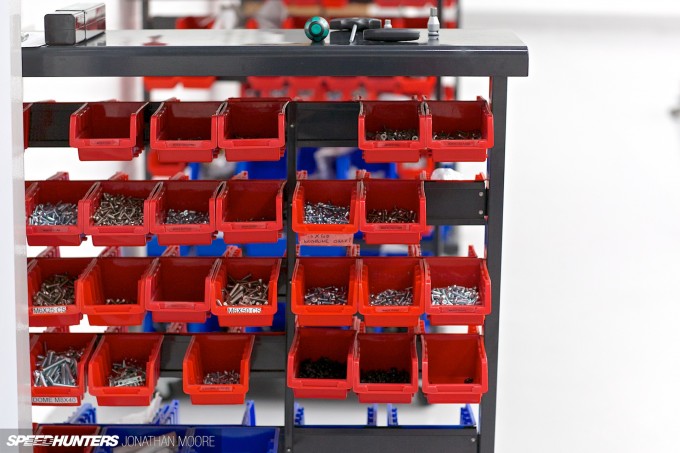 And there are plenty of those…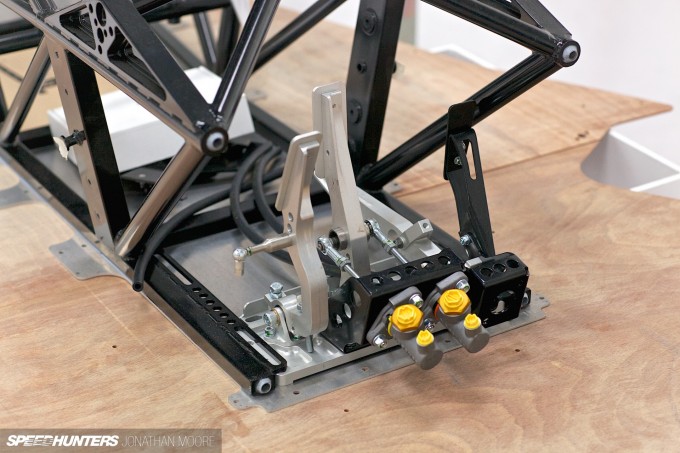 There are five main stages in each build, starting with the prepared chassis having its main mechanical sub-assemblies fitted, such as the pedal box. The machined parts from K&M Precision Engineering are works of art; I love the sculptural solidity of billet parts. There are over 300 bespoke components, manufactured at their plant just 40 miles away from BAC HQ.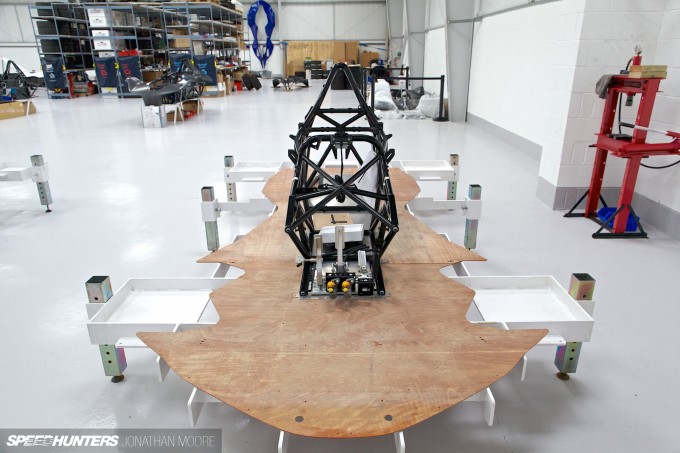 Sitting on its template, the core spaceframe from Caged Space Engineering seems tiny in the metal: like a formula car.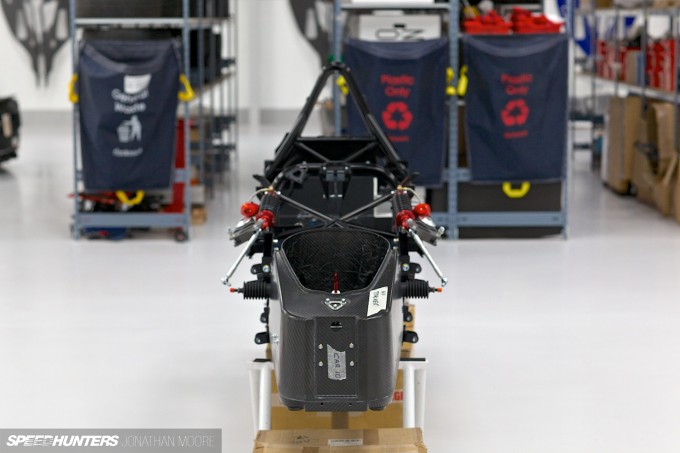 The chassis kit like the extinguisher system and wiring loom are then added – and the helmet-size front storage/crash structure.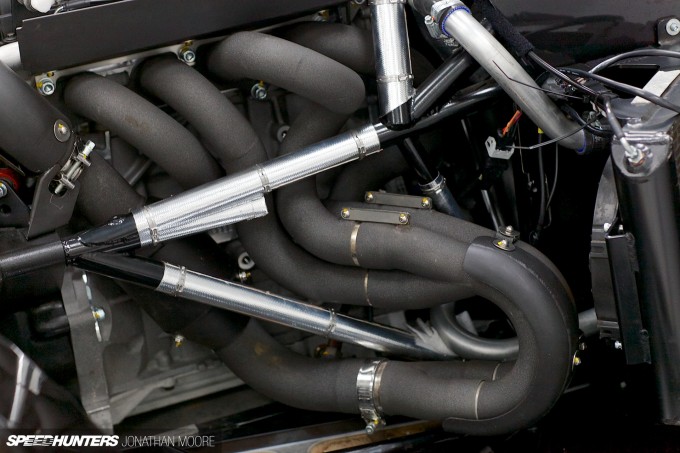 The powertrain, gearbox and engine are next to be installed. The compact Cosworth inline-four is mounted longitudinally as a rigid extension to the chassis, allowing incredibly tight packaging that would be impossible on a normal car, with so many incredible bits of detail. But it does also mean easy access to everything. Whip the bodywork off, and pretty much every major ancilliary is to hand.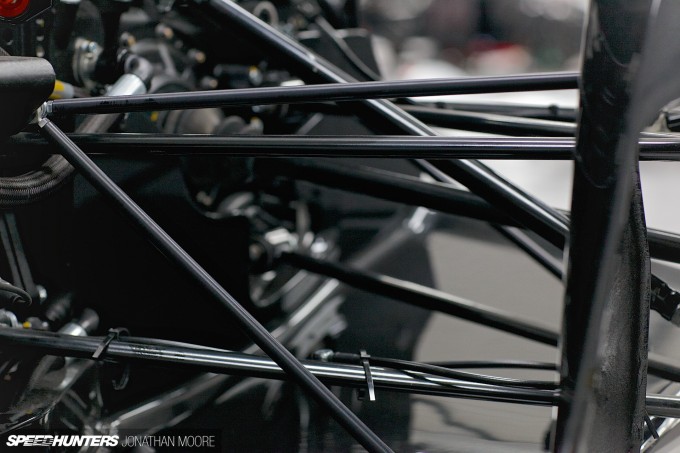 It's the same with the intricate spider's web of suspension struts, again reinforcing the single-seater underpinnings that are only hidden once the body is added.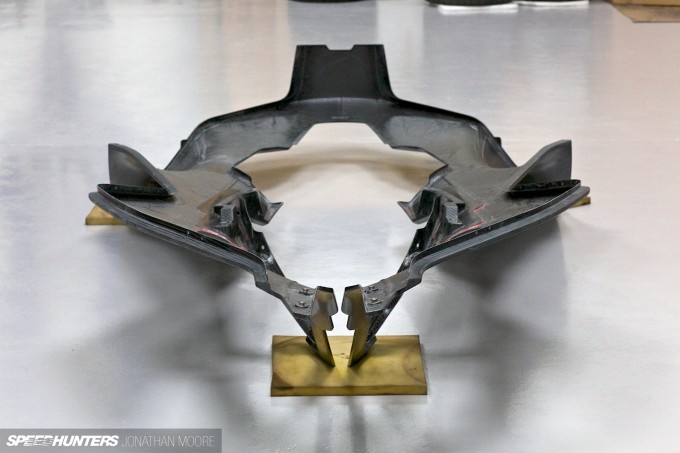 One of BAC's biggest suppliers is their carbon shop. There are 44 carbon parts on each Mono, and the supplier effectively has a factory within their factory just for the BAC contract.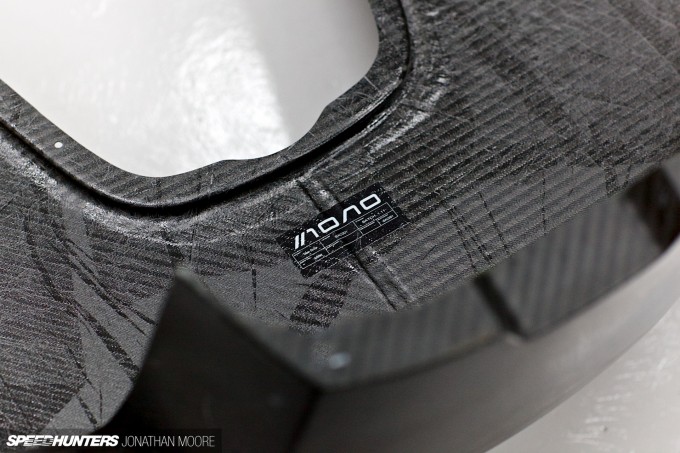 Rainer estimates that for every job they create in-house they create three to four outside, which is yet another thing to be immensely proud of.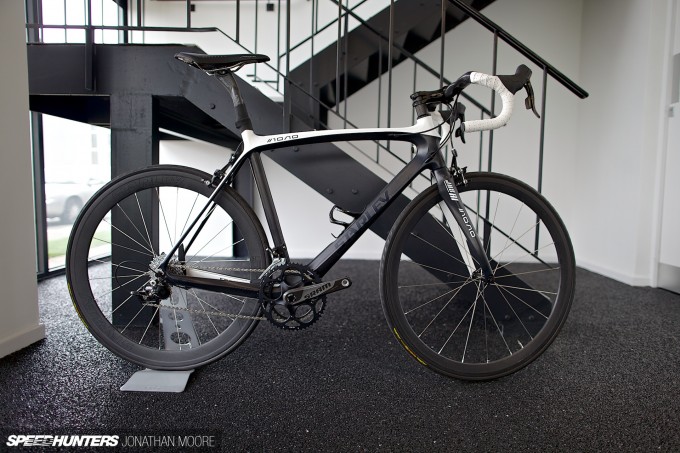 All that carbon has has some interesting off-shoots as well…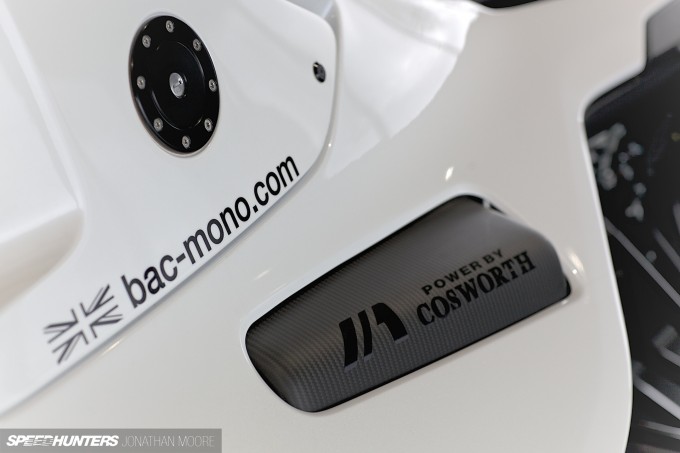 There's virtually nothing manufactured on site, but every supplier (and there are over 100) has been carefully selected, and each one works in close partnership with BAC to ensure the highest possible level of quality. It's all about using proven components to complement the Mono's unique package.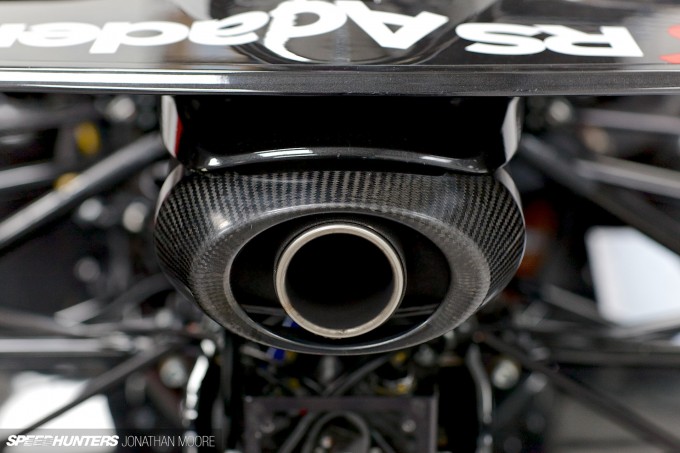 The exhausts are made half an hour away by Alunox in Wrexham, Wales. The standard stainless steel system will be supplemented by a full Inconel and titanium option in the near future.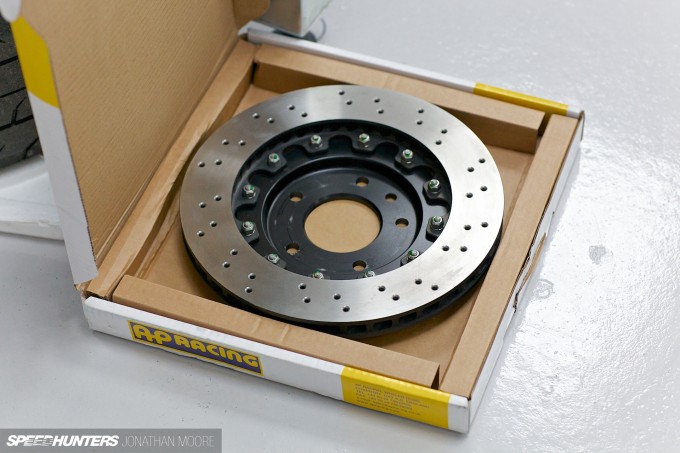 The standard braking package is from AP Racing, though the word 'standard' hardly adequately sums up a car that many race drivers have rated as the best they've ever experienced in a road car. A new introduction has been the development of a carbon-ceramic brake package by Surface Transforms – not through any issue with the APs, but just to offer drivers the opportunity to shave off more all-important unsprung weight. Which is like saying Kate Moss needs to lose weight. The company are located just across the river Mersey as well, ticking that local supplier box.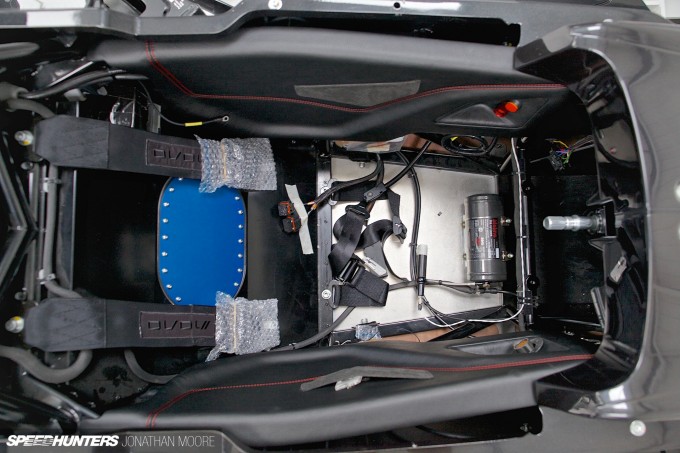 The last stage is for final assembly. The options for your Mono go far beyond the online configurator – customers are given direct lines to the BAC team, and their feedback is used to add in new development strands.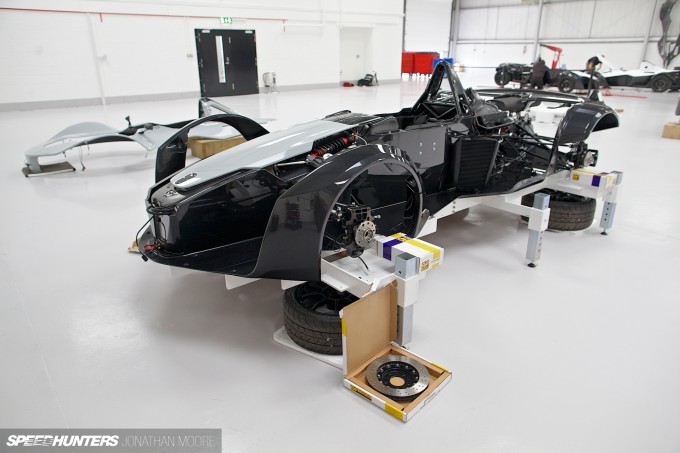 It can be about performance, but it's just as likely to be something practical: like a nose-lift system so the car can make it across gutters or into garages without ripping the nose off.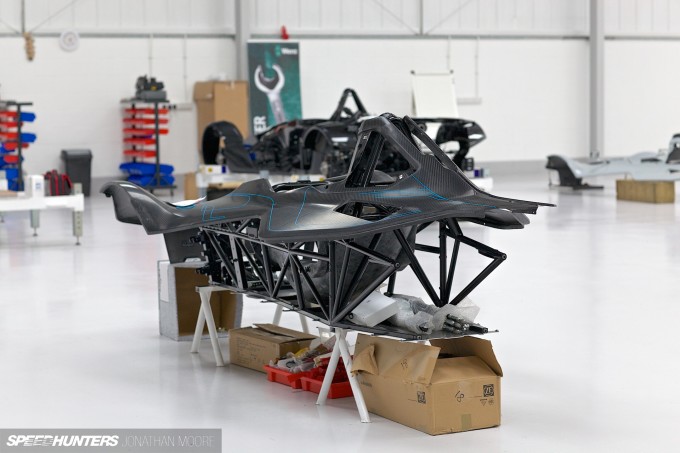 It's basically open season for the upper surfaces. Customers can spec whatever design they want, with colours or vinyls on demand.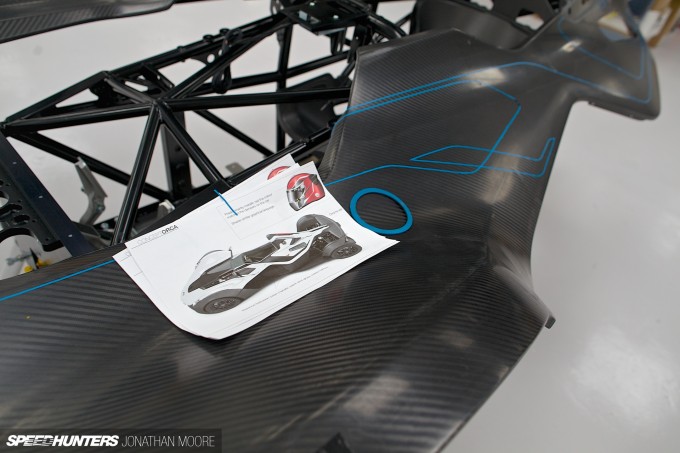 The BAC team will then meticulously recreate the design on the panel itself before drawing and creating the required vinyls.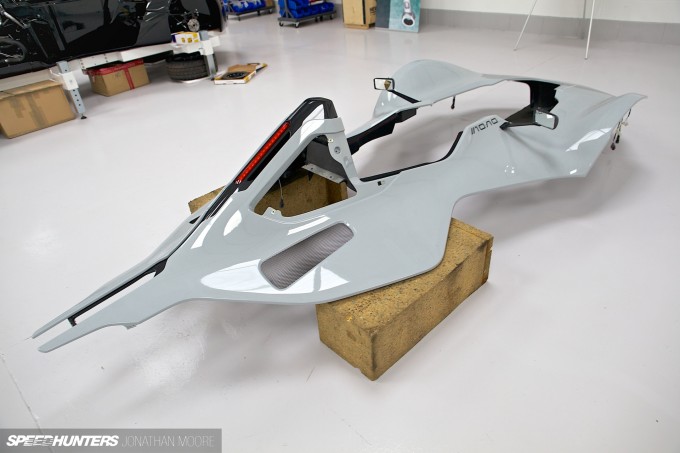 But it always comes back to that gloriously organic sting-ray shape, which looks particularly great in this Audi-inspired grey. Although to me the shape seems pretty complex, I got a quick carbon styling 101, pointing out the single main surface with chamfers linking it to the outer elements. There were plenty of designs they went through to iterate to this final design – options for the future maybe?!
It turns out that one of the few things that had to be off the shelf was the lighting pack, which is a typical story of low-volume cars throughout the years.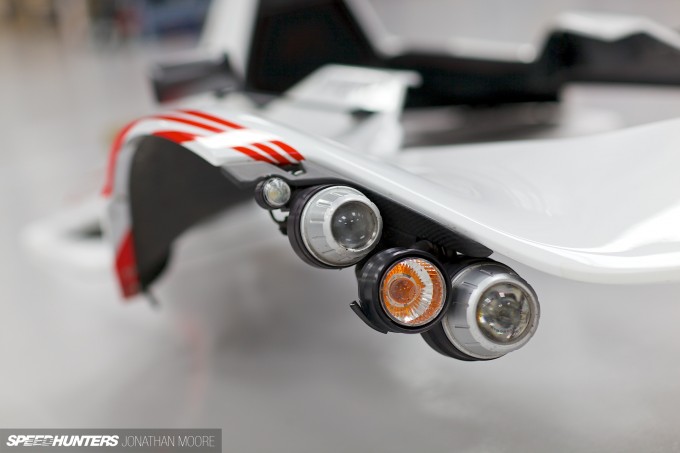 Regulations regarding lights are incredibly tight, so BAC chose the best OEM options. The indicators are actually from a Ferrari 430, which are also used on Fiat Barchettas and Puntos! The front and rear lights are essentially the same – it's just a sensible approach.
Next, the world!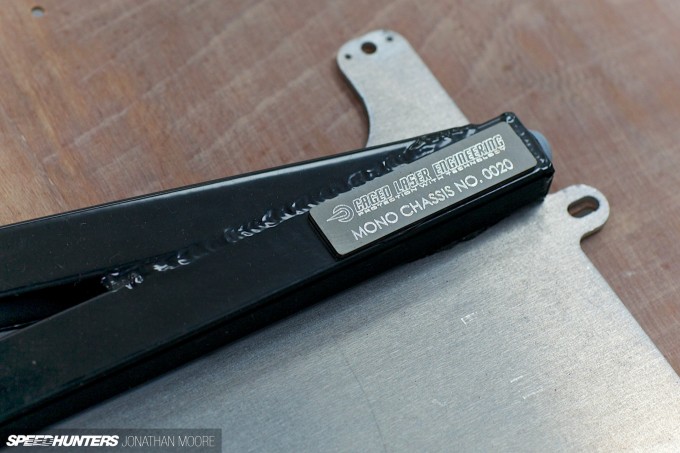 There's more to come: a clean room will be added this year, giving them better control over finishing. Car number 20 is now in build, and in the next six months production is expected to increase rapidly. Seriously rapidly. Having talked to BAC's Director of Manufacturing, Rainer Kühlwein, it came as a bit of a shock to hear the numbers they're aiming for.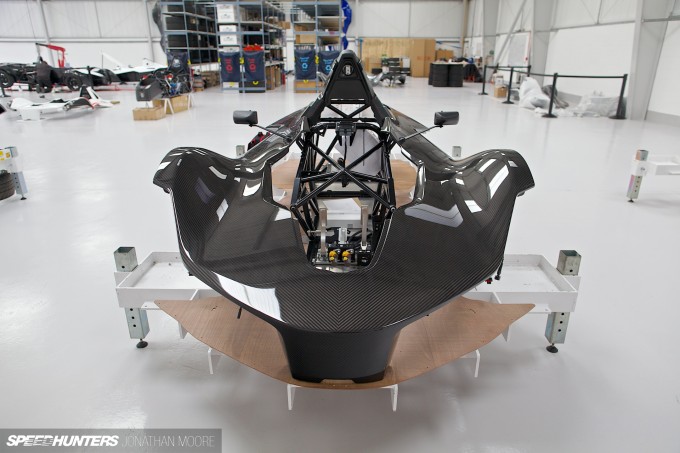 Having only just broken double figures over the first couple of years of production, by the end of this year the target is to have another 15 to 20 Monos cruising the world's roads, startling the traffic and causing chaos on the pavements. Neill told me a story about test driving a Mono on the local streets, only for a kid to drop his phone in his rush to get a picture… Neill threw his hands up in sympathy, only for the boy to give him a big thumbs up anyway. The Mono does that to people.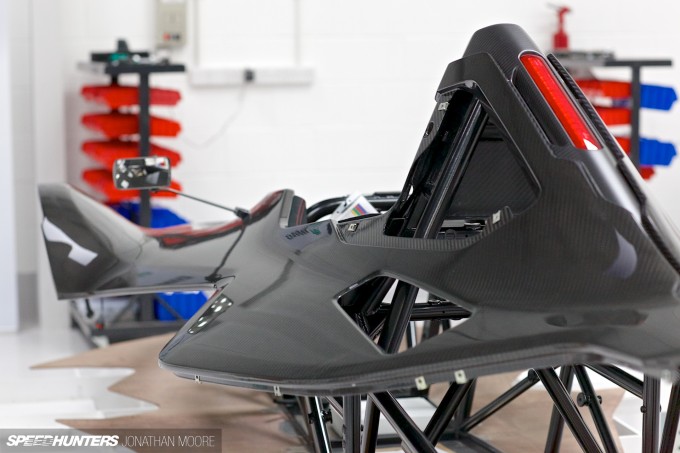 Oh, then they're aiming to build another 30 to 40 in 2015. It's a glorious thought – just like when Pagani announced they were planing to build triple-digit numbers of Huayras, after the super limited Zonda specials they'd started with.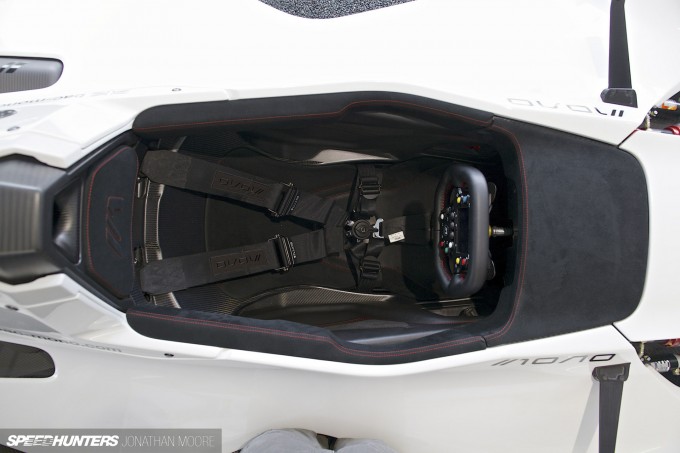 You're never going to see lines of Monos stuck in regular traffic, sure, but it's nice to think of the increasing number of lucky drivers out there who can decide to pull on a helmet to travel to work, rather than squeezing onto a bus. What a way to arrive. You'd need a round briefcase for the nose storage I suppose.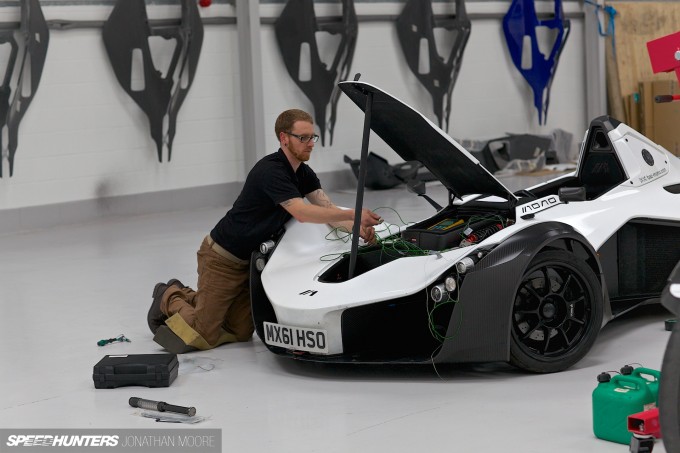 How to support all these planned new cars? People. Every month BAC are putting new job adverts out; from the original team of five, there are now 14 staff, and that number is due to double. BAC also have close links with the local universities, working on research projects. The opening of the new factory was helped out by children from the local school getting involved.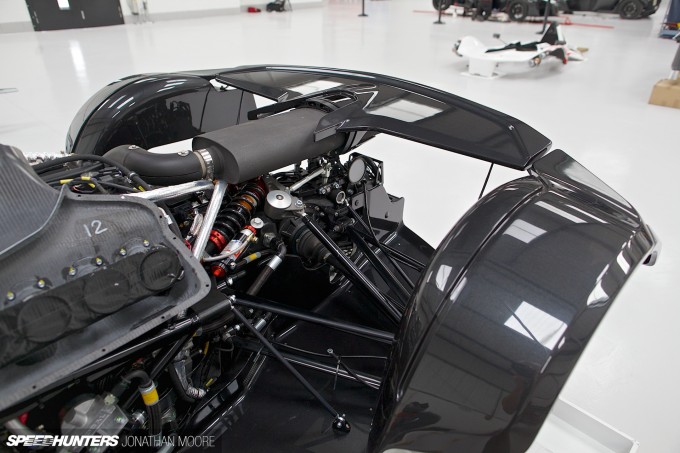 Aside from the ramping up of production, the main focus for the Mono is on gaining Euro 5/6 emissions standards, which will open up more opportunities around the world. Their partner in the US, Sector 111, have been helping get the car into the hands of eager drivers over there, working with semi- and complete knockdown kits to get round the homologation requirements that would require manufacture levels of budget to pass. But long term the car would ideally be saleable directly.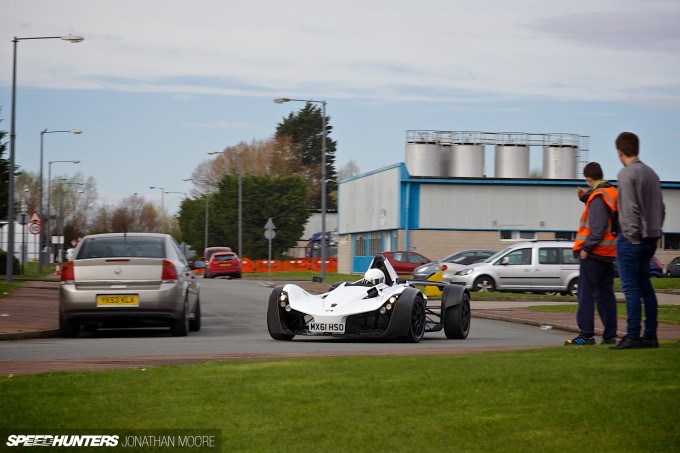 What brought it all home was seeing a Mono cruising the roads of the local industrial estate. A car was out out for a shakedown in the hands of one of their squad of tame racing drivers, and the Mono looked fabulously incongruous next to the regular industrial estate saloons. It completely transfixed a group of guys walking past – phones came out and they rushed up to talk to the BAC team. Again, it's just that kind of car.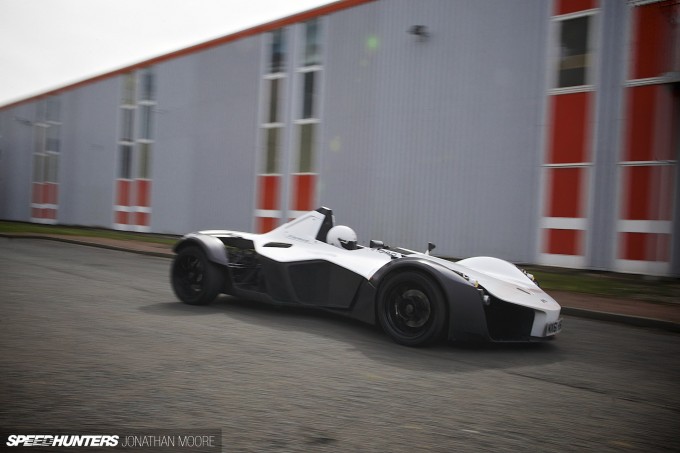 Incongruous? Maybe. Special? Definitely. There's still a magic about a Mono.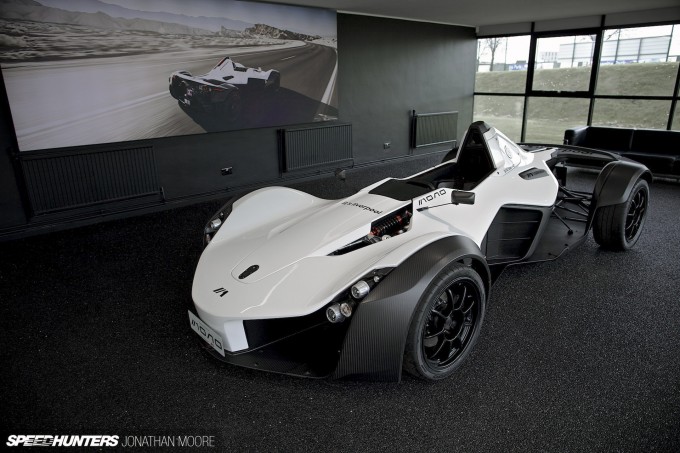 Here we have a car which has been hatched from a passion for driving, aimed at creating the ultimate experience behind the wheel – and that's rightly what BAC are mostly known for. But the Mono is a story as much about people and sense of place as it is a collection of metal and carbon. Ian and Neill want their success to be the inspiration for others to do the same. Now BAC are exporting to 10 countries across four continents, and want to double production every 12 months over the next five years. As they say, it's not bad for two lads from Widnes.