Welcome to Elmia
As I sit here in my hotel room eating a strange yet delicious chocolate bar that I can't quite pronounce the name of, I'll admit that I'm struggling to decide on a starting point for this story. My confusion is probably due to the fact that I left my brain on the floor after it melted into a puddle at the Bilsport Performance & Custom Motor Show in Jönköping, Sweden, this past weekend.
During three days at the Elmia Exhibition and Convention Centre I saw a Volvo perform a fantastic burnout outside a giant IKEA store, a military tank drifting (successfully, I might add too), a dozen or so people crammed into a dirty matte black panel van with hay bales tied to the roof singing Swedish folk music at top of their lungs, and not to mention some of the wildest engine conversions I've ever seen in my life.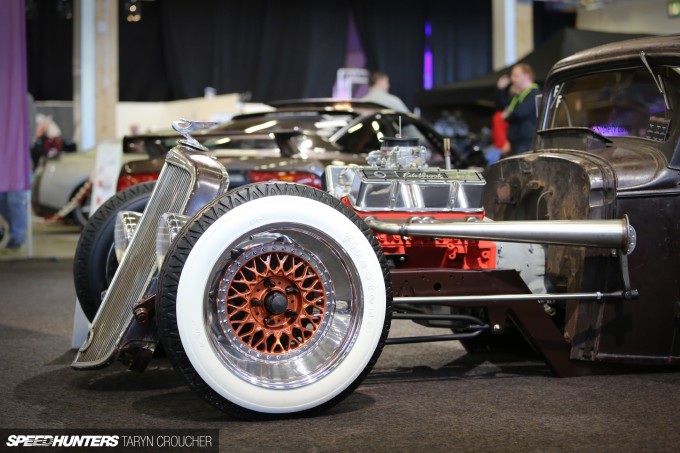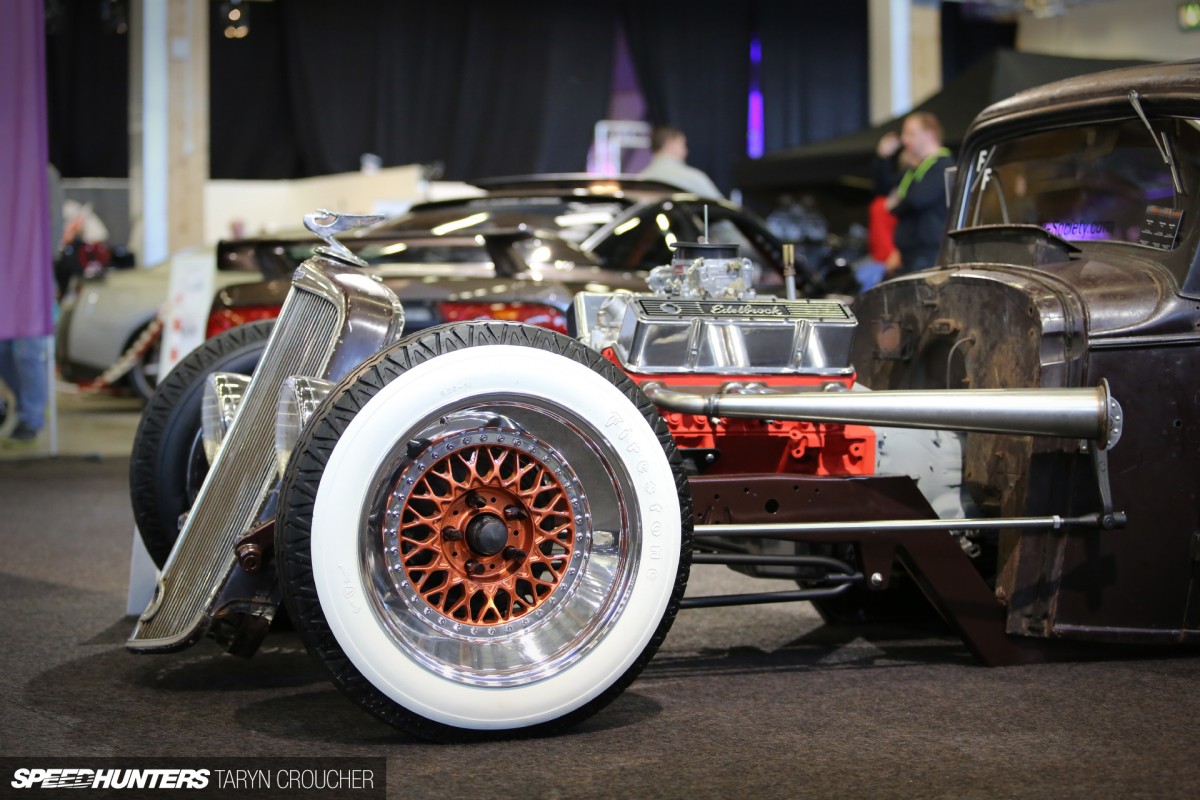 If these happenings are all accurate representations of Swedish car culture, I'm 100% addicted and I'm positive you will be too if you've been following our coverage of this year's show. One big observation I quickly made is that Swedes don't tend to do things by halves. Every single car on show had a ridiculous level of detail paid throughout, along with an engine that's either visually mind-blowing or making insane power – or often both.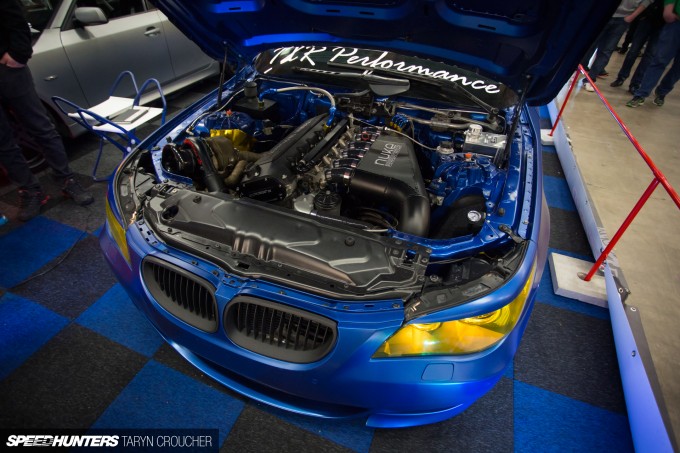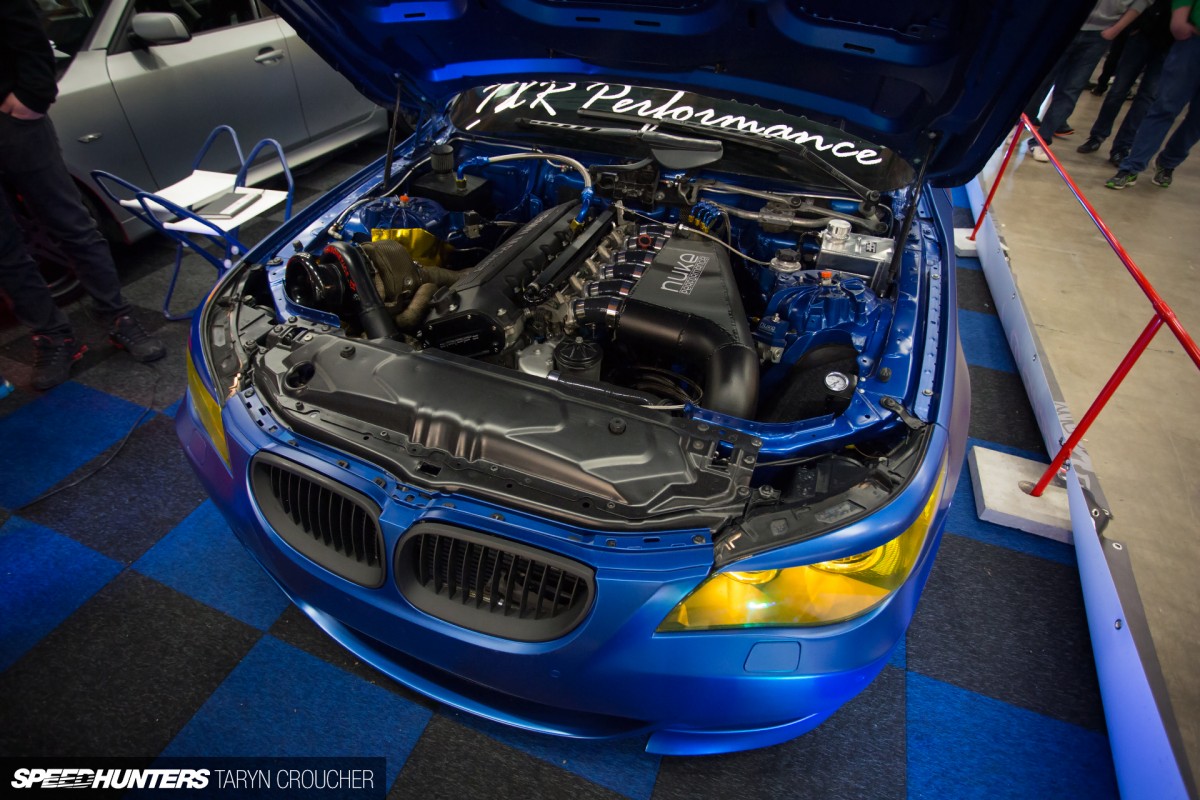 Looking back on Rod's Elmia coverage from 2013, I perhaps saw only one or two of the cars he featured at the show again this year. That's because the scene here seems to be in a constant state of evolution, with most of the cars on display having just been completed, or having recently undergone a serious transformation of some kind.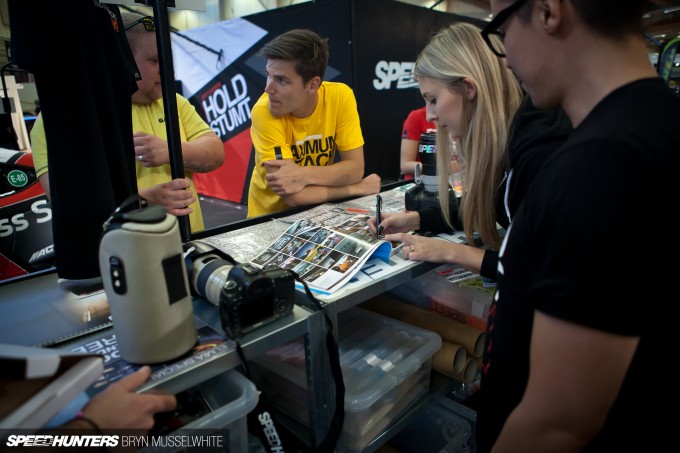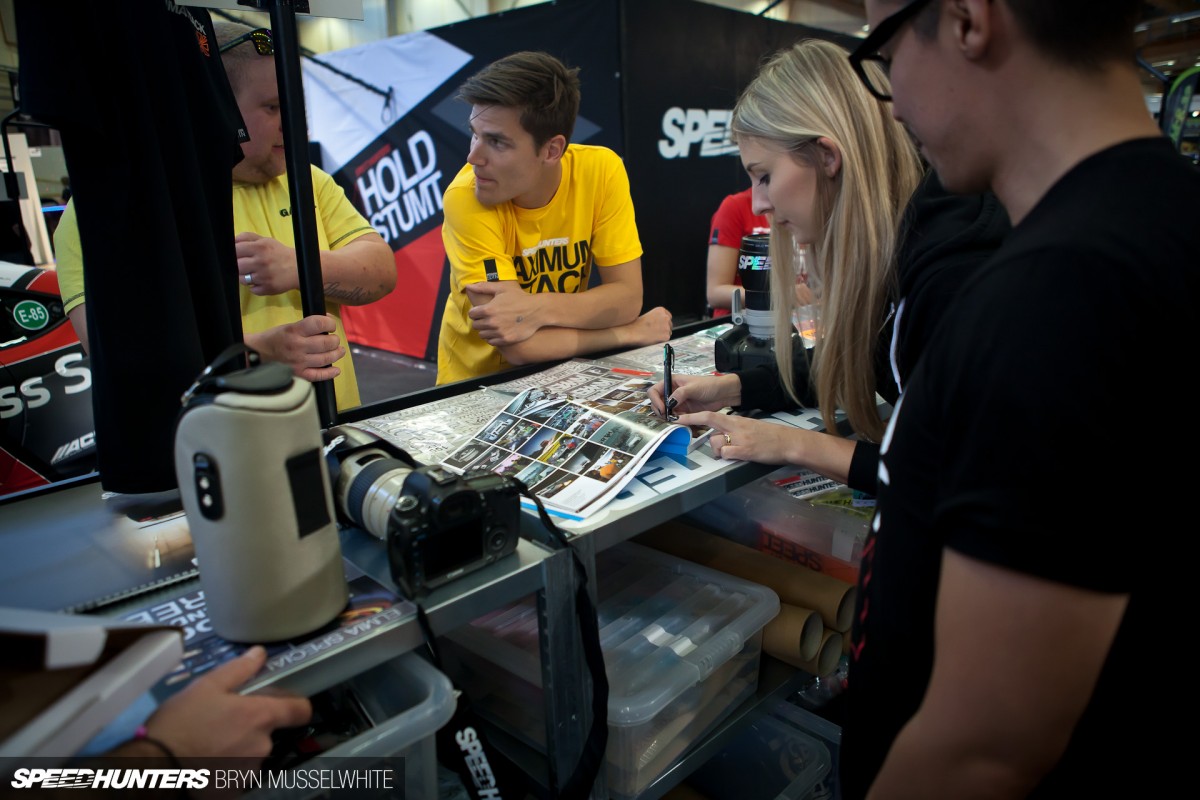 Last week I made the 24-hour-long pilgrimage to Stockholm, flying halfway across the world from New Zealand to help my Speedhunting team cover the madness at Elmia – a three-hour journey south of the Swedish capital in itself. My jet lag is only just starting to wear off, and it feels like I've been stuck in some kind of glorious Speedhunting dream. It's only just starting to settle in that it was actually real.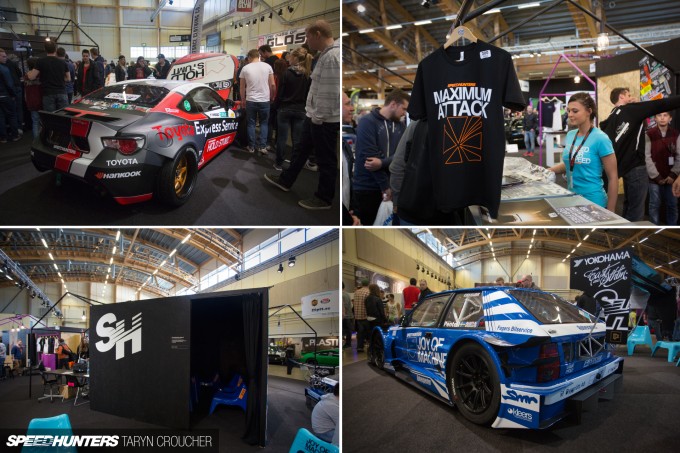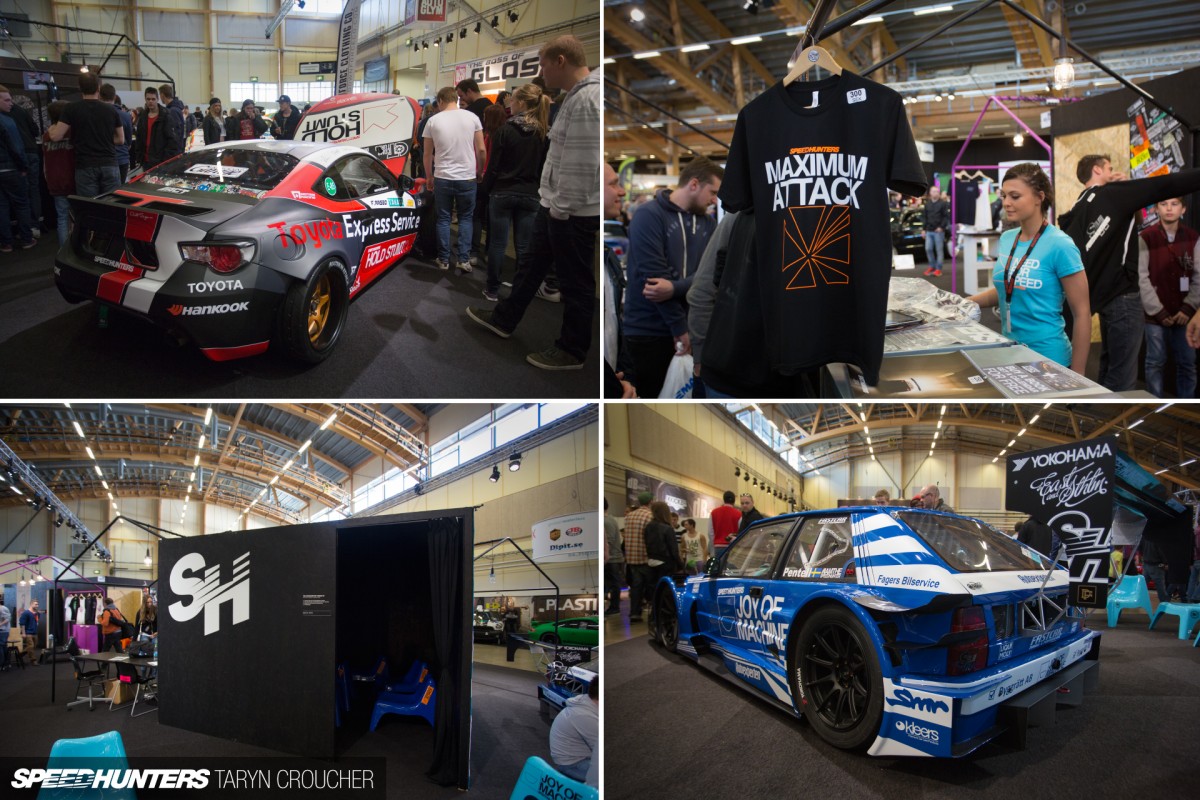 This year we knew that we didn't just want to provide coverage from Elmia – we wanted to be involved in the show as much as we possibly could. So with our fearless leader Rod leading the way, we rallied our troops together and went full #MaximumAttack with a wicked Speedhunters booth set-up, complete with our Norwegian superstar driver Fredric Aasbø's new-look Toyota 86-X and Peter Pentell's mind-melting Lancia Delta Evo build. Also at hand was a special new line of Speedhunters EDTN clothing and accessories for exclusive sale at the show.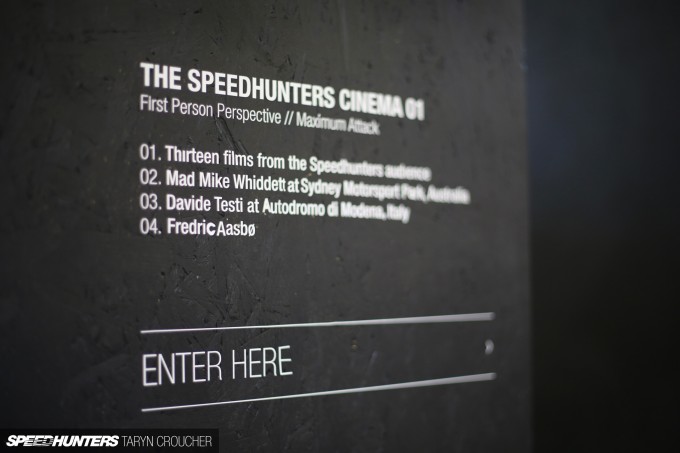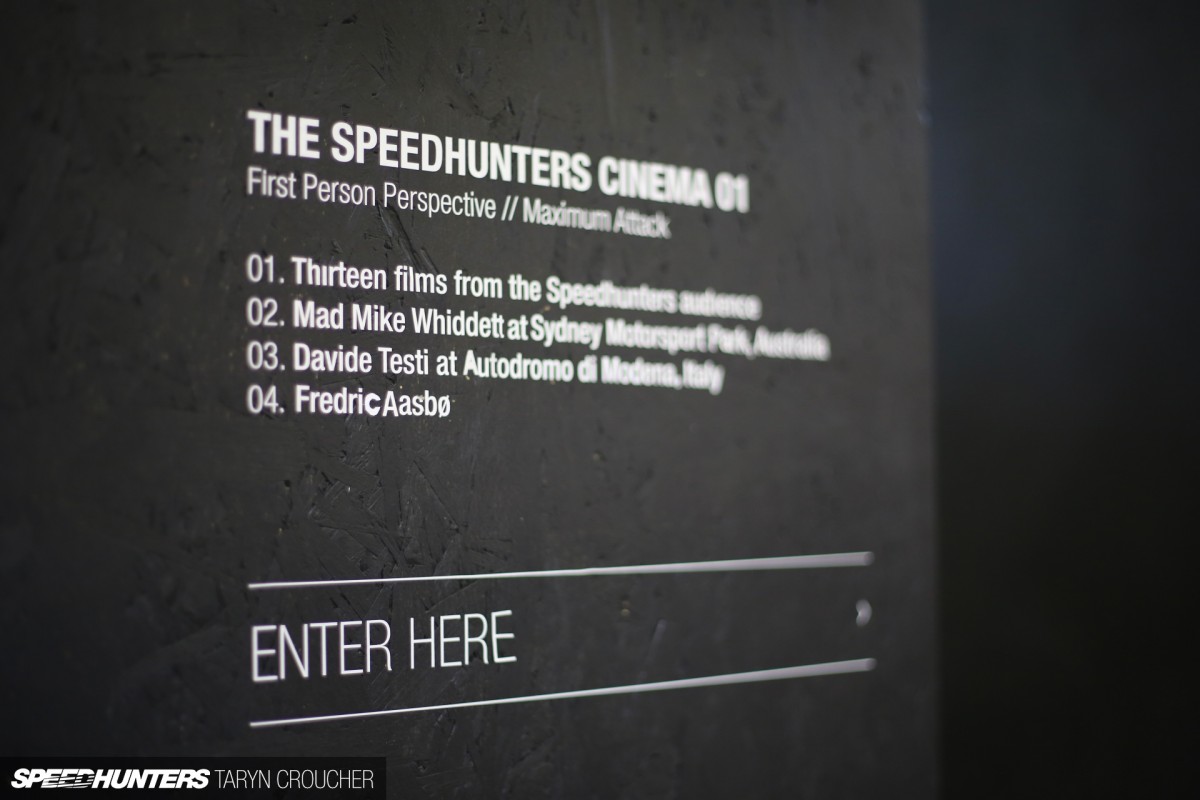 This was also the big debut of our first person perspective #IAmTheSpeedhunter film project, which we'll be releasing online very soon. Thanks to everyone who stopped by and checked it out!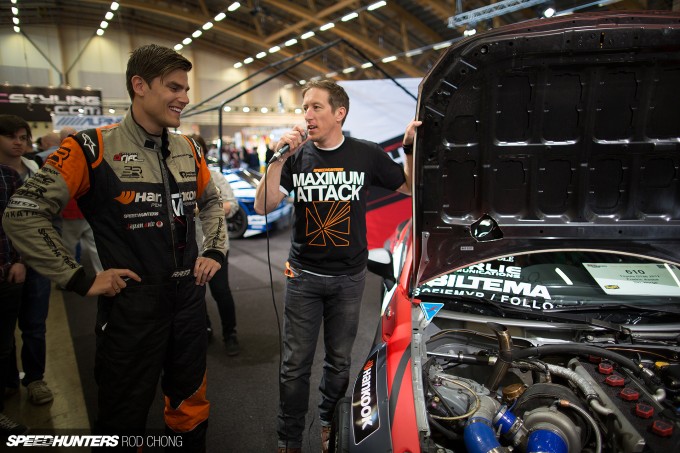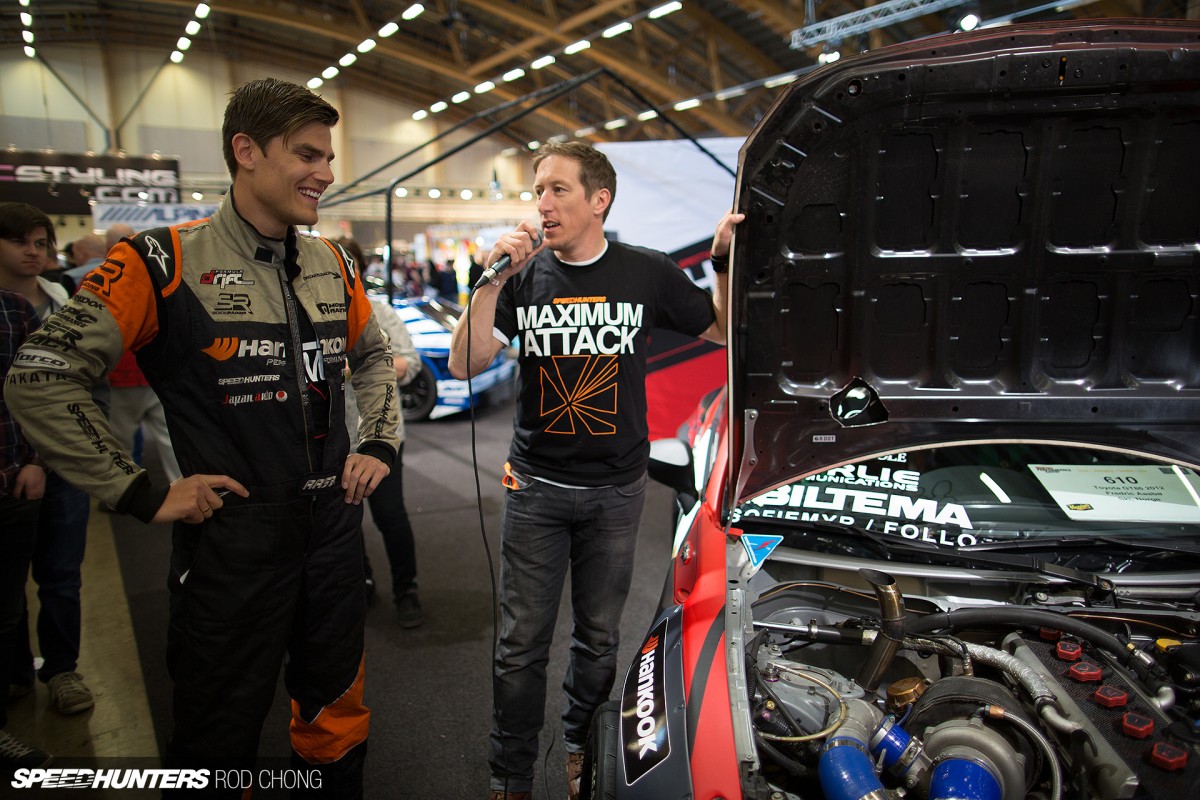 Here our Editor in Chief Bryn is having a chat to Fredric, who was kept busy throughout the long weekend chatting to the public and having photos with his fans. I'm really looking forward to seeing the Toyota 86-X sideways again at the Gatebil Norway event in a few months' time.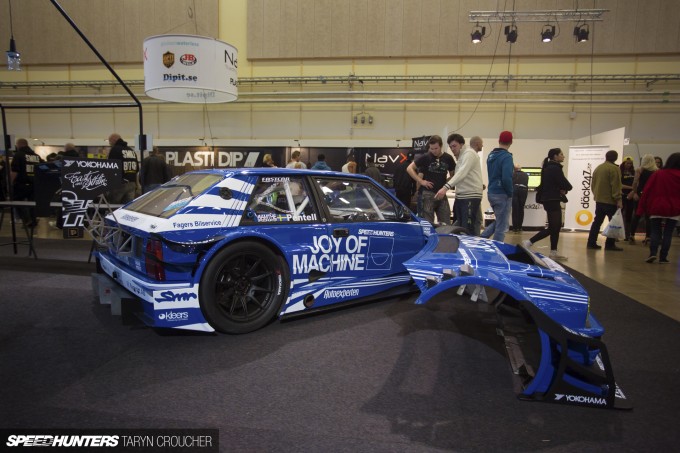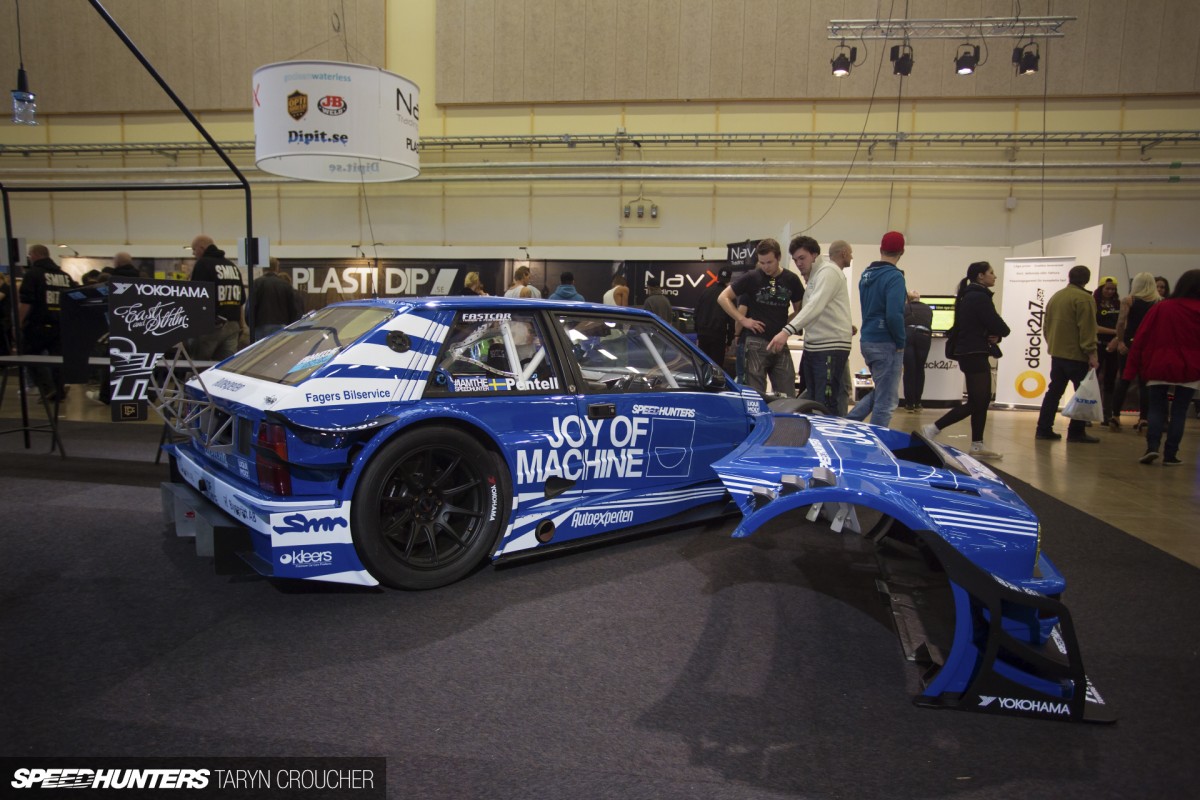 As you'll probably already know, LaSupra is now sporting a fresh new look along with numerous changes inside and out, including a new rear wing, removable front end and a new single turbo setup that's capable of extracting an extra 200hp out of the angry 2JZ. Last year I was lucky enough to ride shotgun with Peter around the Rudskogen track in Norway, and it was surely one of the craziest experiences I've ever had. The bottom of my shoes actually melted to the floor!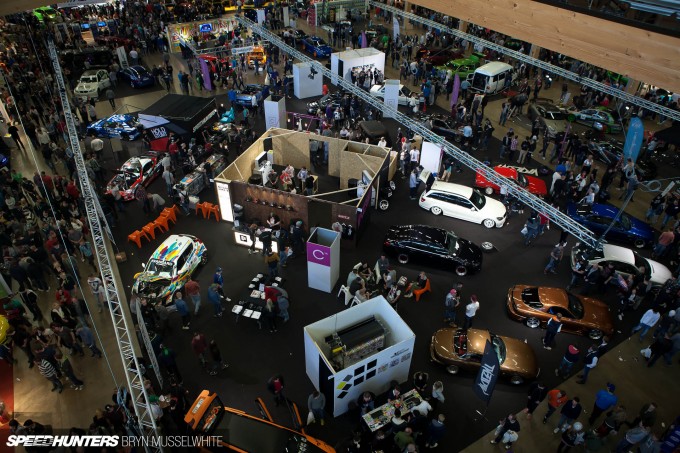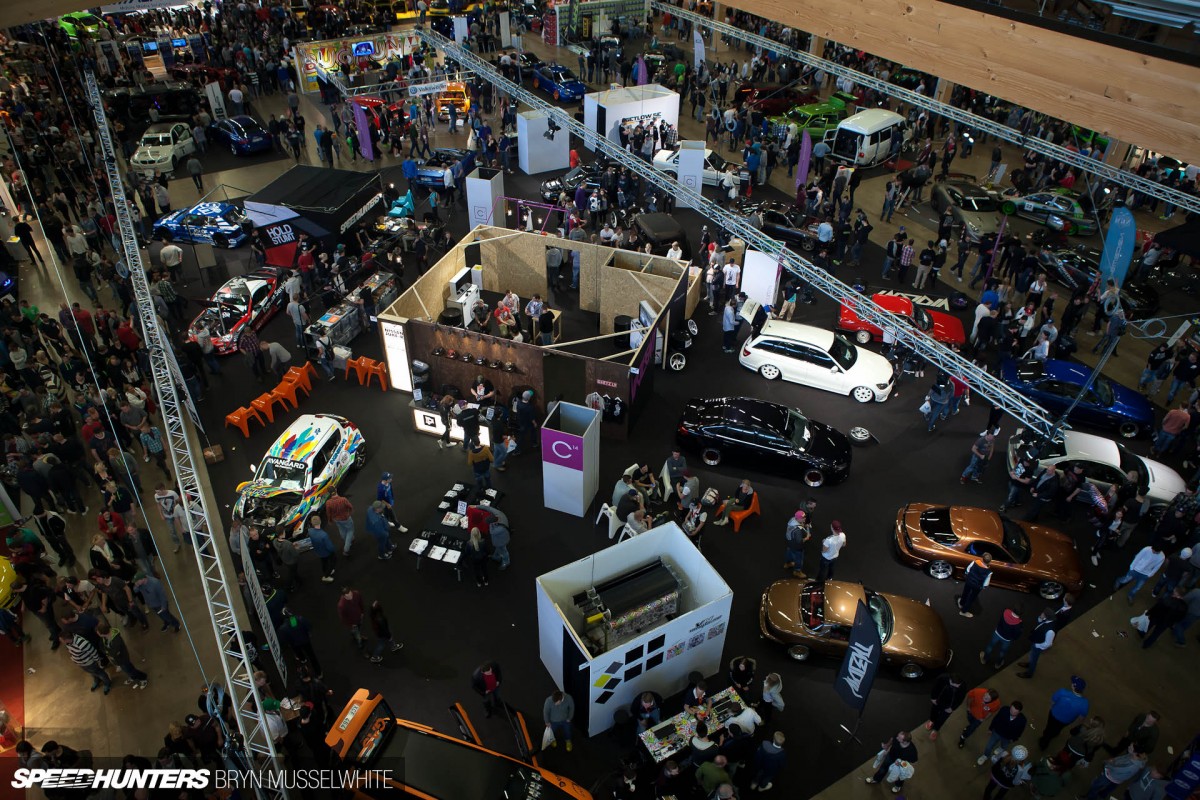 The Speedhunters stand was part of an impressive exhibition area put together by Swedish car club OijOij Society; combining several automotive lifestyle and culture brands into one mouthwatering display of automotive offerings. My mind was buzzing with excitement.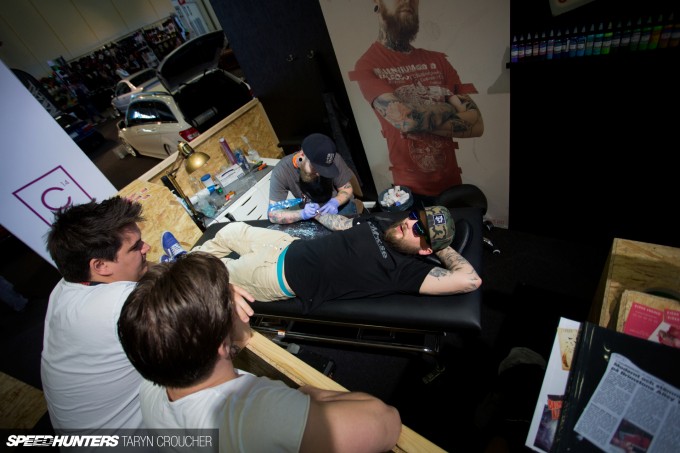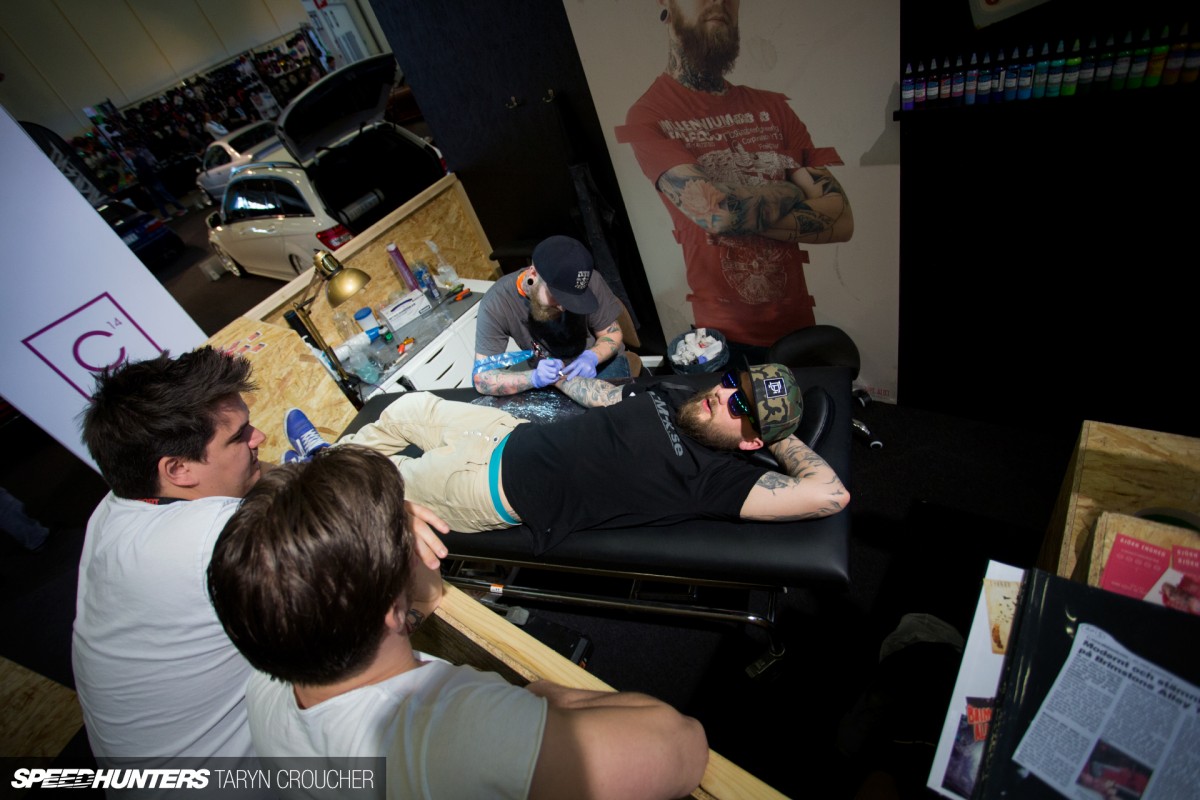 Actually, that was just the sound of someone getting tattooed on the OijOij stand! Speaking of artwork, let's take a look around at some of the cars now…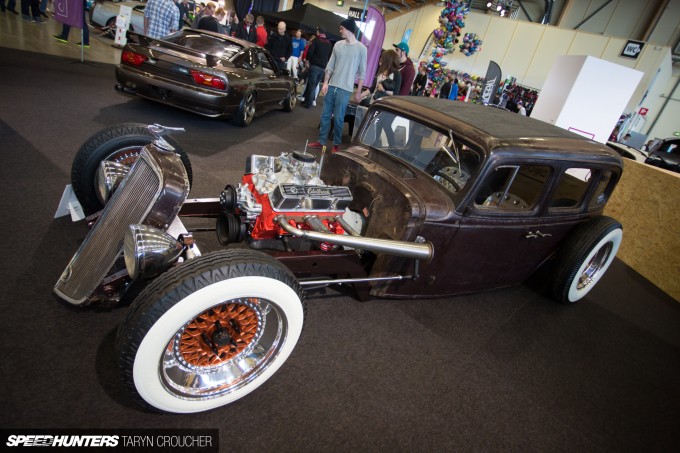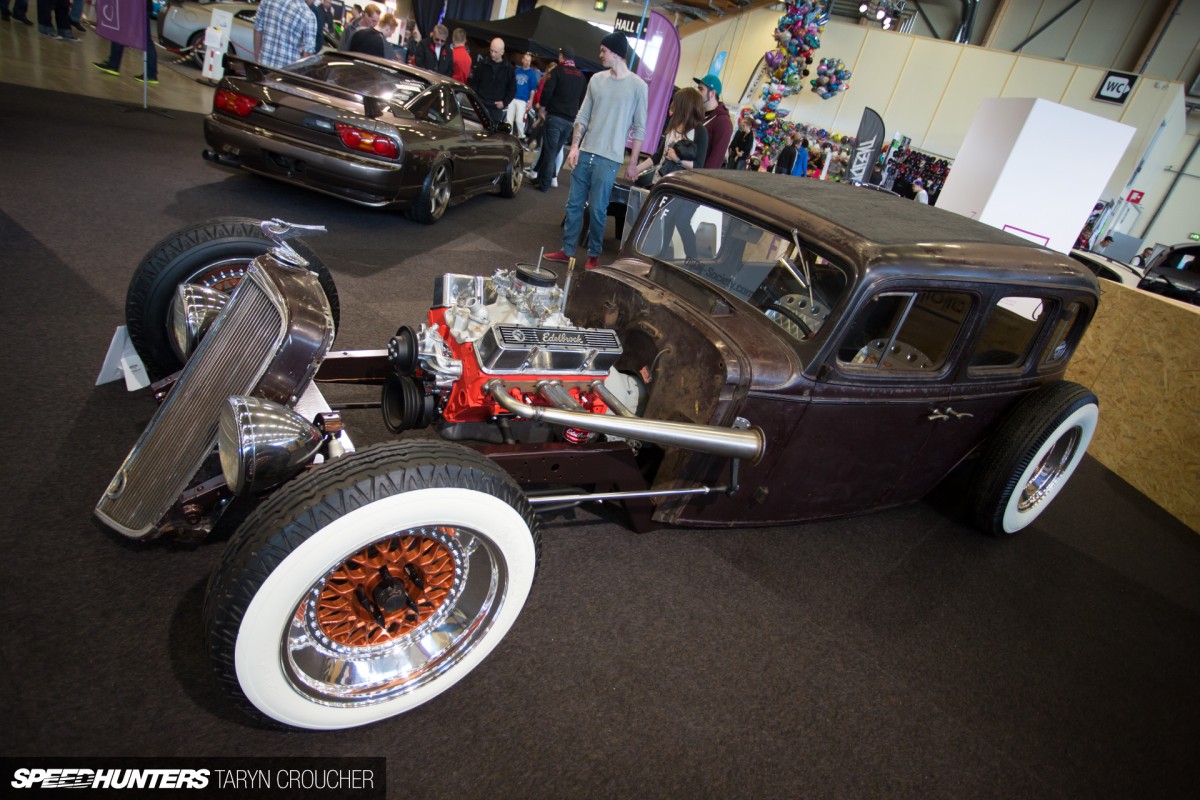 This '33 Chevy was recently pulled out of an old barn and has since been given a new lease on life – if you can call it that. The work-in-progress rat rod is owned by Mattias Saikkonen, one of the OijOij crew members, and although it was sporting a more traditional small block Chevy V8 motor, the classic BBS RS wheel centres were what really made it stand out. I think Bryn might have convinced him to upgrade to a bigger V12 to better fill the engine space, but we'll have to wait and see…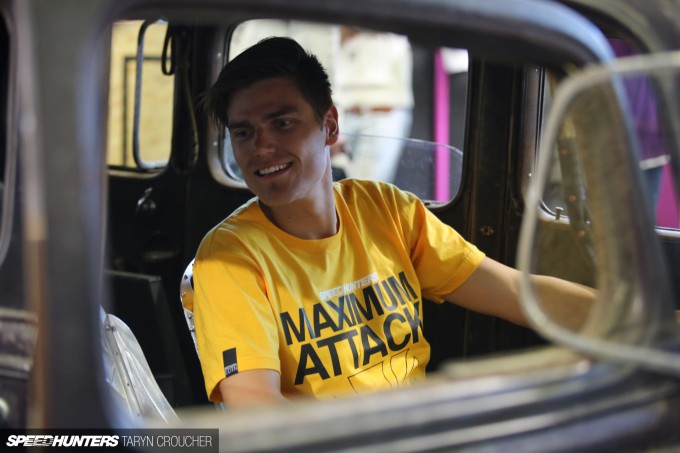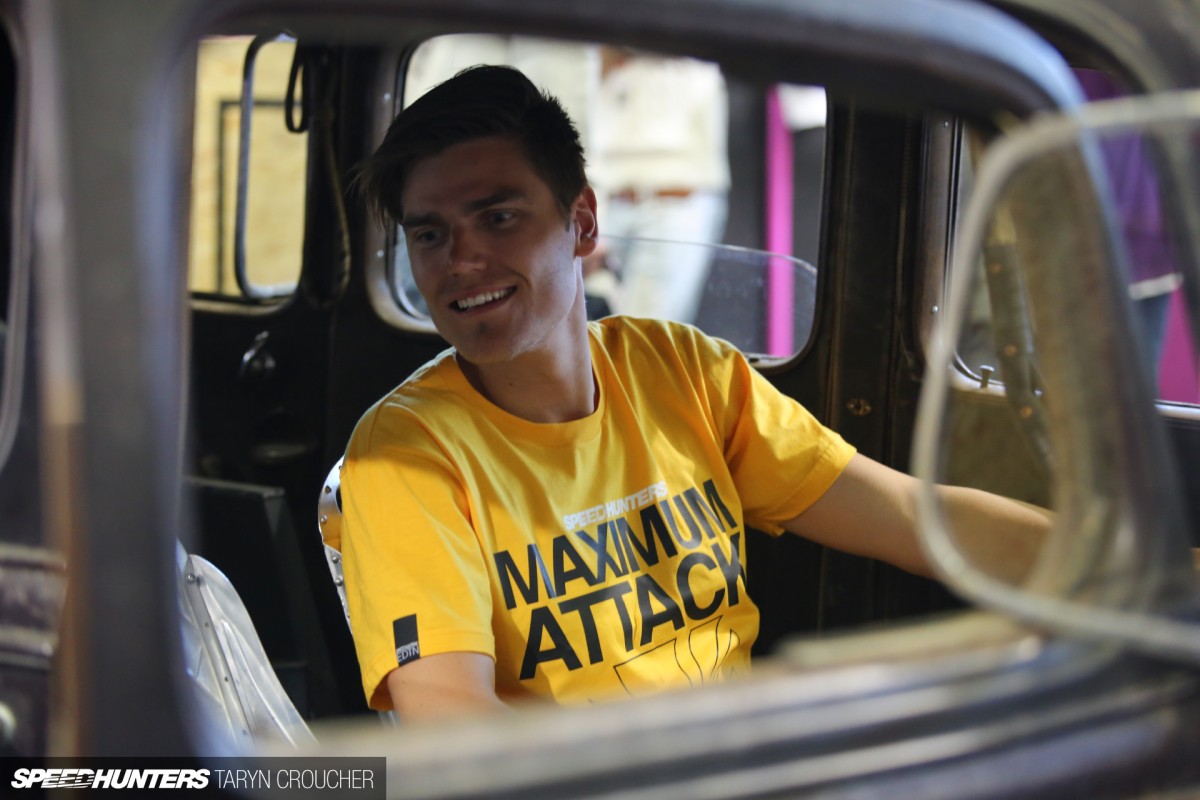 It looked like Fredric had taken a shining to the bare metal creation too. Could we perhaps be seeing a 2JZ-powered drift rat rod joining Fredric's ever-growing car collection in the near future? I hope so!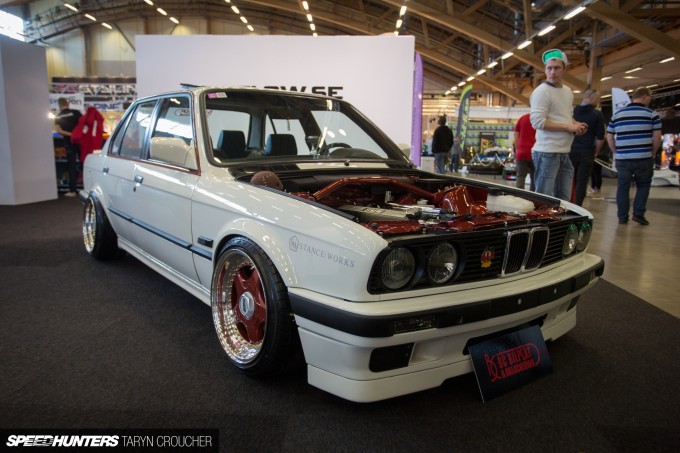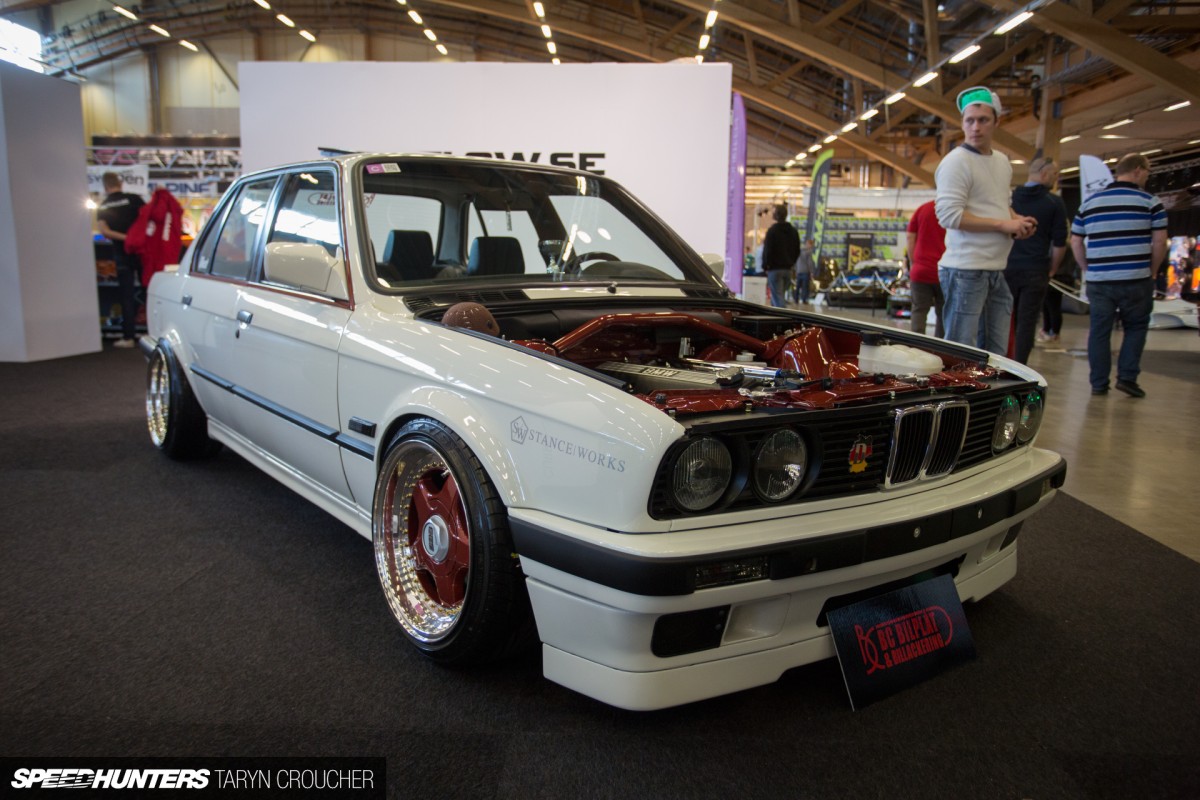 This tastefully modified BMW E30 is a perfect example of Swedish car enthusiasts' meticulous attention to detail. Remember what I was saying about the Swedes not doing thing by halves?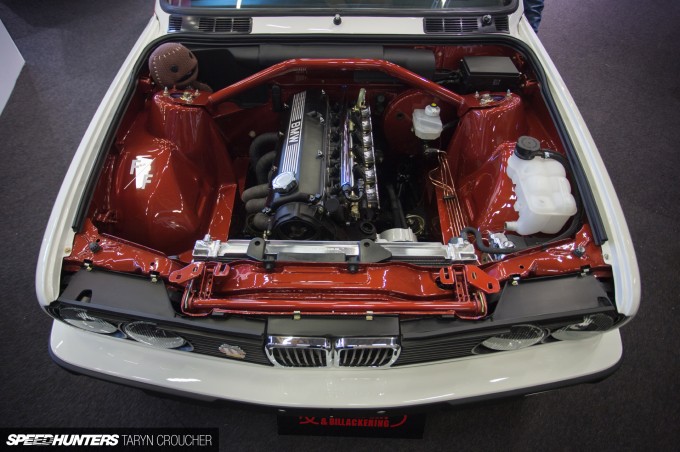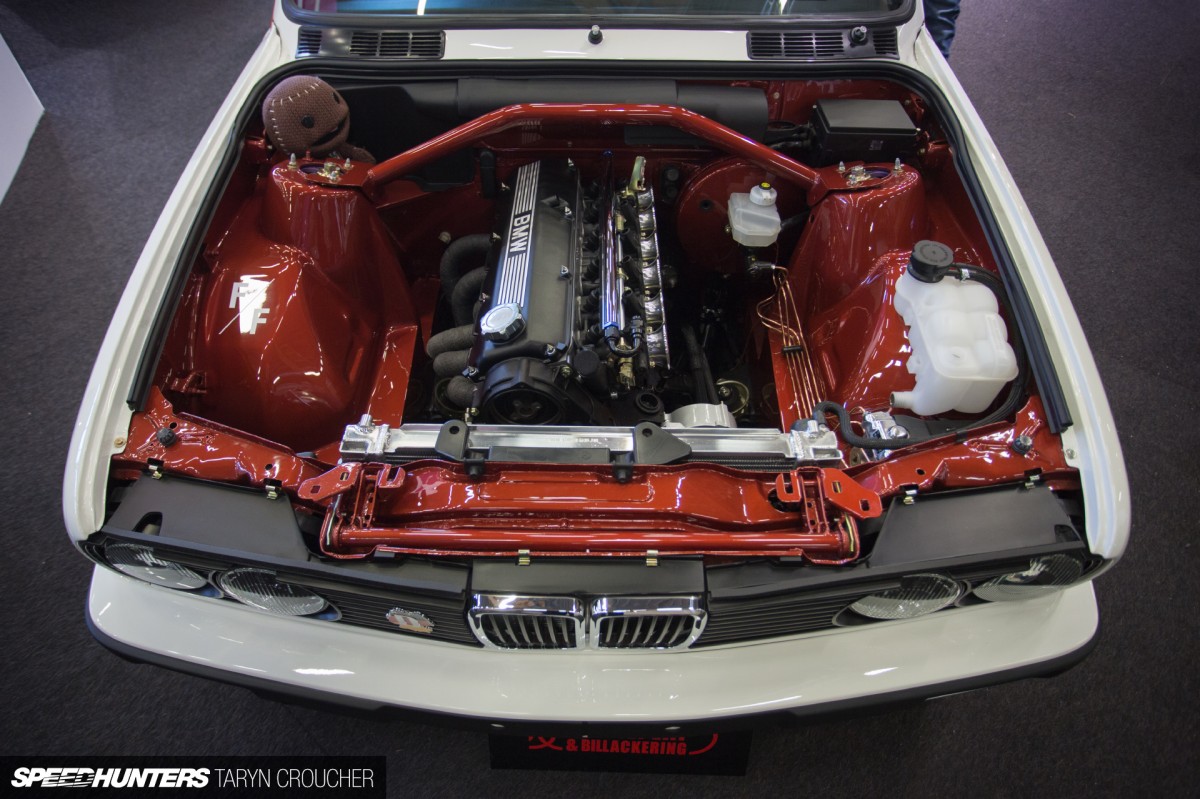 After spending many cold nights in my garage sanding and prepping my Datsun's engine bay last winter, I have a such a huge level of appreciation for immaculate paintwork and detailing like this. The copper-plated brake lines are a nice subtle touch too. If you're a sworn Japanese car fan, be warned – one visit to Scandinavia and that might change overnight.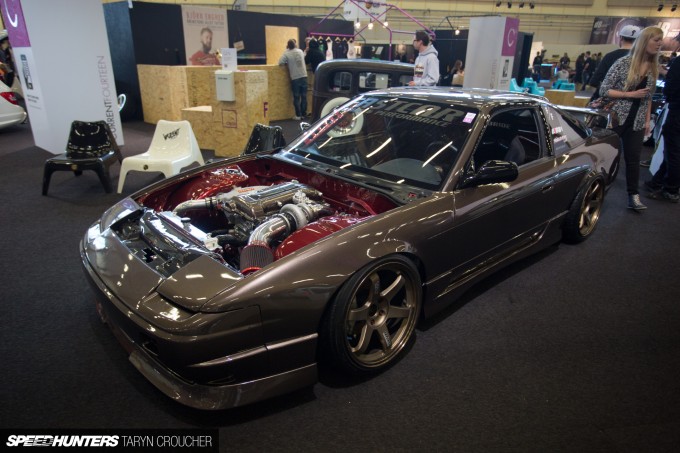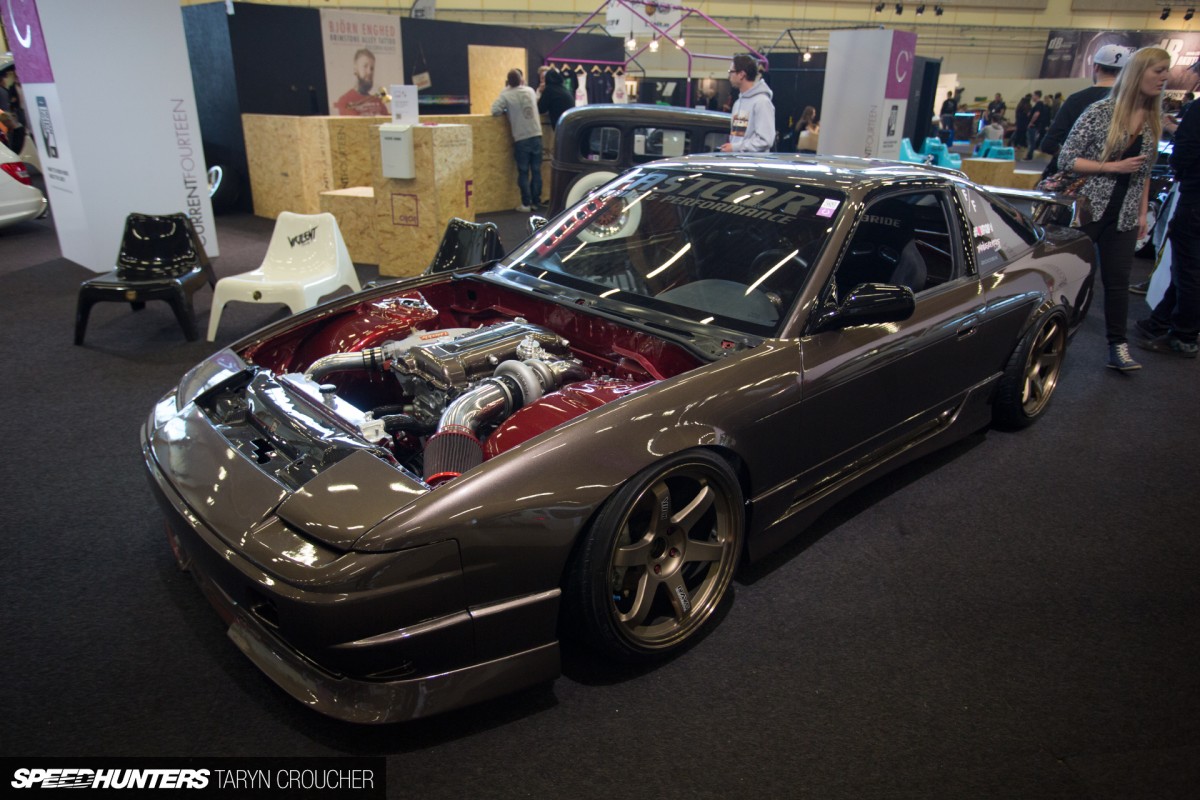 If Japanese machines are more your thing though, then don't worry – there are plenty of drool-worthy builds to be found around the halls at Elmia. Like like this Nissan 200SX on RAYS Volk Racing TE37s. It may look too pretty to be driven hard, but I'm sure this S-chassis will be out scraping the walls of the local circuits in the very near future.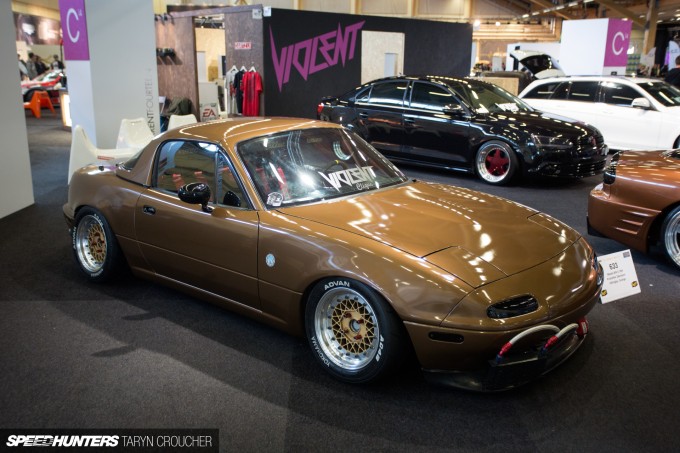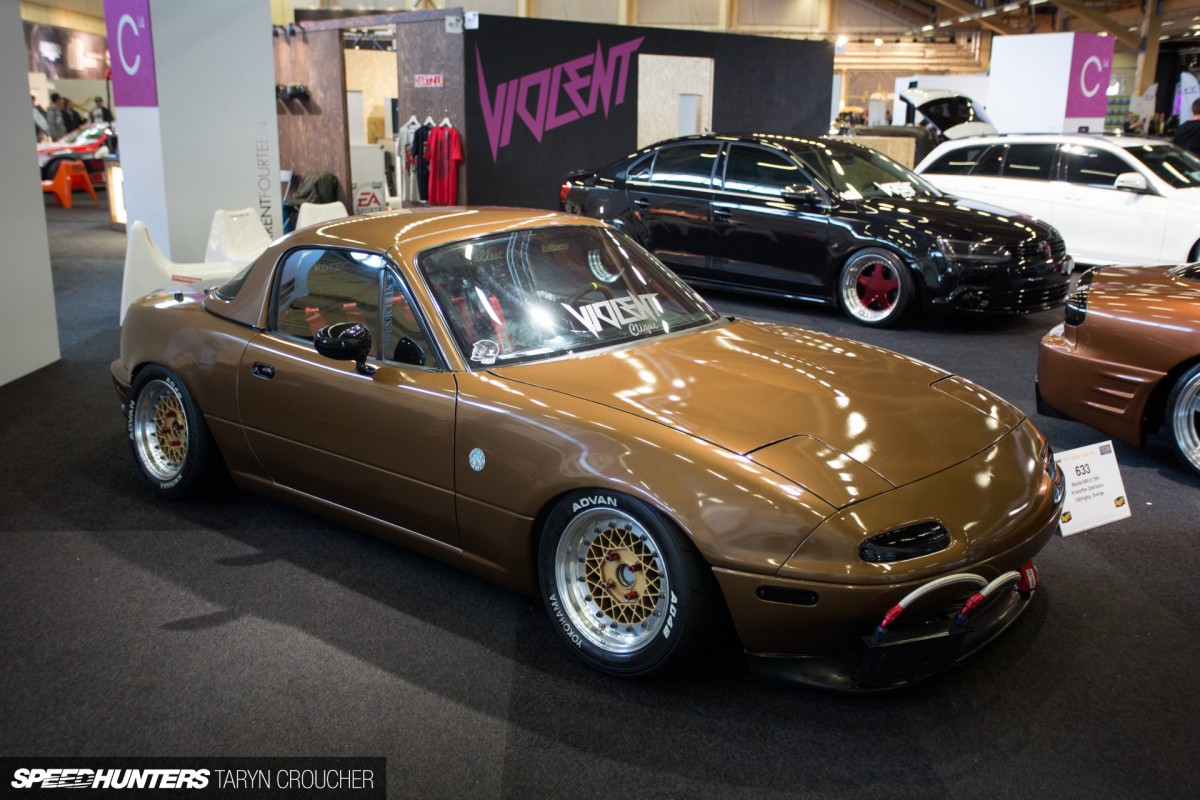 Being the Miata fanatic that I am, I was naturally drawn to this tough little NA8 MX-5 with early edition Volk Racing mesh wheels on the Violent Clique stand. I had a long chat to the owner who explained to me that it used to be so low that it was almost undriveable, but he soon realised that he could have much more fun driving it with purpose on a set of chunky semi-slicks. This is an epiphany that I can most definitely relate to.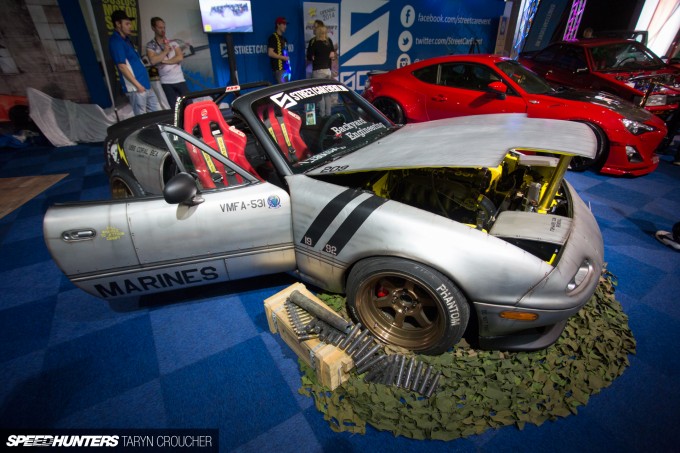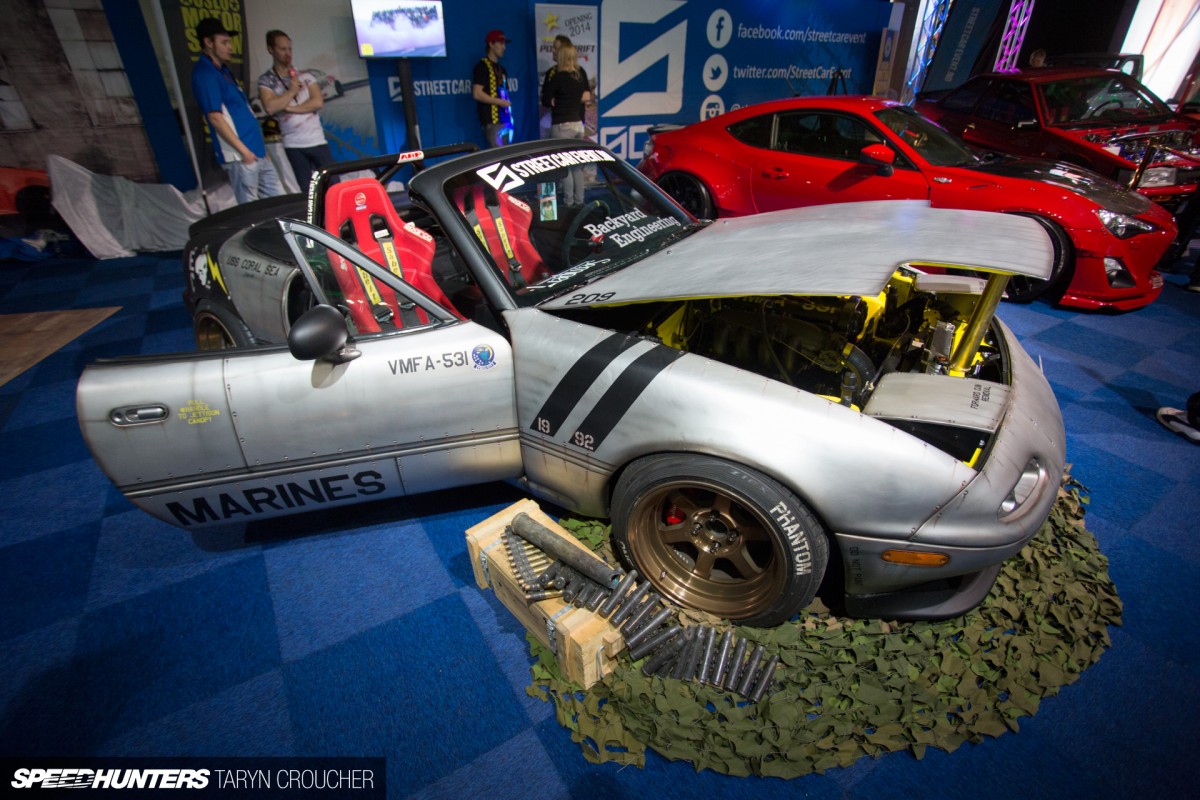 It's amazing the effect that one Silvia can have on the world. In this case, let's call it the Volklinger effect. The owner of this NA8 Mazda MX-5 has drawn inspiration from the famous military-themed S14 from Japan, of which I've enjoyed seeing different interpretations of over the last year or so. They say that imitation is the highest form of flattery, and I think it's cool to see things like this trending all over the world. It's pretty special, this international car community we're a part of, don't you think?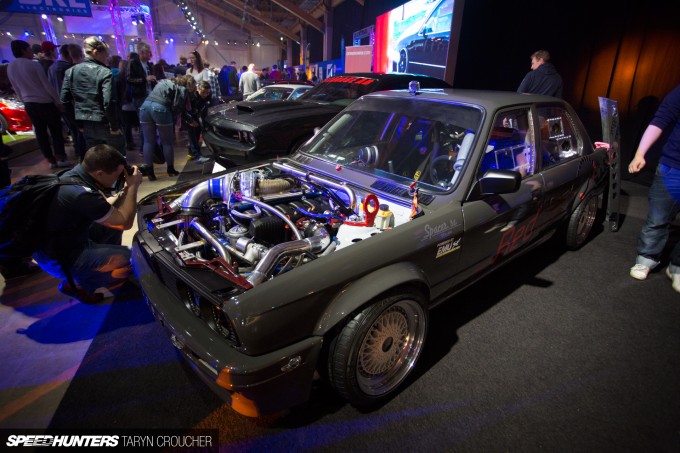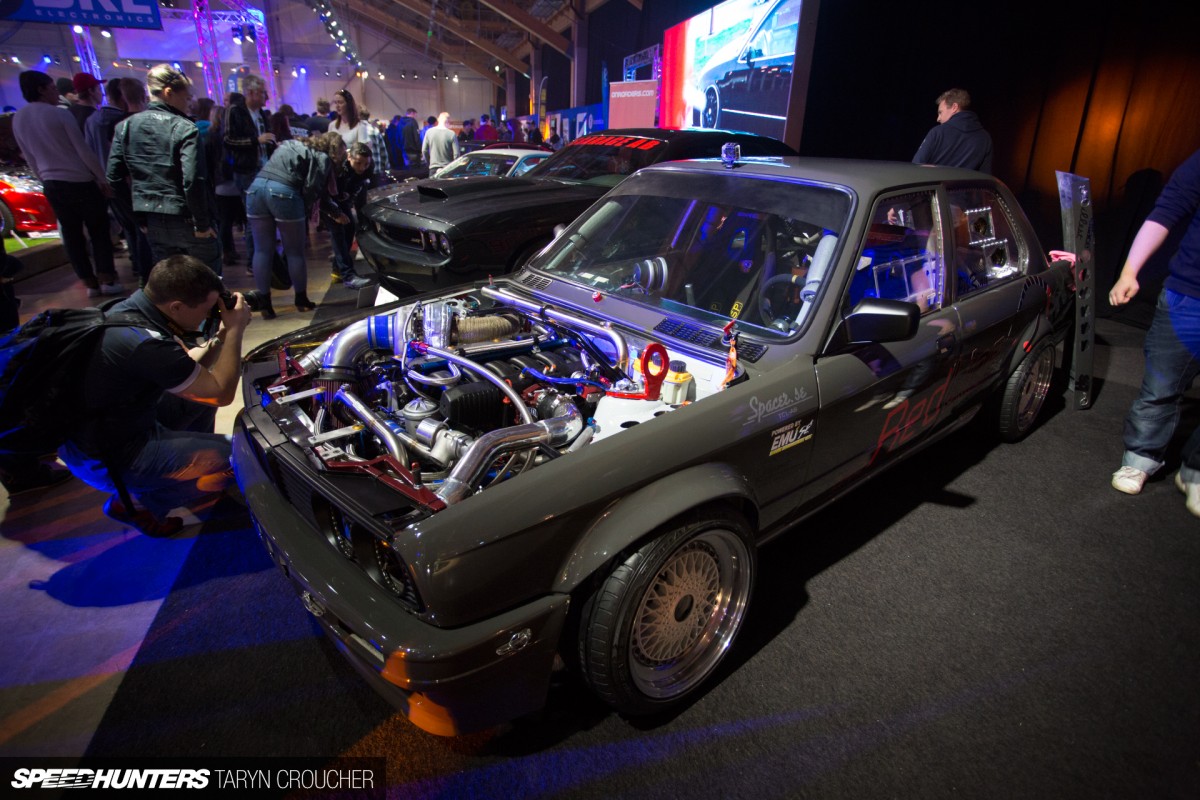 Looking extremely intimidating lurking in a dark corner, I spotted this fully race-prepped E30 and struck up a conversation with the guy that built it. That's another cool thing about Elmia – the owners tend to stick around by their cars to chat to people and talk them through the details of their projects. Daniel has spent the last two years turning the 3 Series into a purpose-built, sideways assault weapon, and the M50 B25 lump along with its giant turbo should see the car making figures around the 500hp mark.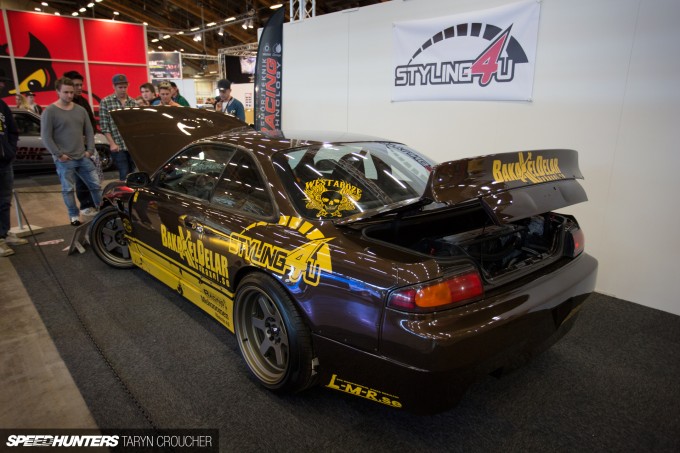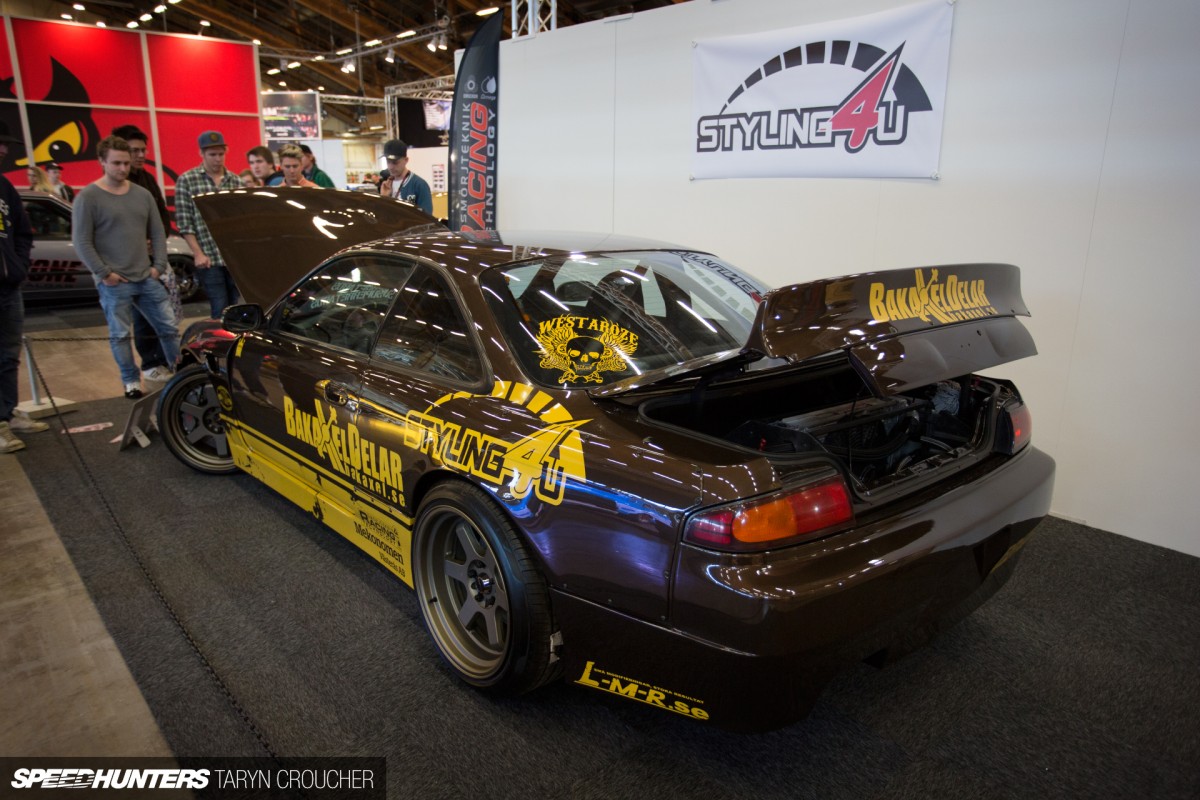 This freshly-built S14 looked relatively tame from the outside, but one peek under the hood revealed an unlikely surprise – a mind-boggling turbocharged BMW straight-six swap producing around 1000whp. Whilst we were chatting to the owner he told us that his was his very first drift car.  Oh Sweden… you are so damn crazy!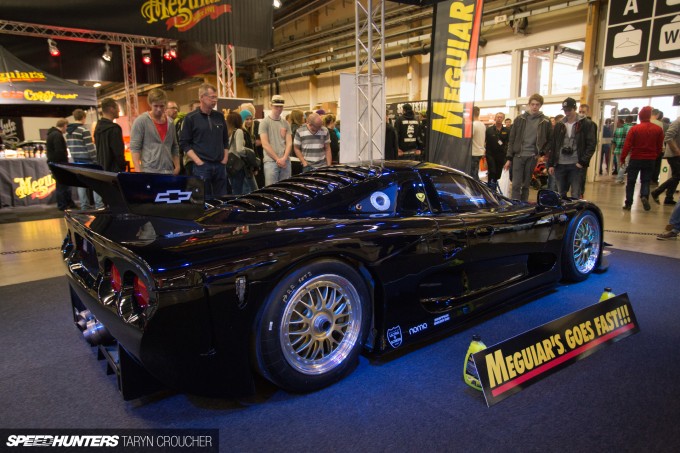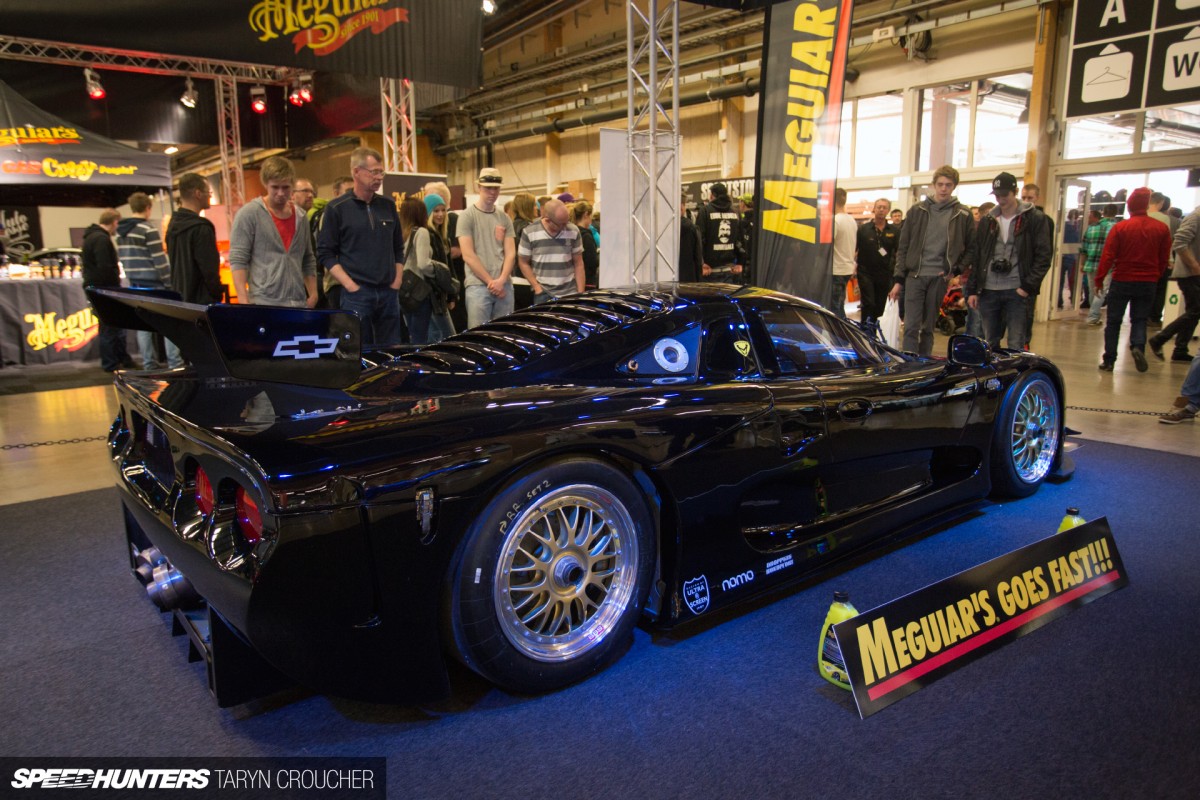 This magnificent Mosler MT900 had me in fits of #JoyOfMachine bliss. I'd never seen one of these cars with my own eyes before, but this race-ready version looked extremely menacing and I'm pretty sure the roof only measured up to my waist. I'm not so much a fan of the Corvette-inspired rear end, but what I would give to see and hear the mid-engined, LS1 V8-powered beauty in action.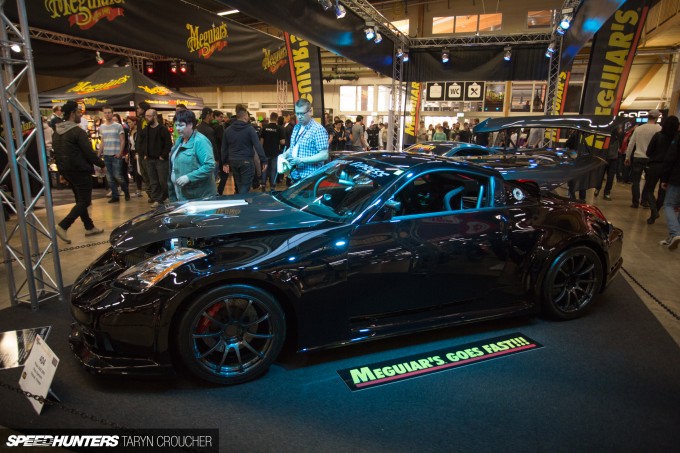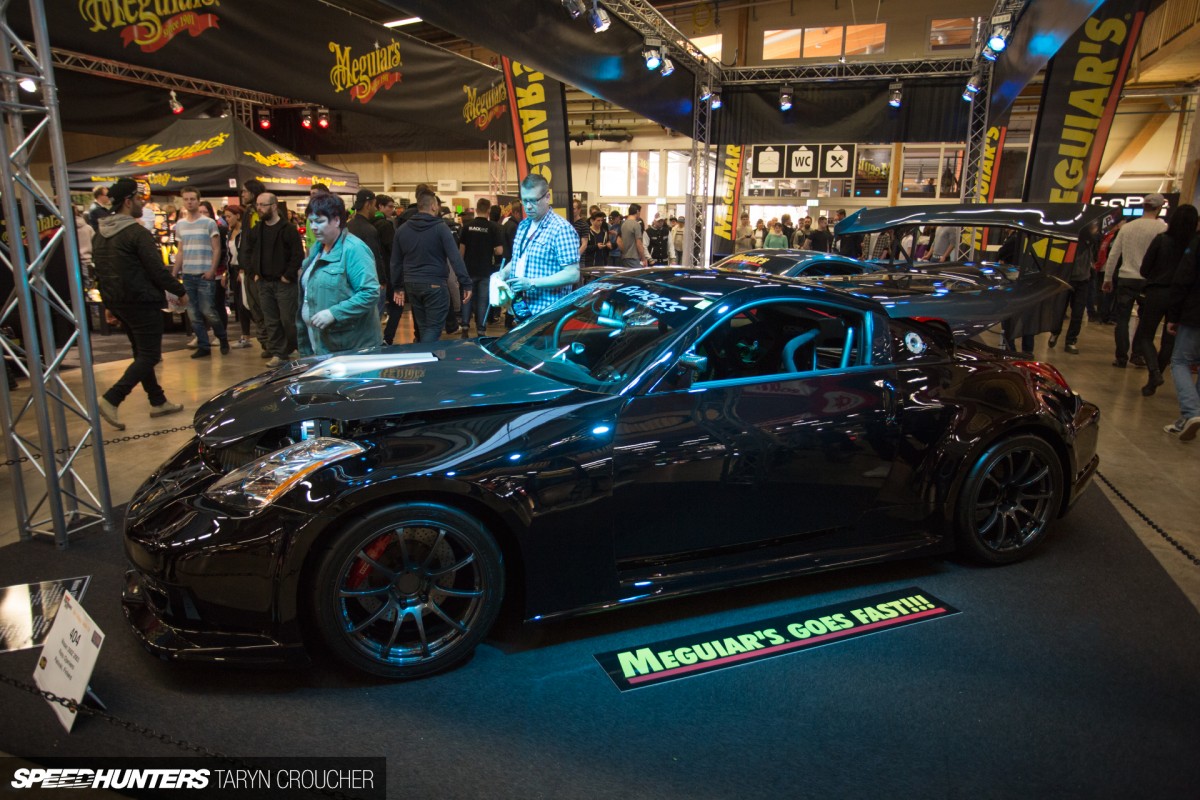 Risto Ojaniemi made the journey from Finland to show off his incredible 350Z build, which boasts a plethora of mouthwatering goodies such as Tein suspension, a bodykit and carbon bonnet and truck lid by Top Secret, Advan RS wheels, forged engine internals and a Procharger supercharger setup good for over 1000hp!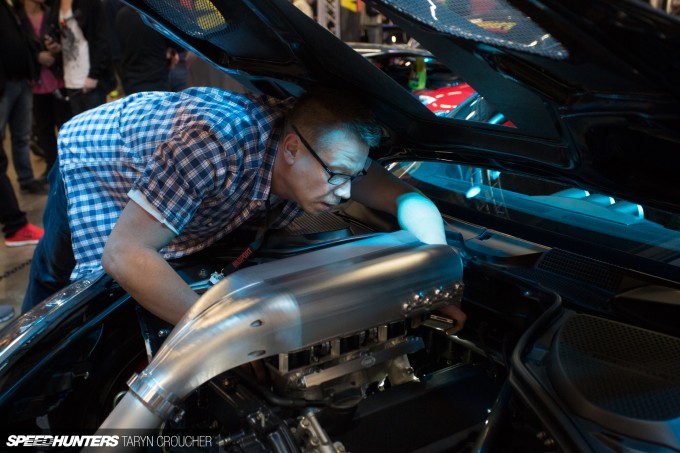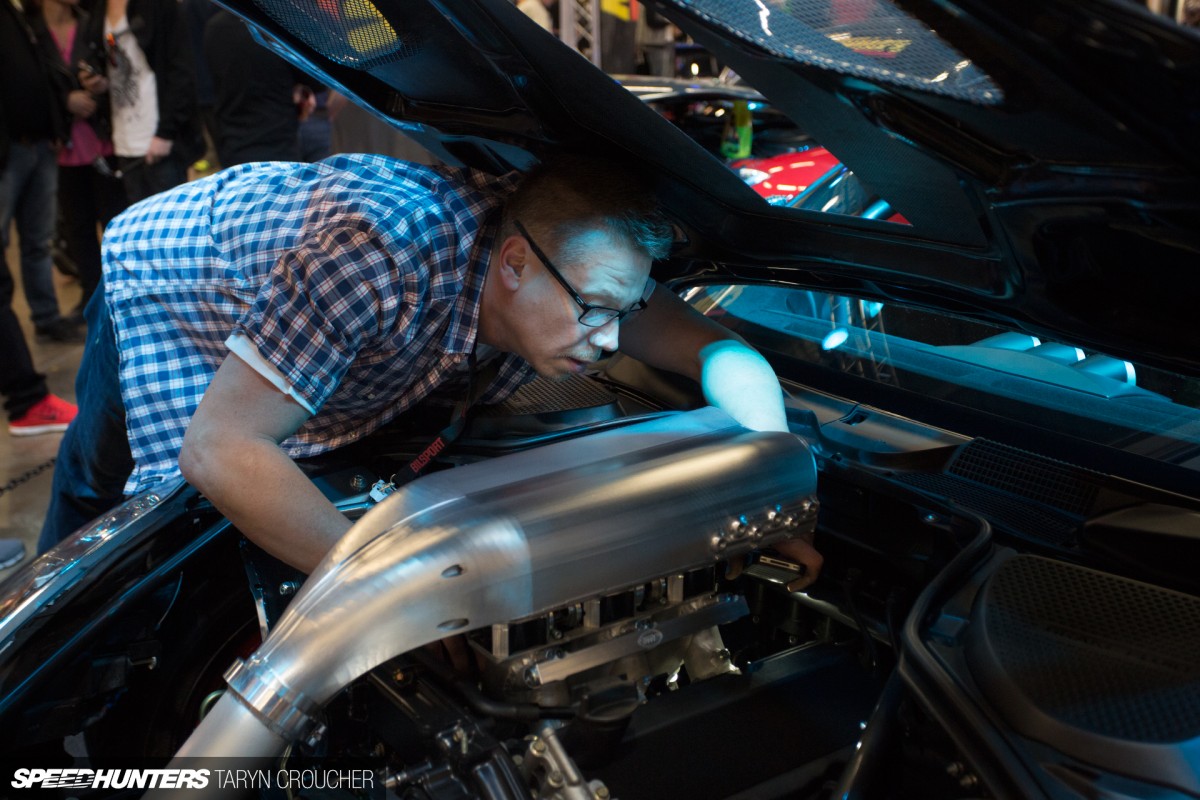 The best part about it? This car is purely just for Risto's personal pleasure and he just drives it for fun at track days in his free time. How brilliant is that? Trust me, Elmia gets crazier. 
The weird and the wonderful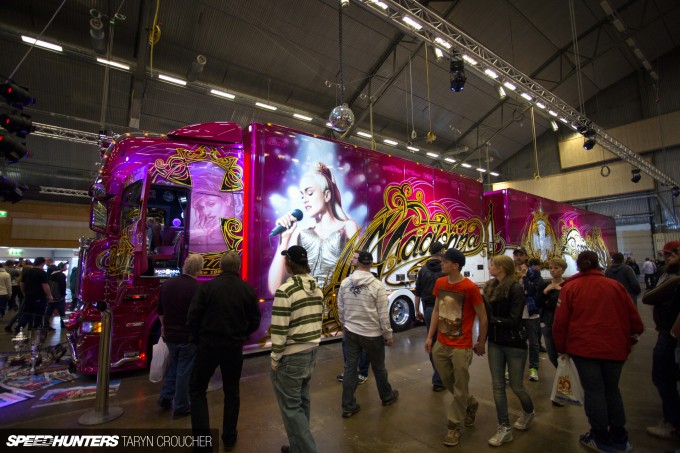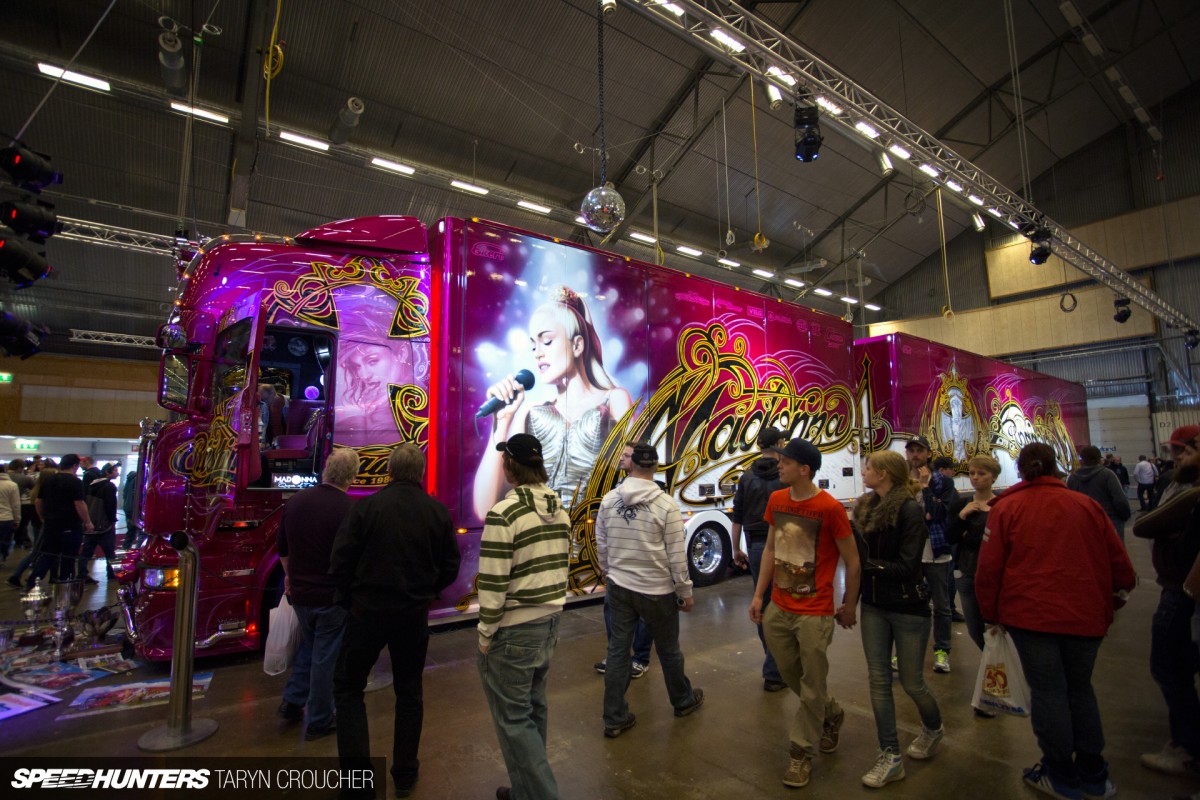 So this might not be news to everyone, but apparently there's a huge show truck scene in Scandinavia, and Madonna-inspired creation seems to be number one at the moment. I wasn't surprised to hear that this creation won the award for best paint.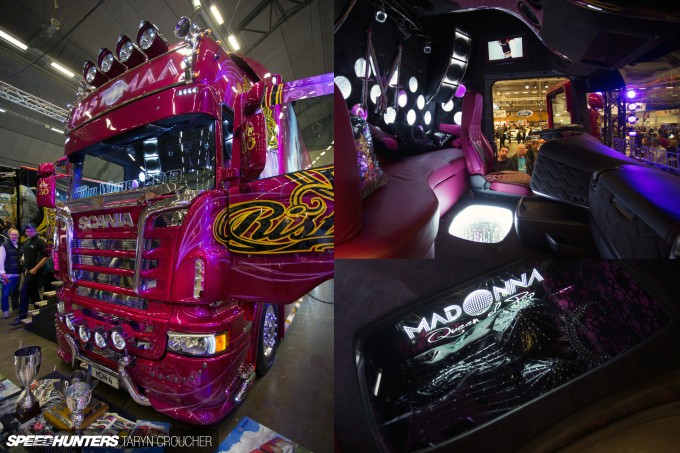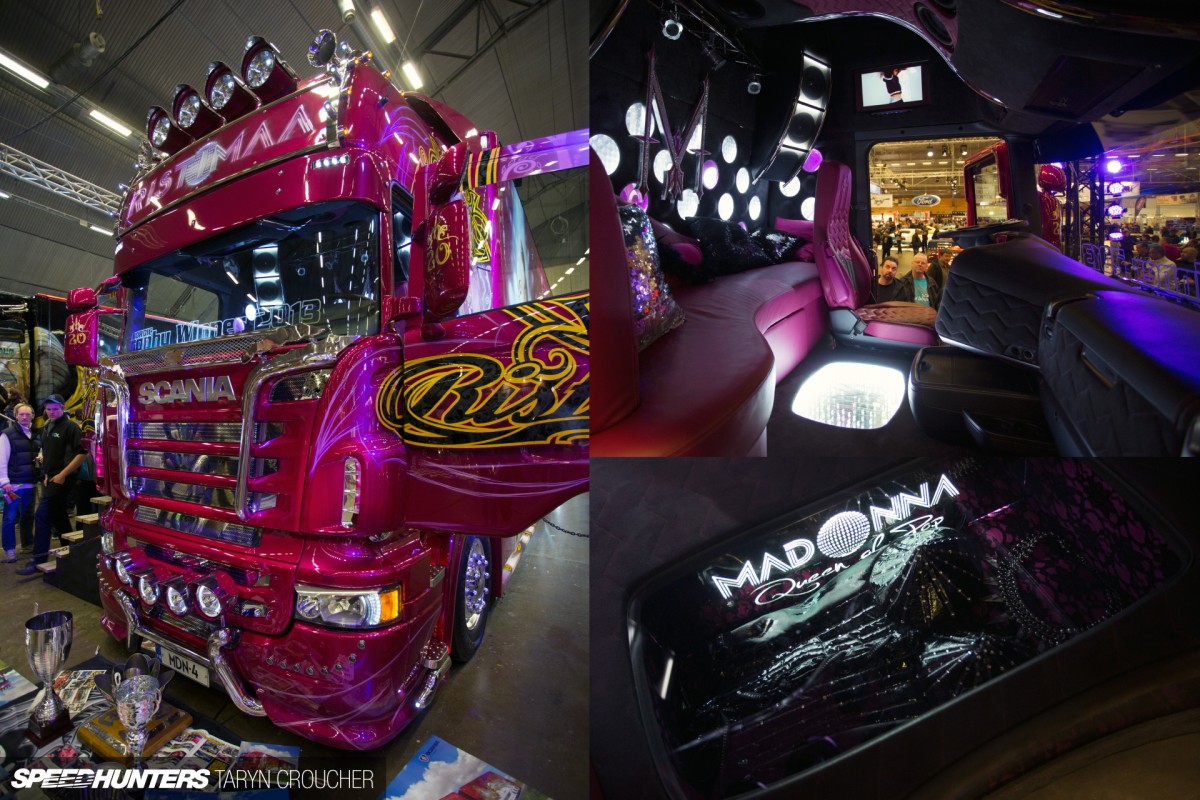 If you've ever thought that you had trouble transporting your vehicle to a car event, spare a thought for these guys who travelled from northern Finland with a 27-metre-long airbrushed Madonna lorry! #ScandinaviaProblems. It did transport a bunch of show cars inside it though, so it does actually serve a purpose.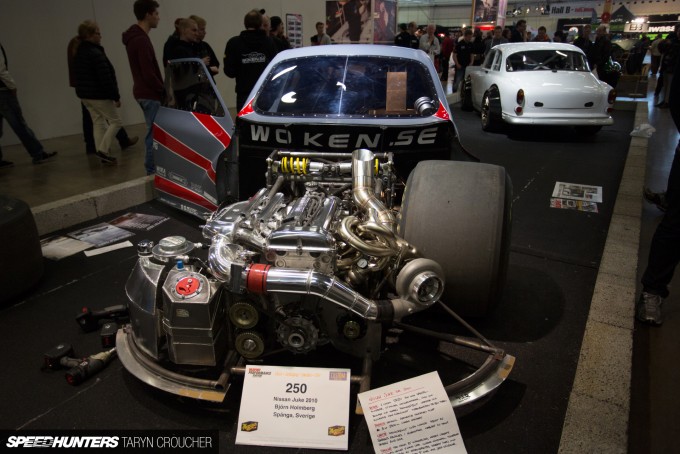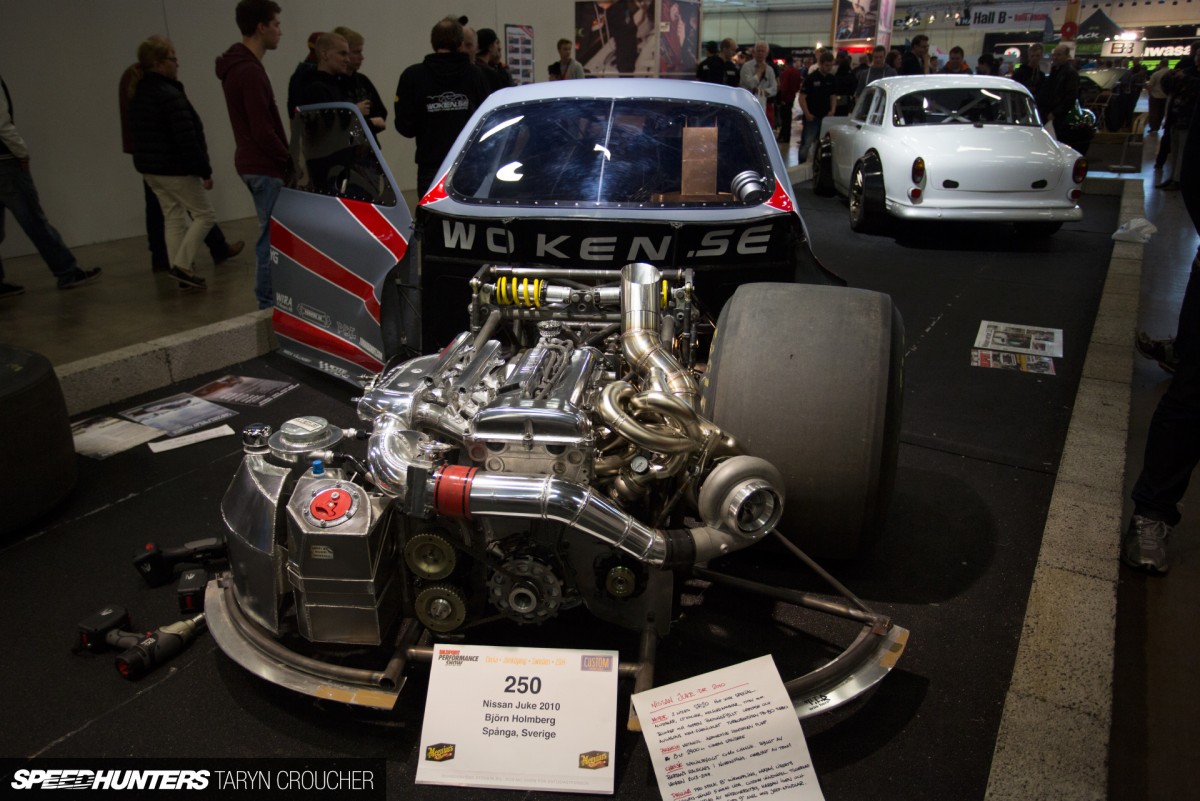 Nope, your eyes aren't deceiving you, that giant mountain of rubber is a tyre.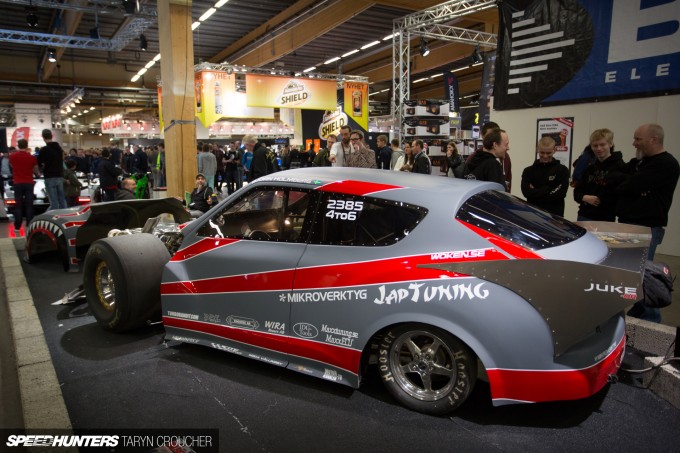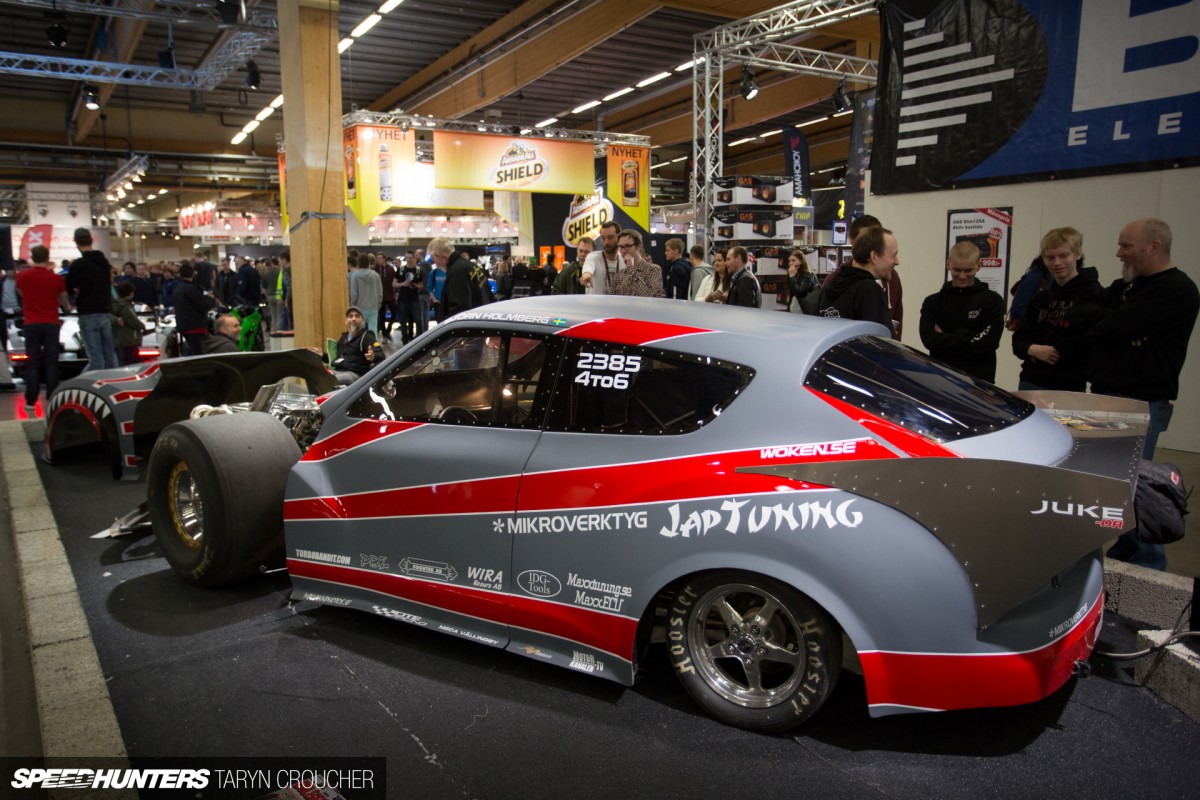 As you can probably tell from the wildly disproportionate rear tyres, this is a front-wheel-drive Nissan Juke drag car and it's powered by an absolutely mental-looking methanol-guzzling SR20DET. Apparently the Juke has been an ongoing project for some time, but should be hitting the strip for the first time very soon. Considering Hot Wok Racing's previous Nissan Cherry build holds the record for the fastest FWD in Europe, I'd be very curious to see this beast in action. I bet it wouldn't disappoint.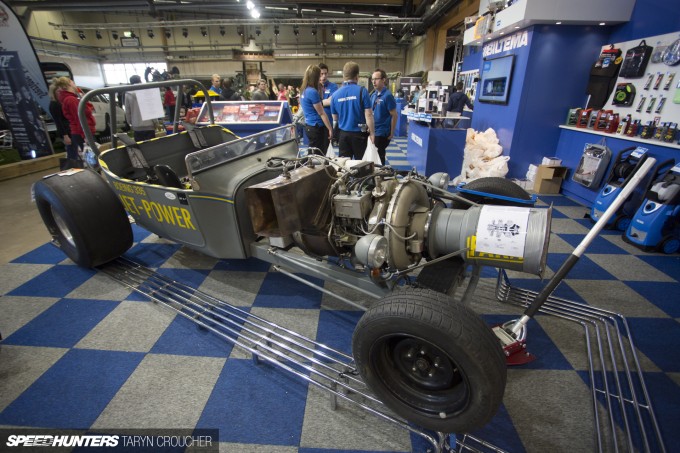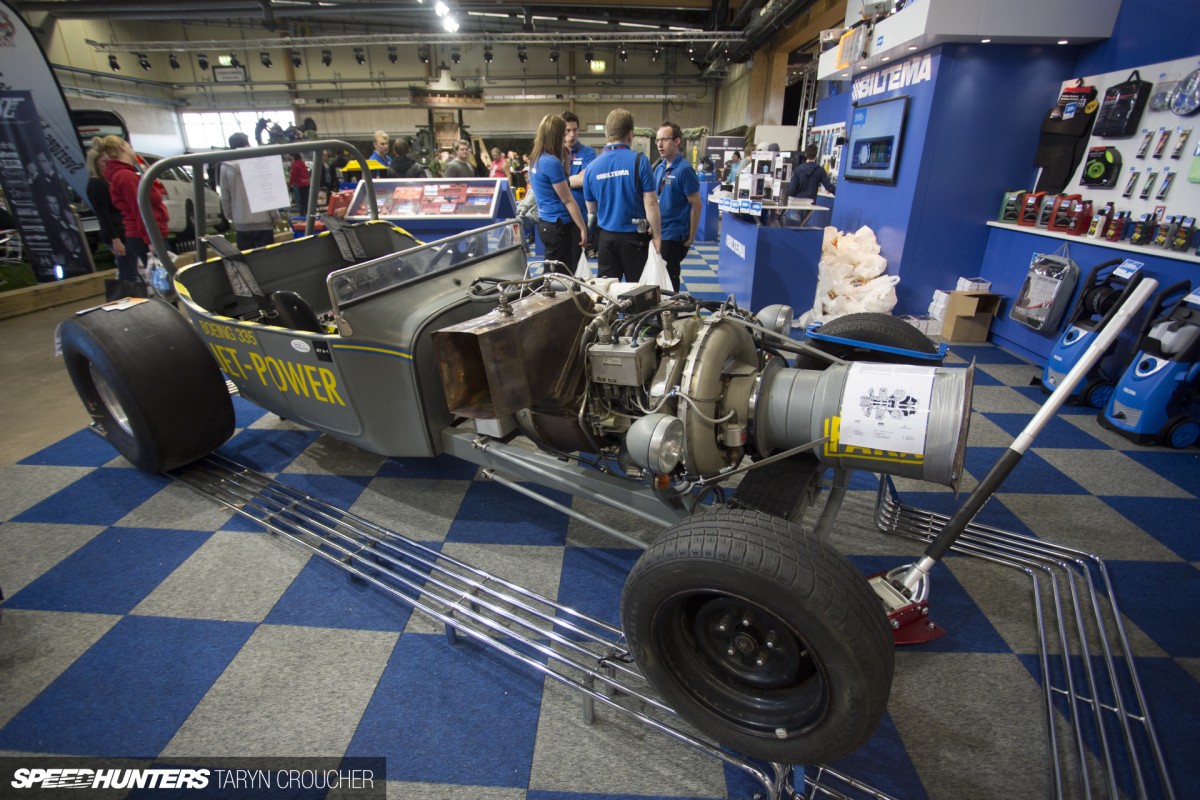 A jet-powered hot rod, that seems safe, right?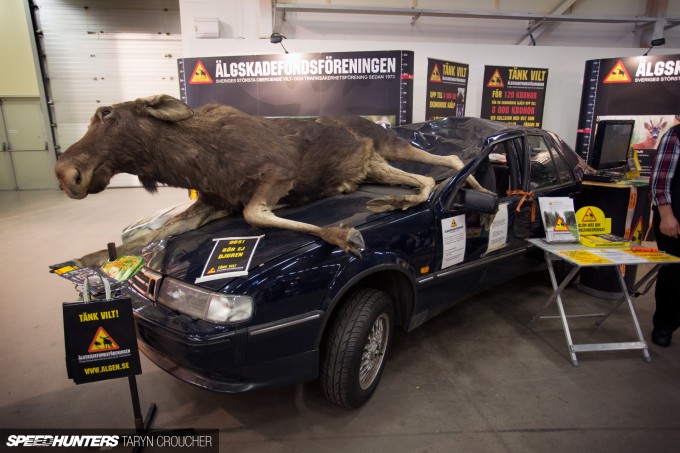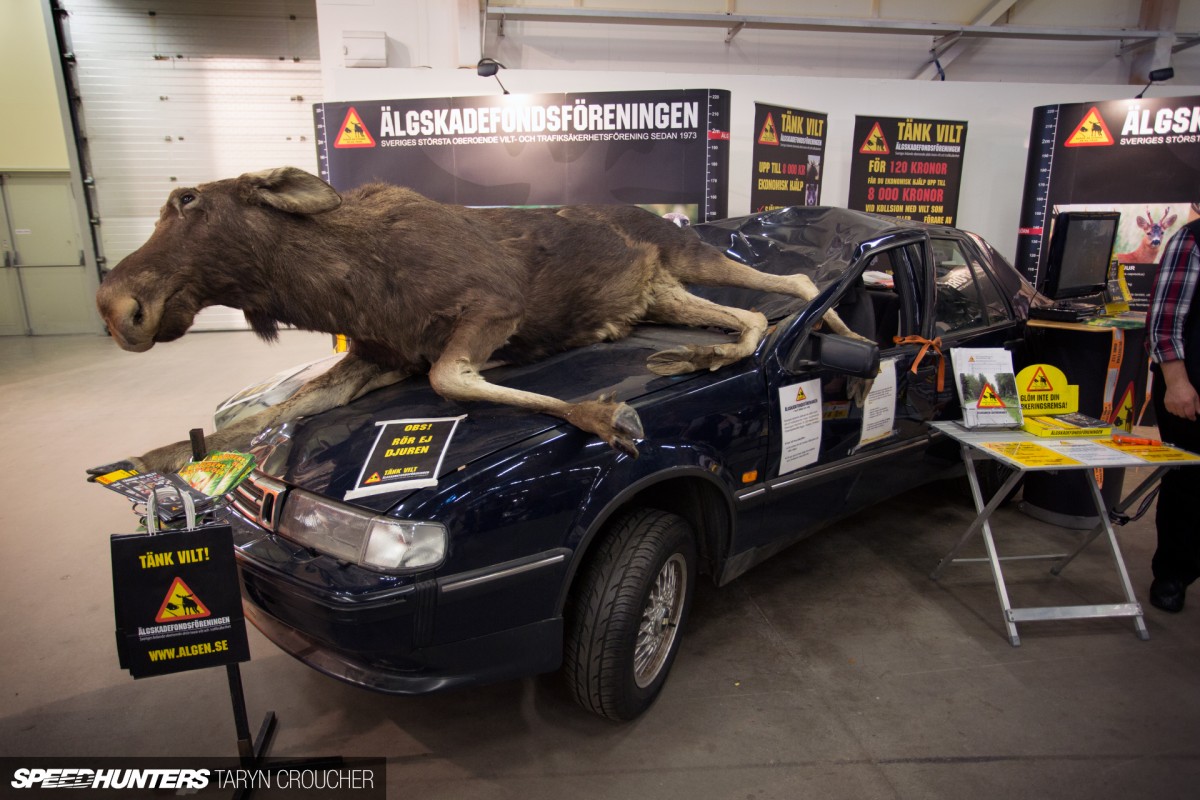 And why was there a moose accident awareness stand featuring an actual dead moose? #BecauseScandinavia, of course!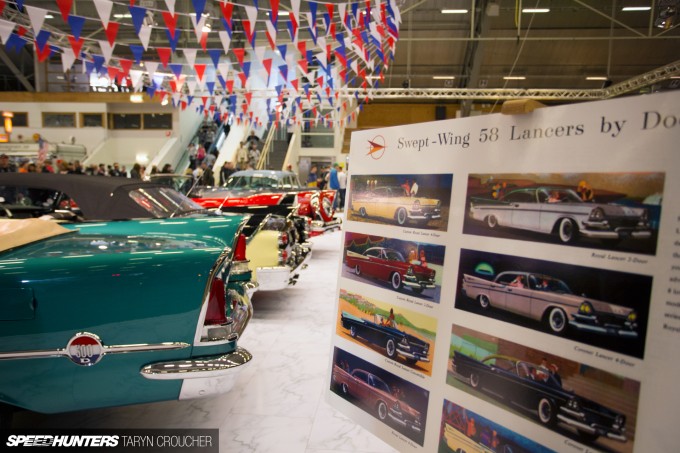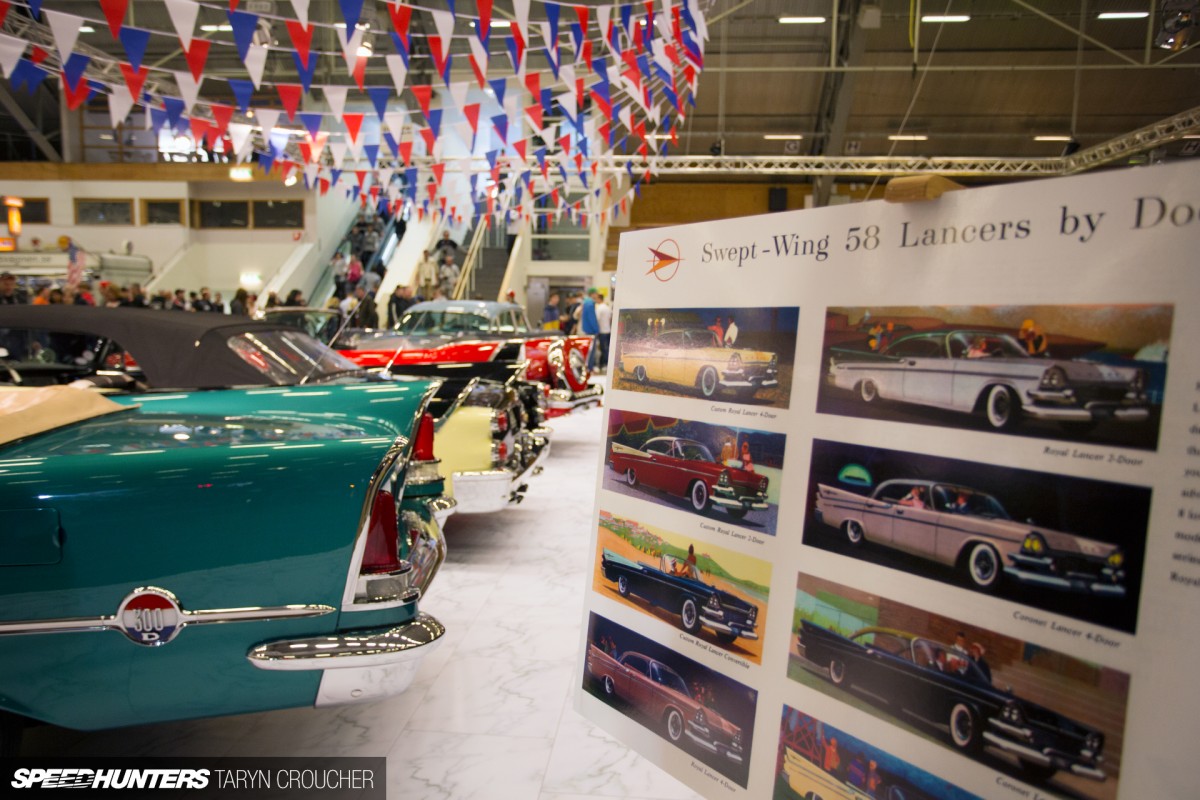 One thing I learnt over the course of the past few days is that Sweden has an absolutely massive American car scene. In fact, it could possibly be one the biggest of its kind outside of the States.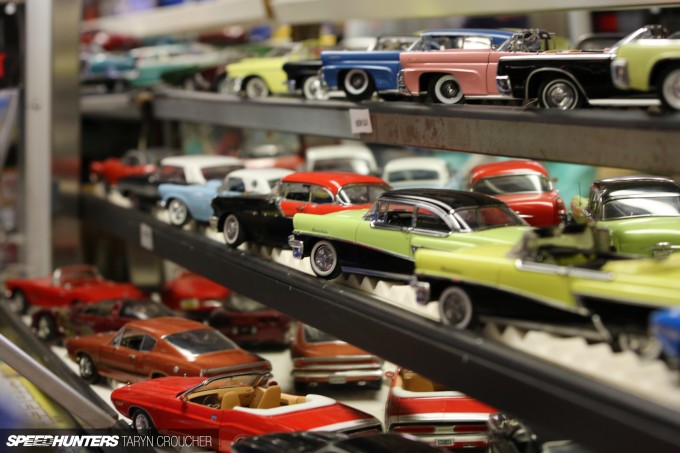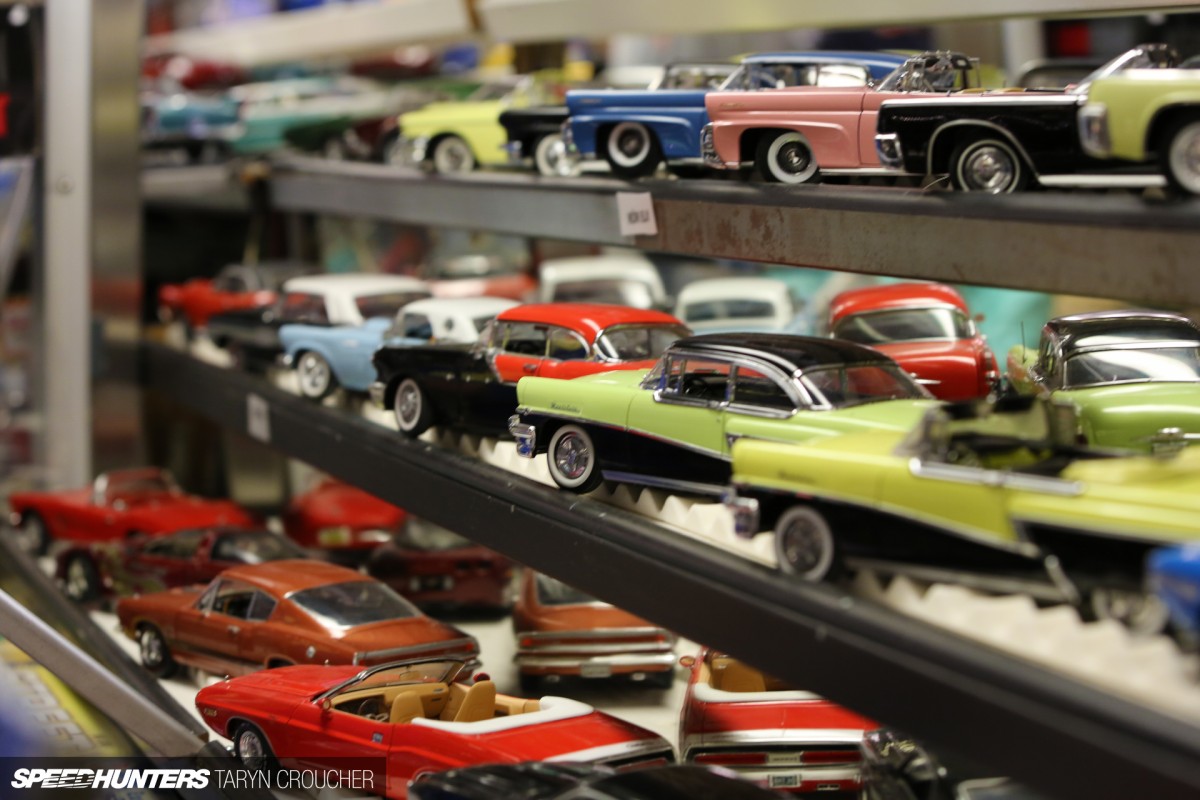 There was a whole hall dedicated to all things Americana, including thousands of model cars, themed clothing, live rock 'n' roll music, various trade stalls and an incredible collection of old school rides.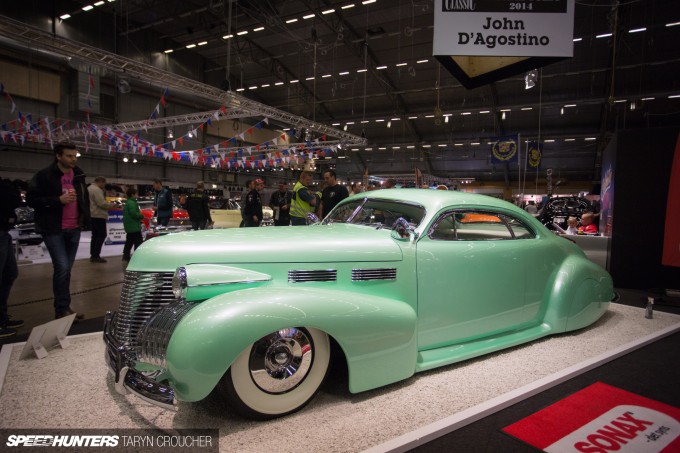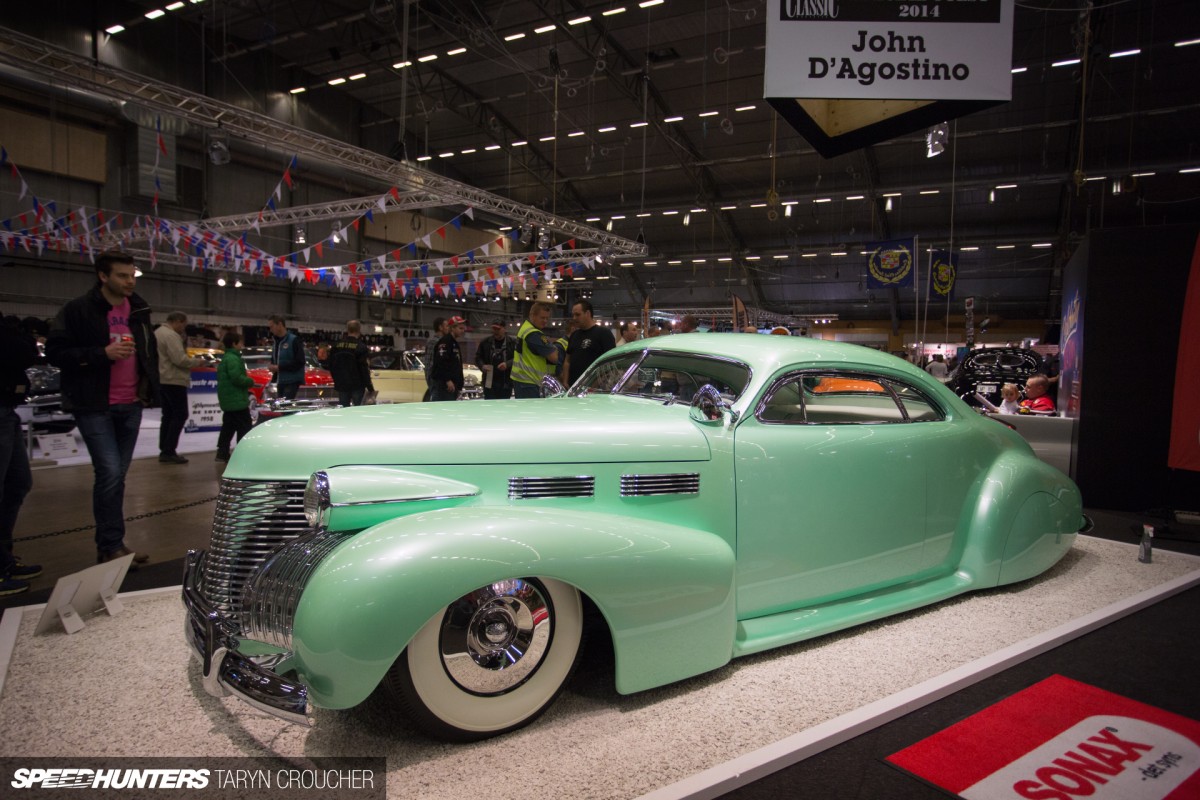 John D'Agostino's jaw-dropping '40 Cadillac 'Sophia' was Elmia's guest of honour and she was even printed on all our exhibitor/media passes for the show which was a cool touch. It's not all that often that a photoshoot can convey the true beauty and aura that you experience from seeing a car like this in the metal, but I think Larry succeeded when he shot the car in Los Angeles last year.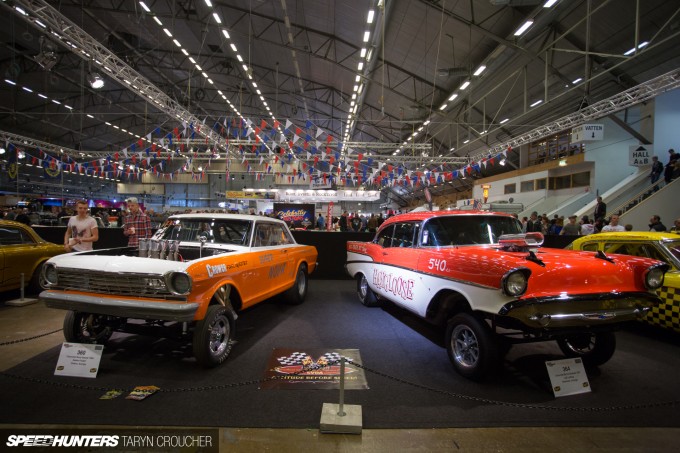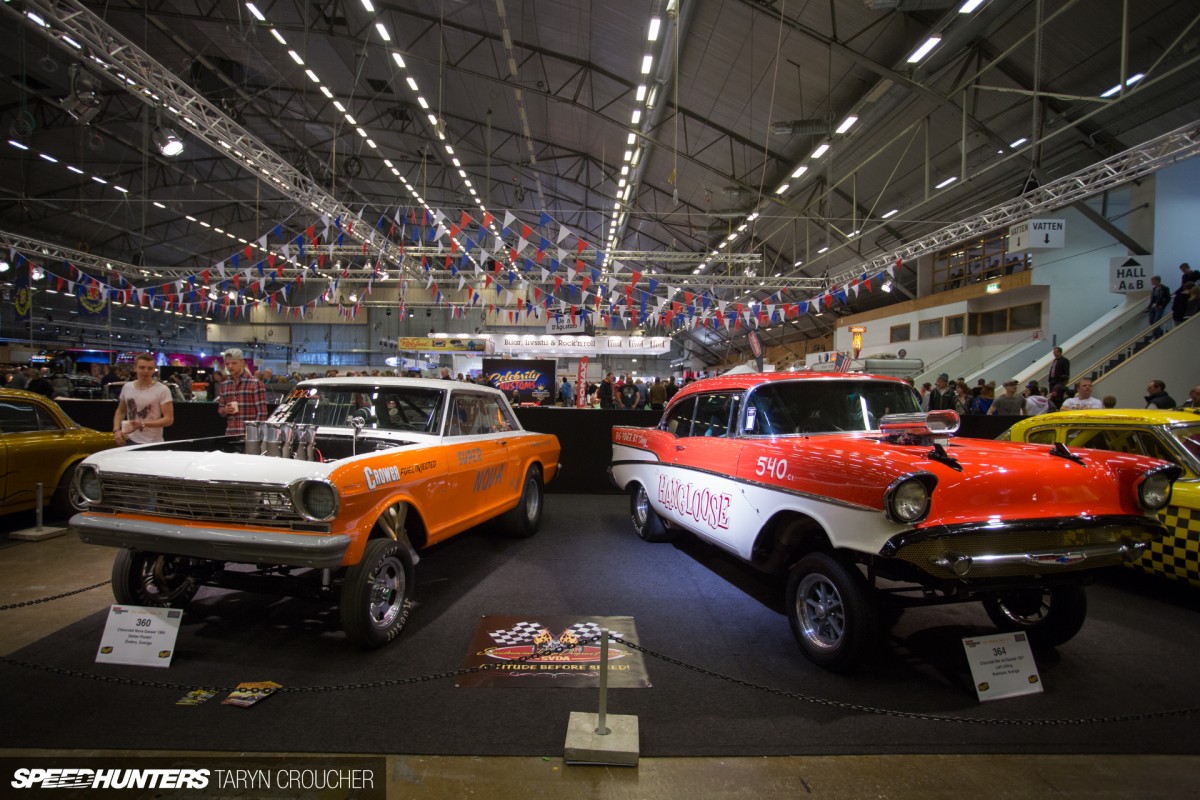 Hang on, are we definitely still in Sweden? This character-filled pair of Chevy Gassers looked ready to take on Famoso Raceway with their bulbous hood ornaments and elevated stances.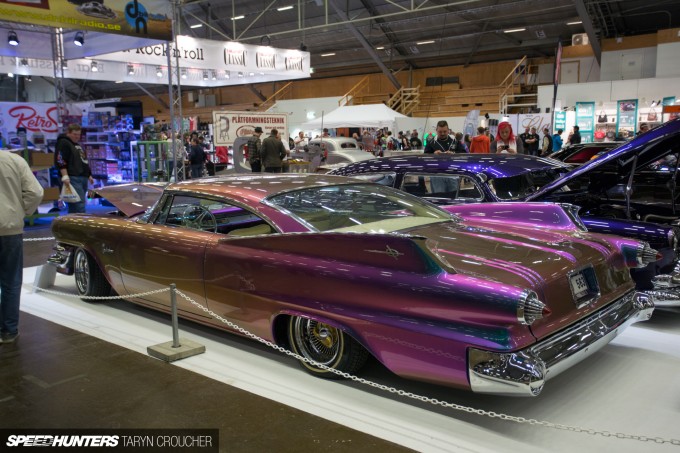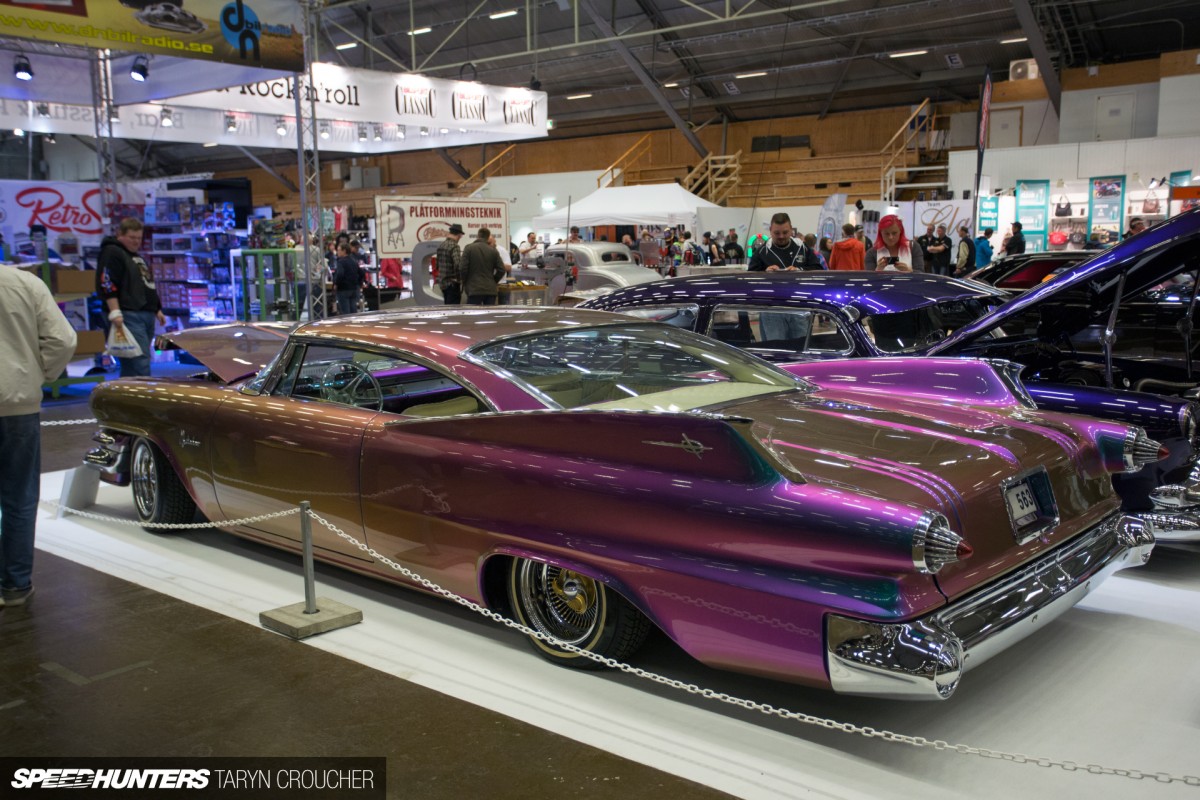 This '60 Dodge Matador on hydraulics was sporting the most intense chameleon paint job I've ever seen, but it actually looked quite cool combined with the aggressive roof chop and 14-inch 100-spoke wheels.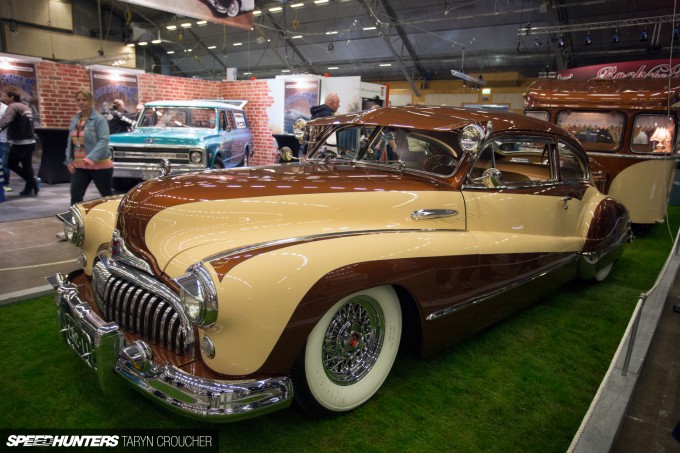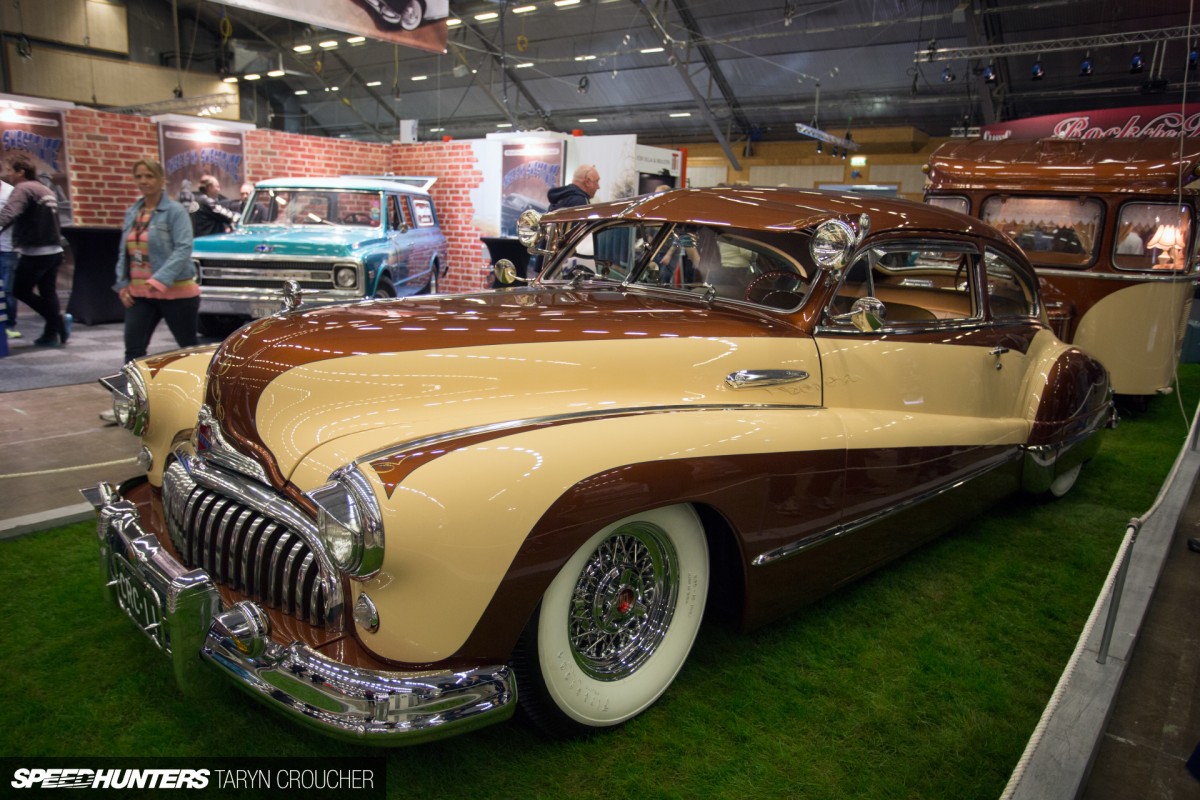 Perhaps one of the most beautifully restored American classics I've ever laid eyes on, this '40s Buick Roadmaster Coupe came with a matching caravan that was fully decked out with some very cute period-correct accessories.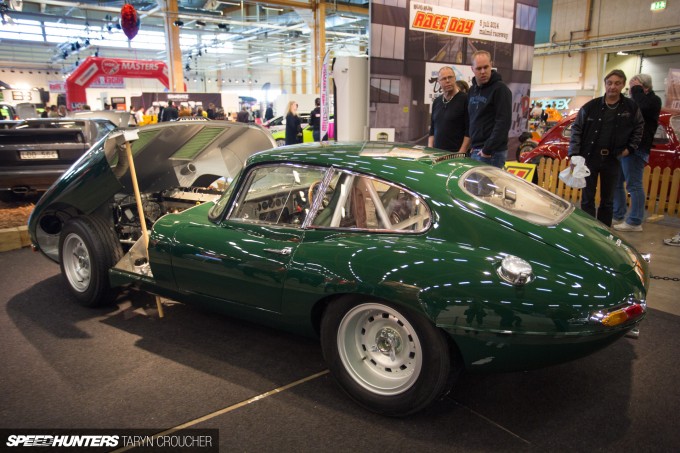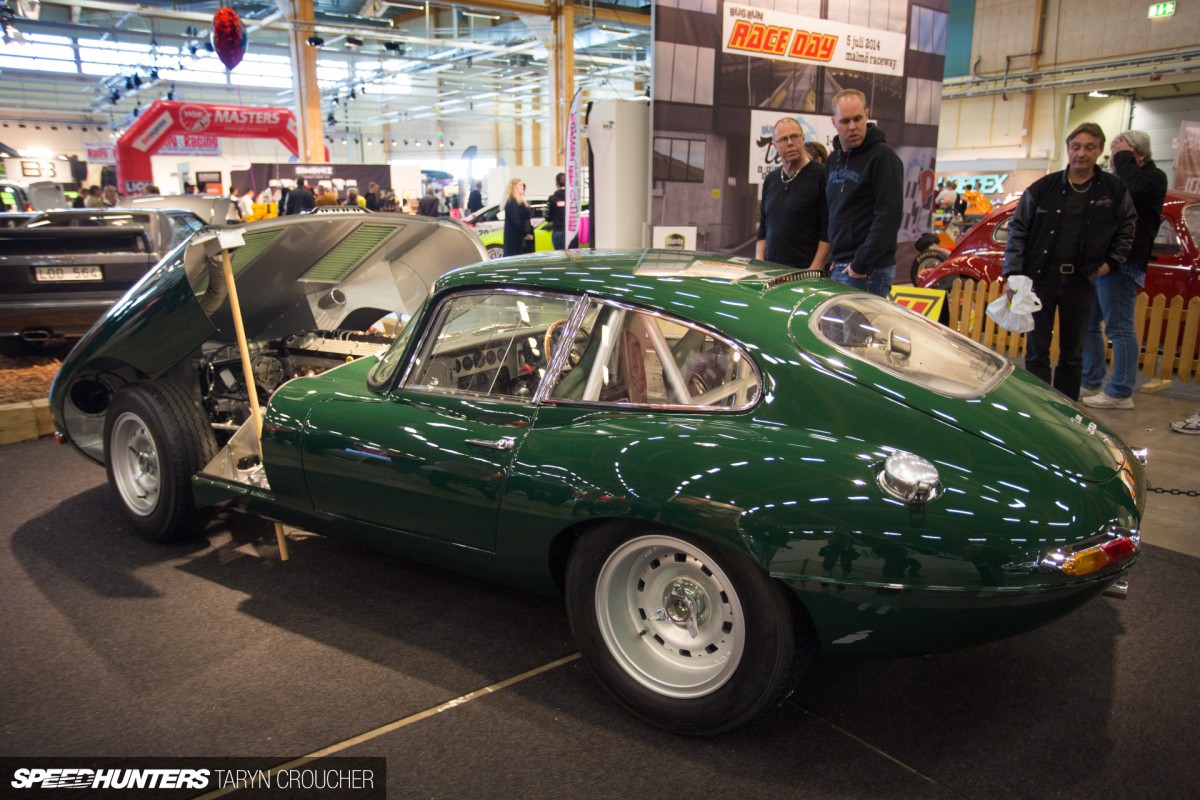 Speaking of beautifully modified classics, I'm going to throw this in here just for the guy who commented on our Instagram feed saying that we don't post enough modified Jags. This race-ready E-type struck a chord with me, perhaps because its sleek silhouette reminded me of my Datsun S30 back at home.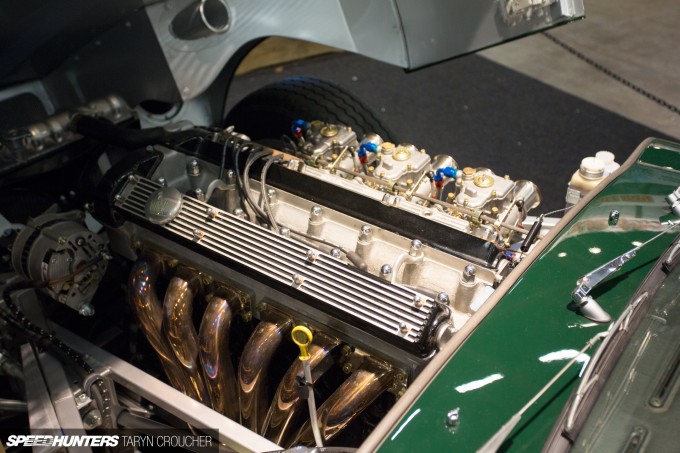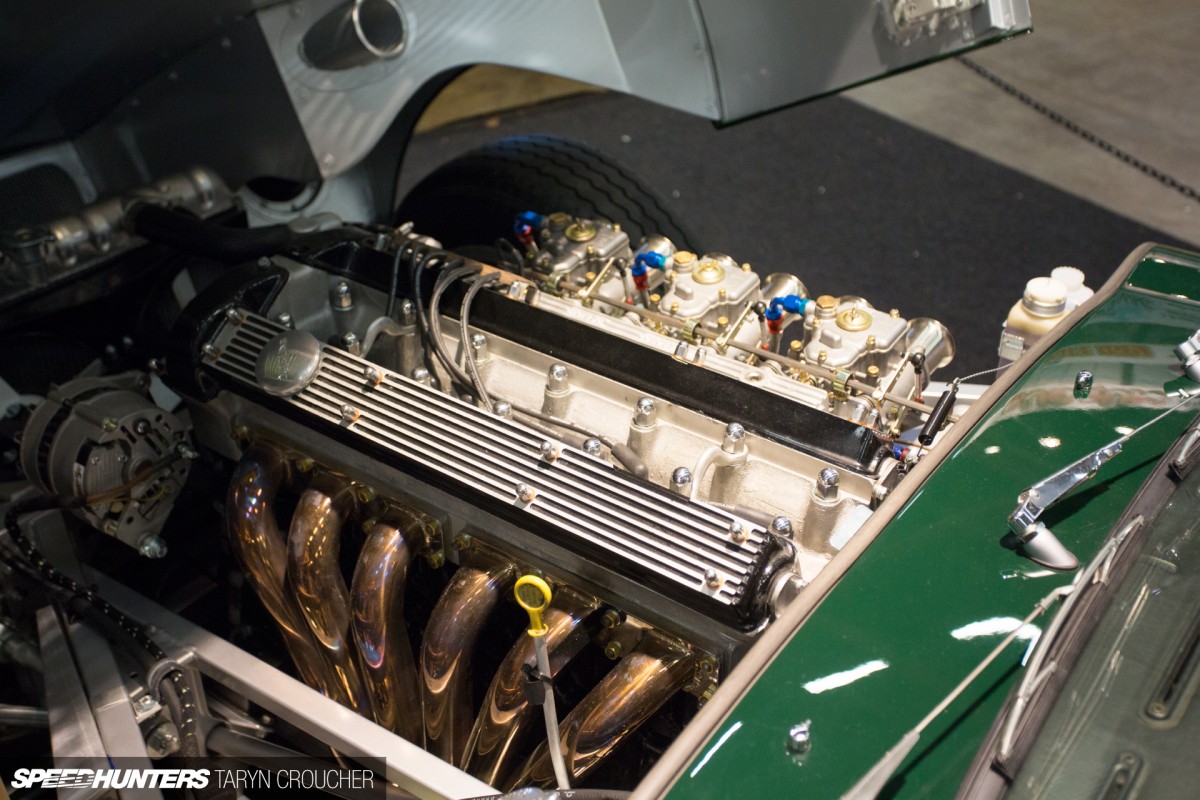 These feelings also could've been triggered by the triple-carbureted straight-six with its retro cam cover and beautiful gleaming headers protruding from the Jag's elongated hood. The one thing I struggle with at shows like this is having to pour over cars in their stationary form only. I want all of my senses to be stimulated. I want to fully experience them doing something cool – preferably involving loud noises and smoke. But here at Elmia, that's where the drift arena comes in handy…
Where there's smoke, there's Volvos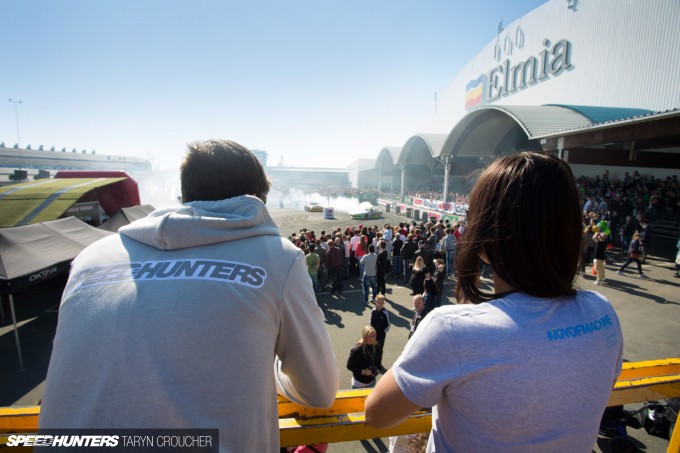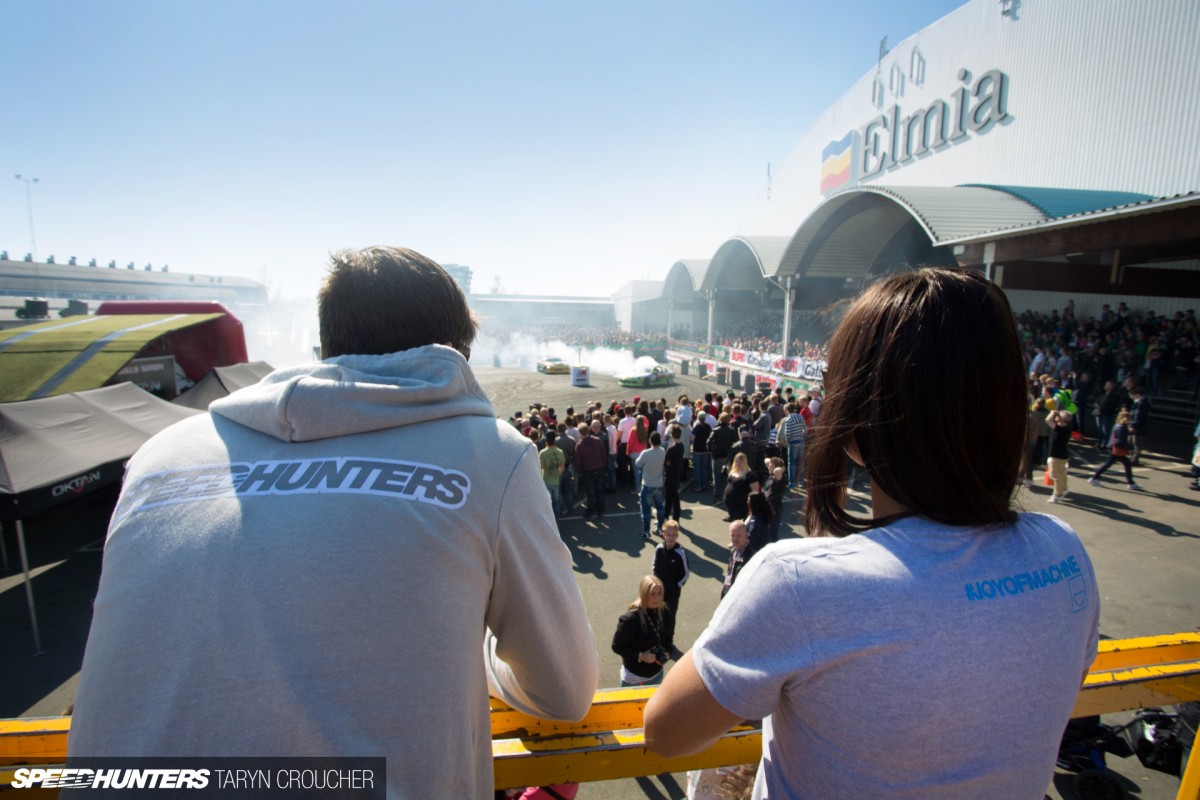 Out the back of the exhibition centre a small concrete area is converted into a makeshift skid pad, where drift demonstrations and the aforementioned drift tank display take place during the day.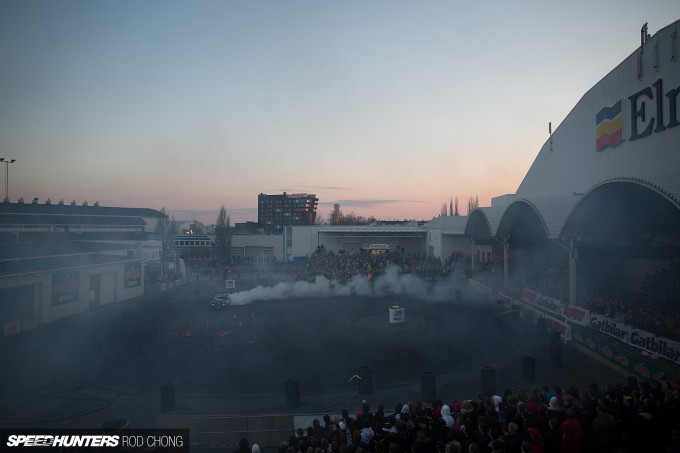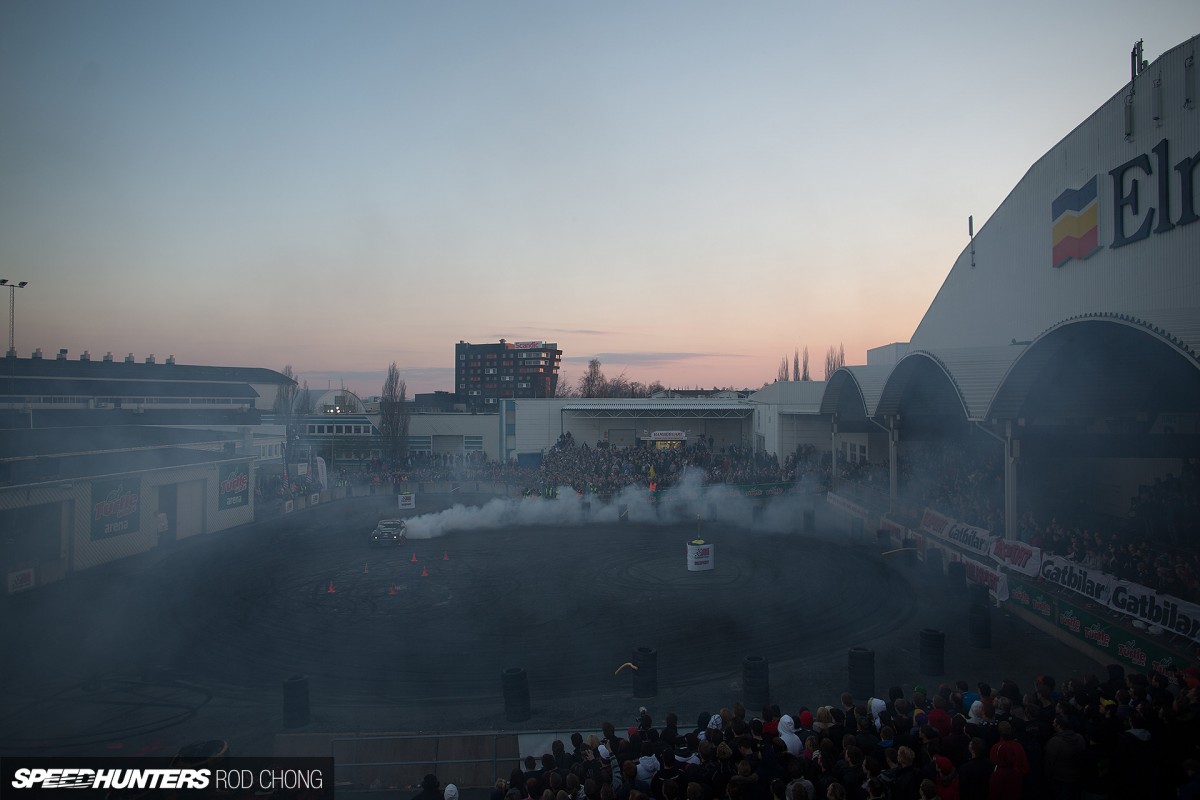 What everyone really looks forward to though is the Påsksladden competition, which happens on the Saturday evening at dusk. The 'Easter Drift' comp is a small, yet strong display of local driving talent, starting out with a casual open skid pad session and then moving onto qualifying and the final rounds.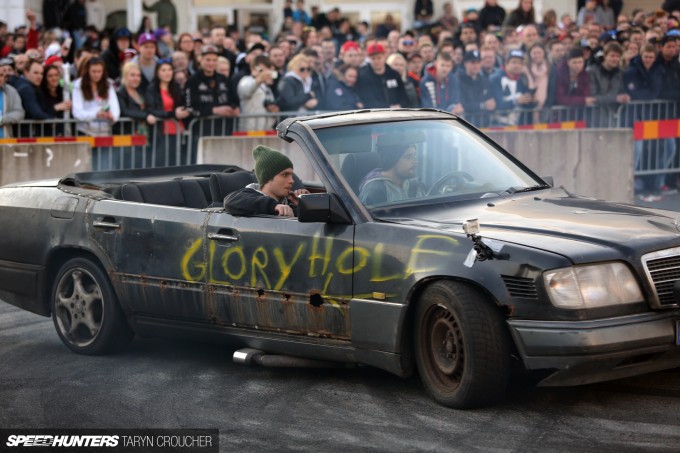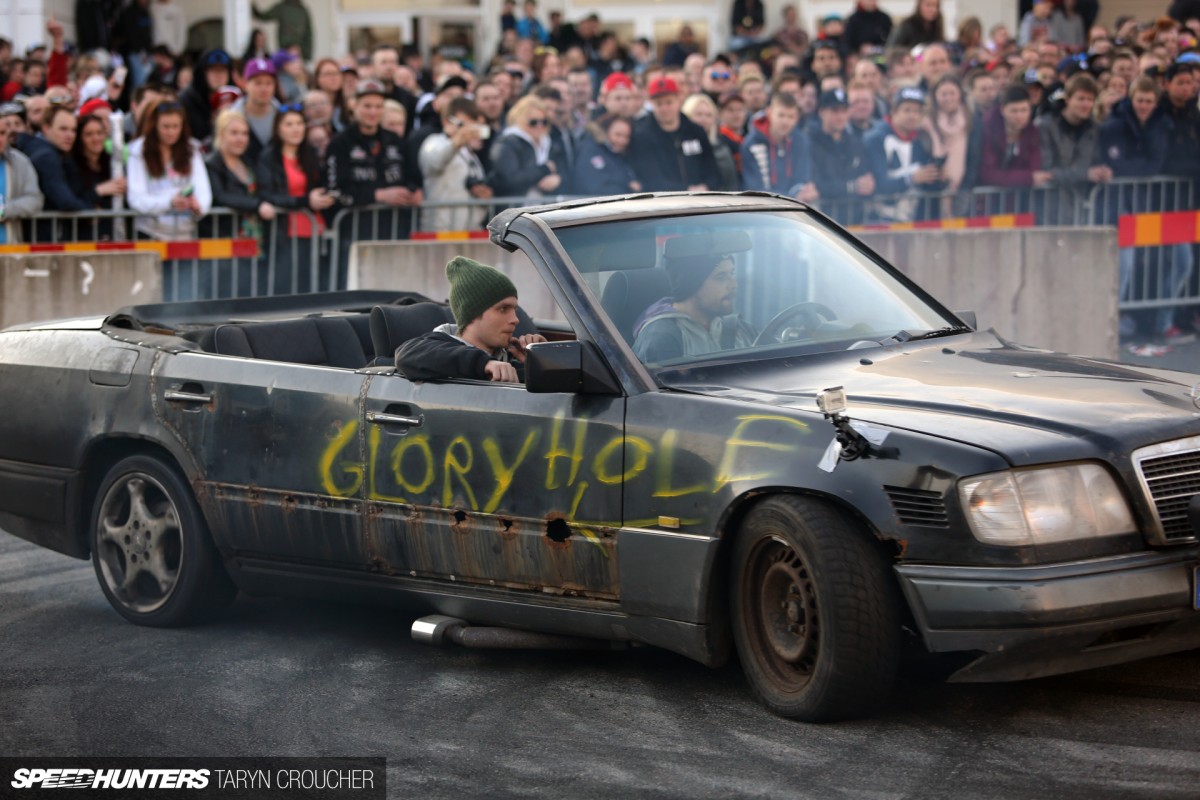 Some of the grassroots-oriented drift cars had some, err… questionable modifications.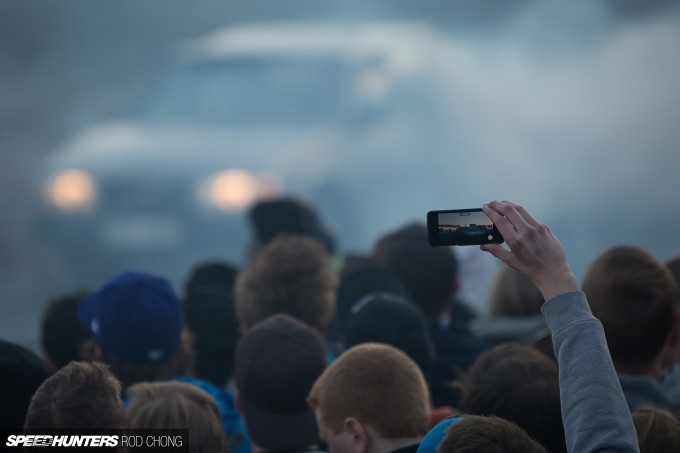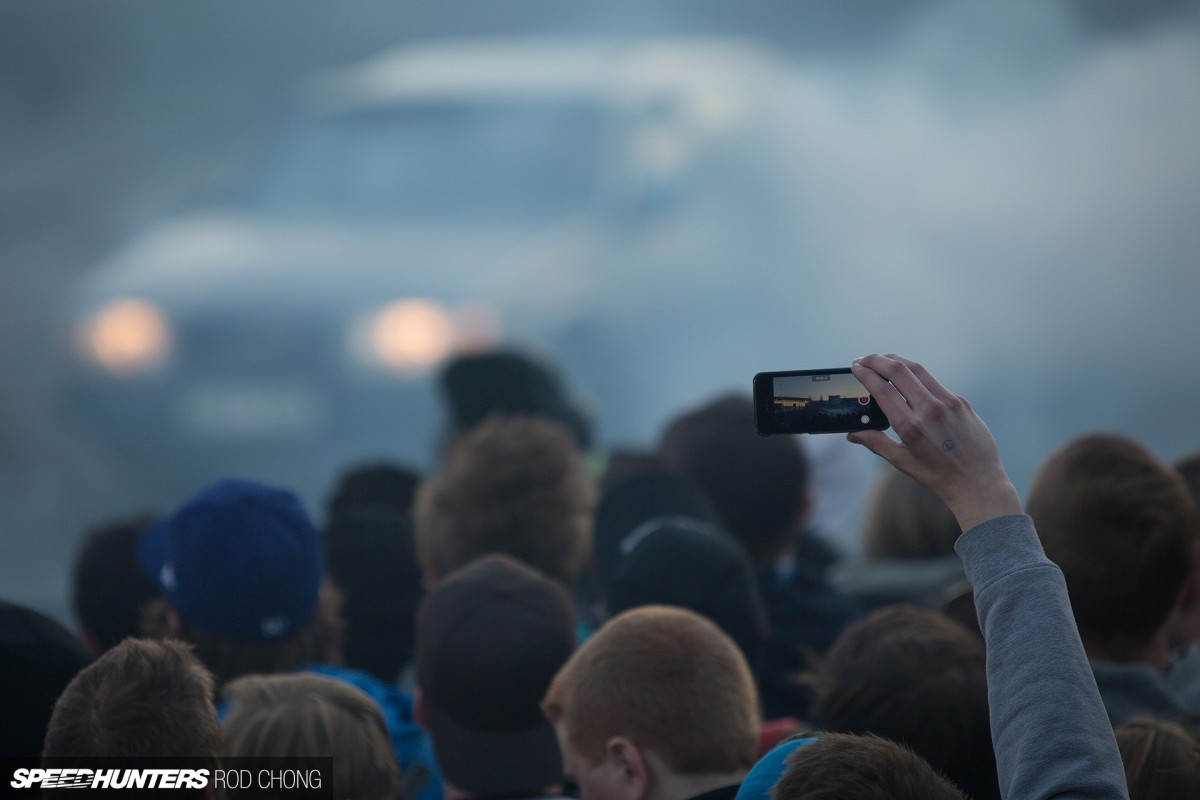 Despite the temperature only sitting at a few degrees above zero, the Påsksladden event drew a massive crowd.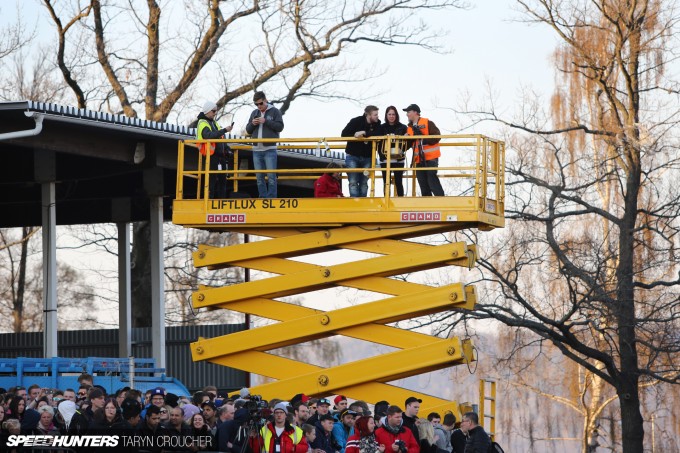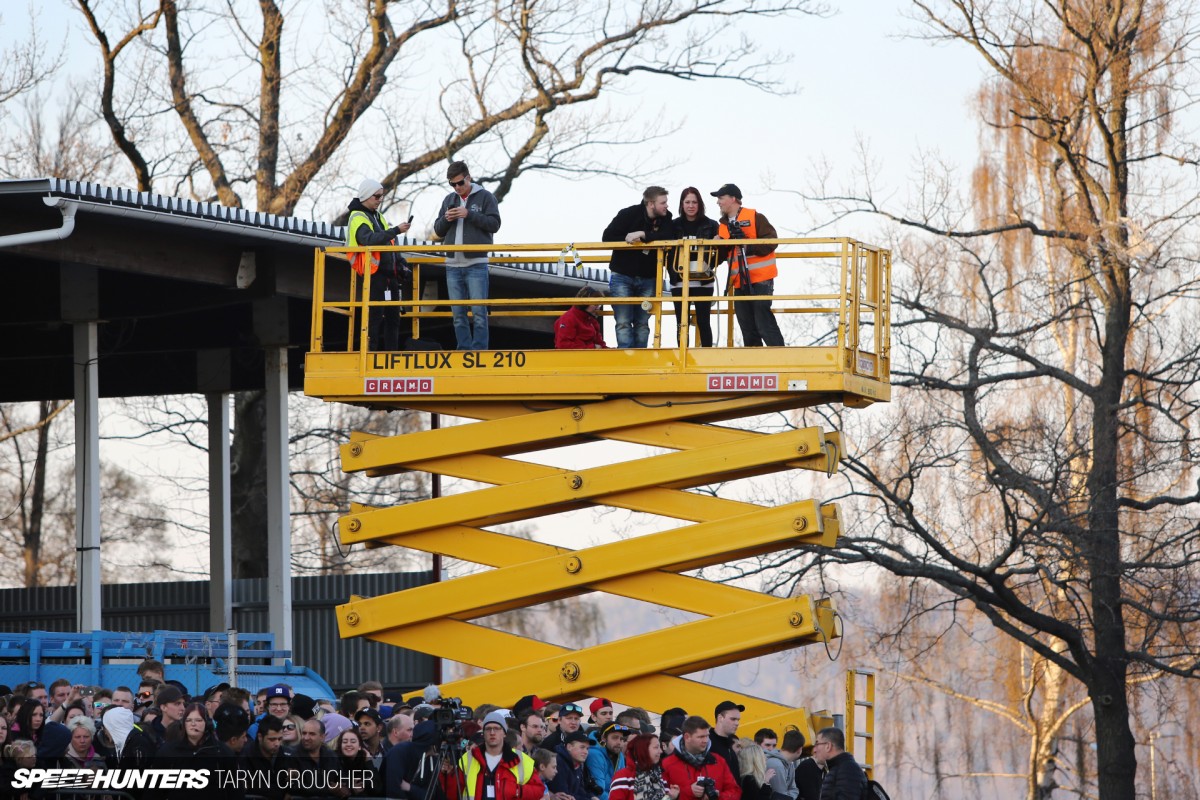 Fredric was the official judge, but I didn't envy him and Rod having to stand up in the lift as it must have been exceptionally cold up there.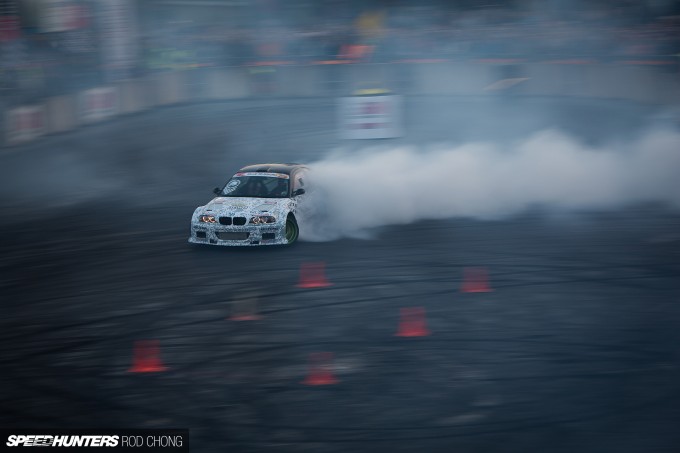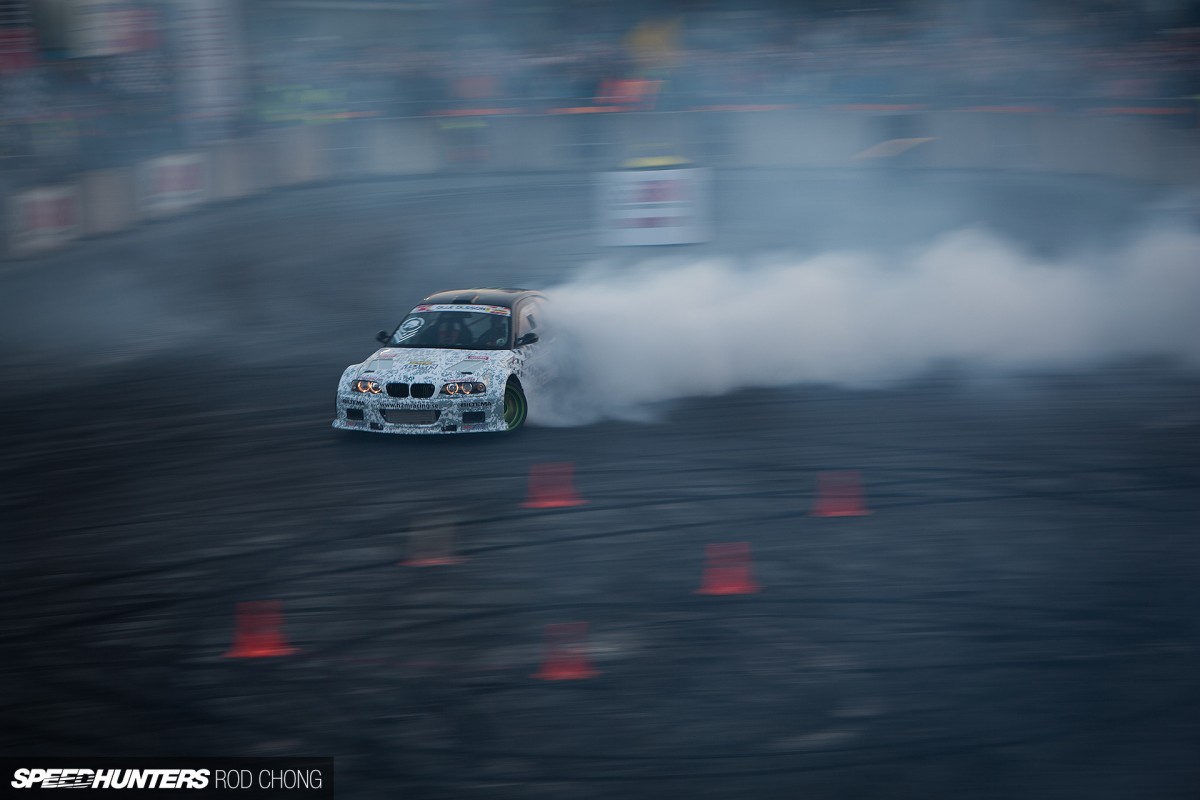 It was neat to watch some of the local drifters doing their thing, especially seeing as we don't have very many competitive European drift cars in New Zealand. Olle Olsson's V8-powered E46 was producing huge smoke clouds, and the crowd was going wild as the announcers yelled many things in Swedish that I couldn't understand.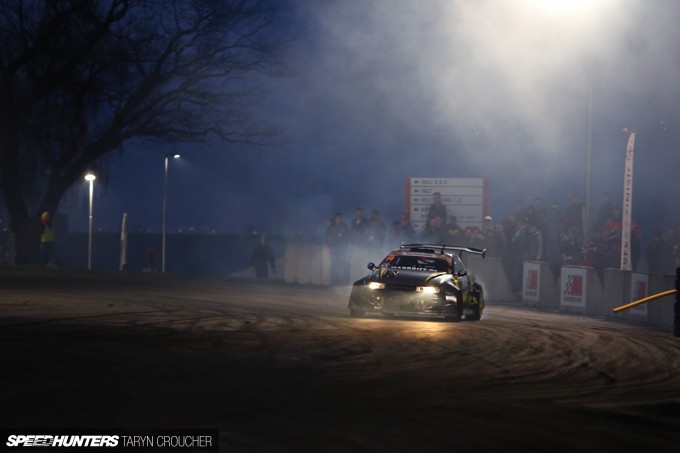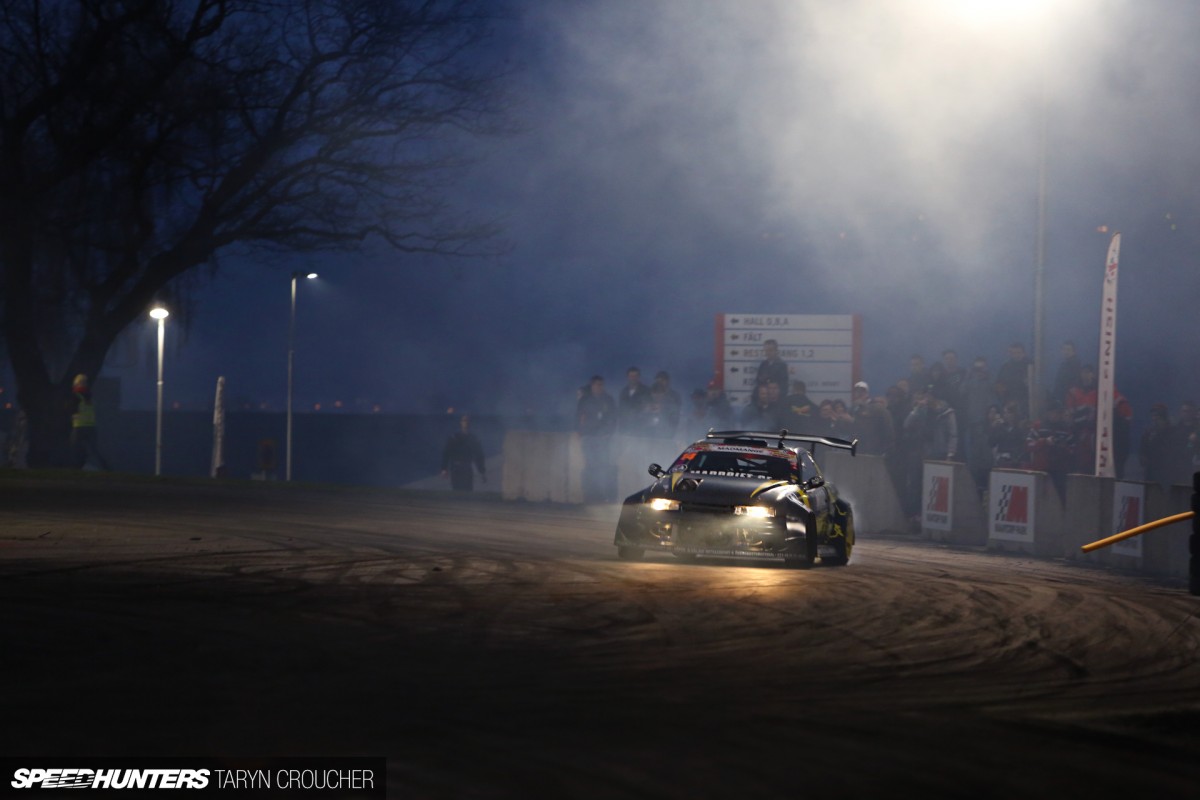 I could use many curse words to describe how cold it was, but I'm glad I stayed to witness the awesome JDM versus Euro battles that took place that night. Hearing the cars approaching and then watching them make a sideways entry into the arena with the spotlights illuminating the smoke and casting eerie shadows, made the hairs on the back of my neck prickle.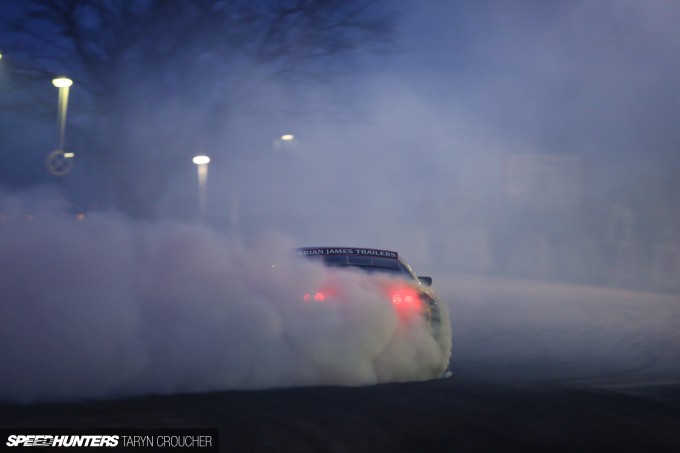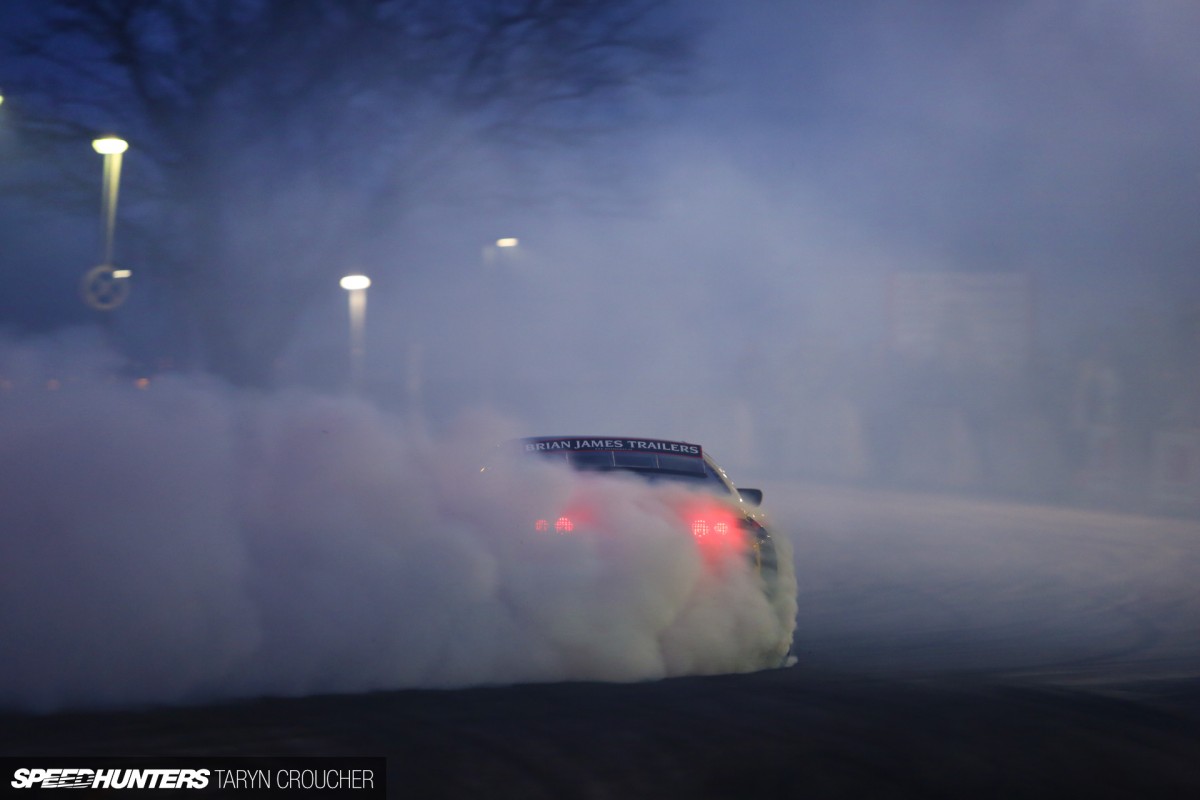 I hadn't slept properly in days, and my mind started to go numb as my jet lag kicked in and I became mesmerised by the smoke clouds floating past. They almost looked like woolly sheep, or soft fluffy pillows. Mmm…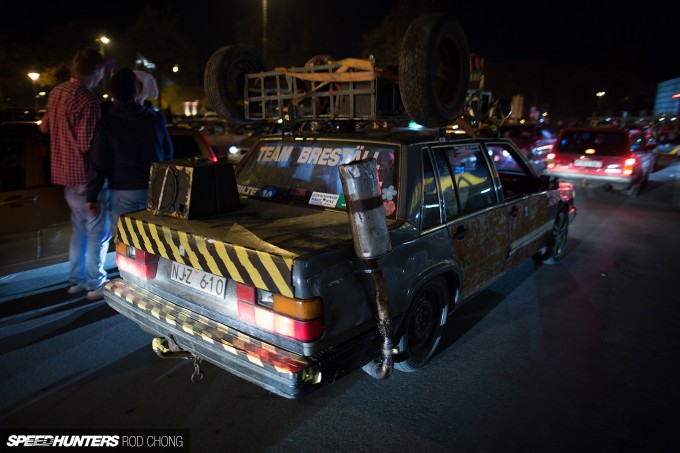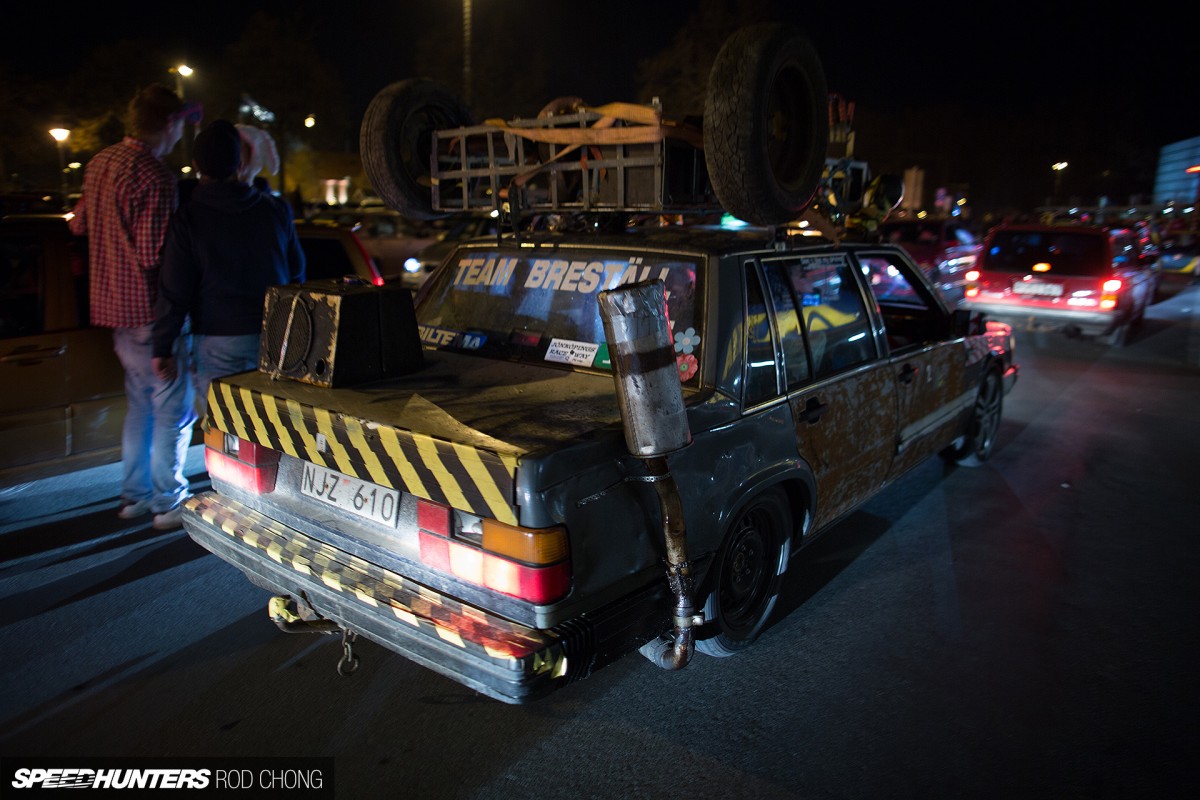 Before I could rest my head on an actual fluffy pillow though, there was one more stop we had to make before we headed home for the night. We'd heard whisperings about a giant car meet in the parking lot of the Jönköping shopping centre, so of course we had to find our way there and see what it was all about.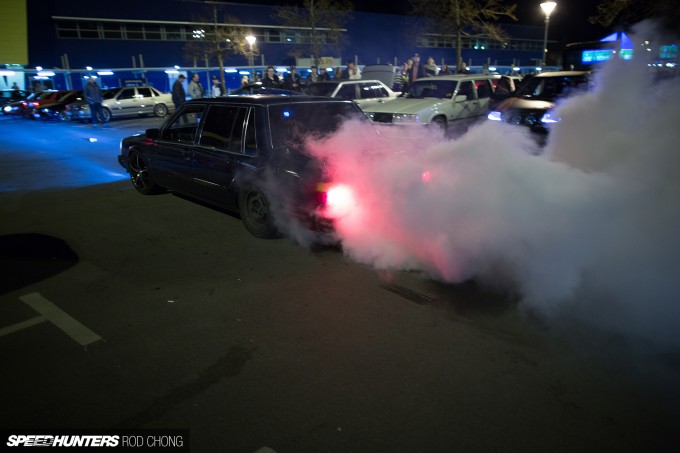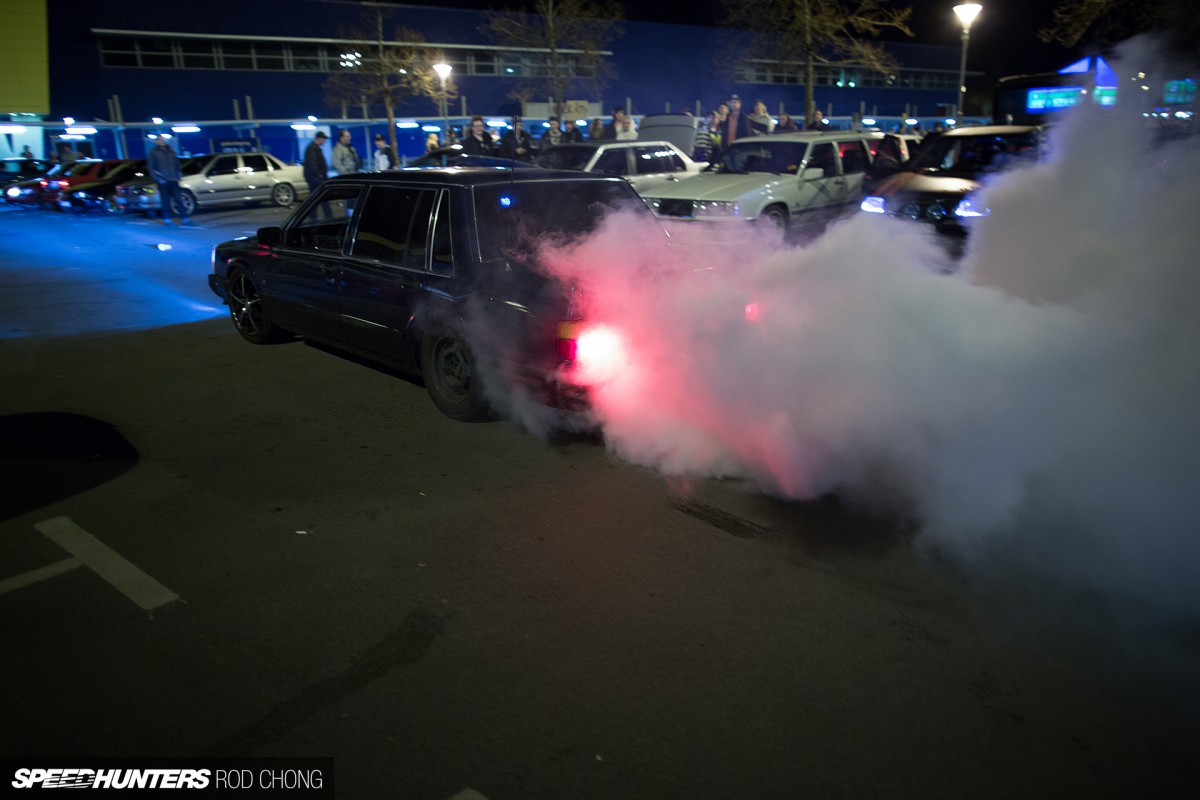 It turned out to be some kind of dance party meets Fast & Furious-style car gathering meets Volvo apocalypse, with hundreds upon hundreds of cars parked up and cruising around the shopping mall area. You can expect a full report on this from Bryn, who had gone over to the parking lot earlier to make sure he didn't miss out on any Scandinavian craziness, like this epic Volvo burnout.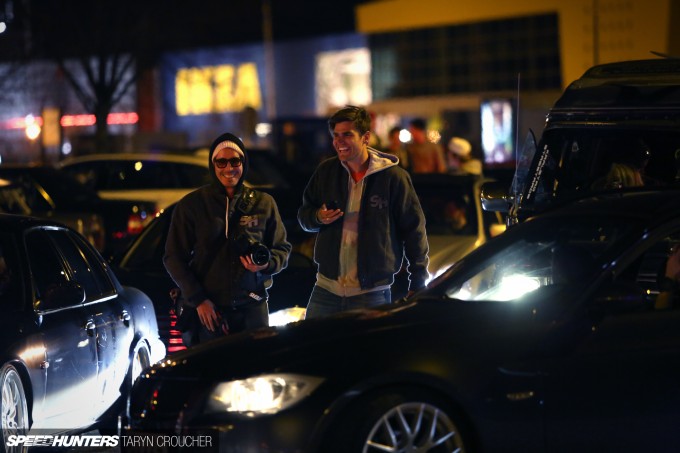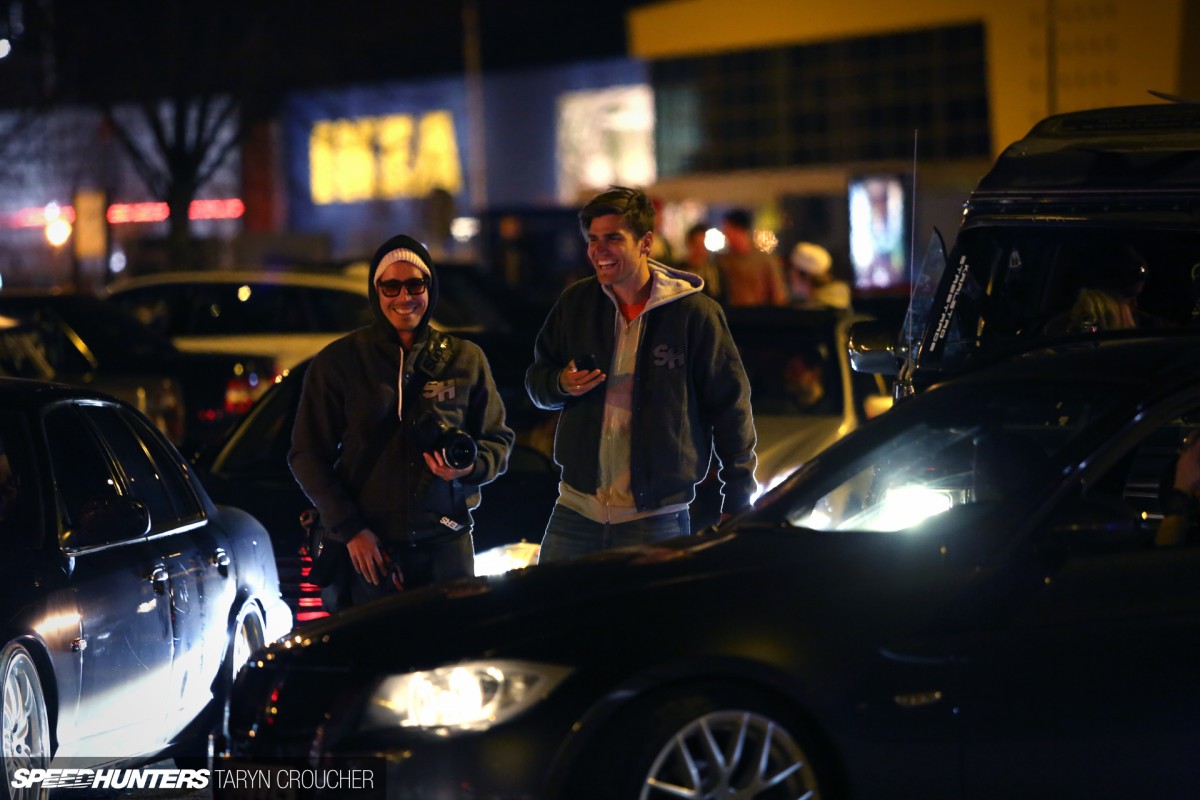 Shortly after I took this photo, Fredric was grabbed by the back of his Speedhunters bomber jacket and dragged into that seedy looking van behind him, never to be seen again. I heard them singing in there though, so I'm sure he's fine.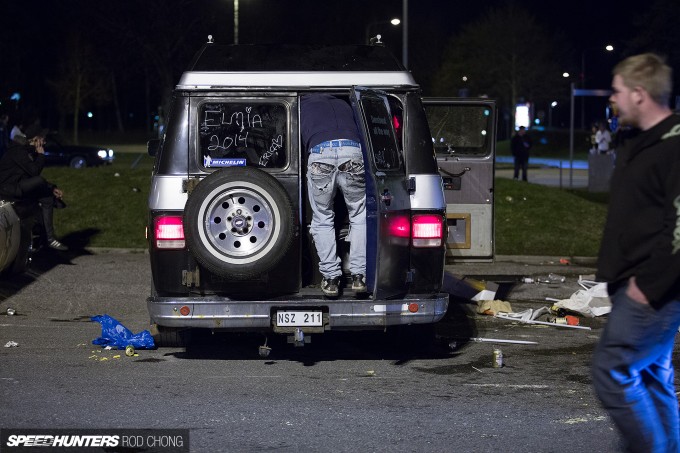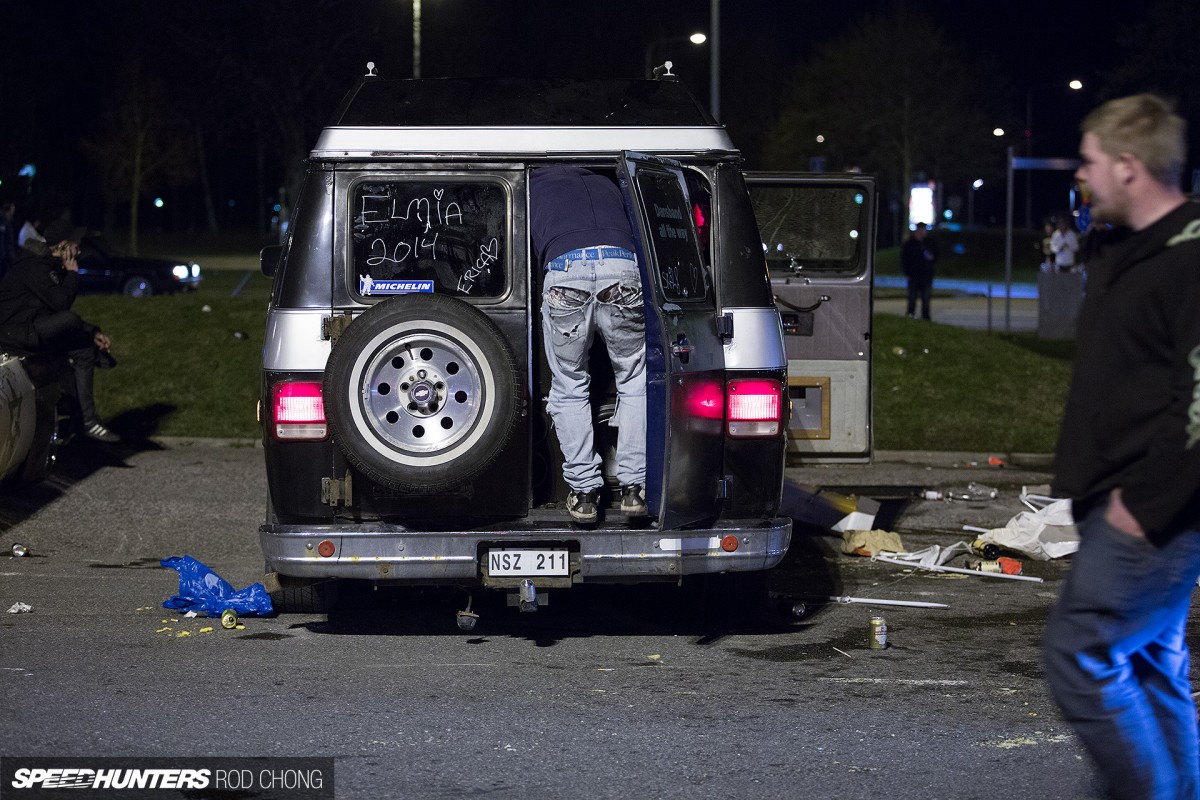 The whole city of Jönköping was transformed into one big party that weekend, and now I understand why that is. The long and dark Scandinavian winter has to be good for something, so Swedish car enthusiasts devote most of their free time to working on their cars throughout this period. The Elmia show is their opportunity to debut the long hours of labour and love they've put into their creations; and to not only share them with the community, but to celebrate the departure of the colder weather as well.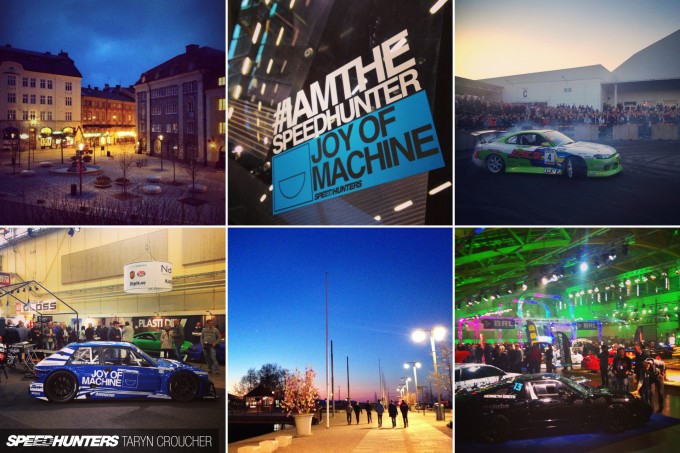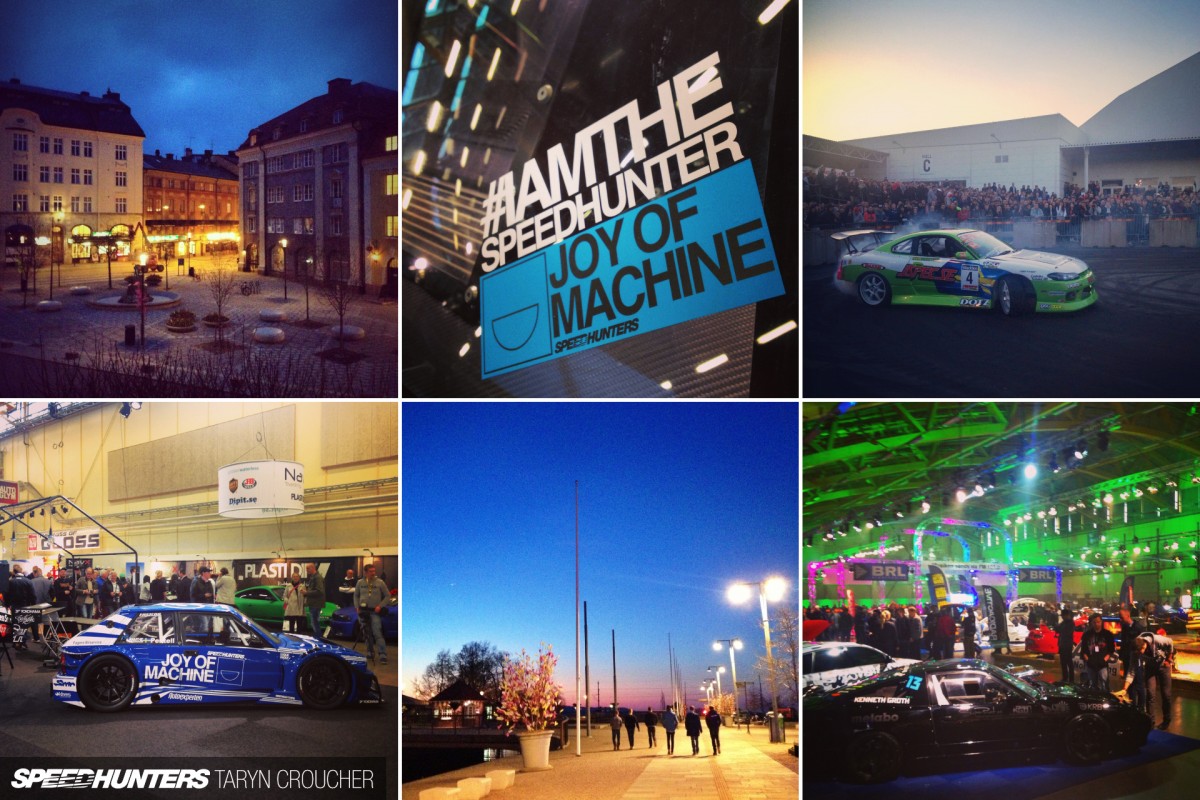 I'm unsure when the next opportunity will come around for me to embark on another Swedish Speedhunting adventure, but the Bilsport Performance & Custom Motor Show at Elmia sure left one hell of an impression on me. I really hope my next visit comes around sooner rather than later. 
Hej då Sweden, until next time!
Taryn Croucher
Instagram: taryncroucher
Twitter: taryncroucher
Additional photos by Rod Chong & Bryn Musselwhite