The quest for perfection
In car culture circles, perfection means many things to many people. For some, it's achieving a faultless lap when it matters the most. For others it's an unblemished score card at a Concours D'Elegance event, or perhaps even something as simple as a set a wheels that fit exactly the way it was envisaged they would.
For Patrick Murray, perfection is something he sought and found in a 1987 Toyota Trueno GT Apex built for attacking Irish back roads.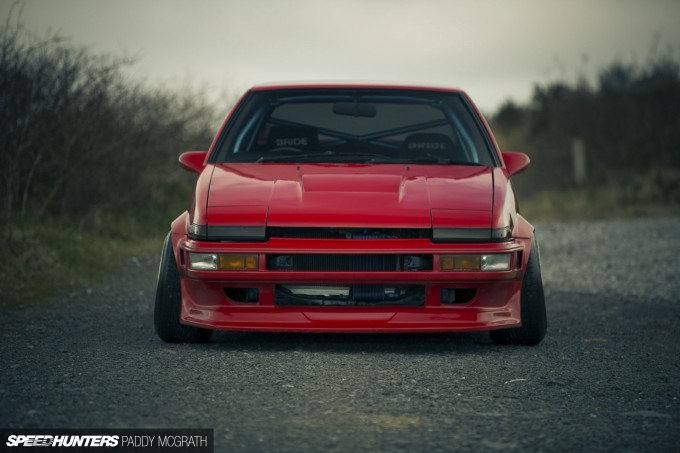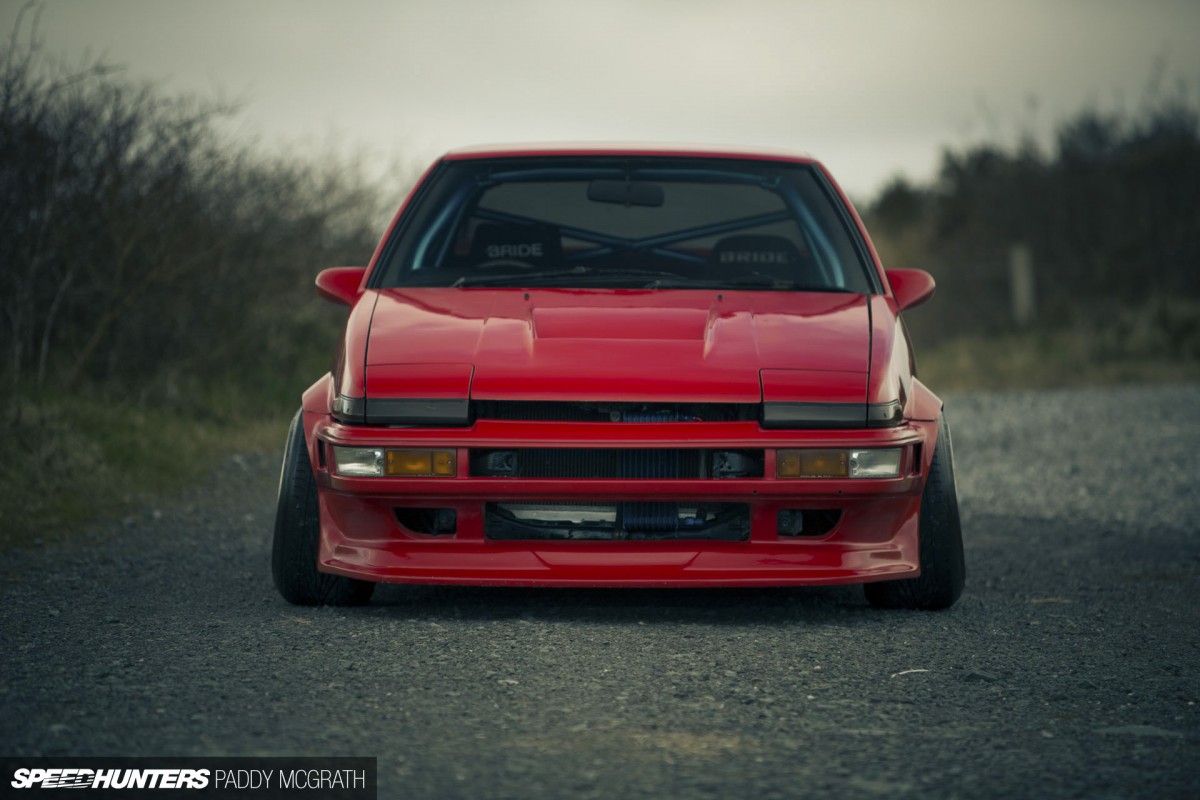 In Irish drift circles, I doubt the name Team Disco needs little introduction. For a few years the small, but dedicated group of friends have churned out some of the toughest touge-spec machines anywhere in the world, let alone a small island on the north-western coast of mainland Europe.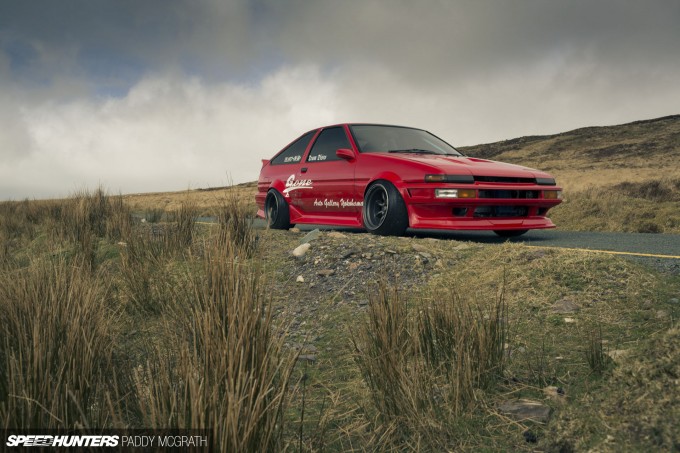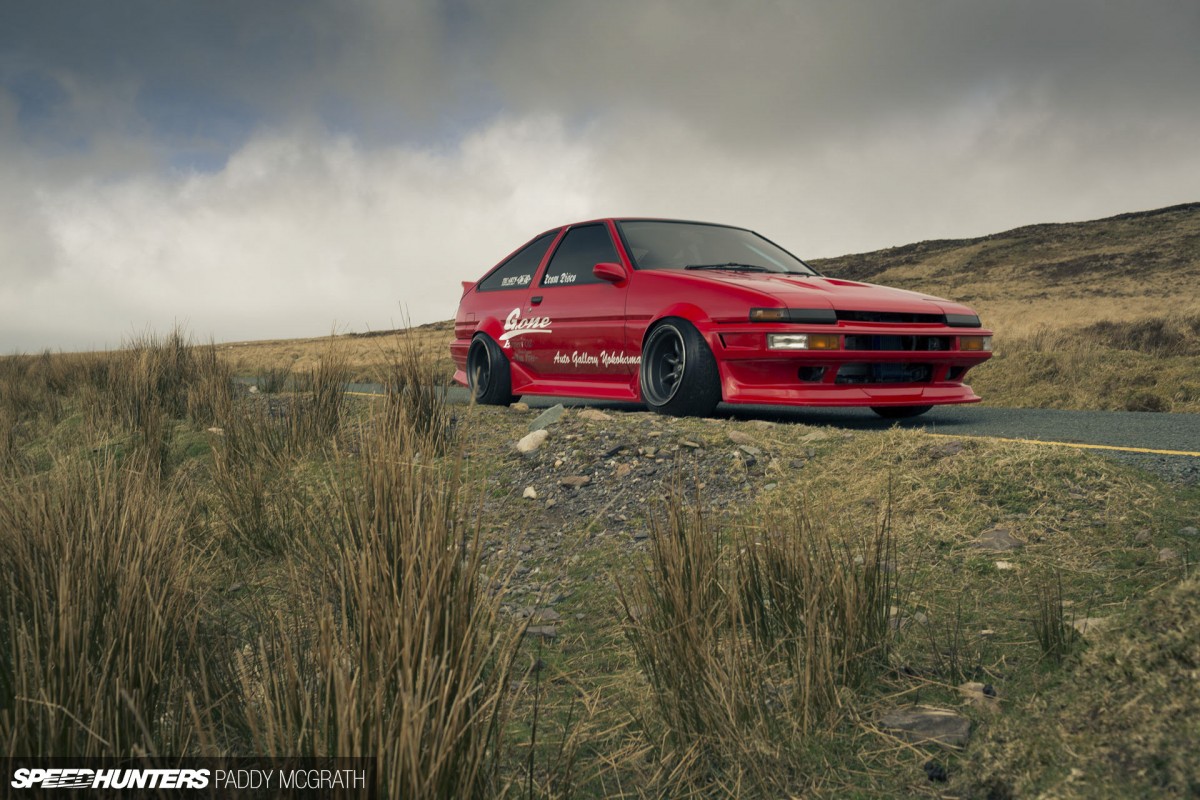 The AE86 I'm about to show you – one of the very last kouki-model cars before Toyota permanently ditched its rear-wheel drive Corolla platform – epitomises everything Team Disco stands for. It respects its JDM roots, it was specifically built for the street, and the owner did the work.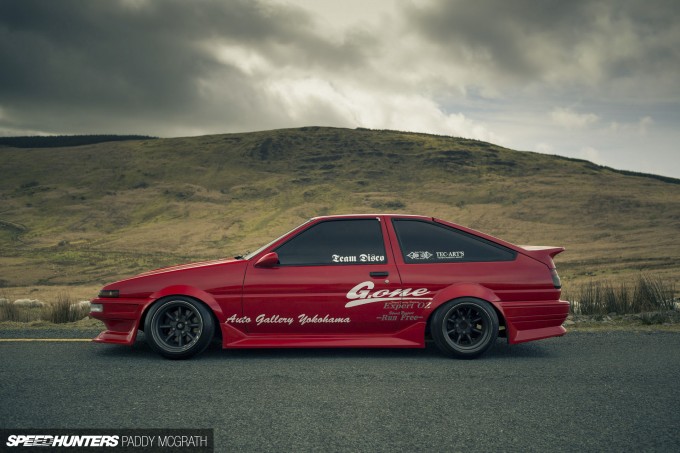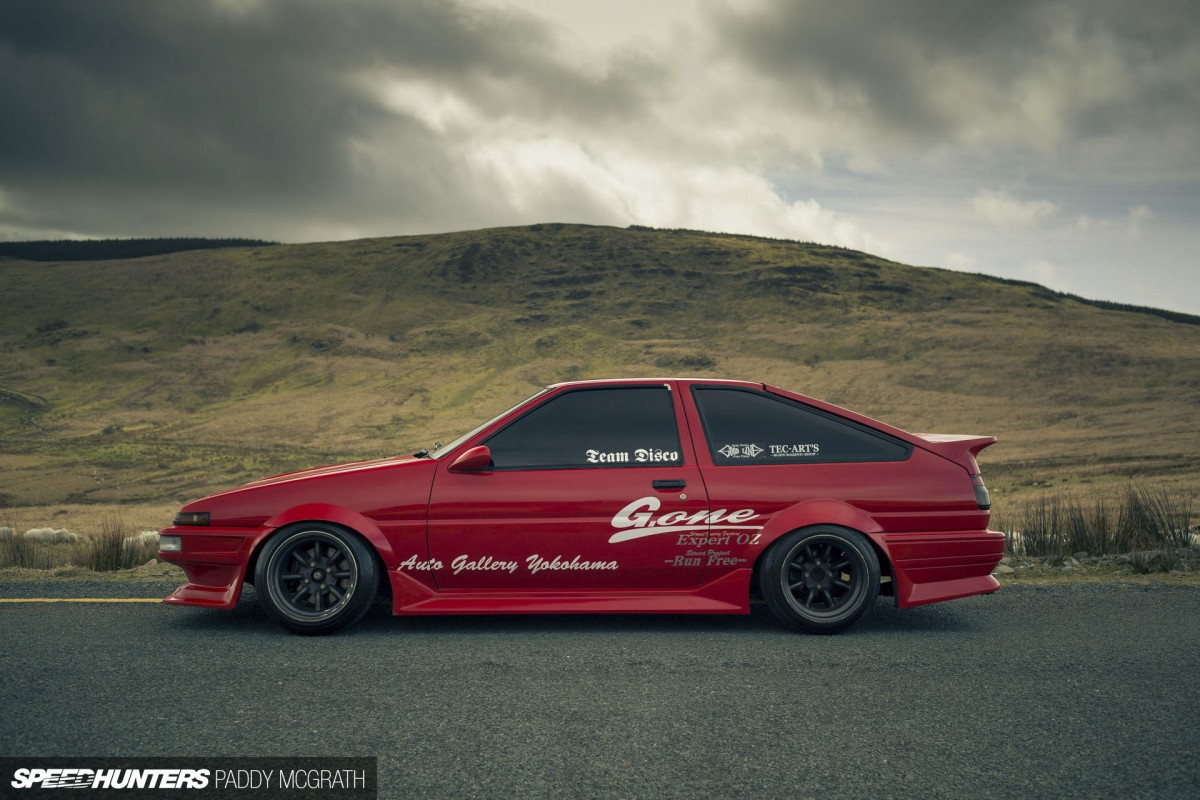 I'm not just talking about bolting on parts though, but rather the entire process – from custom fabrication to the paint work and everything in between. That would be impressive enough if Patrick did this sort of thing for a living, but spinning spanners and aiming spray guns at AE86s is very much a hobby for him.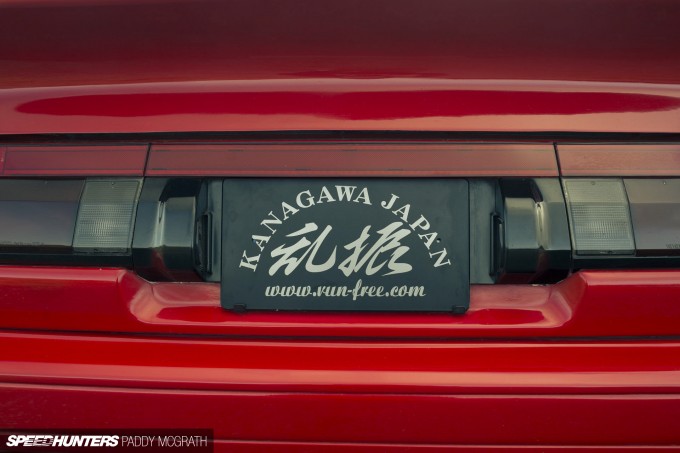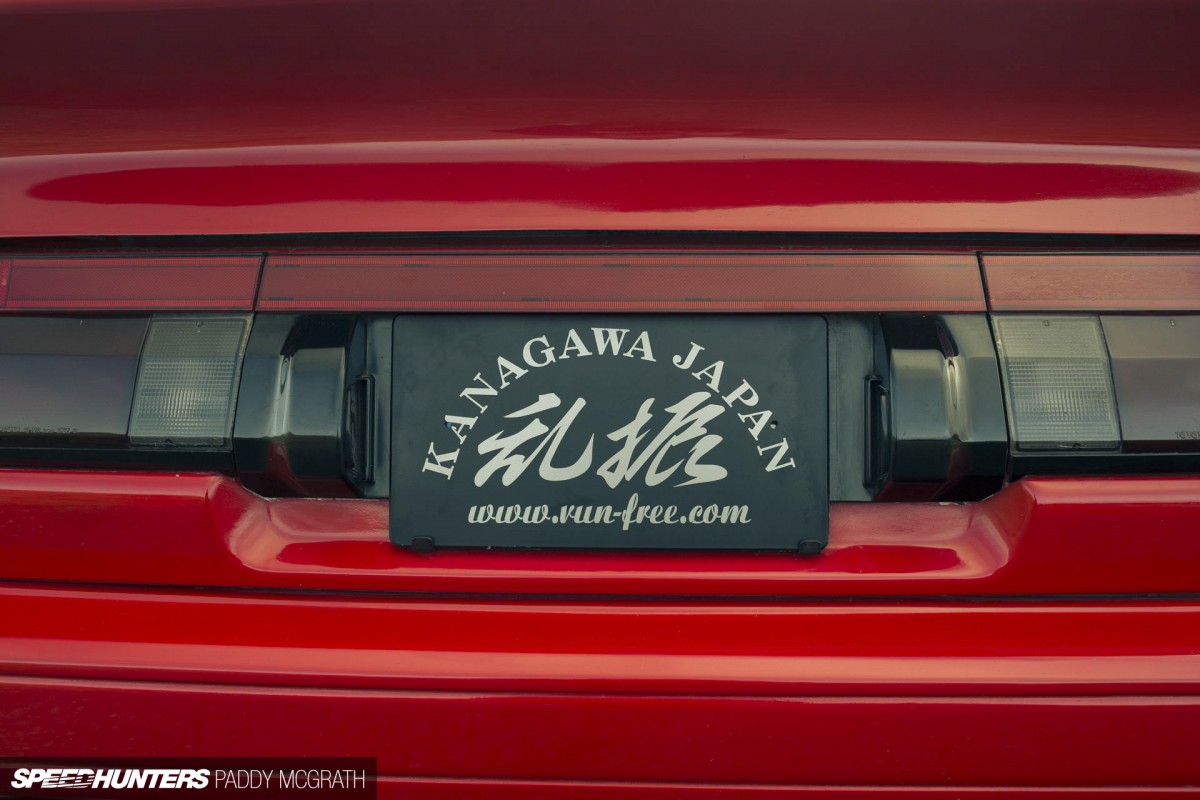 If you're clued up on iconic Japanese AE86s, you might be looking at these pictures and telling yourself that you've seen this car before. You probably haven't, but it's totally understandable given the influences behind the build. Think Kanagawa hachiroku style – red paint, Run Free and Goodline aero, a naturally aspirated 4A-GE and super-wide Watanabe wheels… In Patrick's eyes, this is the recipe for street-tuned AE86 perfection.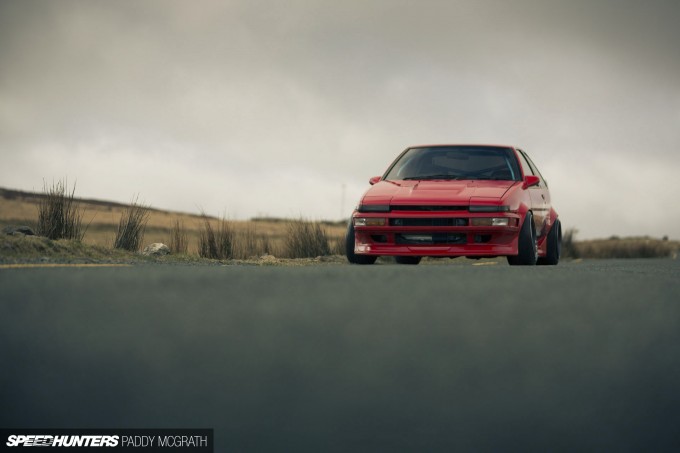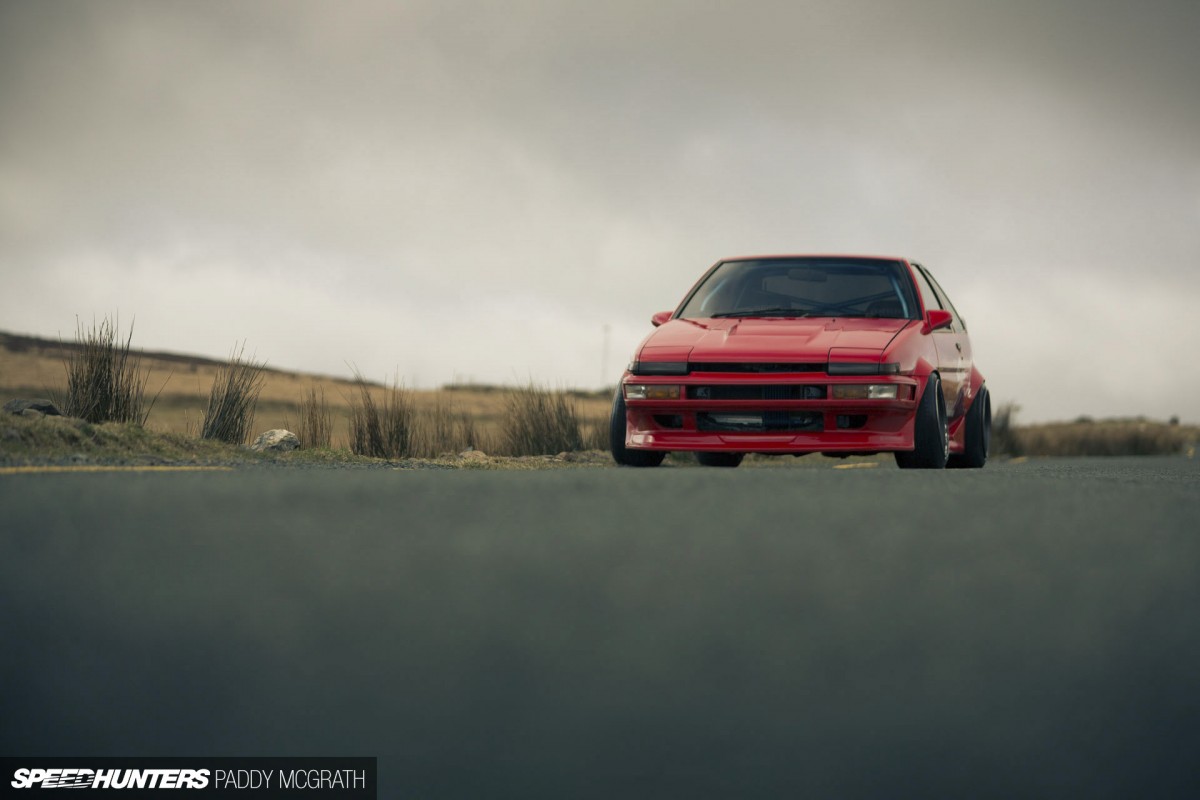 Looking at his creation, let alone understanding every last little detail – and there's many – that it took to piece it together, it's hard to argue the fact. This is a very cool car.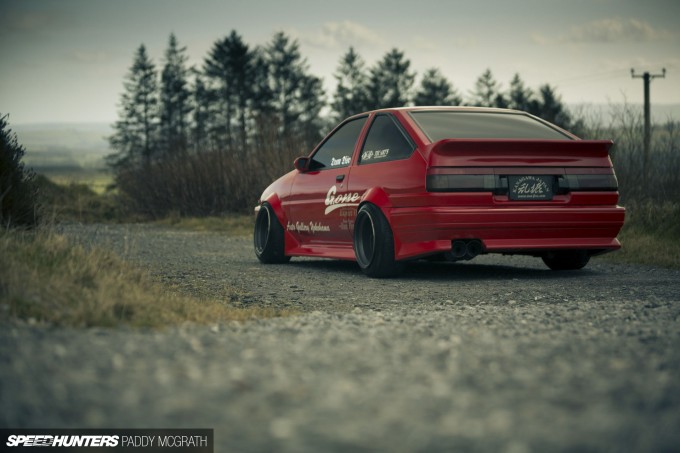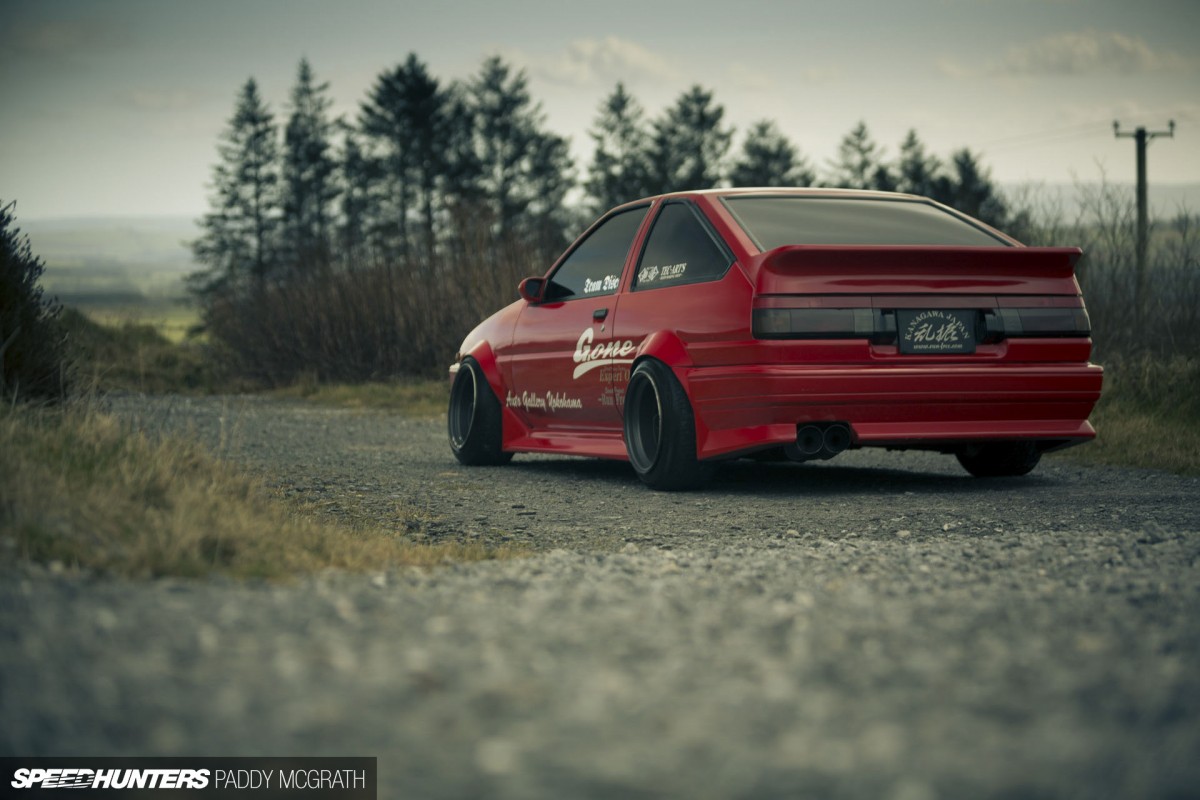 As I just mentioned, the visual aspect of the Trueno has been achieved through the use of a few select parts, all of which – like the car itself, a Yahoo Auctions find – were sourced out of Japan. That includes the  Goodline Ground Effect front bumper and vented bonnet; Run Free side skirts, rear bumper and FRP hatch with integrated TRD N2 wing; and East Bear Type 1 aero mirrors.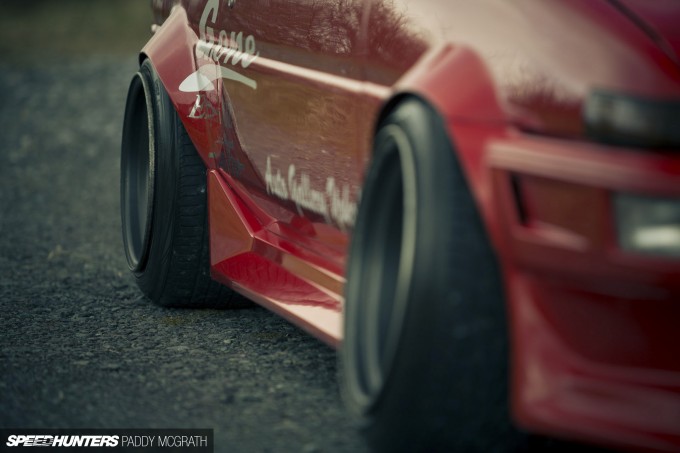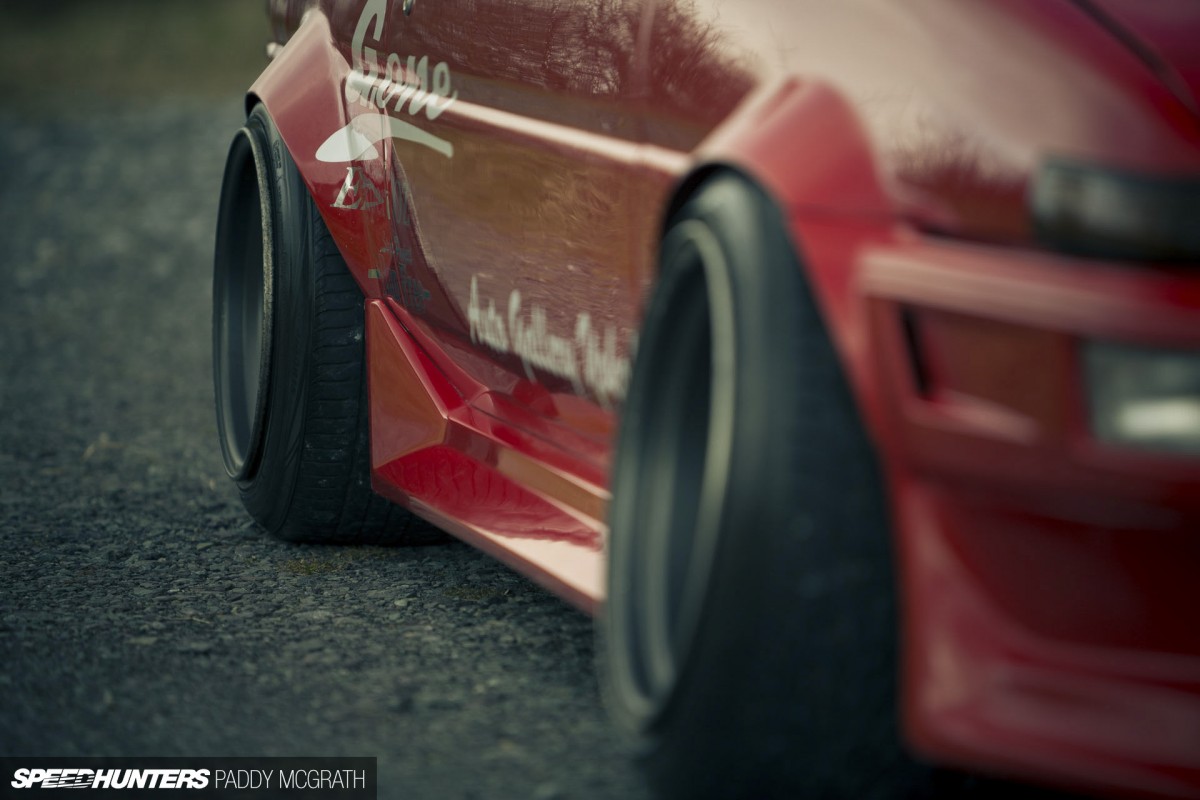 It's not all off-the-shelf stuff though, the extended arches for instance were handcrafted from steel and carefully integrated into the factory front and rear guards.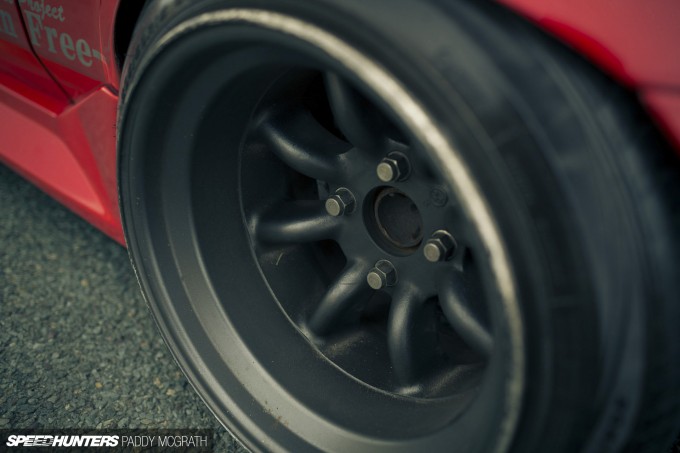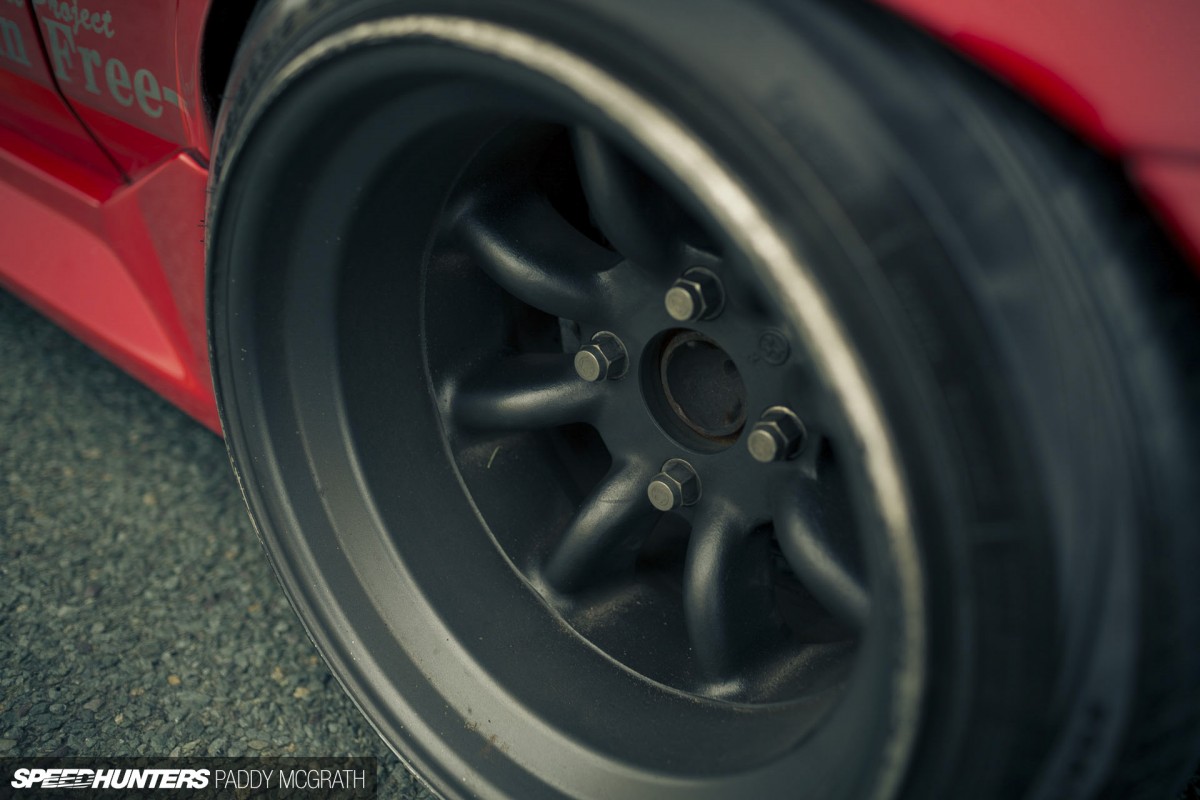 Wheels were always going to play a very important part in this build, but in sticking to the aforementioned Kanagawa script, only RS Watanabes were ever going to do. The R-type rims pack some pretty serious specs too: 15×9.5-inch with a -19 offset up front, and 15×10.5-inch with a -32 offset at the rear. They're wrapped in a mix of Toyo and Nexen tyres measuring 195/50R15 and 205/50R15 respectively.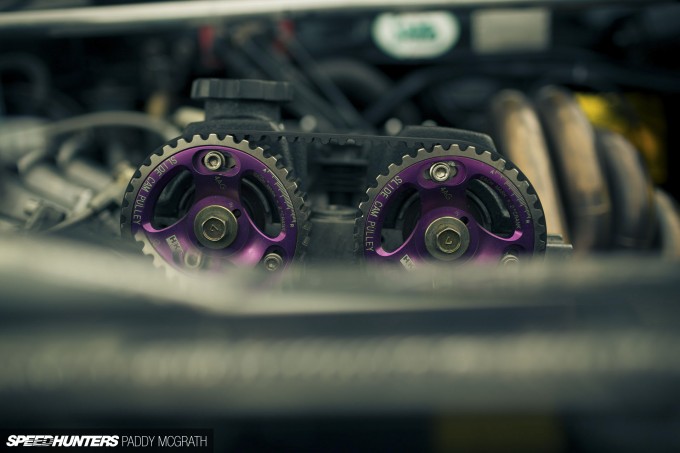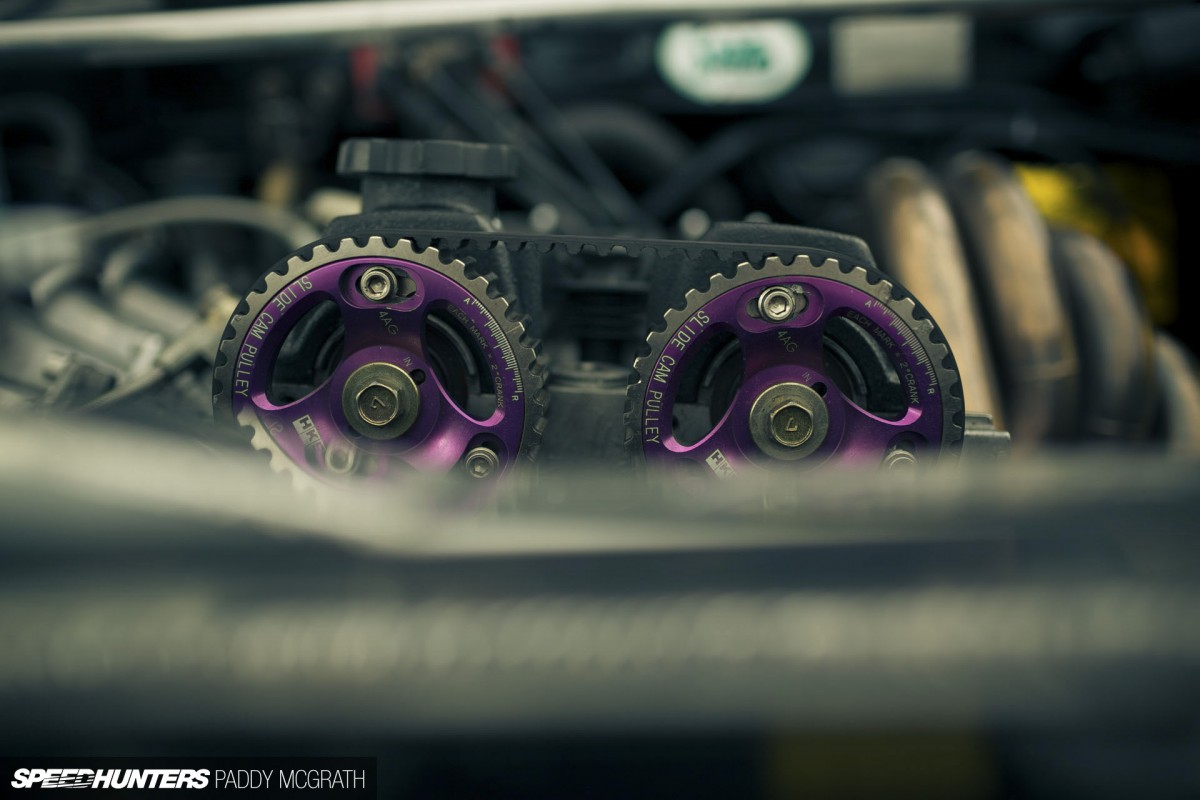 Like the way it looked, Patrick had clear intentions about how the Trueno should to drive and perform too. That's something that goes a long way in explaining some impressive hardware lurking under the lid…
Keeping it real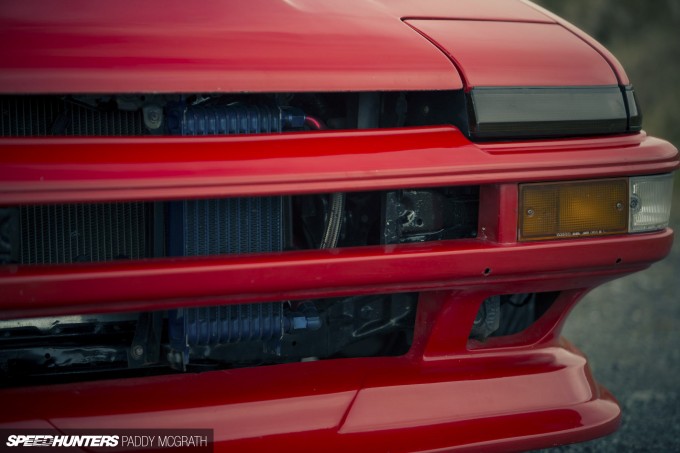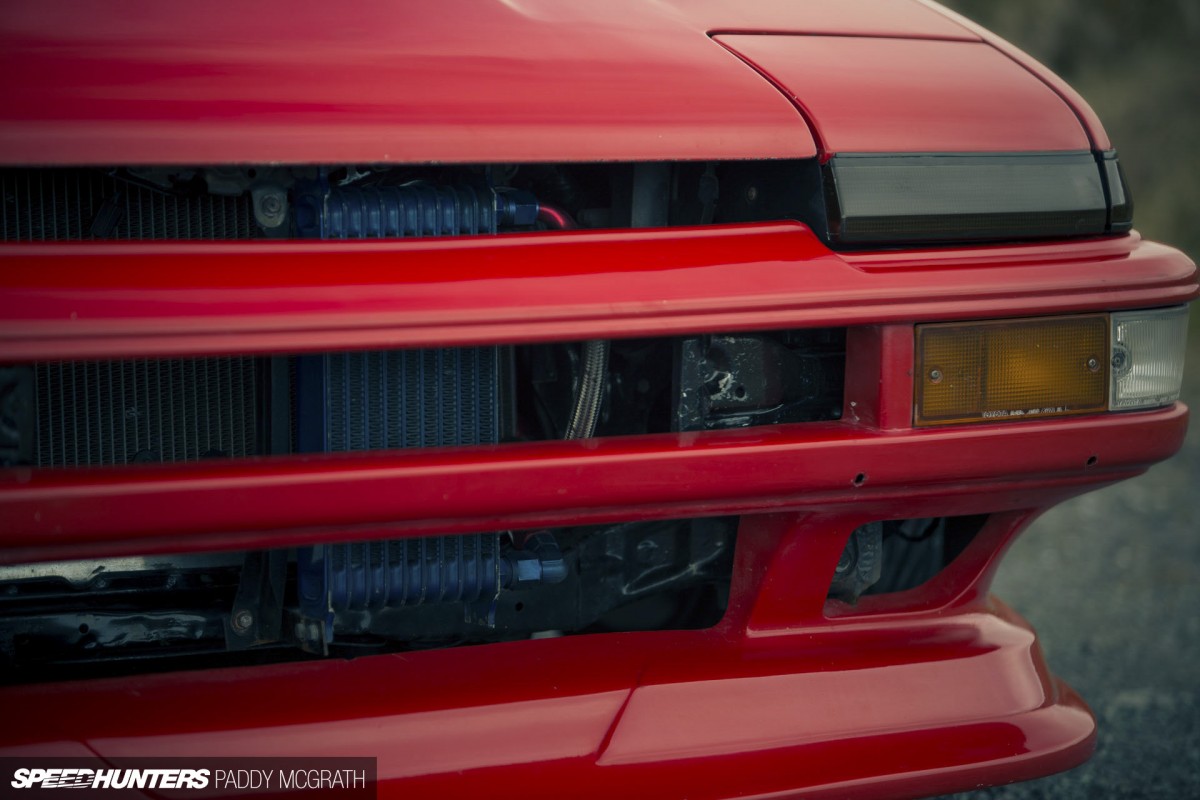 Of course, Patrick wanted more power than the 125-odd horsepower that factory-spec engine could muster up, but at the same time he didn't want to stray too far from the hachiroku's original script.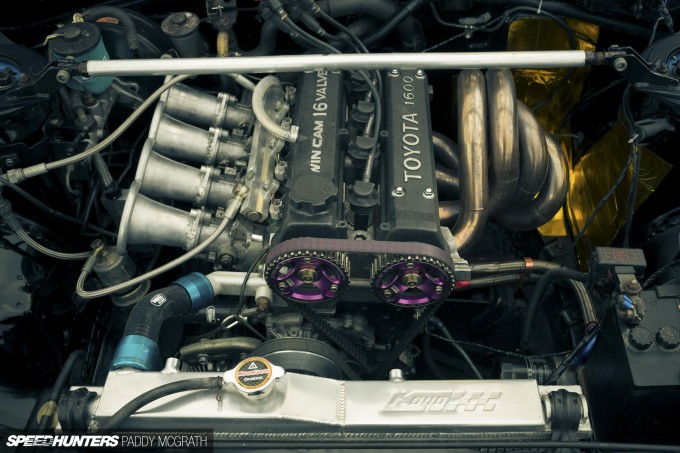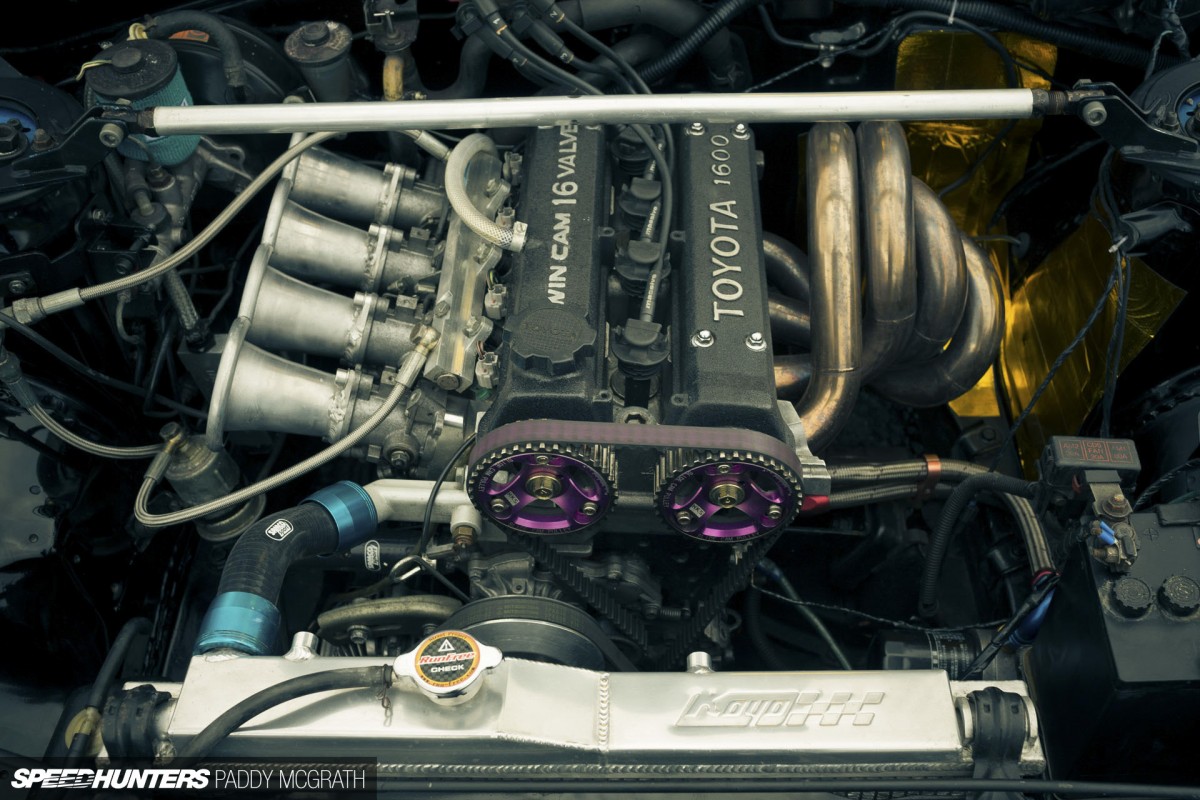 With that thinking in mind, I'm not at all surprised – and very happy – to still see a 16-valve 4A-GE taking pride in place between the AE86's front strut towers. It's not entirely the same base engine that the car was originally specced with though, but that was always going to be the case considering Patrick's plans for the naturally aspirated four-cylinder powerplant. A seven-rib 4A-GE block sourced from a kouki AE92 provides the basis of the build, adding strength and other performance-oriented features like oil squirters for the retro-fitted high compression Wossner 82mm forged pistons.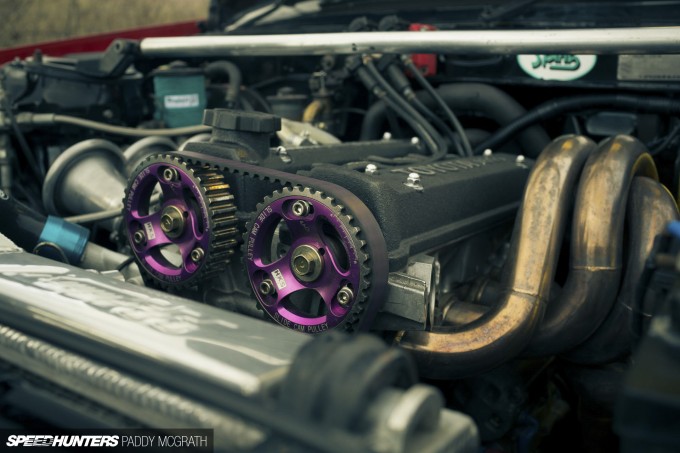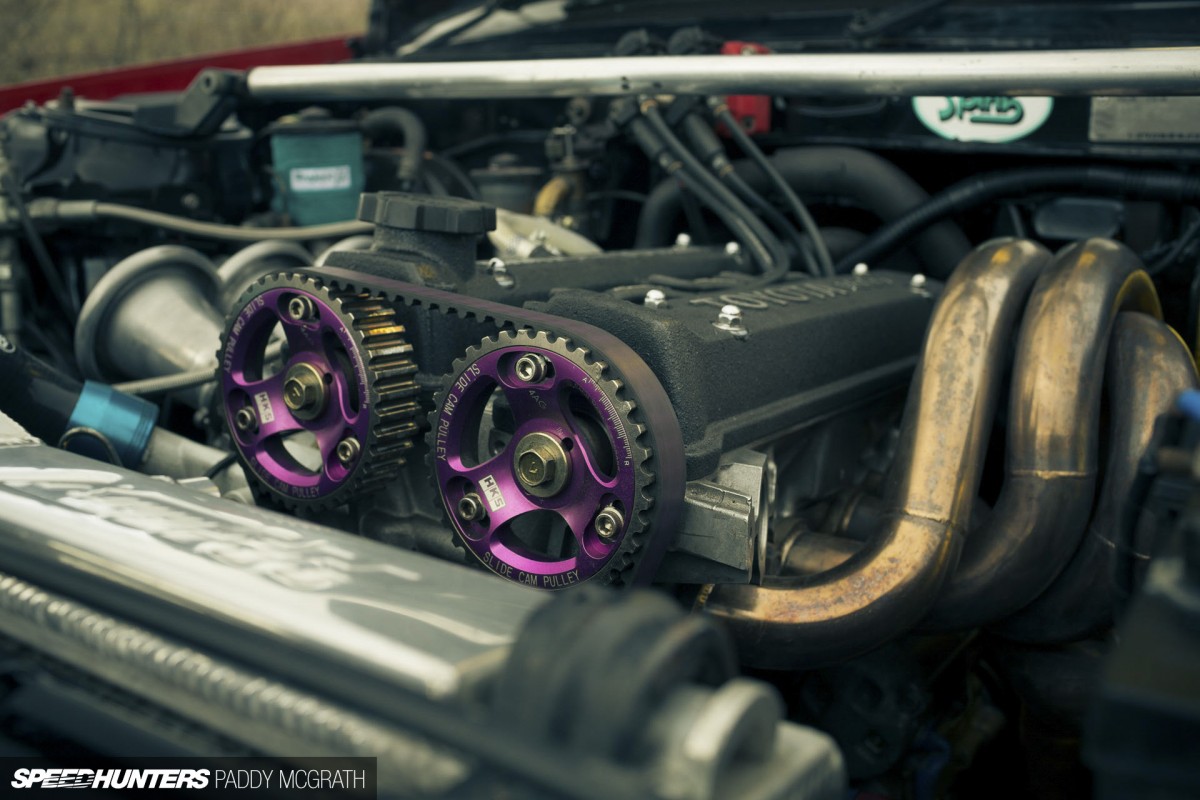 The 'Big Port' cylinder head is AE86 factory-fare though, or it was at least before being modified to allow it to take much deeper breaths, both on inhale and exhale. The ports were gas-flowed then polished and the cams swapped for HKS equivalents fitted with adjustable slide pulleys, before the head was bolted down on a Toyota Racing Development (TRD) 0.8mm metal head gasket via an ARP stud kit.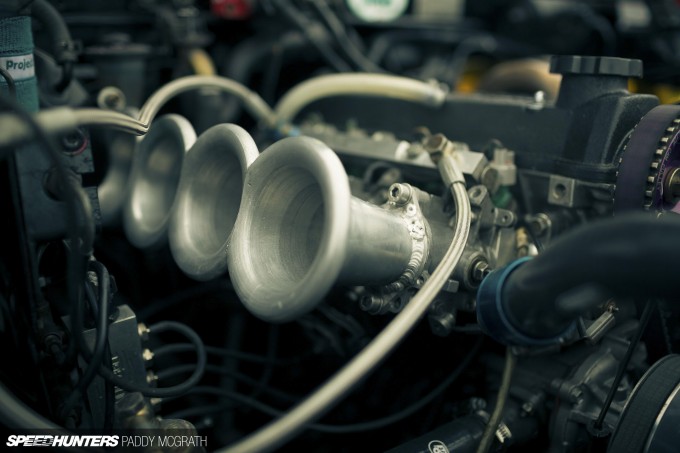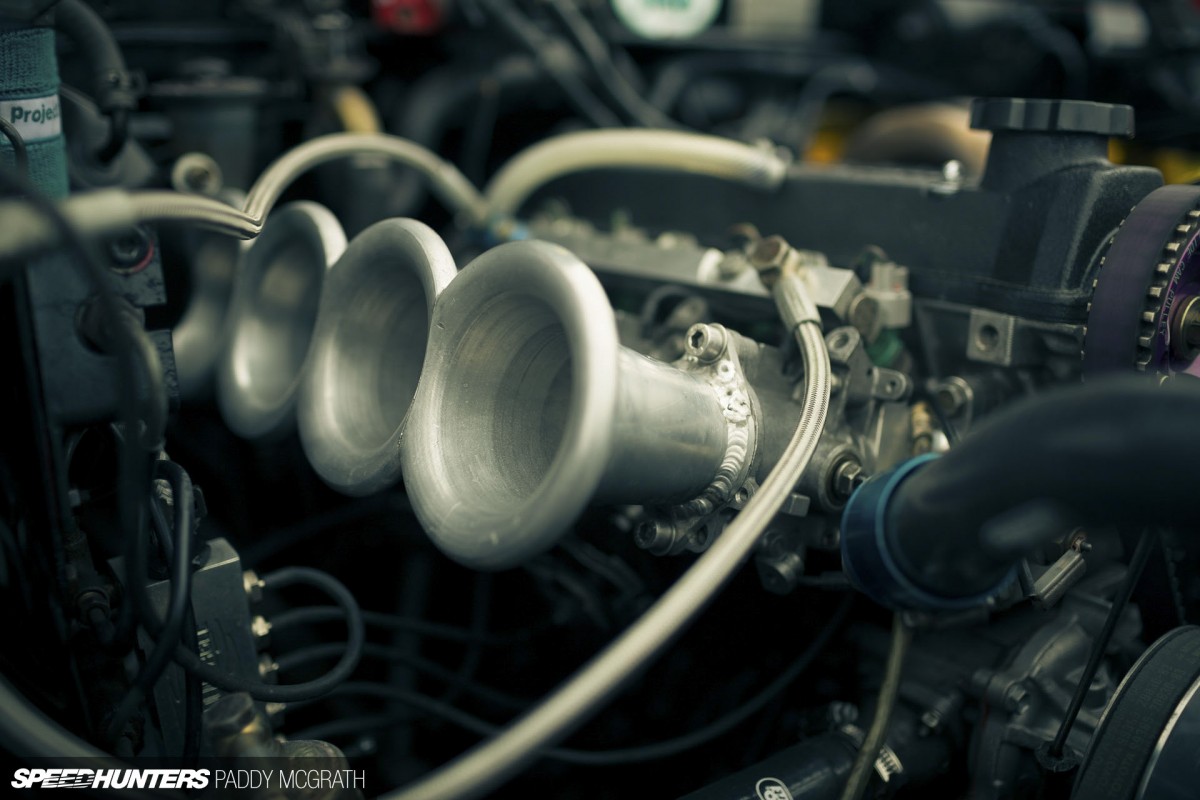 The 16-valve 4A-GE never left the factory with quad throttle bodies, but the latter 20-valve versions did, so the upgrade is a given when you're chasing NA power. 'Silvertop' AE101 43mm quads with very cool Tec-Arts stacks are in use here, with a Toy Techno Tuning (T3) adapter plate allowing a bolt-on connection to the original intake manifold. Of course, with the head's improving flow and four big mouthes gulping air, the requirement for fuel is higher is much higher too. RC 440cc injectors supplied by a high-flow in-tank Walbro fuel pump satisfy that thirst; top-shelf pump gas a non-negotiable requirement for the 12.5:1 compression.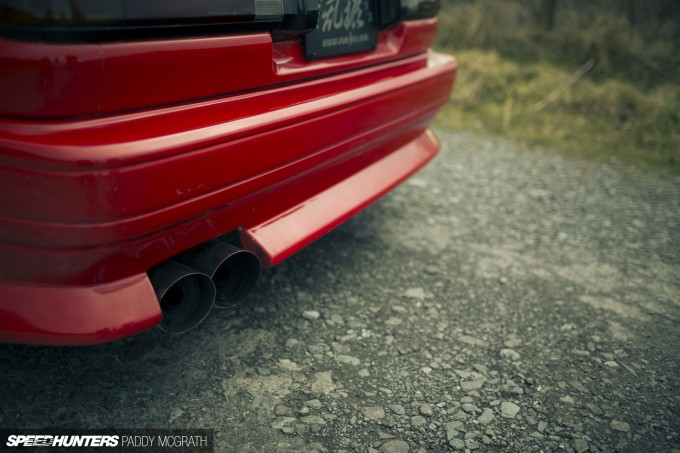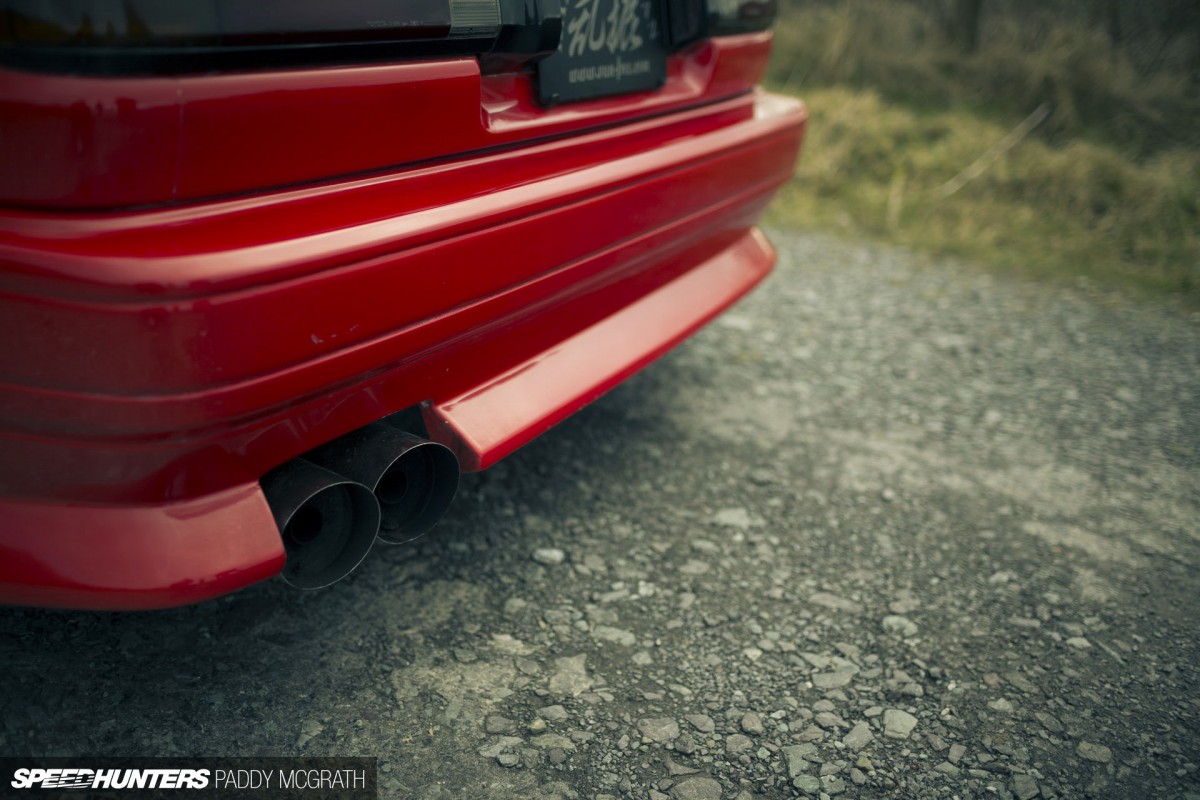 Aside from the stacked throttle bodies, I'm pretty sure the Power Craft Tornado stainless steel header would have caught your eye in the full shot of the engine a few photos back. It's one part of a completely freed-up exhaust that utilises a Rein Hard 60.5mm Type C stainless steel under-diff system that finishes with dual tail pipes.
Combined with intake roar from the un-filtered trumpets, the sound it makes at full noise is music to the ears. I suggest you push play and hear it for yourself though…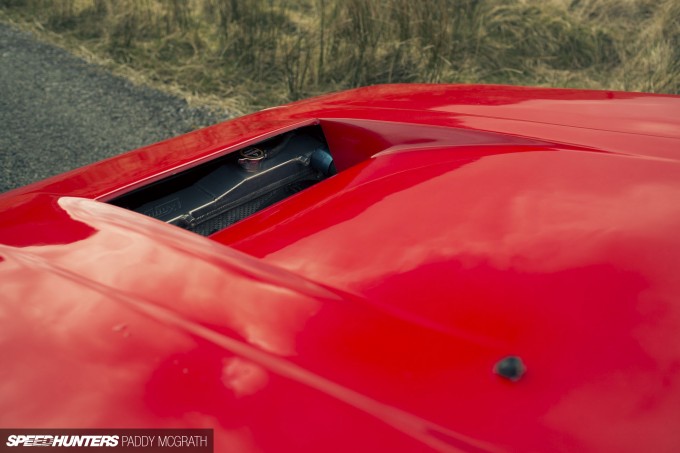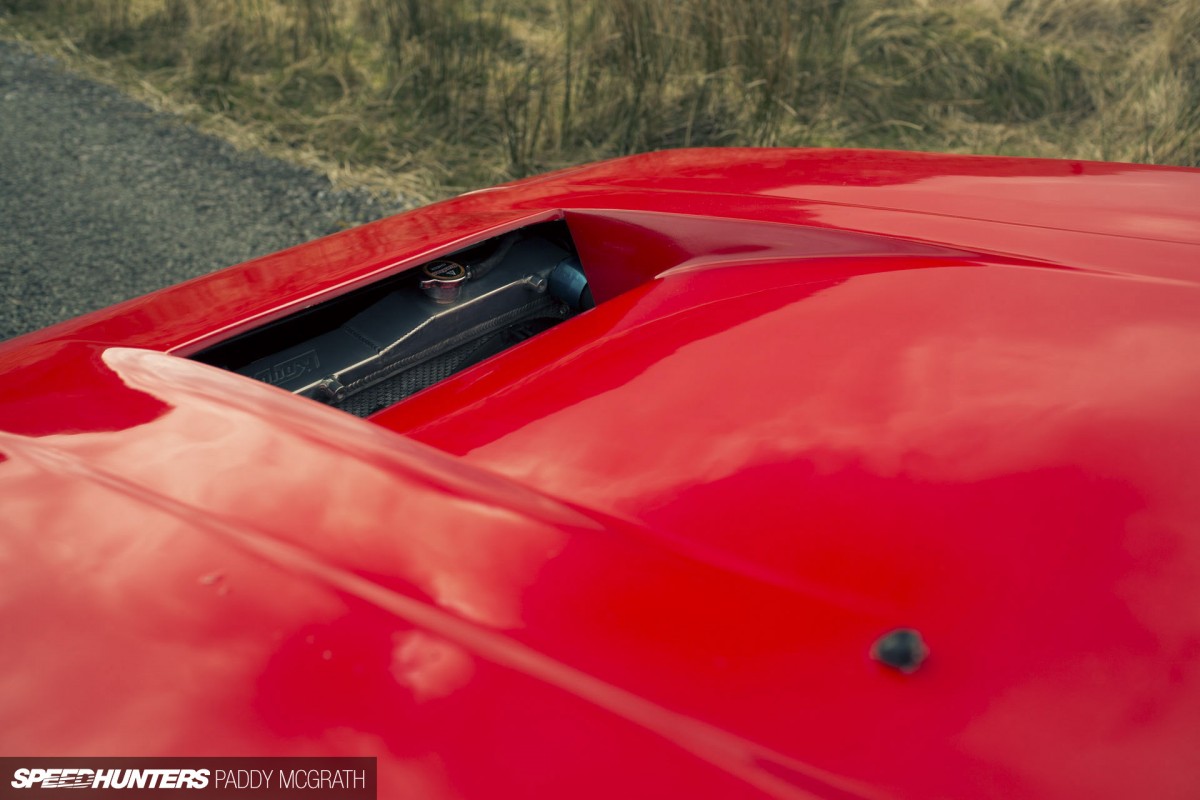 Ensuring that the engine stays cool – even when it's being punished for long periods of time over fast-flowing Irish touge roads – was particularly important to Patrick, and why there's a Koyo aluminium race radiator peaking through the aforementioned Goodline heat-extracting FRP hood, along with a Techno Pro Spirits performance water pump and a Trust/GREX oil cooler kit. Overheating is not an issue.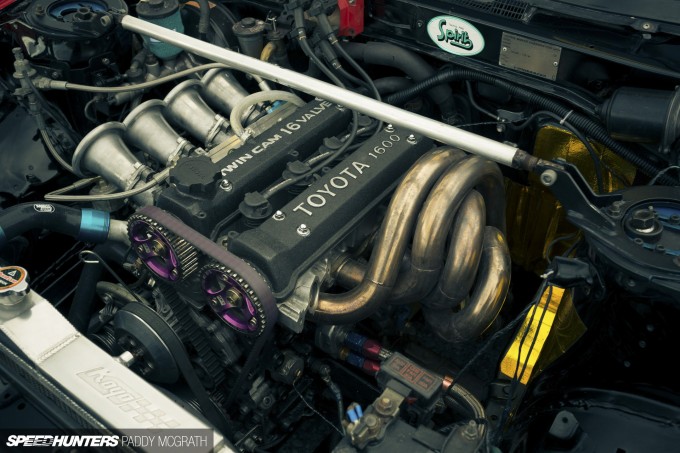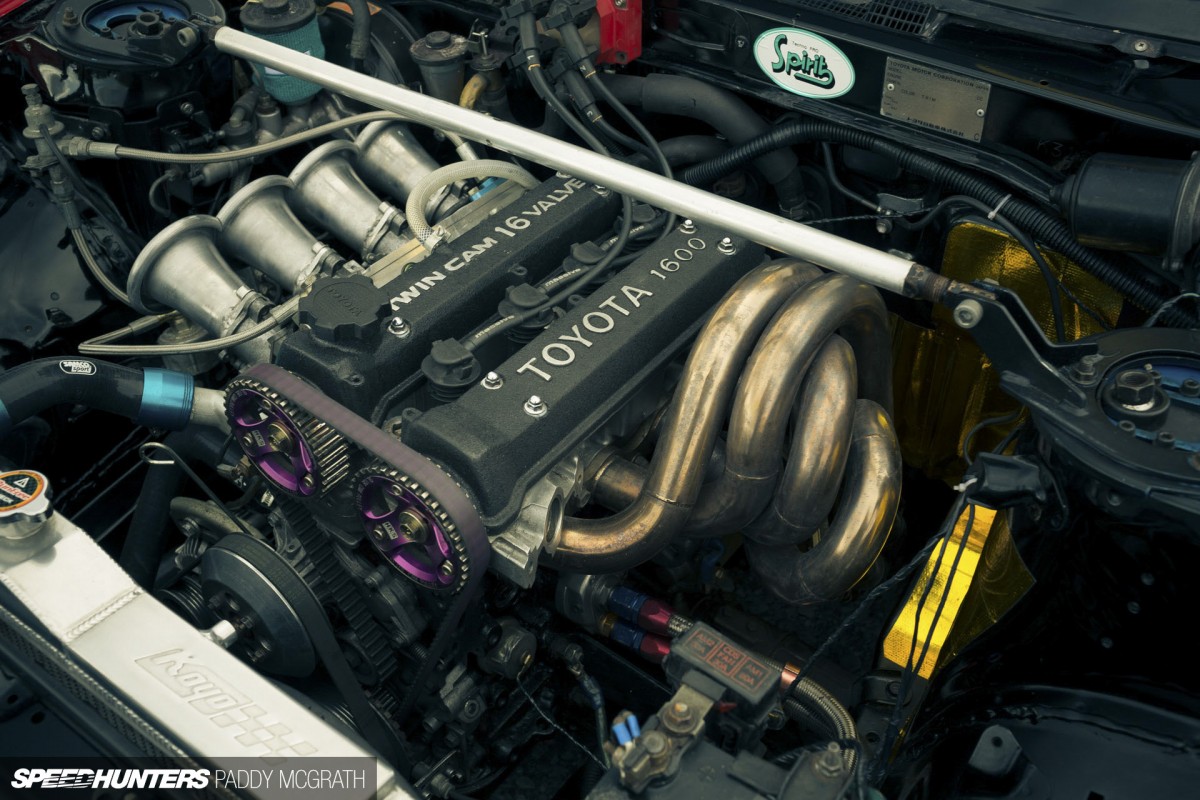 For engine management, a standalone Omex 600 system delivers the orders; subsequent tuning revealing peak output of 184hp. It might not be a huge number in the bigger scheme of things, but as anyone who's modified one of these engines will attest, it's a healthy figure for a street-tuned 16-valve 4A-GE, and – in this instance – more than enough grunt to hang the car sideways at speed, and stick it there.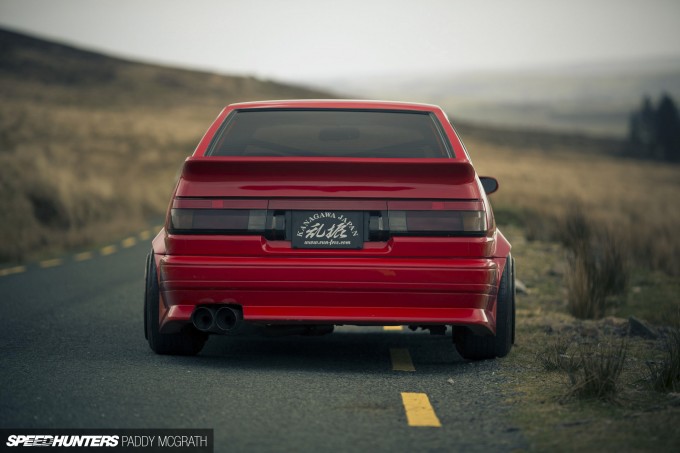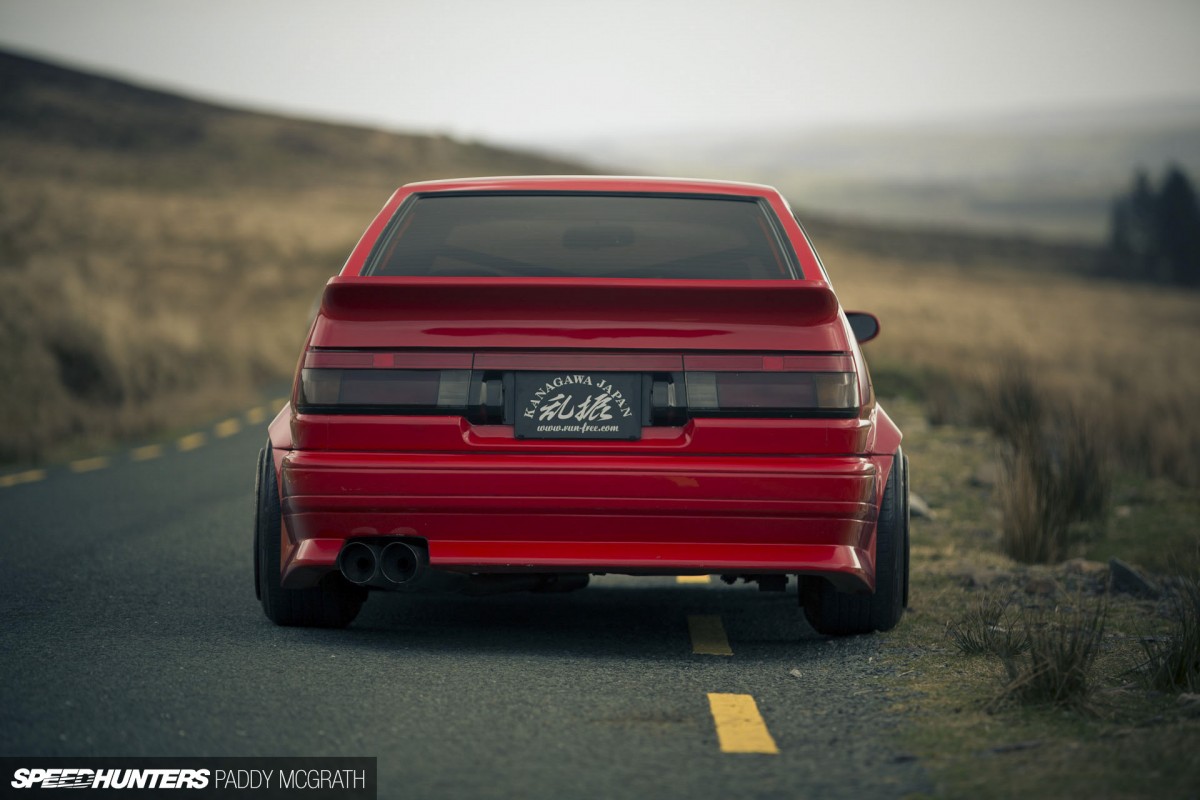 Of course, for that to be able to happen reliably, Patrick needed to make some upgrades to the driveline too. The Trueno still runs its original T50 five-speed gearbox, but there's an Exedy paddle clutch and Techno Pro Spirits 3.8kg flywheel in the mix now too. Being a kouki model, the Toyota's rear axle was factory-specced with larger axles than the early AE86, and together with a TRD 2-way limited slip differential, it has no problem getting the power to the ground. The perfect ratio for a fast road set up – a 4.77:1 crown wheel and pinion with a solid pinion spacer replaces the original 4.30 final drive.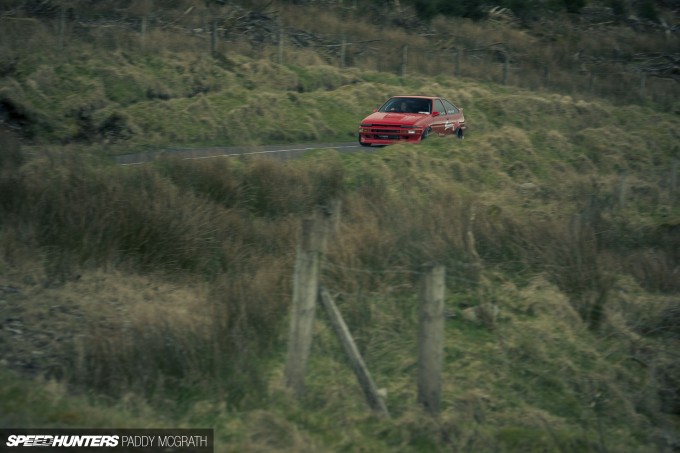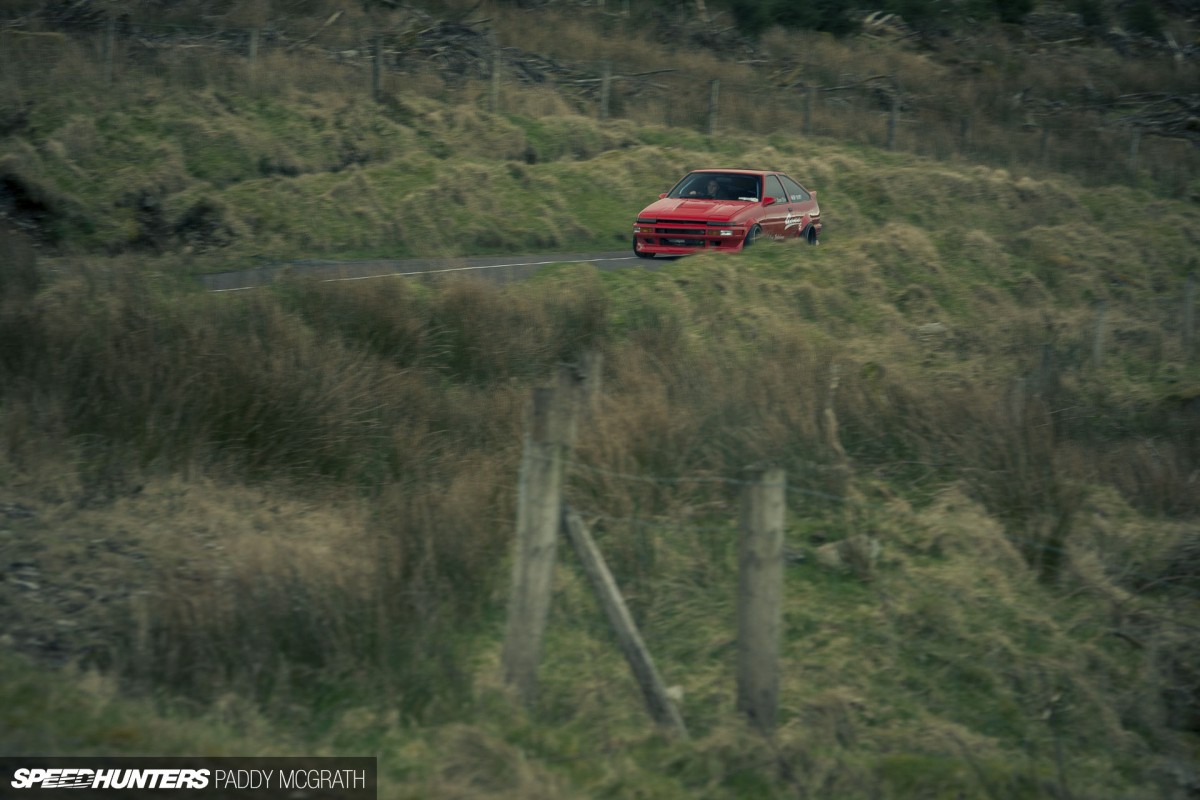 If there's one area of the car more modified than any other though, it's the suspension. Here, Patrick has left no stone unturned in the quest for the ultimate AE86 street drift setting. More than three decades after its debut the hachiroku is still praised for its handling and balance but as evidenced by the sheer number of upgrades that have been made beneath this car, there's still plenty of scope for improvement. From SP Tec lower control arms and custom coilovers featuring TRD Black dampers, Revolver roll centre adjusters and Cusco 8.0kg springs on the front end, to Group 4 adjustable rose-jointed bars in the four-link and AVO coilovers in the rear – the Toyota is very well specced in the suspension department. If you want the full picture, check out the spec panel at the end of the next chapter…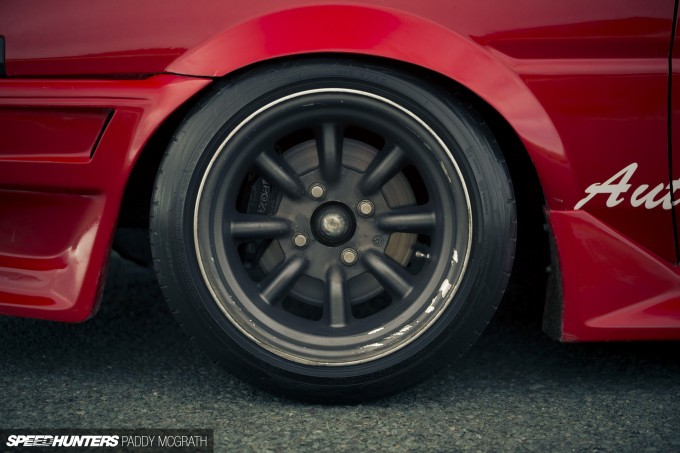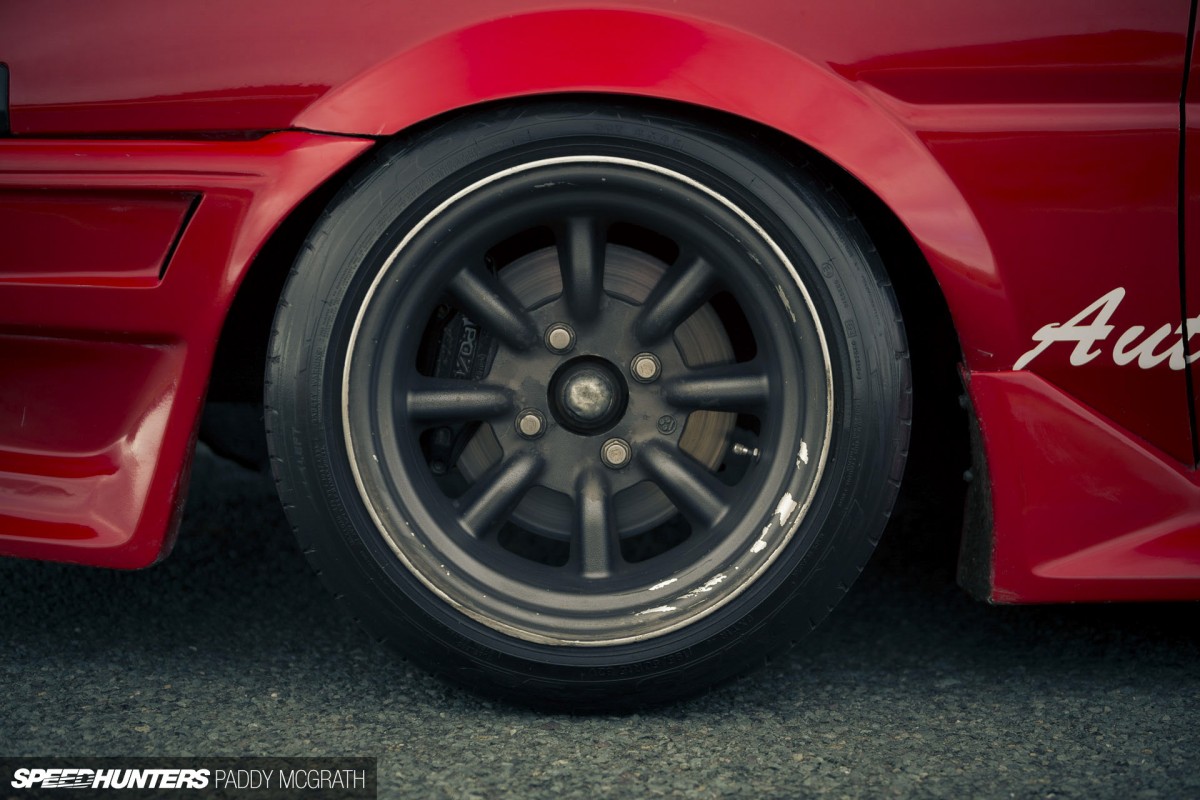 The brakes have have been improved too, with larger 288mm rotors and Mazda RX-7 callipers now fitted at the front with Endless pads, stainless steel lines and a Cusco master cylinder stopper. Factory discs suffice at the rear with a simple Project Mu compound upgrade.
Sitting pretty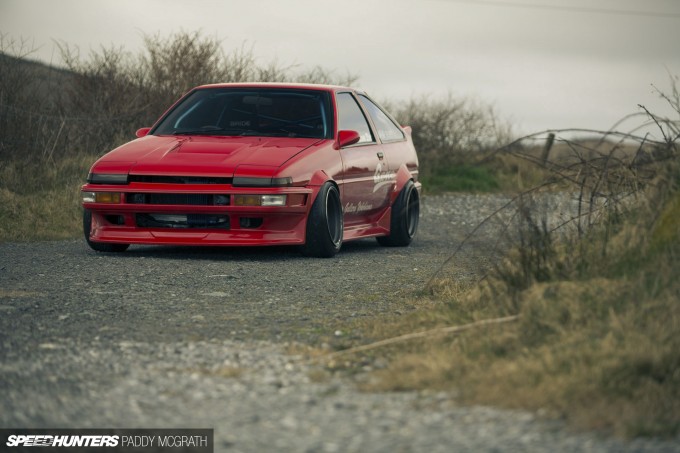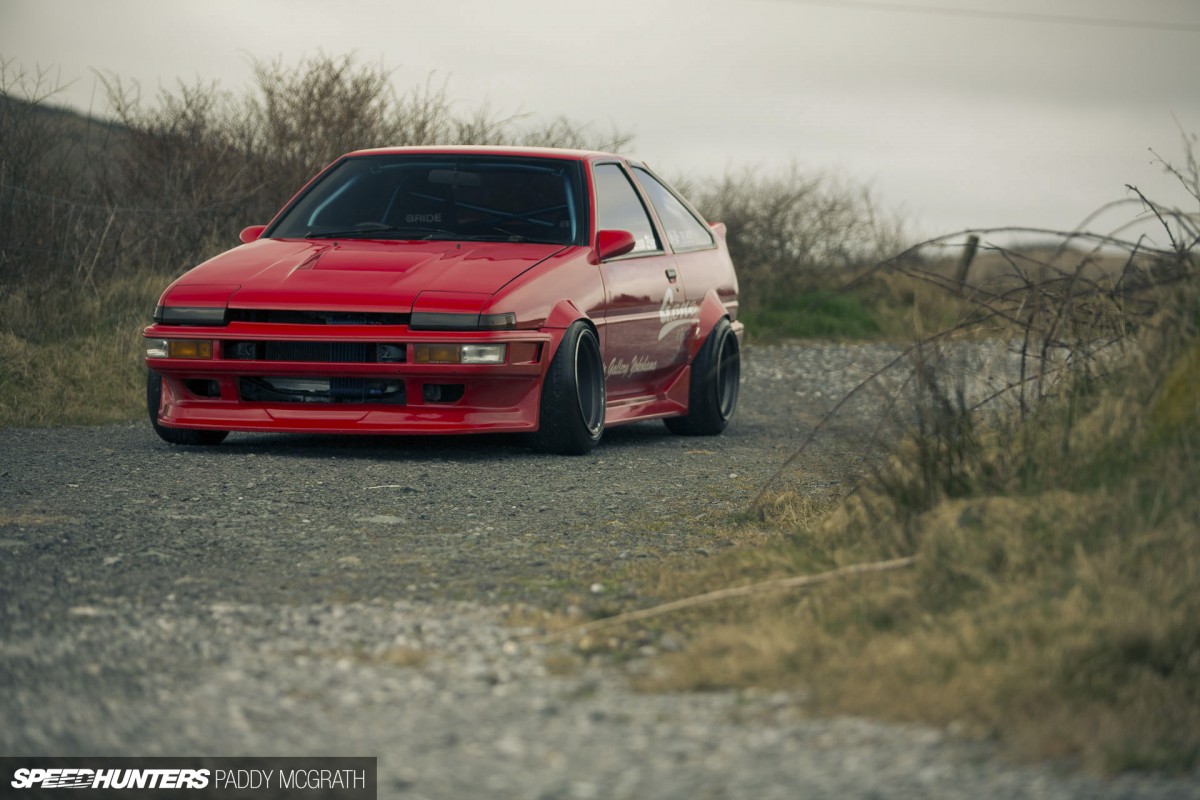 Given the way the car has come together, the vision above could easily be a scene out of Dino's camera in Japan – not Paddy's in the Irish countryside on a brisk autumn day. But authenticity through genuine JDM parts and AE86 building methodology was always the point of the build. It's a theme that follows through to the inside as well.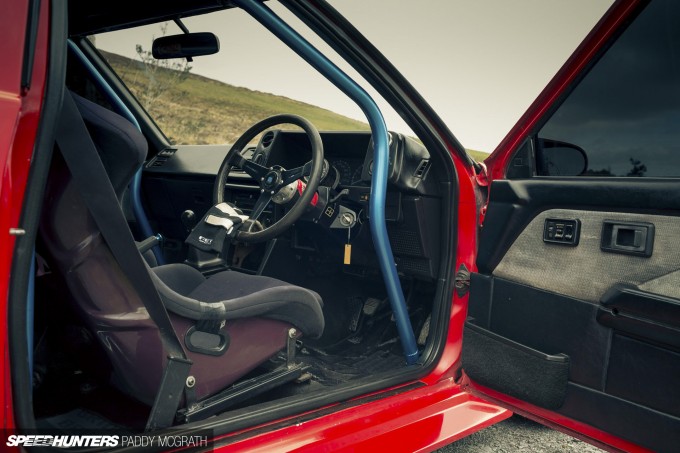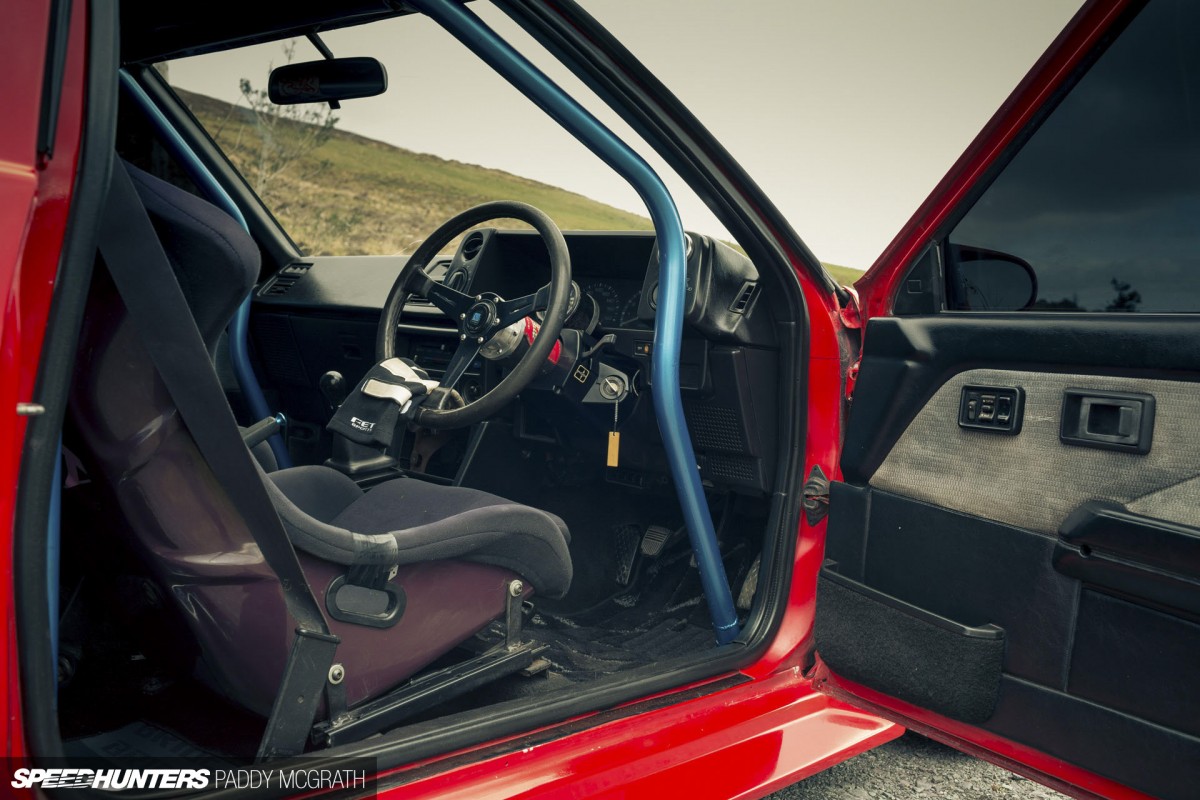 Obvious from the moment your swing open a door, the customised interior space that Patrick has created is nothing short of a lesson in Japanese touge/street drift function and style.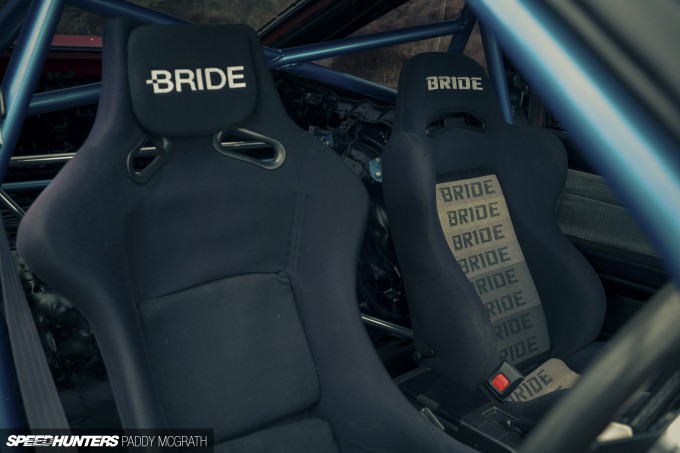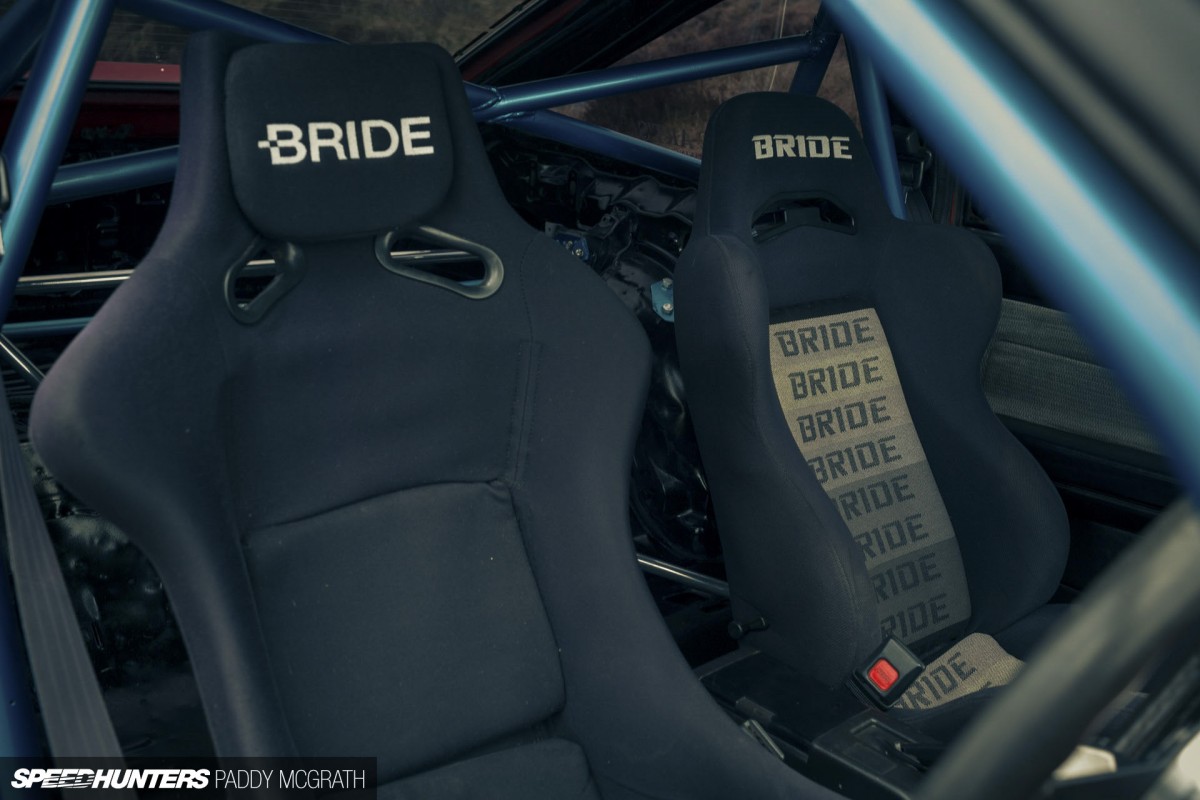 Bride seats were a prerequisite of course – a fixed-back FRP Zeta for Patrick, and a reclinable Ergo for any would-be passengers. Bride floor mats featuring the the brand's iconic graduation logo material, complete the picture. Well, almost.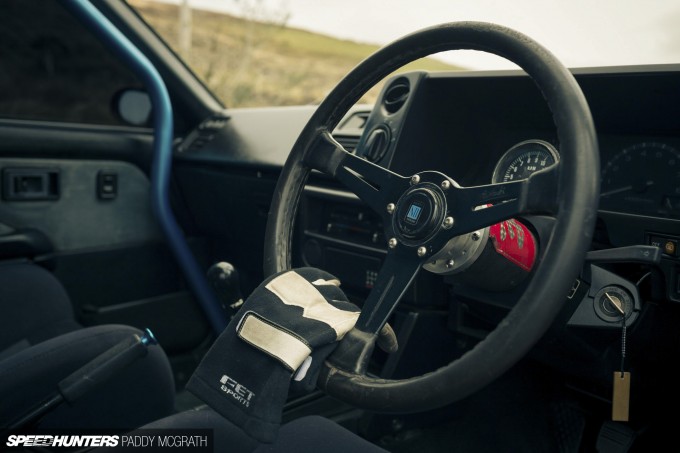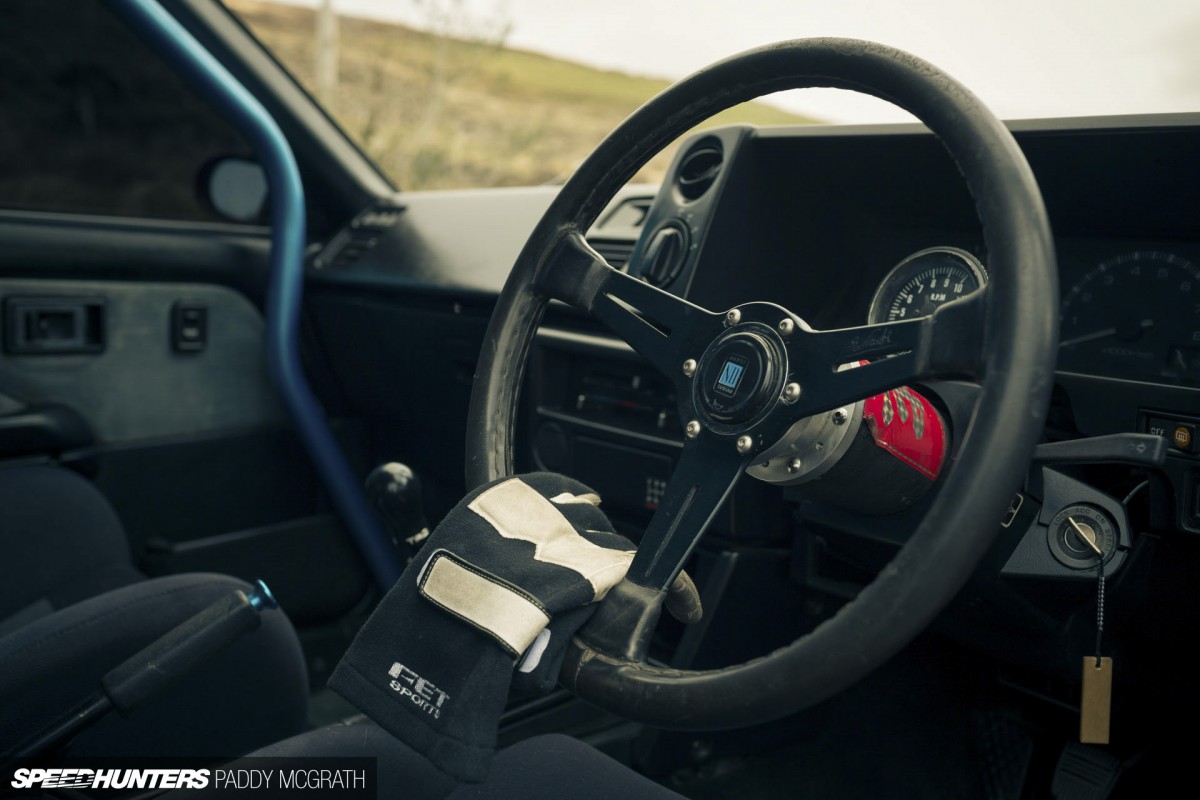 The cockpit was never going to be complete without a Nardi wheel, nor a Cusco spin turn knob wound into the handbrake lever – but they're both present and accounted for too. There's a TRD Duracon shift knob as well, along with a handy 10,000rpm tachometer and a steering hub spacer to push the wheel further outwards for the optimum driving position.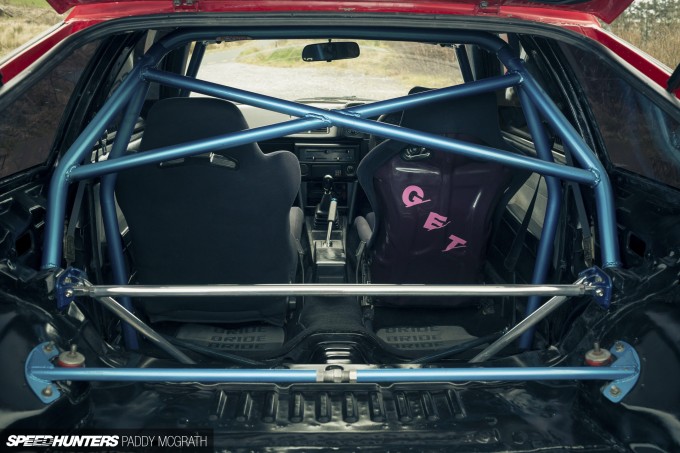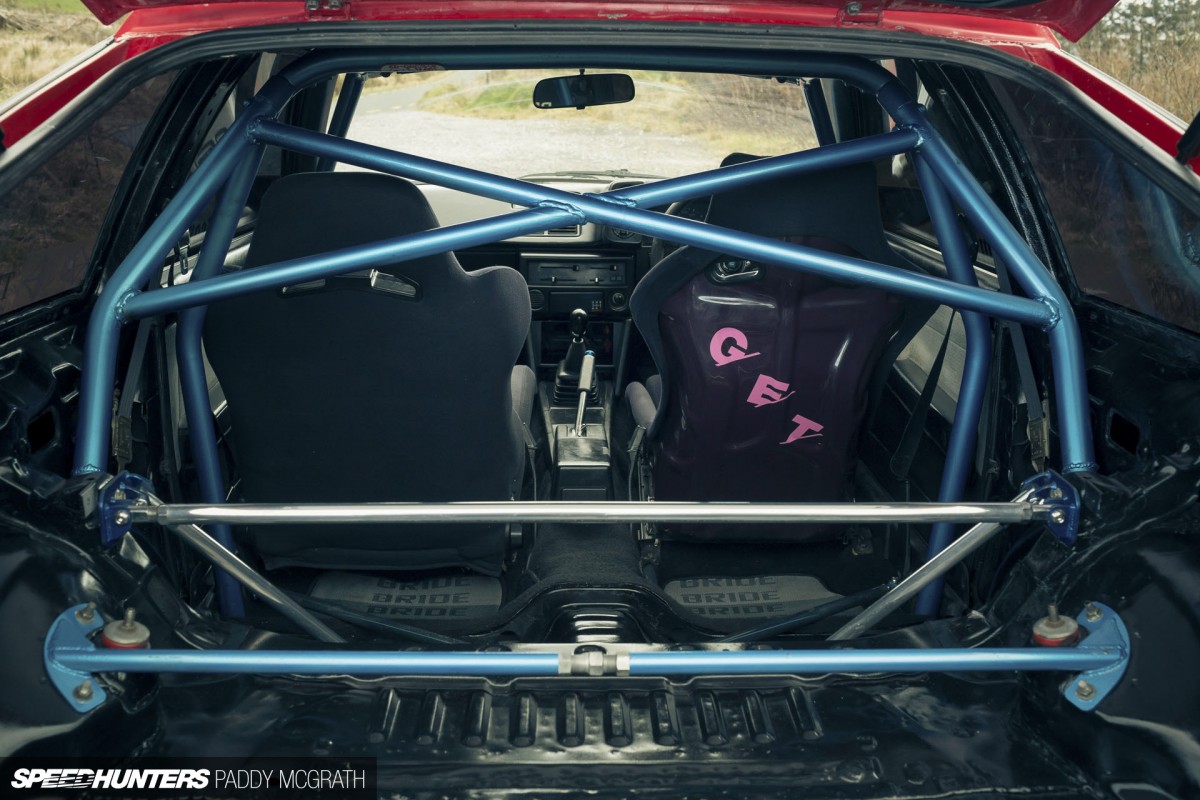 Apart from the six-point Funky Carrot roll cage, Jubiride four-point upper brace and Cusco strut bar in the rear, it's a straightforward, clean and functional space. I don't know about you, but to me this is an AE86 street interior done right.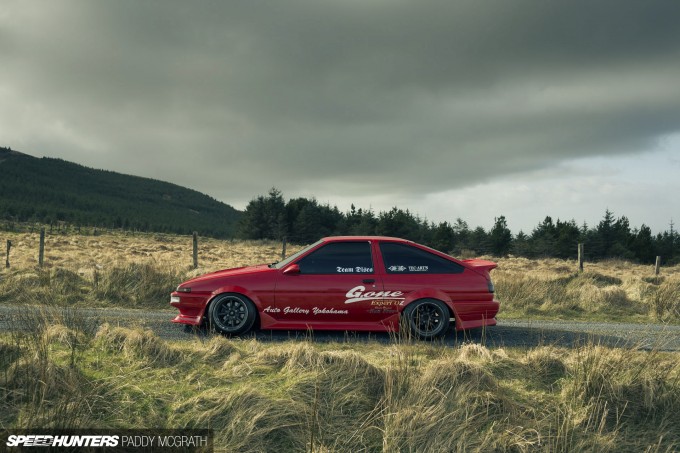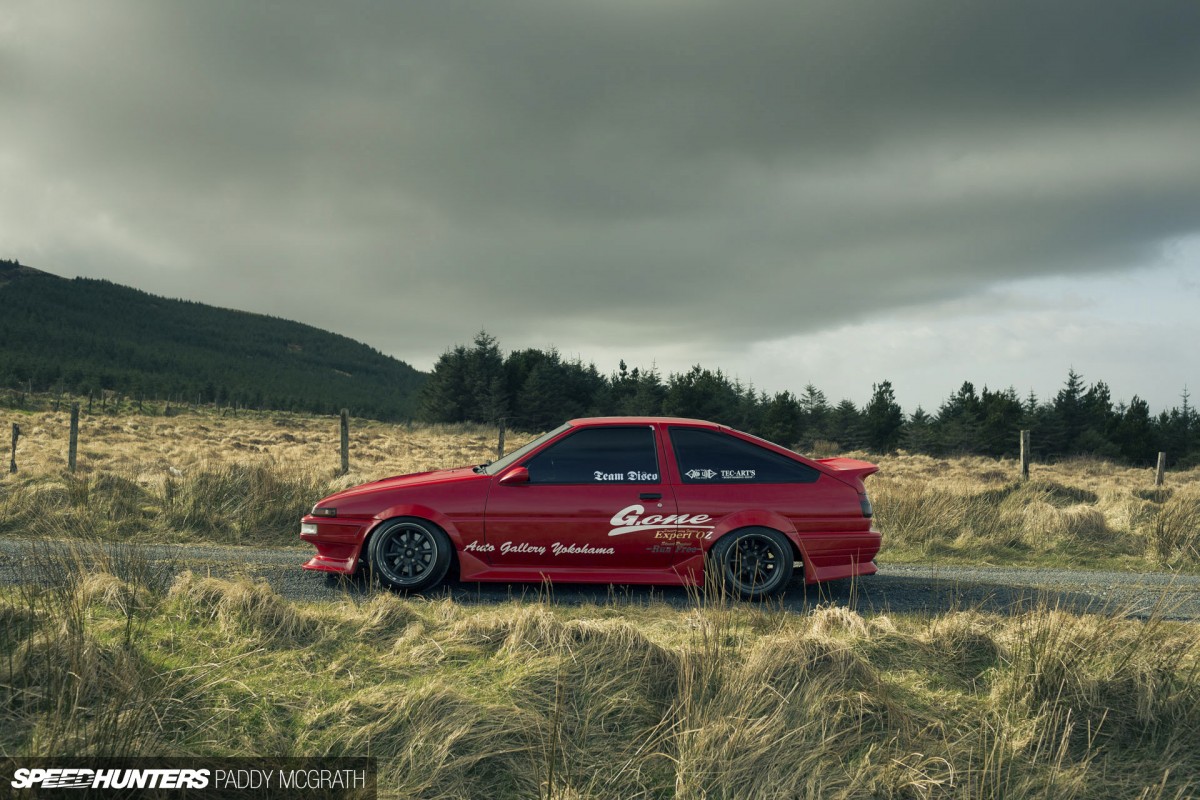 When you consider that coilovers and an LSD were the only modifications the Trueno had when Patrick imported it from Japan around seven years ago, it's easy to see just how far it's come in that time. It's also been the catalyst for further AE86 builds, and along with this one there are now three more of them living in his shed – a lightly modified black/graphite Levin GT-V that serves as Patrick's daily driver, his 2013 season SR20DET-powered competition Trueno and a new-for-2014 pro-spec Trueno that will be making its track debut soon.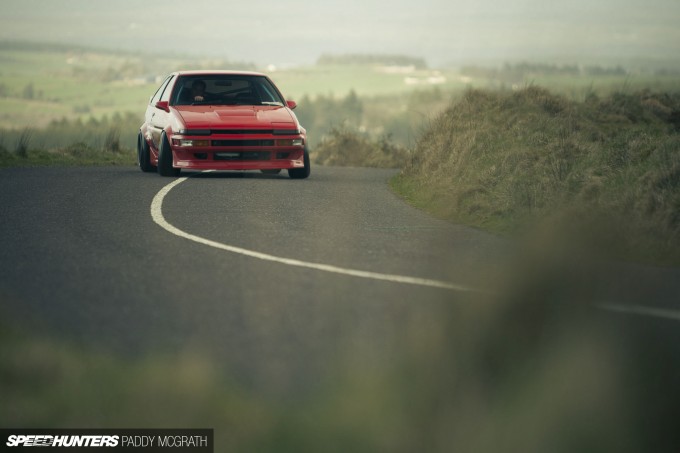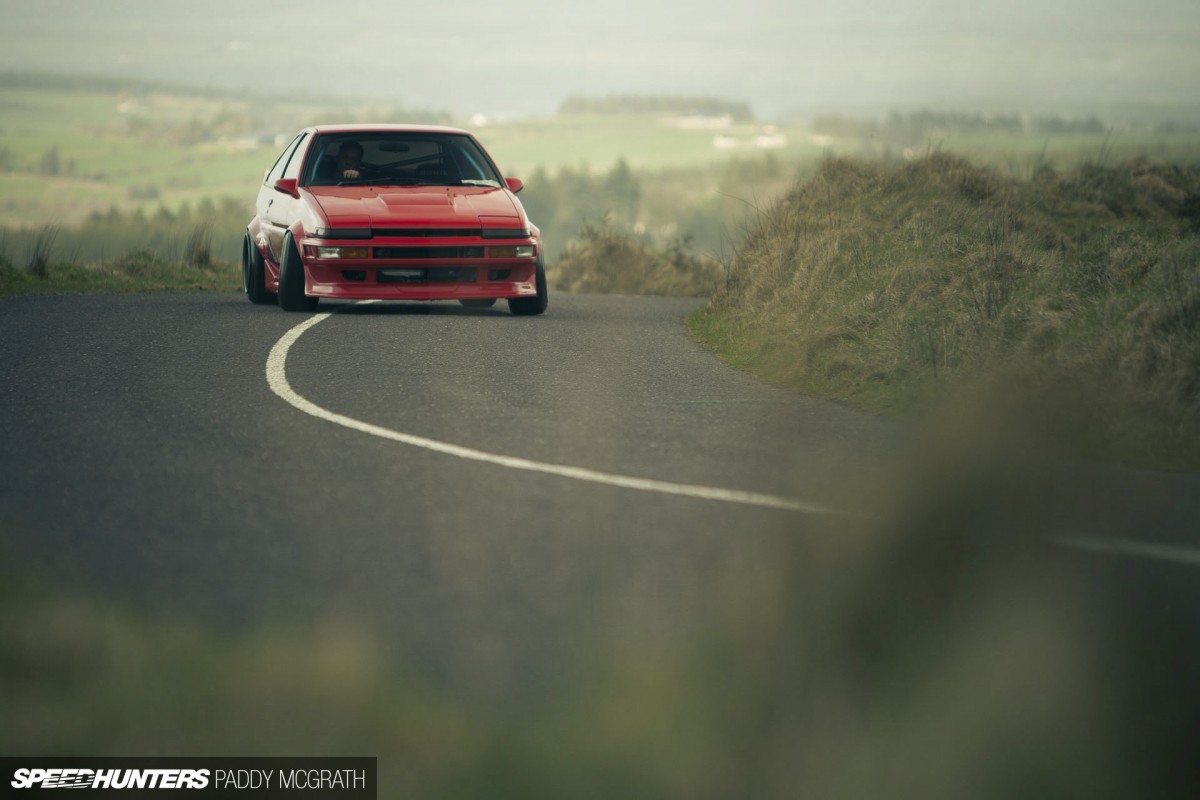 That particular machine has been built using lessons learnt in Japan studying a genuine TRD N2 race car, but like the AE86 it's replacing, it'll stick with a turbo four cylinder Nissan engine – a necessity in the company of many high-powered pro cars, rather than a want – as Patrick is quick to point out. If there was a way he could run a 4A-GE but remain competitive, he'd be all over it.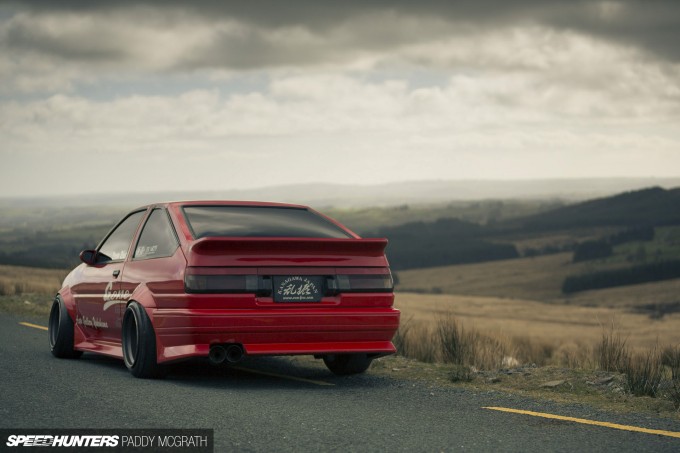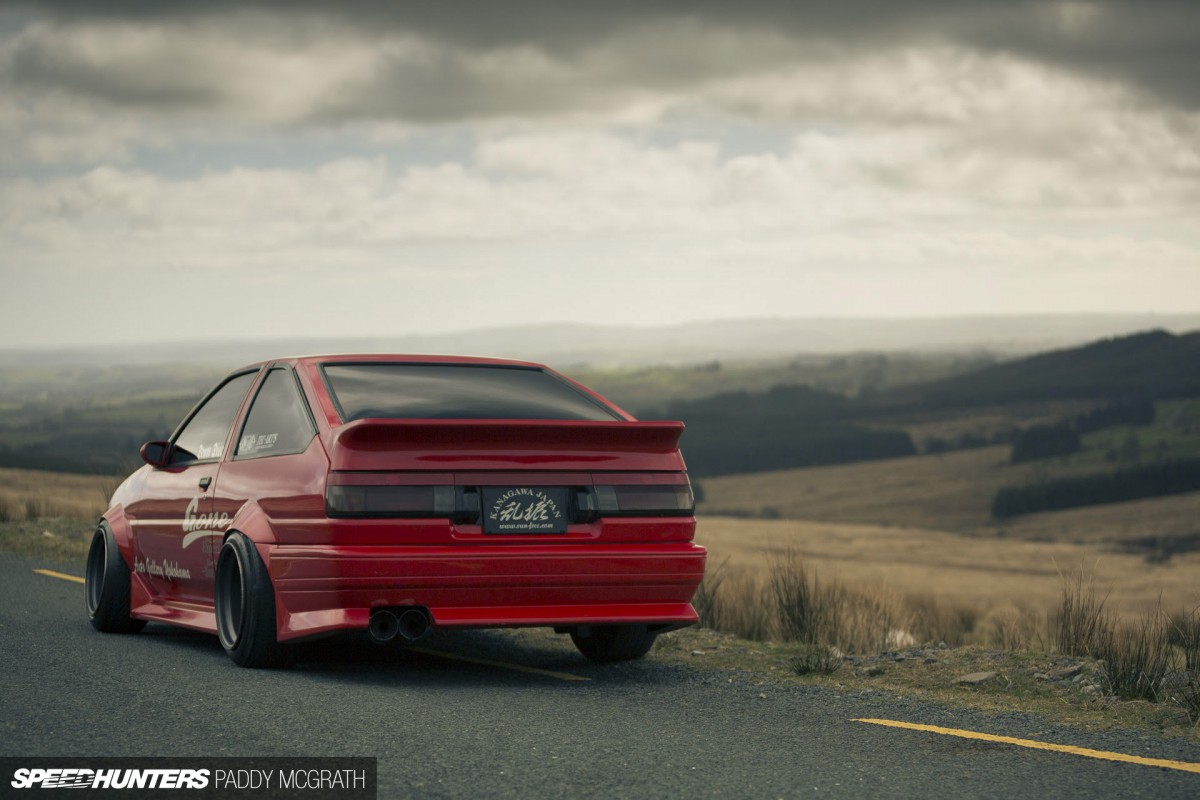 Like the subject of this story, it's also likely that the new competition machine will see plenty of street action too, because Patrick definitely hasn't forgotten his roots, or let the passion for Toyota's humble, lightweight rear-wheel drive hero car from the 1980s wane in any way. There's many ways I could finish up this story, but I think I'm going to leave it up to Patrick. "Some people dream of owning a Ferrari F40, but for me this is my dream car. I'm a pretty simple person. I just like Corollas. AE86s are not just about styling for me – they are about driving. Ueo, Kaicho, Imamura, Terasaki and Yamashita have shaped what I have become and the type of driver I aspire to be. I love my AE86s. For me there is no other car that comes close."
Brad Lord
brad@speedhunters.com