Keep it simple
Few vehicles have exemplified simple and timeless beauty quite like the Porsche 911. For more than a half-century, this icon of the auto industry has graced childhood bedroom walls, been coveted on showroom floors, and most importantly – seen countless checkered flags. Through all that the 911 has stayed remarkably consistent to its original engineering benchmarks set forth by Ferdinand Porsche many decades ago, but we all want more. Right?
When the discussions began behind the scenes at Speedhunters about a Porsche project car, I immediately jumped at the opportunity. But I digress, my excitement is getting the better of me here and an introduction is necessary, my name is Fred Chang and I'm the Director of Partnerships at Speedhunters. The truth is for as long as I can remember I have always wanted a Porsche, as I think most car enthusiasts have at one time or another. Of course, I say most because there are those who don't, which is fine… But do you know what you're missing out on?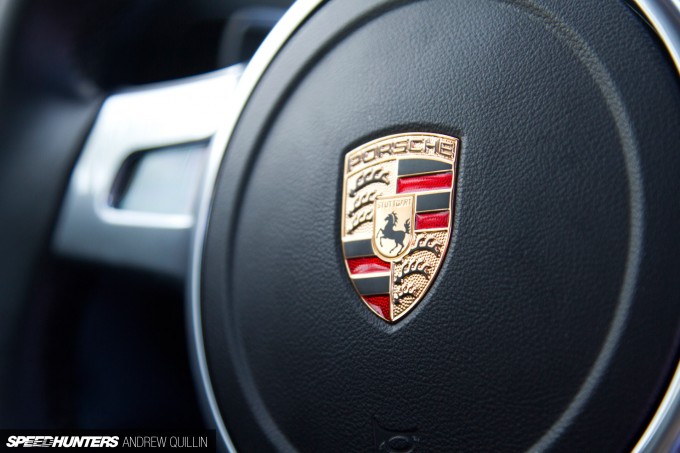 Deciding to buy a Porsche was the easy part. Choosing which one is, and was, much more challenging. With seven models available, and the 918 being slightly out of my budget, a 911 Carrera (991) was the clear winner. Of course, there are an impressive 16 variations of this particular version to choose from, each with their own set of skill sets and appeal. Maybe I'm over complicating this, but what an enjoyable process to go through!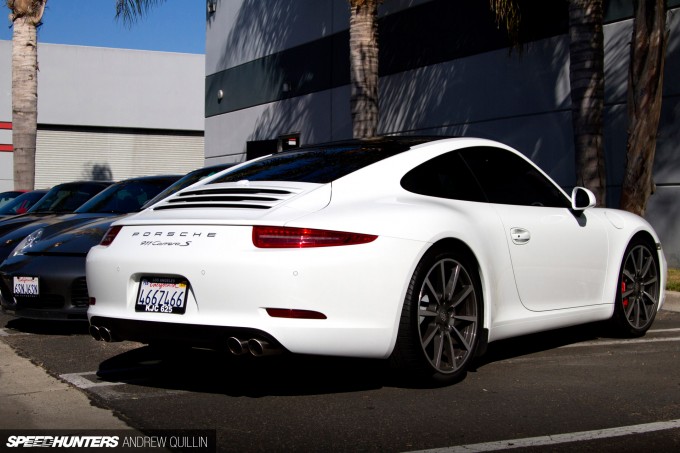 With a plan for a clean and traditional build in mind, I decided to go with a 2014 911 Carrera S, white on black. Okay, time to sign the papers and take it for a drive. But wait, now we have 70-plus pages of available options to consider! I have to remind myself again to keep it simple…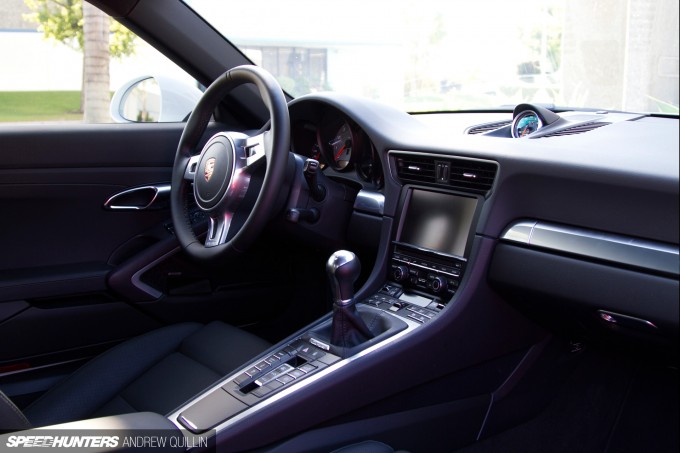 This is perhaps most true when the decision came to pick a transmission. Although the PDK's lightning-quick shifts and expertly executed rev matching was tempting, there's just something about a traditional manual 911 that seems right. Maybe someday it will even be considered rare.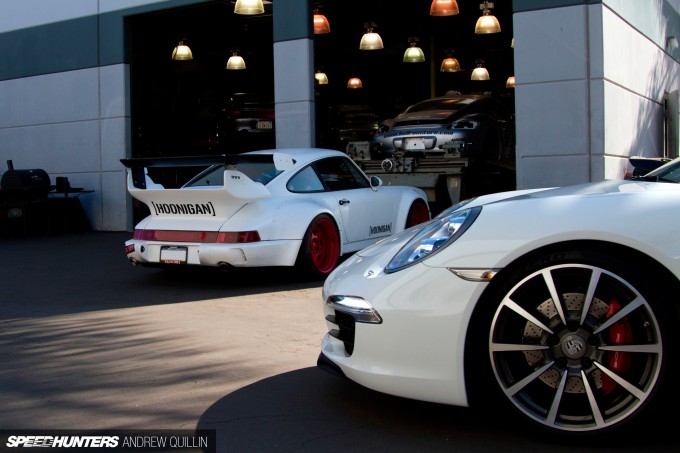 With the car purchased it became time to plan the build. Since the Carrera is so good in stock form, it was a little difficult to pick a place to start. But at some point every car will be modified in one way or another. So to begin, I decided to upgrade the 991's intake and exhaust.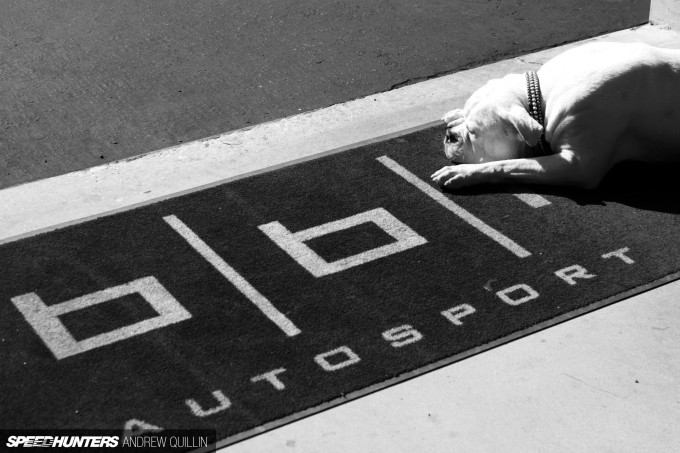 As one of the premier Porsche tuning outfits in Southern California, BBI Autosport in Huntington Beach was chosen for the install. The guys at BBI had just returned from a long weekend at the California Festival of Speed, so once they had the shop back in order, the 991 was headed in for its first round of upgrades.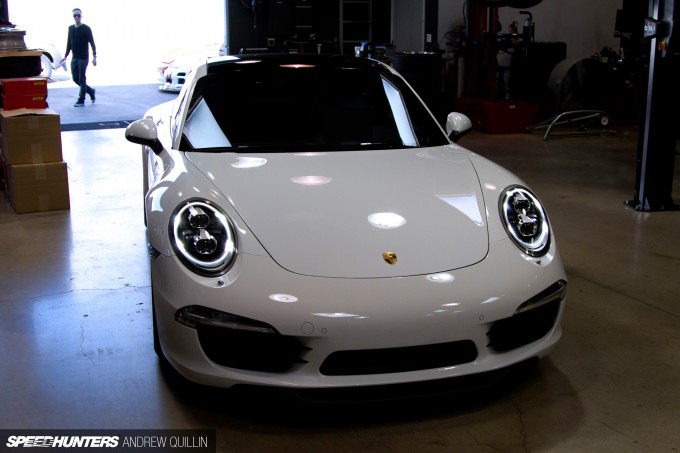 Sending a brand new car in for upgrades – especially one as well engineered as the Carrera – is a very odd feeling. Thankfully, all the partners chosen for this project exemplify the incredibly high manufacturing standards and passion for motorsports excellence as Porsche itself.
Breathing easy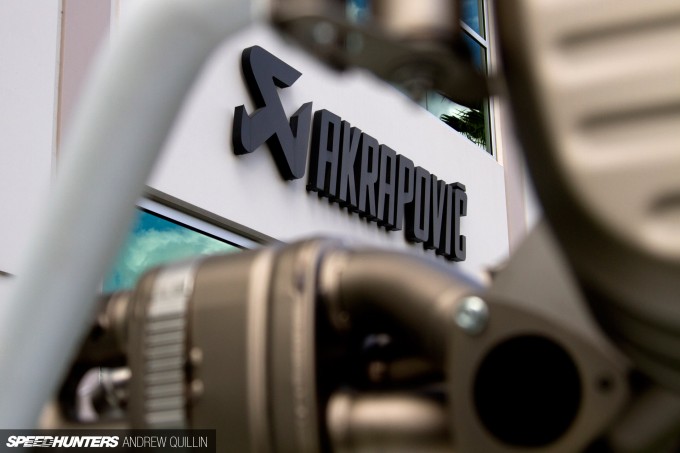 If you are not familiar with Akrapovič, there's no need to feel embarrassed. While the brand is incredibly well known and respected within the two-wheel world, they have only ventured over to automobiles within the last seven years.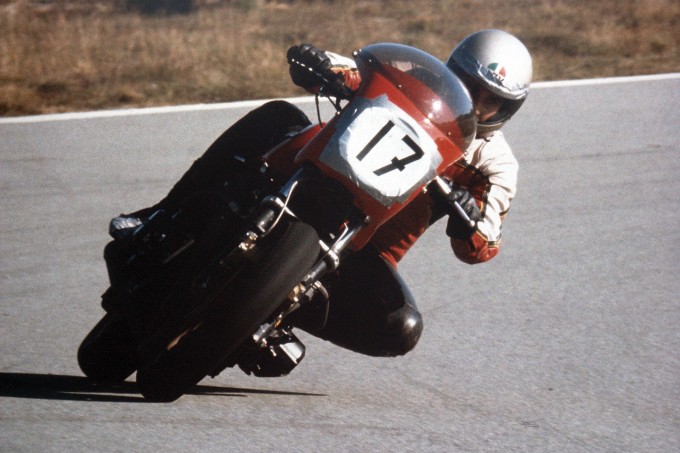 Founded in the early '90s by motorcycle racer Igor Akrapovič, the Slovenia-based company has been consistently turning out some of the best bike exhausts in the world. With racing at the heart of the company, they have earned multiple championships and countless wins in both Superbike and MotoGP.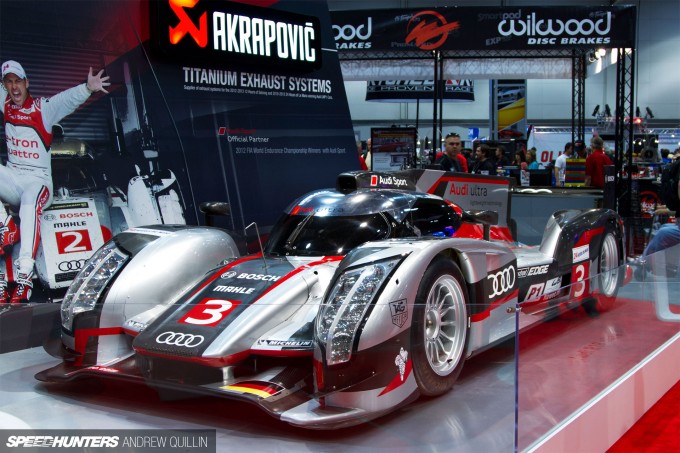 In 2008, Akrapovič began producing the factory titanium exhaust for the Porsche GT2, and since then they have expanded their product line to include everything from the MINI Cooper S to the McLaren MP4-12C. Continuing with their racing roots, the brand has been successful in many series, most notably with Audi at Le Mans.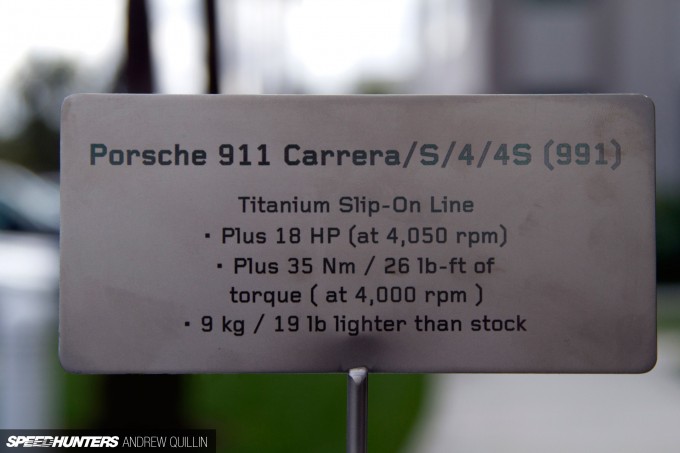 For the 991 generation Carrera, Akrapovič offers a slip-on titanium system. Not only does the exhaust increase power by up to 18hp, but even more impressive is the 19lbs it sheds from the rear of the vehicle.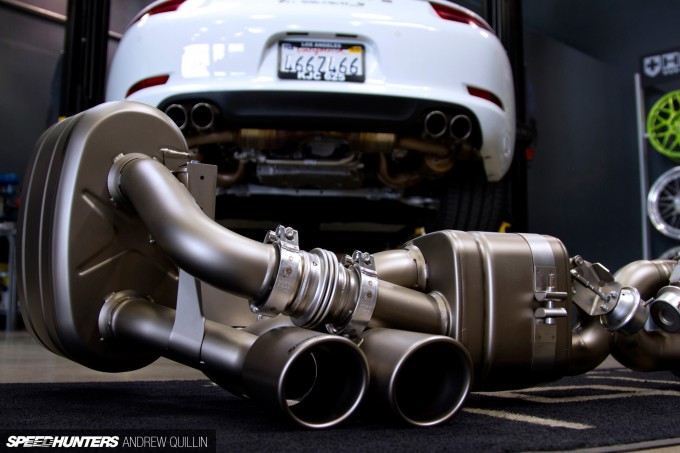 Akrapovič exhaust products are simply unparalleled in terms of quality and craftsmanship. Unfortunately, where motorcycles typically display their full exhaust systems to the joy of the owners, on a car you usually see only a small portion – or just the tip if you will.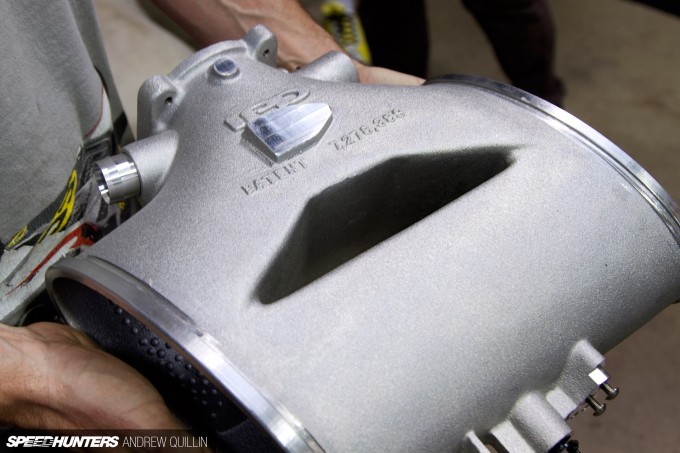 On the intake side, the techs at BBI recommended upgrading to an IPD intake plenum. This is a popular modification for Porsches as it adds around 15whp by more efficiently channeling air into the engine.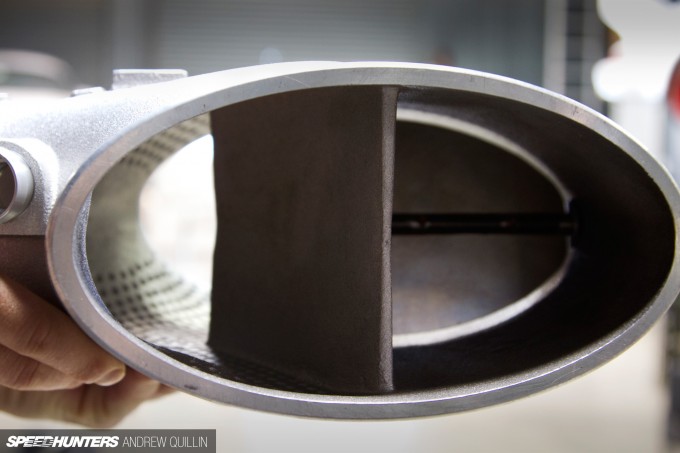 The v-shape porting and dimpled walls are part of the patented design that allows the Carrera to breath deeper and extract even more power out of the 3.8L boxer.
Coming together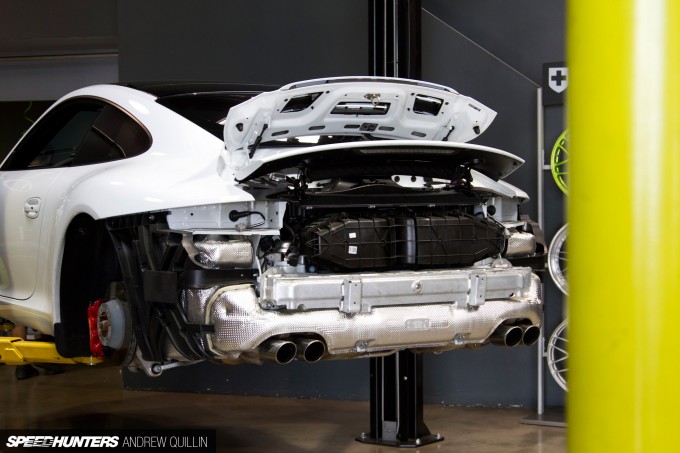 Once the Carrera was in the shop and the upgrade was underway, it became obvious how both complex and compact the cooling and exhaust systems are on these vehicles.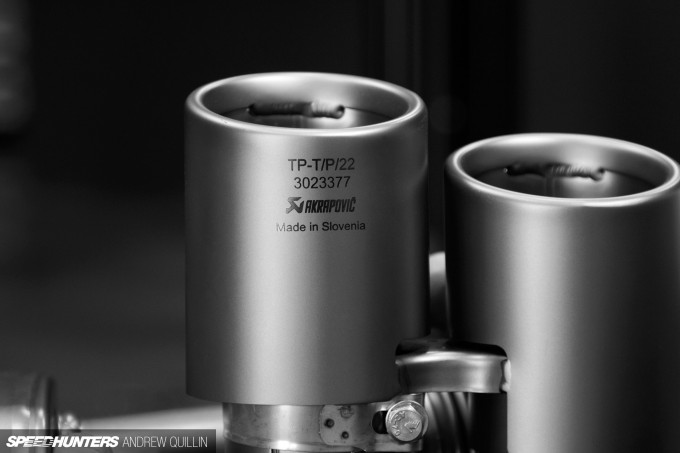 During the install, I was blown away by some of the details of the Akrapovič system. They approach every car as a clean-sheet design and while this adds to the development time, it insures that every product offers the absolute maximum performance for each individual application.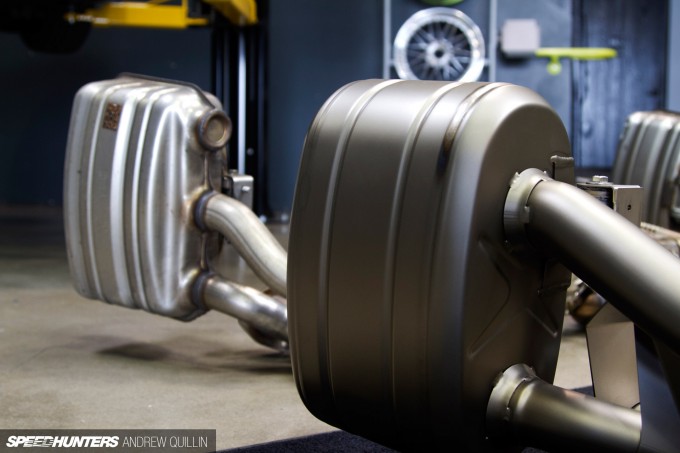 They do this by starting with sheets of Grade 37 titanium sourced from the USA. Most other manufacturers start with preformed tubes, but Akrapovič rolls their own to avoid any compromises in the design.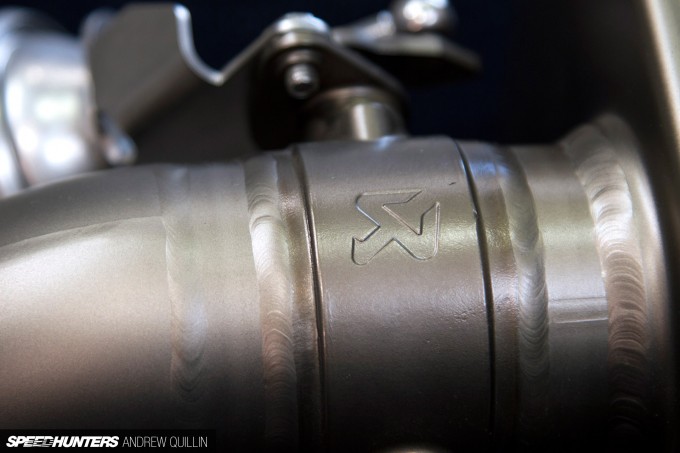 The flanges and butterfly housings are made from cast titanium, which must be done in a secured vacuum otherwise it will explode. Also, the mold must be spinning at multiple Gs while the liquid titanium is poured in. This entire process takes one week alone.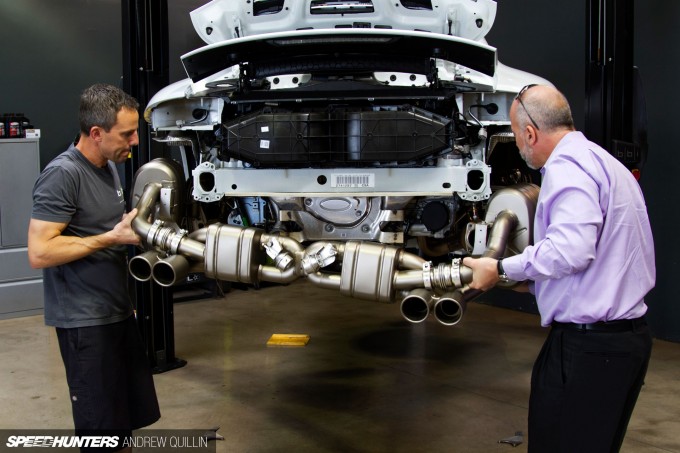 As the name implies, the system slips on with relative ease. Especially when you have Akrapovič's sales director, Michael Belcher, on site to assist. I think this service is optional.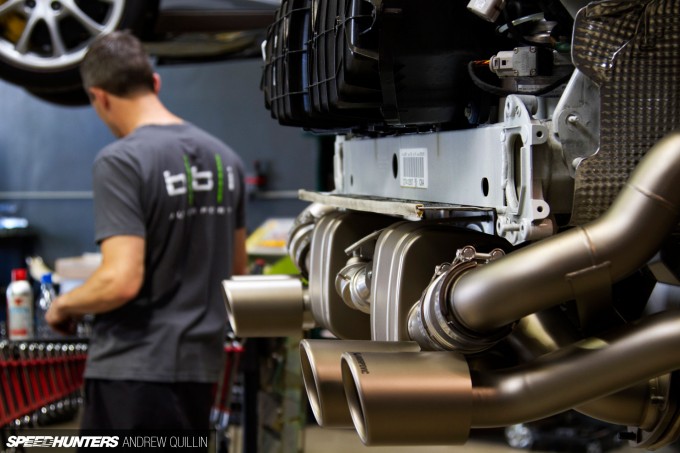 With both ends of the motor upgraded, I was ready to see my 991 put back together and feel the combined 33hp first hand. Unfortunately for me, we had to get straight into the next part of this project. Thankfully for you, we have a teaser of the finished product though…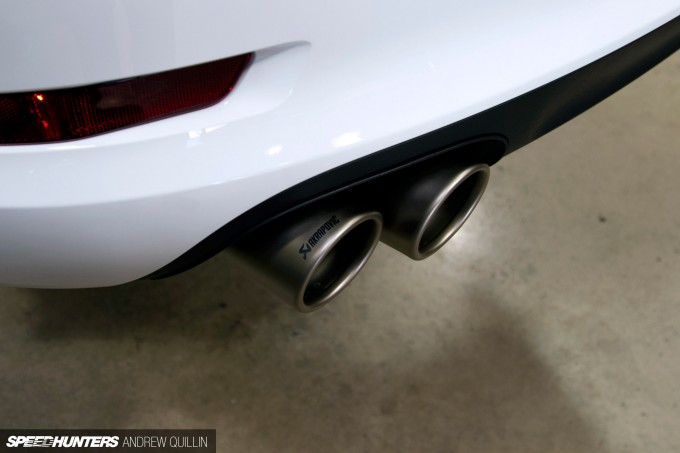 It is a bit of a shame hiding all this gorgeous engineering from view. But it is not all a loss, as the new intake and exhaust system on this 991 combine forces to produce an absolutely glorious noise.
Lacking professional audio equipment, we did our best to capture its beauty. I'm sure you'll get the idea anyway. In person I love it!
The next phase is suspension, which will be coming up in a couple of weeks. We've got a way to go yet but I'm really happy with the project so far. To take something I've yearned for and now own and add my own personal stamp is very satisfying.
Fred Chang
Photos by Andrew Quillin
Archive photo: Akrapovič