Let's take it to the street
Stood inside the halls at the Elmia Bilsport Performance & Custom Motor Show, you could be forgiven for thinking there was no outdoors, or even any need to head out… there. After all, everything automotive is under one roof here, but when the sun goes down we heard things can get wild. With rumours of street racing, a heavy police presence and crazy Swedes who just want to party, we decided to take to the streets and see what everybody else was up to.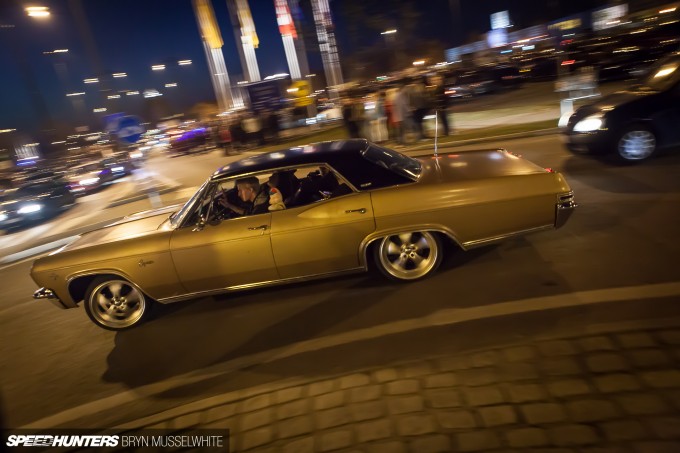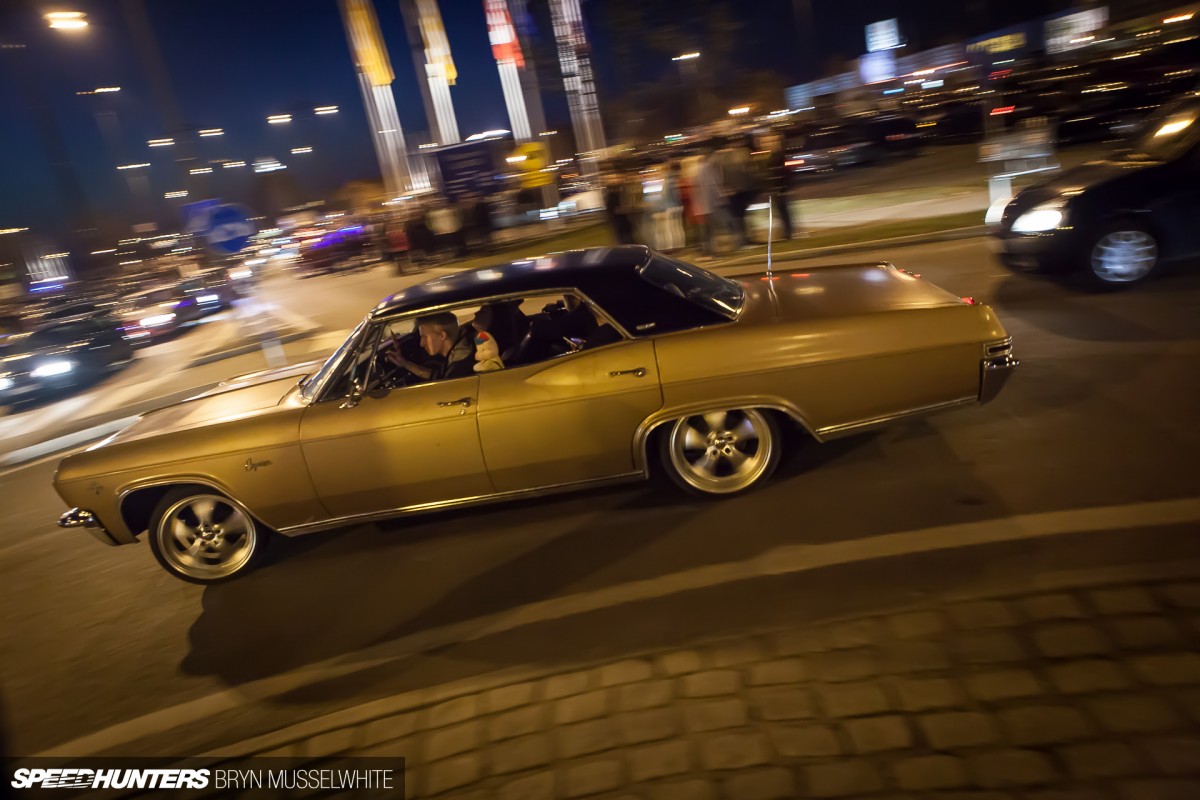 And the thousands of people, hundreds of acres of cars and sheer variety we found did not disappoint. You want a good time? You've come to the right place…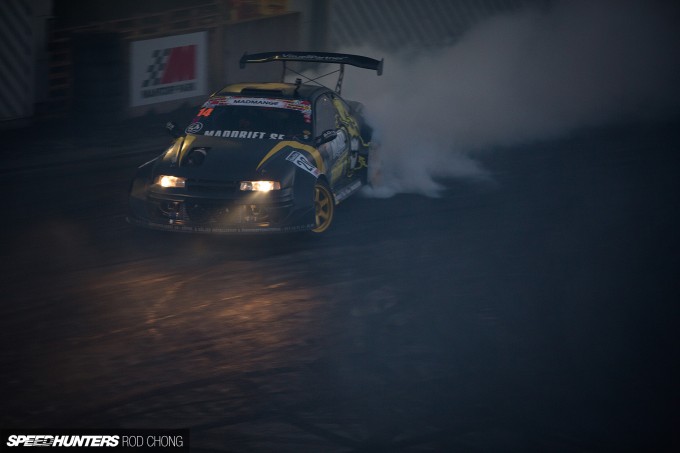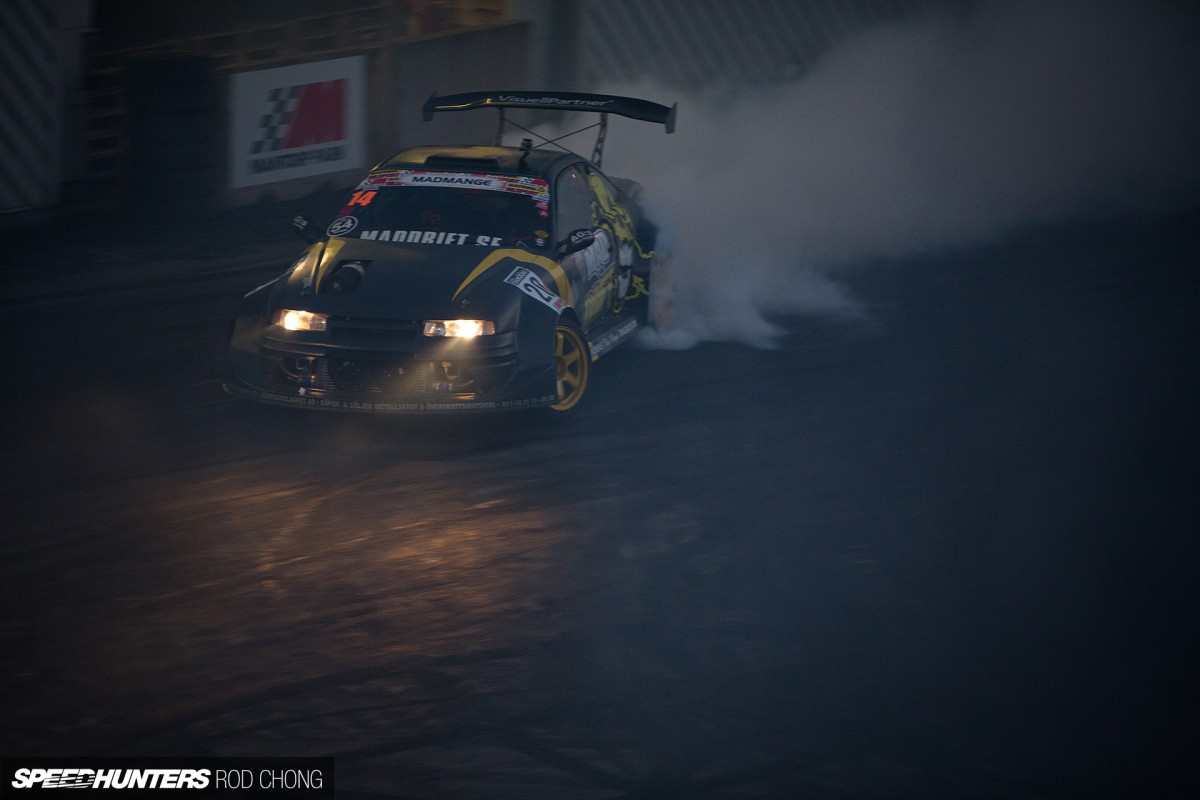 As a team we very rarely spend time together. It's partly because we call so many different parts of the world home. But even at an event, although we might drink some coffee together and swap notes, we scatter at every opportunity. Because when you've traveled half way around the world you don't want to miss a thing. So on Saturday night I left Rod and Taryn at the drift competition which was being judged by the Norwegian Hammer, Mr Fredric Aasbø. I'd heard there was plenty going on around the town, and that needed checking out.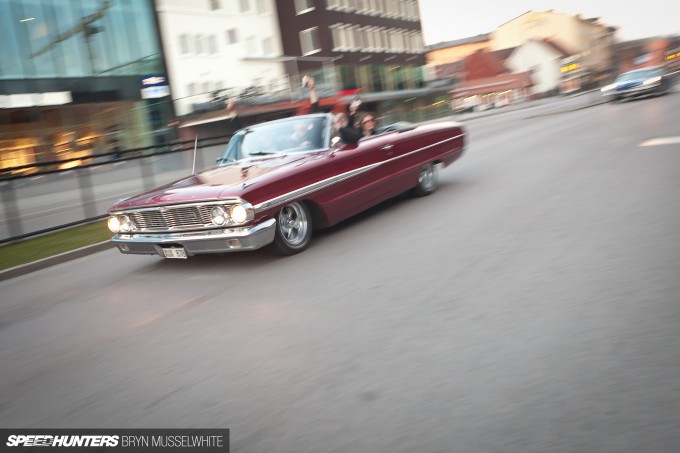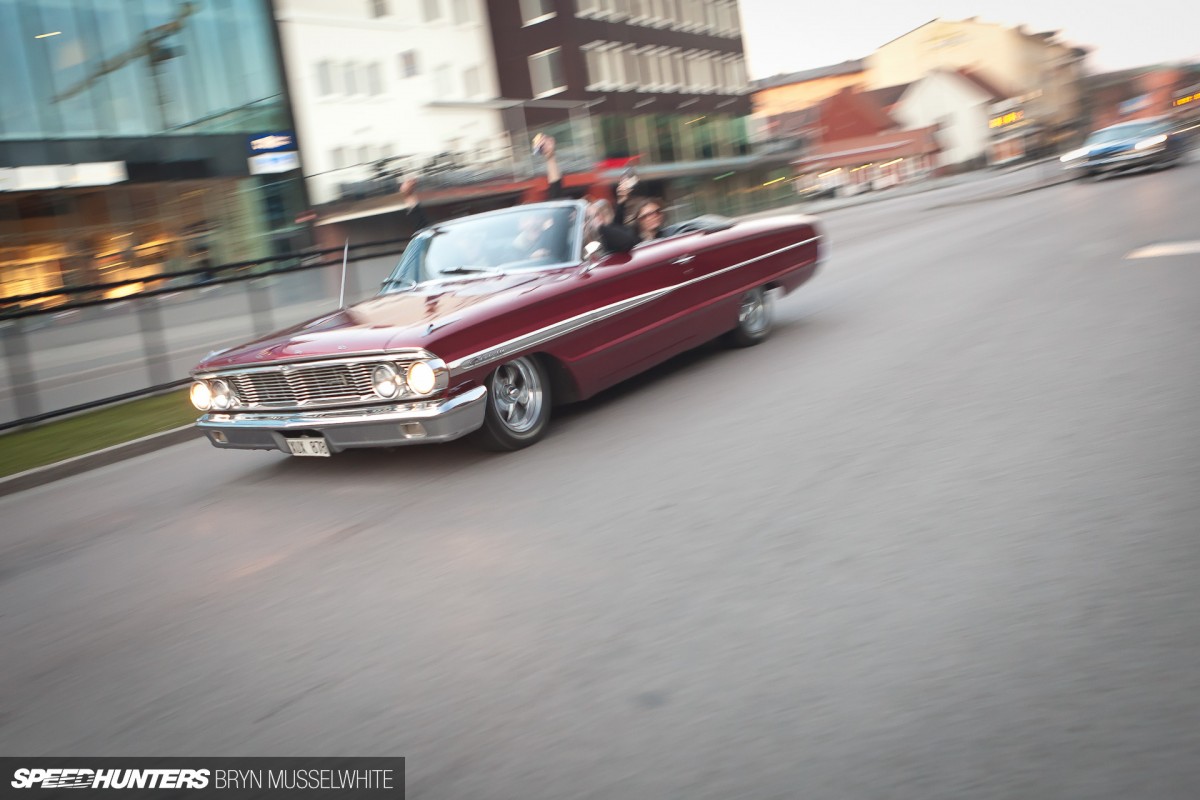 Pulling up outside our hotel I was instantly greeted by a chain of cruisers passing by. As soon as they saw a camera the smiles grew wider and arms waved; music and laughter accompanied by the rumble of a V8. This is what I was looking for.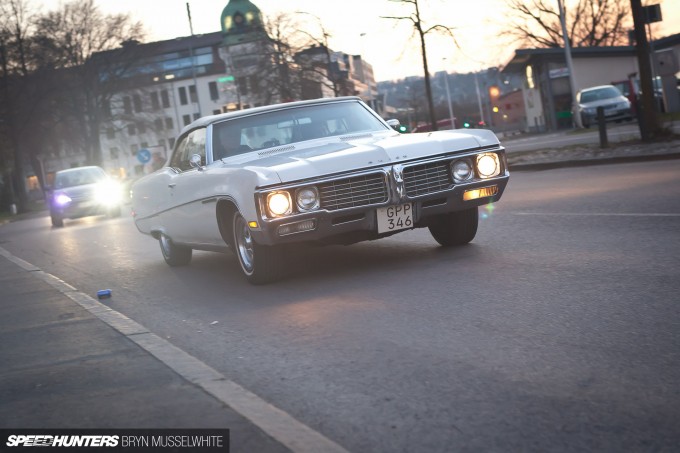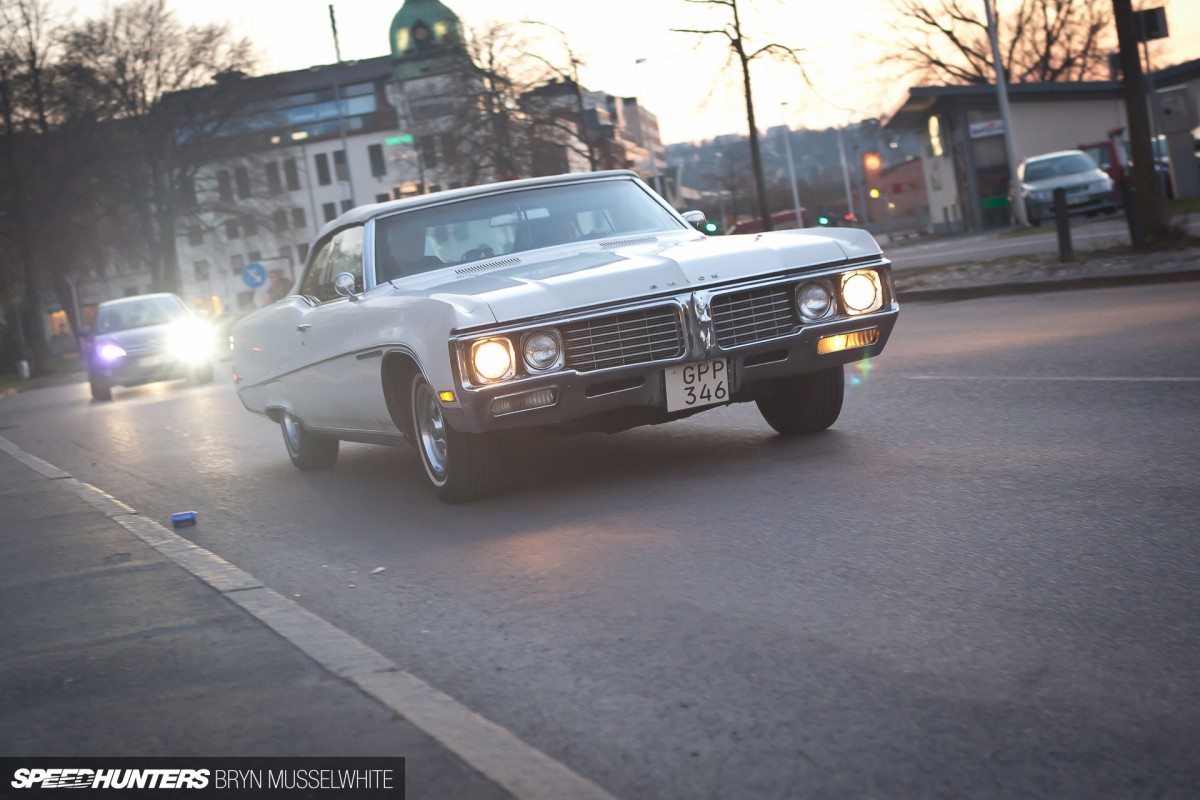 So I started to walk the streets with my camera in hand. The evening air was light and clean and after being inside for two days it finally felt good to have some space.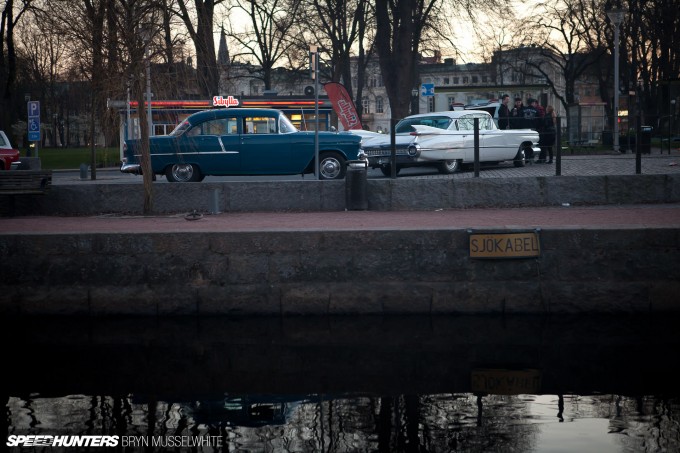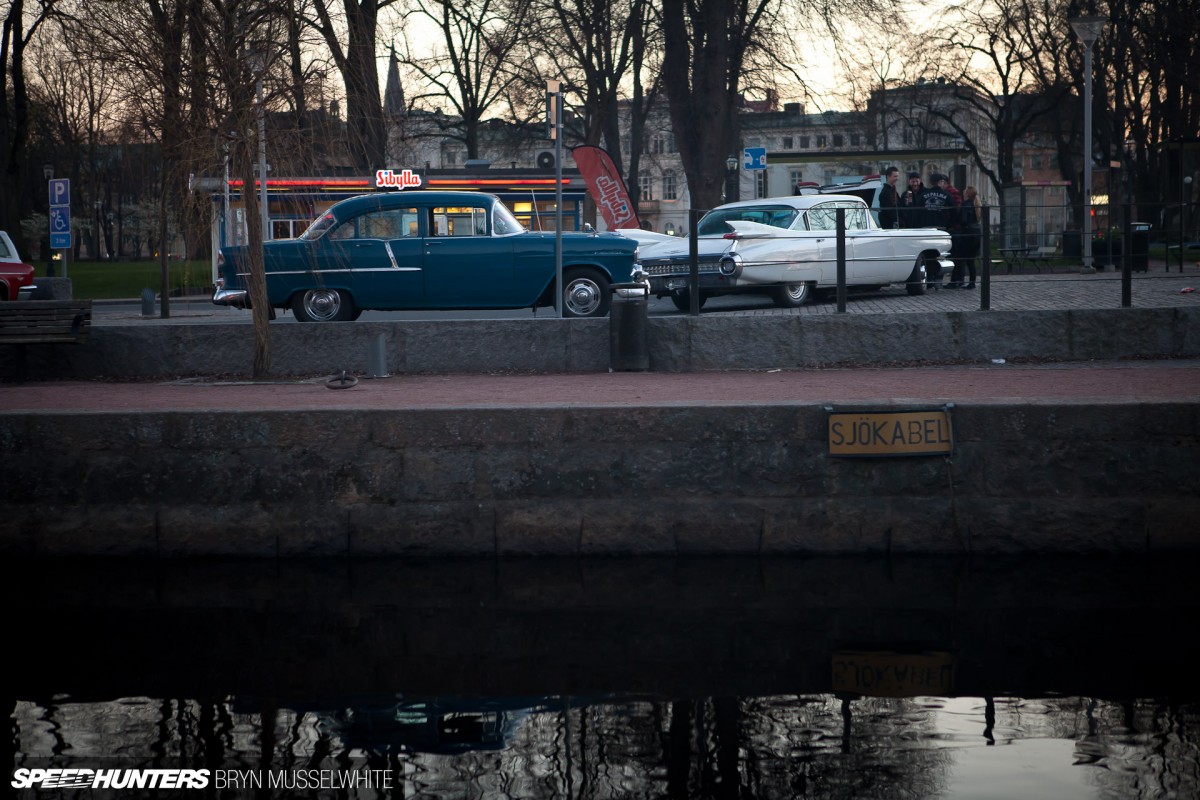 To begin with the majority of cars I came across were American. Since my first visit to Sweden I've always thought there's quite a similar feel to the American Midwest here. Even the TV channels broadcast loads of popular US shows and often with no subtitles, which has no doubt helped with the fact that nearly everybody speaks great English.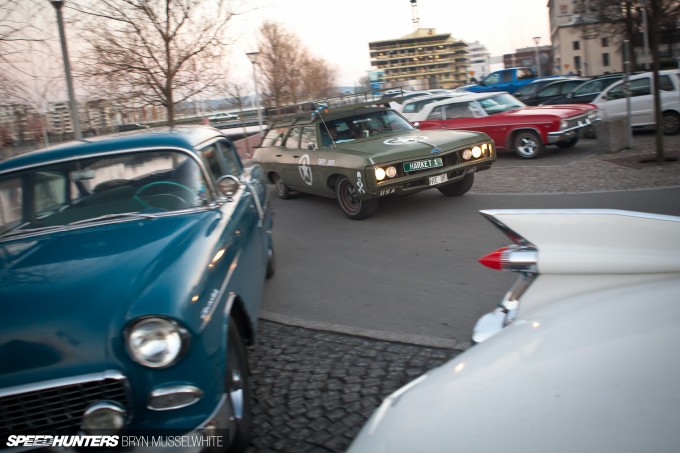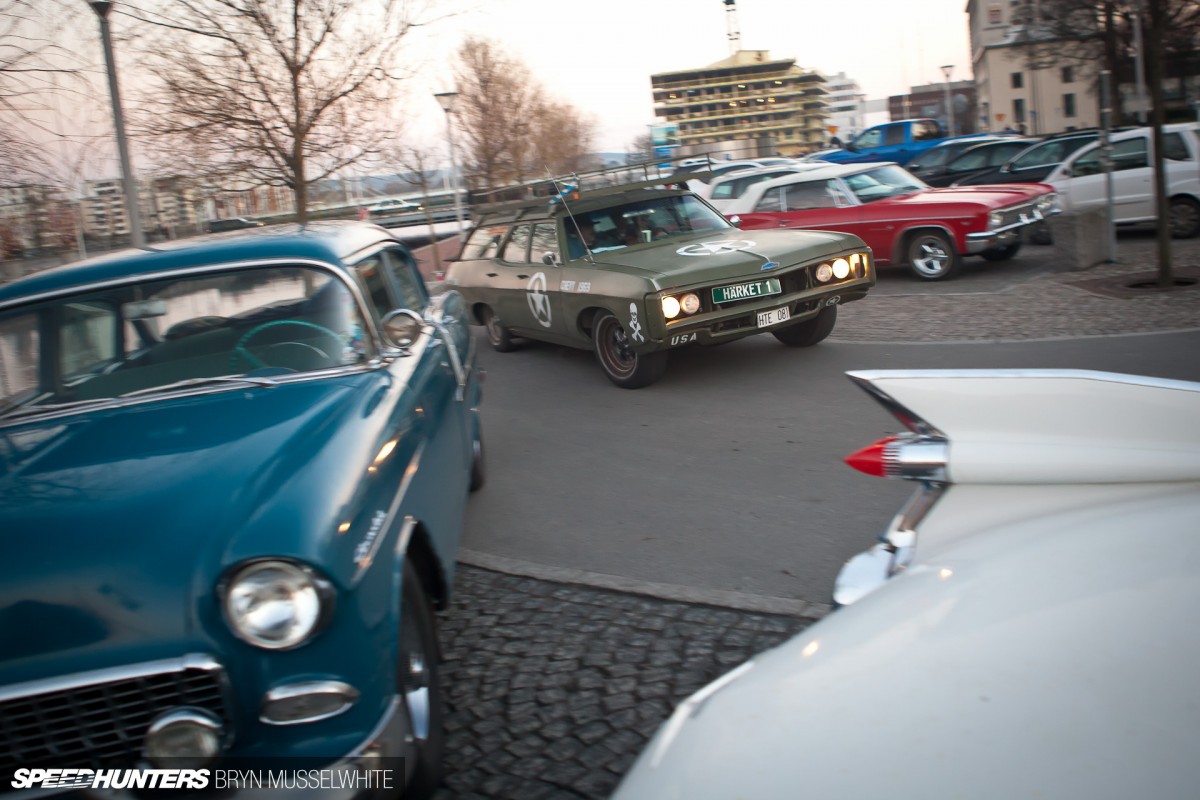 Wandering over to the '55 Chevy and '59 Cadillac, I found a bunch of guys just hanging out. But they weren't the mid-50 year olds I was expecting. I guess I felt guilty at first thinking they would be, but they were in their 20s and having a pretty good time judging by the way they greeted me. Whilst chatting to them, what I think is a '68 Pontiac wagon rolled by. Loaded with people, it felt like we were really were in small town America.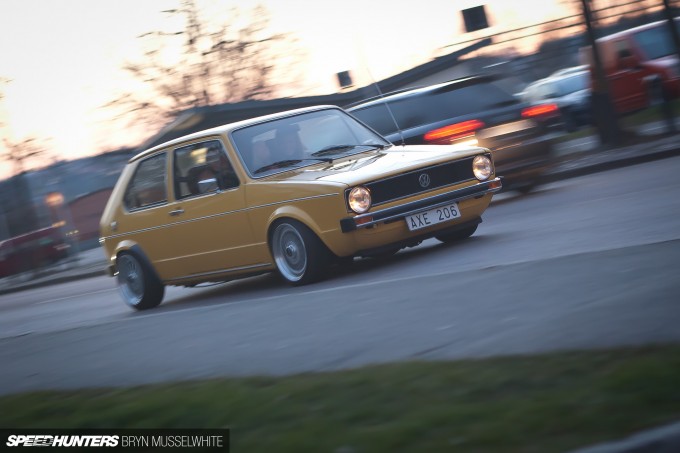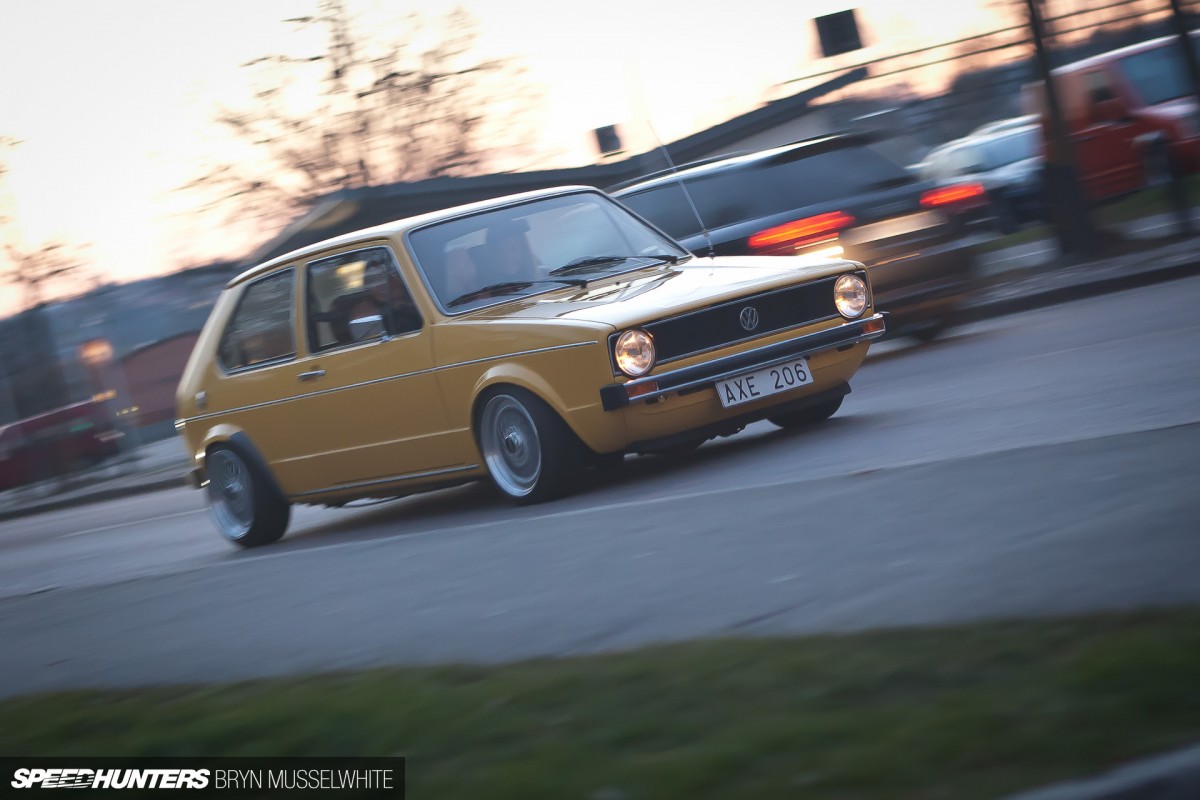 It wasn't all American metal though. This early Mk1 Golf sat really well and the two girls inside waved every time they passed by. Just out and about, happy and digging the scene…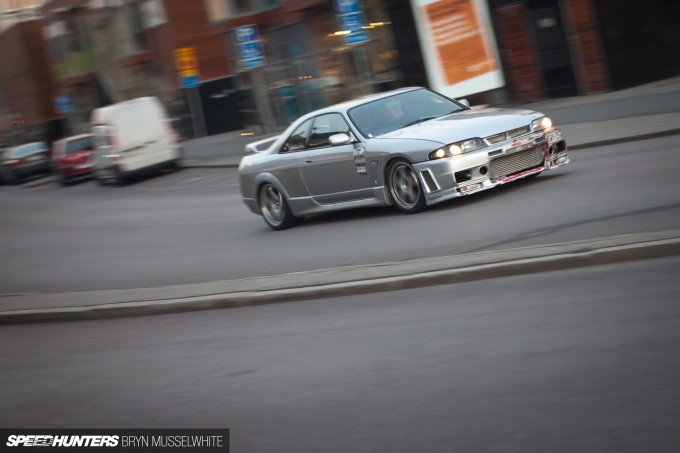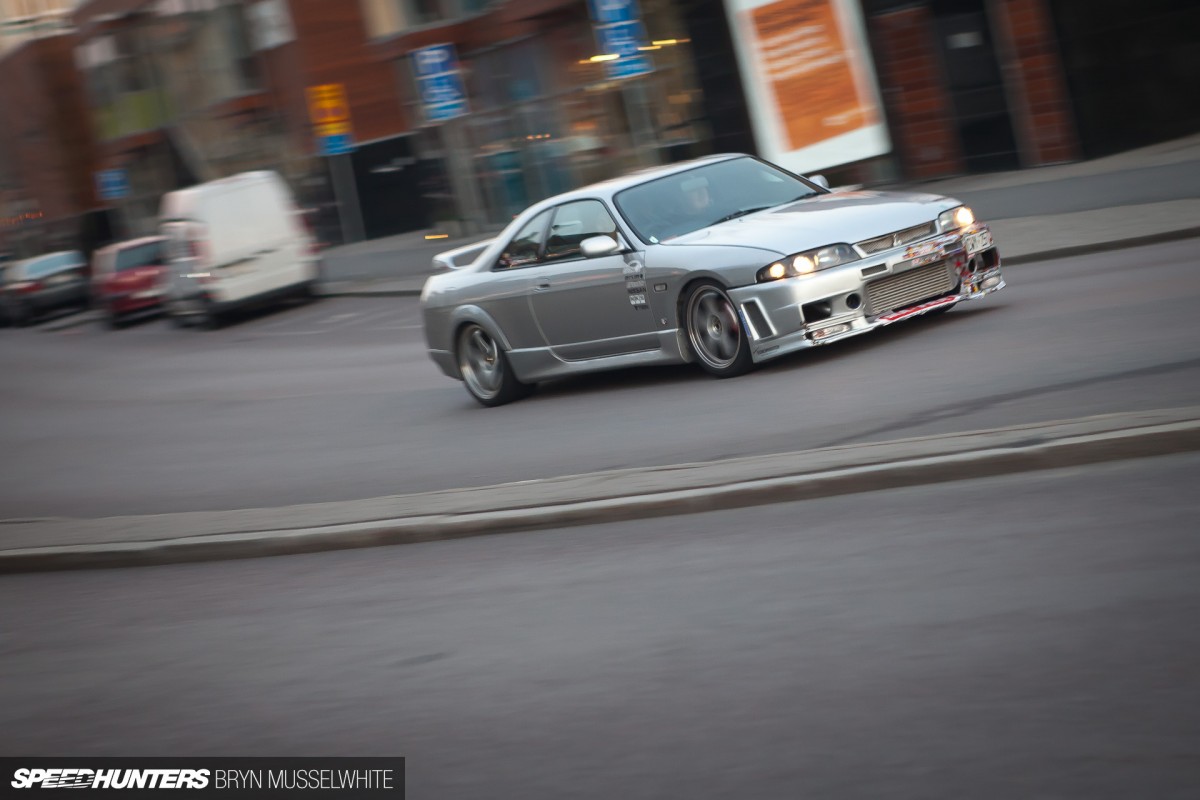 The distinctive sound of an RB motor made me turn around and just catch this R33 Skyline as it rolled by. I have no idea how much fuel is being burnt around here tonight, but it's a lot. Often I'll see cars reappear around every 10 to 15 minutes, so whatever circuit they're using is pretty long.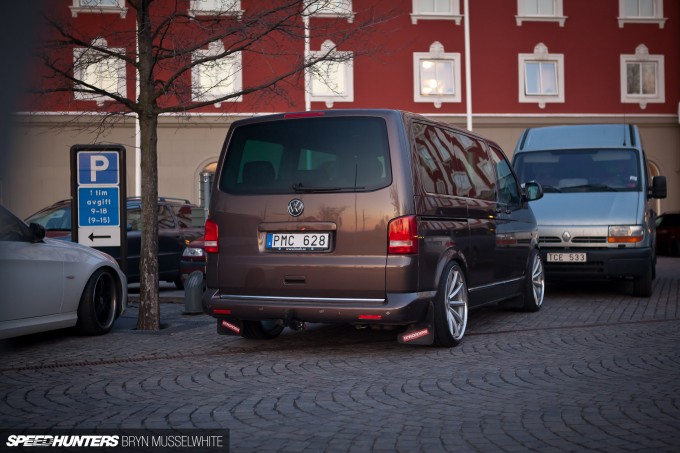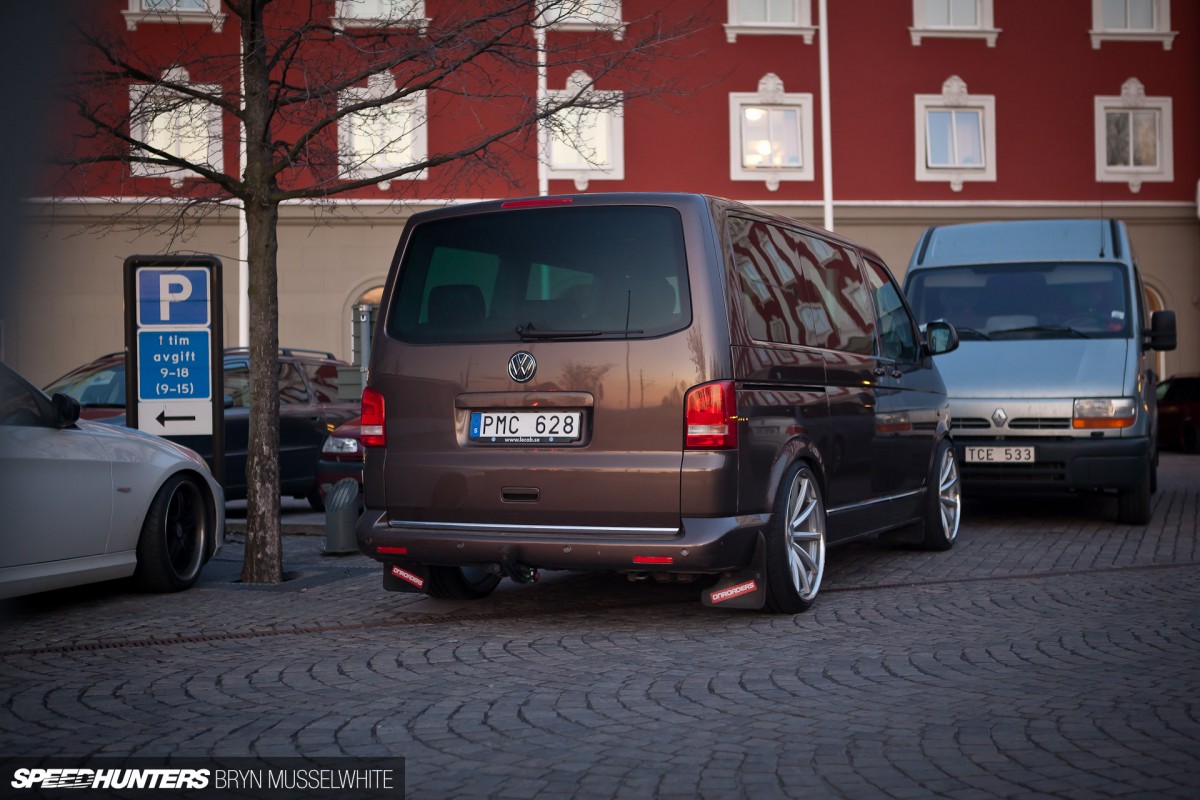 Of course, it wasn't just out on the roads that you'd see cool vehicles. Given the number of show goers in town who were also settling in for the evening, the hotel car parks were filling up nicely. This Vossen wheel-equipped VW sat so well. I only recently discovered that the US didn't get the T5, which seems such a shame as they're ridiculously-practical vehicles that can be made to look really good. By now the light was starting to fade and the streets were getting quieter. It was time to figure out where everyone was going…
Into the darkness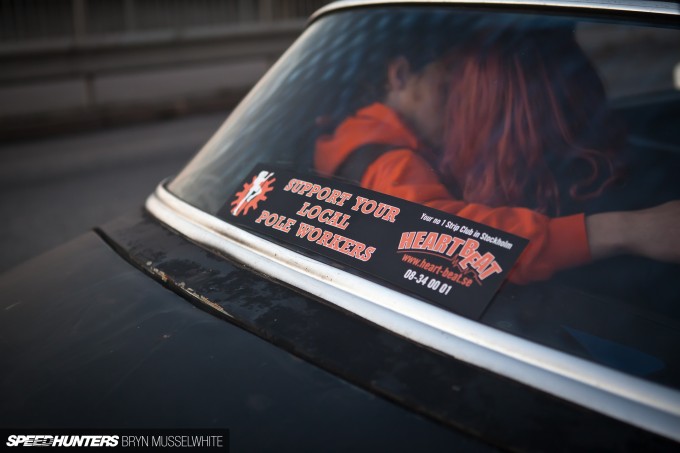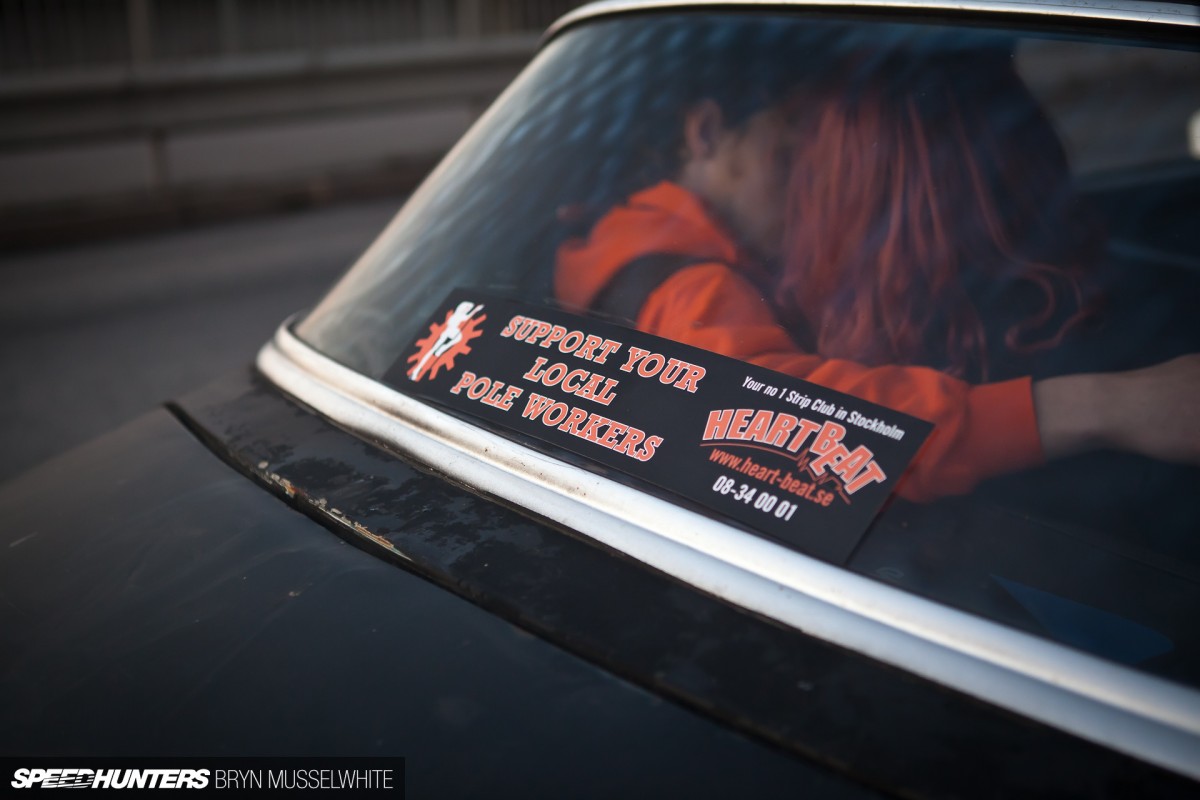 So far the action was pretty laid back, but interesting cars were never out of sight. The mix of car styles and people was so wide – young and old, all just enjoying the slowly setting sun.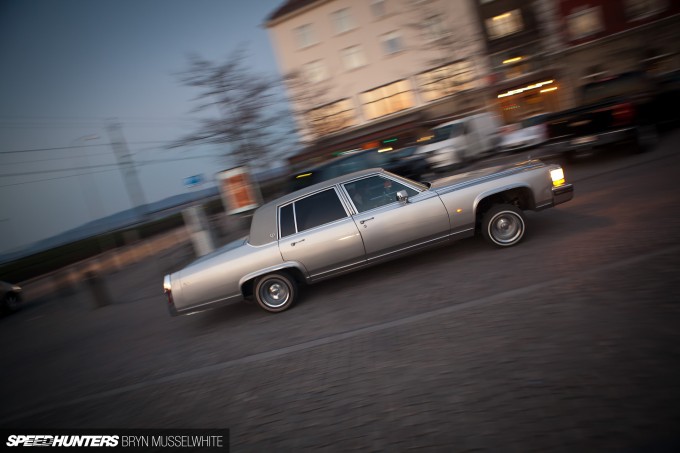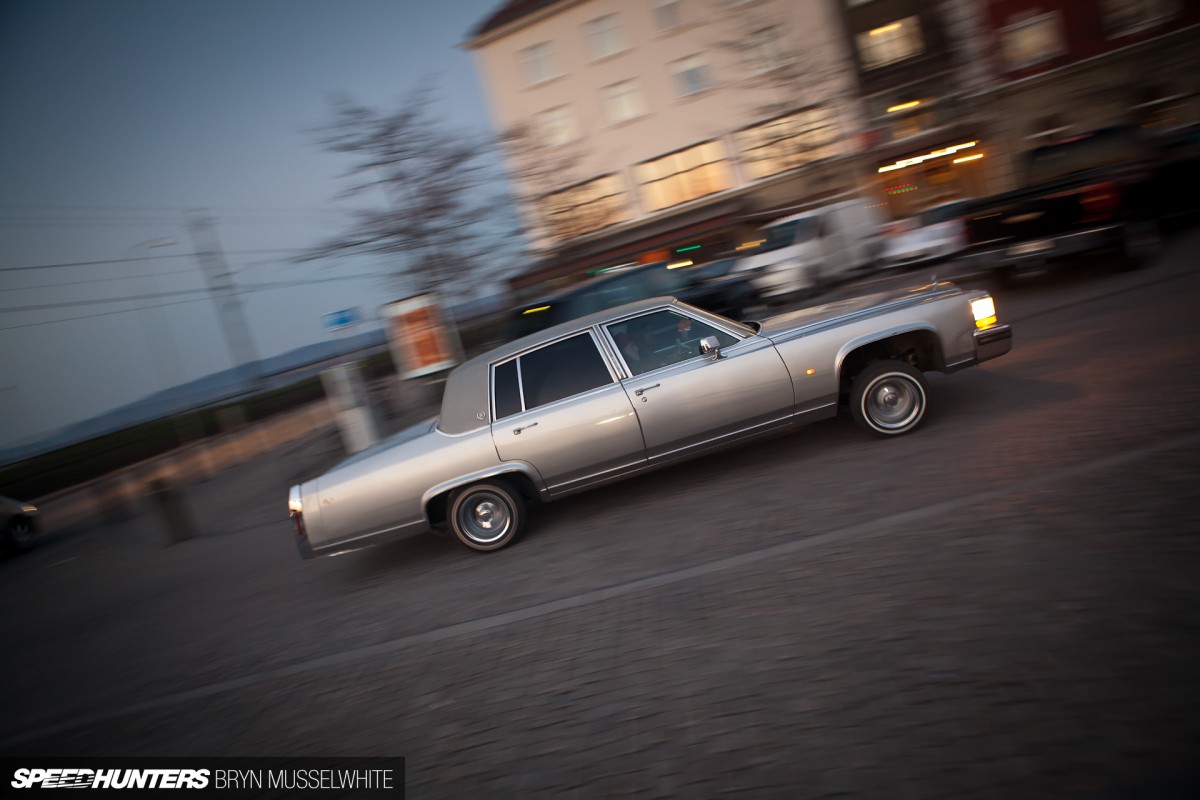 Seeing this full-sized Cadillac Sedan De Ville made me smile as it was in the same model that I drove across America in 1996 with my best friend, and what directly led to me to be standing in this spot. Although our '79 model was full of rust and wasn't running on wires and hydraulic suspension. Remembering that I'd been tipped off there was more of a party atmosphere at a nearby shopping centre,  I figured it would be worthwhile heading through there on the way to meet back up with Rod and the rest of the team once the drifting had finished.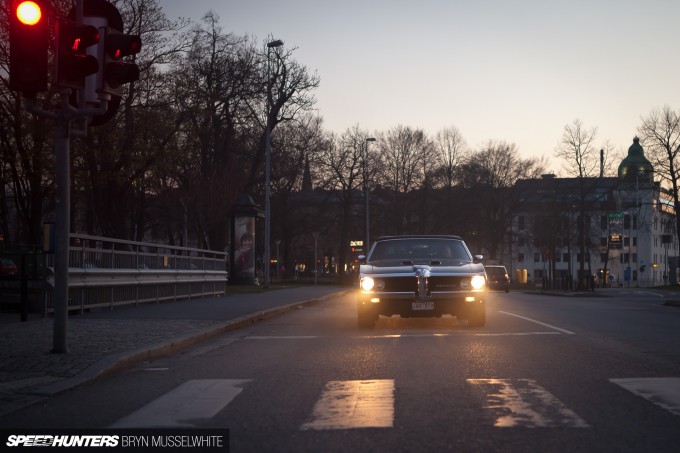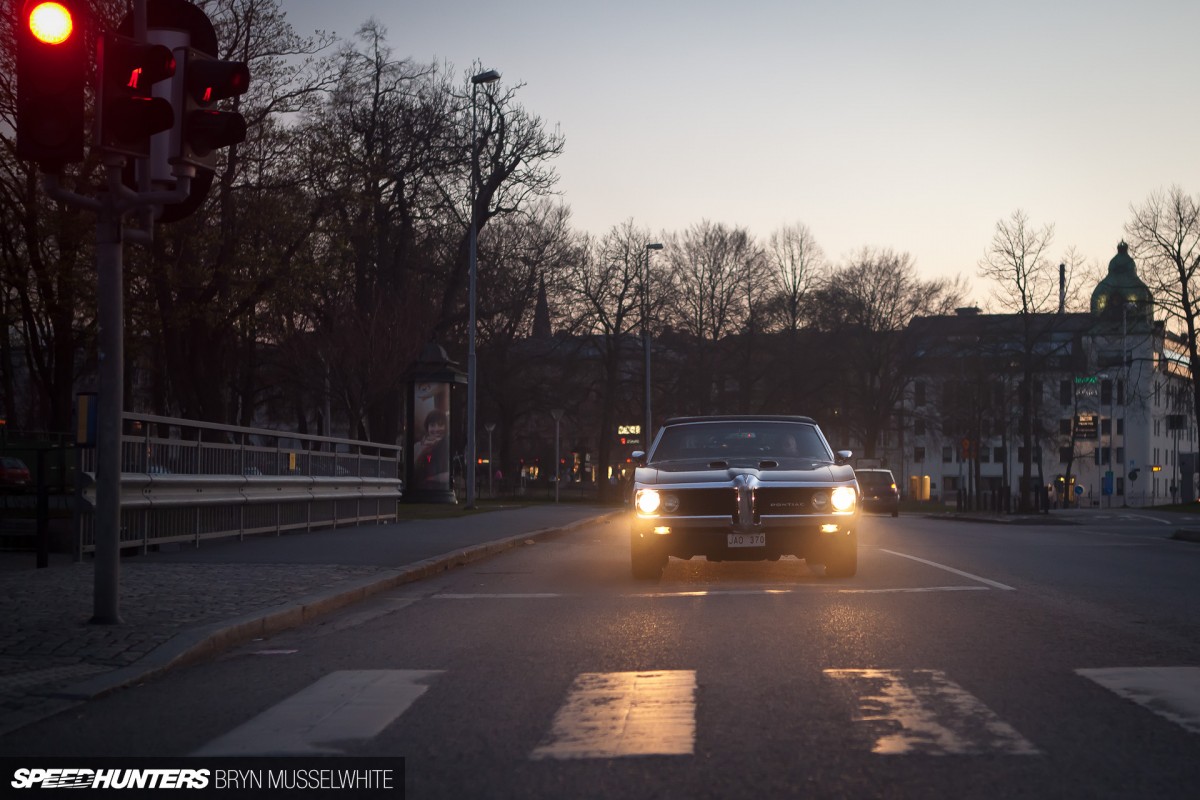 Although, it was pretty hard to not get distracted every 10 seconds when something else rumbled past.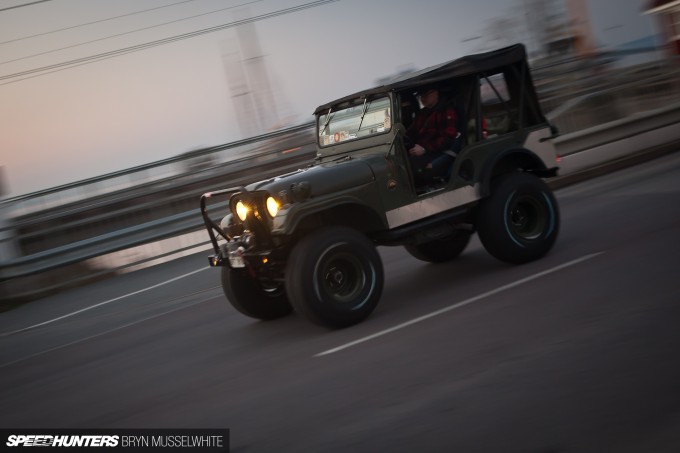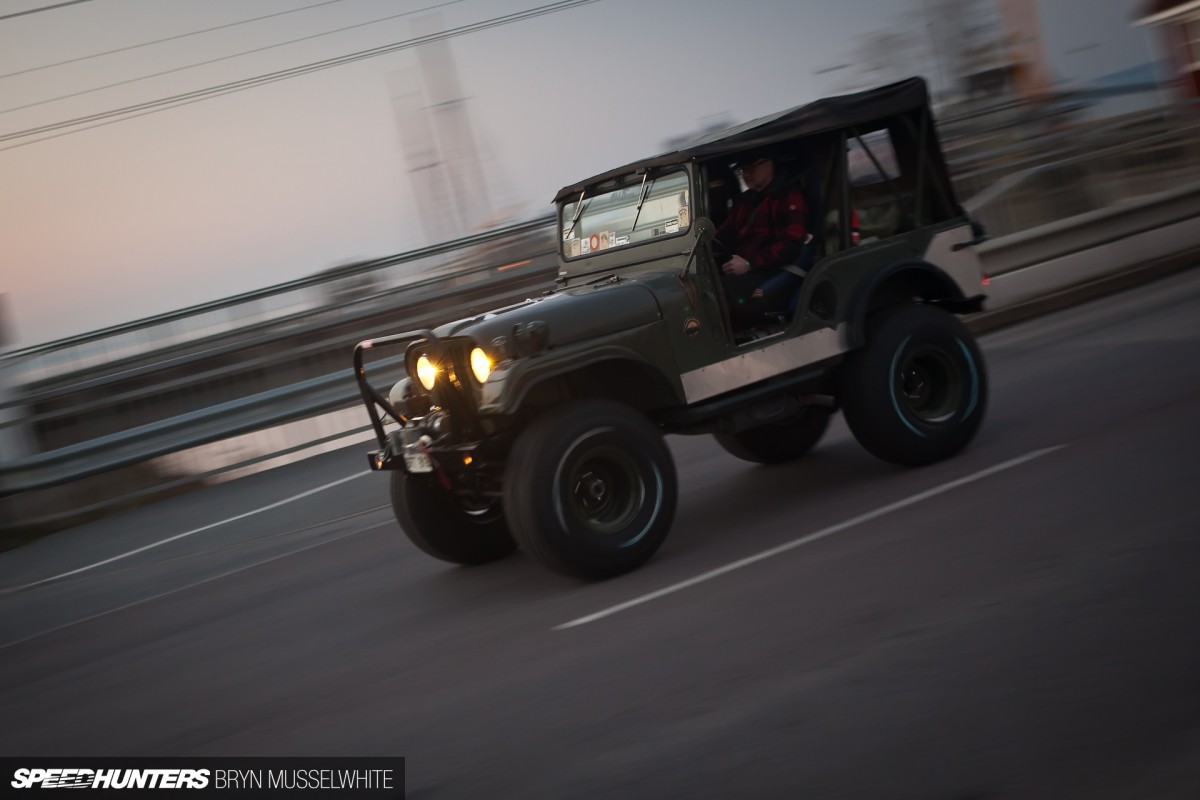 Or hummed like this Jeep did. Lifted and running maybe 31 or 33-inch tyres, it dwarfed what came next.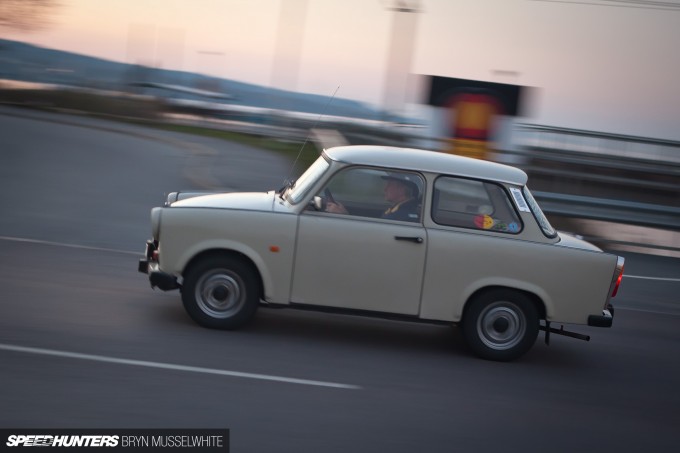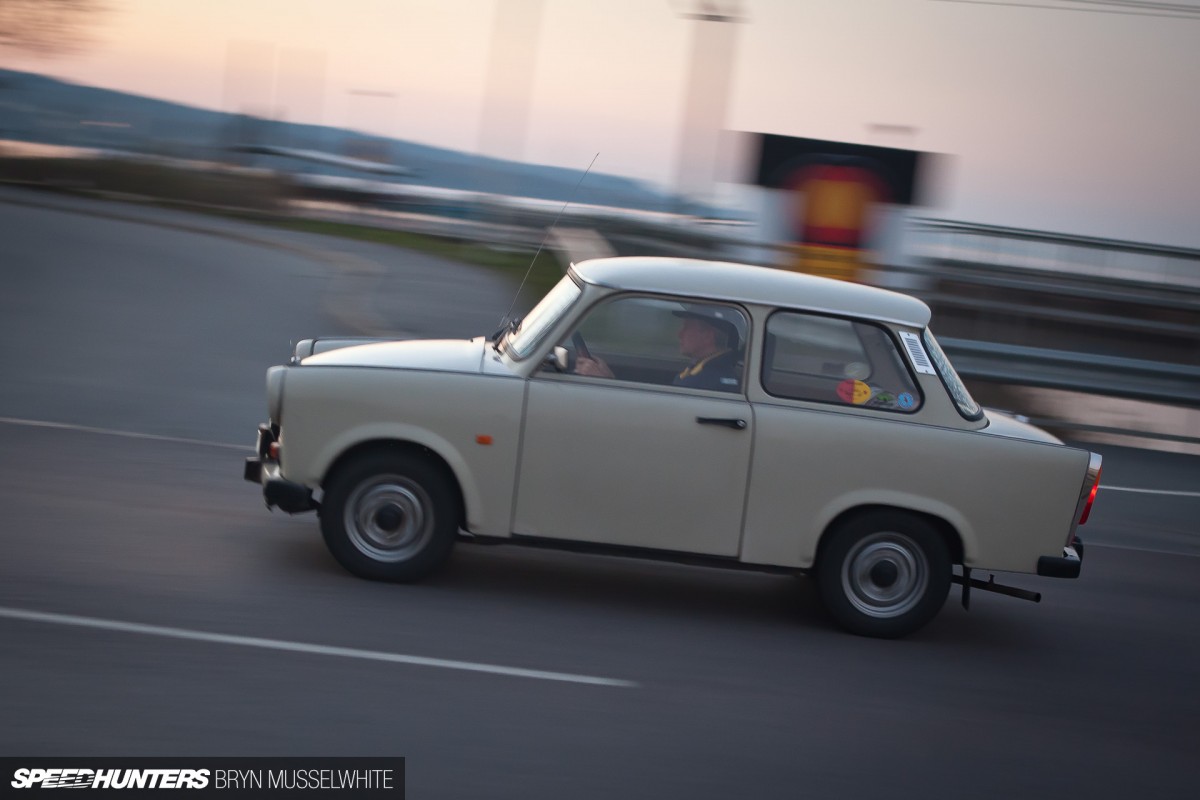 This East German throwback, a Trabant 601. These little cars are like the region's version of the Model T Ford – a machine for everybody. Nowadays they have a cult following. Although I've seen them with VAG turbo diesel engine conversions and a whole load of different modifications, this one appeared to be pretty much standard aside from a few stickers. Well, you've always got to have stickers right?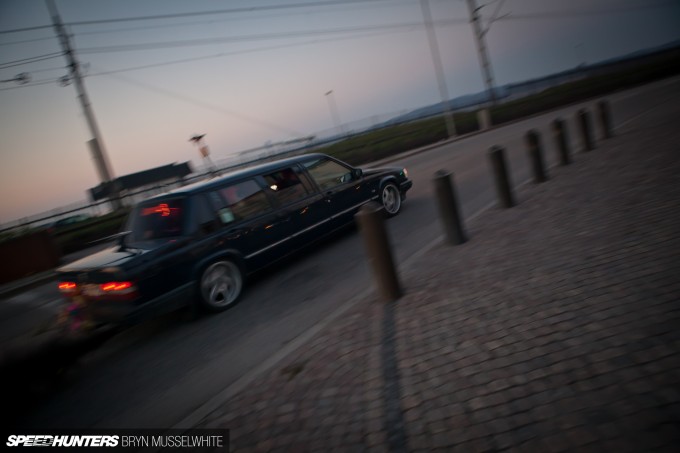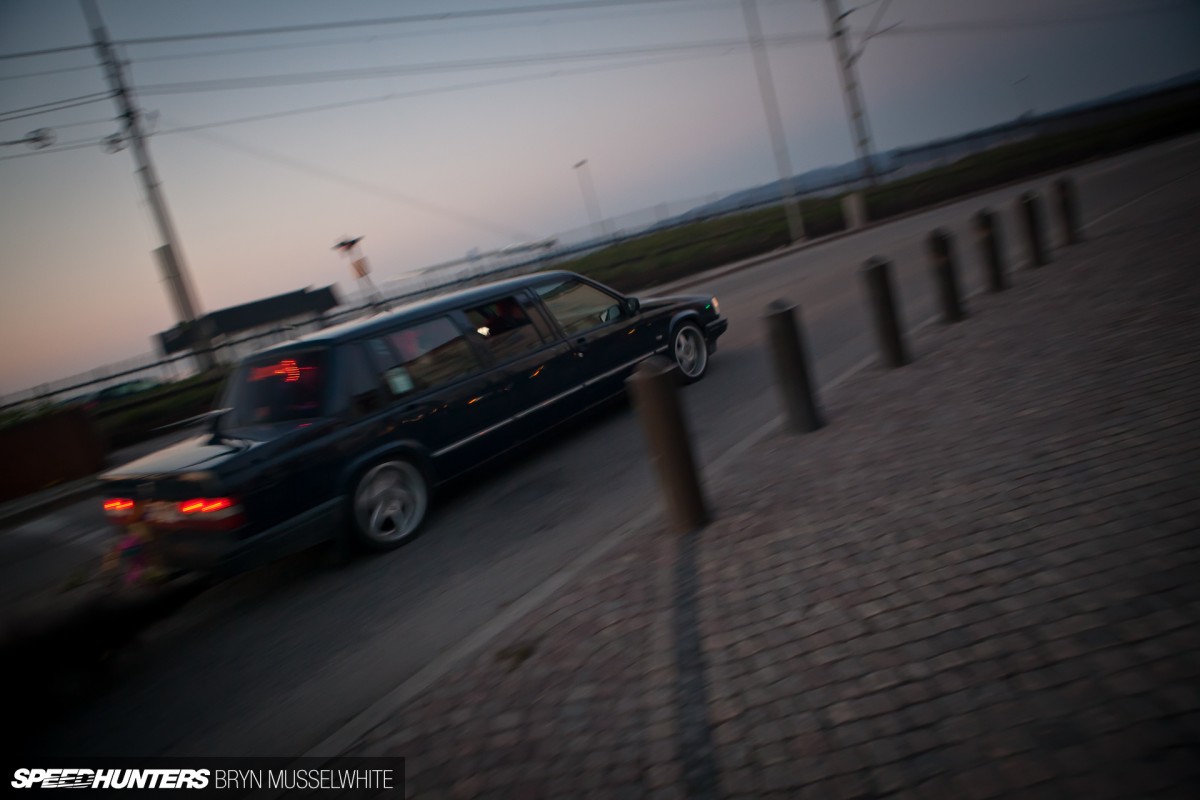 Seconds after I took this shot the black cloud of diesel smoke filled the air around me and the music rattling out of this Volvo limousine was all I could hear above the turbo whine. A sign of things to come? Best I head back to the hotel and grab some wheels…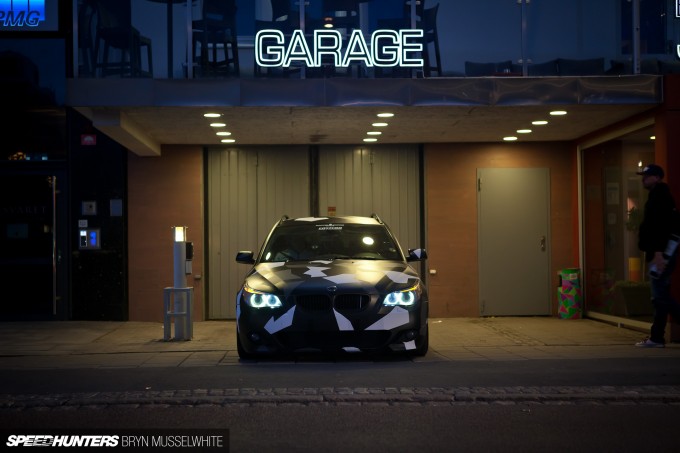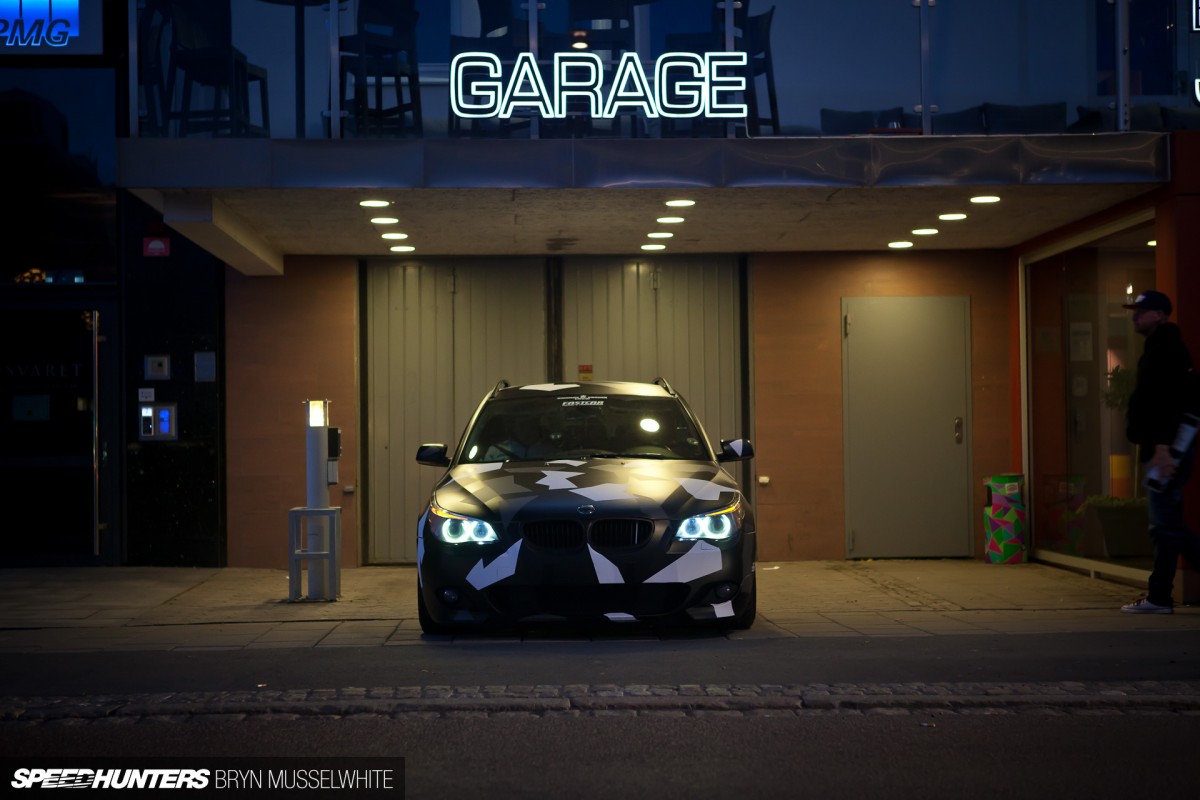 It seemed like other people had the same idea as me and the Bimmers of Sweden club were heading up to the shopping park too. The disruption pattern camo really works for me, and is quite in keeping with the design language.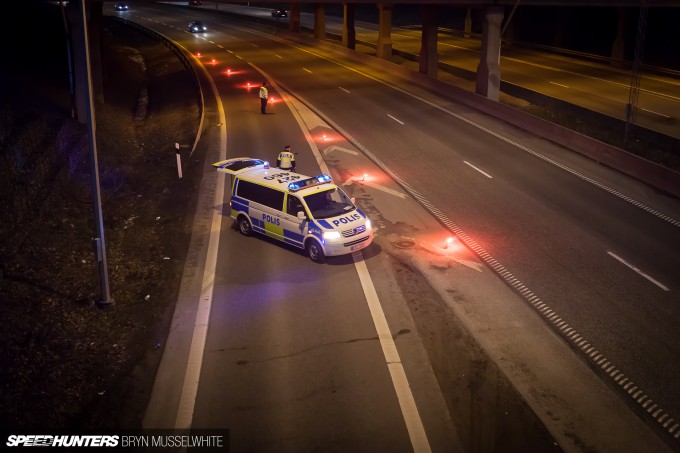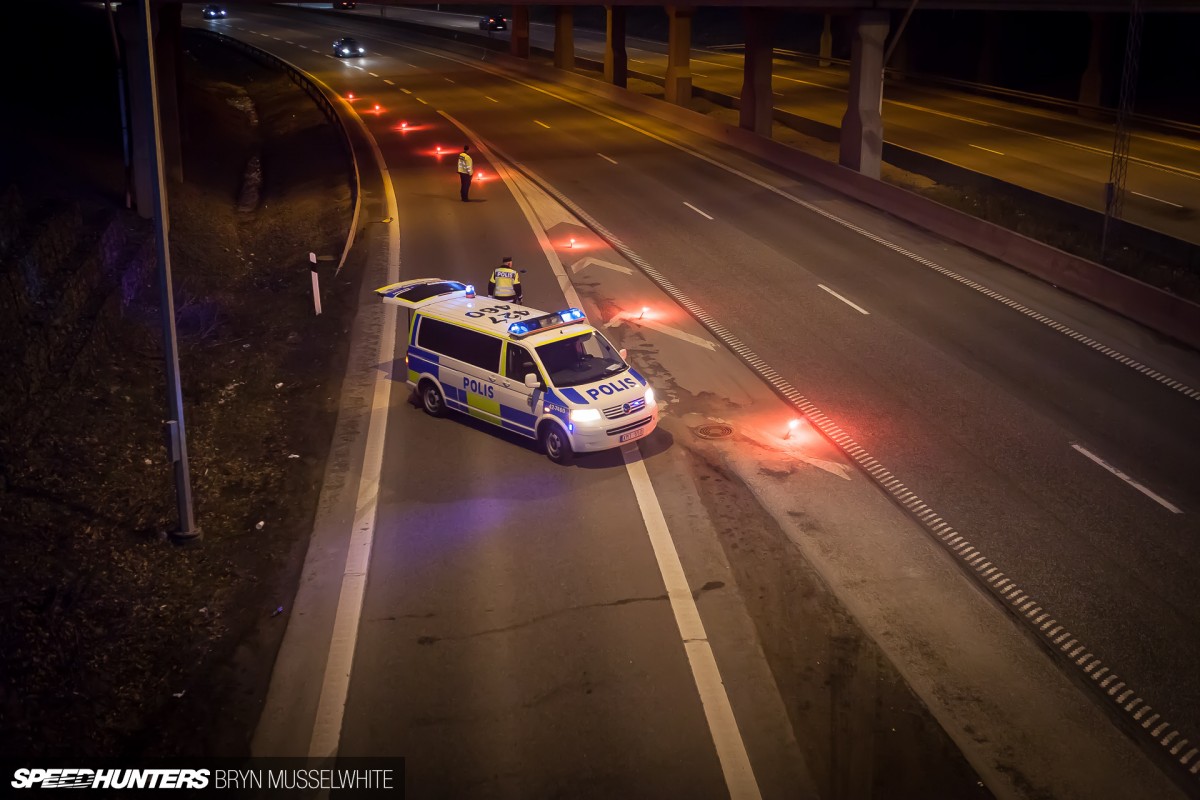 After a short drive I looked between a few buildings and spotted activity, so pulled over in to the car park. There were some cars here, maybe 20 or 30 of them, but surely this wasn't it? It was right then that I became aware of a massive queue of traffic over the other side of the parking area, so I wandered over, camera in hand. Crossing a small bridge with a line of traffic behind me, I noticed the police had closed off the exit slip road below me. Nothing could prepare me for the scale of what I was about to see though…
Well that escalated quickly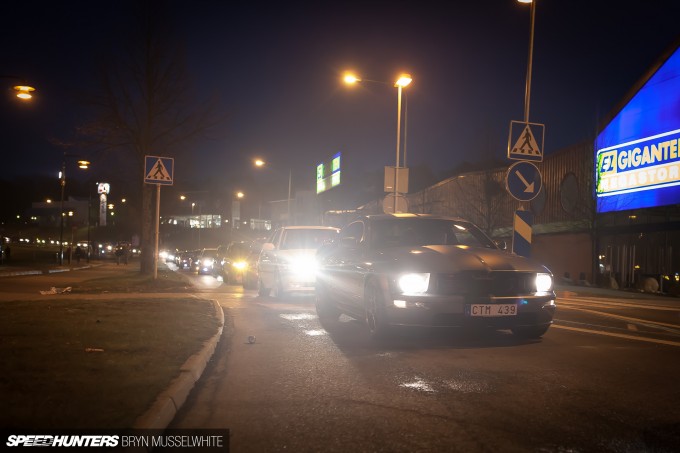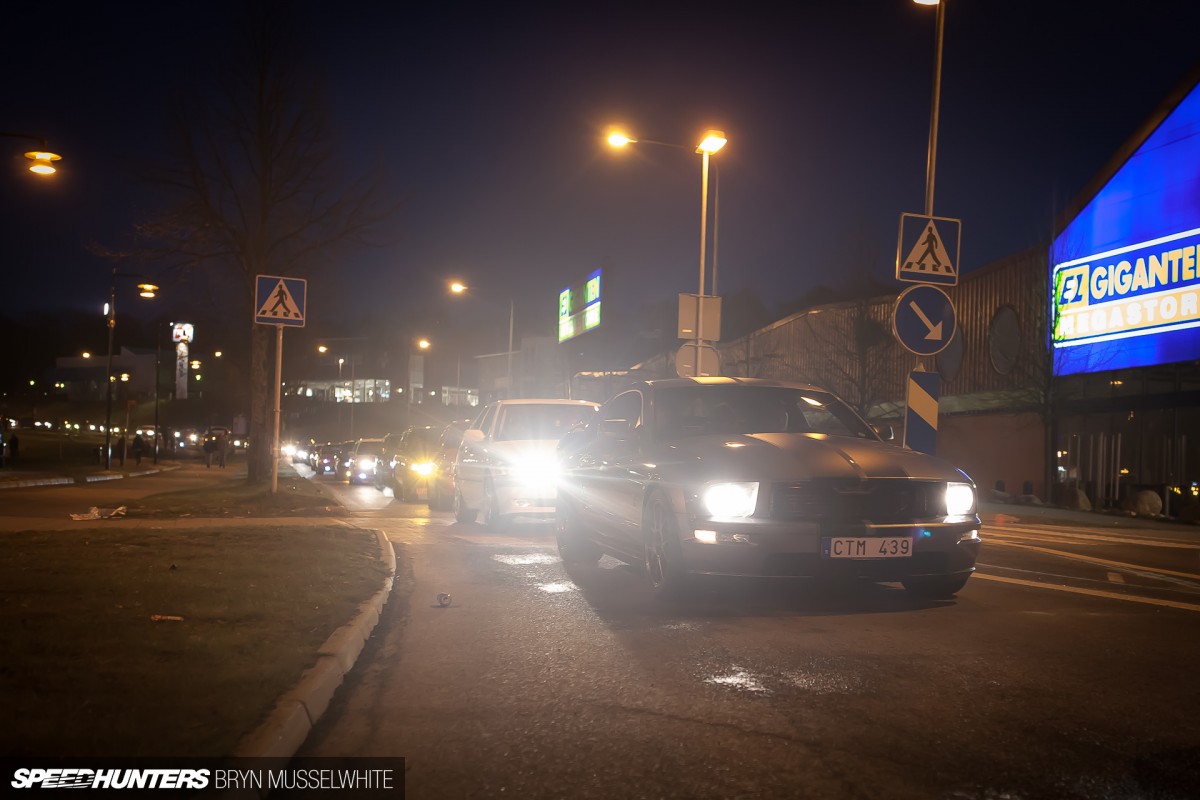 I've been to my fair share of cruises in a lot of different countries, but this one was unlike anything I had ever seen before. For a start, the variety of vehicles I'd seen out on the road were all here, and then some.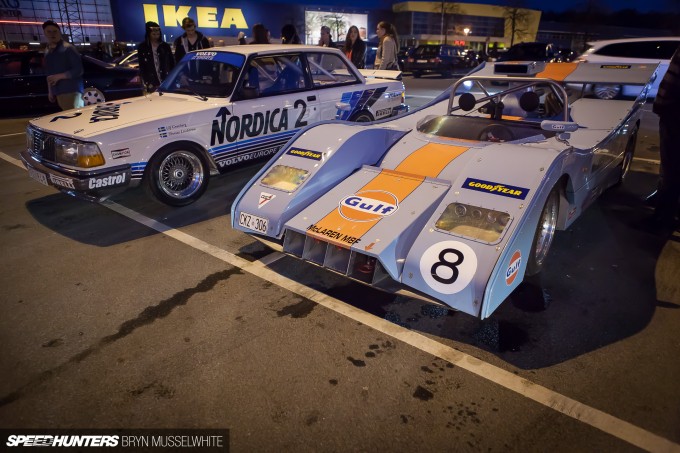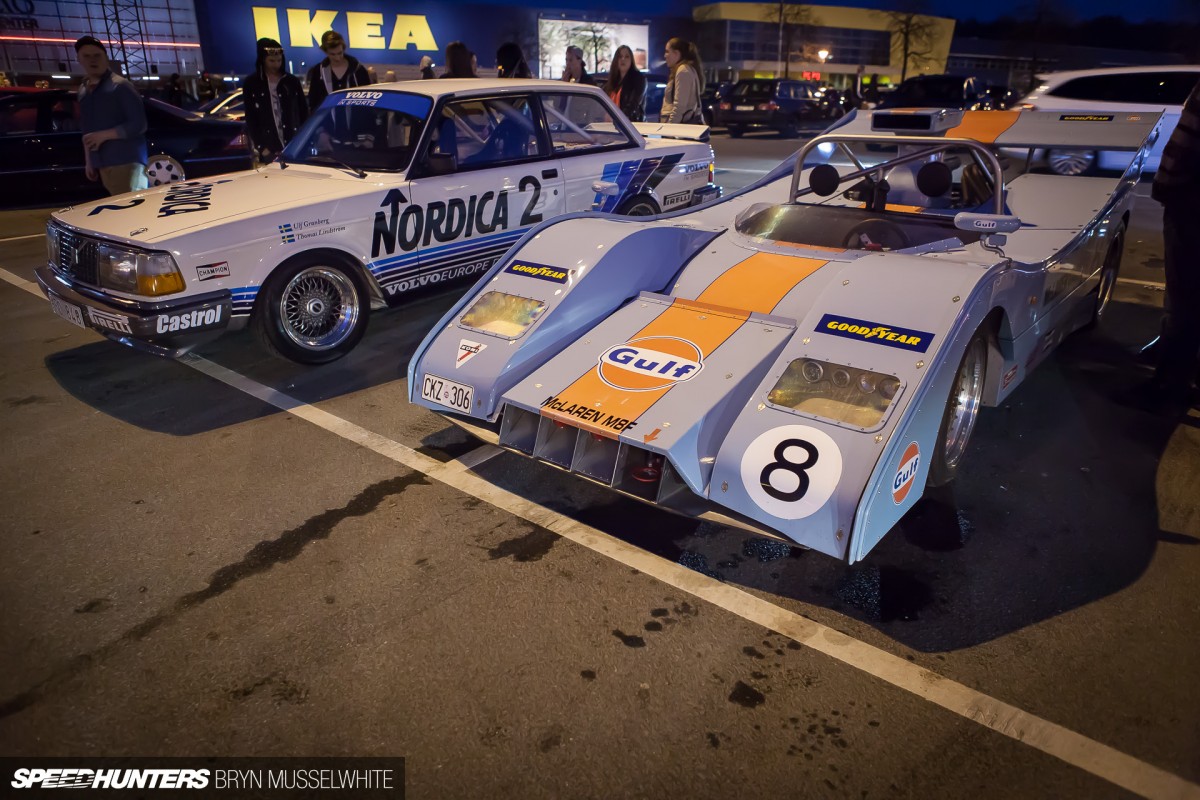 I couldn't make out how far away the other side of the parking area was, but I'll make a conservative estimate that there were a couple of thousand cars parked up or queued up around me. In the first row I came too were these two. I literally stood there like a freeze-framed video tape; rocking back and forth not knowing which way to go first.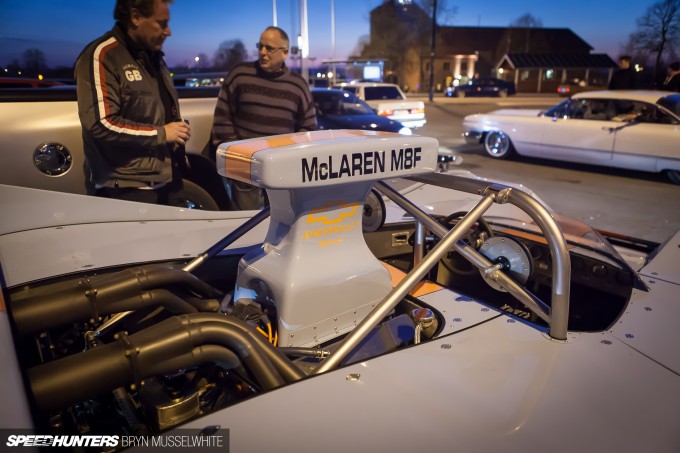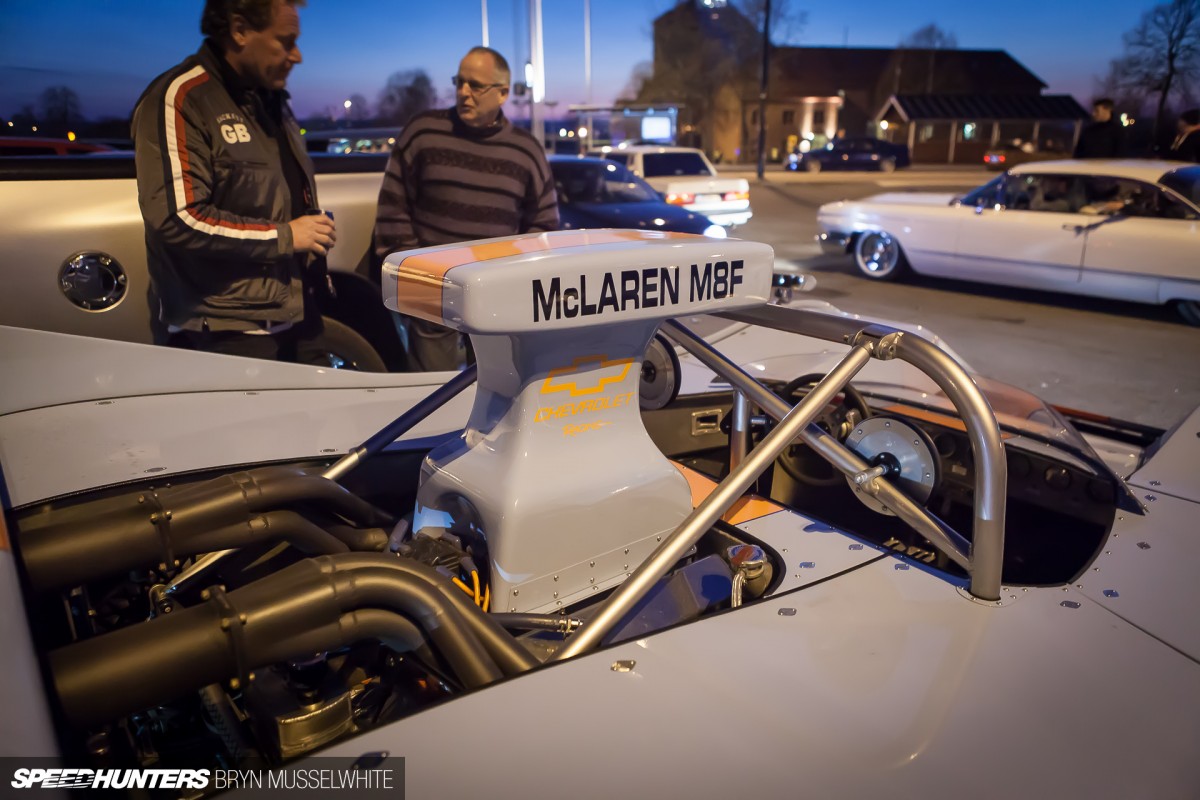 The McLaren replica was put together by three brothers from what I could understand. It was also road legal and packing a mid-mounted Chevrolet V8. But as this was day three in Elmia, I wasn't surprised such a thing would be parked up. Just amazed.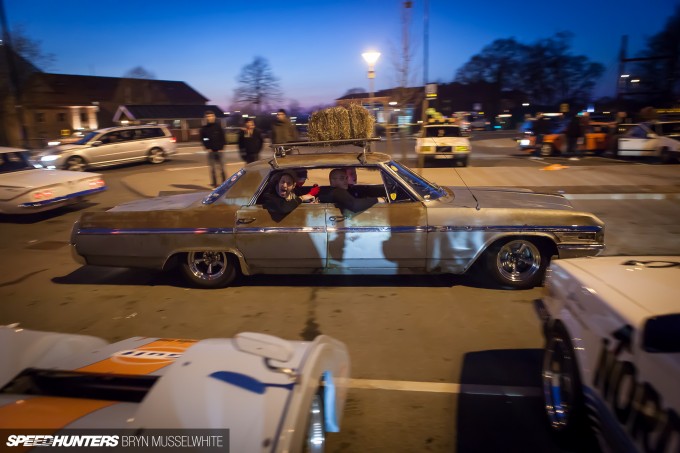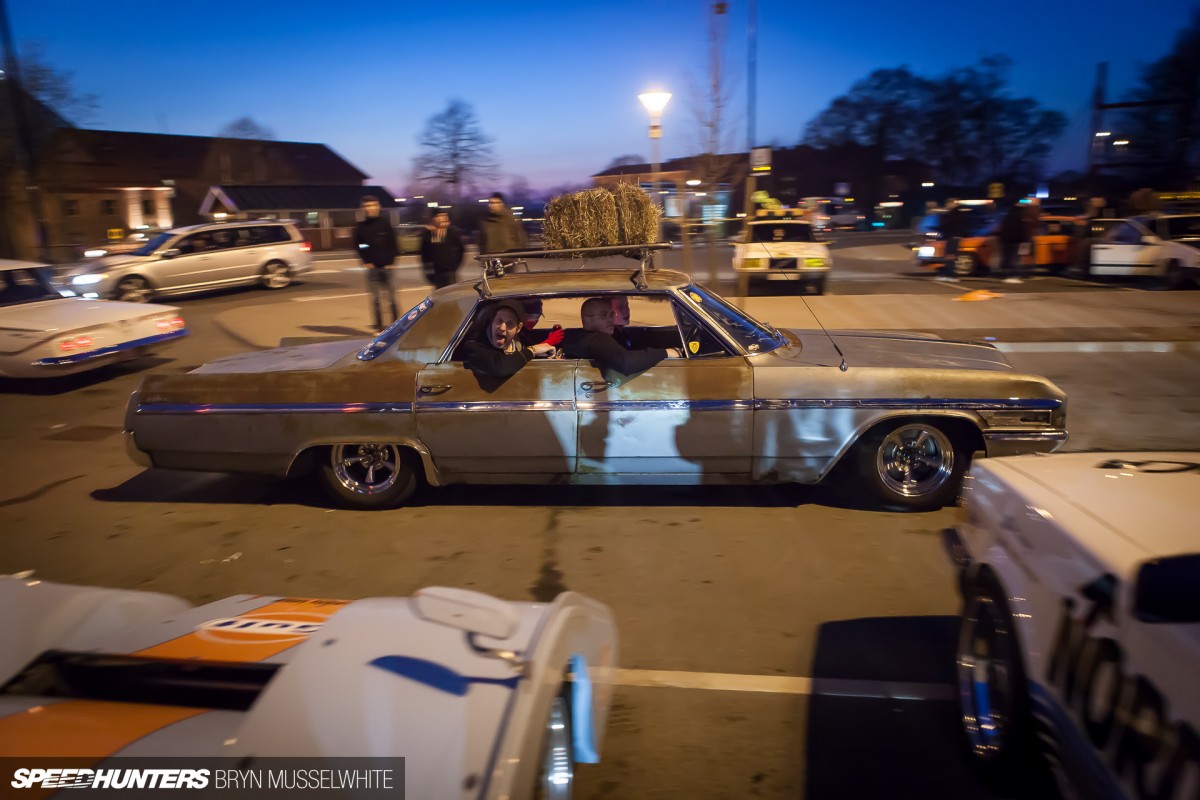 As I was checking out the Volvo 240 touring car replica, these guys rolled by. I'm not sure what the significance of a hay bale on the roof is, but it seemed to be a quite common modification. Again, the atmosphere was like a good house party. People might frown on this sort of activity, but to me it was just cool wandering the lines checking out random cars.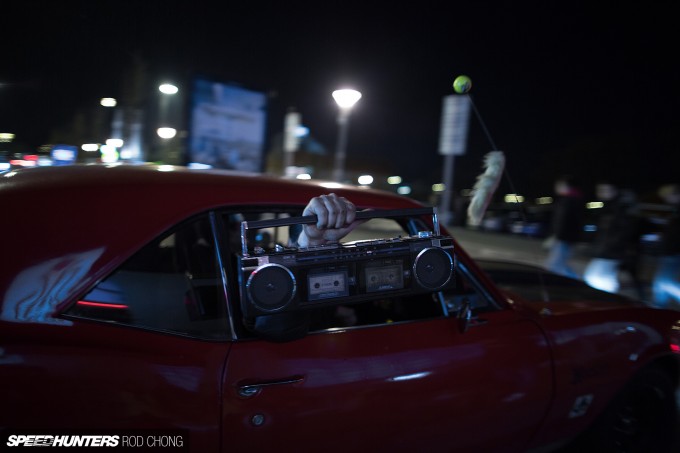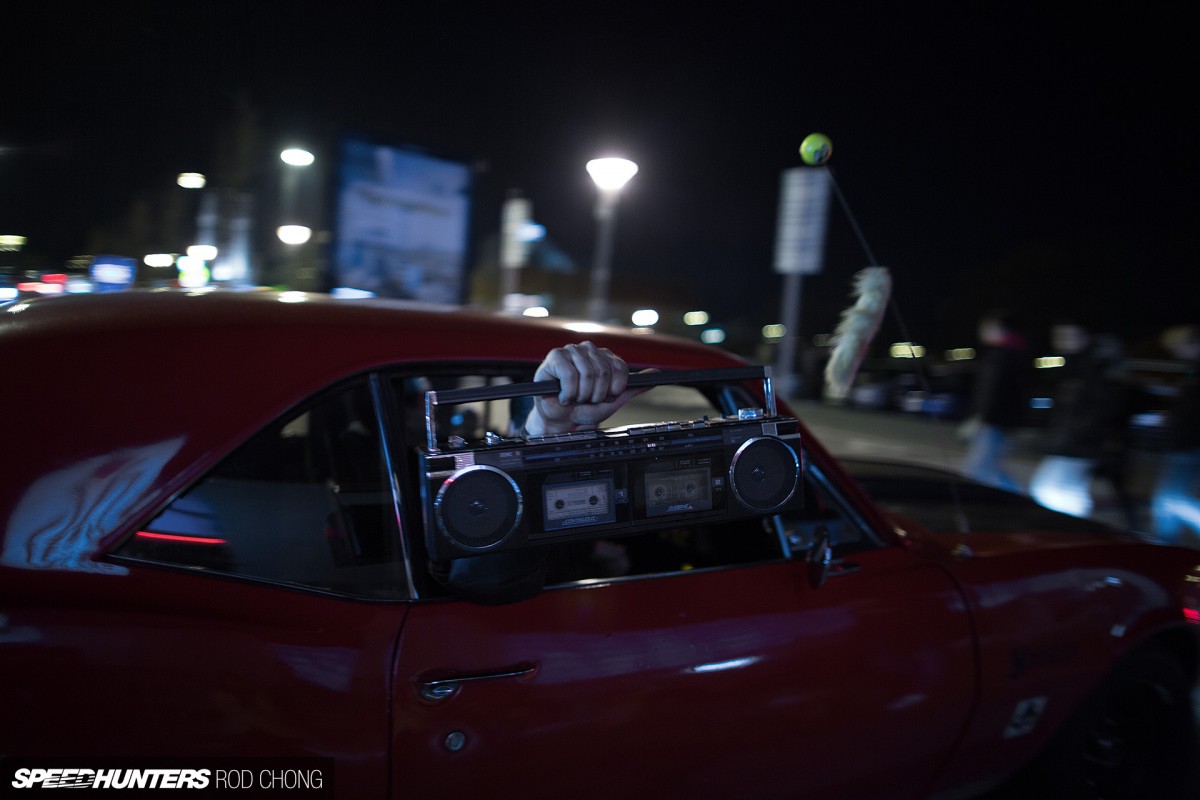 Everywhere you walked there was music. But what made me smile was that it wasn't coming from large installs surrounded by serious looking people assessing sound quality. No, generally it was rattling out of an old stereo, whilst the occupants of whatever vehicle the speakers were being waved from were all joined in singing.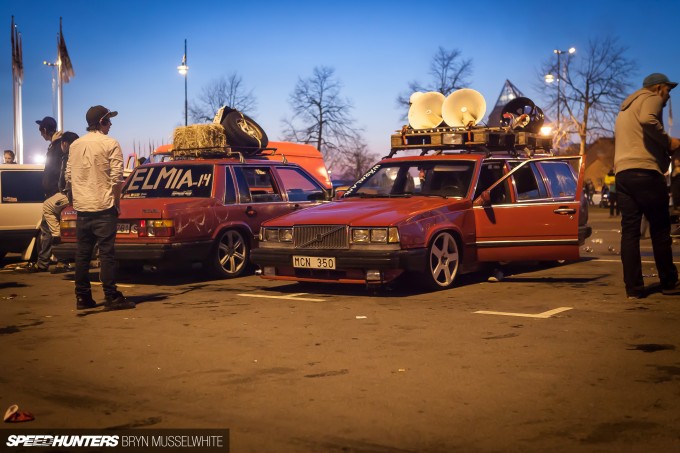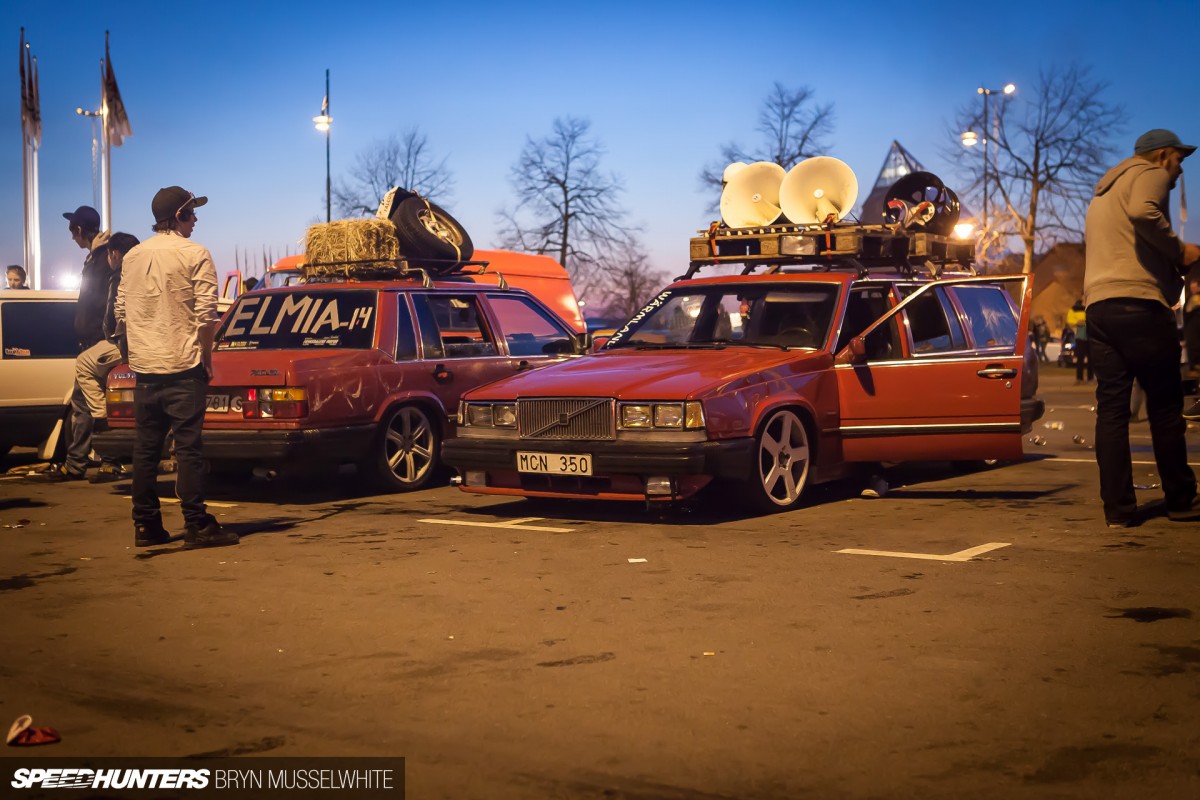 Talking to a few people at Elmia during the day, they'd said how years ago the nightlife around the show used to be about street racing and that there were far too many ratty Volvos with stuff on the roof nowadays. With a massive police presence I'm not surprised the street racing moved on, but surely this is just a new generation doing their thing?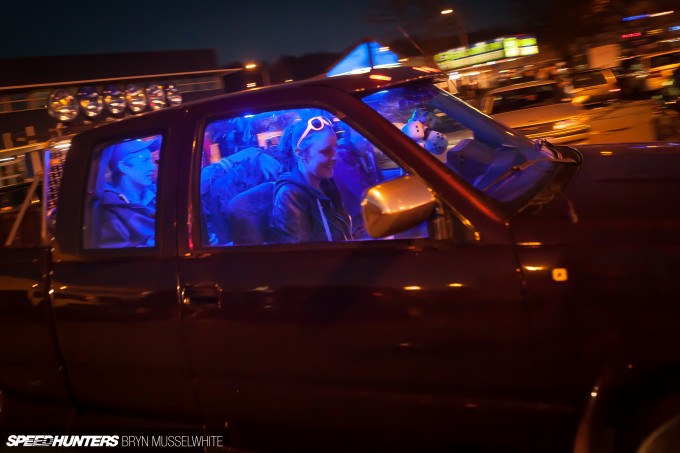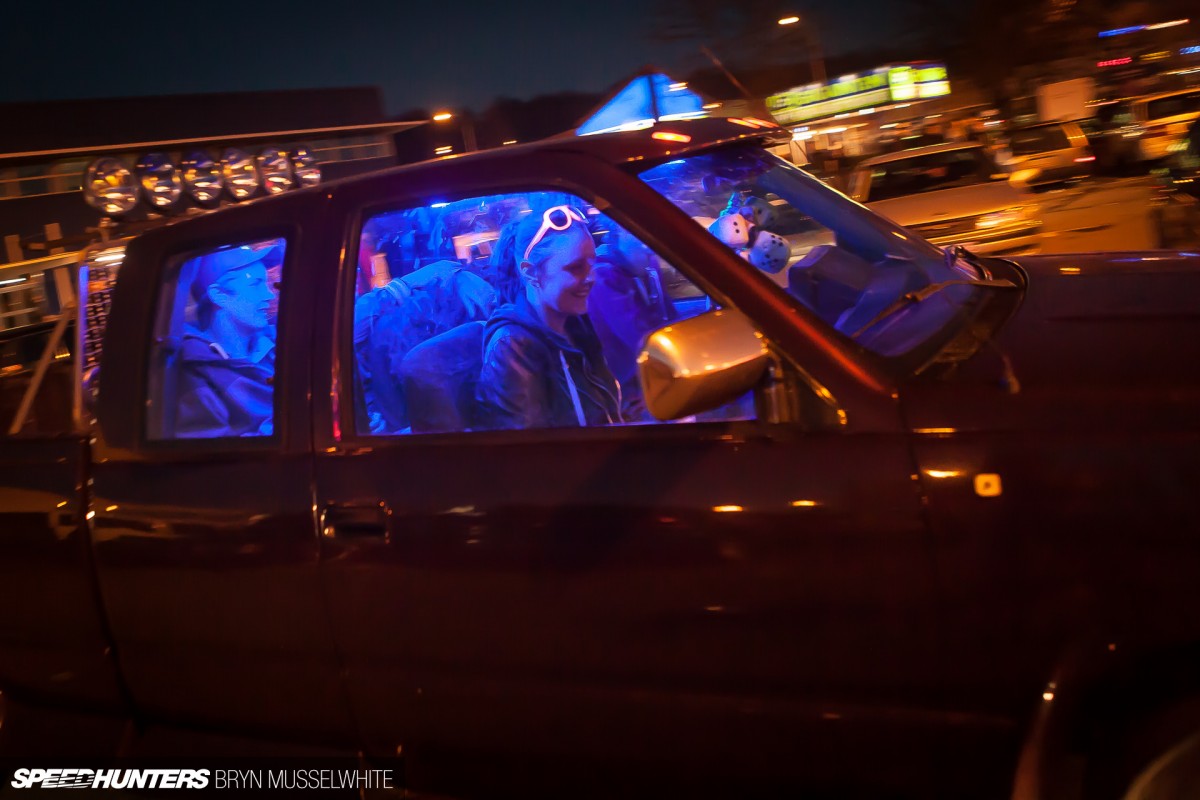 I'm not entirely sure how the driver of this truck could see out with the bright ultra violet light inside the cab, but it didn't seem to be stopping them having a good time.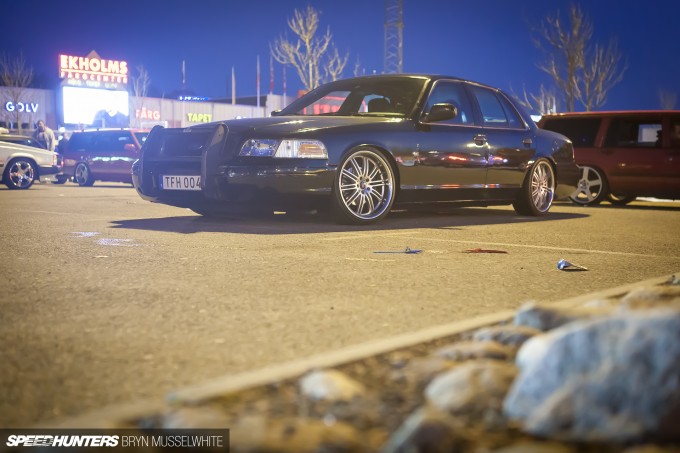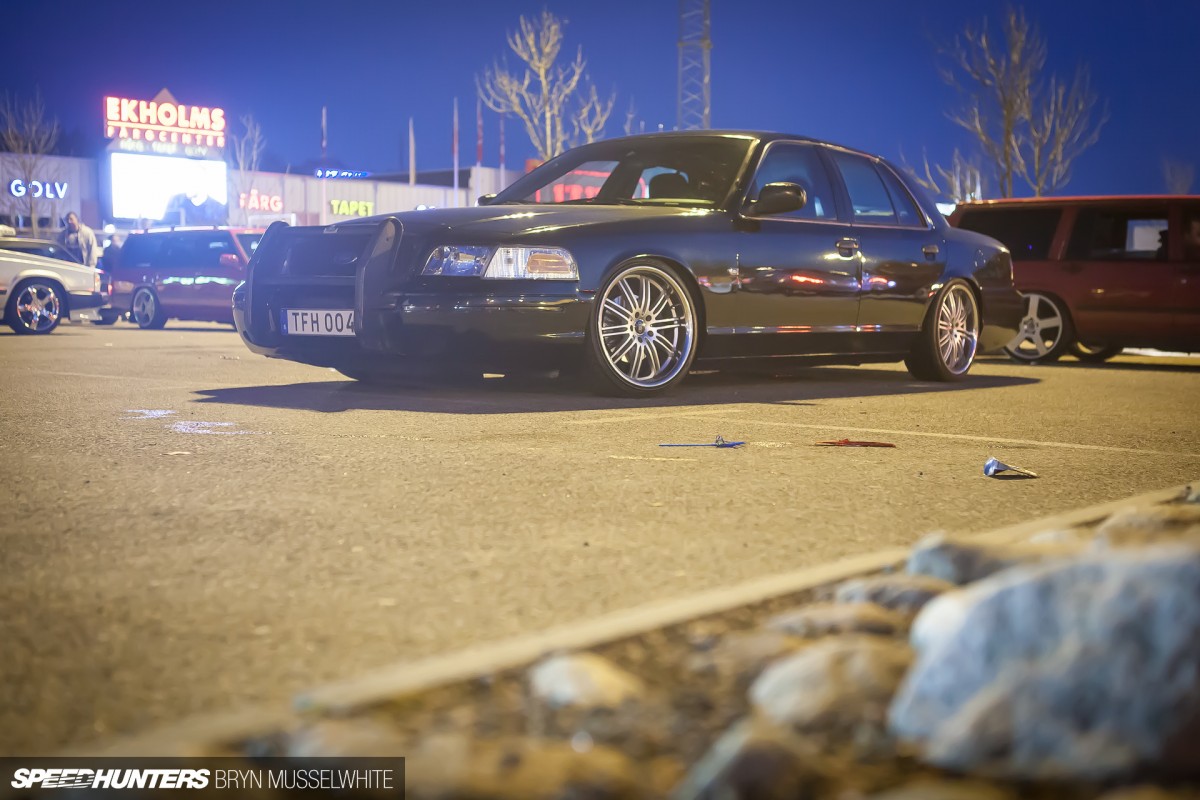 In amongst the slammed Volvo estates (you'll notice there are three in the background here) there were some real gems. This low Ford Crown Victoria screamed cop car to me. Imagine it without the push bar though… Doesn't work as well, does it?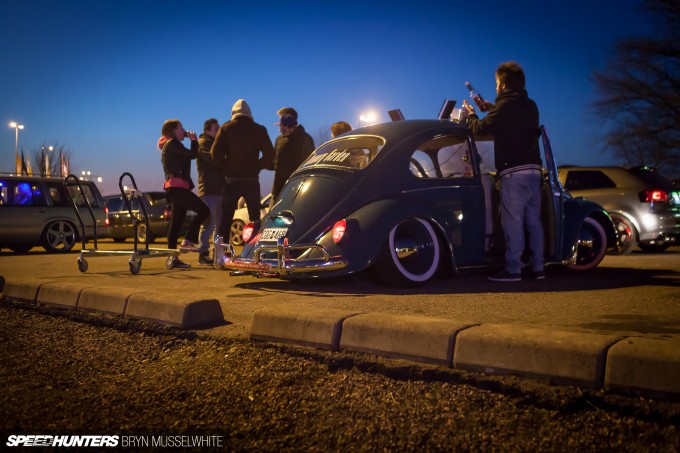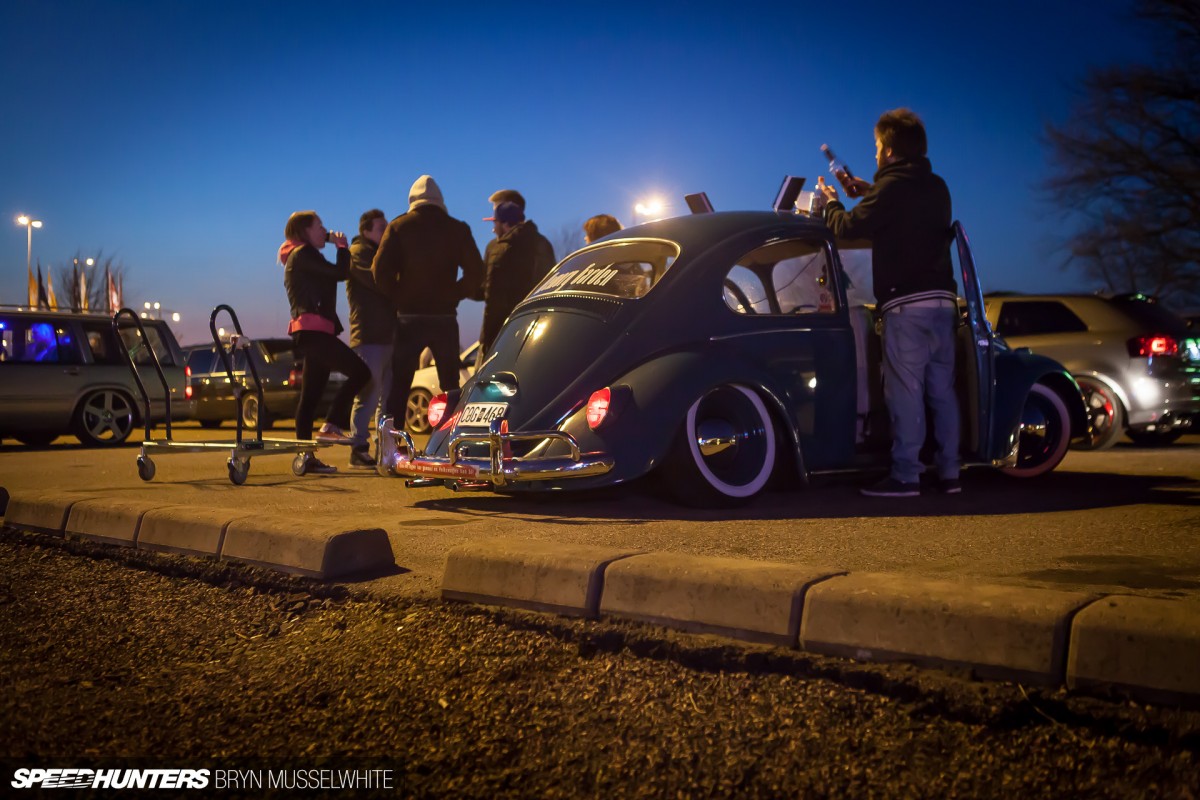 Look there's a Volvo! And a Beetle… There were lots of groups who'd obviously been here for a while and I spotted quite a few discarded BBQs where they'd come prepared for the long haul. Looking at the traffic situation I was glad I hadn't tried to get any closer. I was beginning to notice a theme within the group though – aside from the Volvos that is…
Under the cover of dark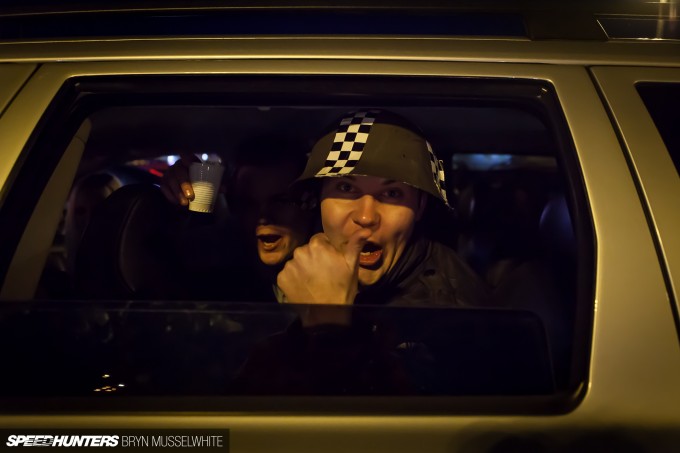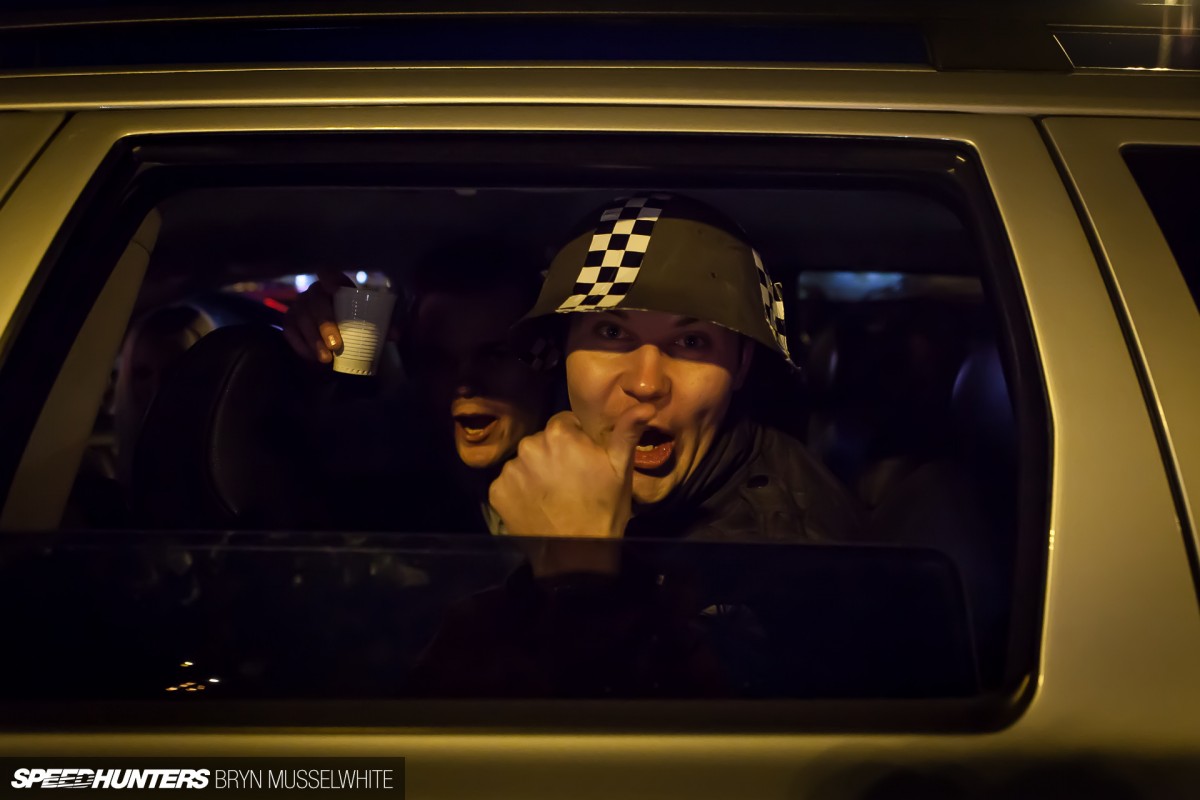 I really enjoy Finland, Sweden and Norway. I've been to some of the finest automotive events on the planet in these countries and their culture always seems to be pretty laid back, yet industrious and forward thinking. The people in this part of the world also know how to party. I don't know, maybe it's the long dark winters? But whenever there's an opportunity to have a good time, they take it.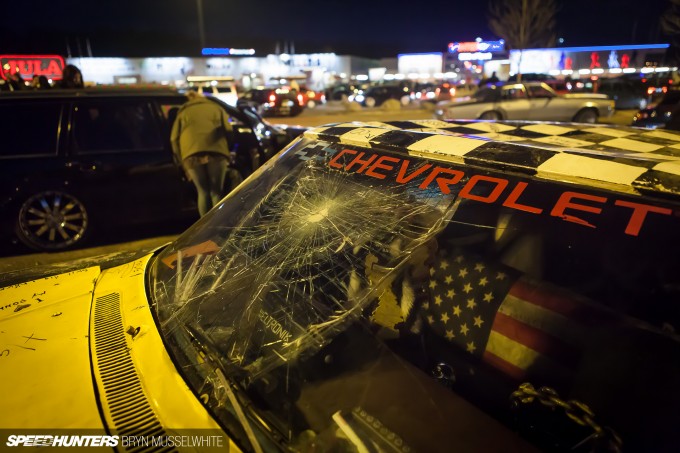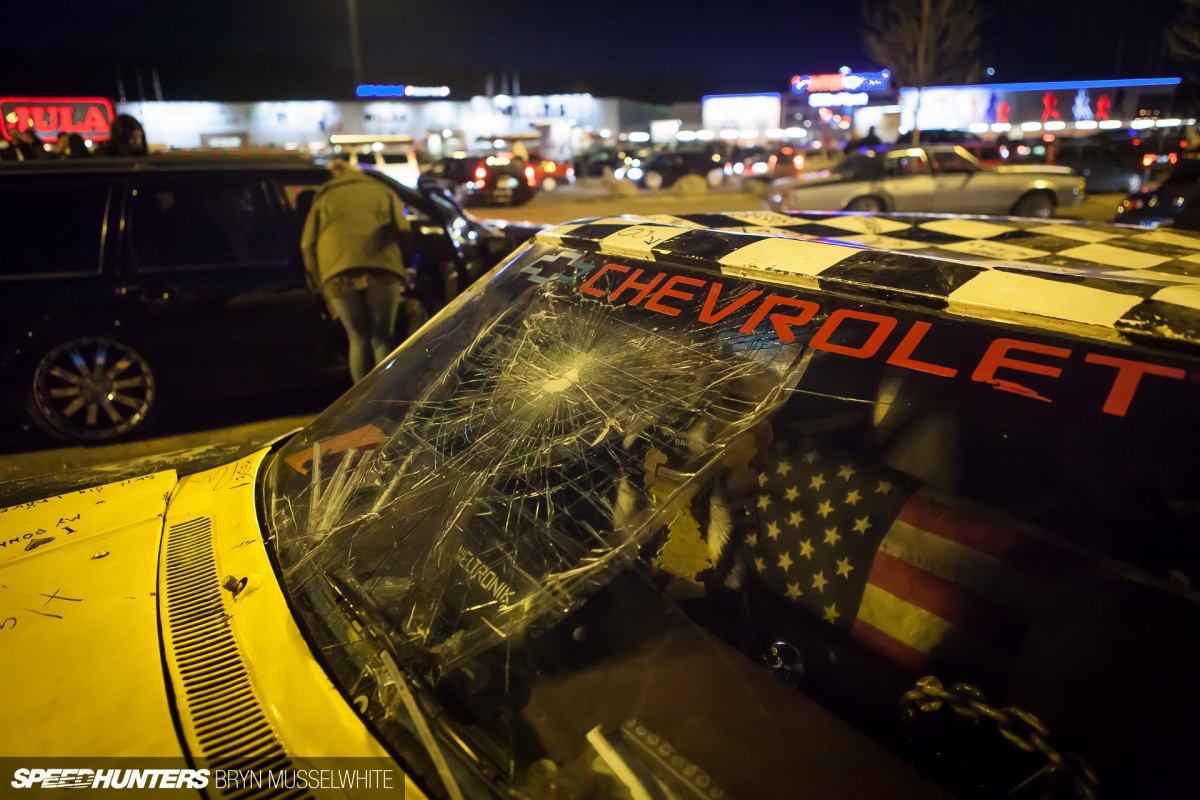 I've mentioned the whole fascination with American culture before and part of that has always been about the cars. There was a decent amount of '50s, '60s and onwards US iron imported new here, but now there seems to be a whole sub-genre built around taking beaten up four door saloons (which I can only assume are not worth as much) and beating on them some more. This is the windscreen of the Impala from the opening shot. The roof has been danced on by the looks of it and the whole thing just screams rebellion. Against what? Anything you want!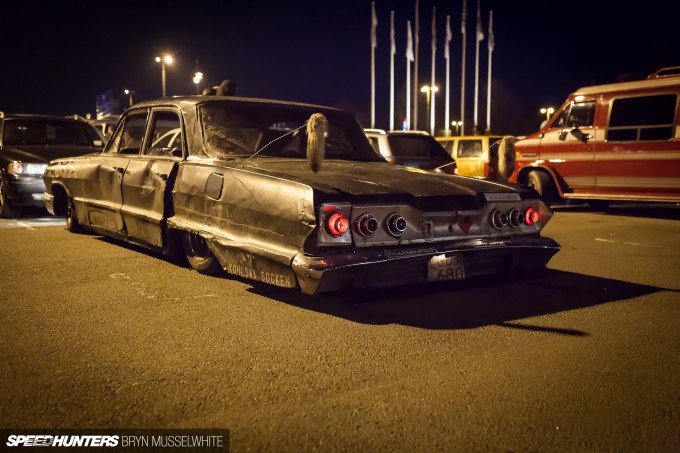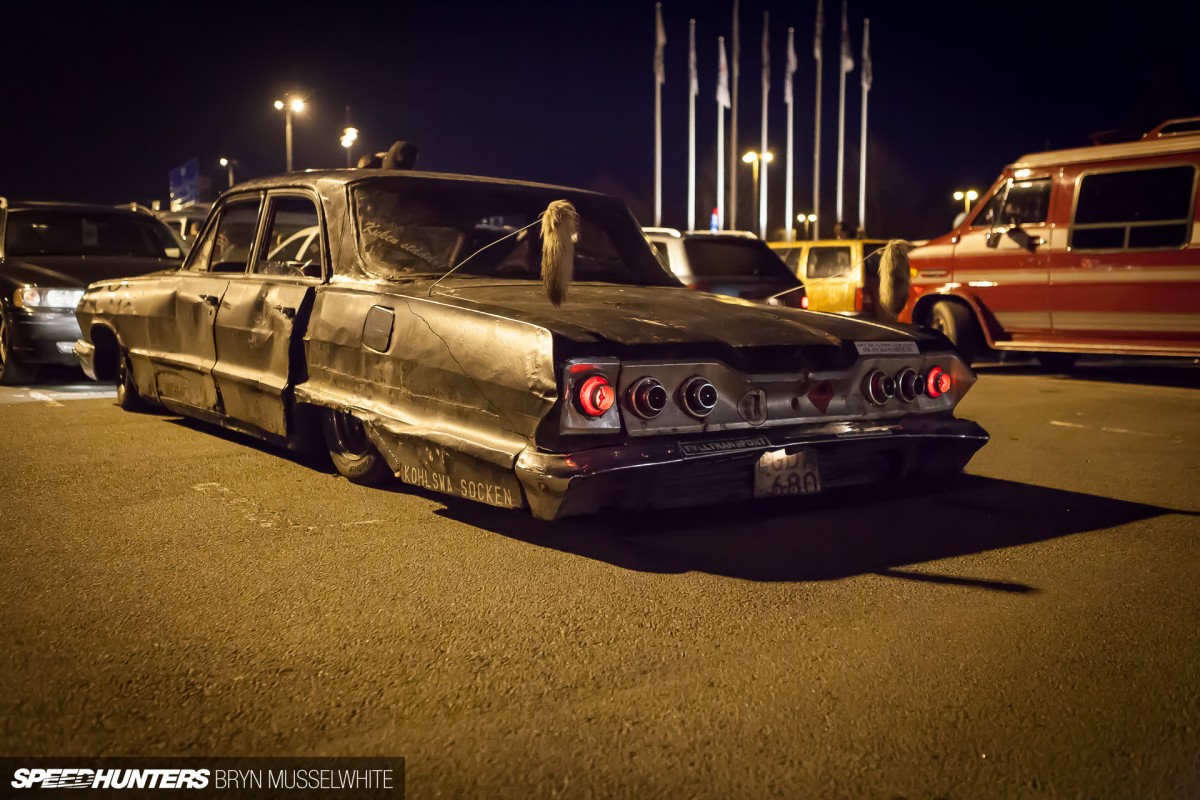 You might think it's a tragedy that something most of us would covet and restore is treated like this. But not me. Everybody has their place and if these old saloons are sitting and rotting away in garages and yards, why not pick one up and just thrash on it? Just because you might not be able to restore something doesn't mean you can't have a little fun.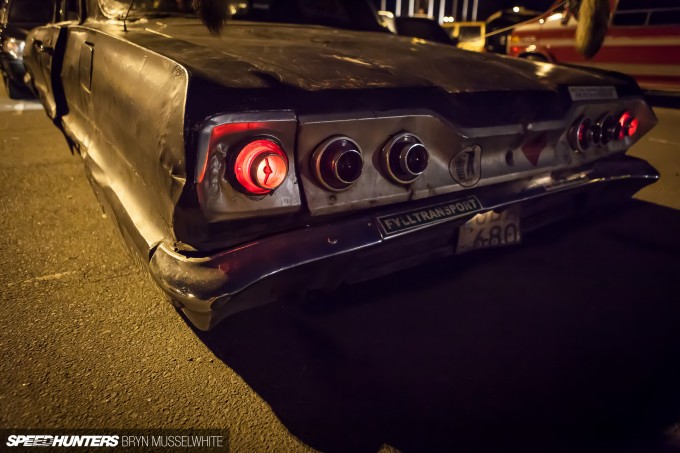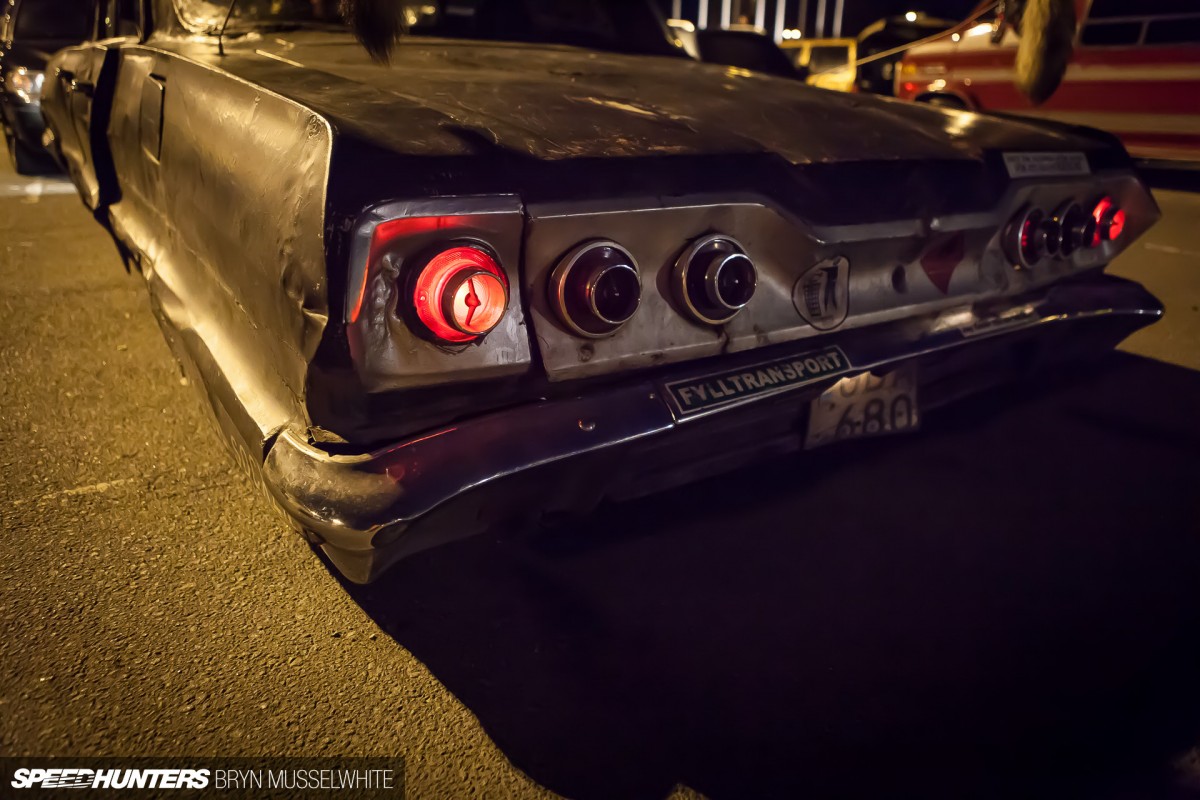 Just look at that character. You might think this is rat look, but it's more than that. It reflects a social feeling. Am I reading too much in to it? Probably, but I like this. I can remember chopping up split-screen VW vans because they weren't worth anything, and crashing Mk1 Ford Escorts with my mates back in the day. Now? Well, maybe we care too much about the value of things to have a good time. Shouldn't we be investing in memories?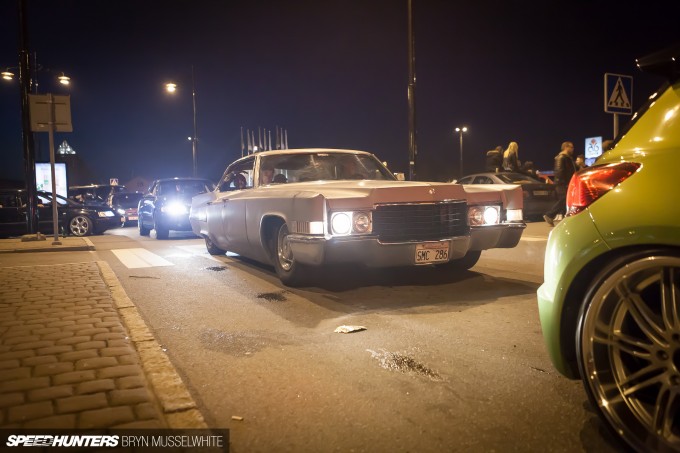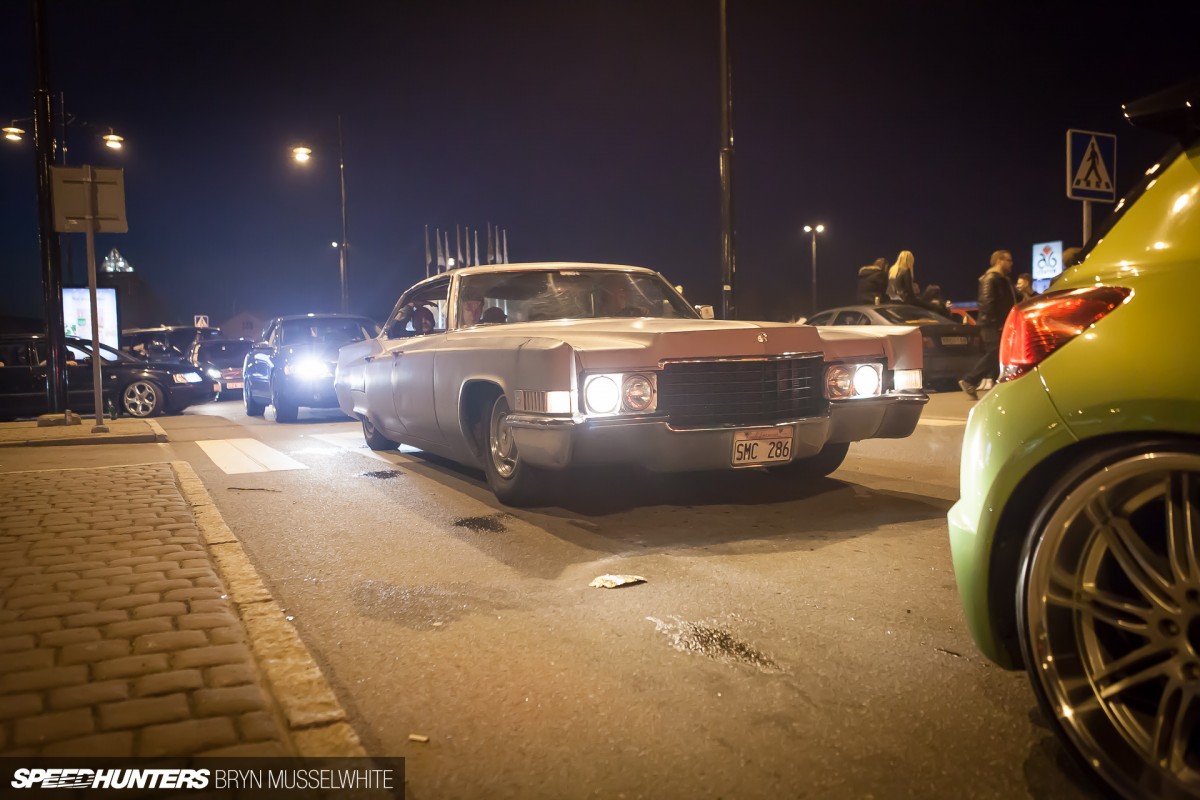 Not only are these big old American barges all about personality, there's the added bonus of being able to get six friends in to help pay for fuel.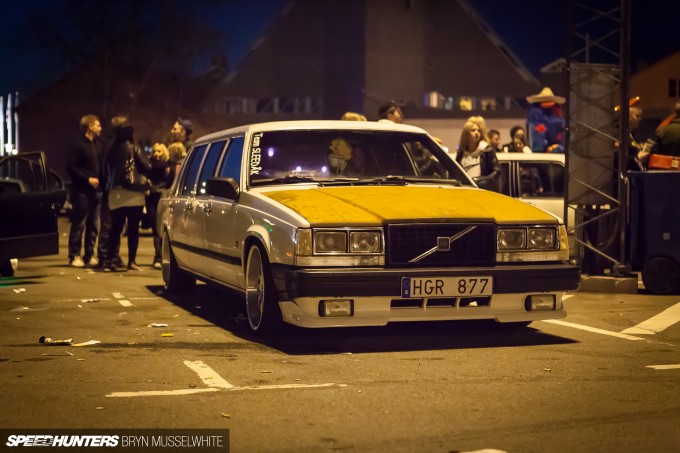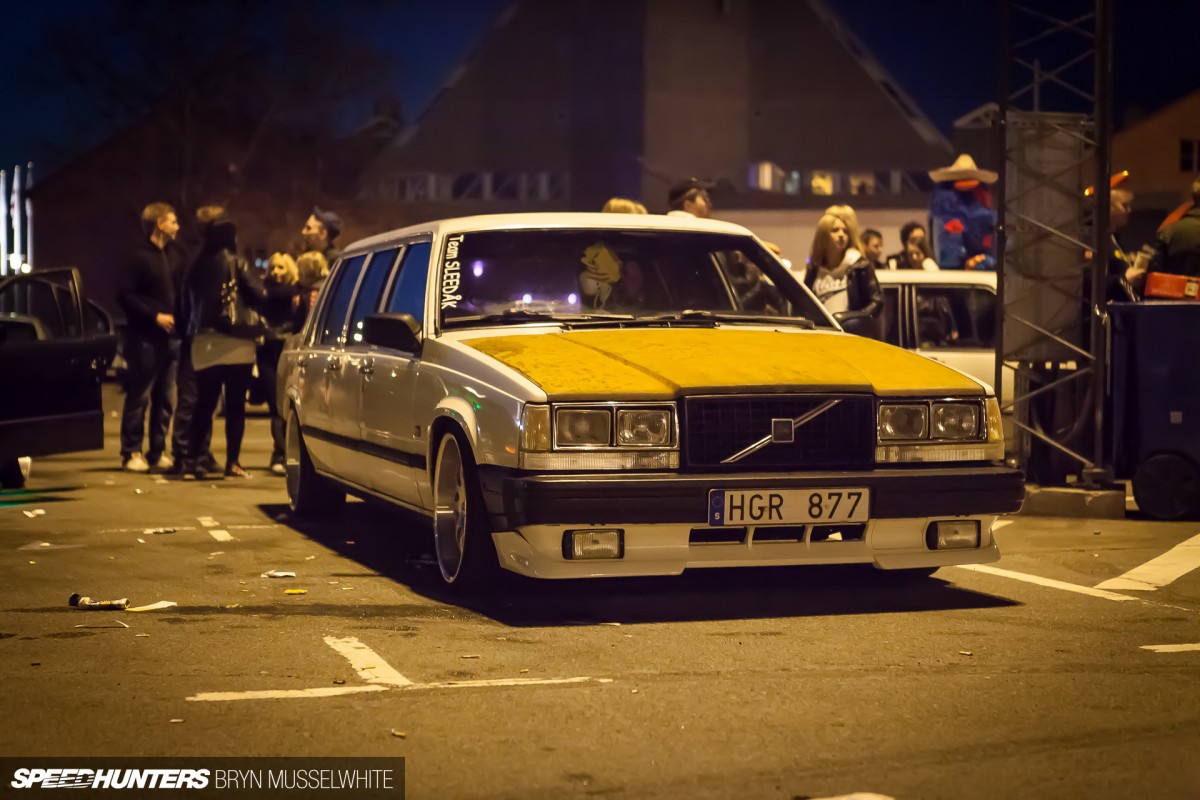 If you can't find something American, then there's always a Volvo. I don't think I've ever seen so many stretched 7-series in one place. It seems like there's a pecking order too. You start with a saloon, work up to an estate and then find an out-of-service limo for extra points. Which, like the American metal, means you can get more people in to party with. So although it might look like a mess and a waste of metal from the outside, it's really not.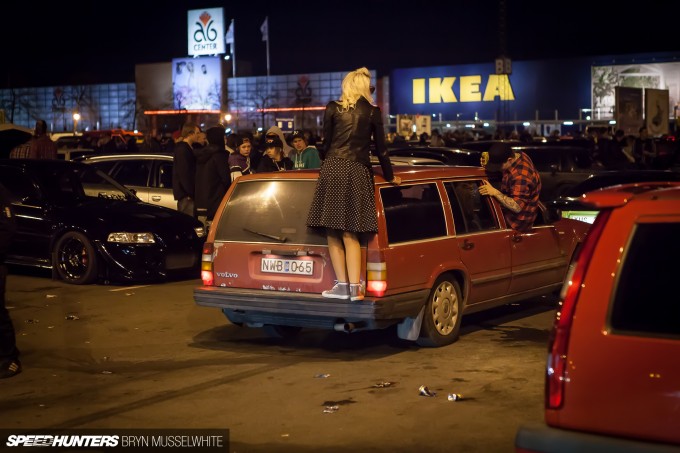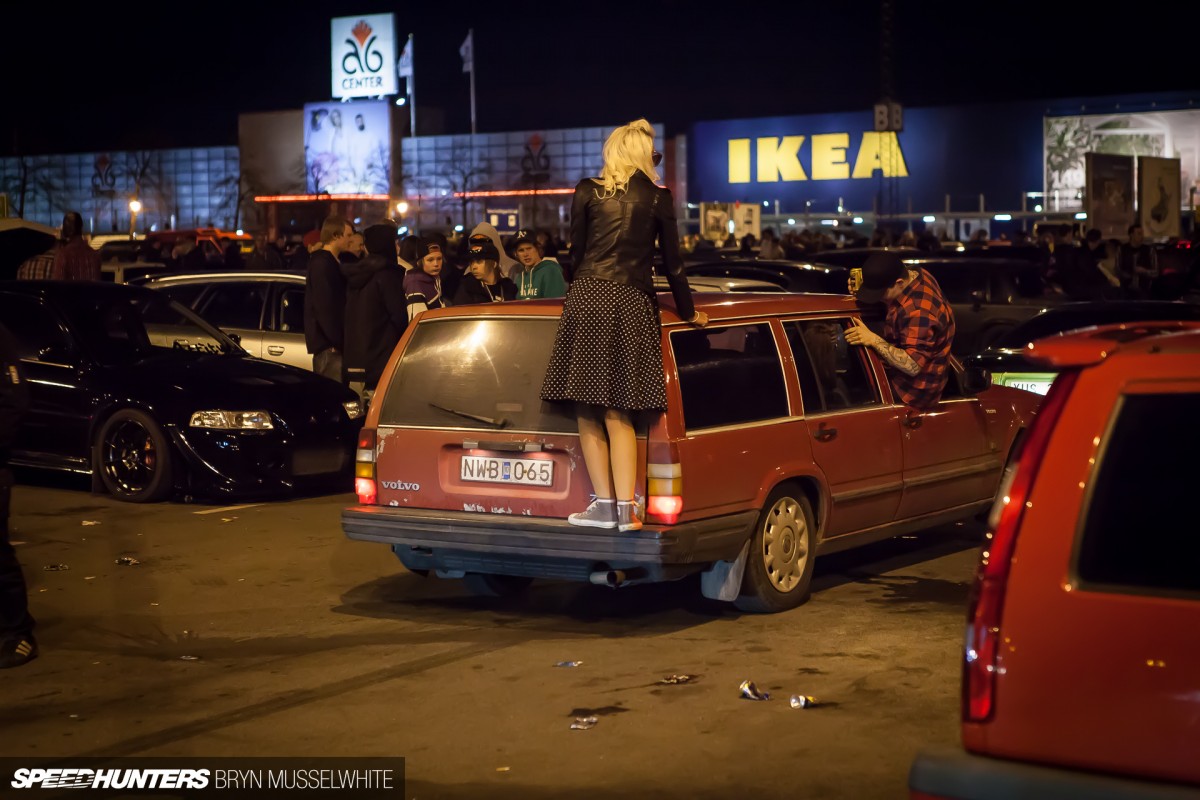 This is simply about having a good time and I just had to include this picture for that reason. A blond, a Volvo and IKEA. Could it get any more Swedish?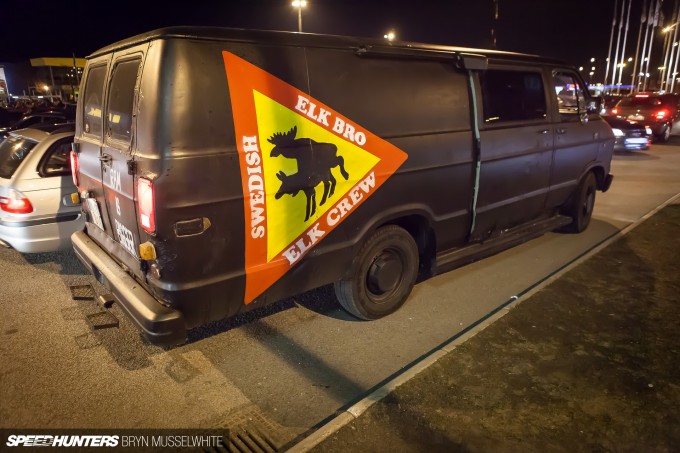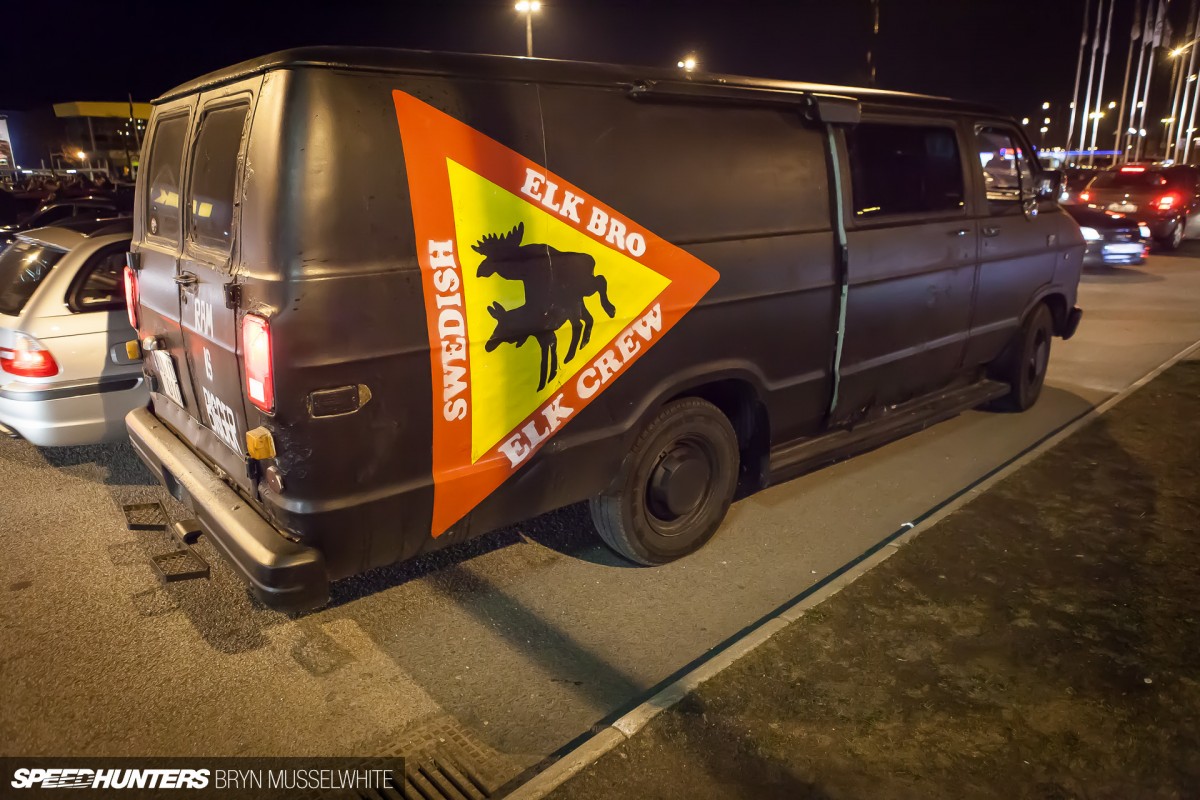 Maybe the wildlife scares you or the cars don't appeal. But the freedom is something we can all relate to. Yes, the police were everywhere, but not once in the middle of thousands of people did I feel uneasy or unwelcome.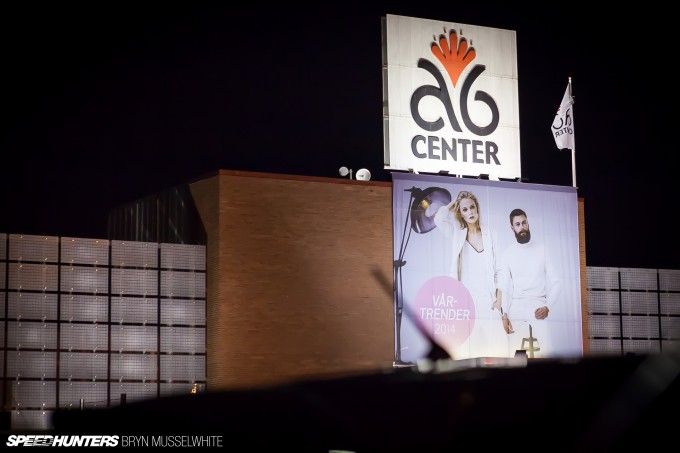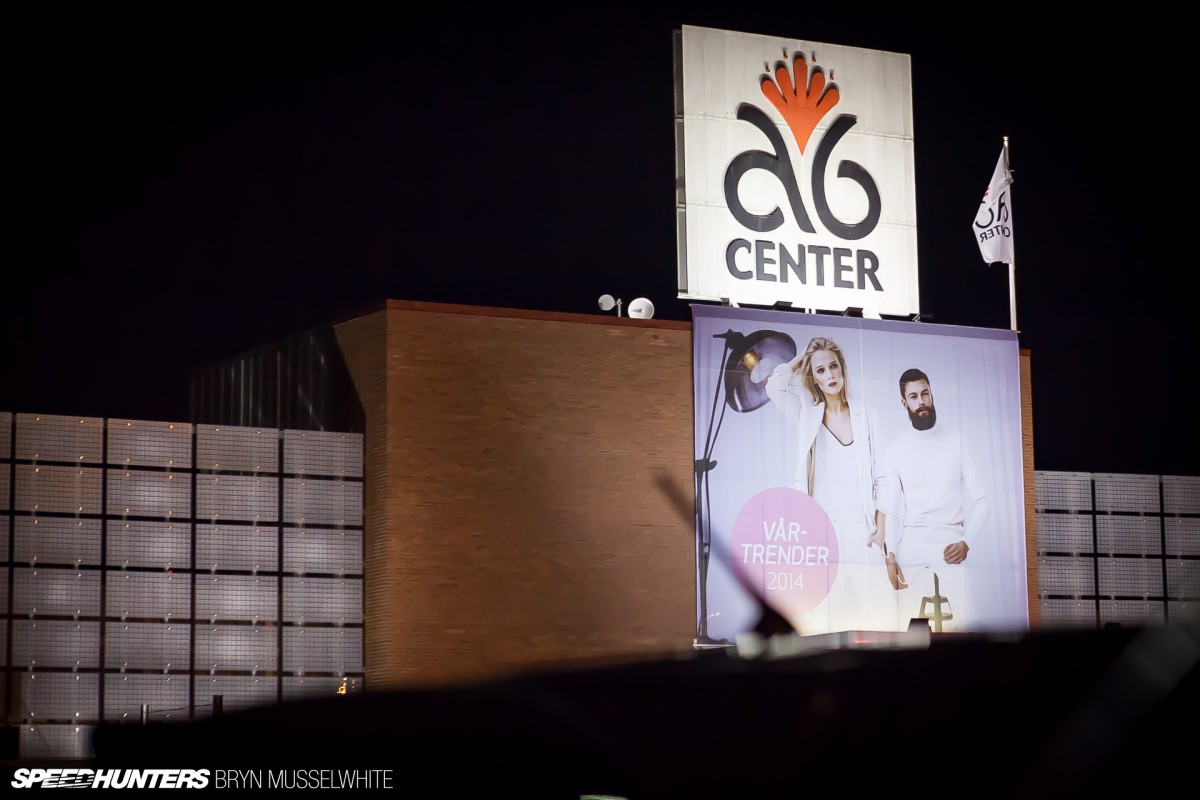 As the night wound up I was glad I didn't just head back to the hotel and prop up a bar. And no, I'm not about to go out and buy an abused '60s Chevy saloon – that's not my thing. But I'm glad it's somebody else's. Diversity is what car culture is all about and that's exactly what I saw in Elmia. People enjoying cars in so many different ways and not being bothered if the guy next to them was in to something totally different. Everybody into everything…
That was a good night.
Bryn Musselwhite
Instagram: speedhunters_Bryn
bryn@speedhunters.com