The way it was
Photographing events like nostalgic drag racing and Speed Week at Bonneville usually means old race cars and photographers armed to the teeth with the latest and greatest camera gear that money can buy. So at the Long Beach Grand Prix two weekends ago, I decided to flip it around and photograph the newest race cars money can buy using outdated cameras and the now seemingly ancient medium of film.
Was it a challenge? Yes, it was impossibly hard, but at the same time it was very fun and rewarding to see the results.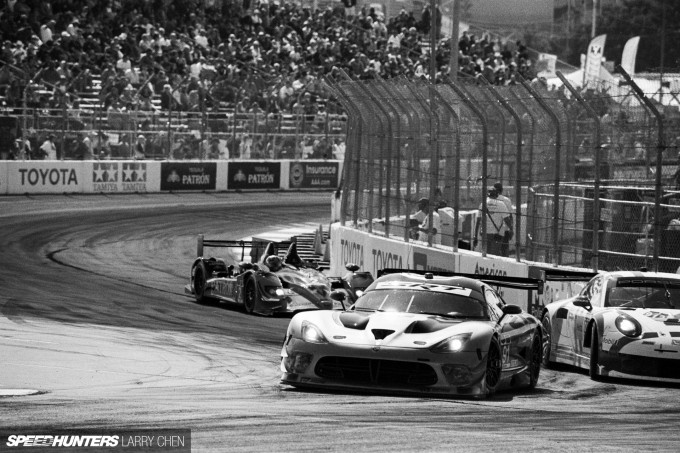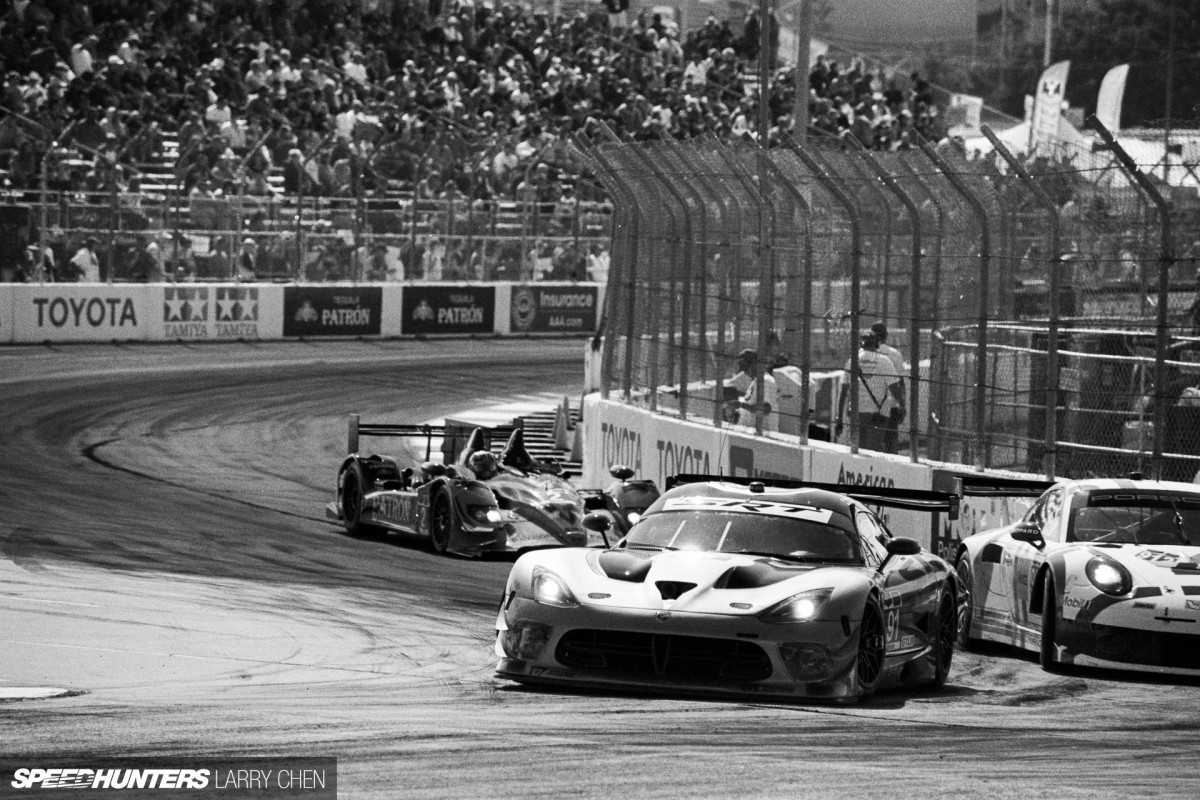 I haven't put together a photography-related post in a while, and with the Grand Prix weekend in full swing after the Formula Drift season opener, I figured it would be the perfect opportunity to dive back into it with this challenge. My focus would be on the IMSA United SportsCar Championship race.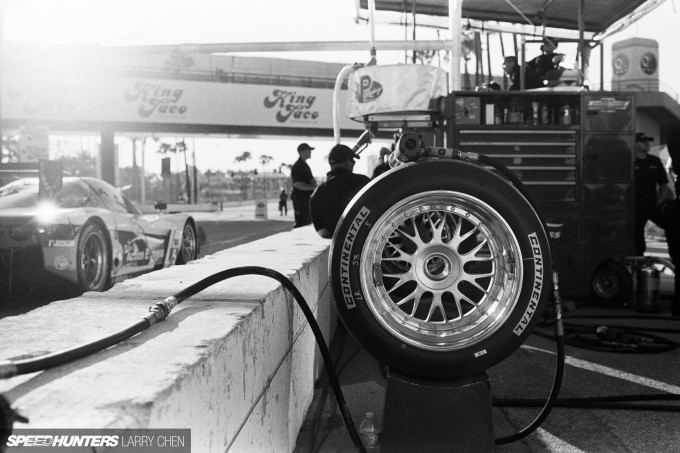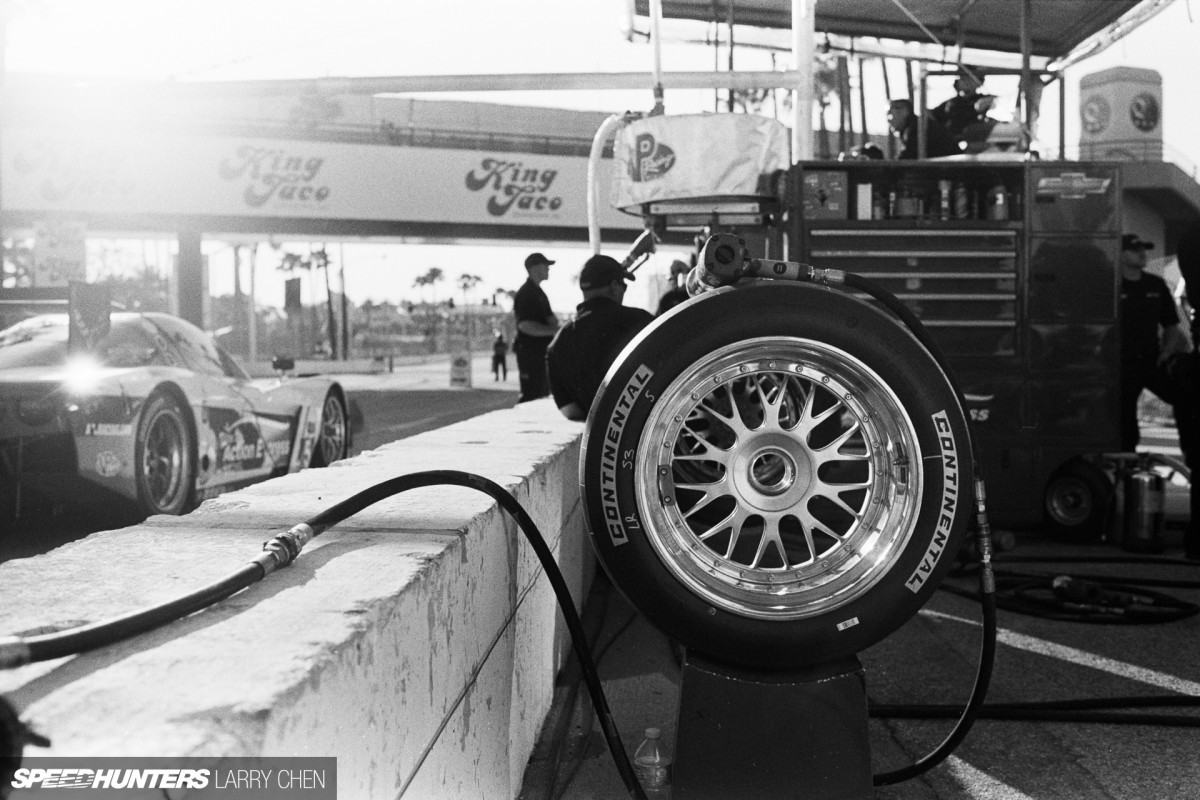 This was the 40th year of the Grand Prix and I've been attending annually for the past 11. Nine of those years have been spent on the other side of the fence shooting trackside.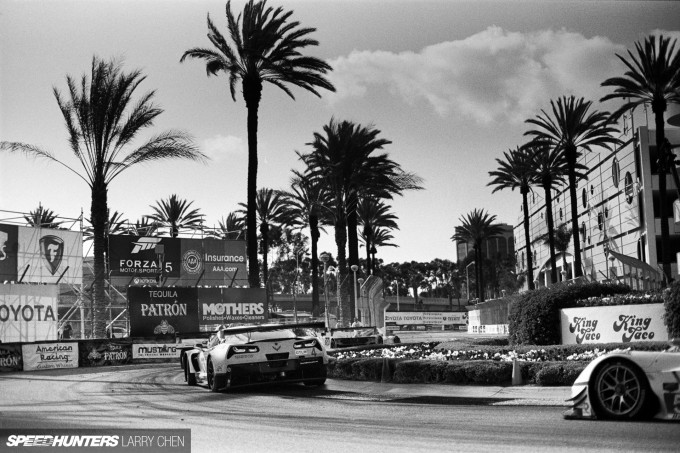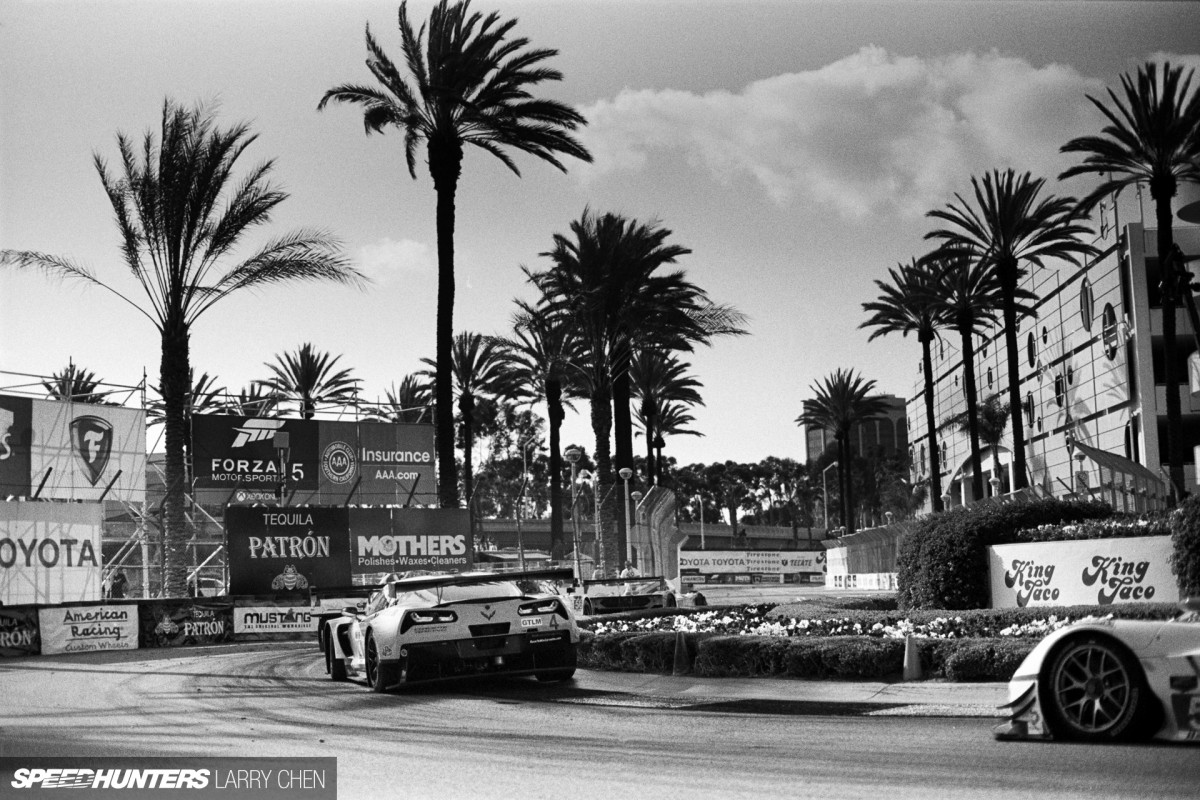 I started shooting with film way before I knew digitial cameras even existed, and once I became a full-time photographer I wanted to make a point of continuing with this dying art form. After all, the first few years of this historic race was documented in black and white film by photographers just like me. This time I decided to used two completely different camera systems for the challenge based around Leica and Nikon bodies.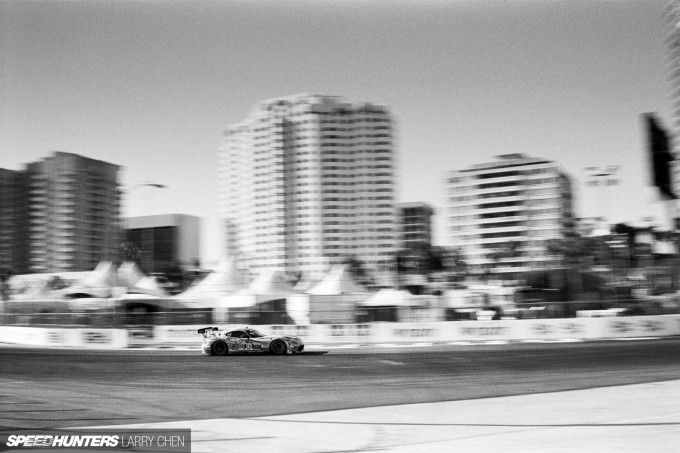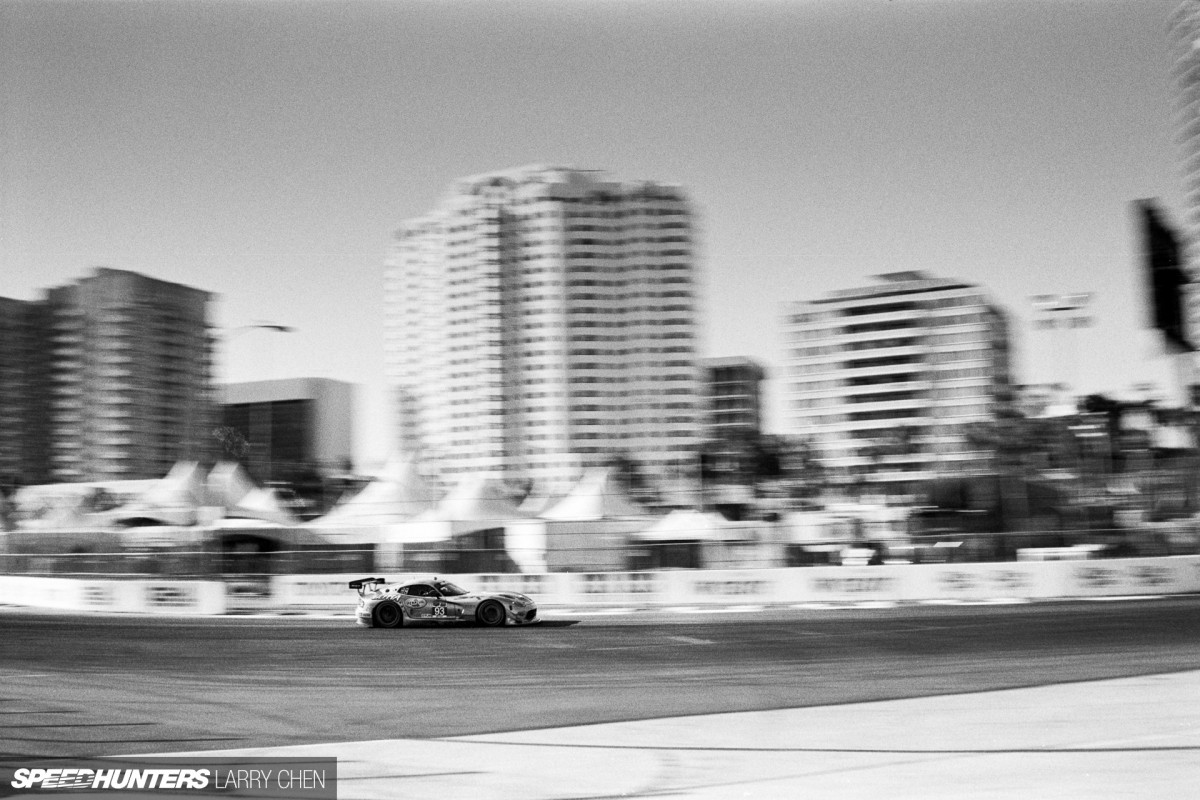 My film of choice for the weekend was Ilford HP5, which has an ASA rating of 400. I use it because it has a very nice grain and the contrast is amazing. I'd only shoot four 36 exposure rolls over the weekend – two on Friday for qualifying and two for the main race on Saturday.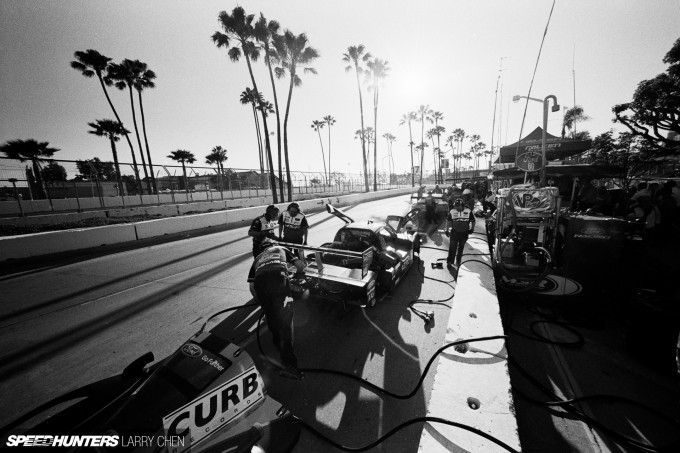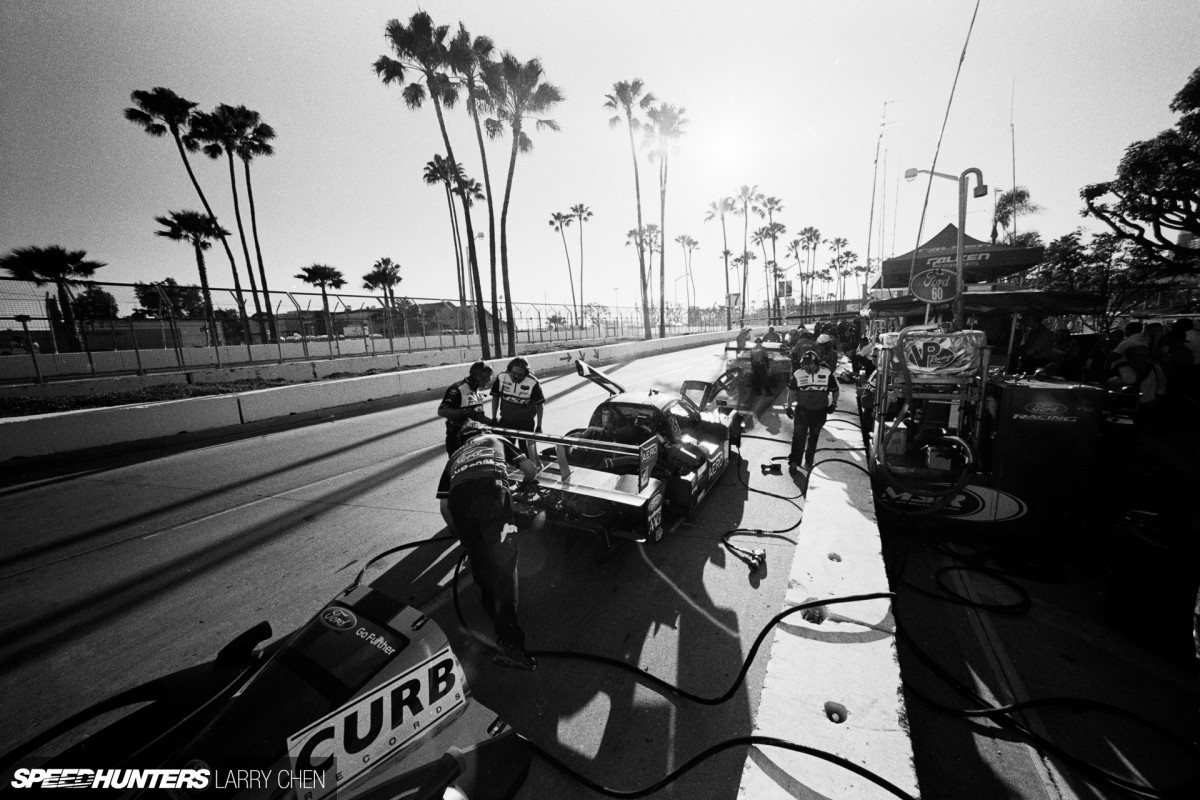 The HP5 also retains quite a bit of shadow detail, and if you need to shoot in low light conditions you can push it all the way up to ASA 1600.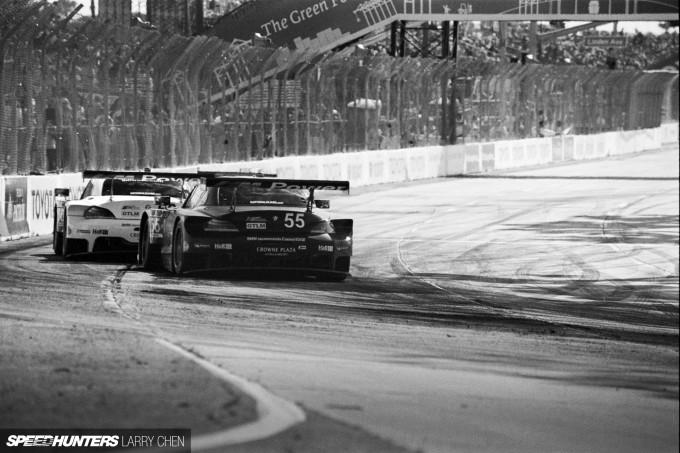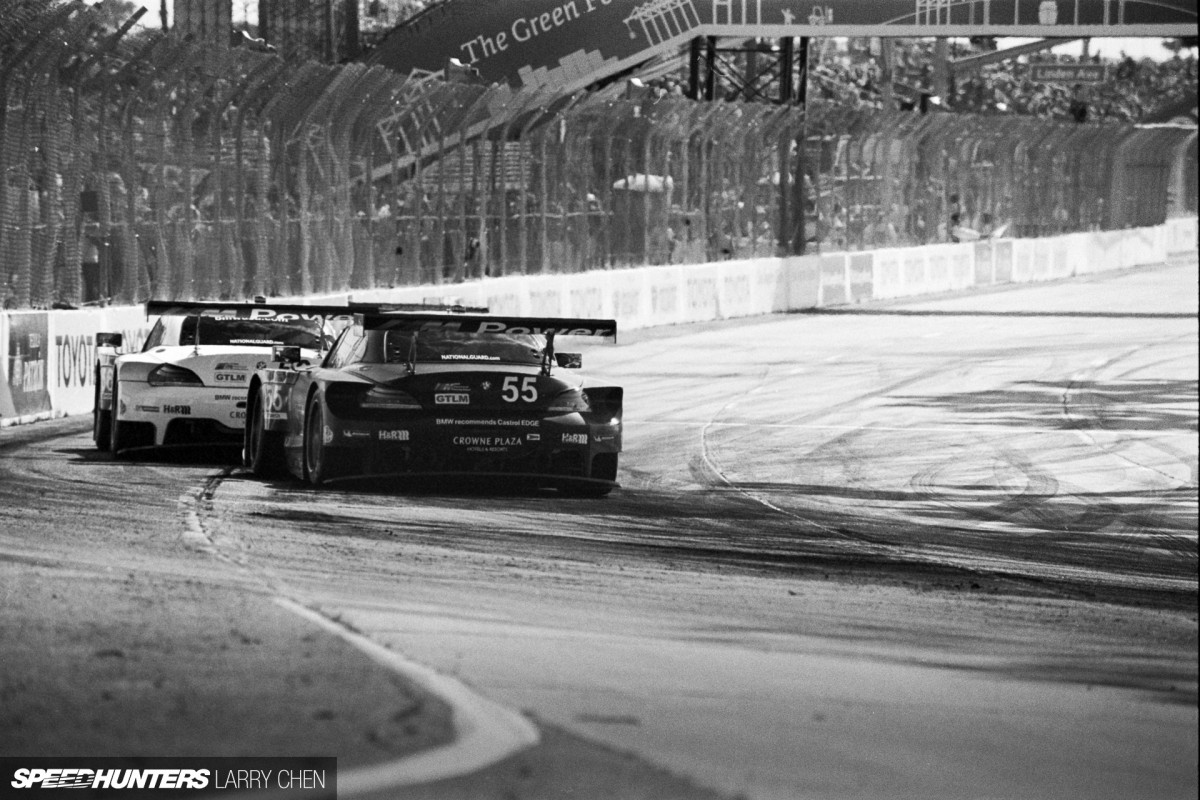 It's also fast enough to freeze whatever action you are capturing, and if I wanted to slow it down for some panning shots, I just have to throw on some neutral density filters.
Weapons of choice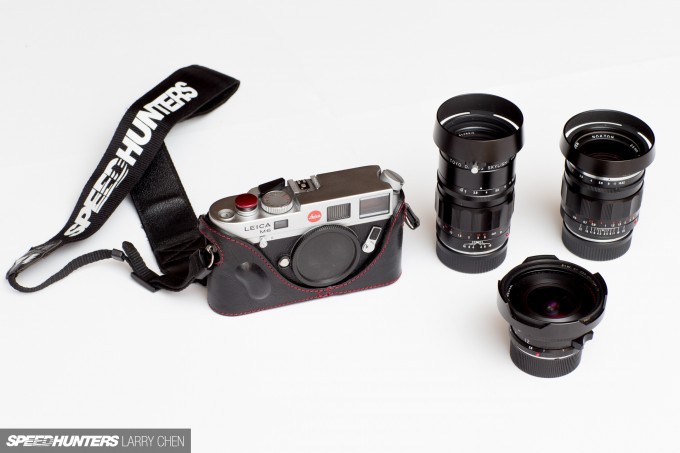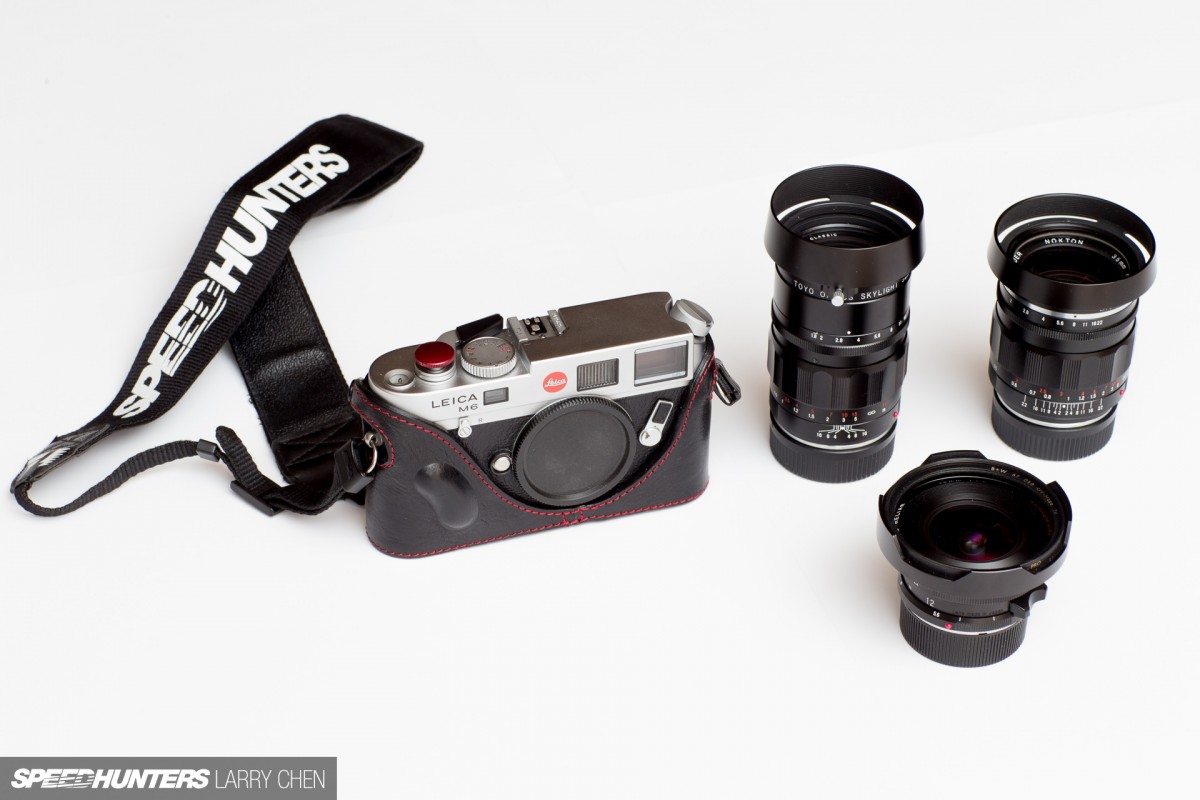 I normally don't like showing off my gear, but with film it's different. I am proud of what I shoot and I really want more amateur photographers to pick it back up. Released in 1984, the Leica M6 is not much of a performance camera – it barely has any features and there is quite a lot to learn due the rangefinder system. The advantage however, is that you can use the best manual focusing lenses in the world on this body. The version I use was manufactured in 1998.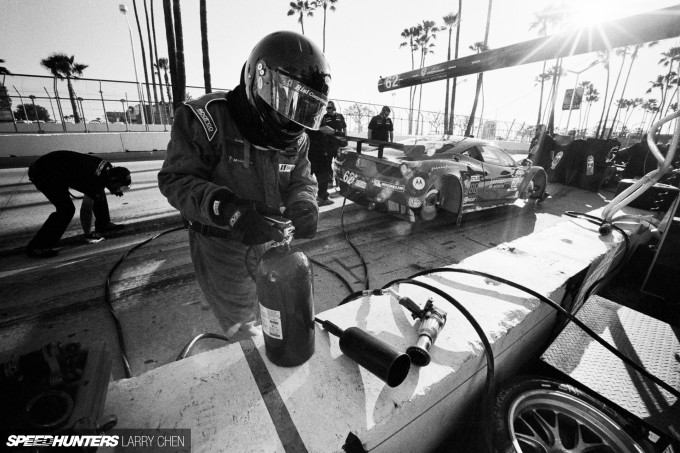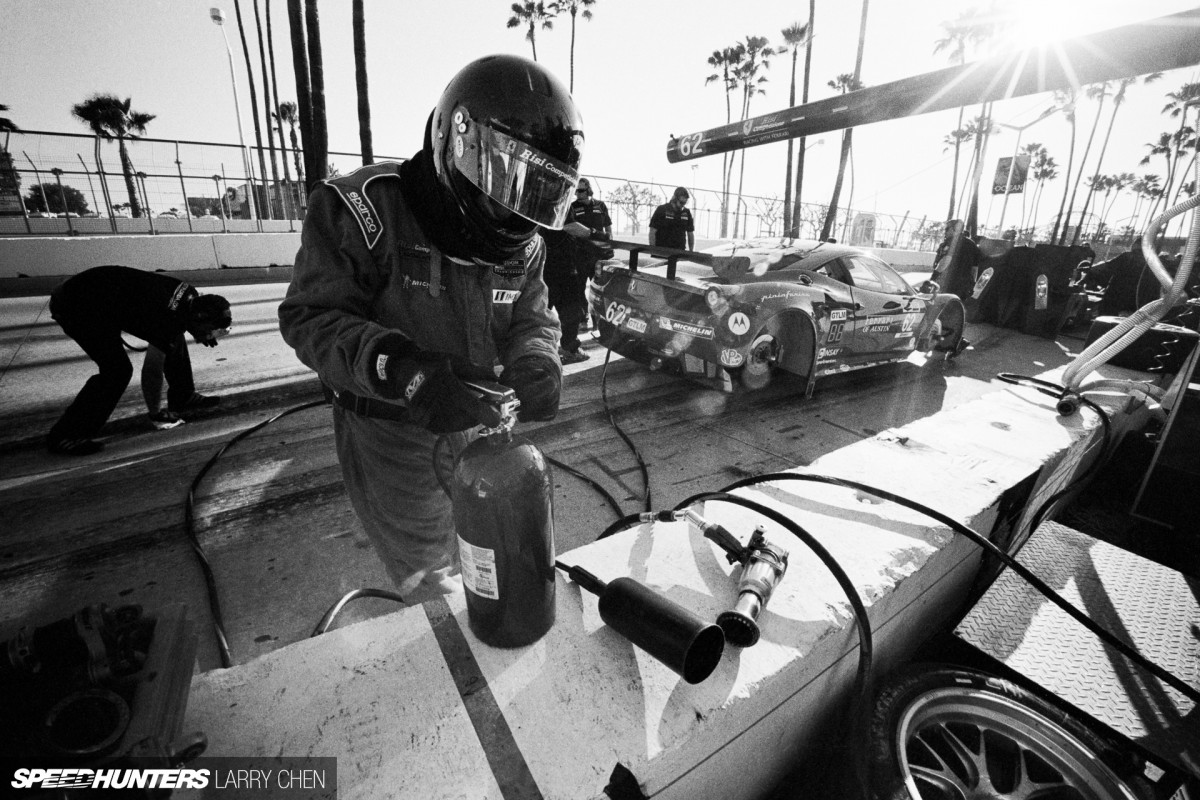 I am a firm believer in using my equipment hard, so as beautiful as it is, my Leica definitely gets used and abused. This is also why I choose to shoot with Voigtländer lenses. They make some of the most unique lenses in the world and they specialise in the M-mount.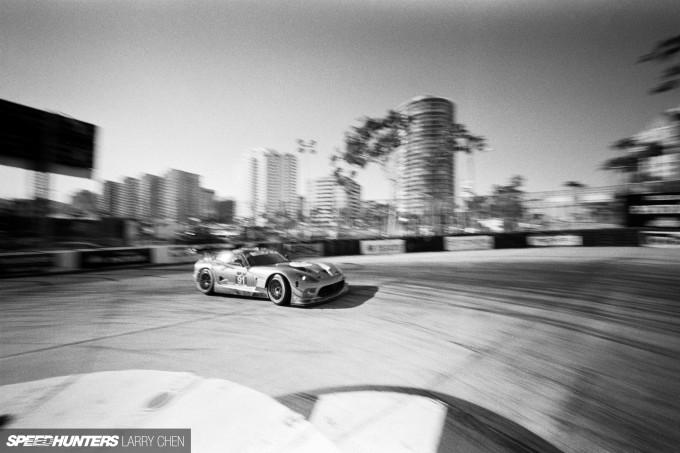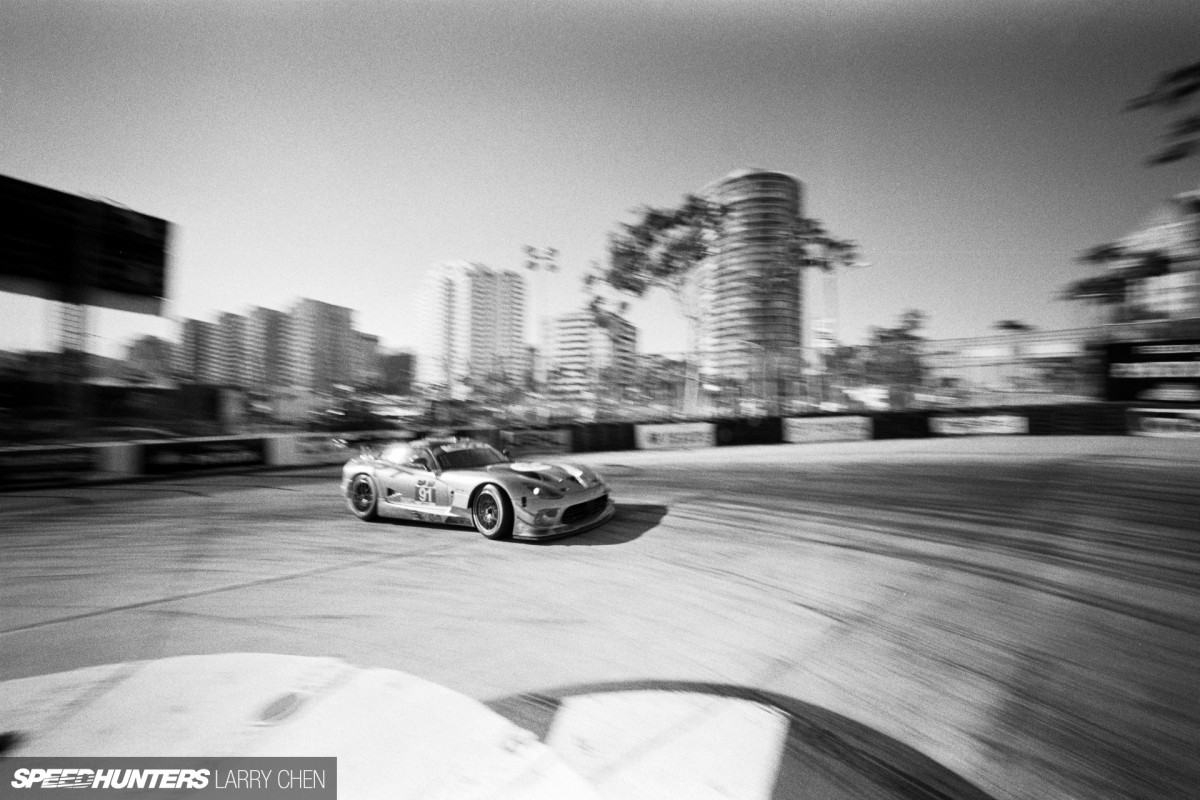 While most Leica users would only use Leica lenses, I am the total opposite because they simply just don't make the glass for the 'look' that I am going for. This was shot with the 12mm f/5.6 which is currently the widest 35mm lens in production that is not a fisheye.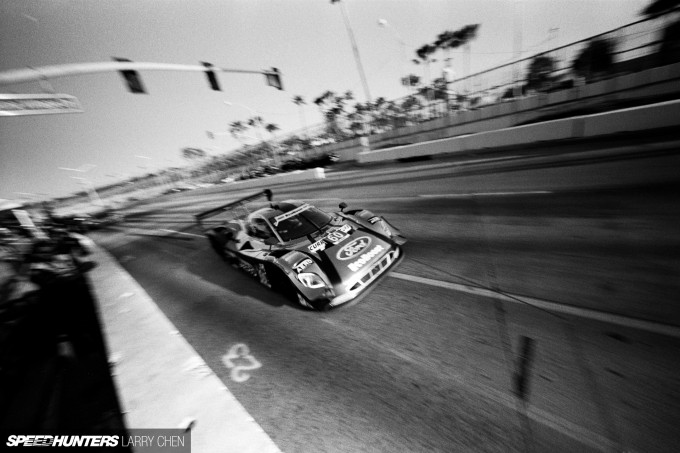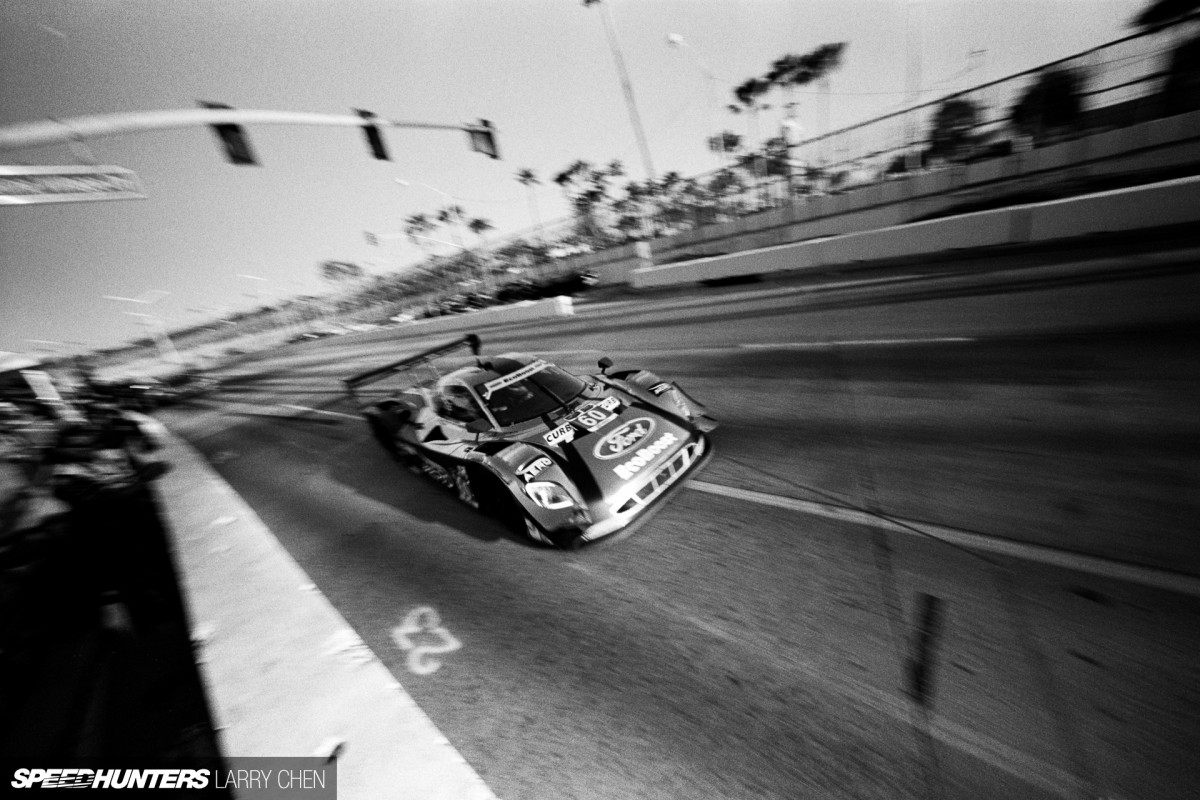 It's impossibly sharp, and even though it has a slow 5.6 f-stop, it's perfect for those nice wide-angle pans. It's super-easy to focus as well and you can practically set it to infinity and shoot away most of the time.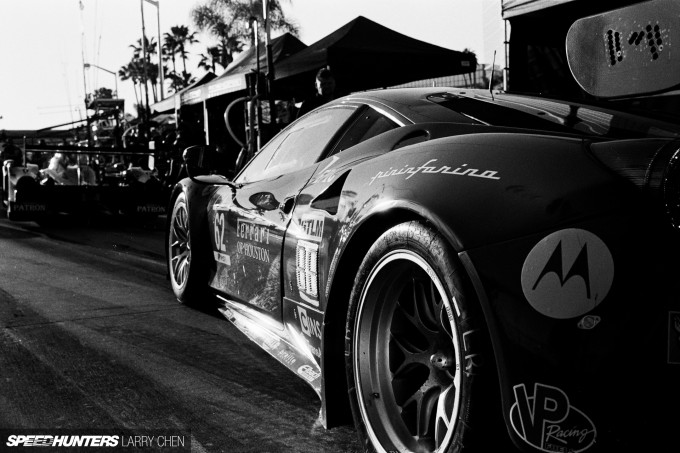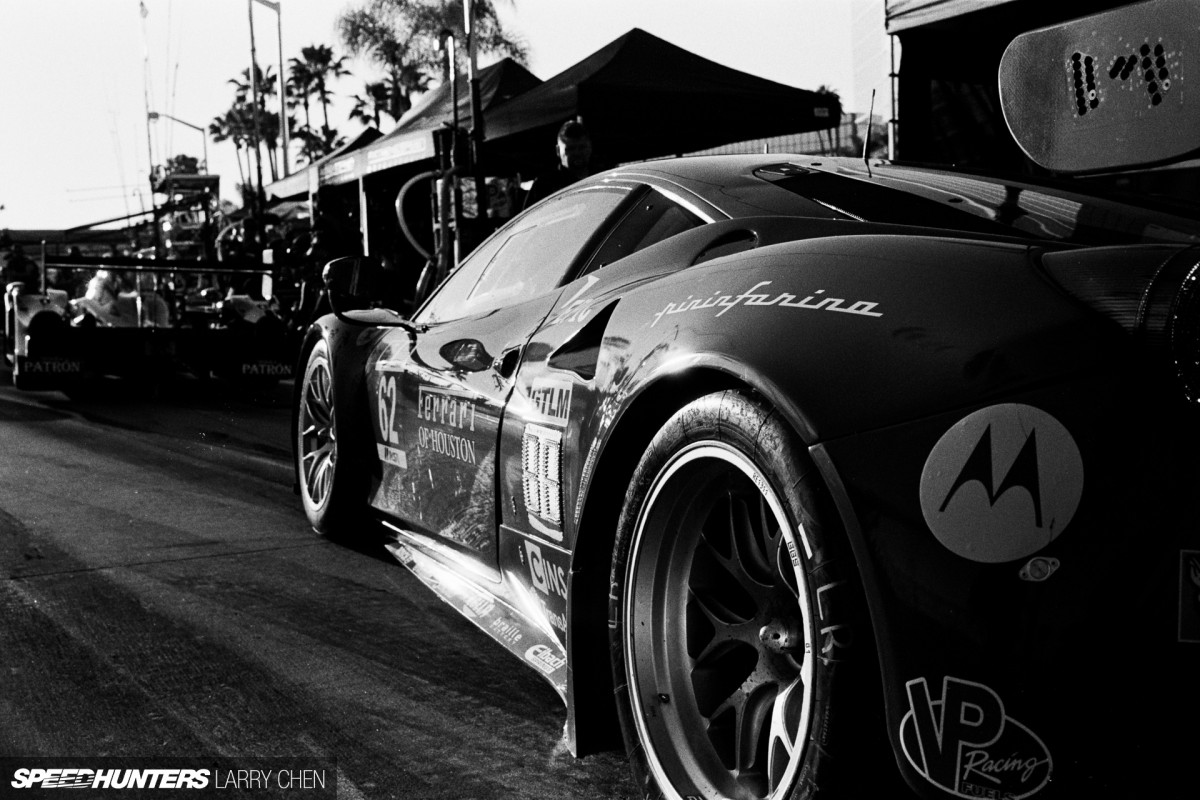 The second lens in my film camera arsenal is the one that practically never leaves the body. It's the 35mm f/1.2, and it's currently the fastest 35mm lens in production for a full frame camera.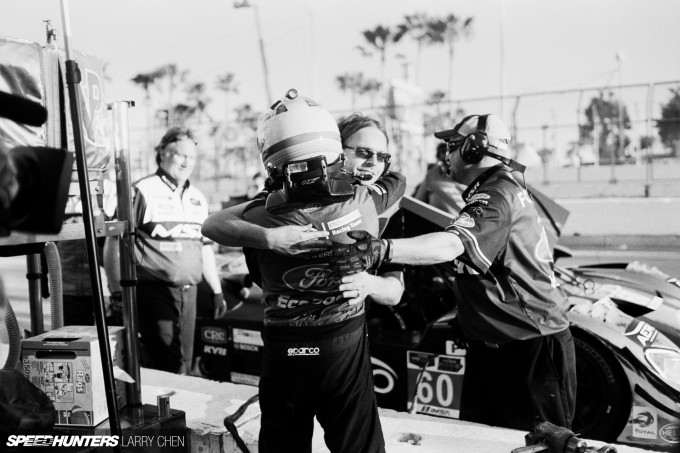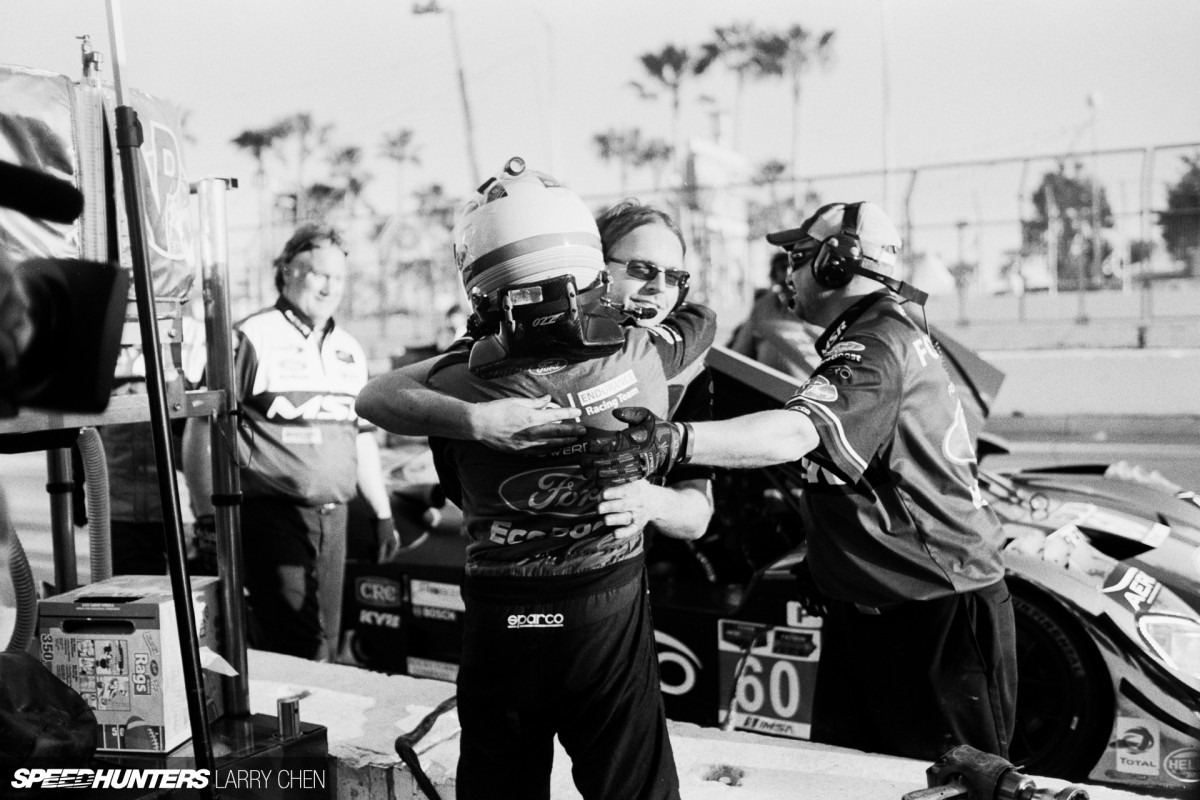 I think it's the perfect focal length for use in and around the paddock, as you can get close enough without getting in the way. Most of the time at least.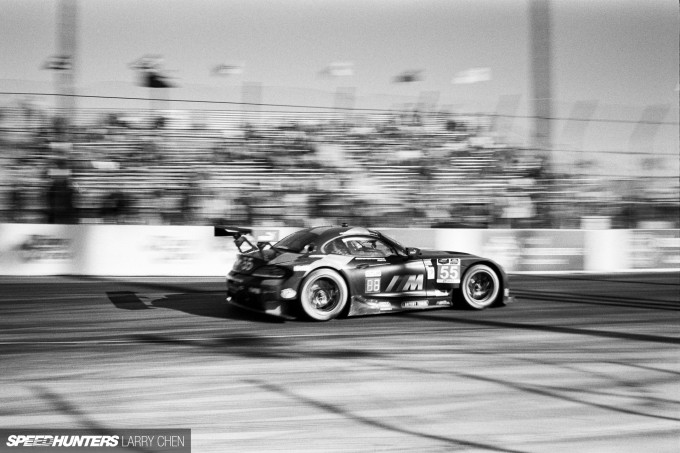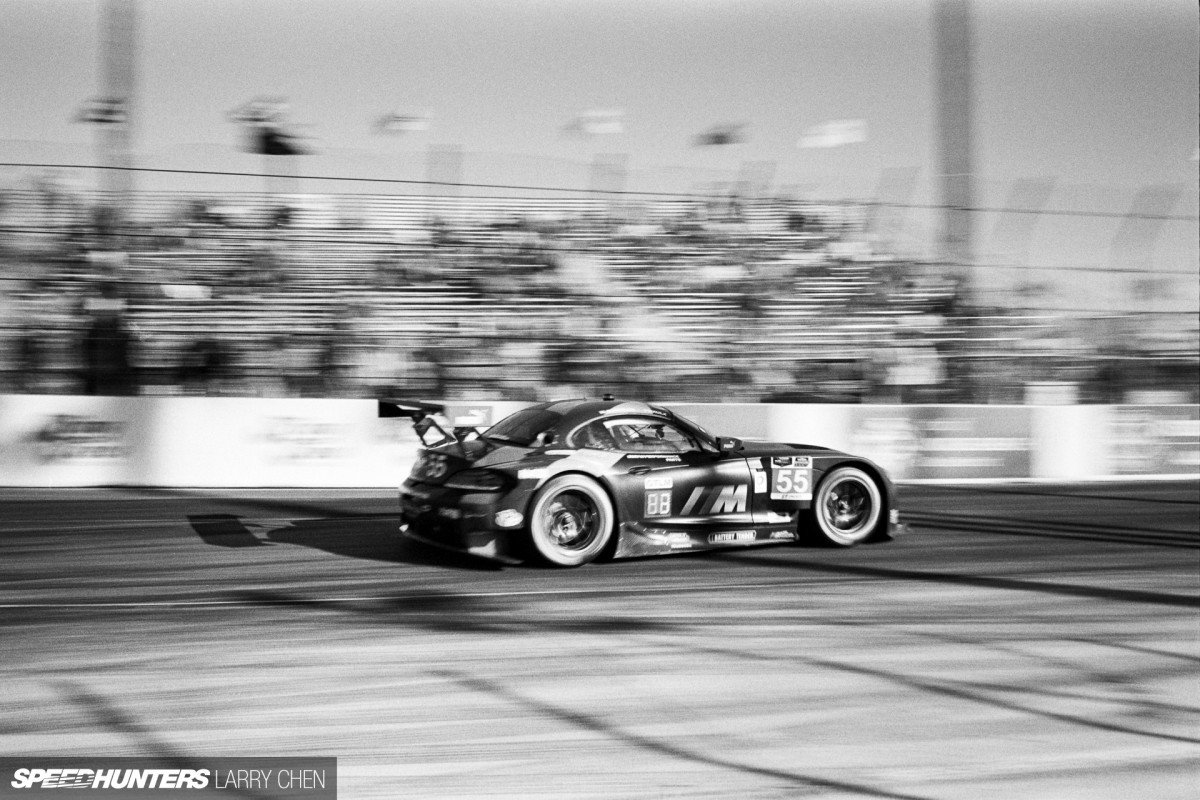 It's also a great lens in general for panning and semi wide-angle shots.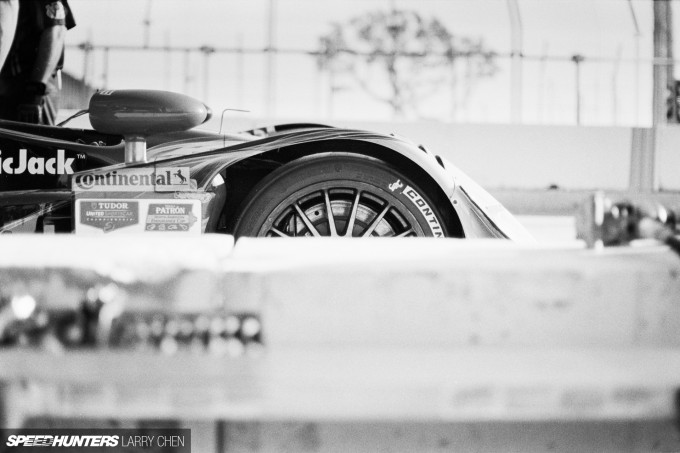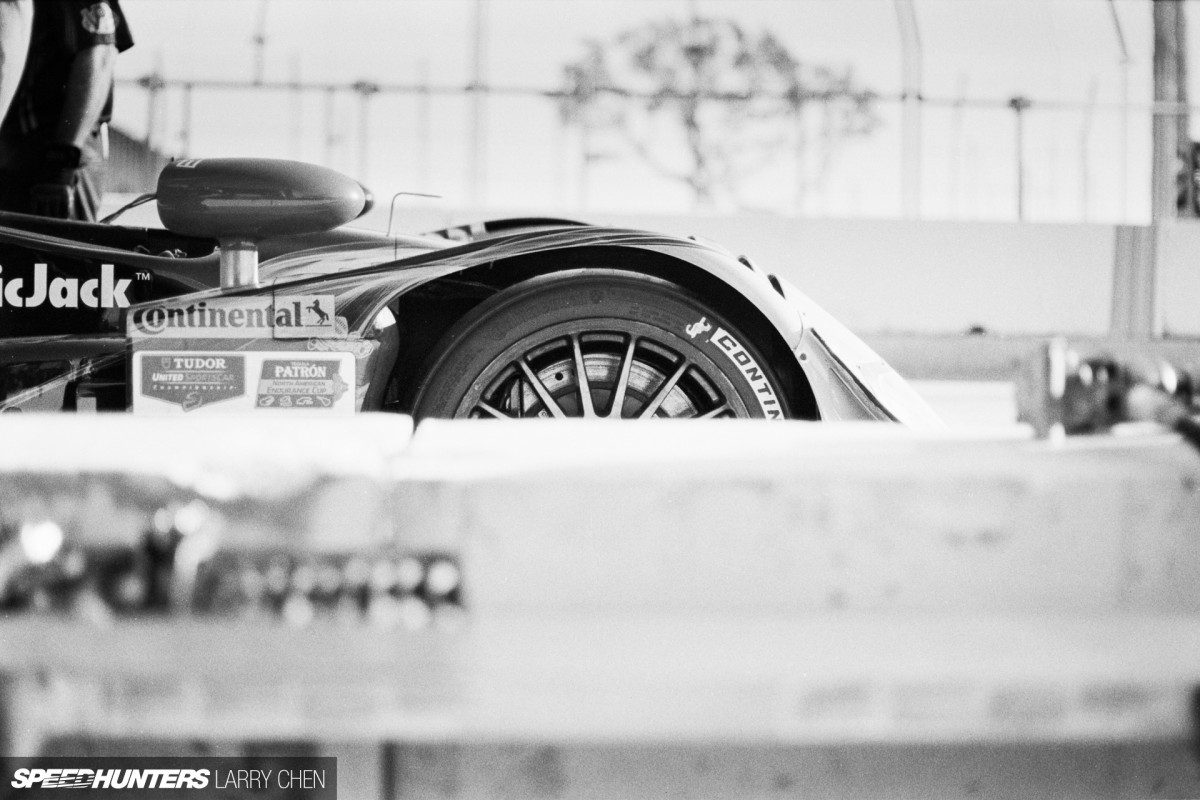 My next lens for the M-mount is a weird one – a 75mm f/1.8, which I picked up for a bargain. I wanted to get something other than a 50mm since I already had the 35mm, and shooting anything longer than a 75mm is quite difficult on a Leica.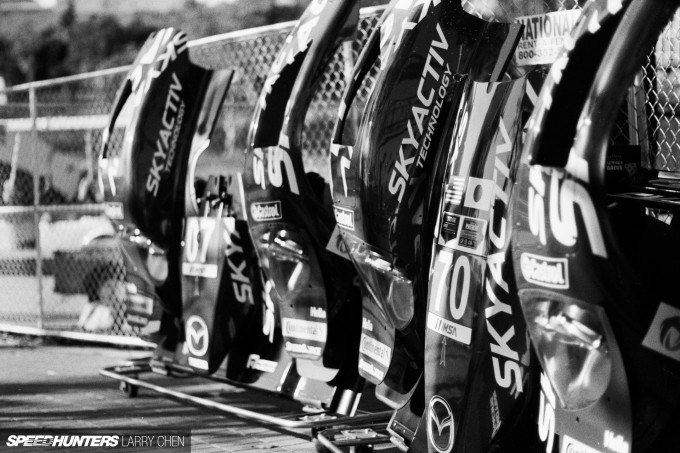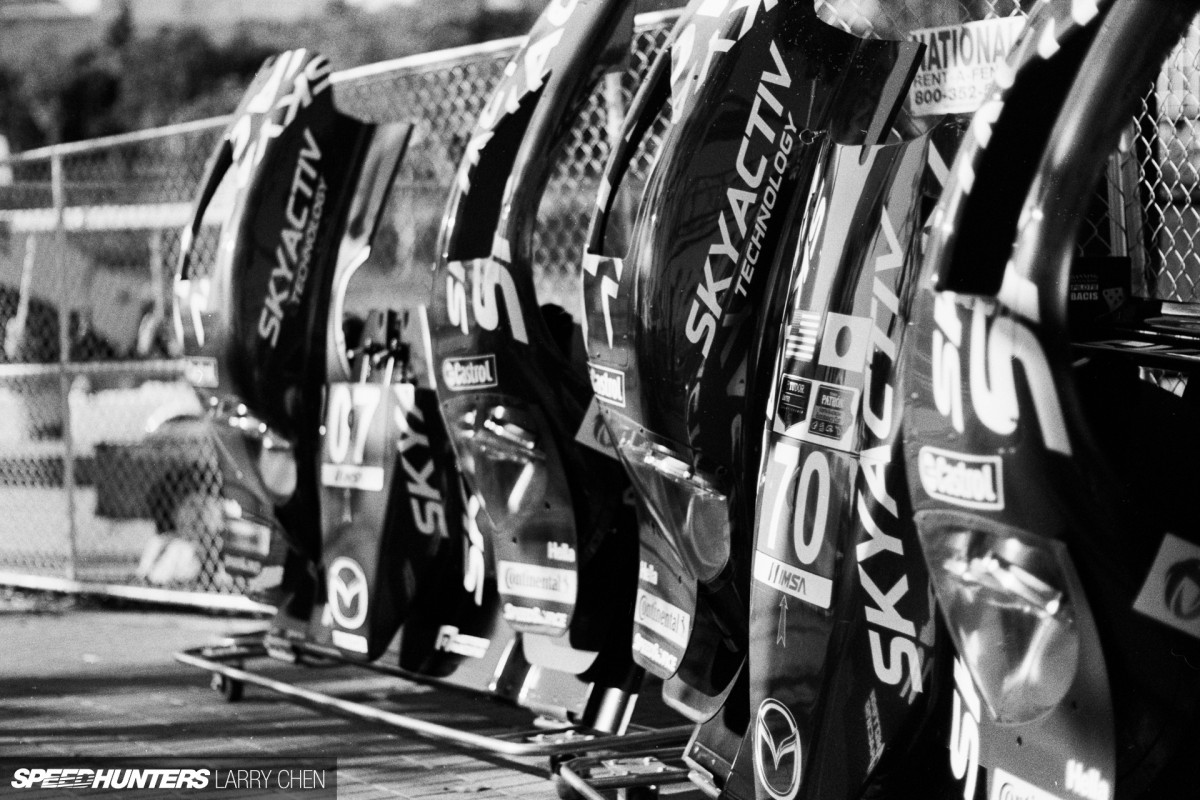 For the price you can't beat it, and like most of my film equipment, I bought it second hand. From f/2.0 on, it's super sharp.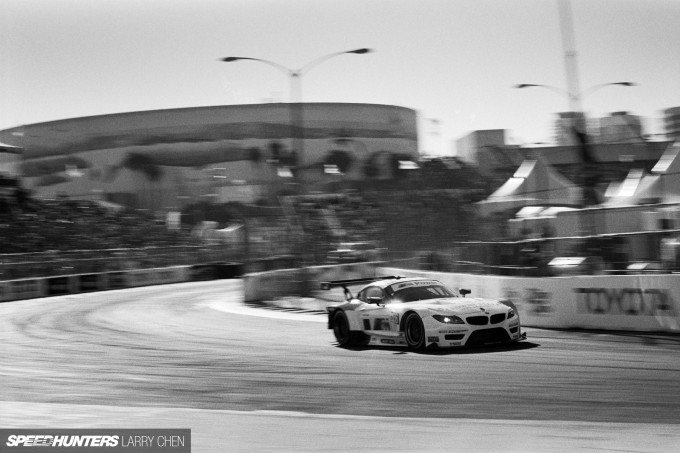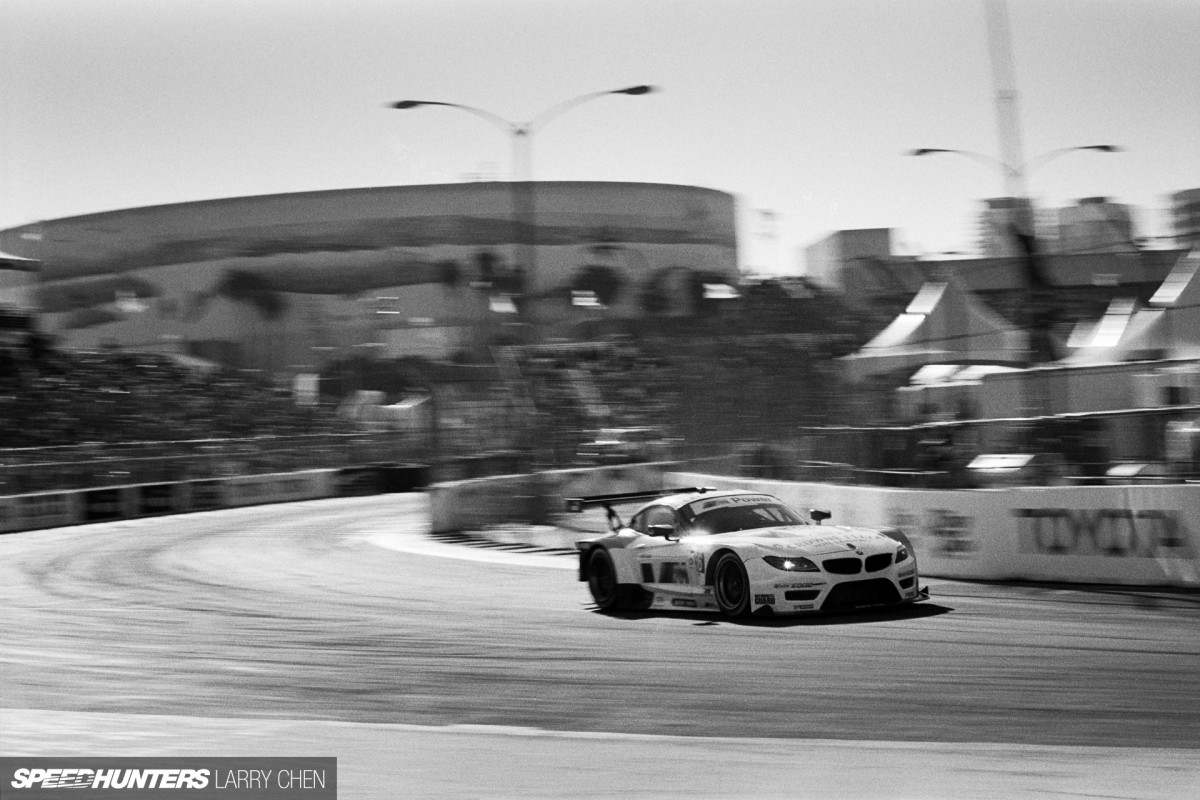 It's not quite long enough to be a portrait lens, but 75mm is a great focal length for some trackside pans.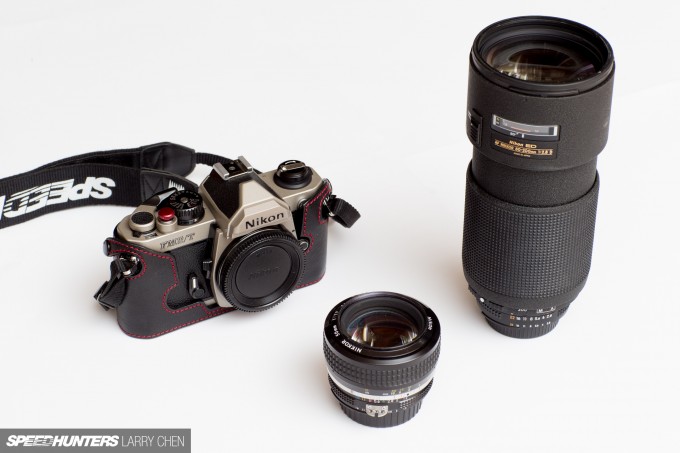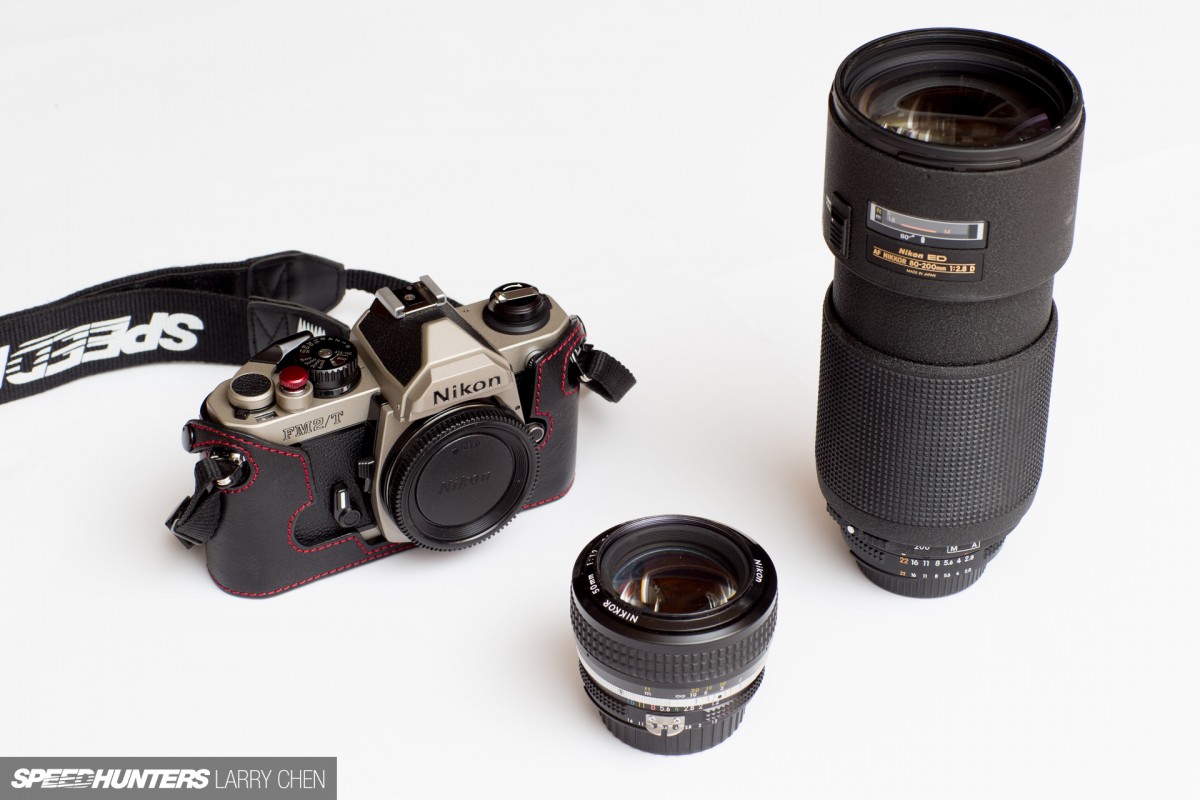 My second system is Nikon. I actually started photography with an old Nikon FG – the camera I used for my Scion FR-S dream drive post a while back. The FM2 came out in 1982 and in my mind it's the best analog 35mm film camera ever made. Just like the Leica, I compare the camera to a fine watch. Unless you want to use the built-in light meter, you don't actually need batteries as they are all mechanical. They just work – and very well.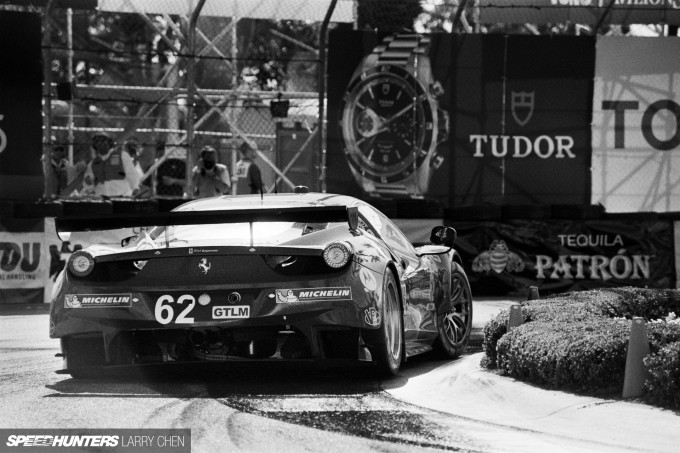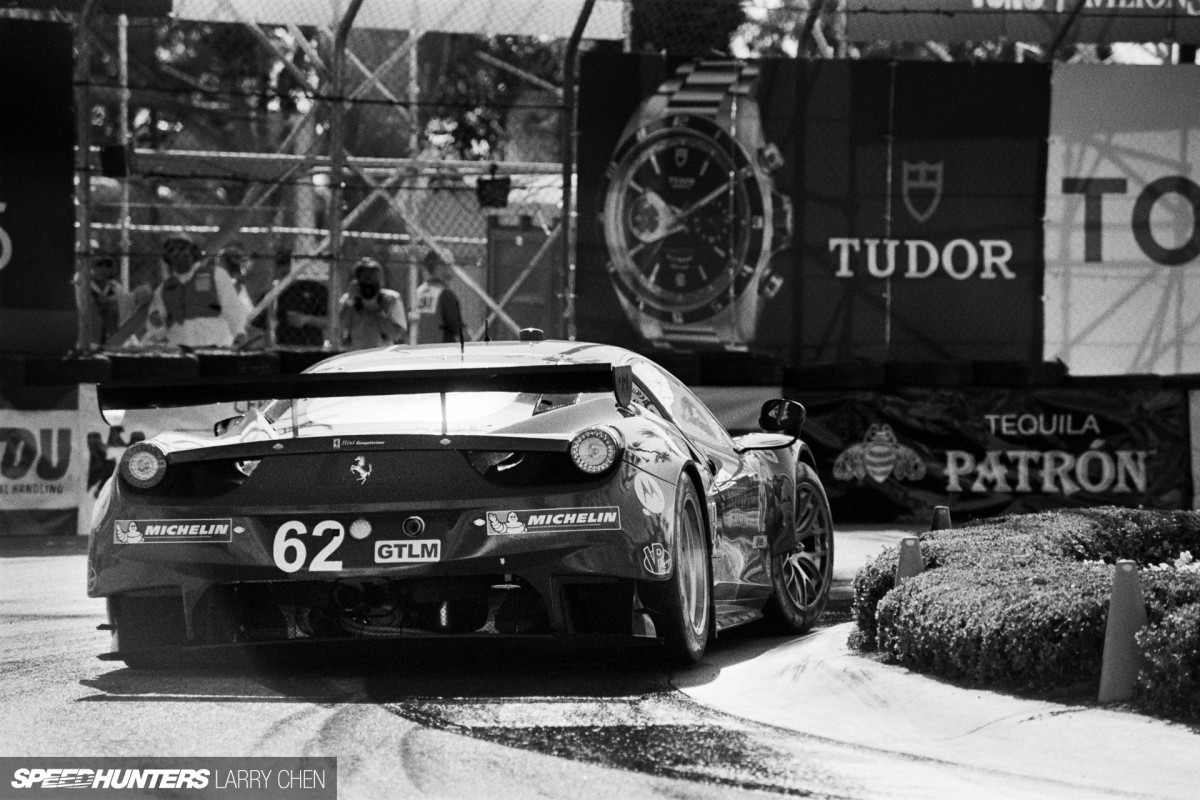 The body itself is packed with features that the Leica does not have. My favorite is the 1/4000 mechanical shutter speed, which allows you to shoot wide-open more often, as well as really freezing the object you are shooting.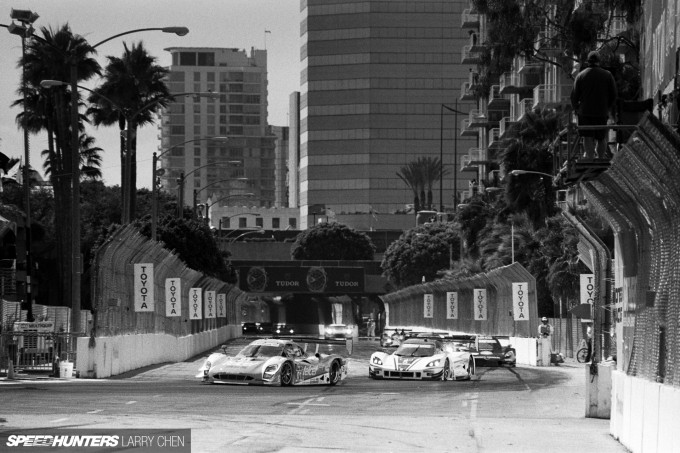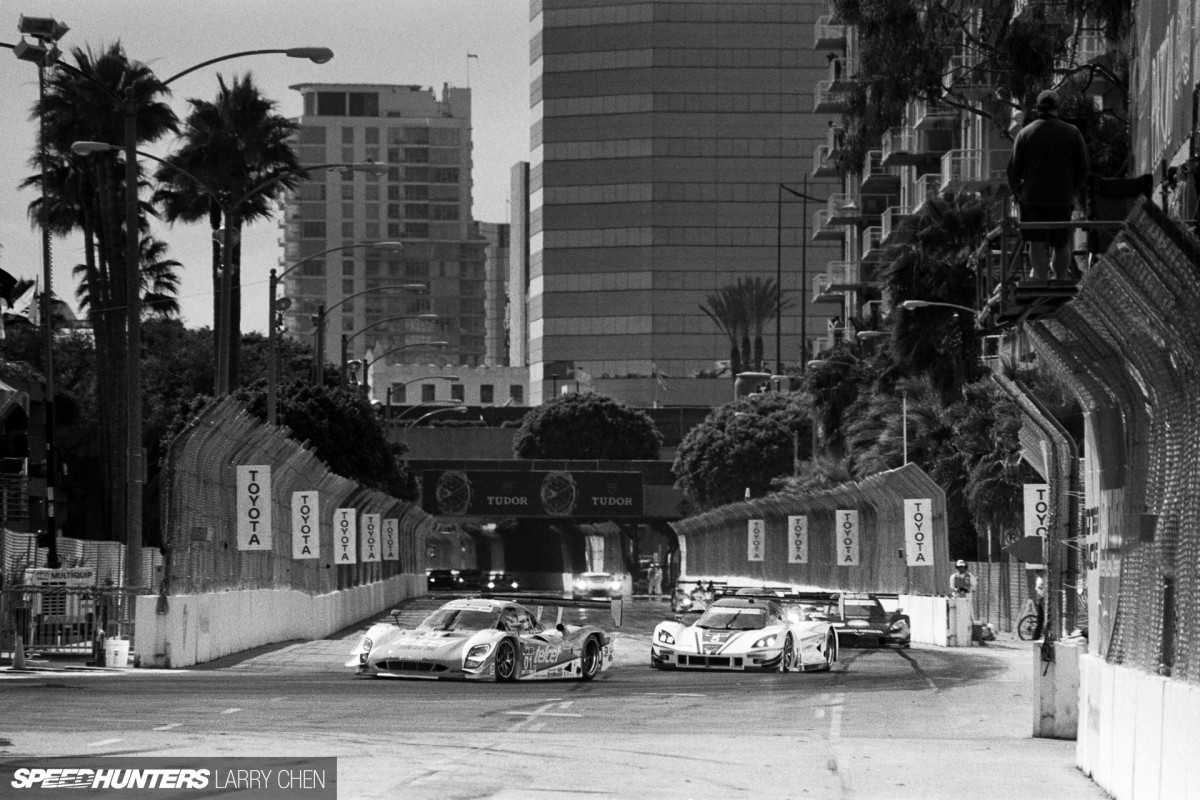 The version that I use is the titanium FM2/T which was manufactured in 1993. It also has a self timer and a multiple exposure mode which is great for making creative shots.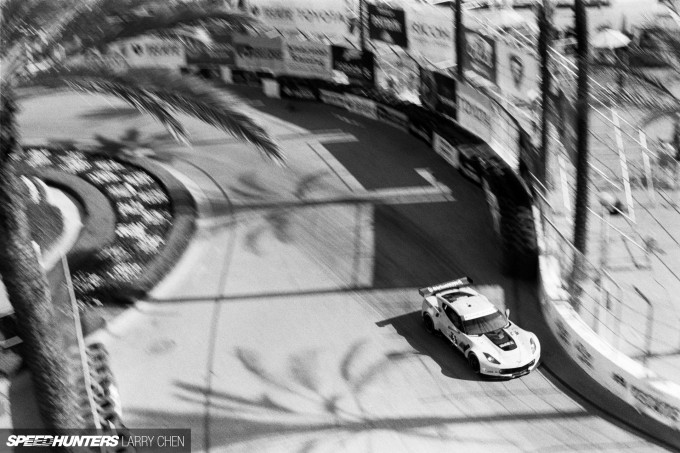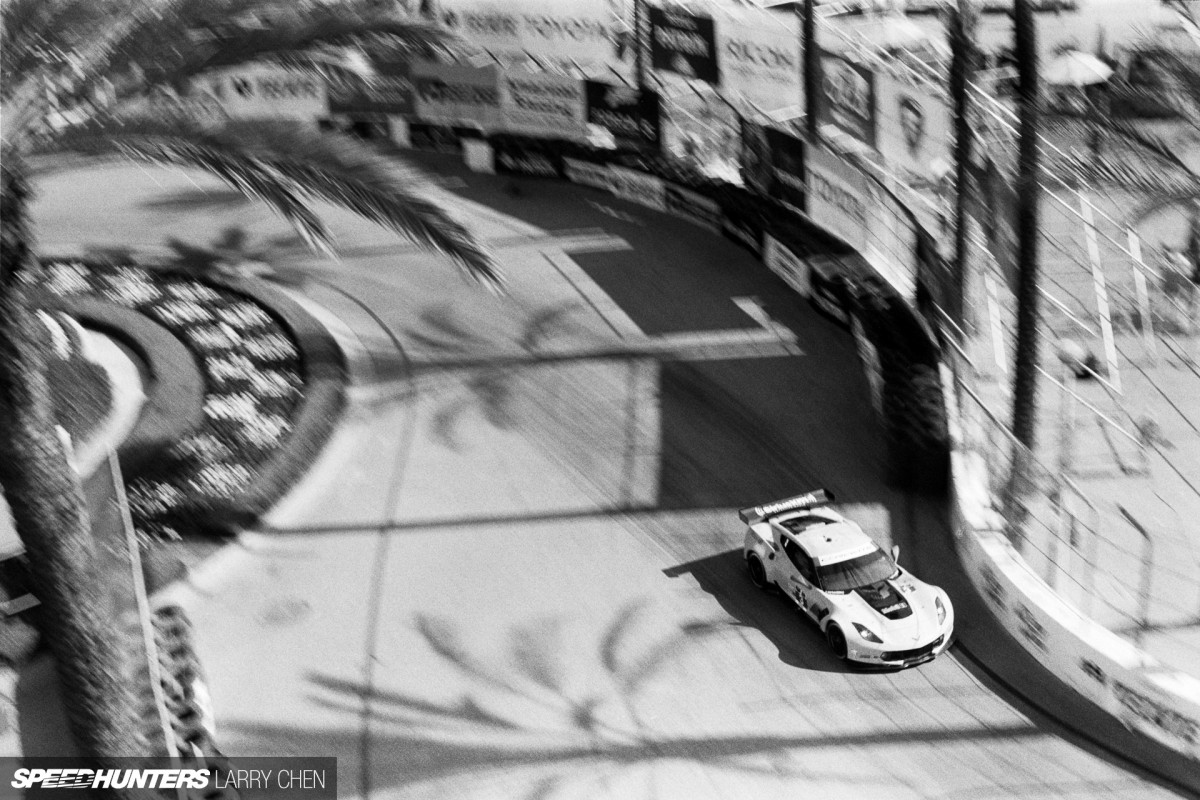 As with most photographers, I use the 50mm for my standard focal length and leave that on the body for most of the time. Nikon actually still makes the f1.2 version that I have, and I love it. In fact it's the only f/1.2 lens that they still make today. This was shot from the rooftop of a public parking garage, and the same spot where I first watched the race from all those years ago.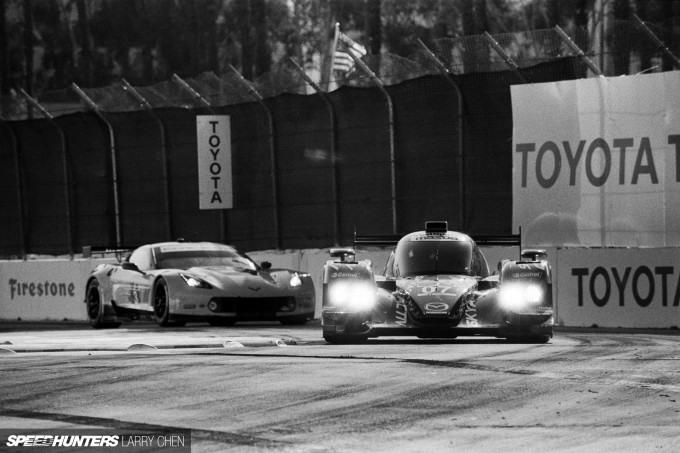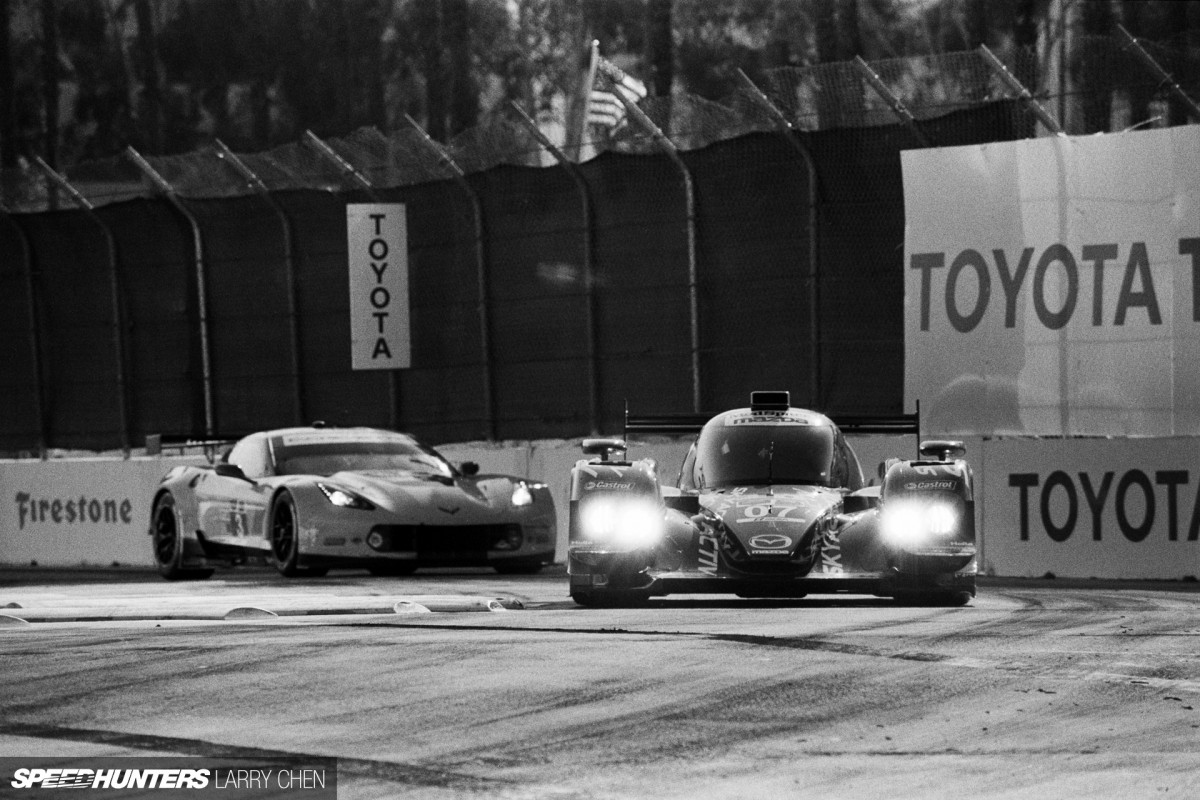 My long lens of choice was handed down from my father, who was a hobbiest. The 80-200mm f/2.8 is the ultimate work horse in terms of a medium focal length lens.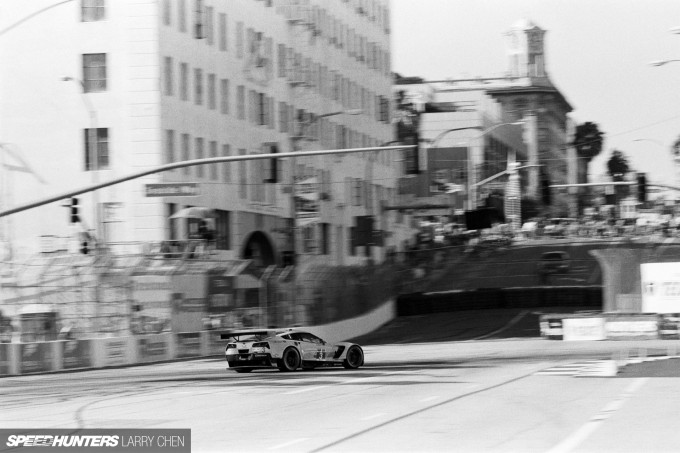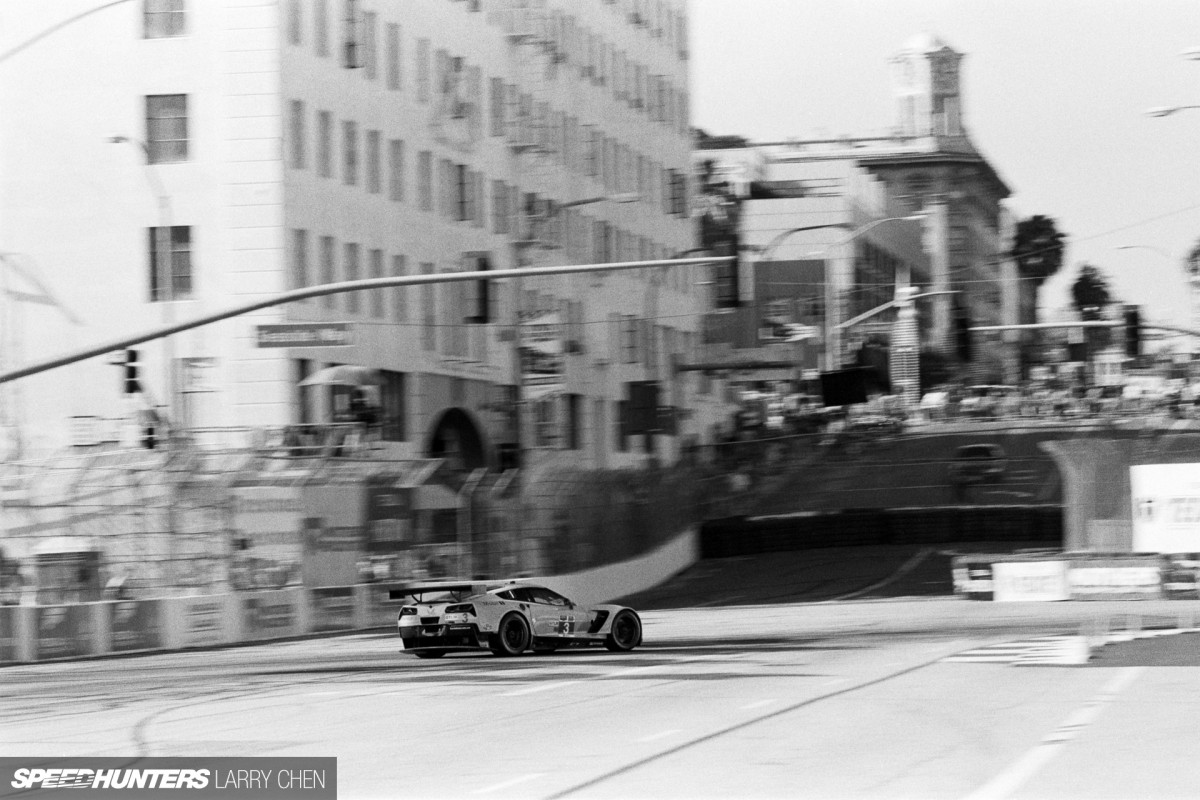 It's great for panning as well, and it's sharp throughout its focal range at any f-stop.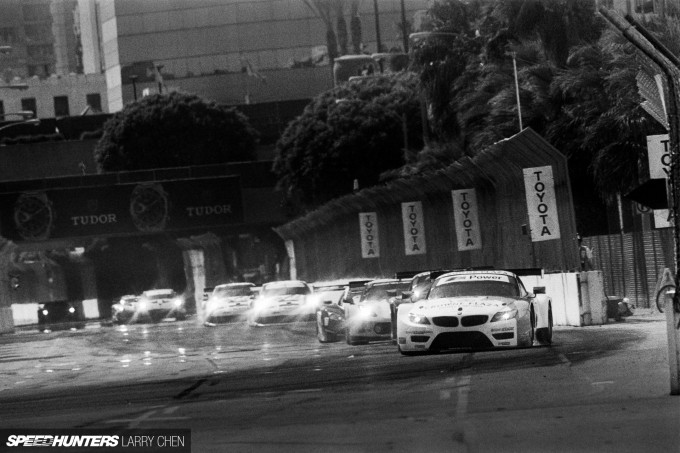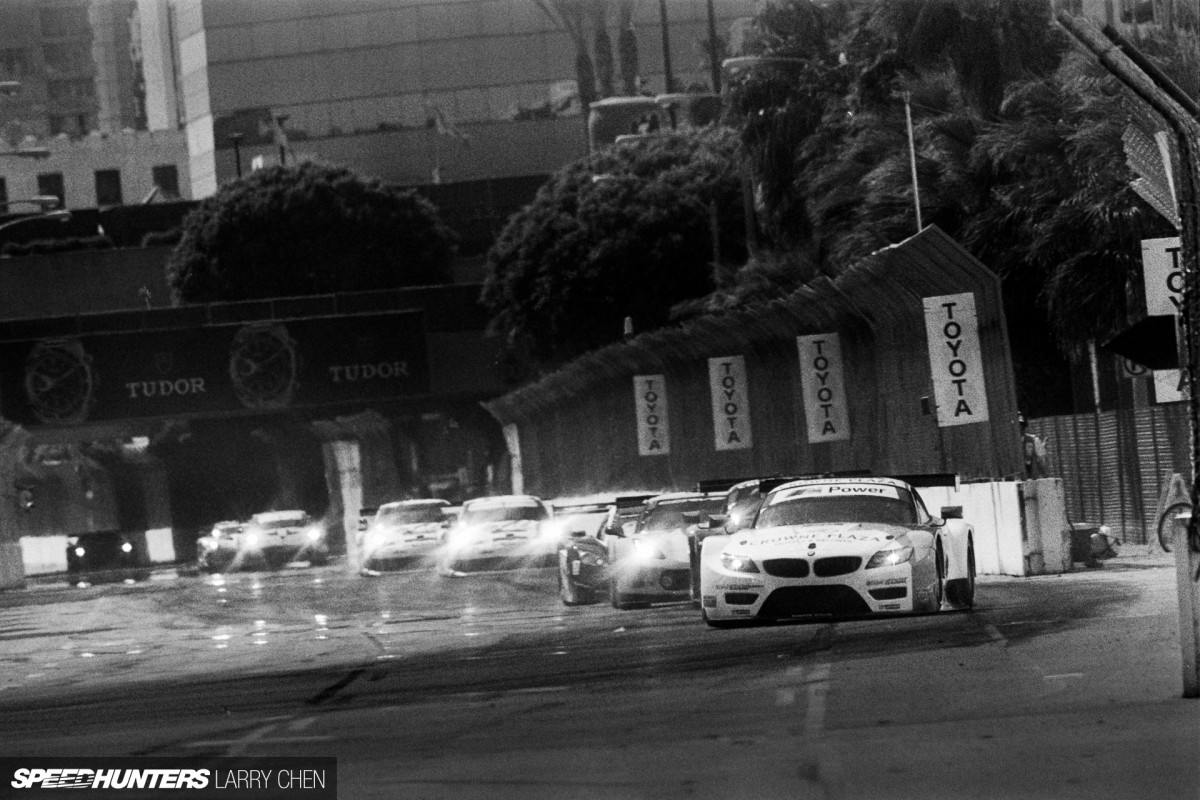 The third lens that I used wasn't pictured above, but it's a massive 400mm f/2.8.  Many of my friends shoot Nikon, and the beauty of the newer lenses still fitting on f-mount bodies meant I was able to borrow a 400mm for a few shots.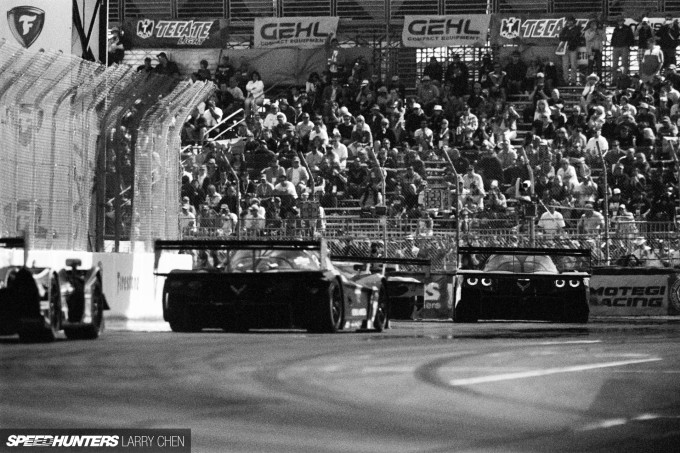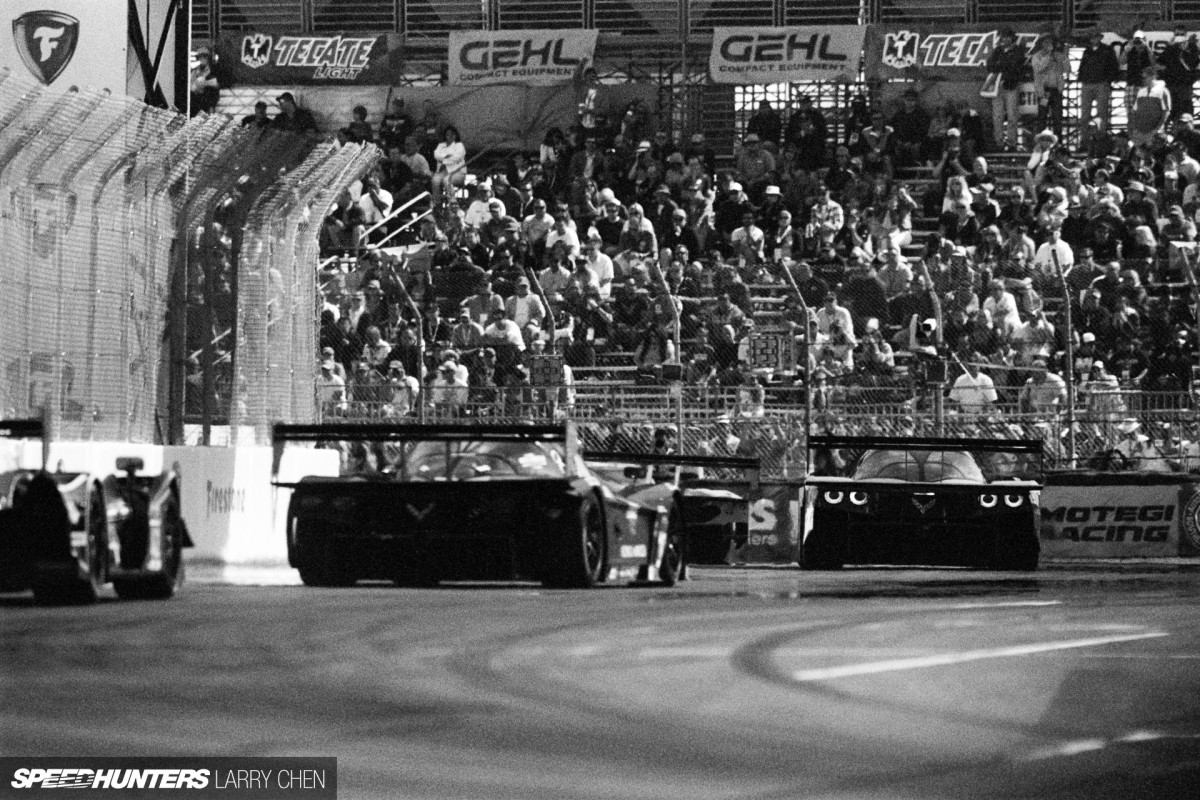 It was very hard to use as the manual focusing ring was super sensitive. In fact, if I so much as breathed on it, the focus would change. It was fun to see that a few images actually turned out, though. It was a real challenge to get the metering correct too, and I found that many of my shots were either super underexposed or super blown out. Which brings me to my next point…
Exposure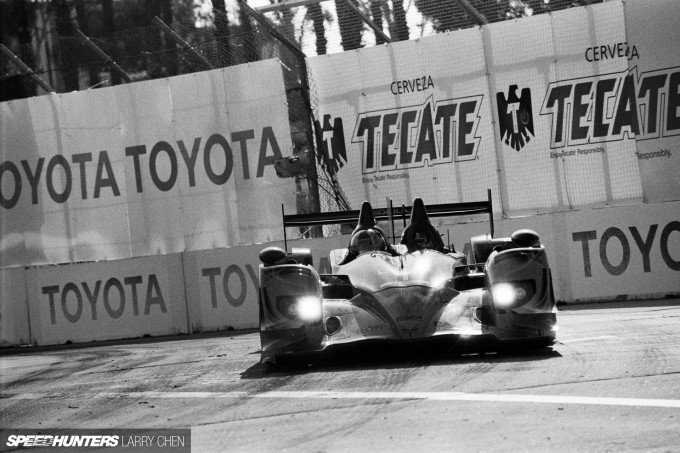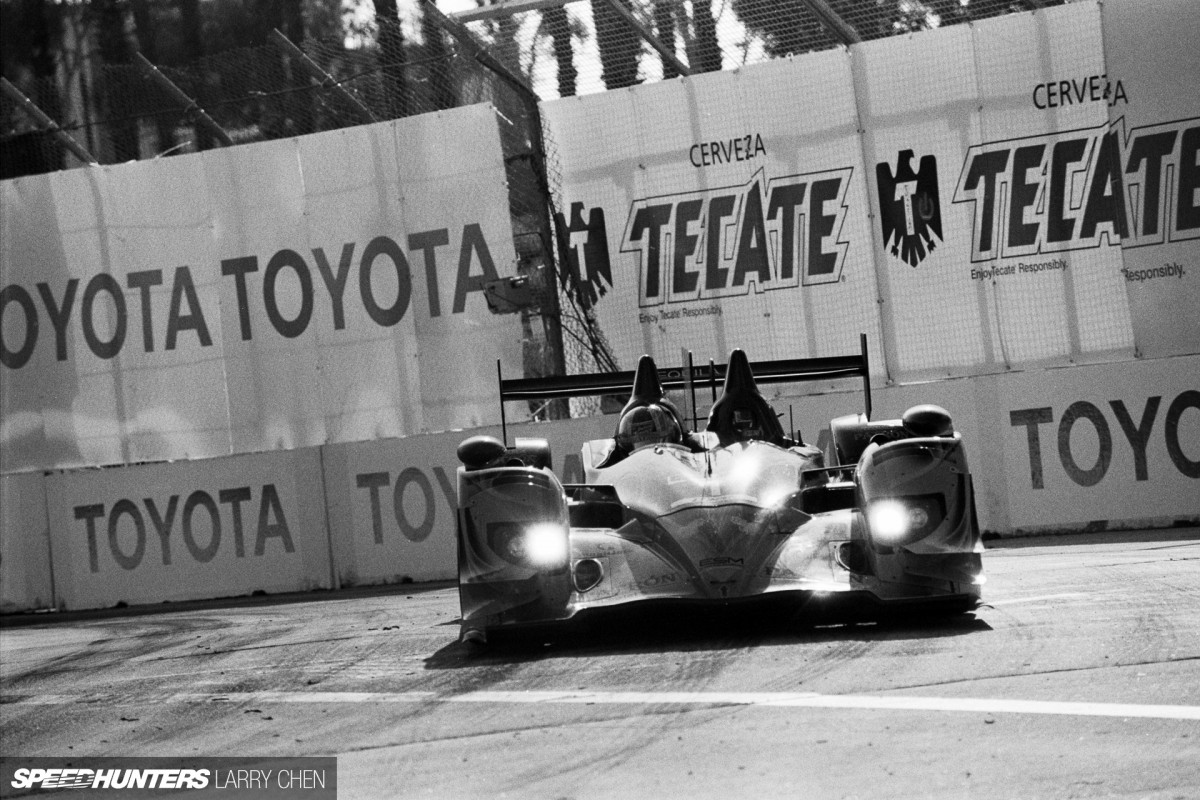 Both light meters in the Leica and the Nikon systems are very crude and not very accurate. You really have to think ahead of time to get the exposure you are looking for. Just to give you guys an example, I knew that the headlights and the massive white banners in the background of this photo would throw the meter off, which would result in a dark image. So I took note of this and made sure to overexpose at least a full stop.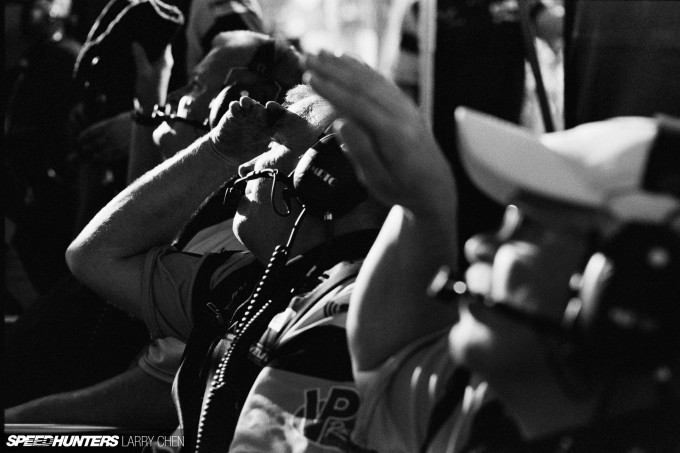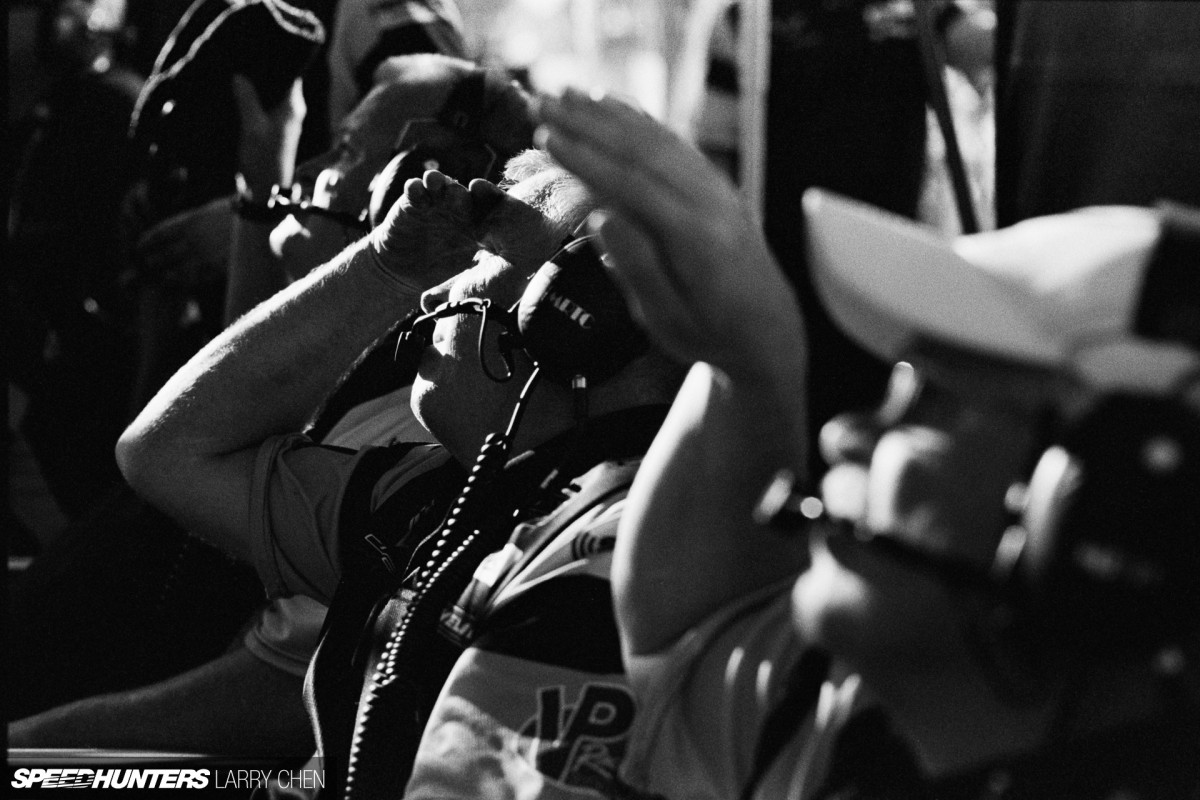 When the light gets sideways later in the day, I get some of my favourite pit shots. In order to expose this one correctly I just pointed the camera out where the sun was, set the exposure, and then turned back to shoot this scene.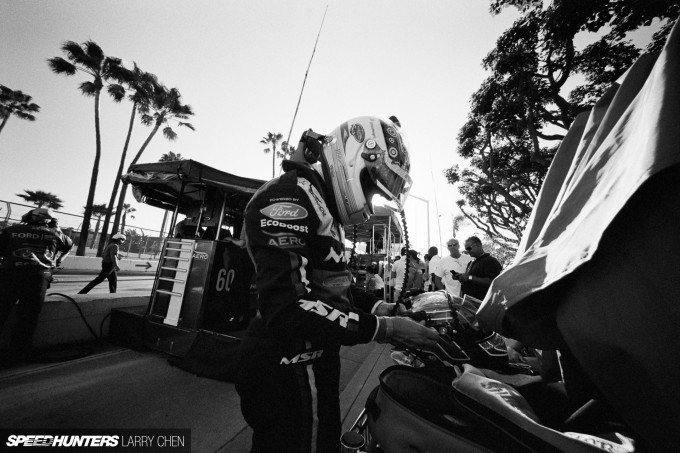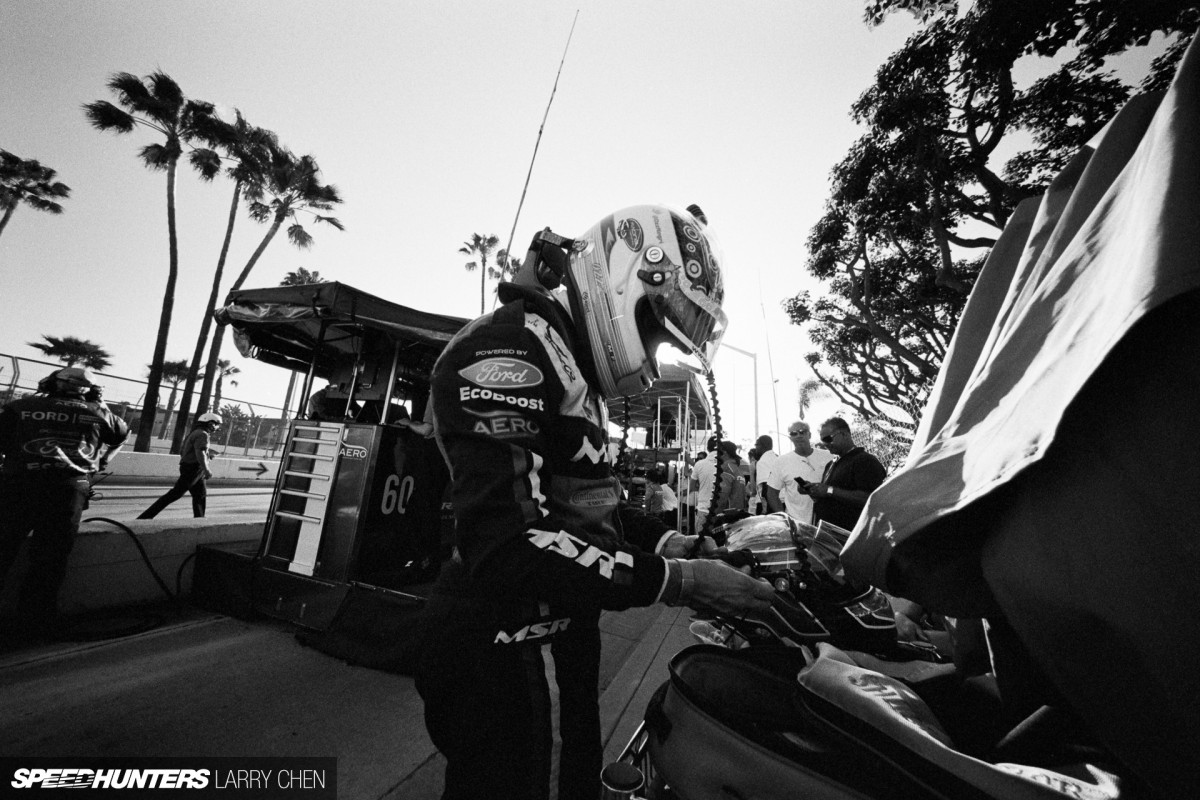 For this shot I did the same thing, but I set the exposure for the ground and did my best to block out the sun with the driver's helmet.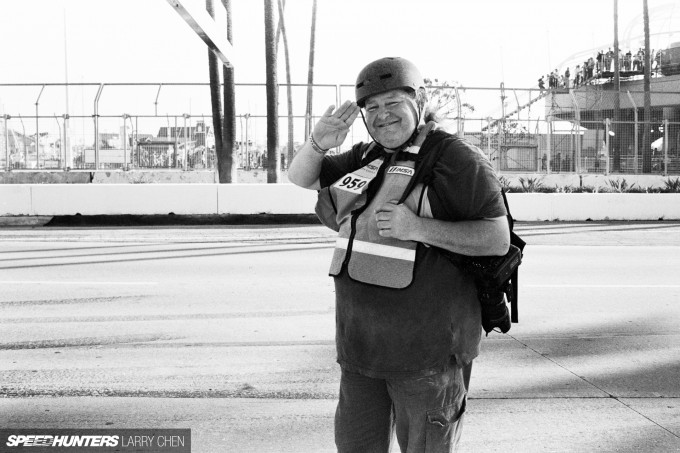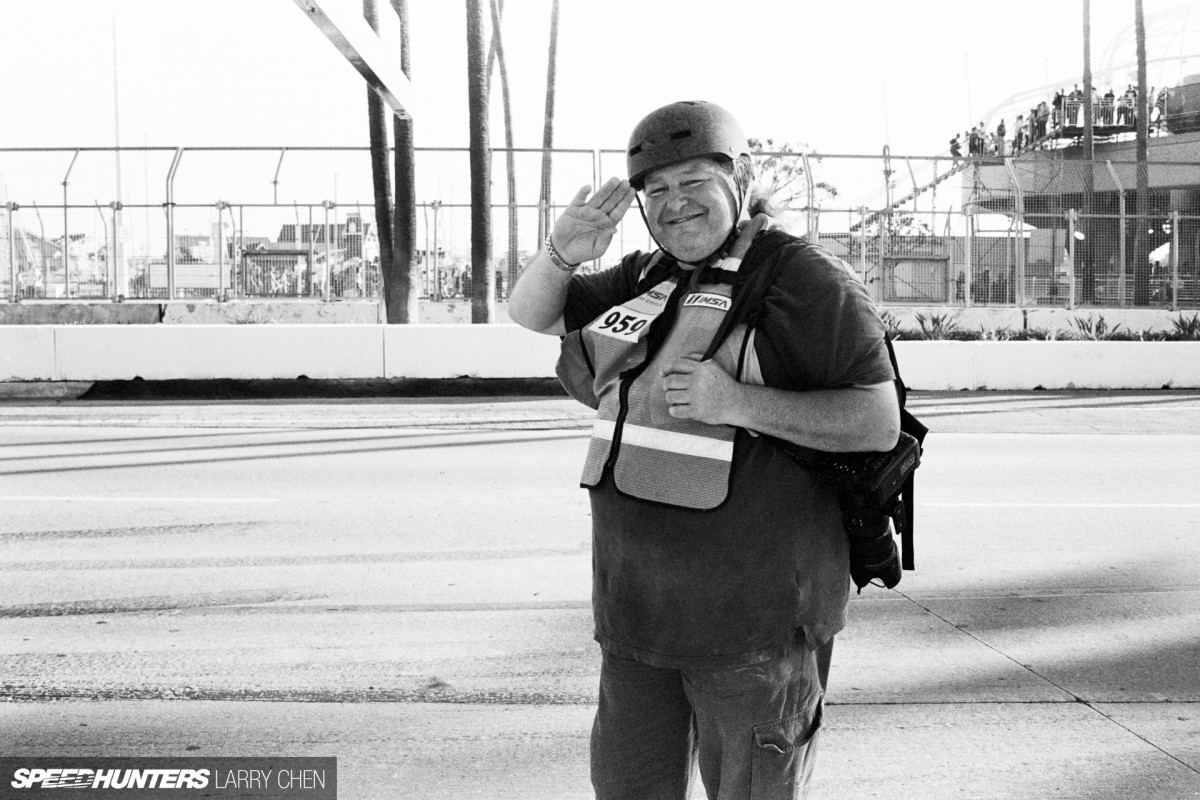 Legendary motorsports photographer David Lister would have been underexposed if I did not first meter down at my feet where there was less sun. Check out some of his work from the early years of Speedhunters.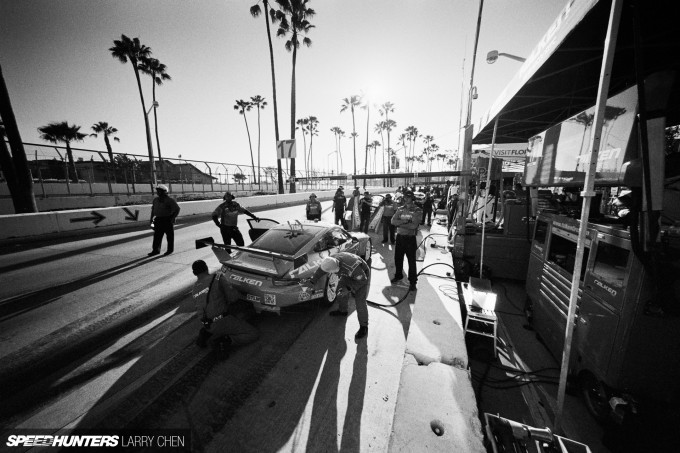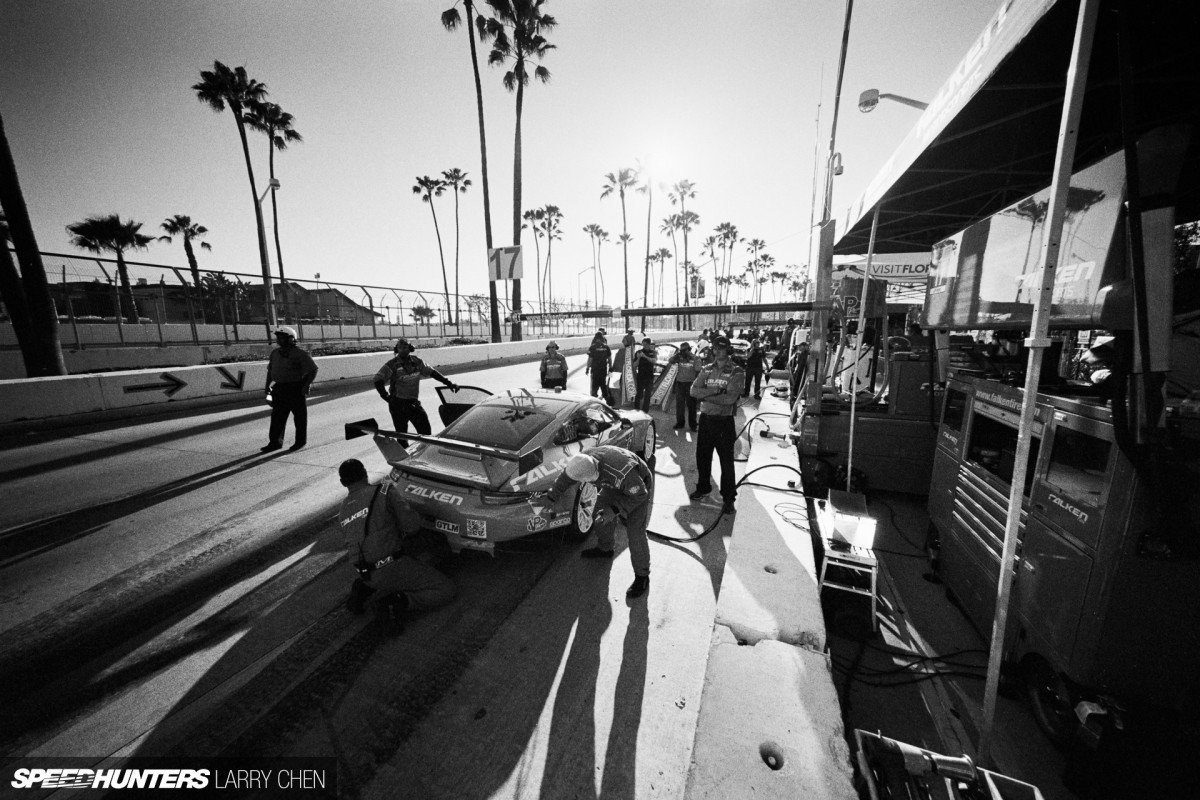 All of my wide-angle shots with the Leica were also very hard to meter. That's because I have an external viewfinder specifically for the 12mm f/5.6, which means I have to use the main viewfinder to meter on a part of the subject, and then switch to the other viewfinder to frame the shot.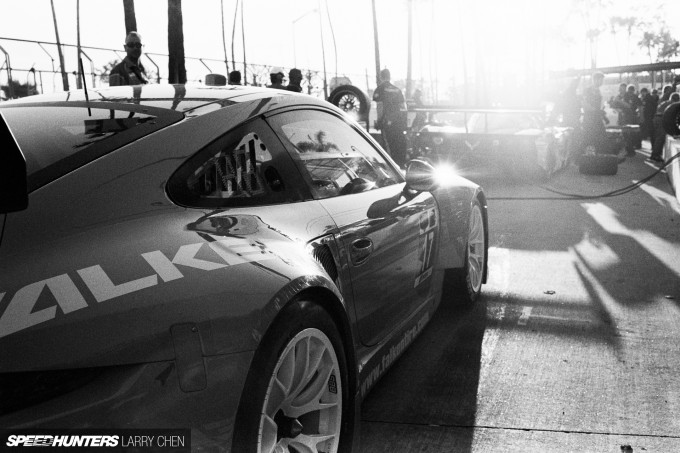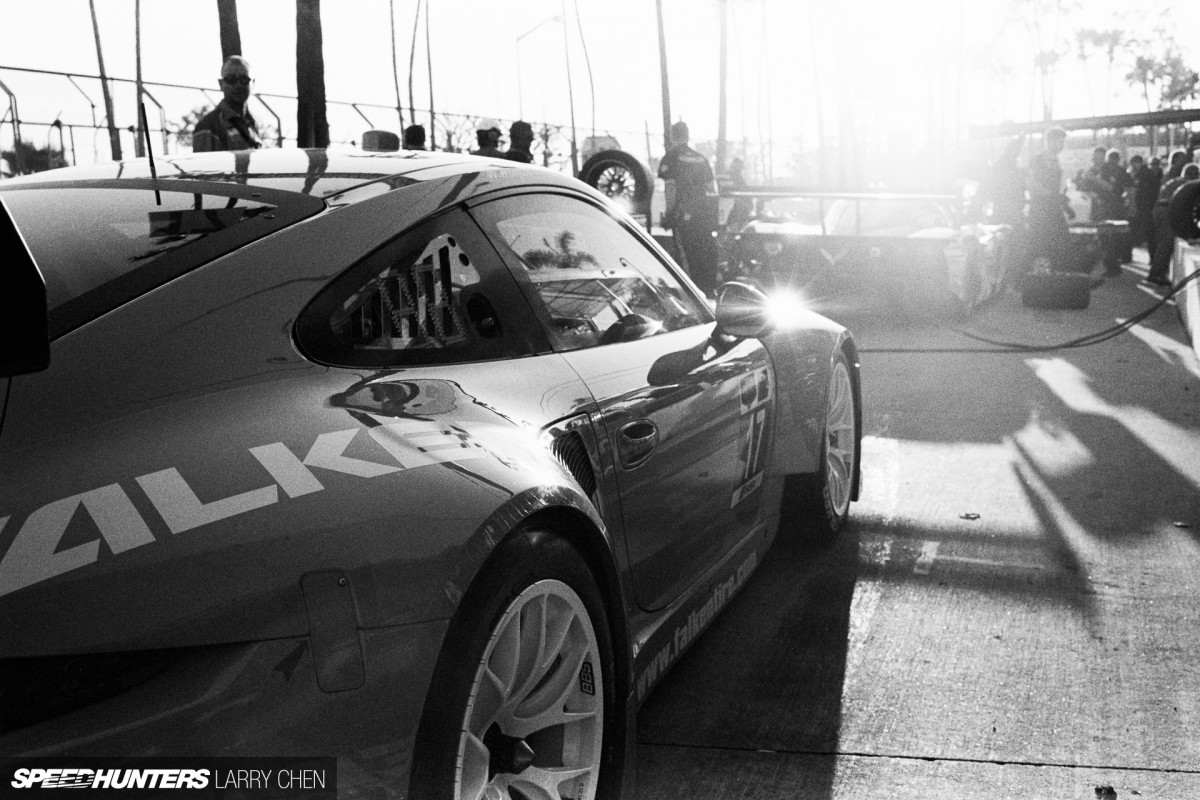 I love shooting into the sun more than anything, but it's really hard to do so without underexposing all of your shots when using film. Just remember to take it slow and expose specifically for the parts of the image that you're interested in.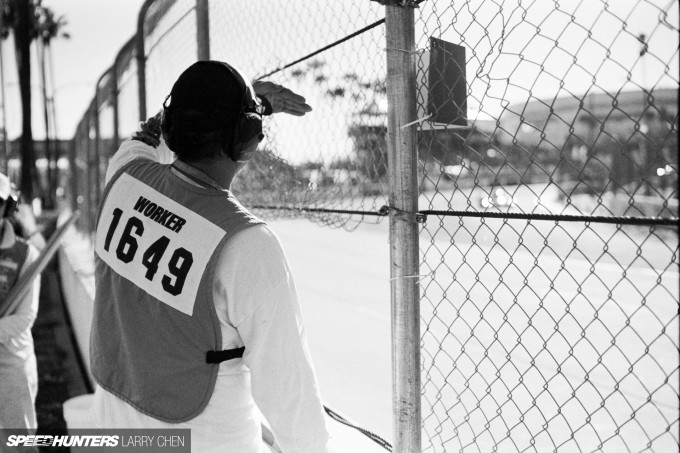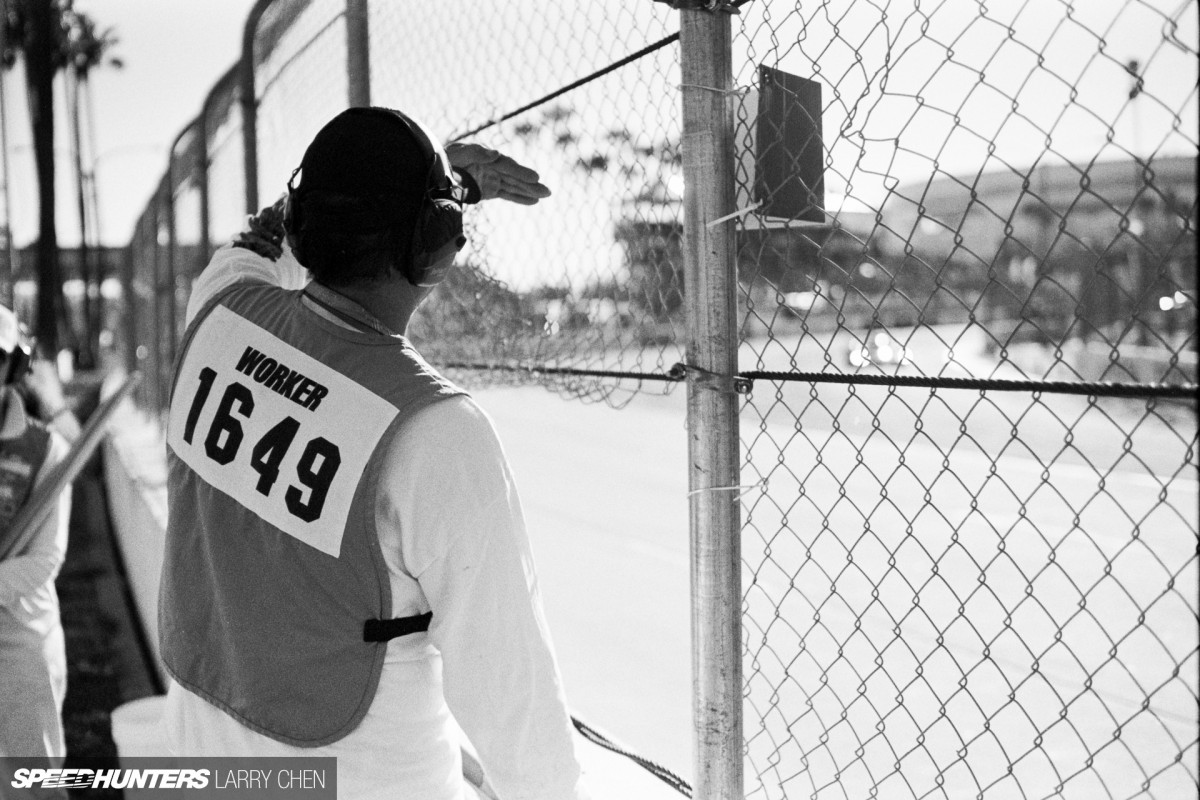 The nice thing is that film has such a wide dynamic range. You could fix it in post if you absolutely needed to, but it still retains the look and the feel.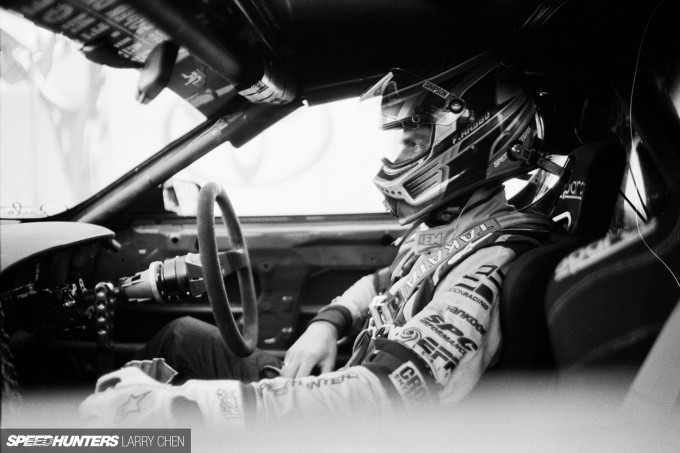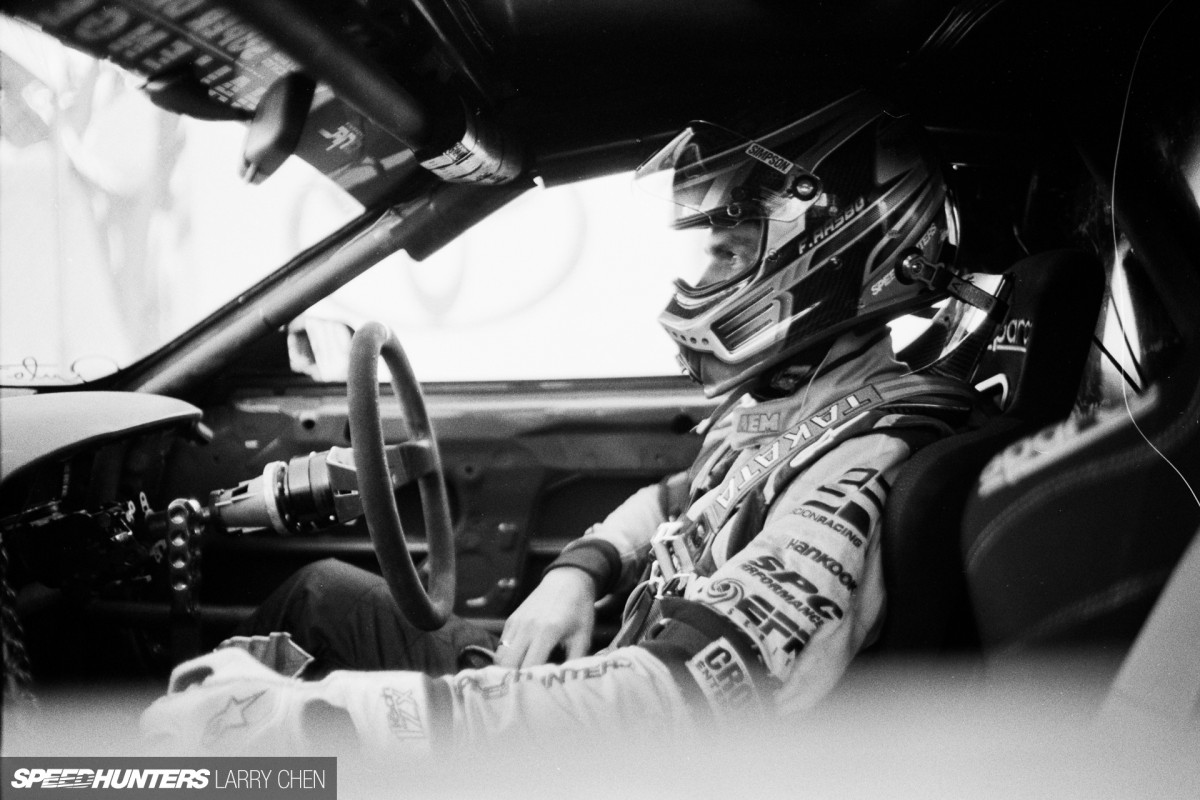 It's a little hard at first not being able to change ASA on the fly, but shooting with 400 speed film allows the flexibility needed to shoot cockpit scenes like this. This was Fredric Aasbø lining up to go out for a drift demonstration.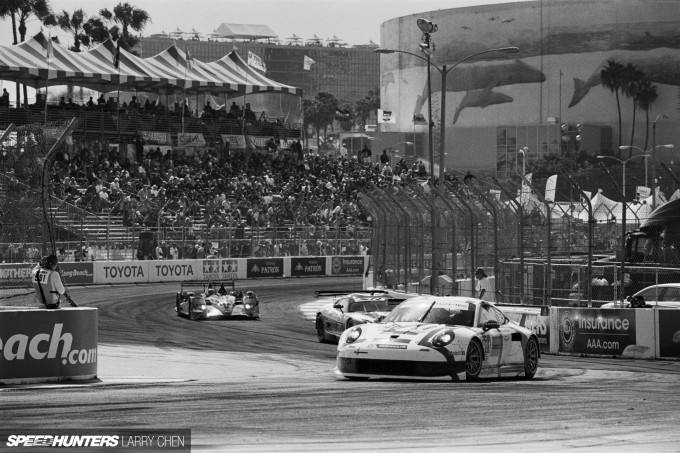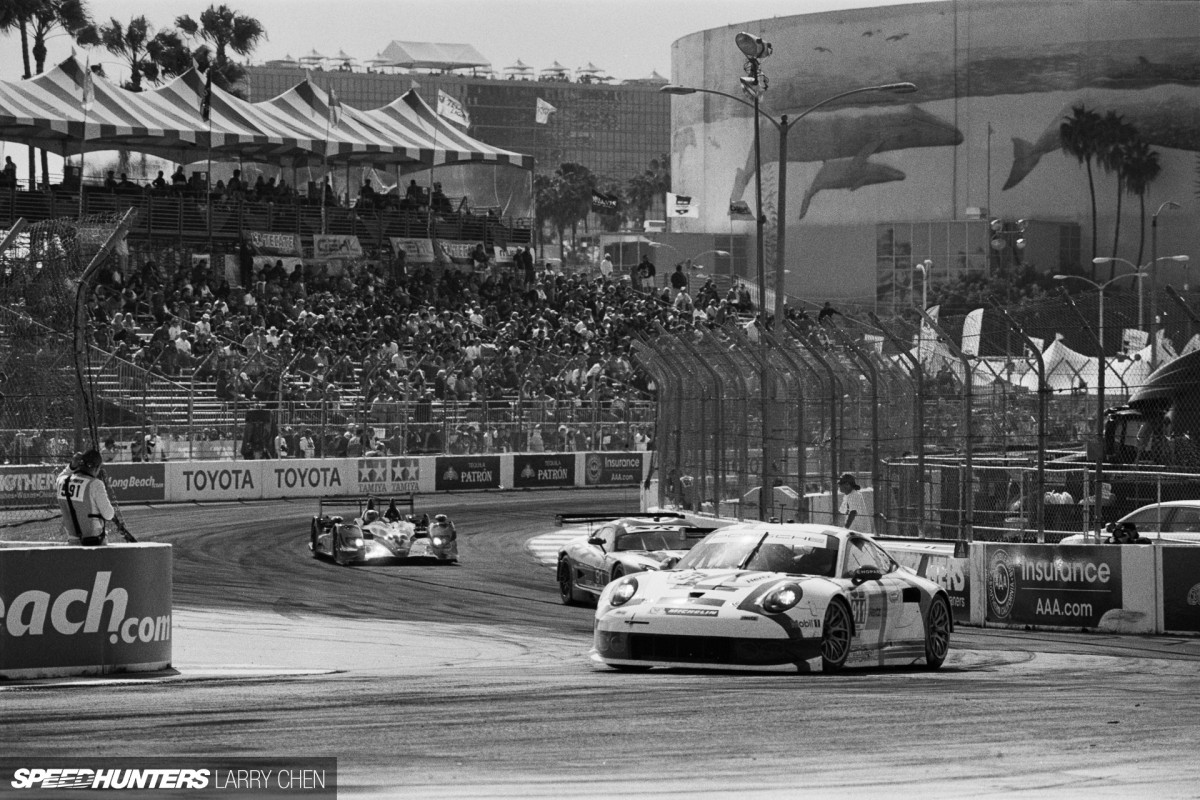 Even if you get your exposures locked down you have to be quick on your feet. Manual film cameras are not like the machine guns of todays digital camera world. Which brings me to my next point…
Fleeting moments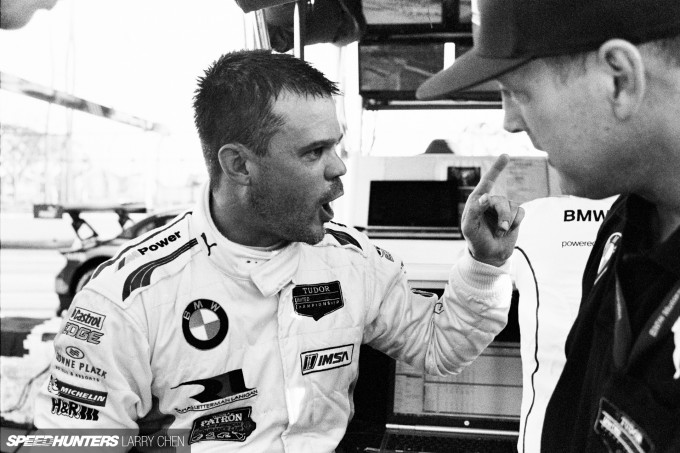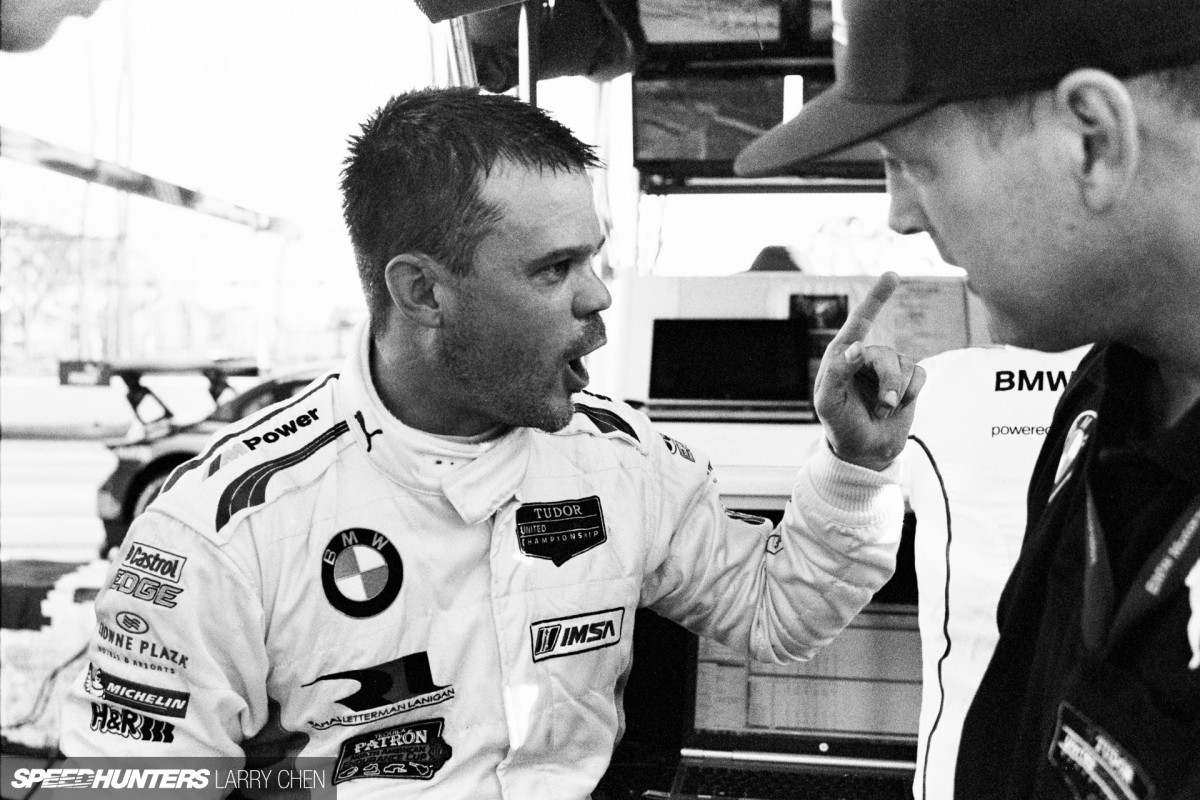 Because there is so much going on in and out of the paddock as well as on the track, don't ever hesitate to take a shot. Not for one second. Because before you know it, the moment has passed and you missed your shot.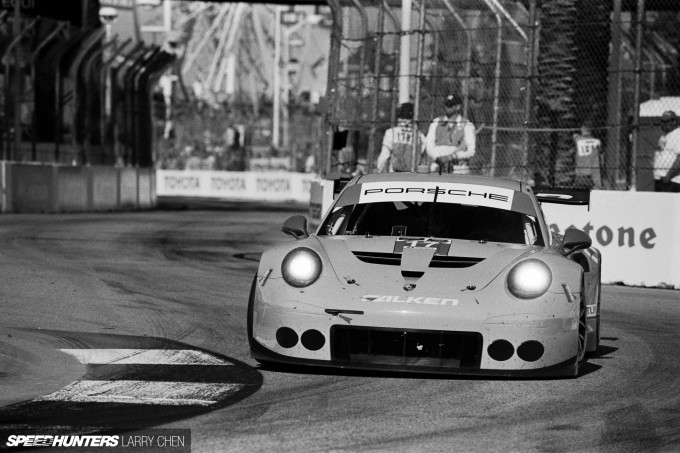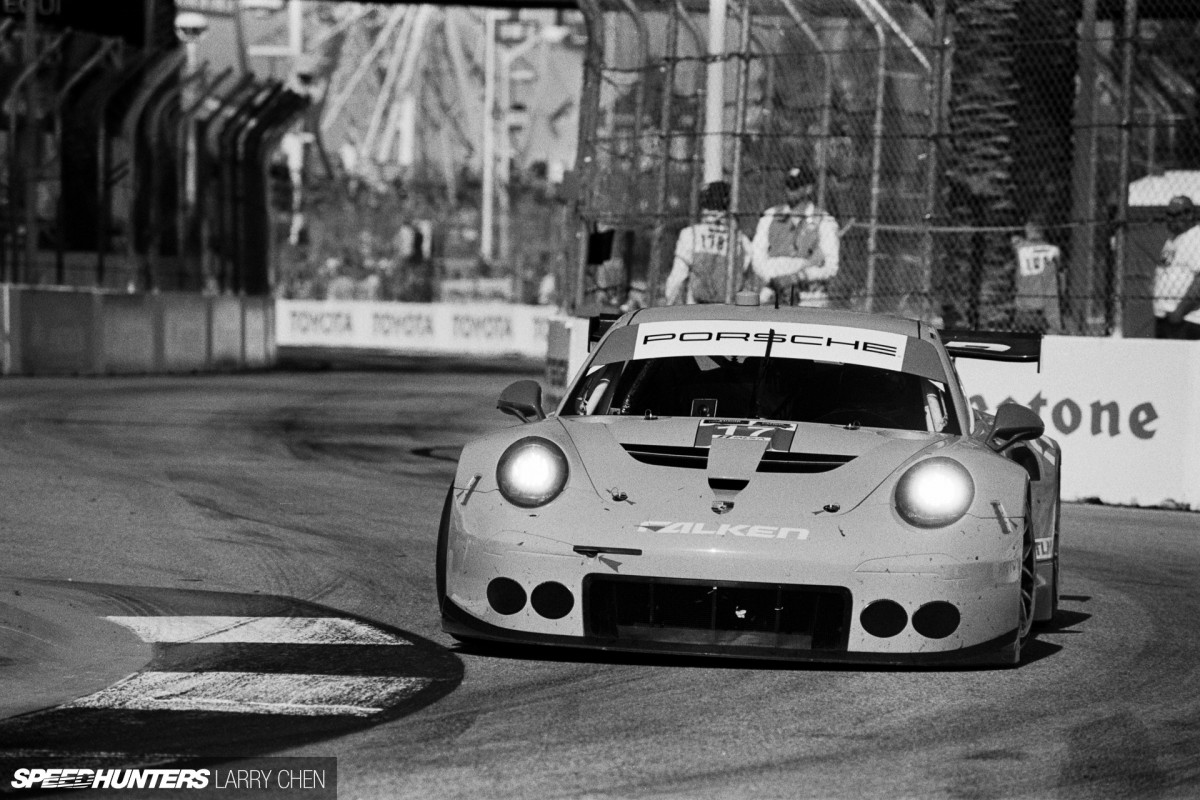 Aside from the headache of getting your exposure right, there is the matter of manual focusing. This is where it also gets fun though.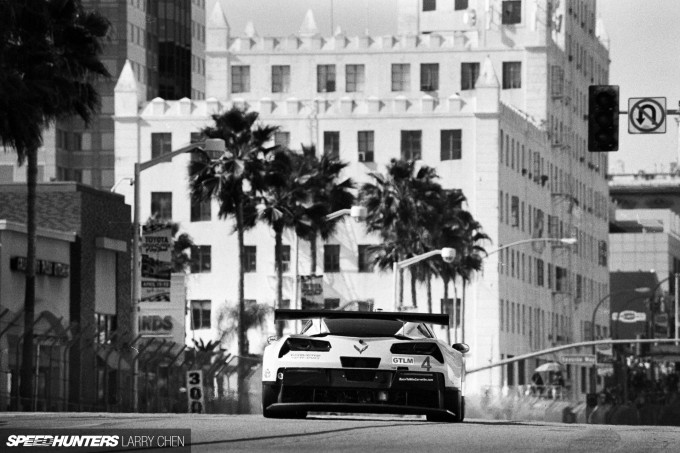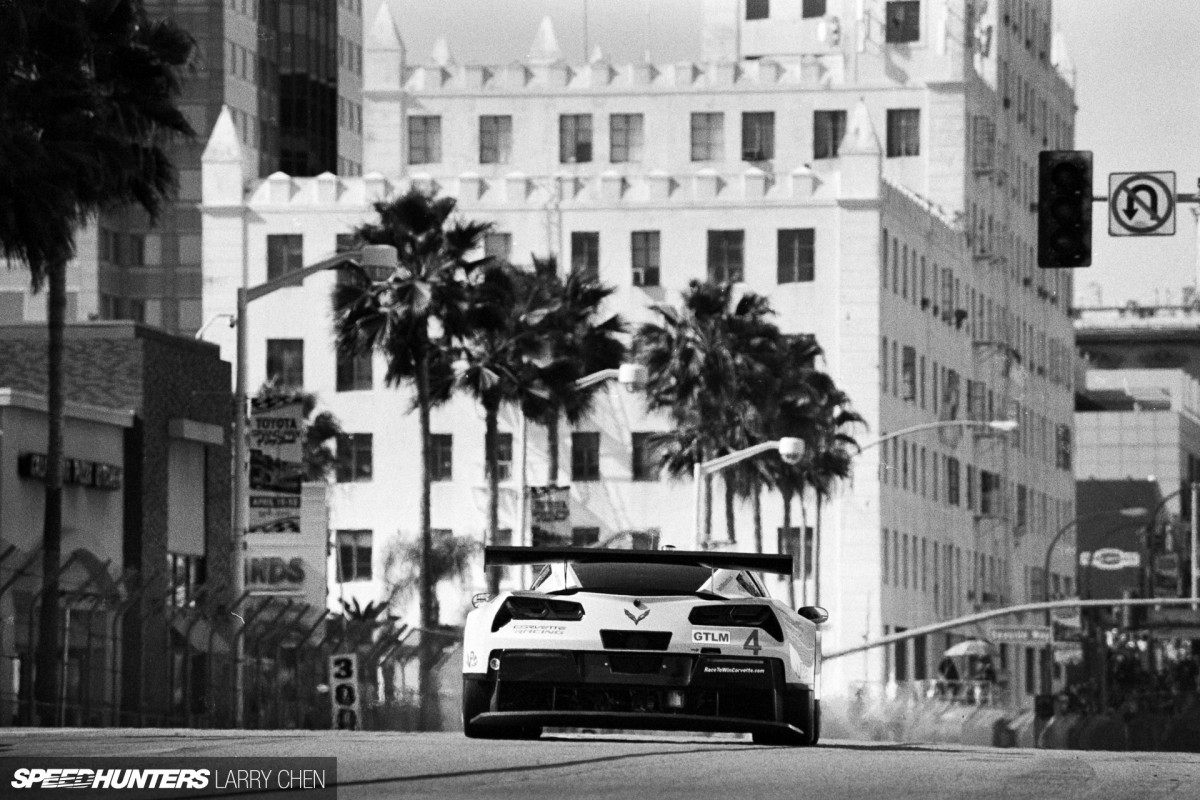 It's nearly impossible to actually track your subject, especially because these cars are moving fast. Much faster than when drift cars go through the same few corners. I find the best way to do it is to set focus on a part of the track and shoot as the cars drive through the plane of focus.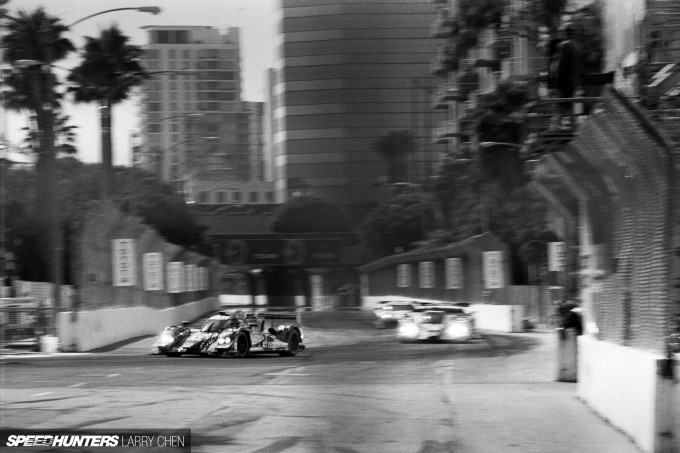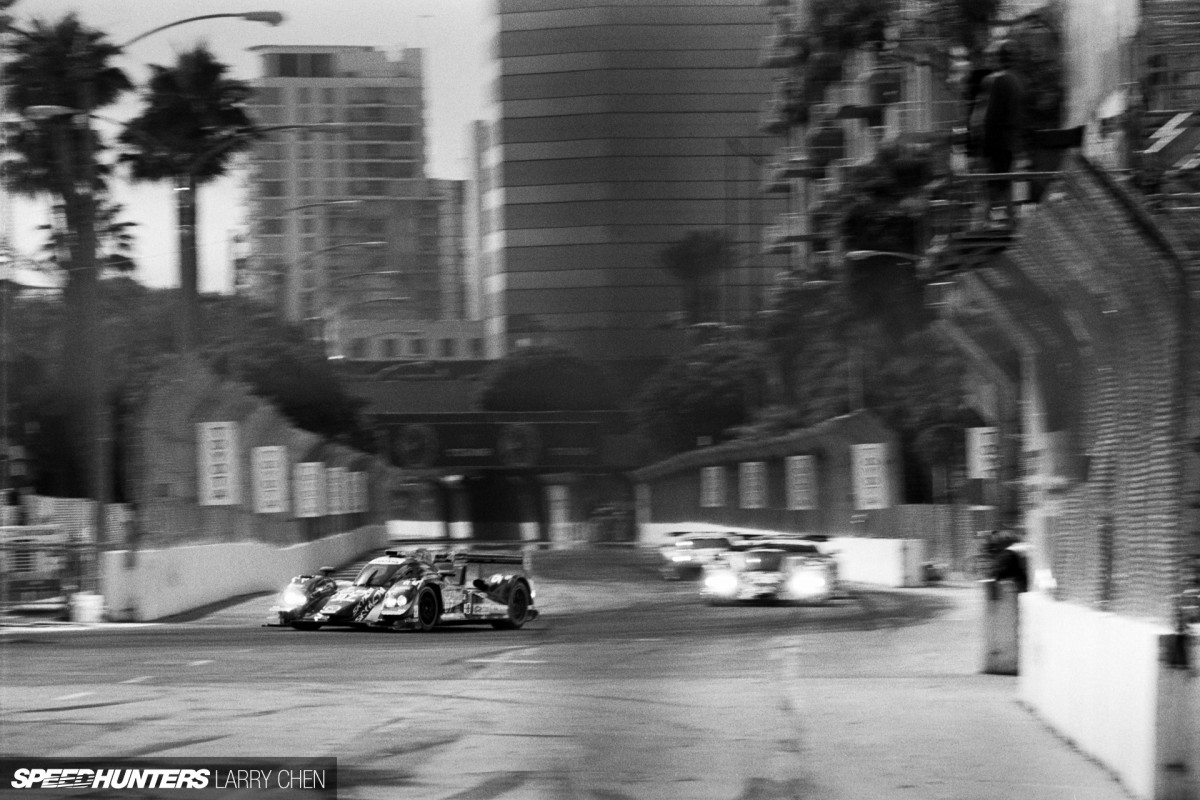 It's not as bad when you are panning, because generally speaking, if you are shooting in the daytime you'll be doing so with a high f-stop, so pretty much everything is in focus anyway. But then you run into another problem. Since the cars are going so fast, you really only have one shot every time they come by. It's almost physically impossible to manually wind-on fast enough to blast of more than one pan in a corner.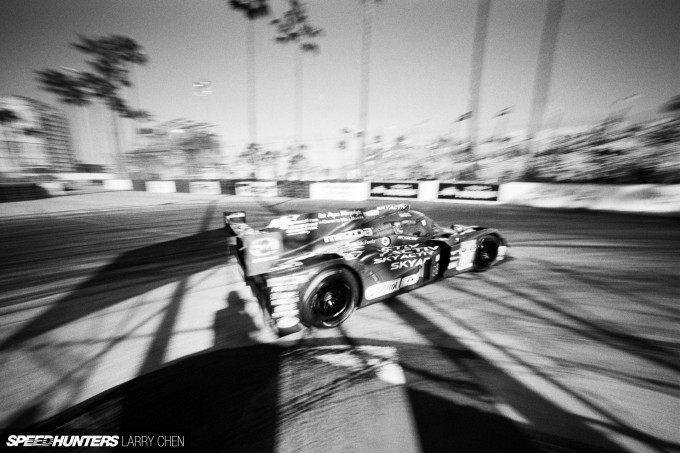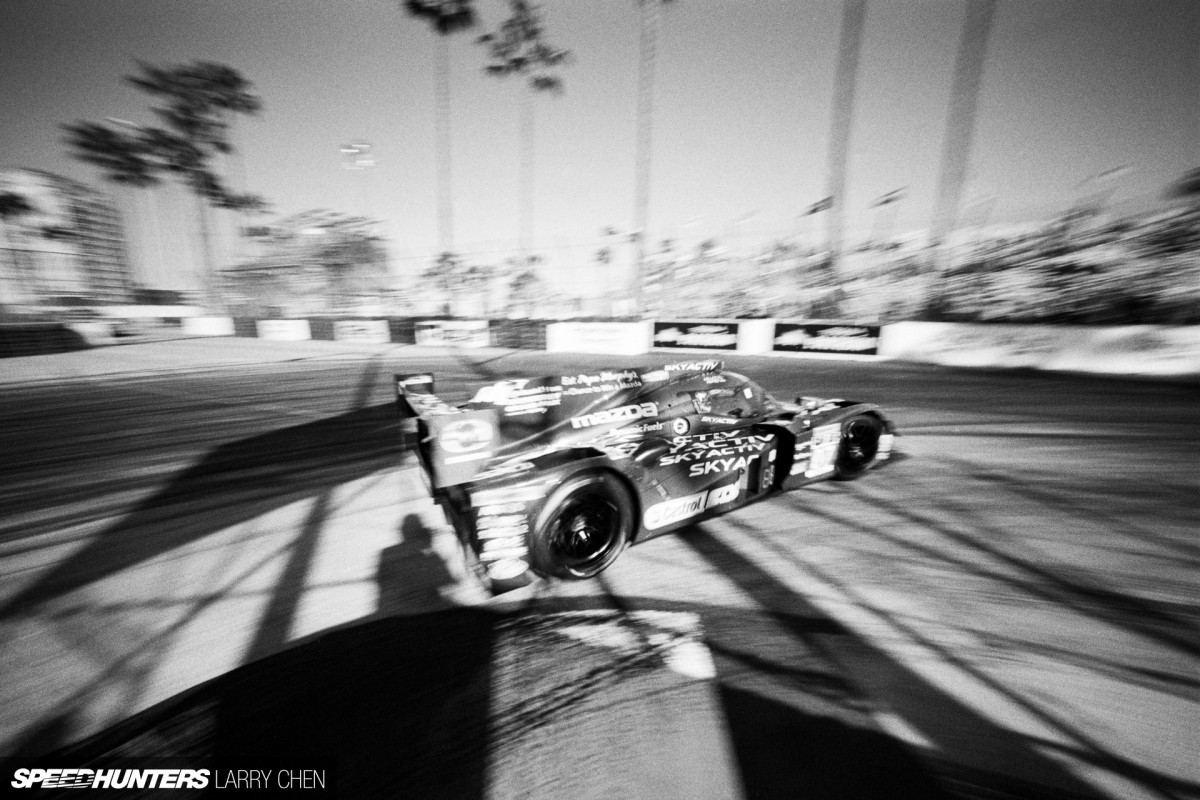 The best way to get around this I found is to pretend like you are shooting every car. Since I am tracking every car like I am shooting it, I can release the shutter anytime I feel the picture is just right.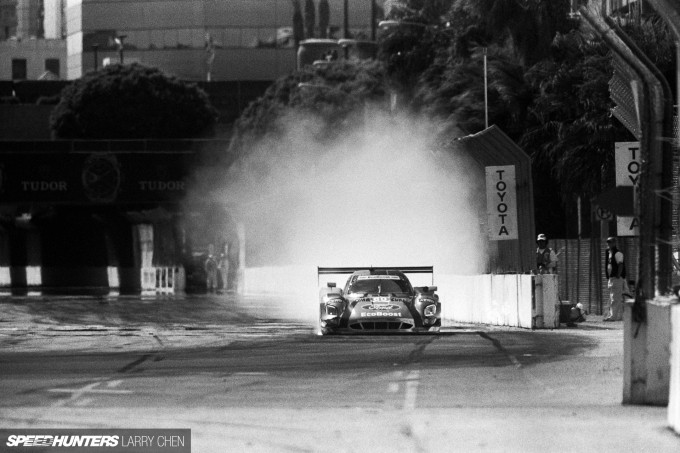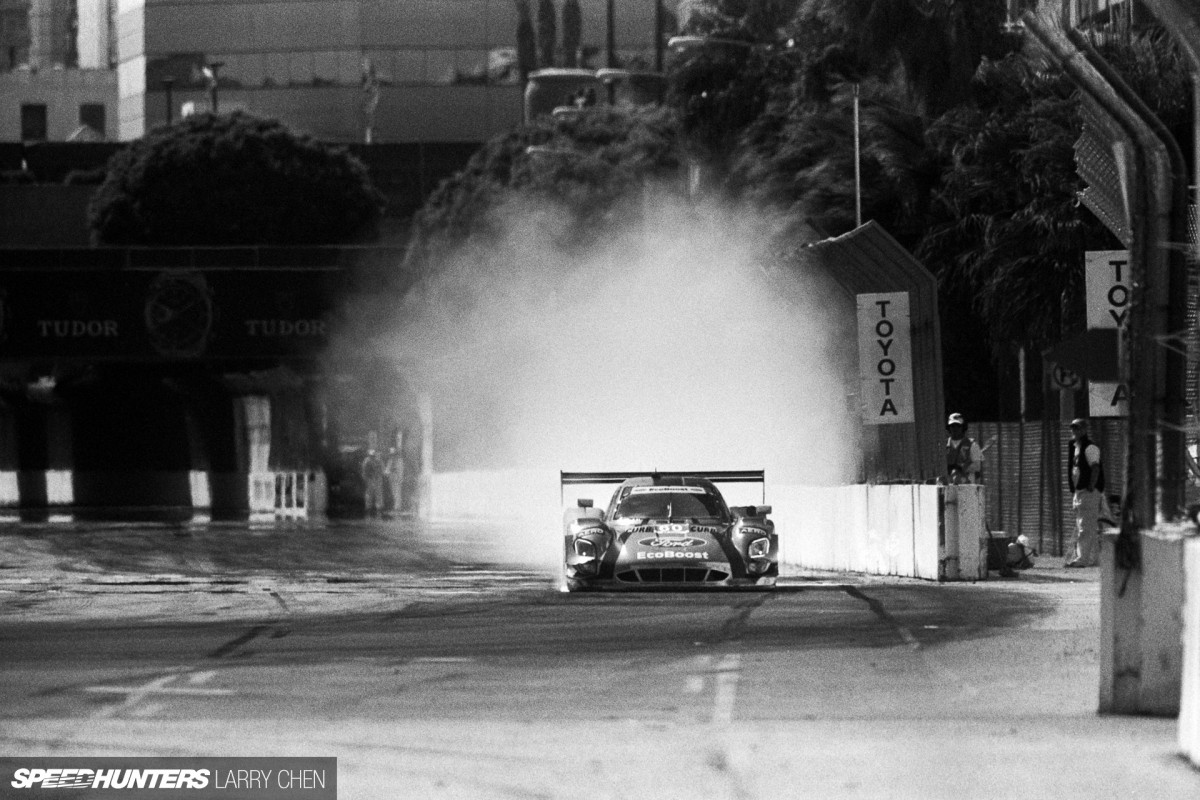 Which is how I can get decisive moments like this when the drivers lock up the brakes coming to the end of this straightaway.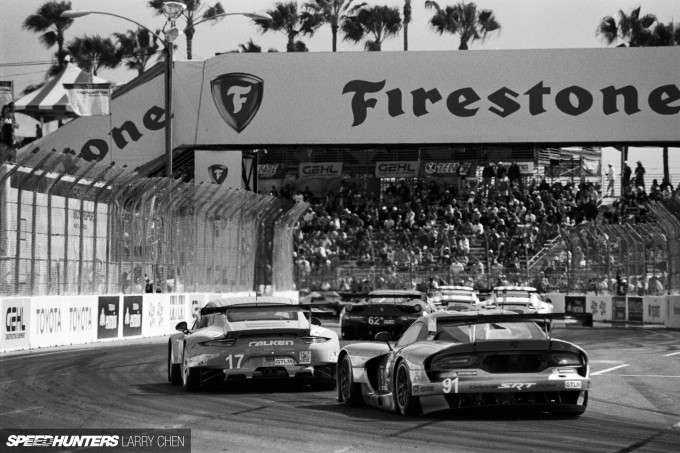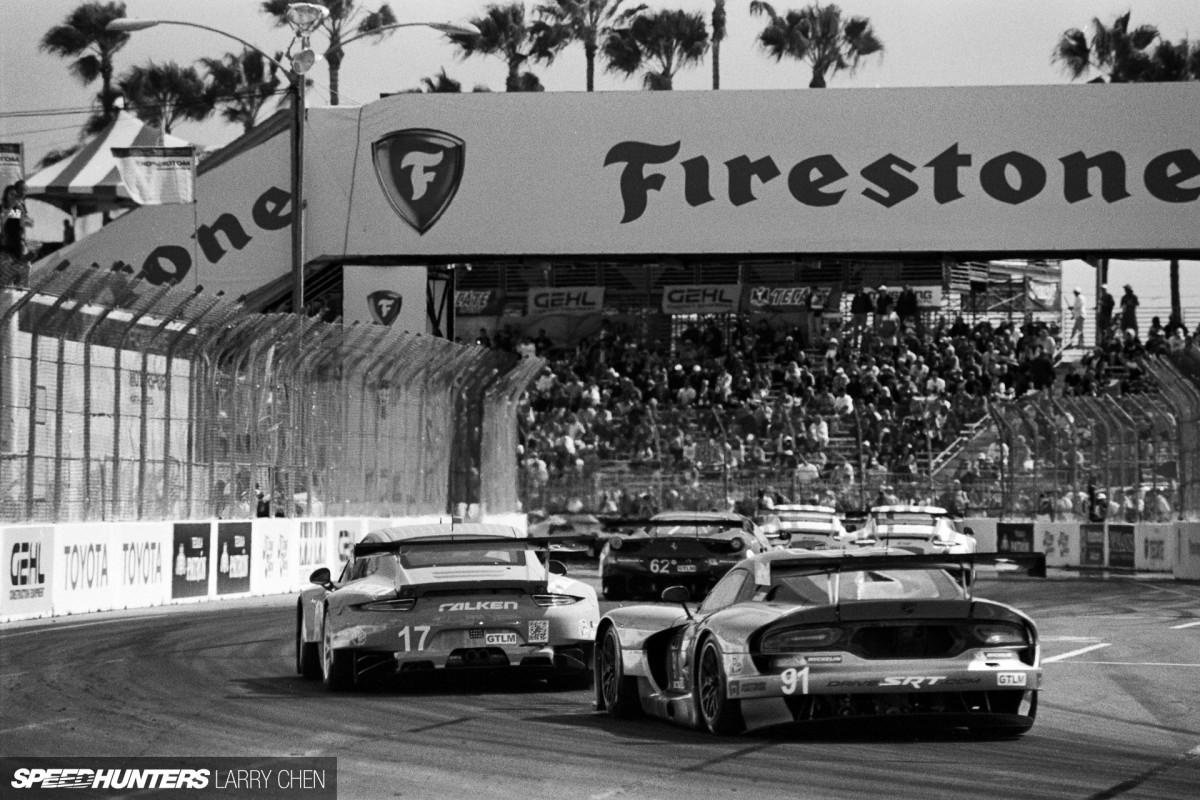 Normally coming from an event when shooting with digital, I have thousands of photos to sift through. After just shooting through four rolls of film, I ended up with just 156 shots from the entire weekend.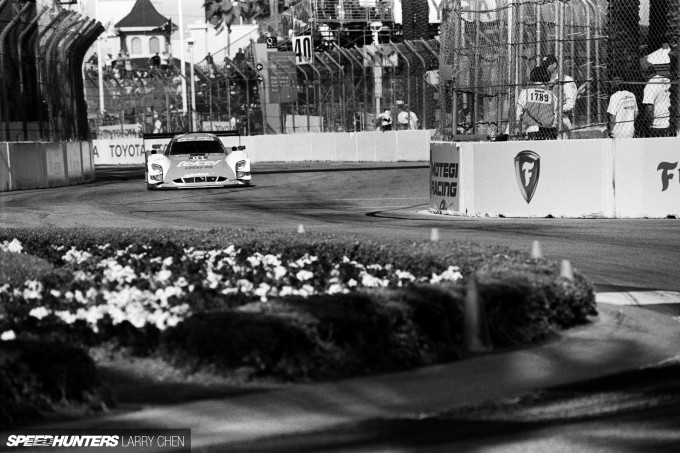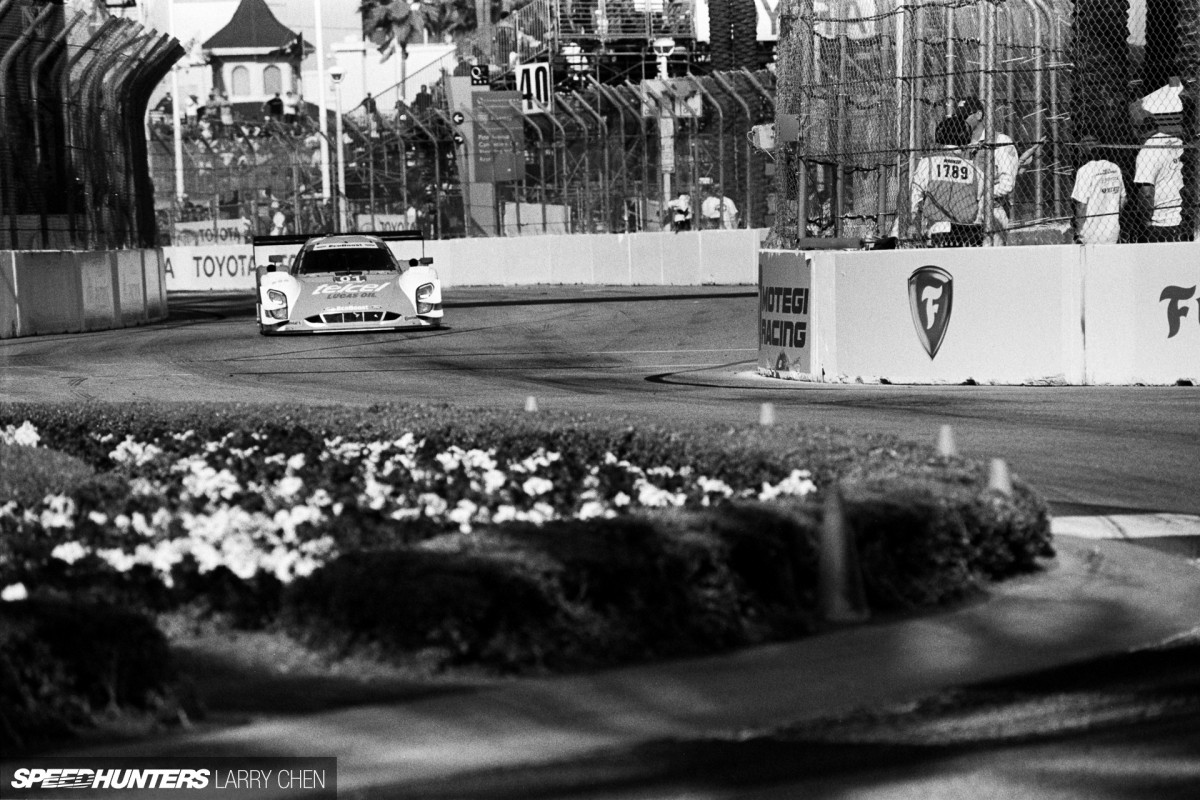 In a way I was editing out of the camera, but being as picky as possible with my shots and spending much longer on pre-planning than I would with digital. No spray and pray something comes out here.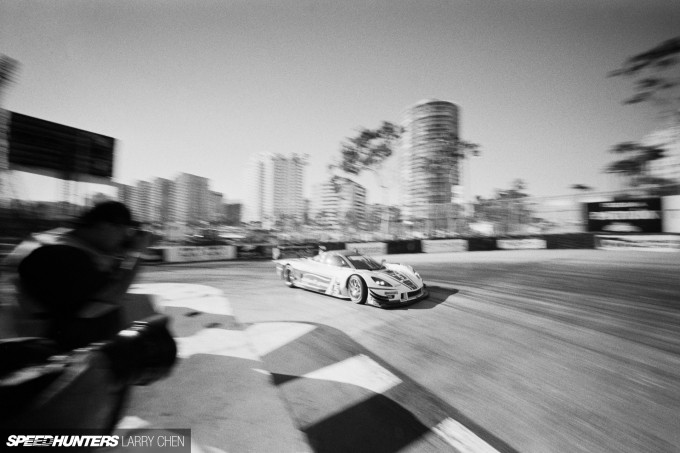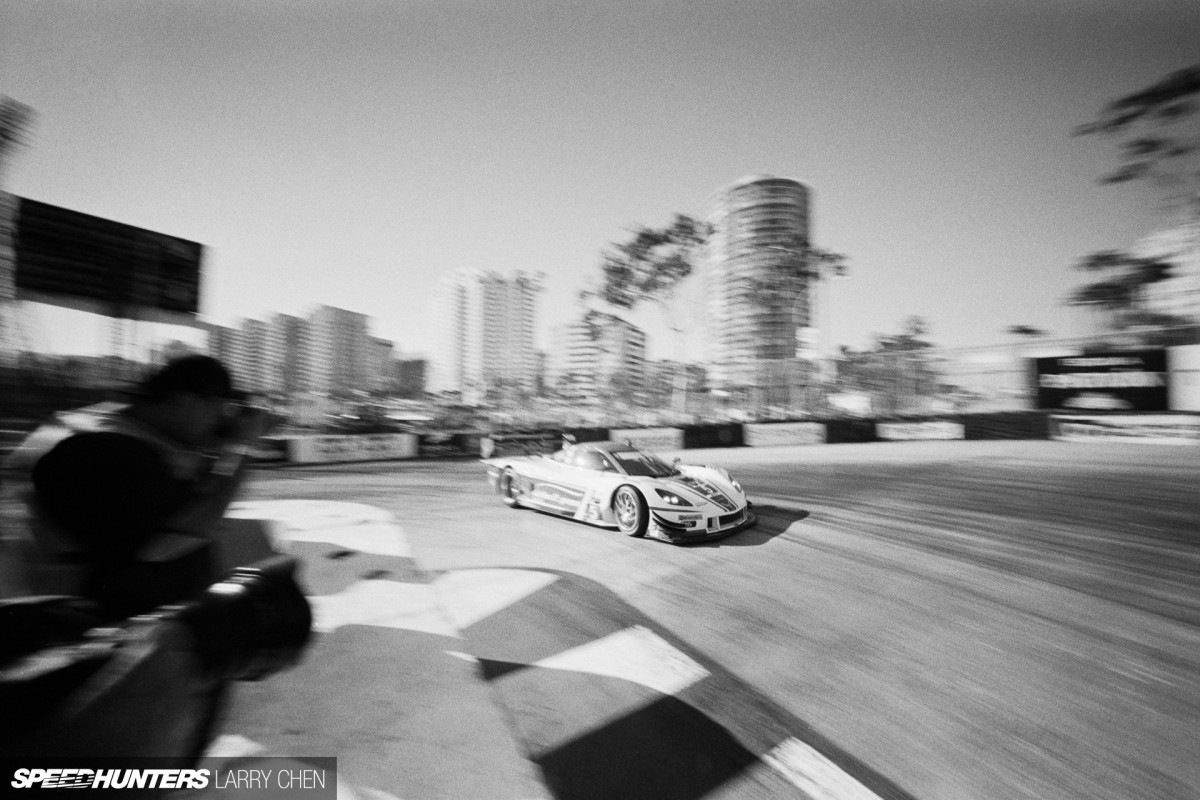 The photographers around me thought I was nuts. Why would anyone shoot with such outdated media?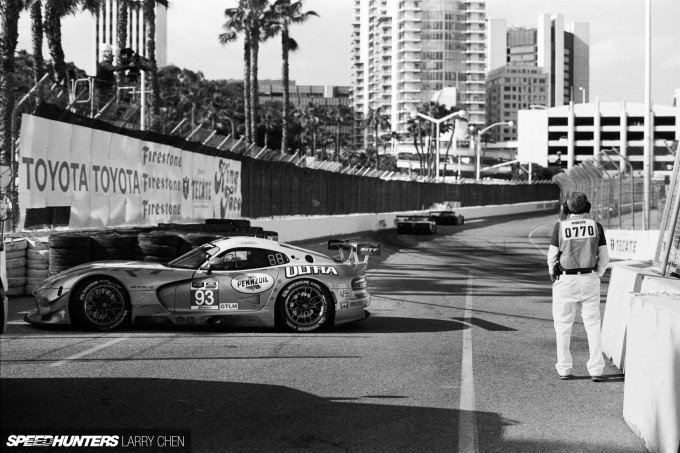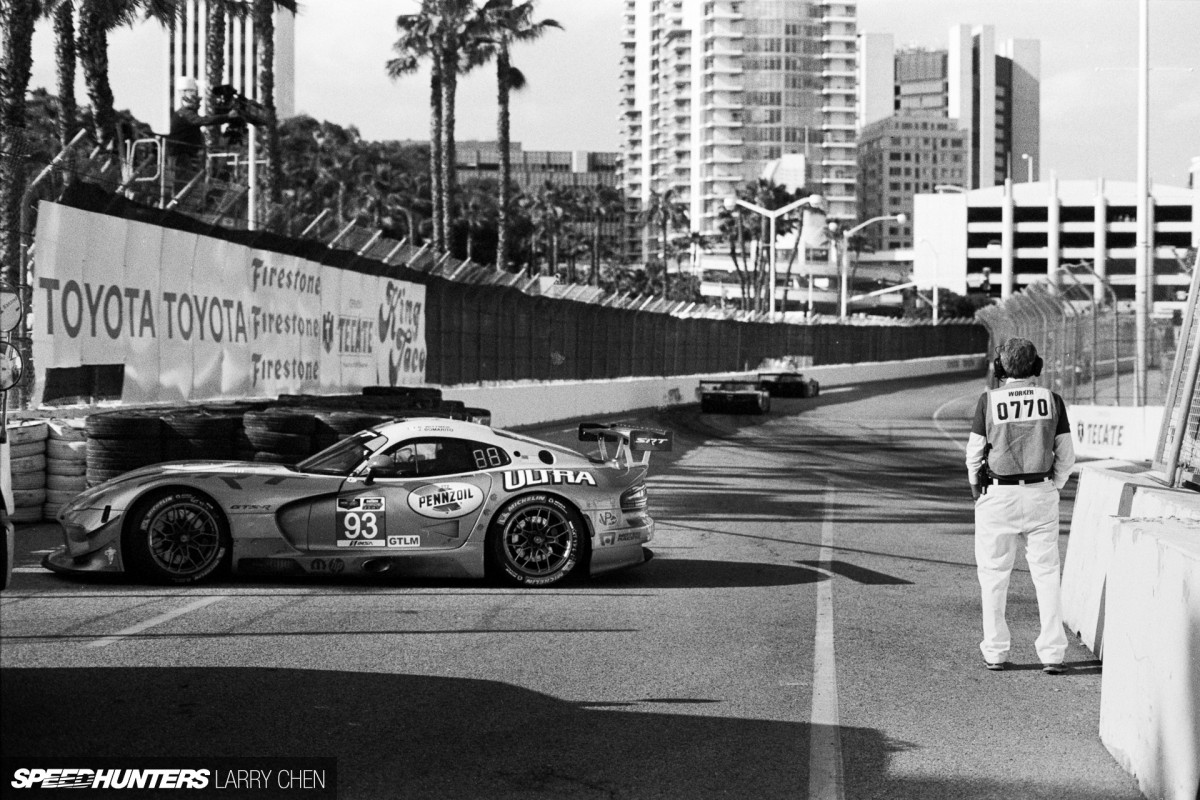 But going back to my roots with film photography has really improved my skills. It helps me to slow down, and take a step back. Shooting in black and white is nice because I don't take color into consideration and I focus more on composition and storytelling.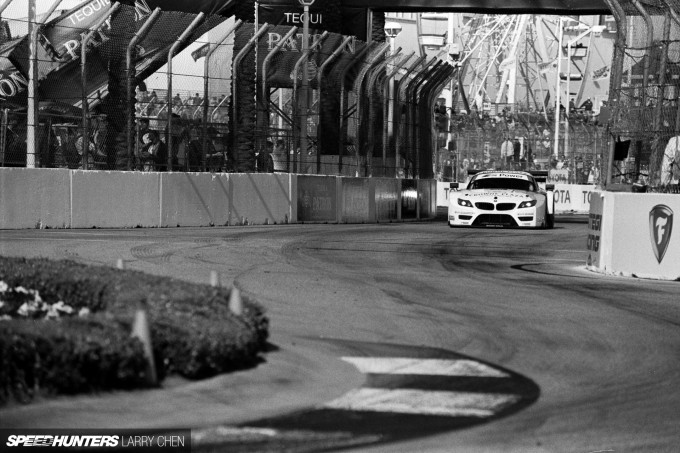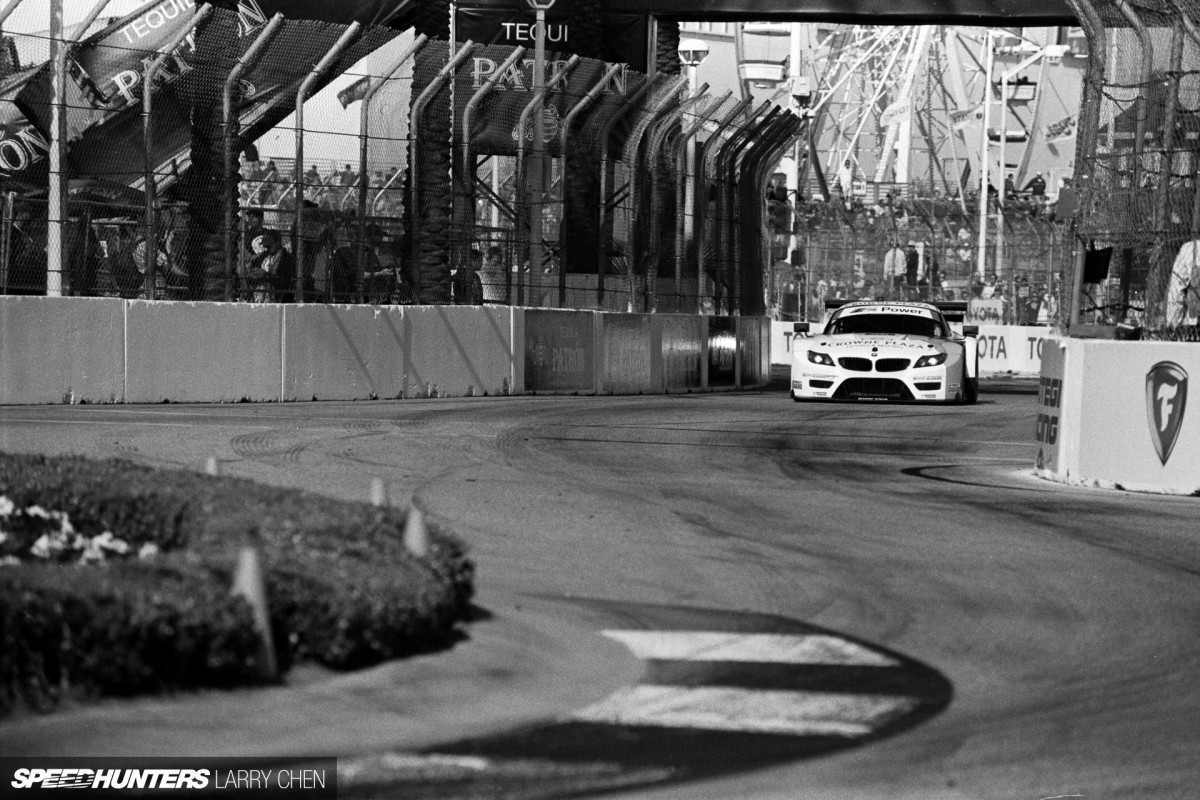 In a way, I am much more proud of the work that I produce from my film cameras, because I am just doing it for the love of it. This article I did at an amateur drift event  included some of the best black and white images I think I've ever shot.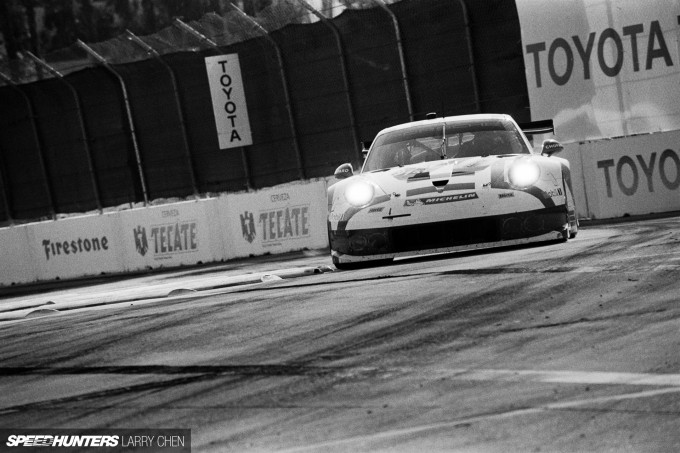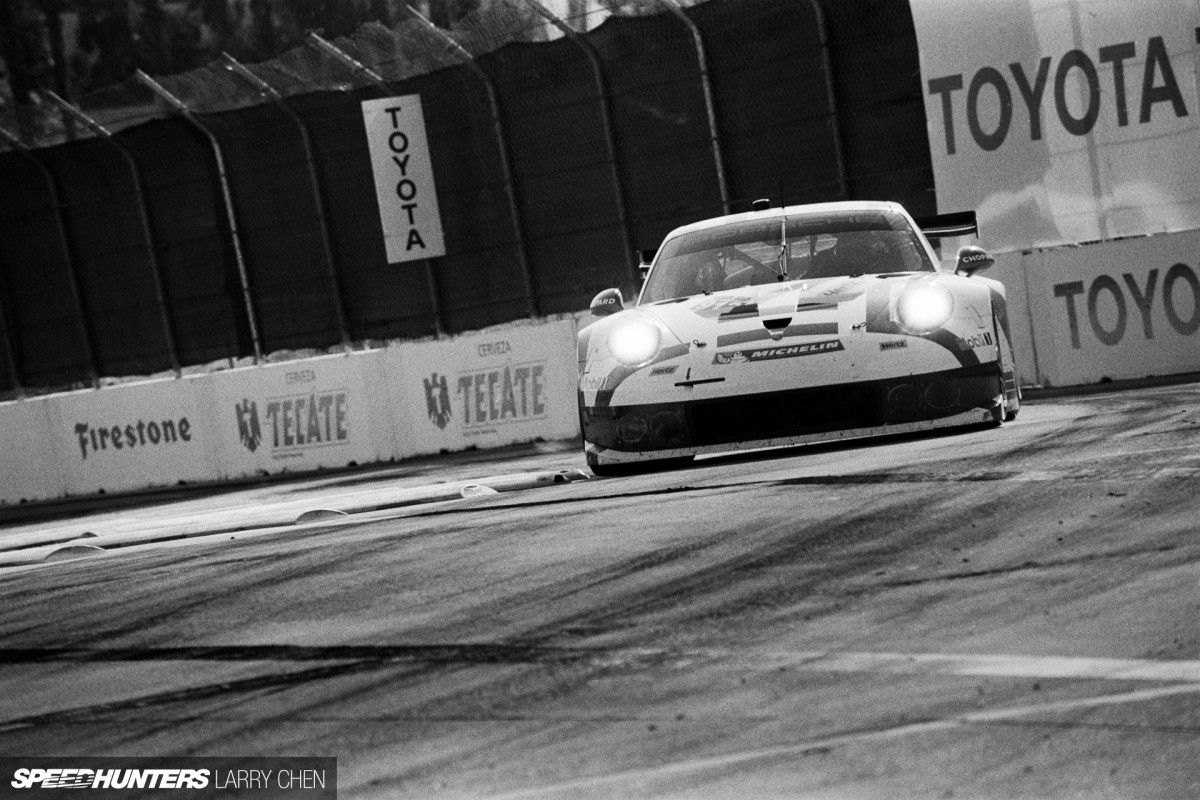 I suggest that any of you Speedhunters really into photography try film out. Buy a cheap camera at a thrift store or a yard sale and try shooting with color if you don't want to deal with developing black and white. A while back I made a comparison post that you might want to check out. But if you guys want to follow in my footsteps then you can check out this short little tutorial I also put together.
Don't be afraid to start shooting in film. It's never too late, and I guarantee that you'll become hooked.
Larry Chen
Instagram: larry_chen_foto
larry@speedhunters.com