Kato's world
I know what you are thinking. Another Liberty Walk story? Haven't we seen enough for a while? To be honest, I've thought the same thing at times. It's like when there's a band or song you like but then you start to hear the song every time you turn on the radio. You get tired of it pretty quickly. Overexposure can damage even the coolest, most interesting stuff.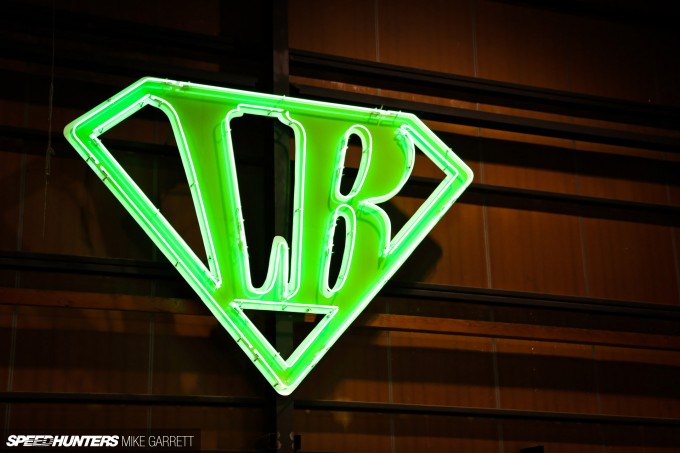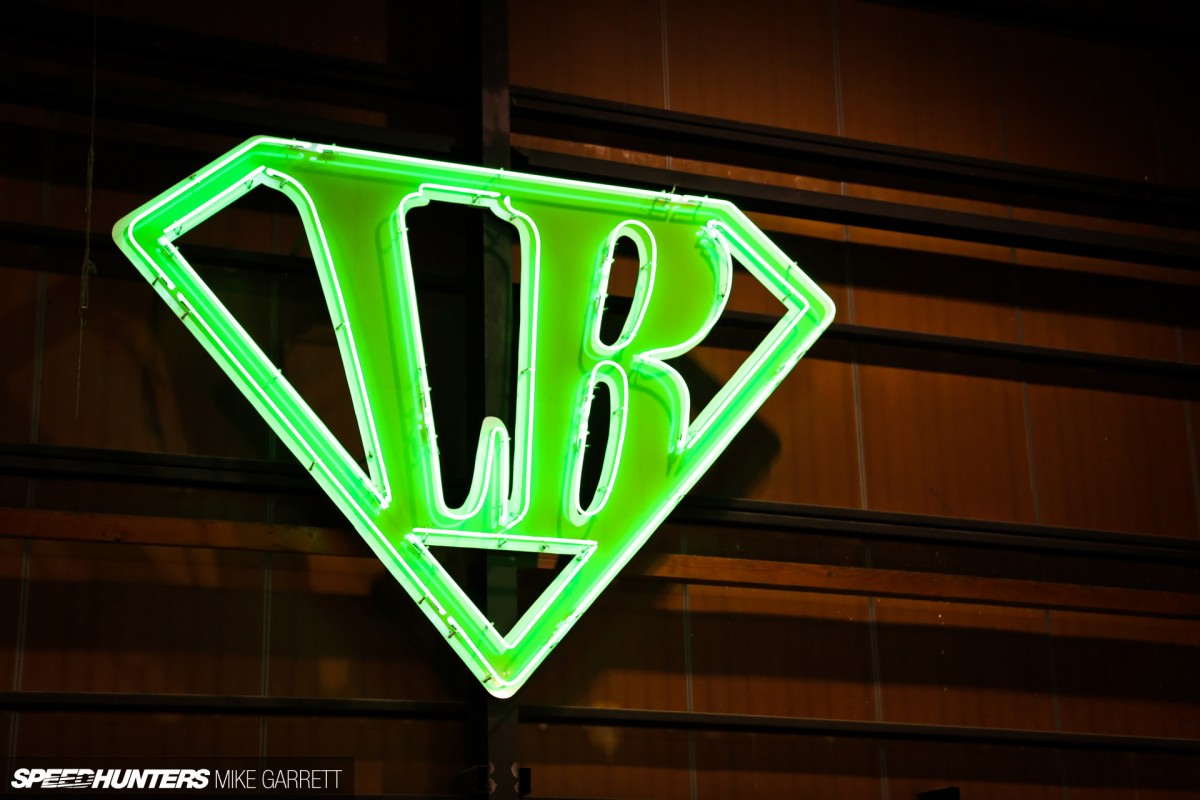 But if you stick with me for a moment, I think you'll find there's a lot more to Liberty Walk than just sticking crazy body kits on exotic cars and igniting internet flame wars. There is legit automotive passion here – no doubt about it.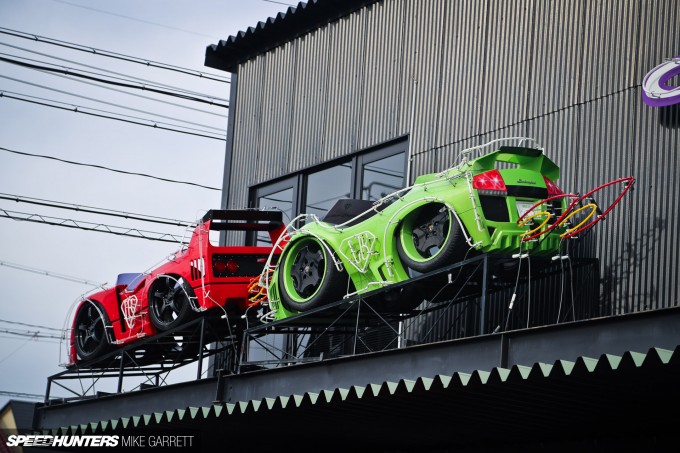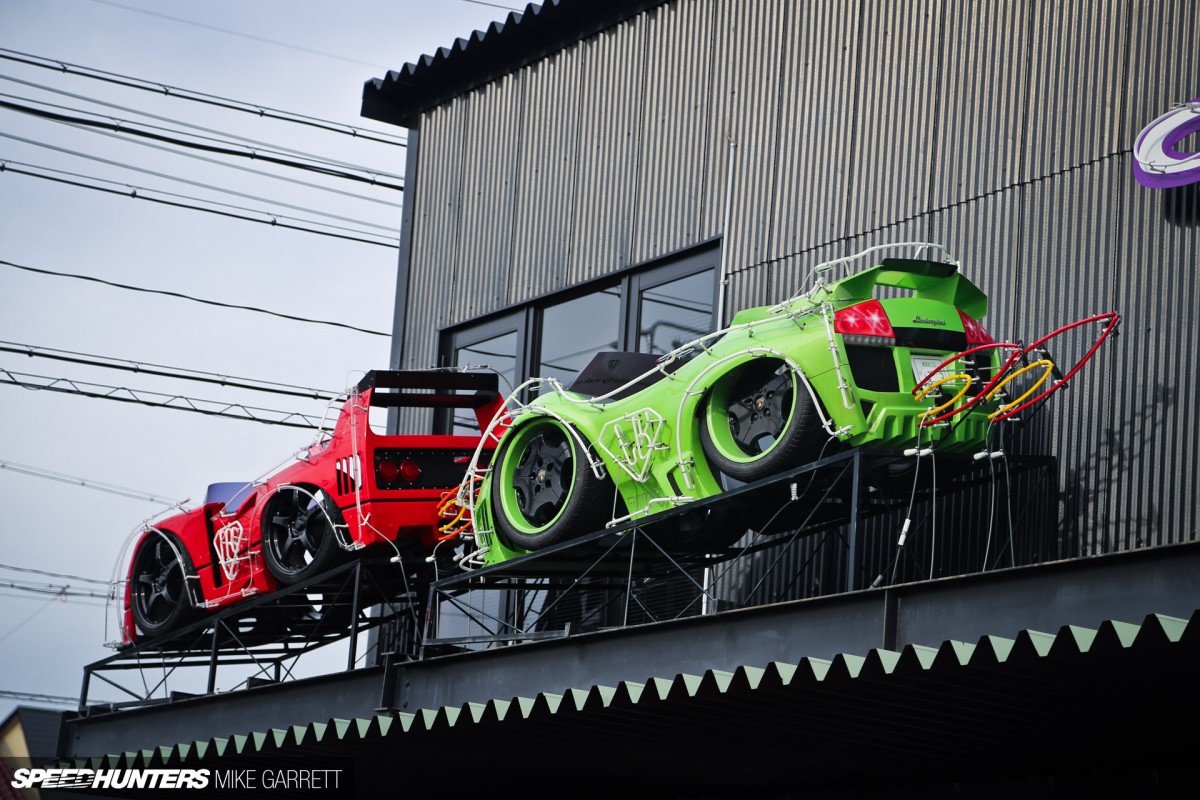 During my recent stay in Japan I had the opportunity to spend a few days – some of the busiest, most sleep-deprived days I've ever experienced – in Nagoya . The city is simply brimming with car culture and you can expect to see a lot more of central Japan's automotive treasure as I dig through all of my material from the trip.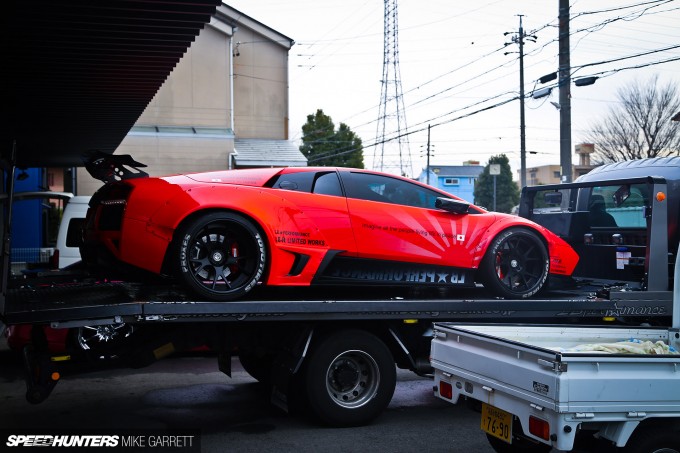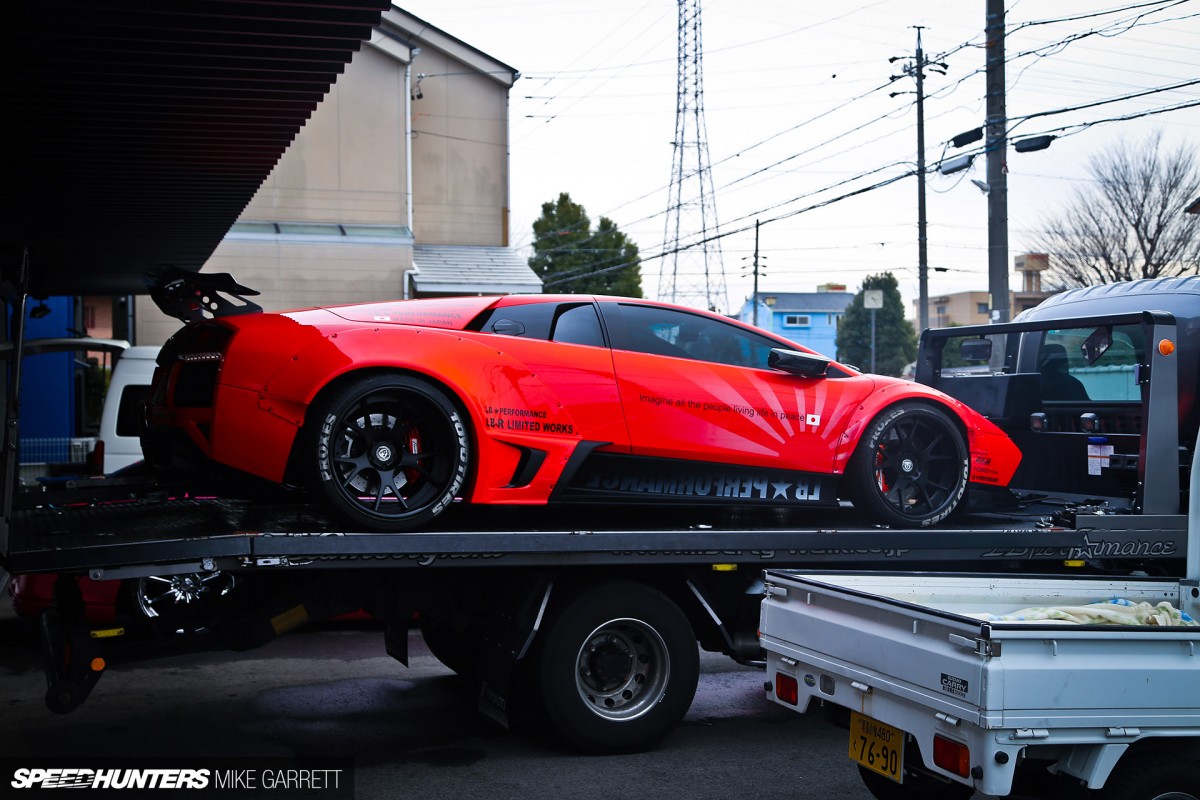 Liberty Walk is one of Nagoya's most well known names, so it was natural that I'd stop by to get a look at this world famous facility for myself. My personal interest was piqued, but at the same time I was wondering what sort of story I'd be able to generate from this visit. With so much coverage out there on Liberty Walk these days, what was left to be said? As it turns out, quite a lot…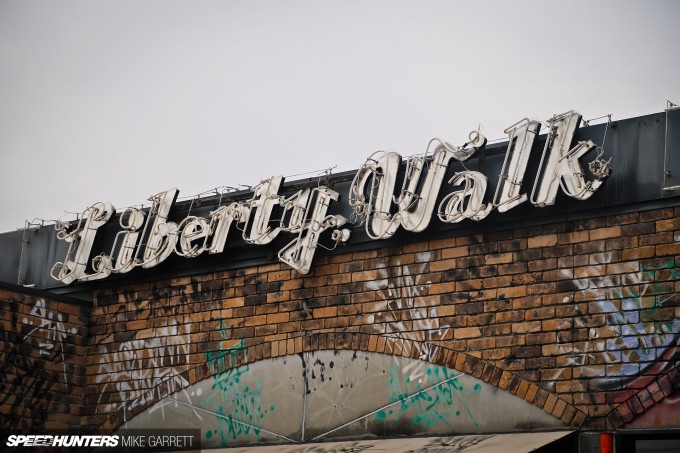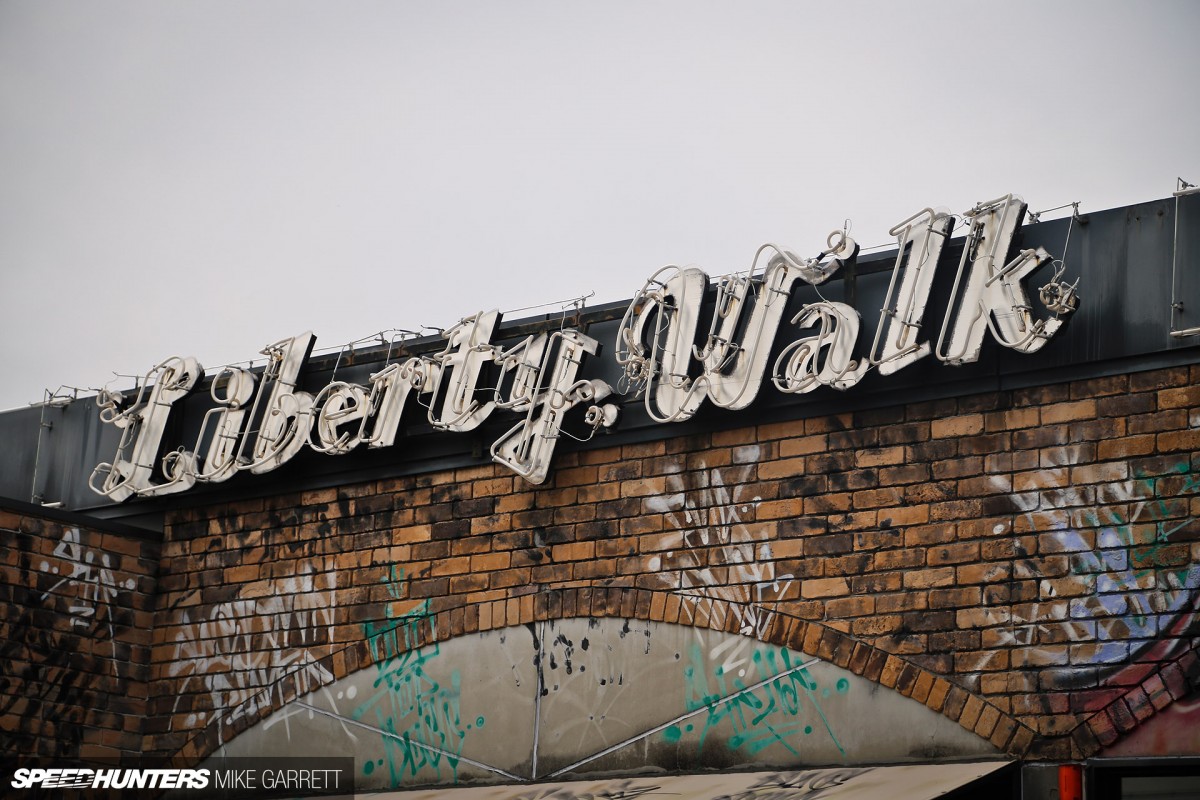 In fact, during my tour of Liberty Walk I was able to come home with so much interesting material that it's going to take me at least a couple stories to get through it all.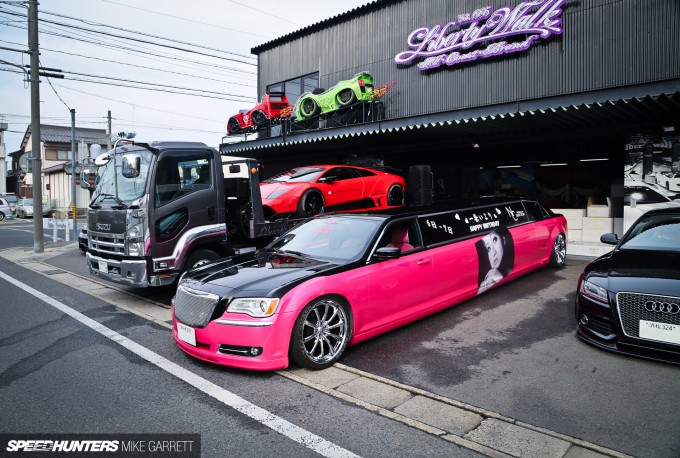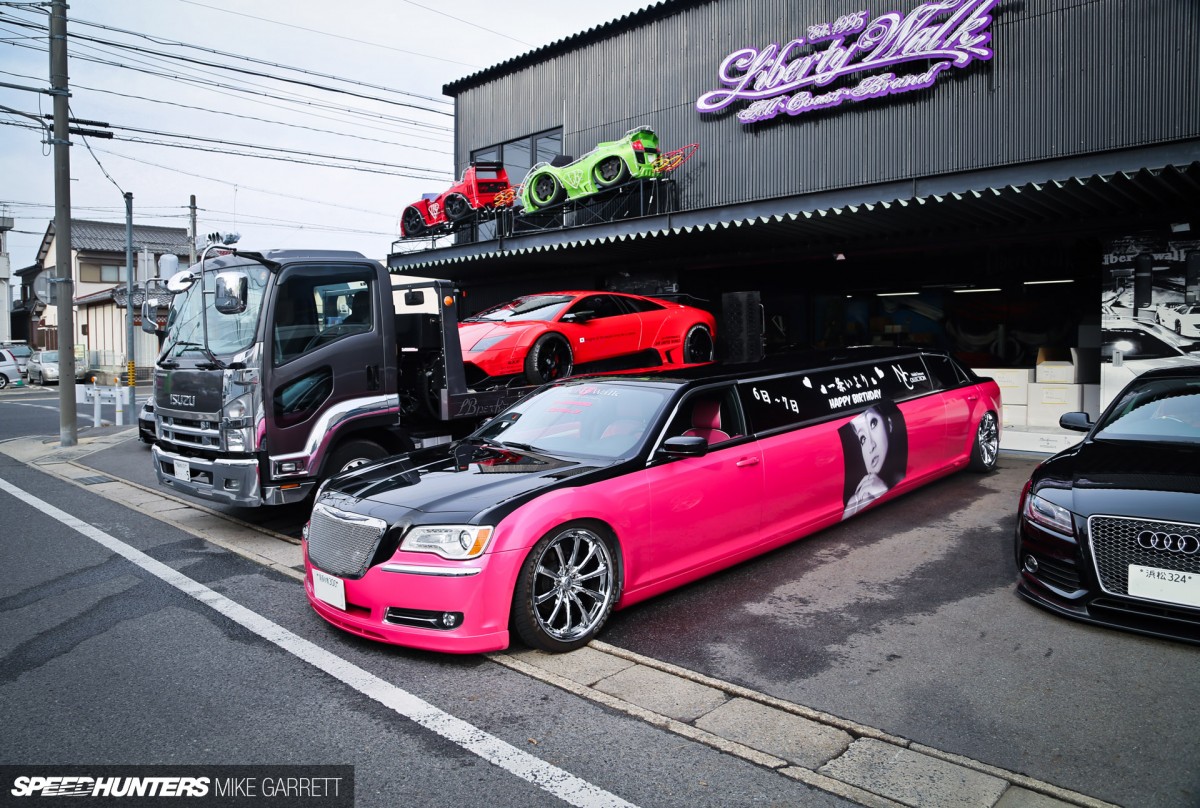 Let's begin at the main shop, showroom and car dealership, which is actually two separate buildings located across the street from each other in the eastern part of the city. Even if you're coming for the first time, you'll know you've reached your destination when you see the array of custom and exotic cars parked outside.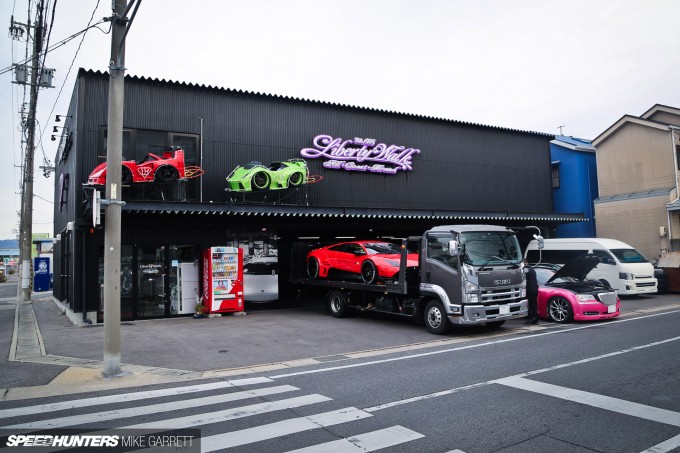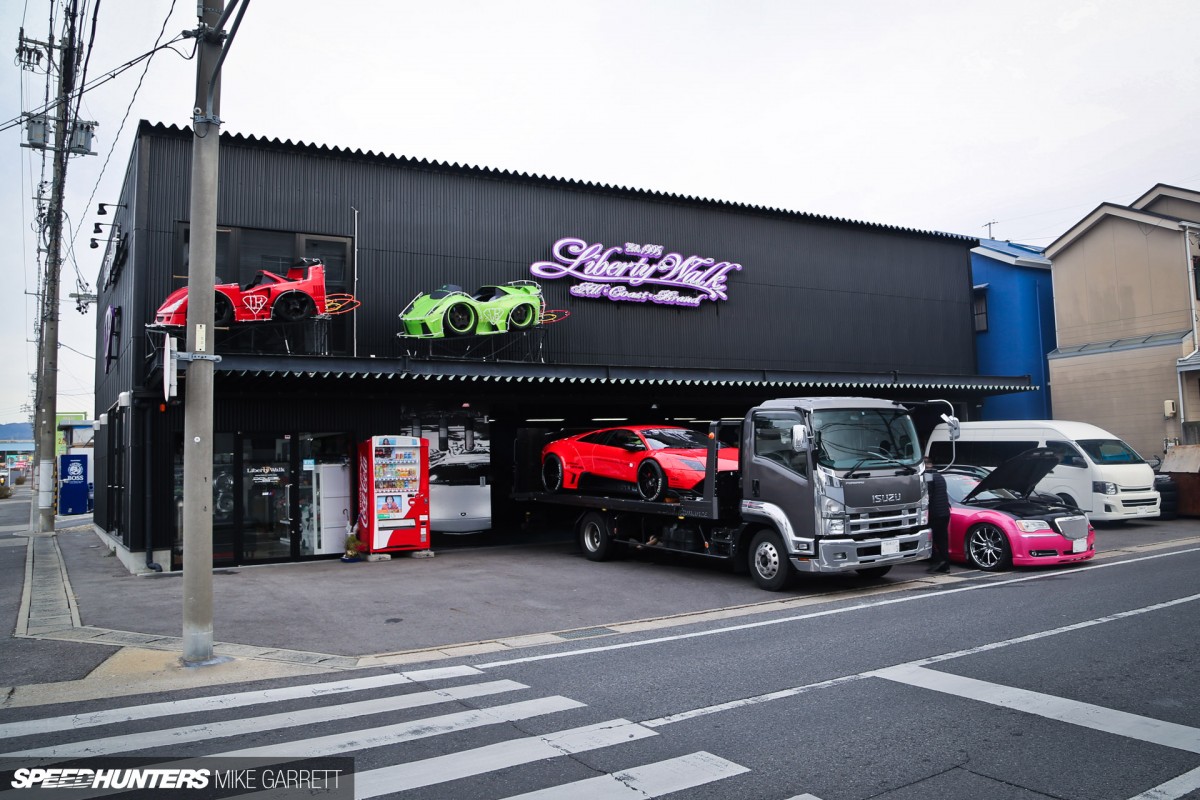 Actually, the shop has so much curb appeal that I'm told on more than one occasion traffic accidents have occurred when drivers get distracted by the flashy machinery. Oops.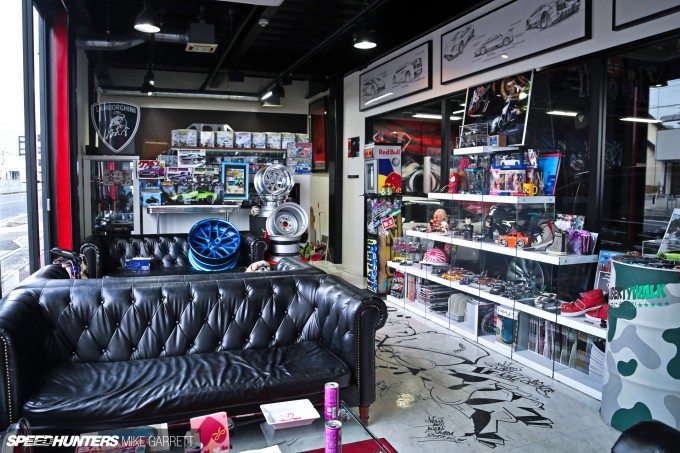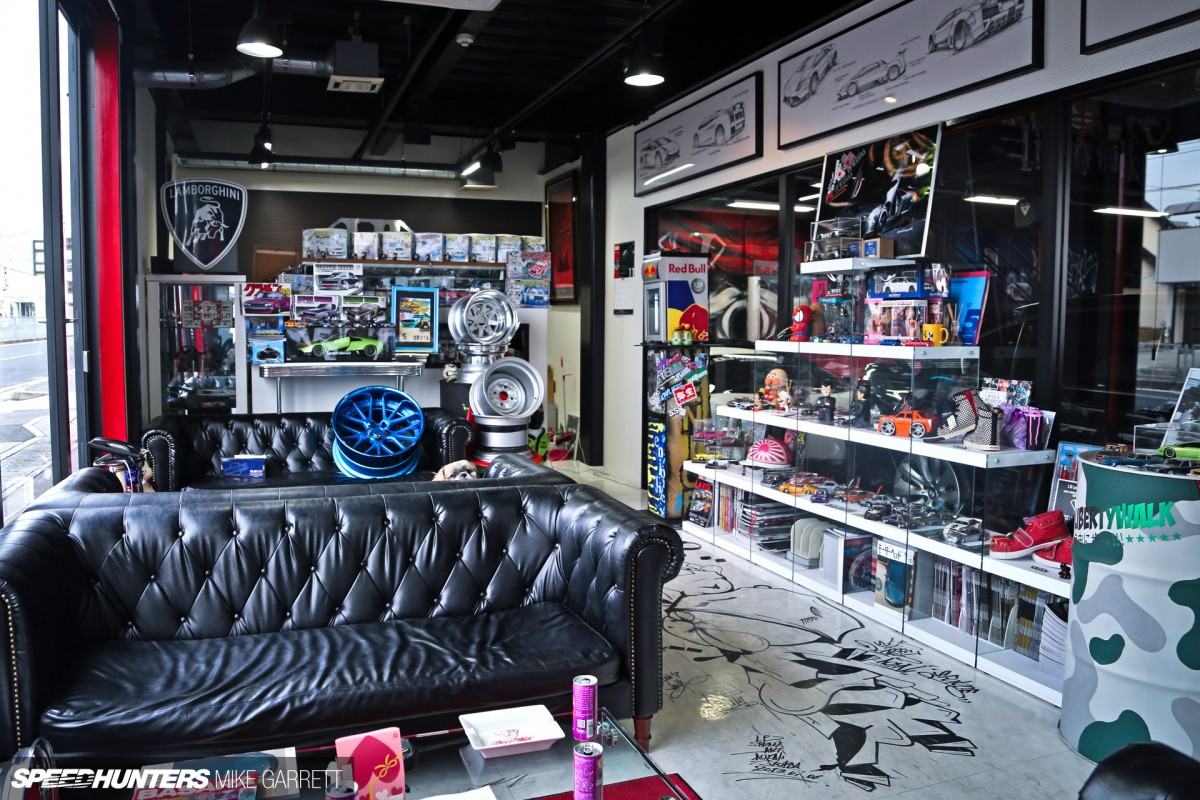 But you need not rear-end the car in front of you to get a glimpse of Liberty Walk. The staff are extremely friendly and happy to accommodate anyone who wants to take a look around.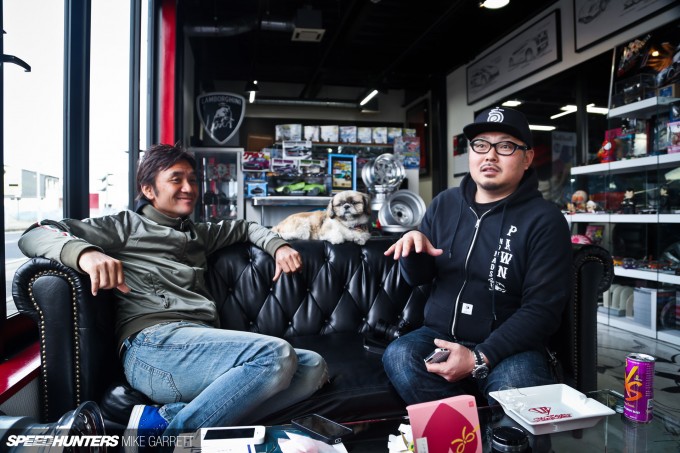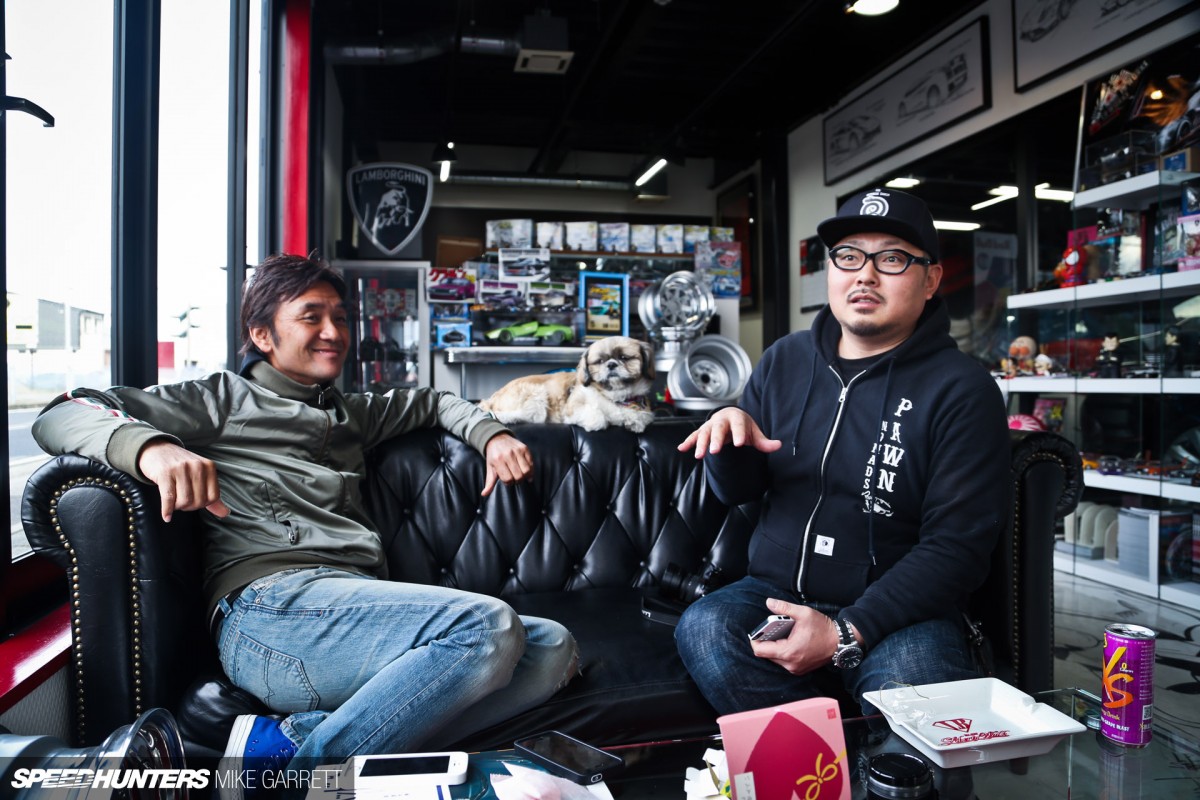 Upon arriving at the shop, we were greeted by none other than Liberty Walk boss, Mr. Wataru Kato. Here he is talking to my friend Toshi from the Local Hero Japan. While Toshi comes from the custom and lowrider world, he and Kato-san had no problem jumping right in and talking about cars and the local Nagoya scene.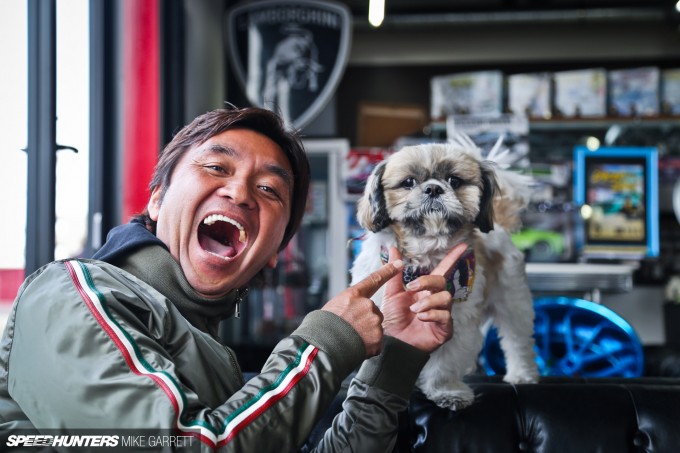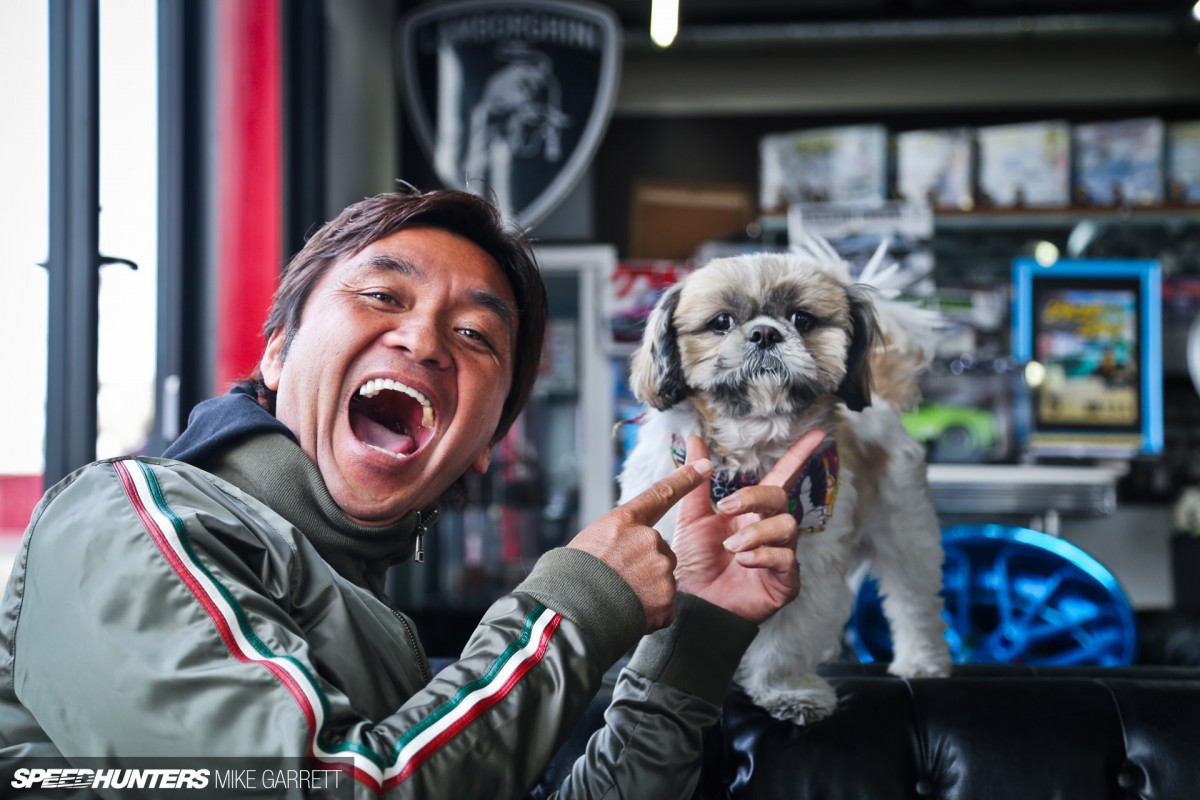 I'd met Kato-san briefly at a couple of events in the past, but this was my first chance to sit down and chat for a bit. The guy is every bit as eccentric as he seems in the media, and I've honestly never met anyone quite like him – especially in Japan. He's quick to fool around, and is always wants to tell you about his next ideas. He's got a mind that never stops thinking about cars, and that I can certainly relate to.
Customize everything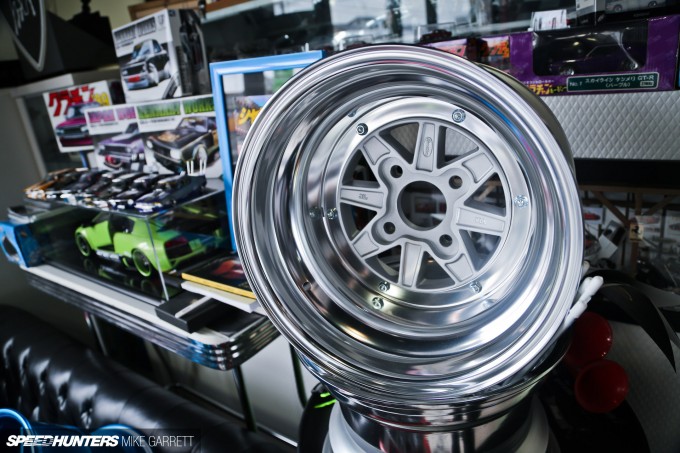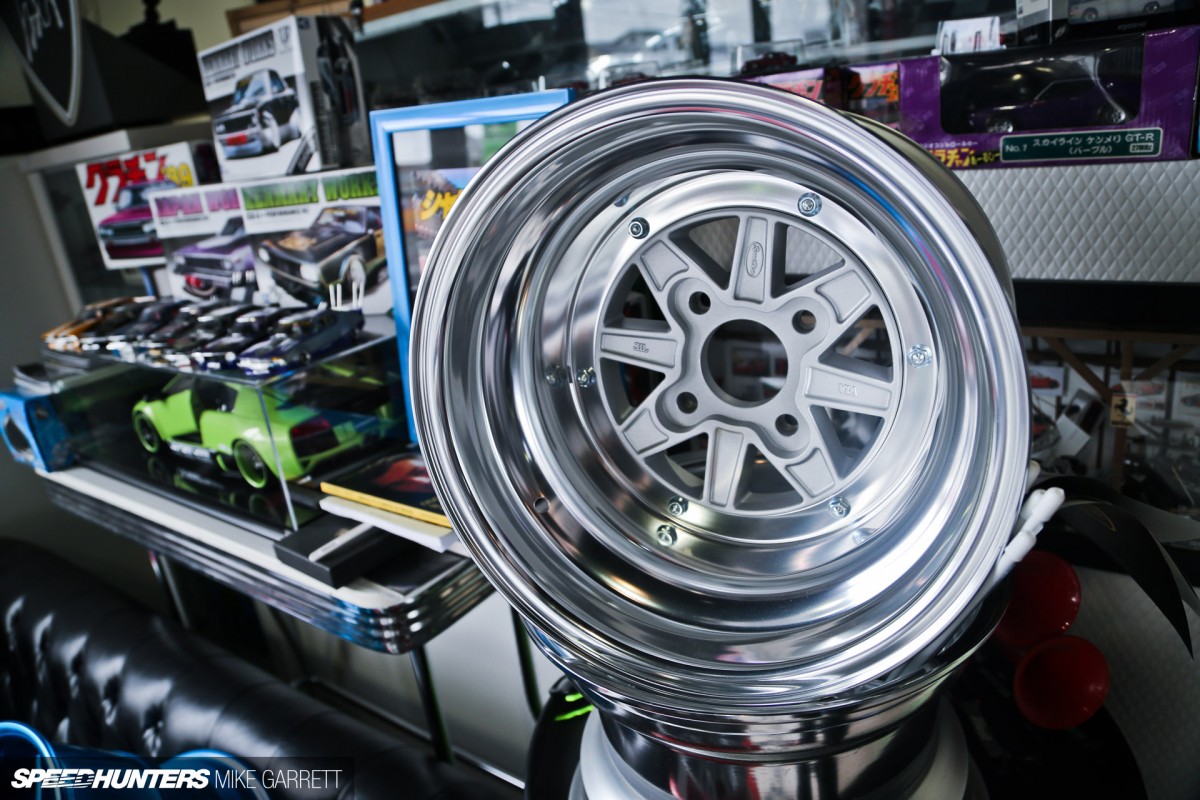 As you look the around the shop, you begin to truly understand just how passionate Kato-san is about cars. The lobby for example, is almost like a museum to Japanese custom car culture.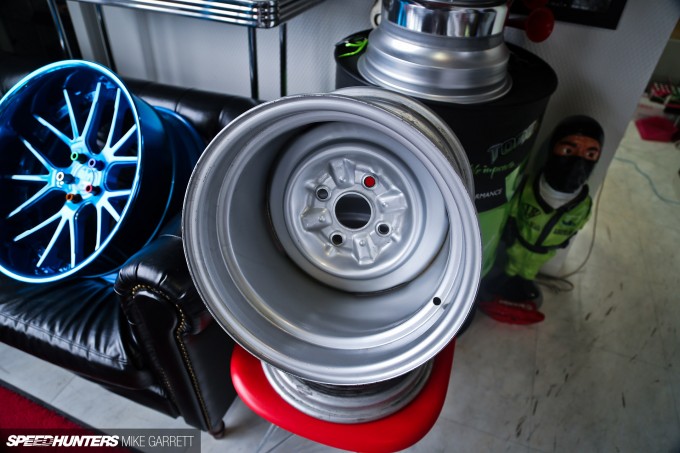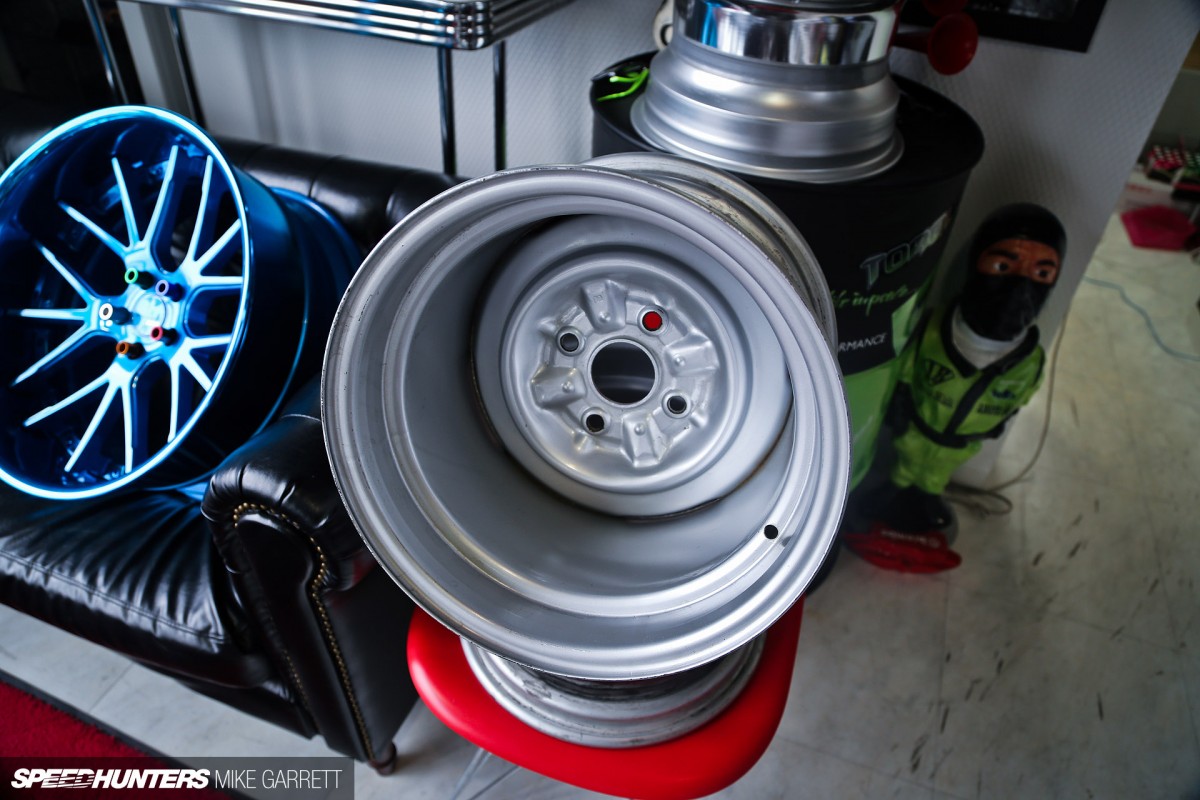 There are stacks of wheels – everything from gleaming SSRs to this set of widened tetsuchin steelies that came off one of Kato-san's many vintage nostalgic automobiles.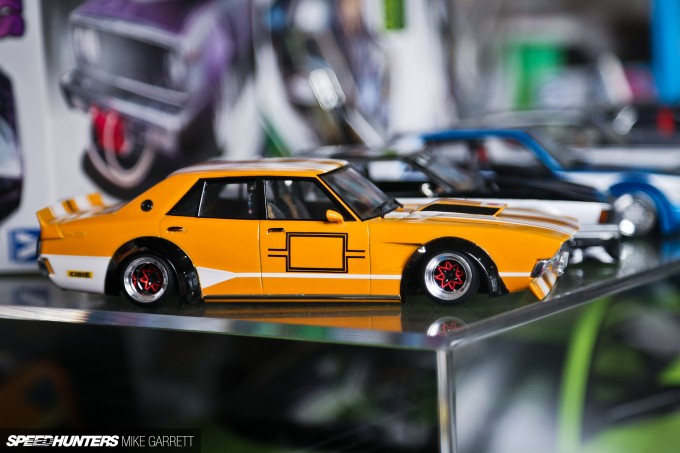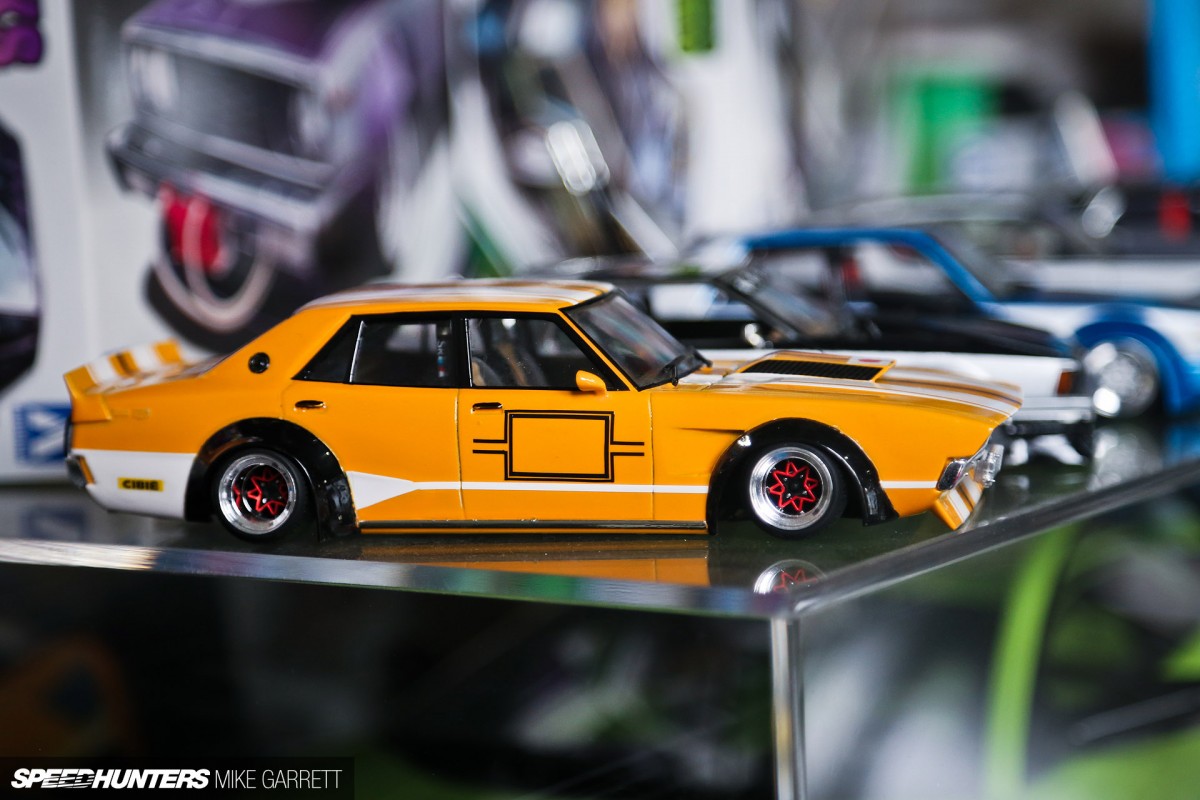 The shop is also home to one the most impressive collections of kyusha models and memorabilia I've ever seen. In fact, think I'm going to dedicate a separate post to share it with you – that's how good it is.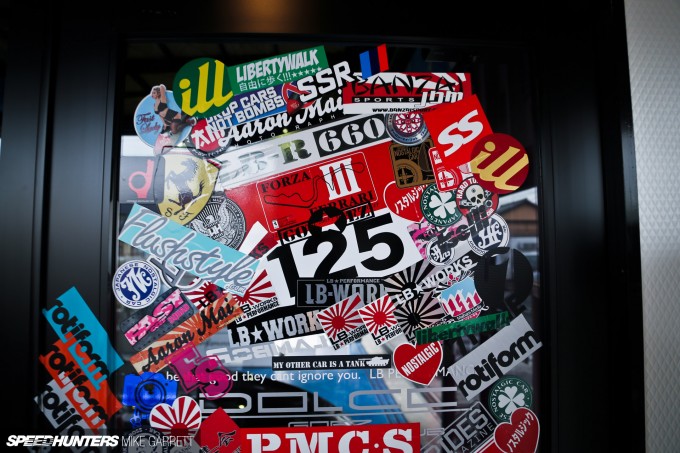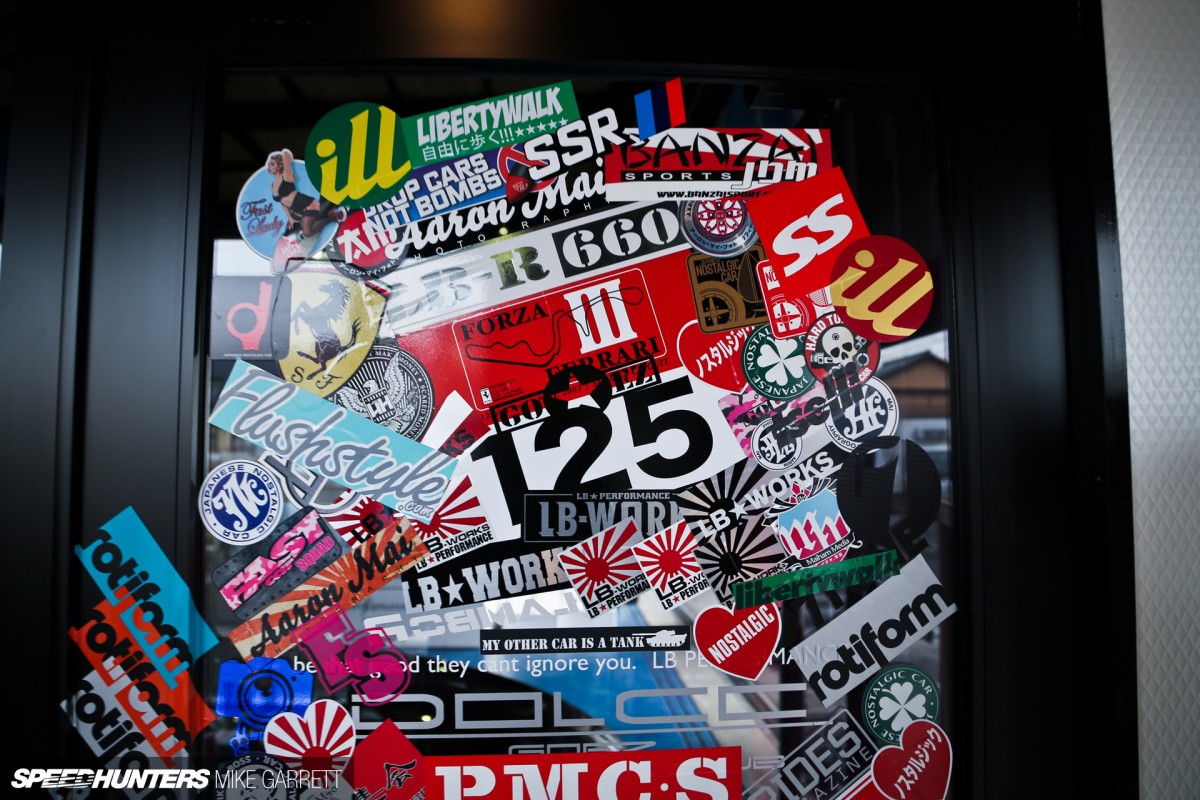 Elsewhere, doors around the shop are covered with stickers from friends and supporters of the Liberty Walk brand. How many familiar ones can you spot?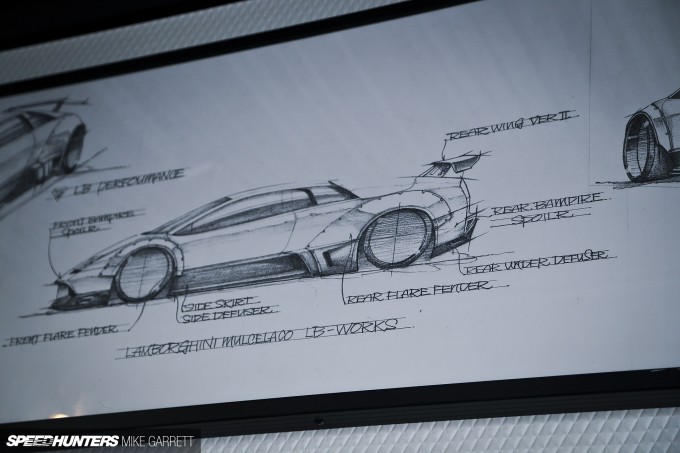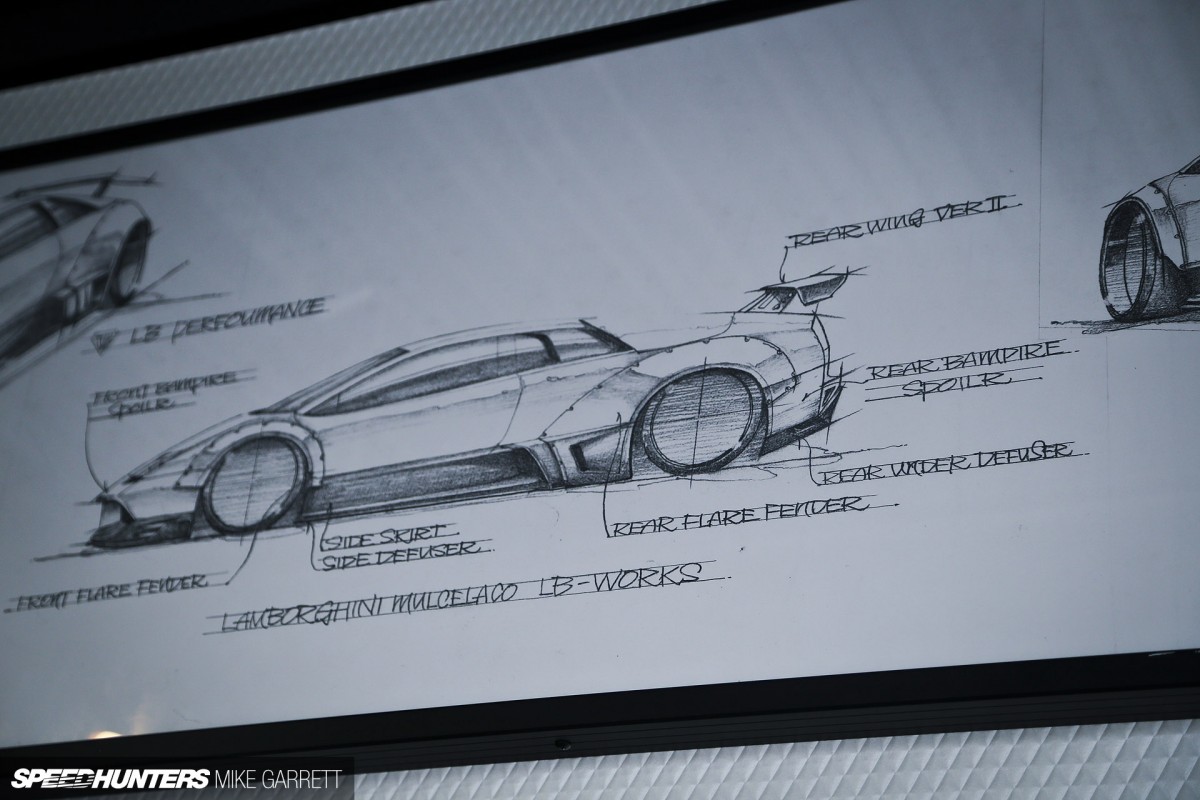 Hanging on the walls are original design drawings for the LB Works aero kit for the Lamborghini Murcielago – one of the cars that helped launch the Liberty Walk name into the automotive aftermarket stratosphere.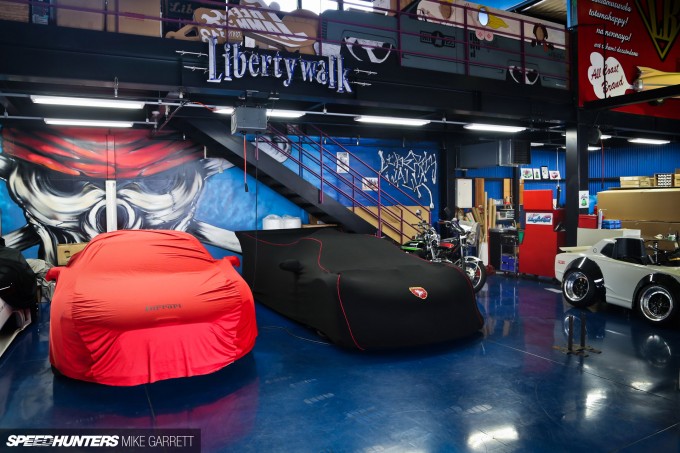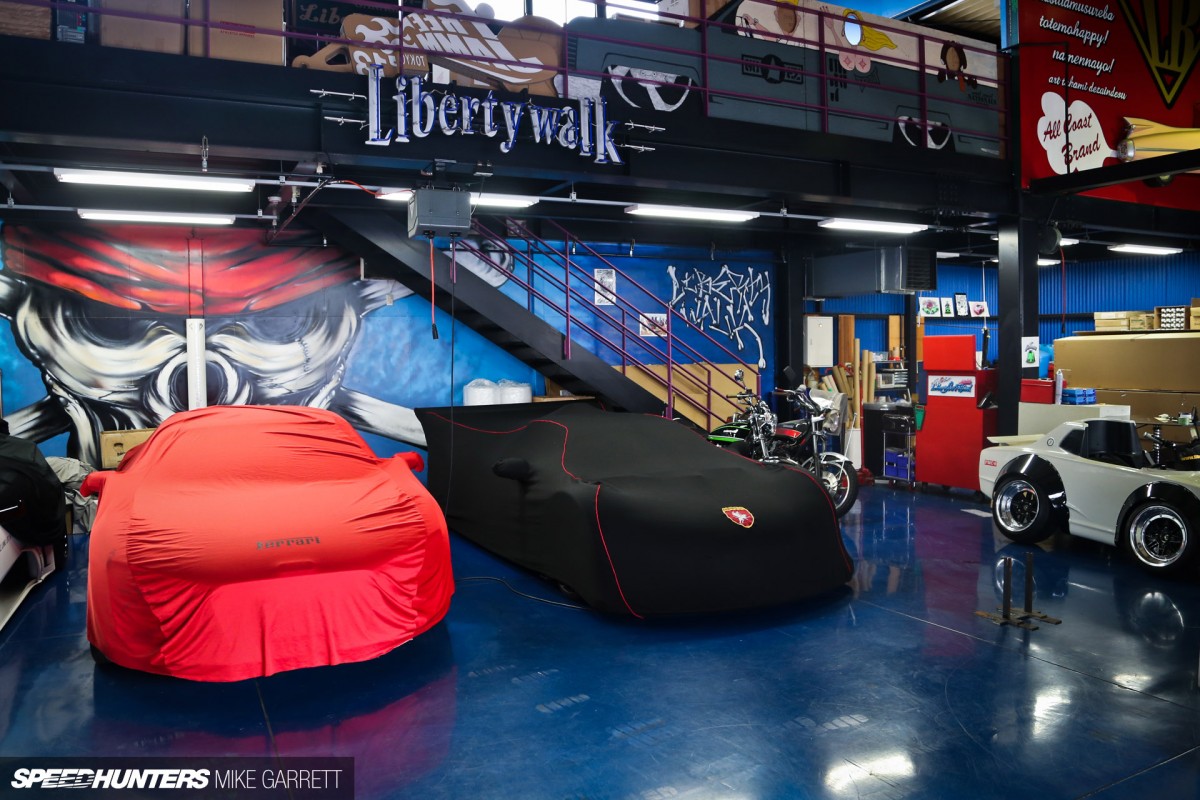 Step out the door into the immaculately clean showroom and you can see the exotic cars for yourself.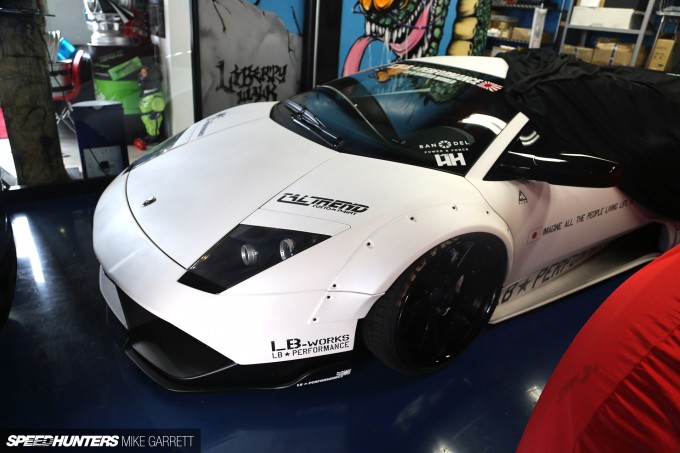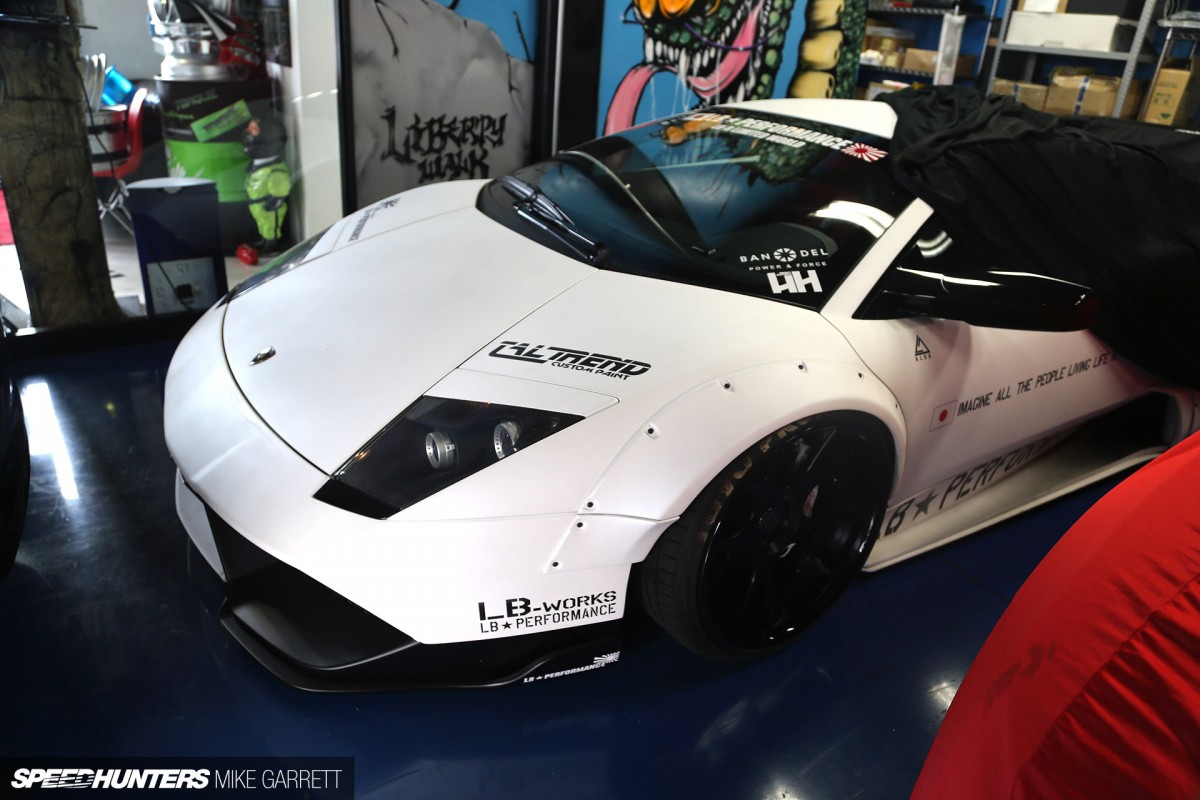 Even without an explanation, it's not difficult to see just how busy Liberty Walk is these days, both domestically and with international work.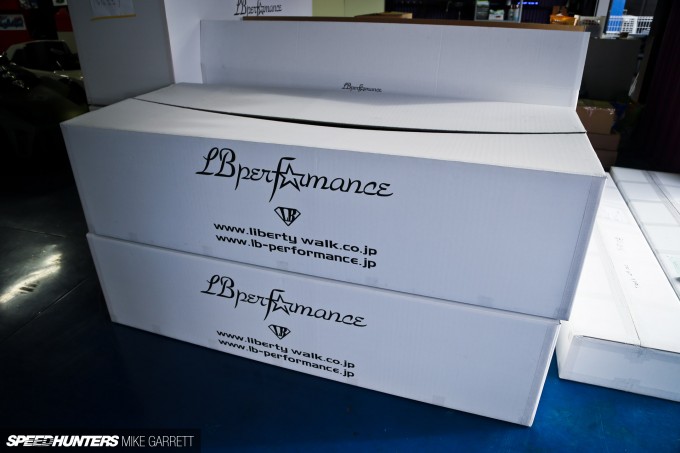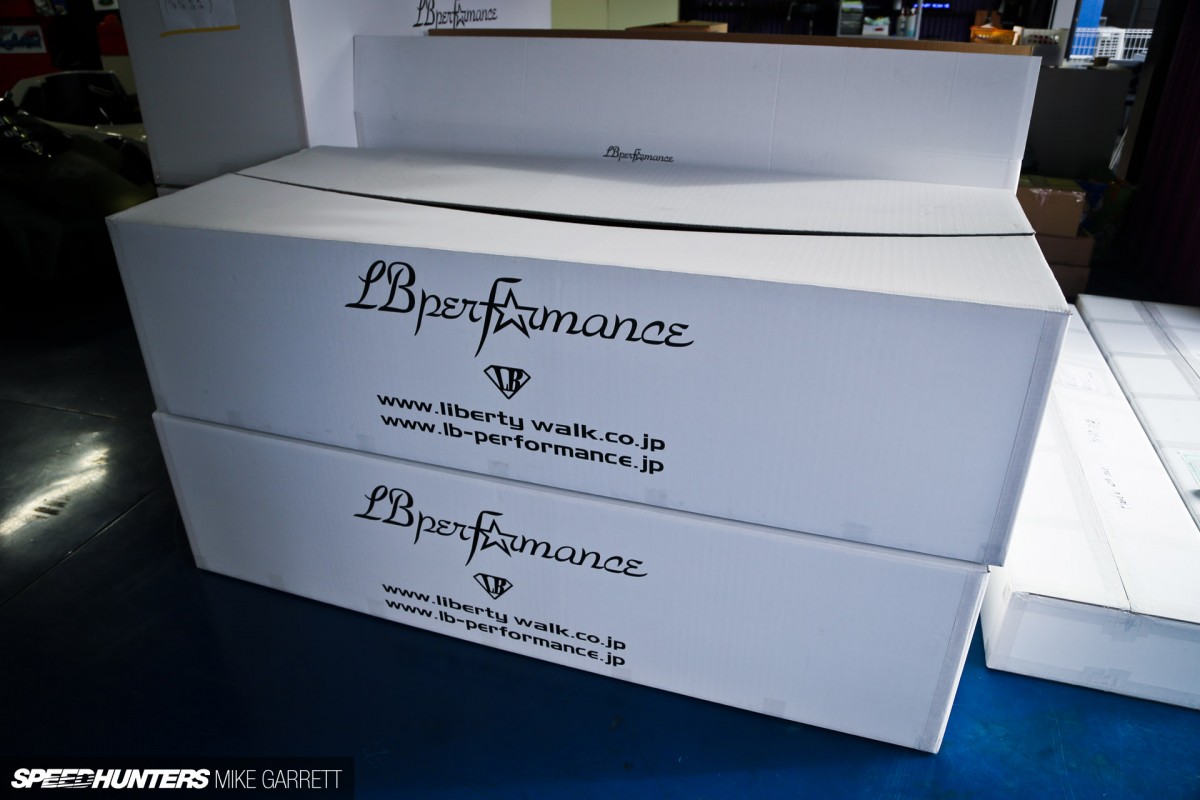 There were stacks of LB Performance aero parts ready to be shipped off to destinations around the world. Like many, I wondered how many people out there would actually be willing to cut up their pricey exotics to get that signature LB look – but it appears there is no shortage of willing customers.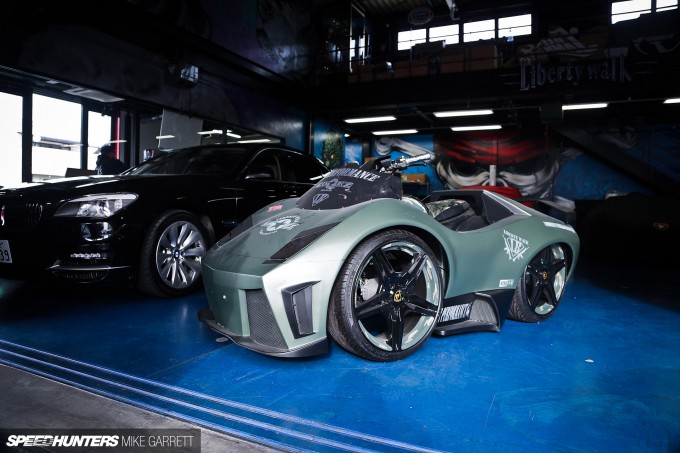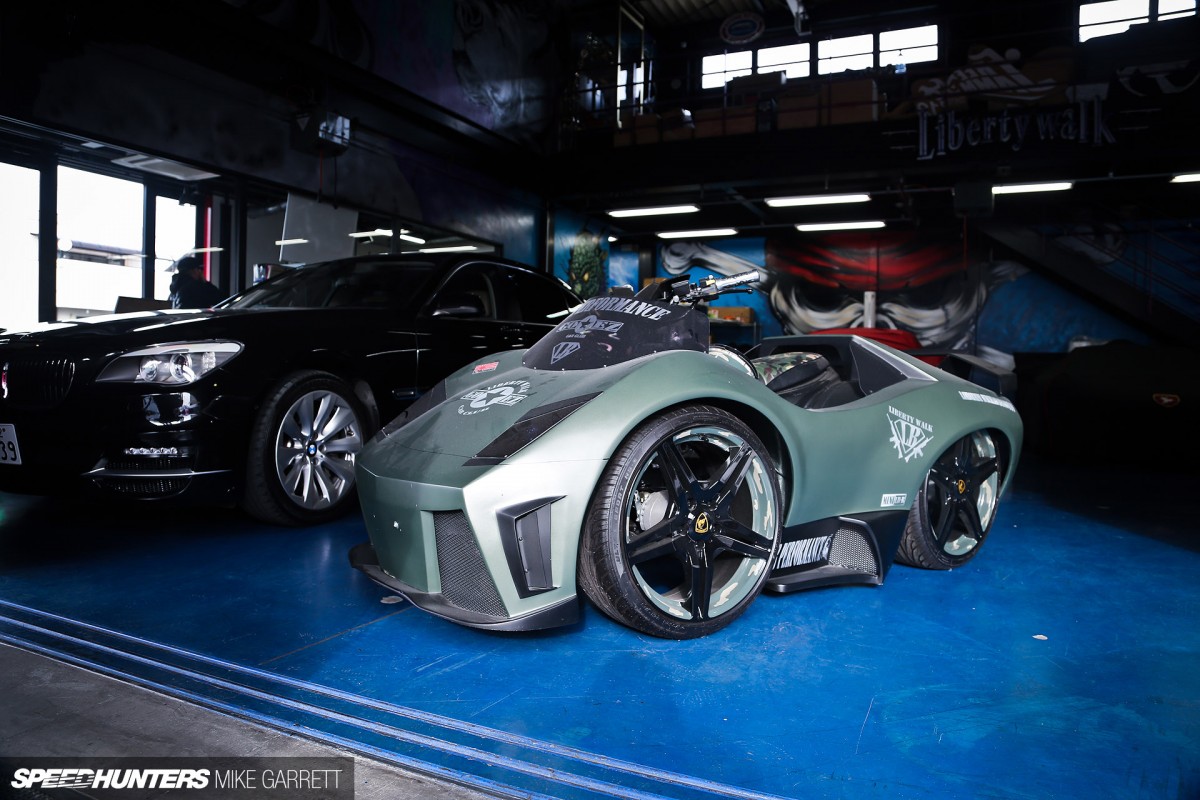 What's even better than exotic cars and Japanese classics? How about all-terrain vehicles made to look like them?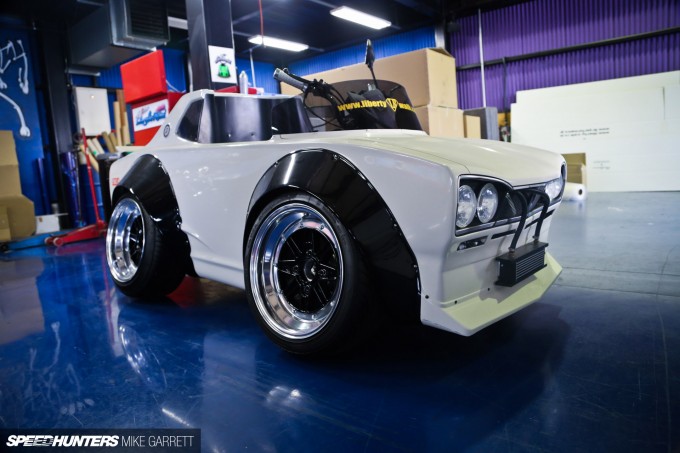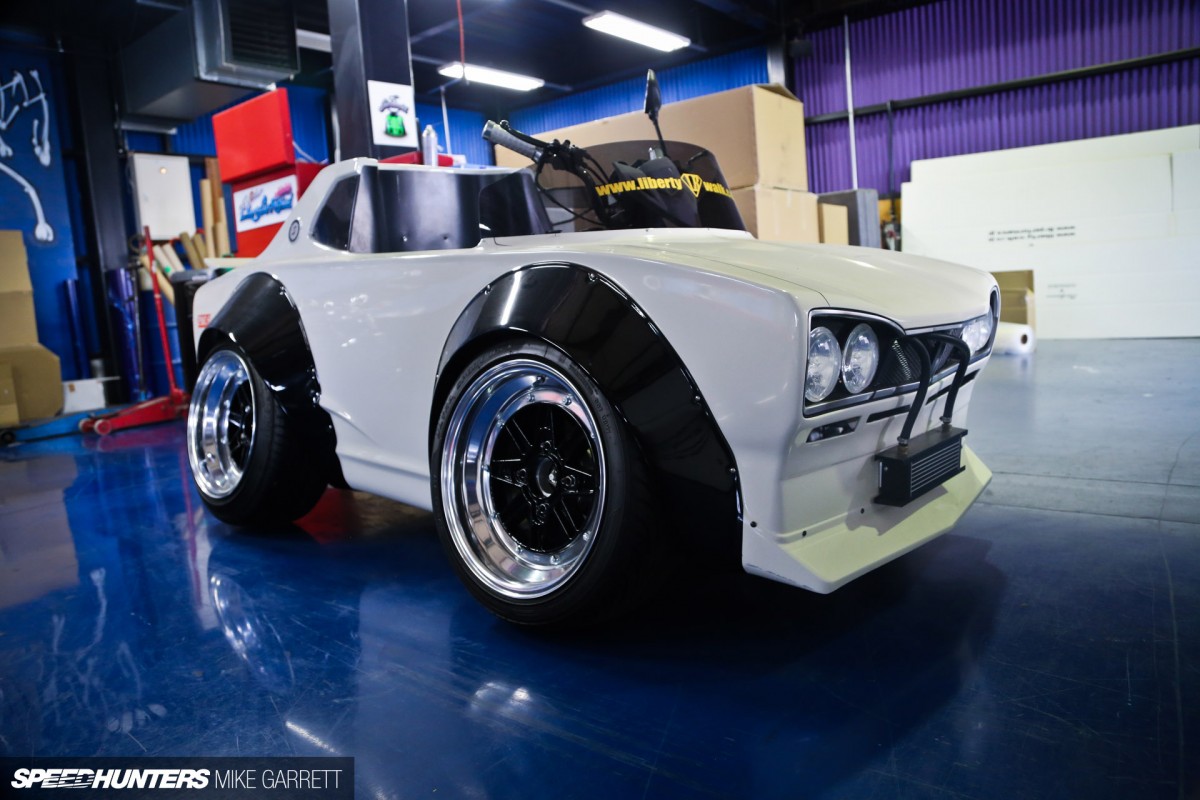 Among the collection of custom-bodied ATVs at Liberty Walk is the downright bitchin' mini hakosuka Skyline. Check the SSR Mk.IIIs, external oil cooler and all the other little details.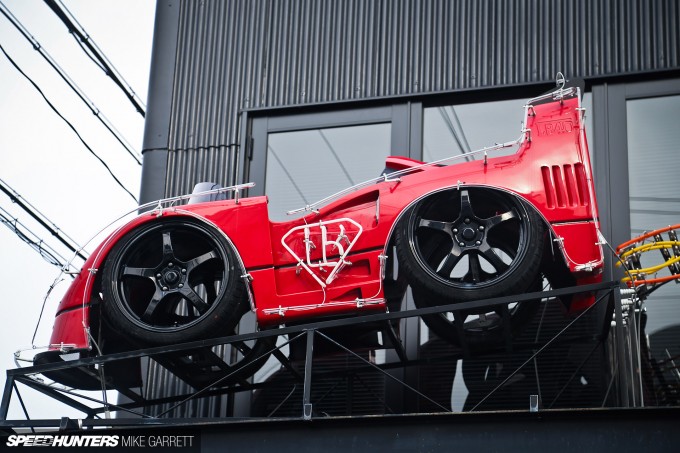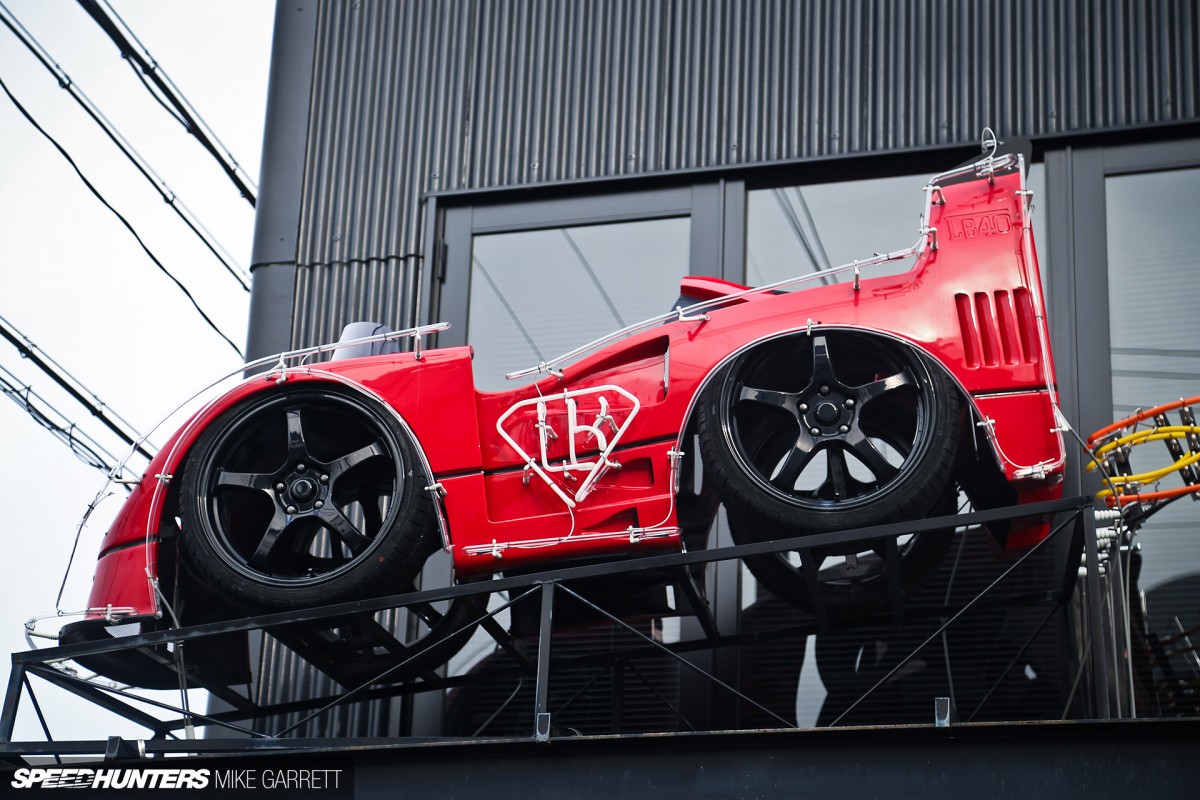 They even have a couple of these things affixed to the building, which I'm sure have helped contribute to the aforementioned fender benders outside the shop.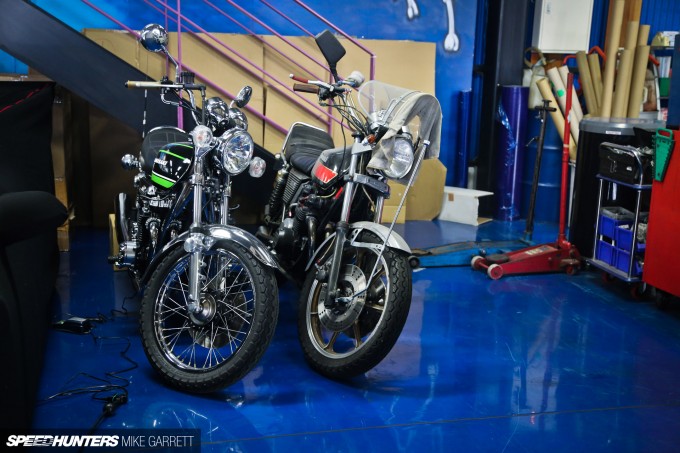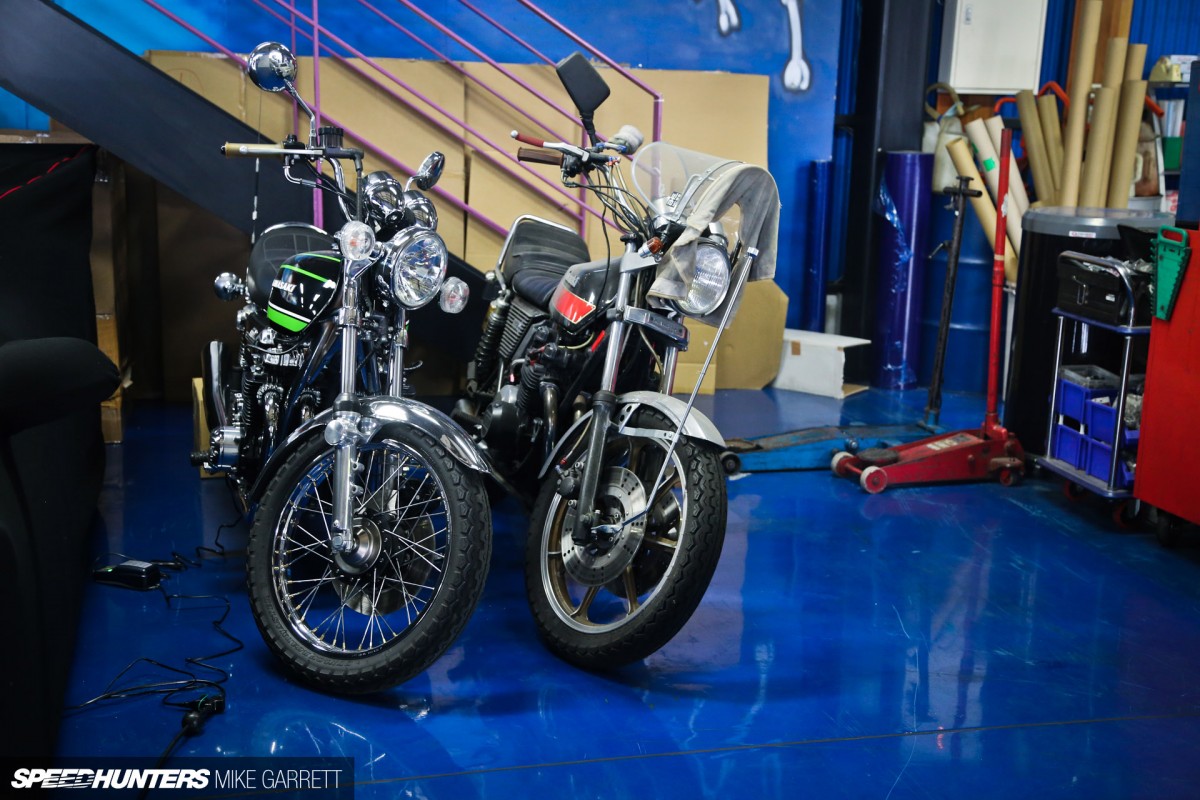 Let's not forget that Kato-san is also a big fan of vintage Japanese motorcycles, and there are plenty of those parked up around the shop as well.
Hummers to kei cars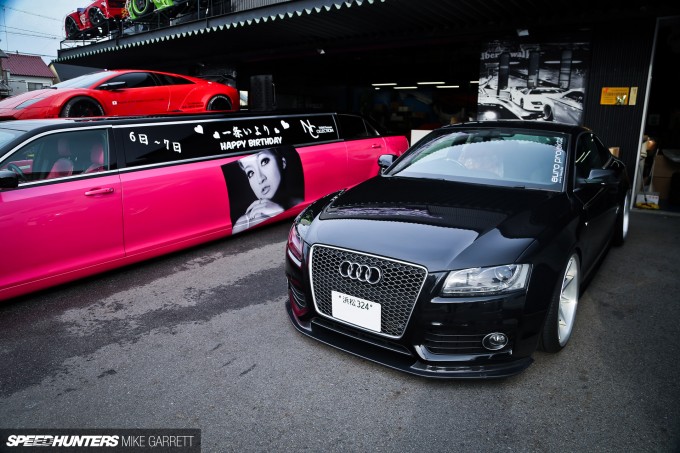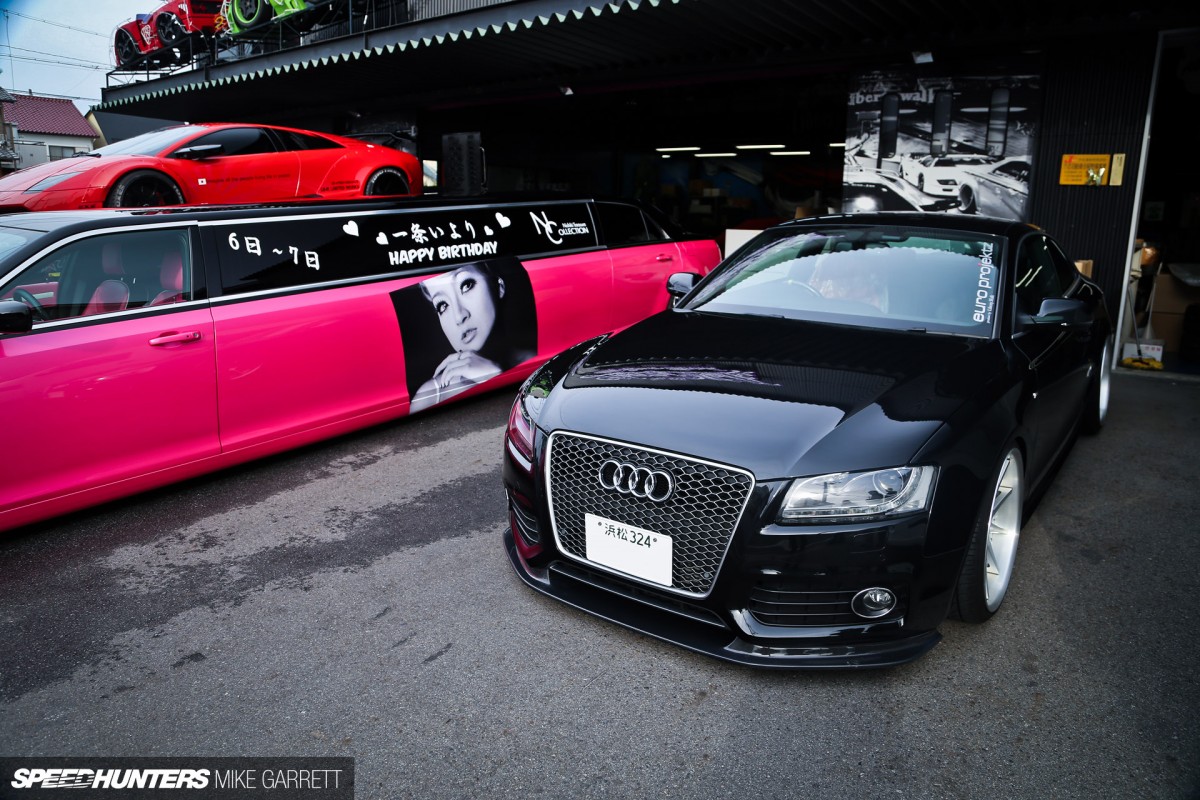 Stepping outside you are greeted with even more custom machinery, which on this day included a very tastefully modified Audi coupe.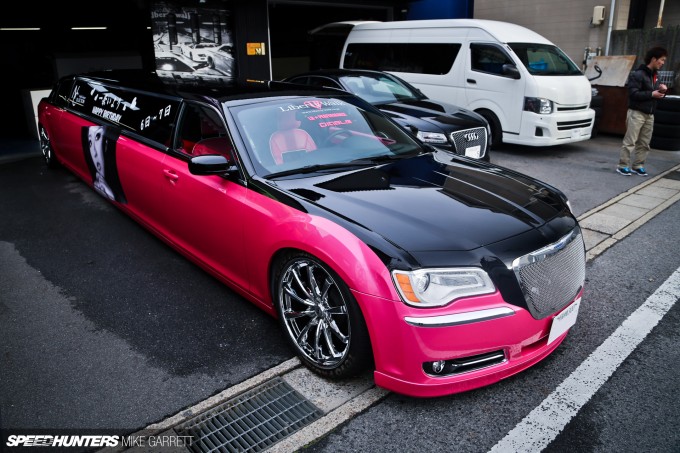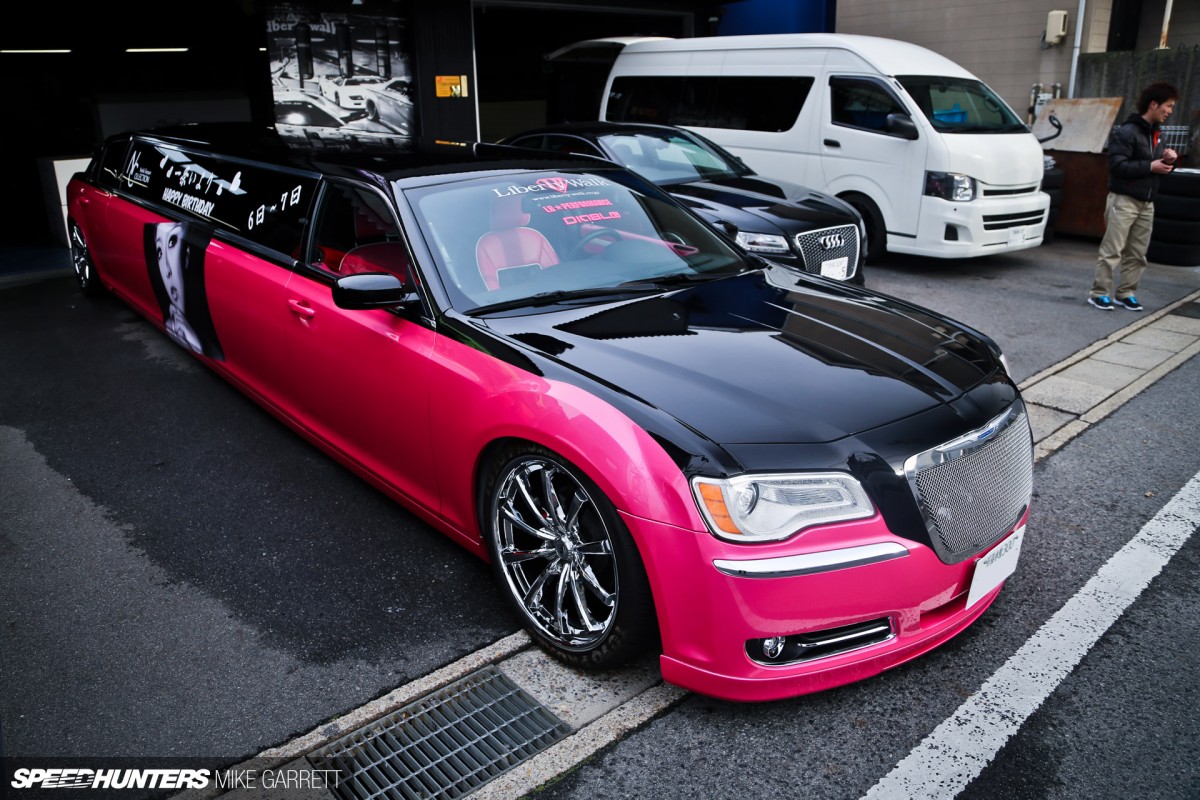 Or how about this stretched Chrysler 300C limo? Anything but subtle.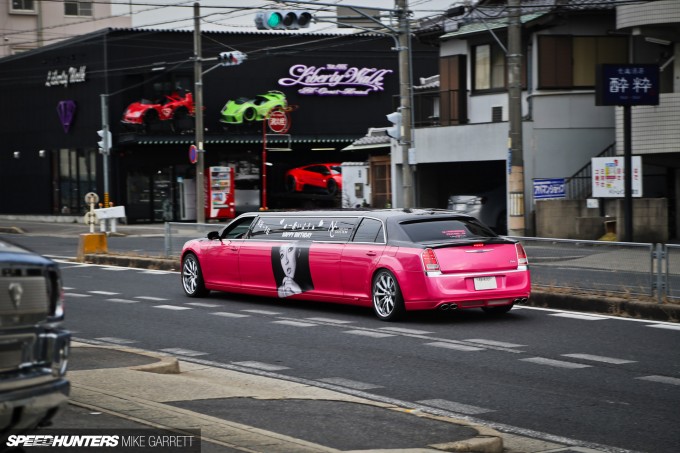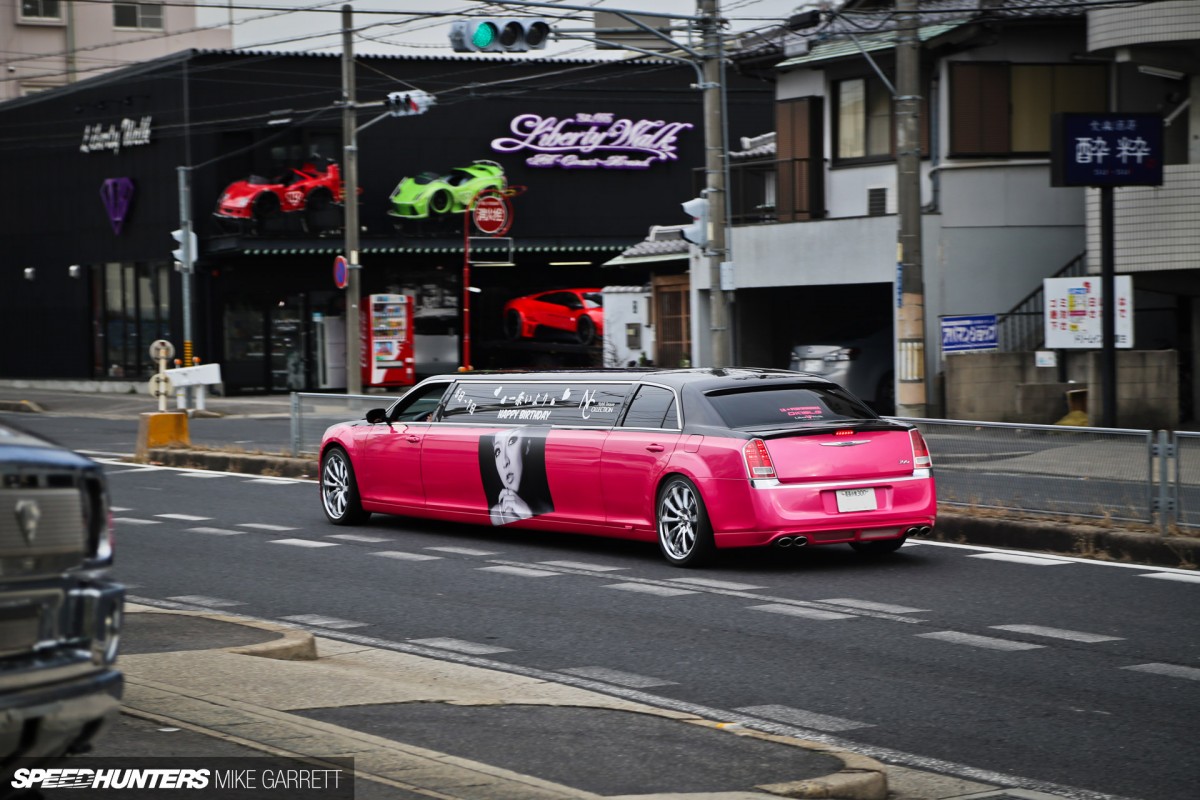 The pink limos are actually used to help promote some of Nagoya's kyabakura hostess clubs, and in the evenings they can be seen on the streets of the city's popular Sakae district.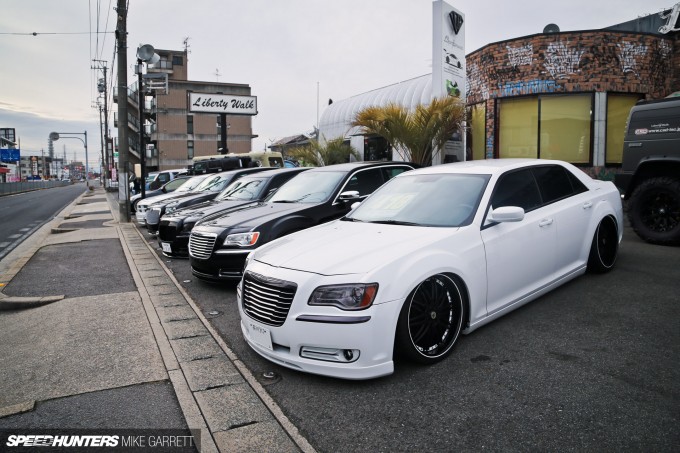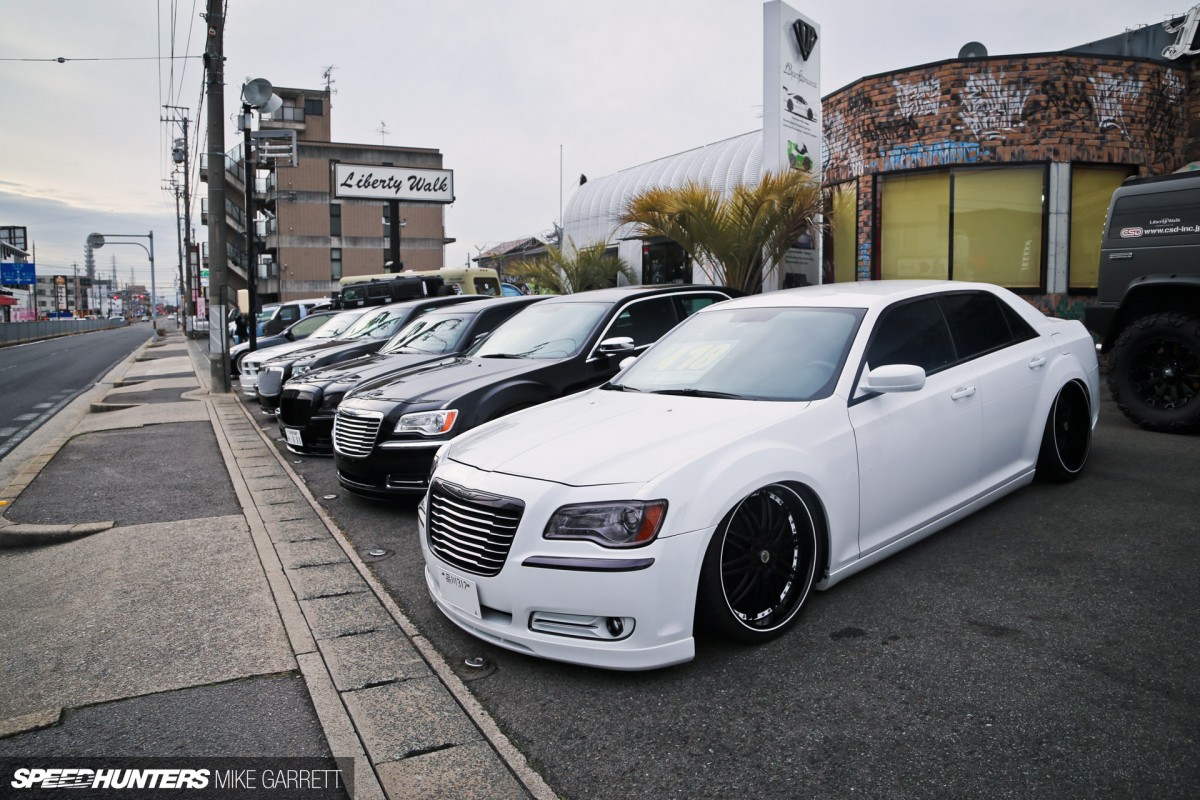 Heading across the street you'll find Liberty Walk's car dealership, which includes an extensive inventory of Chrysler 300Cs and Dodge Chargers – all dumped down on big, wide wheels.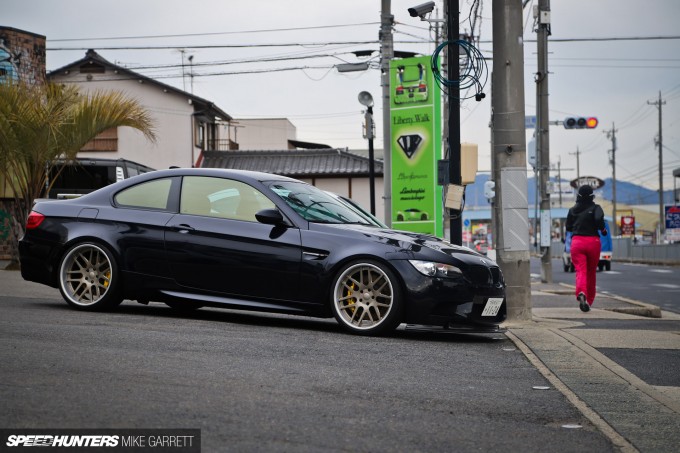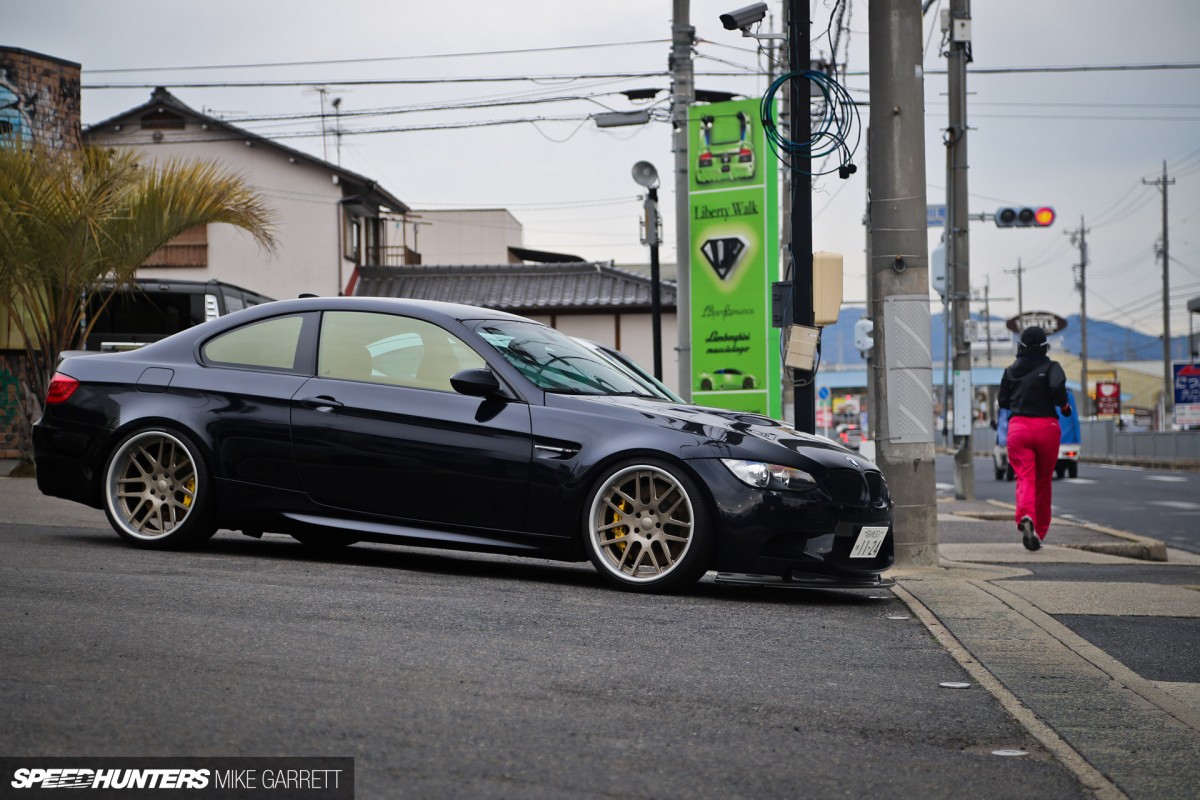 Along with the line of American sedans, the group also included this tasty-looking E92 BMW M3. No genre goes unloved here.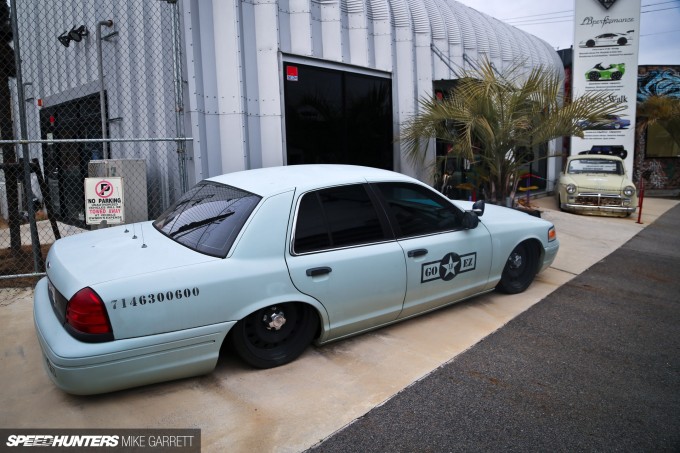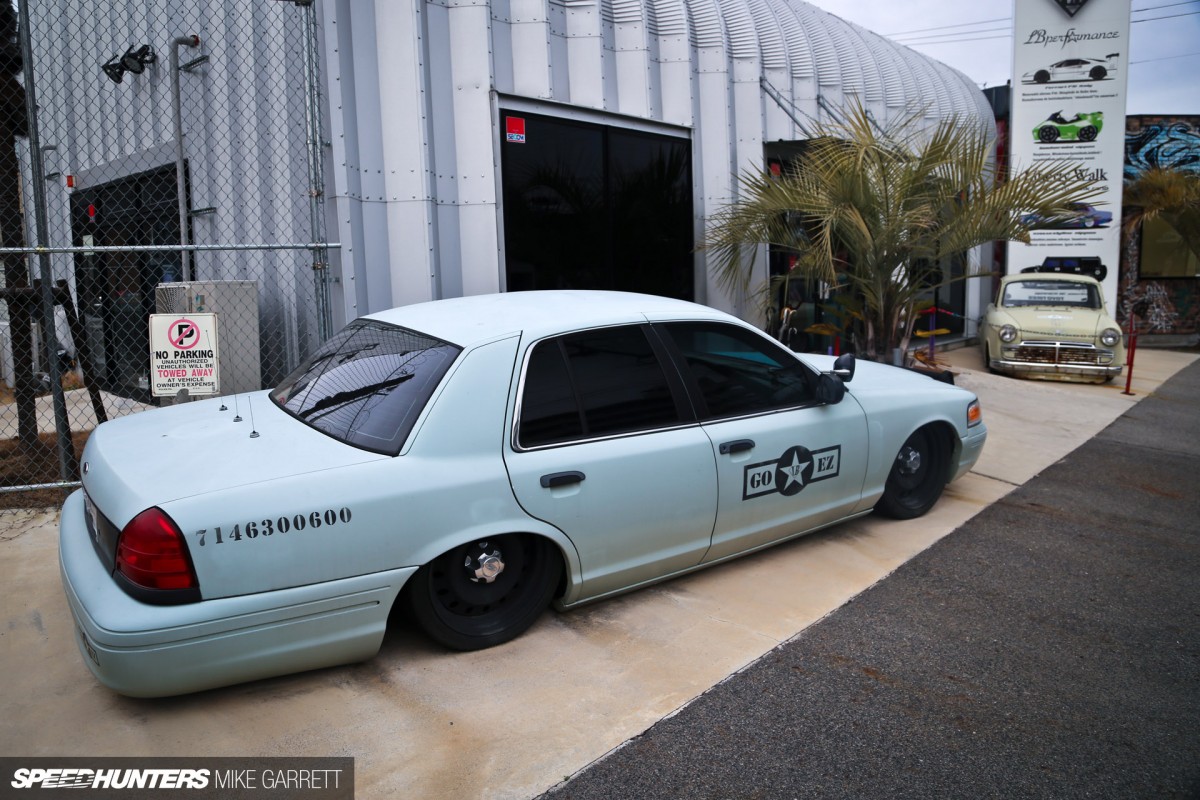 On this side I also found a few really cool projects from GO EZ Customs, a SoCal-based custom shop that has done a lot of work with Liberty Walk.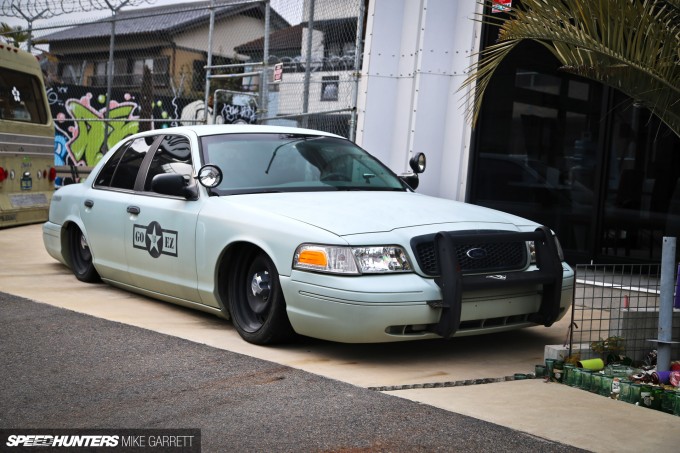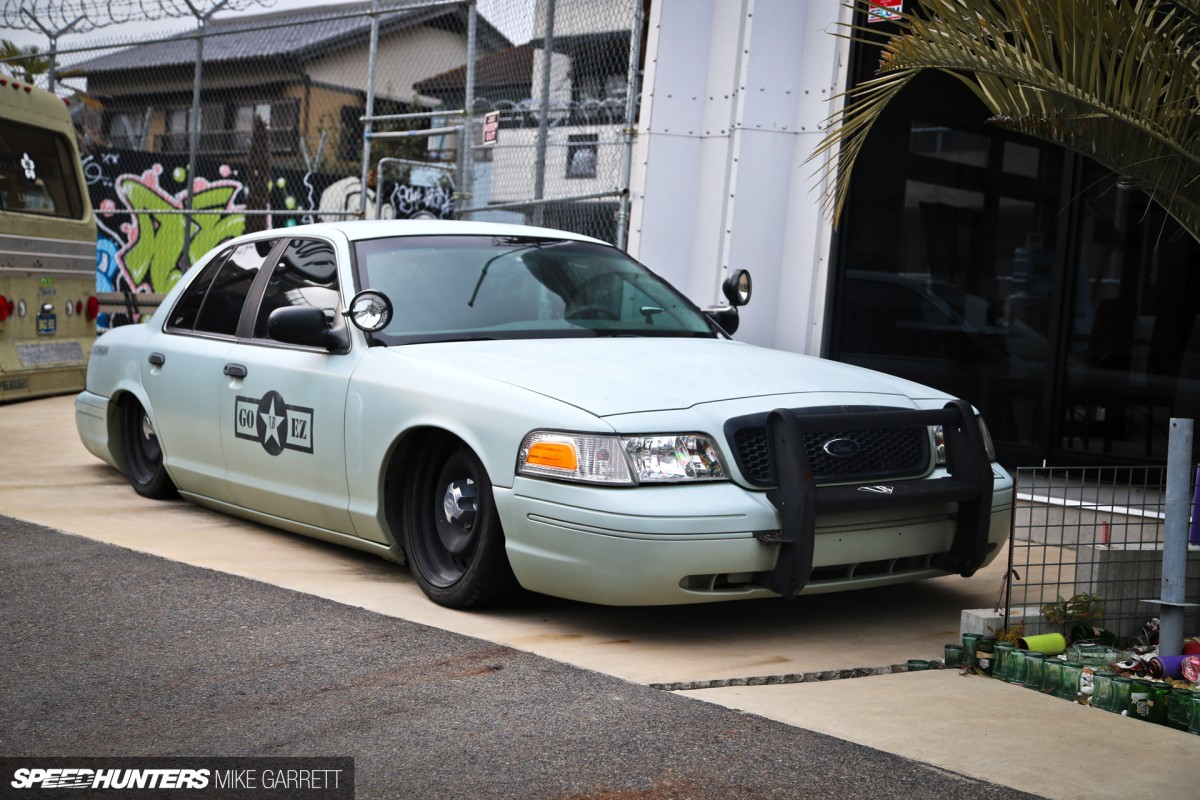 One of the coolest is surely this airbagged Crown Vic police car – the perfect counterpart to Kato-san's 'Shakotan Police' Kenmeri Skyline, which you'll see in my next post.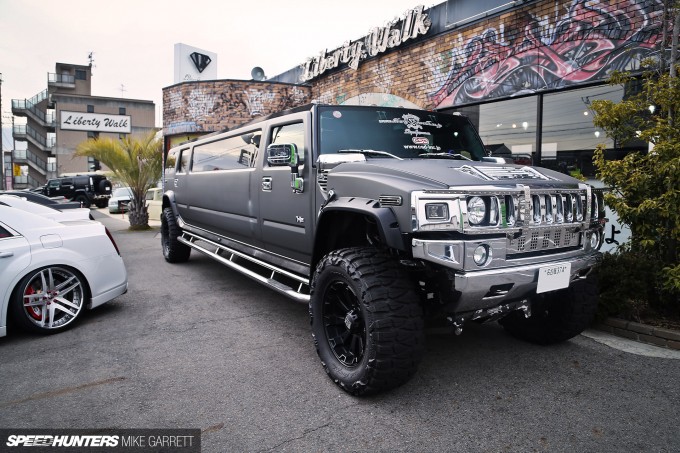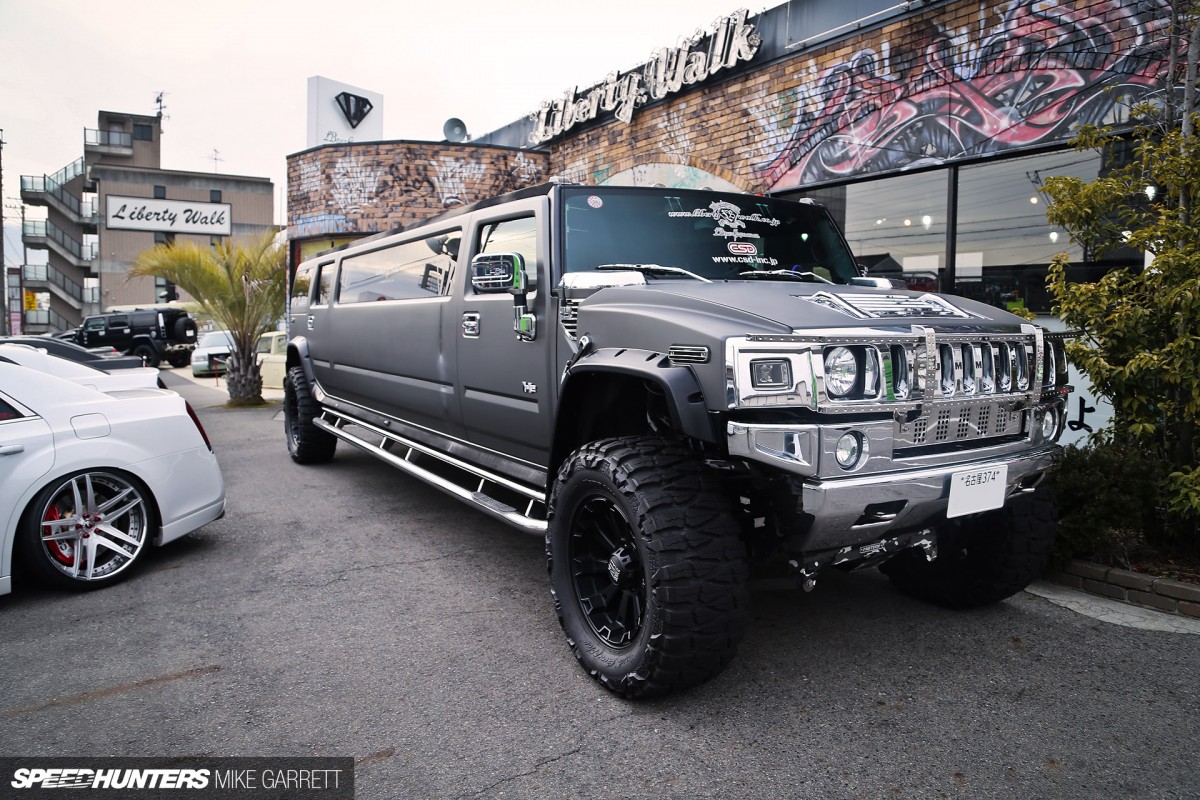 Yes, that's a lifted Hummer H2 stretched limo. We're still in Japan, right?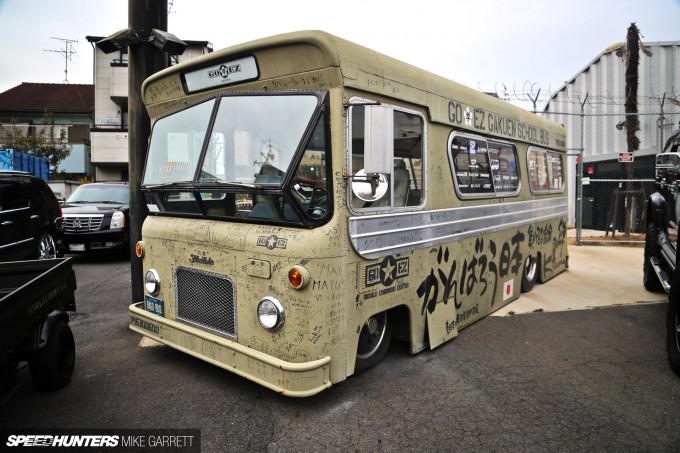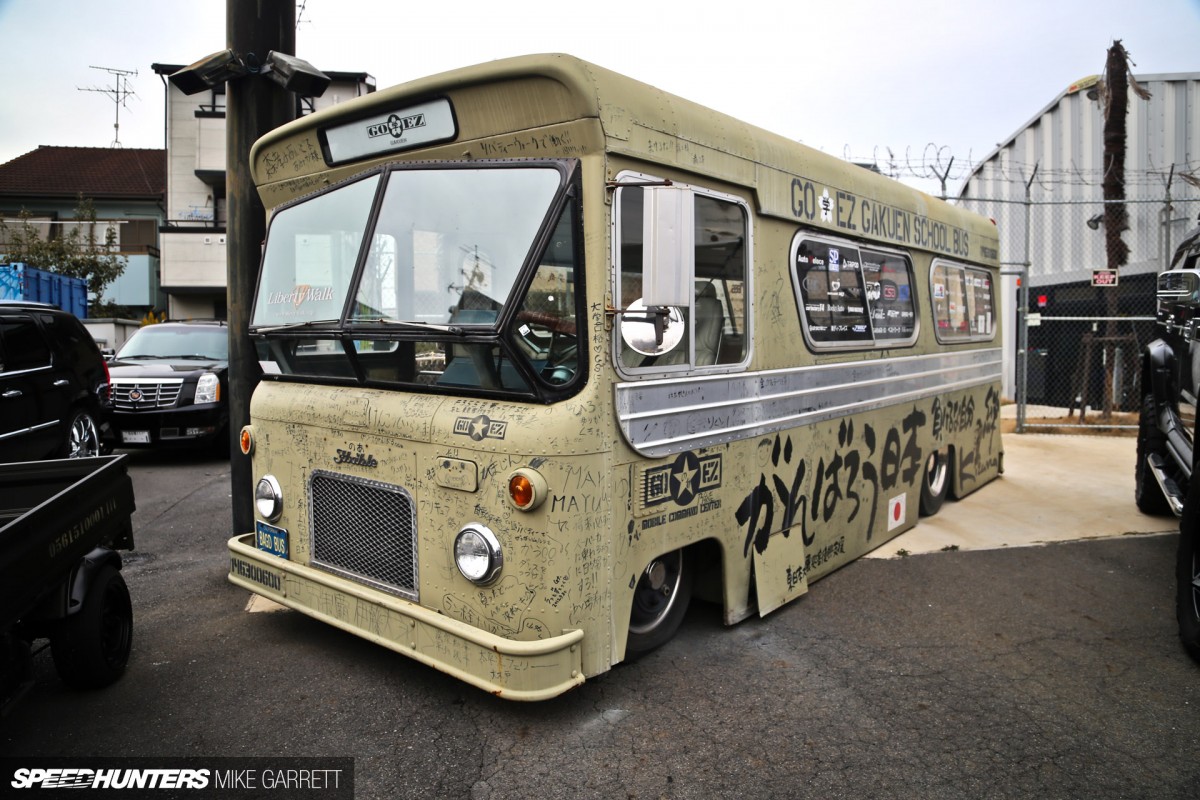 Another GO EZ project is this slammed school bus, which is leading quite a purposeful life in Japan.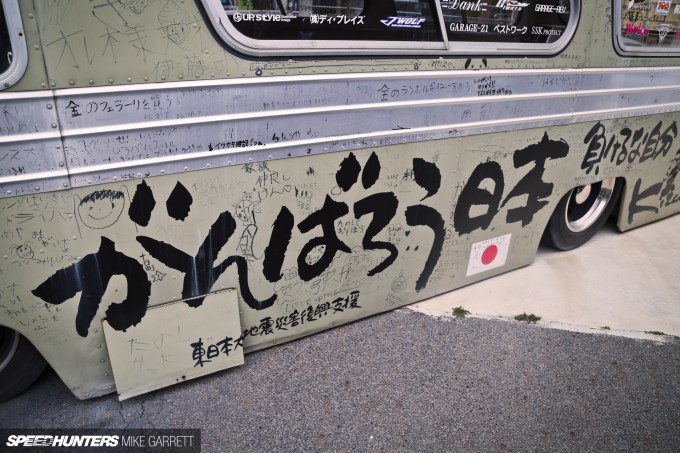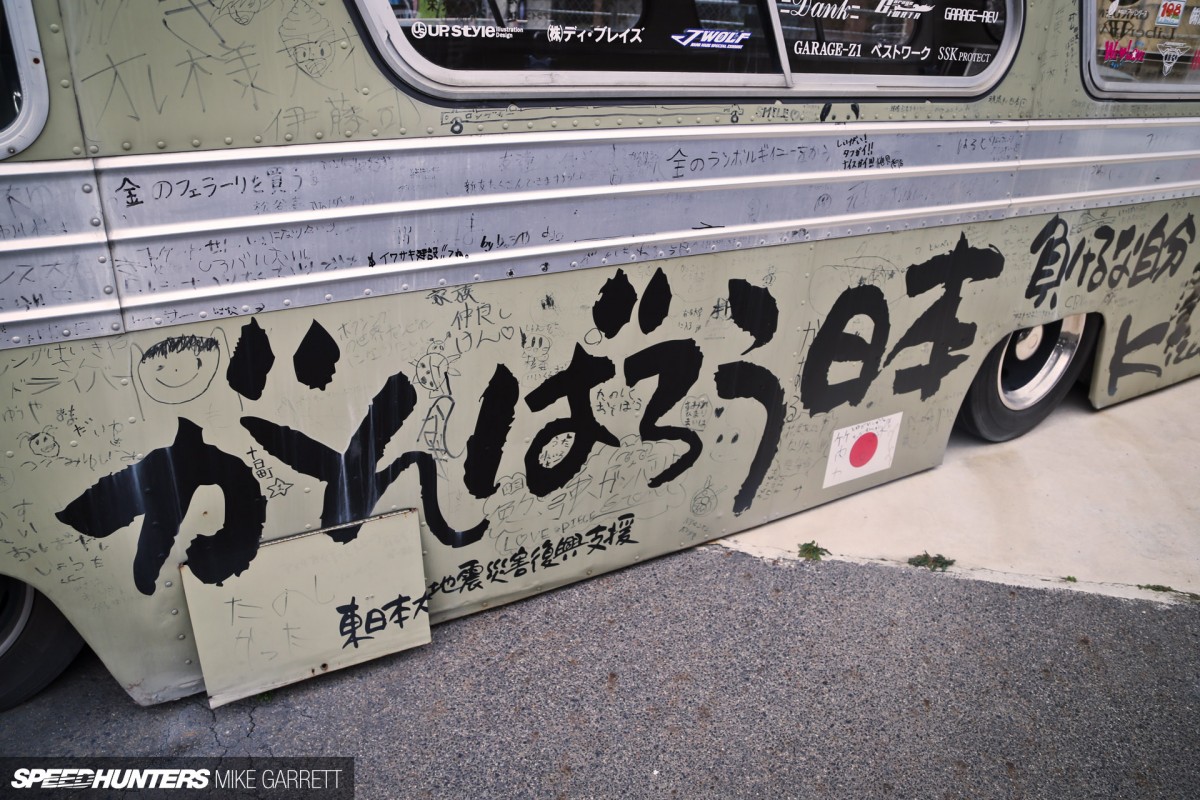 It's been decorated in and campaigned in support of the 2011 East Japan Earthquake, and is just one more example of Kato-san and company spreading happiness through custom car culture.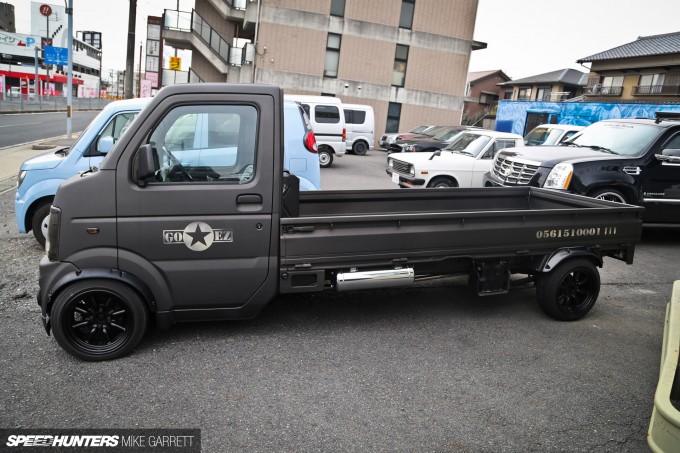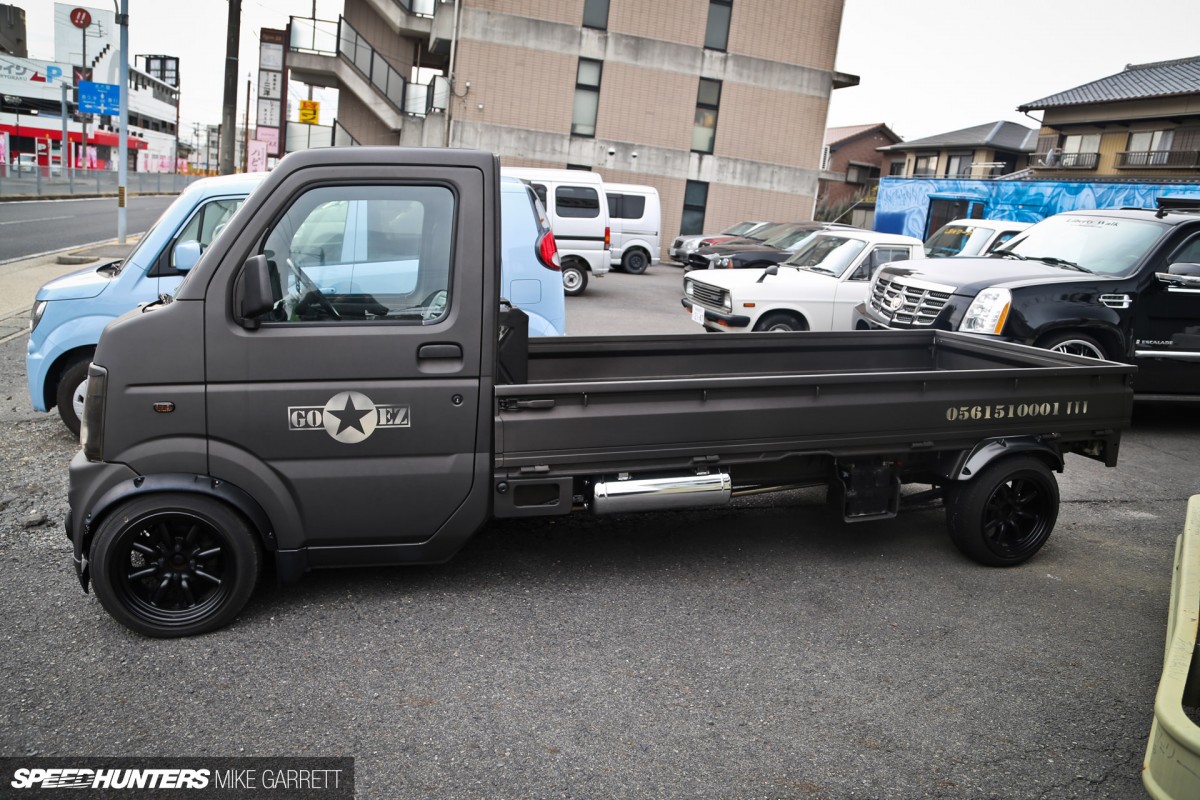 How about a stretched kei truck with bolt-on over-fenders and RS Watanabe wheels? I dare you to find someone who doesn't like this.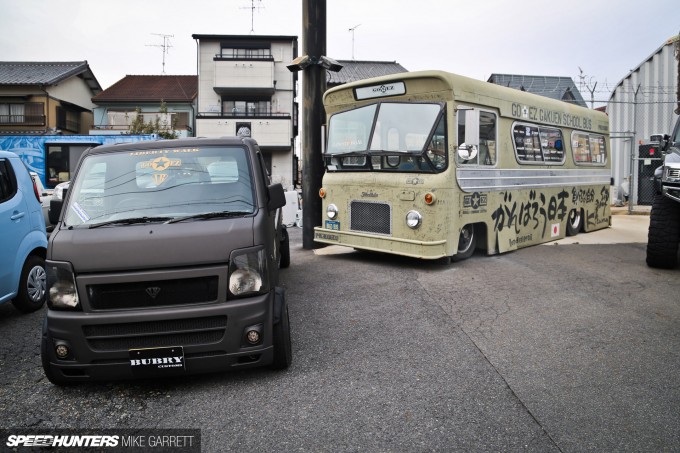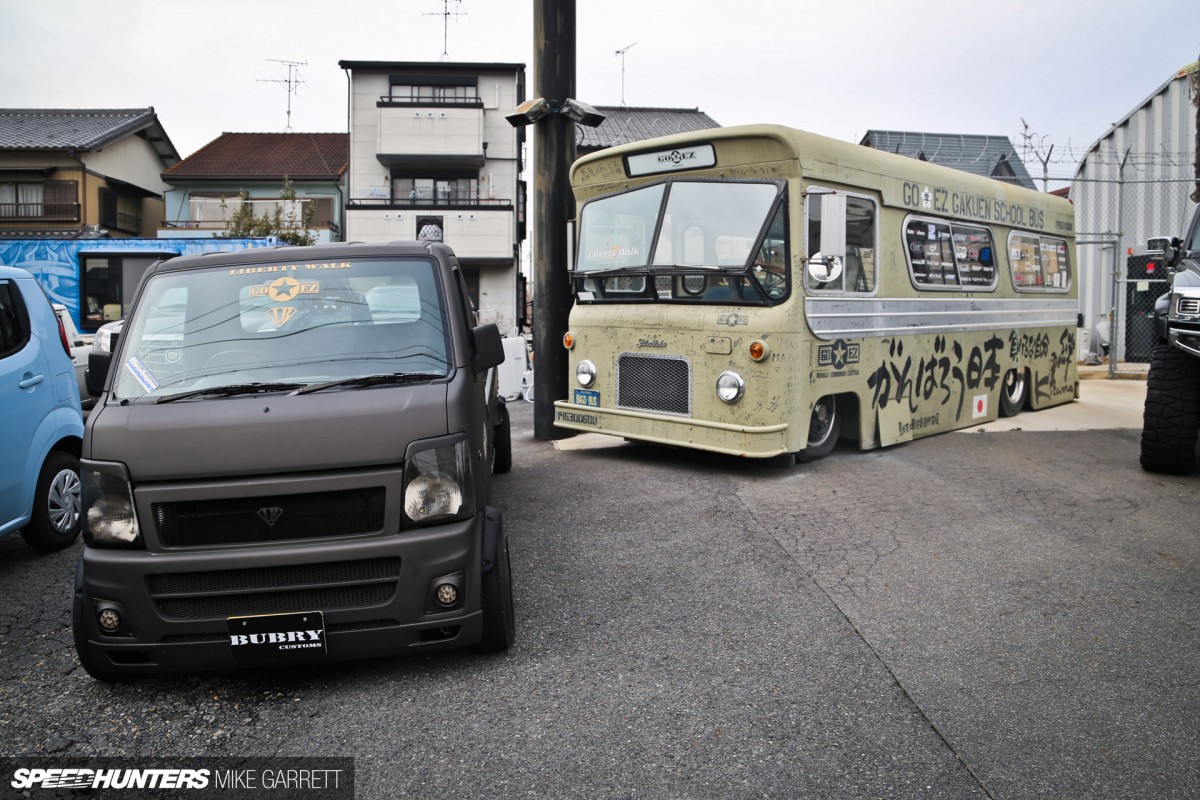 It might be the exotics that have made the brand famous, but Liberty Walk is about so much more than Lamborghinis and Ferraris.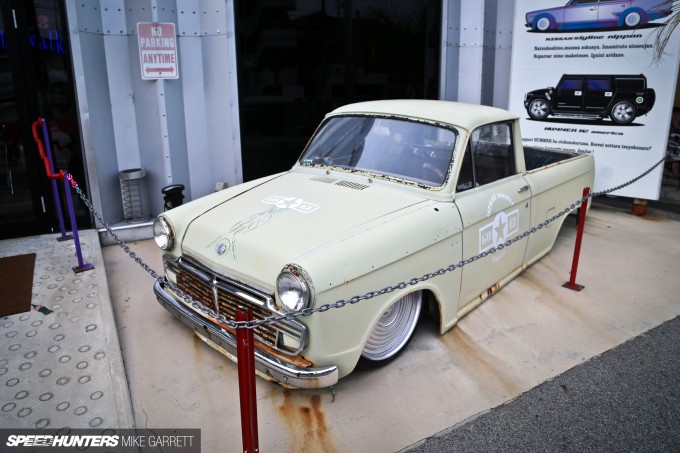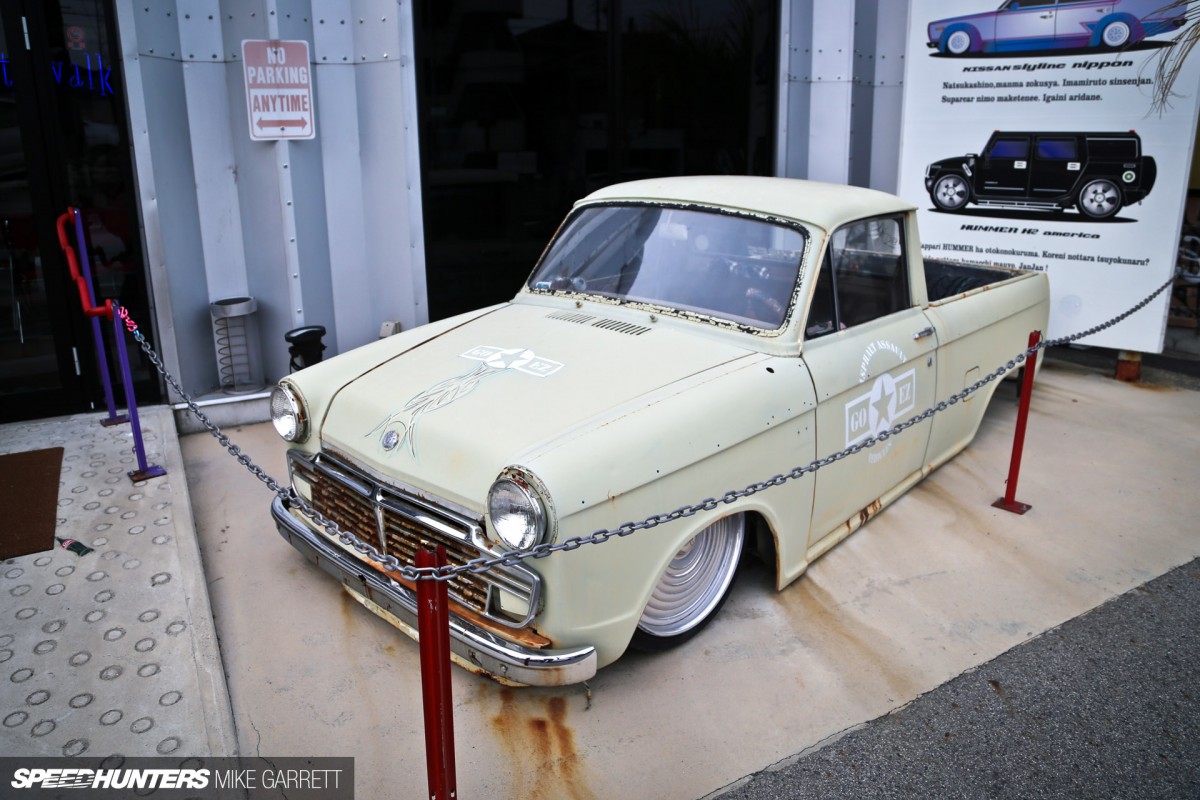 Just before you enter the store and office, you are greeted by this cool Datsun NL320 pickup, which has been bagged and given the full GO EZ treatment too.
Happy together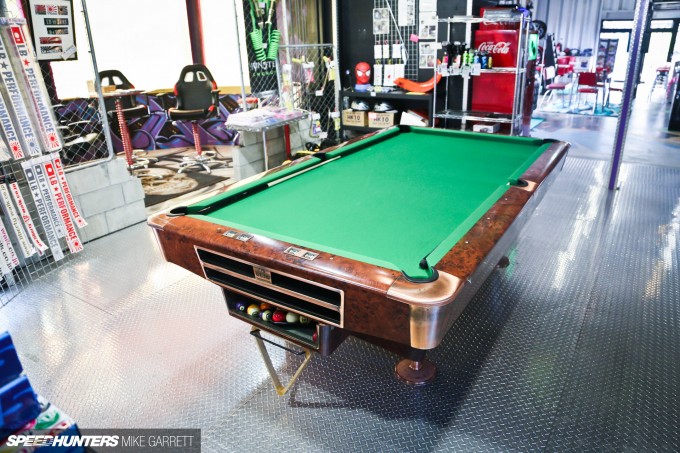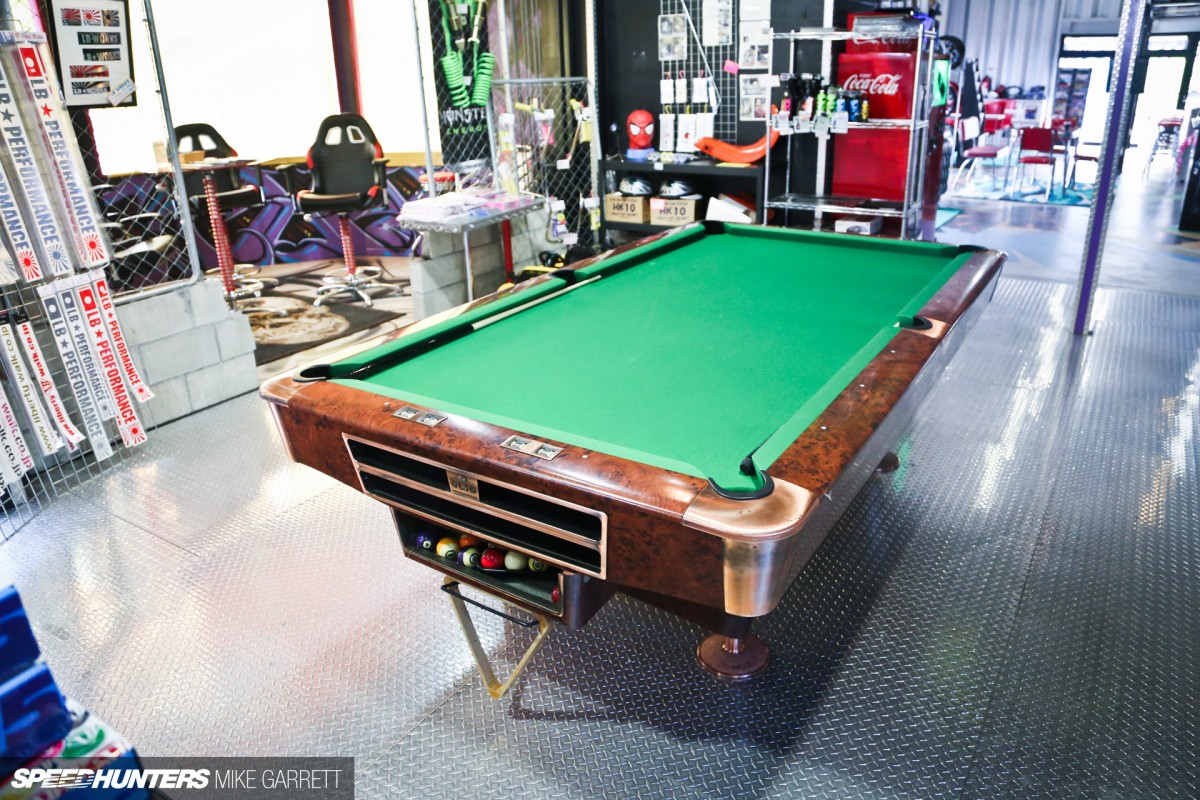 Once you are in the store the feeling is much more lounge or bar than it is car dealership or retail shop. There's a pool table dominating the center of the room.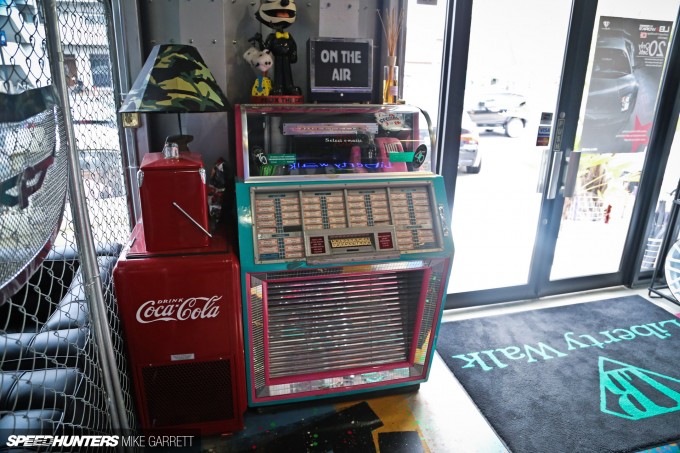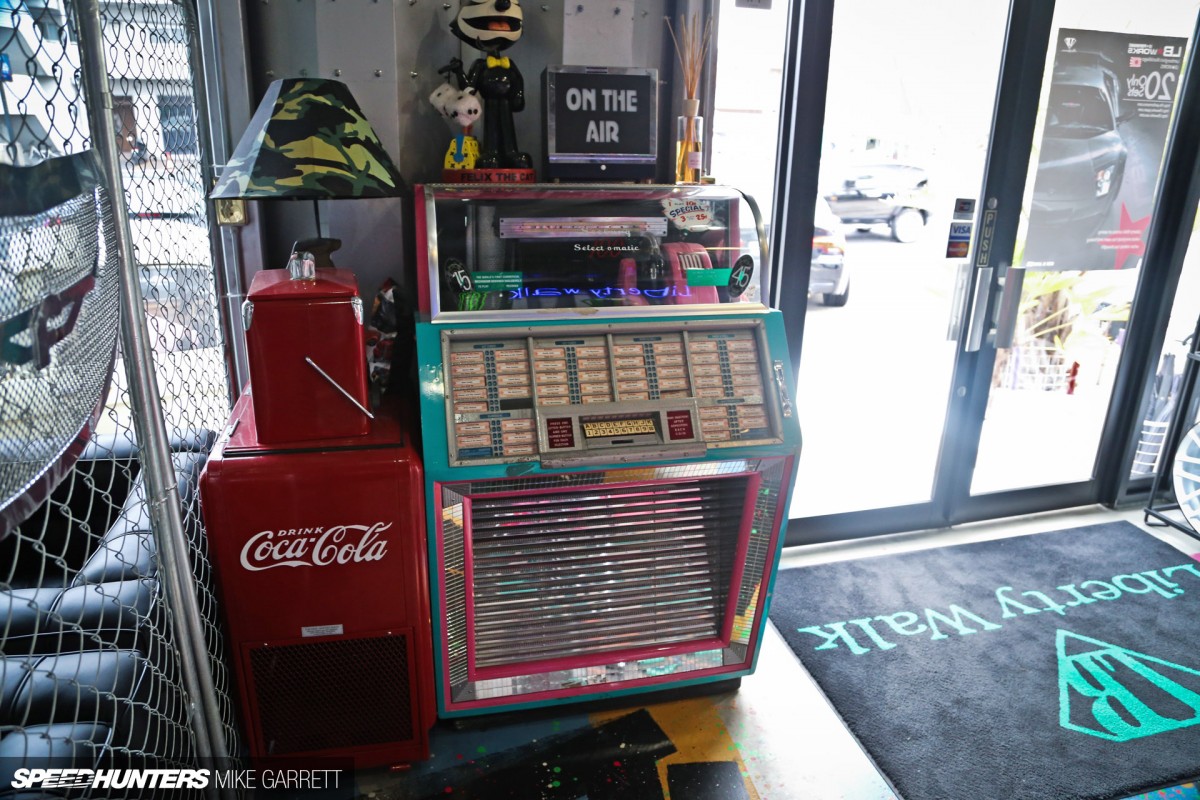 In another corner sits a vintage American jukebox to crank out the tunes.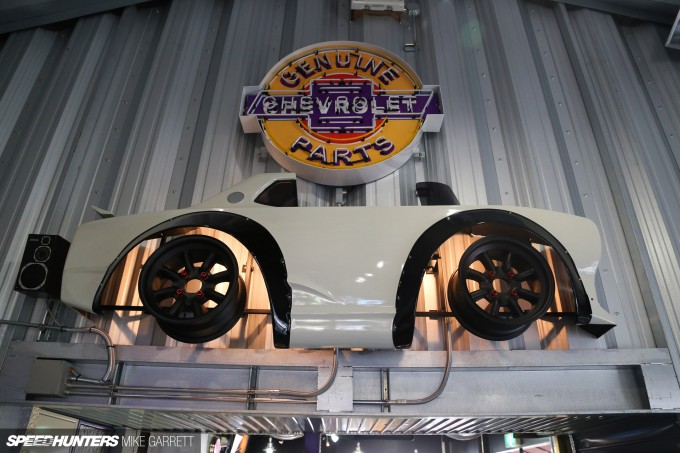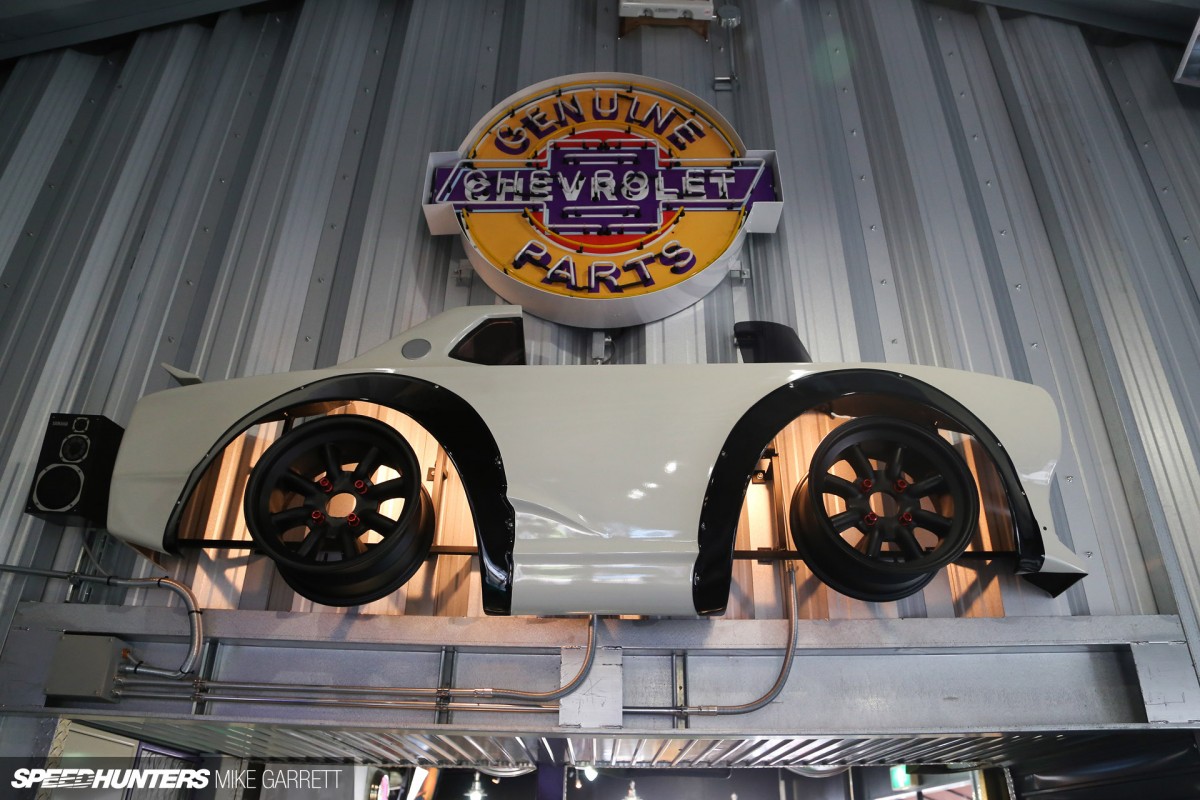 There's another one of those hakosuka ATV bodies that's been cut in half and attached to the wall.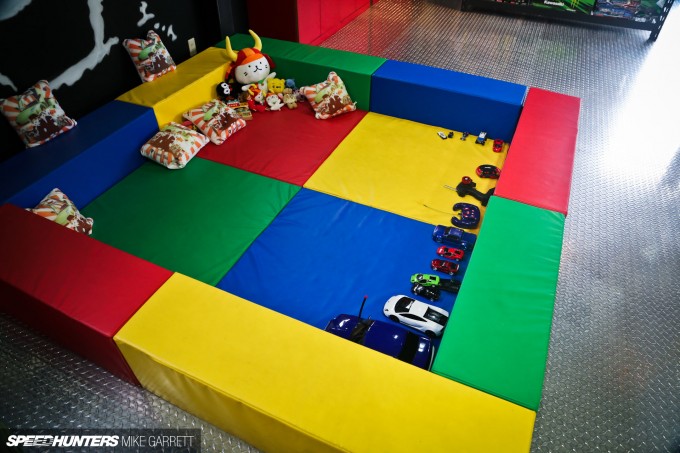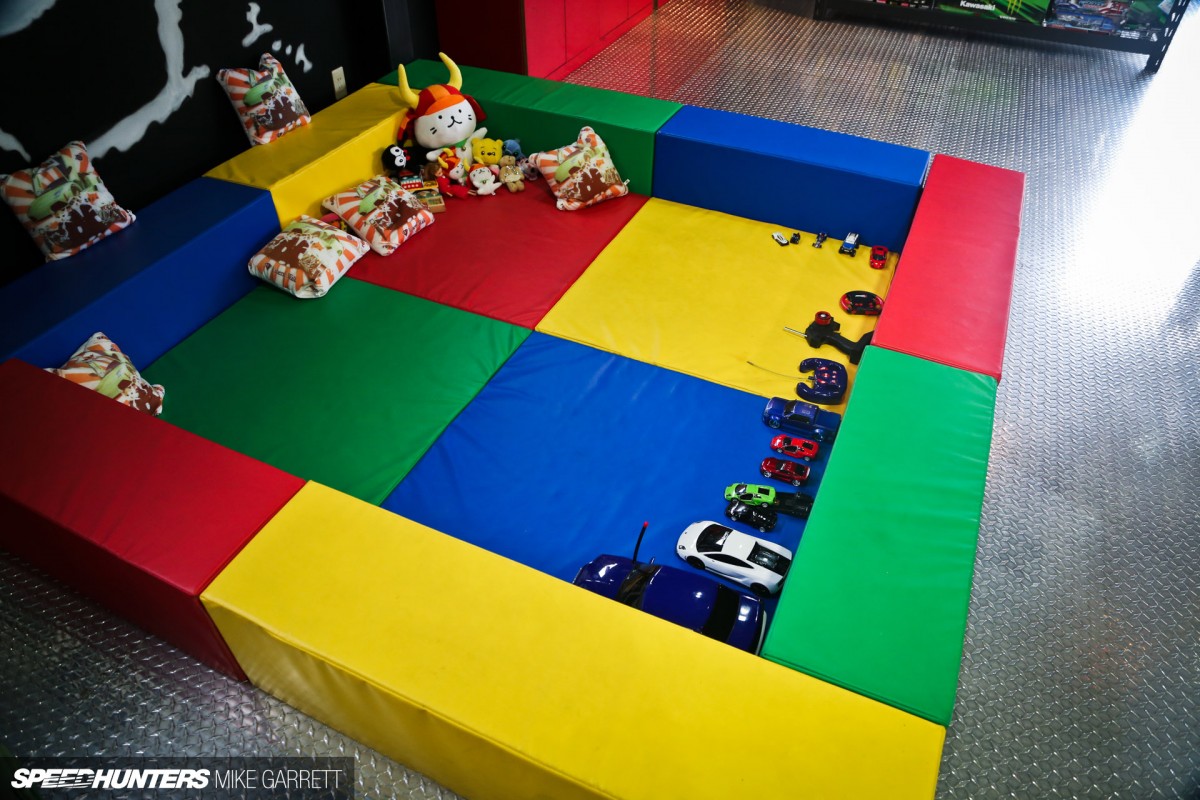 There's even a play area for the kids, complete with a full parking lot of toy cars to play with.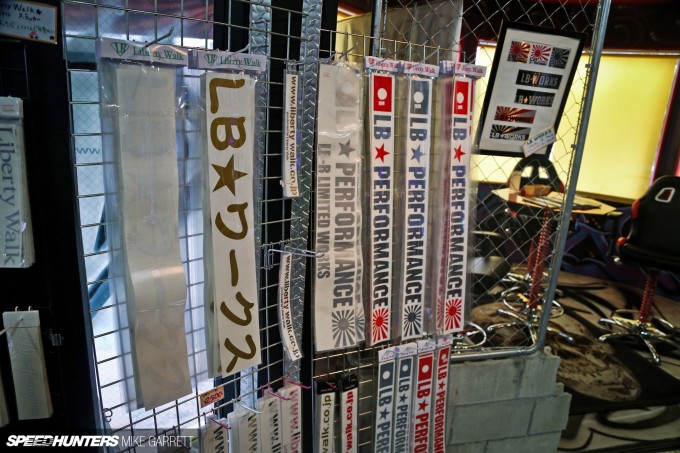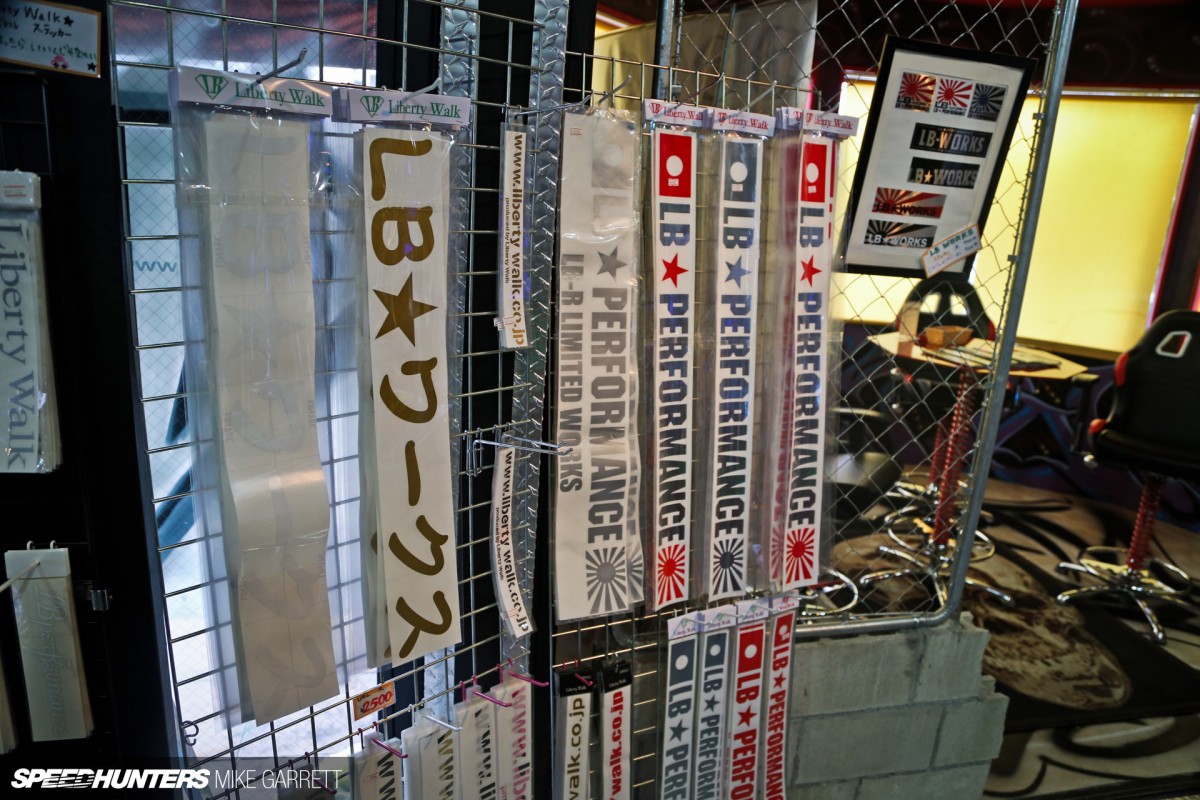 This is also the place where you'll find all matter of Liberty Walk stickers, shirts and other official gear up for sale.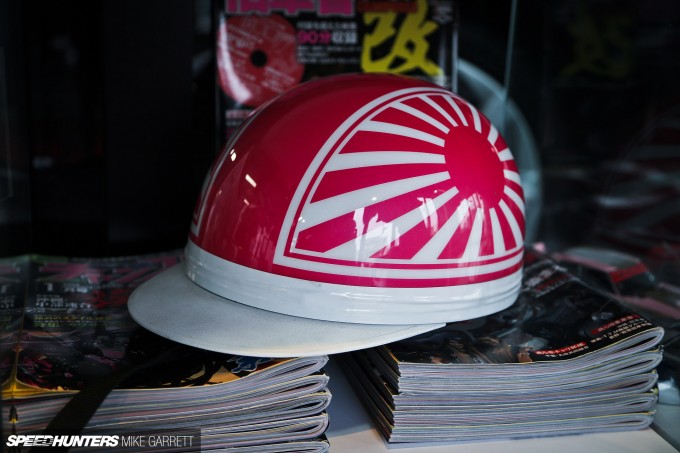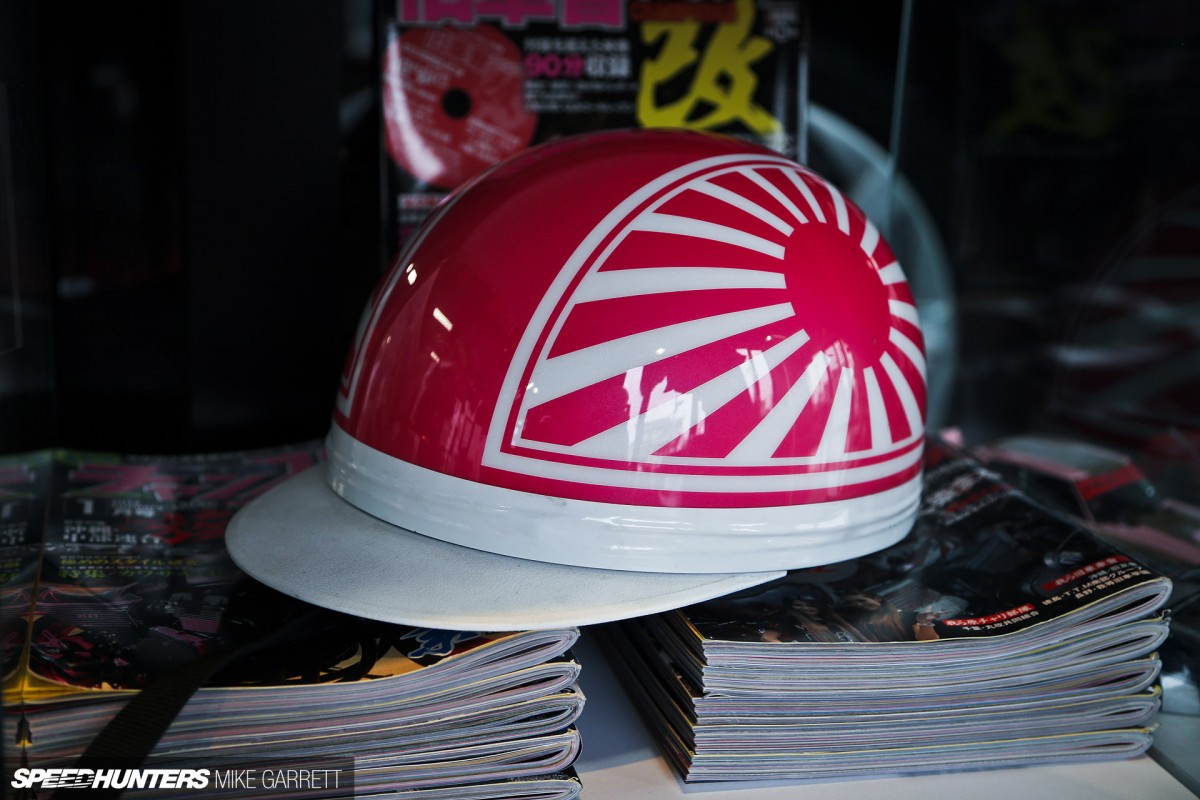 The store also stocks plenty of other cool stuff including Champ Road magazine, Nameneko goods (look it up) and those awesome Japanese helmets.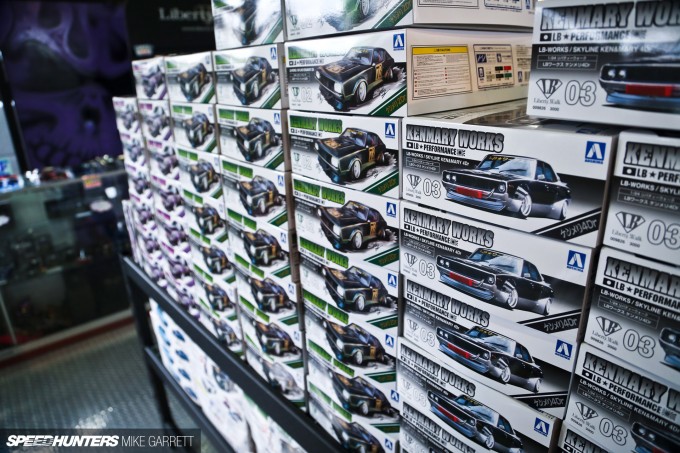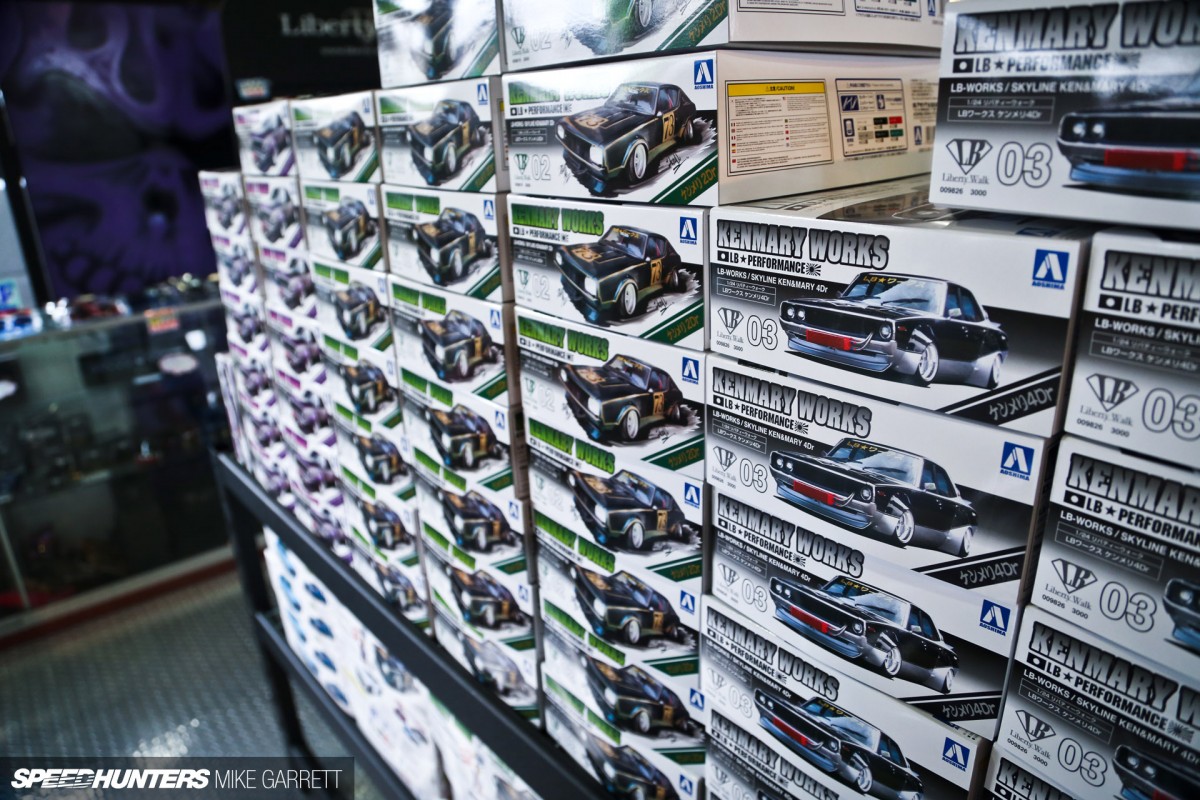 One of the newer products on the shelf were these Aoshima model kits, which are detailed replicas of Kato-san's own machines.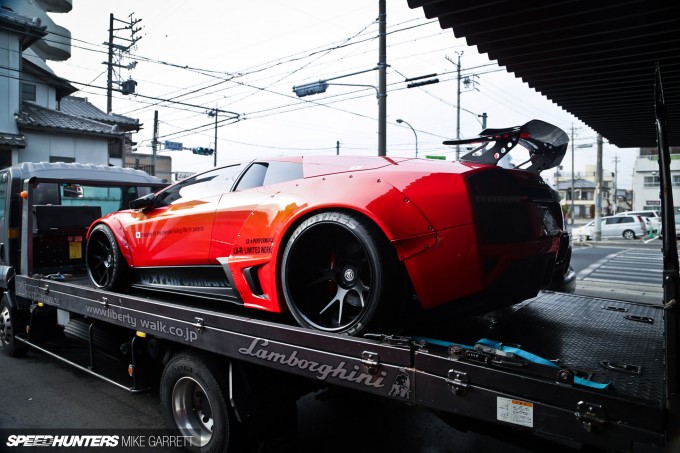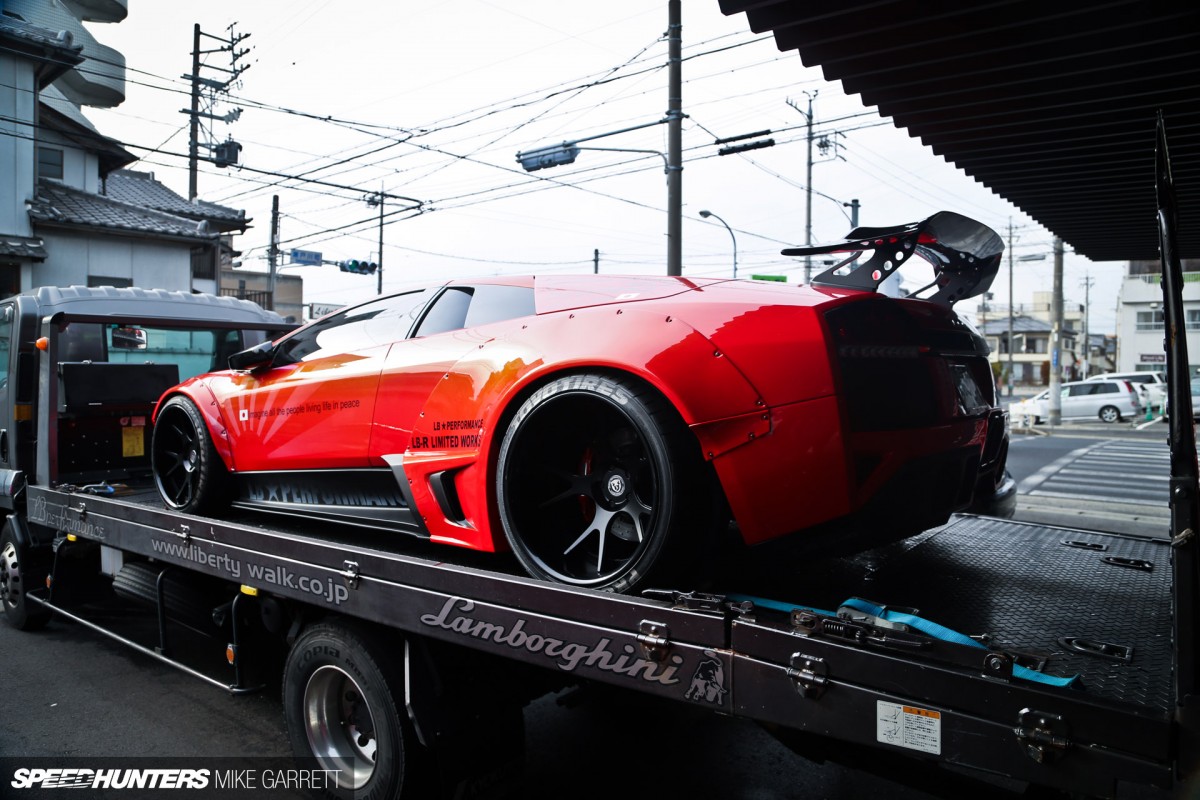 After spending time with Kato-san and getting a look at the day to day operations of Liberty Walk I am 100% on board. It's not about making over fenders and igniting internet flame wars – it's about seeing cars bring happiness, regardless of style or budget.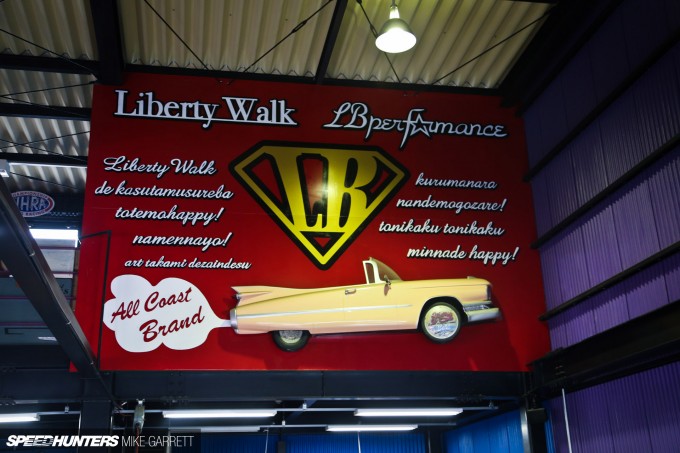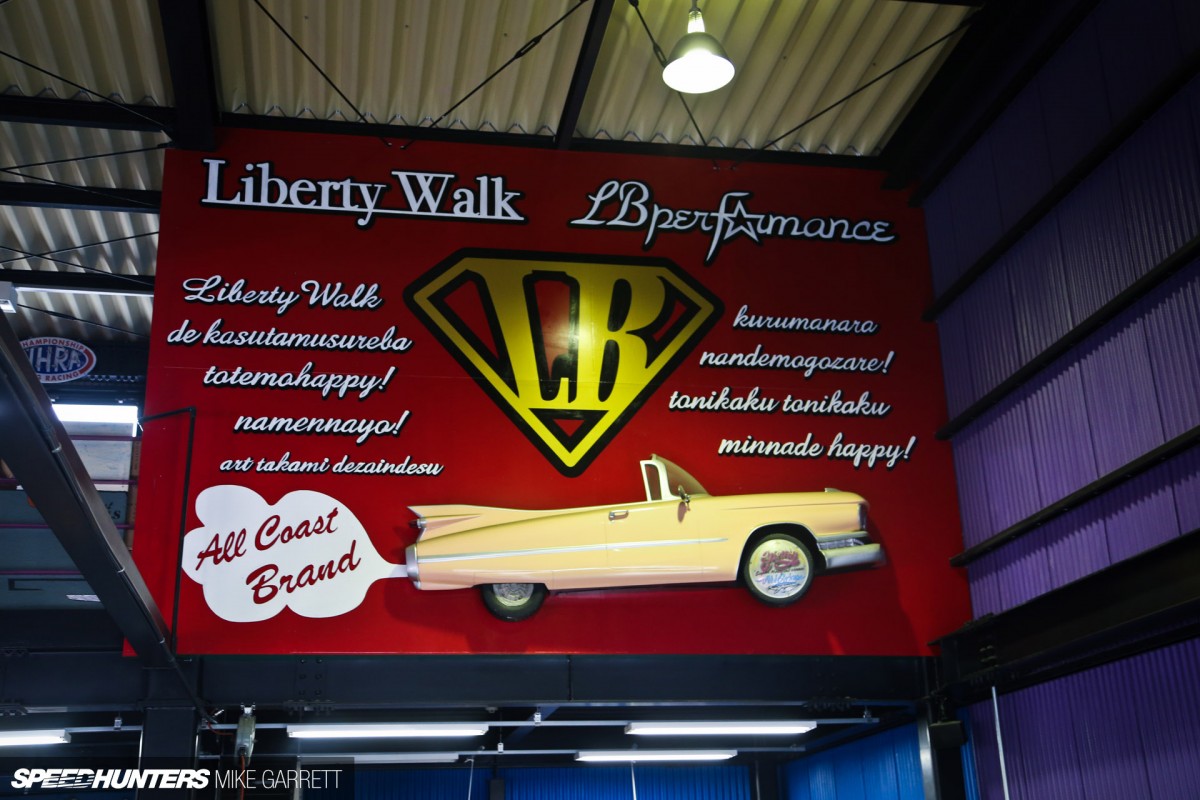 I think this sign hanging in the showroom sums it up pretty well. "As long as it's a car, we can do it – and above all, let's be happy together!"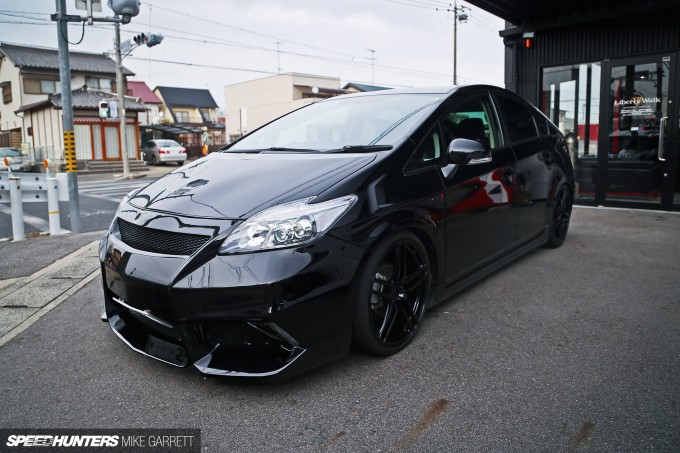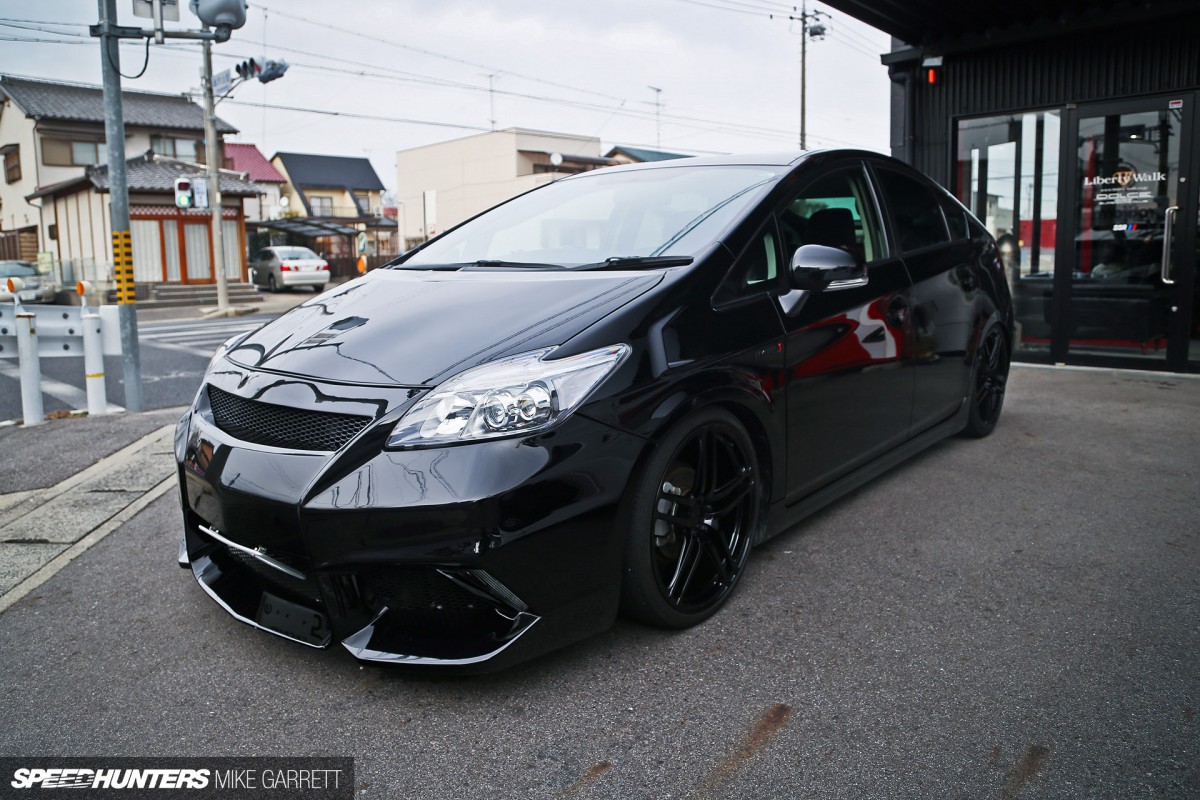 And when it came time for Kato-san to leave the shop, he didn't hop in a slammed kaido racer or a wide-body Lamborghini – he drove off in this rather wicked looking Toyota Prius.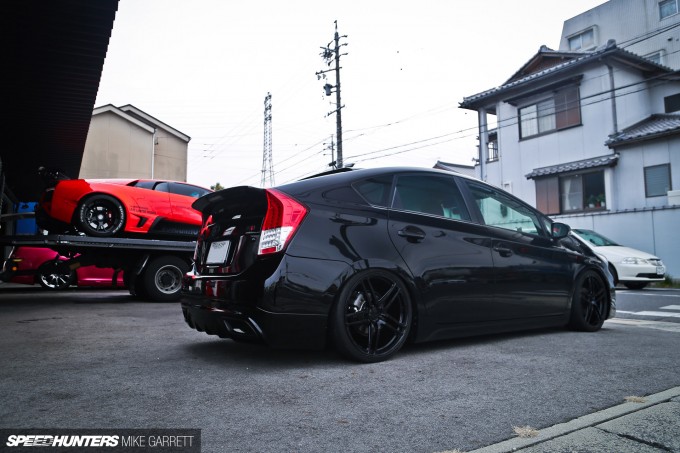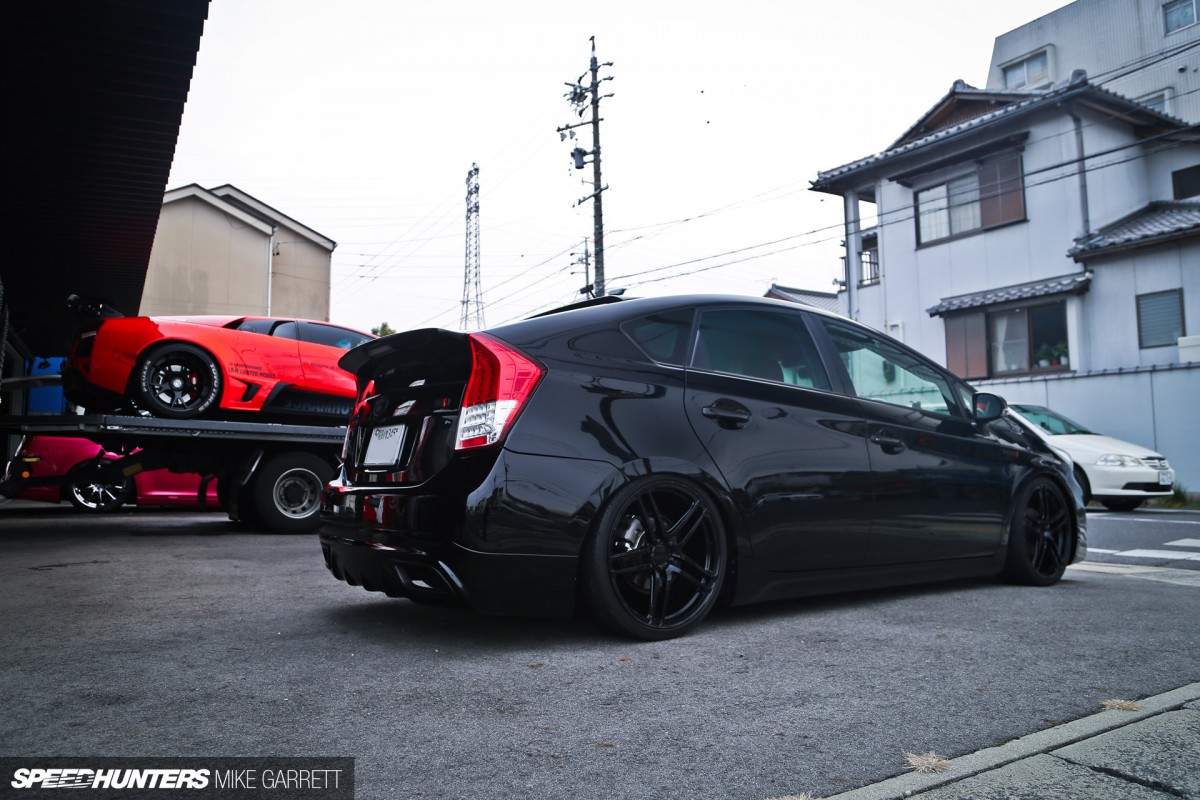 It was a little unexpected, but at the same time completely expected given the man's broad taste in automobiles and his desire to customize everything with wheels. It's the Liberty Walk way.
There's plenty more to come from my time at Liberty Walk, including a an up-close look at the place where these famous custom creations actually come to life.
Mike Garrett
Instagram: speedhunters_mike
mike@speedhunters.com