Riding the Kanjo
I won't mention who I was with or what exactly we got up to, but a few weeks ago I had my very first Kanjo experience. Up until that point all I knew about the Osaka Loop was that in its heyday it was a playground for many Honda enthusiasts in the Kansai region of Japan. Much like the Shutoko battles that brought Tokyo's highway racing underworld to light, unless you have a chance to experience it, you can't possibly fully understand what it's all about. Until you're actually sitting there, harnessed deep into a racing seat, the adrenaline levels just aren't the same. But despite the dangers associated with sort of activity, I'm glad I got a chance to experience it. Because along with that firsthand knowledge comes much understanding for the people that choose to live the Kanjo lifestyle.
The whole Honda scene in and around Osaka has always interested me. I always had the question in my mind, if these guys are doing what they are doing, why don't they choose cars that can yield lots more power? But then I saw what they get up to, and I quickly realised that unlike on the Wangan or Shuto, Kanjo is not about sheer horsepower.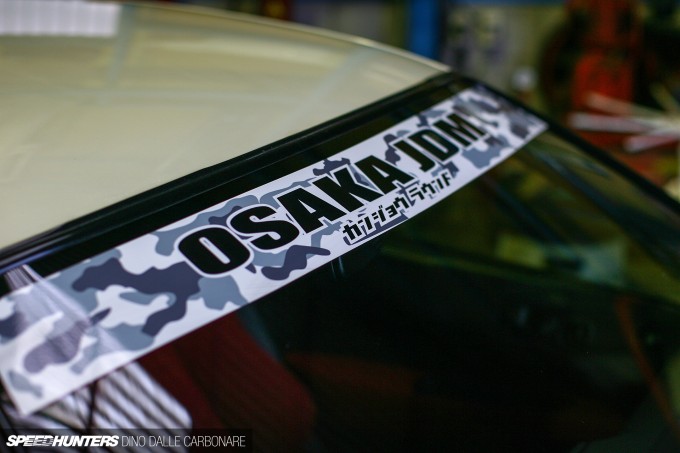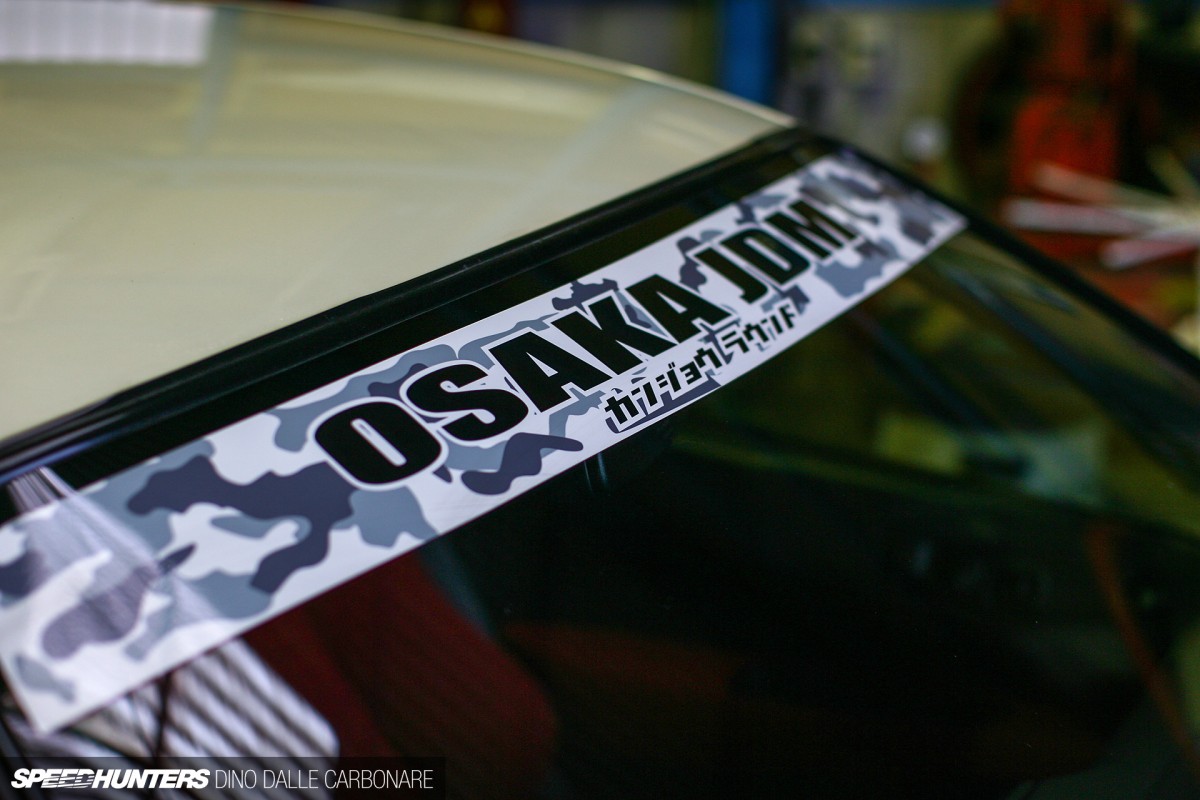 With this newfound knowledge I couldn't help but ask myself, so what is a modern-day Kanjo car all about? Well luckily Furukawa-san at Car Craft Boon – the man behind the Osaka JDM brand – has a perfect example that he was able to show me.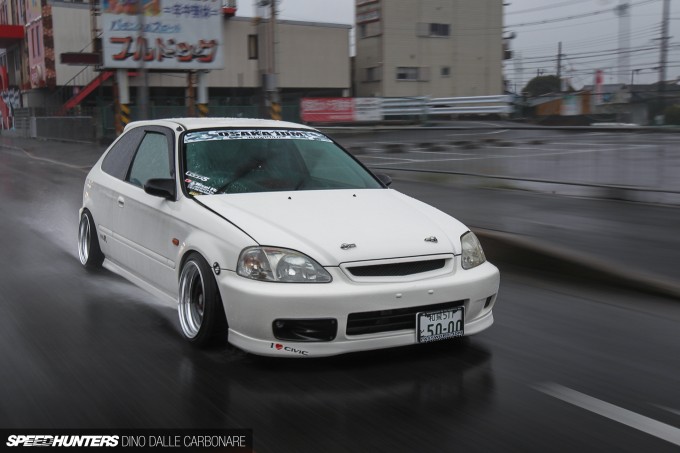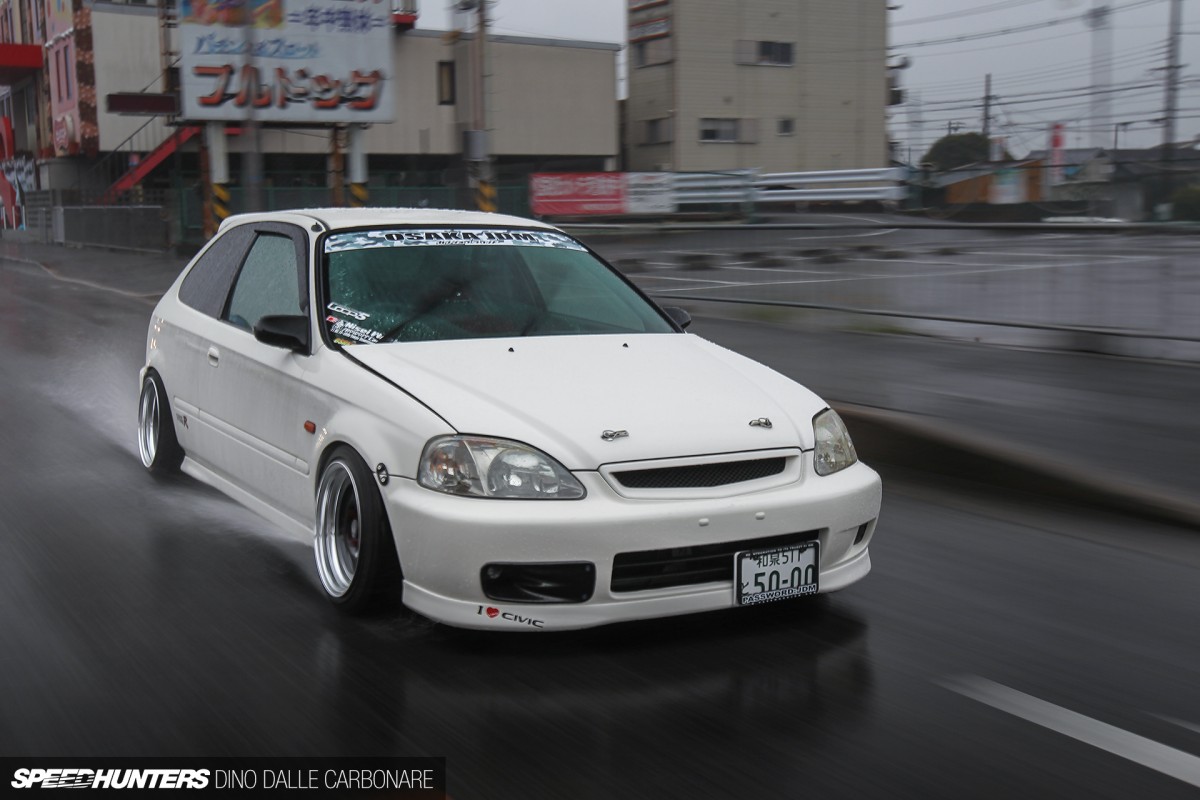 Going by the main notion that you aren't going to find huge turbochargers bolted on to custom fabricated manifolds, or wild Scandinavian-type engine swaps under the bonnets of these Civics, they do have their own unique quality about them. It's just all in the details.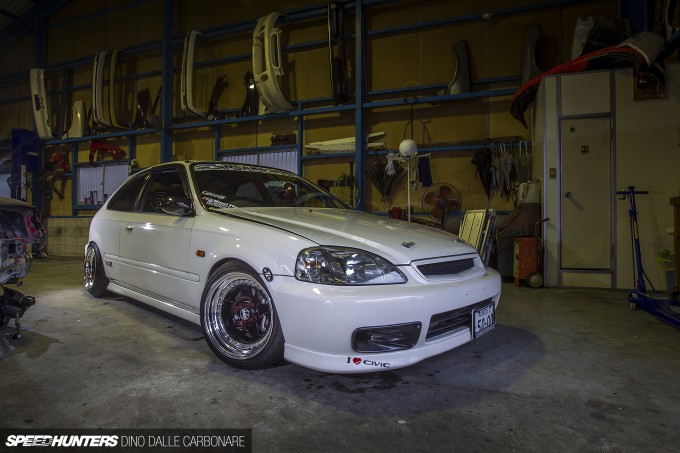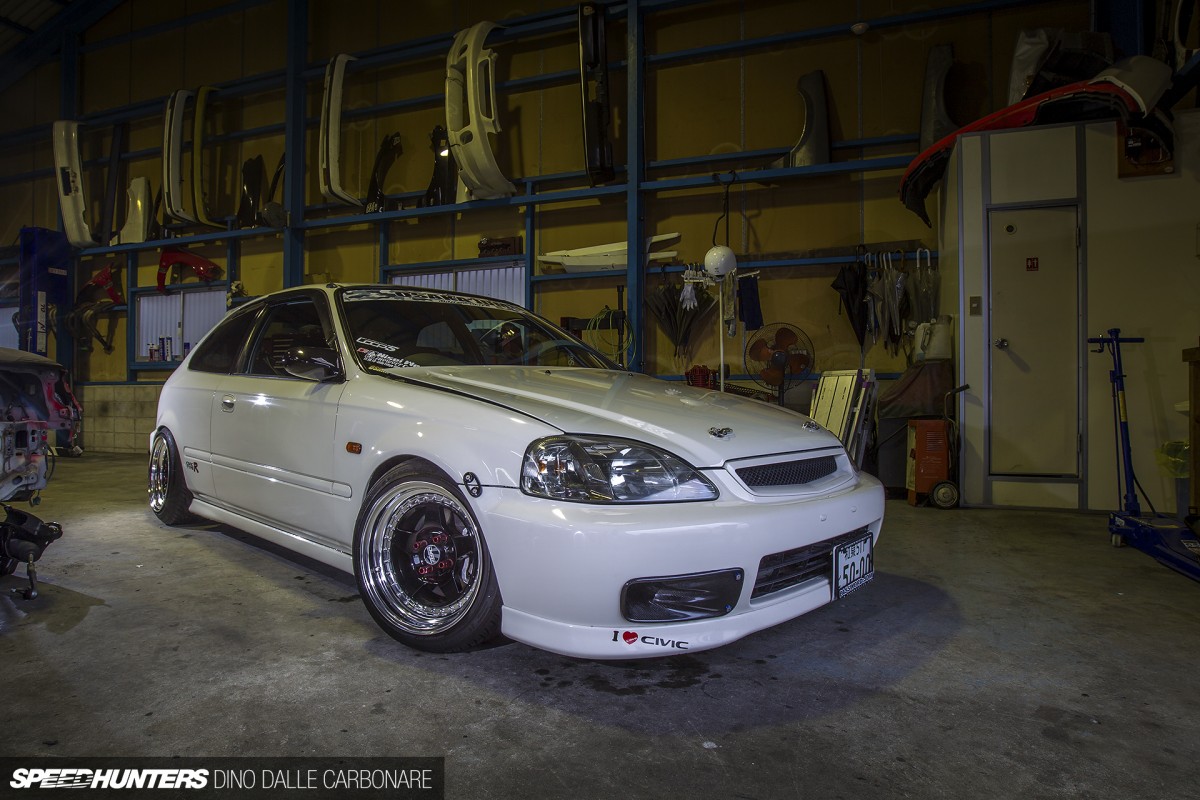 JDM tuning culture continues to evolve at a pretty rampant pace and the whole Kanjo movement has been surfing that wave of change just as much as other scene. You see, building a competent Osaka Loop racer has become as much of a priority as creating one that ticks all the right sort of boxes when it comes to current style – something the EK9 Civic Type R Furukawa-san let me check out seemed to be doing quite well. Exterior wise, the body has been kept close to stock, with only a few small touches added here and there spice things up. Like the painted carbon fiber Spoon Sports bonnet which is slightly raised on its hinges in an effort to rid hot air from the engine bay.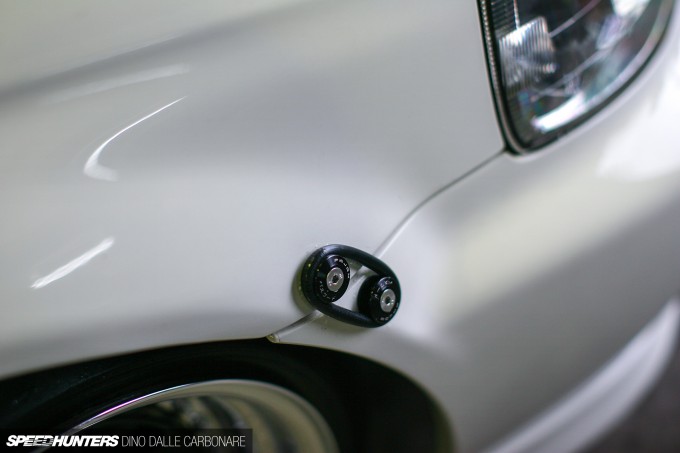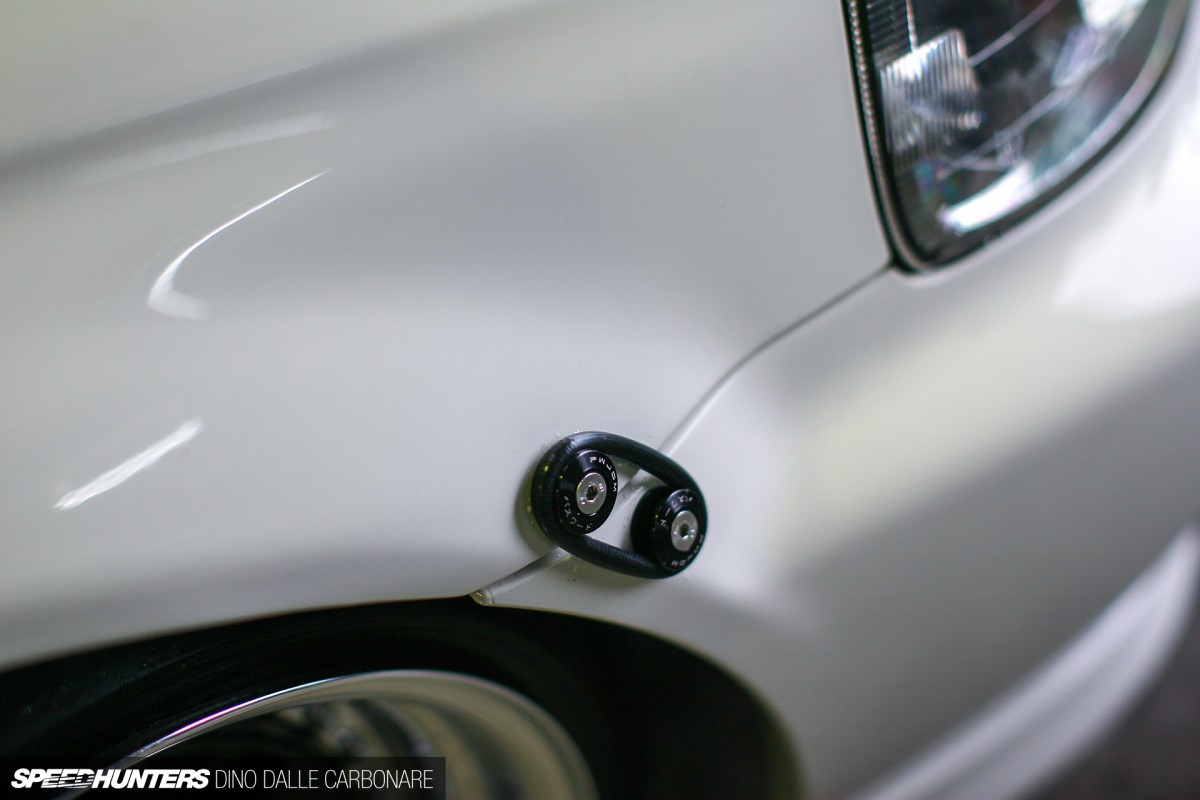 The front bumper has been removed from its factory mounts and is secured in place by Password JDM quick-release fasteners. You would think this would be a more drift-oriented modification, but here it is in this very specific Honda scene too. I guess it comes in handy at shows or meets to remove the bumper quickly to show off what mods you are hiding within.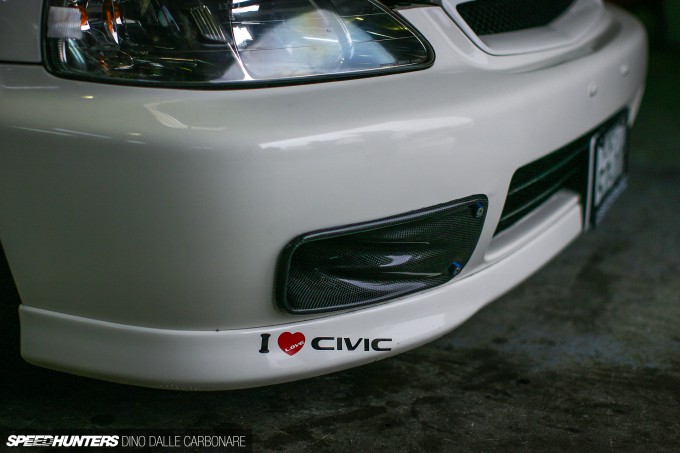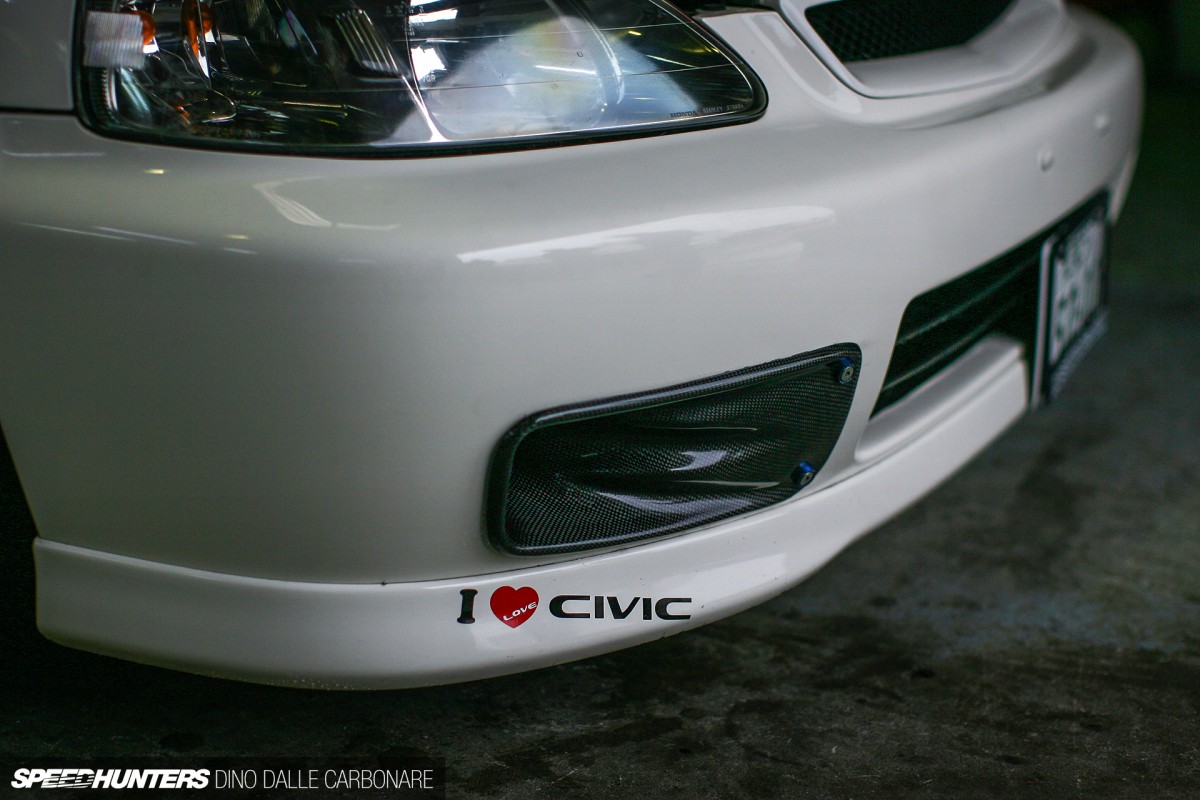 A carbon fiber air scoop mounted over the stock side intake is there to direct air up into the engine bay and help the aftermarket induction kit to breath a fresh supply of air.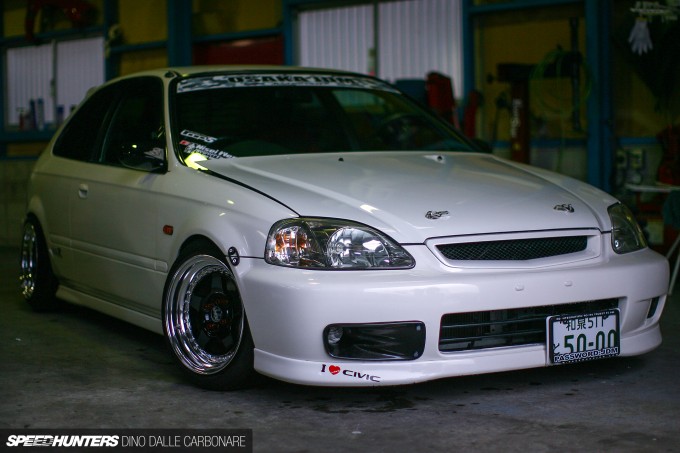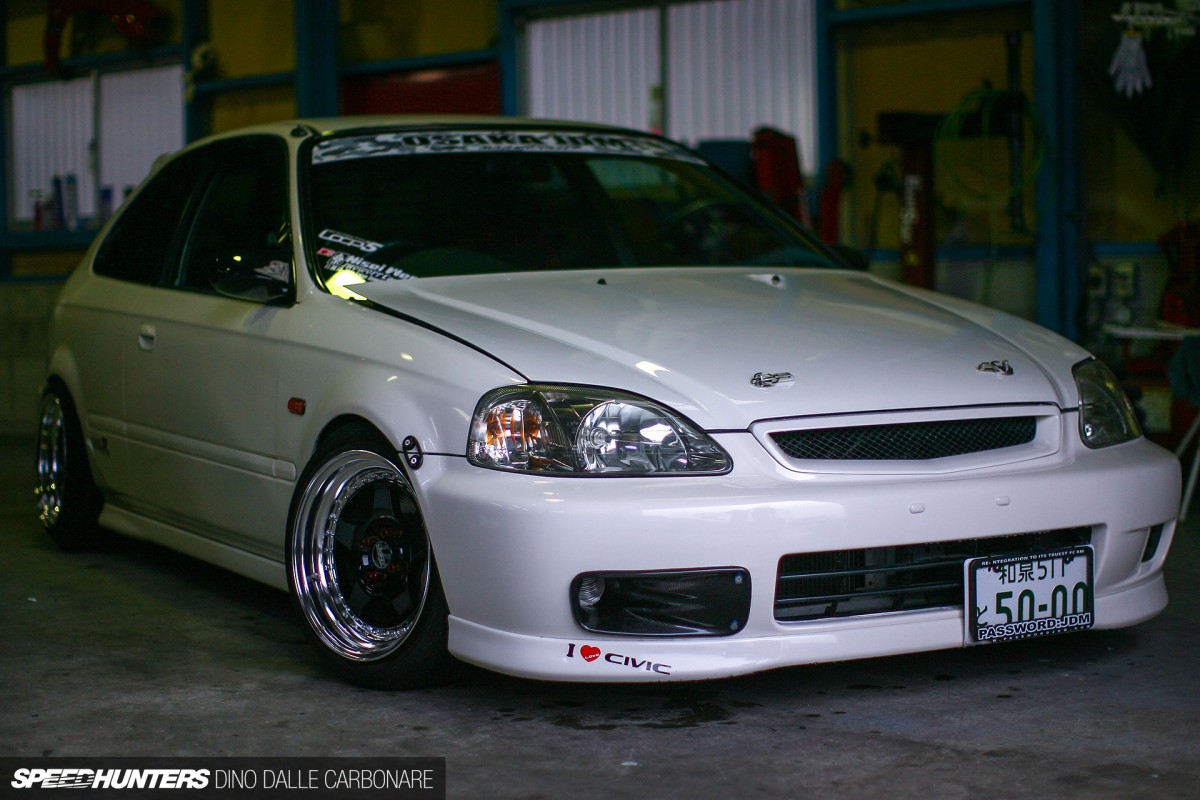 Then of course, there's the stance. Much like the older EF Civics that attracted Kanjo racers years ago, it's all about making the car sit as low as it will go – both for looks as well as a sheer need to keep the car rock solid while slaloms through the traffic. And much of that sort of thing goes on in any Kanjo run, let me tell you! Car Craft Boon have developed their own line up of Osaka JDM coilovers, which are precisely what the EK9 sits on.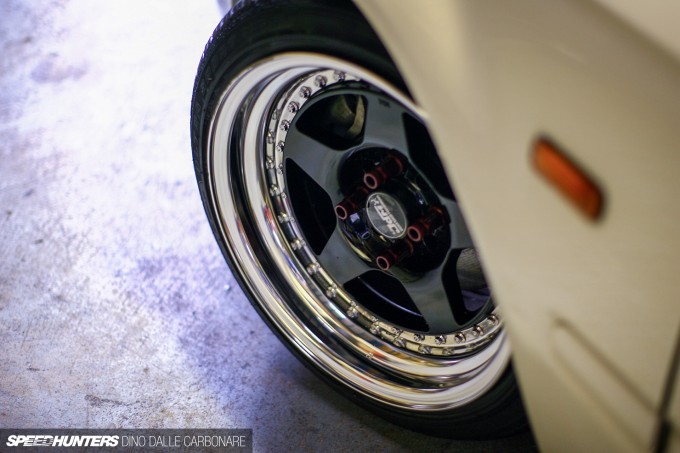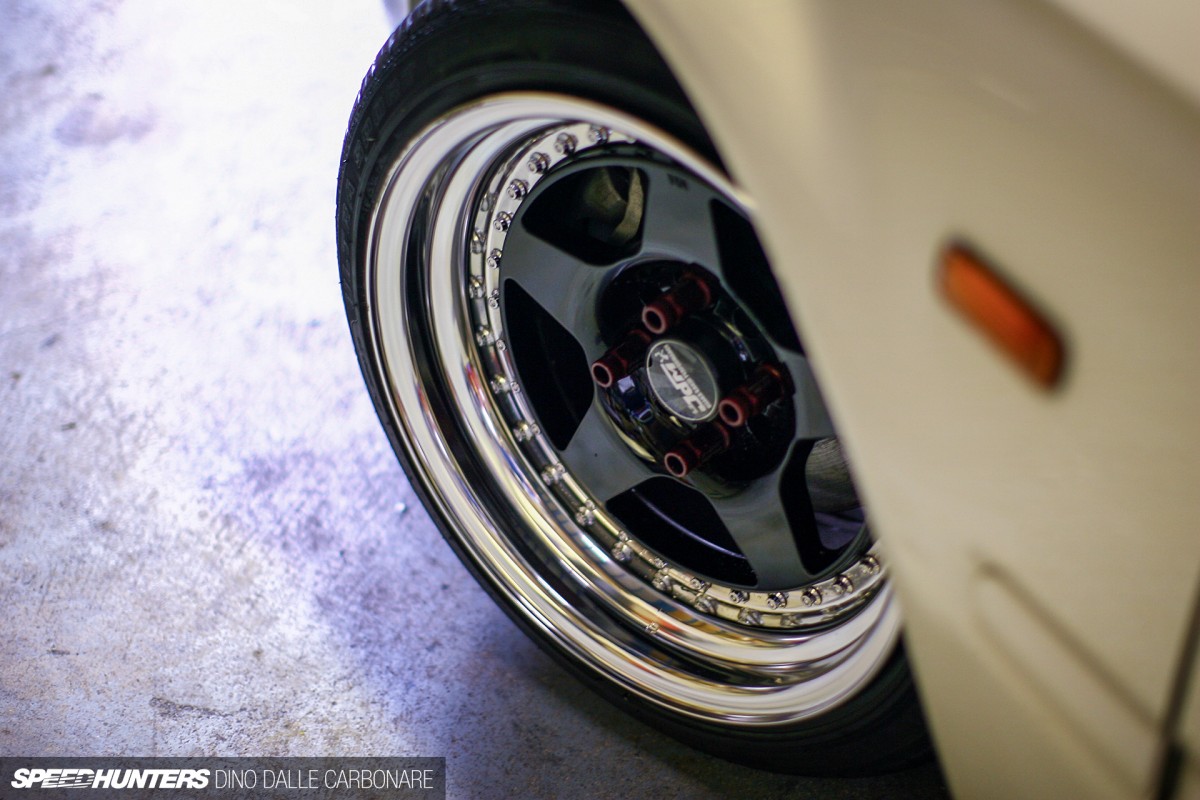 Throw in a set of 15-inch Osaka JDM Loop 5 versions of the Work Meister CR-01s and you have achieved the perfect look. Simple, yet very effective.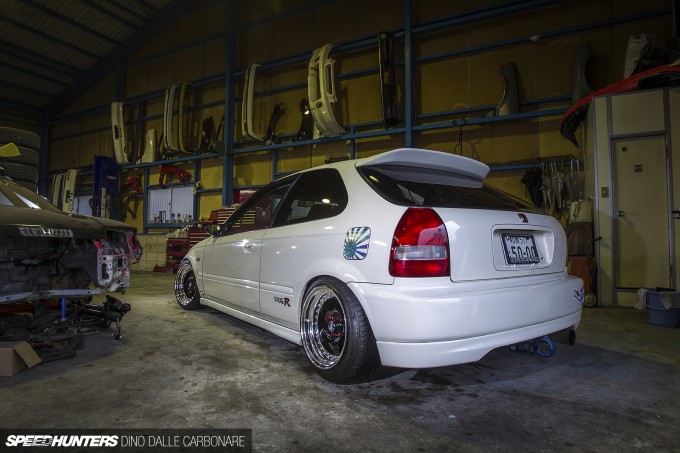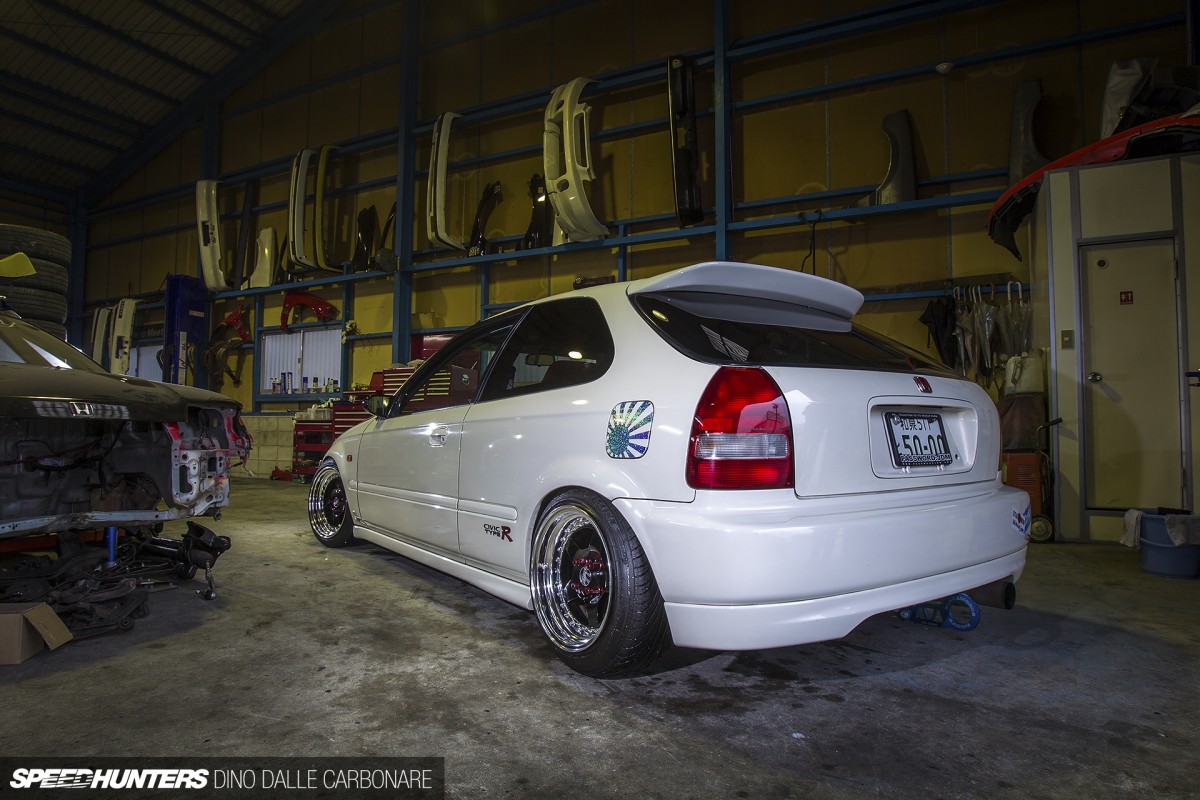 More carbon is found at the rear – except you have to really look for it as the Spoon Sports roof spoiler has been painted in Championship White to seamlessly blend in with the rest of the exterior bodywork.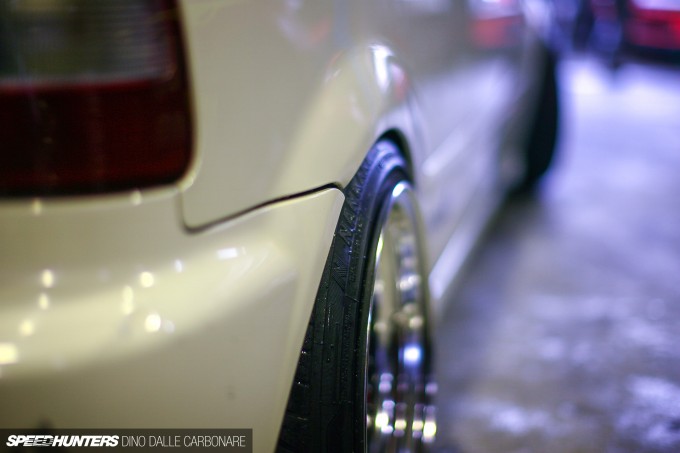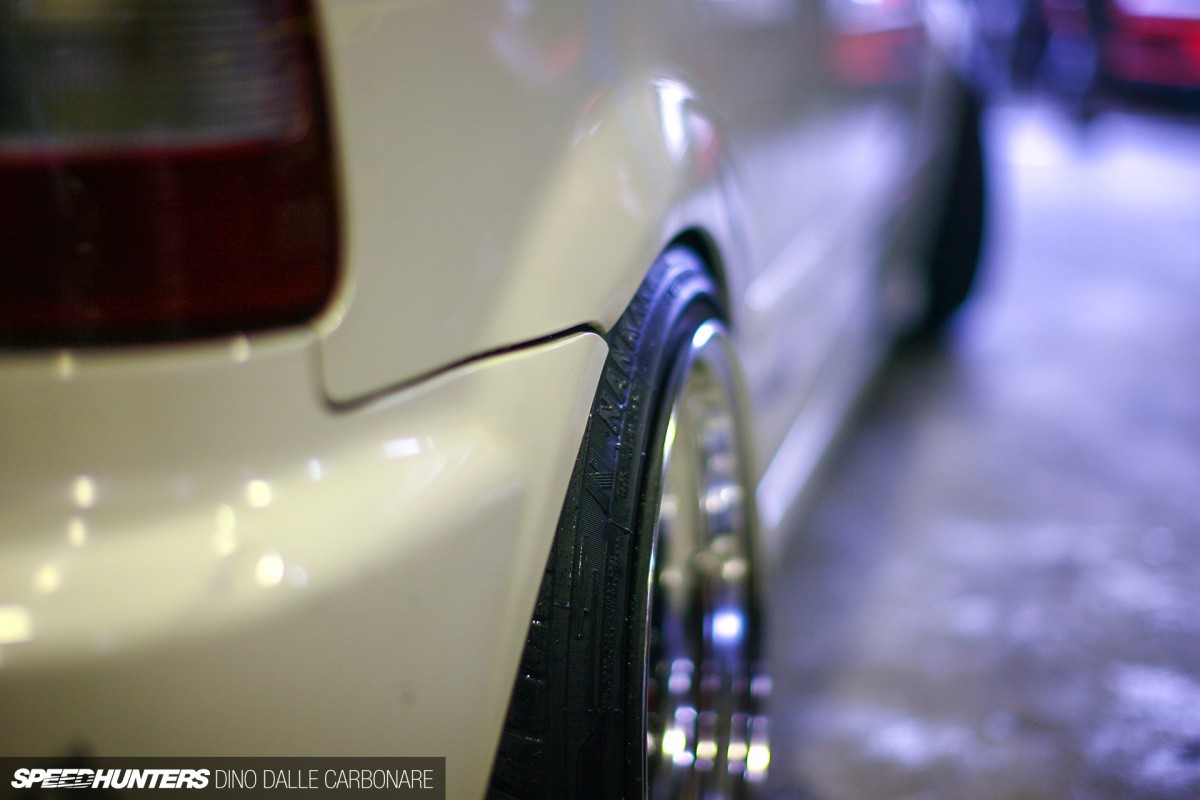 Rear suspension geometry was important in not only making the car handle, but having it sit just right. This is something achieved first through Osaka JDM rear lower control arms and then with a DC Sports tie bar. Devil camber has no place here.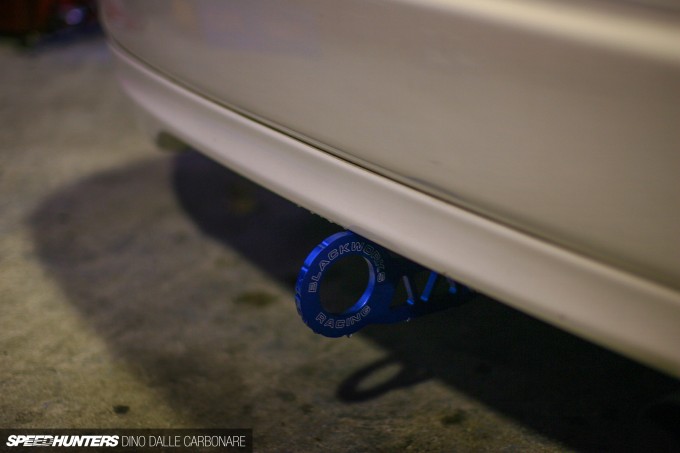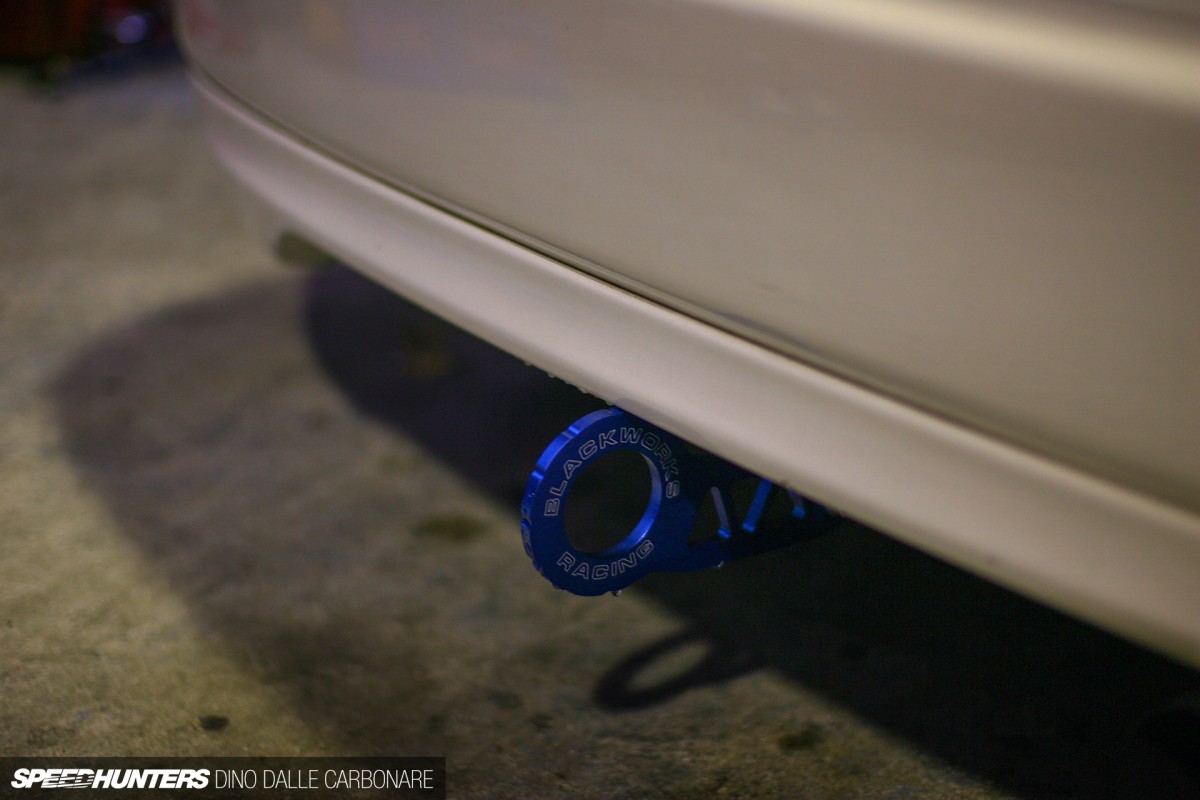 A billed Blackworks Racing rear tow bar is the only real noticeable addition to the rear end, and is a nice piece that follows the simplistic theme that we have noted so far.
A bigger heart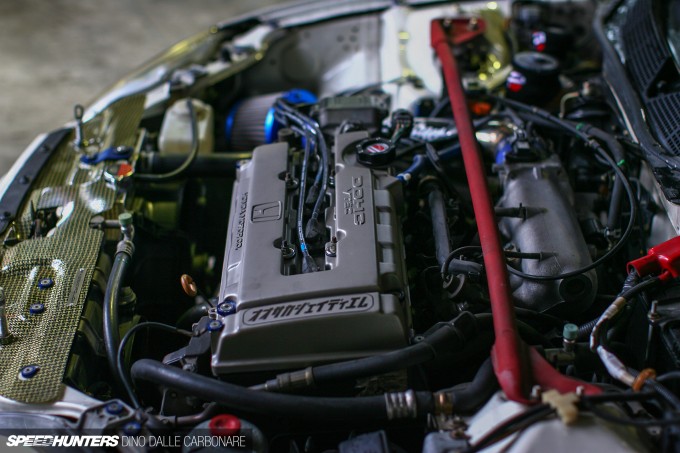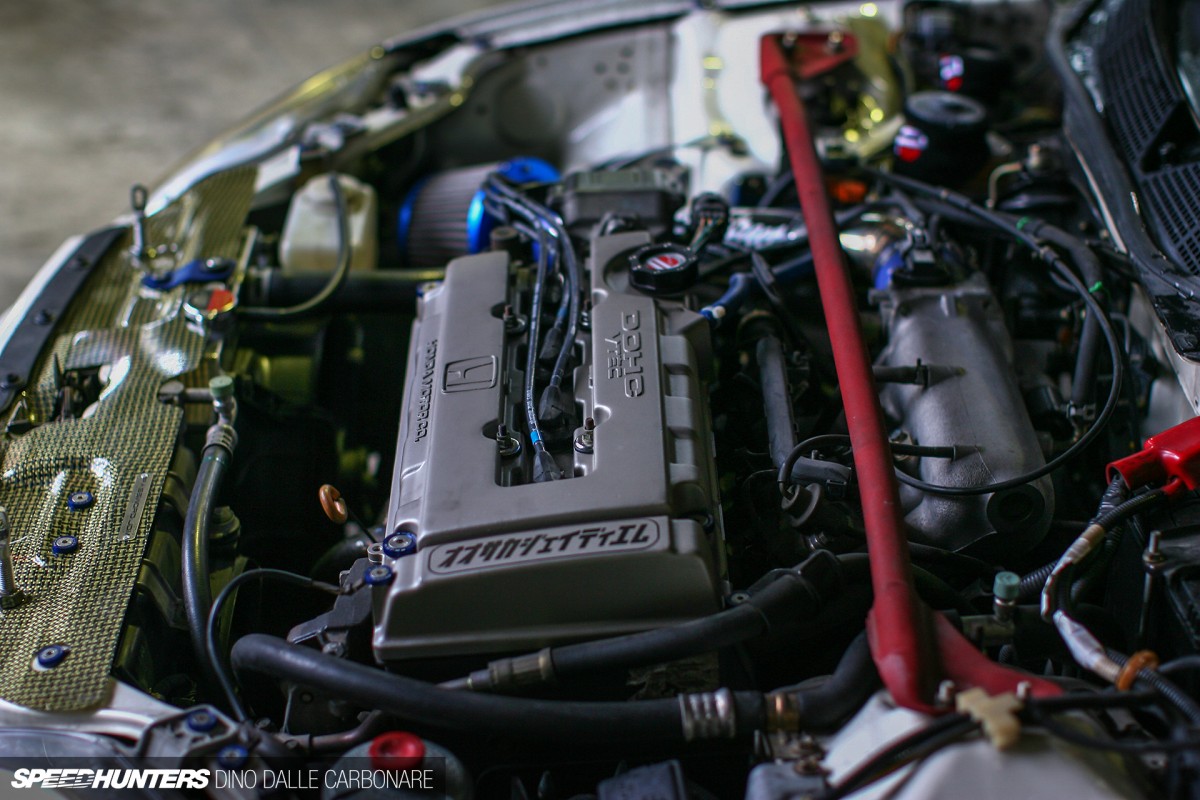 Okay, so now is when things begin to get interesting. Subtleness is once again the main theme under the bonnet, but rather than working with the EK9 Type R's factory B16B, the owner along with Furukawa-san decided to swap in an engine with more potential.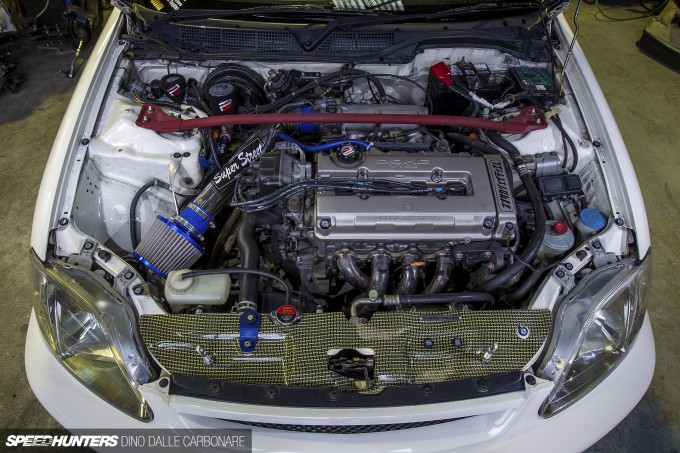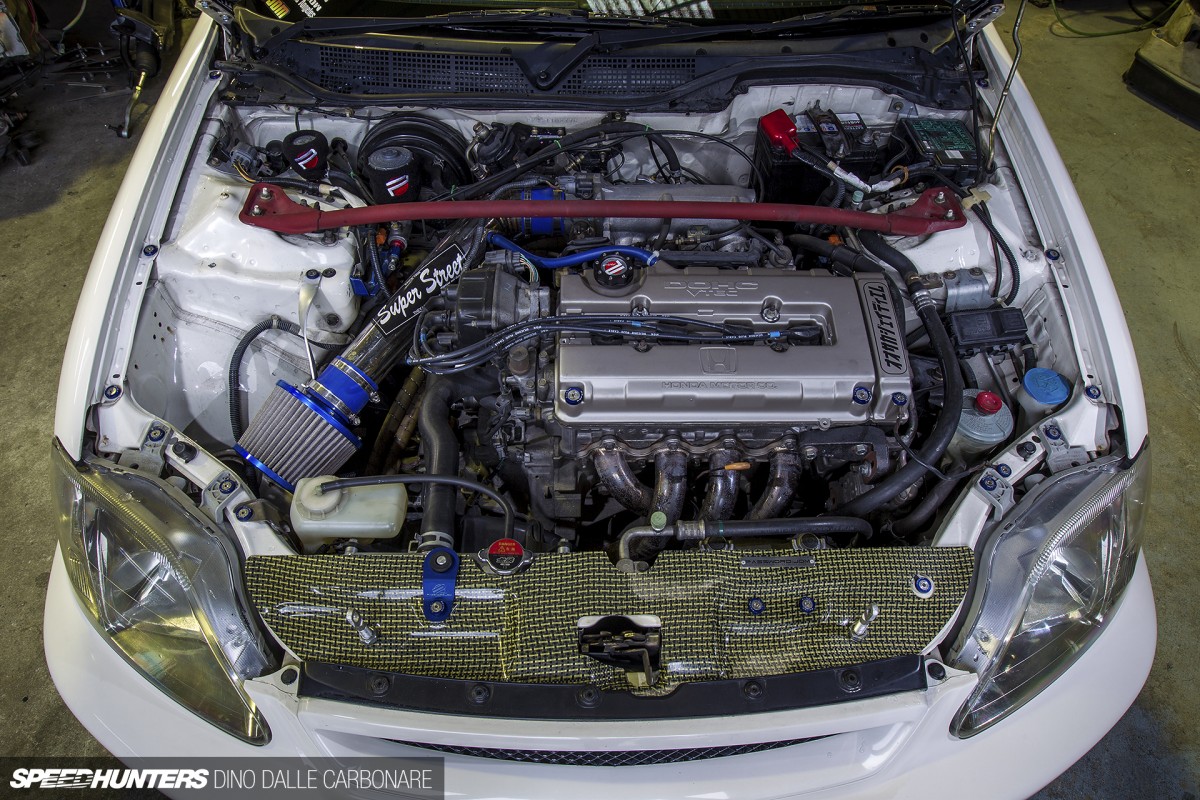 In its place is a B18C from a DC2 Integra Type R, adding 200cc of capacity and 20 or so more horses straight out of the box. To get the most out of the Civic's new heart a full Fujitsubo exhaust system that begins with a stainless steel manifold was installed.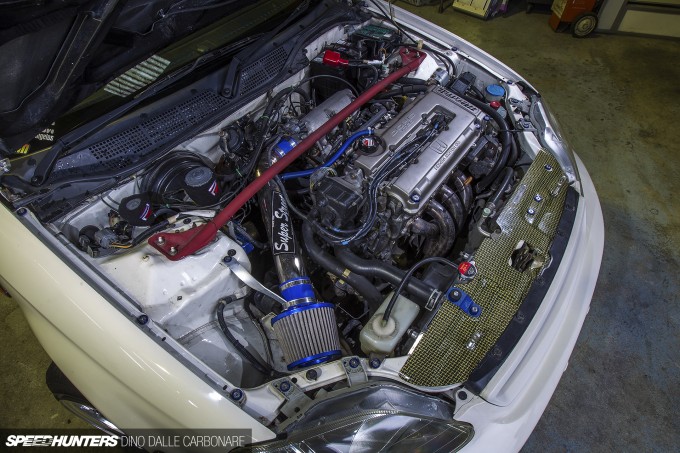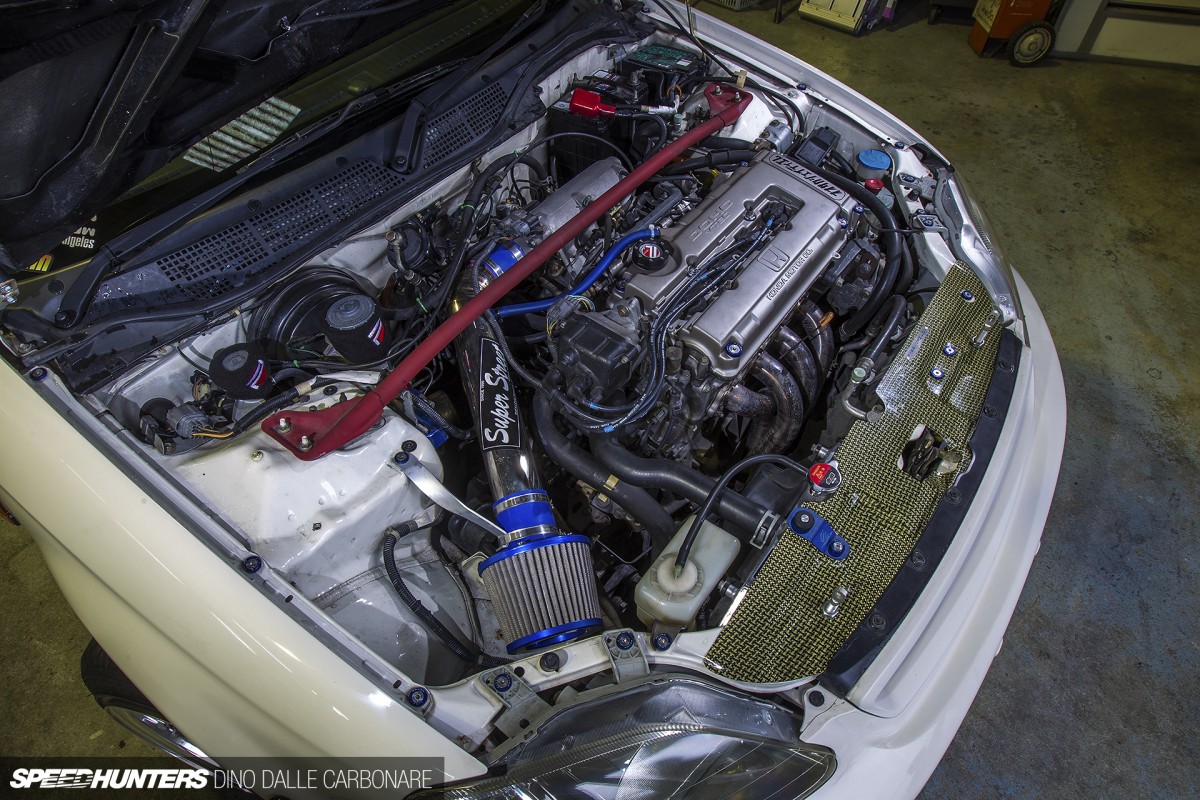 On the intake side the custom induction system attempts to breathe air in from the coolest corner of the engine bay which is fed from that aforementioned carbon scoop in the bumper. This in-turn is connected to a larger diameter Skunk2 throttle body which persuades the engine to take bigger gulps of air. With these few upgrades the stock ECU is able to compensate and get the most out of the set up while helping VTEC to kick in with an almighty YO!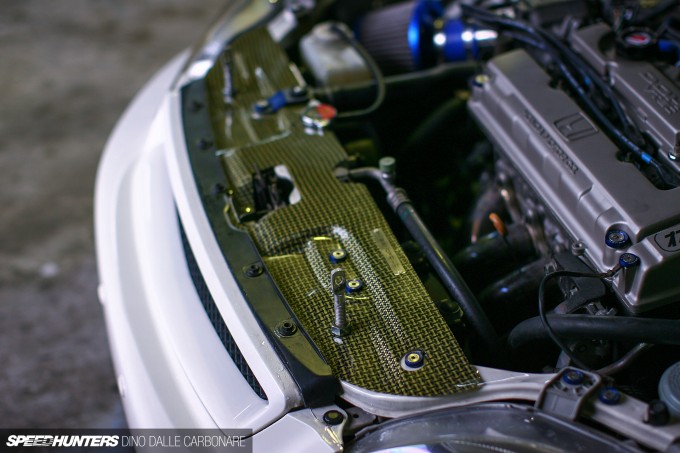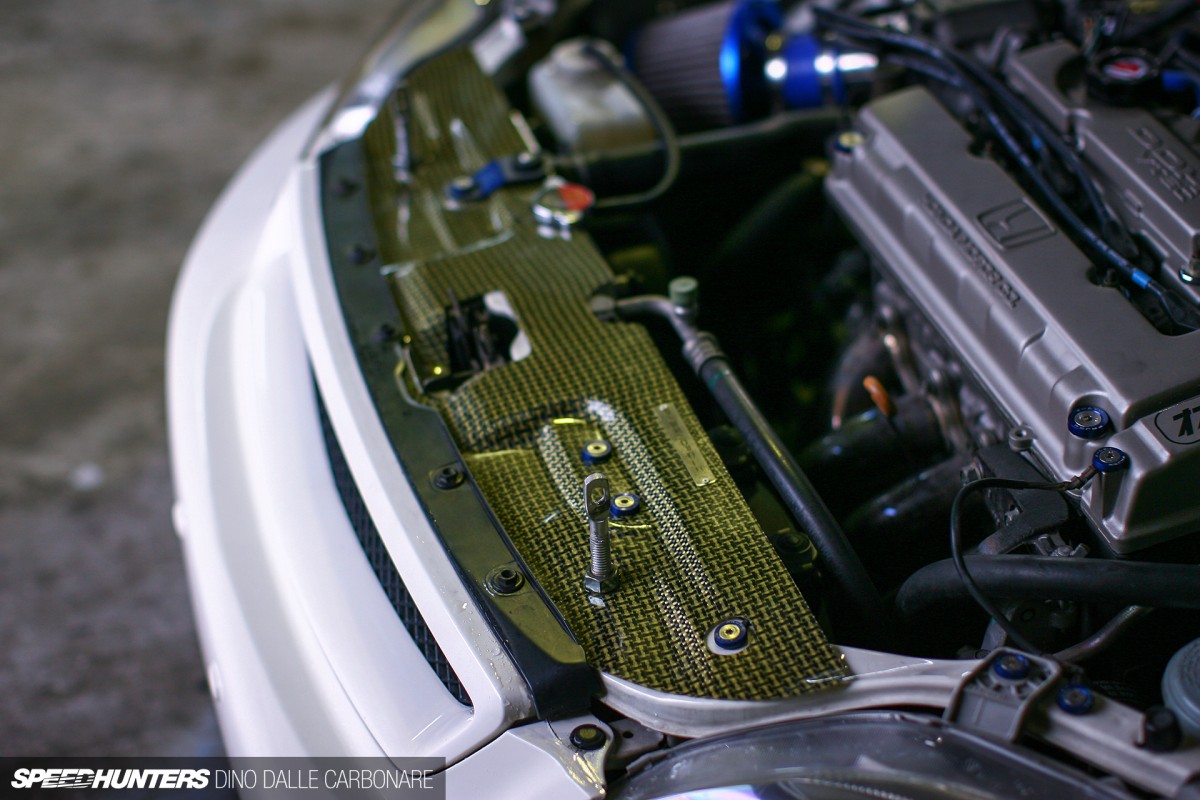 Baffling the radiator and helping boost its cooling efficiency this carbon/Kevlar panel was a nice addition, as are the matching blue Password JDM aluminium washers used around the engine bay.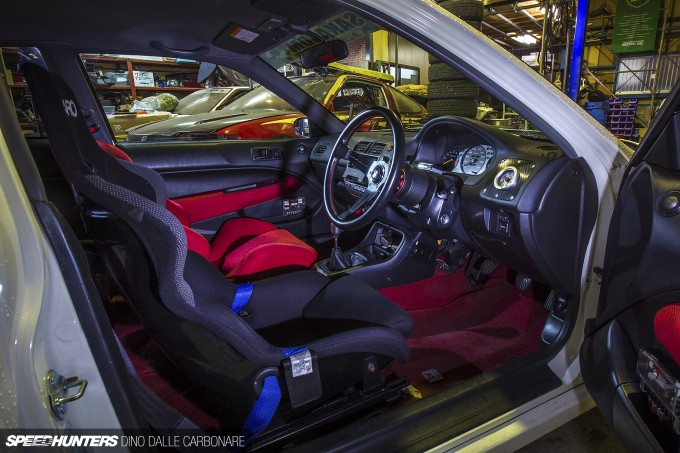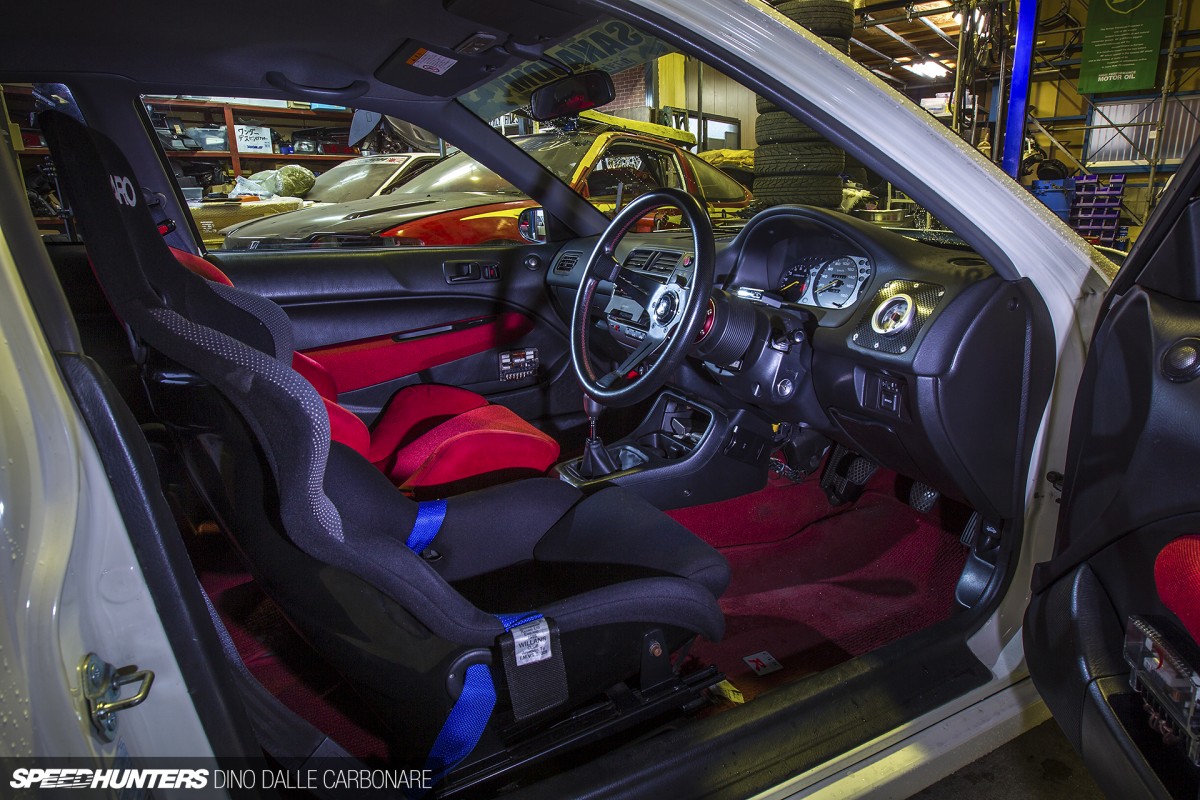 The interior gives you a good idea of how the car gets used. For starters, the original Type R-spec Recaro driver side seat has been replaced in favour of a Recaro SPG bucket – a must-have to contain the driver when weaving through traffic during midnight runs on the Kanjo. There's also a Nardi steering wheel mounted on a snap-off boss to help getting in and out of the heavily bolstered seat, and a Willans harness.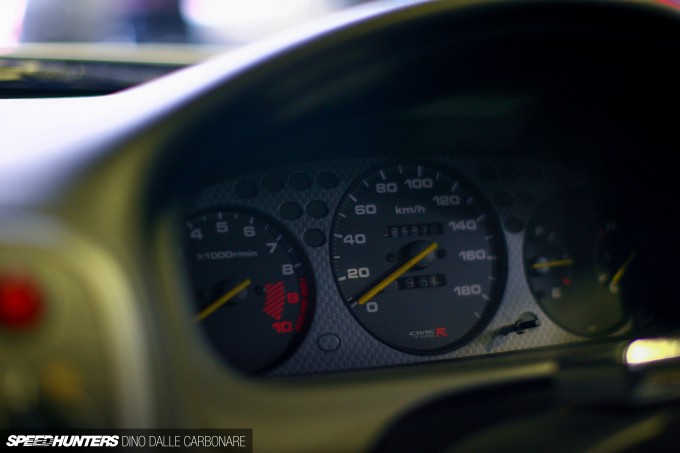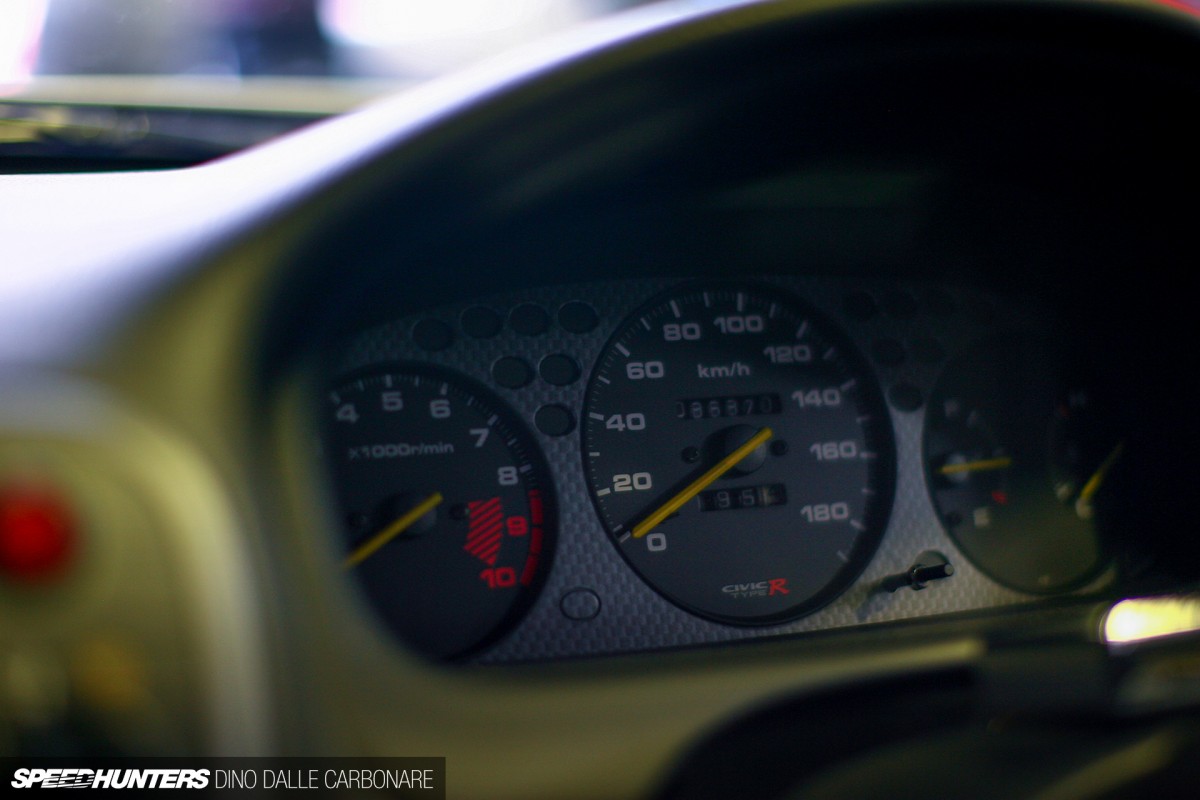 I don't know what it is, but JDM cars of the late '90s to early '00s vintage seem to be immune to ageing. Even the stock Type R instrumentation with its carbon look and 10,000rpm tachometer is beautifully simple and still very much modern looking. With all these new-gen turbo engine powering modern cars these days, tachos like these will soon become a thing of the past!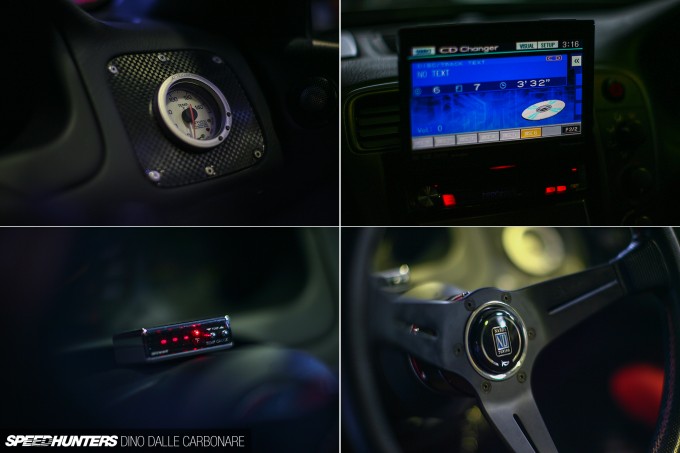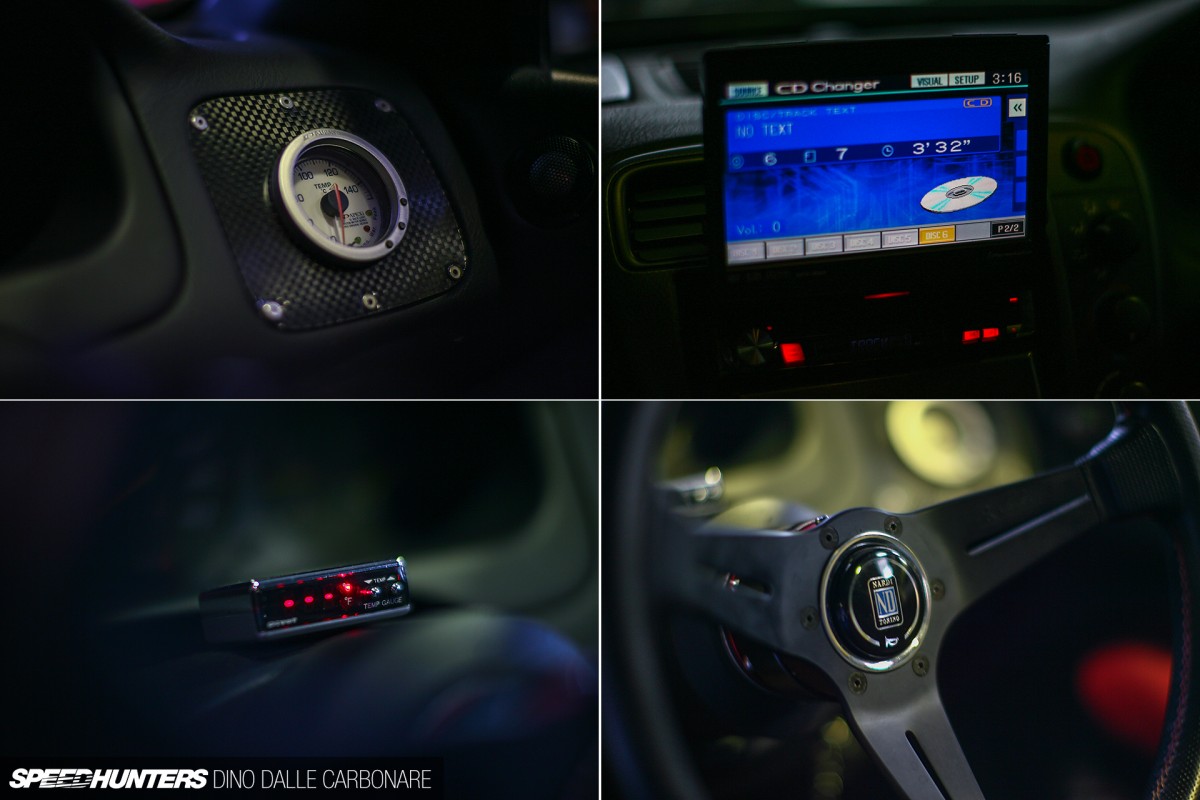 The door-side air vent has been sacrificed to house an A'PEXi oil temperature gauge; something that is helped along by an oil cooler mounted behind the front bumper that keeps the B18C nice and happy. Water temperature on the other hand is kept in check with a Pivot digital meter mounted on the steering column shroud, right behind the Nardi's deeply dished spokes.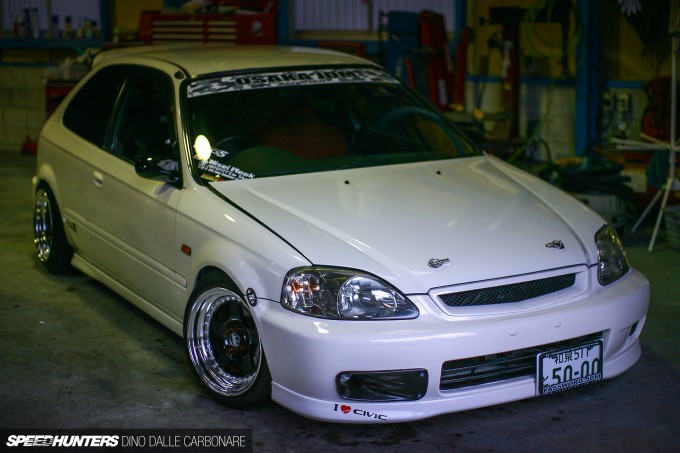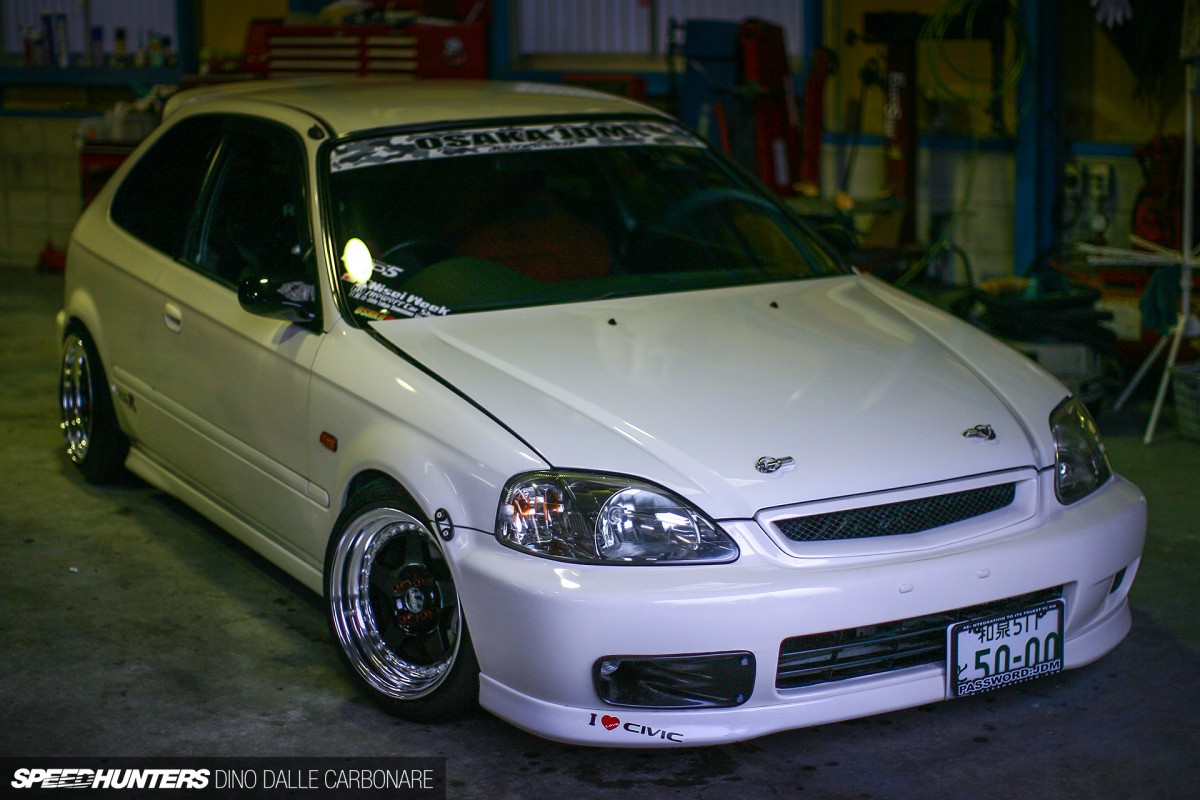 In a tuning world where it seems the constant pursuit to shock and impress is becoming the main focus of why people take on builds, it's refreshing to see those that stay true to their calling.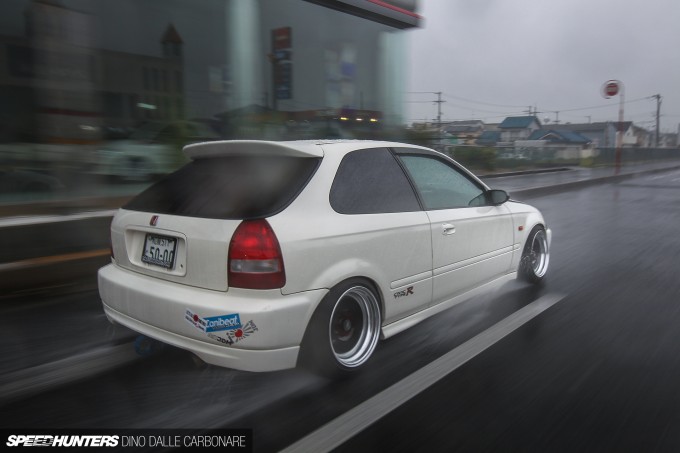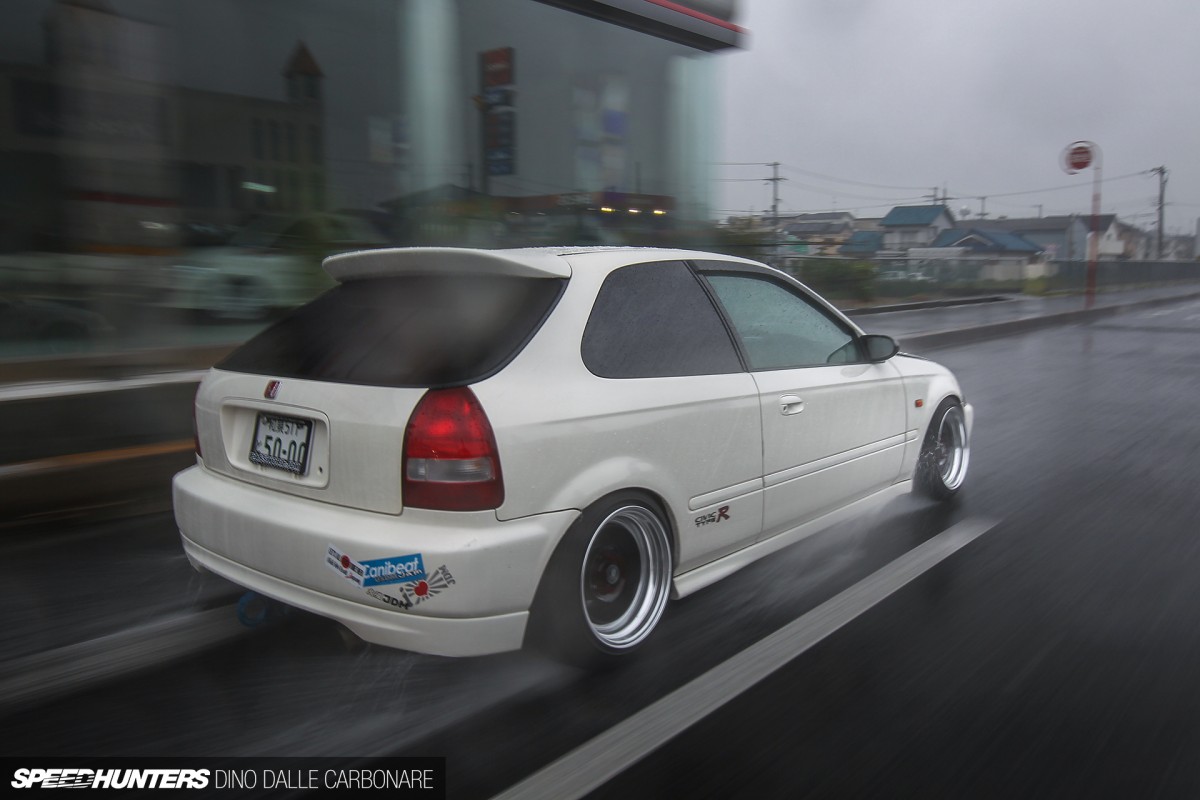 The Kanjo calls for a very specific kind of car. It dictates the sort of tuning one has to focus on, and I'm pleased to say that I finally understand what this group of enthusiasts in Japan are all about. Perhaps the best thing of all is seeing how they've evolved the whole movement – keeping it fresh, but at the same time very real.
Dino Dalle Carbonare
Instagram: speedhunters_dino
dino@speedhunters.com