An easy choice
There were something like six events to choose from this past weekend in the Tokyo area. The season is definitely warming up now that the cherry blossoms are out and temperatures are on the rise, which means pretty much every weekend until autumn will give car enthusiasts this much choice. But it was the sheer variety that Mooneyes always bring to their Street Car Nationals that made me decide to hit it up again this year. And as you will see in the next couple of posts I have coming, it was a worthwhile excursion.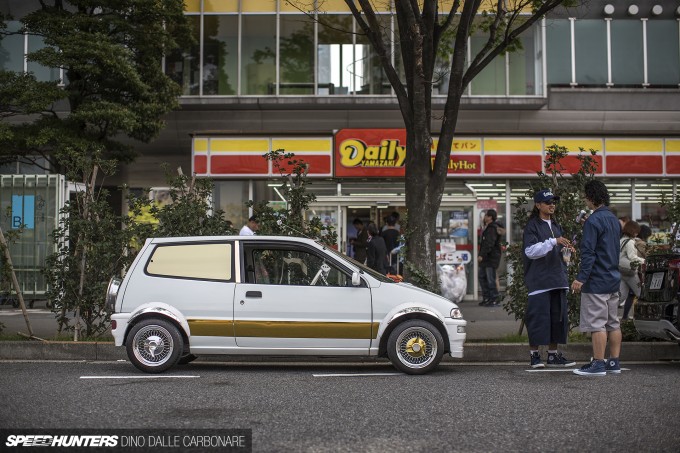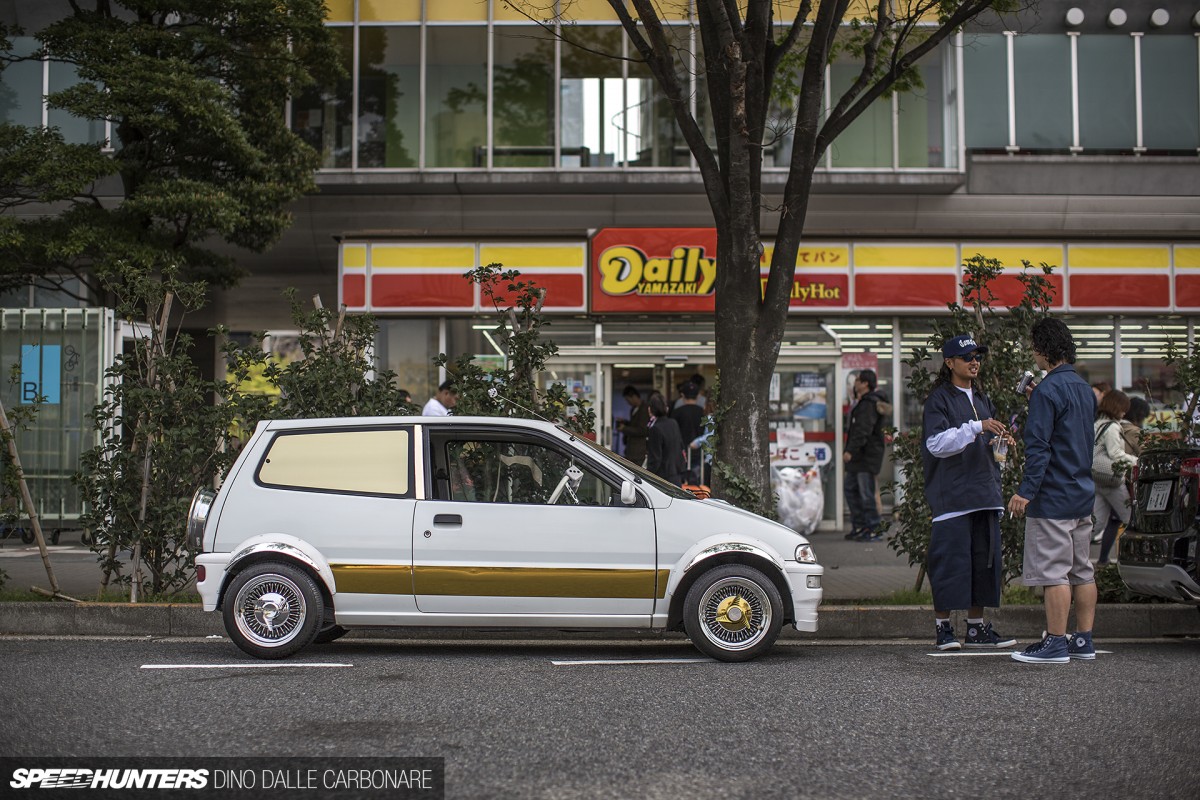 As I arrived at the venue in Odaiba – the same place where D1 Grand Prix has been holding Tokyo Drift events for the last decade – the atmosphere was as unique as ever. It's a really interesting event that Mooneyes put on – obviously geared towards Hot Rods and American rides, but at the same time bringing out an ever-increasing number of different automotive styles. And that's not just at the show. For the entire day the whole block around the venue is continuously circled by a wide selection of cars. People that swing by for a quick look, briefly park up in front of the Daily Yamazaki located aross the road from the show entrance and hang out there.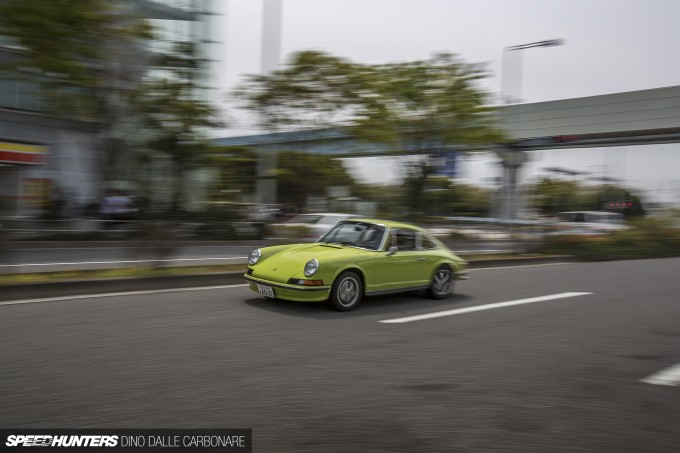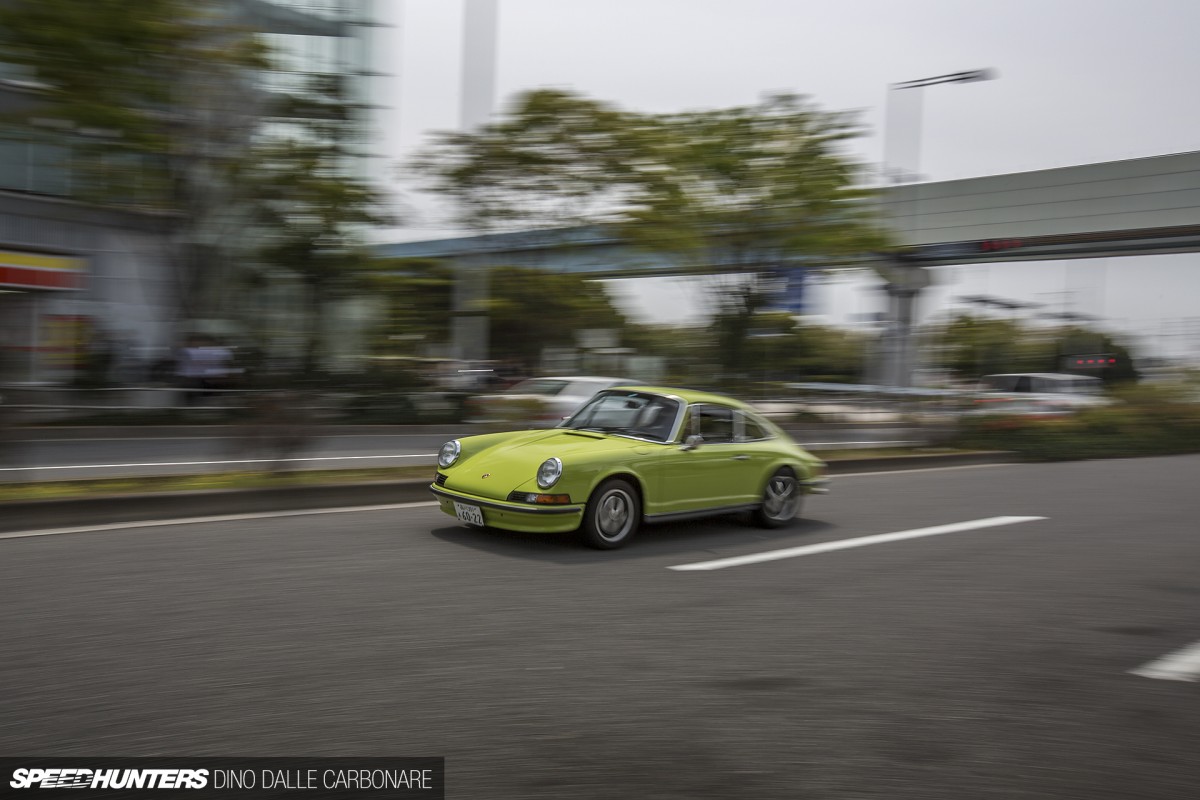 As you can imagine, variety is definitely the operative word here.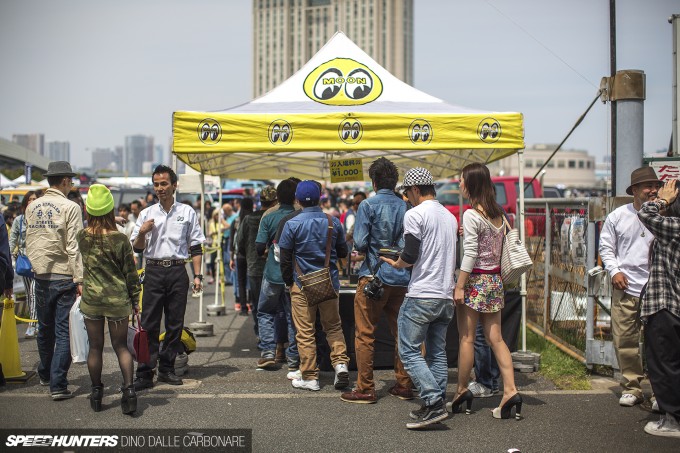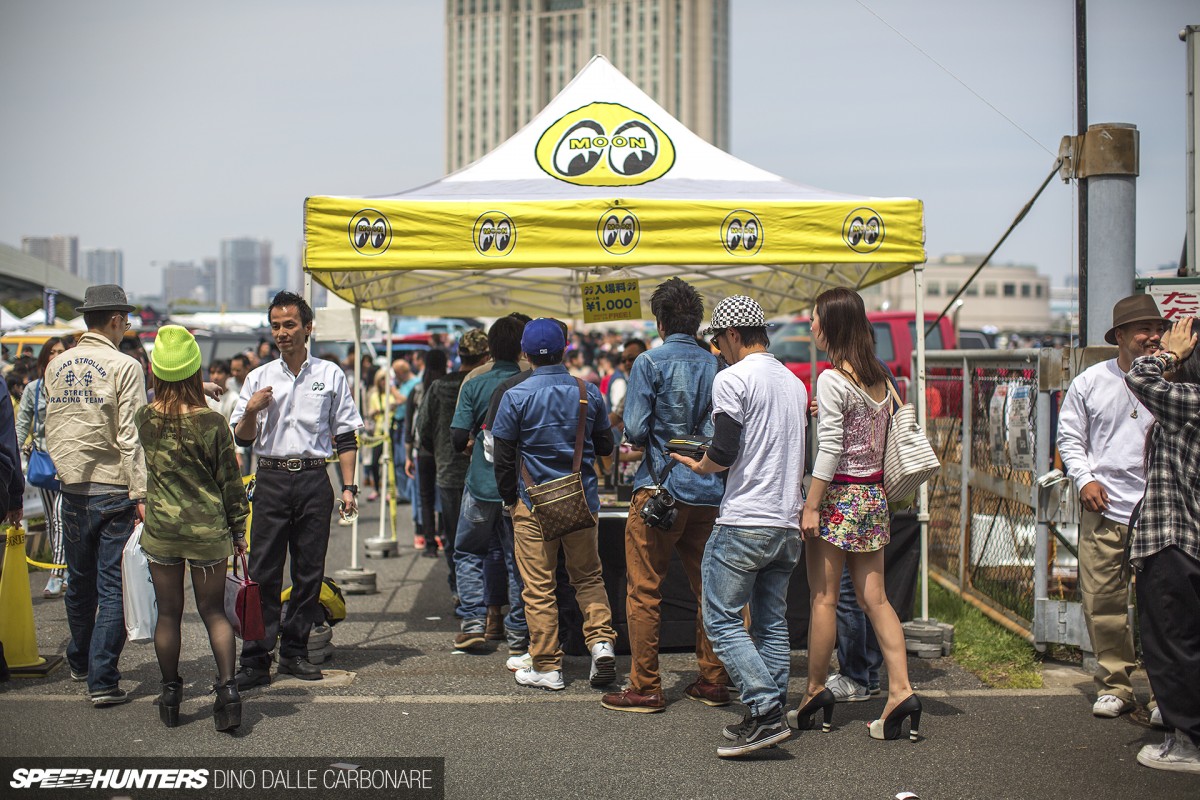 Due to the fact that one of the massive parking lots next to the venue were taken up by a circus, this year's Street Car Nationals was a little smaller than usual. Around 1000 cars usually flock to Odaiba for the event, but that was down by about 400, as a big slice of the venue had to be reserved for parking. But that wasn't a problem, as there was still plenty to see and it kept people lining up to get in well into the afternoon.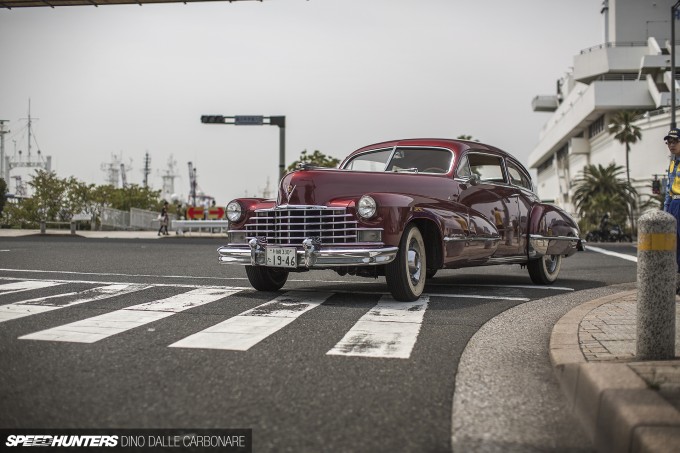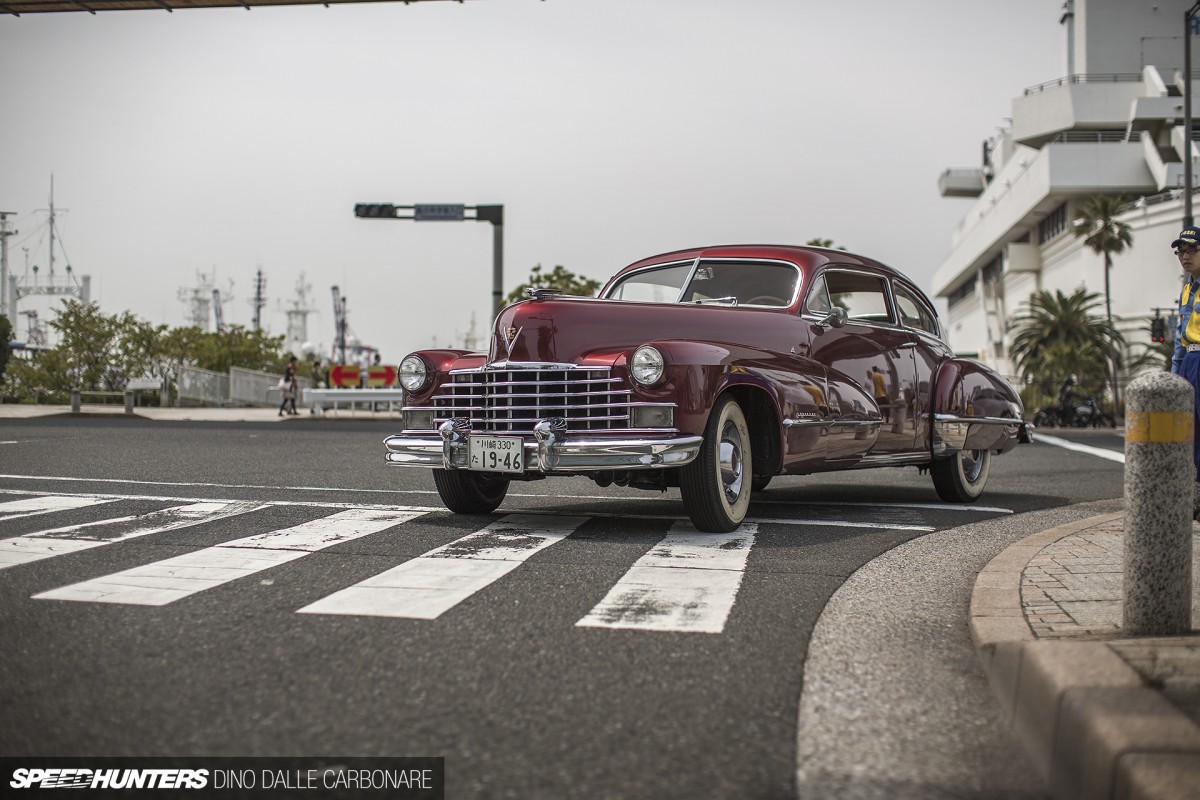 After spending a short amount of time on the street just to see what type of cars were driving around, I decided to head in.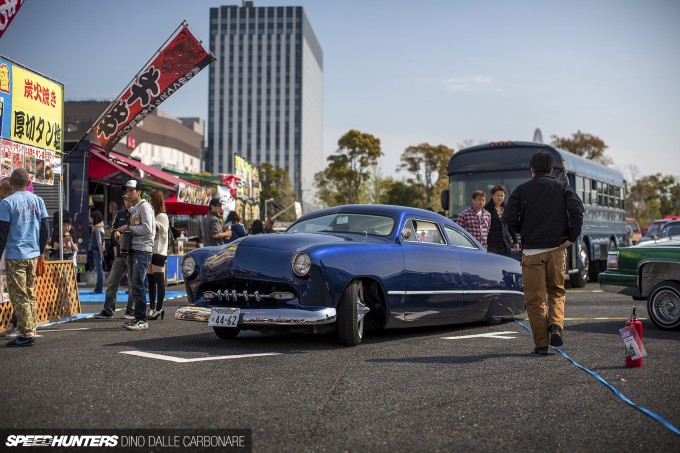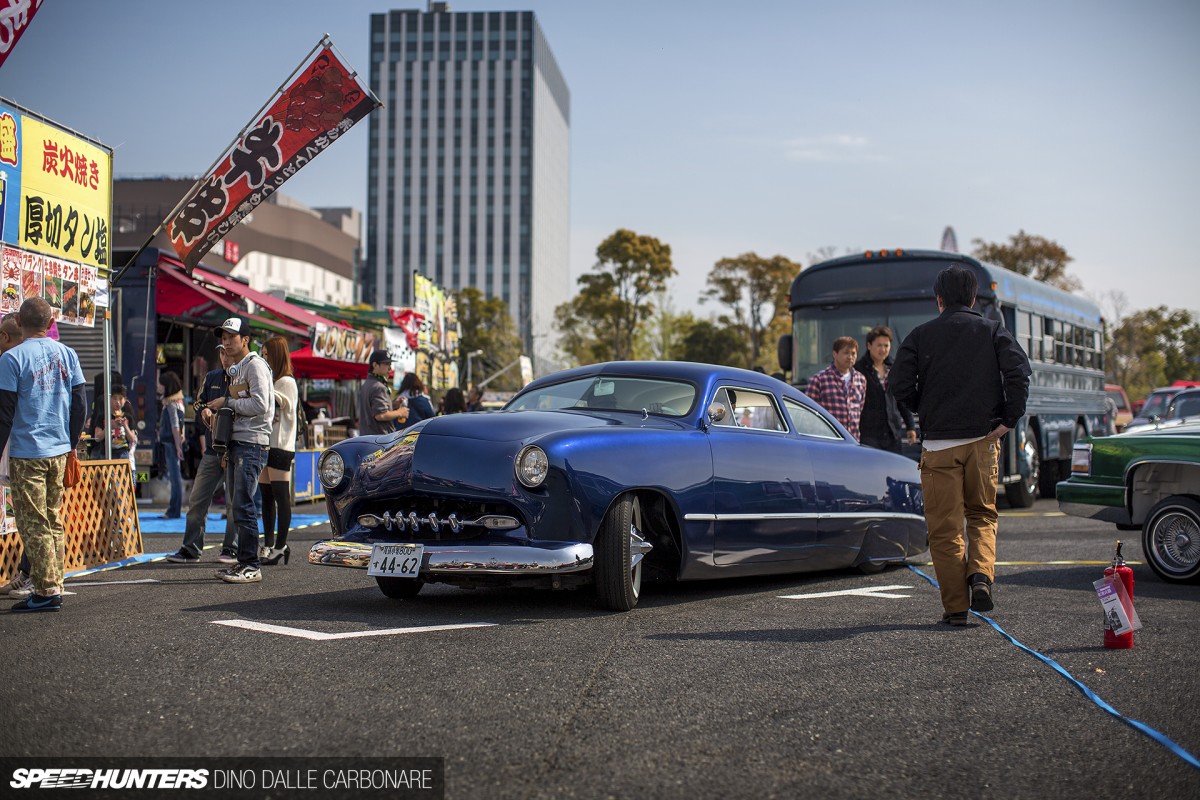 By about 9.00am the last few cars were slowly making their way in. driving around the venue until they found their pre-assigned spot. Like every year, the show car space and the booth area get completely sold out soon after the event gets announced – something that can't be said for other events that get held in the same place.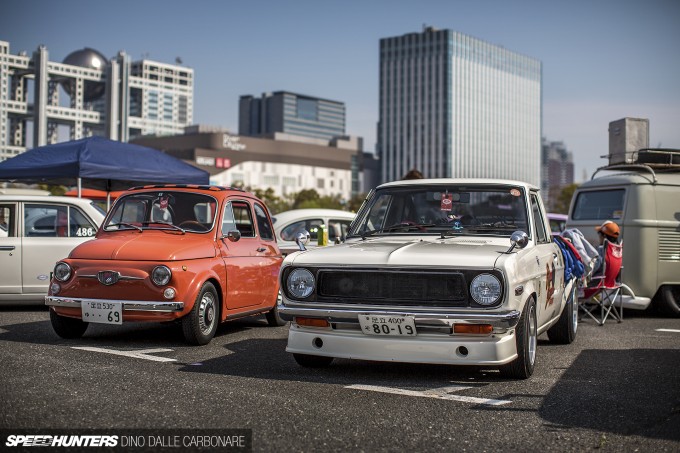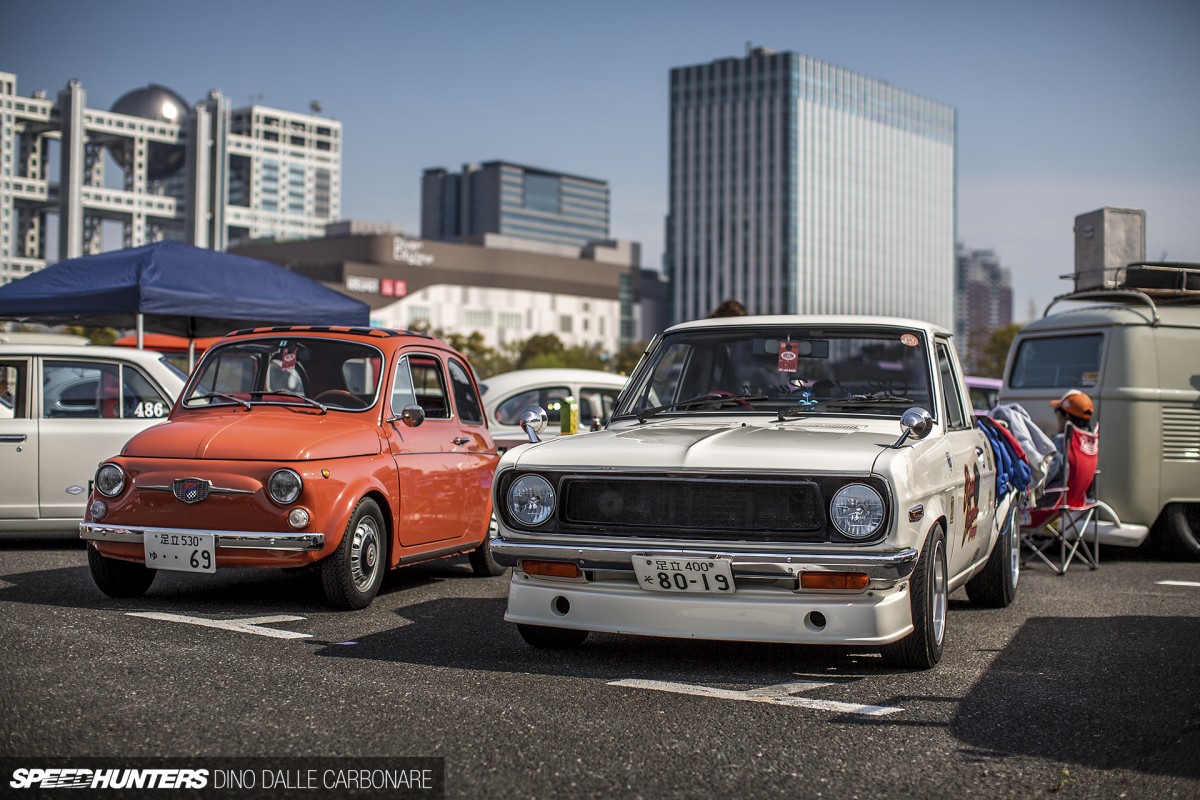 With such a mix of cars to look at I really have to make sure I walked through the lines of cars repeatedly. I don't know if it's a lack of attention on my part, but I tend to wonder a lot as my eye catches cars located rows behind the one I'm supposed to be checking out. One such example I spotted straight off was the little red Fiat 500 sitting next to the Datsun truck. As the number plate suggests it's a 1969 model, but what made it special was the fact that it was riding on Giannini wheels – a Roma-based tuner famed for getting the most out of these cars.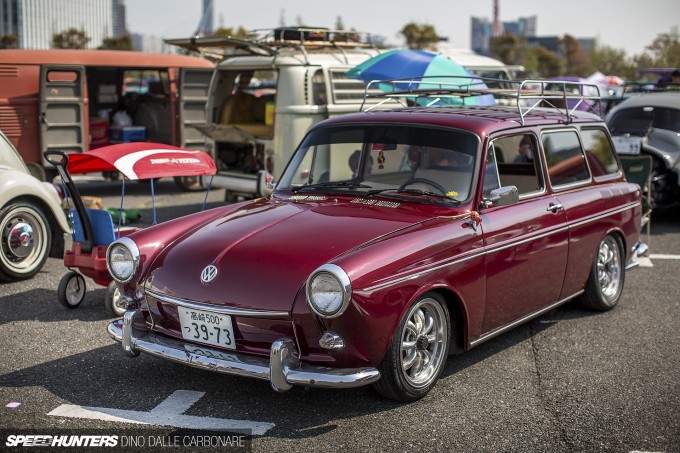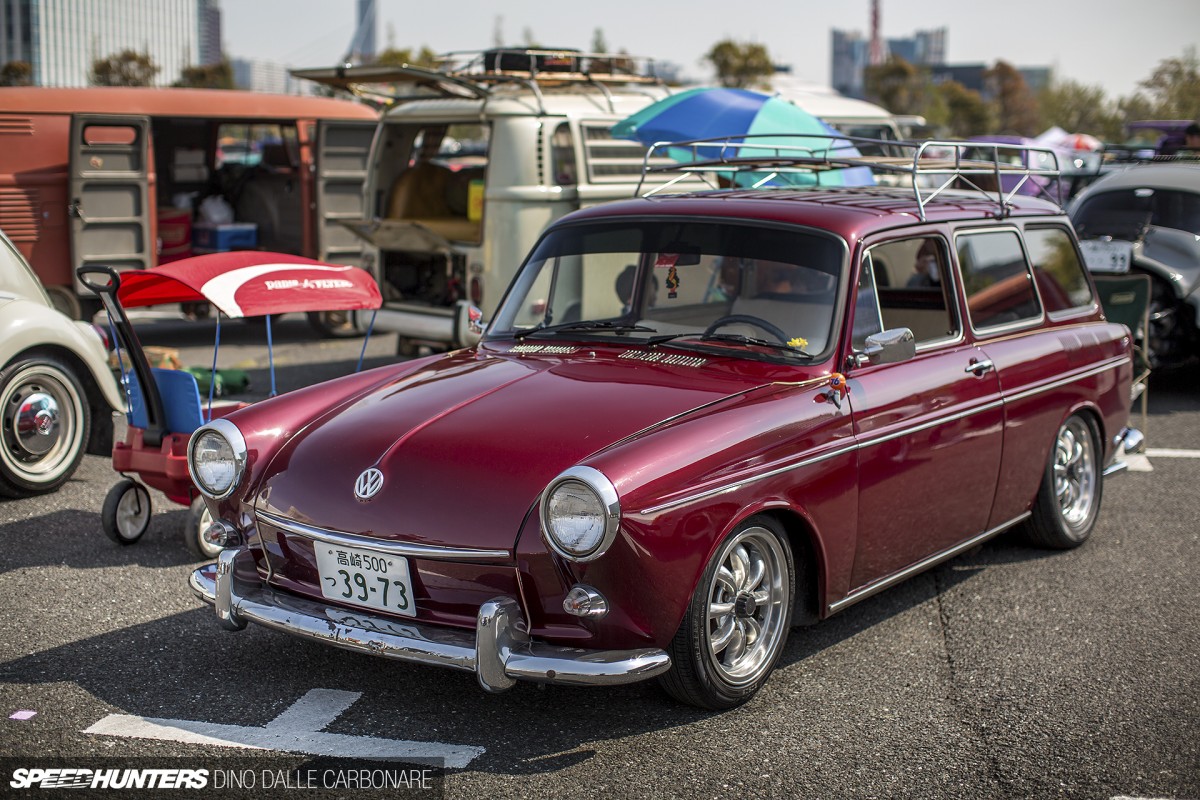 Not too far away I came across another European car from the same area – this dropped VW Type 3 'Squareback' – meticulously restored and fitted with the obligatory period-correct roof rack.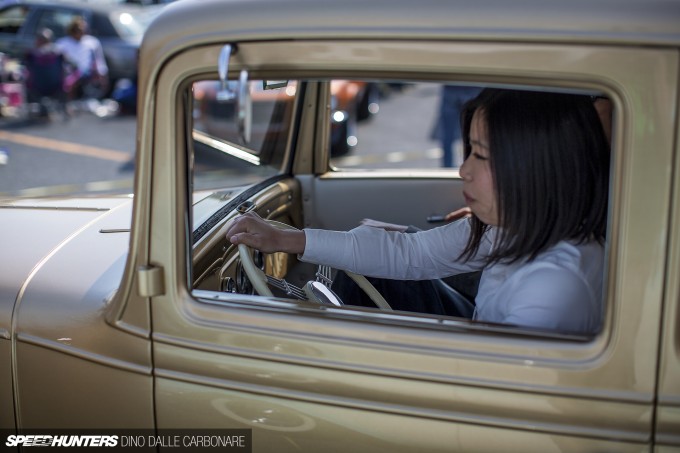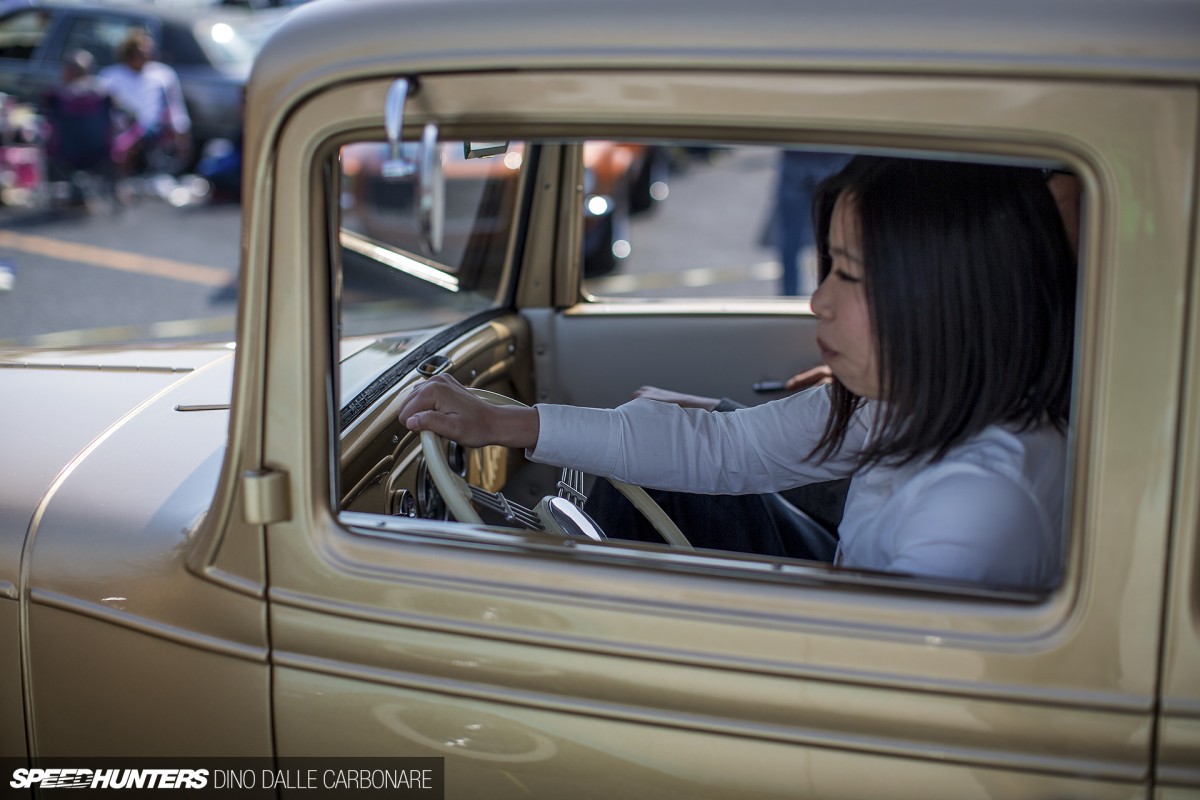 One of the last cars I saw being positioned was driven by a lady. There is something about seeing those of the fairer sex behind the wheel of these sort of cars, isn't there?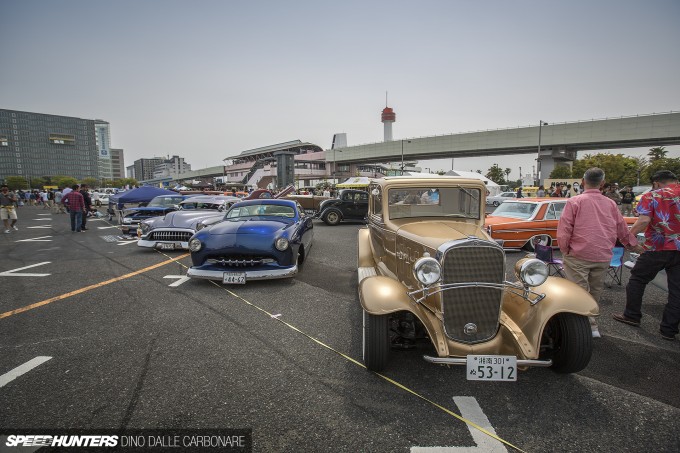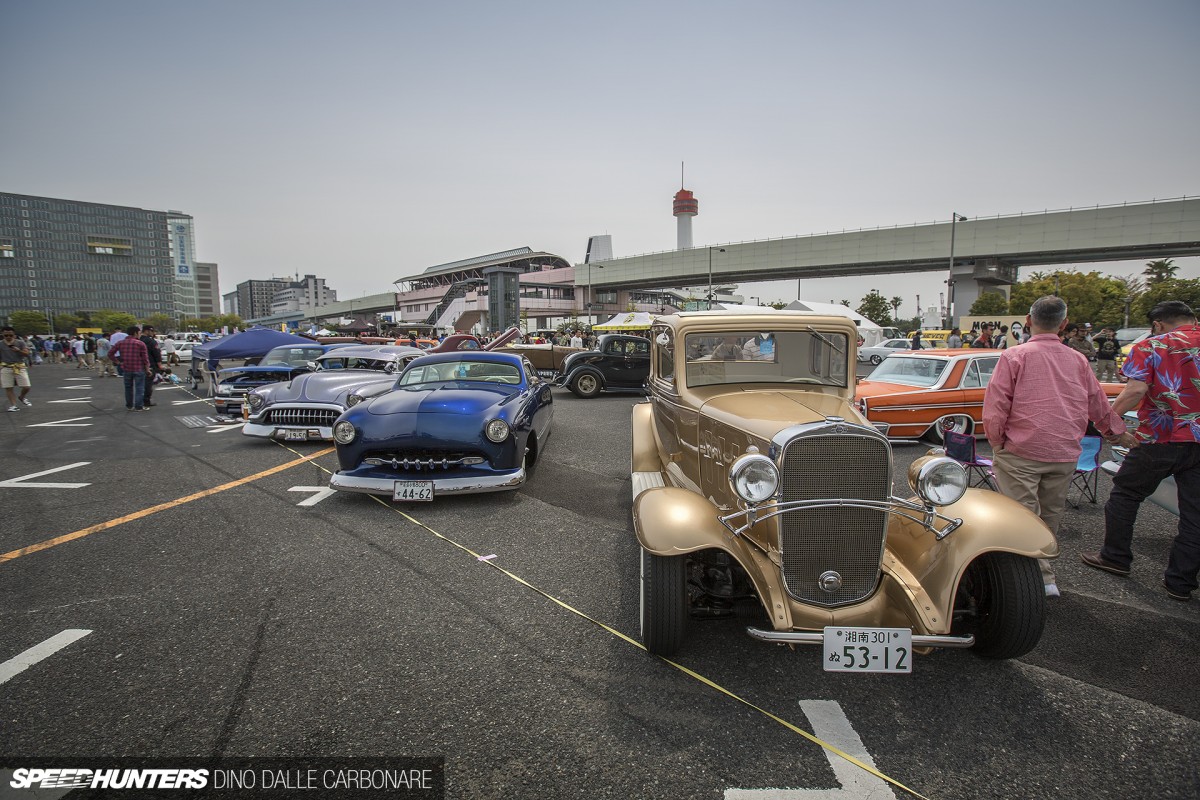 The Chevy she was driving completed an awesome custom car line up – one I ended up returning to later on in the day for a closer look.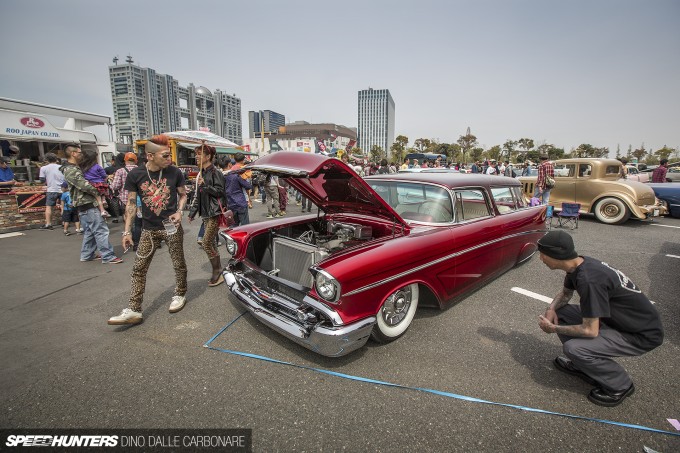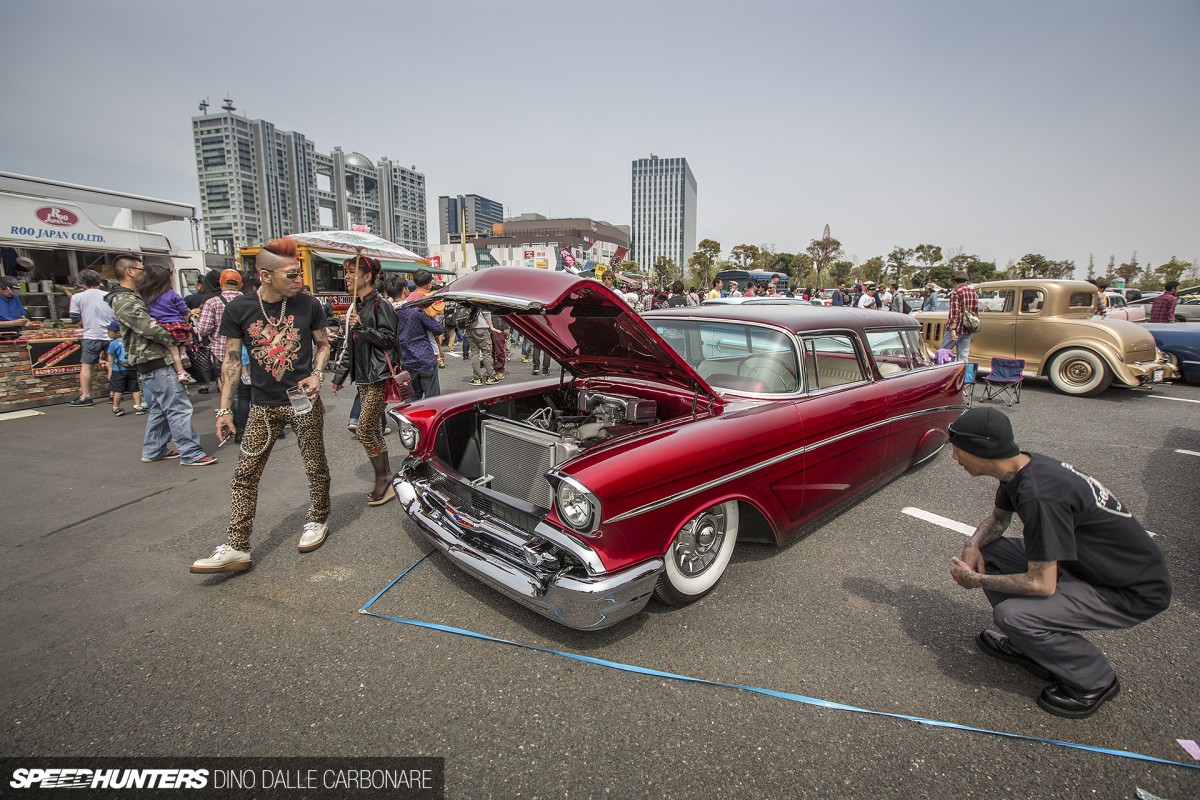 As much as it's cars that show up – like the candy red Bel Air Nomad we recently saw at the Razzle Dazzle – the one aspect of it all that really interests me is seeing car enthusiasts in his or her element. Now, this might sound strange to some, but if you spend enough time in Japan you will notice that people tend to hide their interests or passion during the week in an attempt to conform to something that society expects of them. In the weekend however, it's time to let loose, and boy do you get that a lot of that at Mooneyes events!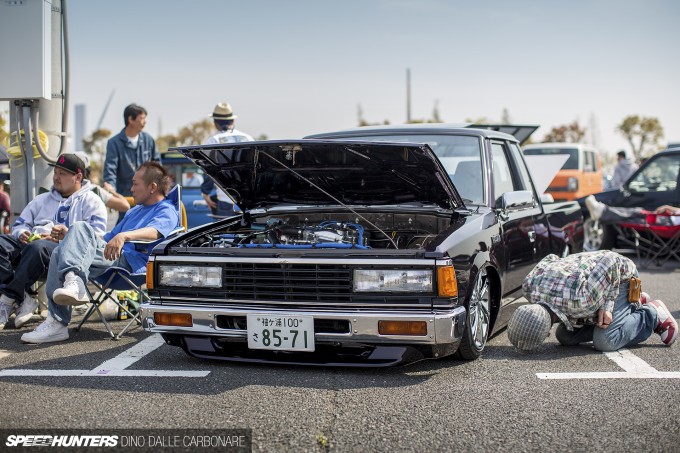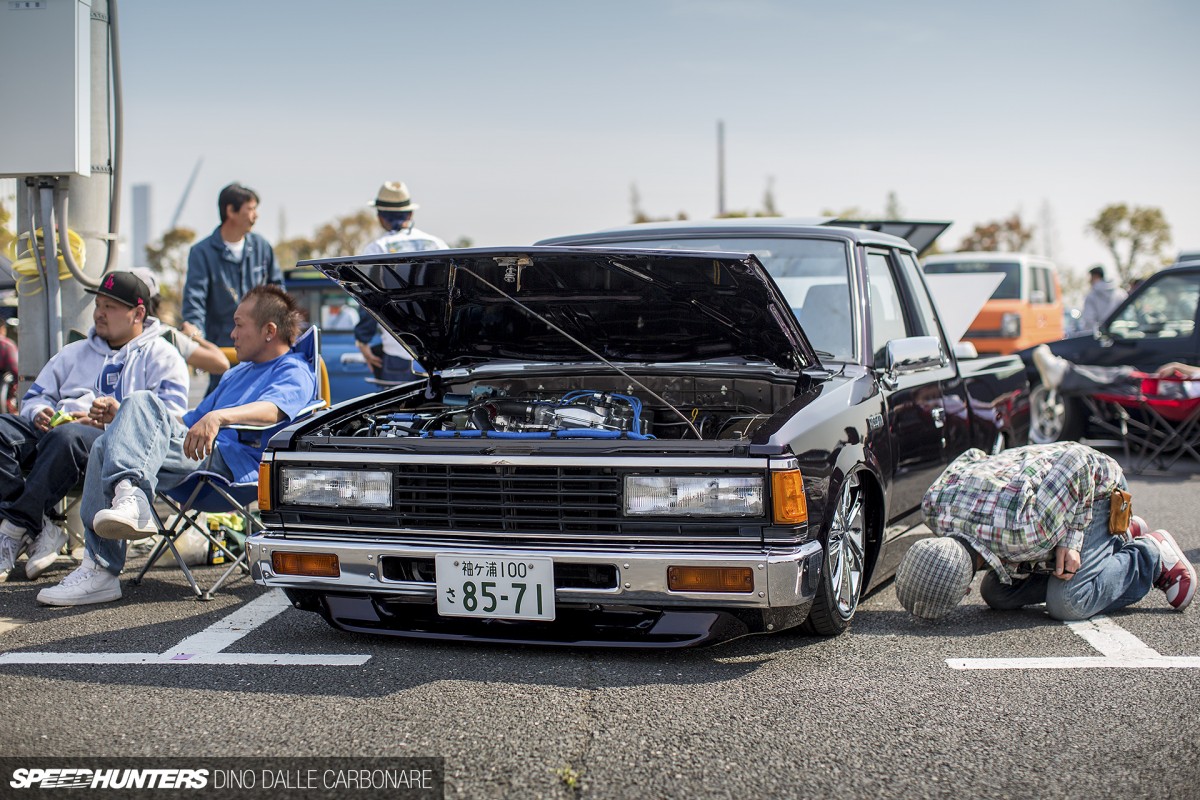 It's also a time to compare notes – a perfect place to check out what people are doing in the various scenes that are often represented, and grab the a closer look.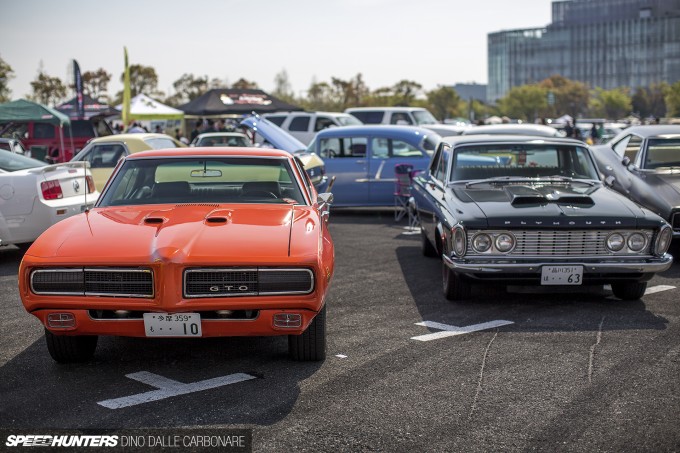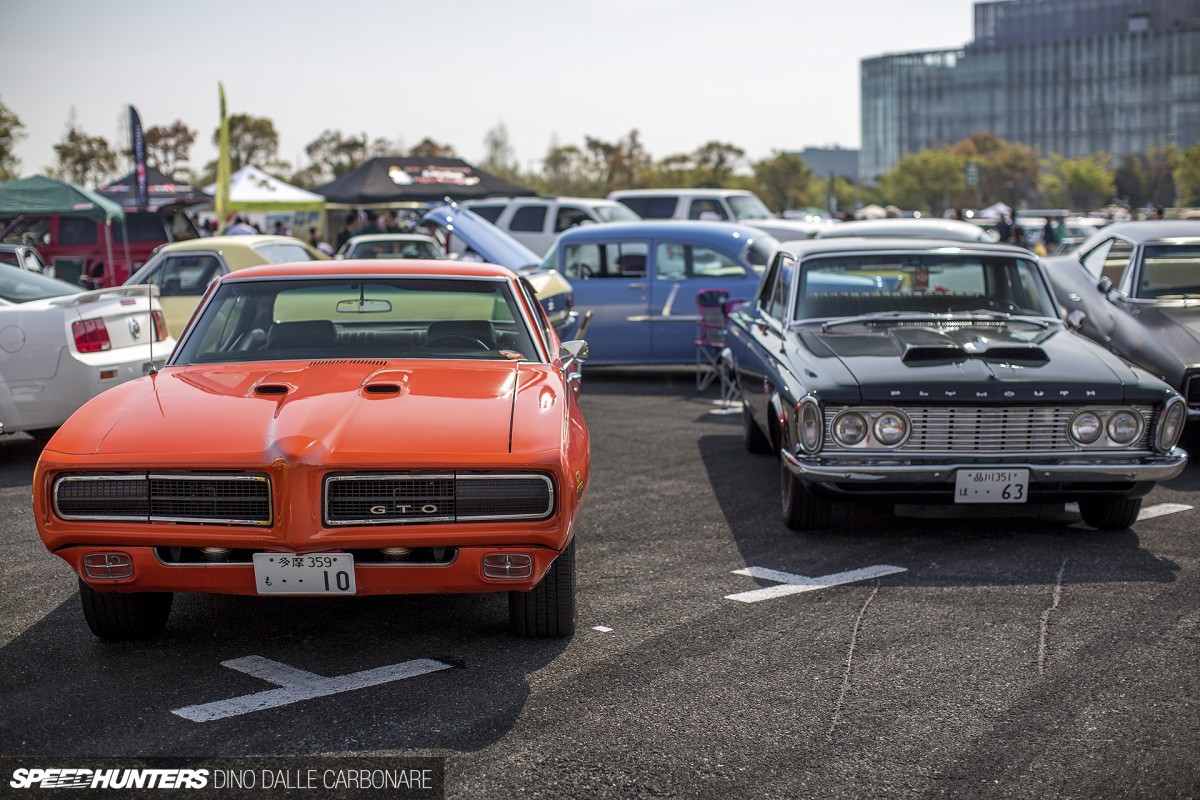 What originally attracted me to Mooneyes events – and still does – is getting up close to the sort of cars that back when I was a kid I could only see on the TV. It still surprises me what effect seeing massive muscle cars like this Pontiac GTO has on me. Regardless of how many times I see them, they still seem so alien – so far from what I've come to base my car passion around.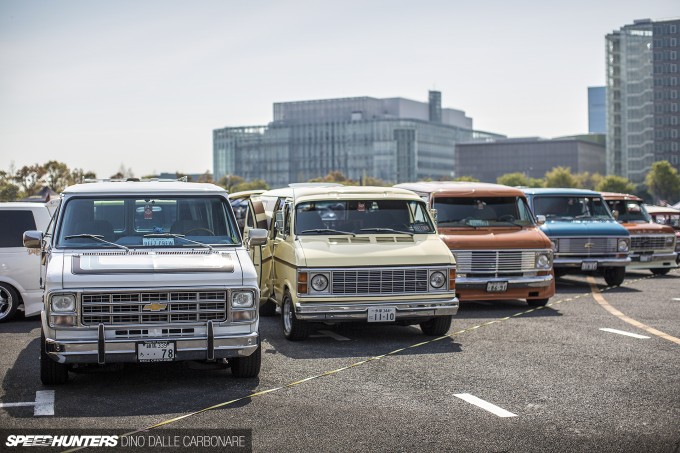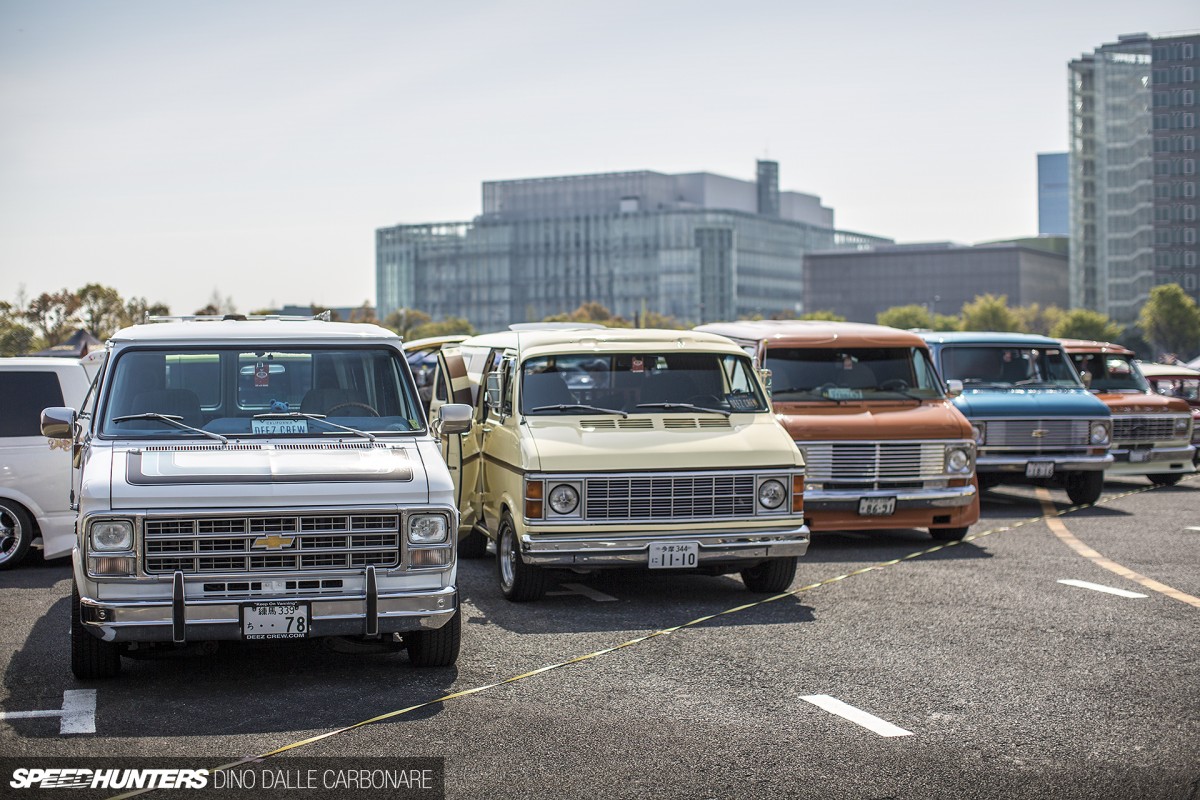 Plus, if like me you grew up watching The A-Team or even Scooby Doo cartoons, you'll understand the strange attraction I have to custom vans like these.
Japanese craziness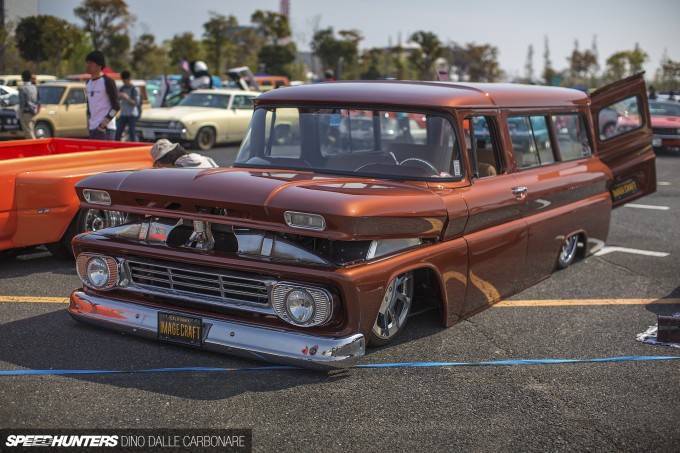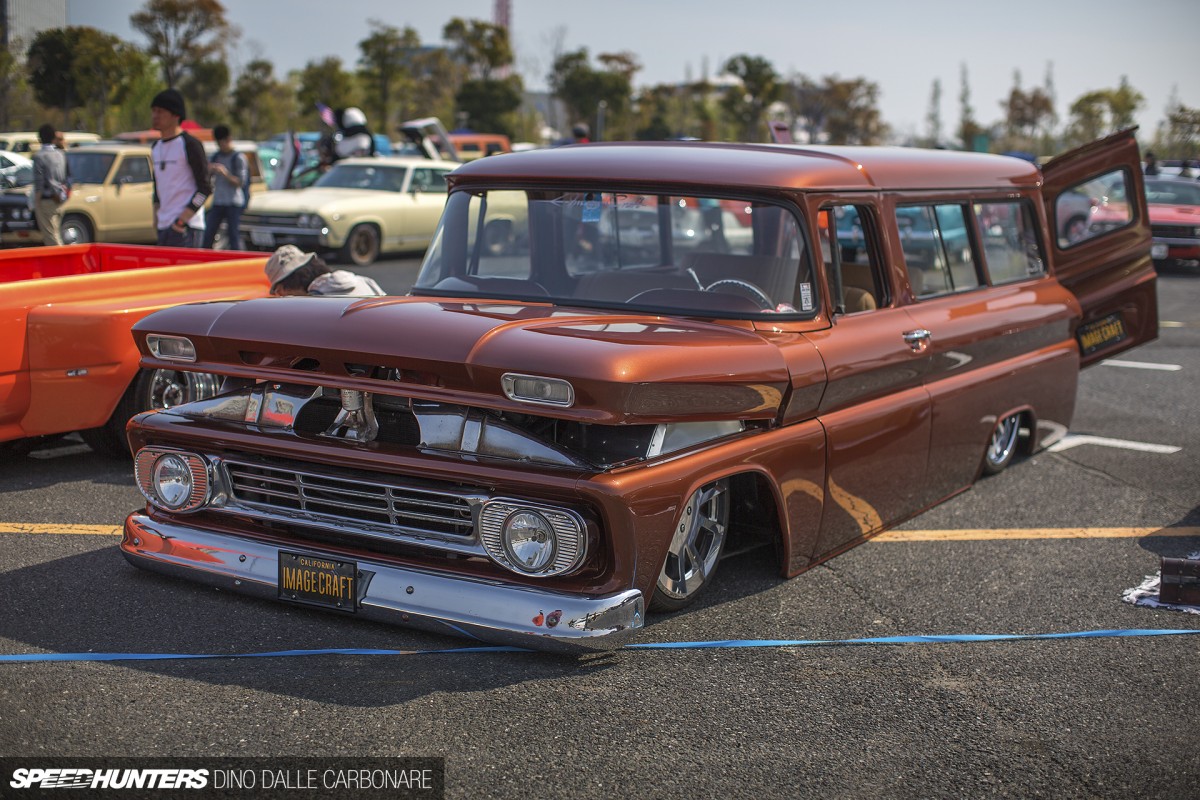 The Street Car Nationals always have various levels of craziness to serve up – a great representation that shows just what level the Japanese are at when it comes to dreaming up wild projects. It was finally cool to see this massive Chevy Suburban out in the light of day, that metallic brown paint doing its thing under the sun.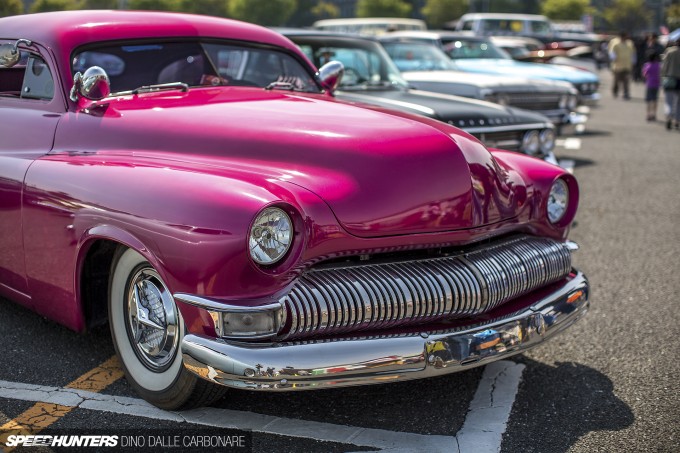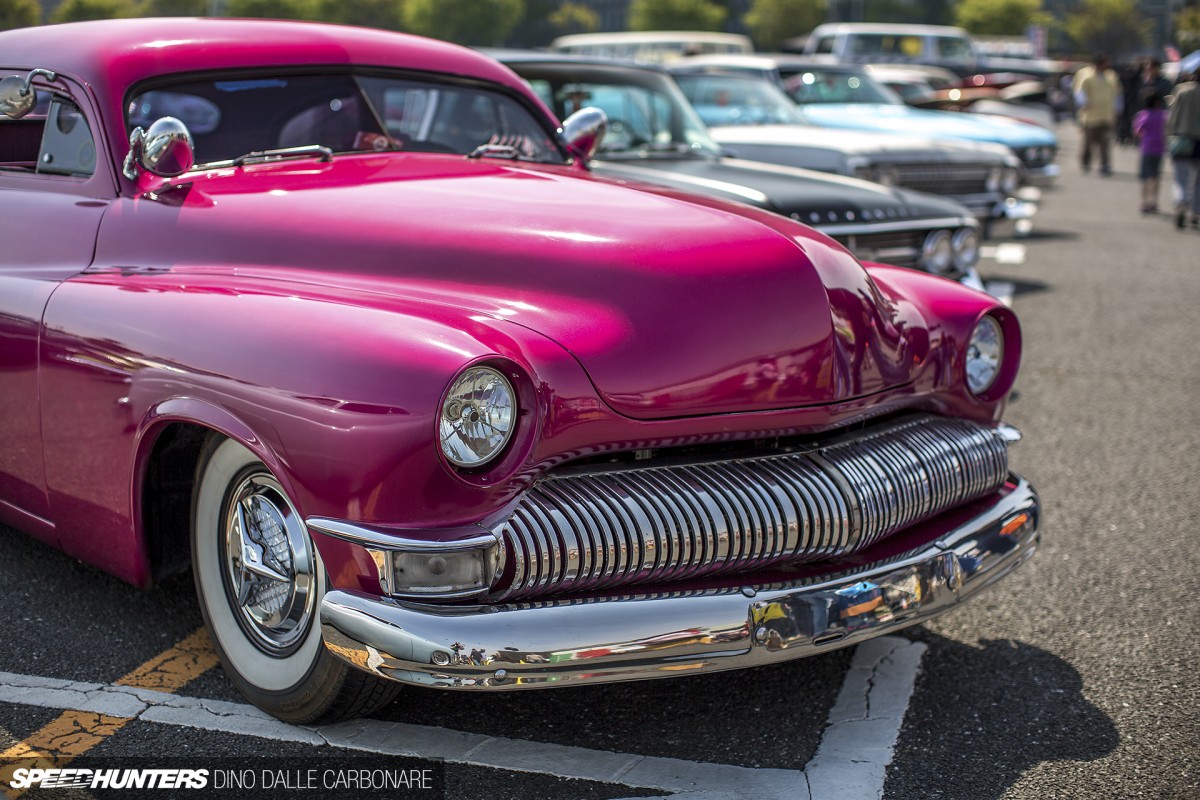 The Japanese continue to show the world that no matter what they attempt to do, it doesn't take them time to become true leaders at it all.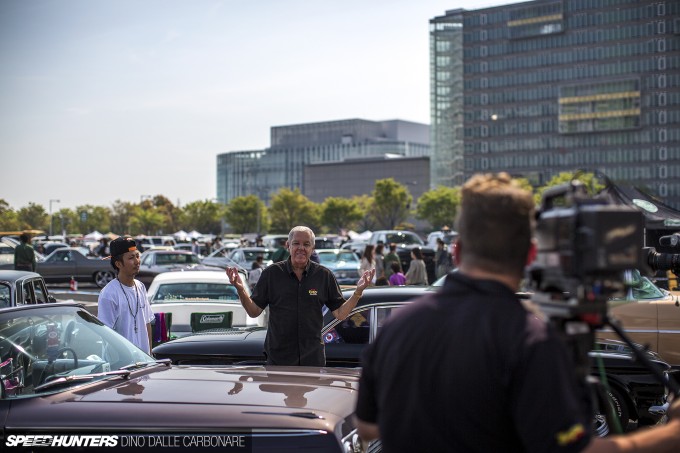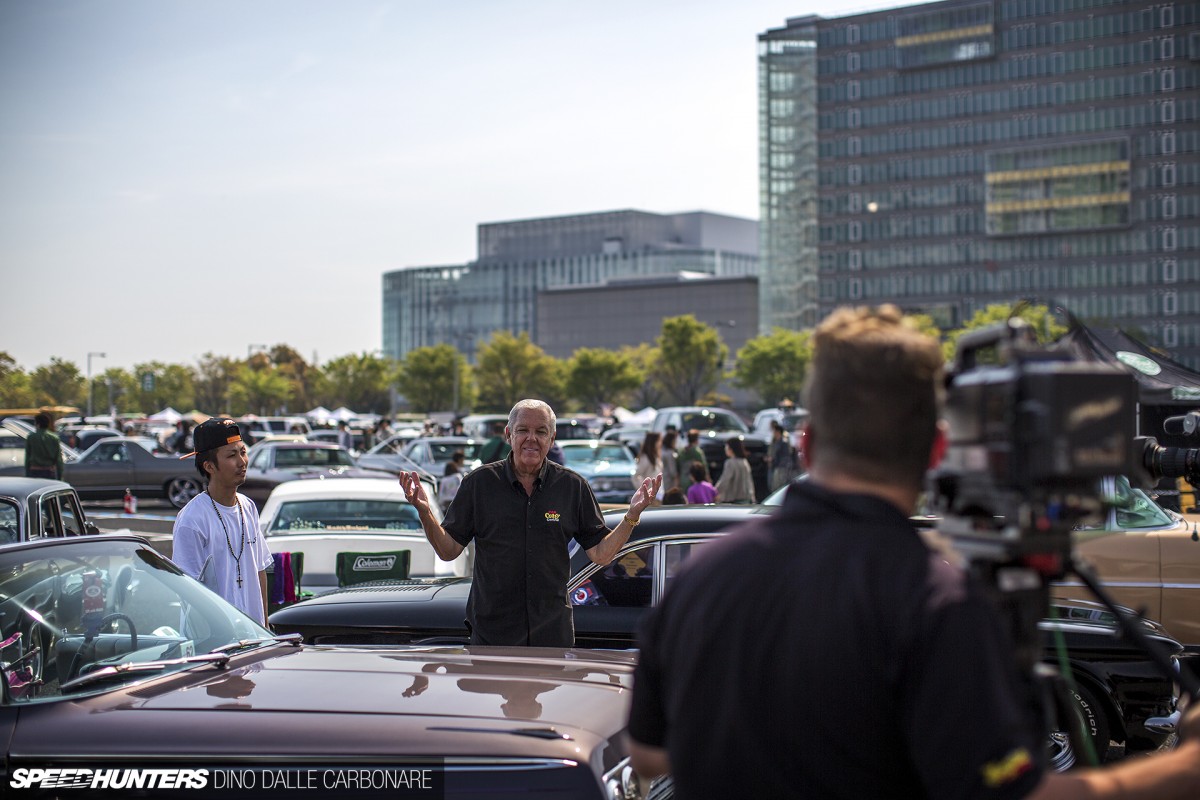 That's probably why Car Crazy was out at the event filming for an upcoming show; taking to owners and getting the low-down on what sets Japan aside when it comes to customs.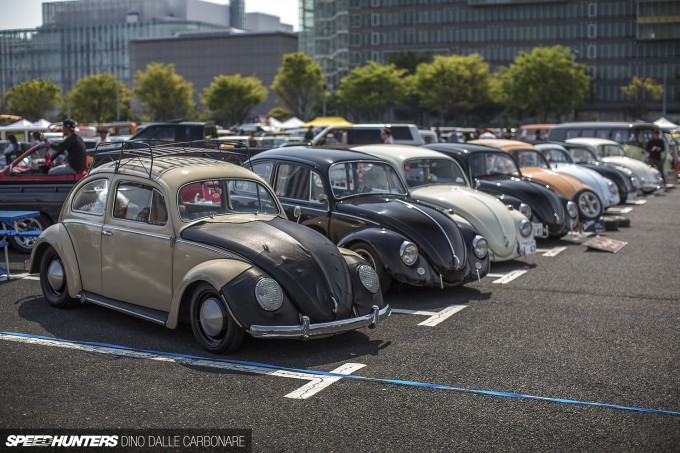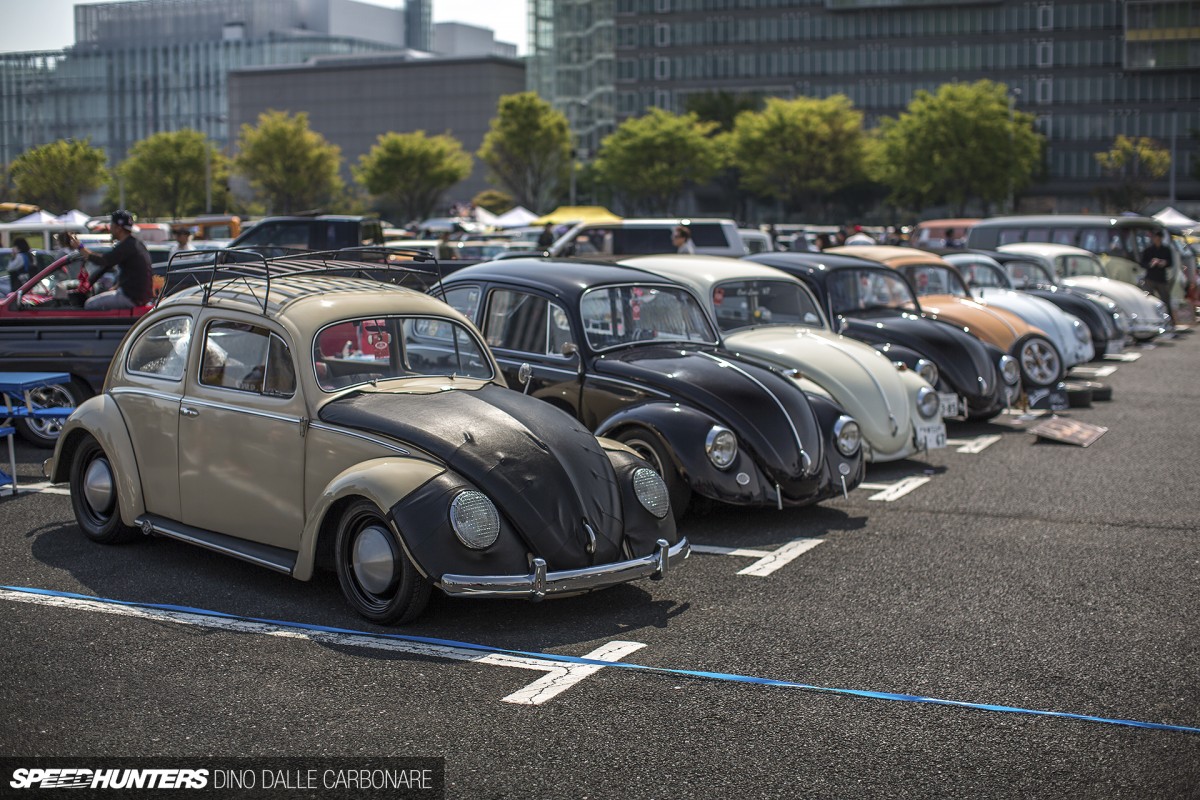 Beetle mania?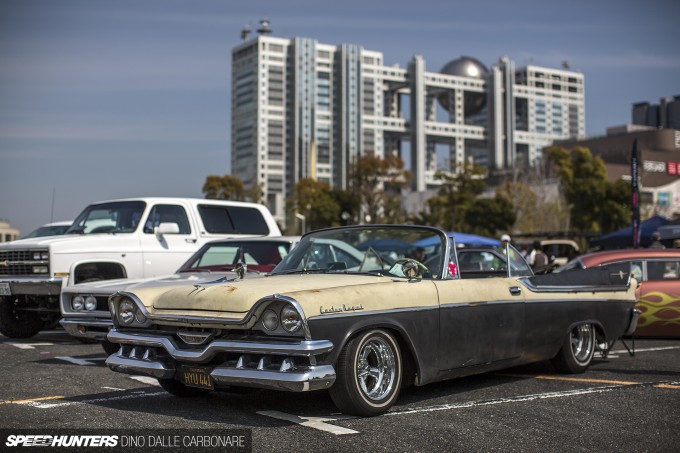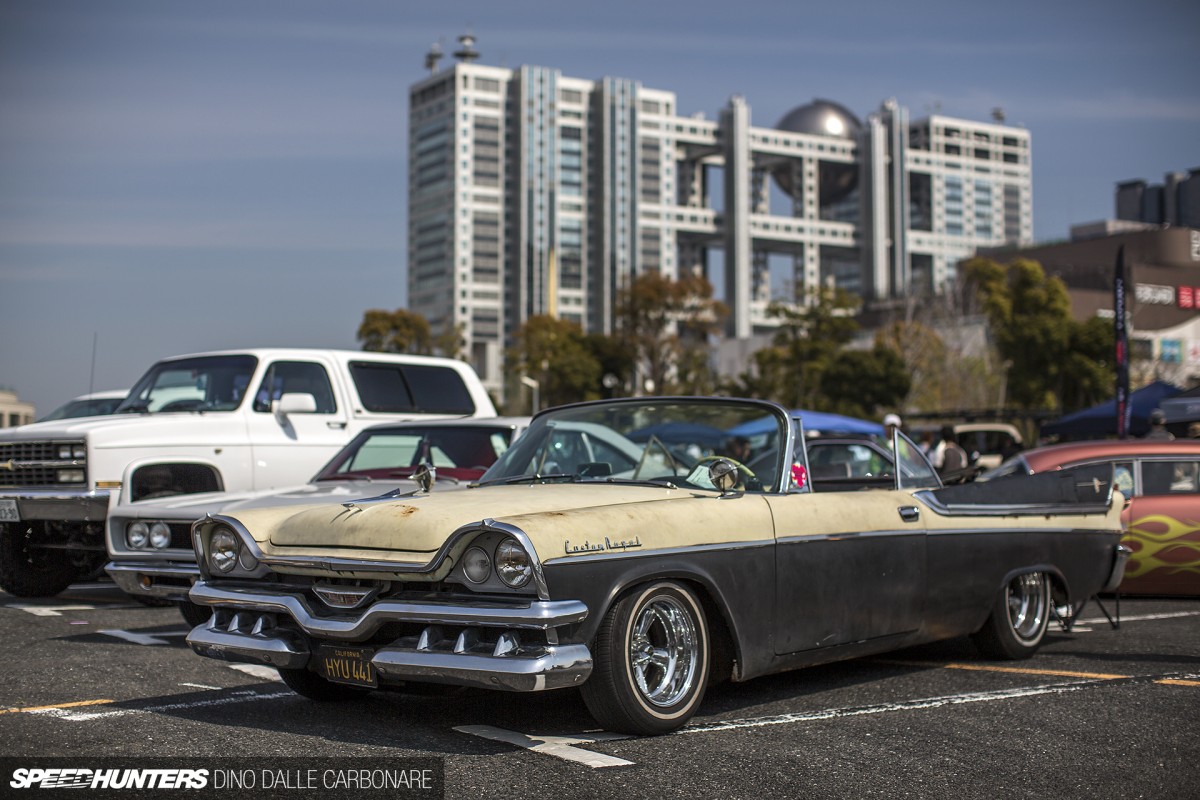 As I was quietly taking a few shots of this strategically-placed Dodge Custom Royal with the Fuji Television building in the background, I got a tap on the shoulder.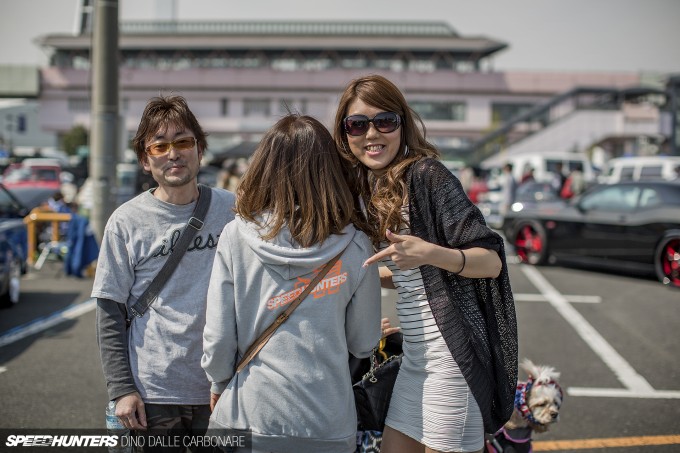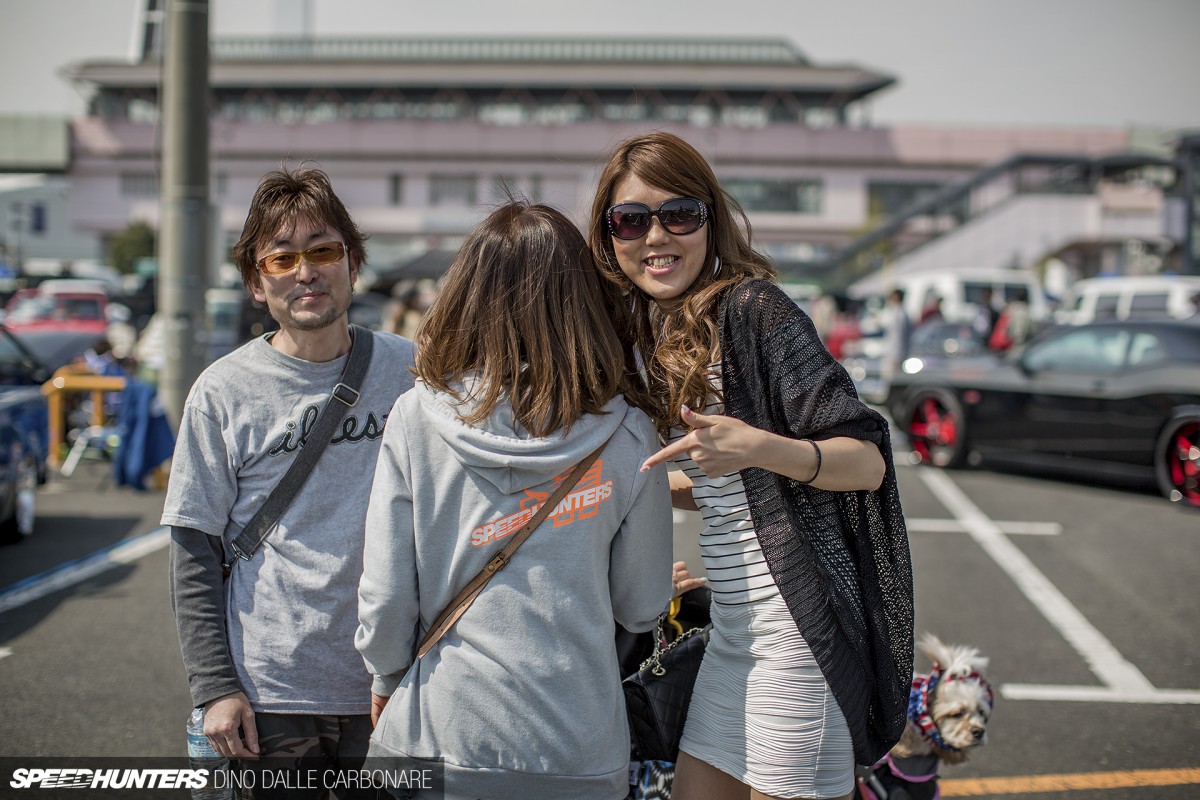 Turns out it was a Speedhunters reader that had recognised me and wanted me to get a shot of his wife's new latest purchase. Great choice, even if I do say so myself!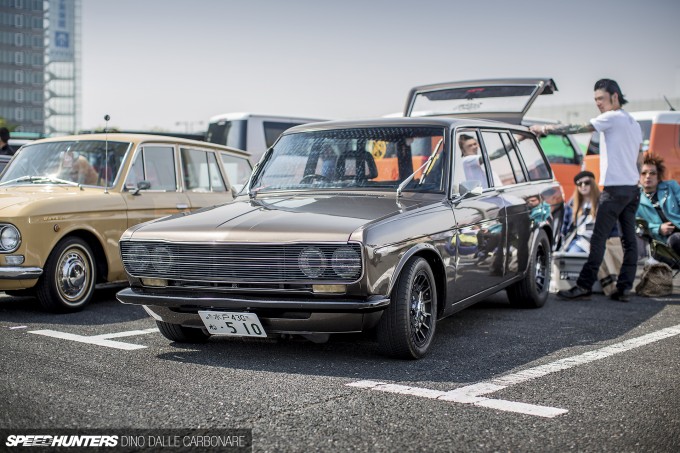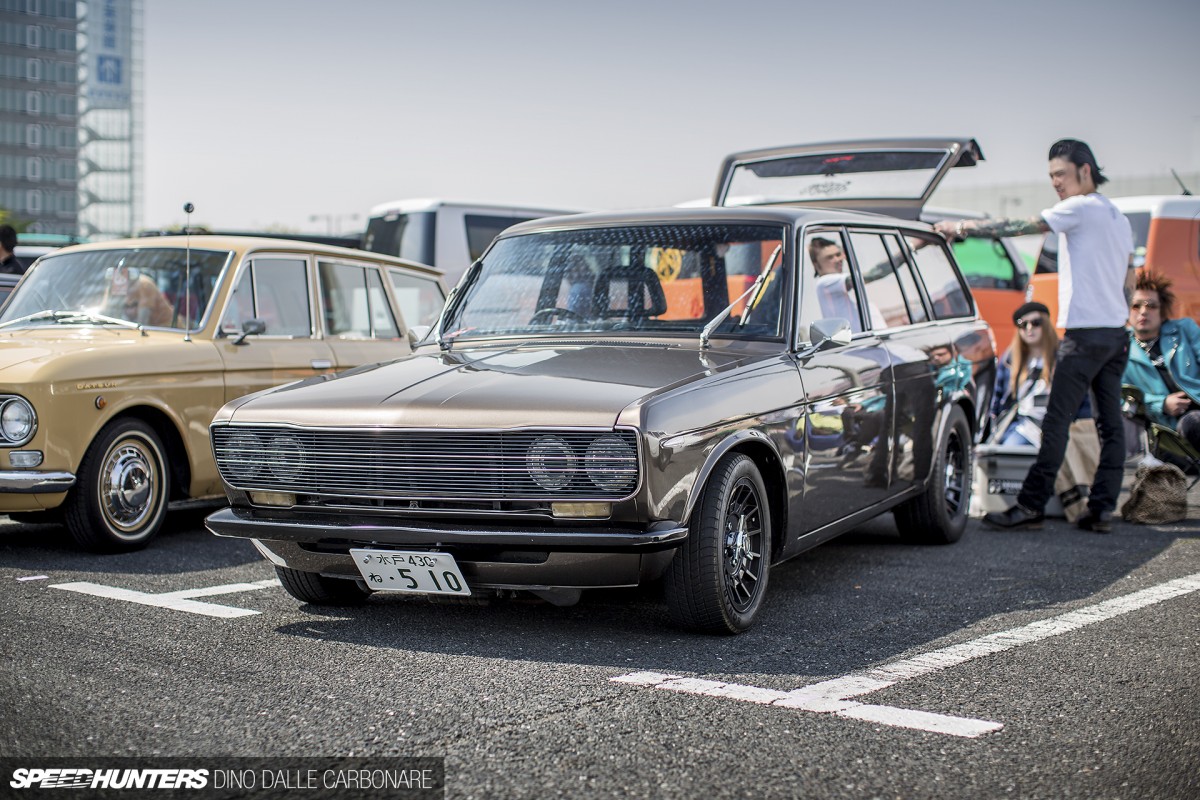 Okay, so I couldn't avoid it any longer. By now you'll all know that what that what makes these Mooneyes events so special are the hoards of Japanese cars that get the custom treatment. There is just something so right seeing Japanese vintage car culture mixed with a little foreign custom car thought. The results speak for themselves, as this Datsun 510 wagon shows us with its see-through grille, wheel choice and a curious modification to the wipers.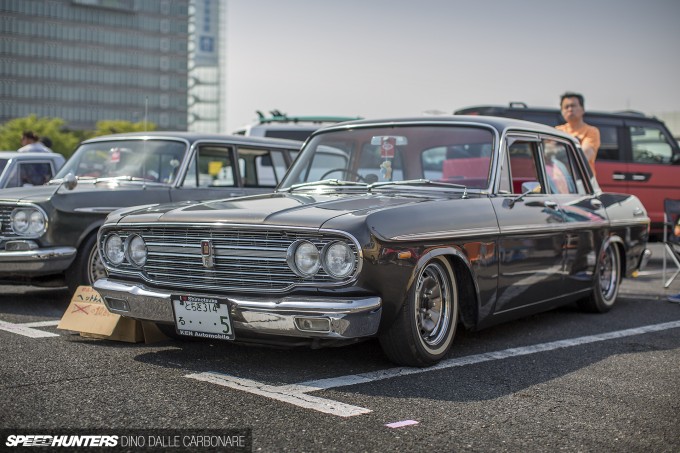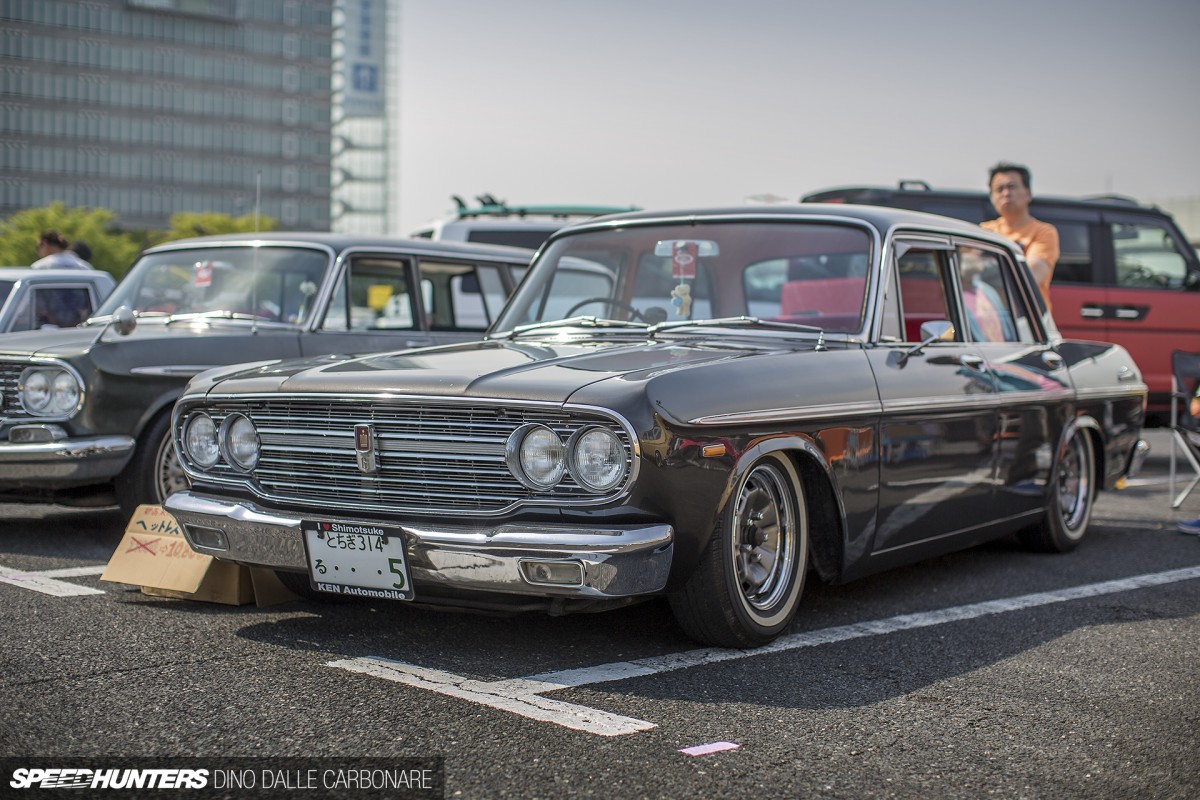 The older you go, the more interesting it all gets, starting off from the multitude of Toyota Crowns that continue to make it into the scenes. While wild conversions are all cool and everything if you are going for show car prizes, for me it's always been the more sedate interpretations that get it really right. Take this sedan for example – it's been simply lowered on a set of rims and it gets the job done beautifully!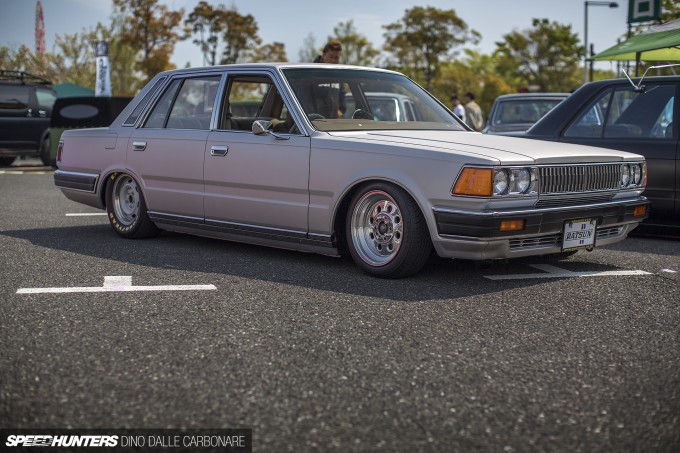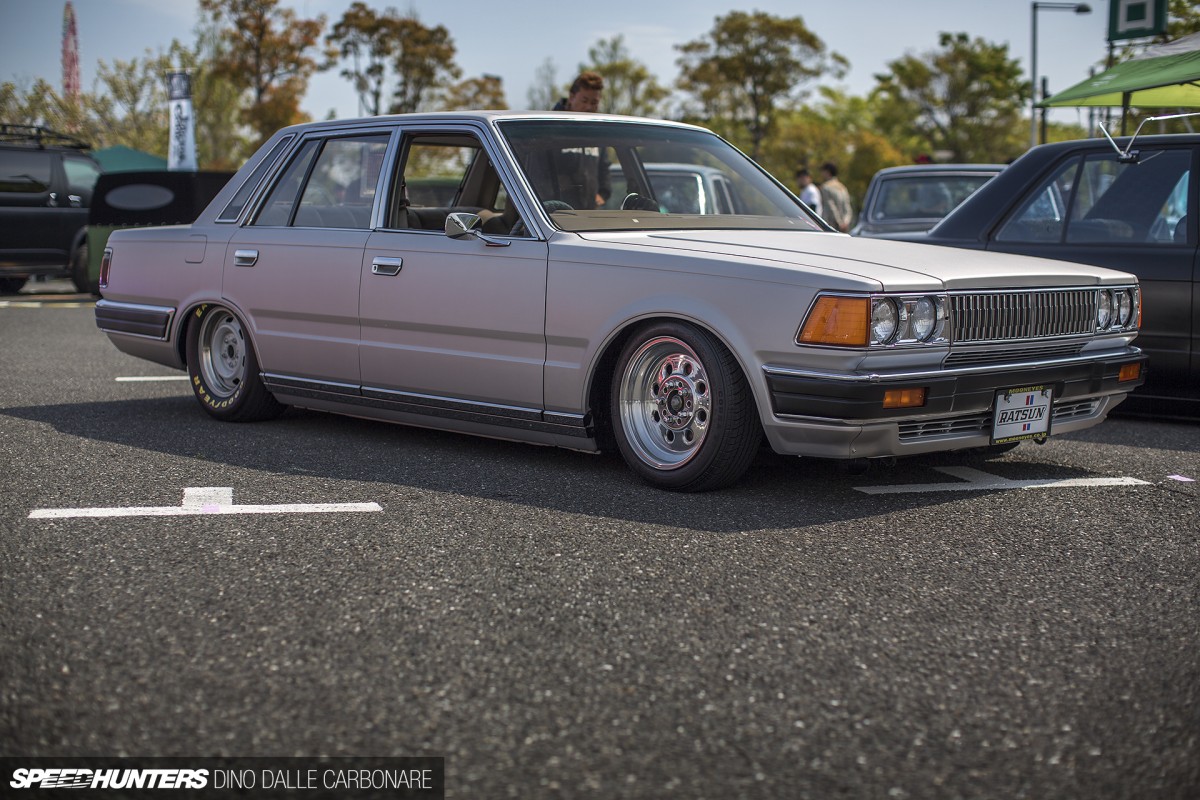 The Ratsun? We dig!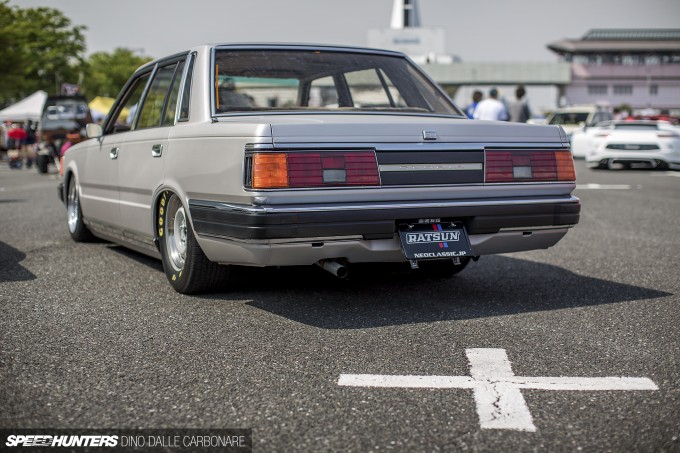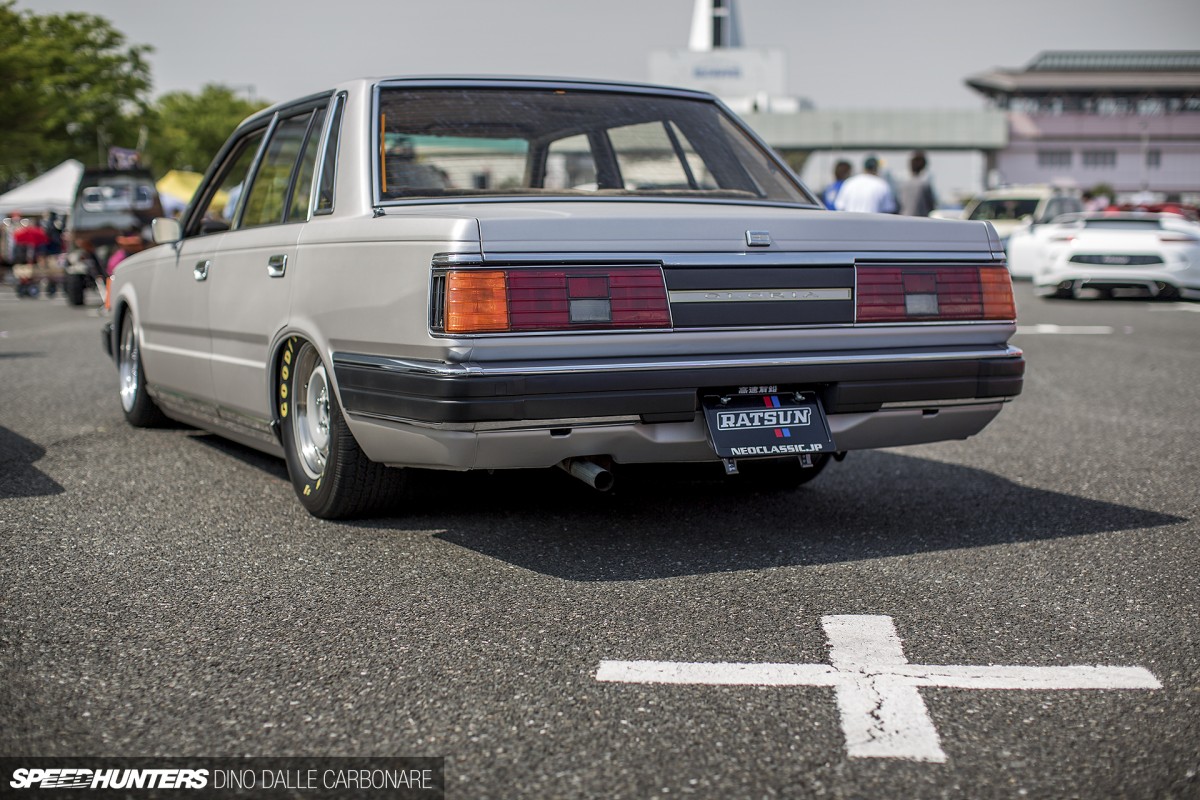 This Nissan Gloria looked its best when viewed from this particular angle. The satin-like finish of the paint seem to add to its unspoiled angular cleanliness, and the fitment was simply spot on.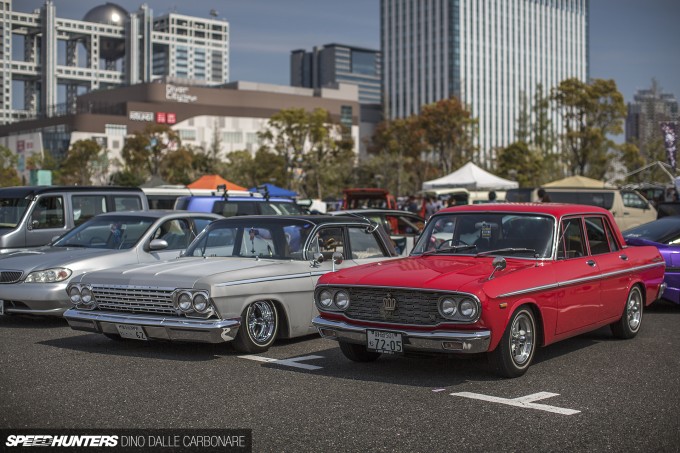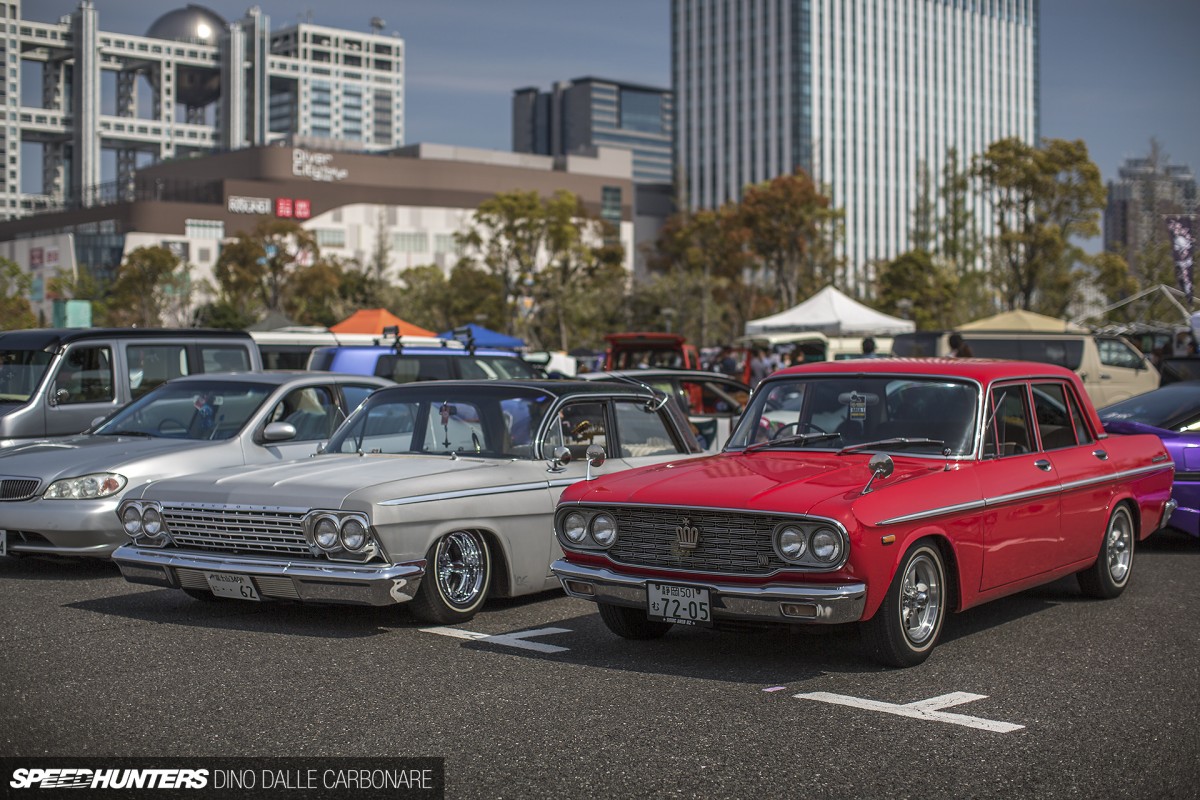 It's hard not to make comparisons to between old Japanese cars and American cars of the same era, because there were obvious styling cues that were borrowed here and there. Except size that is…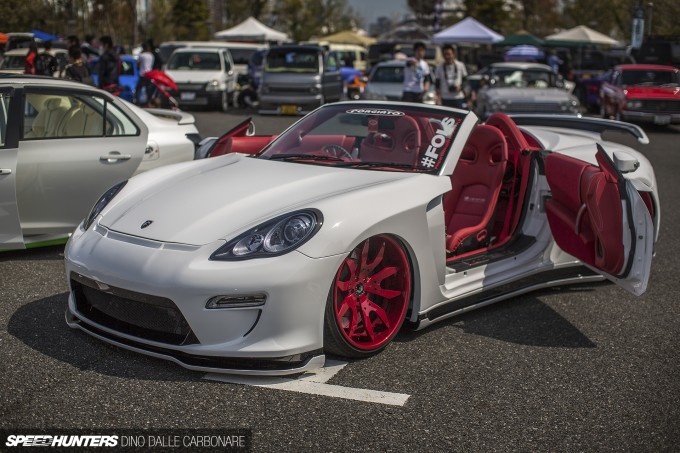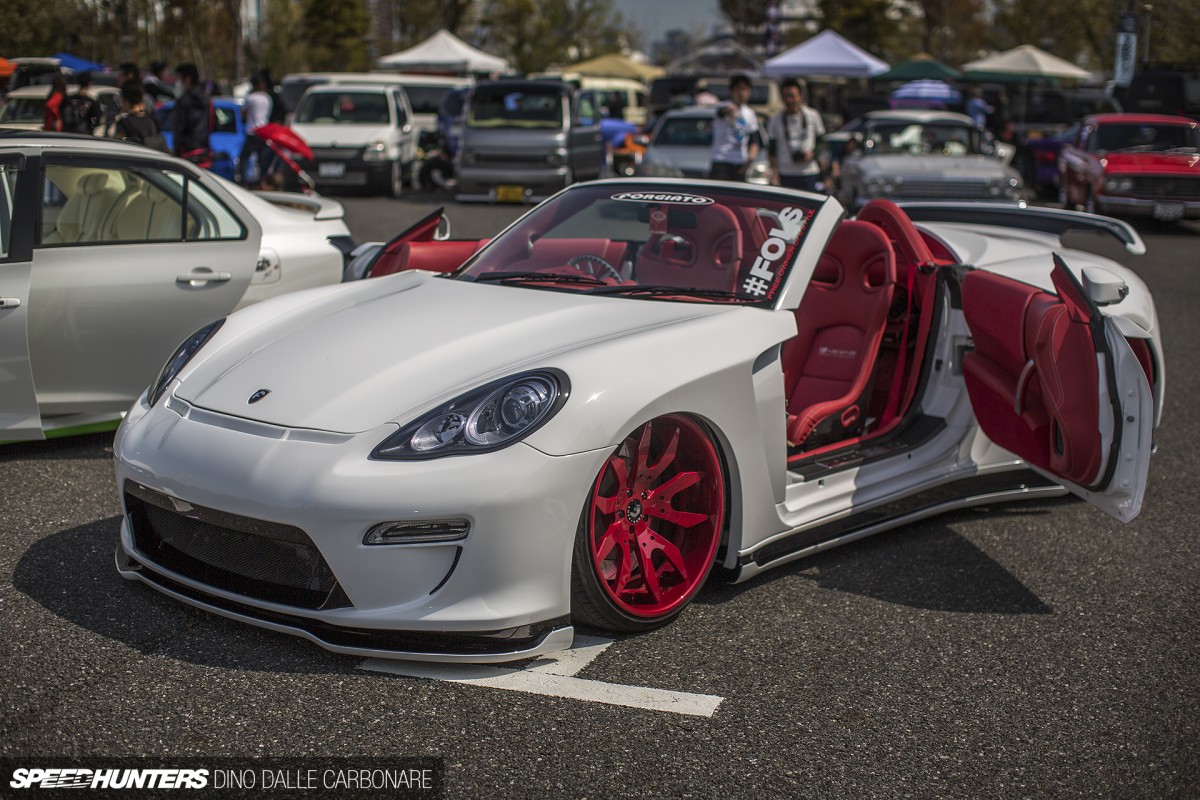 This show really brings out all sorts. In a previous life this used to be a Fairlady Z, now it's a Porsche-inspired hybrid with pretty much custom everything, including suicide doors.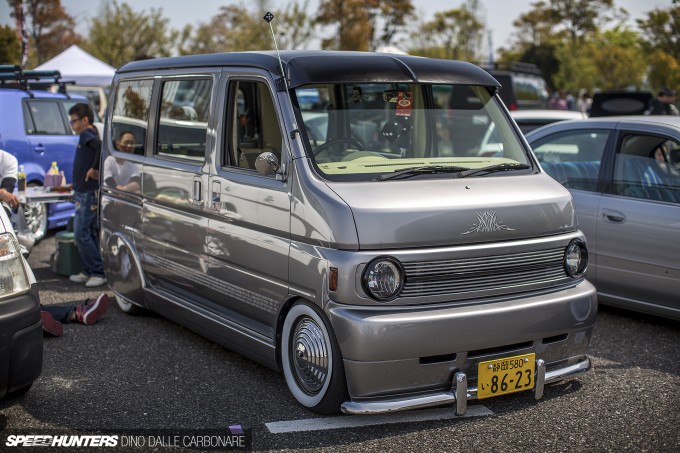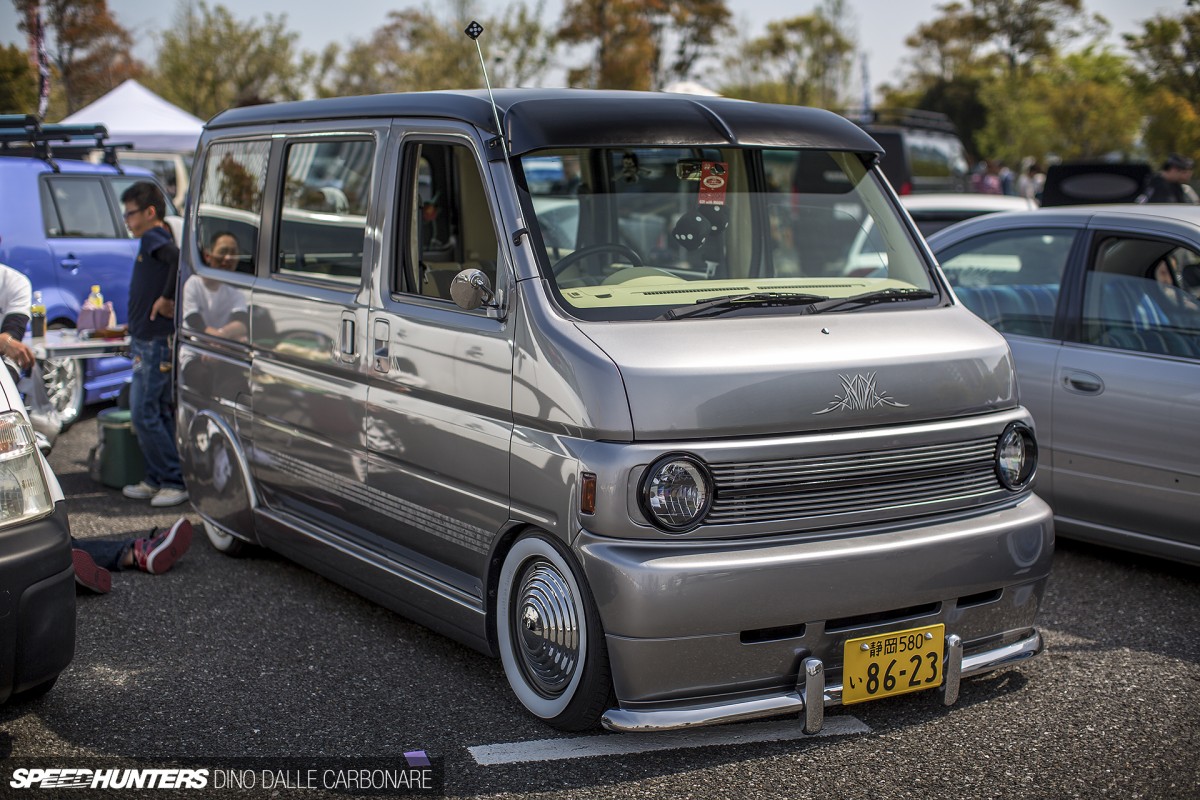 And since we are on the whole Japanese aspect of the Street Car Nationals, it's impossible to avoid kei cars. A lot of these vans, cars and trucks may look like a joke to the causal onlooker, but there is a serious business rotating around these most-Japanese of vehicles. Size certainly doesn't bring any restrictions to the things people do with these cars.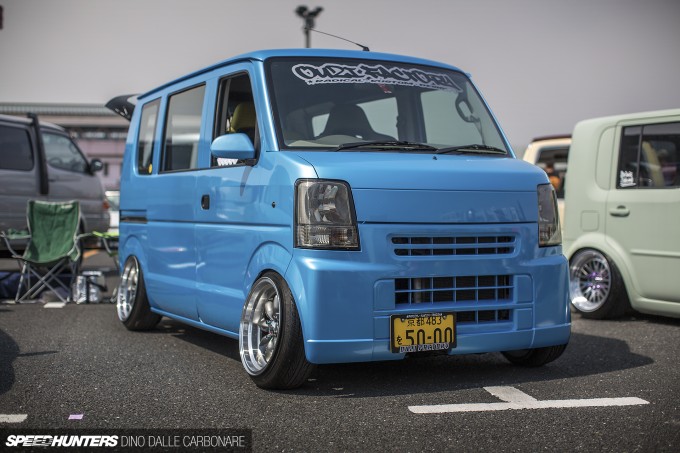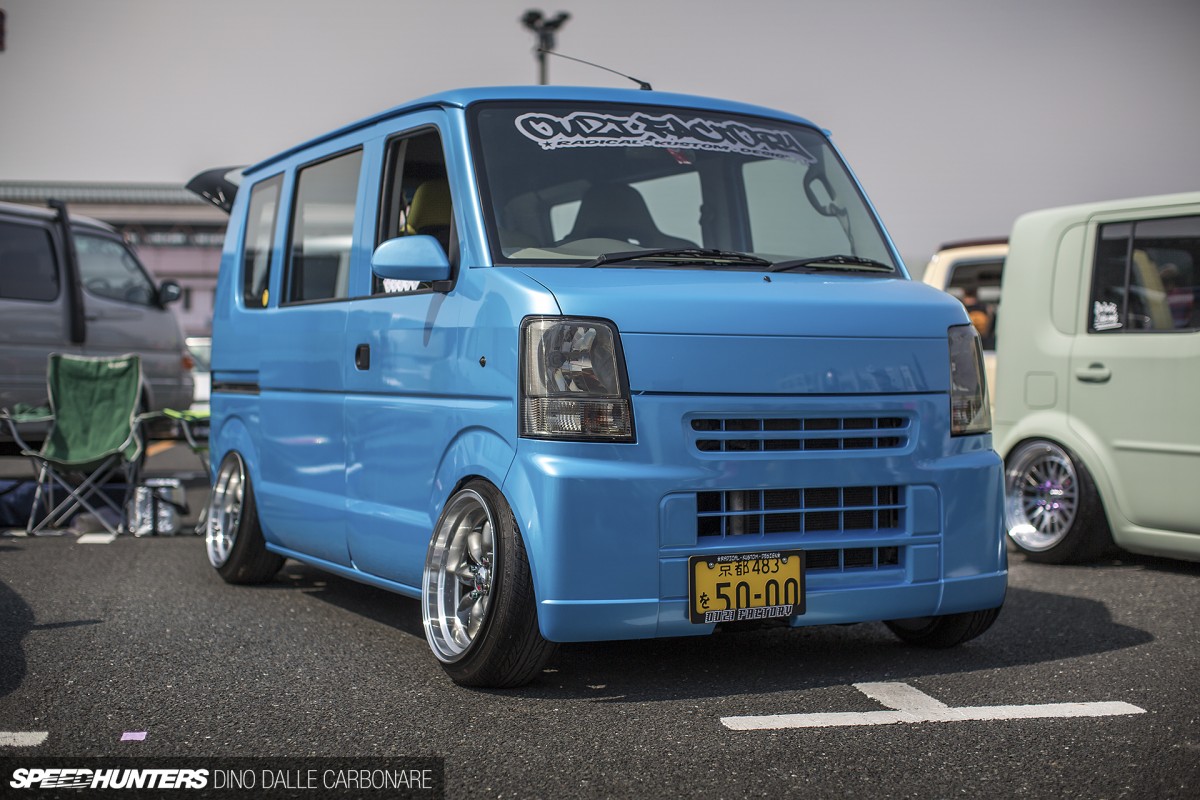 If tuck isn't for you then a bit of onikyan (devil camber) will definitely turn your Suzuki Every into a menacing proposition.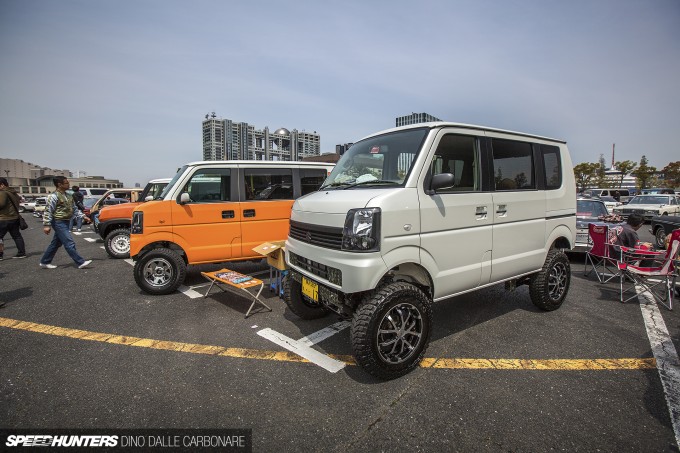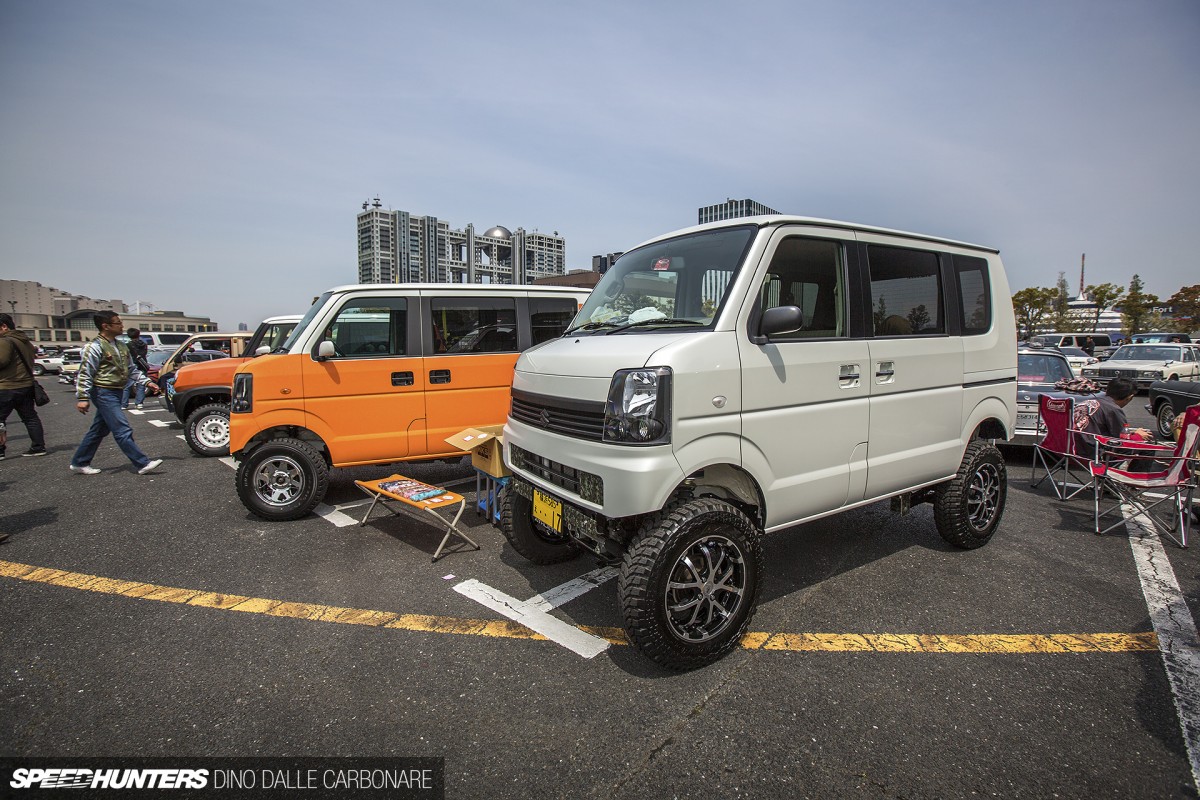 Of course, for every dropped kei van in Japan, there are an equivalent number of  lifted ones if what I was seeing yesterday at Odaiba is any to go by. Okay, maybe not, but it's fun to see that no matter what you want to do to your van, the option is there.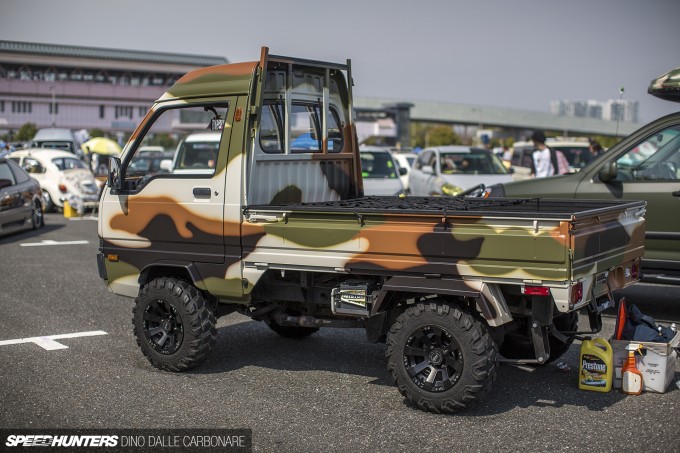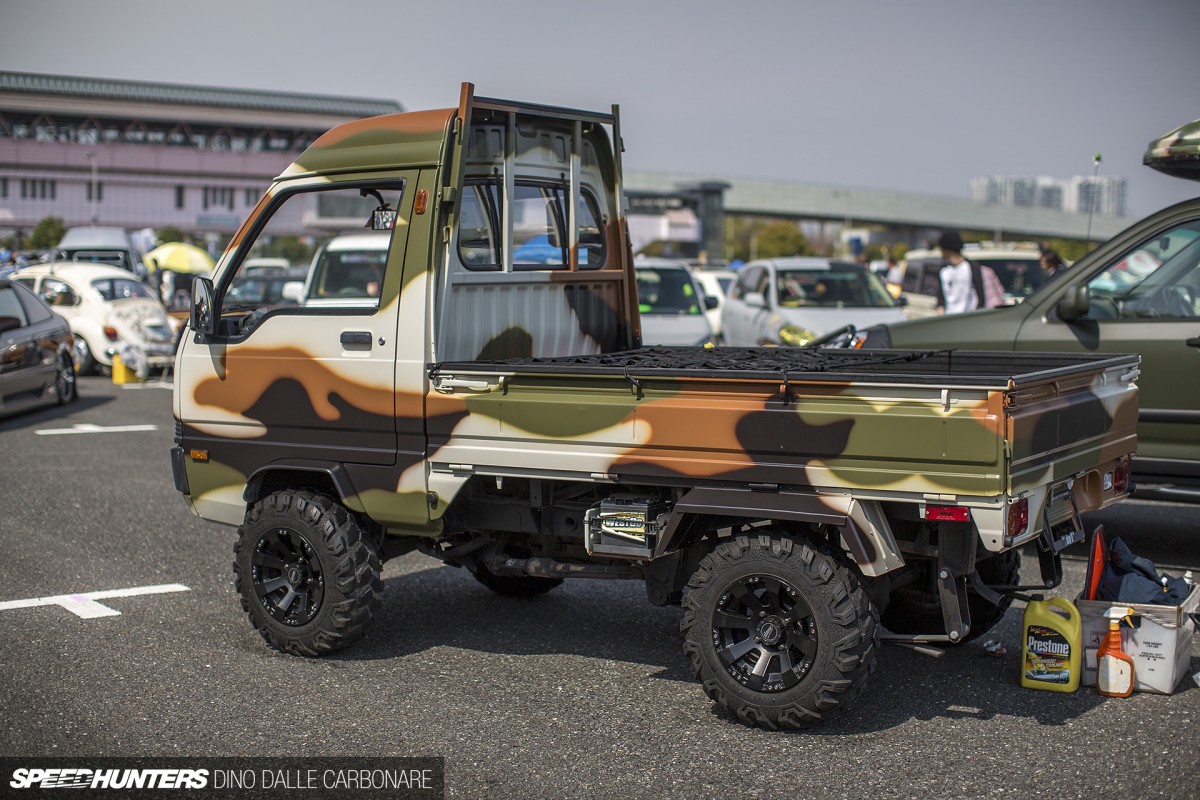 Now we are talking! Seeing kei trucks are the Japanese farmers' choice for their ability to navigate through narrow country side roads and in between rice paddies, it seems obvious that a lifted version of these mini 4x4s would be something people would go for. The camo paint could be a dealer option!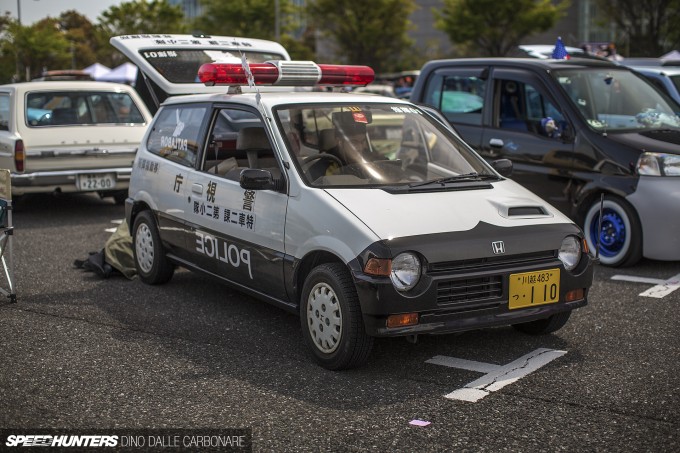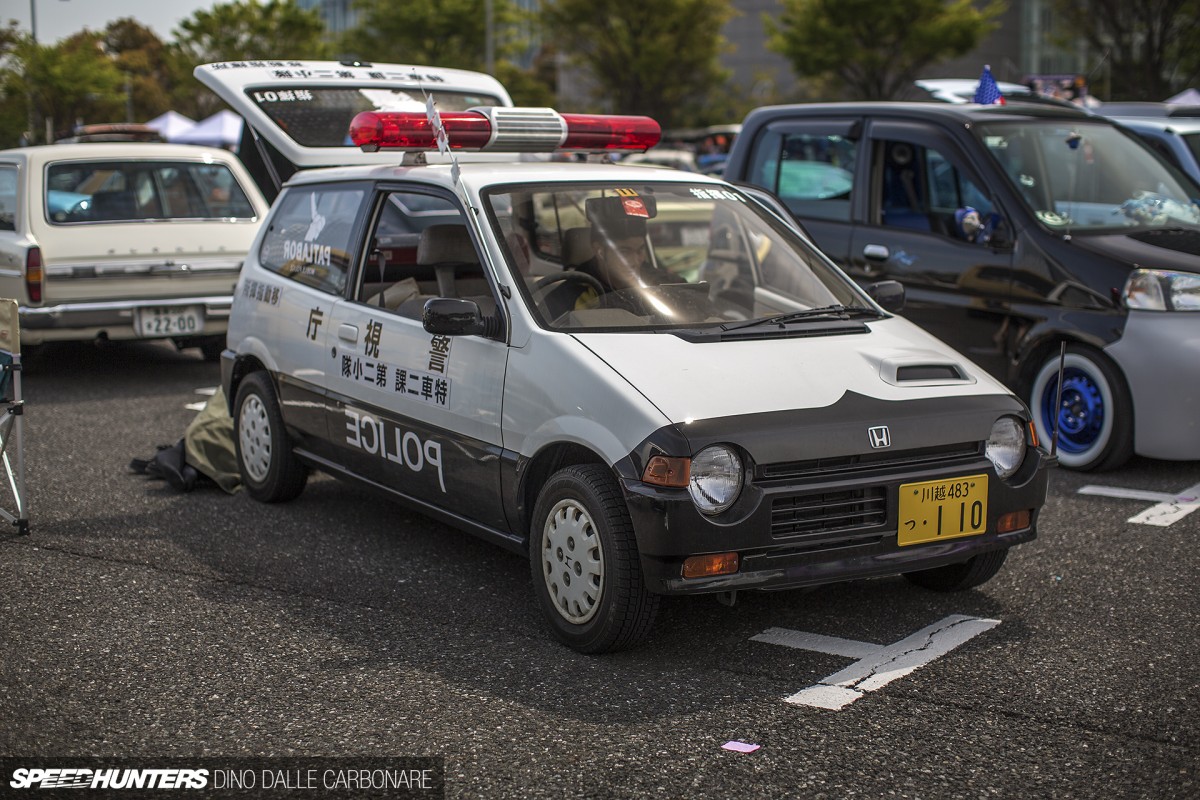 Kei cars are also a favourite of the Police. Now that I think about it, I have never seen a policewoman drive a proper police car in Japan – only Kei cars. Japan is a great country for equality between the two sexes, of course.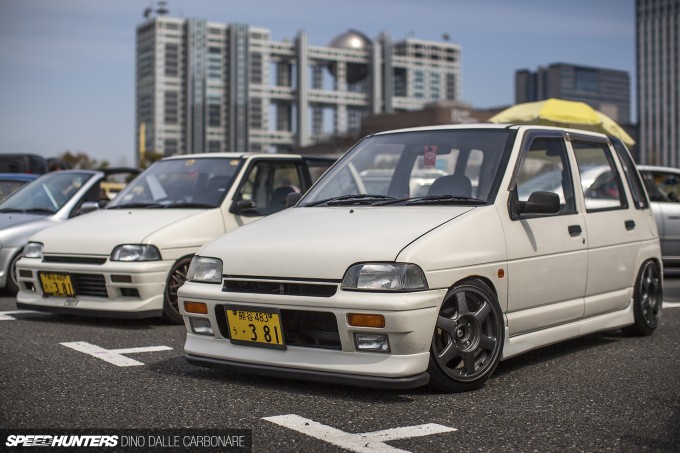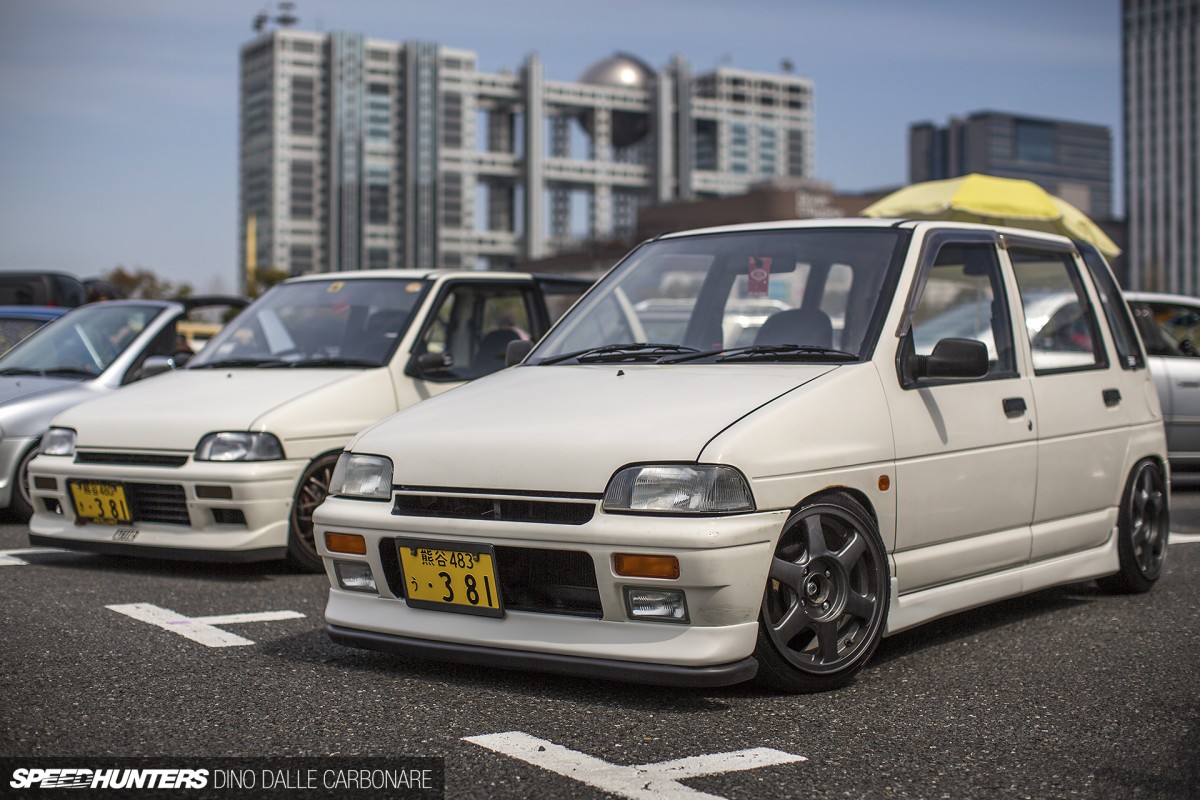 The Suzuki Alto has always had a great following for those wanting to extract some performance – like these two examples perfectly demonstrate. On the right roads these little lightweights must be a ton of fun to throw around.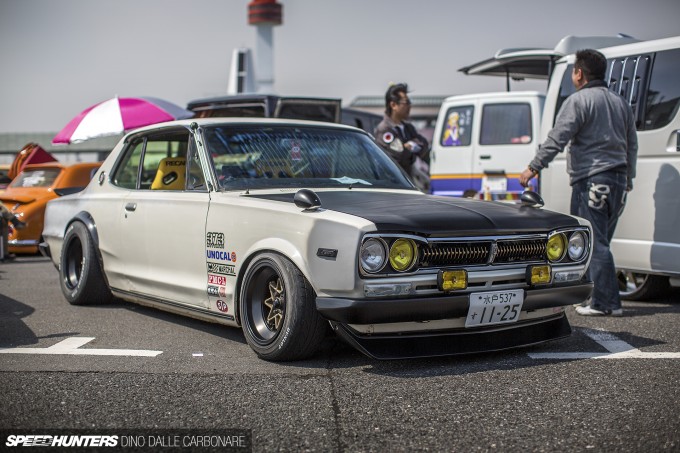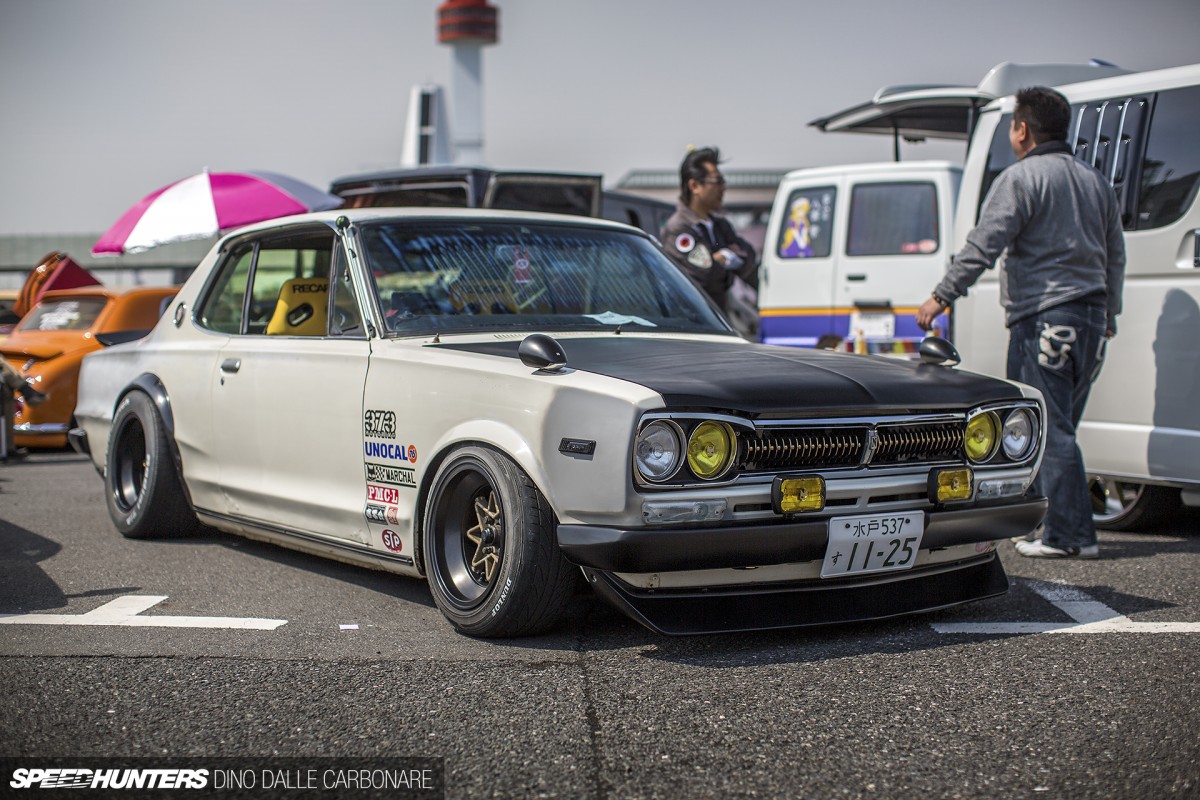 If the touched up paint is anything to go by, this hakosuka is obviously a work in progress. While I do like the yellow high beams and driving lights, I'm sure the color-coded Recaros might be a bit much for the more serious vintage car aficionado.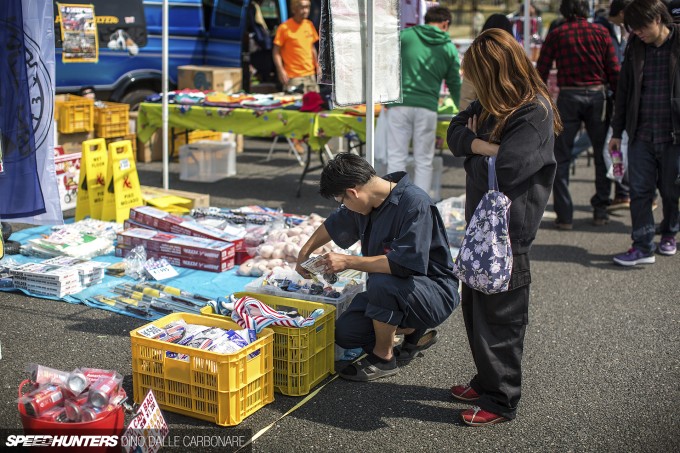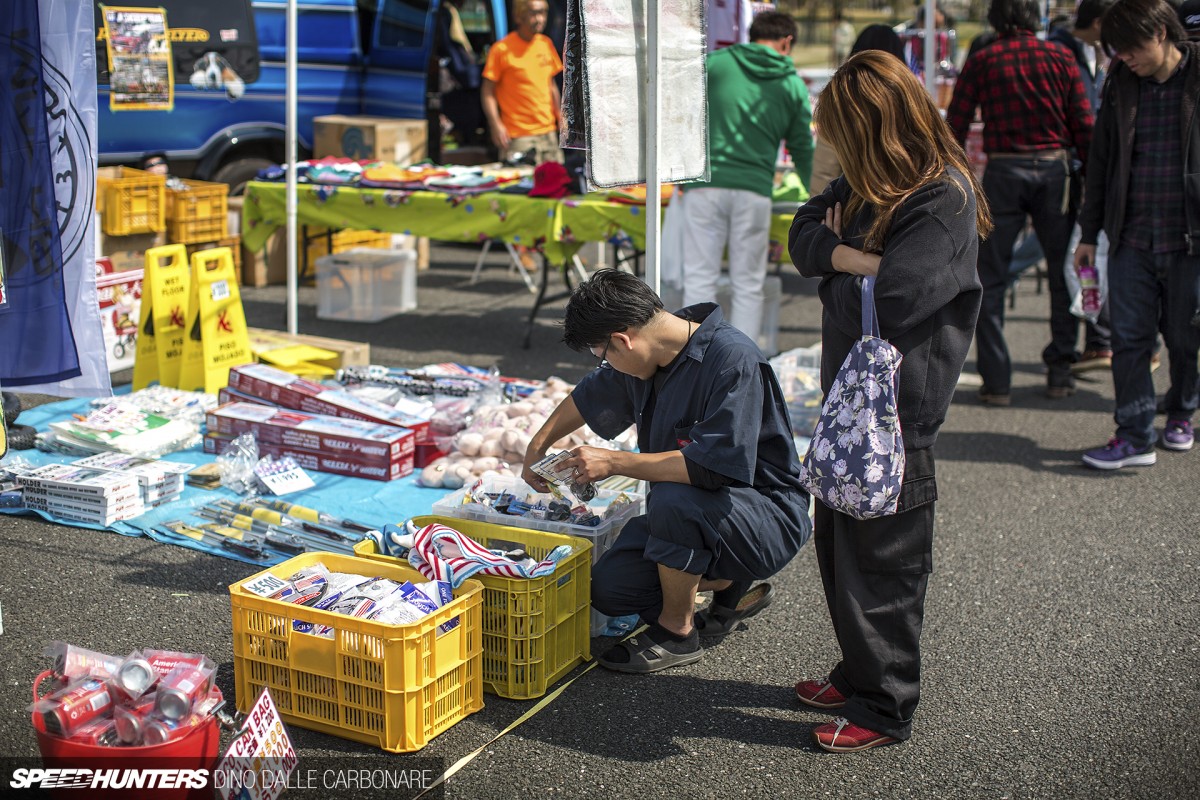 There was much merch-hunting going down in the stalls that trace the perimeter of the show space. While finding the car part you are after might be hard, stocking up on t-shirts and other fun miscellaneous goods is always very easy.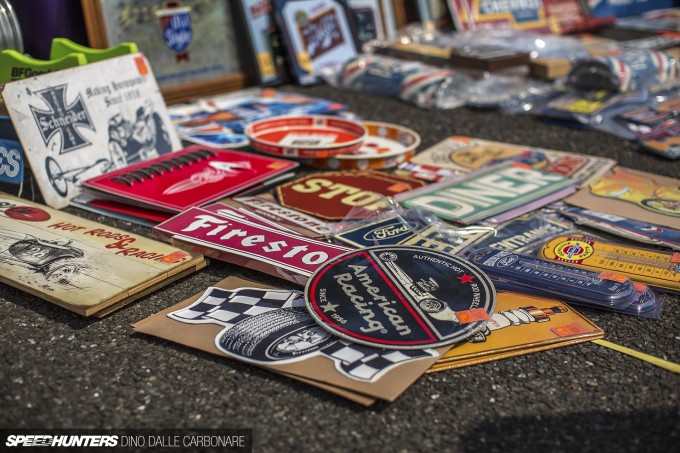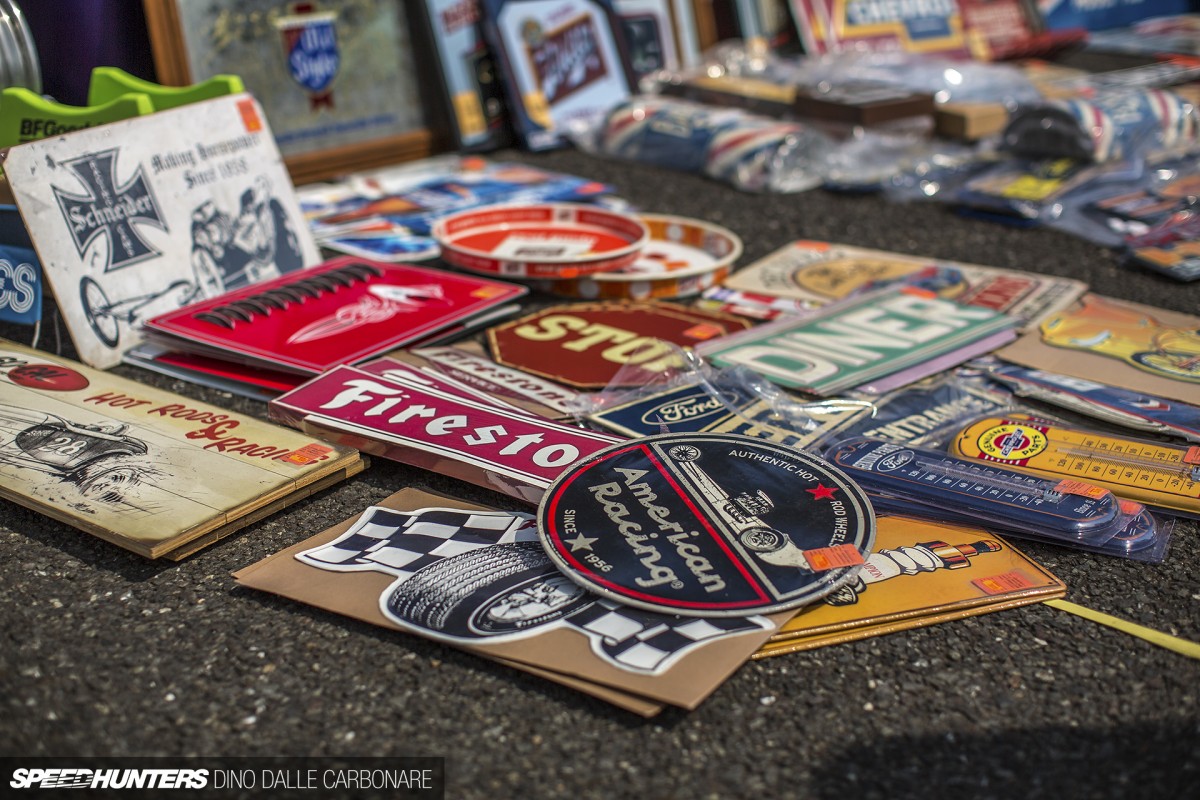 It's the perfect place to think about your garage's decor!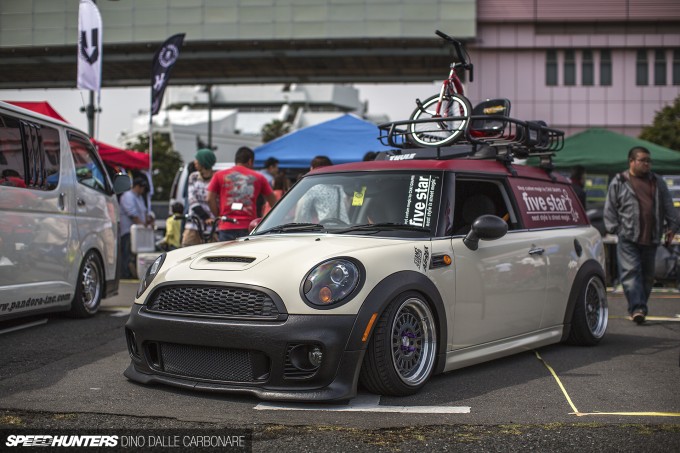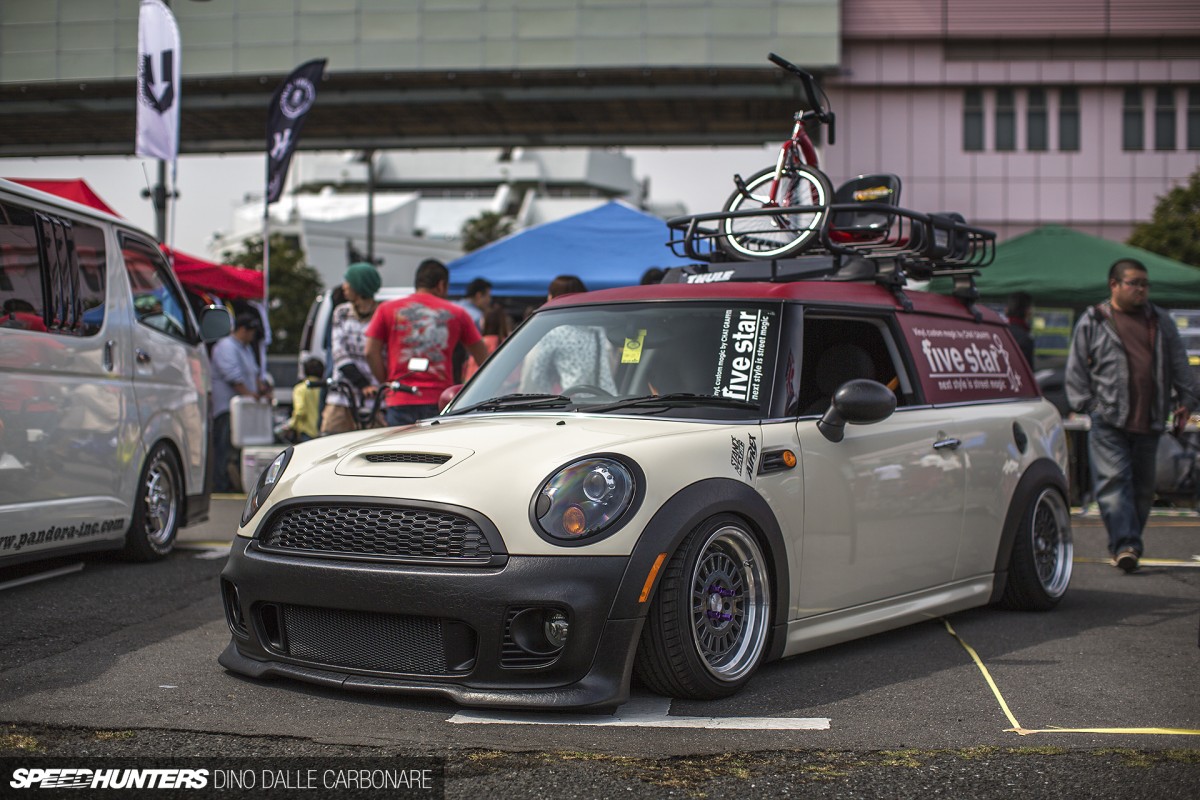 The stance movement continues to evolve in Japan and there were quite a few interesting examples on display at Odaiba – like this MINI from Optimist slammed on air.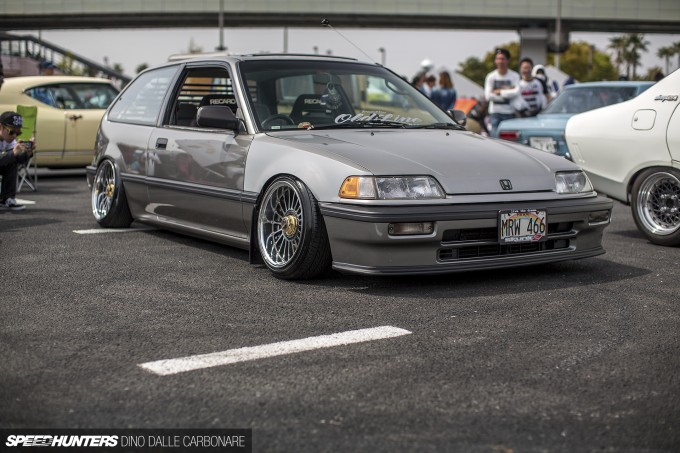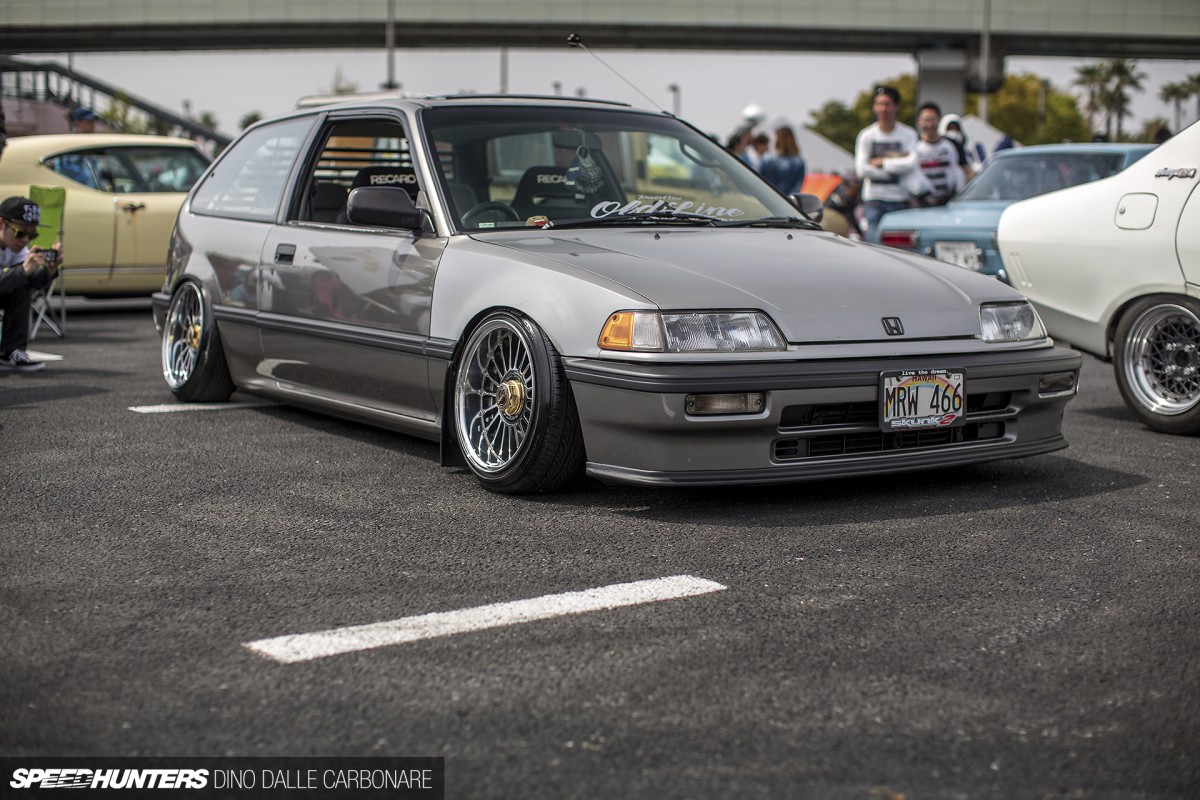 Of course, it's all about wheel fitment, and this is one area where this particular EF Civic did it very right with a set of 5th Anniversary Work Ewing fins.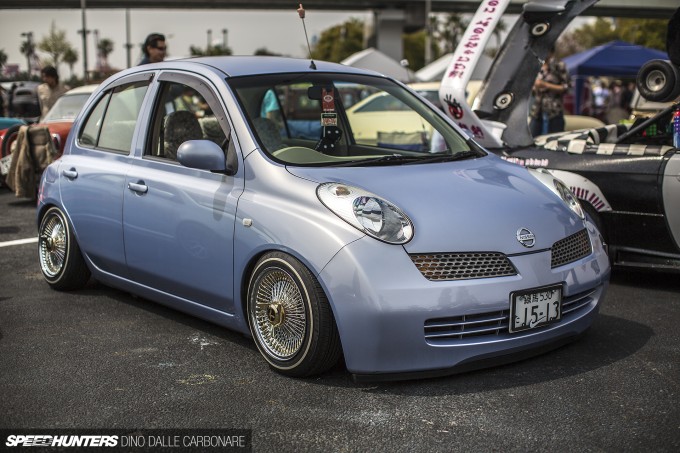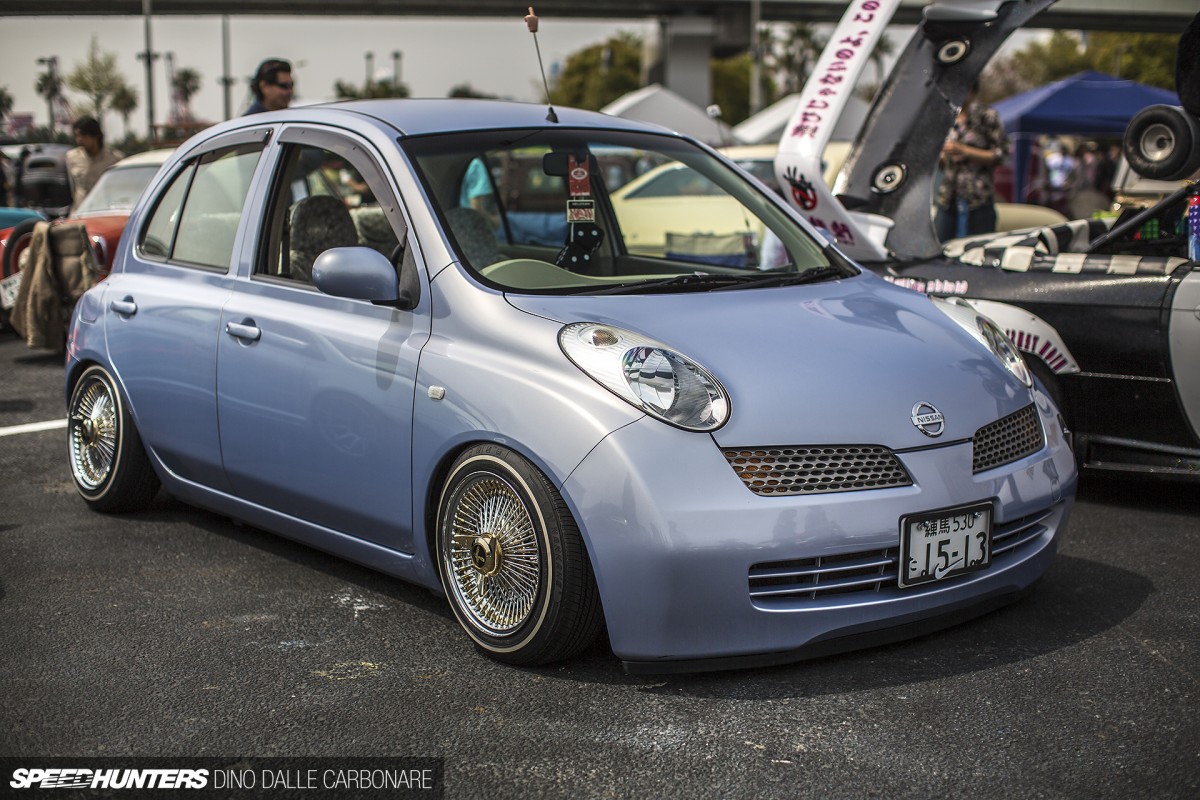 Here is a Nissan March (Micra to those of you in Europe) that's attempting to bridge two scenes together. Okay, so it's a very long bridge as it's got to connect the realm of the modern Japanese city car with low-riders. Yep, there's hardly any link there, but it sure has a good crack at it!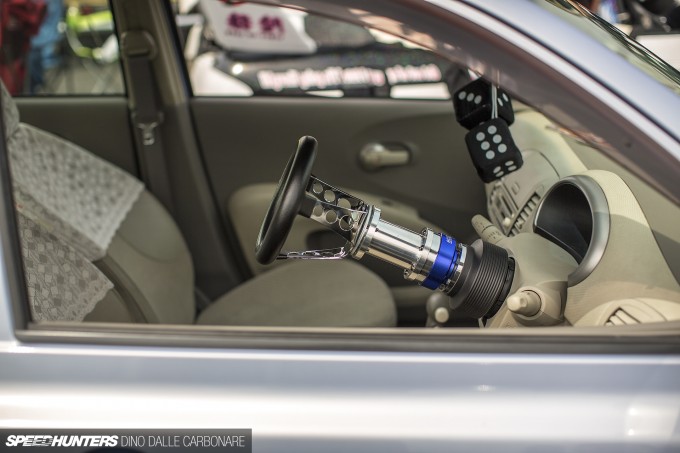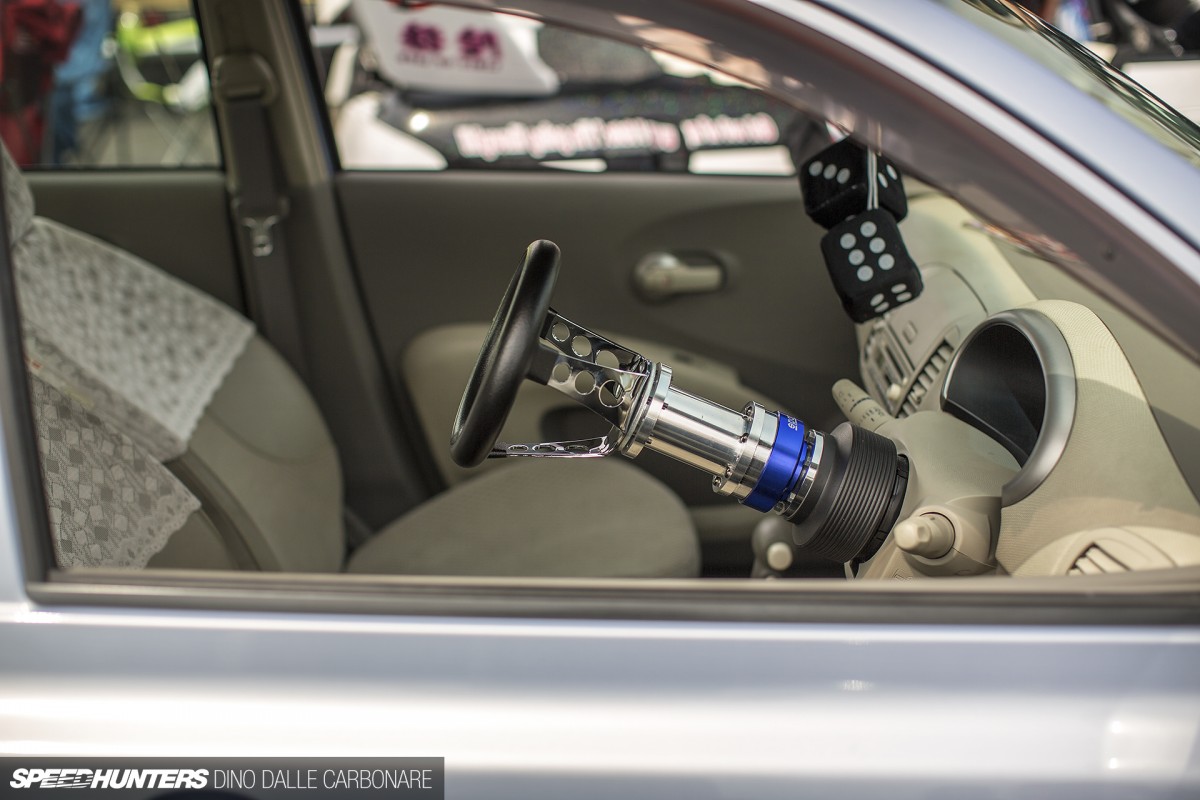 Check out the interior – the extended steering wheel boss is a must if you are attempting to pull off the Detroit lean successfully.
Custom car indulgence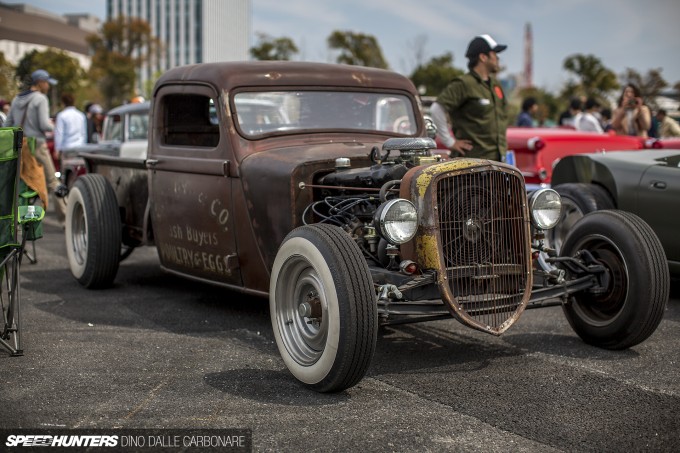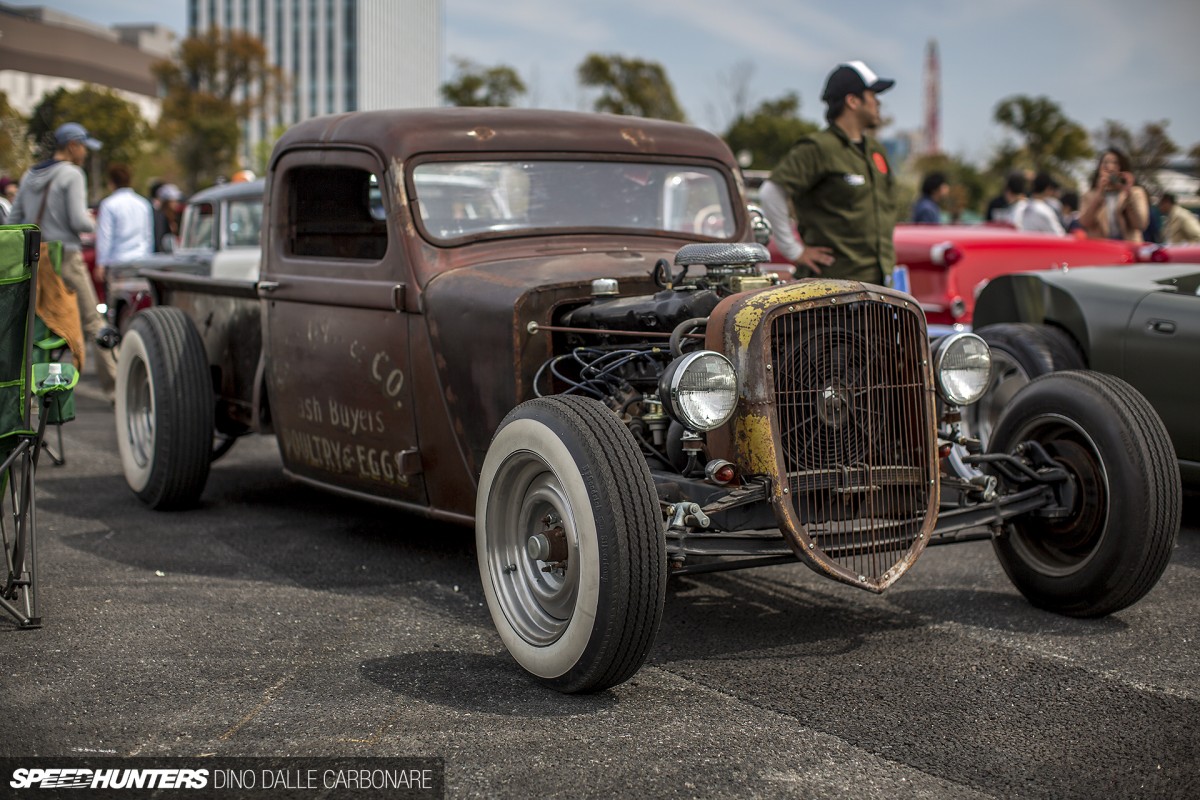 Here is something to reset your eyes. And that's pretty much how it is at the Street Car Nationals – you spend some time looking at the tons of Japanese cars that show up, and then all of a sudden you find yourself surrounded by authentic hot rods like this Ford pick up.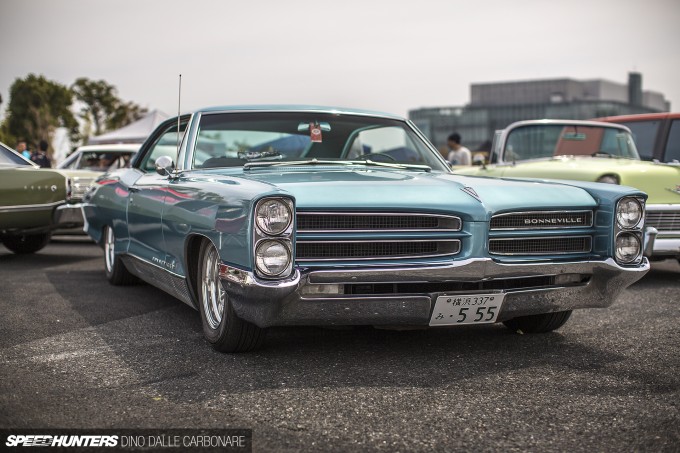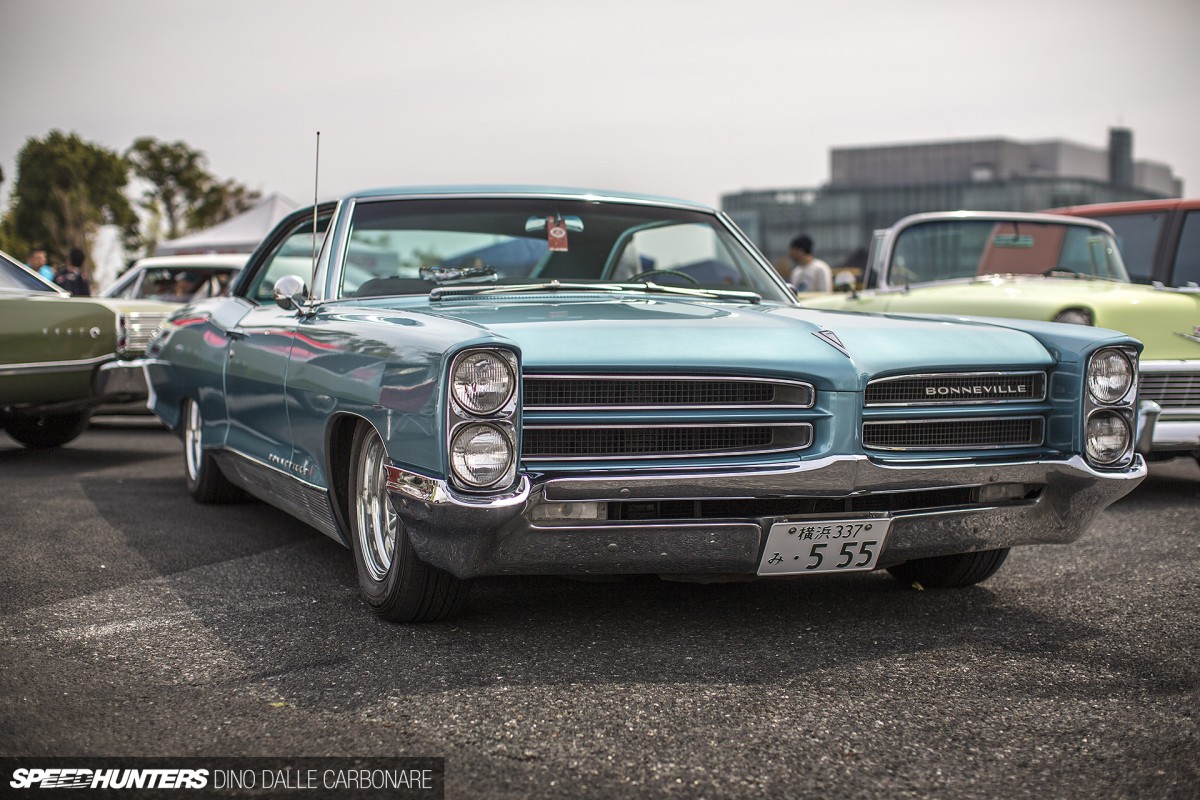 I think every Mooneyes show I've been to I've walked away with a car that just got stuck in my head, and this time round it was a Pontiac Bonneville. I'm not quite sure why, but it just seemed to look so hot sitting there. A fine mix of power and elegance.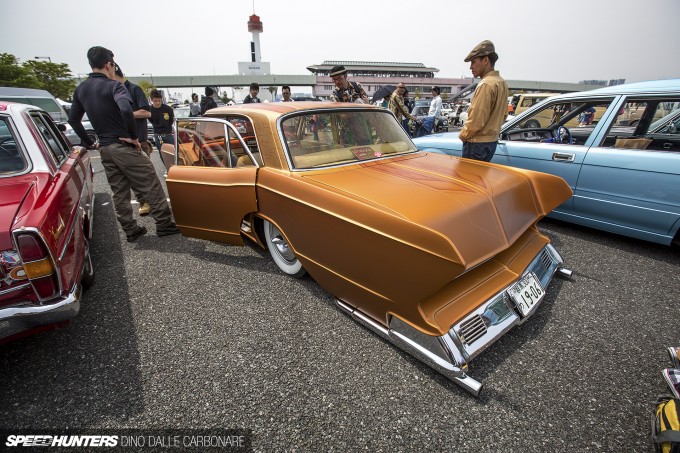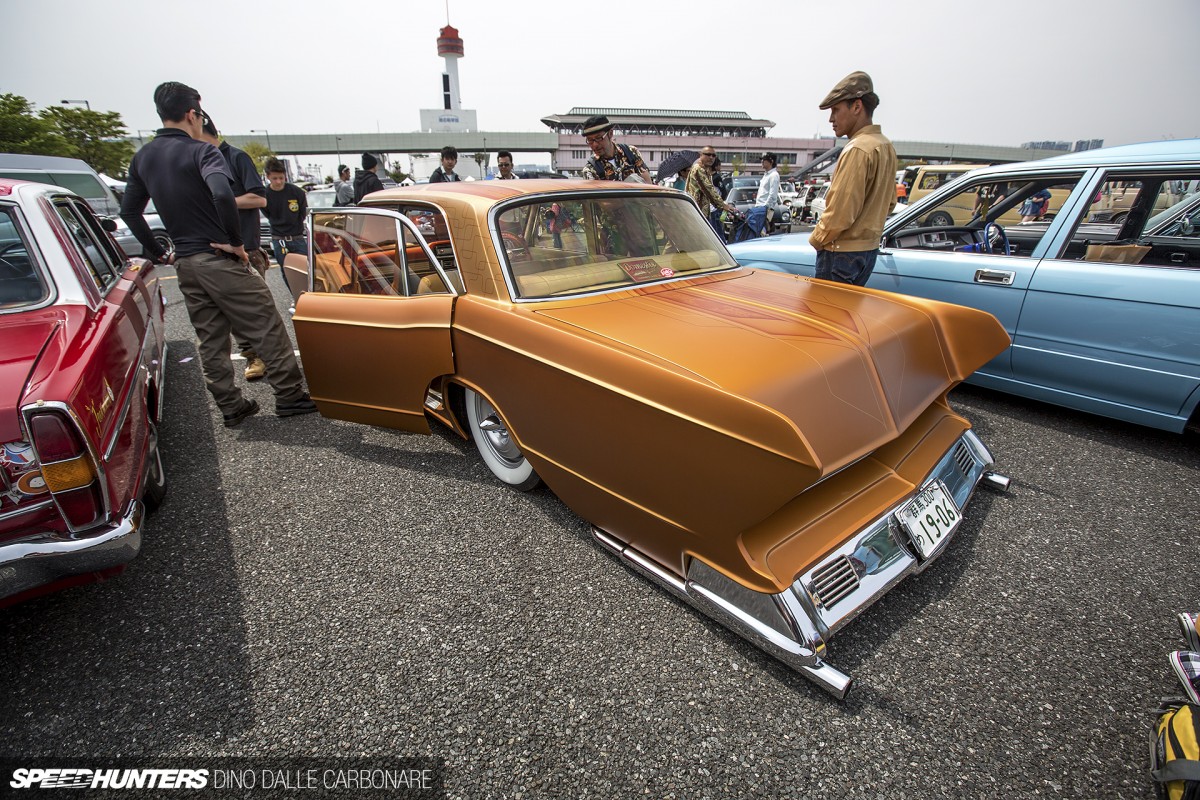 I've always commented how the Mitsubishi Debonair is Japan's Lincoln Continental, and this car we saw late last year at the Hot Rod & Custom Show in Yokohama seems to be even closer as its rear doors have been suicide-hinged. Of course, that's one small detail among a very long list of customisations.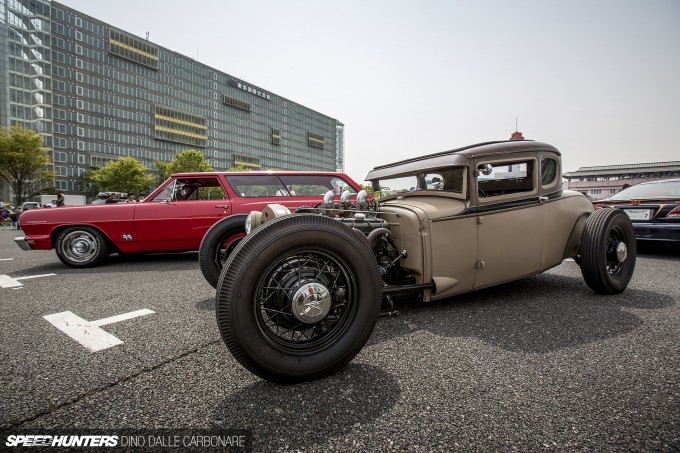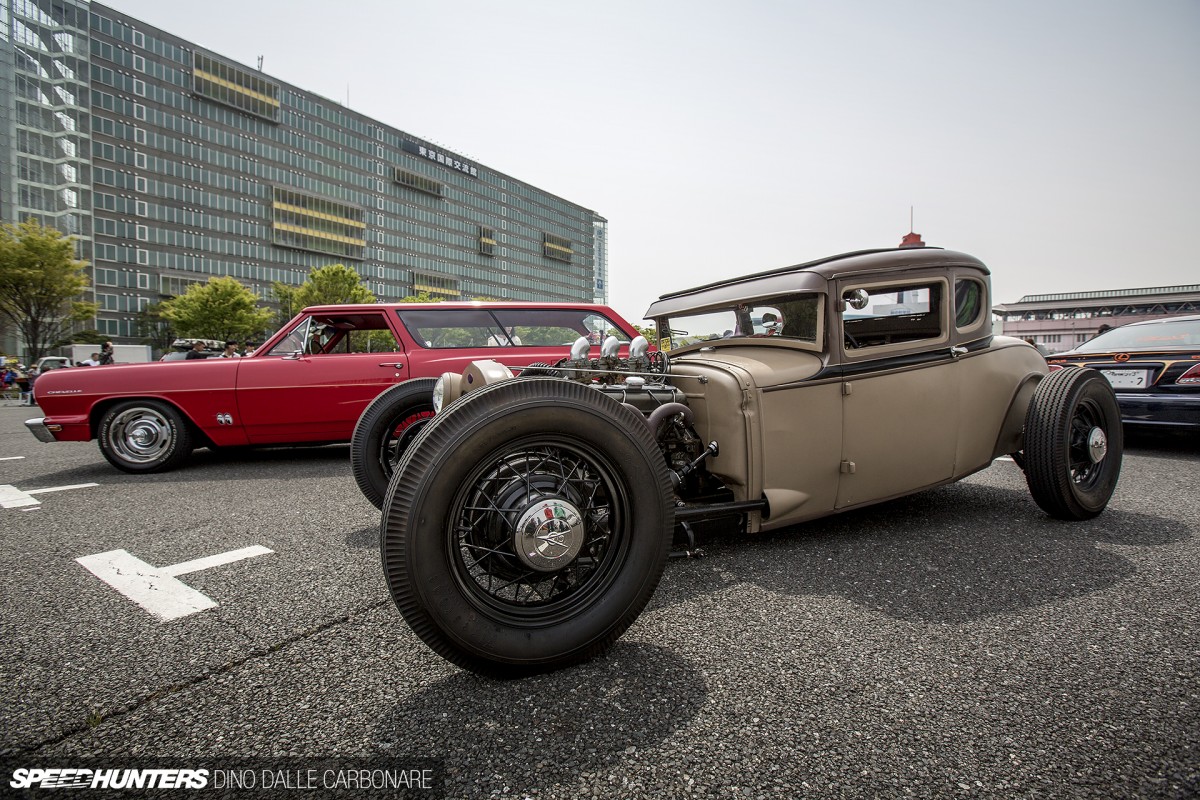 There were definitely a lot less rods than in previous years, maybe because a lot of people are still working on their cars to make them drivable for this year's warm months. This chopped Ford Coupe was probably the one that stopped spectator traffic the most – that slanted stance and the more refined finished of the interior and exterior. That massive Chevelle wagon next to it also caught my eye.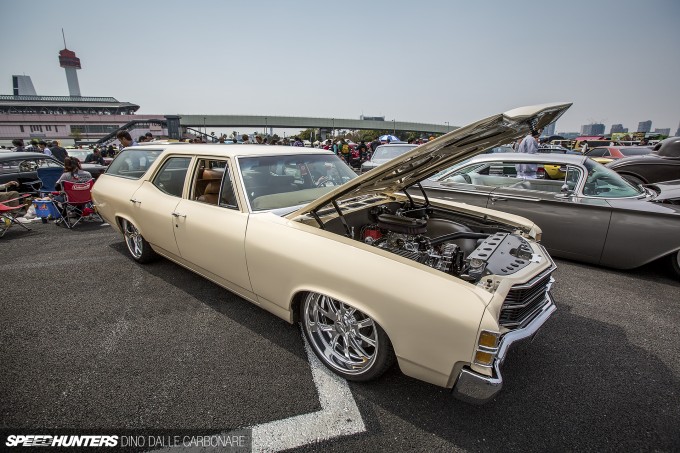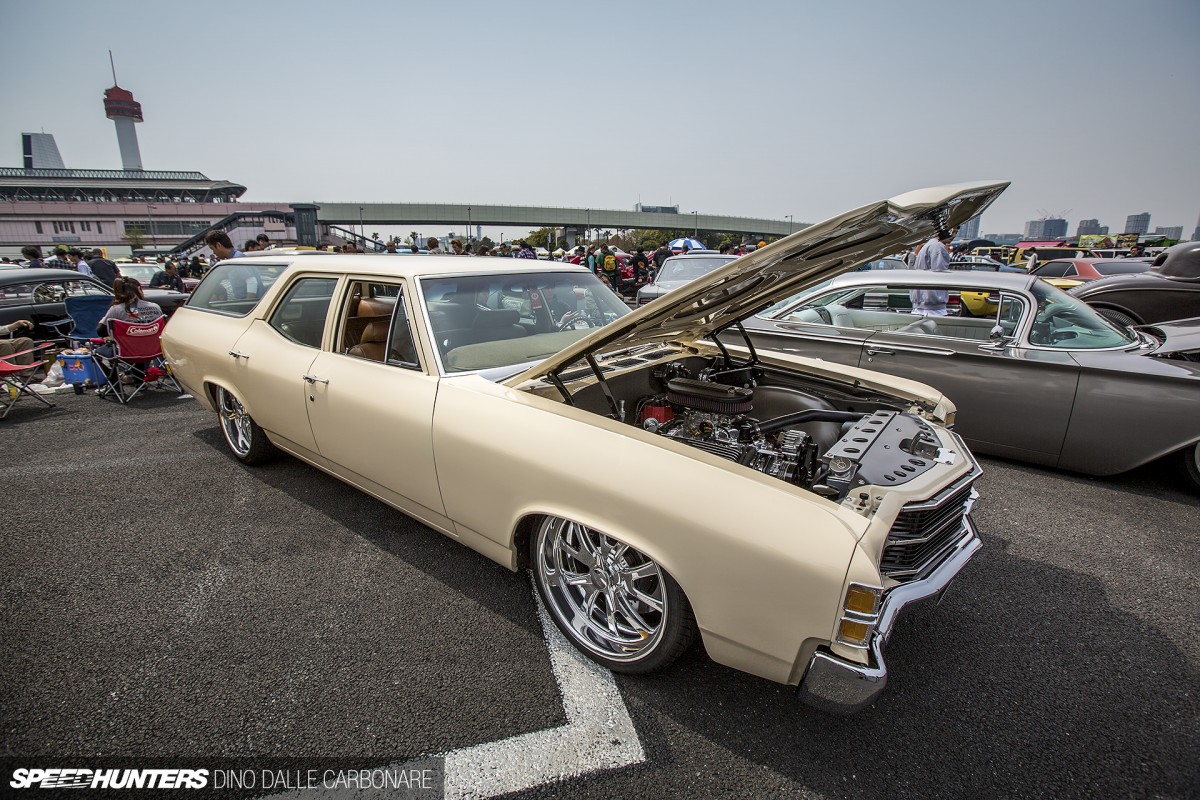 But just like at the Razzle Dazzle the other month, it was this 1971 Chevelle that still reigned supreme over all other wagons on show. Rarity of the car aside in Japan, it's the way in which it's been rebuilt that just blows me away. I plan to bring you a full feature on this car so I won't go any further on the details.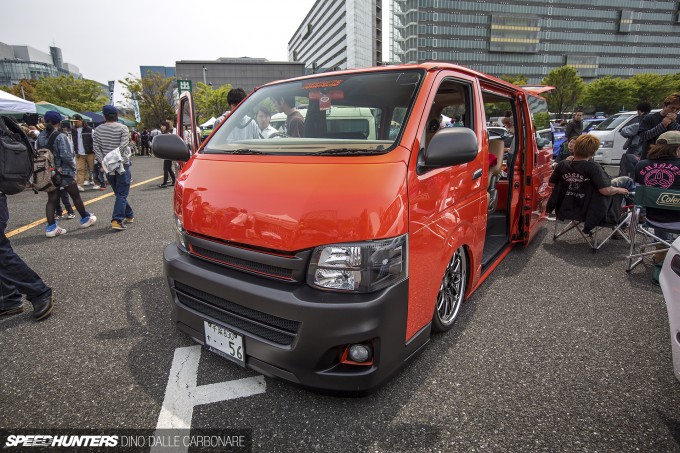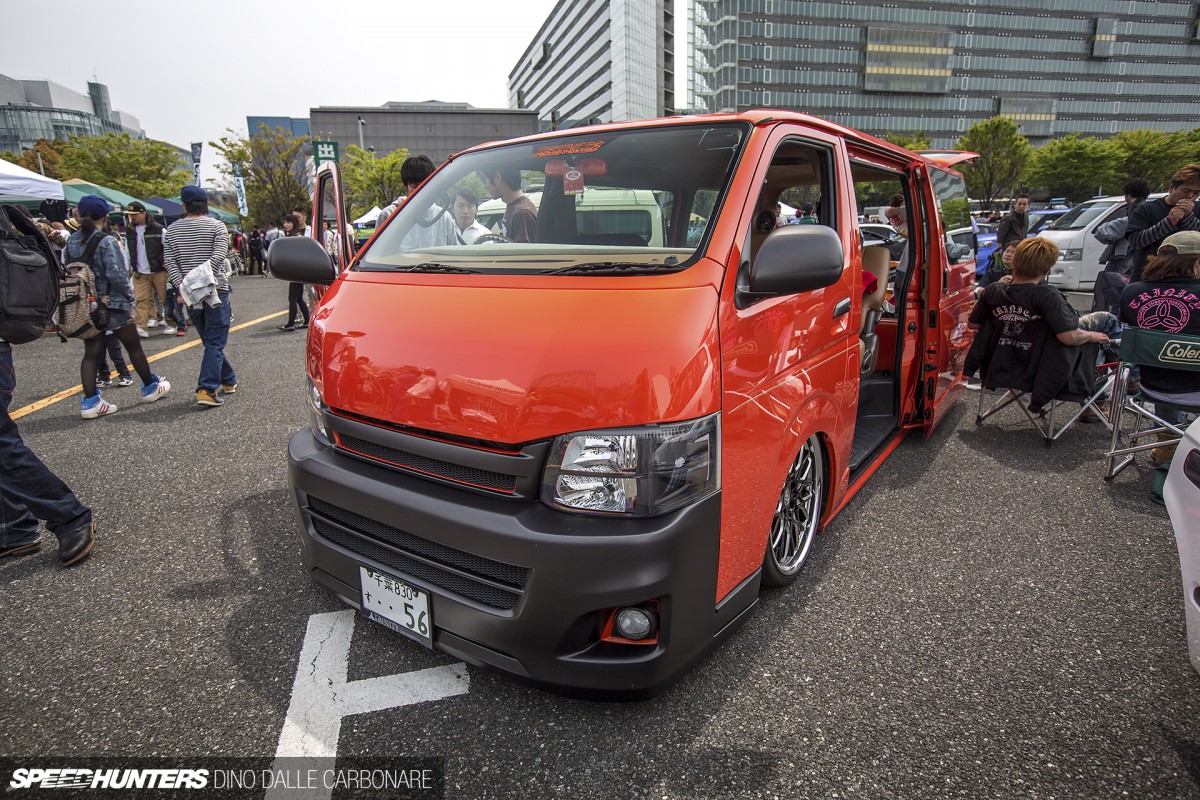 Here's a little bit of trivia for you. Do you know what is the most stolen vehicle in Japan? It's the Toyota Hiace – the workman's mode of transport. They are also a popular platform in the custom van scene and there were a ton to check out in Odaiba yesterday. I picked this as my favourite – a more modern take with a very smooth metallic orange exterior and a really nice leather trimmed cabin.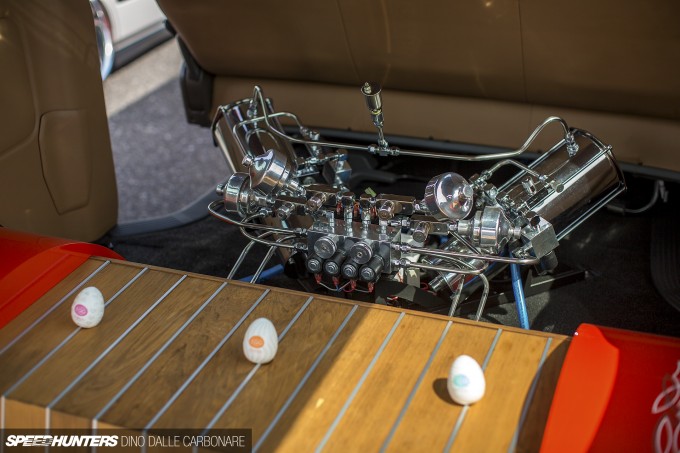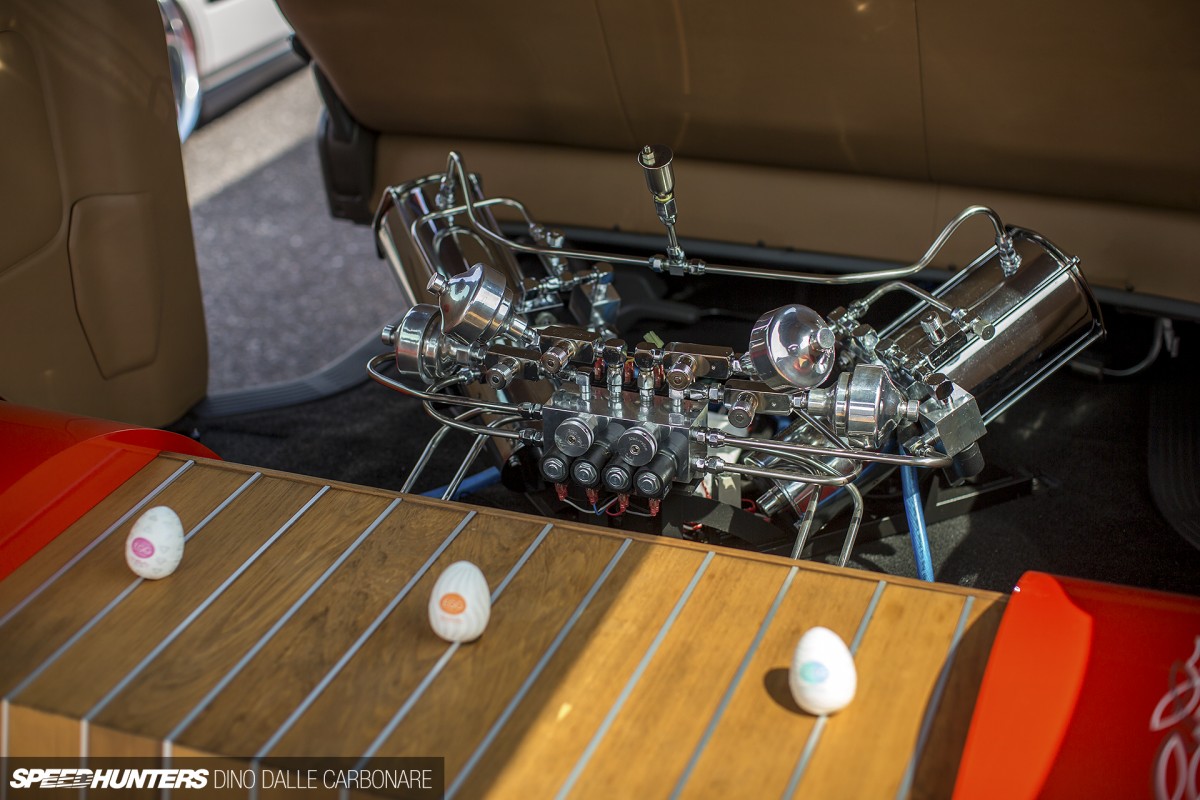 Behind the rear seats most of the cargo space has been take up by the wood-trimmed tub for the wheels and solid axle. The hydraulics are beautifully laid out too.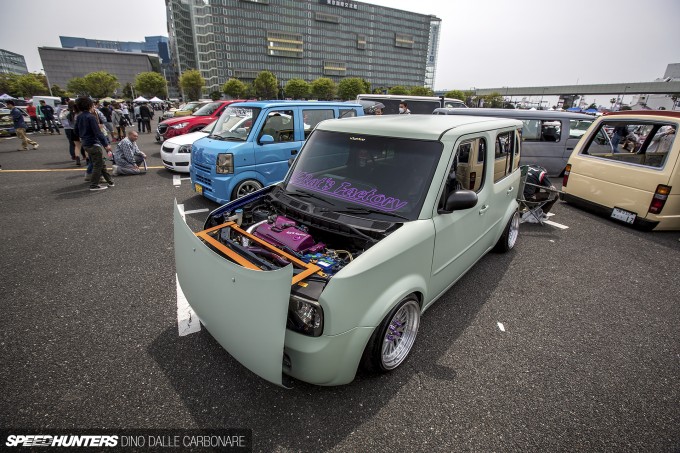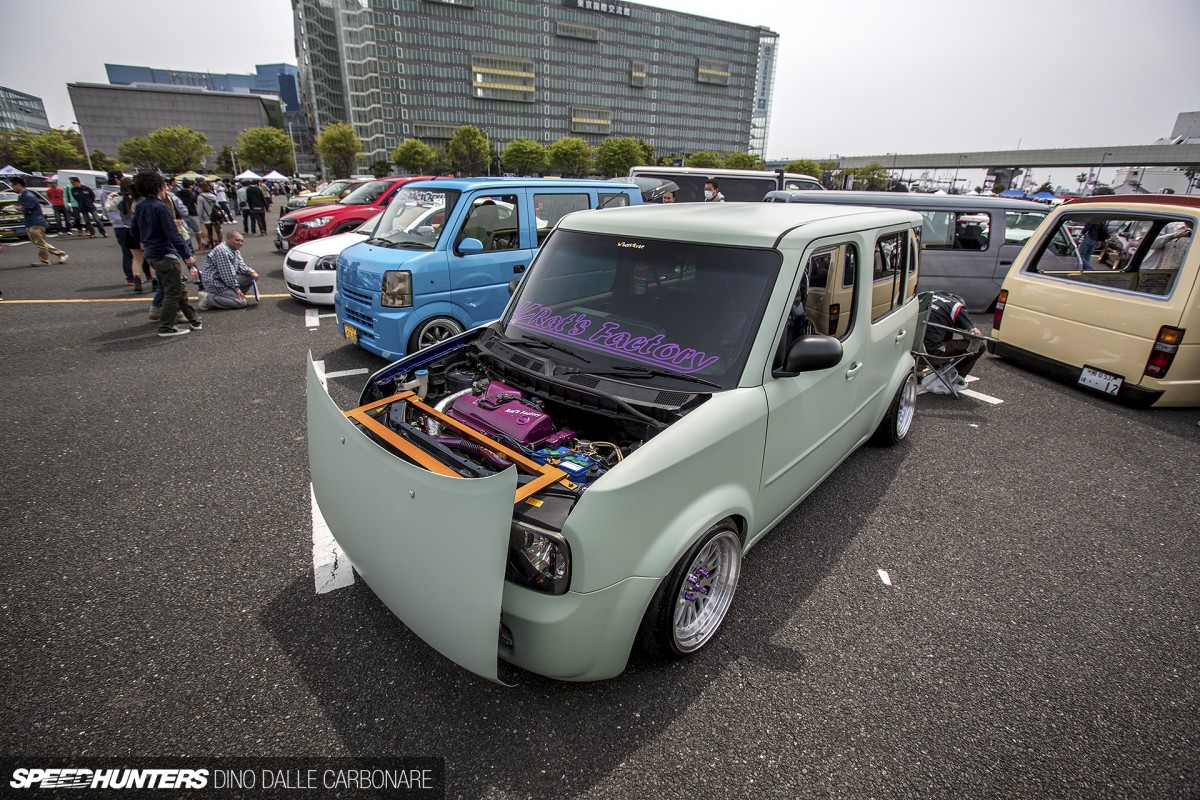 How about this for a trick hinge system for your Nissan Cube?!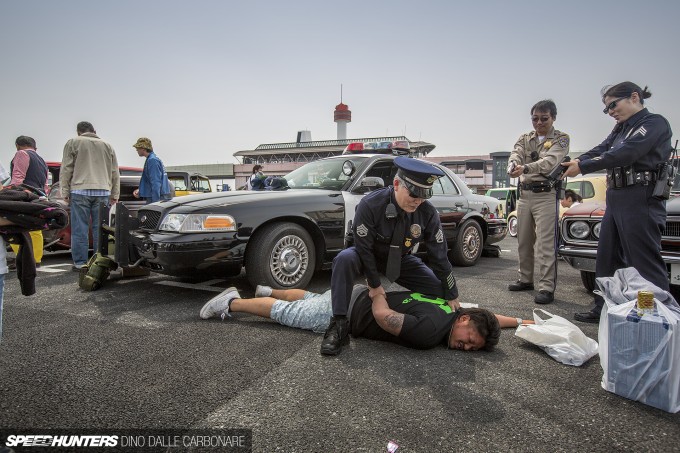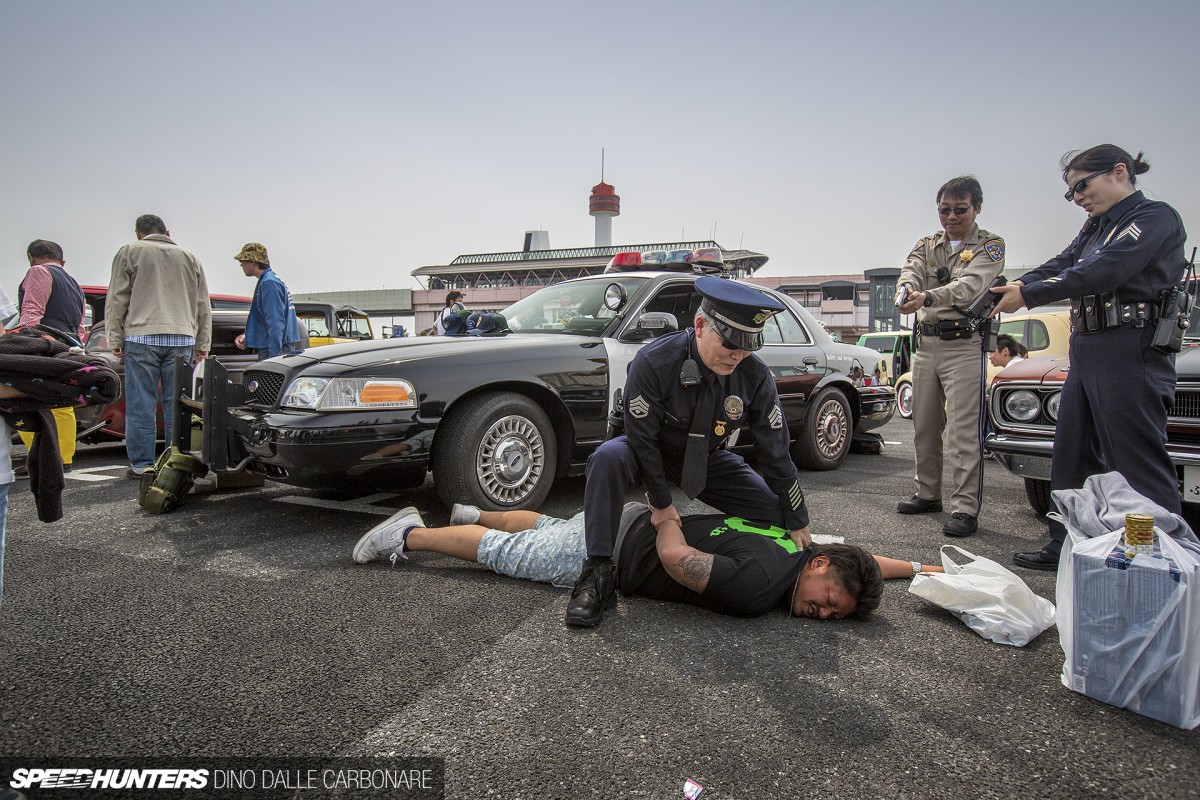 I've been seeing this group of guys dressed up as US patrolmen show up at the show for years, but I've never seen them perform arrest shows. Seems US Police procedures have become famous the world over.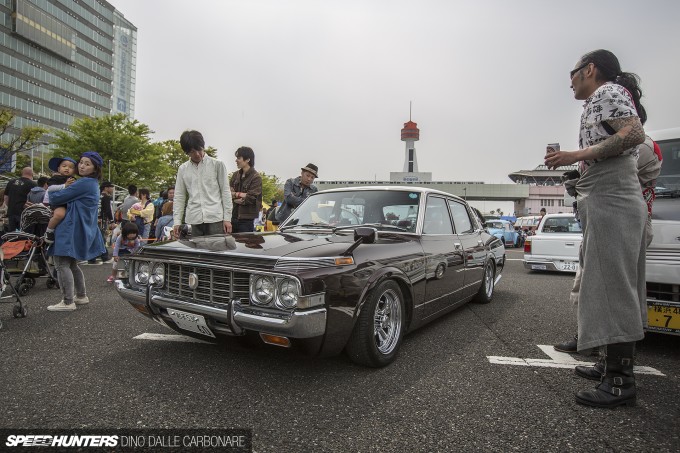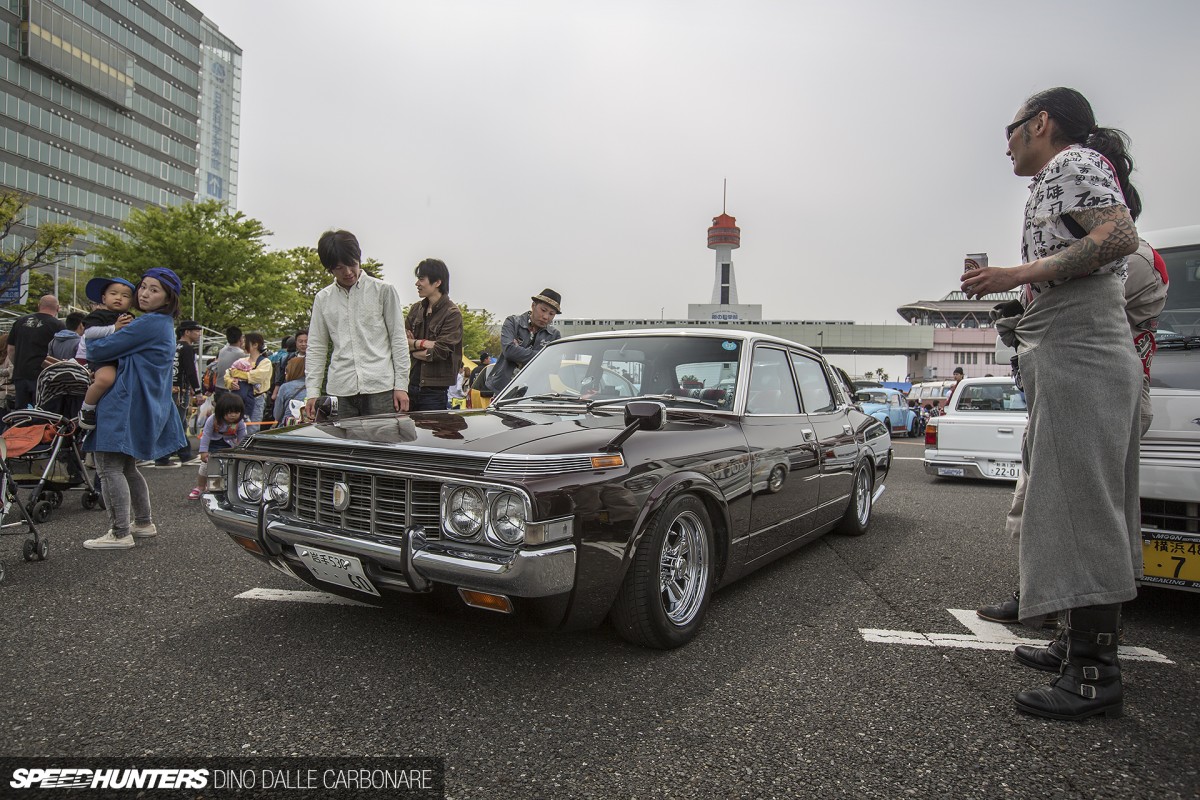 Right at the top of the show area I came across this S60 Crown – another favourite of mine from the Razzle Dazzle. I just love the stepped bonnet this generation of the Crown has, it's something so unique that it makes it so identifiable in a sea of cars from the same era.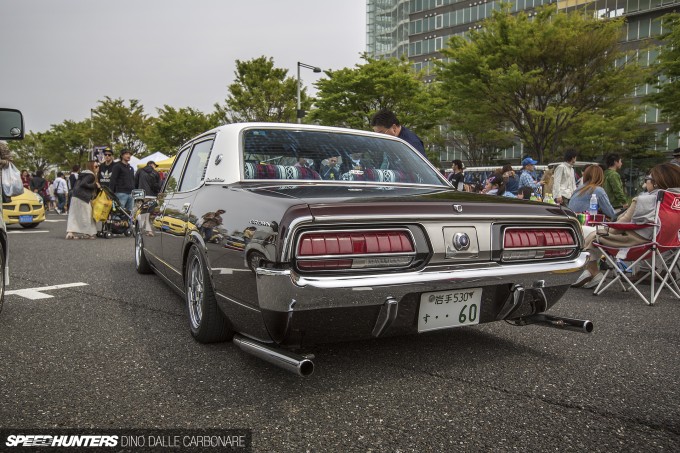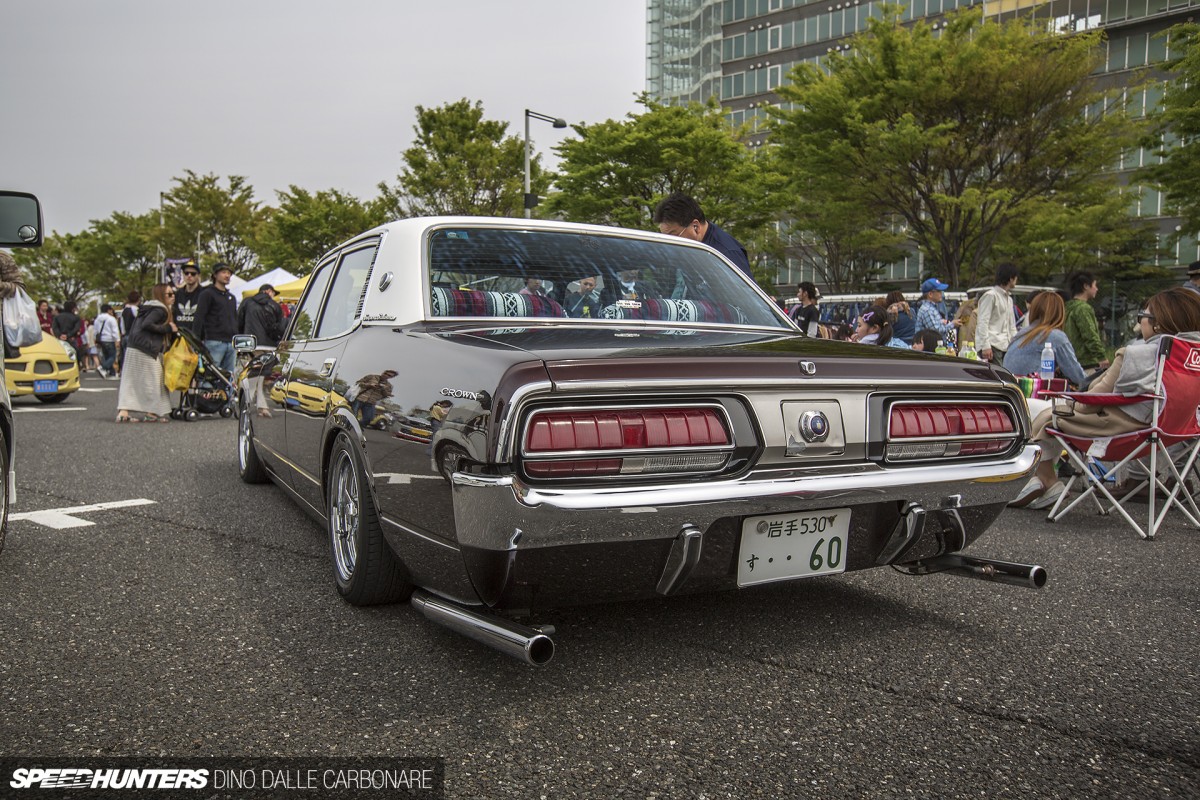 But I'll stop here for now. I hope this first selection of pictures have set the mood and given you a good idea of the sort of atmosphere that the Mooneyes guys always manage to bring to this event. I've got a spotlight coming next, so make sure you check back soon to take a closer look at some of the most interesting cars I spotted.
Dino Dalle Carbonare
Instagram: speedhunters_dino
dino@speedhunters.com