Paddock life
We Speedhunters are masters of the multi-task. Take last weekend for instance; we had an international team gathered in Long Beach, California for the season opener of Formula Drift, but there was no way we would be satisfied covering just one event. As the weekend drew nearer the task list filled to the brim with car meets, photoshoots, dinners, drag races and road trips, as we all tried to make the most of our time together. With all of this going on we also needed to welcome a new member to the Speedhunters family, Matthew Jones, previously of Super Street magazine fame. I'll leave the proper introduction to our proper Englishman and esteemed Editor in Chief, Bryn, but I did get the honor of being Matthew's first partner in crime on a Speedhunters adventure.
After shooting Formula Drift trackside and hanging out in Long Beach, Matthew and I headed to Auto Club Speedway in Fontana to check out the California Festival of Speed. The event is hosted by Zone 8 of the Porsche Club of America, which is by far the largest chapter. From everything we were told this would be a whopper of an event, with tons of Porsches and exotics not only on display, but also taking to Fontana's huge banked turns.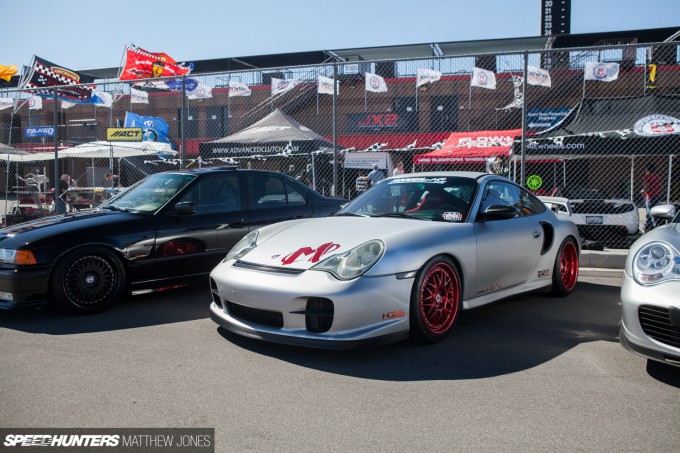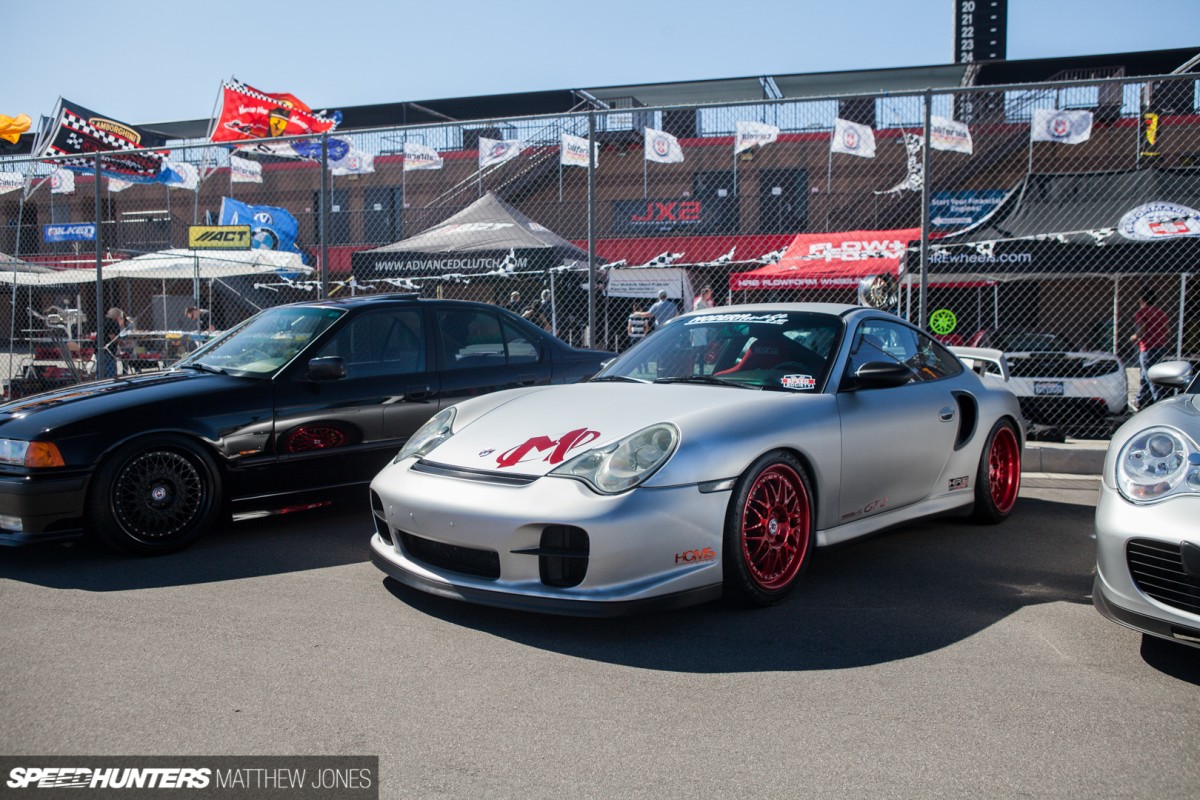 As we entered the track we were immediately sidetracked by the multitude of cars parked about. Killer Porsche after killer Porsche drew us in.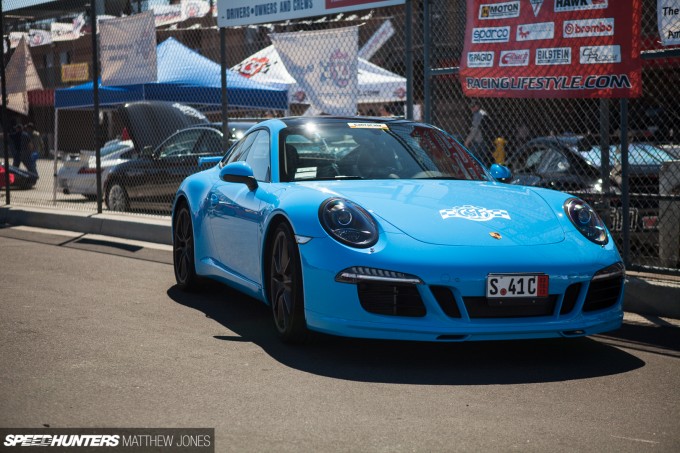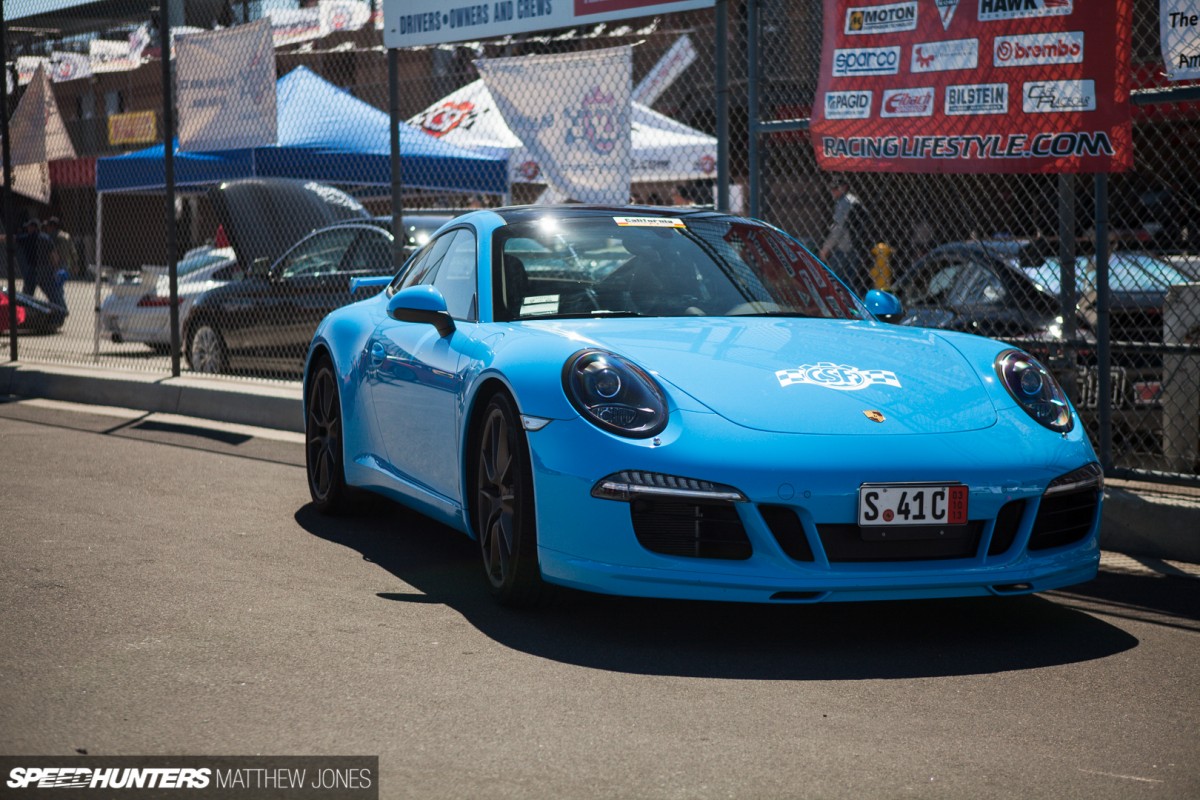 We had actually been invited to the Festival of Speed by our buddy Ravi from CSF Cooling, as he was the title sponsor of the event and kept telling me how many amazing cars were going to be in attendance. He's got some nice cooling components for watercooled Porsches, so it was an obvious event for CSF to sponsor.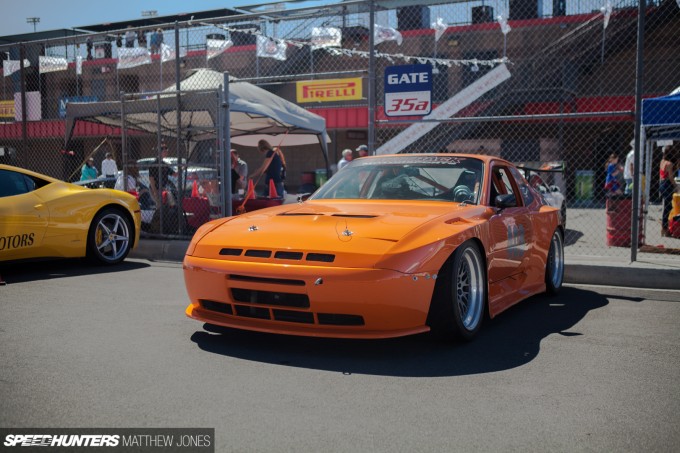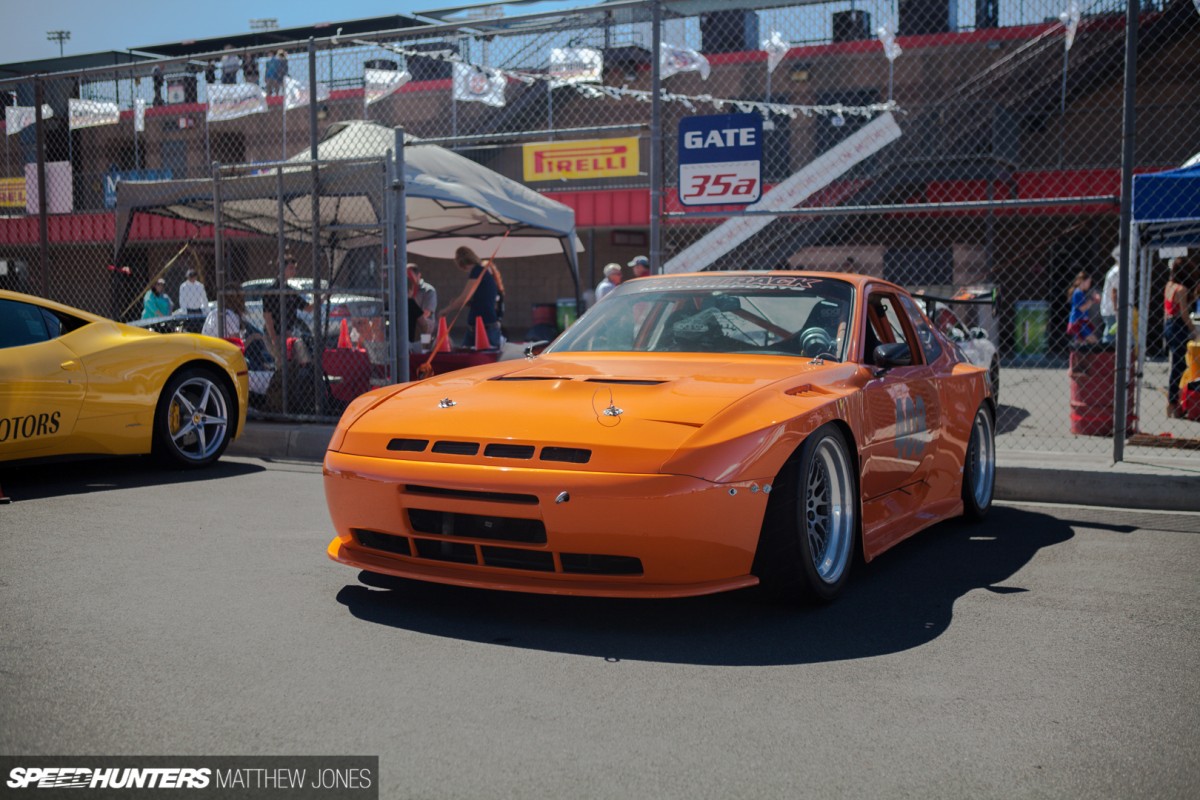 Along with a huge number of 911s, there were plenty of other Porsche models present too, like this blast-ready widebody 944.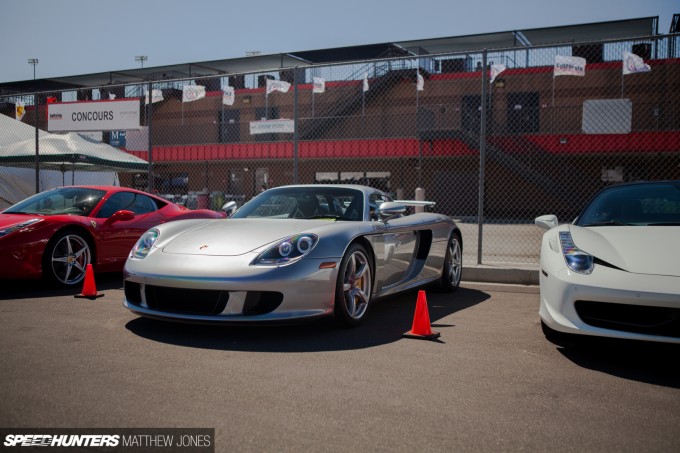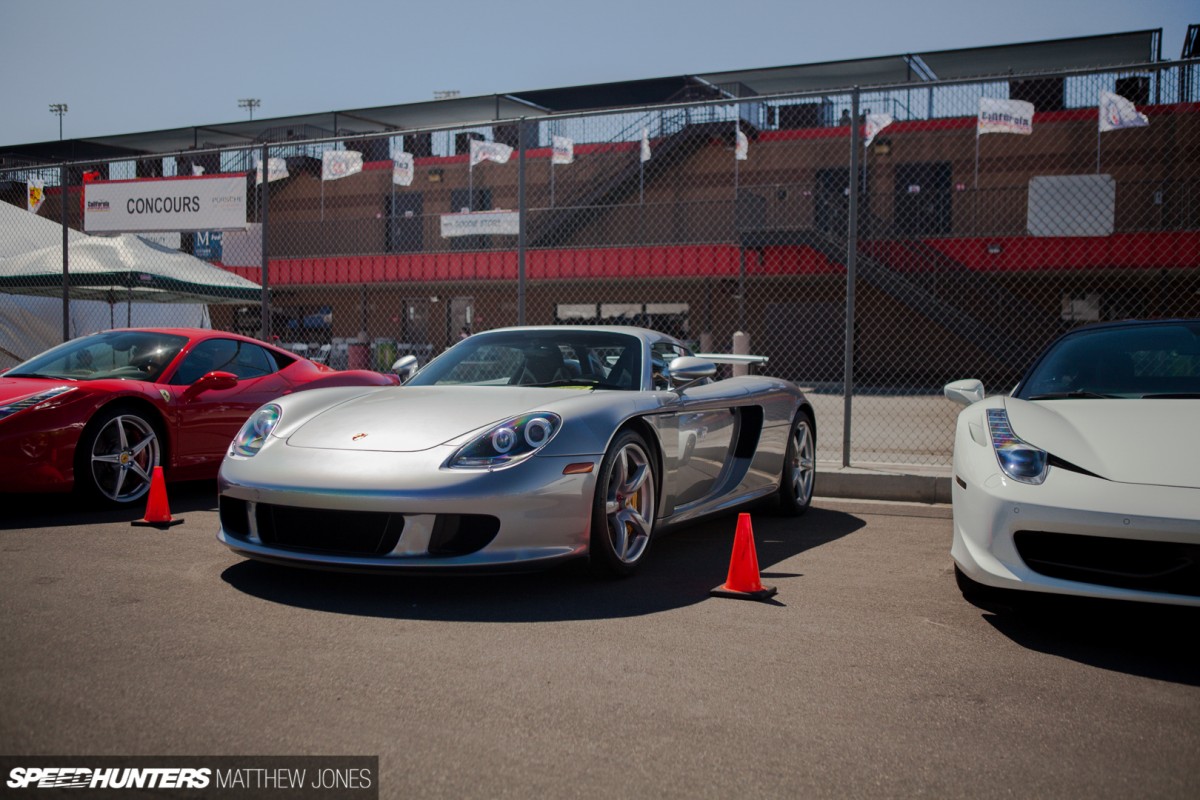 We quickly spotted a pair of Carrera GTs, this one finished in the familiar GT Silver.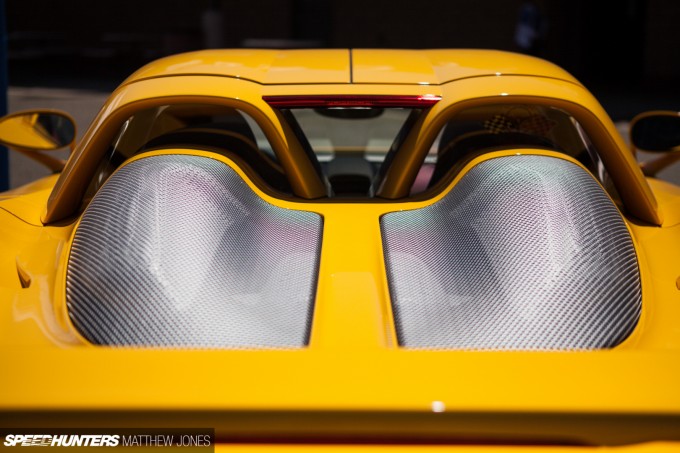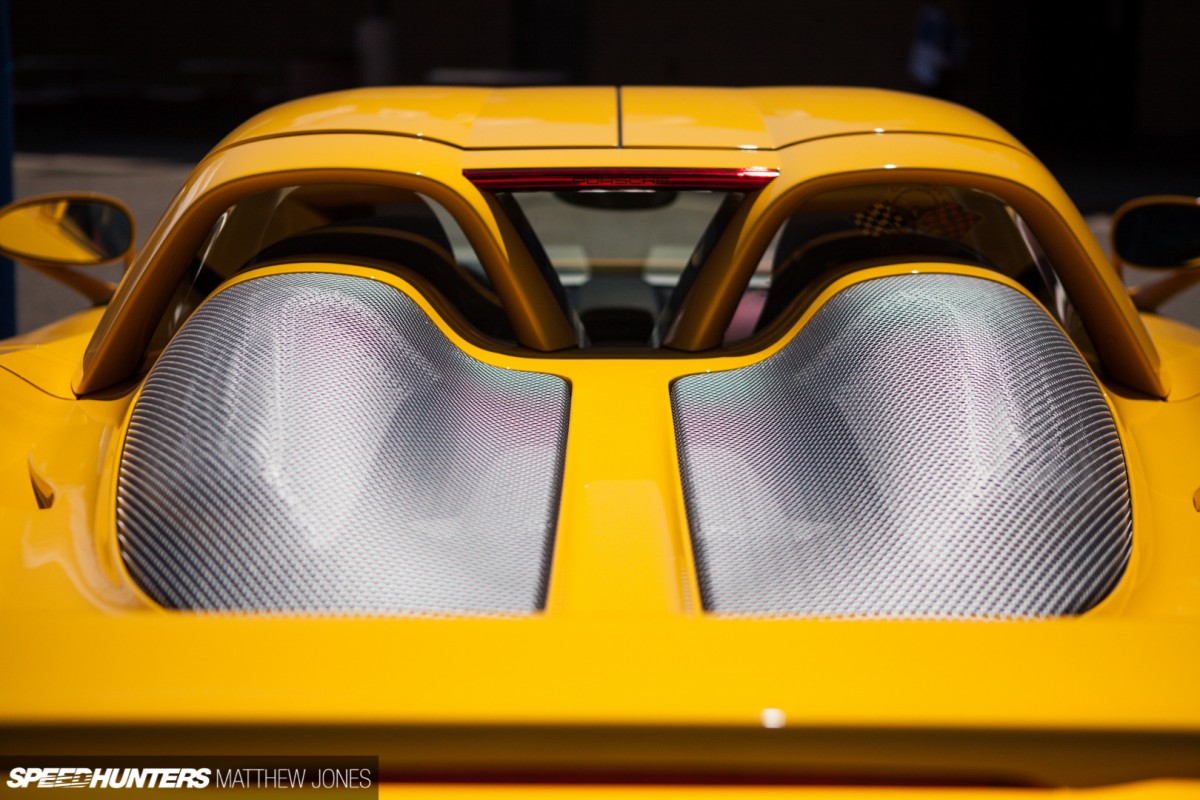 Not far away sat another coated in the much less common Fayence Yellow. Only 44 GTs were painted this color, so this very well could be the only one I ever see in person.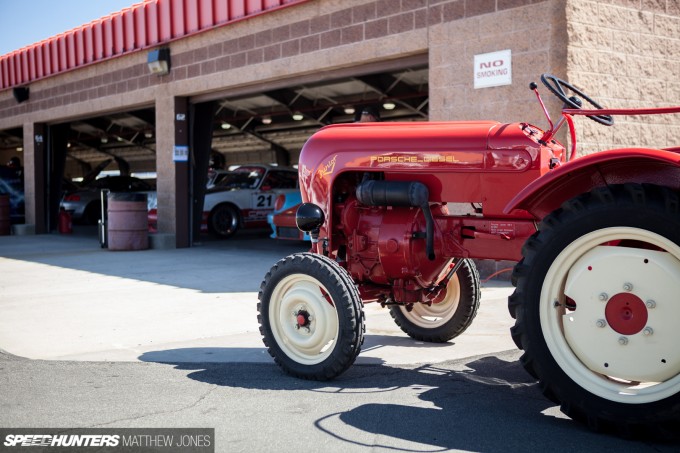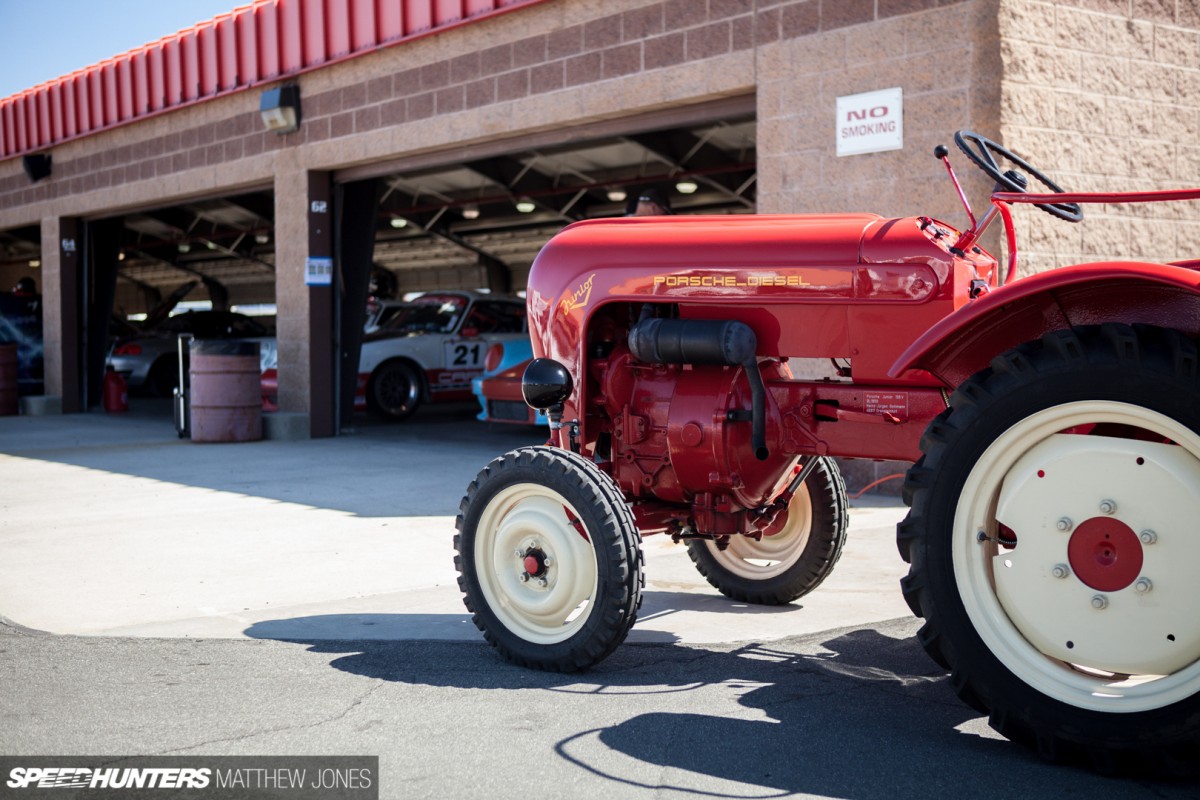 Apparently Porsche collectors of all types had shown up that day, because across the way sat an original Porsche tractor.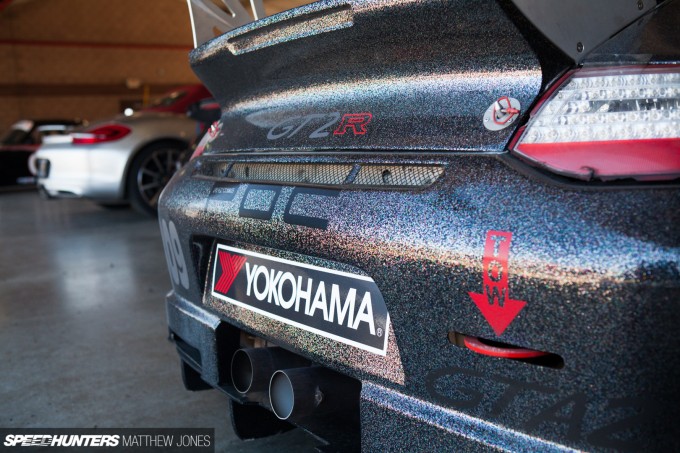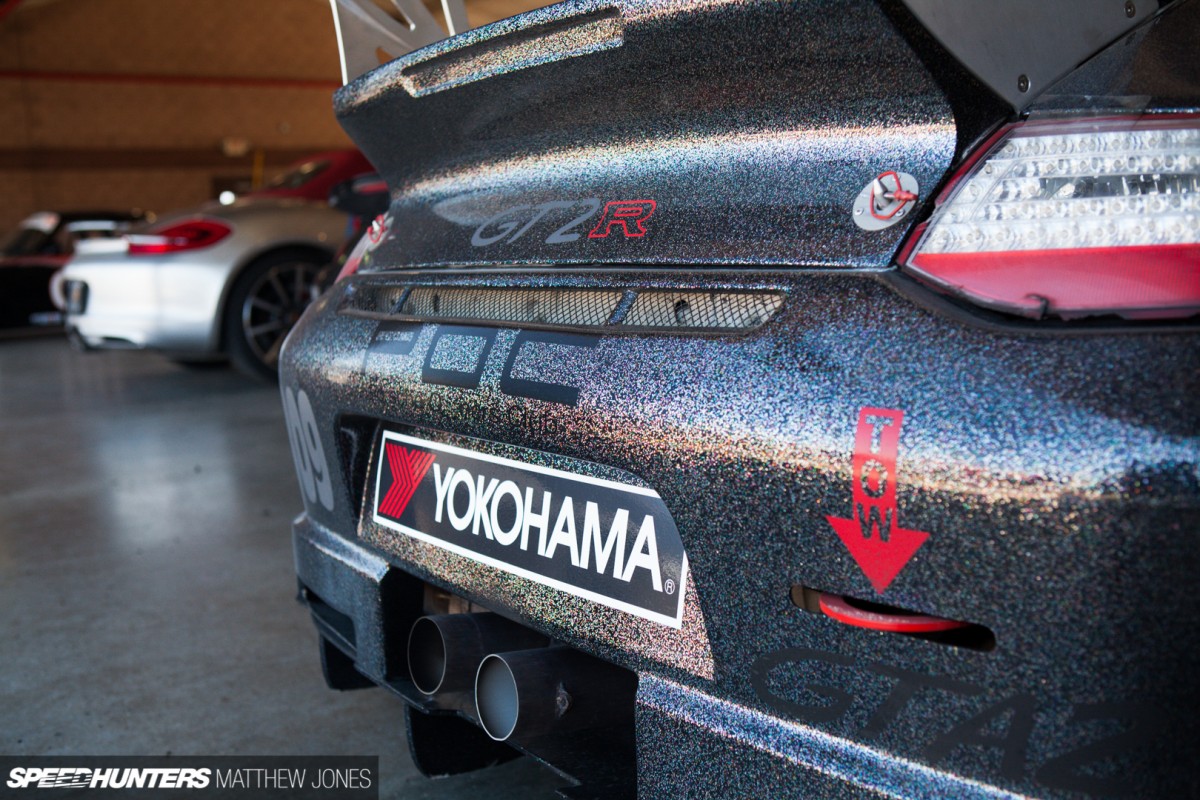 Before long we heard the familiar bark of a boxer engine rumbling to life, and were once again sidetracked, finding ourselves standing in a very cool space – the paddocks where the Pirelli Cup club racers were getting ready to take to the track.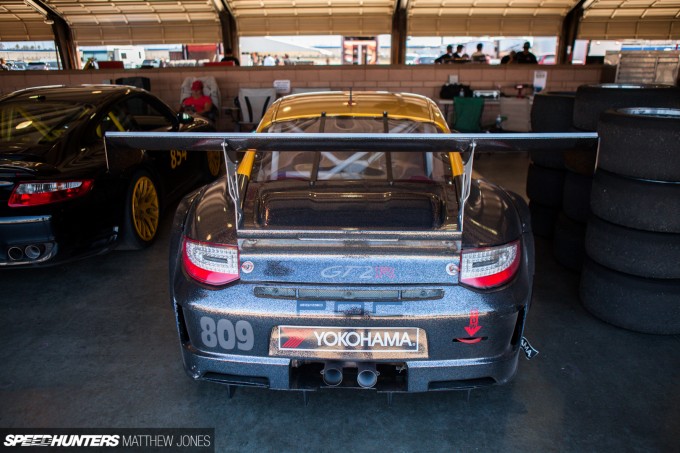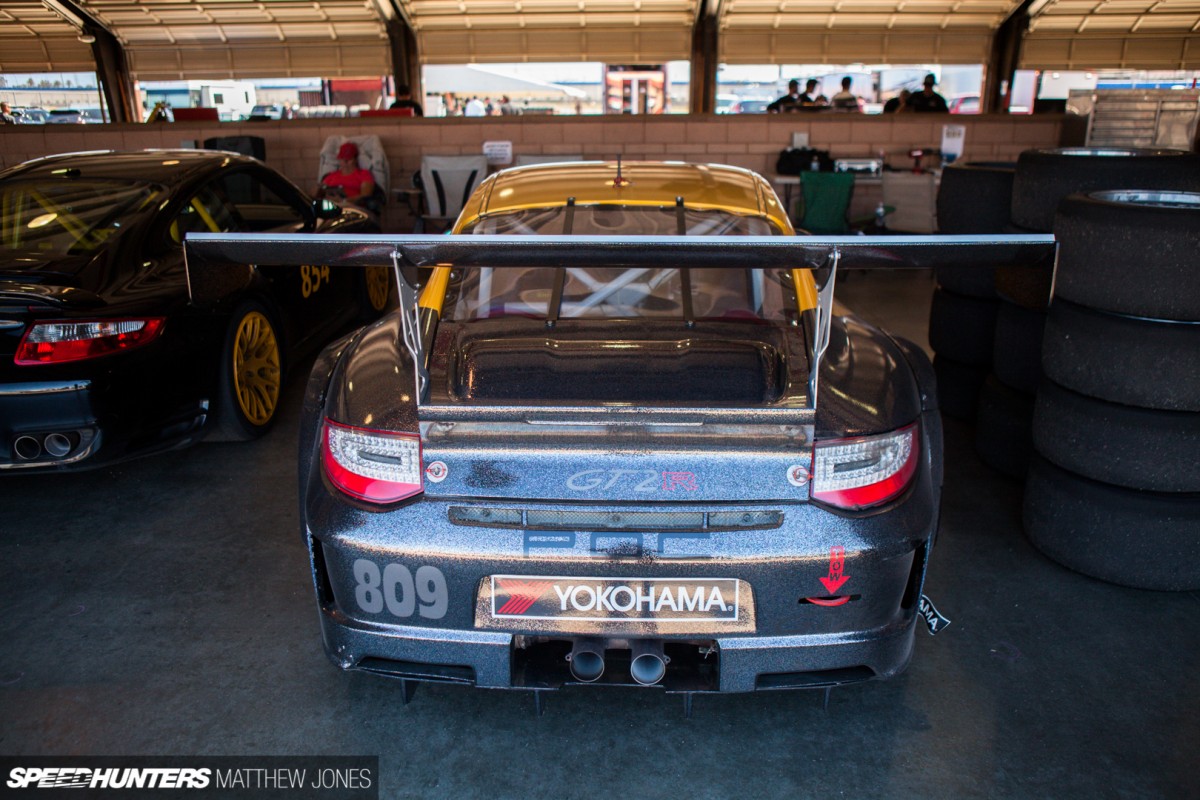 I couldn't help but notice the mismatched soot in the tailpipes. A lean bank perhaps? I suspect it didn't much matter given the chance to blast Fontana's curves.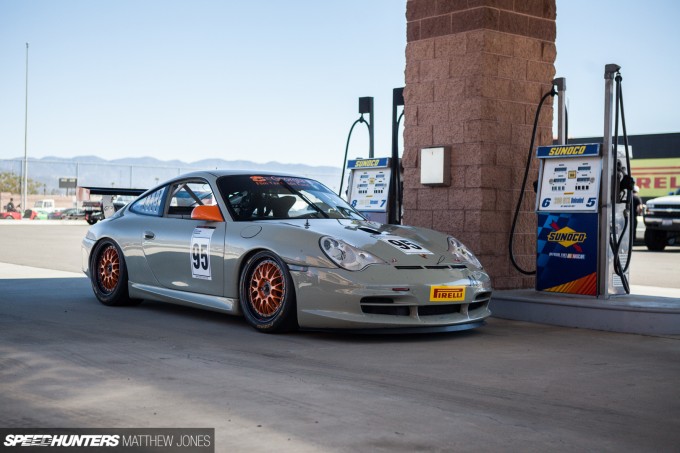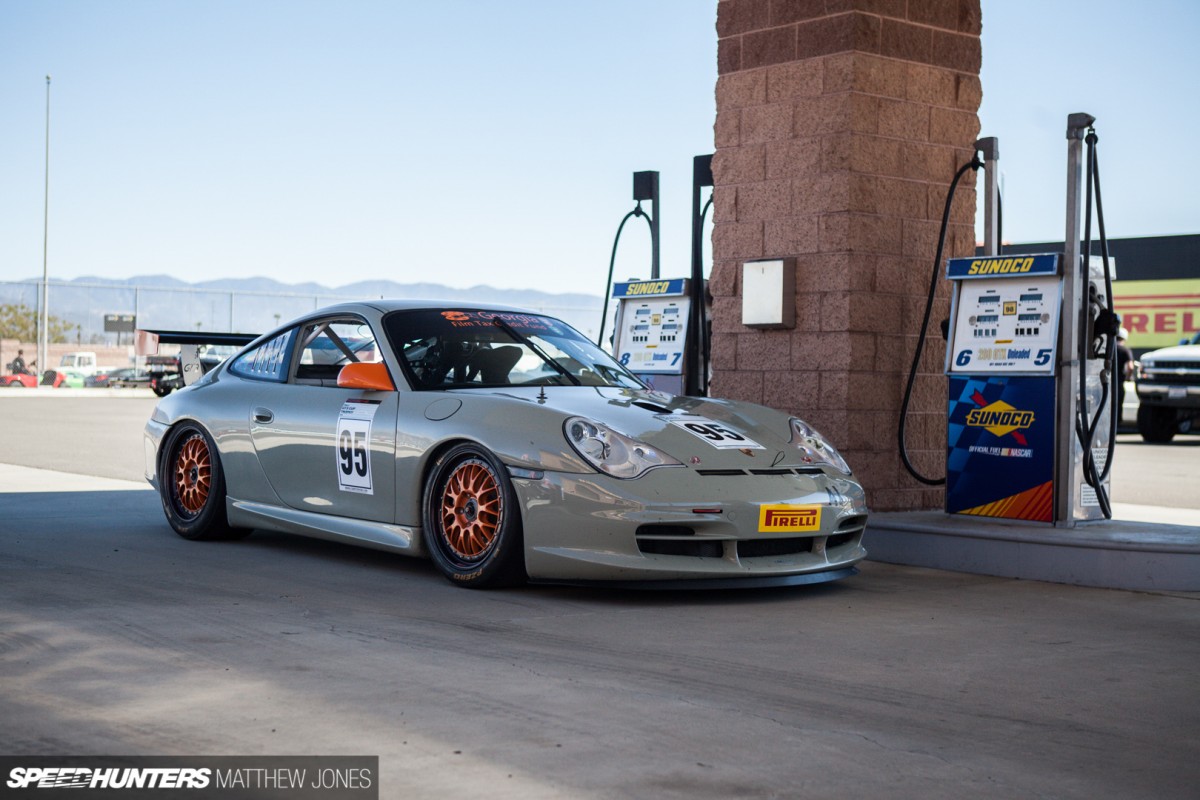 When Matthew and I first entered the track we saw this GT3 filling up on race fuel and I commented that it must have been the best color scheme I'd ever seen on a Porsche of any kind. Of course, the dumped suspension and full race-prep didn't hurt the look either.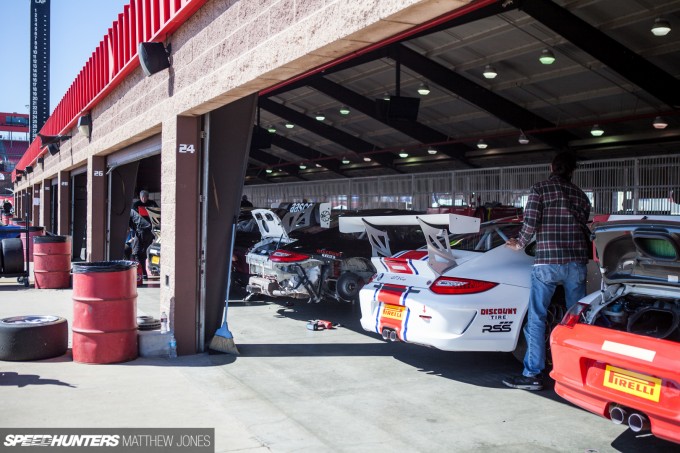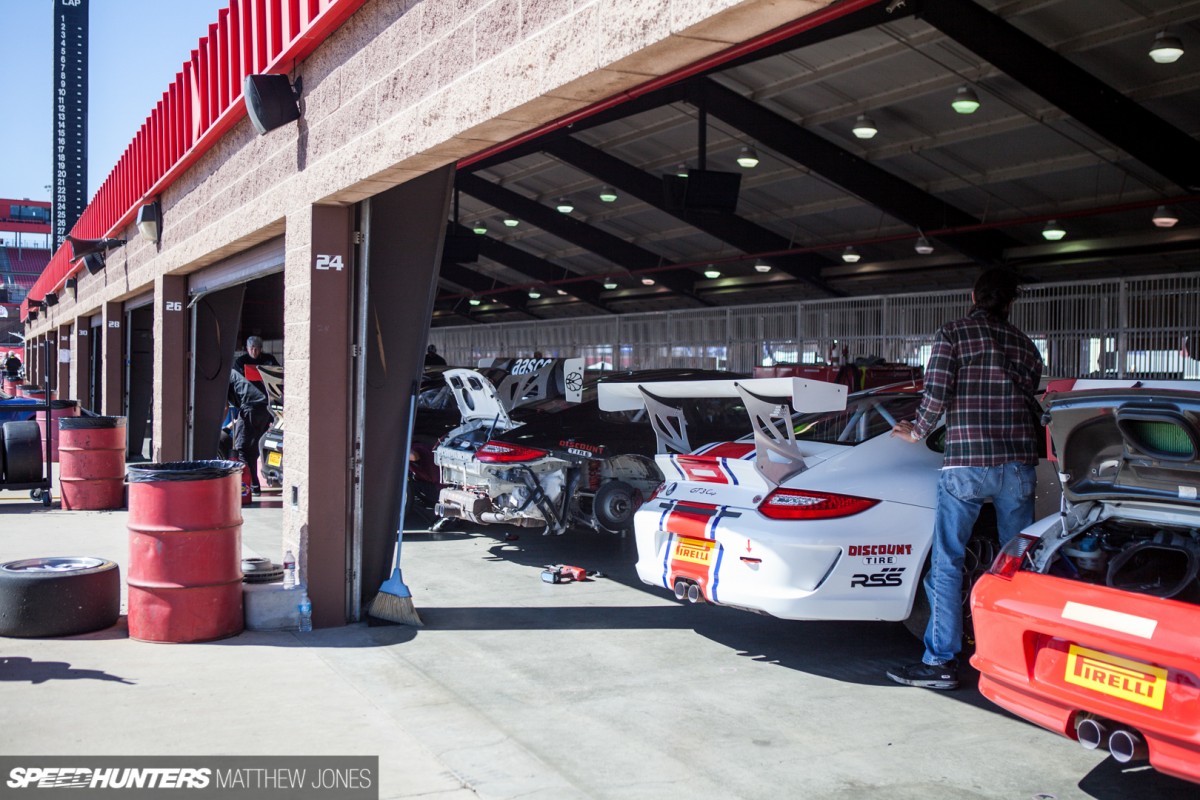 We didn't realize how many more of these spec cars we were going to stumble upon in short notice though.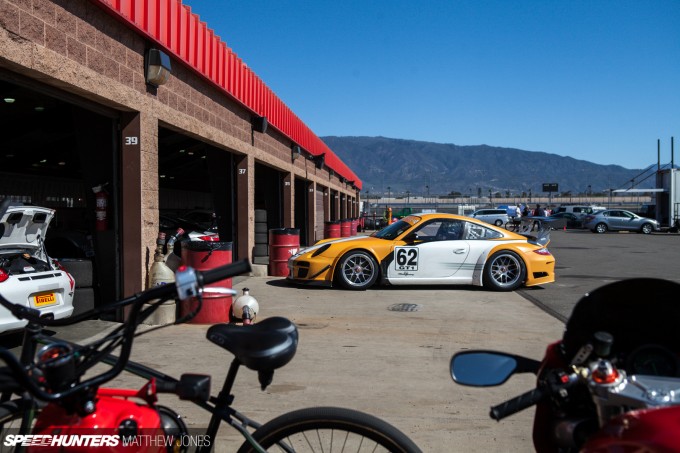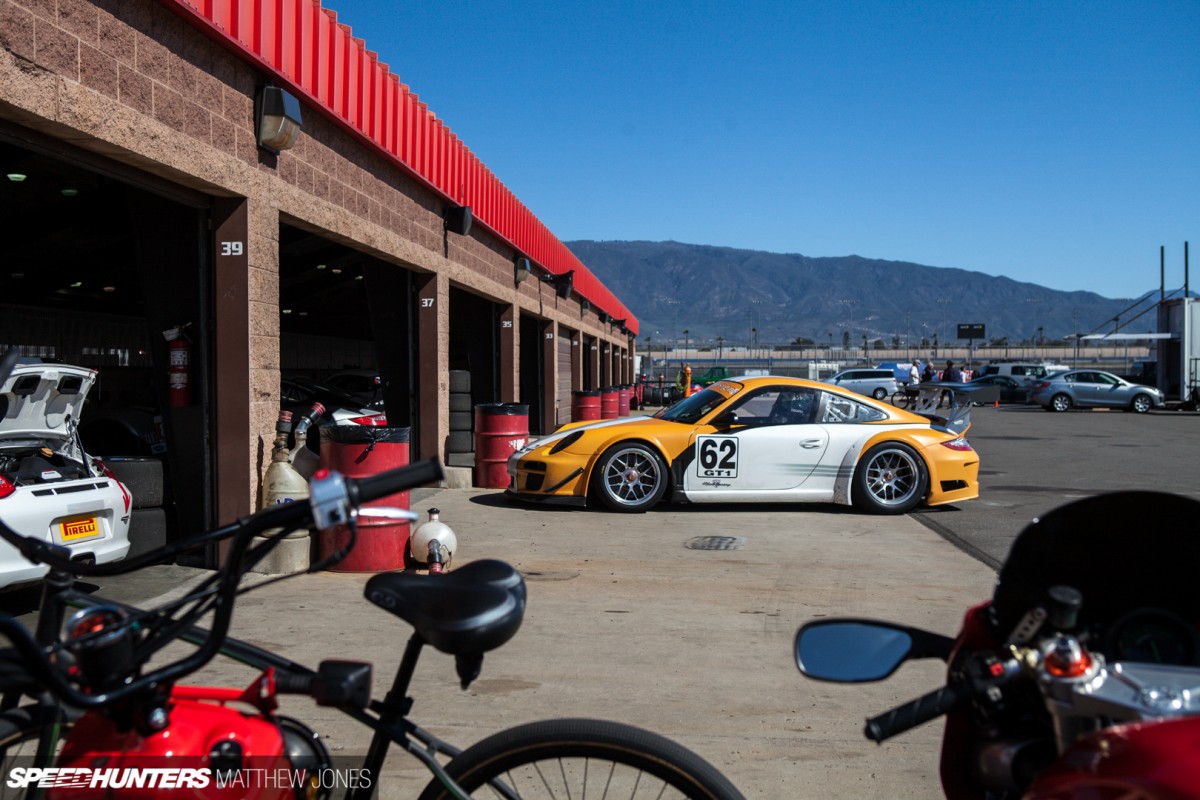 Dozens of teams were prepping their Pirelli Cup 996 and 997 racers for their time slot on the track. This was going to be good. Very good.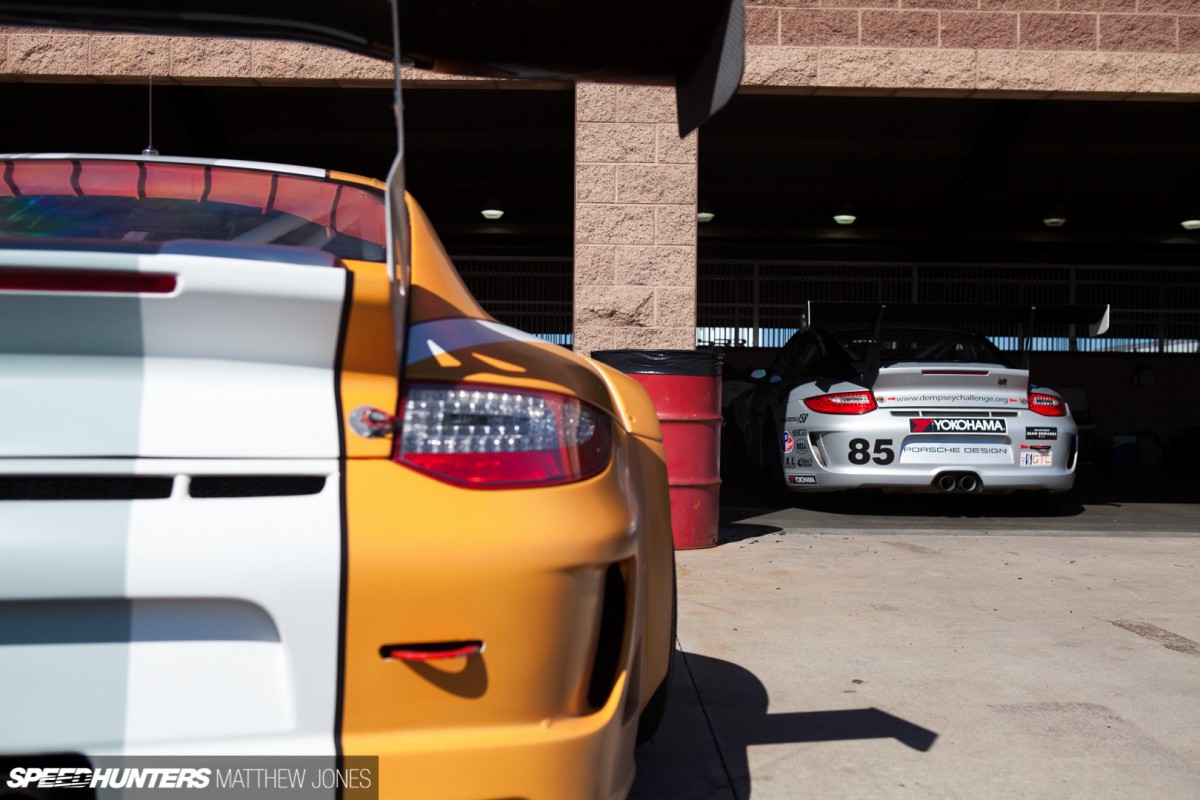 The Pirelli Cup cars are full-tilt, purpose-built cars, and this track day would count as the first of six on the race schedule for 2014.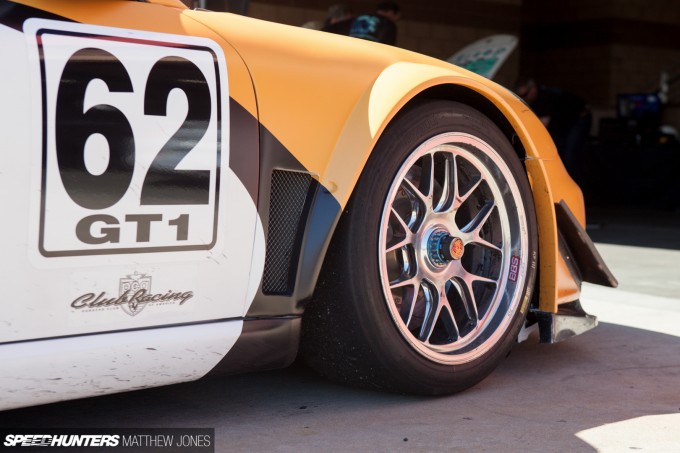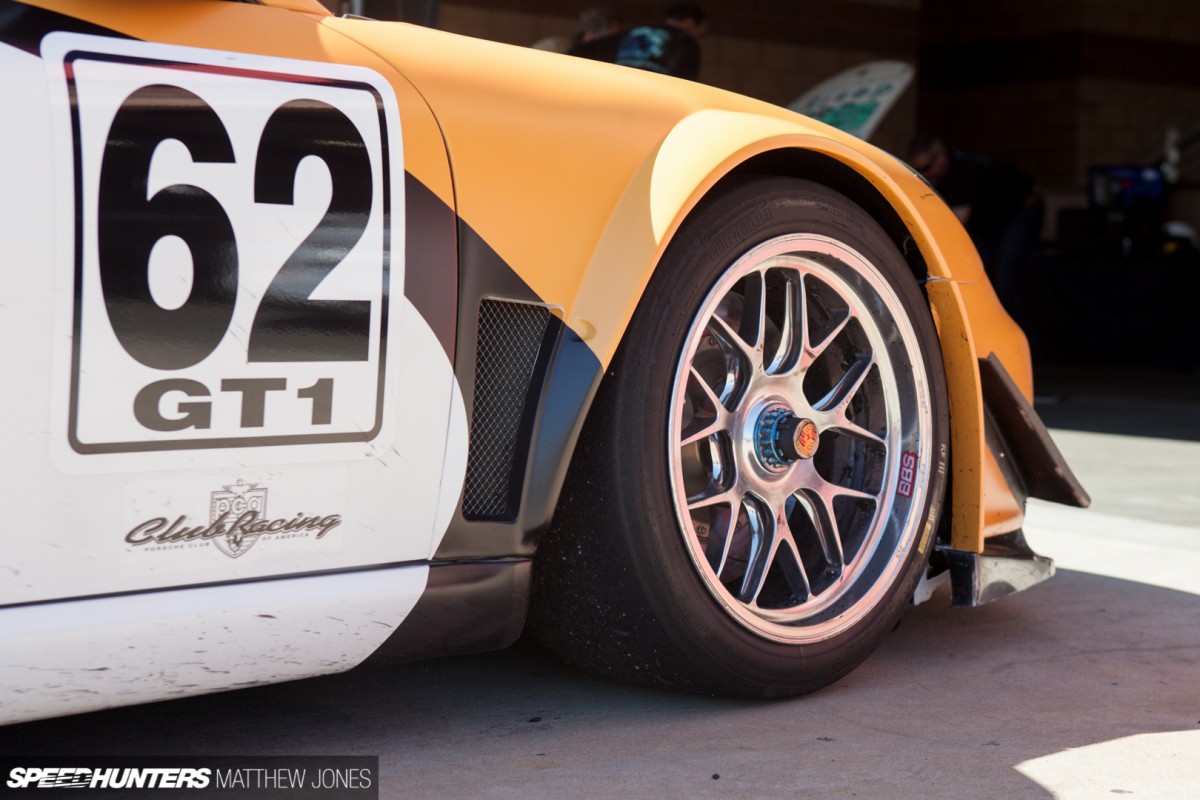 They all wore spindle mount BBS wheels with slick Pirelli tires.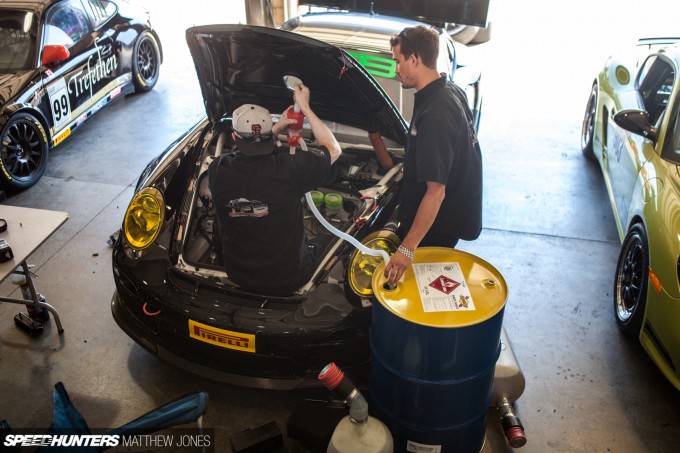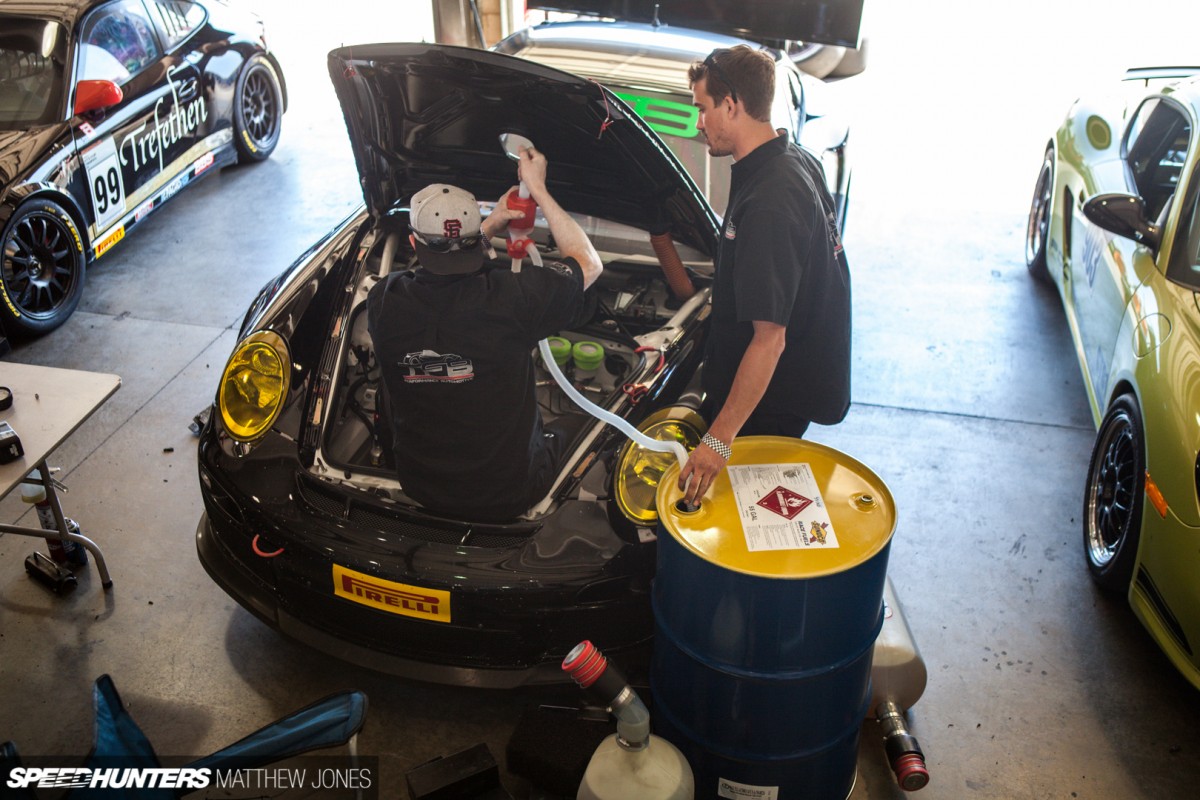 Of course, they ran on race fuel from a barrel too.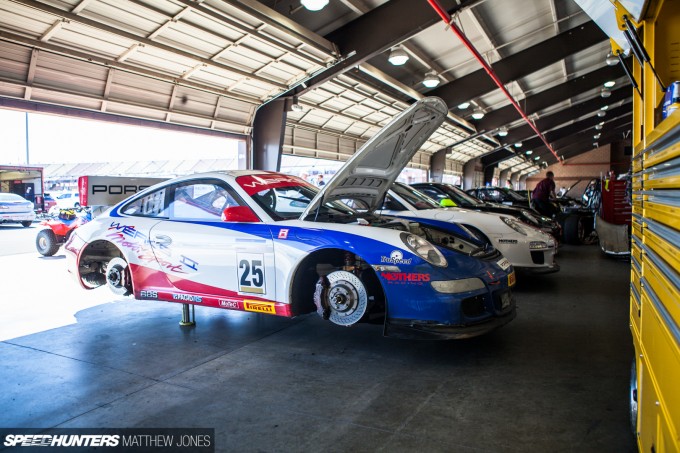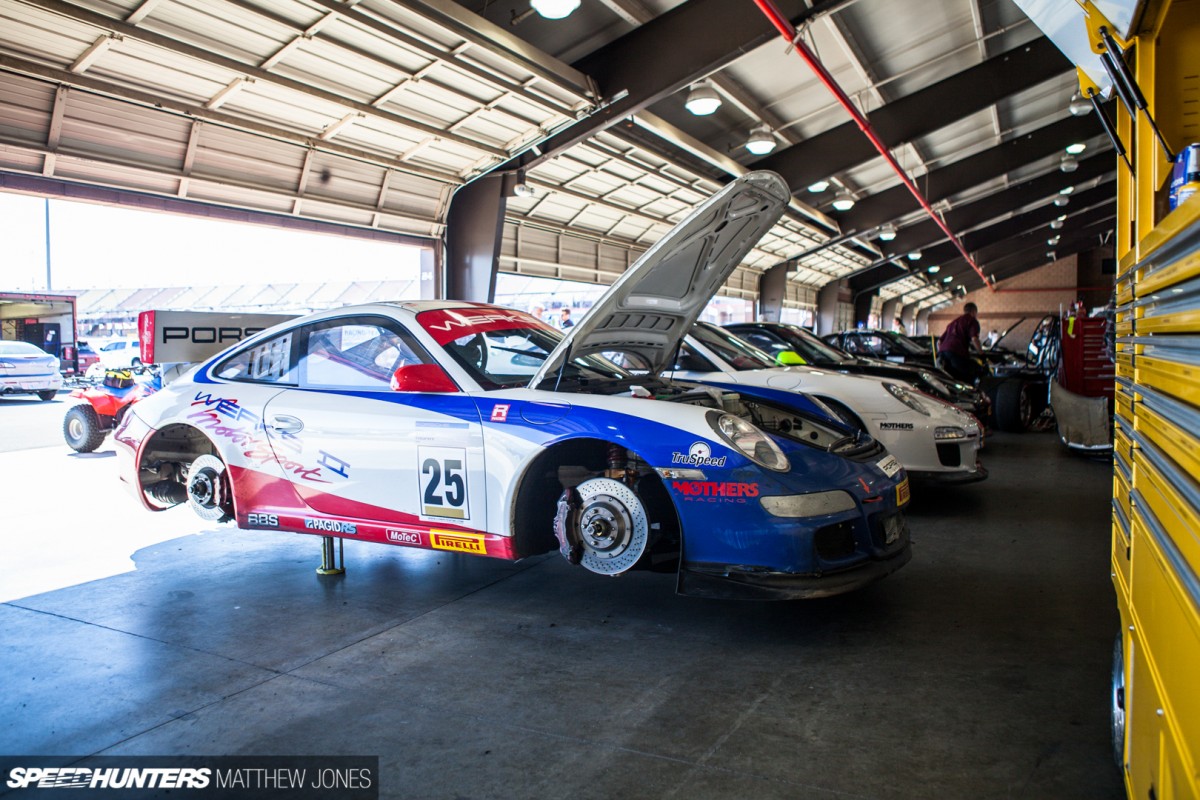 All were equipped with air jacks, something I would love to incorporate into a build one day.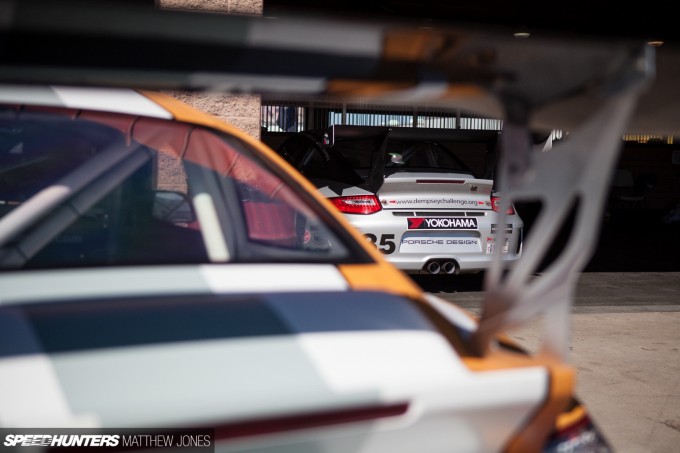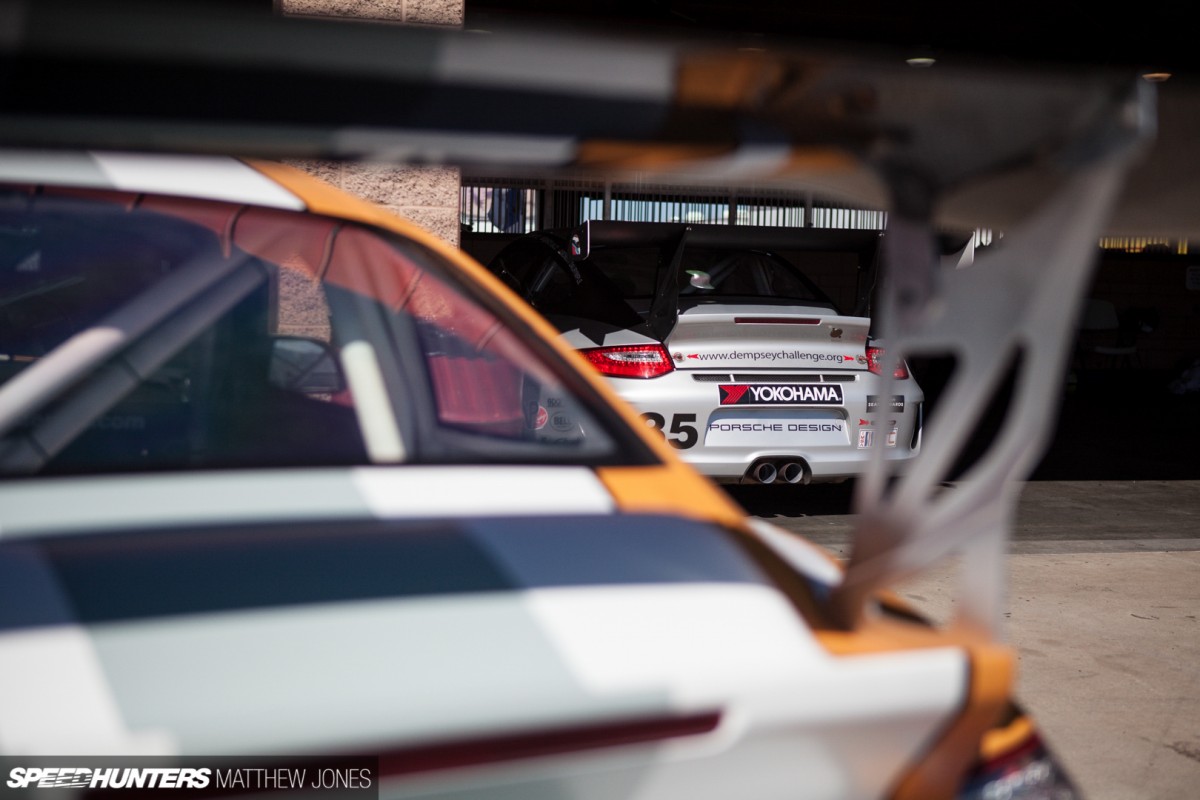 With all the action going on in the paddocks, we thought it best to continue on. After all, we hadn't even seen any cars on the track yet.
The CSF connection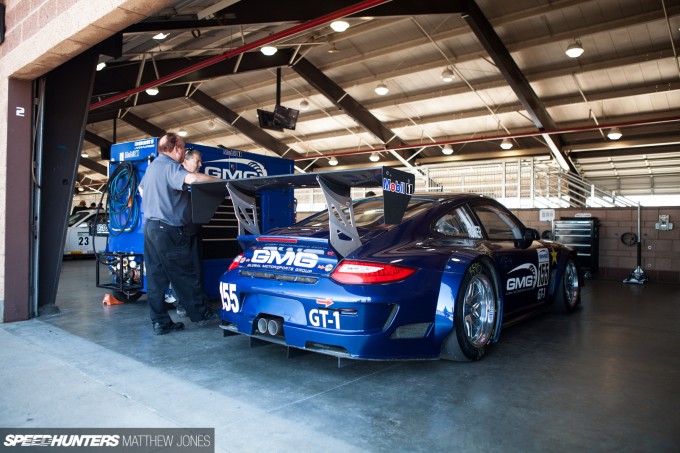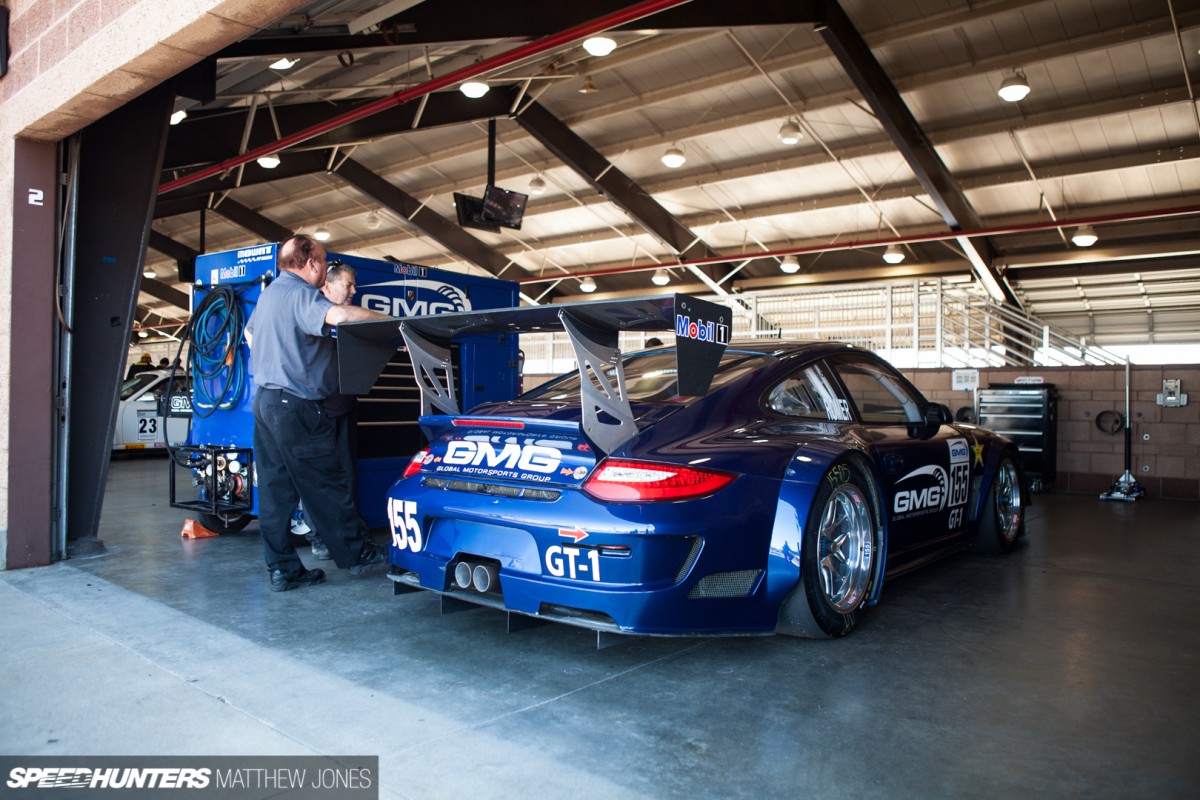 The last car we checked out was this 997 from GMG Racing, which you may remember from a shop tour we ran a couple months ago.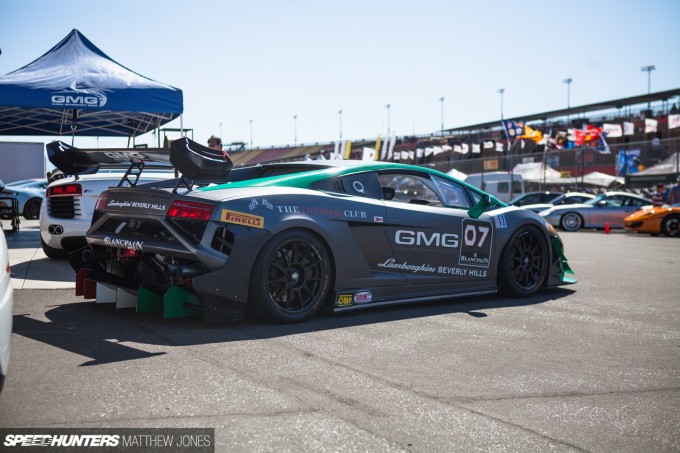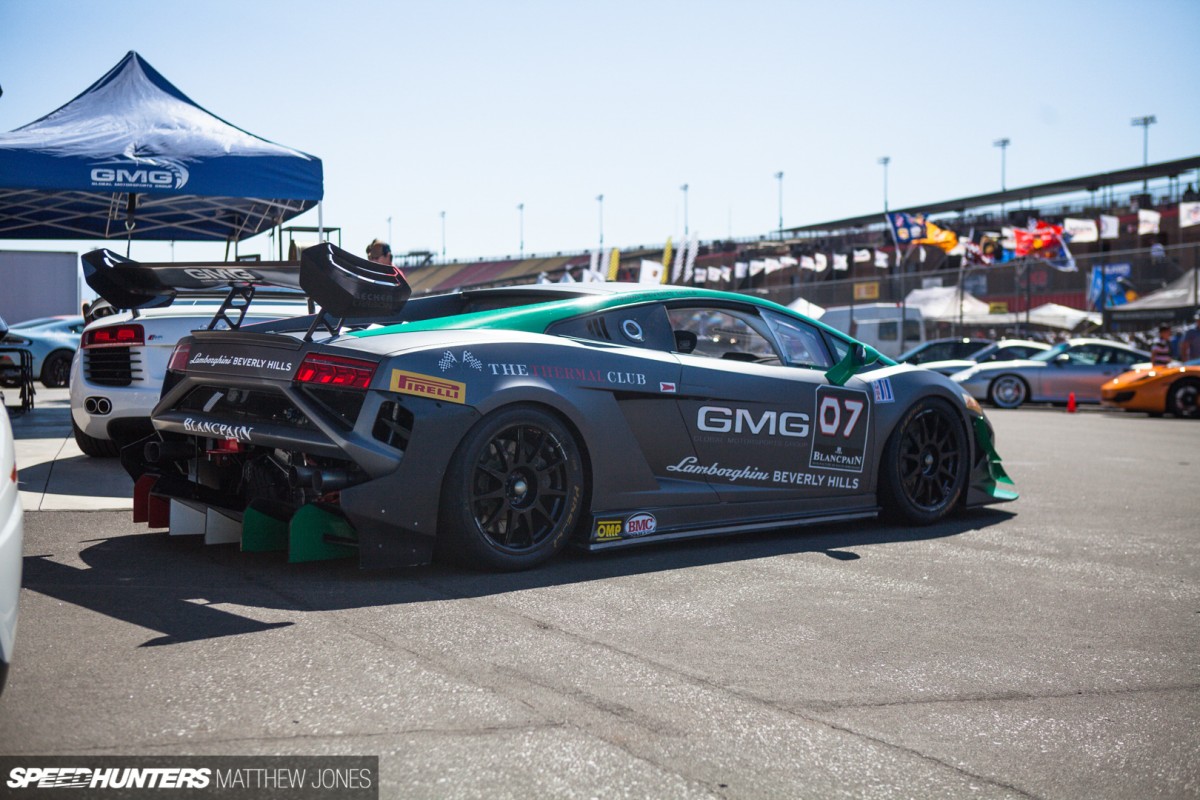 Just outside sat a ridiculously aero'd out Lambo. If it wears the GMG name you can bet it has the power to back up those looks.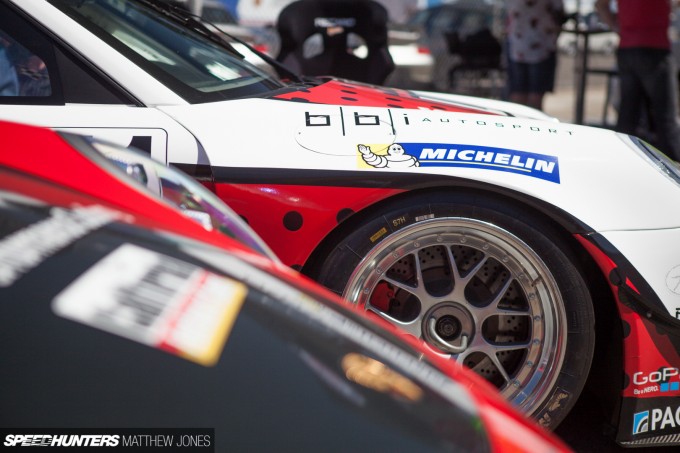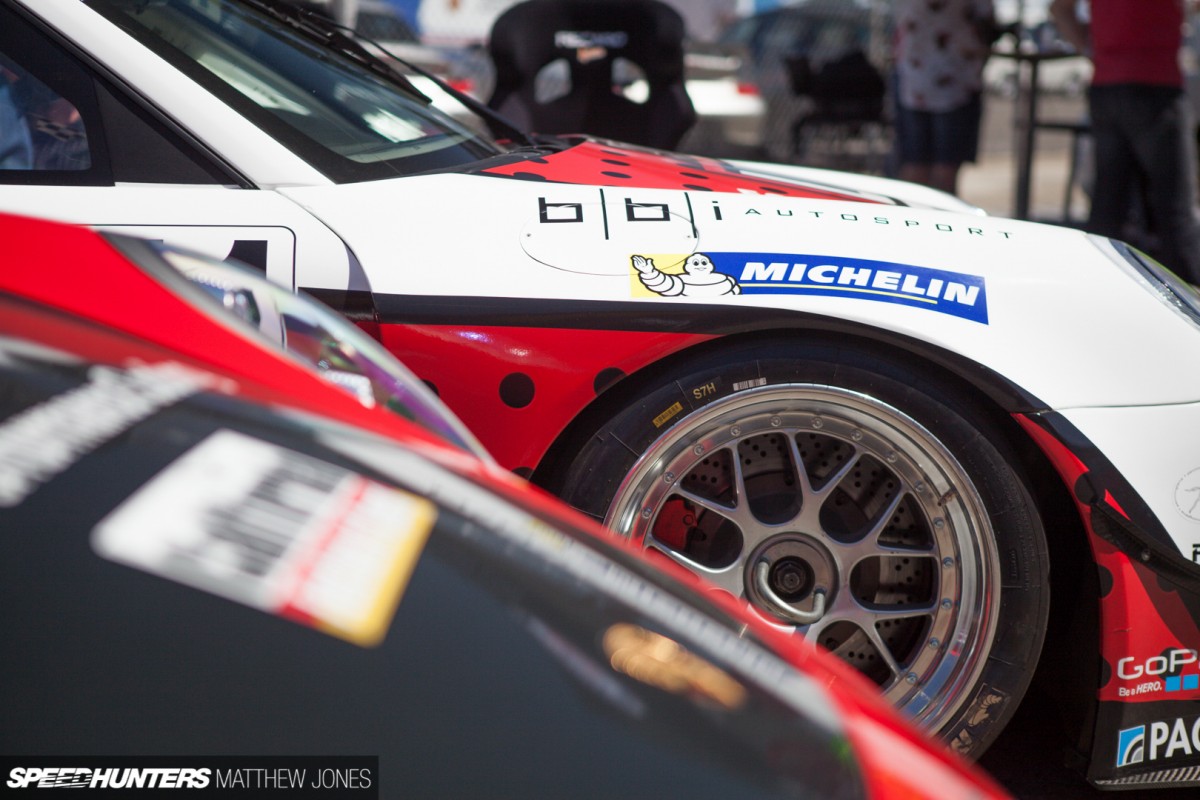 You might remember Jeff Zwart's GT3 Cup car from Pikes Peak, and it was there in the BBI booth for us to get a closer look. We'll show more of this car in our Spotlight soon.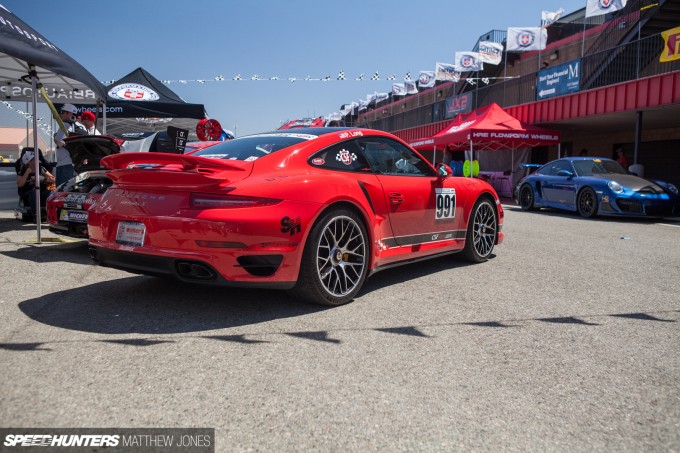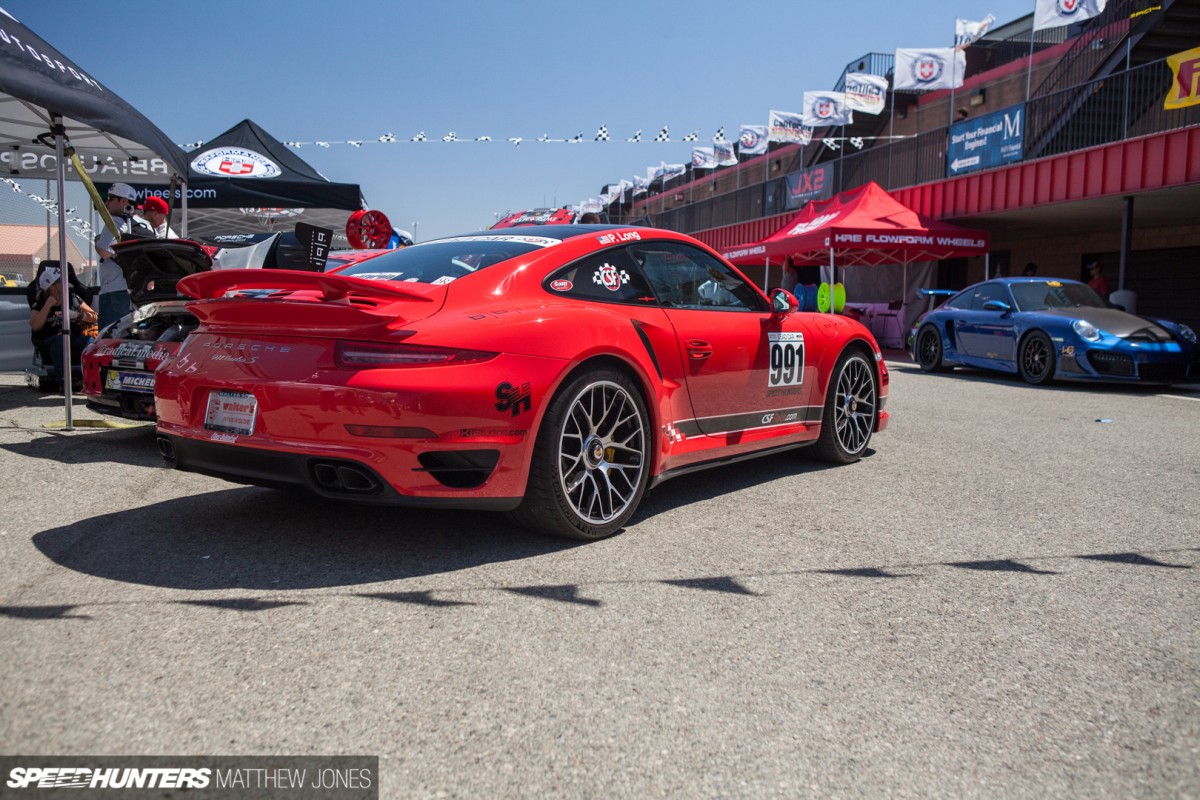 There was another BBI-prepared car that we were really looking forward to seeing. Ravi had asked me for some Speedhunters artwork to include in a special livery just for this event, so I couldn't wait to see the final result.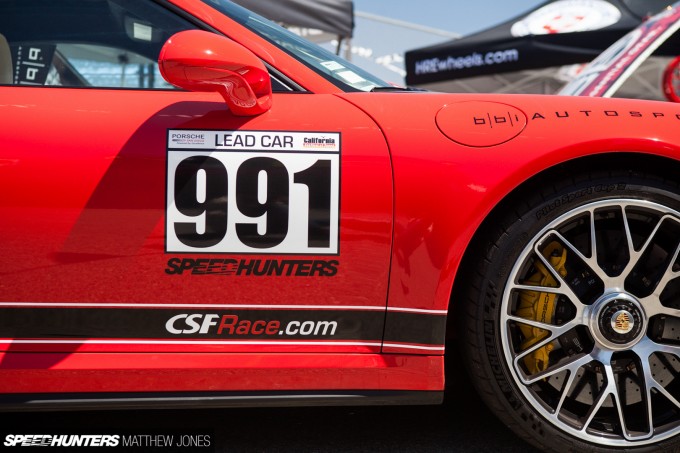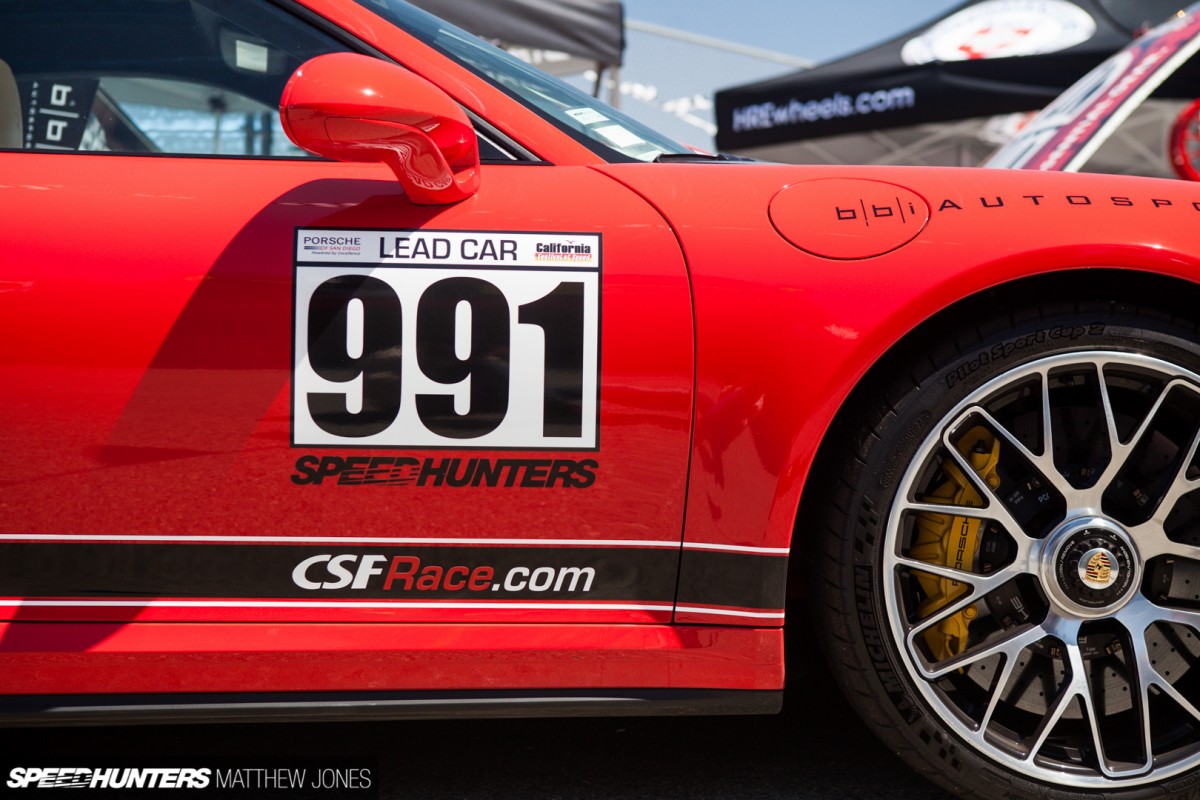 The 2014 Turbo S belongs to Lisa Taylor, the top female Porsche Club of America driver, and is obviously sponsored by both CSF Cooling and BBI Autosport. It's pretty cool to see our logo right along with them.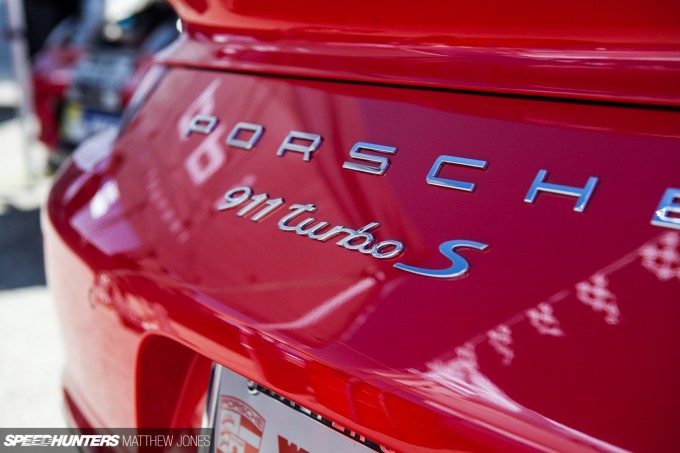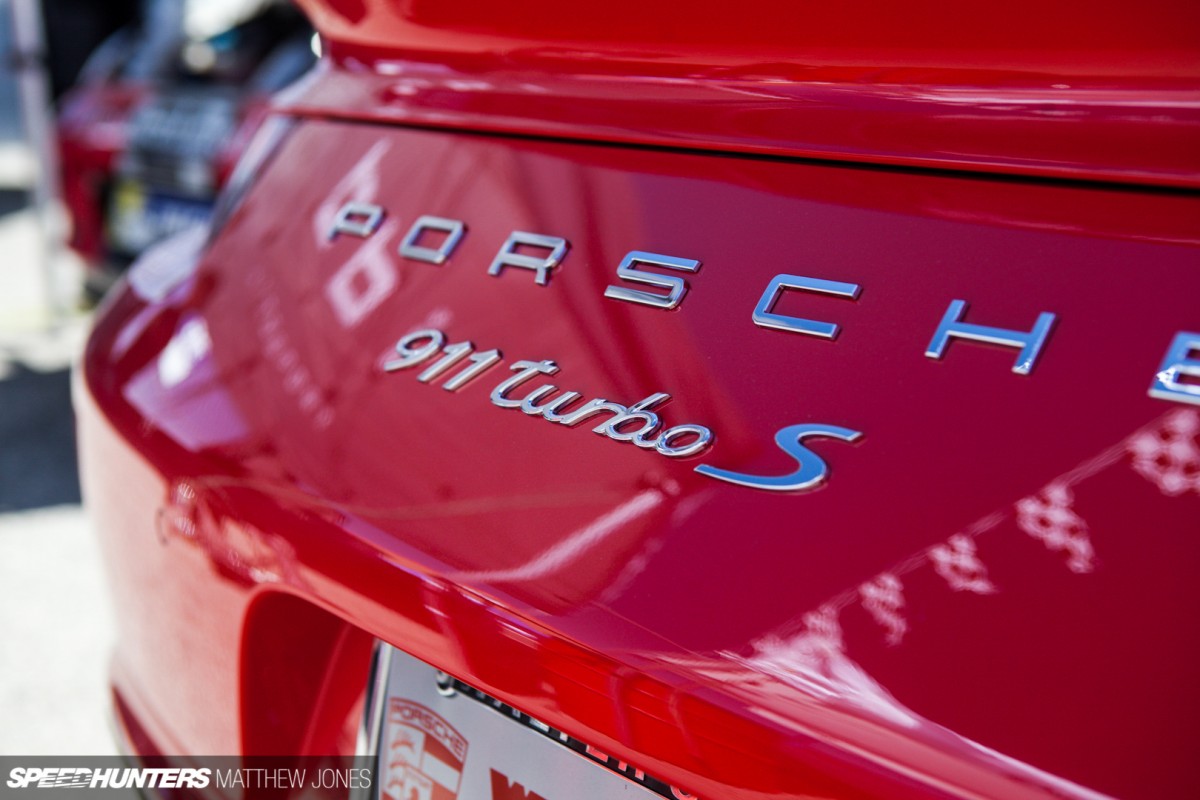 So far BBI has installed a Stage 1 package that includes exhaust, turbo manifolds, IPD plenum and a tune. This will also be the development vehicle for CSF as they develop radiators and intercoolers for the 991 Turbo S platform.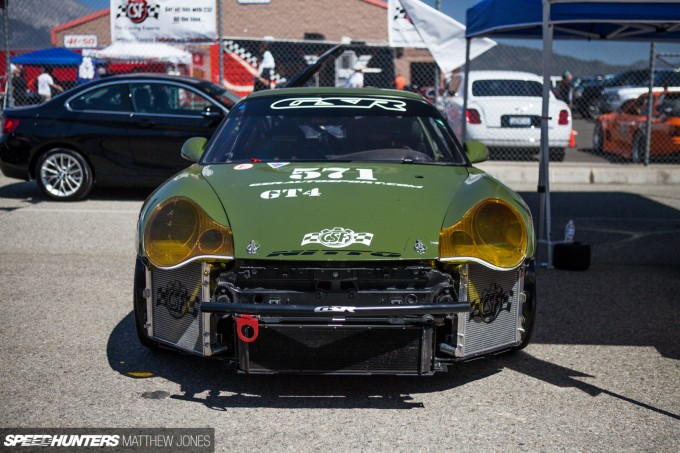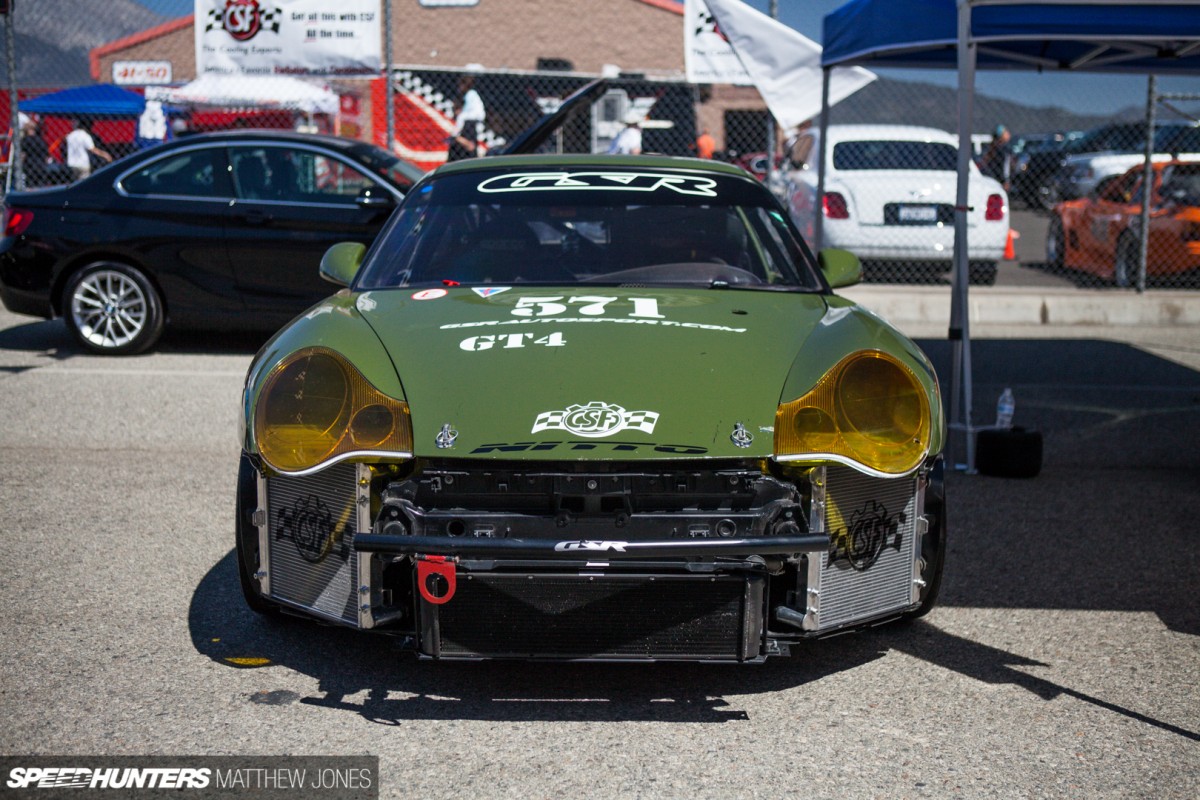 I recognized this 996 from the SEMA Show, and just as before, it was missing the front bumper to show off a pair of CSF's aluminum radiators.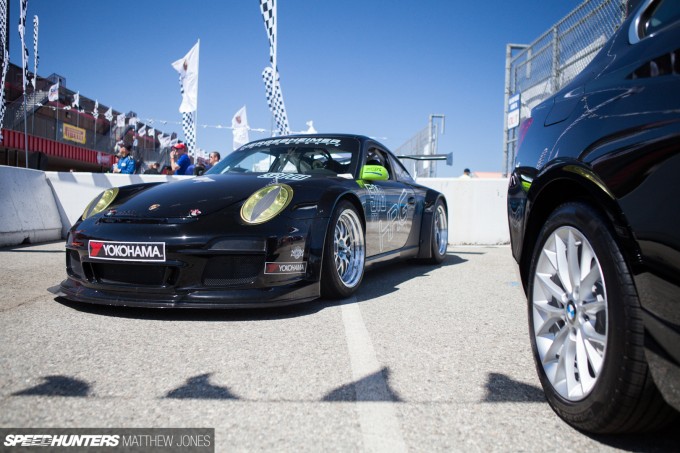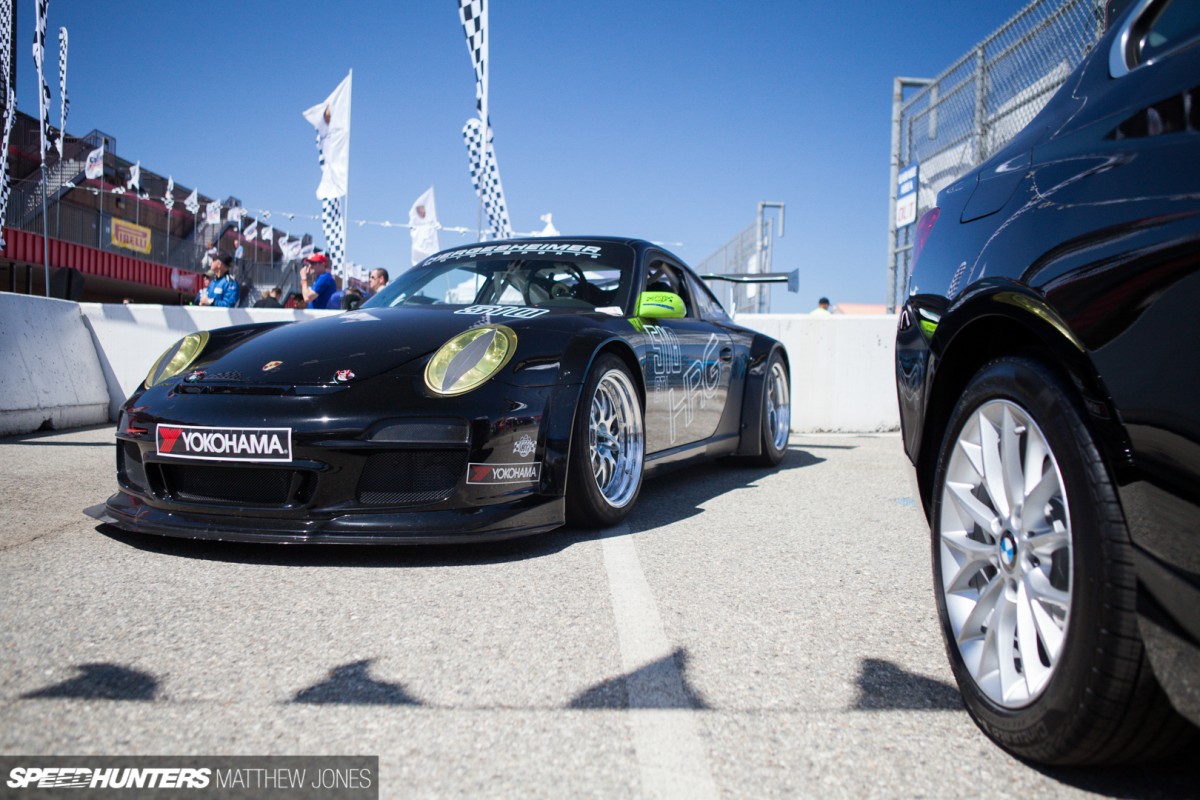 Also in CSF's display was the HRG GT3 Cup car. Rocking a 4.0-liter engine and carbon fiber bodywork, we'll have more of this car to show you soon.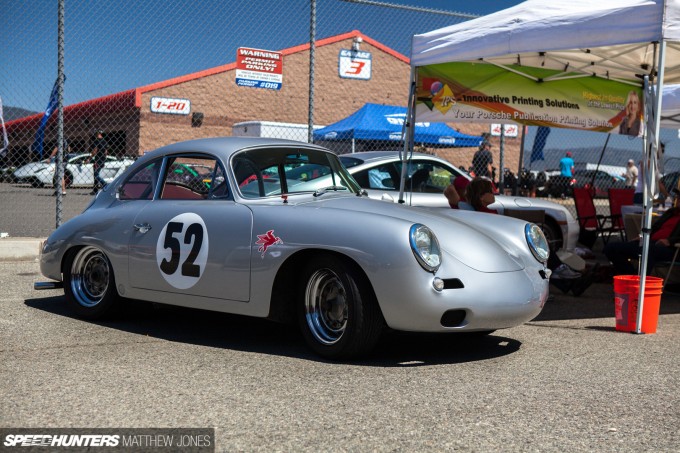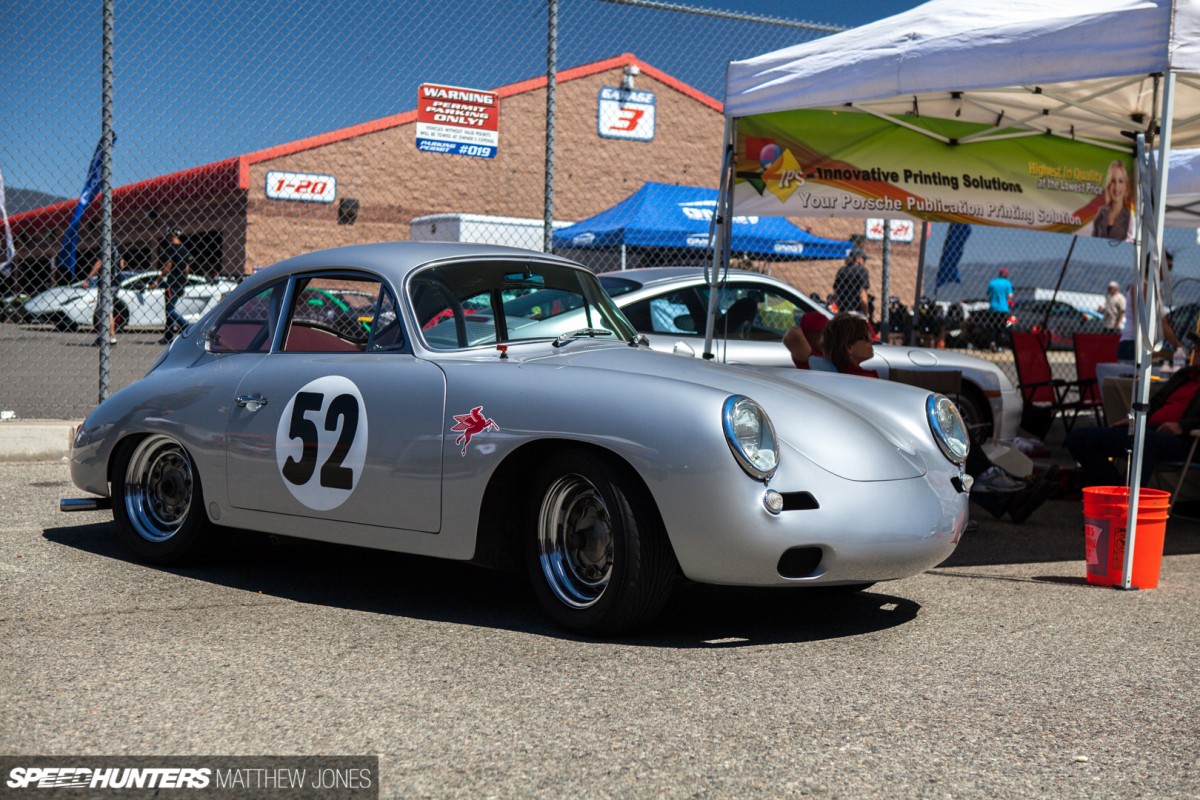 Continuing through the vendor row we spotted this old 356 – surprisingly the only one of its type we saw during the day.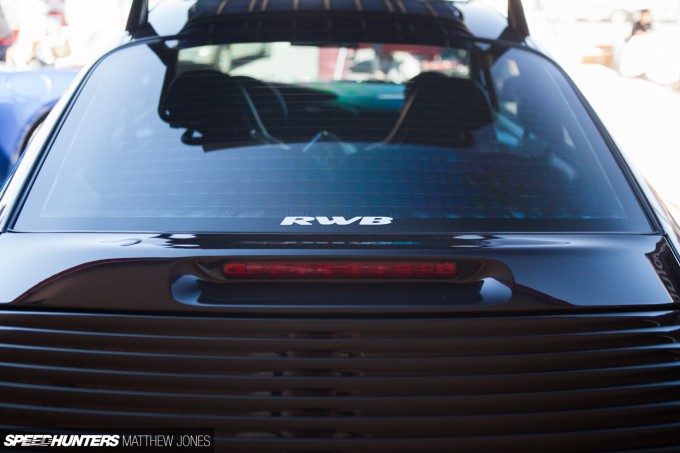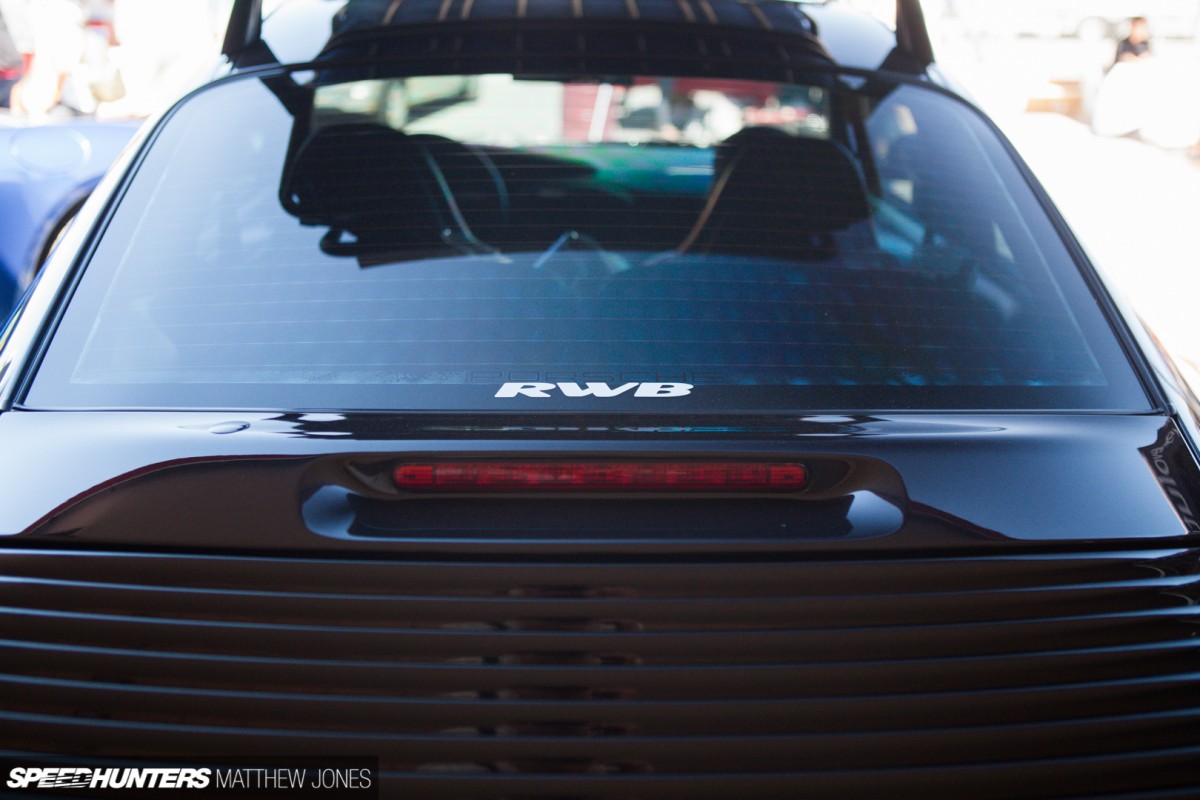 It was anything but rough, but this clean 911 wore a RWB decal. It's very cool to see once-obscure culture making its way into the mainstream like this.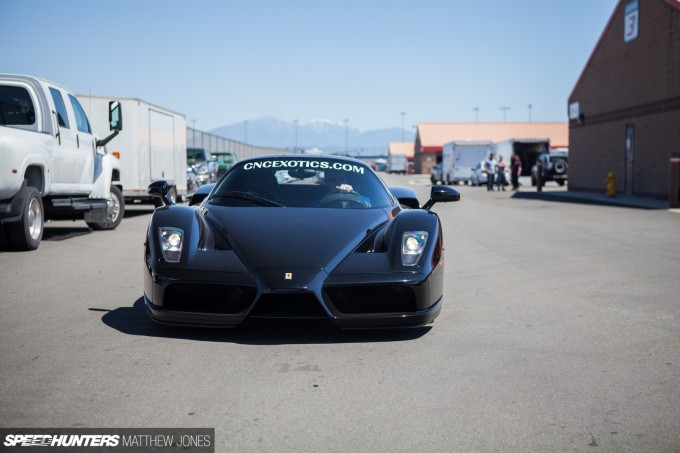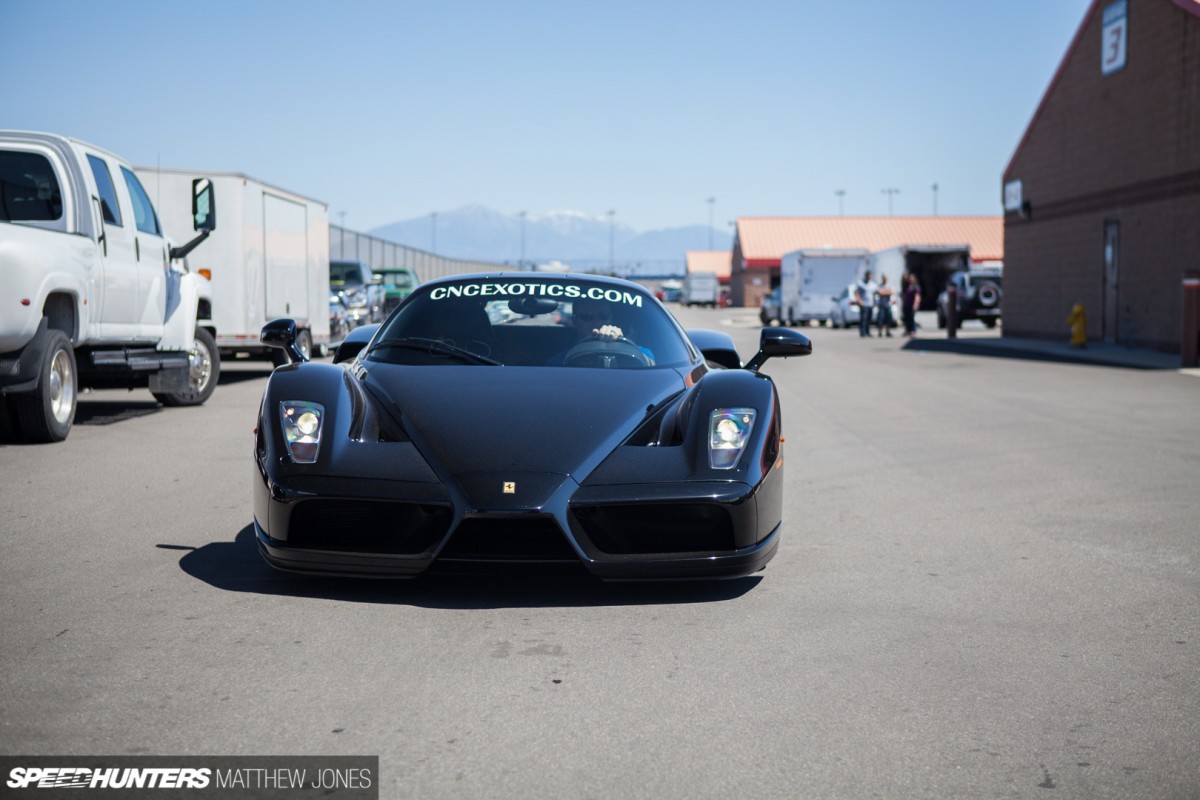 An Enzo rolled by and once again snapped us out of our trance. Weren't we here to see cars on the move?
Grid up and go!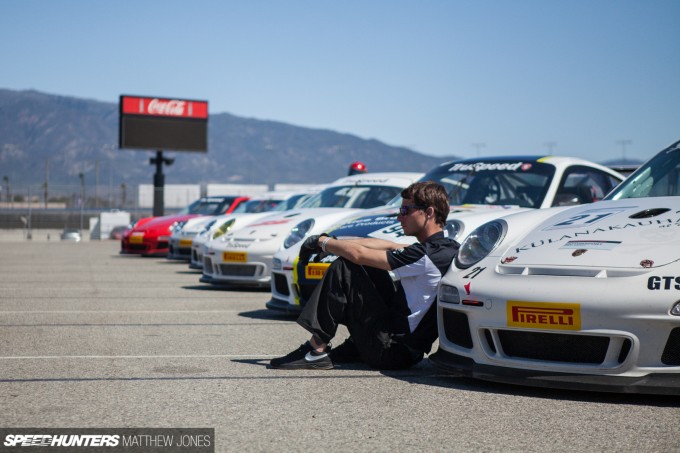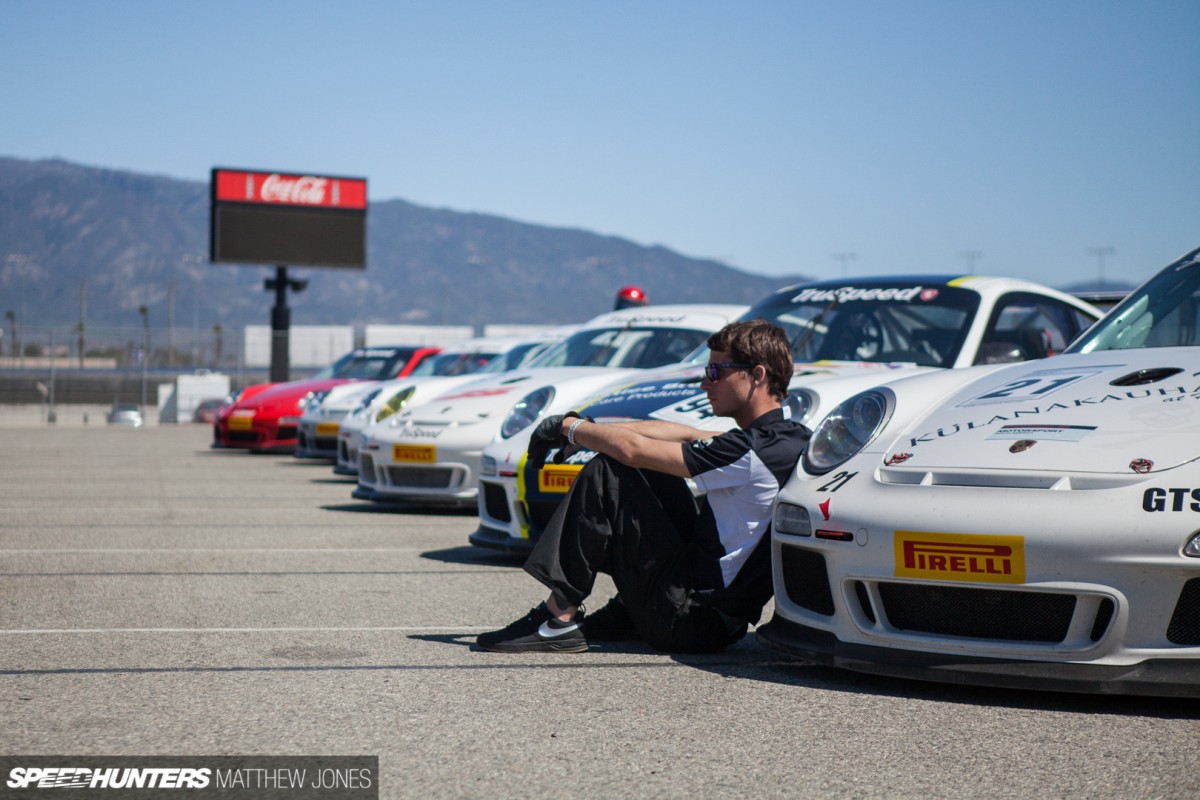 As Matthew and I made our way to the track the Pirelli Cup cars were just coming in, hot tires sticking to the tarmac, brakes creaking and off-gassing.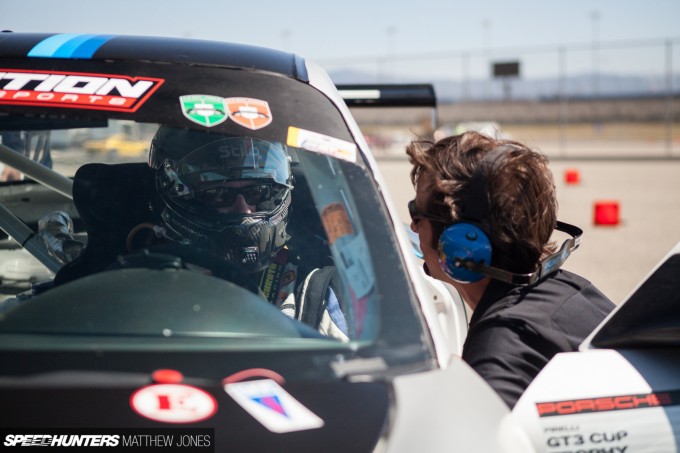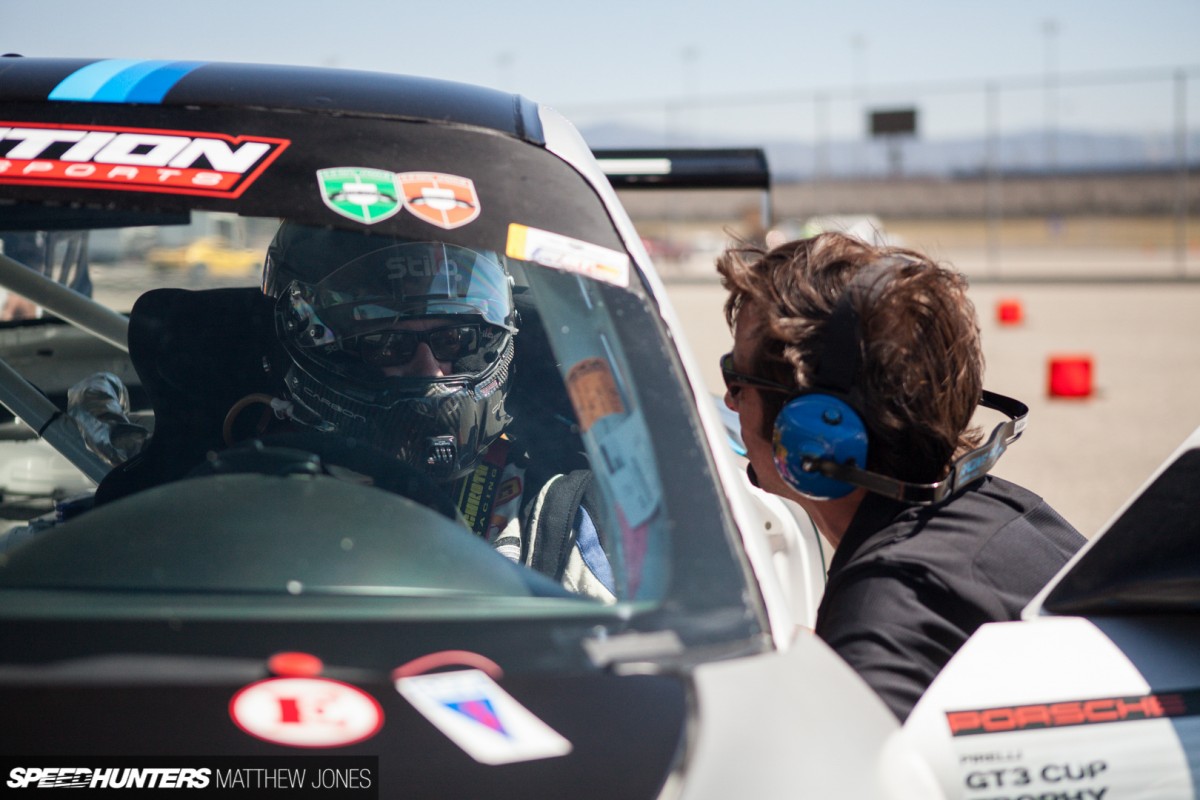 While some guys were just here to track their daily drivers or fun weekend cars, these Cup racers were all business.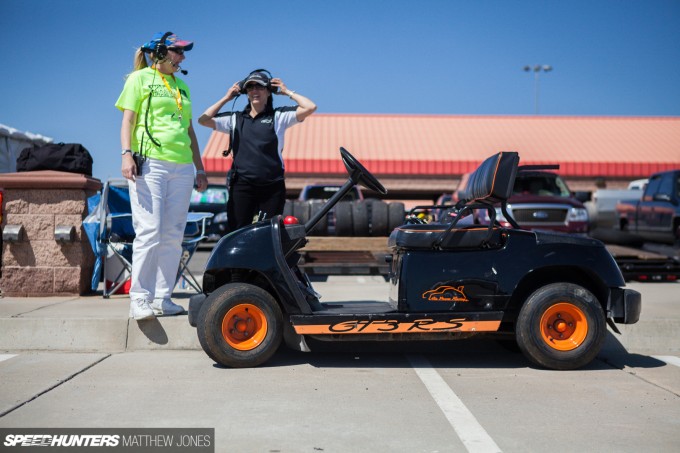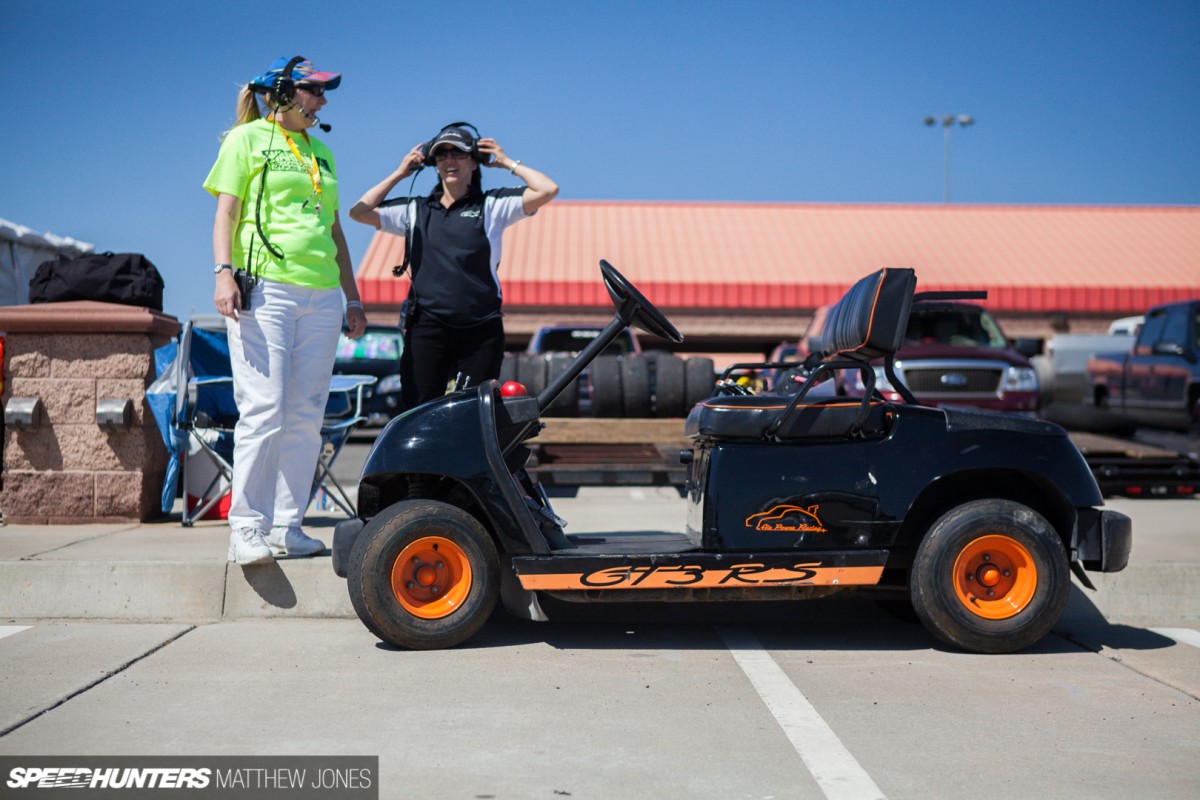 It wasn't just the cars that were built for the track, even the pit crew's golf cart got the custom treatment.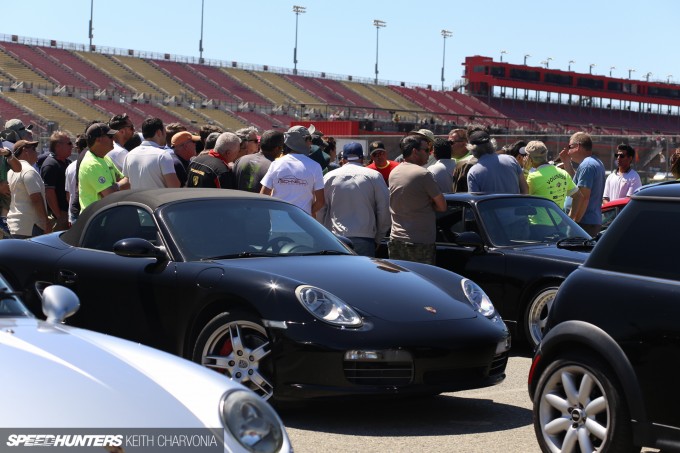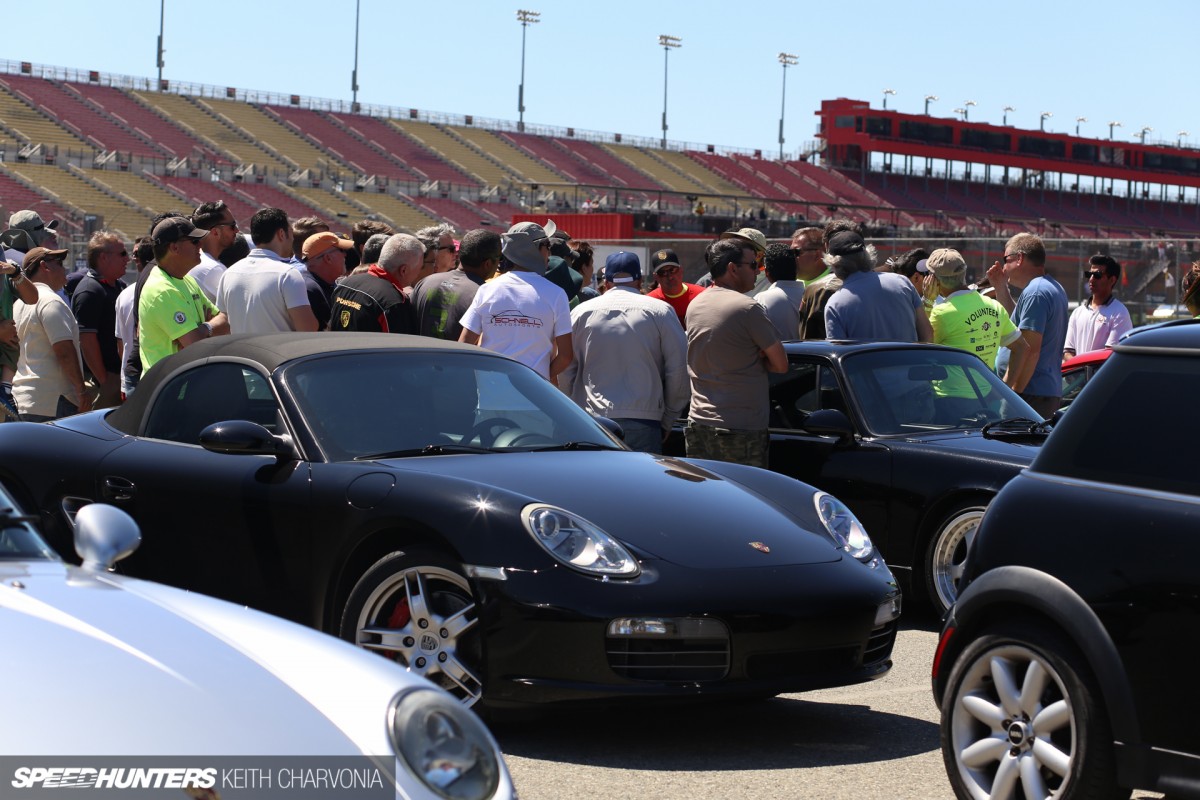 The next session would be for Porsche Club members of all types and was a chance to take to the track in whatever they wished. Of course there would be a lot of P-cars.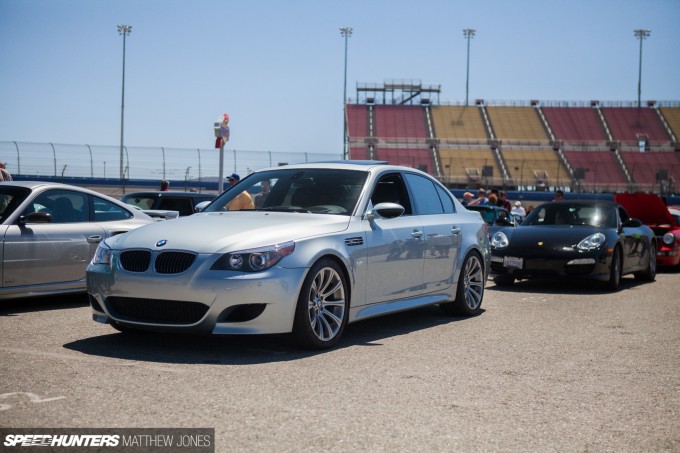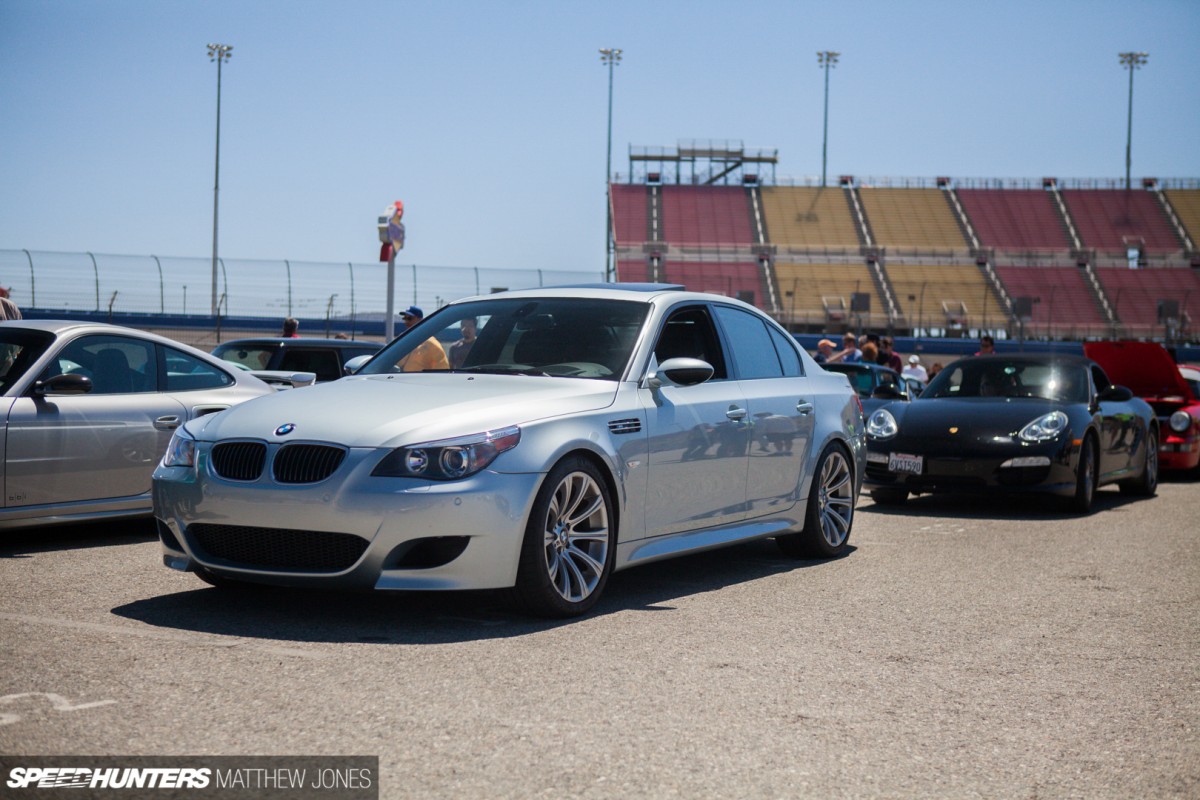 It didn't much matter what you drove though. Go ahead, bring your 5 Series out for some fun.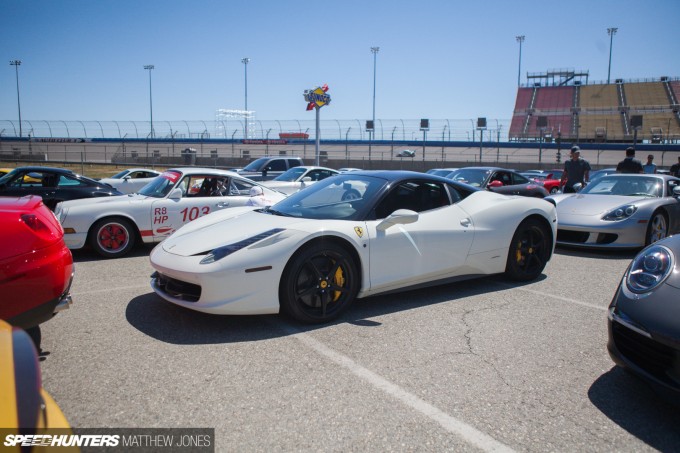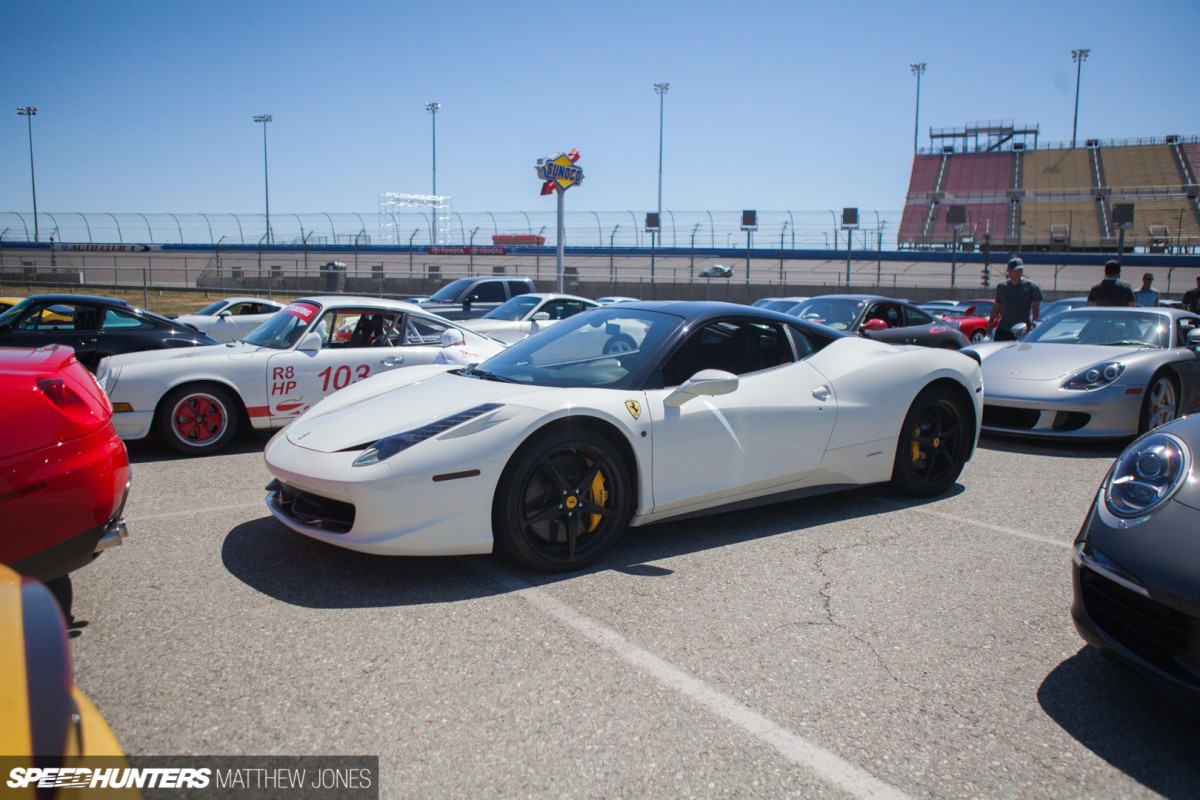 I don't think anyone was about to kick the 458 out either.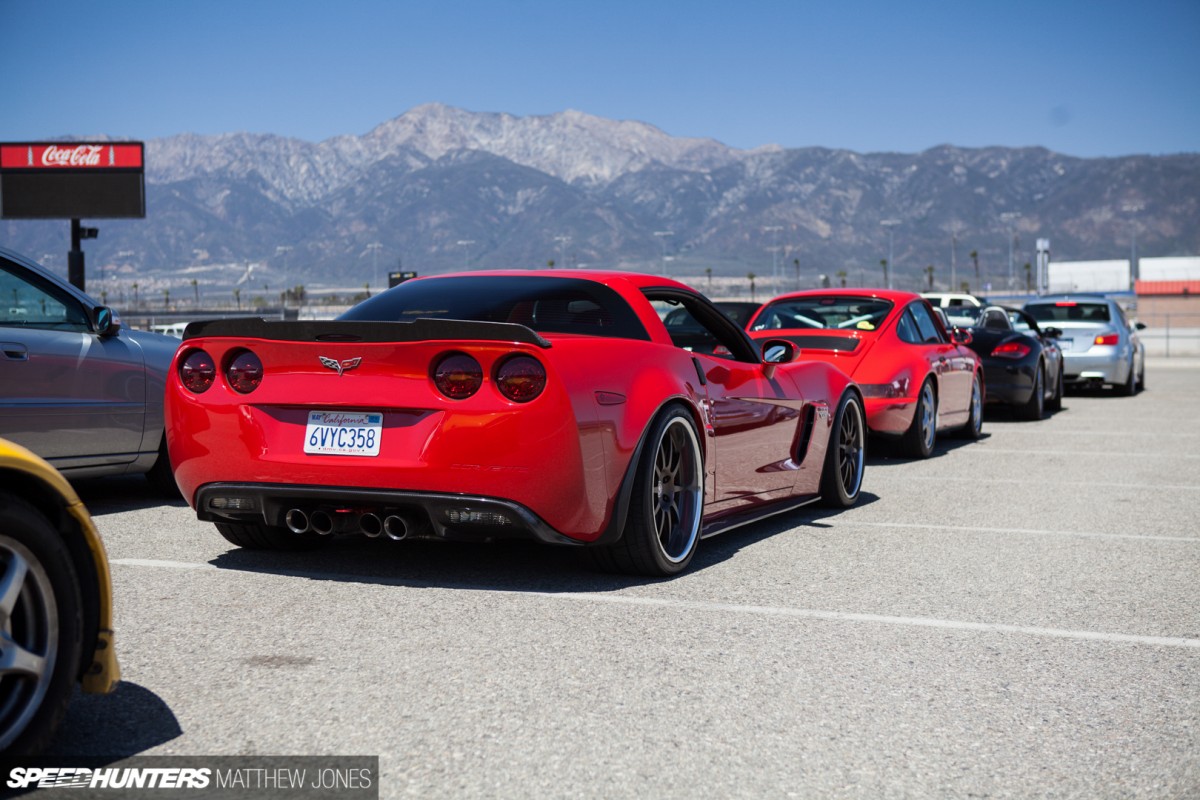 We even spotted a C6 Z06, a fine track-day monster, but seemingly tame in this company.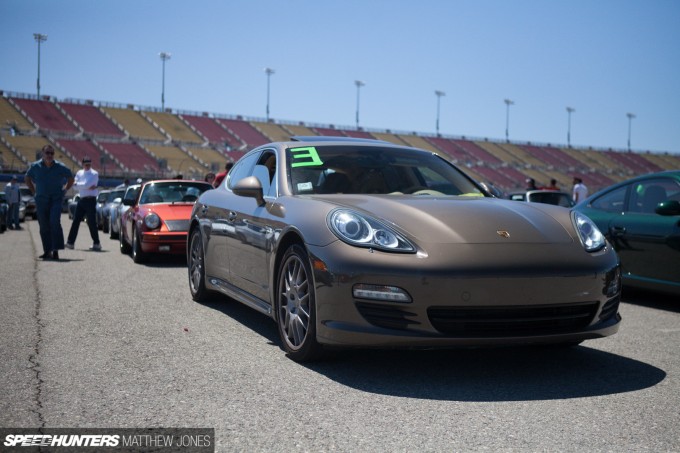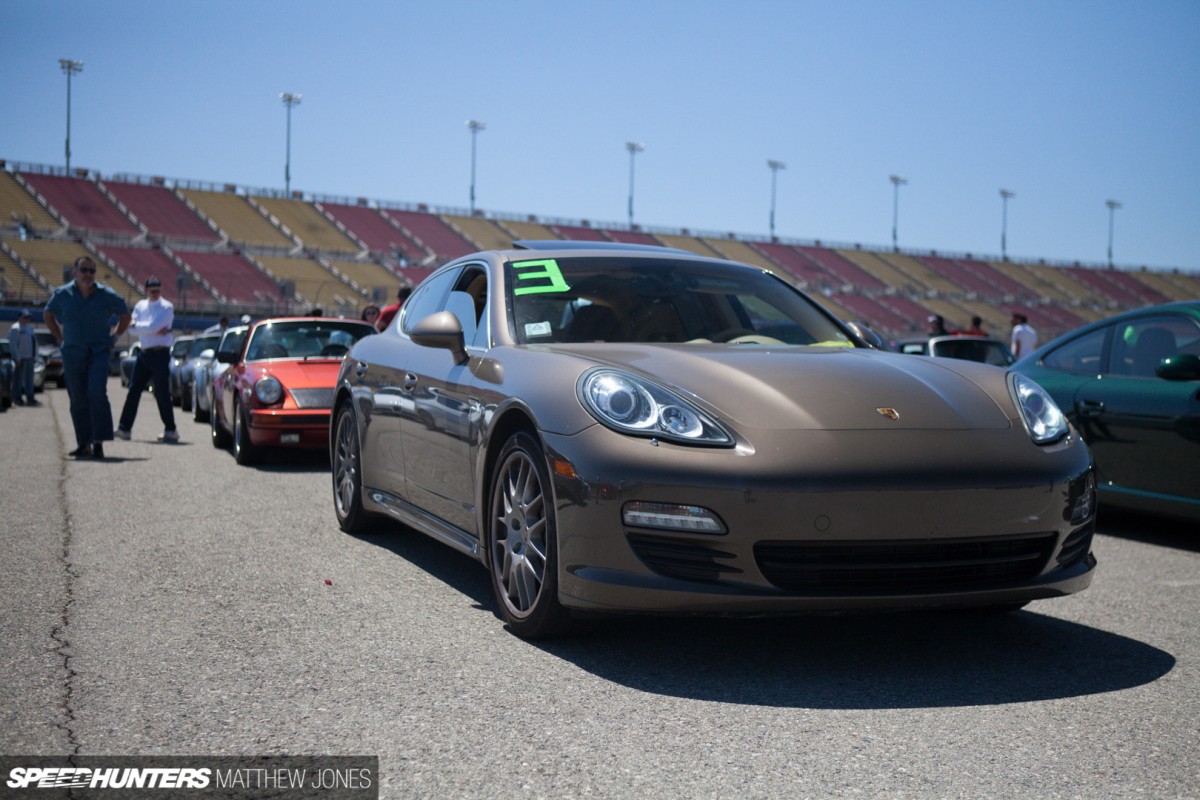 A Panamera would be the perfect vehicle to take your friends around the track and check out the lines, wouldn't it?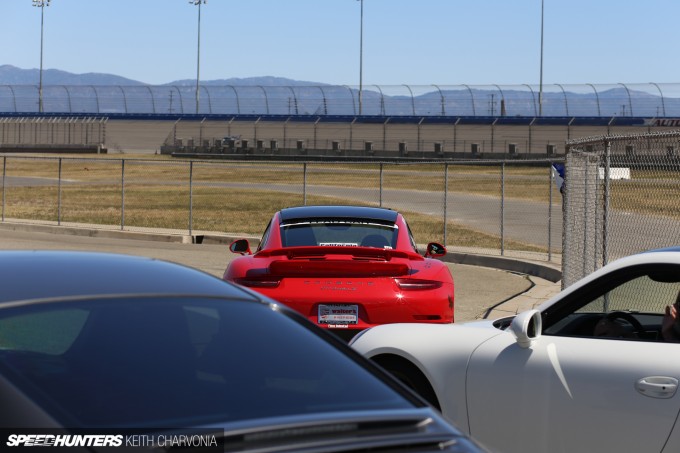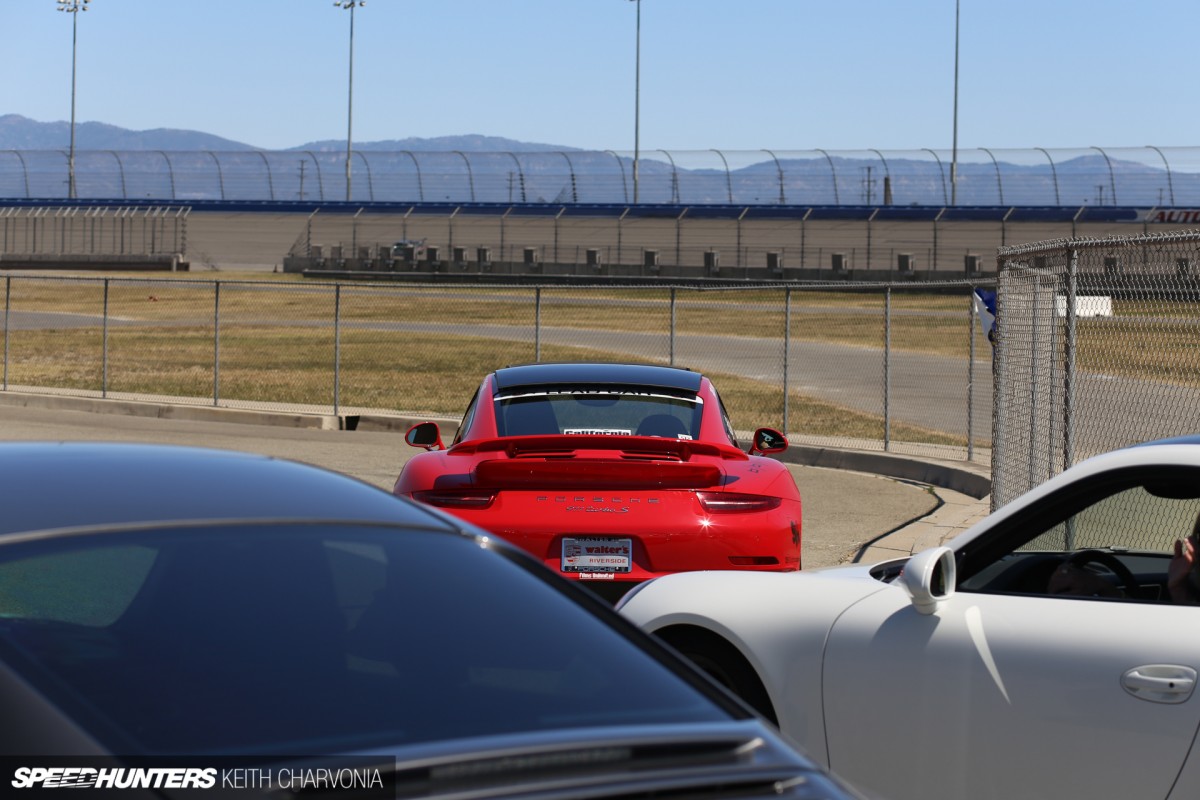 We made our way through the throngs of enthusiast cars to find the red Turbo S ready to lead the charge. This was, after all, the official lead car of the weekend.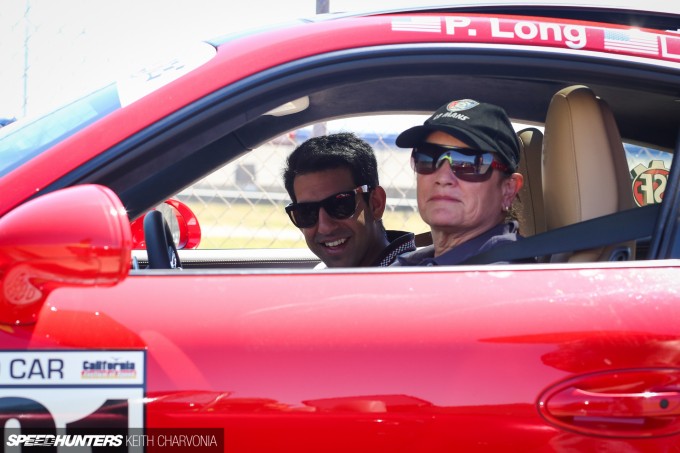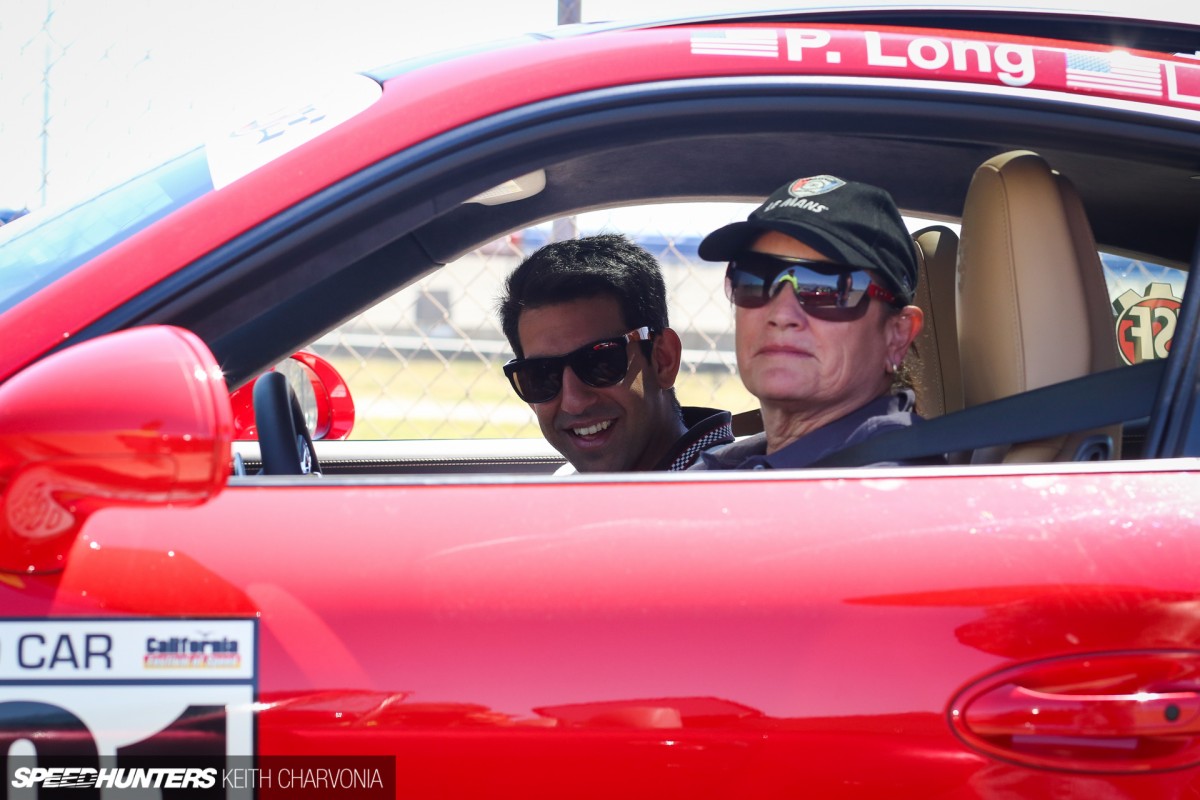 Lisa Taylor would be setting the pace, first giving everyone a chance to feel the track at normal street speeds, then gradually accelerating as everyone became accustomed to the circuit. She races nearly every weekend, is a certified Porsche instructor and keeps ten Porsches in her own stable.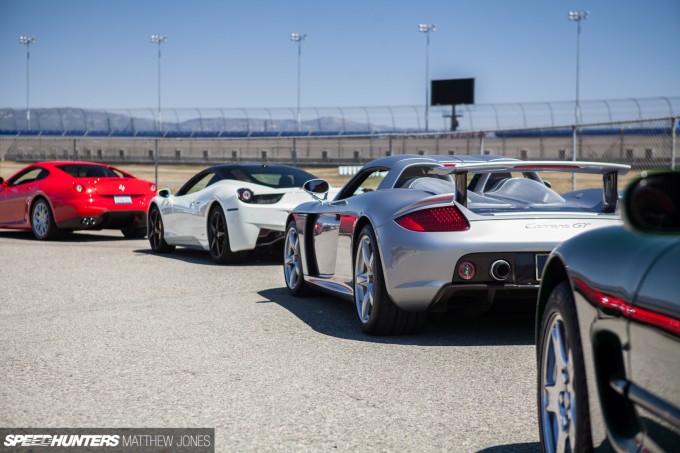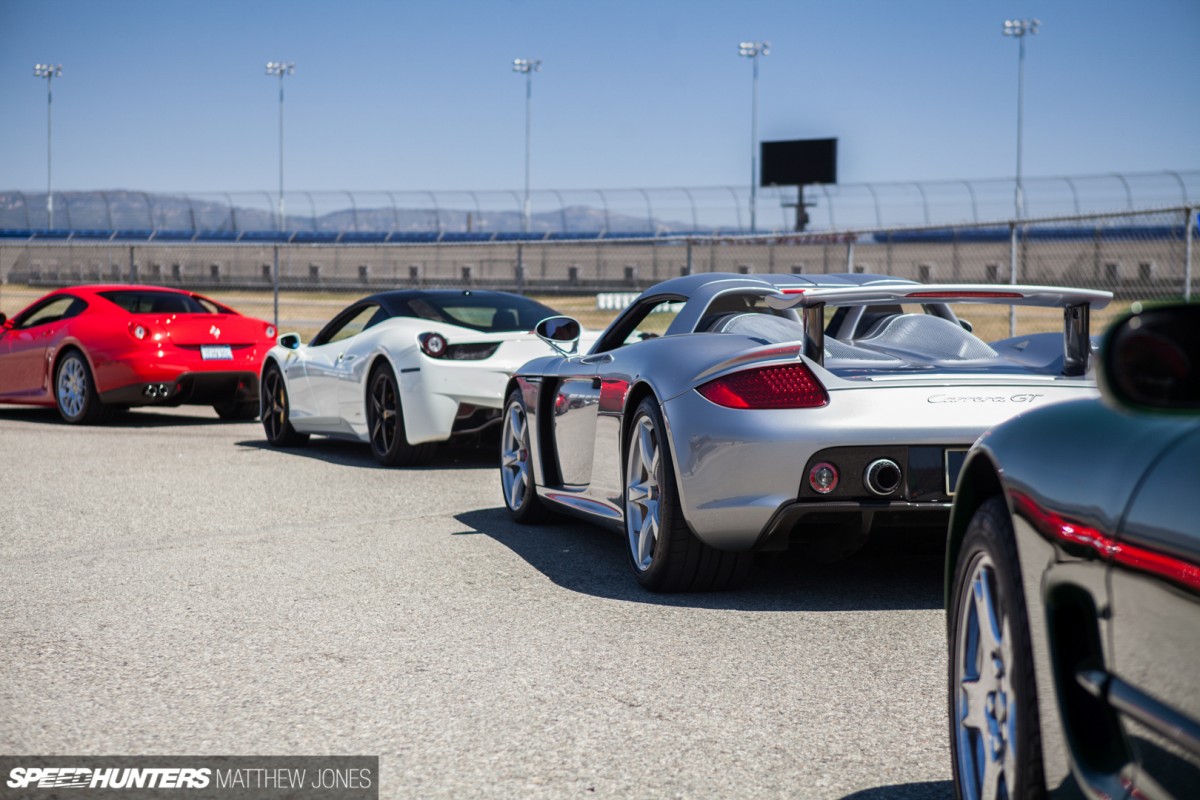 Cars of all sorts eagerly inched towards the track.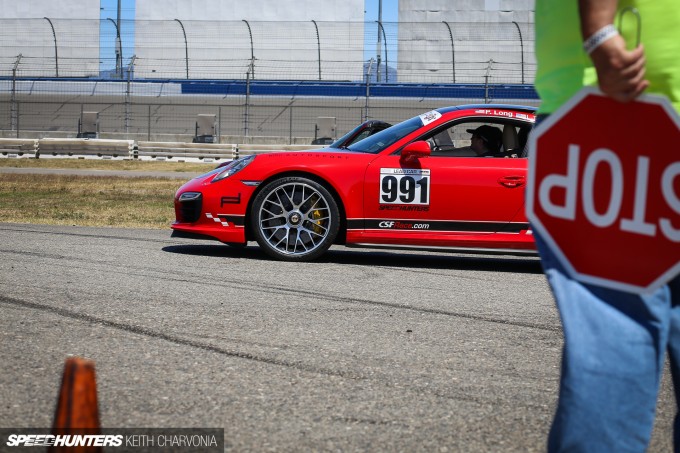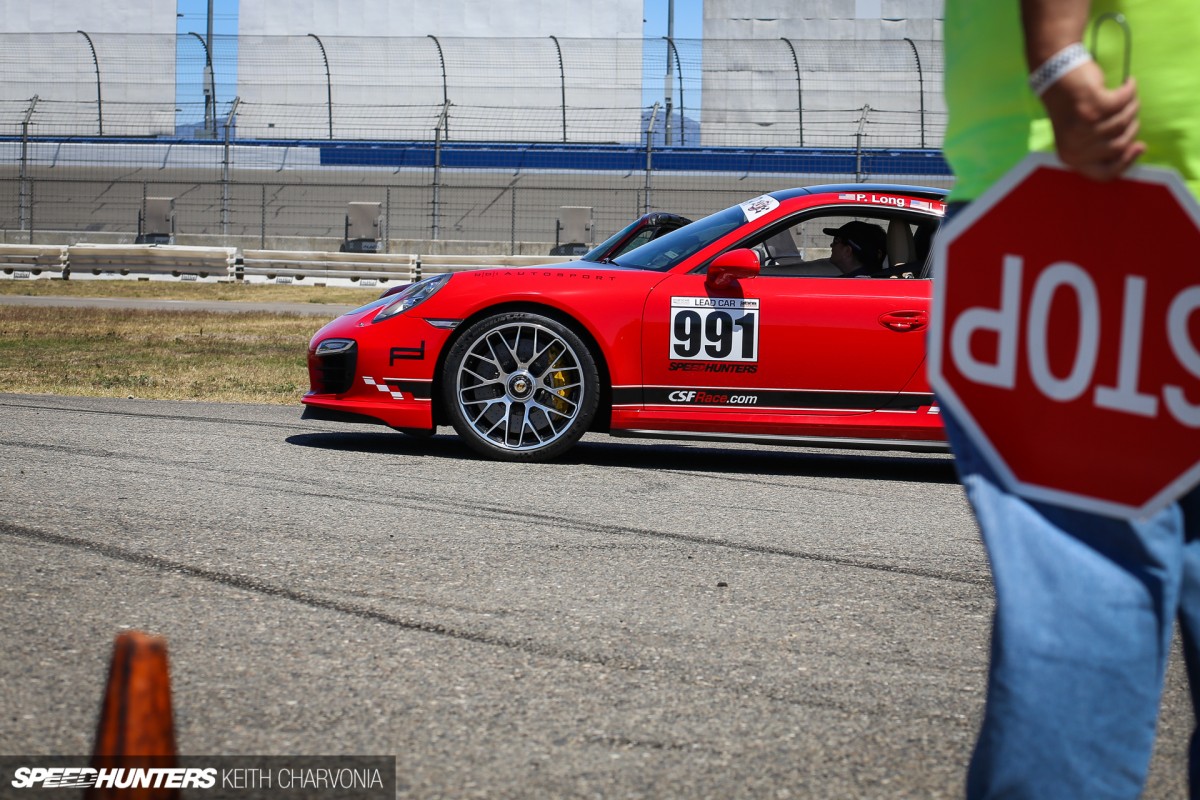 Matthew made his way into the grandstands with his long lens and I positioned myself in the infield to try my hand at some panning shots.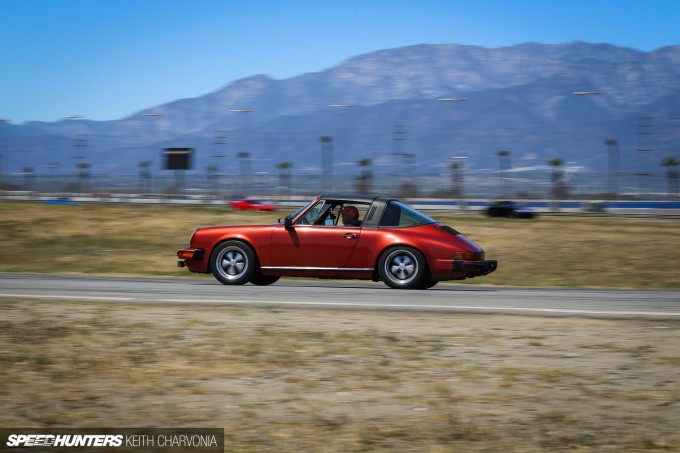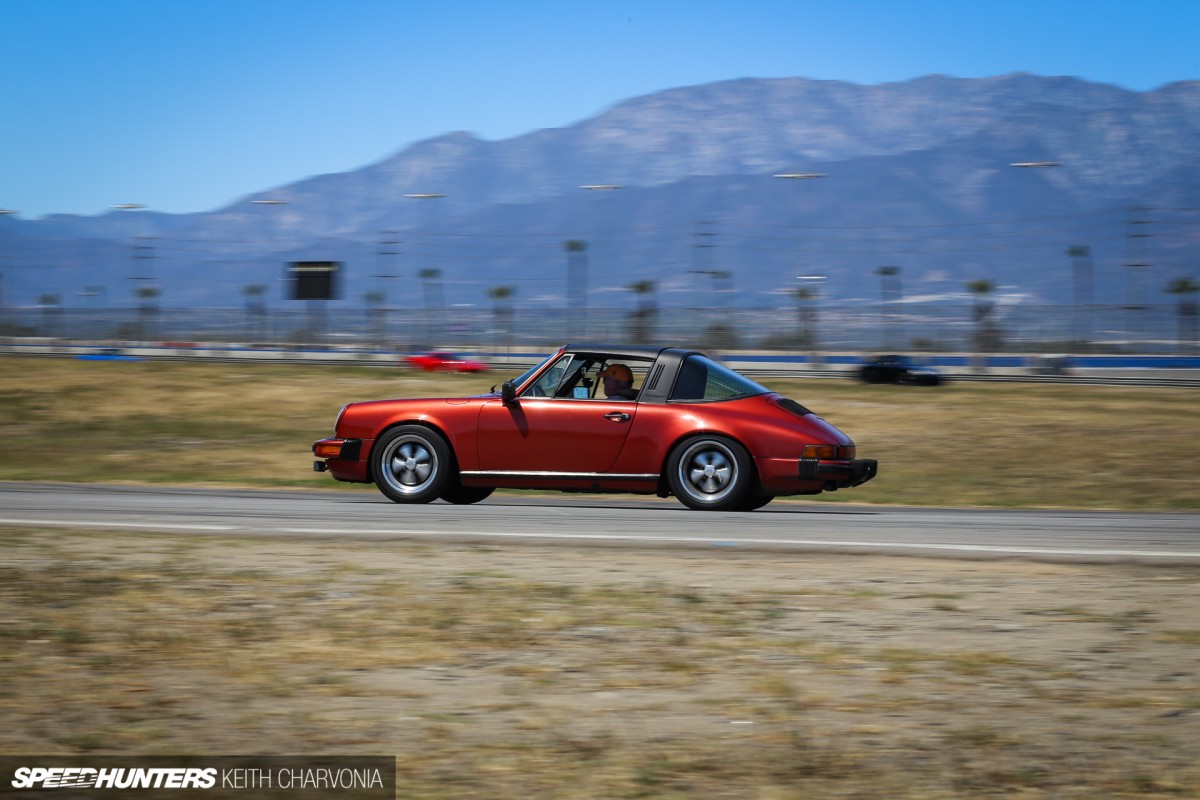 At last they got to hit the go pedal, and exhaust notes of all types filled the air. There was old aircooled goodness.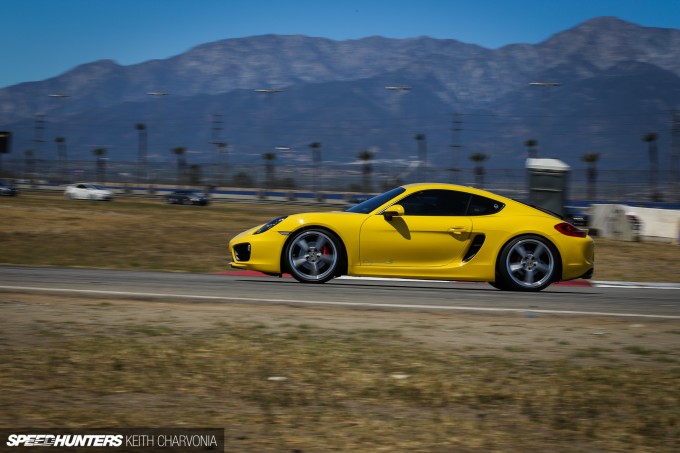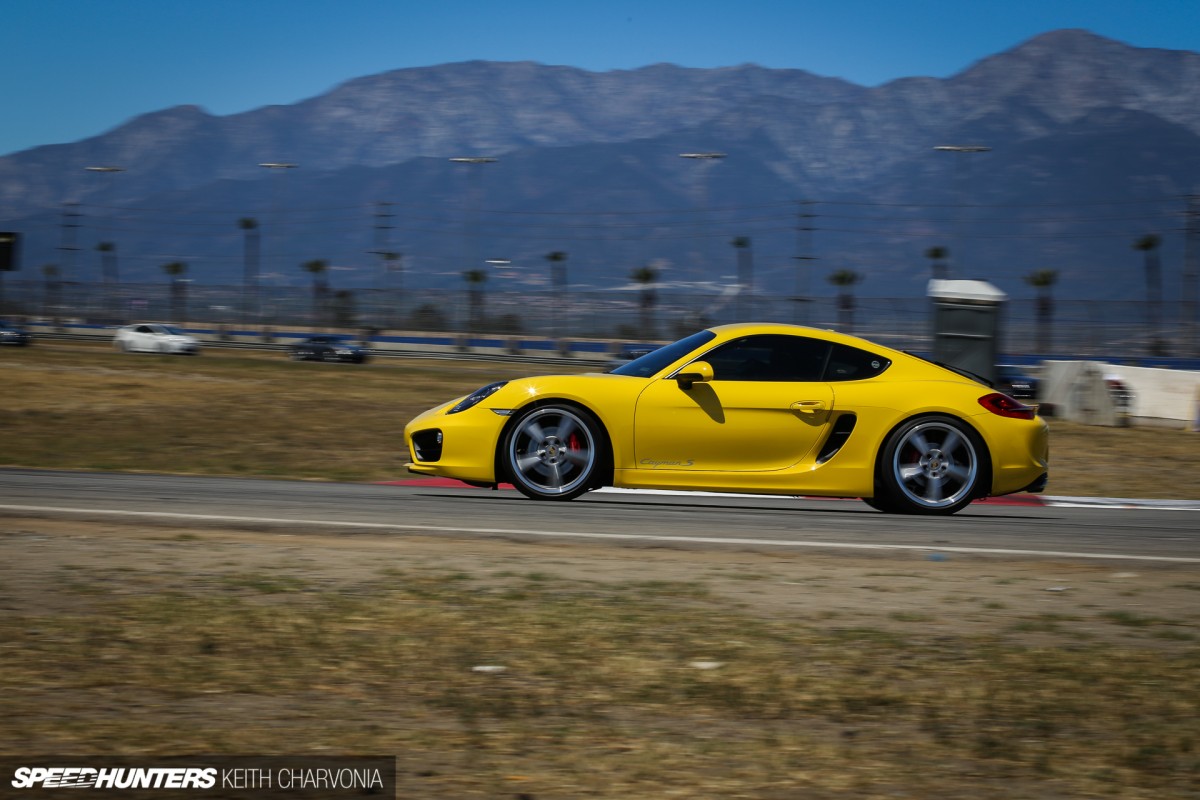 Plus the modern watercooled type. That Cayman silhouette might not be pure 911 DNA, but it sure is pretty to look at.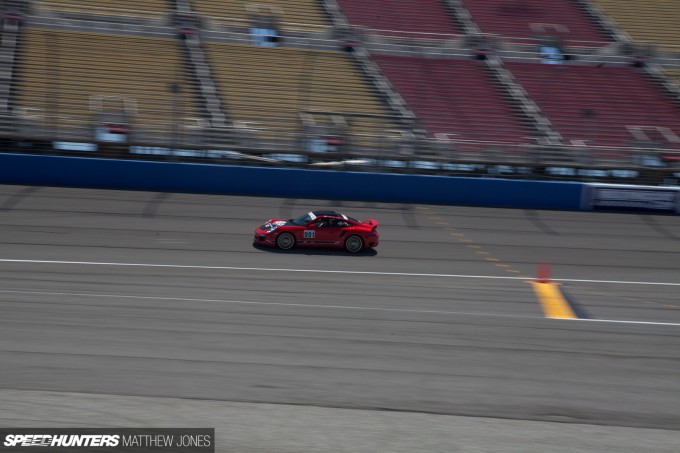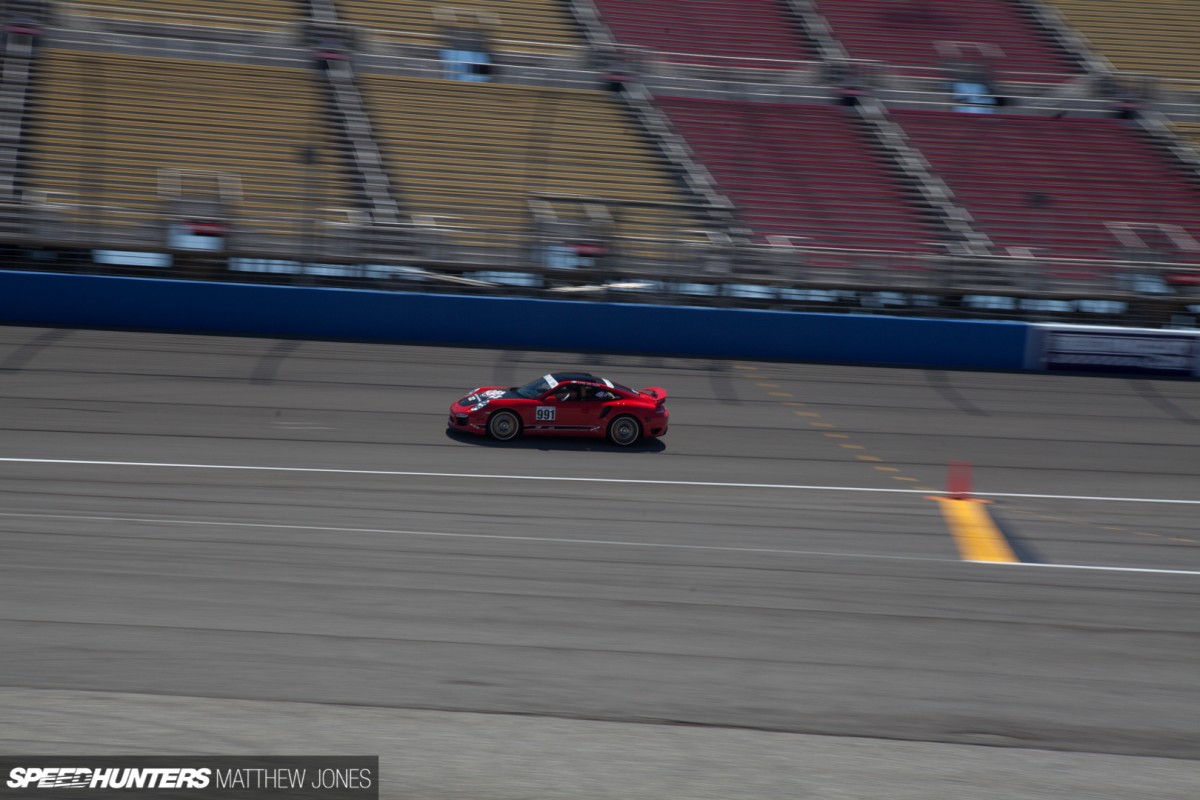 Matt's position above the cars allowed him to capture them at full tilt, on the longest straight of the track before it leads into a massive banked turn. Lisa came by first in the lead car.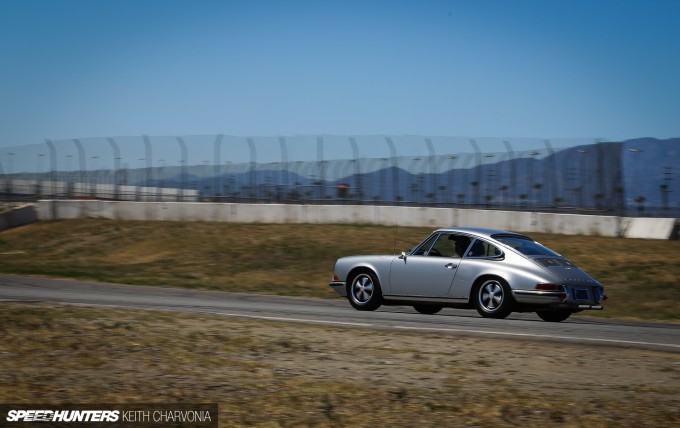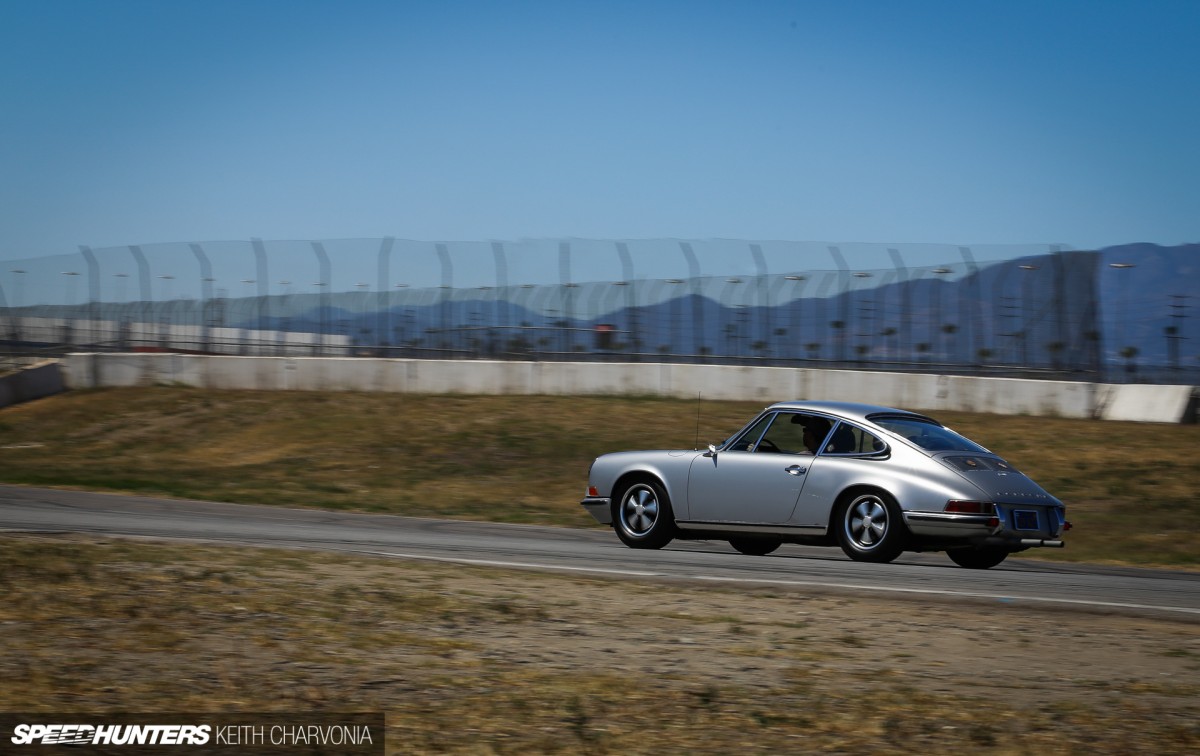 Down below I was enjoying the buzzy sounds of old boxer engines.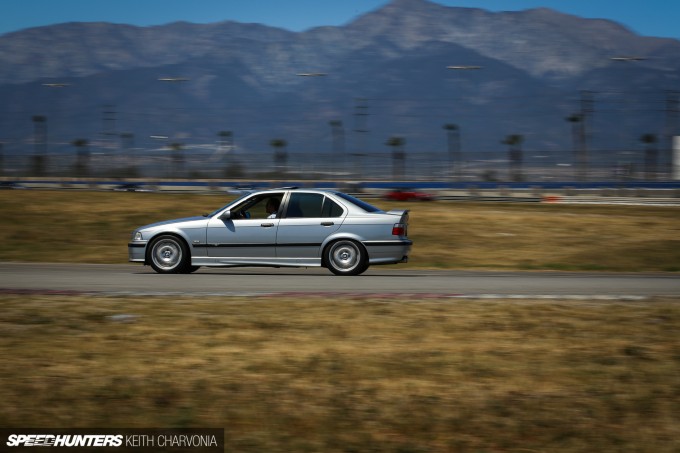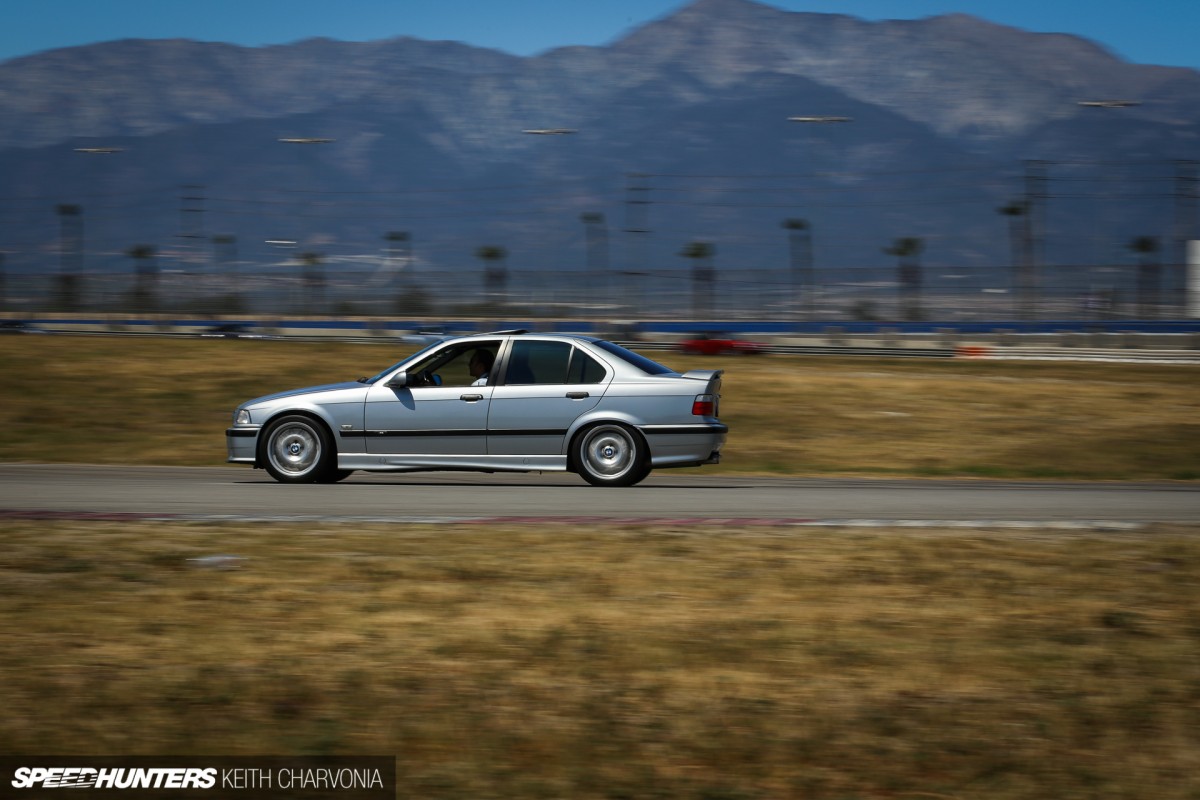 But also thinking how much fun it must be to have a go in an E36 sedan.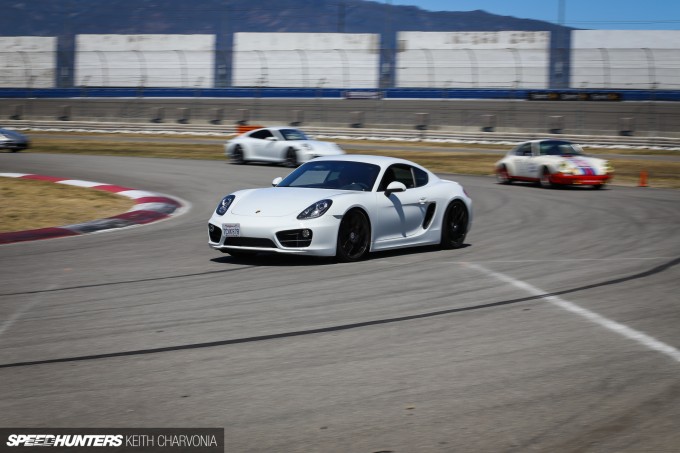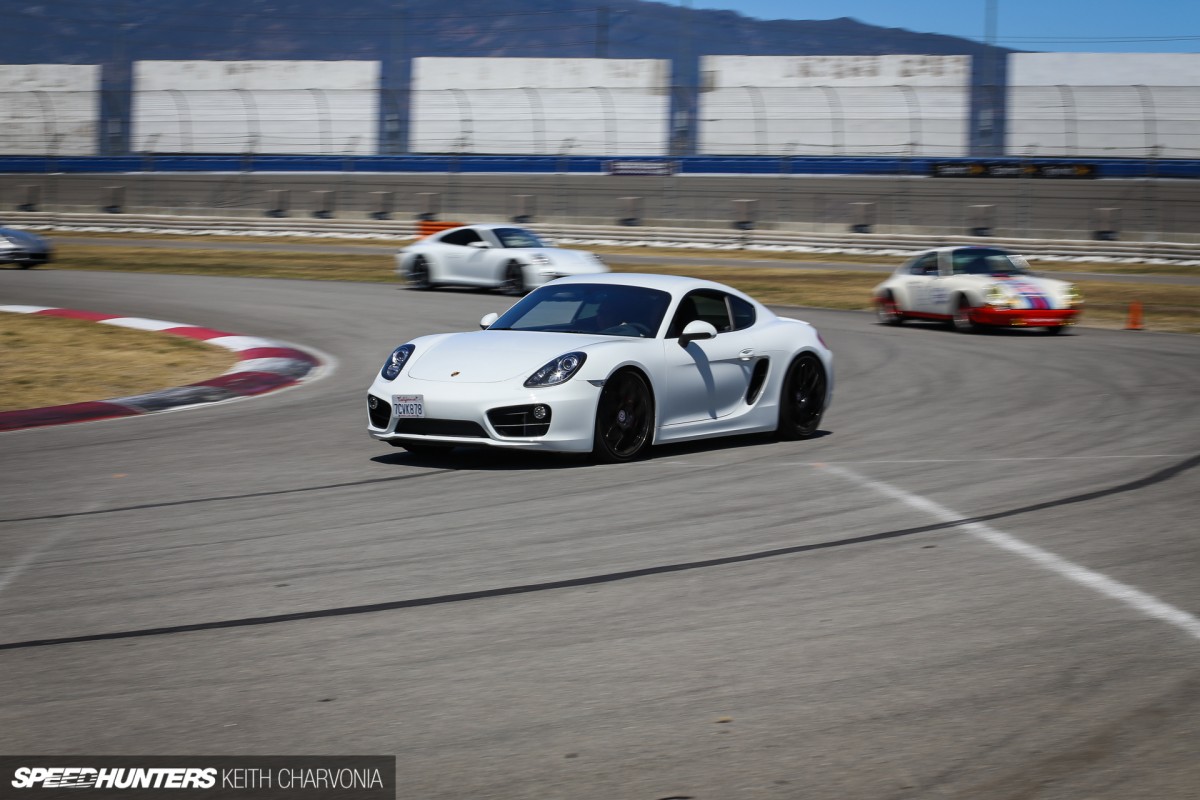 Before long they were all out on track, Lisa gradually upping the pace until everyone was having a blast.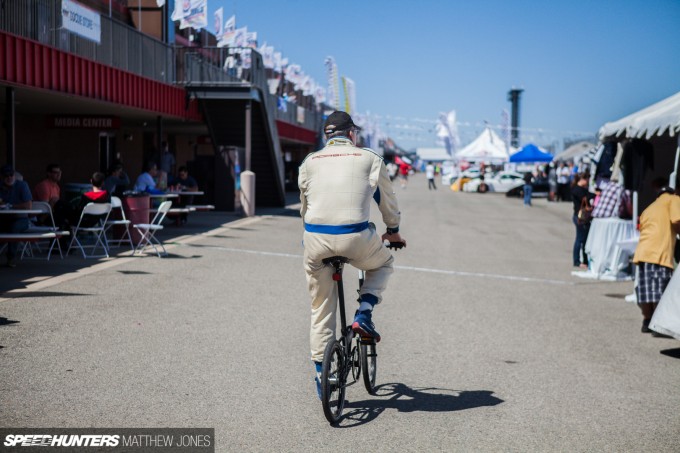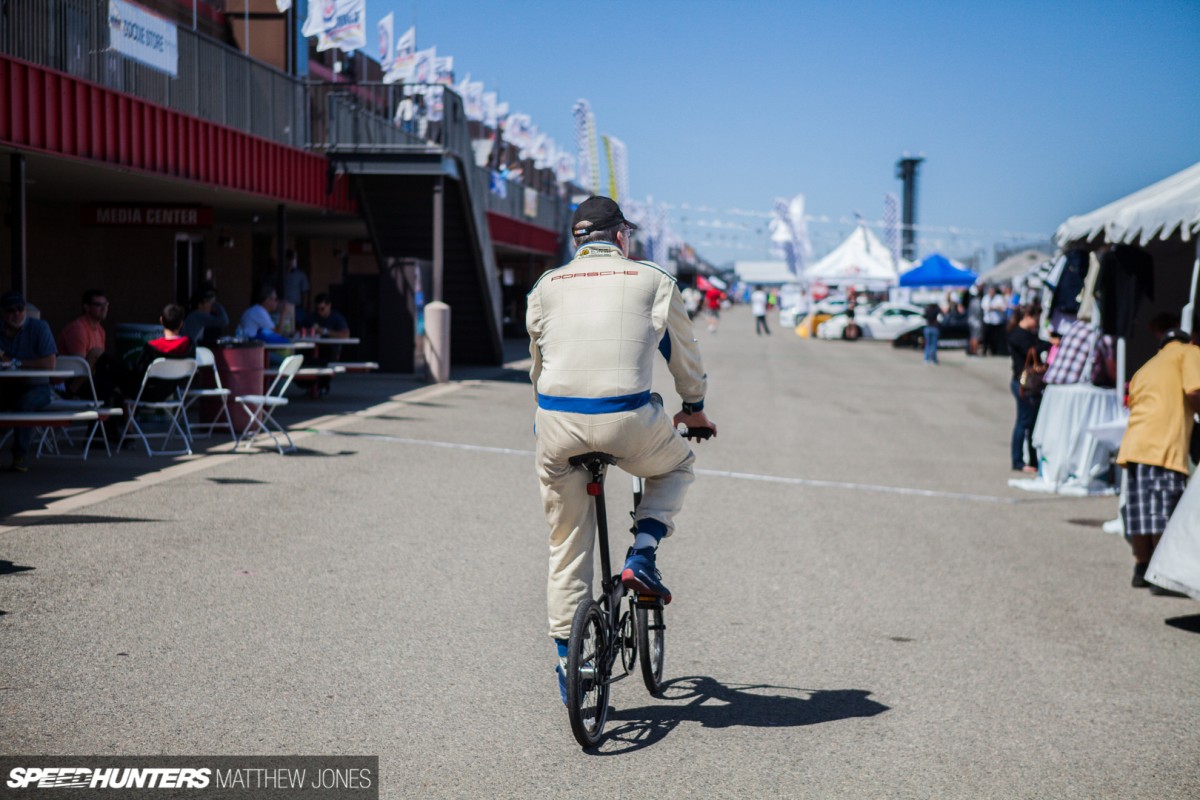 Not a bad way to spend a Sunday, eh?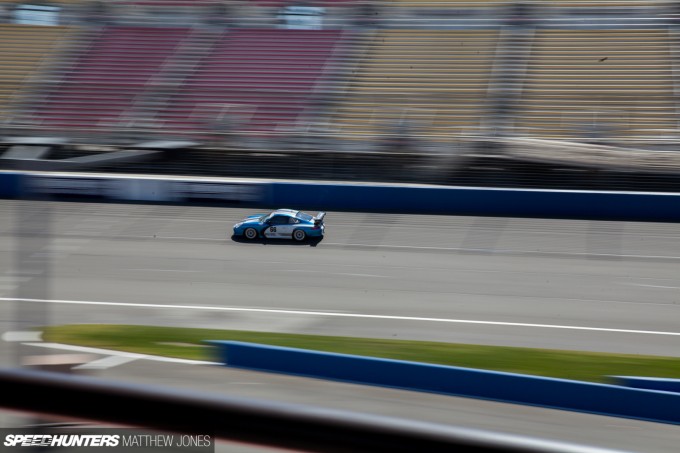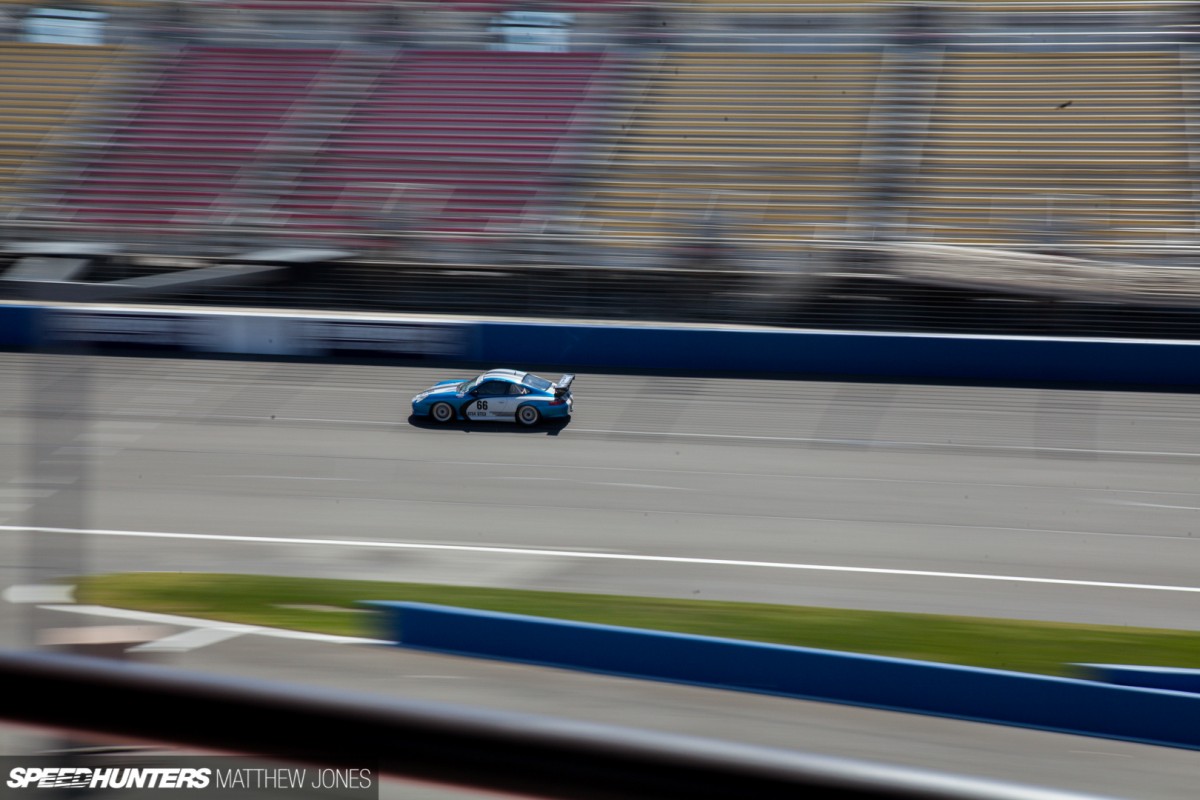 Stay tuned for a special all-Porsche Spotlight featuring our new Speedhunter Matthew's photography. And by the way, how did you like his debut here on Speedhunters? Let us know in the comments!
Keith Charvonia
Instagram: SpeedhuntersKeith
keith@speedhunters.com
Photos by Matthew Jones
Instagram: MatthewJonesPhoto