Memories
It's pretty hard to pinpoint your very first memory as they all seem to happen around the same time. One of my earliest memories was sitting in my father's 1981 five-speed Toyota Corolla. It was up on jack-stands with the front wheels in the air as he was changing the oil, and I remember trying to play with the steering wheel which immediately locked. My dad saw the puzzled look in my eyes, because in my mind there is no reason why it should do that – it's a car after all, and the steering wheel should spin freely whenever you want it to. He put in the key, which freed up the wheel and I was happy again. I was three years old and still leaps and bounds away from being able to look over the dashboard. But I was hooked.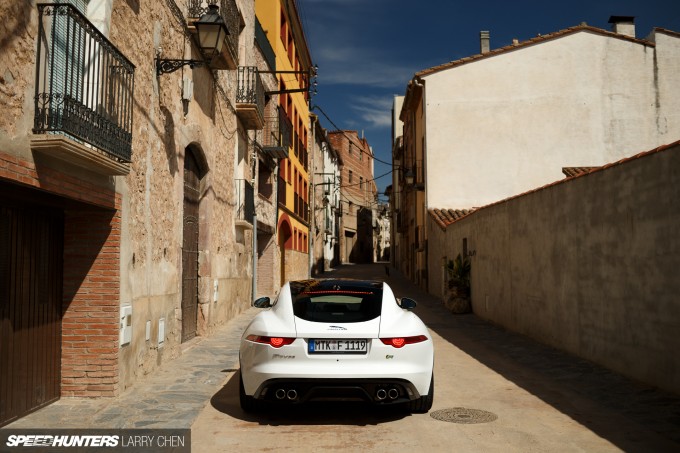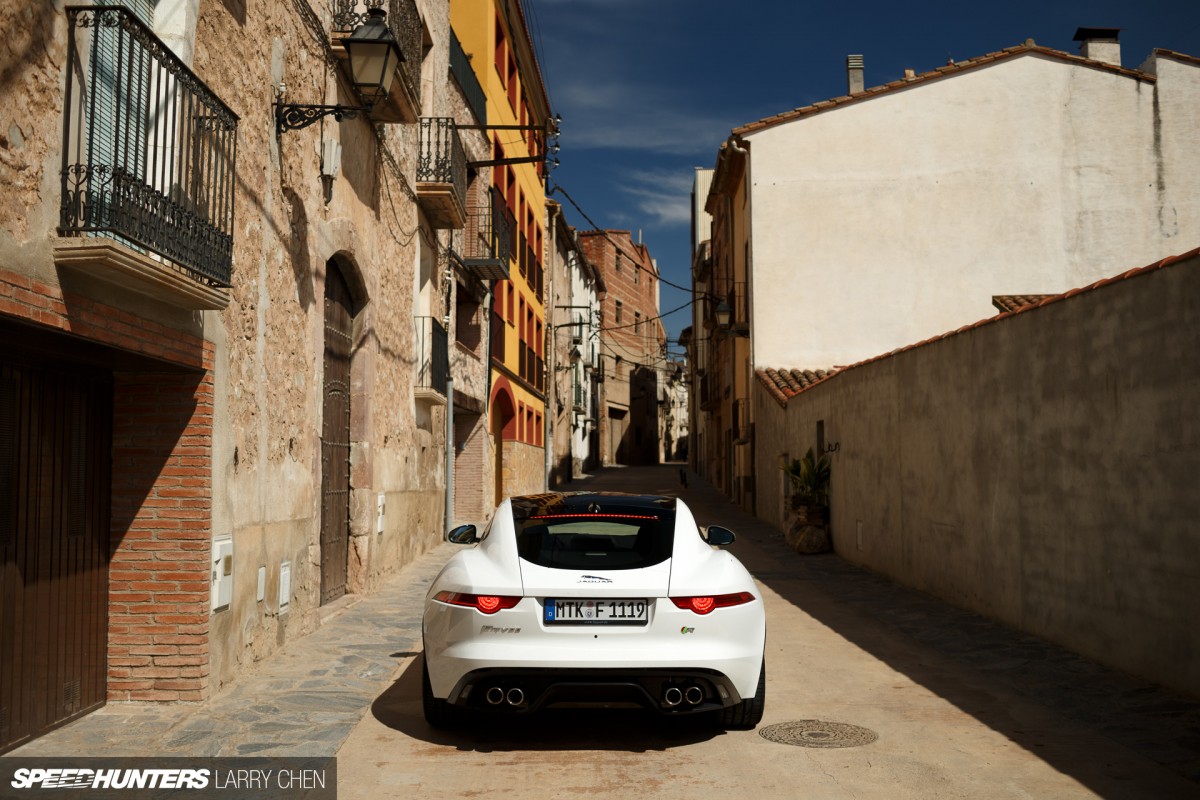 My love for all things cars started a such a young age then, but I had no idea that I would end up becoming an automotive journalist. Now, here I am – behind the wheel of a 550hp Jaguar F-TYPE R Coupé and driving through the narrow roads of the Spanish countryside. Is this real life?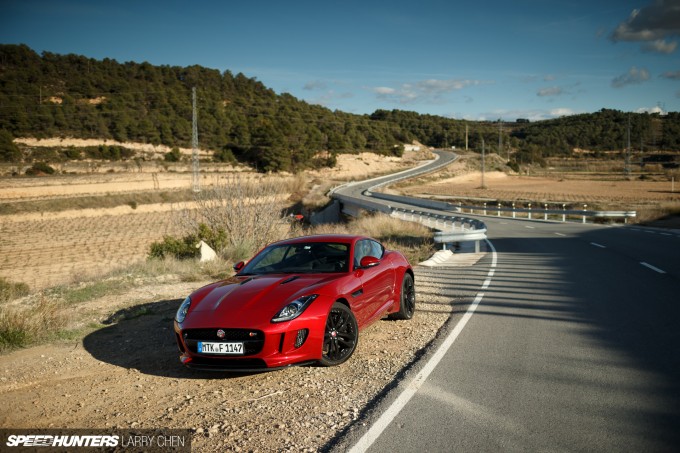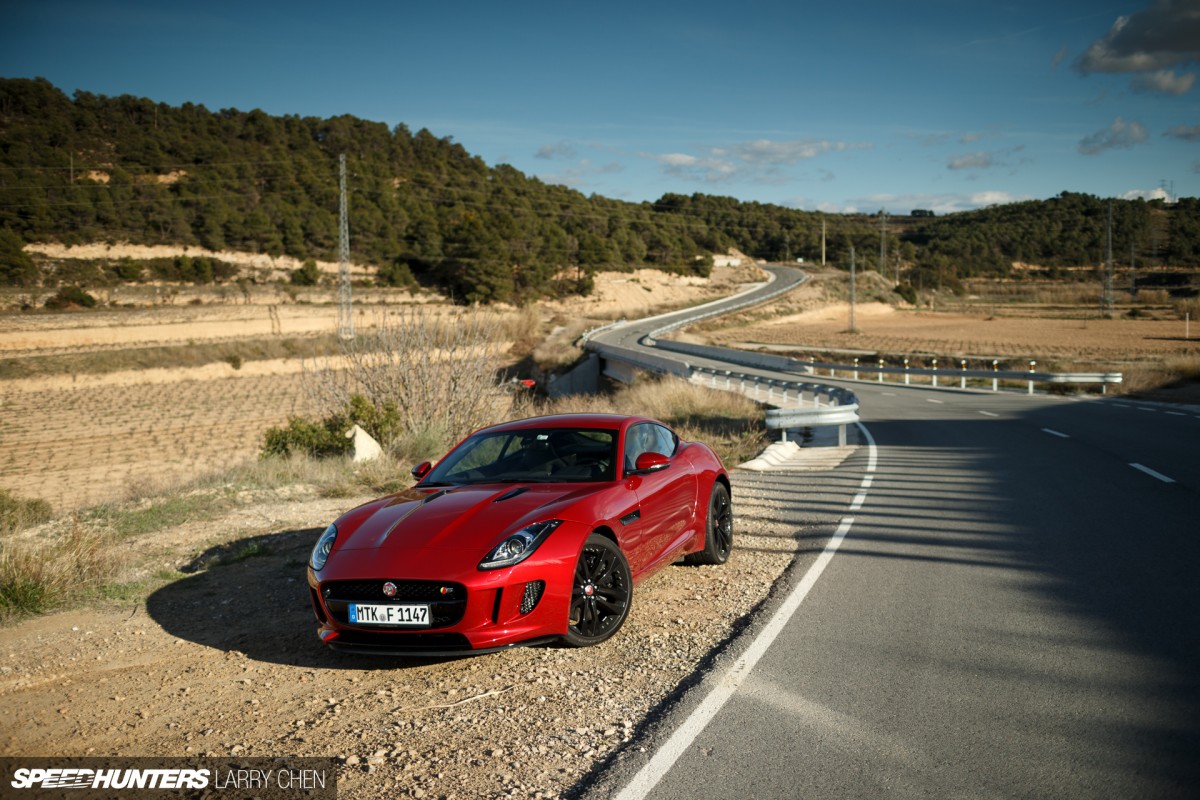 Jaguar wanted to launch the new F-TYPE Coupé with a bang, so they flew a select number of journalists to Spain for the weekend to experience the car in all its glory.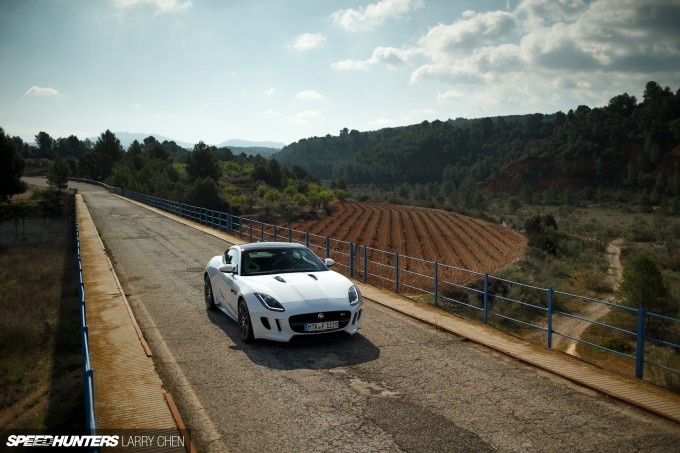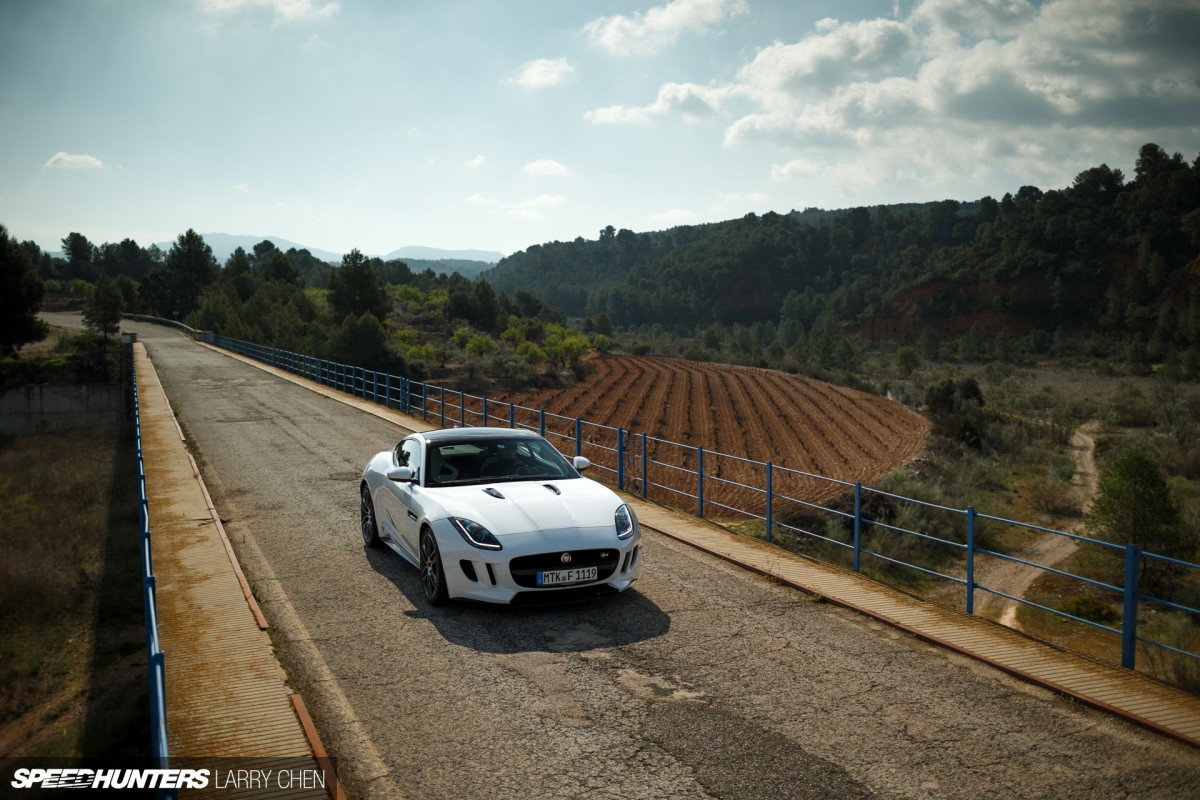 I had a chance to try out both the V6 and the V8 variants, both of them supercharged. I also had the chance to try out an F-TYPE R fitted with optional carbon ceramic brakes on the track. But I'll touch more on that later.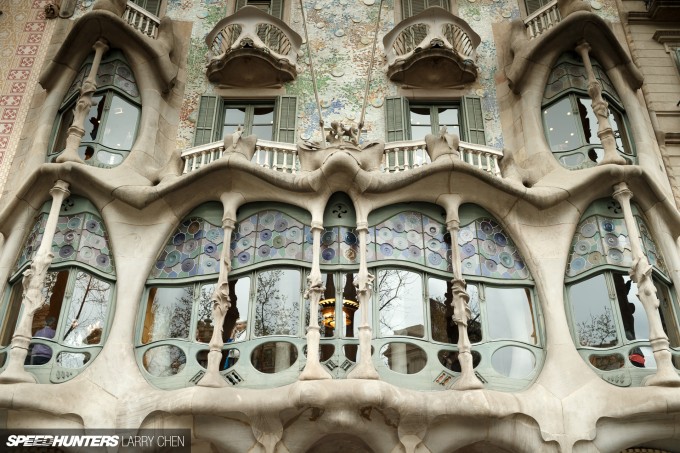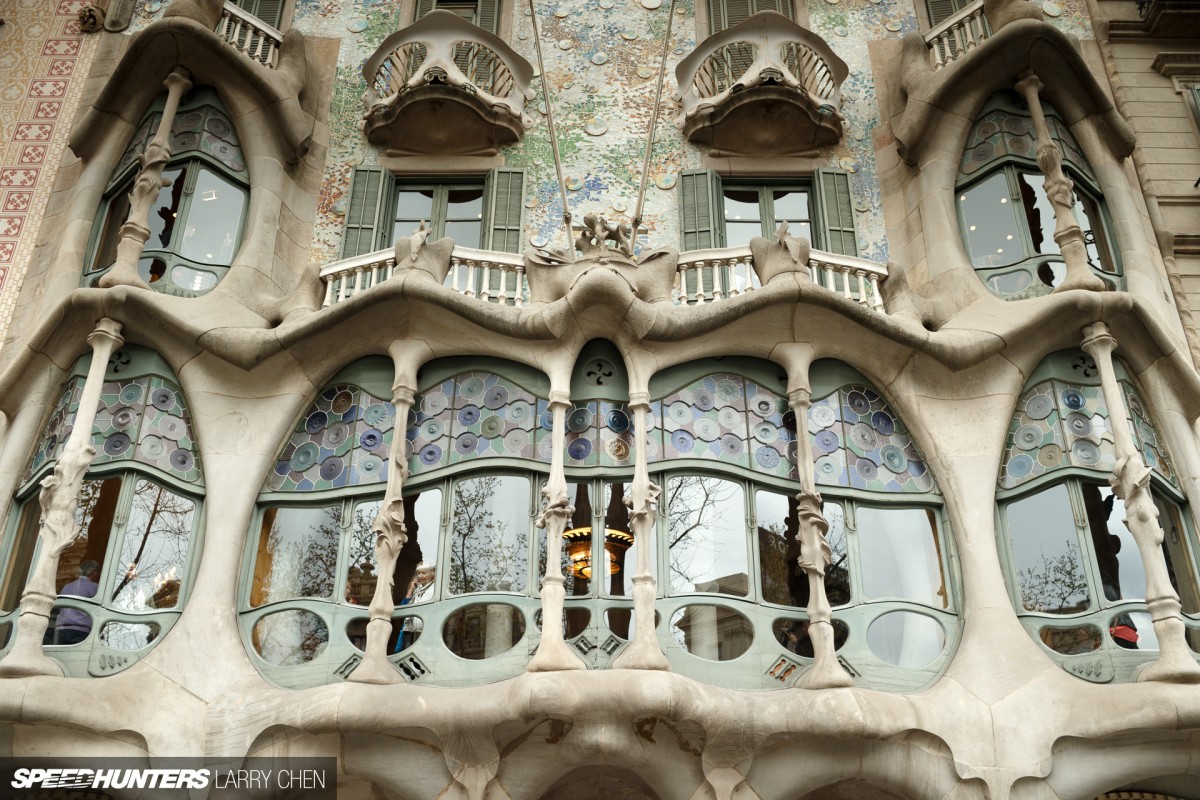 My journey started in Barcelona. I'd never been before here before, so it was nice to take a little stroll by myself to check out the local sights.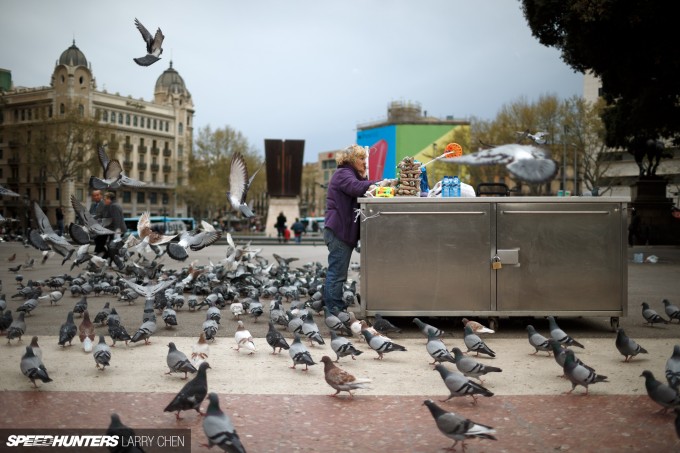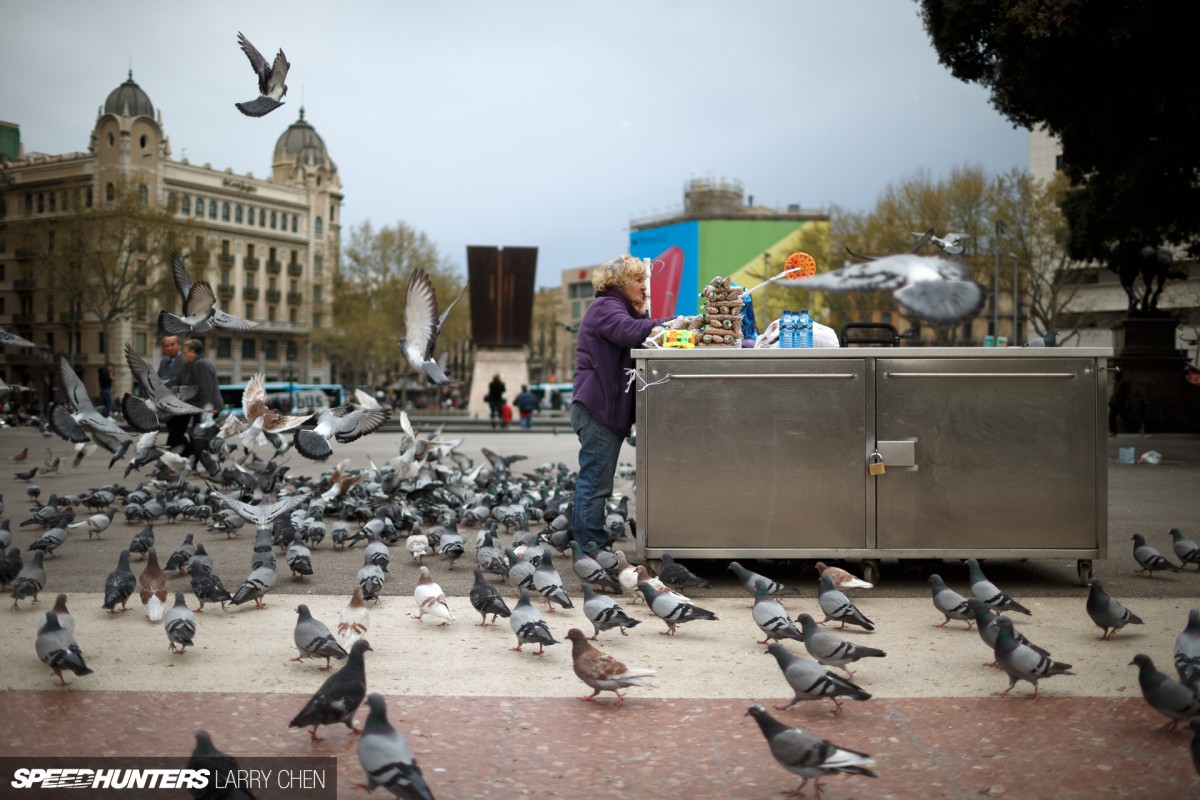 I thought this was interesting. In one of the parks this lady was selling bird seeds so tourists could feed the pigeons. She hated them, because when they landed on her cart she would whack them with a stick. Interesting business model…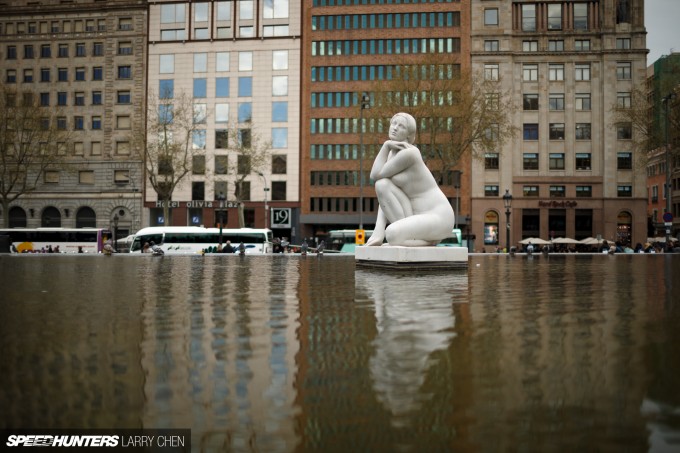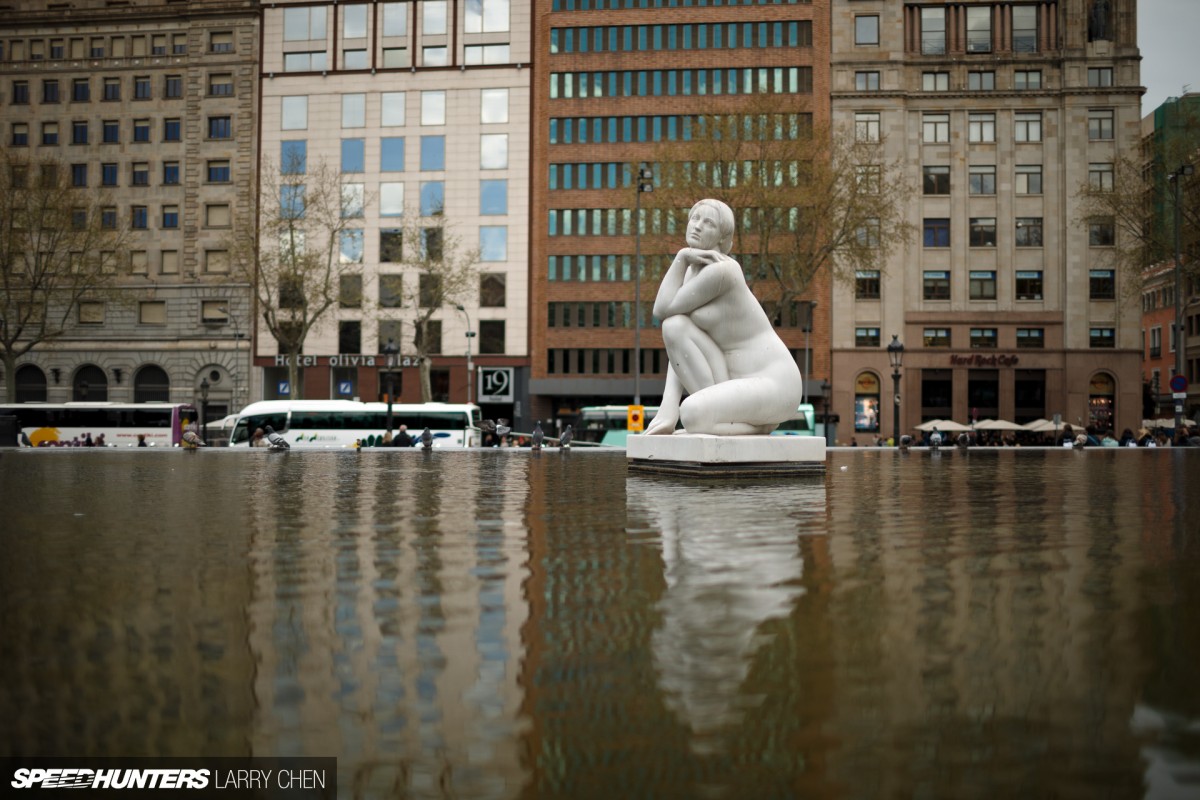 Barcelona reminded me of the many other cities that I have been to in Europe, but had a certain flare to it that I loved. Maybe it was the late night dinner culture, as restaurants here didn't really seem to open until 9.00 or 10.00pm. The tapas were to die for, and of course there was endless amounts of cured ham.
Motorland Aragon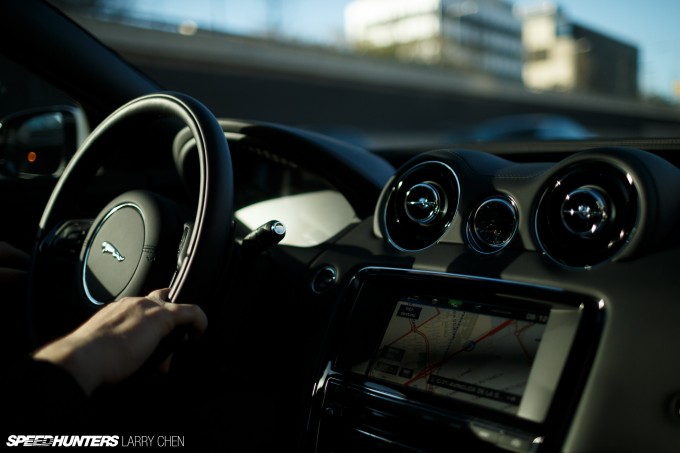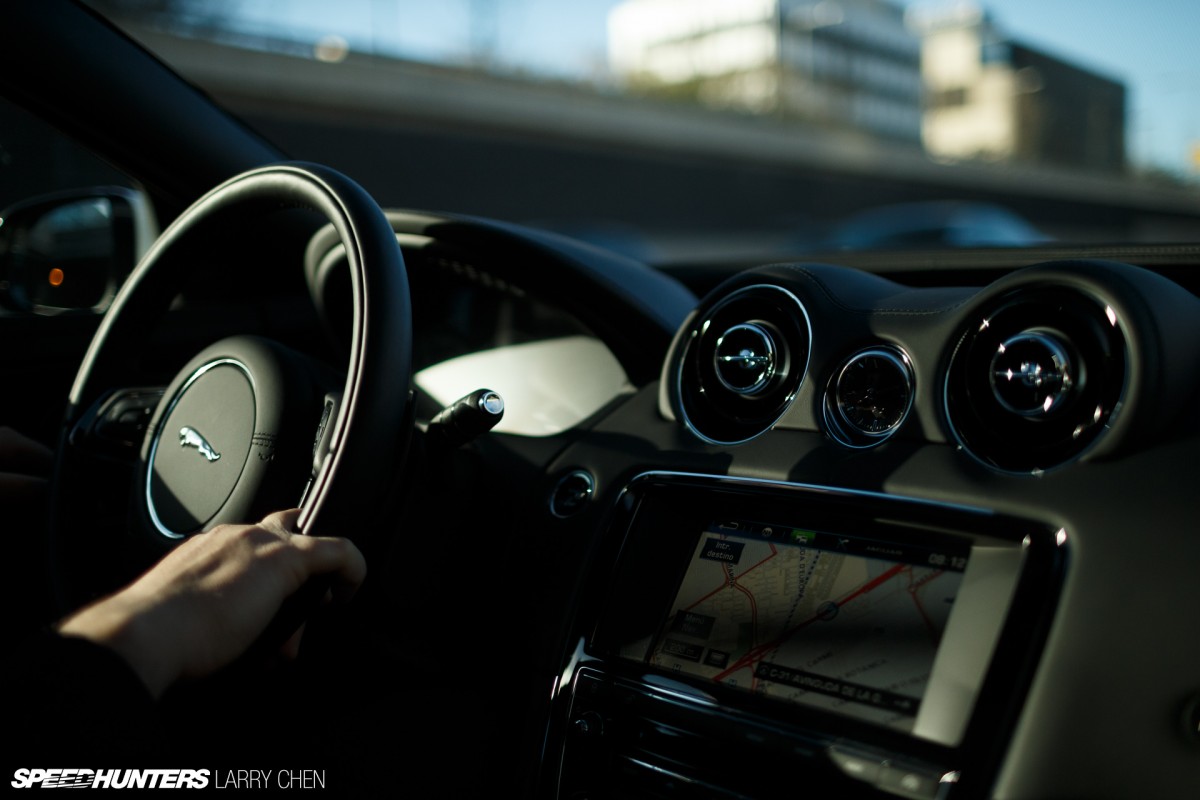 The actual work portion of the weekend started with a brisk drive through the city back to the airport.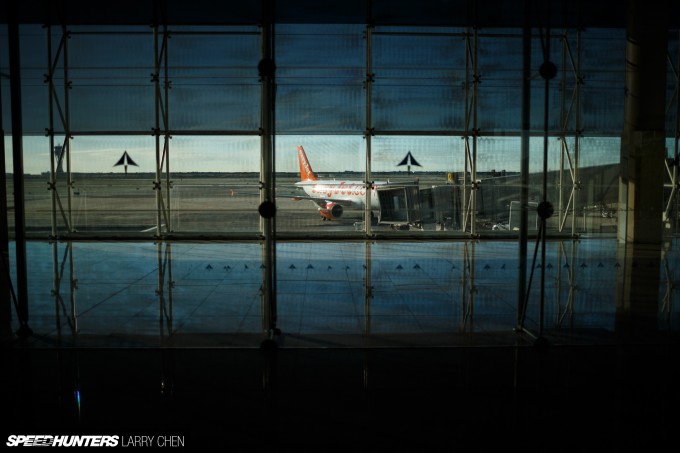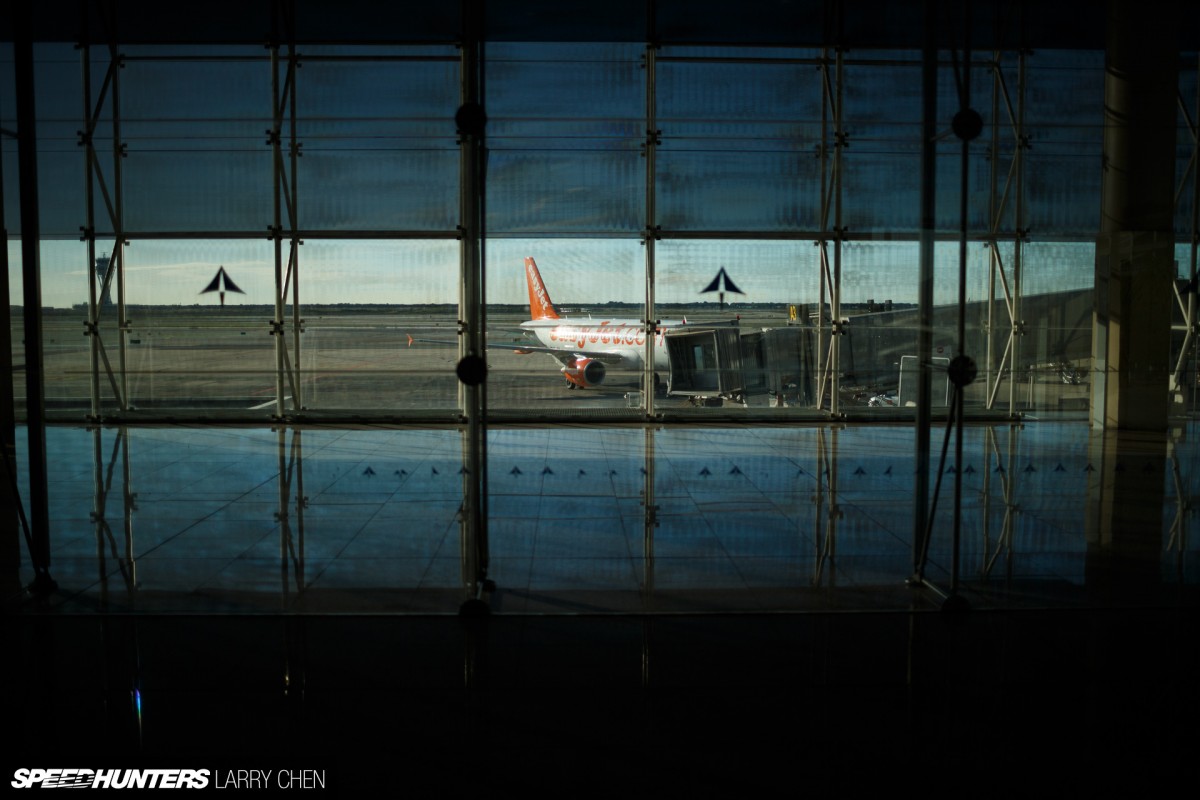 There, our assembled group boarded a charter flight to a tiny airport in the countryside.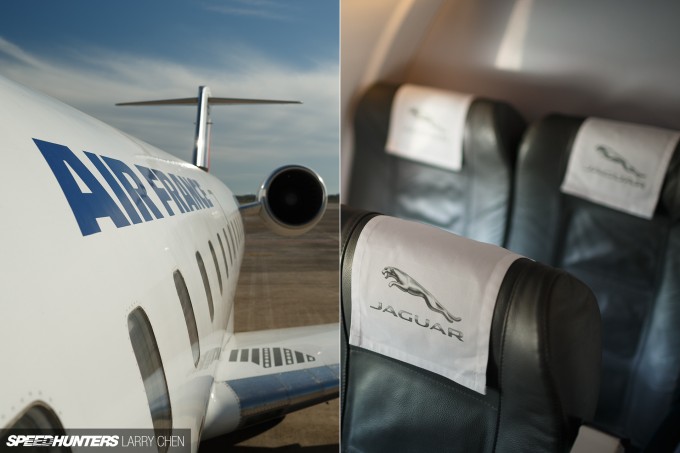 It was only a 15-minute flight, but it was very pleasant. How about those Jaguar head napkins, huh?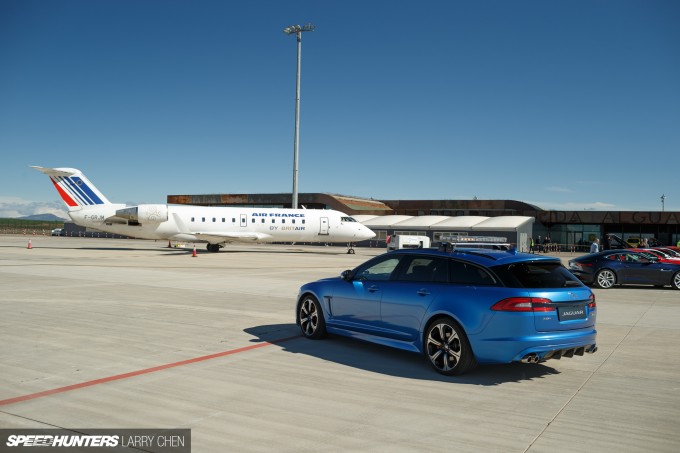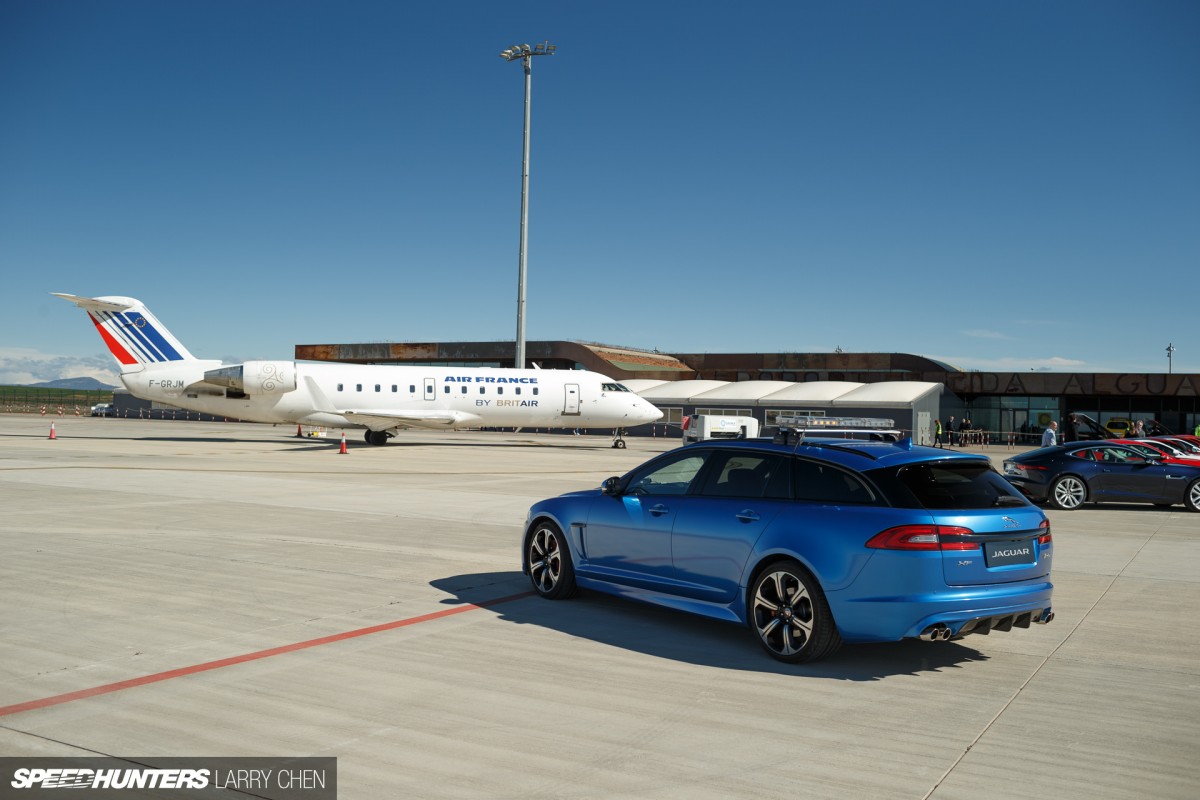 The taxi vehicle? None other than a Jaguar XF wagon of course – a model we sadly we don't get in North America. I just loved the way the Sportbrake version looked.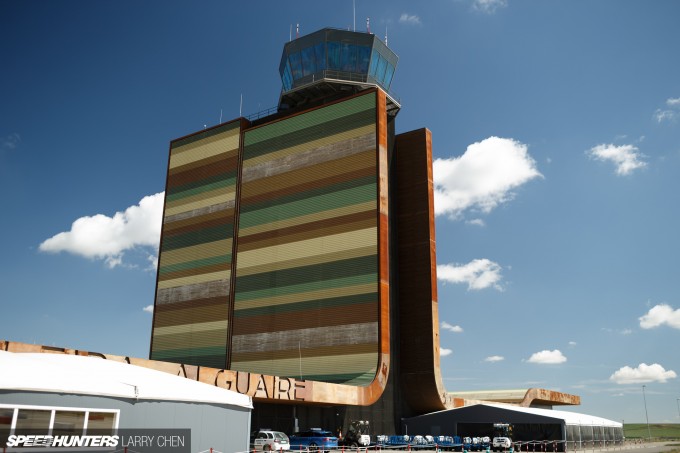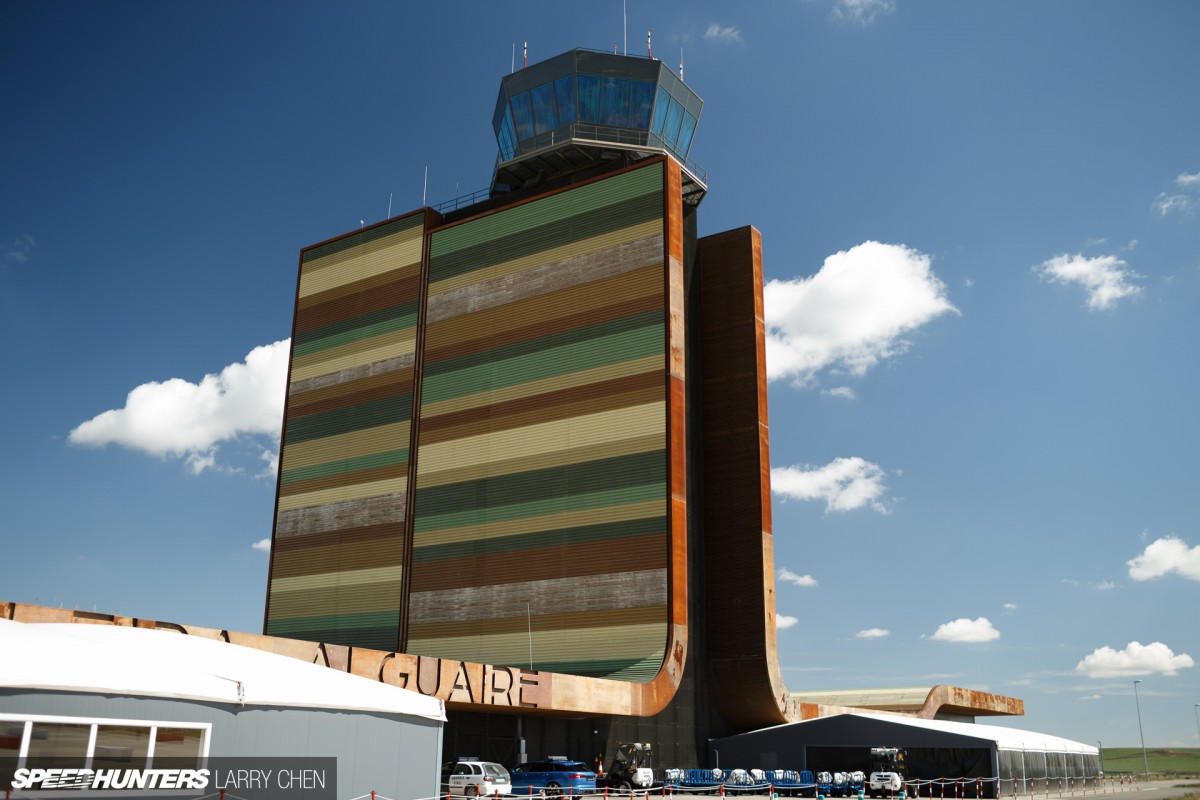 The airport had such interesting architecture. I don't think I've seen anything like it.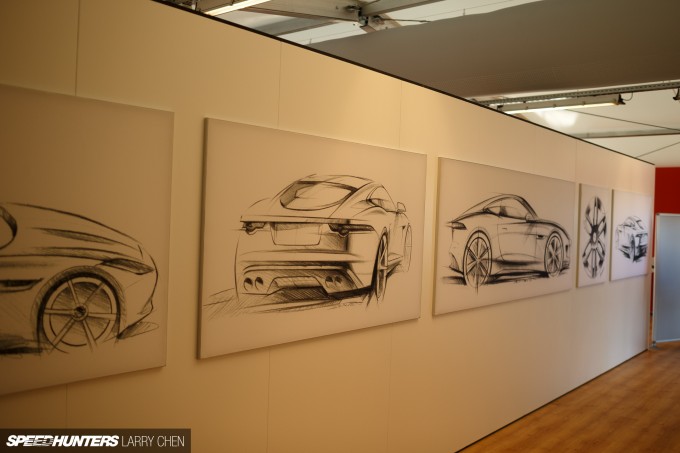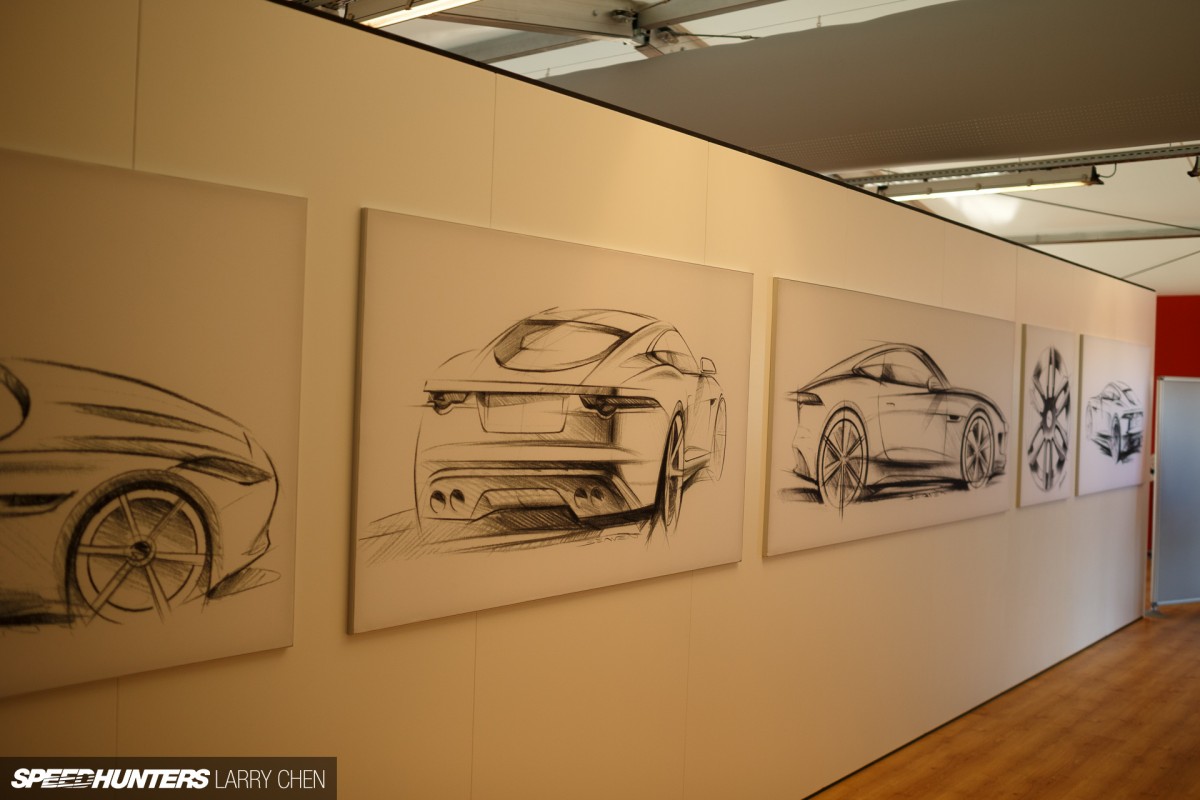 Jaguar rented out the entire airport and converted it into a press drive machine. On the wall were some neat sketches of the F-TYPE Coupé.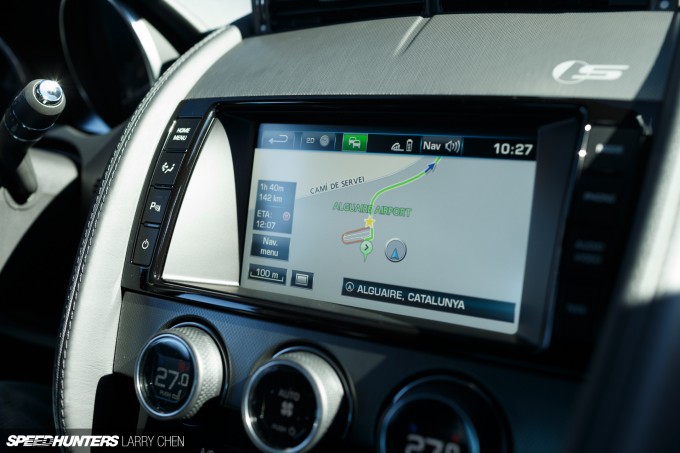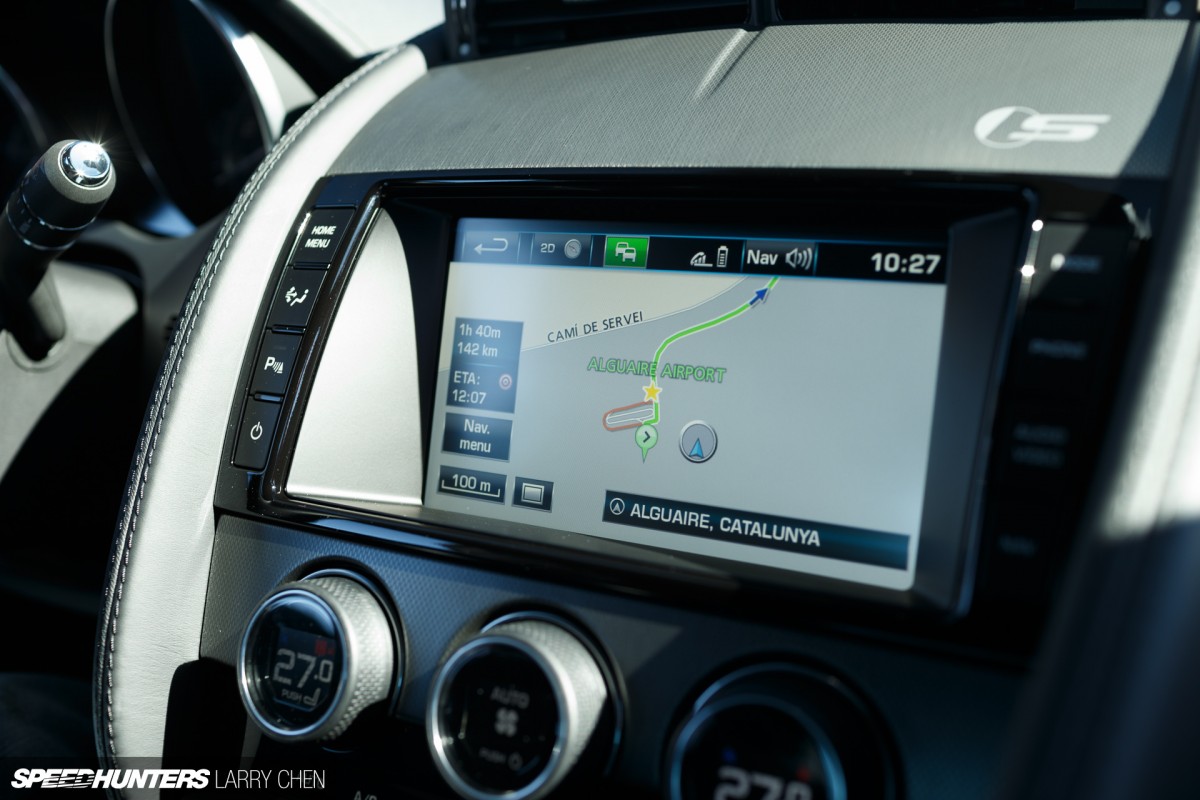 We jumped in a 380hp supercharged V6 model to head to our first stop: Motorland Aragon Speedway.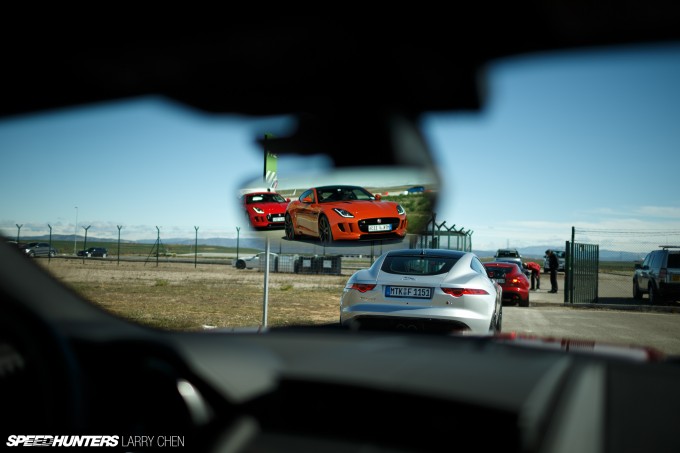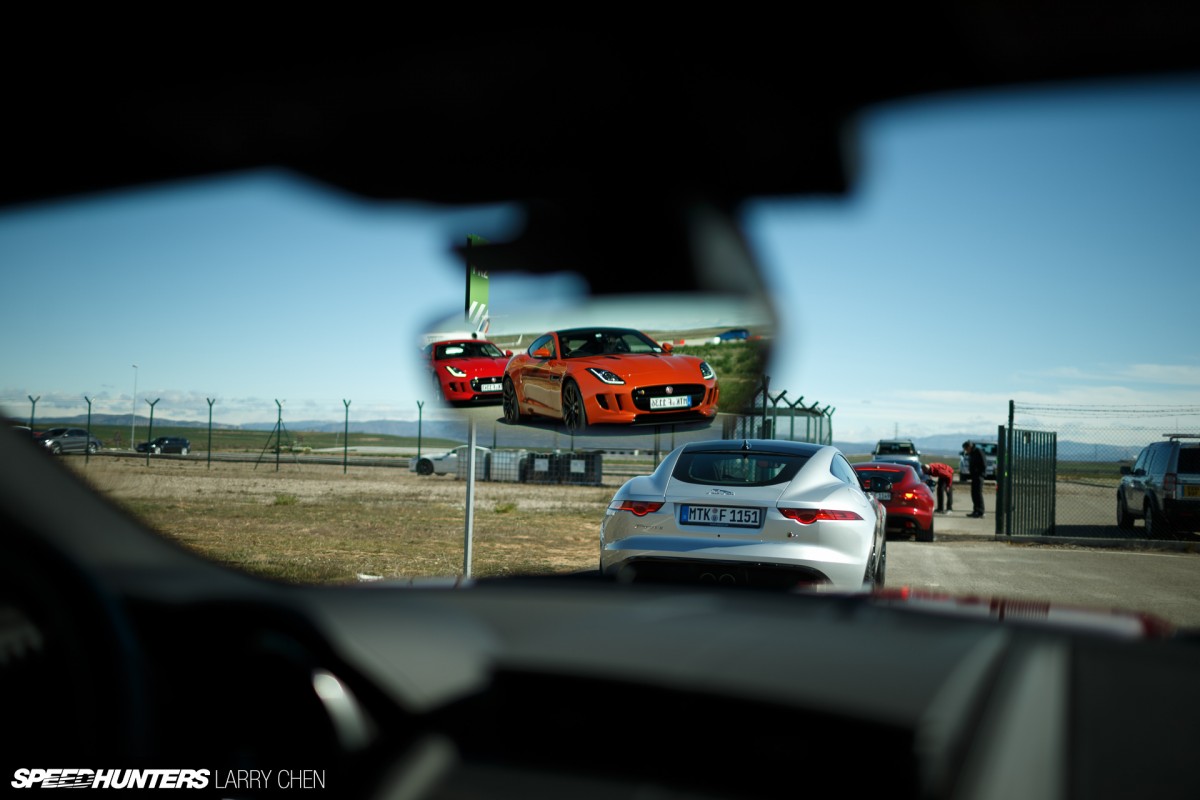 What a mean looking caravan –  F-TYPEs as far as the eye could see.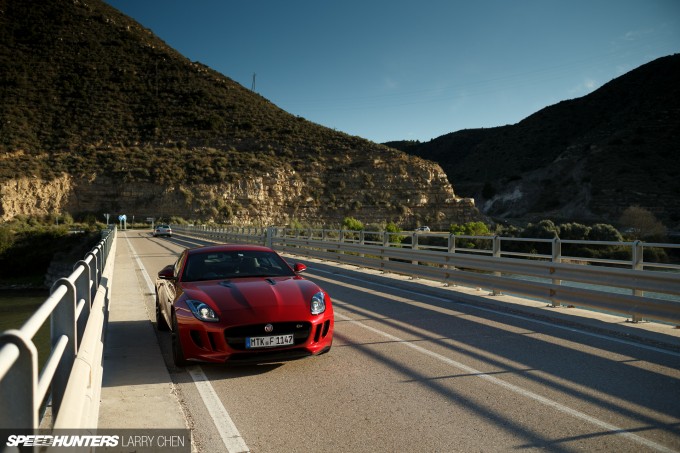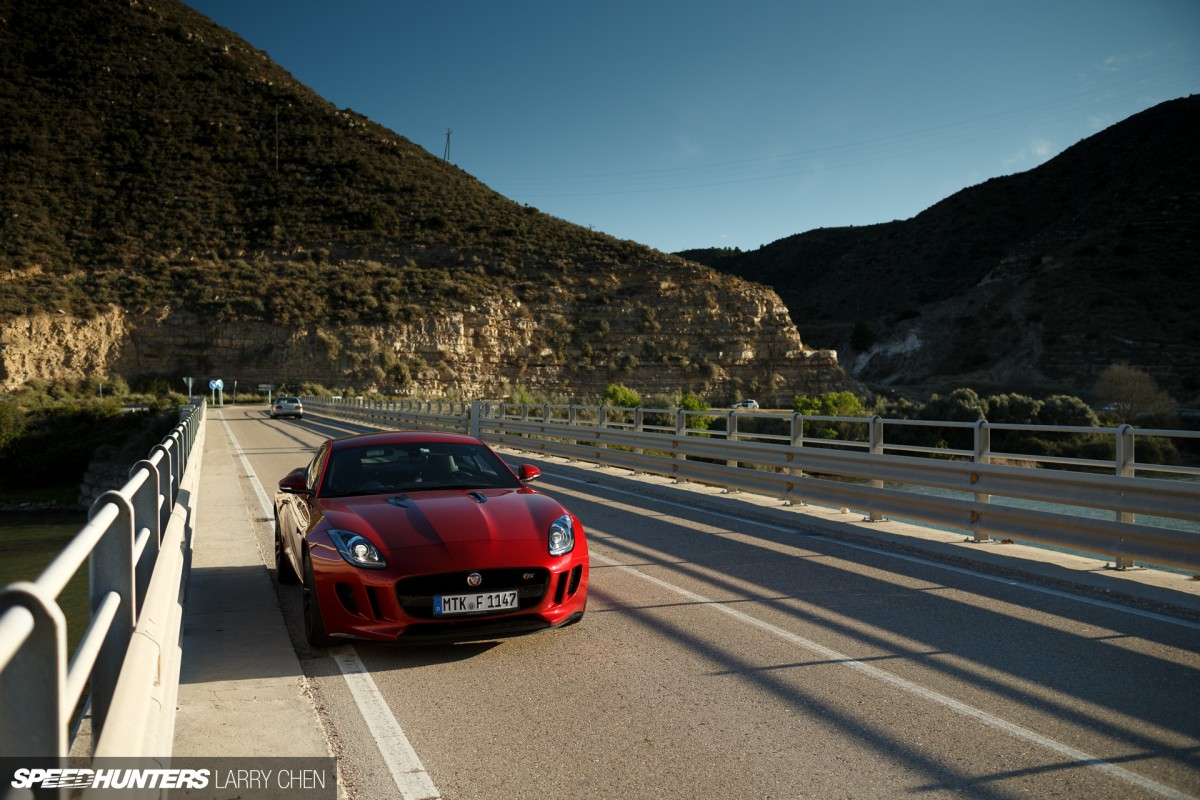 The weather was perfect and the roads were fairly empty. There was no problem for me to adapt either, as in Spain everyone drives on the right side of the road.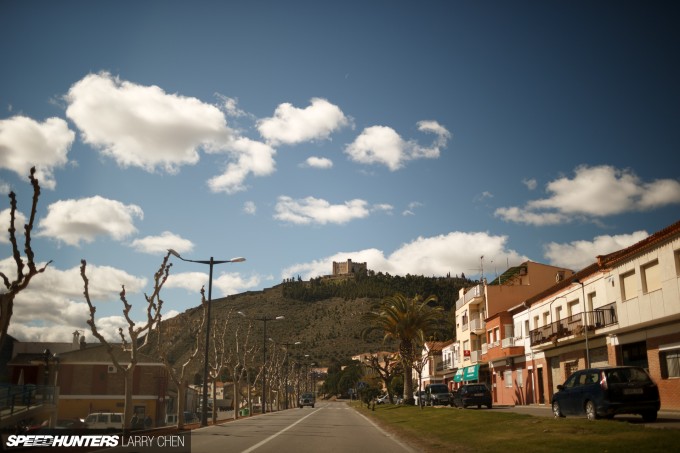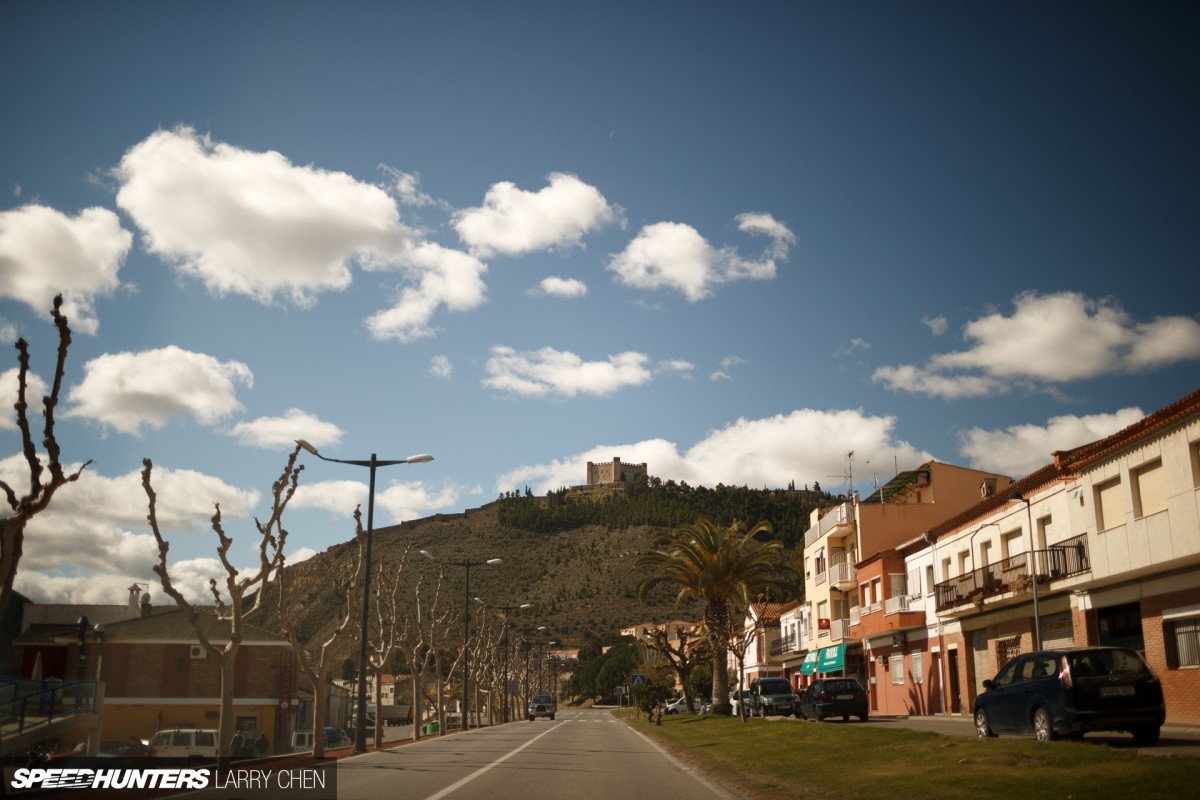 We passed through a few small towns along the way, but with an empty race track awaiting us there was no time to dilly-dally.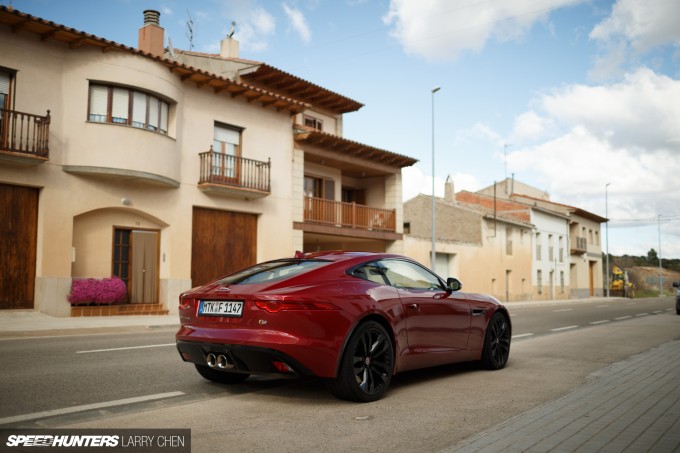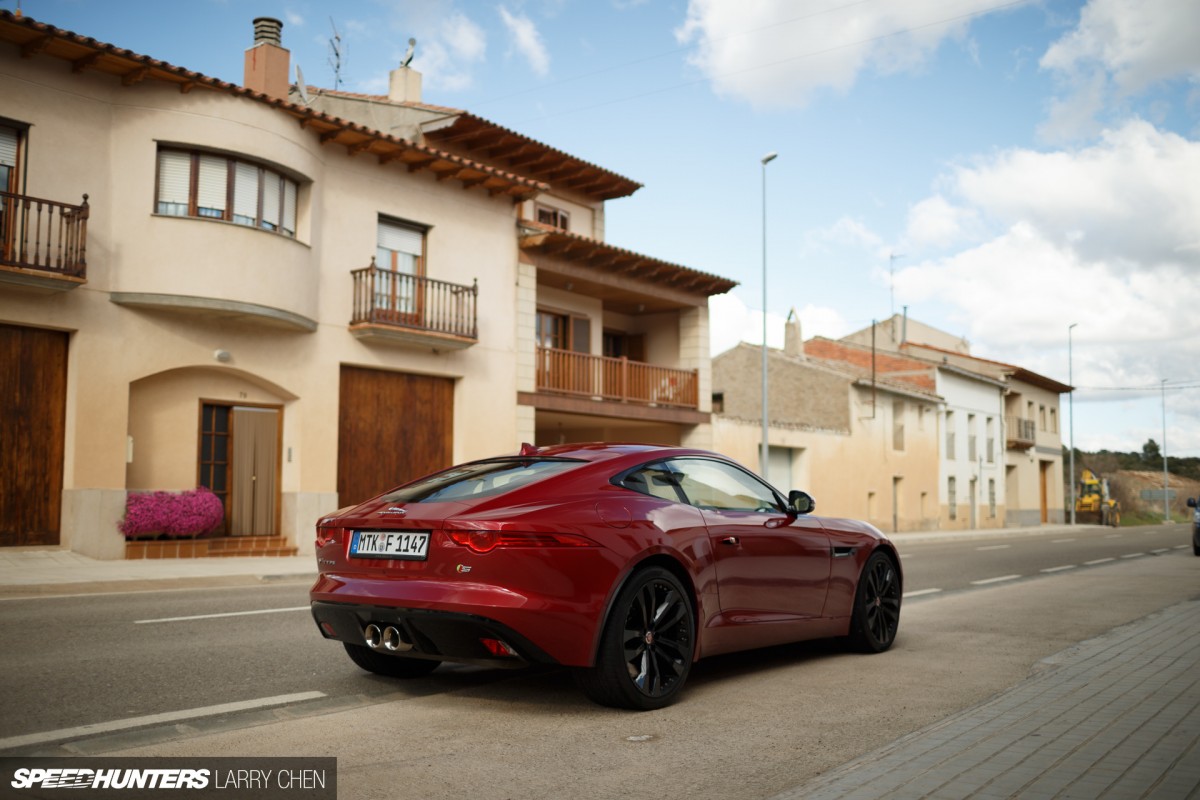 In terms of handling, the V6 felt fairly similar to the convertible that I drove just a few weeks earlier. Sure, it definitely lacked the grunt of the V8, but it sounded every bit as mean – especially on the overrun when the exhaust would pop and crackle.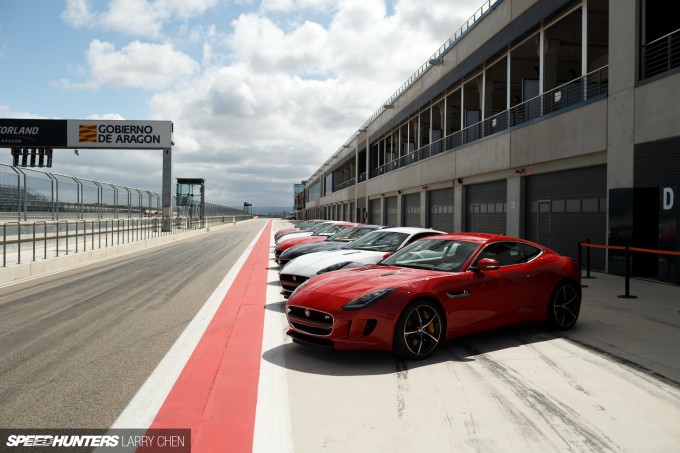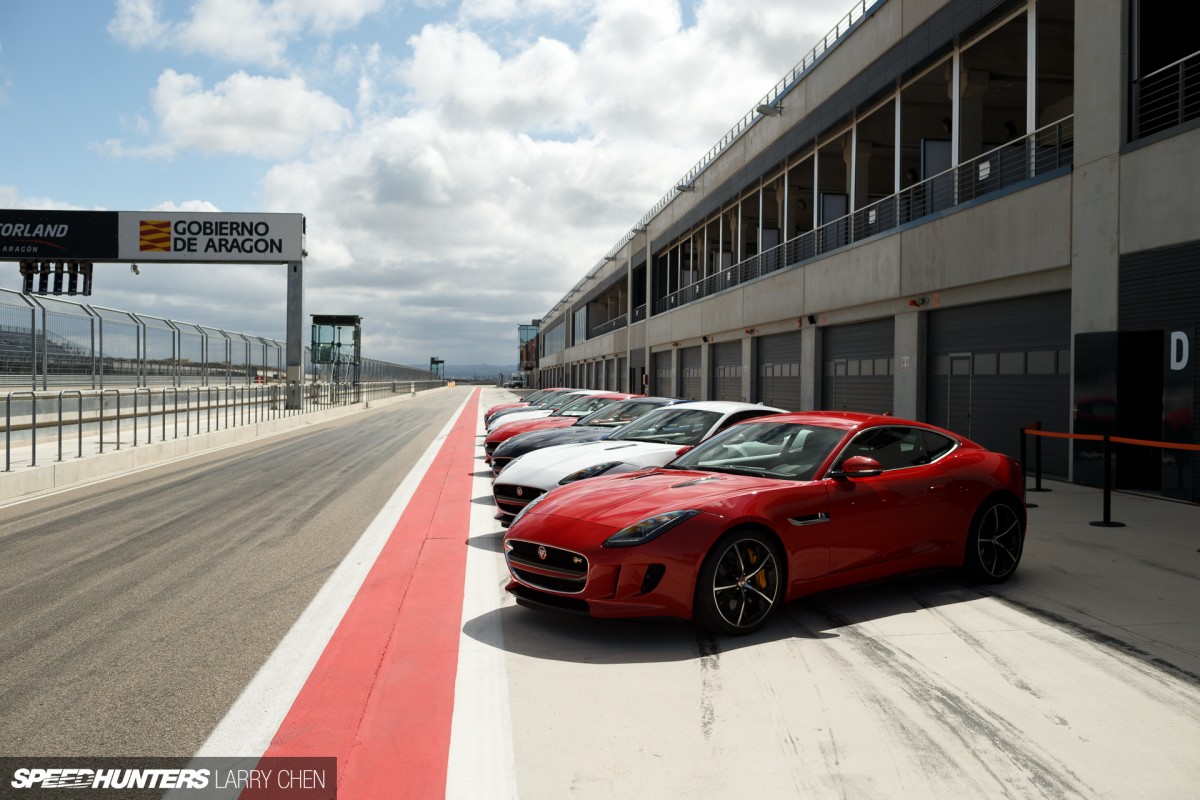 When we arrived at the circuit, just as promised there were many fine examples of the flagship F-TYPE R model just sitting and waiting to be plucked for a spin.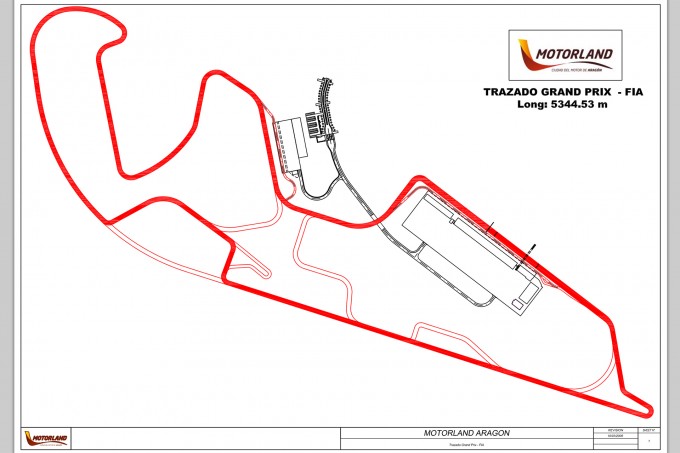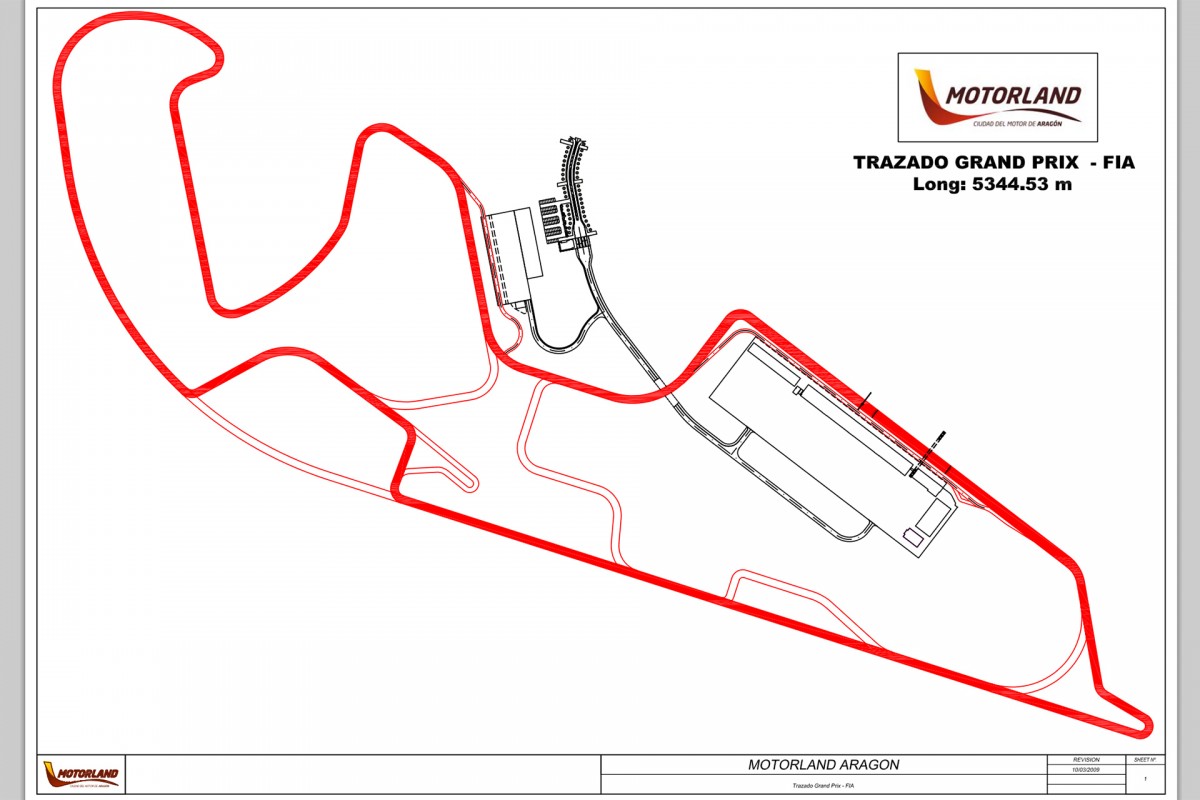 Motorland Aragon was a seriously demanding track. It is FIA certified and has an extremely long straightaway where I managed to record a top speed of 263km/h (163mph).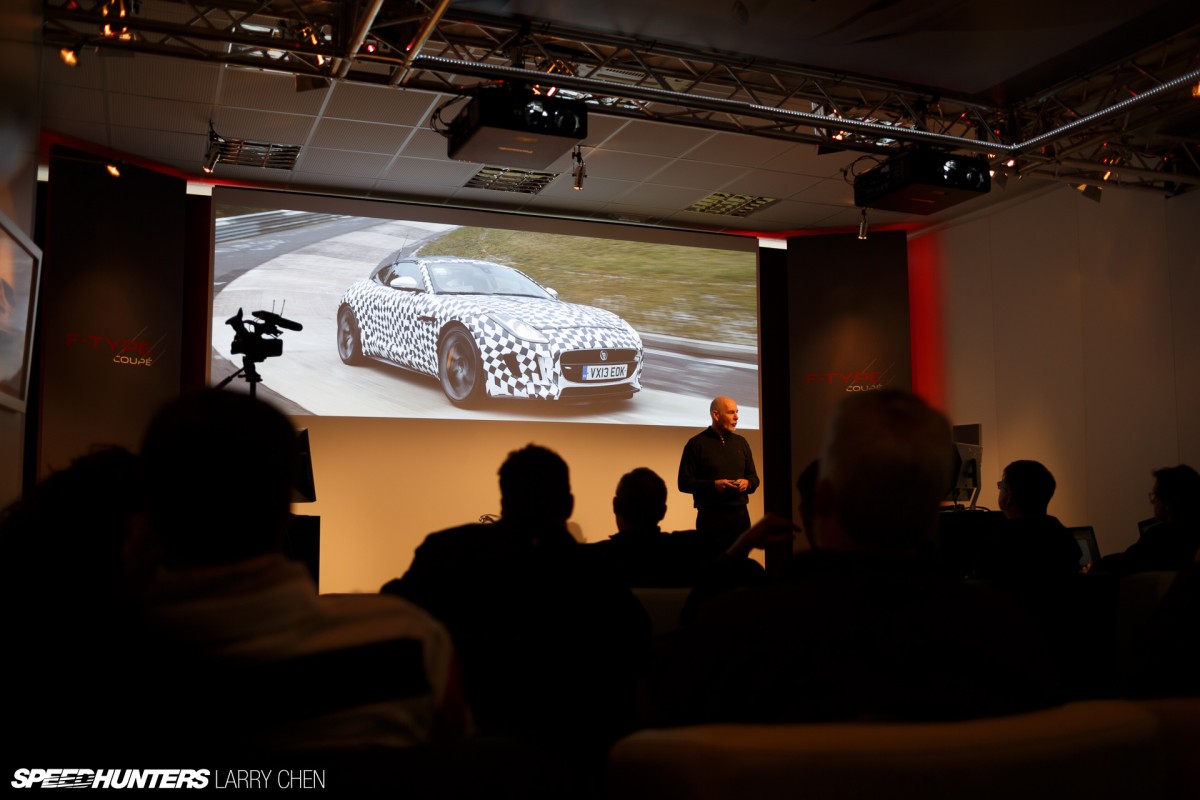 We were all itching to drive, but before we could do so the Jaguar engineers walked us through a bit of what they had to go through to design such a car.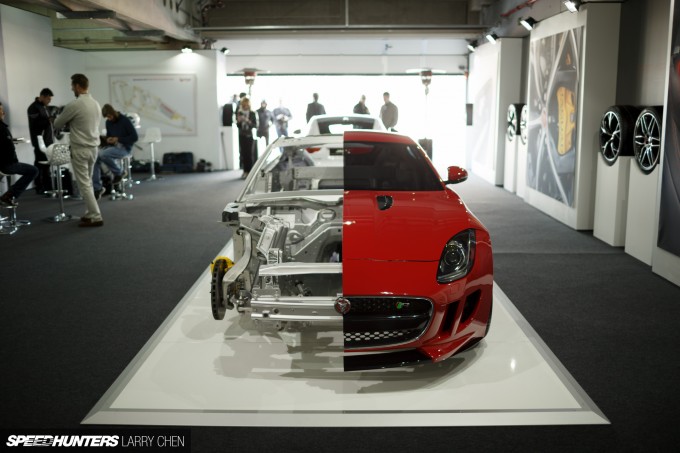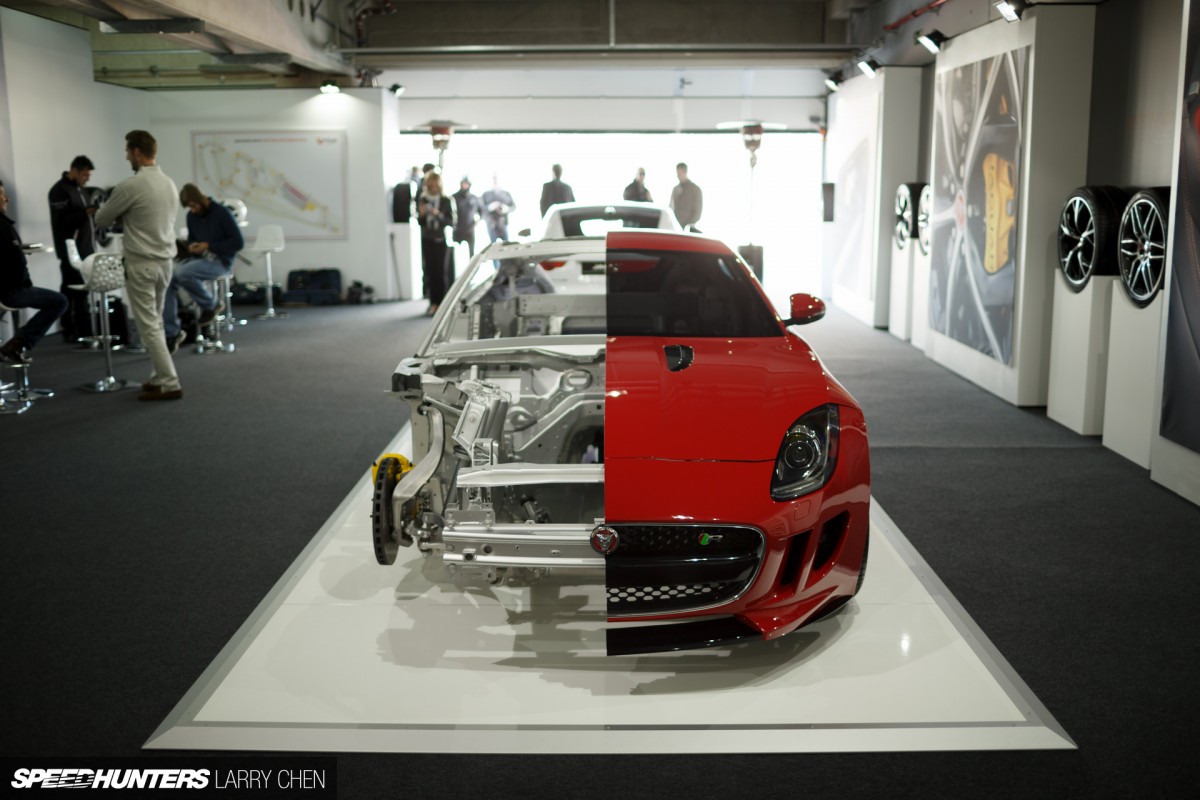 The F-TYPE R was massively stiffer than the convertible that I tested out, and rightfully so. It also packs 50 more horsepower.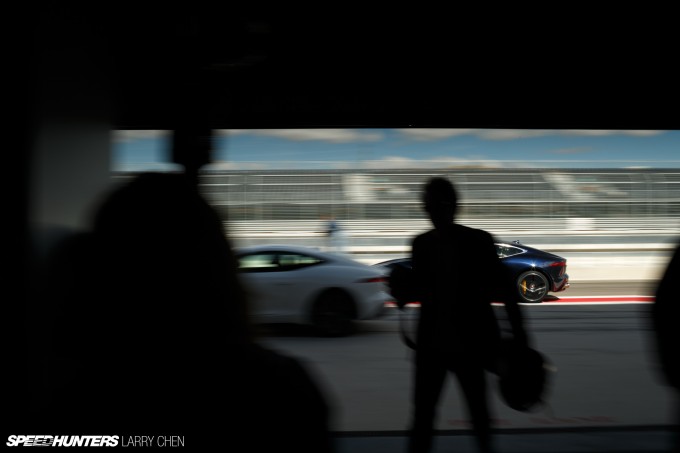 One by one we jumped in the hot seat, with each journalist getting eight laps.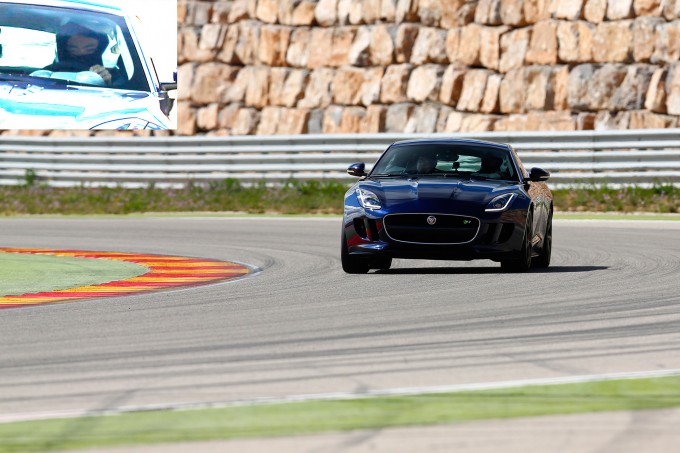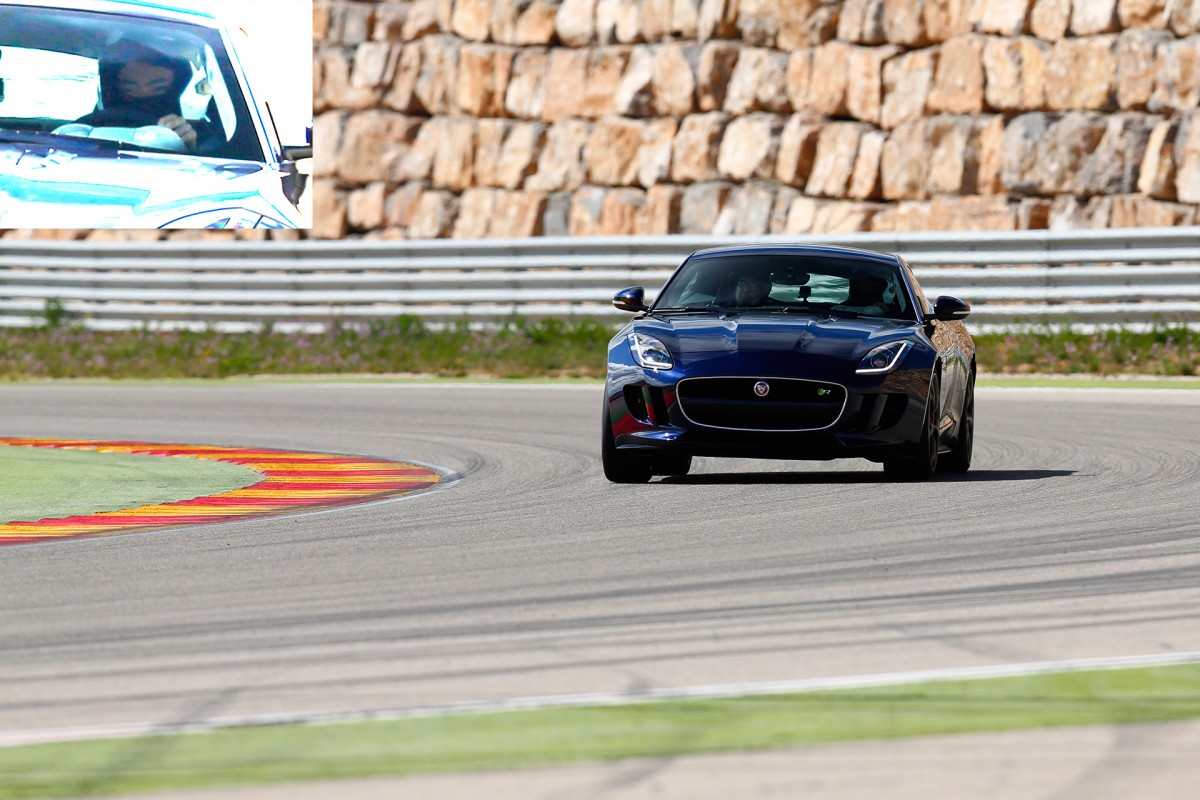 While I usually try to shoot myself when I am driving, I didn't have to this time because there were a few photographers on-hand.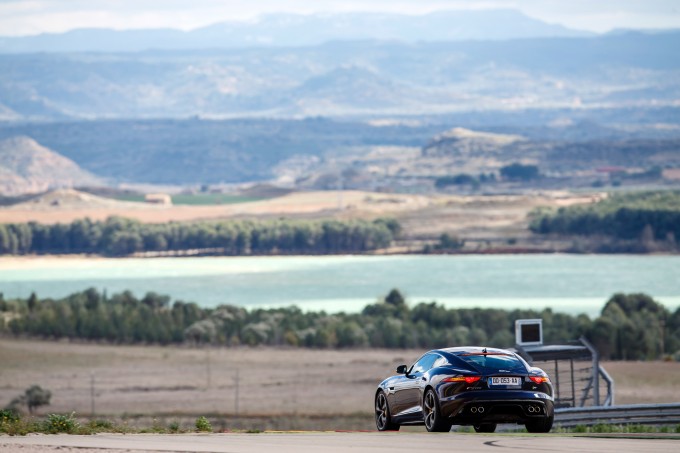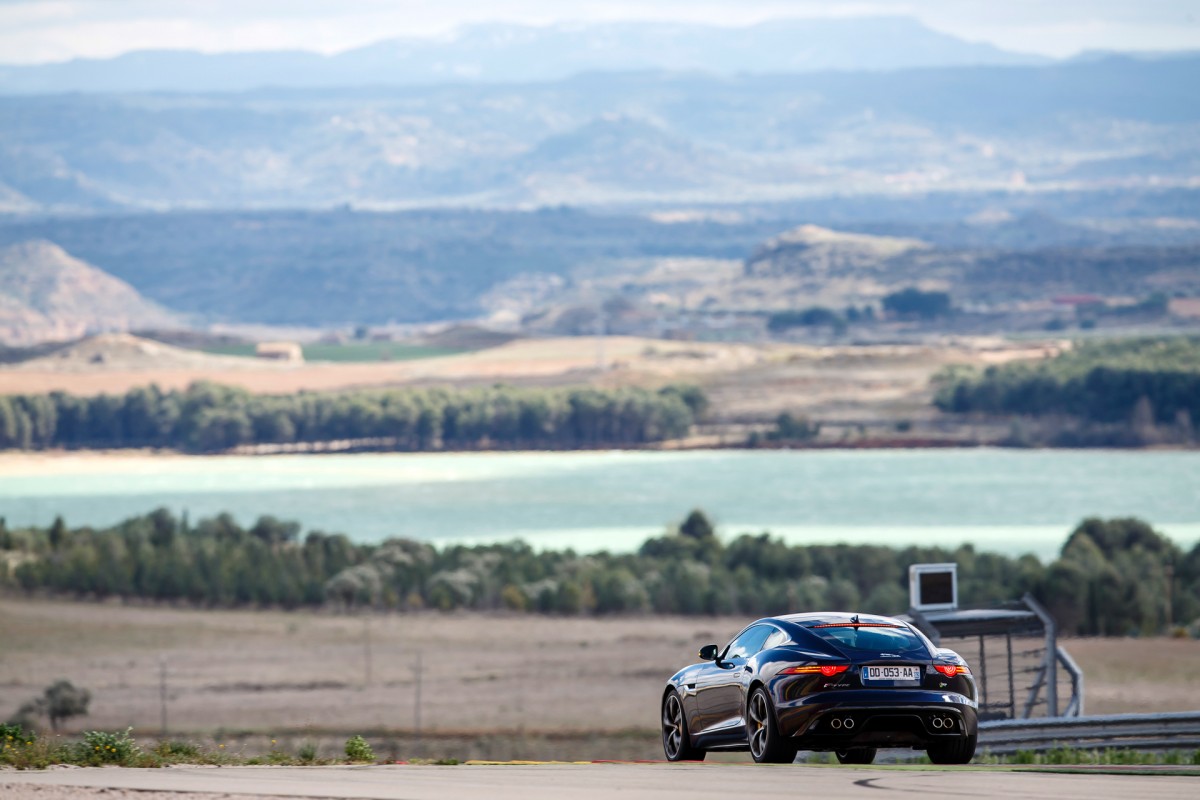 This track had so many blind corners and I feel like I barely scratched the surface of what this car was capable of. What really impressed me was the braking performance from the carbon ceramic brakes. Corner after corner I would just stand on it and I never felt any brake fade.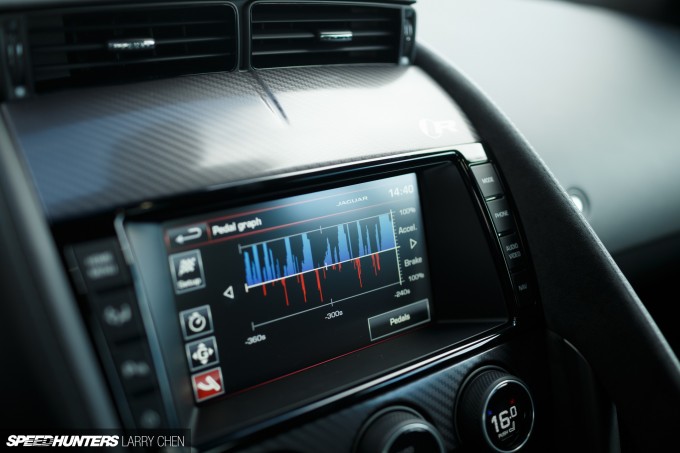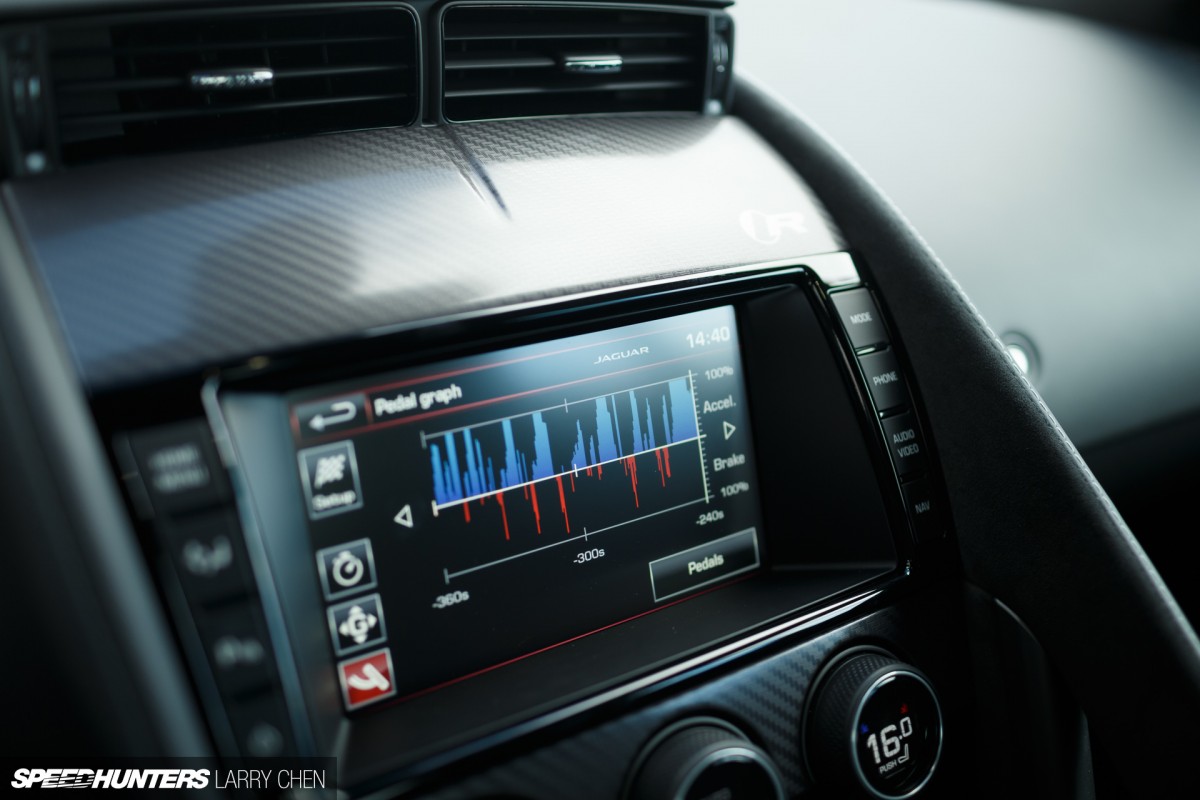 What's also neat is the digital readout that you can pull up on the multi display unit and check out your throttle and brake inputs. There's definitely no point in lying anymore about whether you lifted or not through a certain corner – the computer tells all.
Kids again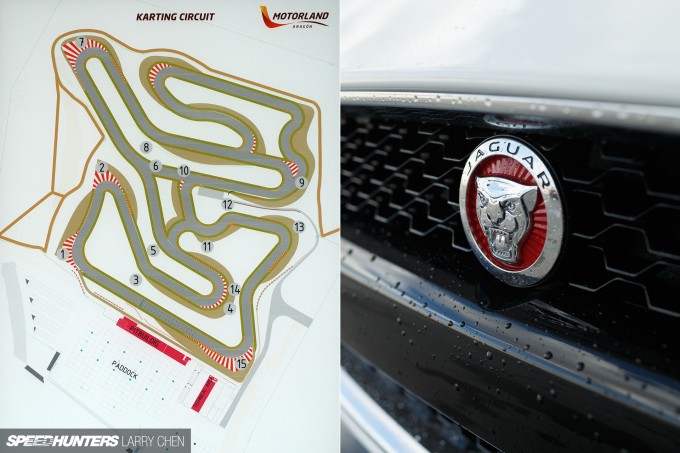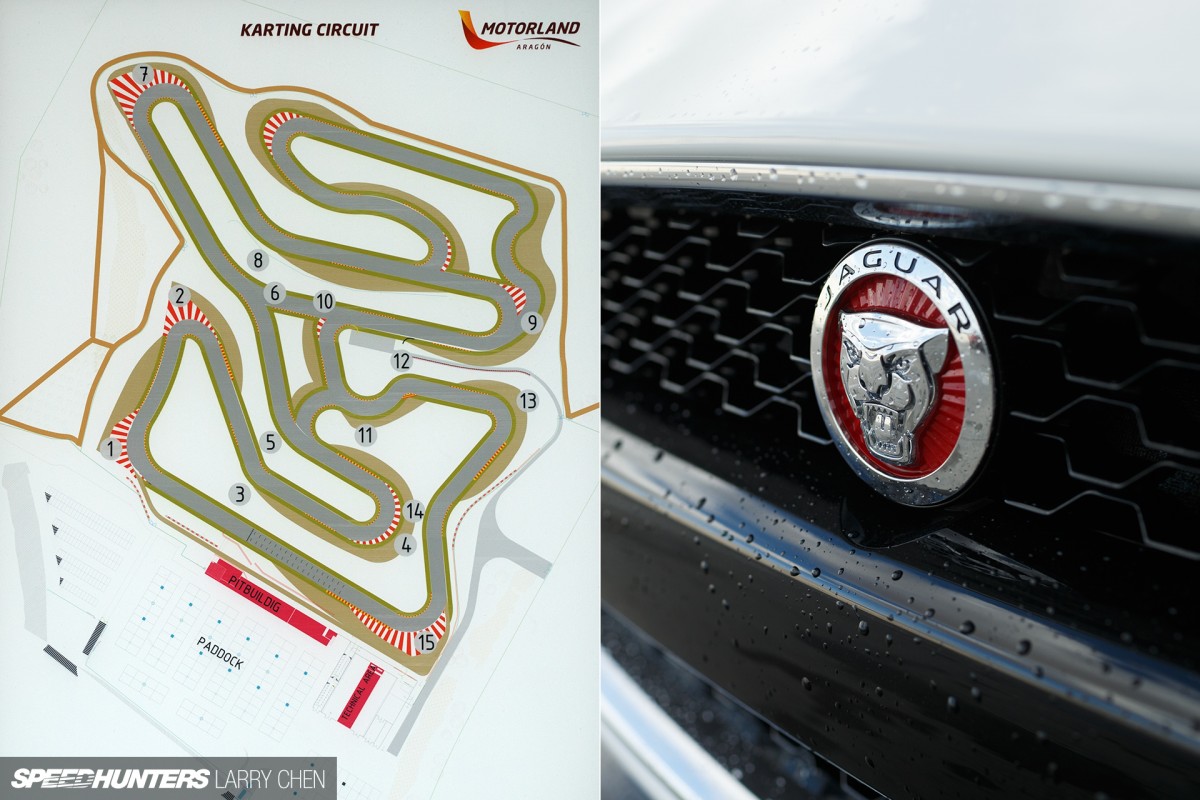 After our laps we headed out to another part of the facility which has the largest karting circuit in the world. It was here we got to put the R-TYPE's 'Electronic Active Differential with Torque Vectoring by braking' system to task in the wet.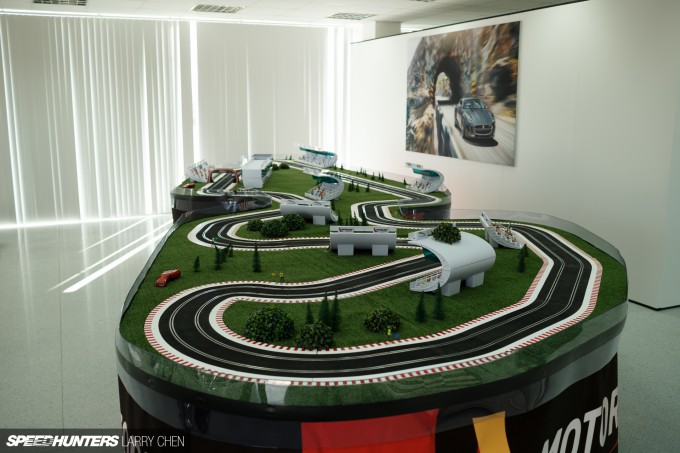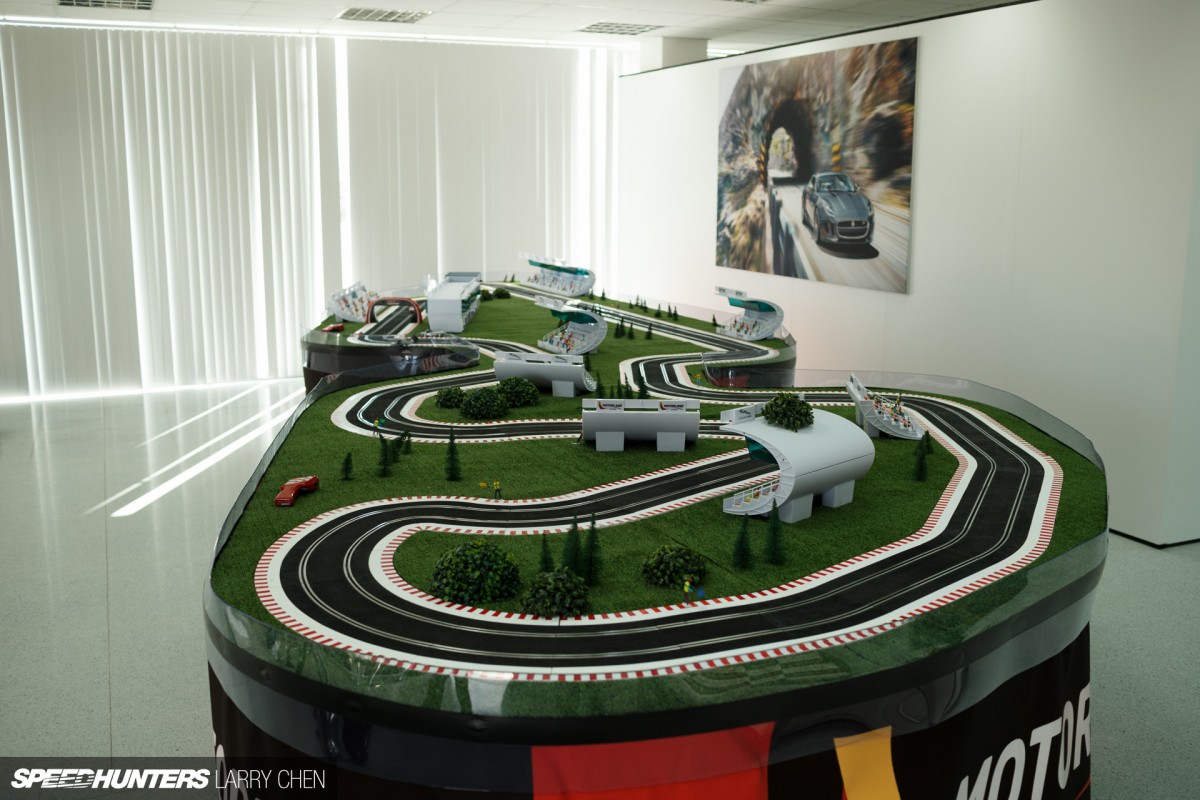 Jaguar seems to know us journalists very well. Many of us have the attention span of goldfish, so they provided a nice little slot car track to occupy our time while we waited to do our wet runs.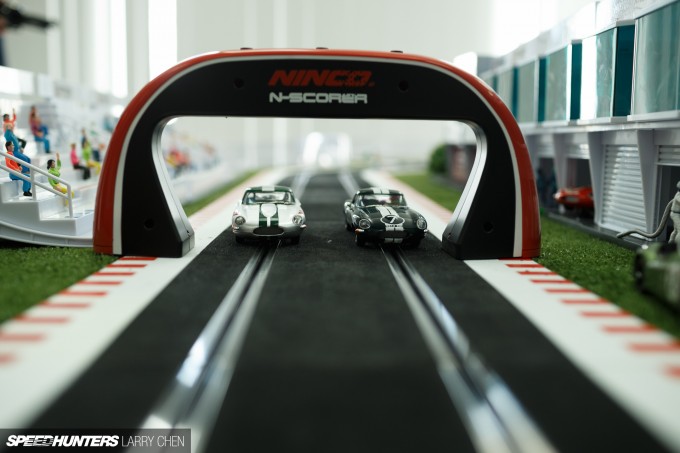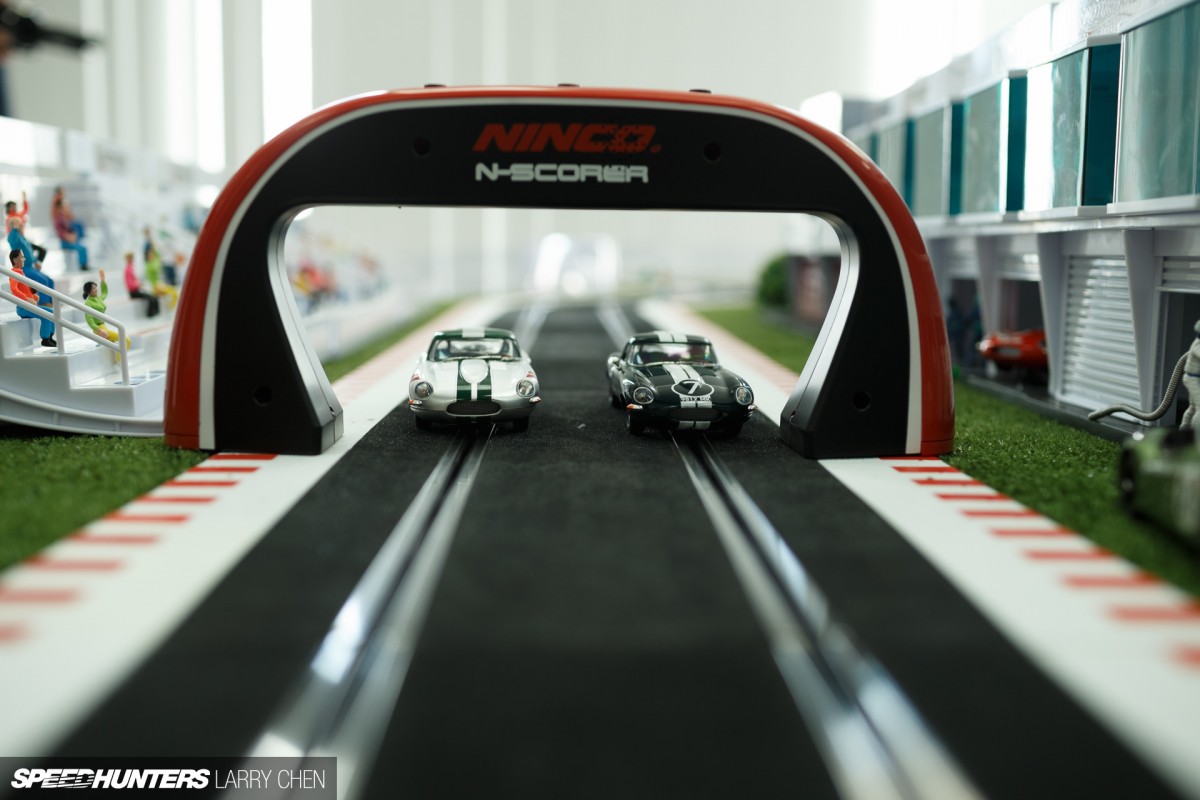 It must have been 20 years since I played around with slot cars and I had completely forgot about how fun they are.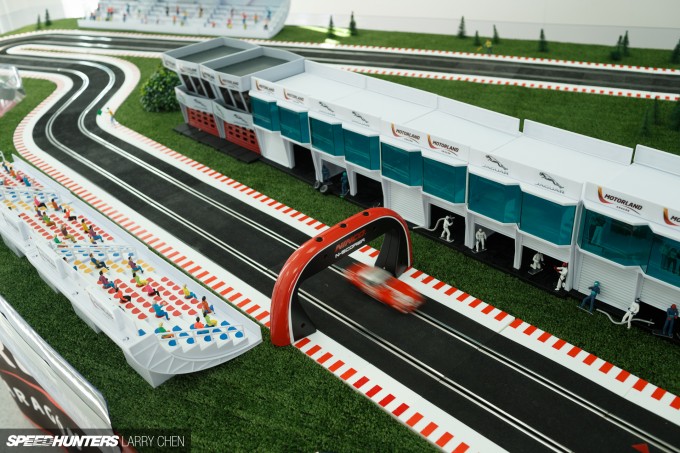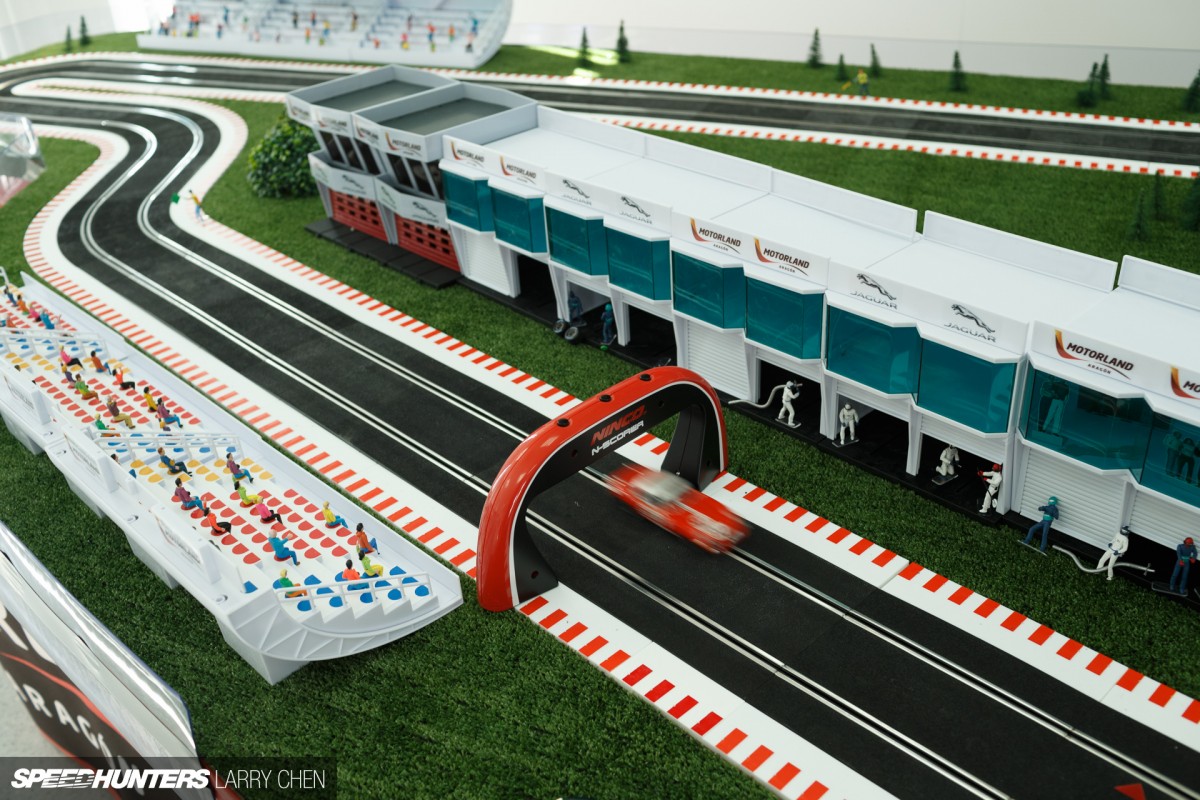 I remember I would setup a track in the living room and run the cars until their brushes were worn through to the point where there were no more contacts left to touch the metal bits on the track.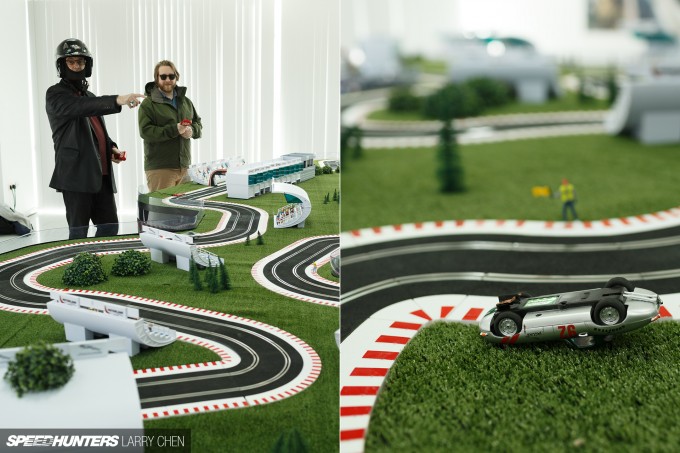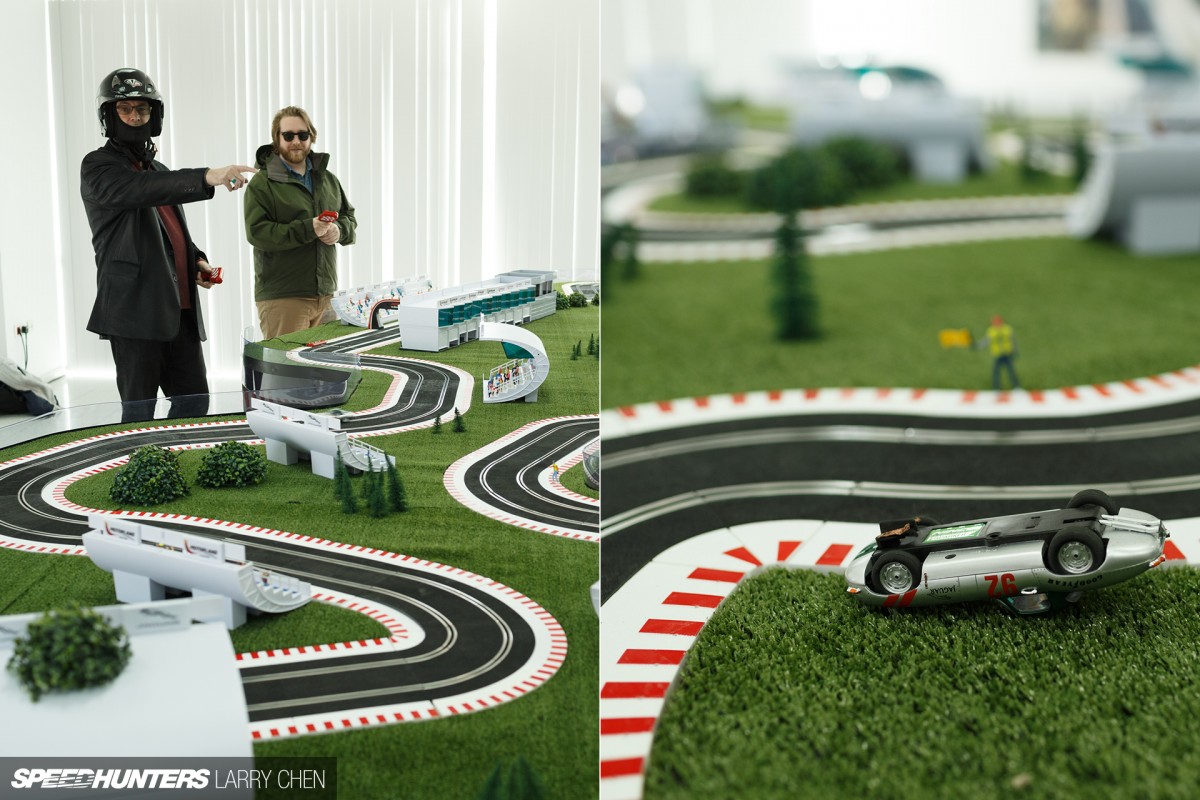 Soon I turned from a photographer to a corner worker as my colleagues kept flipping their slot cars.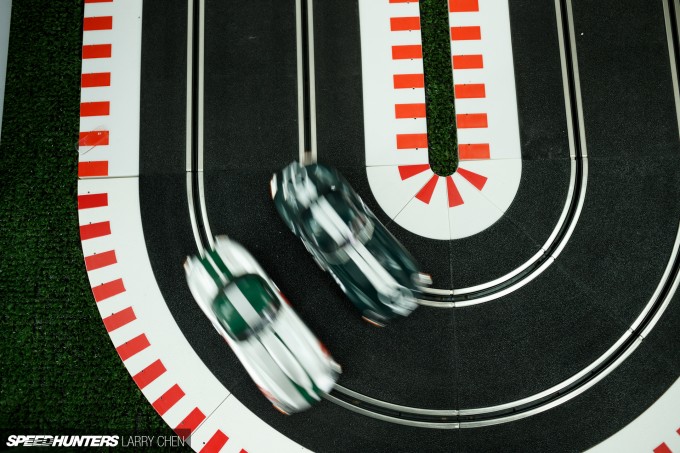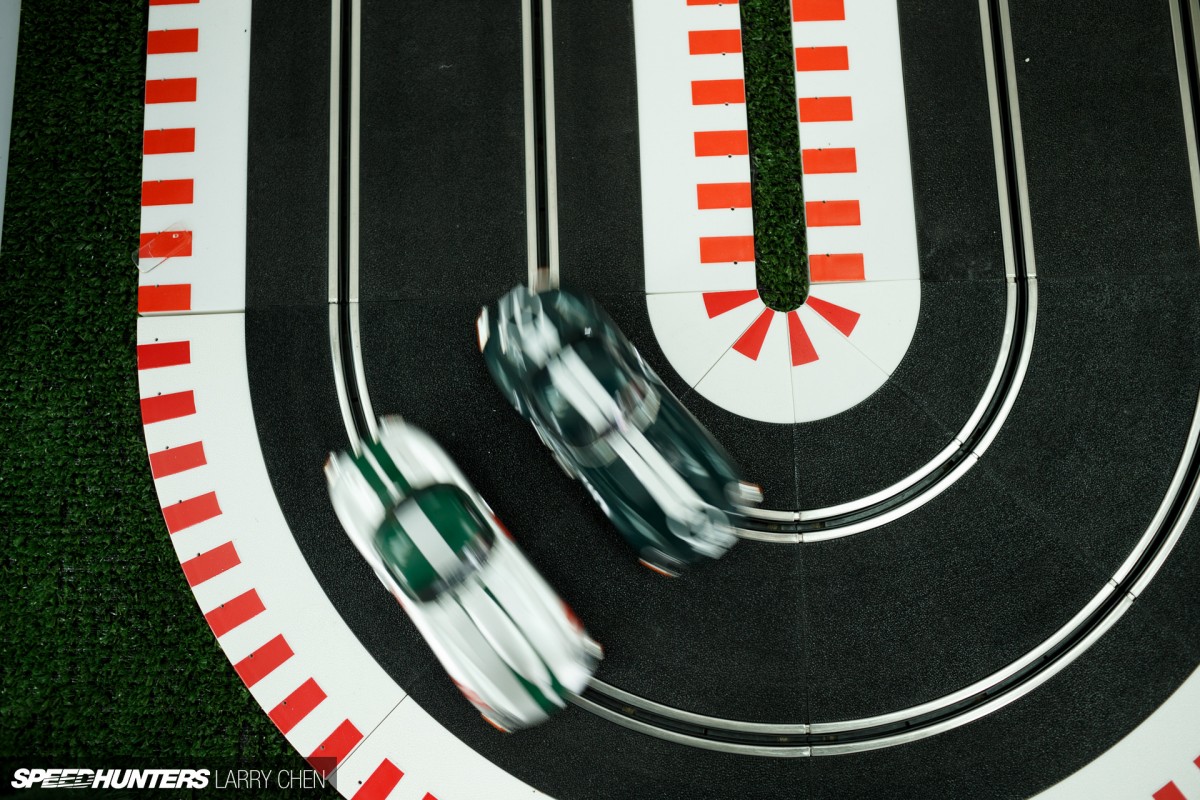 The best part for me was to see these guys jump on it thinking it was as simple as pulling the trigger back and watching them zoom through the track, only to realise that it takes real skill to keep the cars from flying off.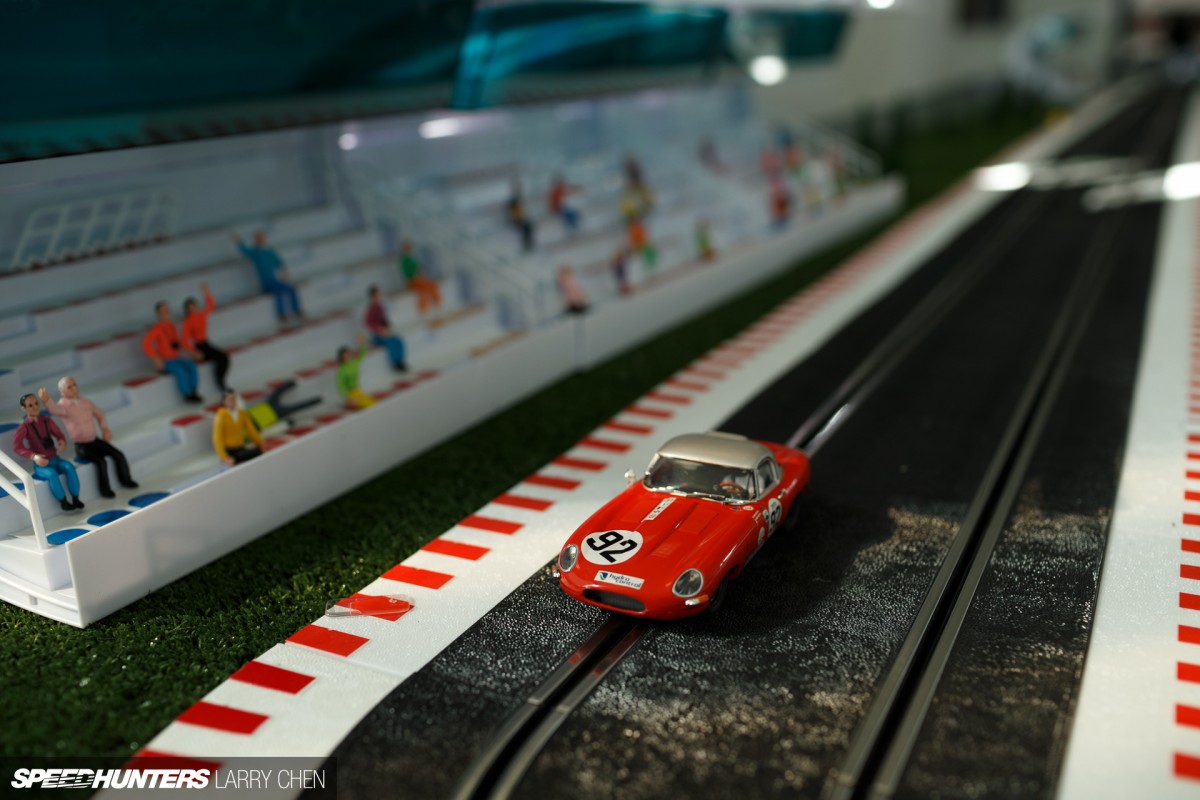 Who said toys were for kids! I swear we were entertained for hours on end.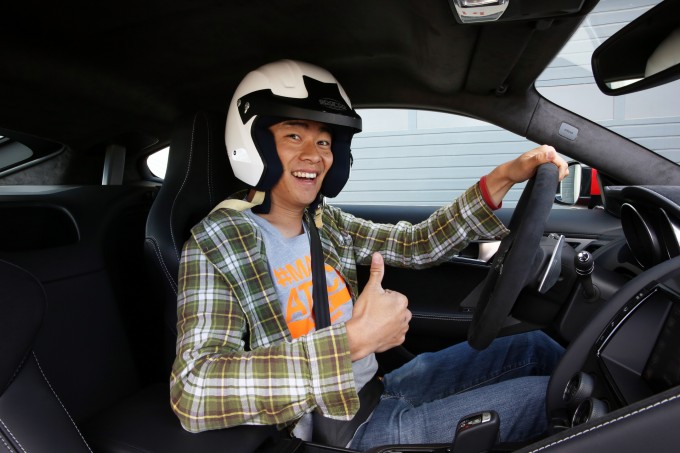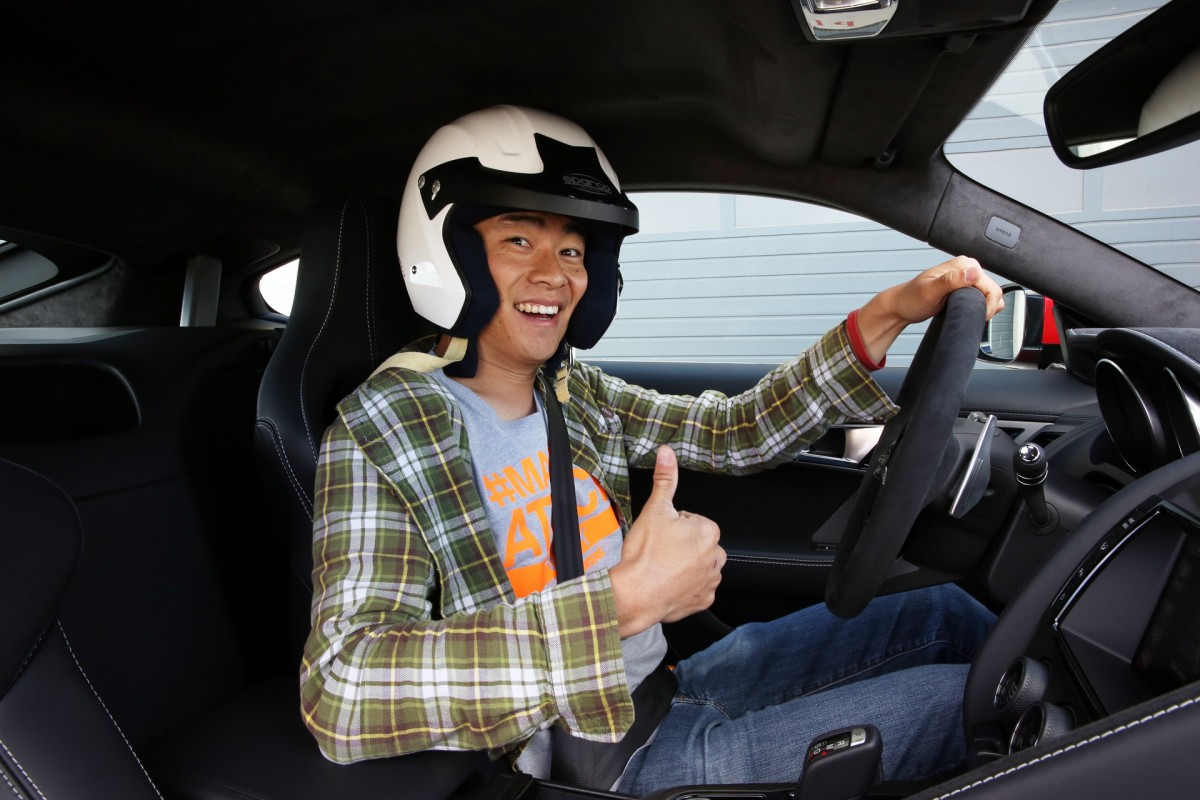 My day at the track ended all to quickly, but it was definitely an experience I'll remember for a long time. I just wish we got more seat time. Sigh… #SpeedhuntersProblems.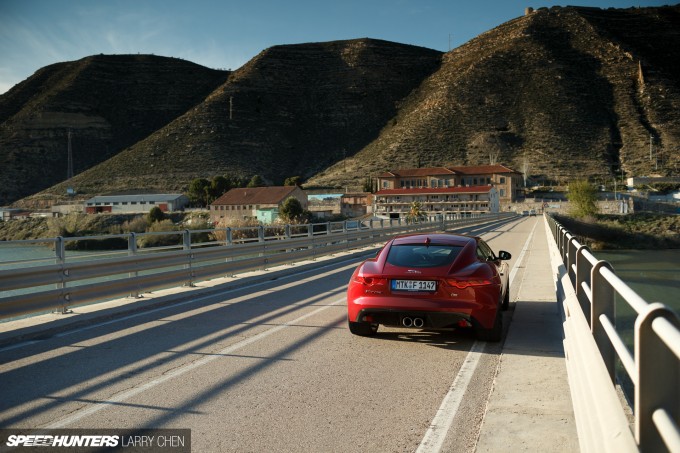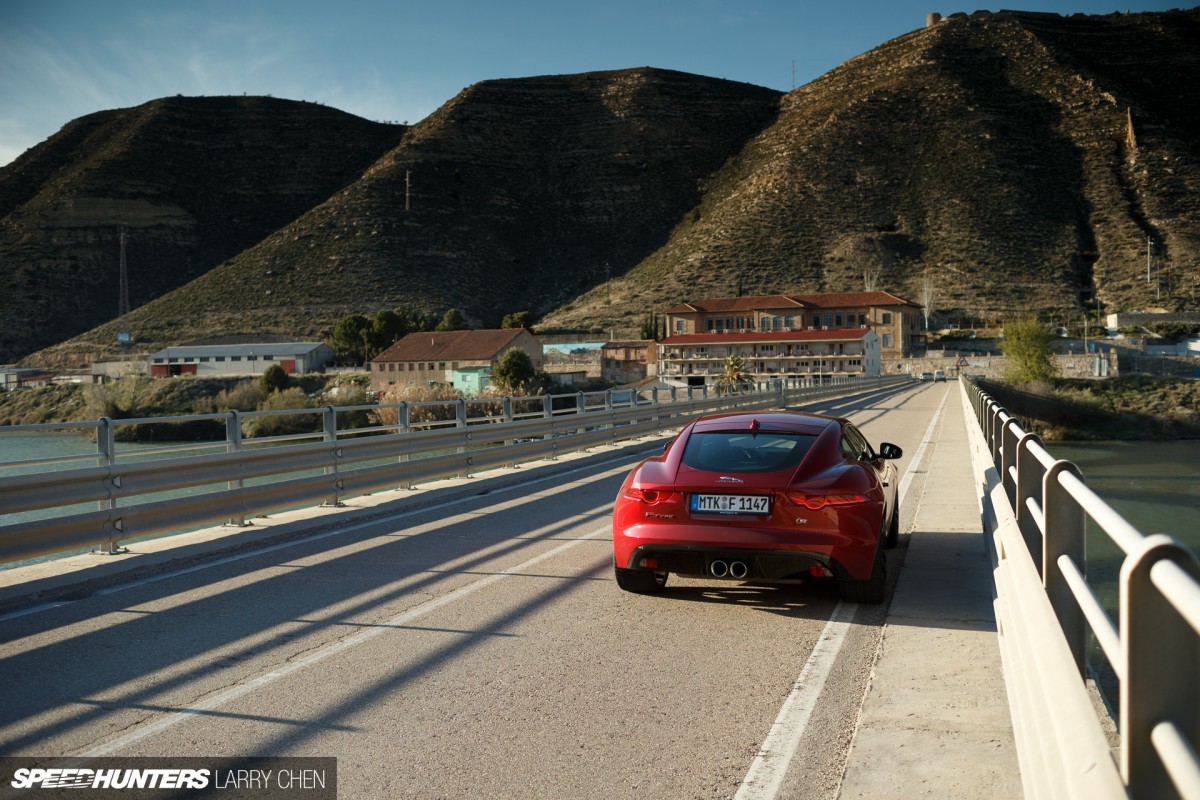 I can see why many manufacturers decide to do press drives in Spain. How could you not fall in love with these wonderful roads.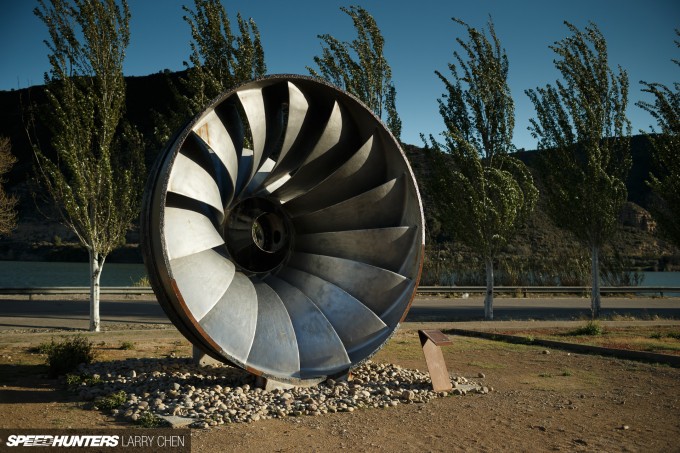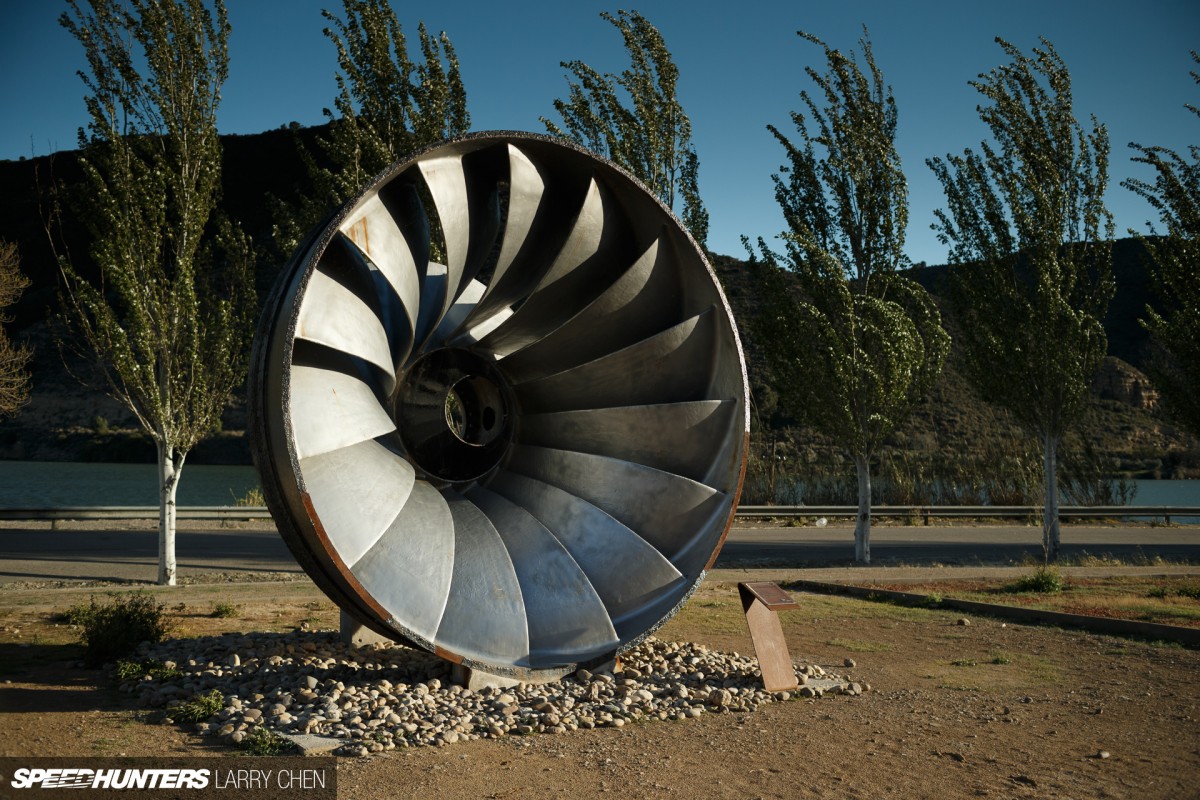 There were always plenty of fun roadside attractions too, like this hydro electric fan that I actually thought was an airplane jet engine fan until my Instagram followers pointed out exactly what it was.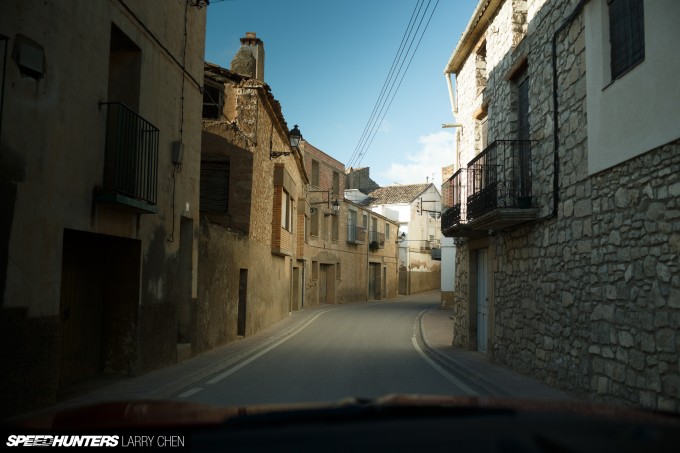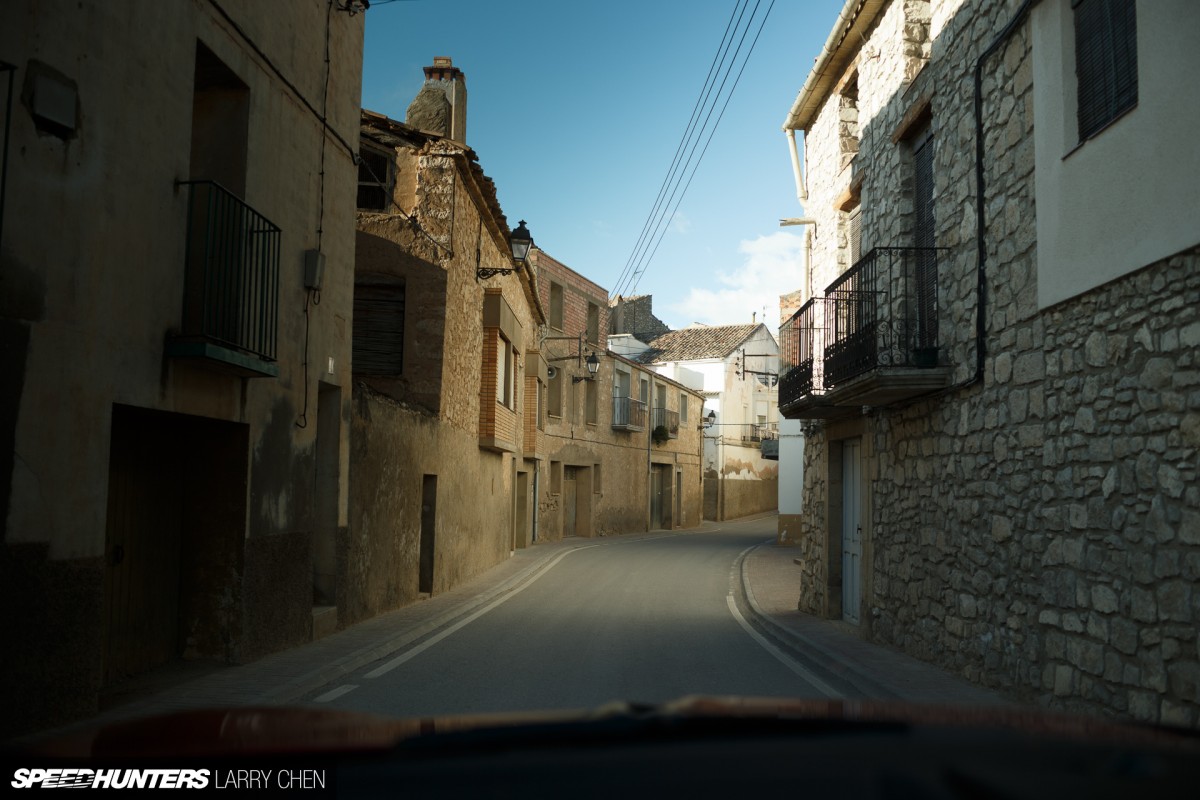 The small towns that we drove through were the best part. The roads were always super narrow and sometimes on two cars could barely squeeze by each other. But the light was always nice as it bounced around in between the buildings.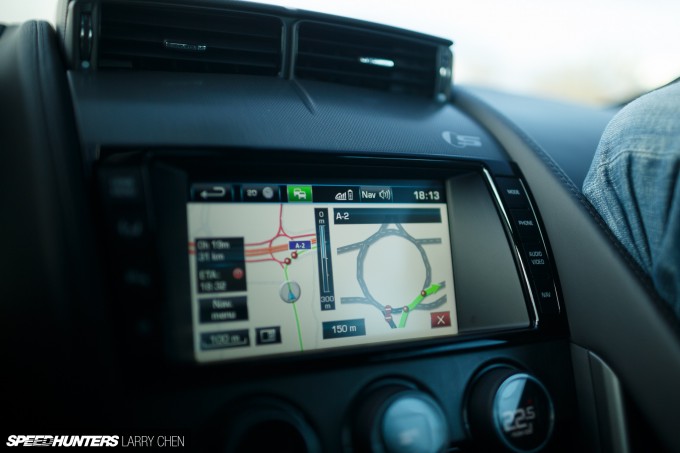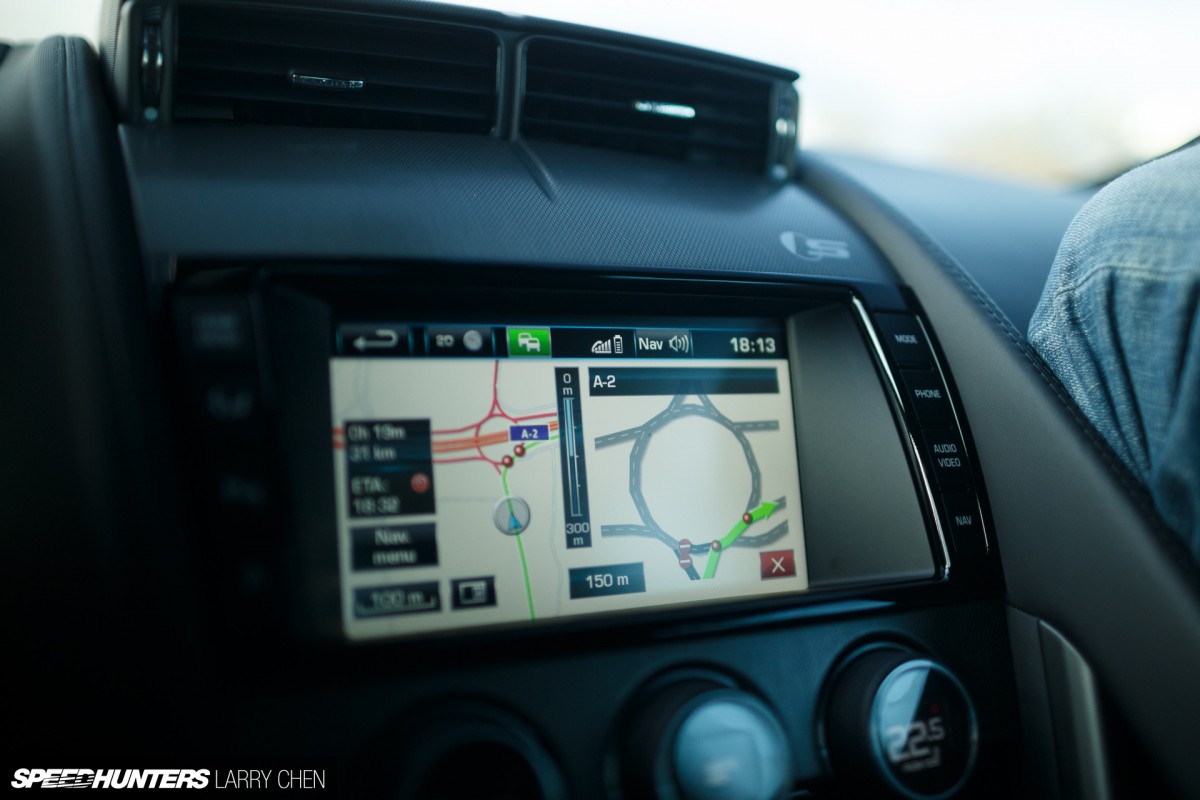 Just like the rest of Europe there were plenty of roundabouts, which are very foreign to me. I think there's probably only one major one in all of Los Angeles County.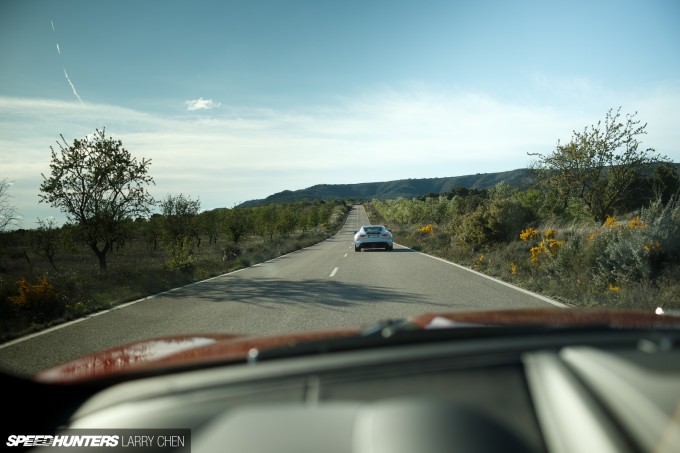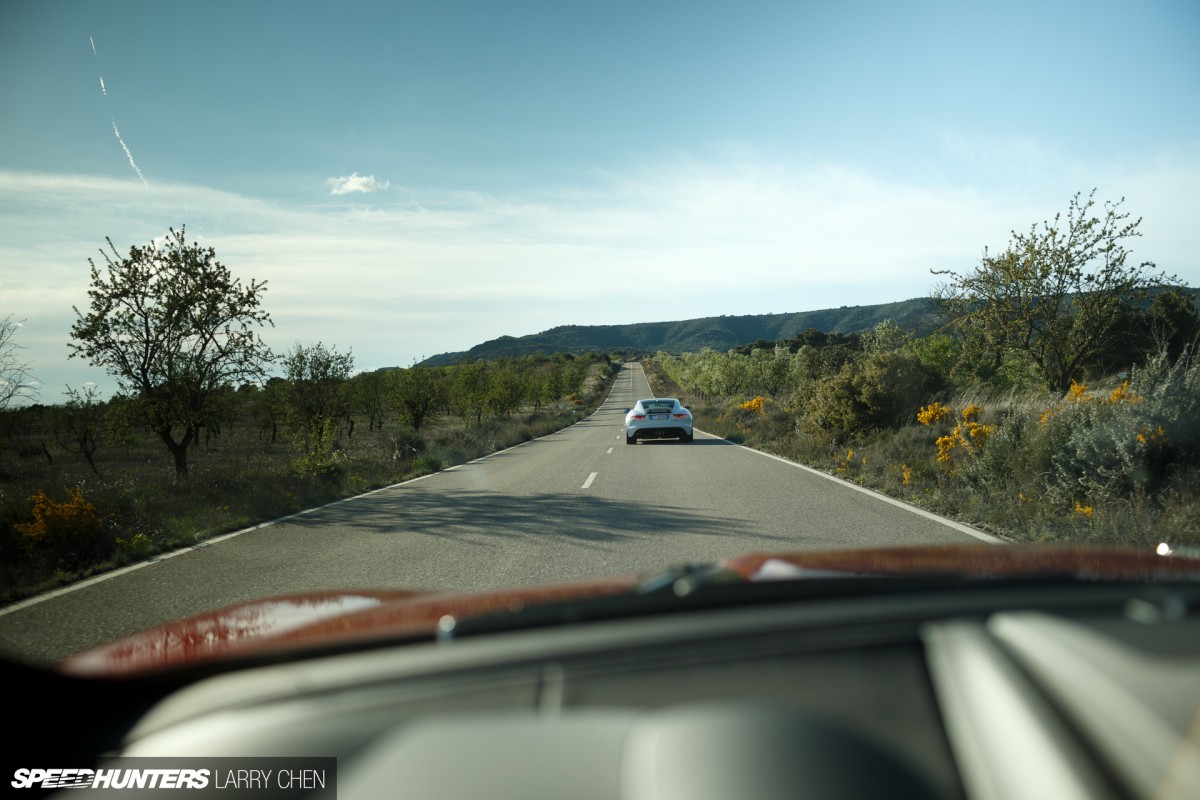 As usual, we are always the last ones to join the rest of the group due to all of the unscheduled photo opportunities.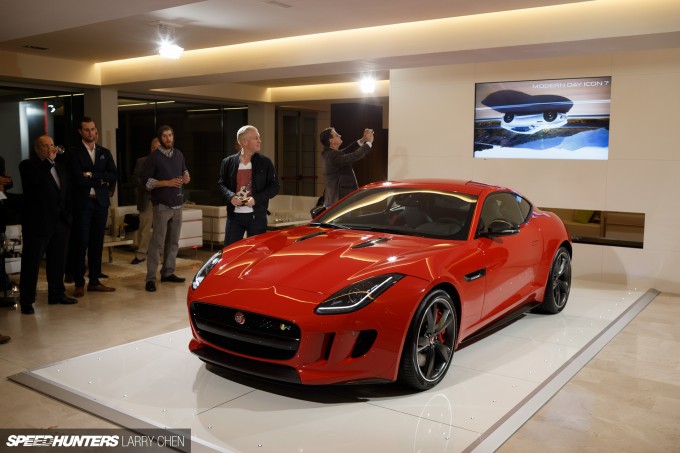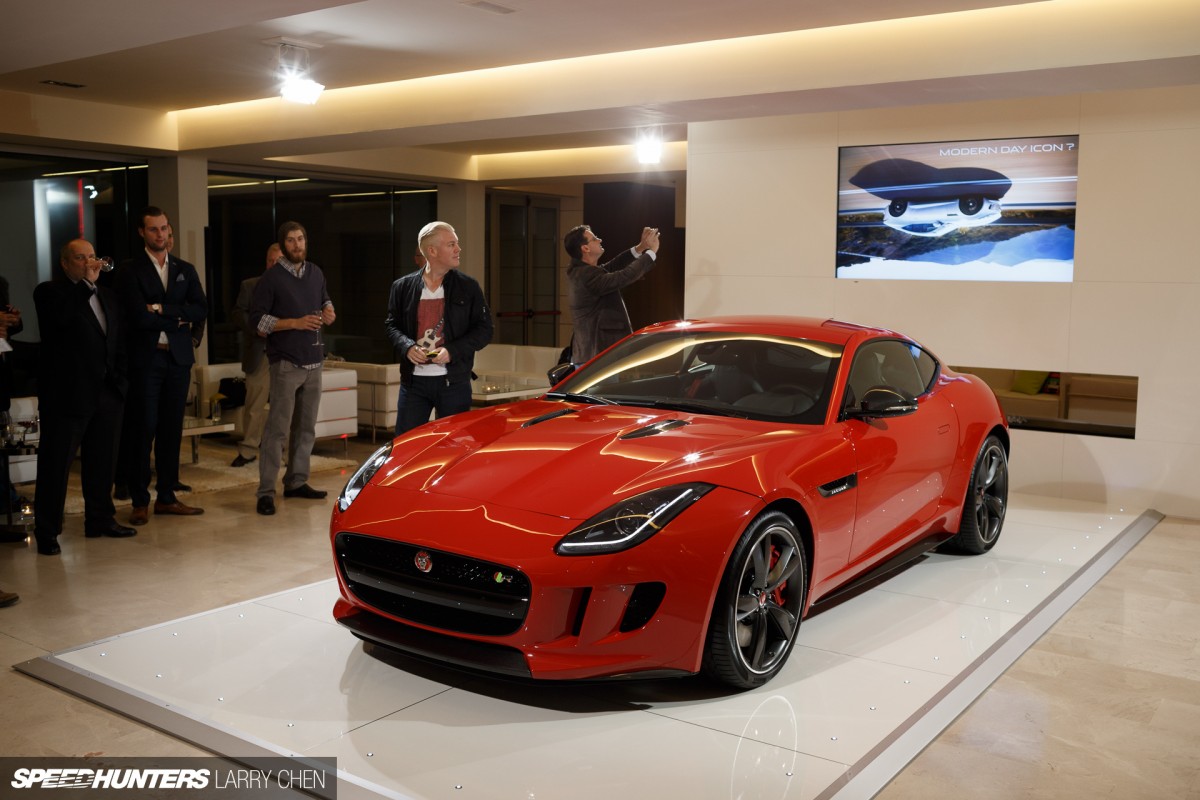 We arrived back at the hotel where the Jaguar engineers and marketing team were going over a few more things about the car. They showed this photo that I thought was very interesting – the F-TYPE casting a shadow that looked like the E-Type. Coincidence? Maybe not…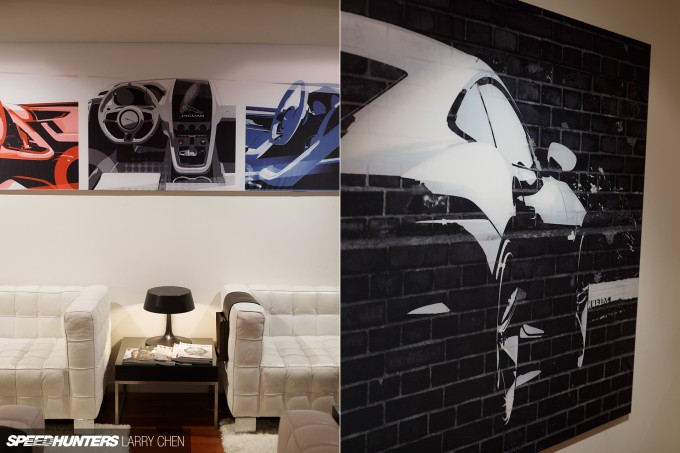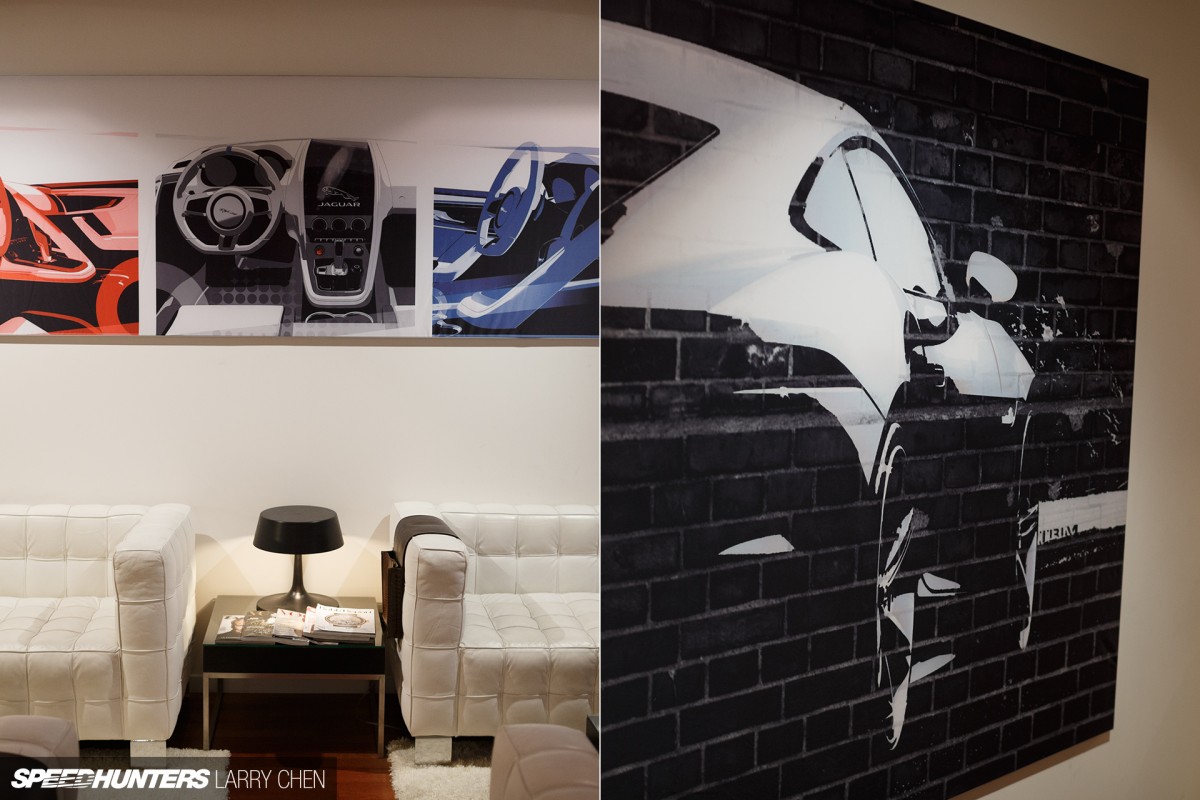 The hotel we were staying in was super-posh and Jaguar went out of their way to decorate the place with some unique artwork.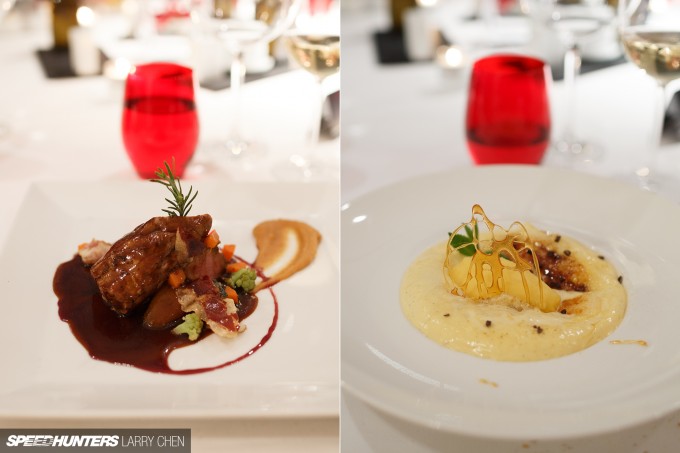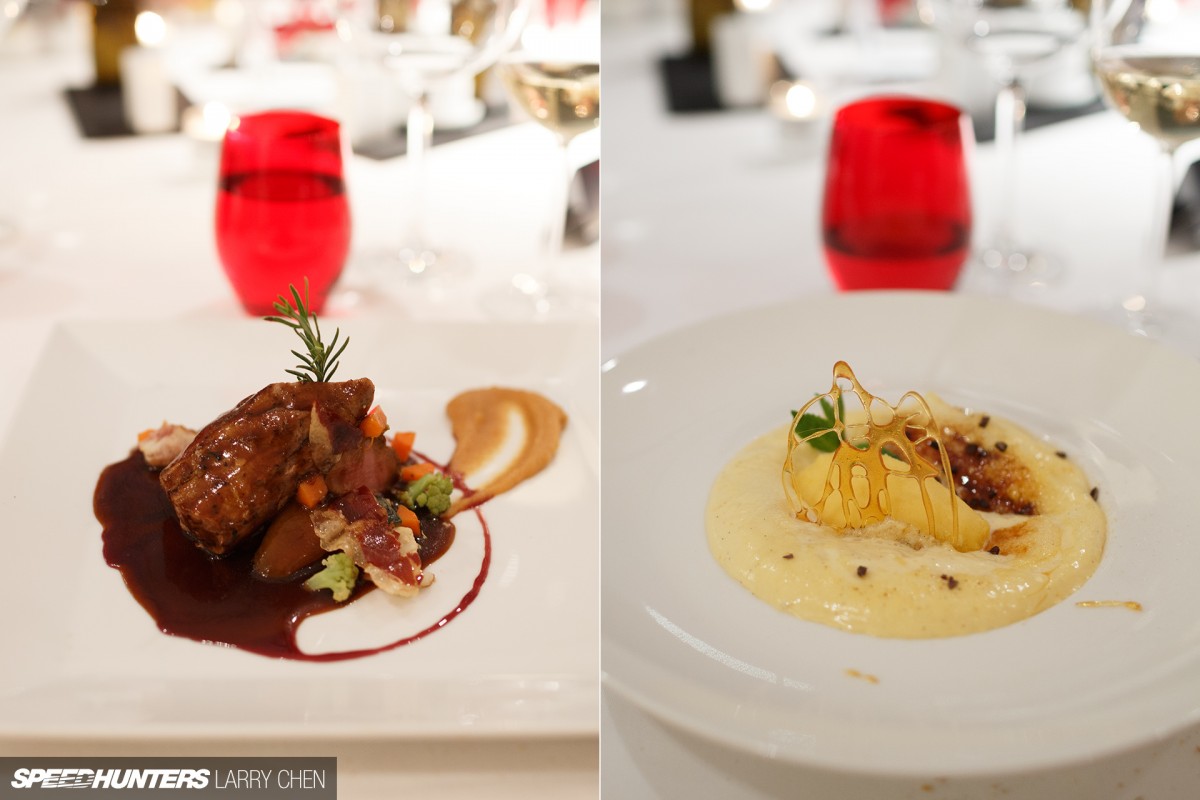 Every single meal that I have had to this point had some sort of cured ham in it. This dinner was no exception, and I was expecting some cured ham candy for dessert.
Rated R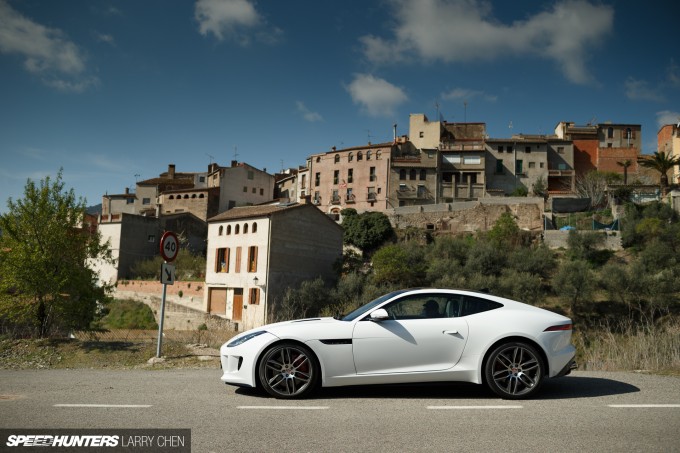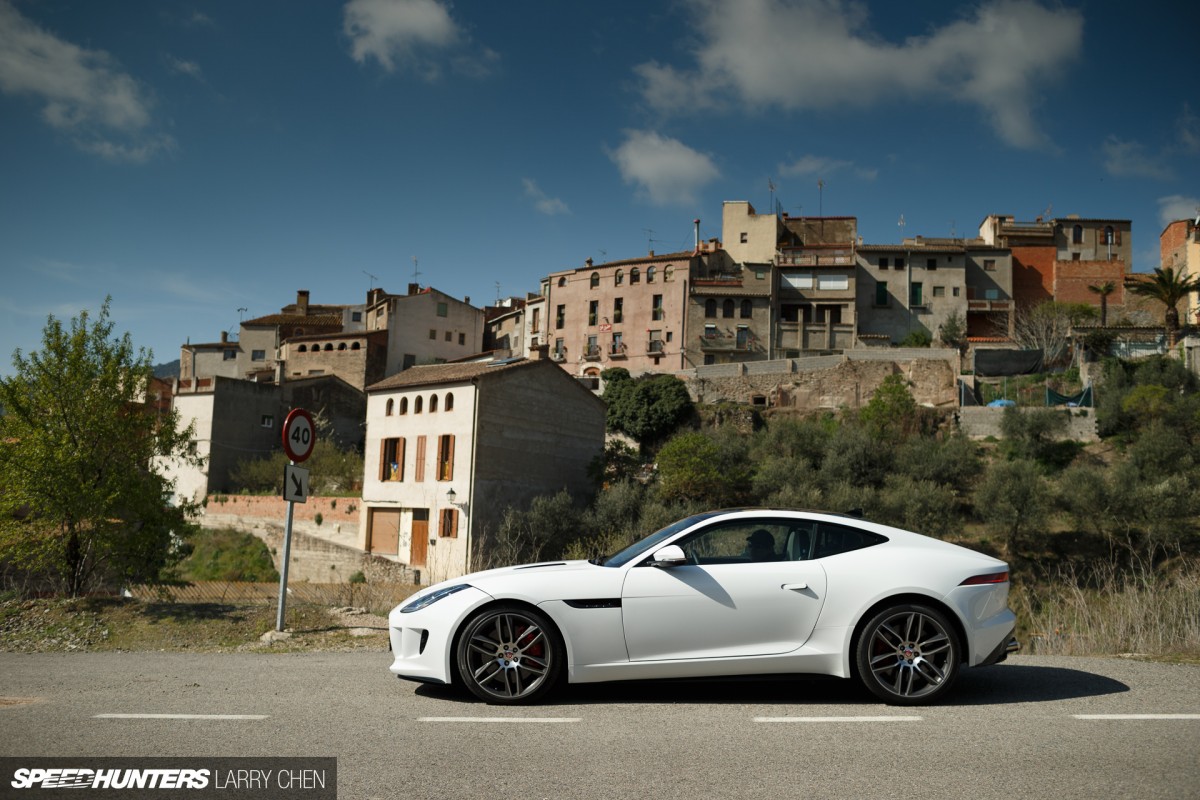 The next morning we were treated to some more amazing scenery. This time we would get to stretch the legs of the F-TYPE R Coupé on some windy mountain roads.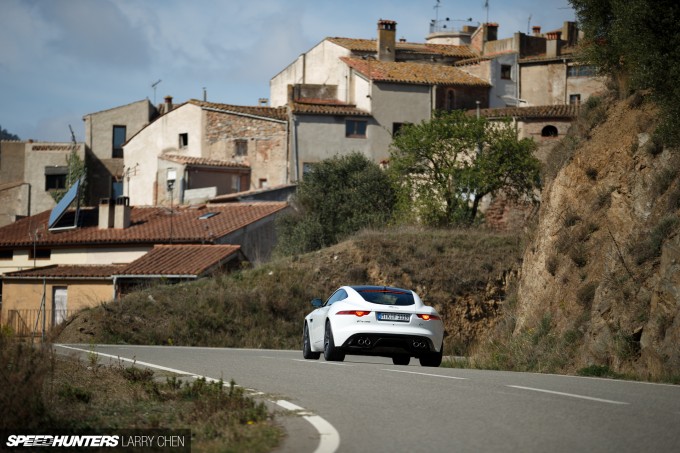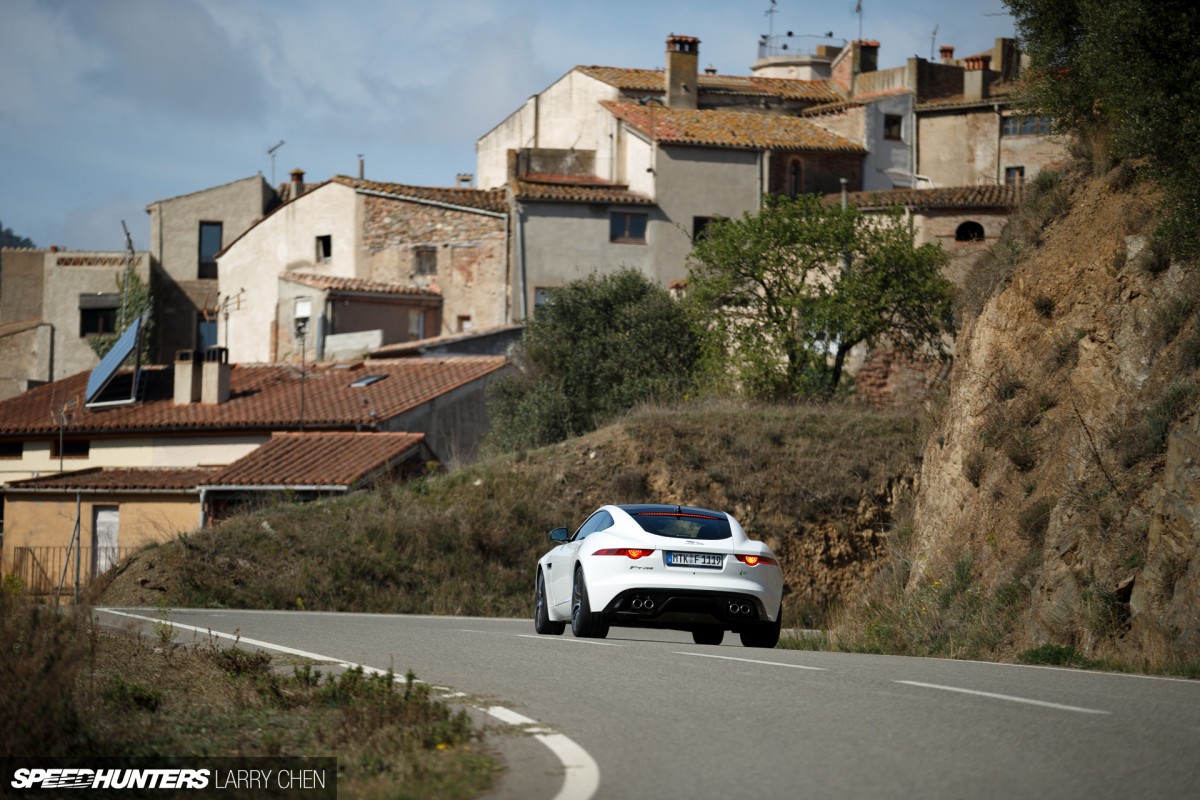 With just a press of a button, the exhaust opens up and it echos off the canyon road. It's hard not to love this car.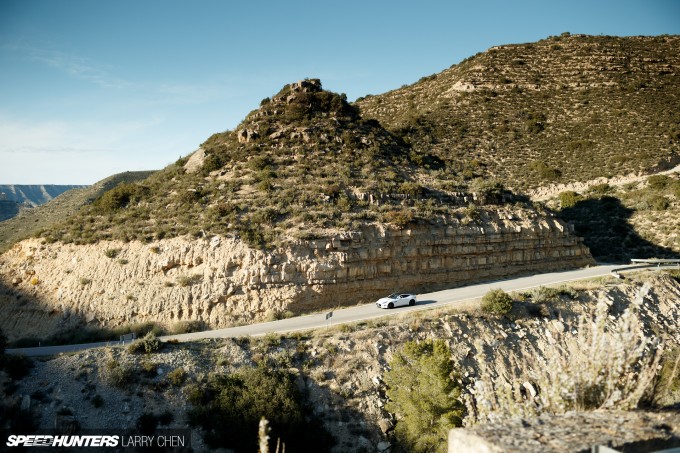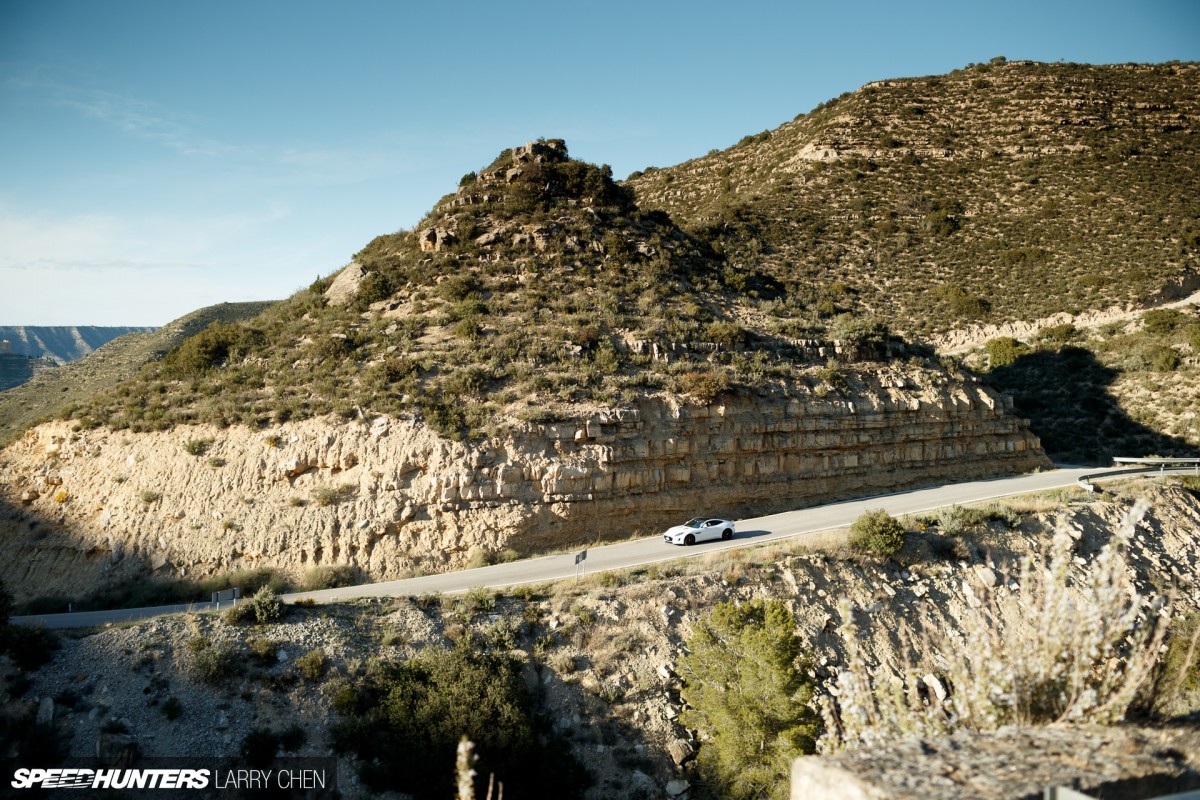 These roads are actually used by some of WRC teams for testing when they come to Spain.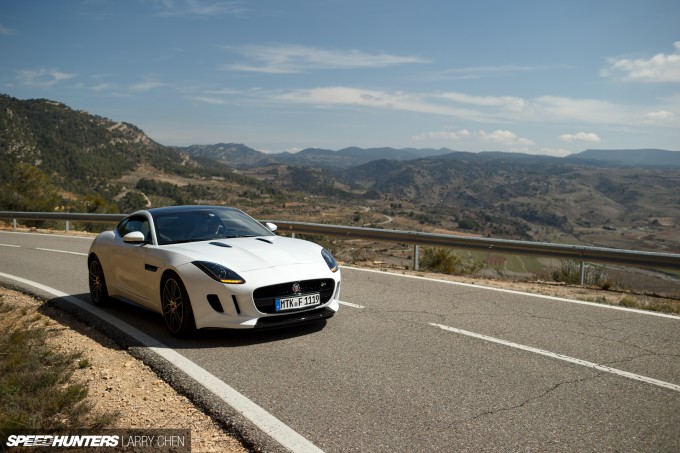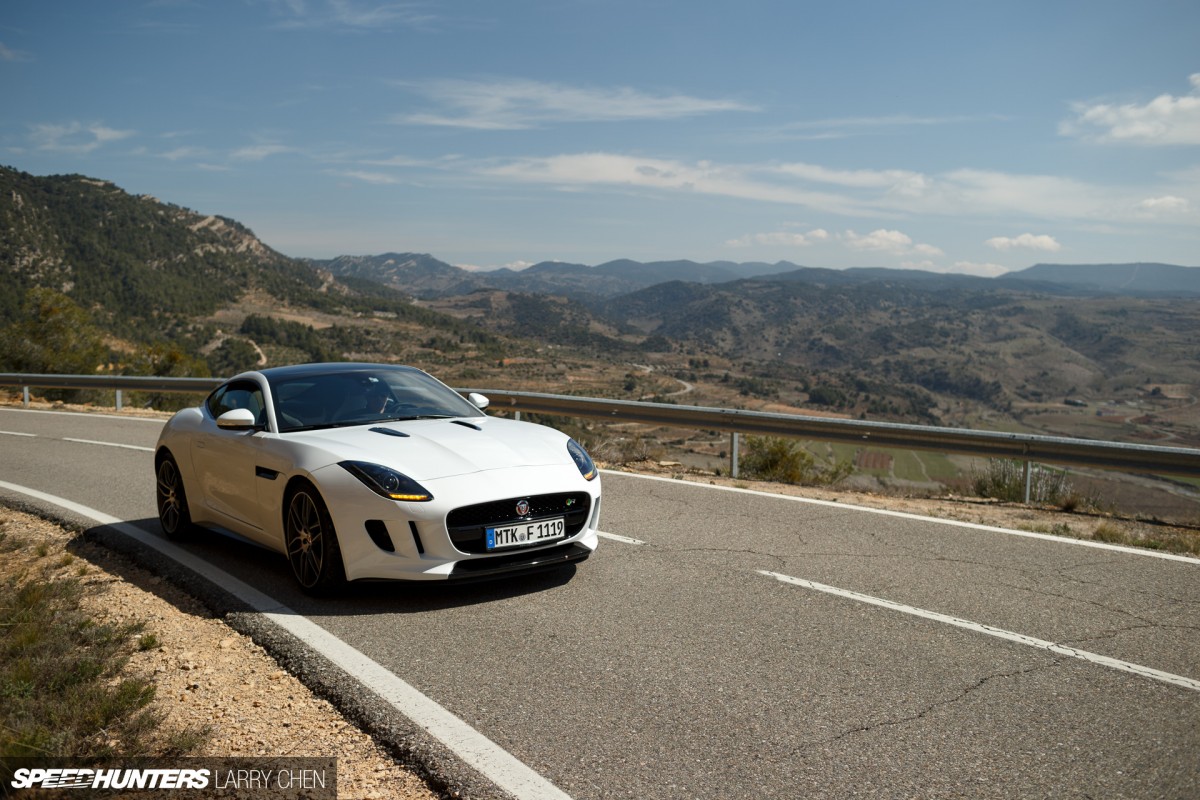 How could such a thing exist? I thought this only existed in video games. Just look at that view.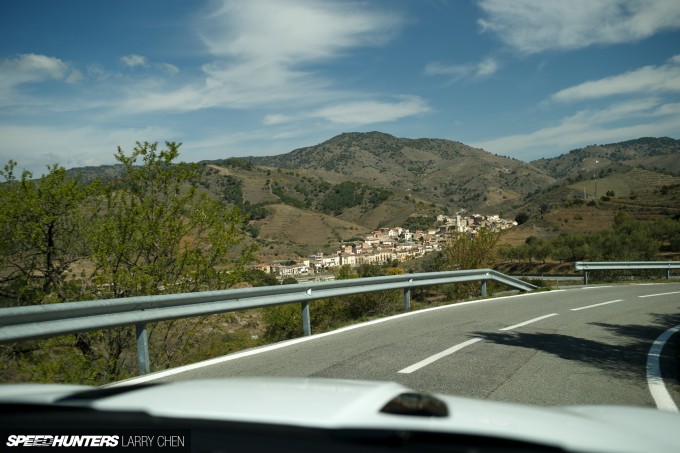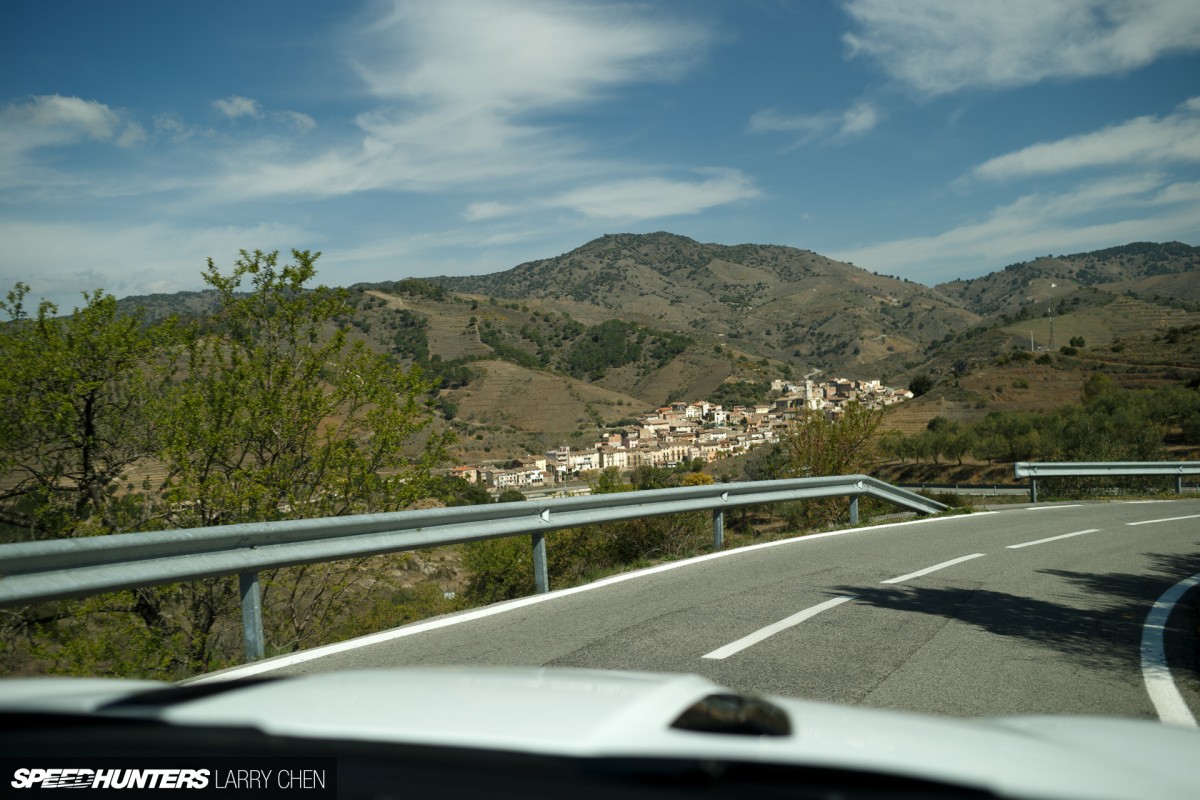 I know that many of our readers are outside of North America, but there was a campaign that Jaguar ran during the Super Bowl which basically states that all villains drive Jaguars.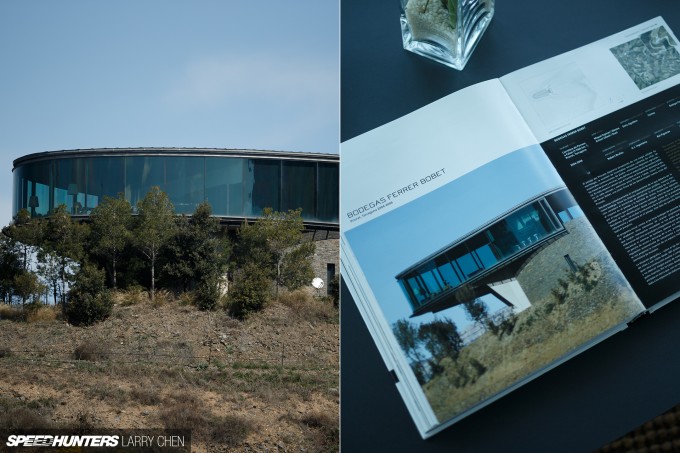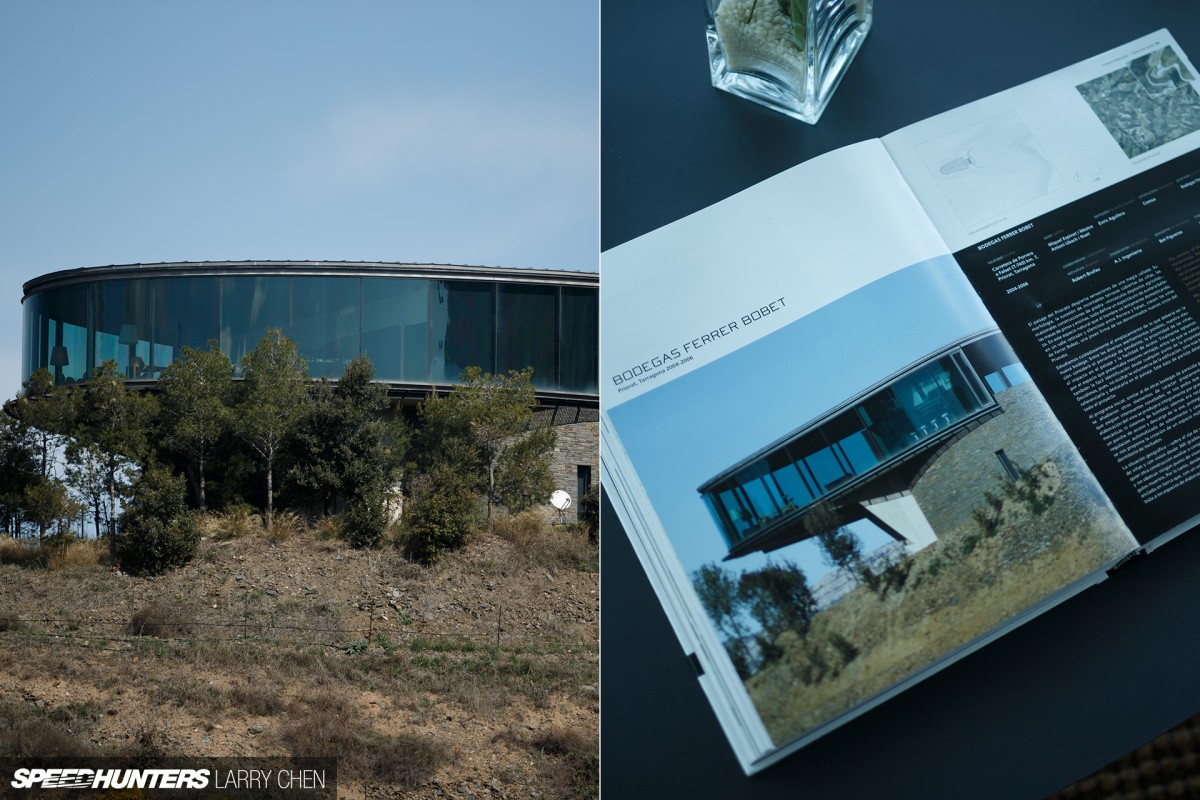 Well, for lunch we met up at this very James Bond-esque villain hideout. Which also happens to be a winery.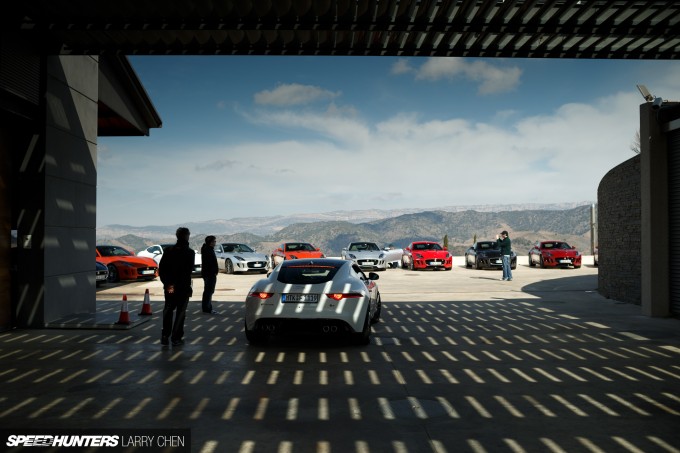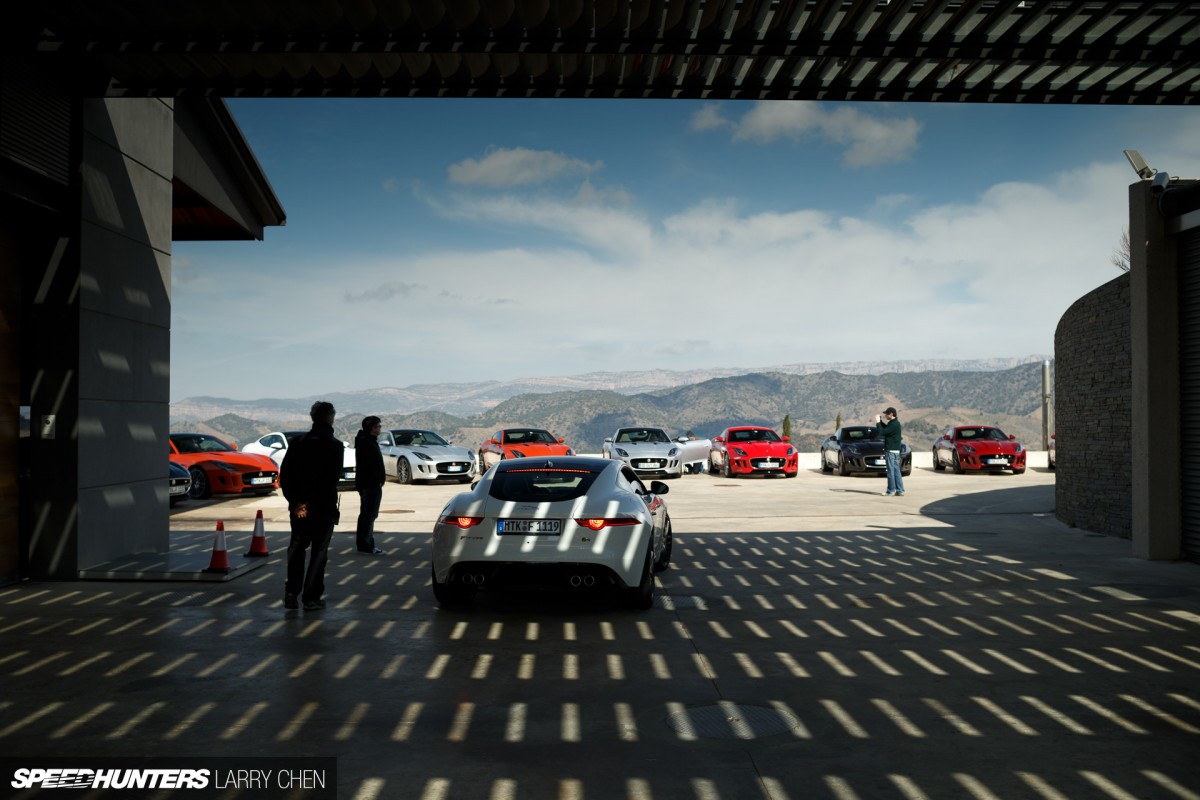 As always, we were beaten by the rest of the journalists. They really must have been craving some cured ham.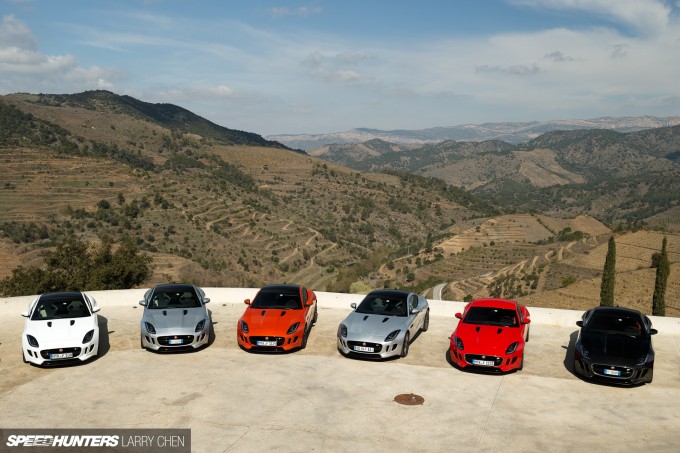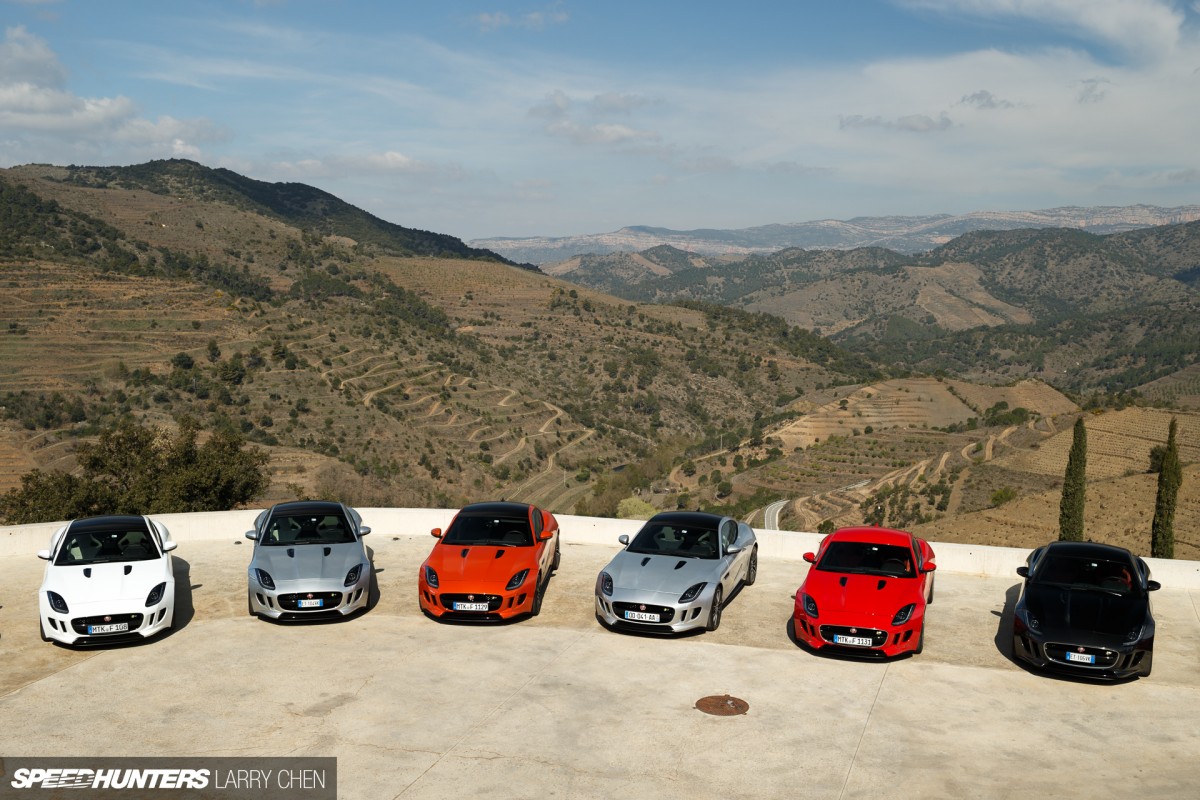 The entire facility rested on the top of a mountain, which provided for some breathtaking views.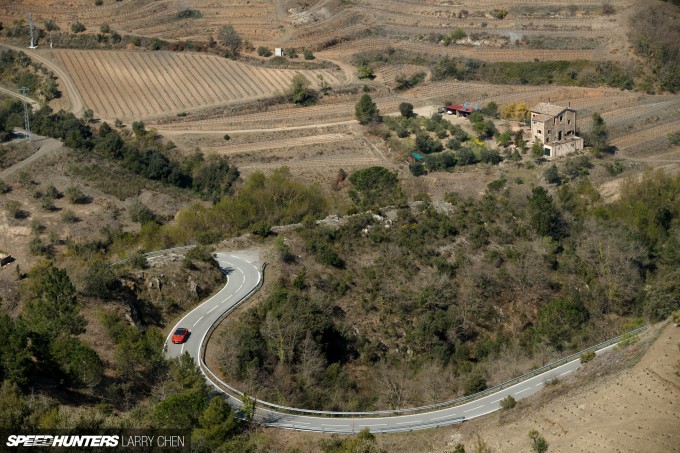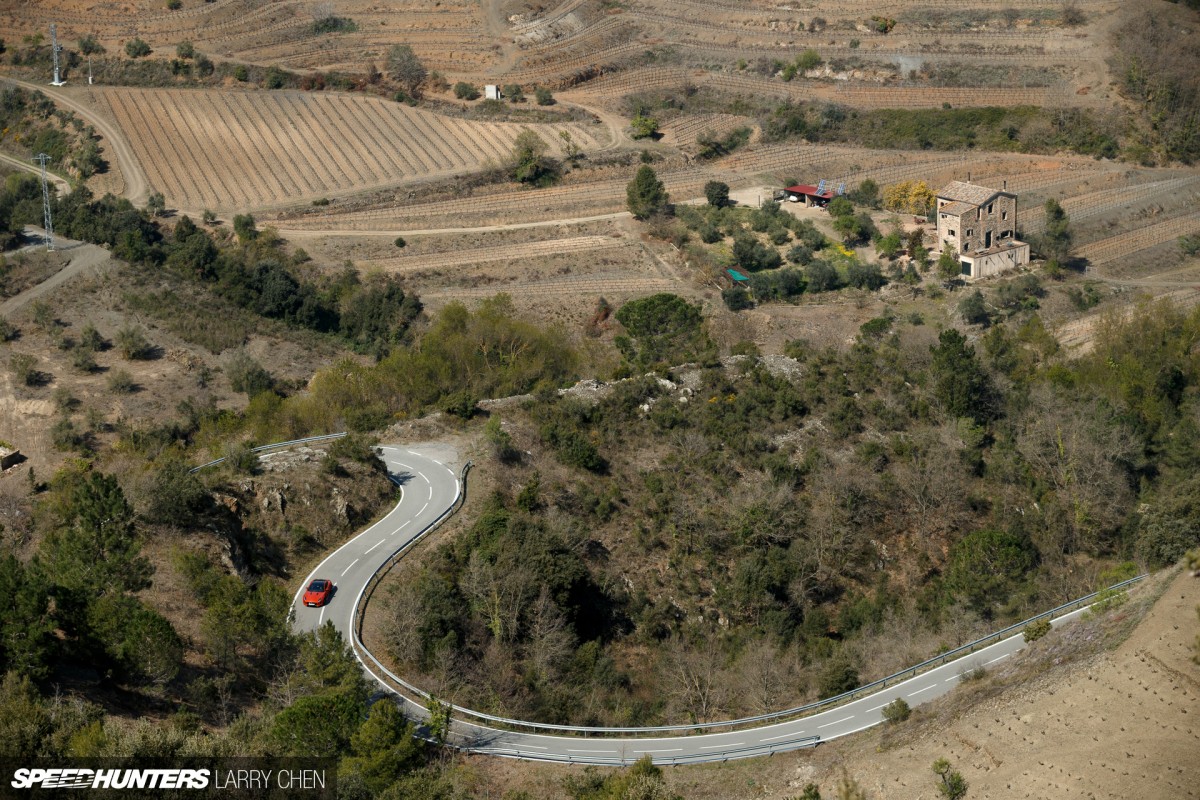 I peered over the edge and you could clearly see the road that we took to get up to Dr. Evil's lair.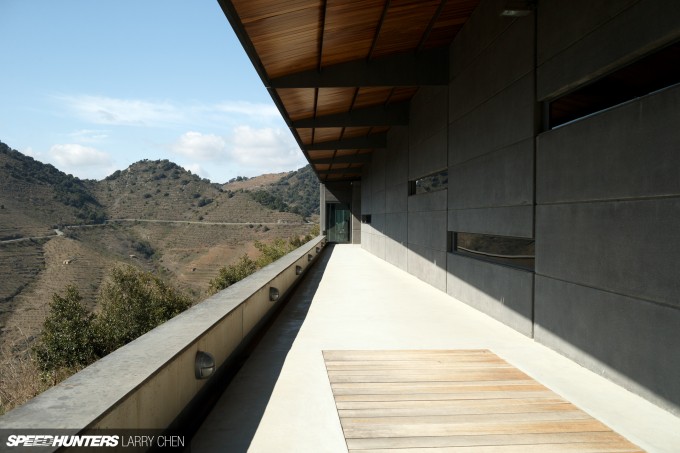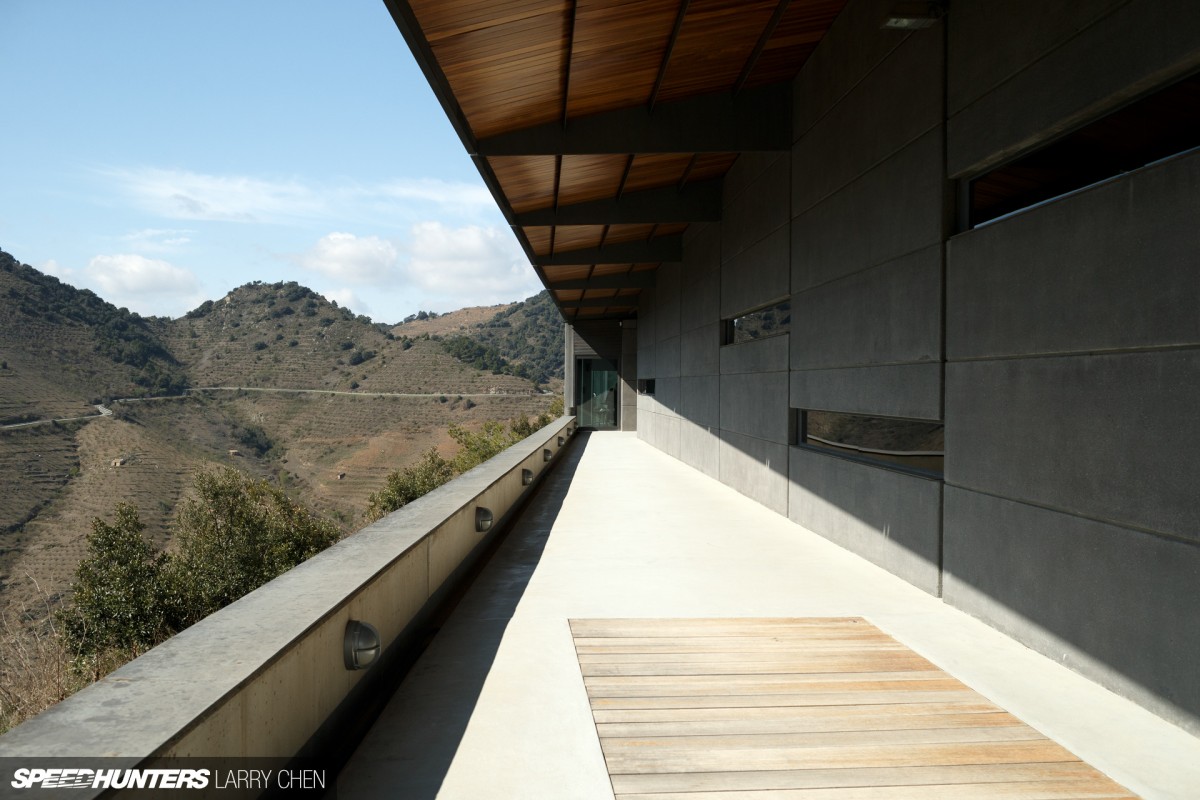 The building was absolutely beautiful, but where were the sharks with the lasers attached to their heads?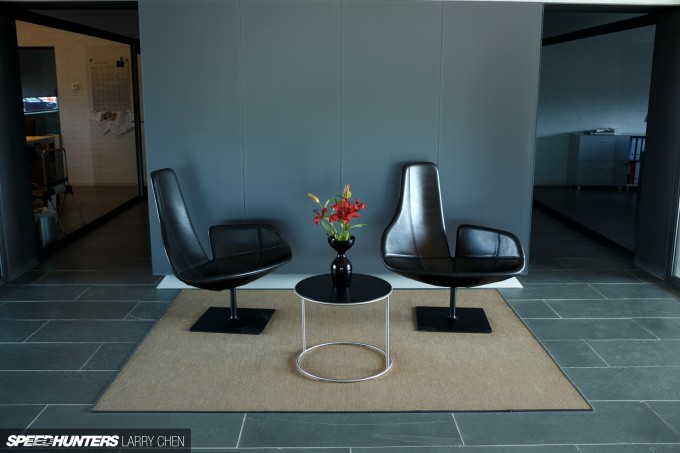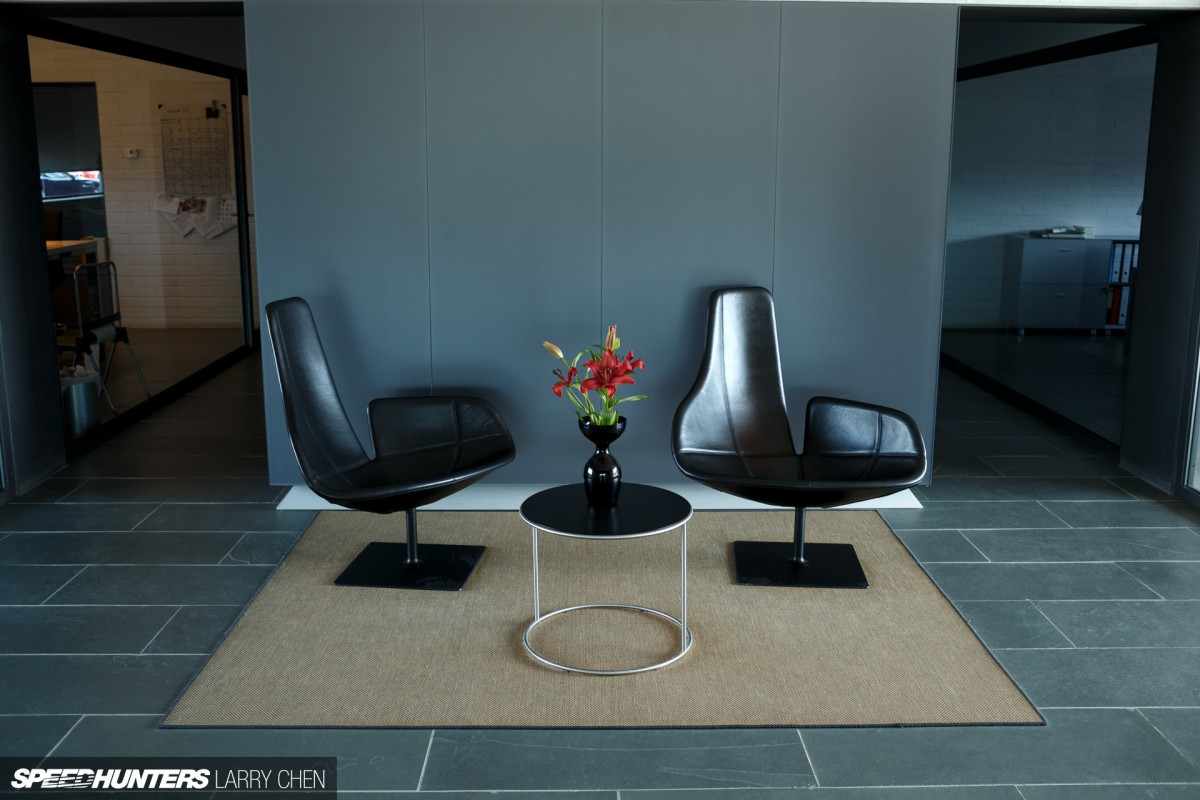 In our recent post about our adventures with Magnus Walker, I noted his impeccable taste in modern furniture. It's kind of a hobby that I recently picked up and this place had chairs and pieces that I've never even seen before.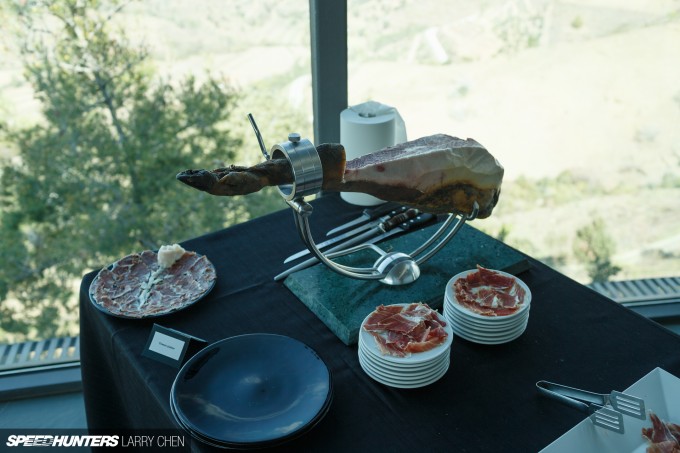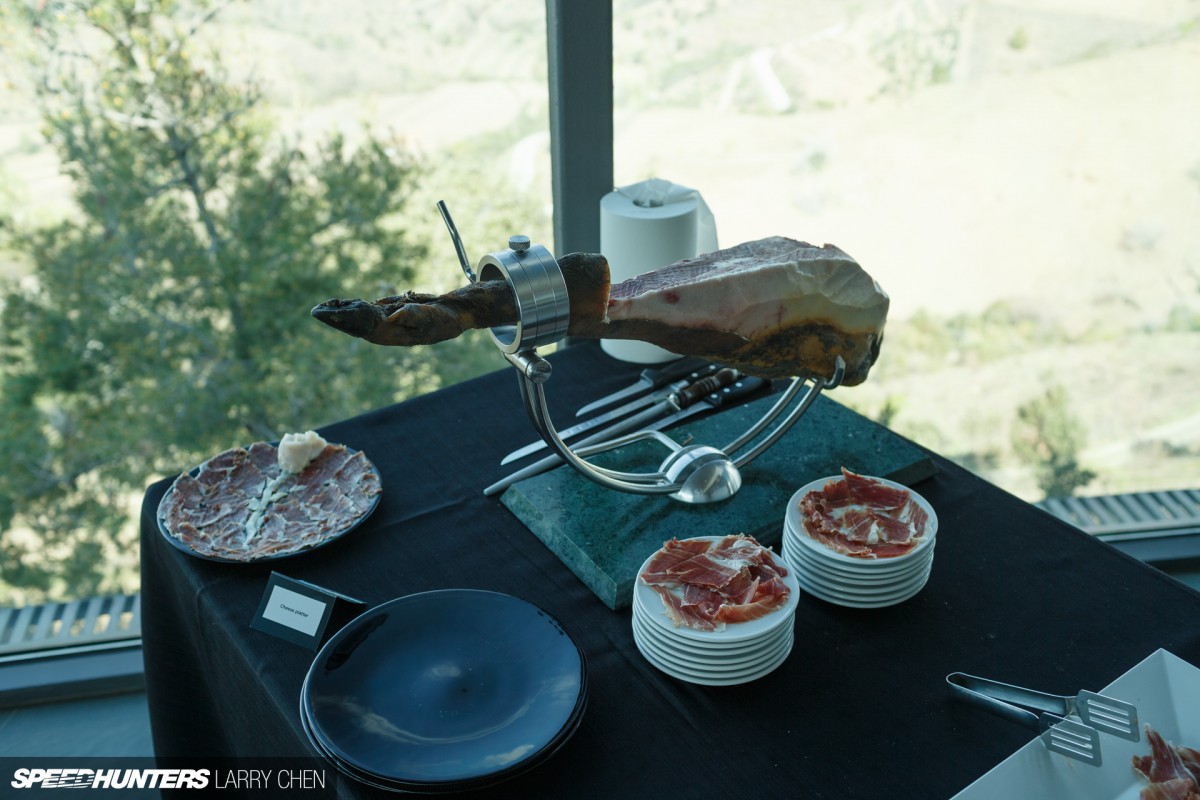 Cured ham anyone? I had meat sweats for days after this trip. I love me some cured jamón.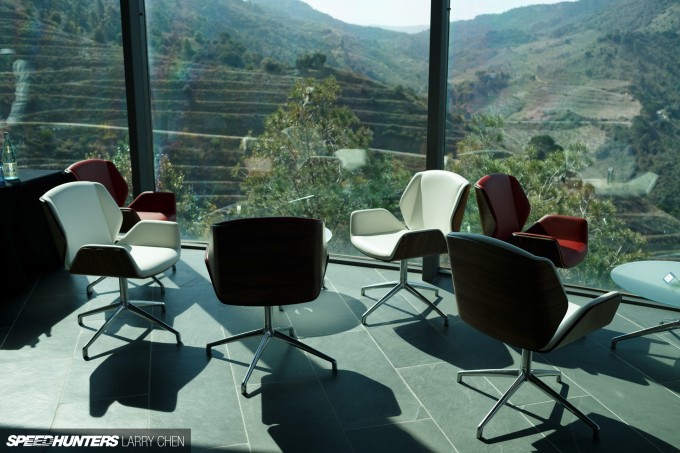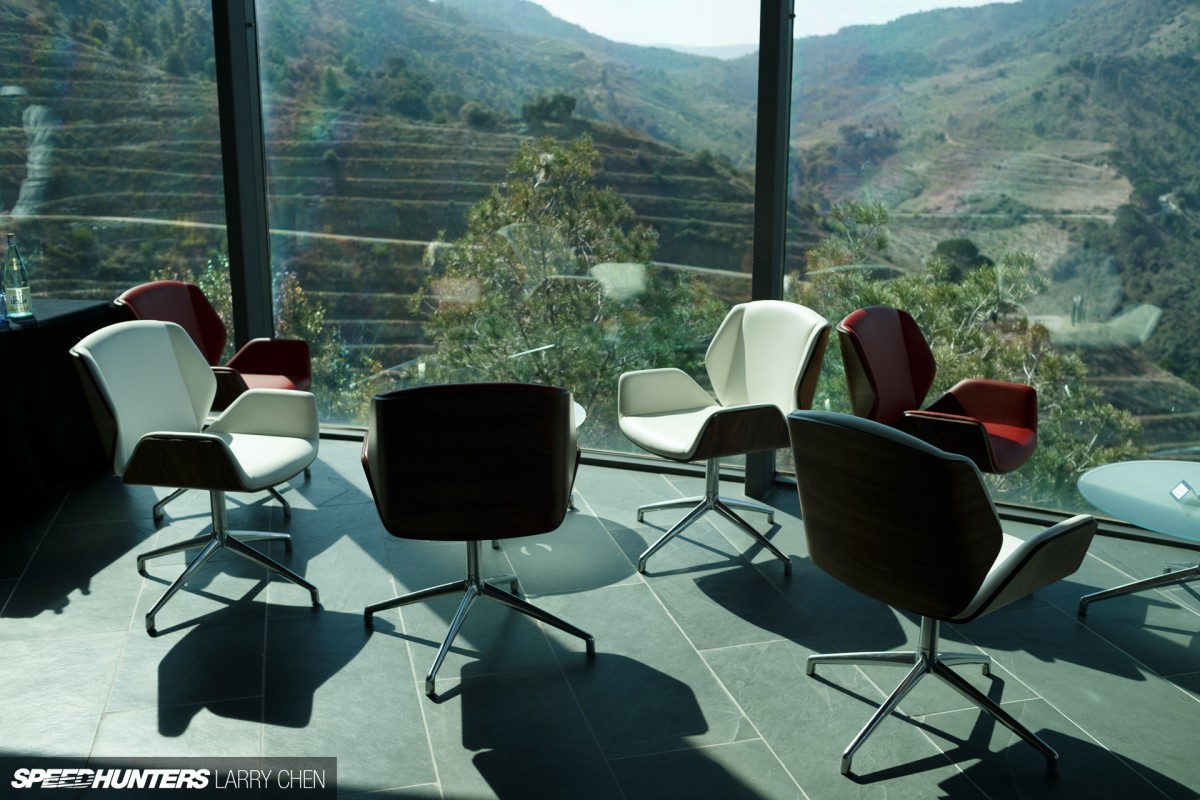 I was already thoroughly impressed, but I didn't even have a chance to check out the dungeon.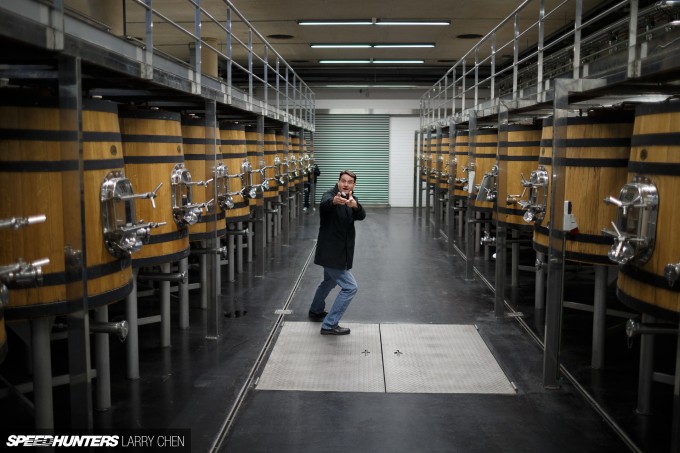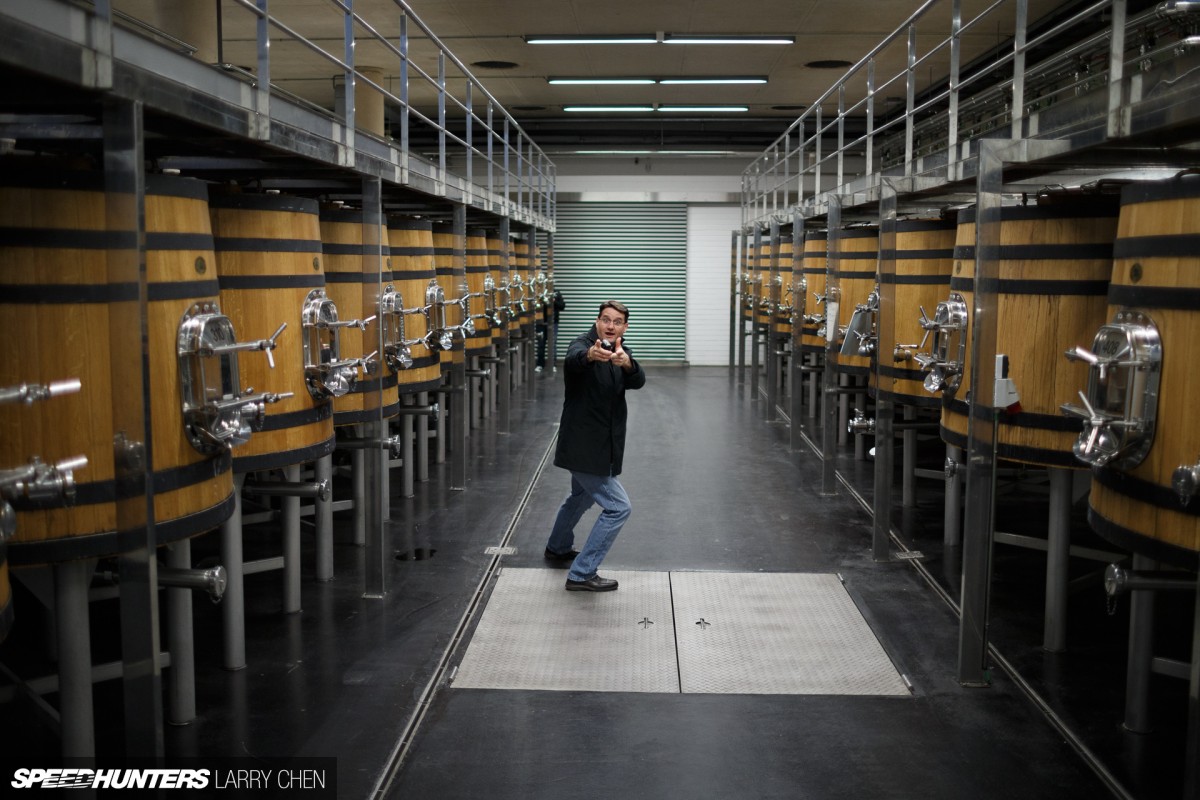 Underground was a fully functioning winery. That's Keith Buglewicz, senior editor of KKB.com, giving me his best James Bond impression.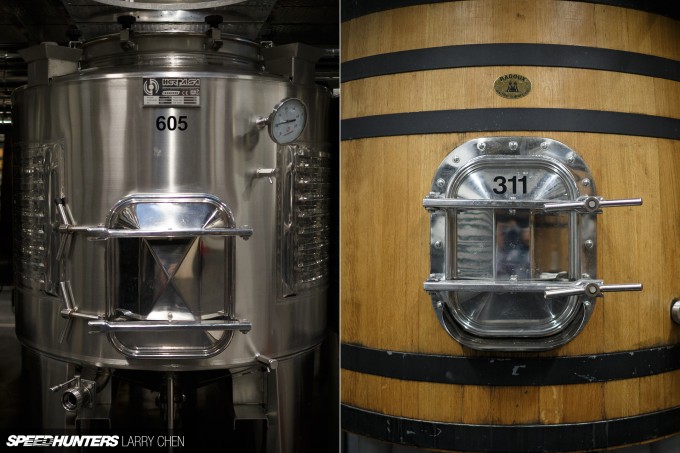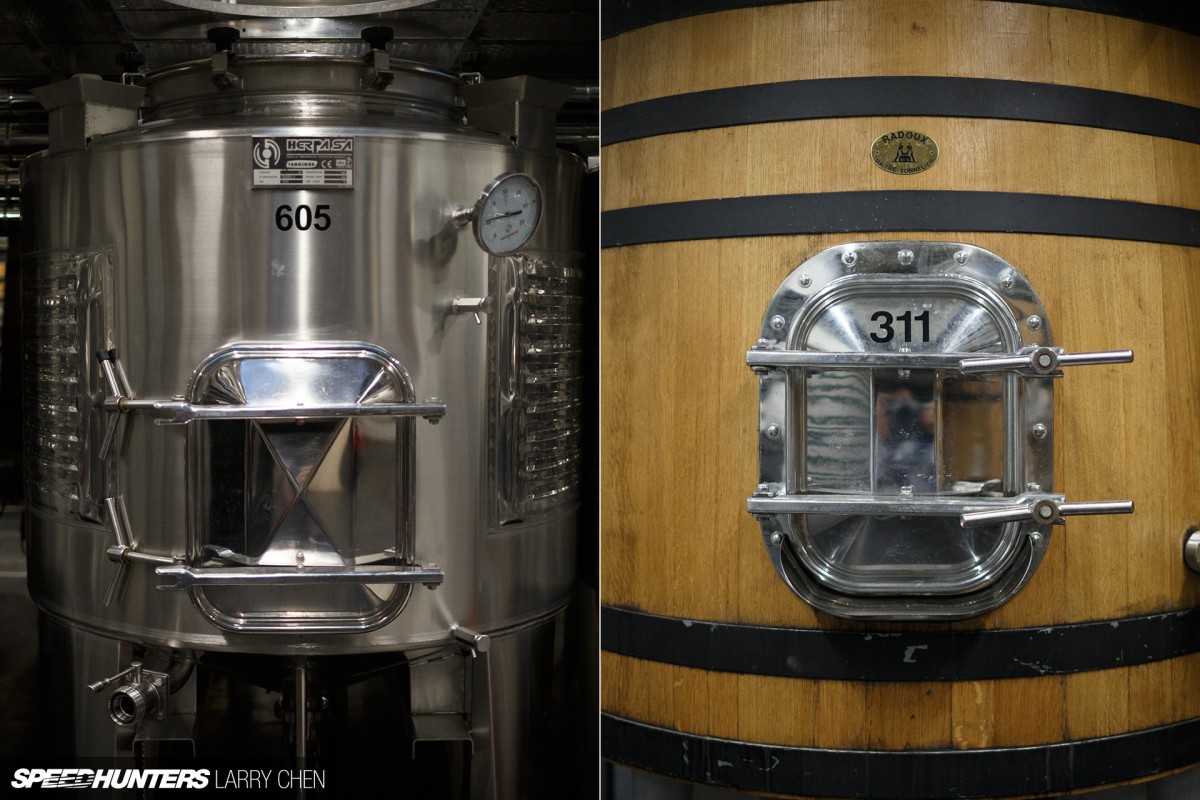 I'll be honest with you guys, I don't know the first thing about wine or winemaking. I am more of a beer drinker than anything else. Does beer go well with cured ham as well?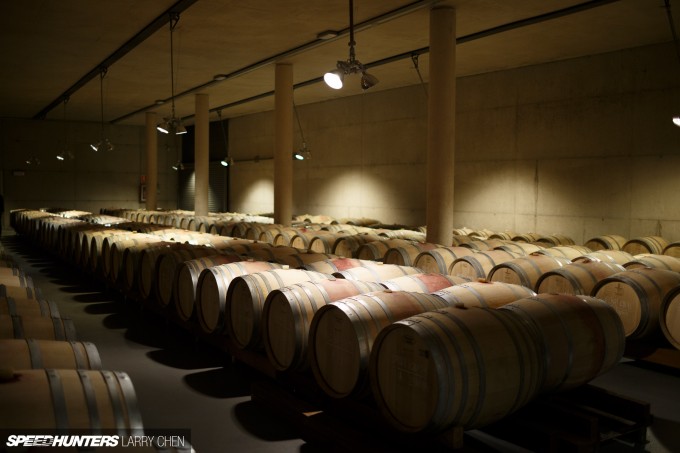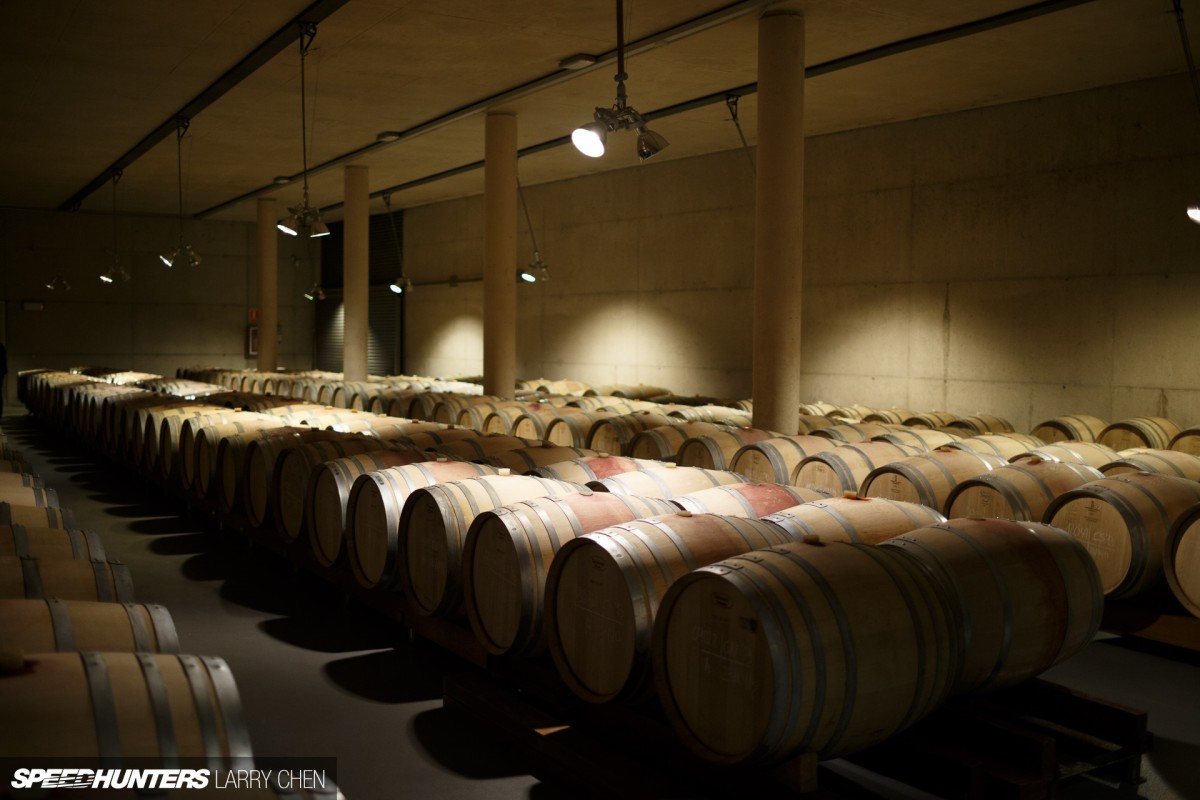 I can assure you that they did not let us taste-test any of the wonderful wine sitting in the cellar. There was still way to much driving to do.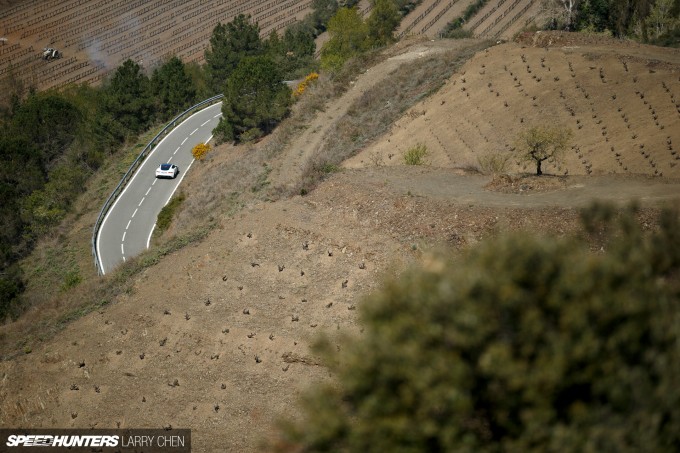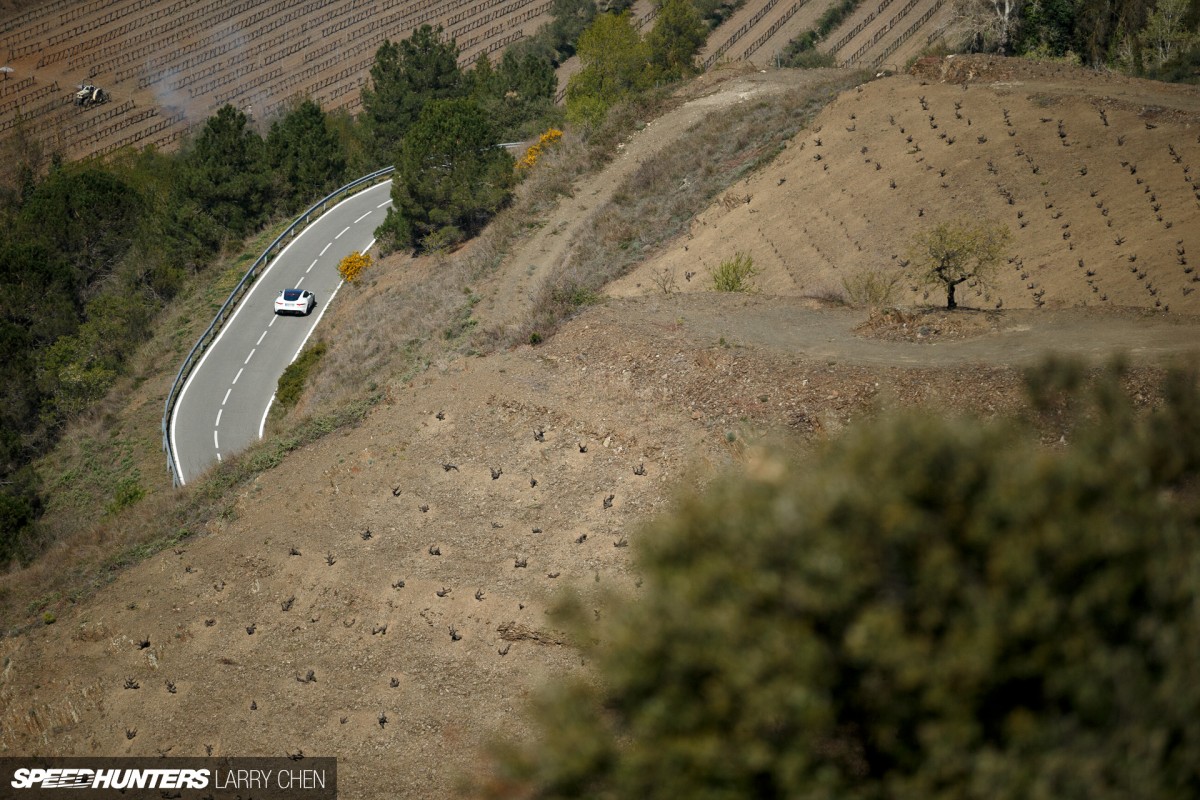 The drive back down the mountain was a brisk one, as our next stop was for the airport to head back home.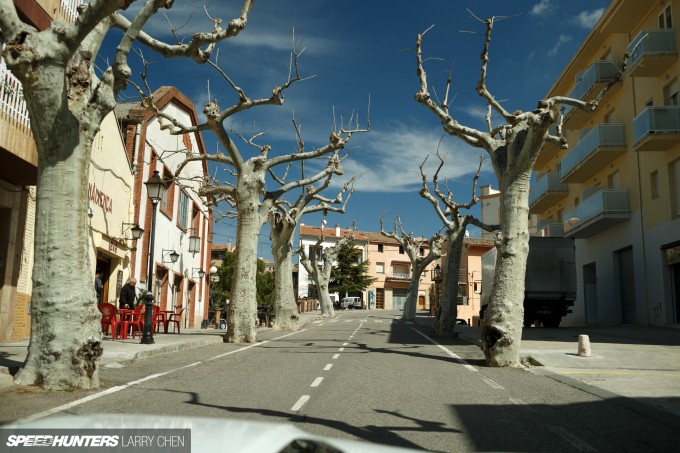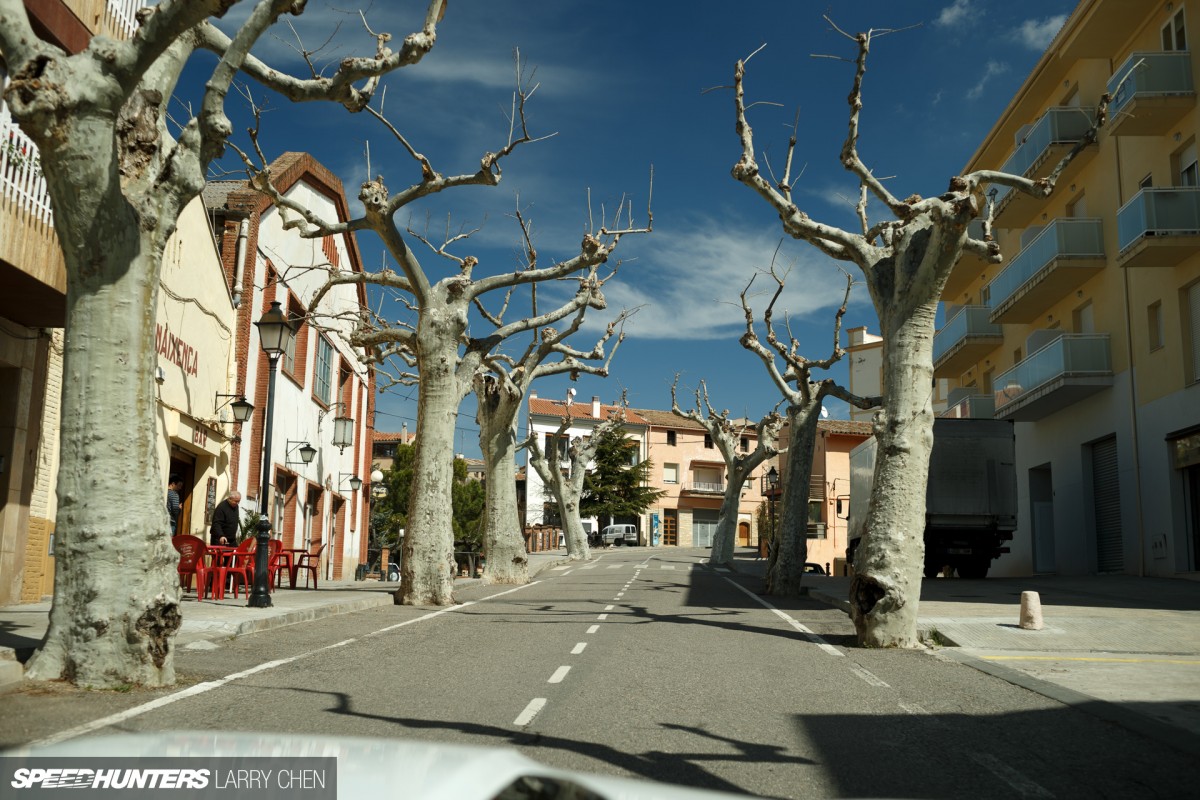 Most journalists who come on these press drive trips don't really mention anything about the actual experience. That is fine, because they are more there for putting a car through its paces.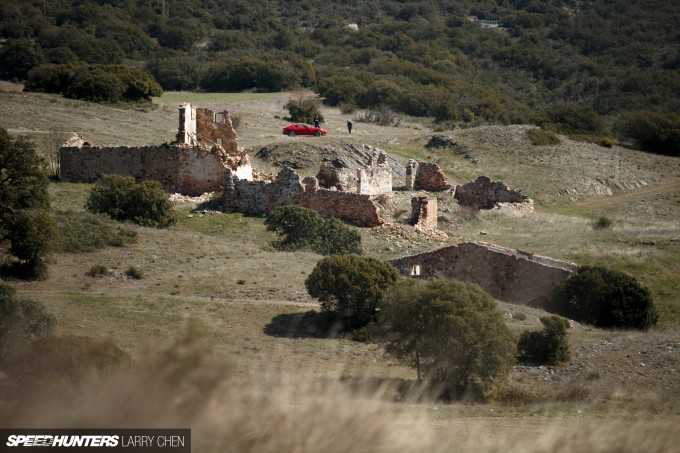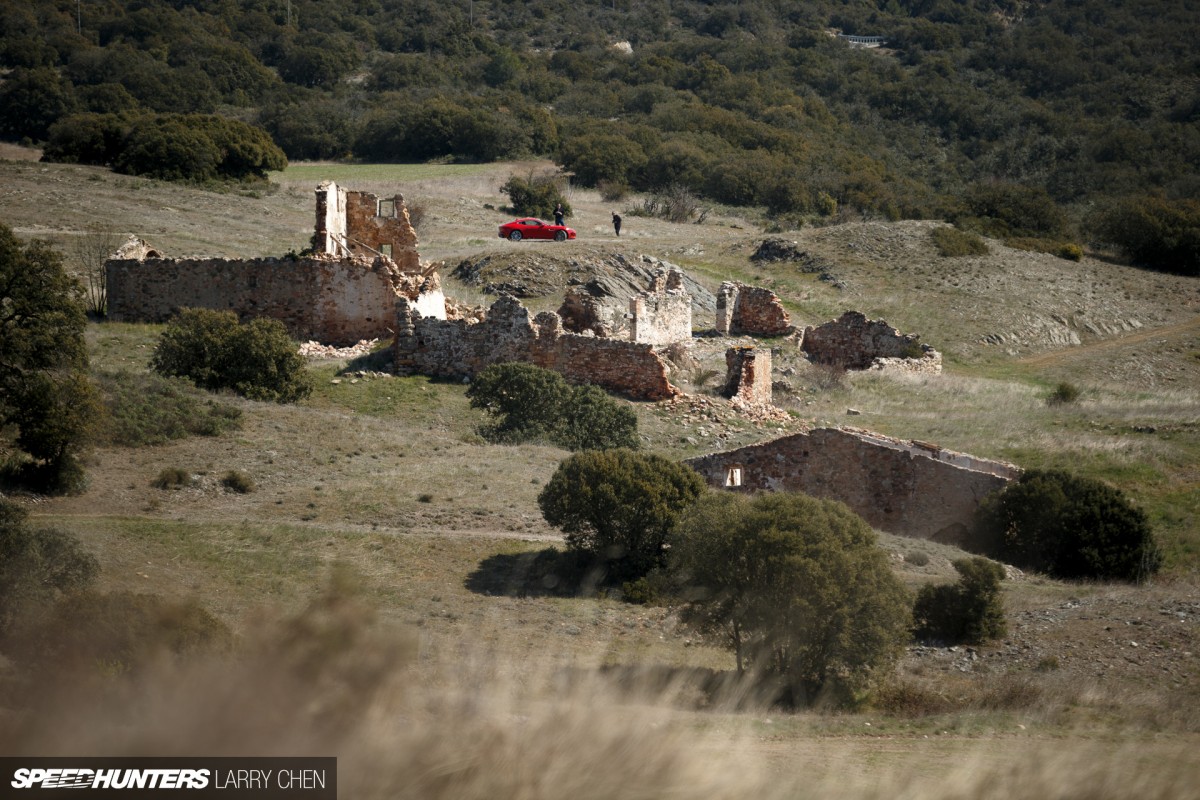 For me, it's more of the overall car culture experience. Just flogging a car in and out of Los Angeles traffic can be a bit tedious.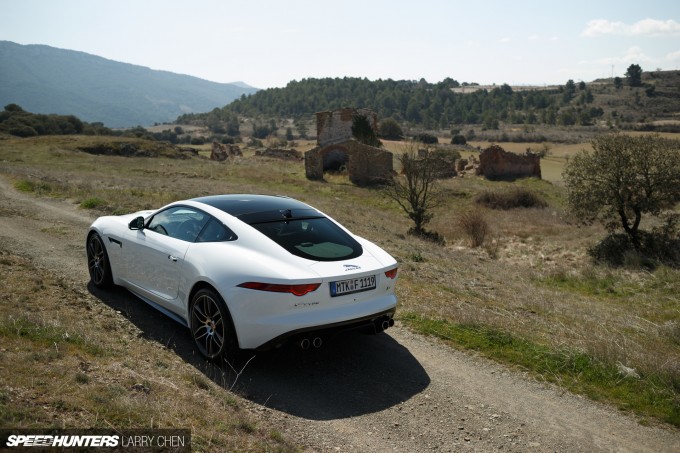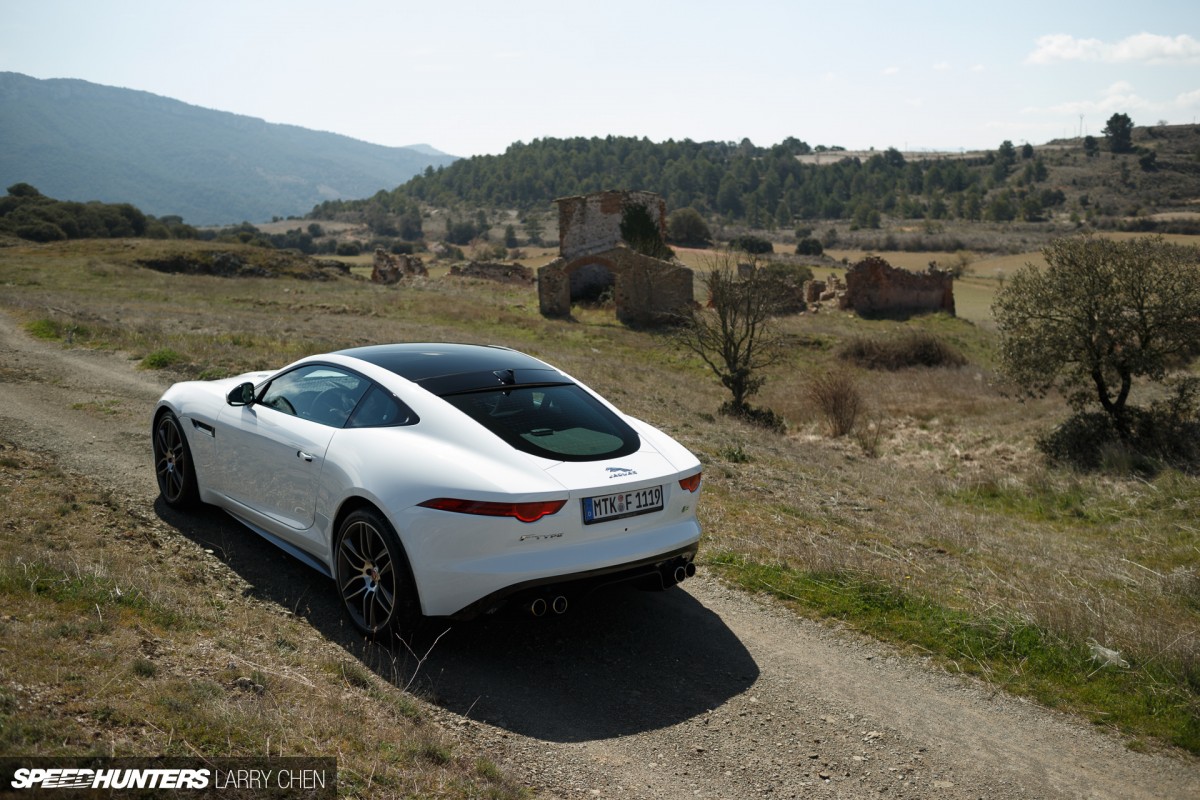 It really was nice to enjoy some truly open roads for a change. Not to mention the natural and man-made beauty that this wonderful country has to offer.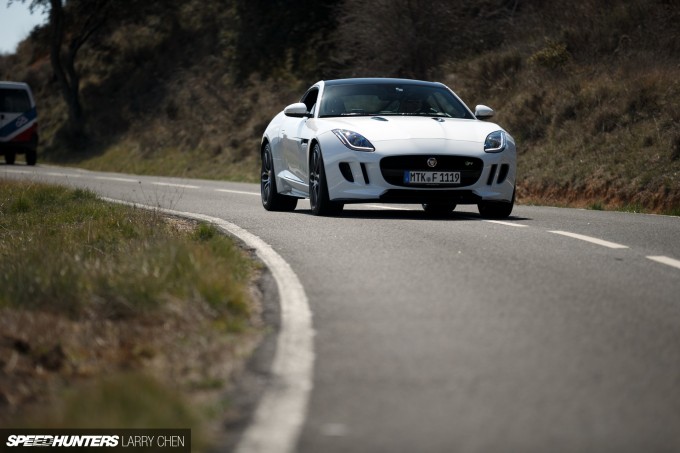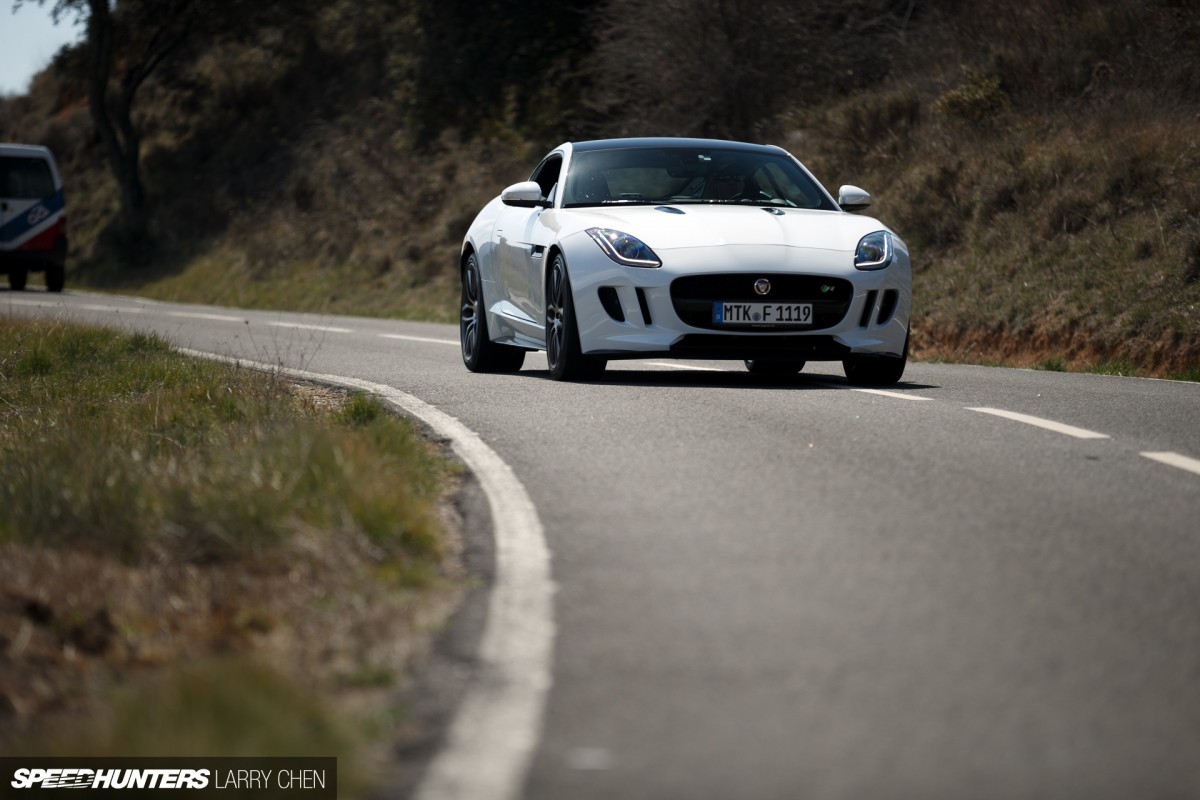 As for the car? I think Jaguar is going in the right direction. As I put more and more miles on the F-TYPE, I thought to myself, 'Why can't more car companies build fun GT cars like this one?'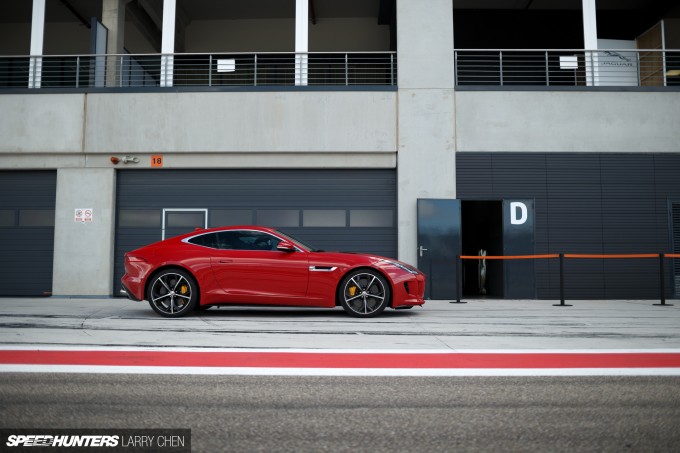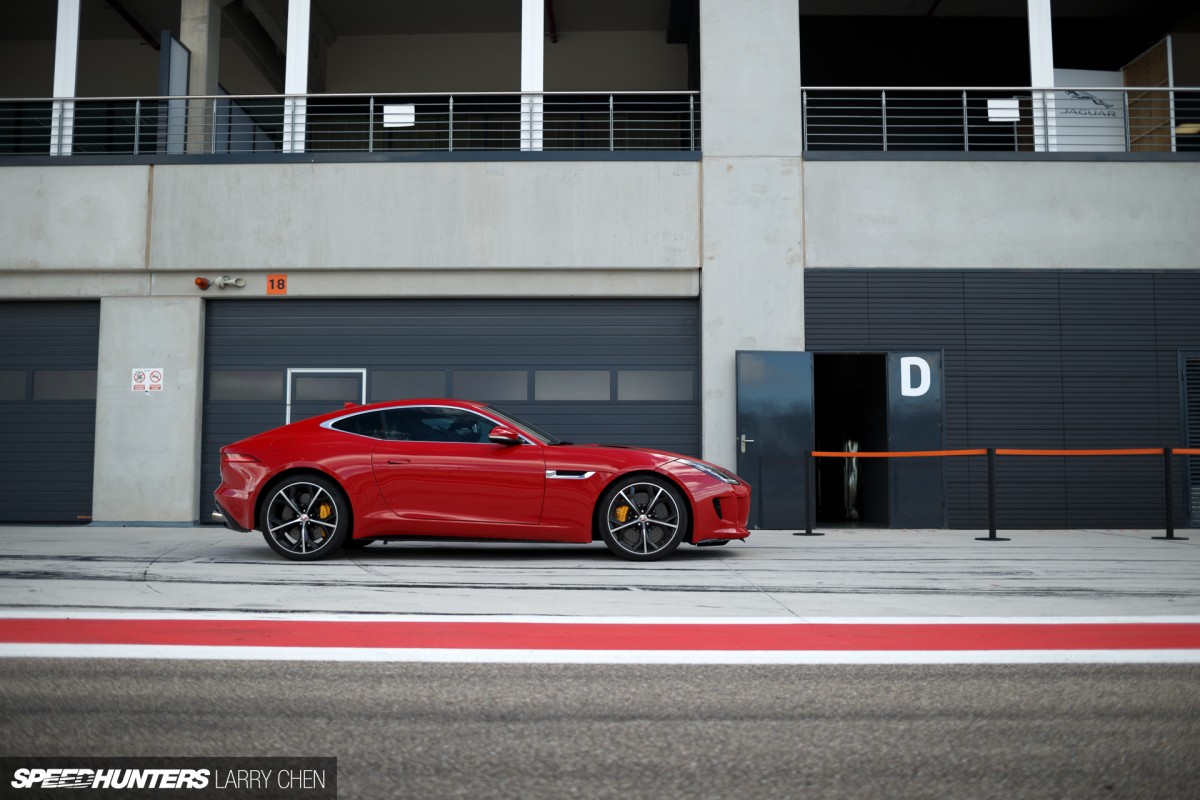 Whether we choose to or not, we spend so much time in our cars everyday. So why not drive something that will keep a smile on your face every time you downshift into second gear? Maybe it's just the gearhead that was embedded in me when I was just a little kid… Anyways, you can bet that in a few years time I will let my daughter sit in my driver's seat while I change the oil in my 240Z. Maybe she will become an automotive journalist too, and when it comes time she will eat all the cured ham she can handle.
Larry Chen
Instagram: larry_chen_foto
larry@speedhunters.com