How can you not like a 911?
There's a part of me that's always rebelled against Porsche ownership. It's a stupid knee-jerk reaction that I've lived with from an early age mainly due to father Bryn's fixation with all things British and obscure. I was tainted by that, or maybe I just like breaking down a lot? Looking back, it's probably cost me a lot of money over the years, because whilst I've pursued other manufacturers and models in a search for what I instinctively knew a Porsche would have given me, I've racked up service and modification bills that would have equalled some quite healthy Stuttgart-based ownership.
But I'm older now and I'm ugly enough to admit I may have been wrong. Okay, so that's been obvious for years, but it just so happens that it took a relatively mild 991 to convince me of the error in my ways.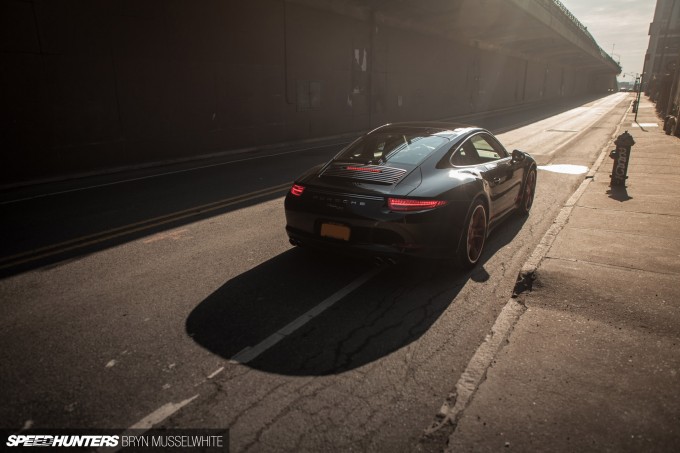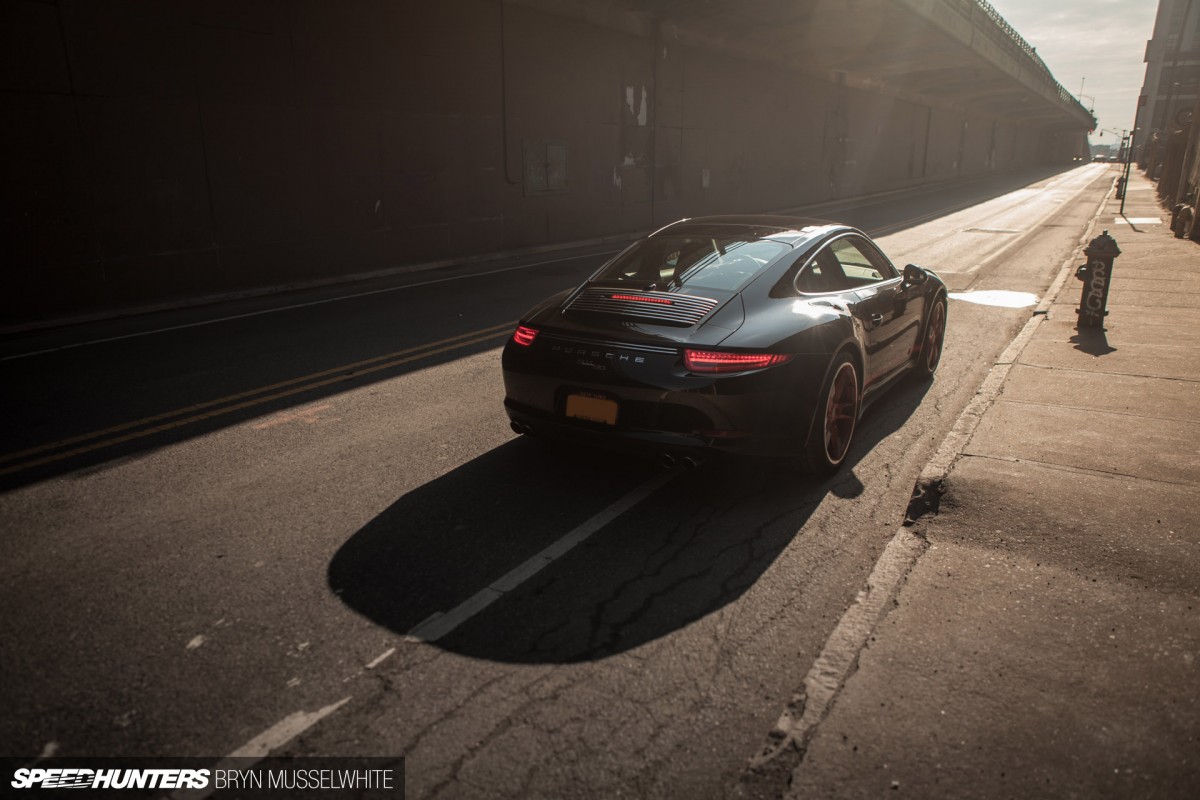 So how has my head been turned and attitude changed? It isn't a GT3 or stripped-down racer which has shown me the light in a masterfully steered series of corners. No, it's a 50th Anniversary '911' that has convinced me to soften around the edges and stop trying to rebel.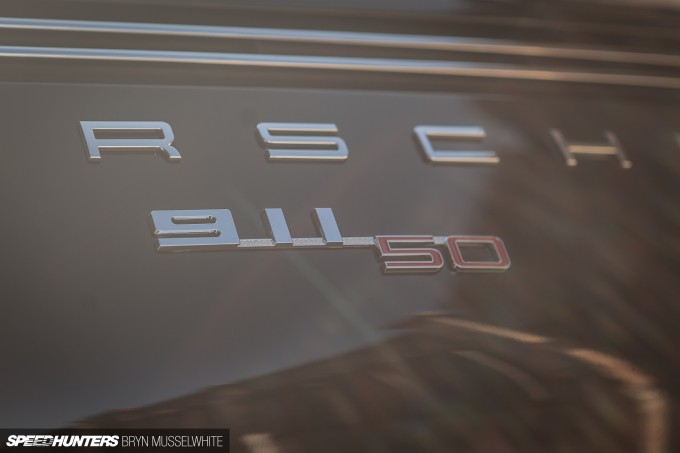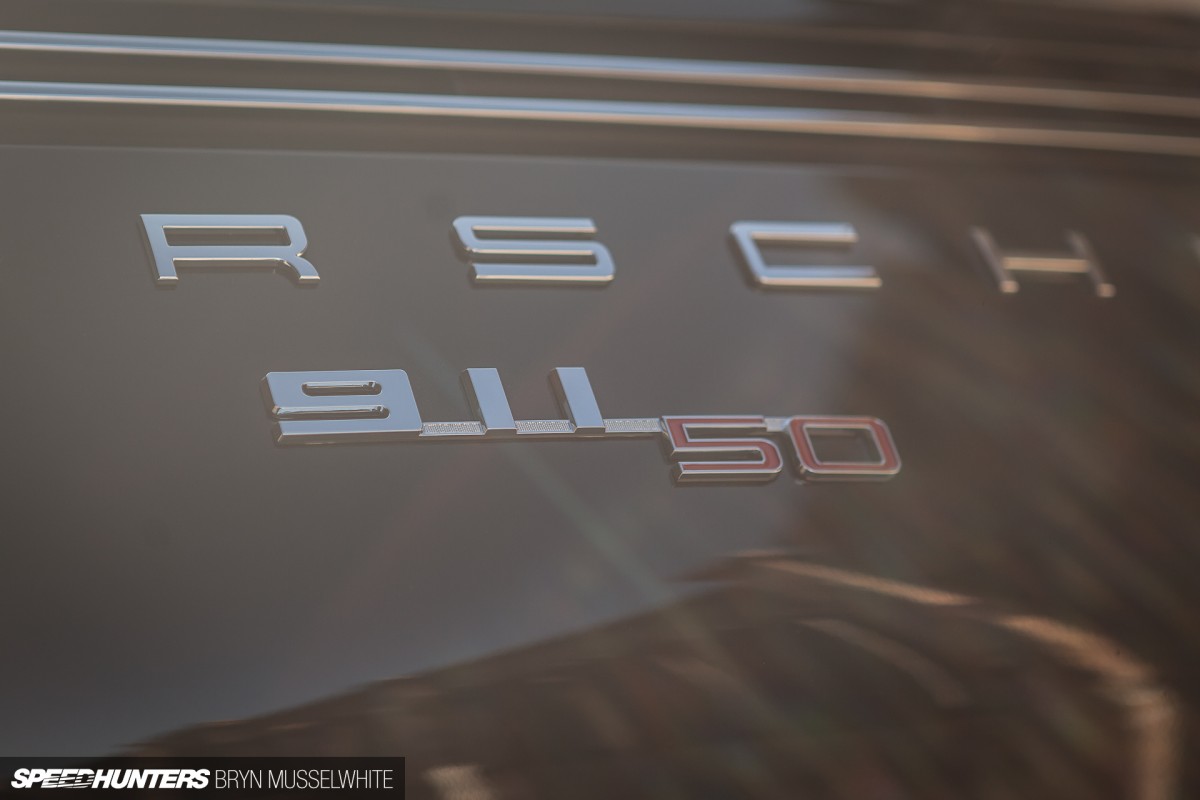 As we both stand here bathed in mid-winter Brooklyn sunshine, I'm having a mild epiphany. Without realising it, the appeal of Porsche seems to have always been there, but only now can I see it clearly. I've been looking at it all the wrong way. Just like the simple script on the rear deck lid, virtually unchanged from the original that you'd find on the back of a 901 (the designation given to the original model), it's been there all along.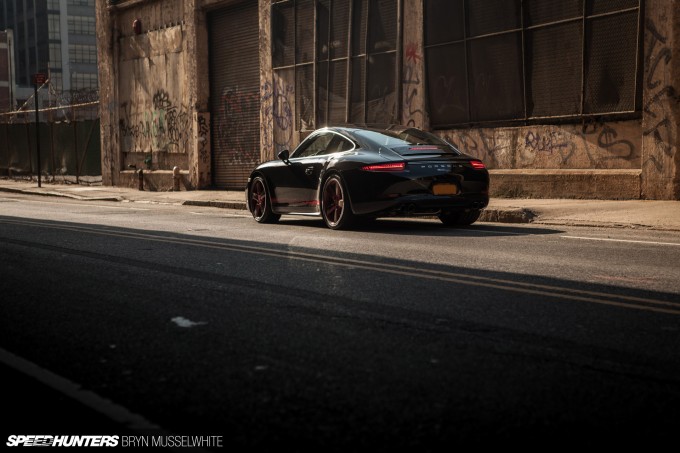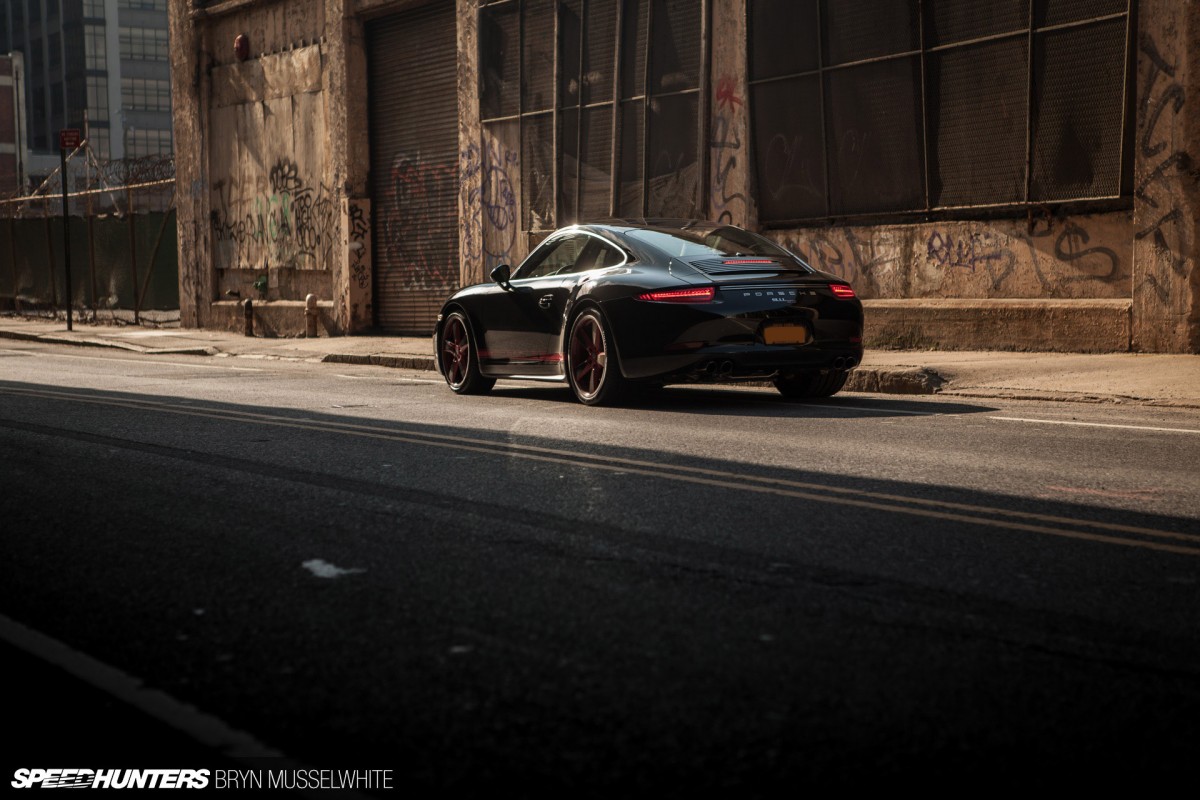 What do you think of when you hear the names Porsche and 911 in the same sentence? A rapidly-rising rev counter matched to a throat-open exhaust note? Maybe some sticky tyres and the dull ache in your forearms that a demanding drive gives you? If so, then I'm there with you.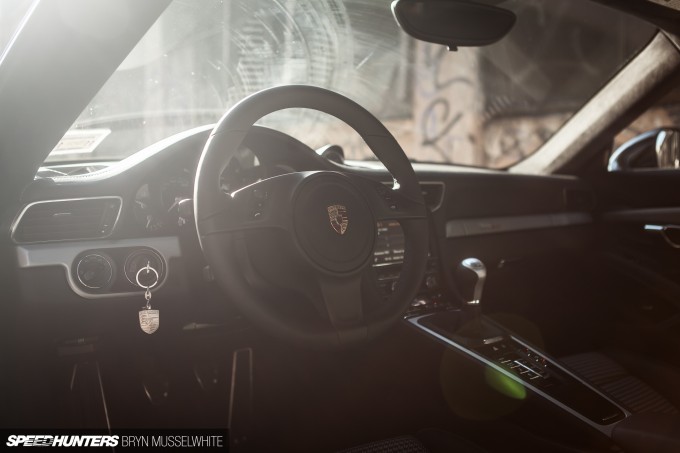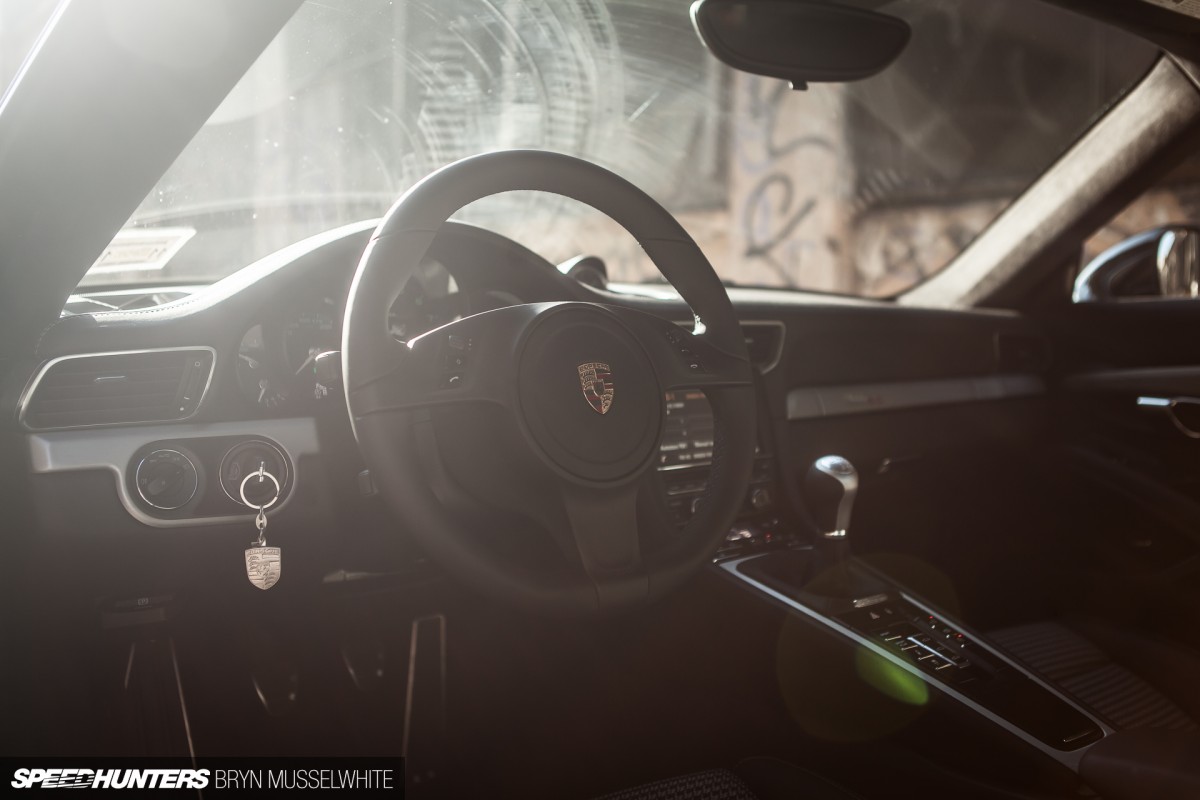 You probably wouldn't think that of a car that you could drive everyday and enjoy whenever you want, would you? I know I didn't. The 911 for me has always been an event; a 964RS hidden away in a Swiss garage or maybe an early RS that demands a stack of race licenses in your hand before it will even begin to reward you.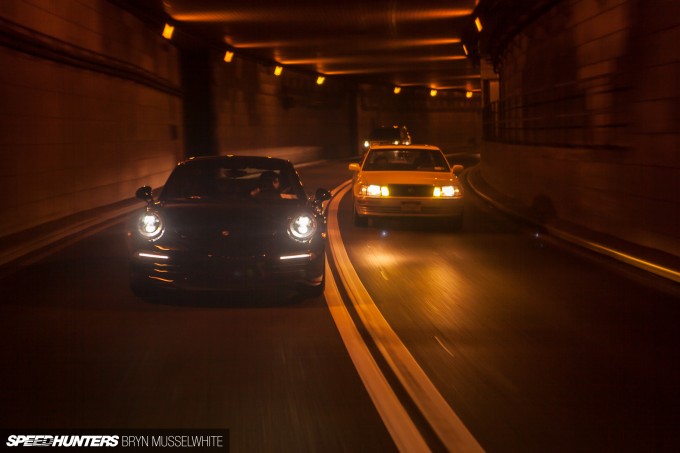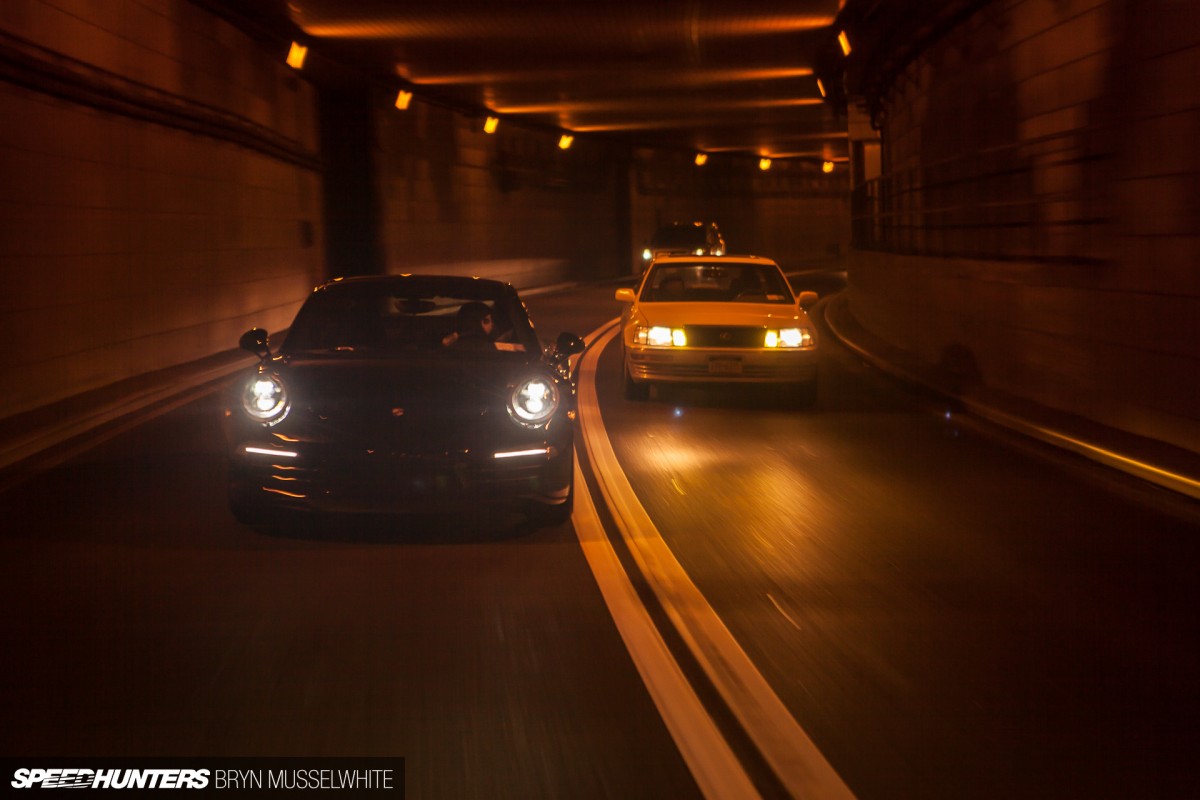 But now, here I am realising that's just not true. With its 50th Anniversary car, Porsche has celebrated exactly what it should – the fact that over the years the 911 has simply been a great all rounder. And that through those decades it has risen up from its humble beginnings and become so much more than a sports car.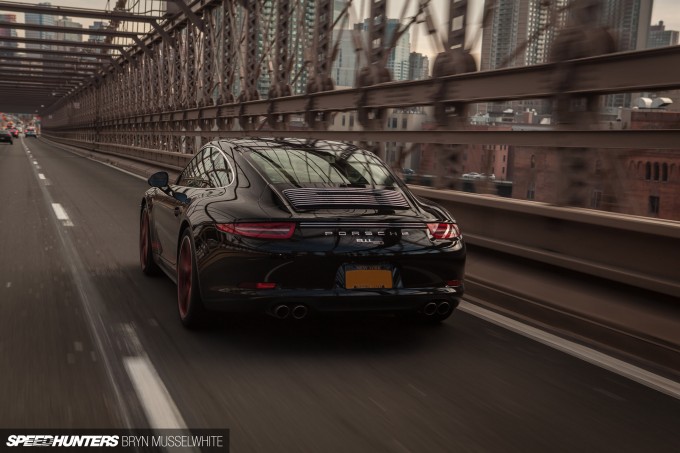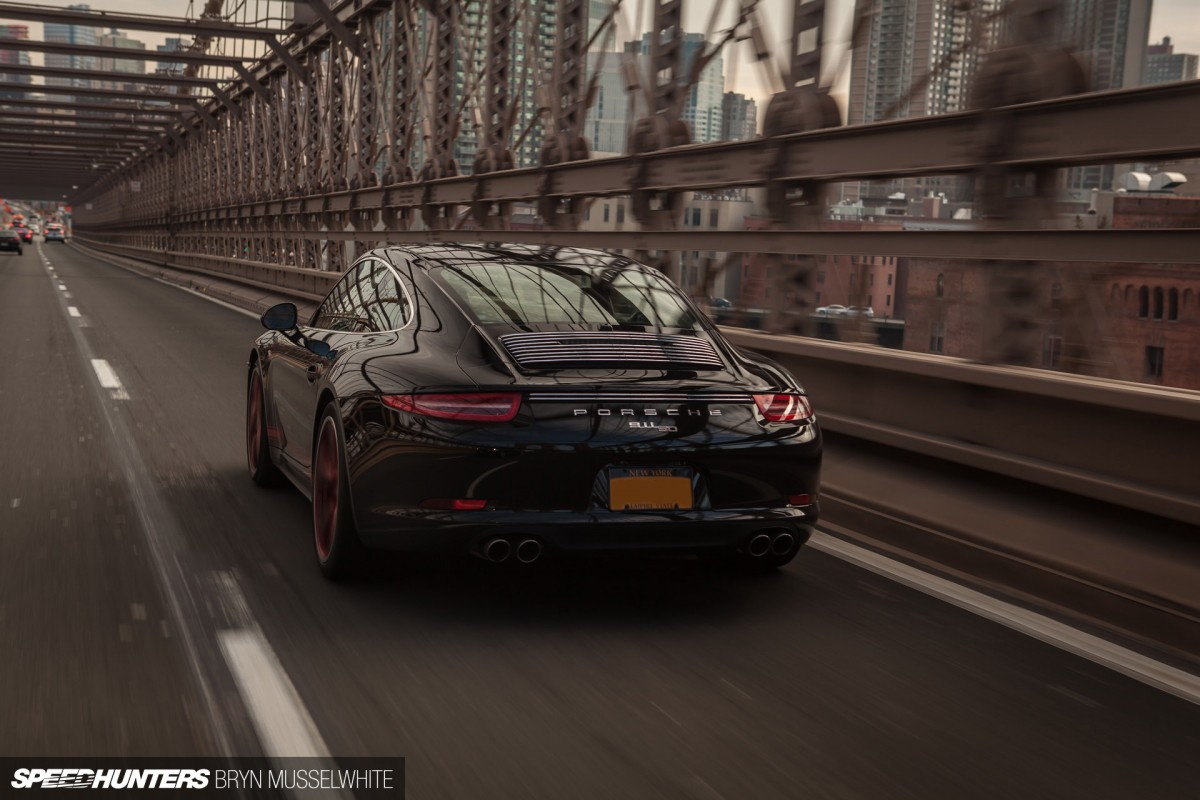 I like that Porsche, thank you. In fact, good work. You chose an everyday model in the range to celebrate your roots. No roll cages, no massive wings – just the purity of where it all begin with some modern touches to make it all good…
But it's still a Porsche right?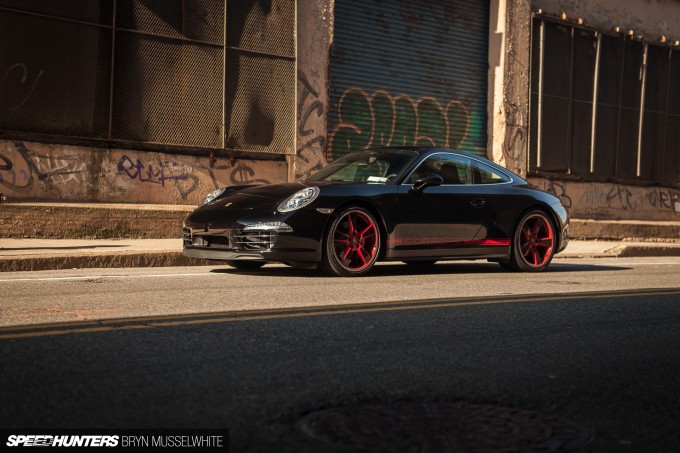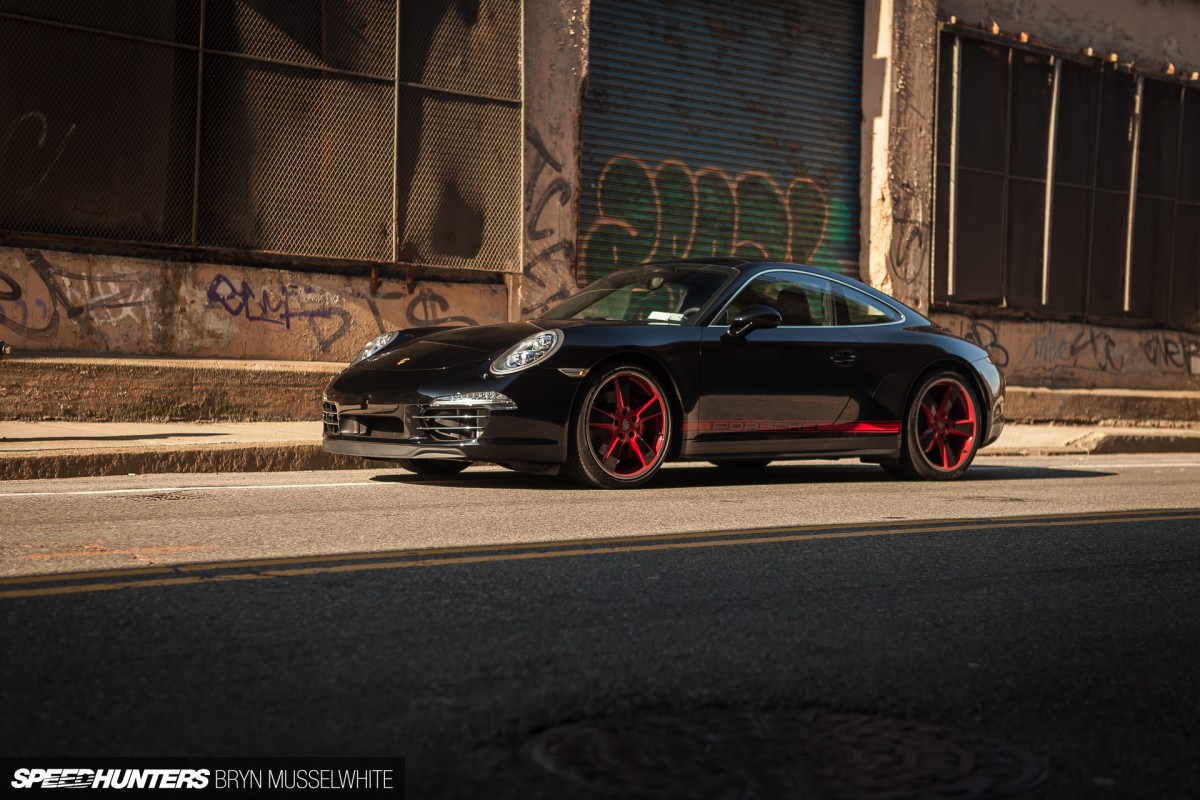 Of course, it's still a Porsche, so it's always going to be an event of sorts, and it will always make you feel special. These cars have that knack. I guess that's the other curse I have though – I've always felt like I have to bring my 'A' game to a vehicle like this and that's really not the case. Just get in and go. Ruts, bumps and NYC antics don't phase it. I'm not flustered or balancing a harsh clutch and vicious throttle. I'm just driving and smiling.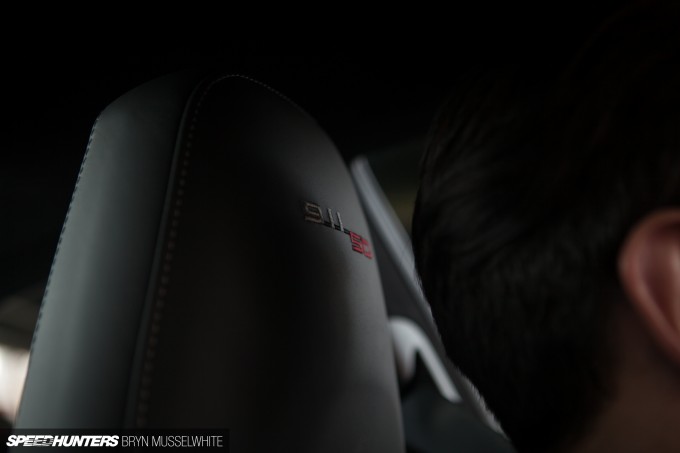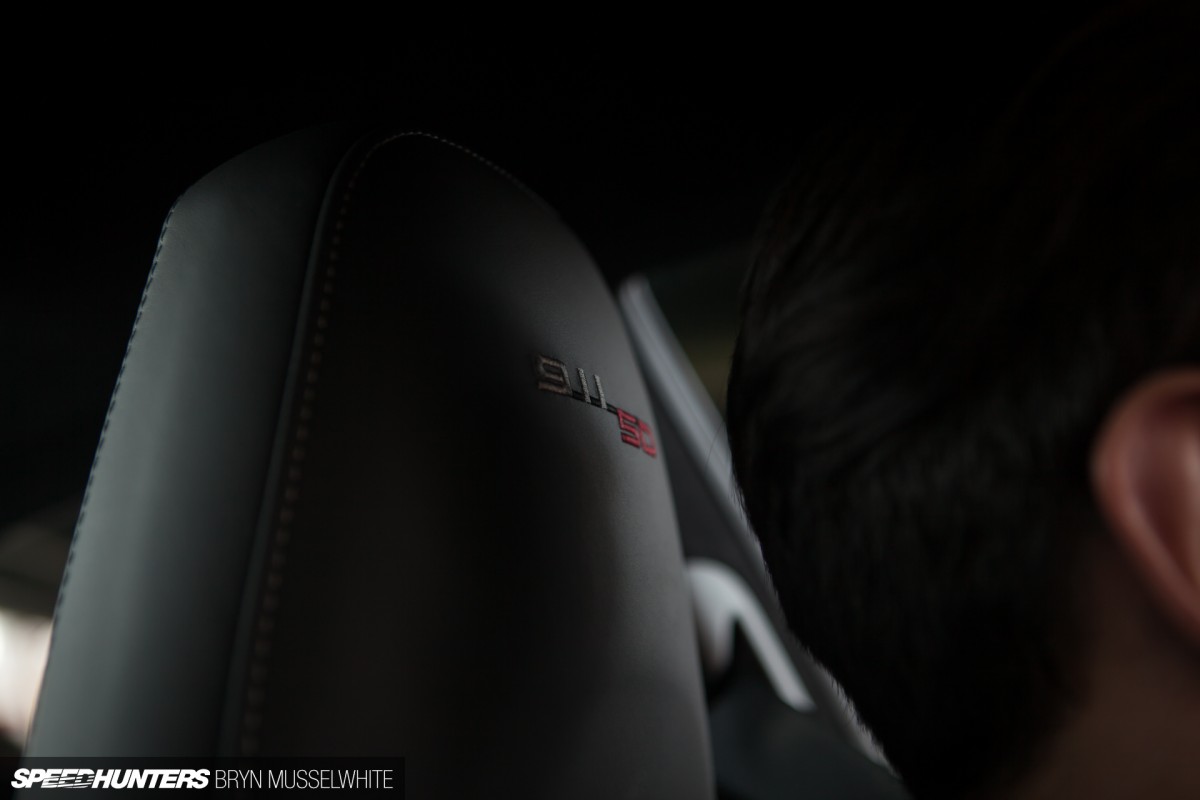 But there I go again. This is not just driving. There are constant reminders around this special model that hat-tip to the heritage and the history lesson you're piloting.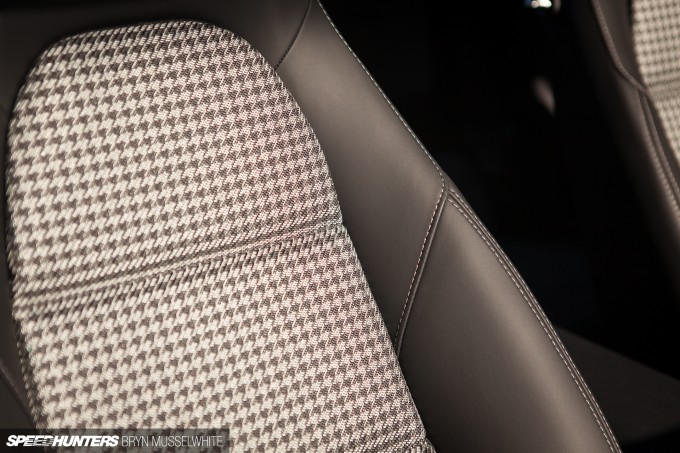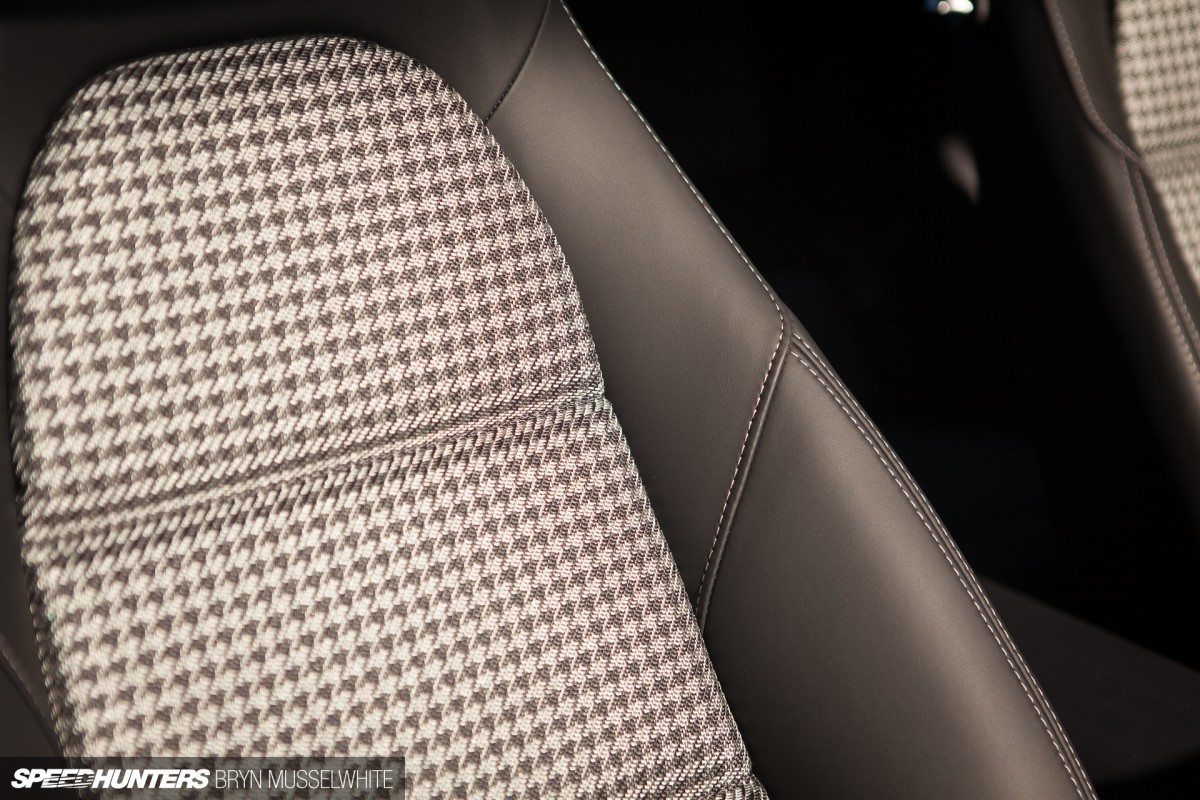 Along with the embroidered logos in the head rests, the rest of the seat trim is unique to the 50th too. All leather, the centre panels are reminiscent of the Pepita houndstooth design from the '60s. The seats are as adjustable for position as you'd expect, but the most important thing for me is they fit and are simple to use. Some people will have you believe that the more complex and involved the user interface with something is, the more rewarding it will be in the long run.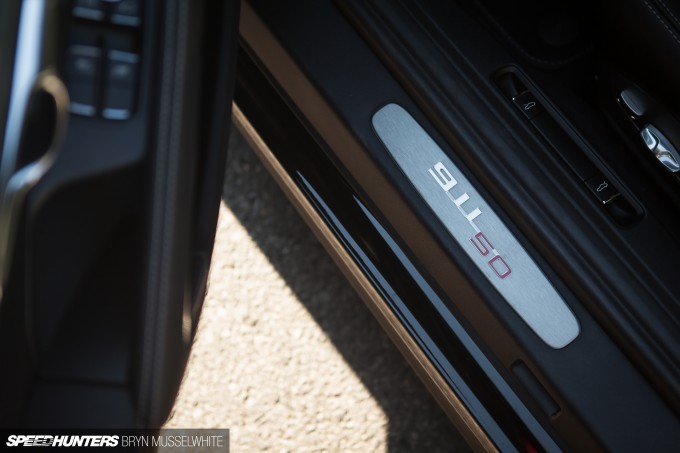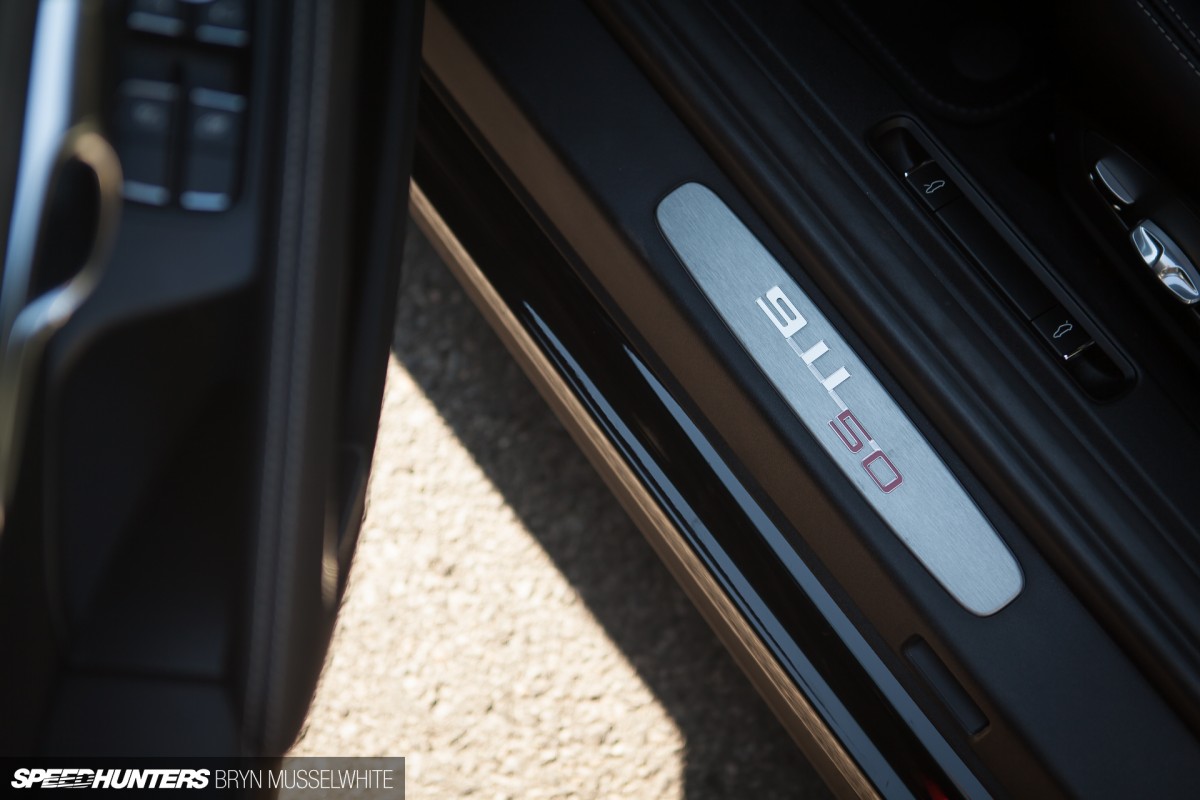 I don't go for that. I want to make friends easily. The reward is actually being here not working harder once I am here. So the Porsche is very good at being intuitive.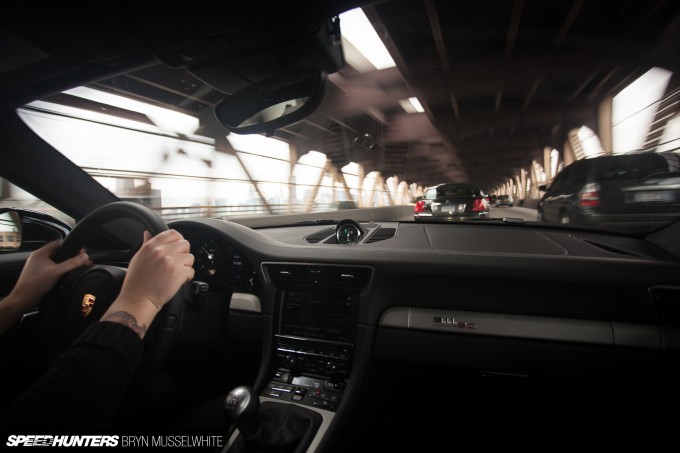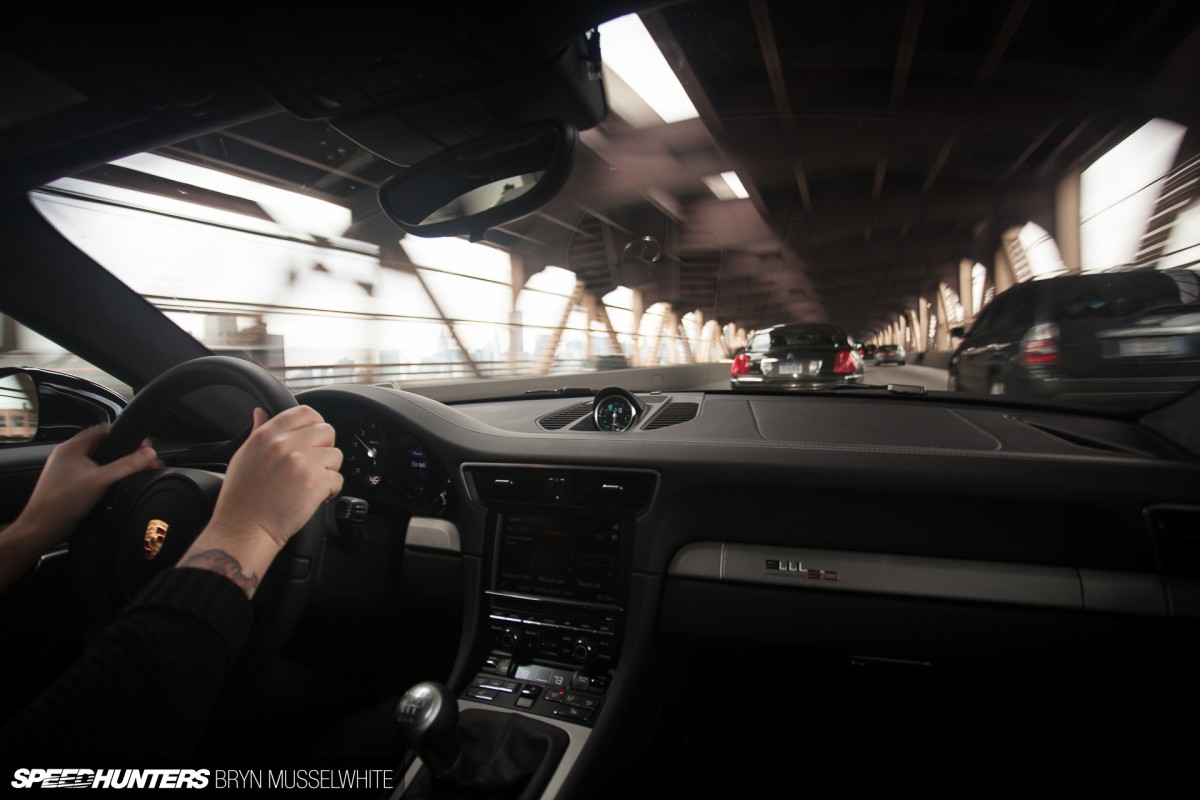 All the controls fall to hand and make sense when they do. It's a strange sensation driving a 911, because you're conscious  that's what you're doing. Even here in New York I spot people taking a second look and occasionally even pointing (I can only assume they were tourists). But look at any period 911 interior and again they're an undramatic place; well thought out and solid, but hardly sensational. They hold timeless appeal.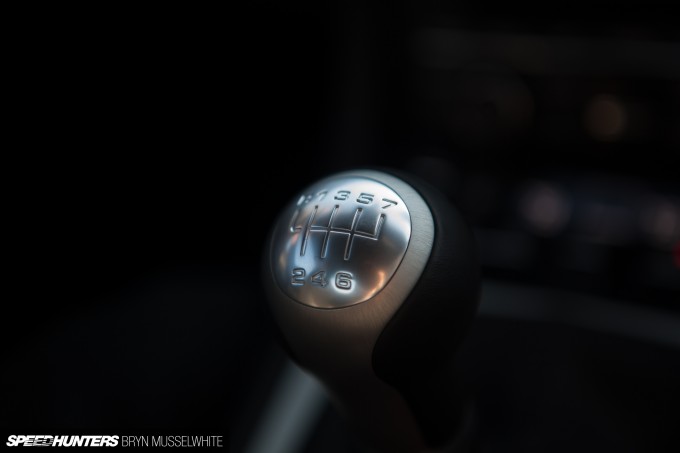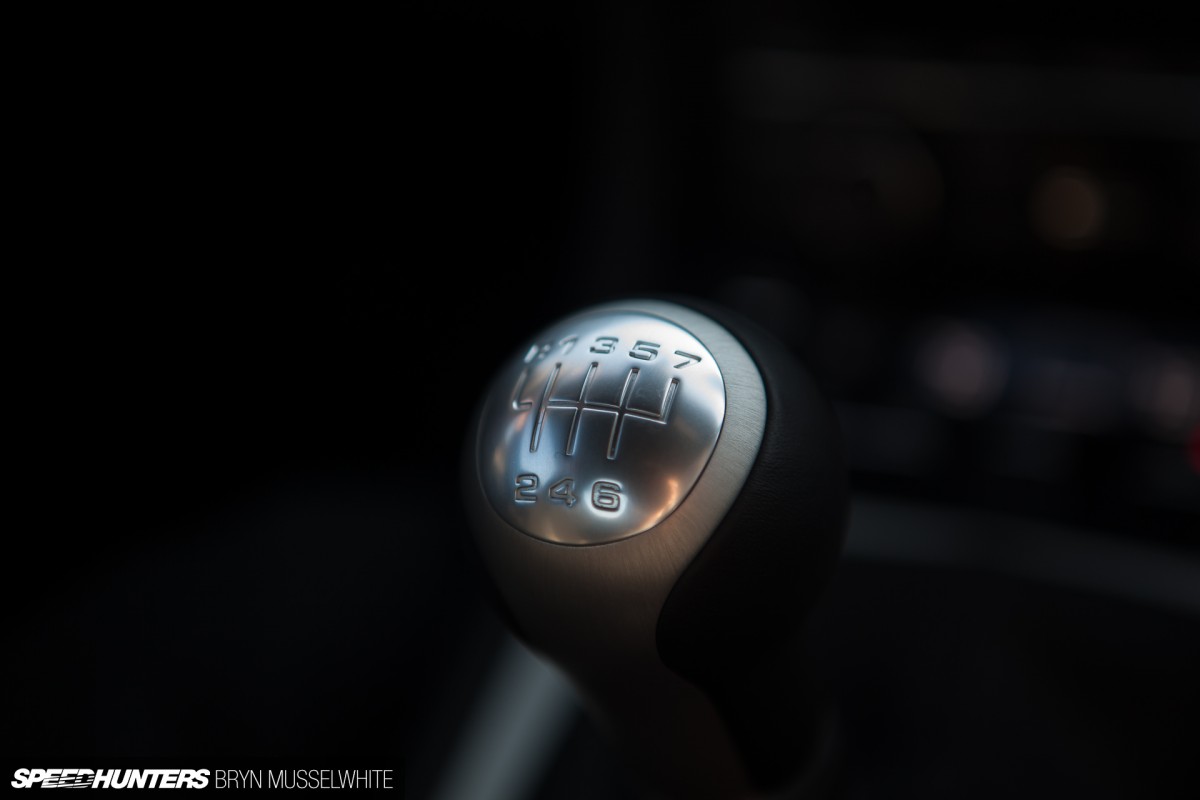 With so many numbers on the top of the gearshift it looks like something could have drawn in my teenage years. But this one's a manual. If you want to shave an impressive 0.4 seconds off its 0-60mph time there's a PDK option, but considering the analogue 'box only takes 4.2 seconds to get there it's hardly a necessity. In keeping with the traditional side of the 50th Anniversary model, I'll take the task of doing a bit more work myself.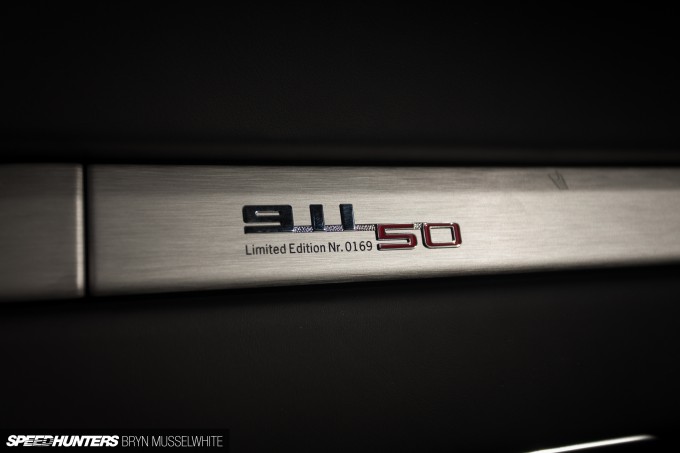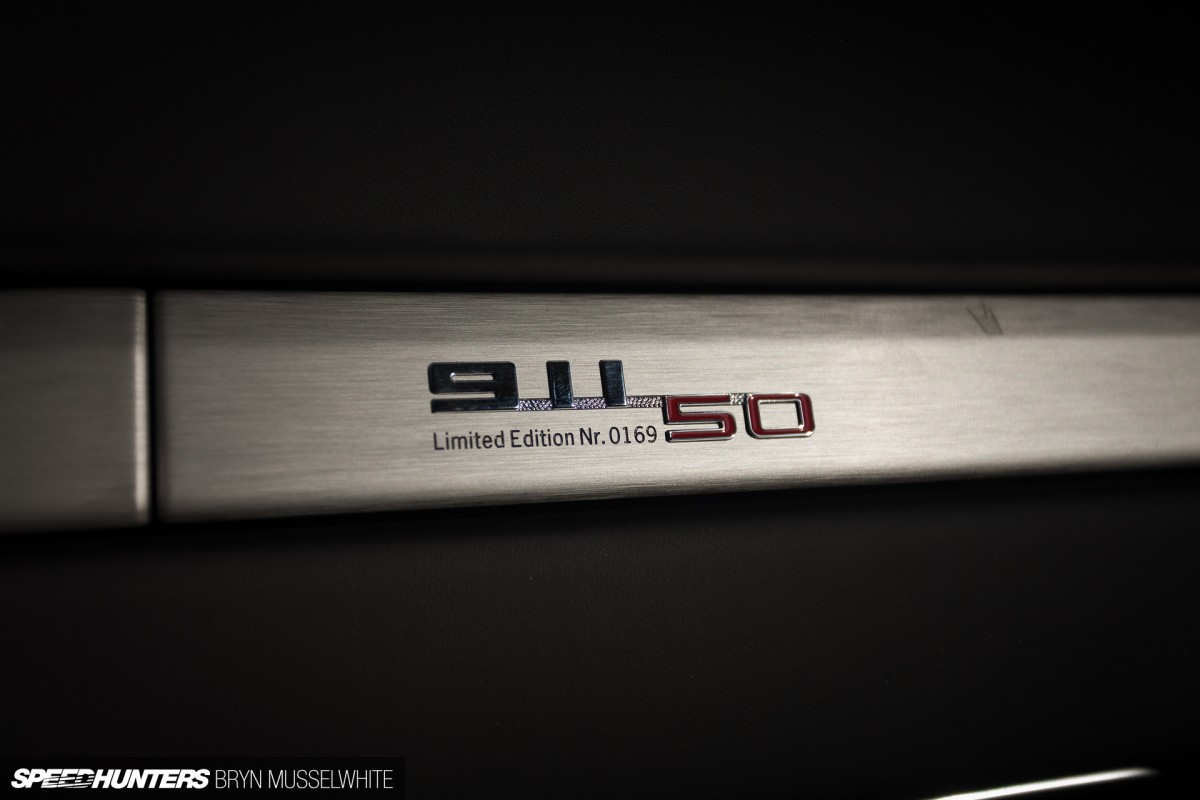 And let's not forget that's exactly what this is. Along with the logos I've shown you so far, you get this on the passenger side dash trim too. That means this is No.169 of the 1963 total run. List price on US soil? Starting at $124,100. Even if I could afford one, I couldn't have gained access to one of the first cars in to the States, so this one was lent to us by the very kind gentlemen we like to call AZ. You might remember AZ also allowed us to experience two of his other Porsches. We like it when we have to call him!
No, it hasn't gone soft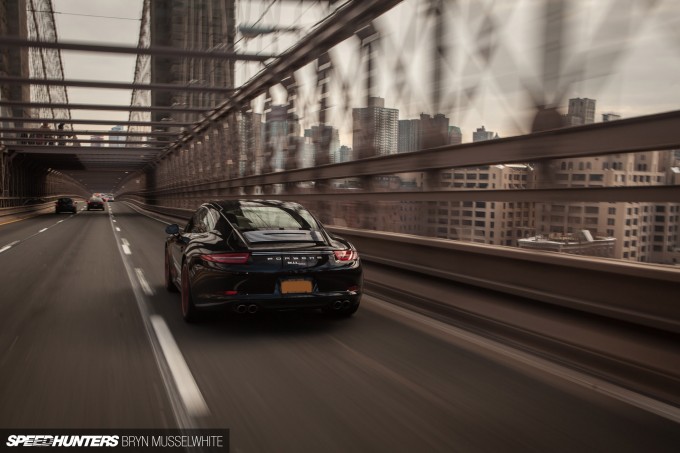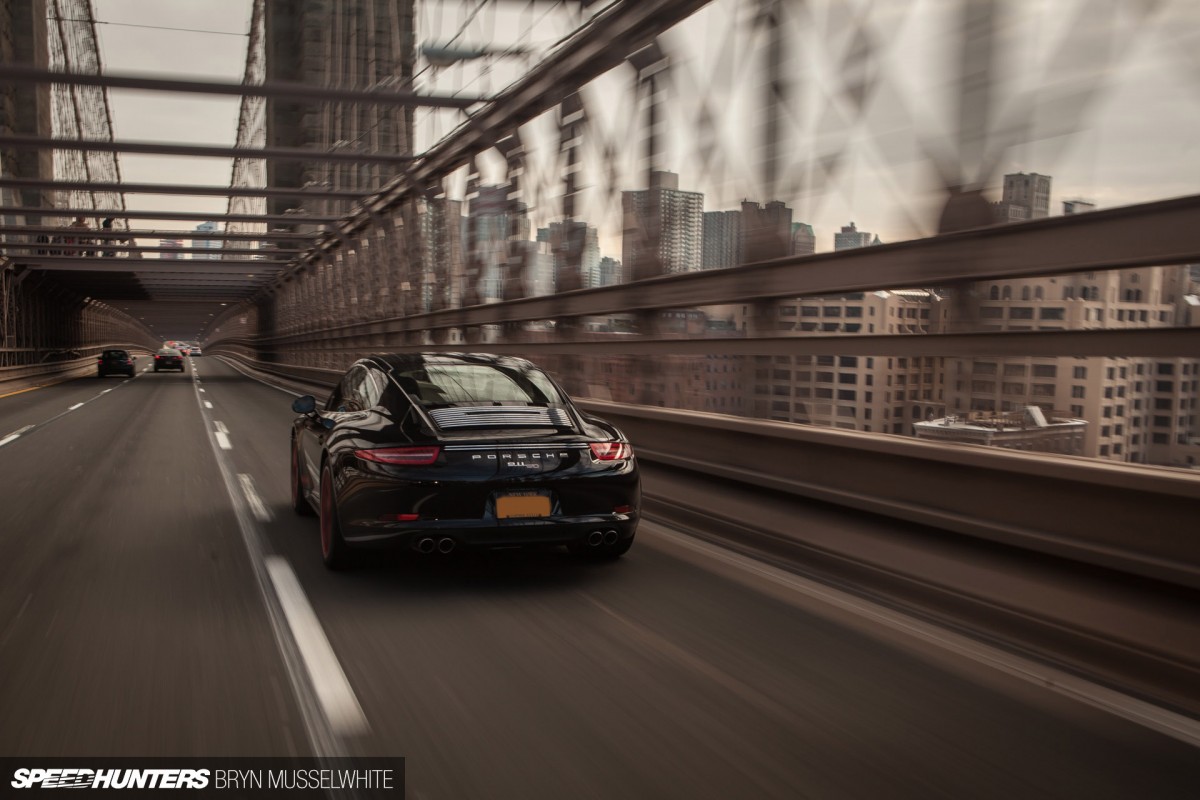 Don't mistake all this talk of enjoyment and relaxation for thinking that the 991 50th has softened around the edges and lost its essence though. If you read contemporary road tests of the original 1964 launch model, it was a great all rounder that rewarded drivers who knew what they were doing. That's the same here. I get the impression that people think you can only enjoy driving these days if you're strapped in with a harness or deafened by the roar of a stripped-out interior.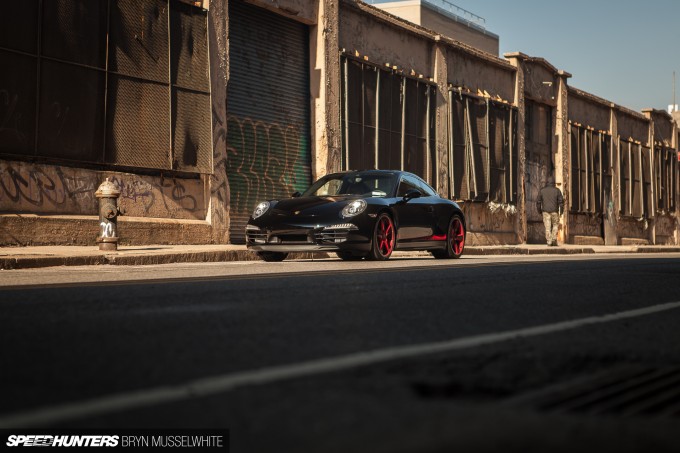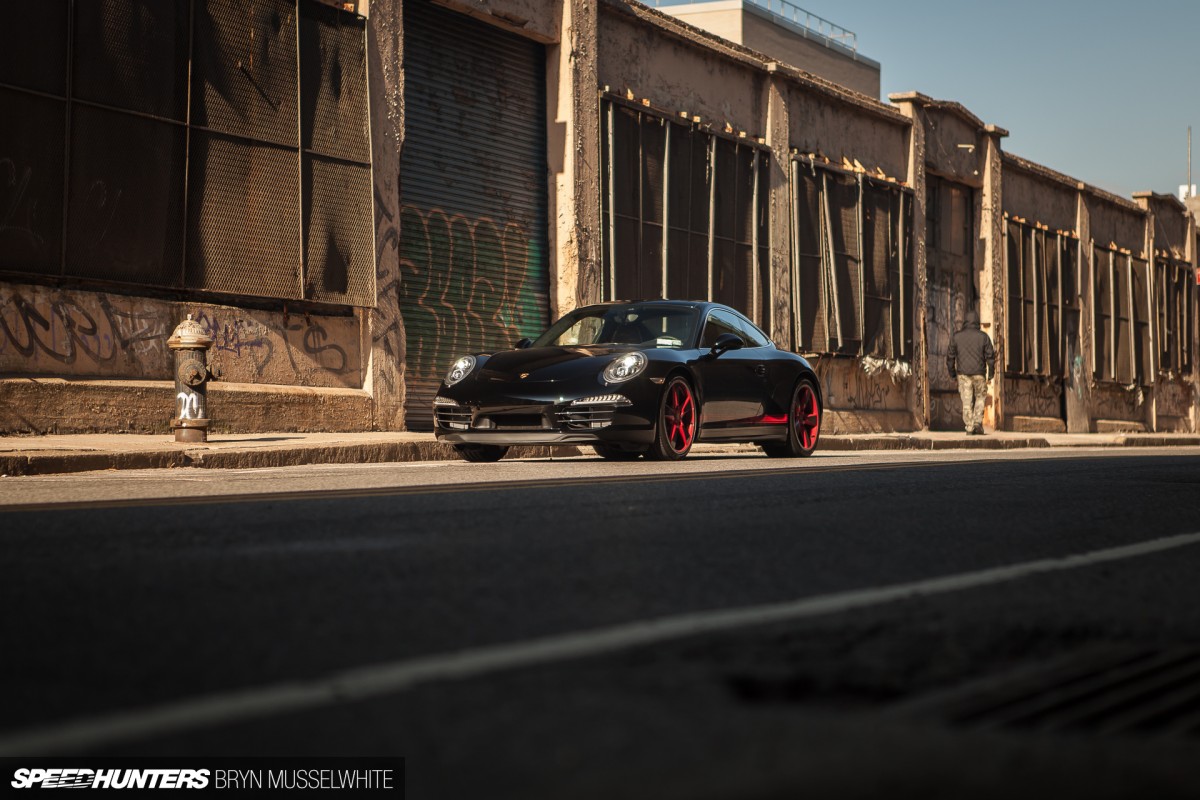 Essentially the 50th is a limited edition Carrera S, but it gets what Porsche call the Powerkit which lifts output to 430hp and includes the Sport Chrono Package. The latter means you get some kit which is designed to enhance the whole performance experience like a stop watch on the dashboard. There's also a different display you can select that lets you record and store lap times, or as Porsche says  – other driving times. It's just like an old time trip meter would have done in '64.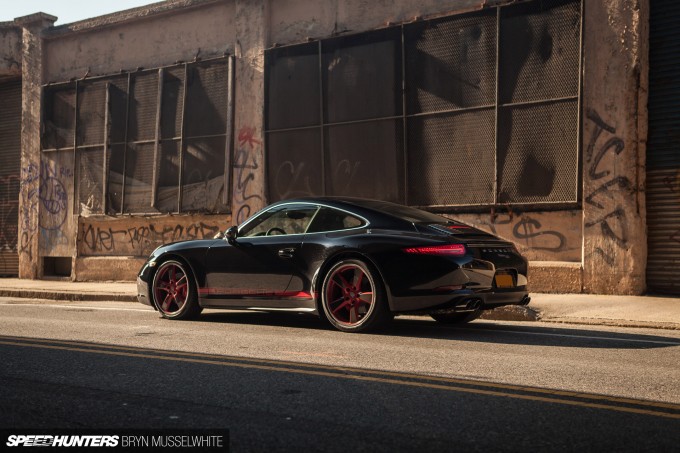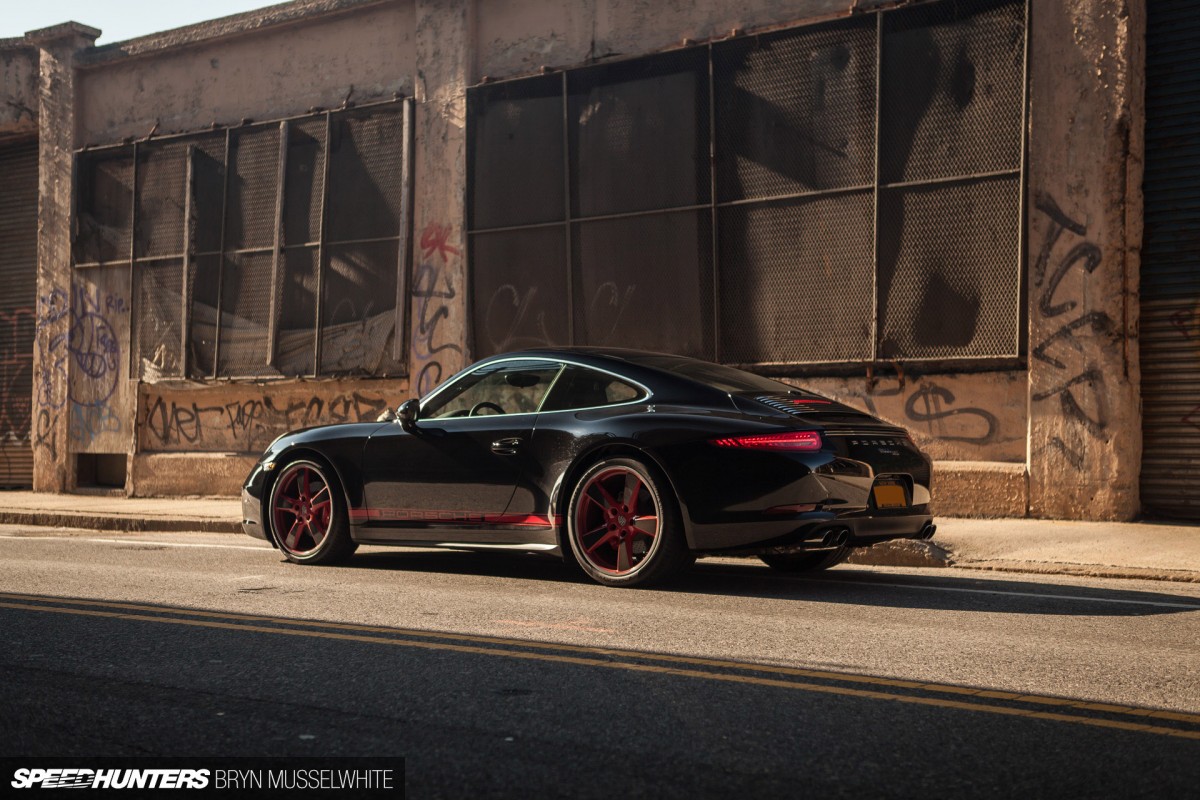 I think the rear three-quarter view is where you get to see the purest 911 lines. Even with big 20-inch Fuchs-inspired wheels strapped on each corner it still feels sleek to me, and I like the slight rake you get even with the Porsche Active Suspension Management (PASM) fitted. It's been specially tuned to make the most of the increased track width and ensure that your birthday present will handle just how you'd expect it would too.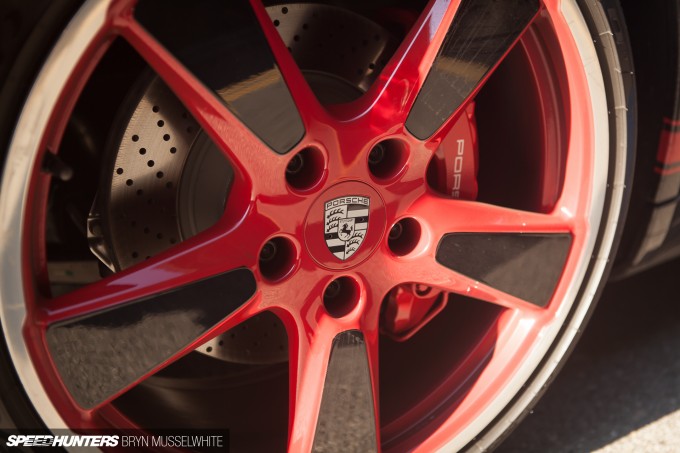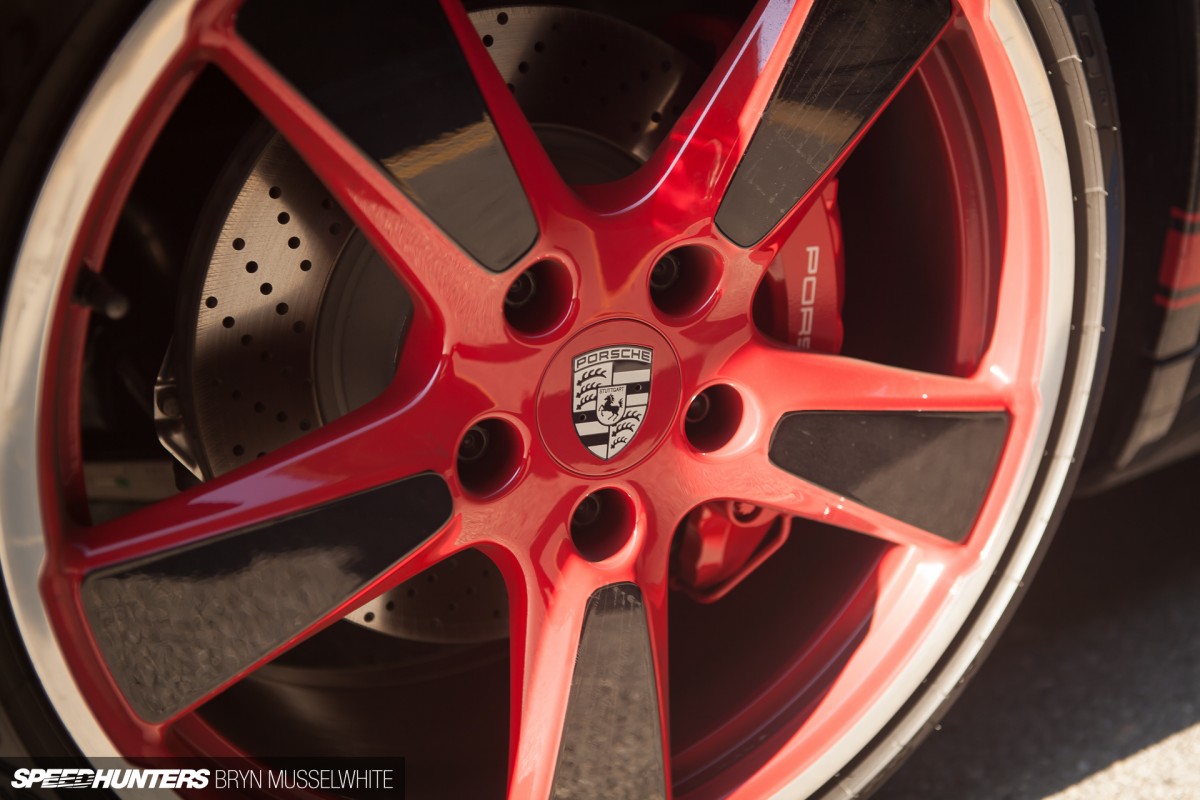 It makes me smile that AZ didn't go for either of the two limited edition colours Porsche offer – Graphite Grey and lighter Geyser Grey Metallic. No, he chose Black Monochrome so it would match the other Porsches in his garage. But fresh from the showroom he also had the polished spokes of the wheels colour-coded to match the accents on the body. When you see it in person, that custom touch really makes sense. It gives you that feeling of a '73 RS and that's no bad thing in my book. Another nod to the history after all.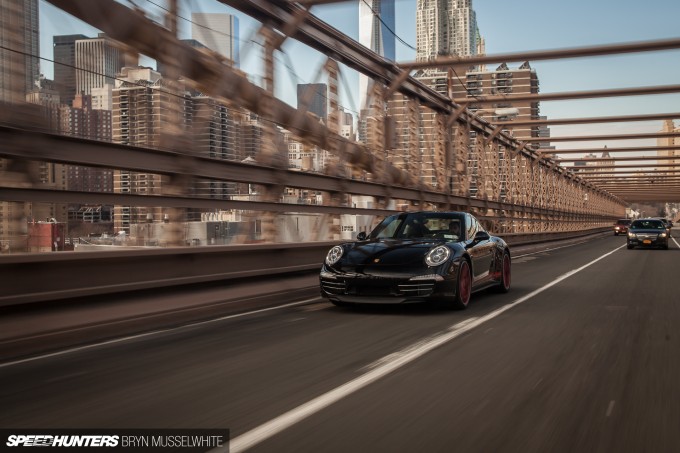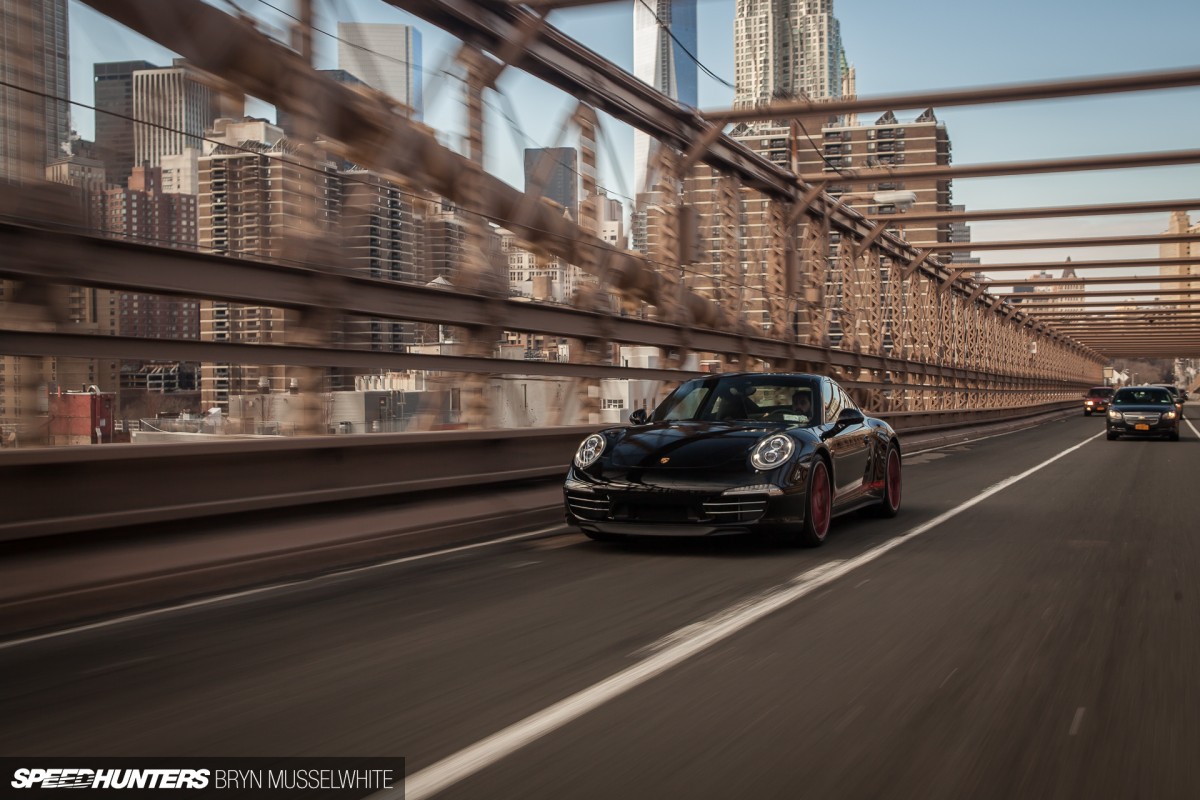 I can happily push the facts and figures to one side at any time though. It might seem odd that we'd drive a car like this around Manhatten, but if I'm being honest, here is where I'd want to own one.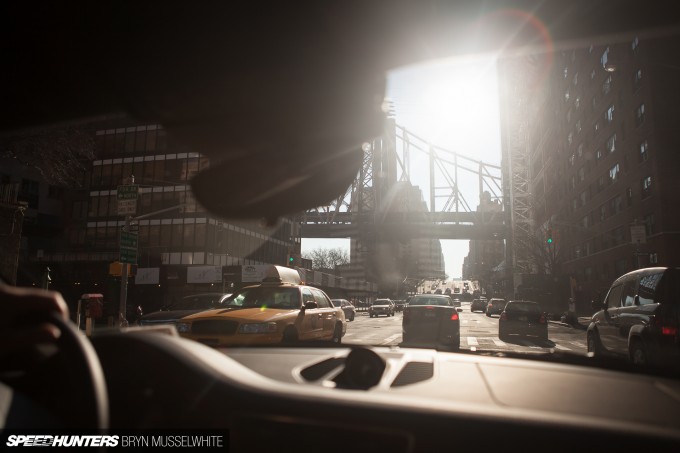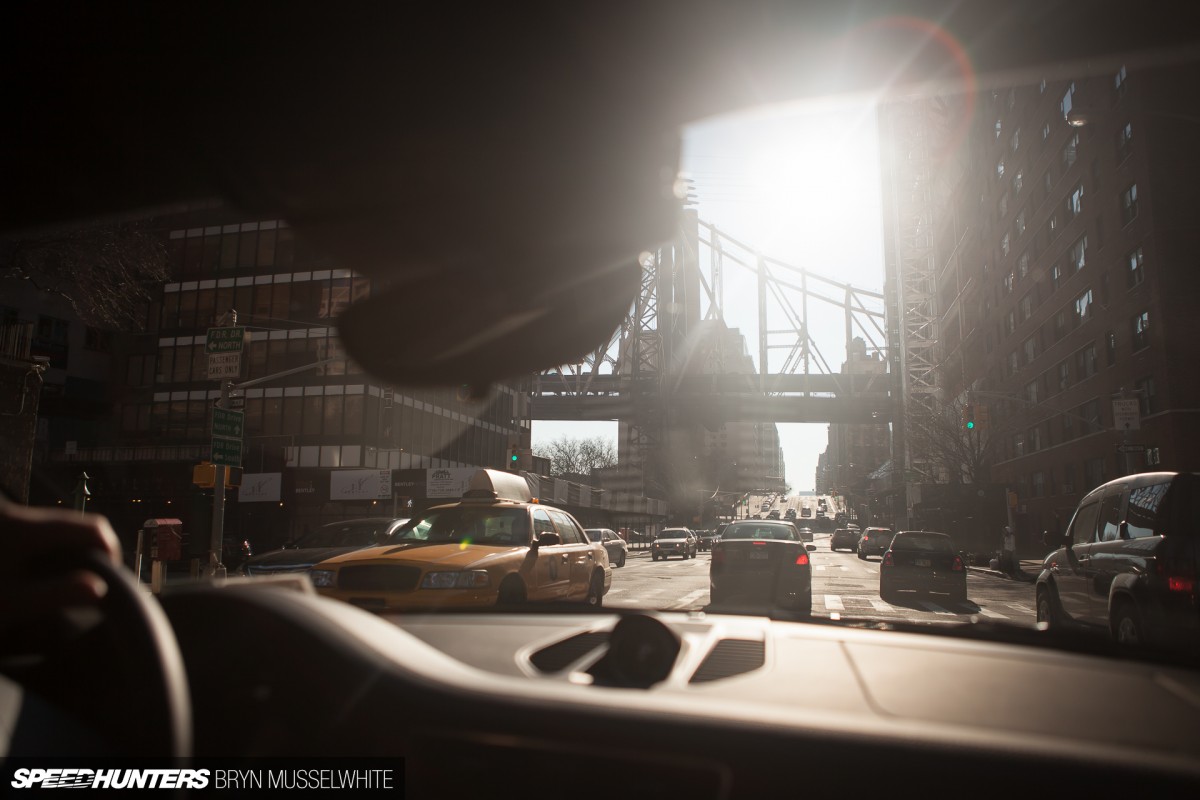 In such a hectic city you need to have a safe haven; somewhere to run and hide when it all gets a little mad. Which is another reason to head across in to Brooklyn. Although, I'm sure it's nothing like it used to be over the water, this area is one of the best places to view the Manhatten skyline from.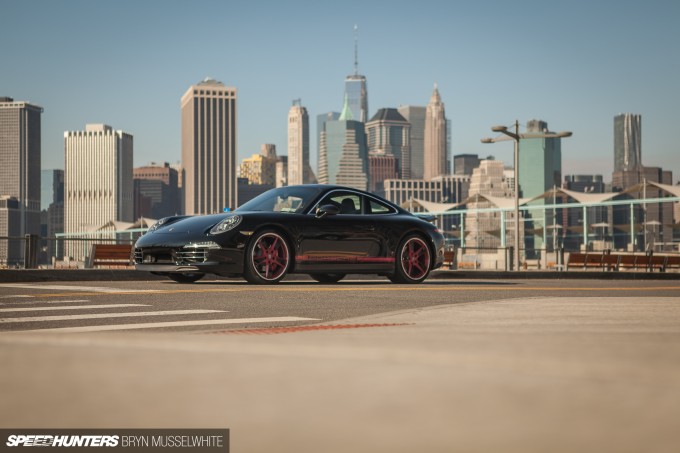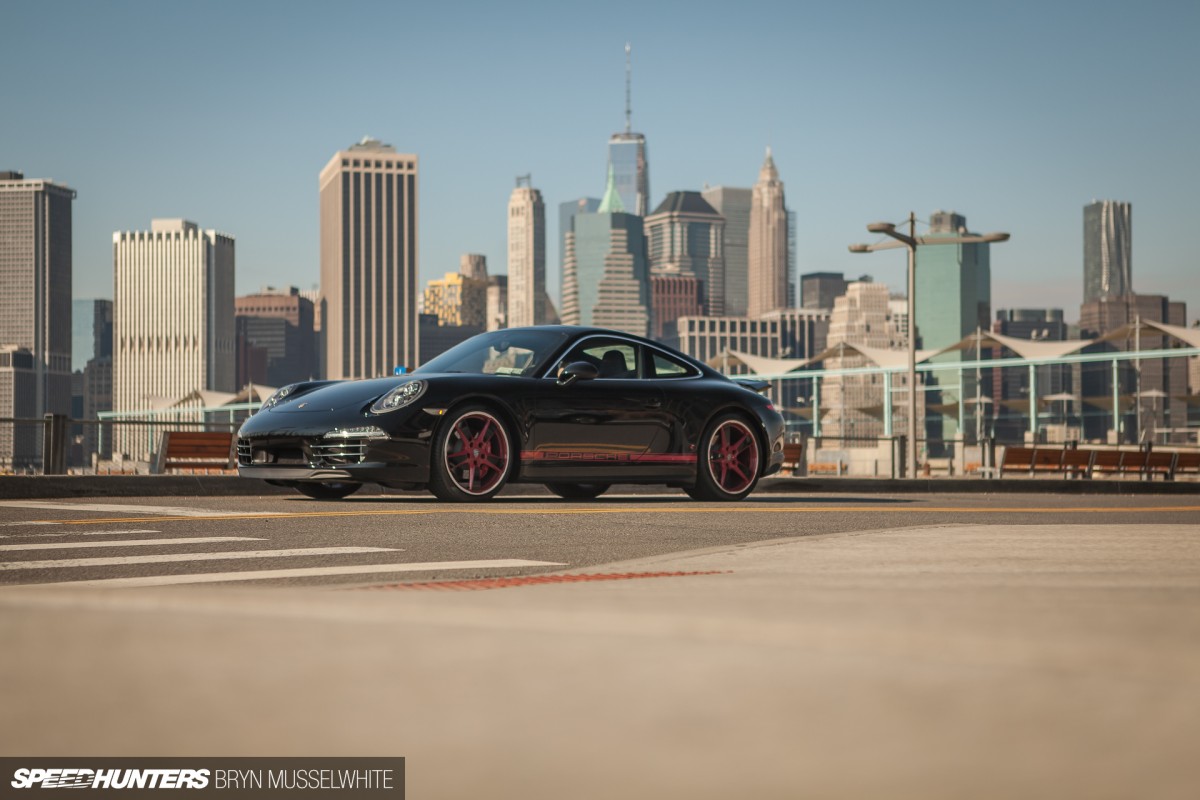 Throughout the last five decades the 911 has stood for a pile of different things. At first it was a quirky aircooled sports car with the engine in the wrong place. Then in the '70s it became an icon with its pumped arches and distinctive race liveries. The '80s? Well, they're best summed up for me by this picture. The towers of NYC's financial district rise up in the background and it was this decade that brought excess and spoilers. The turbo had arrived at the end of the '70s, but now it became the model of choice.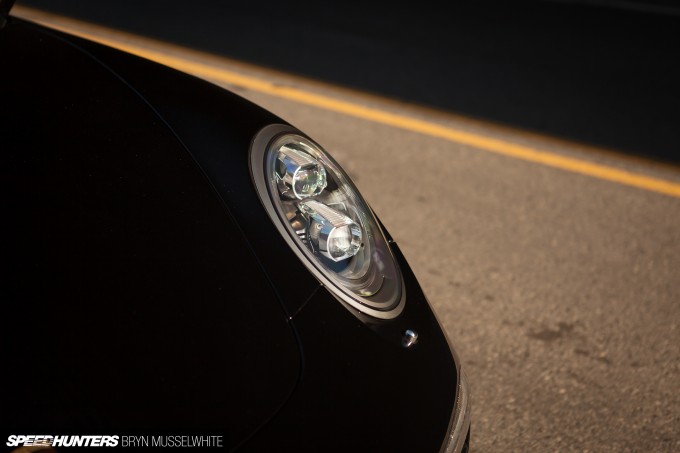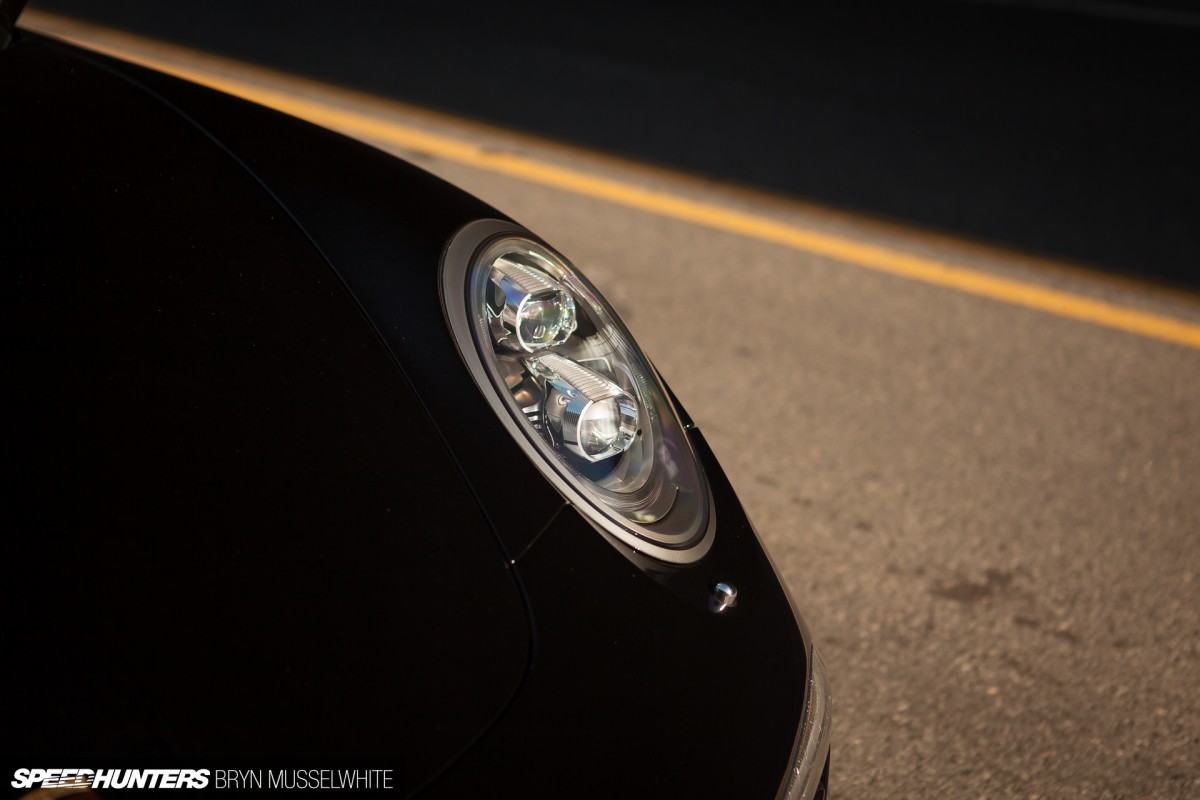 Here in the modern day you can see all that history wrapped up in one car. You've got the kind of power that will keep you wanting more without disappointment, and the lines we all know and love are still clearly there, albeit updated with Xenon innards in the headlights' case.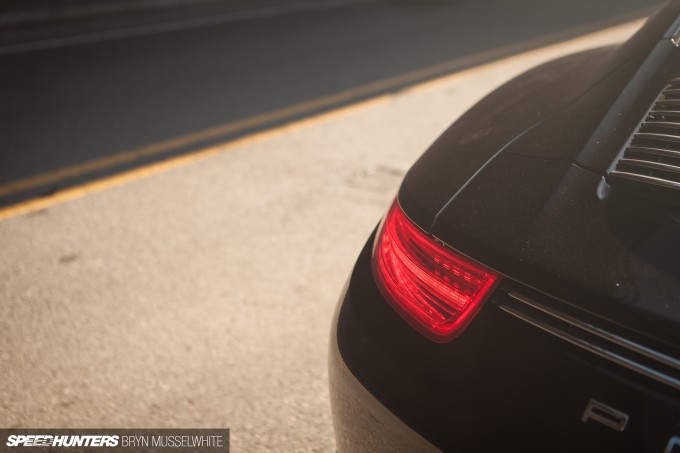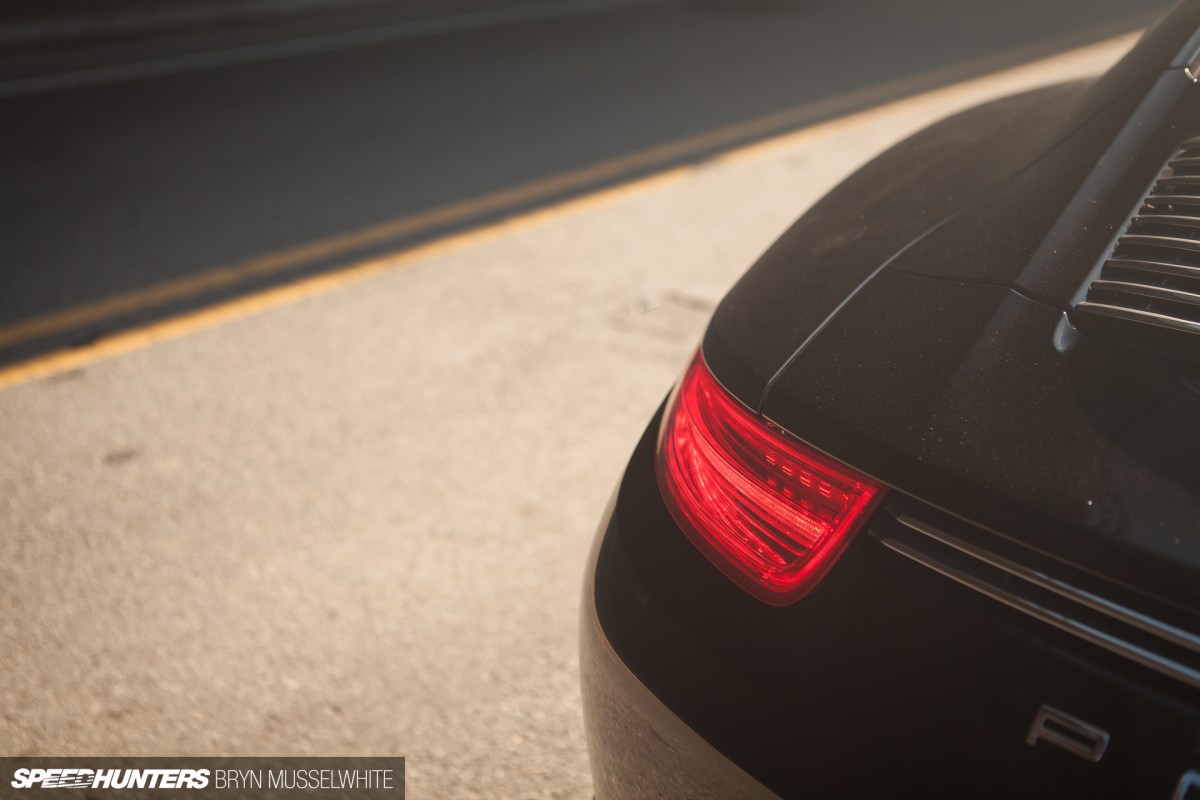 Modern light clusters echo the design language which has been passed down through the generations and for me this is possibly the finest-looking modern 911 in a long time. Everything up to and including the 993 felt like it was just an update on that original shape, and when you look at what the aftermarket are doing with 964 shells and back-dated design, it goes to show how little they changed. The 996 was a bold move and was needed, but as always Porsche has taken its time and not rushed the natural distillation that occurs when a model ages. Now we're here.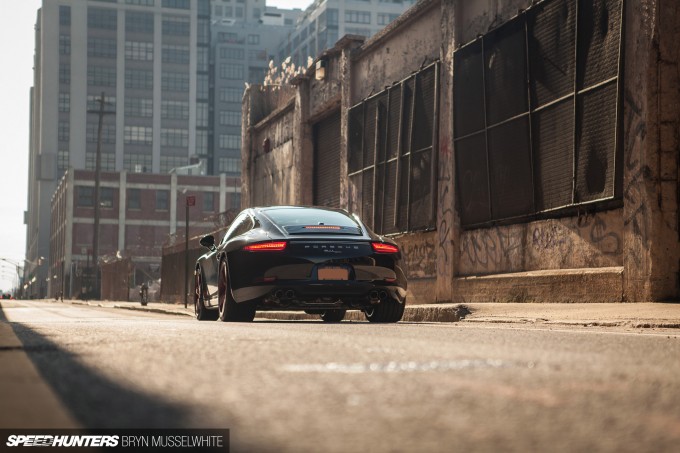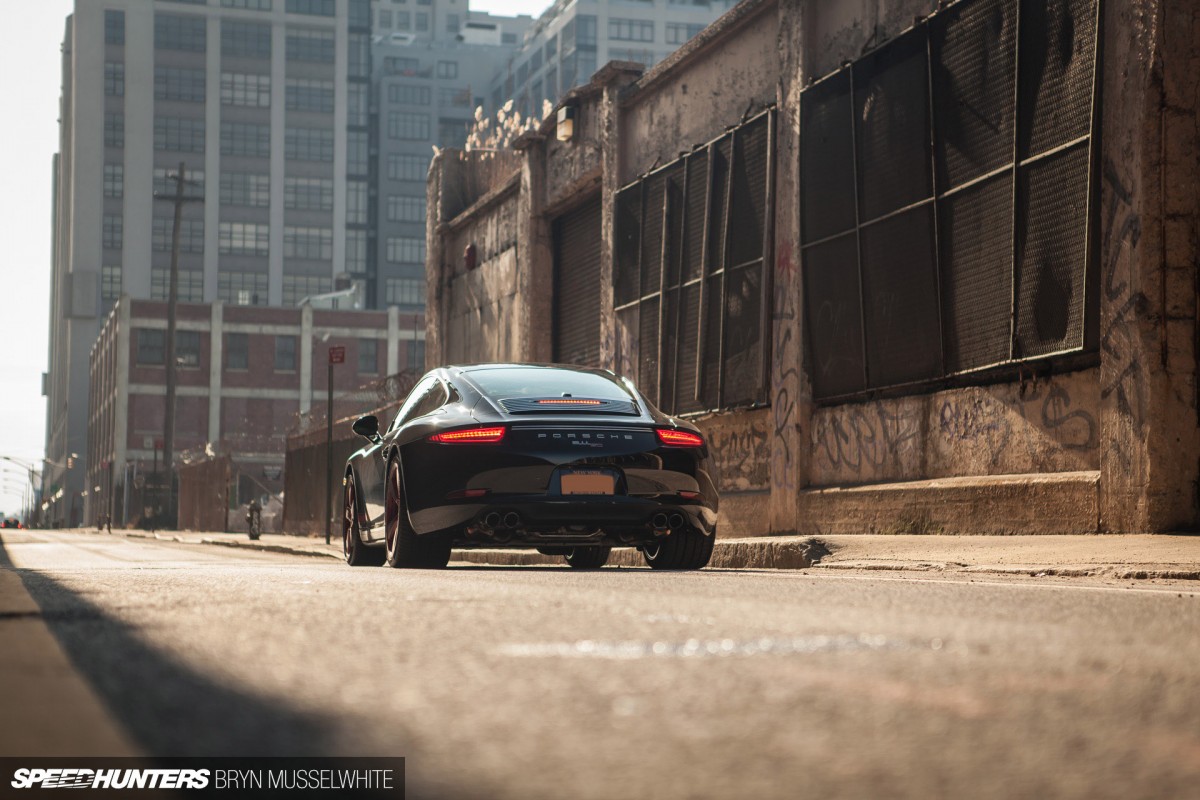 Which is a great place from where I'm sat.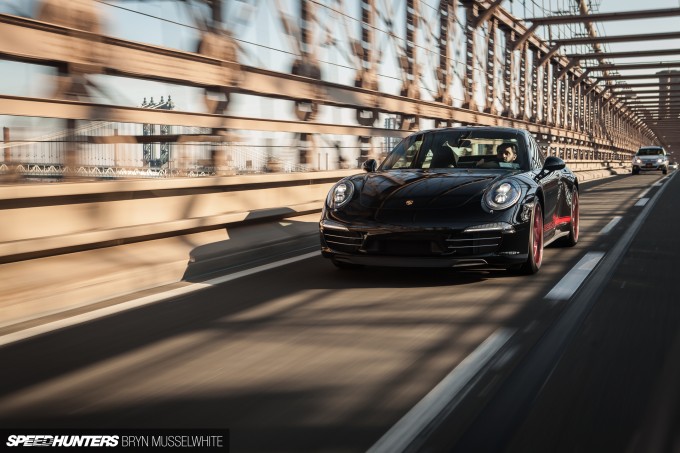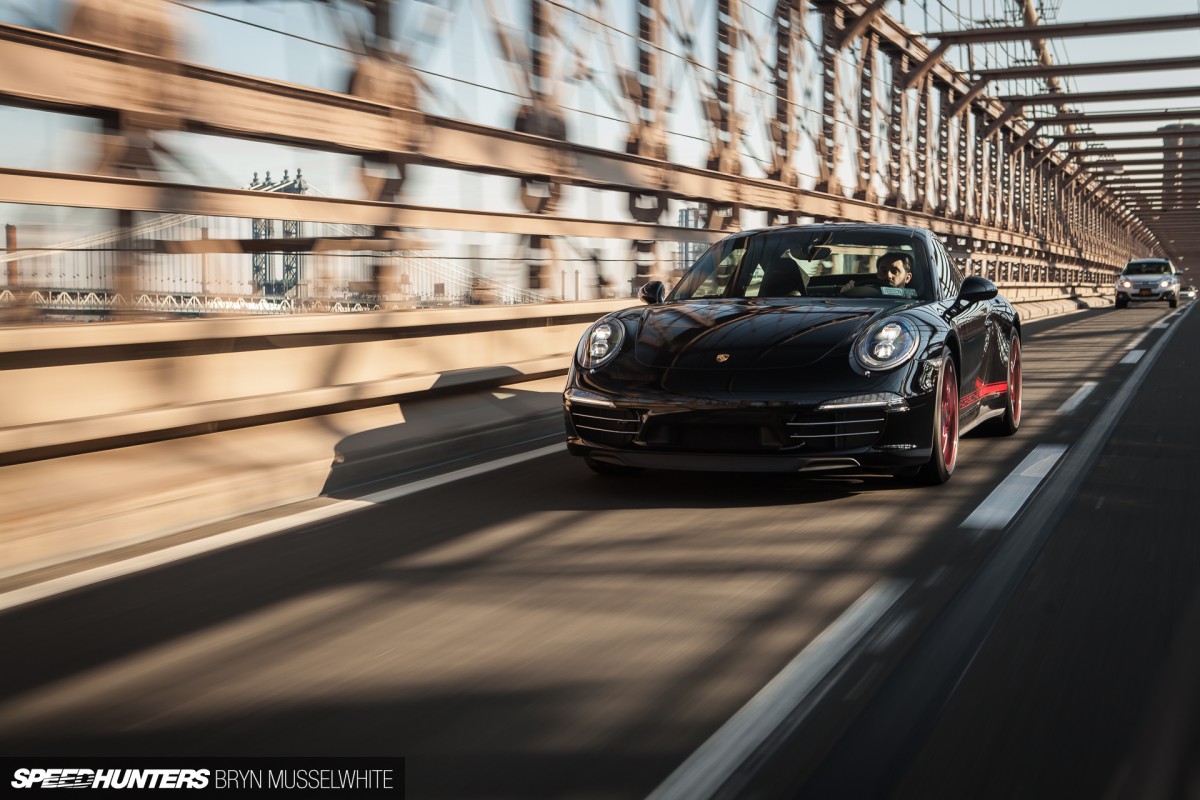 Porsche has combined everything about the 911 that we like and left all the bad bits of history out. Thanks to history and the passion of enthusiasts that this car evokes, they survive perfectly well elsewhere.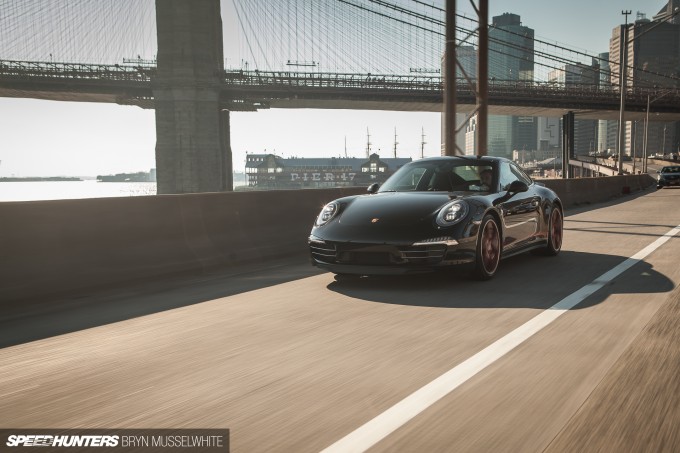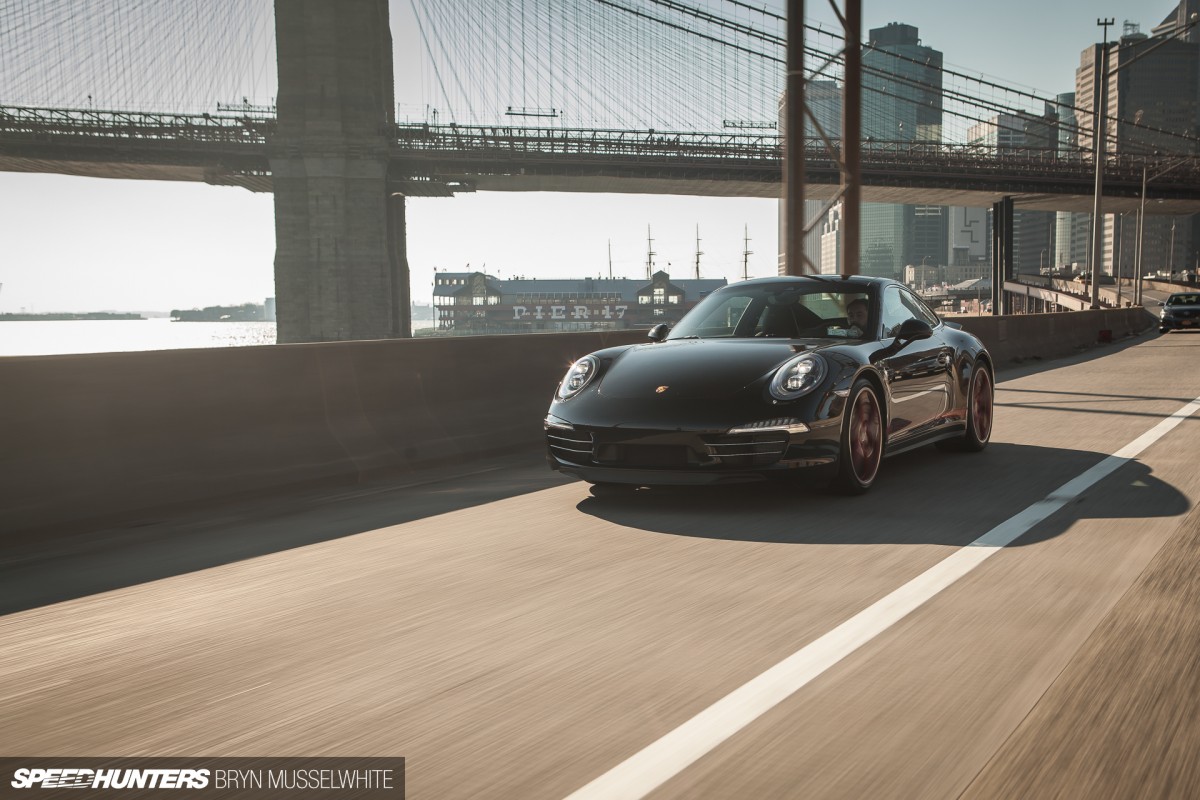 It was a great couple of hours moving smoothly through the New York landscape, grabbing gaps and switching directions whenever the mood took me. Basking in some much-needed sun and reflecting on the afternoon, initially you can feel like these experiences come to an end all too soon. Which is when I realised that's the other thing about a 911 that makes the whole thing special. Sure, you could use it everyday and happily have the 50th Annivesary as an only car. But it always feels like there's a higher purpose with a 911. They're not for everybody. But I think I can safely say they're definitely for me. This could get expensive…
Bryn Musselwhite
Instagram: speedhunters_Bryn
bryn@speedhunters.com
Produced by Elizabeth White
elizabeth@speedhunters.com
Instagram: itswhitenoise
Speedhunters would like to sincerely thank AZ for his help with this article