Oh no you won't
Once upon a time not all that long ago, the accepted method of screwing extra power out of a thumping V8 engine through forced induction was via supercharging. Turbocharging was mostly reserved for small engines and there was a distinct division between the two schools of thought, both on the street and on the strip.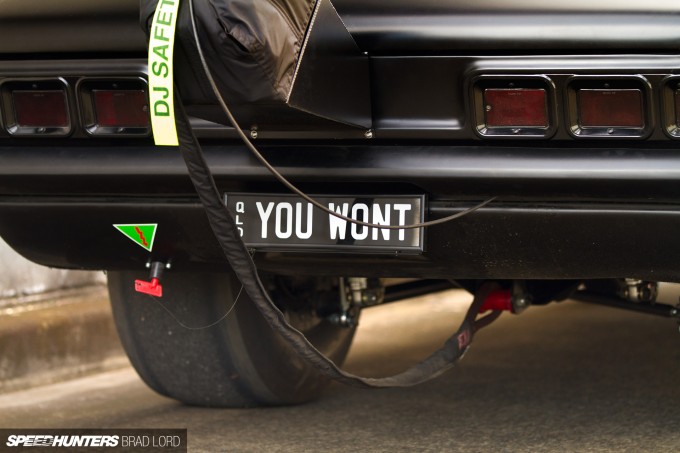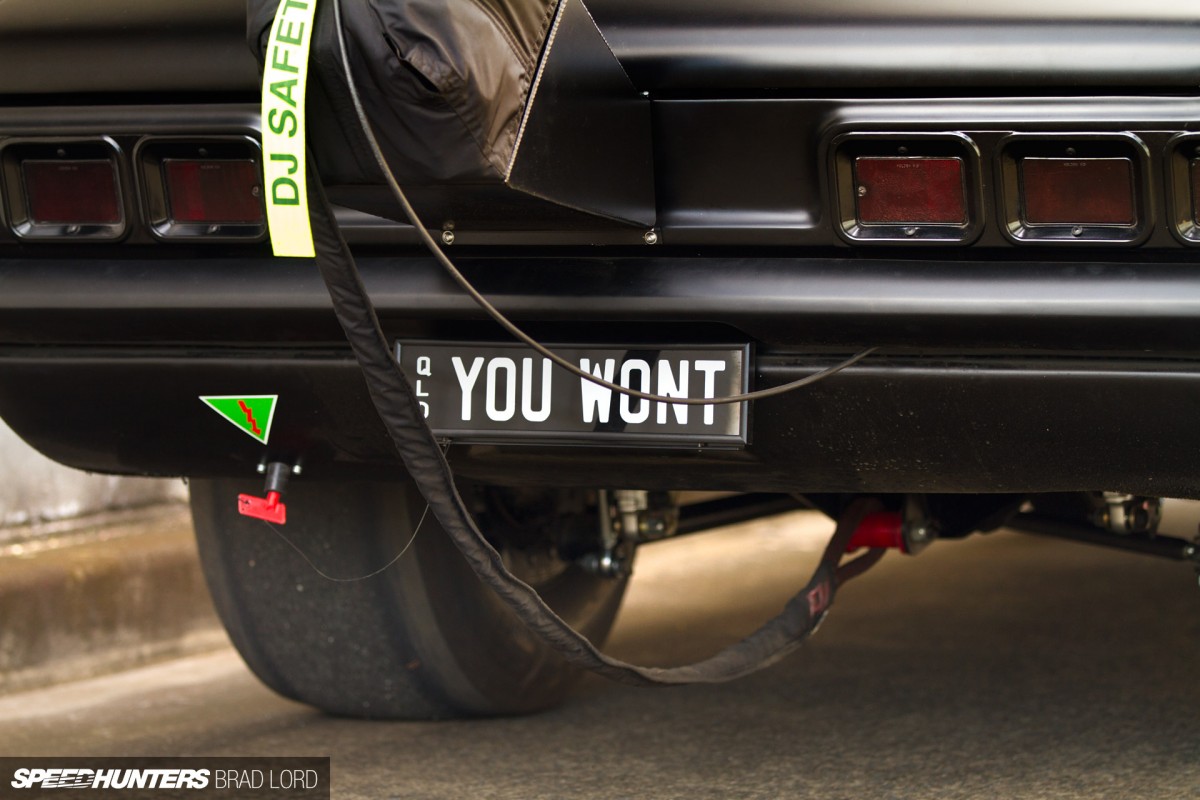 Of course, it was only a matter of time before bent eights and turbos met in the middle, and when that happens monster machines like Spot On Performance's 1972 GM Holden LJ Torana are created.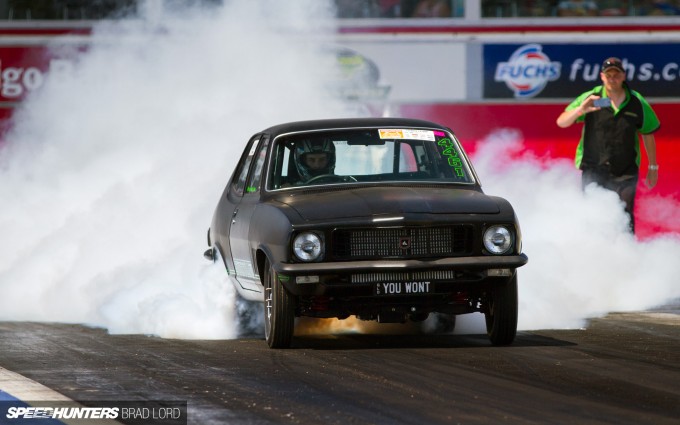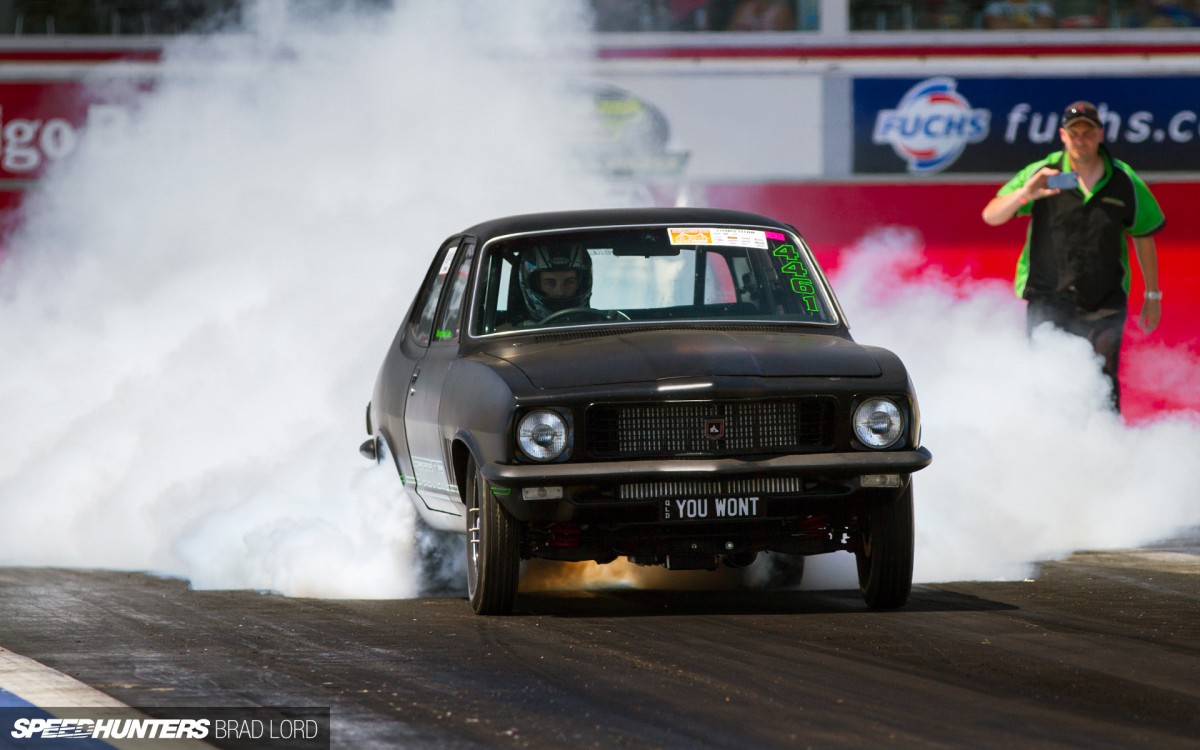 If you're a Speedhunters regular or live in Australia, you should be familiar with the Spot On name – and for good reason. From a little workshop tucked away in an industrial back road of Brisbane, owners Andy Coles and Danny Lansdowne and their small but dedicated team crank out some of Queensland's toughest street and drag weapons.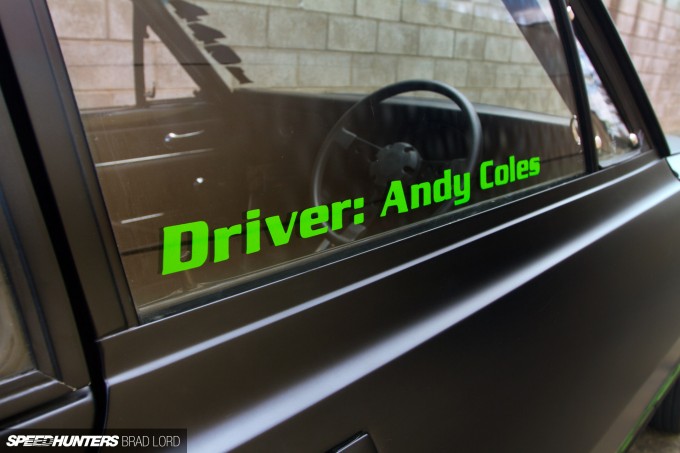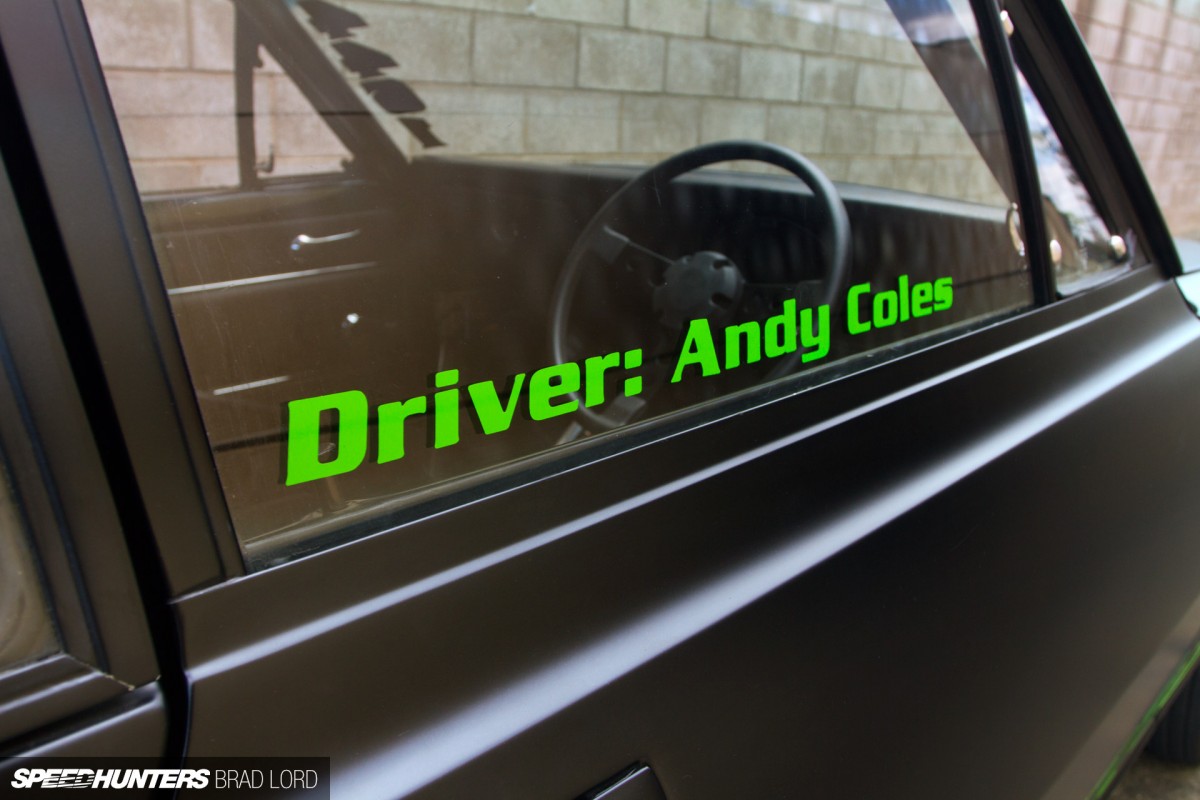 Given the hours they pull, I'm not entirely sure how they find the time but in between it all, the pair have managed to build some very cool cars for themselves. The eight-second, 2JZ-swapped and nitrous-assisted Holden Calais wagon that I featured last year is Danny's toy – this sinister-looking flat black Torana is Andy's.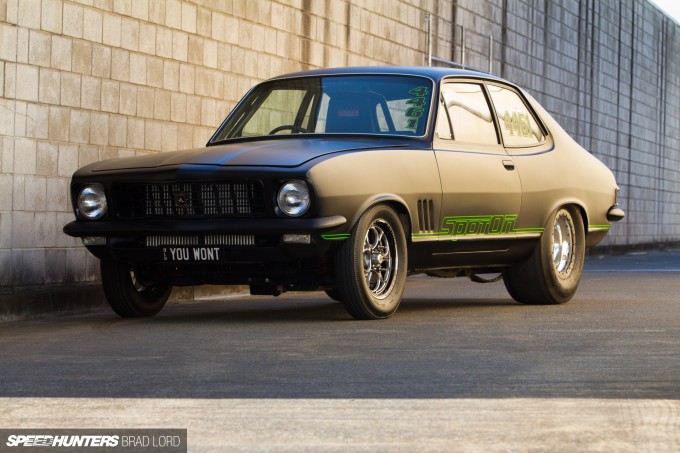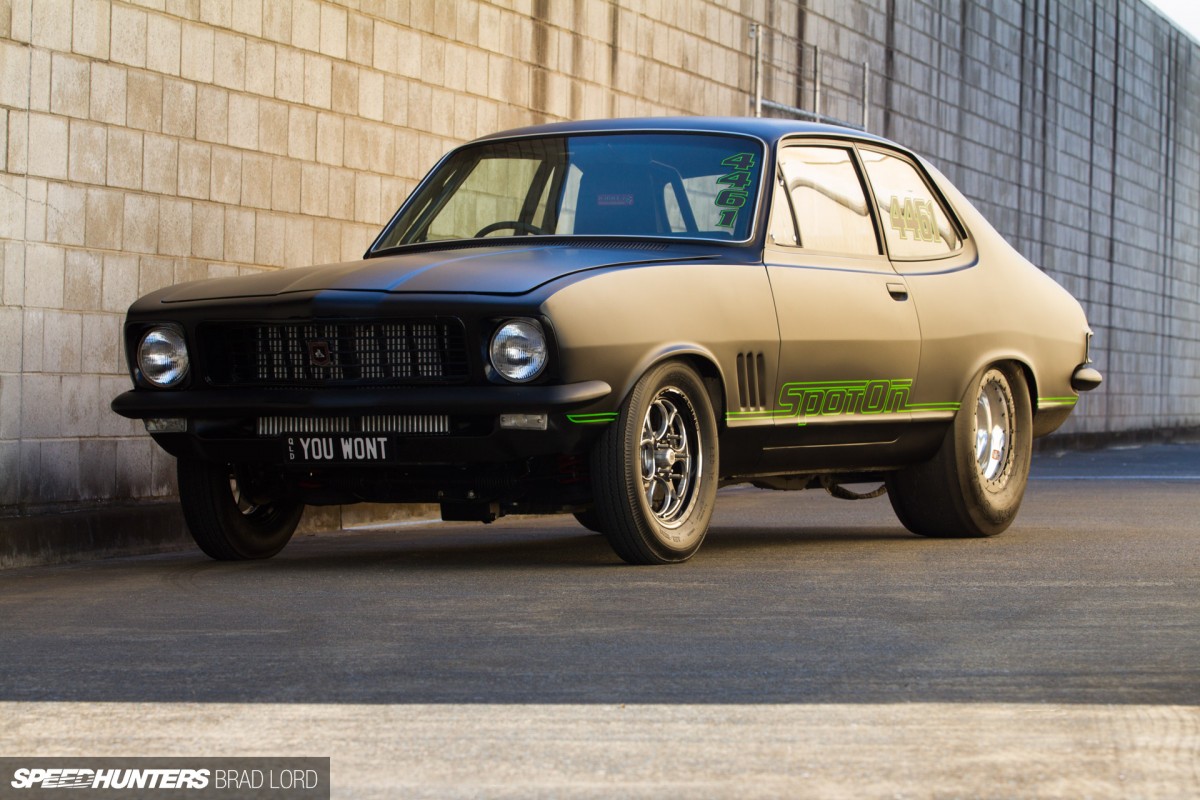 The Torana is a popular car in Australian modifying circles, something that can be traced back to its racing roots and subsequent successes in the hands of past masters, like the late Peter Brock. While this particular LJ didn't begin life as a high performance GTR or GTR XU1 model – you'd never want to cut one of those up – it stays true to its production car roots by retaining an all-steel body and its factory glass. As Andy explained to me, that was a very important aspect of the build, because despite its obvious straight-line set-up, this old school Holden was engineered to be driven on the streets.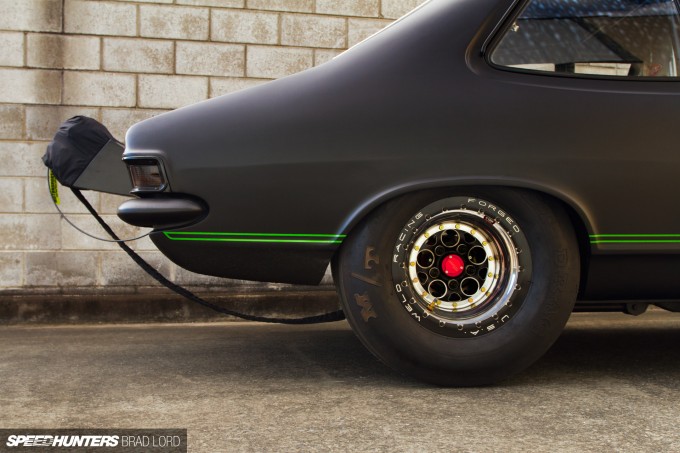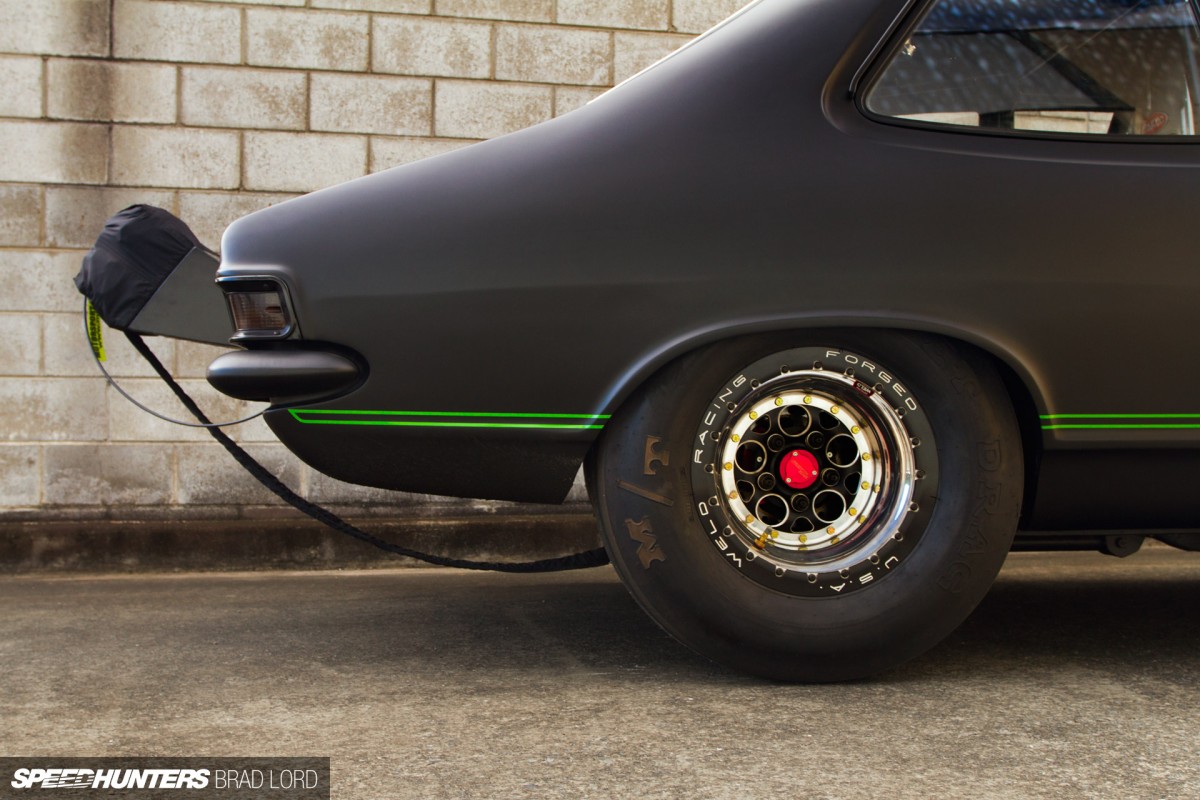 When I caught up with the guys and the car during my last trip over to Queensland in November, it was still in its strip guise, having just punched out a new PB at Willowbank Raceway. But it's a quick switch to road-legal guise as I'll explain a little bit later on.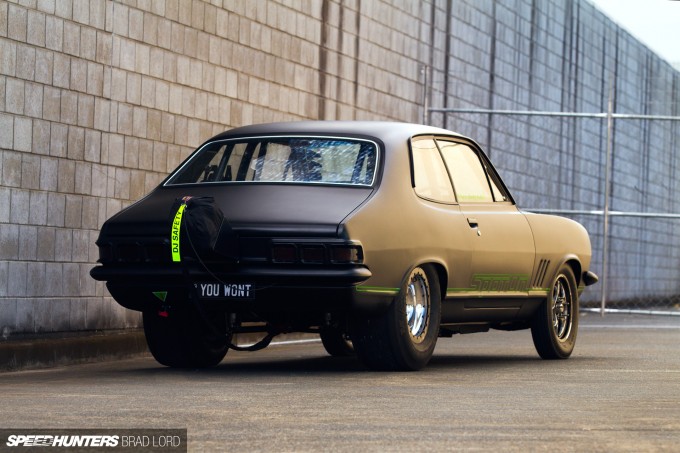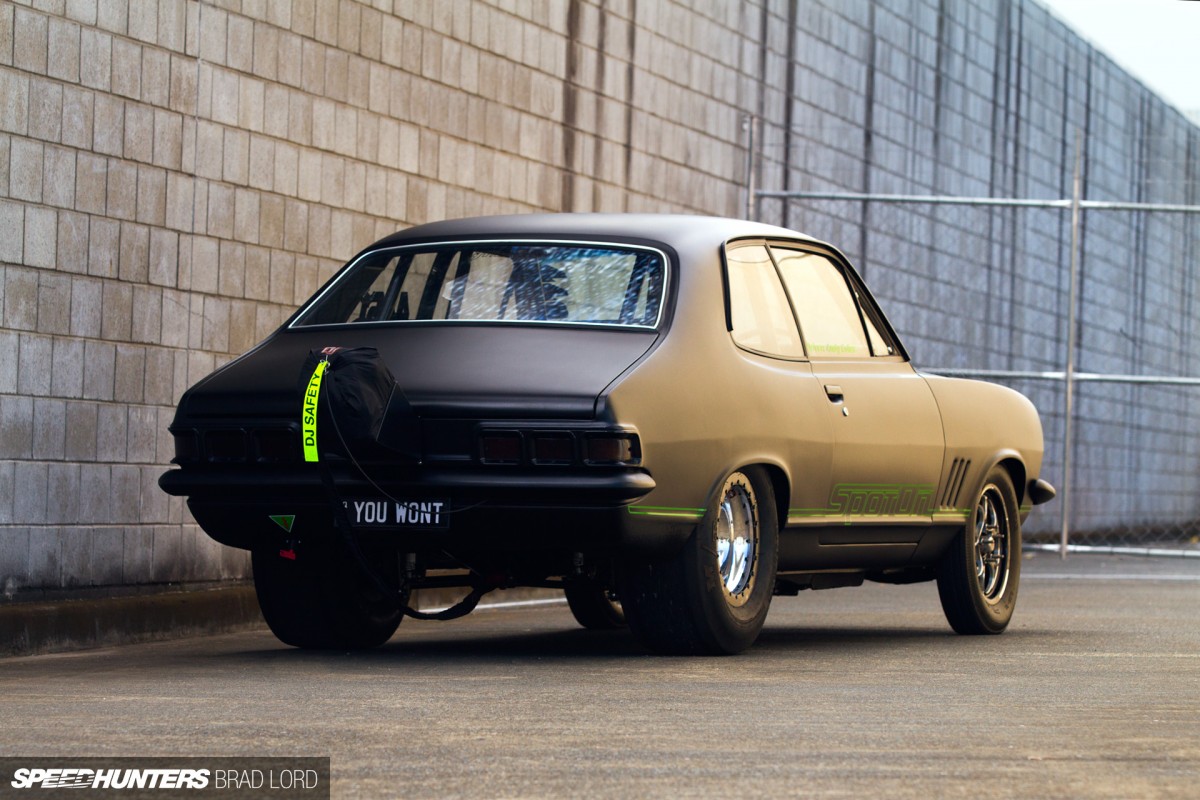 The LJ is a good looking car in bone stock form, but as Spot On's creation goes to show, equip one with a drag stance – skinnies on the front and some big rubber on the rear – and you enter an all-new realm of street-tough awesome. The satin black paint work by the Kustom Shop and fluro green vinyl treatment from Decal Design & Graphics helps the cause too, but in a less-is-more kind of way. It just looks so right, don't you think?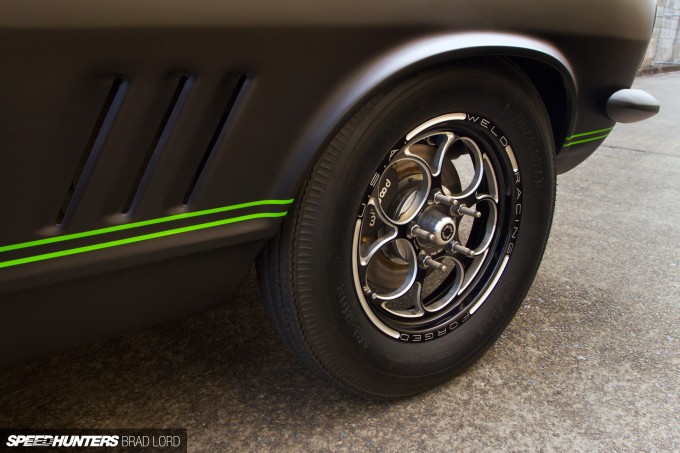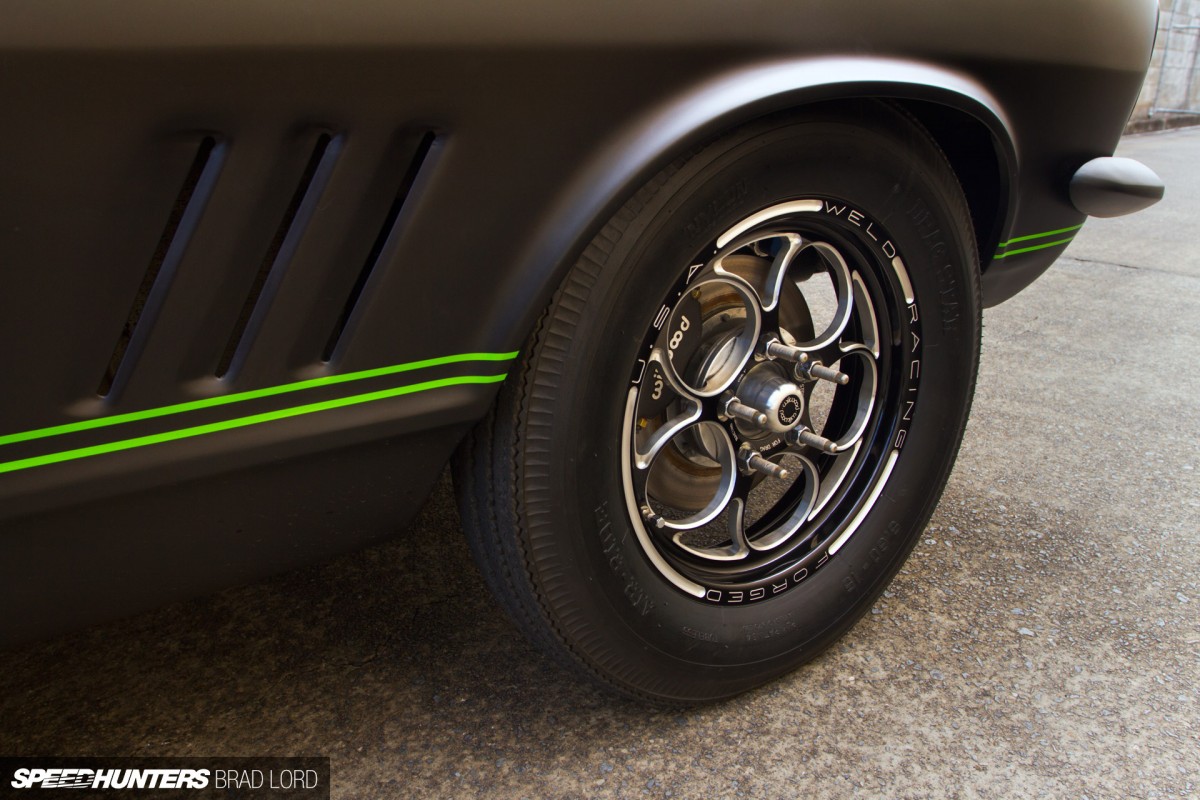 The Weld Racing forged wheels absolutely seal the deal too – raw and polished aluminium accents picking up the chrome around the front and rear windows in an otherwise totally murdered out exterior. Black-faced Magnum 2.0s get the nod, with the front wearing Drag Star tyres for drag duty and Mickey Thompson S/R radial for the street. Out the back, a custom pair of 15×10.5-inch Magnums with double bead-locs for maximum tyre grab wear Mickey Thompson ET Drags or ET Streets depending on its use.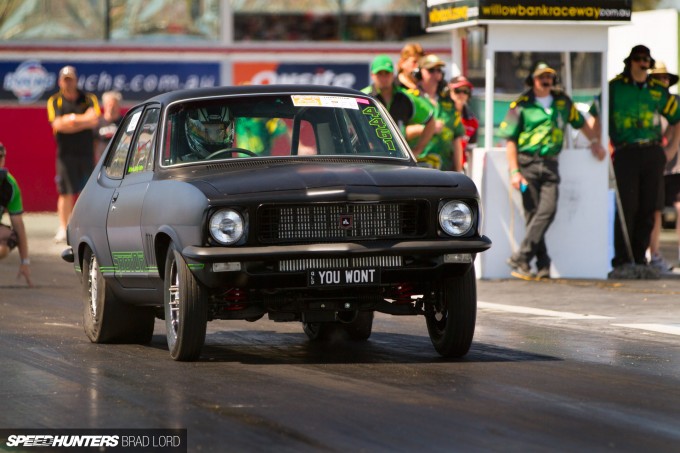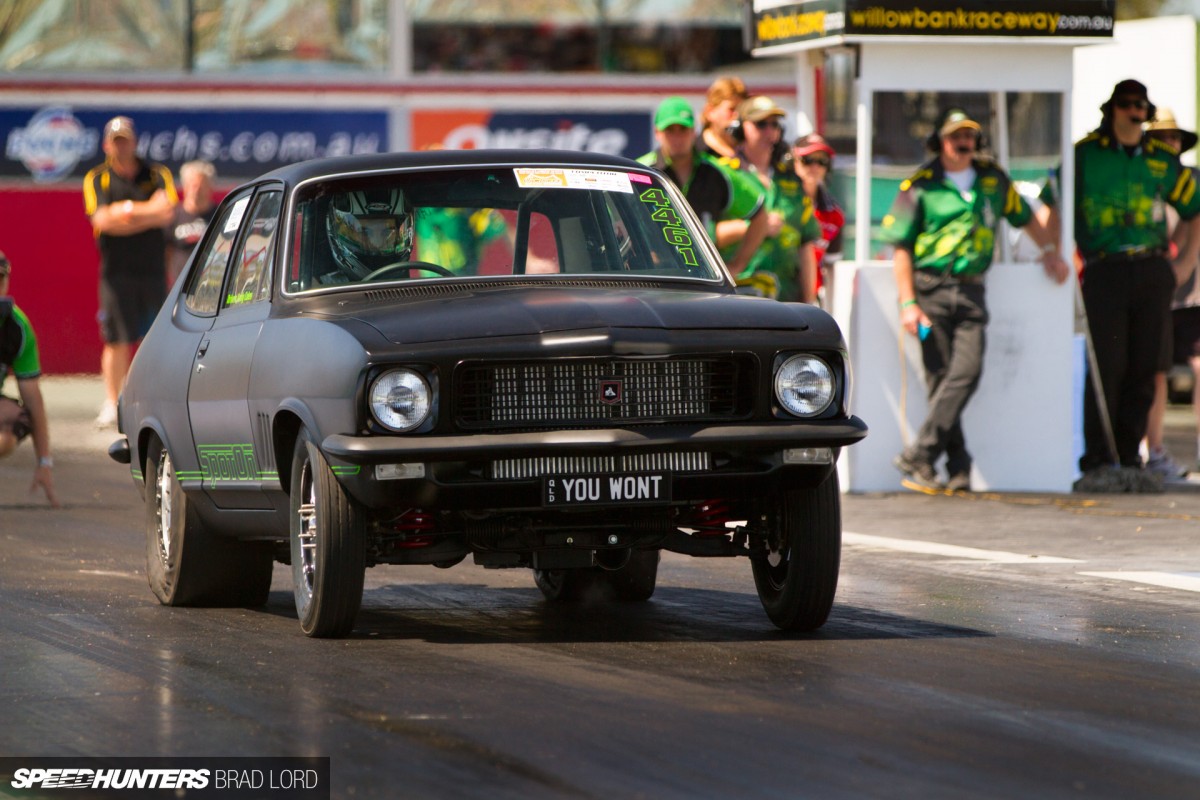 On race days, the big 28×10.5-15 slicks help get the Torana down the strip rather quickly. Its best ET to date? That would be a 9.00 at 155mph (249km/h) run at a Willowbank Test & Tune event earlier this month (check it out in this clip from the guys at Drag Videos Australia).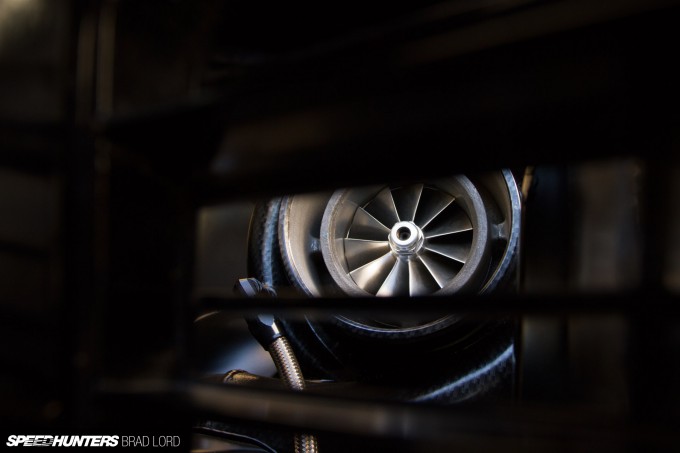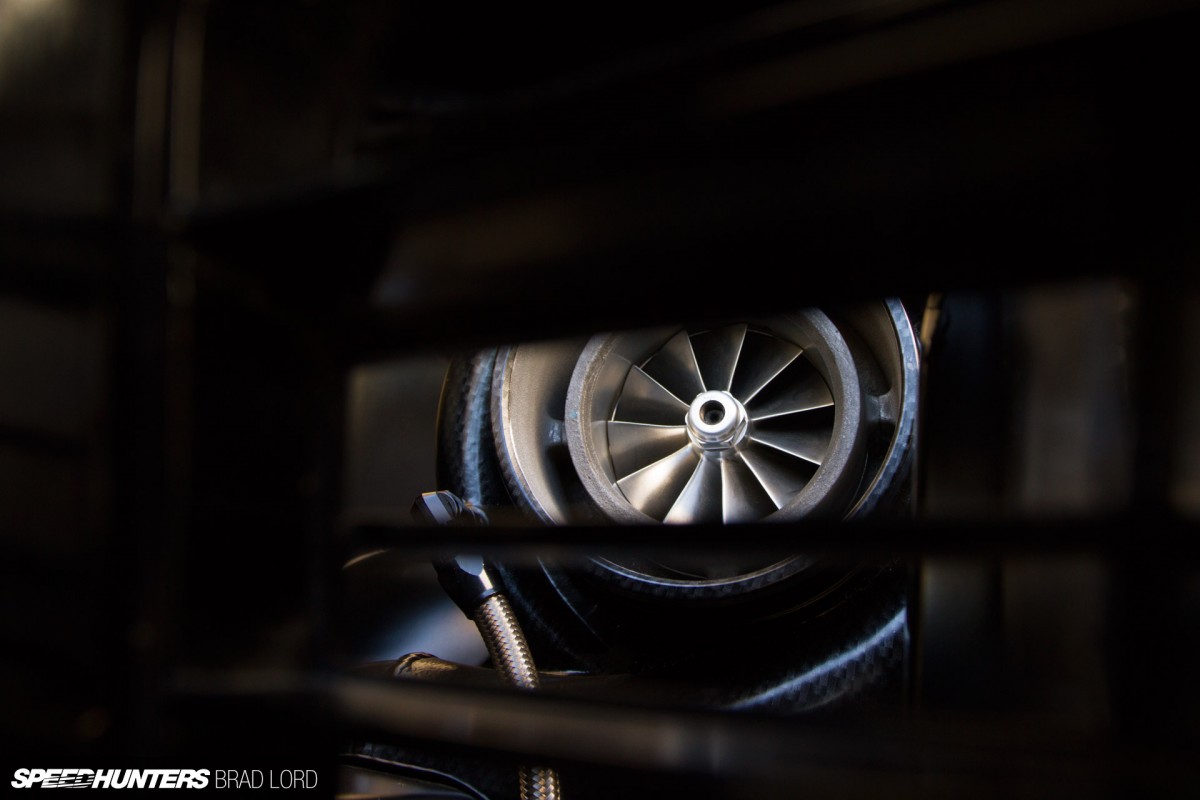 The impressive bit isn't the fact that the LJ is already knocking on the eight-second door with only a few trips to the strip under its belt, but more so that its engine is being run on its lowest possible power setting: 670hp at the rear wheels…
No substitute for cubes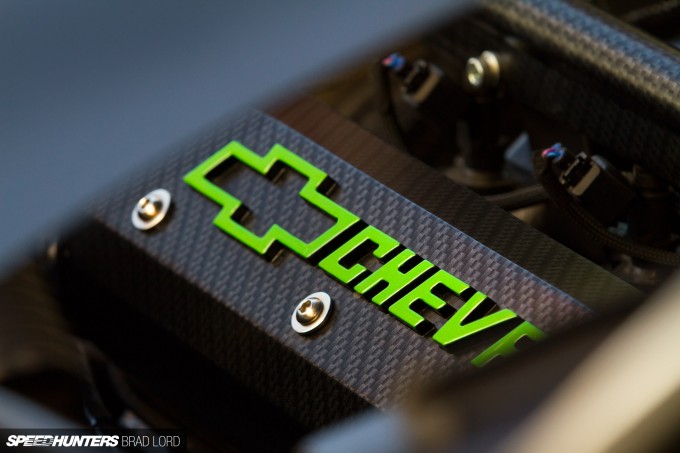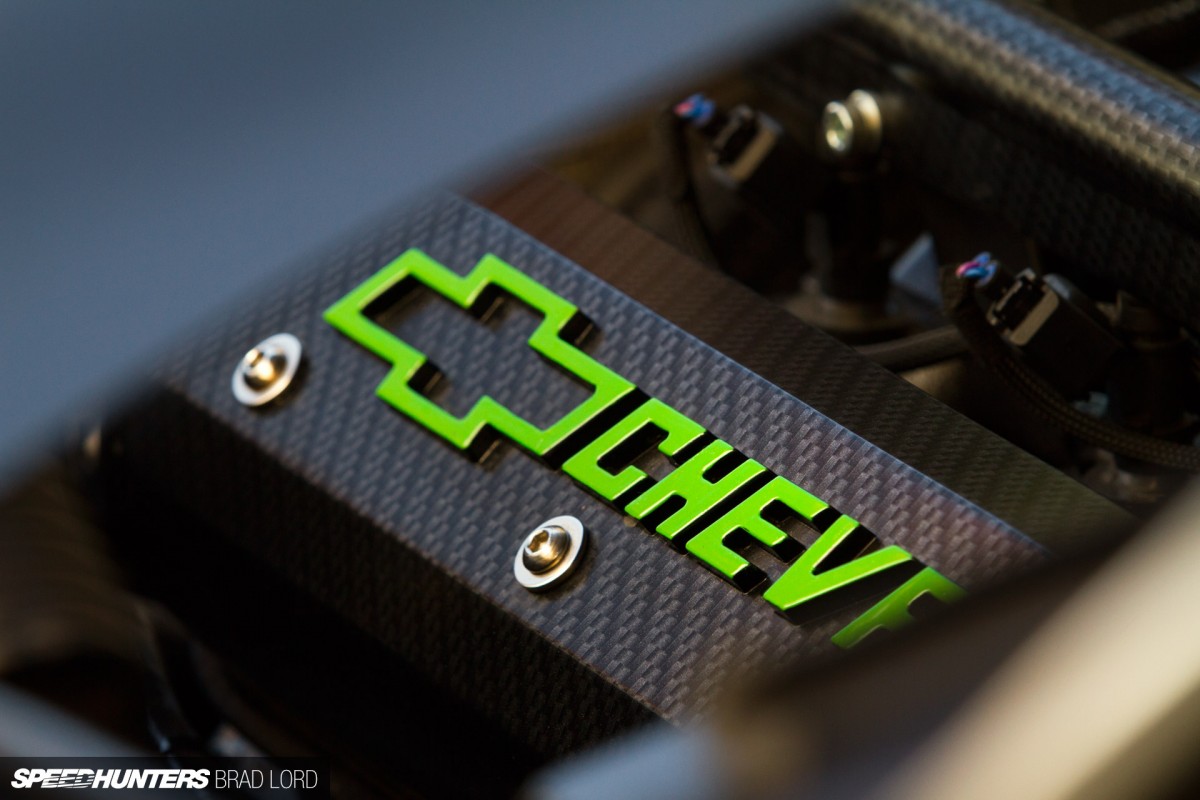 There were a number of routes Spot On could have taken in filling the void between the front wheels, but having already dealt a Japanese straight-six to the Calais wagon, running with a late-model V8 from the General's Chevy Performance stable was an easy choice to make. It was also one that Andy and Danny thought long and hard about before one single dollar was invested into the engine; not only so they would get the best bang for their bucks, but to ensure that the complete package would meet all their needs for the future. It's an sentiment that rings true for the entire build.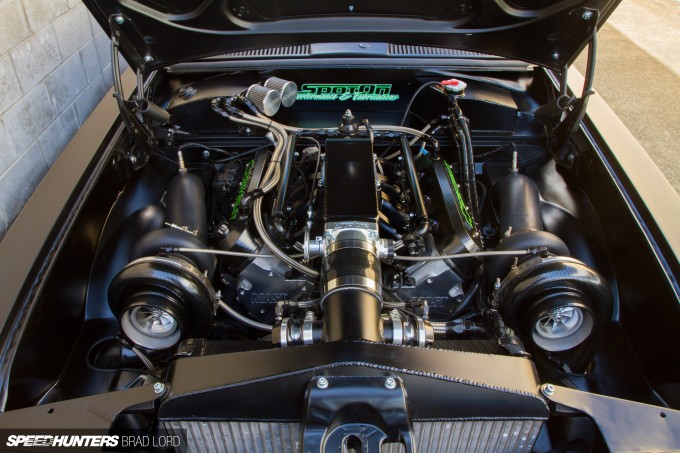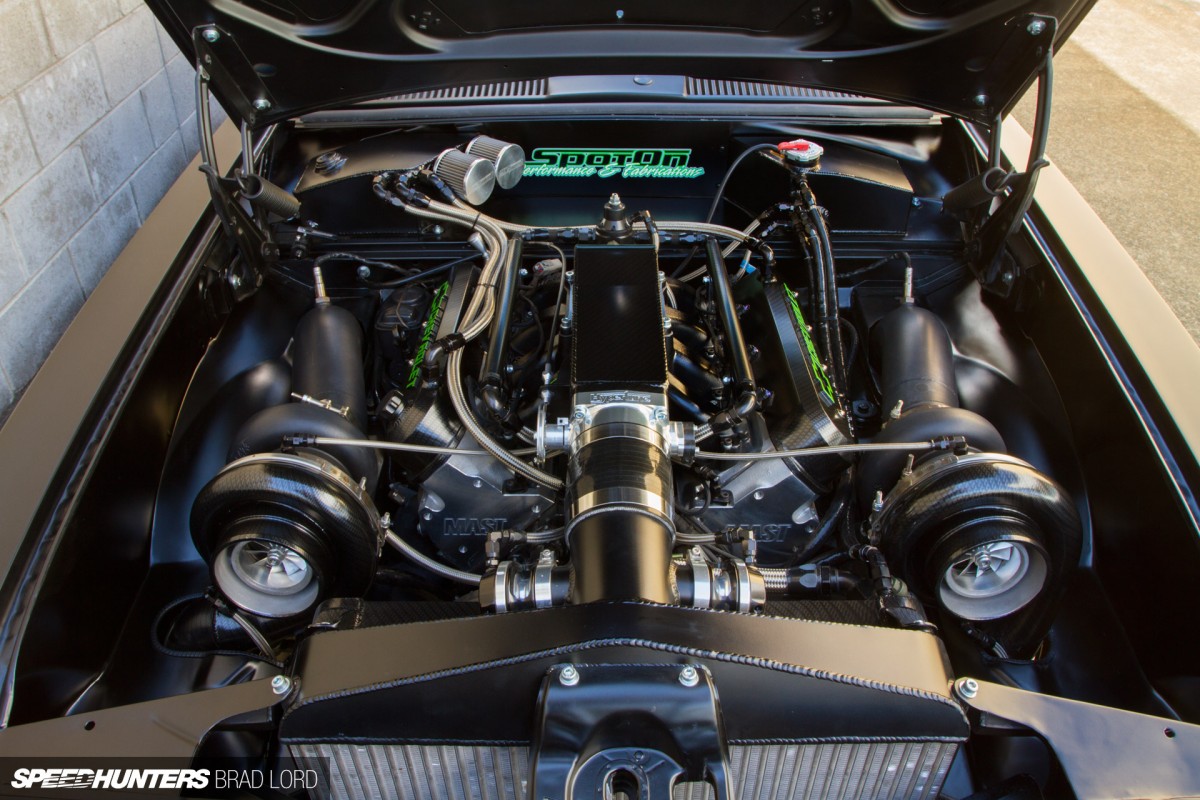 Of course, a simple crate engine was never going to cut it as far as Spot On was concerned, and what greets you when you lift the bonnet now is absolutely spectacular. Based around a Chevrolet LSX steel block, the 427 cubic inch motor uses custom JE forged LS7 pistons, Oliver connecting rods, a Callies Performance Products crankshaft, and a Spot On custom Comp Cams camshaft in its make-up. The CNC'd cylinder heads are from Mast Motorsports and feature valve gear from Ferrea, PAC Racing, Trend Performance and Crower.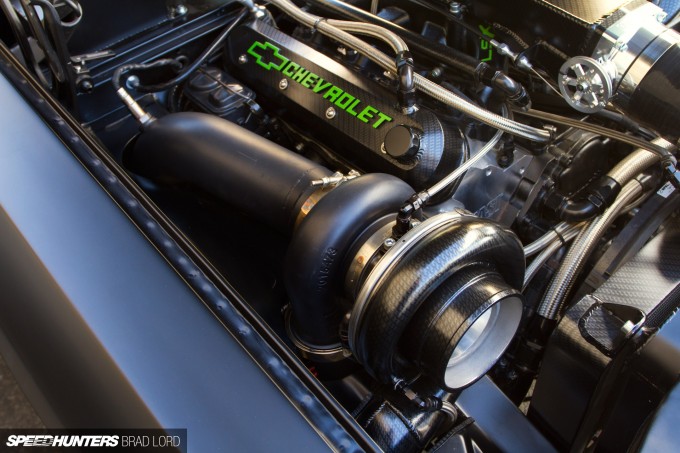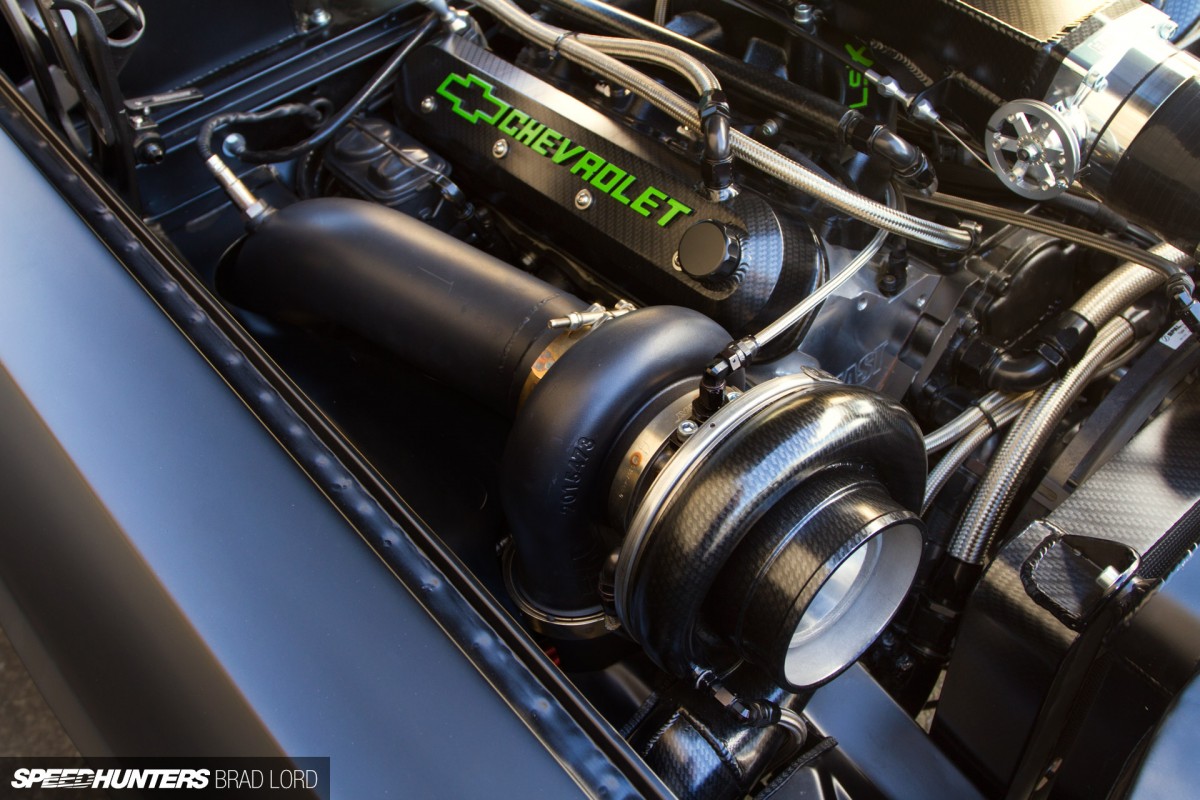 As angry as the LSX would be on its own, its two rather large Garrett GTX42R turbochargers complete with TiAL exhaust housings, are the real talking point. The turbos sit on custom Spot On manifolds and TurboSmart ProGate45 wastegates are employed for boost control. Speaking of which, as it stands right now, only 6psi of the stuff is used to generate that aforementioned power figure, so there's the potential for lots more to come.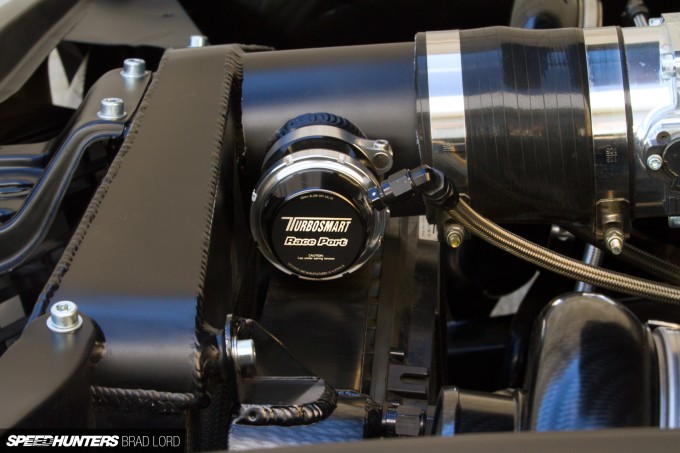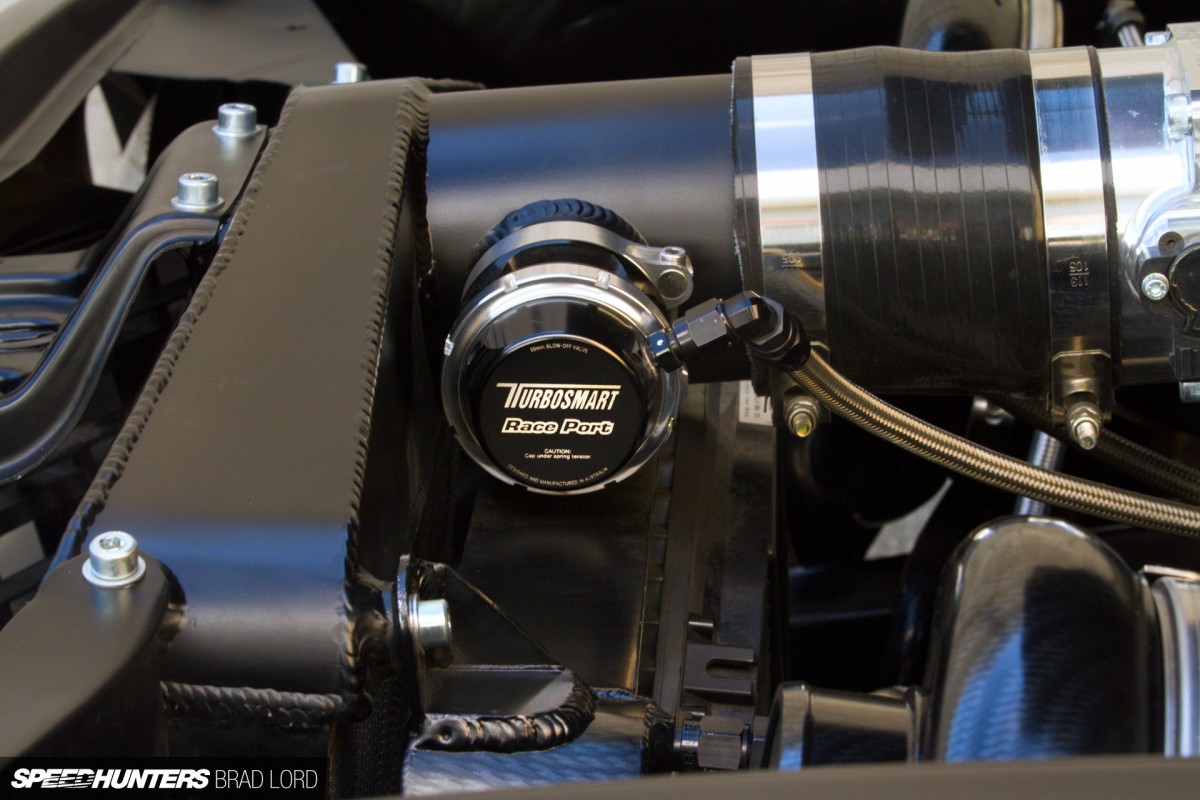 Dual Turbosmart Race Port blow-off valves are also in the mix, plumbed directly opposite each other straight off the PWR-based intercooler which features an over-the-radiator custom feed top tank – yet another neat solution knocked up in the Spot On workshop. Further down the intake tract, you'll find a Hypertune 102mm throttle body running into a custom intake hat.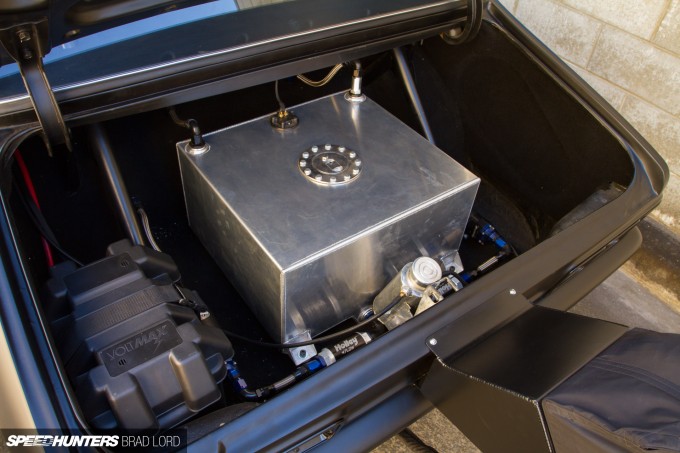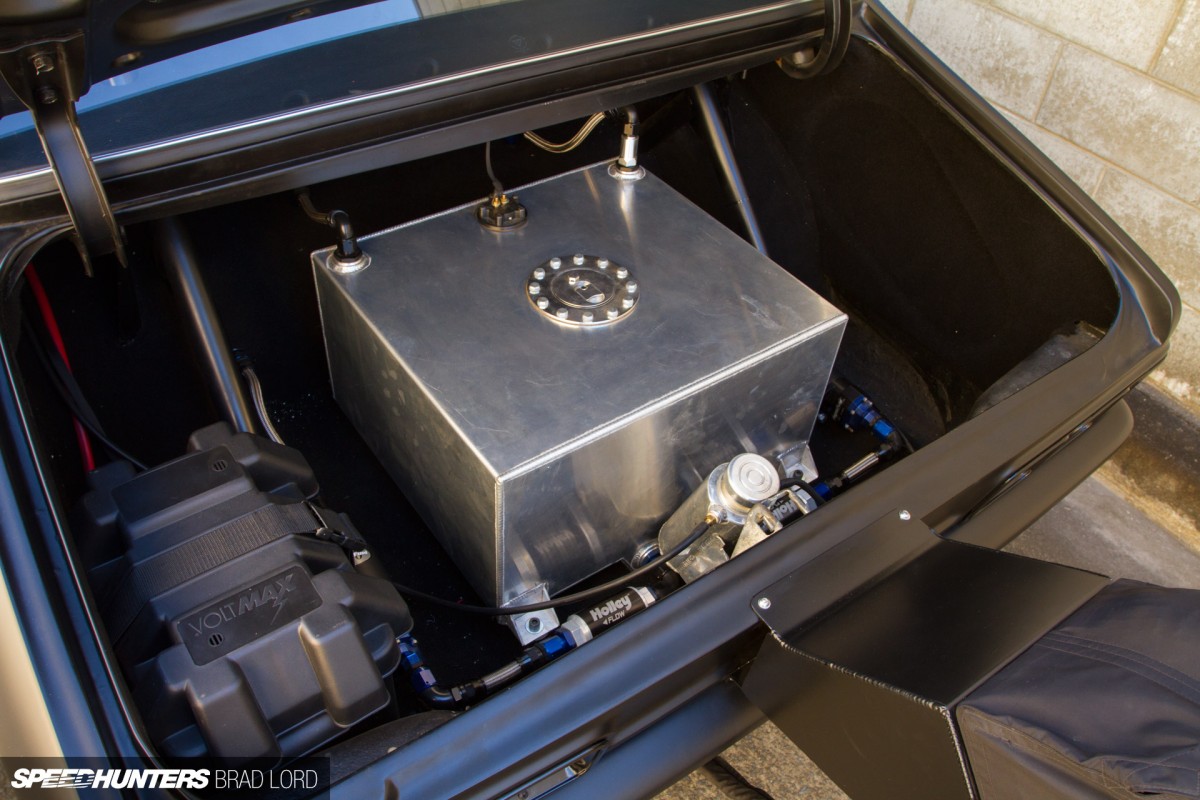 The hard tuned 7.0L V8 is a thirsty beast, which is why you'll find a fuel system of sizeable magnitude beginning in the boot. On top an RCi aluminium fuel cell and pair of MagnaFuel ProTuner 750 Series pumps are employed, supplying the engine bay through Holley filters and braided stainless steel lines. Up front there's a MagnaFuel adjustable fuel pressure regulator, custom Spot On rails and eight Bosch 1000cc injectors. Right now E85 pump gas is the LSX's drink of choice.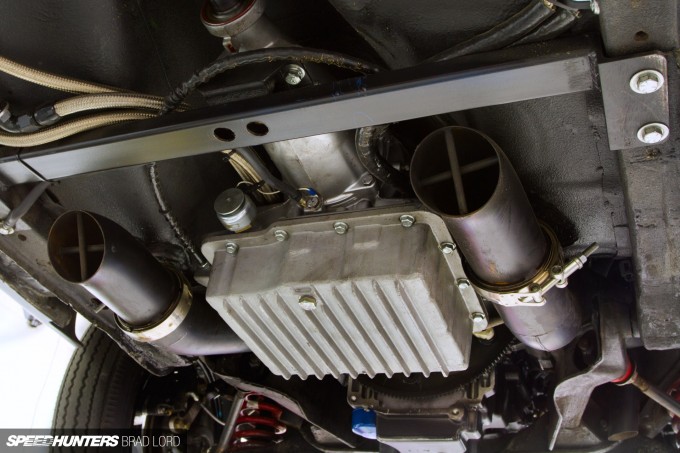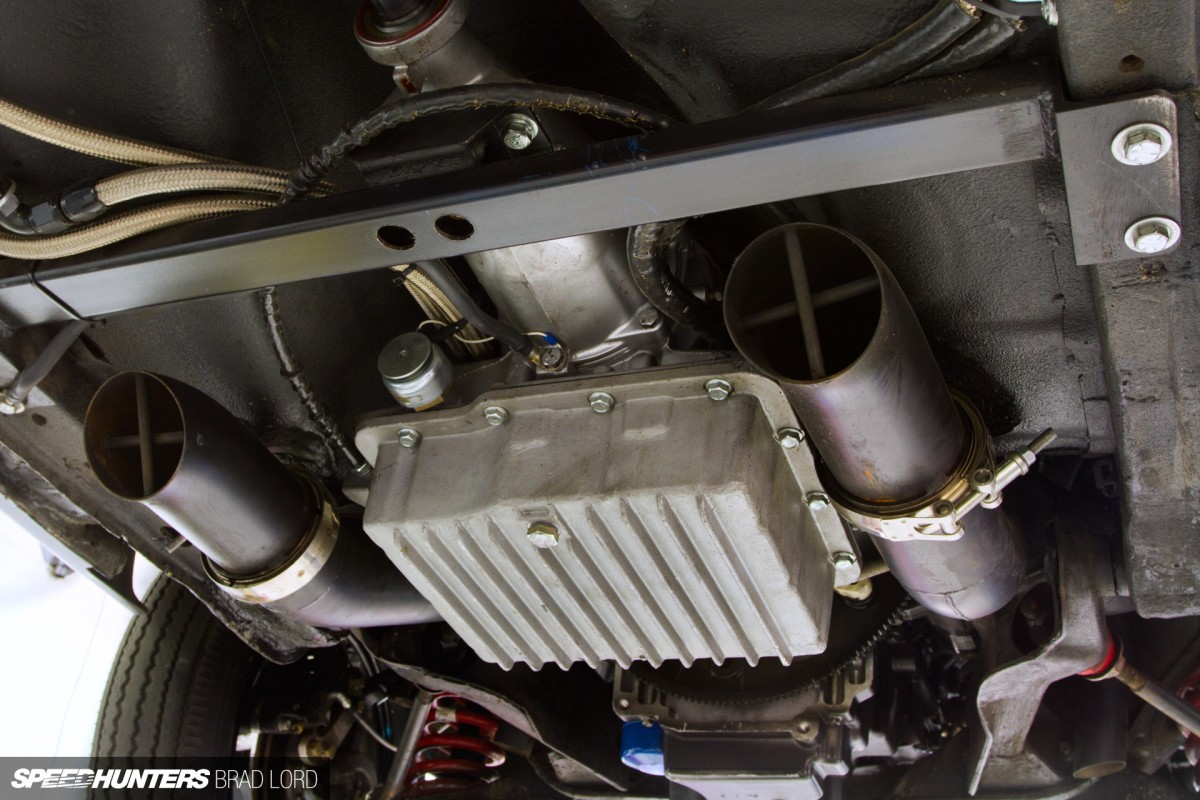 Prior to our shoot the Torana was up on the hoist, so I took the opportunity to grab a few shots underneath. Because of the location of the turbos, side-pipes would have been the easy option, but since the car was designed to be driven on the street, the guys ended up running the monster four-inch dumps through the inner guards then back down under the floor where a muffled road system can be easily bolted on and off.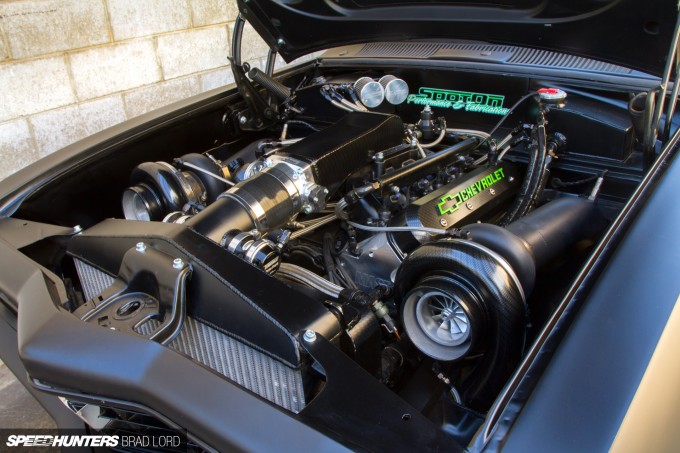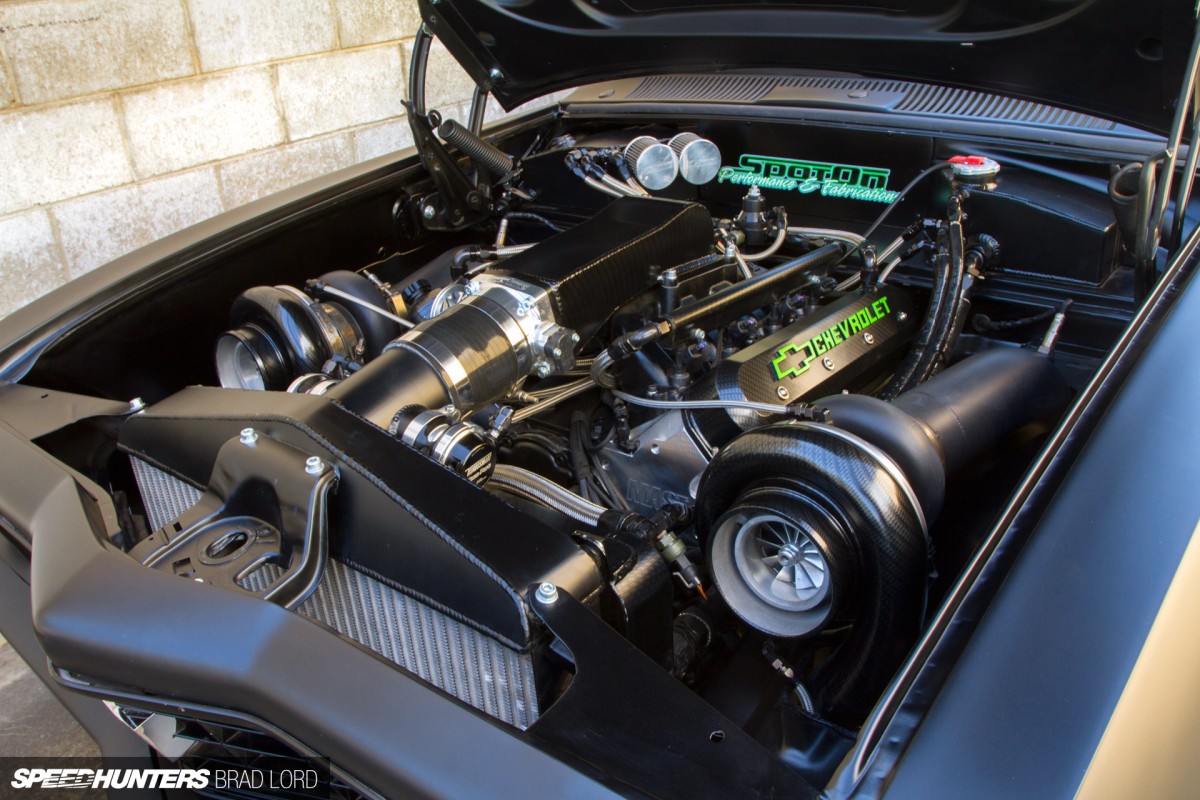 Apart from the fact that it looks absolutely badass, one of the coolest aspects of the engine is its cooling system – which is a little bit different from the norm. There's no water pump attached directly to the LSX, but a Davies Craig electric pump bolted to a machined flange base alloy welded to the bottom of the radiator. Speedflow lines run Liquid Intelligence (a waterless, synthetic nano fluid coolant) into the entry points of the engine and a custom-fabricated header tank ensures there are no airlocks and helps with flow. According to Andy, there are absolutely no problems with engine temps – even when the car was punished all day on track at a recent Powercruise Powerplay event. And that included lots of this sort of carry on…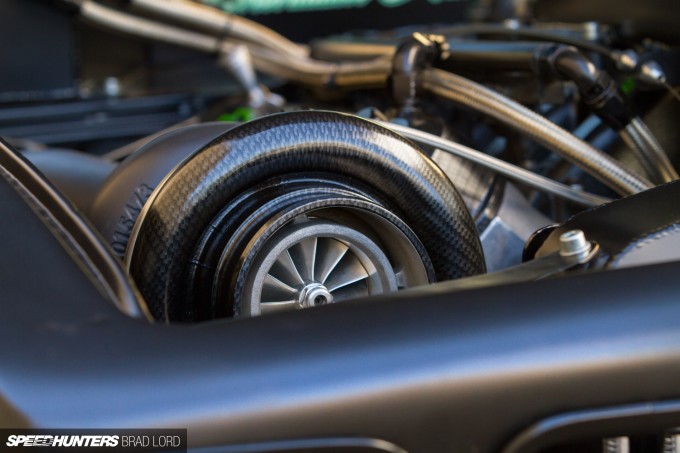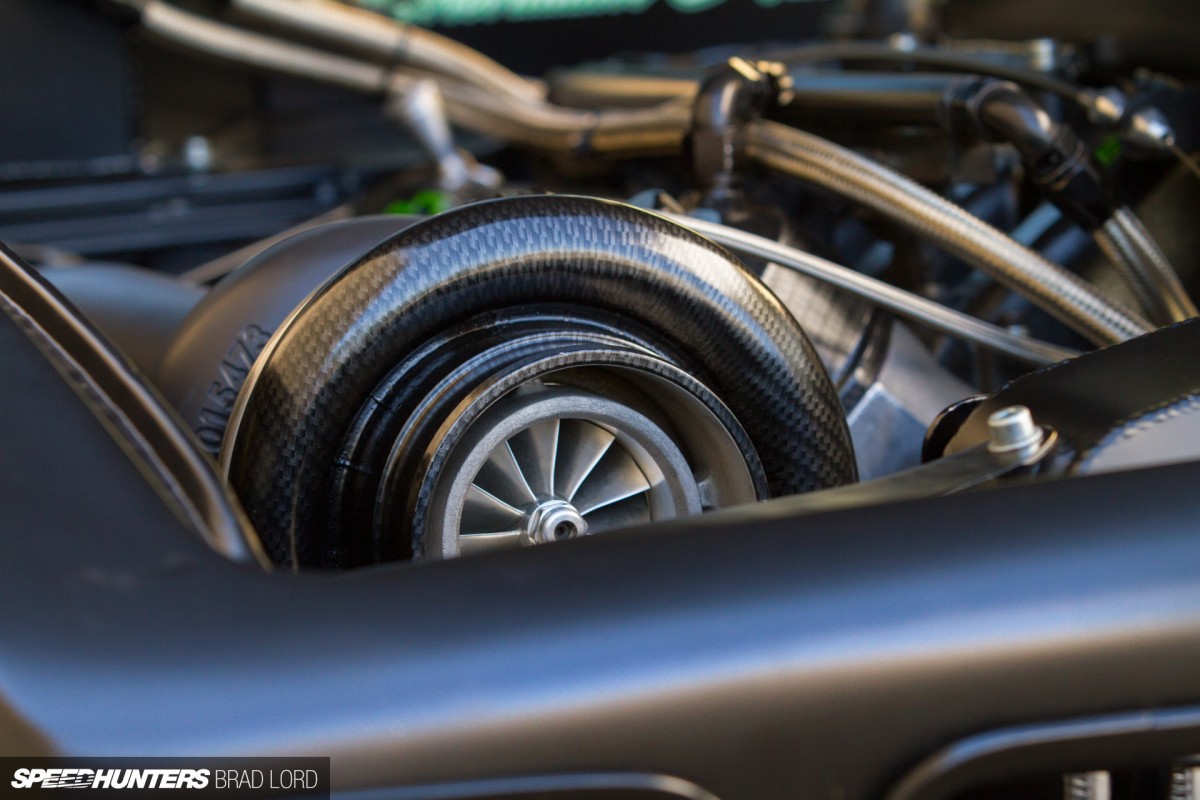 Wired in through a custom loom by 12 Volt Electrics, a Haltech Platinum Sport 2000 engine management system runs the show. Conservative tune aside, the LSX base, intake and exhaust ancillaries and Garrett twin turbo set-up have been designed for so much more, and Andy is quite confident that when the wick is fully wound up and 117 octane VP Racing C16 fuel is pumped into the combustion chambers, they should be looking straight down the barrel of 1300whp – almost double the power the engine is making right now. Ponder that mind-numbing revelation for a moment..
If you're wondering, that carbon fibre look on the turbo's front housings and rocker covers was achieved through hydrographic printing, in this instance by Immersion Imaging.
No corners cut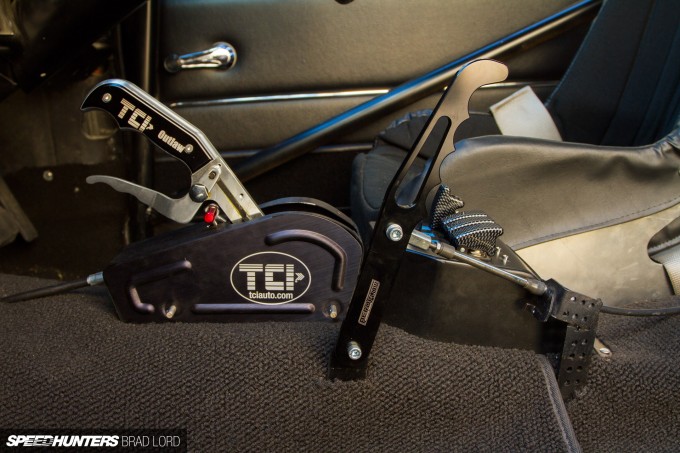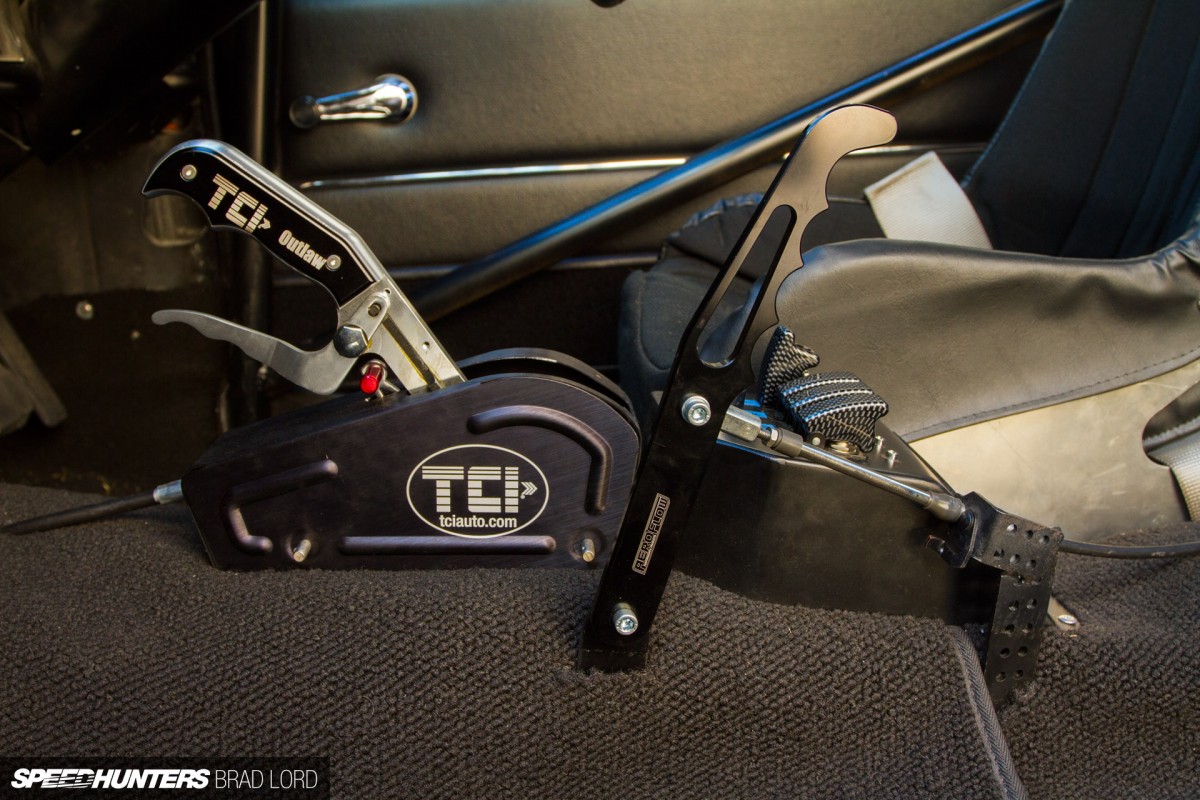 To cope with four-digit power figures and torque by the truckload, there's a serious driveline to back up the engine. Having already proven its worth in Spot On's 800hp 2JZ Calais, a Mark Stevens Motorsport two-speed Powerglide transmission with straight cut billet gears and a TCI Auto Outlaw shifter got the nod.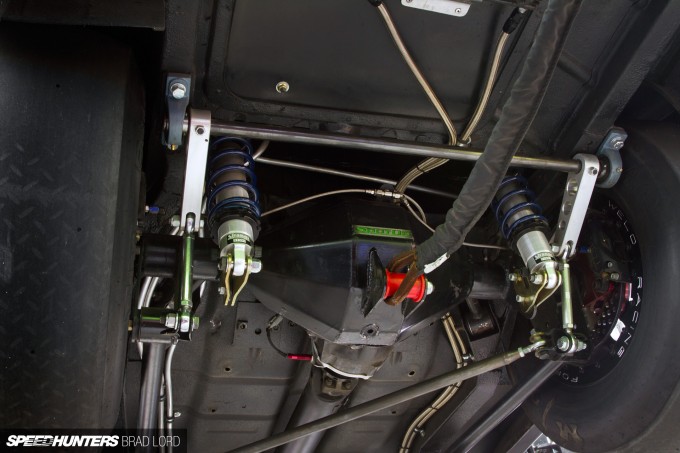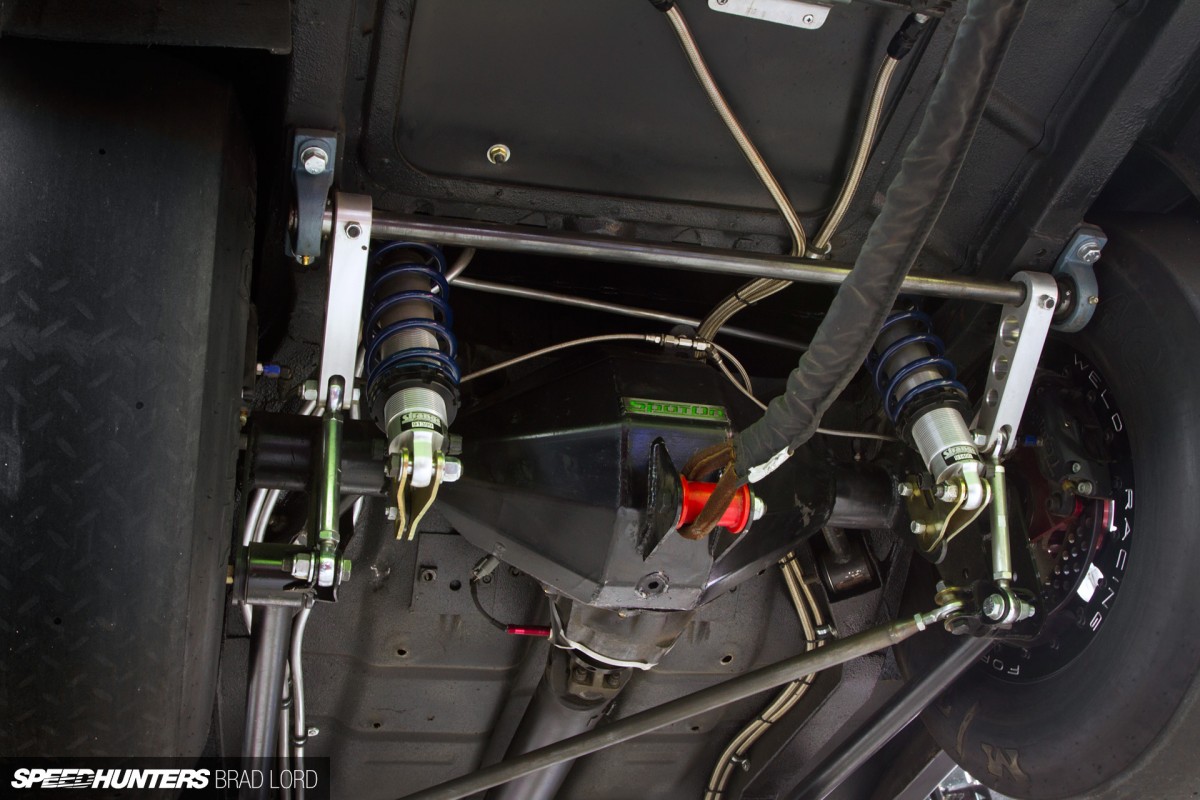 Engineered around a custom sheet metal 9-inch differential running Strange Engineering centre with 3.55:1 gears, and Race Products full floating hubs, the rear end is built tough. From this angle you get a look at the custom four-link suspension arrangement featuring Strange coilovers, and also some of the chassis strengthening that's taken place through box sections wrapped around the Torana's factory rails.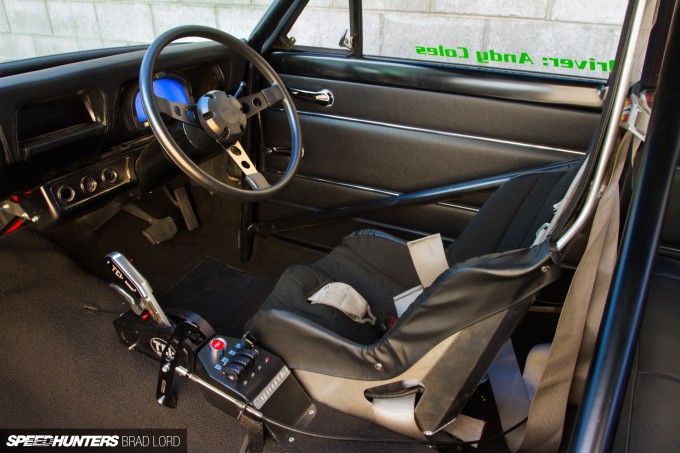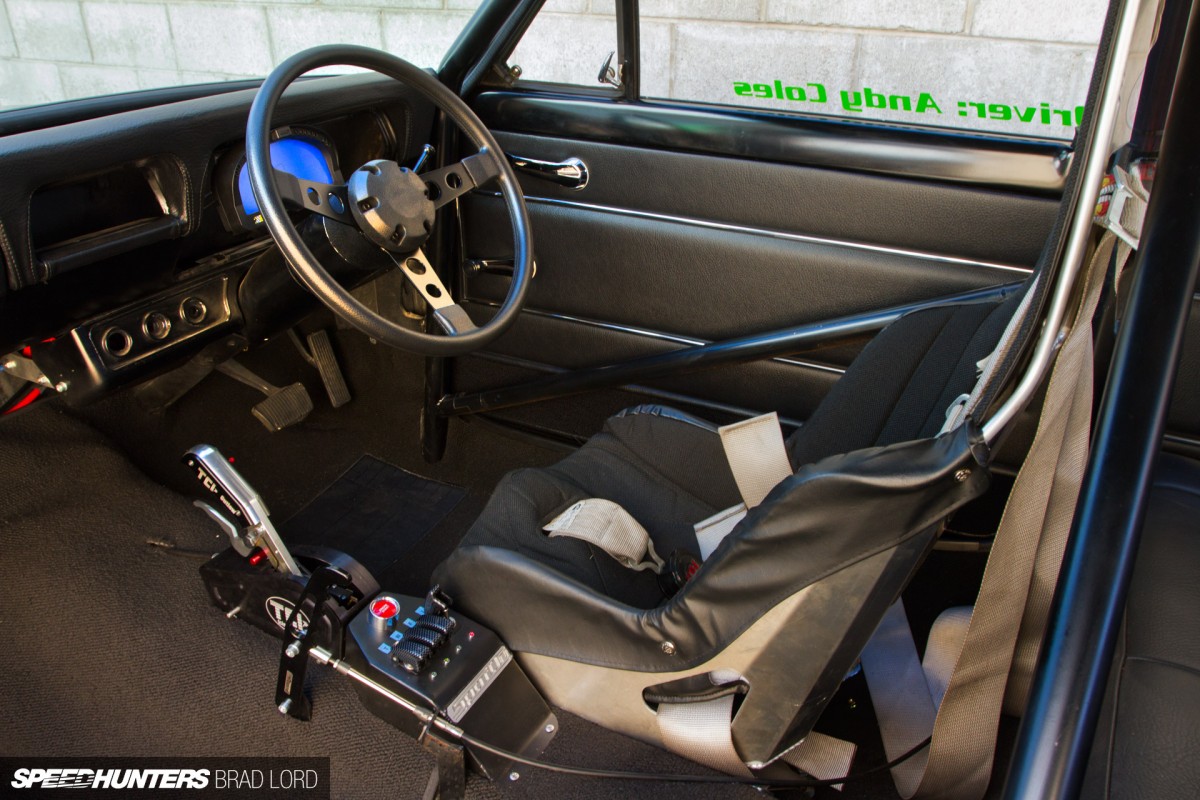 For Andy and Danny, this build was all about the complete picture, and in its creation no stone was left unturned. That includes the interior space too, which effortless marries the safety requirements of a single-digit drag car, like the Spot On six-point ANDRA-spec roll cage, with comforts for the street, like carpet and full trim to boot.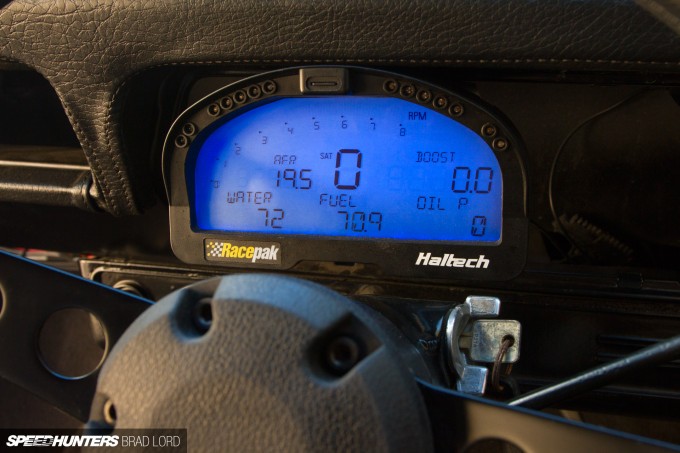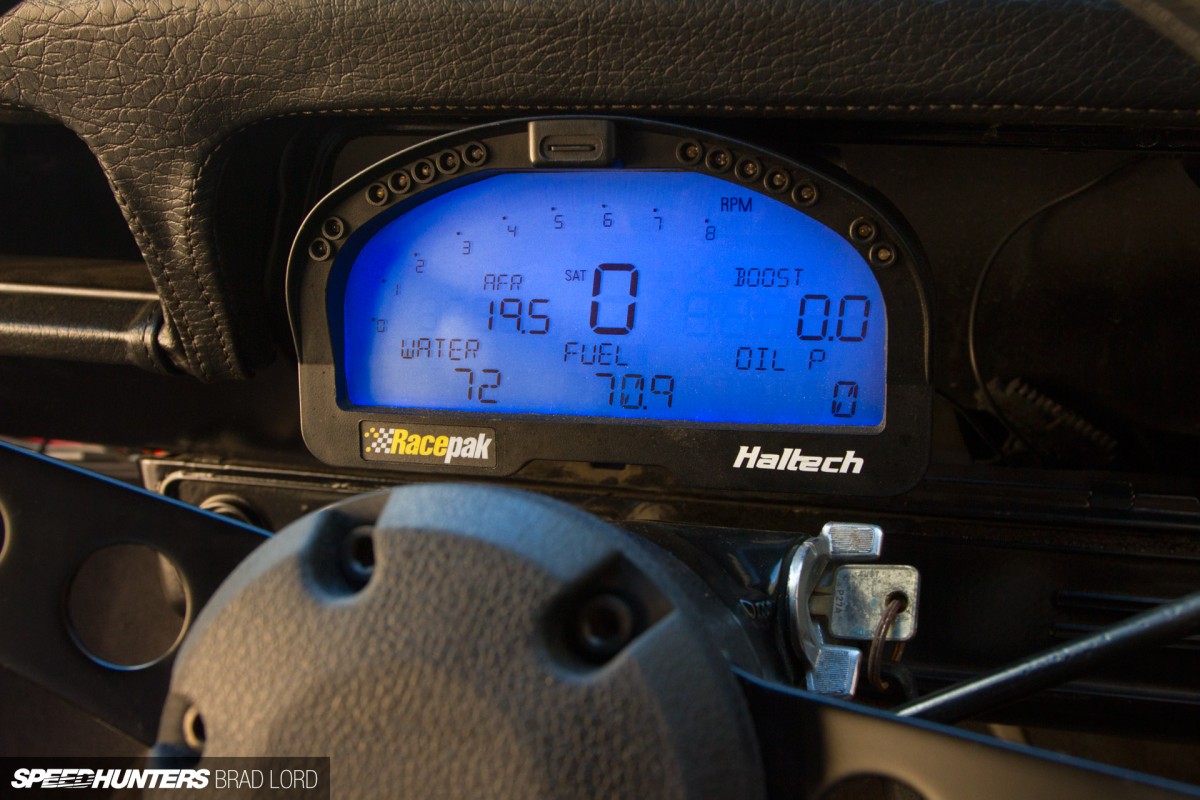 I love the juxtaposition here: state-of-the-art Haltech/Racepak IQ3 digital display/logger… and a 40-odd-year-old key complete with natural patina and a rusty ring – a little detail that really helps preserve the original DNA of the old Holden.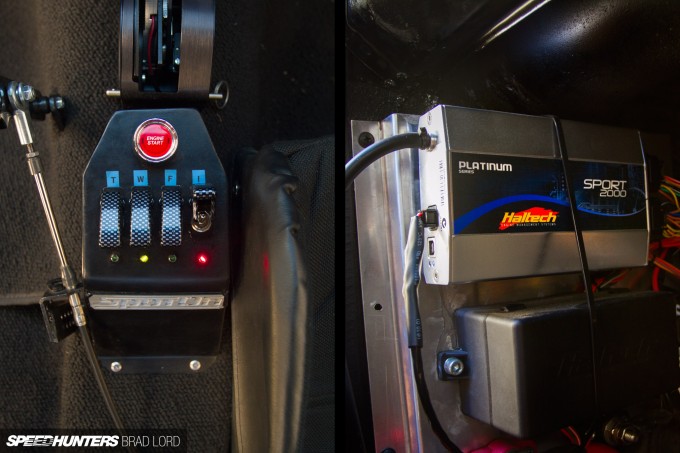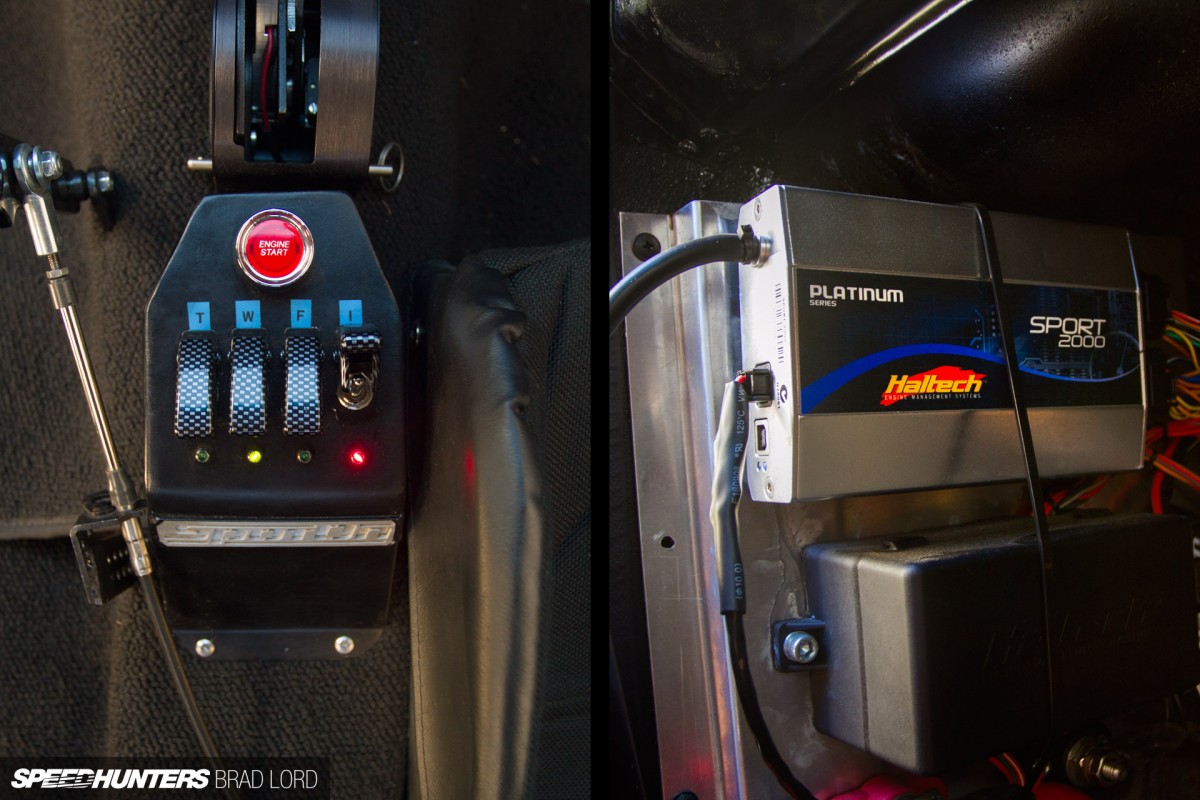 I also really like the less-is-more approach. Instead of ruining the dashboard, the switchgear and starter are located in a neat custom console on top of the transmission tunnel.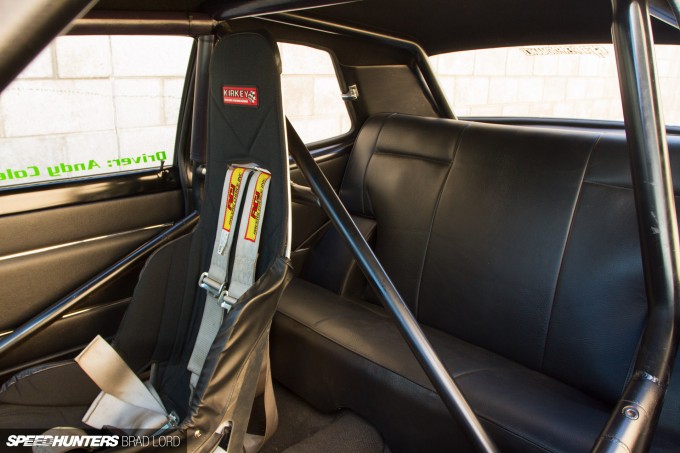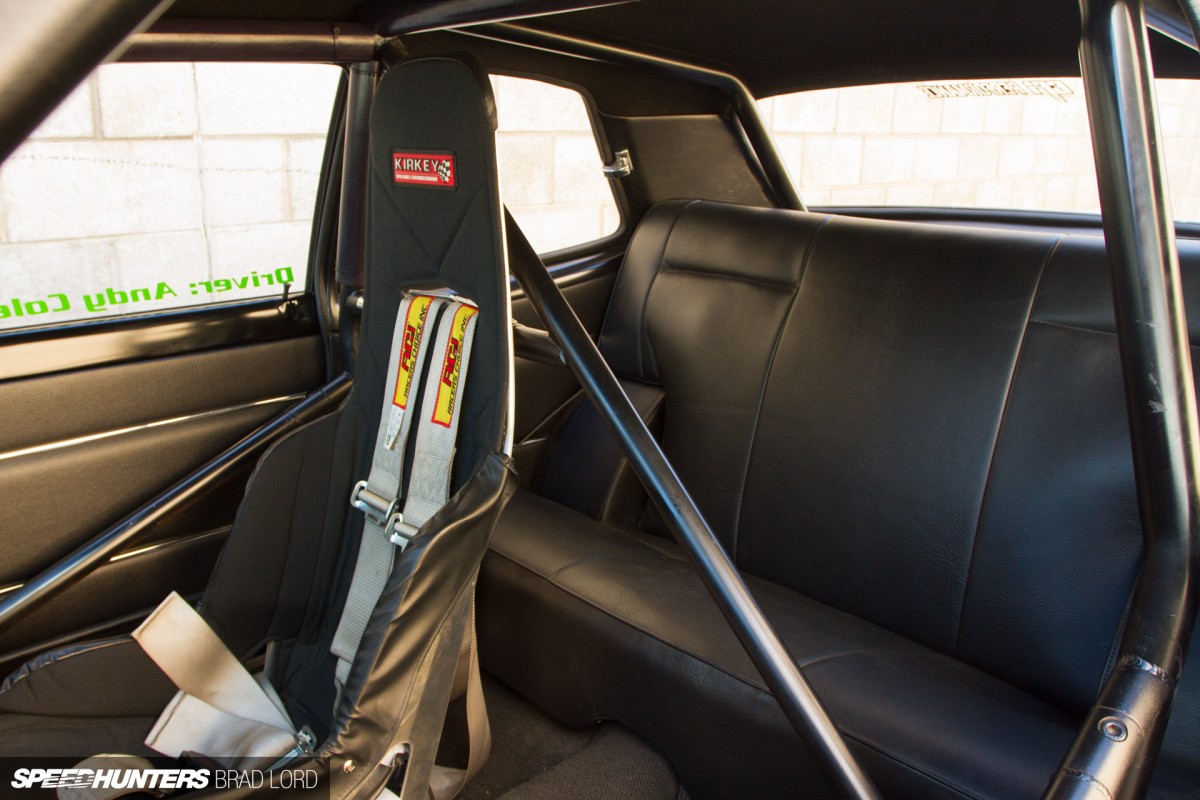 Despite the Torana's crazy-fast quarter mile potential, a re-trimmed back bench and roof lining, and brand spanking new 'old' stock door cards finish things off really nicely in here. For street duties the roll cage door bars are removed, and a passenger's Kirkey seat is fitted complete with a trick custom pivoting mount that allows access to the rear seat for four-up cruising.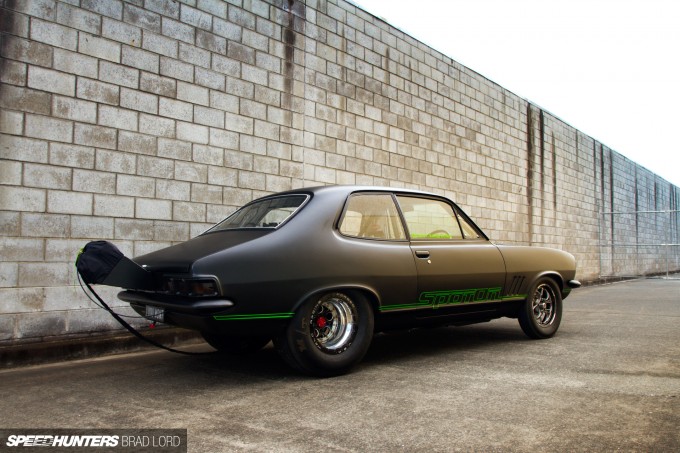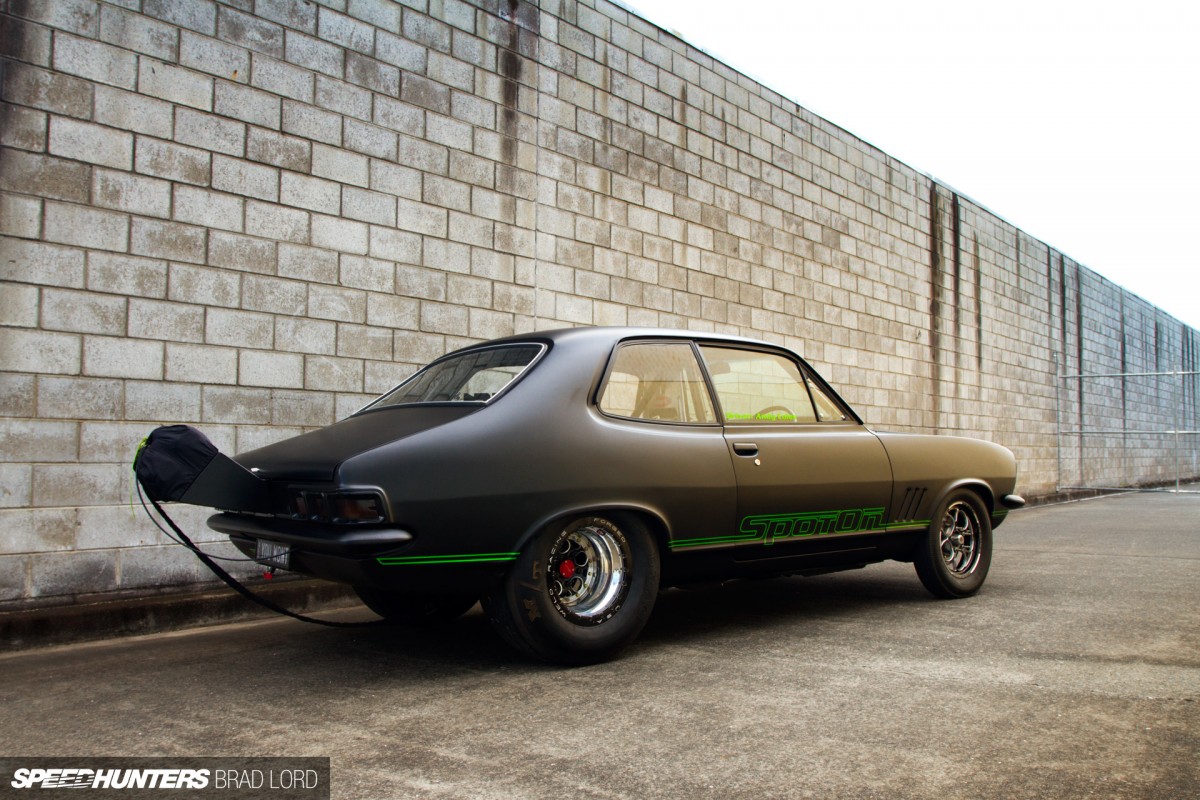 Then it's just a simple case of removing the parachute, swapping the slicks for treaded DOT equivalents and bolting on the street exhaust. Who says you can't have the best of both worlds?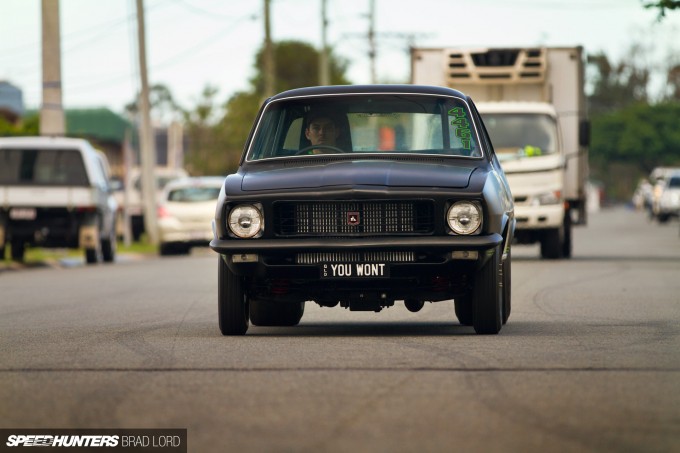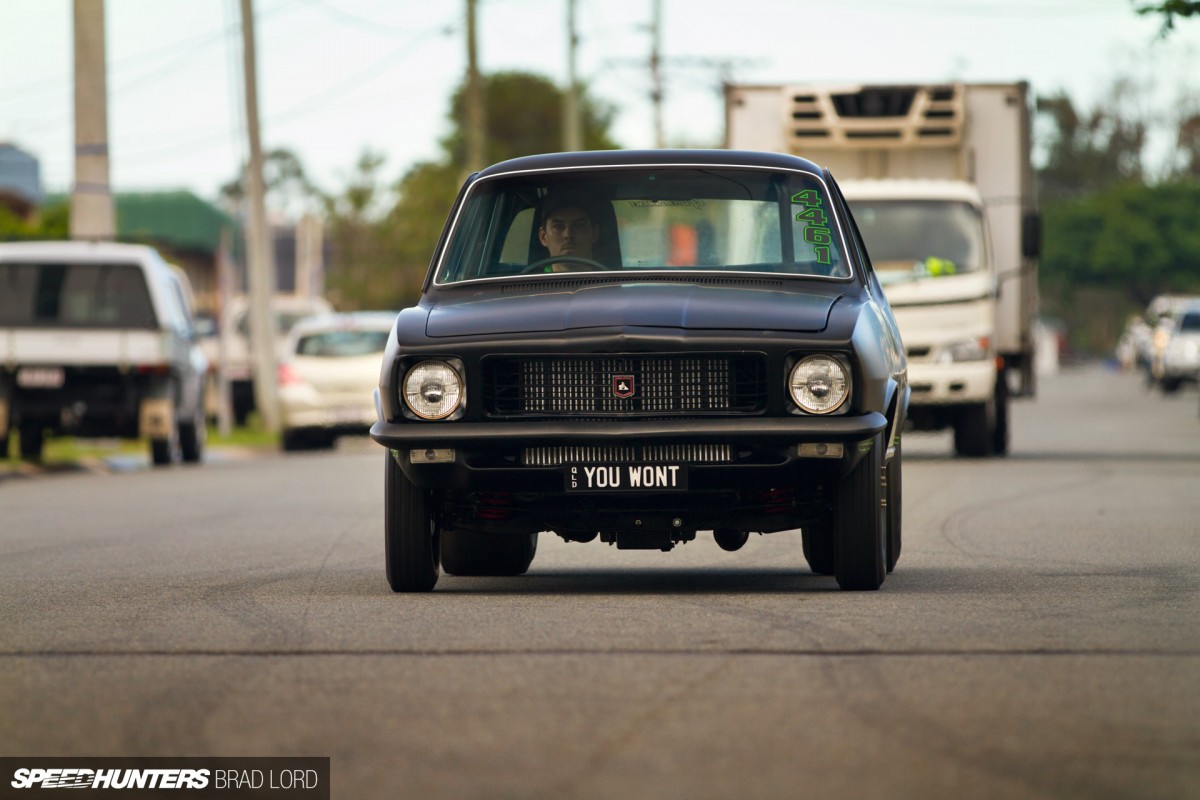 Not Andy and Danny, because this is a road-legal race car in every sense of the term. It's docile enough to be driven around city streets at 50km/h, yet angry enough to destroy a pair of rear tyres in a matter of seconds, and in my mind it doesn't get much better than that. I really can't wait to see what Spot On cooks up next…
Brad Lord
brad@speedhunters.com