Doing things differently
We like the unusual here at Speedhunters. It's what we crave – it keeps us from getting bored, so when someone happens to do something different from the norm, we take notice. If that someone happens to be one of the biggest names in the Japanese aftermarket tuning world, then we really want to find out more. It was at last year's Nismo Festival that I first laid eyes on Tomei's new demo car, and like you might be doing right now, wondered what the hell the big deal was.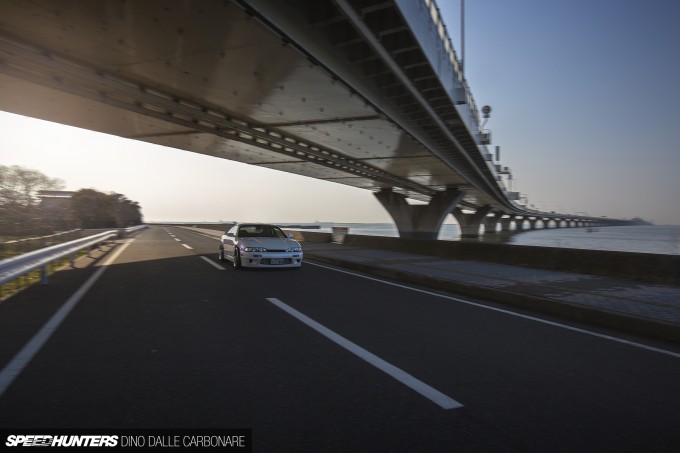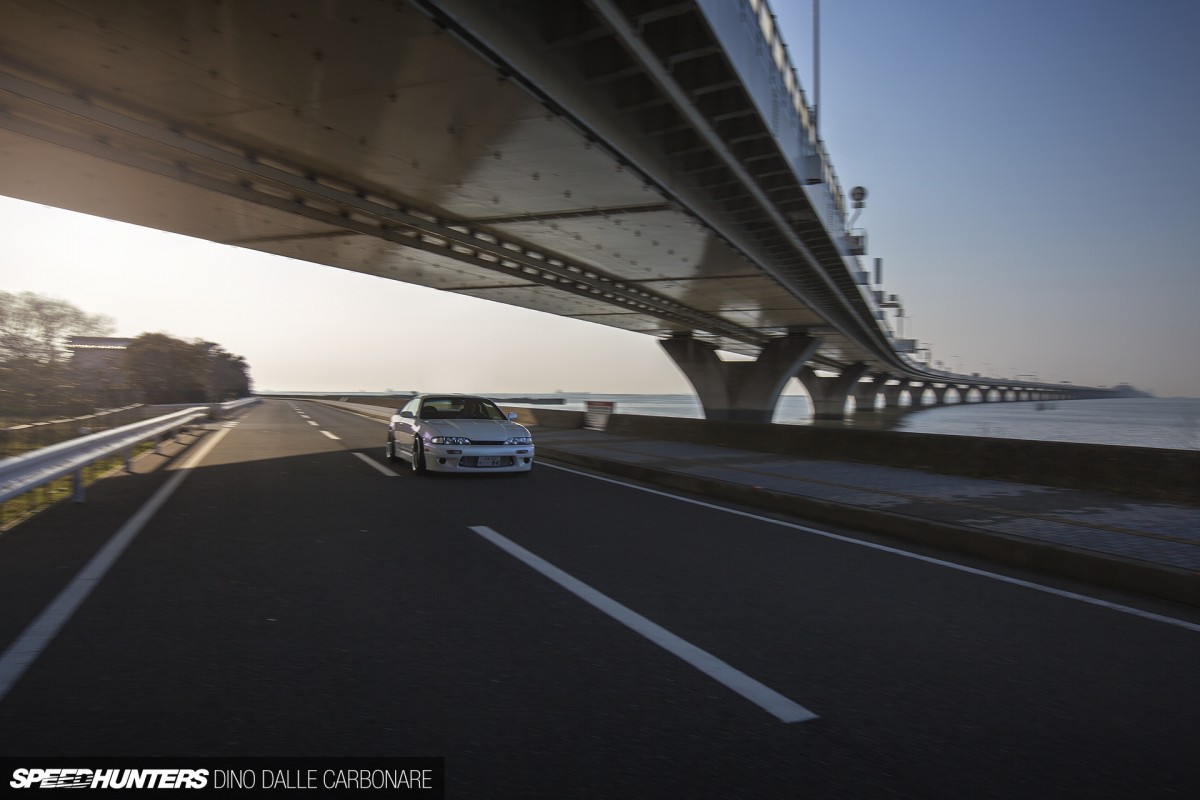 What I was seeing was an S14, but then there was a constant crowd of people around it throughout the day. Granted the car looked very fresh fitted with Rocket Bunny's unmistakable aero and sporting a custom pearl white with tons of purple and green metallic reflections. But it was just a Silvia. So what?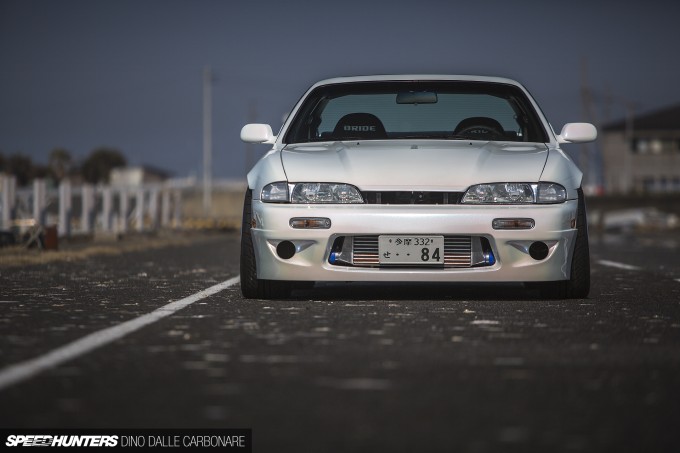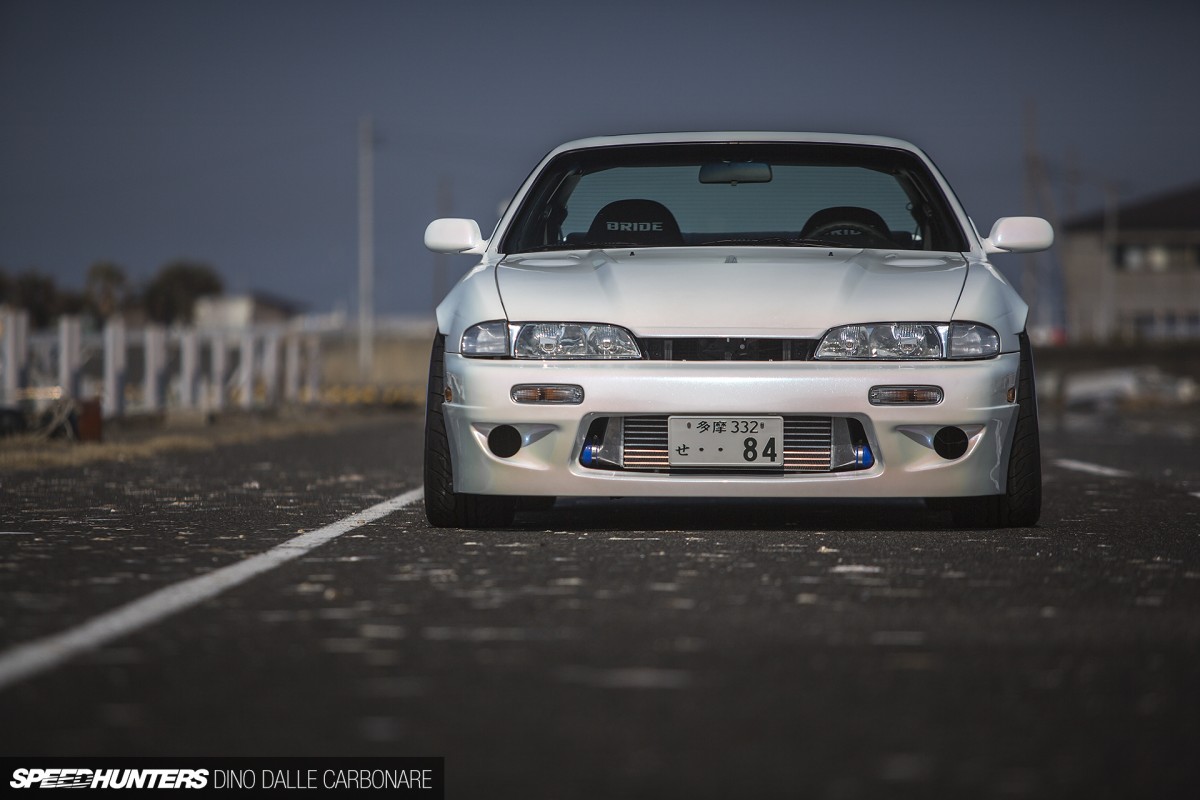 It wasn't until the little crowd of people let me through that I spotted what side the steering wheel was on; ok so it's no Silvia, it's a USDM-market 240SX. Tomei USA sent it over to Japan to get tuned up by the HQ in Machida in the outskirts of Tokyo – but not just tune it up as they might do any other S14, rather develop and create a new bunch of prototype parts.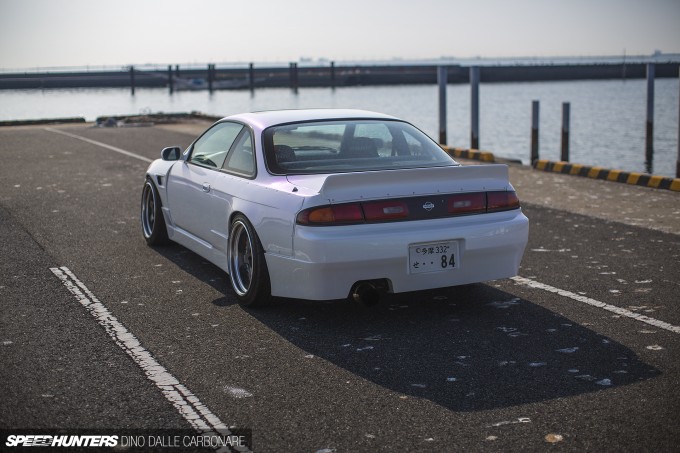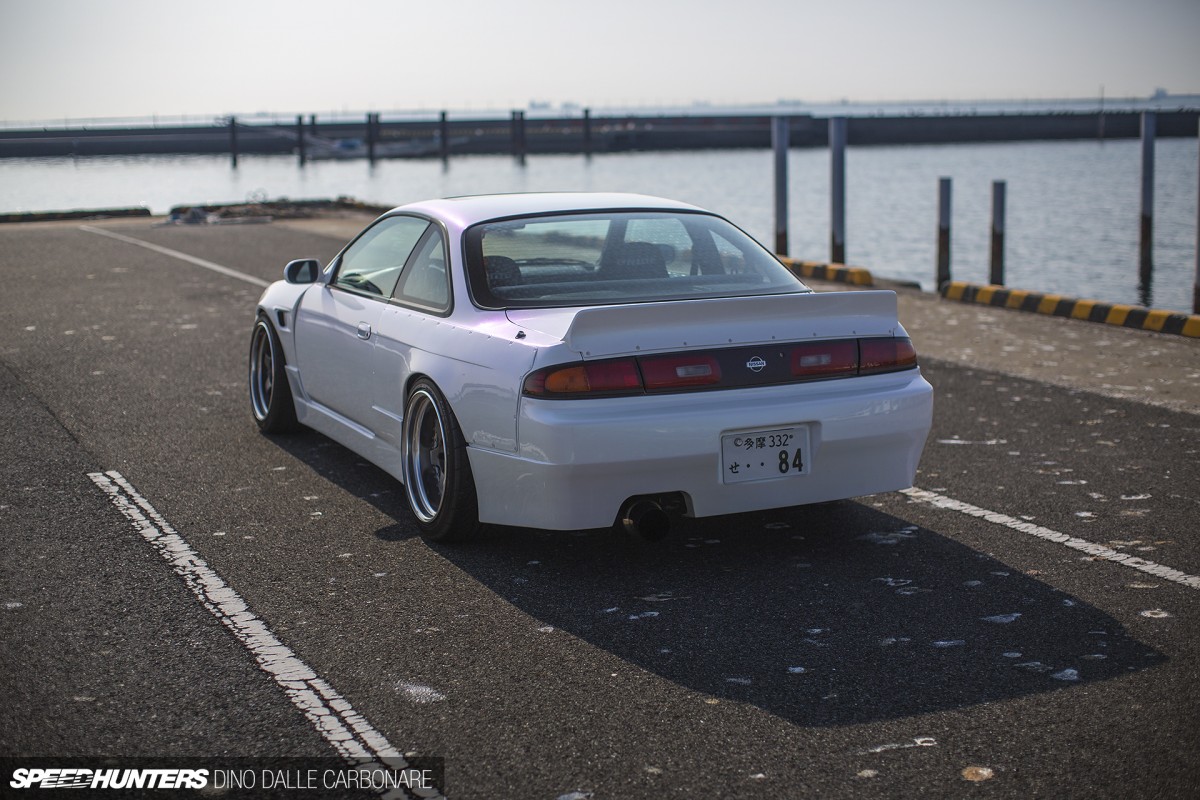 Now things are definitely getting interesting. As Sasaki-san, the General Manager of Tomei told me after he drove across the Tokyo Bay to meet me in a little deserted fishing port in Chiba, this is a car they have been thinking about for a while. With the need to promote their soon-to-be-released engine parts, the first step was to get the car looking just right and I'm glad they stuck with the zenki model of the 240SX – something that's easily identifiable from the more rounded-off headlight shape. Why? Well it's often neglected, as everyone prefers the more S15-like angular lights of the kouki.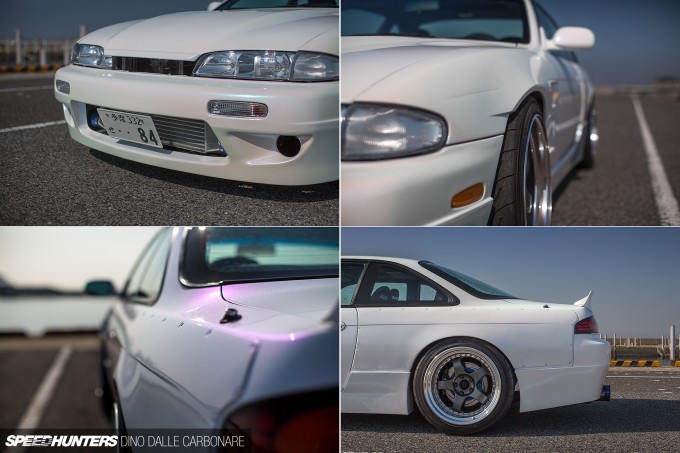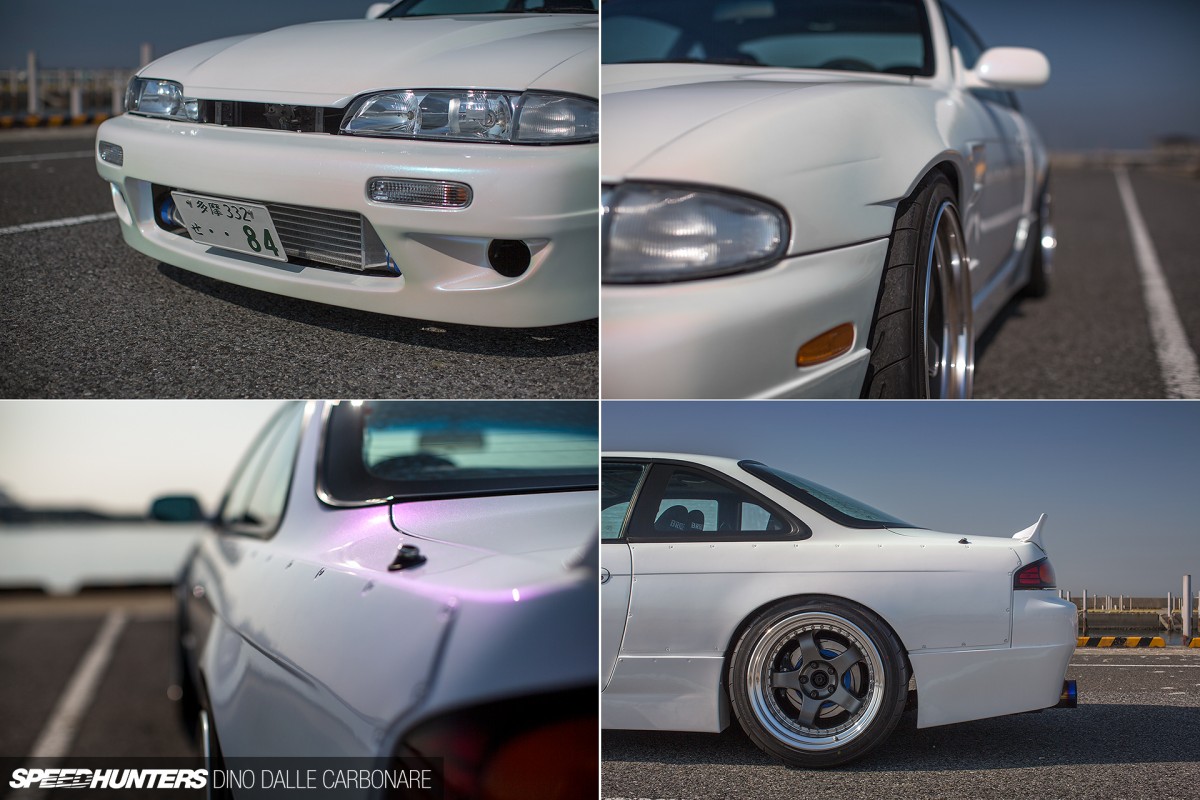 Miura-san was called in to supply the S14 aero kit, which was one of the first few kits he created back in the day under the 6666 Customs branding. It's pretty crazy to think how old these aero additions actually are and it's thanks to the amount of exposure and popularity his more recent work has had that has reignited a style that was probably a little too forward-thinking when it was actually released. So along with the clean and lip-less front bumper, the one-piece front fenders and the rear overfenders, the old Nissan is truly transformed. Of course these kits just wouldn't be complete without the obligatory ducktail lip to sign it all off. Furthermore you can see above how the paint comes alive when the sun hits it just right. I call it 'chromatic aberration pearl white'!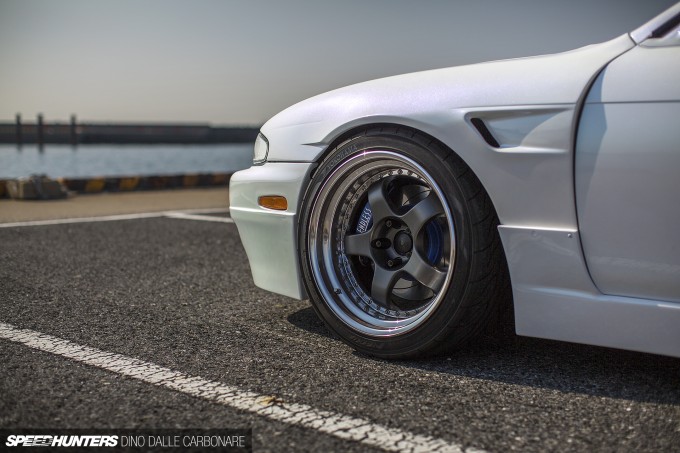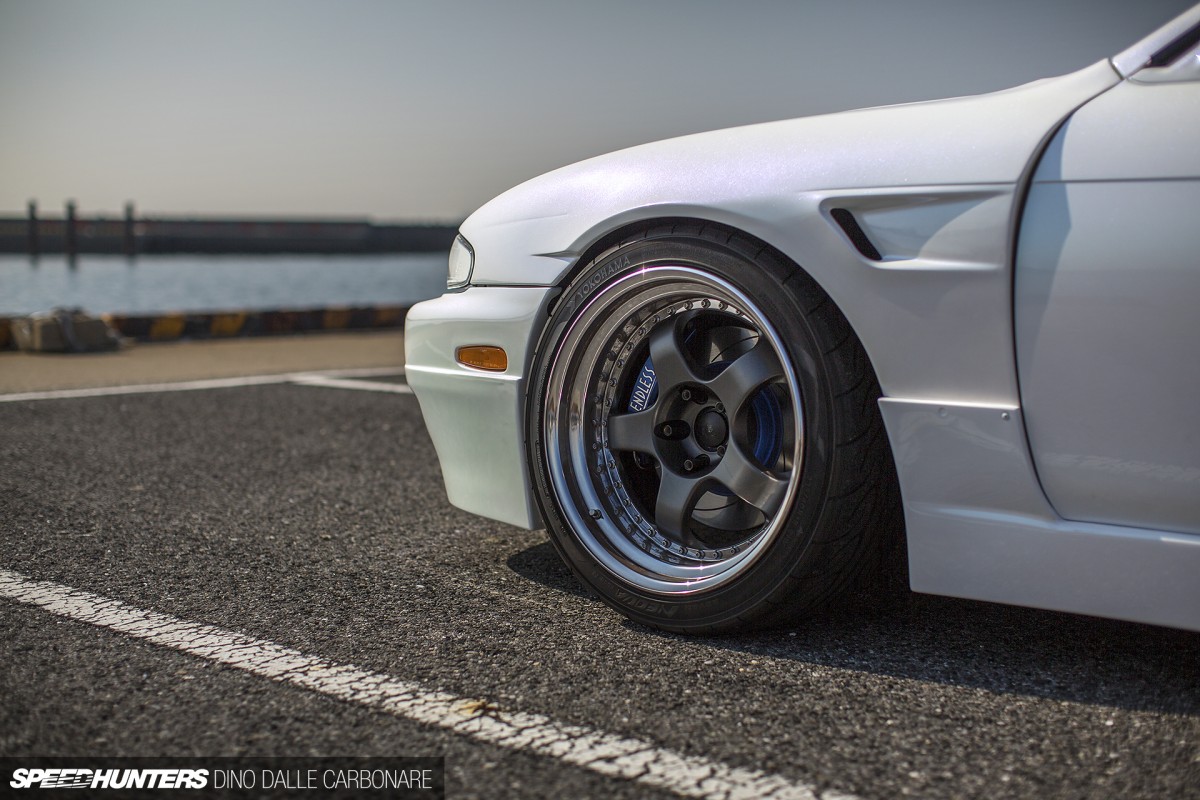 Now no kit is ever quite complete without the right wheel, chosen in the correct sort of fitment to visibly fill up the new-found space inside the fenders. No problems here either: the timeless Work Meister S1 18-inch three-piece rims have been selected with an abundance of polished lip and are fitted in 9.5″ widths up front and slightly wider 10.5″ at the rear. Seeing the car is built with a sort of street-oriented drifter feel, the right sort of tyres were needed too: the Neova AD08s stepping up to the challenge with a superb mix of grip and control in wet or dry.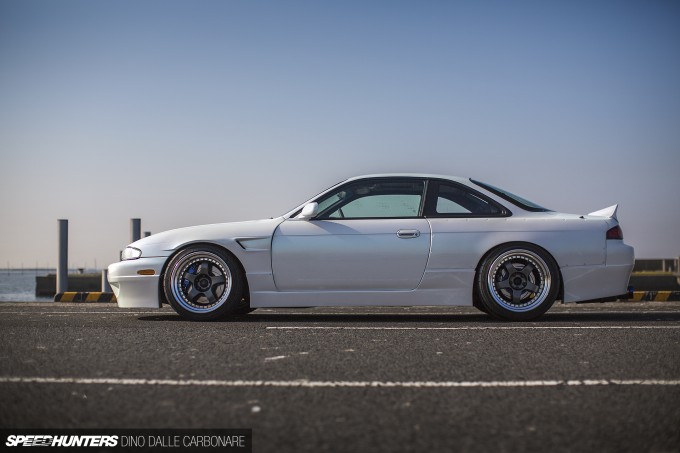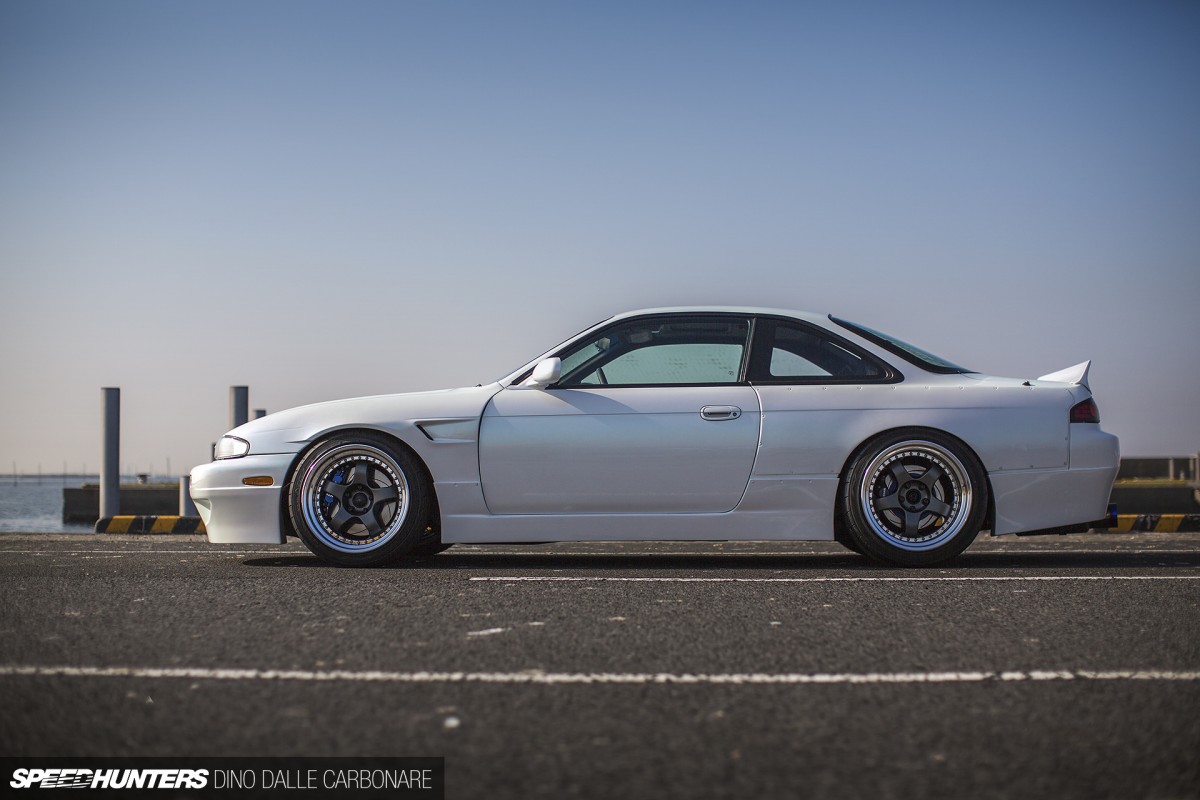 Once the fitment box was ticked, it was over to the actual handling, which also obviously affects the way the car sits. Here Tomei called in the help of Endless who supplied their Zeal Function X adjustable dampers, set to give a pretty aggressive, yet functional ride height and improve handling characteristics tenfold. Plus, like any high-end suspension set-up, compliance is one quality that's always present, making the car a pleasure to drive both on or off the track. Endless was also called on to improve the car's braking set-up, and that was easily done with one of their most basic kits comprising of front four-pot calipers and one-piece grooved rotors. To balance out the rear, Tomei sourced some ECR33 Skyline calipers and fitted those along with matching Endless rotors.
Embracing the KA24DE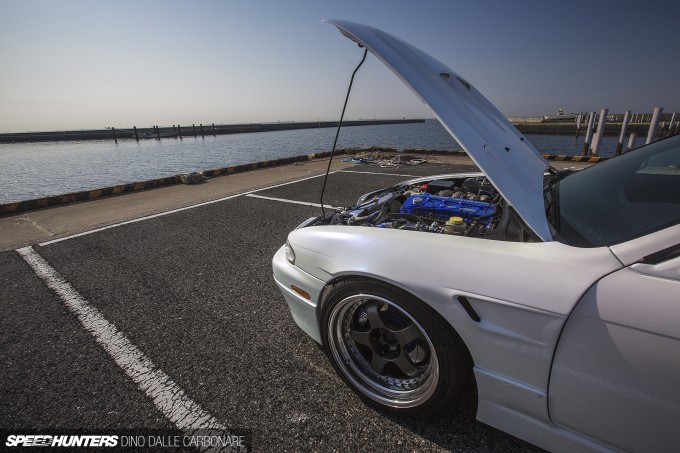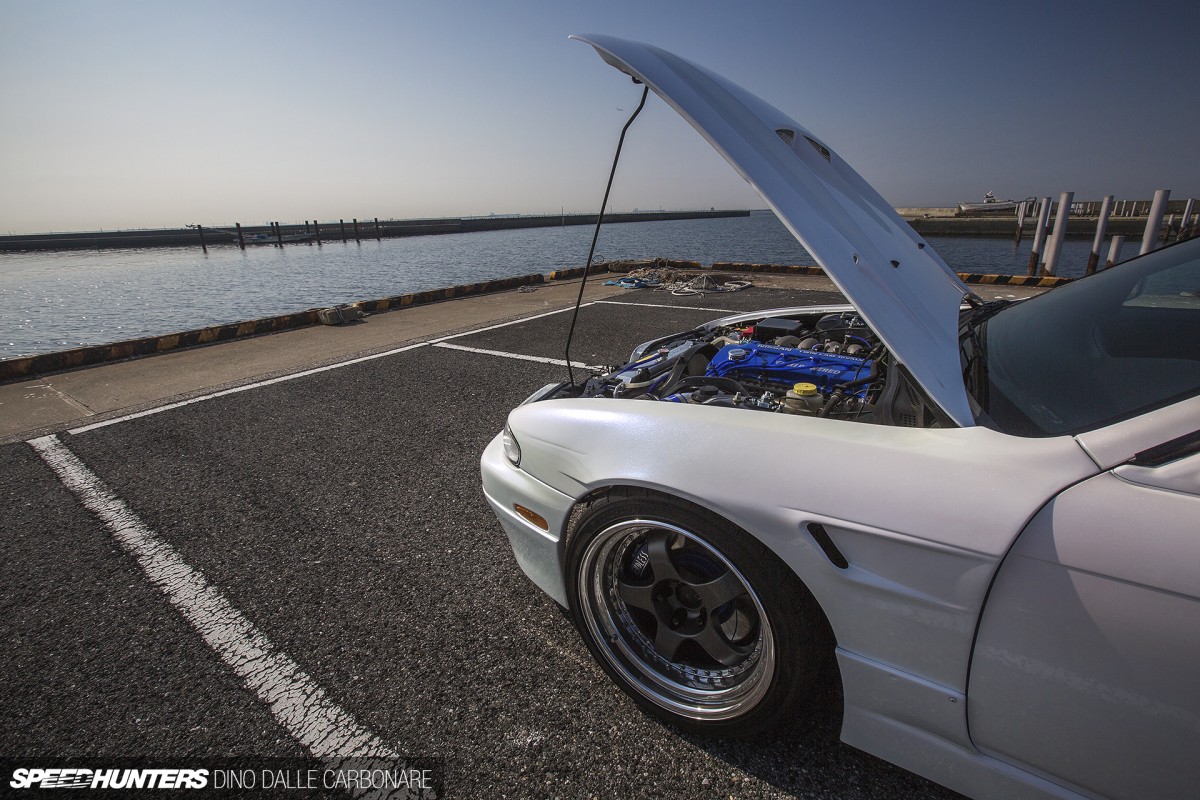 It was on to the performance from there and Tomei took their time here to approach an engine they have never really worked on before: the KA24DE. Now if you follow Japanese cars and the tuning culture that revolves around them, be it in grip or drifting, the NA KA24 that was used on export models of the S14 has never been a sought-after powerplant by enthusiasts. SR20DET swaps have always been common as the JDM-spec motor allows for high power levels to be reached and with it comes an almost limitless line of tune-up parts of every kind. But Tomei, seeing that no Japanese parts maker had ever created upgraded parts for this motor, decided to come up with something that will allow those with a 240SX to successfully boost it and get decent numbers out of it.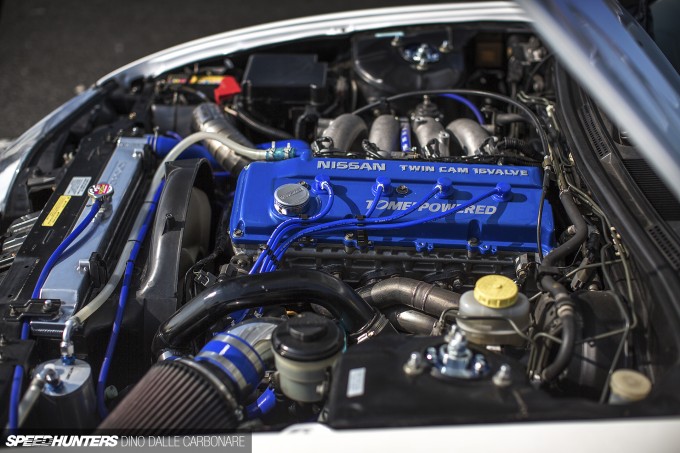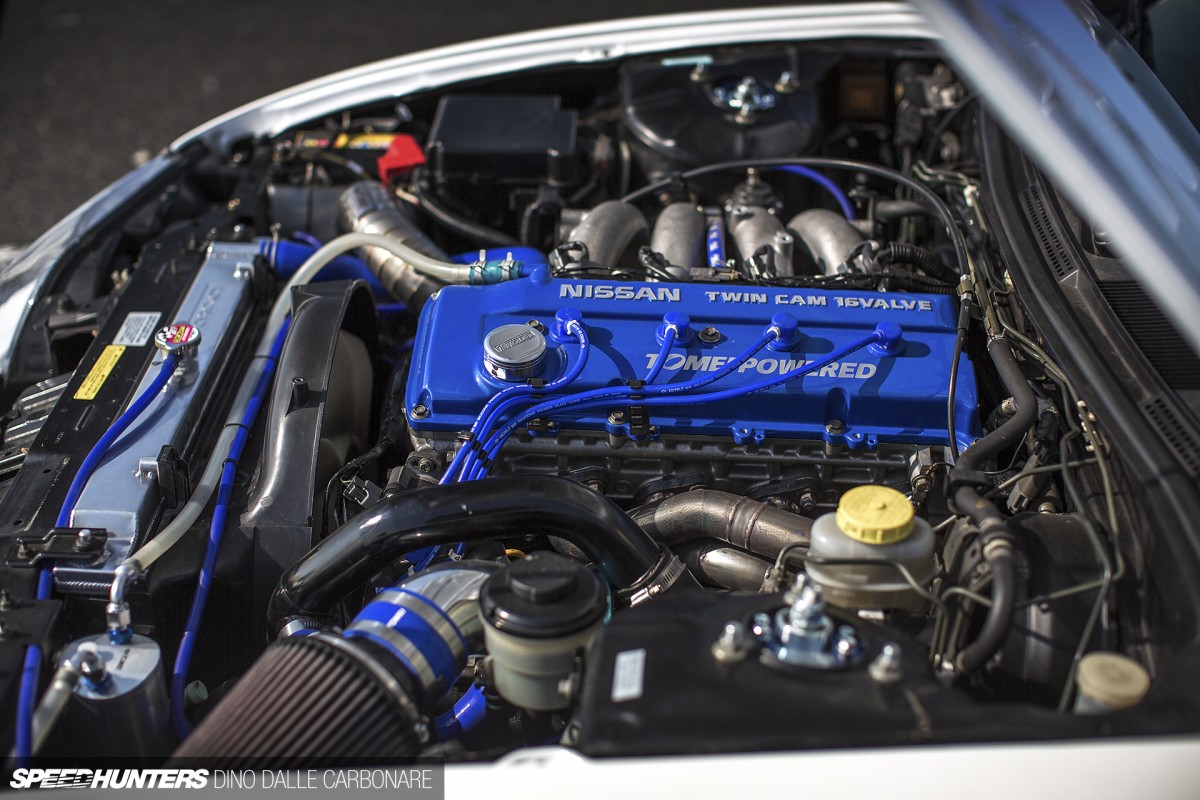 But hang on a second – why now? That's what I asked Eiji Mihara at Tomei USA and he told me straight and simple that they don't care about making money on these parts, they just want to be able to offer a decent level of support to their US customers that aren't up for doing engine swaps. Fair enough I suppose, but what do the modifications entail? Well to start off, they've developed upgraded forged aluminium pistons as well as stronger connecting rods. Most of the parts are still in testing, therefore labeled as prototypes, but they're getting good results already and are nearing proper production. On the demo car, the stock crank has been balanced and fitted along with the aforementioned pistons and rods to allow the motor to easily take a decent dose of boost.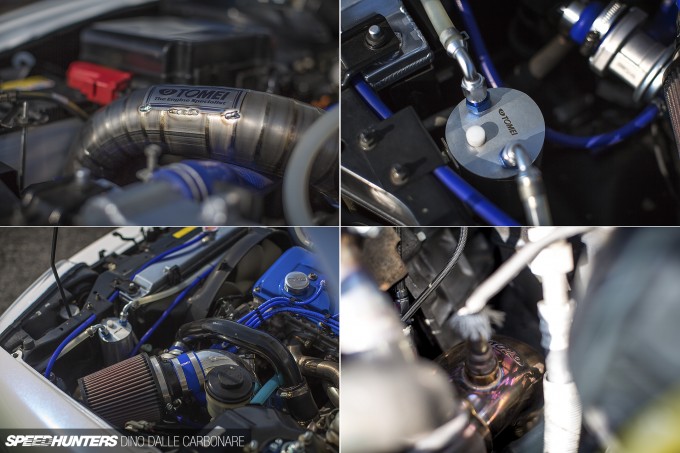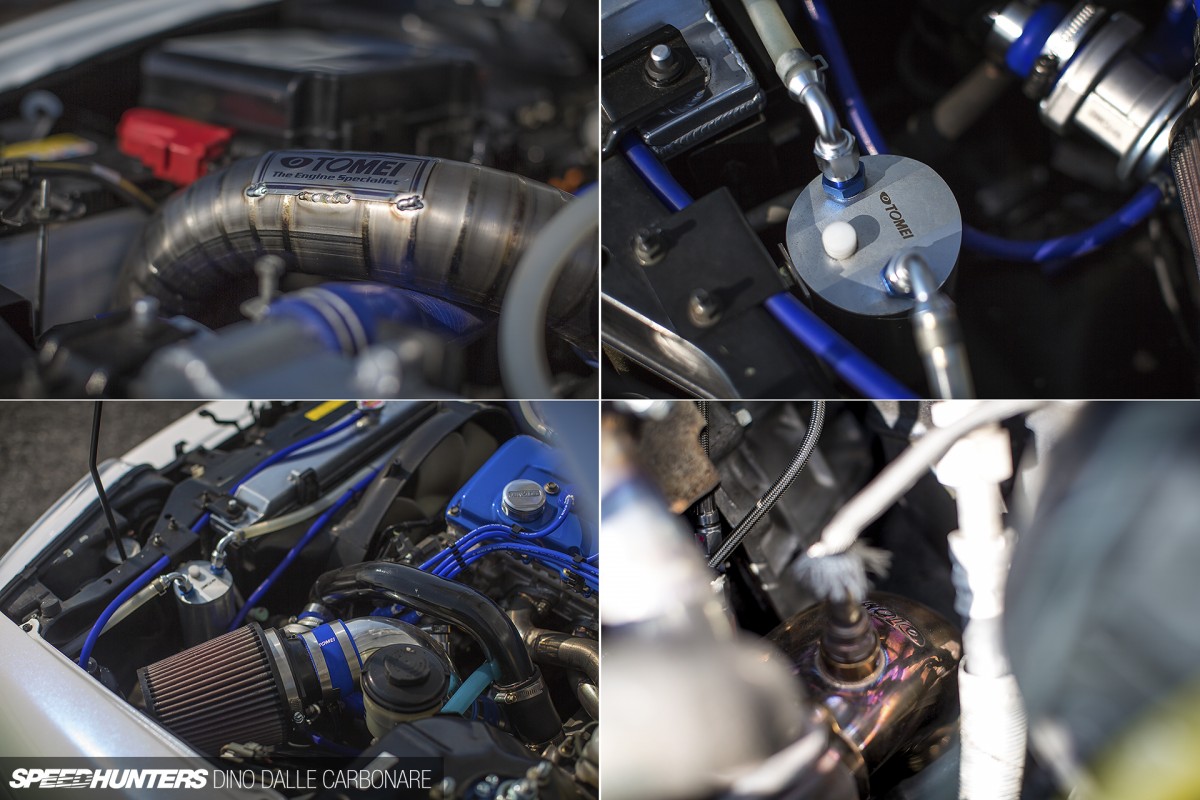 They have just finished testing a special Procam set-up with 270º duration and 9.5mm lift which has had an awesome result on their engine dyno, making decent power over 4,000rpm – a good 500rpm lower than competitor cams out there. The KA24 runs their Arms M8270 turbo kit which is the same they offer for the SR20DET, so even if quite large size-wise, the engine's extra 400cc of capacity helps it spool up, with good boost being produced from as low as 1.500rpm. The turbo is fitted onto a stainless steel exhaust manifold but they're working on creating a one-piece cast item which will be a bulletproof 'fit and forget about it' sort of mod.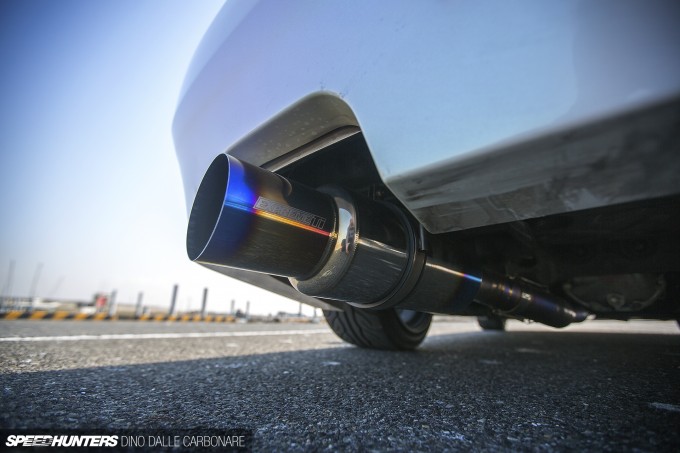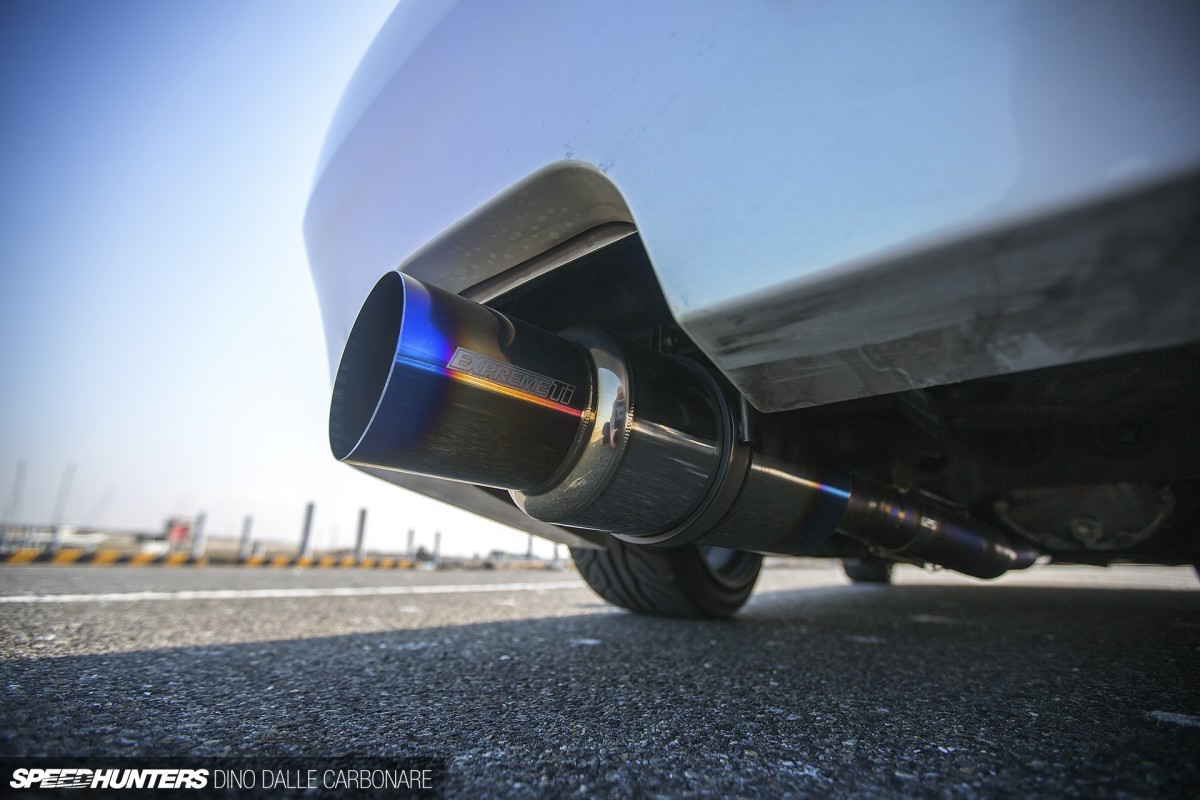 Gasses are dumped via an Expreme turbo outlet pipe into the titanium Expreme Ti exhaust. There are lots of cool touches in the engine bay like a one-off titanium hand-welded lobster-tail intercooler pipe on the intake side of the KA as well as a neatly located paper cone filter.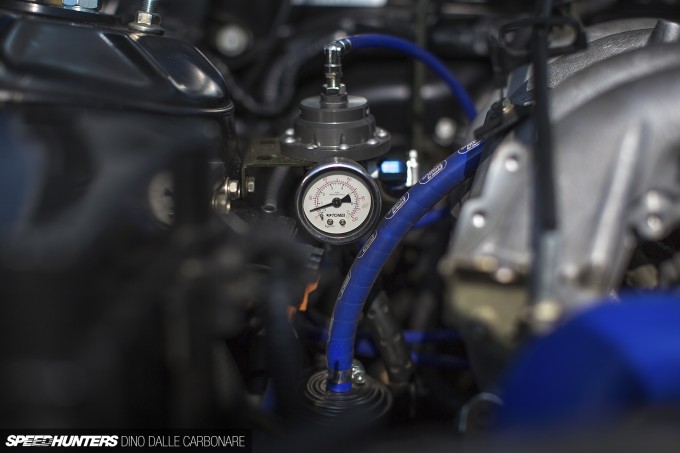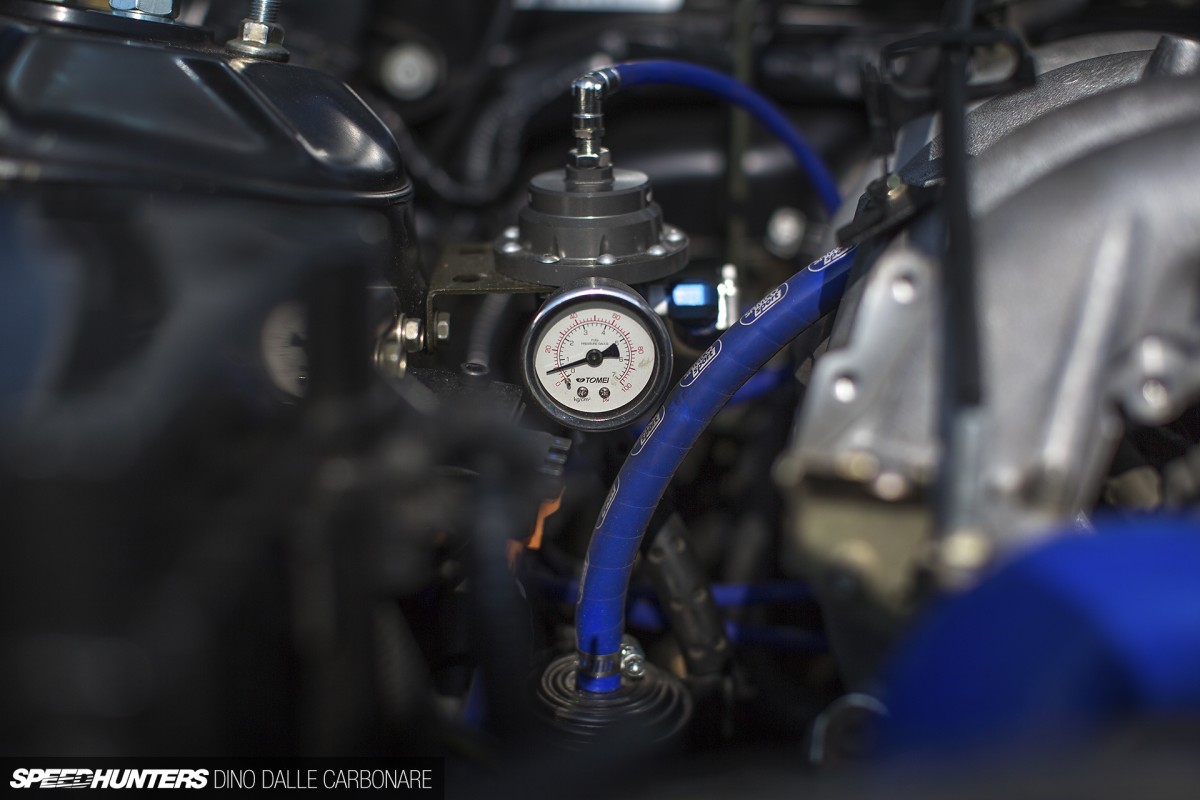 Supporting the modifications are pretty basic mods to the fuelling, starting off in the fuel tank with a Tomei 255L/h pump, 555cc/min injectors and their adjustable fuel pressure regulator. The car relies on a Haltech Platinum Sport 1000 ECU, which truly makes the most out of all the upgrades. As the car is still in development, power figures aren't final but with about a bar of boost, they're running around 350hp right now with a very broad spread of torque which peaks at approx 540Nm (398lb-ft).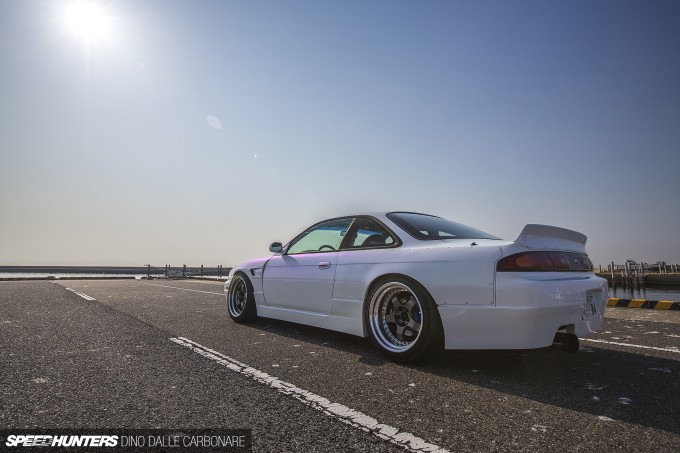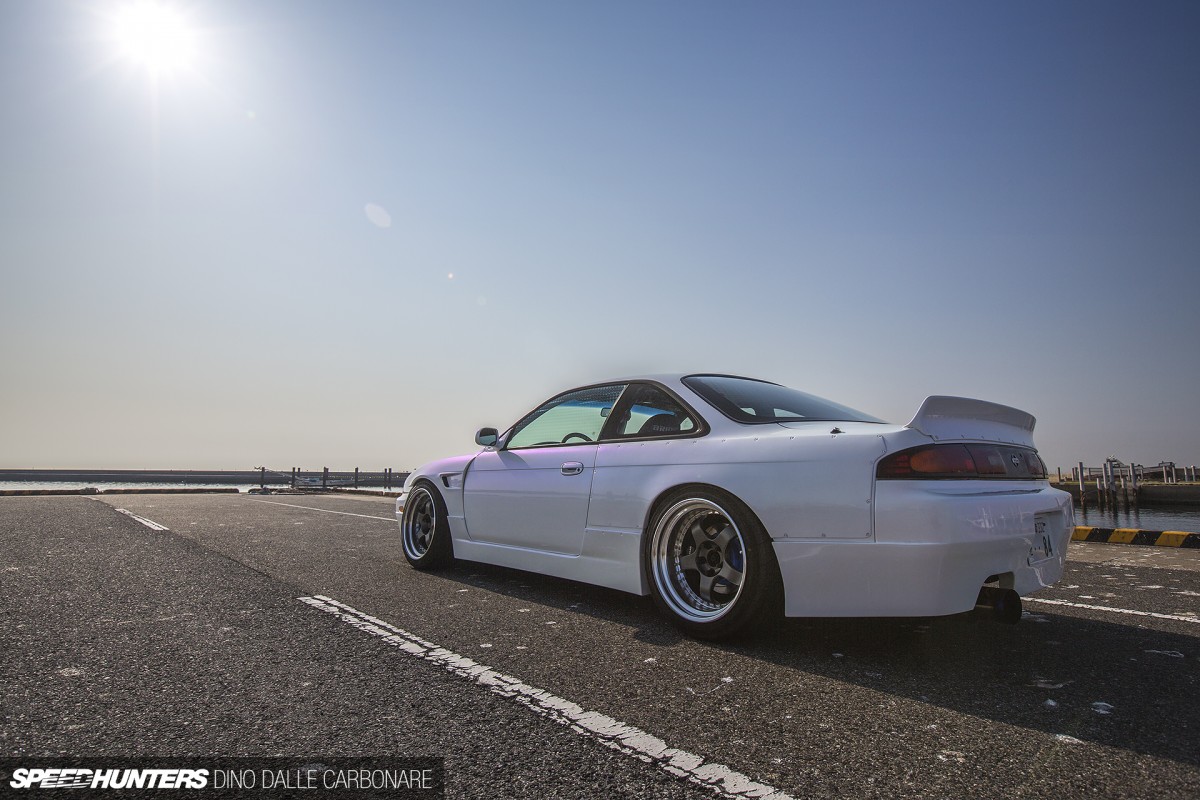 With the main aim of this car being set around ample power and drivability through the rpm range, we can definitely say they're on the right track. Seeing their car came with an automatic transmission, that was obviously not going to be of much use. It was quickly and swiftly swapped out for a factory five-speed box and to get all that twist efficiently to the ground, a Tomei Technical Trax LSD has been thrown onto the S14's rear end.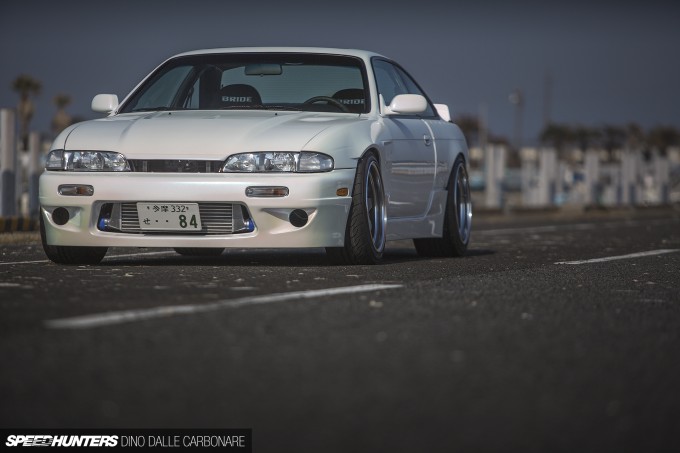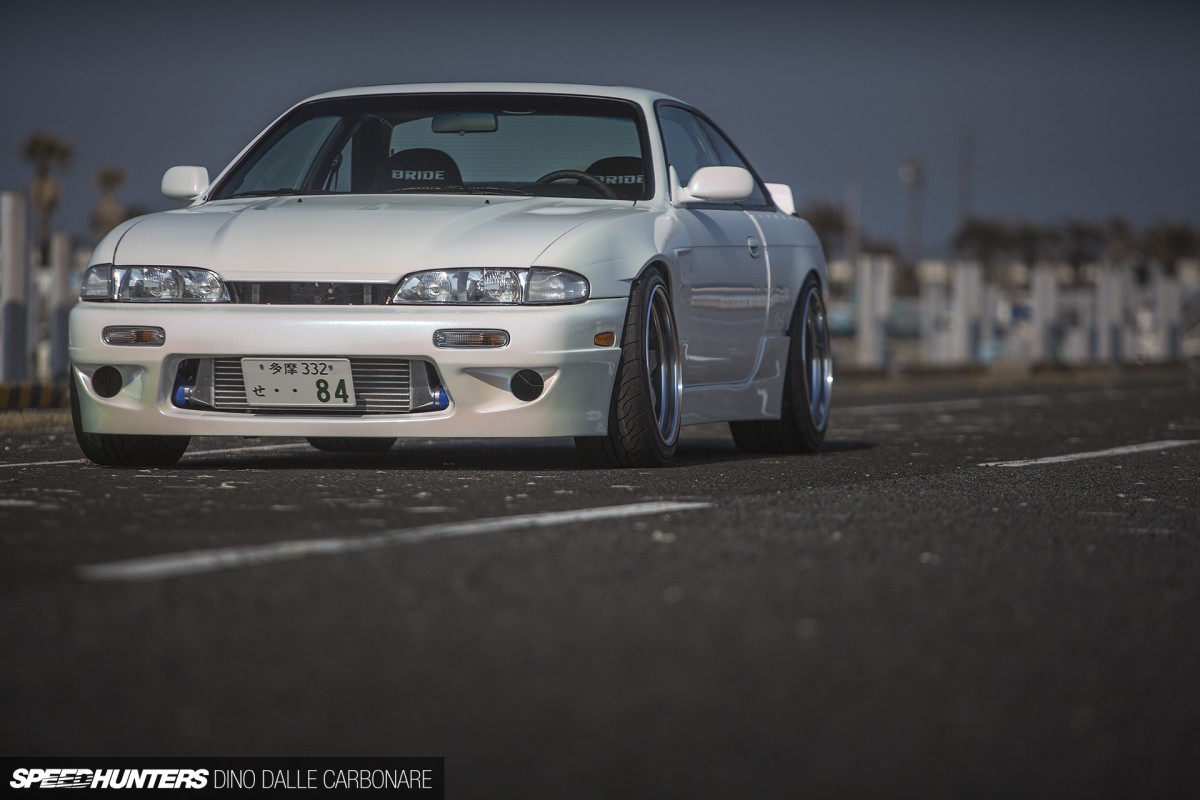 Tomei has even gone so far as to fit RYO steering knuckles, which sort of hints at the use the car will get once the engine internals and ECU tune are finalized. With that much torque on tap, it will all make for a very easy drift set-up, which is precisely what they were shooting for.
Interior redecorating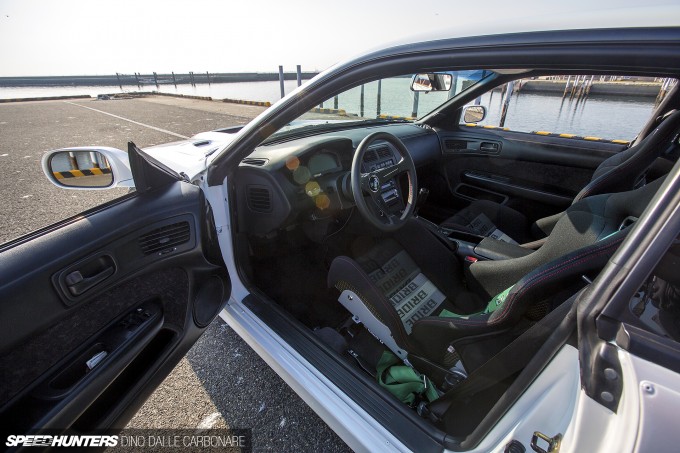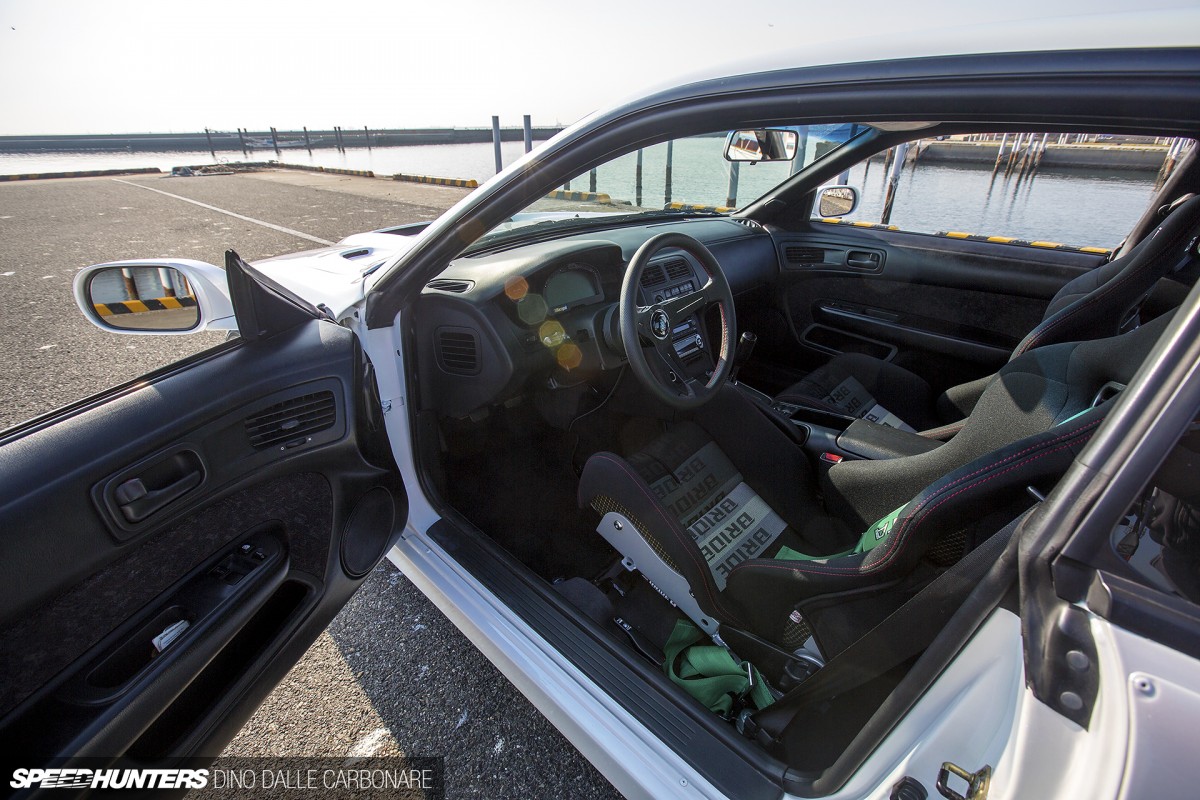 Tomei really made sure to select the best products when addressing the cabin and with the base car being a low mileage, seldom-used daily in its previous life, it looks like it has stood up to the test of time damn well. Minus the stock '90s fabric trim on the rear seats and the door cards that is!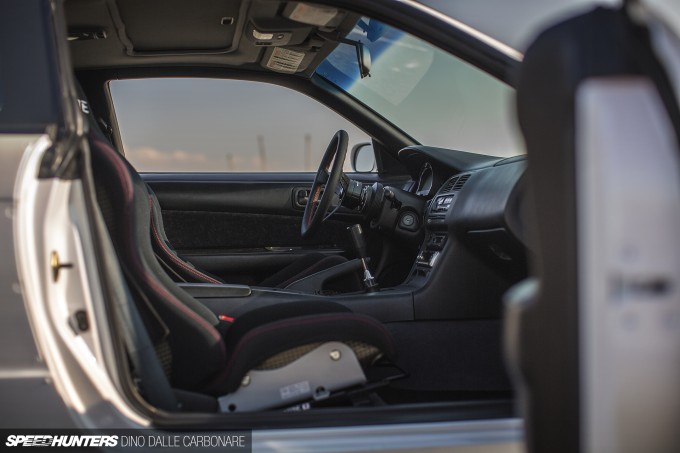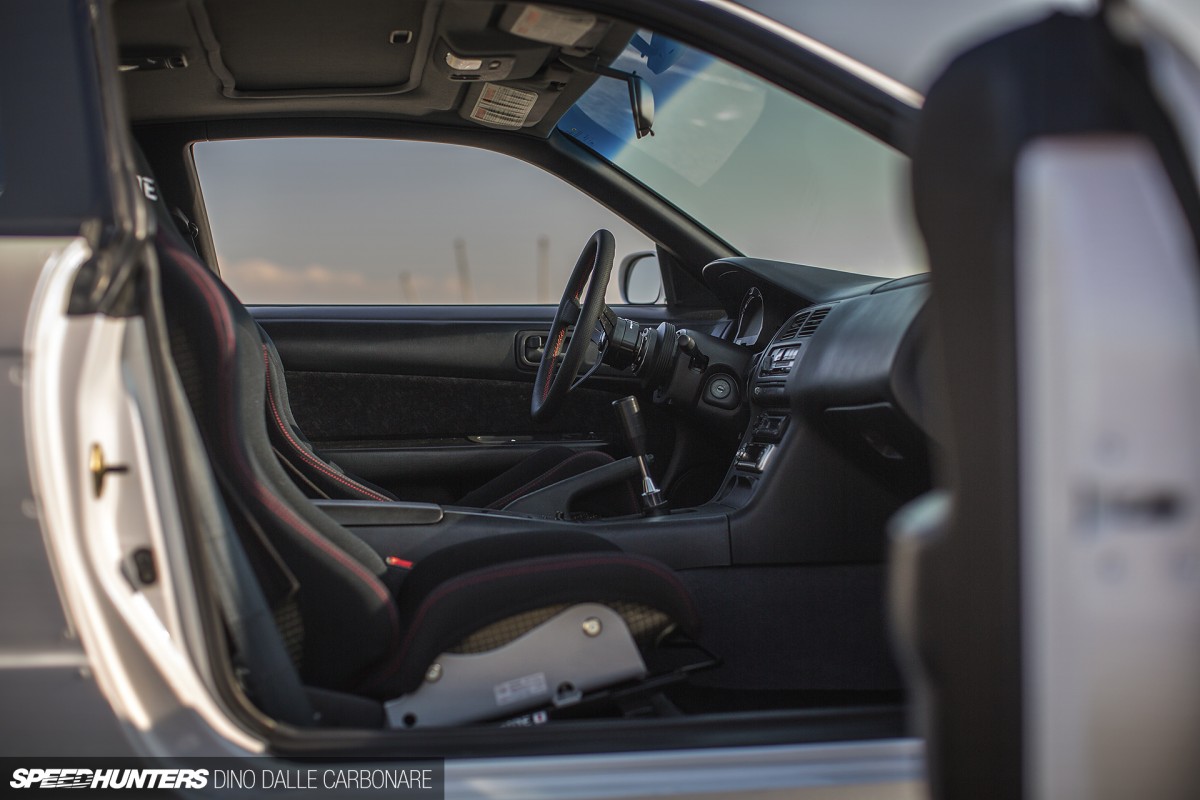 The driver and passenger get to sit on slightly different seats: the Bride Gias II on the left a more highly-bolstered reclinable item, while the Stradia II on the right still offering more than enough support but without sacrificing too much comfort.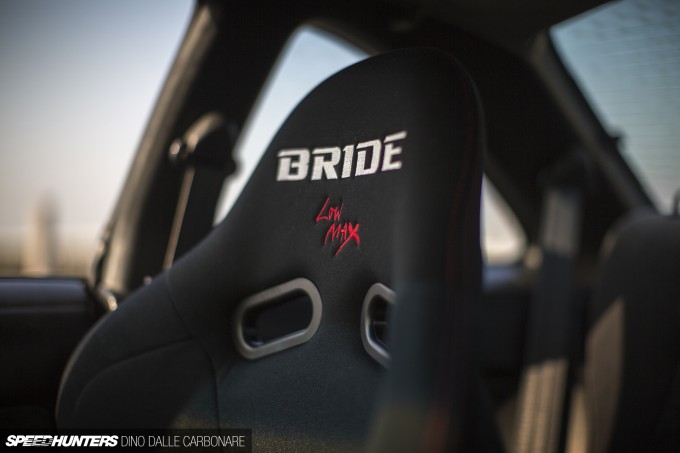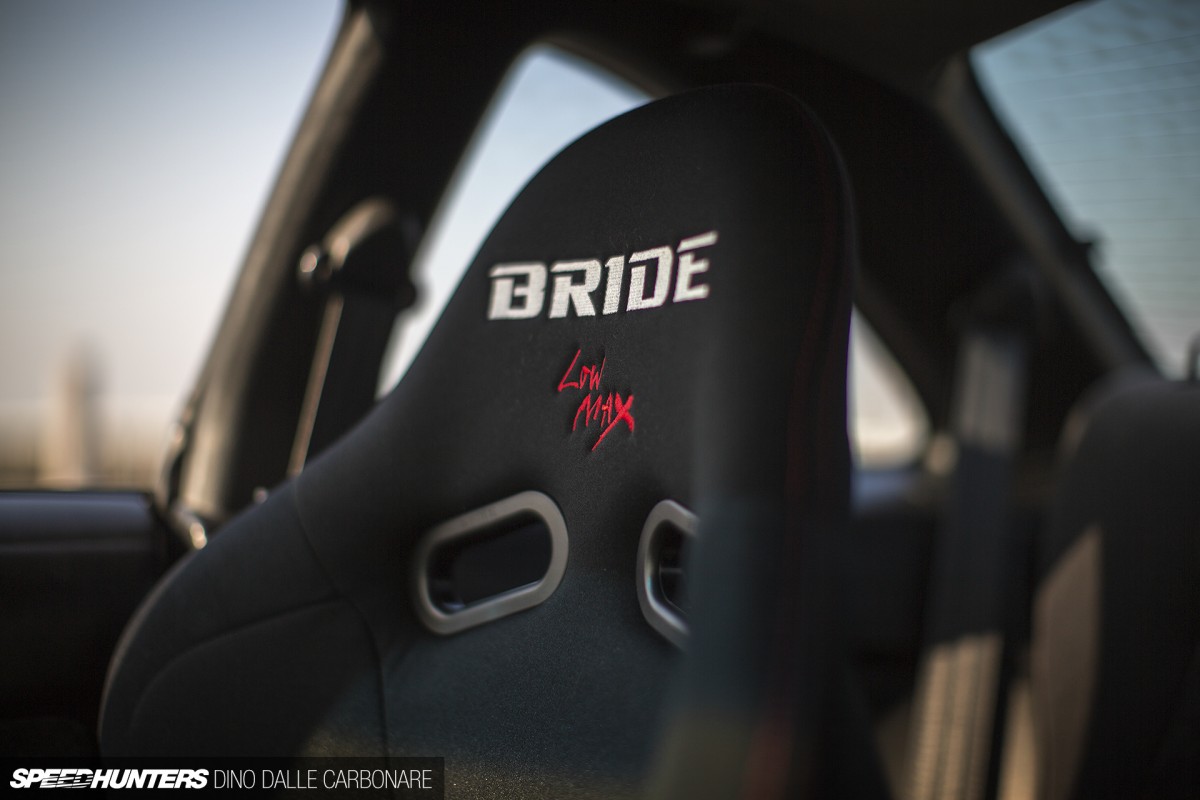 Regarding the seats, it's hard to tell the difference, especially looking only at the top sections. That's a good thing as one pet peeve of mine is seeing unmatched seats run by so many cars in Japan.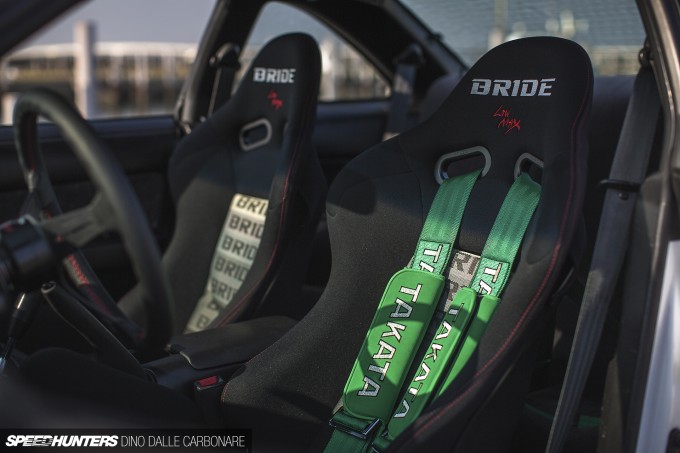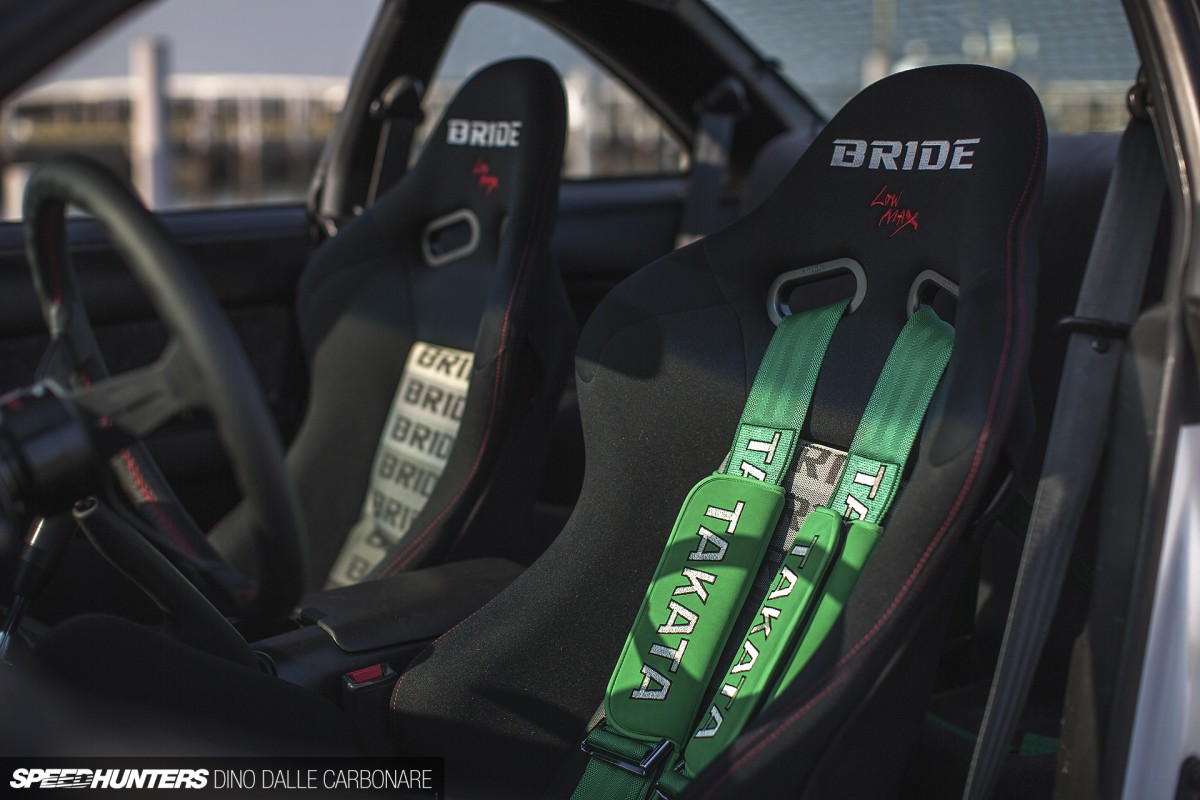 This works out well as you could never tell from looking through the front or side glass. Takata harnesses complete the seating arrangements – there only for the driver.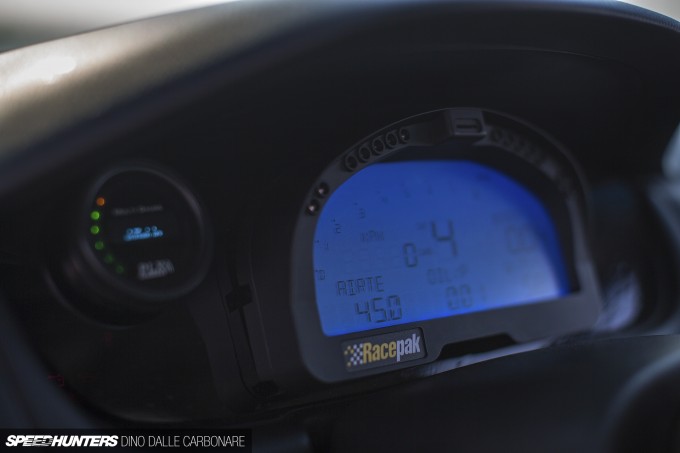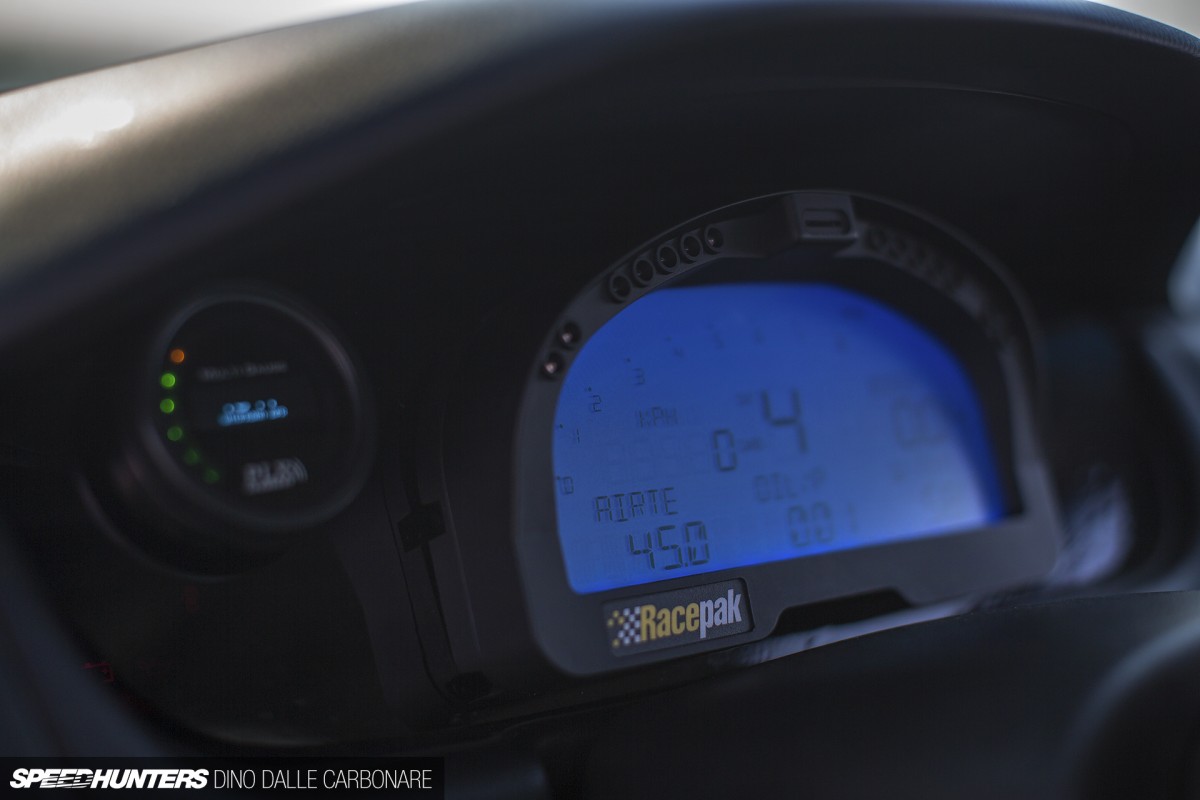 The dated Nissan stock meters are nowhere to be seen, which is great because they are a little surpassed in this day and age. Plus seeing as the Racepak is a straight plug-and-play for the Haltech ECU, this cool little dash unit slash data logger was a no-brainer sort of mod.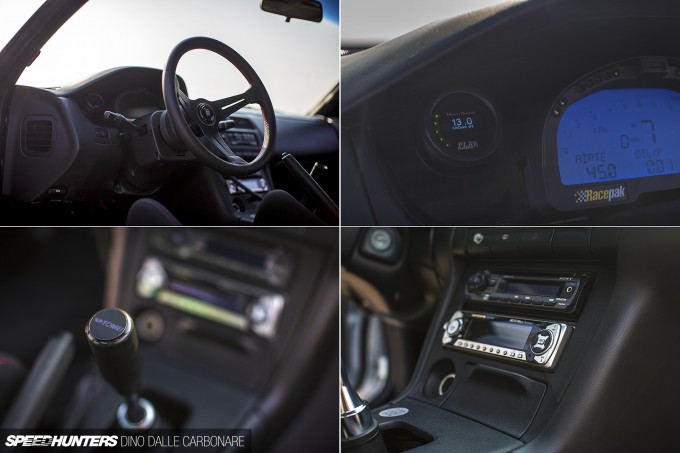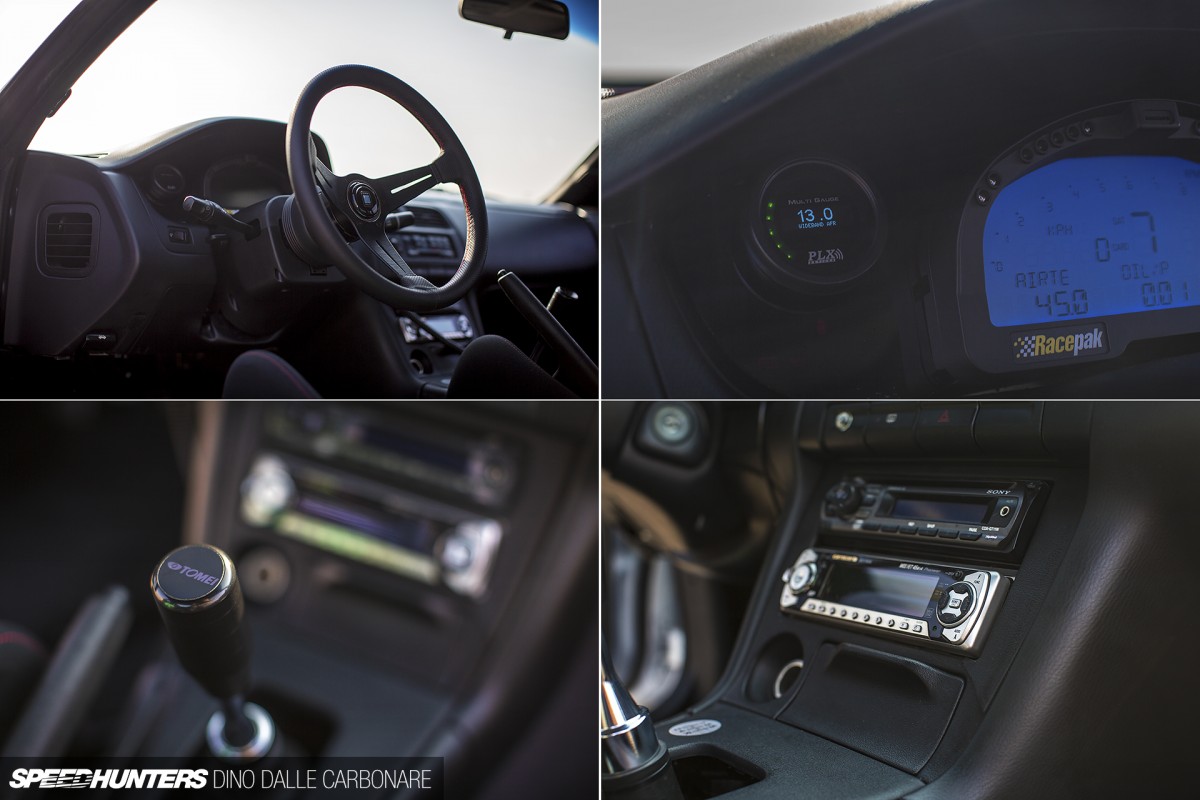 It's joined by a PLX AFR gauge – a much-needed tool while the KA24 upgrades are under development. The electroluminescent display is also a similar shade of blue to the Racepak's back-lit display. Man, don't you just love it when little things like this match and come together?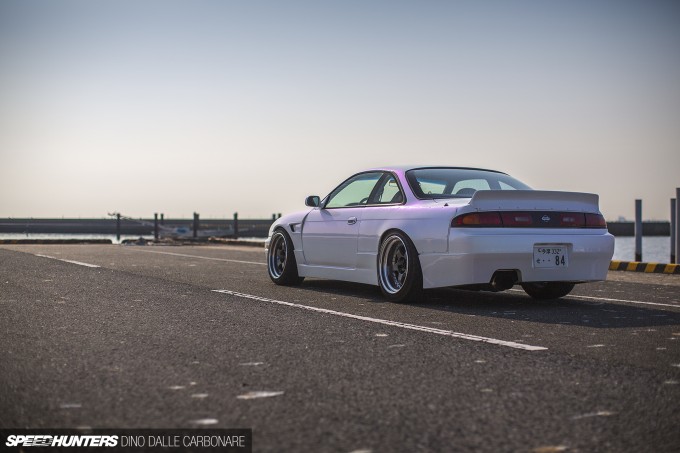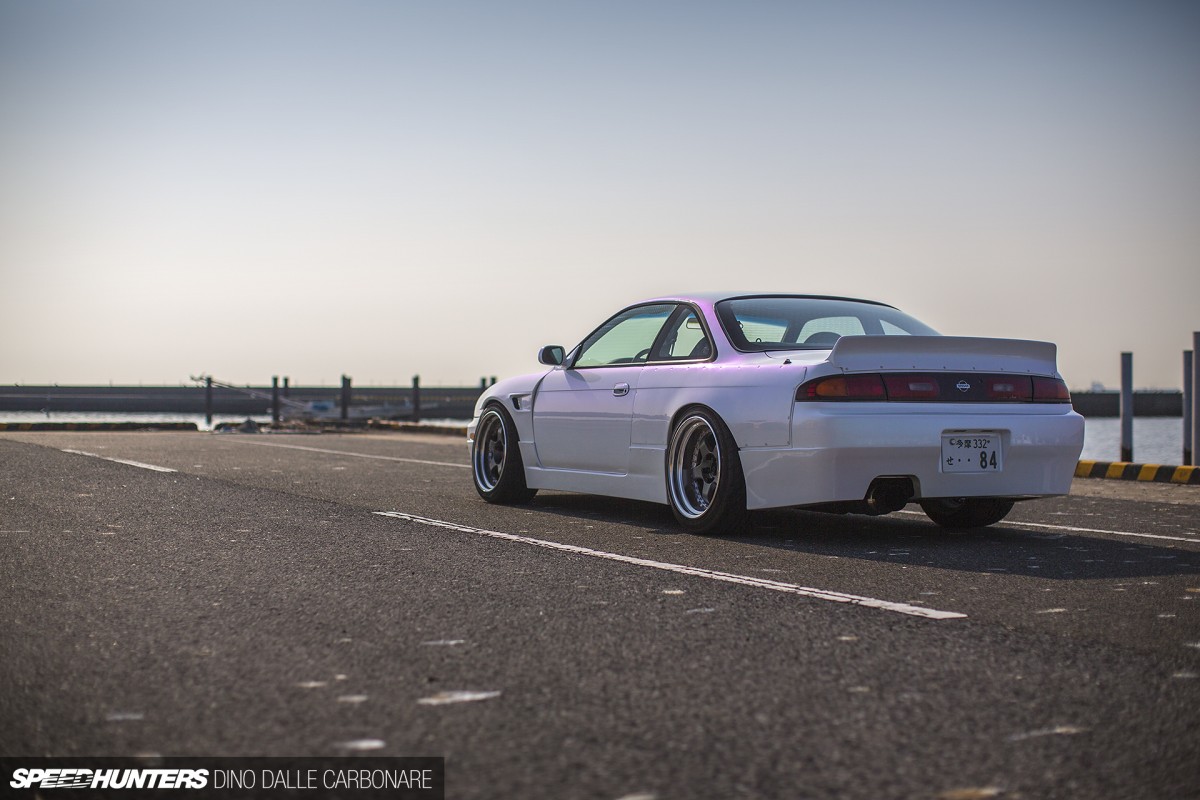 So there you have it. It might not be the fastest, it might not be the most ground-breaking, but this 240SX represents a good move by an important name in the Japanese tuning world.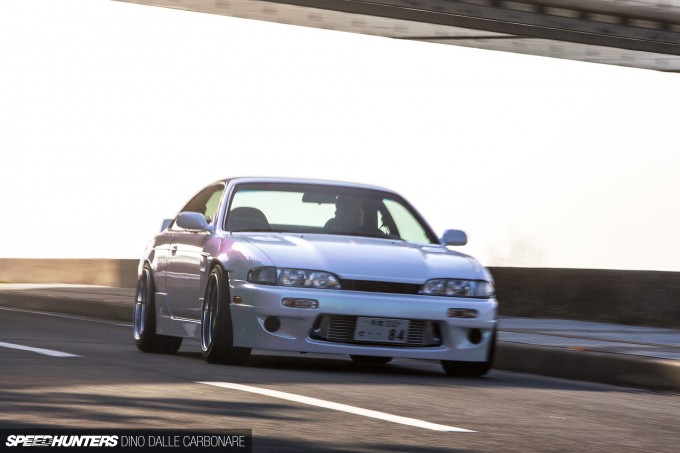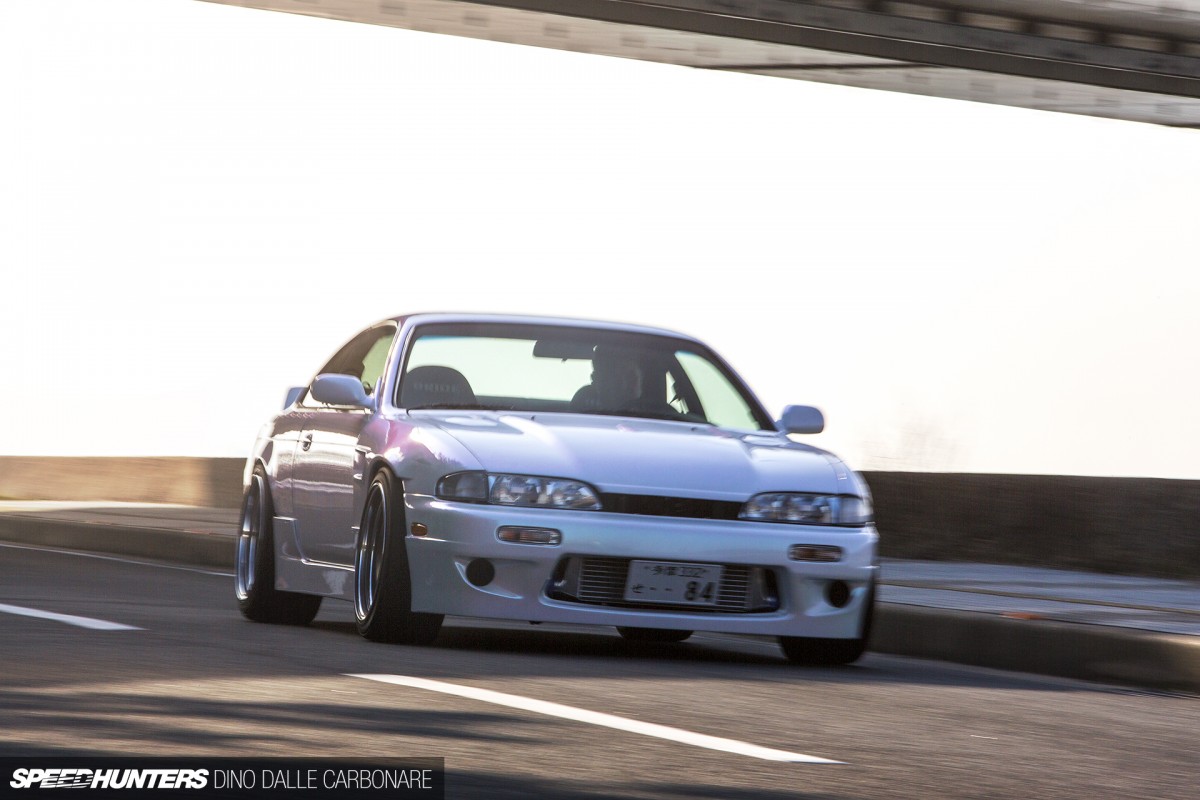 With the simple goal to open up more options to quality and reliable products for enthusiasts that crave them, Tomei has set out to do something that a lot of parts makers wouldn't even have considered. With a scramble to get as many upgrades for the 86's FA20 and the GT-R's VR38DETT, it's cool to see that there are some companies out there that care about the cars and engines a lot of us still love and care for. With guys like this in our midst, we're good to go for years to come!
Dino Dalle Carbonare
Instagram: speedhunters_dino
dino@speedhunters.com