Who doesn't love a swap meet?
As you saw in my previous post, I've got a big thing for old race cars. That's why last weekend's March Meet at Famoso Raceway near Bakersfield was the perfect place to get my nostalgic car culture fix. But the March Meet isn't just about drag racing and checking out bitchin' old cars – the event also includes one of the coolest auto swap meets you'll find anywhere in the world.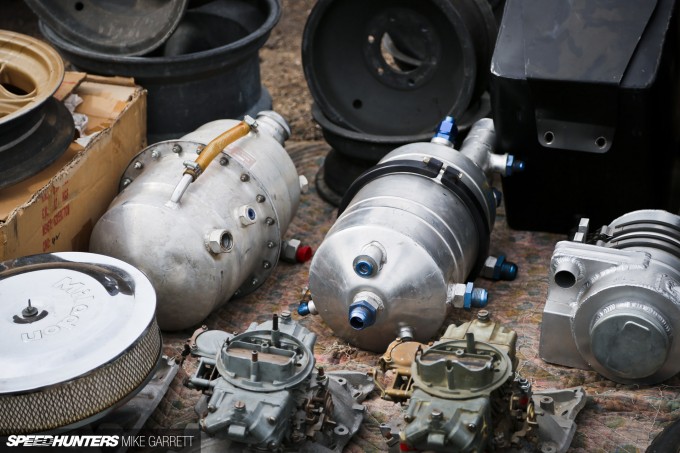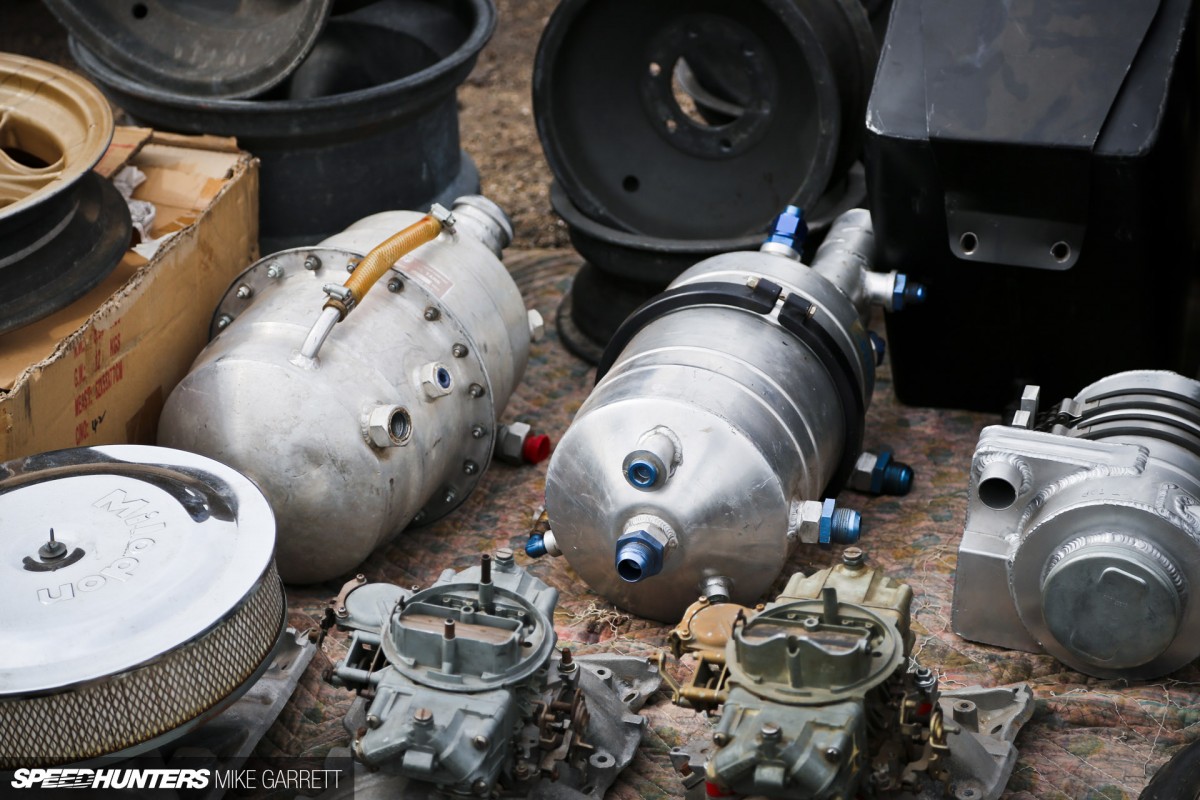 So for the second volume of my impressions from the 2014 March Meet, I want to focus exclusively on the selection of parts, project cars and other cool stuff up for grabs at this year's swap meet.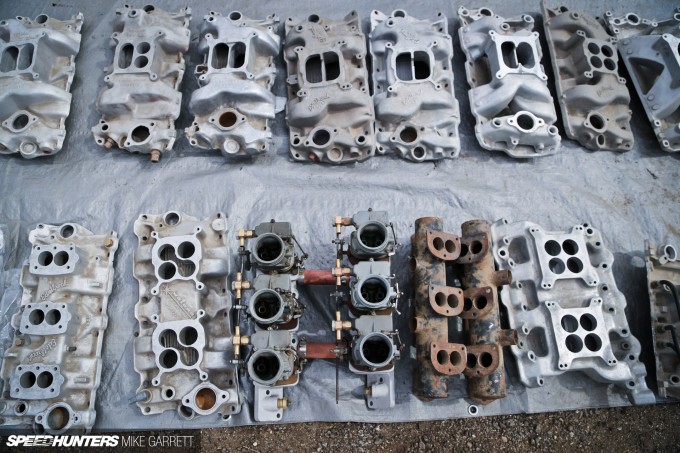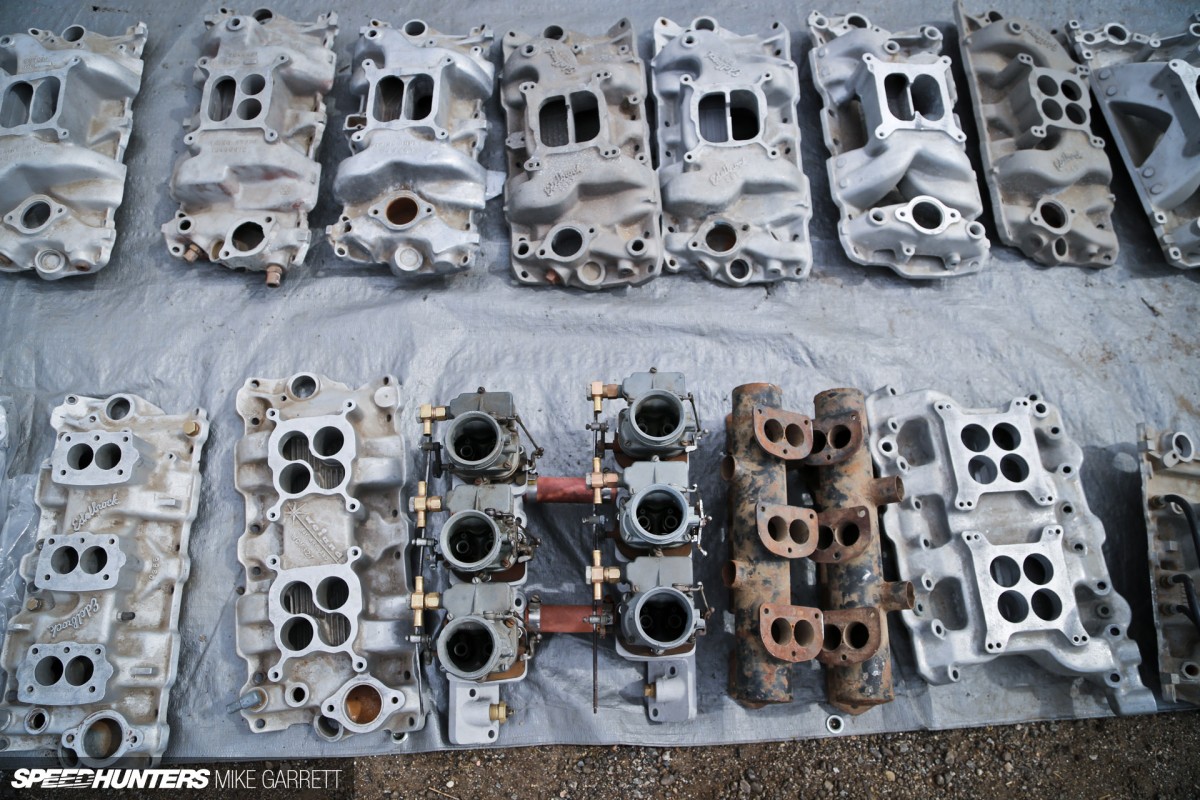 The swap meet you find at Famoso definitley isn't the biggest in California – in fact it's probably not even in the top ten. If you want to walk miles searching for parts, you'll be better off heading a little farther south to one of the massive flea markets held in Pomona several times a year.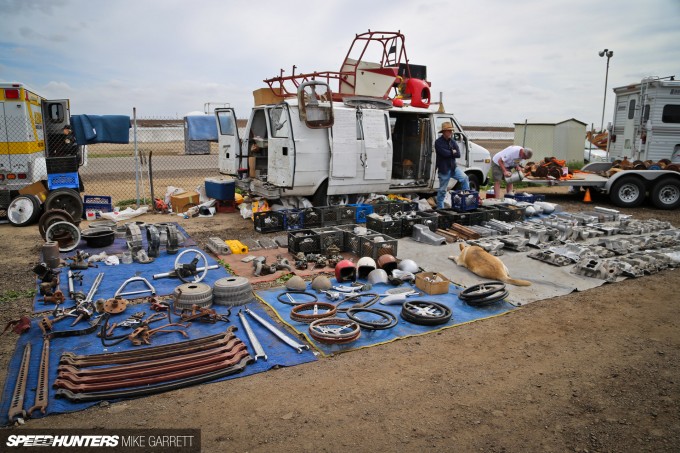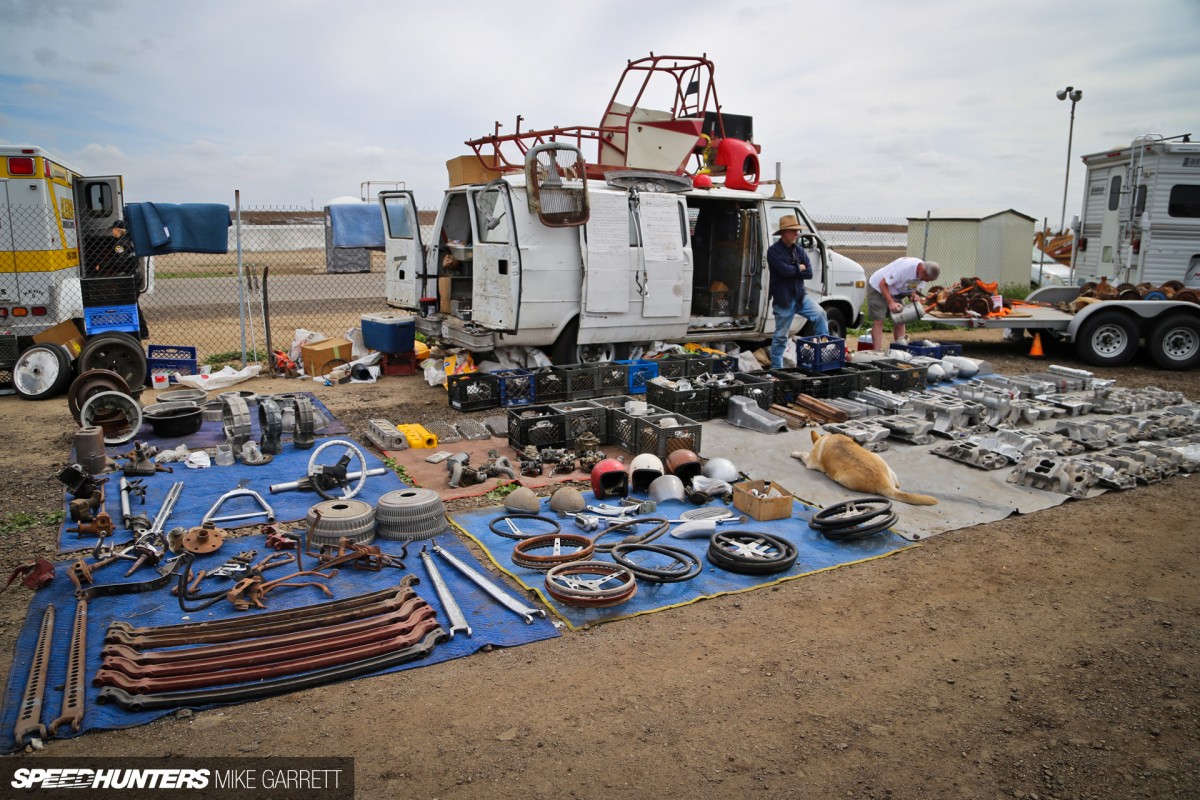 But for what it lacks in size, the parts exchange at the March Meet more than makes up for with its selection of rare and unique speed parts. This is a racer's swap meet through and through. It's also one of the only flea markets where you have to yell over the sound of nitro dragsters making their quarter mile runs a couple hundred feet away.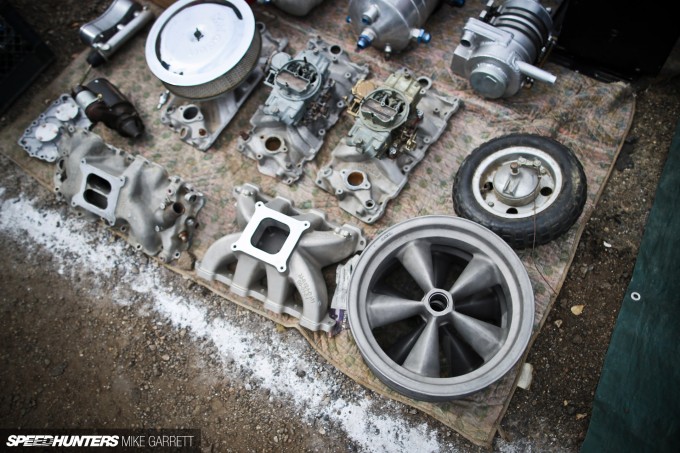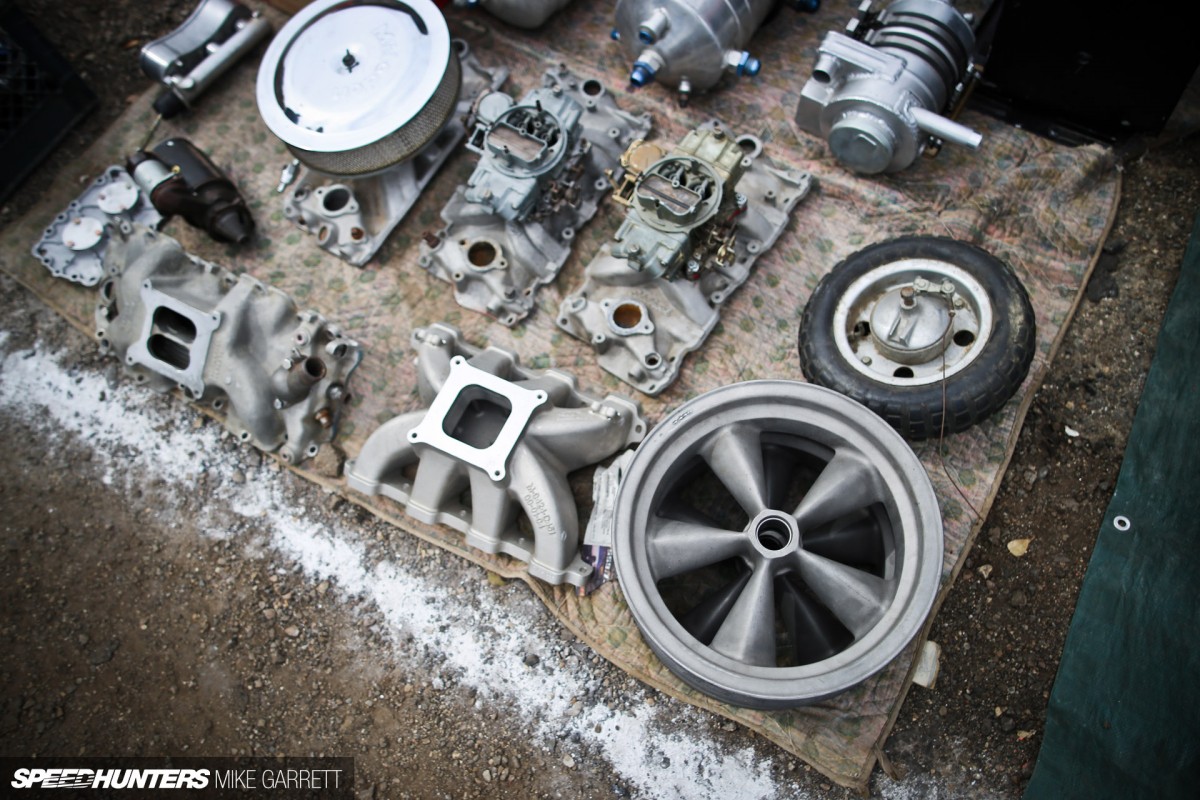 So what exactly do you find at a swap meet like this? A little bit of everything actually. In that sense it's not unlike your typical car parts flea market, but rather than restoration and replacement parts, vintage race equipment is what it's all about here.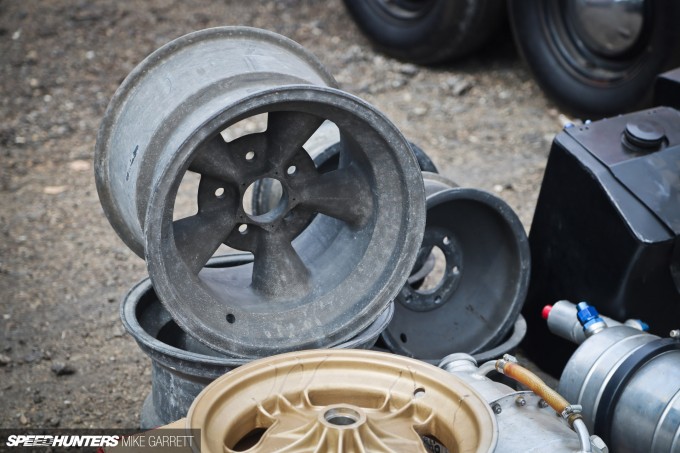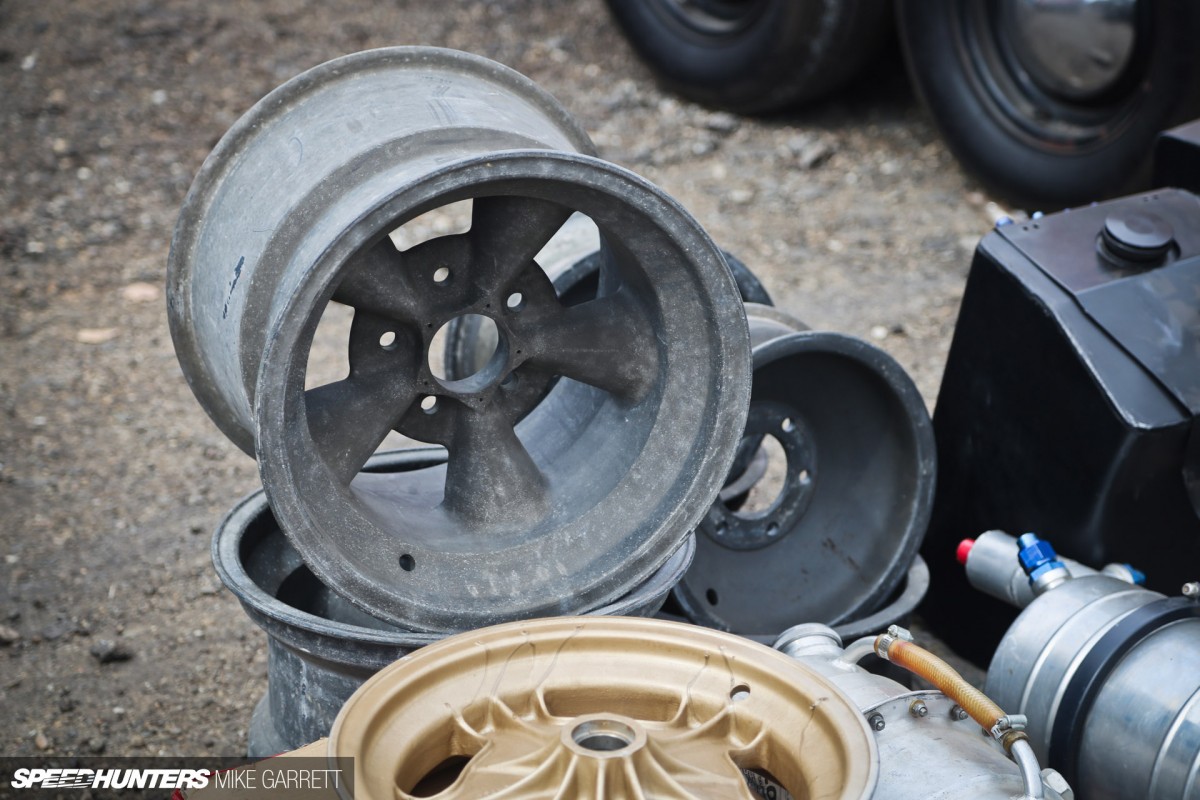 We're talking drag slicks, lightweight mag wheels, high rise manifolds, velocity stacks, Hurst shifters and other things that could make up the lyrics to a 1960s Beach Boys hit.
The goods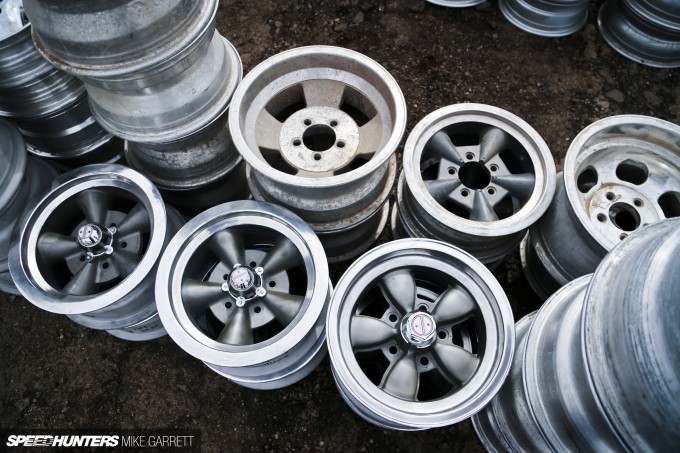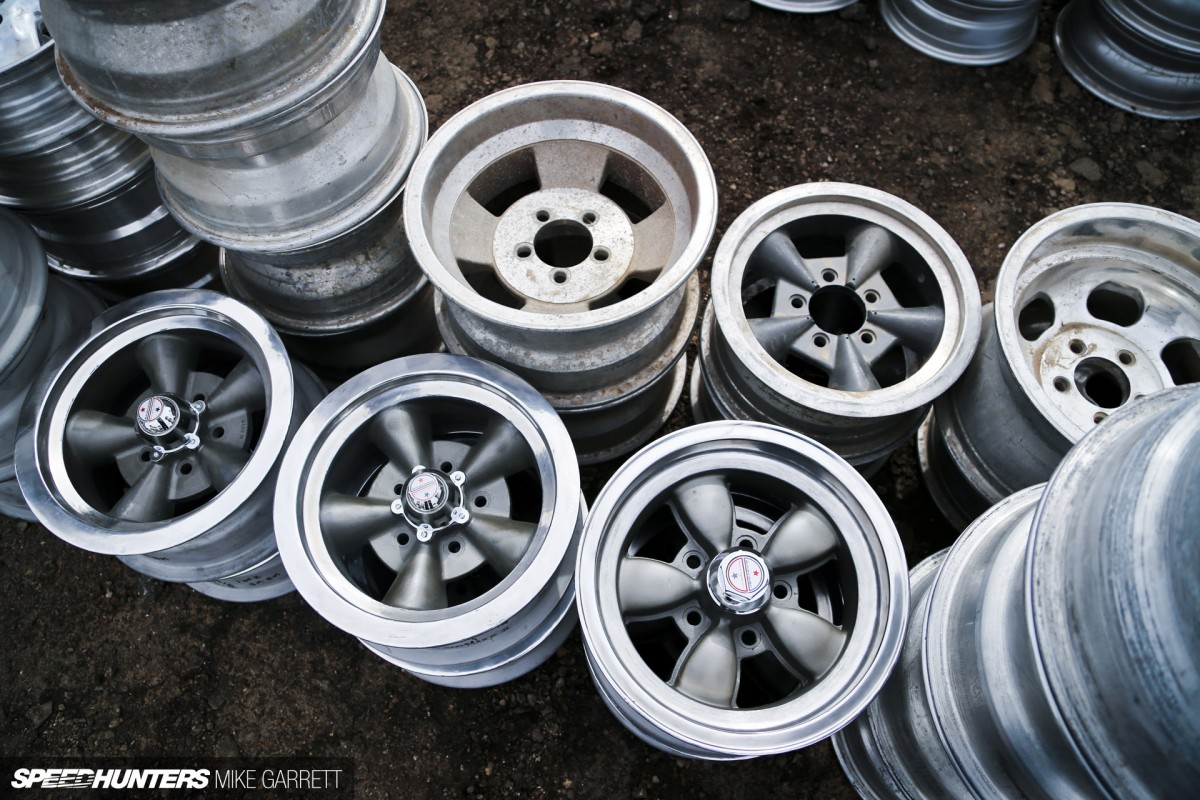 And how about those wheels? The selection of vintage rollers on its own is enough to make the swap meet a must-see destination. There are literally stacks and stacks of them.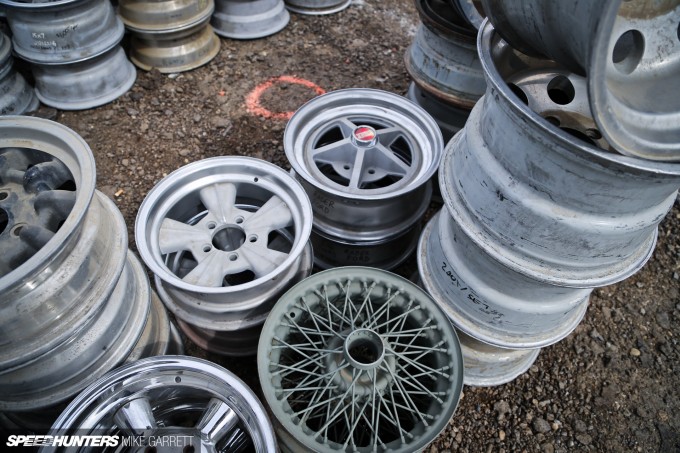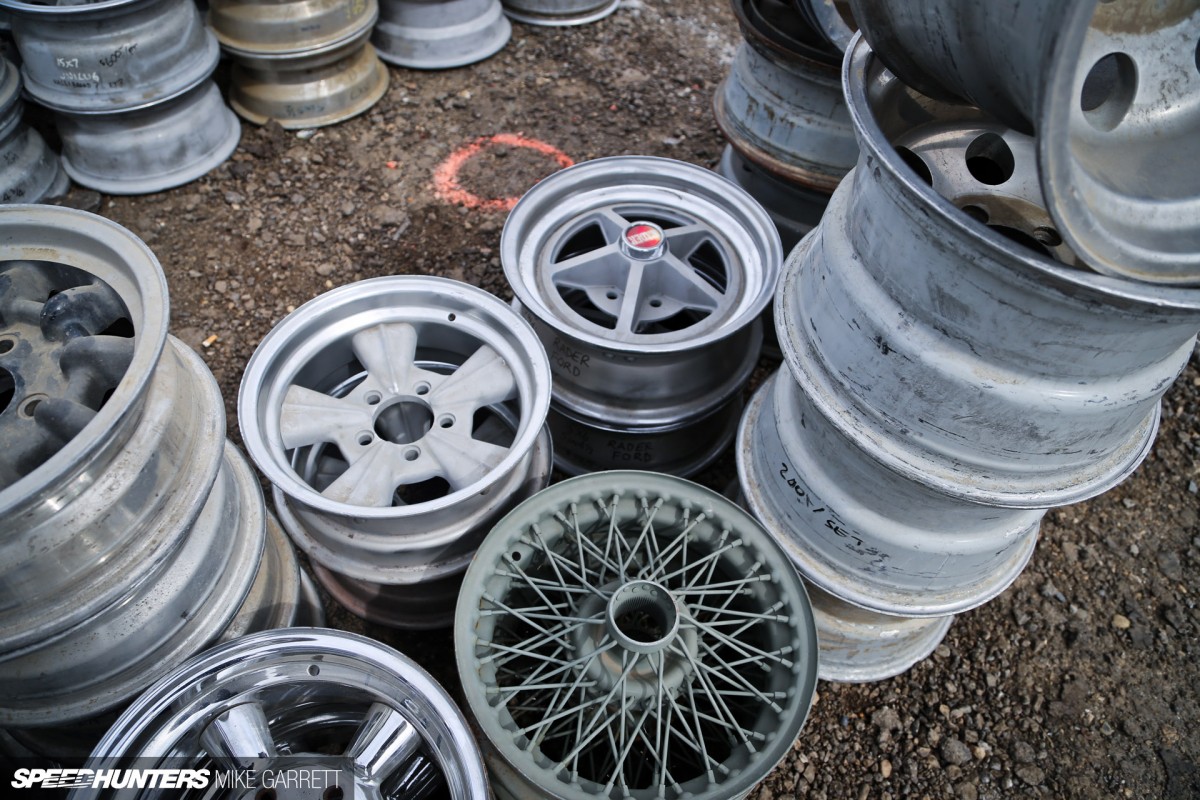 And it's not just your common Torq Thrusts, Ansens and other big-selling models from the '60s and '70s. You'll also find plenty of more unusual wheels, including several that I'd never personally seen before.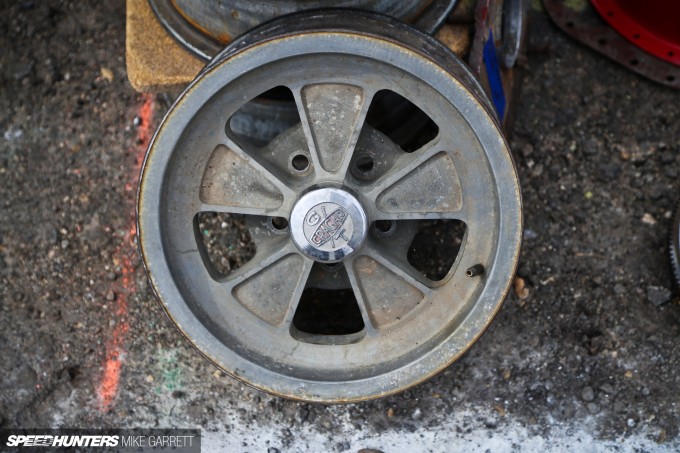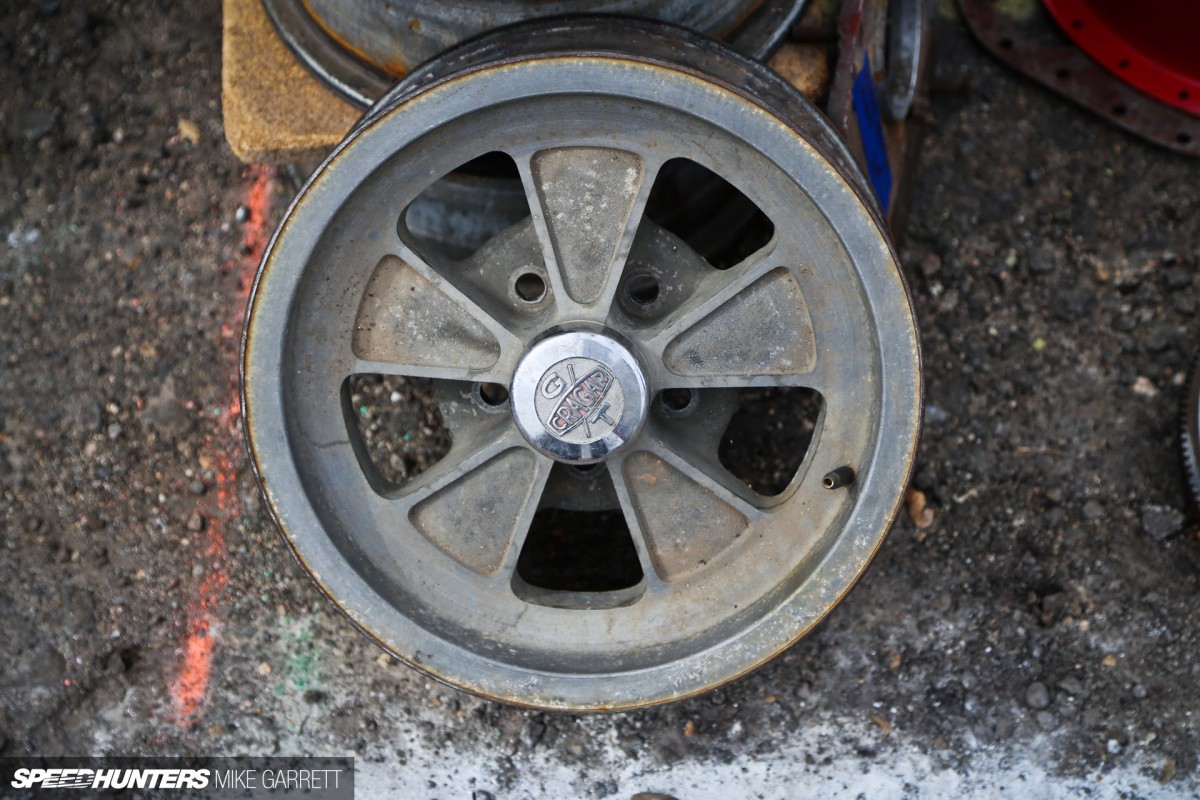 Check out these cool Cragar G/Ts for example. A restorer would probably want to have these totally refinished, but I say they look pretty damn cool as is. Let the history shine through.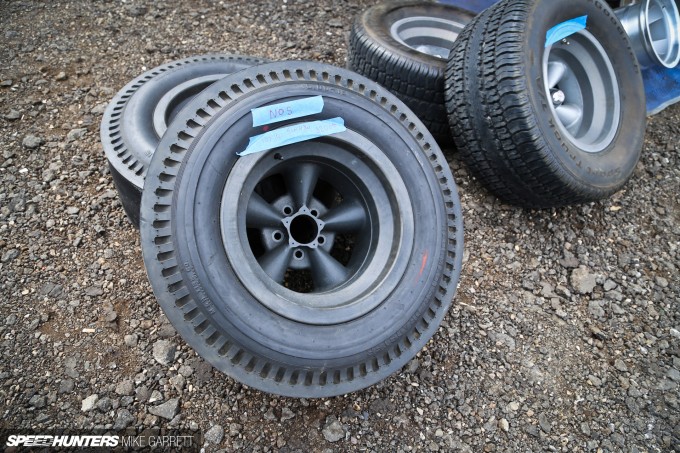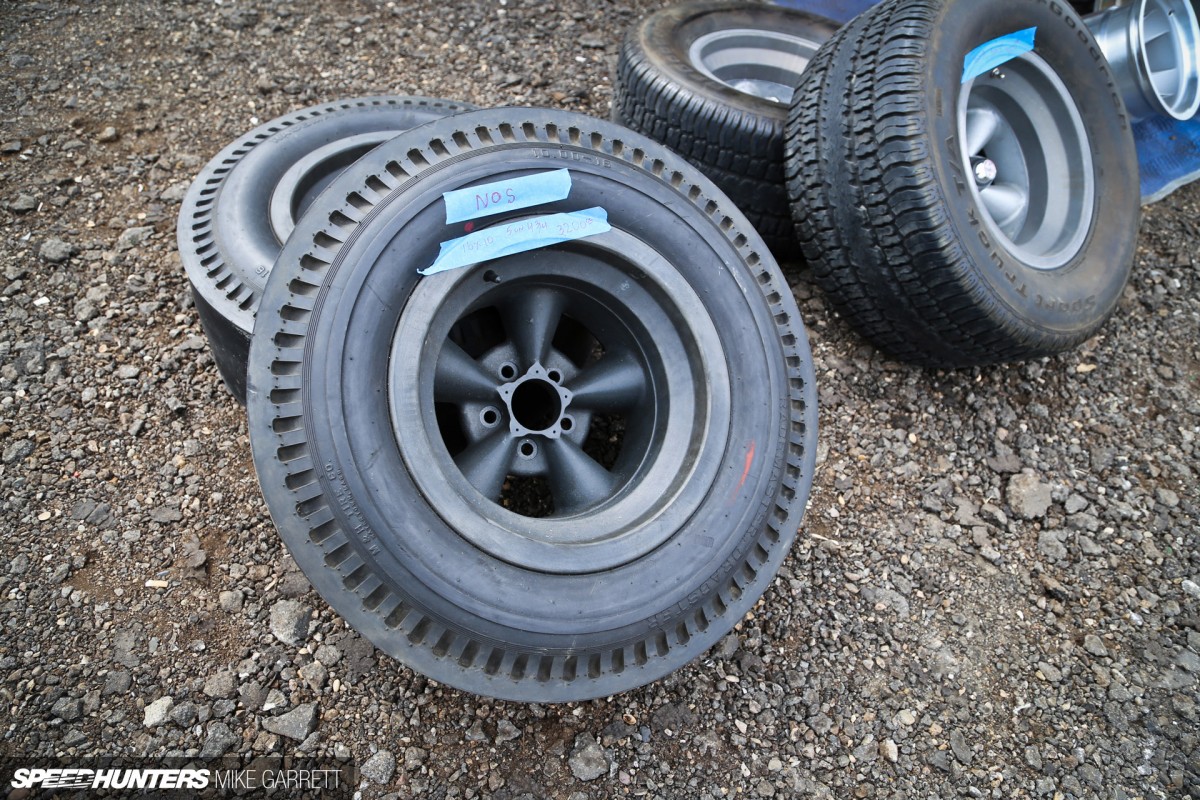 It's not just the wheels either, but the vintage rubber as well. Here's a set of NOS mags wrapped in 16″x10 M&H Racemaster slicks priced at a cool $3,200 for the pair. I've bought most of my cars for less than that!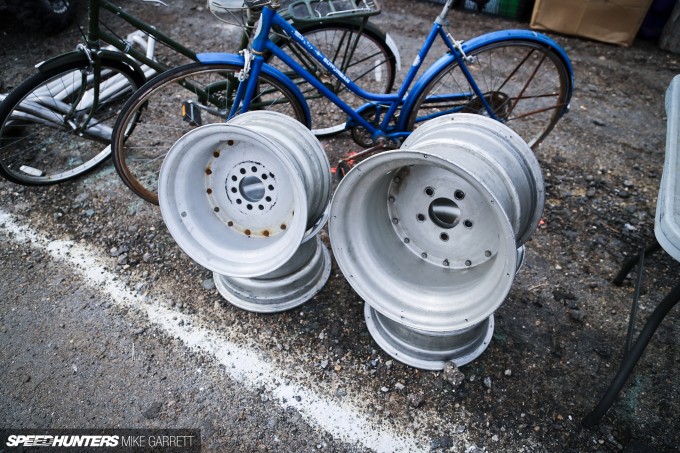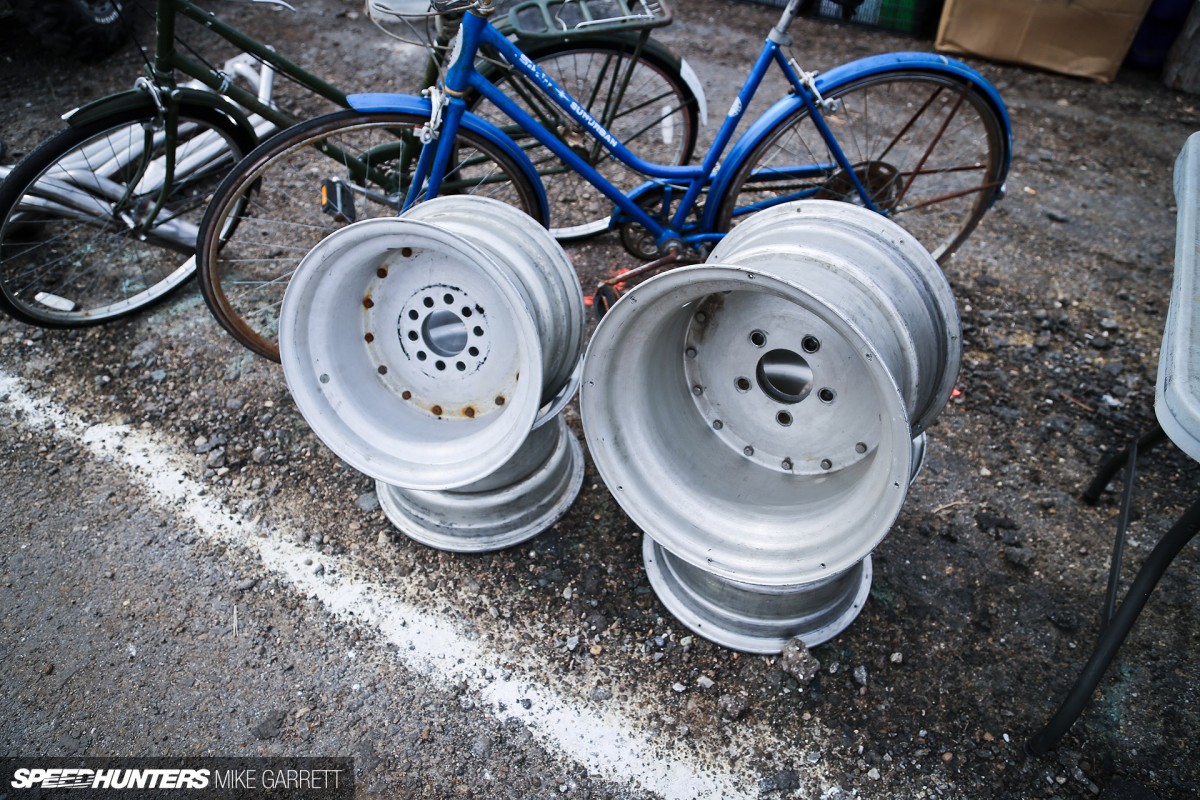 Representing more of a '70s and '80s look, we have a set of very wide Centerline style wheels. These are still a popular a choice for budget-minded drag racers across the country.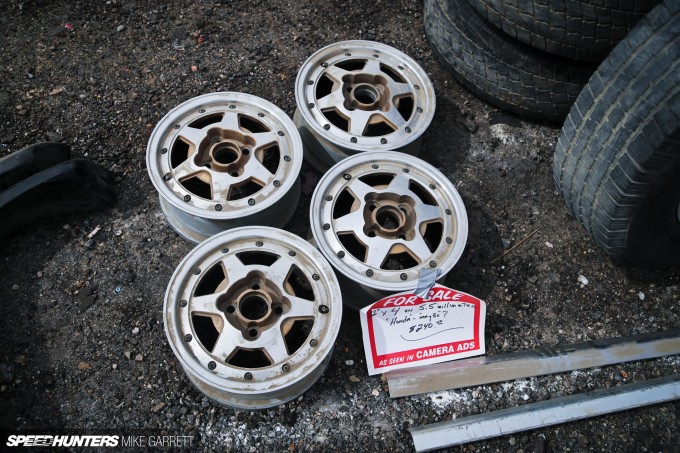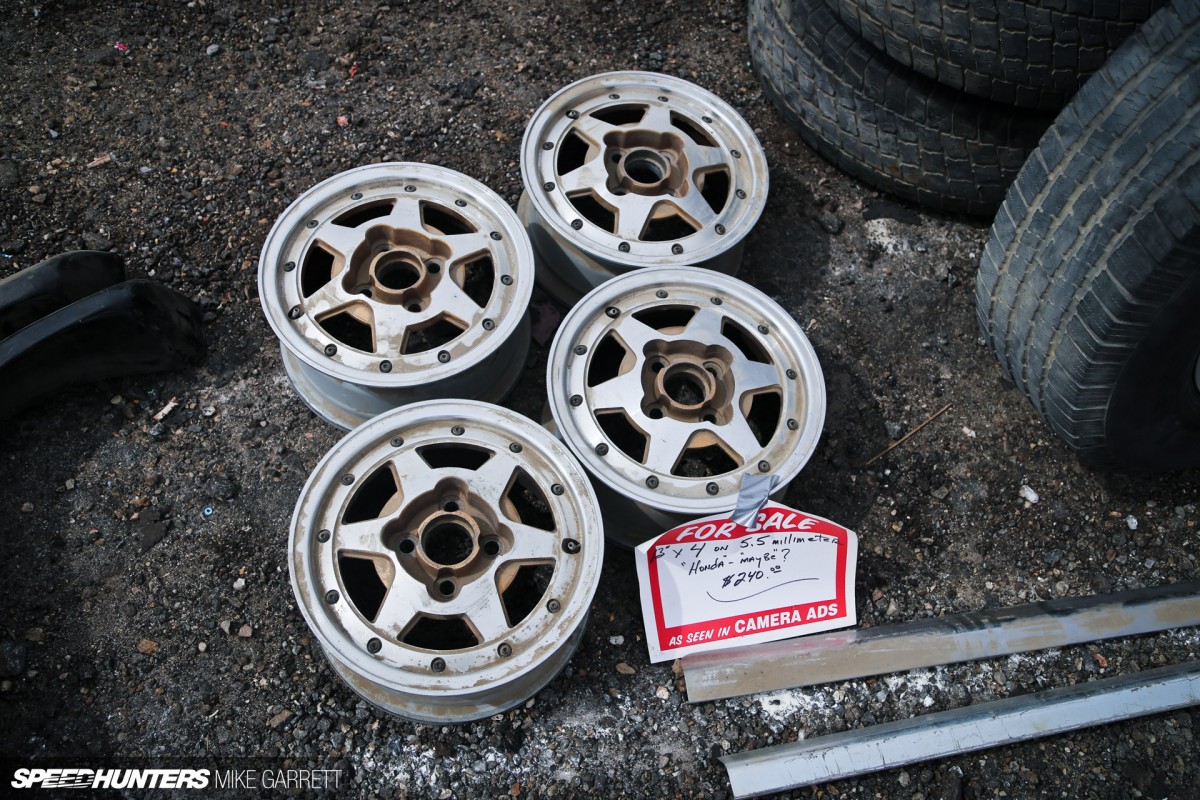 Of course not all of the wheels for sale were made for race cars. One guy had a set of these interesting four-lug wheels that he thinks might have come off a Honda at some point. Any of the wheel nerds out there recognize these? I can't ID them myself.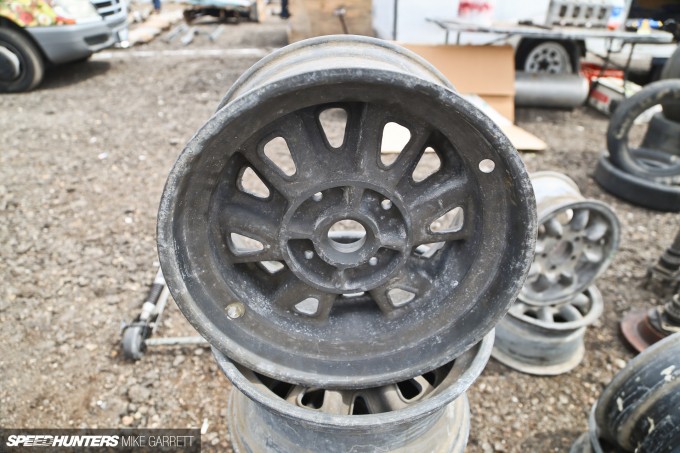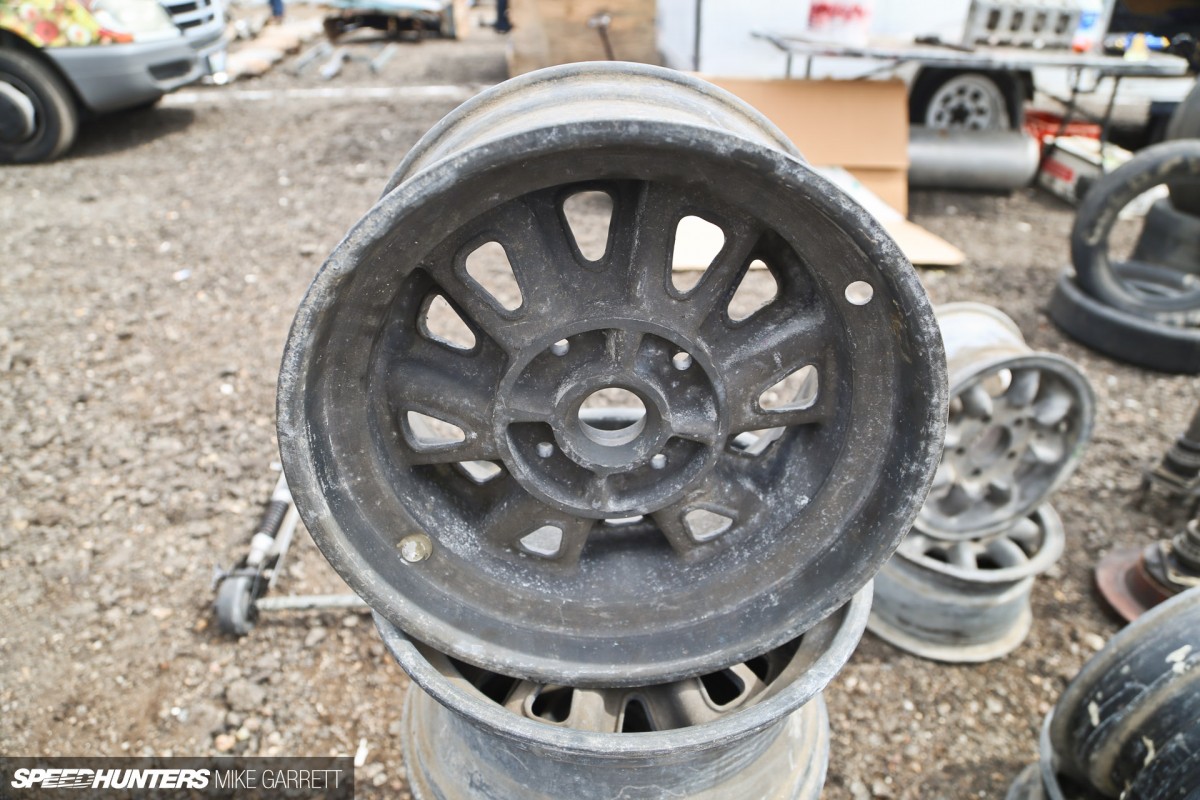 Speaking of four-lug wheels, check out this set of well-weathered mags I spotted. Can't say I've ever seen anything like this before.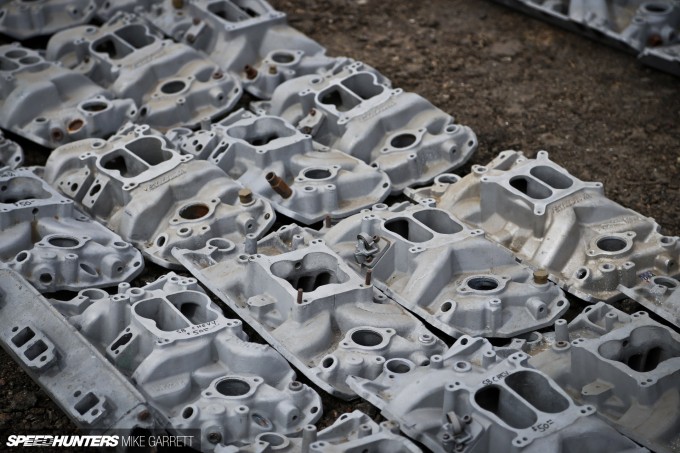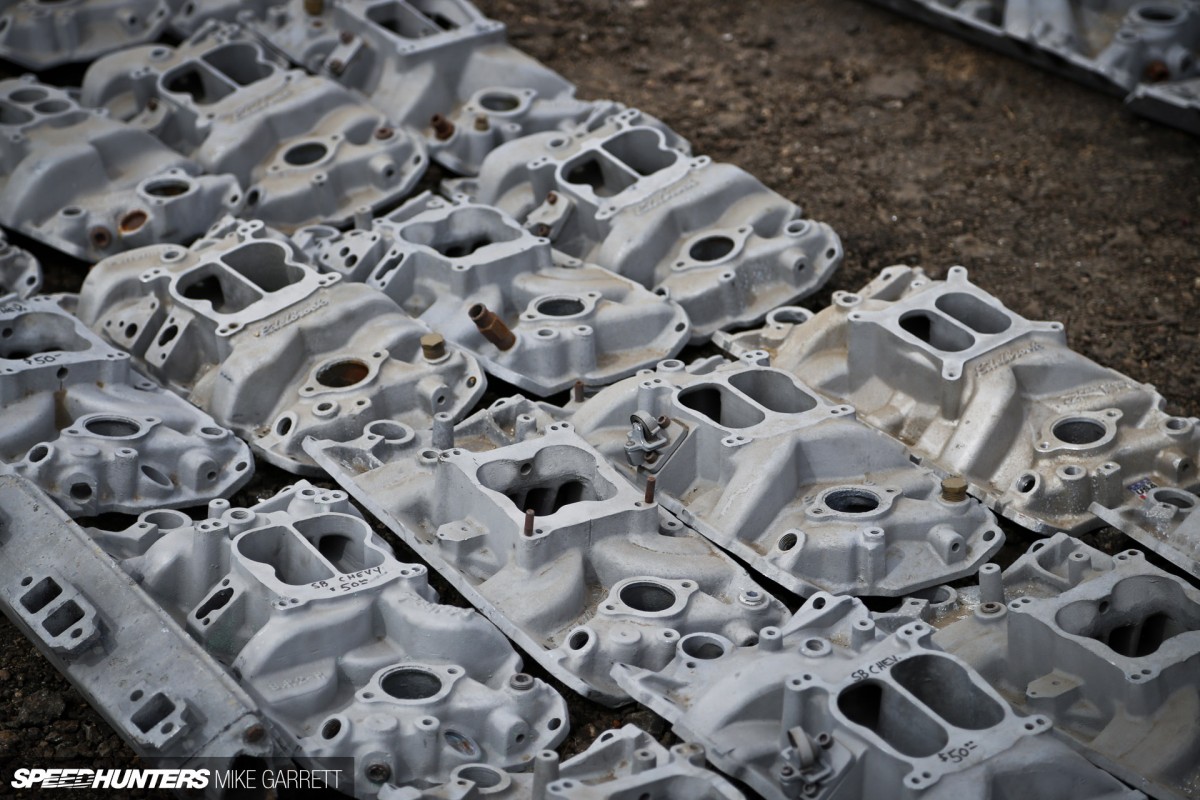 Looking for some induction parts? There was no shortage of high performance intake manifolds and carbs for sale at the March Meet.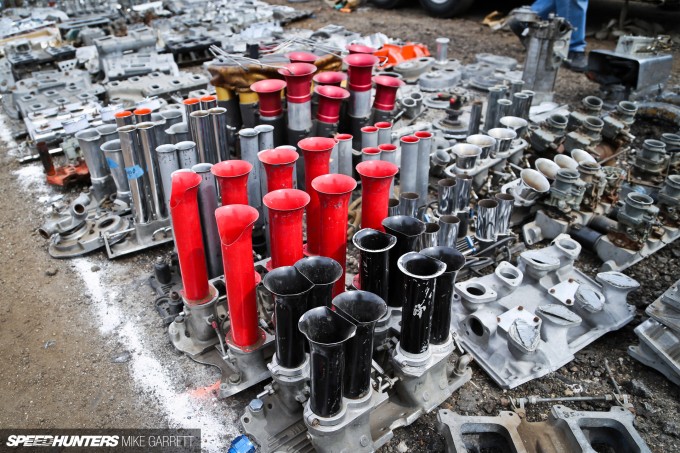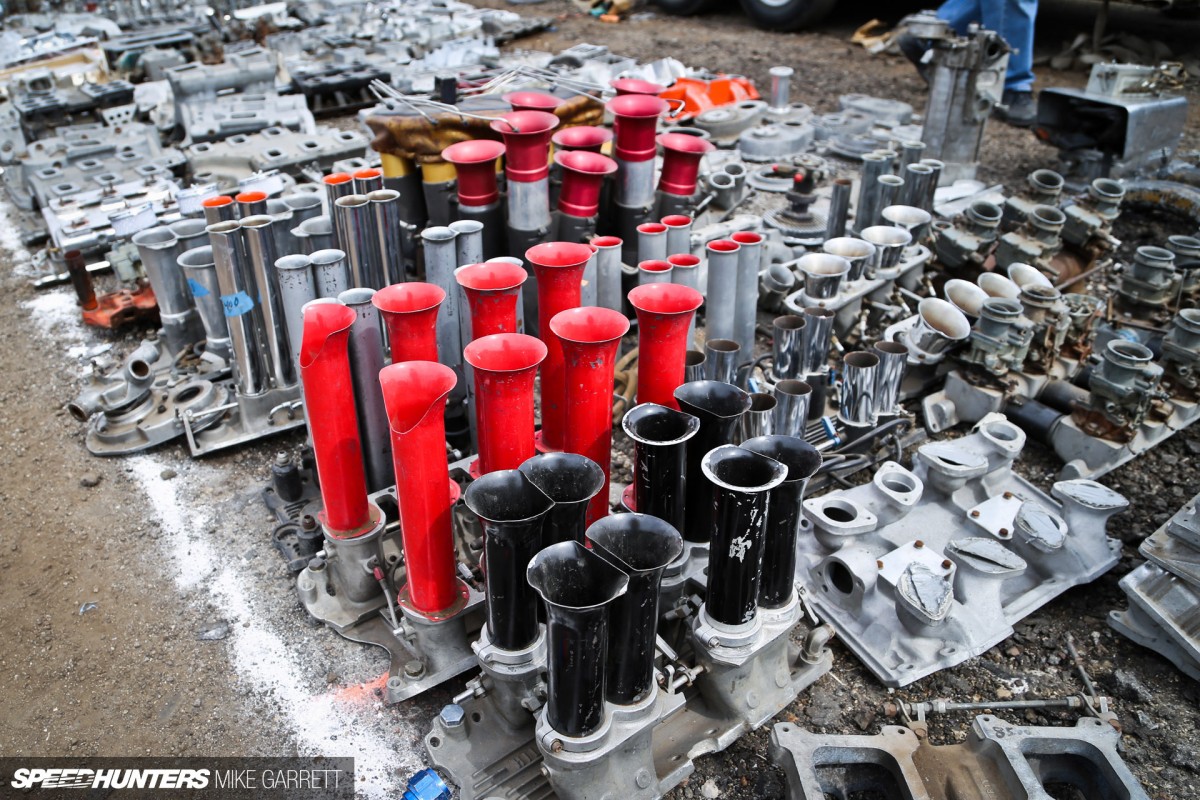 It wasn't just your basic aluminum intakes either. There were rows of rare and exotic multi-carb manifolds and injection set-ups with brilliant velocity stacks.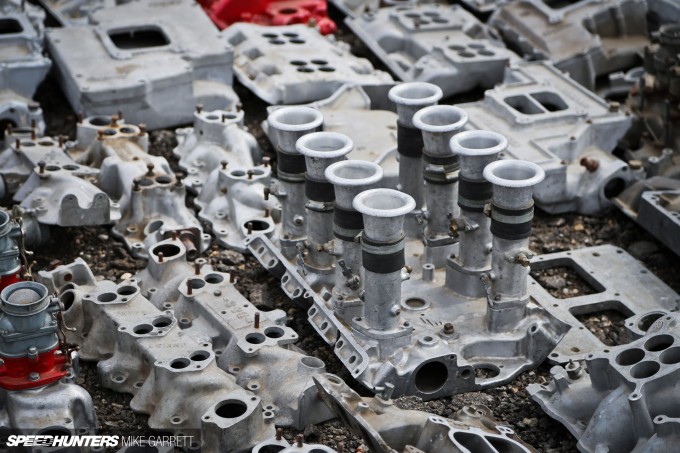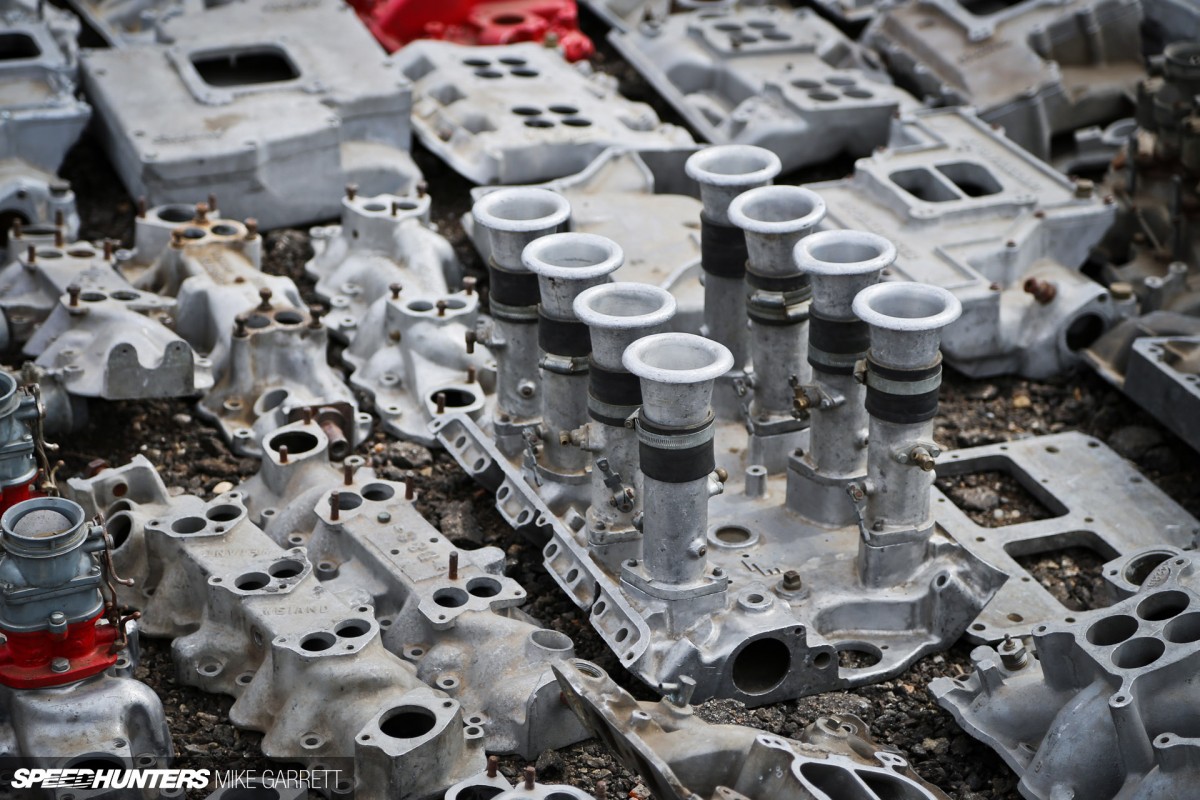 Of course you shouldn't expect to find many crazy bargains here. These sellers know what they have and if you want a rare part, you'd better be prepared to fork over some decent cash for it.
Engines – and cars to put them in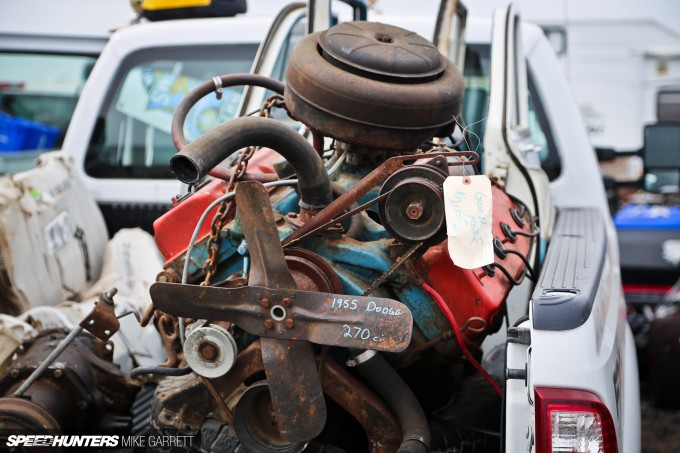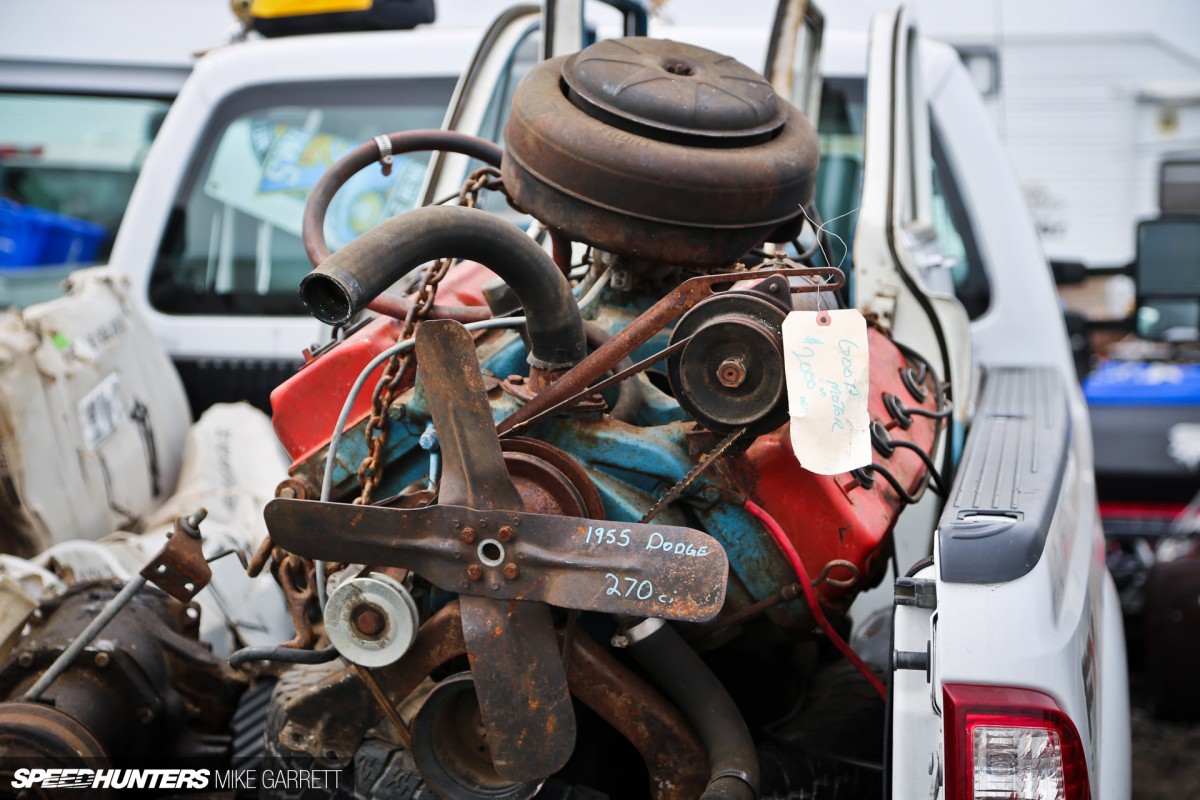 Along with the rows of high performance parts, there were several guys trying to part with complete engines, including this 270 cubic inch Hemi out of a '55 Dodge. It was priced at two grand, supposedly in good running order.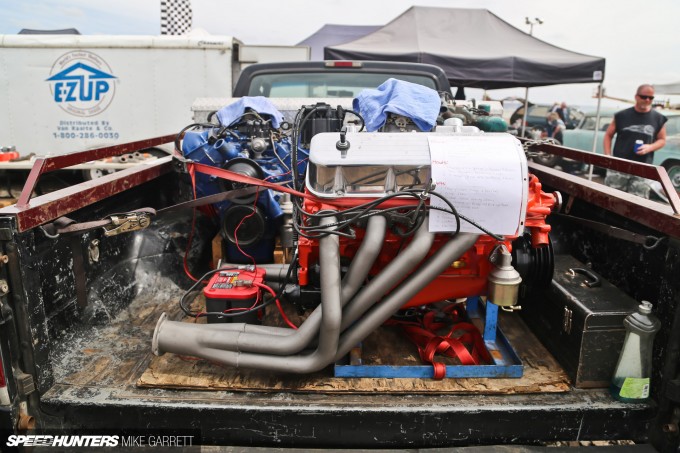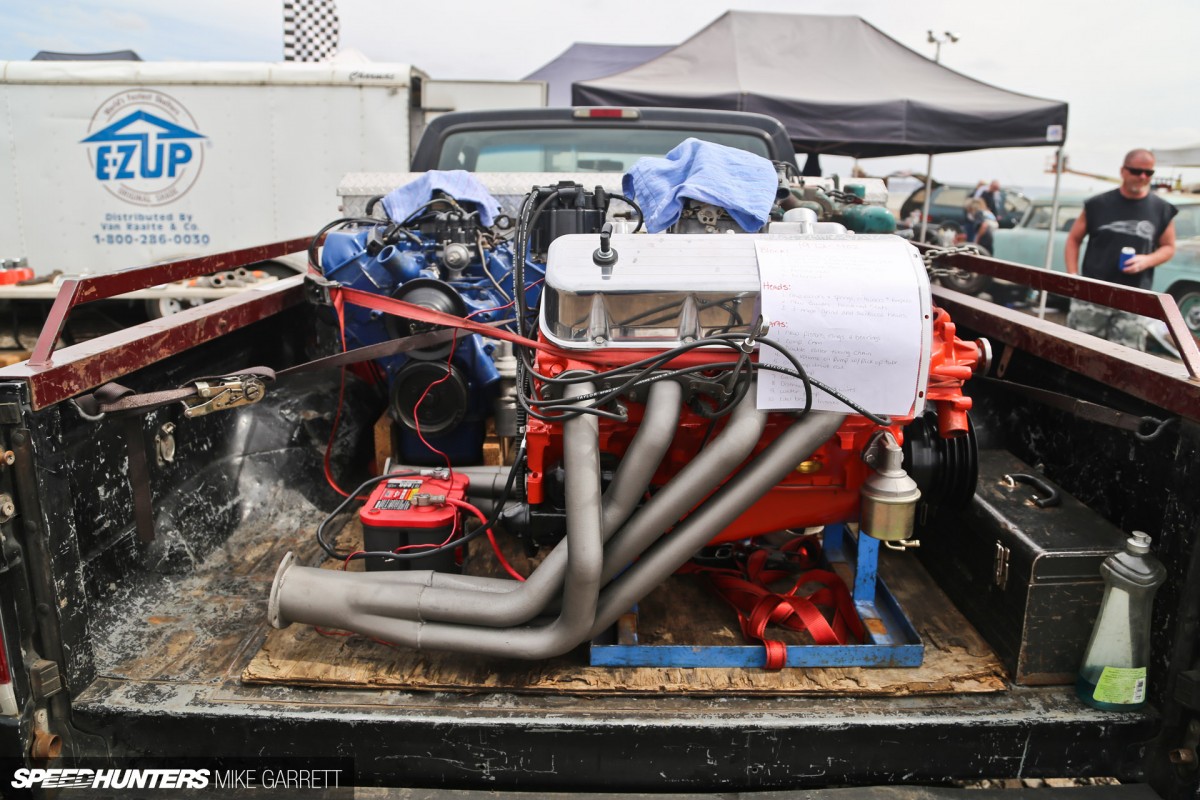 Here's a '72 402 cube big block Chevy fully rebuilt and ready to be dropped into a car of your choice. You could even hear it run.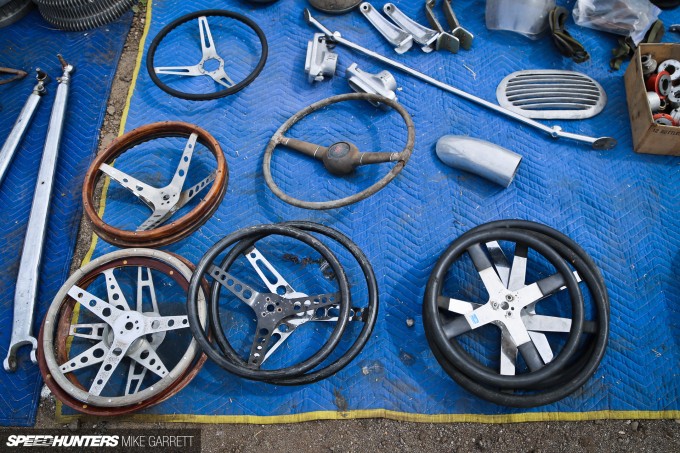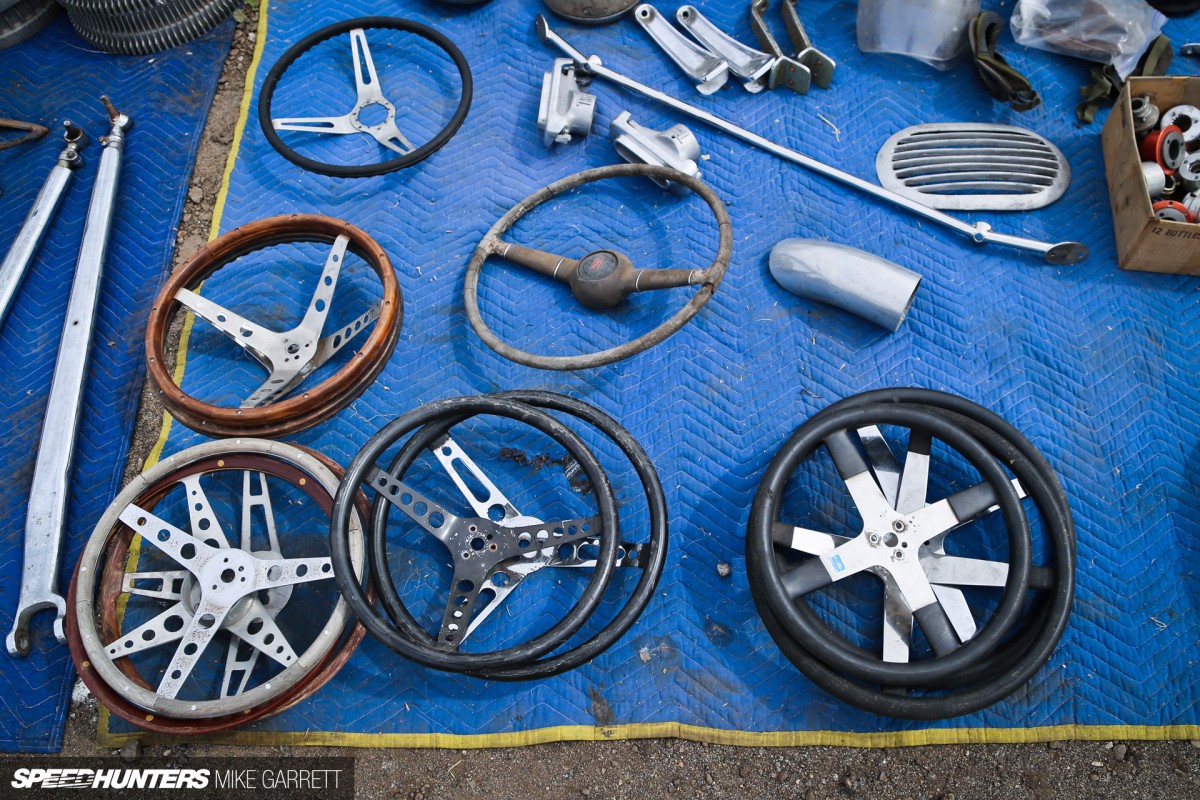 Steering wheels? We got you covered, and all of these are way cooler-looking than the cheesy new ones you'll find all over Ebay these days.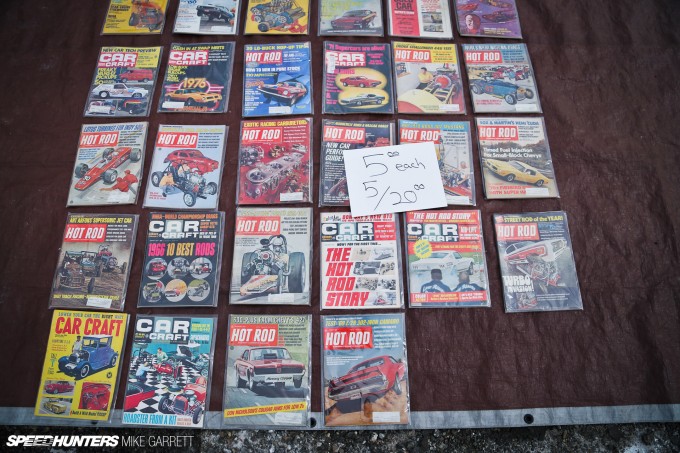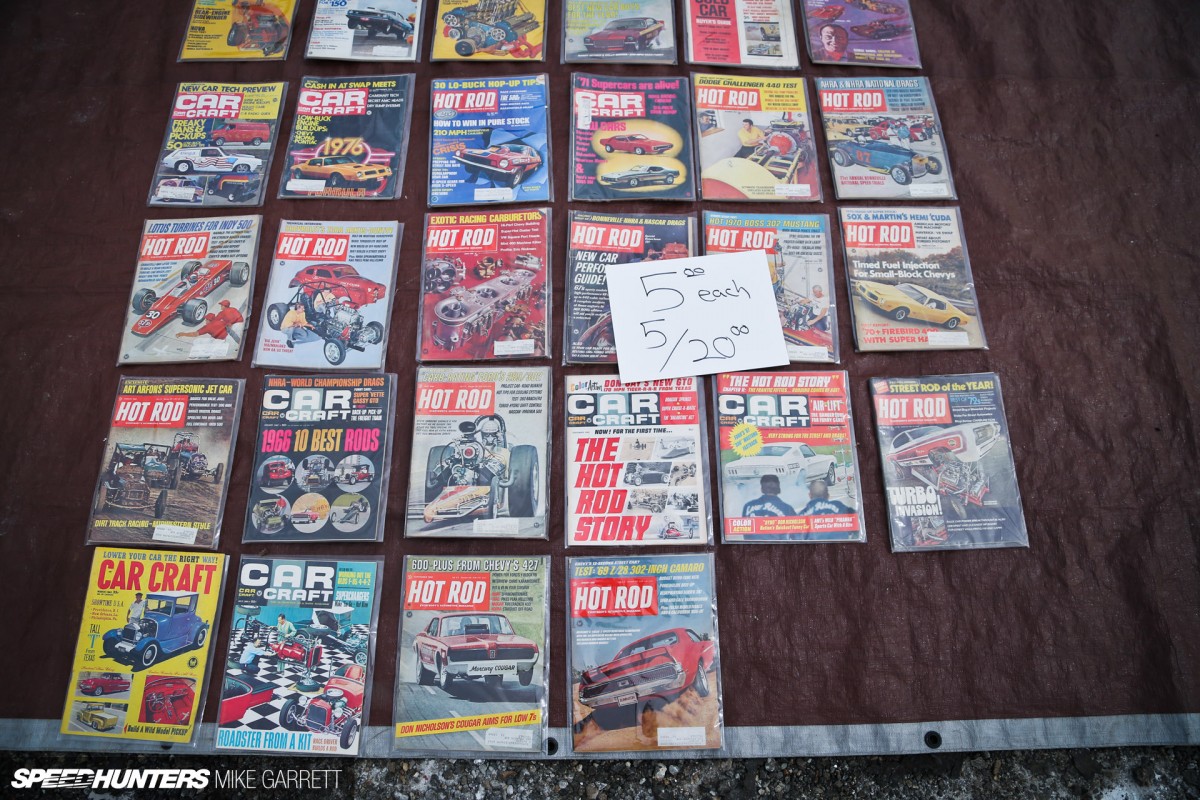 Maybe you want to bring something home without busting the bank? How about some vintage car magazines? At five for 20 bucks, I would have loved to grab a few, but my bookshelves are already buckling under the weight of my collection. Time for another IKEA trip.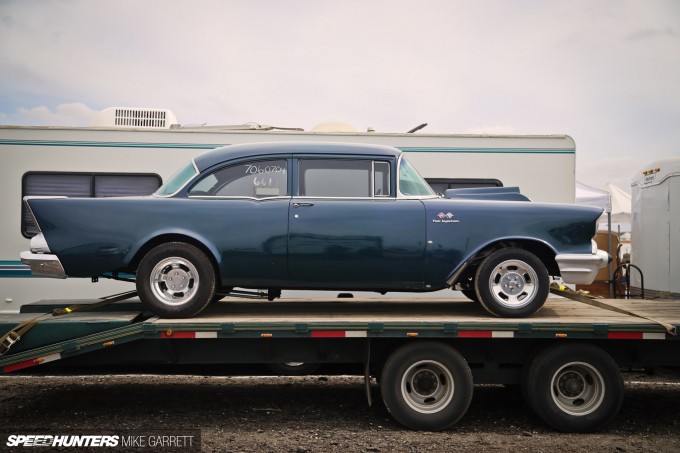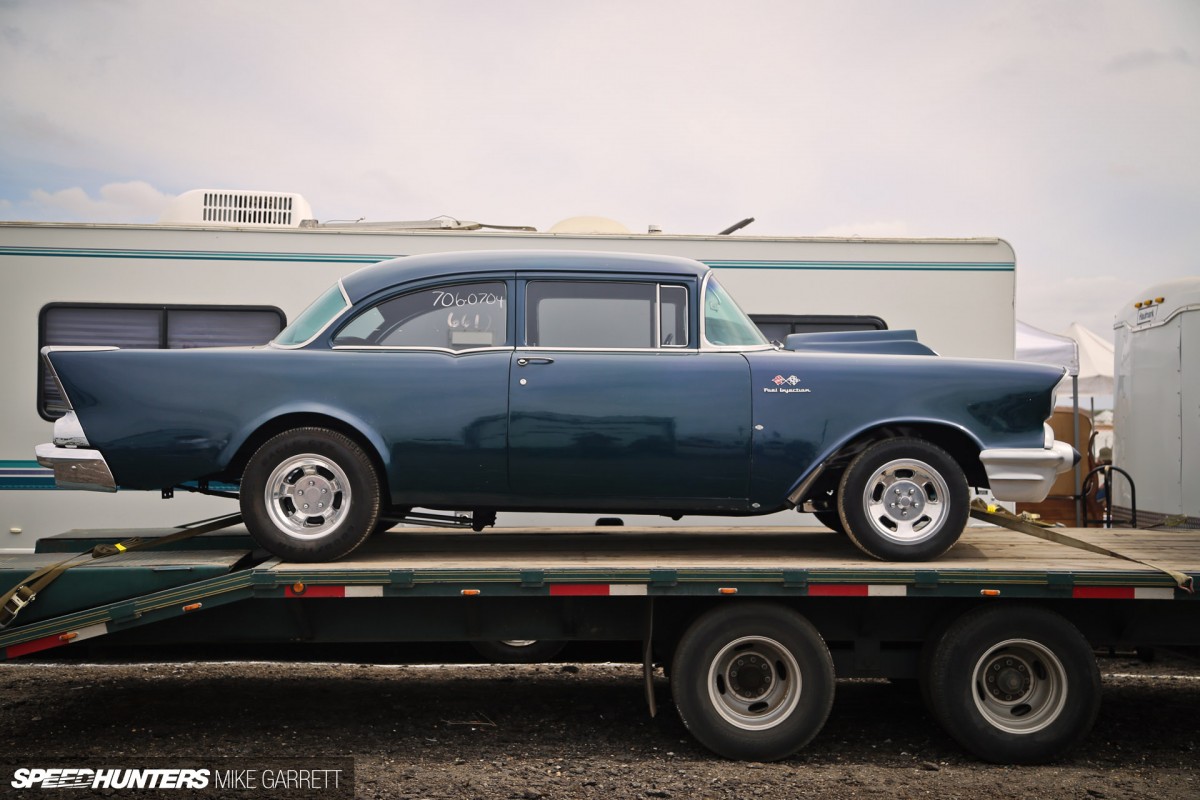 Or on the other side of the spectrum, how about bringing back an entire car as a souvenir of your March Meet visit? This Chevy was clean and looked ready for the track.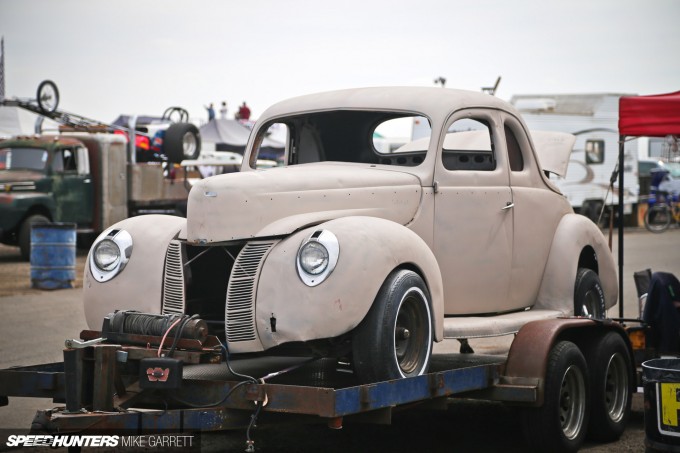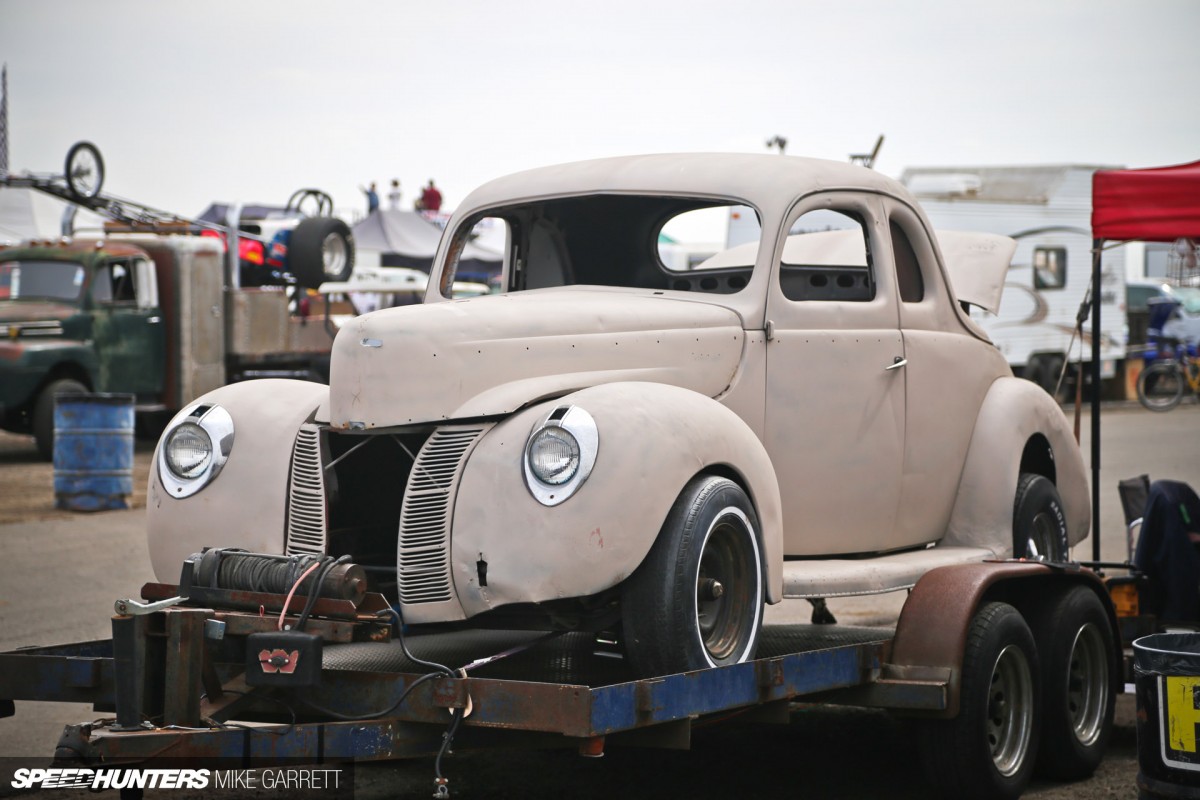 Or maybe you'd prefer something you could put your own creative touch on?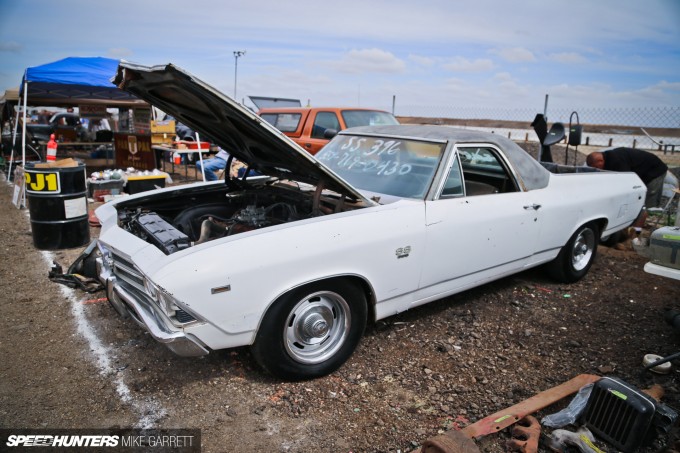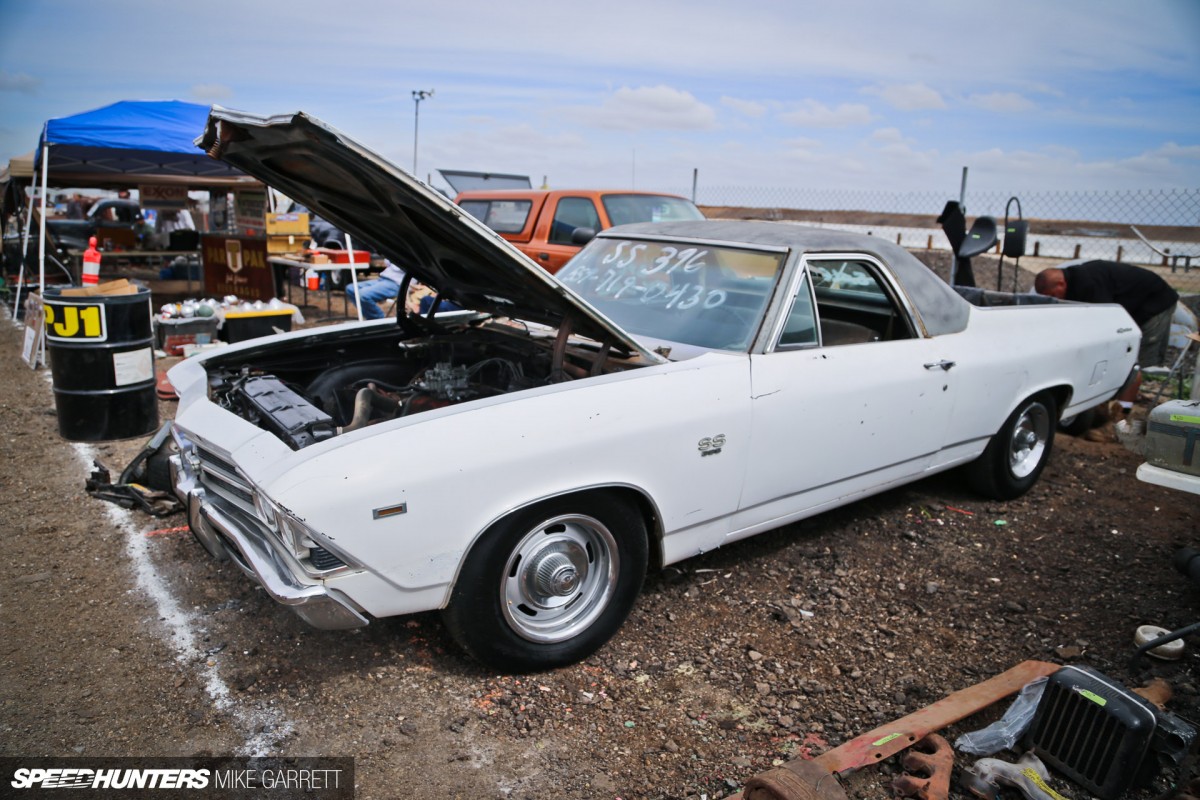 One of my personal favorite finds was this '69 El Camino – not just any old model but a genuine SS 396 by the looks of it.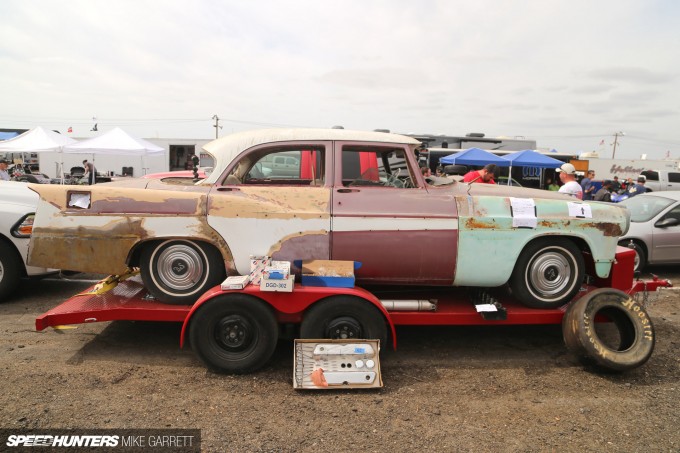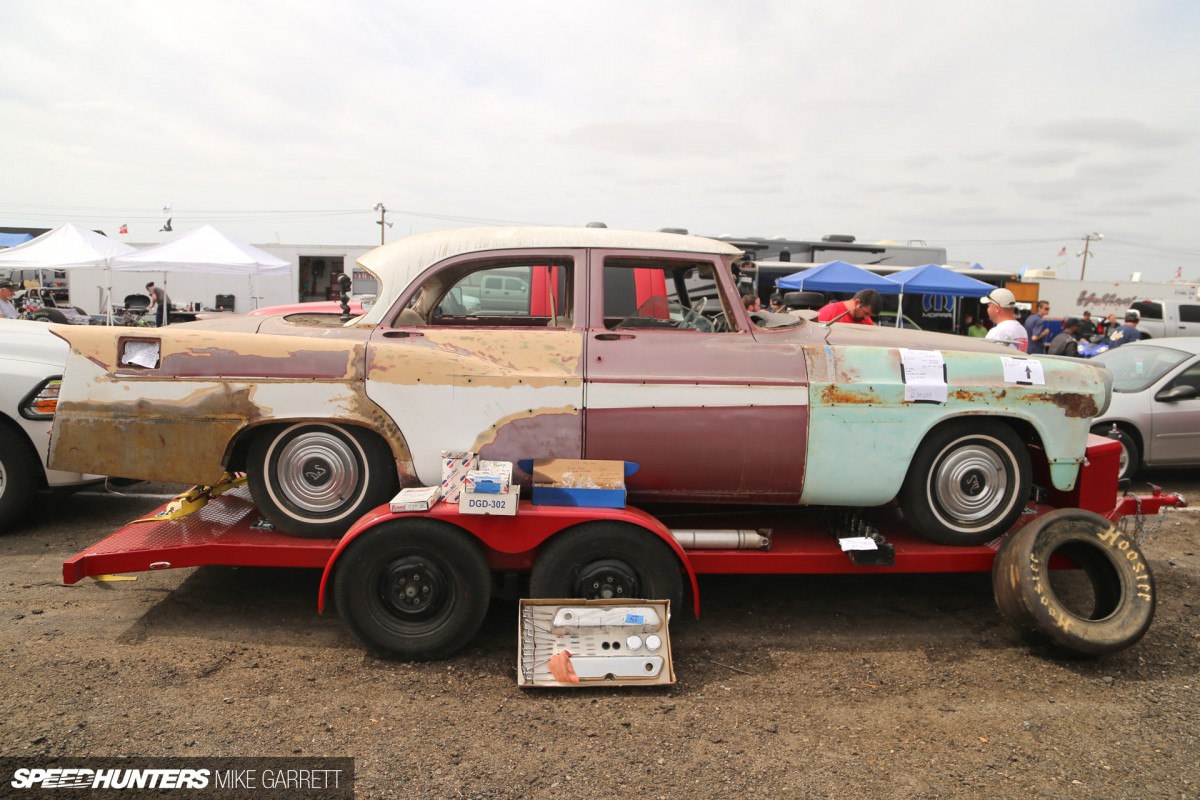 This big '56 DeSoto might not make for the best race car, but it sure could make a hell of a cruiser couldn't it? I'm picturing some airbags and a modern Hemi…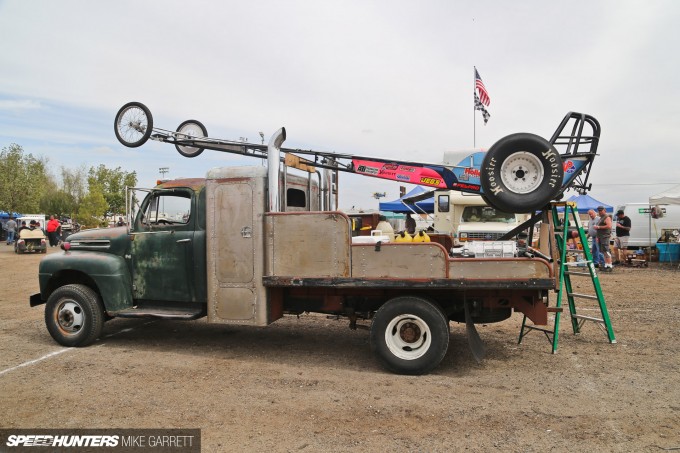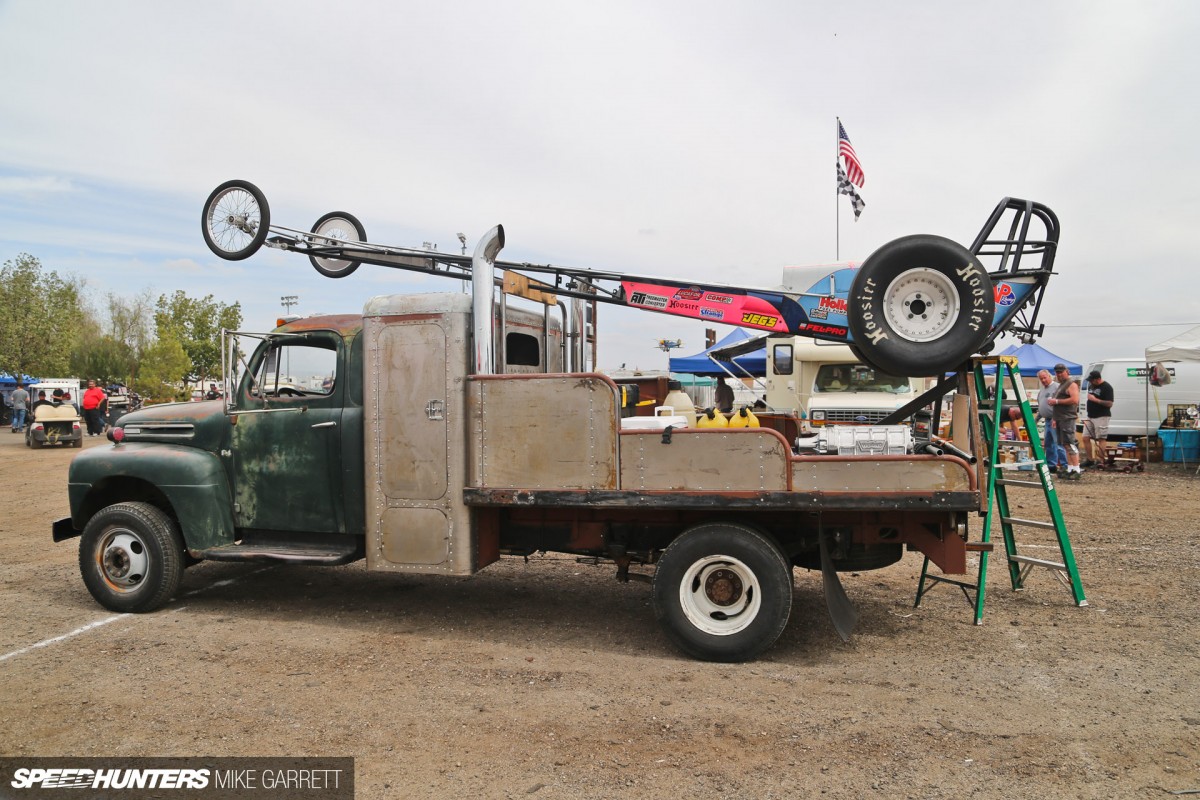 How about an motor-less front engine dragster sitting atop an equally cool flatbed truck? This is what the swap meet experience is all about.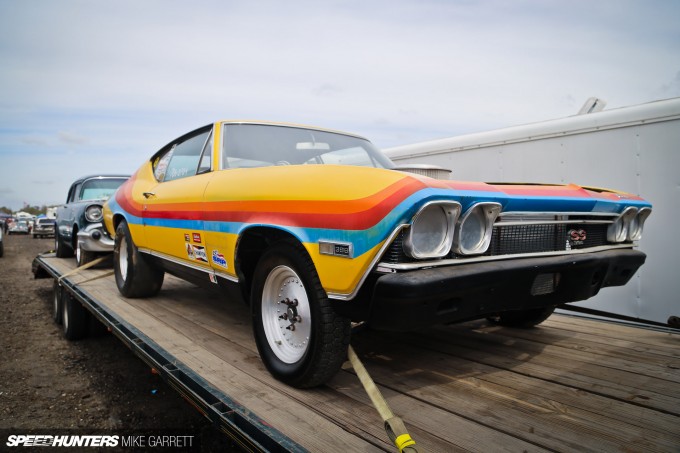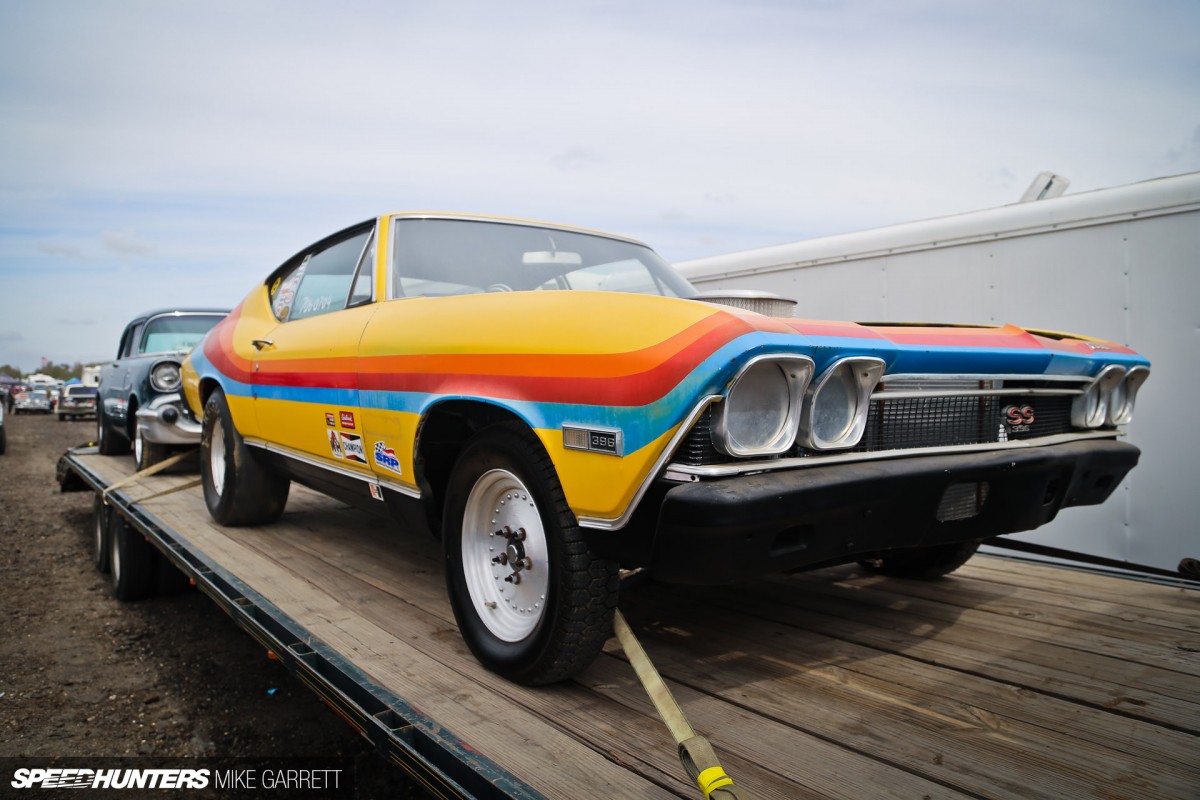 When talking about history, it doesn't get much better than this Chevelle SS racer.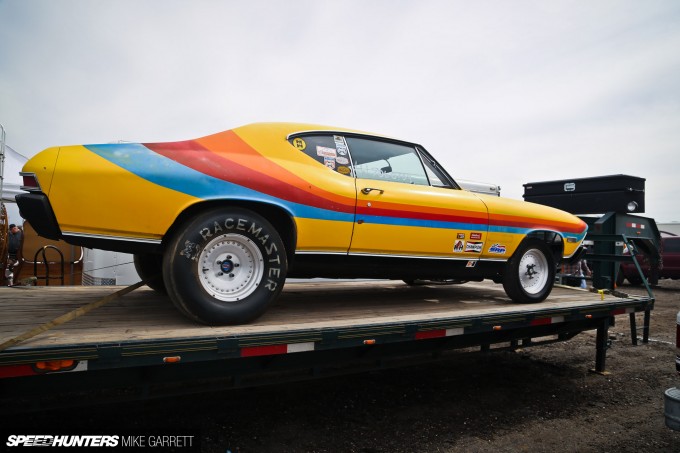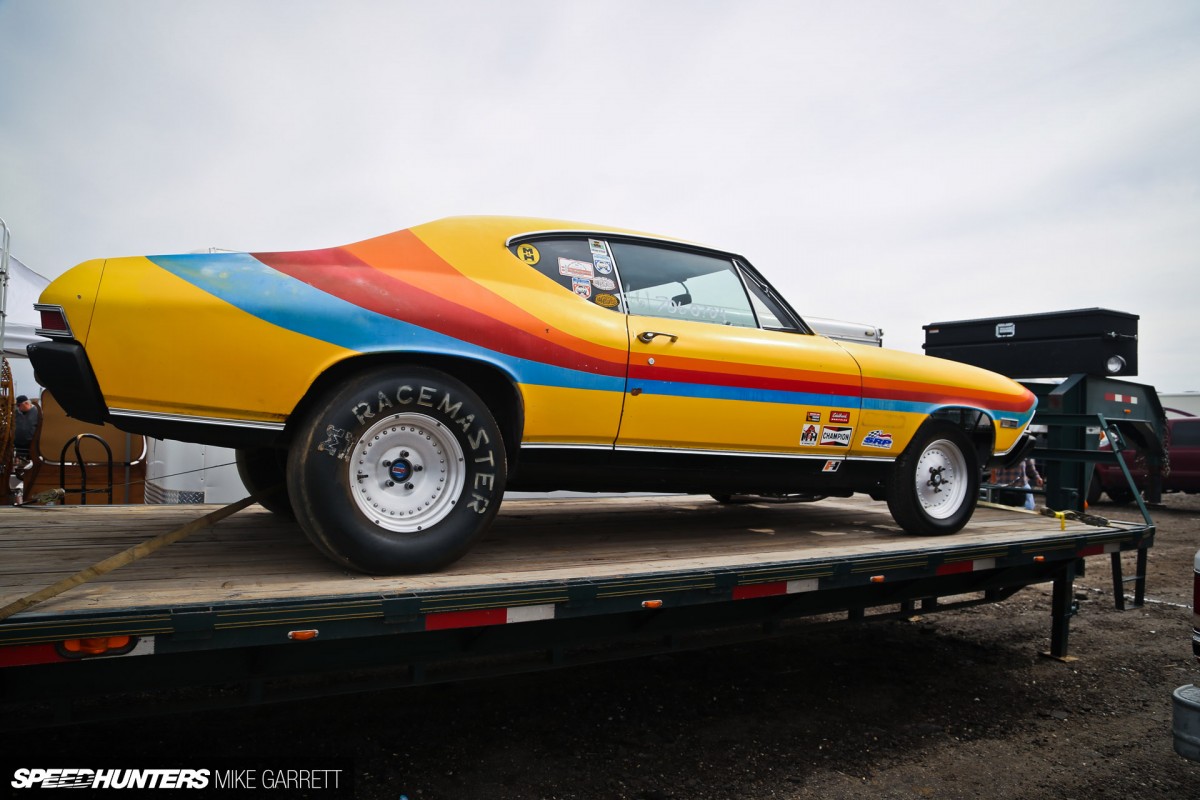 With one glance, you could tell this car was built and raced in the early 1980s – and it doesn't seem like it's been altered much since then.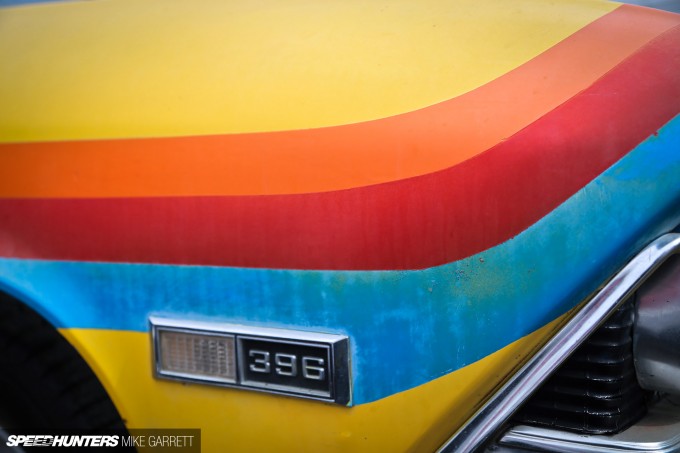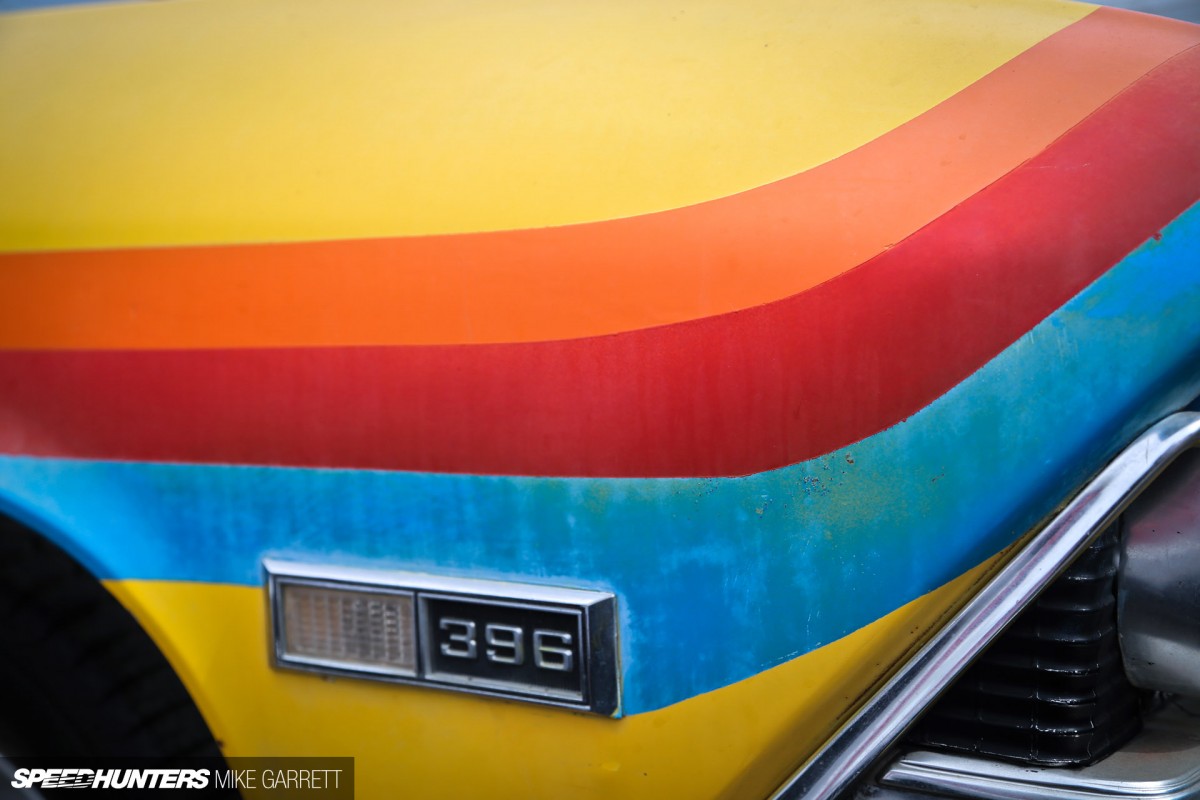 Those graphics are just too cool.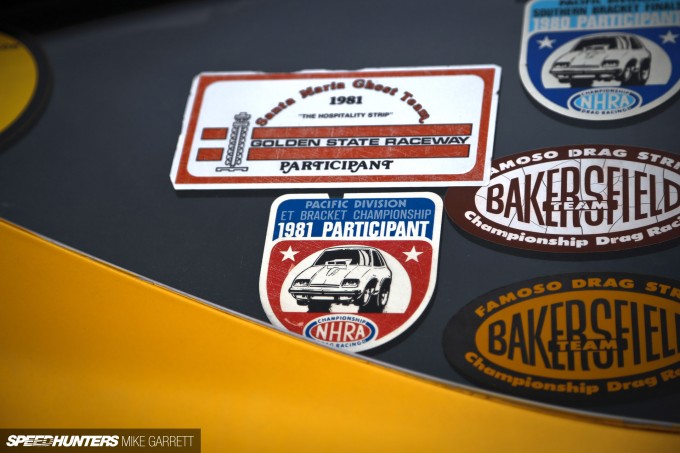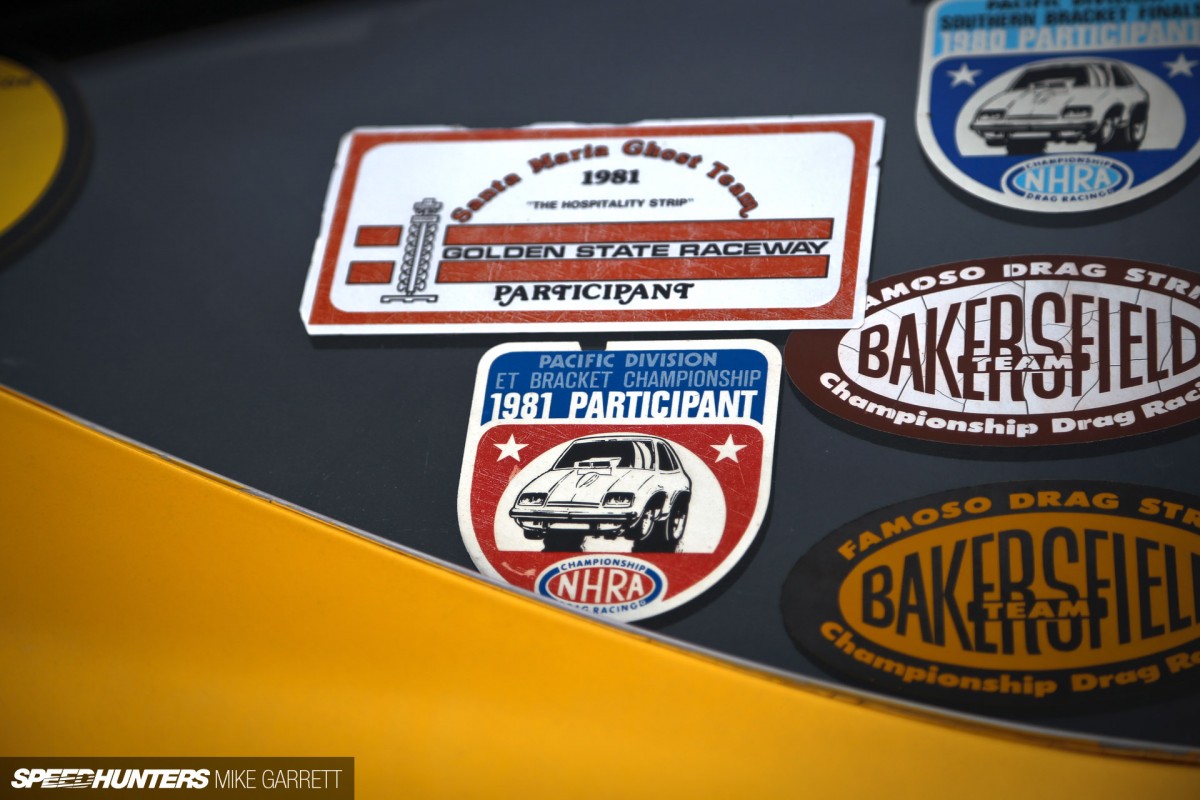 The windows were also covered in stickers which show that this car got around California quite a bit back in the early '80s.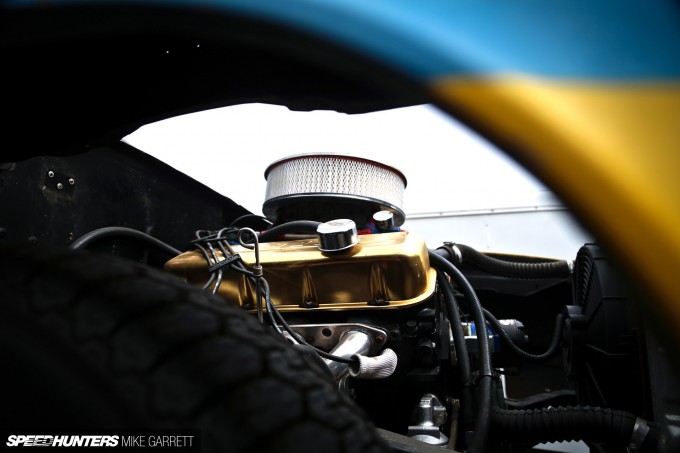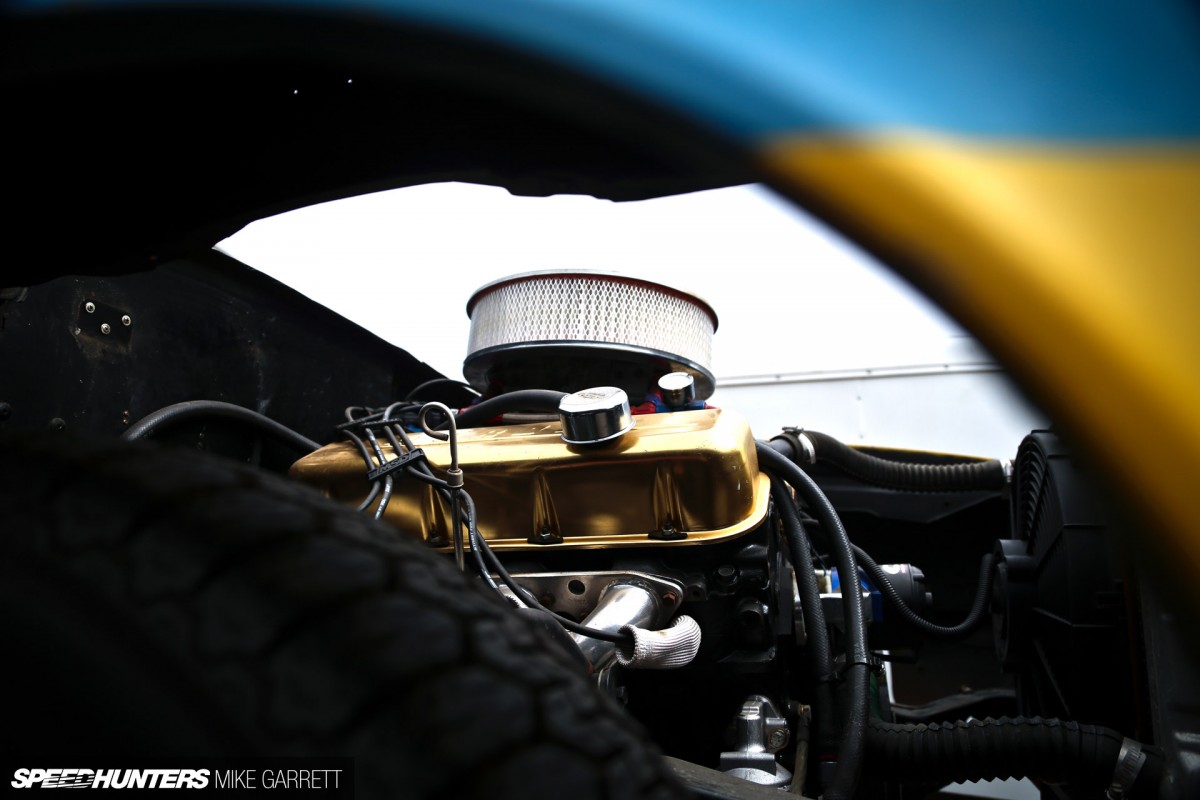 While this style of car has yet to truly come back in fashion like the drag racers of the '60s have, it can't be long now, can it?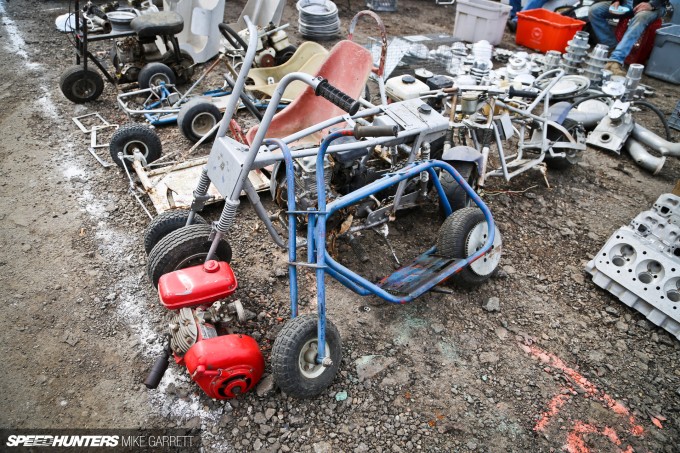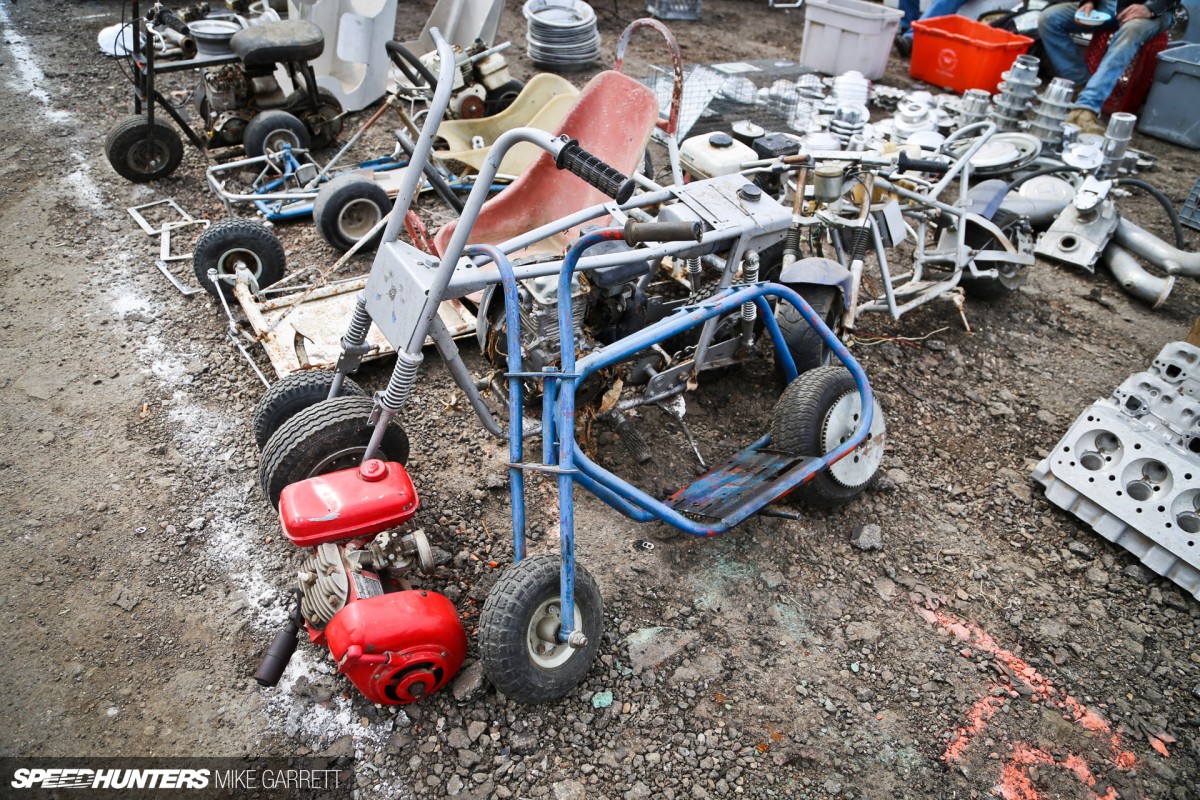 Aside from the cars and car parts, swap meets like these are also a good place to find smaller, more affordable forms of motoring fun – like minibikes.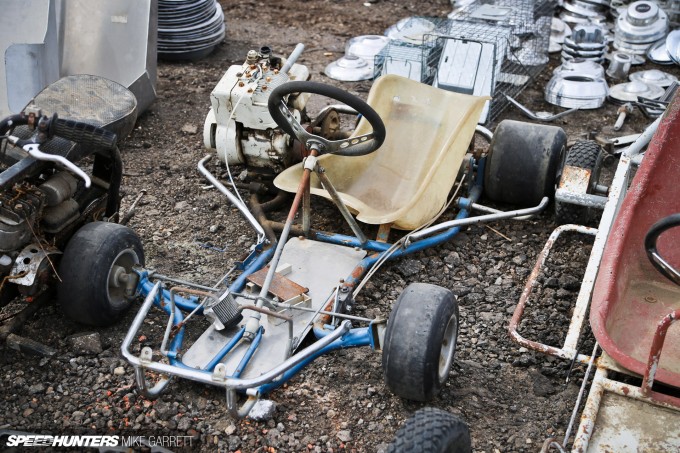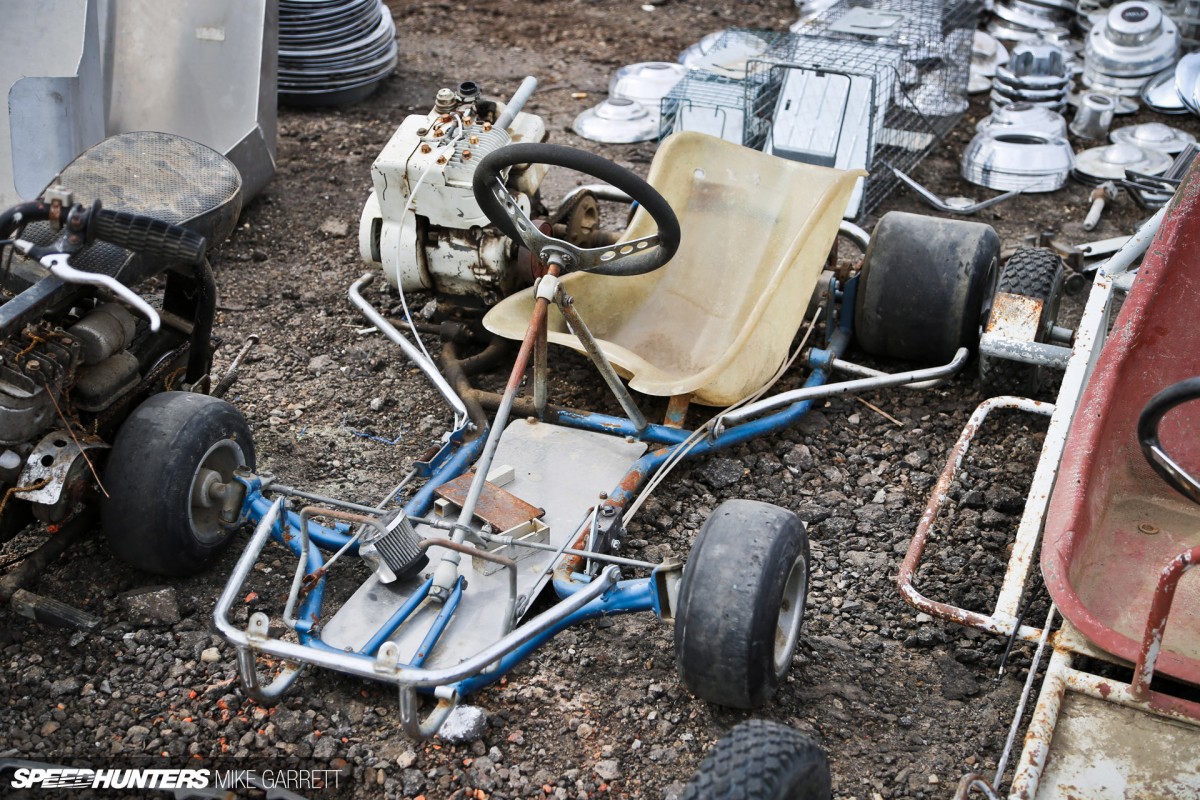 And their four-wheeled cousin, the go kart. I may be a grown man, but I'll be damned if I don't want to ride this thing around my neighborhood.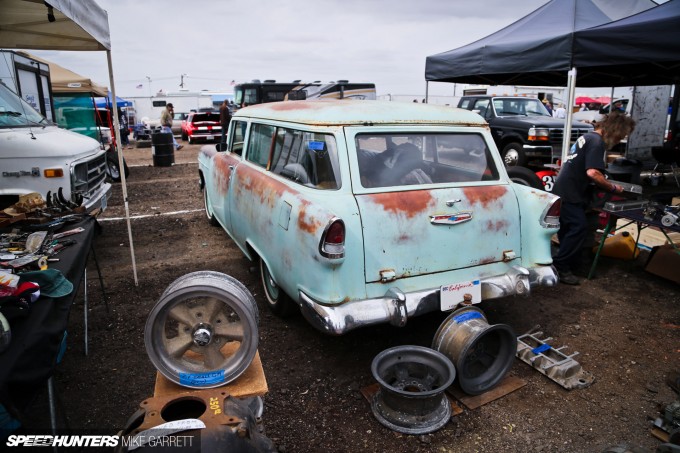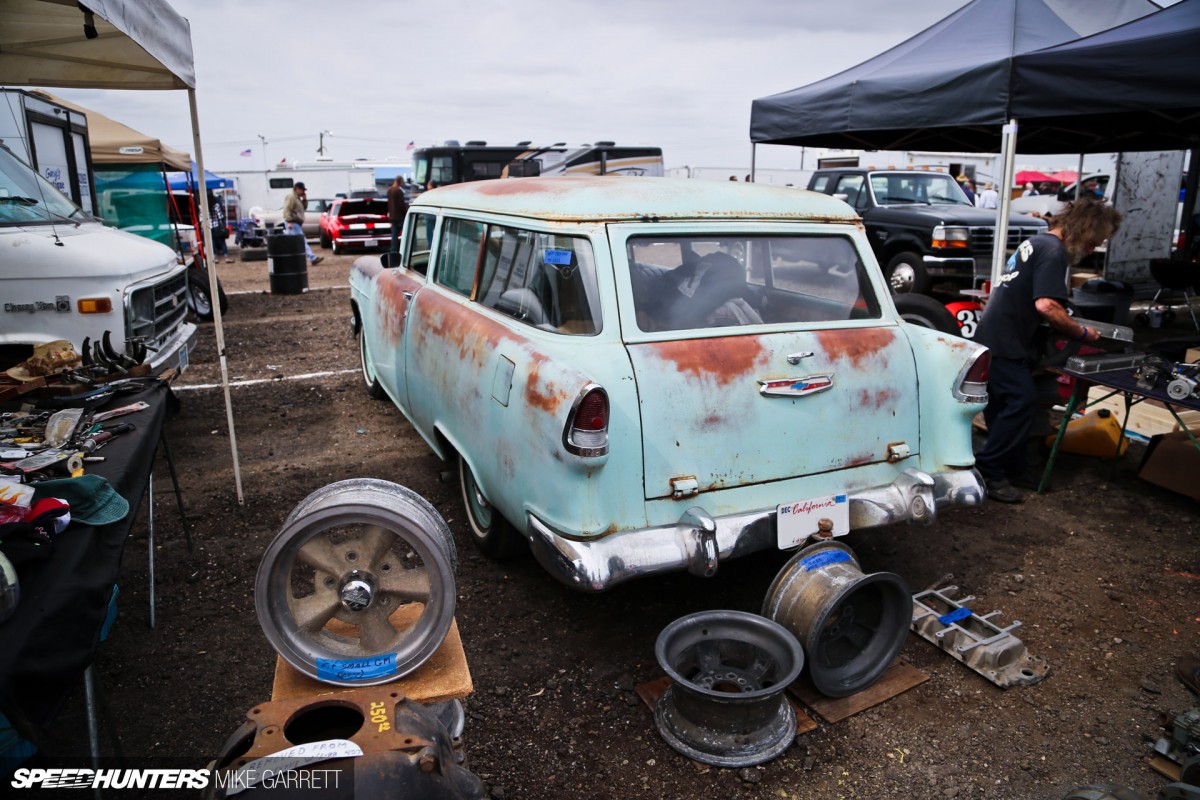 Ah yes, a day at the swap meet. It's all of that and more.
Just make sure you bring cash.
Mike Garrett
Instagram: speedhunters_mike
mike@speedhunters.com