Gonzo journalism
Aside from my full-time gig at Speedhunters, I also shoot photos on occasion for Hot Rod Magazine. Just a few weeks ago, I was at the Hot Rod headquarters chatting with my friend, Elana Scherr, who is a Staff Editor. I've only been to the office a few times before, and this time she had something to show me. I walked through a series of doors and we ended up in a large room, which resulted in steam coming out of my ears and my head exploding with joy. I was in the Hot Rod Magazine archive room. 65 years' worth of photography, in the form of negatives and archive books just waiting to be drooled over. I've never seen anything like it.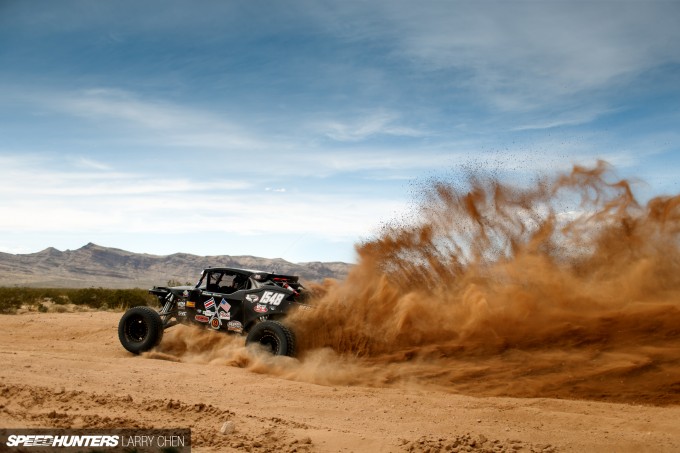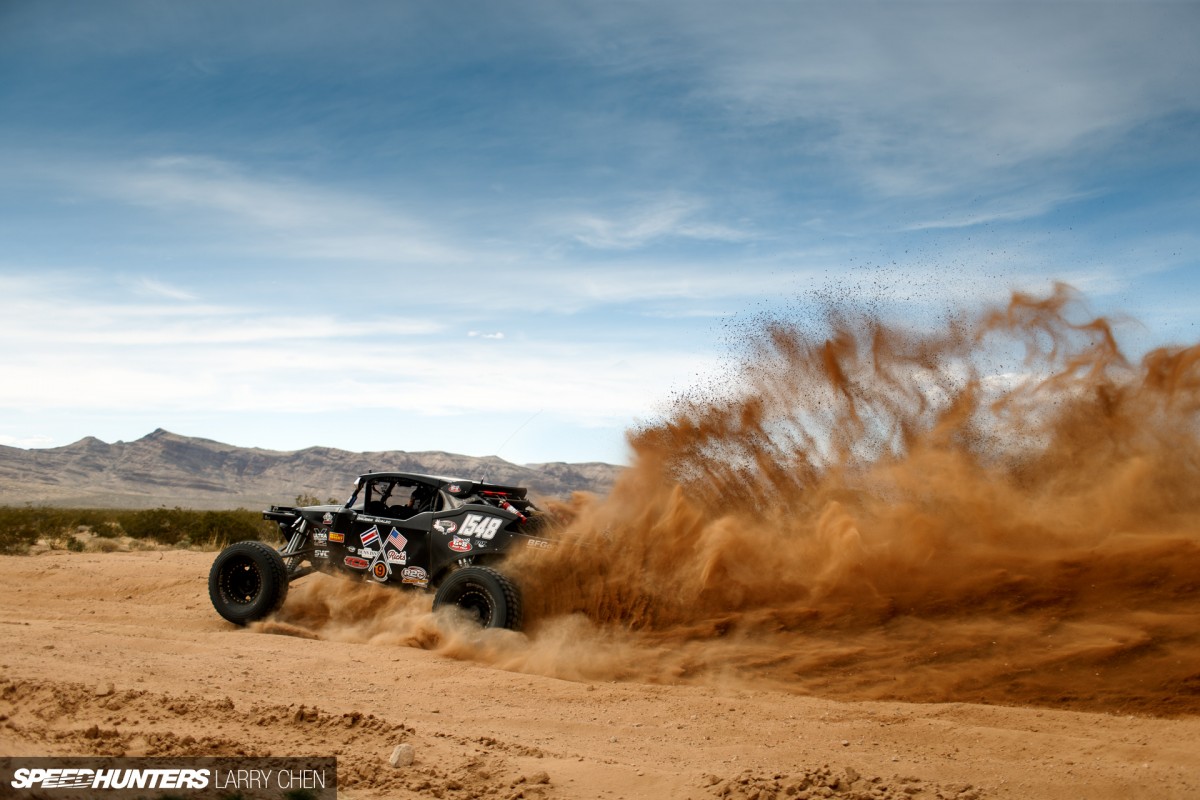 Out of the hundreds of thousands of binders, I zeroed in on one that just happened to be right in front of me. Negatives from the 1971 Mint 400, the Great American Desert Race.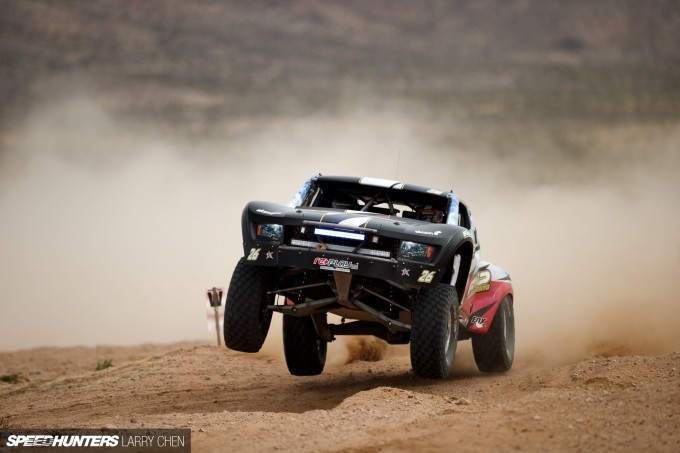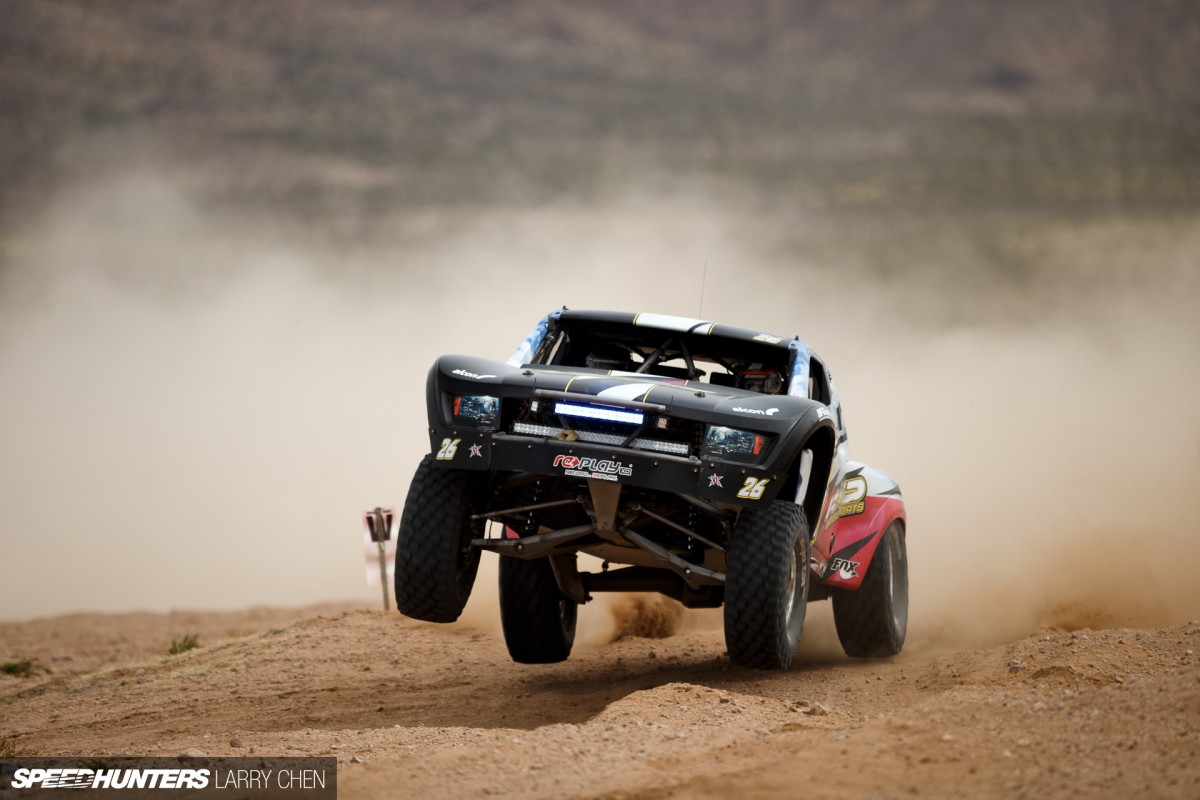 I thought, 'This is it, these were pictures from the exact race that Hunter S. Thompson depicted in his novel, Fear and Loathing in Las Vegas.' Which of course was eventually made into a full-length feature film starring Benicio Del Toro and Johnny Depp.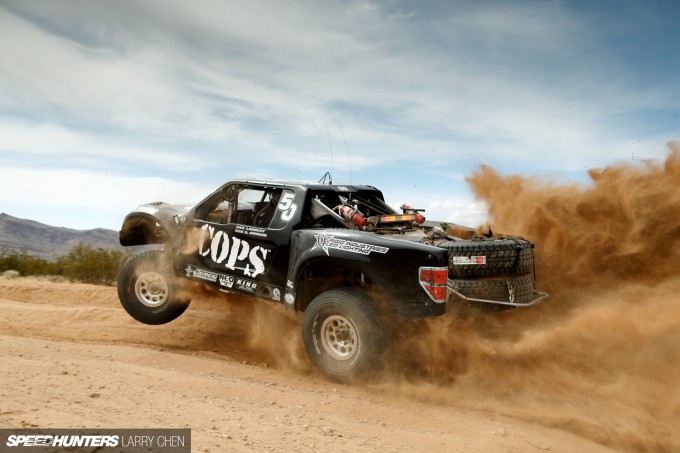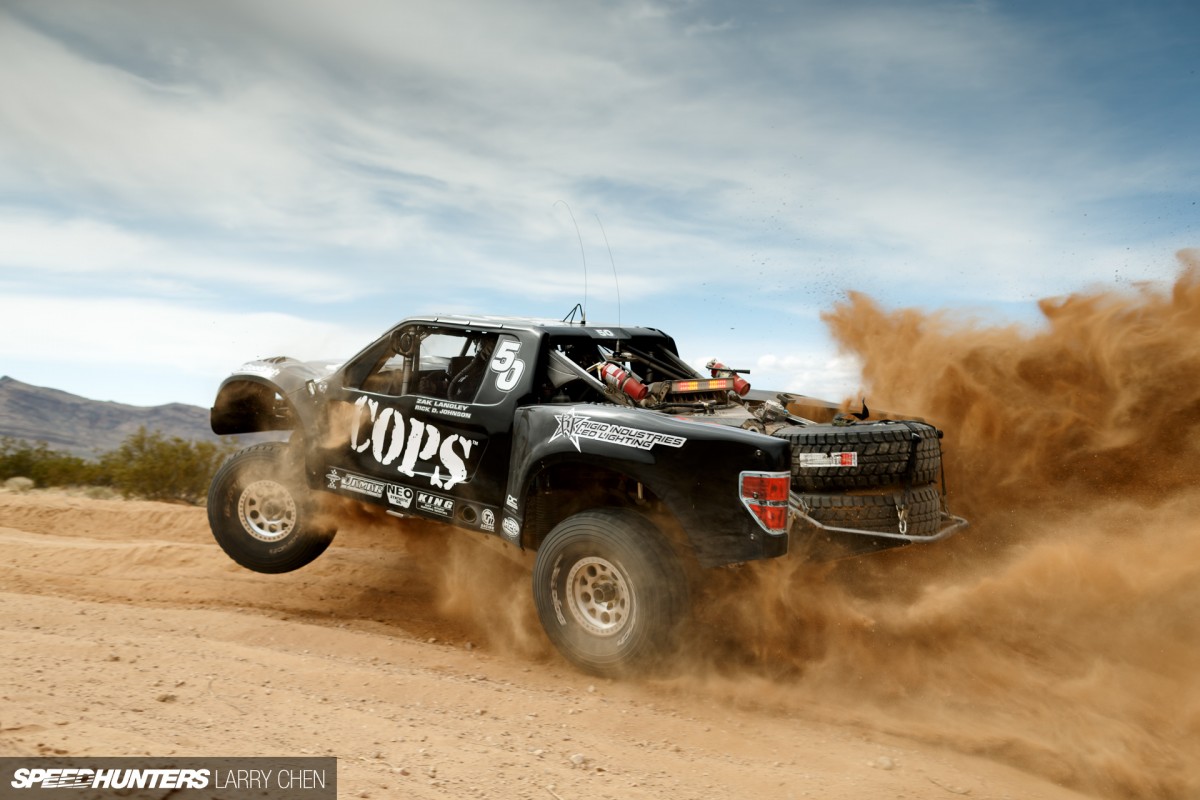 I was holding history in my hands, and seeing those black and white still images gave me a glimpse into what it was like back then for photojournalists. It made me wonder how I would have fared if I was shooting that race with period-correct equipment. I kept that thought in the back of my mind as I headed out to Las Vegas from Los Angeles, just like Hunter S. Thompson did back in 1971.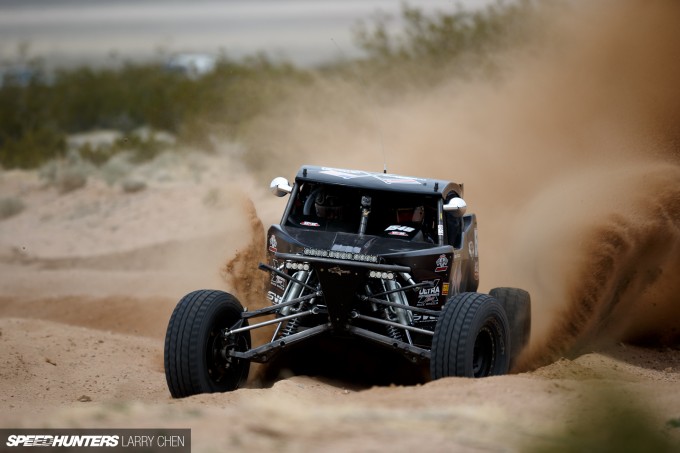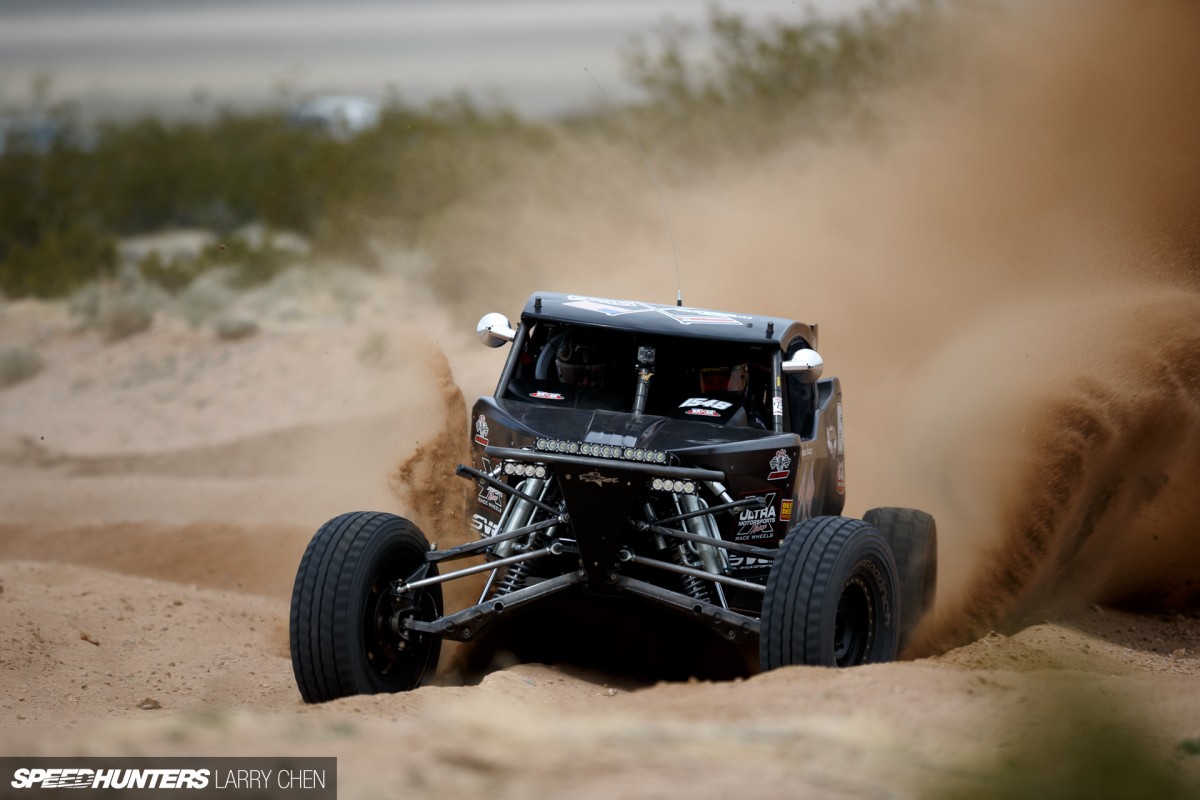 This was my second time checking out the General Tire Mint 400 presented by Polaris. The movie came out in 1998 and it became a cult classic. I loved it enough that I quoted it as much as I could in my coverage from last year.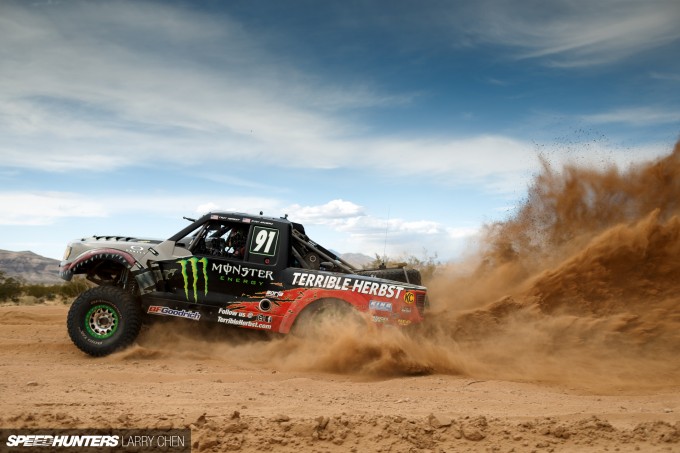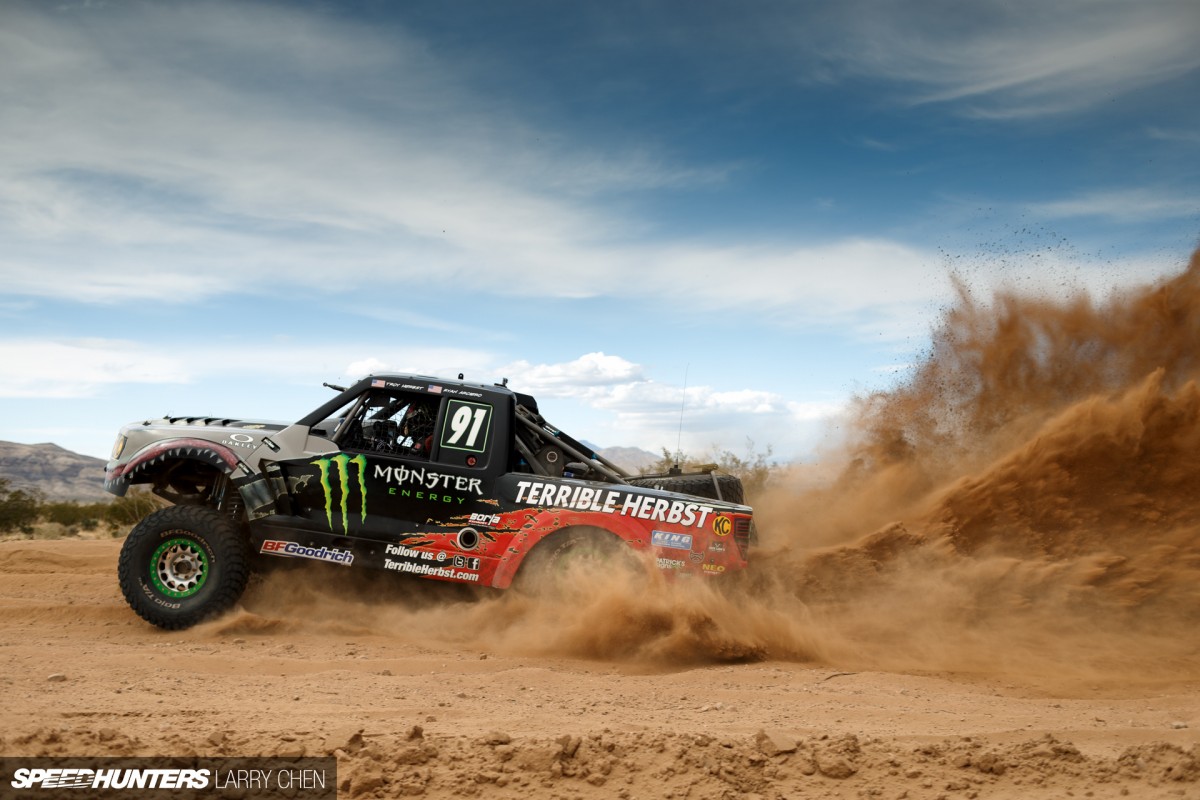 As I was shooting Thursday qualifying, which determined the running order for the unlimited rigs, I thought that I needed to do my best to really convey the intensity of the racing as well as the culture surrounding it, because who knows – maybe the next generation would like to see what this race was like 40 years ago, just like when I flipped through that book of black and white negatives from 1971.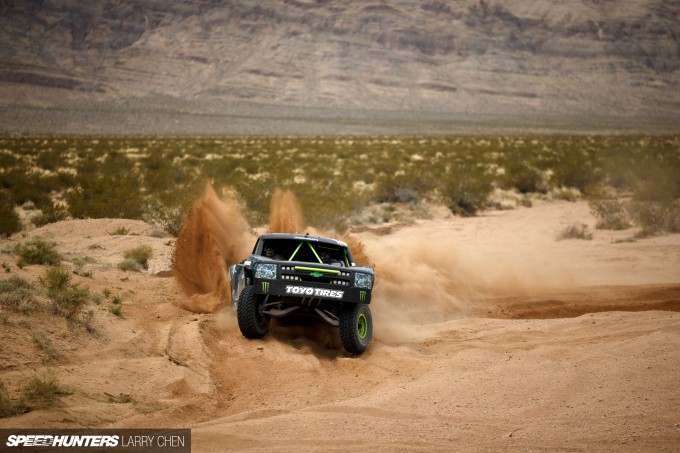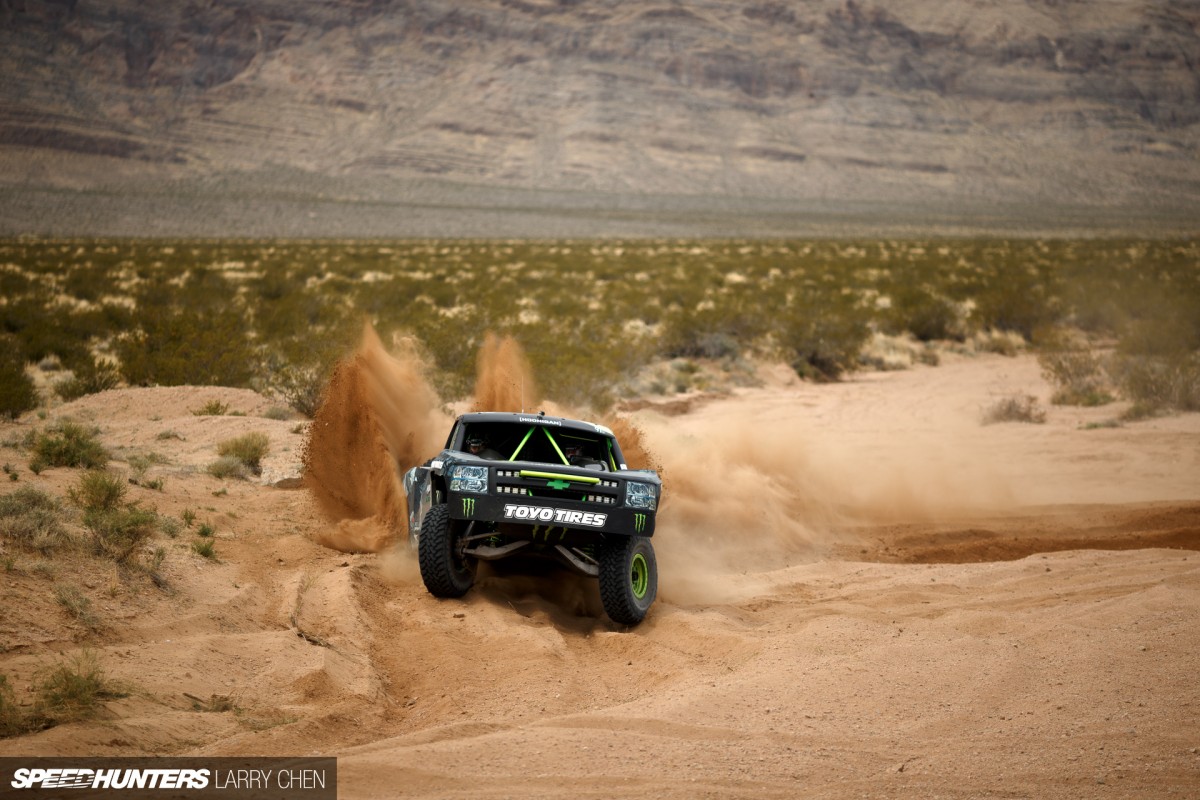 The drivers made it so easy for me to produce powerful images, and it helped that there were quite a few heavy hitters this year, including 'Ballistic' BJ Baldwin…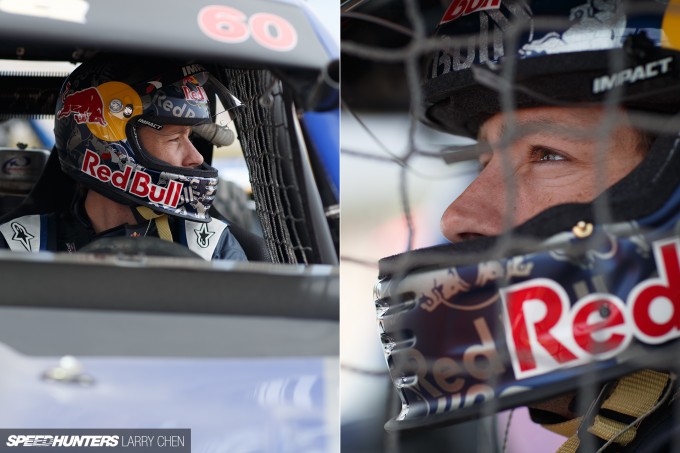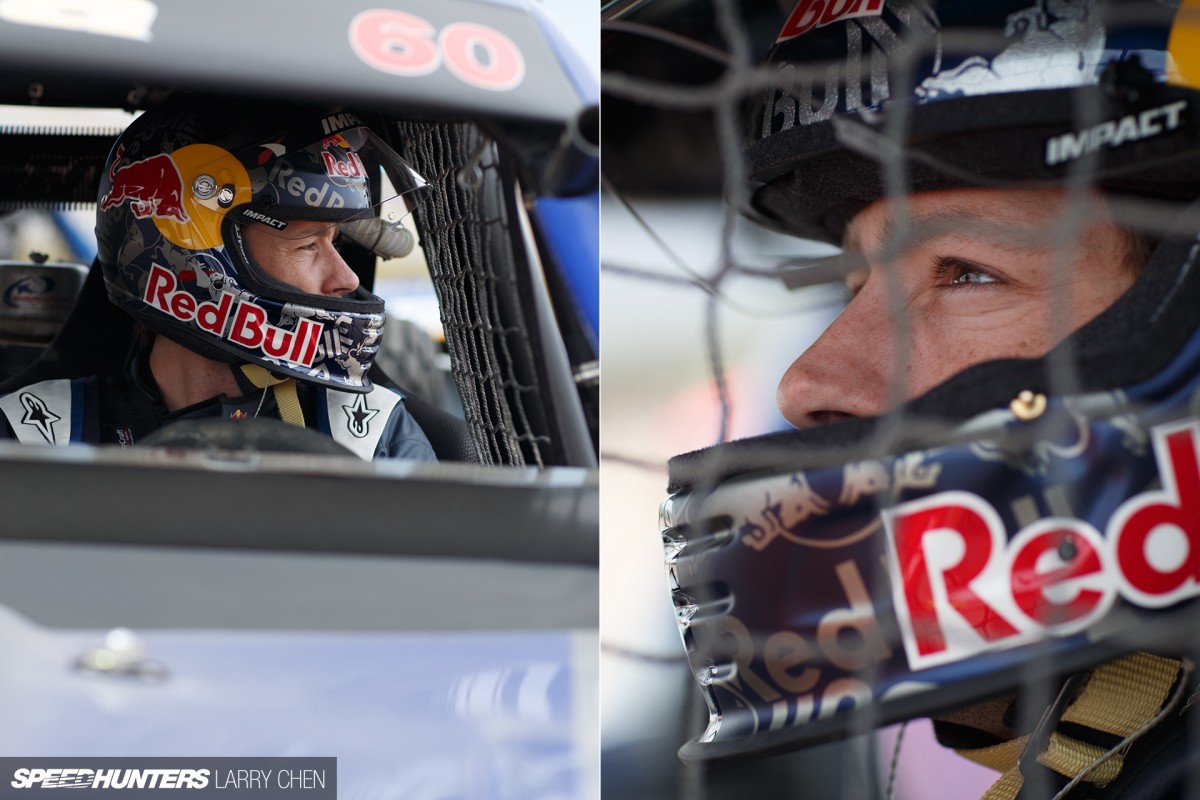 As well as one of my favorite drivers, Travis Pastrana. This guy can't walk down the street without getting swarmed by fans. The fact is he will stay and take photos and sign autographs till his arms fall off. Most big name drivers or celebrities could not keep that sort of thing up for long, but every time I see Travis, he always does it with a smile on his face.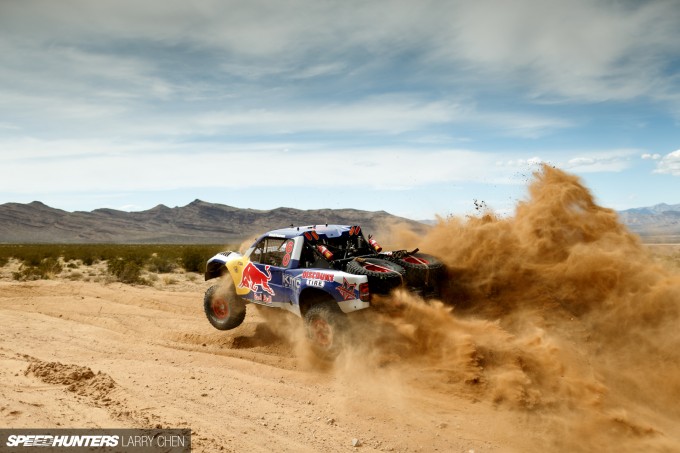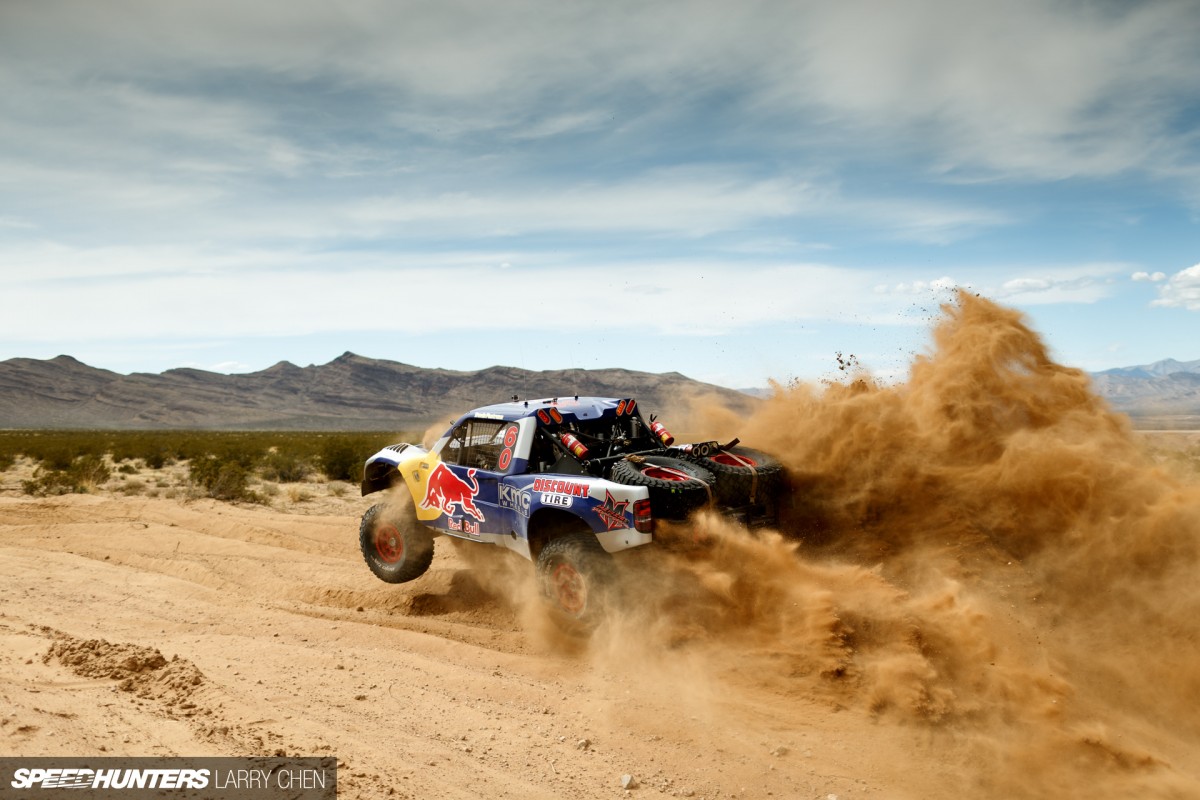 After only getting a few minutes to practice in this borrowed trophy truck, he qualified in an impressive 19th position out of 85 drivers.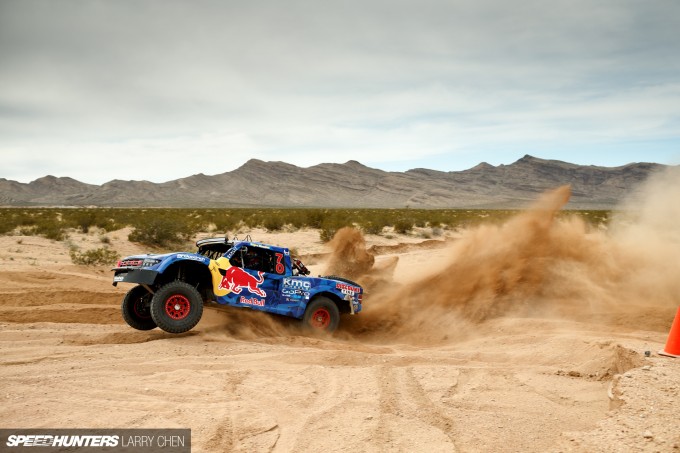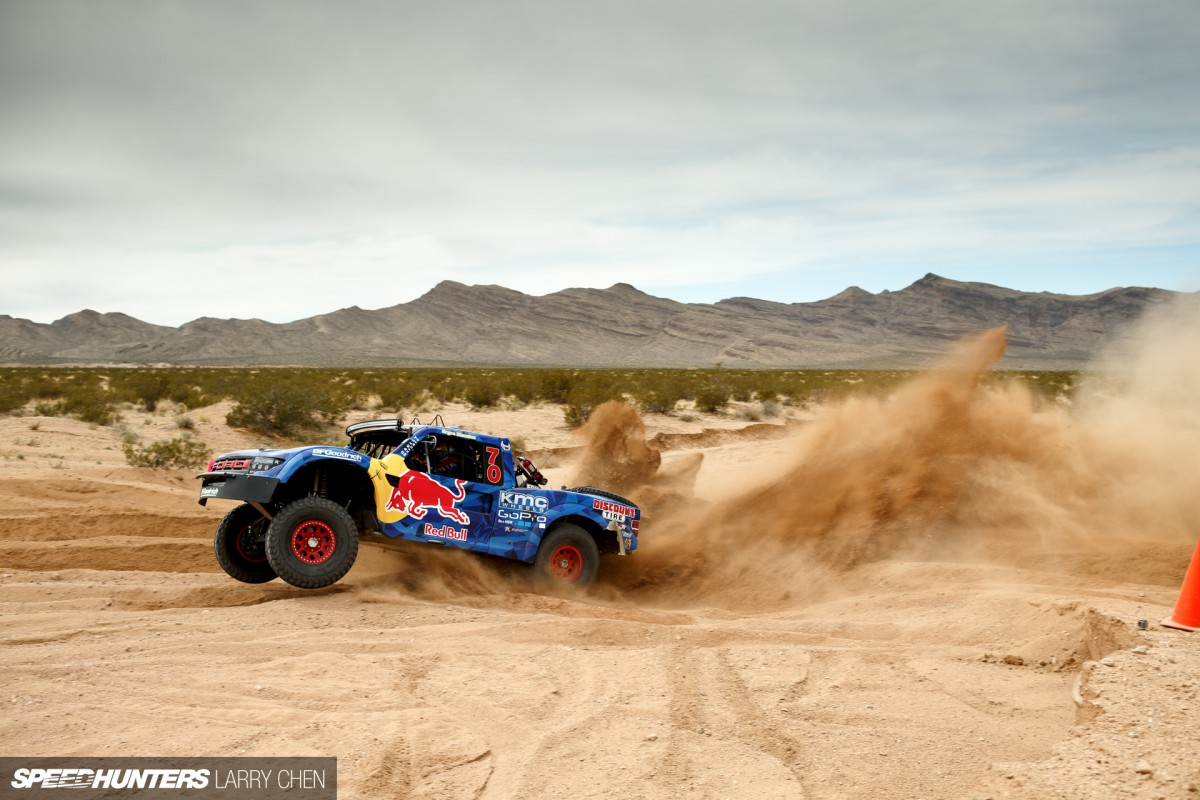 Last year's champion, Bryce Menzies, ended up qualifying in second place. I've followed both Bryce and Travis before, when they were competing in Global RallyCross on the same team.
Finding a path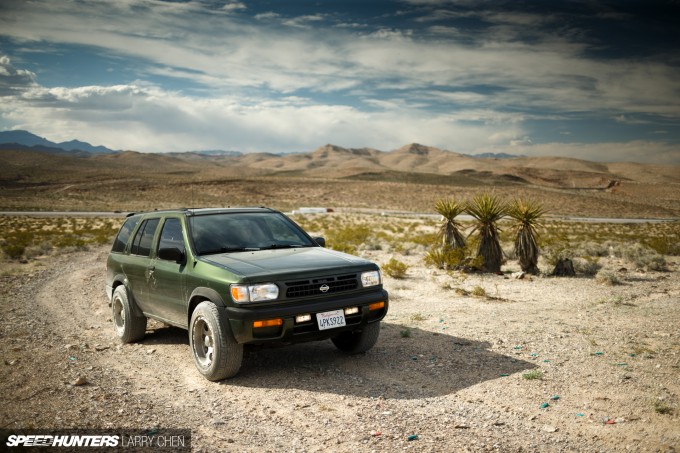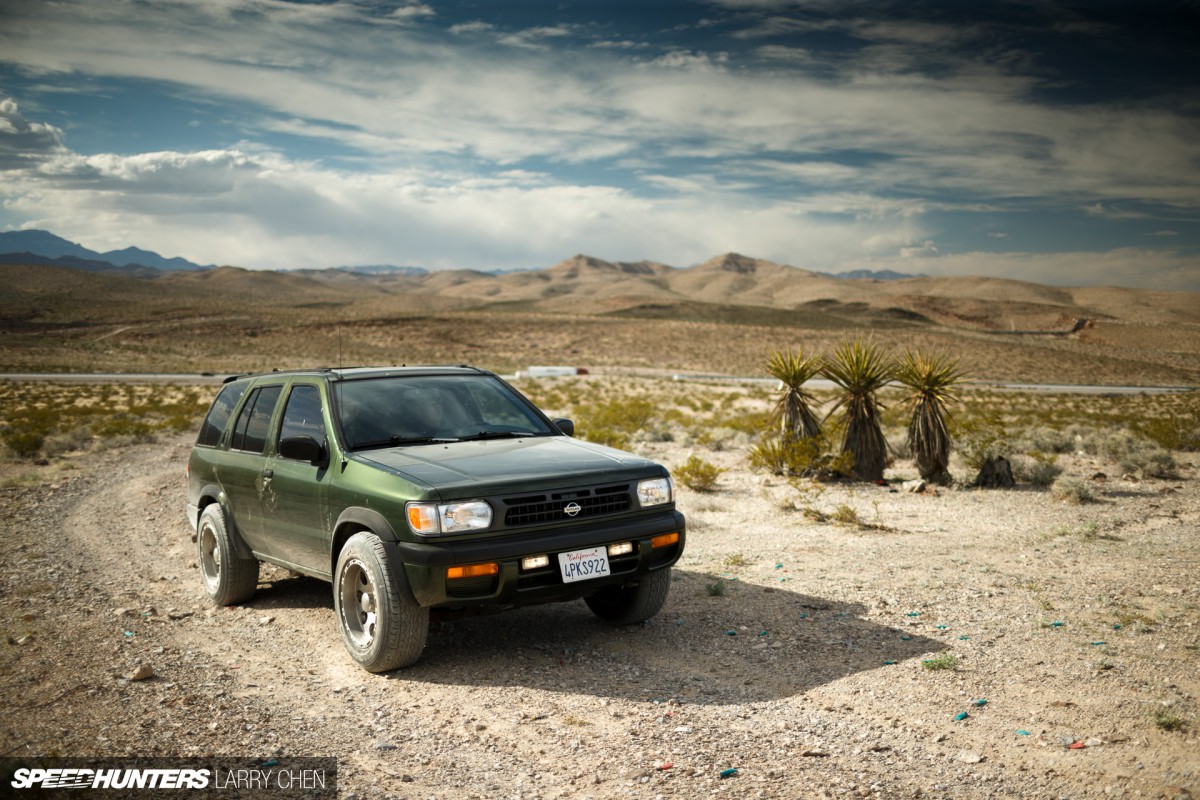 It's actually quite fun to shoot off-road races, because you almost always have to do a bit of off-roading yourself to chase those rigs and to get to different shooting locations. For the King of the Hammers race, Toyota was kind enough to lend me a 4Runner Trail Edition.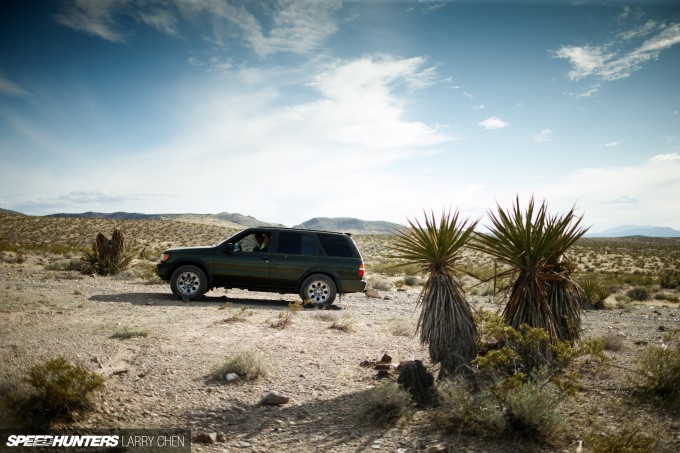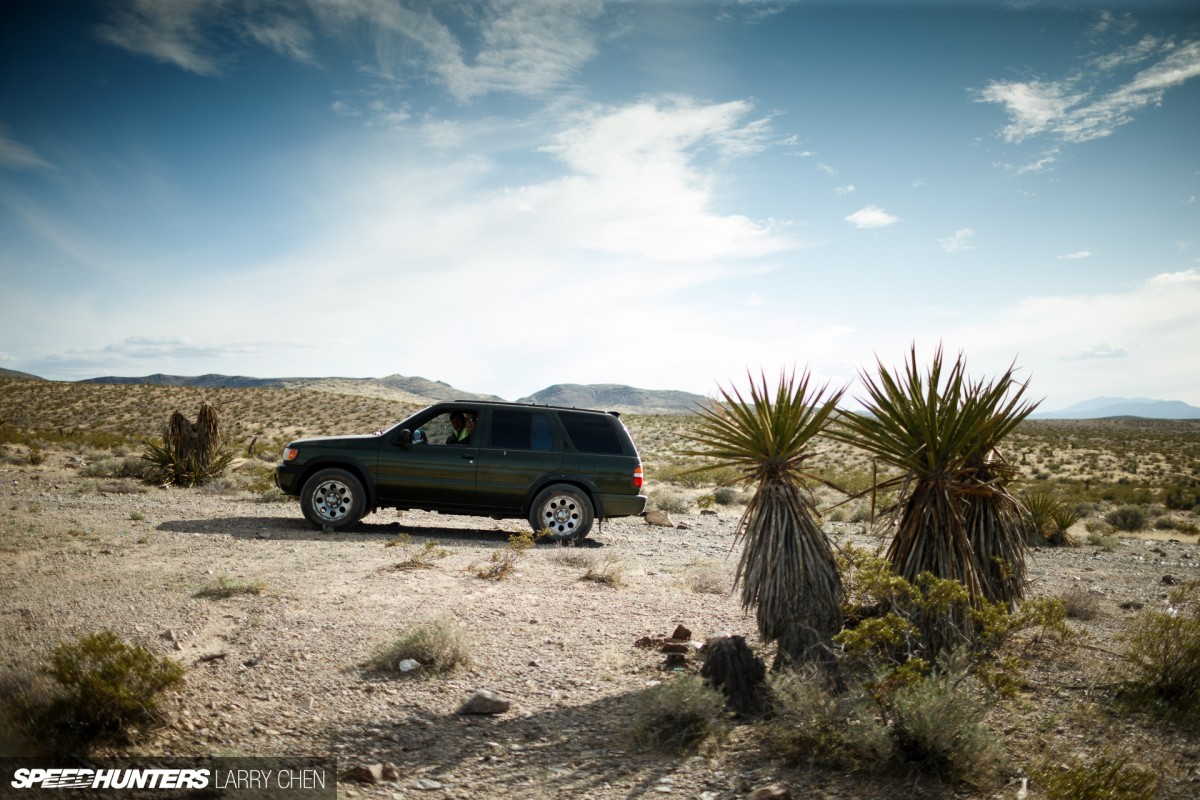 Normally I would borrow my sister's'97 Pathfinder, but as I mentioned in my KOH post, it had an altercation with a tree. Well it's fixed now, so I borrowed it yet again. With 200k on the odometer, it handled the rough Nevada desert terrain like a champ.
The qualifying course was fairly short, with lap times ranging from the low three minute mark to four minutes.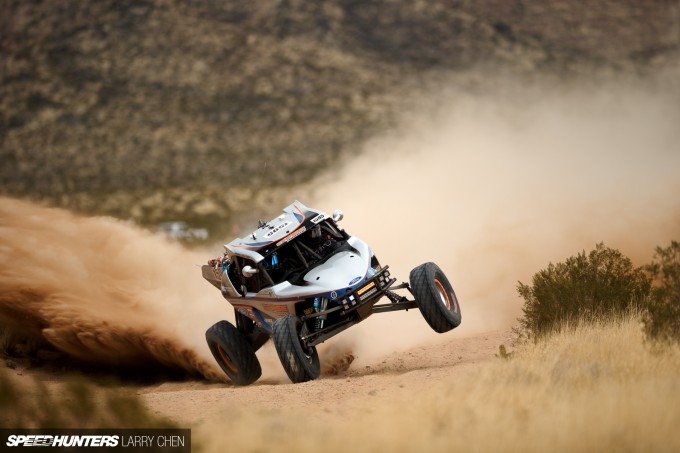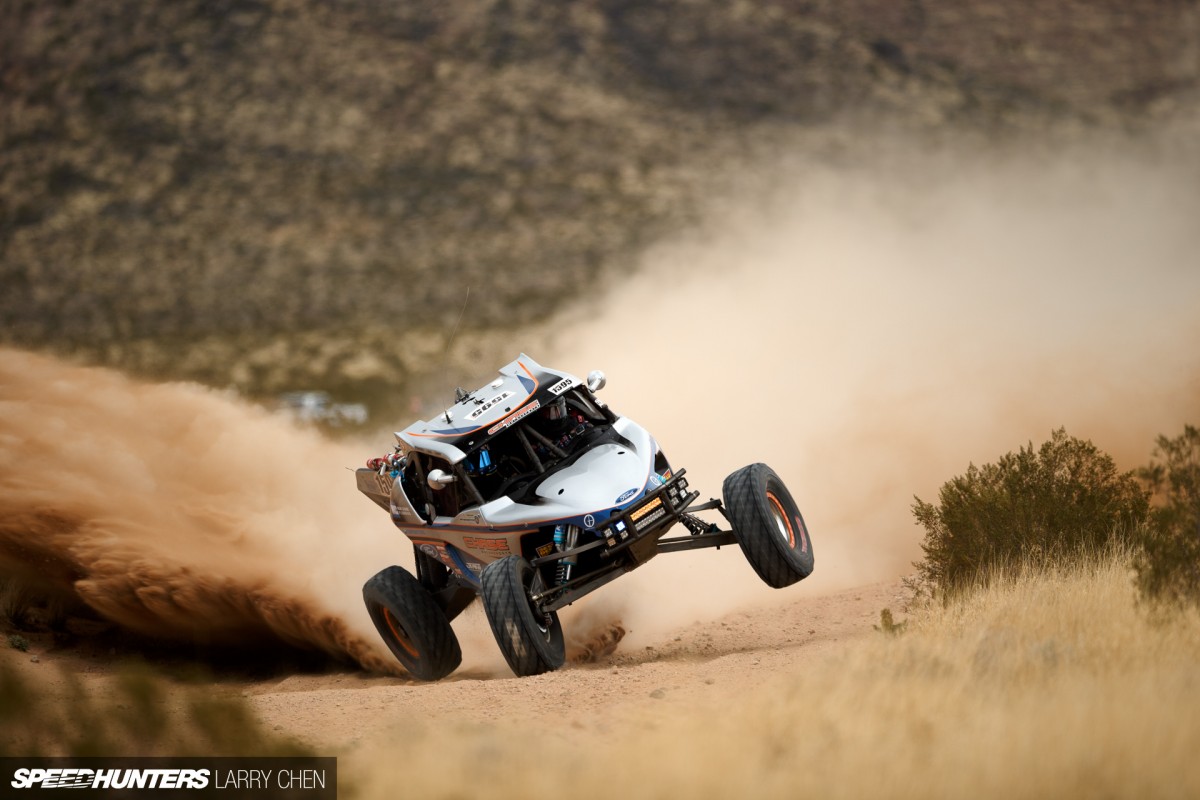 It was basically a square with four tight corners. The straightaways were very long and high speed, but this was off-road, so even the tiniest bump could unsettle the rigs and send them flying. Two teams flipped even before having a chance to put down a qualifying lap, resulting in a DNF.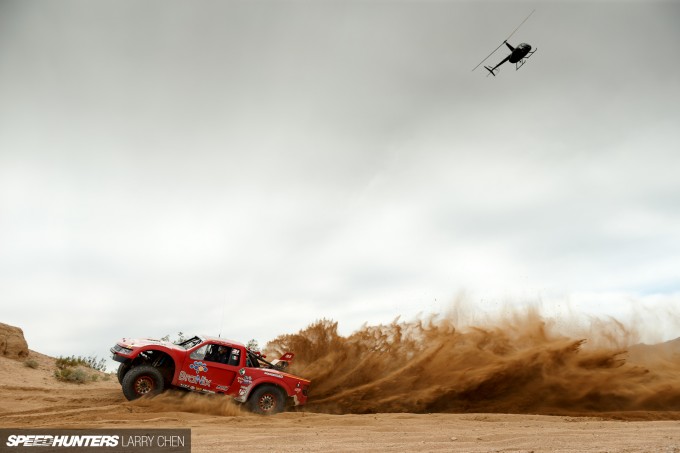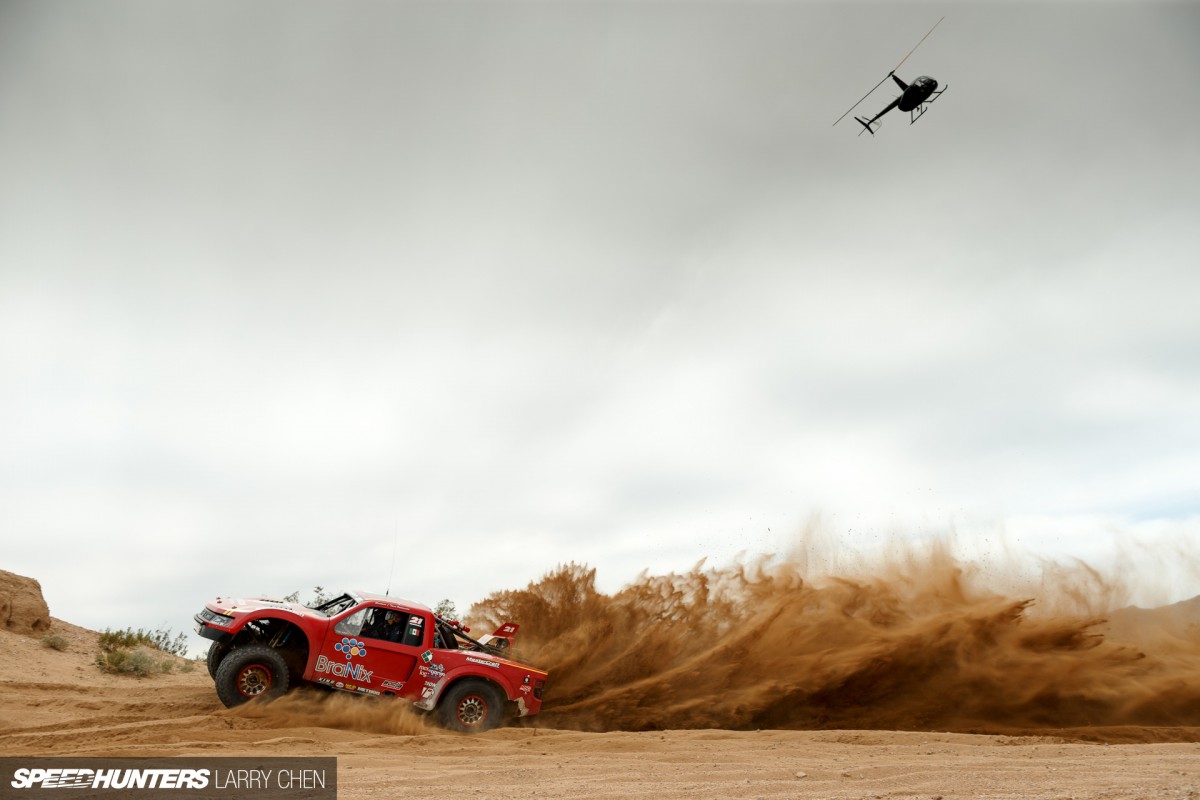 The terrain was quite varied as well, with some sections with deeply rutted silt.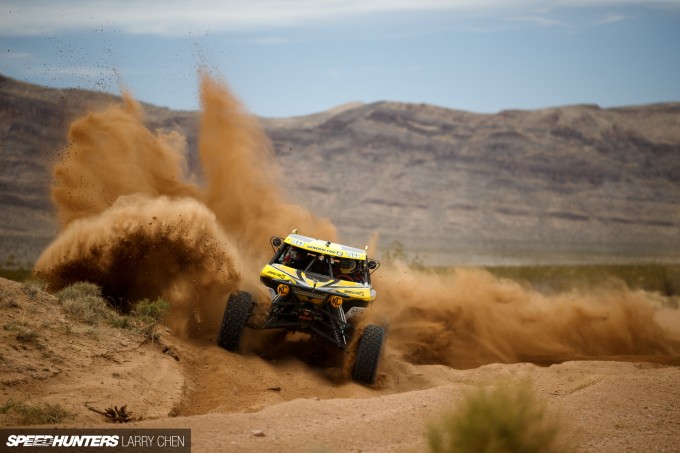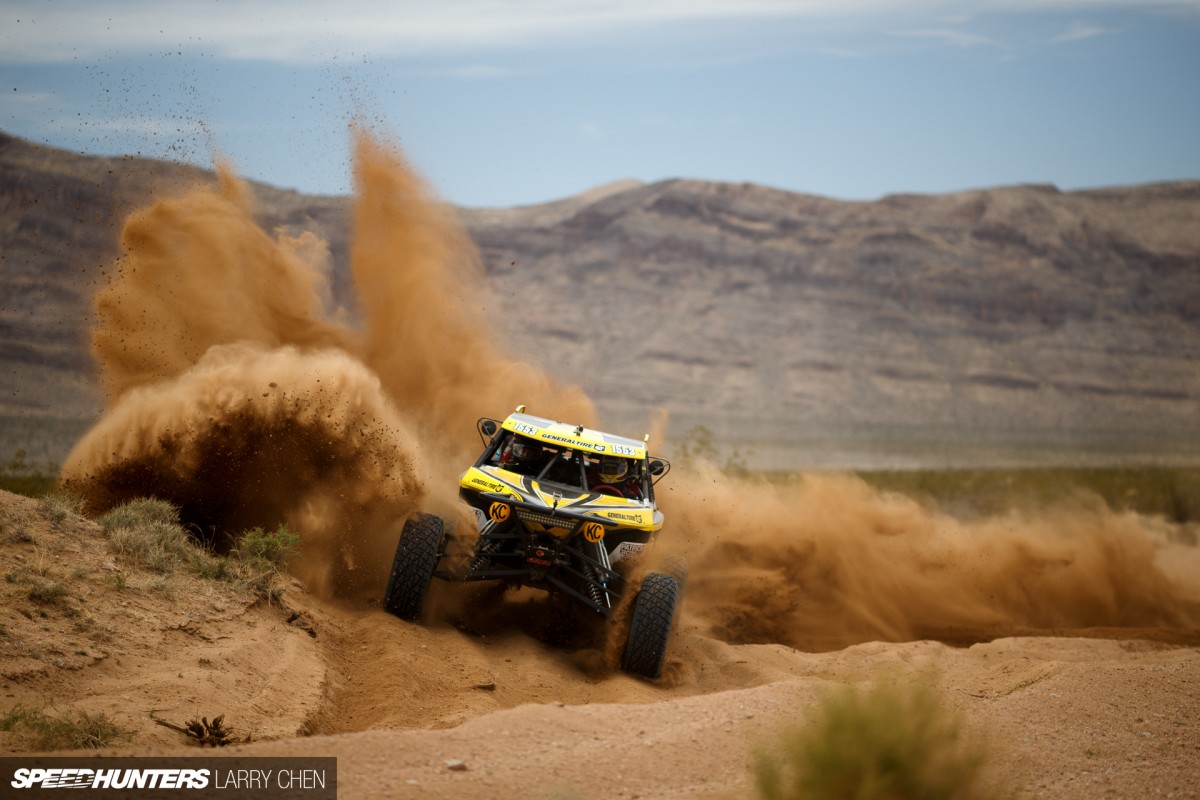 The buggies and trucks had to work very hard to dig themselves out. It was pretty much pedal to the metal once they entered the softer stuff.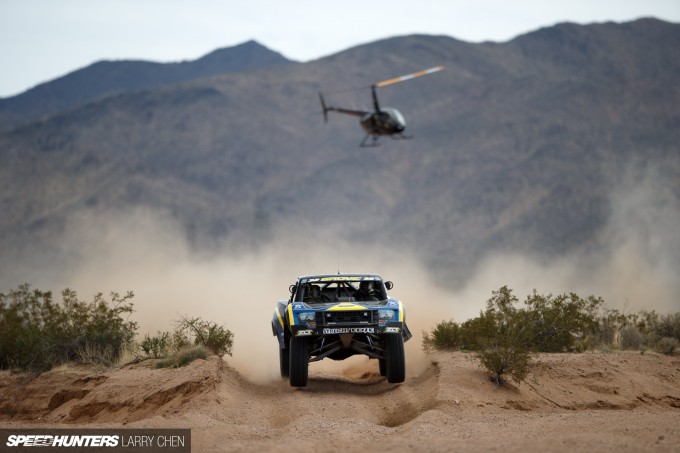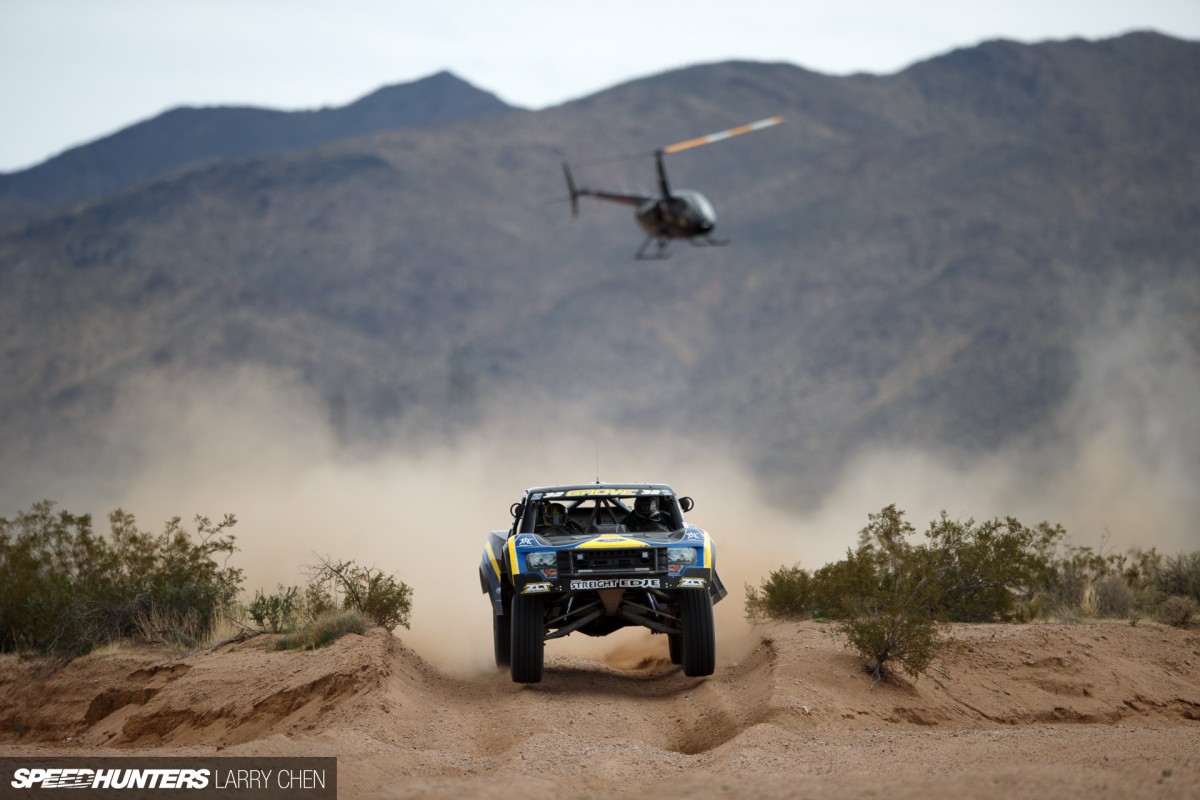 Mad Media and the Martelli brothers, Matt and Josh, are the driving force behind the Mint 400. They've put in the effort over the past few years, which is why this event has been so successful. So you can bet this race probably has some of the best media coverage in the world.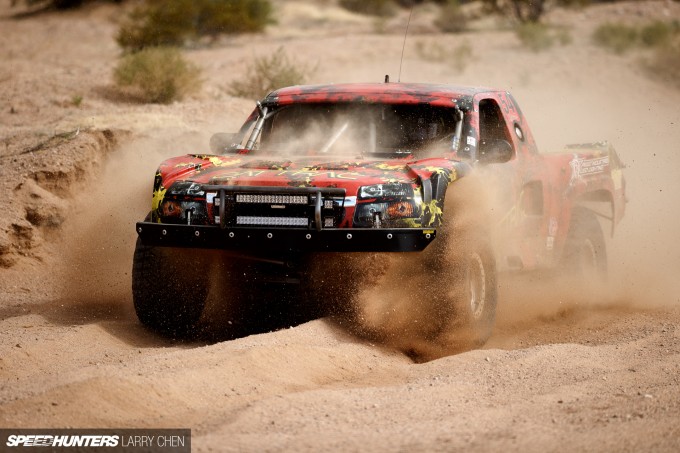 From this one event, they plan on producing a full feature film, which will be shown on TV. I've never seen such a production for a single race.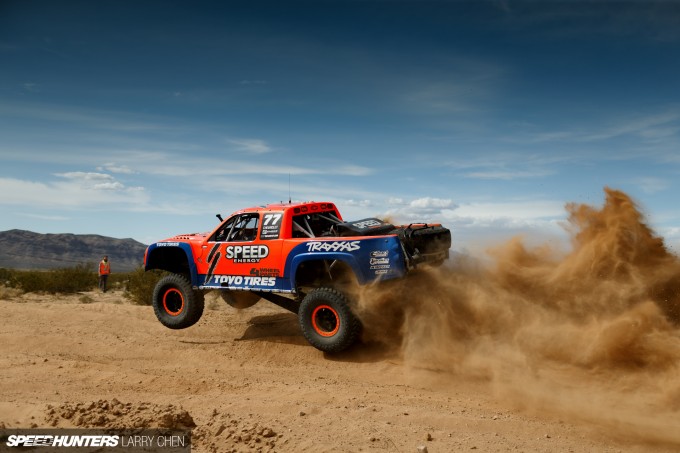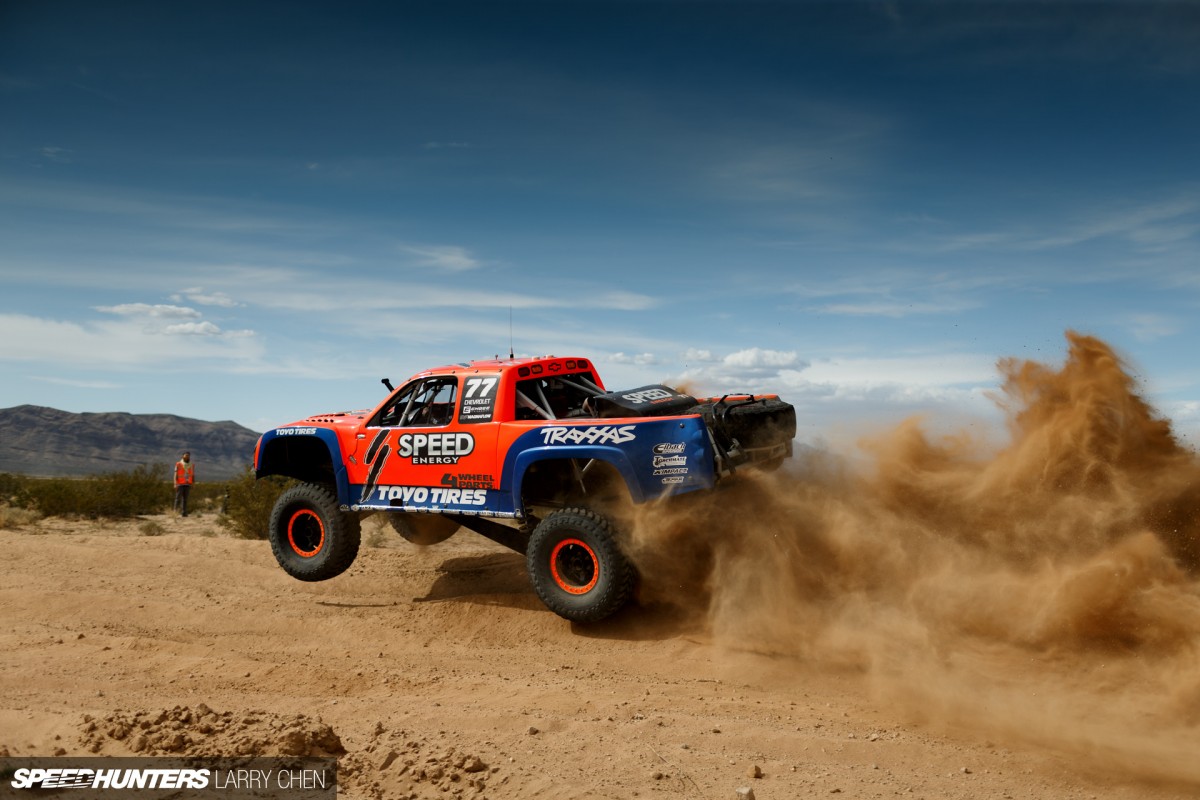 This race has literally become the biggest off-road race in the United States, drawing in big names like racing legend Robby Gordon. He ended up qualifying in third place, right behind Bryce.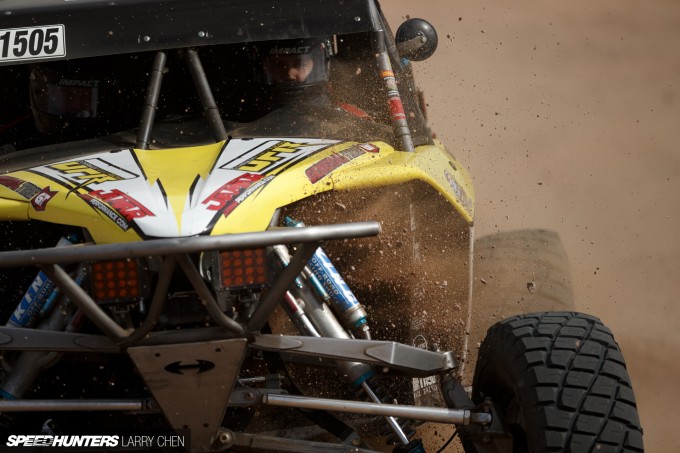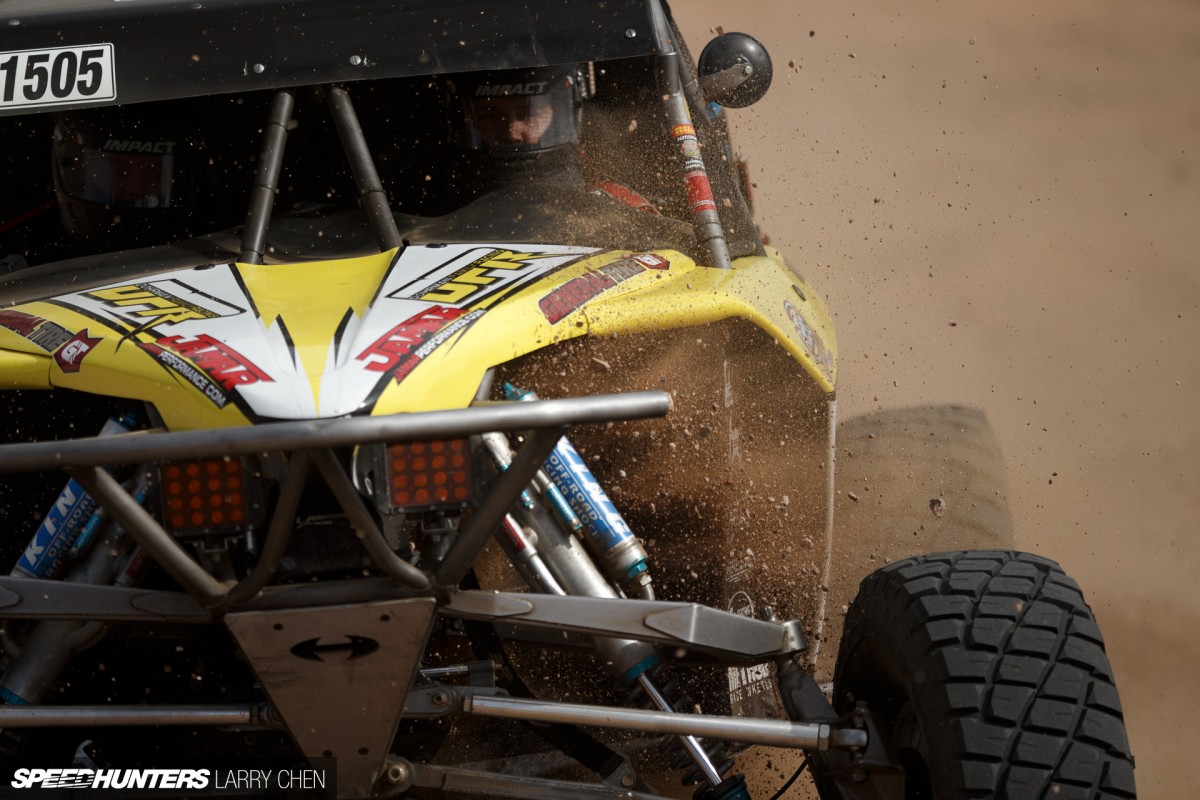 There's such a grittiness to off-road racing that makes it different from all other types of racing. I could literally feel the grittiness as we sat trackside getting pelted in the face by pebbles and dust. I could taste it and feel it between my teeth.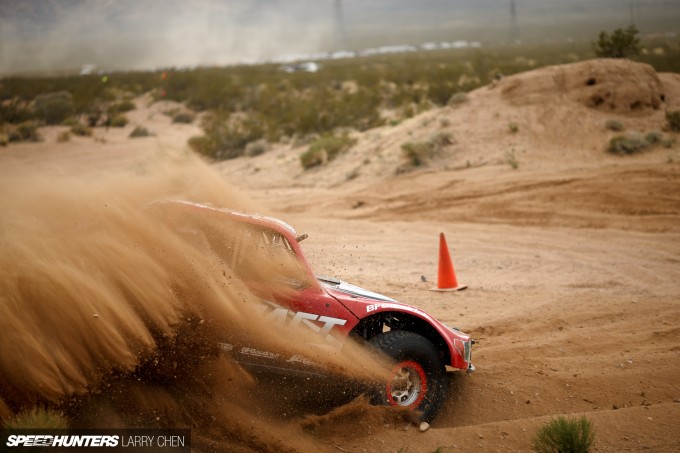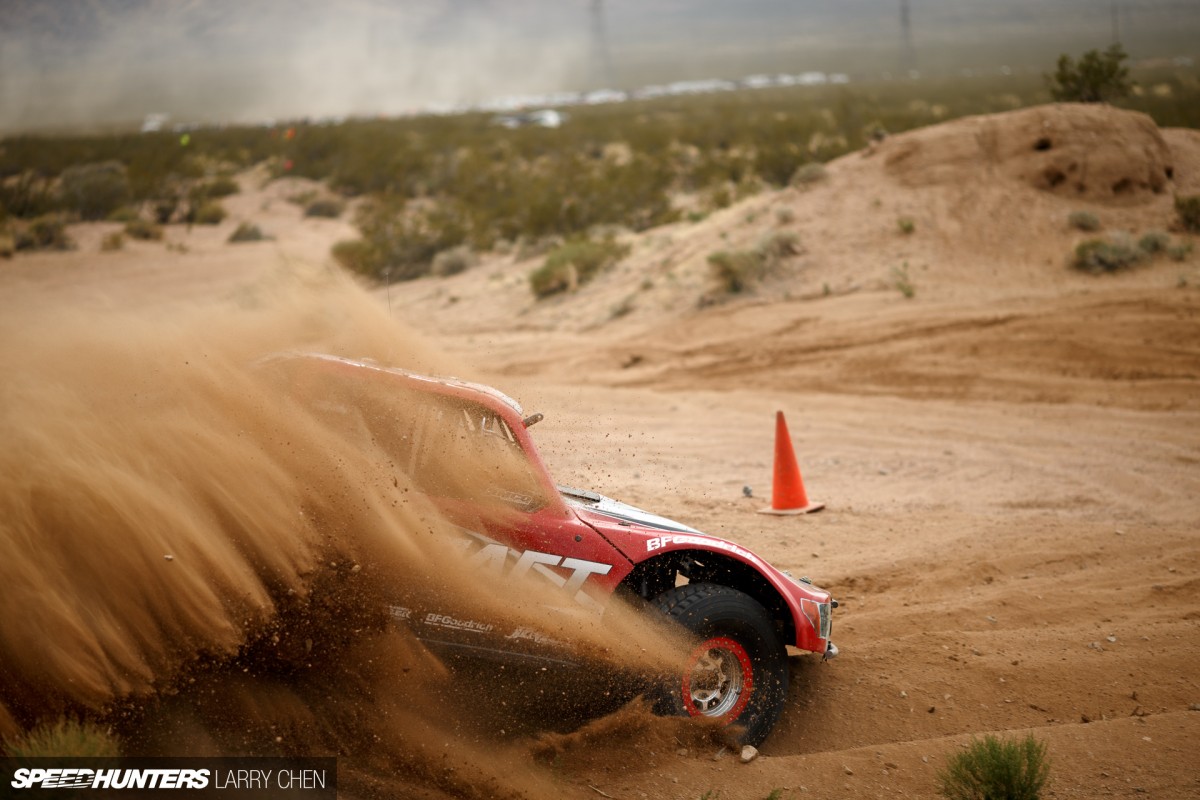 It's so awesome when drivers lock up their front brakes as they plow through the sand, carving out seriously deep ruts in the racing line.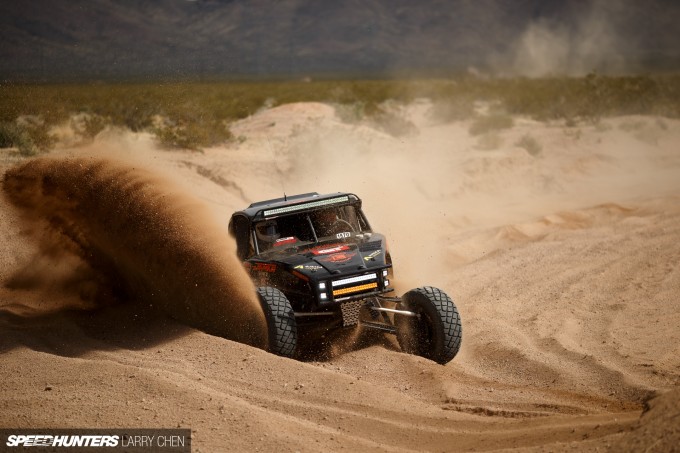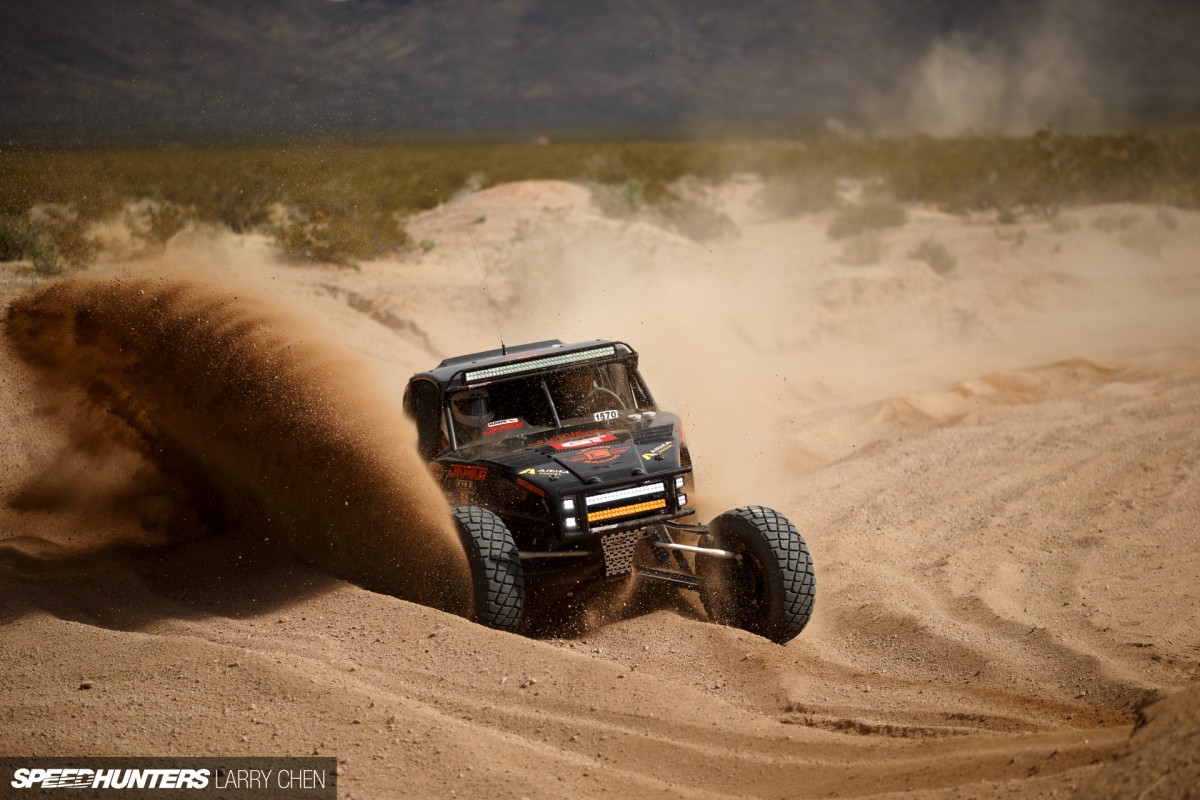 Nothing's as cool as the 'roost' they kick up while going through a hairpin corner, or just from accelerating onto a straightaway.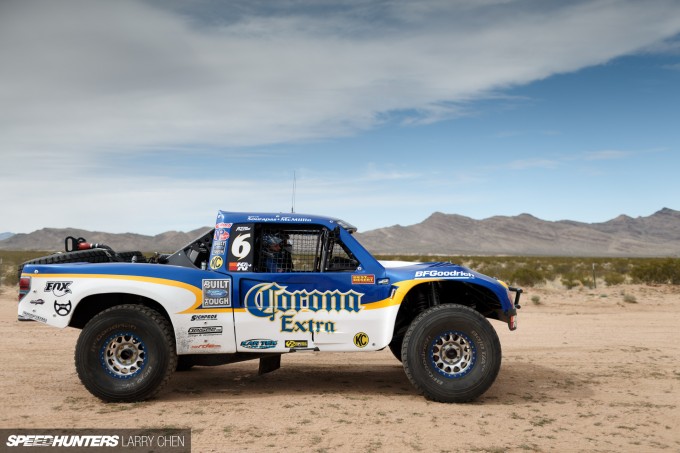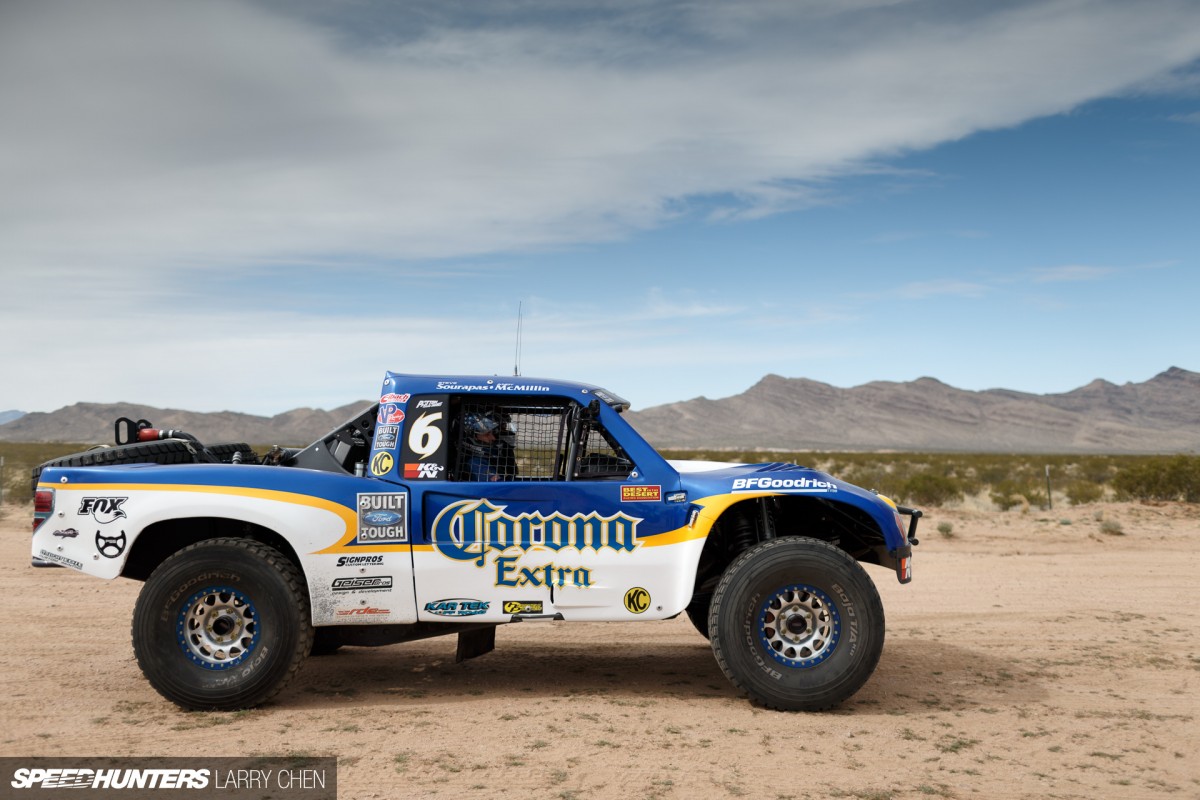 Andy McMillin and co-driver Steve Sourapas, nabbed the sixth qualifying spot in their Corona Extra-sponsored Ford.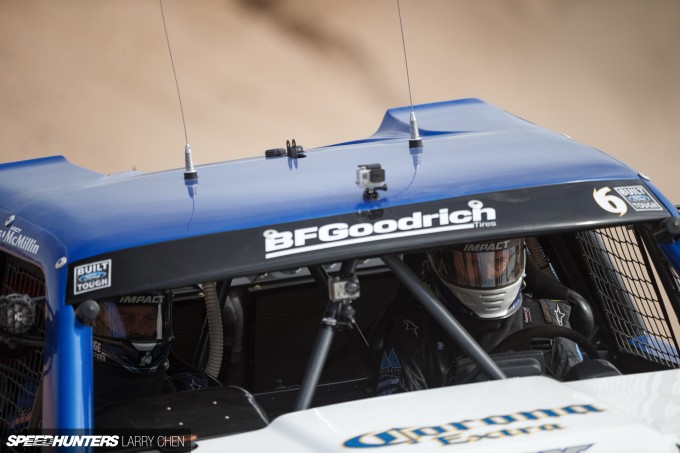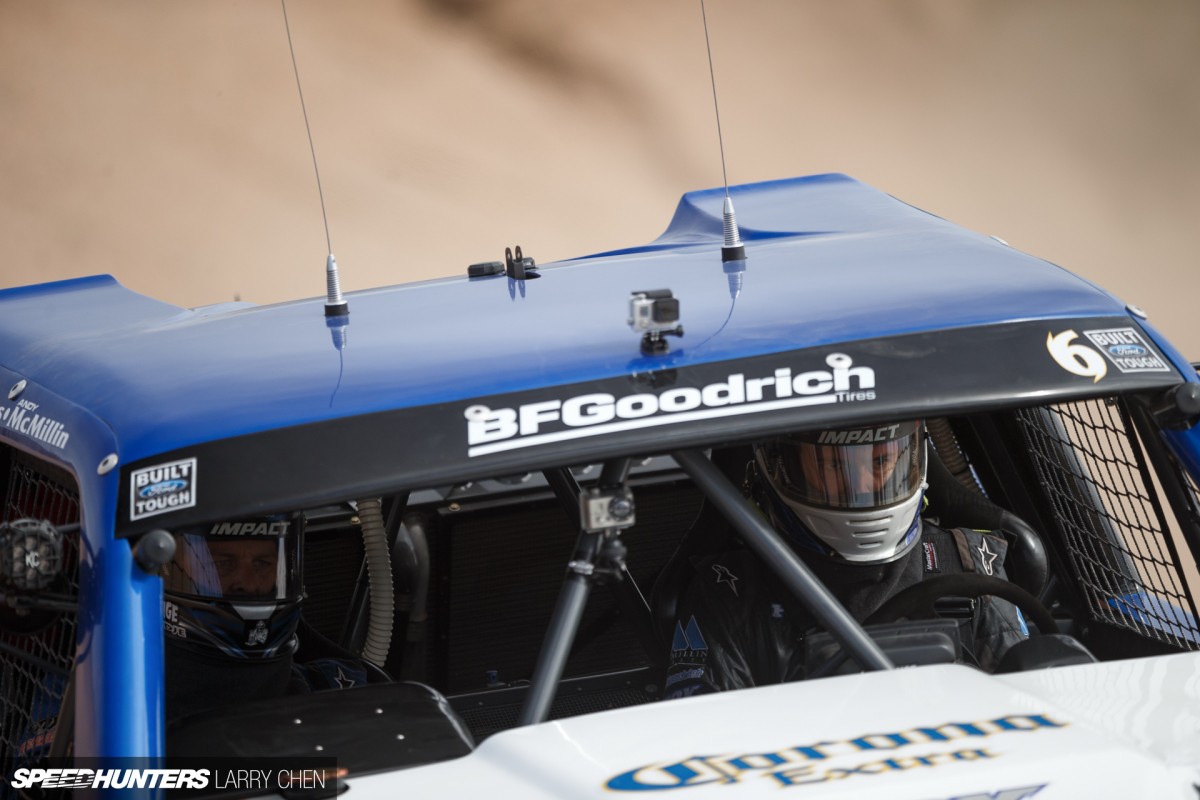 The two would cross the finish line first to become the 2014 champions of the Mint 400. Of course, I'll touch on the main race in my next post.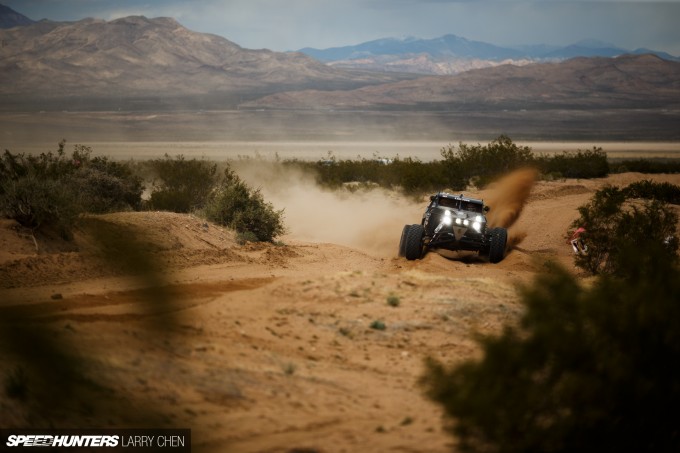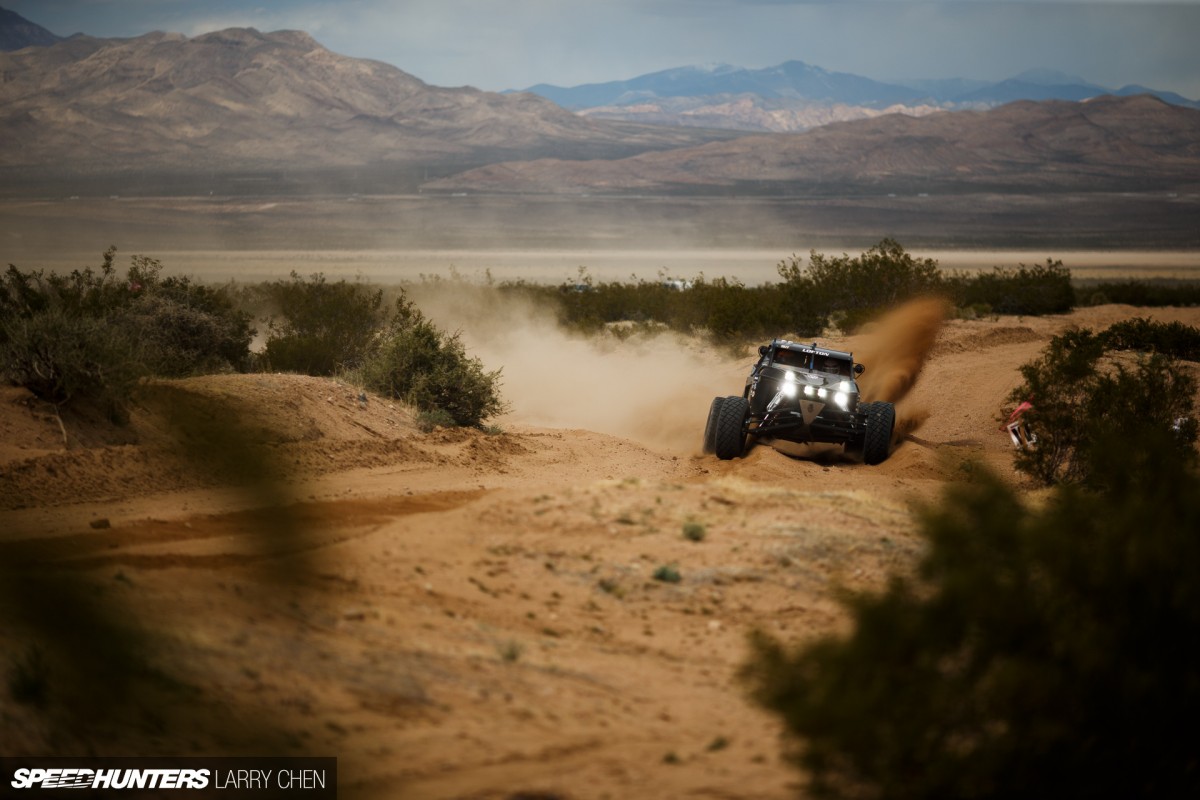 Qualifying day was a great way to start a weekend of serious off-road racing action. It was especially fun to watch because drivers really pushed themselves to go as fast as they could, because starting at the front of the pack means a better chance at earning that coveted title.
Fremont Street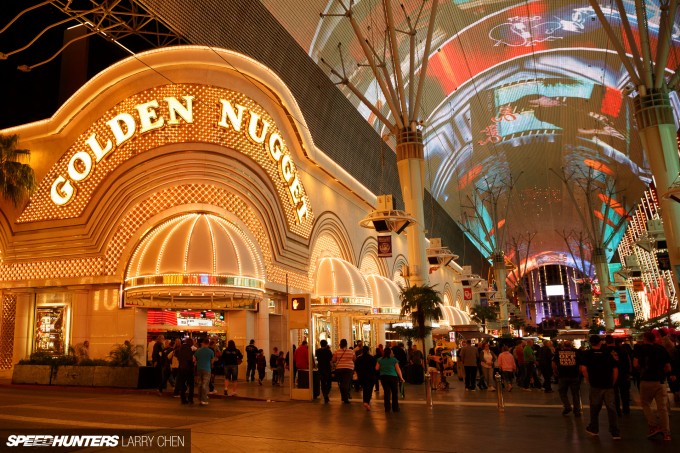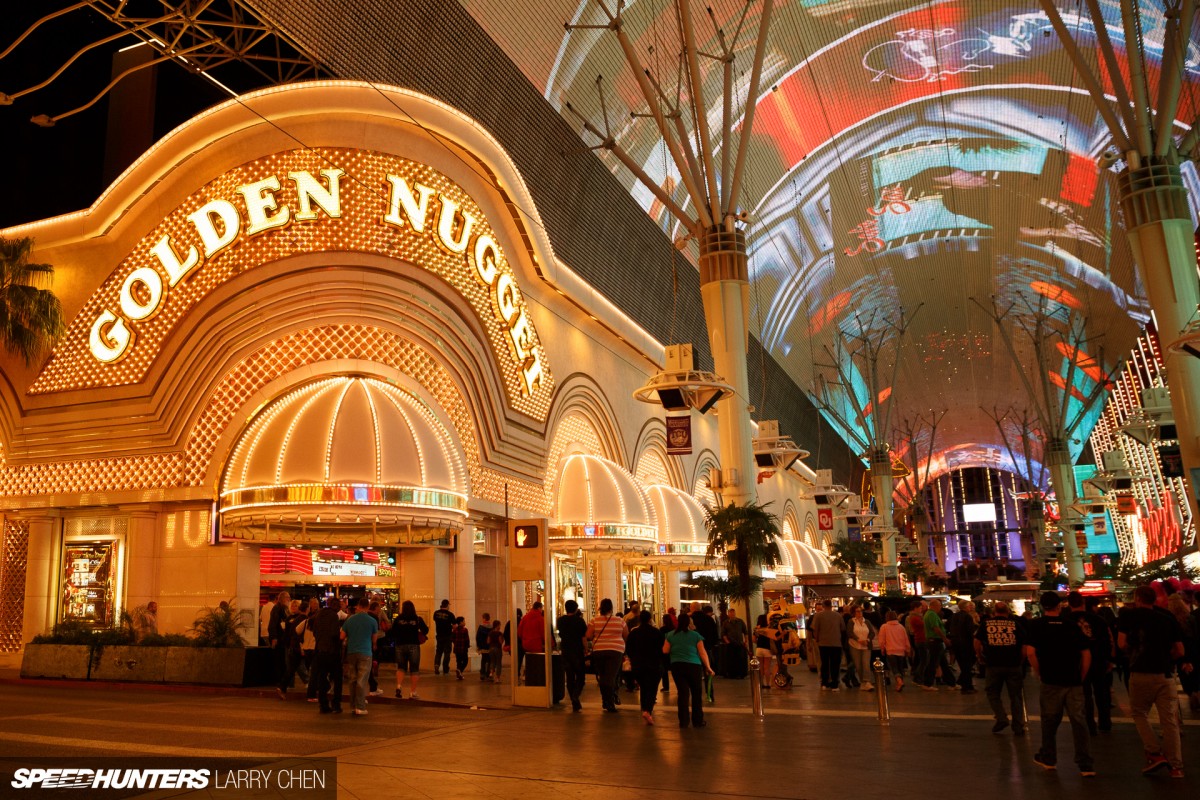 The race was held near the Nevada/California border, but the base of operations was located in downtown Las Vegas on Fremont Street. The majority of the drivers, crew and media stayed at the Golden Nugget, which was where all of the pre-race briefings were held.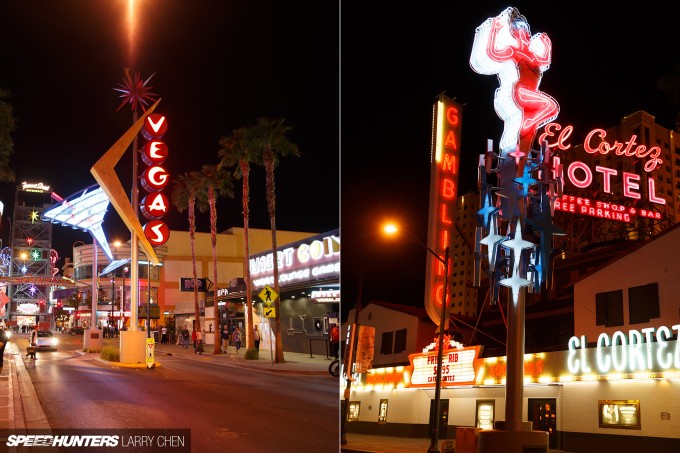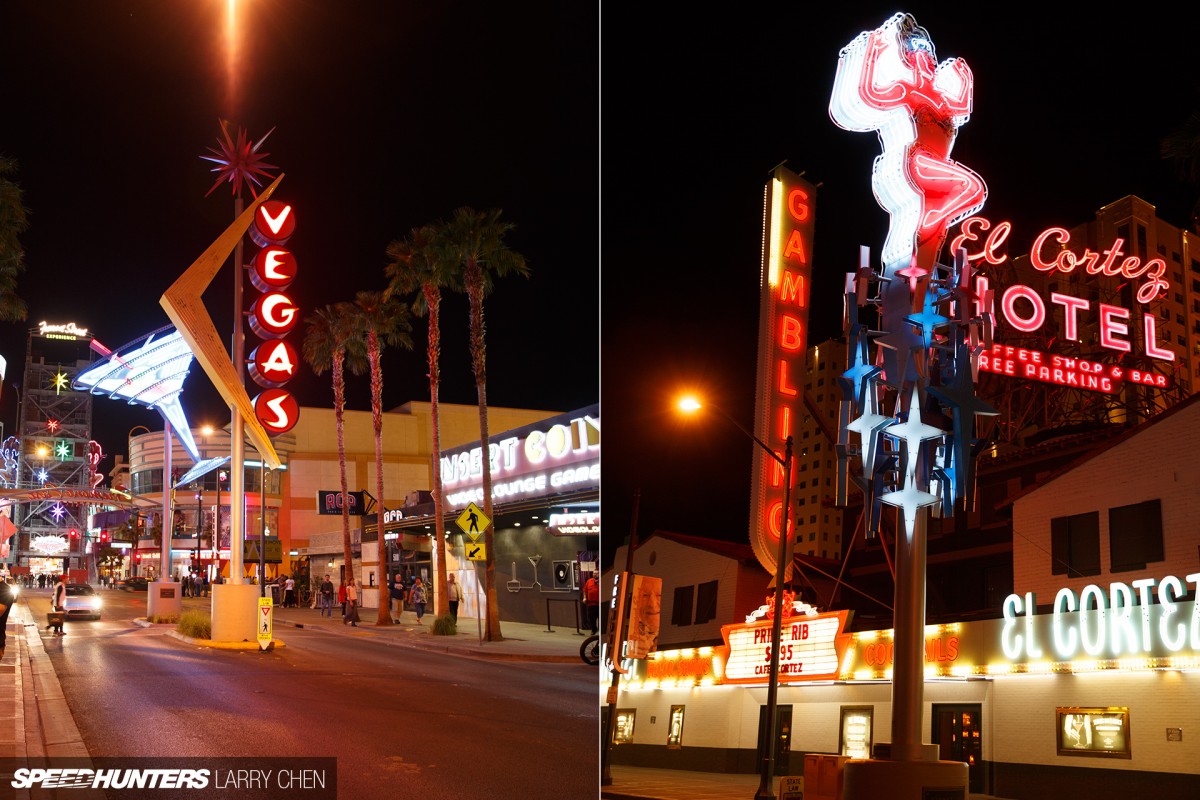 Normally, East Fremont Street is not so busy during the week, so we took a walk around the night before qualifying.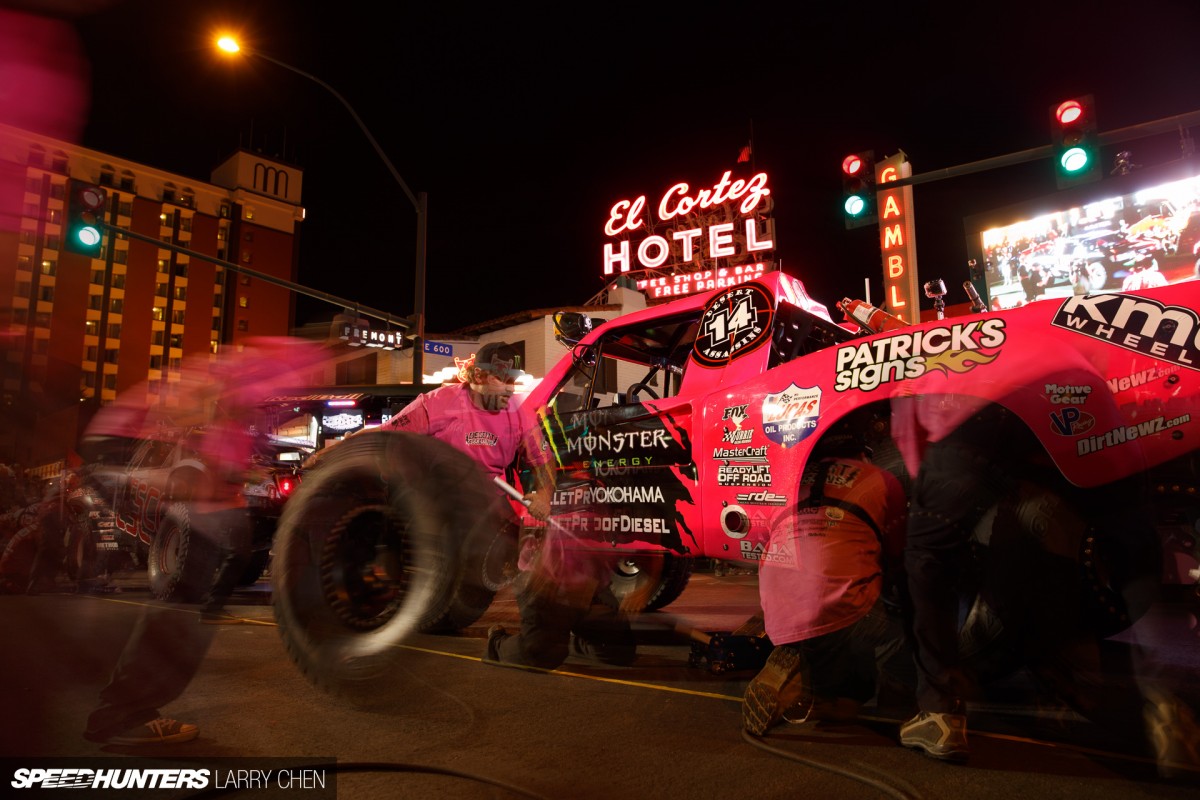 After qualifying was over, a few of the top teams dusted off their trucks and headed to Fremont Street for the Pit Crew Challenge.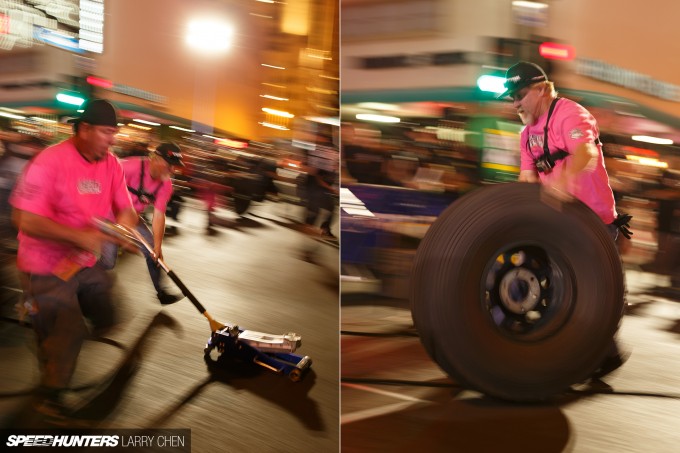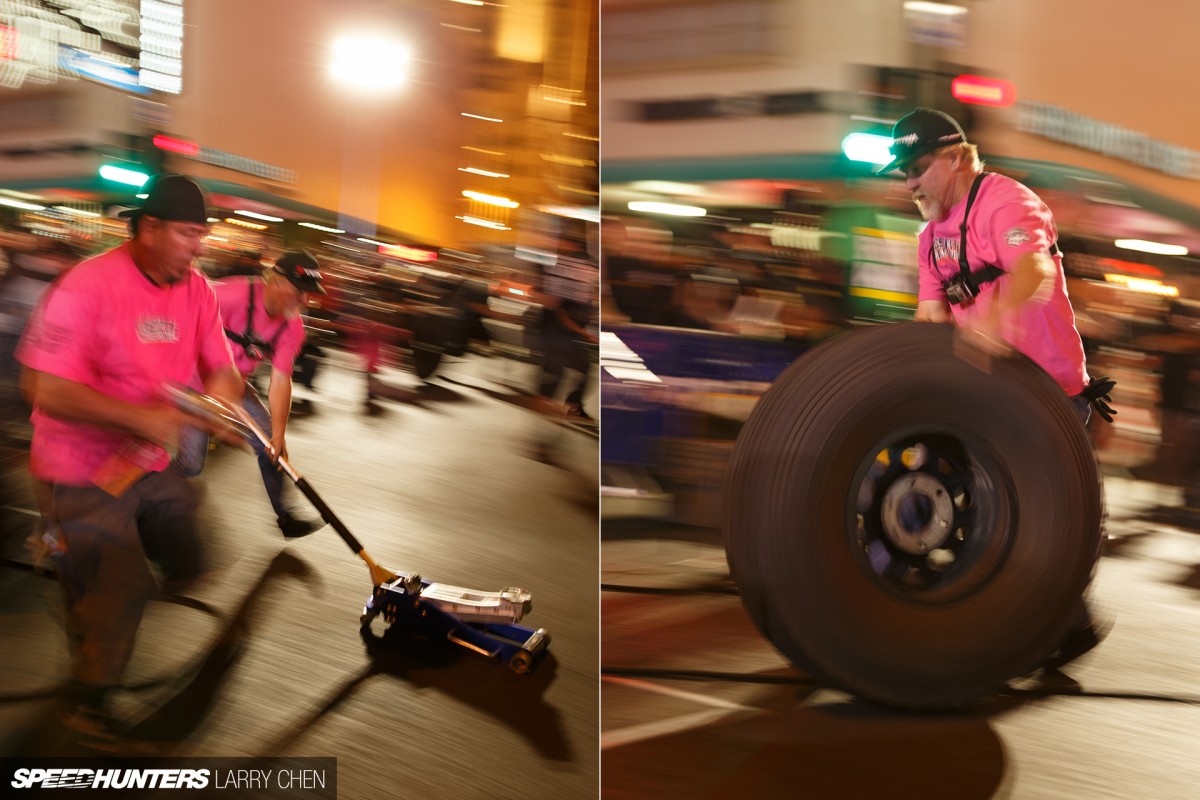 Basicly, it was a bracket style tournament, which pitted teams against each other to see who could change two tires the fastest. It may sound like an easy task, but those suckers are very heavy.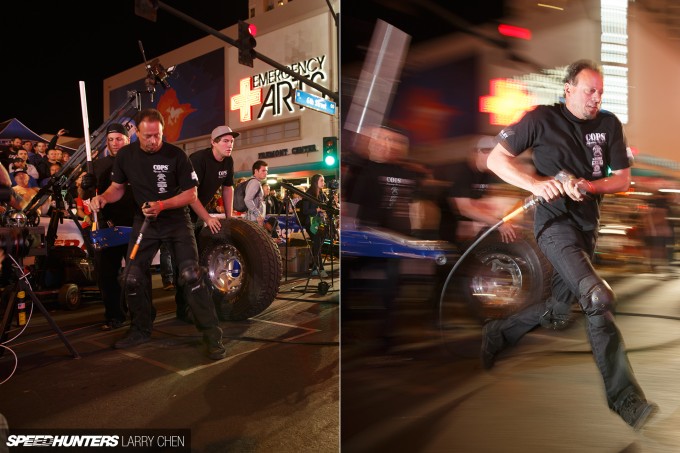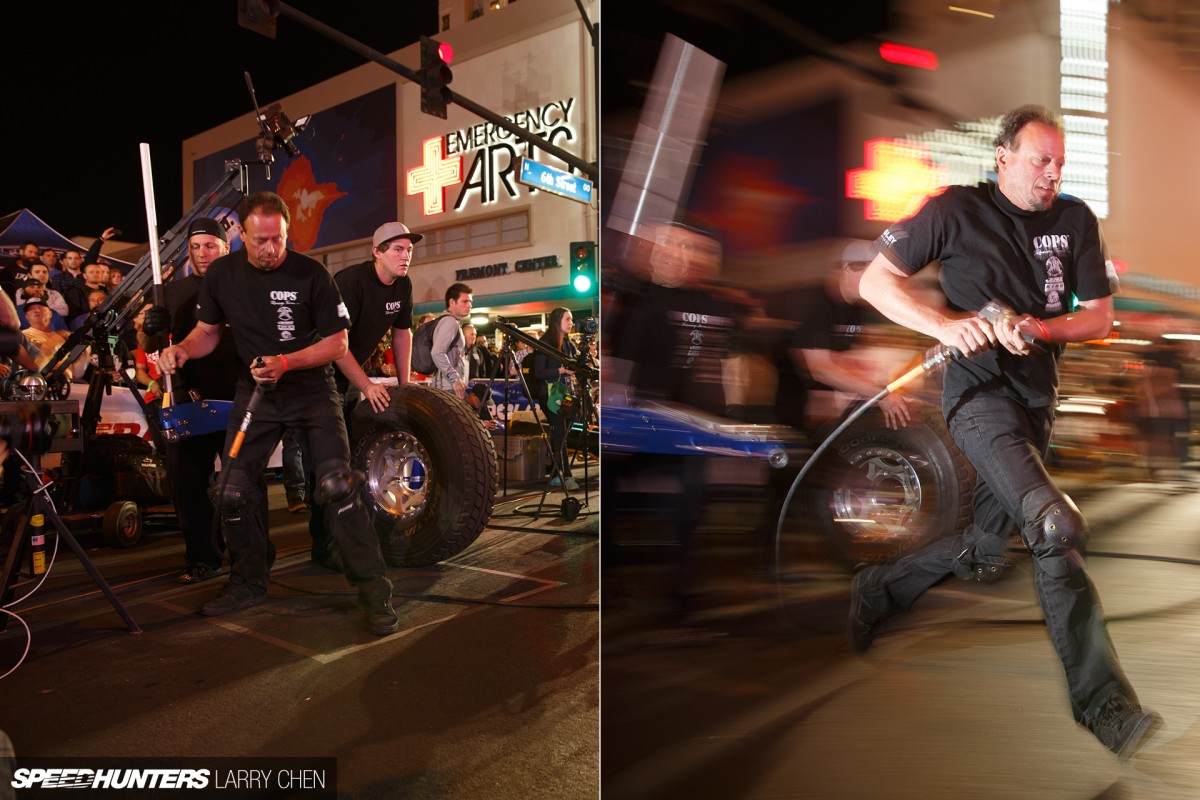 The rules were simple. Each team consisted of a three-person crew: one person handled the impact wrench and other handled the jack. All three helped with moving and carrying the tires.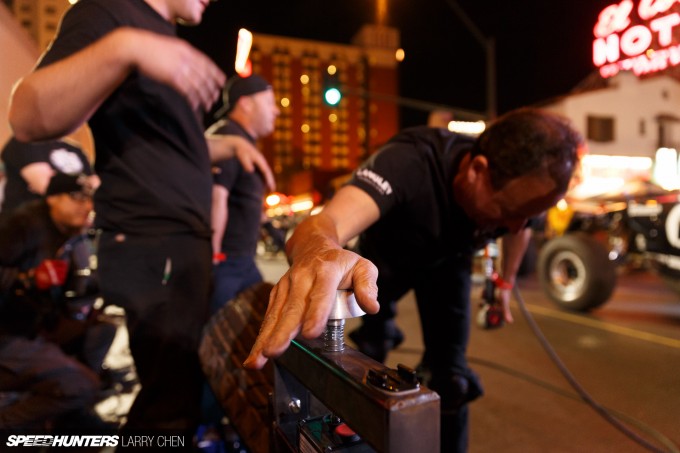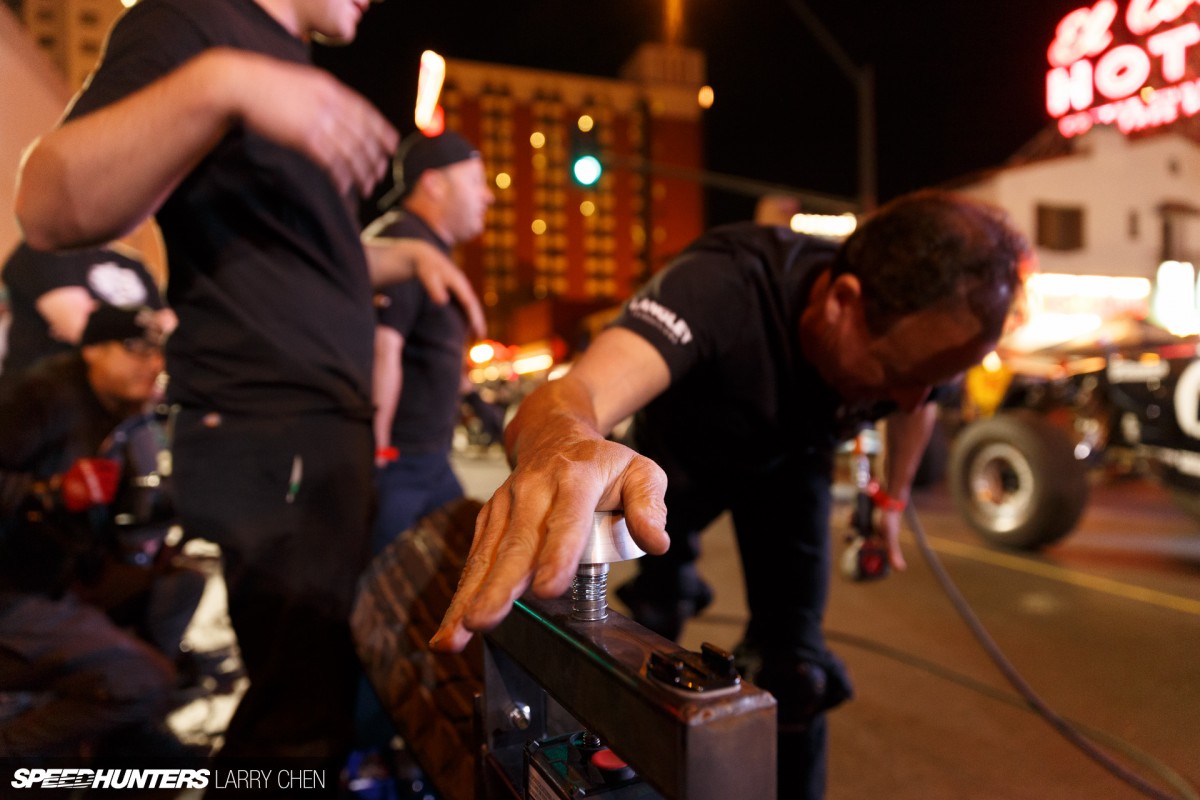 It was up to the impact guy to make sure all the lugnuts were properly torqued down, and it's also the impact guy's job to stop the clock. The team with the fastest time wins.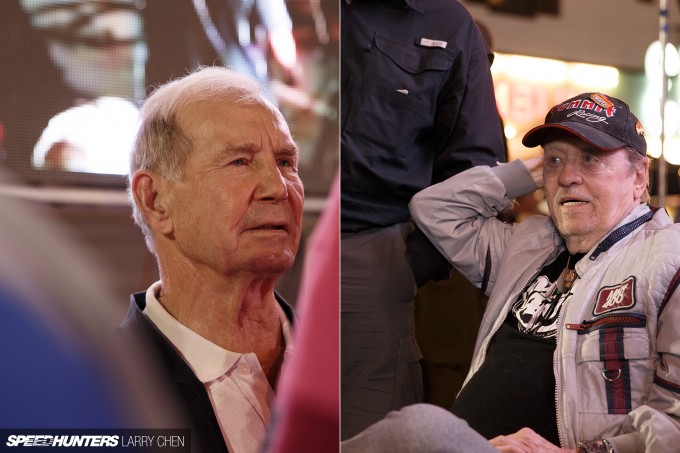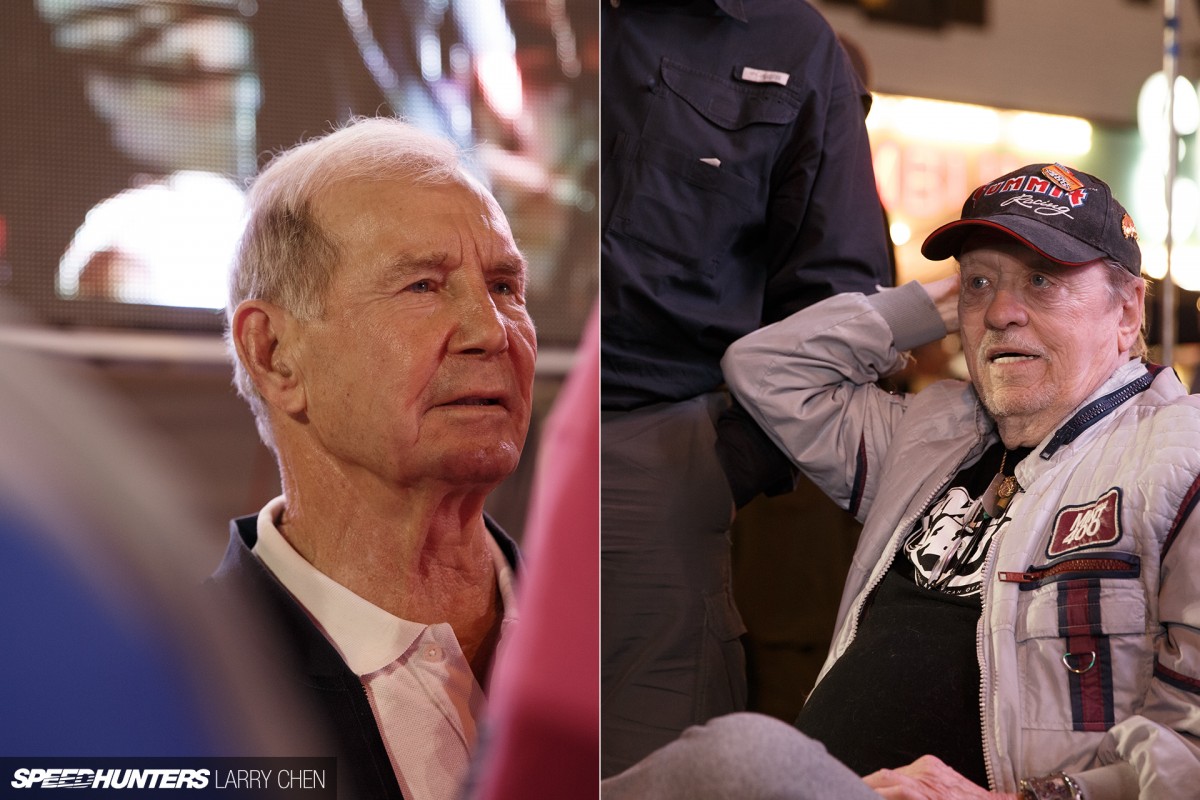 Race Grand Marshal, Parnelli Jones, and Mint 400 founder, Norm Johnson, stood by and watched all the action. People were falling over and running into each other, all in the name of getting a faster time.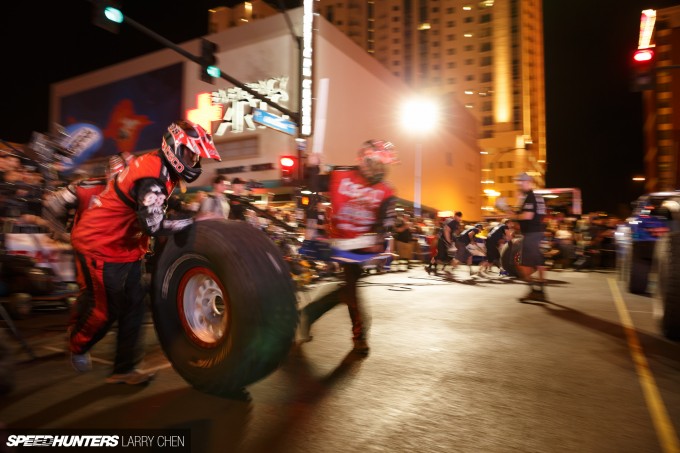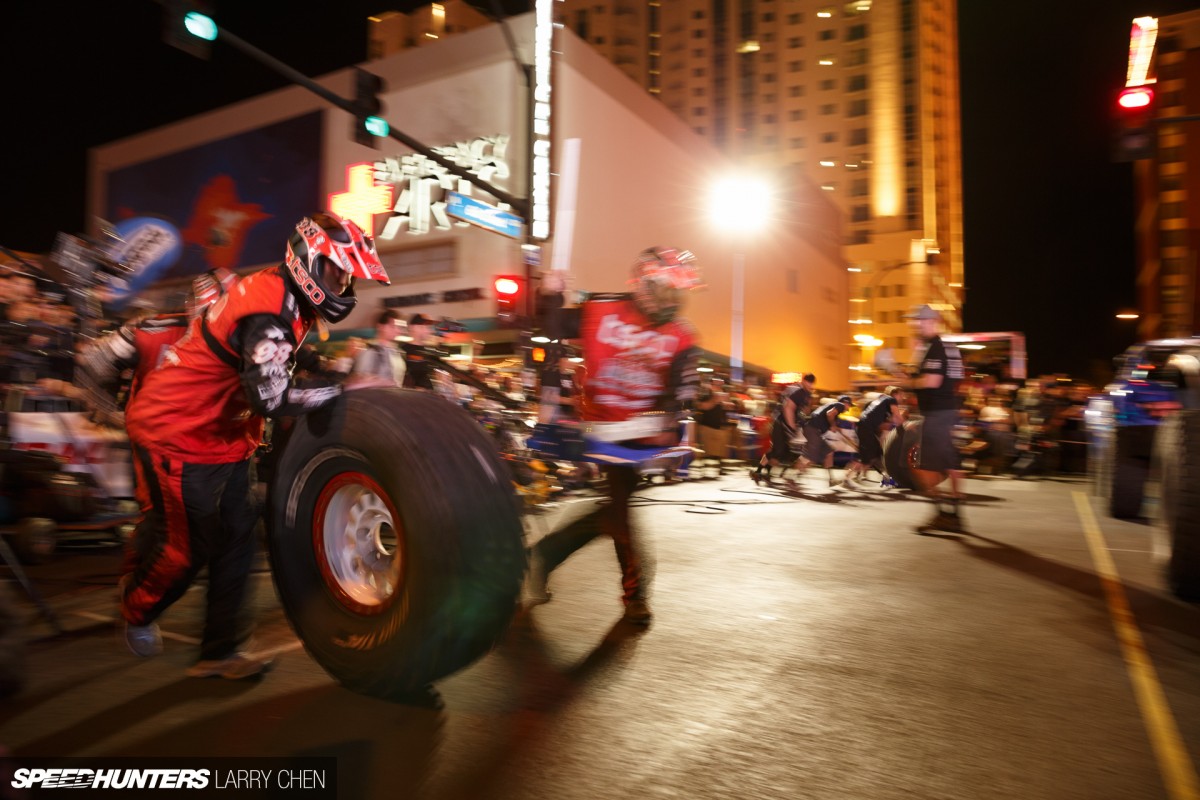 Every team seemed to have their own strategy, including which tire to change first and what jacking point to use. It really was fun to watch.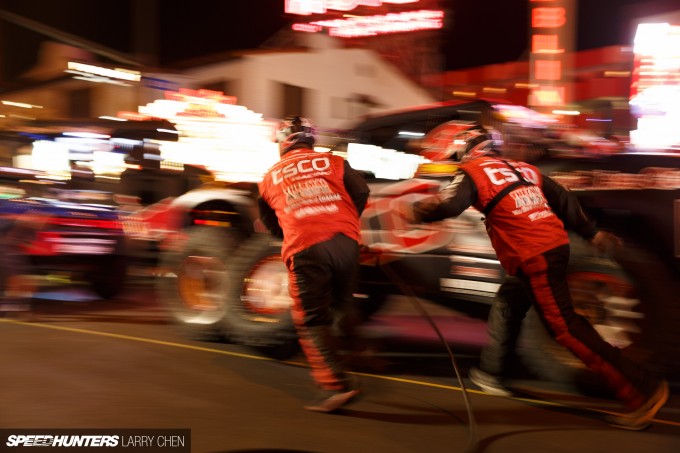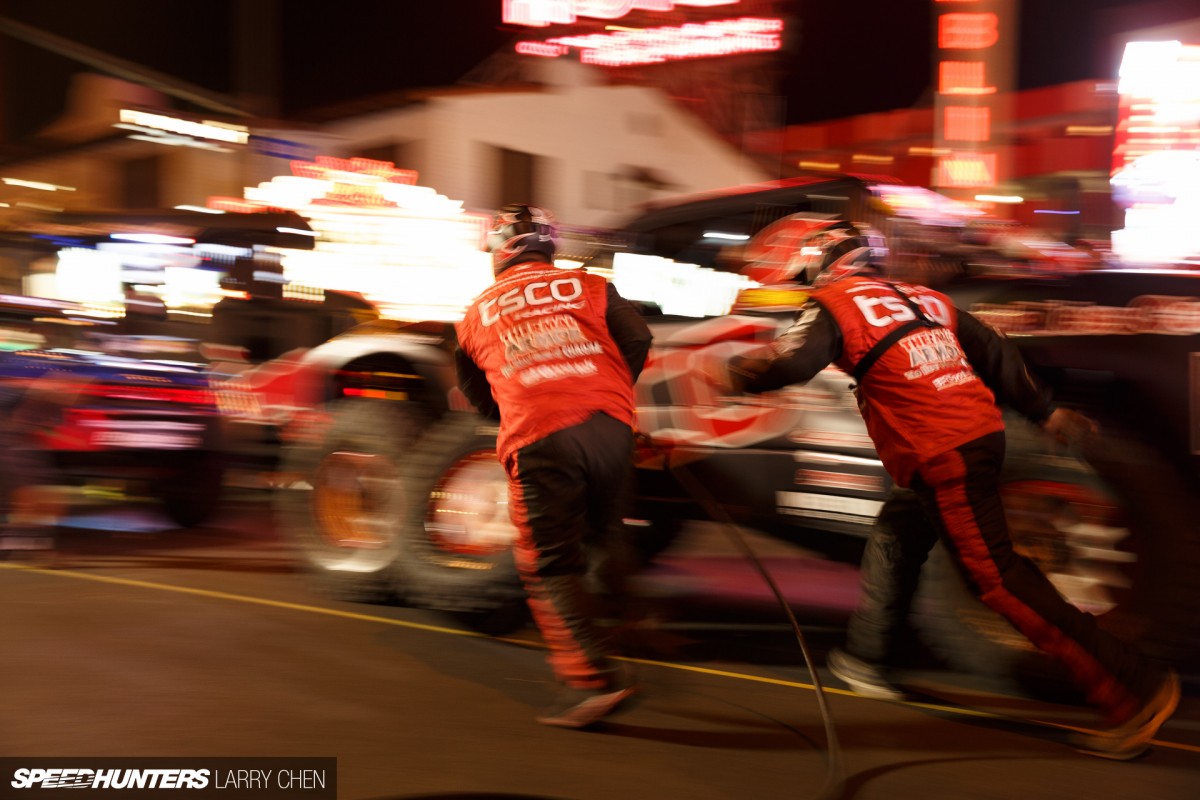 By the end of the day, TSCO Racing took the top spot. Maybe it's those cool helmets that help with their concentration.
Scrutineering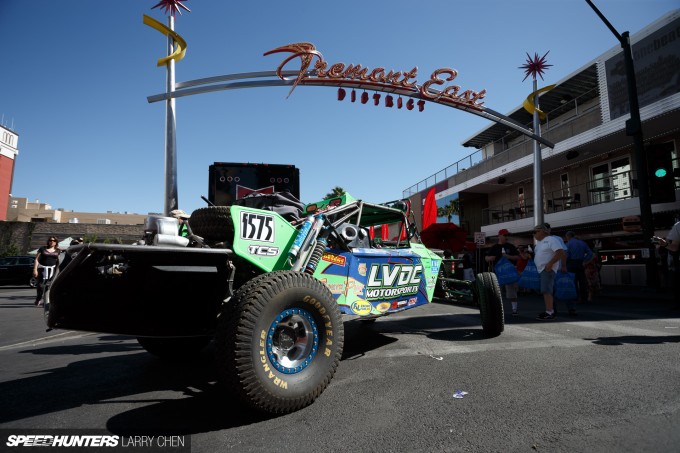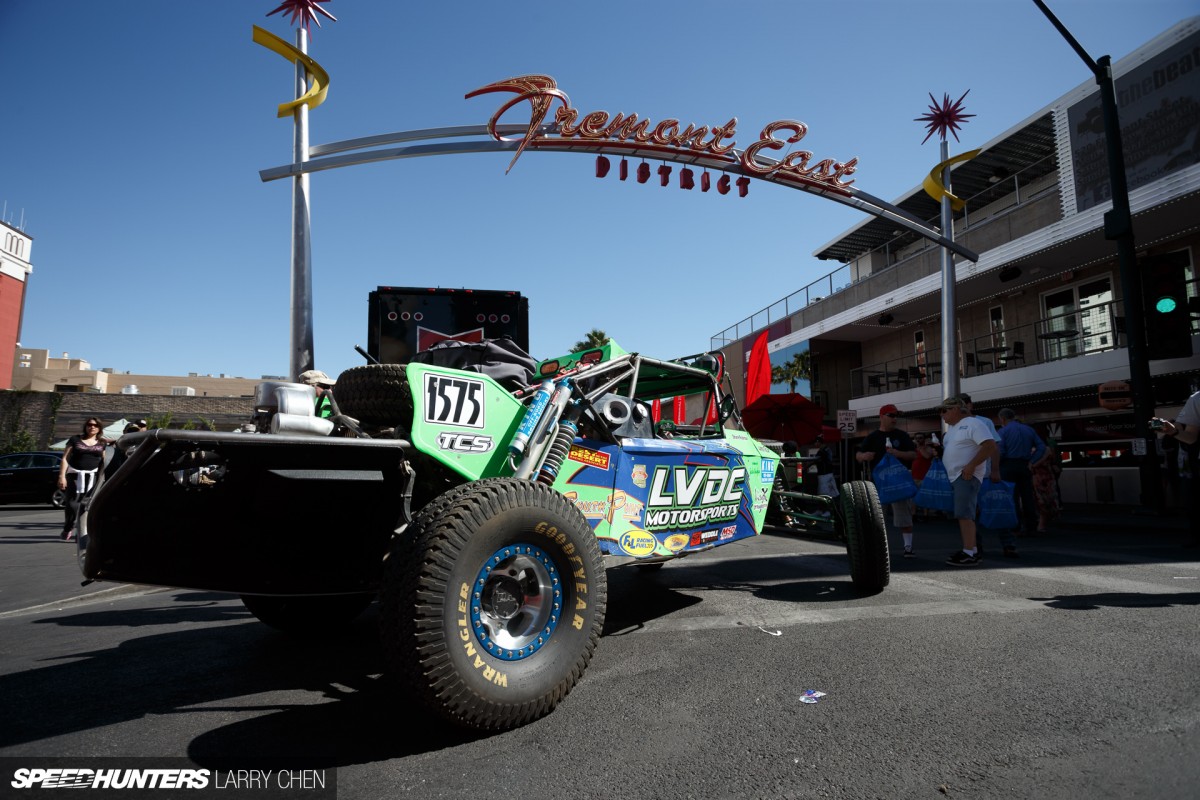 The next morning, all the teams lined up their cars on Fremont Street yet again for contingency and technical inspections.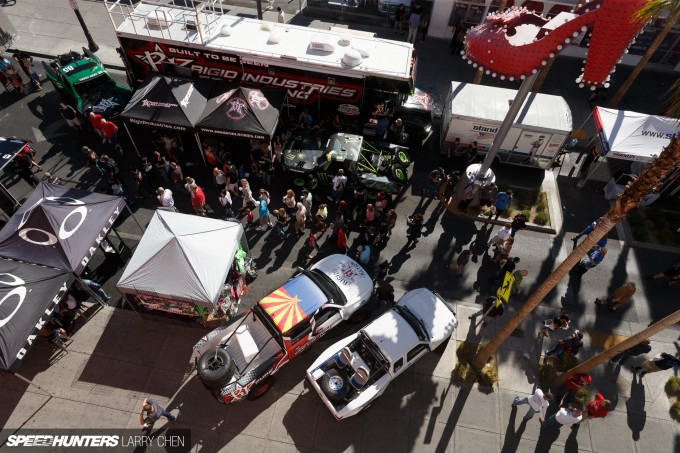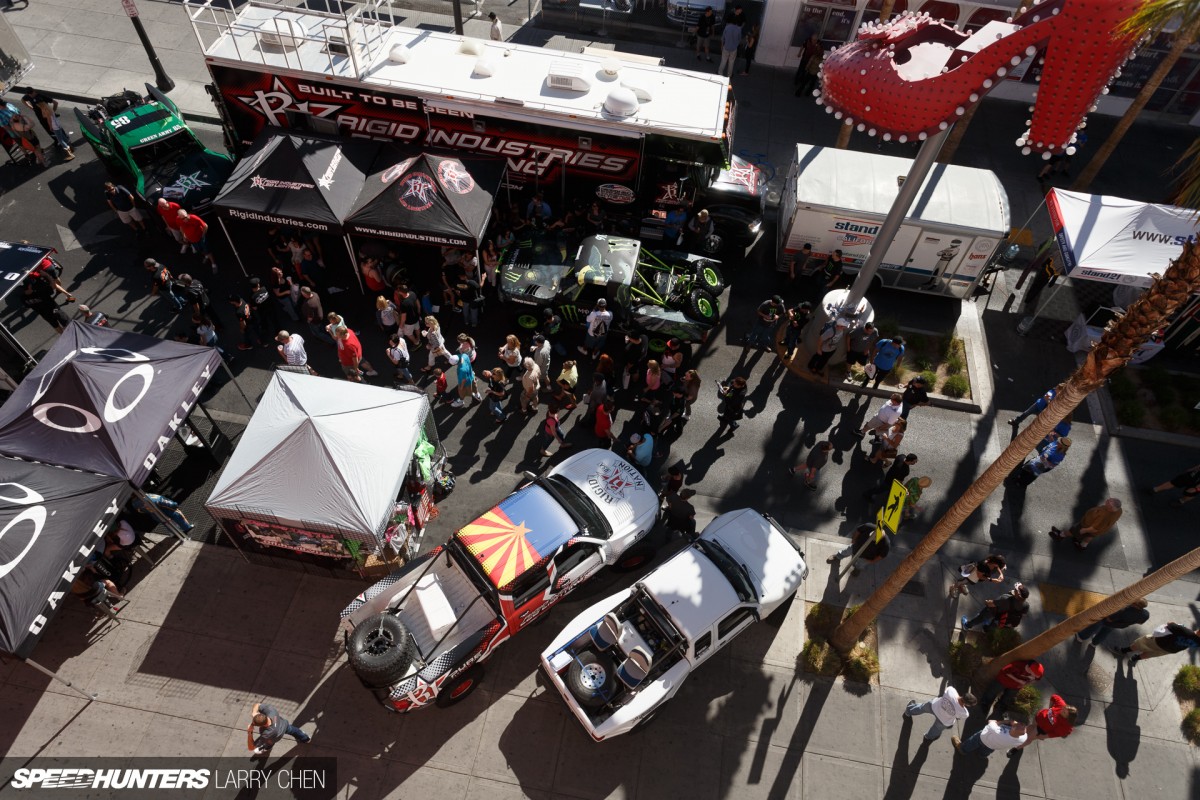 It was a great way for fans to get up close and personal to all the race rigs, as well as a chance for them to check out an impressive array of vendors from the off-road community.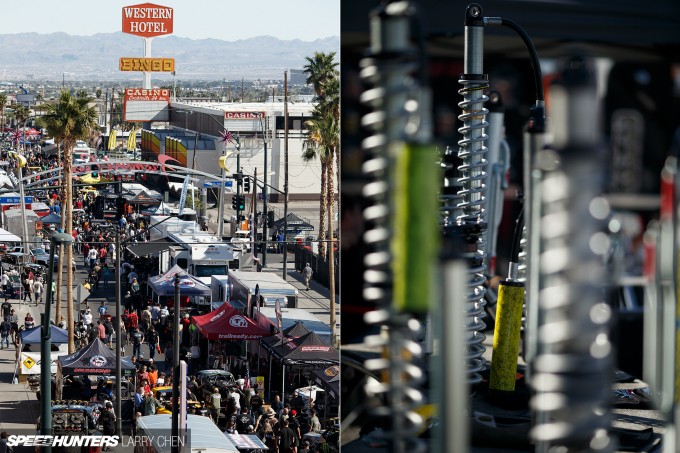 It was more of an off-road festival than anything else, and it spanned the length of four city blocks.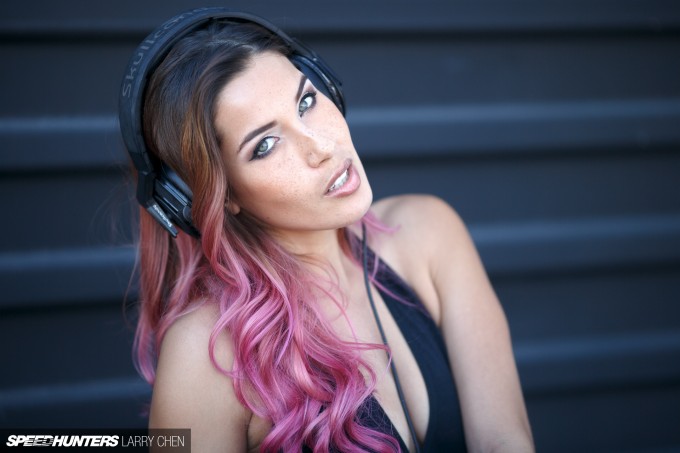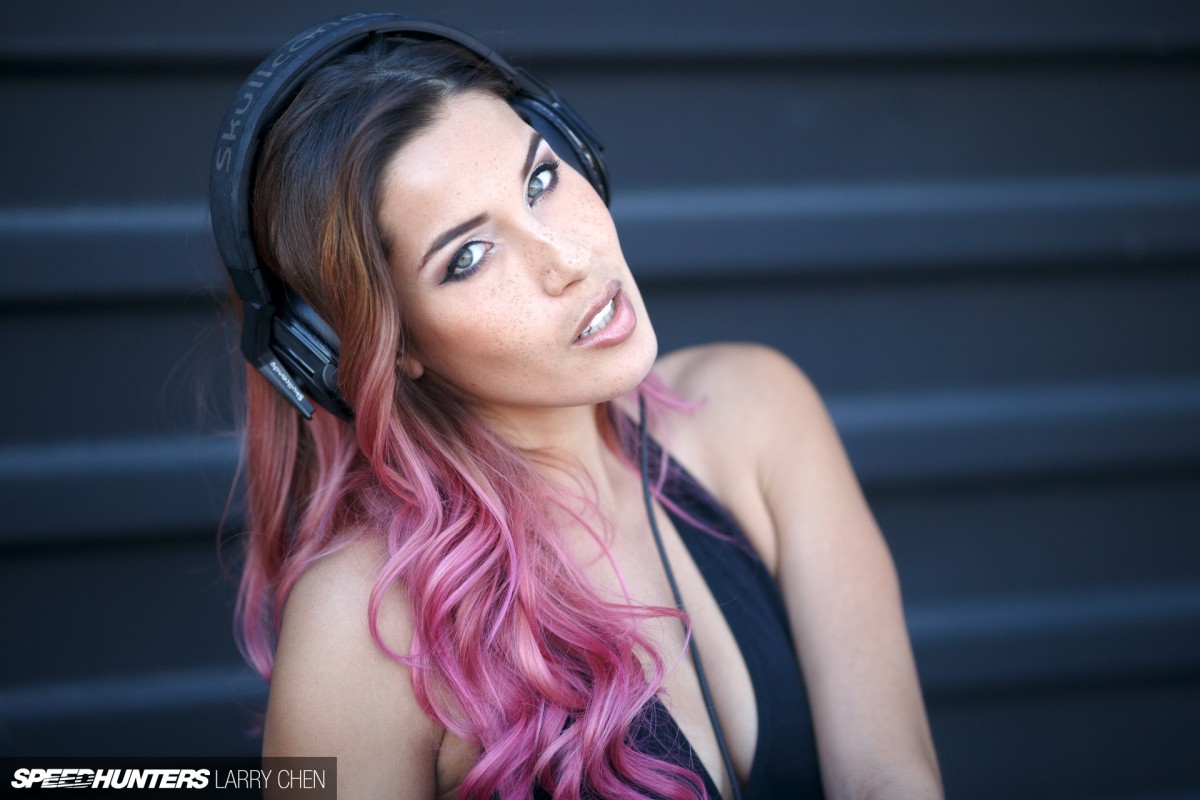 There was live music as well as DJs spinning tunes from morning till night. This was Las Vegas after all.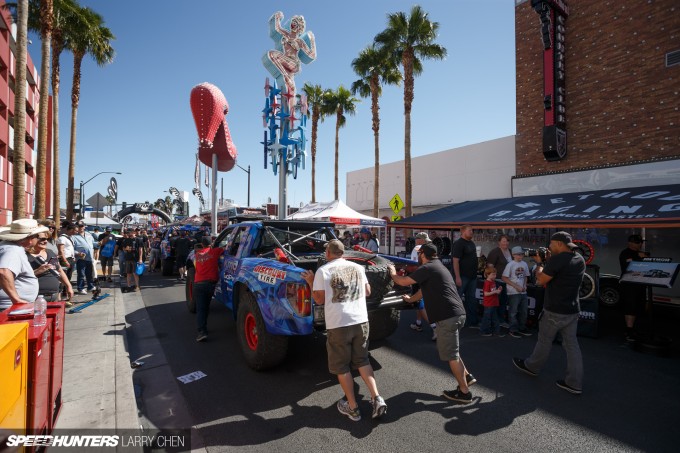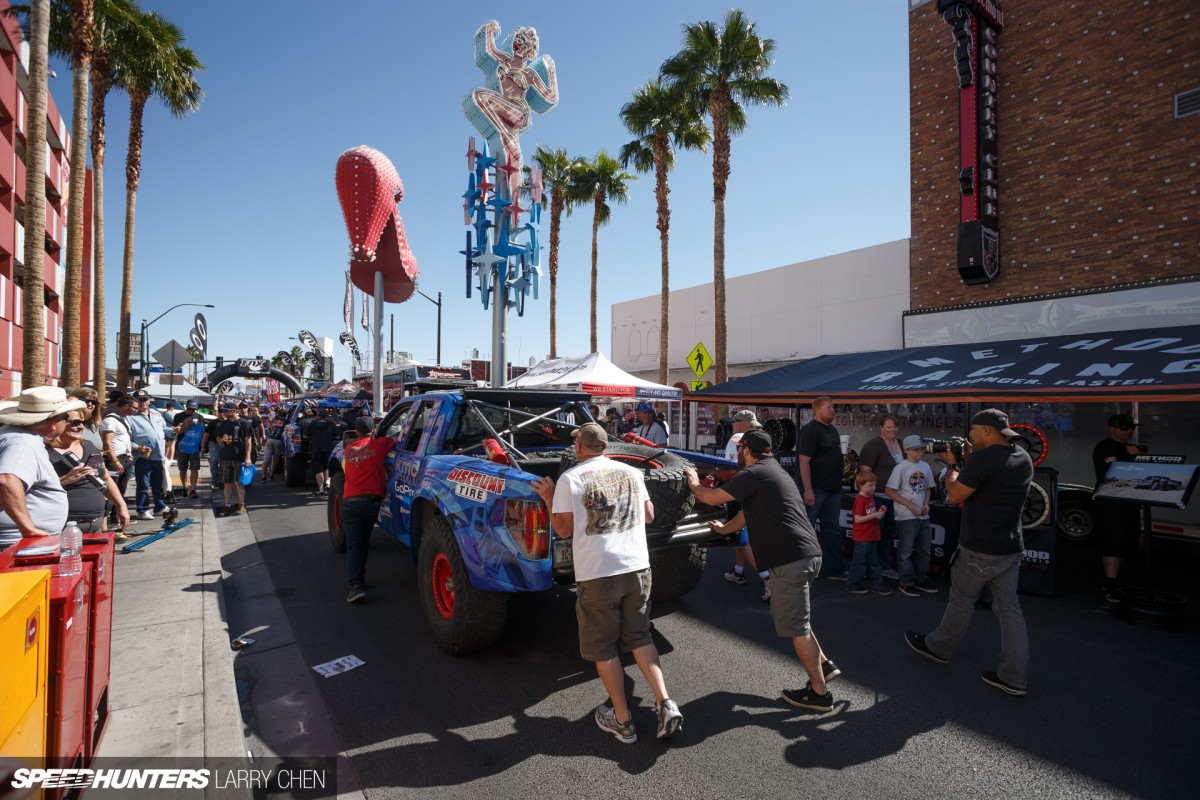 One by one, each of the teams pushed their rigs down the street.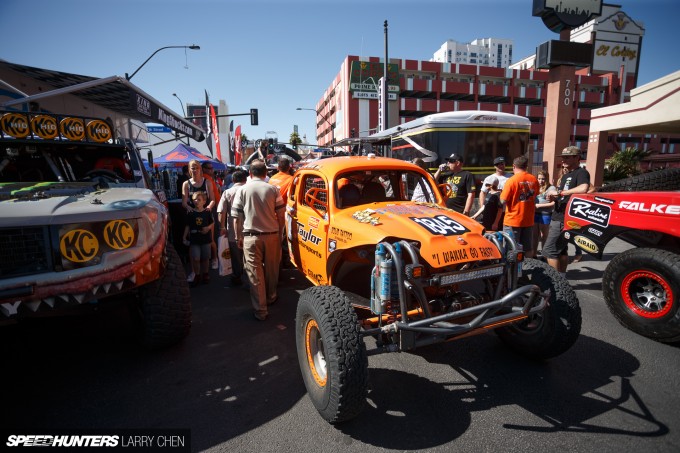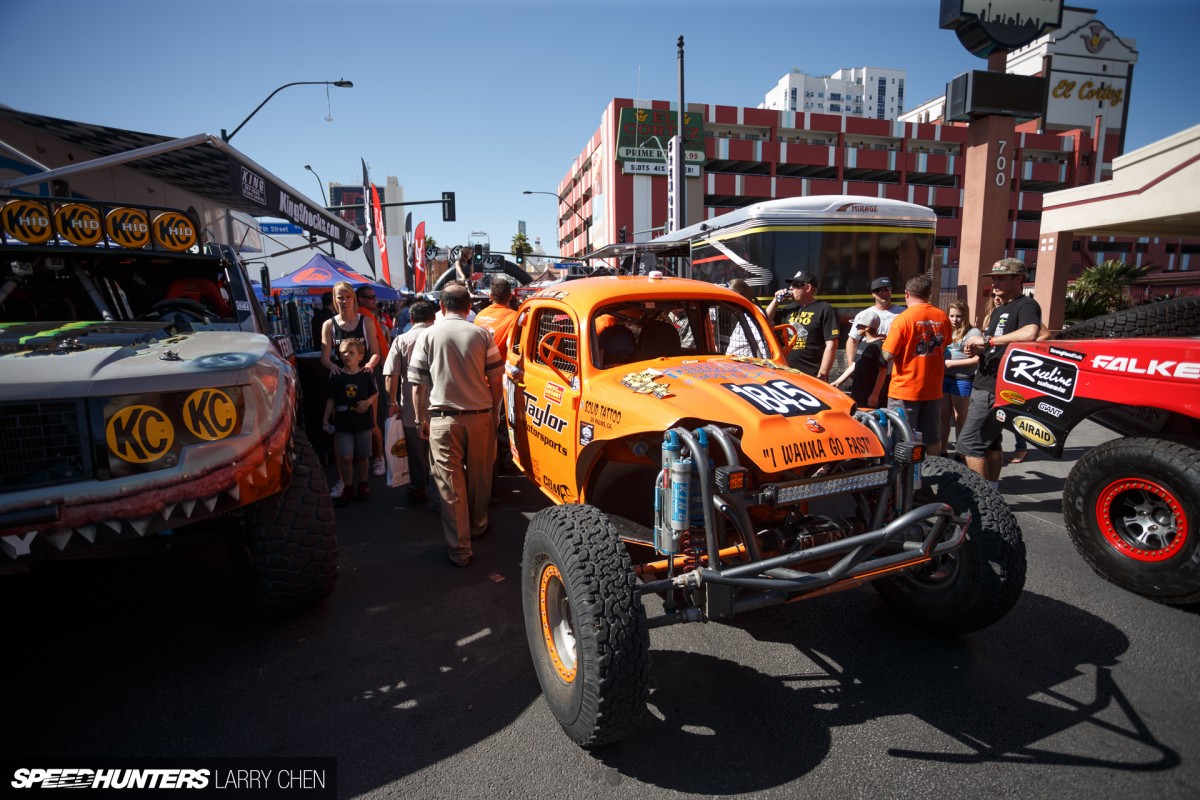 This also gave me a chance to check out some vehicles that I might not see again. The course is 100 miles long and there's a slim chance that I will get to see every team drive by.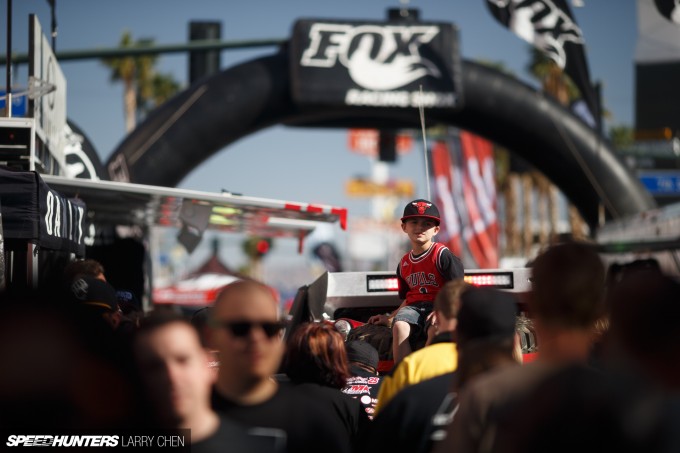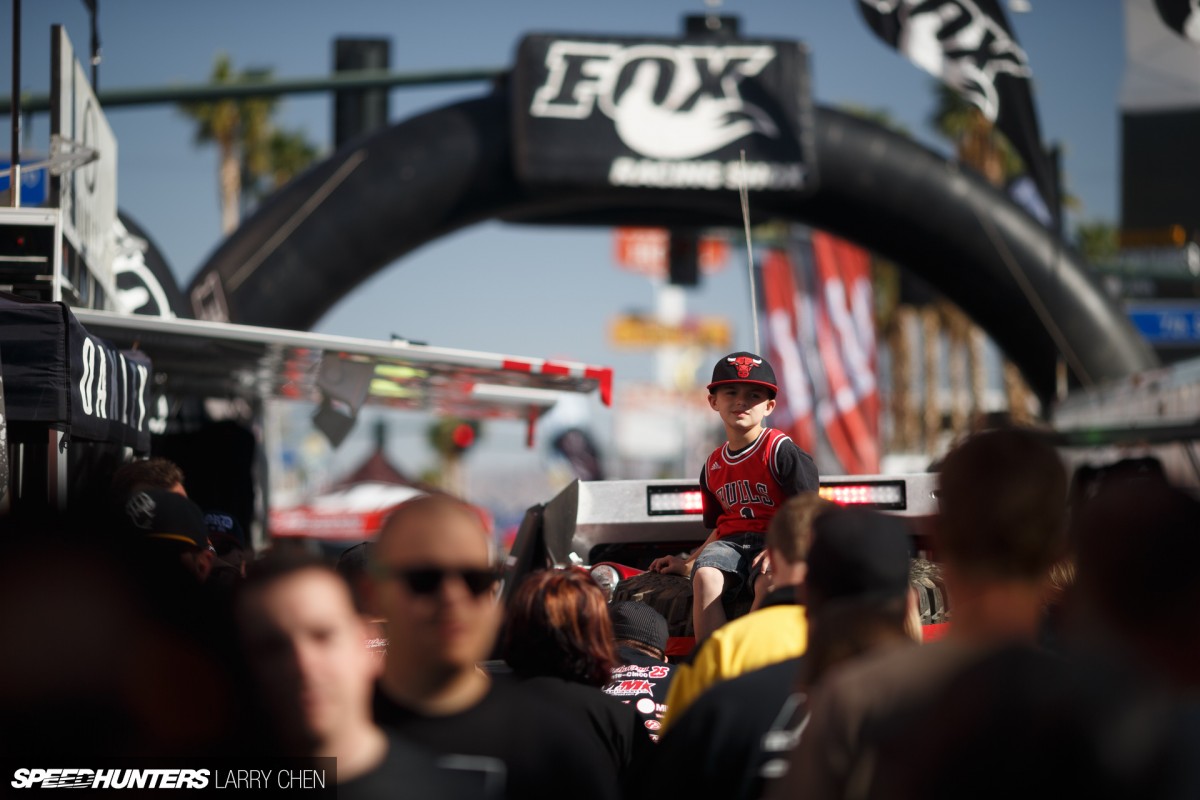 By mid afternoon it was quite crowded and you could barely move at all. Kids took refuge on top of race rigs.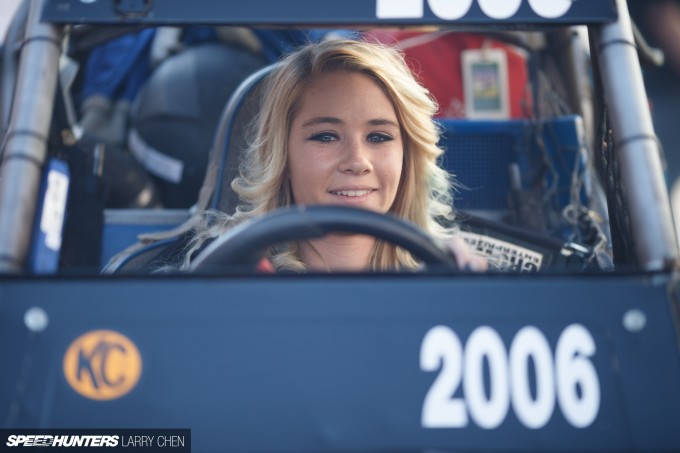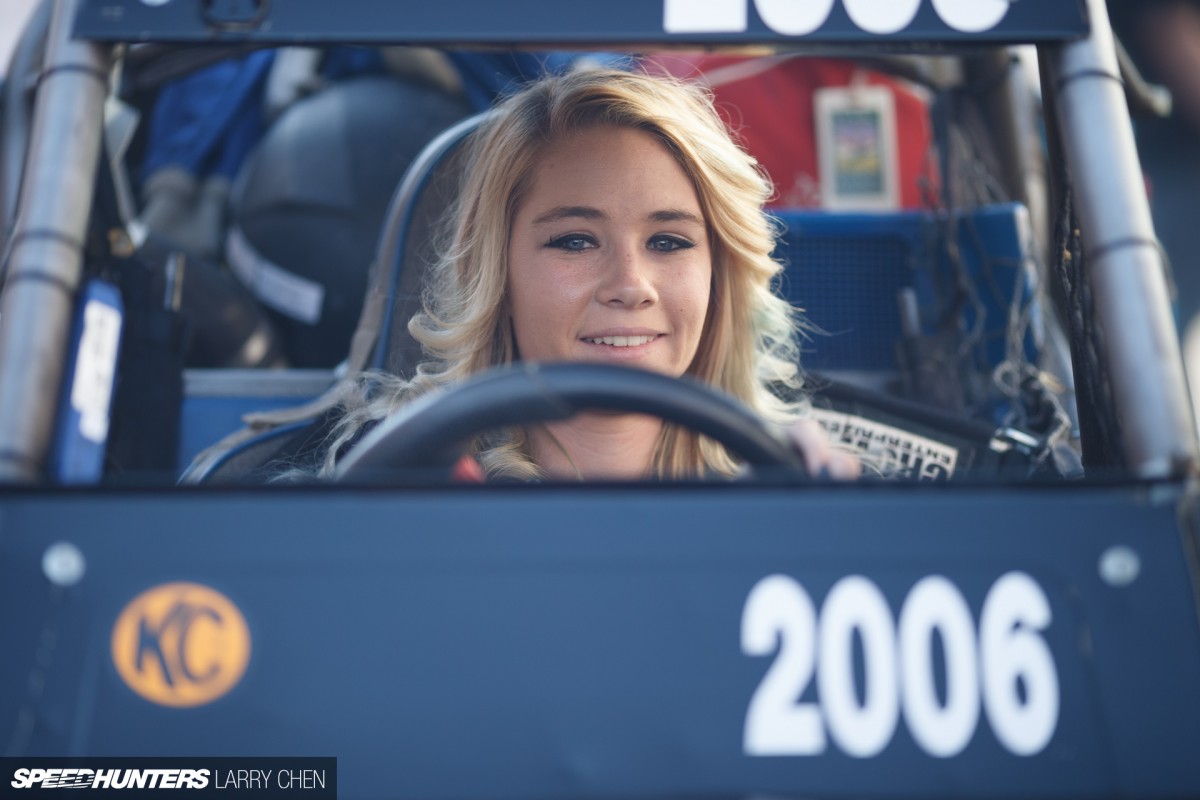 This was also the perfect time to meet your favorite racer. I've always noticed that off-road racing is very diverse compared to other motorsports, like drifting. Where are all the female Formula Drift competitors?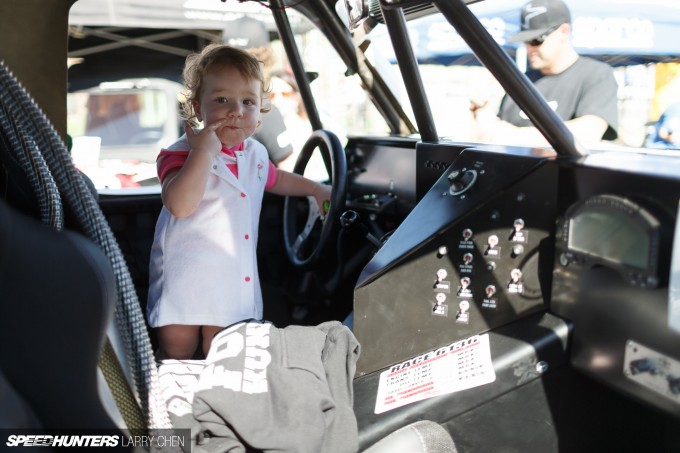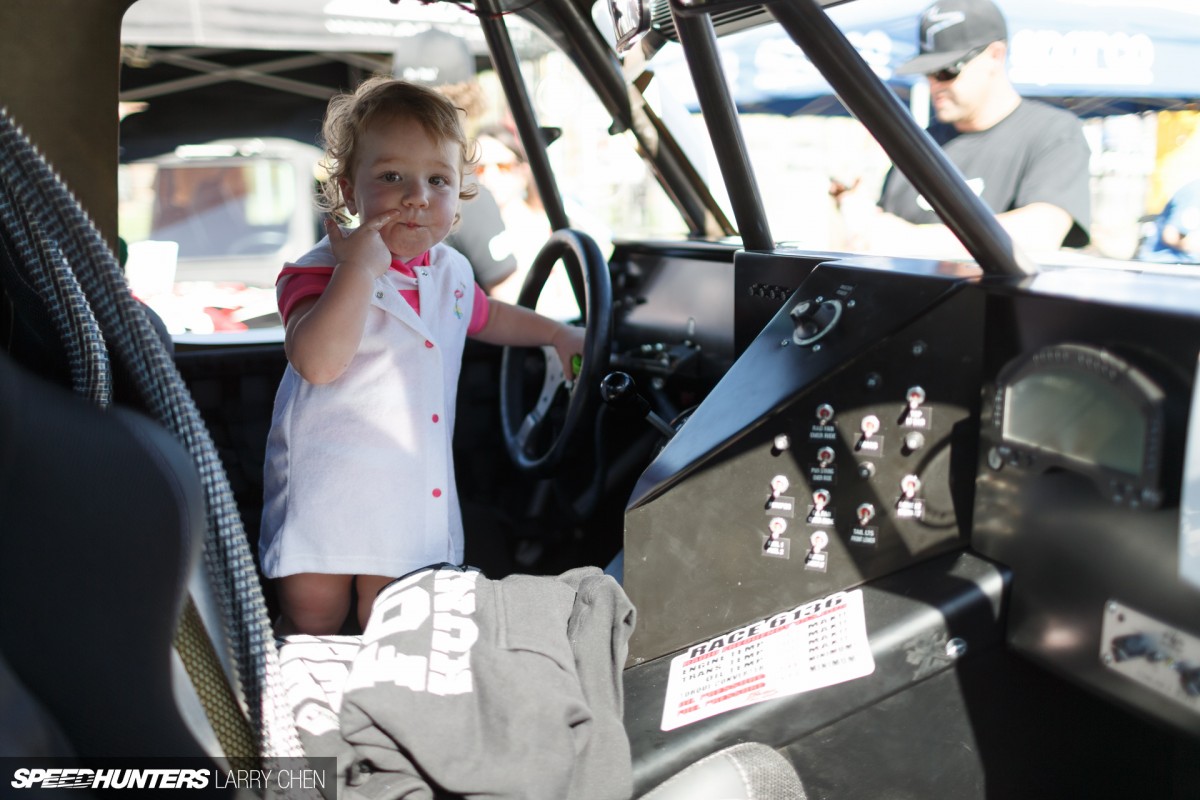 All the teams were so friendly, including this little racer. Although she may need a few phone books to see over the dashboard. Do phone books even exist any more?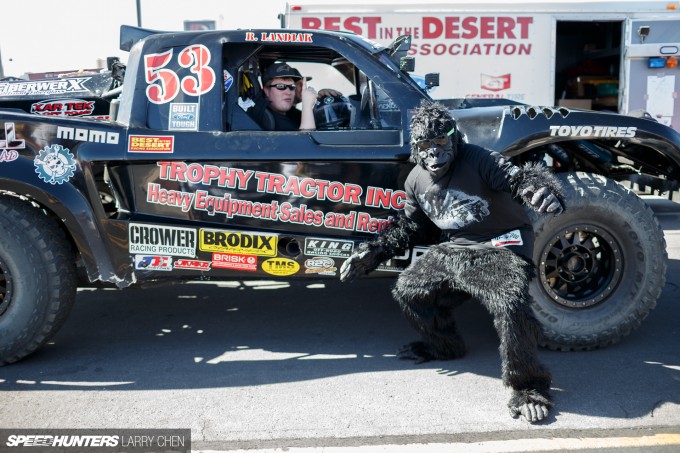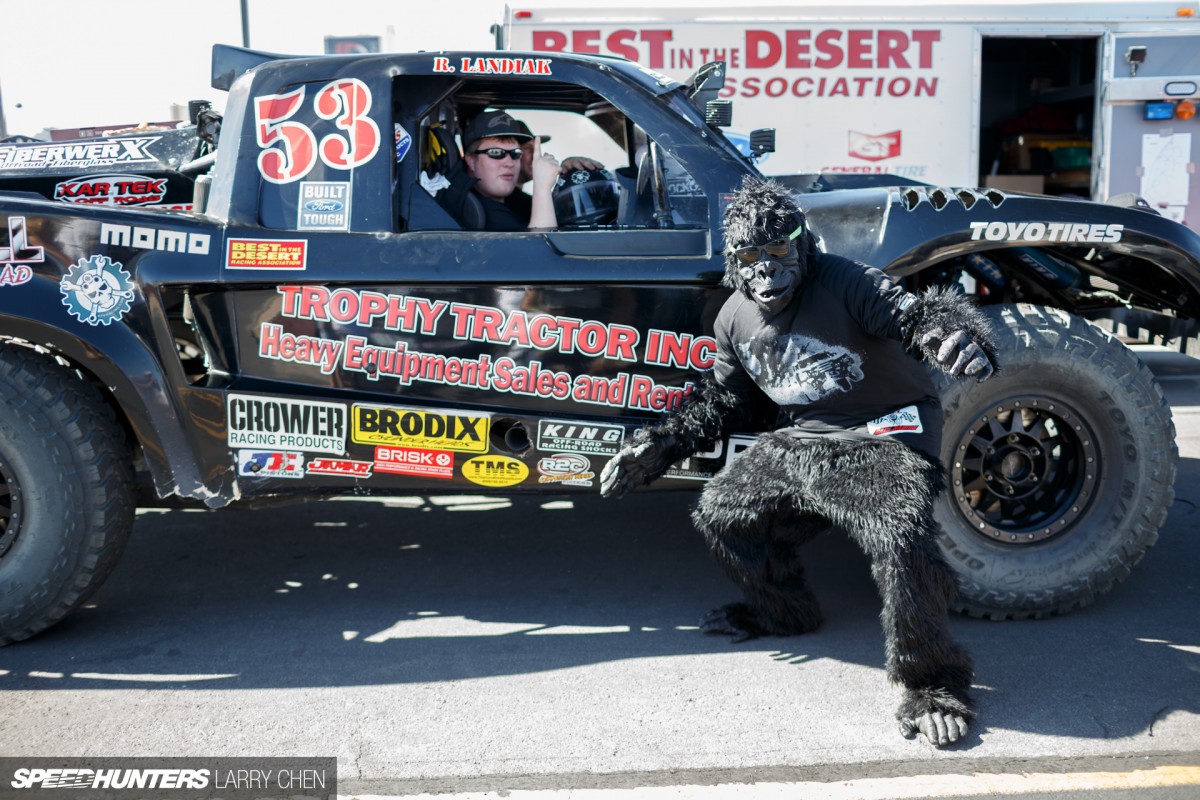 I walked Fremont Street till the last of the rigs went through scrutineering and headed back to my hotel room. There are two races on race day, and the first one starts at 6am sharp, which means I had to be out of bed by 3:30 am in order to start shooting at the starting line at 5am.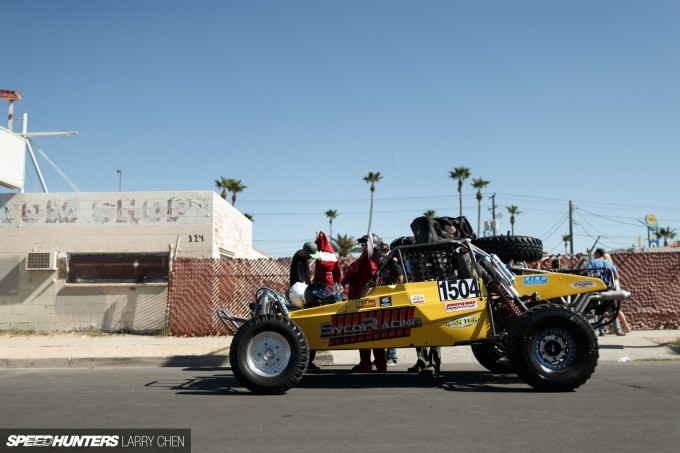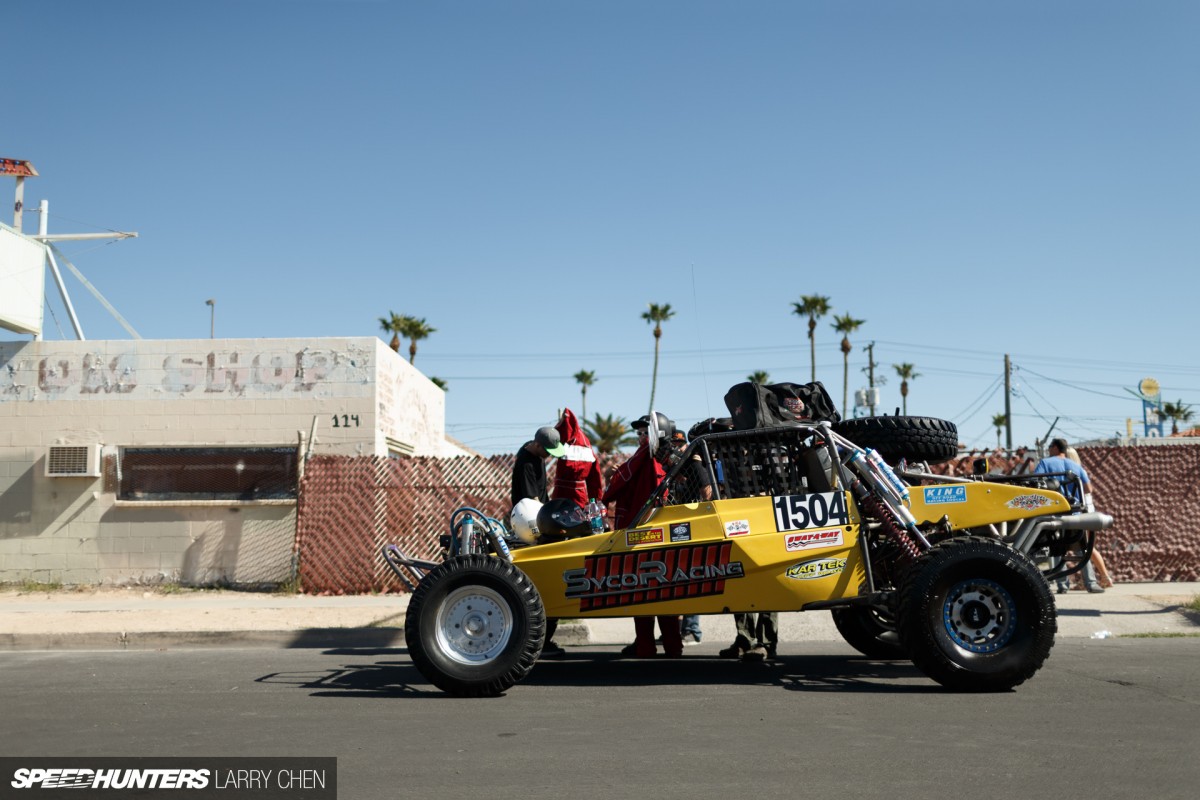 Last year I only had the chance to check out race day, but this year I came out a few days earlier to experience everything the Mint 400 had to offer – and I'm very glad I did. The event is very spectator friendly in all aspects. The smiles in those black and white photos relays the same joy that I experienced at the very same event, over 40 years later. It made me realize that everything awesome about the Mint 400 has not changed since 1971. Because this is much more than just a race in the desert – it's a celebration of racing culture in general.
Stay tuned for part two of my coverage…
Larry Chen
Instagram: larry_chen_foto
larry@speedhunters.com