Old school Sunday
Summer may have just wound up down here in New Zealand, but despite the onset of shorter and colder days, the automotive event season is still in full swing. I've hit up multiple shows, festivals and motorsport meets over the course of the past couple of months, and this past Sunday I couldn't help but add one more to the tally: the 4&Rotary/NAC Insurance NZ Japfest.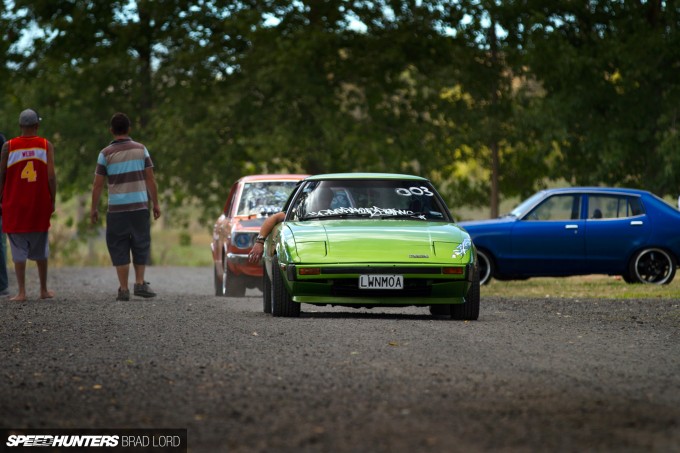 Up until a few weeks ago, Japfest wasn't on my radar – not because I missed 4&Rotary Promotions' memo about the newest event in its line-up – but because the event didn't exist. The annual Rotary Summerdrags – a one-day celebration of all things Mazda rotary-related – was scheduled to be run over the weekend, but its last minute postponement presented 4&Rotary with a unique opportunity to try something new.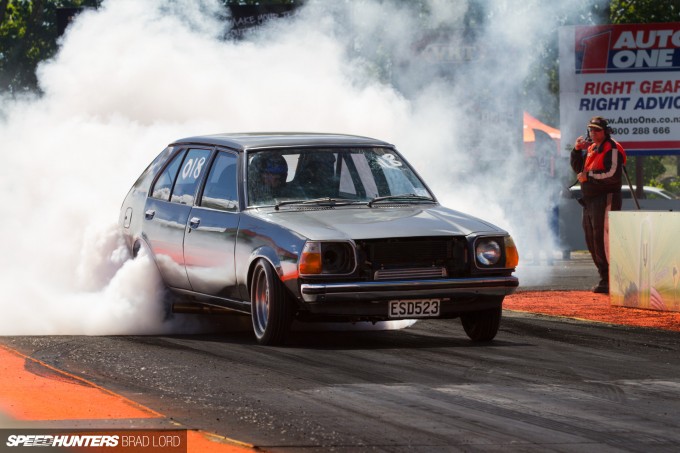 Given his penchant for old school Japanese tin – specifically those of the rotary kind – I wasn't at all surprised when 4&Rotary's Azhar Bhamji told me he was going to hold an event squarely aimed at the pre-1985 set. It sounded like a great idea.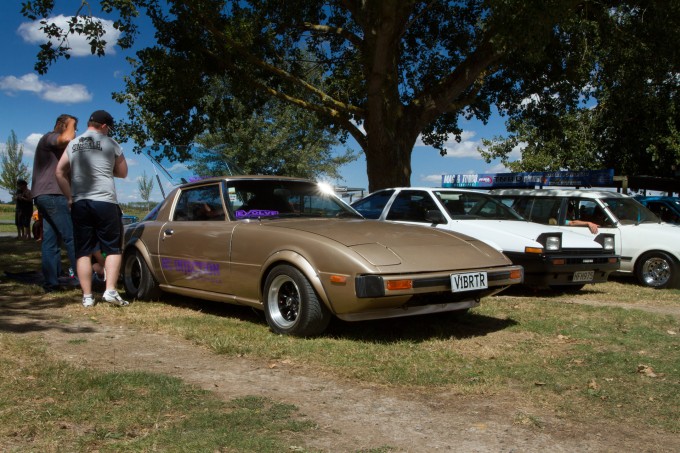 4&Rotary's mainstay are big events like January's annual two-day Nationals, but right from the get-go, Japfest was going to be different and more about a fun day out with friends – with the added bonus of a drag strip and skid pad – than anything too serious.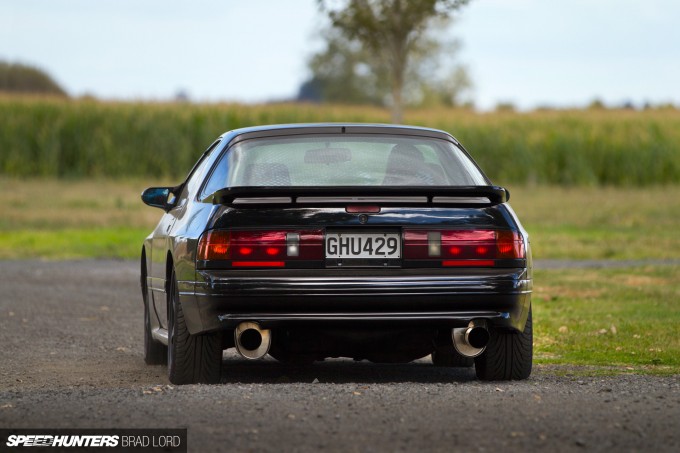 I didn't need any more convincing, so early on Sunday I met up with my good buddy Cam and headed down to Fram Autolite Dragway in his recently-imported series five FC3S RX-7.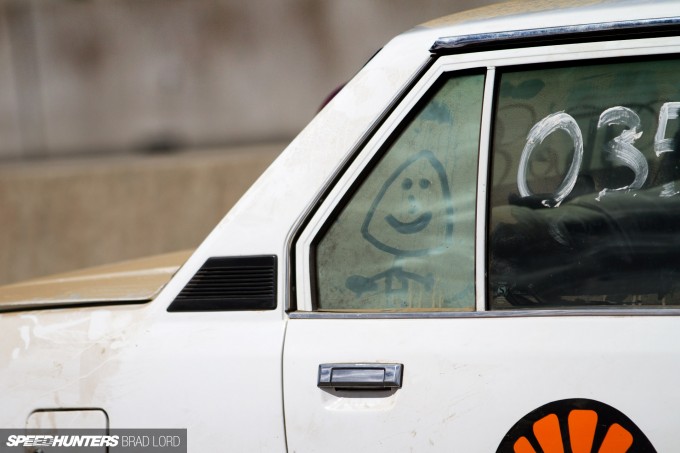 I didn't really know what to expect when we drove through the gates, but looking around the pits it quickly became evident that rotary-powered machines would be running the show, and by a ratio of more than 10 to one.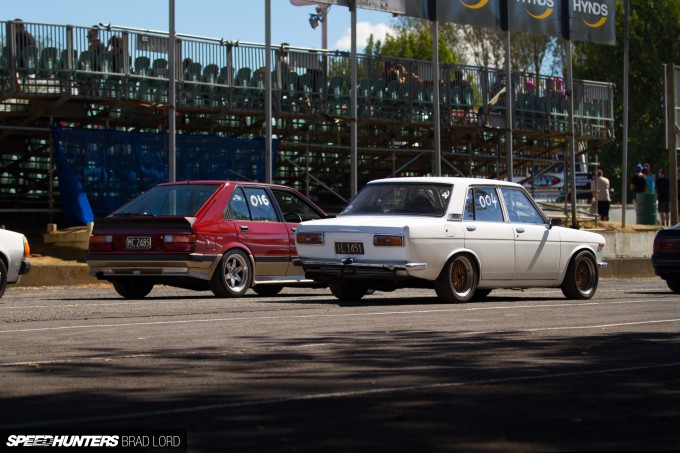 While it would have been nice to see more cars like this '85 Nissan Pulsar ET Turbo and Datsun 1600 (510) on the entry list, there was still a really interesting array of machinery to take a closer look at.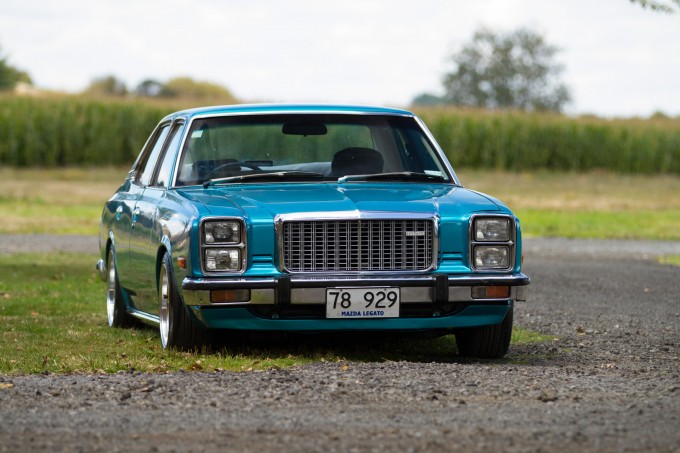 I can't remember the last time I saw a second gen Mazda 929 period, let alone one in as good condition as this example. It's amazing how effective some paint plus a simple wheel swap and suspension drop can be.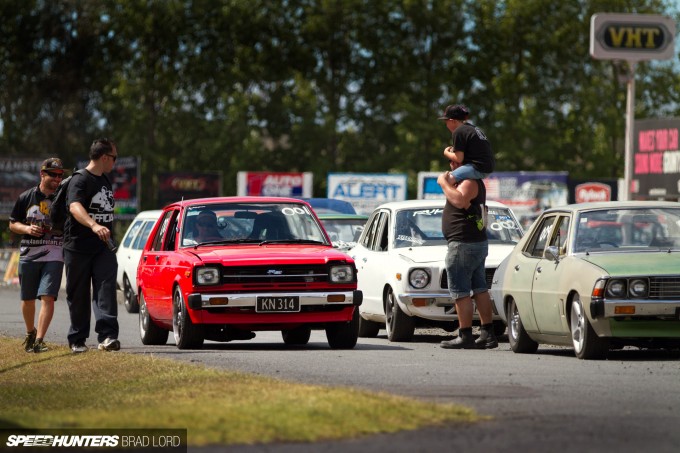 As much of a perfect candidate for a worked 4A-GE the KP61 Starlet might be, as the grille badge suggests, rotary engines fit quite nicely too.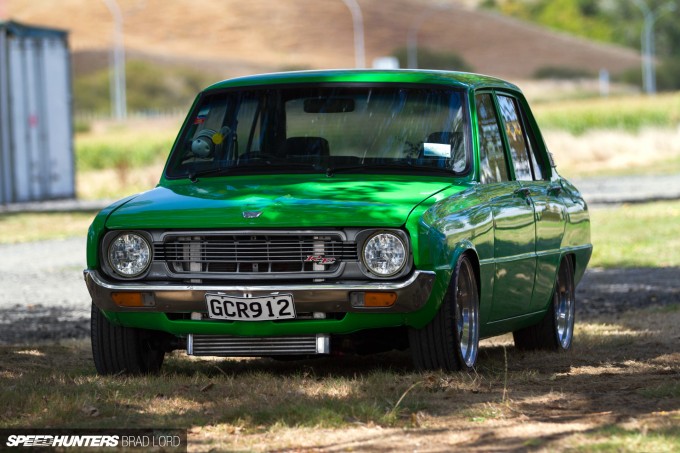 The Mazda 1300 as well? Well, that's a no-brainer.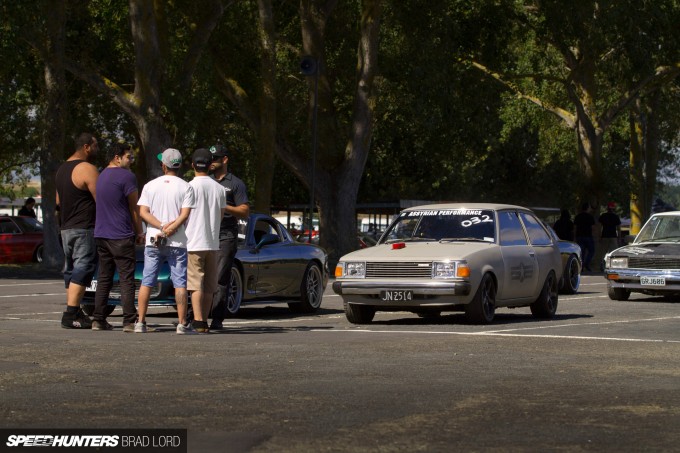 The day's relaxed programme allowed drivers to essentially race when they wanted to, and with no limits on how many runs down the quarter they were allowed to make. Some turned around straight away, while others were just as happy shooting the breeze in between passes.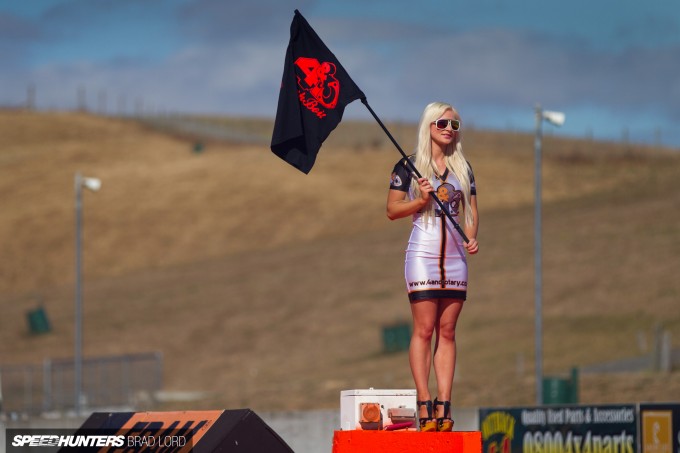 In keeping with that, the staging lights were replaced with 4&Rotary spokesmodel Vika, who started races with an old-fashioned flag drop. ETs weren't recorded either, but a couple of flag bearers at the finish were tasked with signalling which car crossed through the deep end first.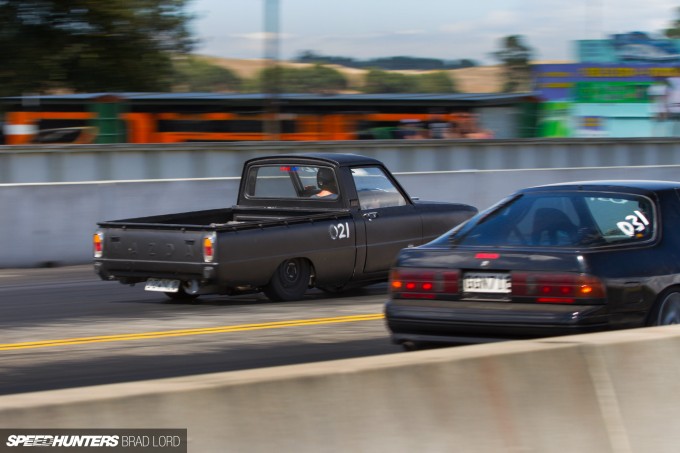 It all made for some pretty cool, and often very close, heads-up racing.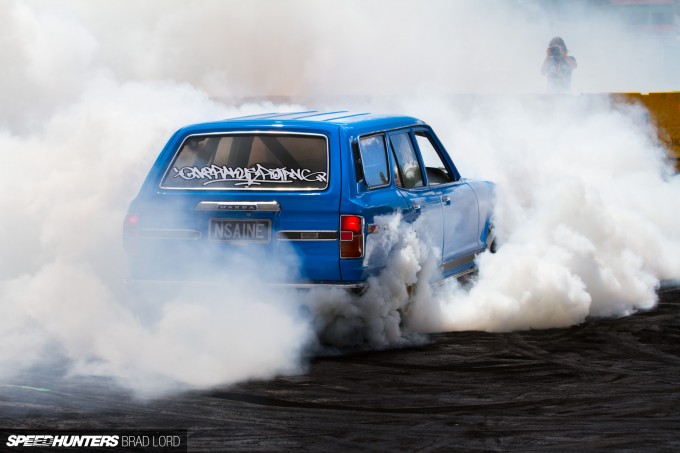 Burnouts were a big part of the day too, with three sessions allowing ample opportunities for competitors to lay rubber tracks.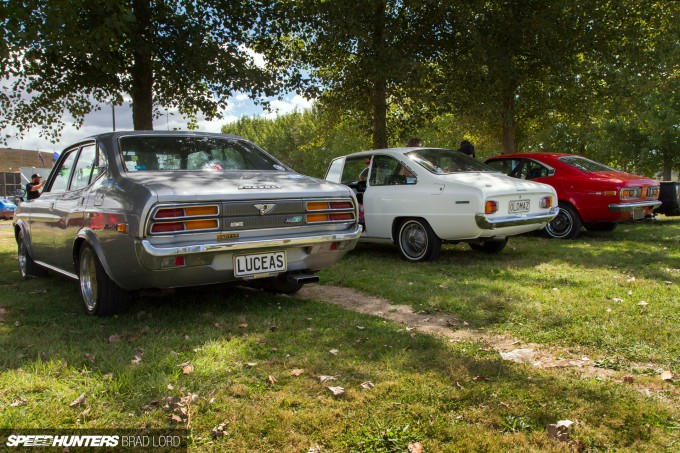 Or not – many owners simply choosing to park up and enjoy a lazy day in the sun instead.
Choose your flavour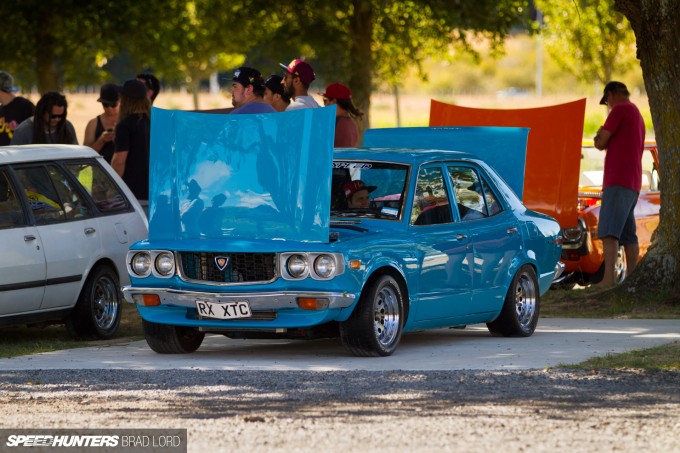 If I had to define the classic Kiwi approach to old school Mazda modification, this Mazda RX-3 sedan would probably sum it up nicely. Chrome Modular or 'Modgie' wheels – in 13 or 14-inch diameter and seven or eight-inch widths – hark back to a bygone era when 15-inch aftermarket rims were considered exotic in this part of the world. The muscle car vibe these wheels afford is further enhanced by tyres with proper raised white lettering on their sidewalls – a prerequisite for the look.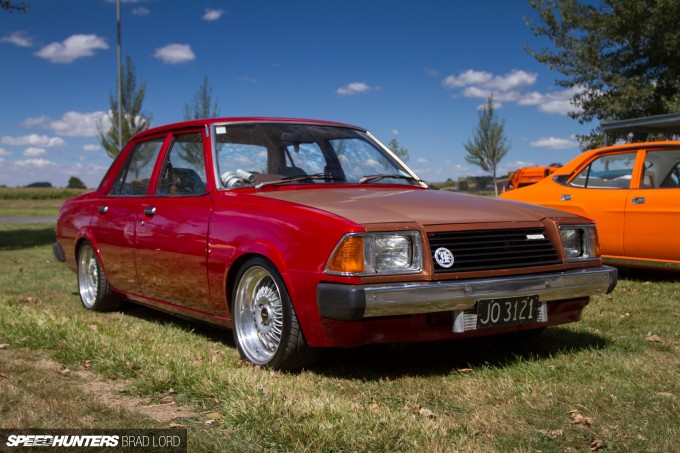 Then there's Simmons three-piece wheels which have been a mainstay in this performance automotive sub-genre for longer than I can remember, both here in New Zealand and over in Australia where they originate from. Because these wheels are built to order, there's a lot more versatility – especially when it comes to width, diameter and offset – as this rotary re-powered Mazda 626 goes to show.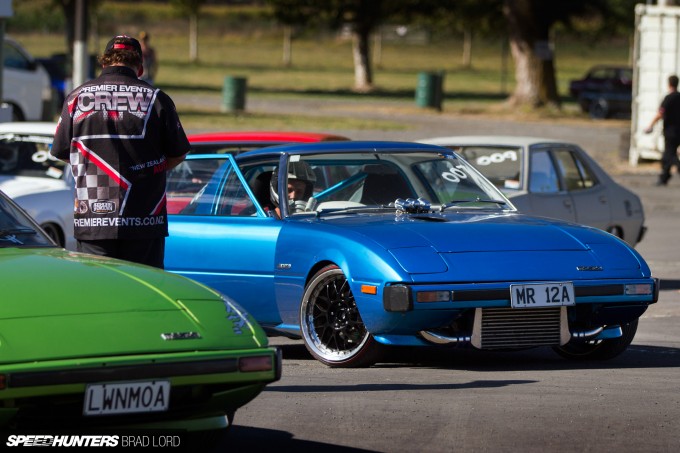 Despite dividing opinions, larger diameter and more modern-styled wheels are a popular fitment too. Simmons are a popular choice again, as are a multitude of other brands available in this country. Personal preferences aside, I think this 12A turbo SA22C RX-7 pulls the style off nicely.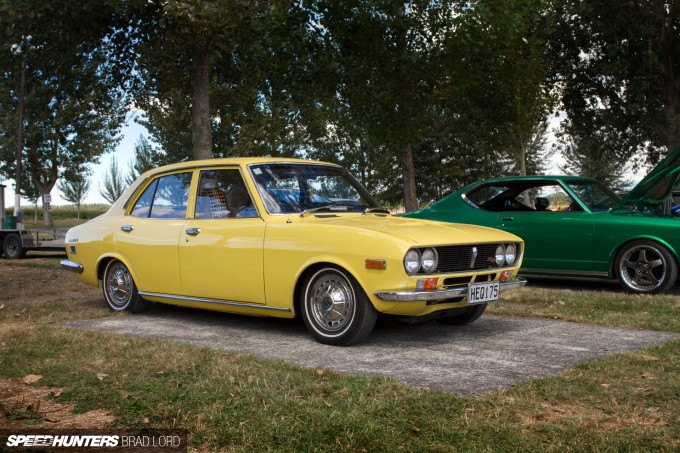 Not everyone is interested in aftermarket options though. This sweet little 1975 Mazda RX-2 achieves its look through restoration and lowering alone. I'm really feeling this approach.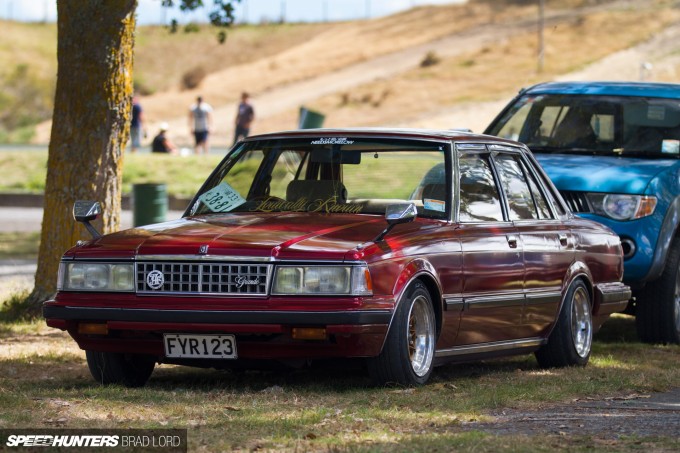 Although it's not all that popular in the rotary realm – perhaps due to the slightly unconventional stud pattern belonging to early Mazdas – more and more old school Japanese cars in New Zealand are being fitted out with period wheels from the motherland. This cool and low-slung '84 Toyota Cressida – aka Toyota MkII – from the Locally Known car club completes the picture with fender mirrors and numerous other JDM-spec details.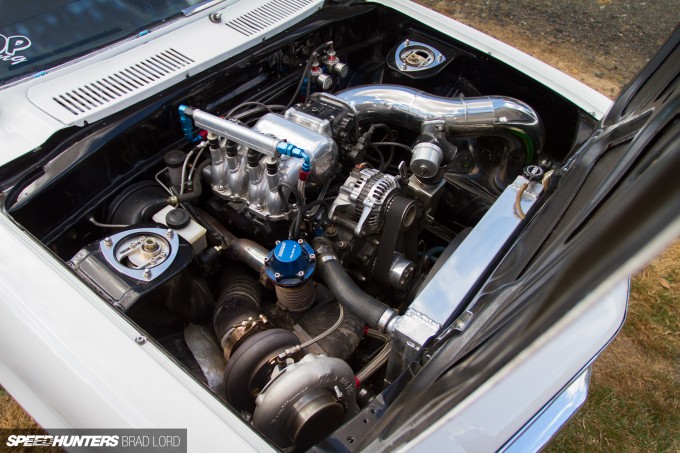 Although there was only a small turnout of cars at Japfest, there was no shortage of quality. This engine bay from a Mazda 808/RX-3 you'll see smoking the bags in the next chapter is home to a tough-looking 13B equipped with a rather large BorgWarner turbo.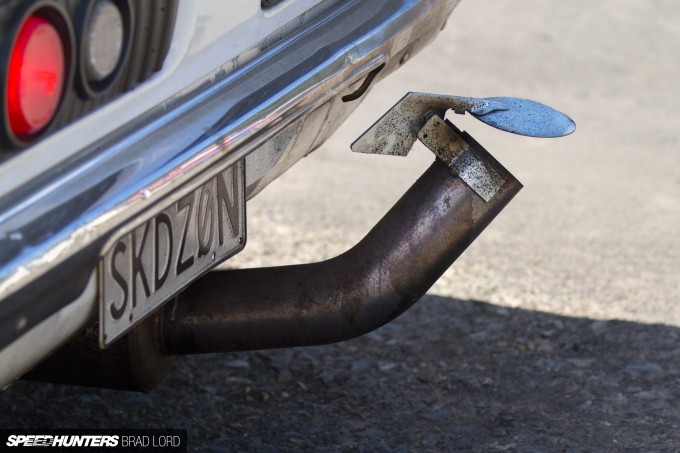 As serious as the motor looked, this little detail did it for me. The flap-lid bounced up and down at idle, then switched from full open to full shut at each consecutive gear shift down the strip.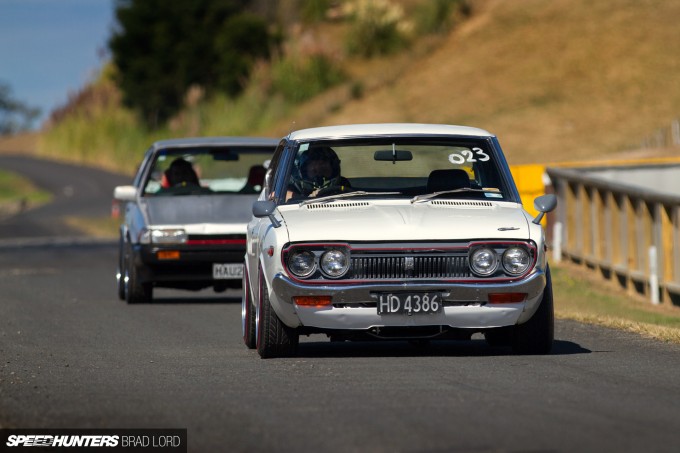 Although I didn't get a chance to look under the bonnet, this NZ-new '73 Datsun 140J – AKA Nissan Violet – now beats to the drum of an SR20DET. In light of the P510 and B110, I'd never really thought about the potential of the 710 fastback sedan, but given the engine conversion and the way it looked dropped on wide, low-offset wheels, this example definitely opened my eyes.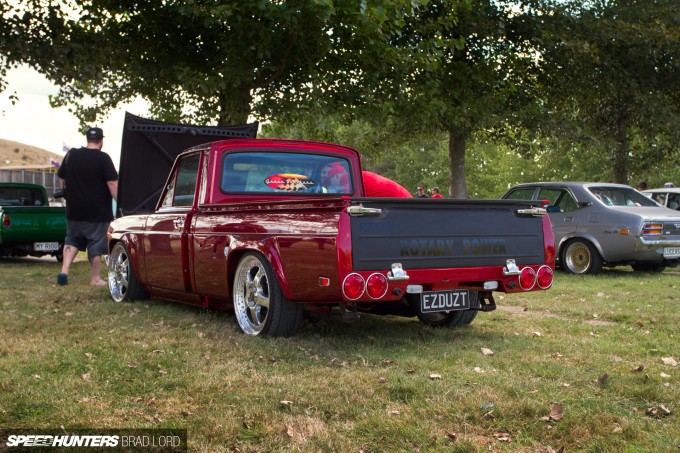 Despite being built for the US and Canadian markets, and therefore only ever produced in left-hand drive form, a few Mazda Rotary Pick Ups (REPU) have found their way to New Zealand. None I doubt are as extensively modified as this one though. There's the way it looks for starters – House of Kolor Kandy Apple Red paint and Simmons FR-series wheels to set the visual tone.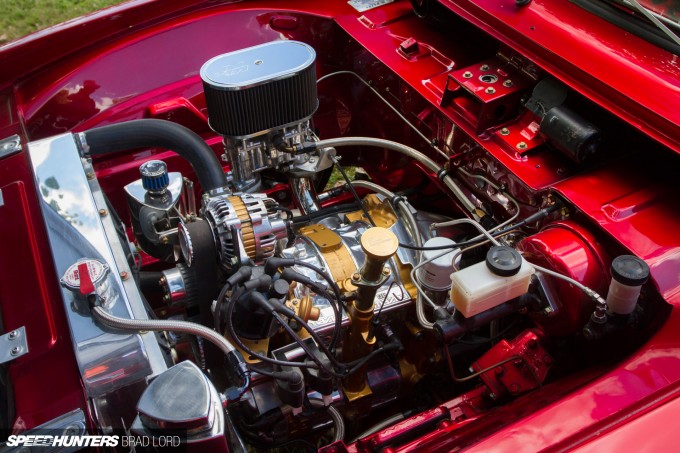 It's very nicely executed under the bonnet too: a Green Brothers Racing 13B peripheral port engine to provide the little truck with some decent naturally aspirated power to boot.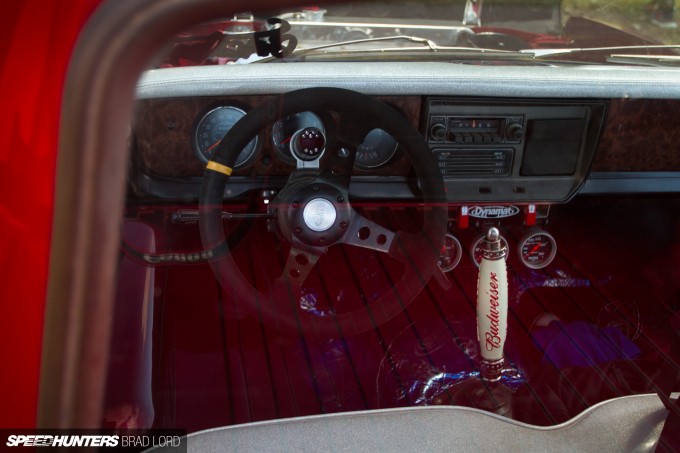 It looked like there was still a little bit of work to be done in the interior, but that Budweiser tap handle shifter is a cool hat-tip to the REPU's stateside roots.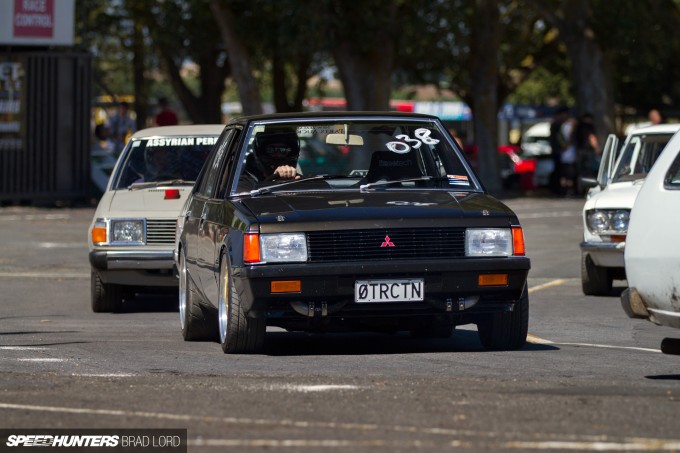 It might have been one of the odd ones out amongst all the rotary-powered craft, but this '82 Mitsubishi Lancer EX was one of my favourite cars at the event. Its motive power? A built 4G63 from a Lancer Evo generating 500hp on a medium-boost tune, which goes some way to explain the 'zero traction' license plate. I'll be bringing you a full feature on this manic little street-registered machine within the next couple of months…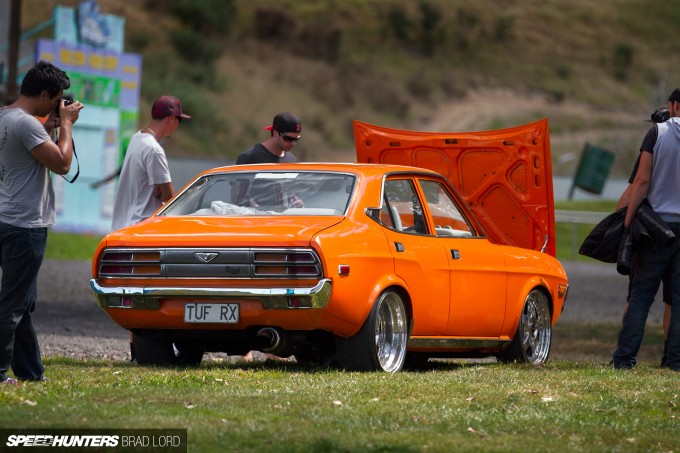 Although it didn't take to the strip, or partake on the skid pad, this '79 Mazda 929/RX-4 conversion attracted a constant stream of attention. Flawless custom orange paint, a low stance and mega-dished Simmons wheels on the rear end are a nice hook.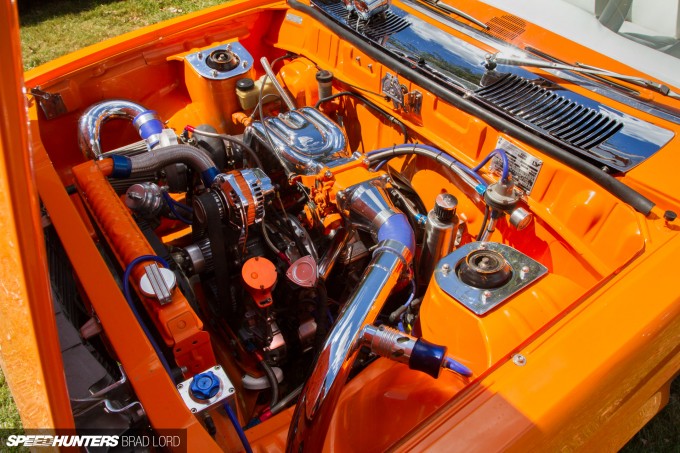 But it's definitely no show pony. A serious 13B turbo package takes care of that fact.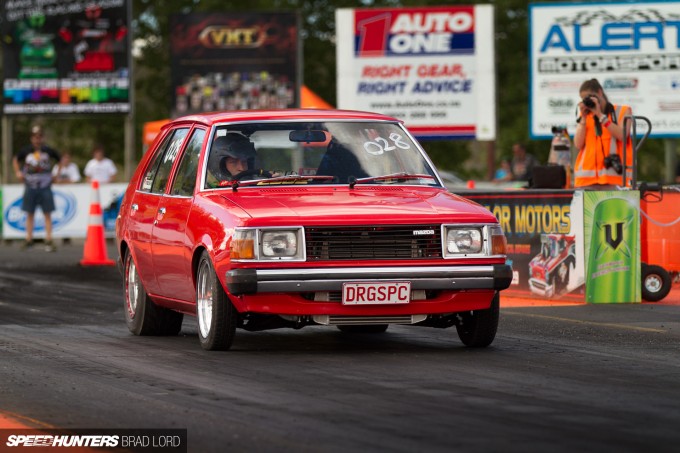 As always, there were plenty of rotary-converted Mazda 323s rolling around, but this tough drag-prepped streeter really caught my eye. Apart from the big wheels and tyres on the back, there's a Curran Brothers Racing (CBR) 13B turbo motor under the hood providing 500hp.
Land of the long white cloud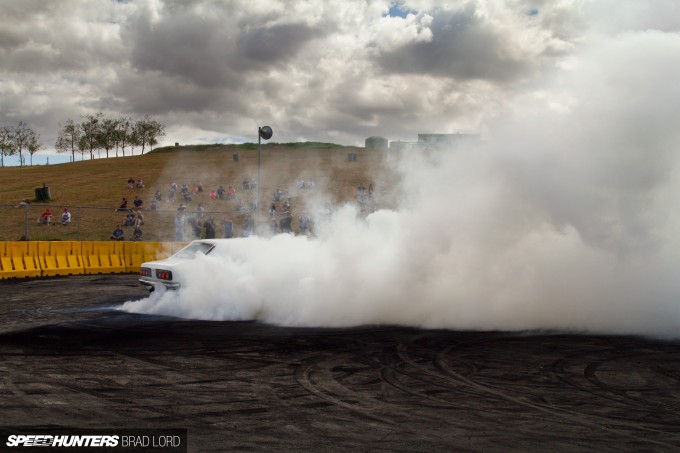 As I alluded to earlier in this post, burnouts were a big part of Japfest, and anyone with an inkling to destroy a pair of tyres was encouraged to do so on the facility's 'Scorched Earth' skid pad directly adjacent to the drag strip.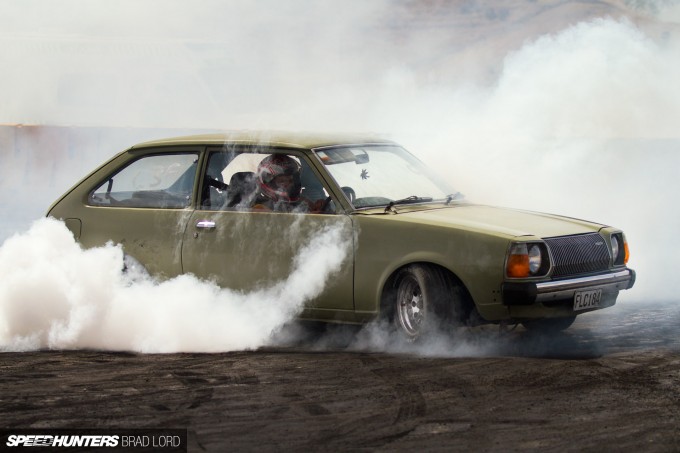 Except, those that took part definitely didn't require much encouragement at all.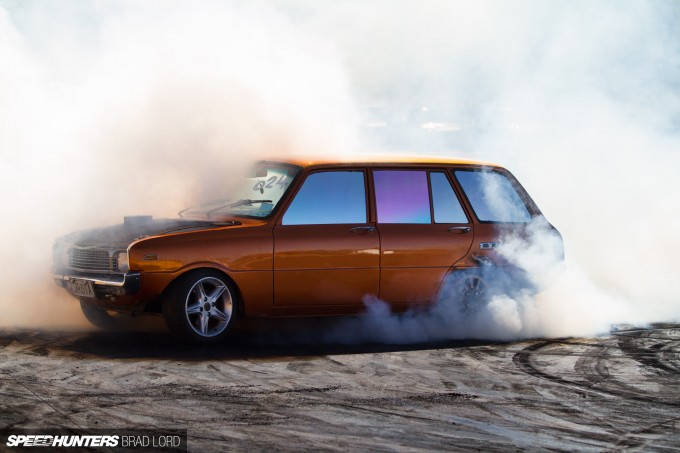 While there were a handful of piston-powered machines in the pits and cutting quarters, it ended up being a rotary-only affair on the pad.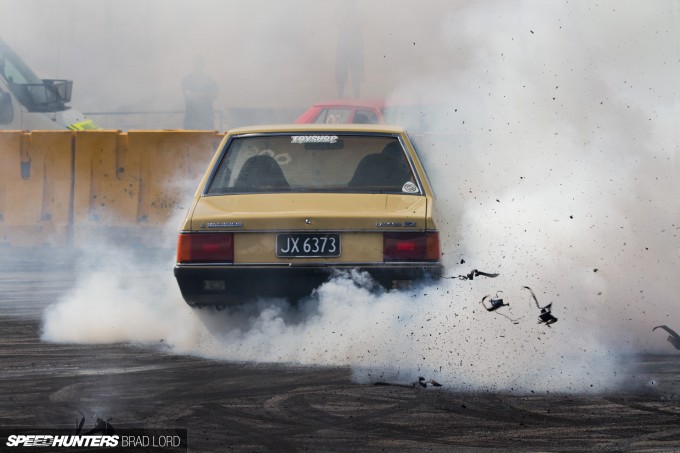 For many participants – like the owner of this rotary-engined Mitsubishi Lancer EX – that meant not exiting the pad until the rear tyres were properly destroyed. For once I managed to avoid being hit by burning shrapnel, which was nice.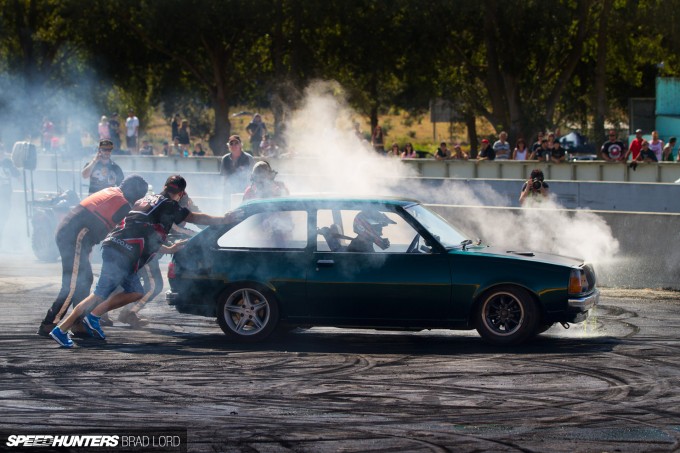 Others burnout-ees weren't so lucky though. After a couple of minutes worth of ruthless redline-bashing, overheating got the better of many, including this naturally aspirated Mazda 323.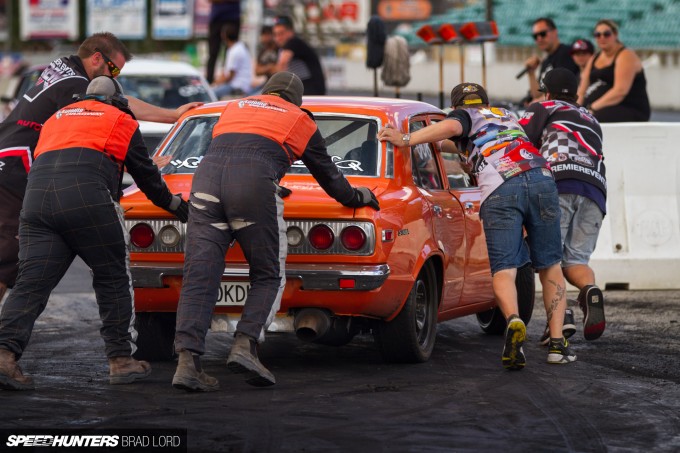 For others, the damage was a little more terminal. This RX-3 sedan was putting on a pretty good show, until some grim sounds from within the driveline prematurely ended the fun. Mechanical carnage comes with the territory though, and I got the distinct feeling that many drivers entered the pad with no expectations of driving back out again.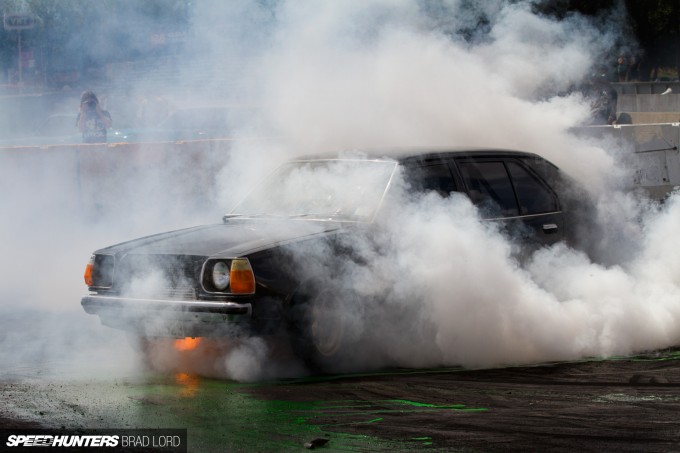 Whether cars left under their own power or by a push from the safety crew, the pad was never empty for long though. If there's one thing better than thick plumes of smoke in a burnout competition, it's smoke and fire. Thanks to an atmo-vented wastegate screamer pipe, this 323 was one of a few cars that put on a show with both.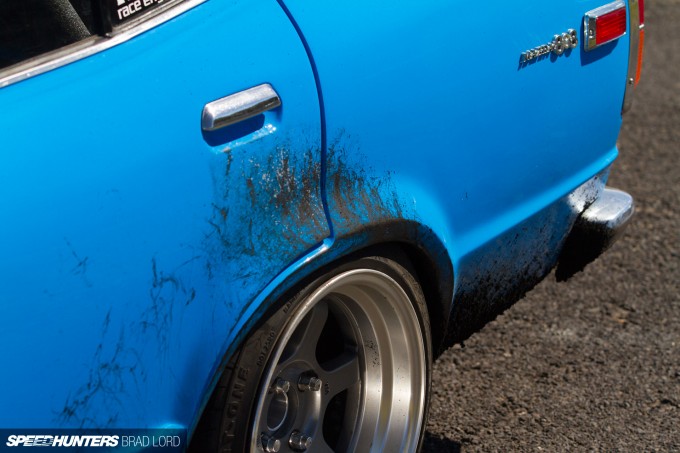 If a burnout's success is measured by the amount of burnt rubber sprayed around the rear wheel arches, then this 808 wagon did a pretty good job of things. Bonus points should probably be awarded for skidding up a pair of RAYS Volk Racing TE37Vs too – I'm just happy the tyres didn't go pop!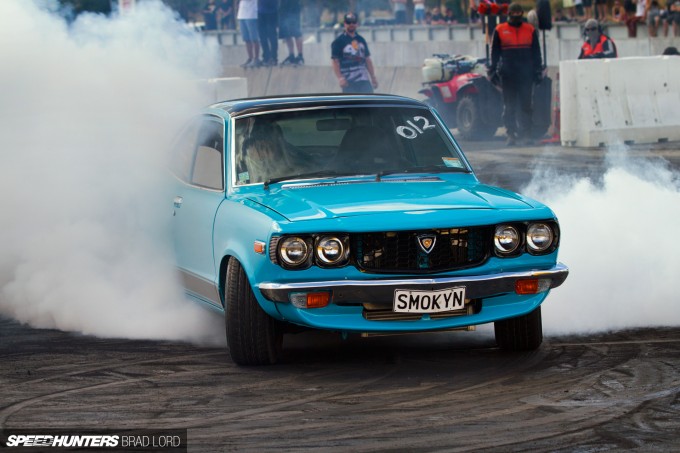 Mr 4&Rotary is a very busy man when he's running one of his large events, but Japfest allowed Azhar the rare opportunity to really get amongst the festivities and compete. His '74 Mazda RX-3 coupe certainly lived up to its SMOKYN moniker, but turning tyres is not an issue when there's a Pulse Performance Race Engineering-built 20B peripheral port engine singing up front.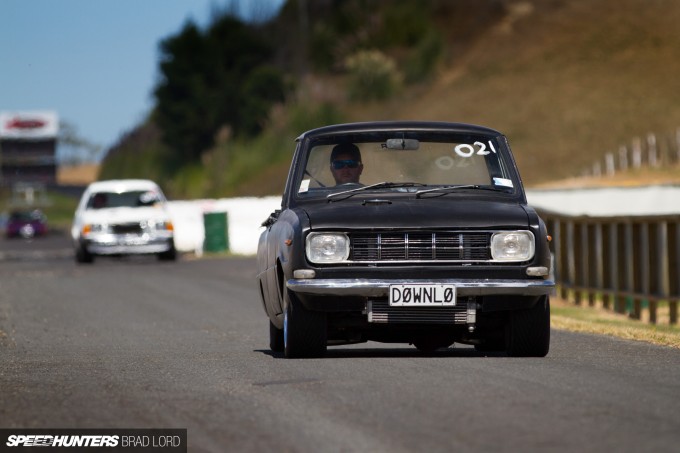 Despite the small turnout of racers and spectators, I'm sure I wasn't the only one at Fram Autolite Dragway during the weekend that saw a lot of potential.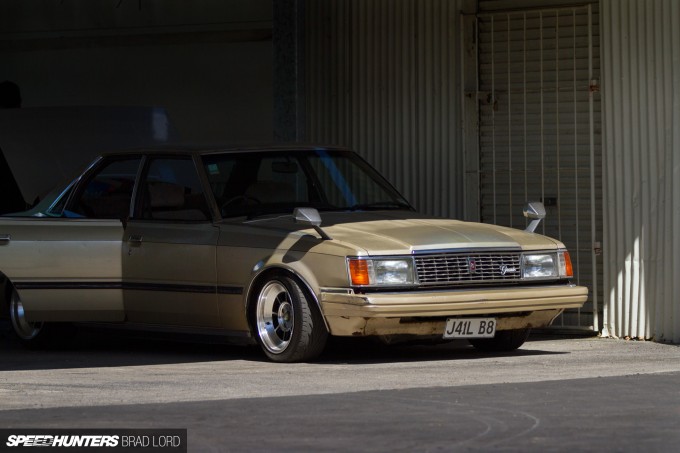 In fact, given the growing vintage Japanese car movement in New Zealand and the relaxed atmosphere that the inaugural Japfest afforded, I think it could quite easily be turned into something big.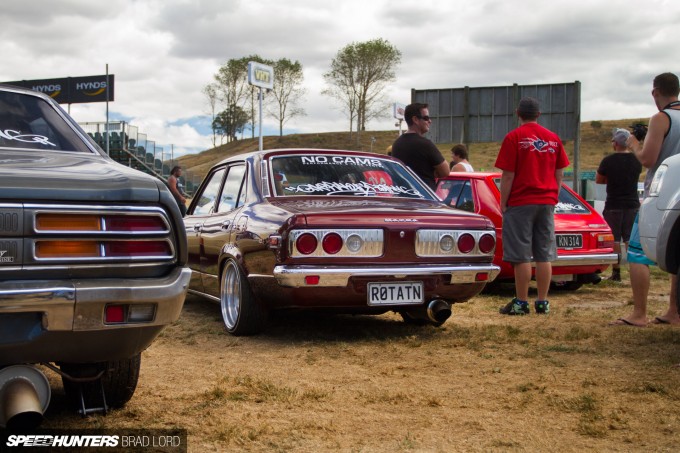 In many ways this event reminded me of the early days of sport compact drag racing in New Zealand, when there was less focus on who had the quickest car, but more on having a good time with a bunch of good people. In my mind, that's what it should be all about.
Brad Lord
brad@speedhunters.com