Seeking excess for sport
It was over coffee with Luca Venturi, Pagani's Communications Manager, that the topic came up. Does this year's Geneva International Motor Show signal the death of the naturally-aspirated car? Is it all over for the noise and smell of internal combustion? My espresso paused mid-sip as that thought sank in. I looked around the stands that surrounded the Pagani display: hybrids to the left, turbos to the right. Alternative fuels, small-capacity engines. CO2 emission figures. It was clear that change isn't going to happen: it is happening, right here, right now. It's not about future concepts any more, but the cars that will actually be driving on our streets within the year.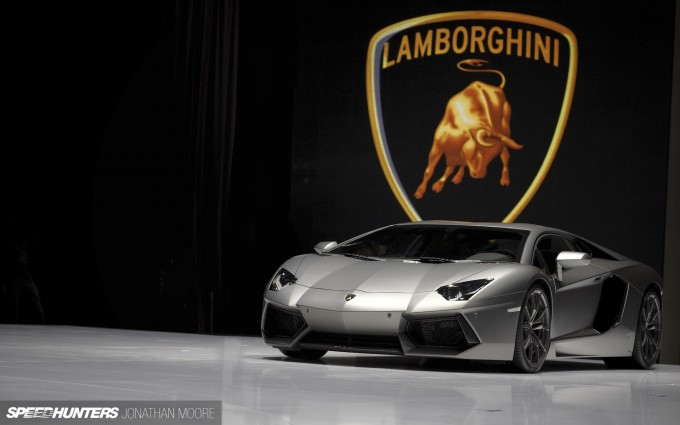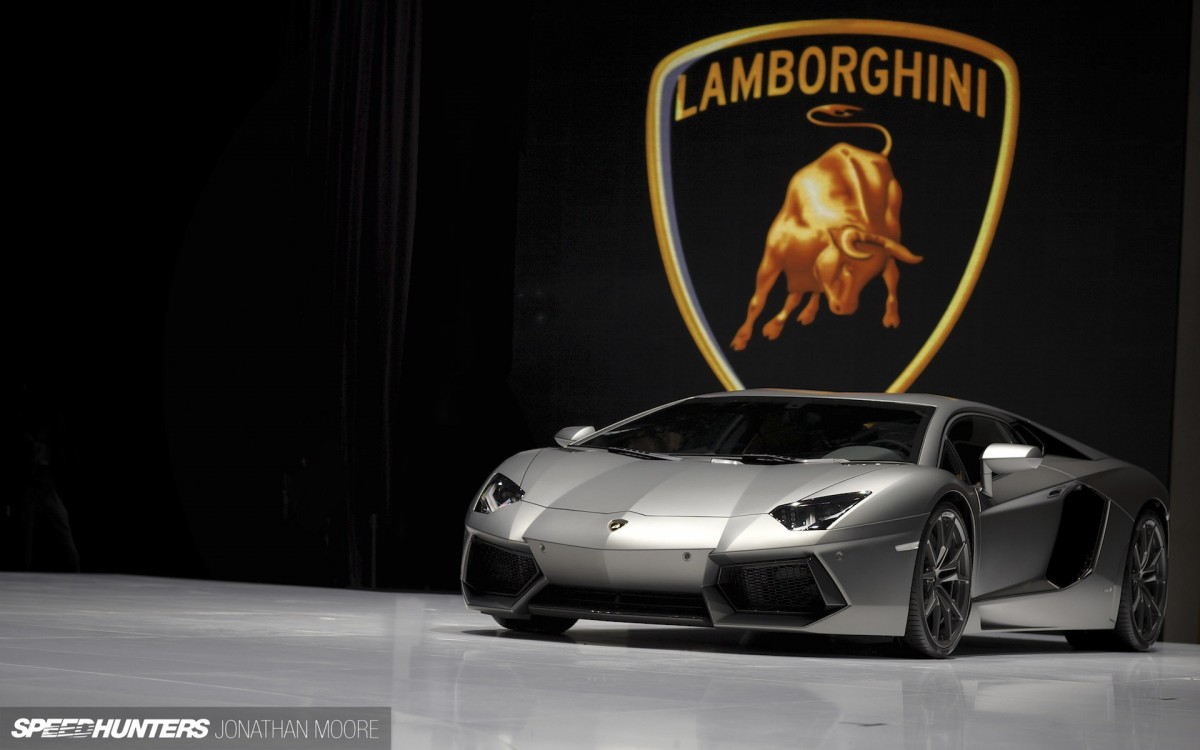 There are still enclaves of excess, sure, especially at the high end. Lamborghini in the supercar mainstream (if I can use that term for such an exclusive club), and of course Pagani themselves.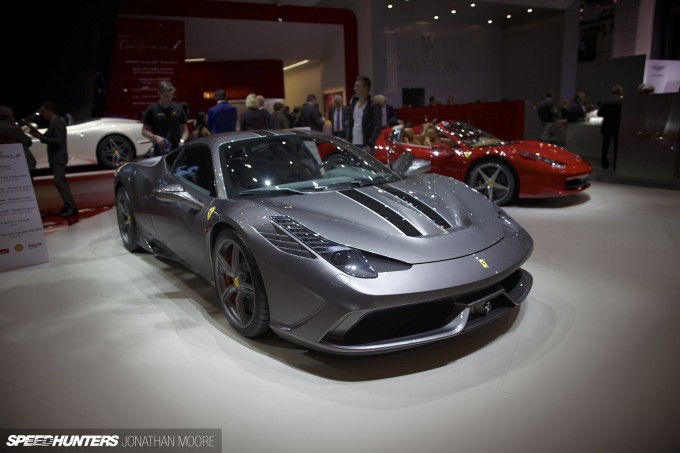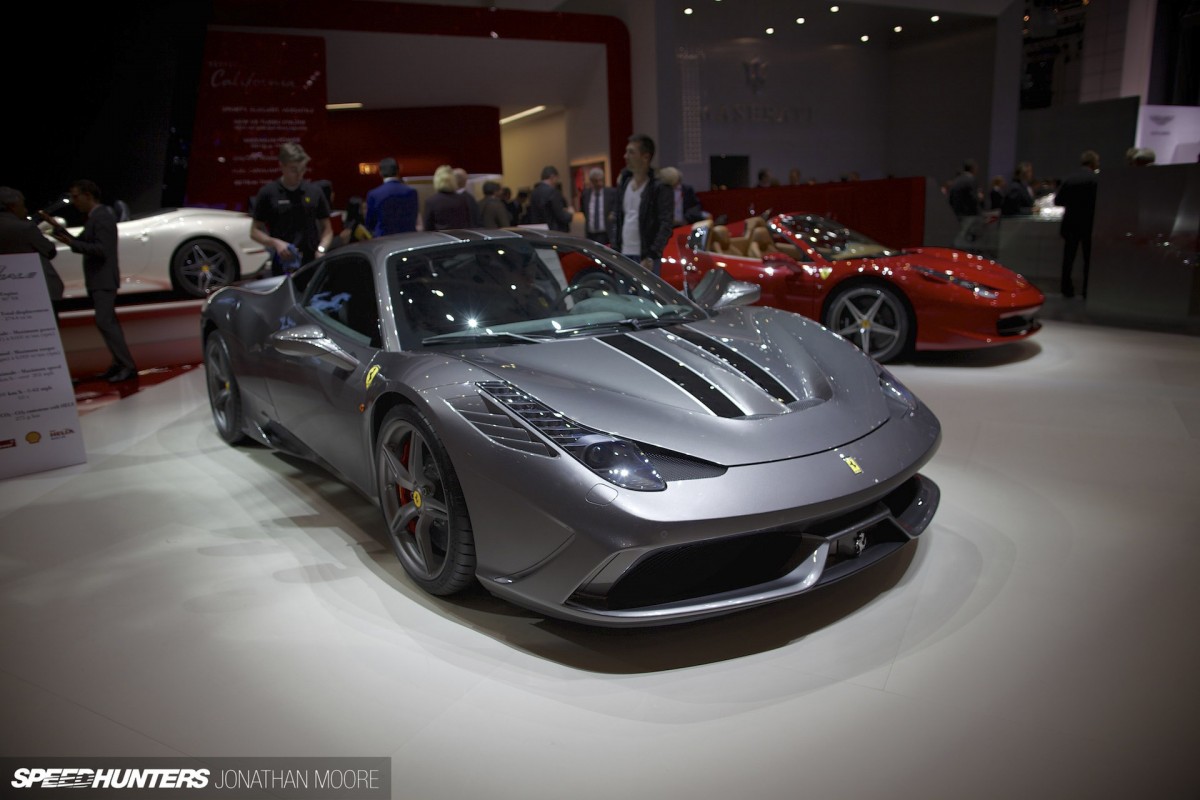 But it's not as if we can even rely on the passion of the Italians to keep true to the purity of howling internal combustion engines. Look at last year's savage weapons: of the big three launches – the LaFerrari, McLaren P1 and Lamborghini Veneno – both the former cars featured hybrid powertrains. How long will it be, I wonder, before that technology trickles down to the rest of the Ferrari range and more?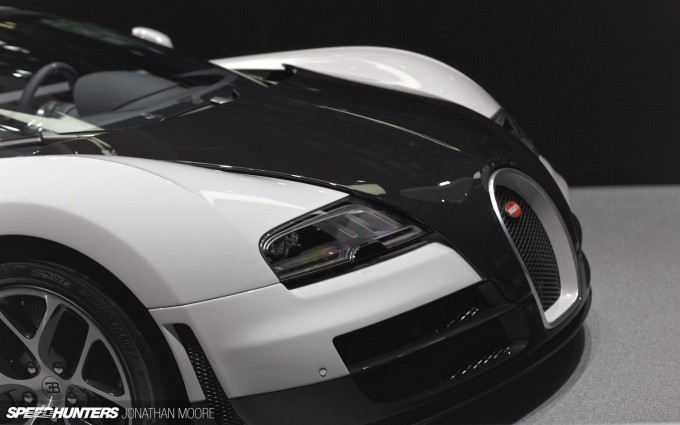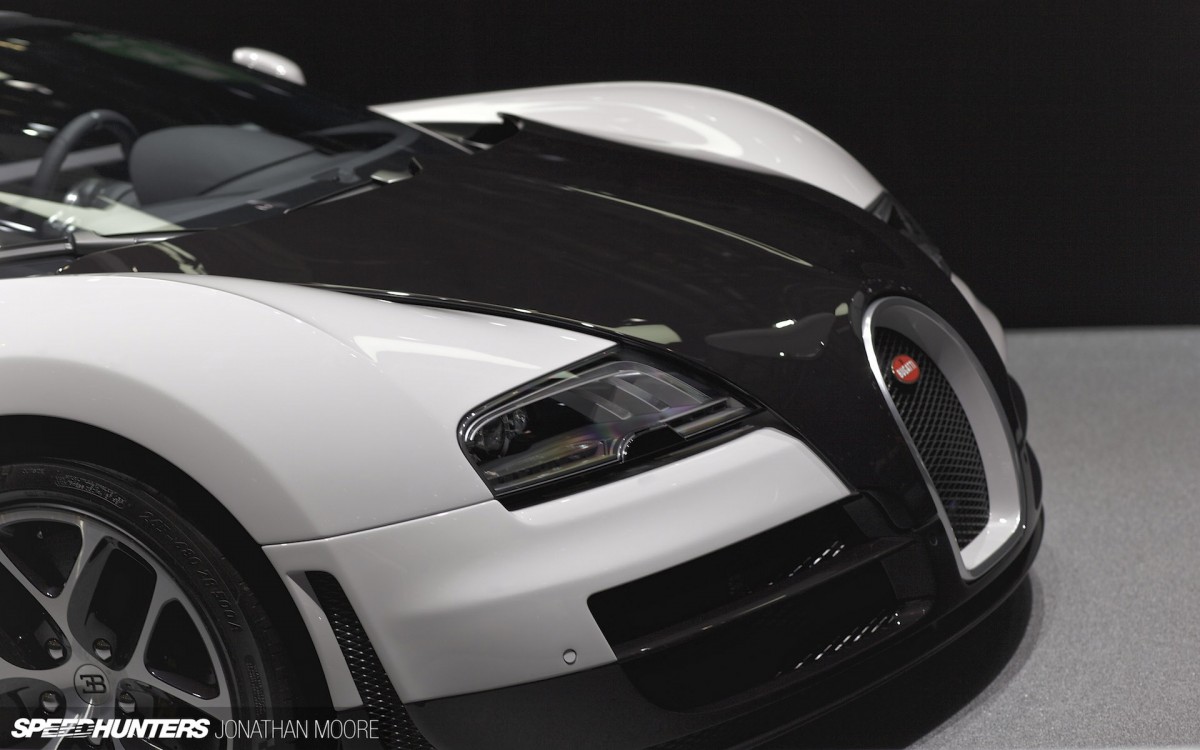 We're approaching an interesting crossroads, that's for sure. I'm not for a minute suggesting that turbos are bad of course. Bugatti's Veyron is still a fearsome thing to behold, despite being in its relative dotage. The Veyron is still the car with a target painted on it, as every year they introduce another power hike and make a Super Grand Super Sport Vitesse Sport for the competition to beat.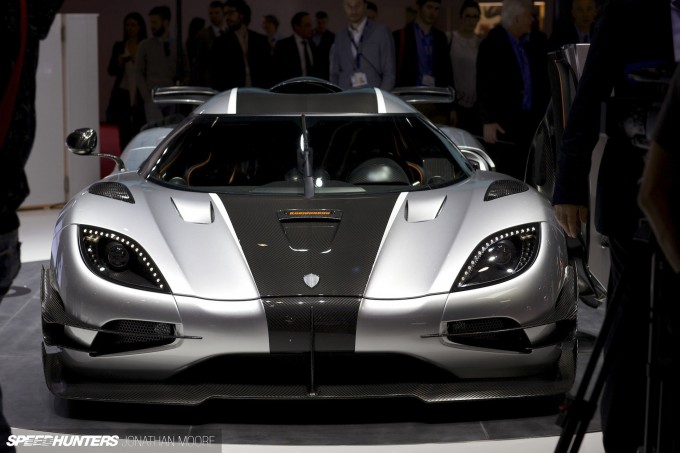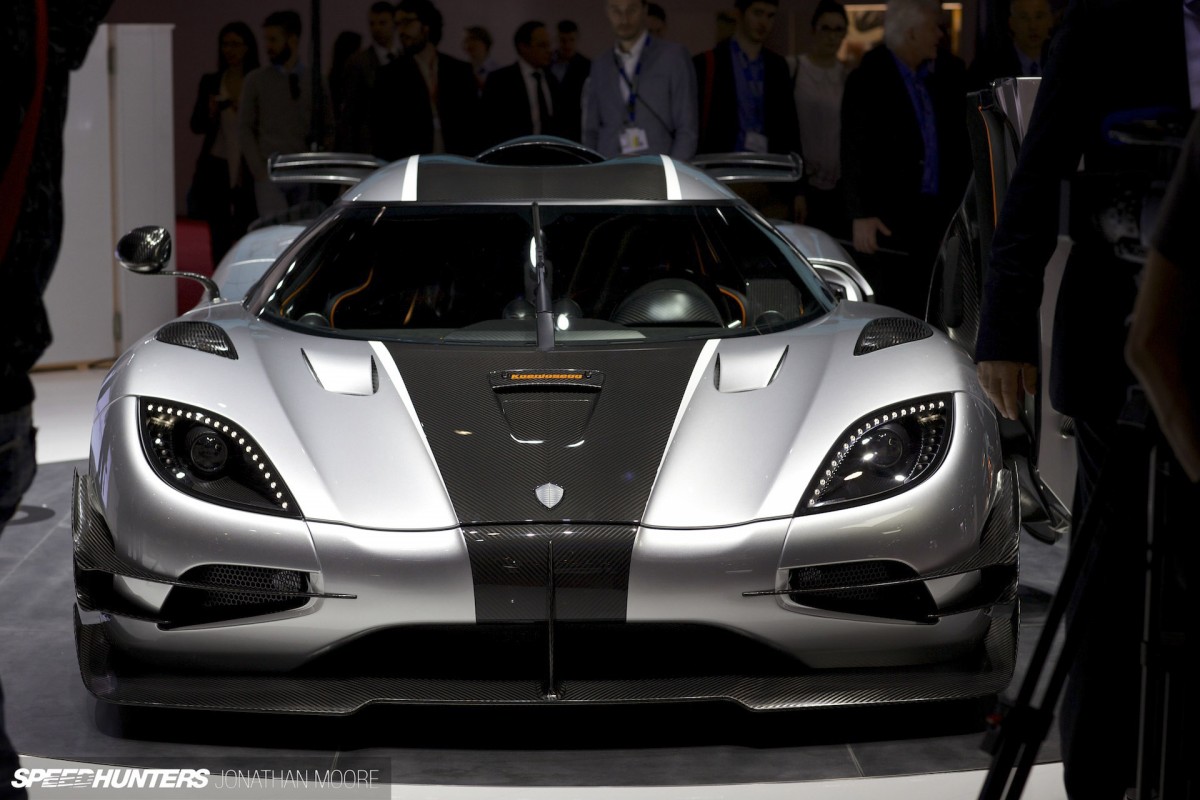 Then there's the Koenigsegg One:1, another example of bananas levels of boost. Both these cars are gloriously obscene demonstrations of power, the Agera hitting that magic one horsepower per kg ratio. But it's interesting that they use a term in their marketing spiel for the One:1 that is colloquially (if incorrectly) connected with electricity: the megawatt. Prescient, perhaps? Or just a better fit for publicity?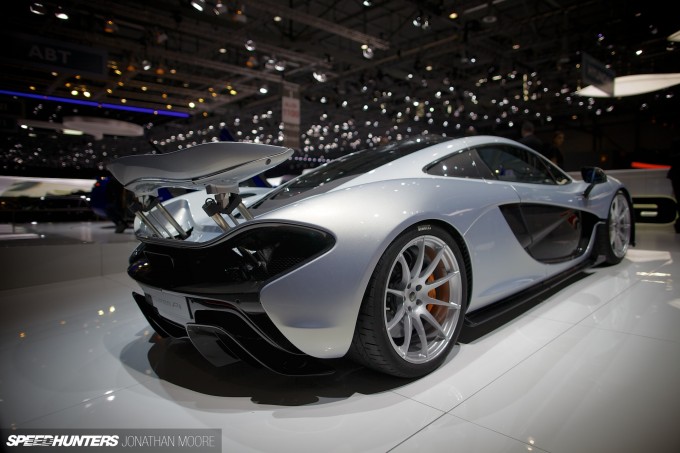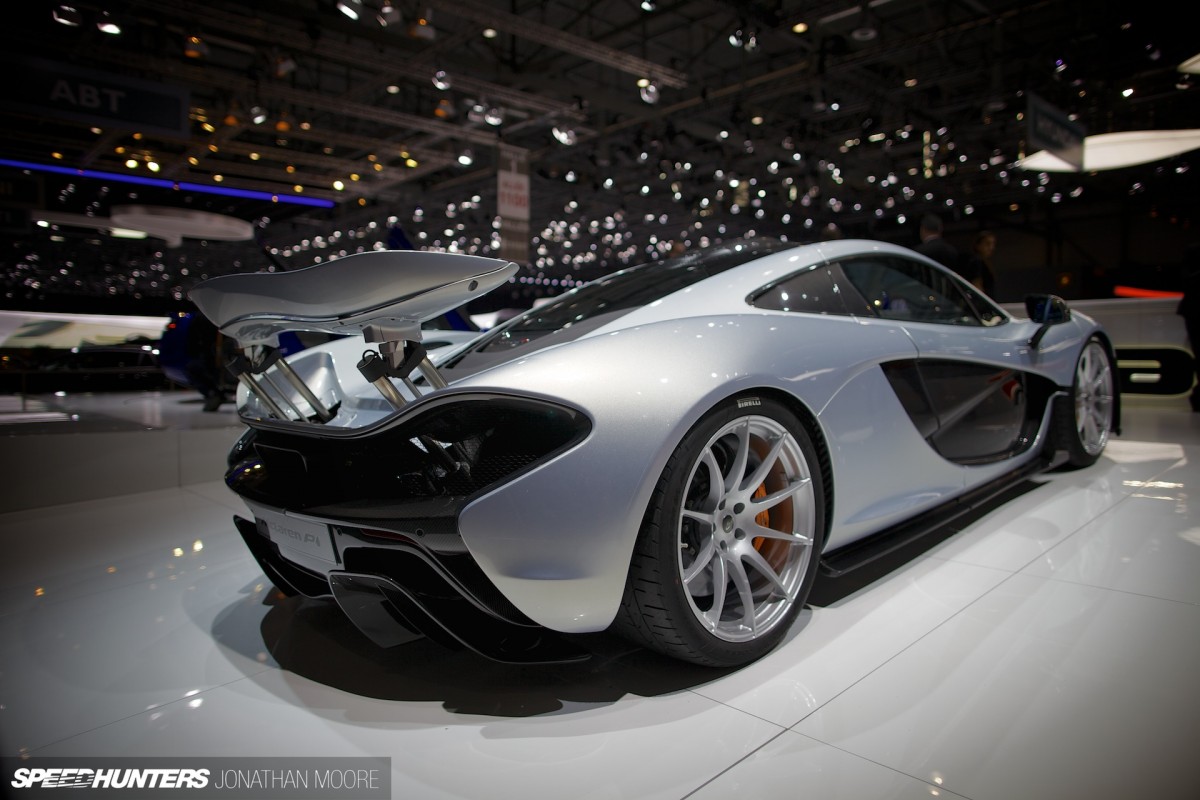 So the hybrids then. In today's world, how can it not be sensible to design a hypercar that can actually drive through a capital city's streets without causing the world to end? Though it will be strange that instead of people's heads turning towards an oncoming supercar because of the noise it makes from afar, it'll be more a case of eyes following the car in disbelief as it silently disappears around the next corner.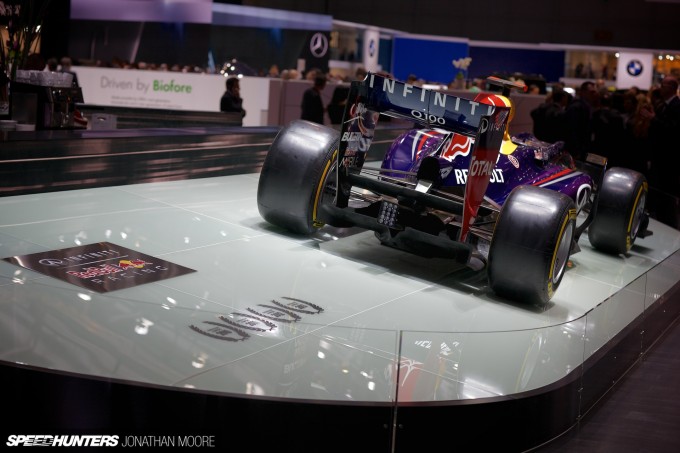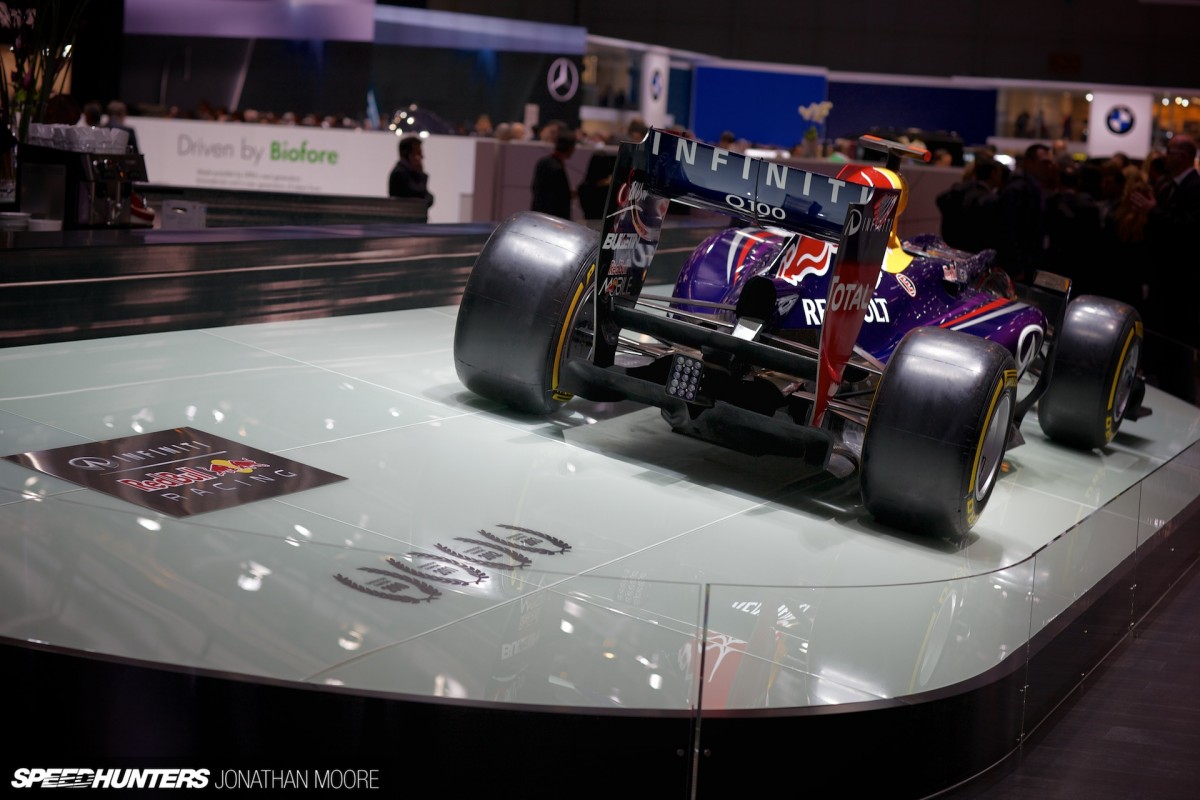 Even Formula 1 is driving in that different direction now, away from the days of the big-bang, pure petrol engines.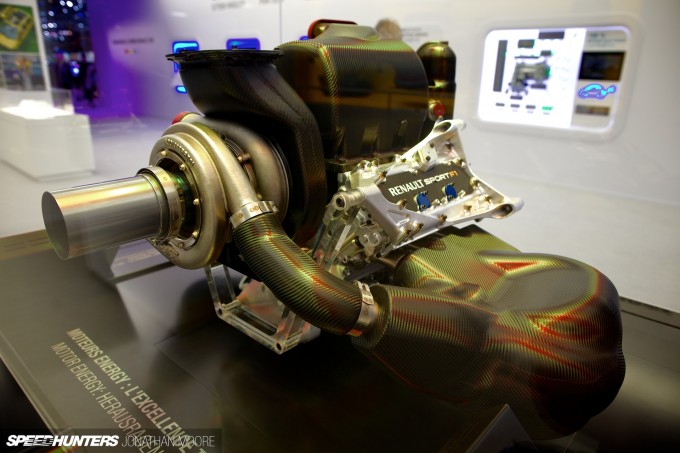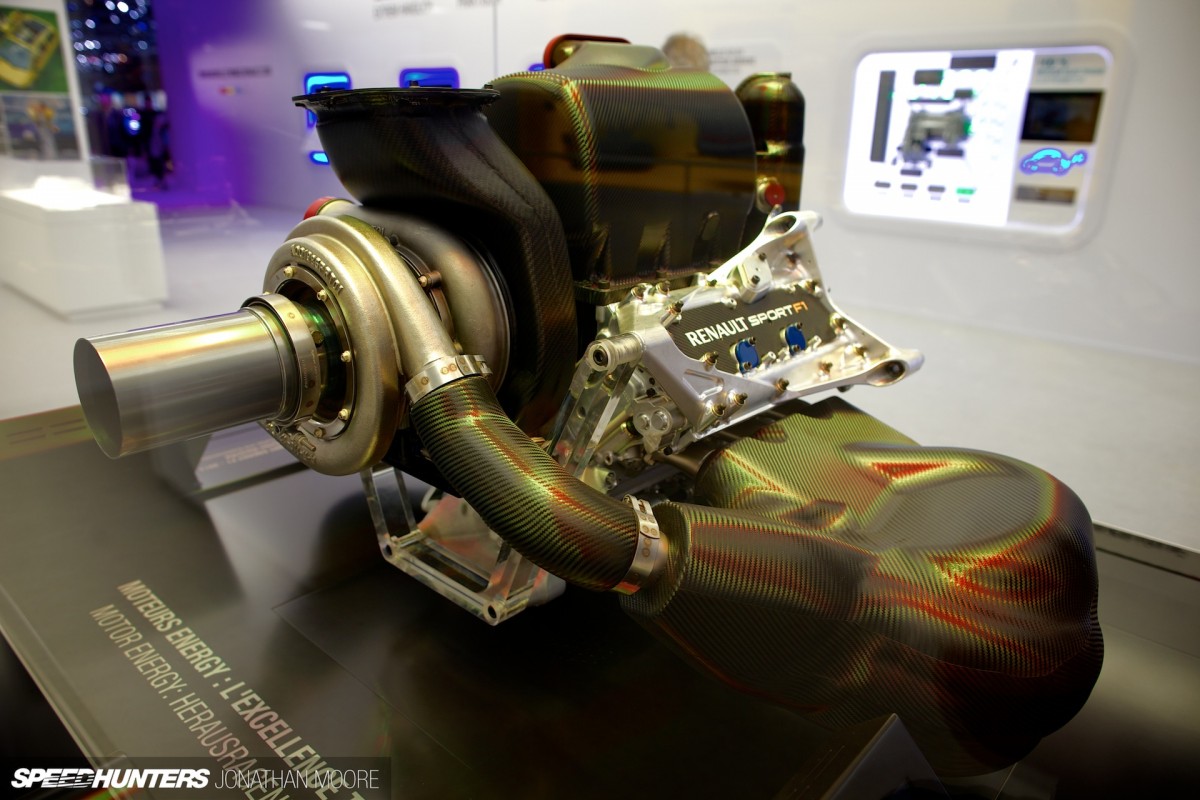 It's not even as though this signifies a return to the glory days during turbo's first era in F1, when engines were extreme speed grenades waiting to go off. F1 2014 is a real reflection of the impact of incredibly complex technology on what used to involve more oil and spanners than computers and lithium-ion.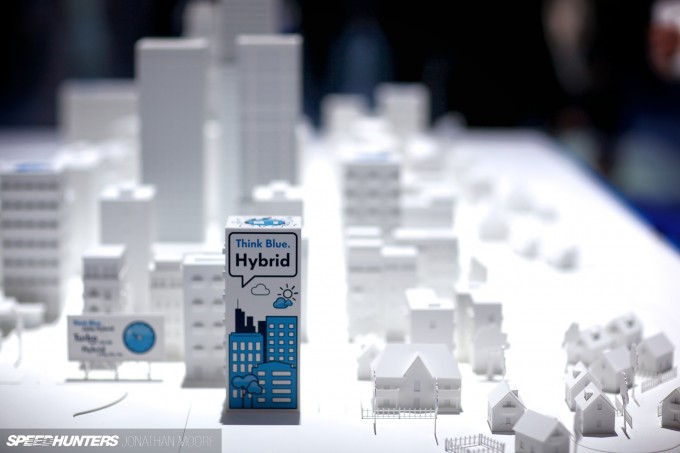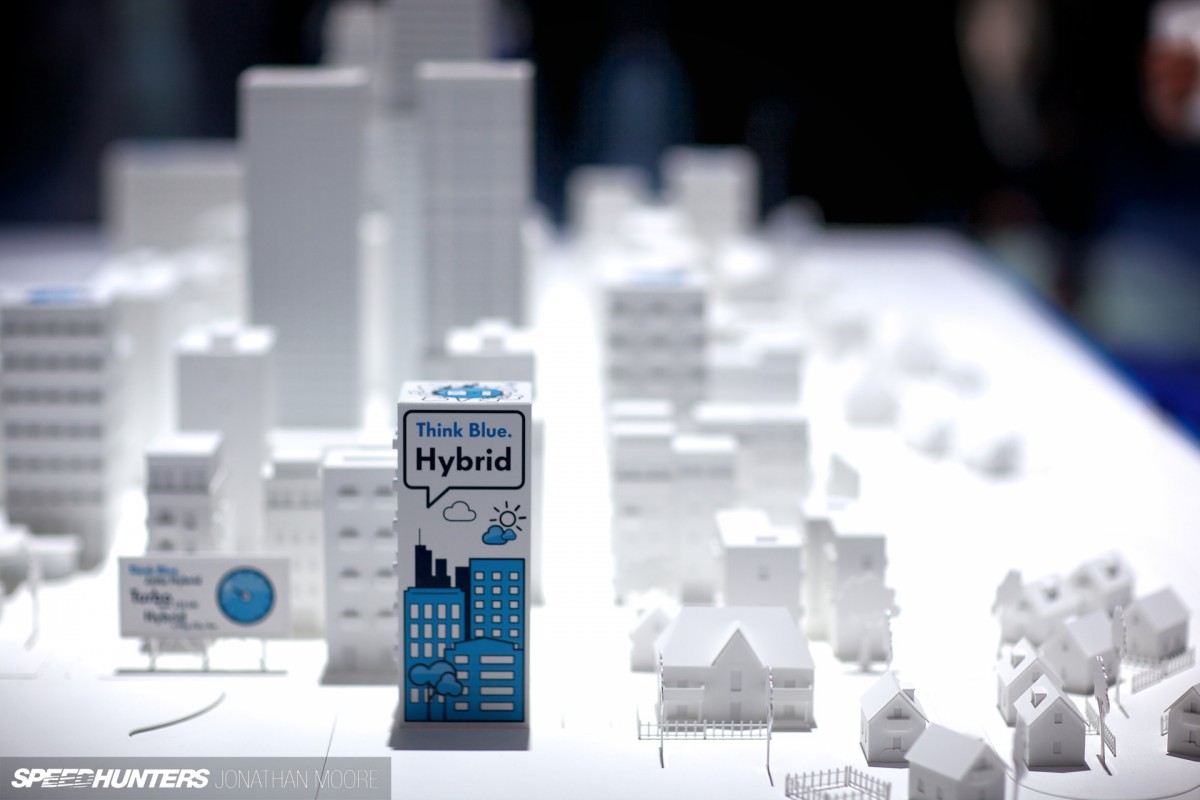 It's a different world we're living in, and as the most prestigious annual auto show, if you're going to see the future, you're going to see it at Geneva.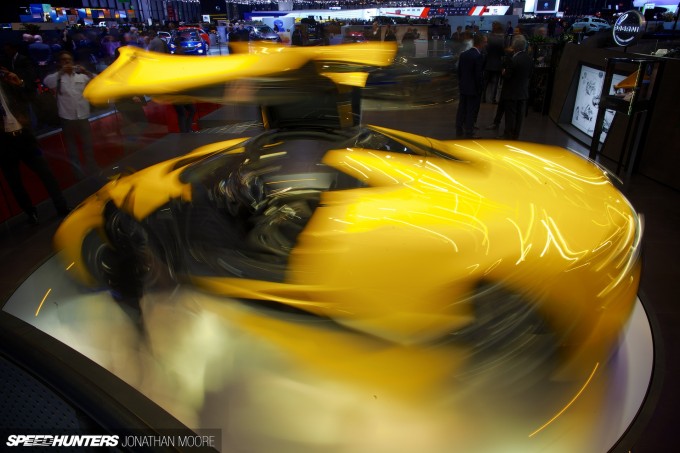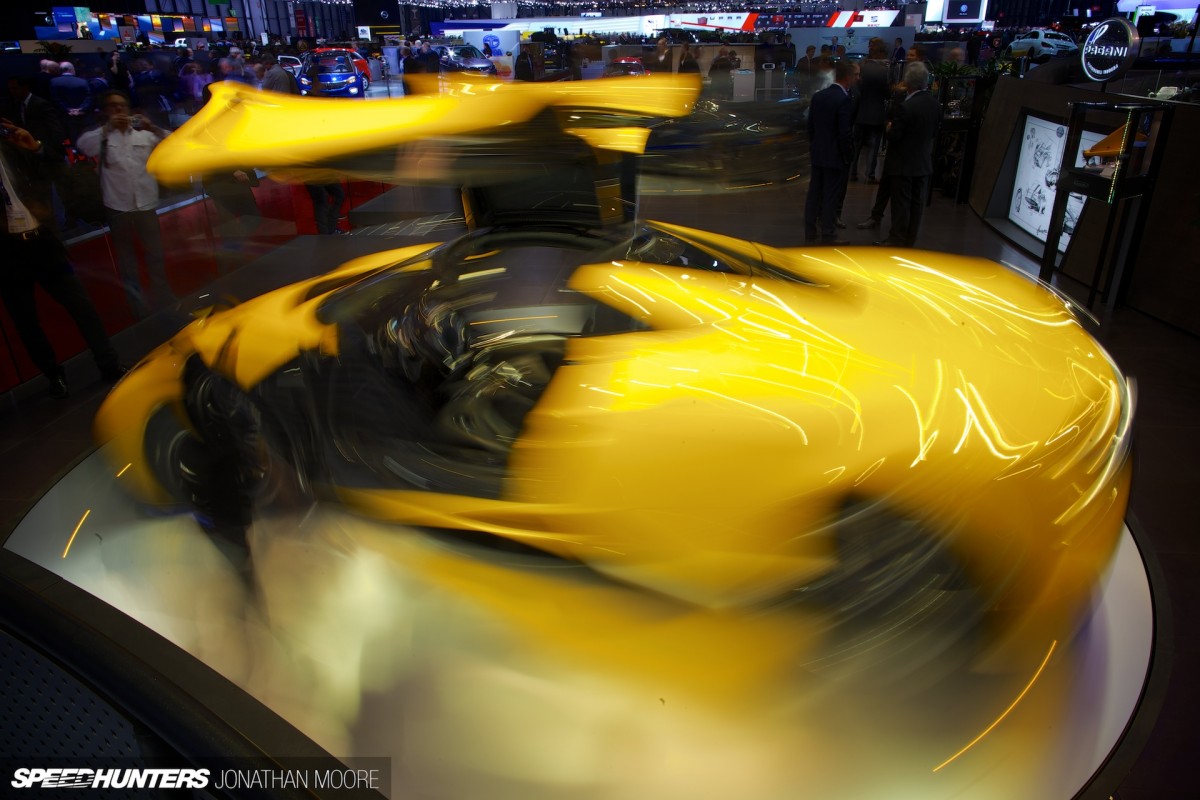 It's enough to make your head spin, that's for sure.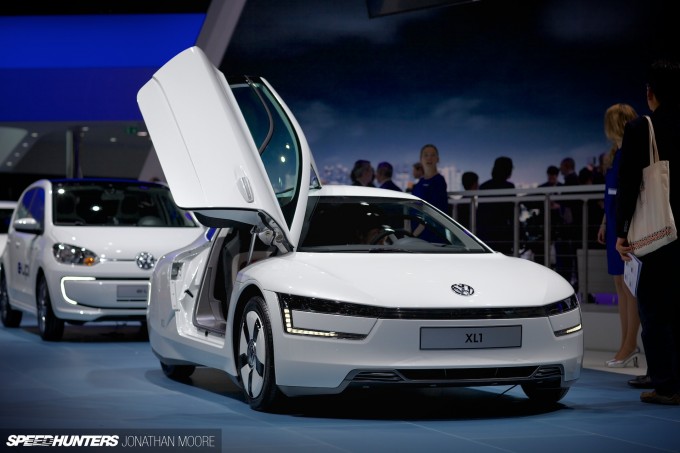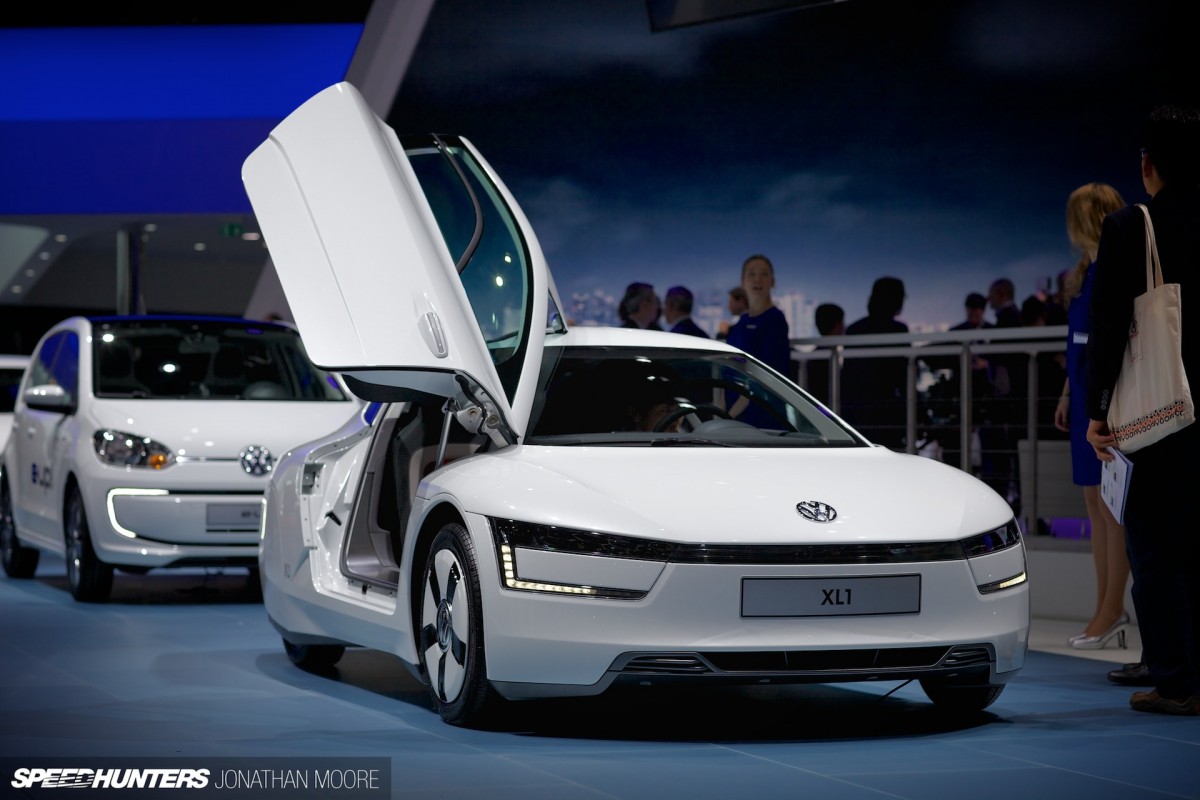 I for one actually really enjoy seeing these future concepts. In a way, often they're actually more likely to be what you and I will see on a day-to-day basis, rather than a Bugatti or McLaren.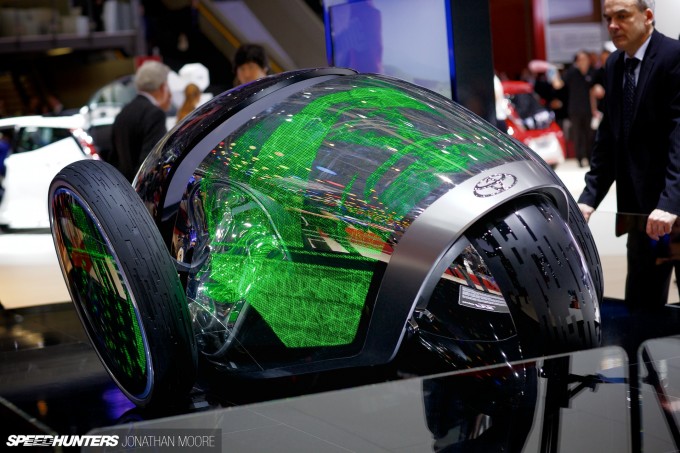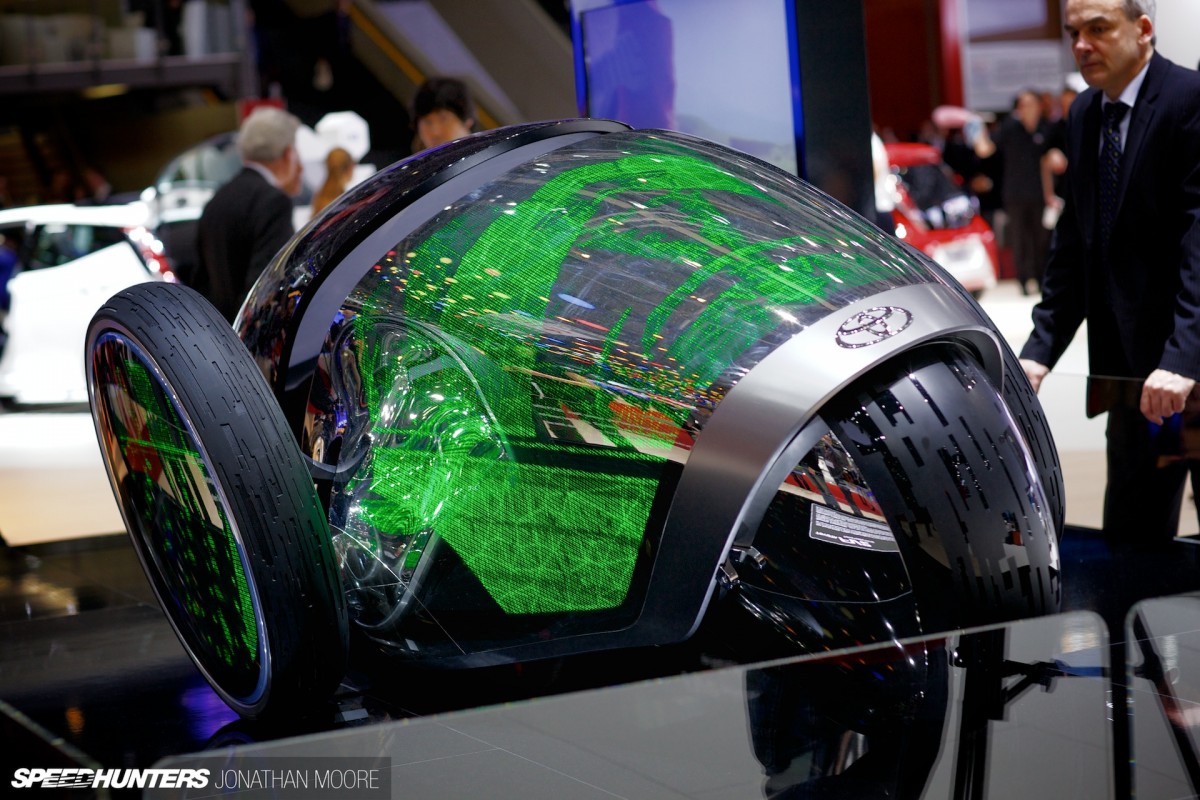 There are also the fantastic out-there models that would look more at home in a concept sketch by Syd Mead, like Toyota's FV2. This single-seater would be steered by body movement (which makes self-drive vehicles seem positively safe in comparison) and hive-connected to traffic. However, the fact it changed colours on its metallic surface, occasionally popped open its cockpit and lurched from side to side to simulate the driving experience was enough to keep me transfixed for some time…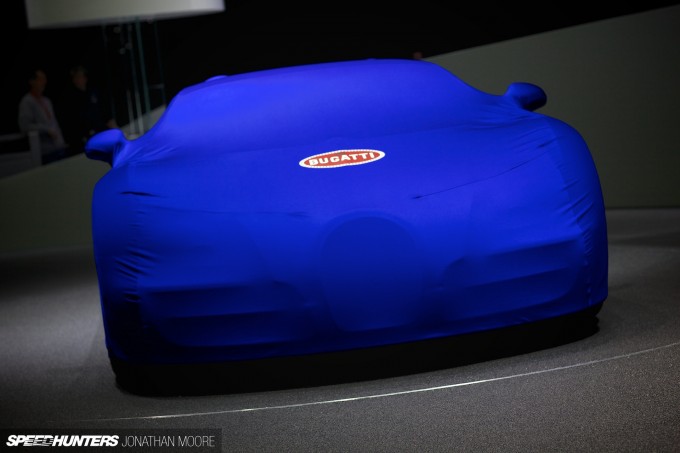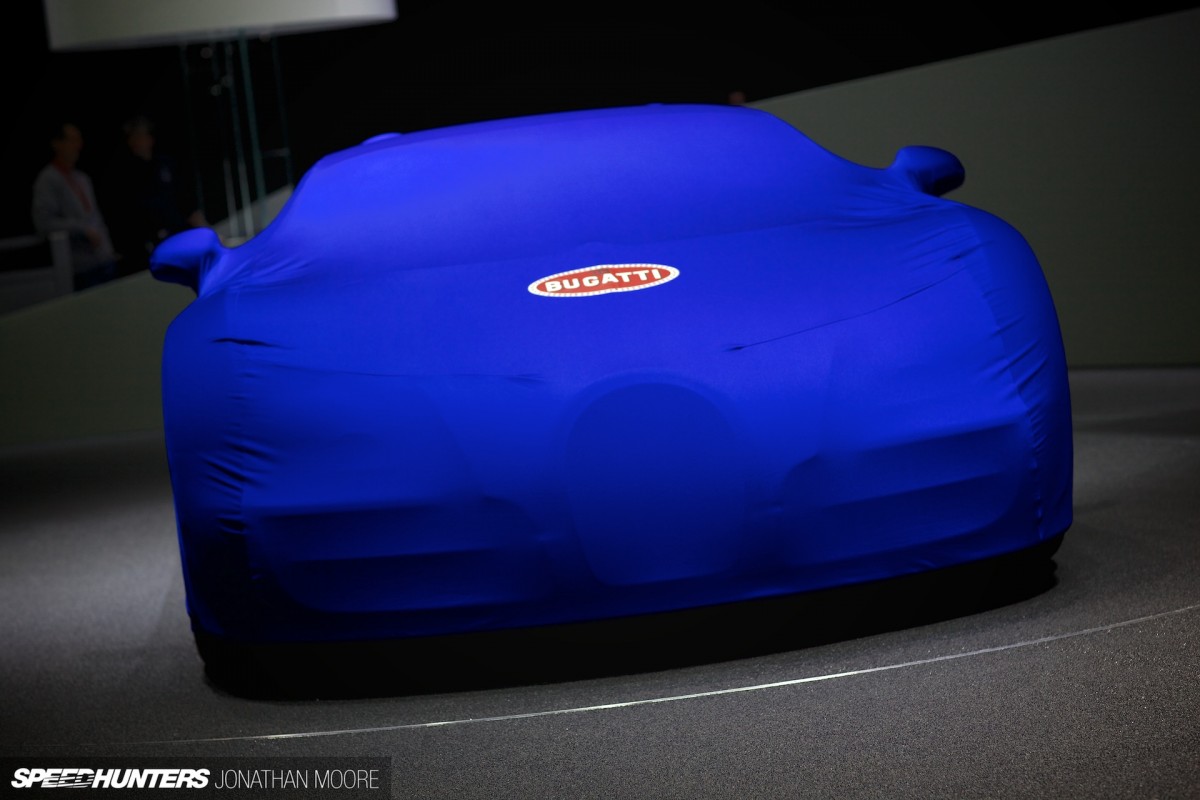 But we'll get to that. First, what did the wraps come off at this year's Geneva Motor Show? Well, it's true that there weren't the equivalents of the already-mentioned big hitters of 2013, but you still can't beat seeing cars in the flesh, whether they're sparkly new or merely just updated.
Like a hurricane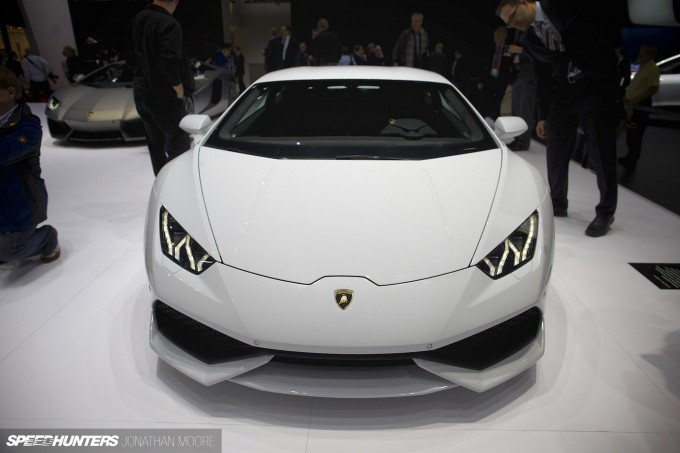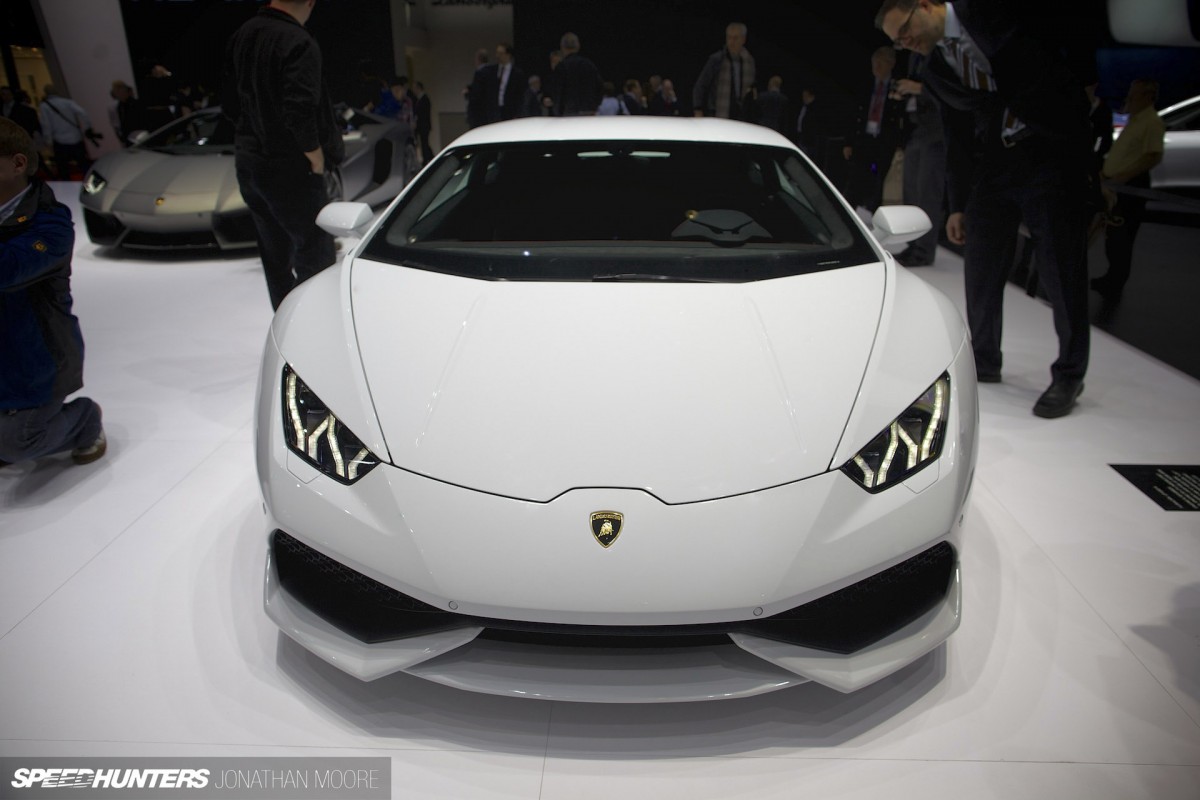 The most anticipated model of the new supercar launches was the new baby Lamborghini: the Huracán LP610-4. Replacing the Gallardo, Lamborghini's most successful ever model, was never going to be an easy task, but after a couple of days of living with the Huracán, I began to like it more and more.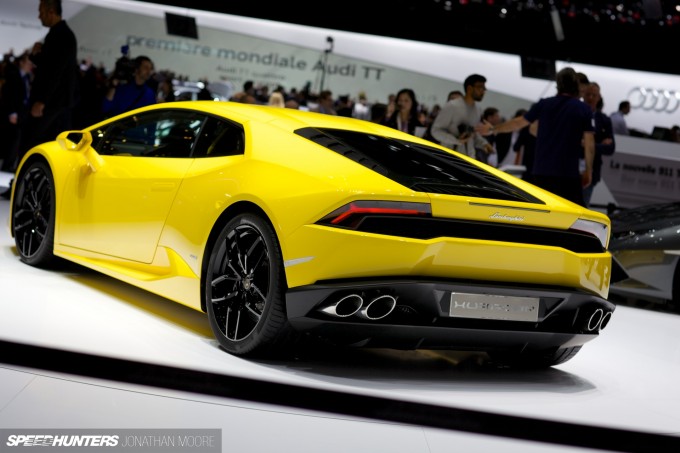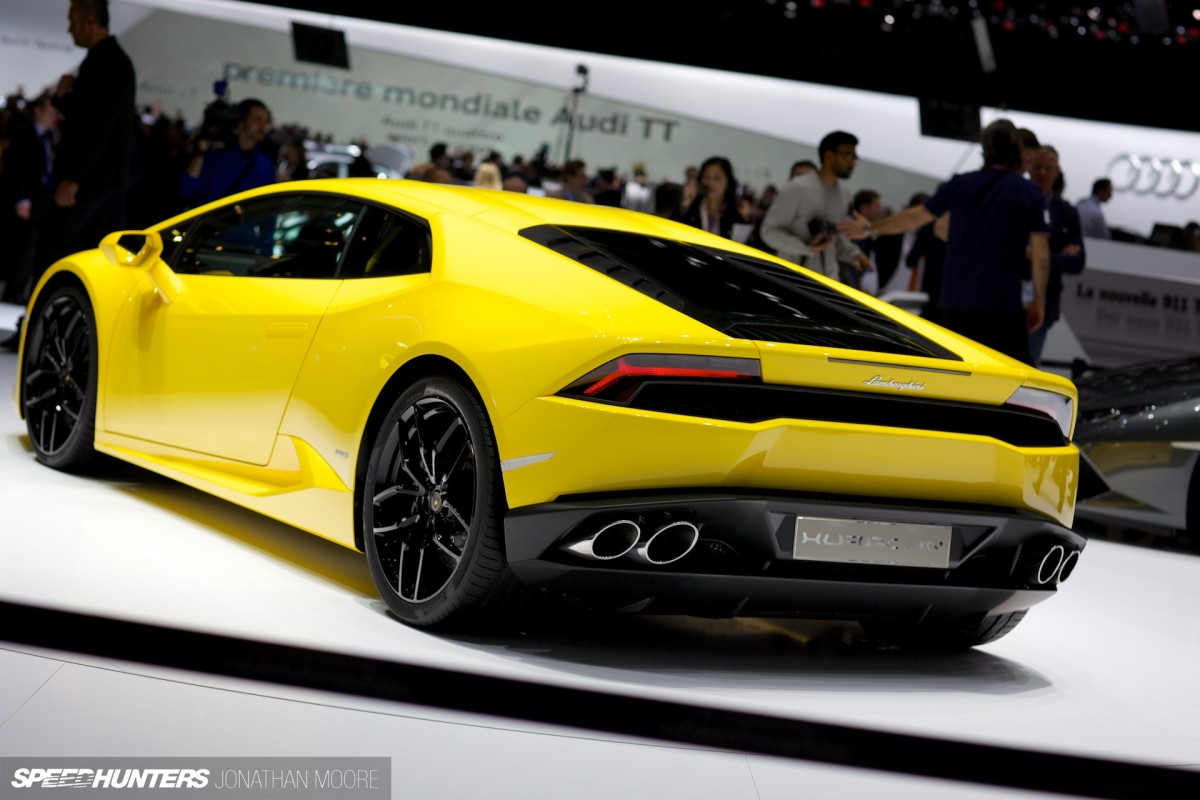 It's easy to take the line that at first glance it's not massively different, as the general layout seems very familiar. Too familiar maybe. But every so often, I'd have another walk past, taking in another angle, and its personality and individuality became clear.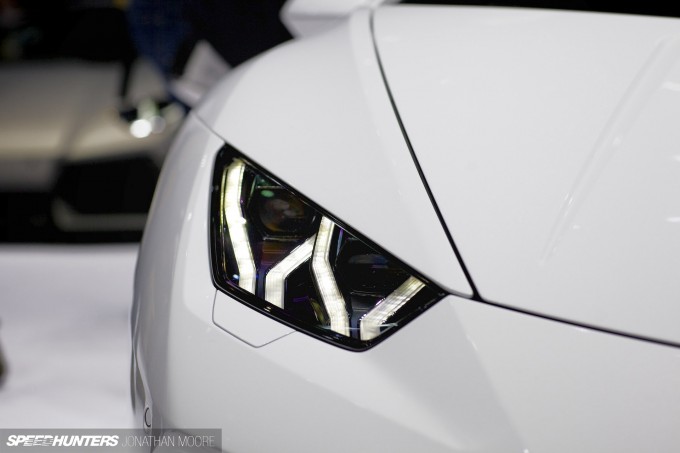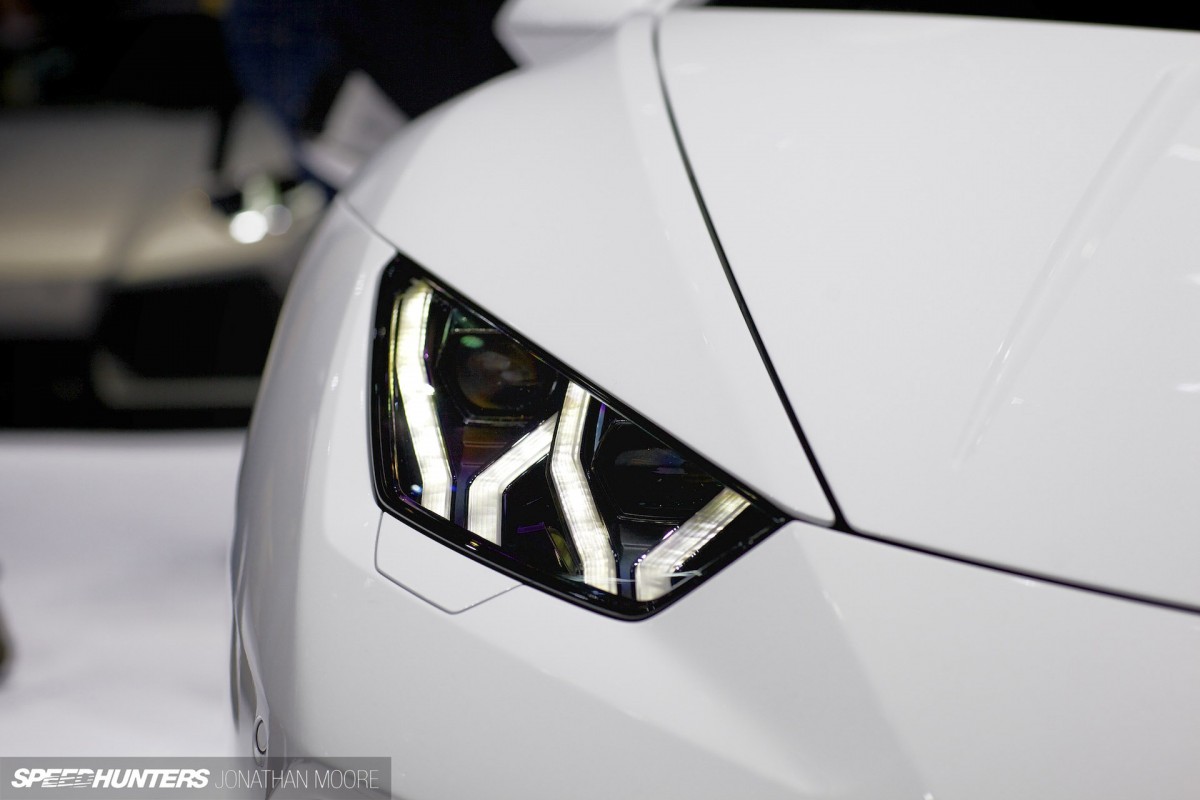 There are references and family design cues of course – the flared 'ear' intakes on its flanks remind me of the best of the Murcielago and the nose is Aventador-like – but Lamborghini somehow managed the trick of making straight lines.. curve. Sharp edges and angles appear organic without becoming soft, if you know what I mean.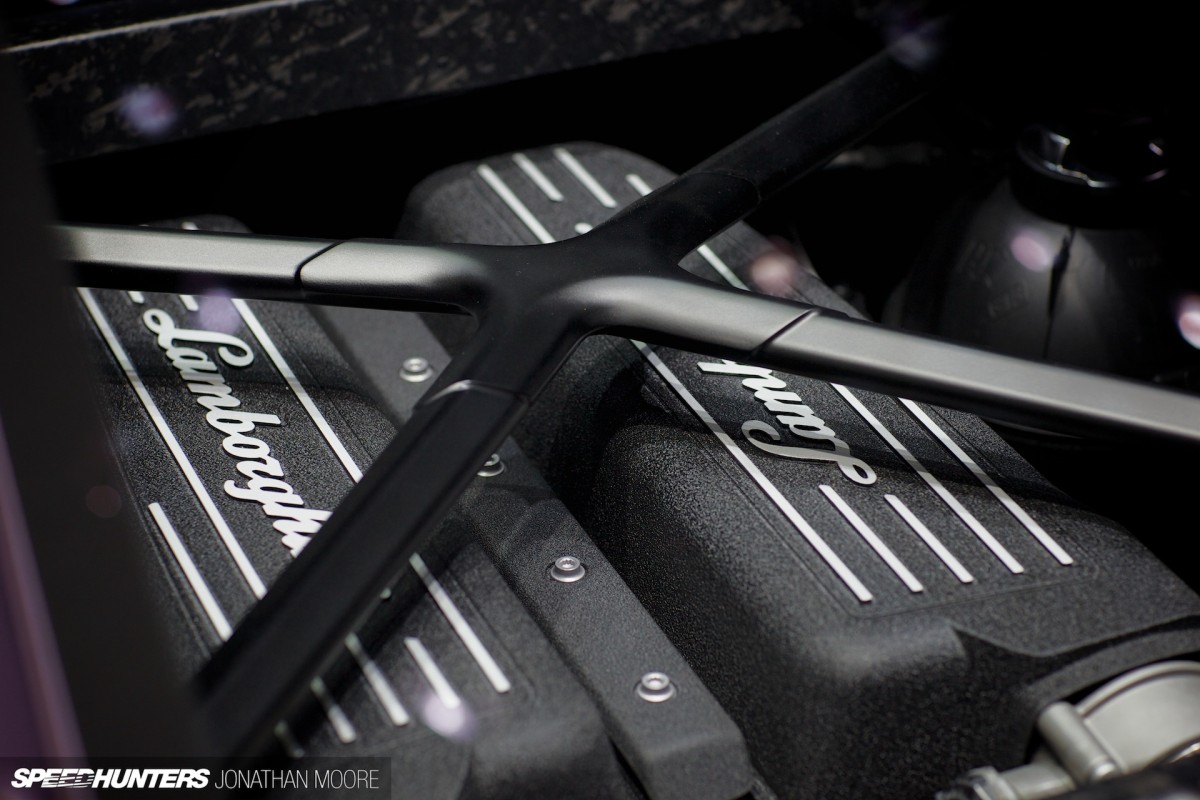 Of course, there would always be the option of sitting back, closing your eyes and just imaging the sound of its 5.2-litre V10. Silent nights of a hybrid future? There's no sign of that quite yet chez Lamborghini.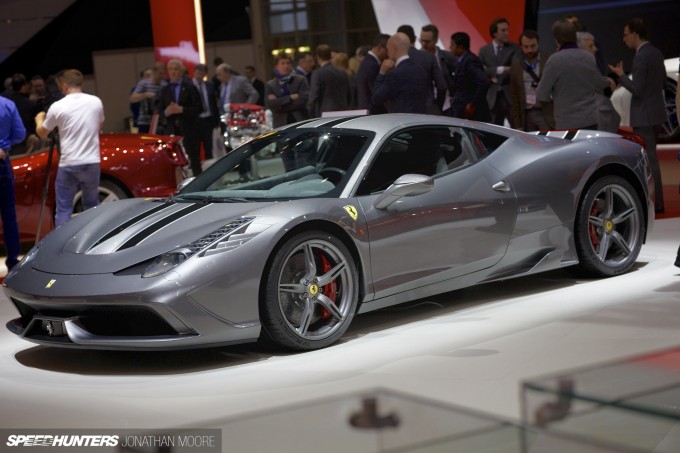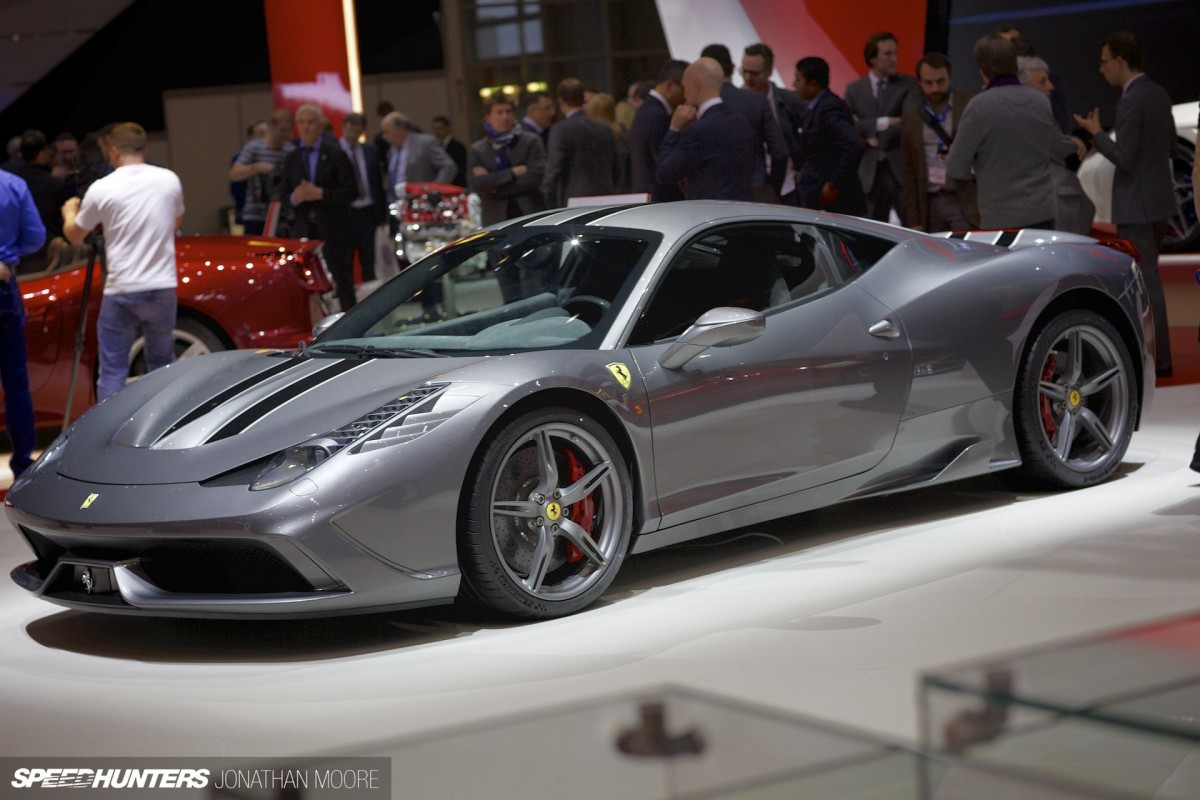 The 458 Speciale pushes the aggression up a notch on Ferrari's world-beater, with sharper lines and revised aero making this special edition a very different beast to the svelte lines of the standard car. The racing stripes likely exacerbate that feeling, but the Speciale was easily the highlight of the Ferrari stand.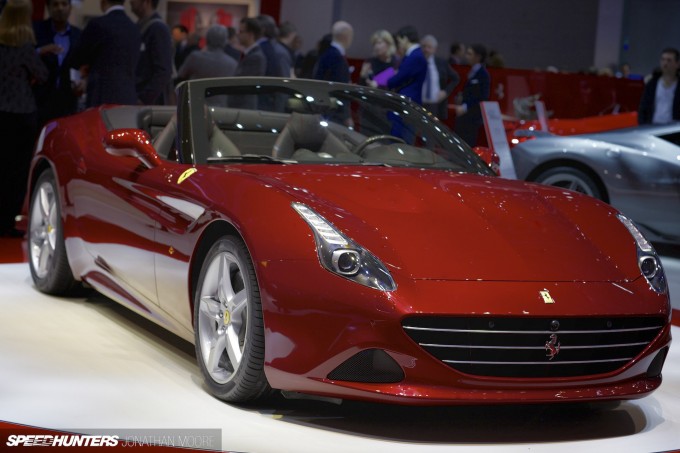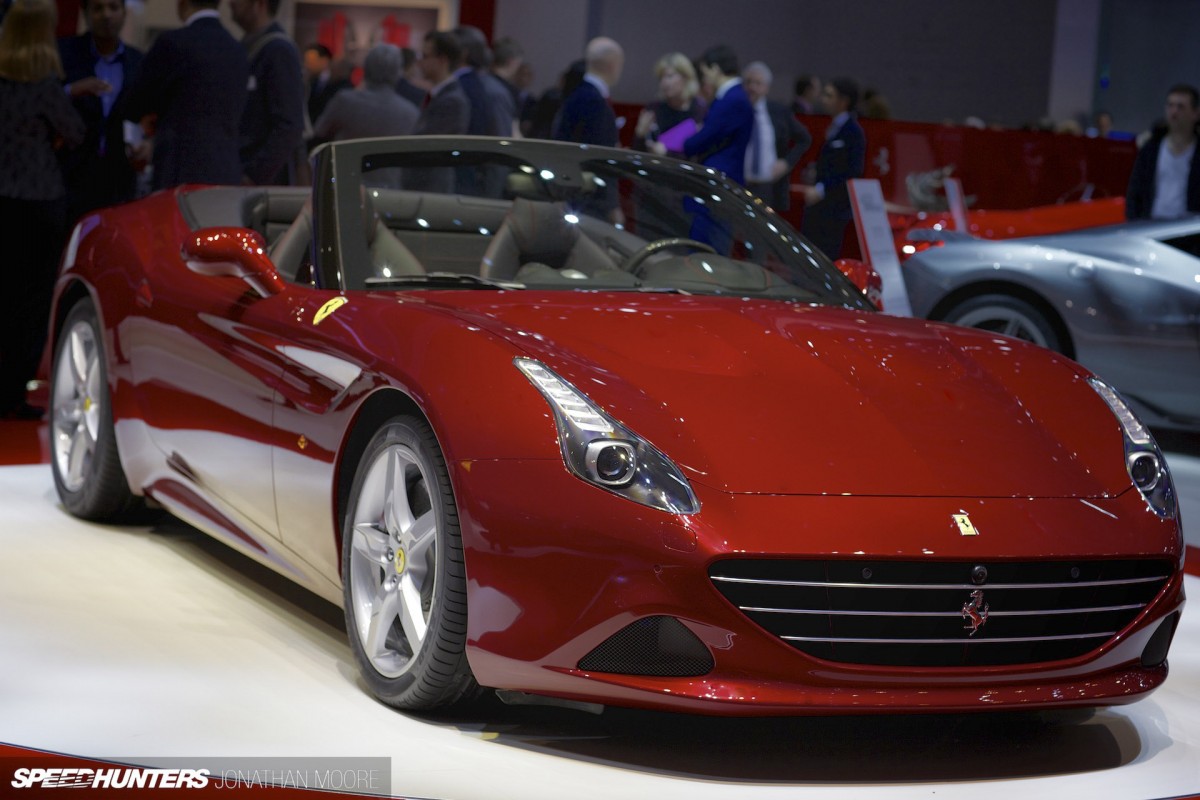 It made the new California T look relatively pedestrian in comparison. I think it's the wide grille, but for me the California had only a short period of looking modern and fresh.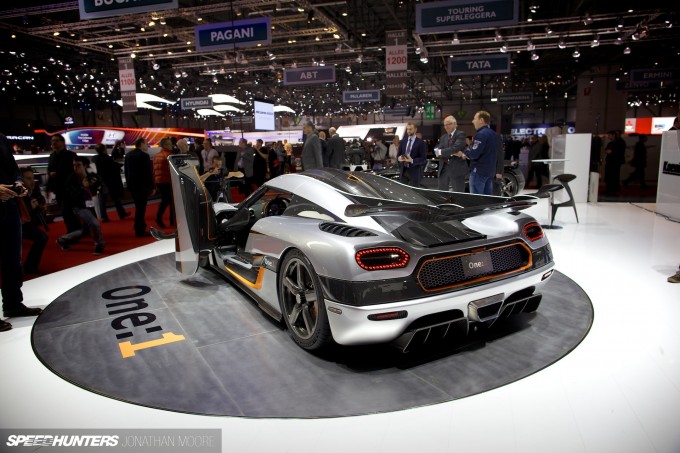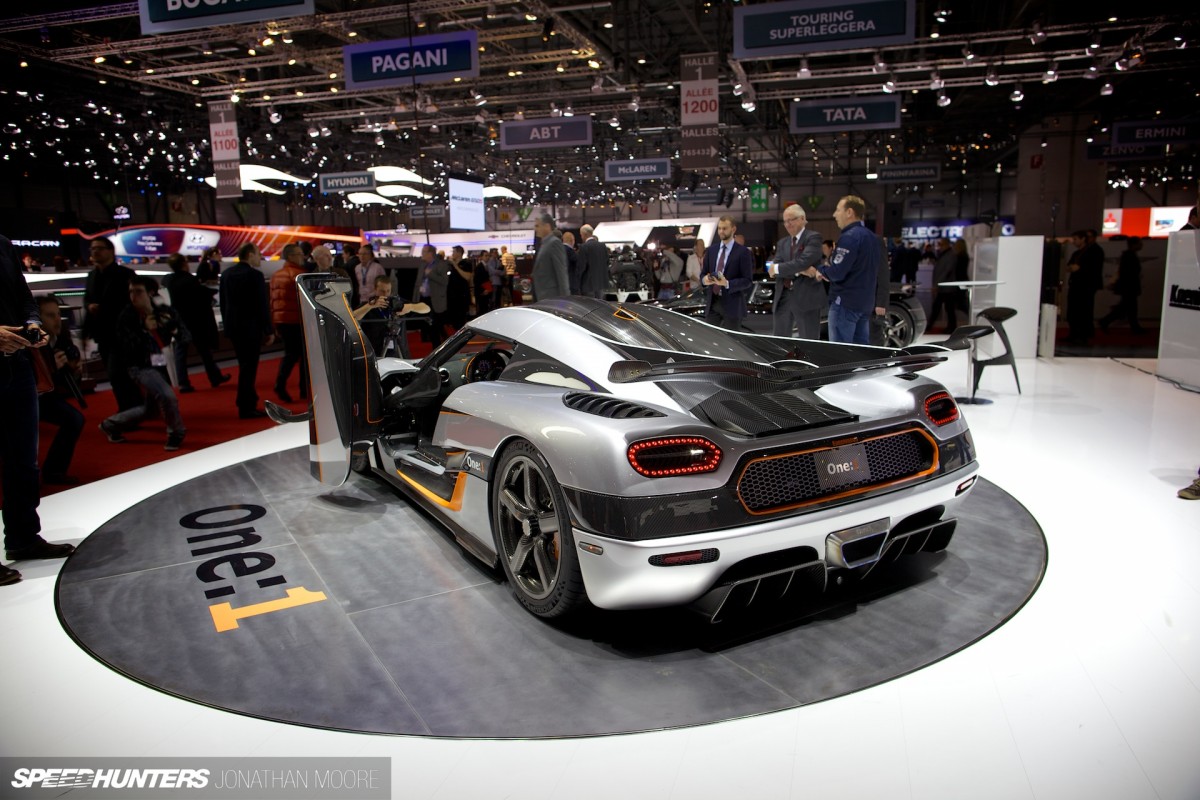 Anything but pedestrian was the Koenigsegg One:1. Like the Bugatti, Koenigsegg have worked on subtle modifications rather than grand aesthetic overhauls over their lifetime, but that just can't detract from this model's continued visual impact.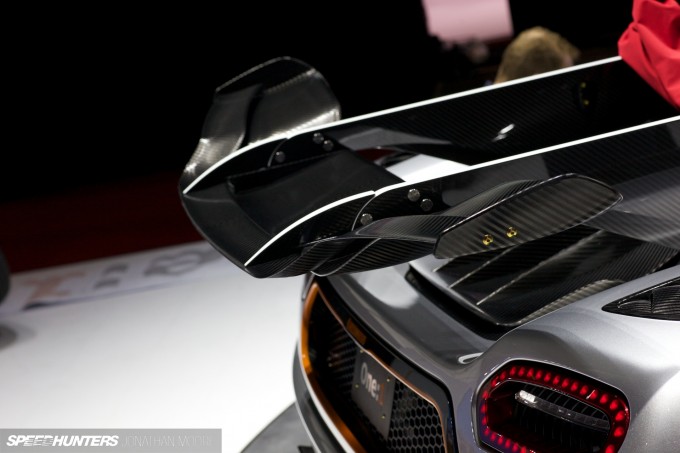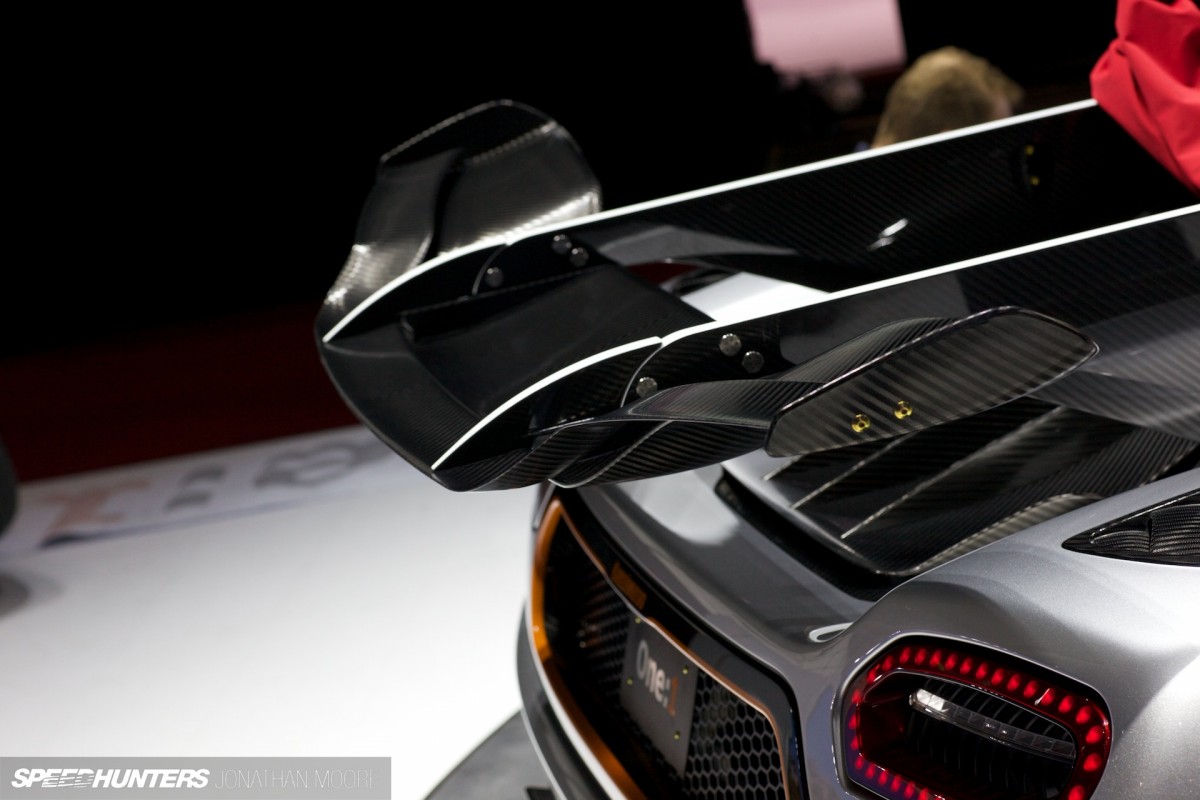 The One:1 is an absolute riot of detail. The headline figures and underlying technologies are impressive enough, but you could spend an hour circulating the car picking up all the materials, textures and shapes. The active rear wing sits out proud on a horizontal mount from the hood, looking almost like it was mounted in reverse from expectations, but which combined with the venturi tunnels and general aero helps create insane levels of downforce. Handy when you're expected to go at 273mph.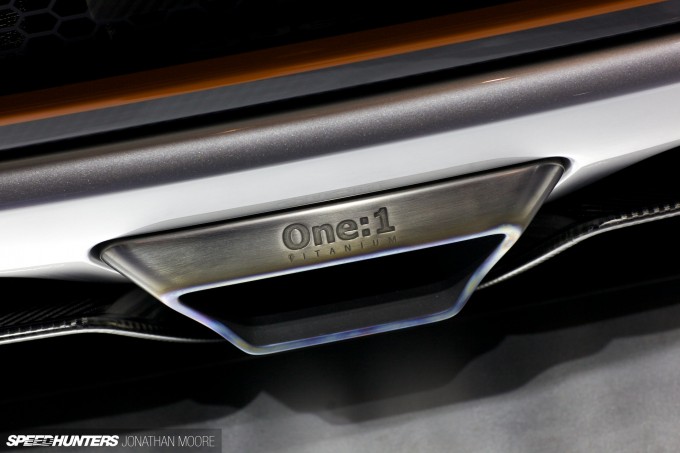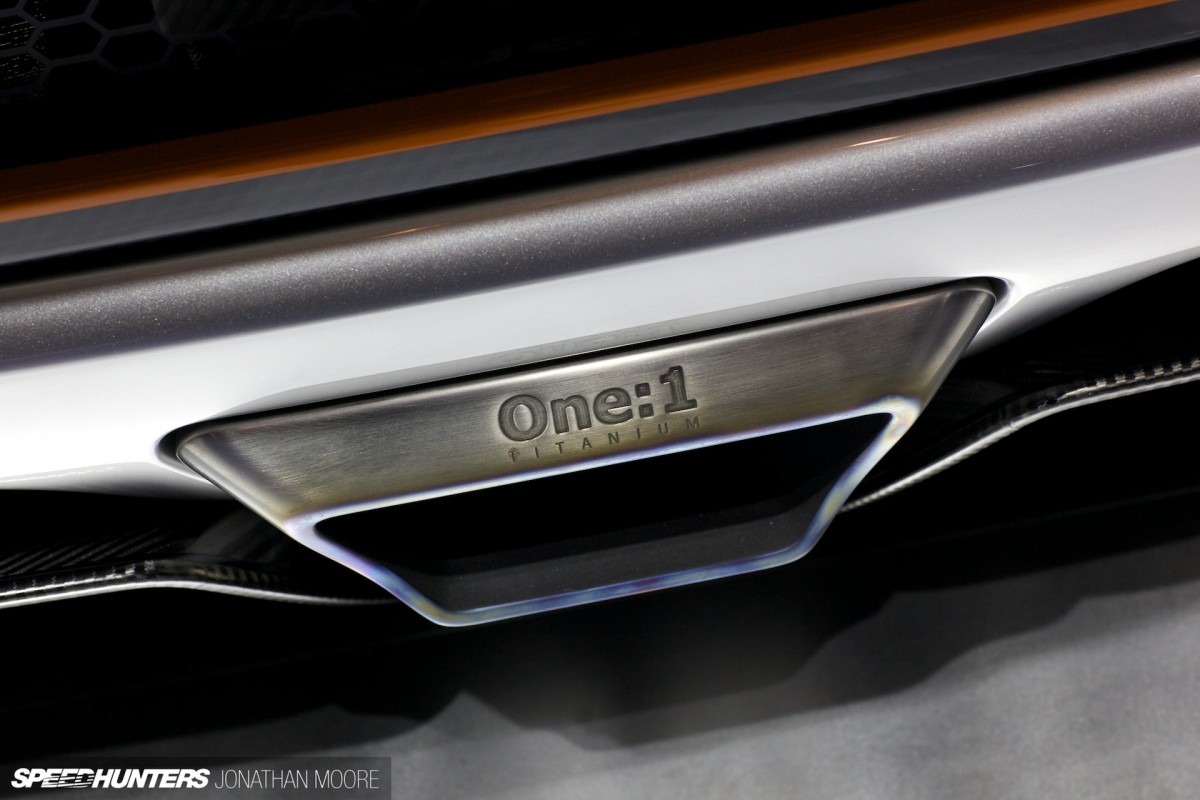 The titanium tip of the exhaust? 3D-printed. They 3D printed their titanium exhaust! If you don't find that impressive then you're either from the future or have access to a whole lot more tech than I do. I can't even get my inkjet printer to work properly. It was all to save 400g, and each unit takes three days to build up, but when you're in this territory every gramme counts…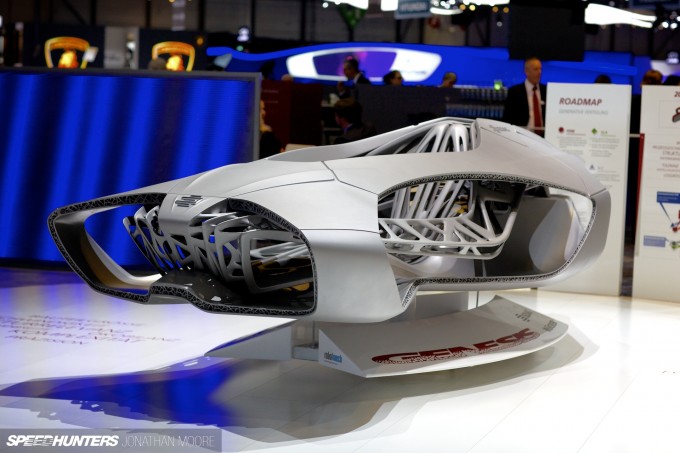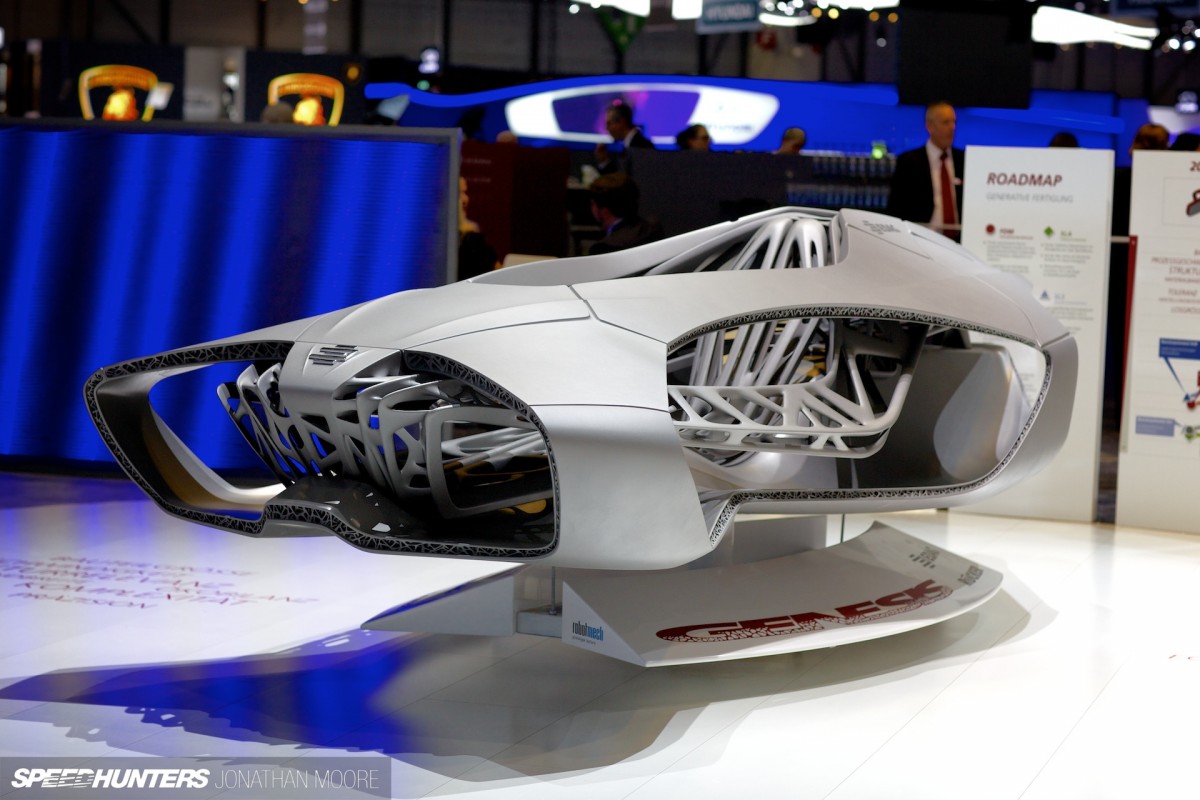 Talking of 3D printing, how about this: an entire chassis printed out by a robot. It's the EDAG Genesis, a prototype created using fused deposition modelling. I loved this quote from them, which is the best thing I've ever read about the application of technology: "If it ain't broke, break it, because there's no chance it will be done the same way in the near future."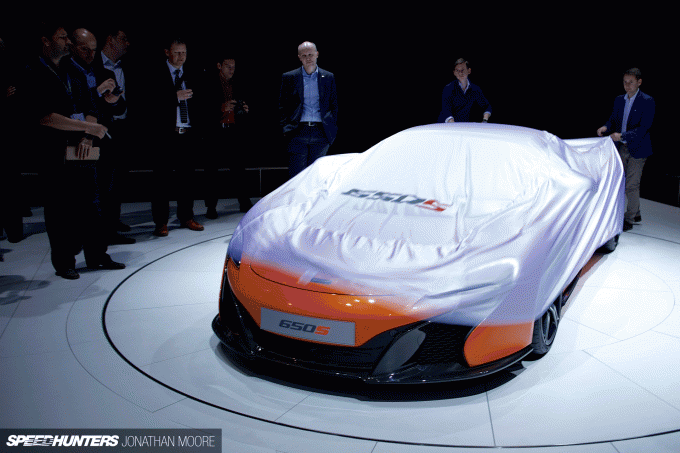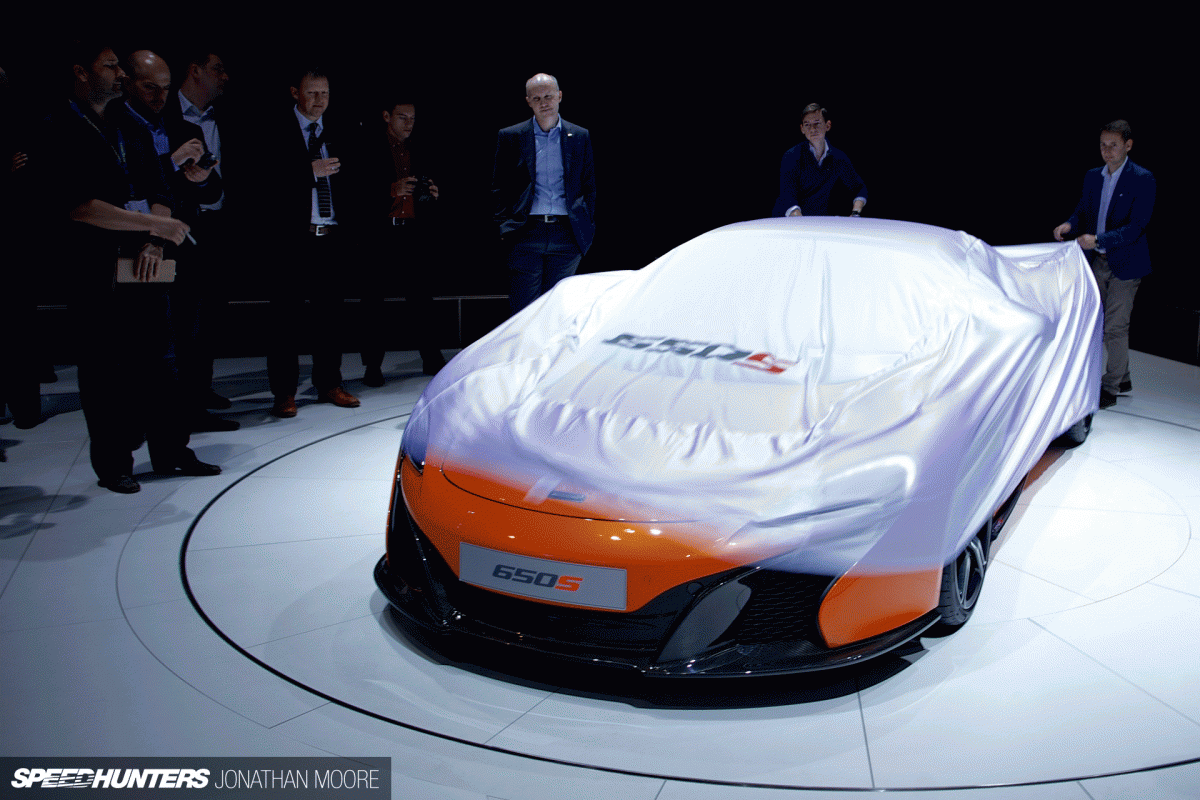 We saw the launch of McLaren's new mid-range offering, the 650S, a couple of weeks back, and Geneva was the turn of its drop-top sister to take centre stage.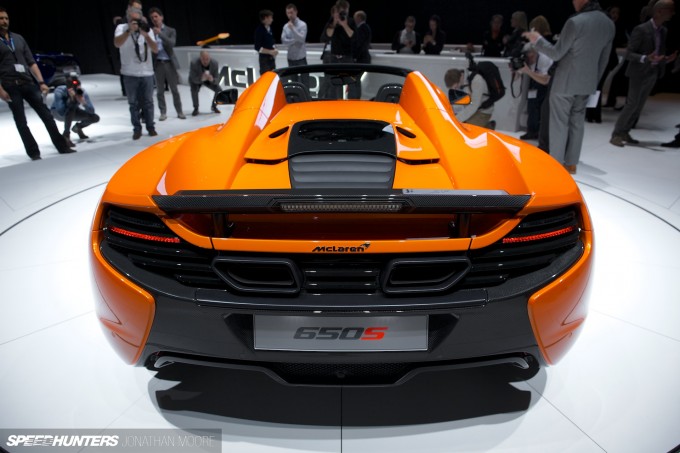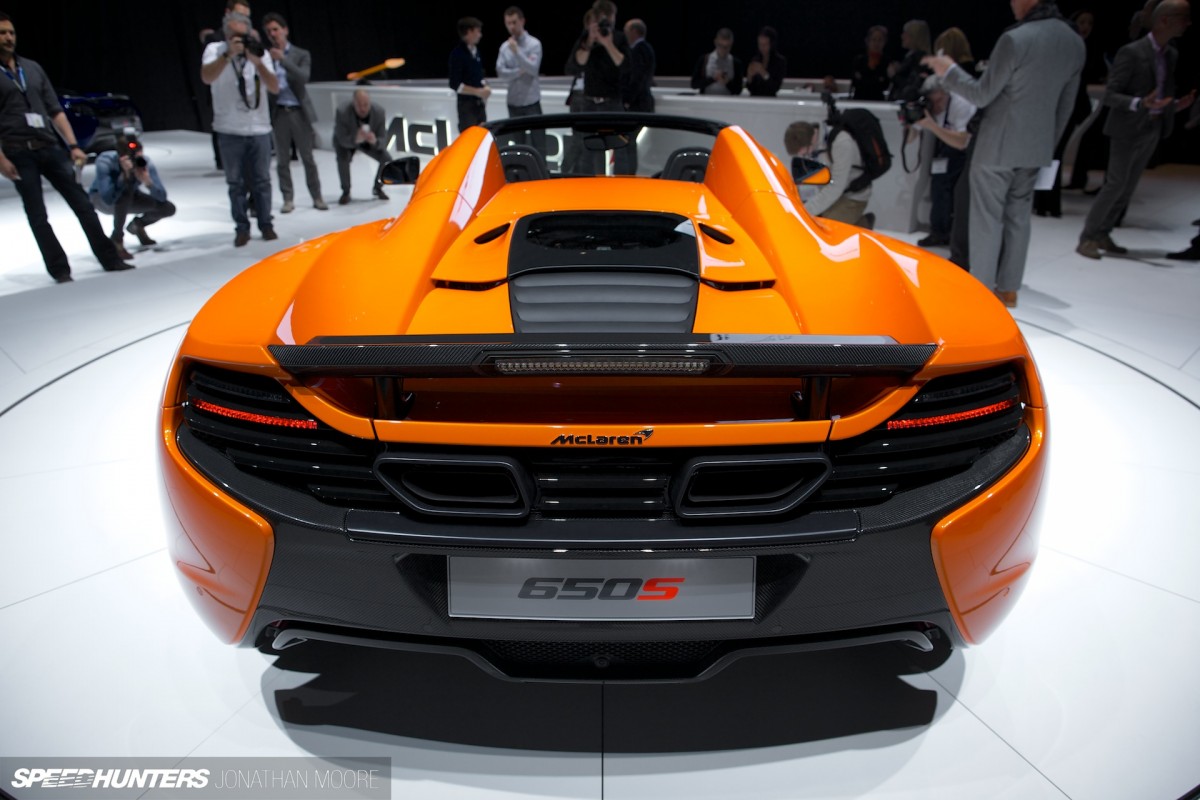 I'm not often a fan of spyders, but with the 650S' twin roll-hoop rear integrated seamlessly into the retracting hard-top, it's impossible not to think that sometimes the wind in your hair wouldn't be such a bad thing.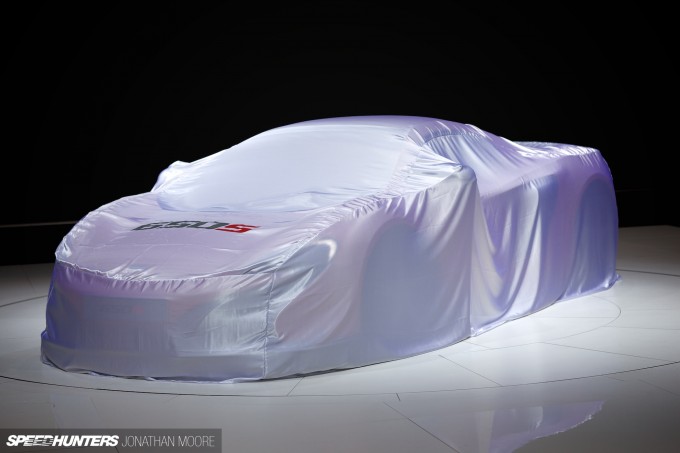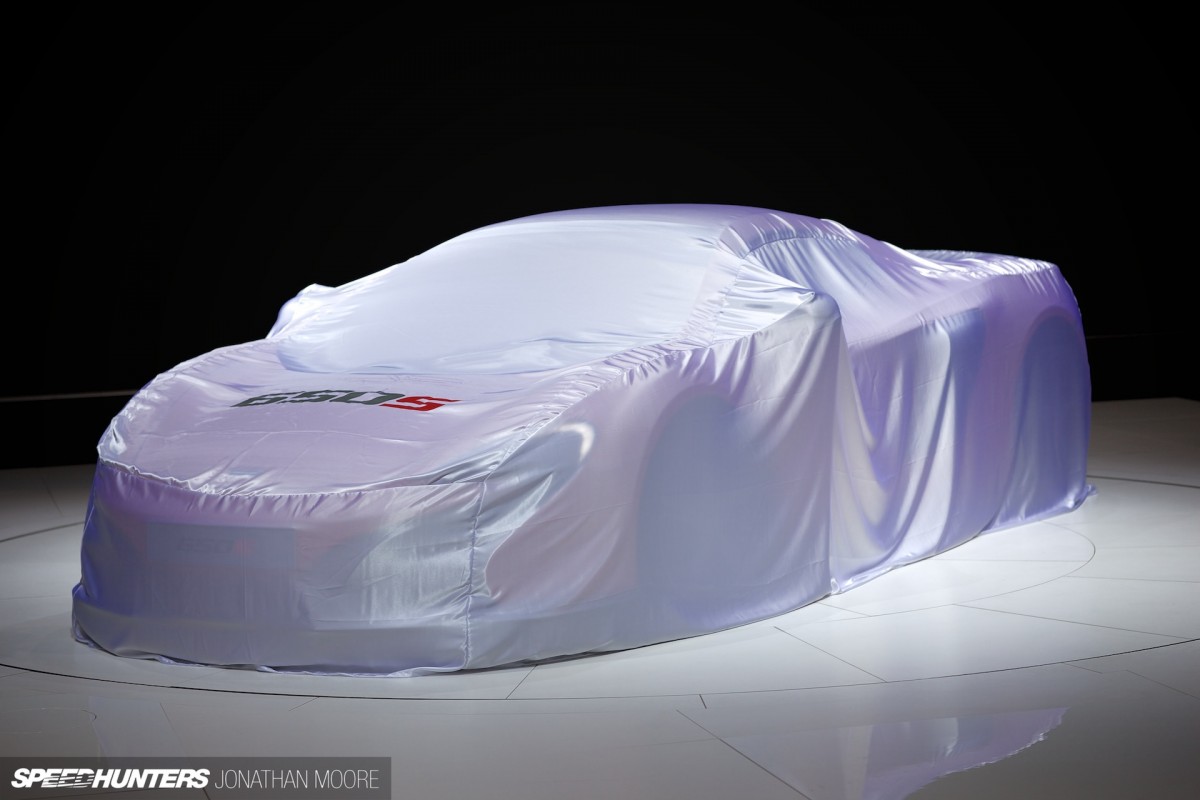 With so many launches scheduled in for the official opening day of the show, McLaren were one of a number of manufacturers to hold their press launch on what was still effectively set-up, the day before. Rolls Royce conducted a launch to a strange amalgation of journalists, cleaners, builders and crane drivers whilst the Palexpo's halls were still being fitted out. McLaren at least had their stand closed off with curtains for their mini-event – and when it was over, the cover went back on for the official public reveal next morning.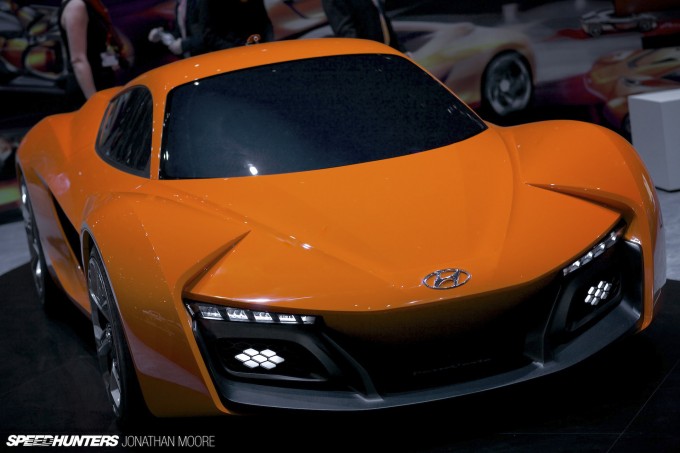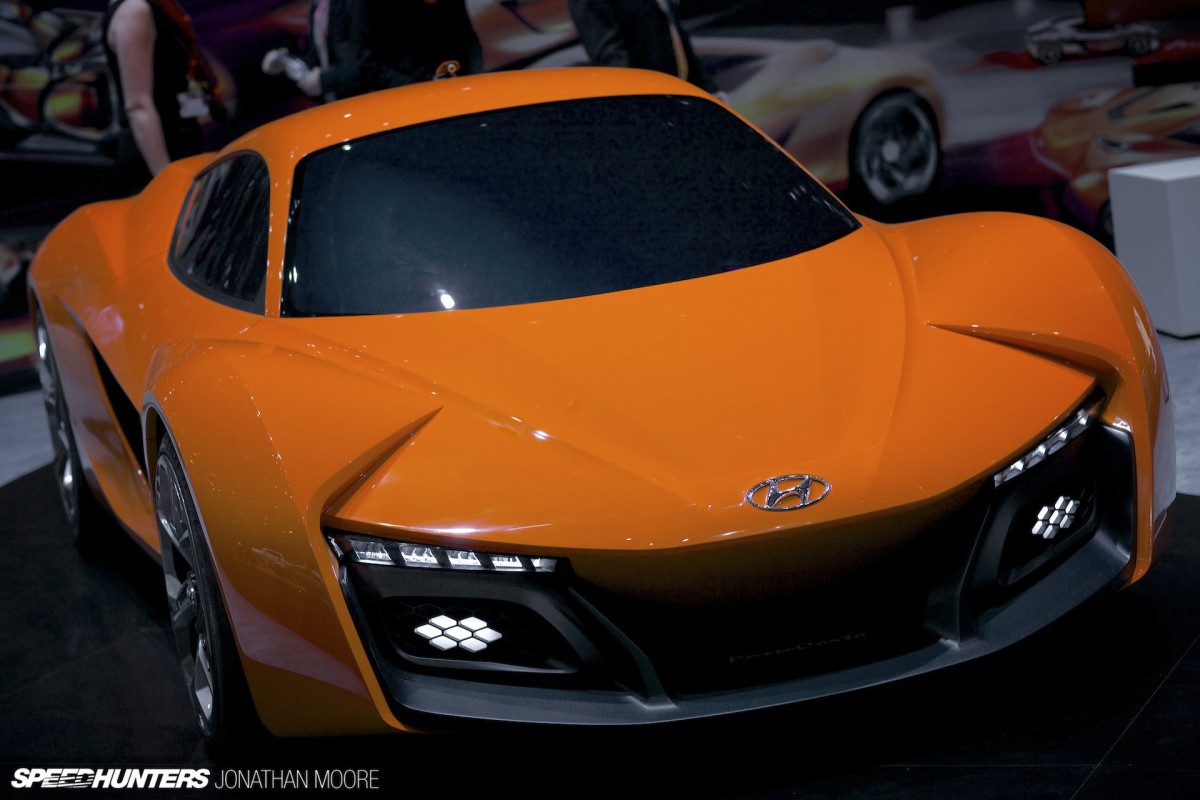 Orange seemed to be the colour of Geneva, with McLaren's sunburst reflected in a number of other cars around the show. The Istituto Europeo di Design regularly contribute concepts to the Geneva show, and their Hyundai-badged, 1,600cc bi-turbo Passo Corto ('Short Wheelbase') was thus year's offering. The school can call upon the likes of Pininfarina for advice, so it's no surprise that they typically offer up interesting models.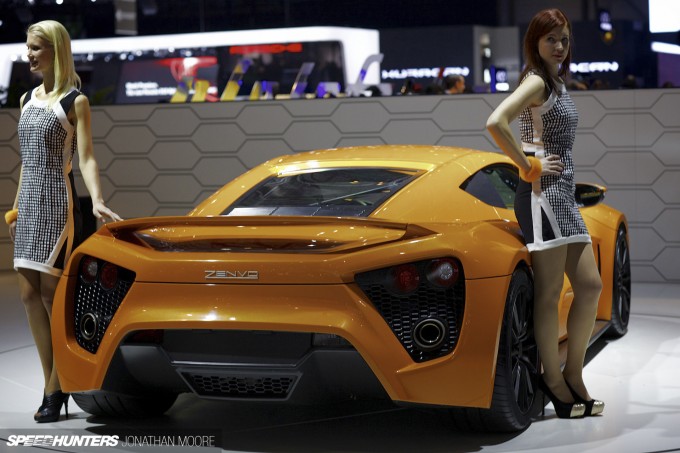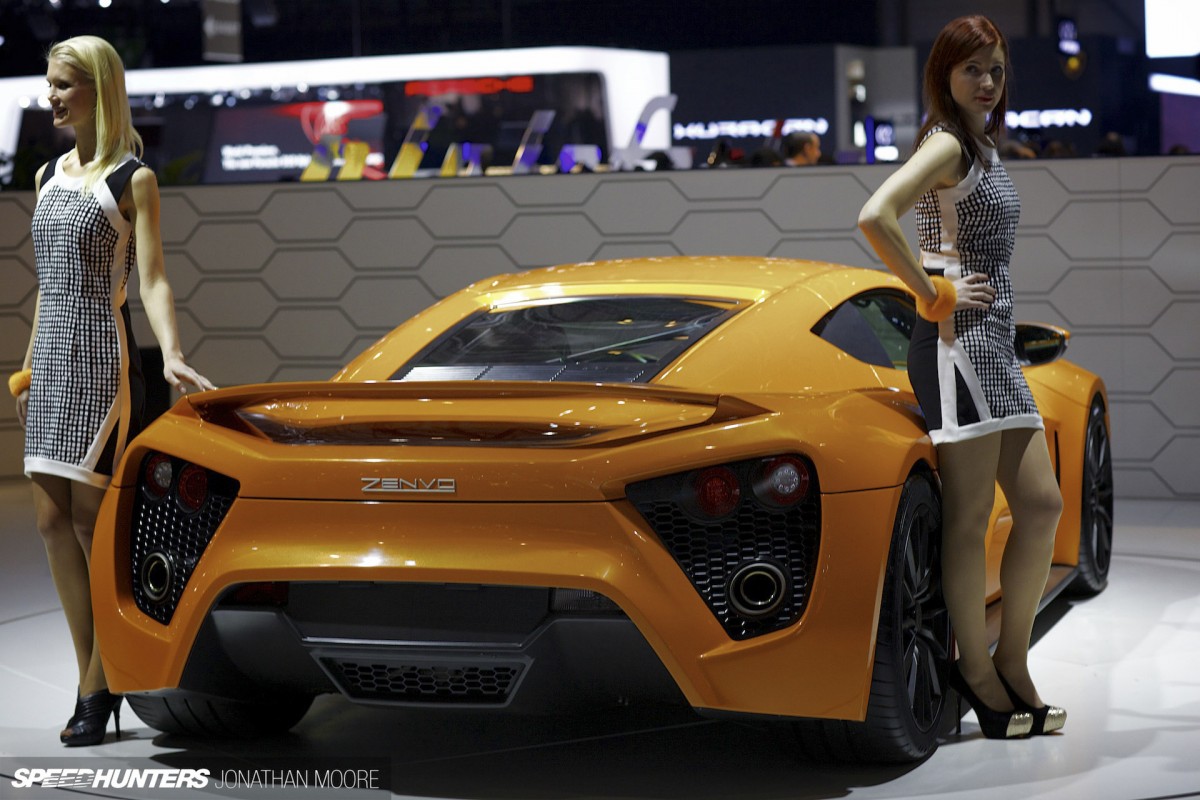 Zenvo's ST1 got a beating on that well-known TV bastion of even-handedness and taste, Top Gear, but their dual-boost, 1,000hp-plus hypercar was attracting plenty of attention in Geneva. Many stands have rotating pedestals that they sit their cars on, but Zenvo's was going round at a positively glacial, almost imperceptible speed. A useless fact, but something that made the Zenvo stand out.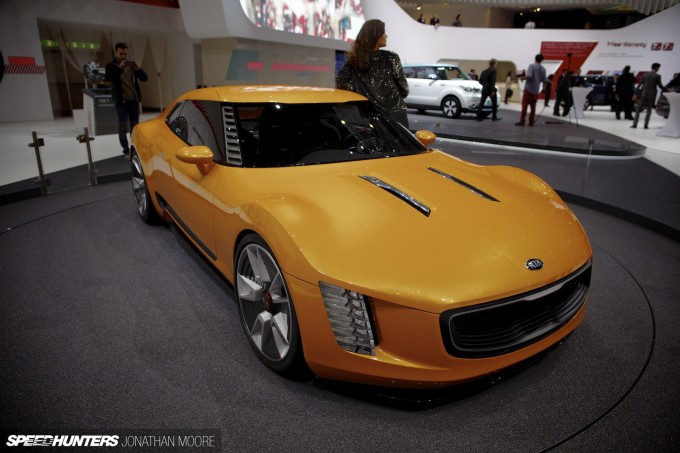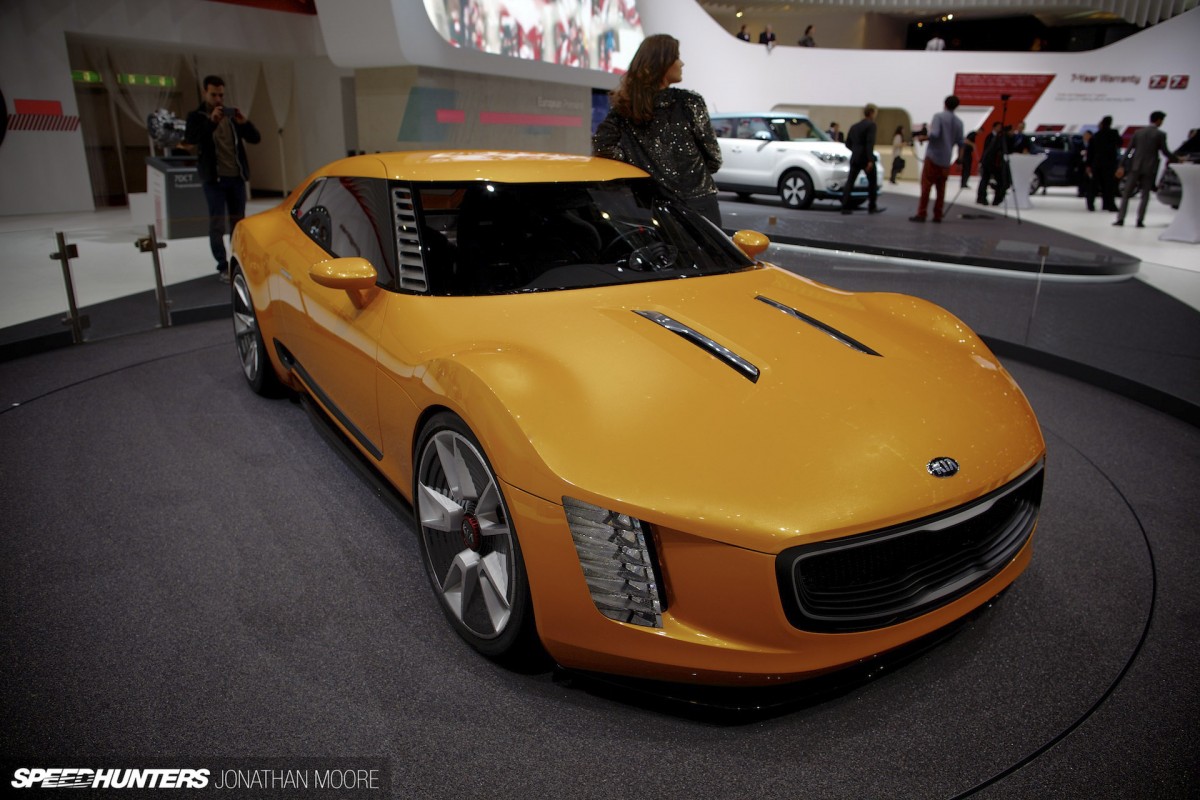 Then there was the Stinger from, of all people, Kia, described by Bryn on its launch at the recent North American International Auto Show. I'll be flamed for daring to say it, but for street cars I'd happily take a modern Kia over a number of European manufacturers' output, and cars like this show the brand is aggressively pushing into the mainstream.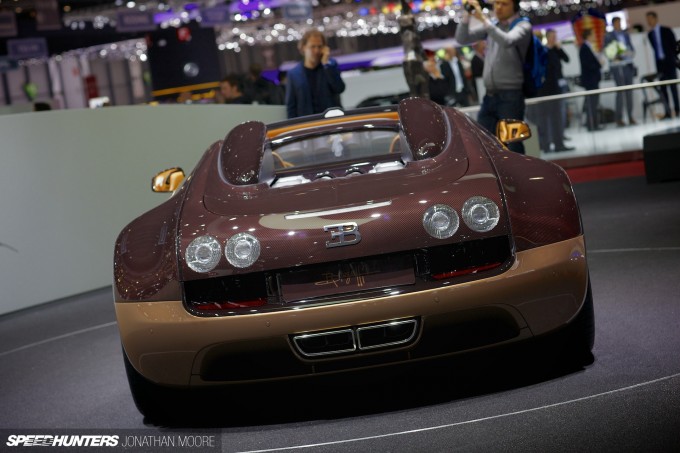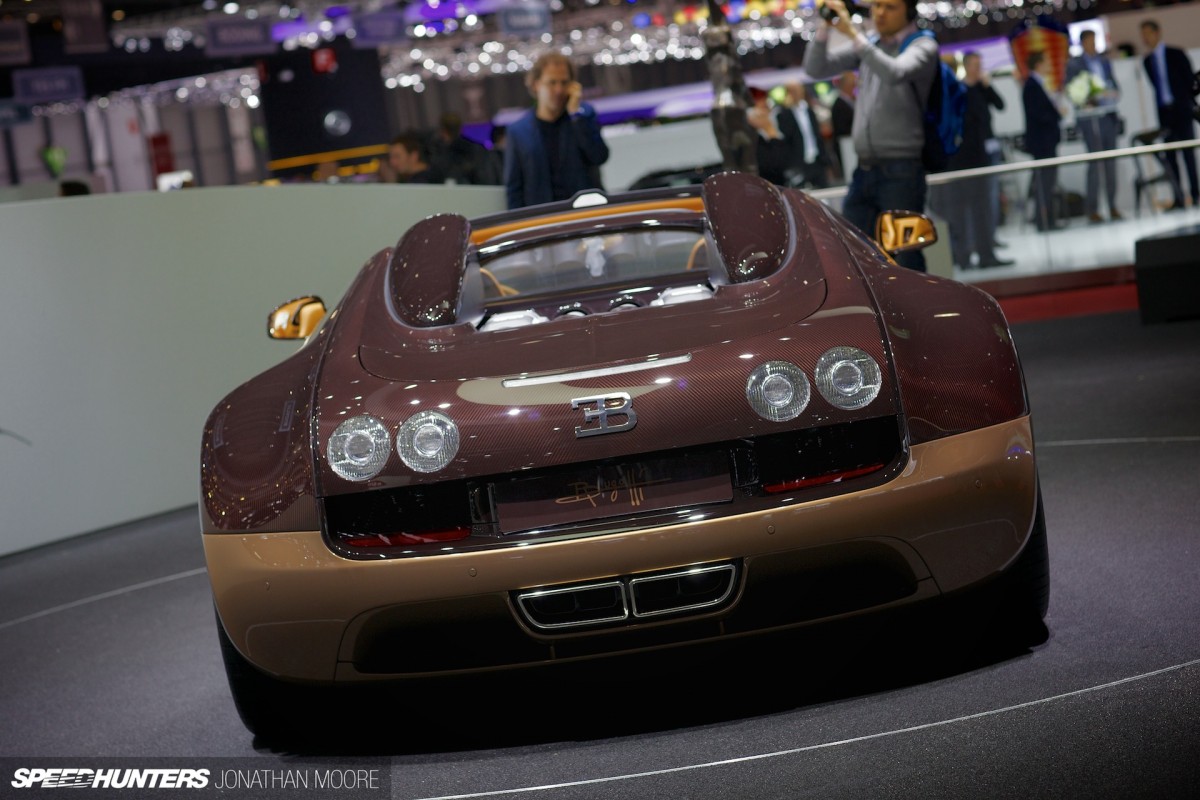 The Veyrons? Well, I wasn't really joking about the names: this special edition released in Geneva was called the Veyron Grand Sport Vitesse Rembrandt Bugatti. This is the fourth of their Les Légendes de Bugatti series, introduced in Pebble Beach last year. The bronze-coloured clear-coated carbon alludes to the painter's favourite material, don't you know.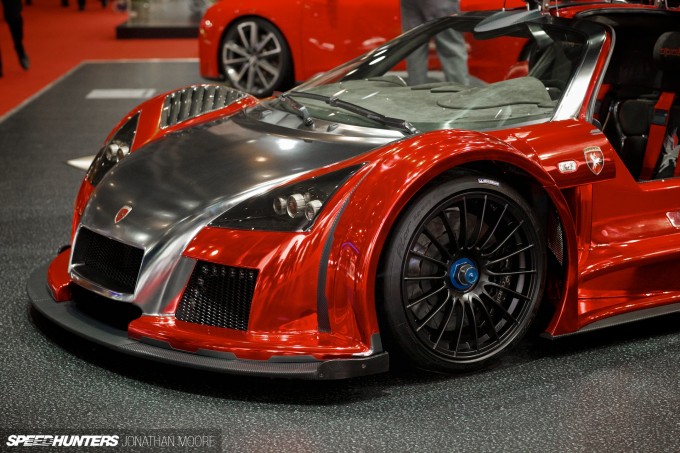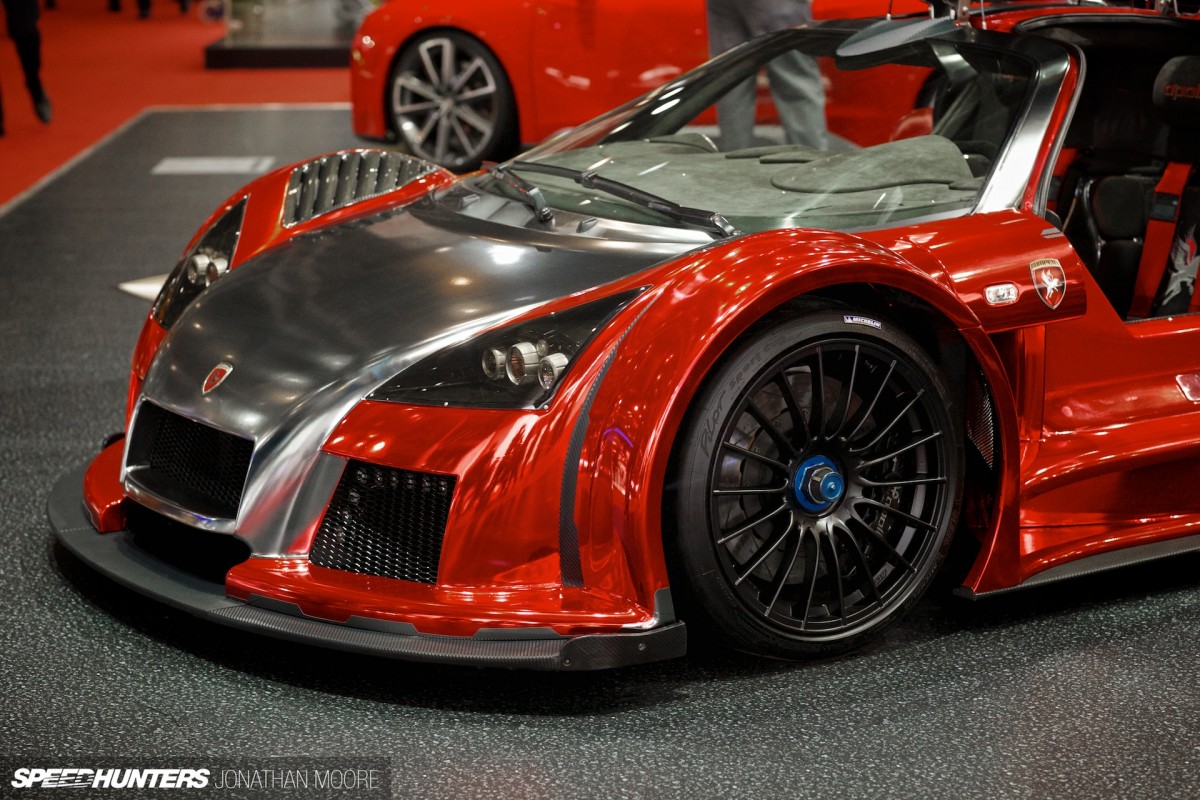 Gumpert have once again recovered from the brink of financial collapse, and had another manic Apollo on show that pushed the boundaries of taste as much as speed records. The bright red chrome was pretty hardcore, but the brushed aluminium finish at least toned things down and actually gave the Apollo a slightly retro feel. Seriously.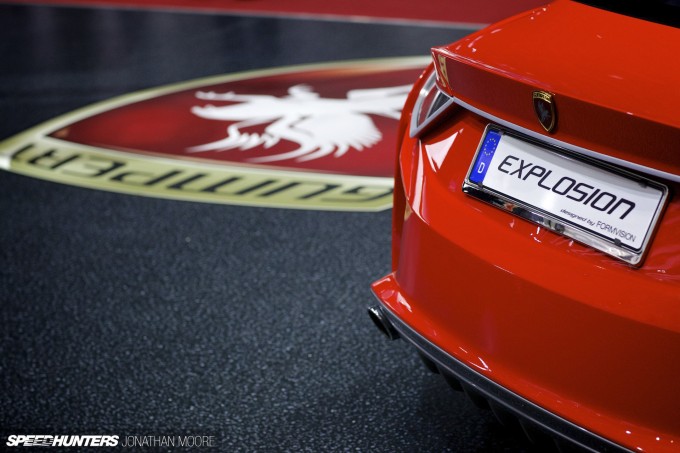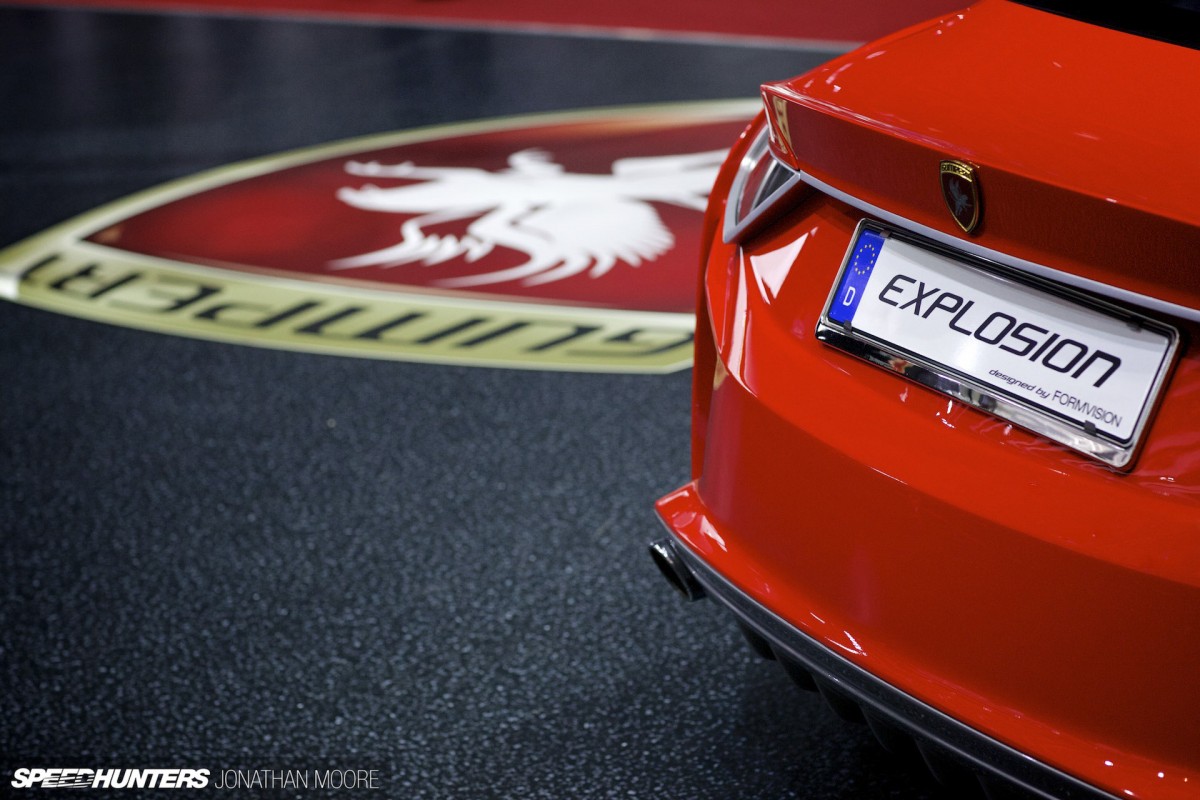 Whilst the world would be a poorer place without the extremes of the Apollo, I'm not so sure about their other model. And I'm absolutely not sure about its name. Would you really want to drive a car called the Explosion?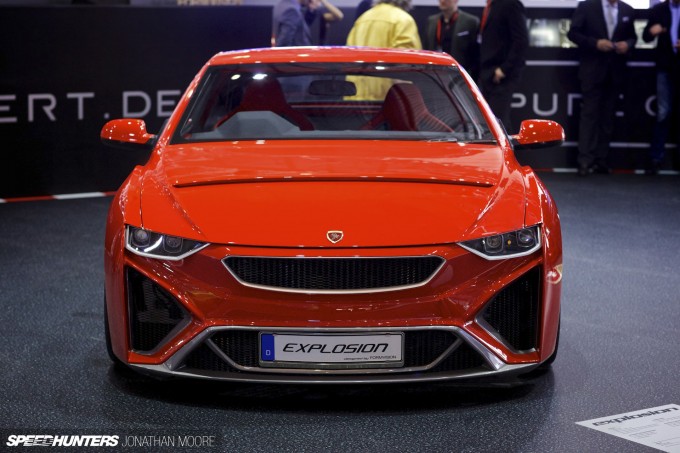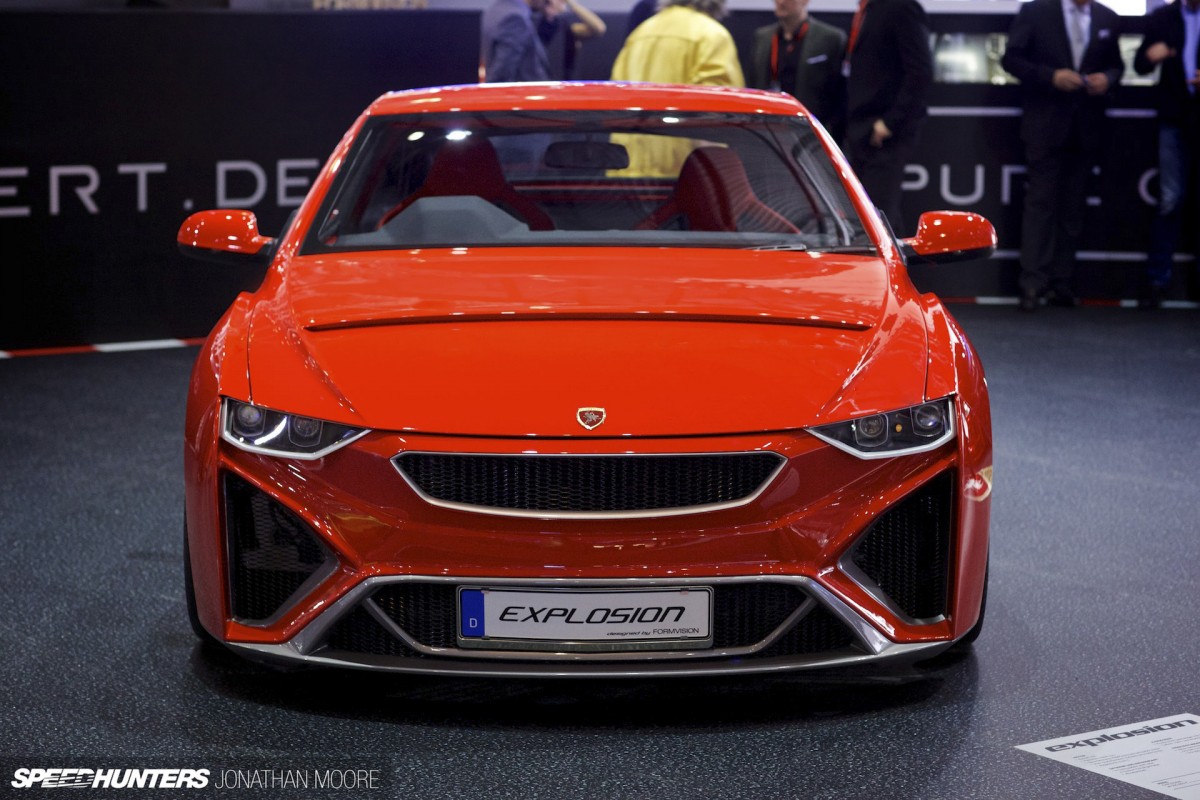 However, the TT-based car is at least a more sensible proposition for the road than an Apollo without approaching being tame: it has 510hp on tap from its inline five-cylinder engine and a 0-60mph of sub three seconds.
All about the Alfieri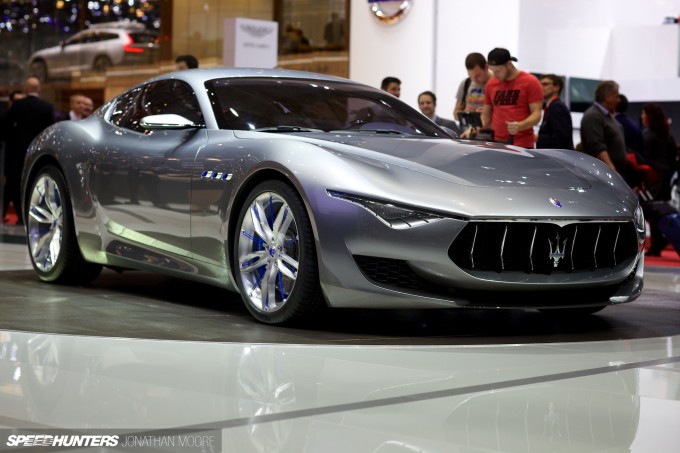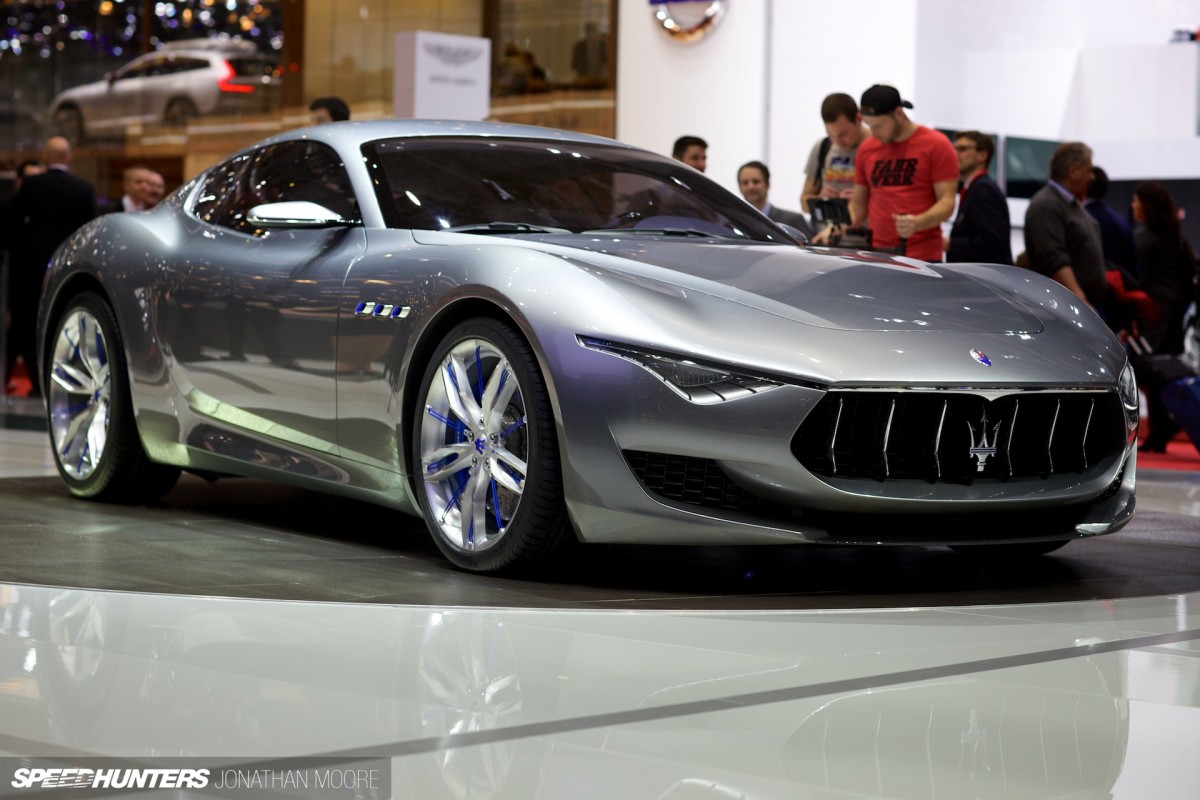 But all thoughts were banished as soon as my eyes fell upon the utterly phenomenal Maserati Alfieri. From the tip of its shark-like, predator nose to its rounded rump, the Alfieri was a work of art. There isn't a Maserati in the current line-up that I wouldn't sell significant members of family to own, but the Alfieri could easily end in jail time.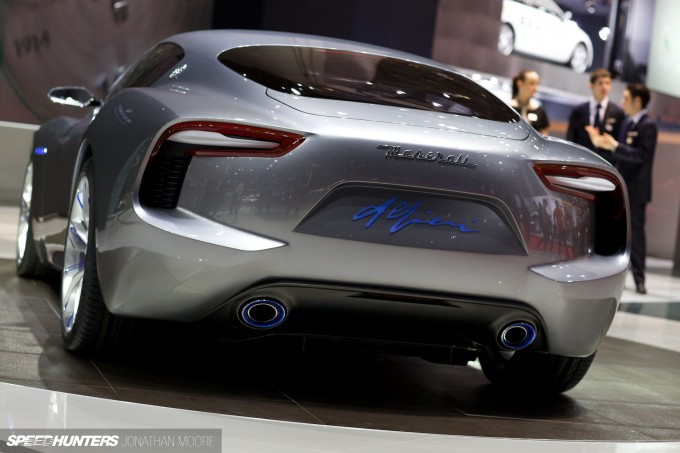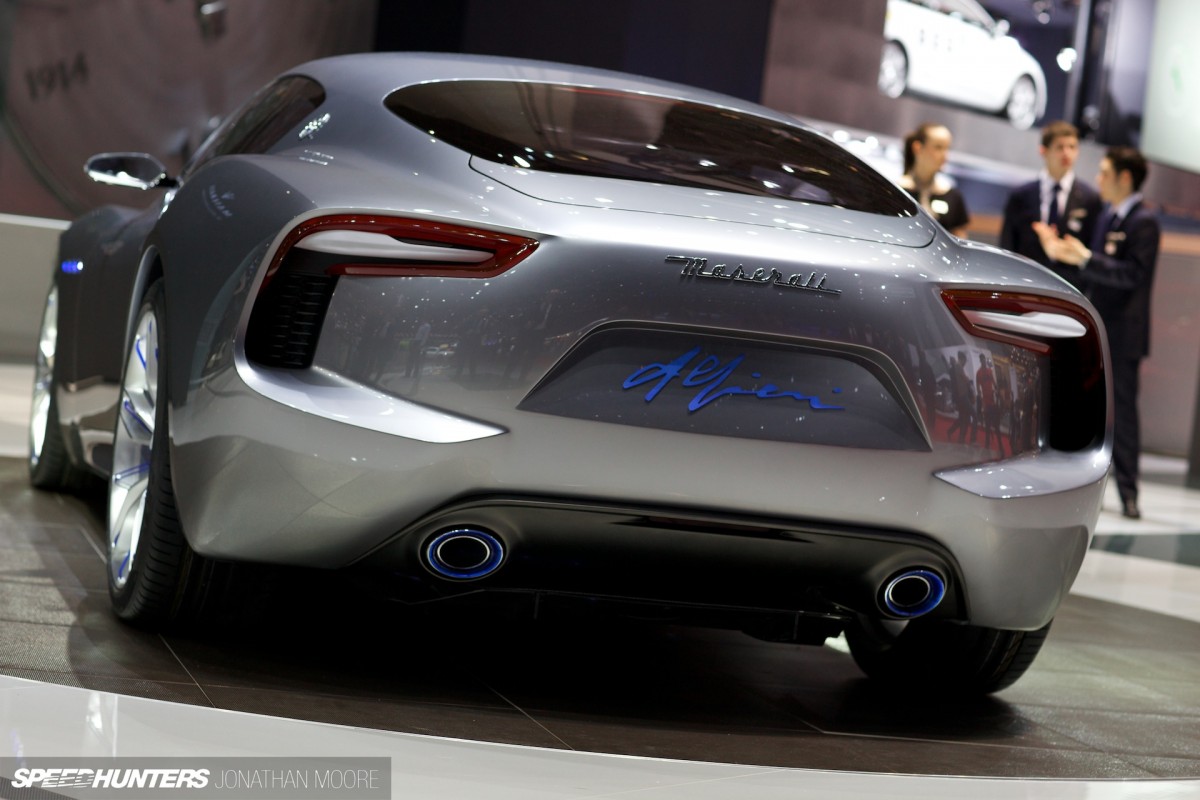 Named after the most prominent of the original Maserati brothers, if the Alfieri does go into production, it's rumoured that the coupé would sit below the Grand Turismo and be pitching against the F-Type and 911s – but surely this is in a different league, aesthetically at least. The car of the show? By far.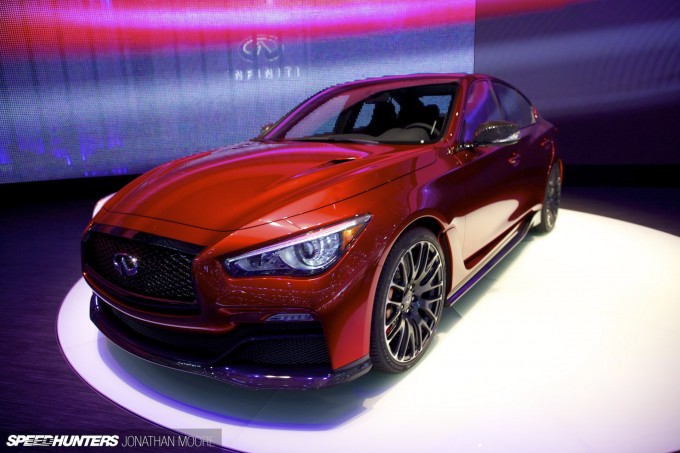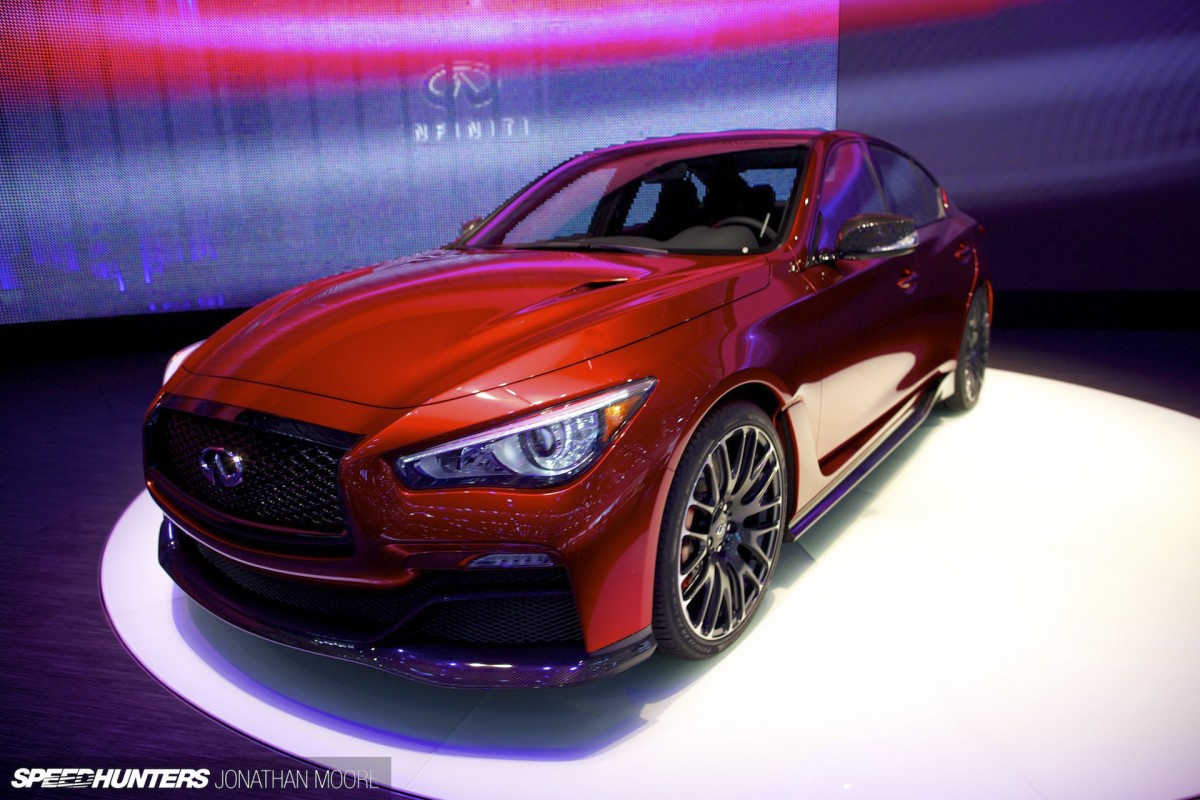 So there was a sleeping beauty… but also a sleeper powerhouse. This was Infiniti's Q50 Eau Rouge – effectively a four-door Nissan GT-R, thanks to it being underpinned by four-wheel drive and a twin-turbo 3.8-litre V6.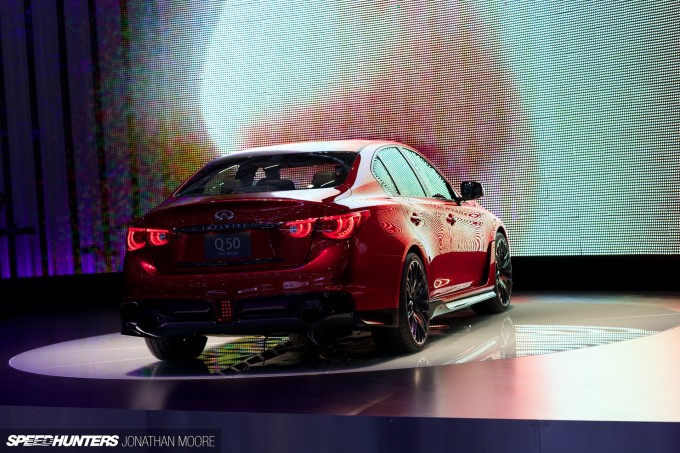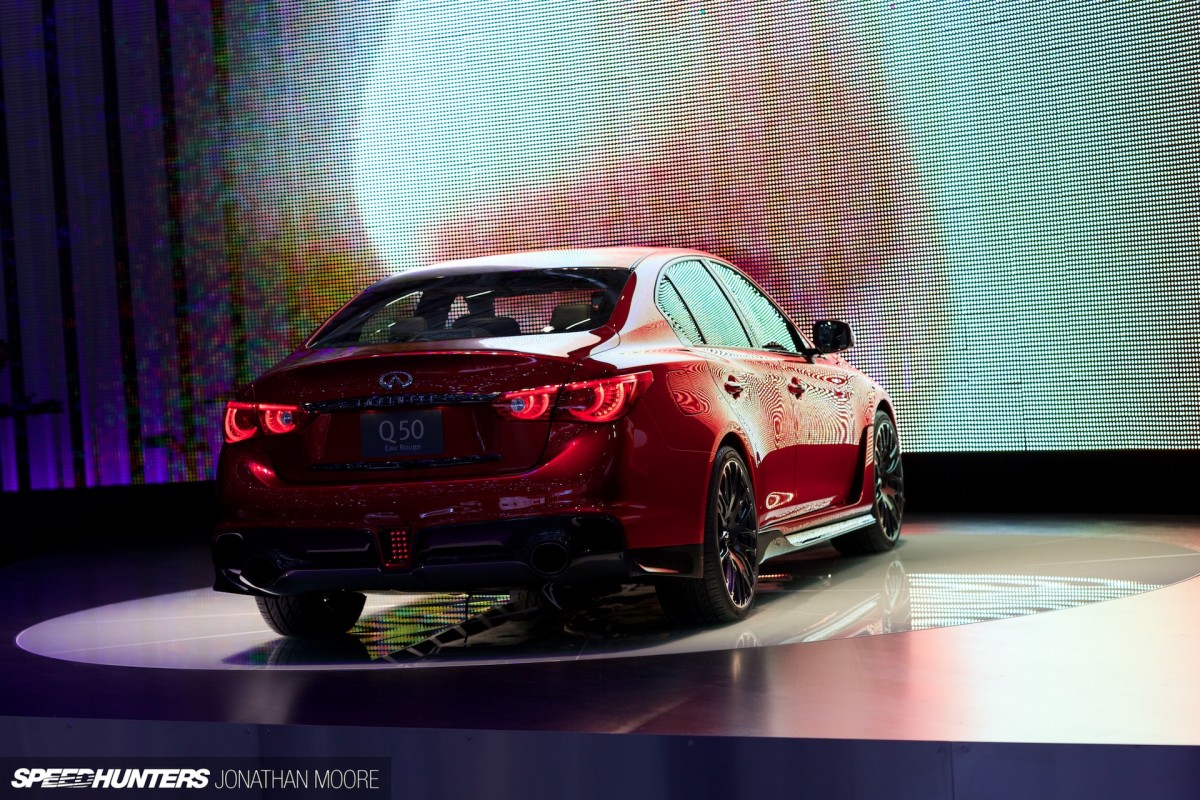 It's another part of the Red Bull tie-up, and the carbon rear bumper features the same style LED light as the F1 car. This will be a proper super saloon if it goes into production: the kind of car that leaves Porsche drivers looking really, really quite upset.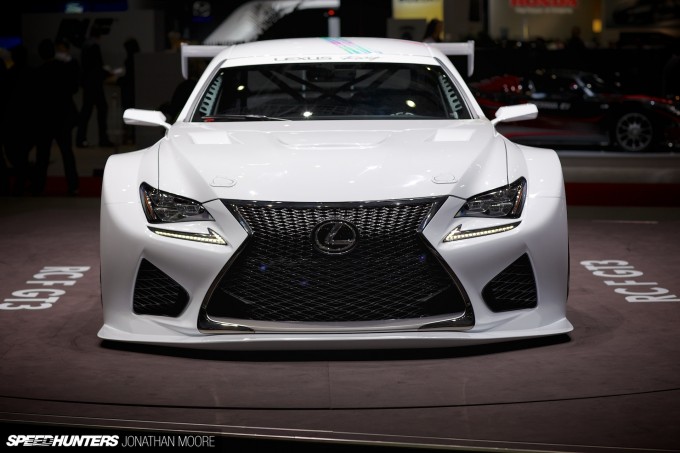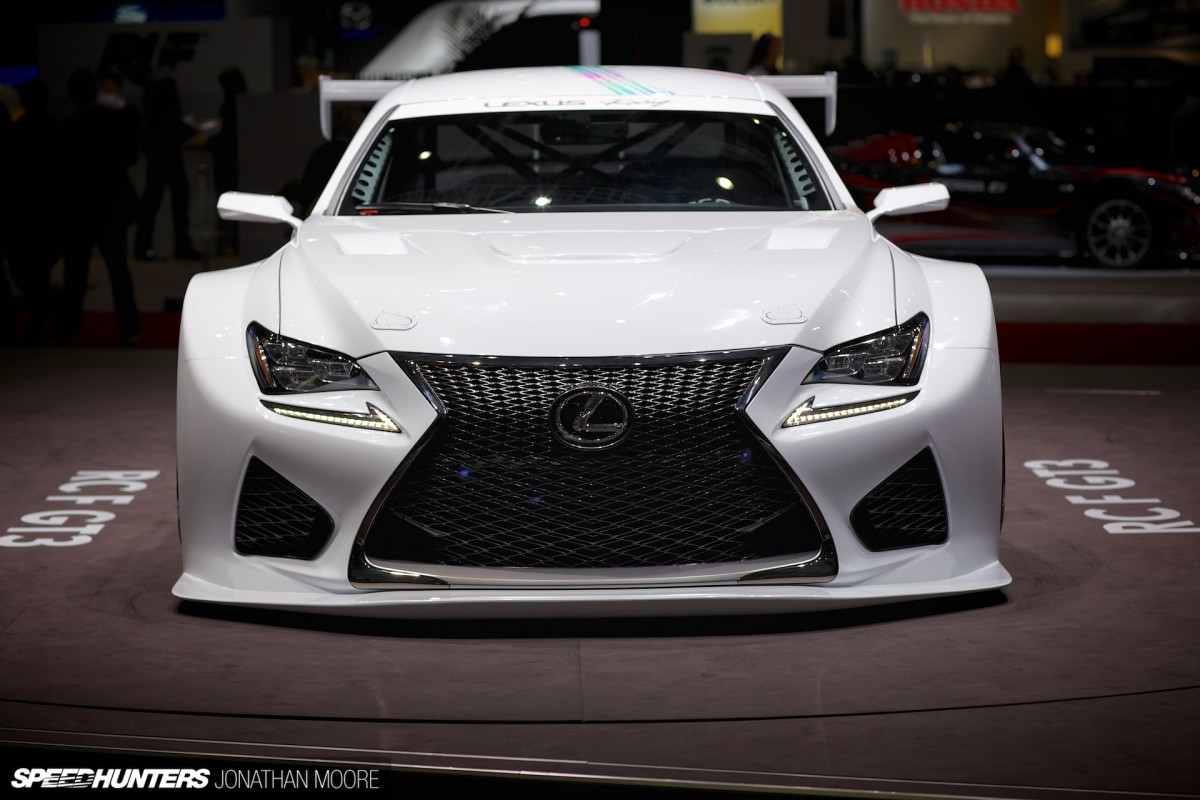 Taking the sleep out of sleeper was Lexus' new racer: the RCF. This was a surprise, if I'm honest – I think I'm right in saying that it's only the second Japanese-originated FIA GT3-spec car amongst the hordes that have come out over the years, and it's a big car more along the lines of something like the awesome Alpina B6 and GT-R than a lot of the smaller supercar-based models.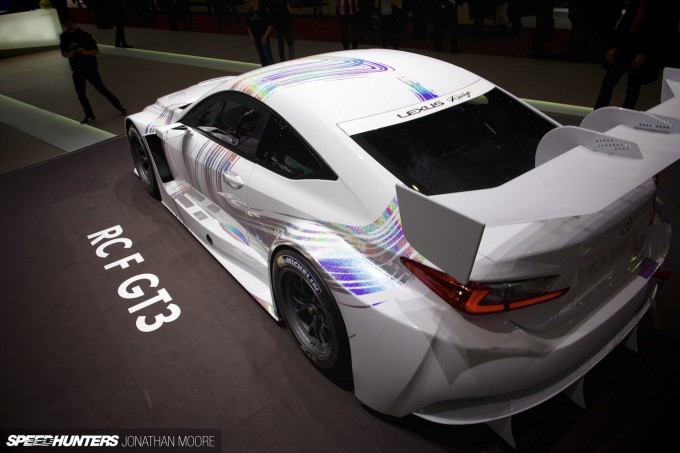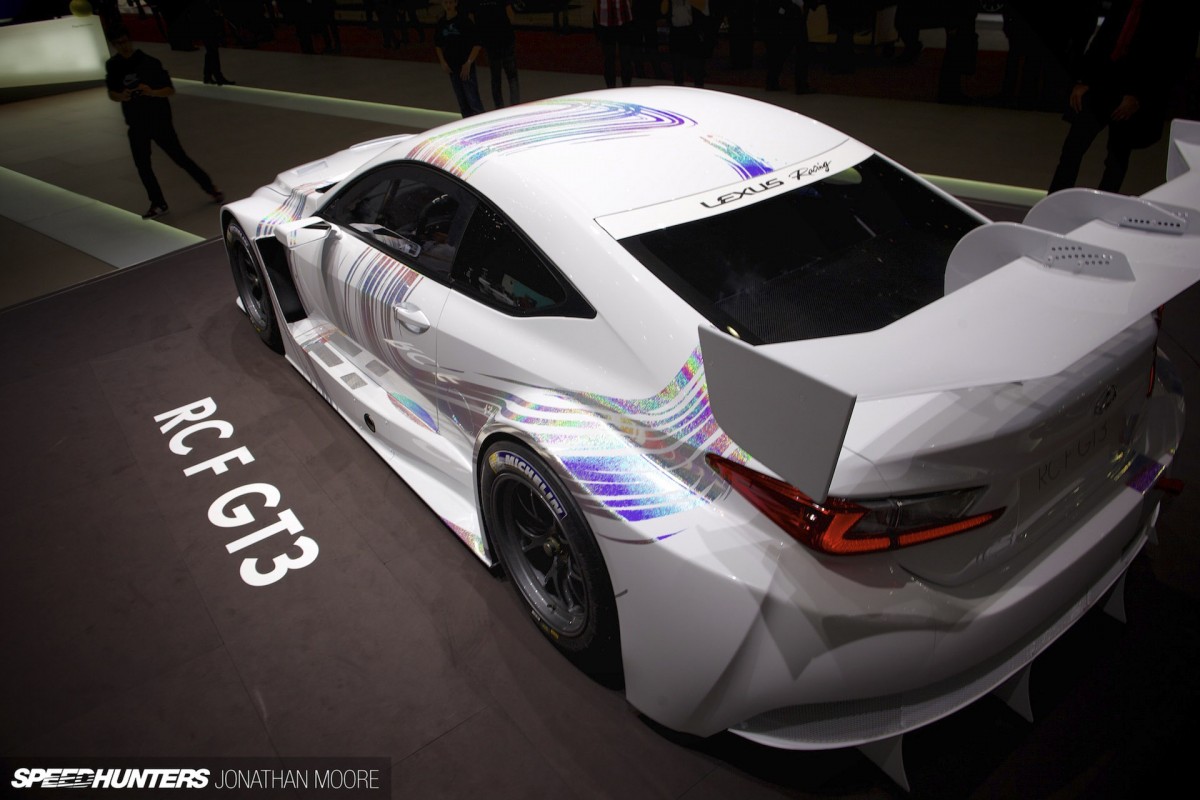 The bling decals were… interesting, shall I say, but at least allowed you to really see the car's shape. And what a shape! It's a really imposing car. You wouldn't want to go panel to panel with it in your little R8 or Ferrari up against it… It's also likely that this GT3 car will morph into a GTE car, which would mean Lexus could be seen at Le Mans within a couple of years.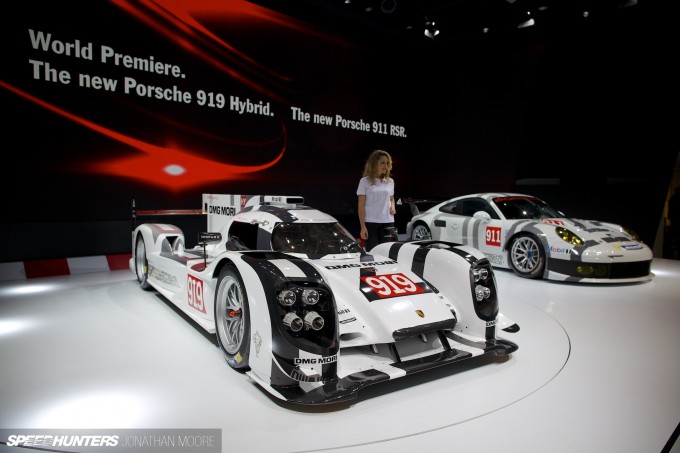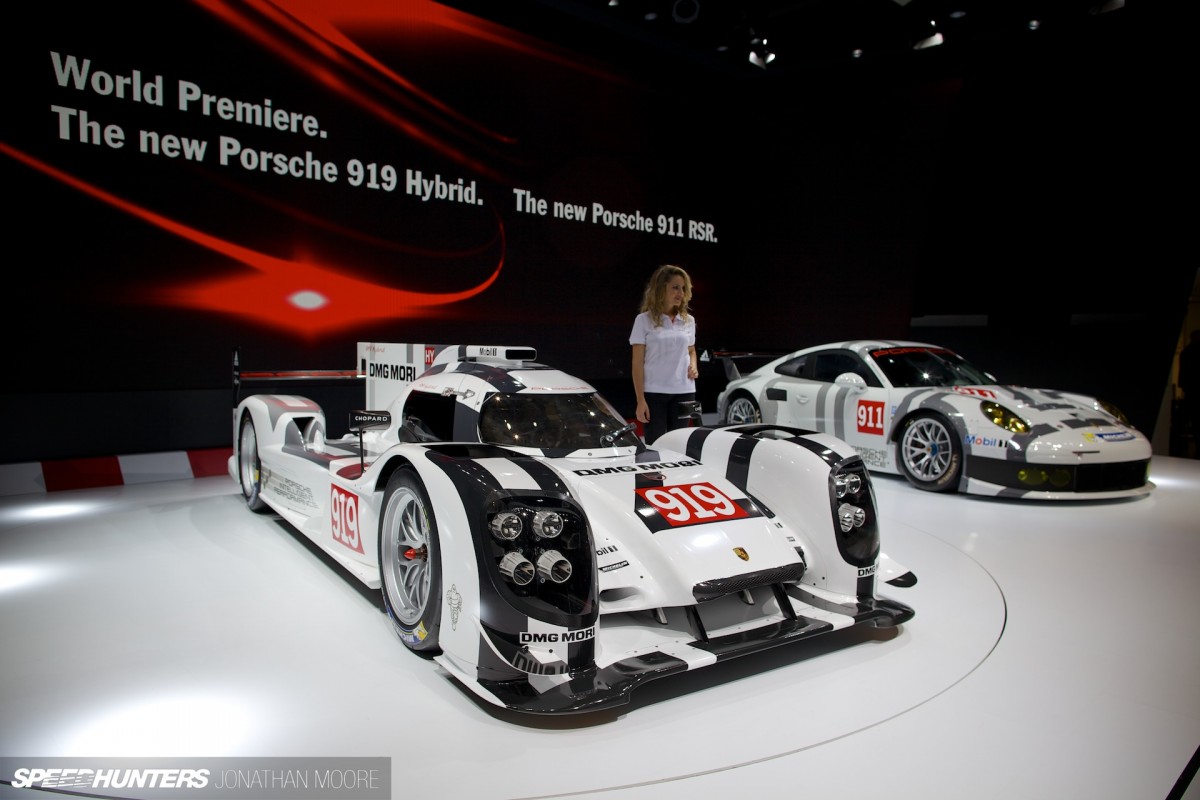 The big news in racing is Porsche's return to Le Mans, the scene of so much success for them over the years. The new 919 Hybrid will be going up against the might of Audi and Lexus' mother brand Toyota, and it's exciting to see three such different hybrid cars: Porsche's two-litre turbo V4 against the turbodiesel and the naturally aspirated V8. Roll on April and the opening round of the 2014 World Endurance Championship: it's going to be epic.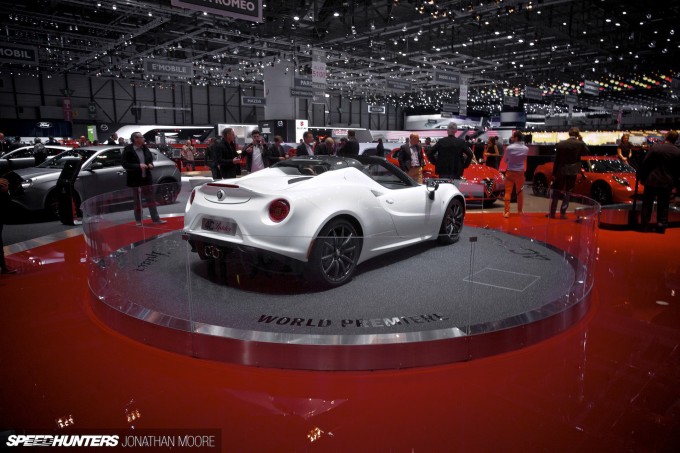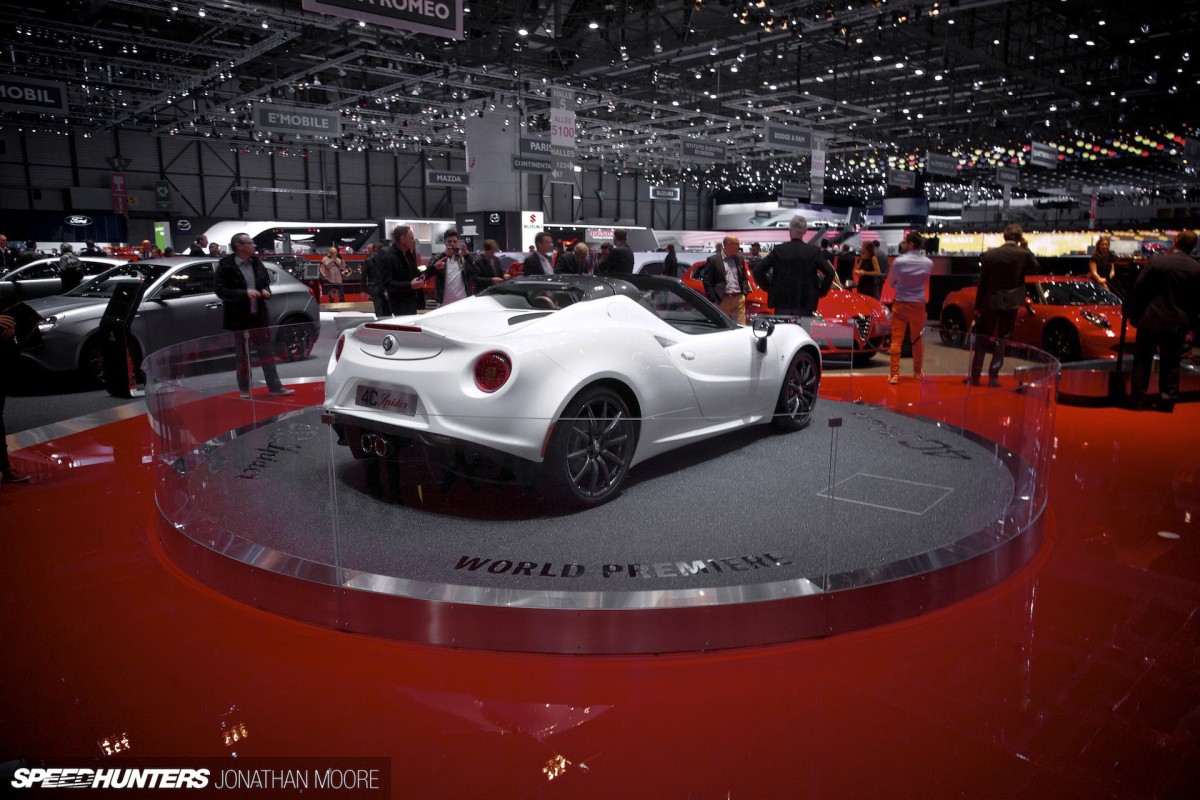 Back to the subject of road cars, are the majority of models shown above like dinosaurs: a final rush of power and excess before extinction? Alfa Romeo's 4C shows the likely future path for performance cars that don't utilise expensive hybrid technology: small, turbocharged units combined with light weight.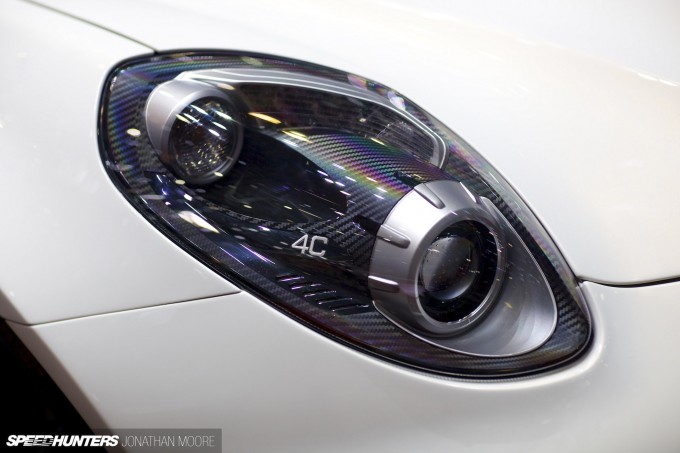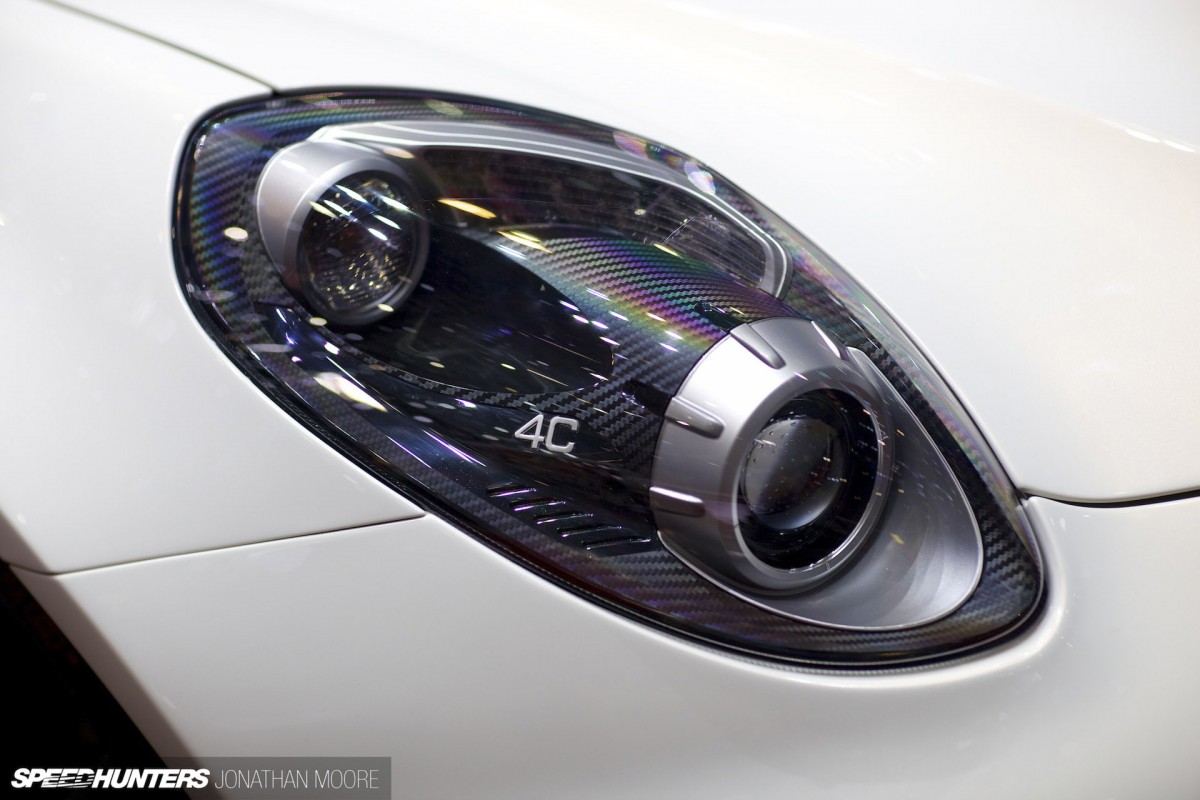 Like the McLaren, the Alfa has an integrated flow to its lines in open-top form. The Spyder also introduces some new headlamps, moving away from the bug-eye splats of the original launch coupé – the only part of the 4C I didn't want to marry.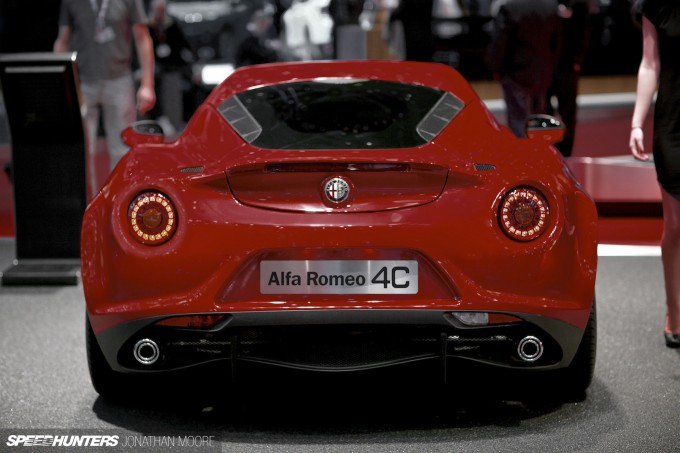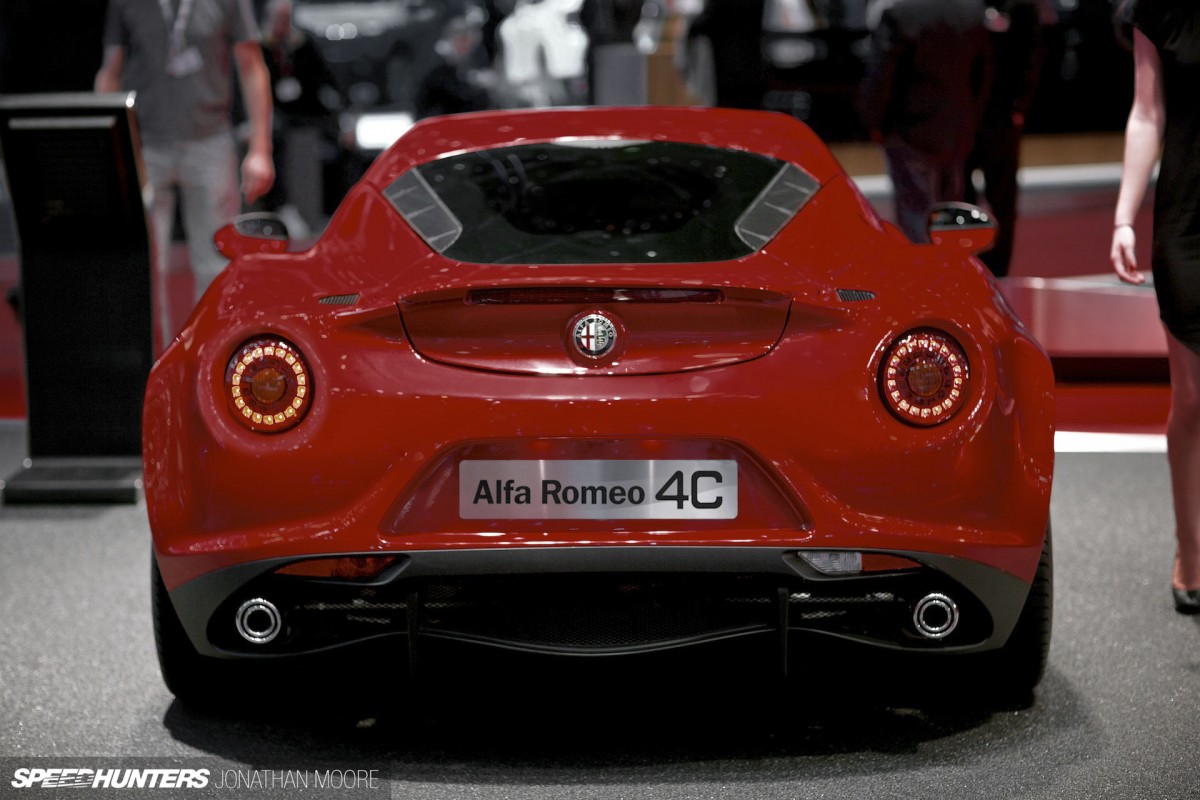 Throw in the carbon tub and the low price of entry… Whether or not you like the car, this is a ground-breaking launch.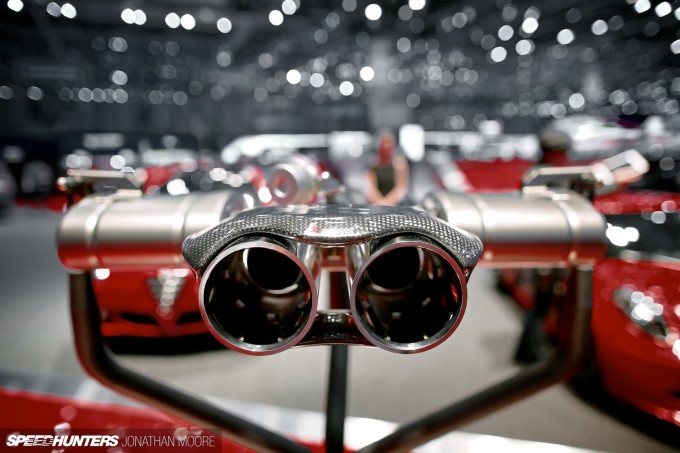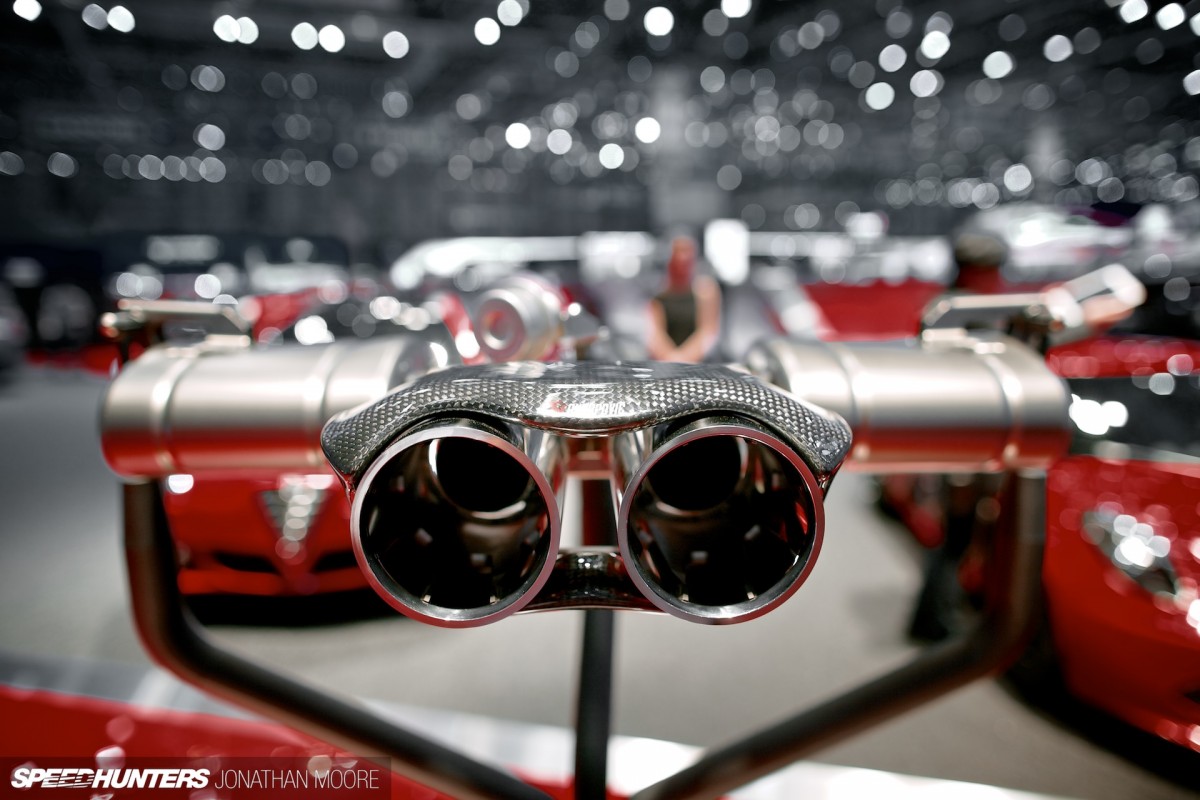 And the sound is sublime, thanks to the dual-stage central exhaust by Akrapovic, which features titanium and carbon tailpipes and electrically-operated valves to control pitch.
Future shocks: hybrid drive thyself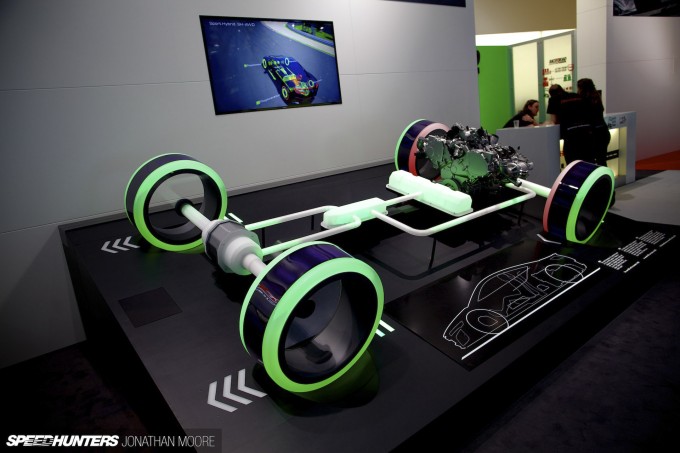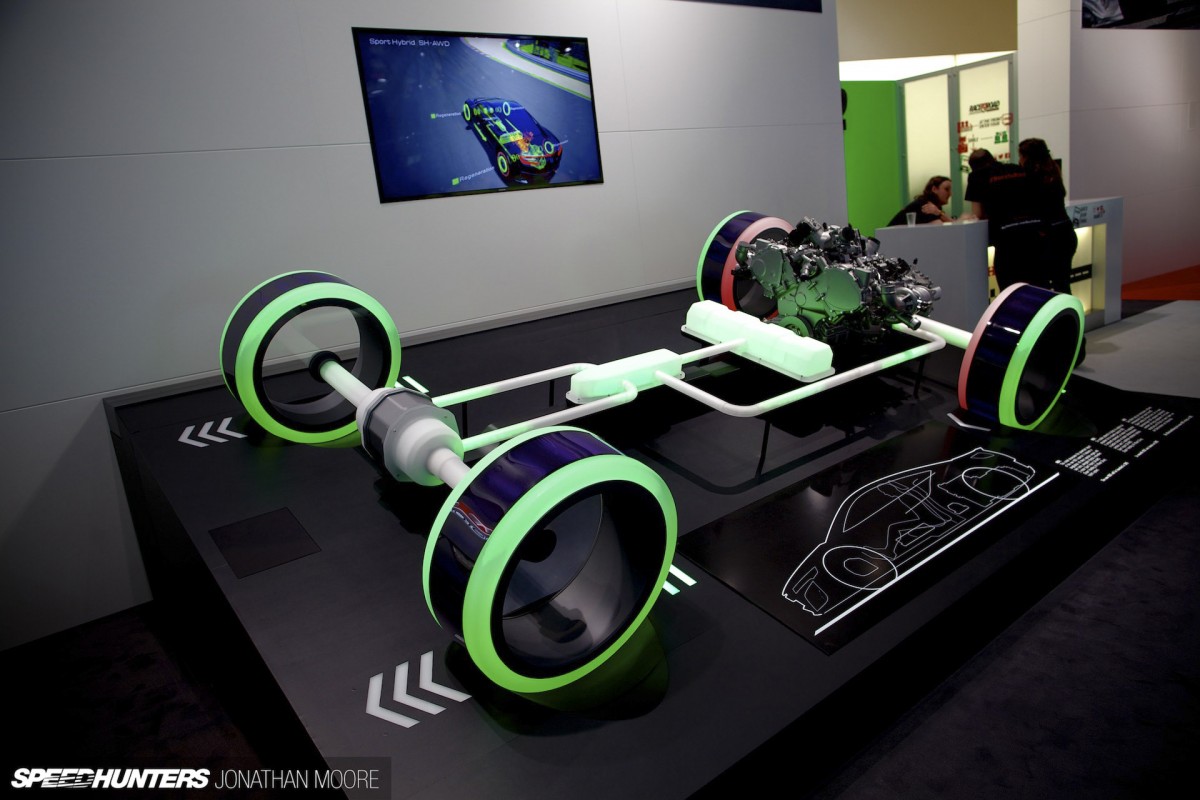 So the other future. The future where the car is about practicality and robots rather than outrageous excess and humans? Where does that fit in?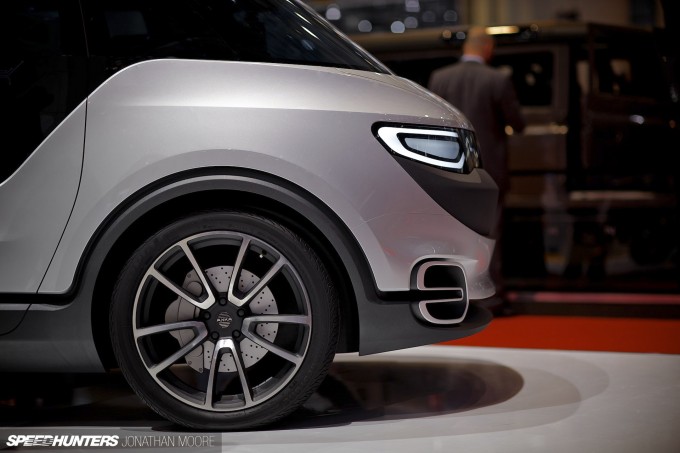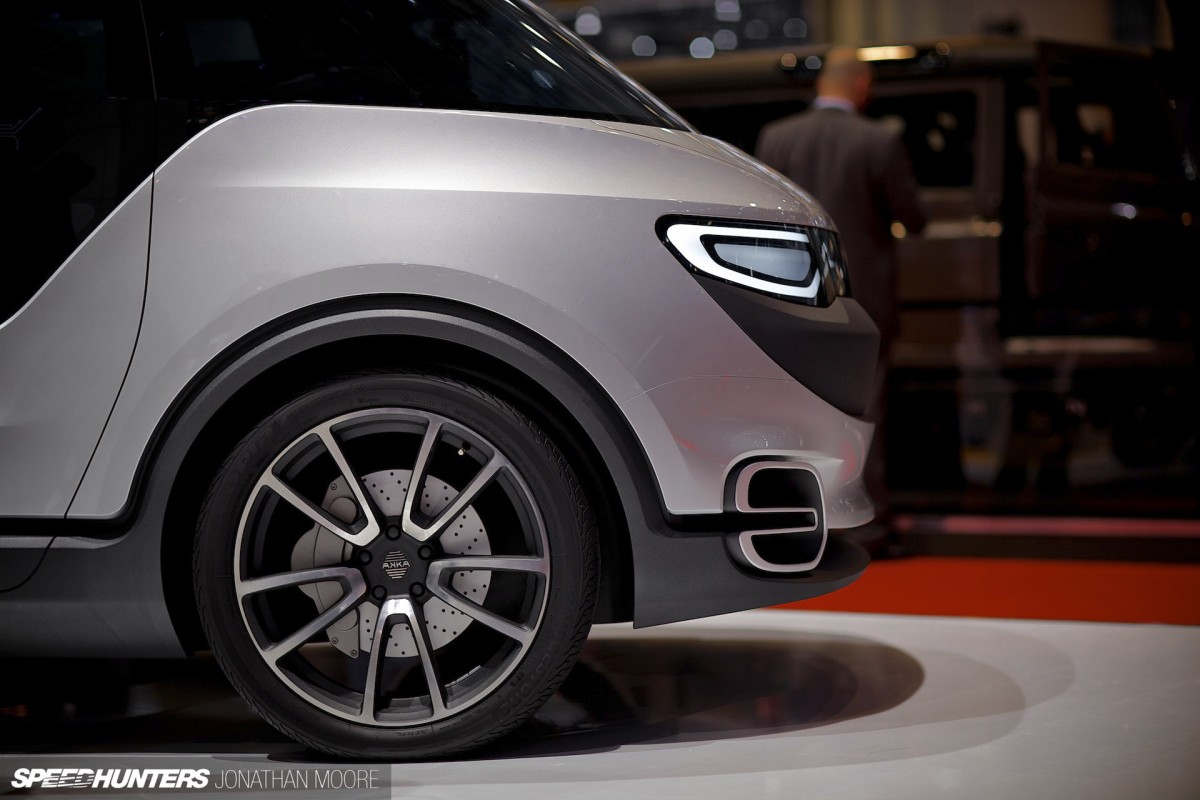 Sometimes the future looks pretty familiar from some angles. Normal wheels. Visible brake discs. Headlights.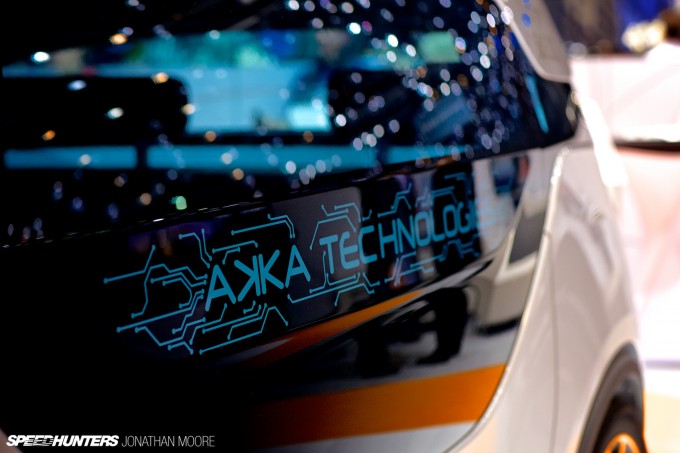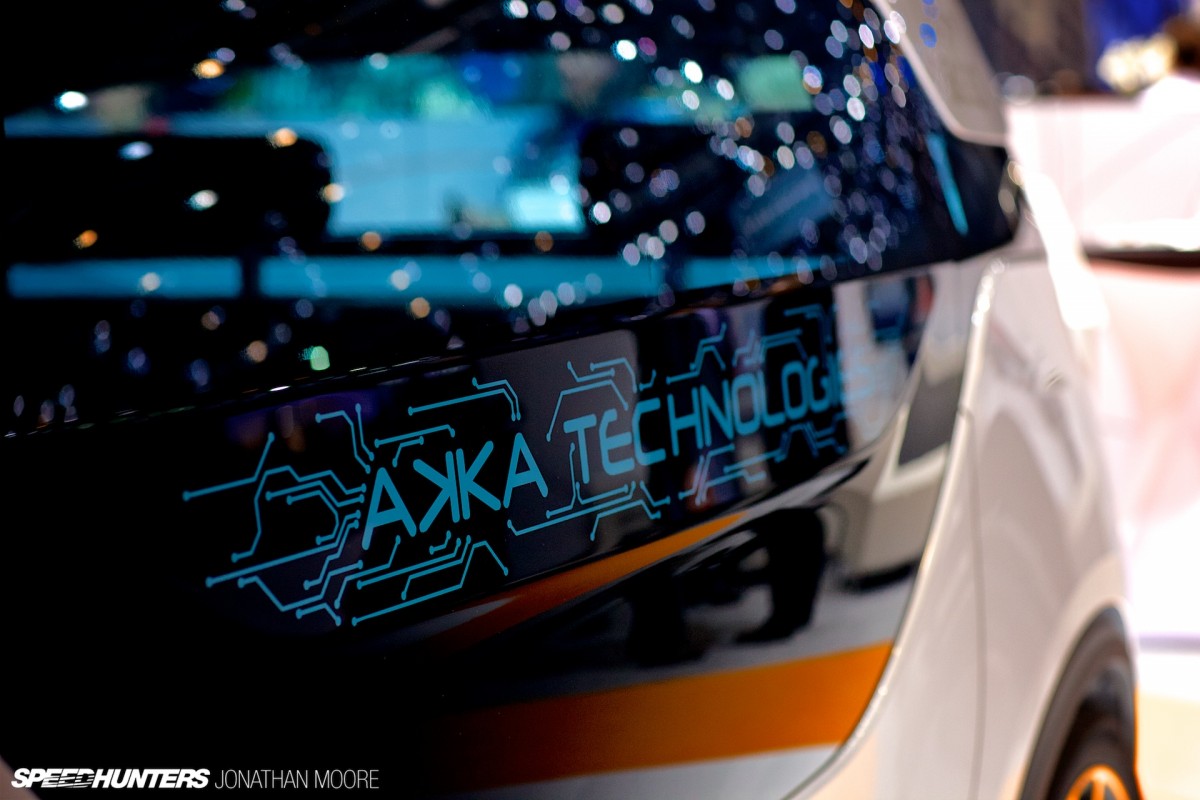 The one thing that was missing? A driver. Whether it scares you or not (and it terrifies the hell out of me), driverless cars are coming – and that will completely change the automotive landscape as far as daily driving is concerned.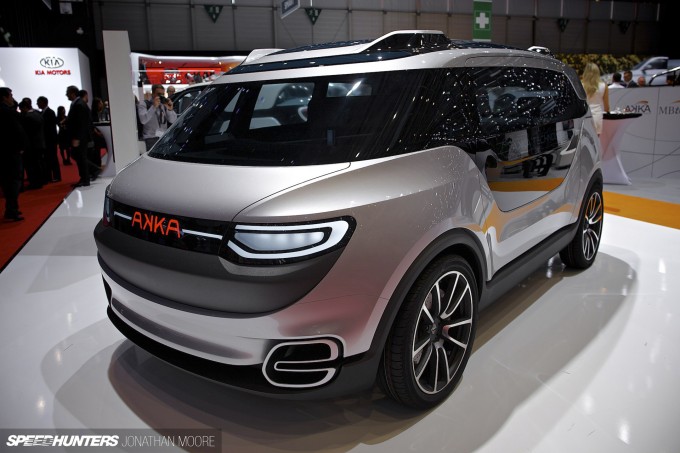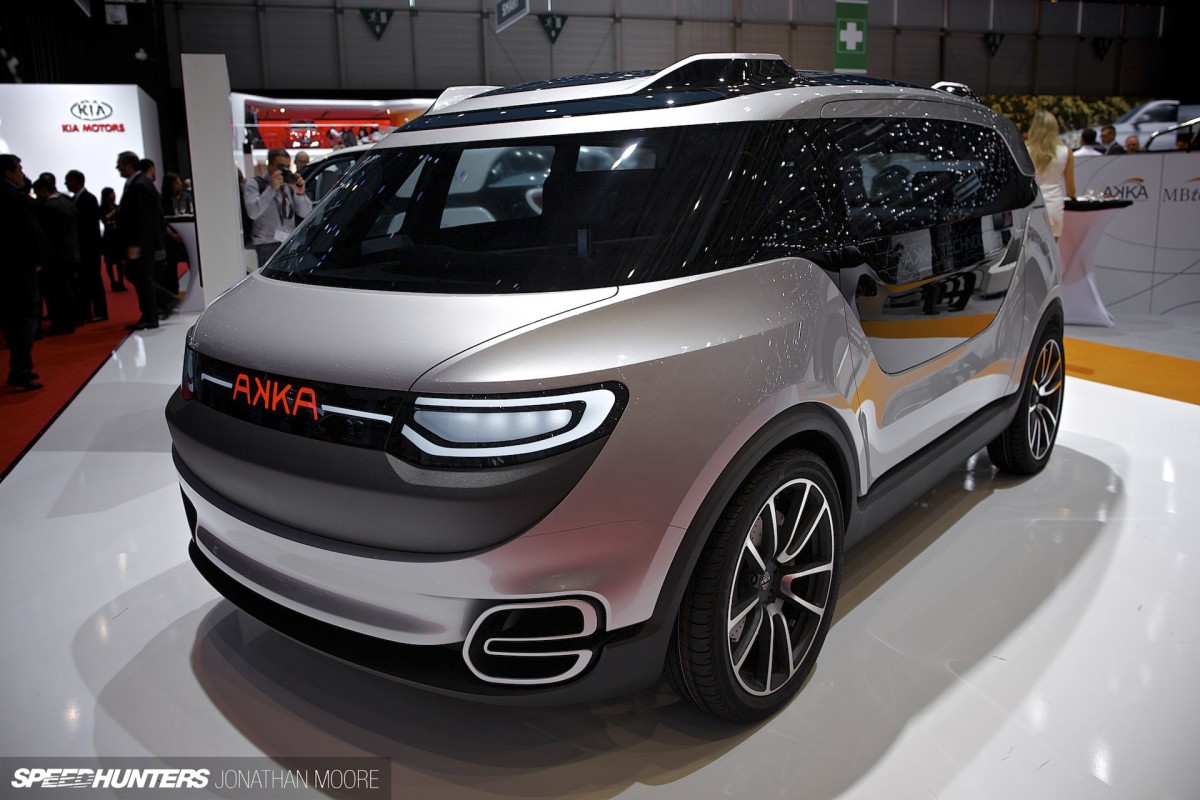 AKKA showed off a similar concept last year. I think the Link&Go 2.0 looks pretty cool – and bearing in mind the way most people drive near where I live, would an AI driver be any worse?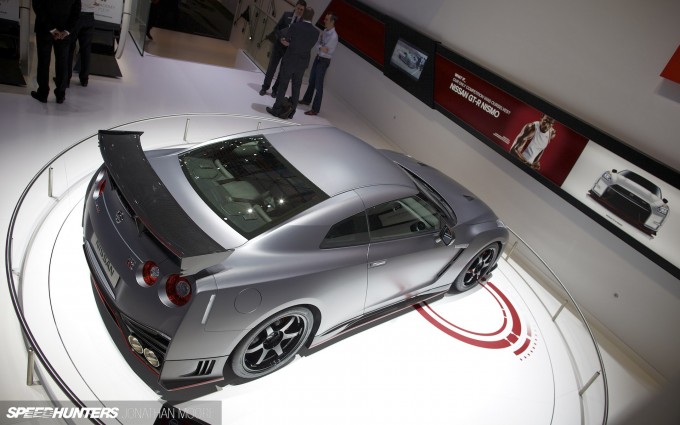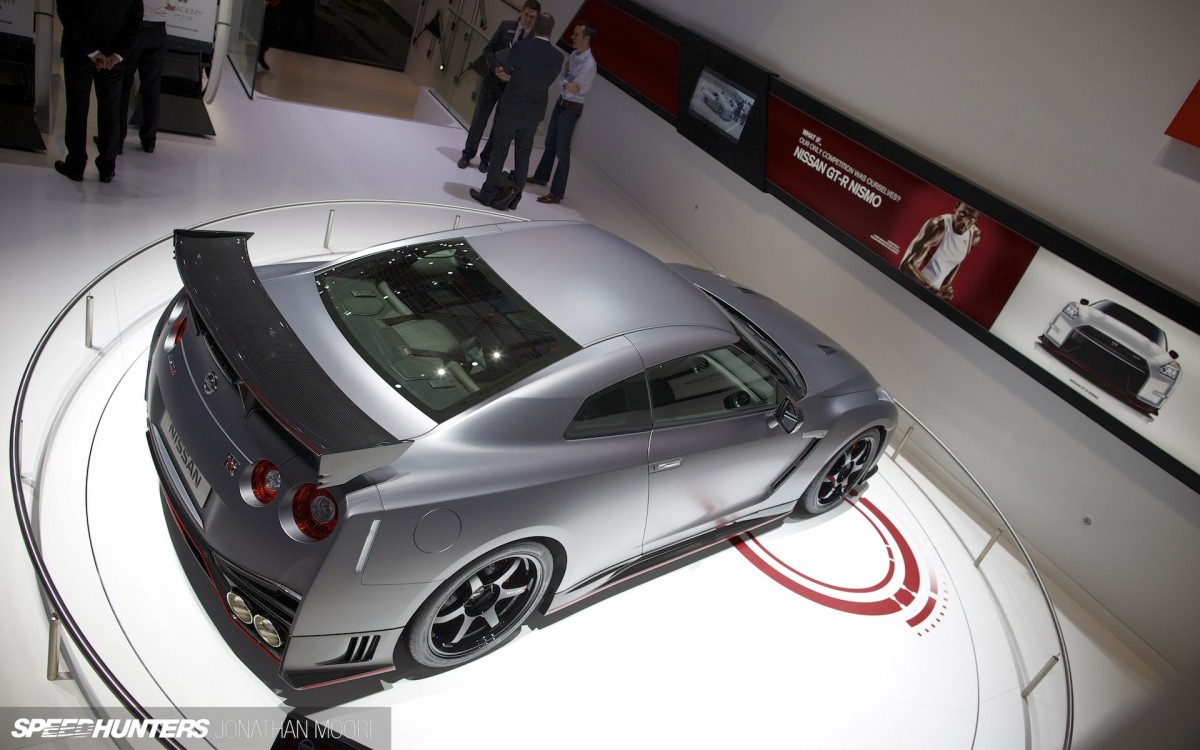 But it can only be a positive that a company that can come up with a car like the GT-R is also behind cutting-edge technology demonstrators.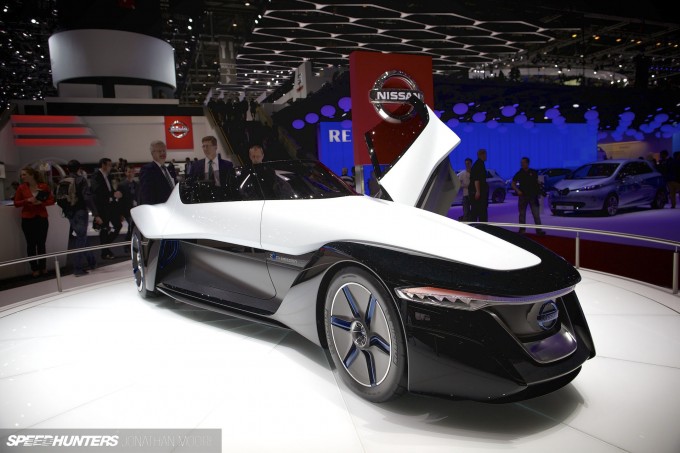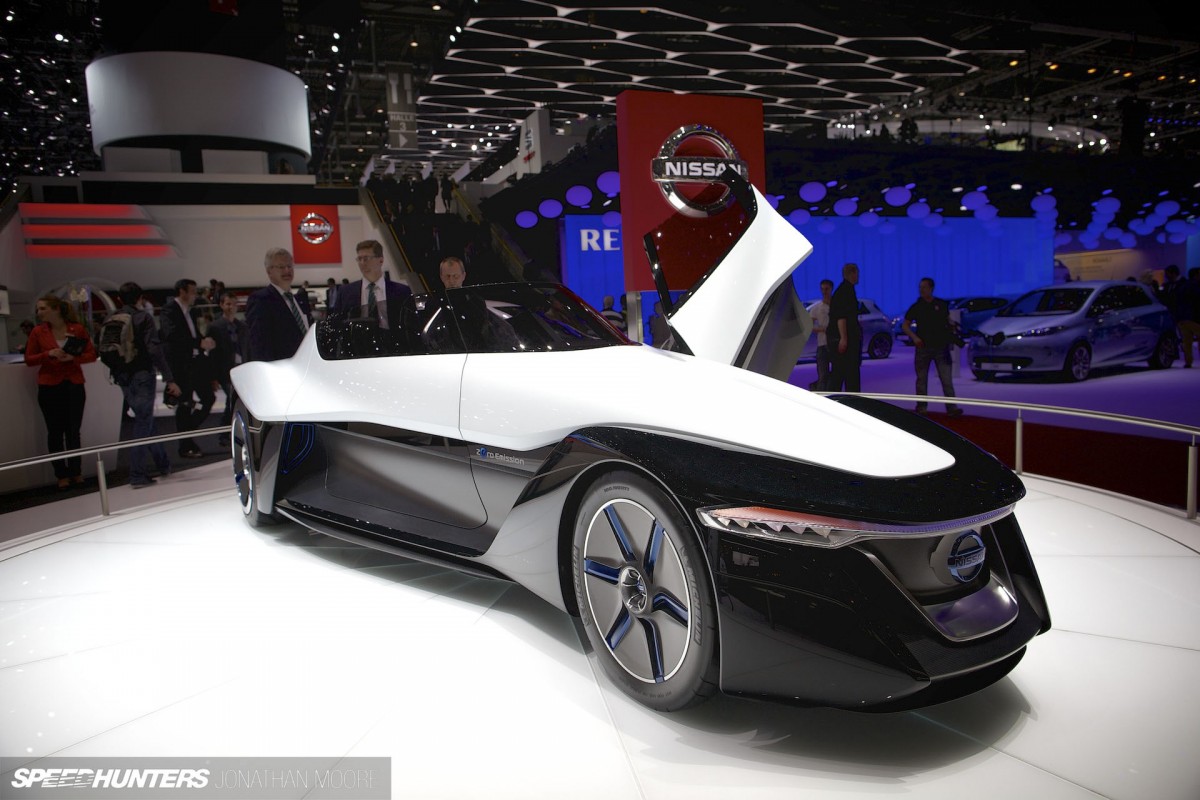 It also helps when you assign it a saucy name: this is Nissan's BladeGlider, which is based off the back of their ZEOD Le Mans 24 Hours programme. It's a three-seater delta wing; if the Alfieri was the most beautiful car at Geneva, then I'd suggest the BladeGlider was the most unconventional and innovative. Sceptical? Well, it's a performer as well, with rear-biased weight distribution for better traction, torque-vectoring and ultra-stable ride.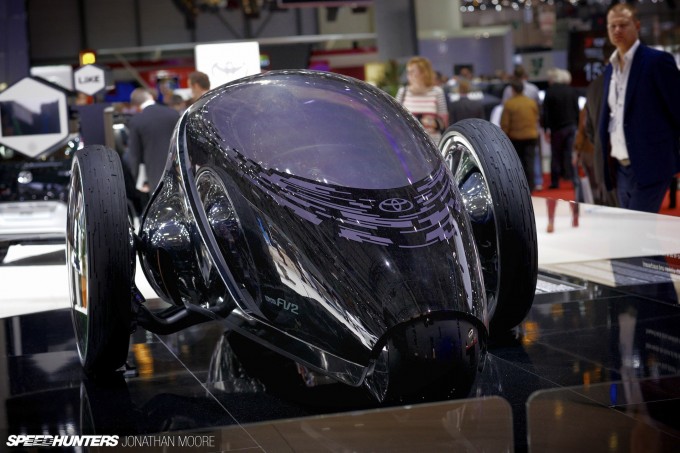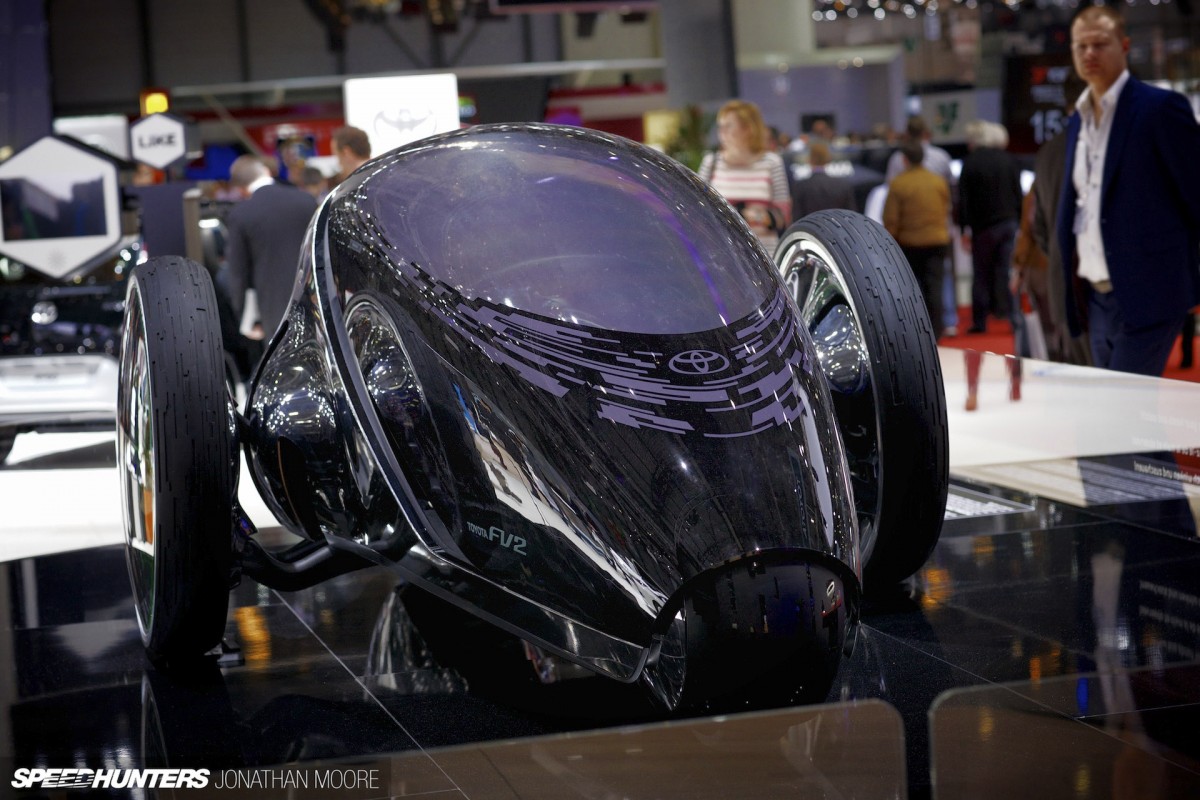 It made that Toyota look more feasible… Look! It moved again!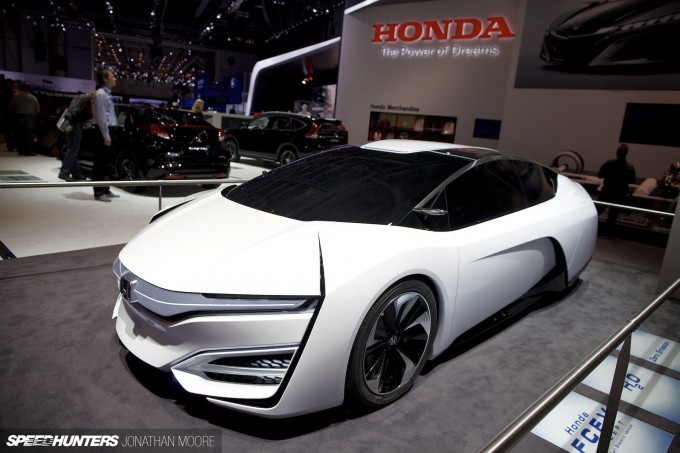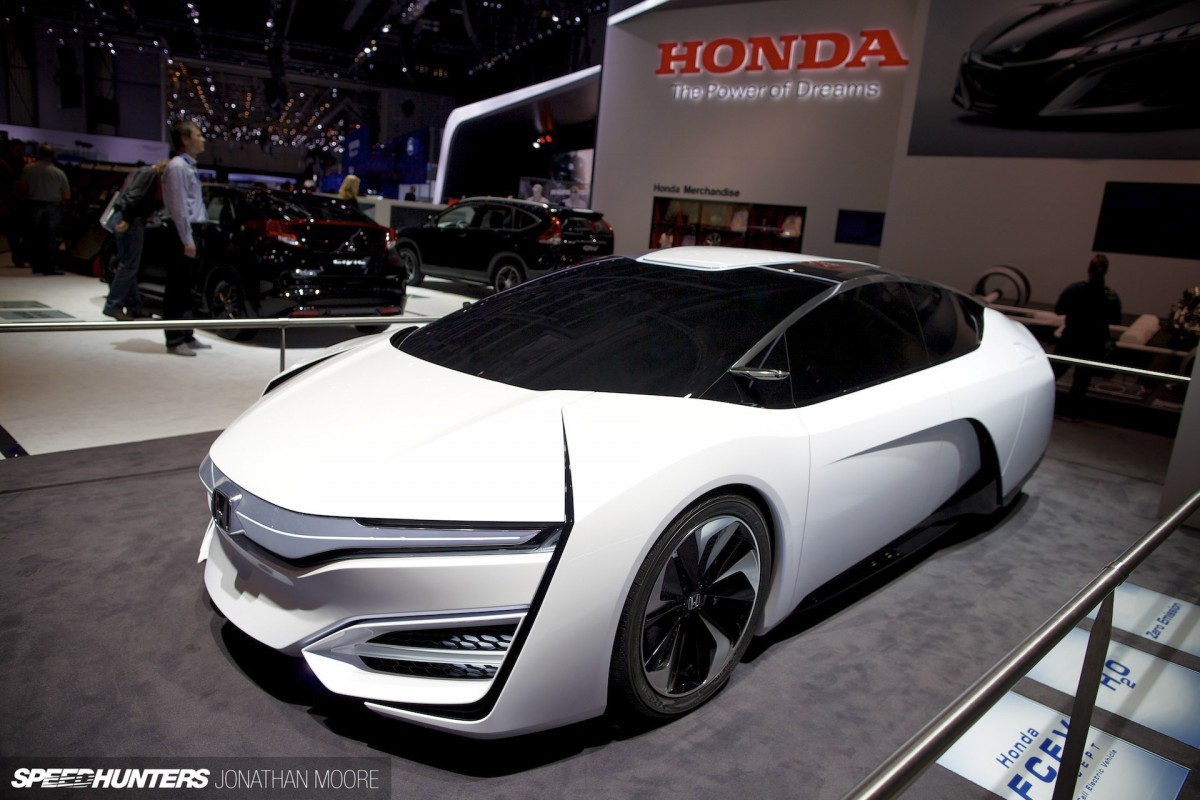 I seriously find it exciting that these kinds of cars are really going to be hitting the streets in the very near future. This style of concept has been knocking around for decades in styling terms, but now they're actually beginning to go into production. It's literally going to be sci-fi, with petrol-powered classics sharing the road with things from the future.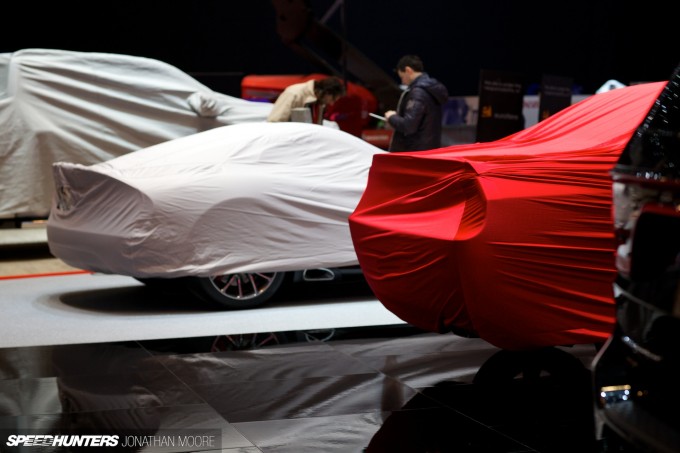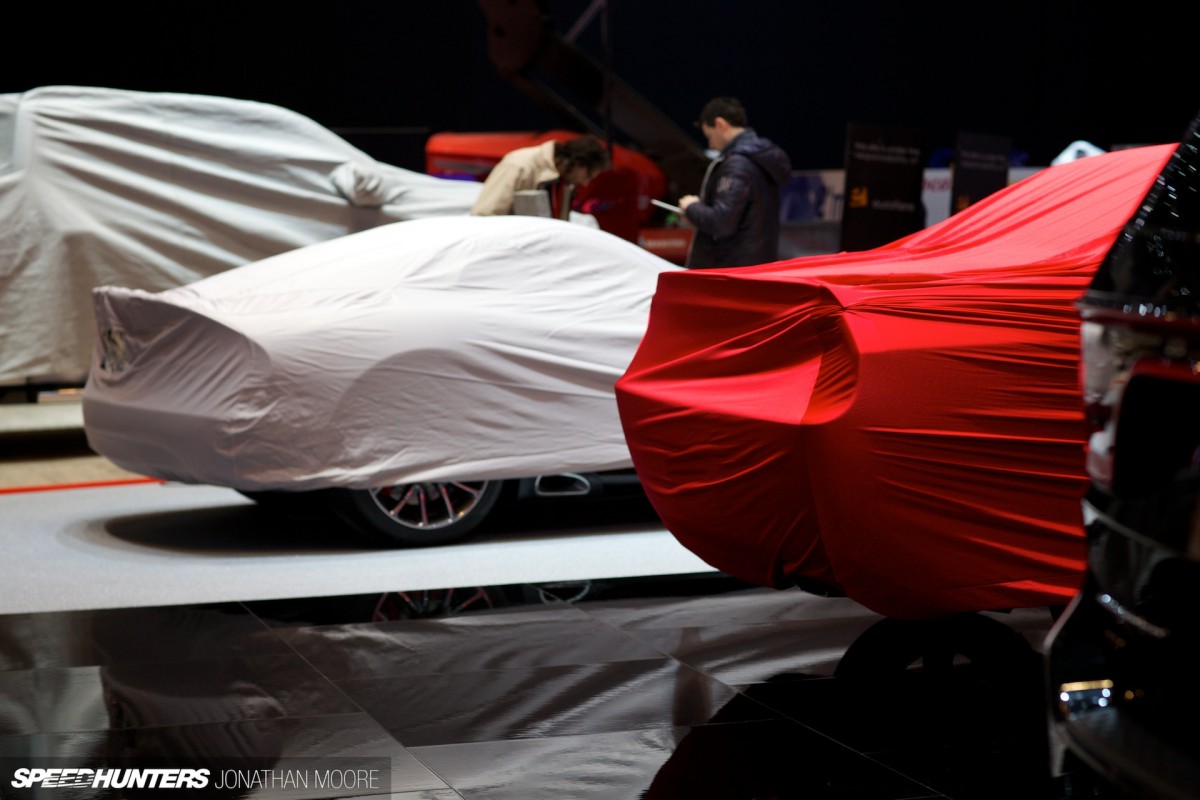 To paraphrase an old saying, hybrid drive thyself… are we seeing the last charge of the oily, petrol-driven supercar? Will the robots rule? International shows like Geneva set the scene, mapping out the future, and it looks like the first lines of Skynet are being written…
Jonathan Moore
Instagram: speedhunters_jonathan
jonathan@speedhunters.com