Those memories
It was about twelve years ago in Italy, during a particularly warm summer, that I had the chance to fling a series 1 Lotus Exige around some pretty nice mountain roads. Back then, like most youngsters, it was all about power for me. I didn't get the whole 'add lightness' to get more performance thing, it just seemed like a silly (read boring) way to go about performance. Why the hell would you? We have little incredible feats of engineering called turbos that do all sorts of cool things to lazy engines, and that to me sounded like a more fun path to take. But then I fumbled my way into an Exige tub, clumsily attempting to guide my limbs and get them safely through the little door opening. And then it happened. The best way I can explain it was like being slapped around the face, such was the instant understanding of the car's dynamics. So that's what the Lotus guys have been going on about all these years, I thought! Call it a pivotal moment in my life, but man did that change the way I look at cars. Sure it hasn't made me sell the R34 (that's a whole other argument which I can take up with any of you in the comments section below) but it's certainly put a lot of things in perspective.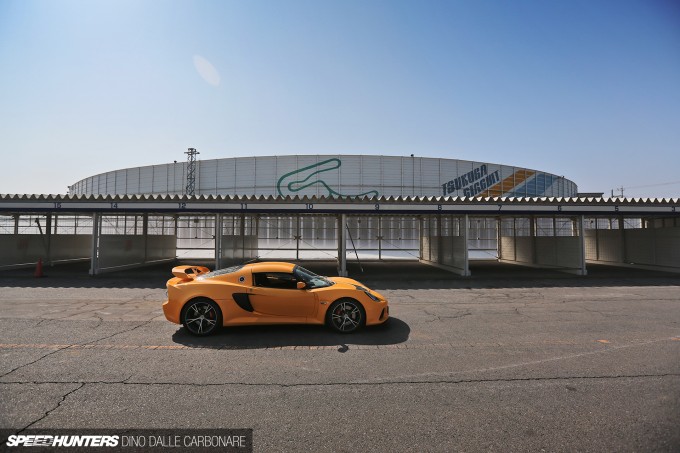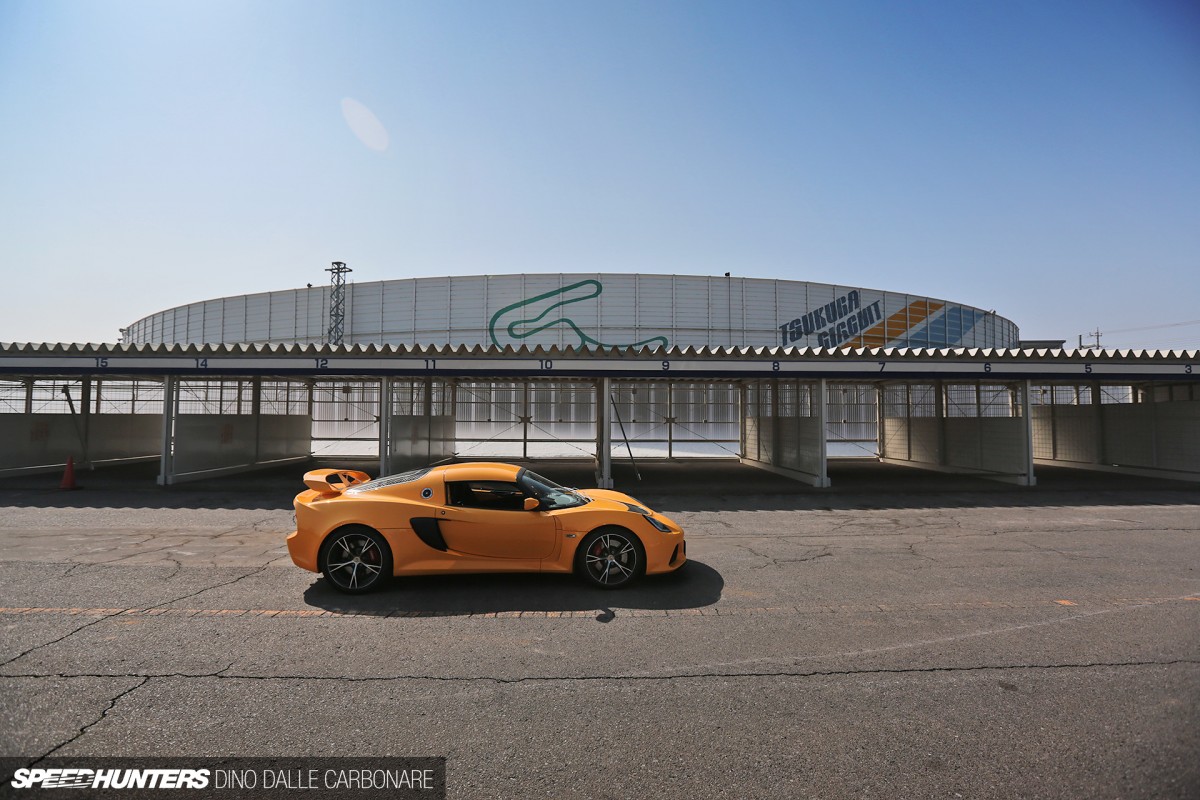 And that's precisely why I've been looking forward to driving the all new Exige S for quite some time. Timing hasn't been on my side these last few months and I had put off driving this car for ages, waiting for the time I knew I would at least have a few days to properly enjoy it and drive it as it should be driven. That's how I found myself at Tsukuba circuit with the very yellow, well-used Lotus Japan press car you see here. With 10,000 very hard km showing on its odometer, this car has been through everything including track tests, performance tests and slalom courses as well as highway stints. So it was quite impressive just how tight it all still felt. By this point I had been enjoying the car as a daily driver for about a week and, despite the fact that like that first model over a decade ago, it's still a pain in the ass to get in and out of if you're anywhere over average height or build, well it's an exceptionally good car, turning the most mundane of drives into fun expeditions. It may not be as light as the first generation one, but Lotus have done a good job of keeping the weight off, now at around 1,180 kg.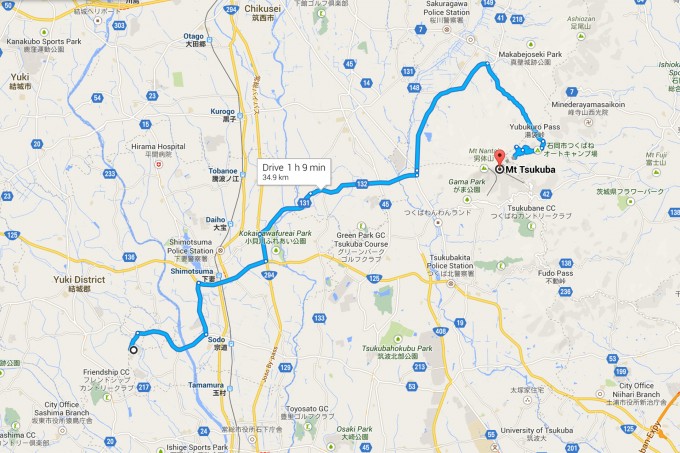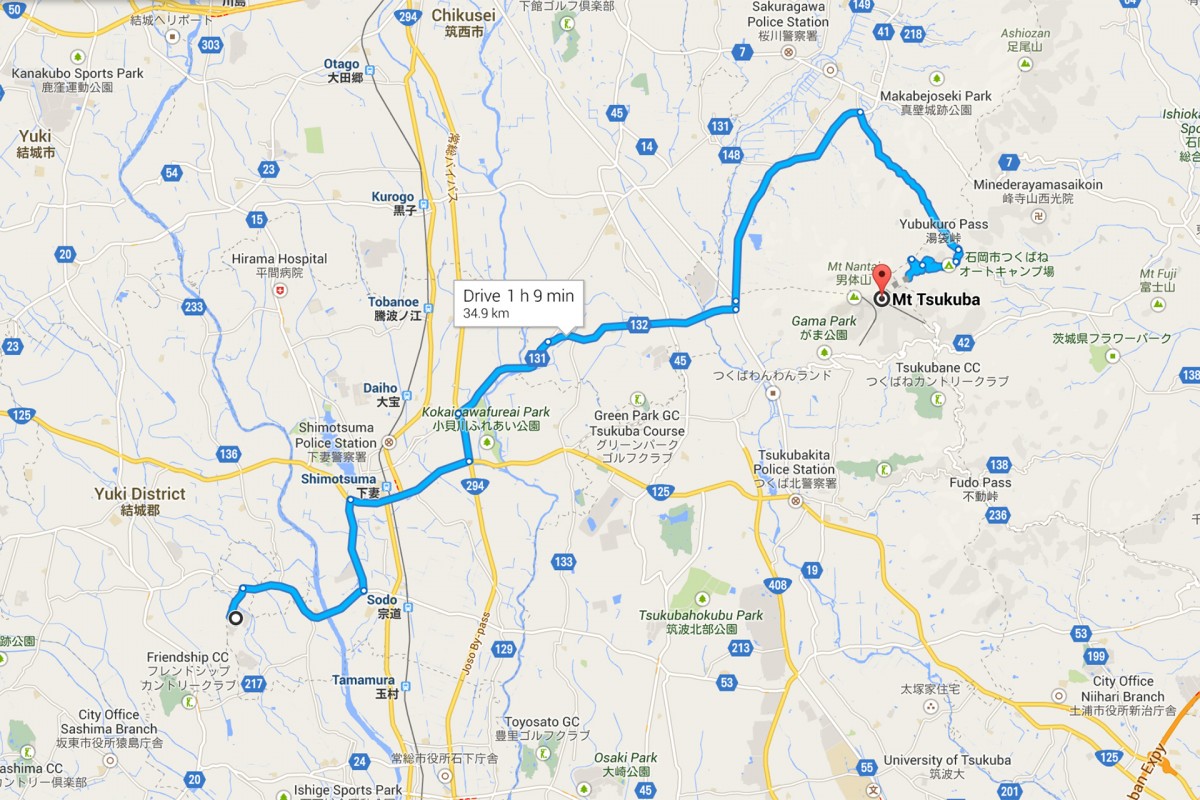 After finishing shooting an event in the morning in Tsukuba, I had put aside the whole afternoon to truly enjoy the car on roads that I know well. The idea was to drive up to Mt. Tsukuba, about an hour away, and like every time I head there, try to take another route all the way to the top. Being a little mountain in the middle of a vast plain, you can literally head up there from roads that snake up it from all around its base. This time I'd be travelling behind it and seeing what routes I could find. It may be a familiar destination but hunting out new roads still keeps it fresh and exciting.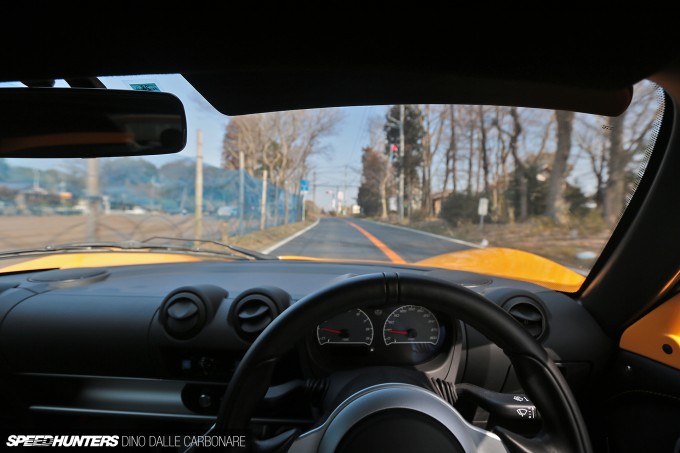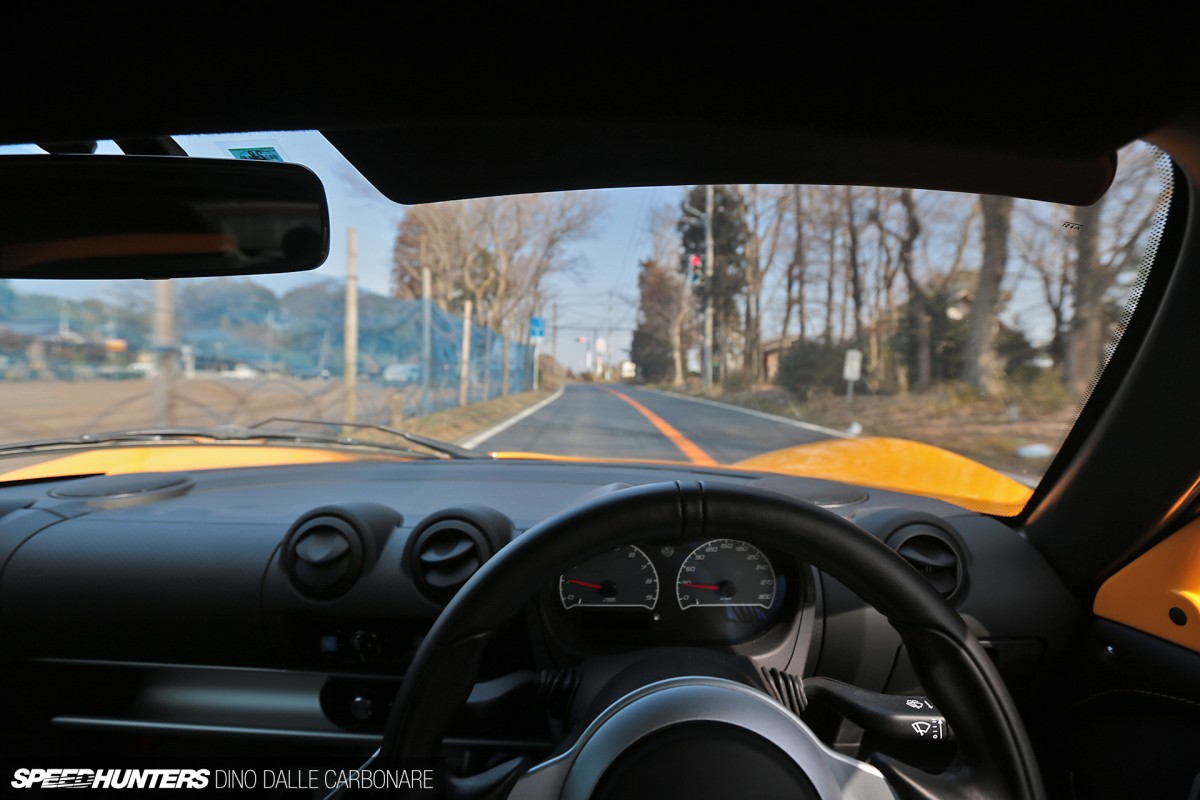 After leaving the circuit, I cruised around some pretty mundane, flat and boring countryside roads. Nothing really special to write home about here – Southern Ibaraki is pretty featureless and unexciting.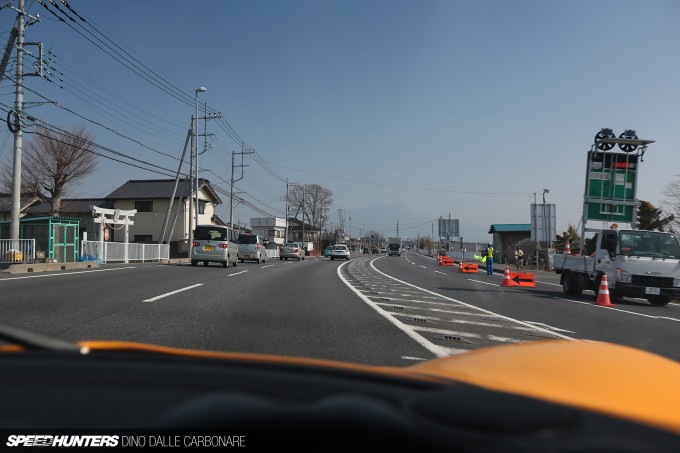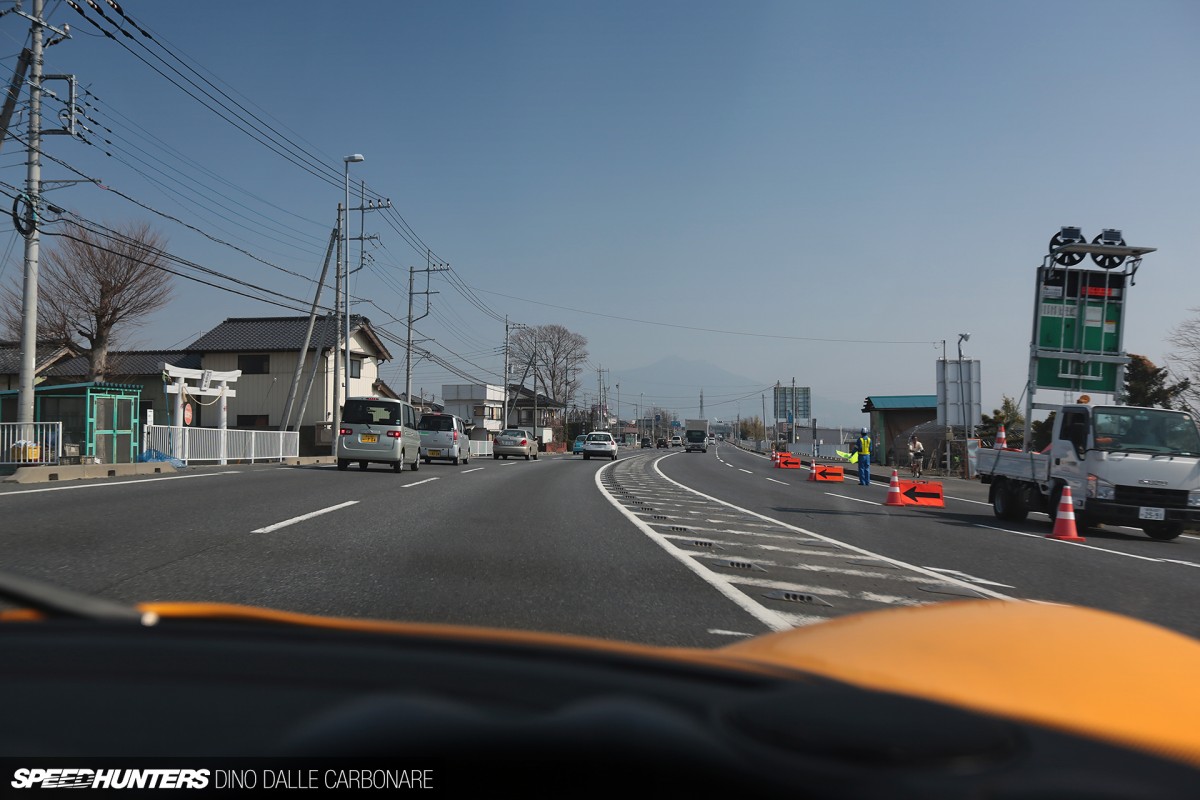 I had to pass through the side skirts of Tsukuba city and once at this point I could visibly start to make out the silhouette of the mountain in the hazy horizon. Driving around at legal speeds, the Exige S seems to be just at home, that big engine sitting behind you, happy to pootle around a whisker above idle, while at the same time returning some decent fuel consumption. One other benefit of keeping that weight off!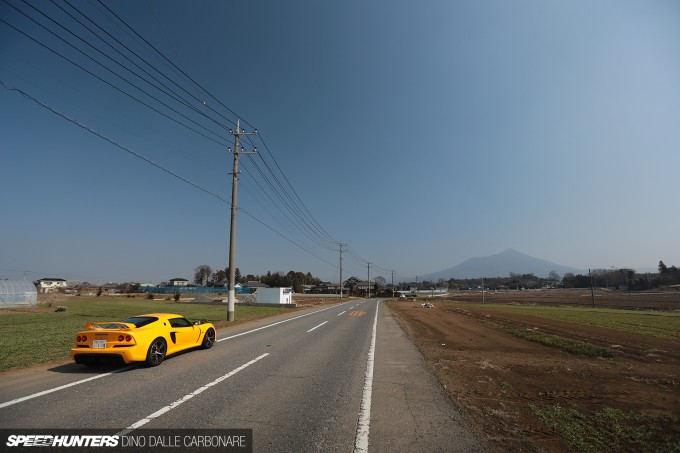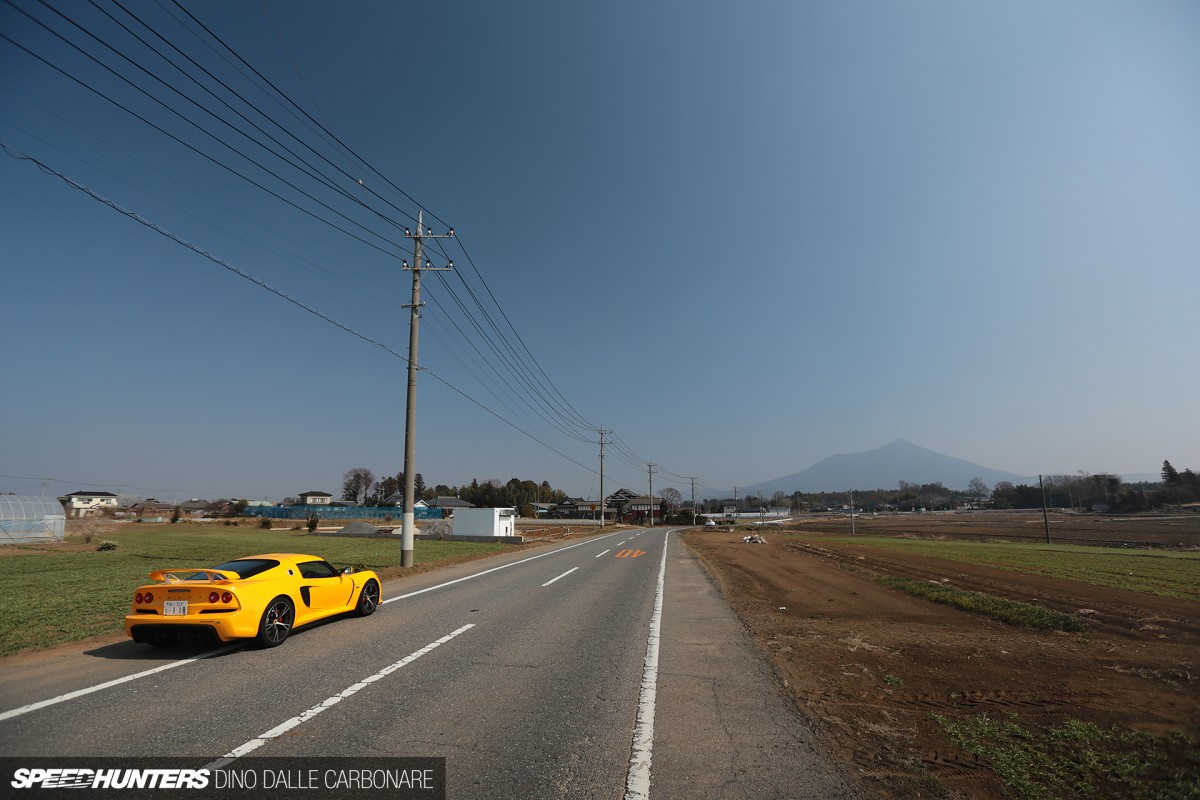 It wasn't long before twin-lane town streets gave way to completely deserted country roads once again and with Mt. Tsukuba becoming a little more visible, I decided to take the first stop of the journey for the obligatory pictures.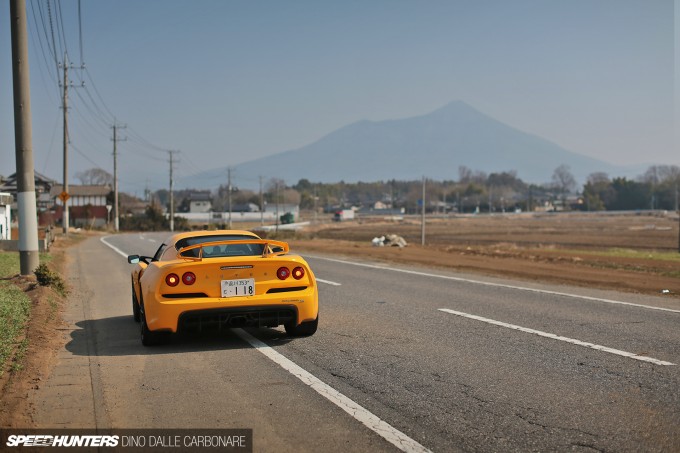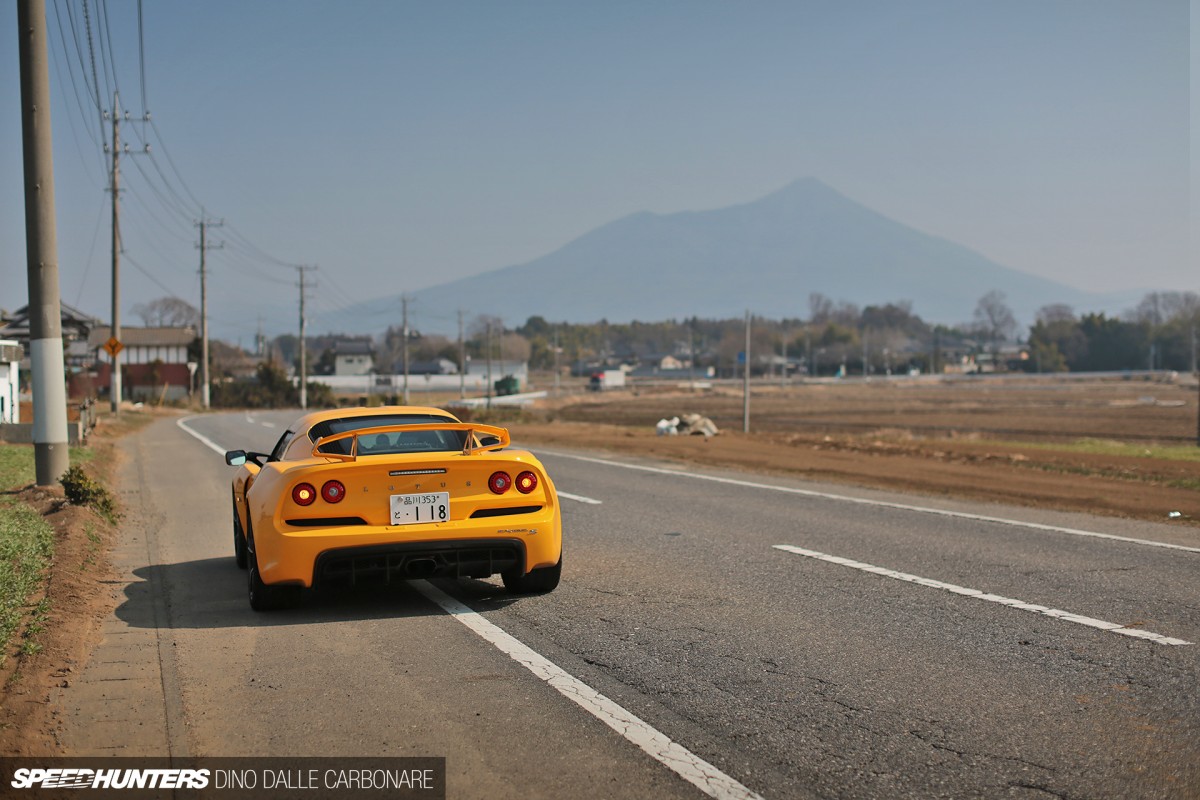 I could of course have waited to stop until I was on some more exciting stretches of tarmac but after driving this thing around for a week, I was literally itching to start shooting it. What to say about the looks? Sure they're subjective but I dare you to argue this thing isn't a damn pretty little sports car.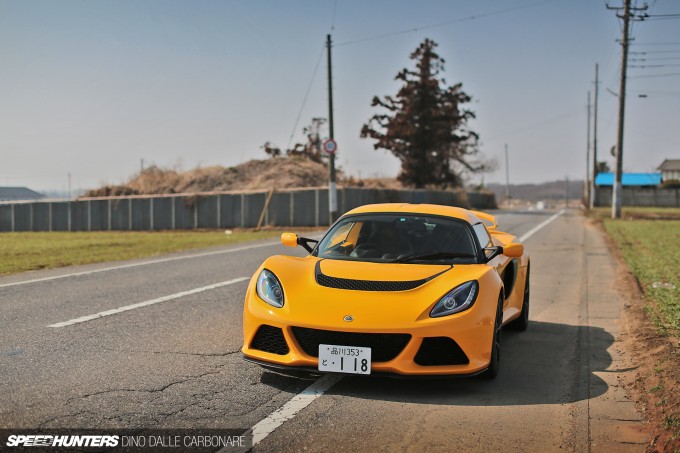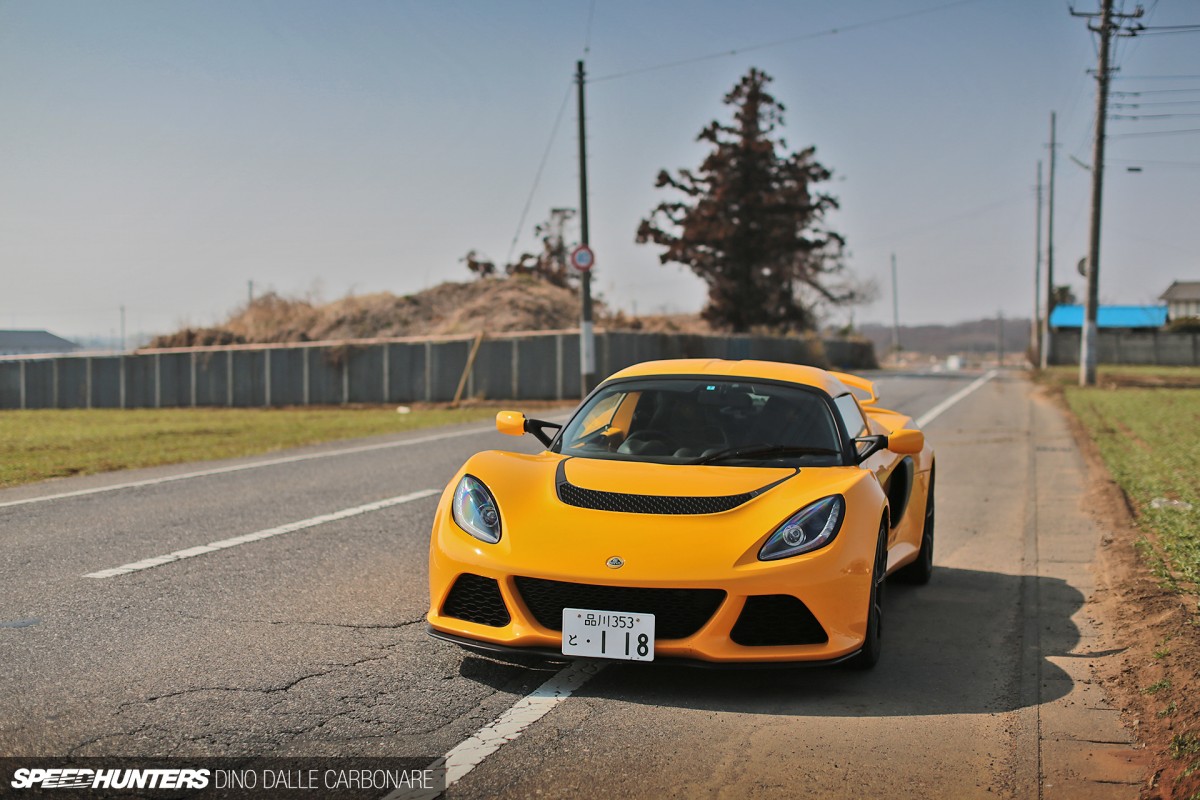 It may have grown a little but all the right details are very much there; it sits low and wide, almost square as it hugs the street with an aggressive stance. The Elise headlights are pretty much the only things that seem shared – everything else from the big single venting on the bonnet, the three big gaping openings on the bumper section, well, it just makes it look very special. I'm not the only one that thinks so either, as I can't remember driving a car that got so many stares as I made my through the streets of Tokyo .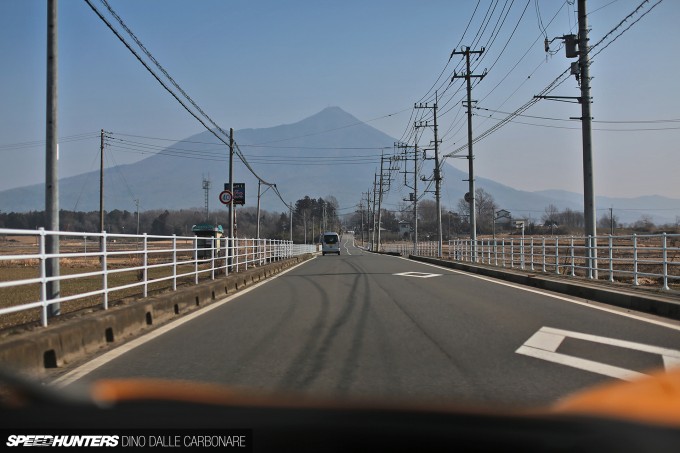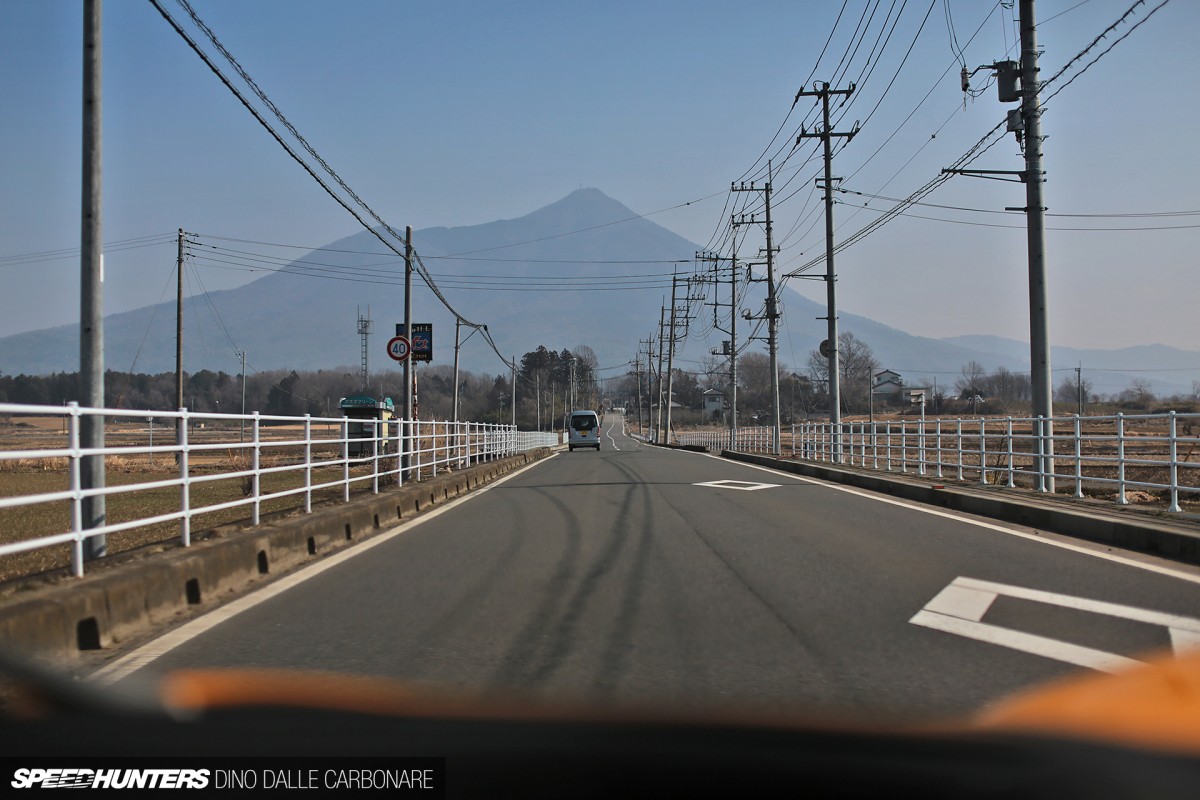 The highest peak of Mt. Tsukuba only sits at 877 m but it's not the height alone that makes it a popular destination for car enthusiasts, it's the multitude of roads that take you up to the top and the main road that crests it.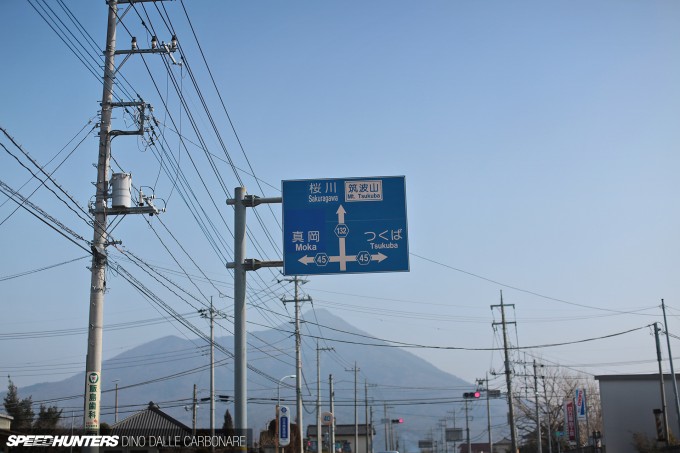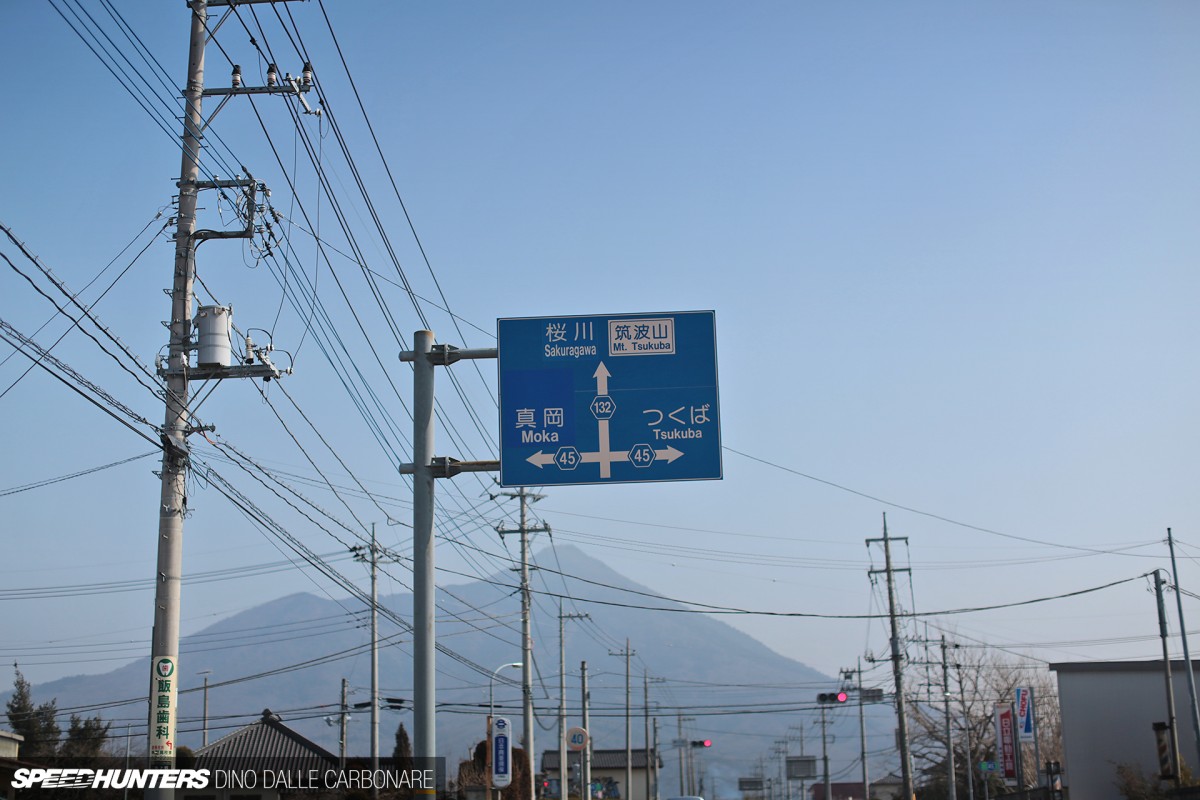 Rather than go straight up however, I made a left turn and like I had planned, drove around it.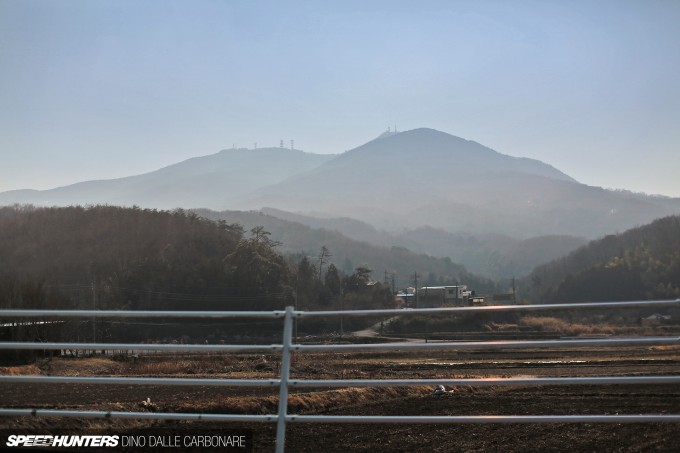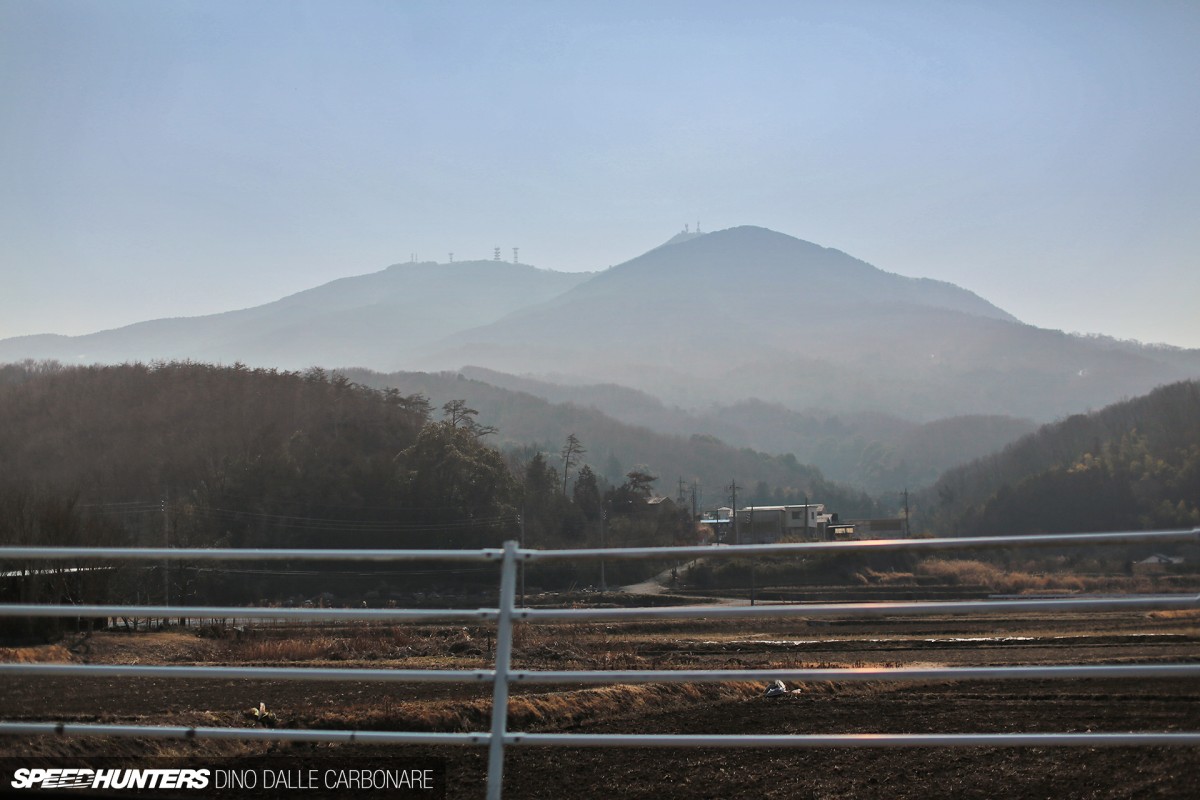 It's an interesting route as you go into even more rural areas (if that's even possible), and circle it seeing some pretty cool views of its profile.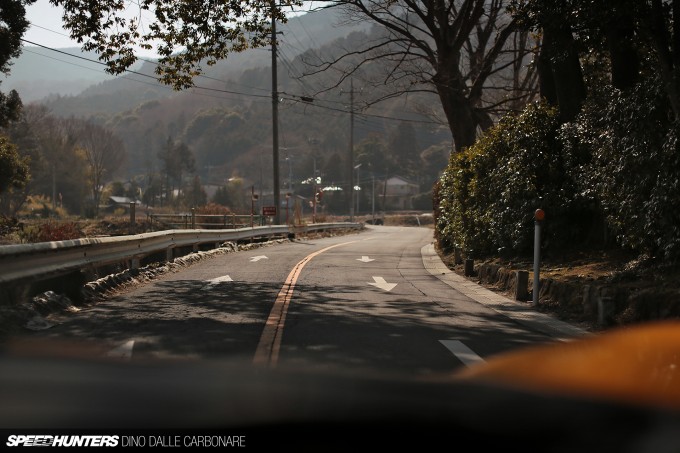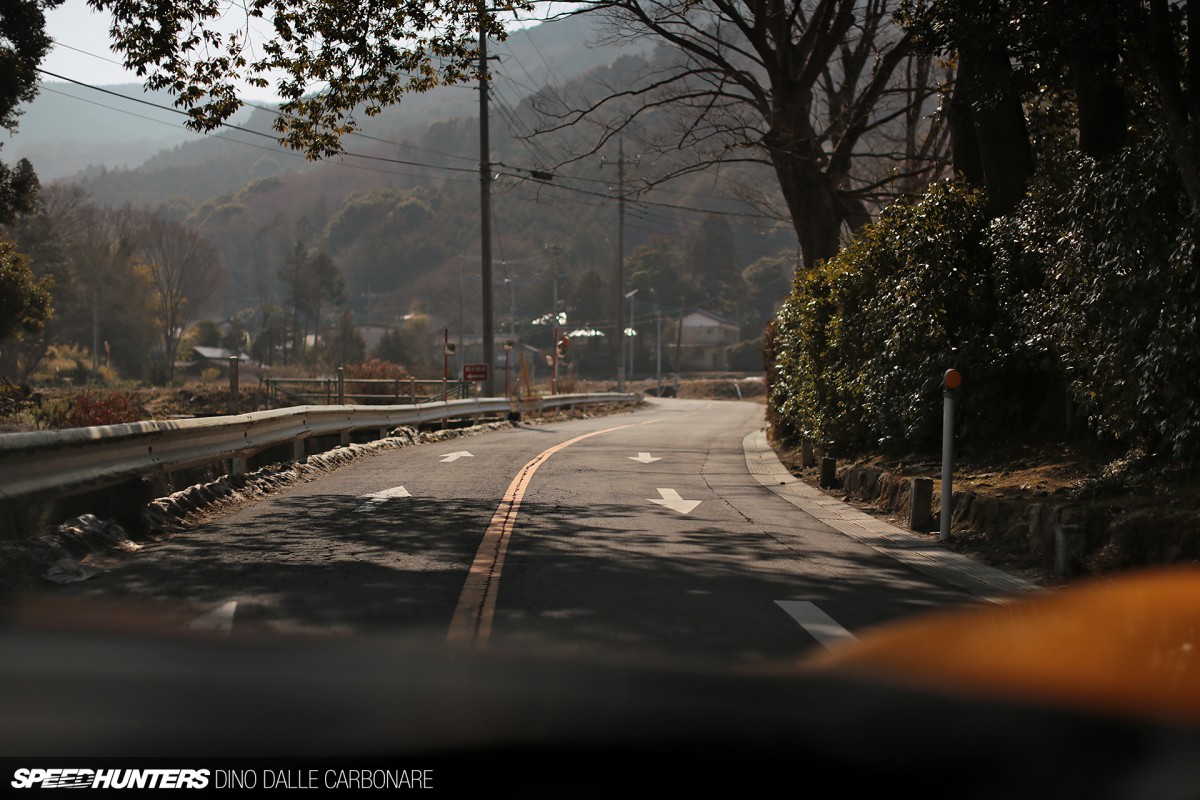 I didn't really have any idea what road to take, so after a while I grabbed a right and jumped on a narrow little road that gradually became more inclined.
Hitting the mountain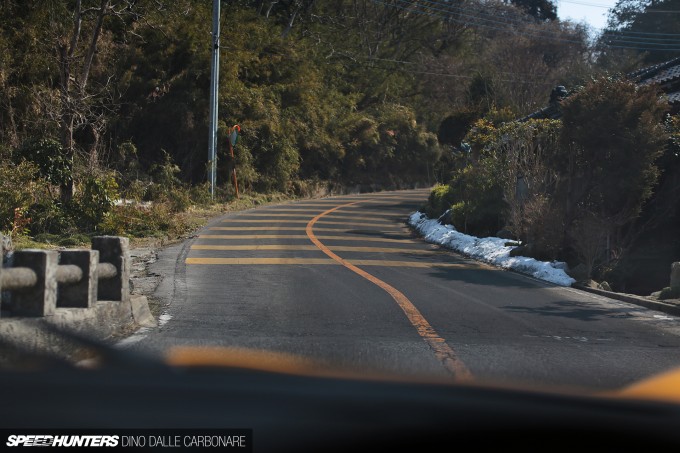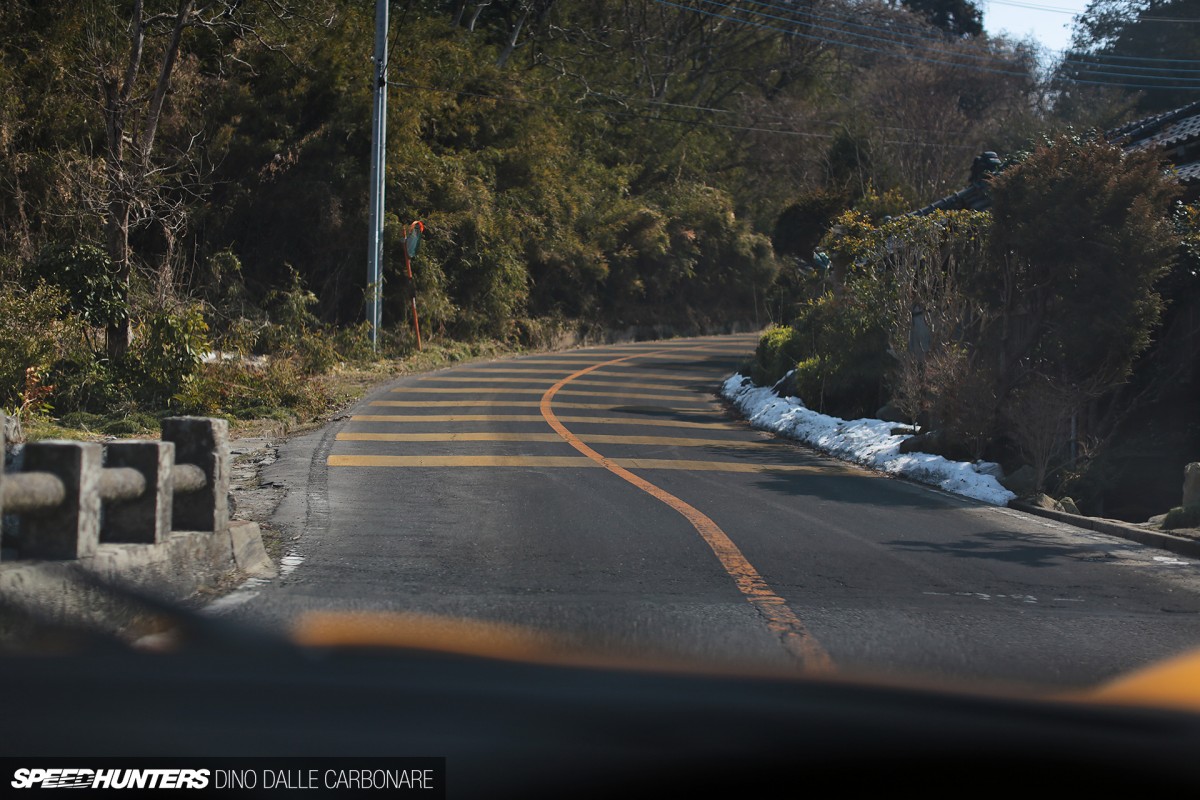 The corners started coming and that's when the fun finally began. I took a more focused driving position, dropped a few gears and began to carve each turn as it came at me. There are only a few cars that can give as similar a feeling of directness as an Exige S, but in contrast to that K-series powered Series 1 I drove all those years back, this thing is adding copious power onto its fantastic dynamics. 345hp of it to be precise, which equates to 293hp per tonne, and that's a figure that out in the real word makes for some serious fun.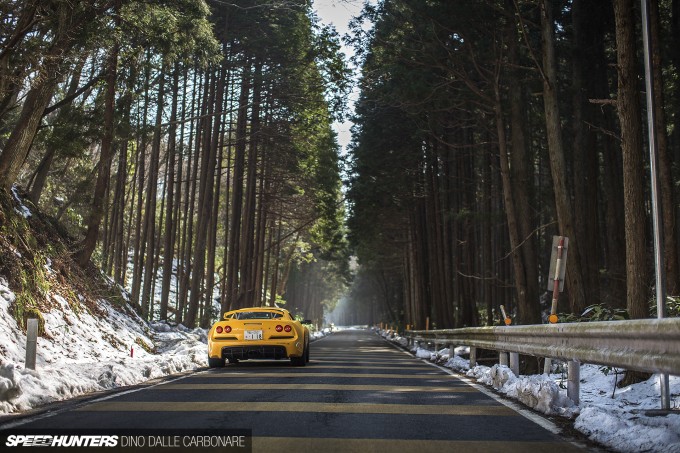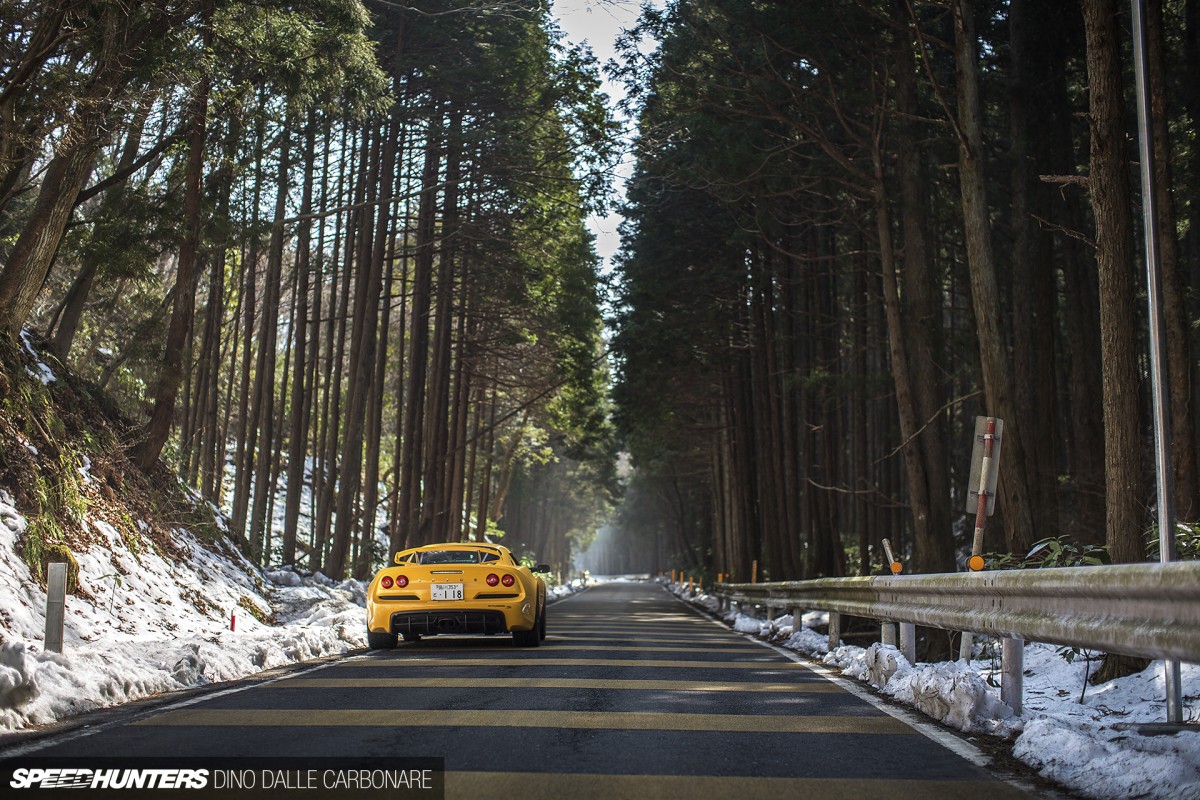 The corners kept me entertained during the initial short climb, but then all of a sudden I found myself on a long straight stretch, lined with tall trees on either side. I just had to stop.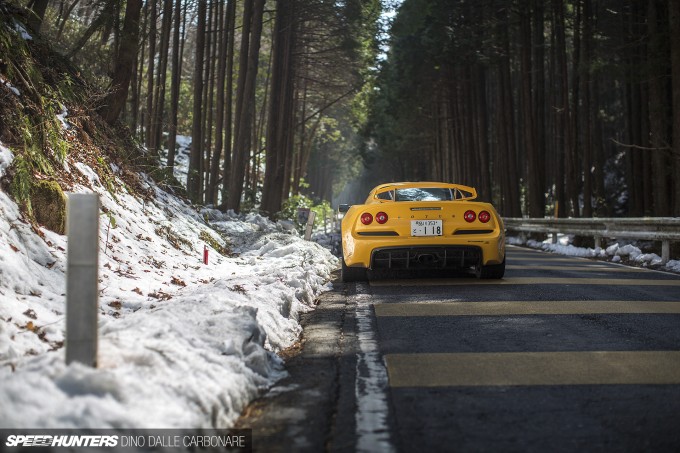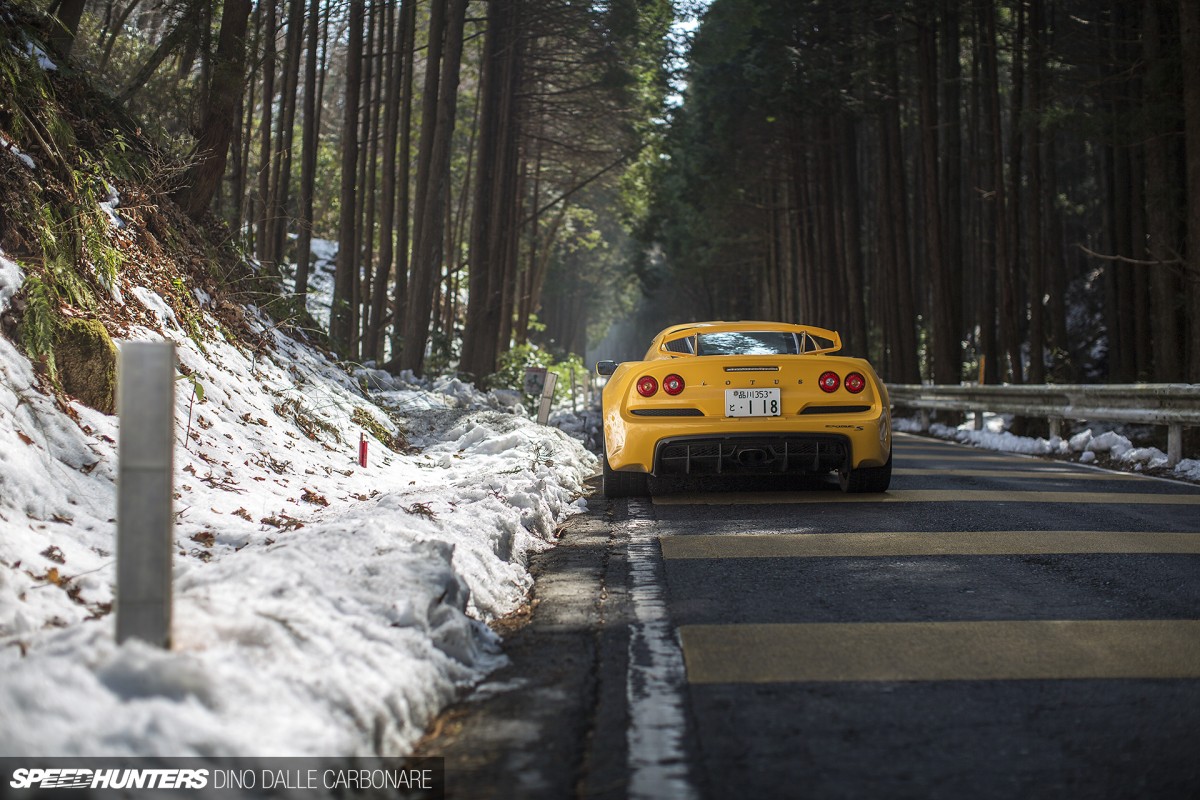 It was a well-timed break actually as for the first time in a while, the palms of my hands had started to sweat. That's probably because the power the blown 3.5L VVT-i Toyota V6 generates really can't be understood by quoting its figures. The Exige S is so raw and nimble, not to mention so explosive, due to the somewhat short ratios in its short-throw gearbox that it's actually a bit of a handful on anything other than a wide open track. I may have pushed towards its limits for only a few minutes but I was already impressed at the supercar-slaying capabilities.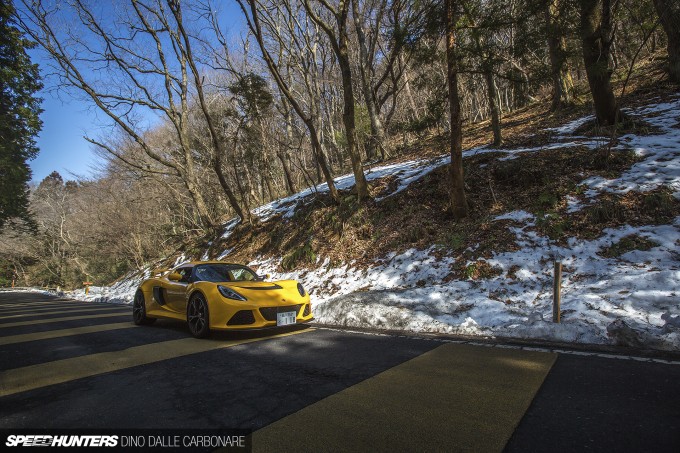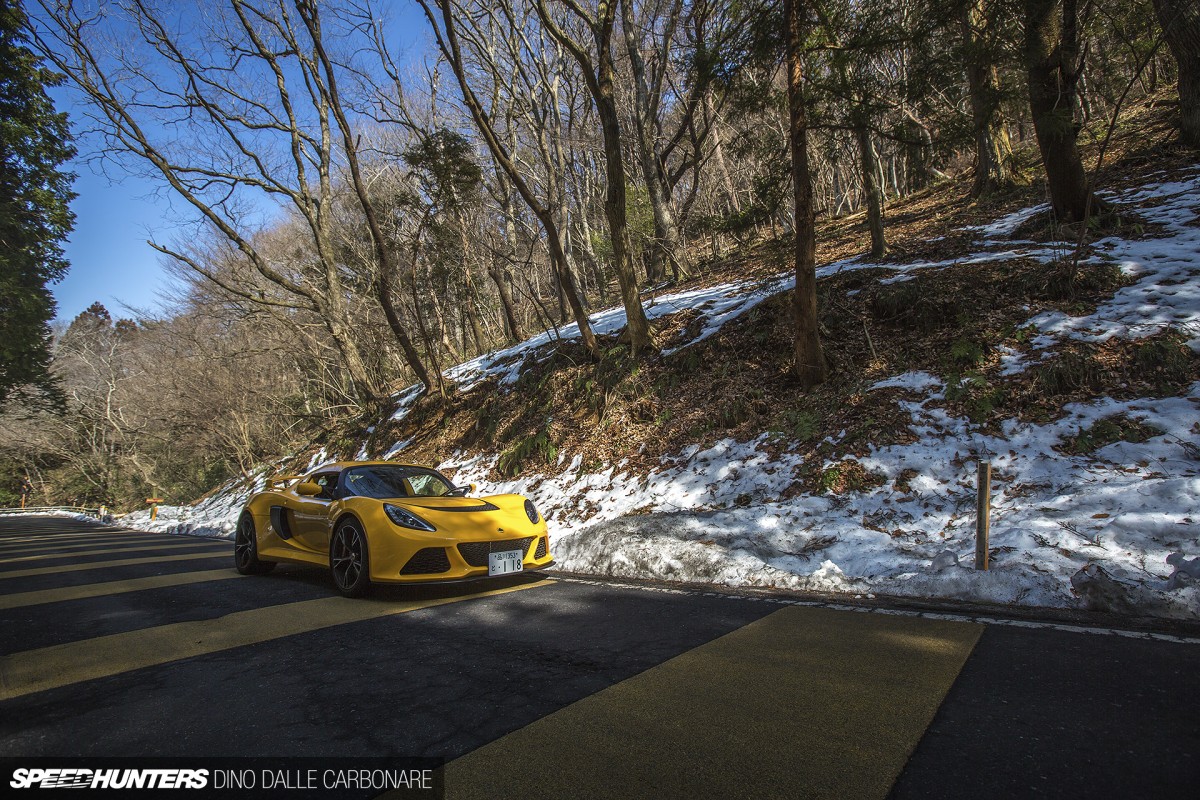 Add the fact that the car I was driving was fitted with the optional Race Pack package which adds super sticky Pirelli P Zero Trofeo semi-slick tyres along with retuned suspension and Lotus' Dynamic Performance Management system. It's the most performance-oriented car that they do basically!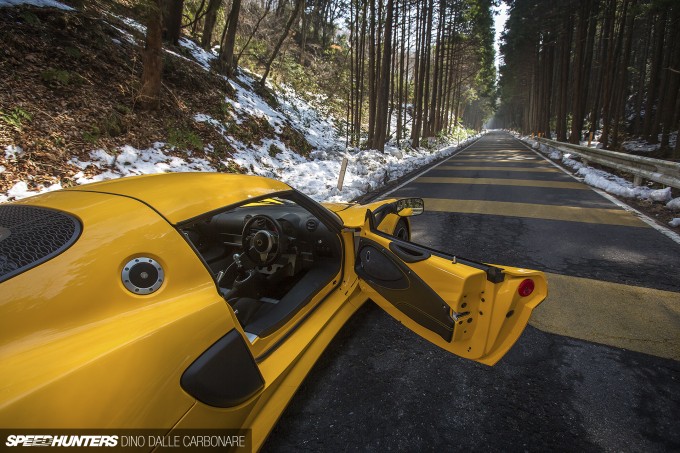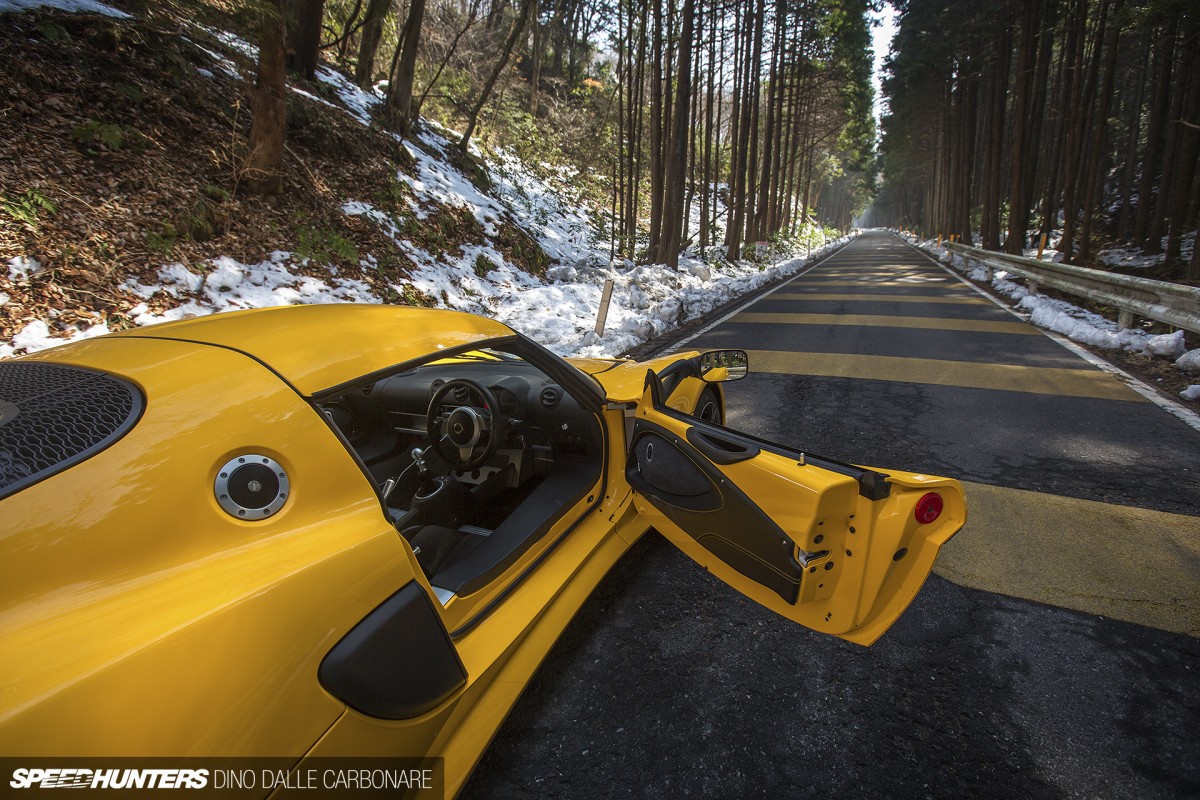 With a spec sheet like that, it wasn't long before the beauty of the surroundings was overshadowed by that intense need to drive, so that's exactly what I did.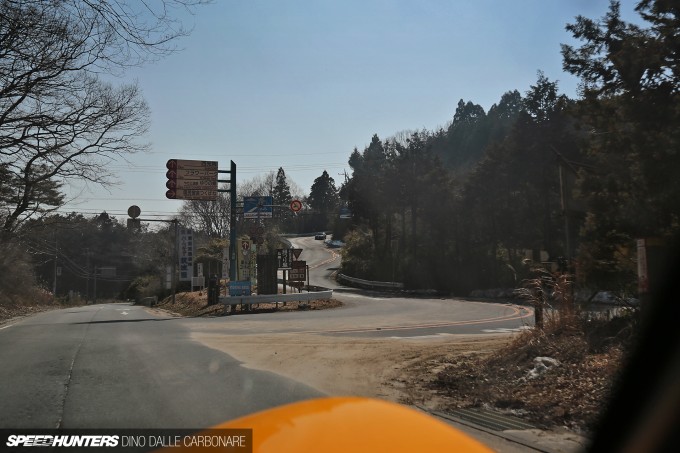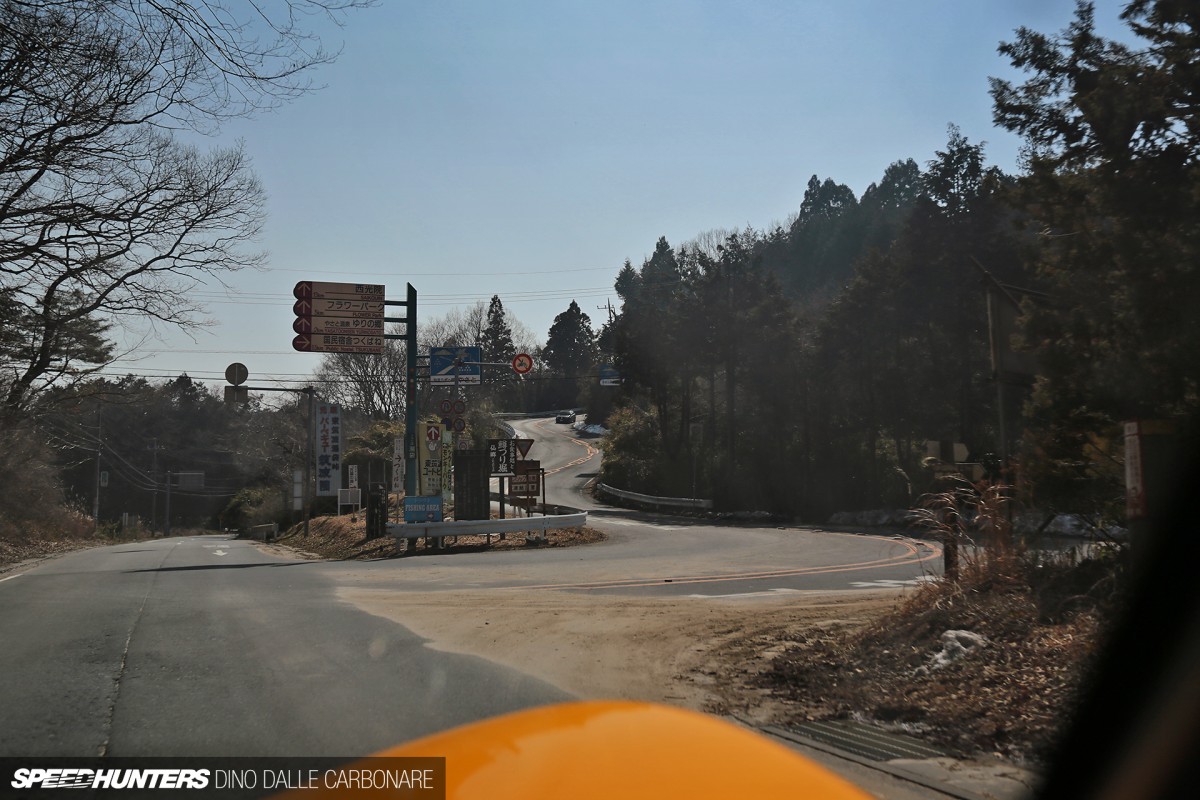 That straight led me up to the Yubukuro pass which placed me on a familiar touge (mountain pass) which I always drive when I'm on Mt. Tsukuba. So off I went up to the right and the fun really began!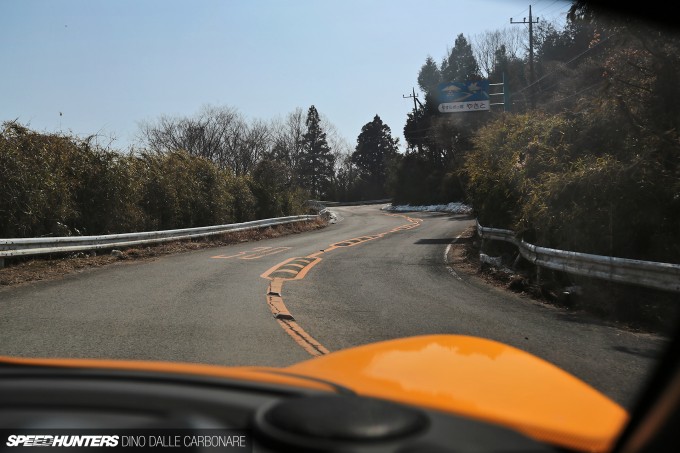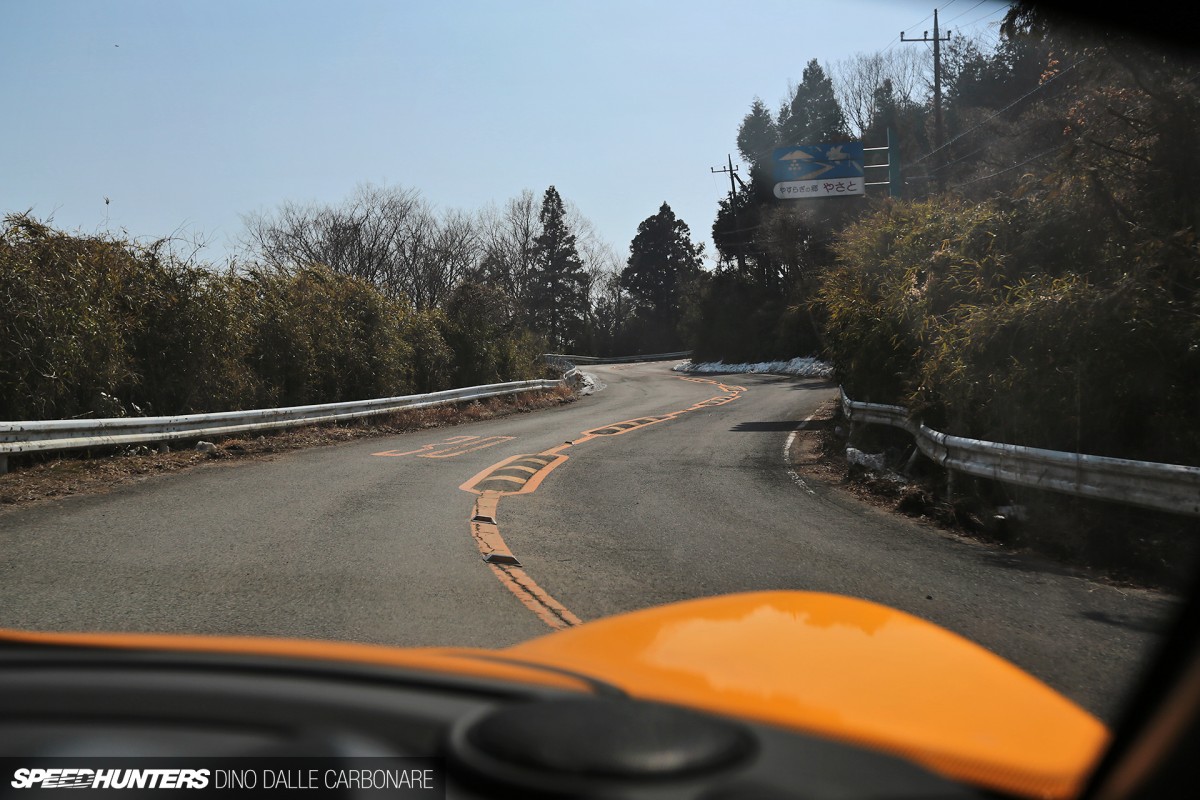 Back ten years ago, this used to be a pretty popular drift spot at night time, but for some reason the local authorities cracked down on that and put down big cat's eyes along the orange center line, later adding some longitudinal bumps as you can see here. Not sure what the problem was – maybe a few people having fun with their cars were disturbing the five people that live in the area! Whatever, on with the drive it was, and with the exhaust valve switch set to open, the supercharged V6 really sang with, strangely enough, a similarly raspy note to the one the old K-series Exige used to have. But that's where the similarities end. Those 3,500cc give the car serious balls; there's an instant pick up from any rpm, in any gear, and once you floor it, the Harrop HTV 1320 blower gets on song and accelerates you away with something the K-series Exige never had: torque!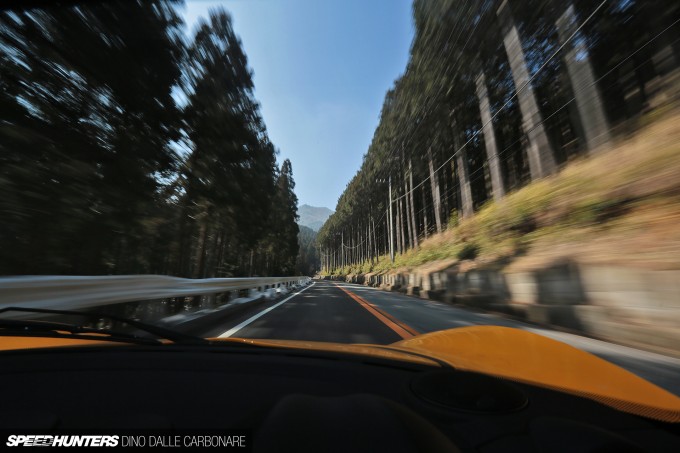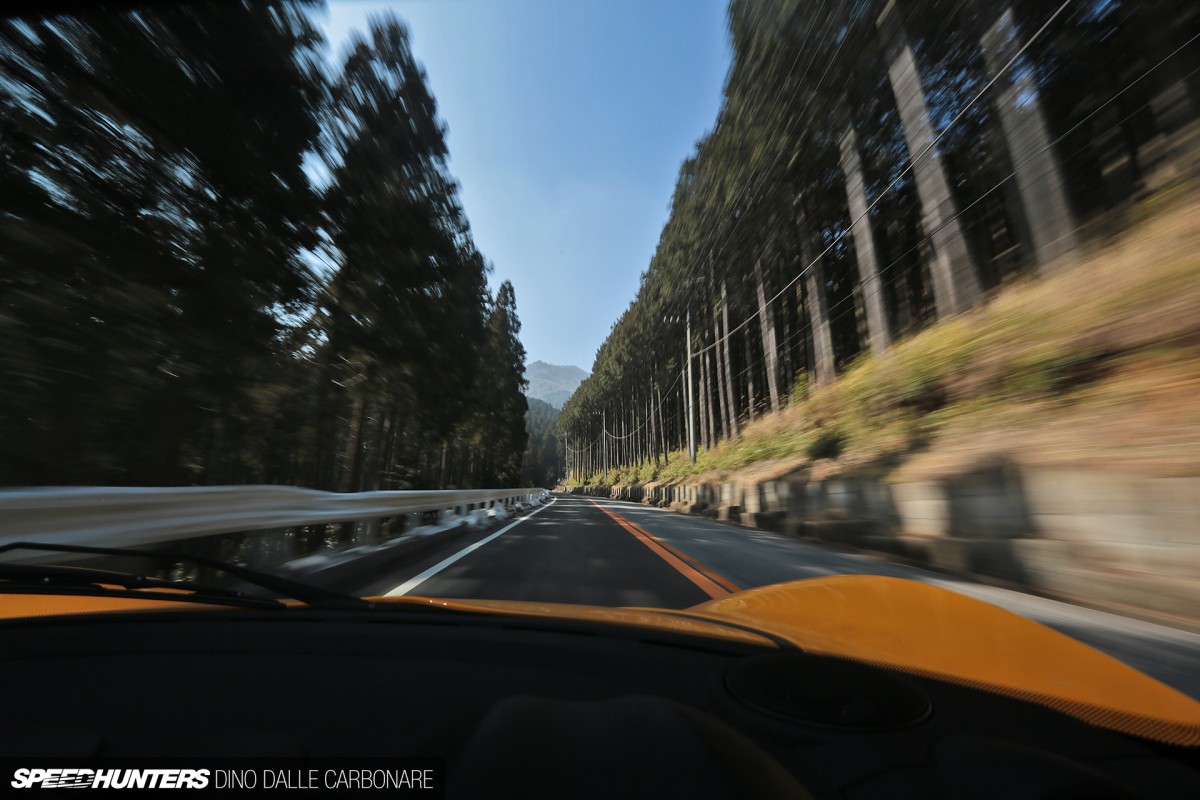 There's a max of 400Nm of twist available, but like that power figure, this couldn't possibly make any sense to you. The acceleration this gives is pretty crazy. Think of the shove in the back you get being thrusted along by a 700hp R35 GT-R and you begin to understand the sensation. Once a straight presents itself, it's easily eaten up as you rev out each gear to the rev limit, and this motor really loves to rev! That's pretty amusing considering the Camry roots it has!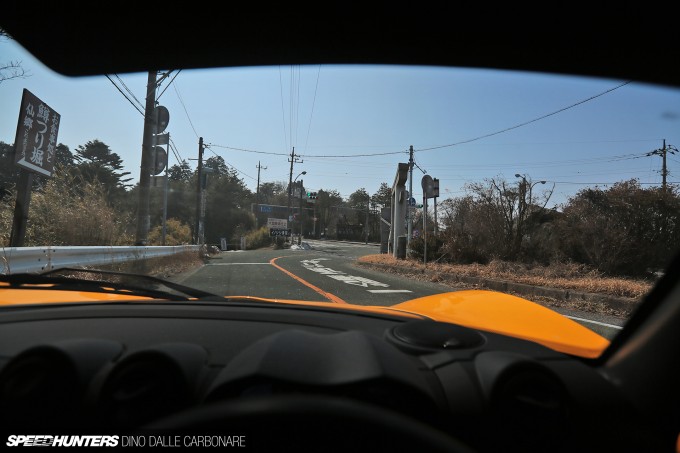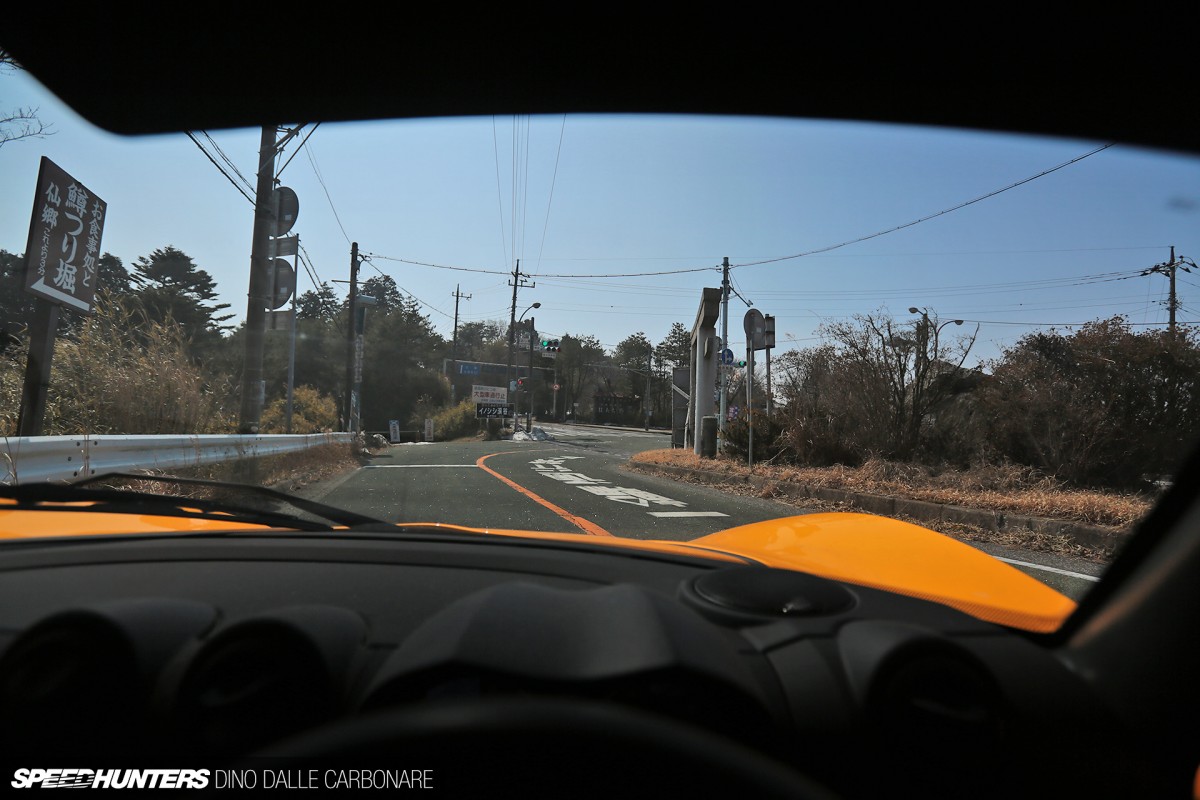 When I got to the tightest section of the road, where the real corners began, I had no choice but to put the camera away and grab that steering wheel with both hands. Very firmly at that, because with some residual melting snow on the side of shaded corners, there were lots of wet patches that would instantly throw the back end out. The Exige S is by far the most hardcore car I've driven on these roads; it makes the M6 I took up here with Sean last year feel like an old luxury barge.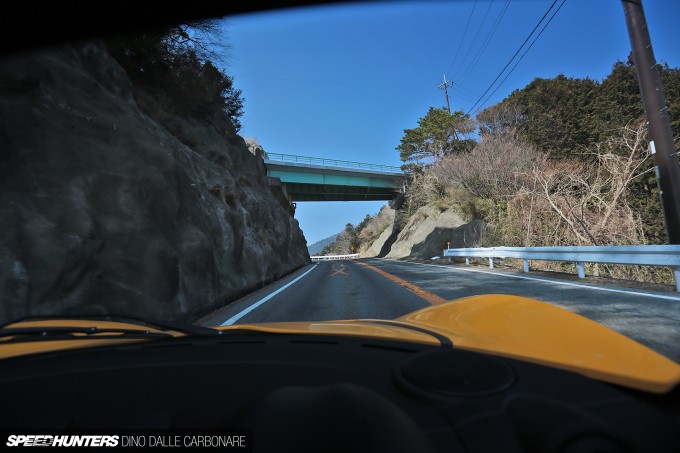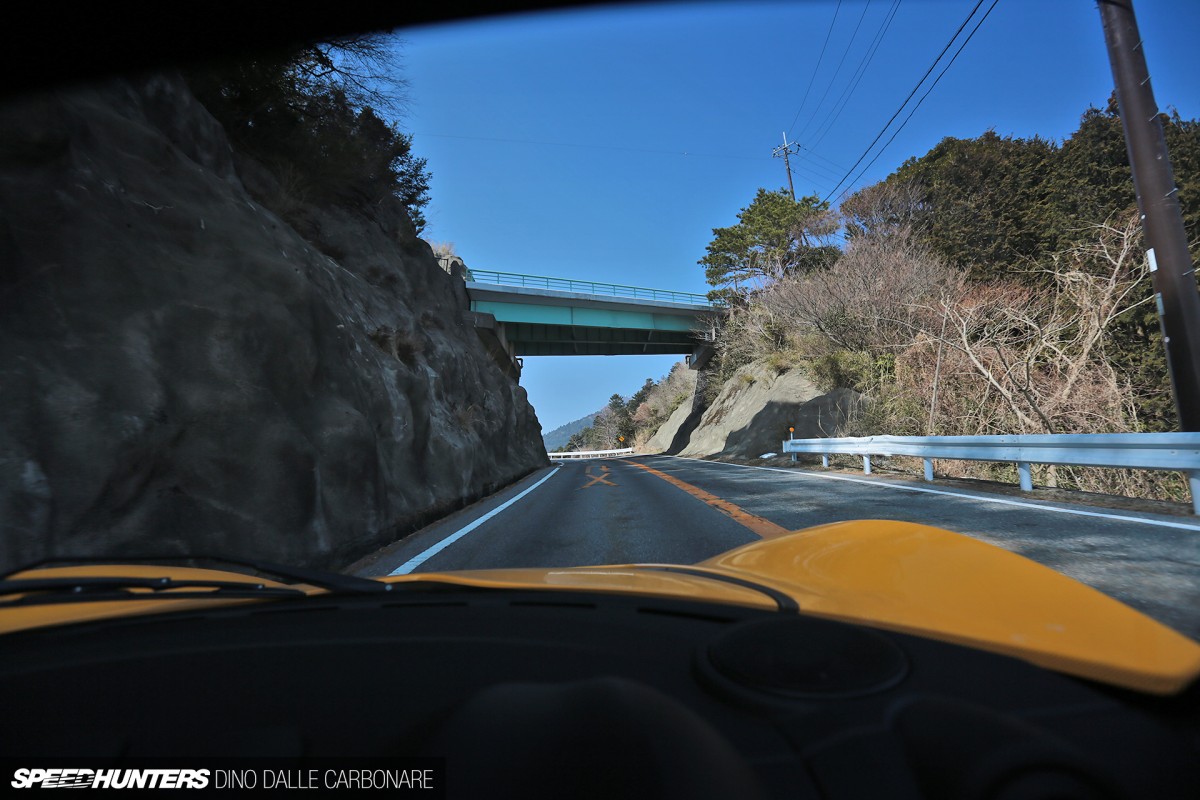 I didn't want to stop so I let the car guide me. I took the right turn and headed all the way up to the top of the first peak, where you can take a cable car all the way to Mt. Tsukuba's second and highest point.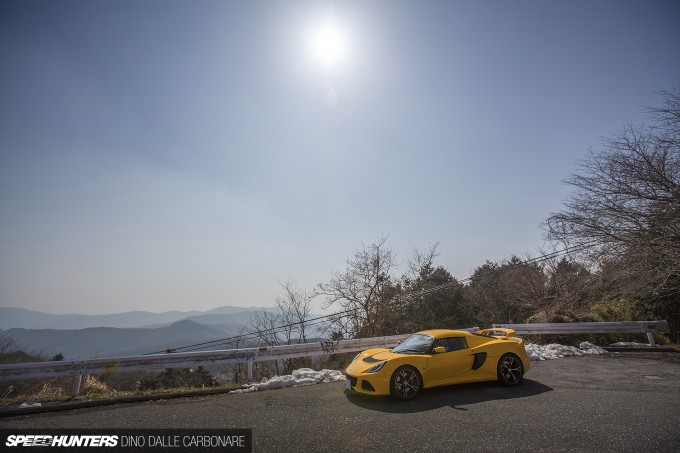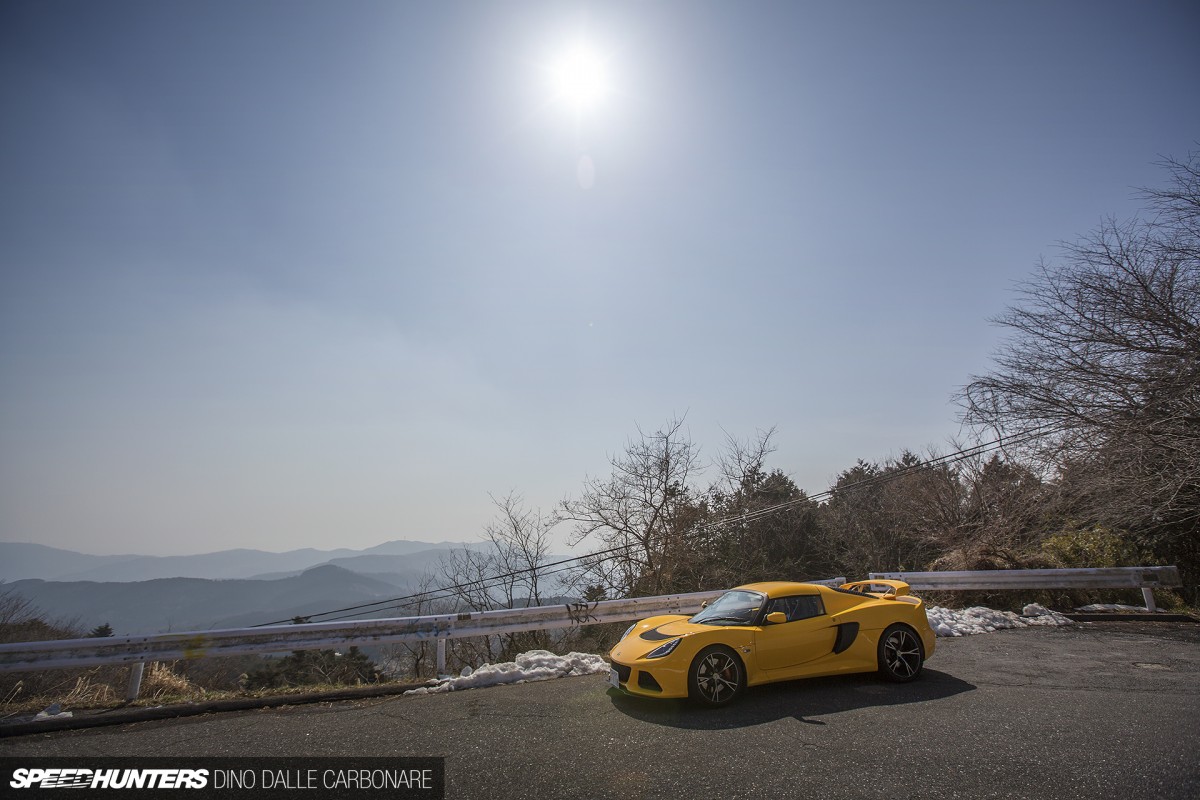 These aren't the longest stretches of roads but they pack so much in such a short distance: hairpin bends, S-curves and continuous surface changes. On that day, even grip changed with the standing snow. By this point I was truly smitten with the little Lotus. 'My Lord, what a car they've created here', I kept thinking in my head. I literally had to force myself to stop and get out once in a while to grab a few images. I just kept driving up and down tirelessly, the car providing total immersion. This thing is like virtual reality for cars!
Pure utter indulgence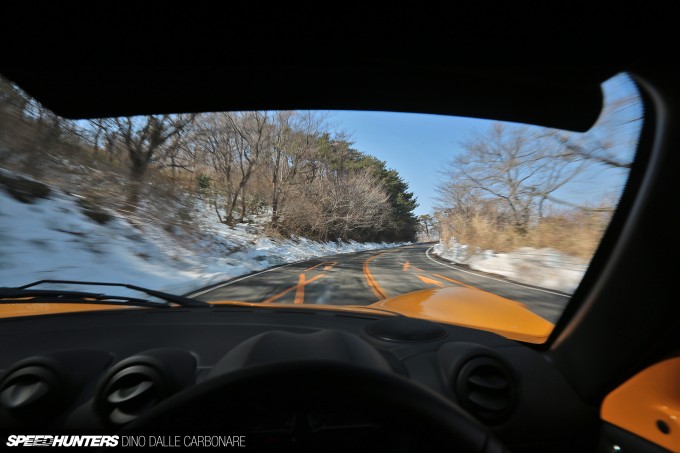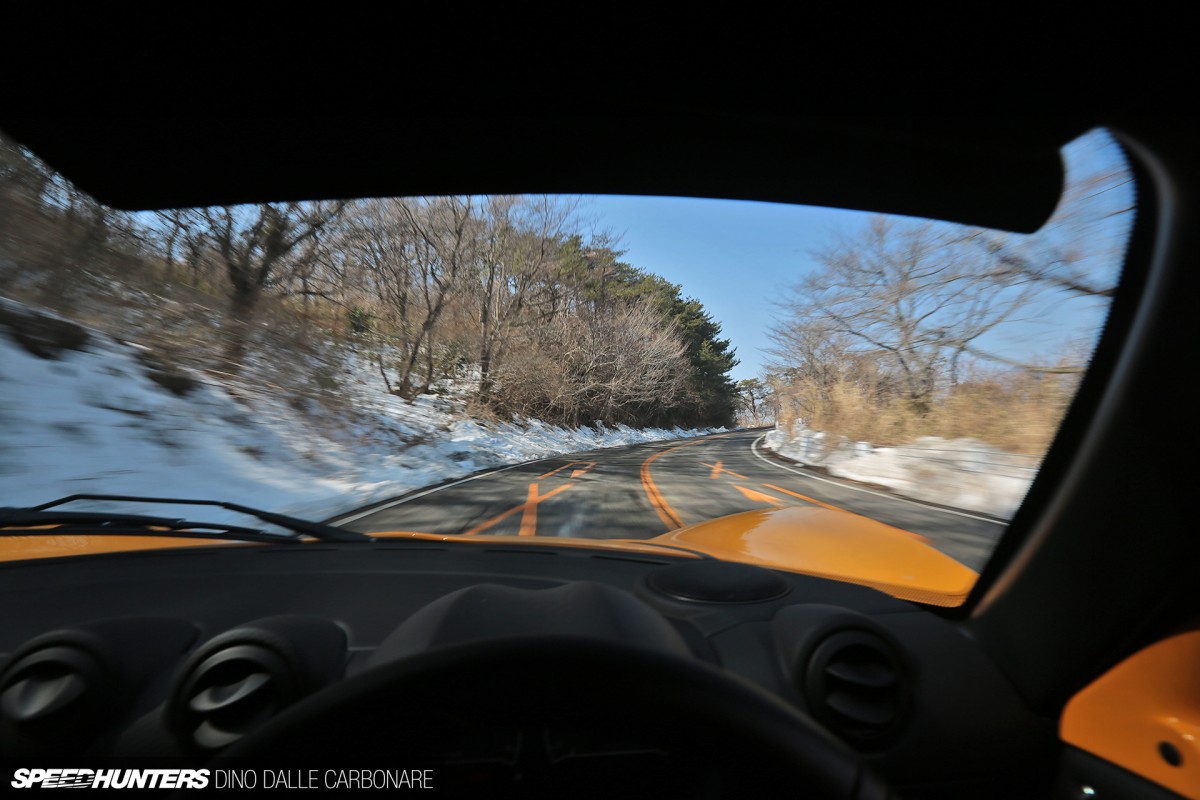 The driving continued. I grabbed the Omote-Tsukuba Skyline: the faster road that crests the mountain and the surrounding chain of hills. This is where things began to really get hairy; it's so fast and easy to pack on speed, you really had to commit to a certain pace – commit because if you want to hold it, you need full concentration. And I tried for the first stretch, using all the might of the motor to get up to speed and the monumental +1G of lateral grip to sustain it through the fast bends. The car edges you on; it wants you to drive it hard, but in doing so, it also demands a certain finesse, and what I learned last year at the Yokohama Tire 'smooth driving' course in Fuji really came into play. Every control is so direct and sharp, so delicately balanced that you need to concentrate extra hard to keep things smooth.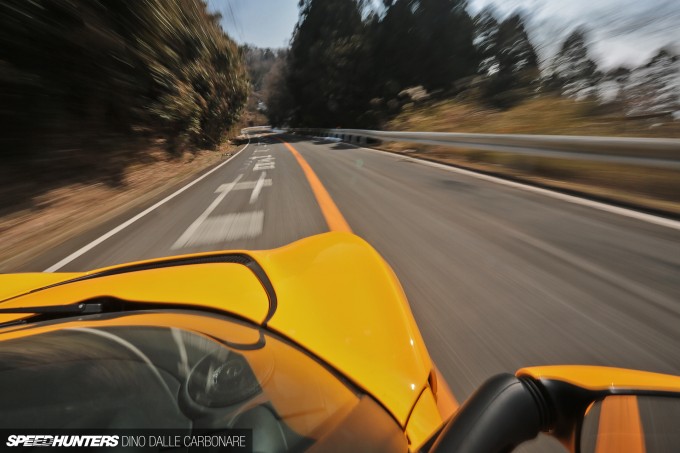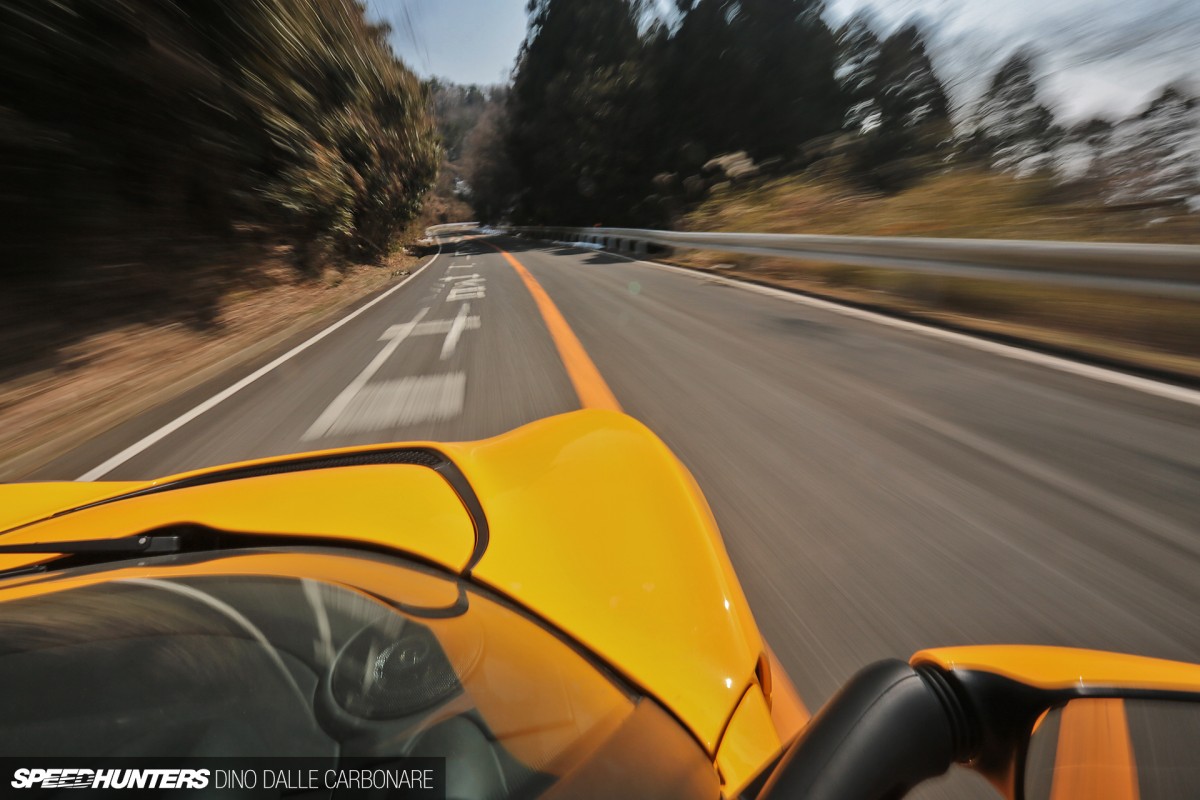 And let's not forget how rewarding smooth driving is! Diving deep into a corner, progressively but decidedly leaning on all the stopping power the brakes have, before releasing the middle pedal gradually and moving back onto the accelerator to pile on the speed again. Every control you interact with is so well-weighted, so informative in its feedback, it all redefines what a raw driving experience should be all about. The old Exige did this too yes, but the difference here is that now there's far more power to play with and things have exponentially become more exciting.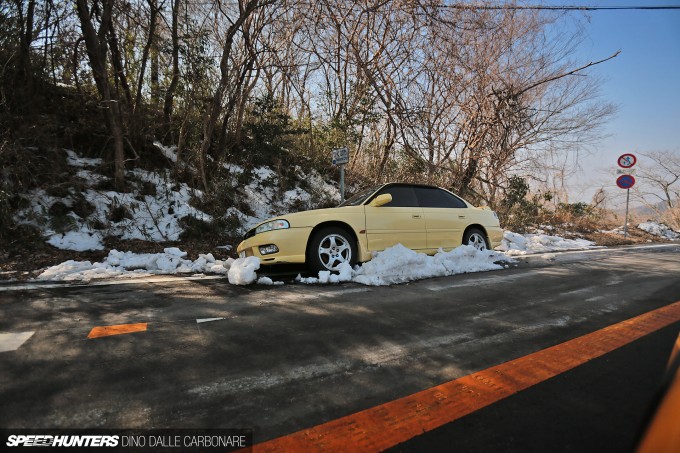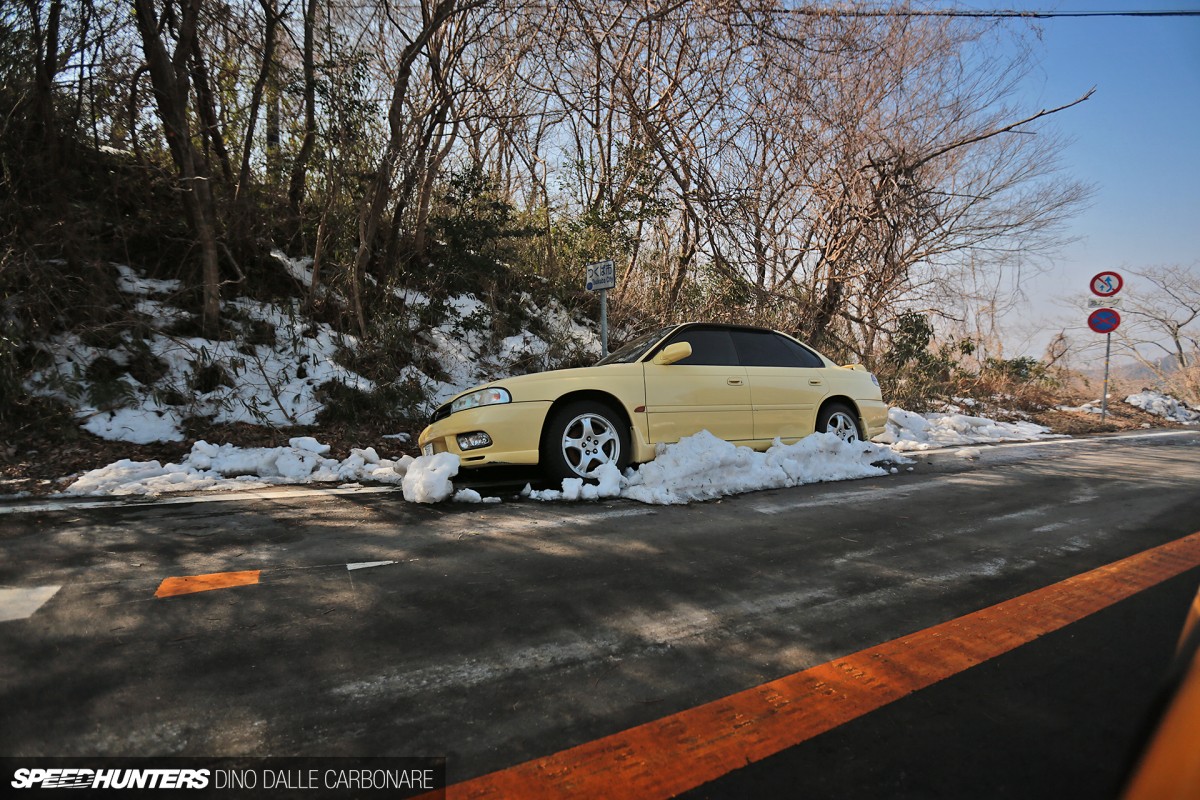 In the climax of it all however, I got a much needed reminder of why you need to be careful driving on regular roads. Aside from the fact that this old Legacy had obviously fallen into the gutter a week or so prior when the whole of the Kanto region experienced a big snowfall, it was just what I needed to calm my excitement and respect the little yellow car I was in. With a lot of snow still on this part of the Skyline, I decided to take a detour and tried out a few side roads until I found yet another new bit of tarmac.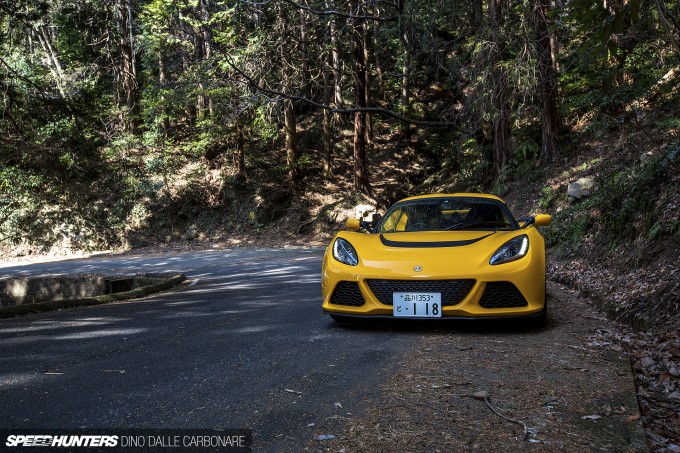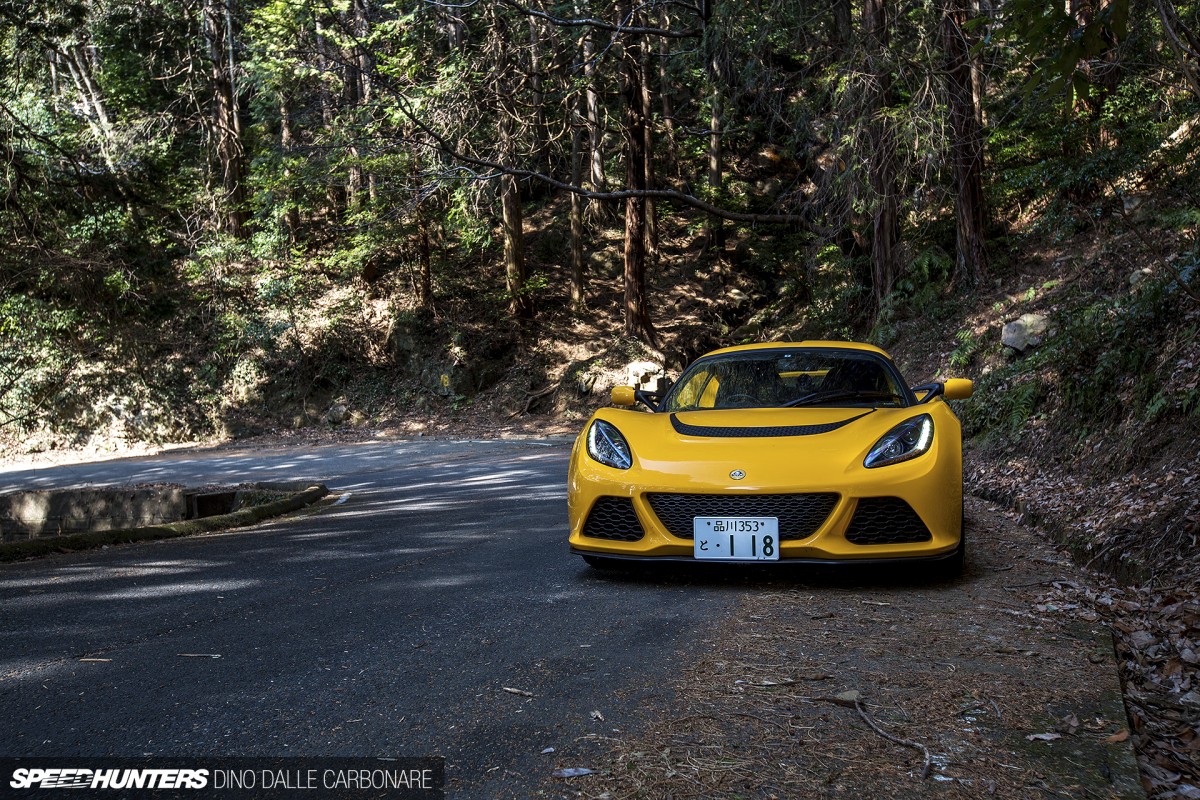 It wasn't in the best of conditions but what it lacked in surface quality, it made up for in corners. Lots and lots of corners. Here I was able to keep speeds down – it was all second gear work with the occasional upshift into third and at times a savage downshift into first to tackle tight hairpins.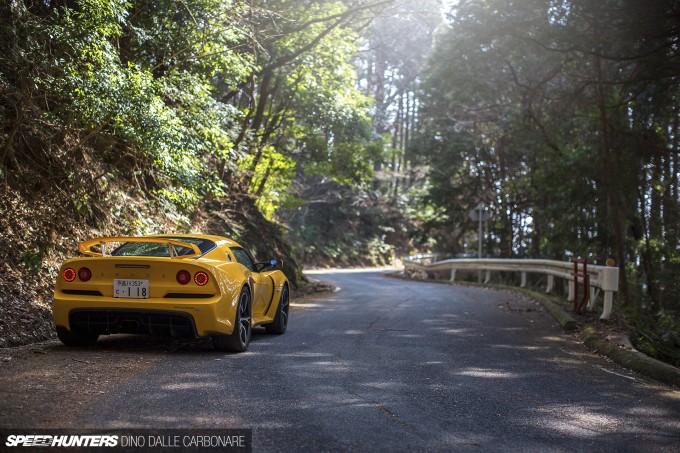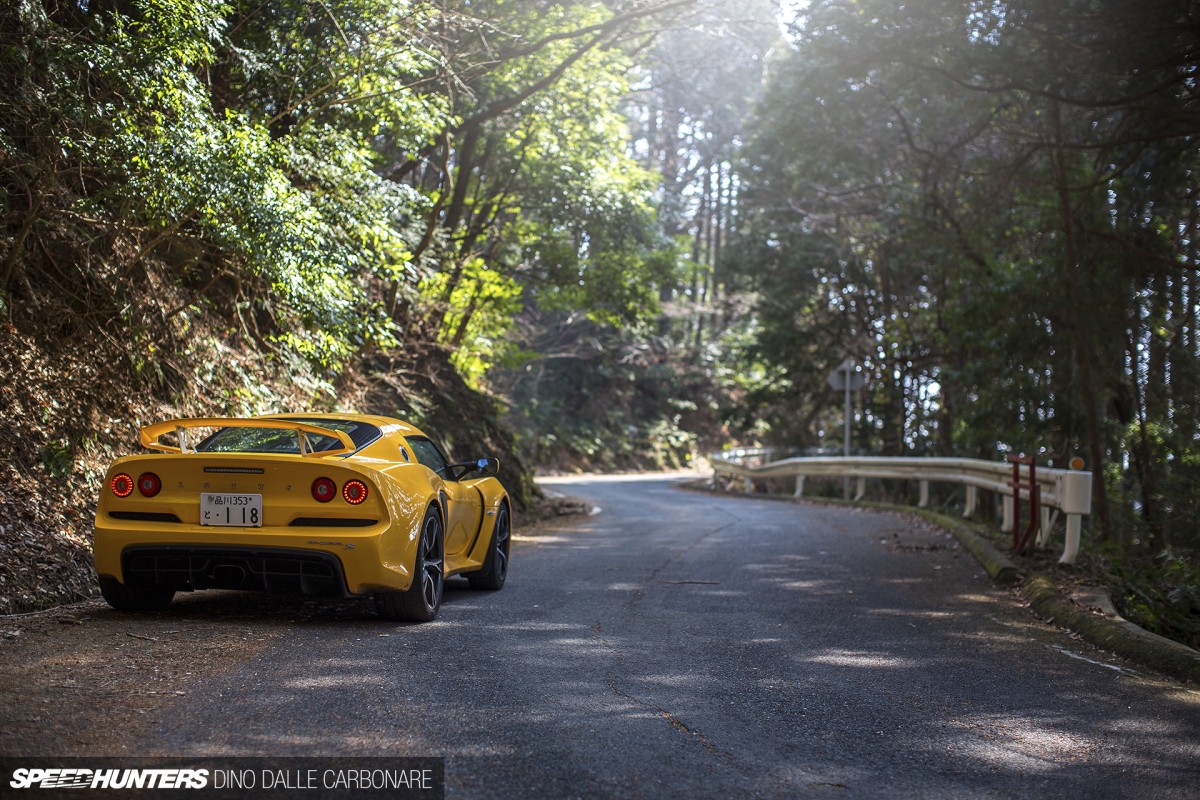 After a few sessions driving both uphill and downhill, it was time to stop as I was truly spent. Wrestling a car like this – remember there's no power steering to keep that wheel nice and communicative – you work hard to make it carve through those corners. This deserted little road would serve as the perfect spot to reflect on the car, its capabilities and take a closer a look at all those details that up until that point I hadn't had time to observe.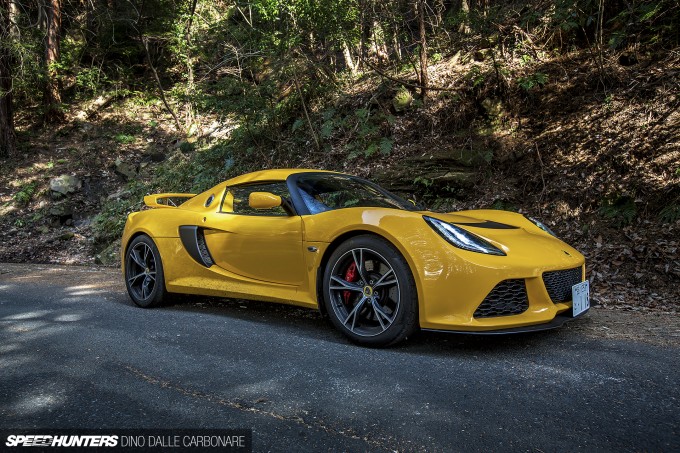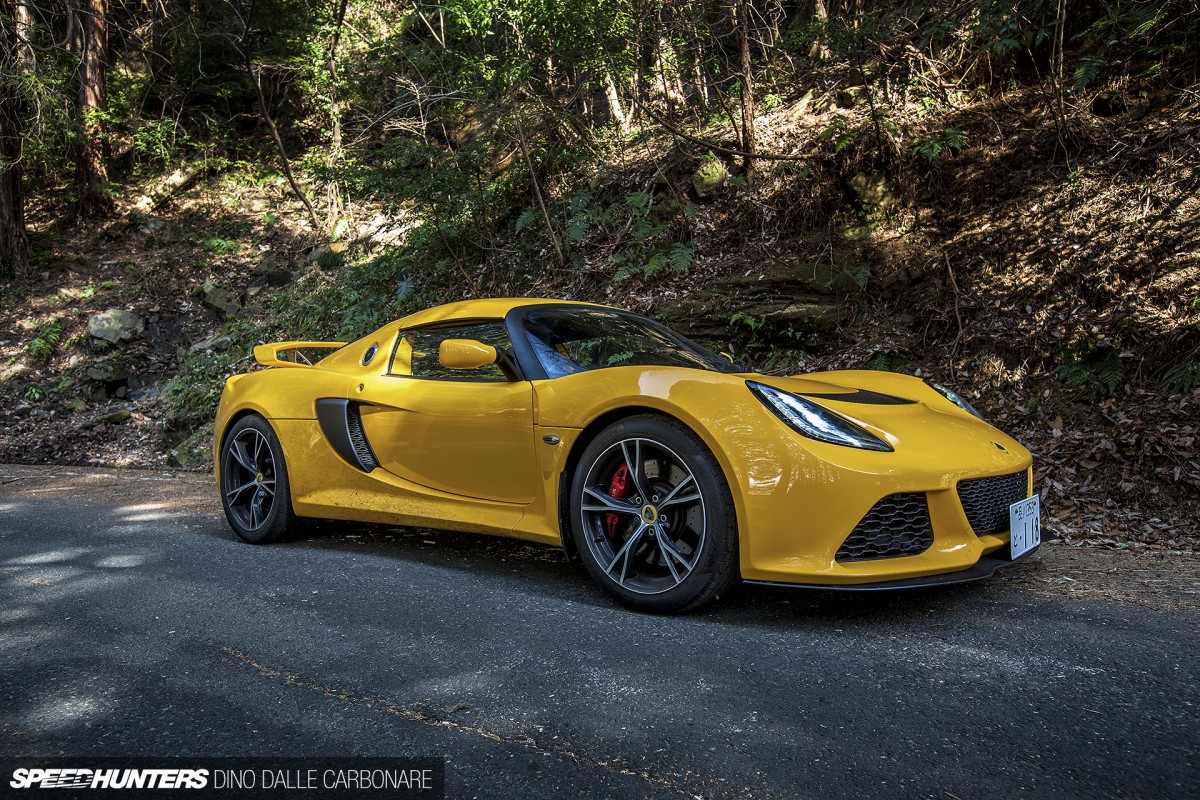 Like we saw at the beginning of my journey, there's no doubting that this is a very pretty car. It's instantly recognisable thanks to that iconic shape that has been with us since the Elise came out and redefined how a little sports car should handle and feel like.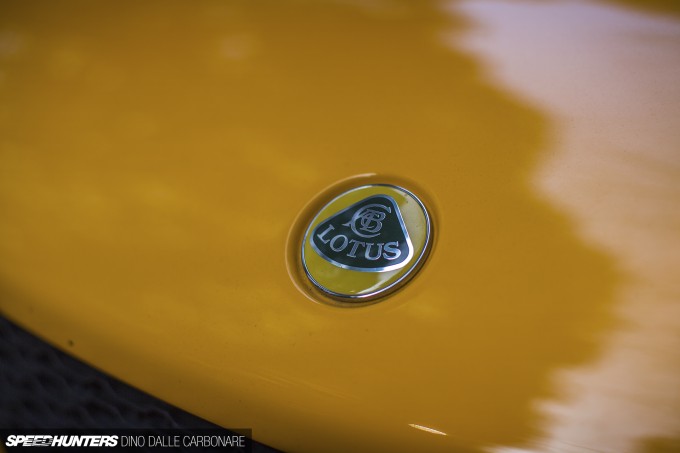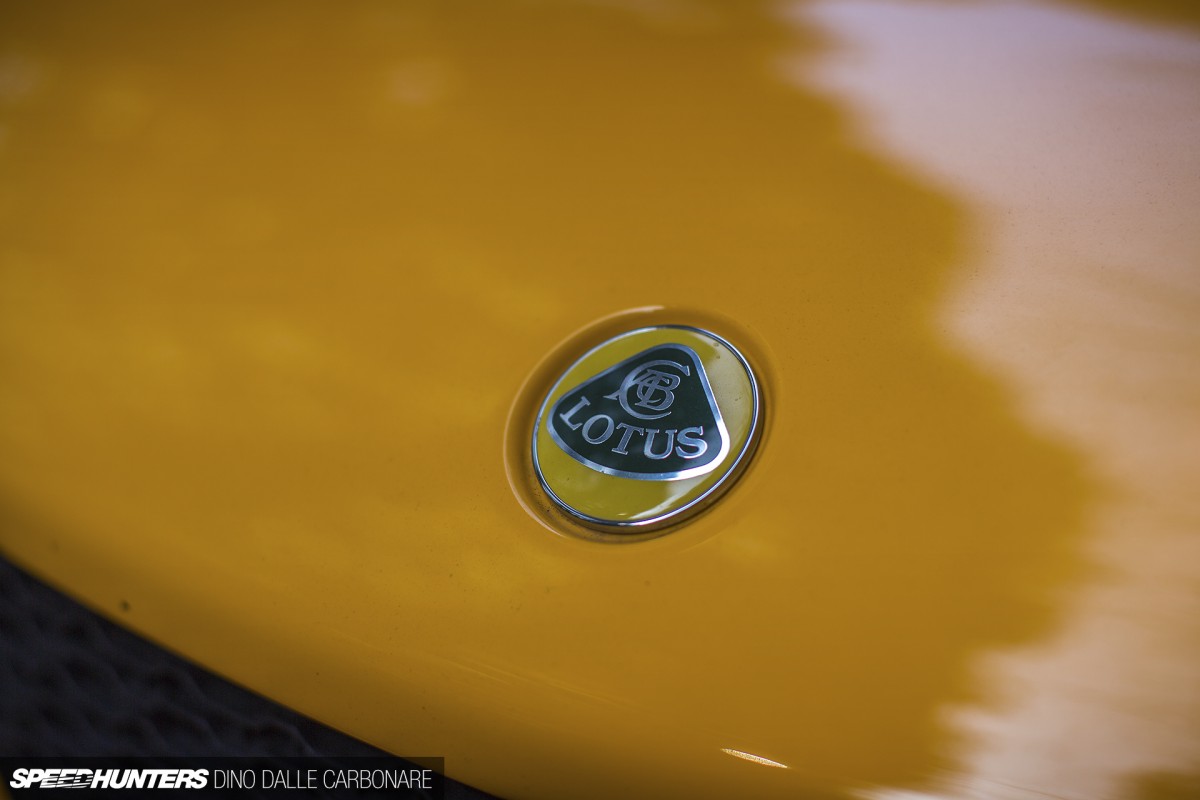 This most focused model of them all has just the right sort of aggressive touches that separate it from the lesser versions in the Lotus range.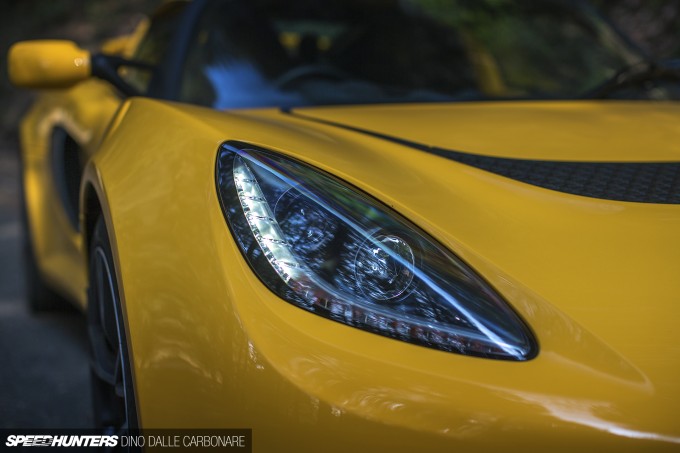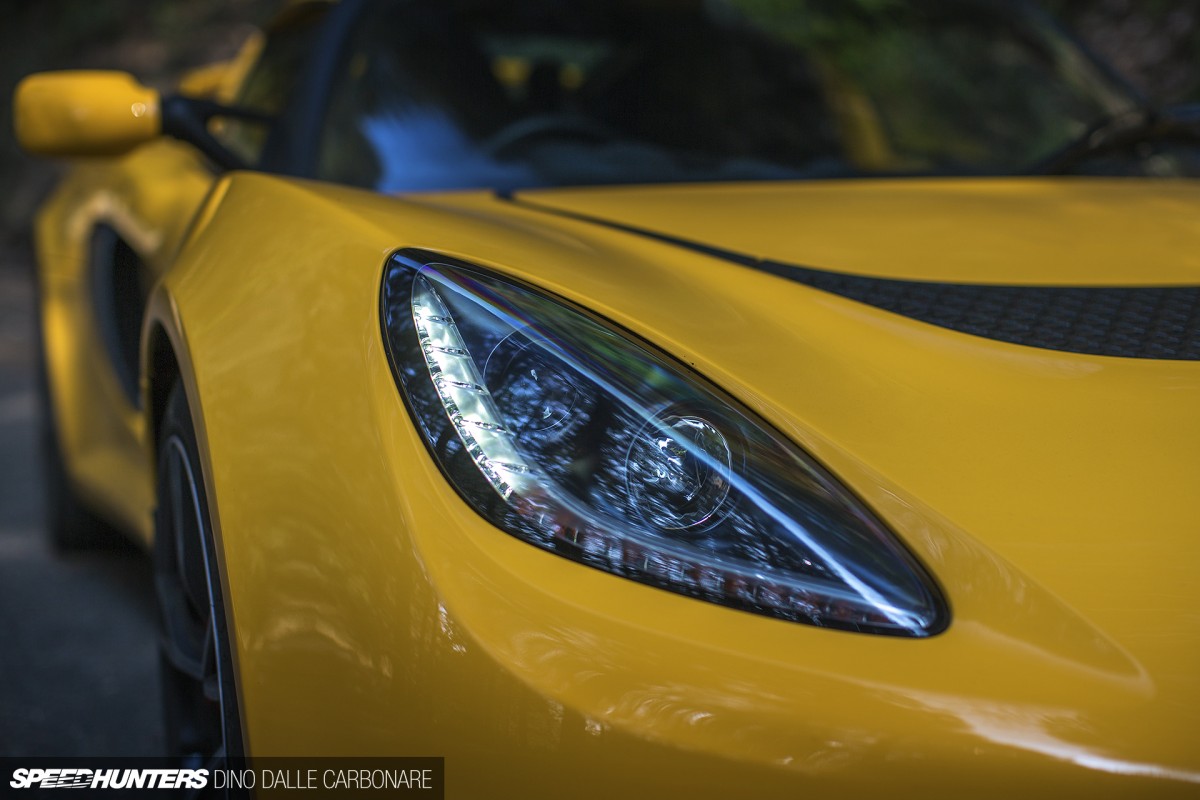 I thought this last year when I took the new-gen Elise S out for a drive but I really like how the move to a single light unit has cleaned up the front end. With both projectors, LED DLRs and the indicators all in one unit, it keeps things simple and very modern, and does wonders for the Exige model, so that all focus can be take up by the aggression in its front fascia treatment.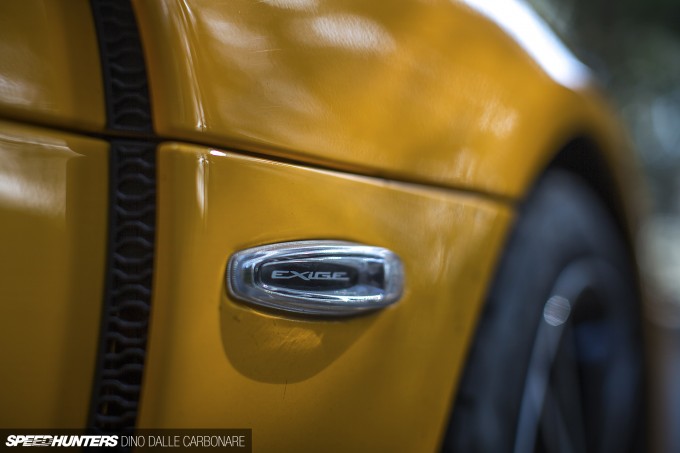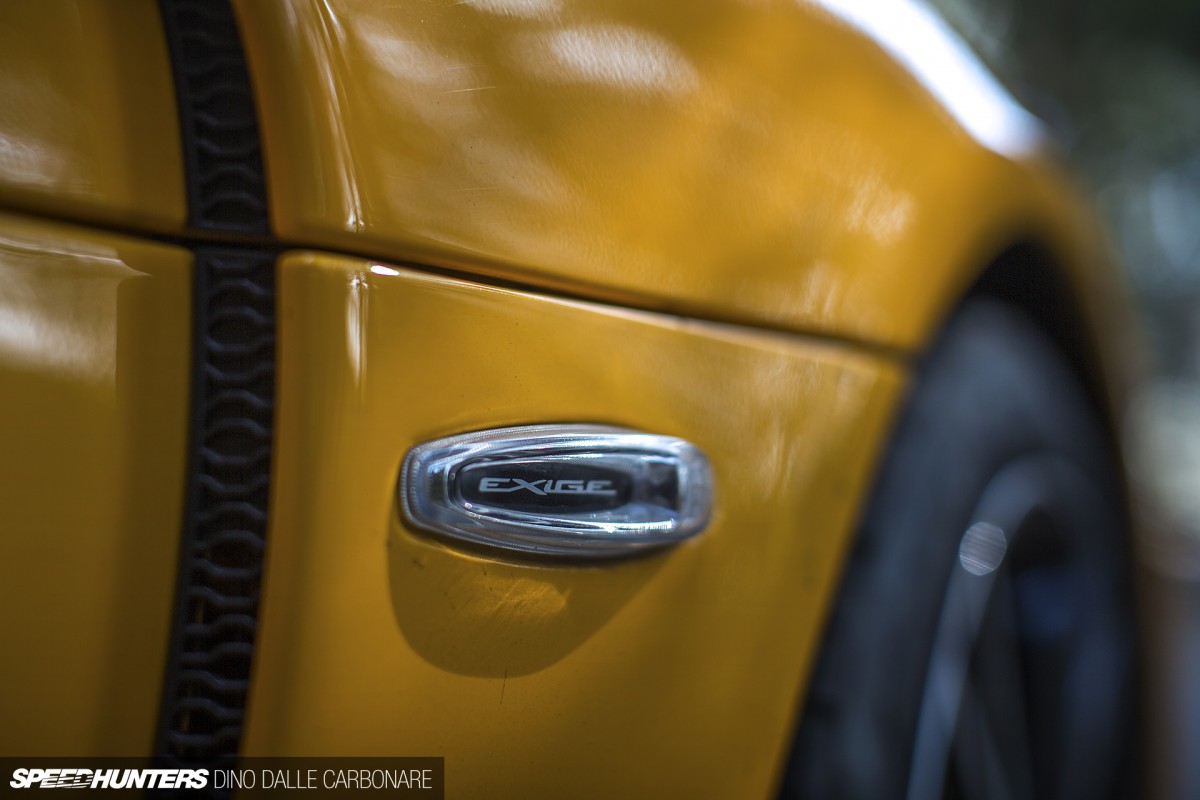 There are nice little touches around the car, from the front fender venting and big rear side intakes, to the little Exige badge in the center of the side indicators.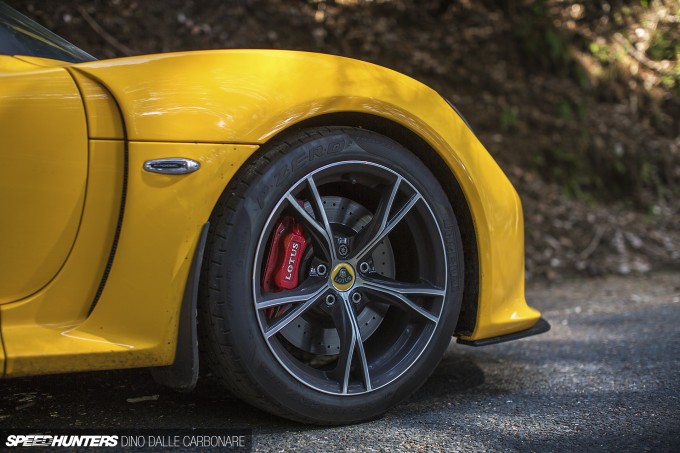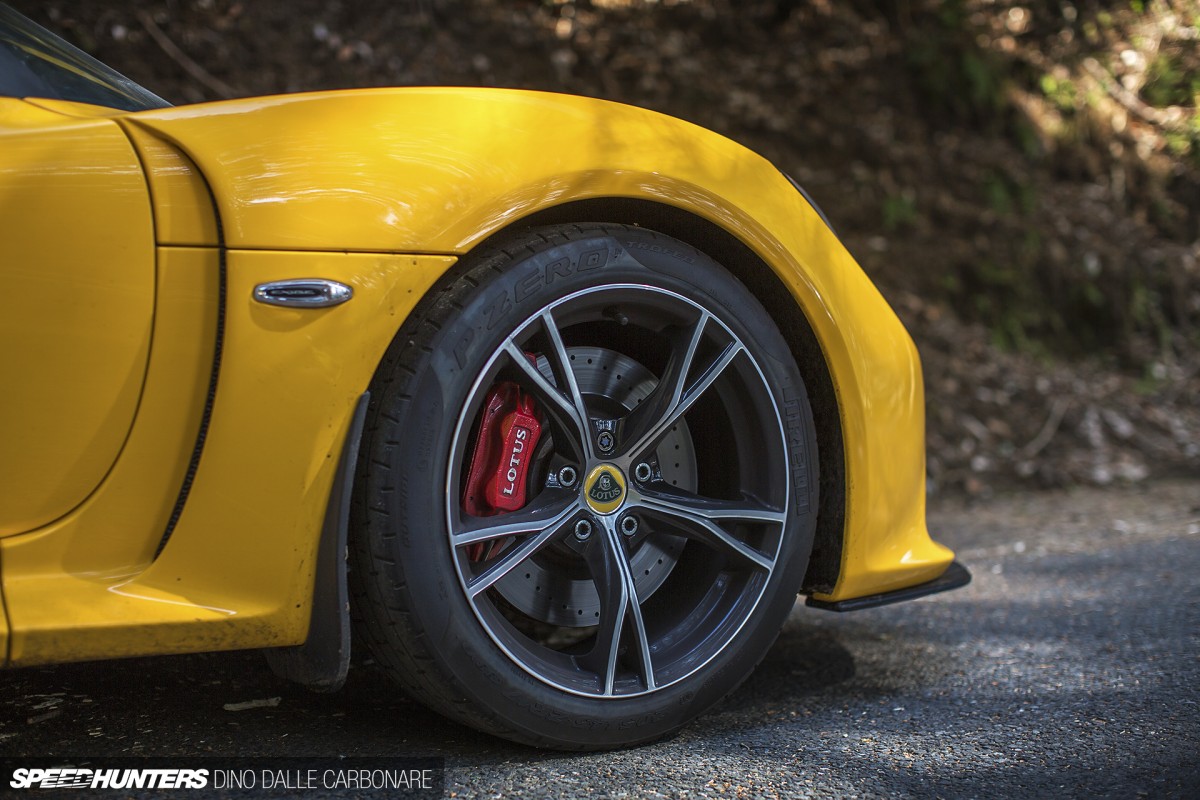 "The tyres are almost gone," they told me at Lotus, "so you might as well kill them off." With an invitation like that, I almost felt obliged to bring those Pirelli P Zero Trofeo back close to delamination, but despite them being very soft and driving as hard as I dared on those mountain roads, there wasn't much I could do, especially to those narrow 205/45R17 fronts. The 265/35R18 rears did take a beating, as the car is always sideways but it's just so light that anything short of an hour at Fuji Speedway won't wear them down that much. That's obviously a very good thing for potential owners! The thin-spoked wheels were a great match for the little car; they're light and look it thanks to the thin-spoke design and they show off the moderately sized Lotus calipers – which might look tiny if you're used to looking at supercars, but do a phenomenal job at shedding speed instantly and with untouchable precision.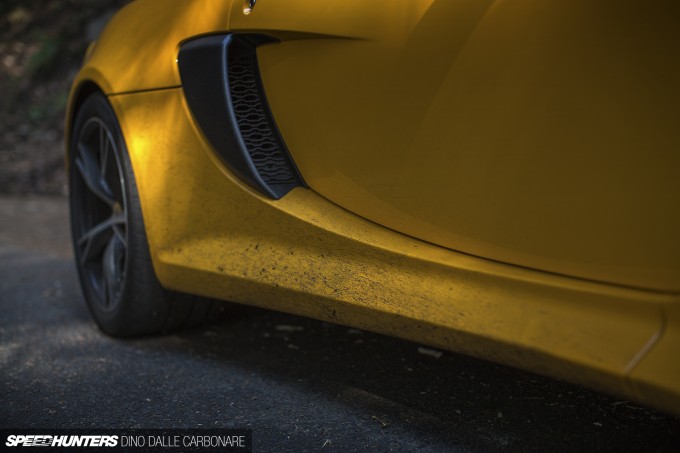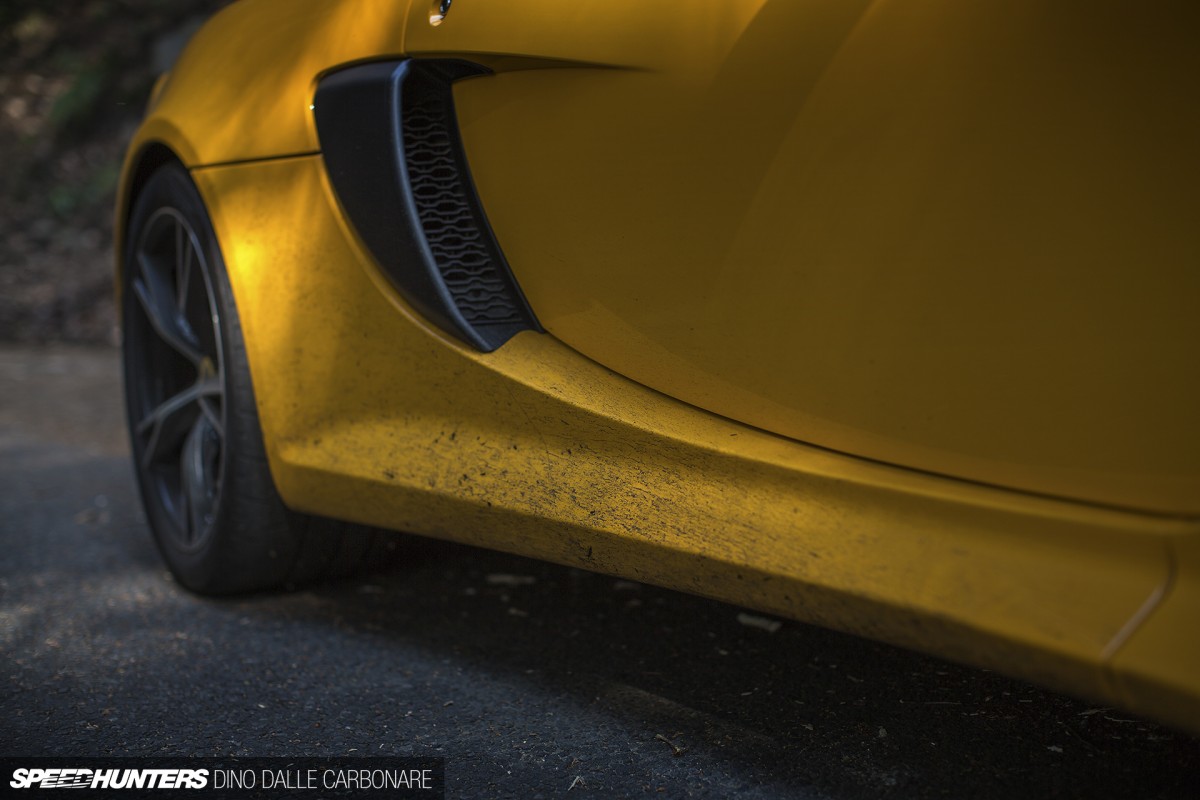 By the end of the day the car was looking positively beaten on, but to me at least, nothing looks better than seeing a car wearing battle scars from a productive day of proper driving.
Open her up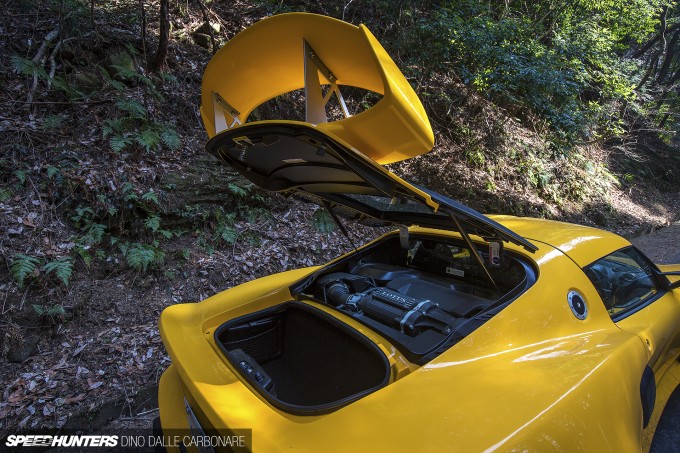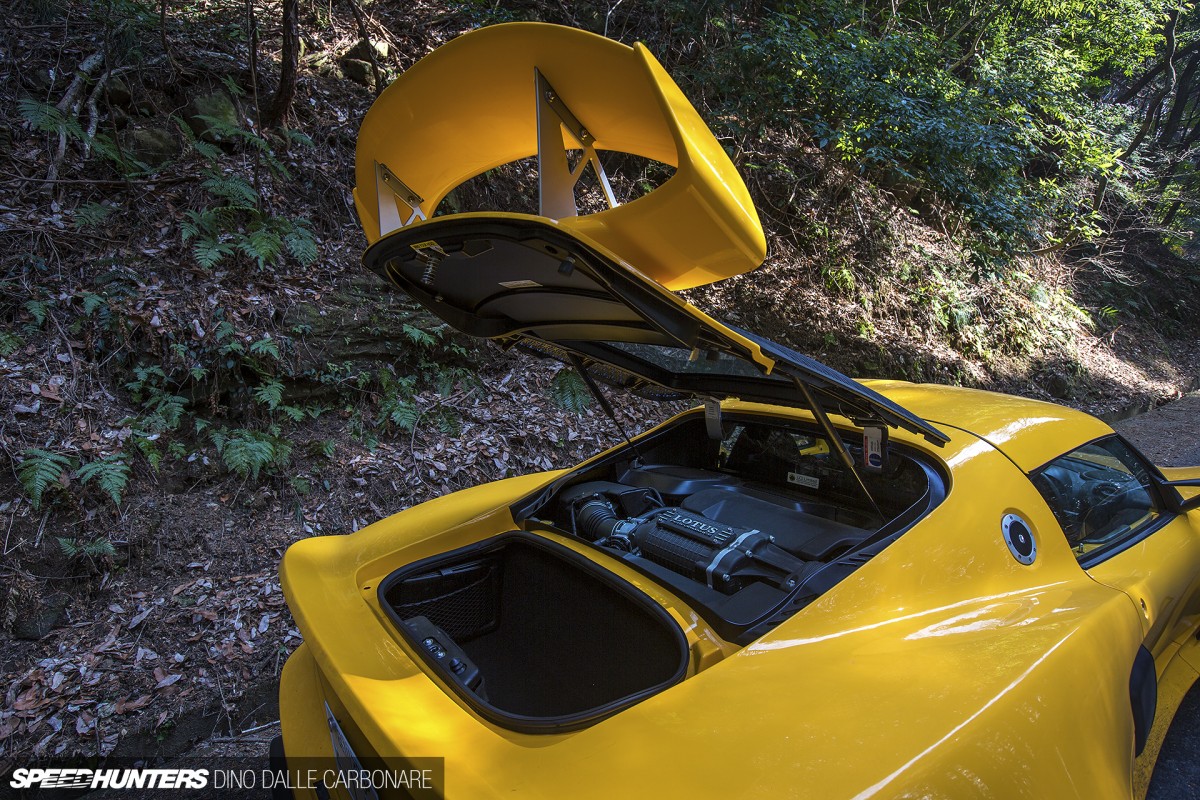 Nestled in between the cockpit and the little trunk space is the Toyota 3.5L V6, displayed in all its might through the rear glass in the hatch.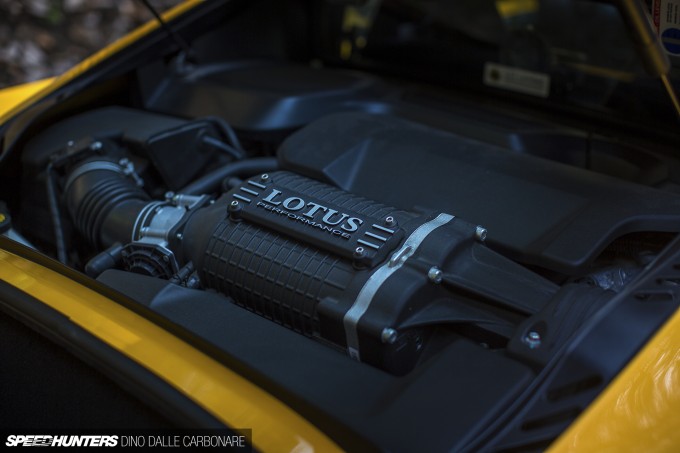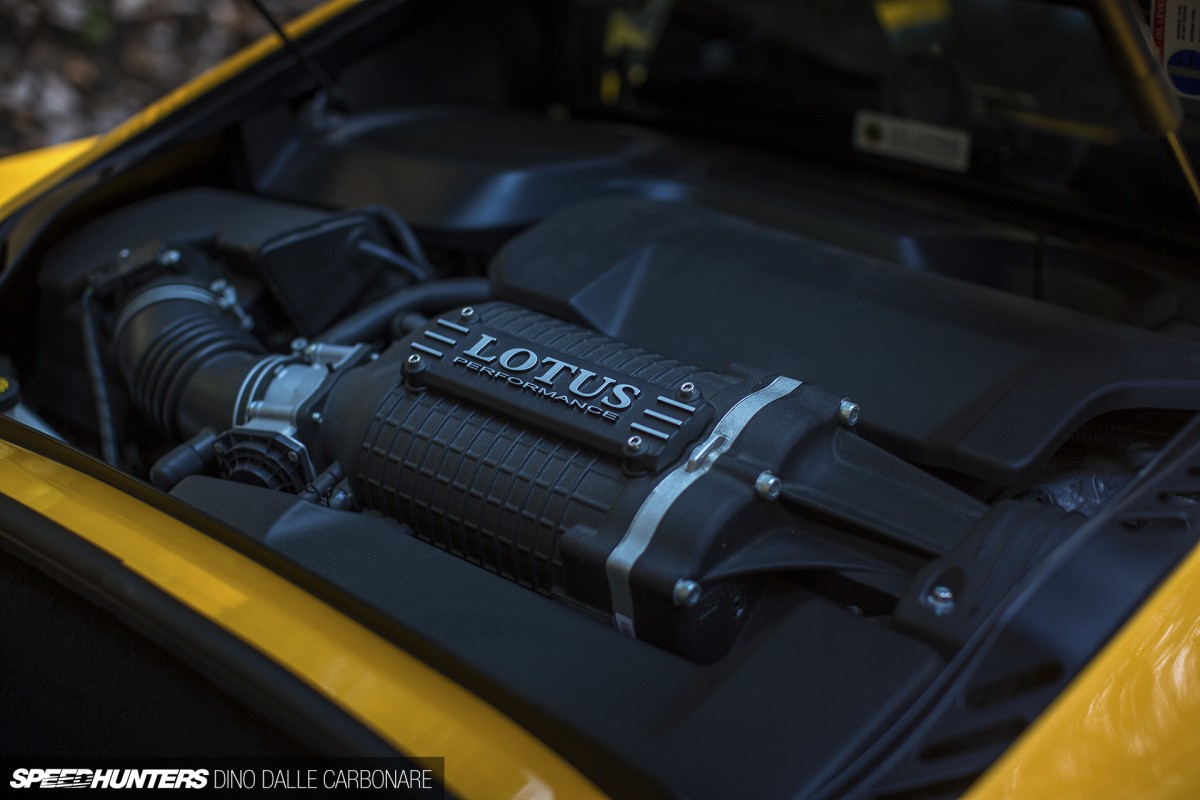 Sitting right above it is the Harrop supercharger which supplies a little forced induction right up from idle to help turn a run-of-the-mill motor into something special. Lotus has put some work into this little unit, making it feel like it deserves to be sitting there. Despite the unavoidable throttle lag of modern day electronically-throttled motors, it feels explosive every time you demand thrust from it and it makes all the right sort of noises – anything from faint blow-off valve whooshing, to continuous popping through the exhaust on overrun or when you back off the loud pedal aggressively. It has character, lots of it, and the sound through that valved exhaust is just the sort of raspy note you would expect an Exige to have. Oh and it's actually pretty decent on fuel consumption too if you drive it gently… Although that's something that's not really going to happen!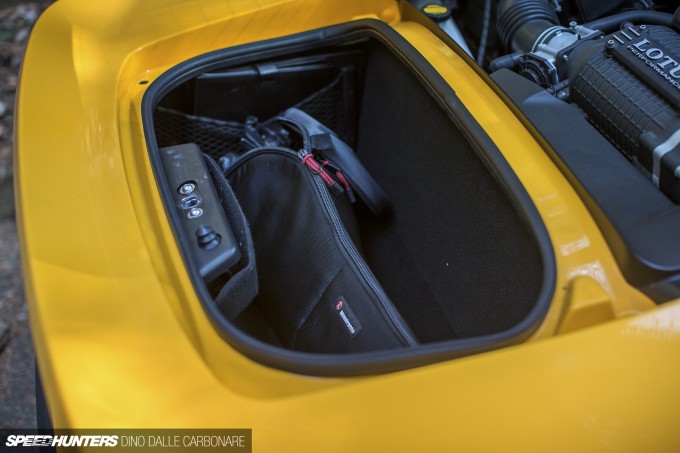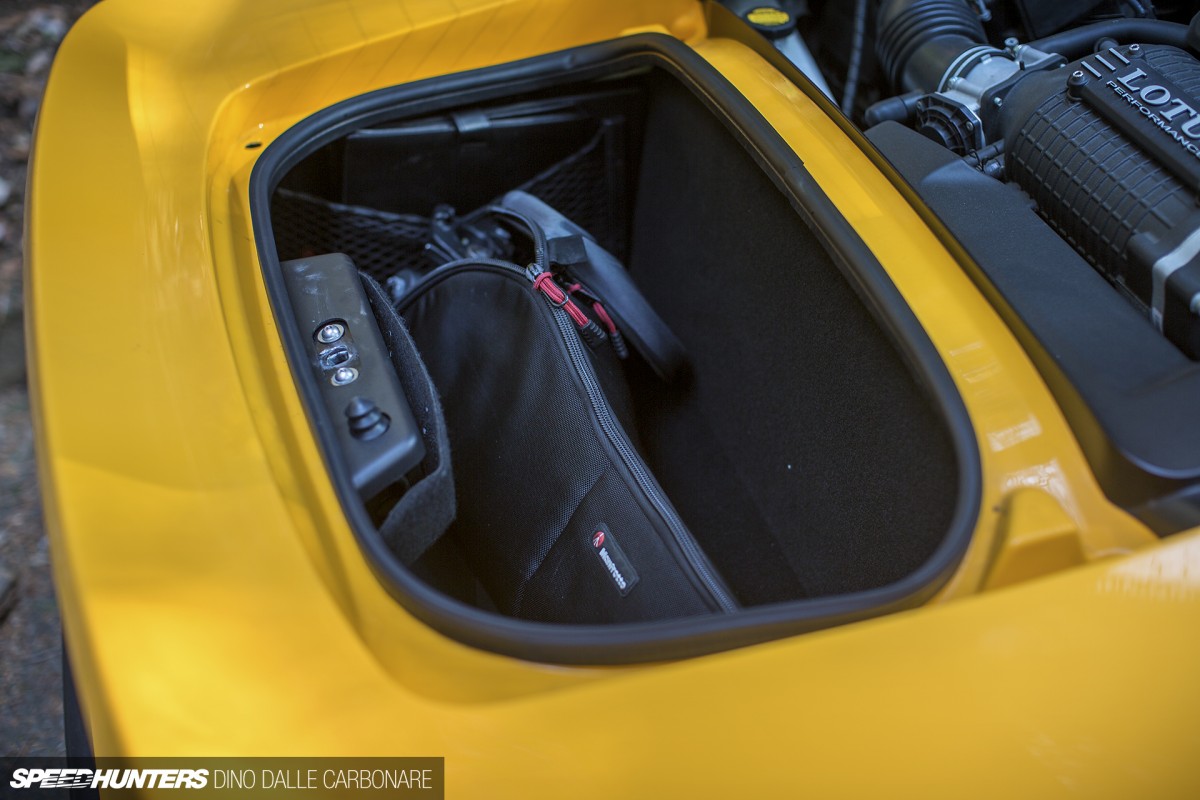 Loading capabilities in a car of this nature are never going to impress, and the Exige failed here, miserably. But who the hell cares. I was able to fit my tripod in the back and my small camera backpack on the front seat, so for a Speedhunting Dream Drive, this was pretty much spot on. If you plan to get an Exige S and do some proper touring and travelling, you might want to pack light.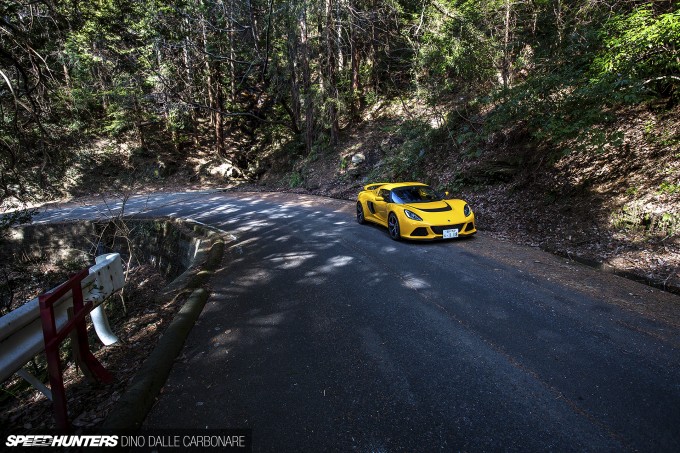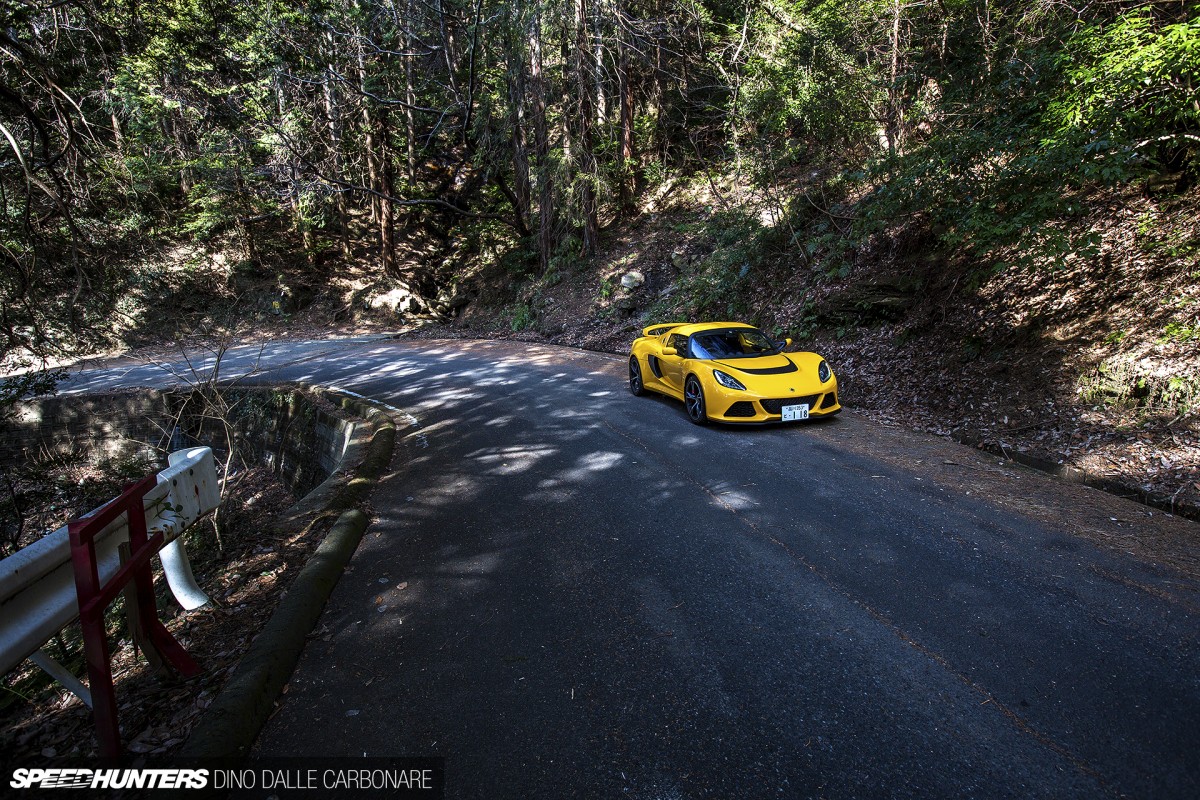 Talk about placing a car in its element. I was content that I had not only found the type of roads that this car was built to devour but satisfied that I had worked it and myself out.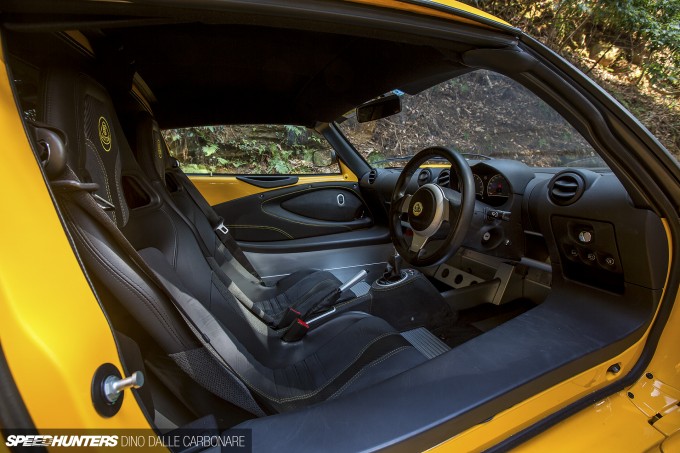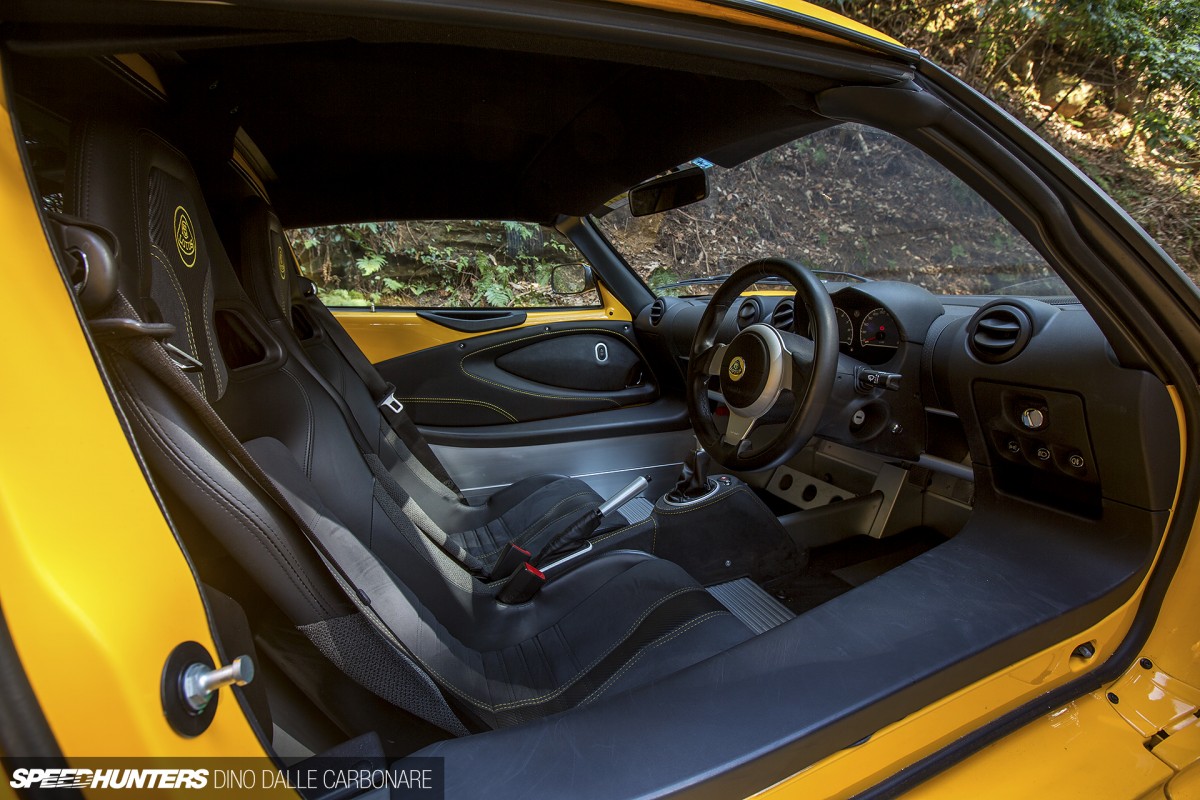 And this is the place where you do all that work from. The aluminium tub with those massive sills is at the core of the Exige's capabilities; it's where the car's stiffness and lightness both come from and in the process it provides a beautifully minimalistic ambience to be in with exposed metal all around.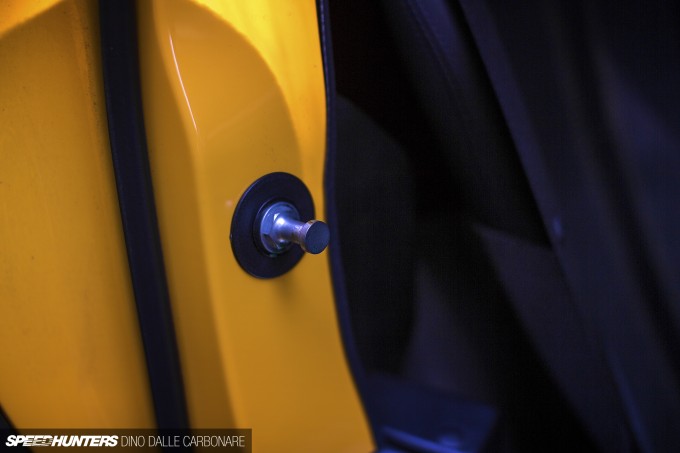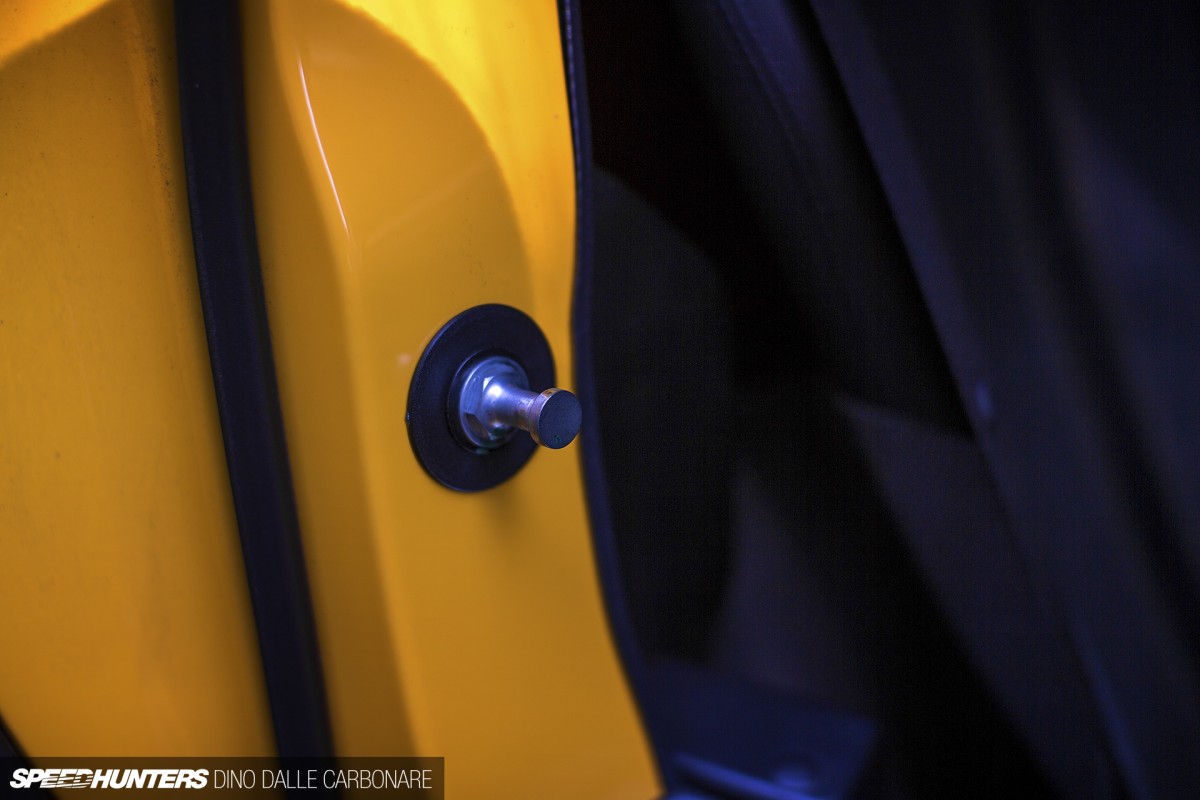 Provided you can tackle the enter/exit maneuvers correctly, you shouldn't have any problems once you figure out the leg-ass-leg routine. That's provided your rear end isn't that big because if it is, it'll be catching on this rudimentary little metal door latch. This was the cause of much unneeded pain on my part, as well as a ripped jeans back pocket! Lotus, seriously, there are other more compact ways of having a door latch itself onto the car. This is not one of them. I'm surprised American owners of Exiges and Elises haven't begun a lawsuit trying to ban this 'weapon of ass destruction'!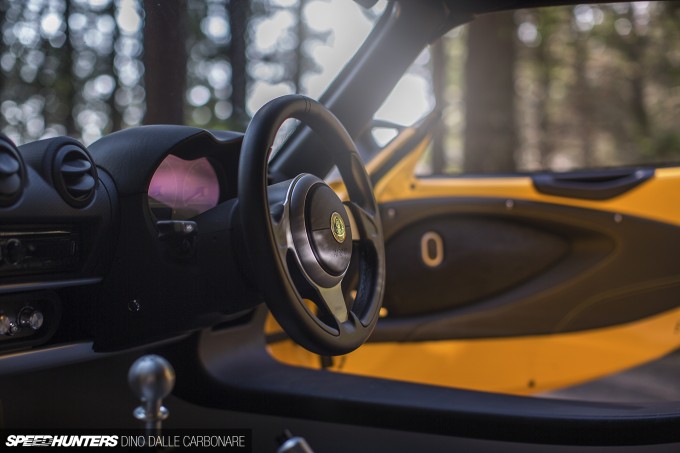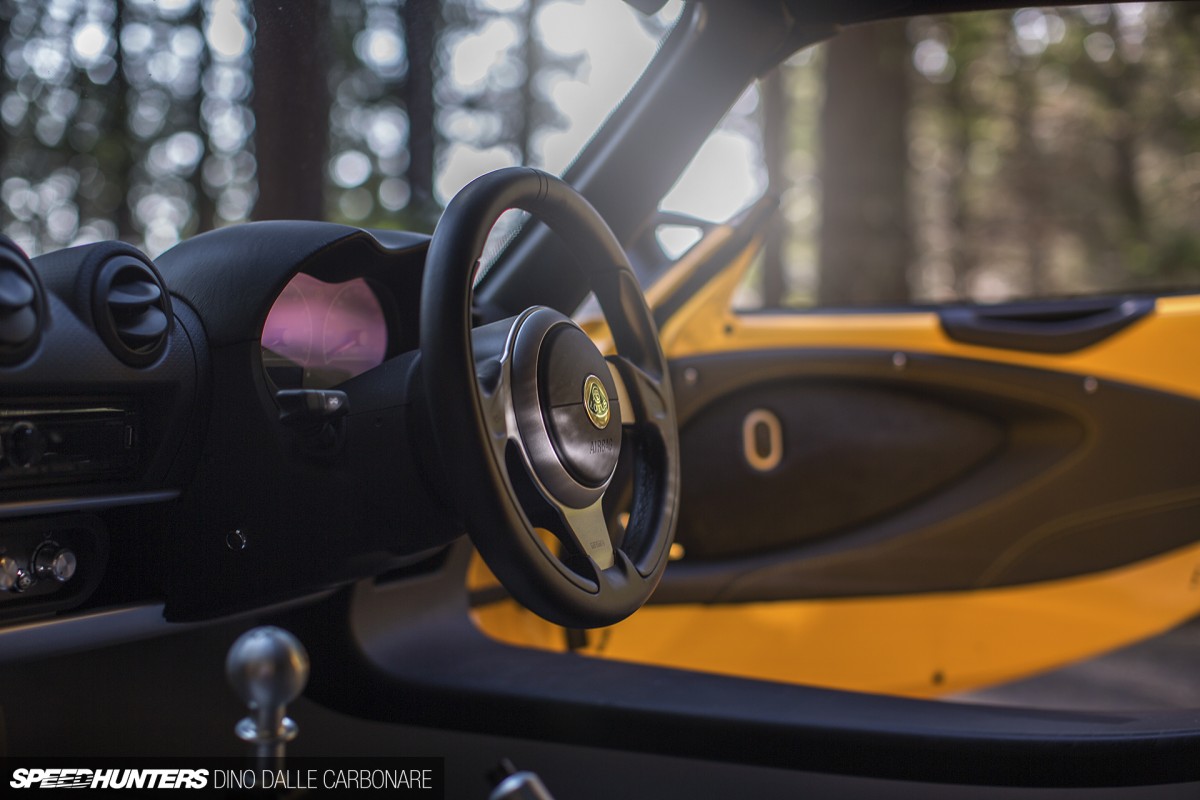 But enough with the complaining. This is what it's all about: sitting in the thinly padded bucket, tightly grabbing that little wheel and gently but firmly using it to make the car dance through the corners. There are very few rides that would come close to matching the sheer exhilaration that you get from driving this car hard on your favorite roads.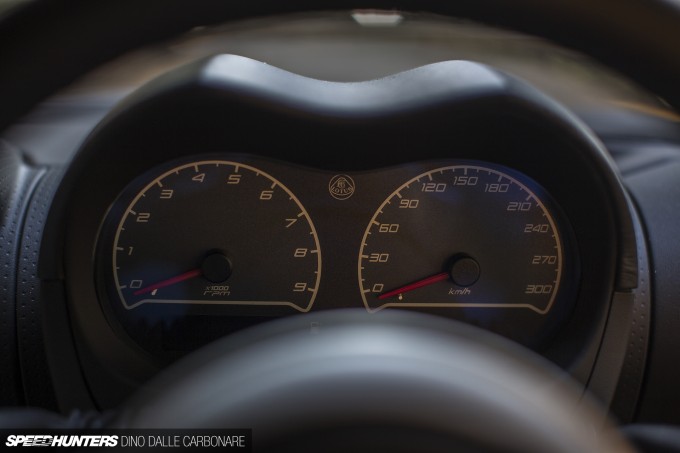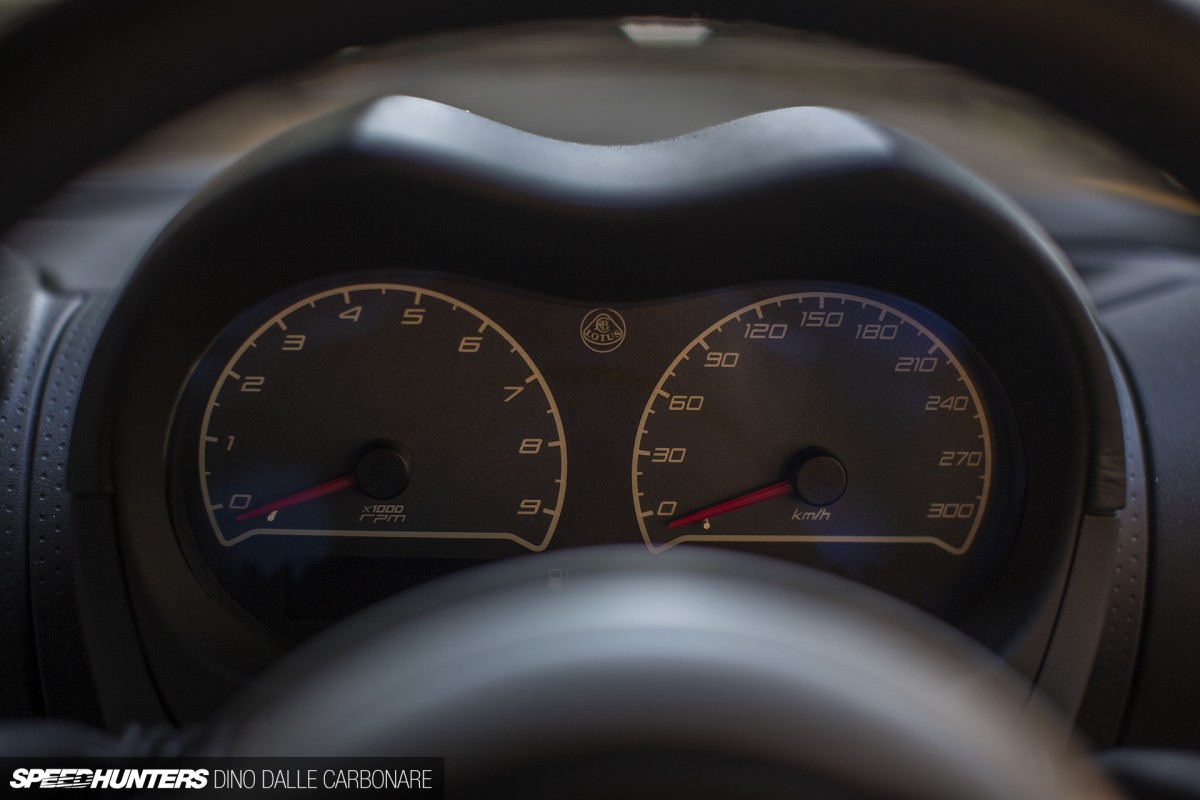 There's so little to worry about in here. You have very a very basic set of dials to worry about: the one on the left is the one you'll be looking at most as you try your hardest not to hit that rev limiter sitting in between the 7 and the 8 mark.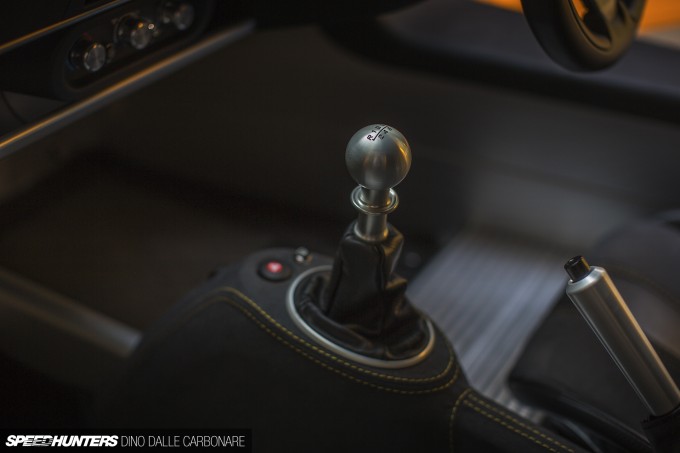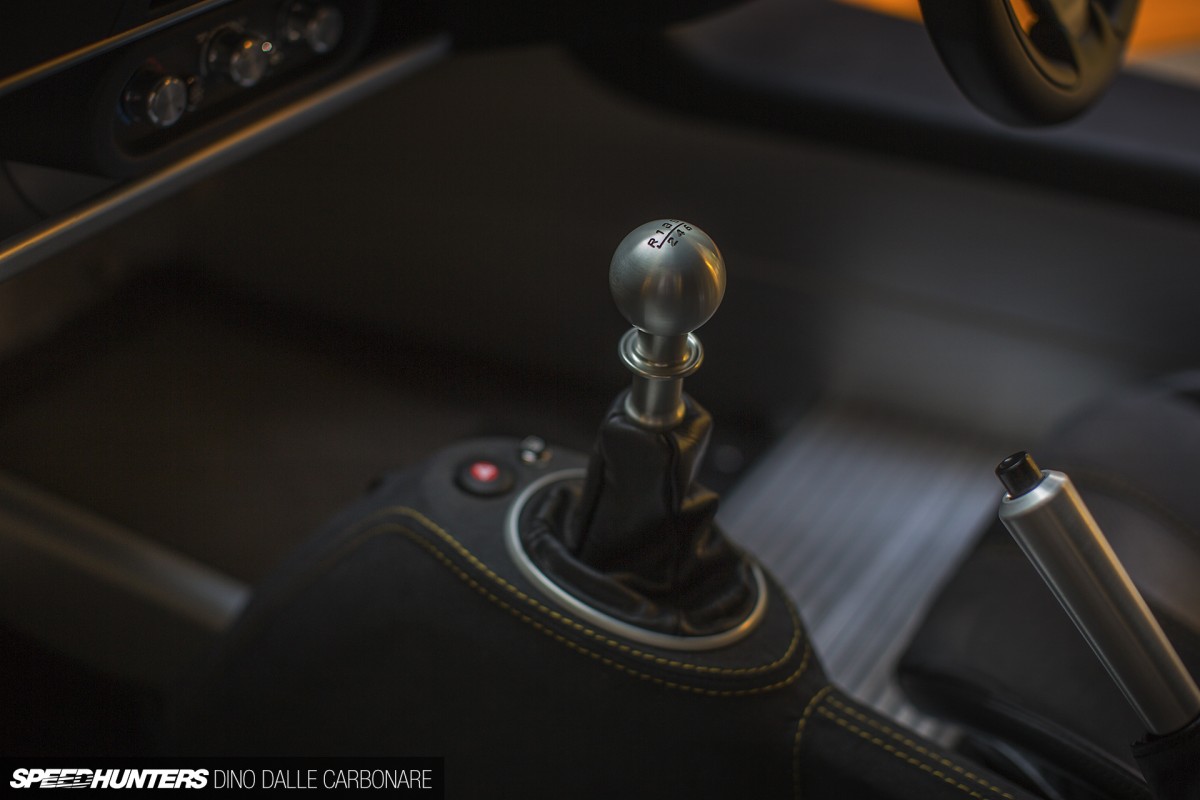 Much like in the Elise S, the shifter provides a very crisp and decisive action. You can stir through the gears with a flick of the wrist and it's so well-weighted that it just wants you to abuse it. And that's a very good thing because this is one gearbox you can really machine gun through!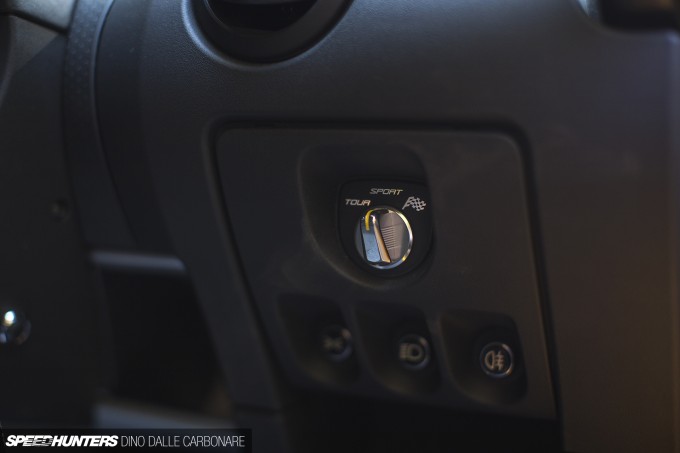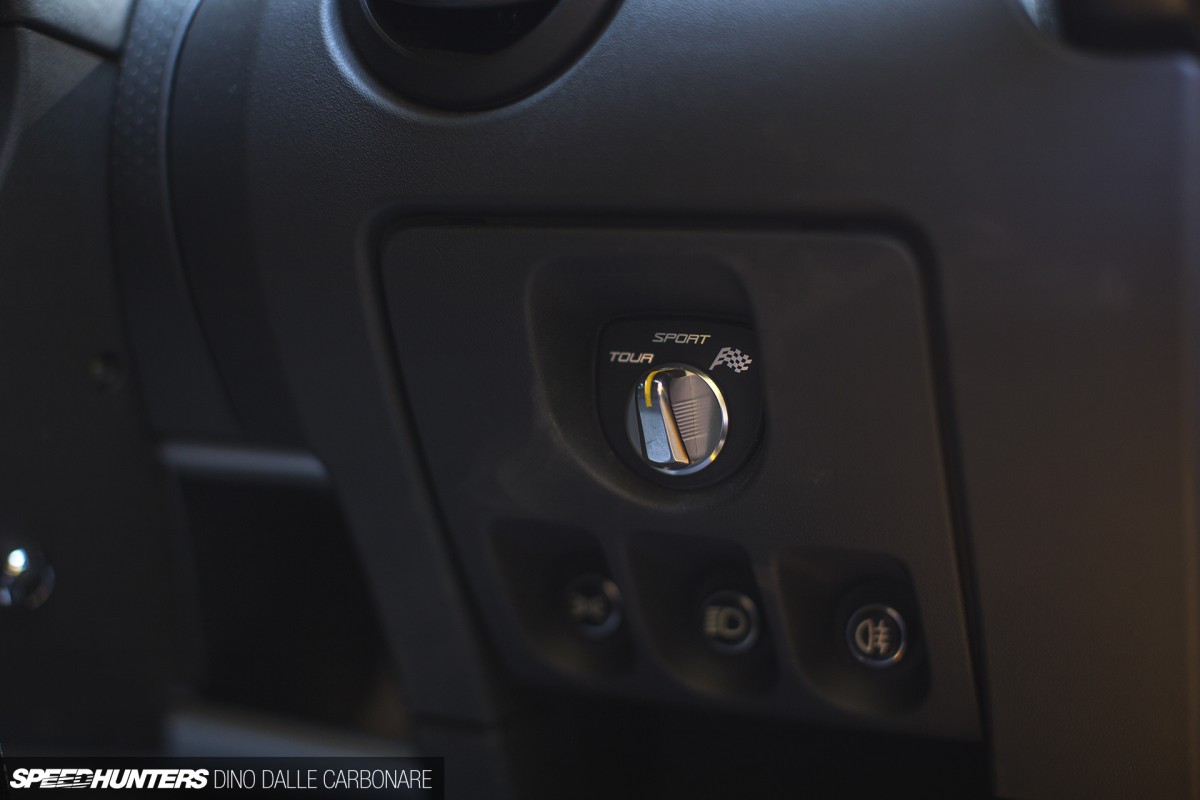 Lotus' Dynamic Performance Management system might as well be called the fun switch. It's a great way to control the Exige's capabilities – tone it down for when you're on a quiet drive or commute (Tour) or when you want to push it hard but lean against the traction and stability control (Sport). In race mode (the checkered flag), the throttle mapping sharpens up and you're allowed a few more degrees of yaw so you can throw it around and have it move around more, feeling that rear end coming alive and knowing just how it would behave if you were to turn that knob to the right again, and hold it there for five seconds. That's when all electronic driver aids are cancelled and you have only yourself as a means of control. Most of the time this was the position I chose, especially through the little second-gear mountain pass the car was sitting on. This is a car that loves to be steered with the throttle; it wants to come out of every corner with its ass hanging out – not in a look-at-me-ma-I'm-drifting sort of way, but more in a it's-the-fastest-way-to-get-it-around-a-corner way, if that makes sense. In this setting you have to work hard, continuously correcting little slides and attempting to keep the car on a smooth line through the turns as you occasionally shift up to third and then back down to second. Drive the car in this manner for a while and you will know what driving satisfaction is.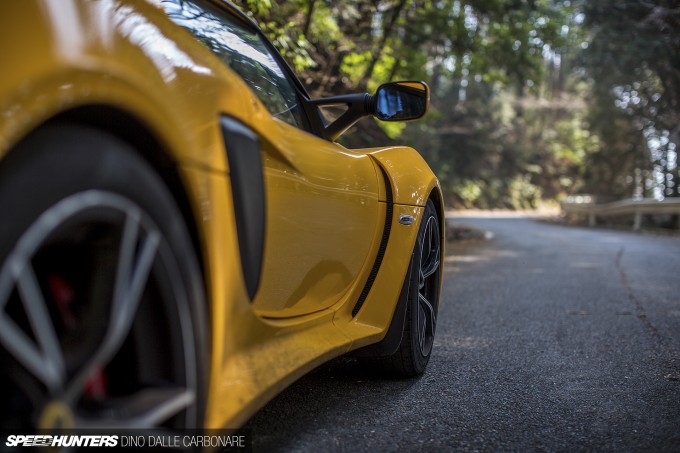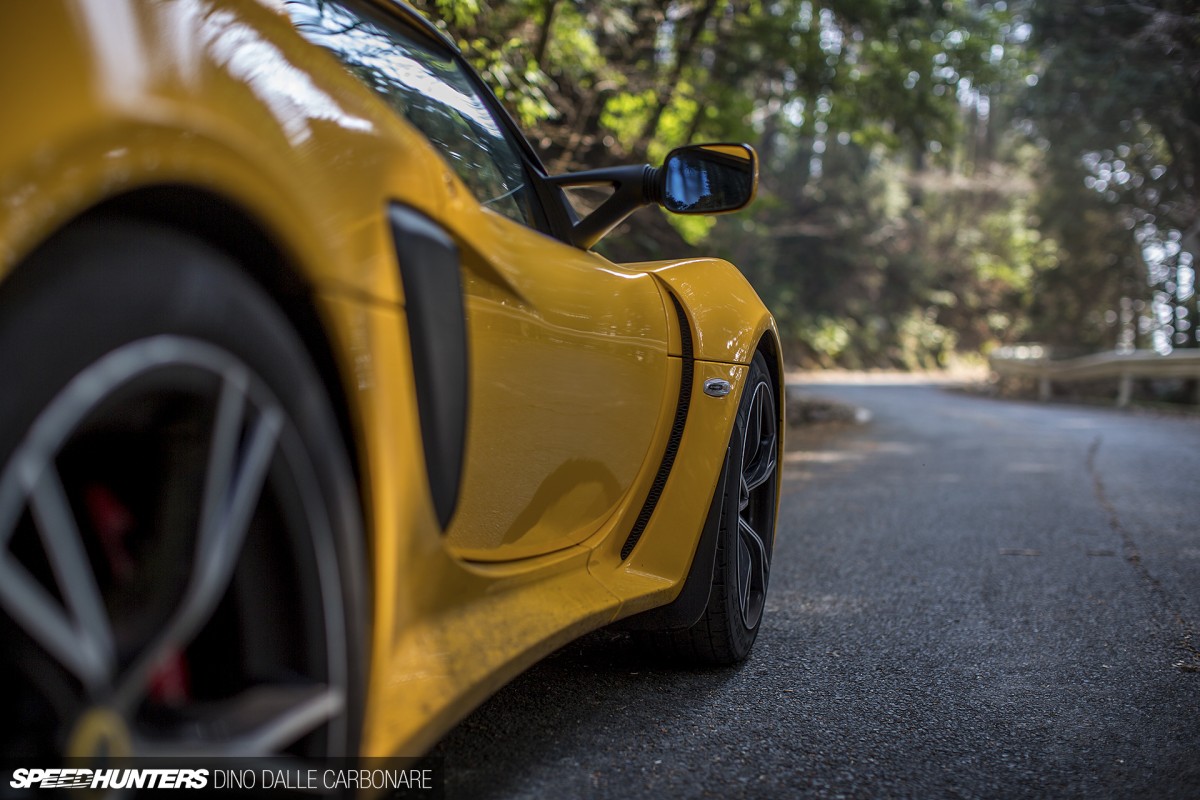 It took me all the way back to that first drive of the Exige twelve years ago. It may be a slightly bigger, more civilised car now, but it still ticks all the right boxes. The envelope has been pushed and none of its essence has been lost. Well done Lotus.
Dino Dalle Carbonare
Instagram: speedhunters_dino
dino@speedhunters.com