The supercar Detroit built
The Falcon F7 is one of those cars that just reels you in. I first saw it sitting in the Dupont Registry booth at Barrett-Jackson back in January and I just stood and stared at it, along with everyone else. The placement was prime – I must have walked past it ten times coming and going to the auction, but it was the aggressive angular design that made us all look. Then, finally, my friend Justin had the idea to arrange a photoshoot.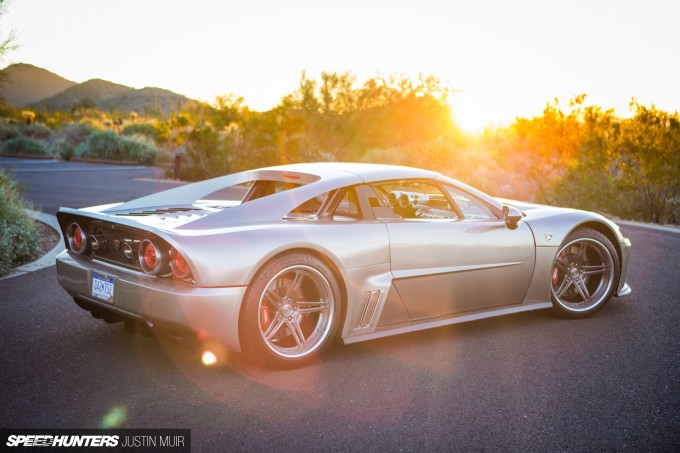 Now I've brought you plenty of vintage American cars here on Speedhunters, but there was something special that drew me to this particular car. Maybe it was the Michigan license plate or the sight of a familiar eight cylinder mill. Either way, I had to know more.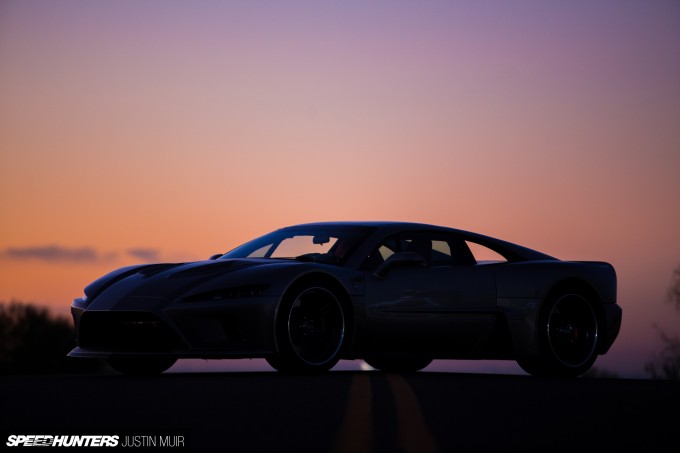 Over the course of two days, Justin and I kept visiting the car in the Dupont Registry booth, growing more familiar with its lines and details, and also peeling back the layers of people who stood between us and the photoshoot we so wanted to bring you. Our efforts paid off when we were introduced to the mastermind behind the Falcon F7: Jeff Lemke. Understandably he was always on the move, as the guy who not only builds these beasts, but also runs his own start-up supercar company.
The next tricky part was getting a car that was visiting from Detroit, out of the world's biggest auto auction and to a suitable location before it had to head back across the country. Eventually we wound up shooting at a nearby desert park, meeting before dawn on a typical freezing Arizona winter morning.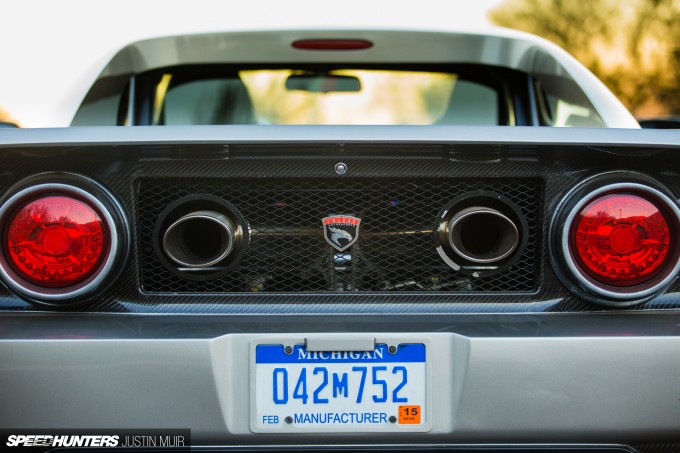 Oh, did I forget to mention? That's right, this is the supercar that Detroit built, and I was as psyched as you are now when I first heard it. Maybe this car wasn't so far outside my wheelhouse after all. Once we get into it, you'll see just how much of a Yankee brute this thing really is.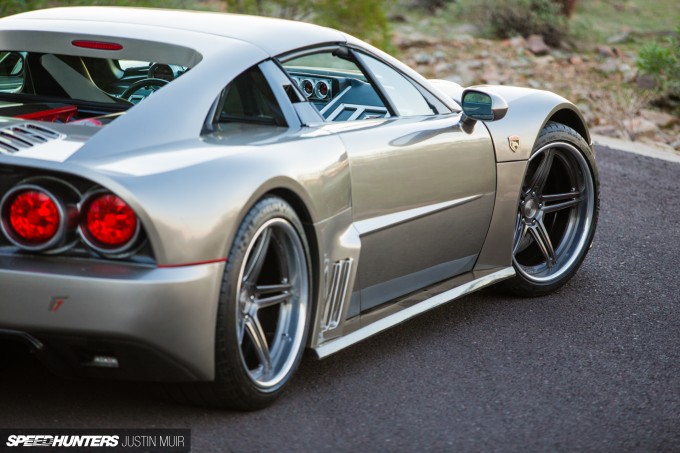 The truth is, Jeff has always loved supercars – lots of them, and lots of things about them. But he felt each one missed the mark on a thing or two, keeping them from being the ideal supercar in his mind, so he set out to combine all the best attributes into a car of his own. Pretty bold, no?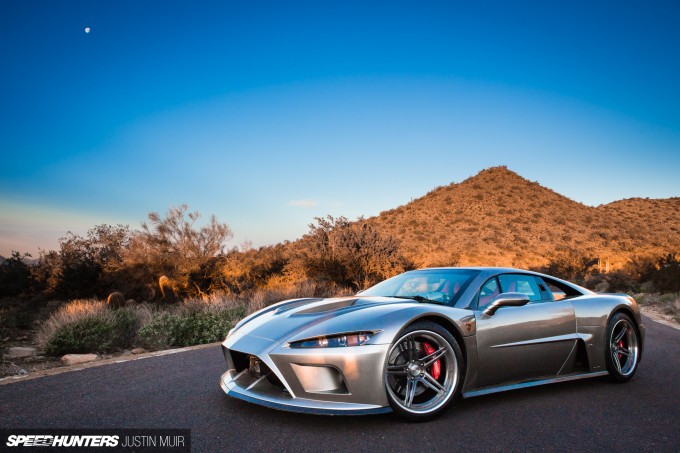 The first thing you notice when you view an exotic car like this is, of course, the form – and it should make your heart flutter when you see the right one for you. This is where Jeff began his quest to combine all the best things about the supercars he loved but couldn't live with.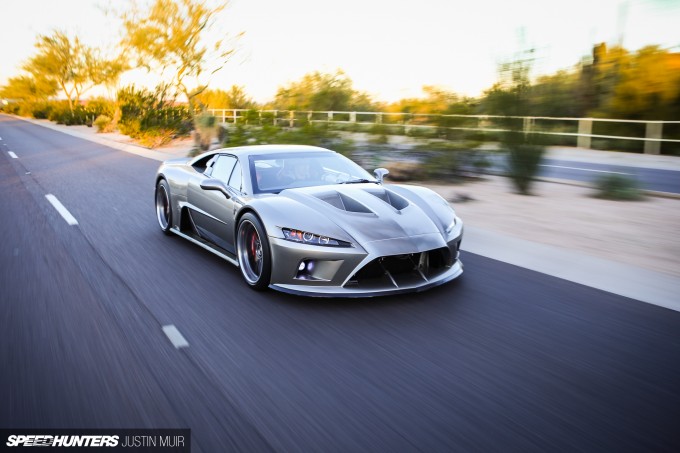 To start, there's the pinch-waisted shape influenced by Ferrari 288 GTO, a front that feels a little like a Viper and a strong Ford GT40 vibe too. Then he gave it a road-hugging ride height and a radical, long rear deck to emphasize the mid-engine layout.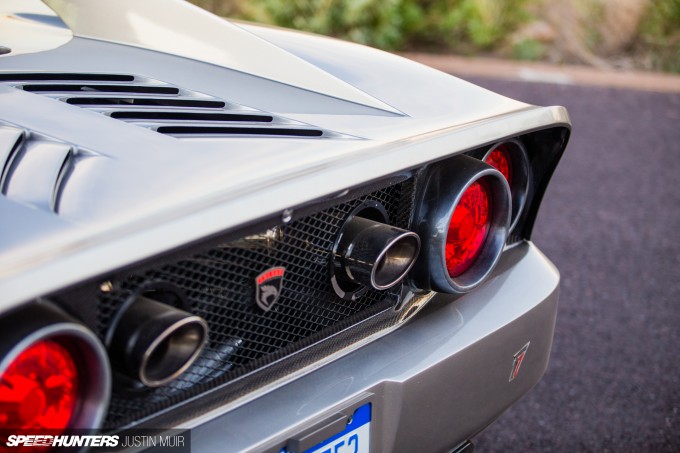 A mesh rear panel allows hot engine air to escape and is a detail reserved only for a supercar, while the dual round tail lights speak to the Falcon's American roots.
Mid-engine monster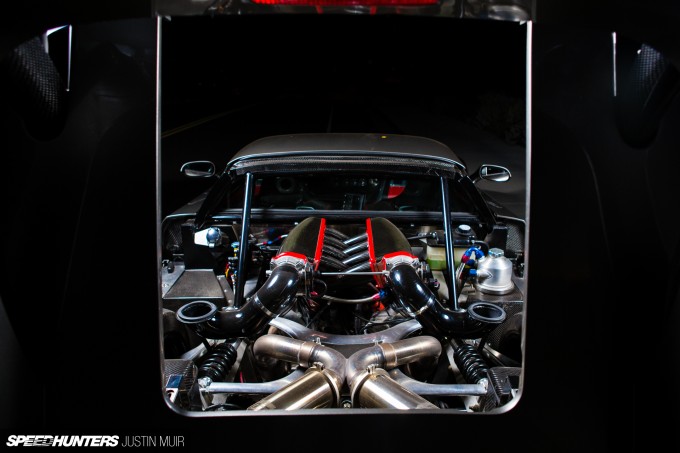 The mid-engine bit is particularly interesting, since it's a blend of exotic architecture with good ol' American muscle. A tried-and-true Chevy LS7 is employed, and man, when you hear this thing coming, it's convincing. This is due, at least in part, to the dual plane intake manifold, made from carbon fiber and billet aluminum.
Not only does it look exotic and match the F7's carbon construction, it also gives the car a unique sound and a good boost in horsepower – 620 of them in naturally aspirated trim. Interestingly, you won't find this manifold on many other LS-equipped cars, mostly due to the added height and necessary hood clearance, but it really works here. Oh and if 620 horsepower aren't enough, Falcon will build you a twin-turbo version that makes double that.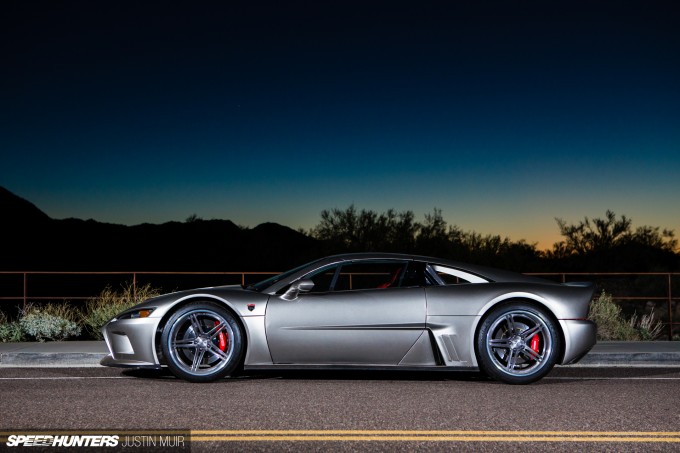 But how do you fit an American V8 in front of the rear wheels and still have room to sit? Jeff told me he first tried a transaxle out of a Ford GT, but they were just too hard to source. Believe it or not, the transaxle that's used in a Lamborghini Gallardo proved easier to get, so that's what the Falcon F7 runs.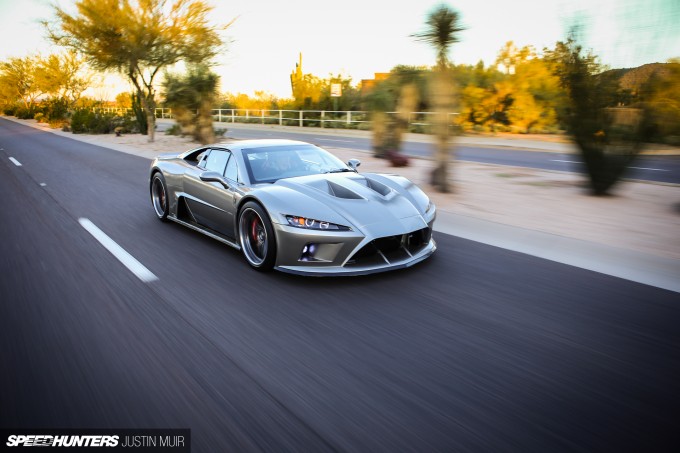 It was at this point that it dawned on me: how did this guy come up with a car that looks so damn good and can drive down the road too? He must have tapped a design studio or engineering firm, right?
Or not. Jeff told me he designed the Falcon the old-fashioned way – by hand. He already had lots of experience making hardtops and body kits for Vipers and Prowlers, so he had the skills. But still, to bust out a complete car is on another level. I probed further, wanting to know how he did it.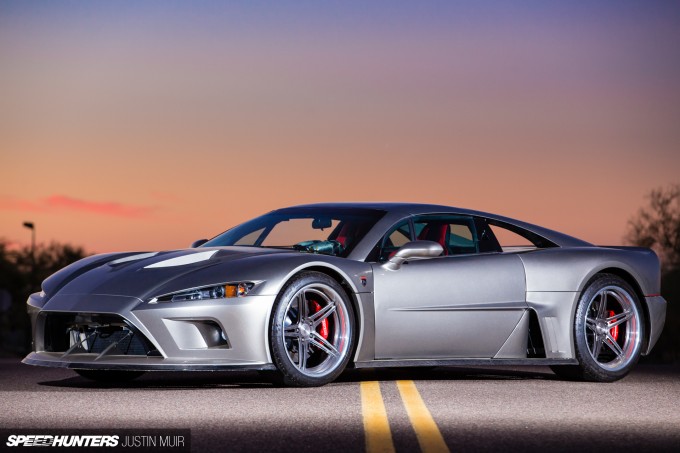 Finally I got Jeff to share at least a little bit about how he pulled this off. Apparently he first shaped one side of the car using foam, fiberglass and body filler until he was happy with the form of his new supercar. With half of the car sculpted, he had it 3D scanned and mirrored in a CAD program, then cut a complete F7-shaped foam plug out on a CNC so he could use it to make a mold.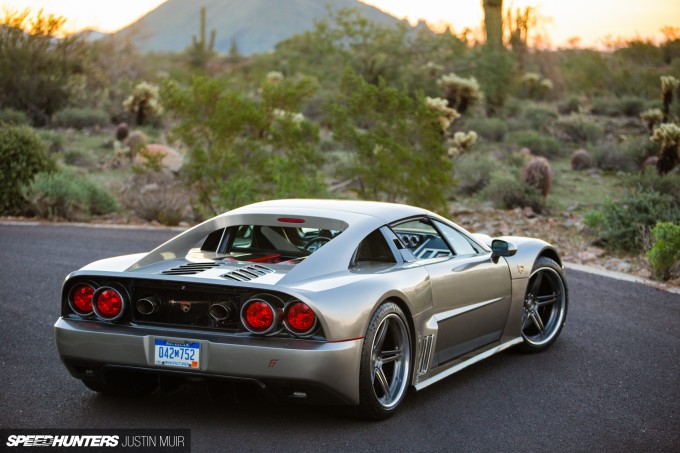 Obviously it's just not that simple though, because think about how you would wrap this sultry carbon fiber skin around a chassis that's structurally sound, has the right suspension geometry and locates the mid-engine drivetrain. Yeah.
Good to look at, better to drive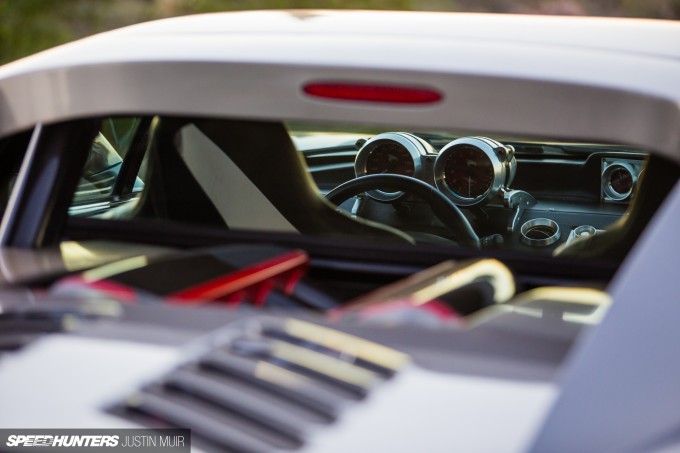 If there's one thing that Jeff Lemke is most proud of with this car, it's the fact that its built to drive. He's used OEM components where necessary to make sure it has the solid feel and longevity a production car should and he's also gone to the lengths of crafting a comfortable cockpit with all the modern options one would hope for. It's got power steering, push-button start, a radio and even air conditioning if that's what the customer wants.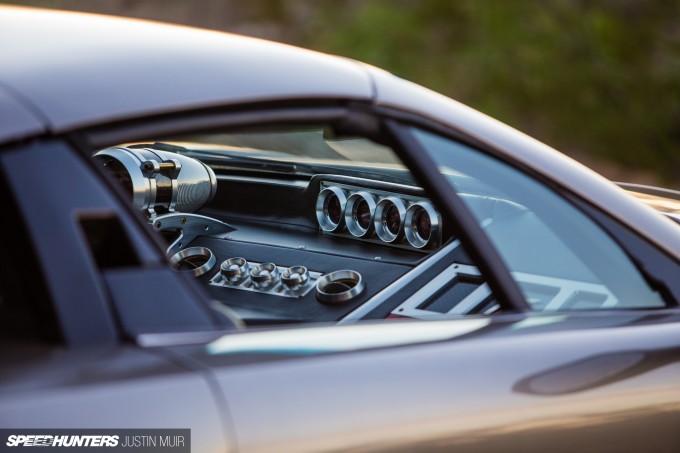 He didn't have to, but Jeff made every panel on the car, inside and out, from carbon fiber – then he reinforced them with Kevlar. It keeps the weight down and although there's paint over it, you can still spot the carbon on the insides of the panels. For the interior he left the carbon fiber parts bare, and clearly had some fun with the CNC machine making billet parts too.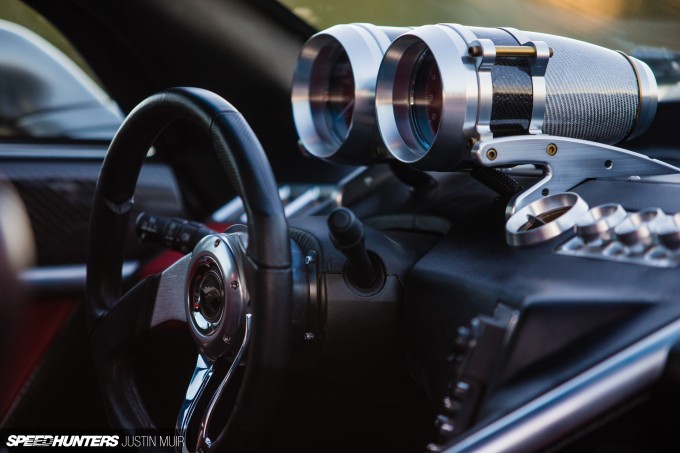 Like the rest of the car, the interior is a blend of OE, aftermarket and bespoke components, all of which play together nicely.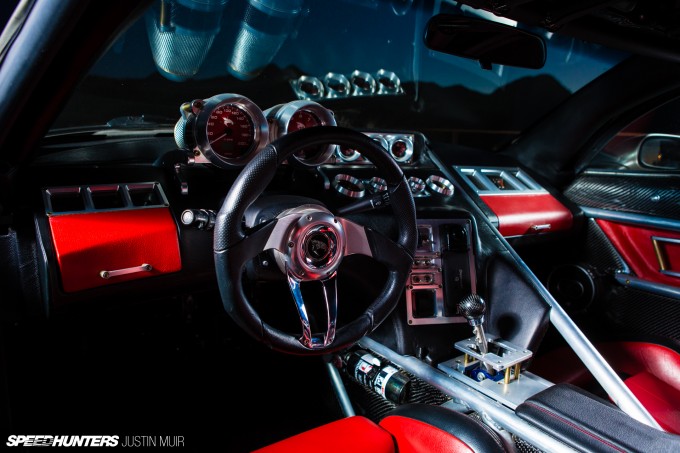 Being a supercar, there's the obligatory gated shifter, and I really like the exposed mechanism underneath. One thing I found particularly interesting is that while the body and drivetrain are decided, an F7 customer can completely customize their interior, with each one built to spec.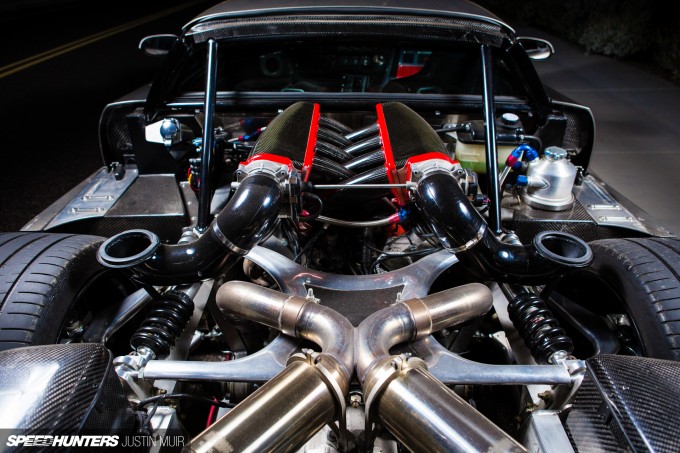 Under the rear-tilting hood sits the suspension integrated with the drivetrain, a blend of Corvette ZR-1 components and Penske rocker-actuated coilovers. The way all of this nests together and functions is truly something beautiful.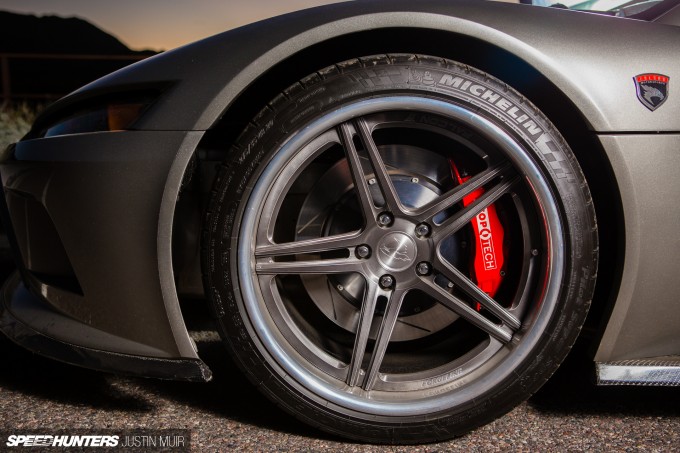 Falcon used StopTech big brakes on this car, but you can spec full carbon Brembo stoppers if you want, probably a good idea if you go for that twin-turbo option. The brakes don't look huge, but that's because they're riding in 20″ Forgeline wheels.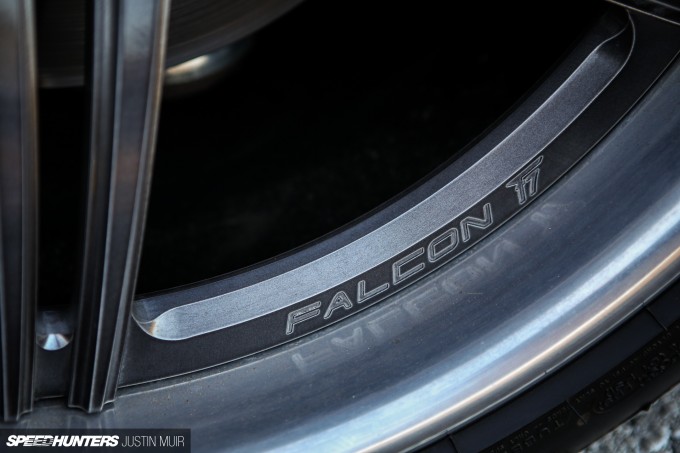 If you look closely, you'll see these have been made specially for the Falcon F7, with a logo to match.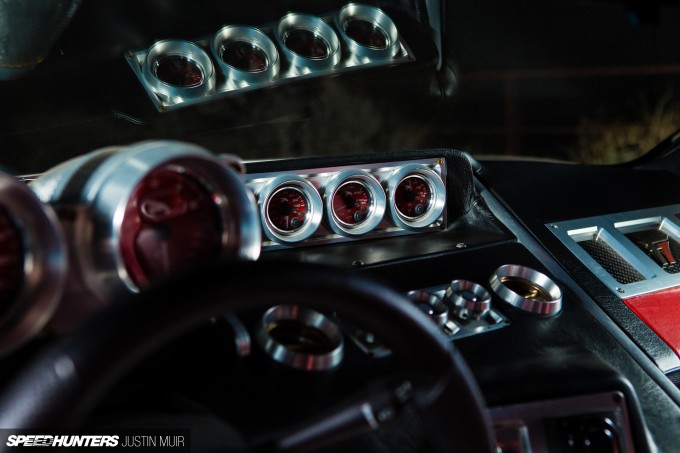 When I first stood by the Falcon F7, I found it intimidating. I mean, this is a proper supercar after all. It didn't even cross my mind to shoot it for a feature because it seemed so, well, exotic – and I'm more of a hot rod guy myself.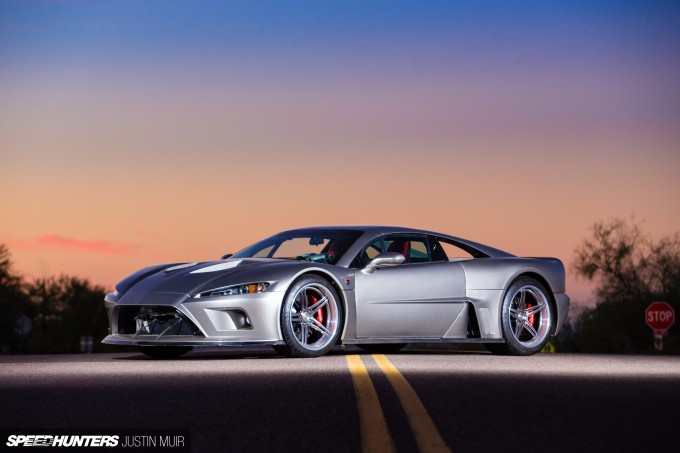 Without that little push from a friend, I wouldn't have looked closer and discovered what the F7 is all about. Turns out it is a hot rod in a way, and the story is as American as can be, forged from the determination and grit of one inspired individual who wanted to do things his way.
Keith Charvonia
Instagram: SpeedhuntersKeith
keith@speedhunters.com
Photos by Justin Muir
Instagram: justinmuirphotography
info@justinmuirphotography.com