A riot of colours and textures
You can waste so much time worrying about getting a clean shot of a car at a show, especially somewhere as busy as the Geneva International Motor Show. But does that generic shot really portray the whole spirit of what you're trying to capture? Often it's refreshing to literally zoom in, letting the hustle and bustle around you disappear into the periphery of the viewfinder, and concentrate on the details. And there is so much detail when you take the time to look. The wide view might give you the overall shapes and lines, but close-up you get a far better idea of the intricate beauty of each car.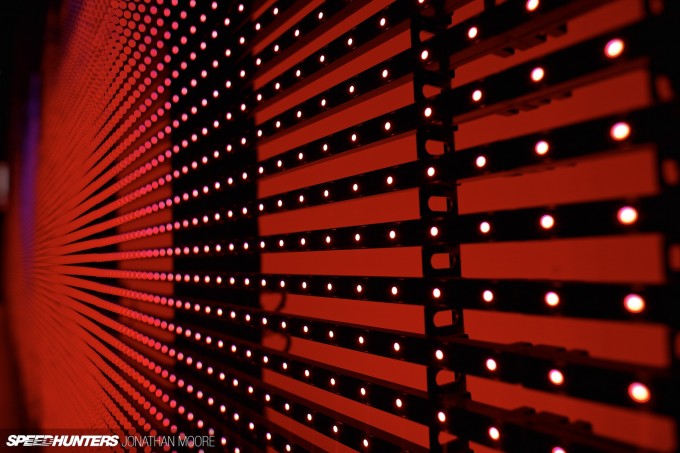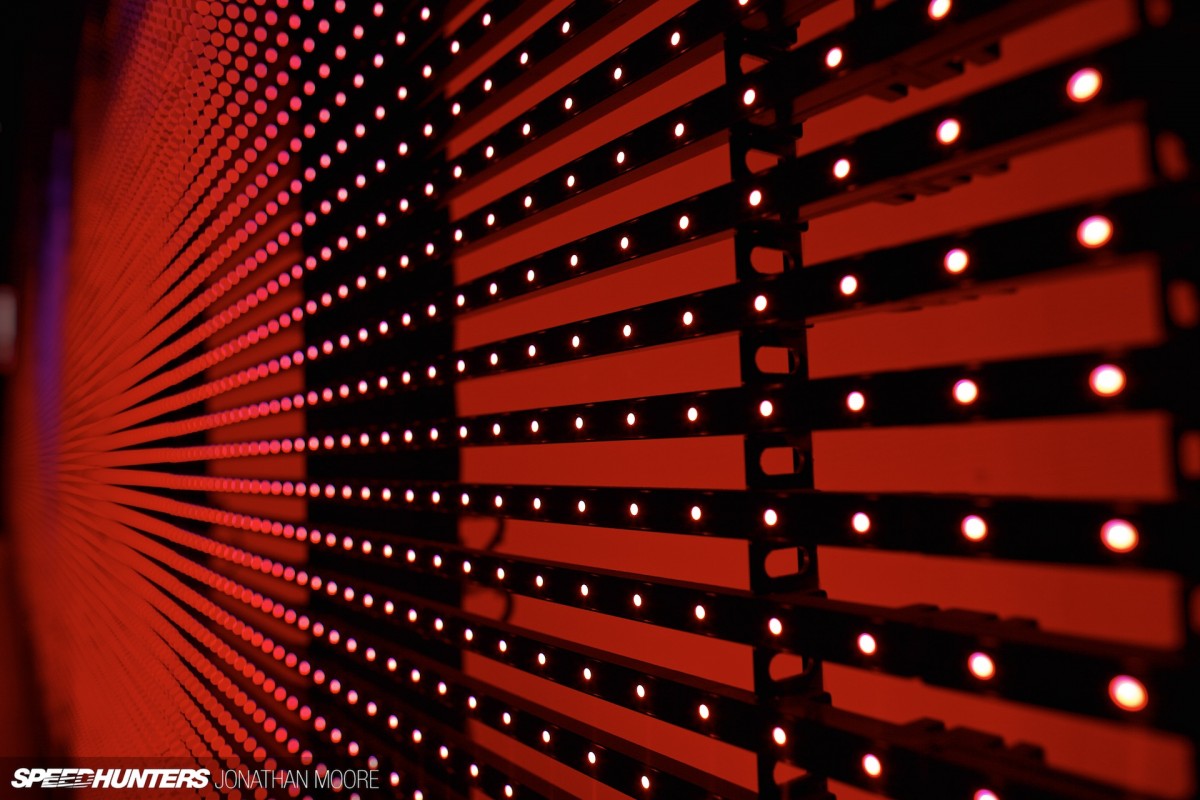 A show like Geneva is a riot of colours and textures that spark the senses. Neons, LEDs, fluorescents, spotlights, all pulsating and glowing around you. With the constant noise and flow of people, it's like being underwater.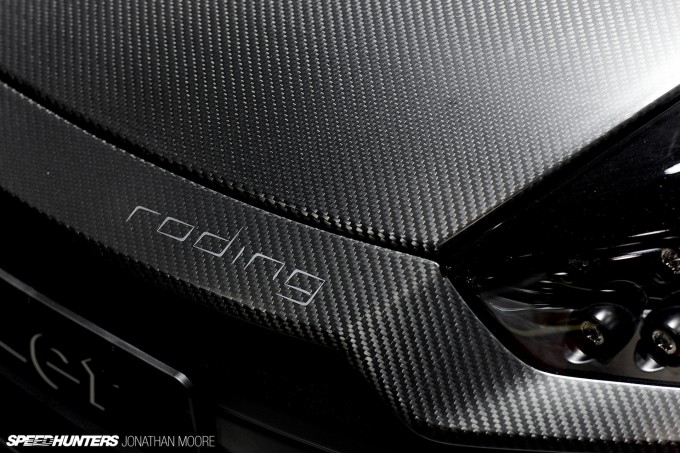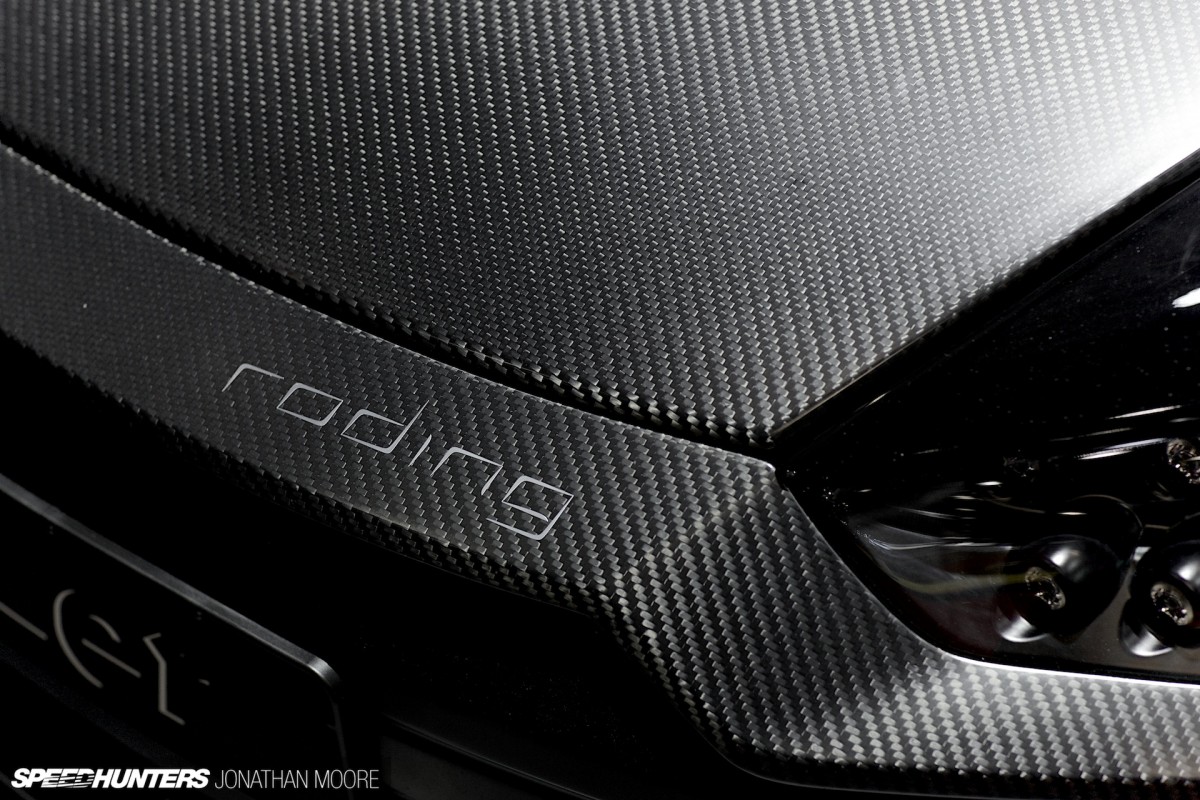 Metallics, carbons, glass, even wood, each soaking up the light in different ways.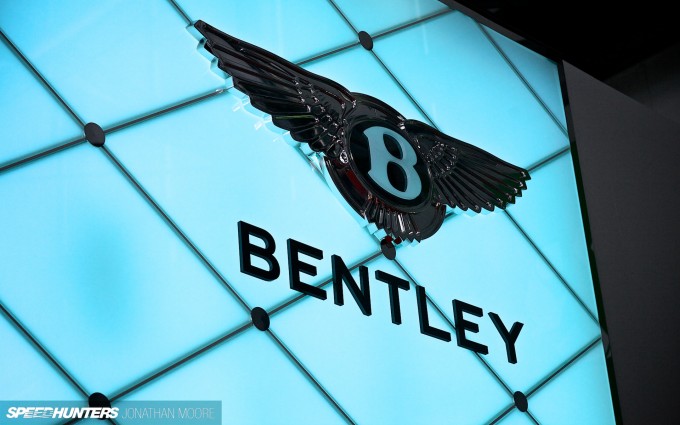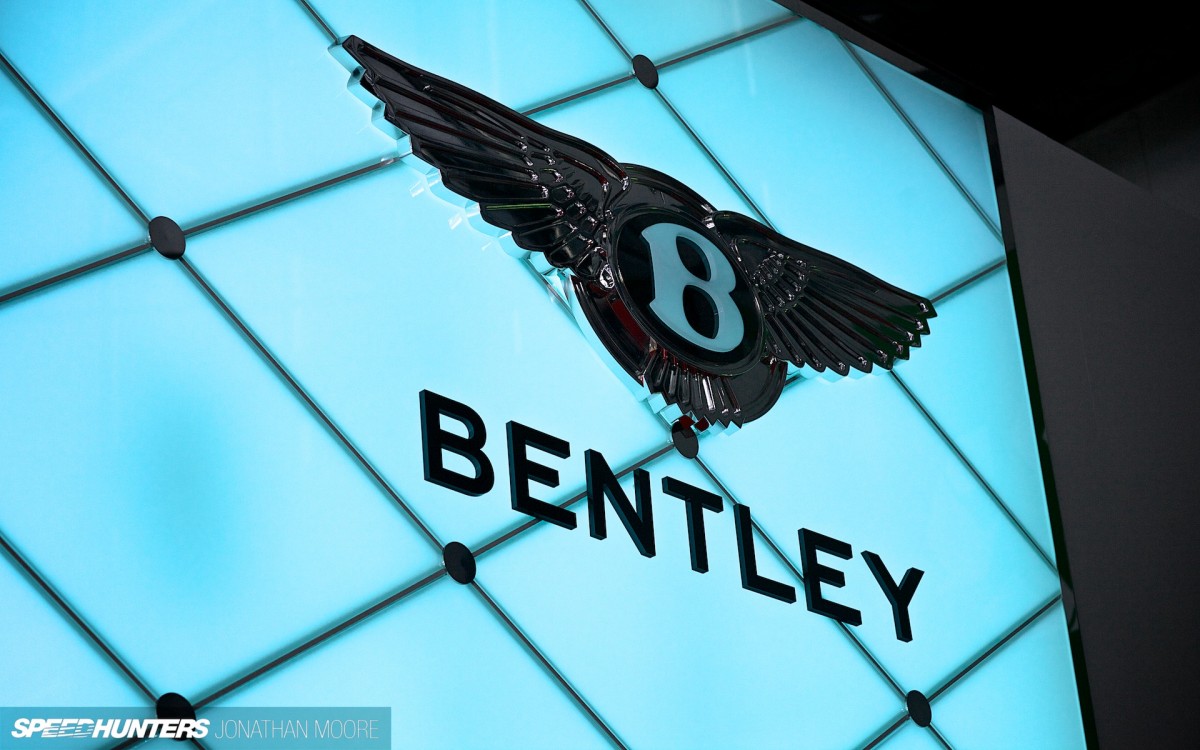 It's not just the cars, either; often it's the subtle lighting or how a logo is picked out that entices you to a particular stand.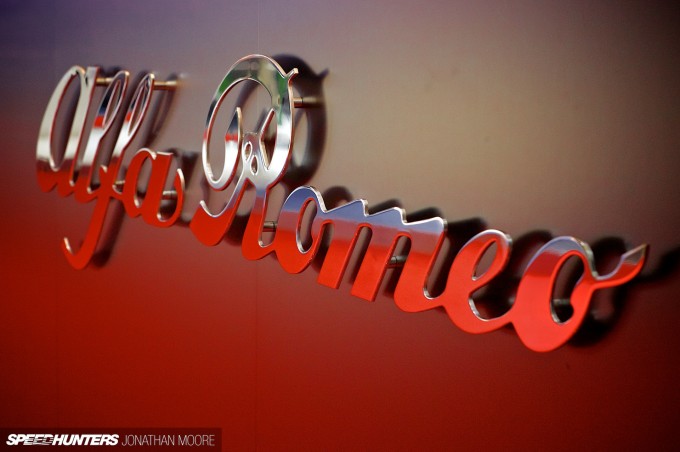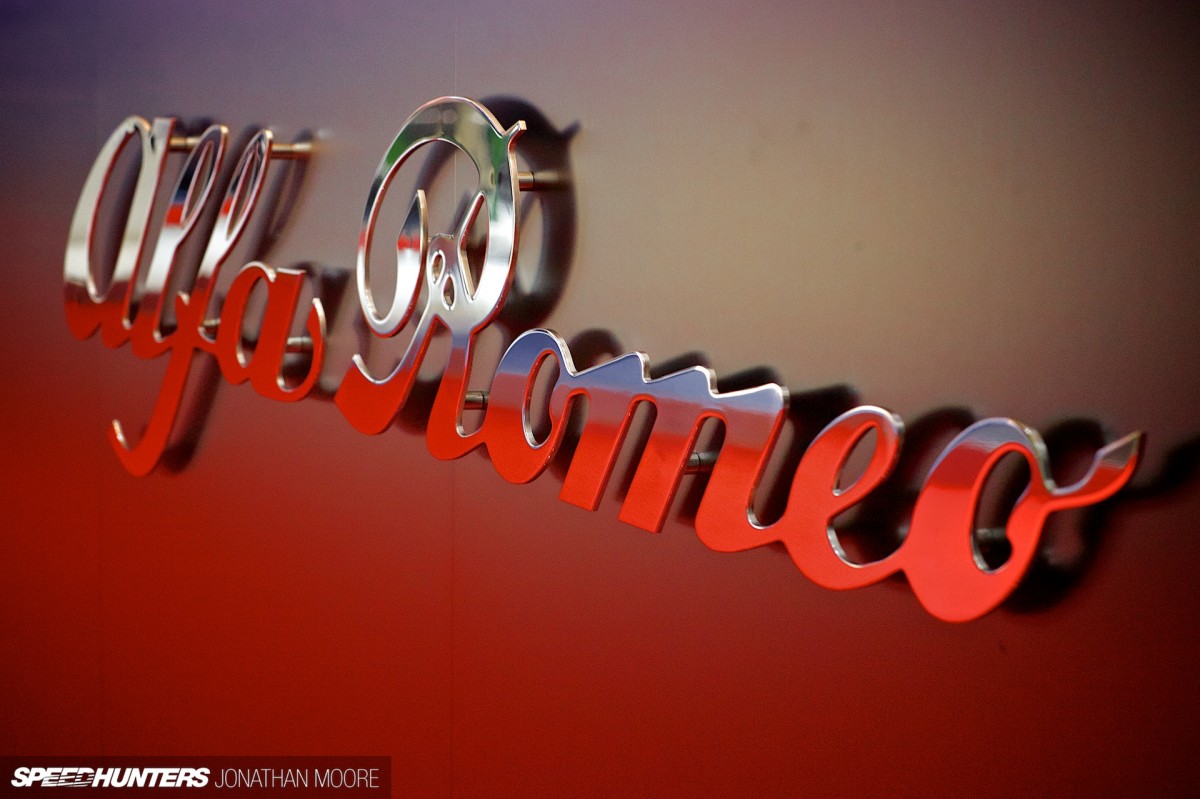 Though it can't be denied that an iconic name can help.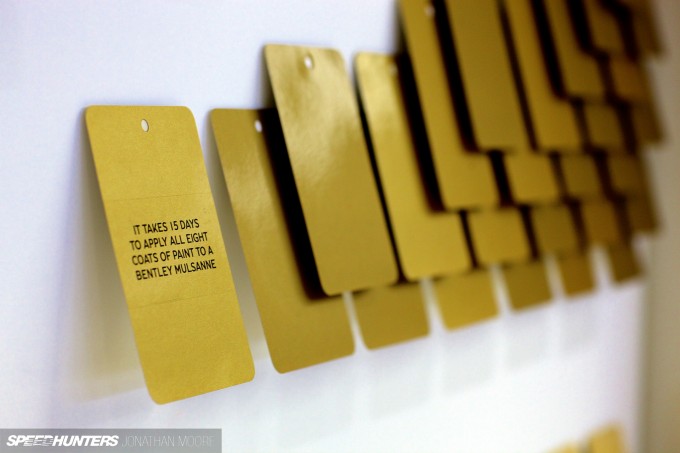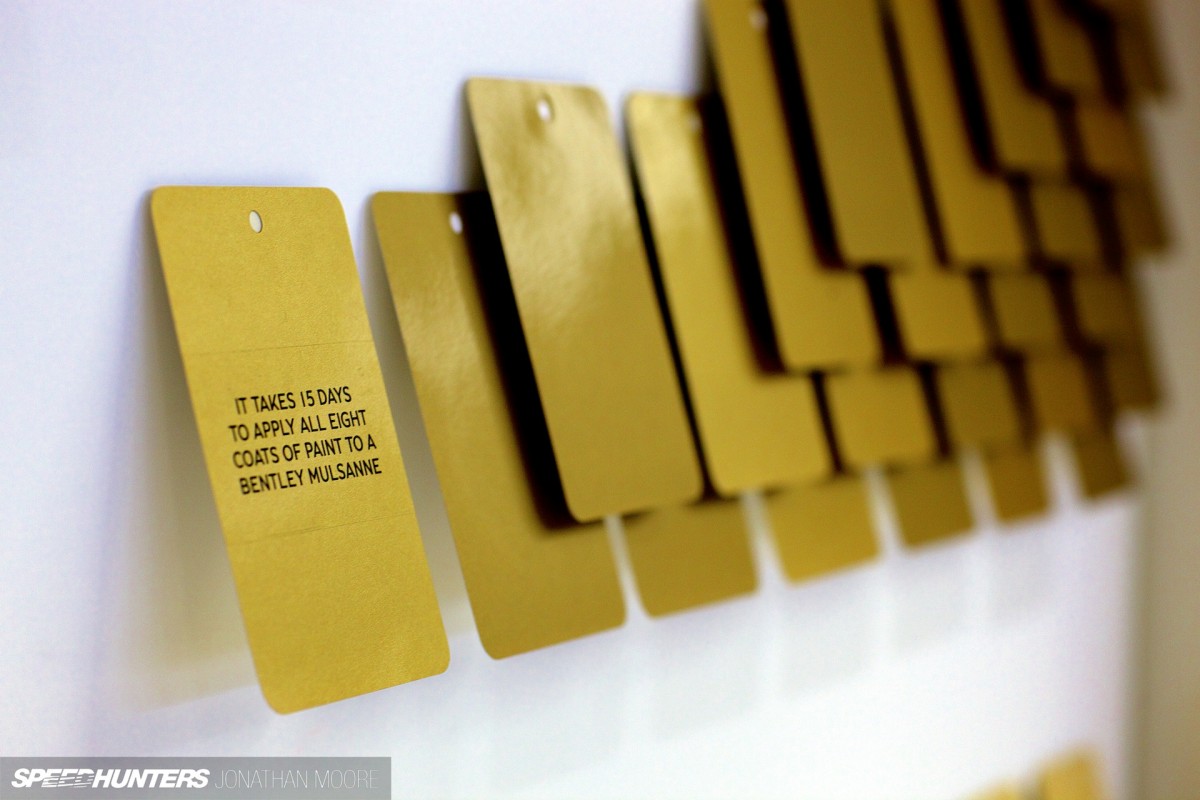 Like reading captions in a gallery, there's always something new to learn.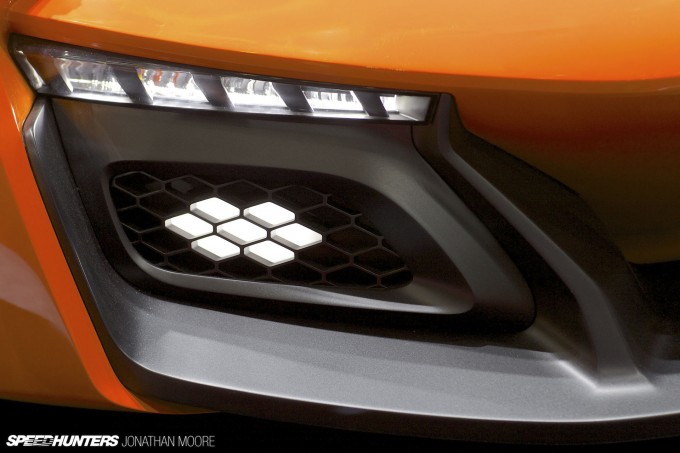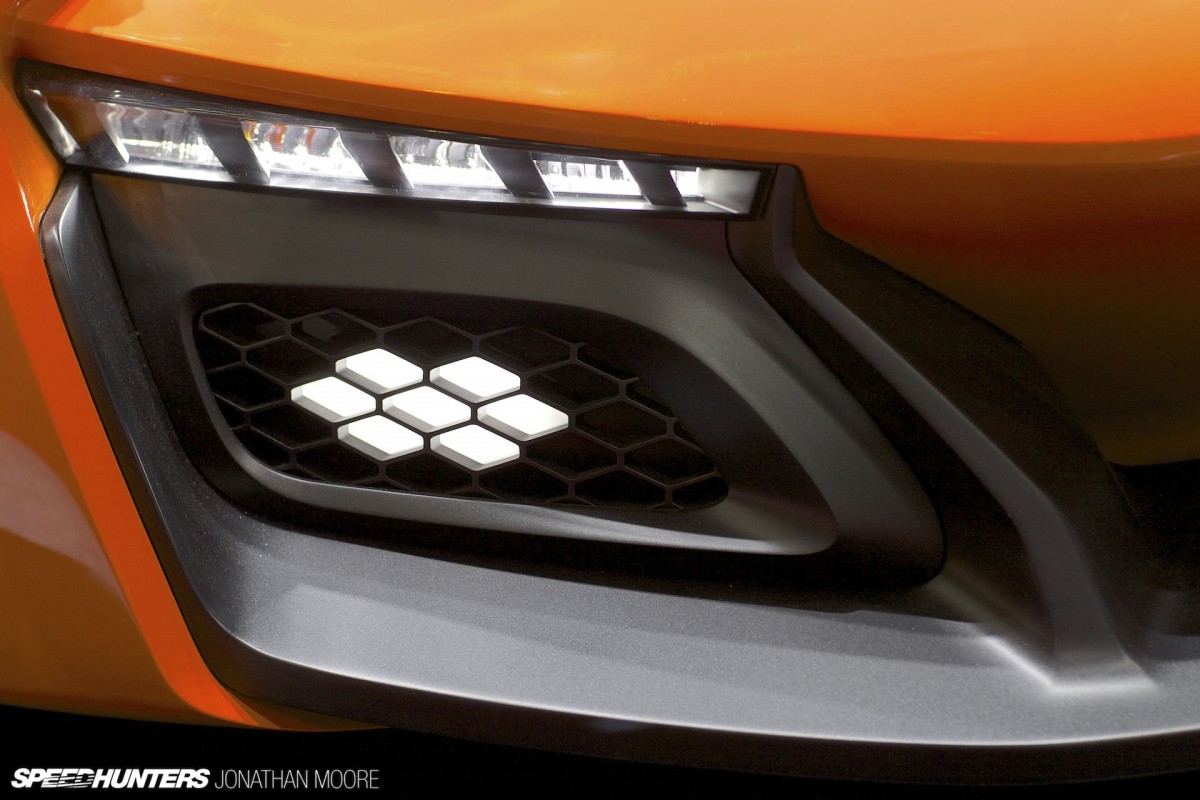 I always like picking out the shapes in vogue: geometry at work and how new manufacturing techniques have allowed a combination of organic and mechanic to come together.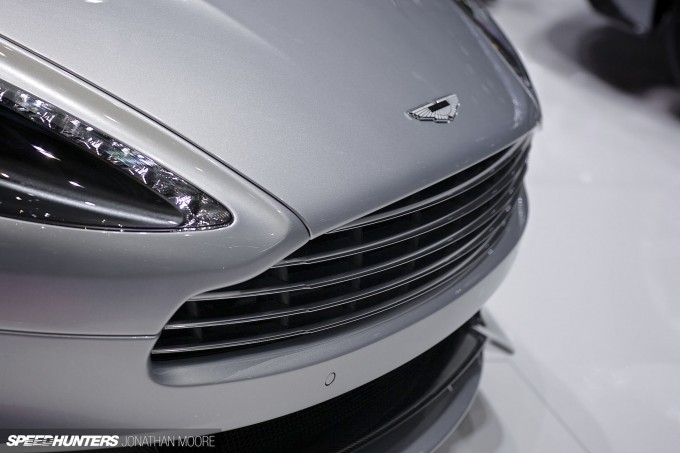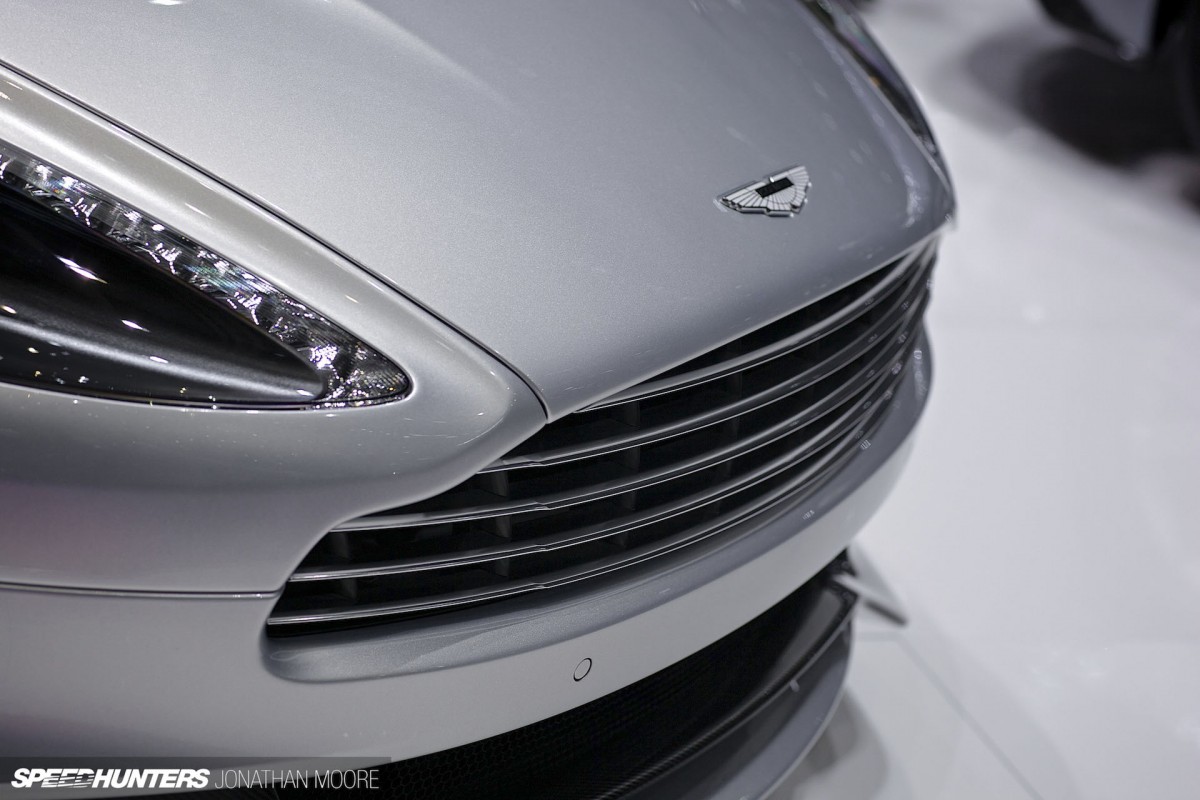 Grilles and nose design cues are of course hugely important in keeping brands recognisable; sometimes the same basic look spans generations of cars joined by a badge but separated by decades of technology.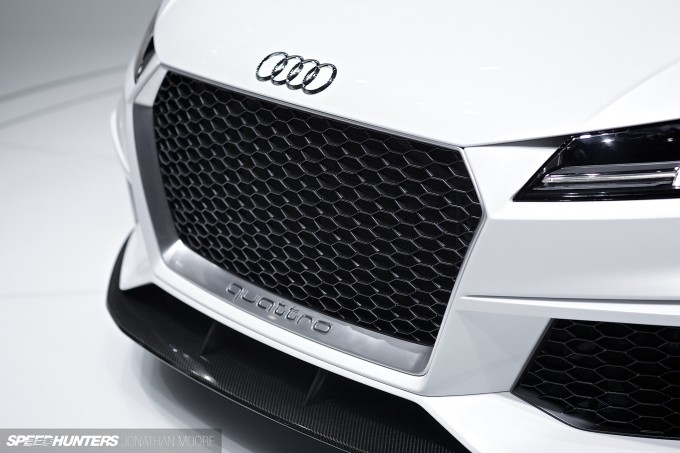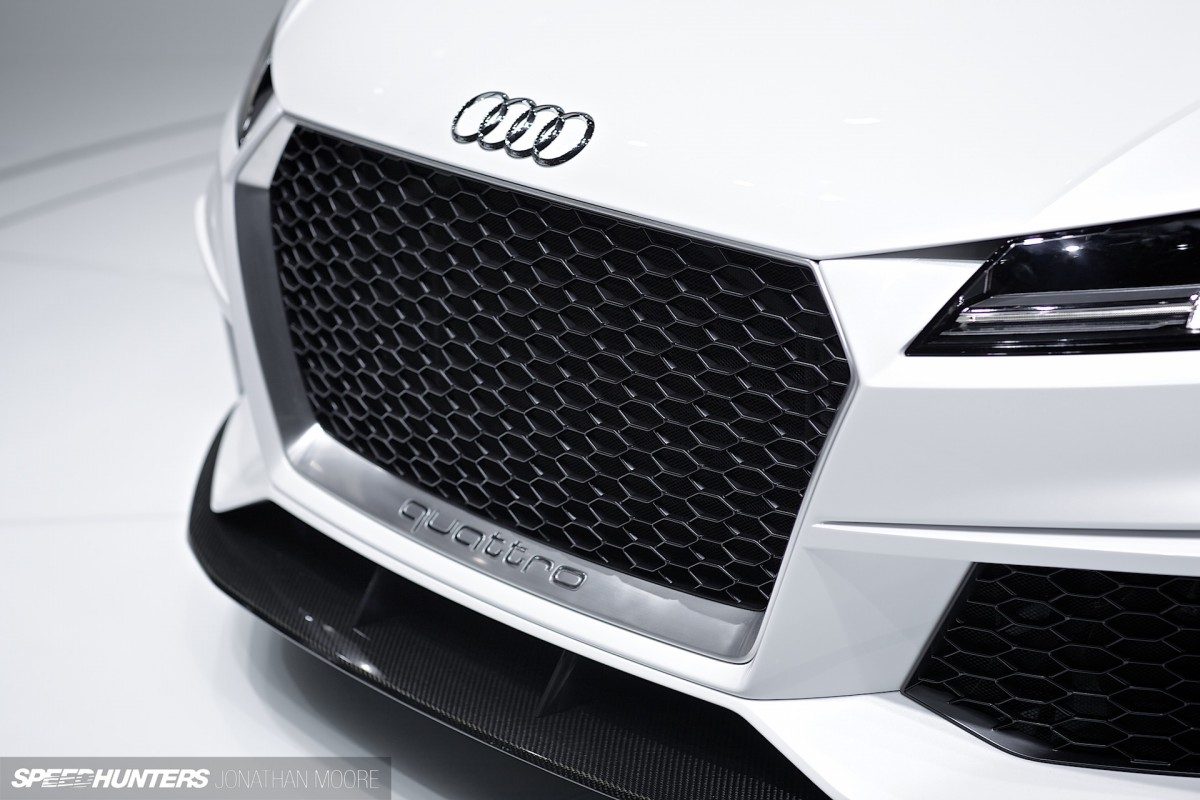 Grilles have been getting larger still in recent years, with more angles and detailed structures utilised: irregular hexagons seem to be particularly popular.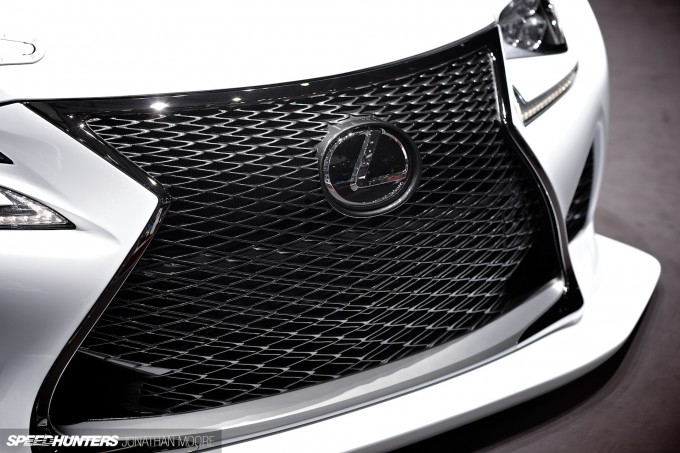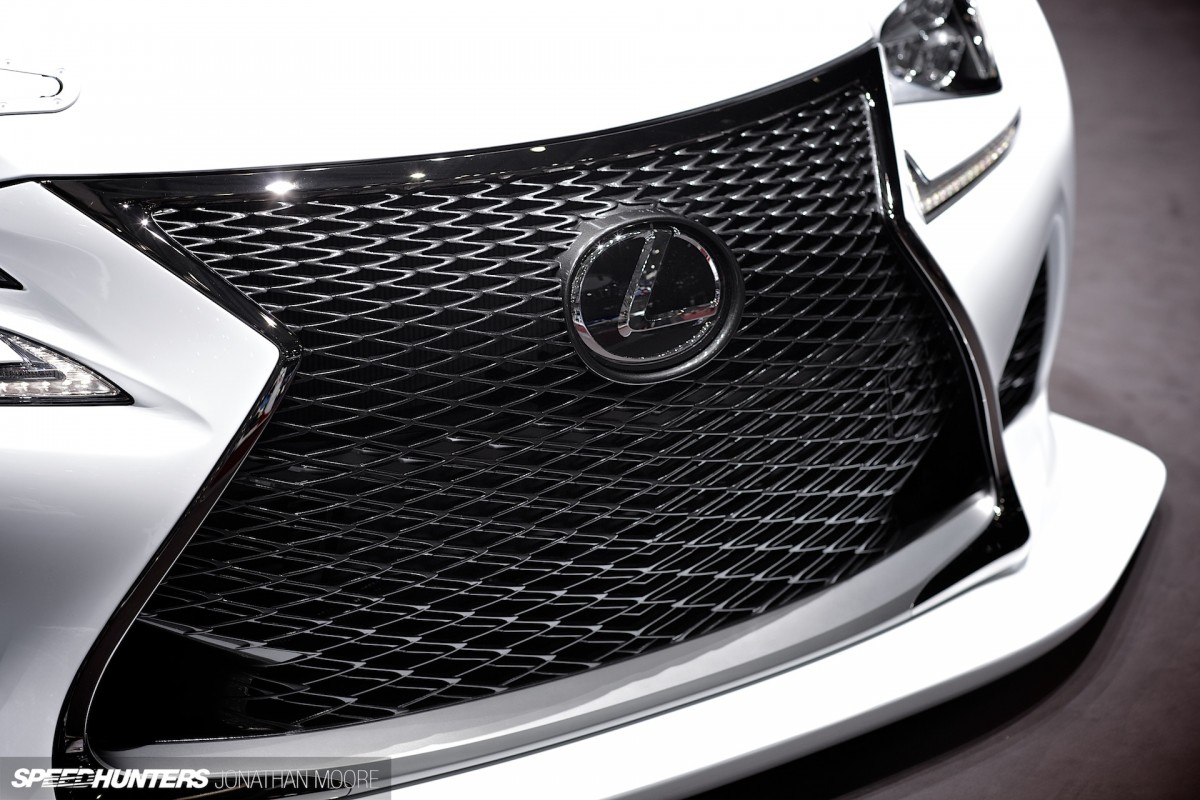 Stretching out grilles into the raking lines of the body have led to this kind of X-shape emerging on several marques, though none more imposing that the Lexus family style.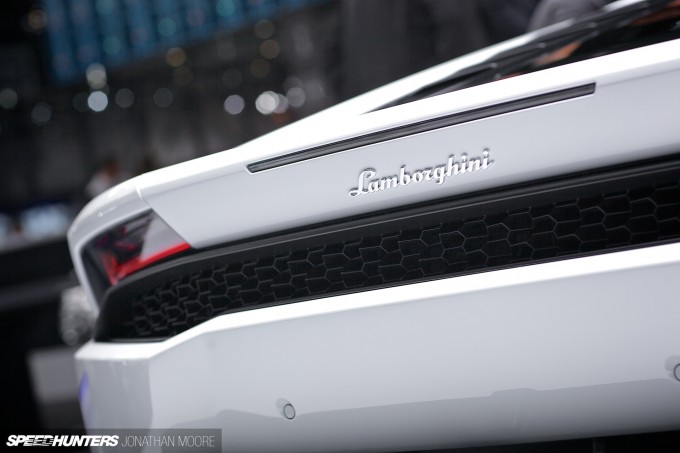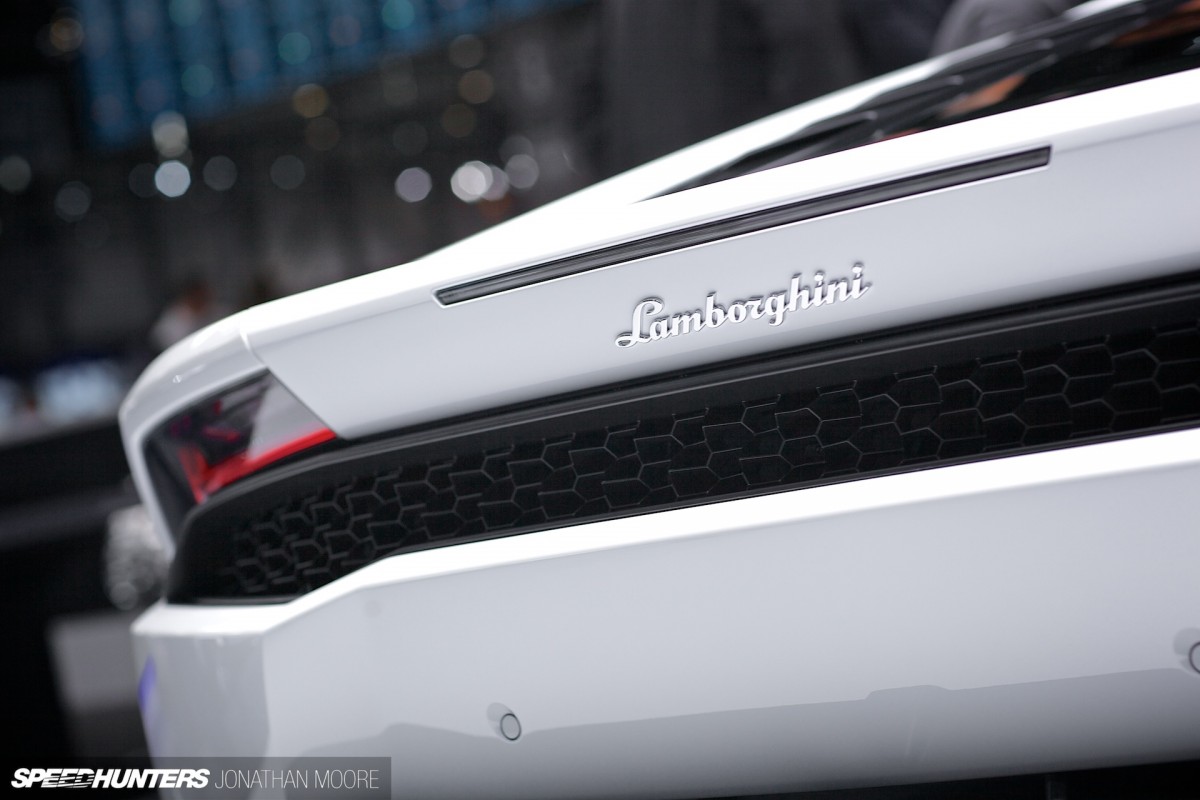 The grille patterns lend themselves to giving further design options: modernist, off-angle meshes, such as on the new Lamborghini Huracán.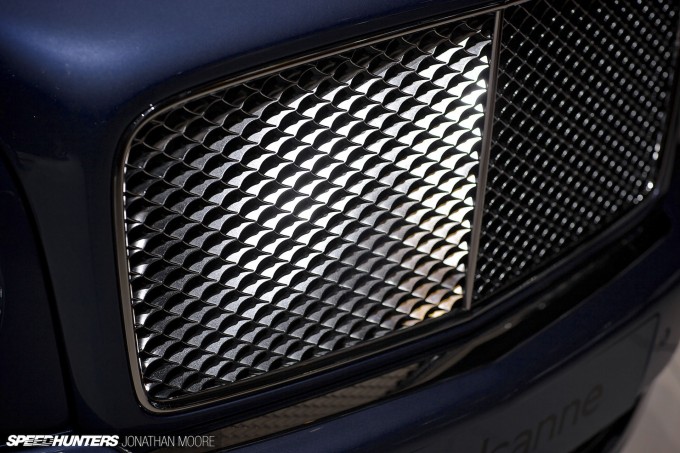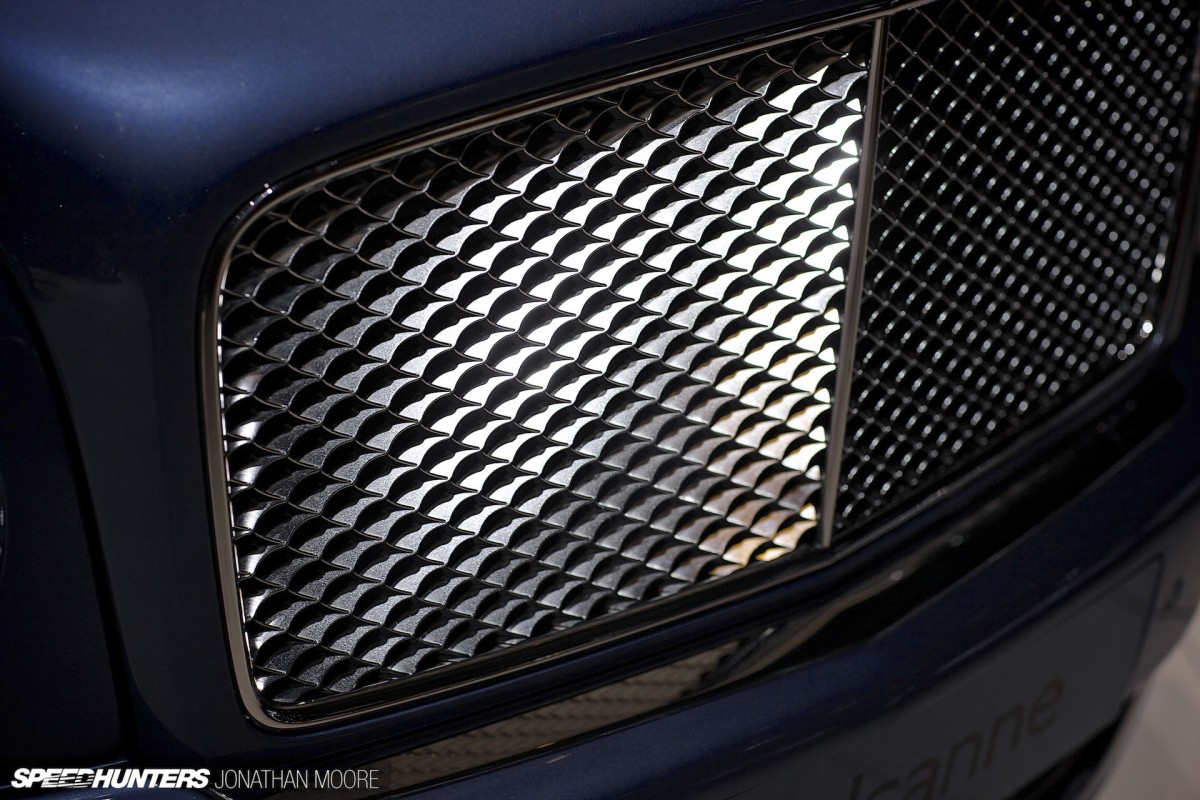 Even more traditional brands like Bentley have taken the opportunity to create beautiful, sculpted shapes within shapes that change form as you change angle.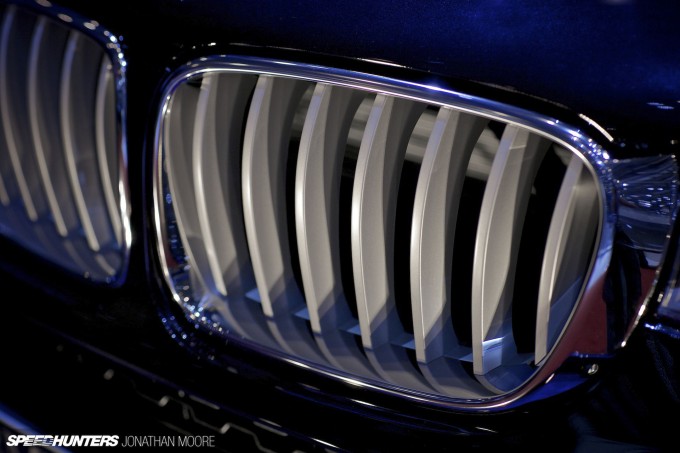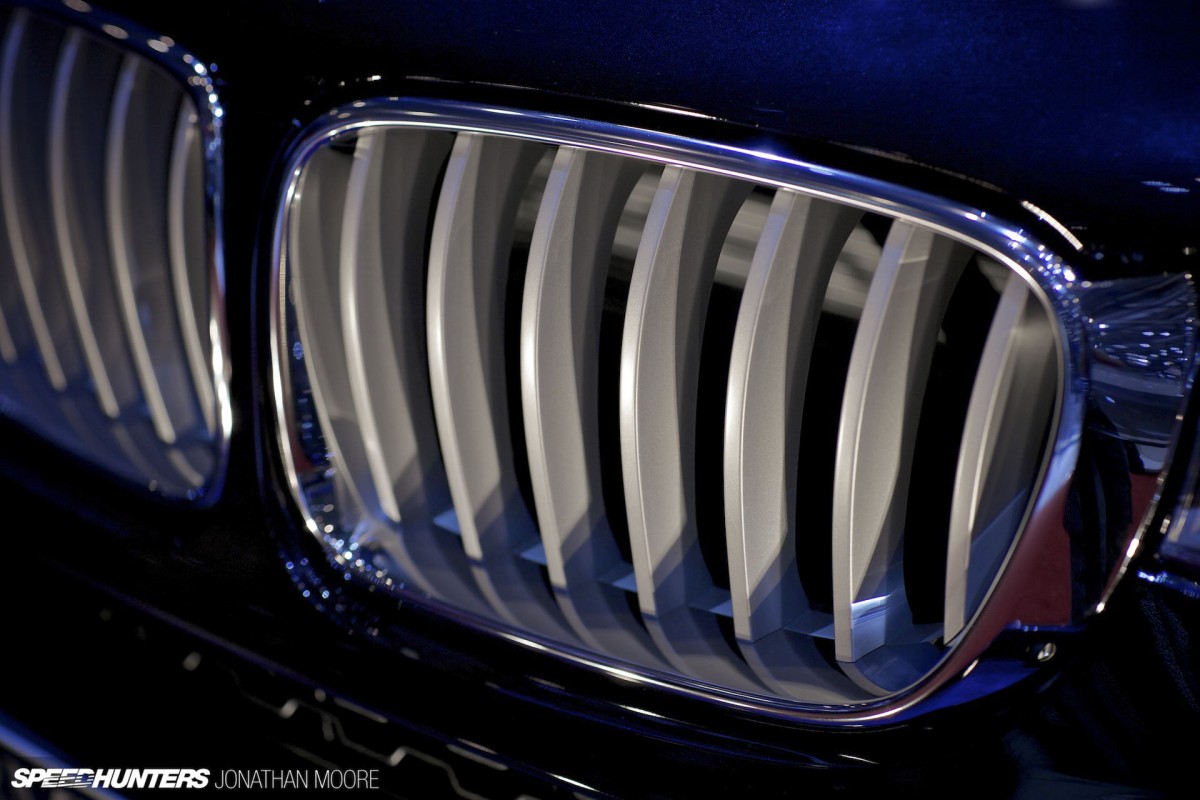 It shows that there's nothing so small on a car that it's not worth spending time on – just ask any car designer.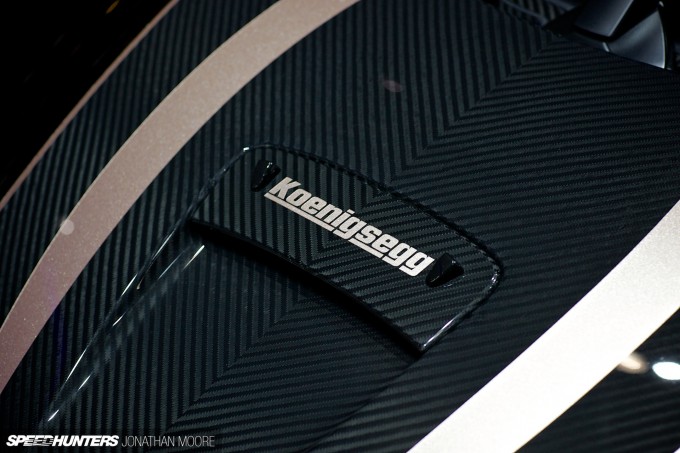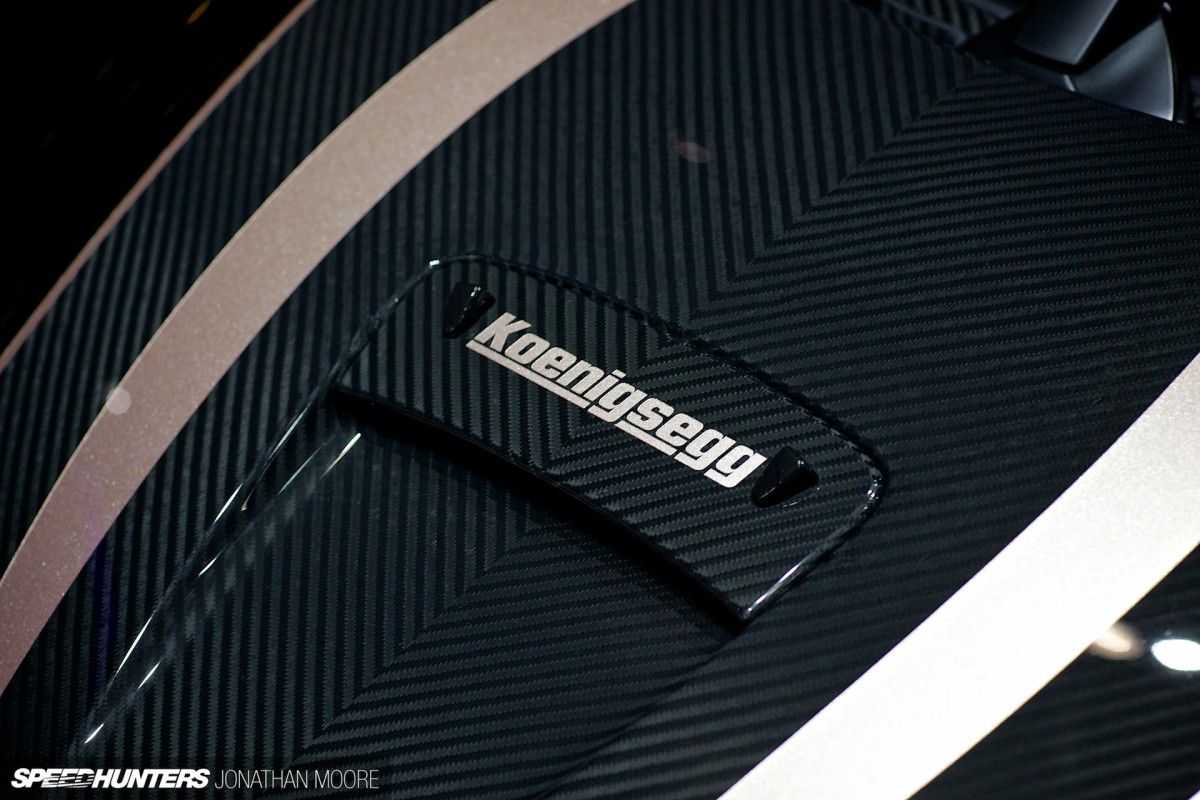 Carbon is now coming in at every level – and real carbon at that. The high-end is a given; you wouldn't expect run-of-the-mill metals when you're paying six- and seven-figure sums for a car.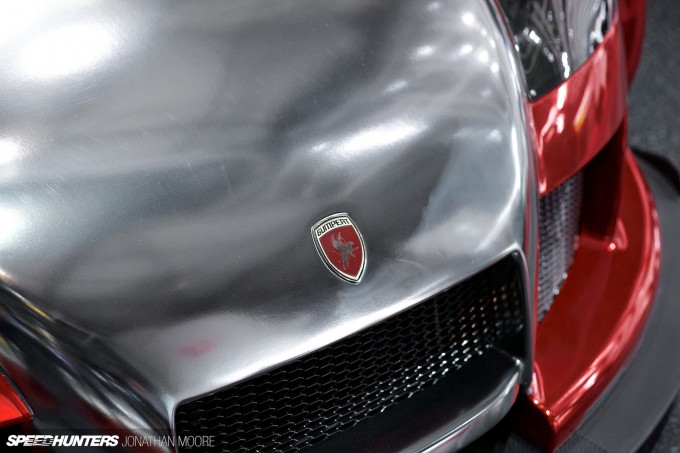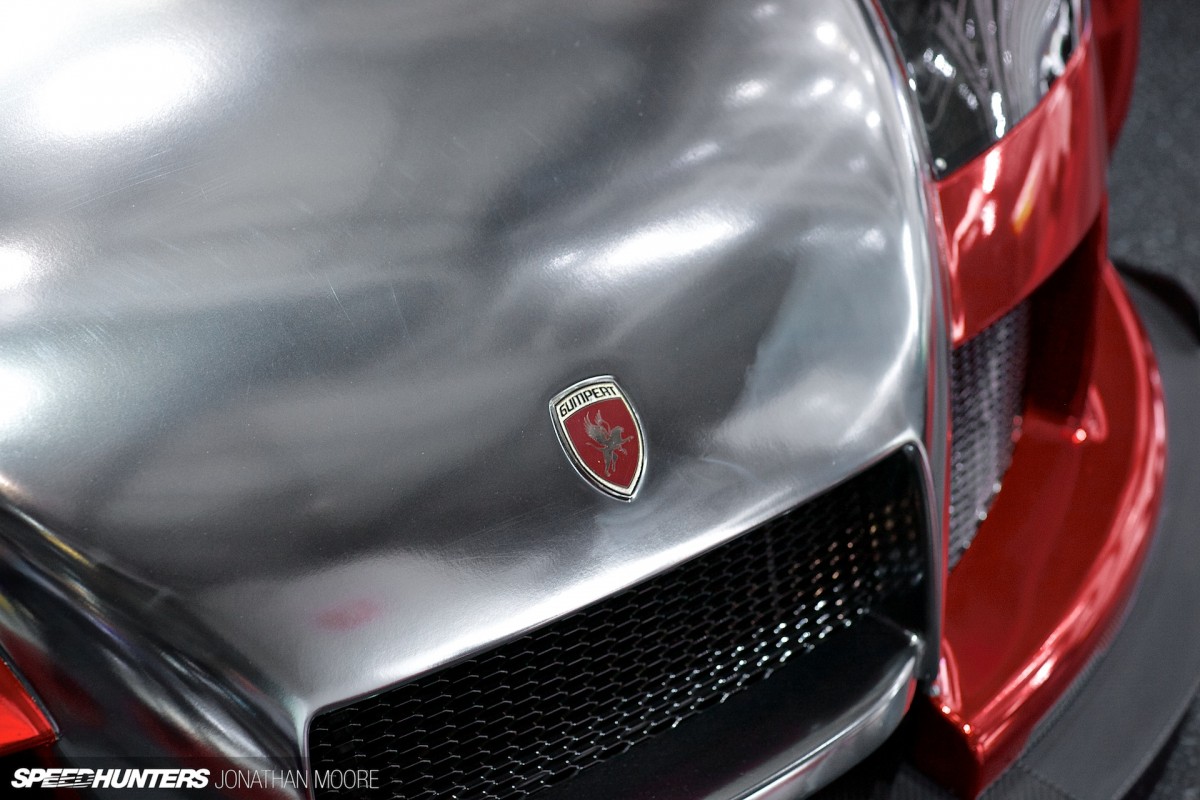 Although, there are exceptions…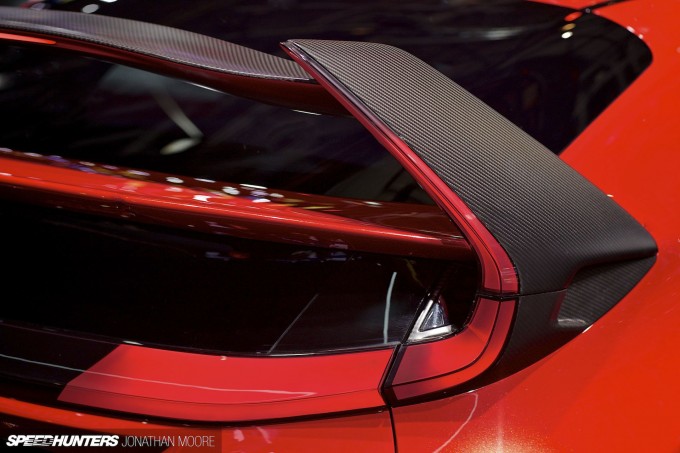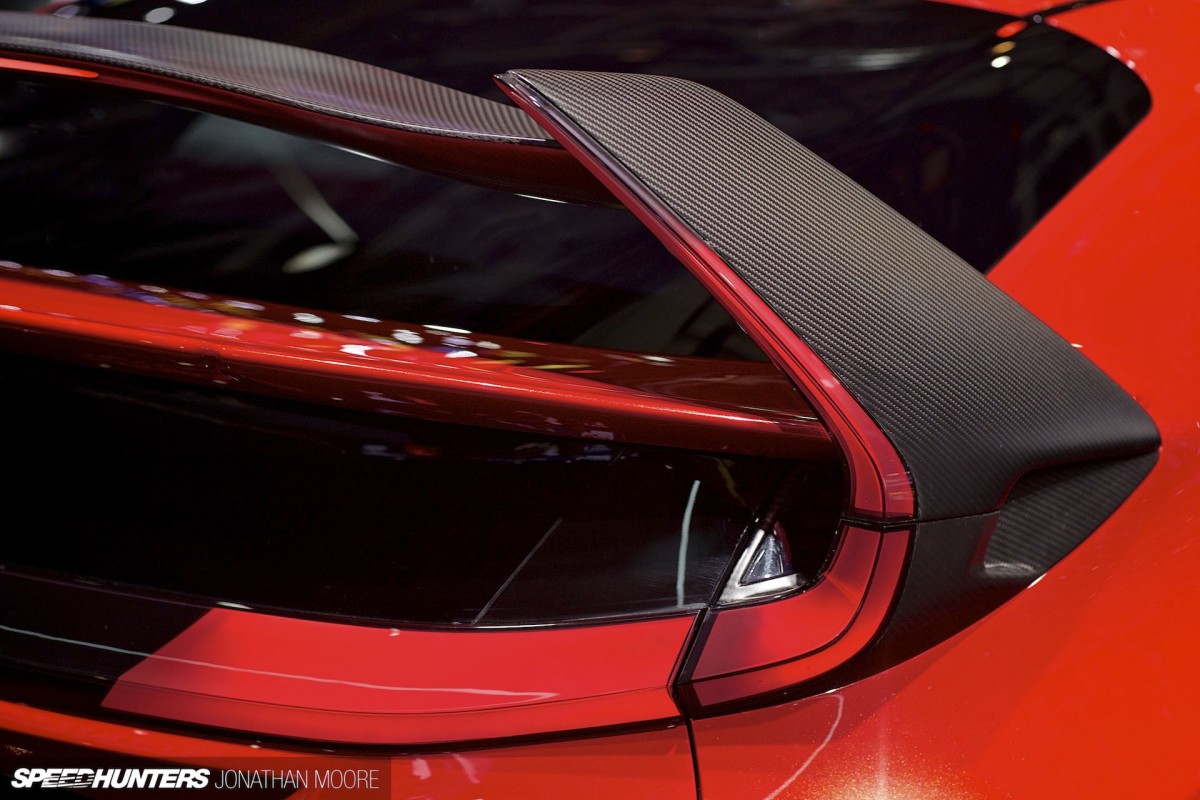 But it's the effective integration of materials that I particularly enjoy to see. It shows proper thought and sympathy at work, such as on the sculpted rear wing of the new Honda Civic Type R. It's the reflected lower structure and luminous red lighting that were captivating, especially in the low light.
Living in a material world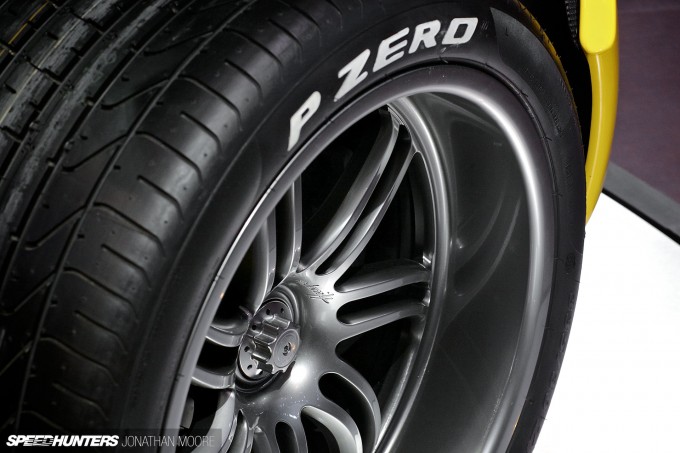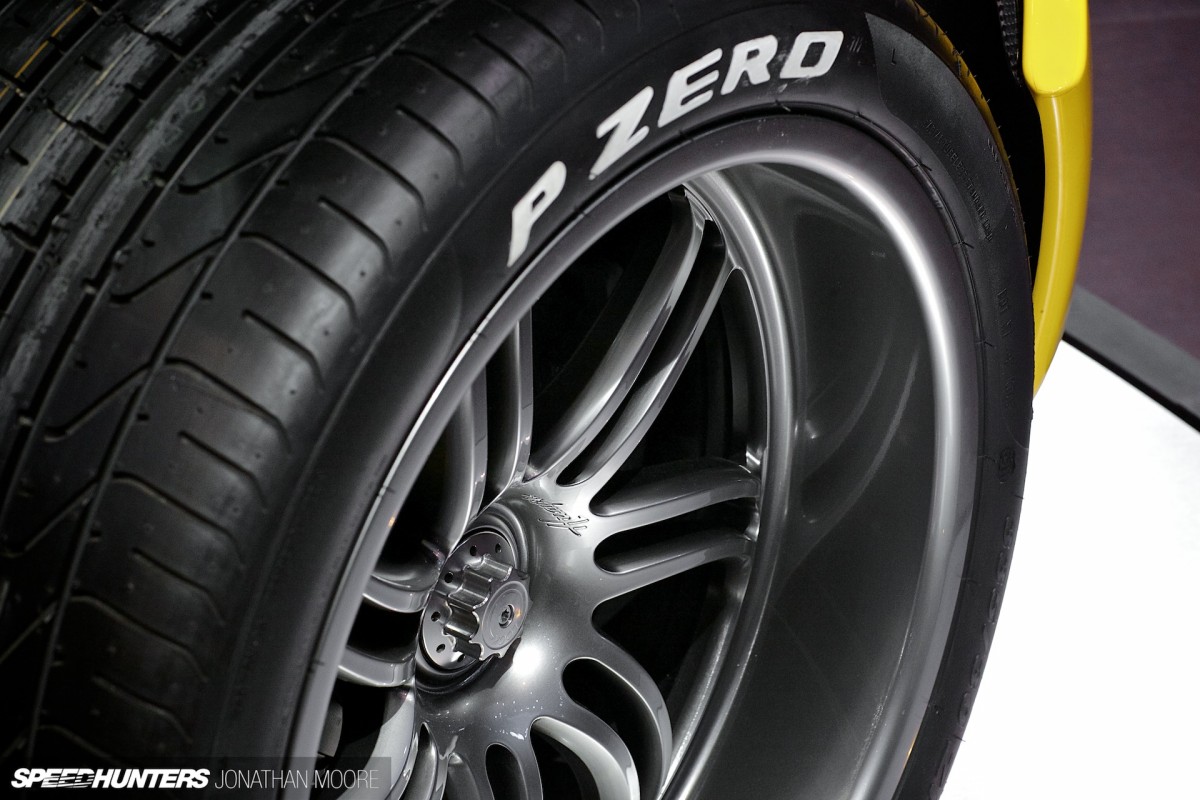 People do seem to get very het up about wheels, and which rims should or shouldn't go on certain cars. Perhaps it's because wheels can be such works of art in their own right.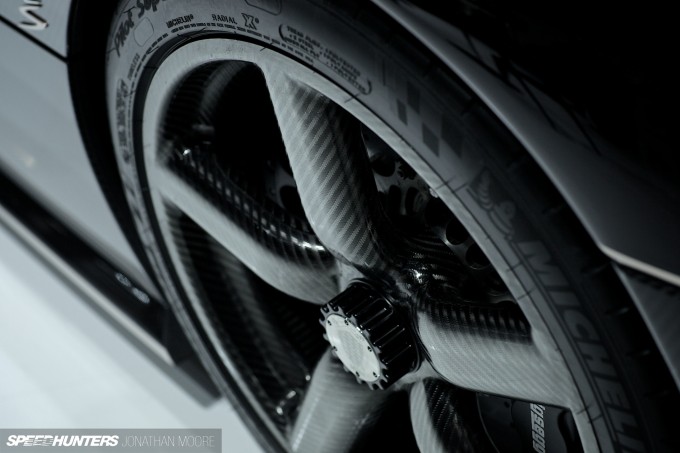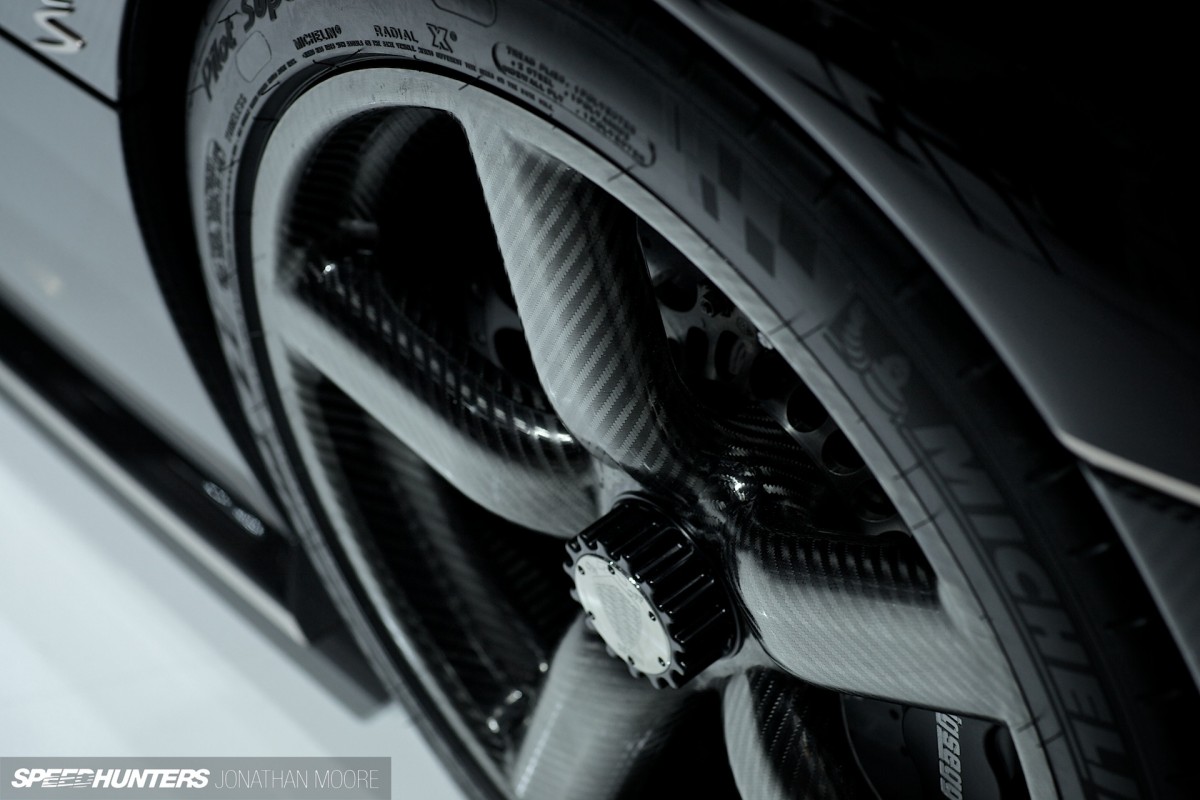 Again, materials and finish make such a difference, although it's the aesthetic of the end result that's key, rather than it simply being the result of the sum of its materials. Oh, and there's performance I suppose…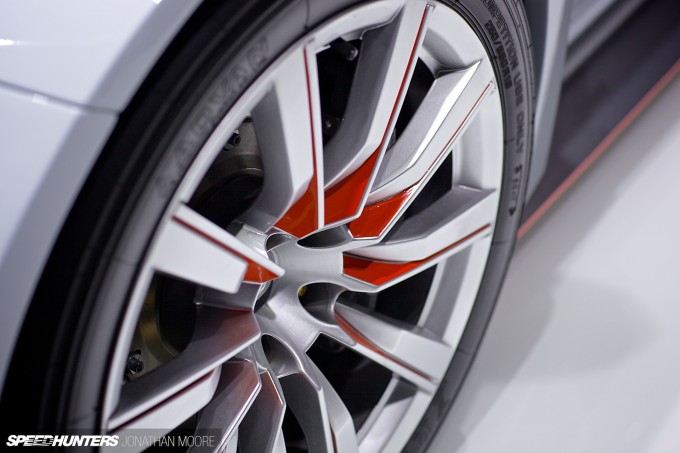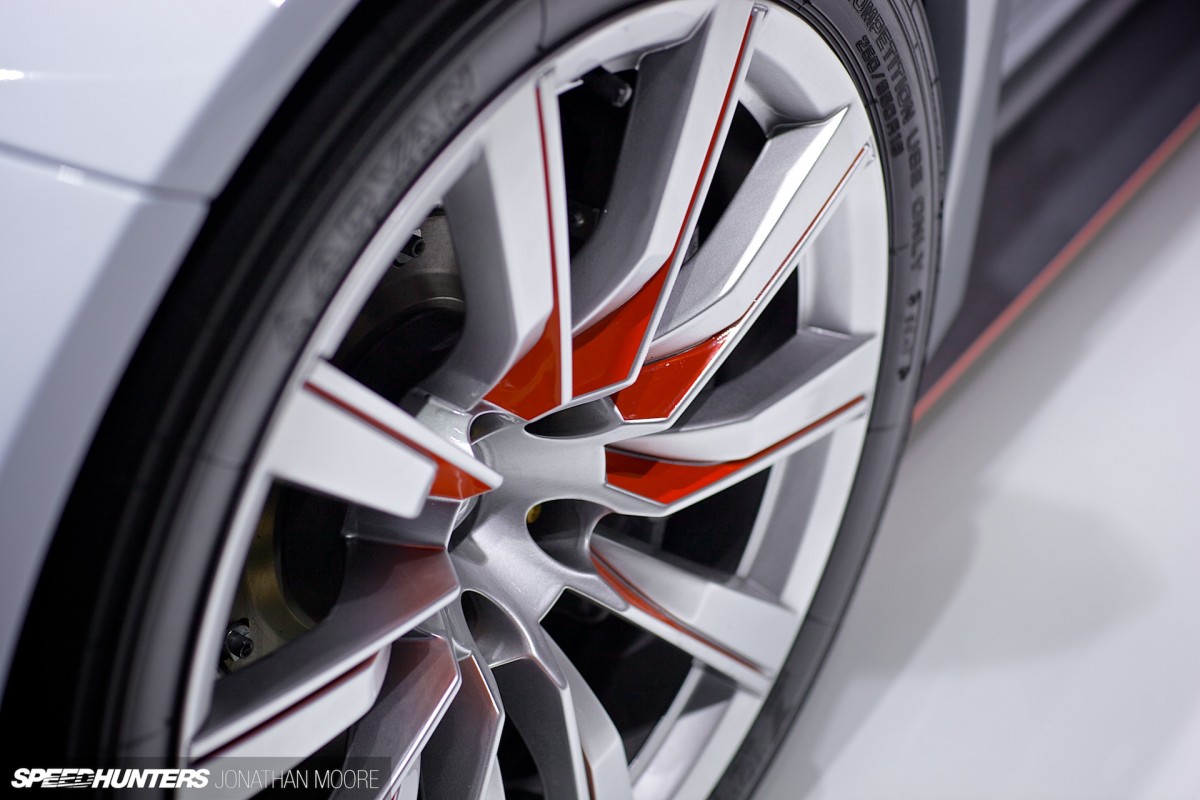 Wheels do have to match the car they support, for sure. The sharp lines of Seat's aggressive new Leon Cupra were perfectly matched with these angled cutters.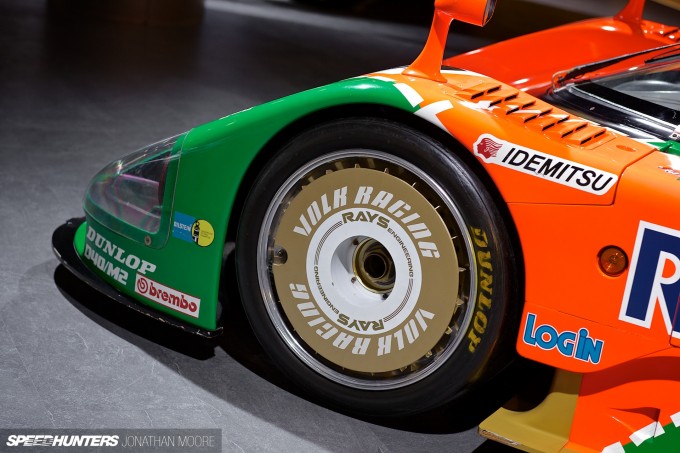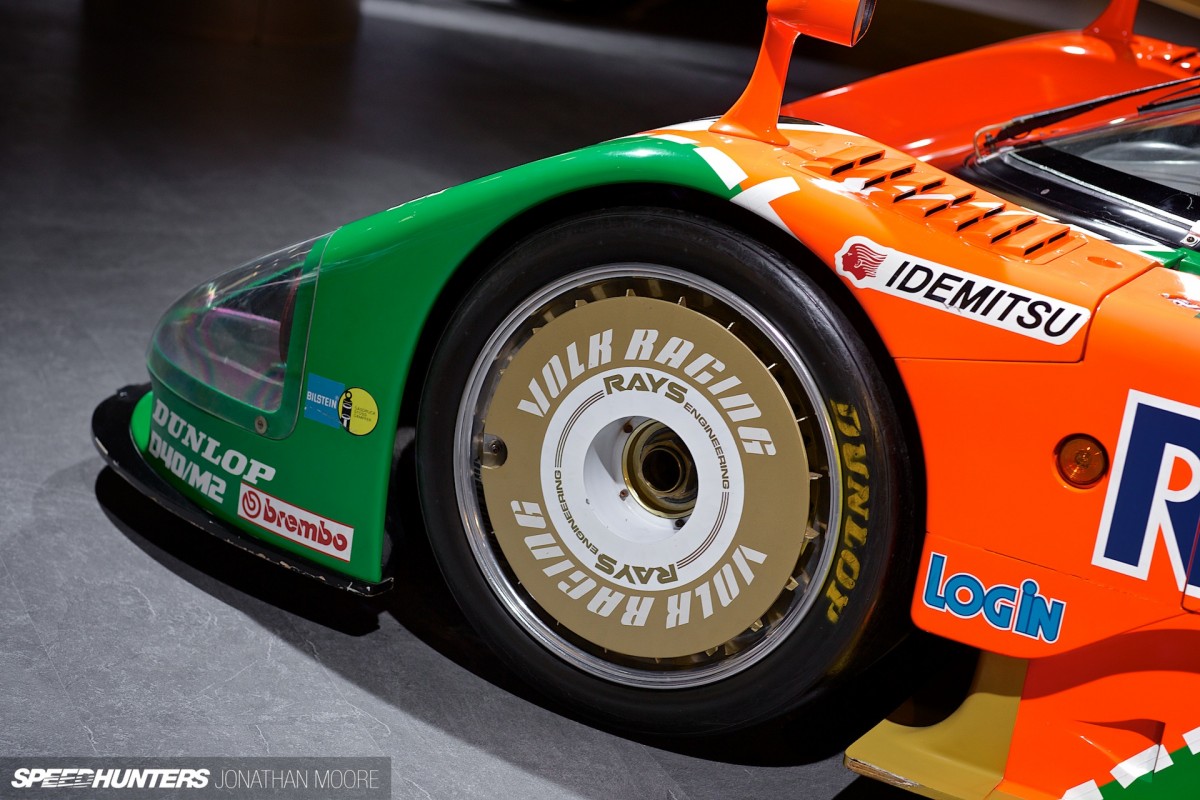 But as usual with me, I can never look at anything new without trying to fit in something old as a counterpoint. Rays turbo-fans for fans of fan wheels?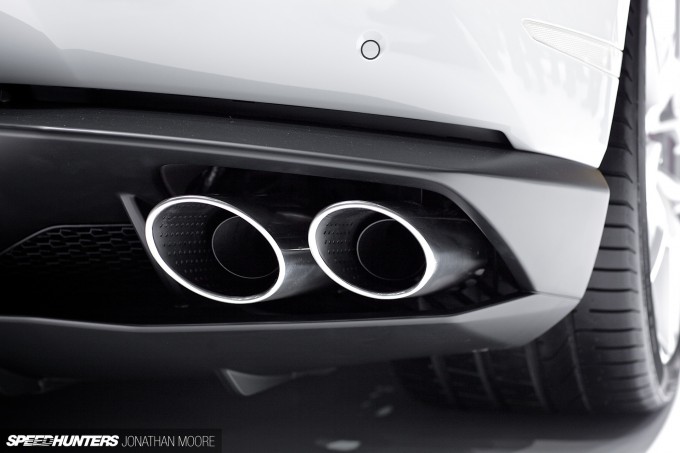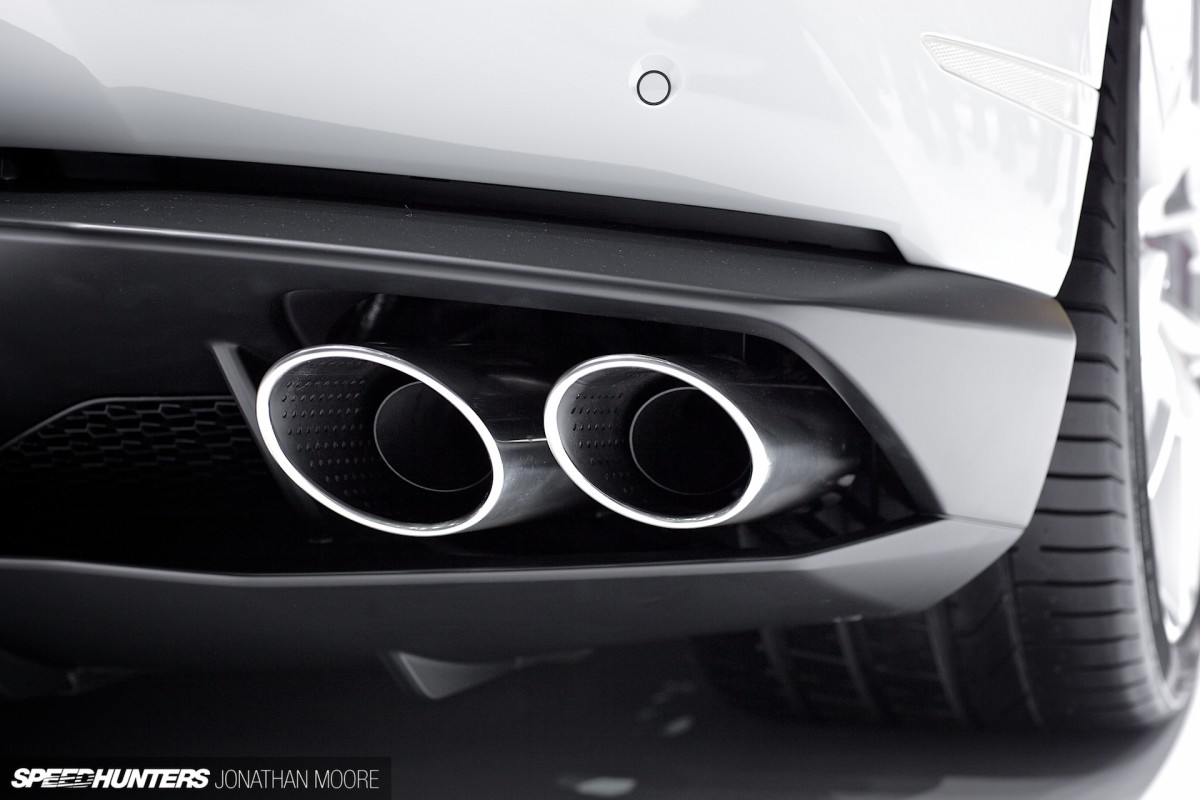 I was impressed with Koenigsegg's 3D-printed titanium exhaust tip, but sometimes it's easy to think about the noise that comes out rather than the construction of the system itself.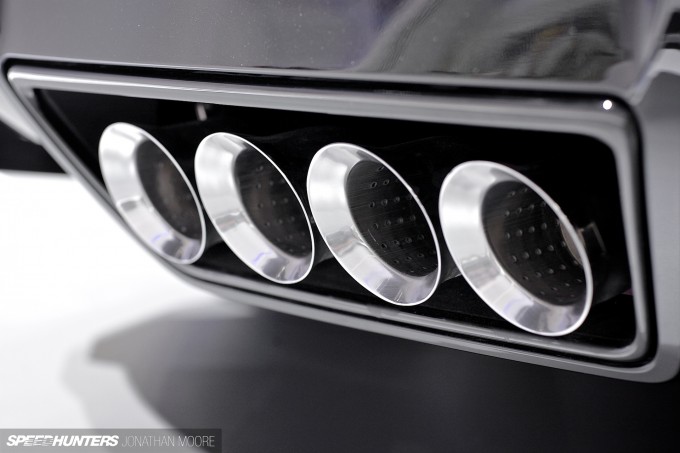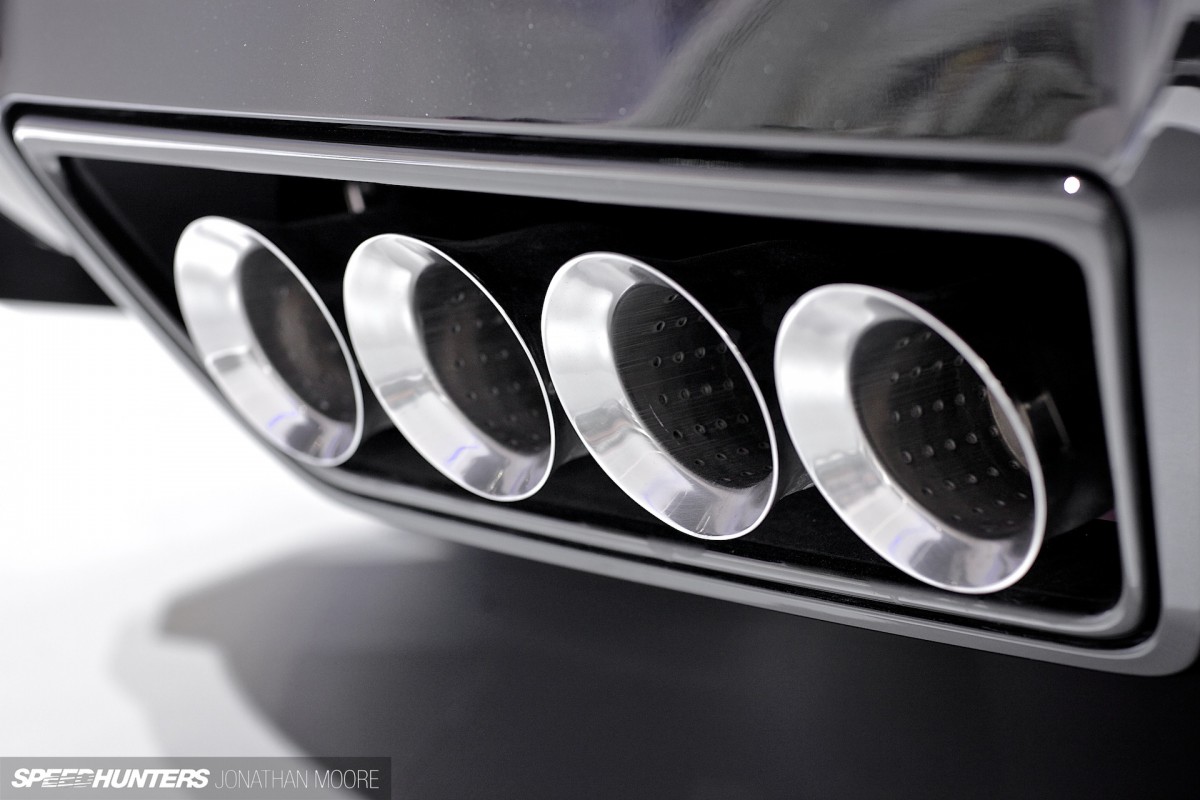 Layout and packaging is usually best when integrated into the rear styling, especially when you're packing four in a row, such as on the new Corvette C7.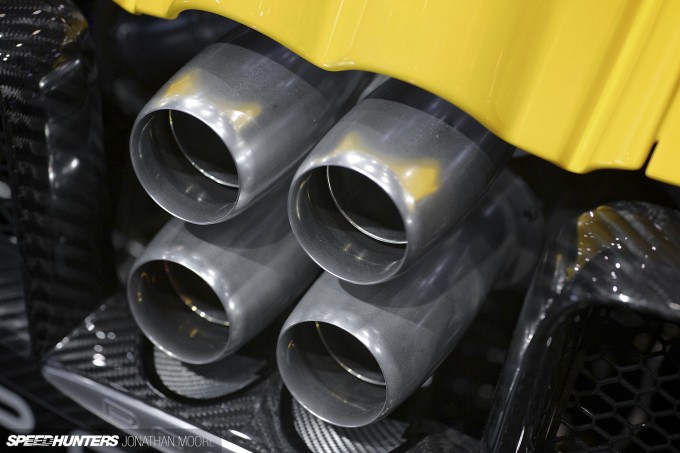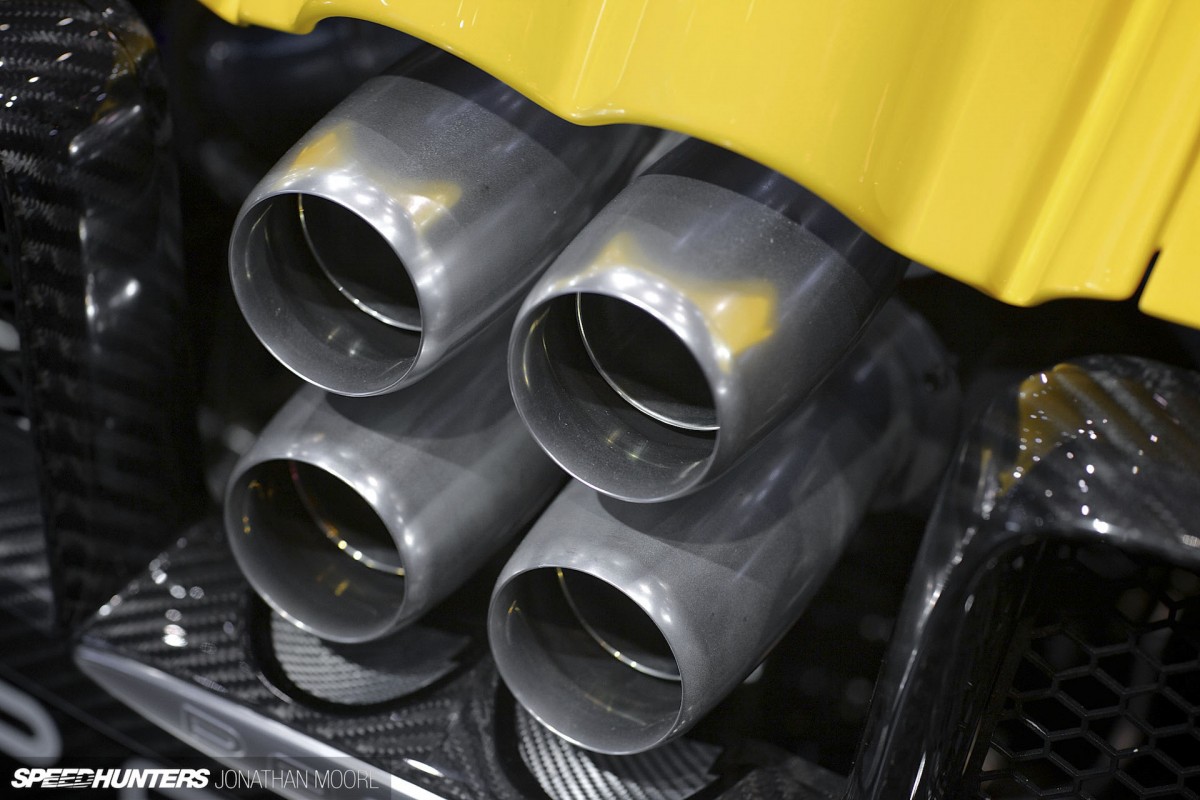 Pagani's signature cluster has a classic, almost old-fashioned look to it, in my eyes: perhaps thanks to the burnished finish.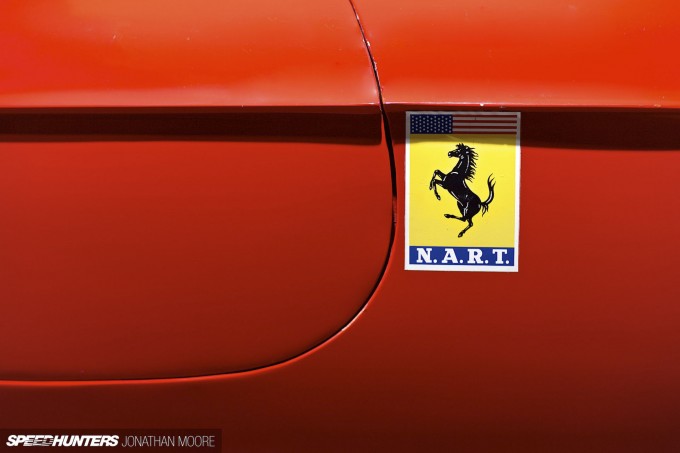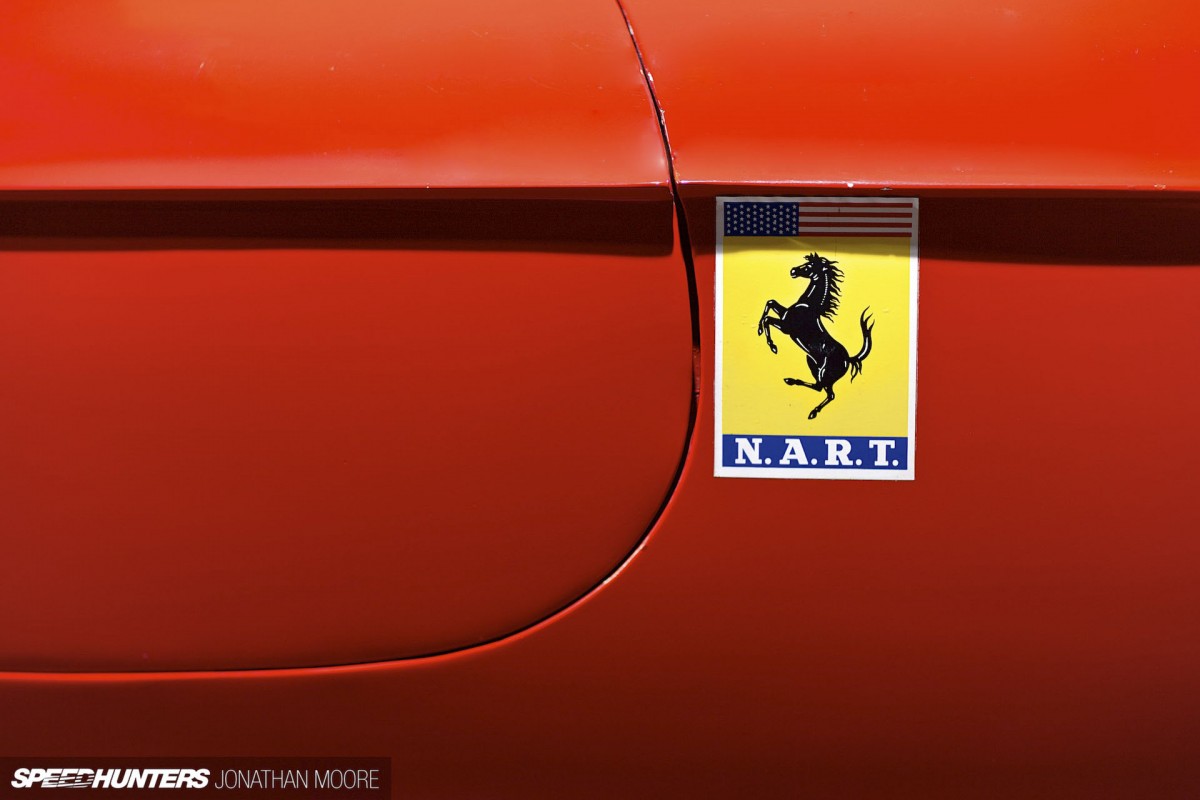 An emotional reaction doesn't have to be triggered by complexity of course. Flat colours and effective graphics can seem like a lost art now, with so much going on with modern cars.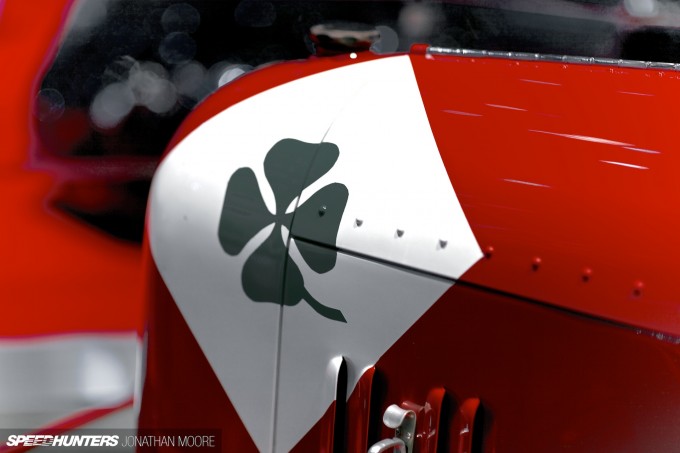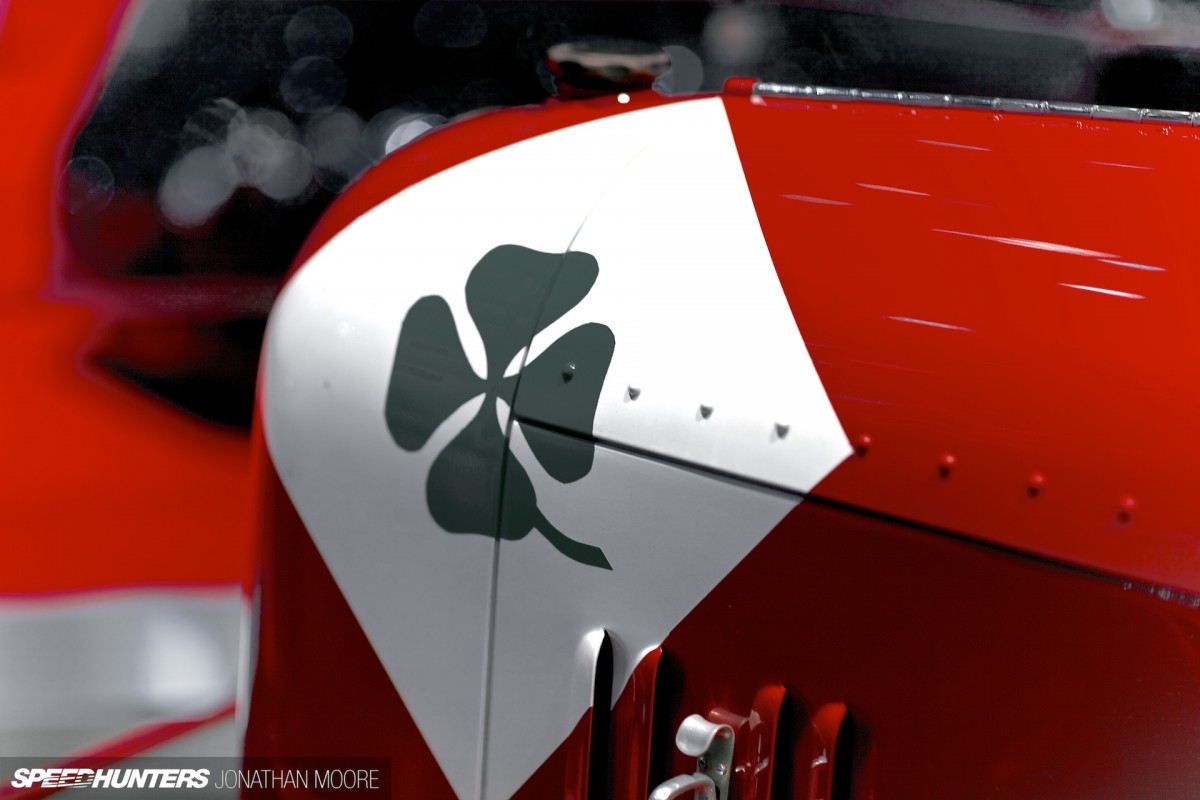 Rivets, hand-bent metal, deep red and an iconic emblem – materials and textures aren't a new thing, it's just the methodology that's changed.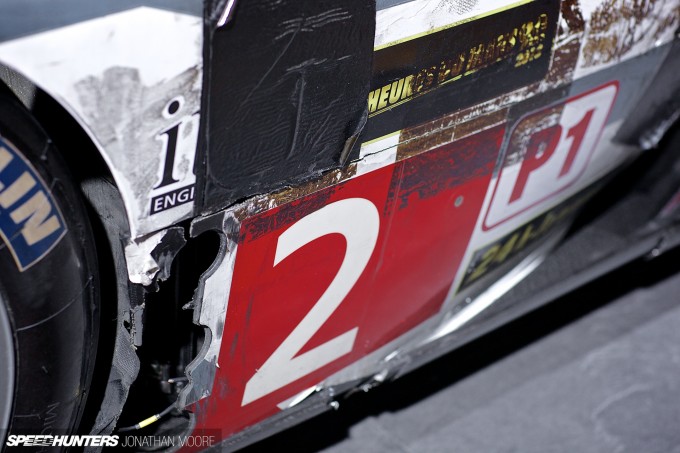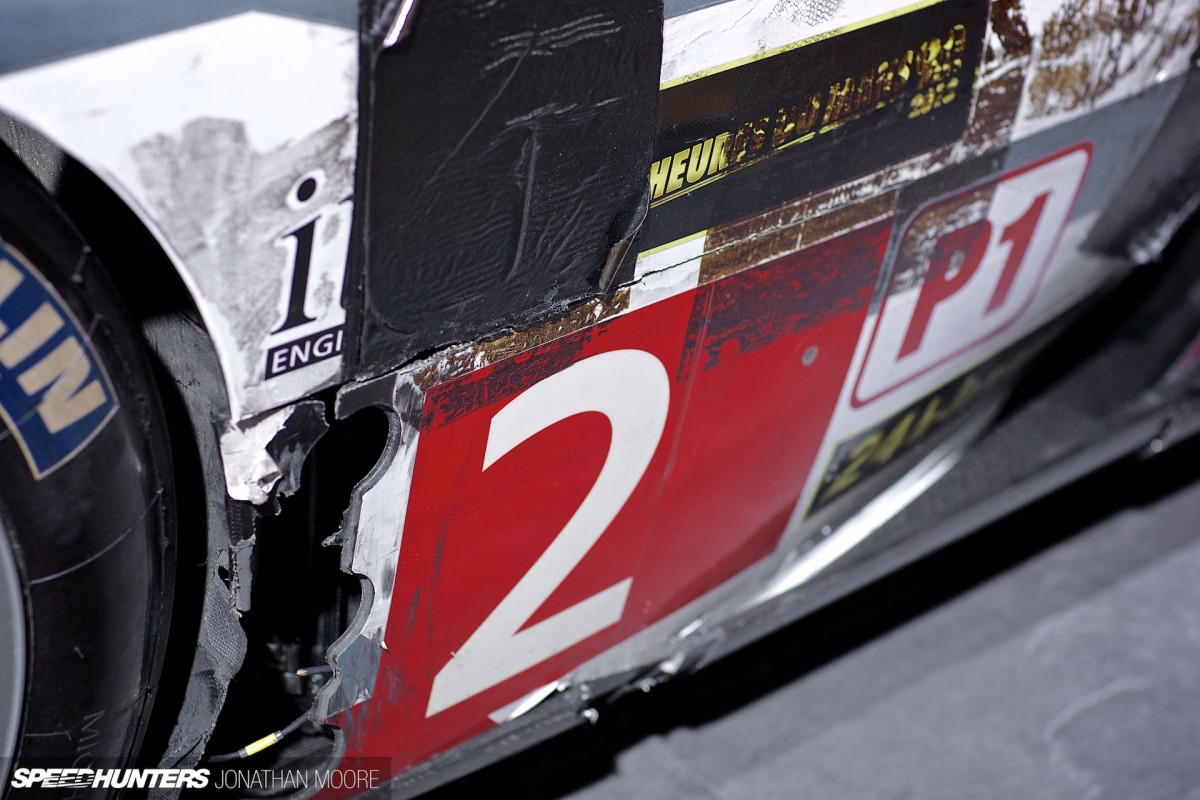 I mentioned finish. Well, you might not want to see a road car in this condition, but this is exactly how I like to see a race car. Every piece of torn bodywork, strip of racer's tape and streak of dirt tells a story – especially when it's on a car that's won the Le Mans 24 Hours.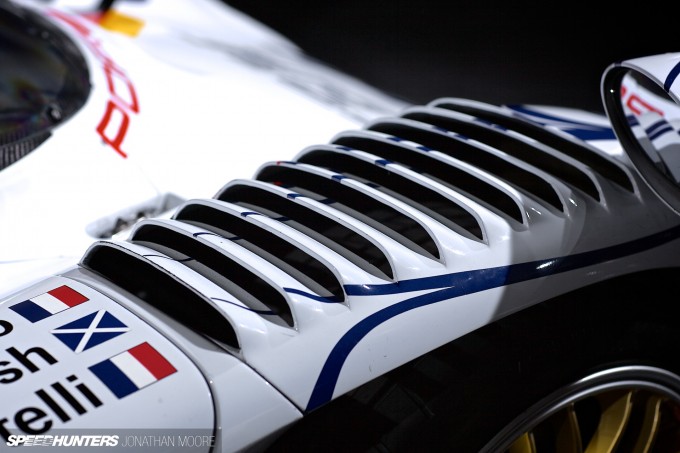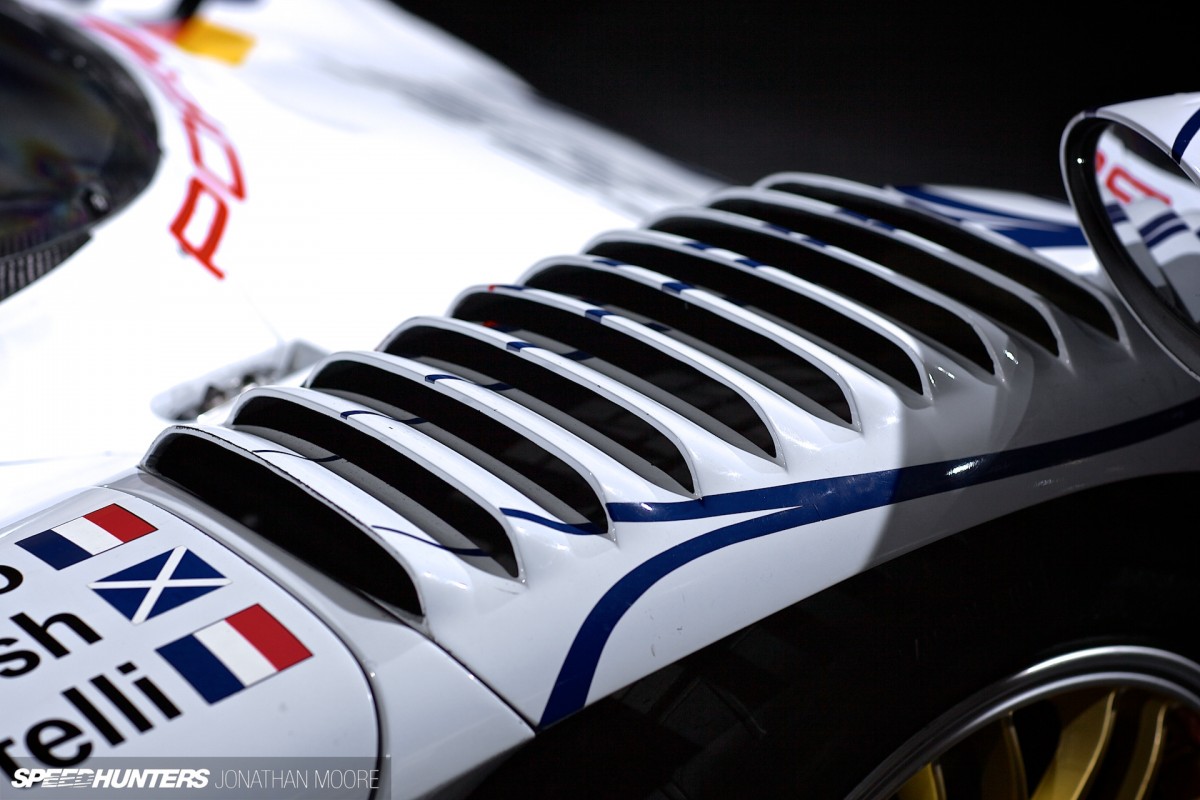 All these cars were to be found in Geneva's Le Mans exhibition, which was an absolute joy on many levels. Ambient low light that picked the cars out (and what a collection), and the best part of a century of racing cars to choose from. A perfect opportunity to see the evolution of the endurance sports car.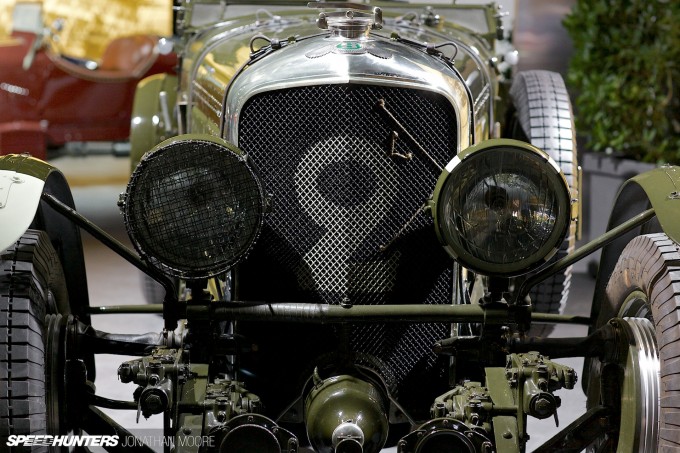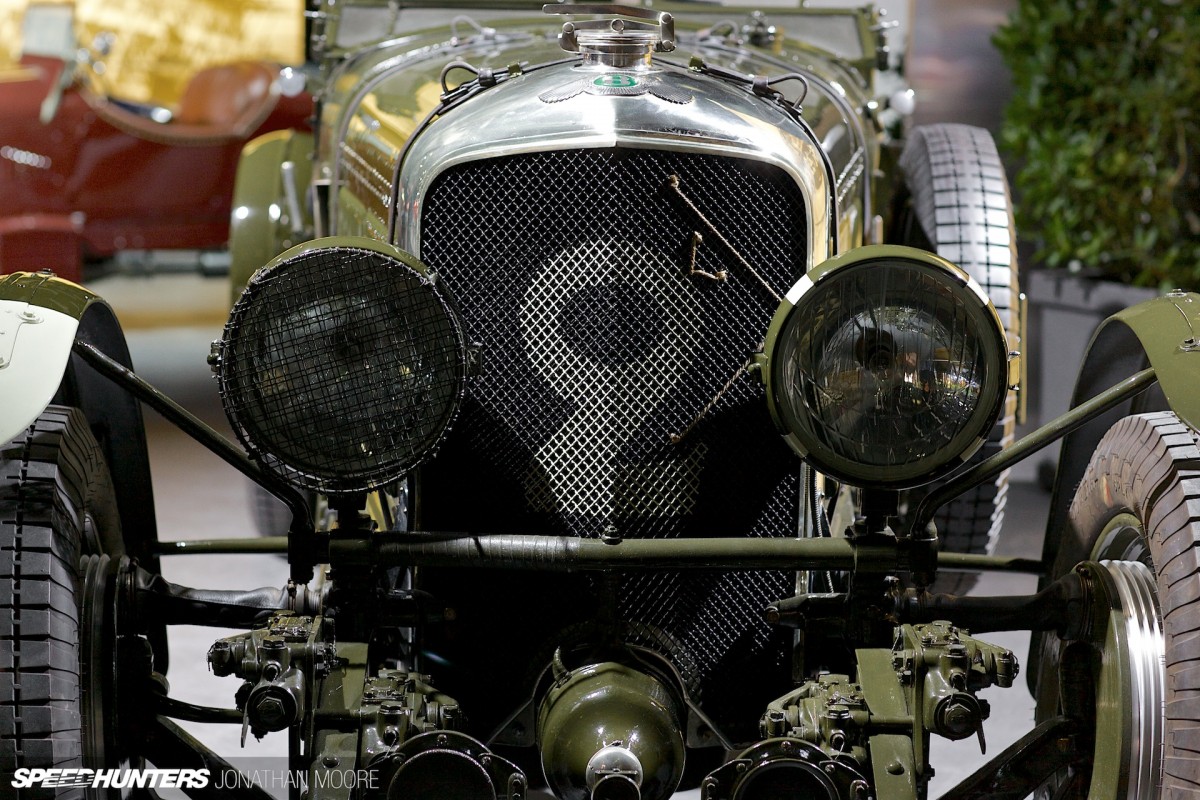 For patina and texture, the late 1920s Bentley Speed Six was something worth spending time going over. Starting with the industrial iron-work up front, through the beautiful painted-on grille number and hand-beaten bodywork with its cracked paintwork, and on to the patina of the leather and canvas of the seats and rain-hood. As organic as a car can get.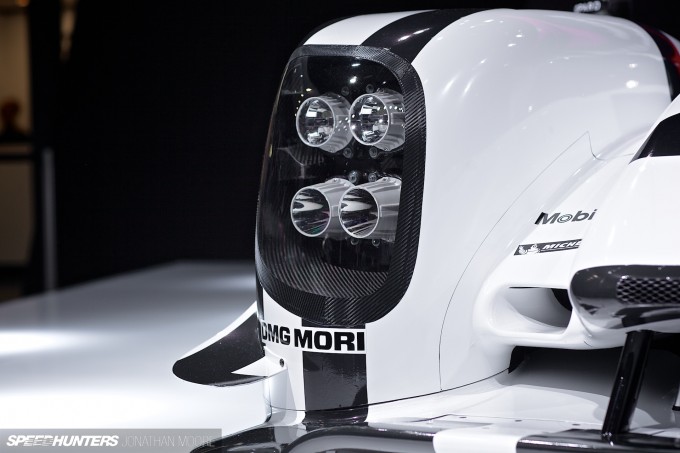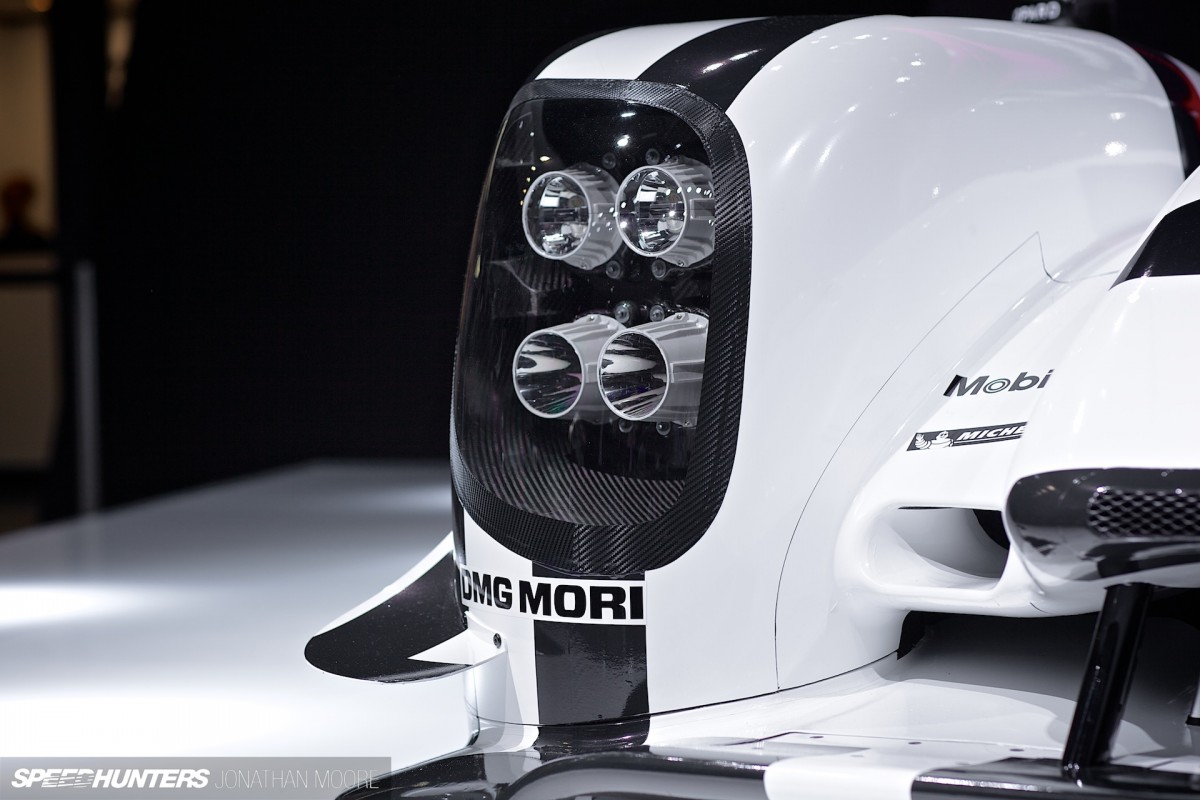 Compare that to the bug-eye high intensity lights from the new Porsche 919 Hybrid. The Bentley had the equivalent of a couple of wax candles out front; the Porsche will be providing enough light for people sitting in the campsites by the track come Le Mans…
Lighting up the dark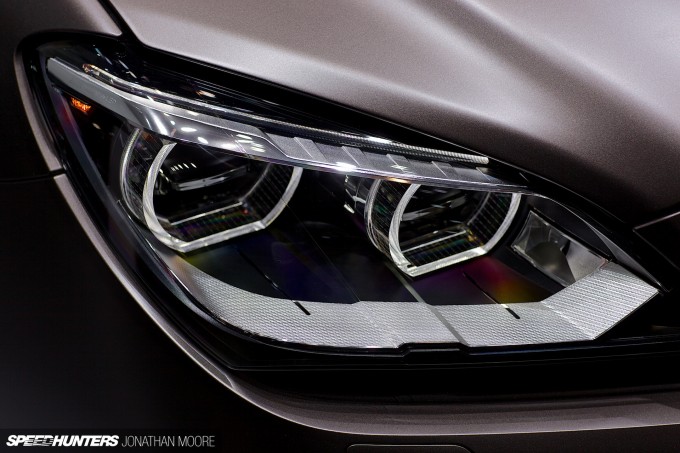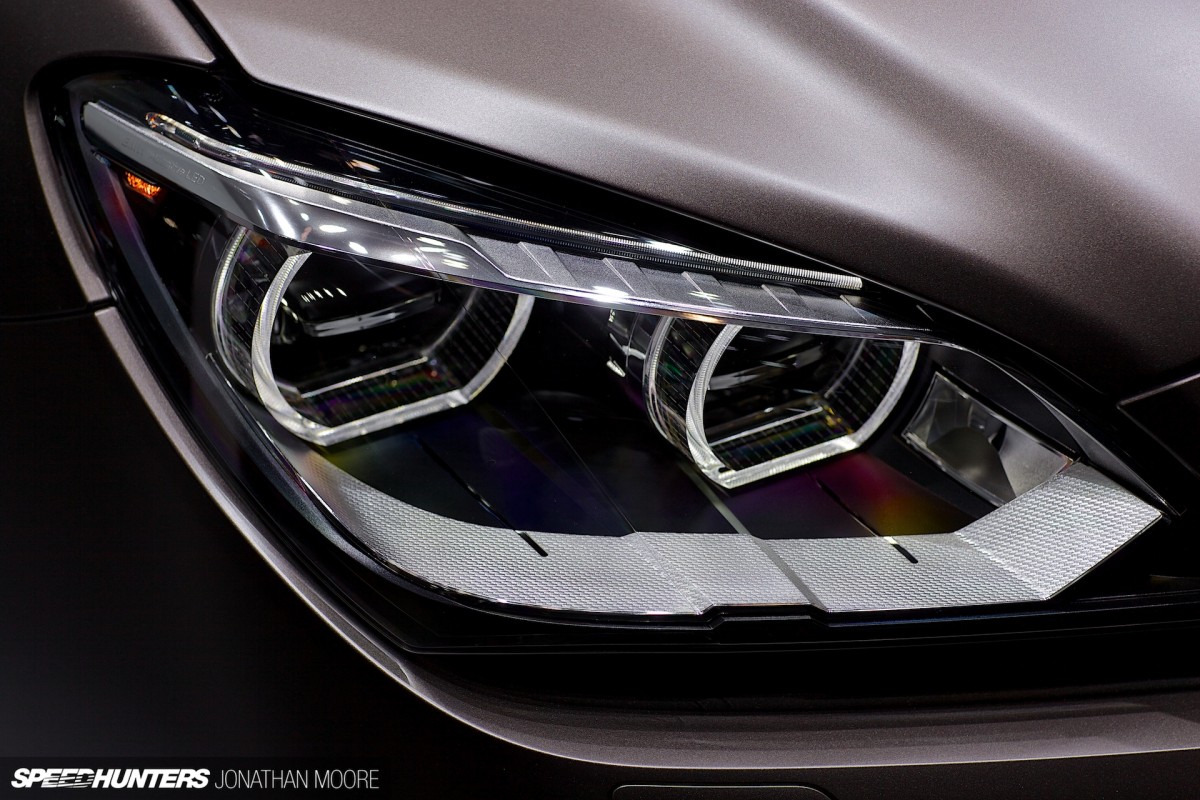 It's not that different on the road now. There's been a stark change in road-car lighting, both design-wise and in intensity. It makes the simple round headlights in the old '73 Beetle I used to have look, well… 41 years old.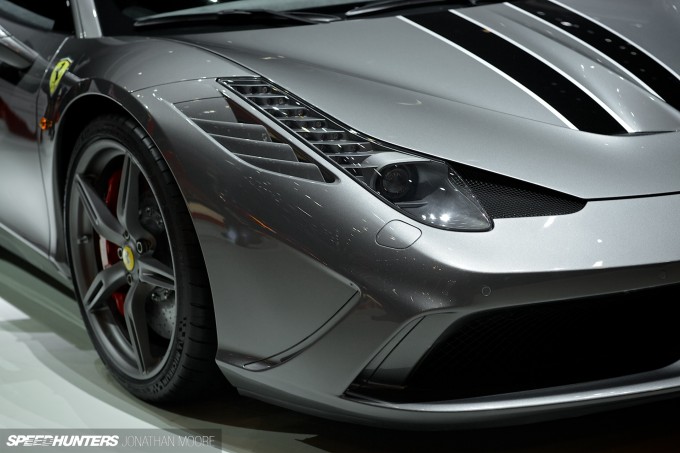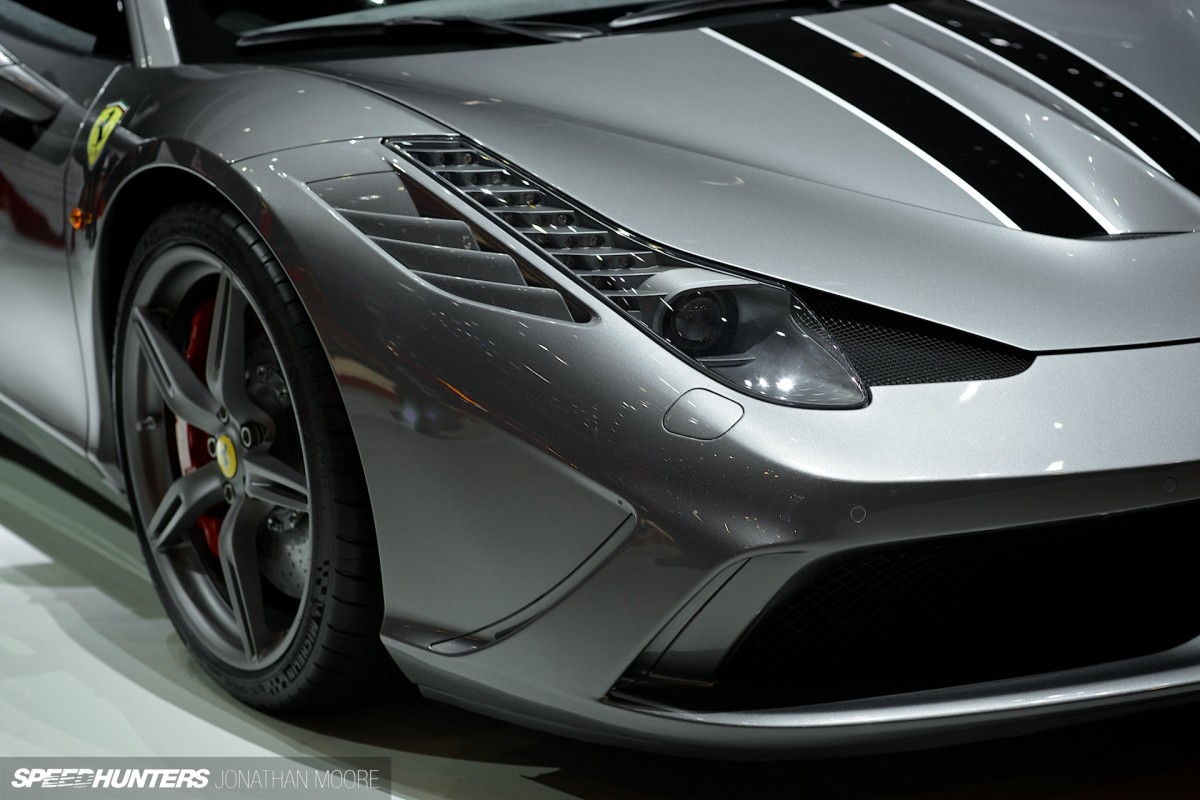 Now, from high-end to low-end it's all about raked angles, bright whites and LED running lights.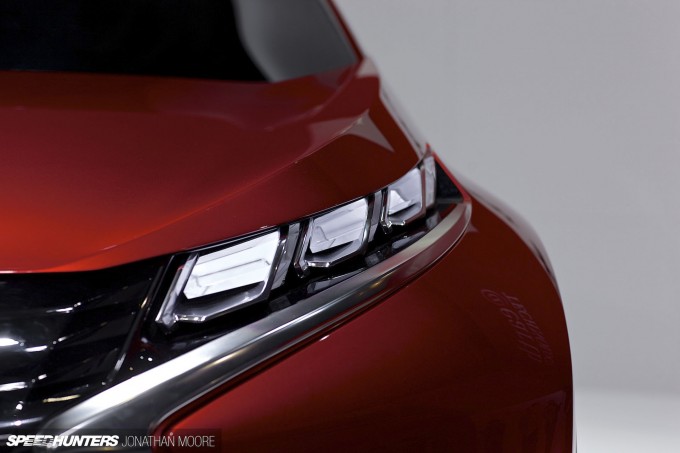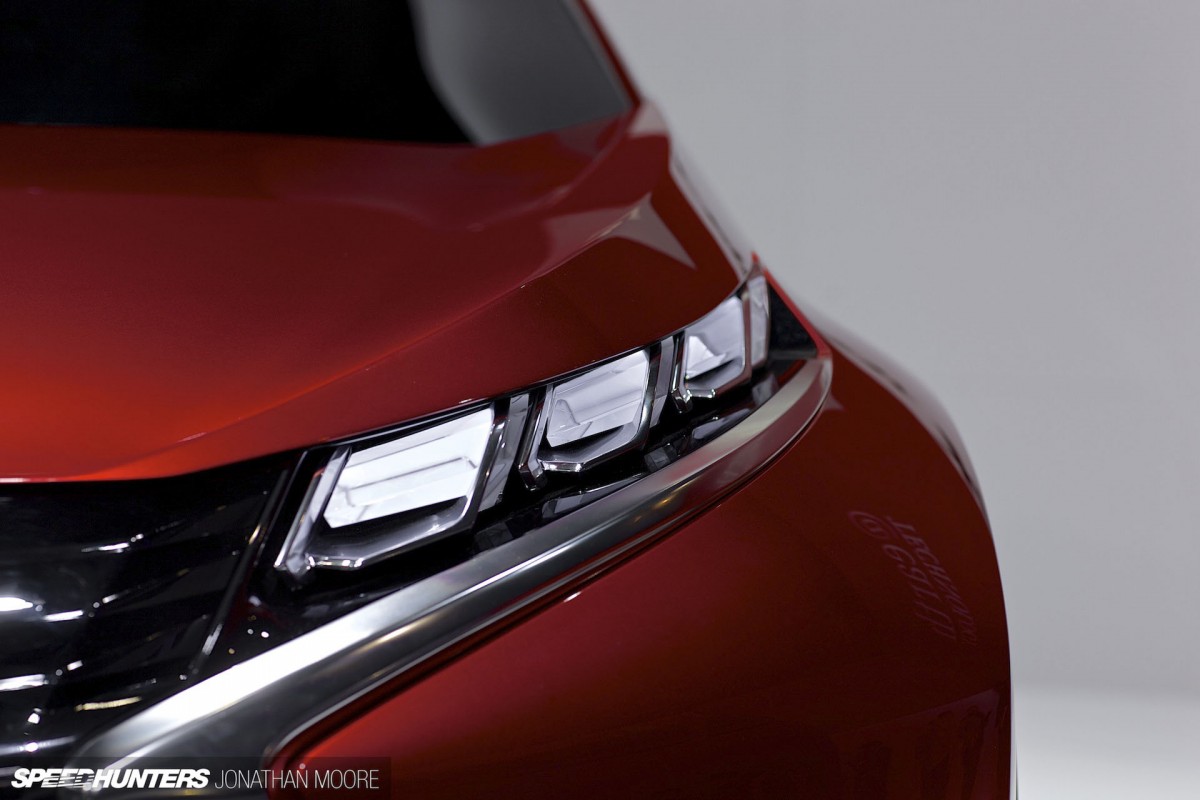 Wraparound geometries of a glowing automated future, here courtesy of Mitsubishi.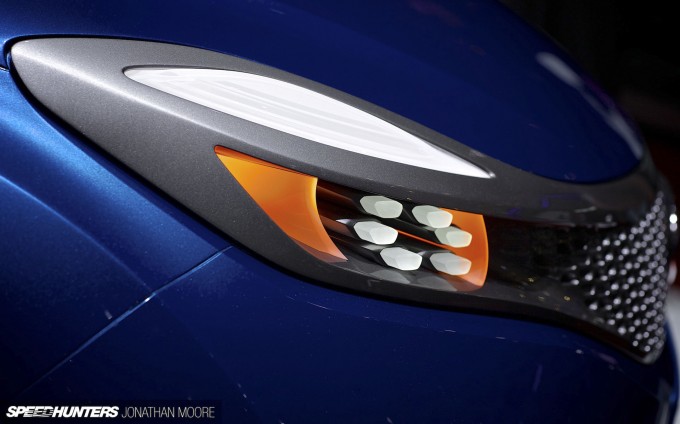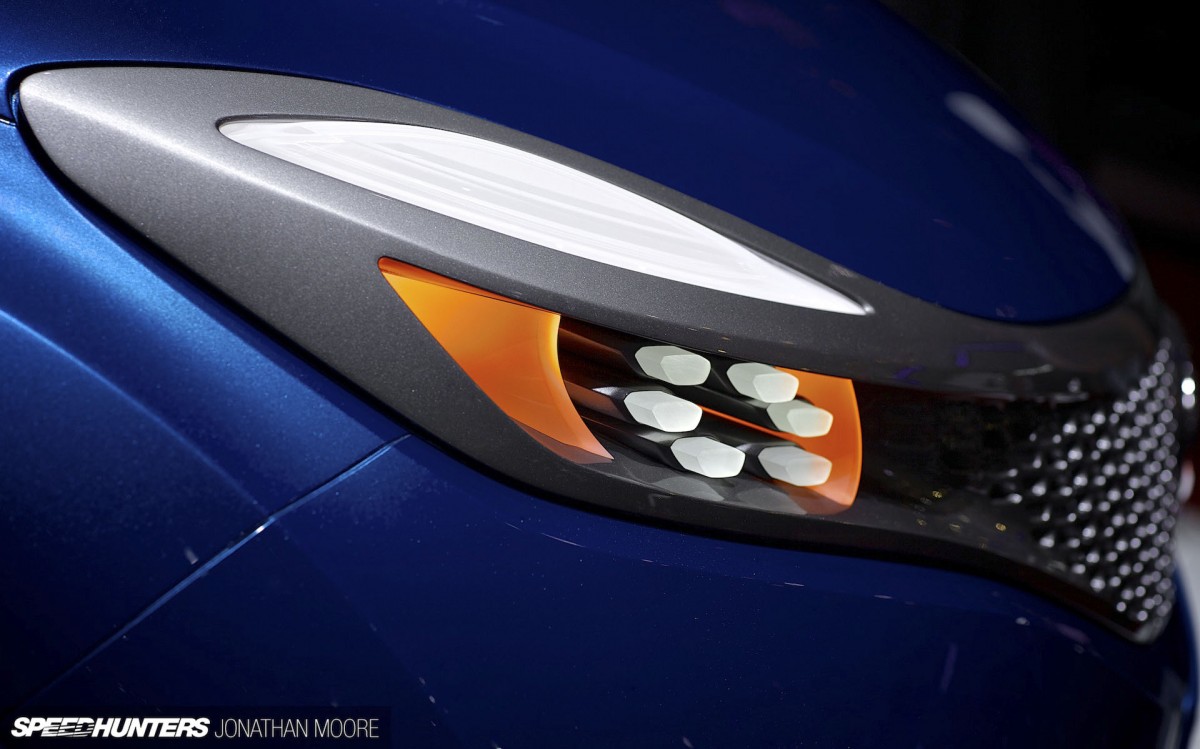 It's probably because I'm a sucker for buying any kind of modernist, glowing light that I love the look of headlight clusters on new cars. Yes, even a Tata.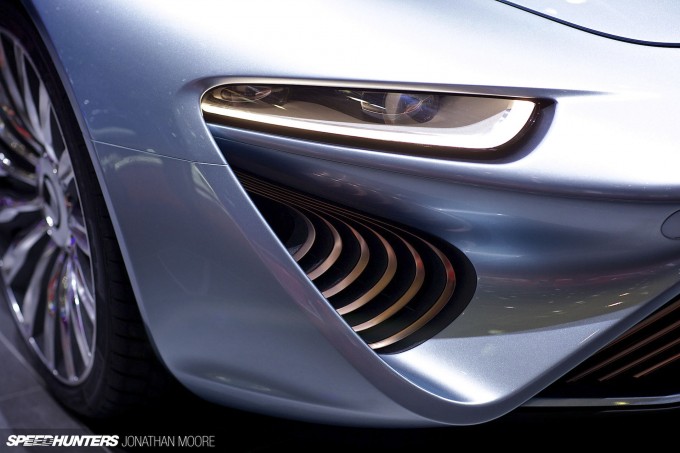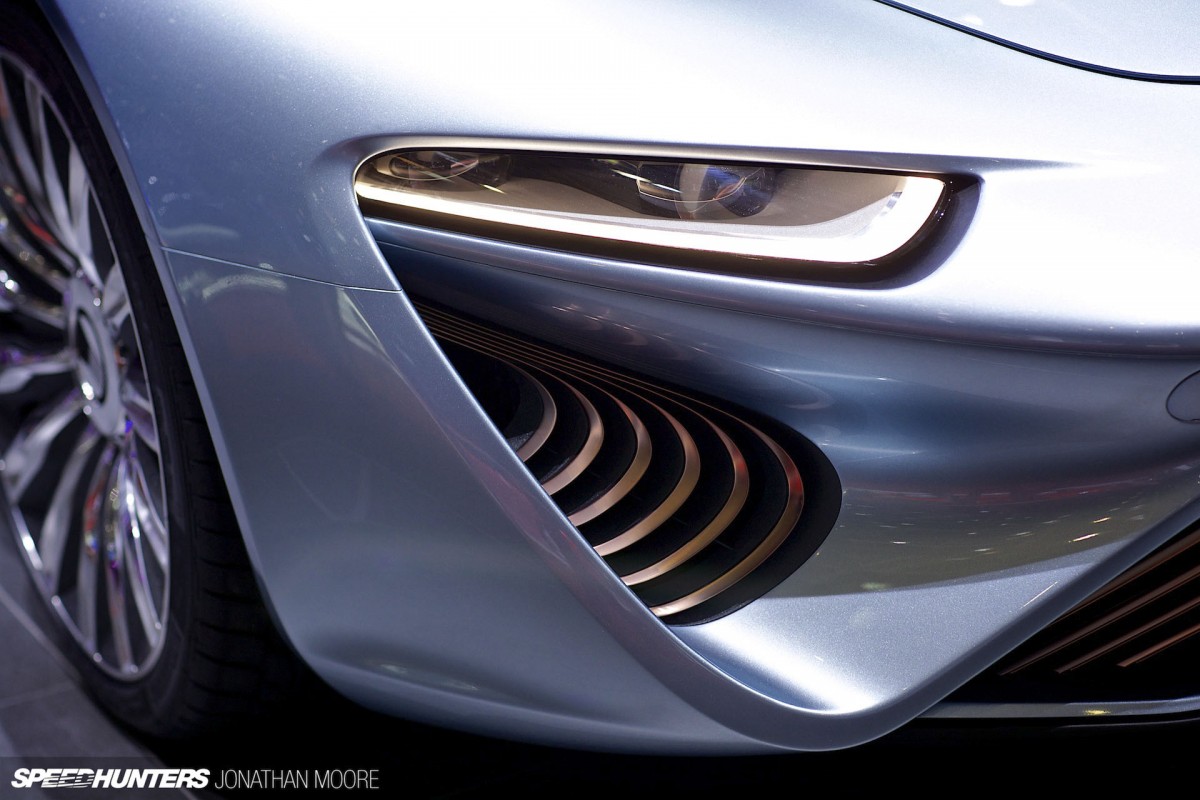 Then there's the shark theme that seems to have been taken up by so many designers: or at least their sleek, efficient curves.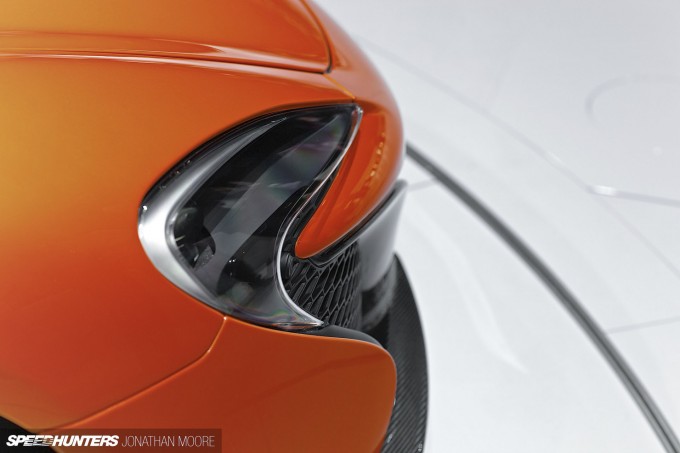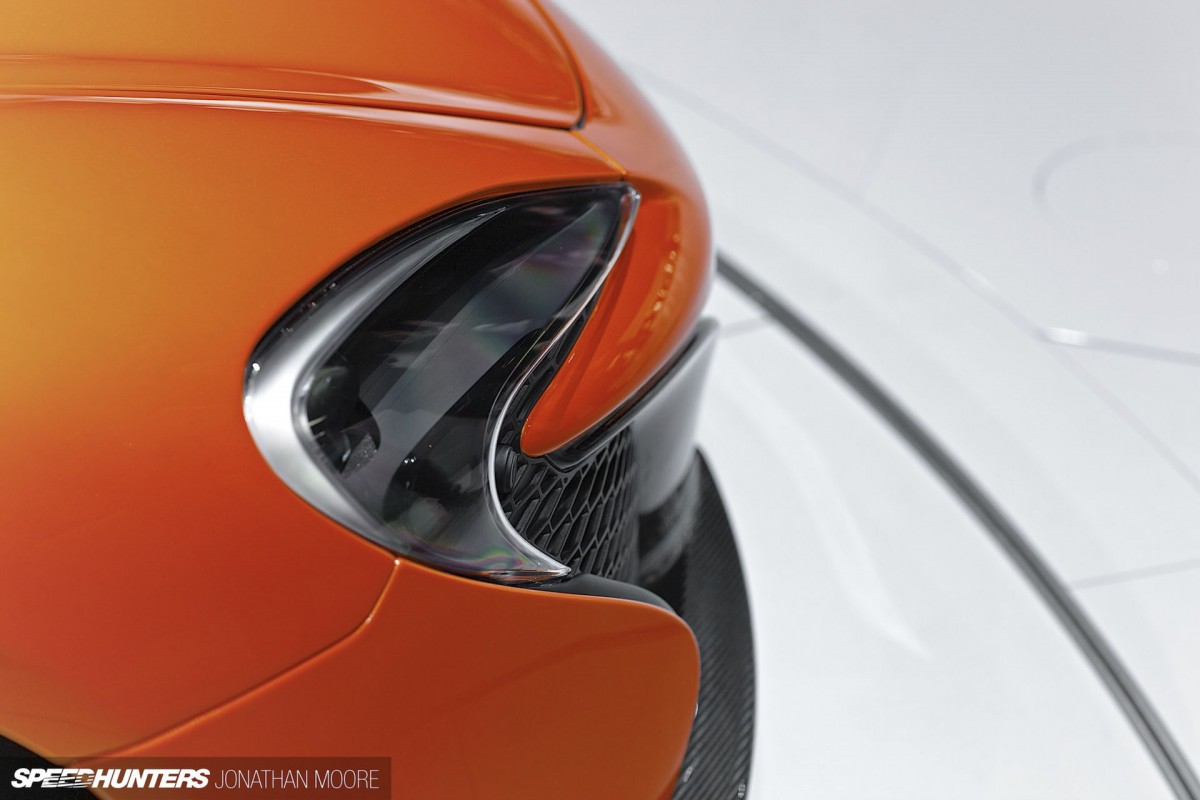 Whether taken literally or just used as inspiration, the predator influence is all around.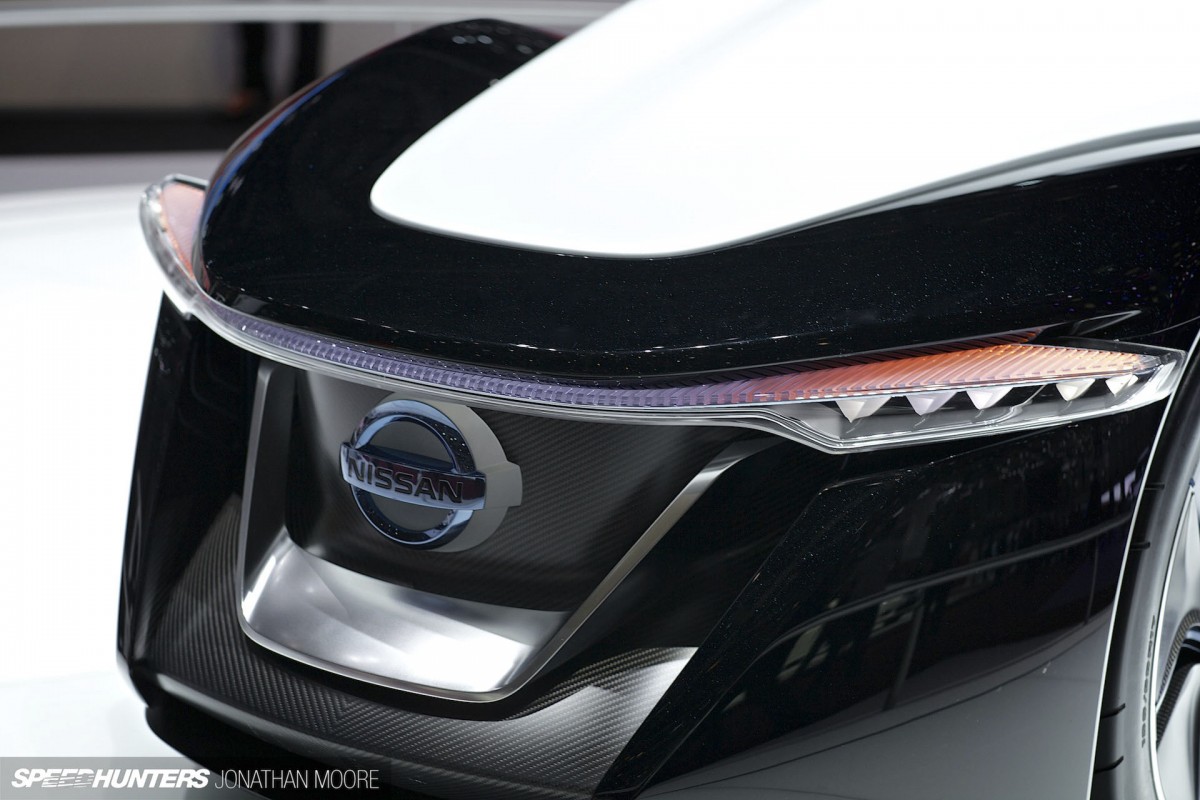 Anthropomorphising cars isn't a new thing – though with the Nissan BladeGlider I thought it was more a case of xenomorphising. With it reminding me a little too much of Alien, I avoided getting too close to the Nissan's jaws…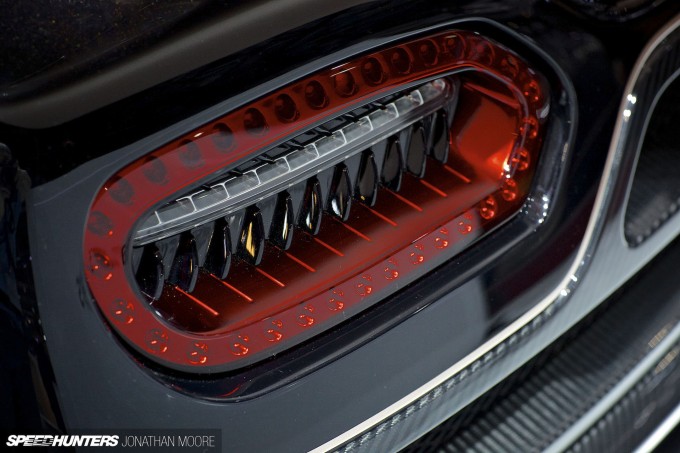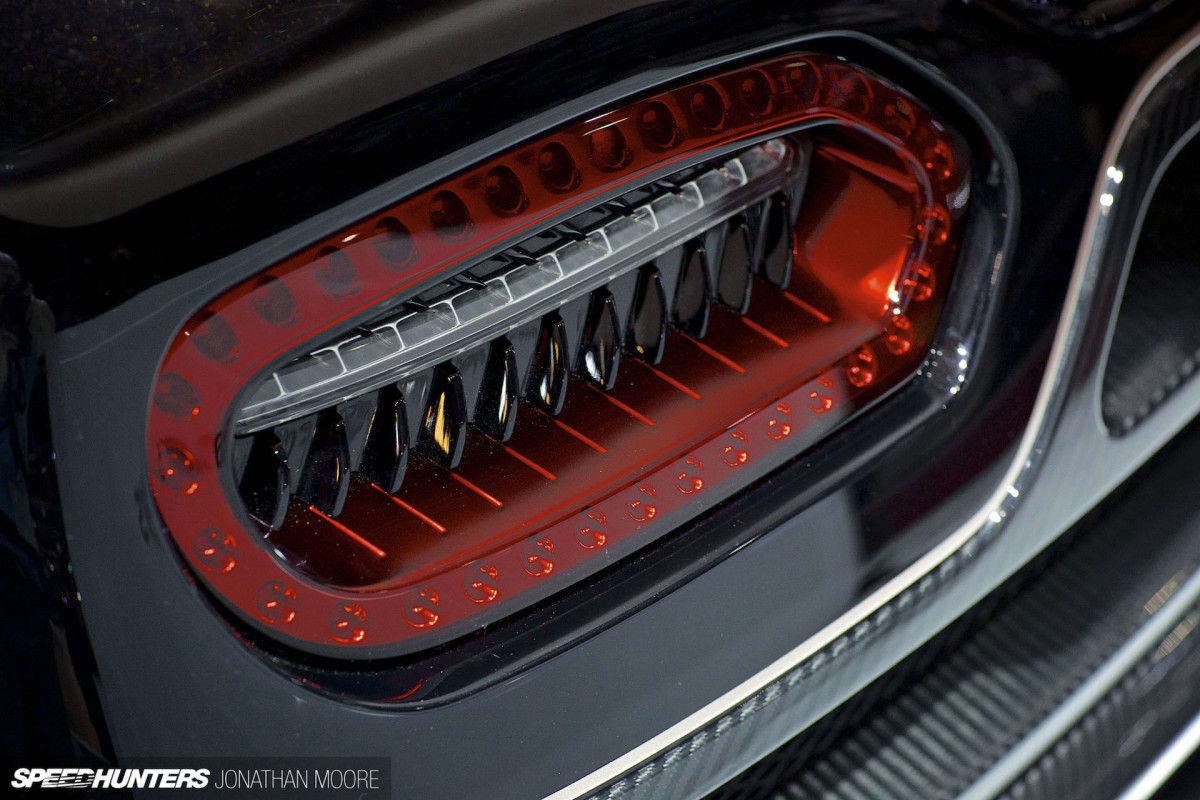 There's just so much more flexibility now with lighting technology. Picking up parts from a manufacturer's parts bin just won't cut it at the high end, so ever more complex forms are emerging.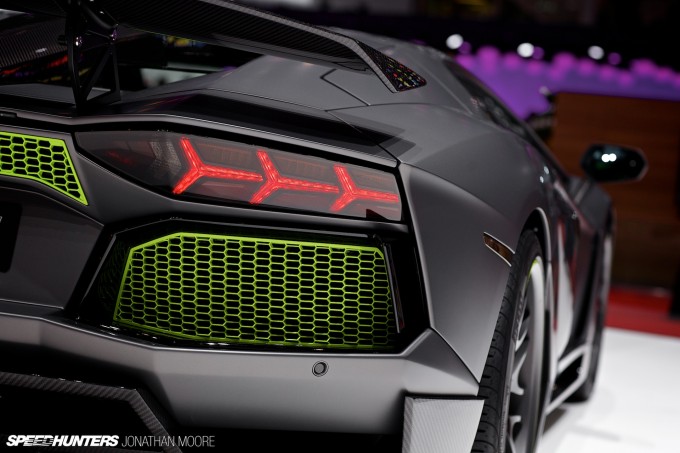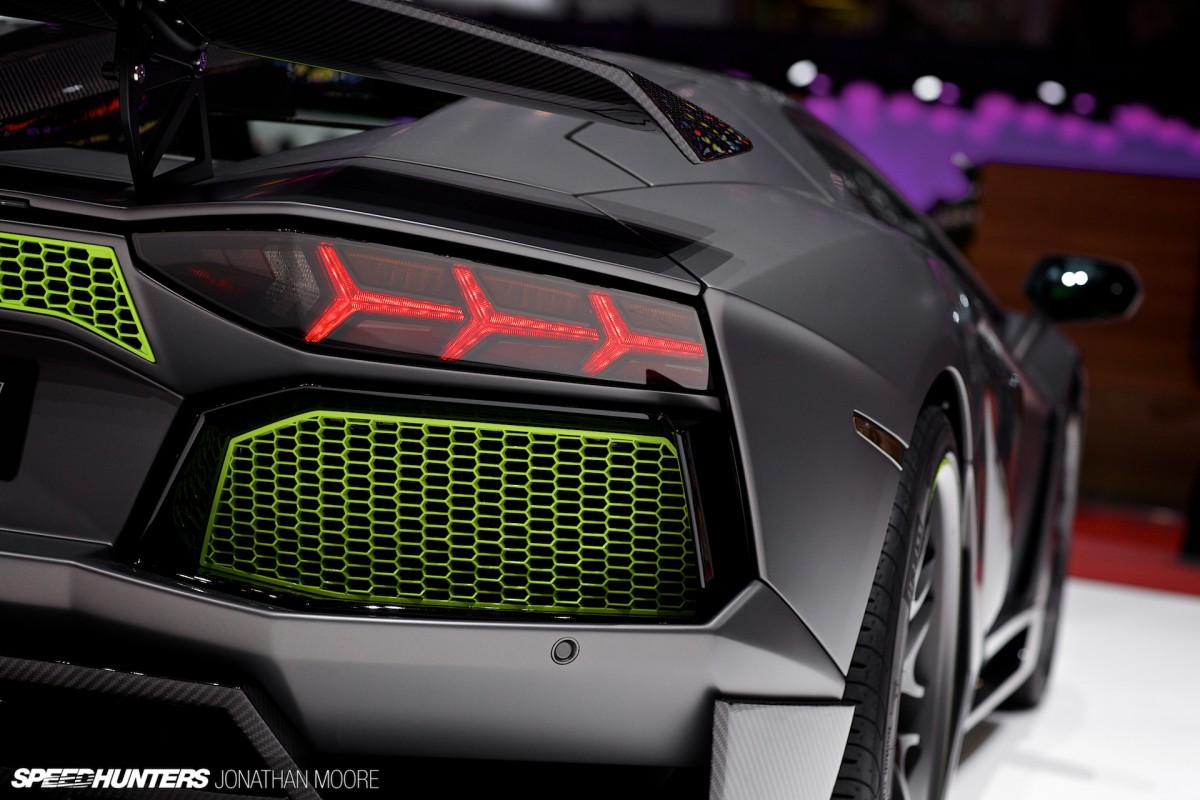 Audi may have kick-started it with their lines of LED running lights, but now everyone has got in to claim a shape as their own.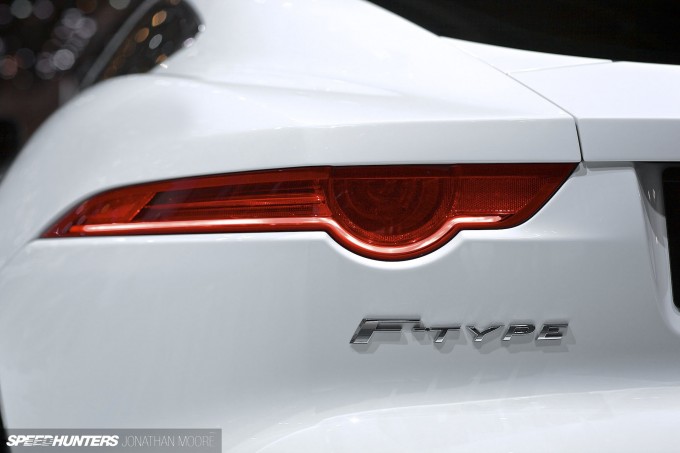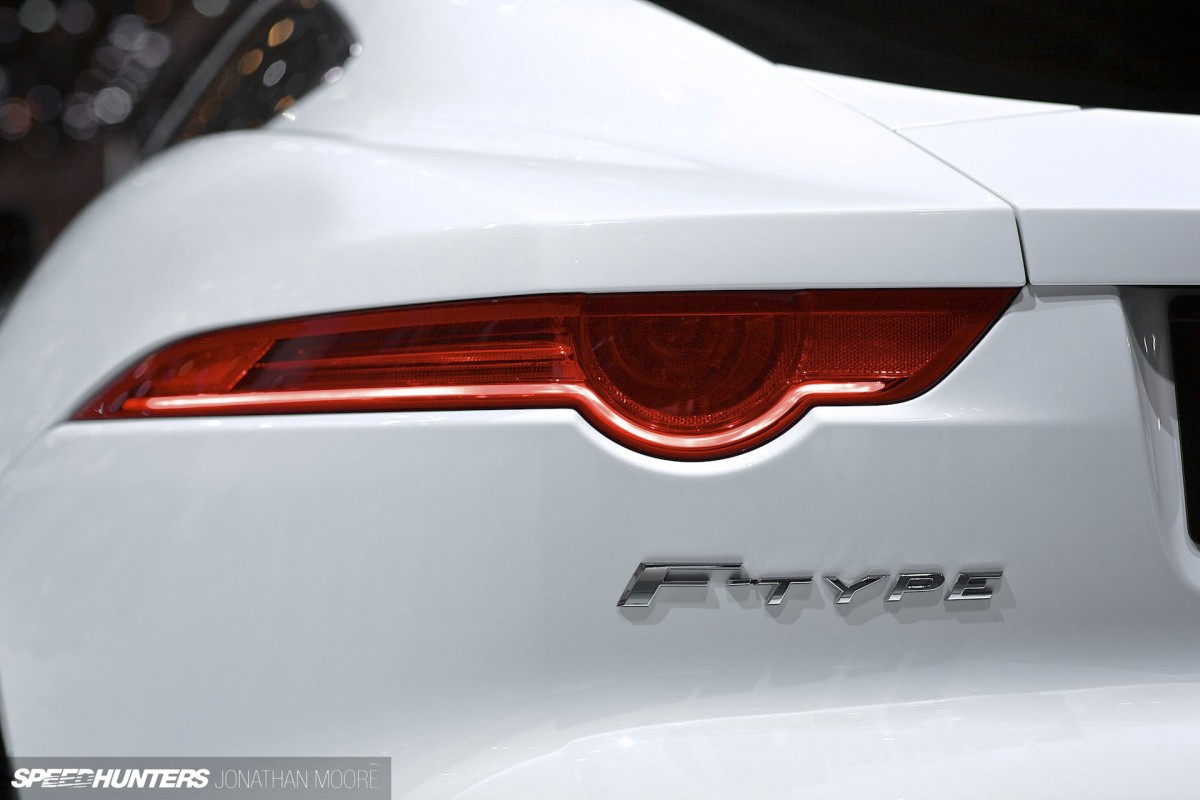 If you're building on the tradition of an icon, it's even more important to make a statement.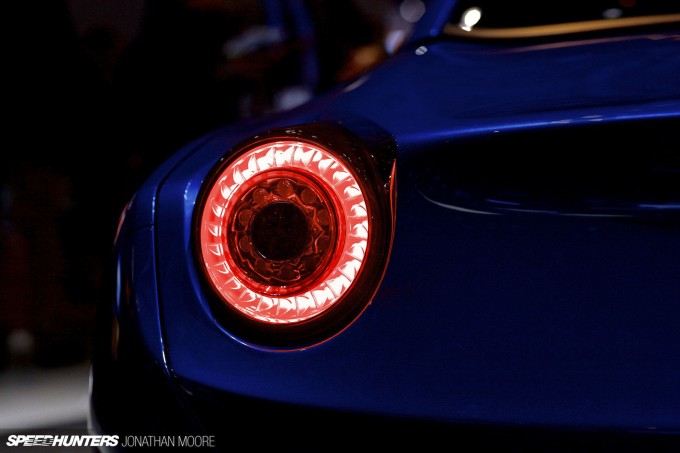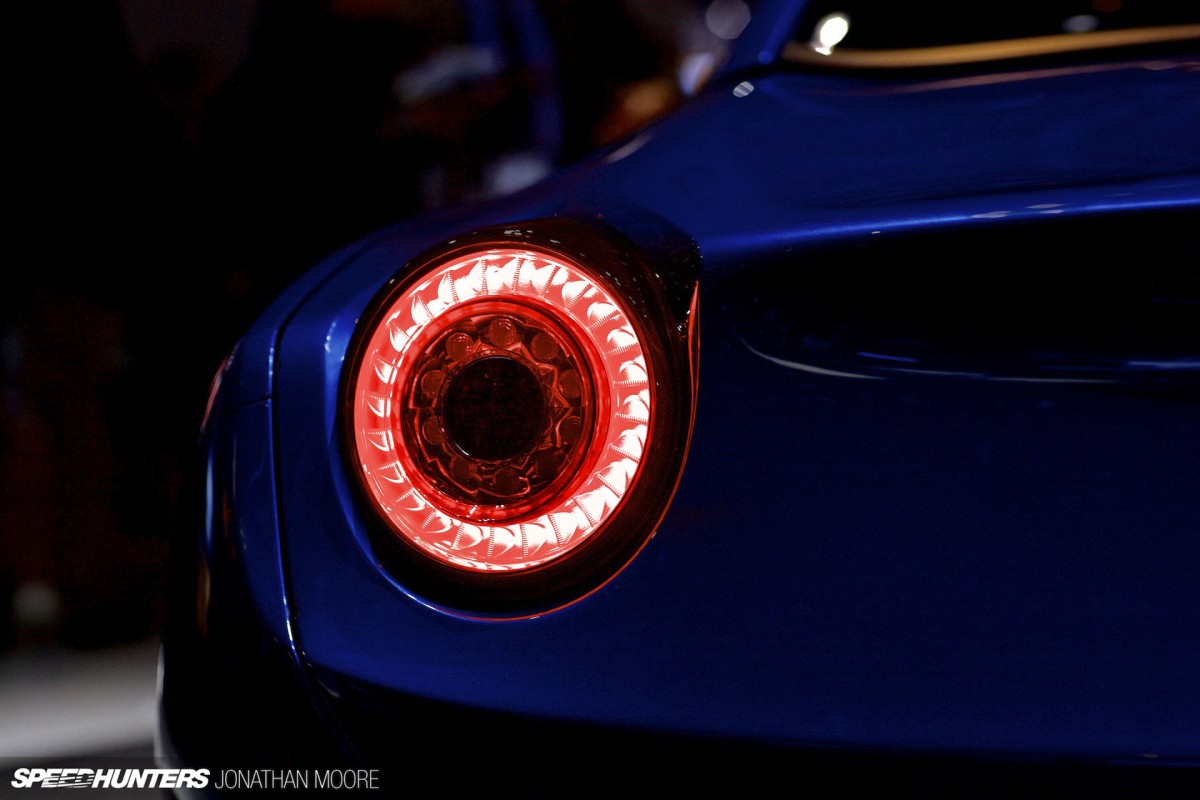 This is means it's almost a surprise to see something as simple as a circle. But then, don't things always come back around?
Jonathan Moore
Instagram: speedhunters_jonathan
jonathan@speedhunters.com