Size doesn't matter
Over the past couple of months, I've had the pleasure of bringing you a bunch of features from Australia, covering a wide spectrum of machines from one of the most diverse and interesting car cultures in the world. Given that the some of the quickest rotary-engined quarter-mile weapons on the face of the planet call down under home, returning to New Zealand having not checked out at least one straight-shooting Mazda was never an option.
It's how I ended up at Joe Signorelli's RotorMaster workshop in Sydney drooling over one of the coolest rotary drag cars I've ever laid eyes on.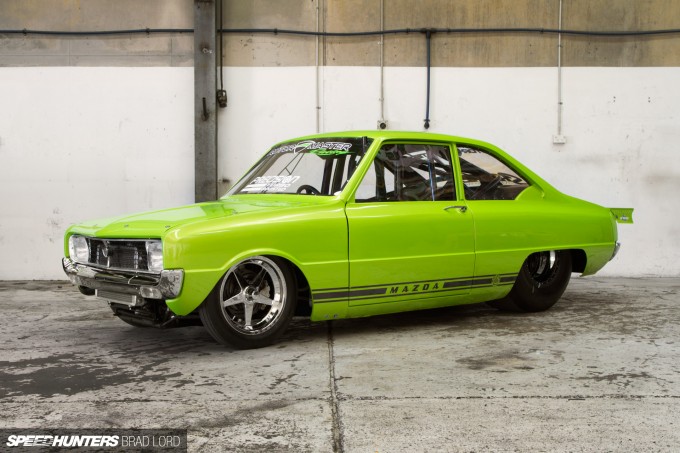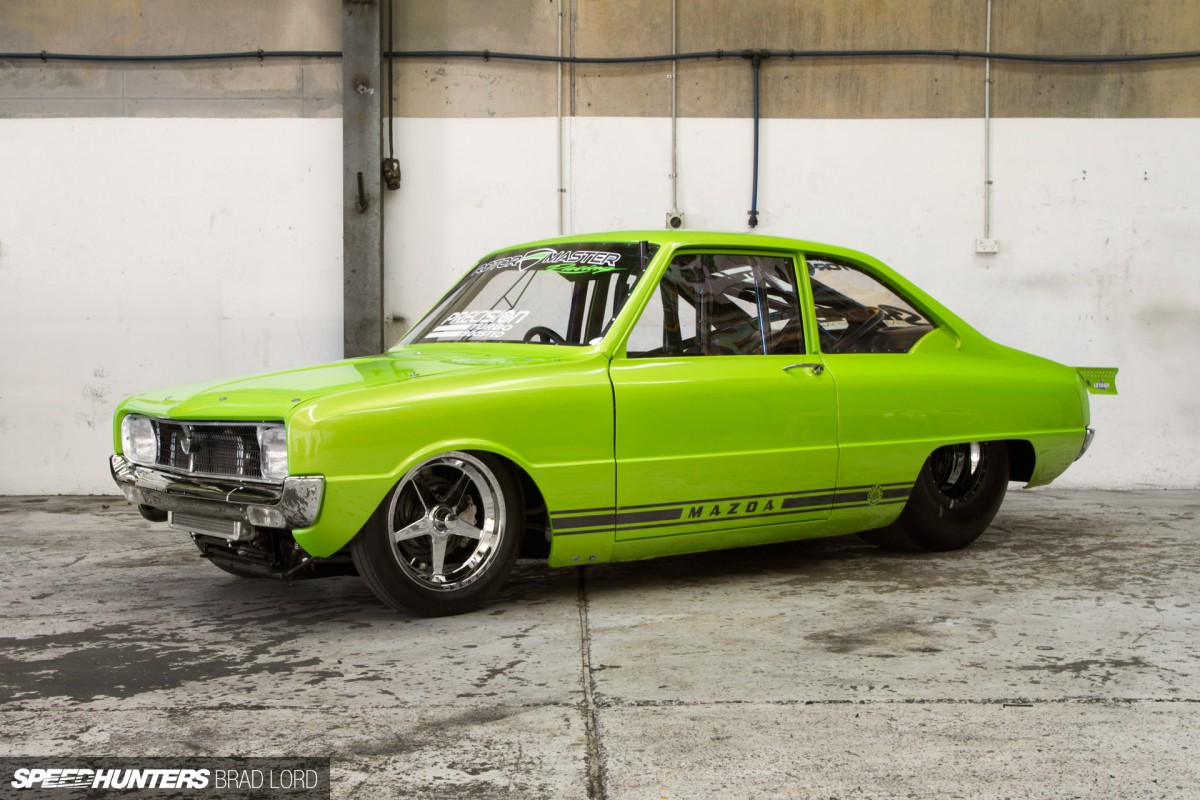 An Australian sport compact drag racing stalwart, Joe might be best known for his driving skills behind the wheel of the GAS Motorsport Toyota Celica, and for good reason – the ex-Titan Motorsports Pro RWD machine is one of the quickest sport compact cars on the planet. But before he started breaking records in the copper-coloured machine, Joe built and raced rotaries. Fast ones.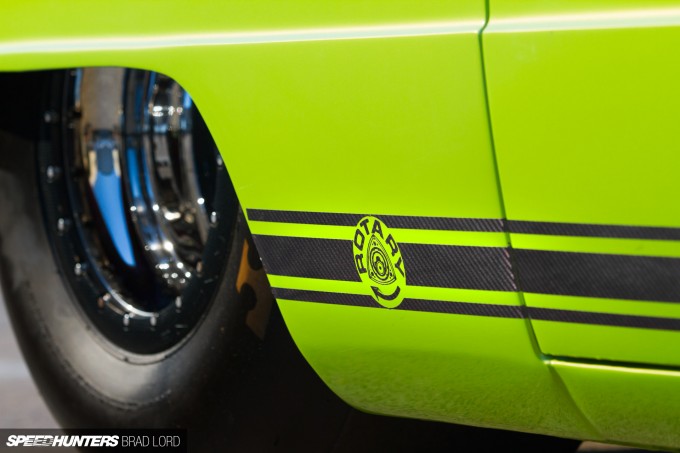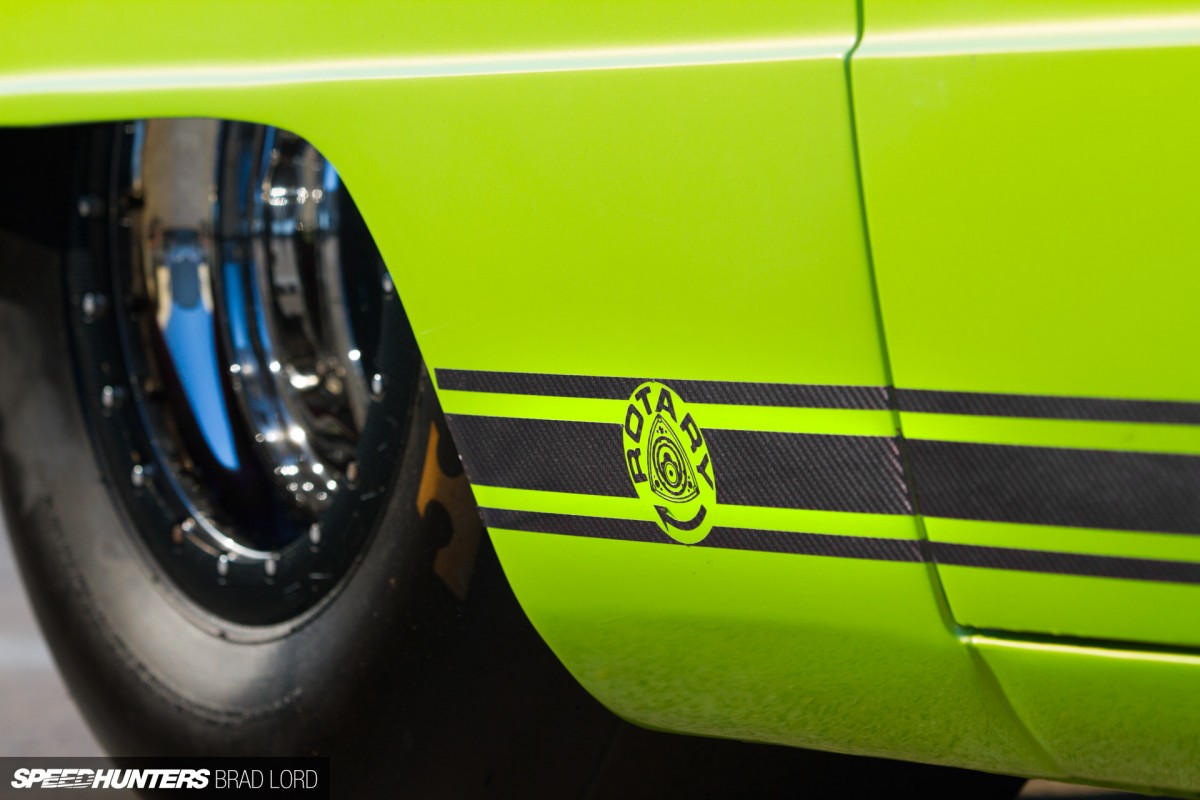 Despite establishing the GAS Motorsport brand and turning his hand to more conventional piston engine performance tuning and race modification, the RotorMaster business that he built his career on has been running in the background, quietly churning out some of the wildest rotary-powered cars in the land.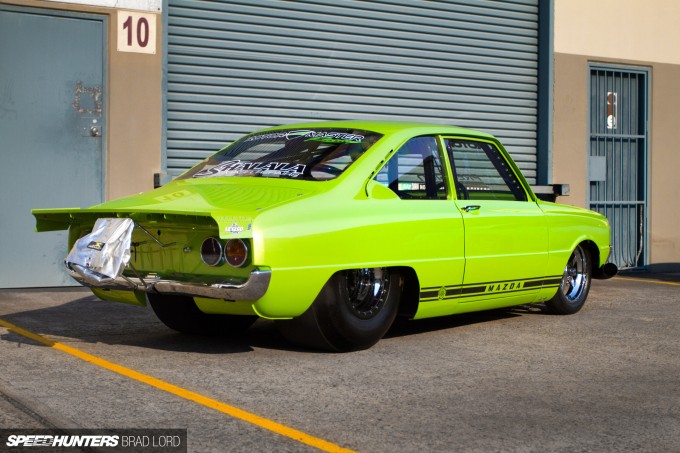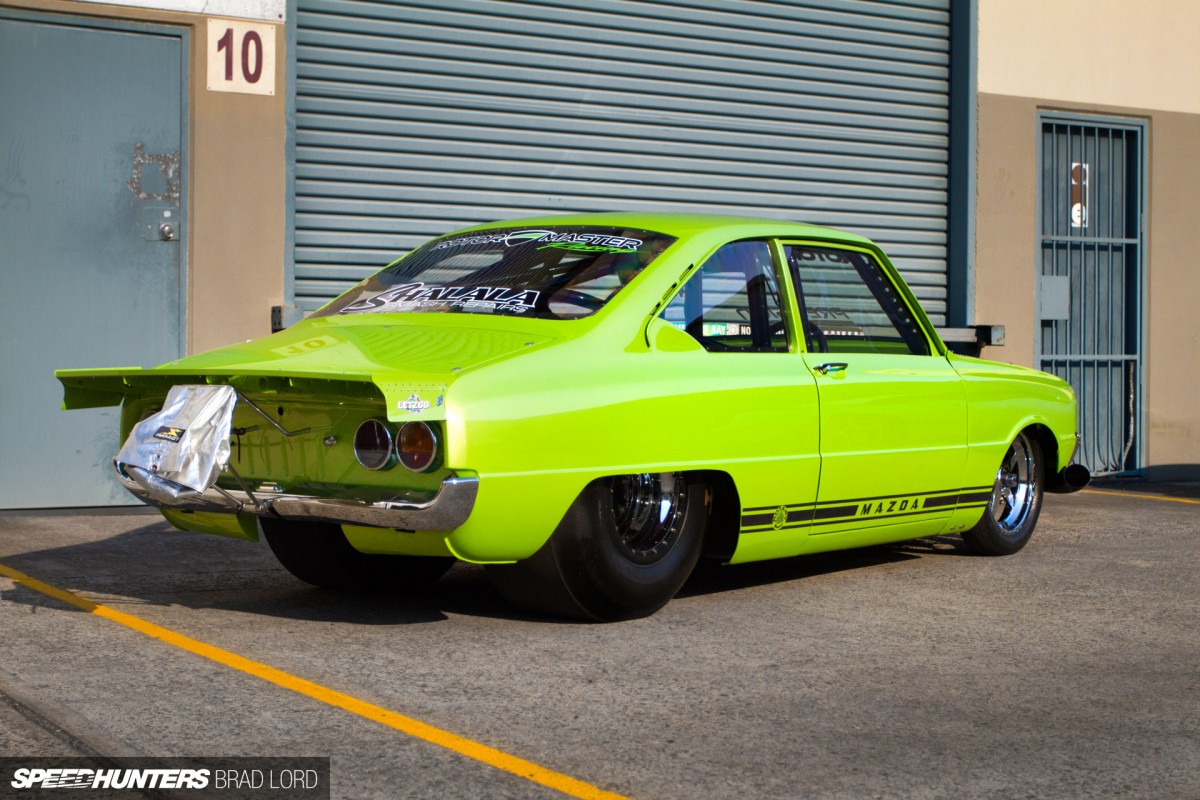 Except quietly isn't the right word – especially considering the subject of this particular feature story. Retina-searing 'RotorMaster Lime' paintwork and 1000hp of alcohol-snorting 13B turbo exhaling through a straight four-inch dump pipe will have that effect of course.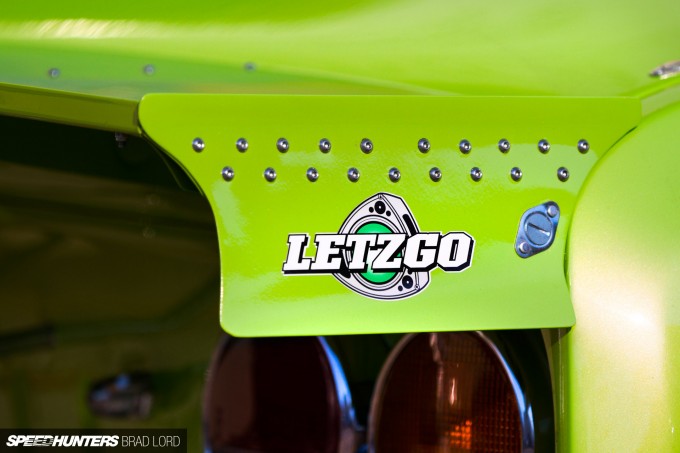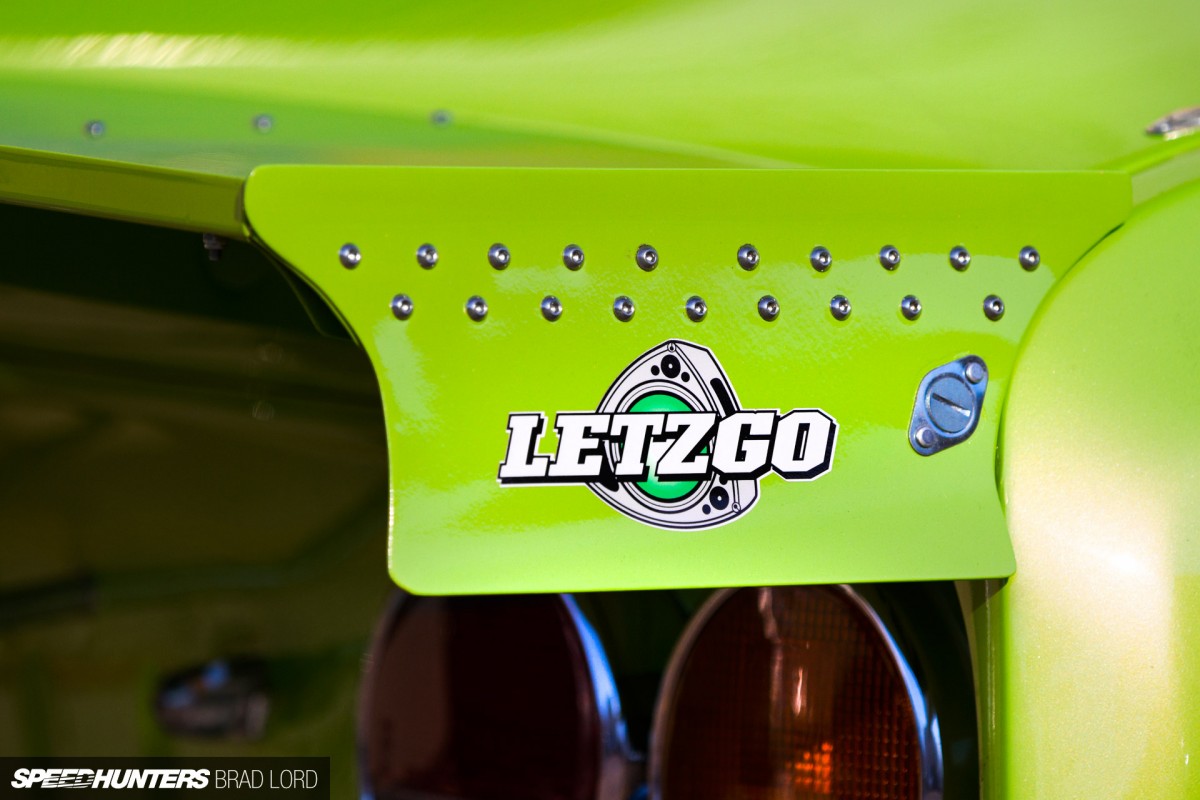 Ever since the '69 Mazda R100 arrived at the workshop in mid-2012 as a freshly painted (red) rolling chassis, Joe has been heavily invested in the project. Originally a RotorMaster 13B bridgeport package on a C16 tune was given the nod and soon the owner shook it down at Sydney Dragway, running straight in the high eight-second zone. Soon after, Joe slipped into the hot seat and pointed the little car to an 8.01 at 166mph (267km/h).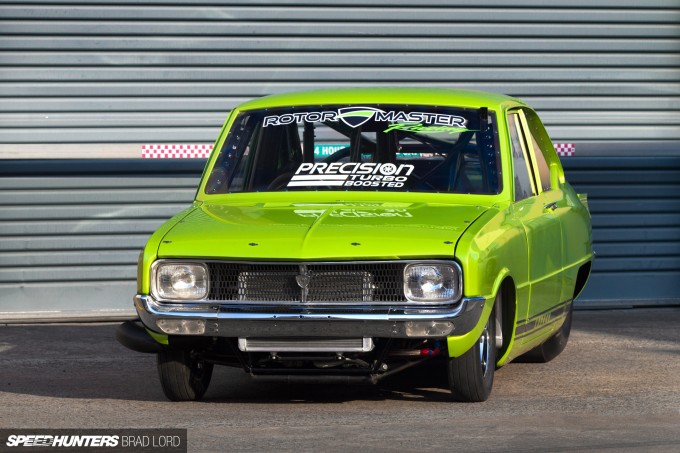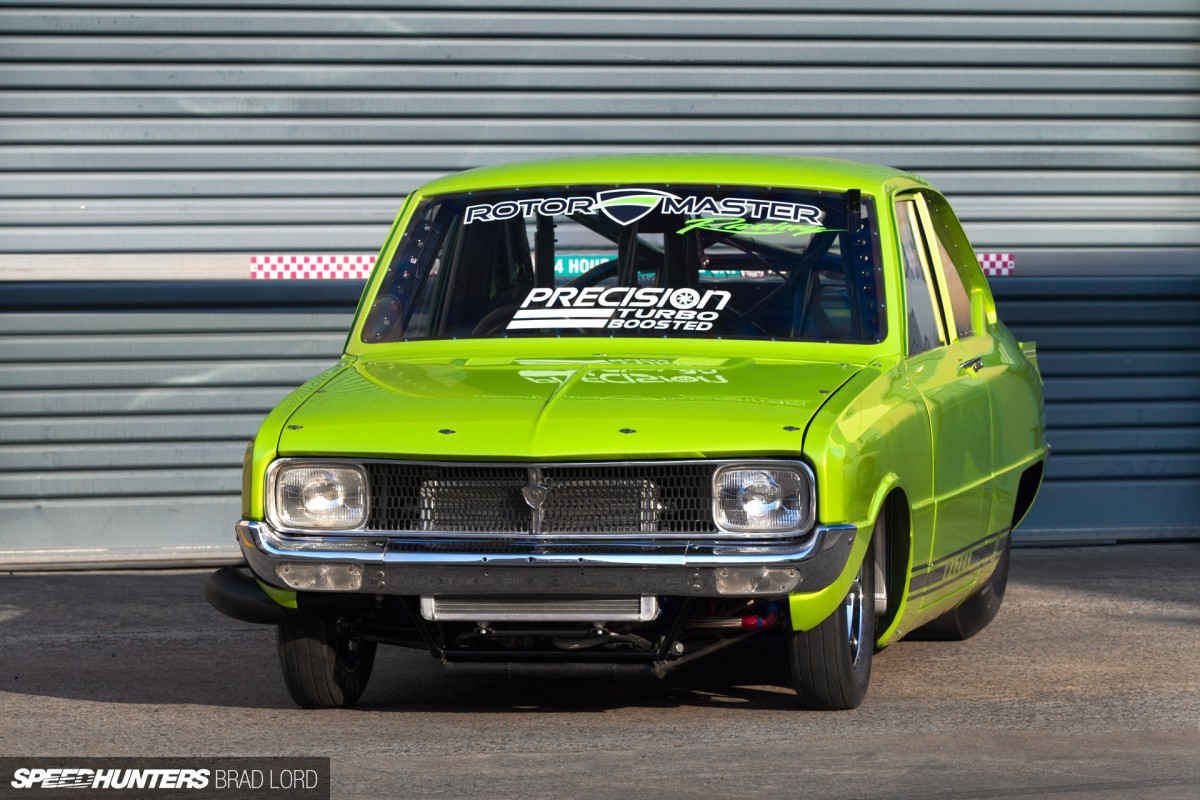 Through tragic circumstances the Mazda didn't see much action after that, but early last year it was moved on to a new owner, Al, and the reimagination of one of the neatest sport compact drag cars to hit the Australian scene in recent years began. Considering the way it looked, transforming the R100's look didn't take much more than a palette switch from red to green and some new vintage-Mazda-inspired stripes to complete its fresh new outward appearance.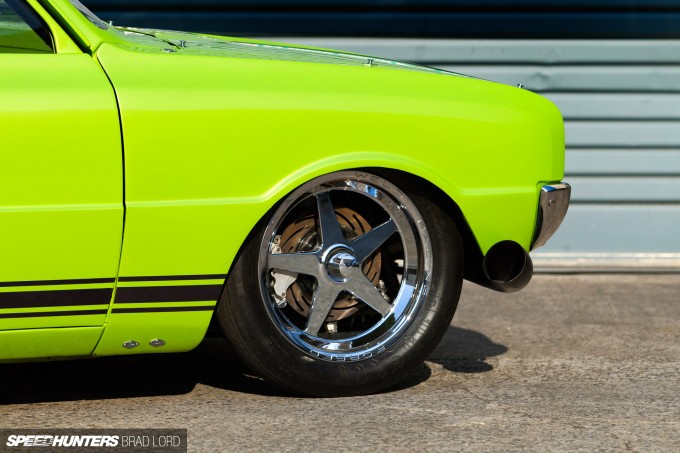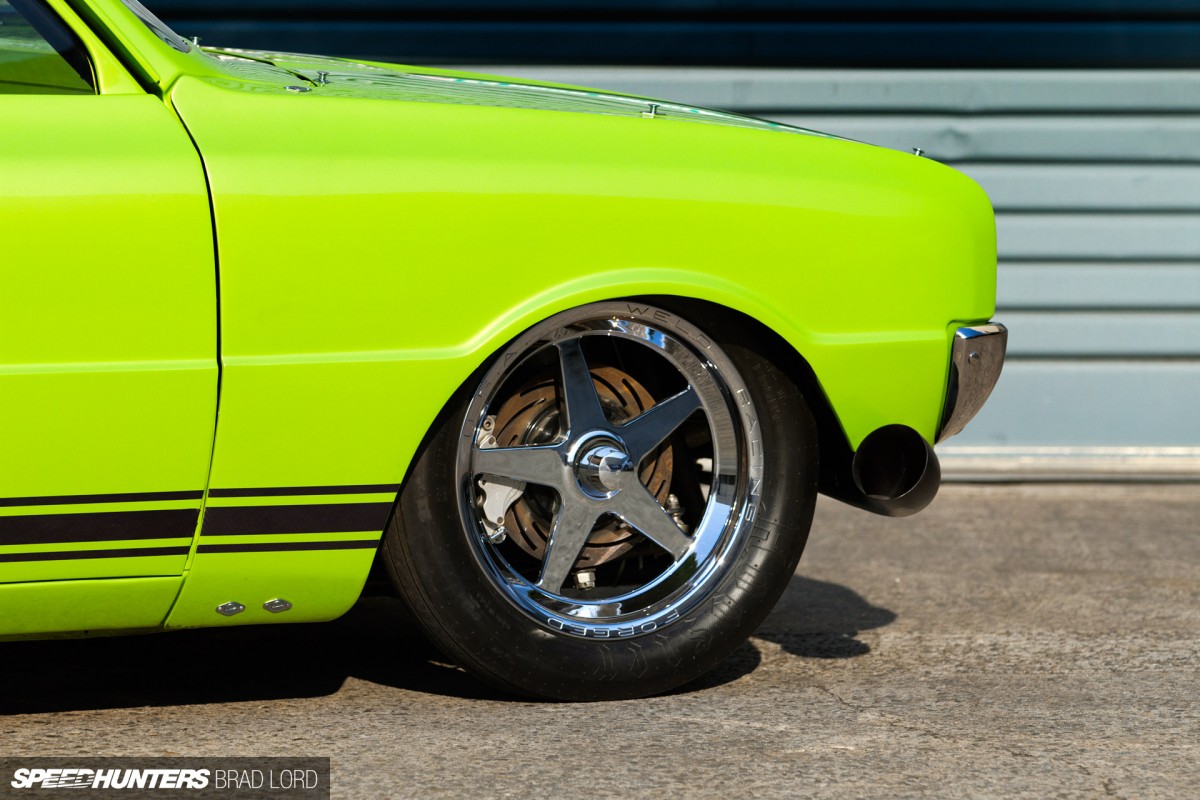 Under the skin it's pretty much the same full tube-frame Super Compact-class machine, but once you see what it's packing beneath its steel body, you'll know exactly why only minor upgrades were made.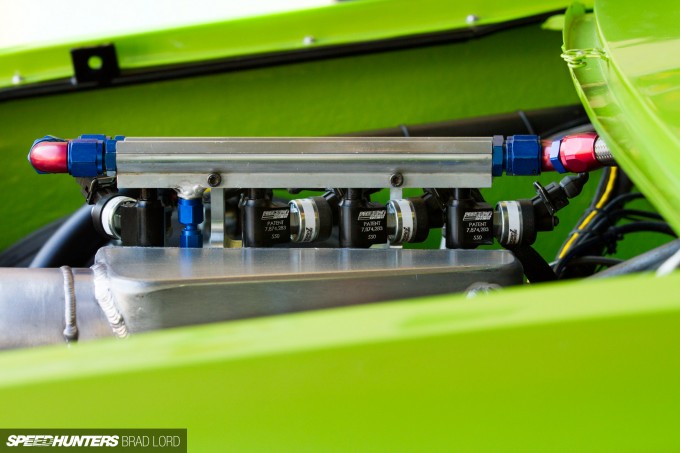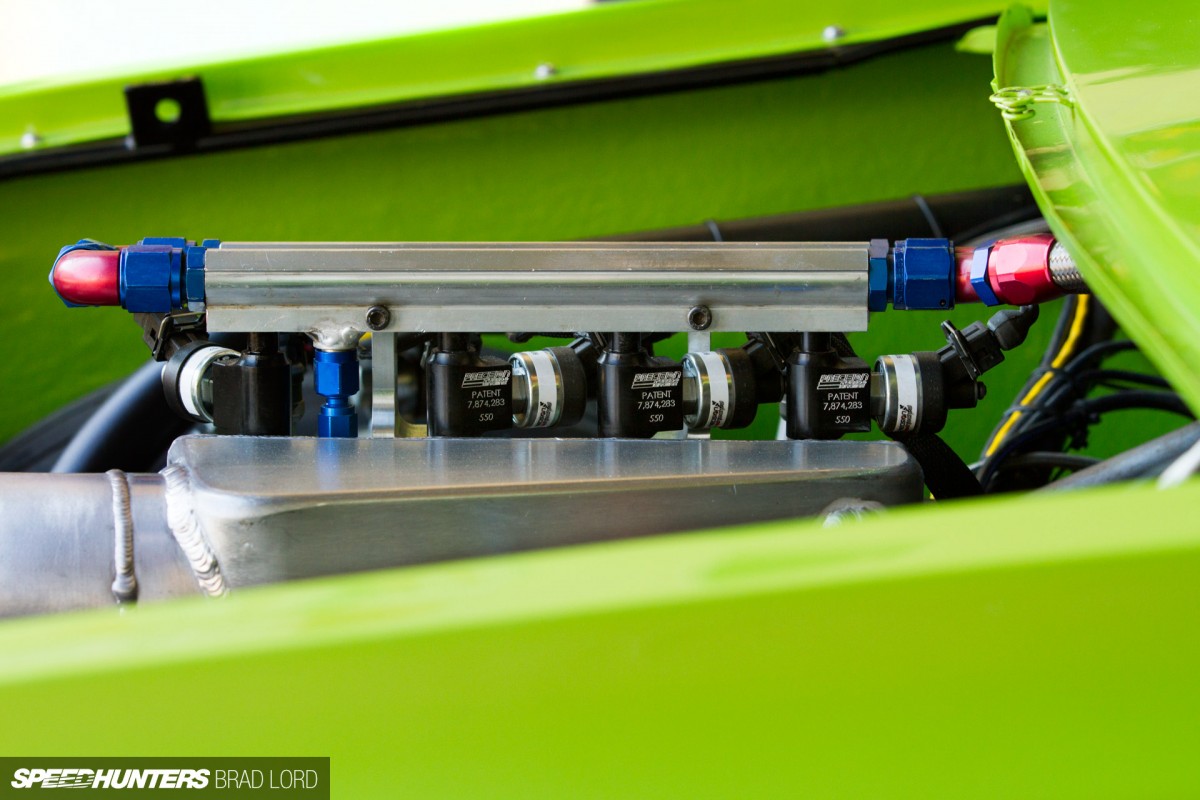 The engine however, is not the 13B it used to be. It's a new build with a switch to methanol and a lot more firepower to boot…
1.3L, 1000hp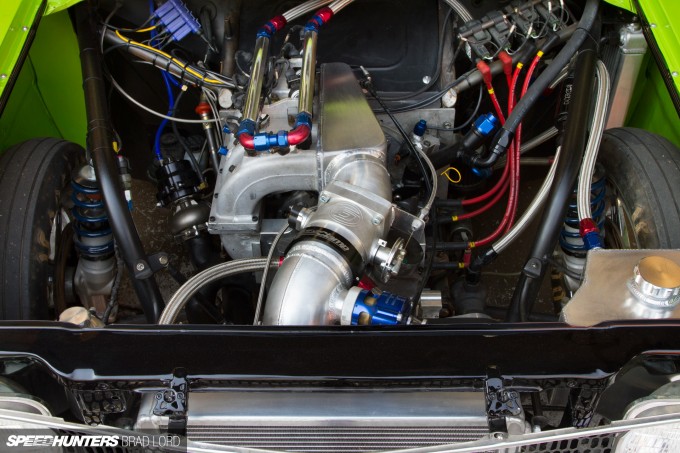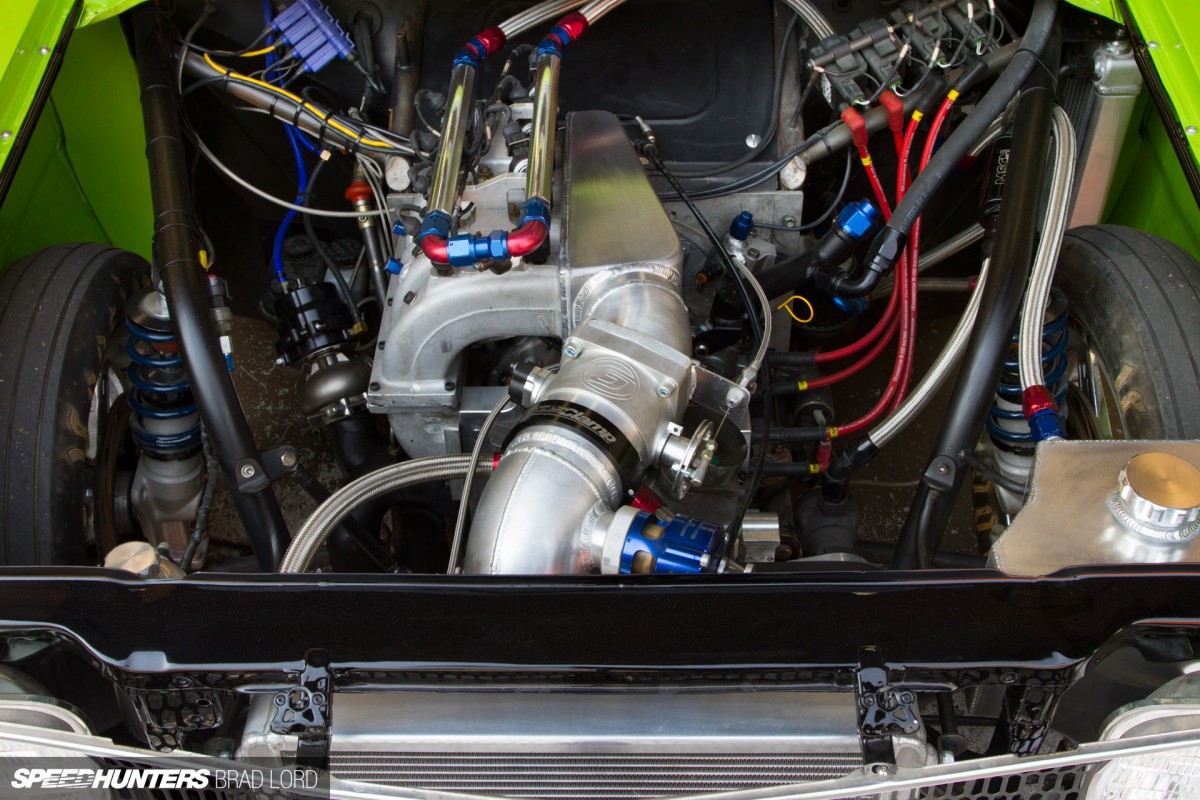 Although it's hard to spot beneath the intake manifold, the 13B that now lives up front uses a mix of both OEM and aftermarket components in its make-up. A billet eccentric shaft forms the backbone of a drag-specific package that combines FC3S Series 5 RX-7 housings with RotorMaster's 'Mild Port Scheme', FC3S Series 4 RX-7 rotors with RotorMaster race apex seals, and FD3S Series 6 RX-7 stationary gears.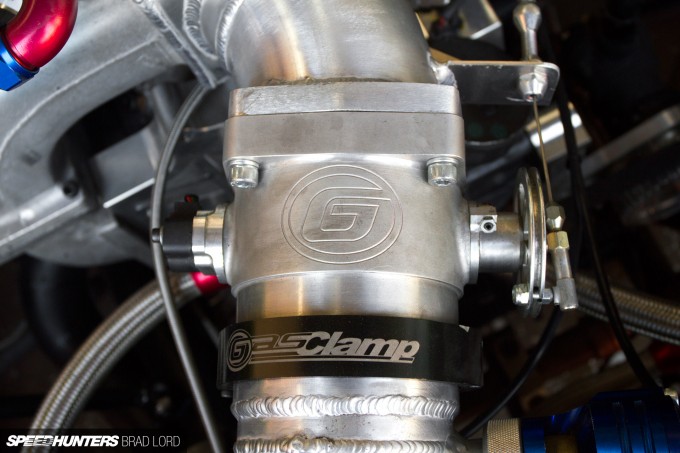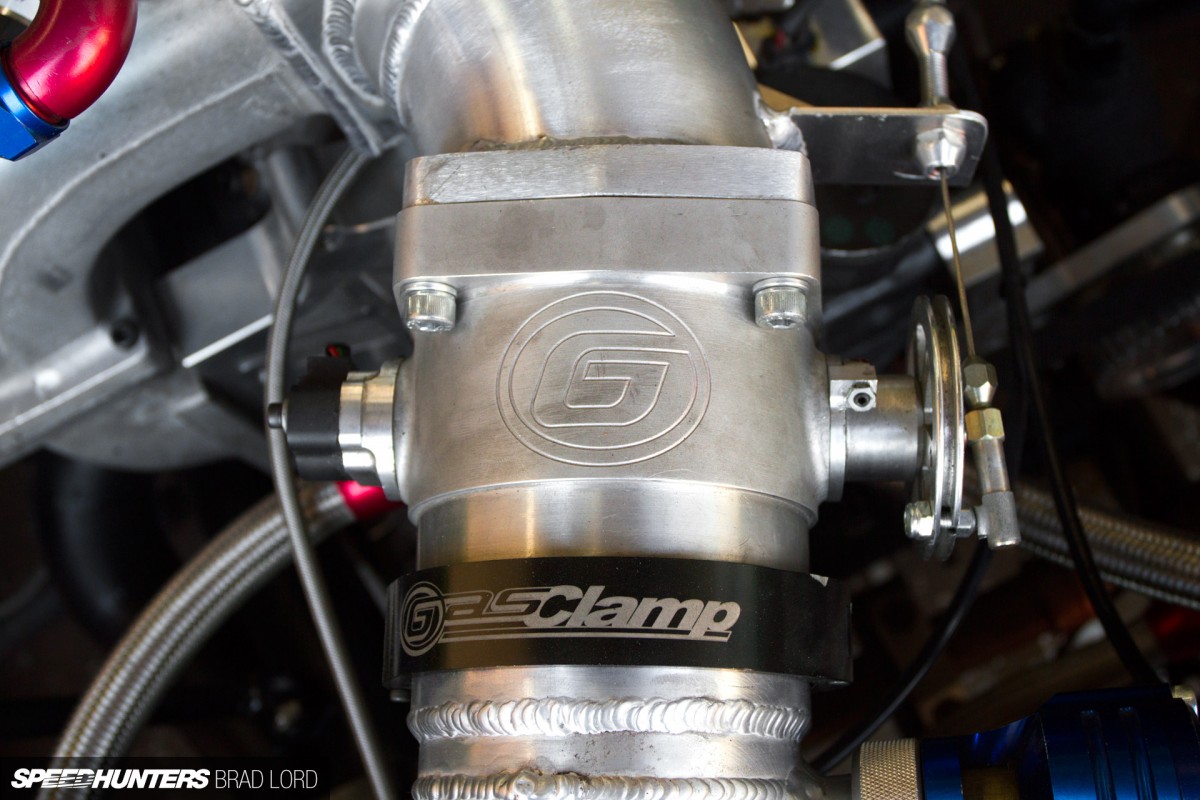 Joe and his GAS/RotorMaster team have built enough of these engines to know what works and what doesn't, and despite the twin-rotor block having been dealt less aggressive port work than the first 13B, in-house dyno tuning has proven that the sum of all its parts have created an absolute monster. It's definitely up to task.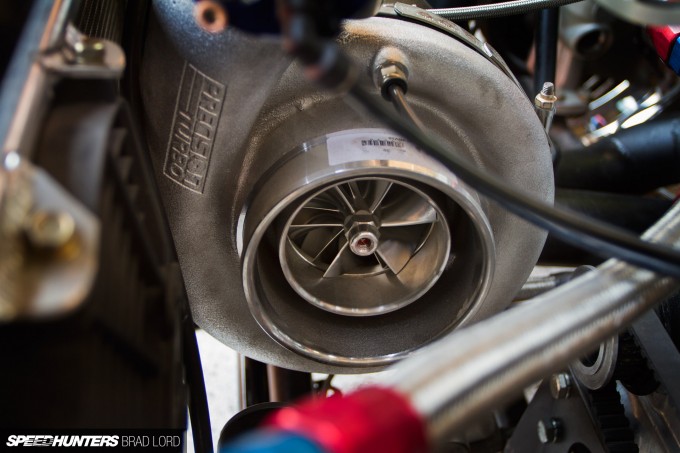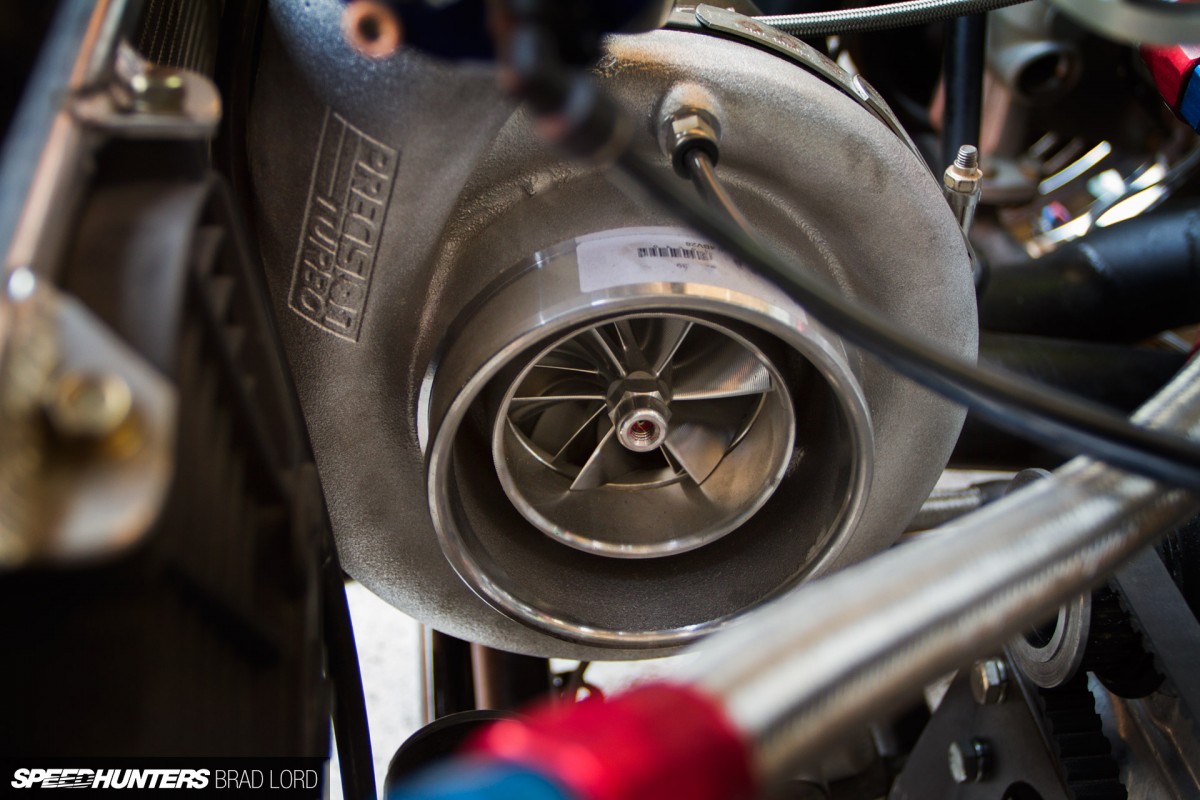 It needs to be though, because this guy – a Precision Turbo PT8285 – has the ability to flow up to 1325hp. The turbo features Precision's CEA compressor wheel design and at 82mm in diameter, its forged inducer is not small. On the hot side there's a 85mm turbine wheel, with a Precision PW66 66mm stainless steel and billet aluminium wastegate employed to hold boost pressure – and lots of it.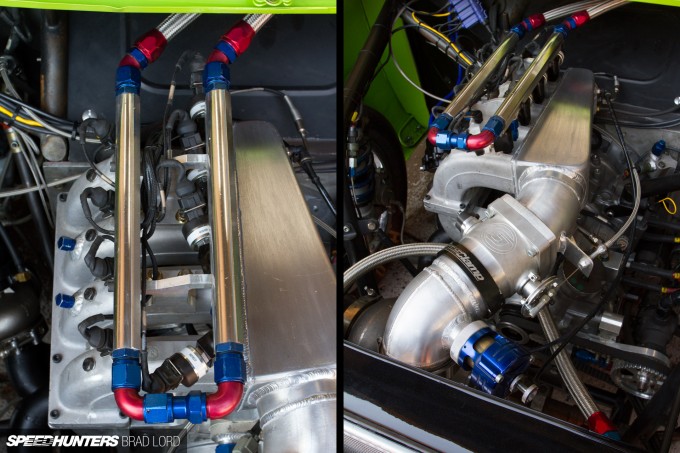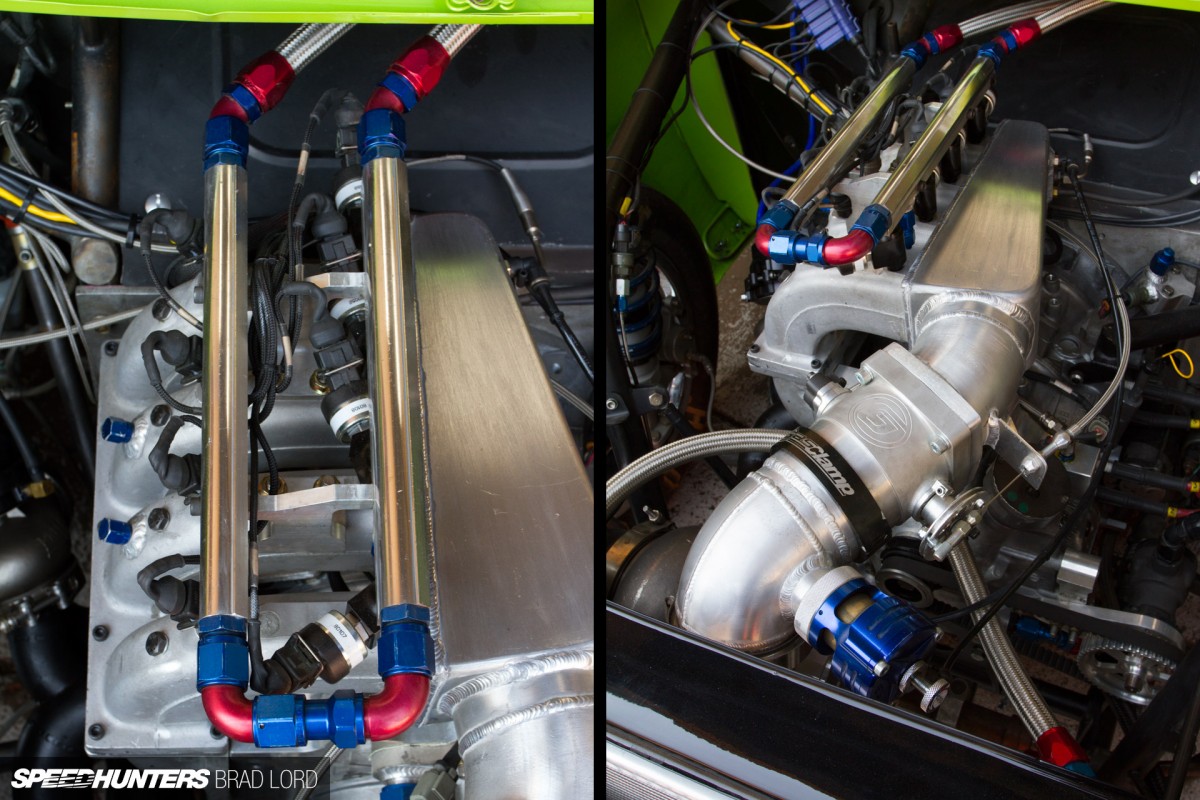 As you'd expect, there's a huge appetite for fuel here. To ensure the 13B's thirst for alcohol is adequately quenched are four Precision Engineering 550 ProInjectors and four Indy Blue injectors fed though a pair custom RotorMaster fuel rails supplied by a Henley mechanical pump. Testament to RotorMaster's fabrication prowess, the intake manifold is another custom component that was knocked up in-house.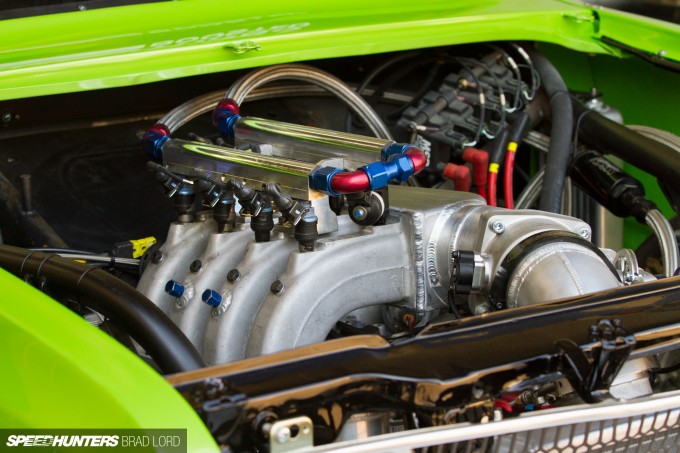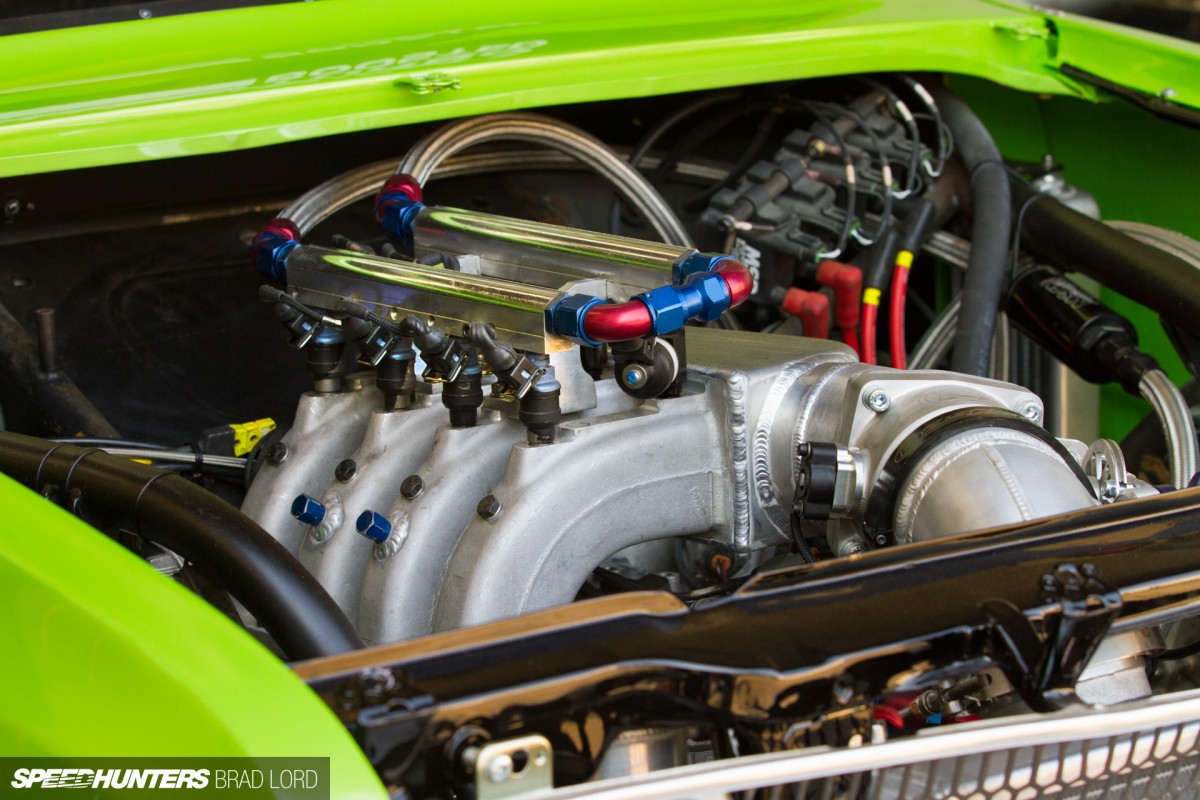 Running on cool-burning methanol has negated the need for any form of intercooling, but there's a custom oil cooler set-up, and a RotorMaster radiator with a Dedenbear water pump to circulate coolant and keep temps in check. Despite only being run for short periods at a time, things get hot really quick.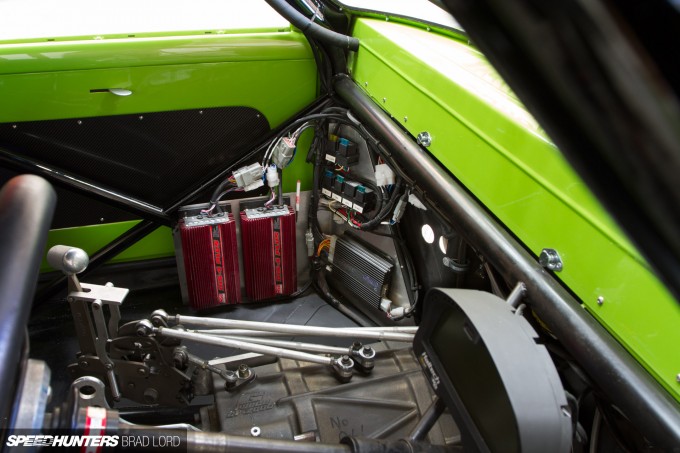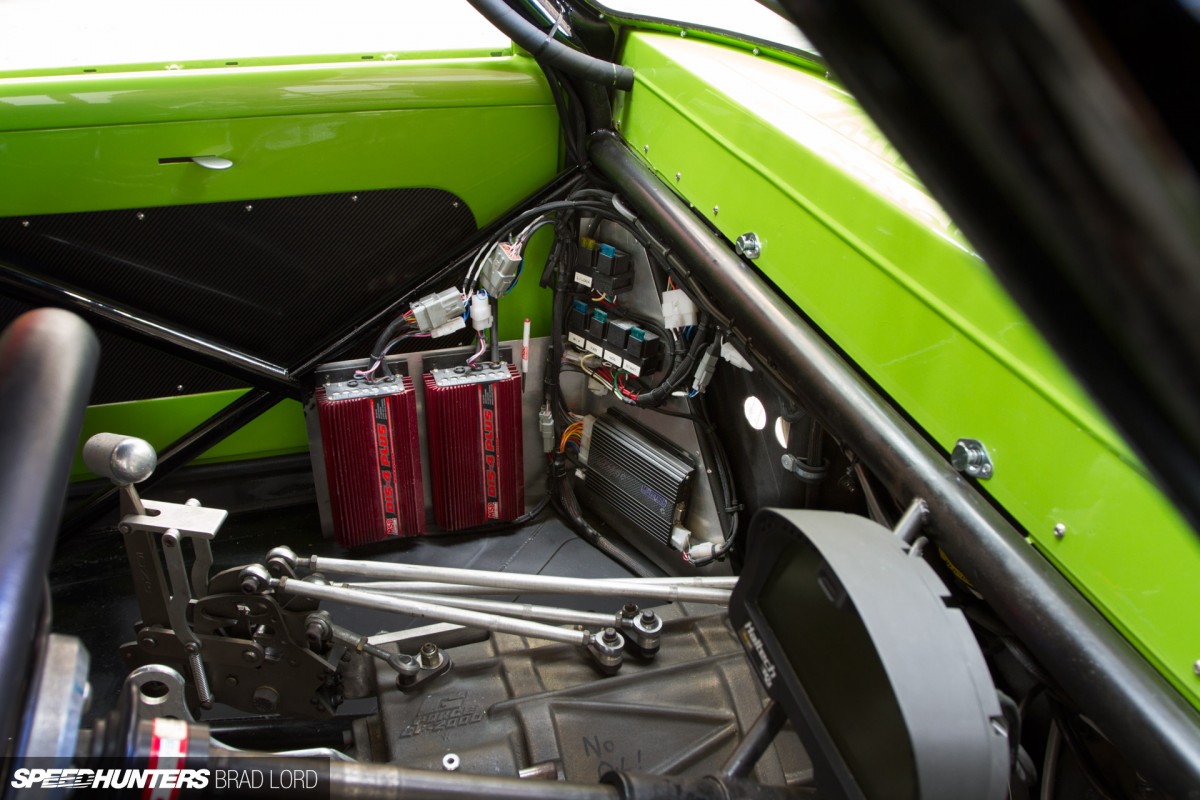 Ignition is controlled through a pair of MSD DIS-4 unit running into a quartet of MSD coils and aptly-named Magnecor R-100 Racing leads. Australian engine management system maker MicroTech is a favourite among local rotary tuners, so I wasn't surprised to find its flagship LT-16C unit giving the firing orders. RotorMaster has both a SuperFlow engine dyno and a Dyno Dynamics chassis dyno at its disposal, so you can bet the 13B will be tuned to the nth degree before R100 takes to the strip again. Without giving too much away, 1000 horsepower is the number Joe is throwing around…
To ensure as much of that gets to the ground in a reliable manner, a G-Force Pro Series GF-2000 five-speed transmission is used, connecting to the engine via a Quick Time bell-housing.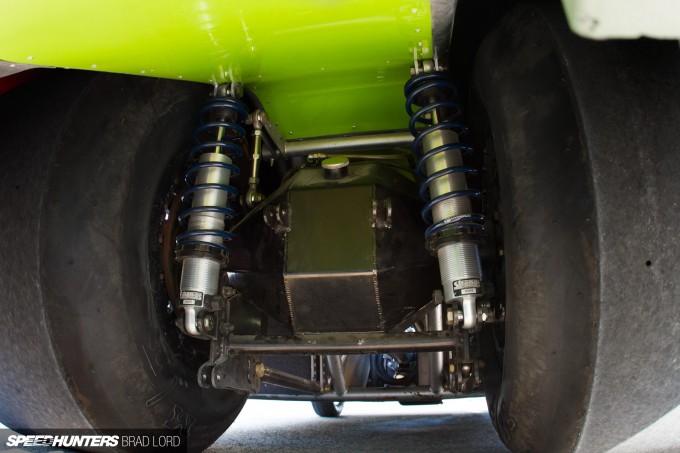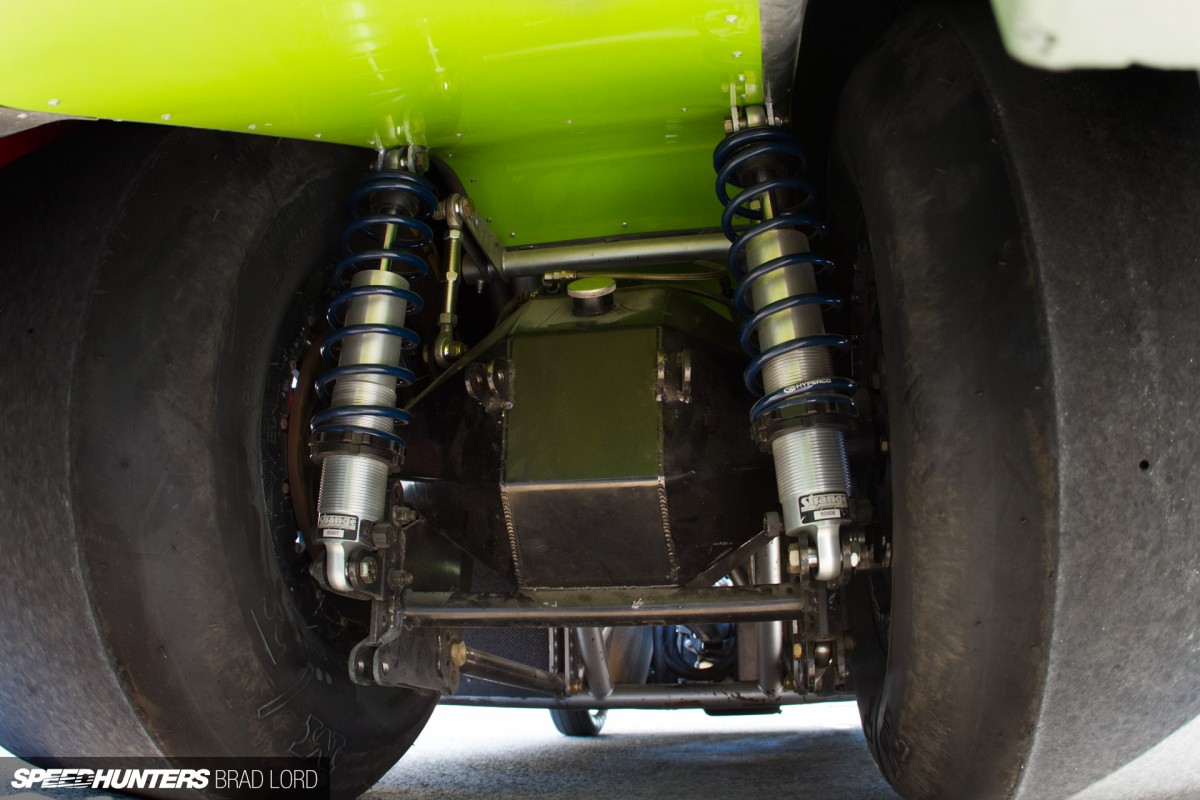 It's just as serious beneath the car of course, and equally well-presented too. The super-narrow rear end features a Crafts Diff nine-inch sheet metal housing running a Strange 4.86 centre and Romac floating hubs, while the suspension is based around a custom four-link arrangement with Strange adjustable coilovers.
Chasing ETs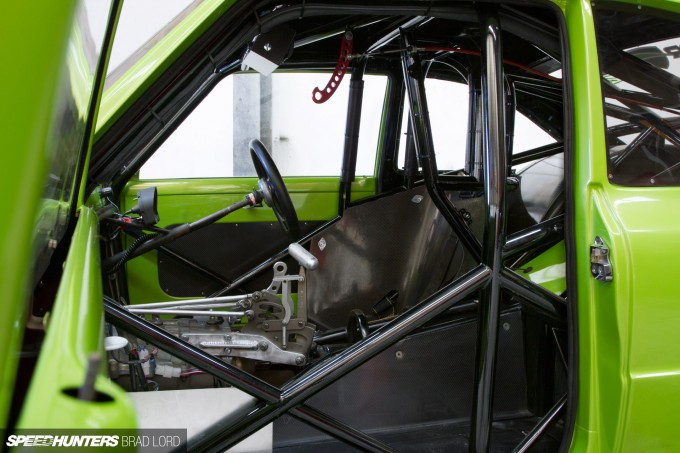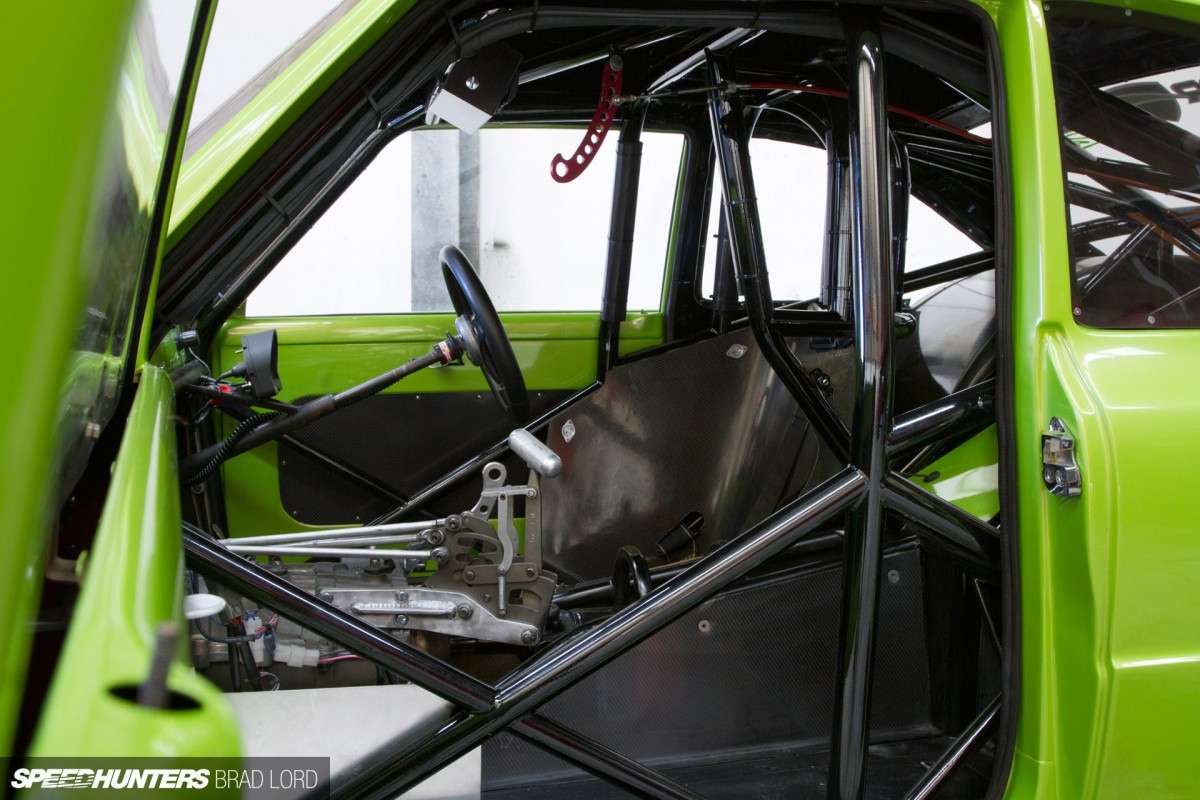 I talked a little bit earlier about how nicely this car has been put together, and there's no place more evident of that fact than inside. Enveloped within the full tube chassis and integrated ANDRA-spec roll cage is a carbon fibre tub that not only serves the purpose of being incredibly light and strong, but with a high-gloss clear-coat finish, it looks amazing against the lime.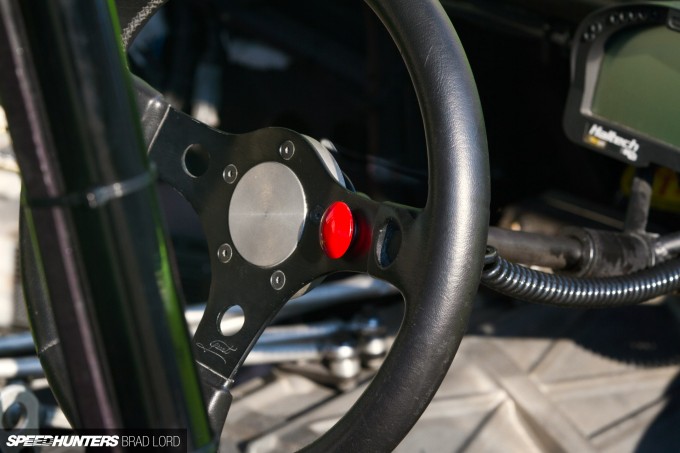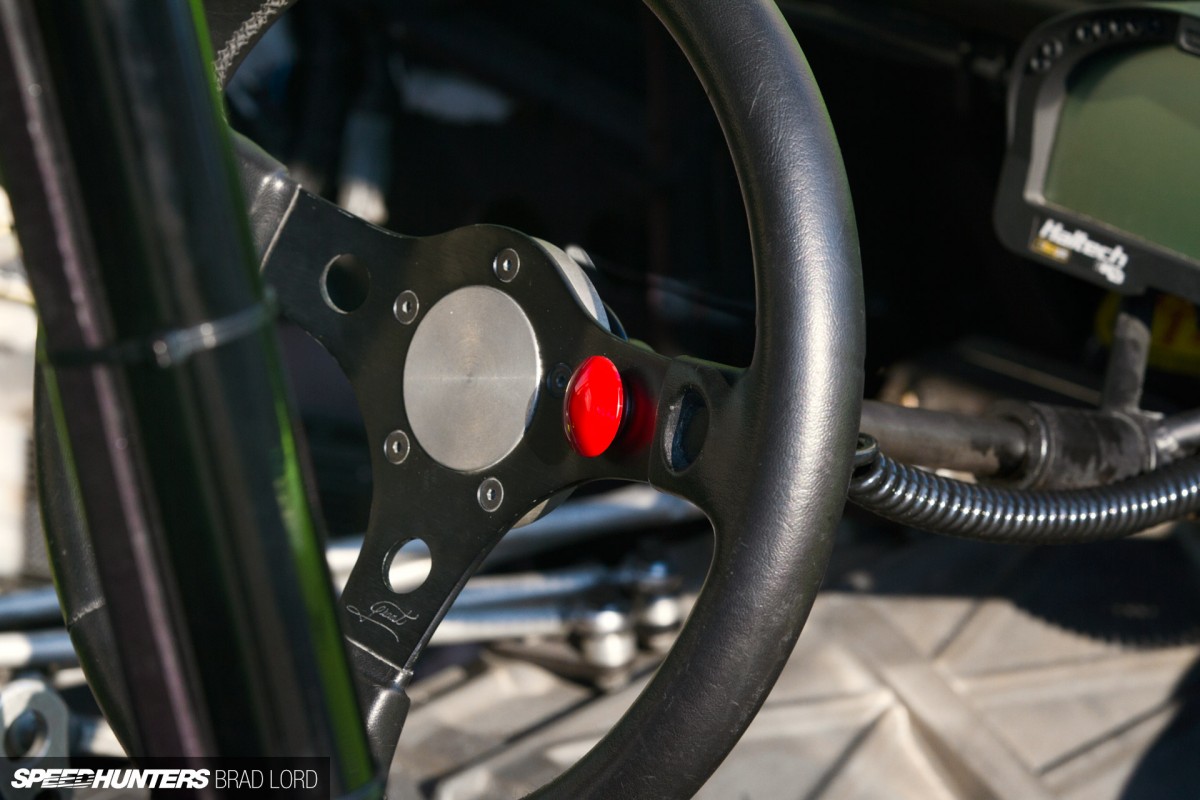 Despite not needing to use the clutch to make shifts through the G-Force gearbox once the car is out of the hole, I suspect it's going to get pretty busy in here once the 13B's full fury is unleashed. On top of a Long shifter, the minimalist driver controls are limited to a Grant Performance steering wheel, custom pedal set and a Haltech Racepak IQ3 digital display/logger.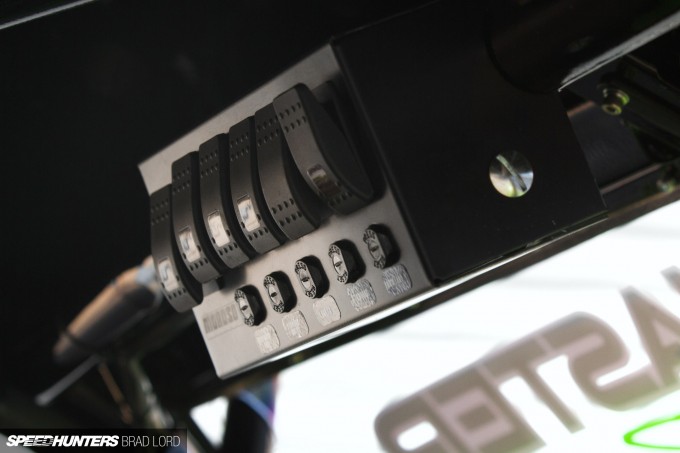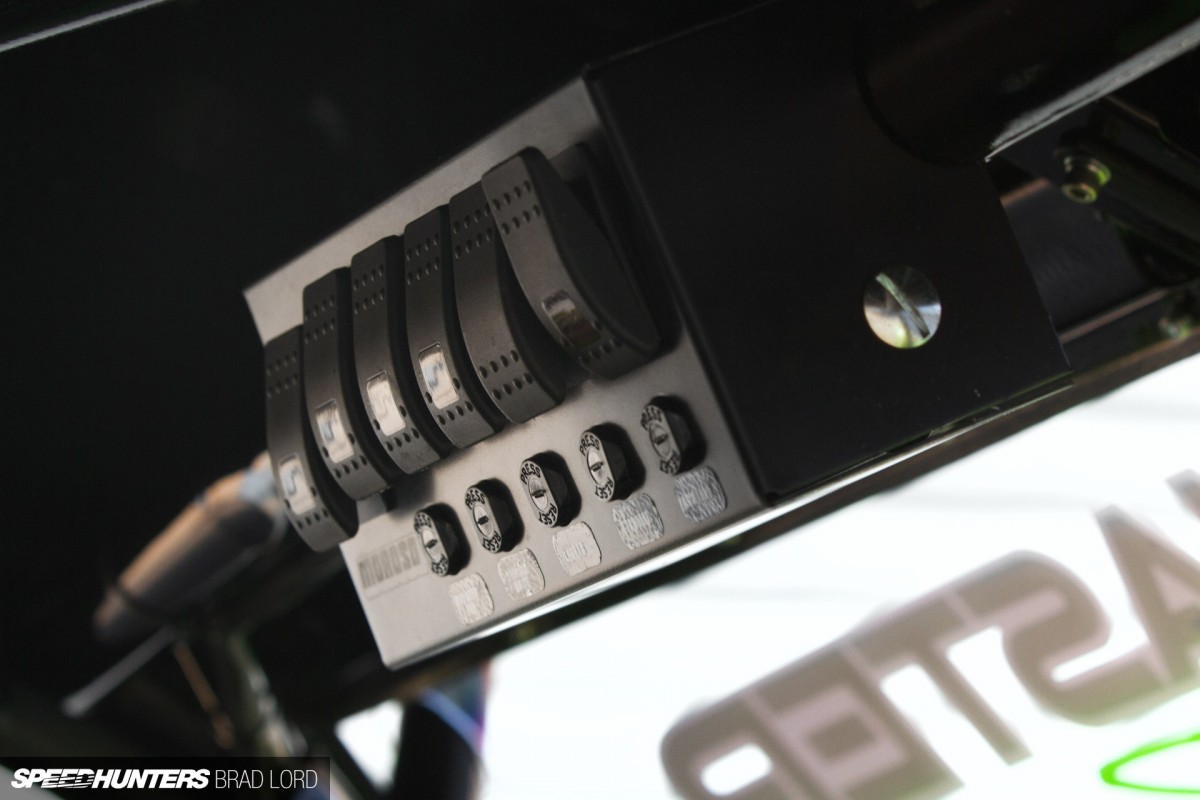 All of the switchgear and fuses are mounted off the bar at the top of the windscreen alongside the release mechanism for the rear-mounted Impact parachute. At the trap speeds this car was capable of before it was given a rather substantial boost in power – more than 165mph (265km/h) – the 'chute is an absolute necessity.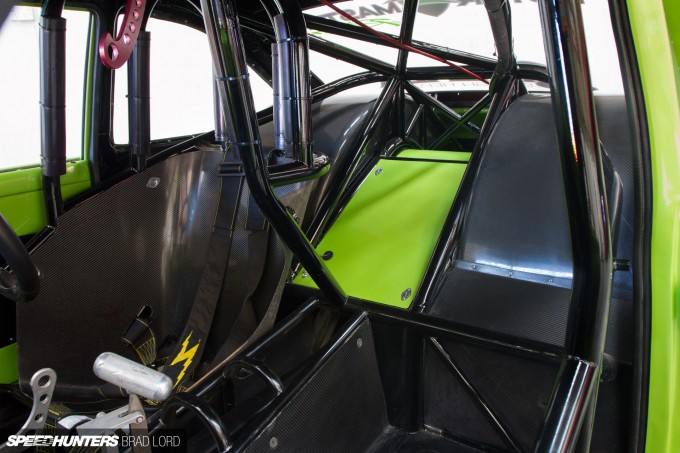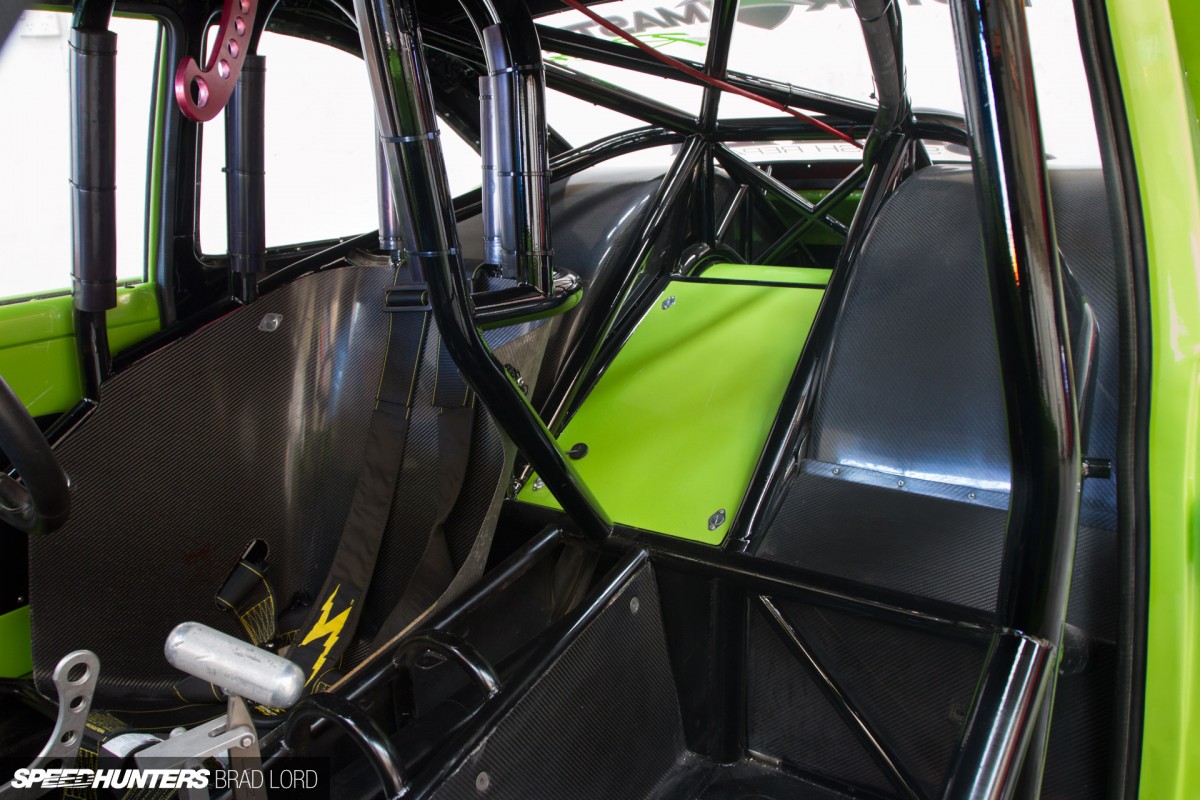 Looking back into the cabin, you get a good look at the carbon fibre seat and giant rear wheel tubs. The fact that the tubs extend up higher than the bottom of the rear three-quarter windows has resulted in a neat detail that has been integrated so well it almost looks factory.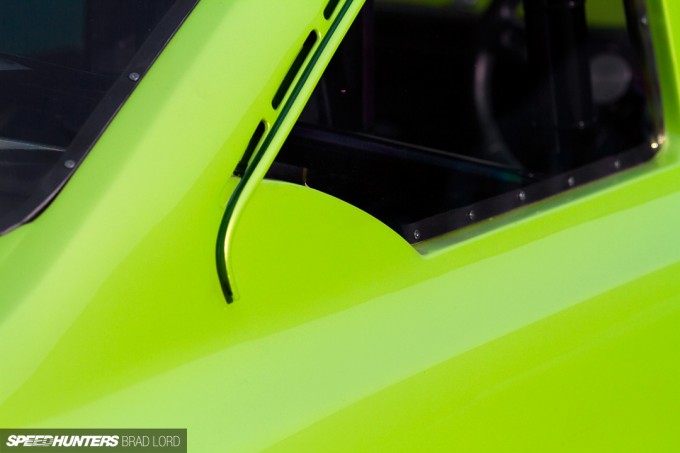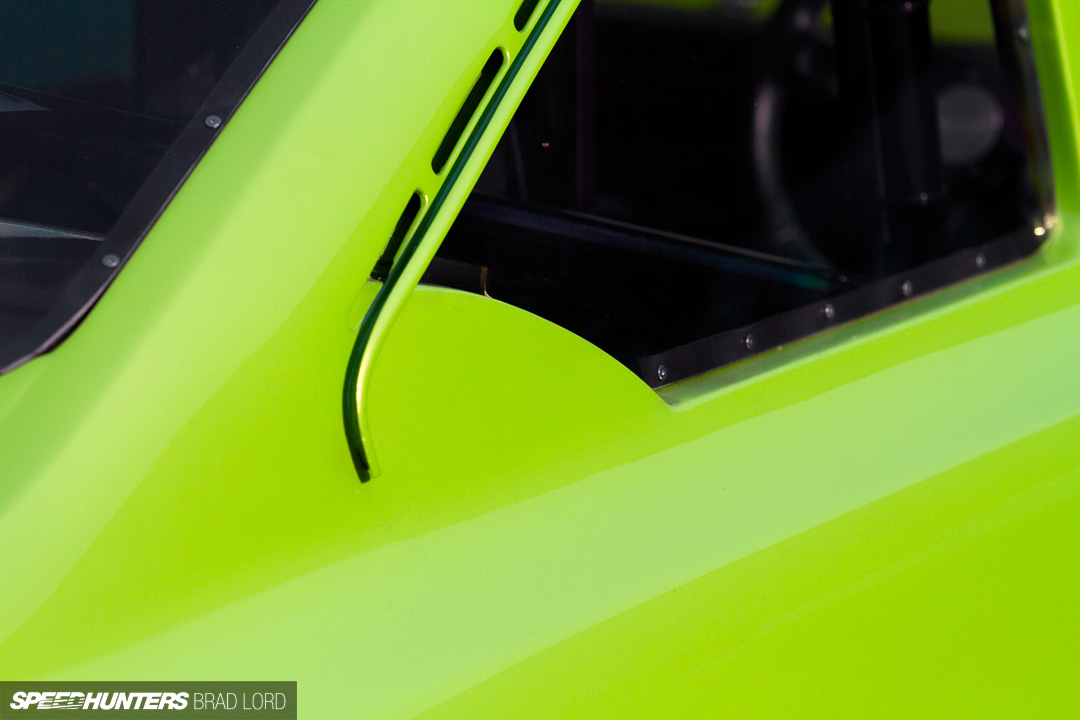 See what I mean? It's the perfectly executed little details like this, that really set this car off in my mind.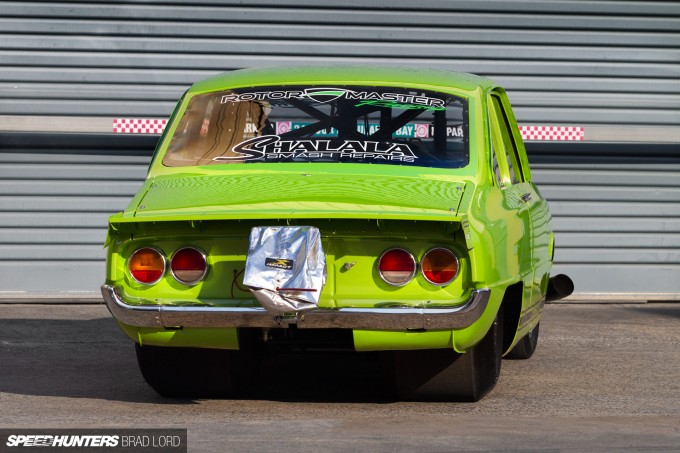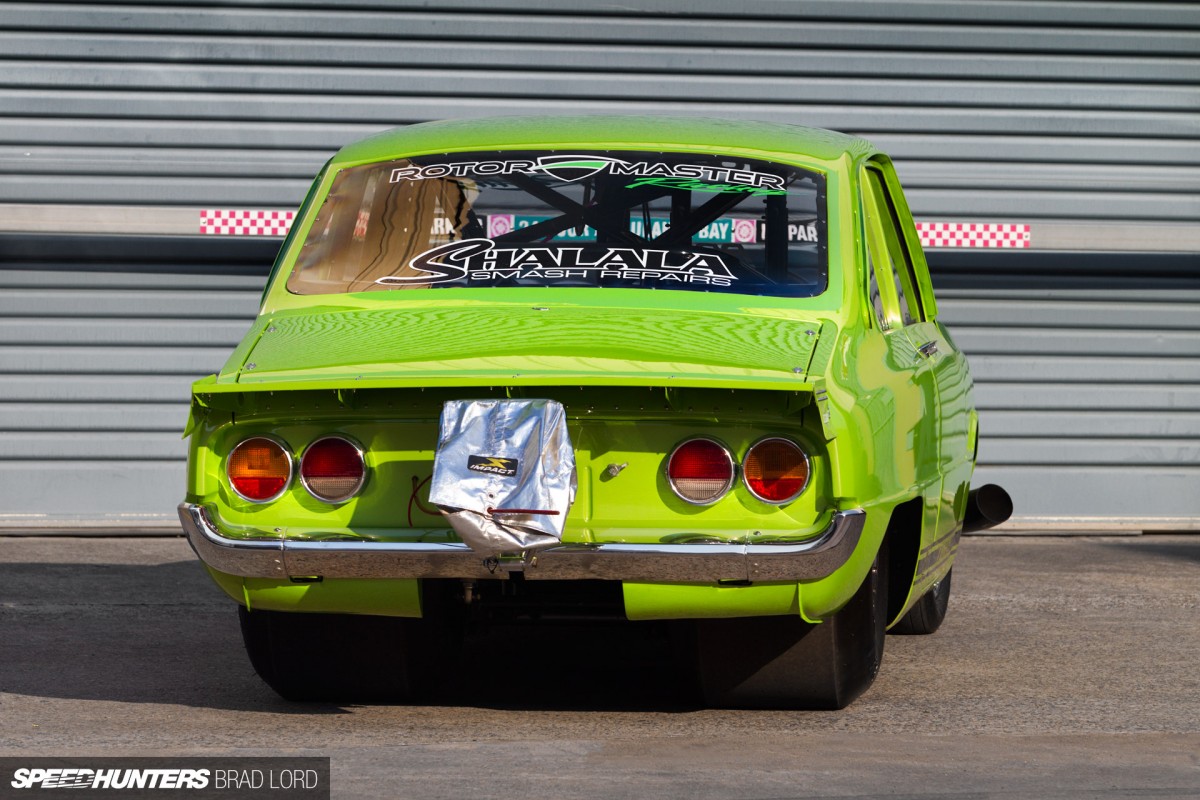 While the RotorMaster crew went about their business in the busy workshop, I repositioned the Mazda to get my shots – something that gave me a real sense of just how small and light this car really is. Very. It seems almost comical that there's a 1000hp fire cracker up front, and someone's going to strap themselves inside and light the wick…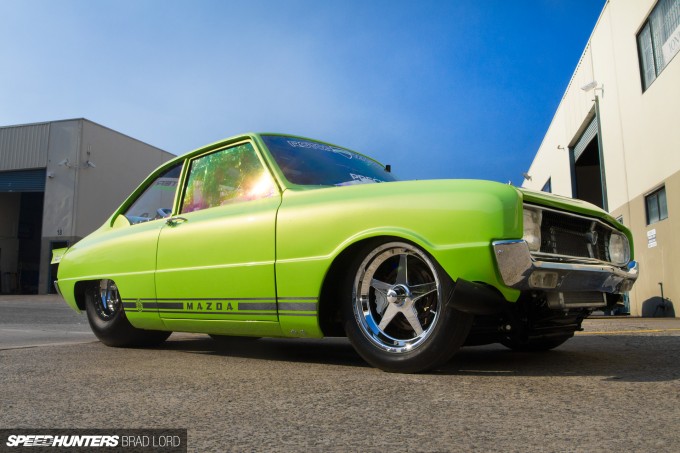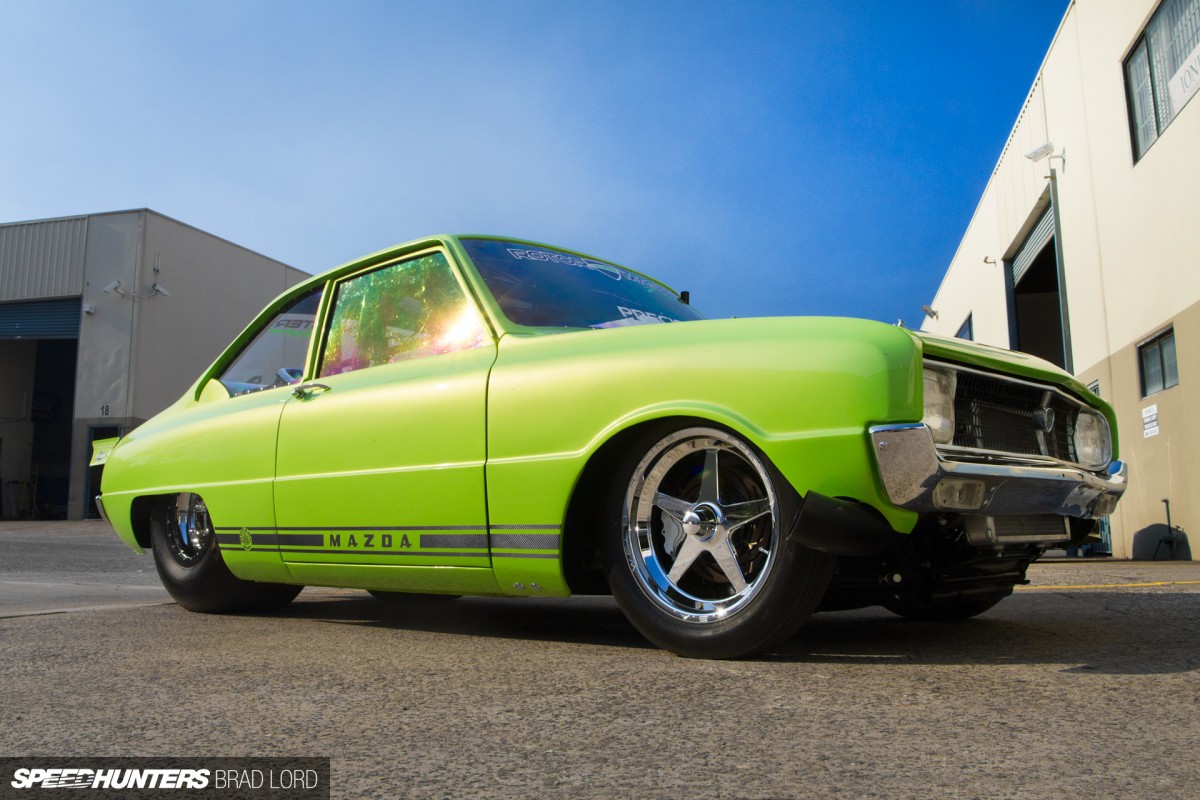 But that's exactly what's going to happen when the R100 hits the strip for the first time since its rebuild. That will be happening sooner rather than later too, with the annual Sydney Jamboree event happening a stone's throw away from the RotorMaster workshop at Sydney Dragway on March 15, and a likely entry. Having already thumped on the seven-second door with the previous 13B combo, I don't think it's going to be all that long until the Mazda is running the numbers that it was originally destined to. Being in the presence of this machine while it's standing still is one thing, but watching it disappear down the 1320 will be something else…
Brad Lord
brad@speedhunters.com