The ultimate touring machine
You don't need to look far these days to see the extremes people are willing to go to in their personal pursuit of #JoyOfMachine. We're rather partial to crazy creations that push the boundaries of power and challenge the laws of physics of course, but in the same breath, show us a build that's been well thought out and perfectly executed, and you'll have our attention.
But what about a vehicle built from the ground up that largely resembles something you could buy in factory form. That couldn't possibly be interesting. Or could it?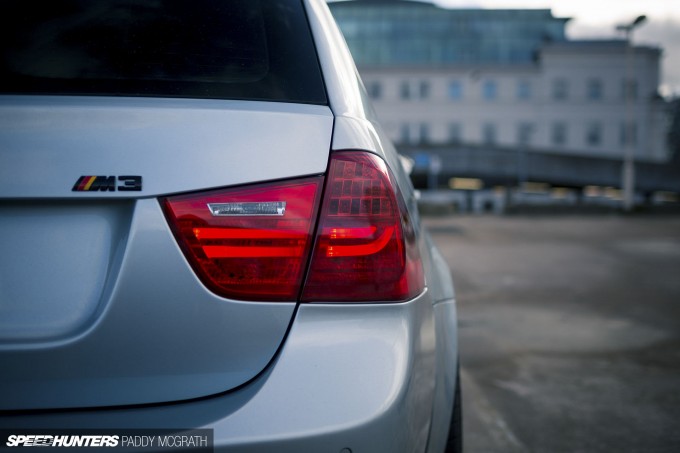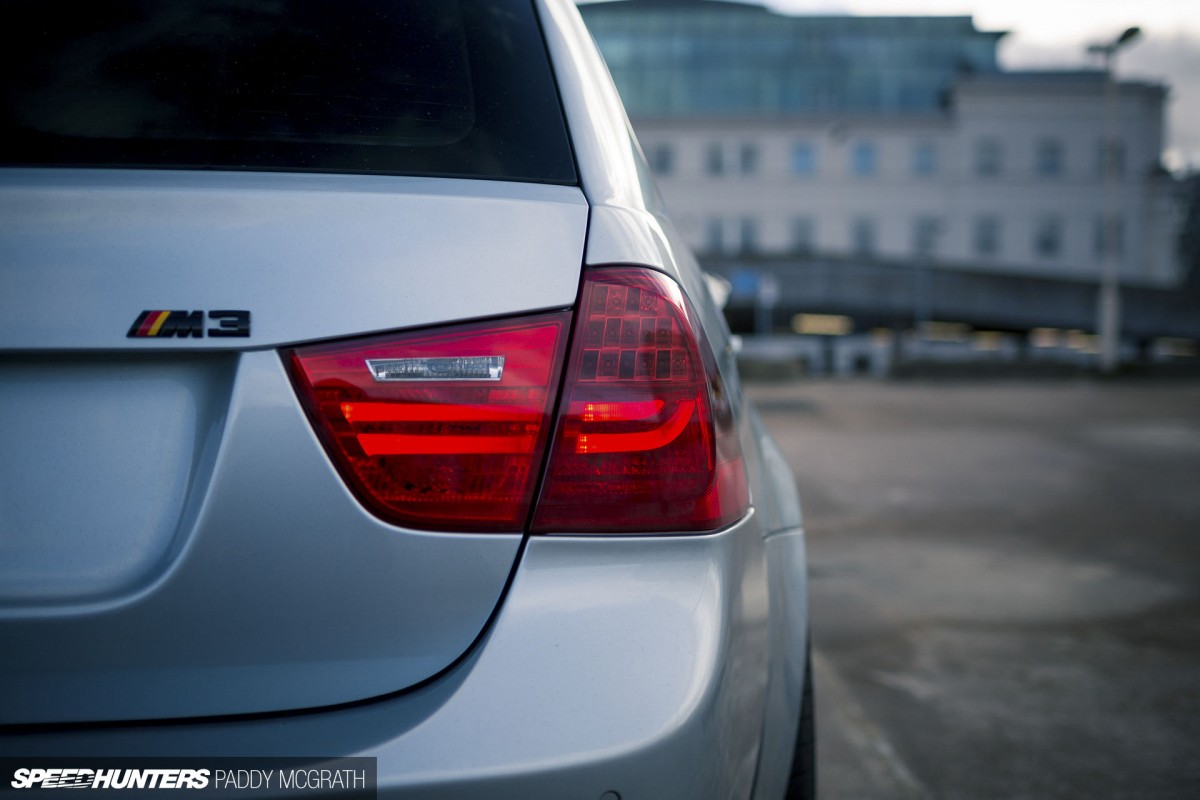 Let's get it straight here though: I'm not talking about a Ferrari built on a SW20 Toyota MR-2 or Pontiac Fiero chassis, or anything to that effect, but a humble BMW sports wagon turned into the high performance machine that BMW didn't – but really should have – made. Say hello to an unoffical E91 M3 Touring.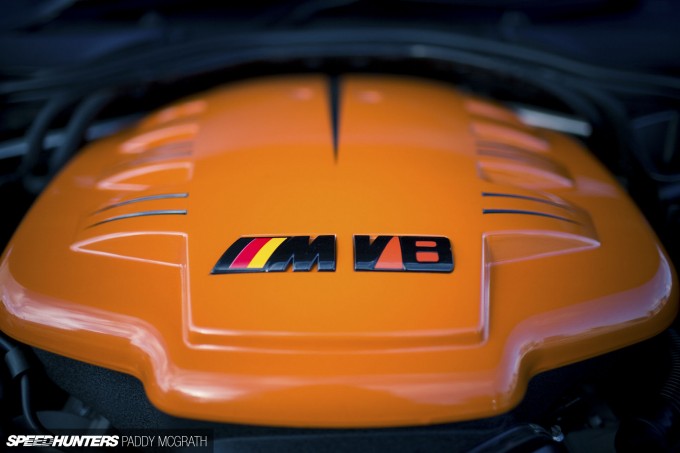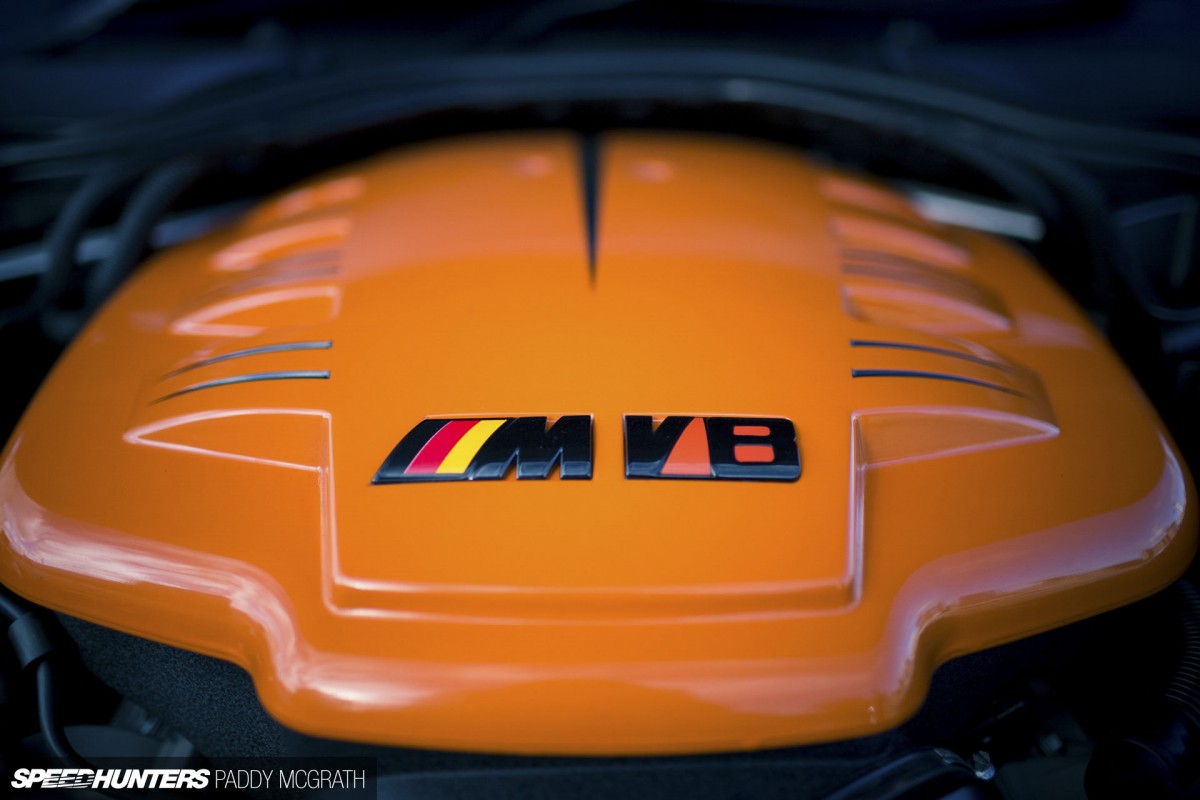 In light of like-minded Autobahn stormers like the Mercedes C63 AMG Estate and Audi RS 4 Avant, who knows why BMW didn't put an M3 E91 wagon into production, but for Nick Pritchard – the owner of this bespoke creation – mating an '07 318i M Sport Touring with a E90 M3 donor car made perfect sense.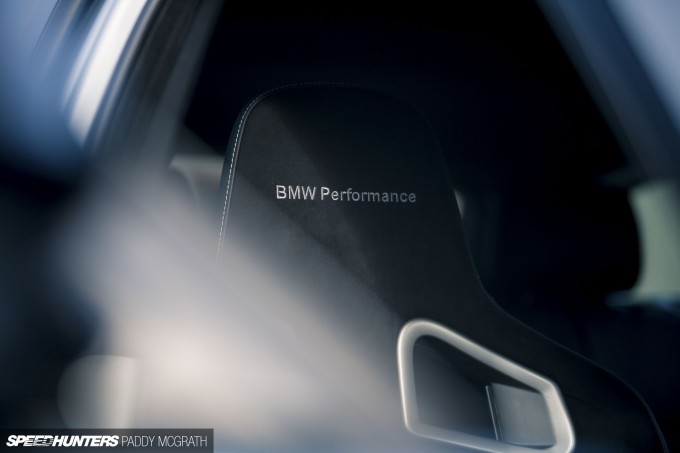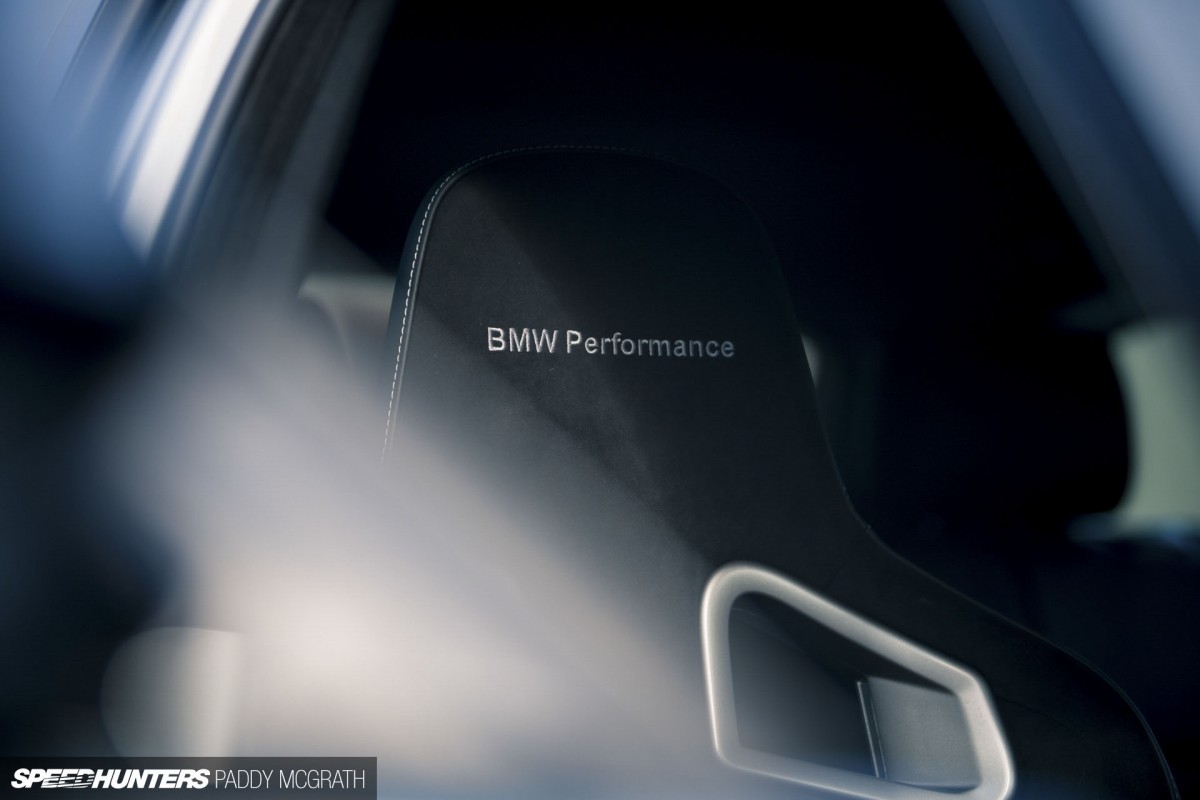 Before we get too deep into this story though, it's probably worth pointing out that this isn't the first 'M3 wagon' to have been cooked up by an enthusiastic owner, but I'm pretty sure you'd be hard pressed to find one as thoroughly and meticulously pieced-together as this one Paddy has hunted out for us.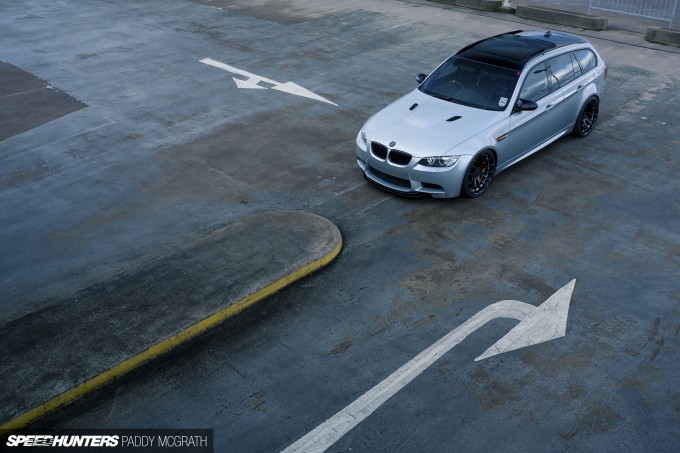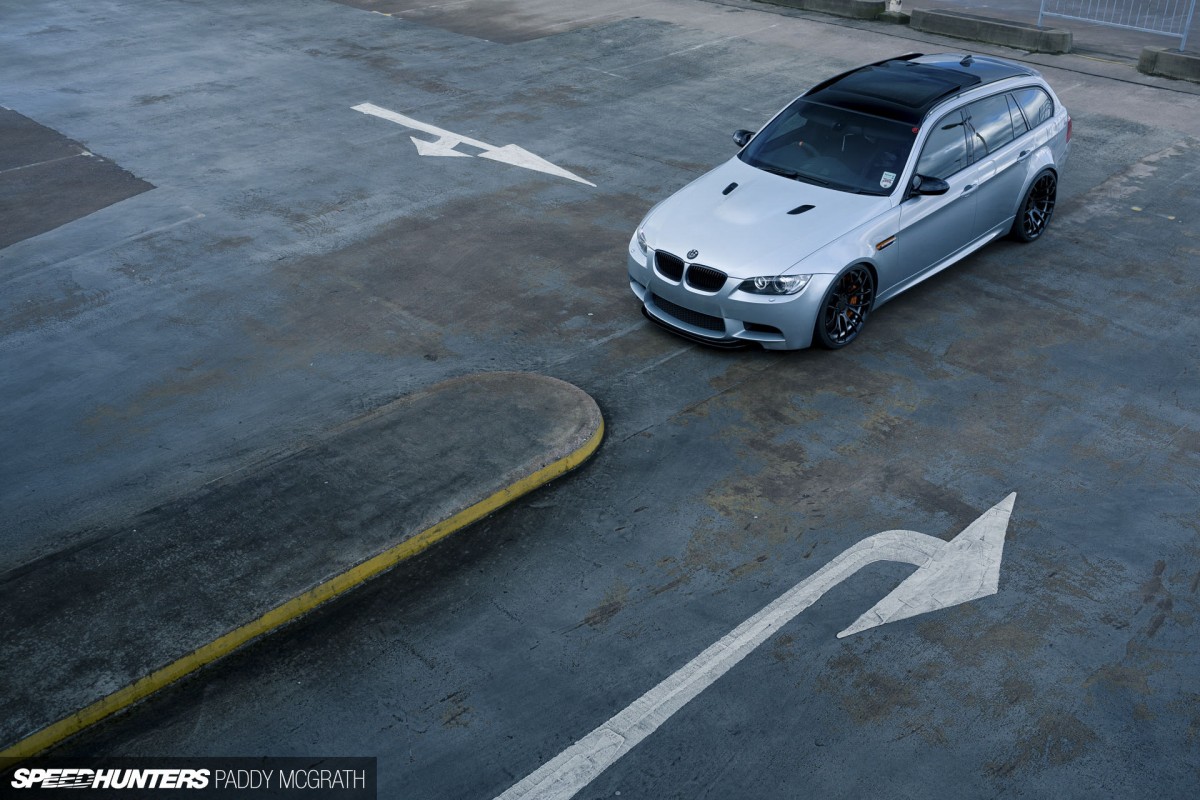 It's also worth noting that Nick isn't the original owner of the car. One of his friends commissioned the build initially, but ended up moving before it had been seen through to completion. Having followed the transformation to that point, Nick stepped in, took over and completely finished it off, but not before adding some of his own personality along the way.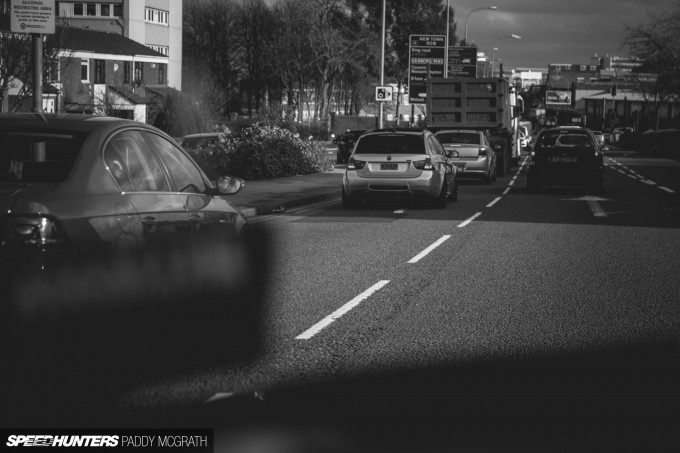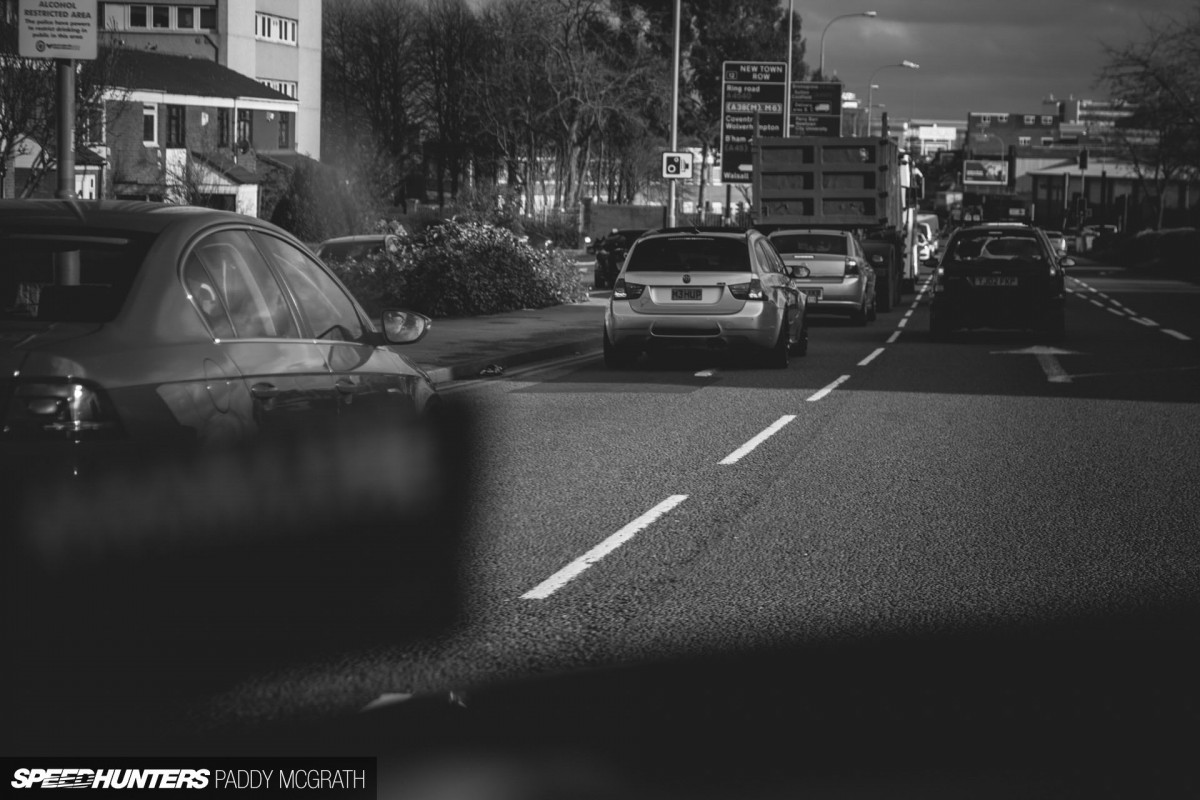 Not only is the finished article very cool, but it's totally believable too. Sure, you'd probably take a double look if you crept up on it in traffic, but unless you knew that an M3 Touring doesn't exist in production form, there's no way you'd pick it out, let alone be able to guess just how much work went into creating it.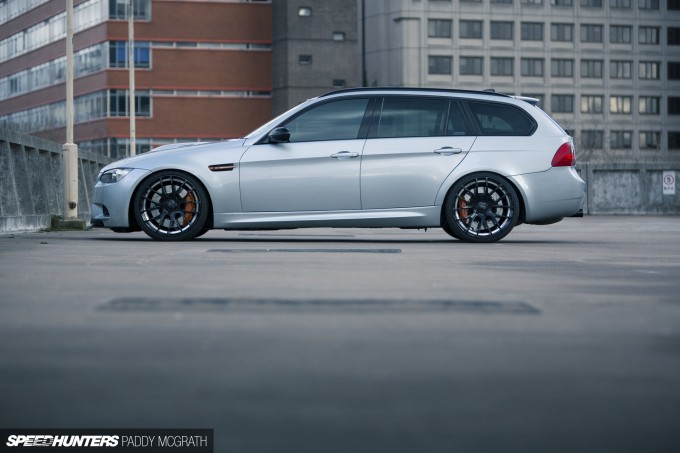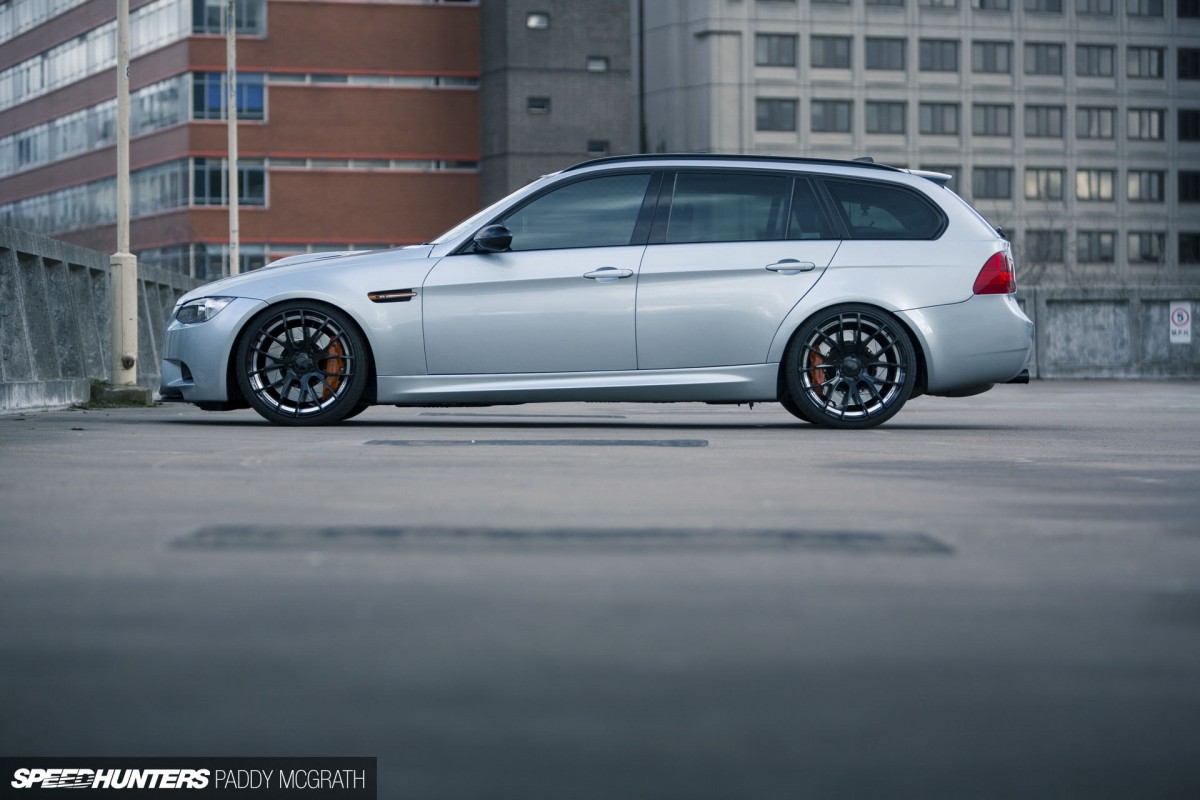 From a visual perspective, creating an OEM-style wagon version of the M3 was both a straightforward and rather complex proposition. Most parts bolted right up with ease, while others required some not-so-subtle surgery in order for them to fit just right.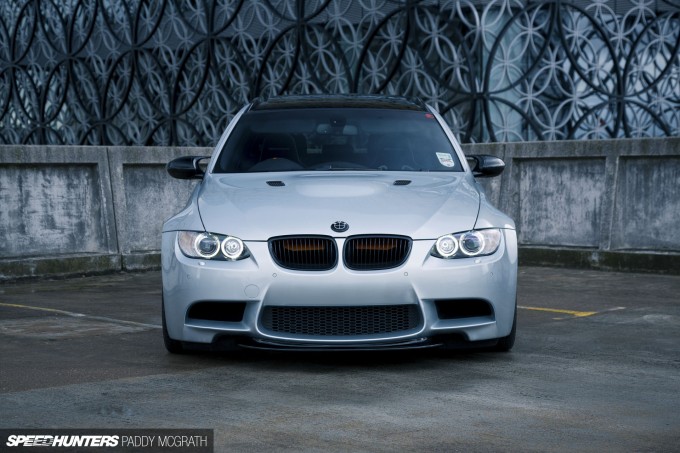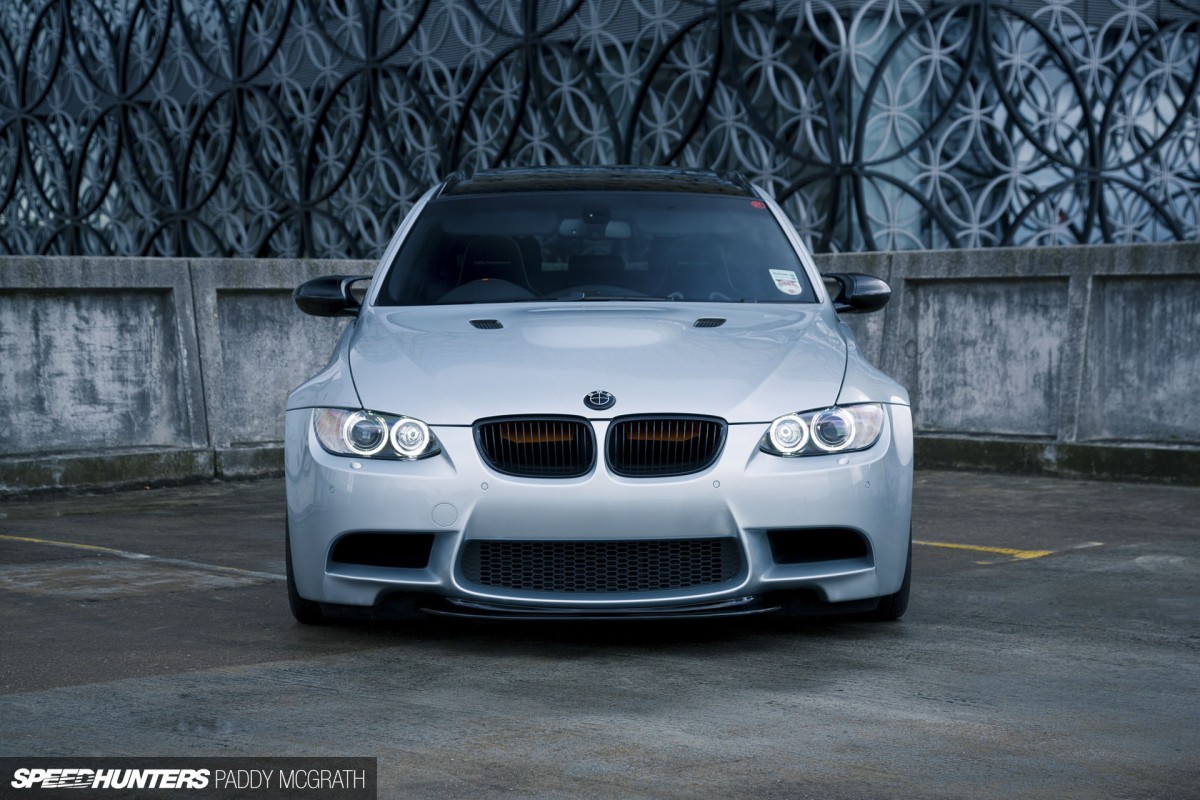 The standard E90 (sedan) and E91 (wagon) share the same front end treatment, but the E90 M3 sedan shares its pretty face with that of the E92 coupe, meaning everything needed to be replaced. Along with a genuine E90 M3 bumper and vented aluminium bonnet, the purposeful-looking front end has been accentuated through blacked-out BMW Performance grilles and a BMW CRT (Carbon Resin Technology) splitter below the lower intakes to pull the whole look together.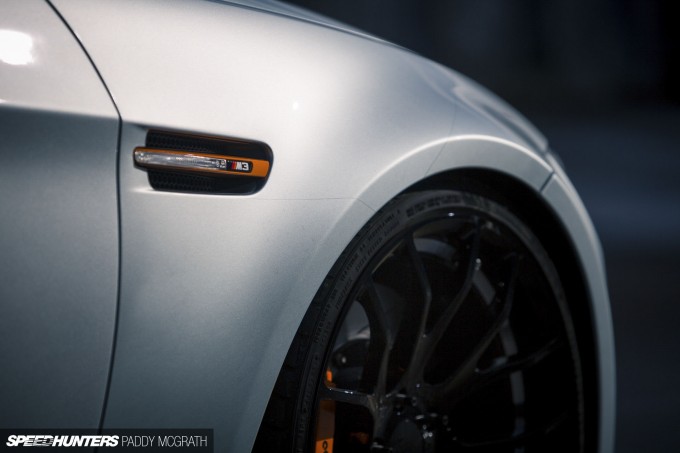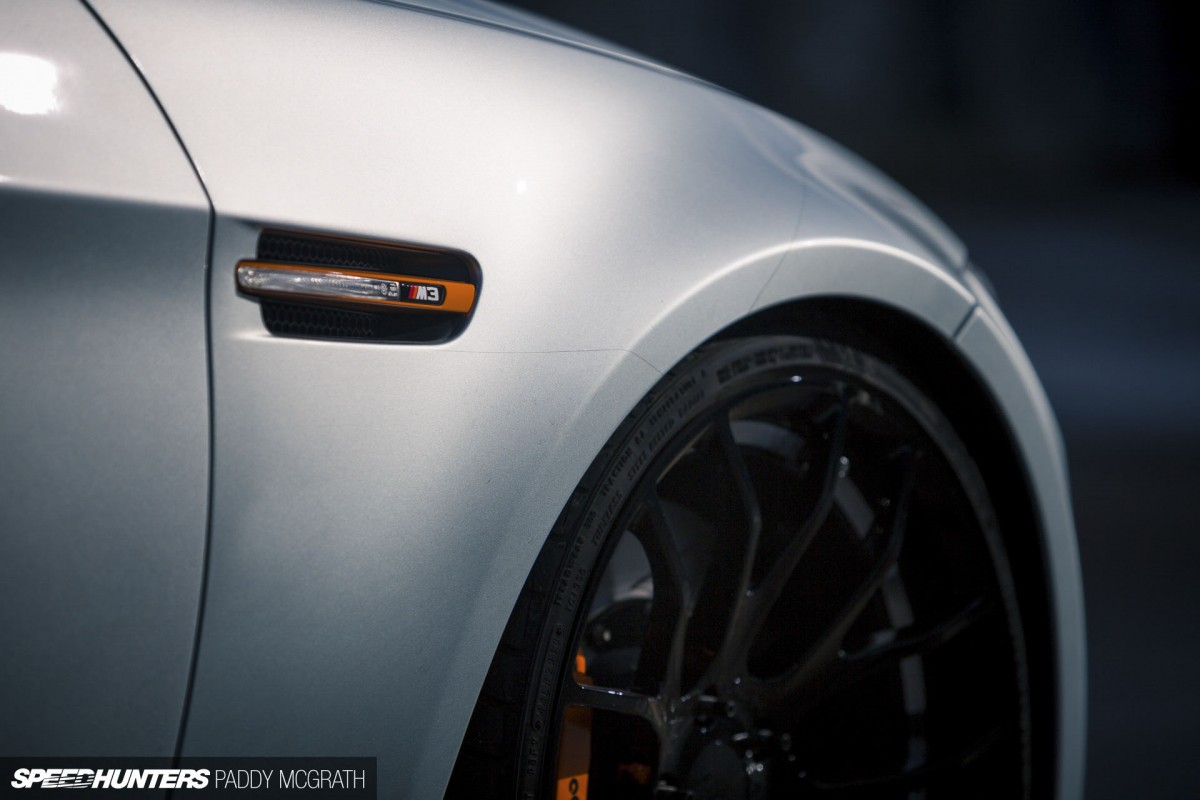 To match up with the front bumper, M3 guards were prerequisite too, and it's here that you'll find the first of many E91 ME GTS-style BMW Feuer Orange details, which are a nice touch.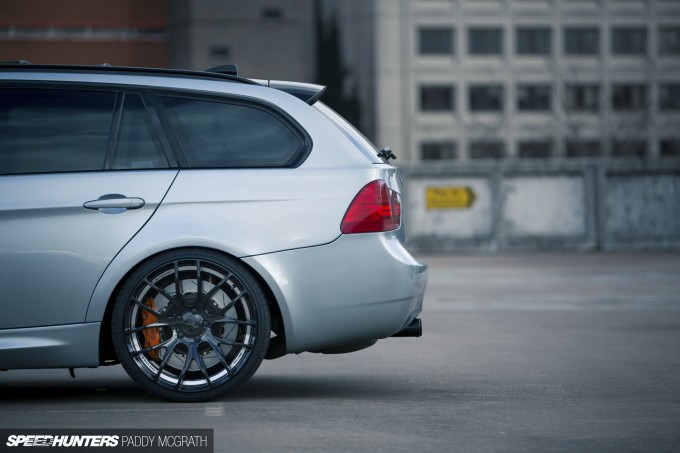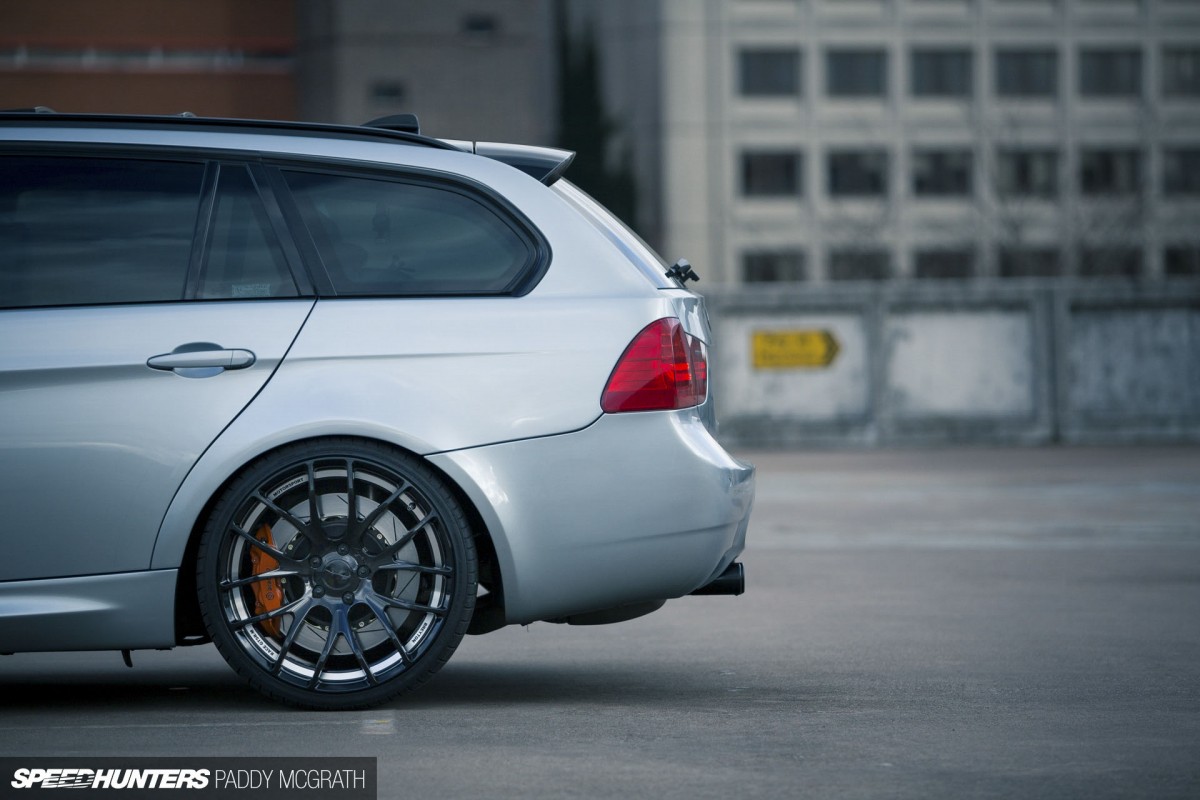 While the front-end facelift might have been a bolt-on affair, translating the M3 look to the 318i M Sport wagon at the rear took a little more thought, and some cutting and welding…
All in the details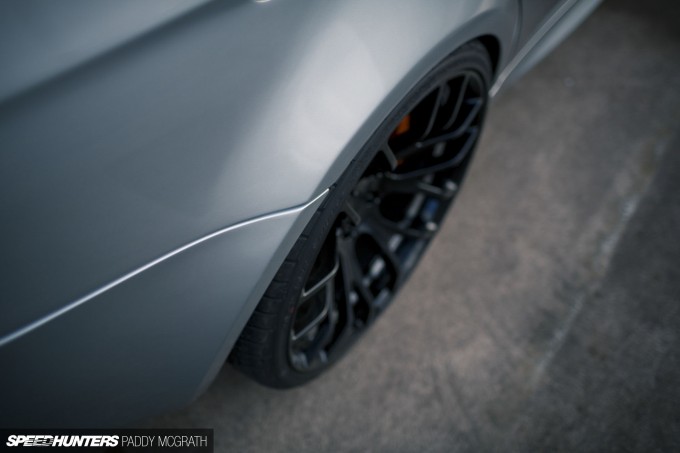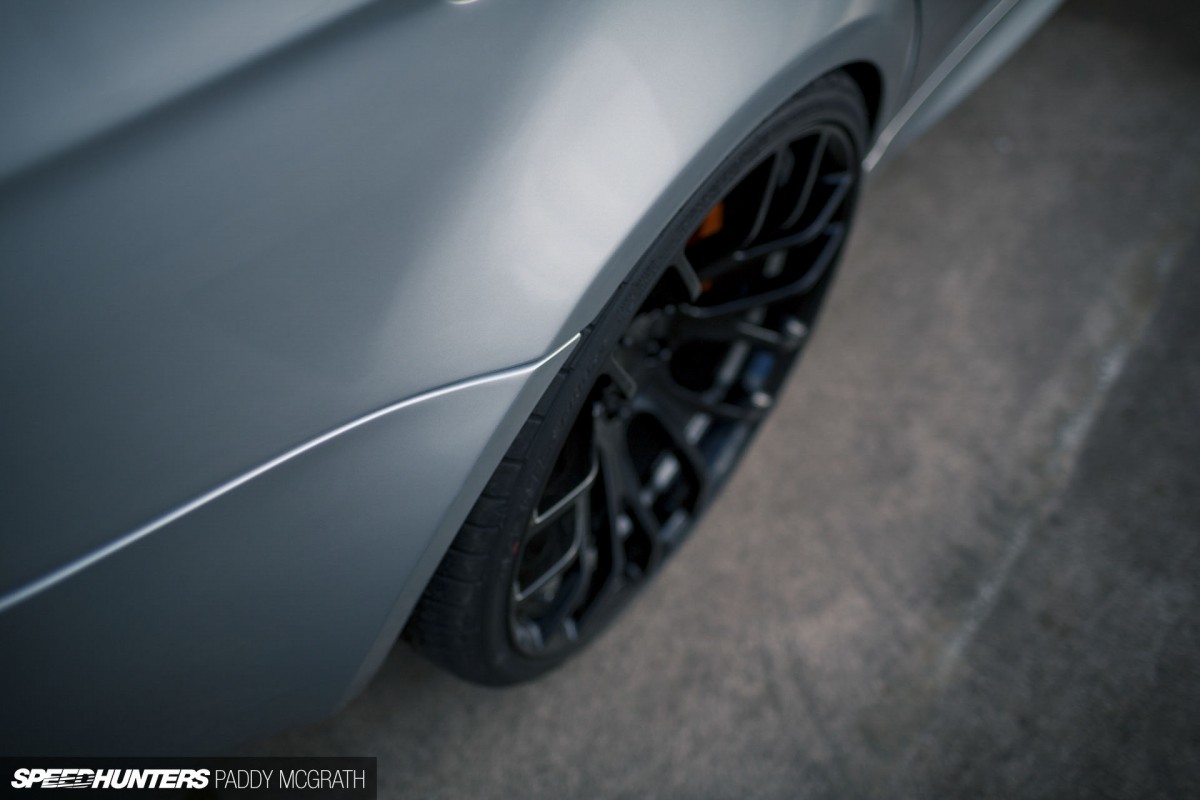 It's impossible to tell given the way it's been finished, but equipping the E91 with the pumped rear guards that set M3s apart from their lesser-performing siblings, required the three quarter panels to go under the knife. Essentially, the 318i M Sport's arches were sliced off and E90 M3 equivalents were stitched on and smoothed out.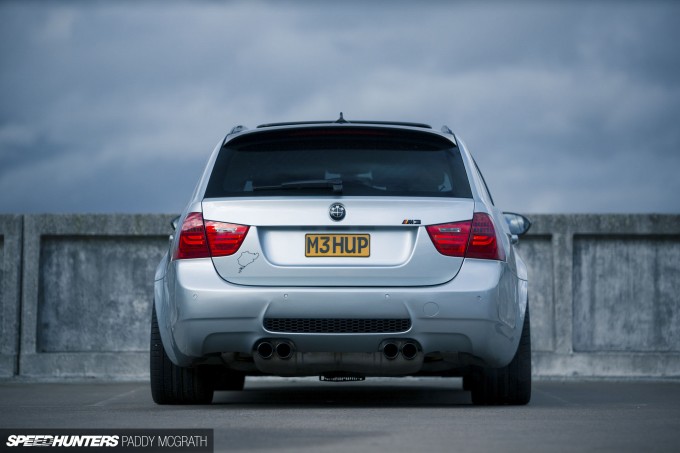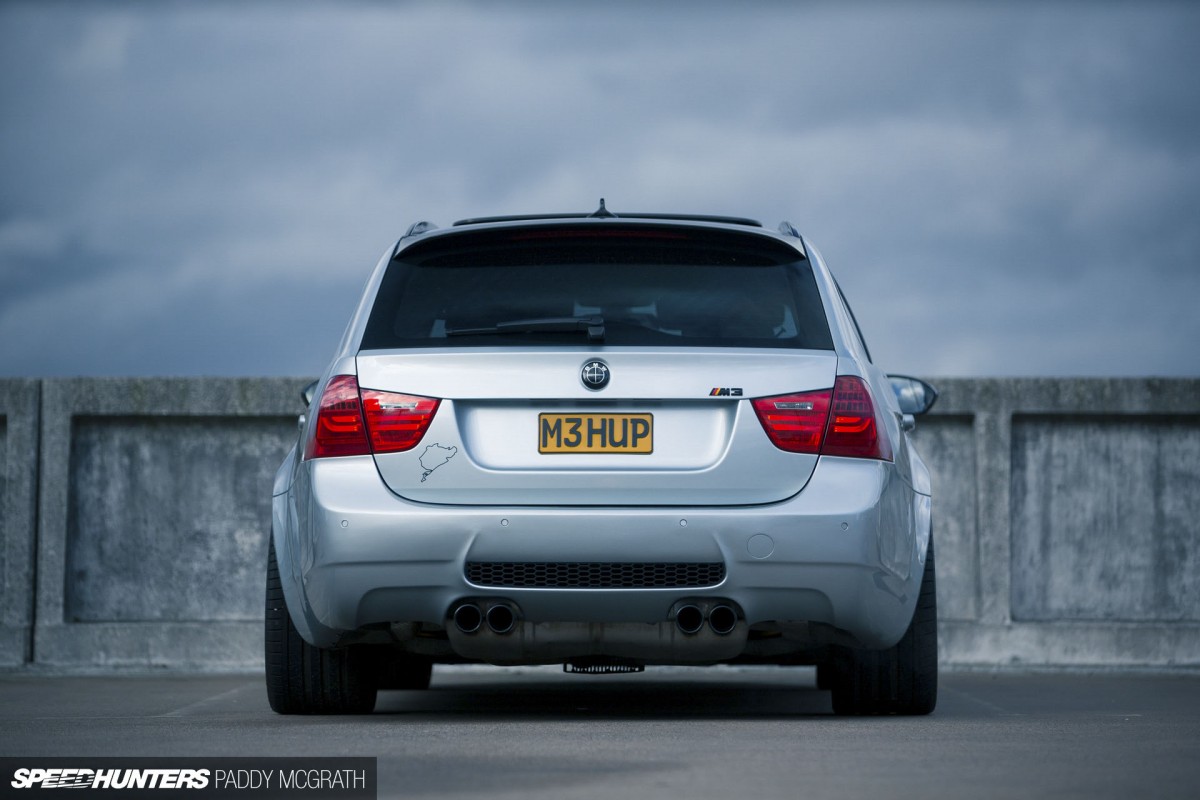 That of course required the rear bumper – originally an E91 M Sport item – to be reinvented with an M3 bumper so the guards had somewhere to meet up. The rear end aspect was then finished off with black powder-coated BMW Performance exhaust tips for all four outlets.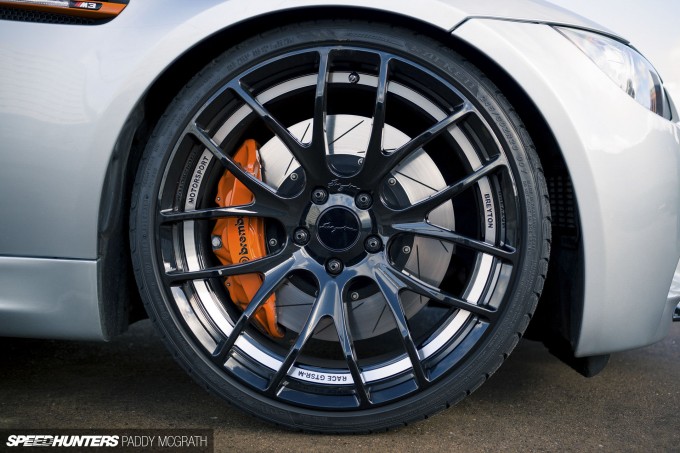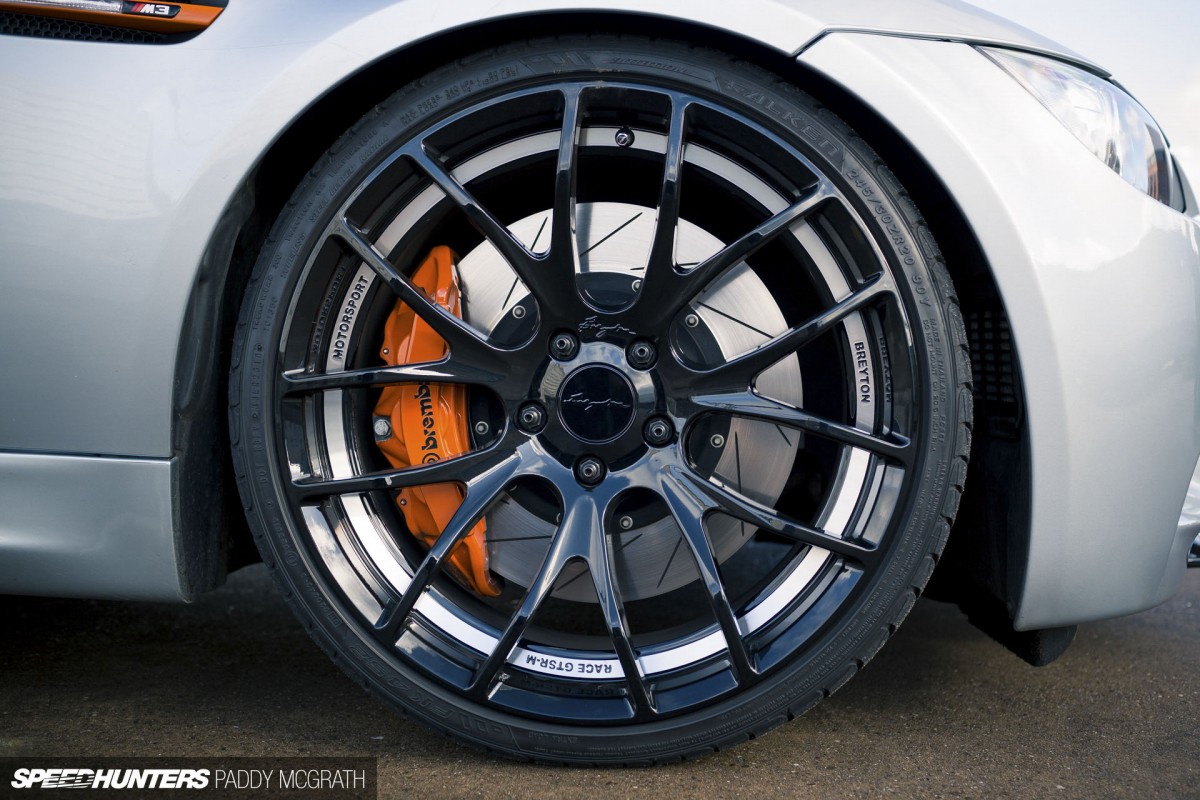 We all know that wheels can make or break, and although Nick could have played it safe with a set of factory M3 alloys, this is one area of the build where he decided to stray off the OEM path. The Breyton Race GTSR-M wheels in 20×10-inch fitment – featuring a gloss black and polished undercut finish – were a good choice, and with their M3-specific offset and suitably-sized Falken tyres, they fill out the fenders nicely, close to flush at the rear and slightly tucked at the front.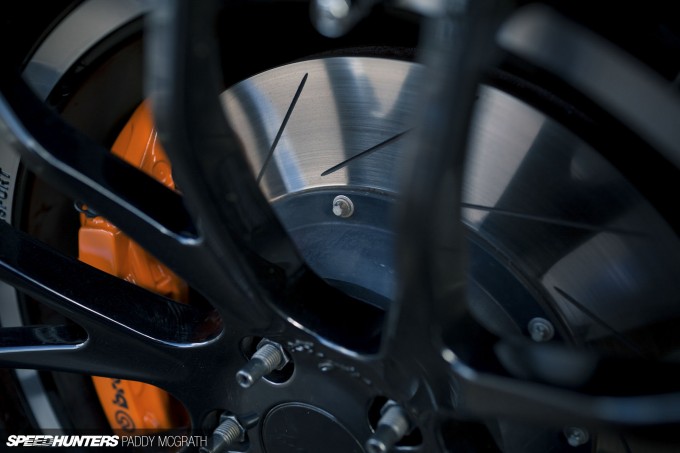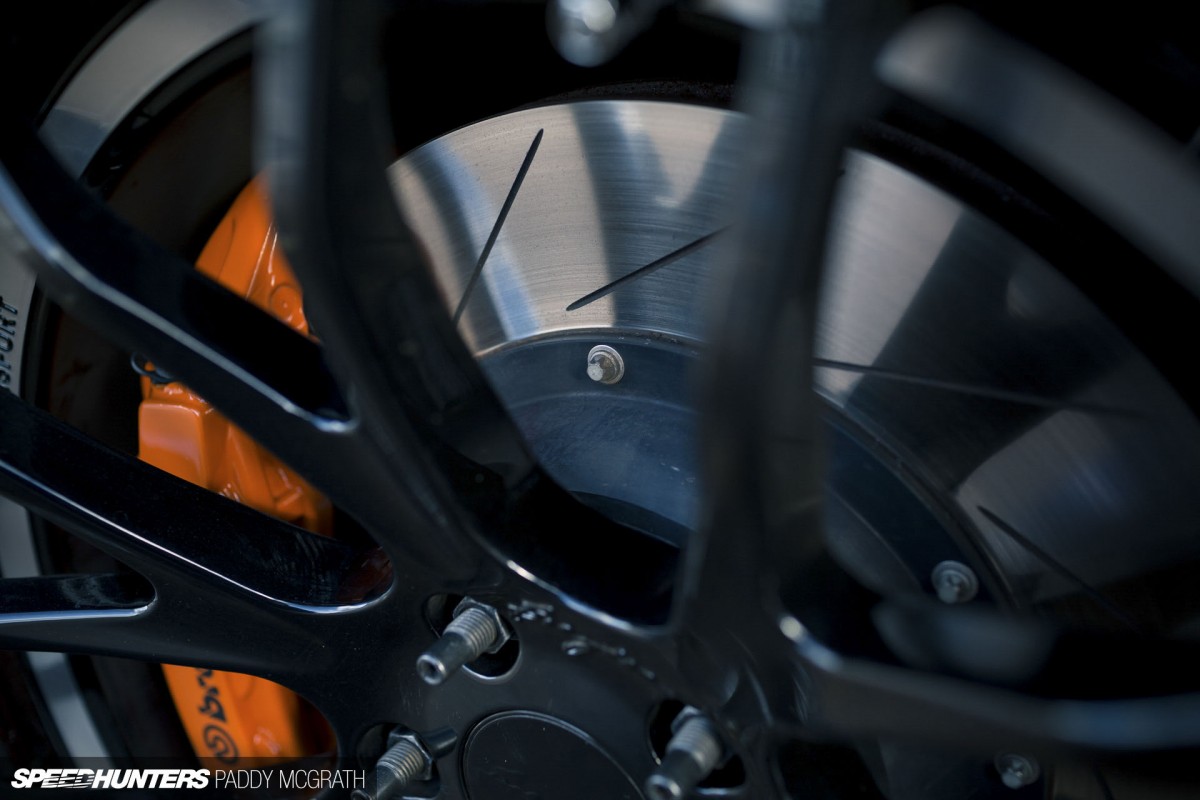 Because of their dark hue, the Breytons serve to highlight what's been snuck in behind them too – big Brembo brakes. Although factory-spec E90 and E93 M3 stoppers would have got the job done, an upgrade in this area was always on the cards and to that end, the six-pot front calipers, four-pot rear calipers and two-piece 380mm discs at all four corners have transformed the way the wagon stops. Those with an eye for detail might have also noticed that wheel bolts have been swapped for M3 GTS-style steel lugs and aluminium nuts.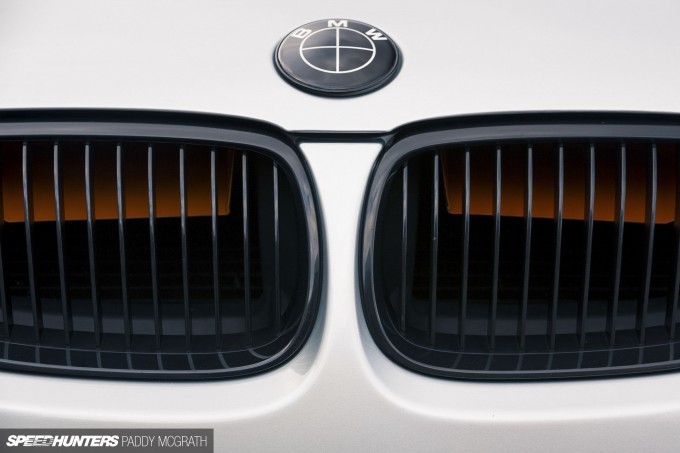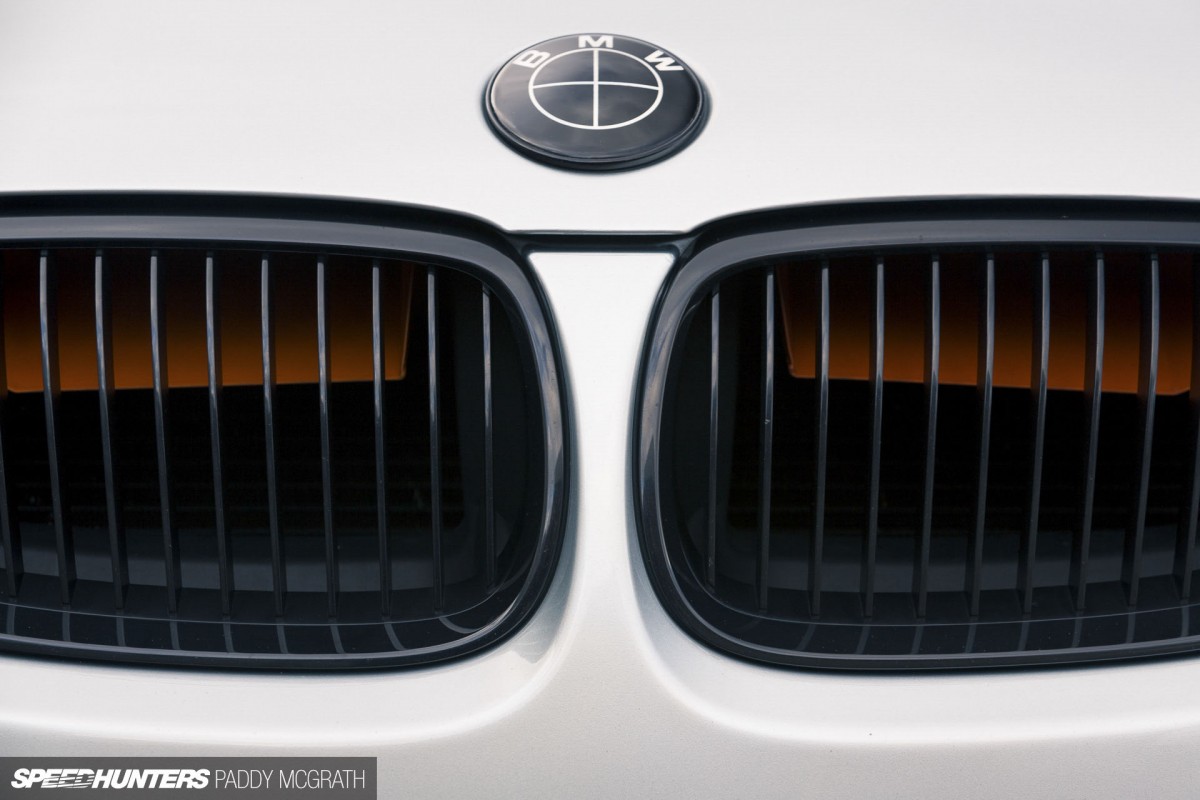 Given that the E91 was originally powered by a 2.0L four-cylinder engine good for only 140hp, any upgrade under the bonnet would have been an improvement. There was only one engine that could possibly get the job done though – and the E90 M3 donor car lent its V8 heart to the cause too.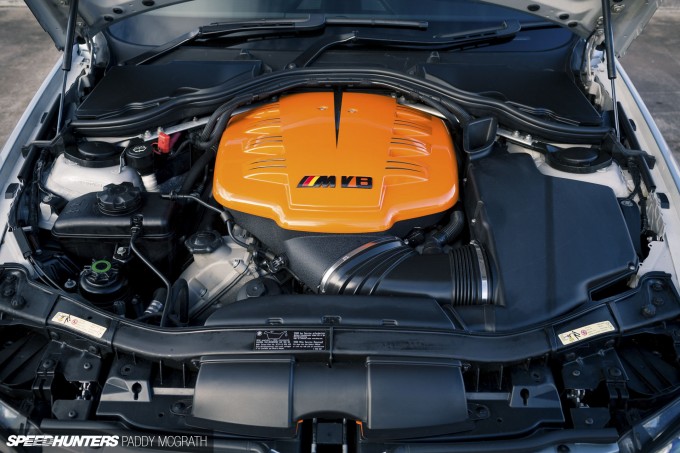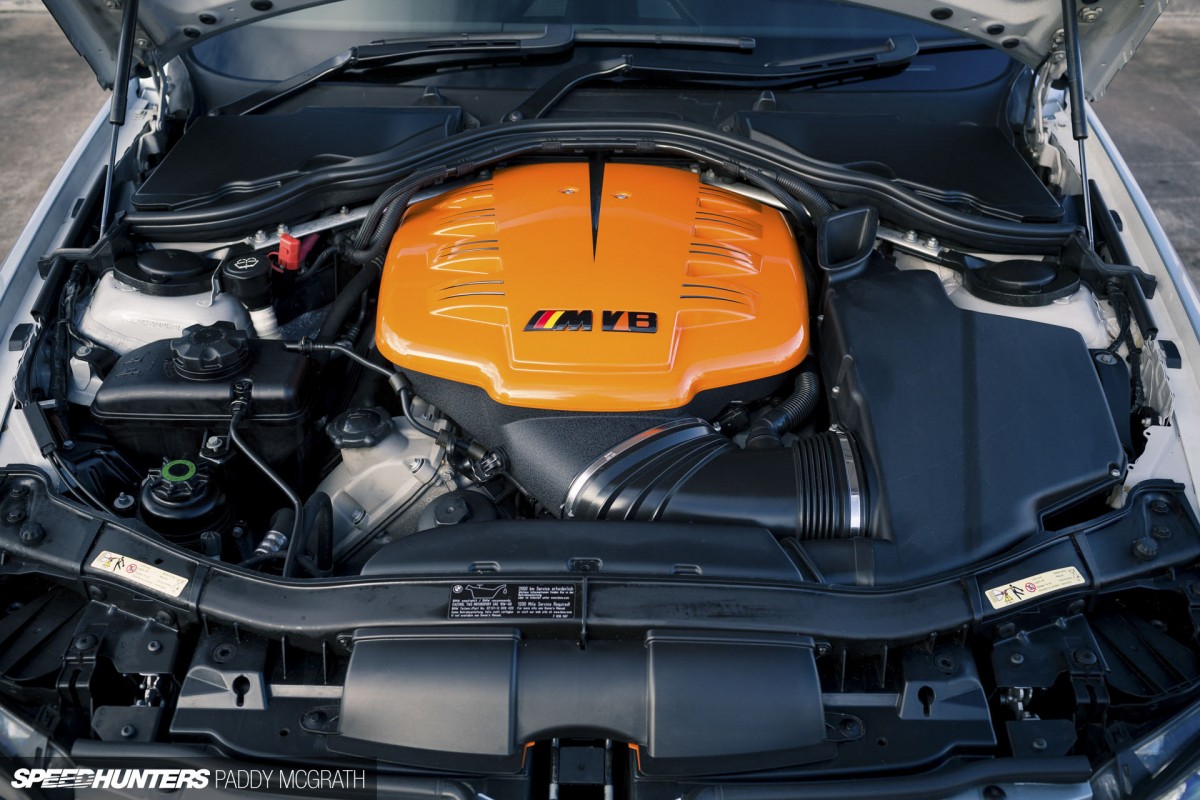 Apart from RPi ram air intakes which are visible through the grilles on the previous picture, the 4.0L quad cam S65 remains totally stock. Of course, given that there's 414hp and 295lb/ft available out of the box, there was little need to try and extract any more output out of the high performance, naturally aspirated, 90-degree bent eight.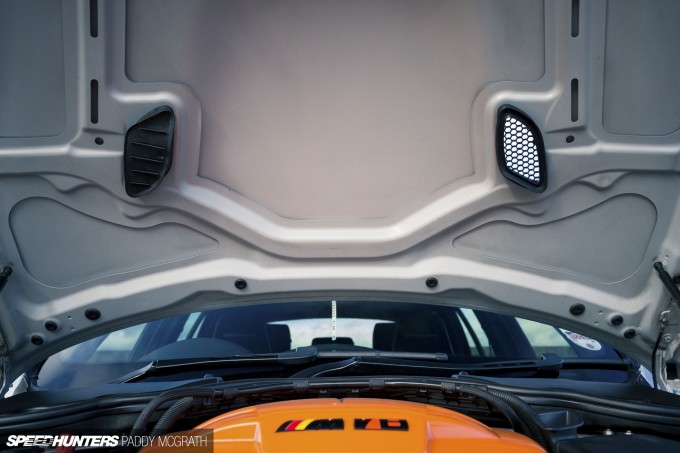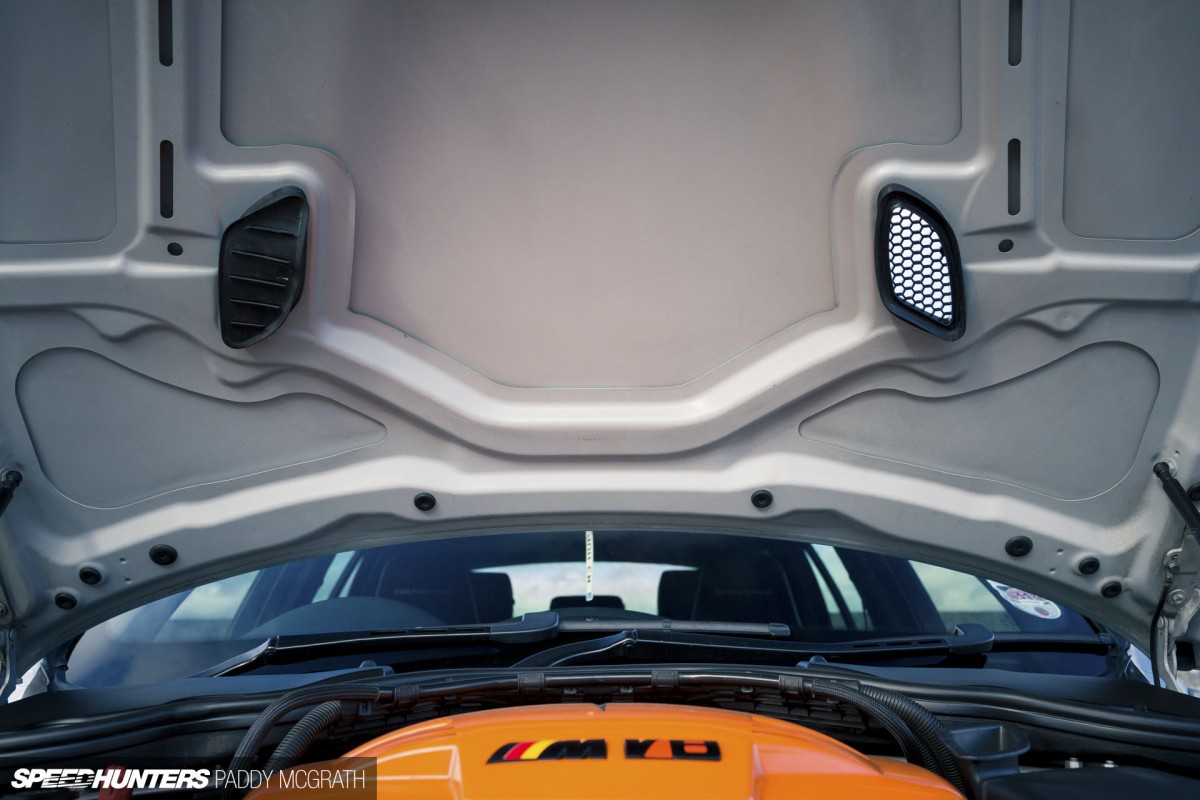 Right throughout the build, many of the M3's finer details have been retained, like only having one properly functioning bonnet vent. It's those little nuances that really help sell this bespoke package as a real, factory-built thing.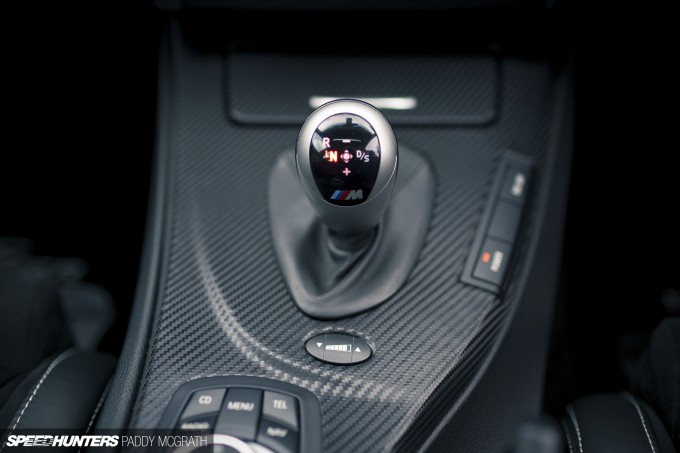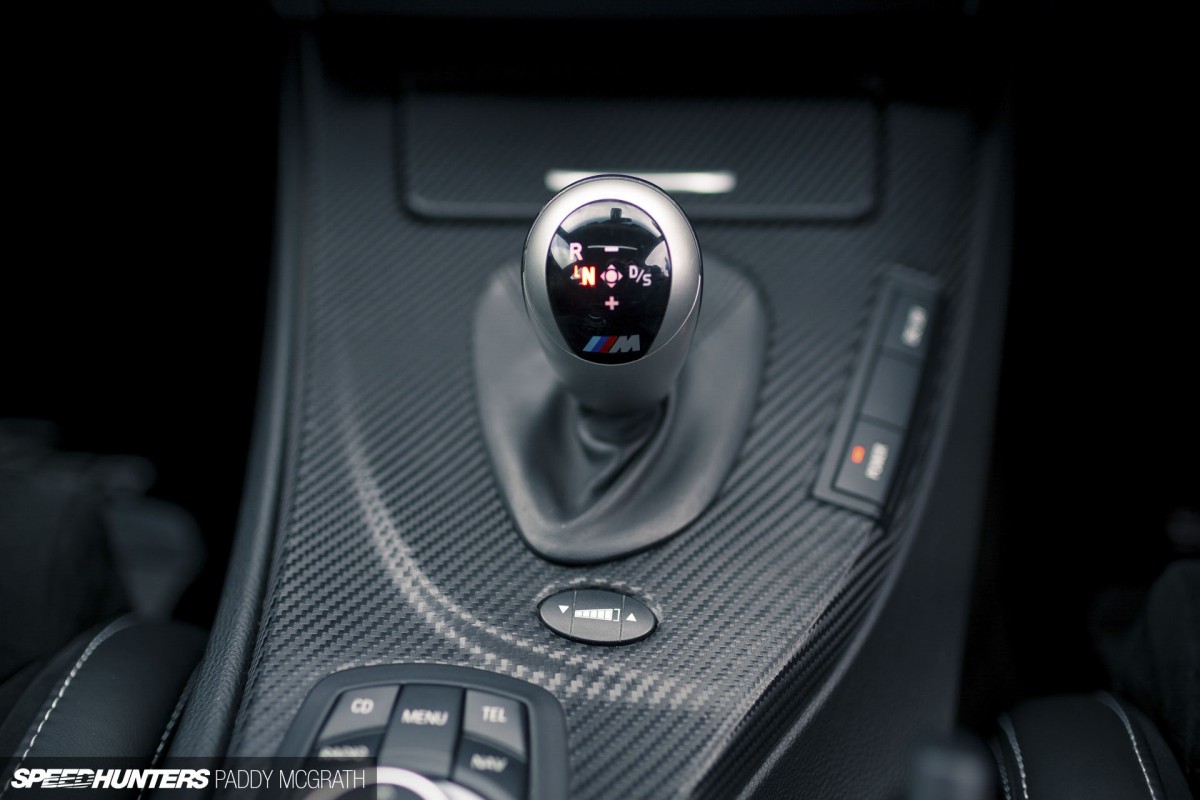 Along with the rest of the E90 M3's mechanical underpinnings, an E90 M-DCT double-clutch automated manual transmission is in the mix, and it's been given a hurry up through an M3 GTS software re-flash. That means swifter shifts with less slip at high rpm, and even a faster-engaging reverse gear for quicker getaways.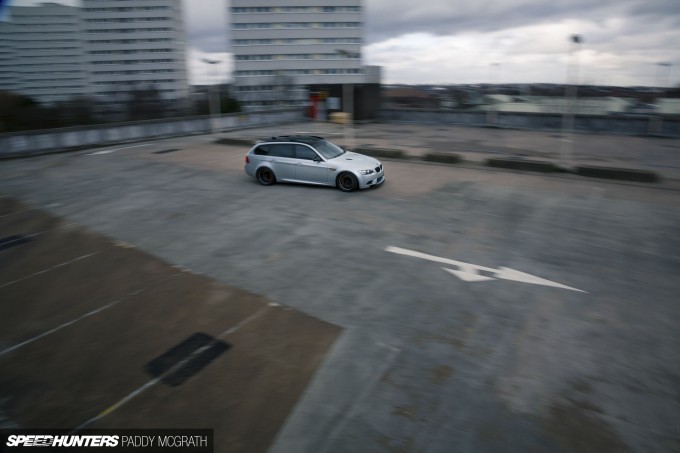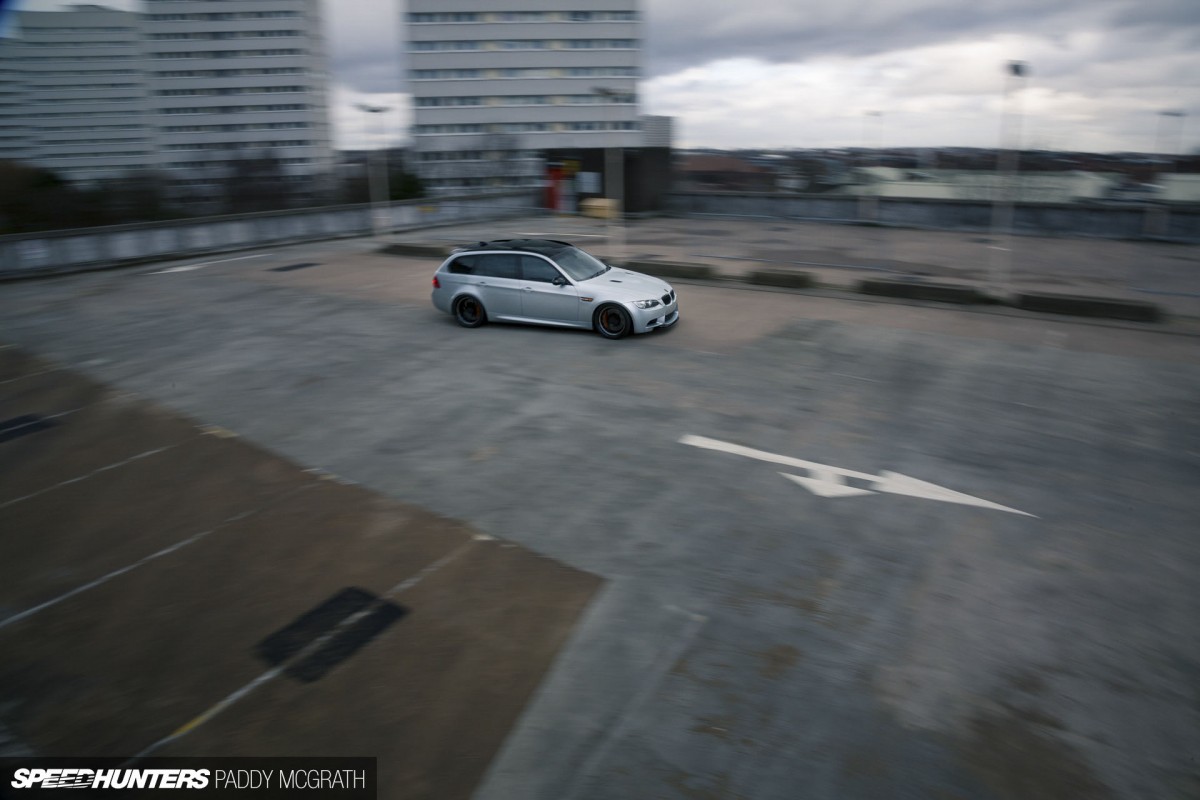 The suspension is factory M3 fare too, save for the shock absorbers and springs at all four corners which have been replaced for KW Variant 3 coilovers. Perfectly suited for fast road work, the V3's dual level valves allow for separate compression and rebound dampening, and threaded perches too set up the ride height just right.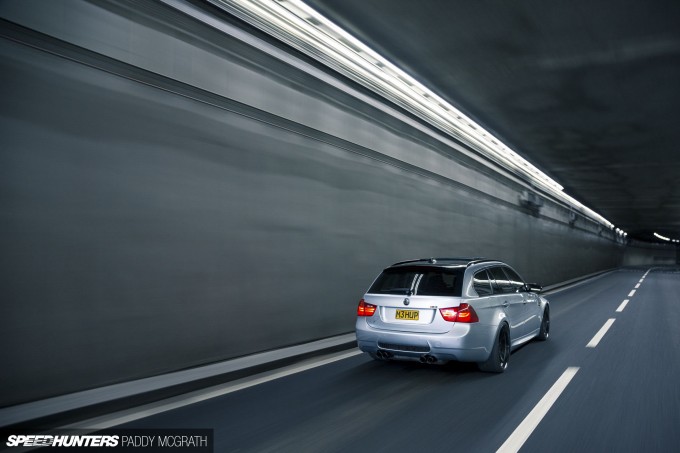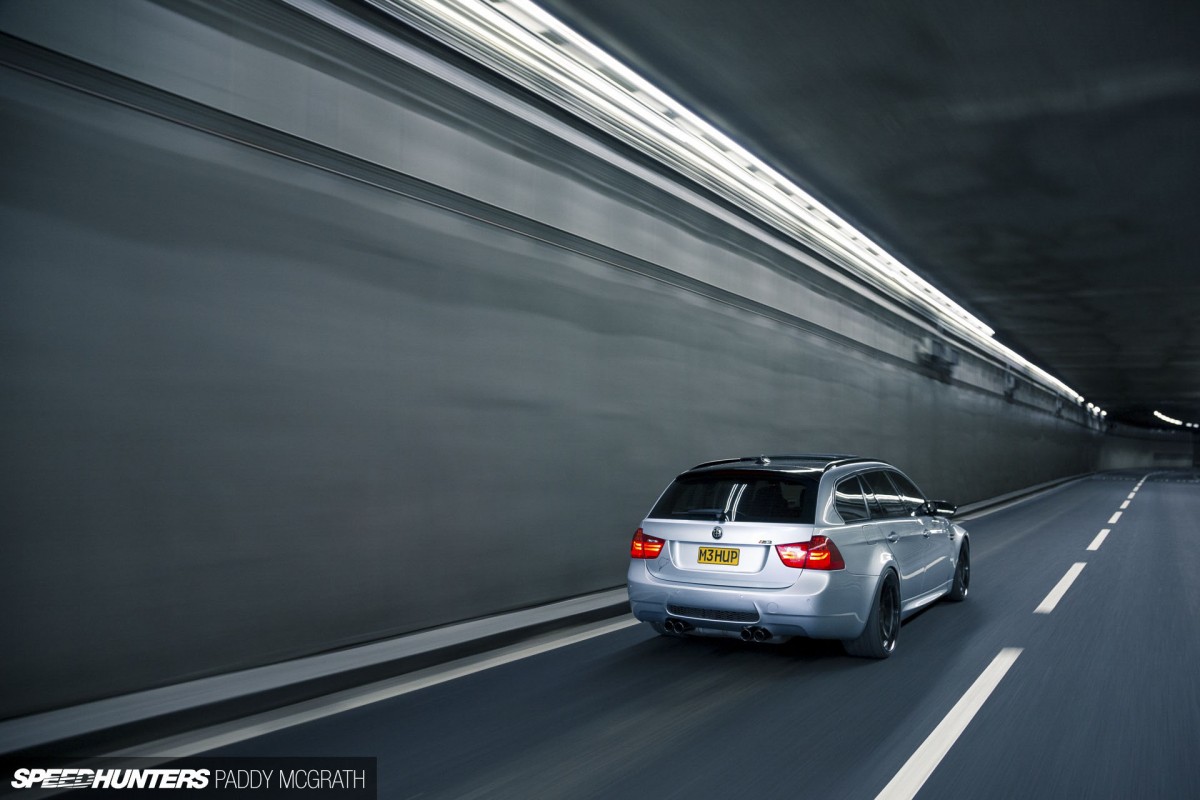 Not only does the wagon sit well on the road, but you can bet it handles too. There aren't any major differences between regular E90-series suspension and the stuff reserved for the M3, but a whole bunch of M-department tweaks combined with the KW gear has definitely set the wagon on the right path.
Sitting pretty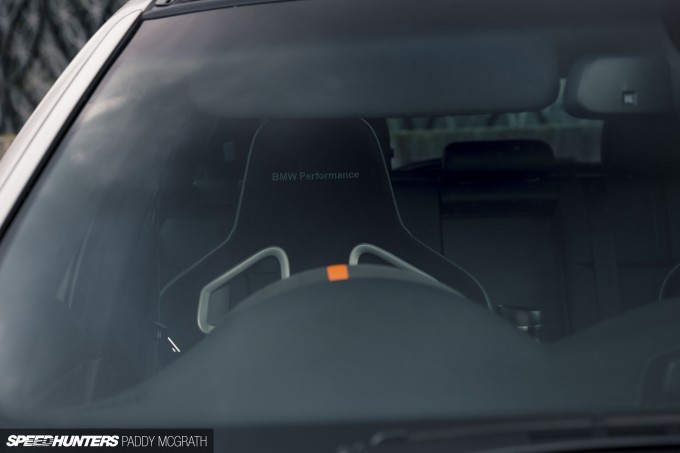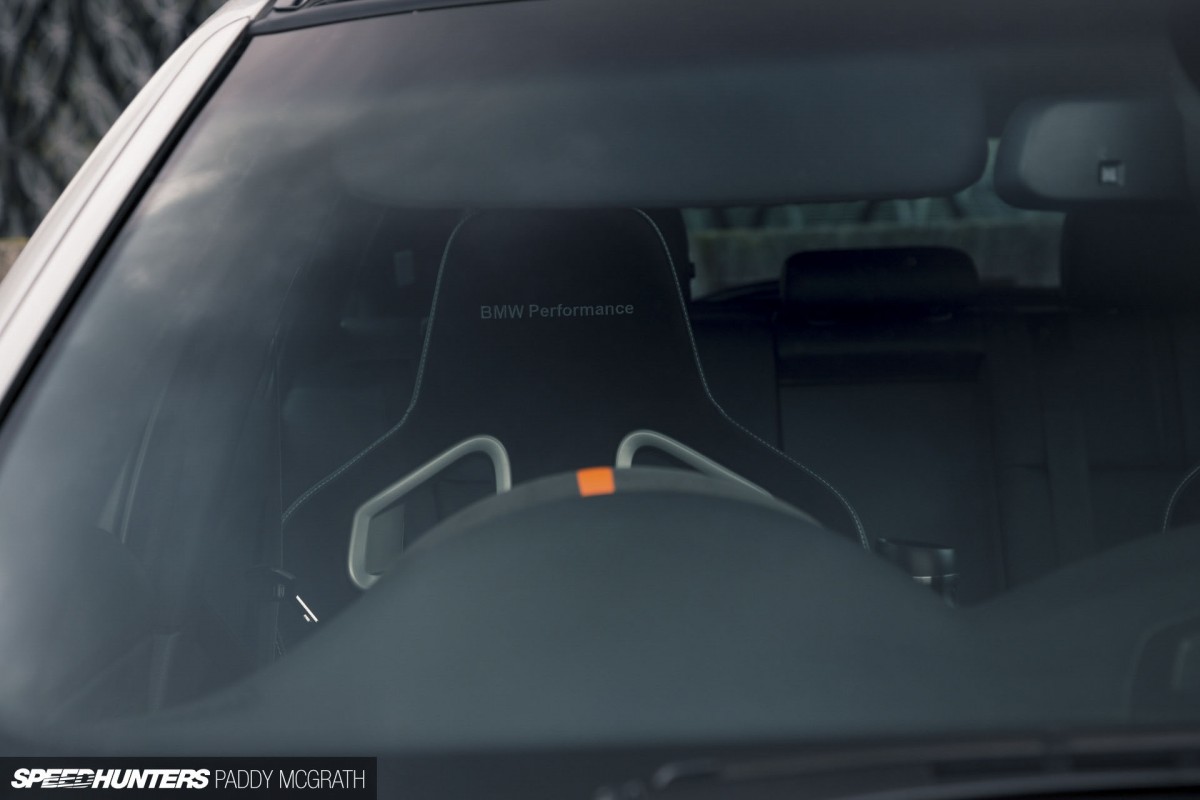 As you'd expect, the M3 conversion continues into the interior space, where it's mixed with a few other select BMW Performance and aftermarket upgrades.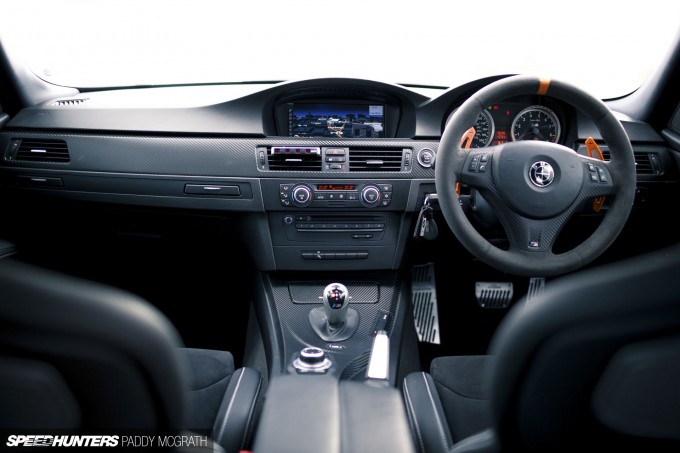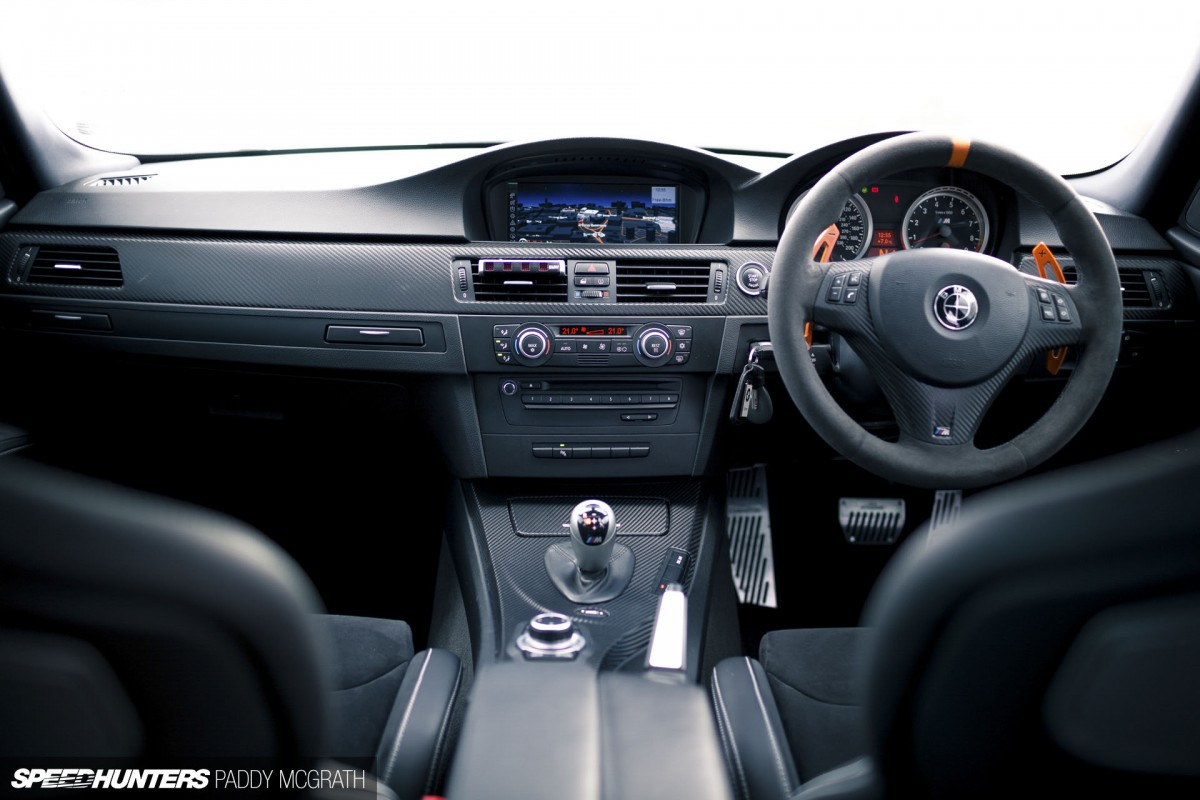 The entire dashboard was switched over from the donor M3 – something I can't imagine would be an easy job – and then the driving experience further enhanced through an AC Schnitzer pedal set and BMW Performance Alcantara-wrapped steering wheel. A Schnitzer hand brake lever and some extra carbon-look detailing is a nice touch too.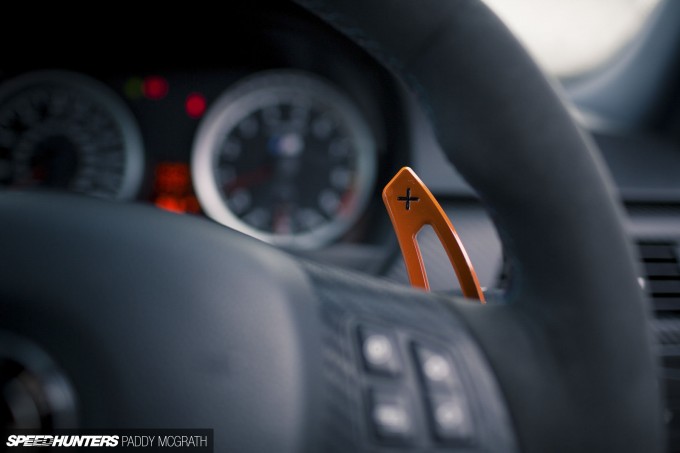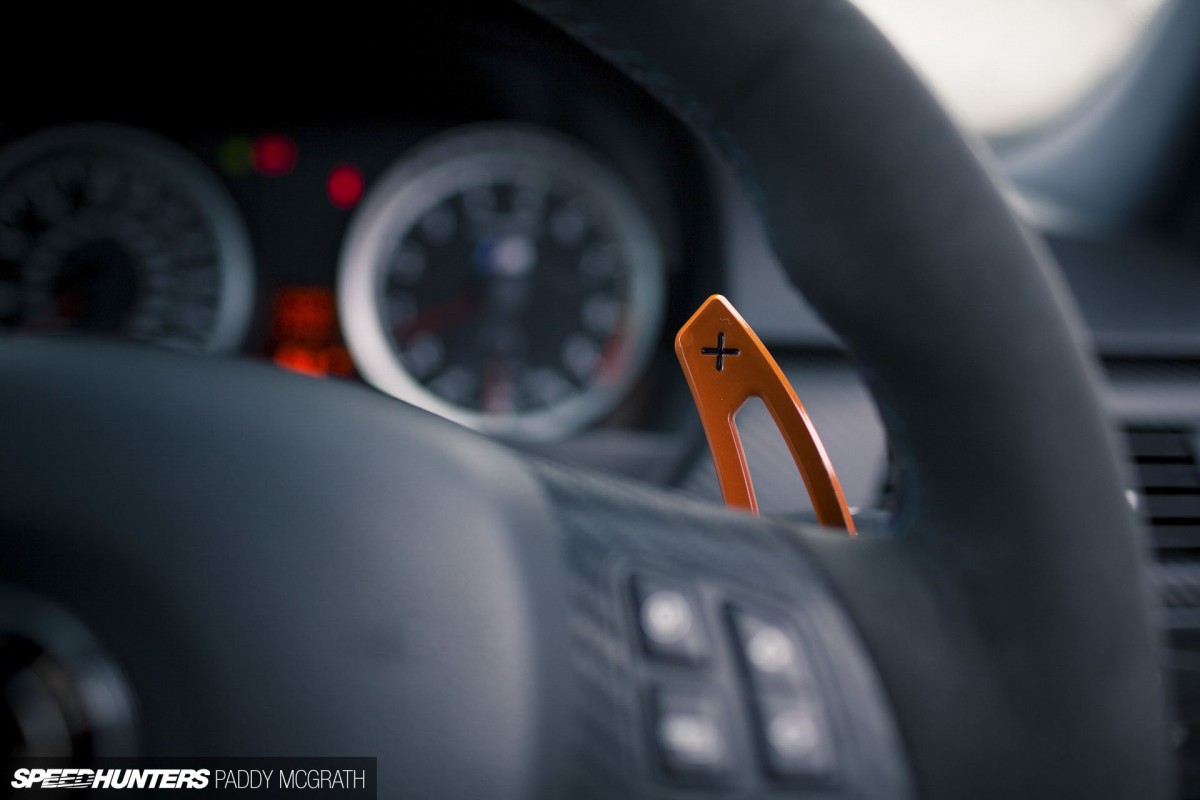 Some more subtle GTS-style Feuer Orange detailing has found its way into the cabin too, first on the trimmed band indicating 12 o'clock on the wheel, and secondly through the colour-coded Verstrabe extended-length DCT, CNC-machined and laser-cut aluminium shifter paddles.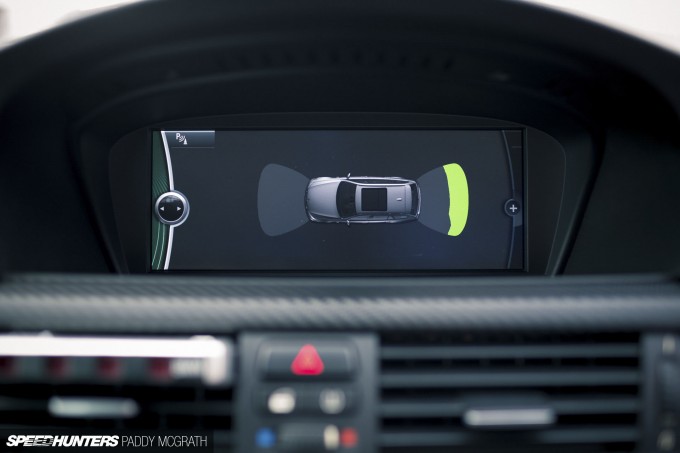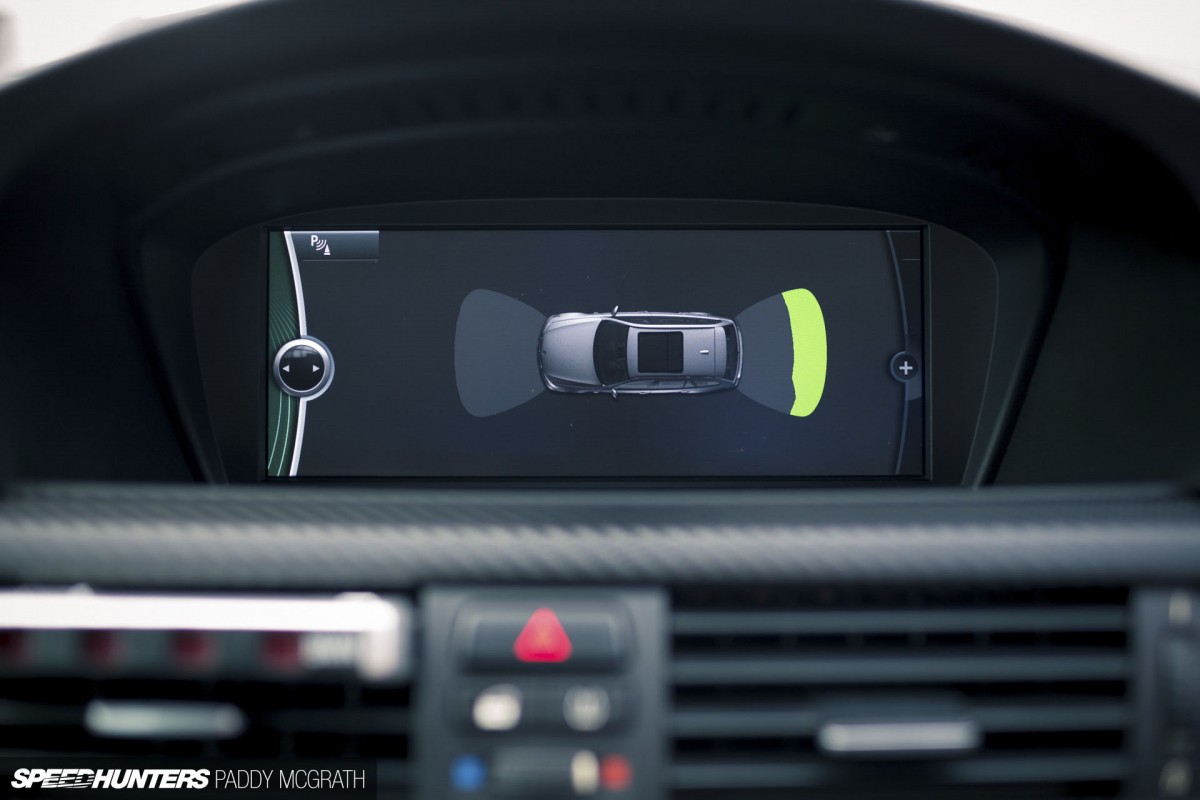 Remember how I talked about the little details before? Well, here's one that swings the other way – this time the M3's digital interface showing a wagon graphic. The system's been fully updated with CIC hard drive satellite navigation and COMBOX for seamless mobile phone integration.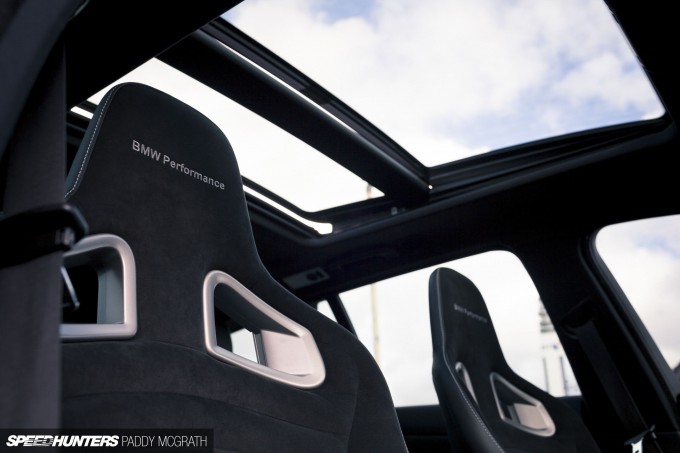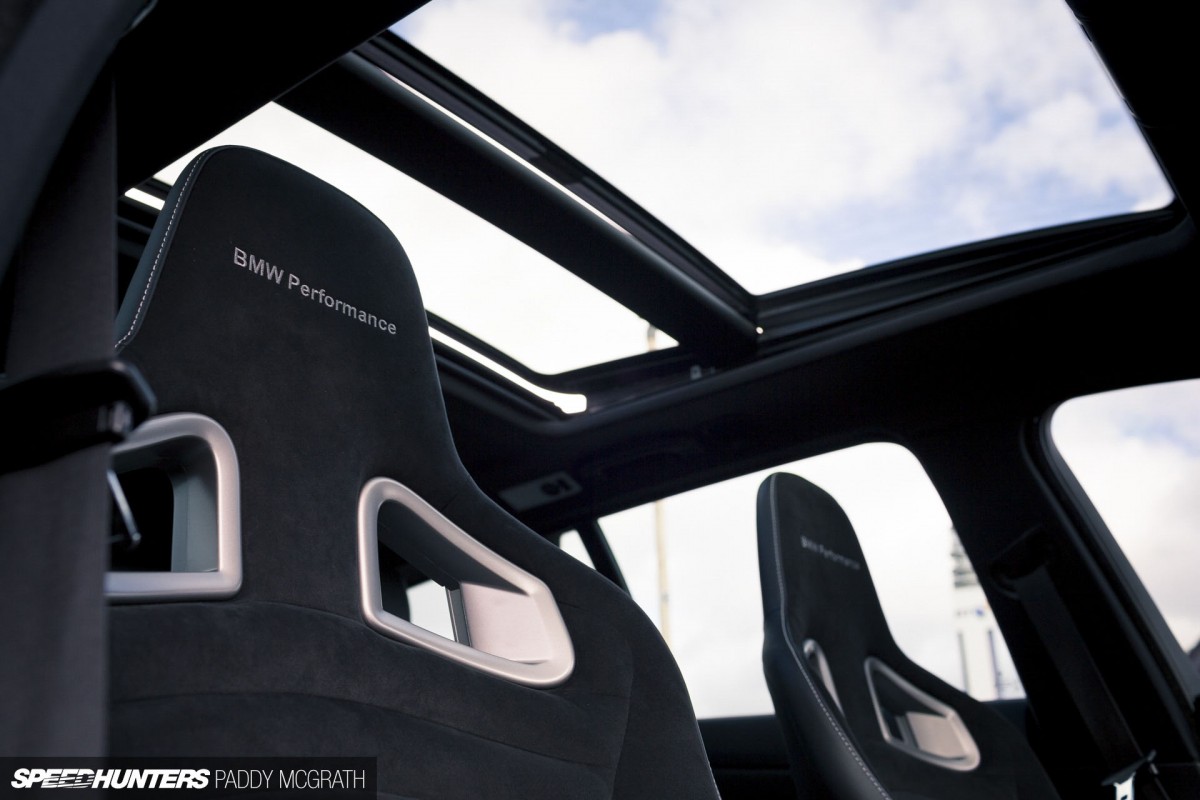 You're not likely to find a panoramic roof on any other M3, but it fits the bill nicely here. And so too do a pair of heated BMW Performance Alcantara sports seats by Recaro. I've had the pleasure of parking myself in these reclinable race seats before, so I'm pretty sure they're one acquisition Nick is pleased he made, regardless of the dent they might have made in his wallet. Along with E90 M3 door panels and trim, the rear bench was also borrowed out of the donor car, requiring only some re-trimming on the rear side of the seat backs to match in with the wagon's factory boot trim.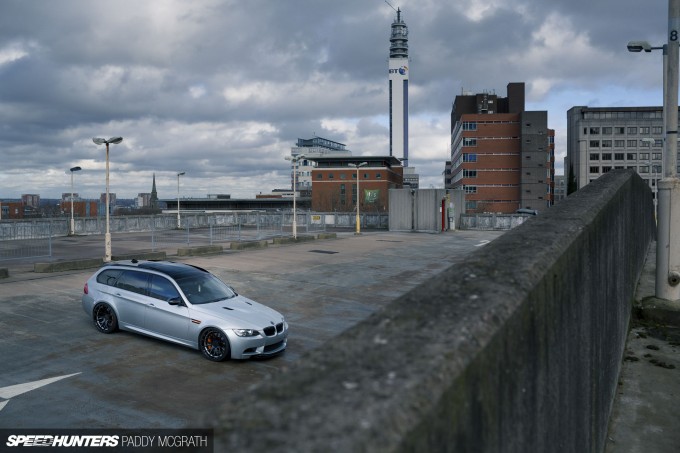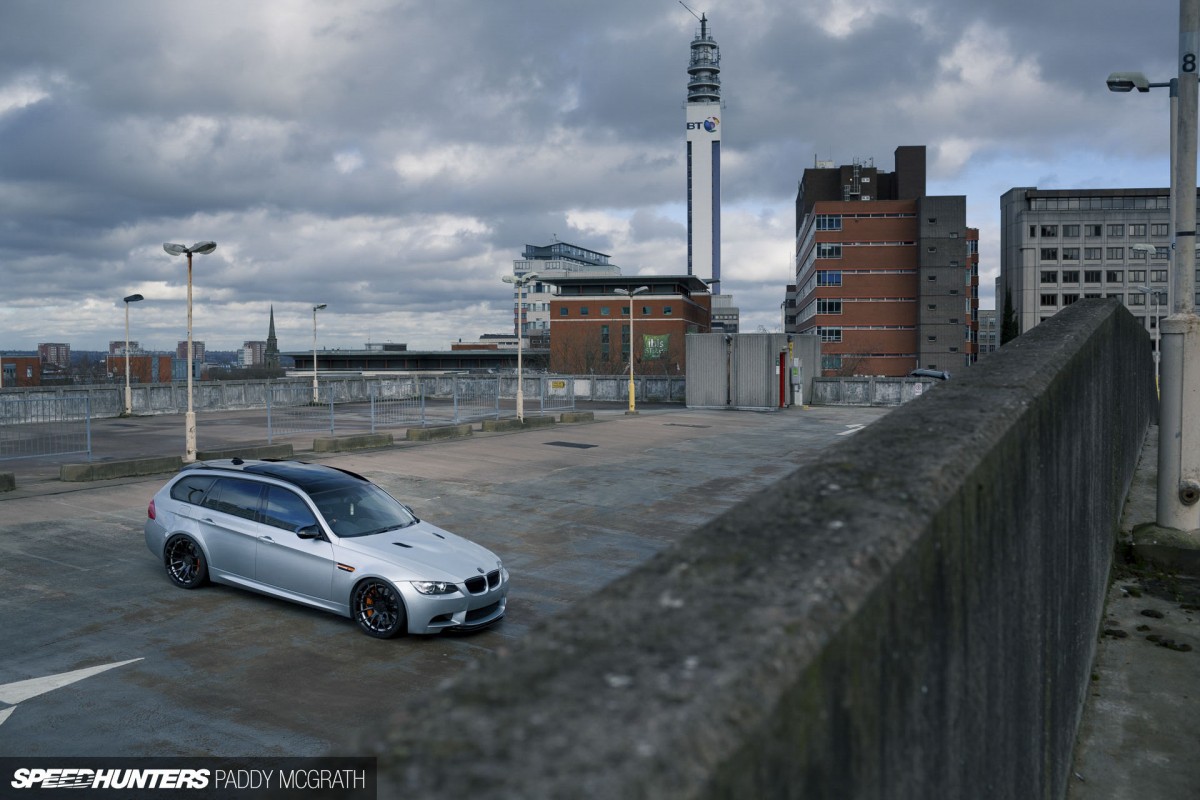 As a complete street package that mixes form with function, I think it's fair to say that Nick's creation ticks all the right boxes.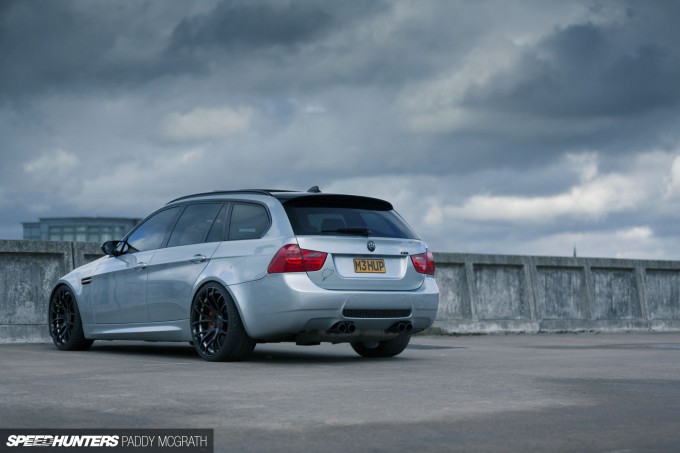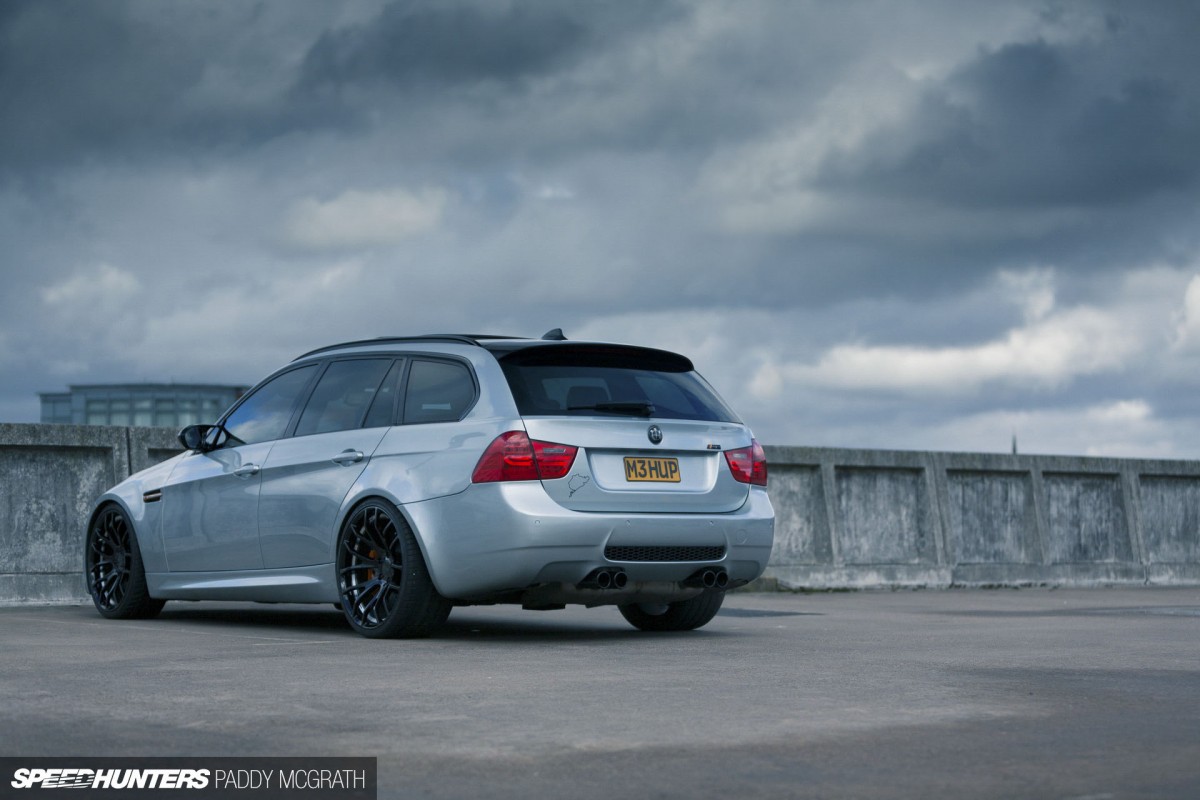 Sure, there'll be some purists out there who believe the M3 moniker is best served in coupe or sedan form, not a wagon, but if you ask me, here's all the proof needed that BMW should have stamped its M-badge on the E91 chassis.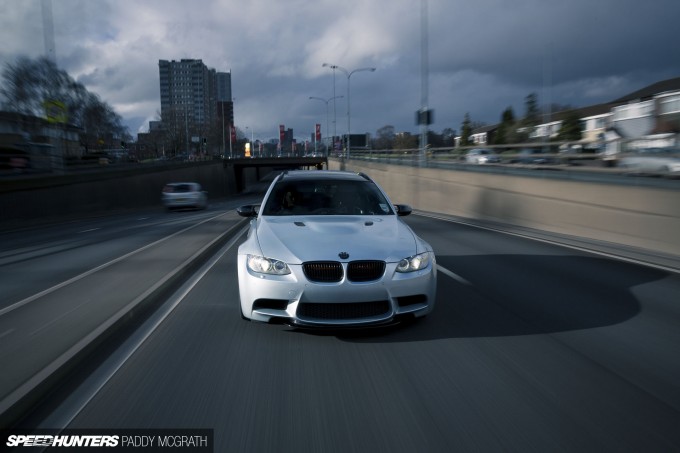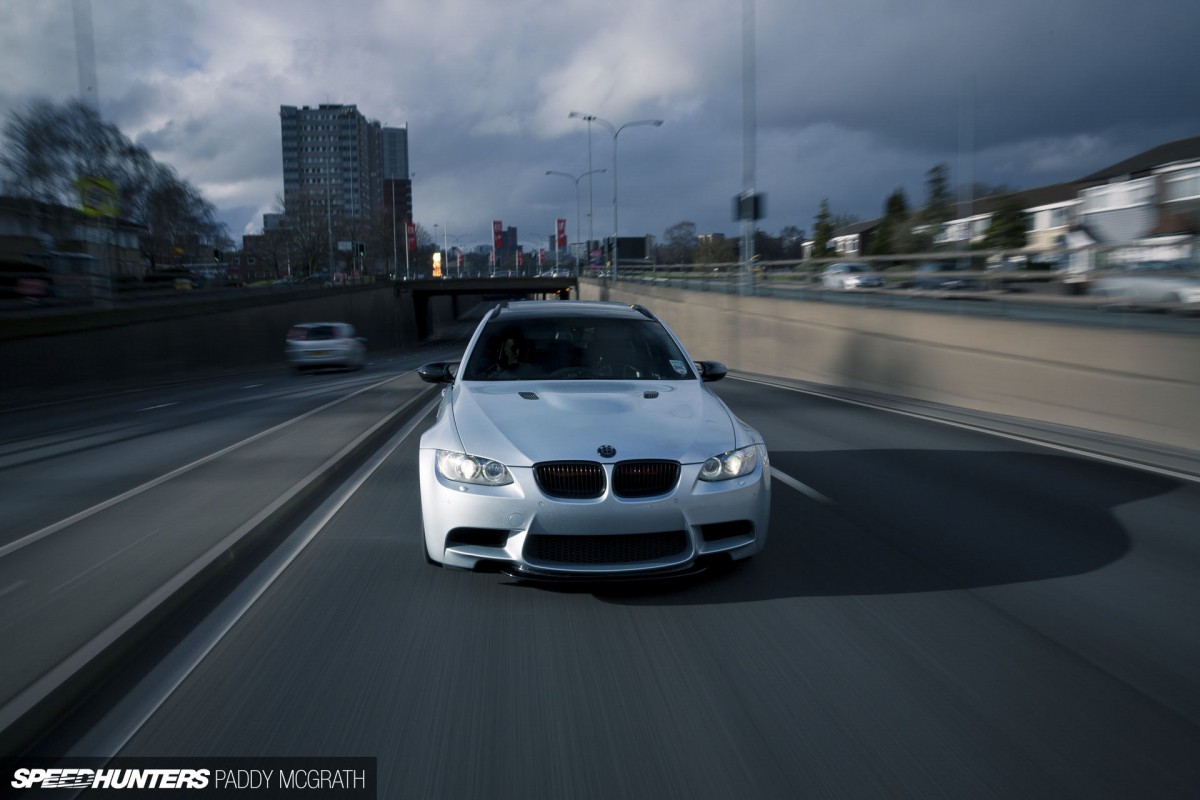 For Nick, there's more stuff planned too –  supercharger included, which will ultimately push power output well beyond the 500hp mark. This is very cool, but that will be awesome!
Brad Lord
brad@speedhunters.com
Photos by Paddy McGrath
Twitter: @PaddyMcGrathSH
Instagram: speedhunters_paddy
paddy@speedhunters.com