Cruisin' Y-Town
I hope you guys have all been enjoying the JCCA New Year Meeting coverage I've been posting this week. Right now though, I'd like to take a break from the Fuji Speedway action to share some very cool stuff that went down in Yokohama last Saturday, mere hours before we hit the road for Fuji.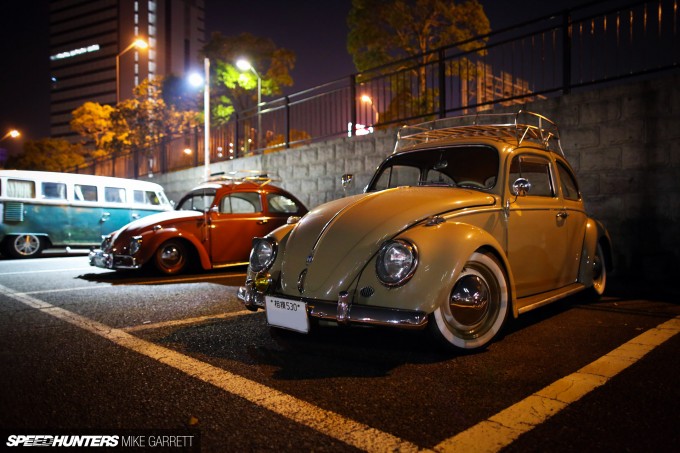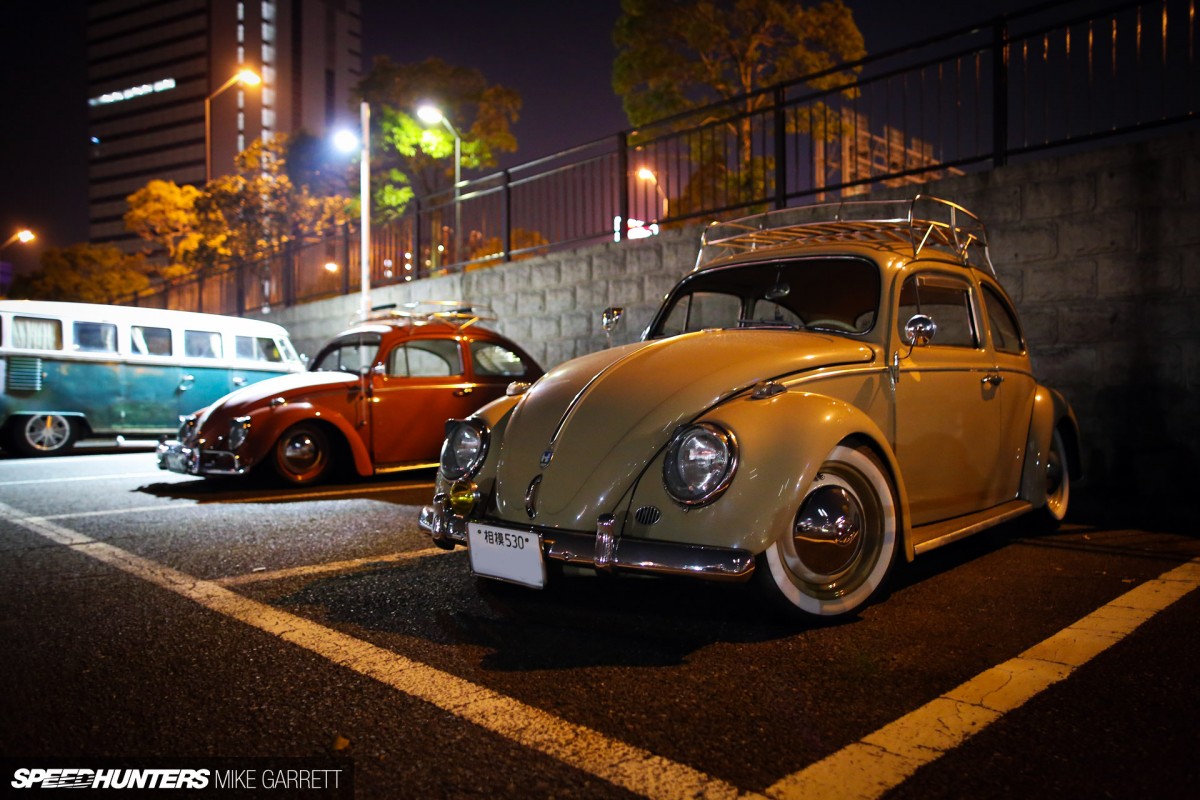 A couple of months back, I got in contact with a fellow from Yokohama named Manabu Kanda. Kanda-san is a huge aircooled Volkswagen enthusiast and runs a blog called KaliforniaLook where he documents the Japanese VW and hot rod scene.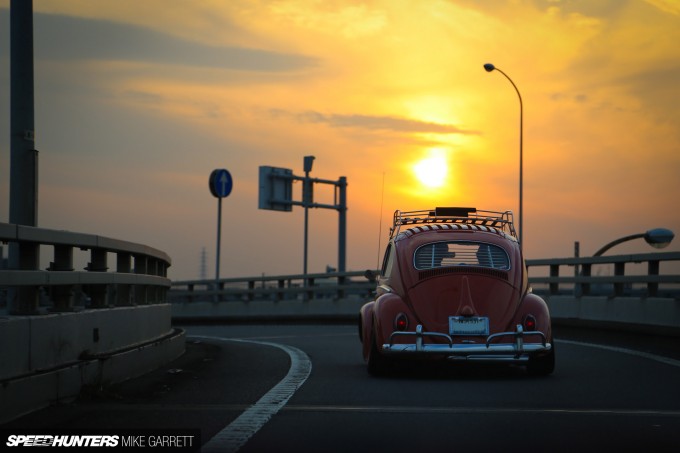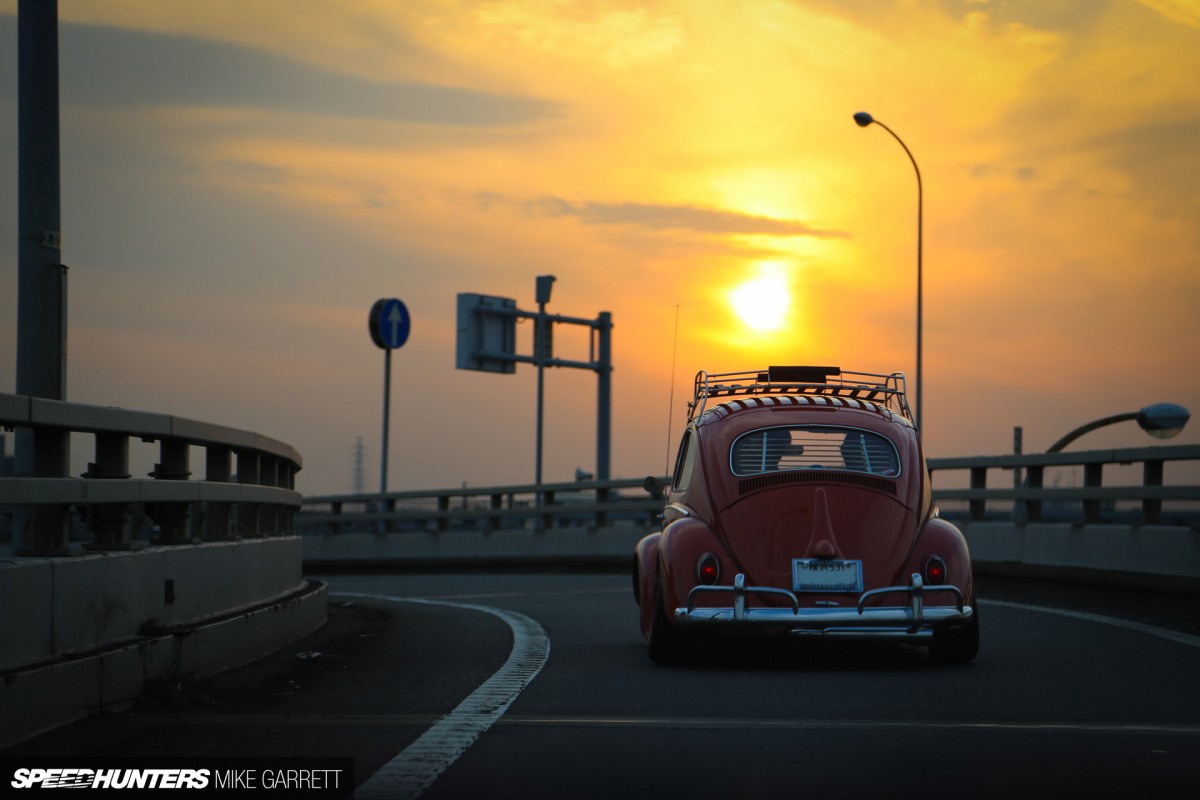 When I told him I'd like to check out some of his friends' cars, he was happy to oblige. Actually, he was more than happy. Not only did he say he'd round up some cool cars for me to check out, he actually decided to organize a KaliforniaLook x Speedhunters cruise night event in Yokohama. This was going to be awesome.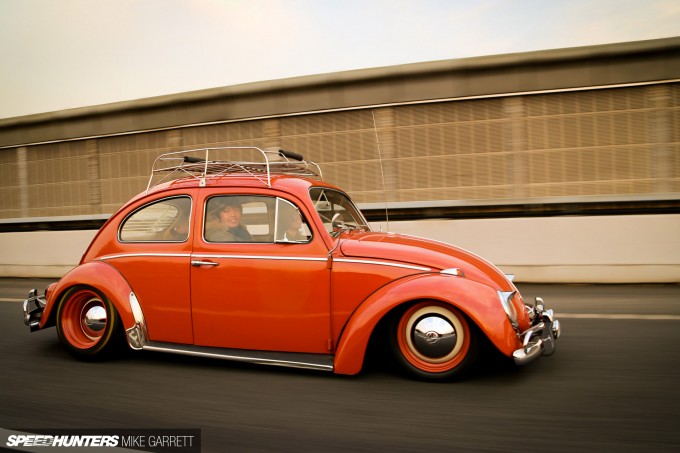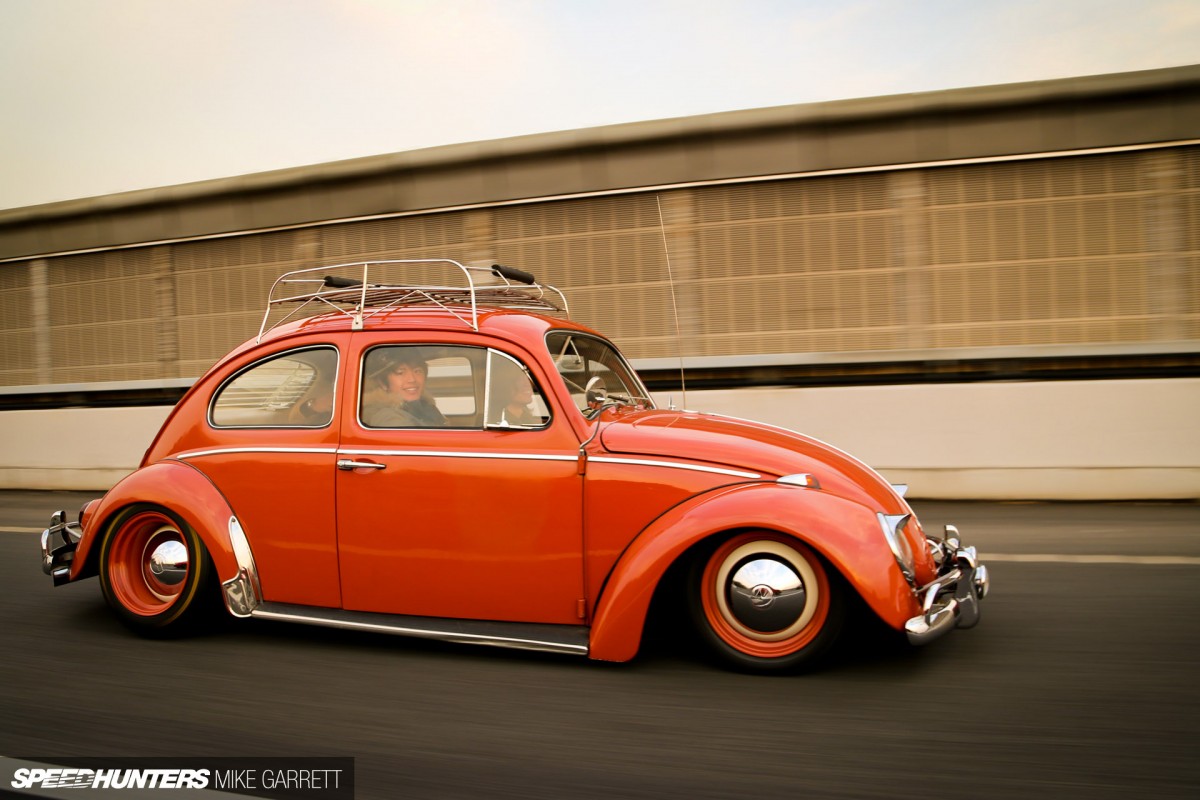 The action began early on Saturday evening when I arrived in Yokohama with my friend Kage in his Toyota 86. It was there that we were greeted by Kanda-san and his good buddy Hideyuki Tajima, who drives the rather bitchin' '64 Beetle seen here.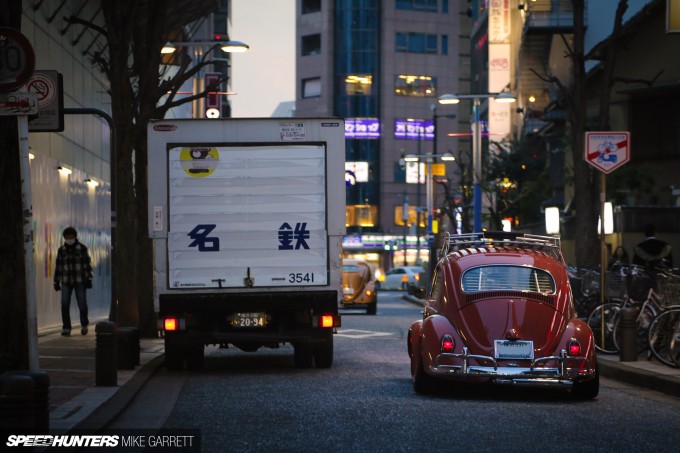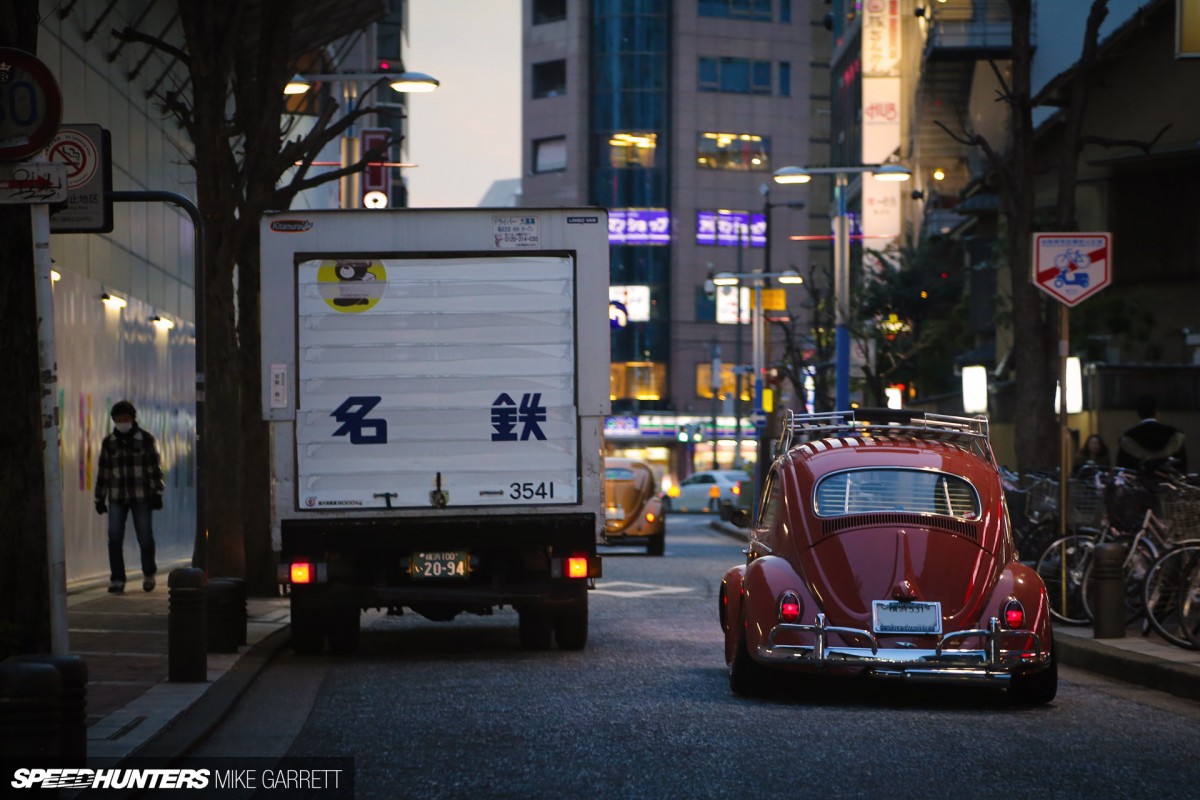 From there we set off to a local garage where Kanda-san would pick up his own Beetle. The car had literally just come out of paint and he was working tirelessly to have the VW ready for the cruise night.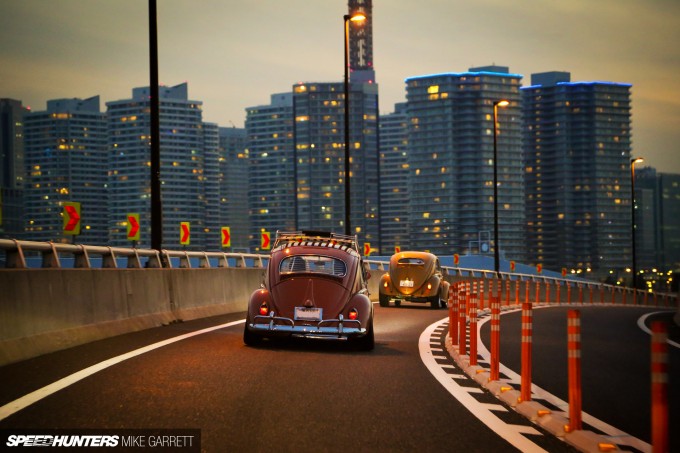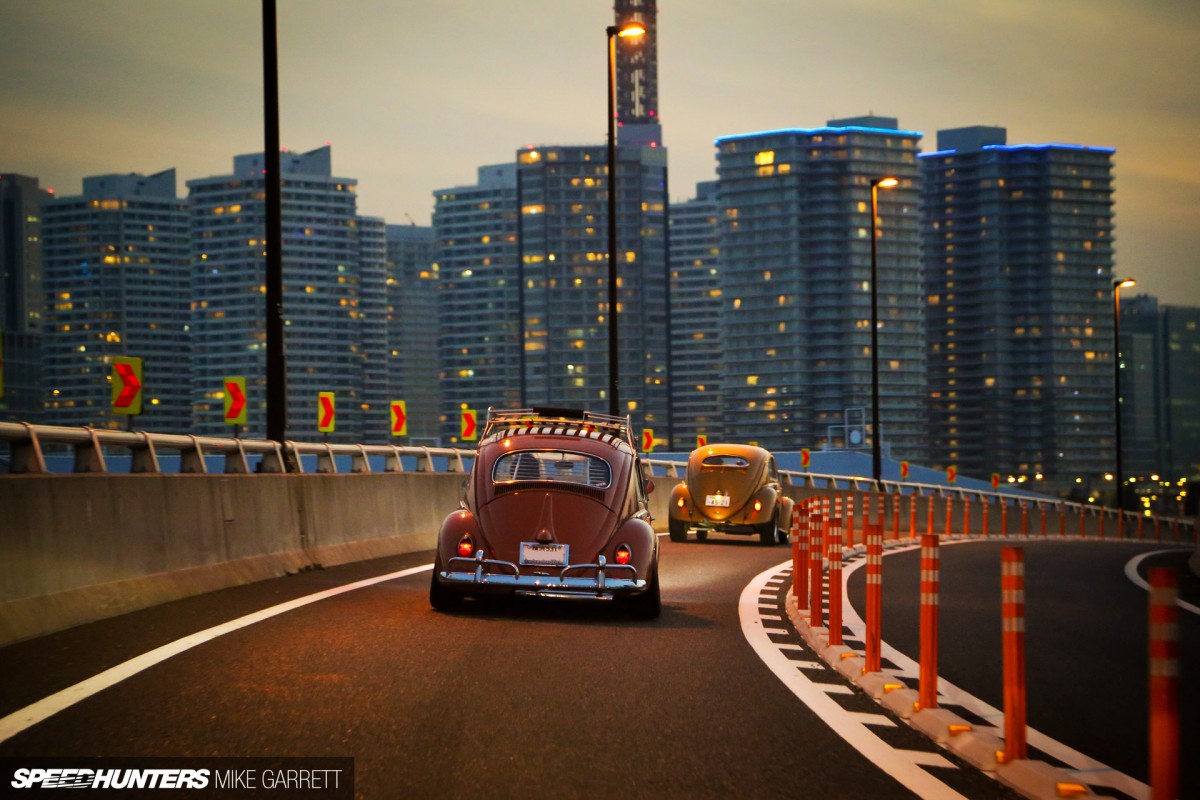 Once Kanda-san jumped behind the wheel of his own Bug, the two Beetles and the 86 set off for a quick break-in run around Yokohama. He said he wanted to show me the sights, but I think he was just anxious to drive his car. Who can blame him? We all know the sense of pride that comes with a freshly completed project.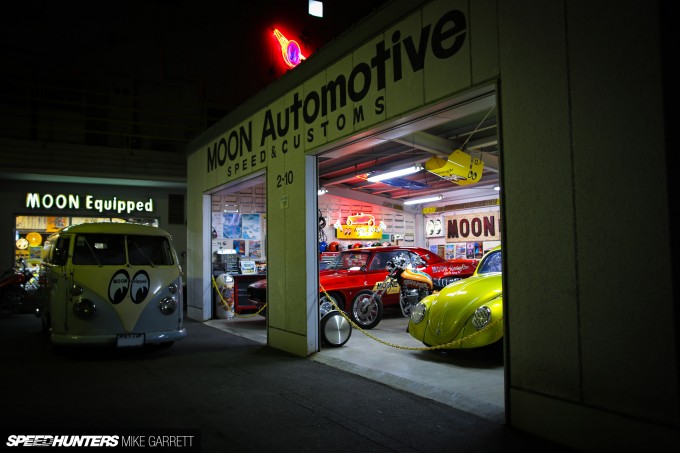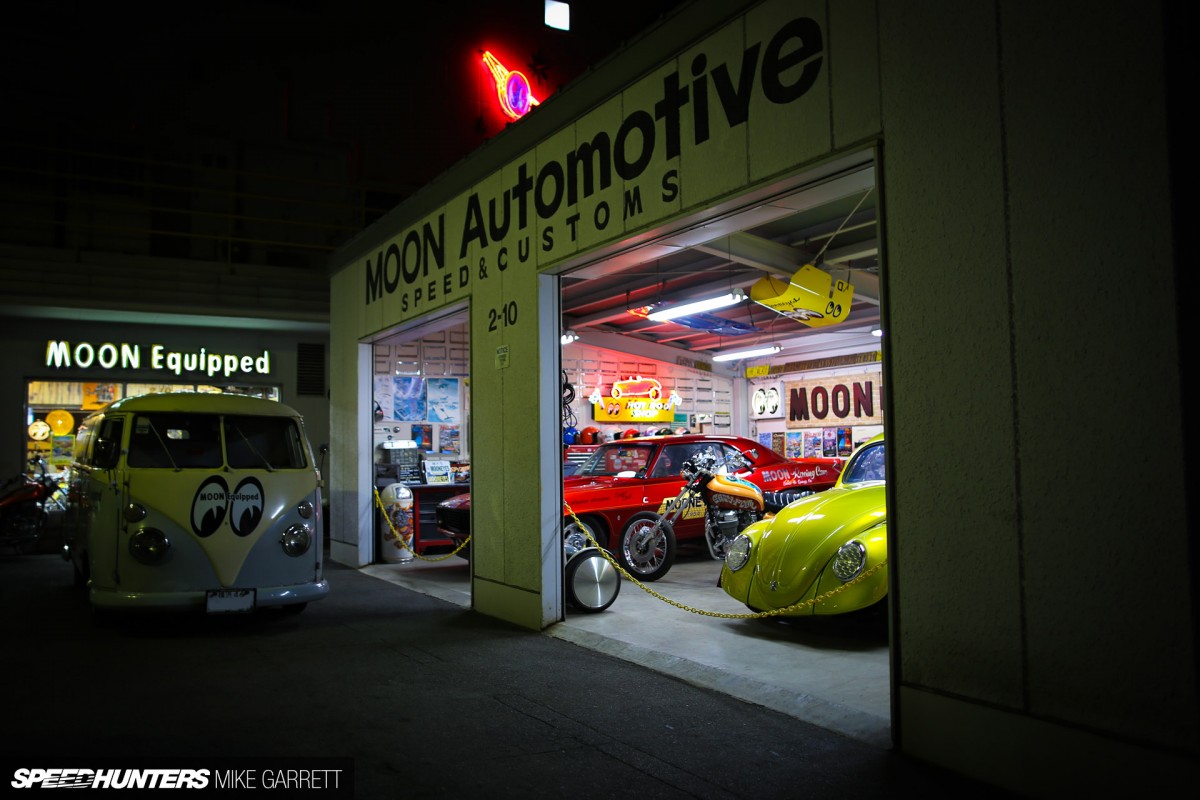 After our little drive around the city, we arrived at one of my favorite places in the world: Mooneyes Area 1 in Honmoku. This would serve as the official starting point for the cruise night.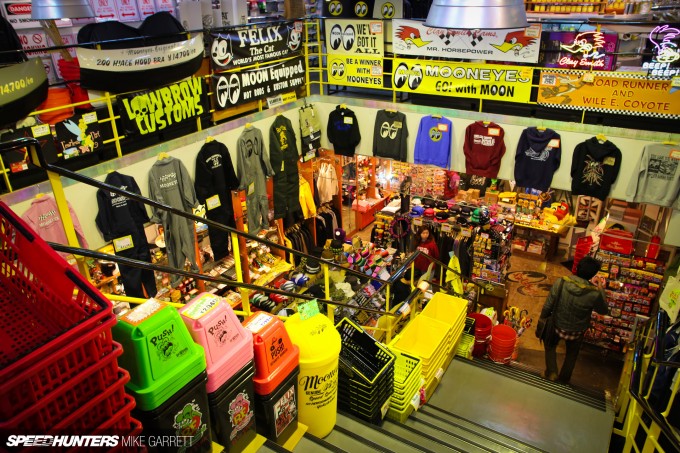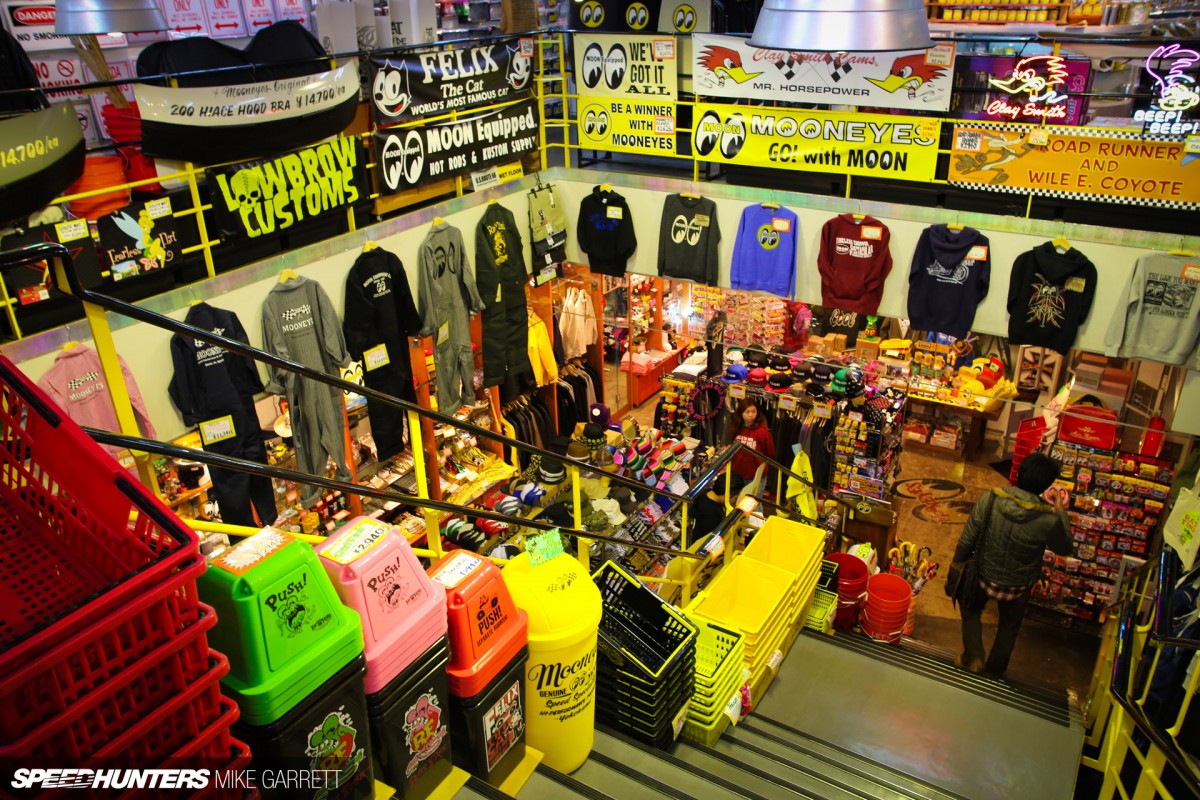 There was still some time to spare, so we looked around the Mooneyes store for a little bit while I tried to resist blowing my entire travel budget on Moon-branded goodies.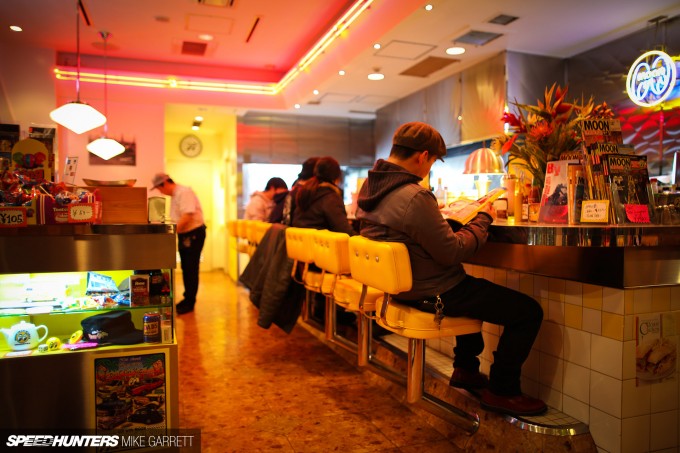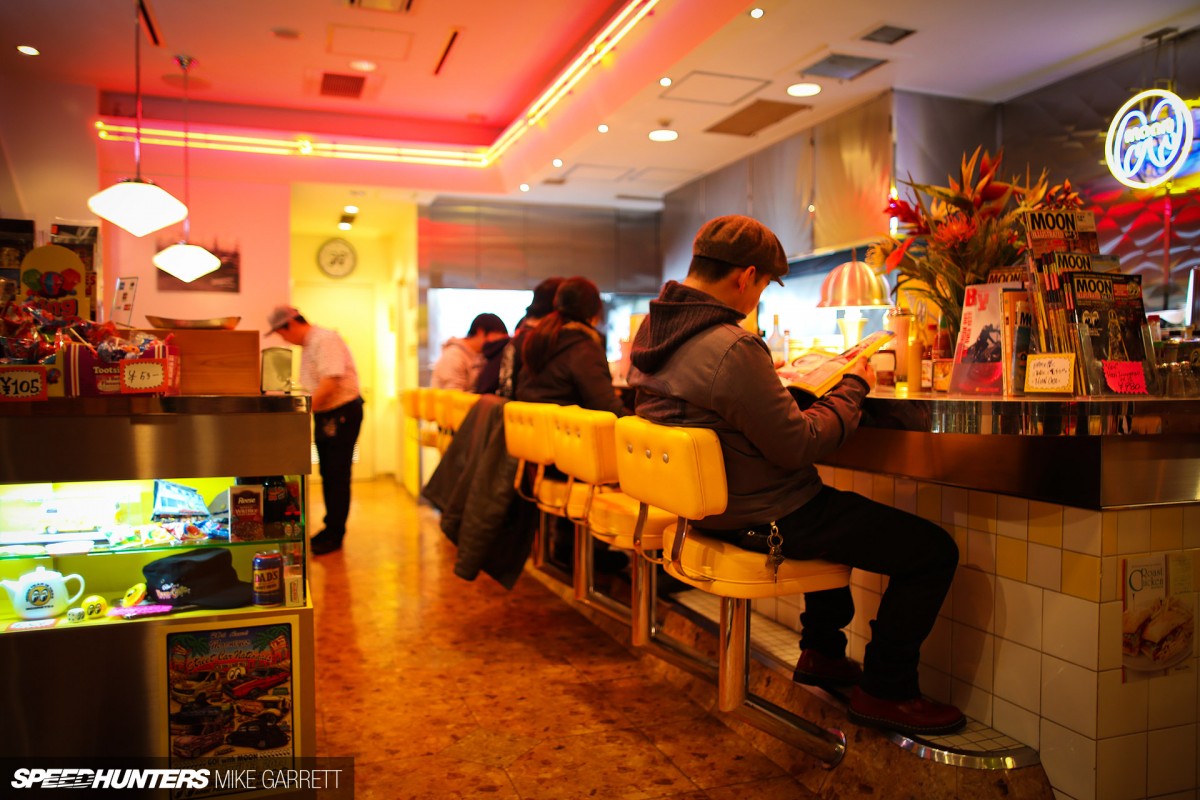 After that, we headed next door to the Moon Cafe for some good old conversation and authentic USA cuisine. For an American, it's hard to be homesick in Japan when there are places like the Moon Cafe around.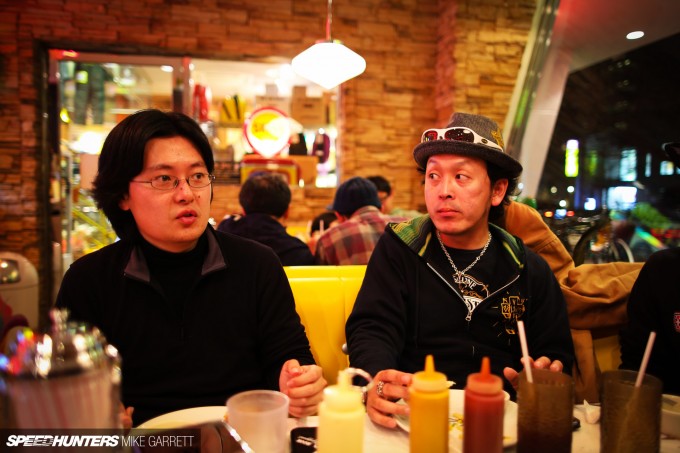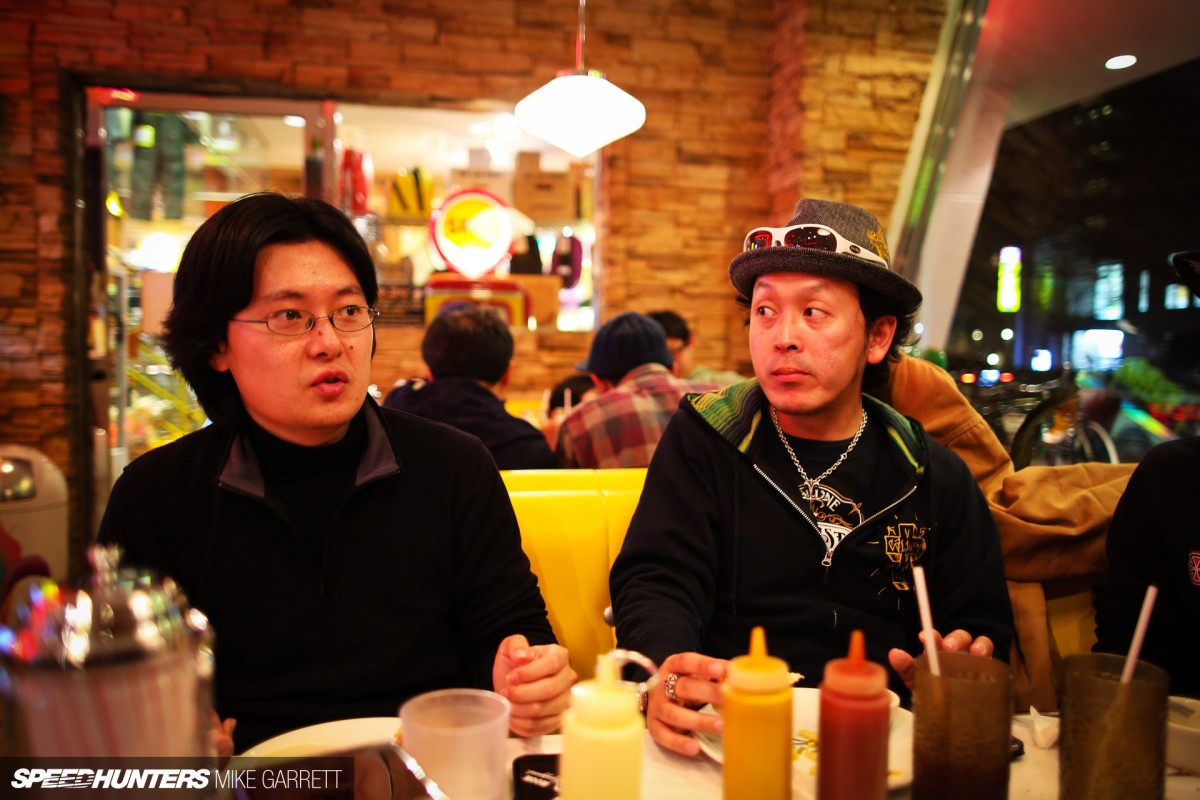 As we chatted and ate our hamburgers and hot dogs, Kanda-san's buddies began to arrive in big numbers.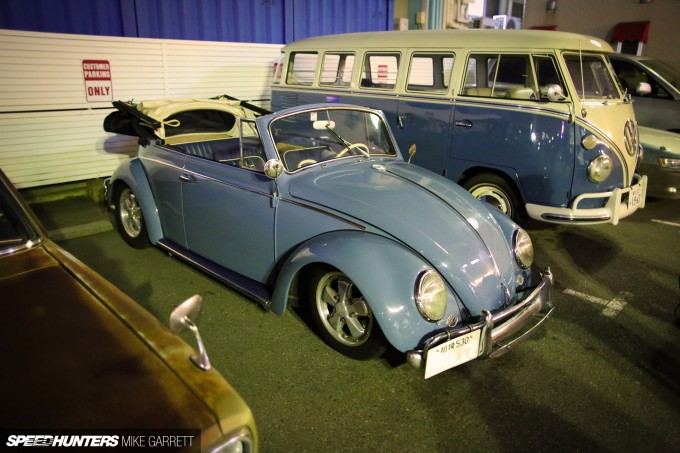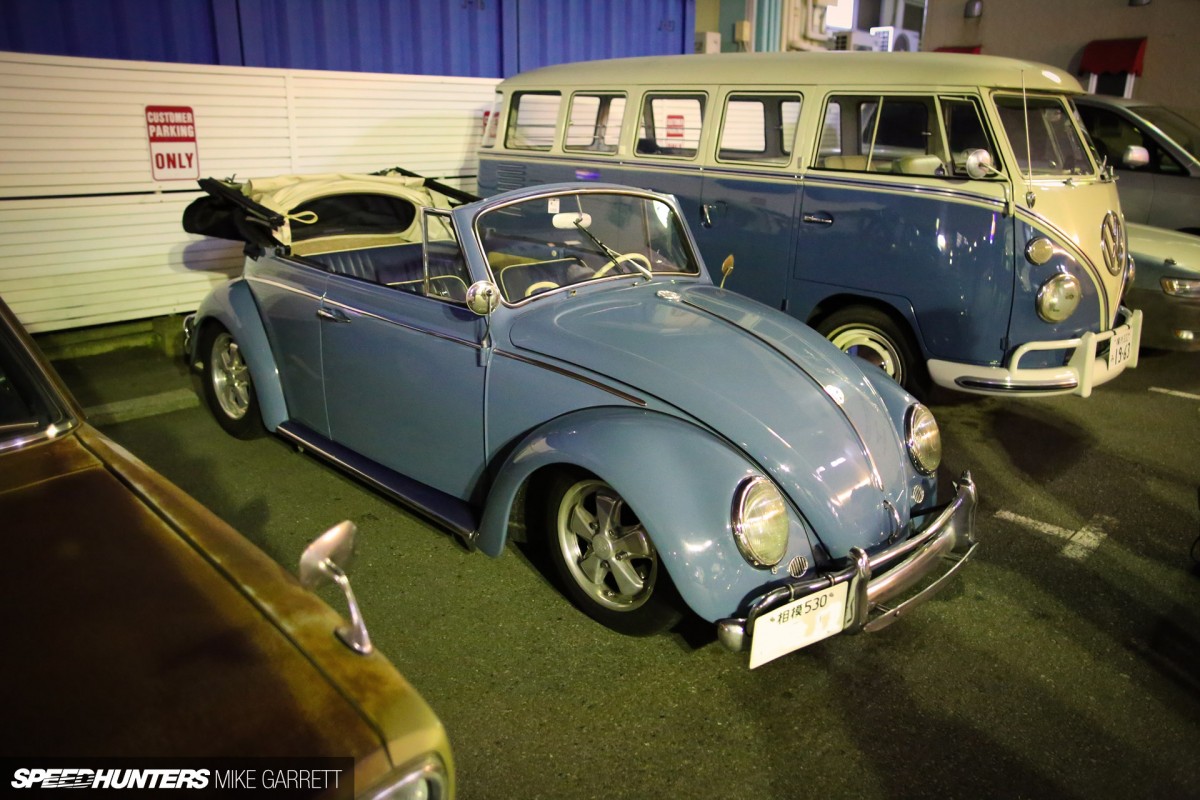 Once we were through with dinner, we headed out to the parking lot behind Mooneyes to find that plenty of cars had already assembled.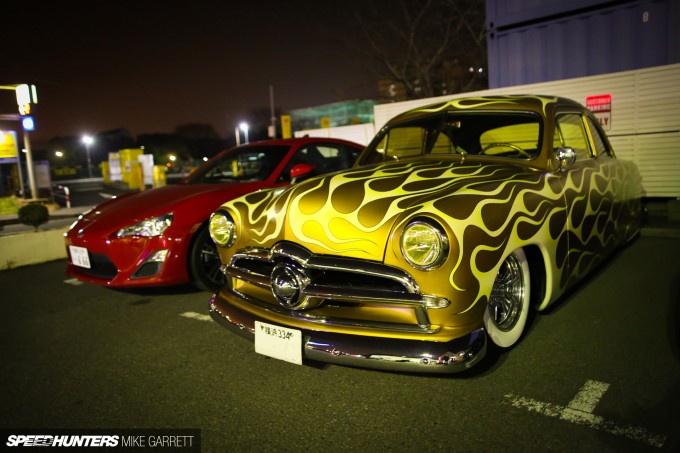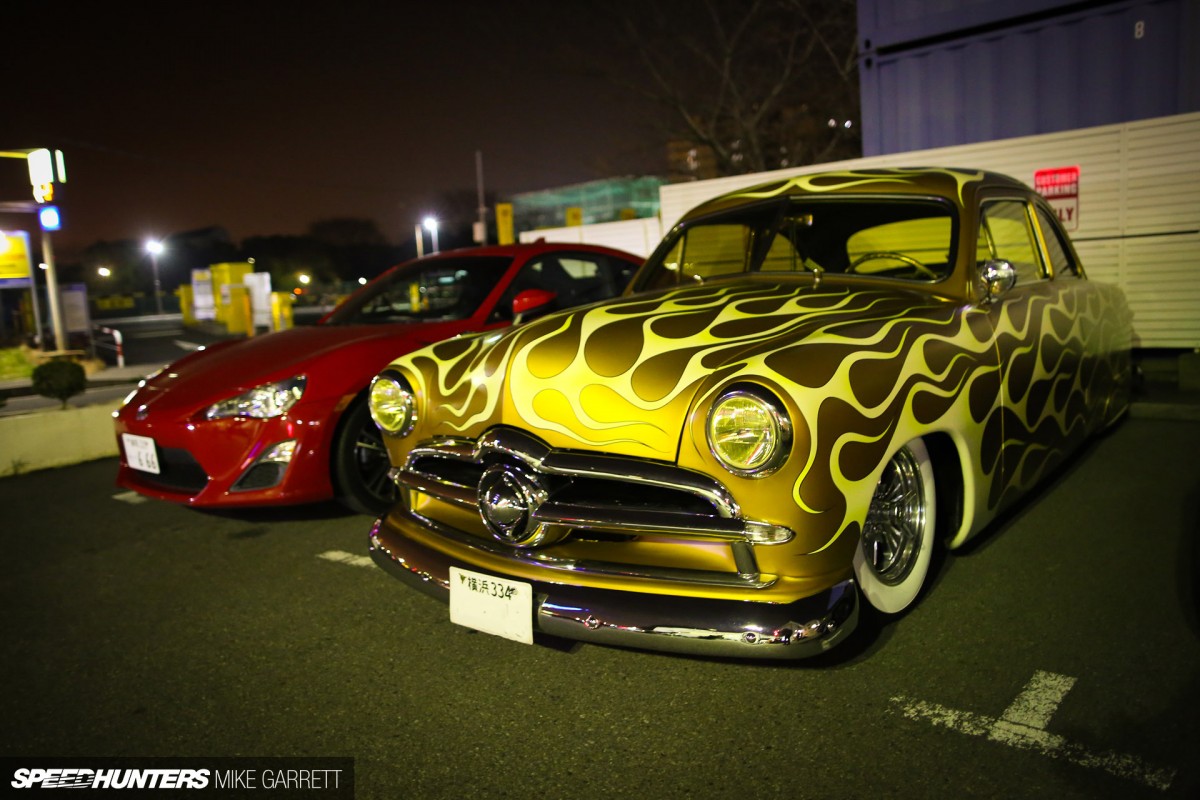 While Kanda-san is an air-cooled VW guy at heart, he has a wide network of friends and the Cruise Night included cars from all sorts of genres. Rods and customs? There were plenty of those, including the sweet Shoebox Ford from Yokohama's own Kustomstyle Crew. If you want to see how high Japan's custom level is, look no further than a car like this.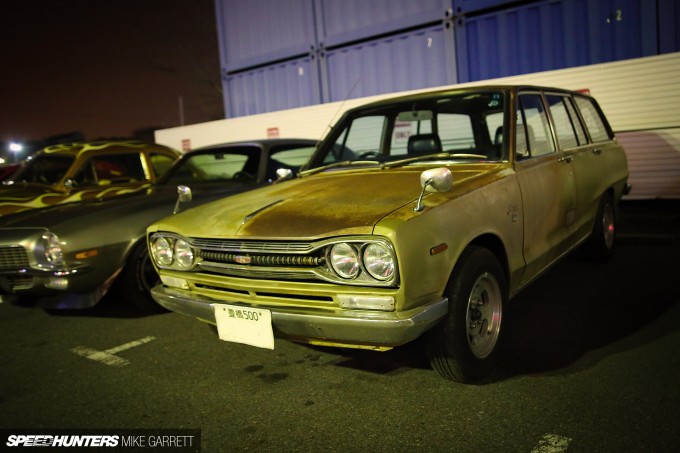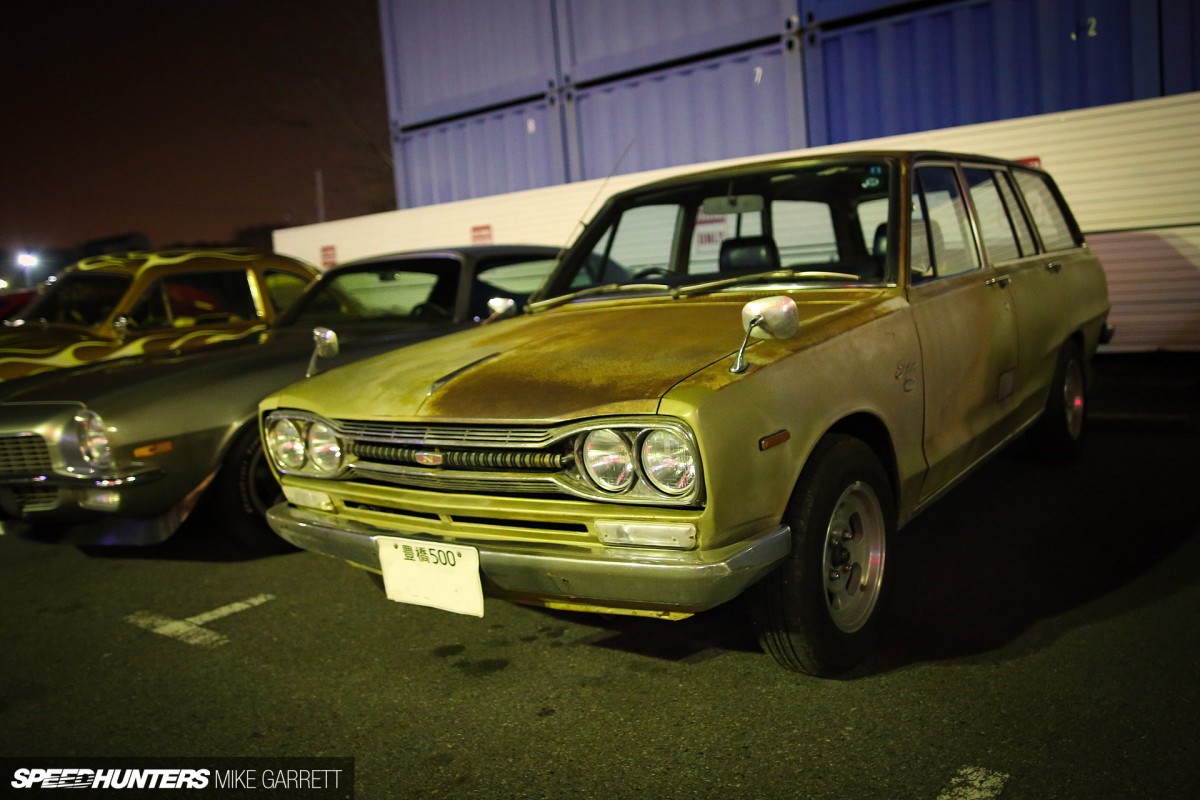 How about vintage Japanese cars? They were also well accounted for. This Hakosuka Skyline wagon made the trip all the way from Aichi Prefecture to join in.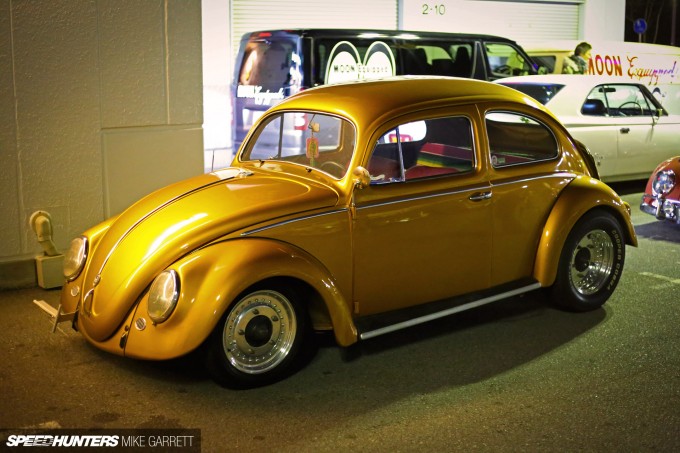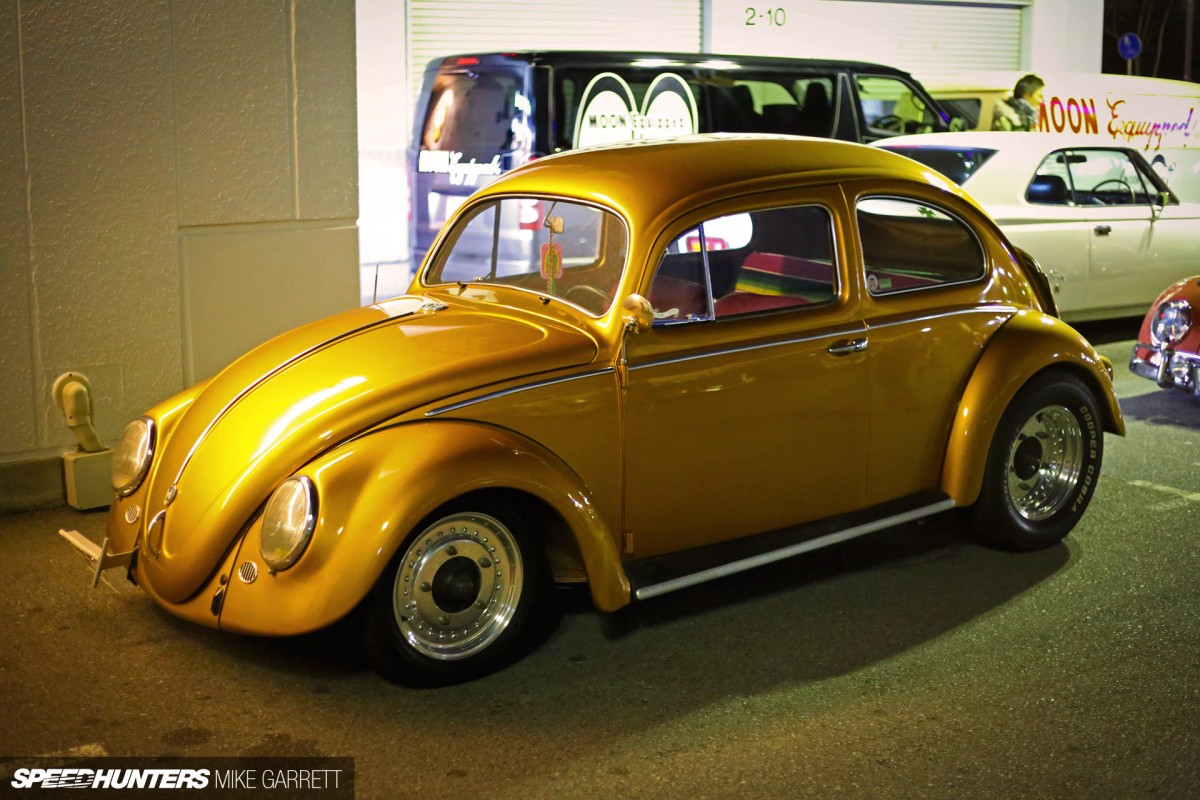 I also had a little time to check out Kanda-san's oval window Bug, which is built in a very accurate California-look style with period correct Centerline wheels, de-bumpered body lines and a hot dual carb motor sitting behind the rear decklid. He certainly had a right to be excited about finishing his car in time for the event.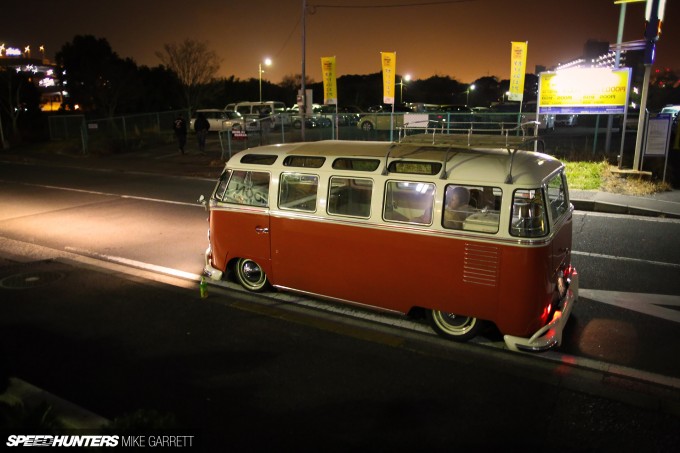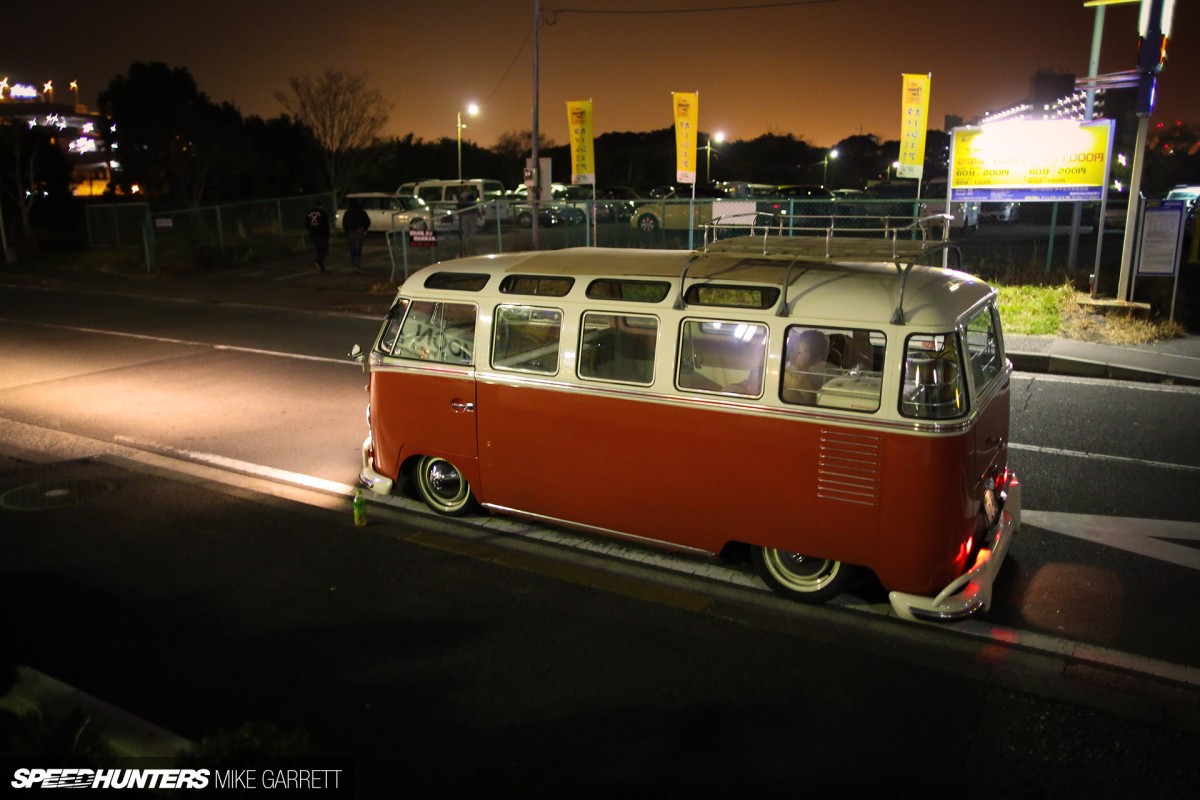 As we hung out in the Moon parking lot , more and more cool cars began to arrive. It didn't take long to realize that this little event was actually going to be a pretty big deal.
Let's cruise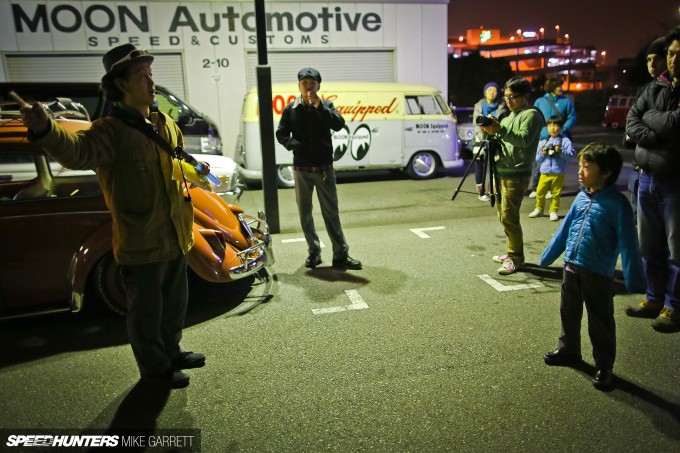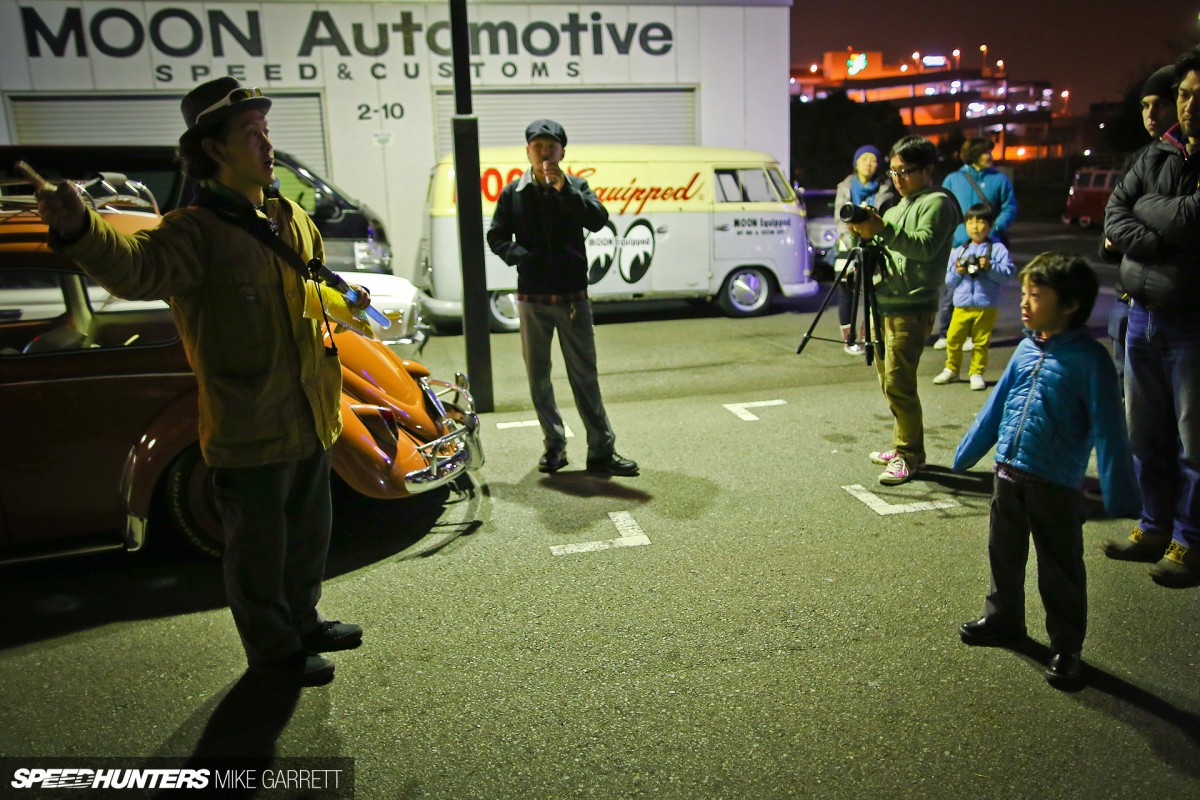 Finally, it was time to get going. Before we hit the road, Kanda-san held a quick meeting where he went over the cruise route. The plan called for a short but scenic night drive through the Yokohama area, before winding up at a parking lot in the bayfront Minato Mirai 21 area.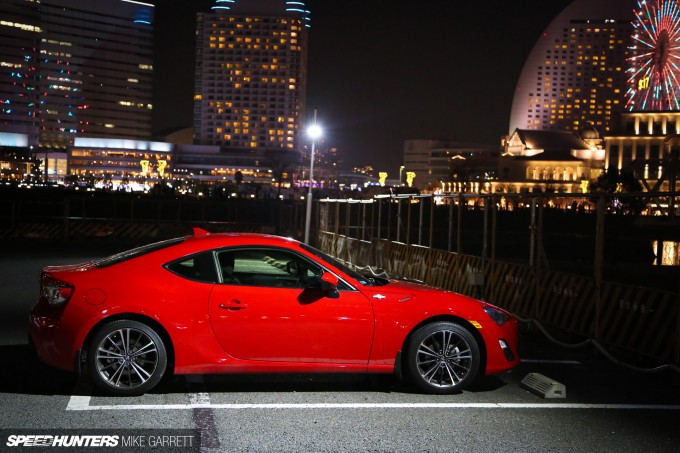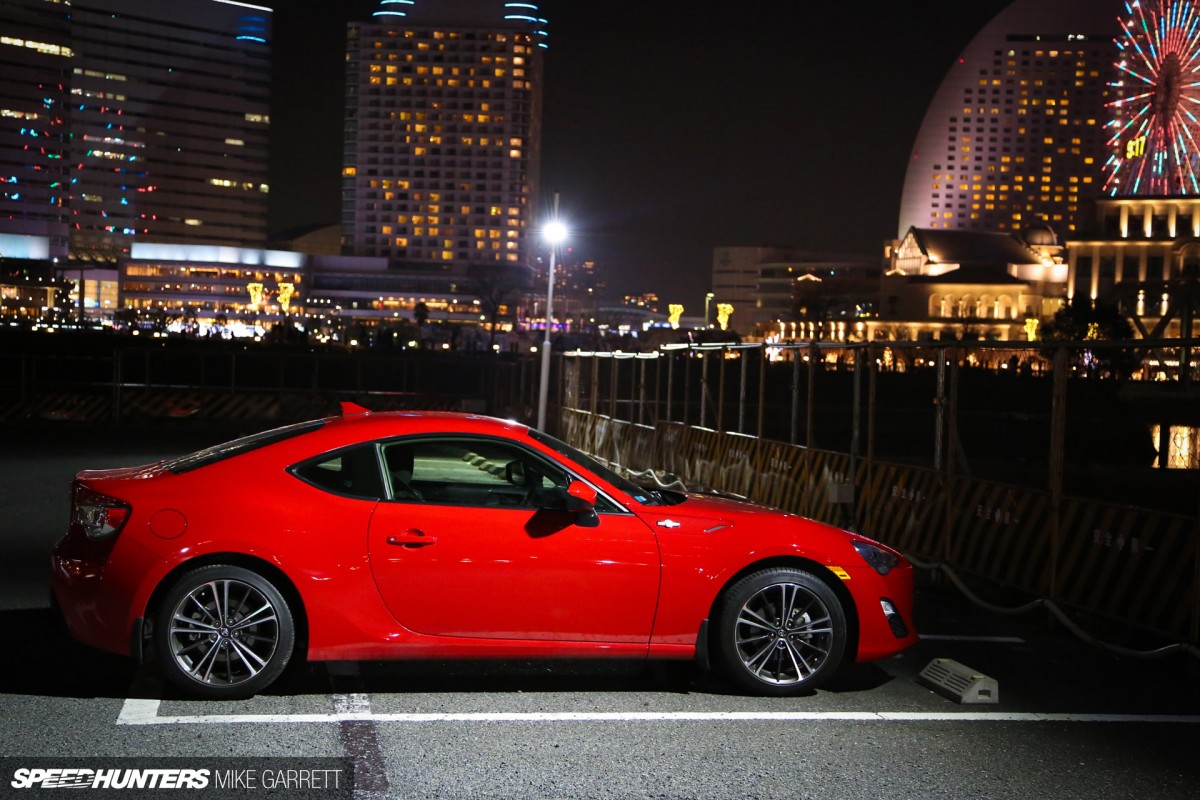 I hopped into the shotgun seat of Kage's red 86 and we joined the line of cars that was proceeding out of Mooneyes Area 1 and on to the streets of 'Y-Town', as the locals like to call it.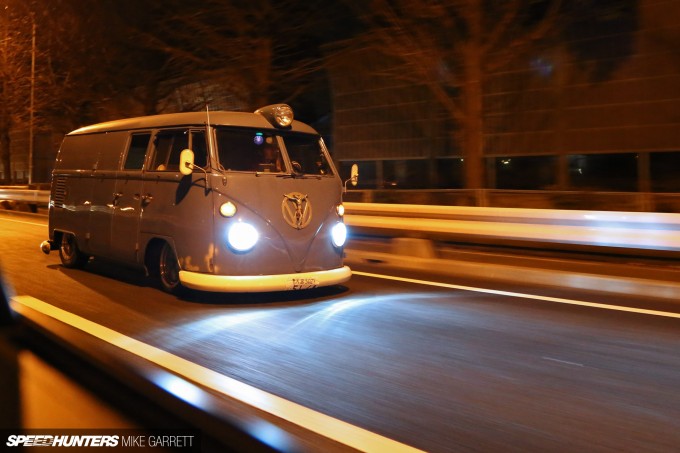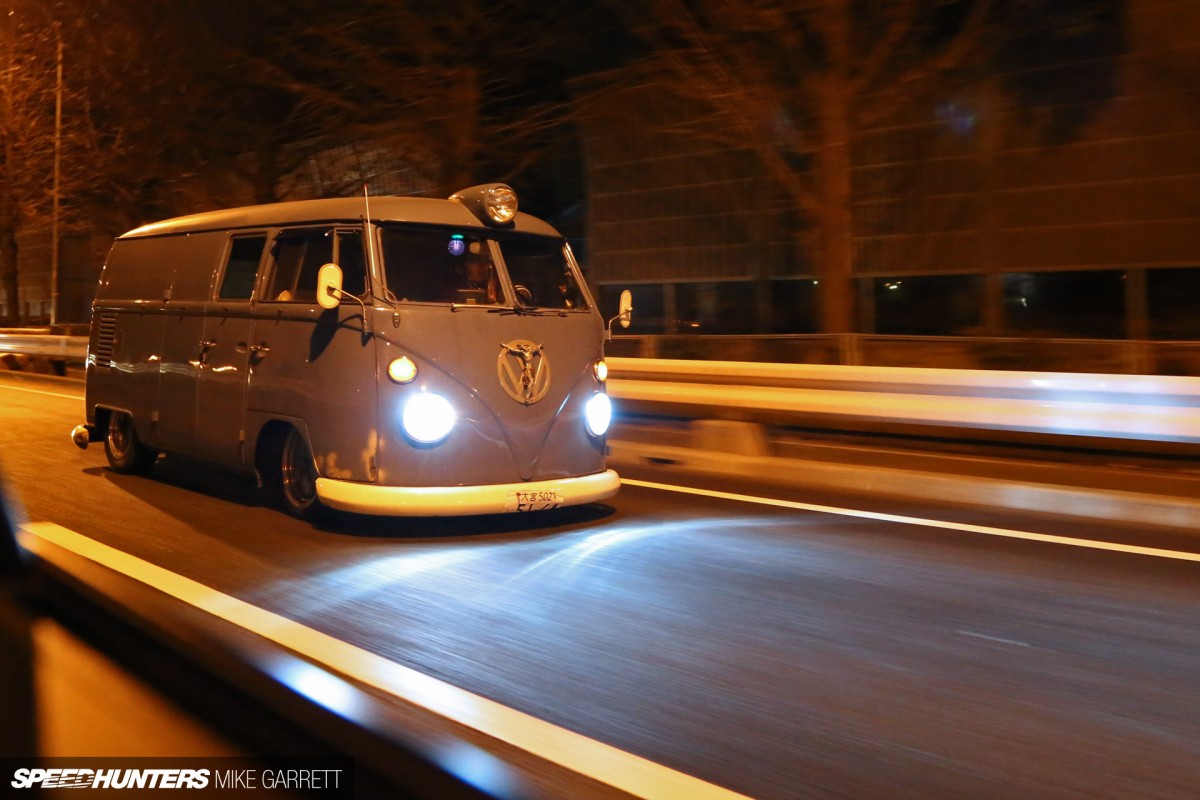 It was around this time that I truly began to realize just how special this 'little' meet was. I've got to say that it was pretty damn neat to see a huge line of vintage VWs, hot rods, customs and more making their way through the cold night.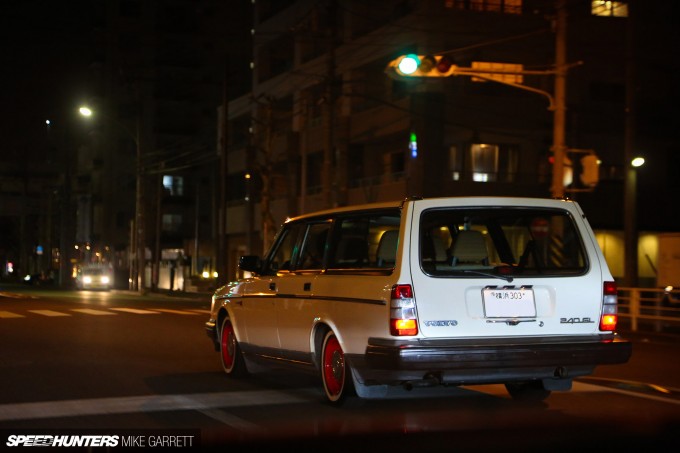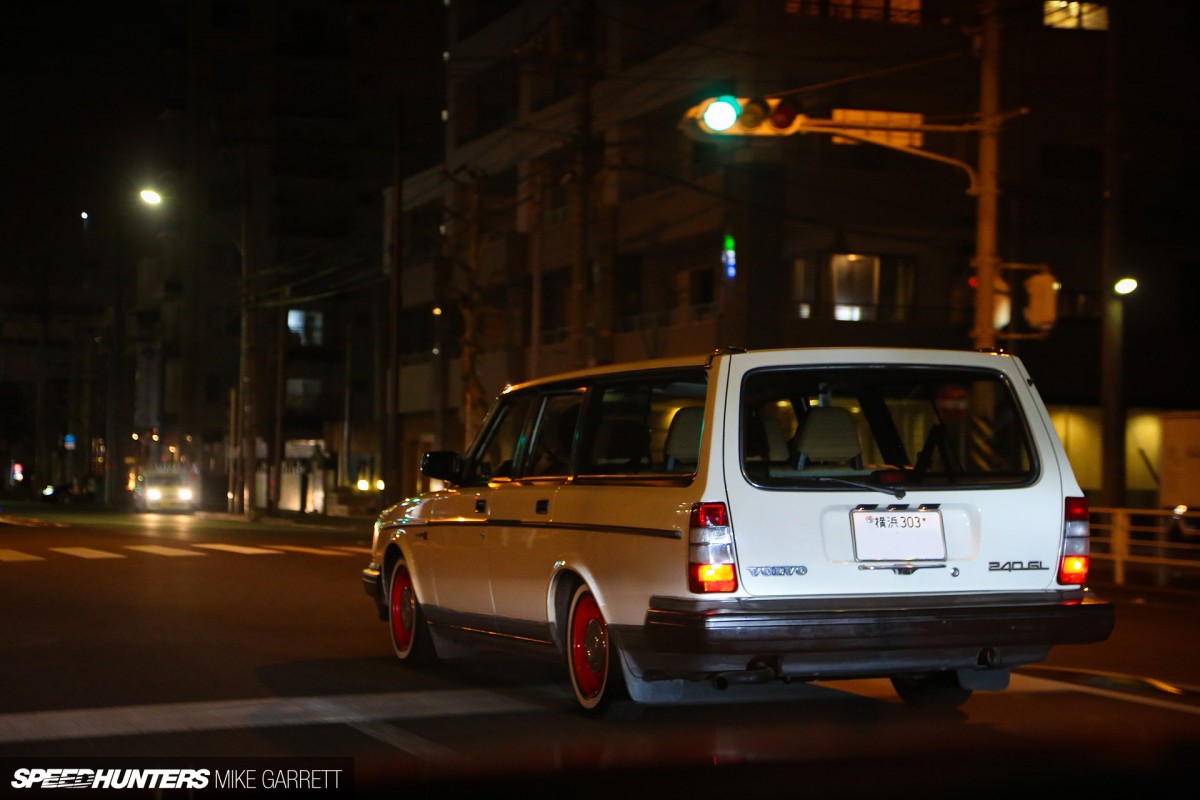 Along with the Volkswagens and old school American iron, there were also some rather unusual machines that had joined up with the group. A Volvo 240 wagon with red steelies and white walls? Yes please.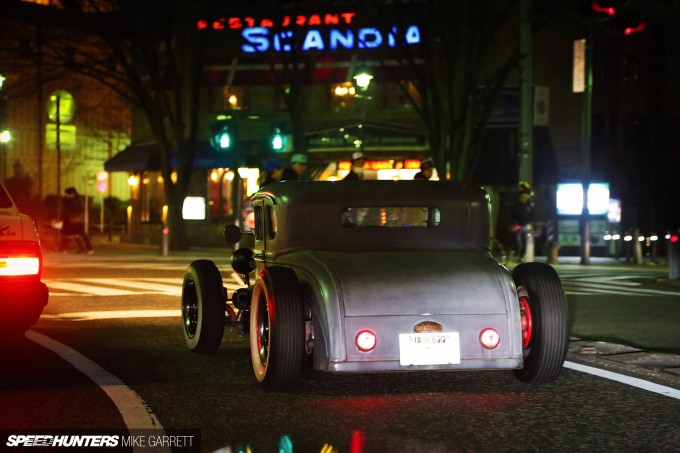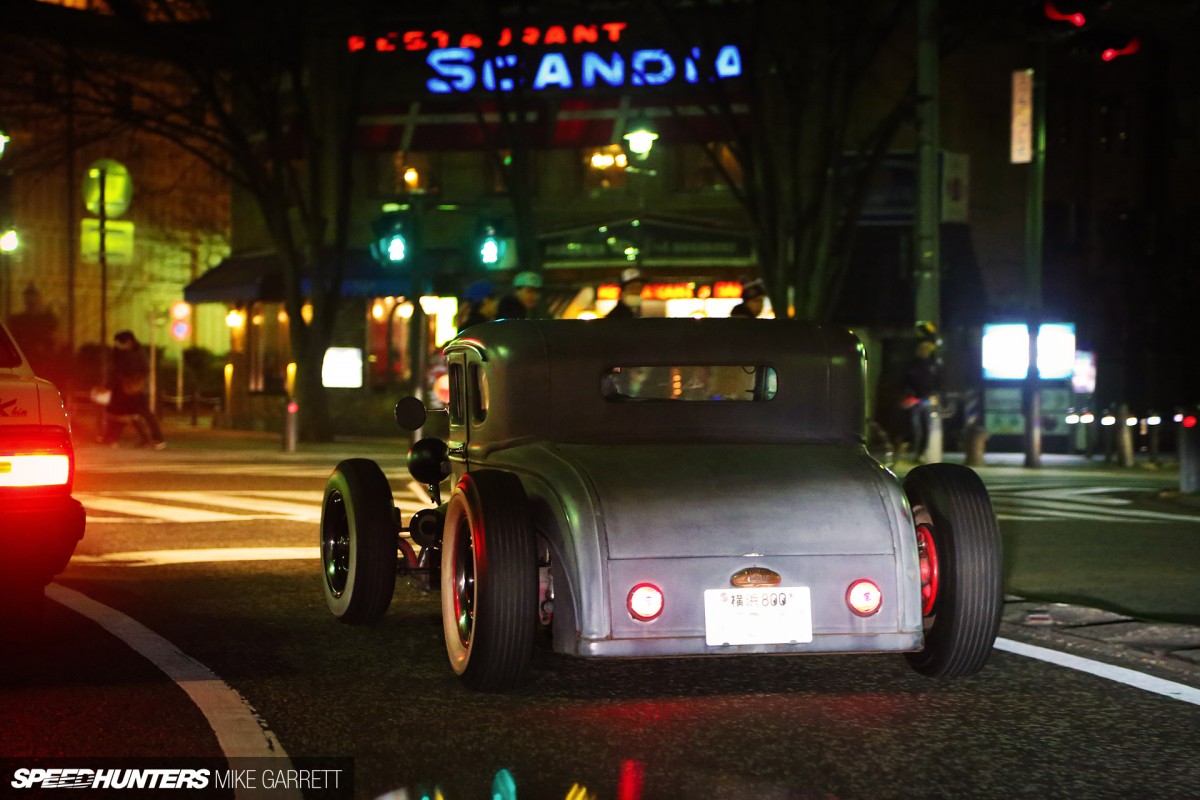 While I've had the good fortune of seeing many Japanese-built hot rods over the years, there's still something incredibly cool about seeing an authentic example like this five-window coupe wandering the country's narrow, neon-lit streets.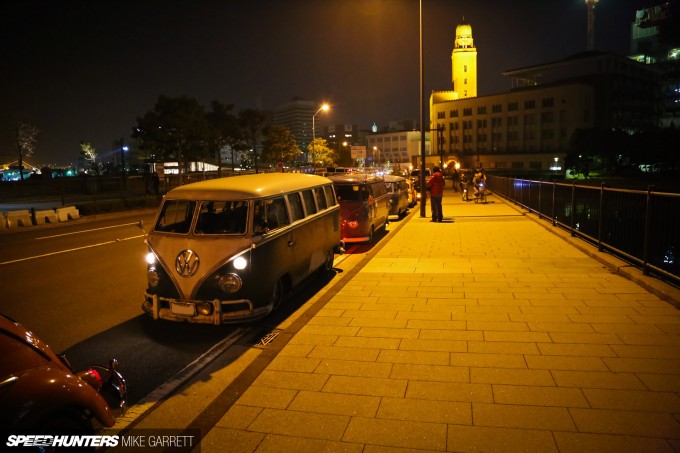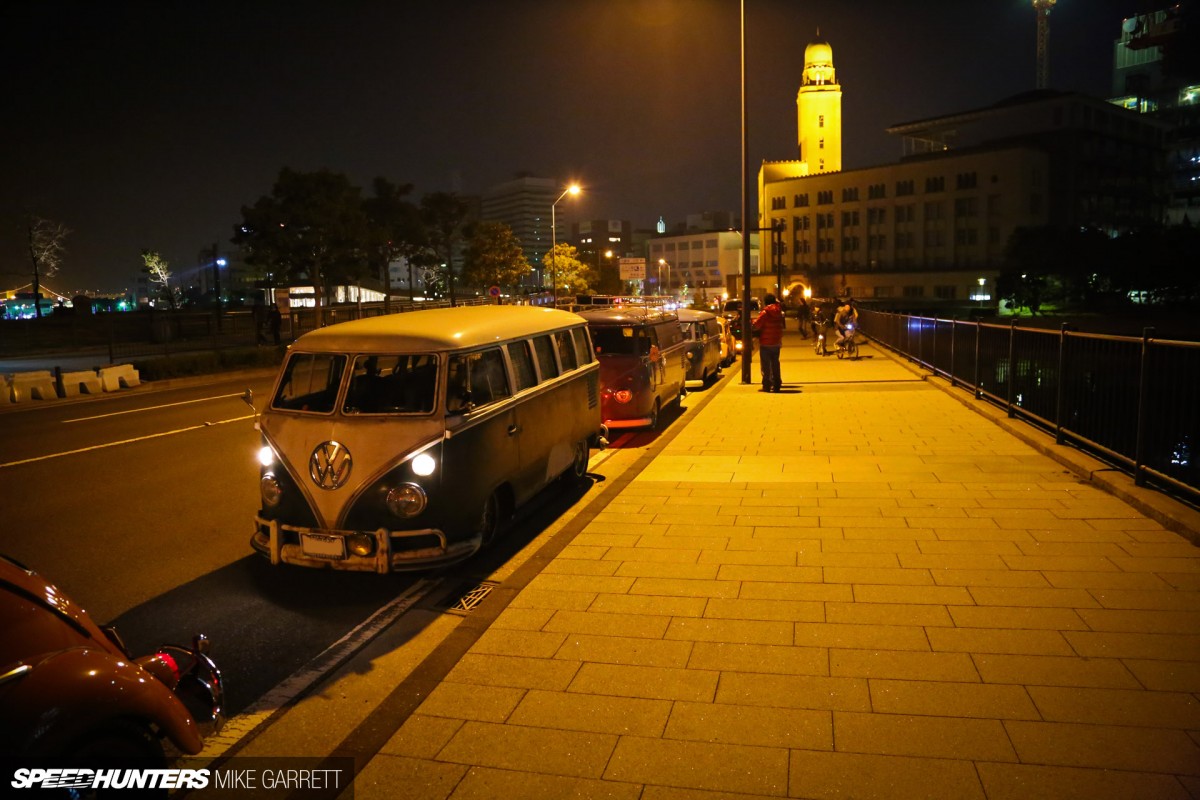 Even with Kanda-San's careful organization, it was impossible to keep such a big group of cars together through the Saturday night traffic, so we stopped on the side of the road to regroup.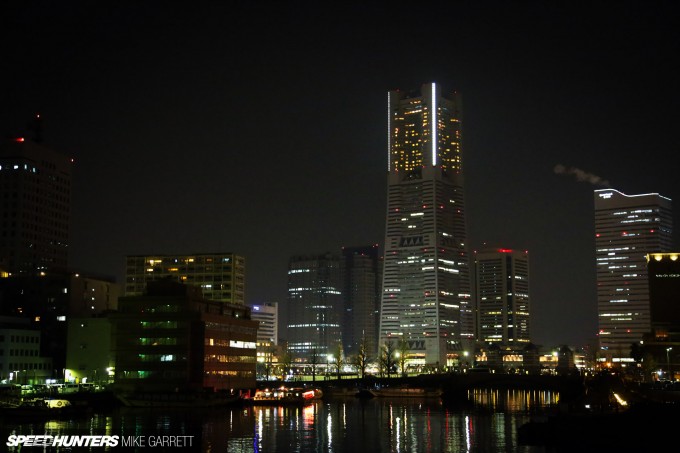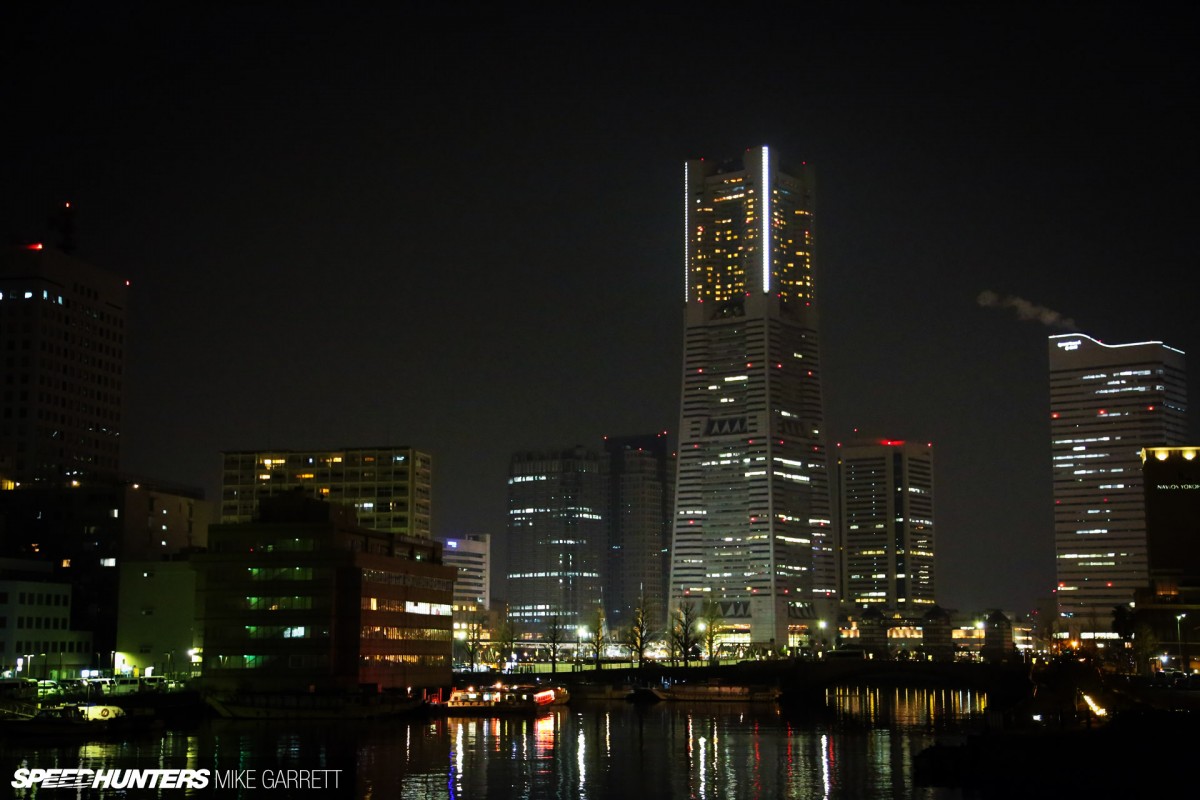 I decided I'd take this opportunity to grab a few images of the Minato Mirai skyline including the enormous Landmark Tower. Surely one of the most beautiful night views in Japan, don't you think?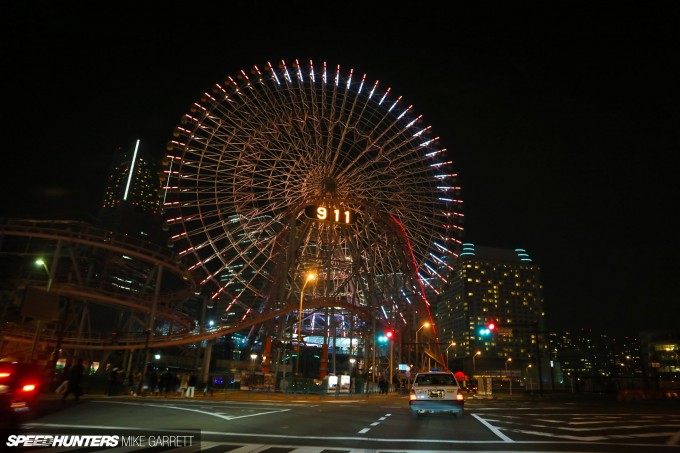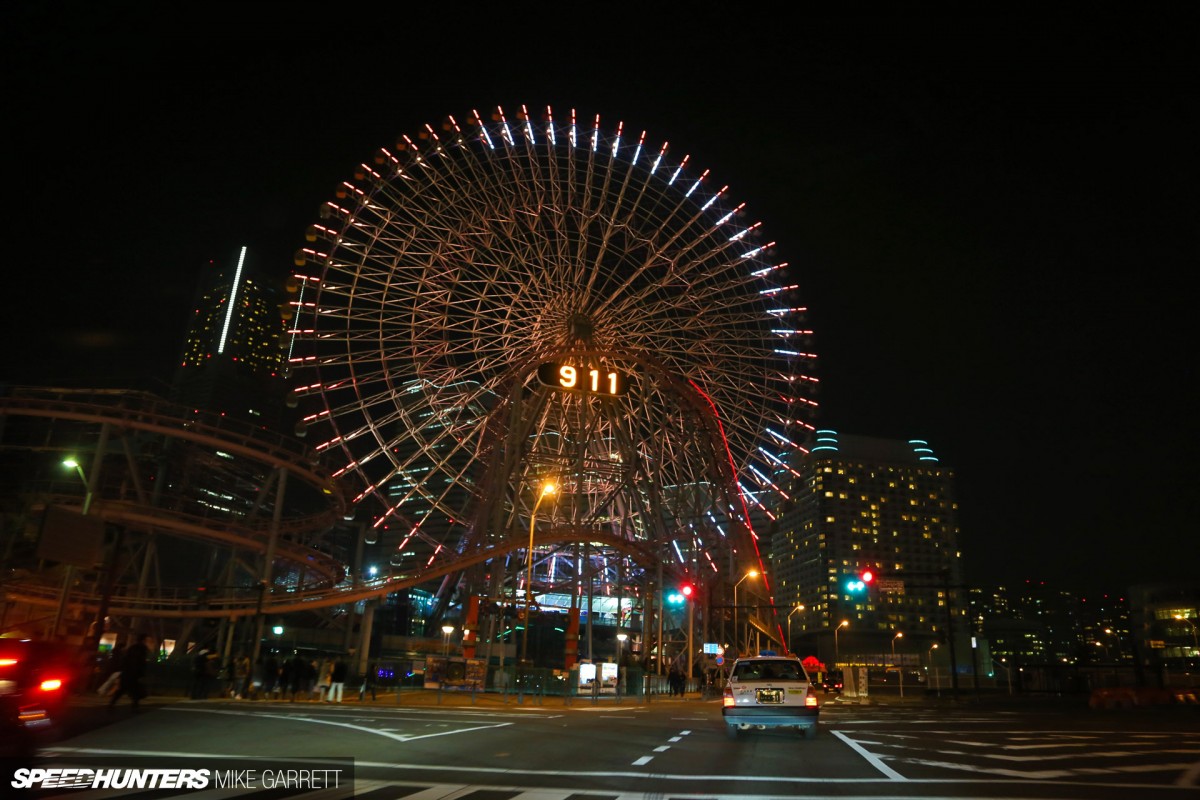 From there, it was just a short distance to the end of the route. With all the bright lights and tourist attractions, there were a few times where I'd look up and think I was in Las Vegas before I remembered I was in good old Yokohama, Japan.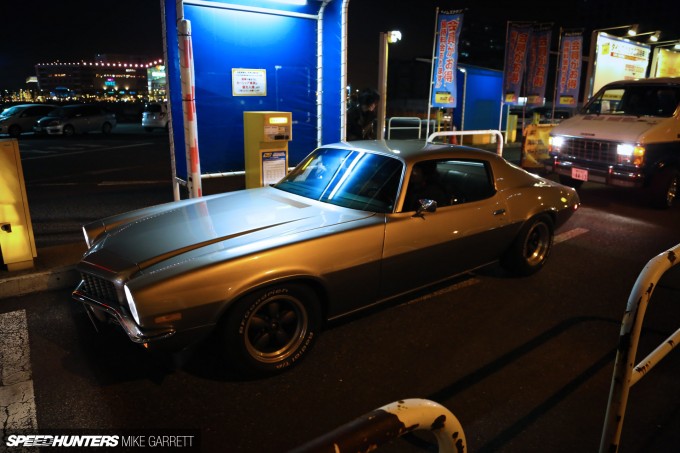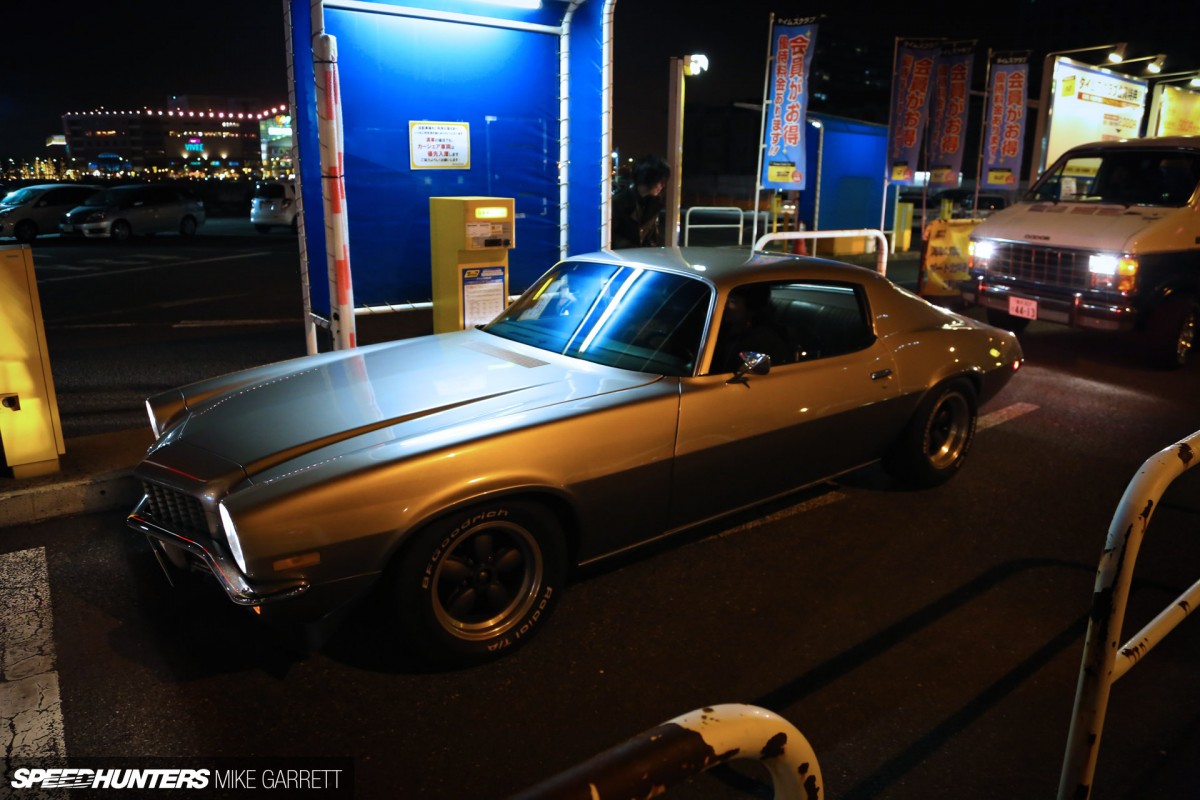 Soon after, we found ourselves at the the Minato Mirai #2 parking lot – the official finish line for the cruise route. While the cruise itself might have come to an end, the fun was really just beginning.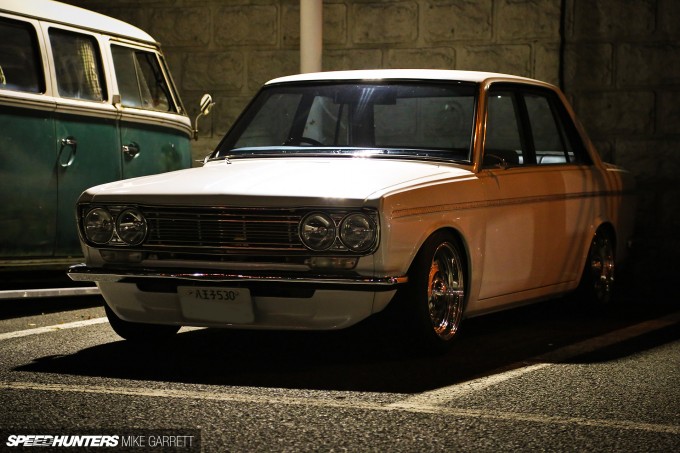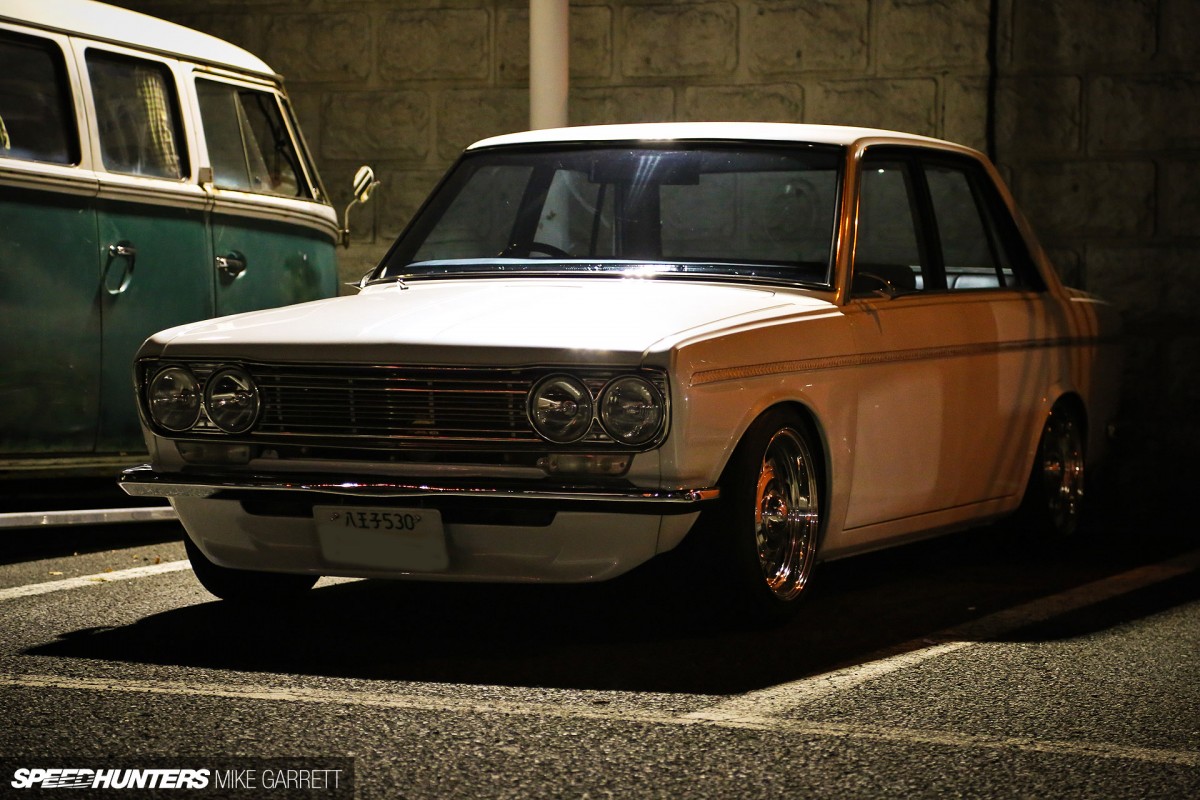 A handful of enthusiasts had already gathered and were waiting for us in the parking lot, including Mr. Nobuyuki Tamura, a diehard 510 fan from Tokyo. I first met him at an event last year, and it was very nice to see both him and his super clean Bluebird come out to join in on the fun.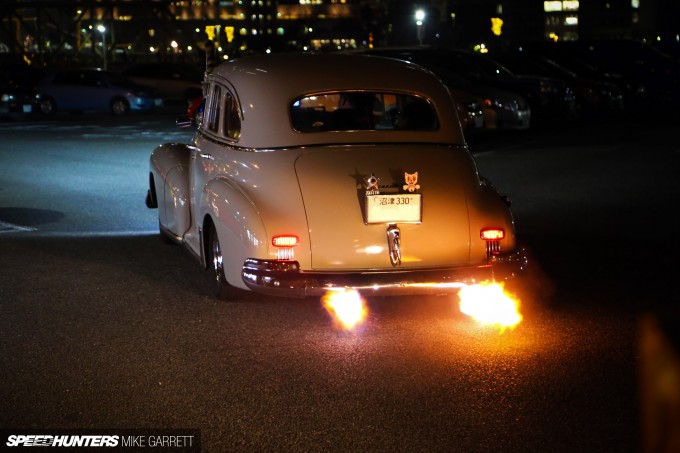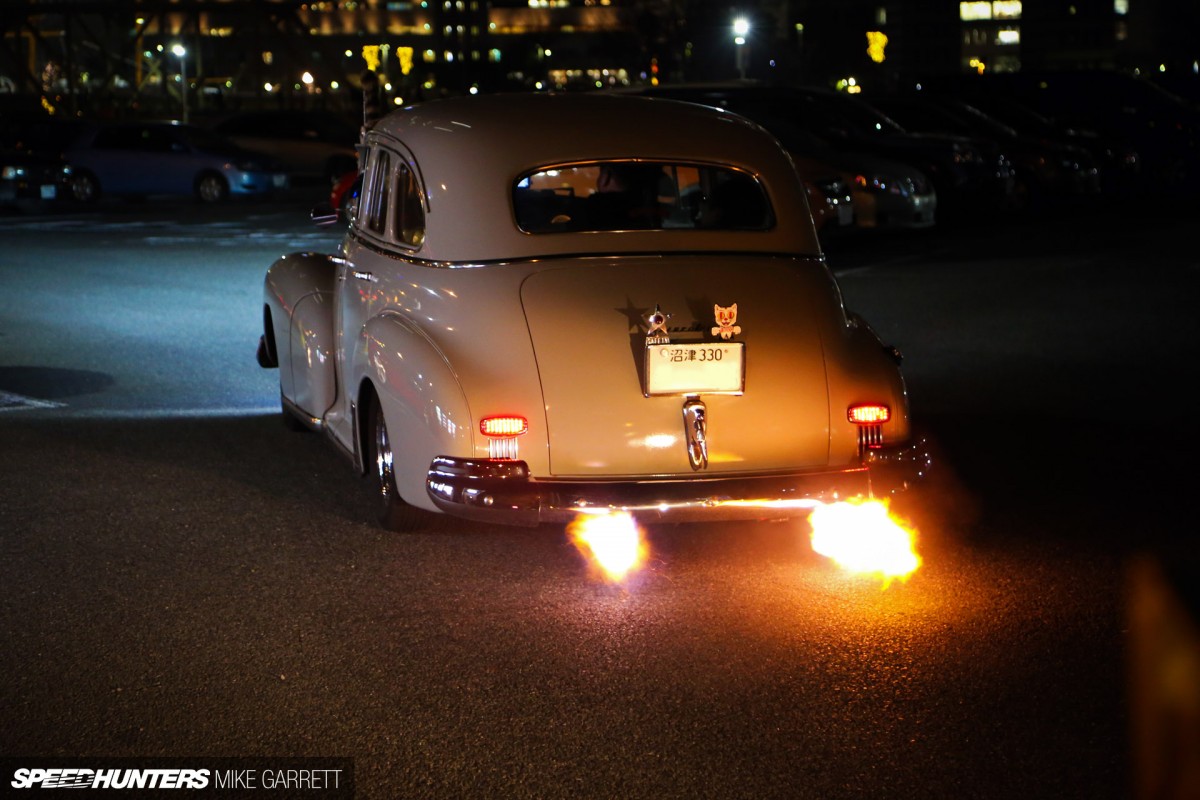 Meanwhile, a seemingly endless stream of cars was waiting at the gate to enter the parking lot. Some of them had come from Mooneyes with us, but others must have joined up with the pack along the way. Here's a little flame show put on by a cherry '48 Chevy Fleetmaster that was rolling through.
A style for everyone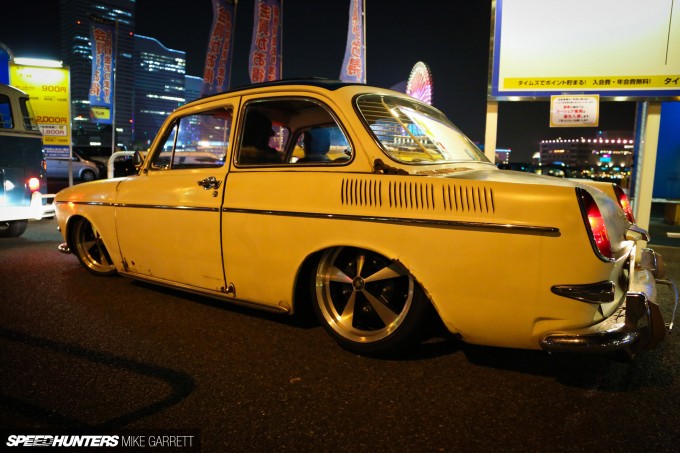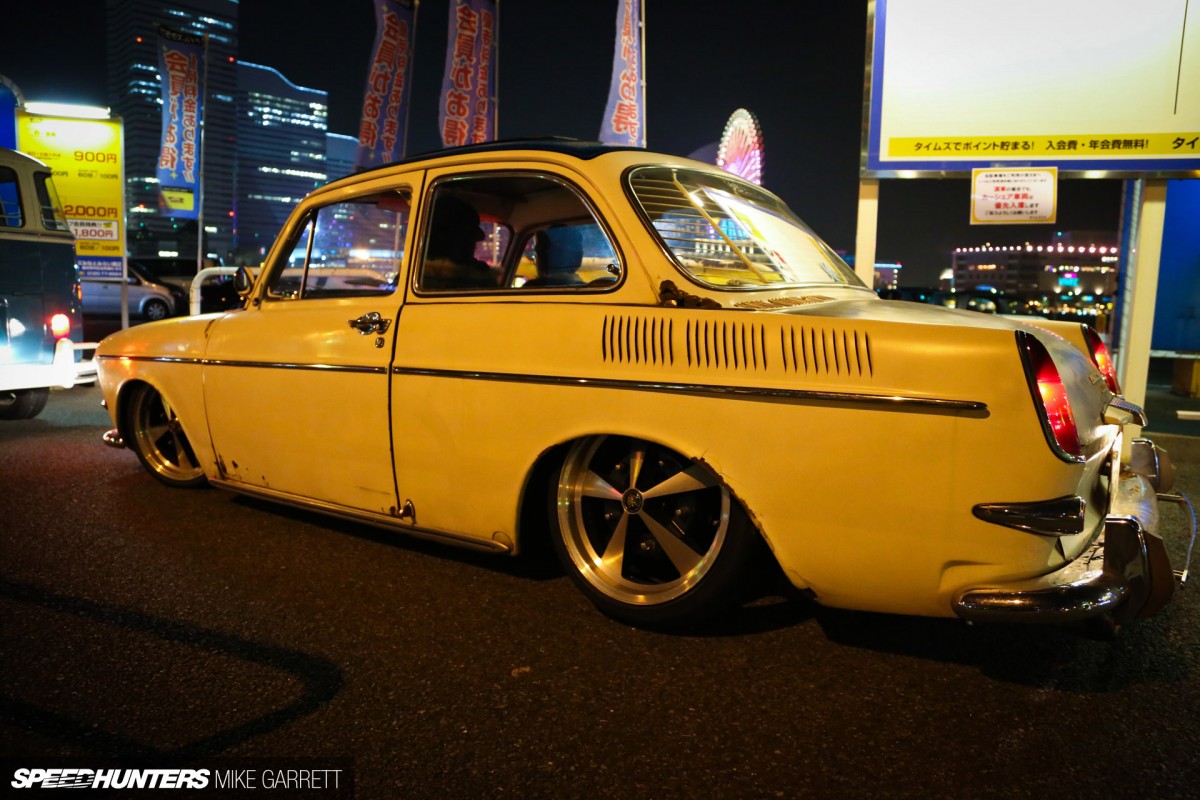 While air-cooled Volkswagens made up a large part of the group, that by no means meant that the parking lot was lacking diversity. In fact, Japanese VW owners are some of the most creative gearheads I've ever met.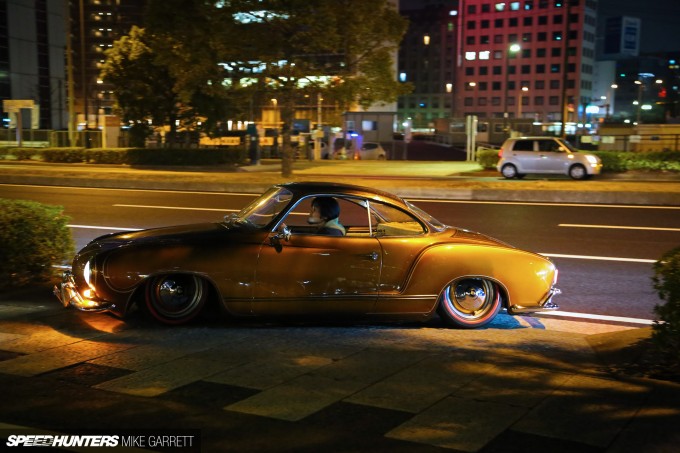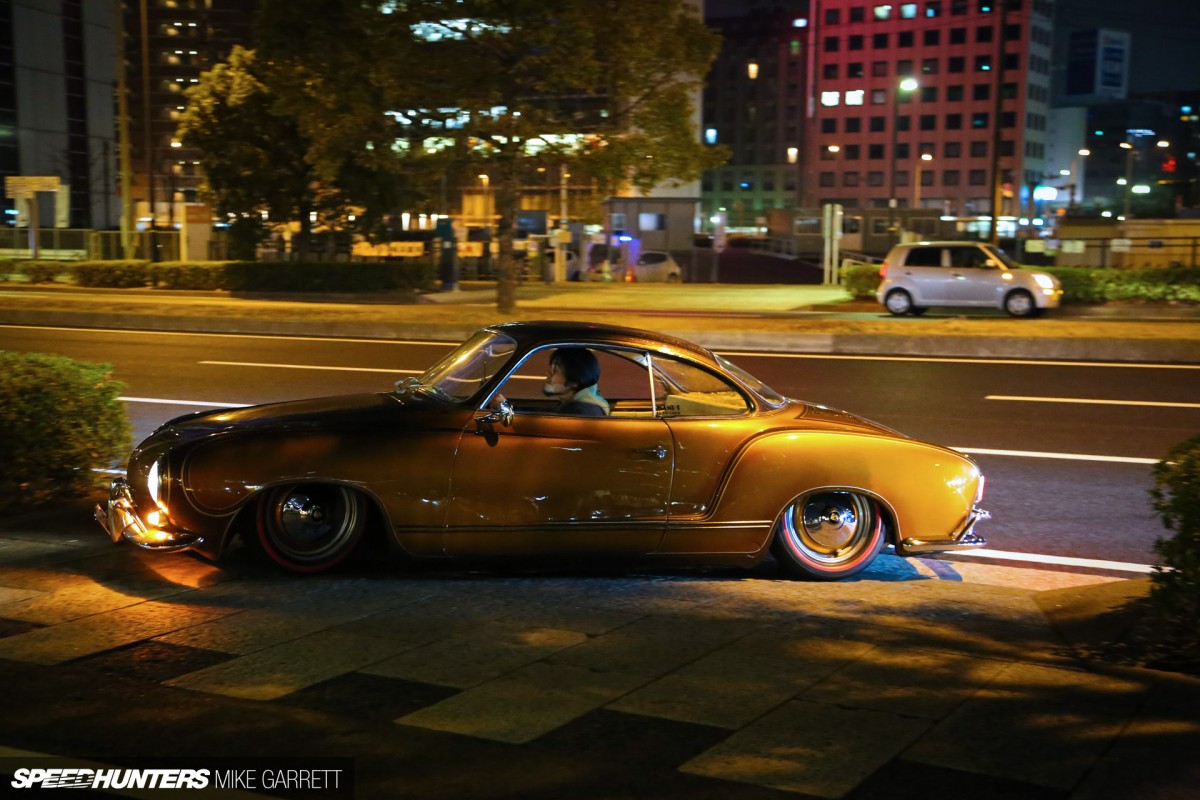 Among the Japanese Volkswagen community, you'll find every sub-genre there is. There are OEM restos, traditional Cal-look cars, Volksrods and crazy street machines that redefine the meaning of low. This Karmann Ghia certainly fitted into the latter category.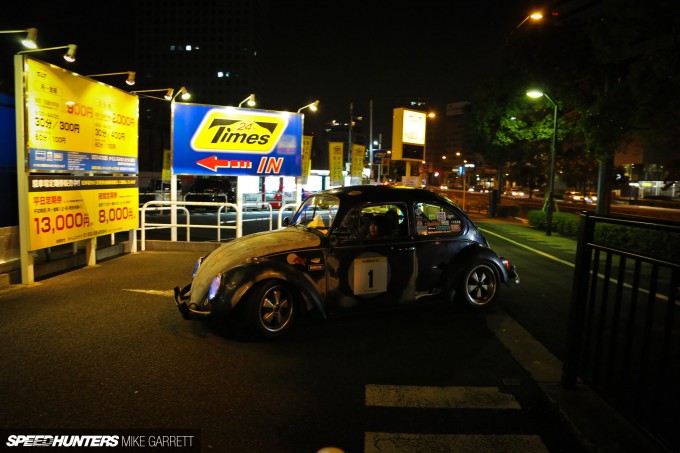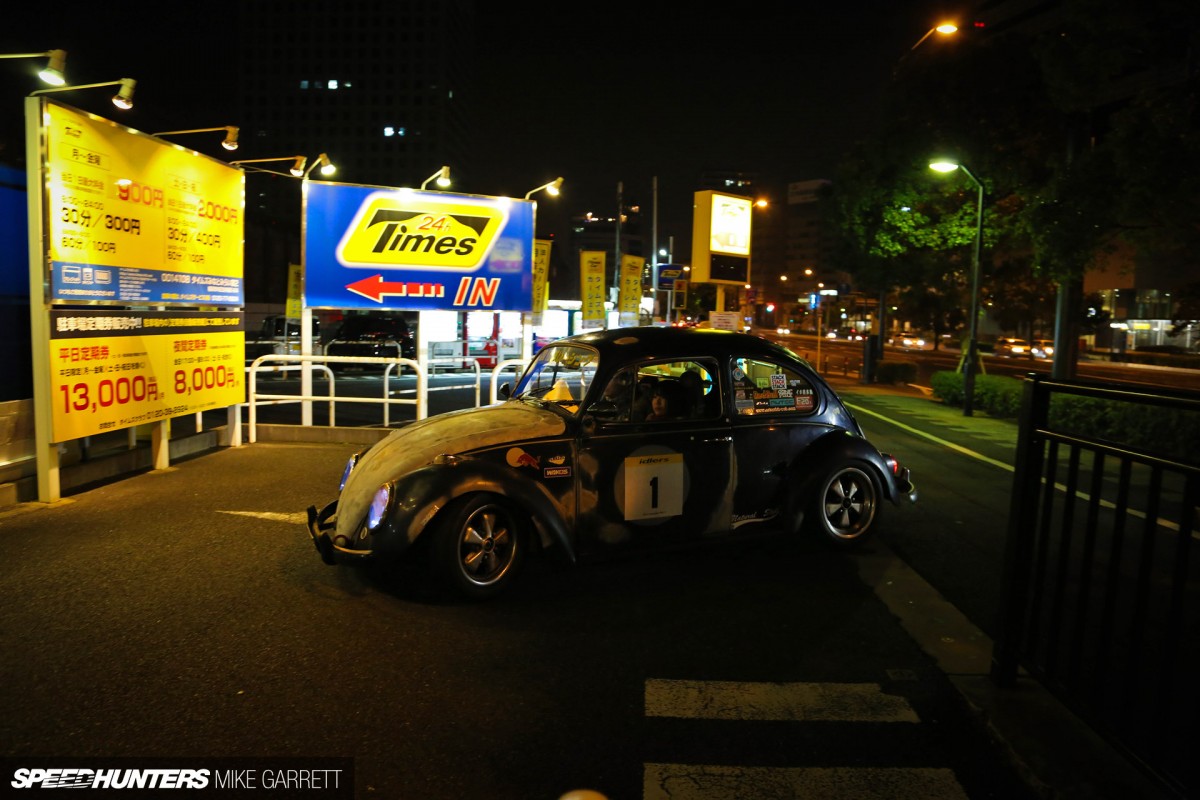 I also quite liked this Beetle done with a vintage road-racer-meets-rat-rod theme. Just another example of that signature Japanese creativity.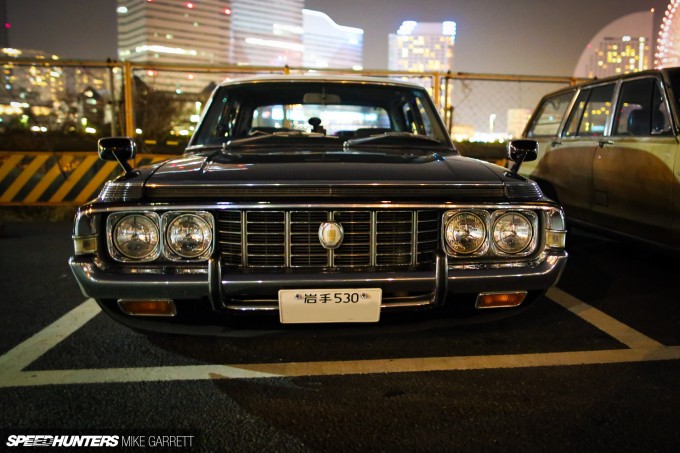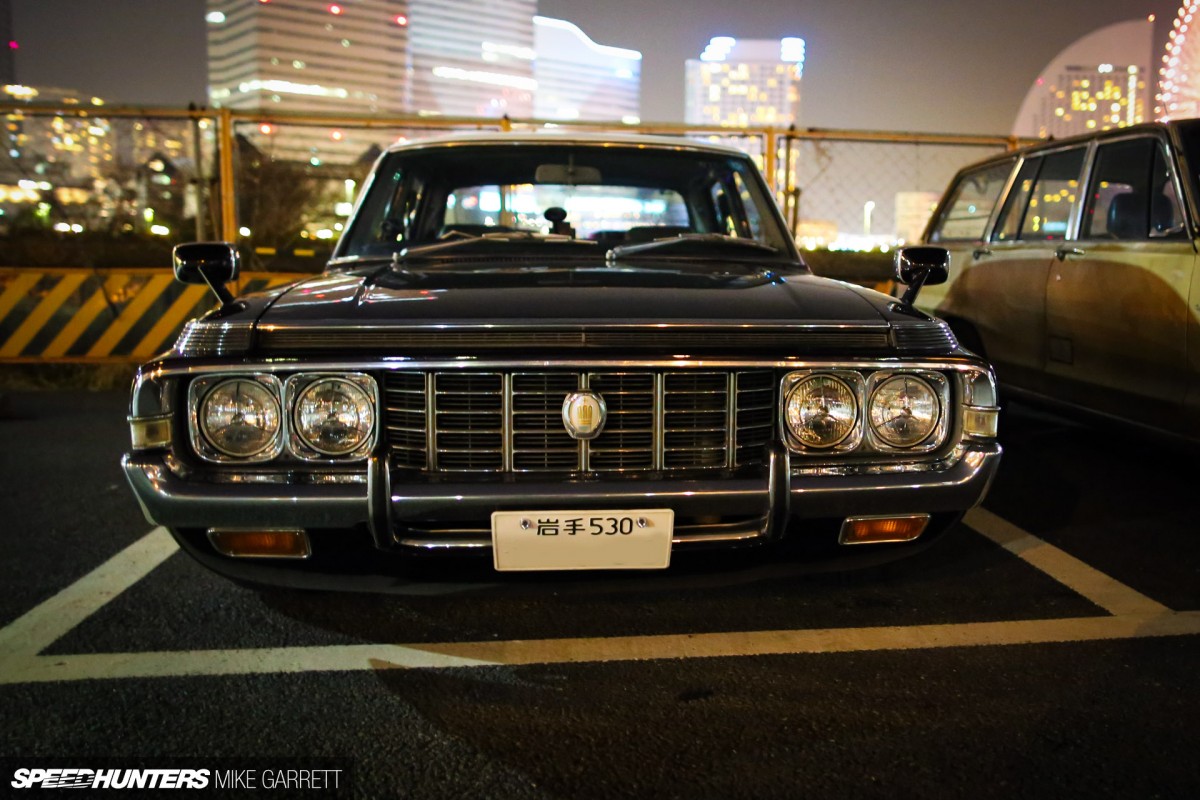 That's not a VW. It's a Kujira body style Toyota Crown driven by Mr. Shingo Oikawa. Not only is Oikawa-san's Crown a perfect example of US-Japanese fusion, it's his daily driver. Major bonus points awarded for that.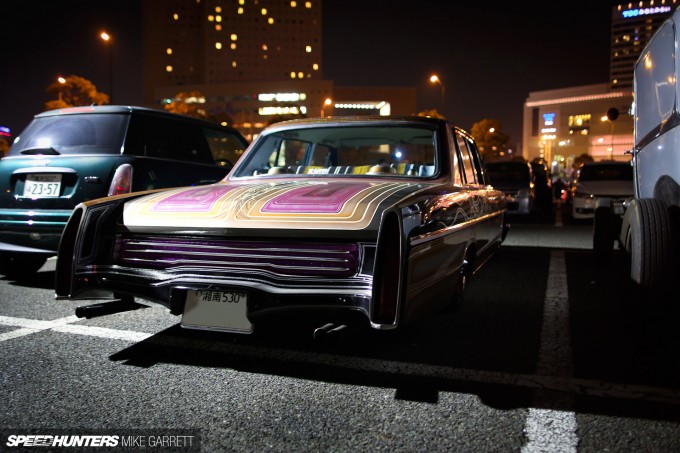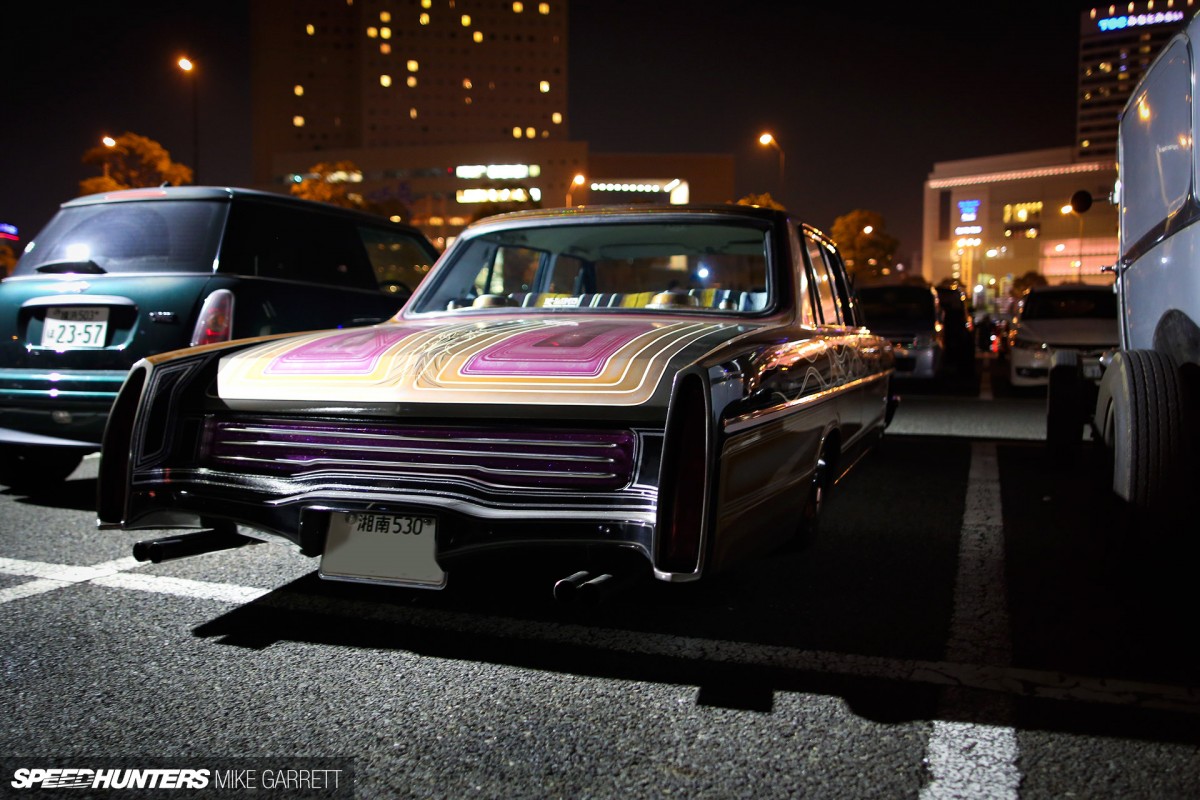 Speaking of customized Japanese domestic cars, this Nissan Gloria is one of those cars that looks like it belongs behind ropes at a car show somewhere. I probably could have done an entire post on the car's stunning paint and bodywork…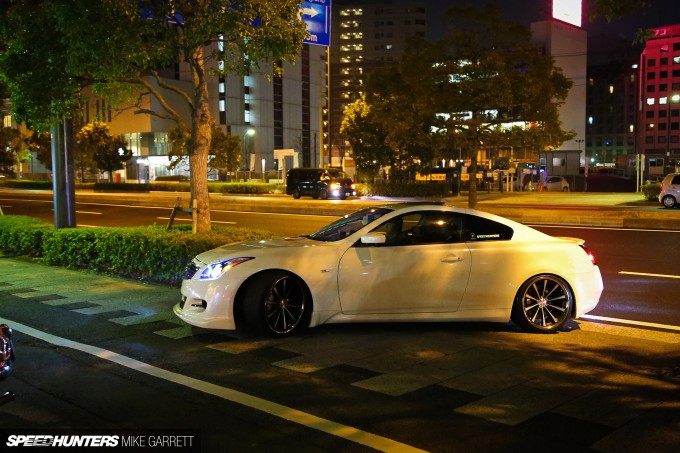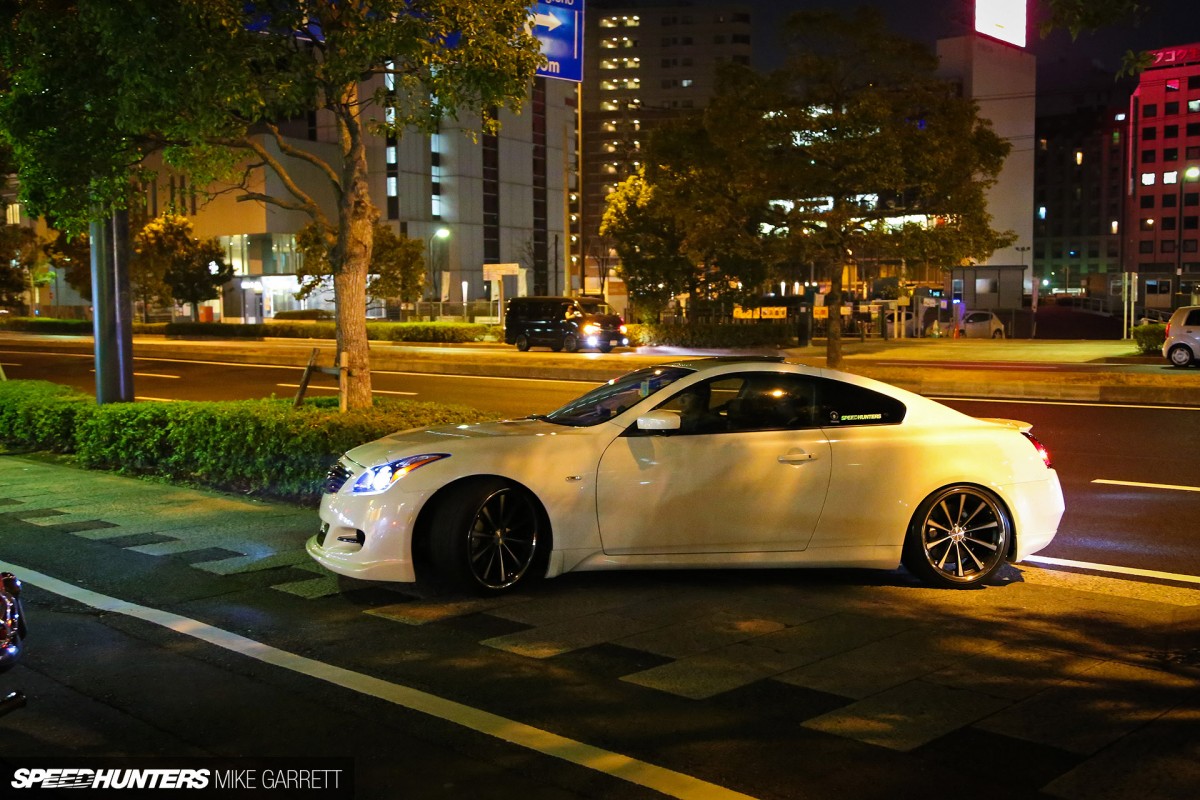 Moving in a slightly different direction now, here's a very tidy V36 Skyline Coupe owned by a guy who goes by the name of Eno Ken. He's been a long time Instagram contact of mine, and there's nothing quite like putting a face to an online screen name. Thanks for coming out!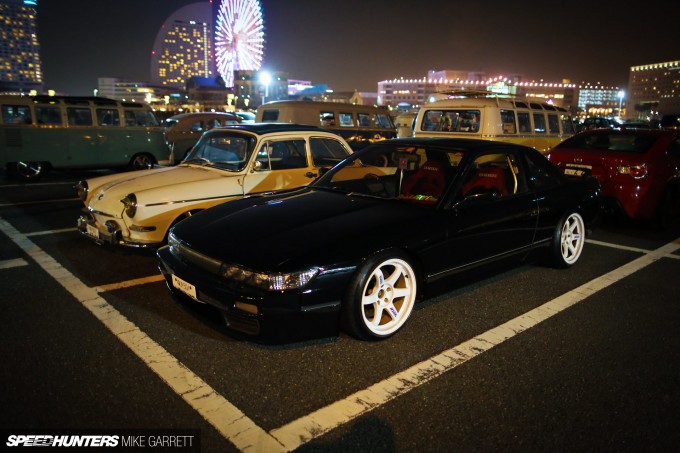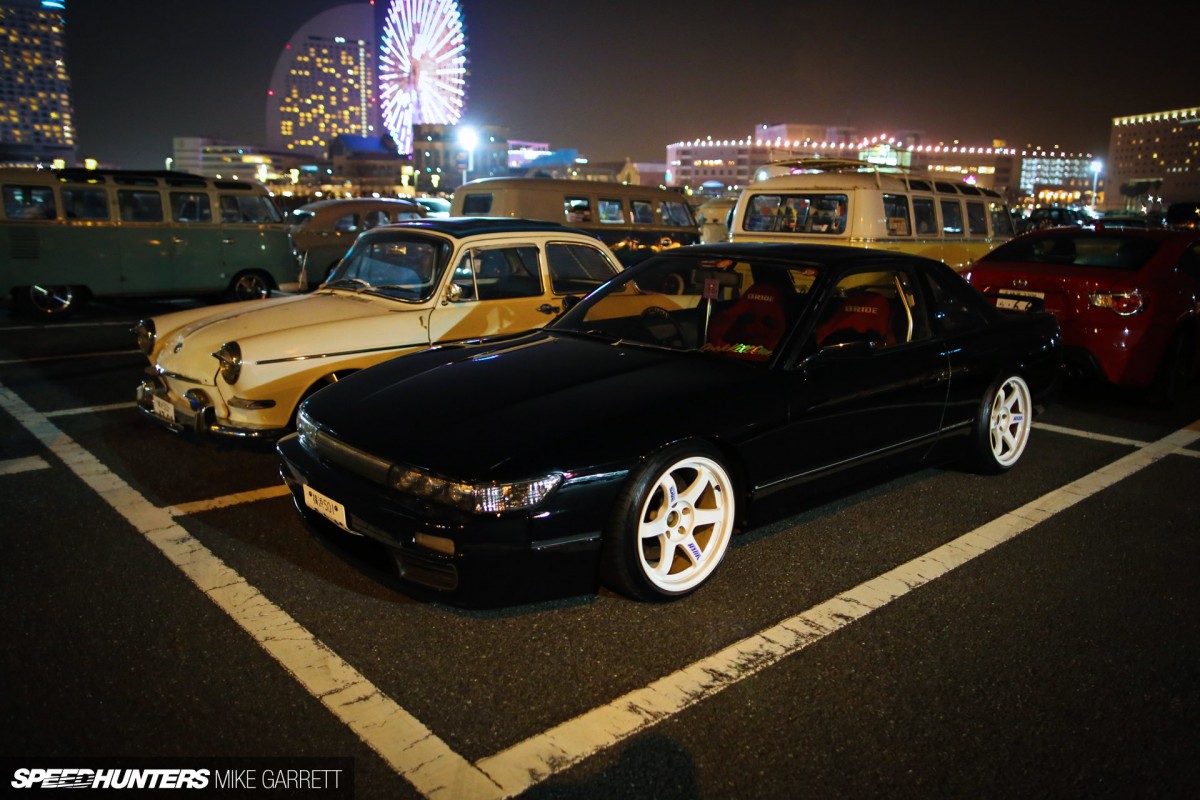 Here we have a perfectly executed S13 Silvia that's owned by Andrew from the Highway Star Crew. Andrew hails from California but is currently stationed at the Yokosuka Naval Base, about 45 minutes away from Yokohama.
Brotherhood and sisterhood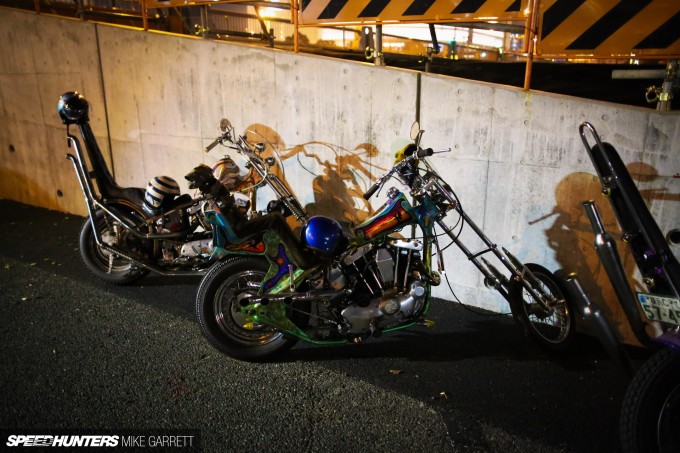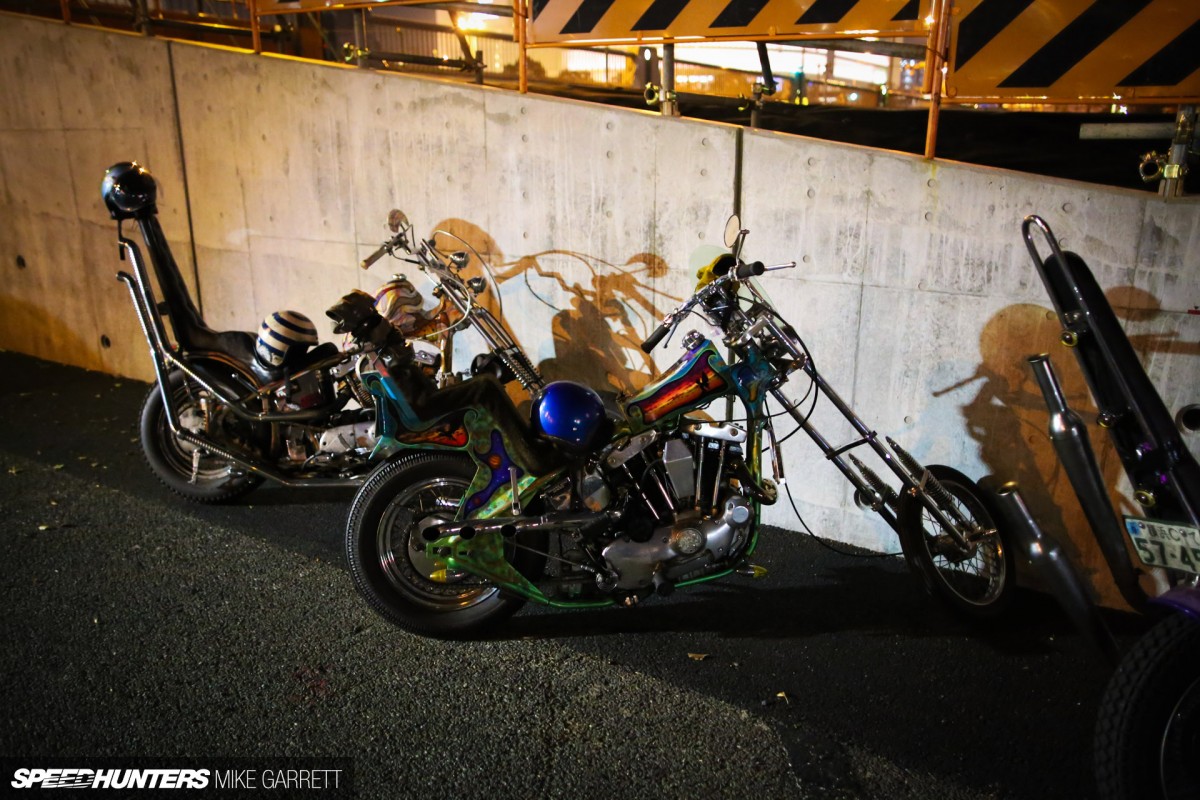 If that's not enough variety for you, there was also this incredible group of custom choppers that came out. My knowledge of bikes isn't great, but I gotta say these things looked like they came straight out of some trippy road movie from the '70s.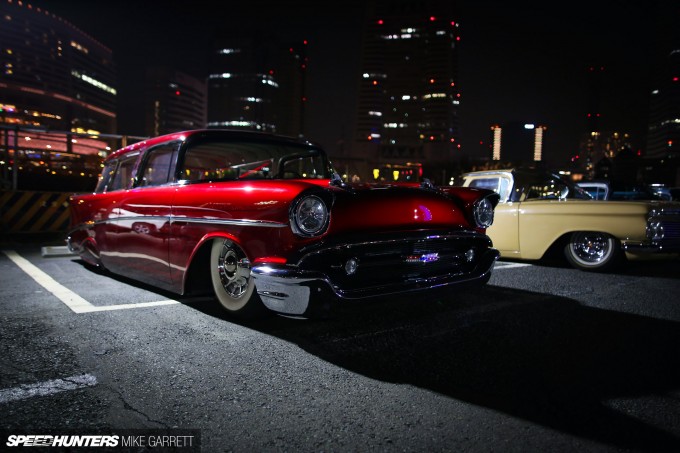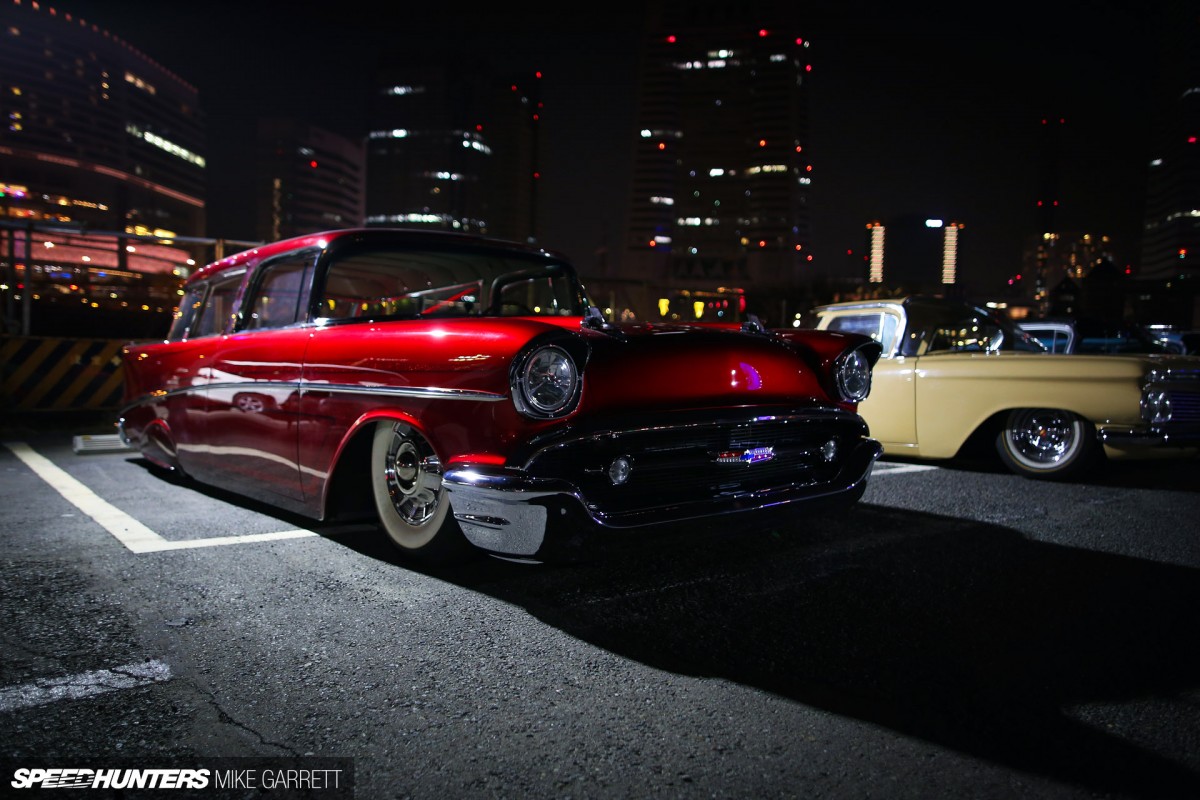 A little bit later, everyone's necks were cranked toward the parking lot entrance when a big group of custom American machines rolled in. It was the Fit Kustoms family, one of the most well-known names in Japan's custom scene, and regular award winners at the Yokohama Hot Rod Custom Show.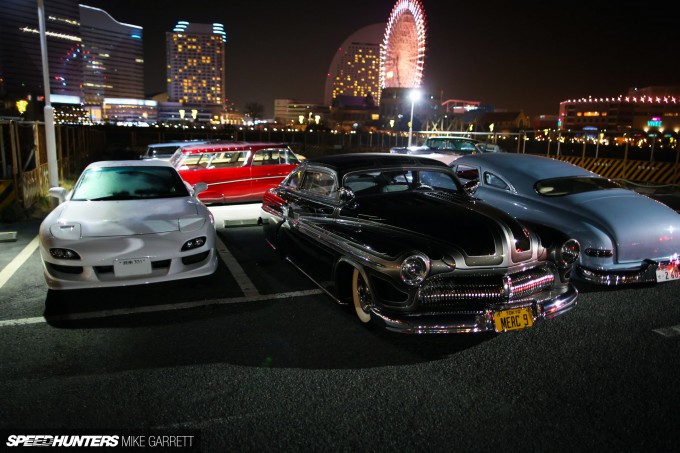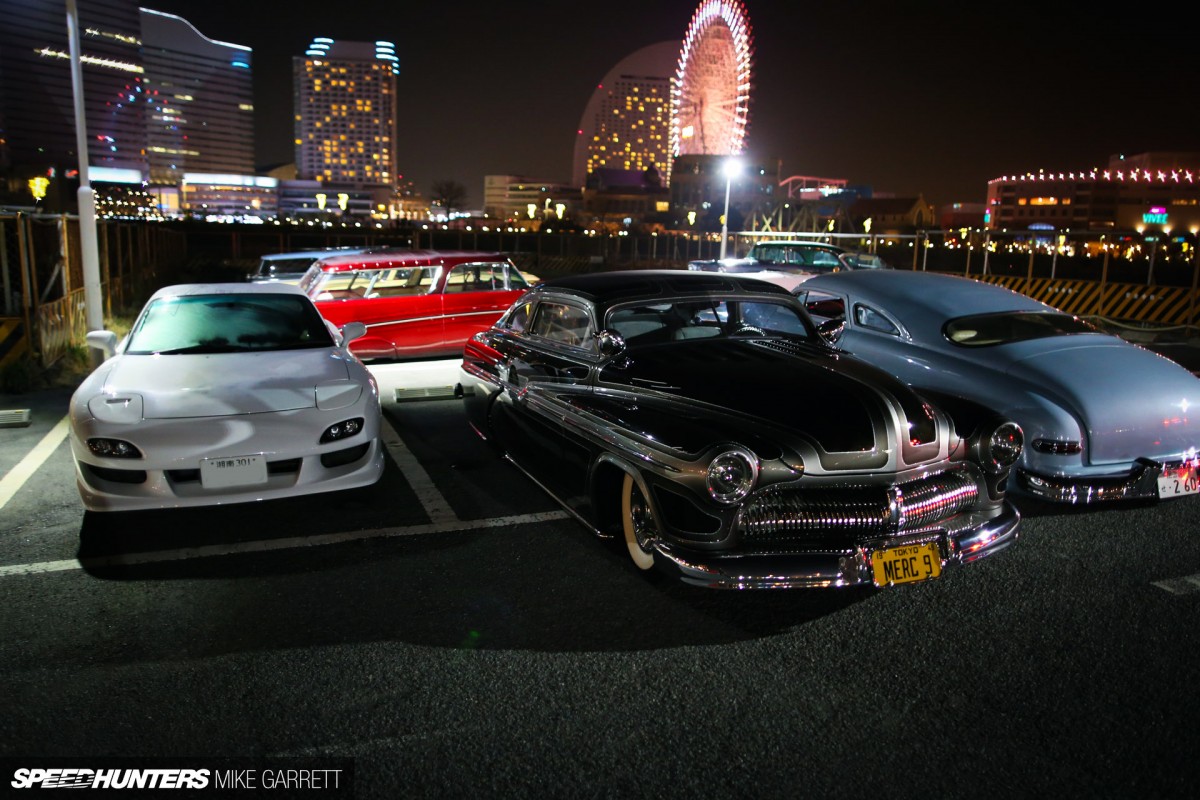 One of the cars that runs with the group is Kondo-San's Merc 9, a car which I featured right here on Speedhunters last year. That fact alone should tell you guys everything about the quality of this group of cars.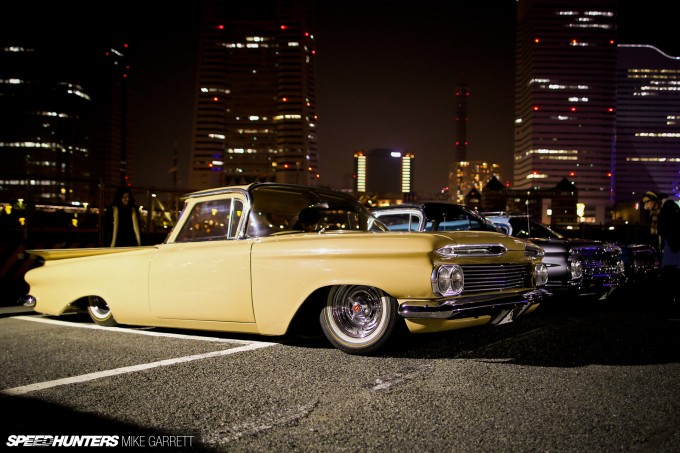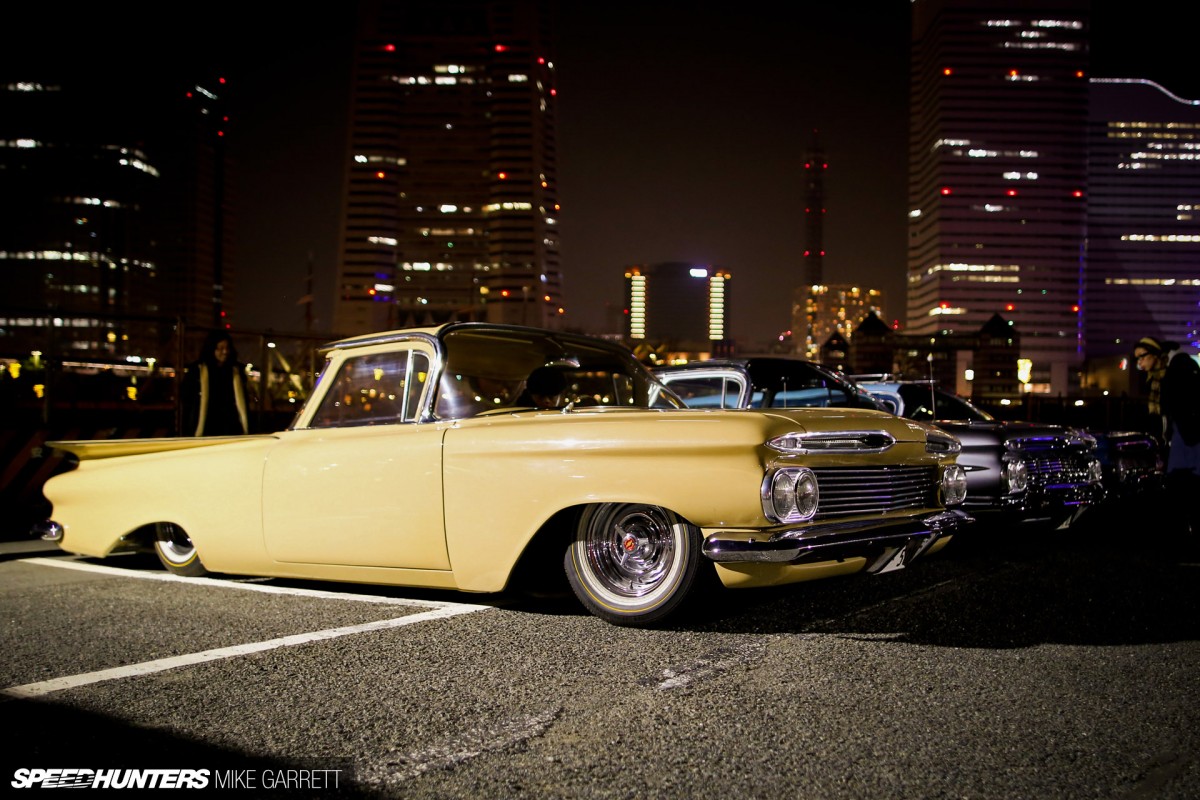 Not that the cruise night needed it, but the presence of the Fit Crew took the event to a whole new level of fantastic. You can expect to see more on these guys in the future.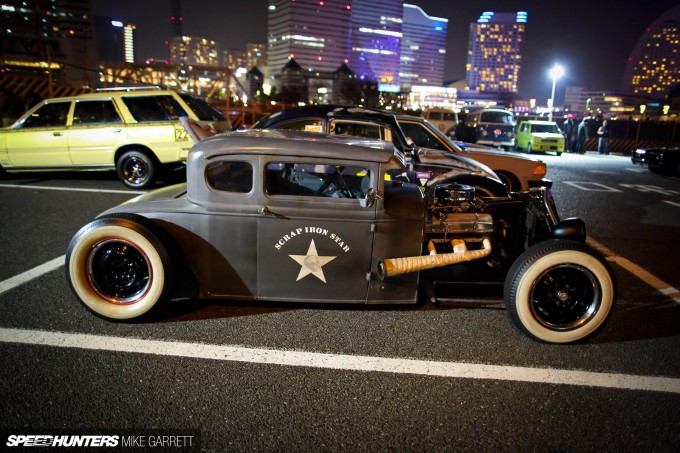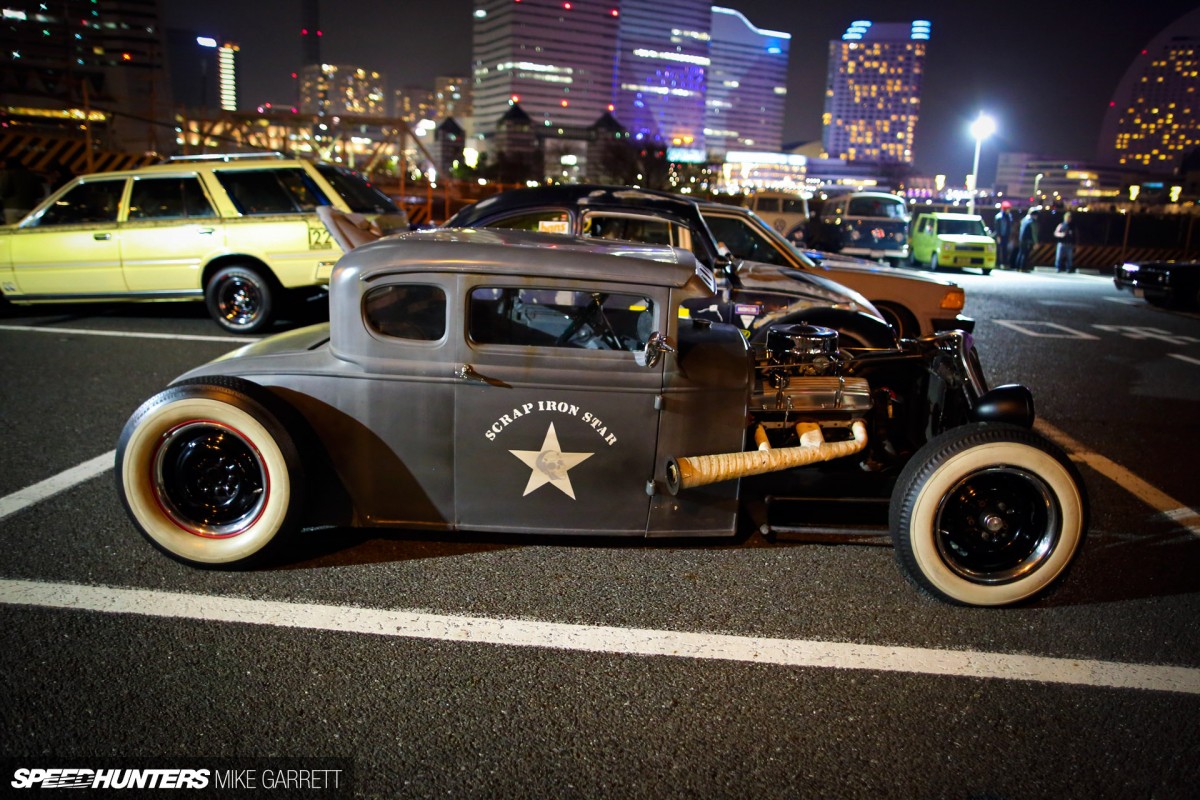 When I talk to friends in Japan, I often hear how followers of different car subcultures stick to themselves, but you wouldn't have known that after attending this event. Even back in California, you'll rarely see so many different types of cars and owners gathered in one place. Add in the fact that the level of cars is at, or perhaps even higher, than those in the US and you've got greatness on your hands.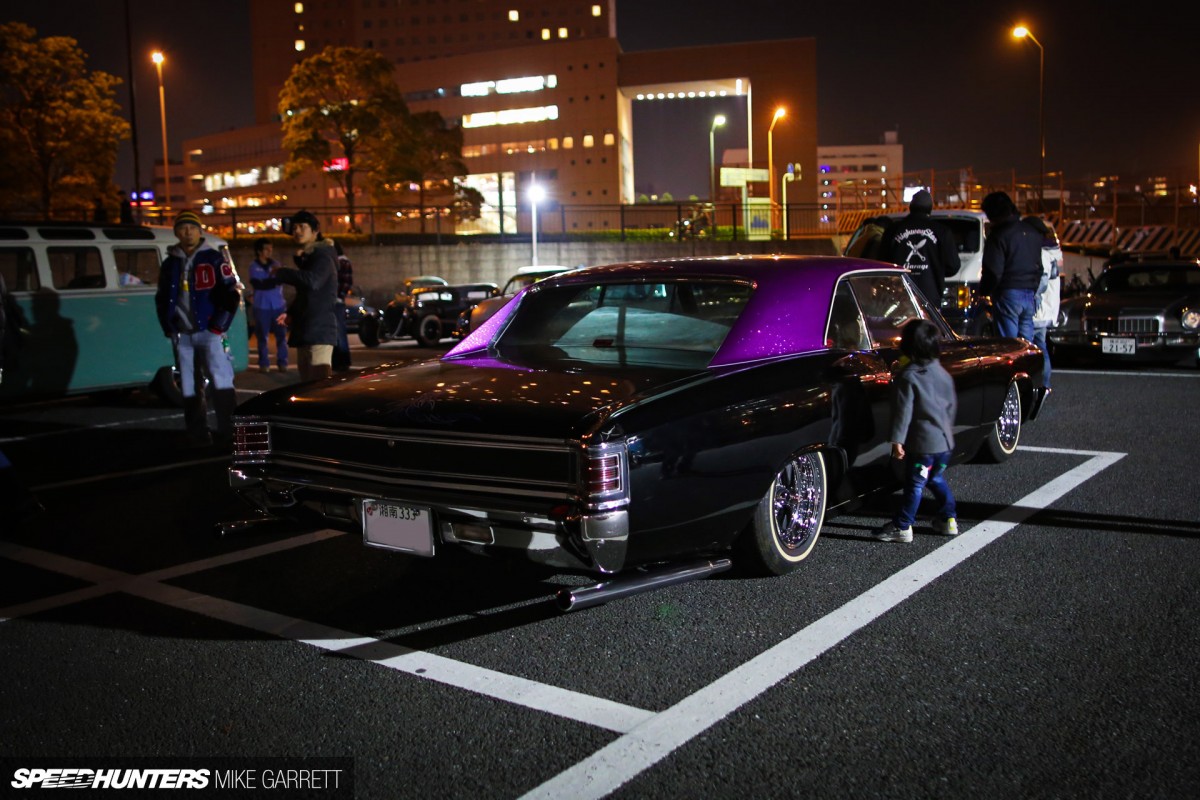 And while the cars that came out on Saturday night were incredible, it was really the people that made this event such a memorable experience for me. While I was meeting the vast majority of these folks for the first time, their kindness made me feel like I had known them from years.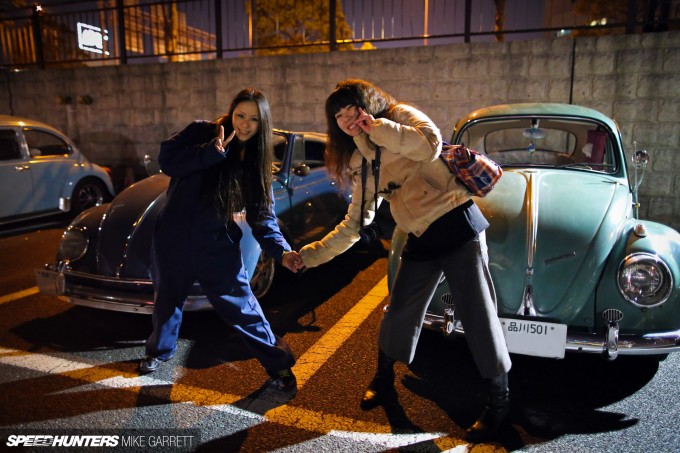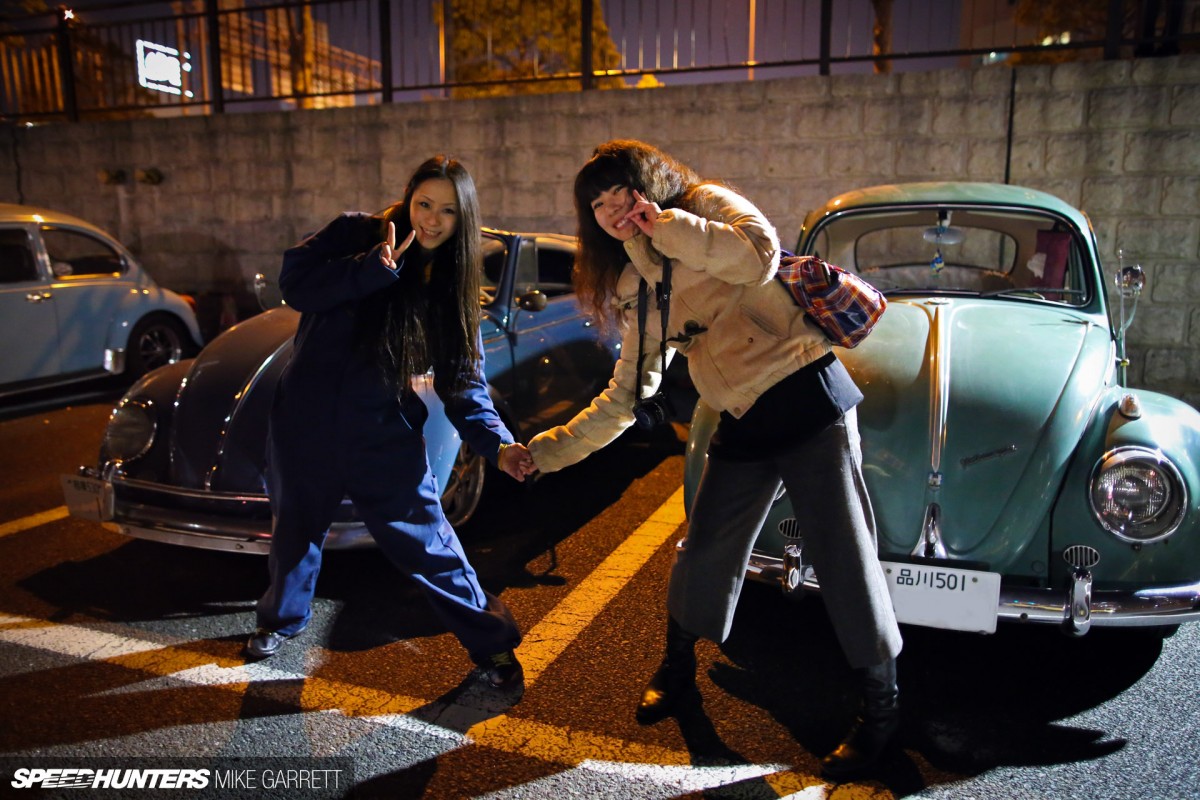 Another cool thing was that it wasn't just guys that came out. There were plenty of female car owners and families with young kids as well. Here for example we have Sari and Mamiko, a pair of VW-crazed gals that were quick to pose for a picture as if they were high school girls on a field trip.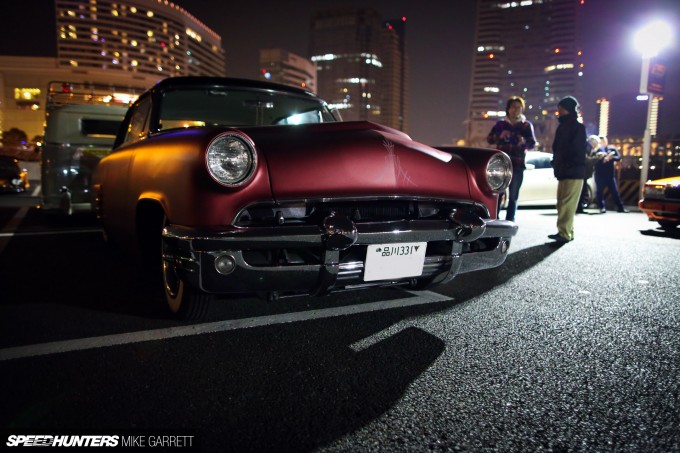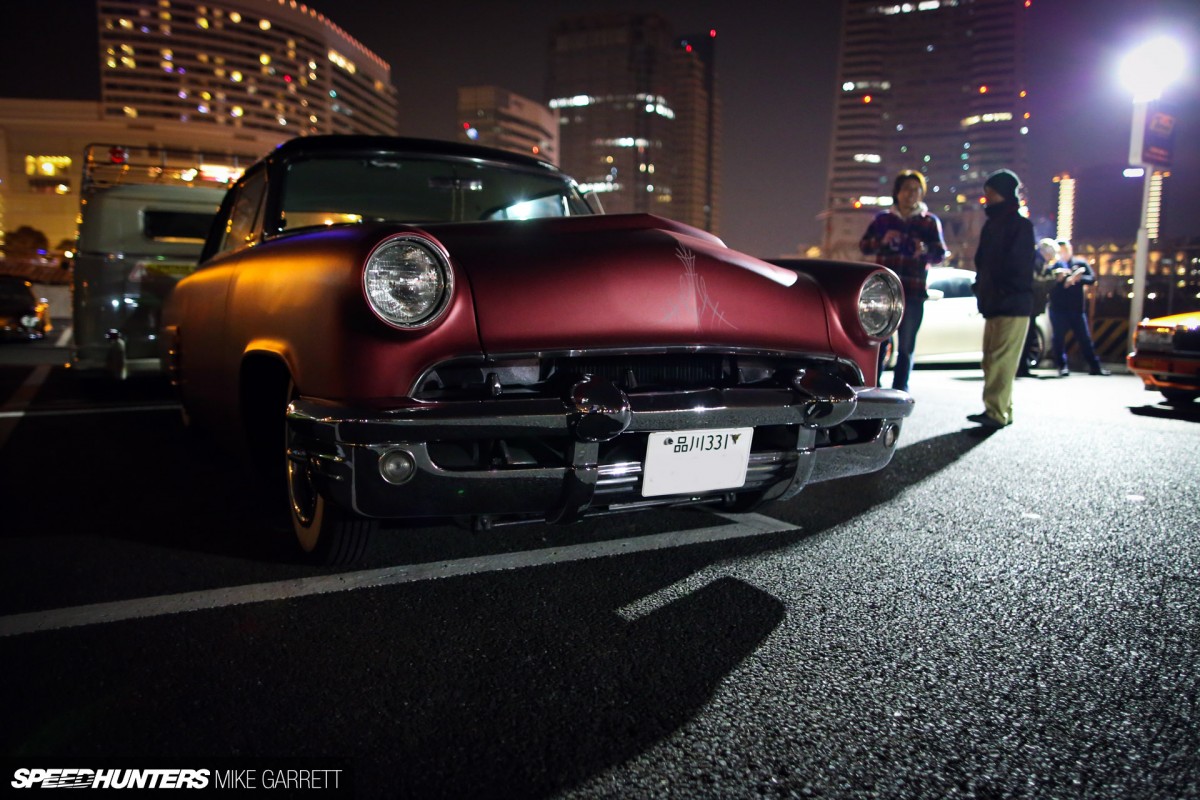 Great cars, great scenery and great people. I really can't think of anything better.
A huge thanks goes out to Kanda-san from KaliforniaLook and Kage from The Kage Blog for helping to make this possible, as well as everyone that came out to enjoy car life like only the Japanese do. I haven't even left Japan yet and I'm already looking forward to the next time we can all get together…