Mud movers ramp up
In the early morning it was difficult to spot where the rally stage course might be around the perimeter roads of Stoneleigh Park in the UK. There was a bit of hazard tape and some sections of metal fencing, but that was it. There was grass. Clean, pristine tarmac. Silence. There wouldn't be for long… Fast forward an hour, and mud was flying, tyres were screeching and the unmistakeable pop and whine of turbocharged engines filled the air. The Race Retro rally stage was go! Now the course was unmissable, in every sense.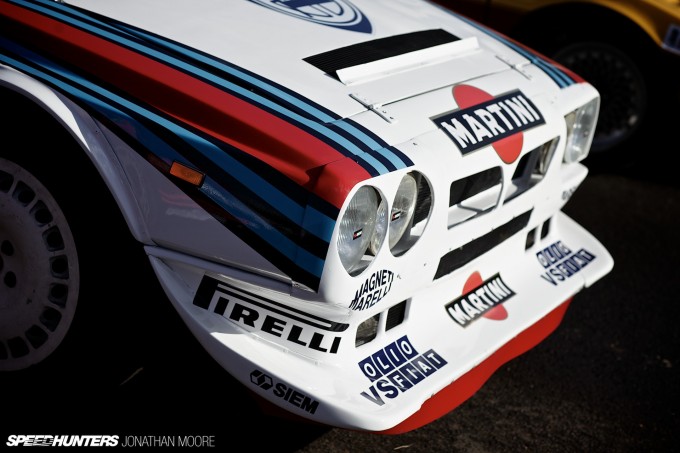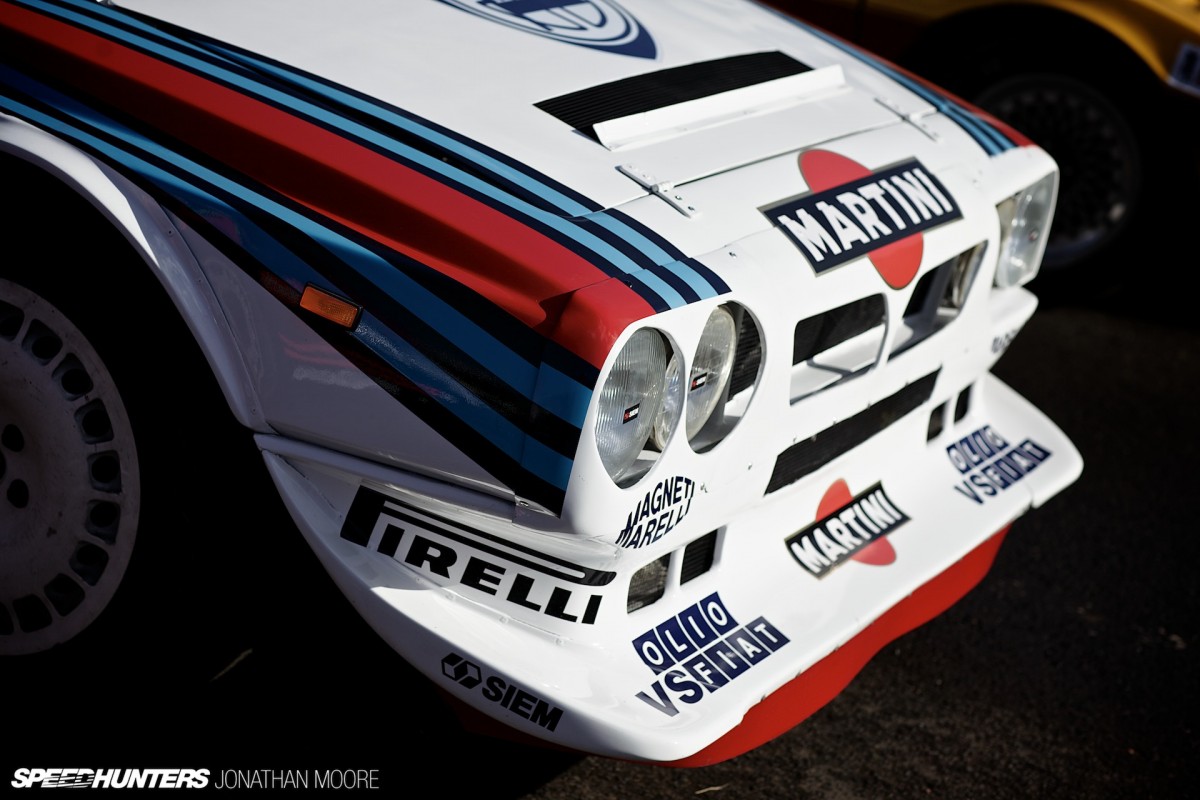 This year saw an even greater selection of cars come out to play at Race Retro, and once again there were some hero cars, rarities and surprises thrown into the mix. There is simply no such thing as a boring rally stage, no matter the size.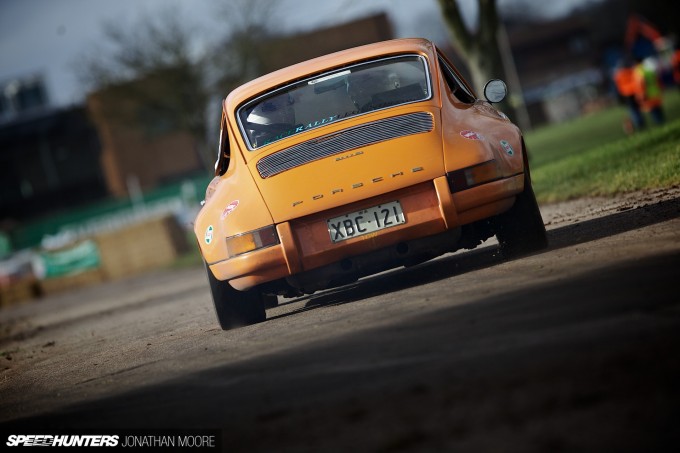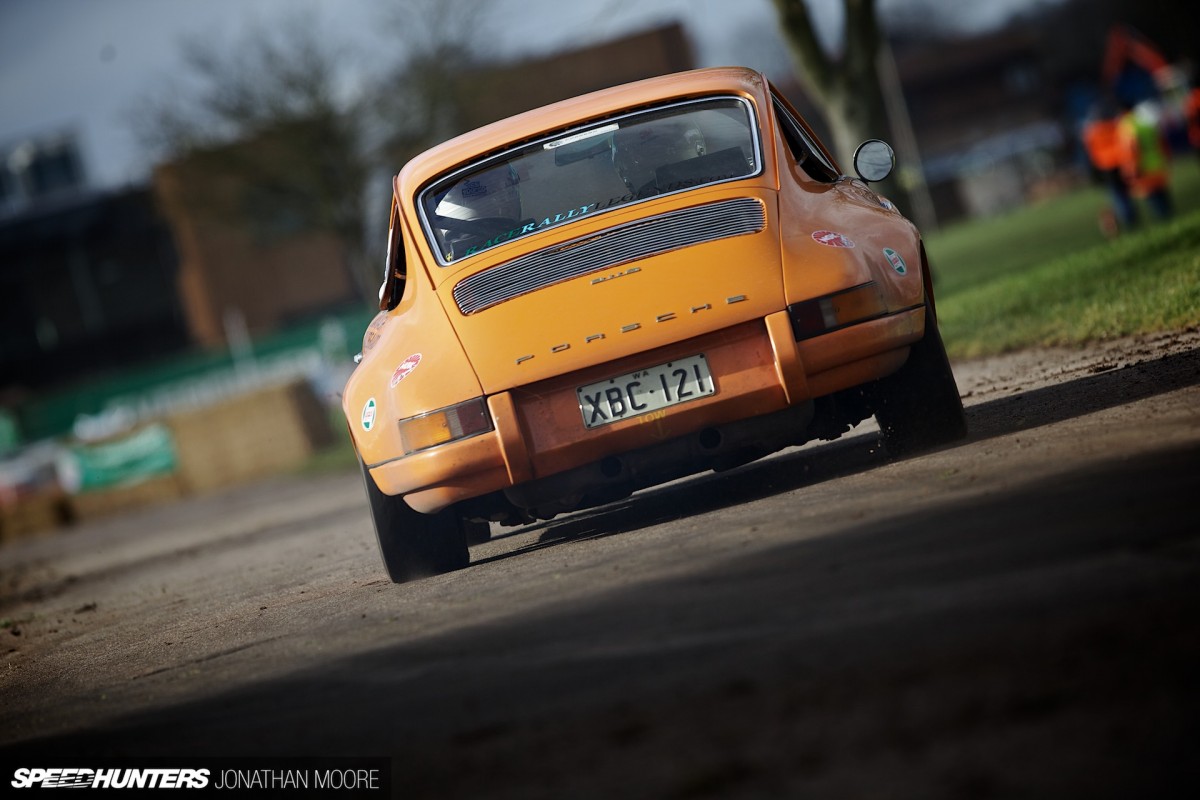 The stage might only take less than a minute to blast round, but that's not to say it lacked challenge, or that those taking part weren't putting the hammer down. And this was despite Race Retro being a theoretically non-competitive outing ahead of the active season to come.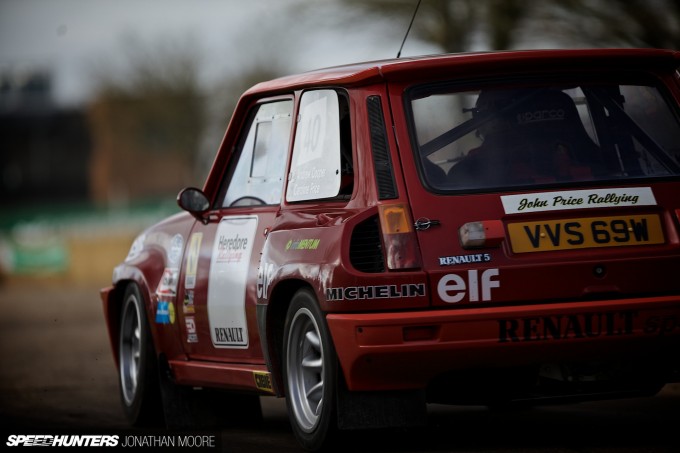 Best of all, from a selfish point of view, I had a couple of potential rides lined up for the afternoon, making it even more of a thrill seeing the cars circulate. Minor problems aside, I would be in the passenger seats of some pretty special machinery.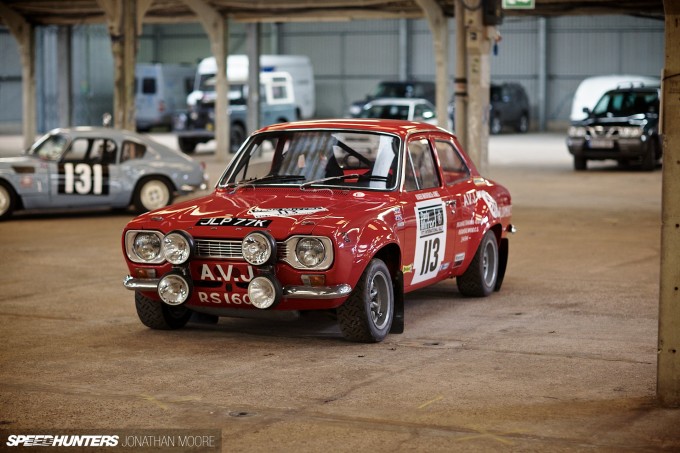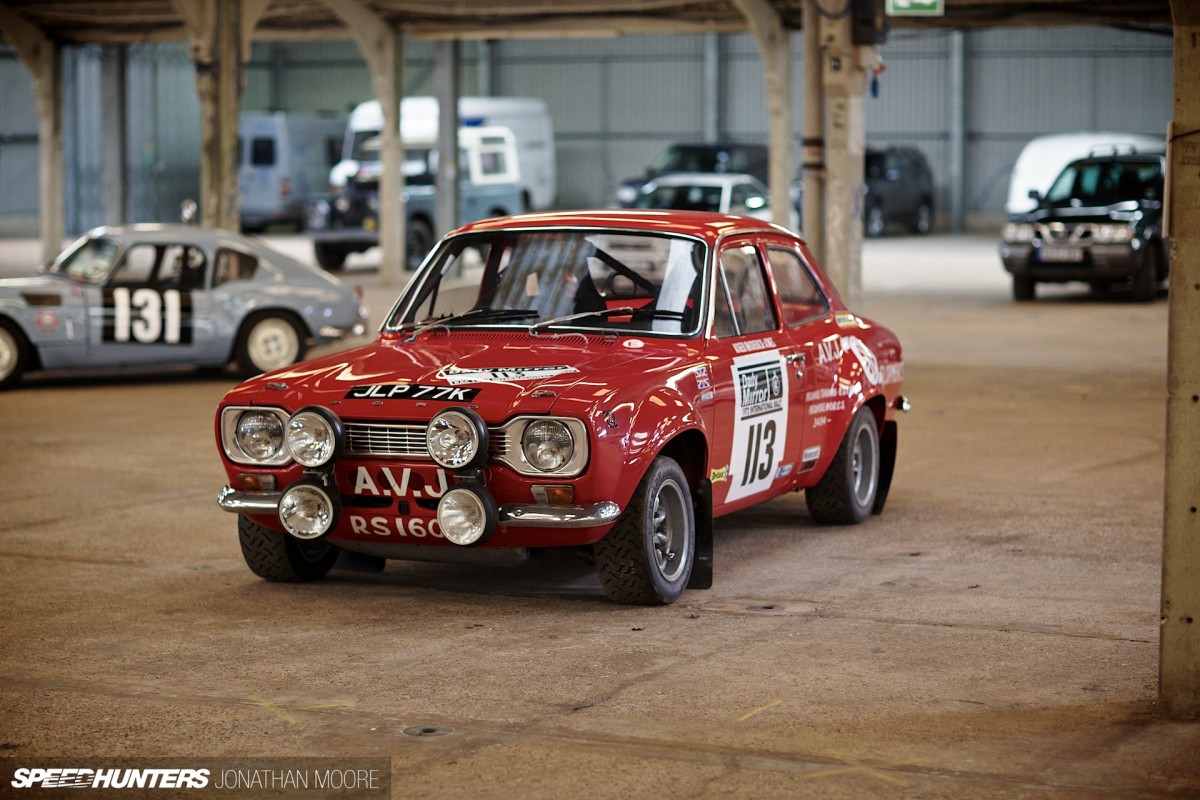 The previous day, I'd watched the warehouse being used as Parc Fermé for the rally squads at Race Retro begin to fill up. Pristine machinery rolled in: glorious Mk1 Escorts, Sierras, Lancias, Audis and more.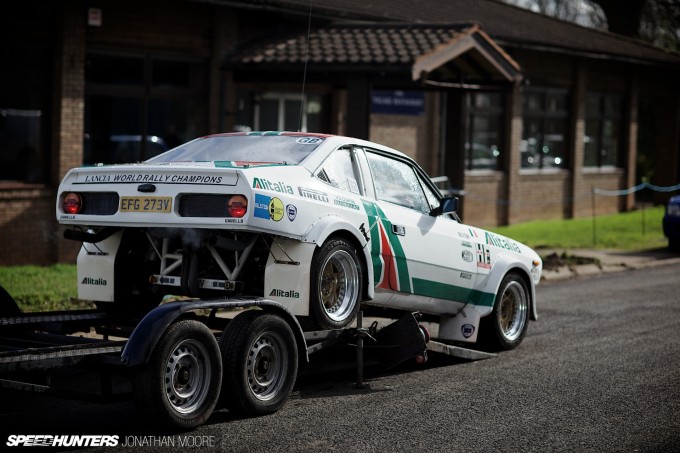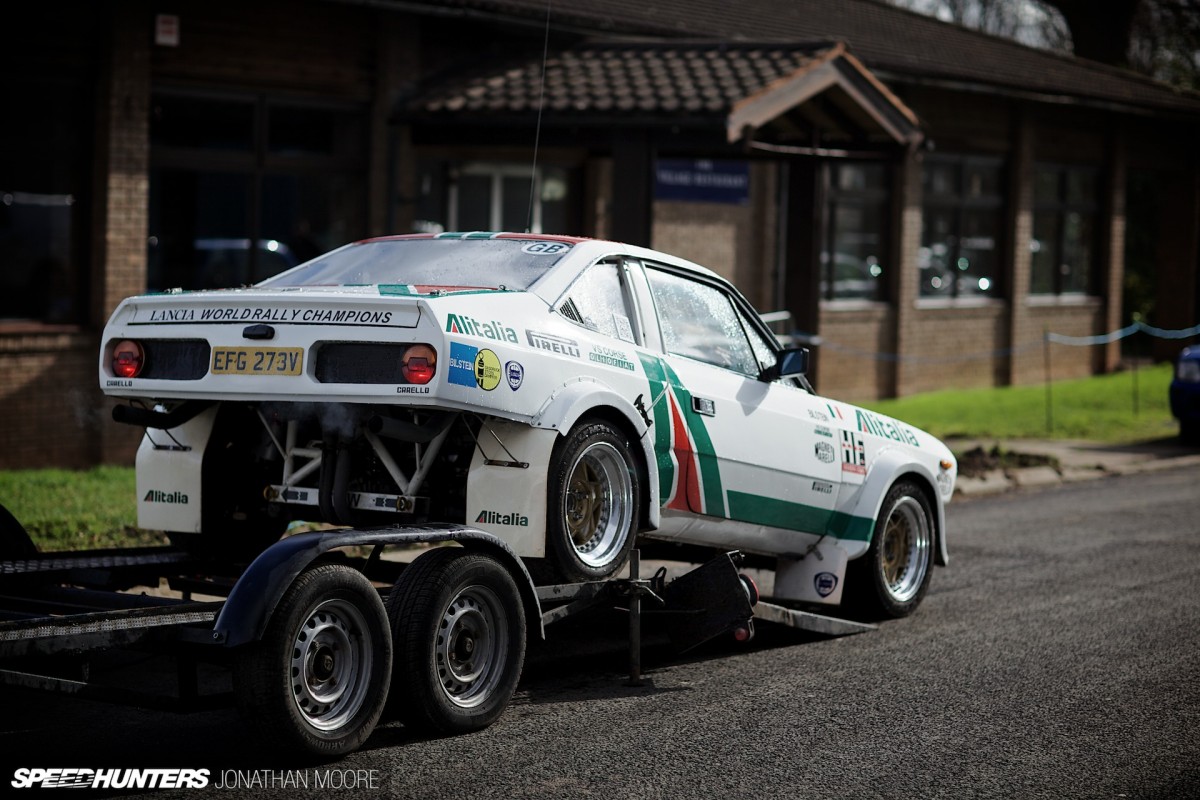 Trailer after trailer had arrived to disgorge its contents, which offered the added thrill of also hearing the cars fired up for the first time. This Lancia Beta replica was sounding utterly ferocious even being driven at low speed.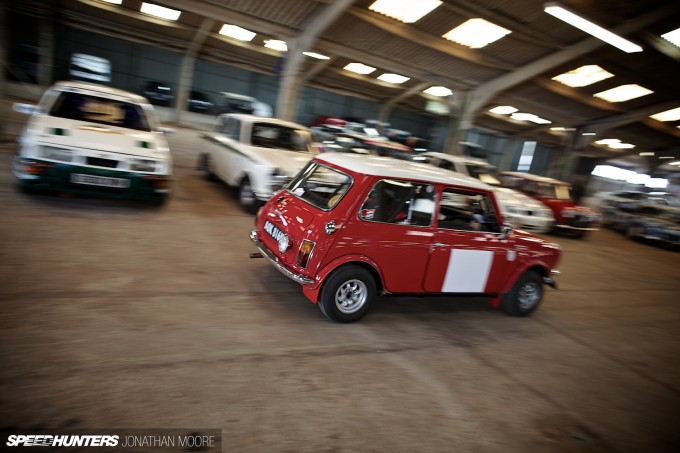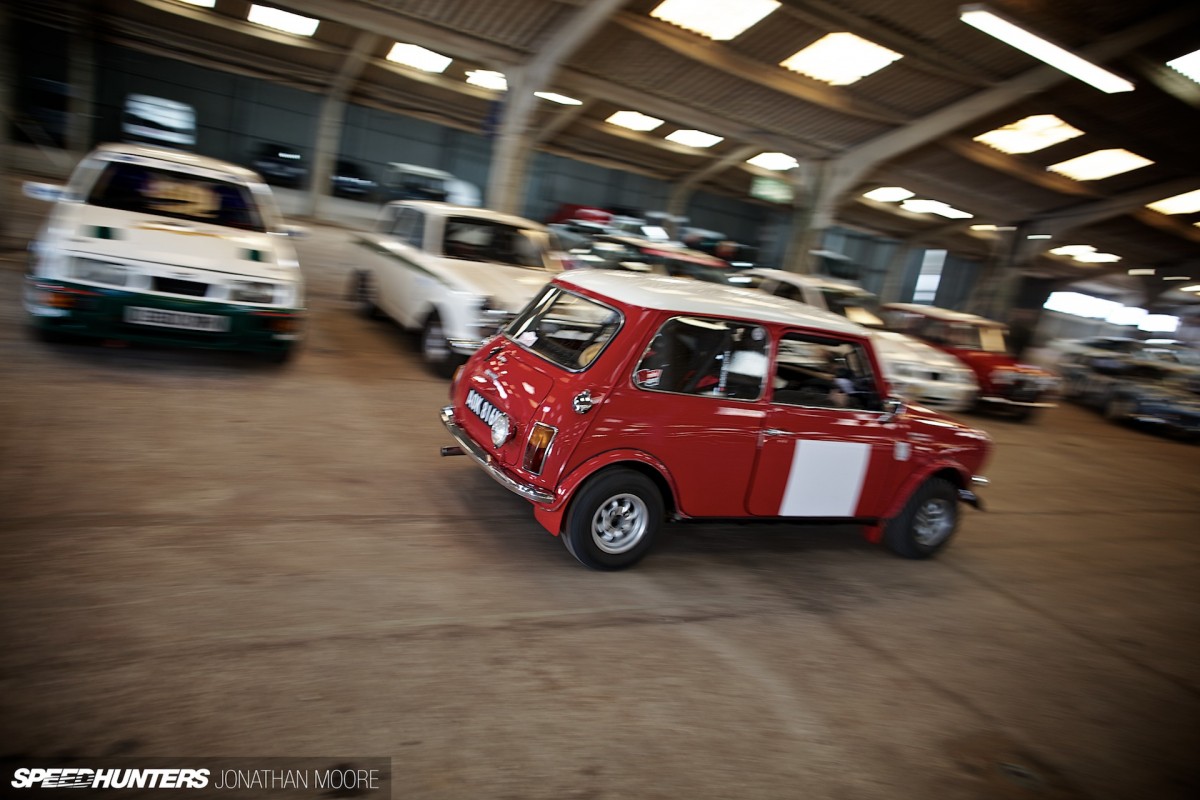 The cars kept rolling in through the day, the hall echoing with the different engine notes and giving the attending crowd a fine idea of what would be in store when the action kicked off the next morning.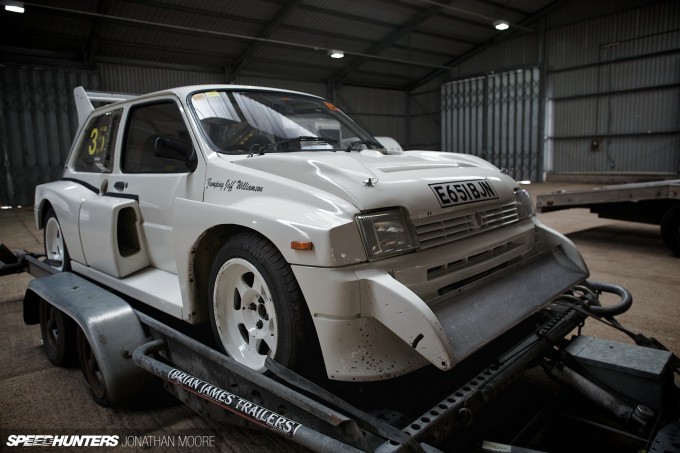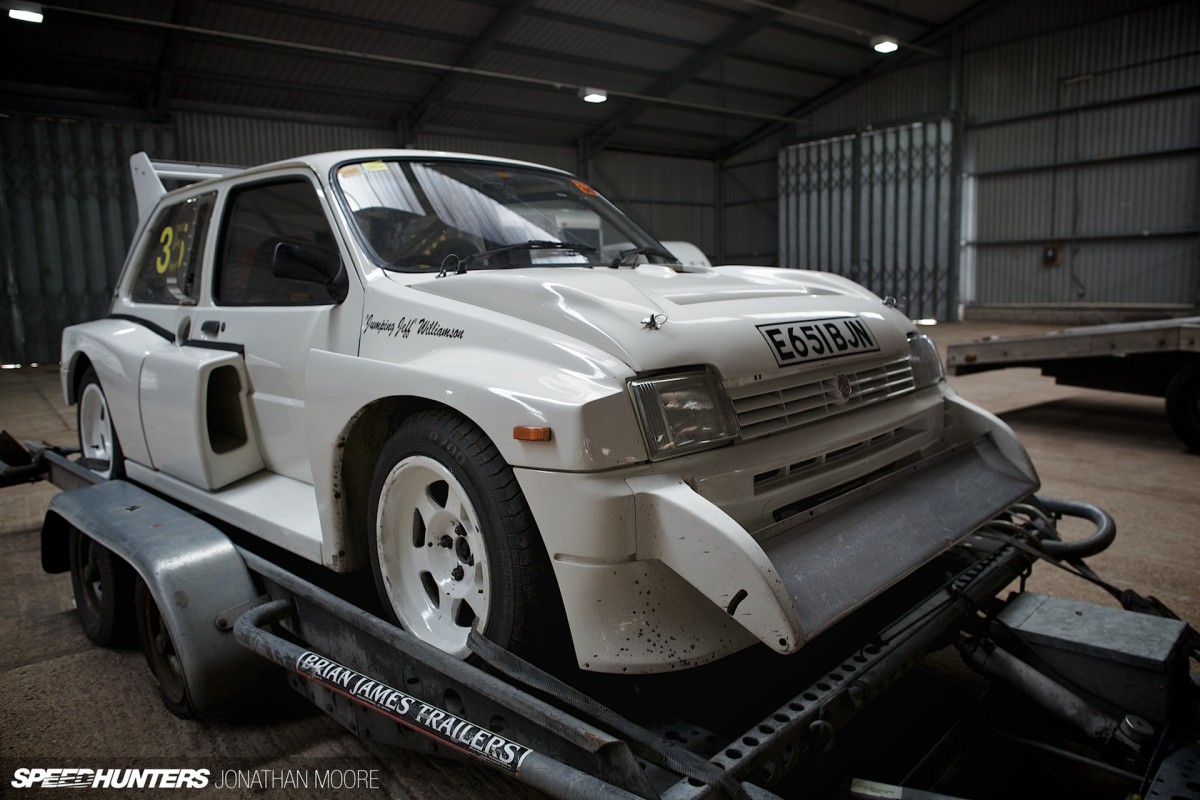 As I mentioned in the previous Race Retro story, the event was celebrating the 30th anniversary of the Metro 6R4, that most extreme of compact Group B cars, and a trio would be out on the stage, all with different build origins and provenance.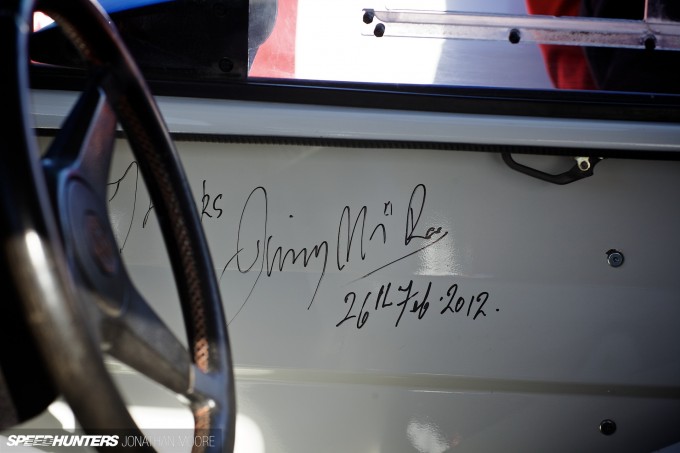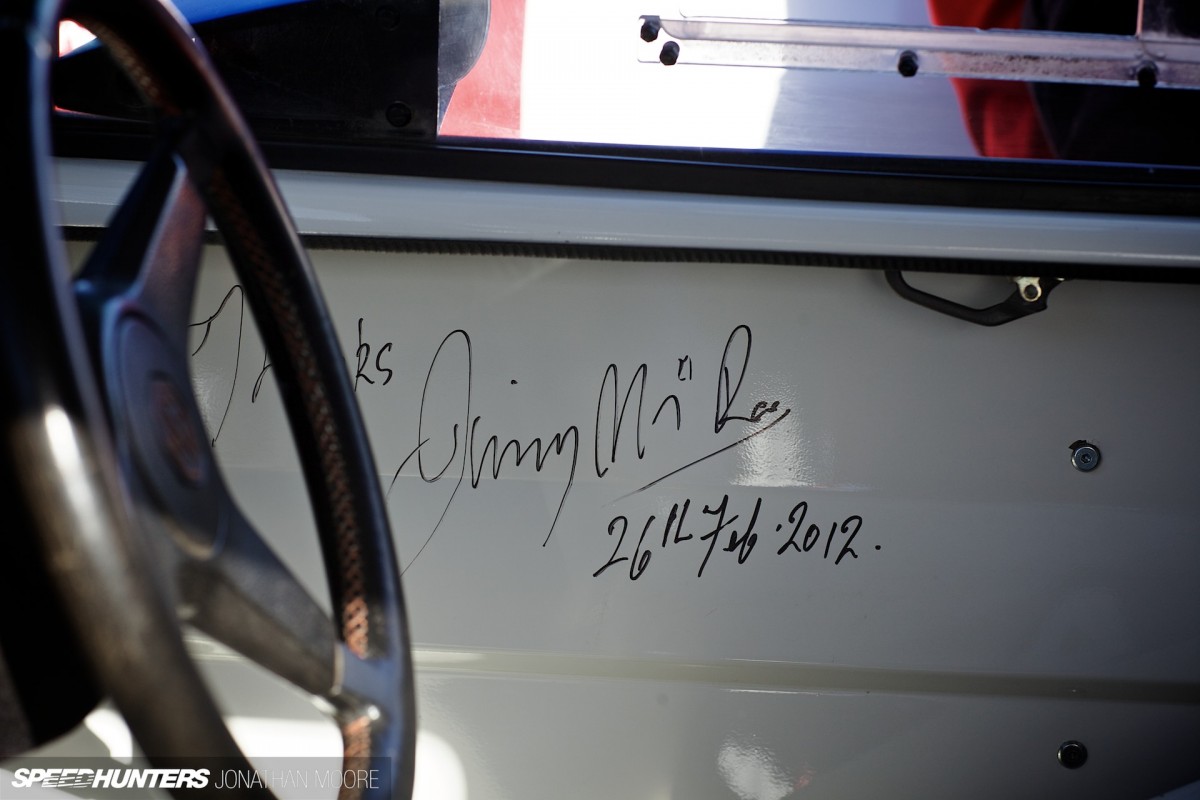 'Jumping' Jeff Williamson's is in its original 1985 specification – a fact made even more special by the addition of Jimmy McRae's signature to the driver's door!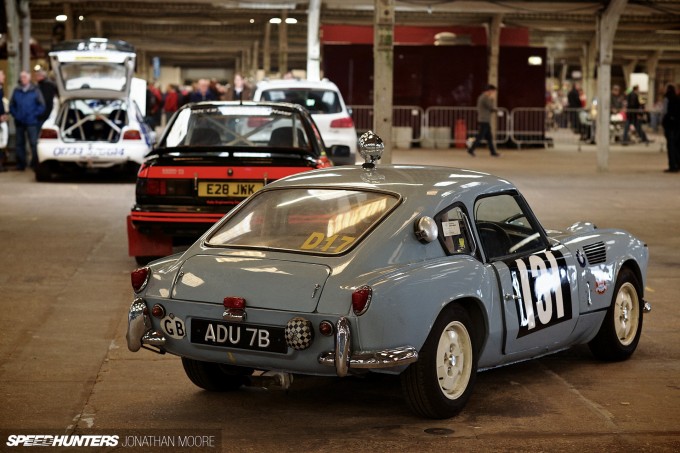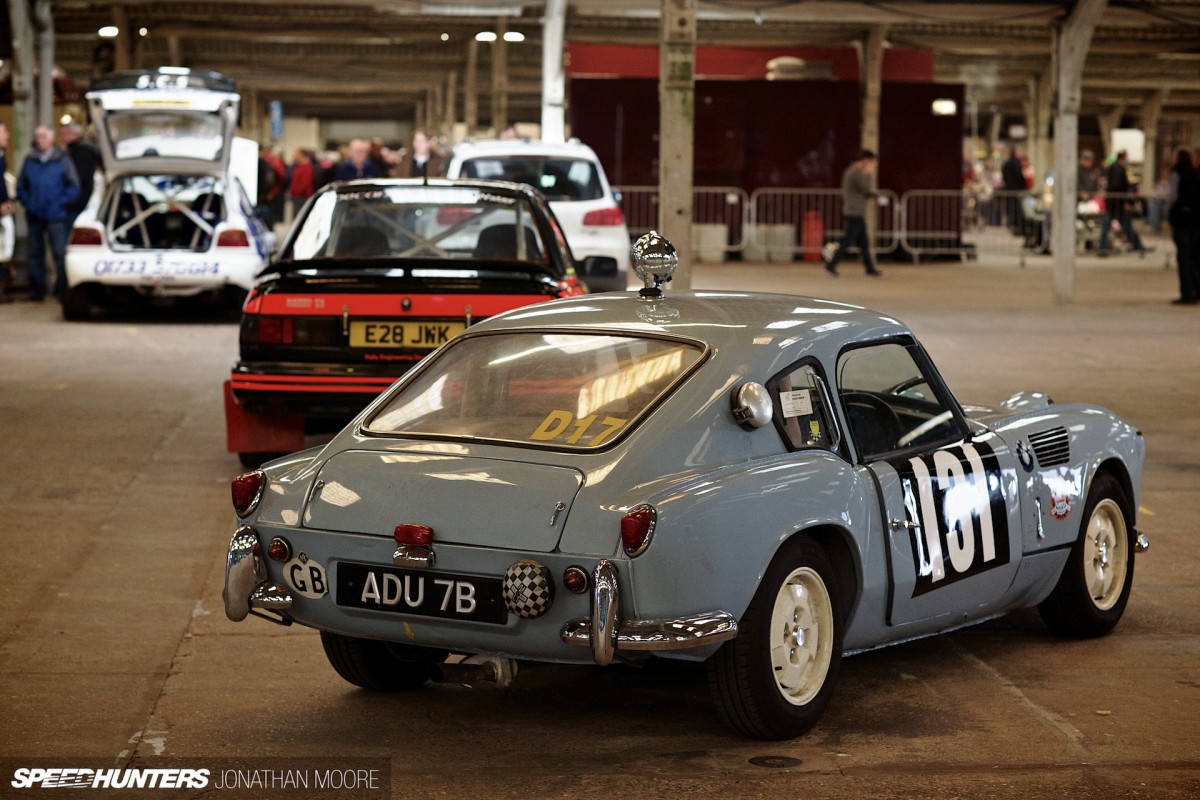 There was a definite frisson in the air, as we all knew that the next day we'd soon see these cars in full, sideways action. Slightly older or slightly newer, they'd pretty much all be pushed. This was an interesting, and unexpected, model to see: an original Triumph Spitfire in tarmac rally spec, joining the three (soon to be four) Spitfire Le Mans race cars on display in the main halls. This Spitfire had been flying round stages for 50 years!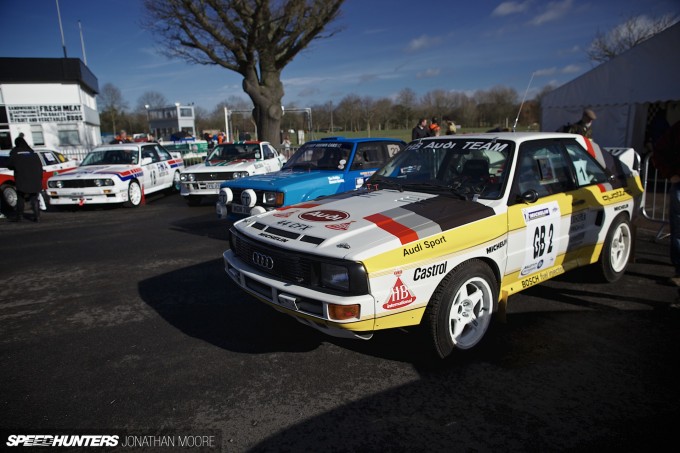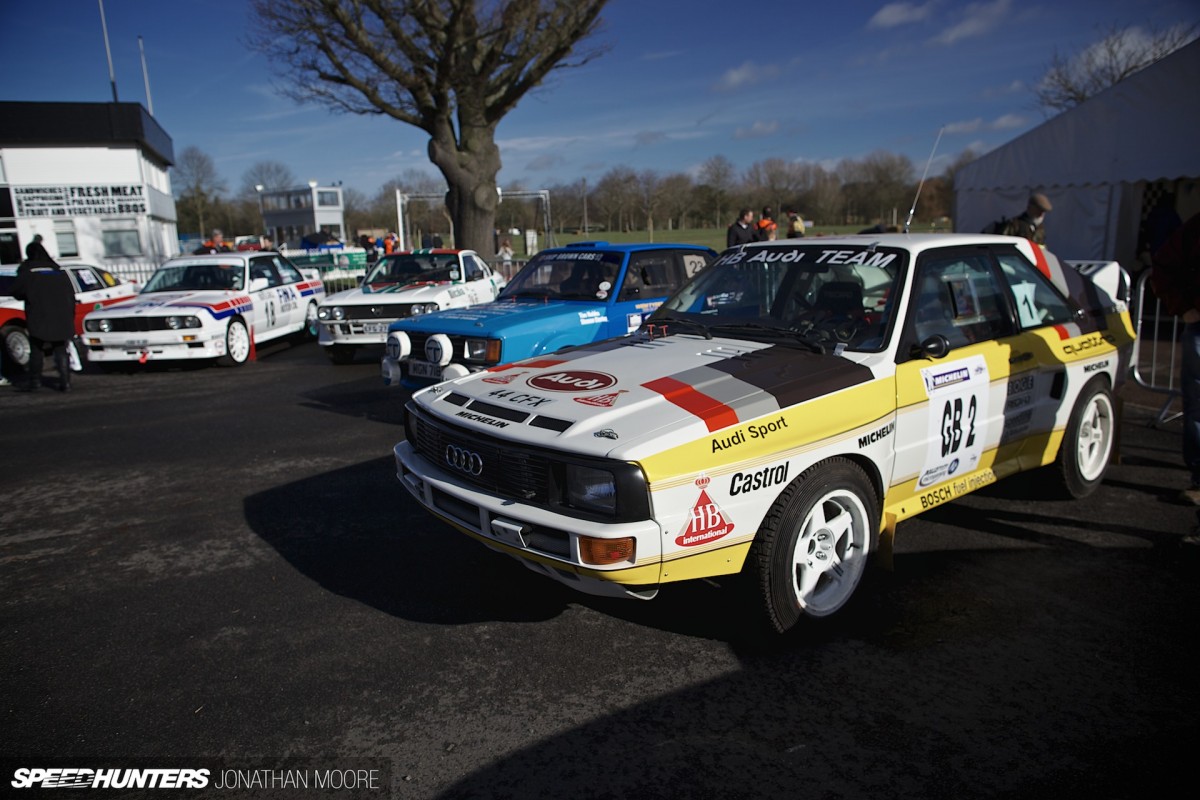 Come Saturday morning, the majority of the 51 entries were coaxed into life and made their way to the assembly paddock, by the stage start. The Audis in particular sounded unhappy and agricultural at low revs: these are cars that need to be ragged to get the best out of them, as with so many Group B machines.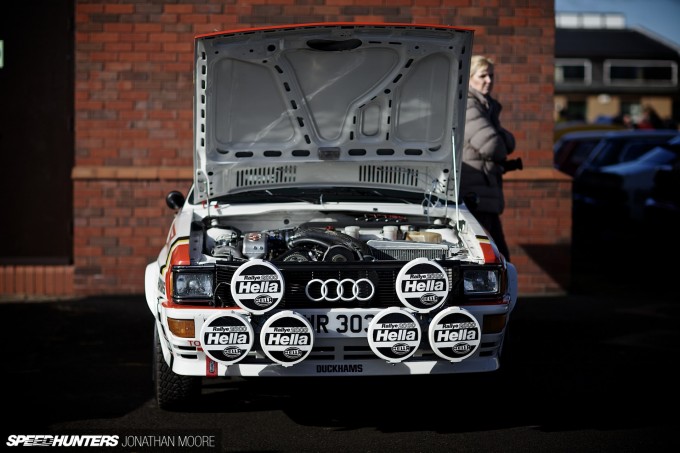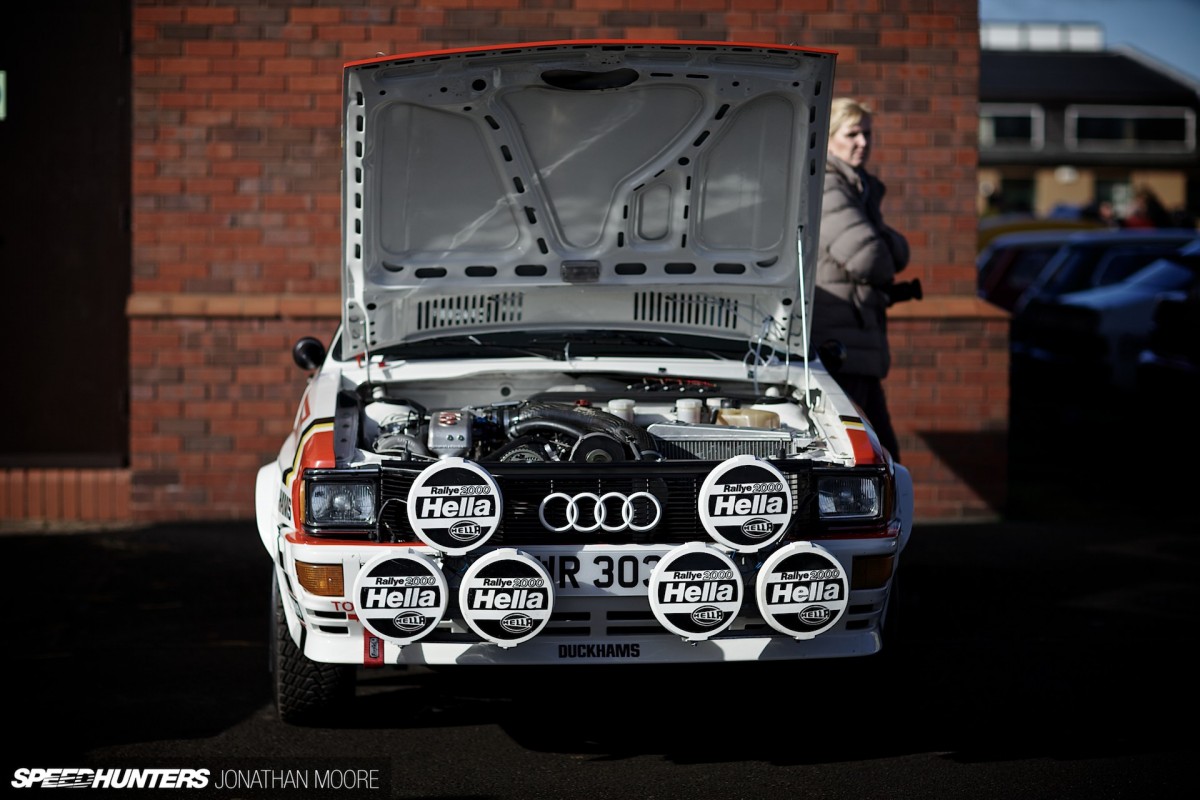 Many of the cars were 'hella flush' with lighting packs; completely superfluous given the clear day, but you just can't beat the look of these lamp pods. I wonder if they'll come back into fashion on road cars; that was all the rage in the '80s!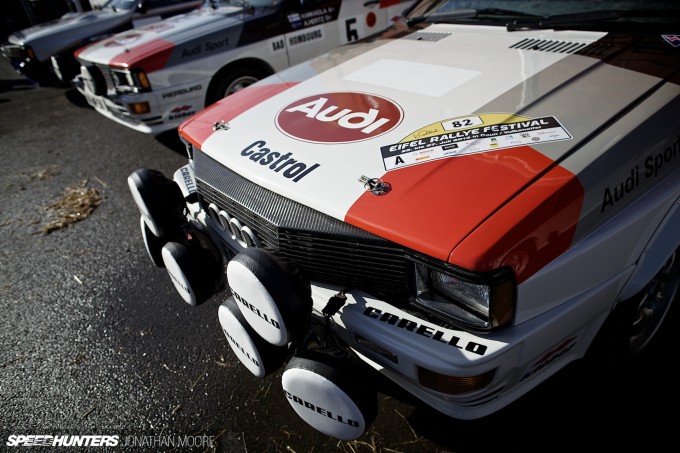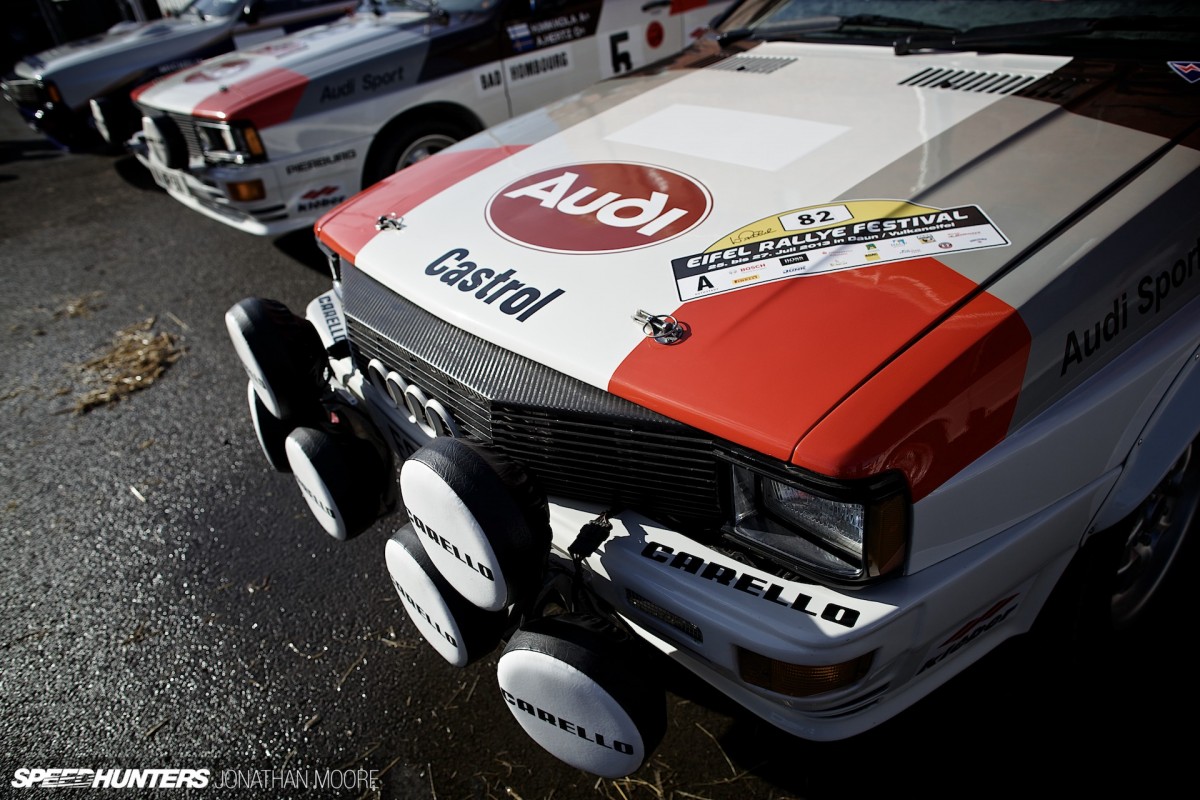 Many of the entrants aren't limited to these demonstrations: I'd seen this Quattro in 2013, for instance, flying through German forests as part of the Eifel Rallye Festival.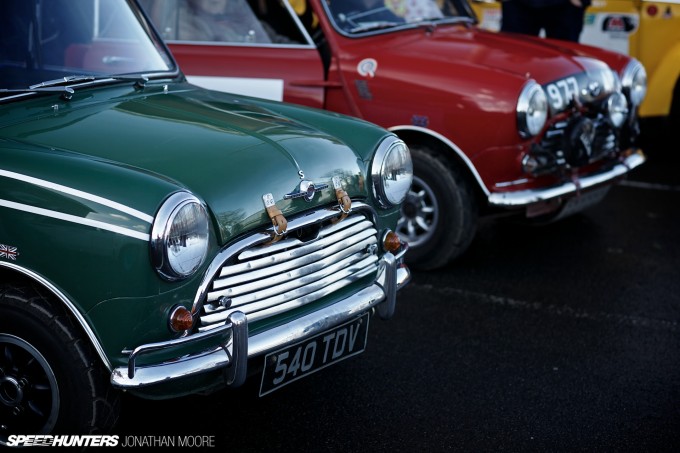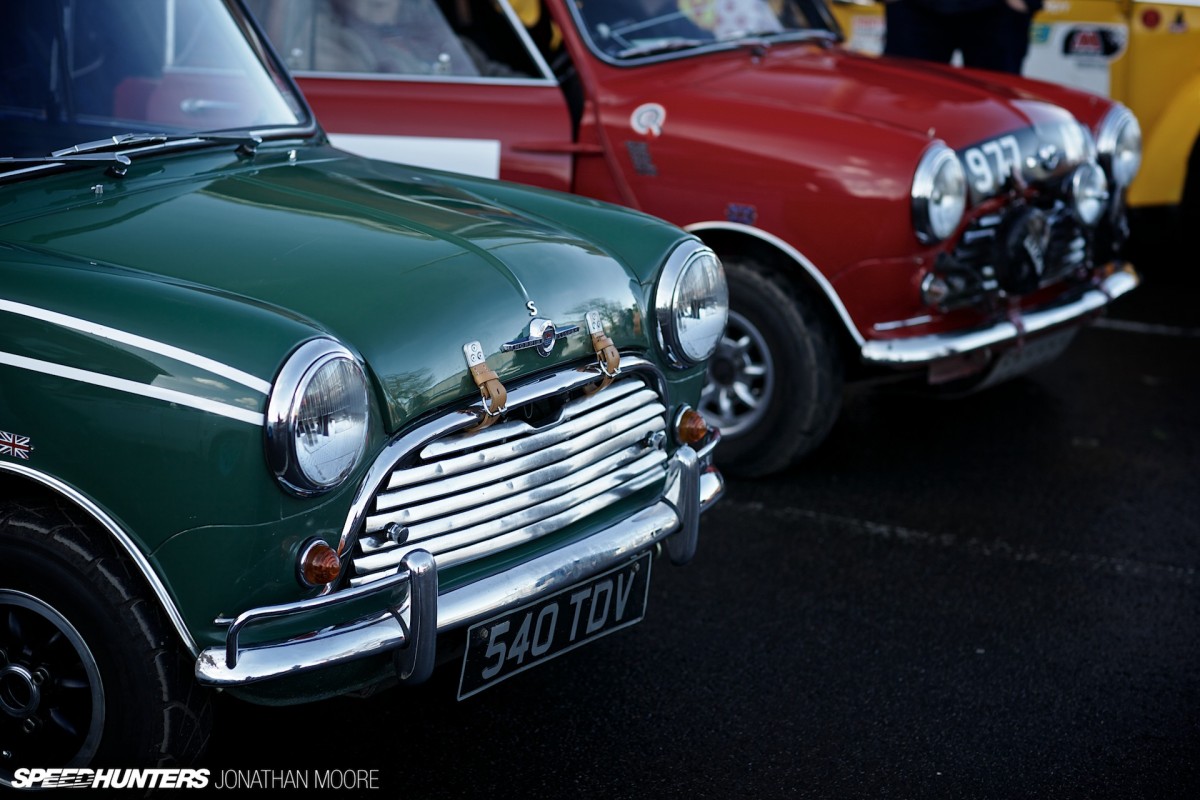 The paddock was bustling with people, but the actual cars were left pretty much to themselves. There were no preening owners pushing spectators away – in fact, the reverse: everyone was open to chatting with fans, opening doors and bonnets on request, when not catching up with other drivers and teams.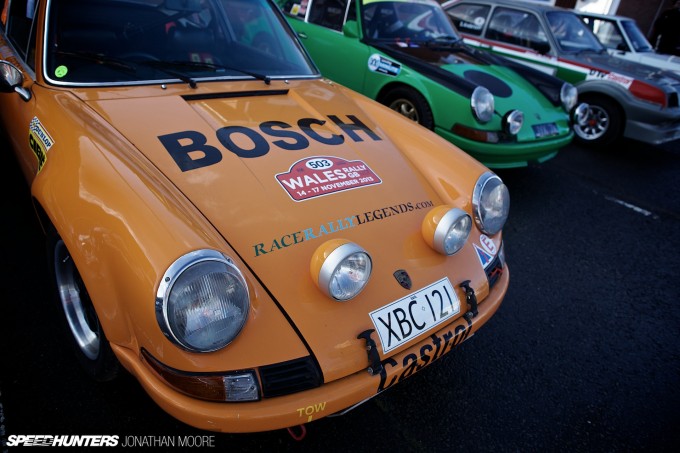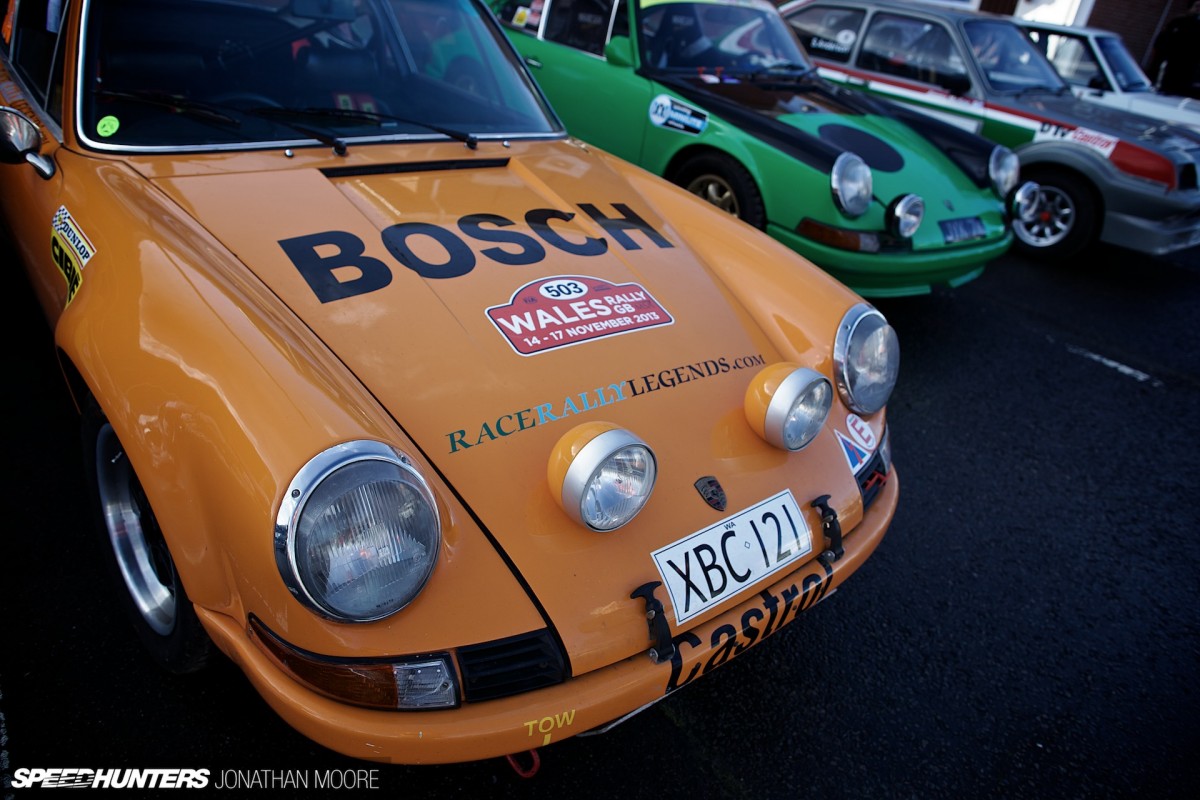 I loved that you could see a pair of Minis lined up opposite a pair of 911s. On the stage, although people would get out of the way if caught, there definitely wasn't a case of more expensive cars getting priority though. Speed would be everything.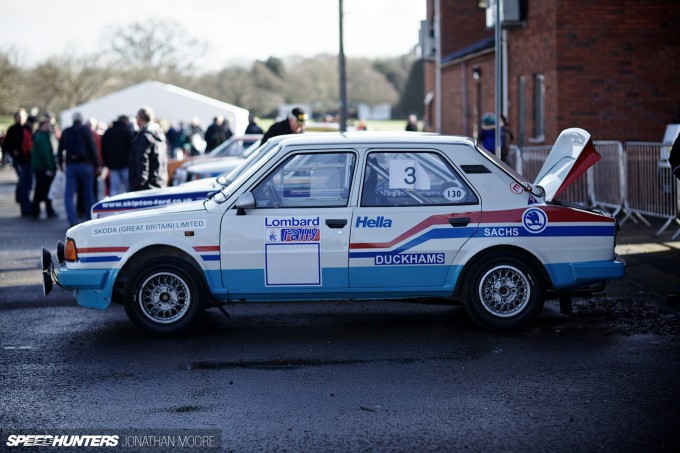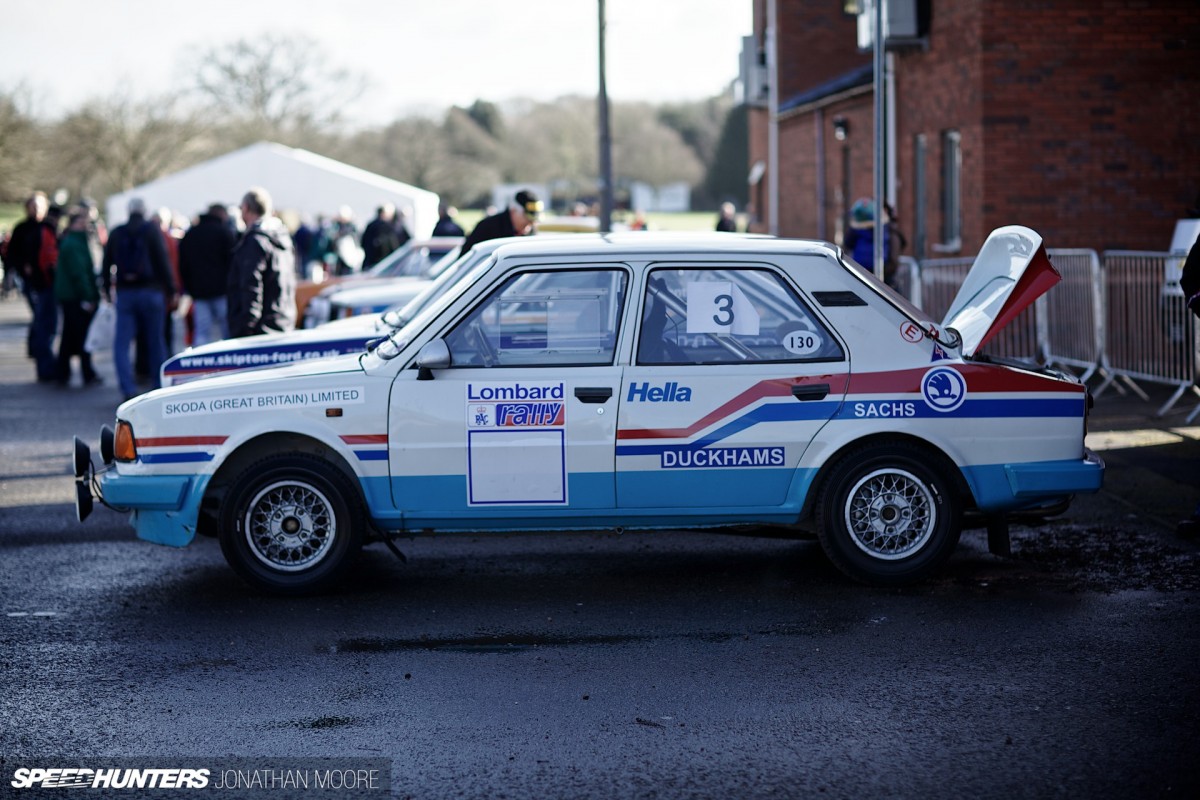 I got over-excited when I spotted this from the back, thinking from a distance that it was a Saab 900, but of course it turned out to be a Skoda 130LR. The modest Skoda was a surprising success at national level, its lightweight, 1.3-litre straight four engine and rear-wheel drive making it potent in the period following the demise of the more well-known Group B monsters.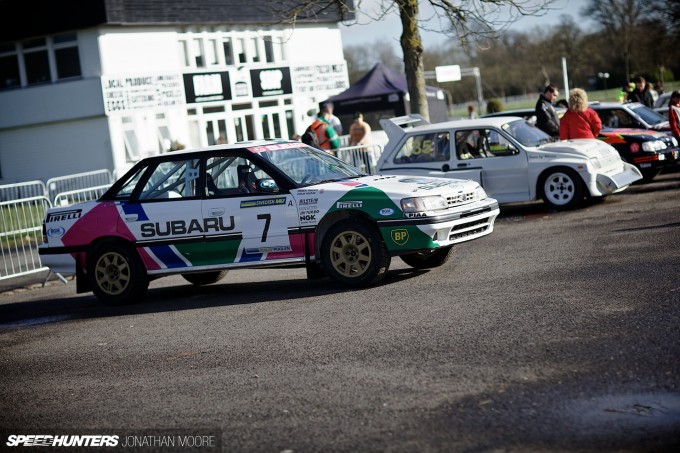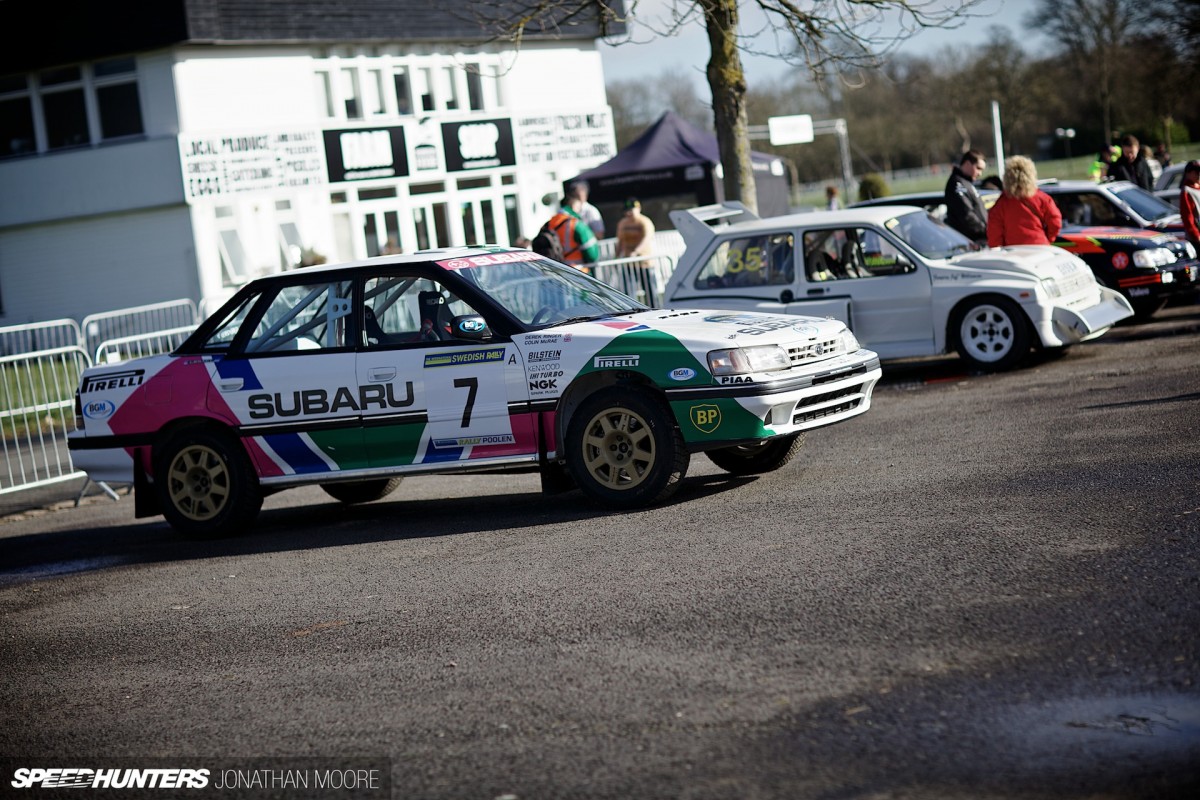 Just one Subaru would be taking part, but a rather special one, and with a rather special driver. The car was an ex-Colin McRae/Derek Ringer Legacy, in which the pair had won the 1991 and '92 British Rally Championships. The driver was David Llewellyn, who coincidentally had won the BRC in the two years preceding McRae. He's returned to historic rallying in recent times, and proved that he's not lost any of his speed – he was an absolute beast around the stage!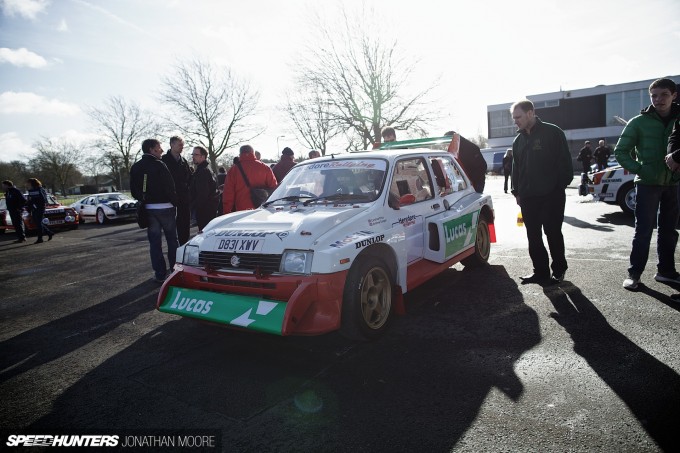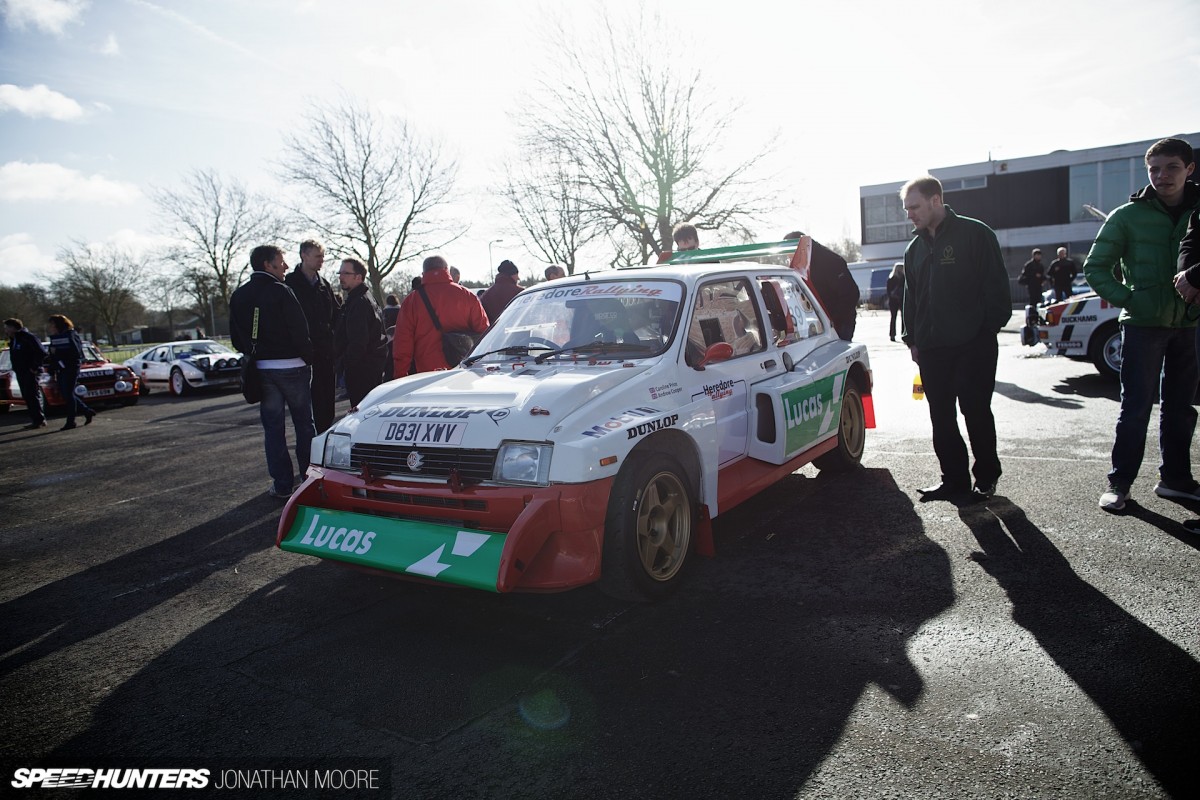 This was another car I had a personal interest in, having shot the 6R4 for an upcoming Speedhunters feature during the preceding week (along with the Renault 5 Turbo) – and it being another car I had lined up to ride shotgun…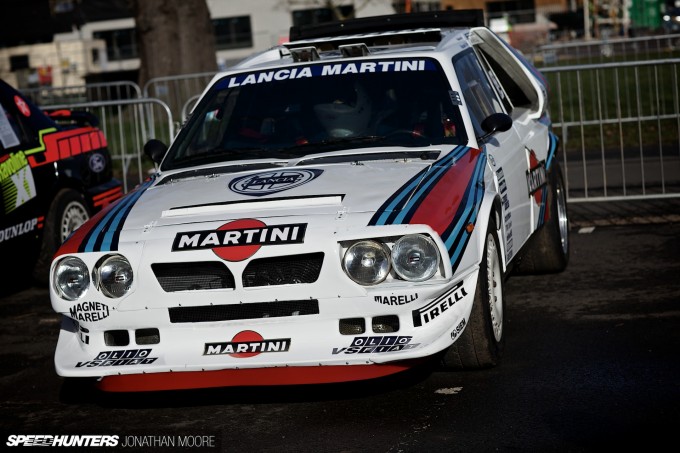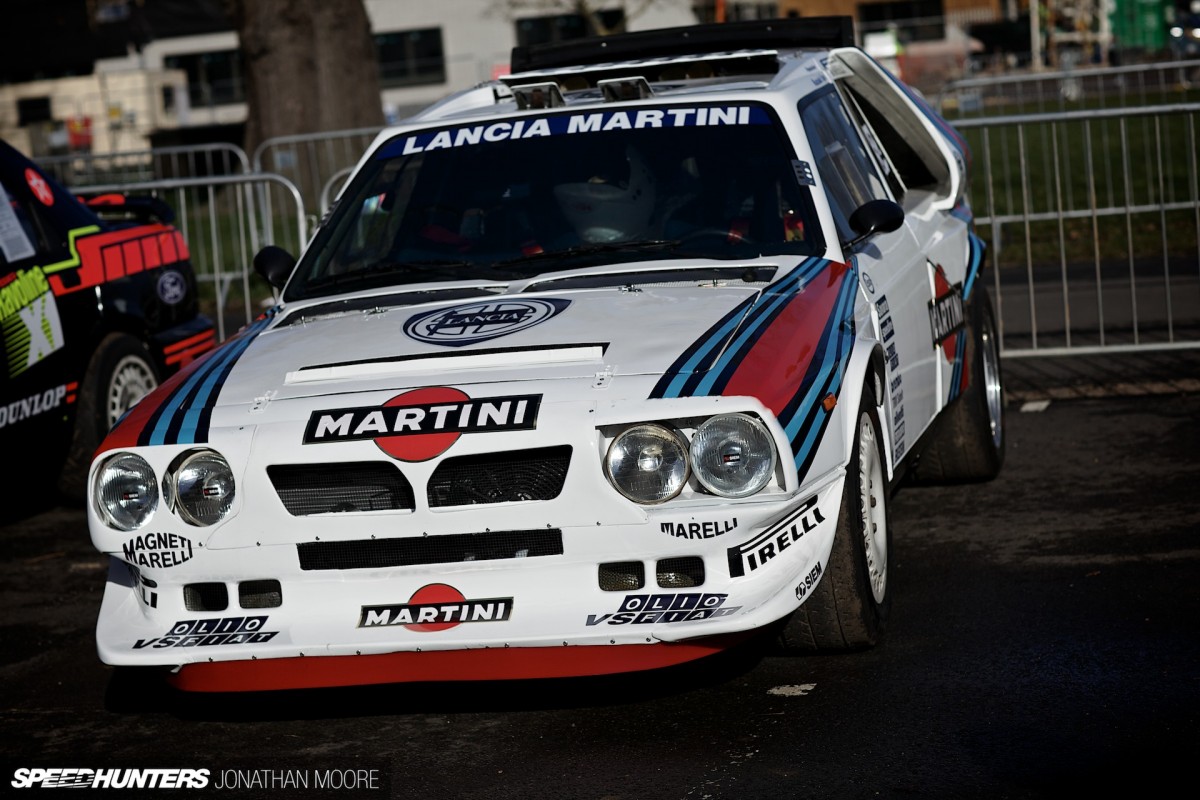 But then there was the Lancia Delta S4. Oh, those Lancia stripes… The mid-engine S4 wasn't necessarily beautiful in the way that Lancias often were, but by god it was effective. It has a kind of sea monster look to it, like a shark…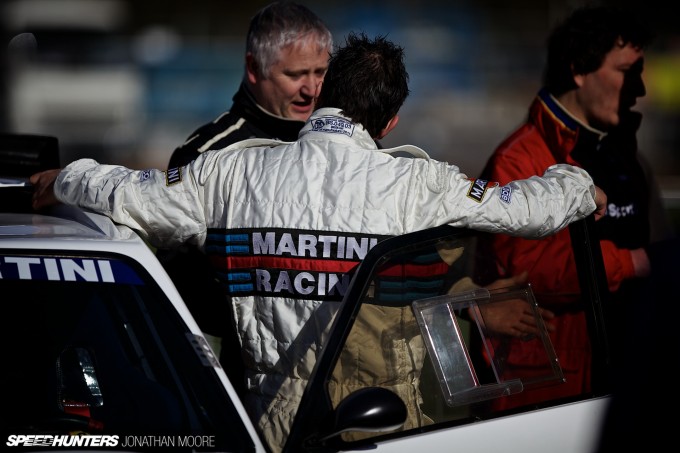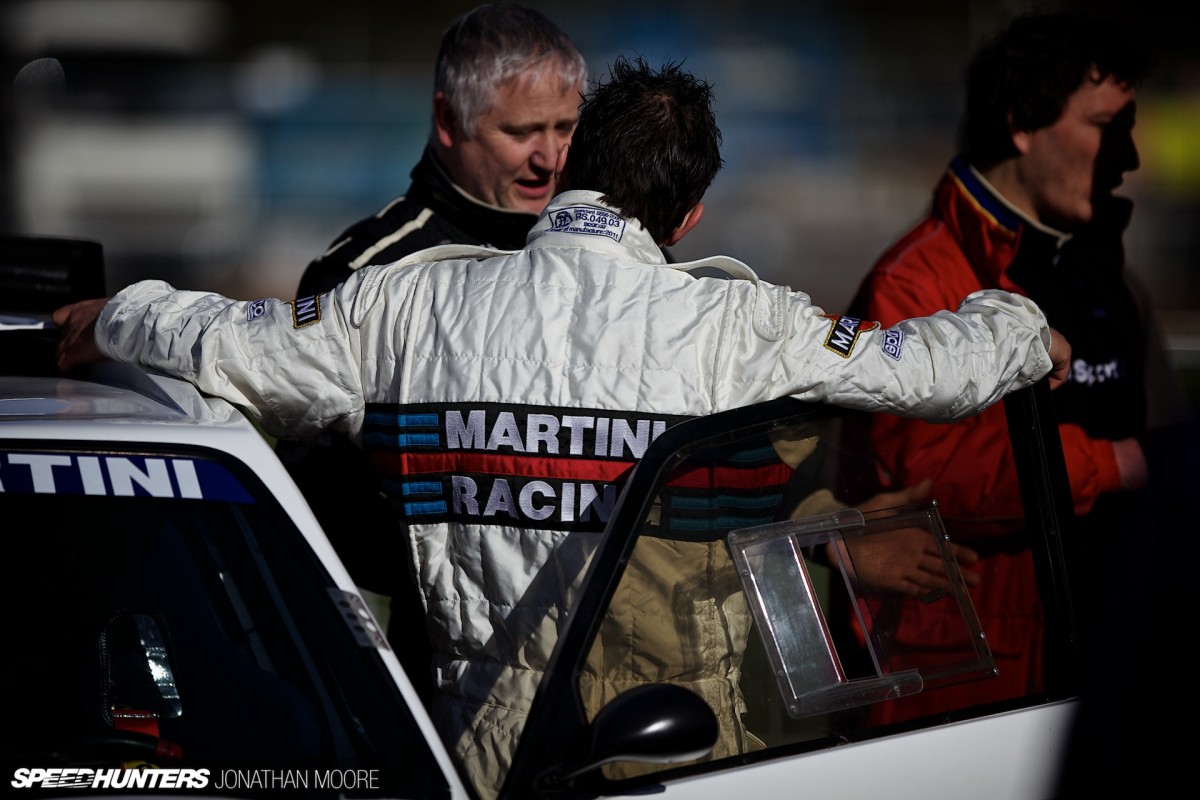 The driver of this bespoke replica had impressively got into the spirit of things, with a matching race suit.
Thunderbirds are go!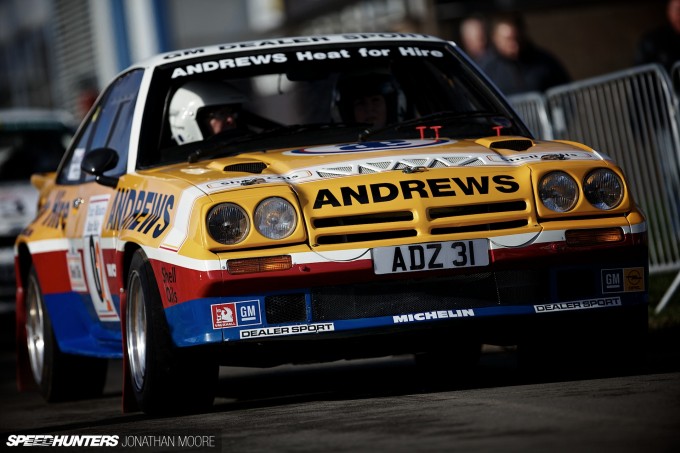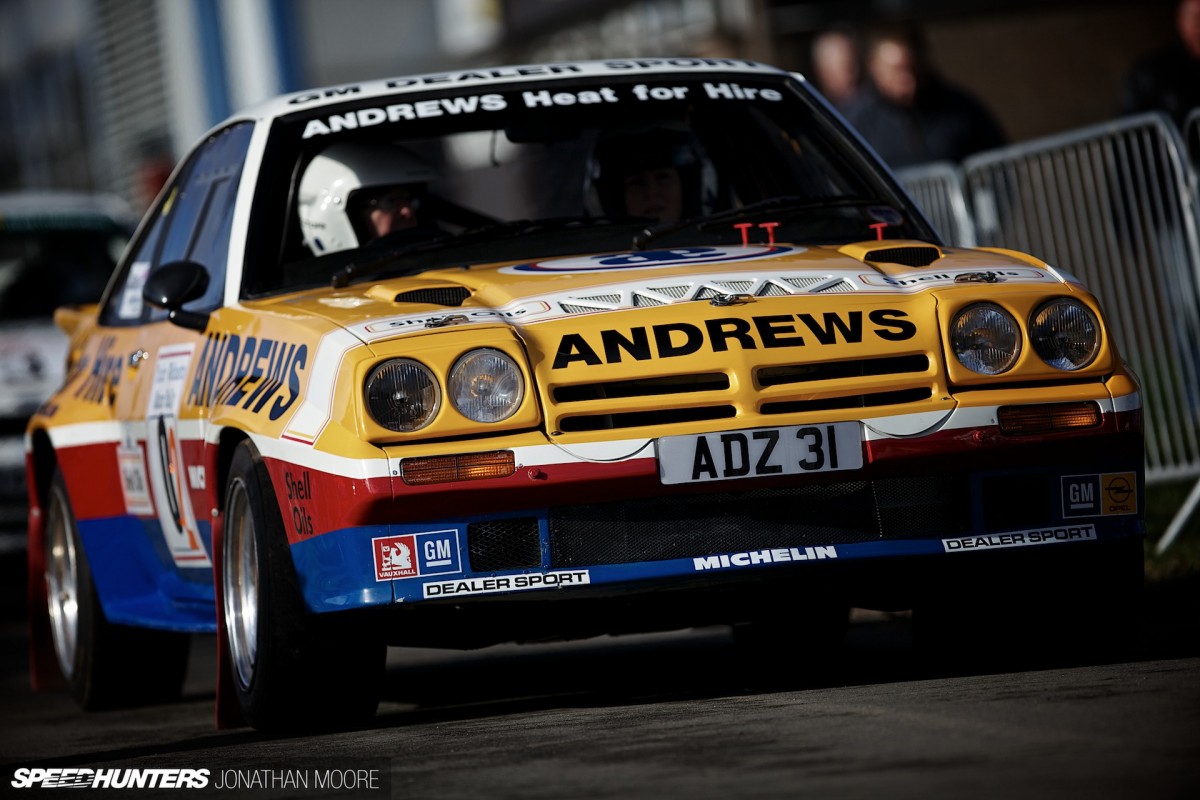 Russell Brookes is an iconic driver in British rallying – always identifiable by his yellow Andrews Heat For Hire livery – and another two times winner of the British series. He's also another driver who is simply unstoppable; he's permanently stapled to historic rally events, it would seem.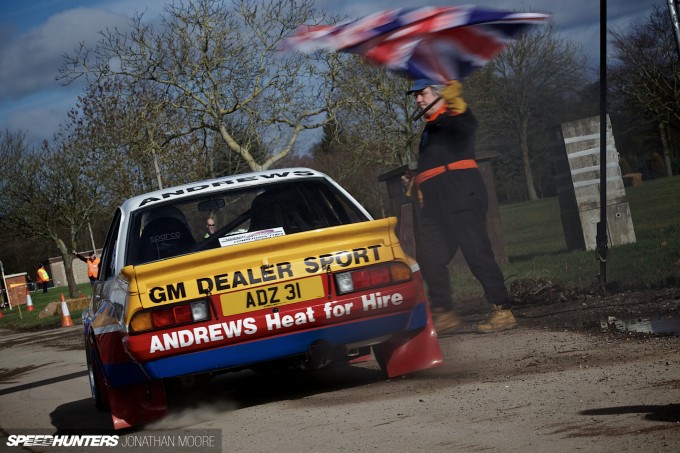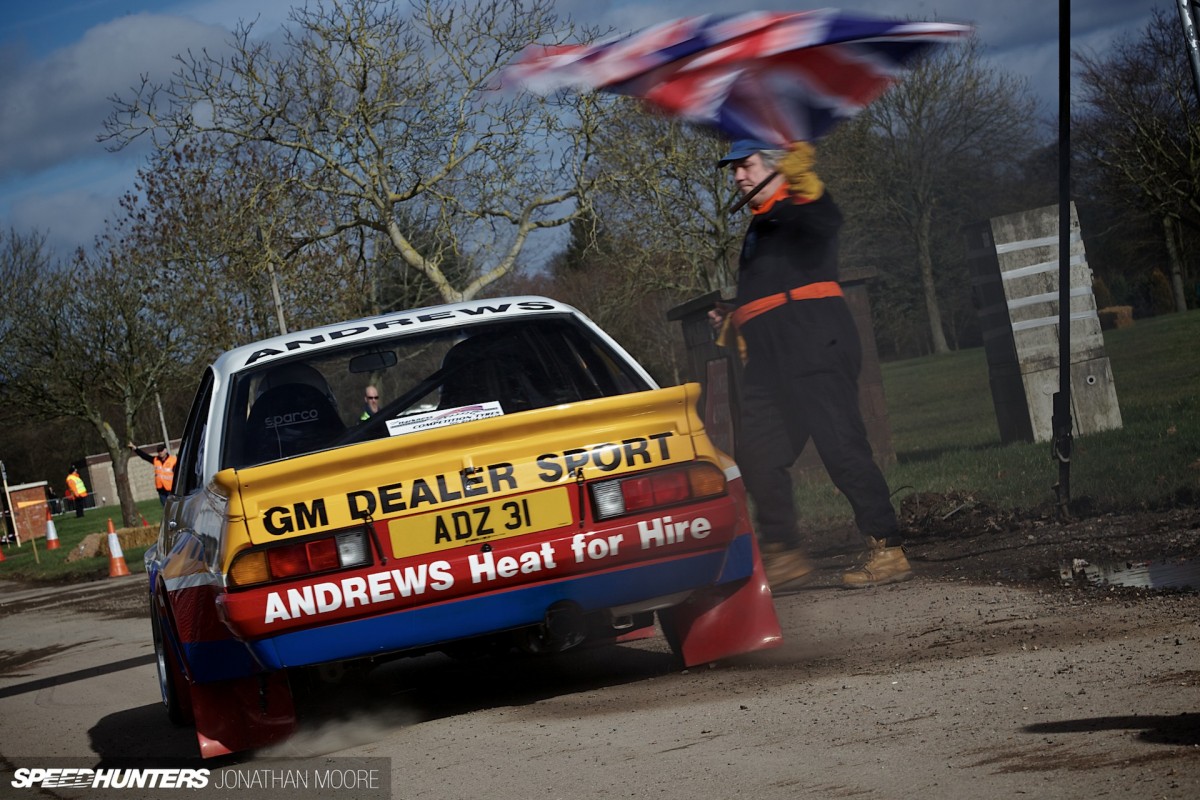 His mid-'80s Group B Manta still looks the part, and his right foot wasn't showing signs of age…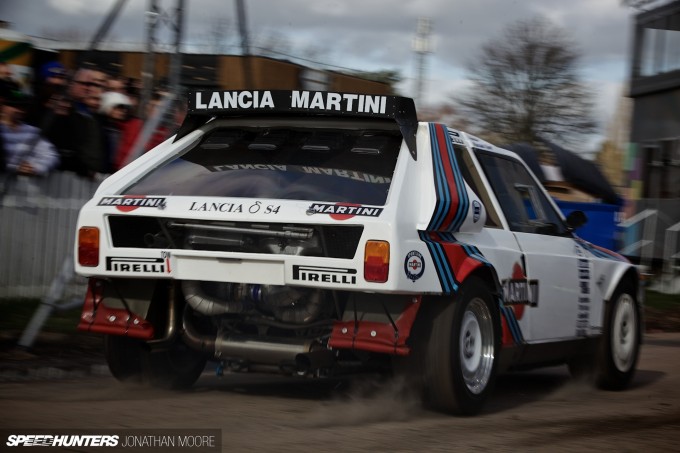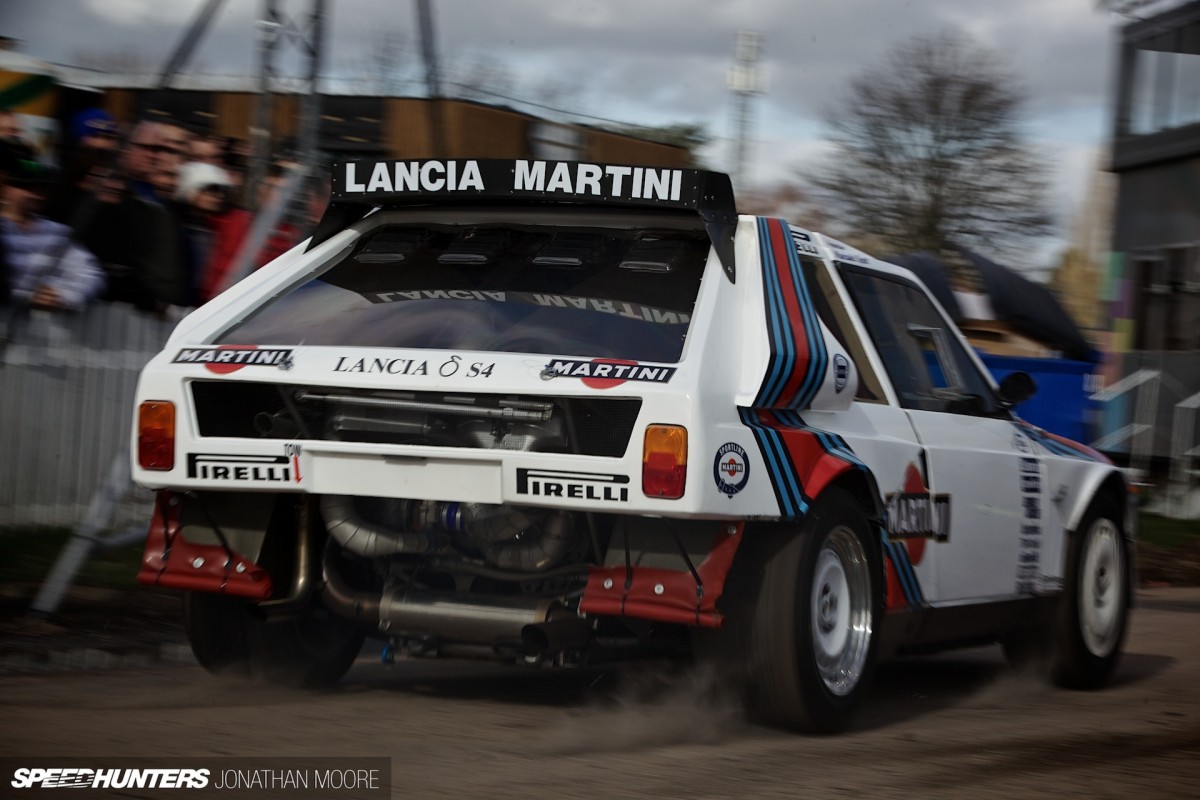 Each car out would do three laps before pulling back into the paddock, so the startline was a scene of constant activity as cars waited for the marshals to spot a gap and release them. First gear, revs up, bang the clutch up and you're off into the storm!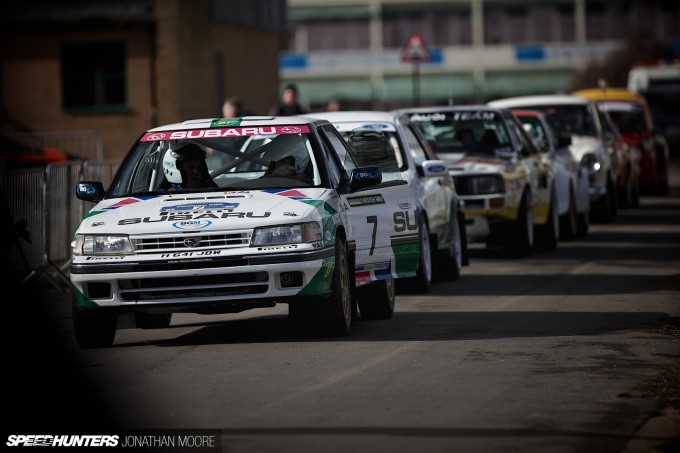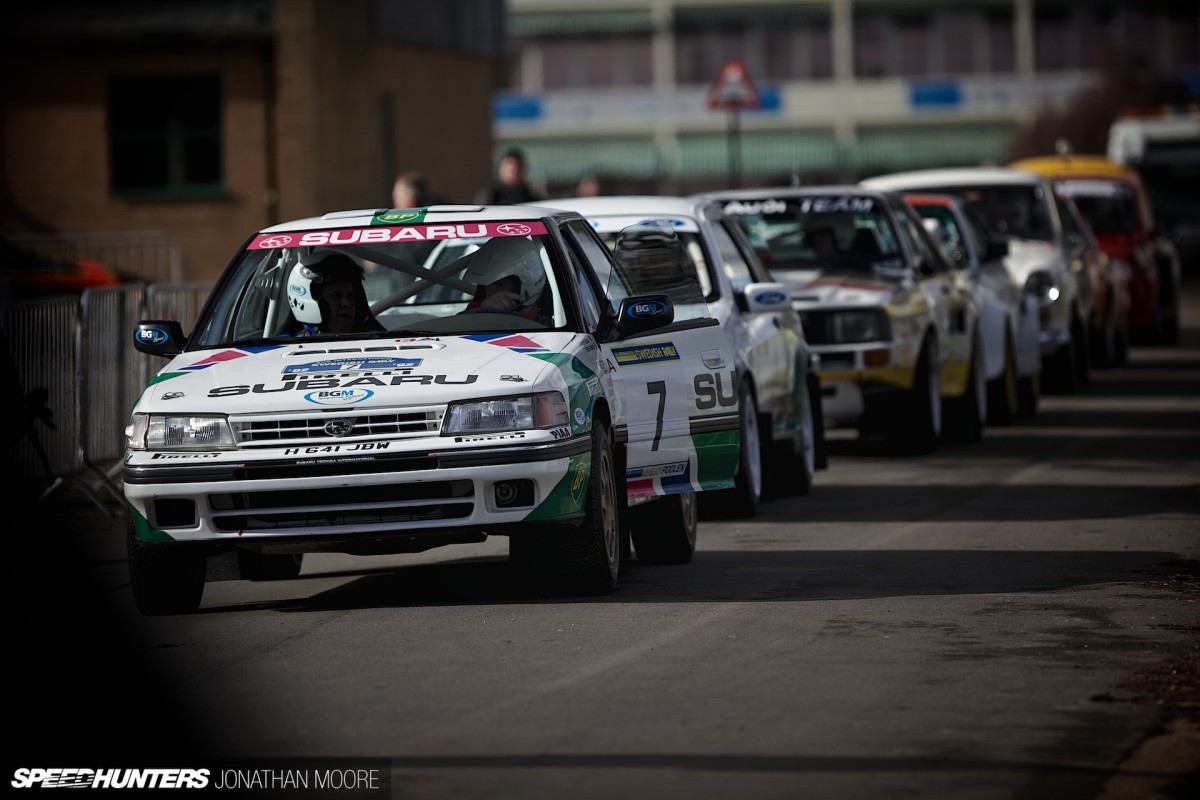 Lined up behind, this little lot. What a perfect day.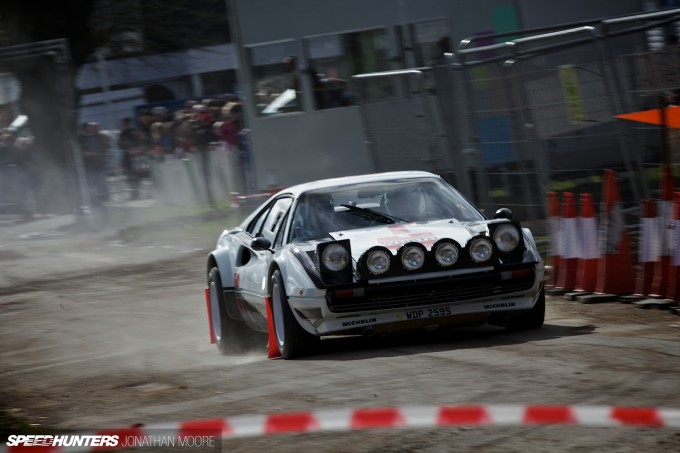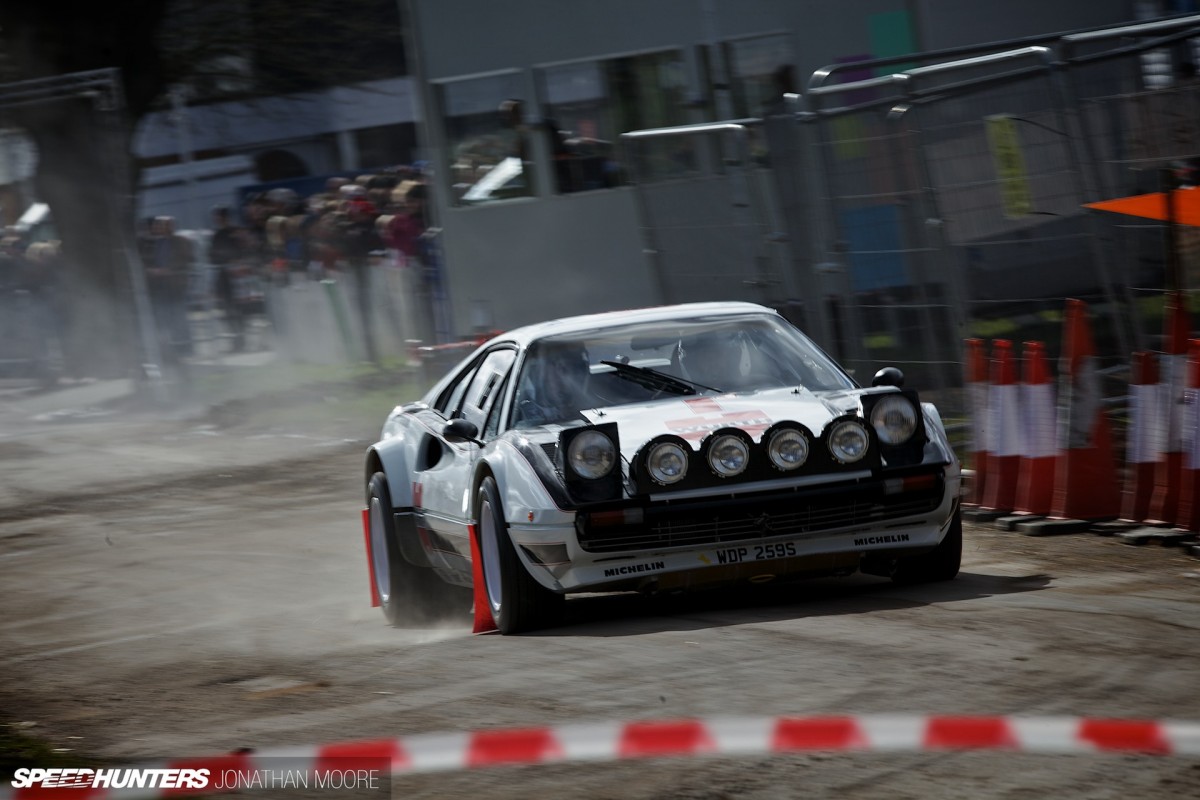 I've become used to seeing Porsches on tarmac stages, but I don't think I've ever seen a Group B Ferrari!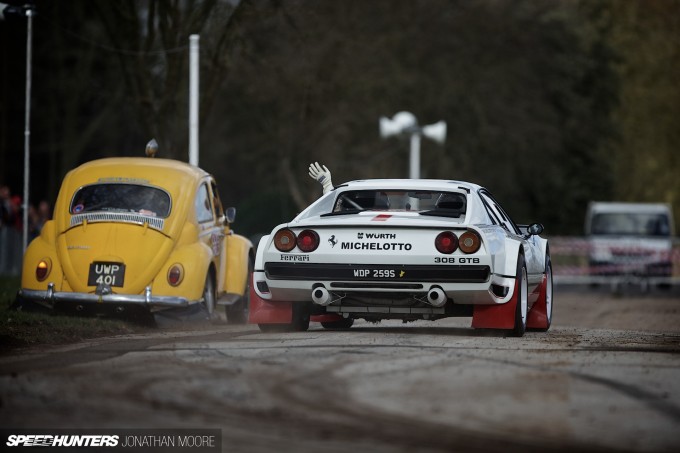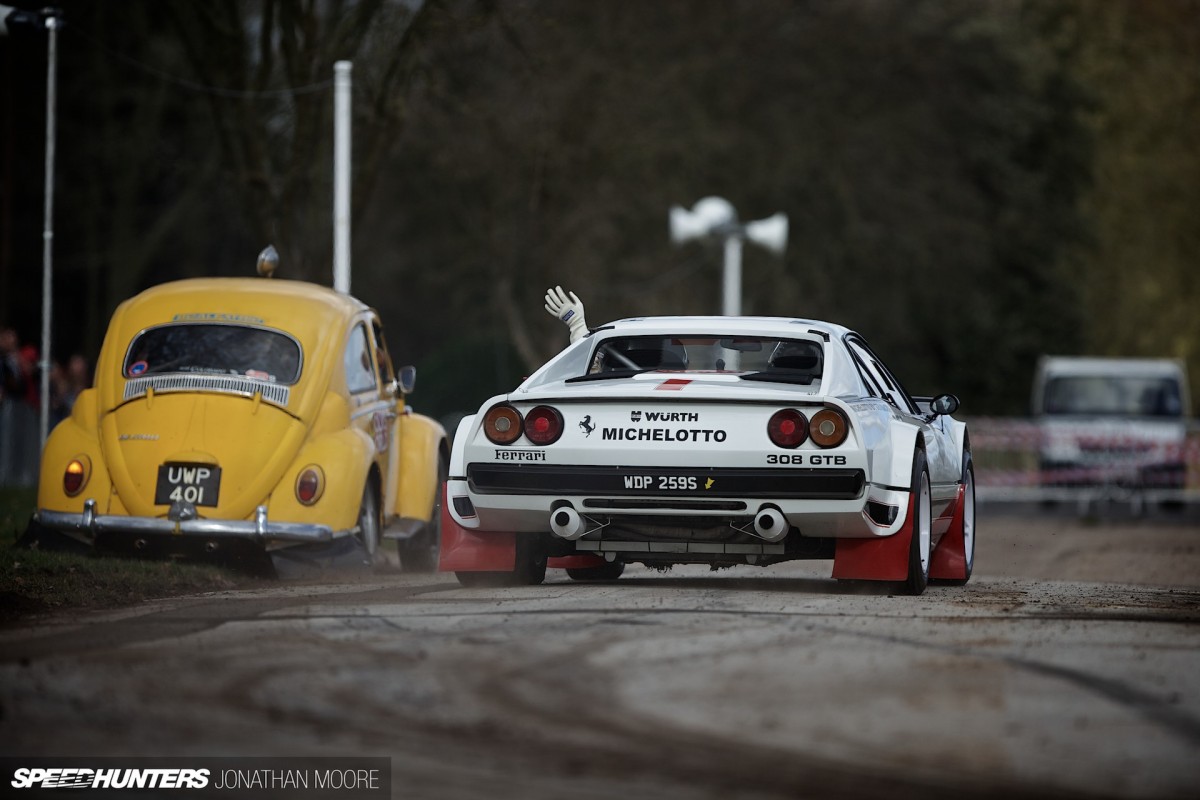 The 308 GTB Rallye, developed by Michelotto, was being absolutely thrown about at a frightening pace. Its aggressive profile and prodigious speed causing more than one car to take to the grass. But what a polite Ferrari driver.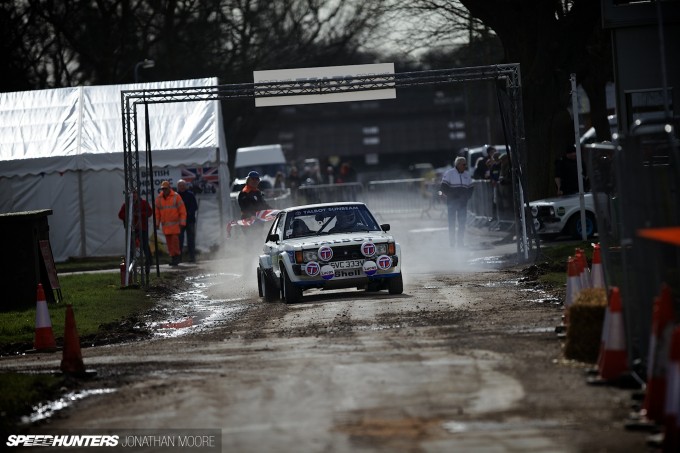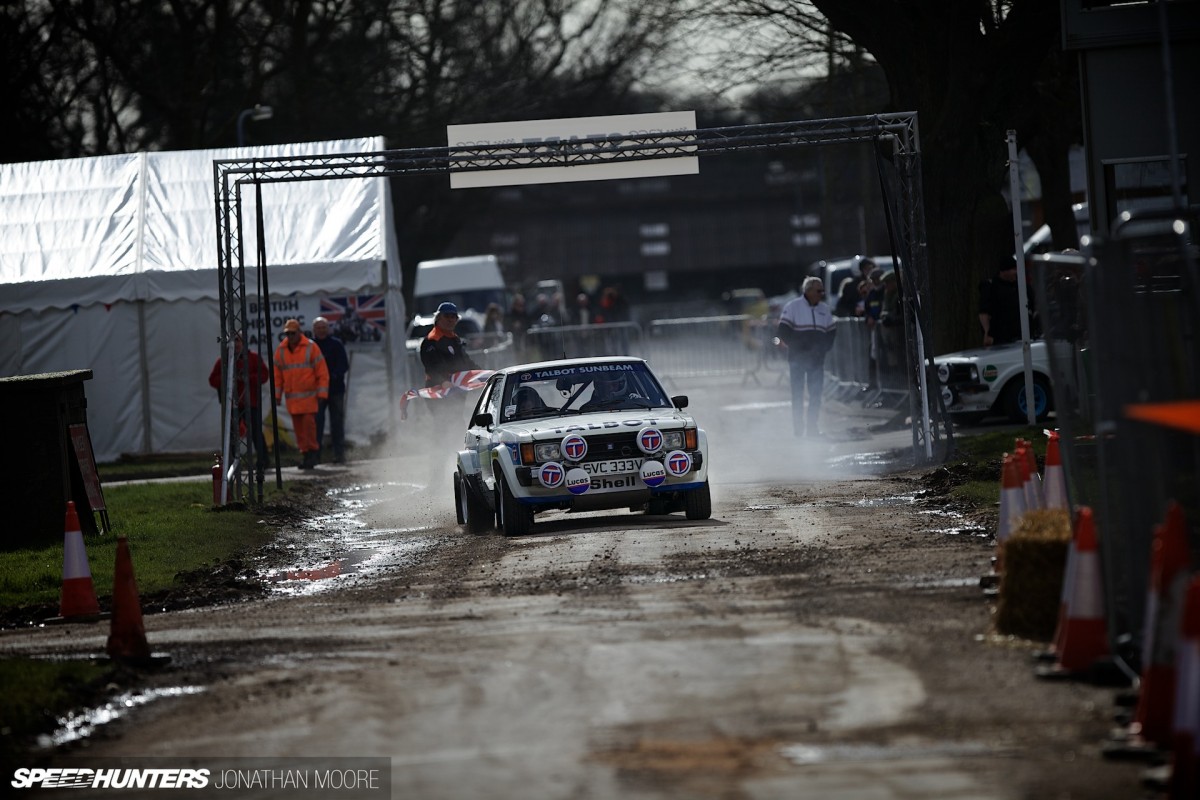 There are now several groups dedicated to keeping the legacy of Group B rallying alive, with the Rallying With Group B and Slowly Sideways team at the fore. But there was nothing slow about how sideways the cars were at Race Retro.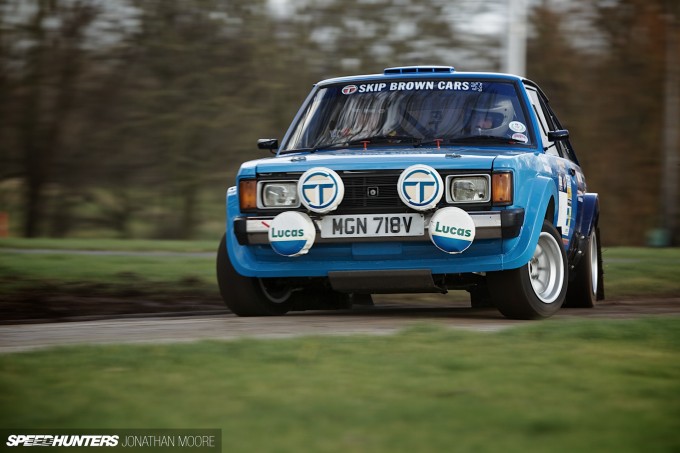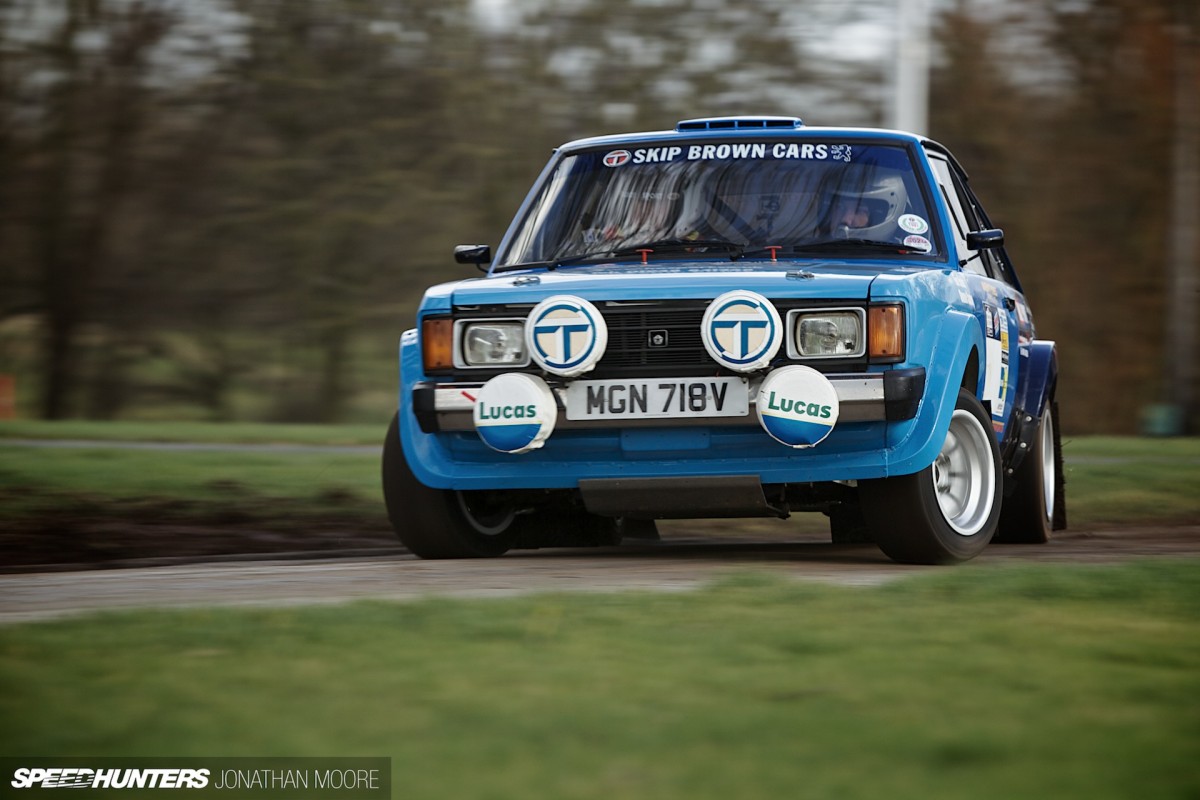 This Talbot Sunbeam in particularly was putting on a fantastic display for the crowd – and its passengers! There was no straight more than 50 yards long, the track narrow and each corner was pretty much square, meaning that you were seeing cars flicking sideways all around you.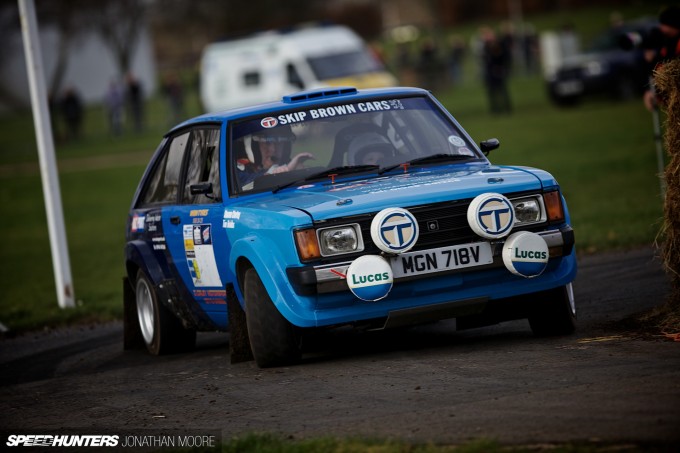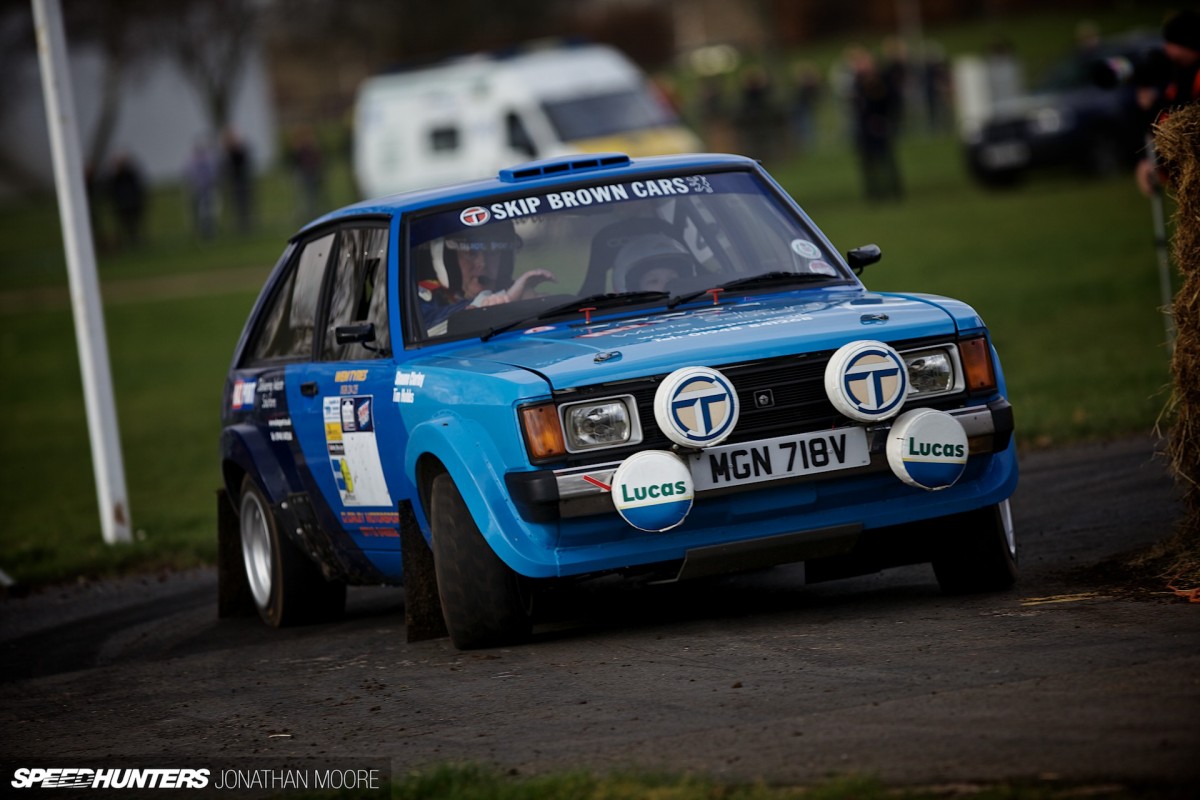 First the tail hanging out left, kicking up mud, then slewing right over the loose.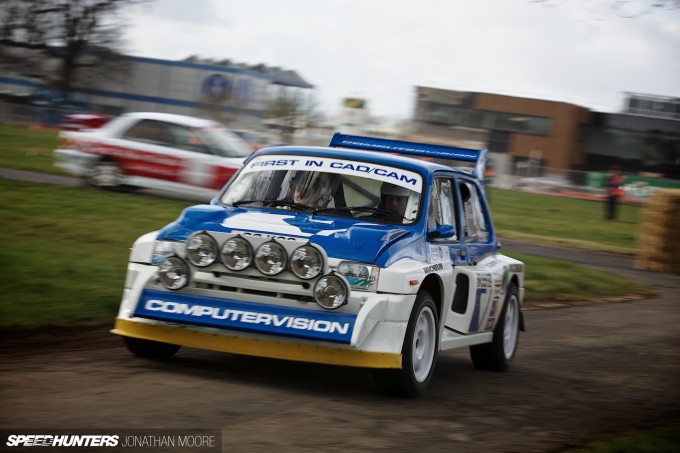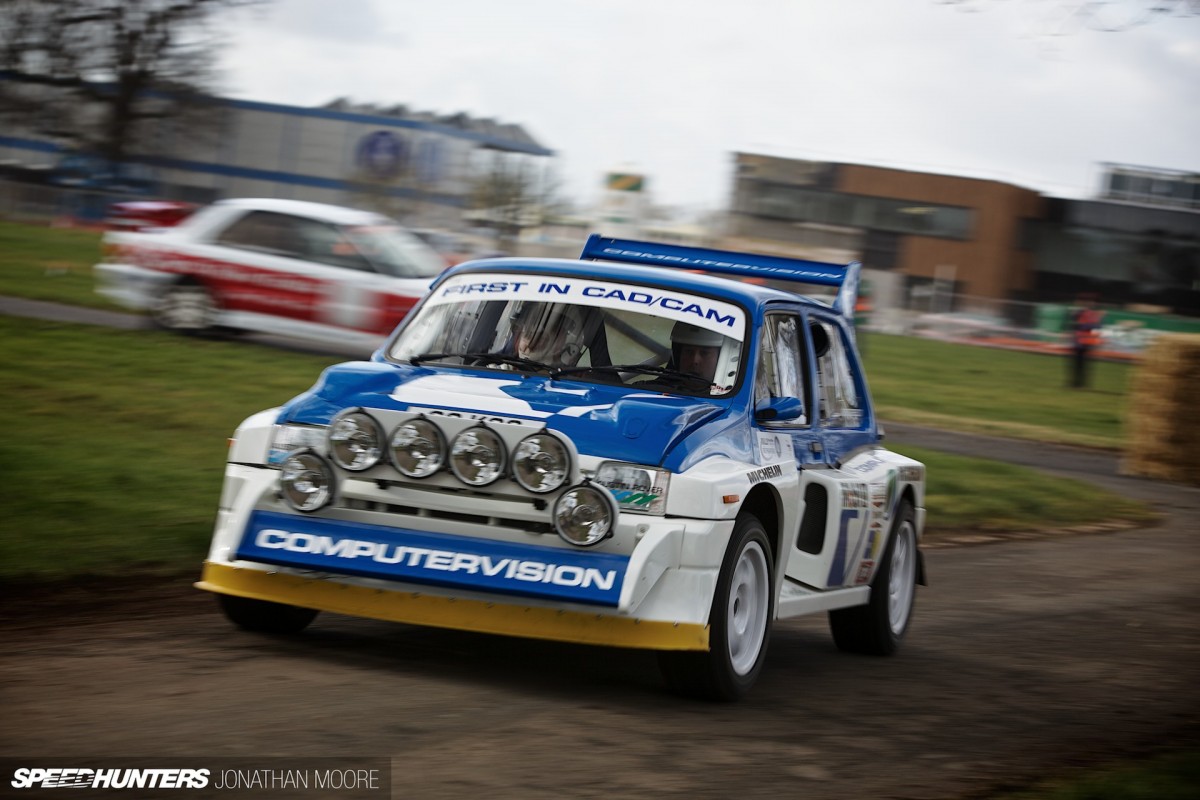 This was happening all around. One of the advantages of wearing the fluorescent vest was being able to stand in the middle of a patch of grass and literally pivot around 45 degrees at a time to see a different corner and different car. A dizzying, exhilarating experience.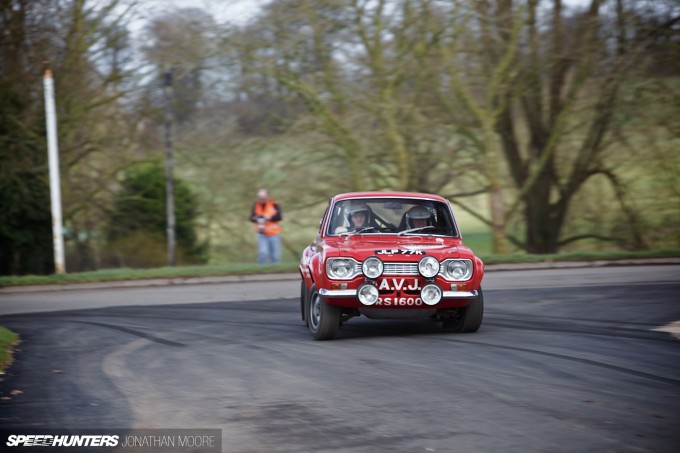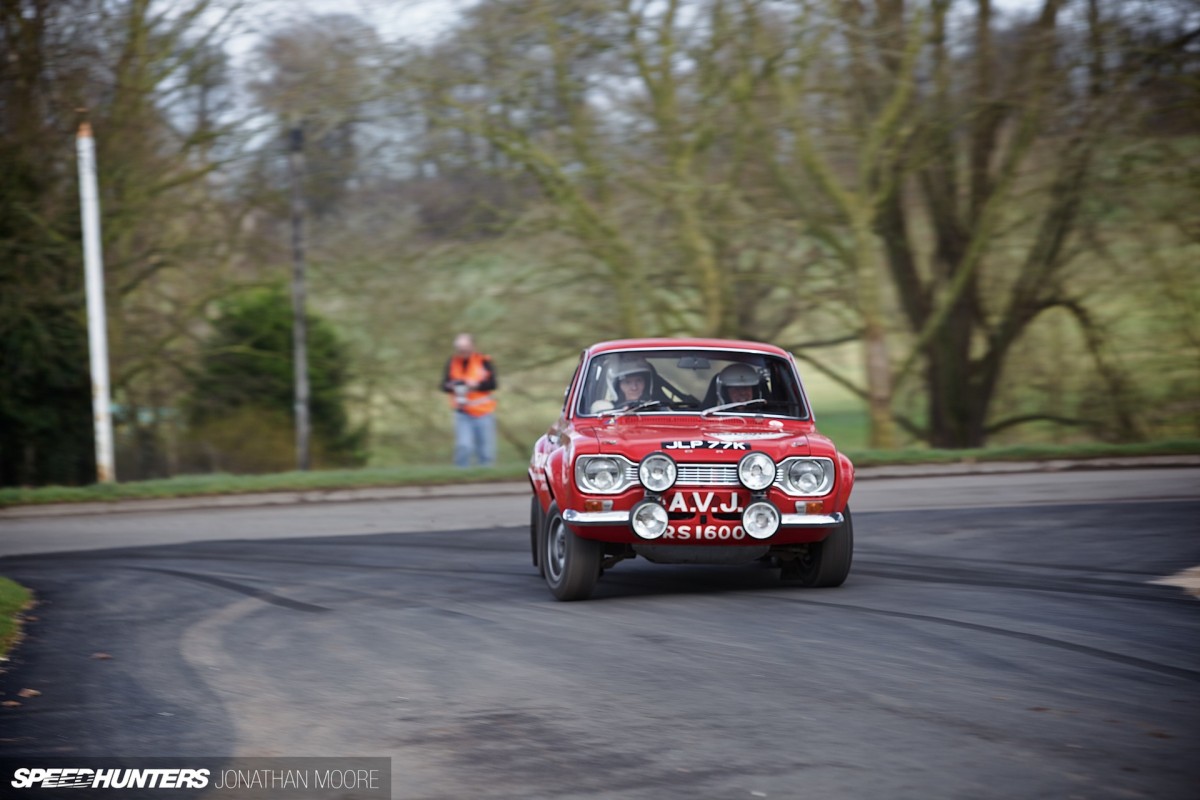 Some of the sections were relatively fast, but don't let this shot fool you. The majority of the course was made up of tarmac tracks barely a car's width wide; this was one of the only corners where you could get the speed up and fully drift the car through.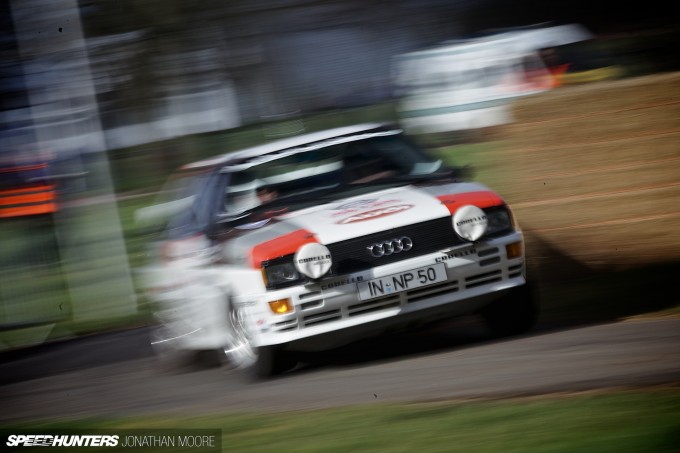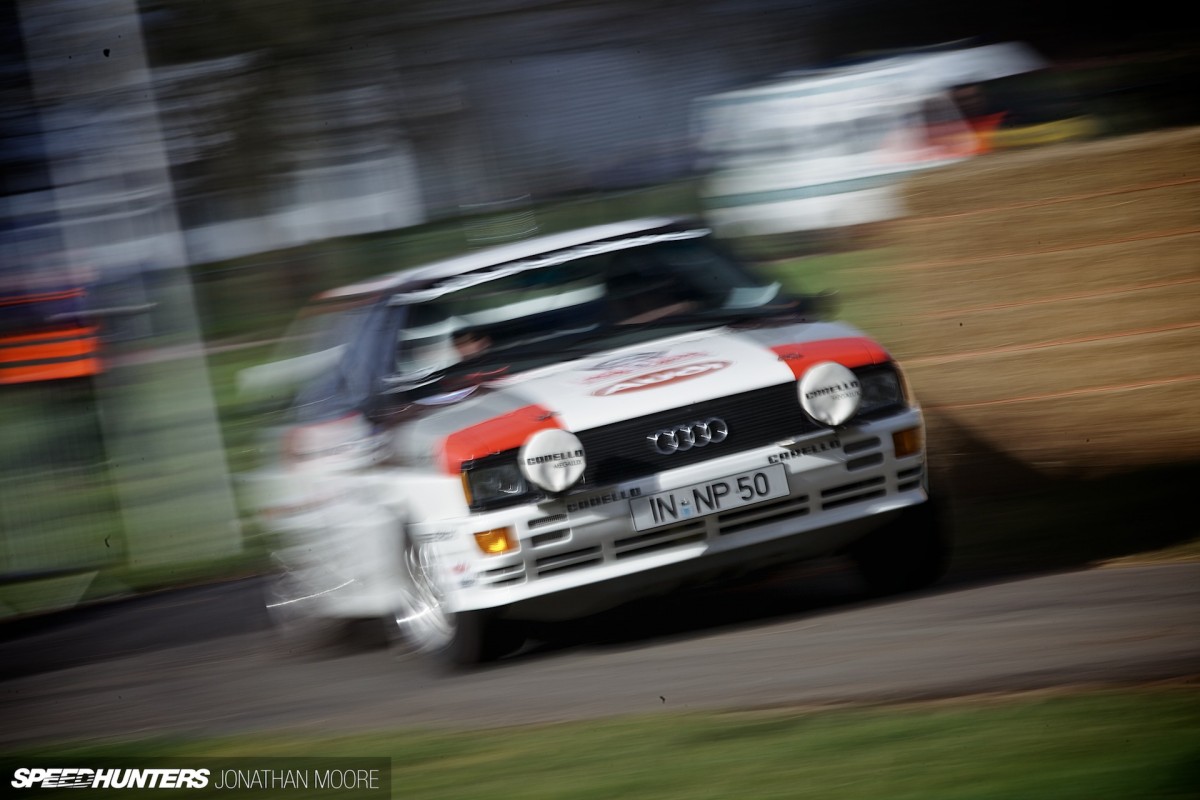 More seriously, in a forlorn effort to slow cars down, hay bale chicanes had been put on several straights and worse, metal rails stuck on apexes to prevent cars cutting them.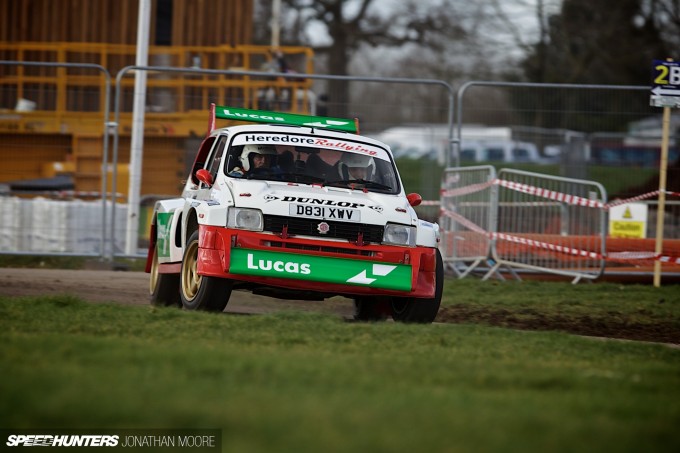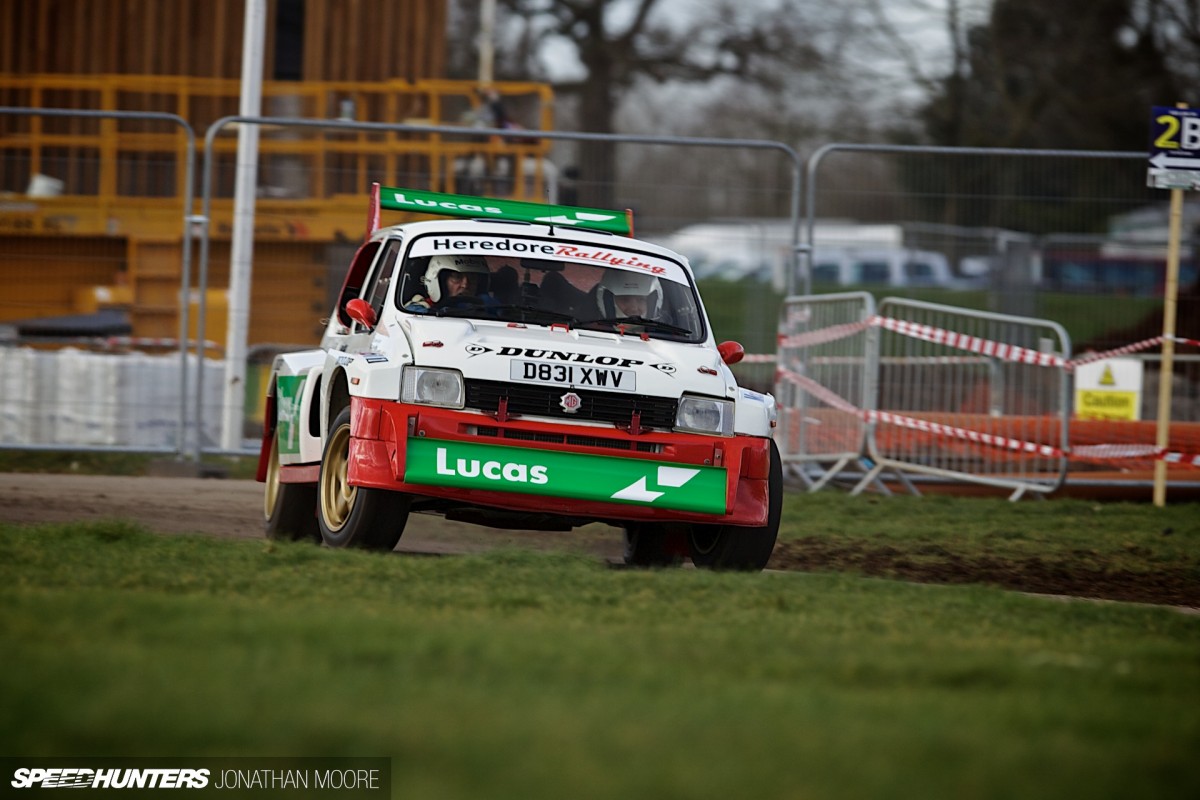 Those metal rails would look damn close from the passenger seat as you're going sideways… Although several hay bales were mown down during proceedings, I was pleased that I didn't see any metal barriers down – and therefore no damaged cars.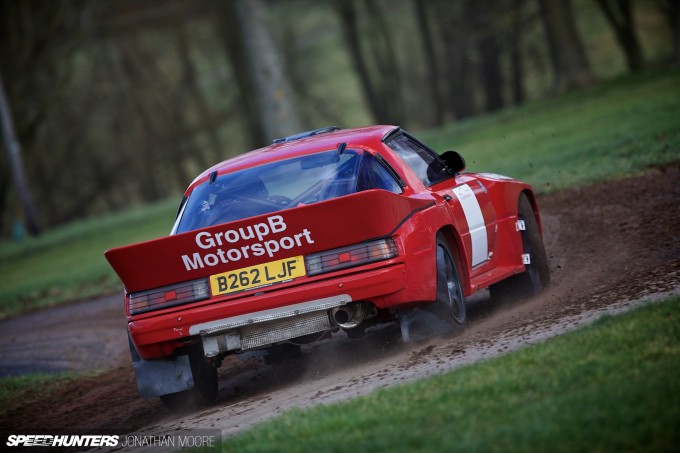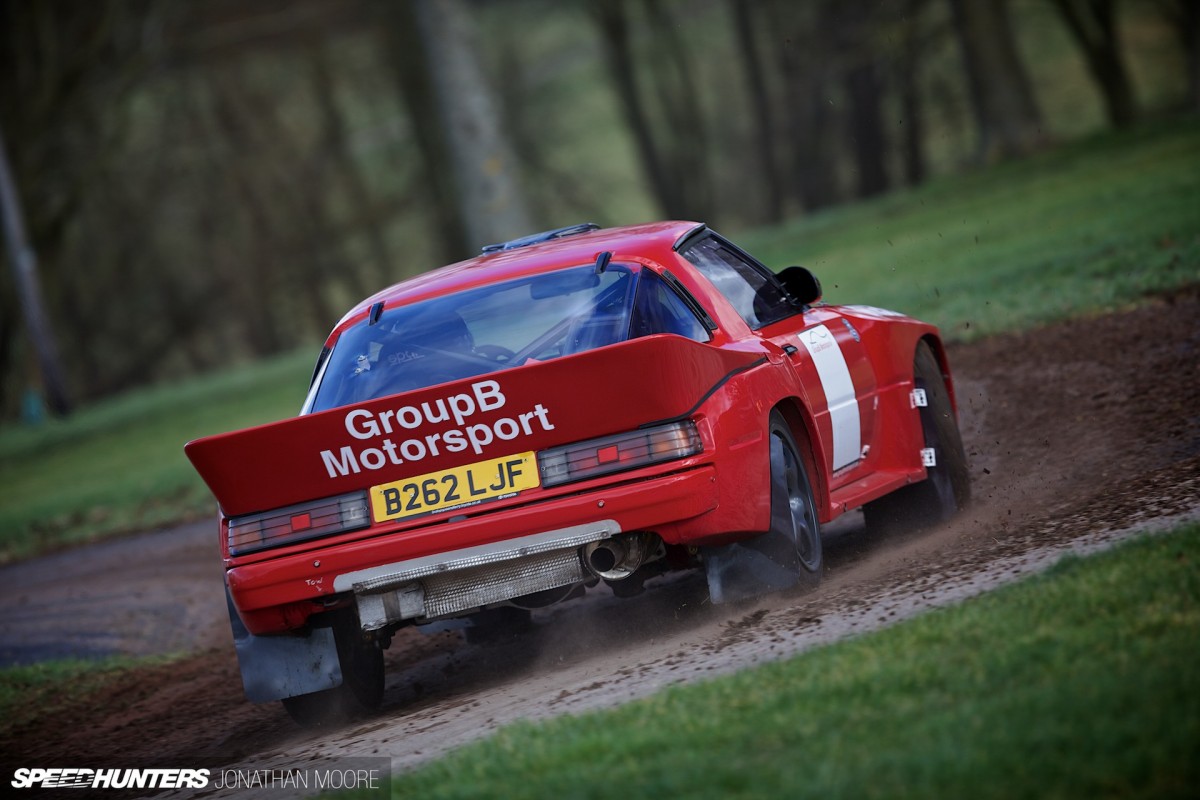 The grass on either side was quickly chewed up and deposited over the roads, eventually covering the majority of the opening tight section, which merely meant that the drivers could get even more sideways.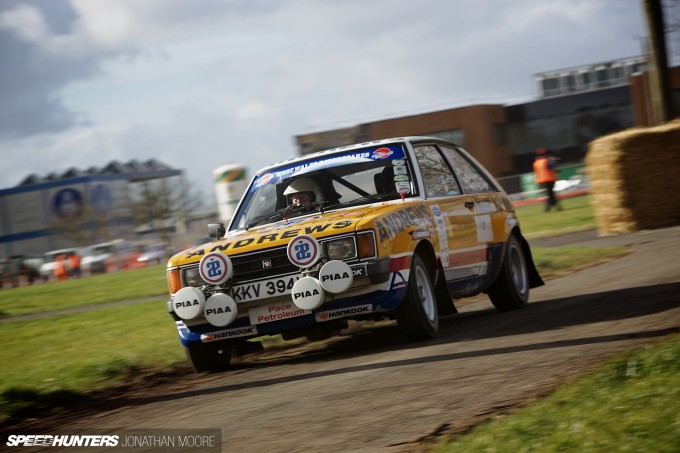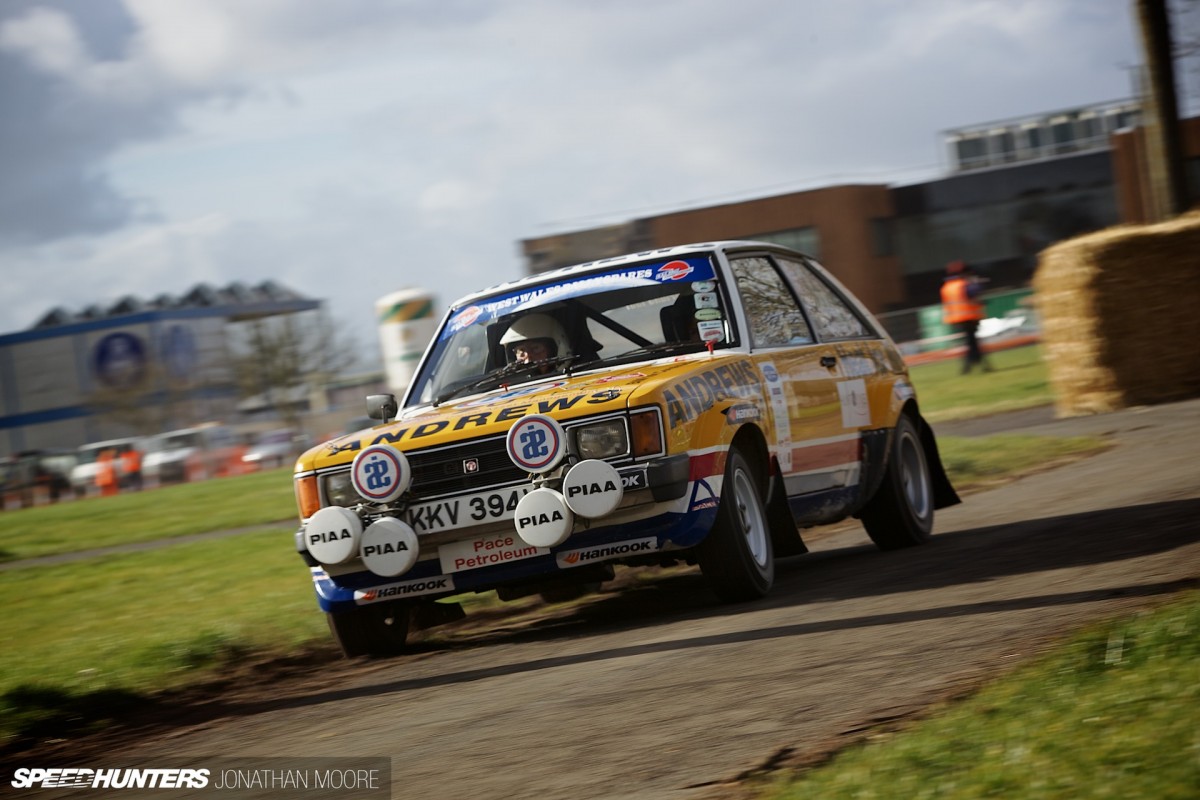 As ever, the best way to appreciate this kind of event is to keep on moving around, enjoying all the angles that even a short and twisty demonstration run can provide. Ideally from behind one of the sparse trees!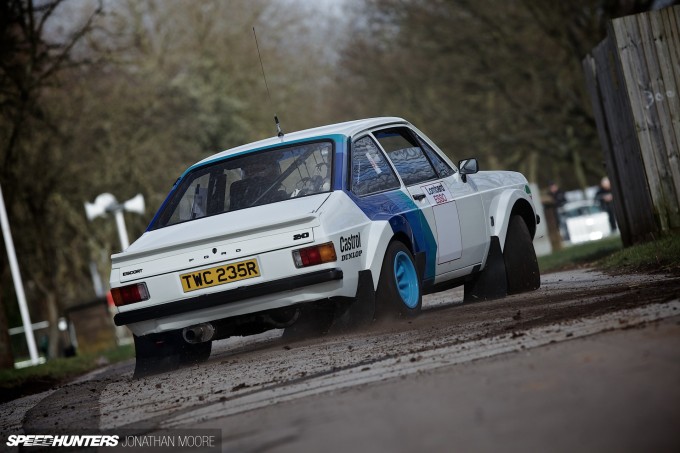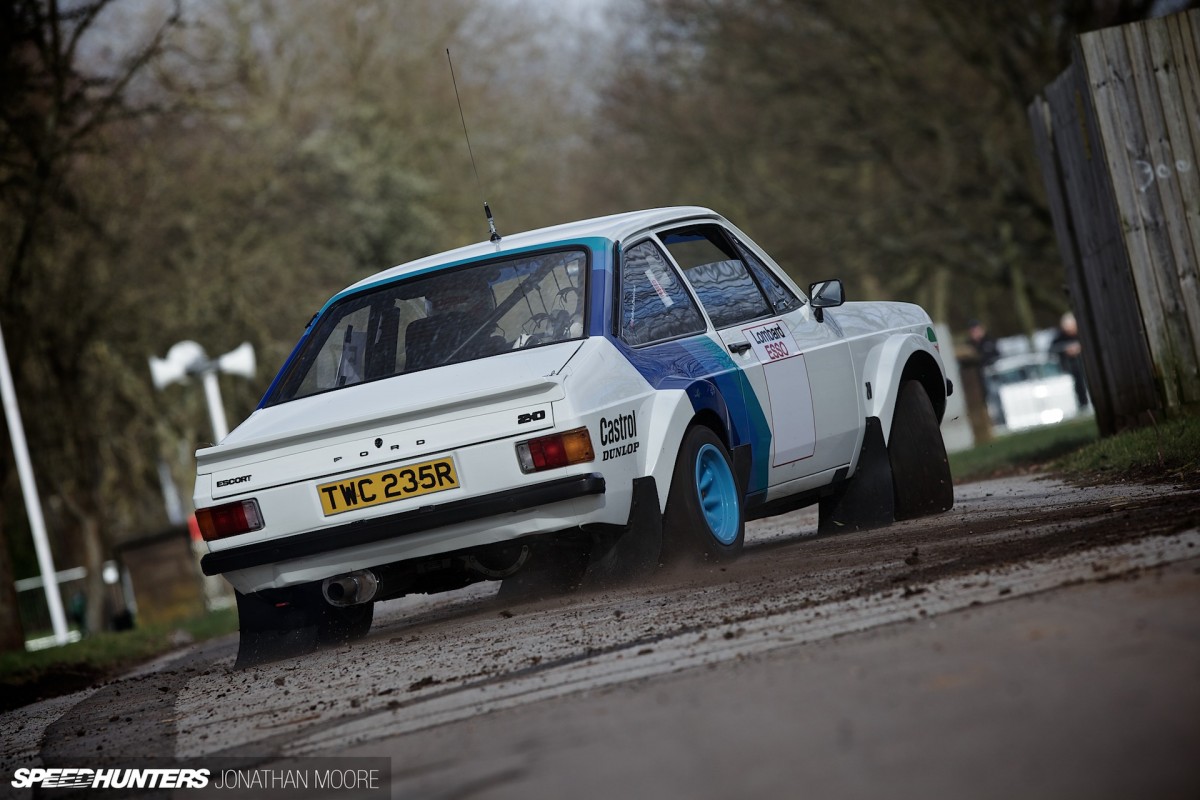 Quite often a car would get squirrelly under braking or acceleration and threaten to spear off the track – sending clutches of photographers squawking for cover…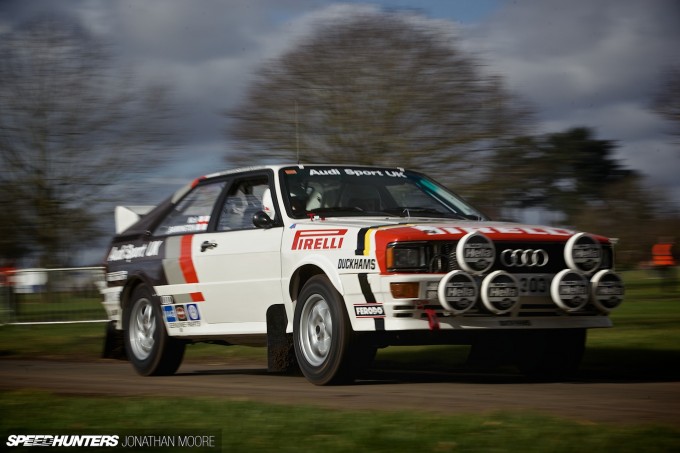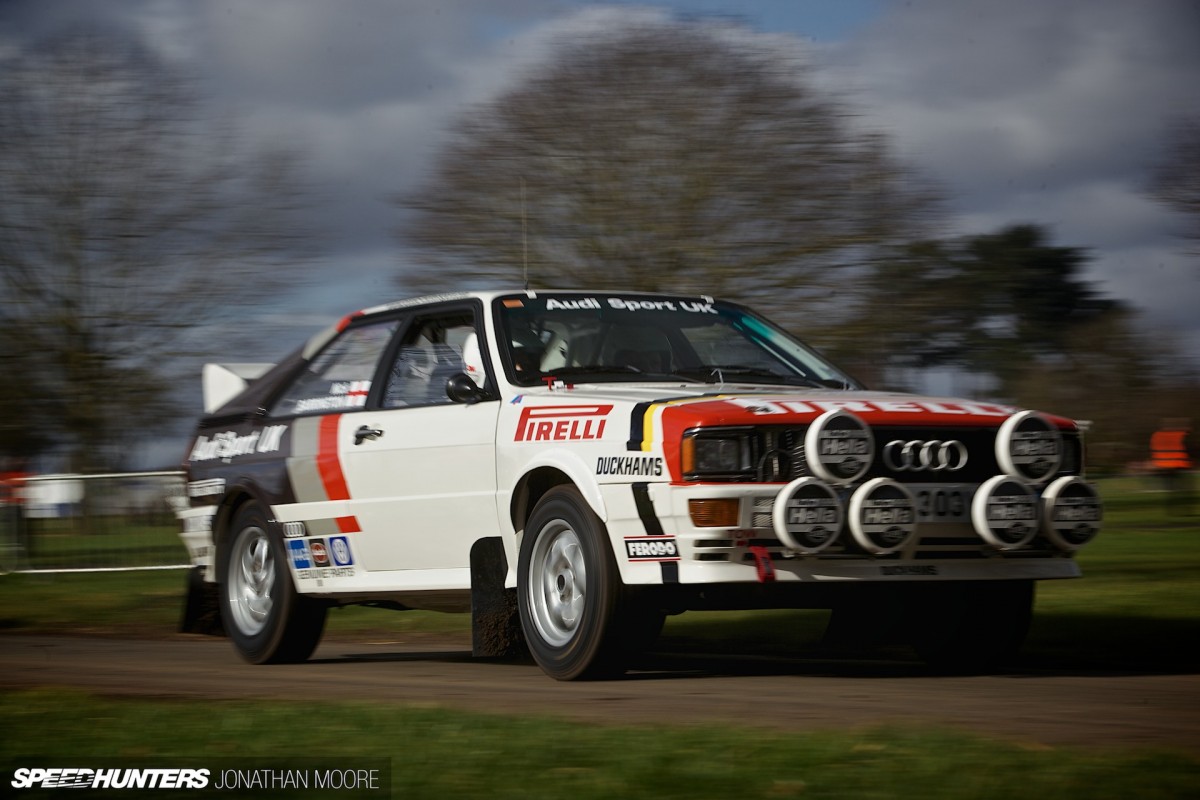 But mostly it was pure pleasure, soaking up the best that rallying has to offer, controlled environment or not. Replicas and originals played side by side, those Audi quattros rumbling away at low revs before the turbines spun up to punch them out of corners; they were really suffering on the tight course.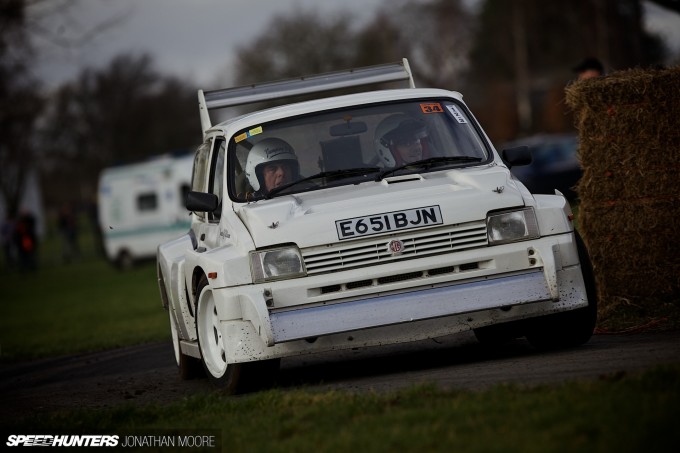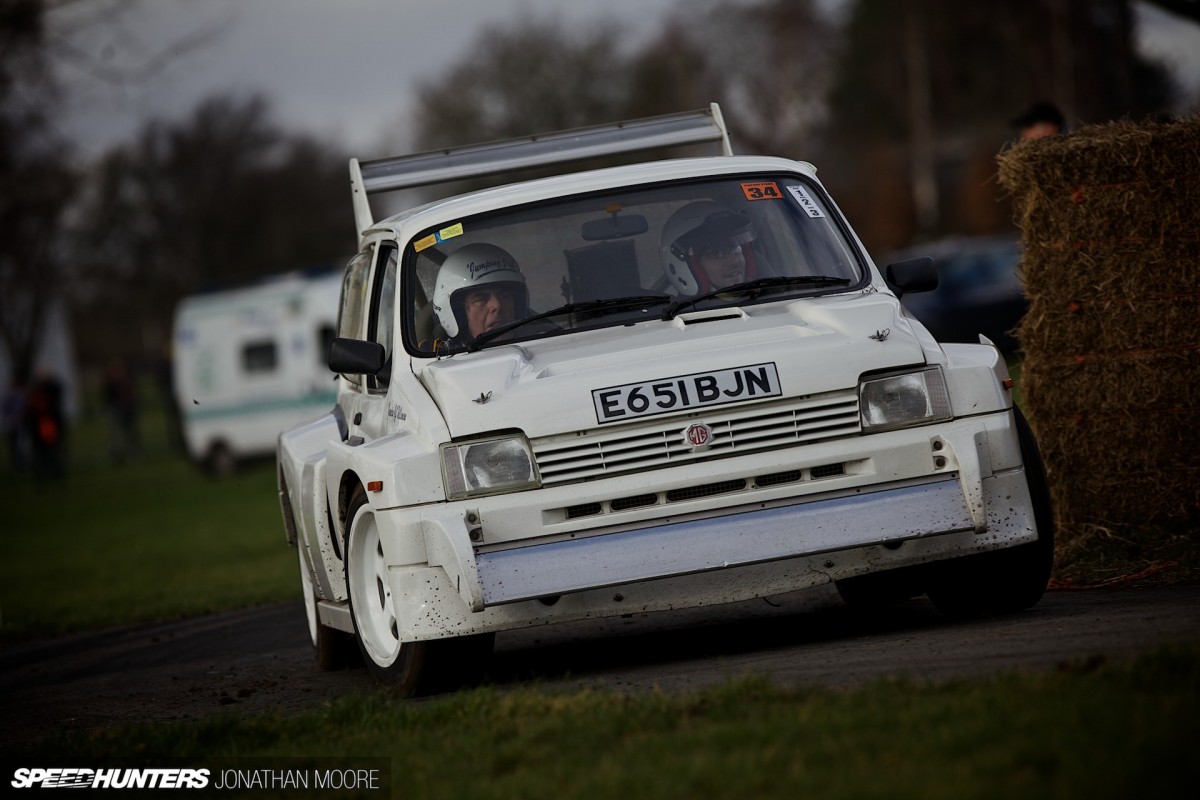 The squat, compact 6R4s looked particularly potent, their short wheelbase and potent power lifting them up under acceleration and burying the nose under braking.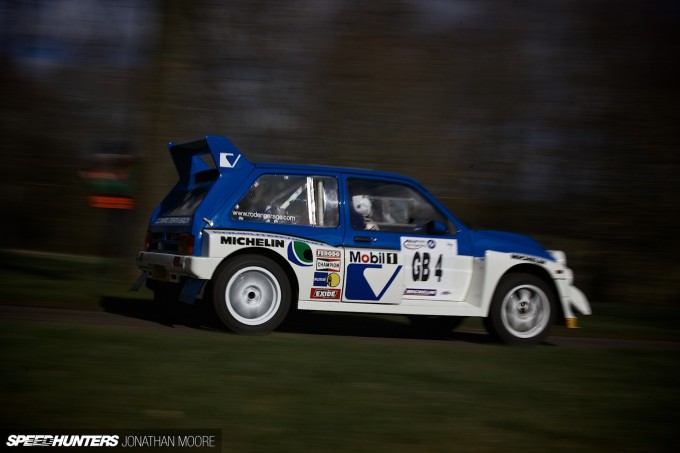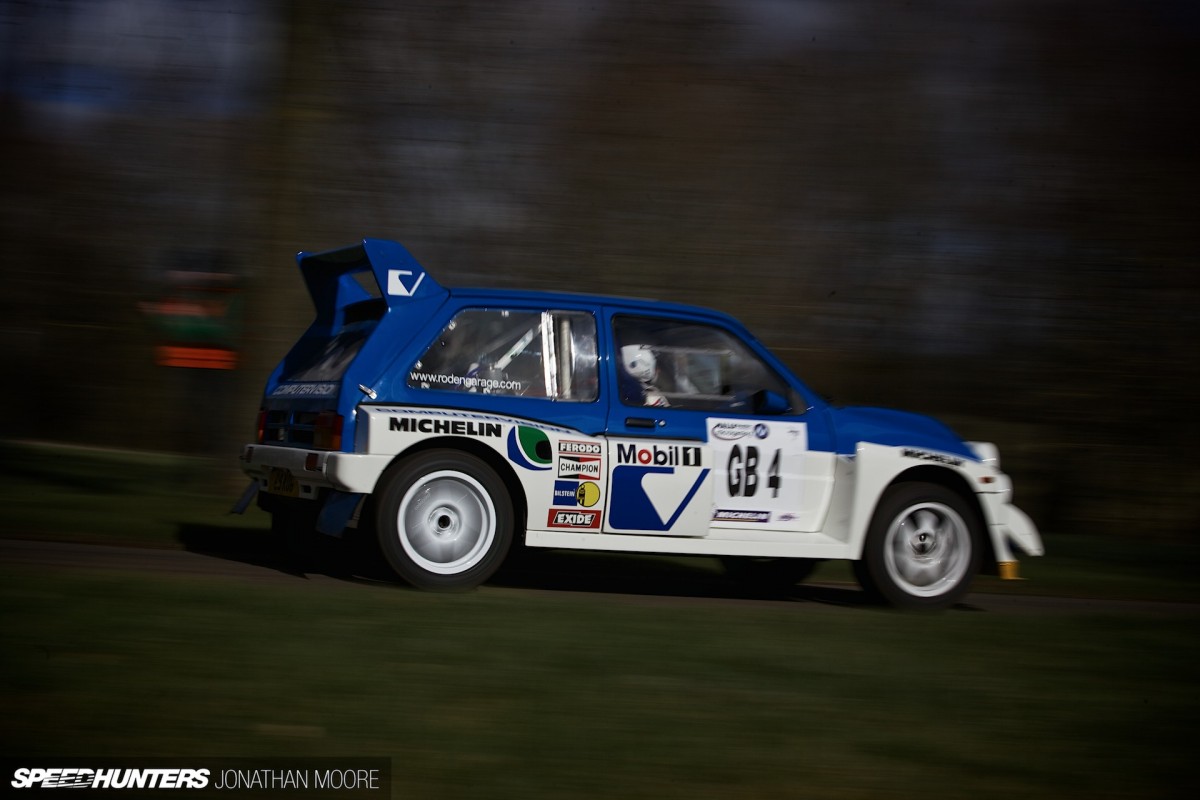 The third 6R4 had a much more spacious rear than the Clubman derived V6 cars it ran alongside: this one mounted a much lighter and more compact Honda Civic Type R engine, pushing out 315hp – in a car weighing 800kg.
From behind a tree – and then from the cockpit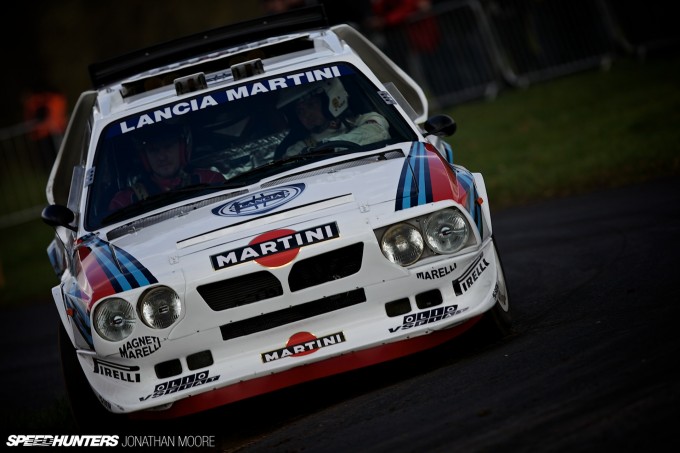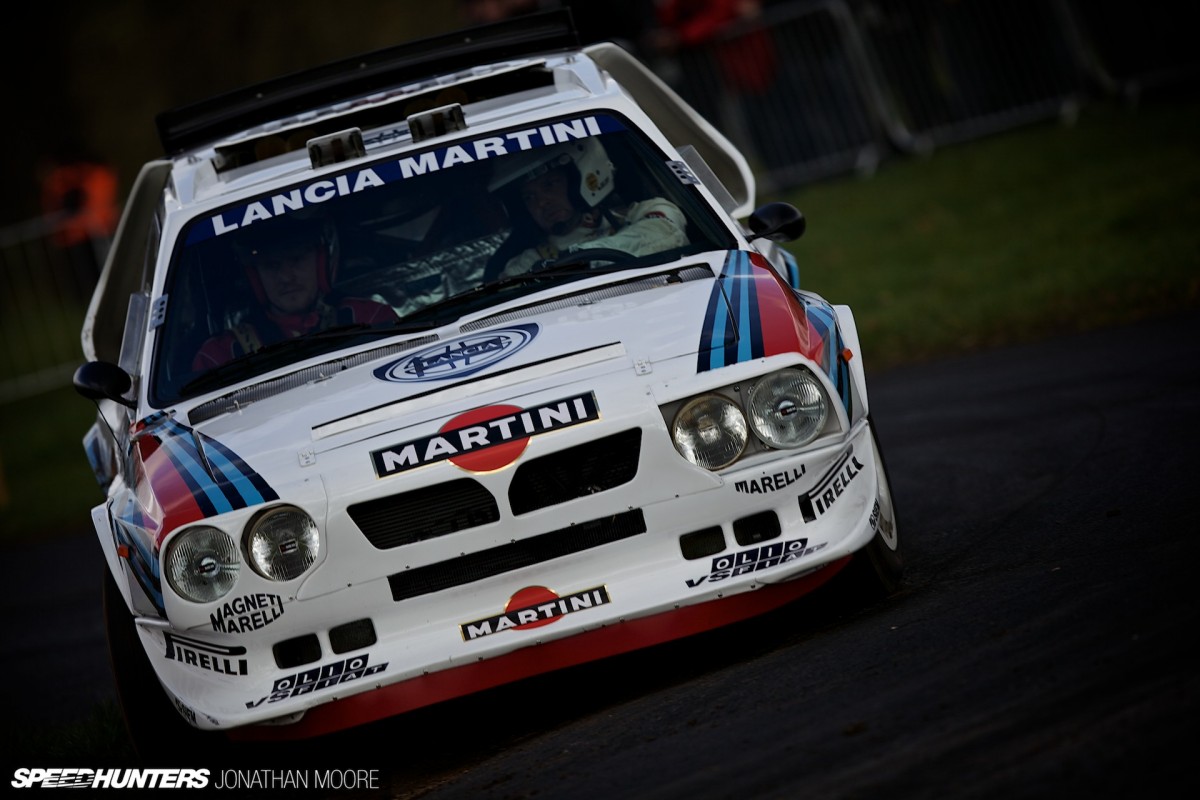 All too soon the morning session was over: an hour gone in a flash.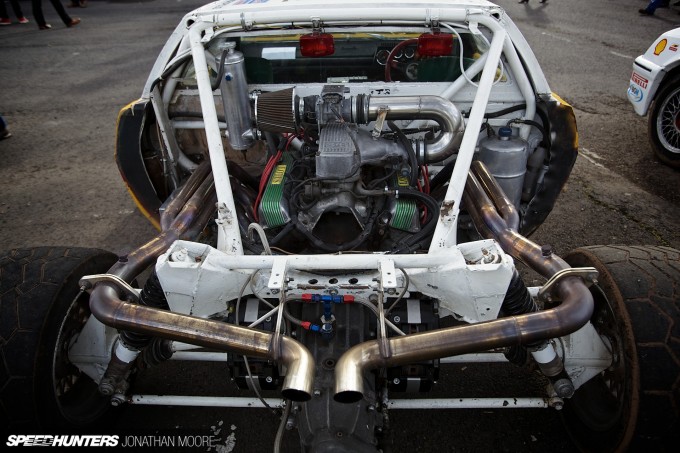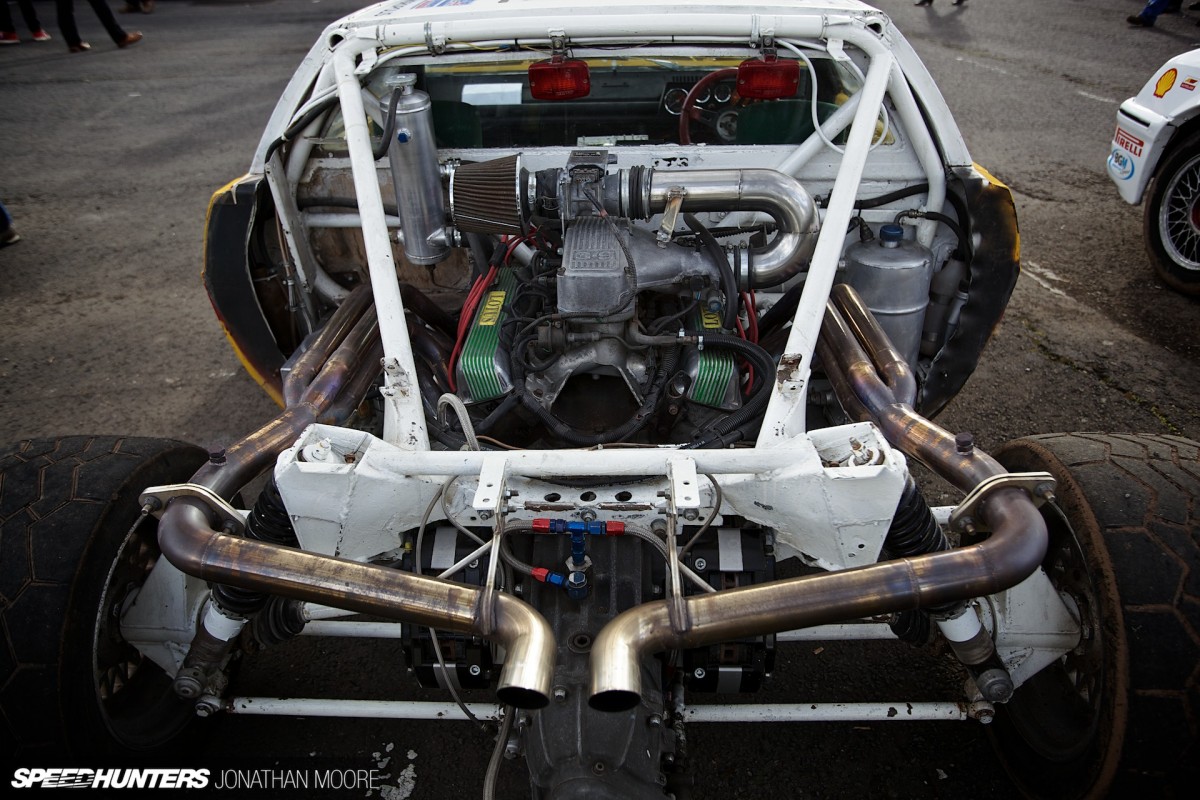 Most of the cars remained in the paddock, like this space frame Lotus Esprit, originally built as a rallycross prototype.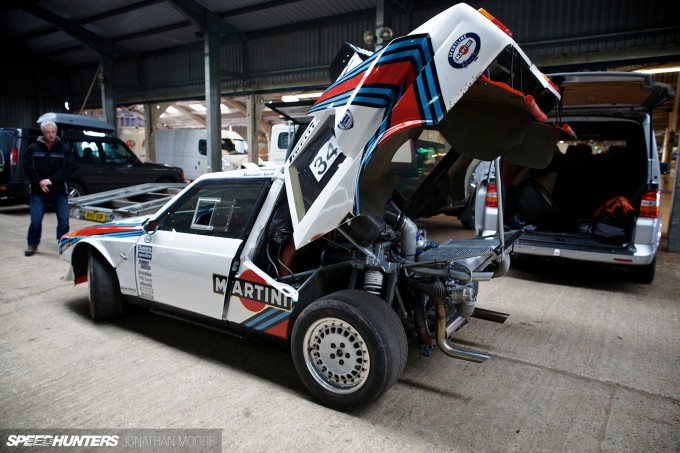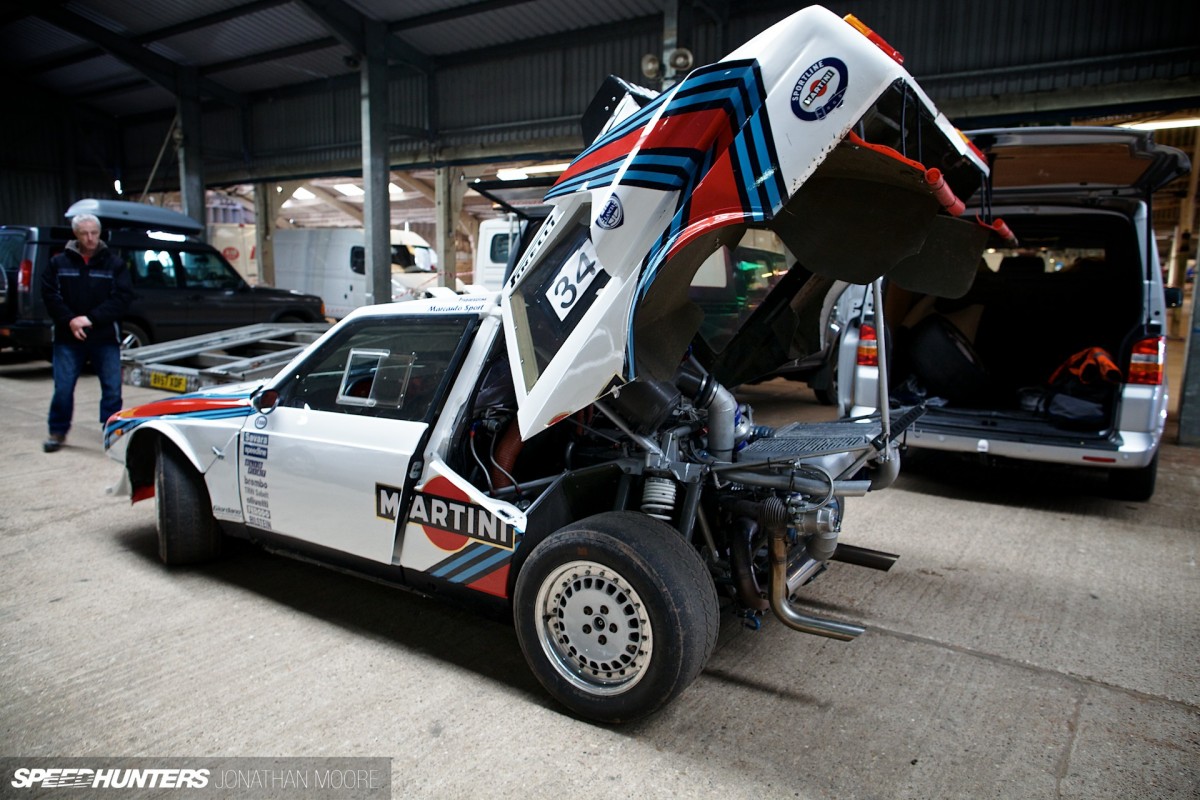 The lunchtime break allowed some of the more complex cars to return to Parc Fermé for a spot of TLC – and also gave a great opportunity to see under the skin of one or two of them. The S4 had its cavernous rear deck propped up, allowing a fantastic view of its twin-charged 1.8-litre inline four cylinder.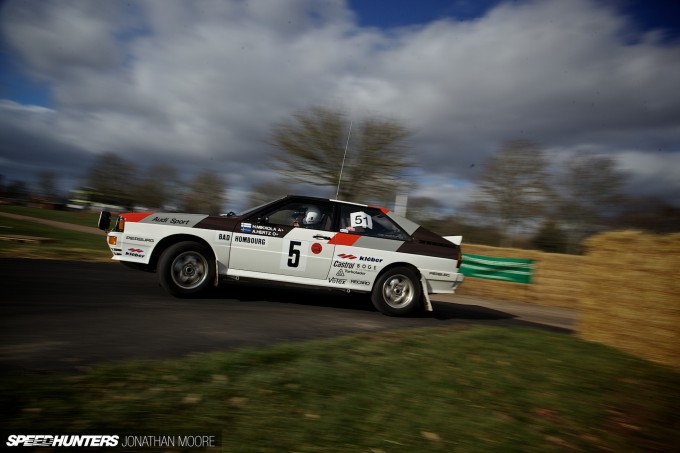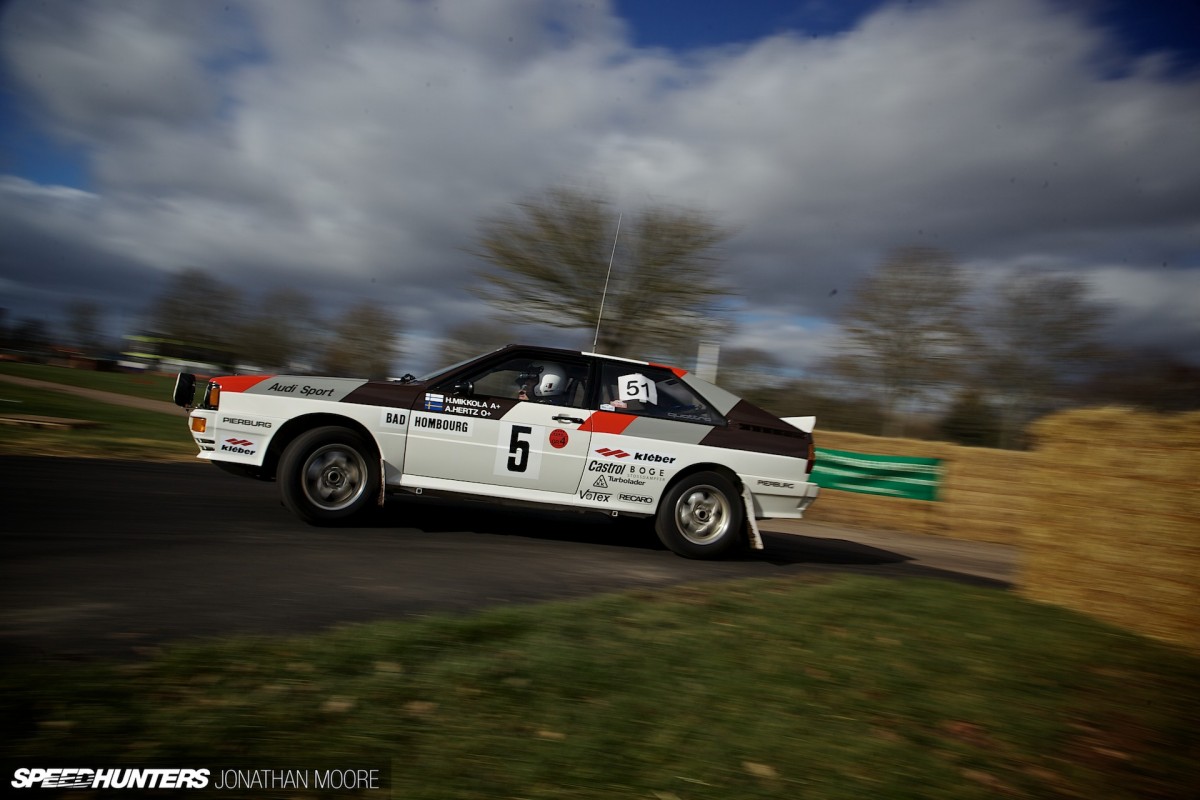 But soon enough it was time for a second fix and the afternoon session: more mud! More howling quattros! More simply sideways action!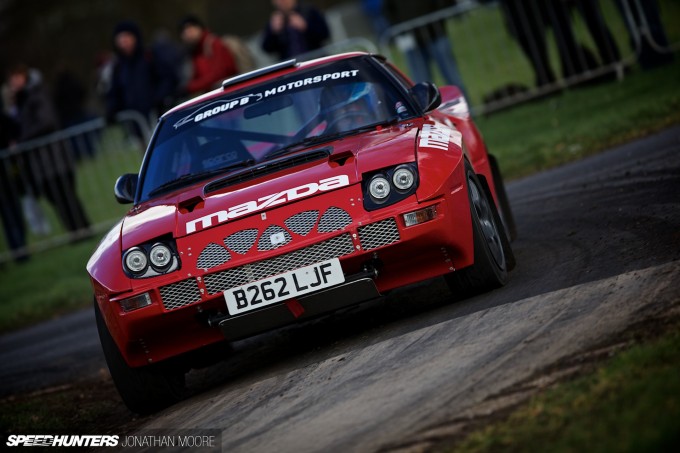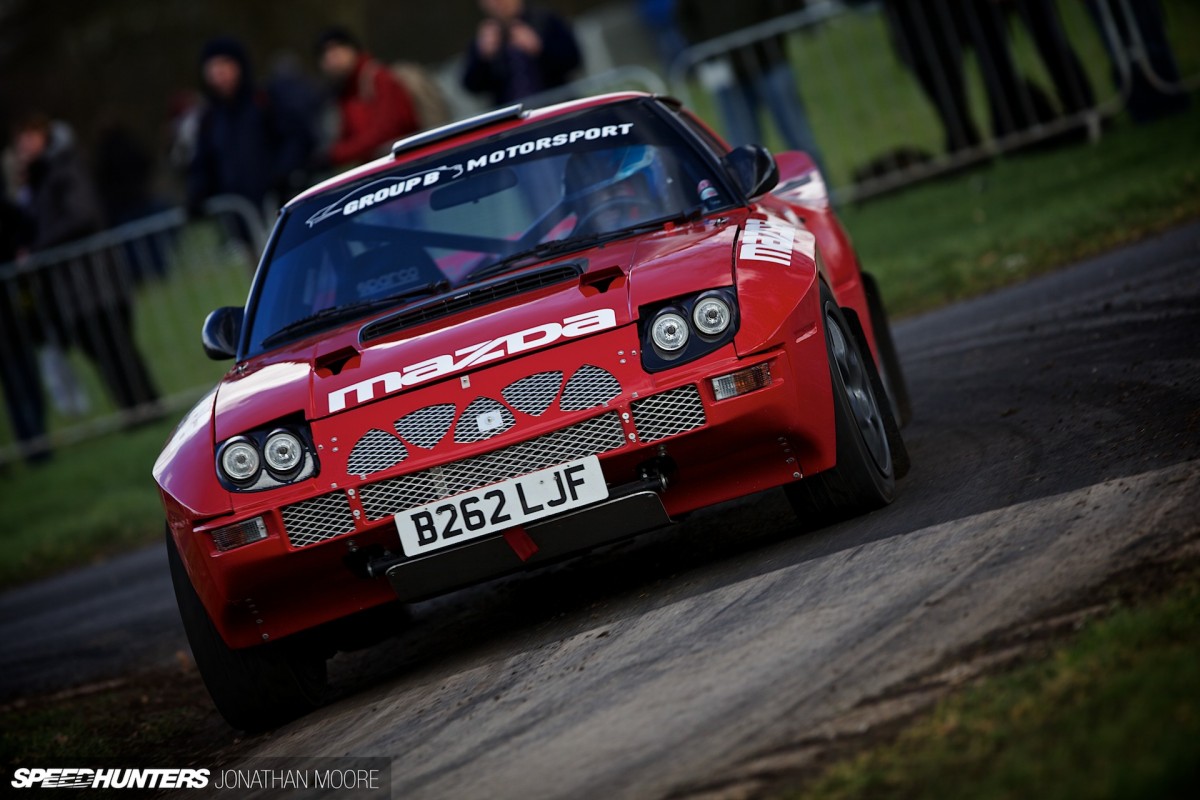 This Mazda RX7 Group B car was another hero of the day; it's an 'Evolution' model realised by Group B Motorsport, who based the car off an original 1985 model. It's their interpretation of what a factory Evo could have looked like, with an improved roll cage, rear axle and sequential 'box.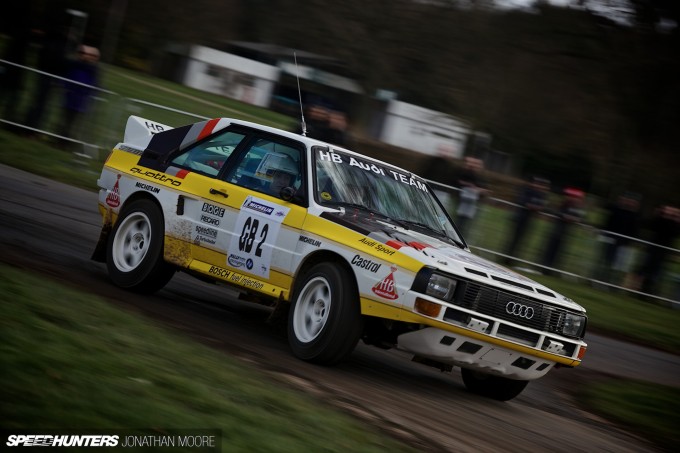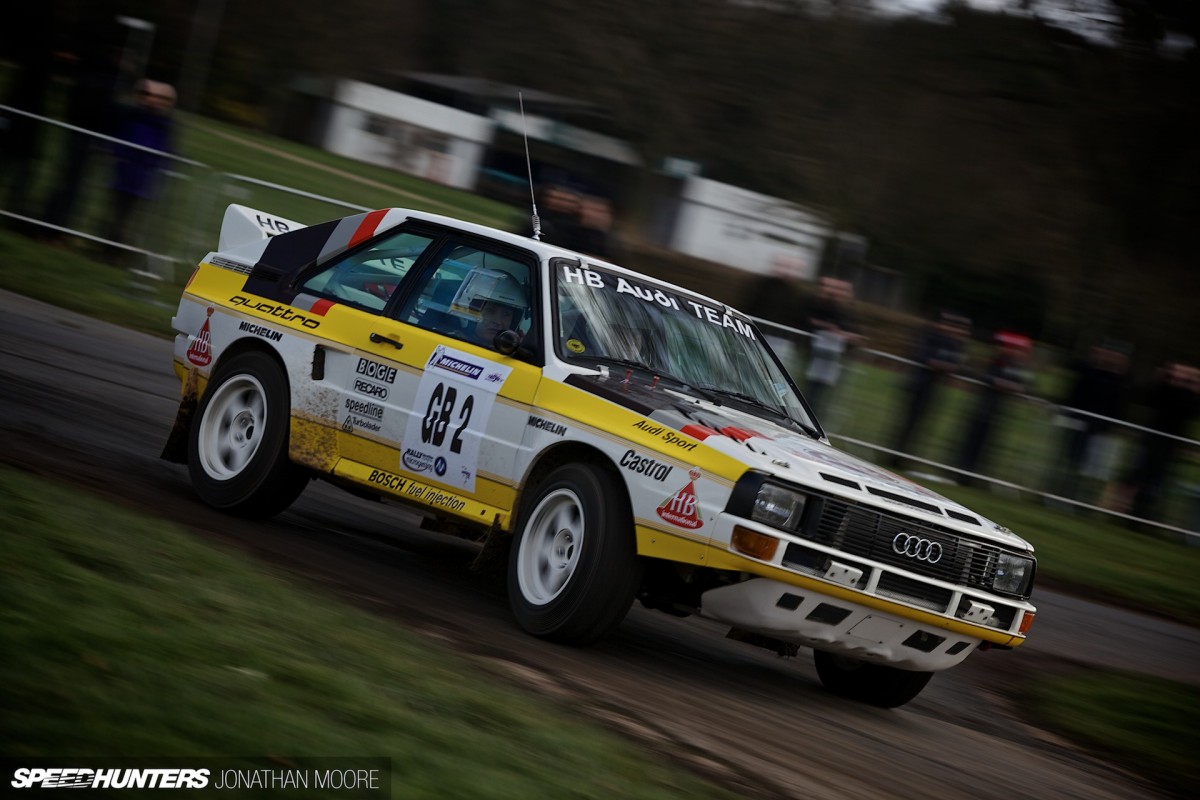 The short wheelbase S1 was another car that would rear up under power; it really was a howling thug of a car.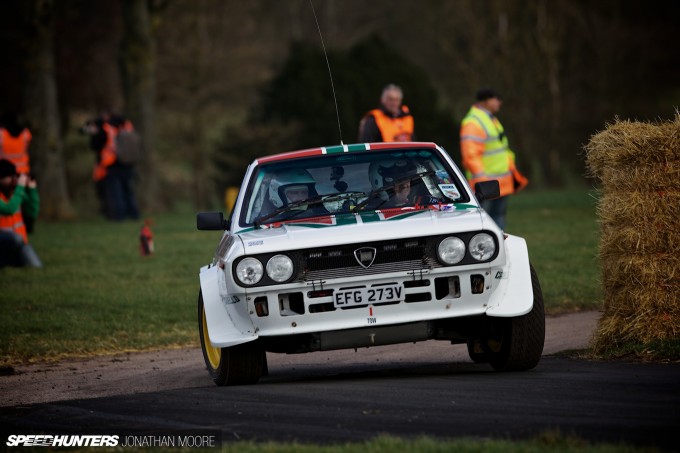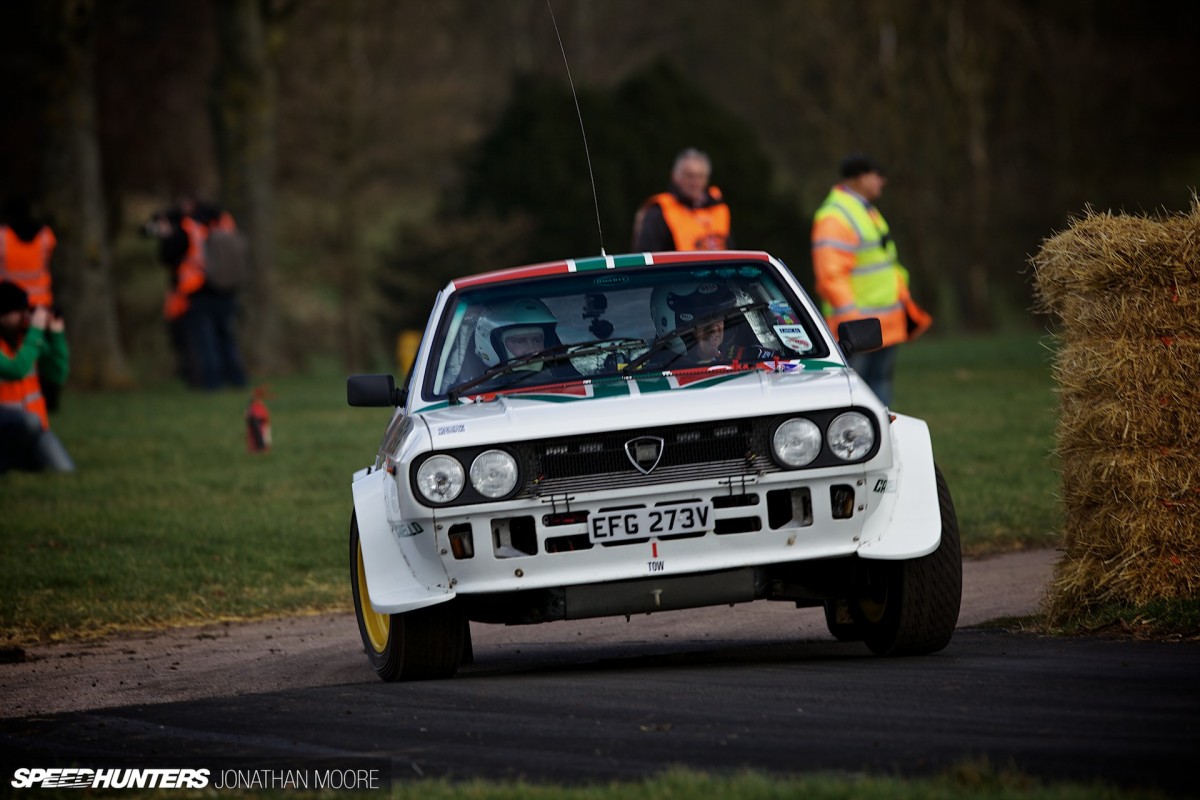 The Beta that had sounded so good at low revs sounded even more glorious when singing on full power: a proper Italian shriek!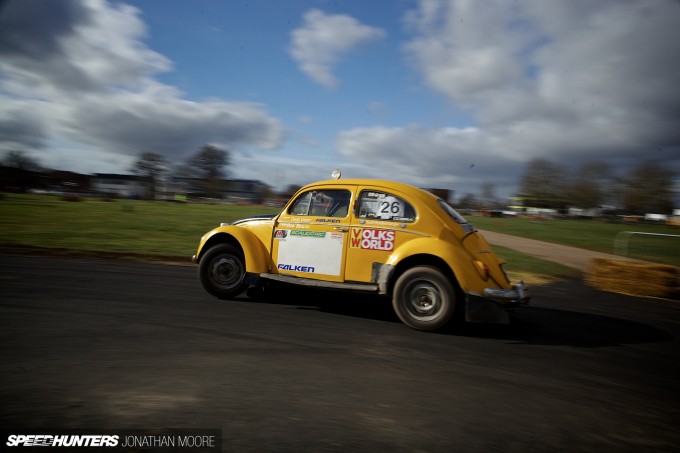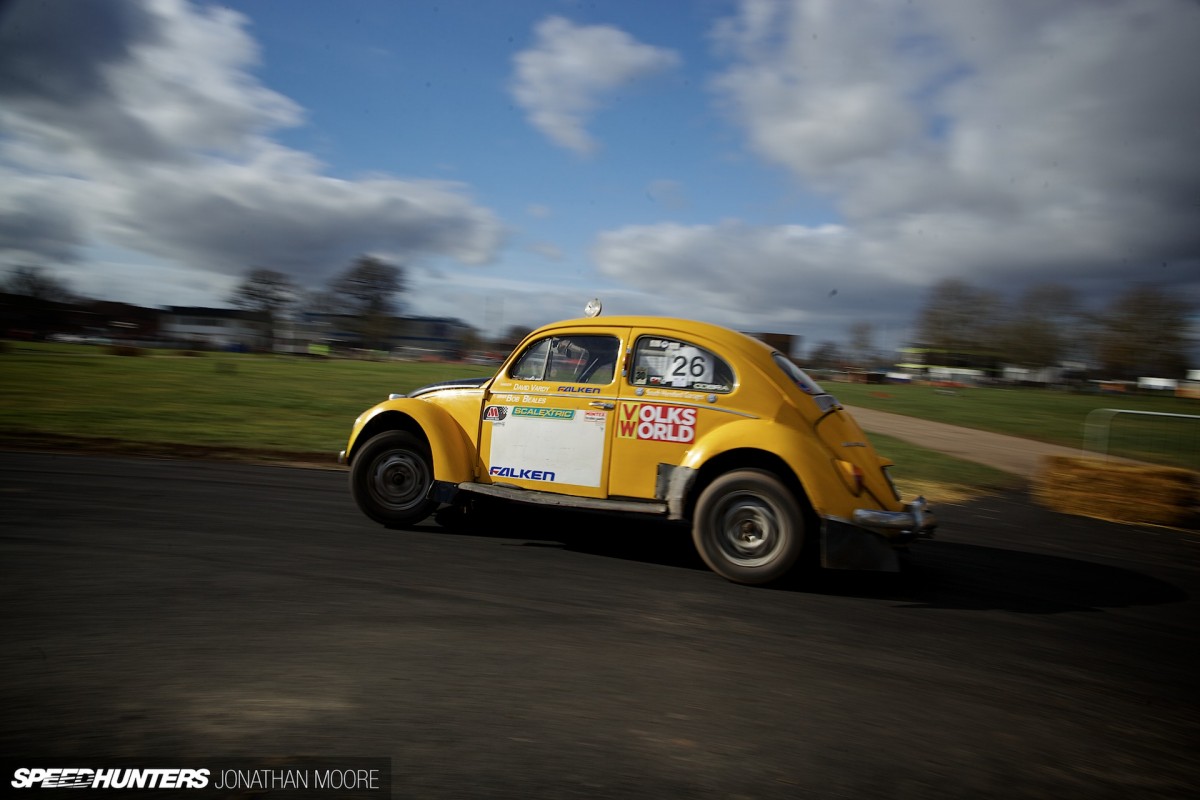 But then it was my turn to put a helmet on. My first stop would be alongside Bob Beales in his glorious VW Beetle, that so entertained me the year before.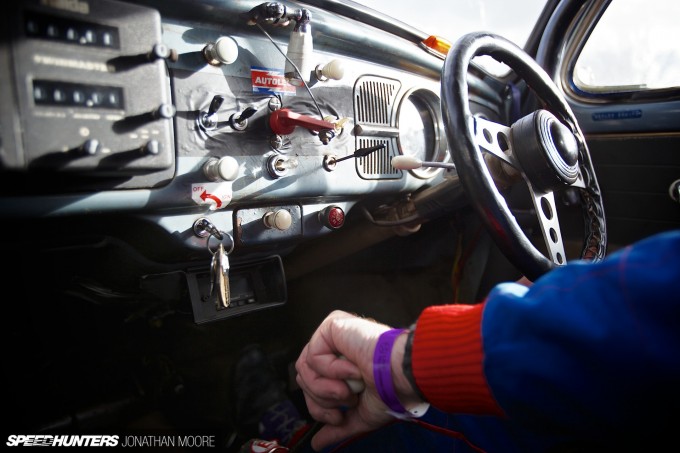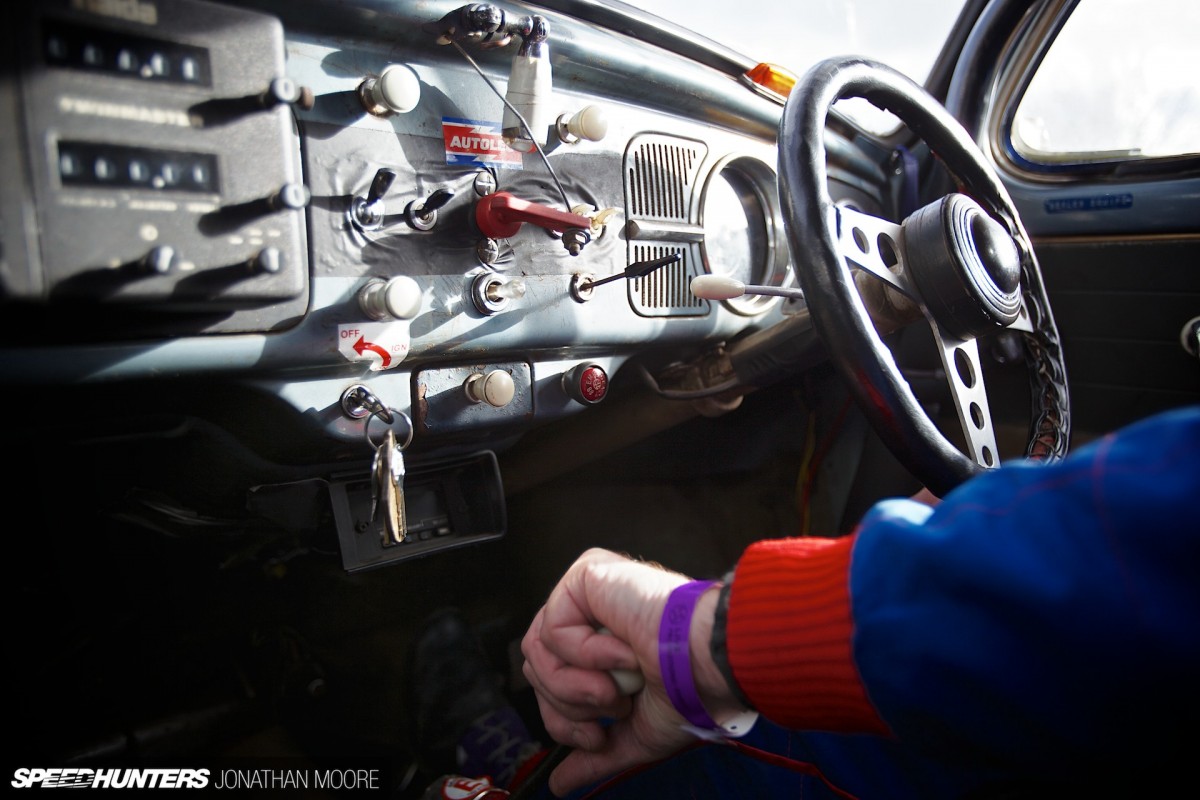 From the cockpit, it didn't feel like the 1303S I owned as a first car… And it definitely didn't sound like it.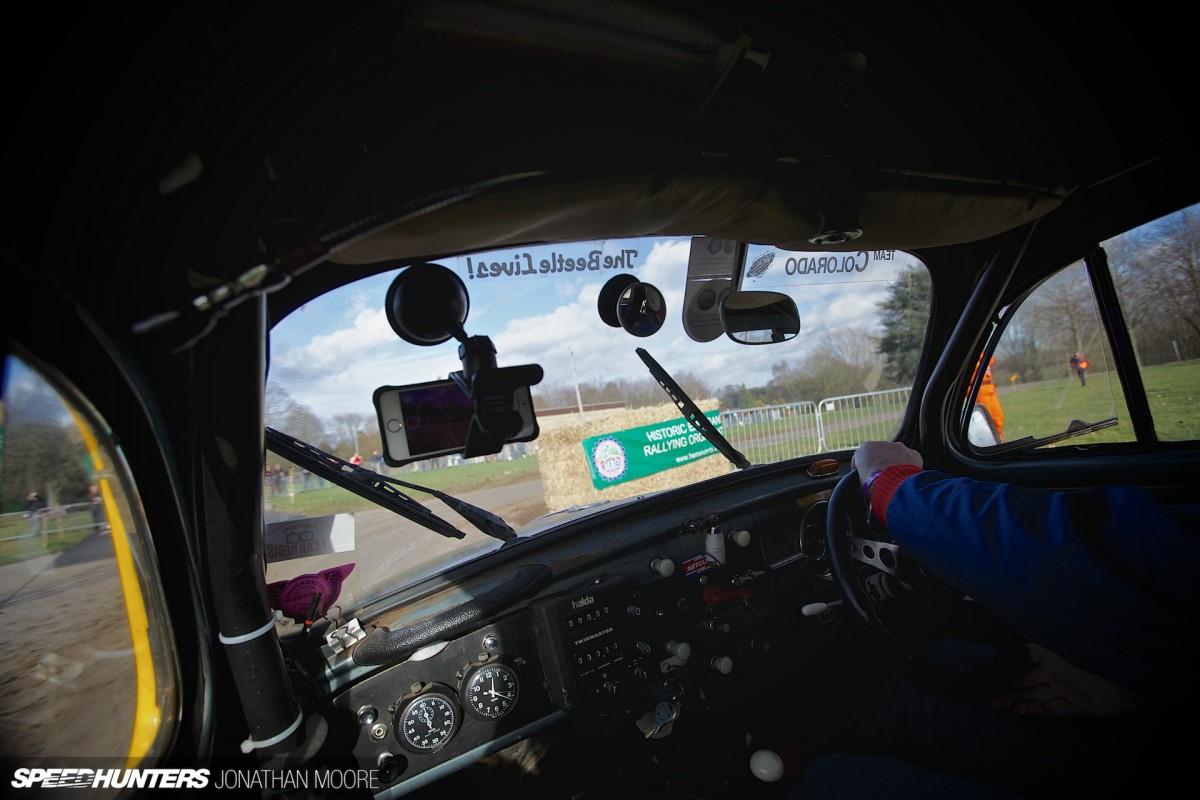 I'm not sure my Beetle had the power to make it up a hill, let alone get as sideways as Bob managed in his rather more potent one. Although it lacked actual *grunt*, and could be outrun over a lap by a lot of the other cars, it's one of the most entertaining cars out there – and who couldn't love seeing a humble Beetle battle it out with quattros and Lancias?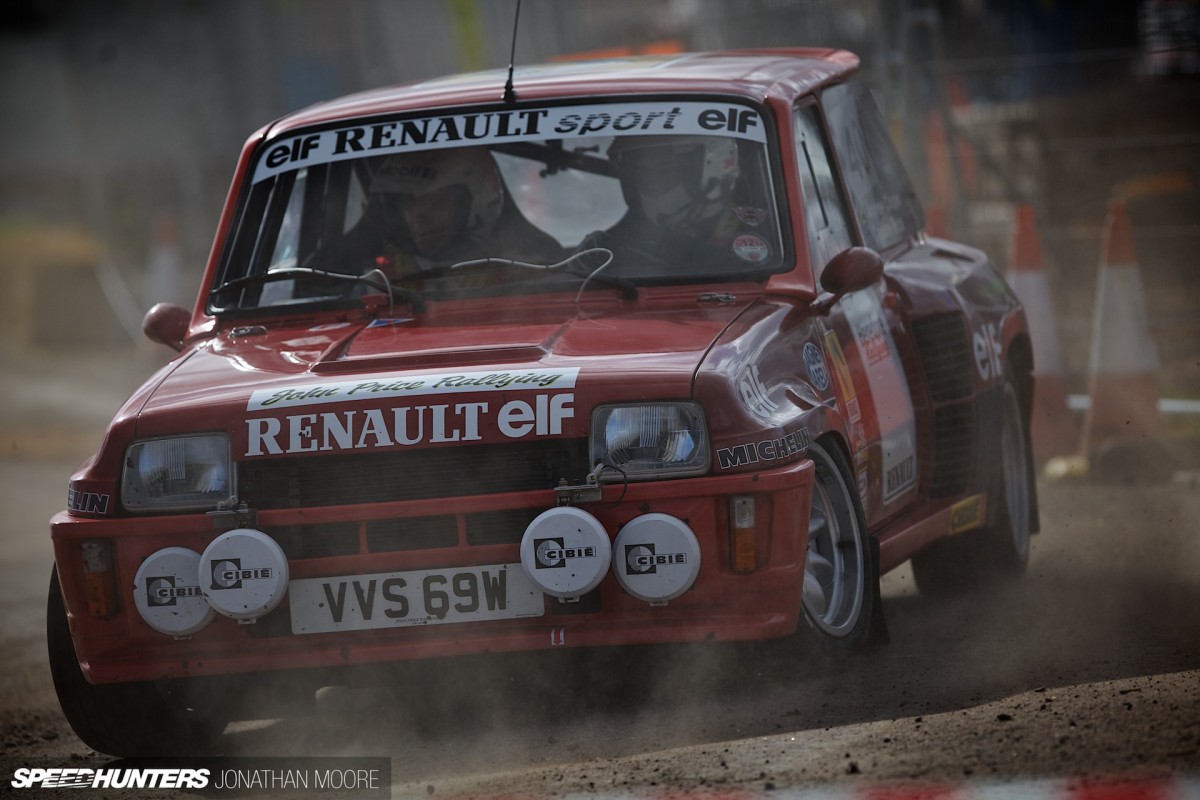 Second up for me would be Andrew Cooper's authentic Renault 5 Turbo: a maelstrom of bangs and cracks only let down by the fact that it was running on three cylinders… However, that didn't make my experience any less enjoyable. I'll talk more about the incredible feeling of being in one these cars in an upcoming feature, and likewise with the neck-snapping 6R4.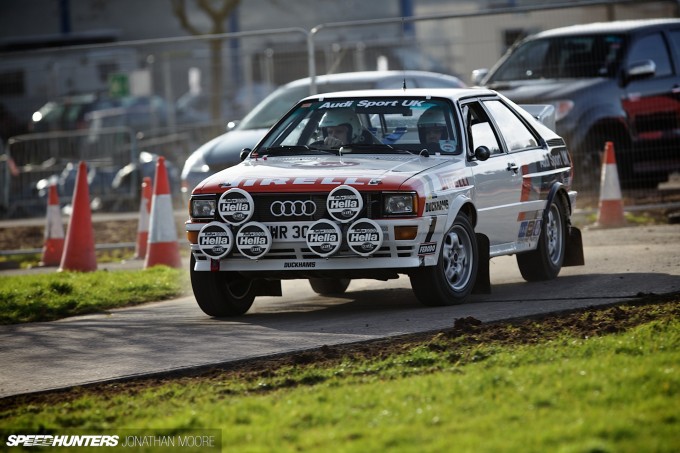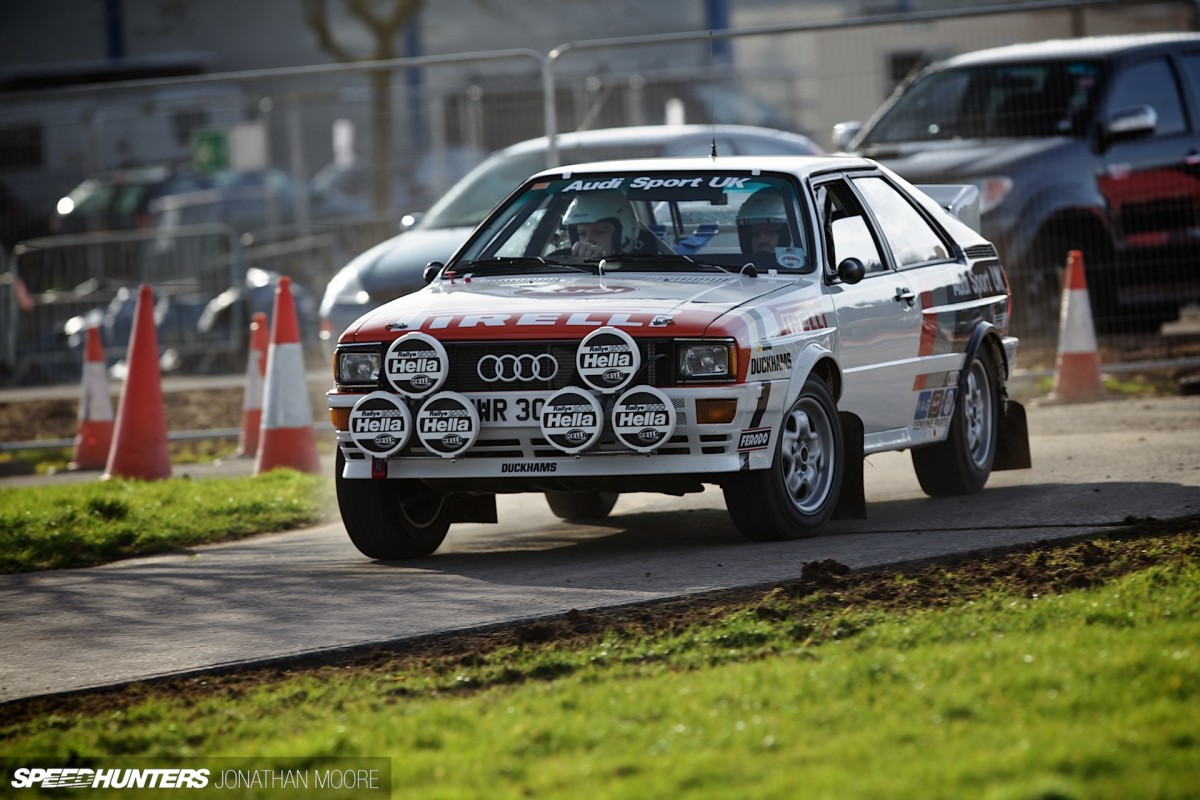 As the sun began to sink in the winter sky, the afternoon session drew to a close, with drivers trying to get their last runs under their belts.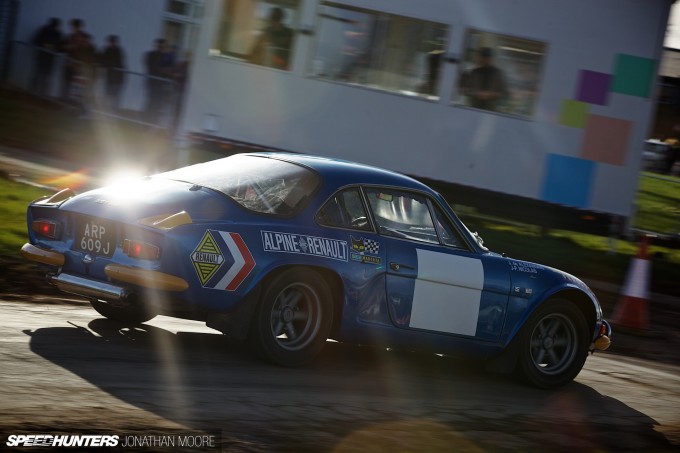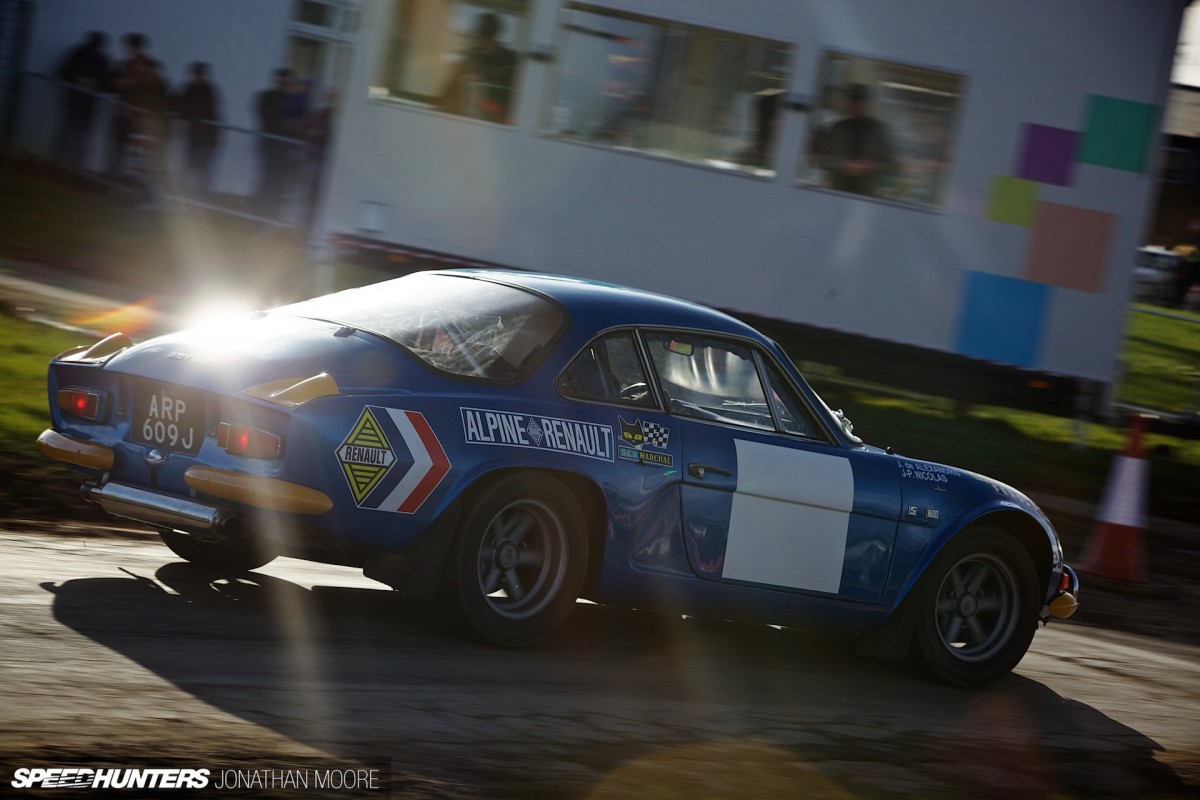 Disappointment was matched by the desire to see these cars out in a forest, in their natural environment, in the near future. And to get a ride in the R5 when it's singing on full song.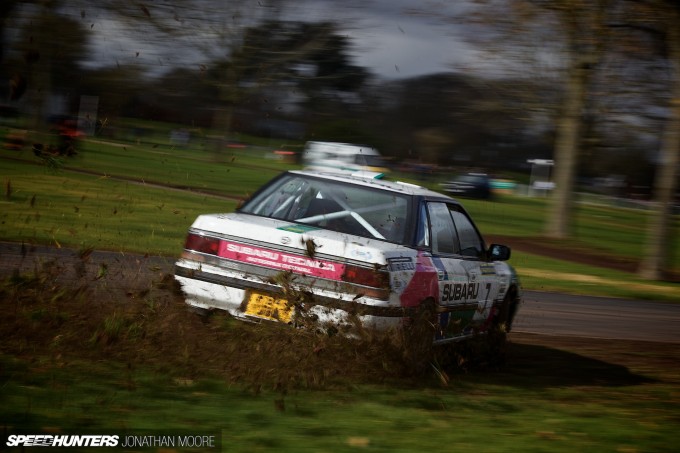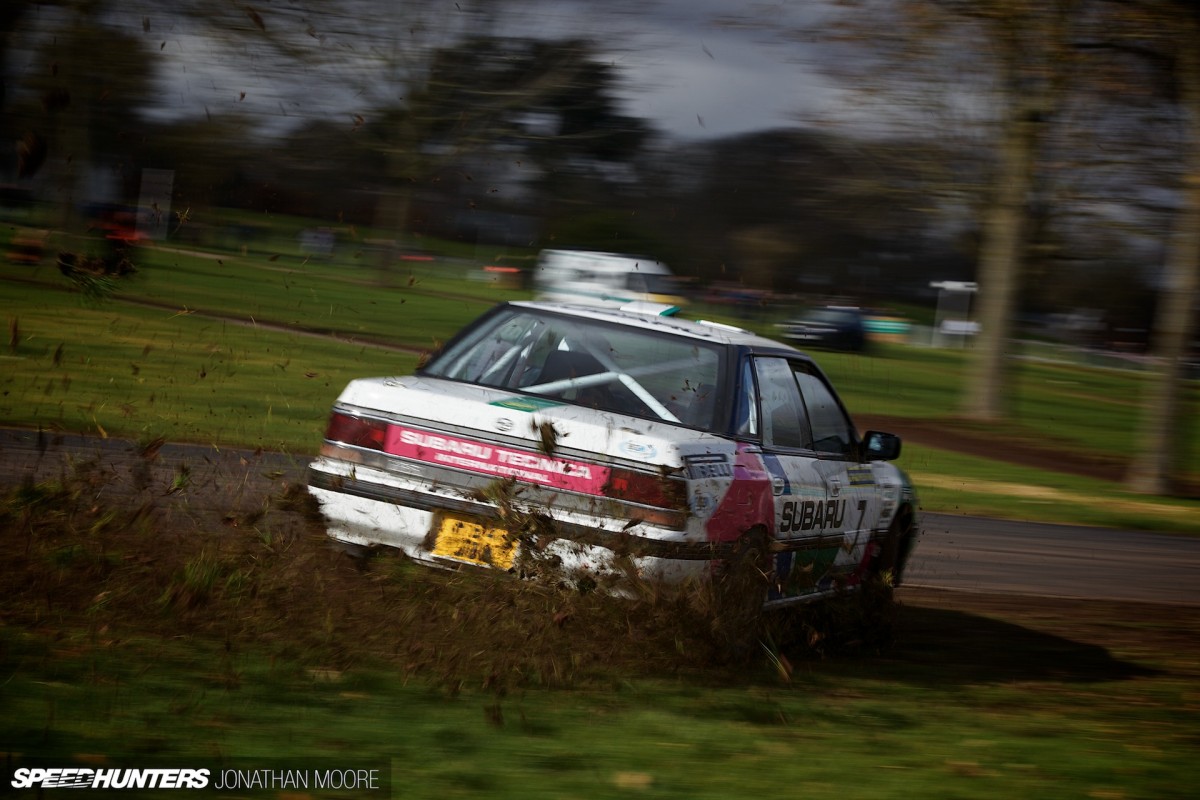 Eventually just one sound reverberated around the park, as the sole remaining car put in its final flourish. David Llewellyn continued to push his Legacy harder and harder, making sure that the maximum area of Stoneleigh Park was awash with mud by his mission end. After its third tour, the Legacy took the exit road and quiet descended over the park once again – at least until the next day. Rallying's legacy is still very much alive and well in these drivers' hands.
Jonathan Moore
Instagram: speedhunters_jonathan
jonathan@speedhunters.com