All things happen for a reason
Perhaps it's because I'm a woman and it's in my genetic makeup to overthink everything, but I often find my thoughts drifting down a 'what if' rabbit hole. I'm not a religious person, so these thoughts usually lead to an internal argument of whether our conscious decisions and actions are what define us, or whether our decisions and actions are irrelevant because our fate has already been decided – our path has already been laid out for us by some kind of higher power in the universe.
Two years ago I came across an auction listing for a 1975 American import Datsun 280Z here in New Zealand, but what if I hadn't seen that listing? Would the car have still found its way into my life anyway? What was it exactly that made me type the online auction site URL into my web browser that day? I wasn't in the market for another car, and I didn't have any money saved to fund a new project…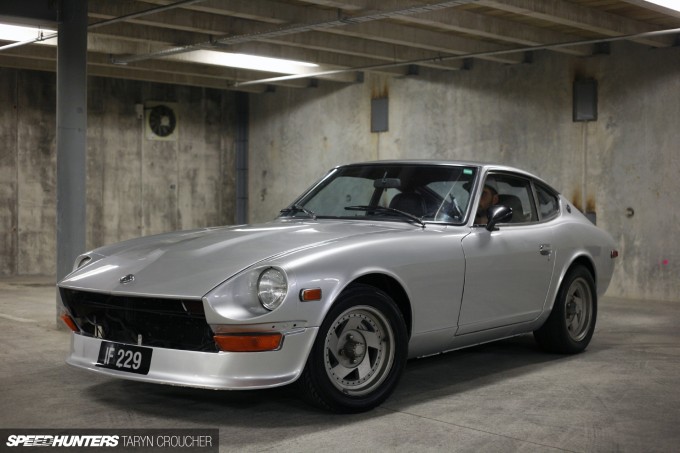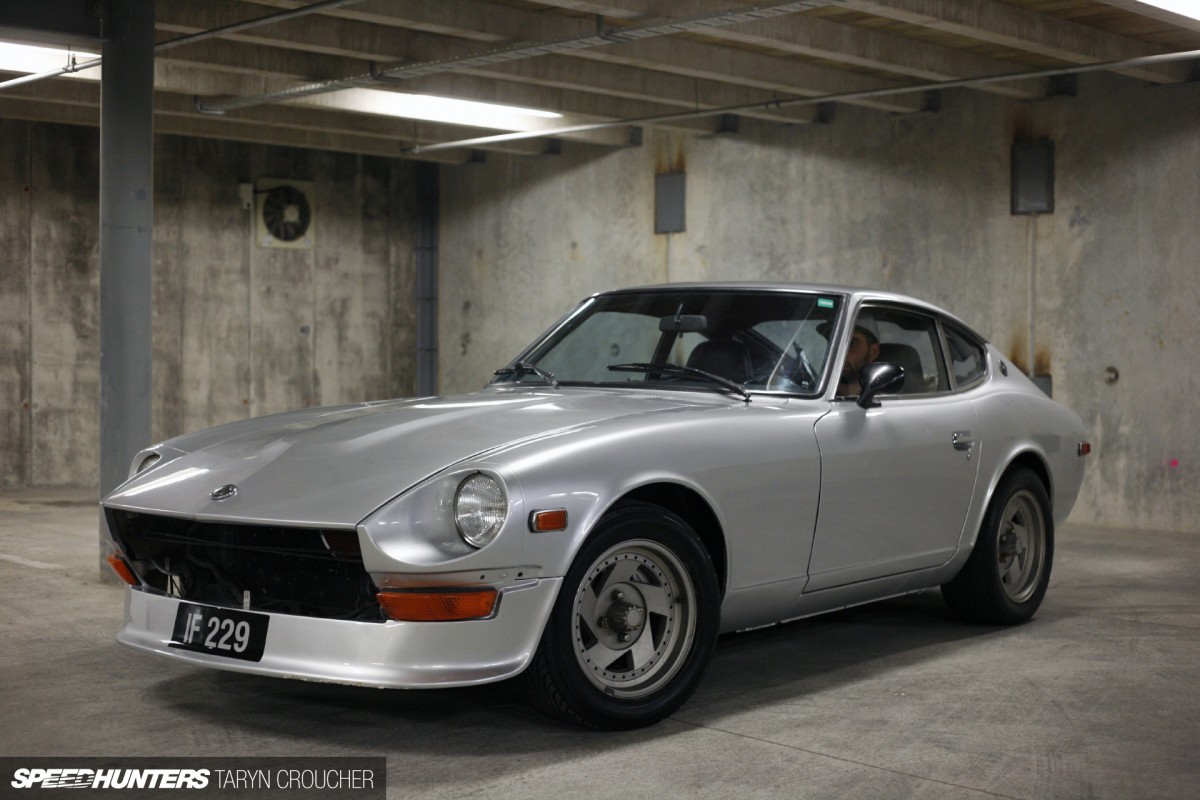 But for some reason I did look for an S30Z on Trademe that day, and from the moment I saw the car sitting there with its dented door, high ride-height and ugly 'bogan' wheels, I knew I had to have it. I saw the potential and I'd do anything to make it mine.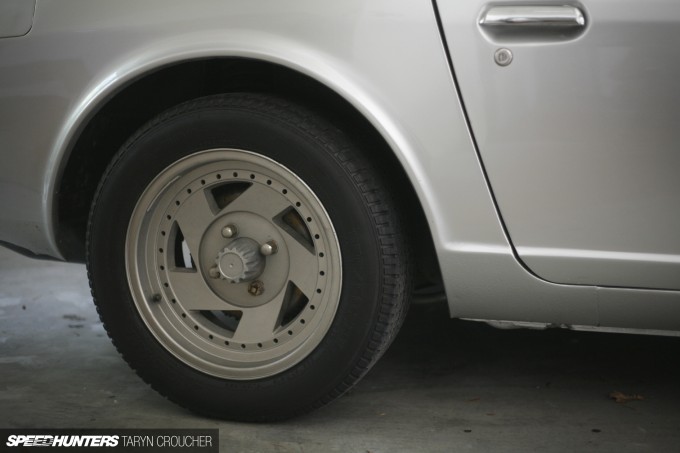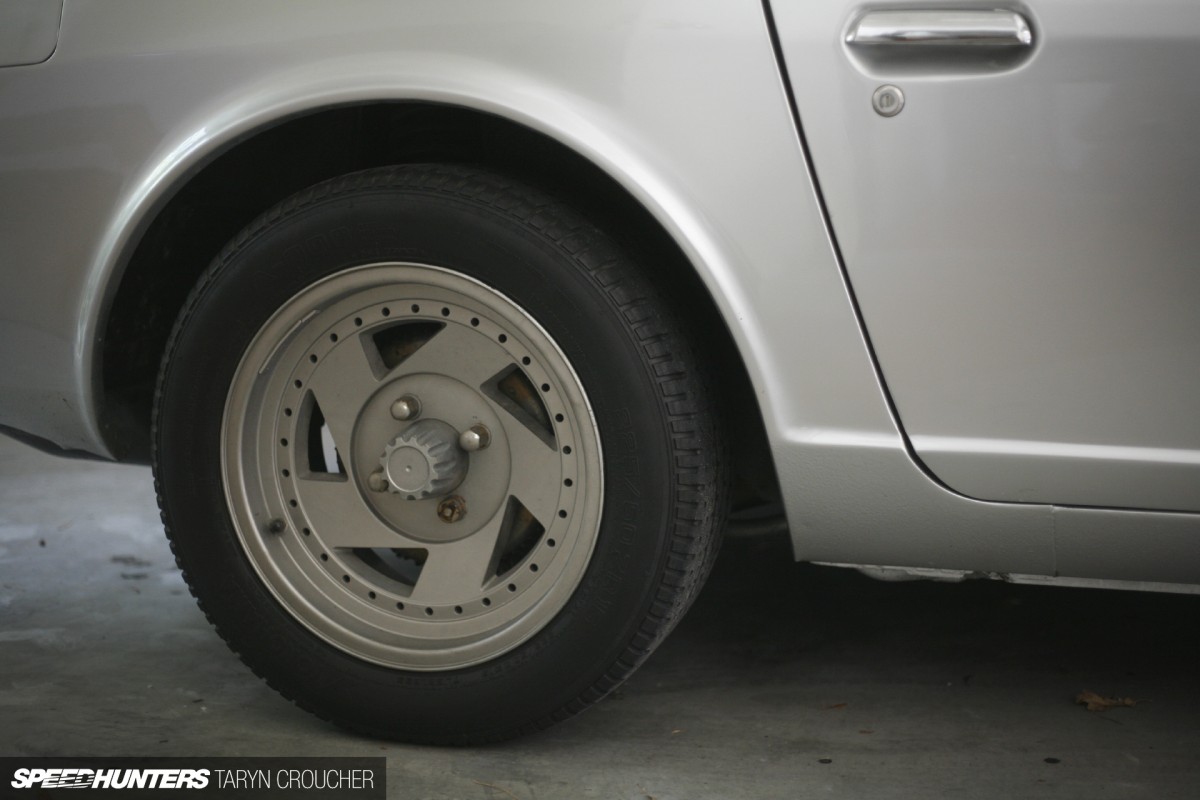 Taking it a step back further, how did the car even get into the position it was when I found it? Over the last two years, I've attempted to uncover the answers to some of these questions and sometimes I've even stumbled across them by accident! I discovered that this car has had more than 10 owners since it was brought into New Zealand in '76 by its American owner, who at the time was working in the US Army posted in Christchurch as part of 'Operation Deep Freeze' in Antarctica. The car has already been on a long journey before it came into my life, and I have a lot of respect for it for that. It does after all have thirteen years of life experience on me!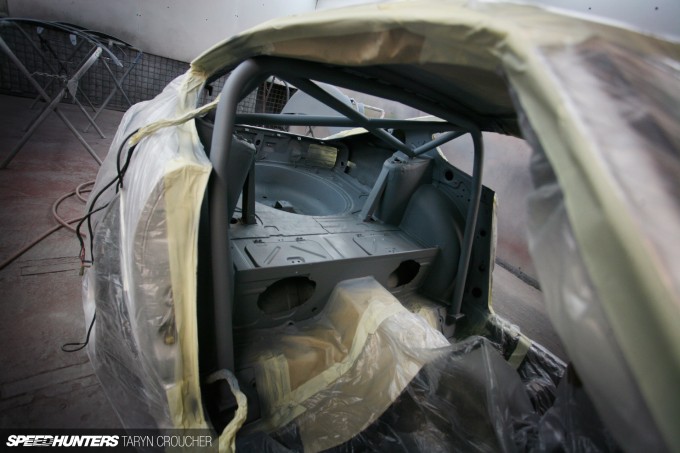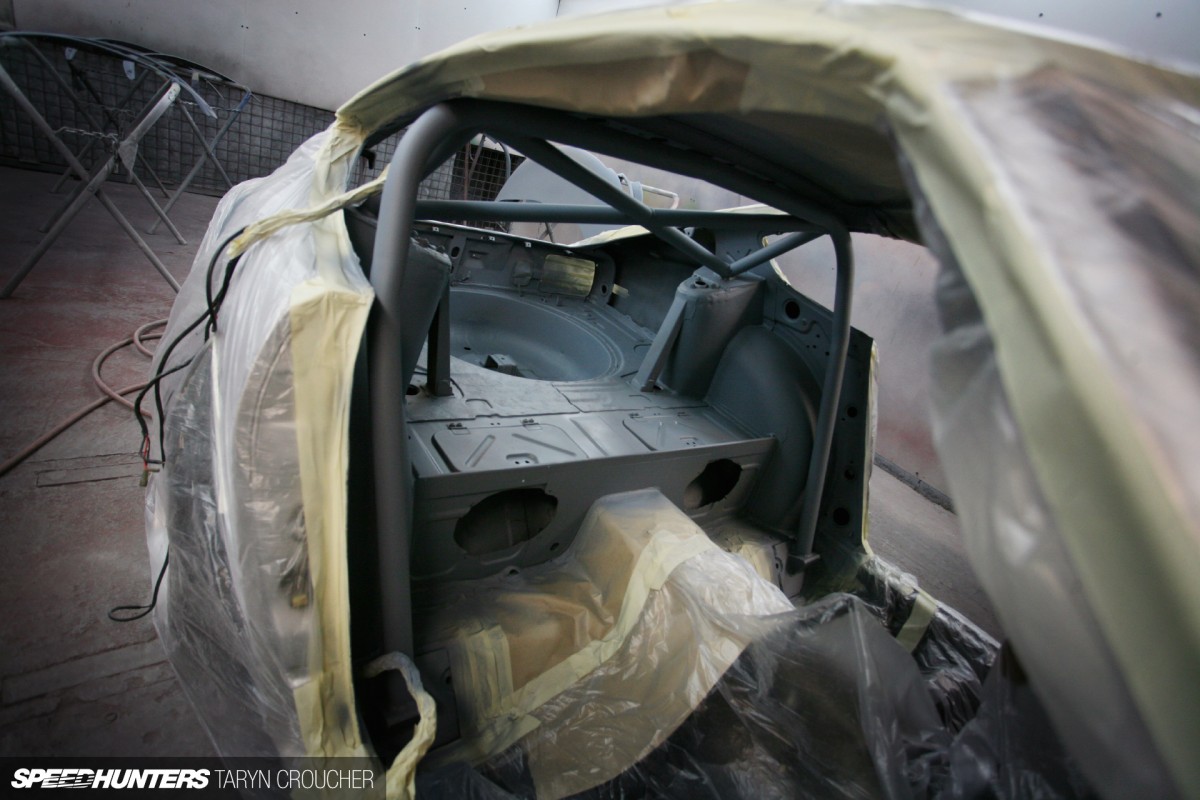 Just like any old car, it needed work, though at the time we didn't quite realise how much exactly. The old straight-six motor seemed to be running okay; not perfect, but good enough. In March 2012, we stripped out the interior and sourced parts from Japan, America and even Australia, to transform the Z into our dream 240ZG-inspired street car.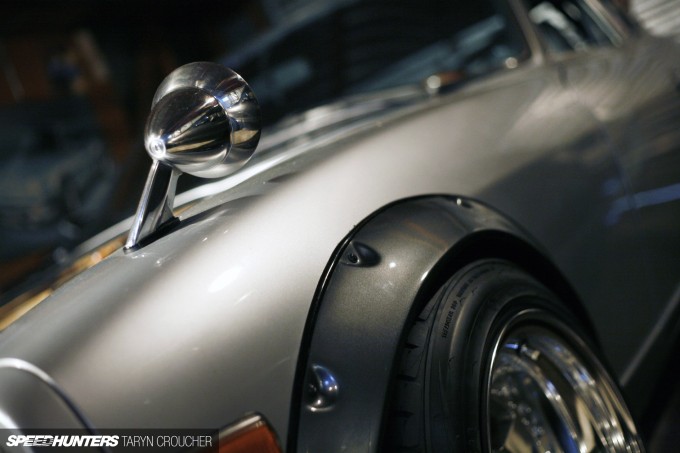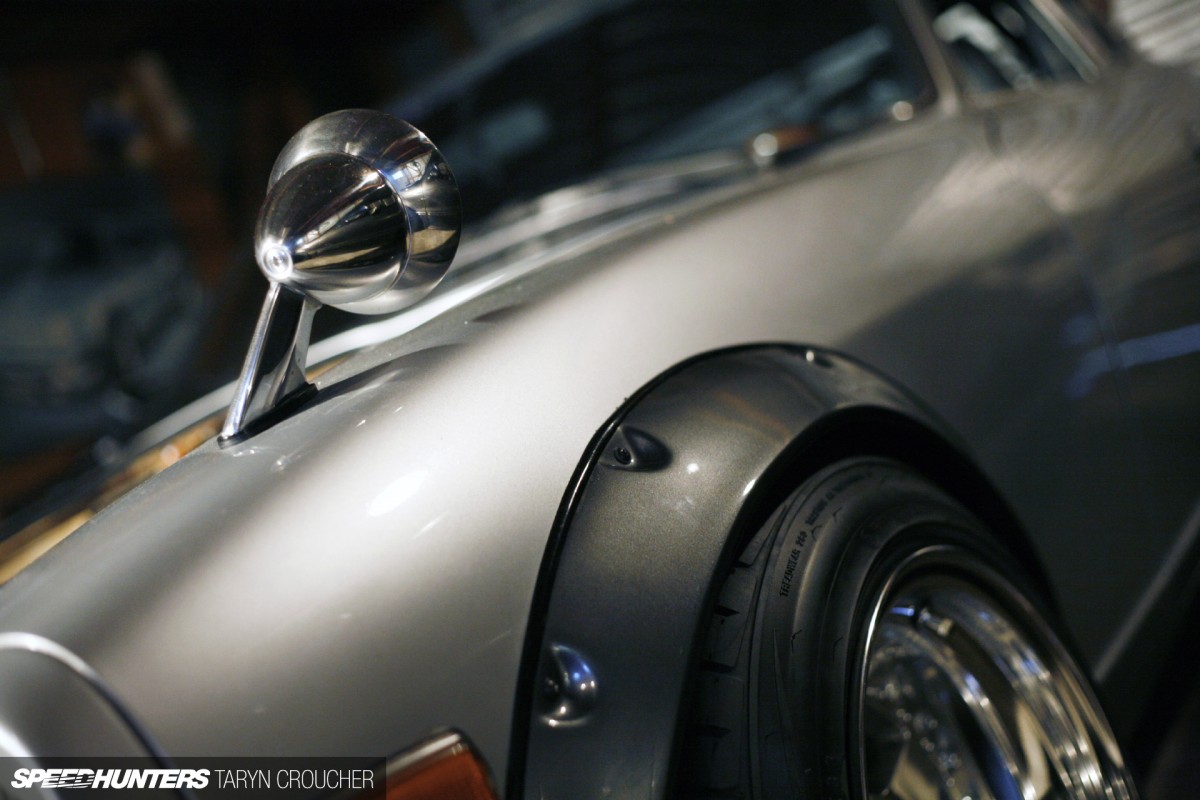 We sourced OEM fender mirrors, a rear spoiler, fender flares, a replica 'G-nose' bumper, had extensive rust repair work done and half the body repainted, the seats reupholstered – you name it. The car looked perfect and my dream was complete… or so I thought. Long story short, after encountering issues with the old EFI system and converting to SU carburettors, we then discovered that compression was low on one of the cylinders. We pulled the motor out and decided to undertake a full rebuild of the well-used L28 engine, and for the past nine months I've been writing about it here on Speedhunters.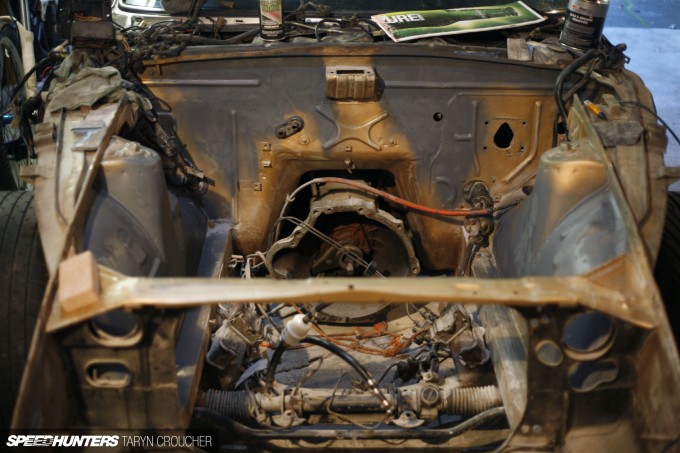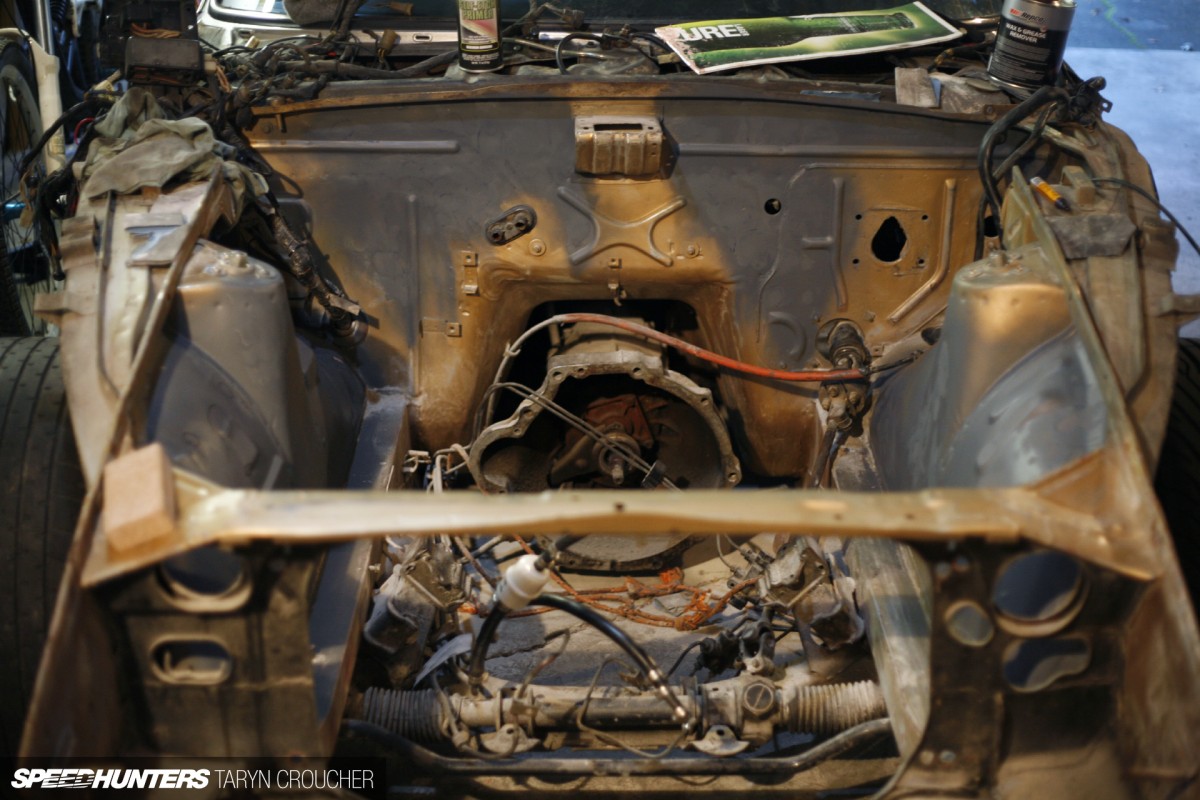 A quick recap of what's happened since April last year: when we pulled the motor out of the engine bay, it was still gold, the original colour from before the previous owner coated the body in a beautiful, refreshing shade of arctic silver. The gold was obviously going to have to go, along with all the ugly old fittings, brackets and wiring. I'm sure a lot of people reading this are familiar with how the next part of my story went; the more improvements we made, the more new things came to our attention that demanded replacing or fixing. The more perfect the new stuff looked, the more imperfect everything else looked! I call this the 'classic car project rabbit hole'.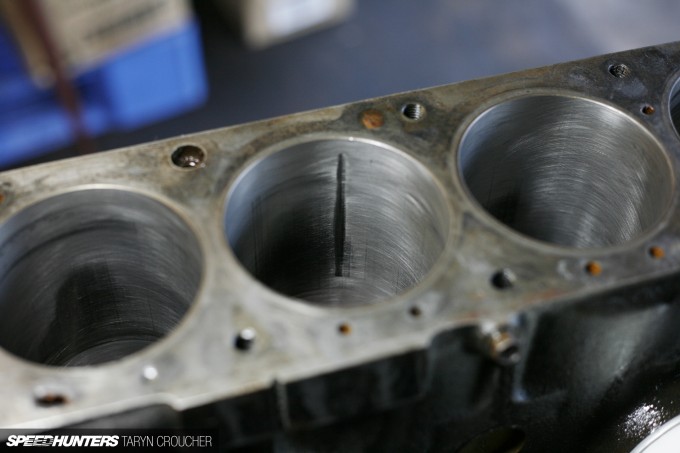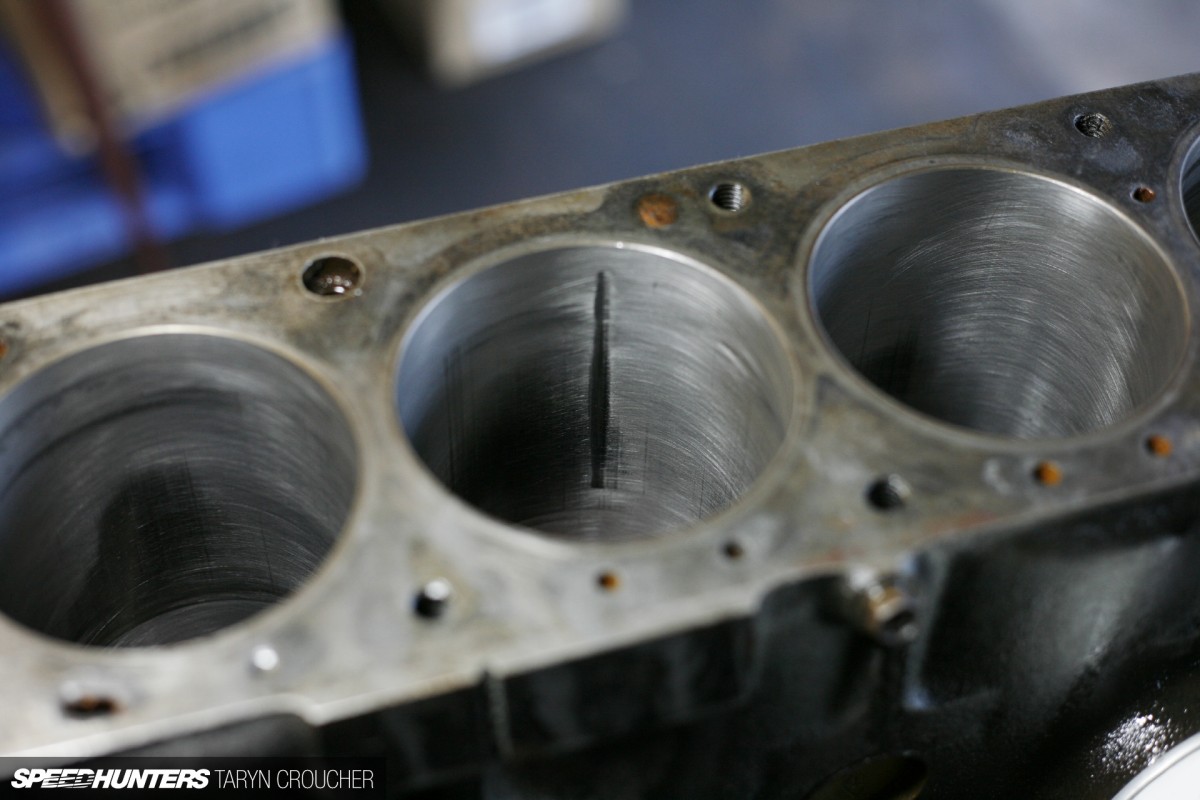 It turned out that the L28 block needed some serious attention, as a broken piston ring had scored the inside of one of the cylinders. While we had the motor in pieces, it only made sense to either replace or refurbish every part to avoid any future problems.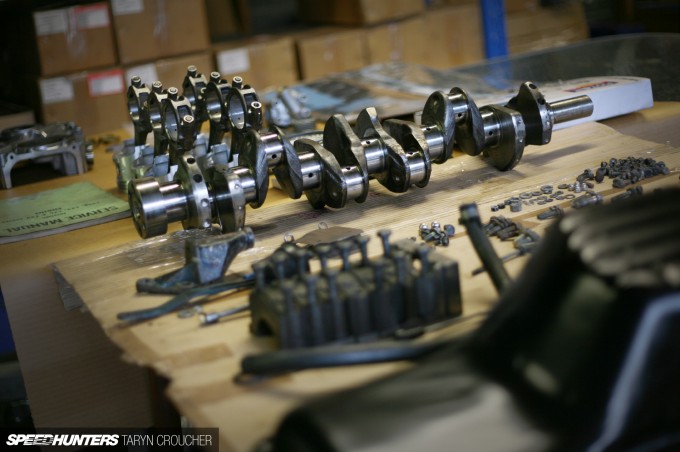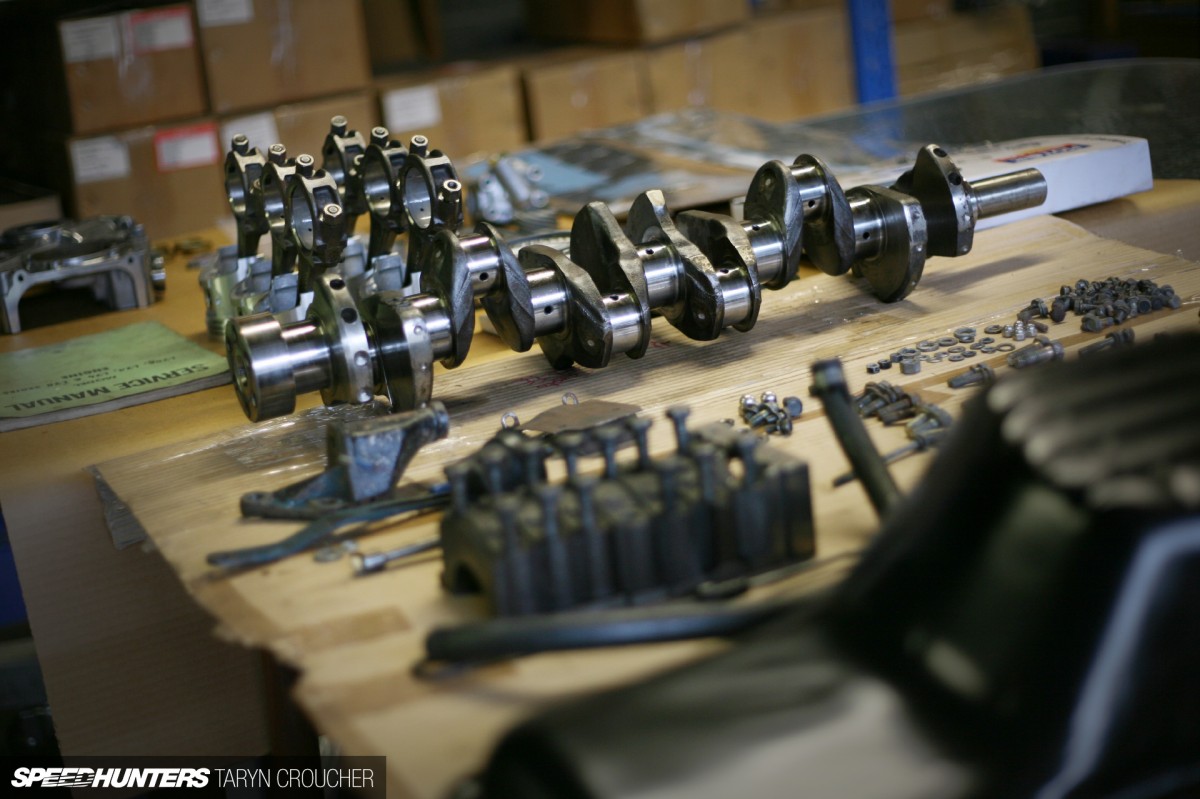 Higher compression flat top pistons were sourced, the cylinders re-bored, the crank resurfaced and rebalanced, flywheel balanced and lightened, new custom headers were fabricated and ARP head studs, mains bolts and rod bolts were installed for added strength. It was unlike any project I'd ever undertaken before but I loved observing – and sometimes helping – with each step of the rebuild. It really got the cogs and wheels in my brain working, analysing each piece of the L28 puzzle and figuring out how everything came apart and went together and functioned in unison. Although I understood the theory behind how a motor worked, getting to study everything up close was completely fascinating to me.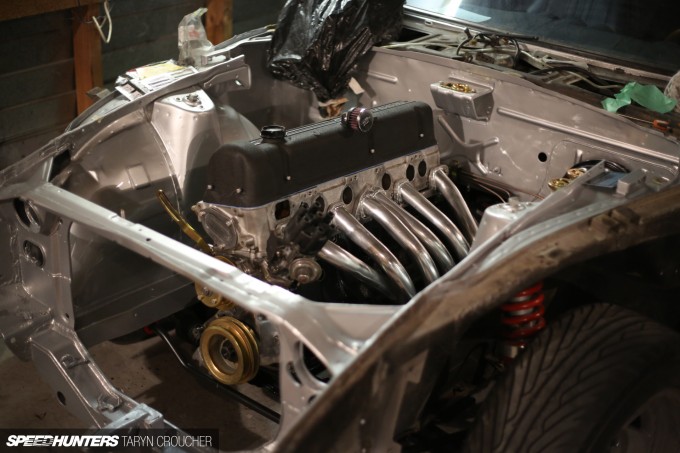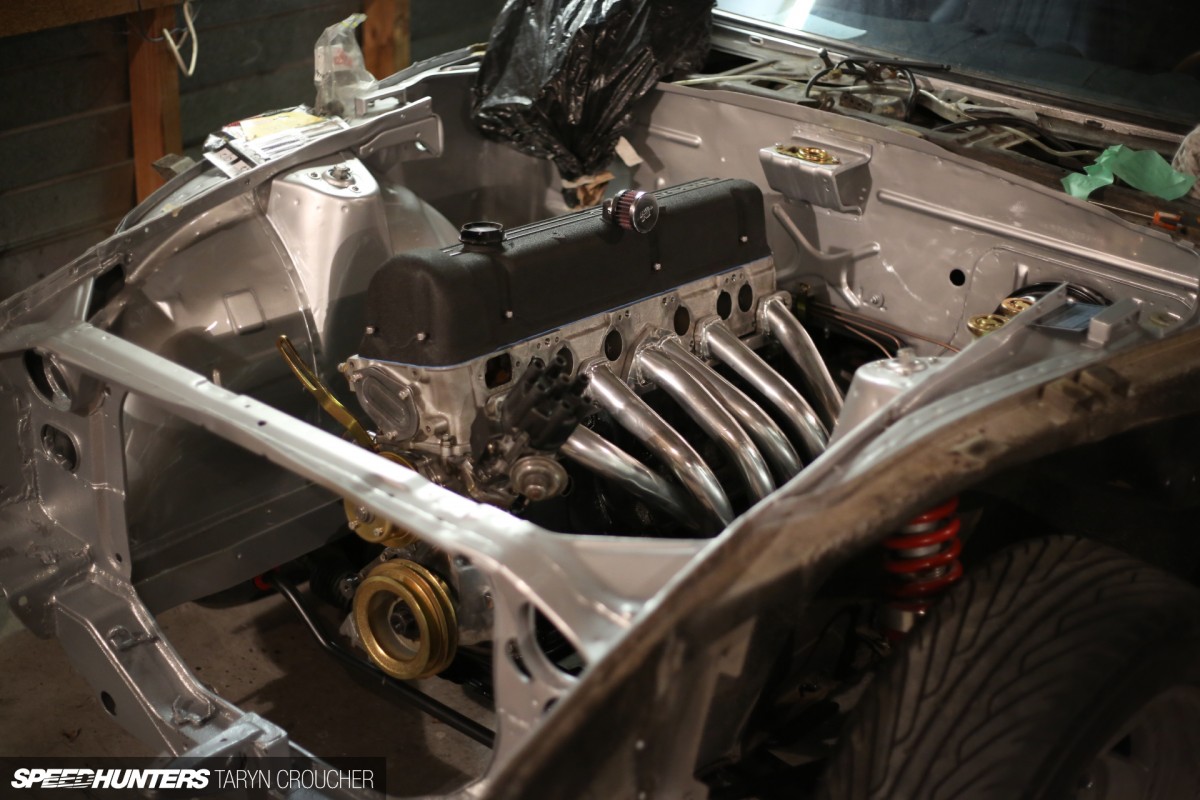 With the help of some great friends and automotive industry specialists, soon enough the motor was refreshed and in better condition than ever. Just recounting these events and seeing the progress on my laptop screen like this is making me smile right now! The next step was to find something to bolt onto those intake ports and I knew exactly what I wanted – I've always loved the throaty, guttural symphony made by triple sidedraft carburettors, especially after the driving experience I had with this 2000GT Skyline in Japan.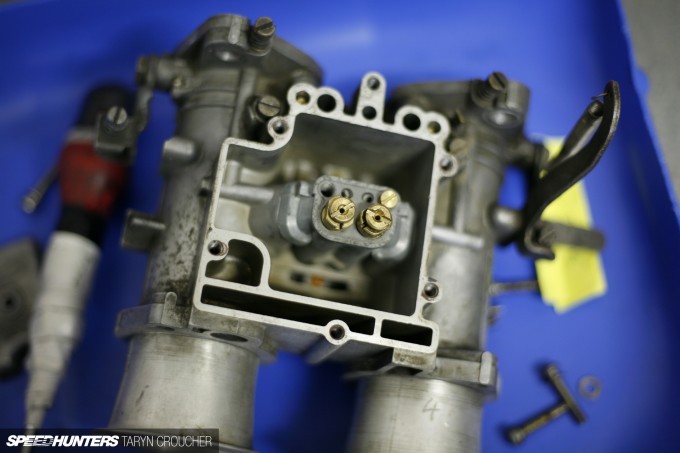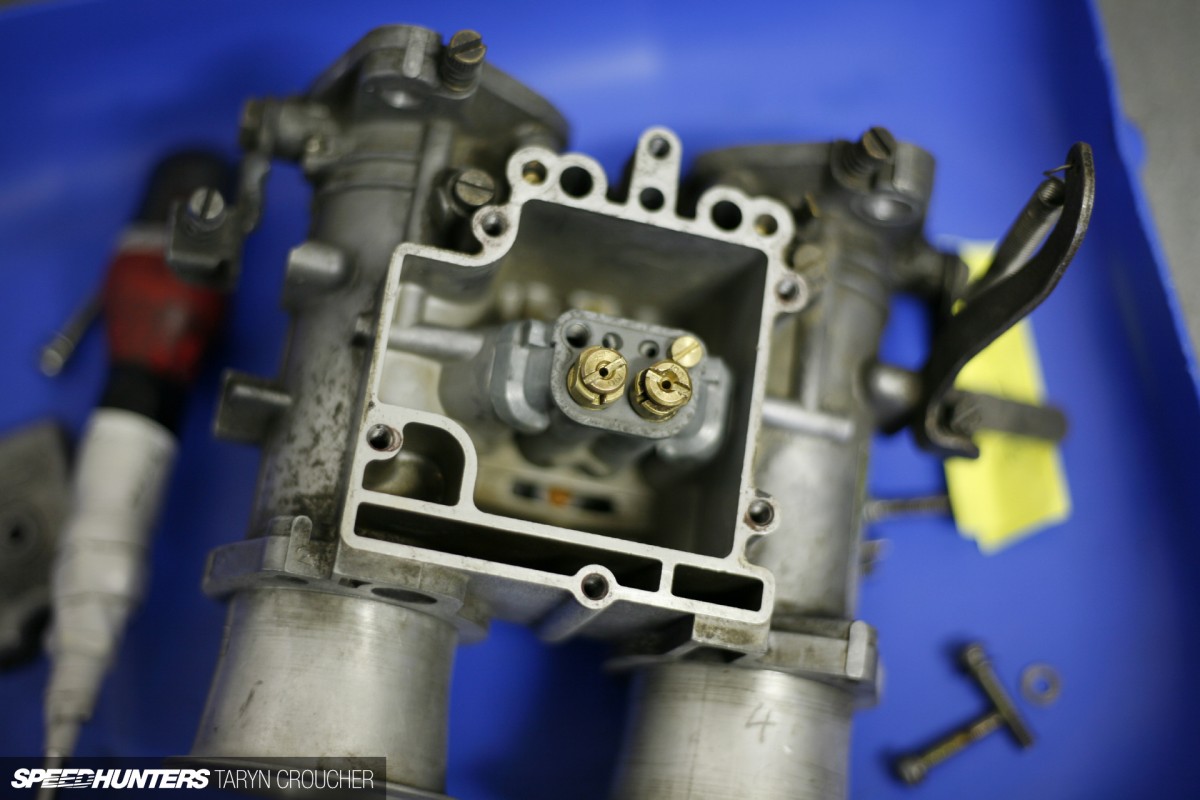 They might be considered a bit old school but they're definitely the more traditional induction system for an L-series powerplant, so we ditched the SU carbs in favour of a 40mm Mikuni Solex triple carb set-up. With a full rewire having been completed last month, it was finally time to bring the old girl back to life once more, and I was jumping out of my skin with excitement!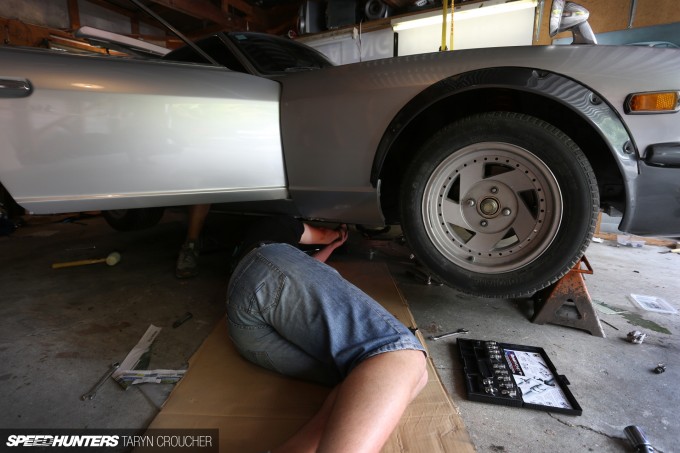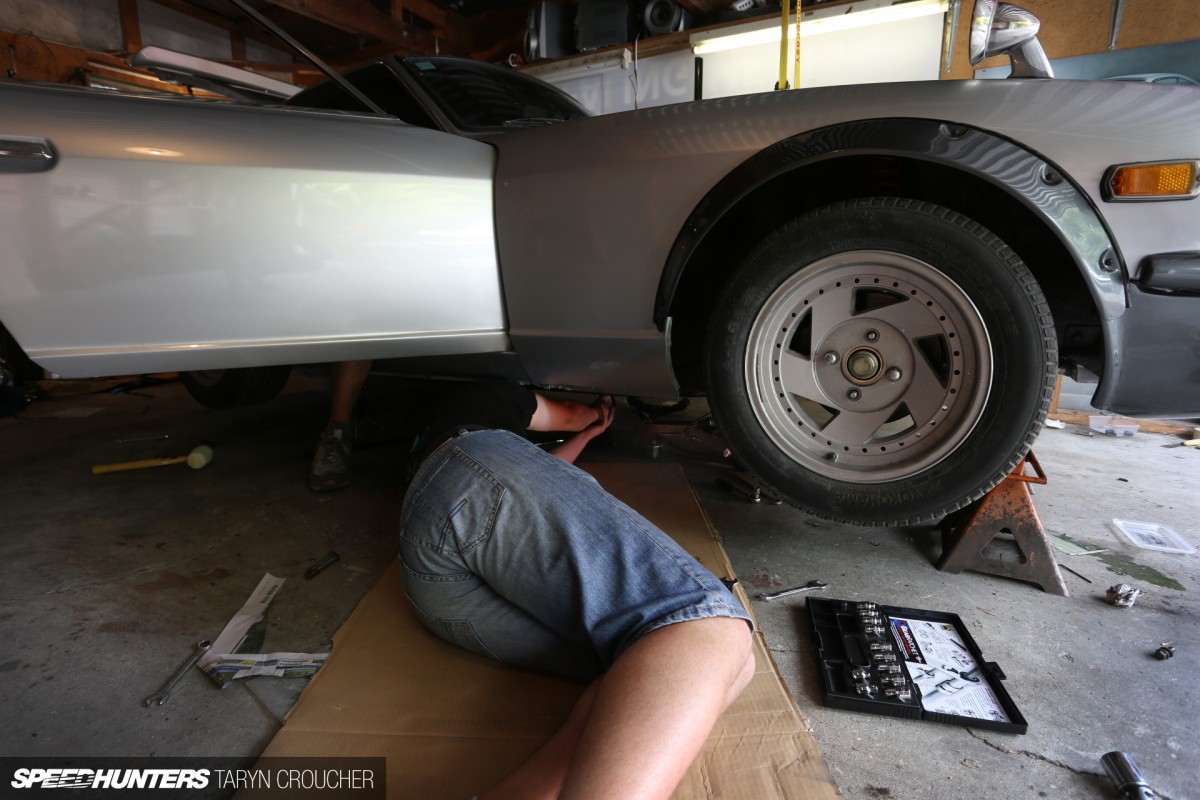 But when we tried to turn the motor over (so we could get it into top dead centre position to set the timing), we discovered it was completely locked up. We made sure it wasn't in gear, pulled the cam cover and starter motor off, but nothing was obviously wrong. After much head-scratching and beer consumption, we realised we'd have to drop the gearbox as that was the only other thing that could be causing everything to lock up. Had the flywheel been installed incorrectly? We were certain it hadn't, but we couldn't think of anything else!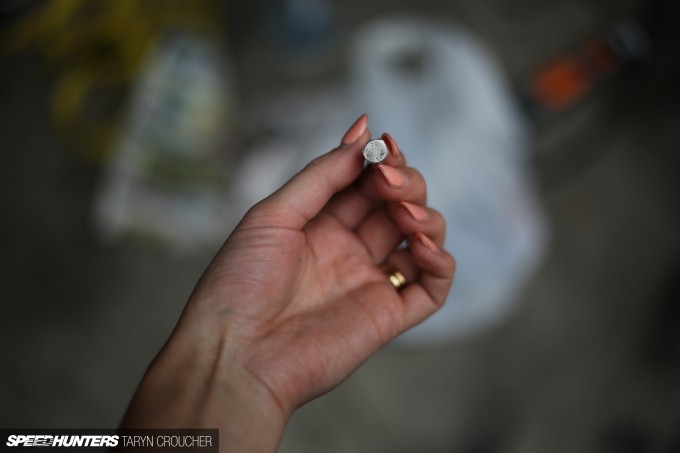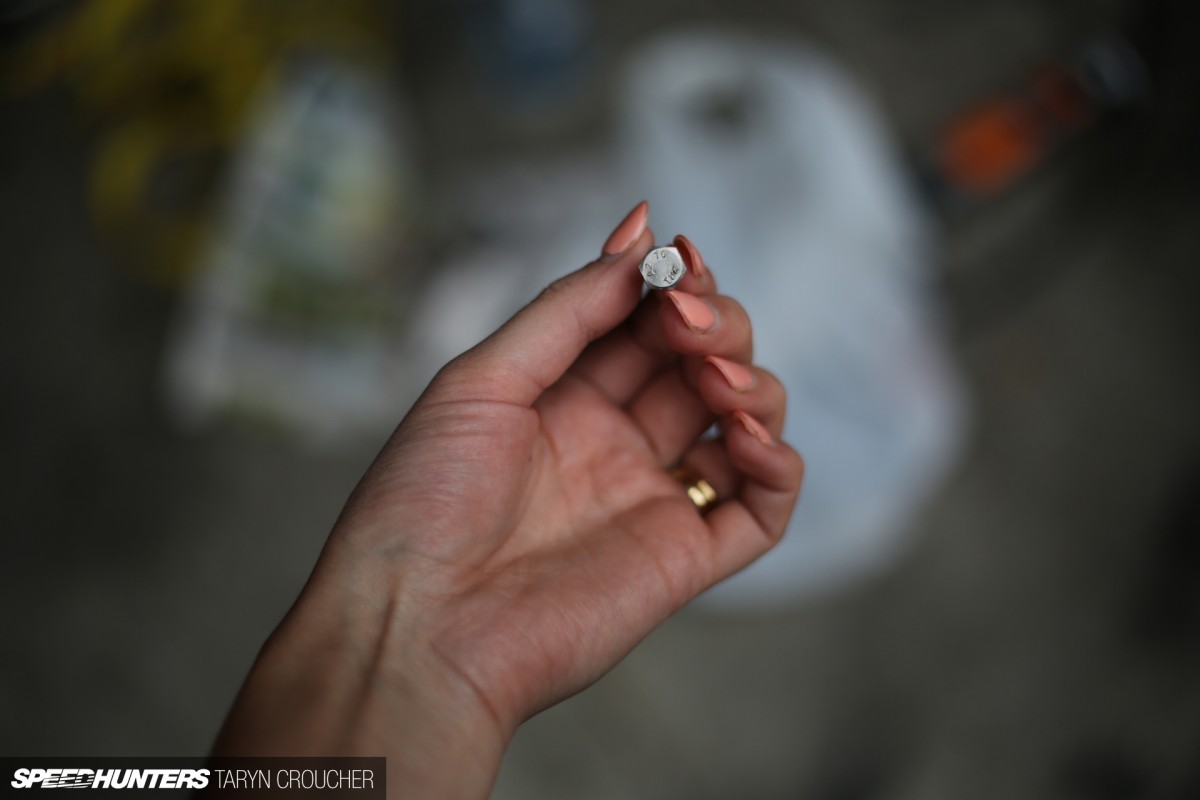 Thankfully, once we'd separated the bell housing from the motor, the problem was revealed. Somehow this shiny new 10mm bolt had managed to jam itself between the flywheel and bell housing! We still have no idea how it got in there, but it was incredibly lucky we found it and that it had locked up everything up like it did, because if it was loose and jammed when the car was driving, the results could've been disastrous.
With the mystery bolt removed, in theory the engine should now fire up, right?
But will it start?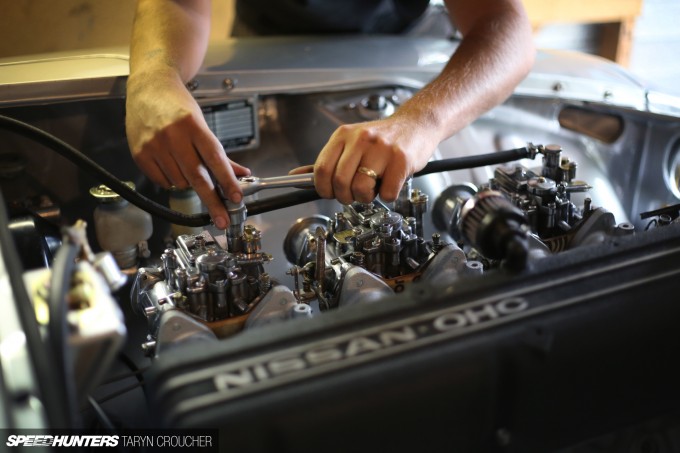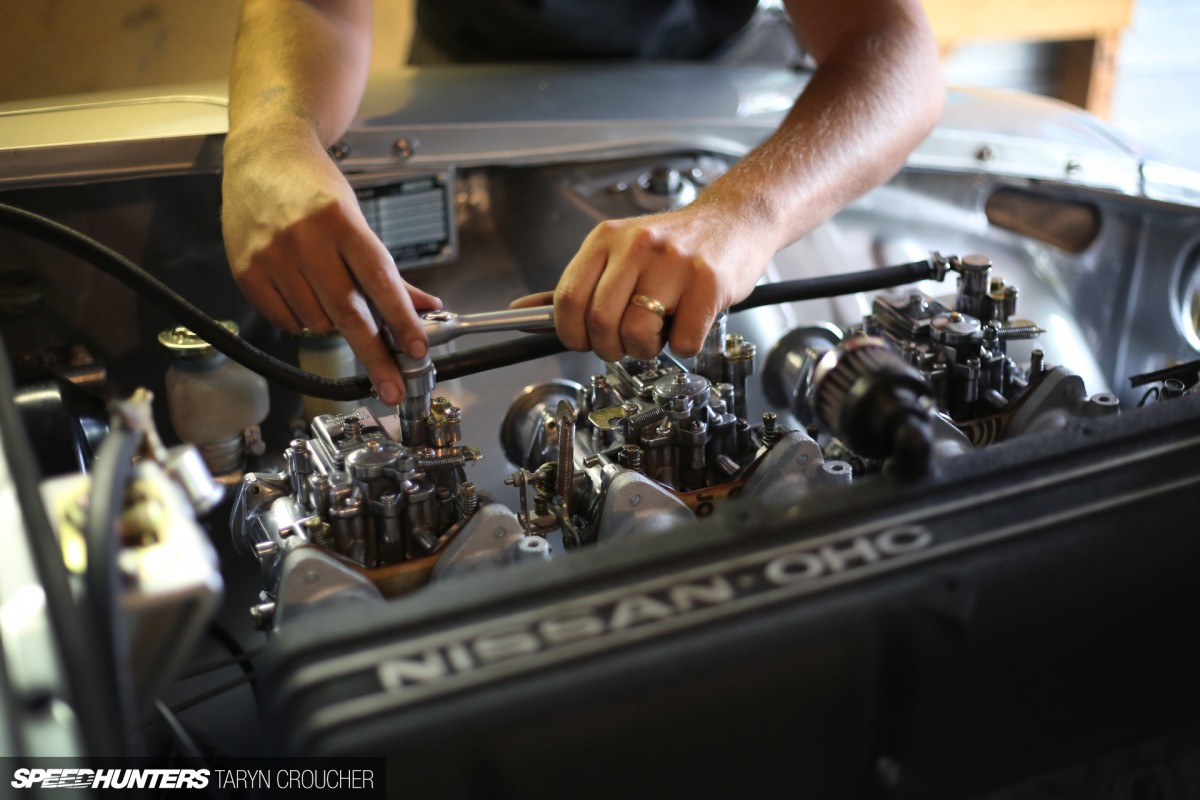 People swap motors in and out of cars all the time – I get that, but I've put so much time, money and energy into this car, and I hold it very close to my heart. Just the thought of hearing it again was making my heart pump faster.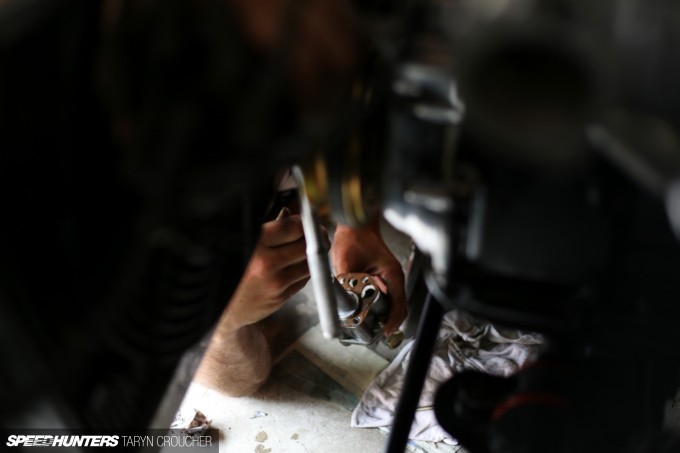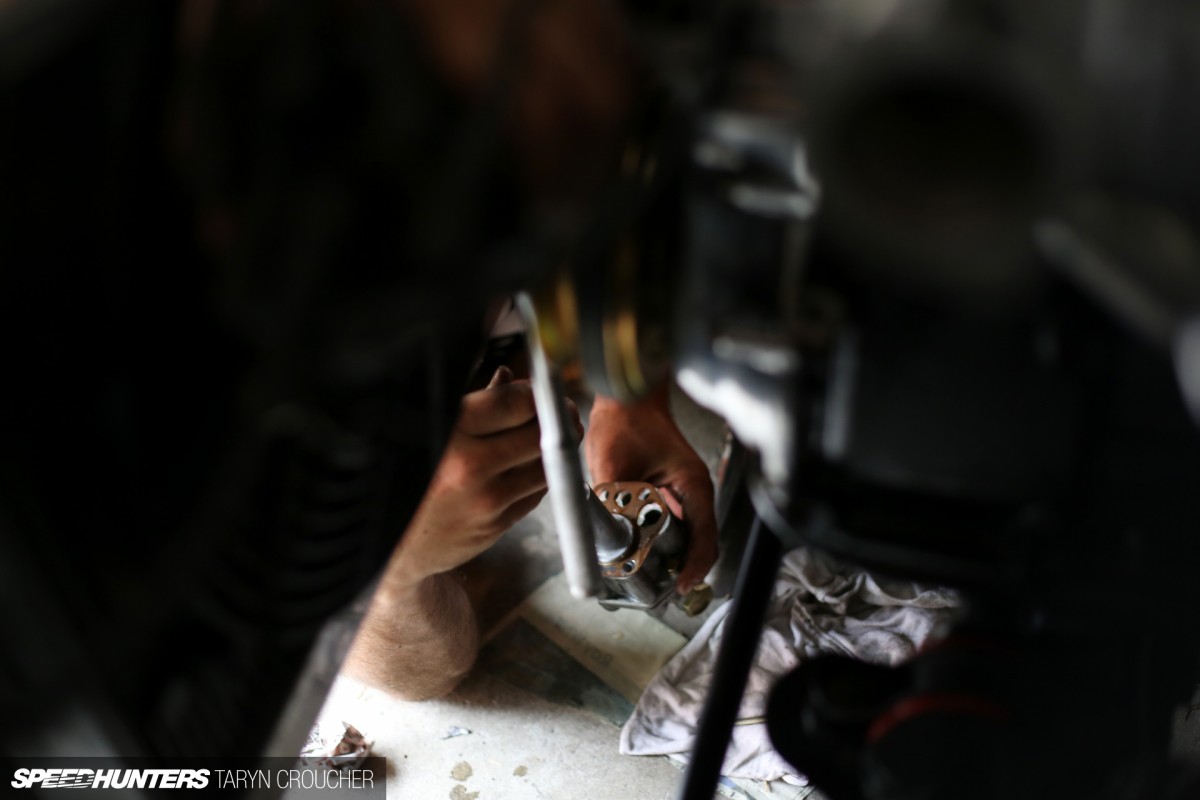 The motor had spark and was turning over fine but it wasn't building oil pressure, so the high-flow oil pump was pulled and primed to see if that would help. This was the result…
As you can tell from the video, the Z wheezed, popped and banged into life. It wasn't running great, but at least it was running. We could only get it firing on five cylinders on idle but above 2000rpm, it went onto six and sounded much smoother.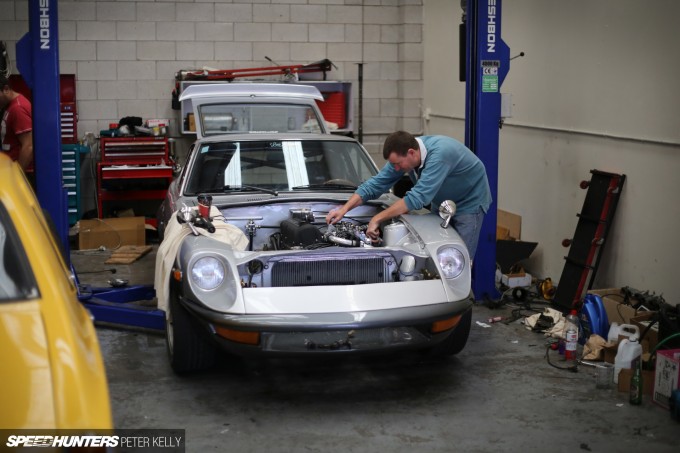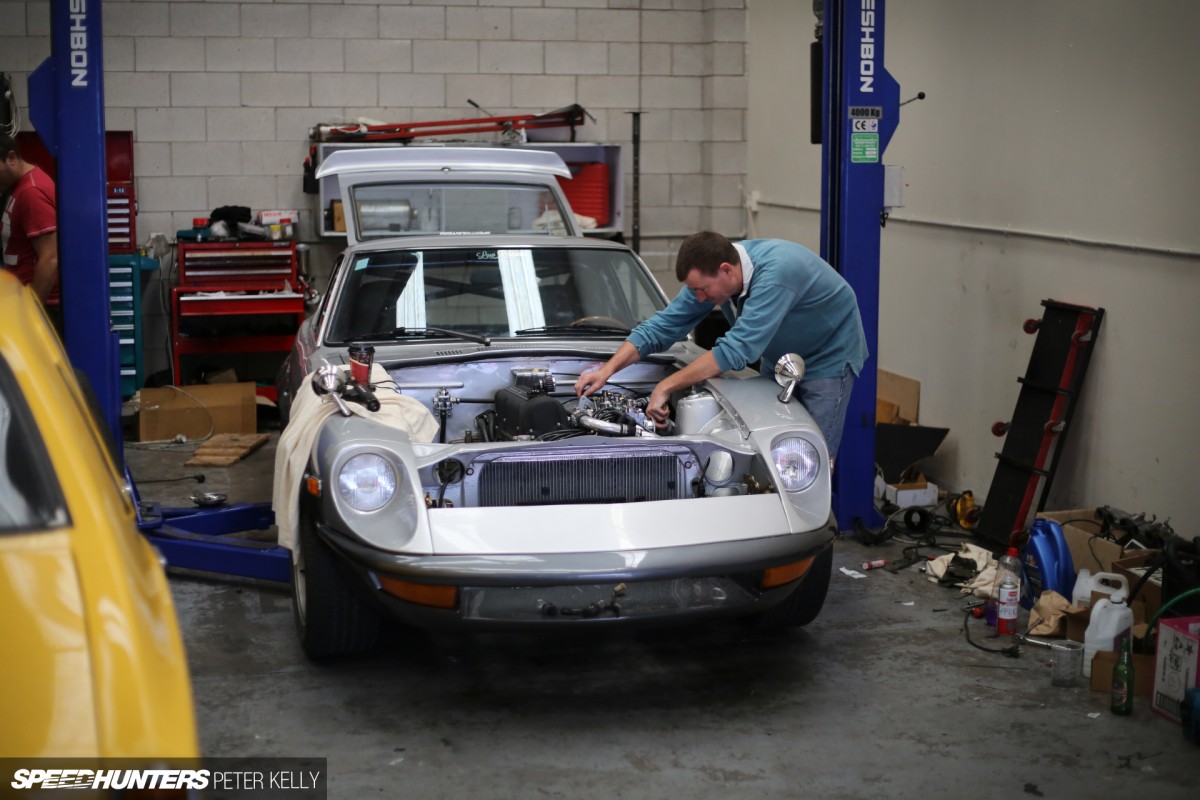 Even though we'd found an original Mikuni manual and installed the right sized jets, the carbs still weren't quite doing their job properly, and the sixth cylinder kept dropping. Our good friend Ricky, who races an L28-powered 240Z running triple Mikunis, took a look and tried to get things running better.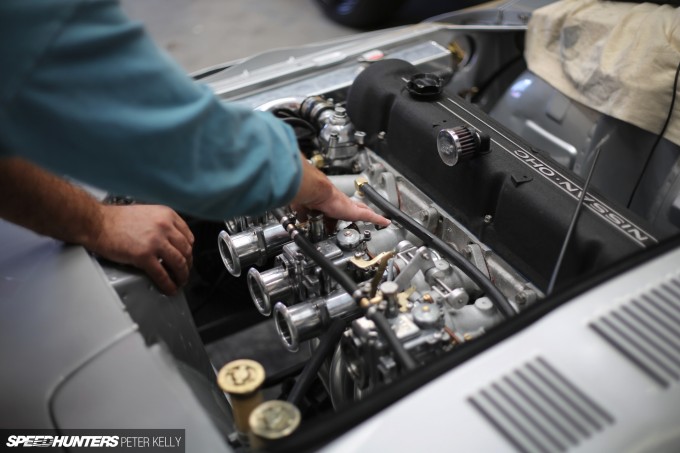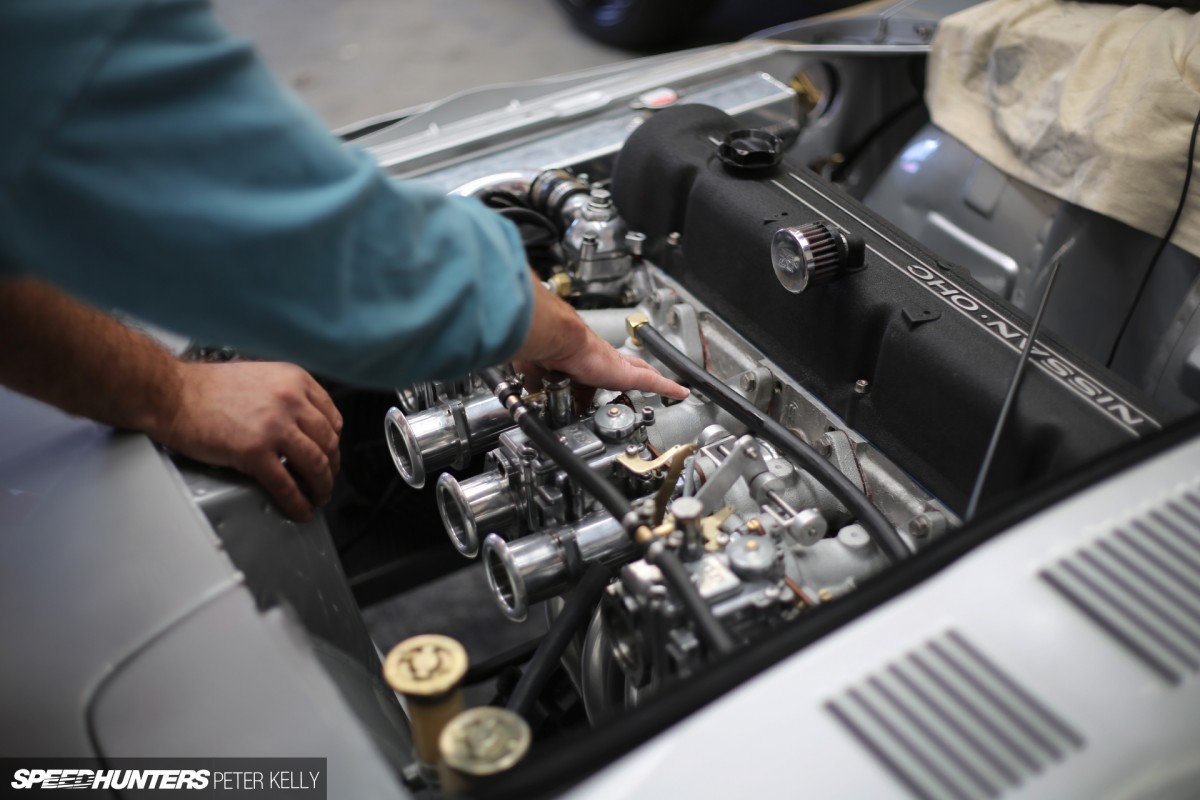 They're very fiddly and extremely difficult to get balanced, and the linkages connecting the three carbs were also causing problems. But with Ricky's help we eventually got the car to a driveable state and after starting it up and running it for a few nights in a row, it all seemed to be going good.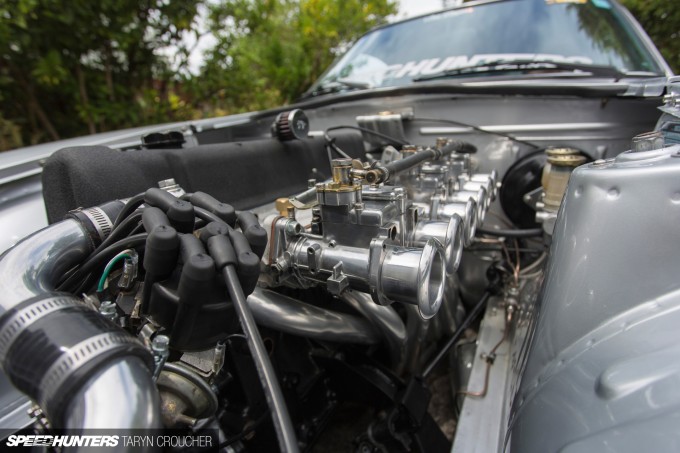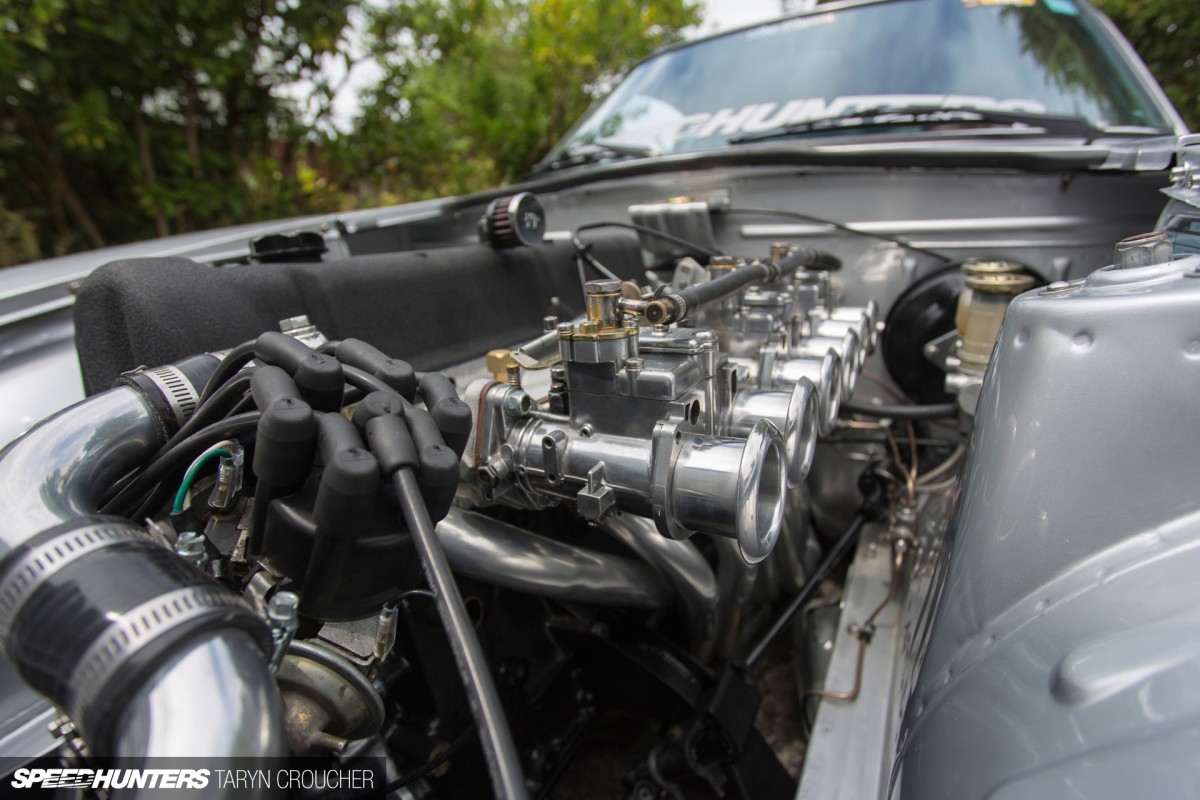 Maybe carburettors aren't the easiest mechanisms to work with, but they sure do make the Z sing a wonderful melody, plus they're easy on the eye too, looking beautifully intricate with their shiny bell-mouthed trumpets and passivated details.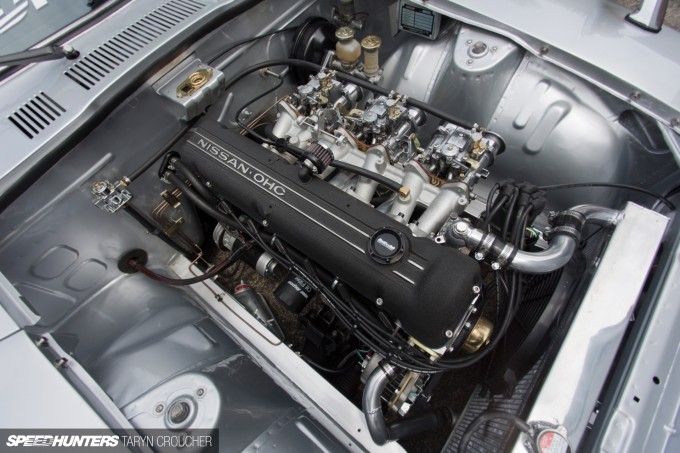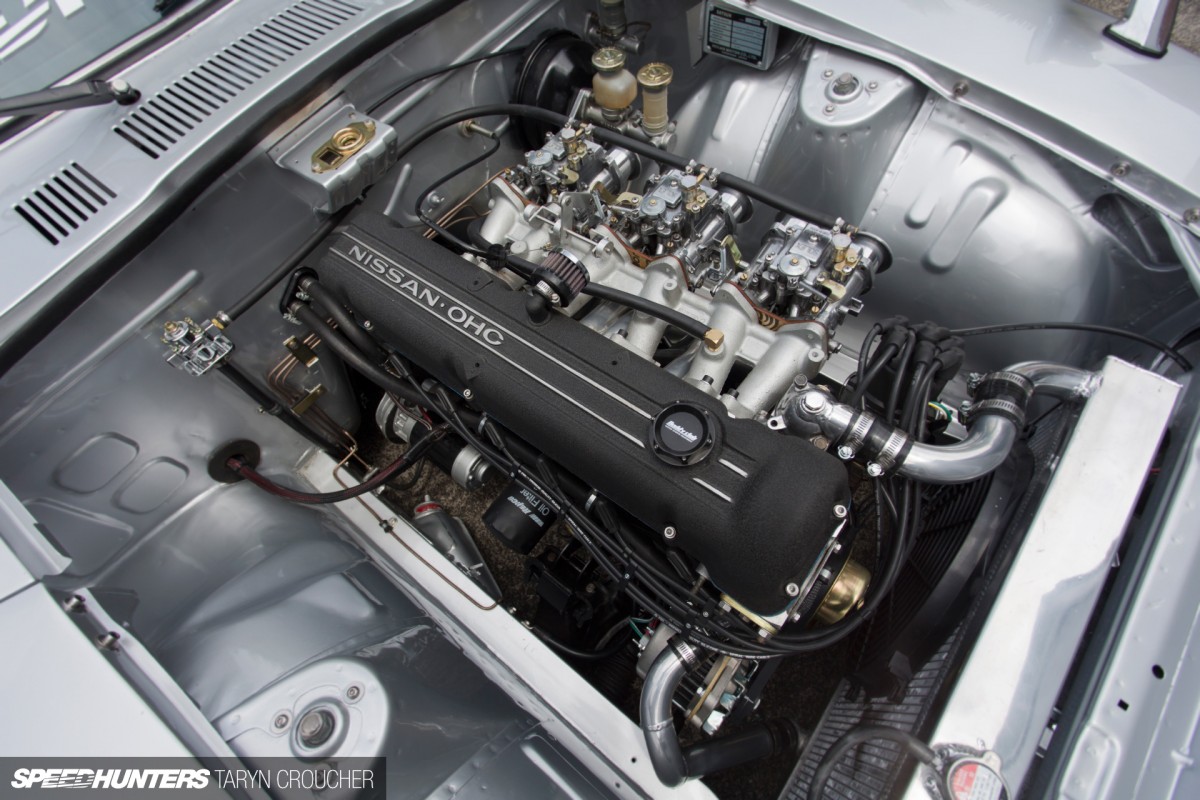 There were literally two things left to do before the car was drivable: firstly my mechanic Jon Sowden from Strange Workshop had to whip up a temporary throttle cable, and then the bonnet hinges had to be screwed on and the bonnet put back on. Thank god for that, because there really wasn't room for anything else in our spare bedroom while that enormous bonnet was stored in there for nine months! Luckily these were both fairly quick jobs, because by this stage it was Friday the 24th of January, and I was running out of time to get the Z to the 4&Rotary Nationals on the other side of town!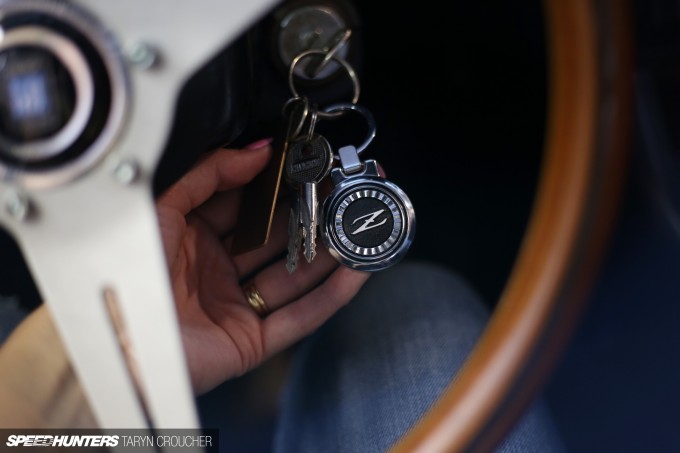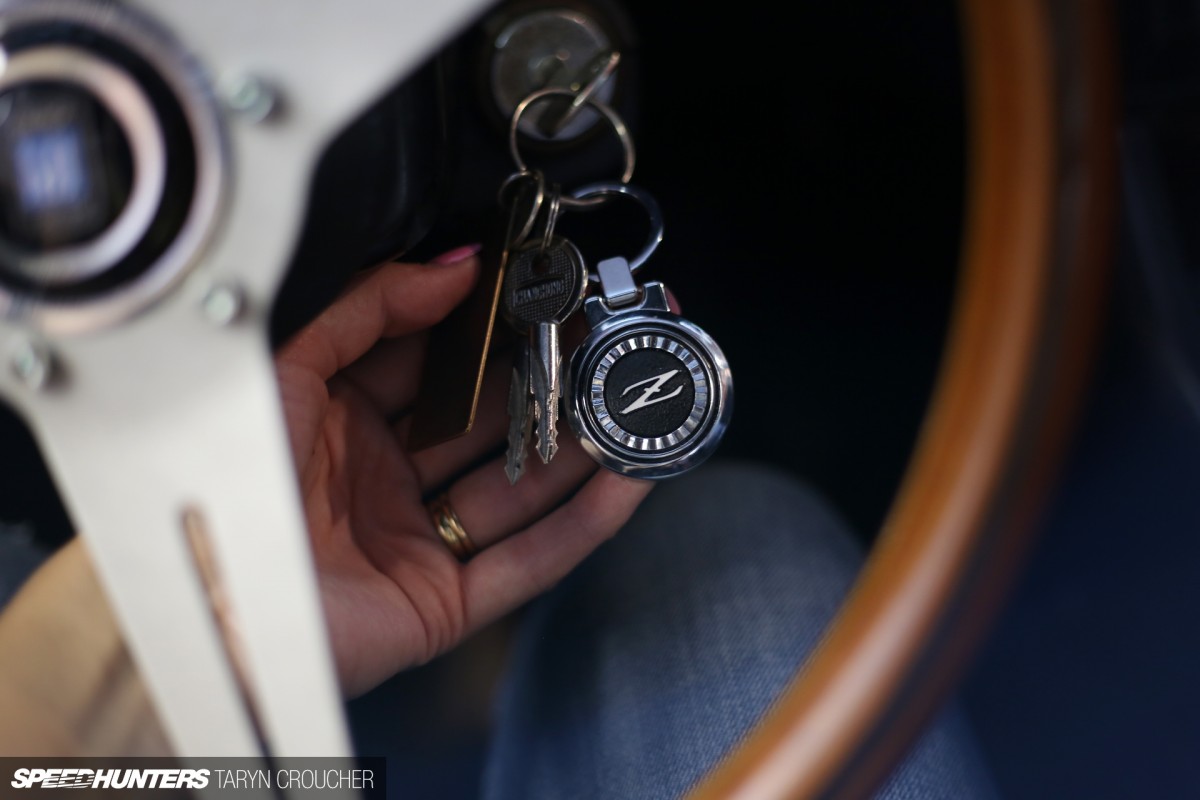 I'm a bit embarrassed to admit this, but before this day I'd never actually driven Project Z before for any real distance. When we brought the car back home to Auckland, I had a terrible flu and wasn't feeling up to driving an almost 30-year old manual car on the wrong side of the road, and since then, it's been in and out of various workshops in a constant state of 'in progress'. Maybe these are just excuses though, as in the back of my mind I was also afraid that I might not enjoy driving it – a 'meeting your hero'-type phobia. What if my dream car rejected me as its driver? There was only one way to find out, so I attached my 'Z' key fob that I'd bought from the Nissan head office showroom in Yokohama last year and turned the key. I'd been saving putting it on for this very moment.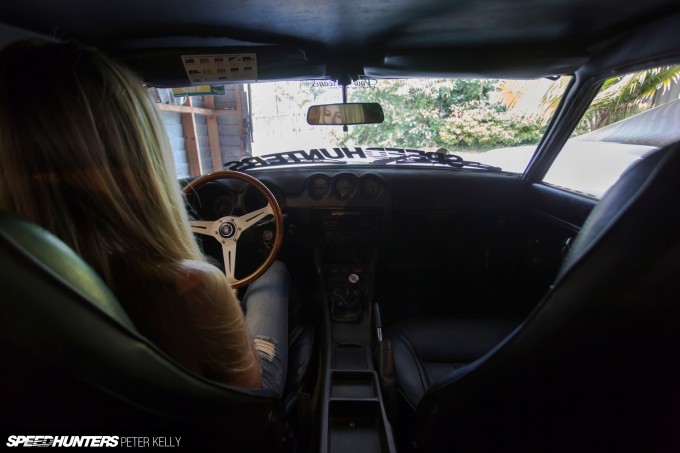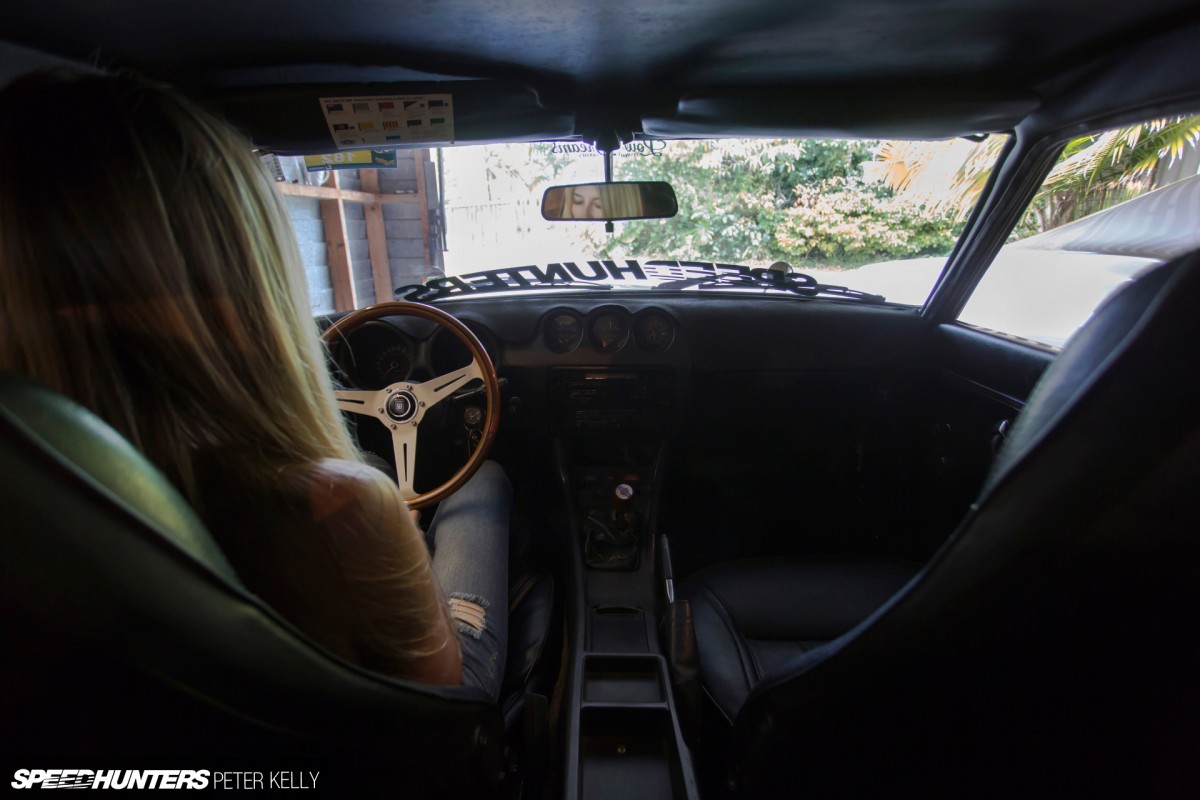 I inhaled deeply and put the car into gear. My left foot was shaking slightly, but I managed to take off steadily, as the strong stench of fuel filled my nostrils. I scrunched up my nose but it was still a good smell. I didn't take any photos while driving, but I can tell you that it was probably the most terrifyingly exhilarating experience I've ever had behind the wheel of a car. Mainly terrifying because the brakes don't seem to do, well, anything at all, and exhilarating because it felt like I was driving the nostalgic Japanese street car of my dreams. It was everything I dreamt it could ever be.
That was, until…
Crashing down from cloud nine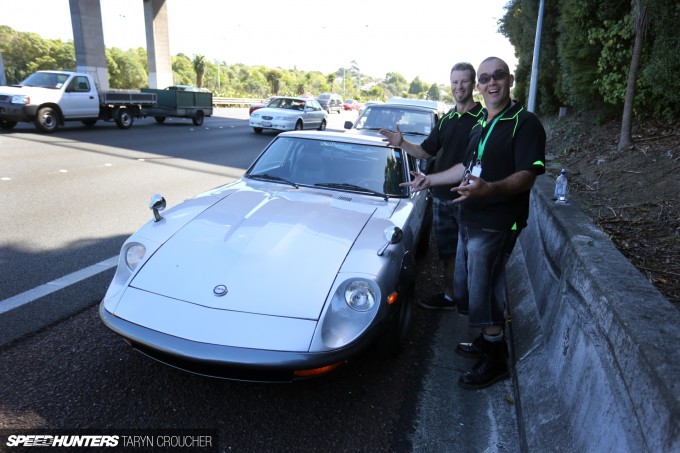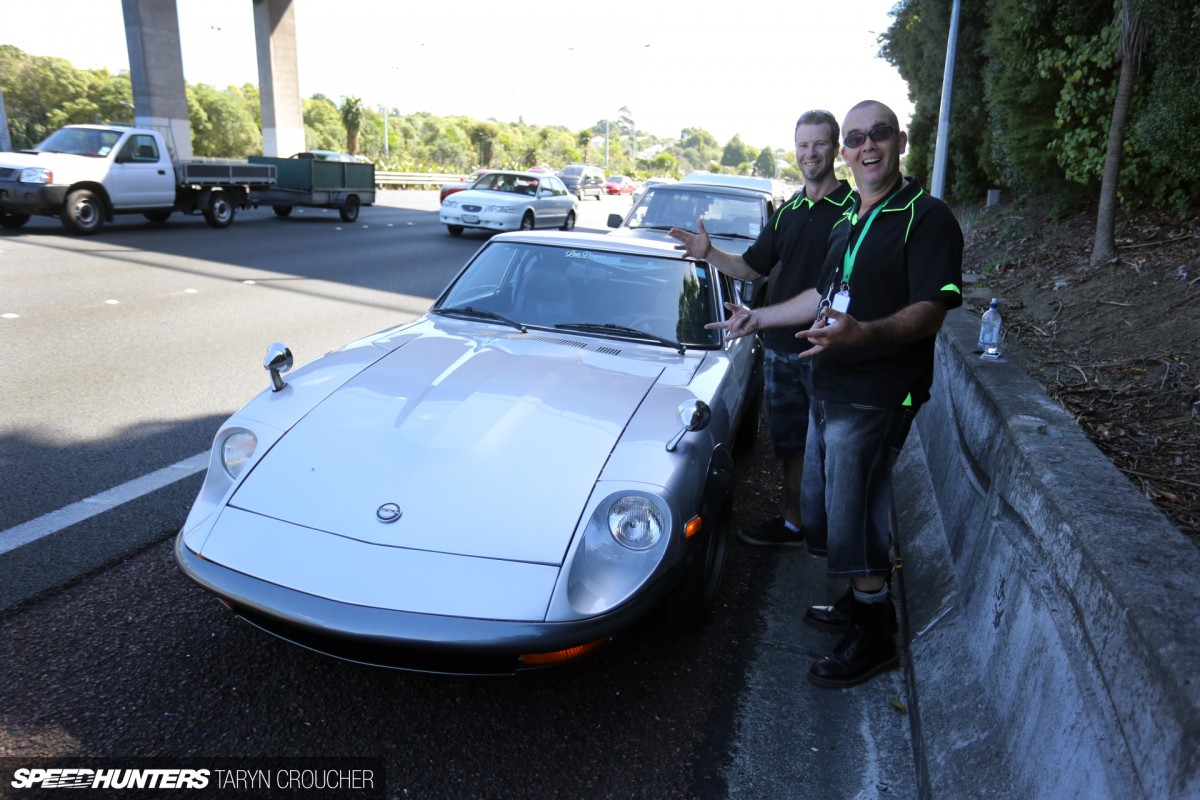 I found myself being rescued, stranded in the middle of a five-lane motorway by two very lovely and helpful methamphetamine lab decontamination specialists/classic car enthusiasts from a small town south of Auckland called Tokoroa. I can't even begin to describe the gut-wrenching horror I experienced as the L28 spluttered and died, leaving me sitting in the middle lane while cars flew past on either side, with absolutely nothing happening as I desperately kept twisting the key in the ignition and pumping the gas pedal. Thankfully these guys blocked off two lanes with their truck as I rolled over to the safety of the emergency stop lane, hands still shaking.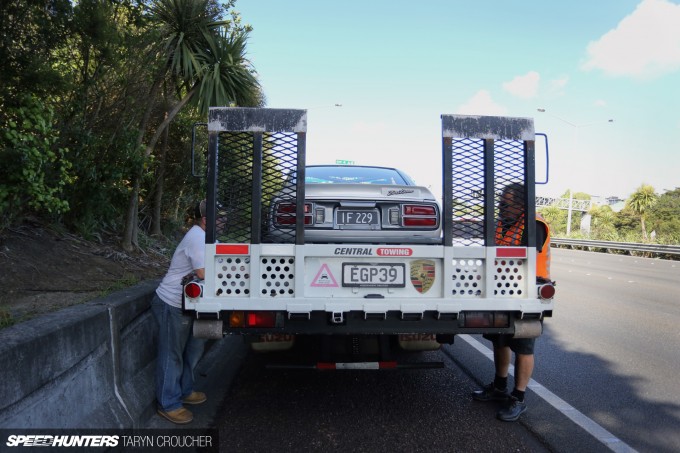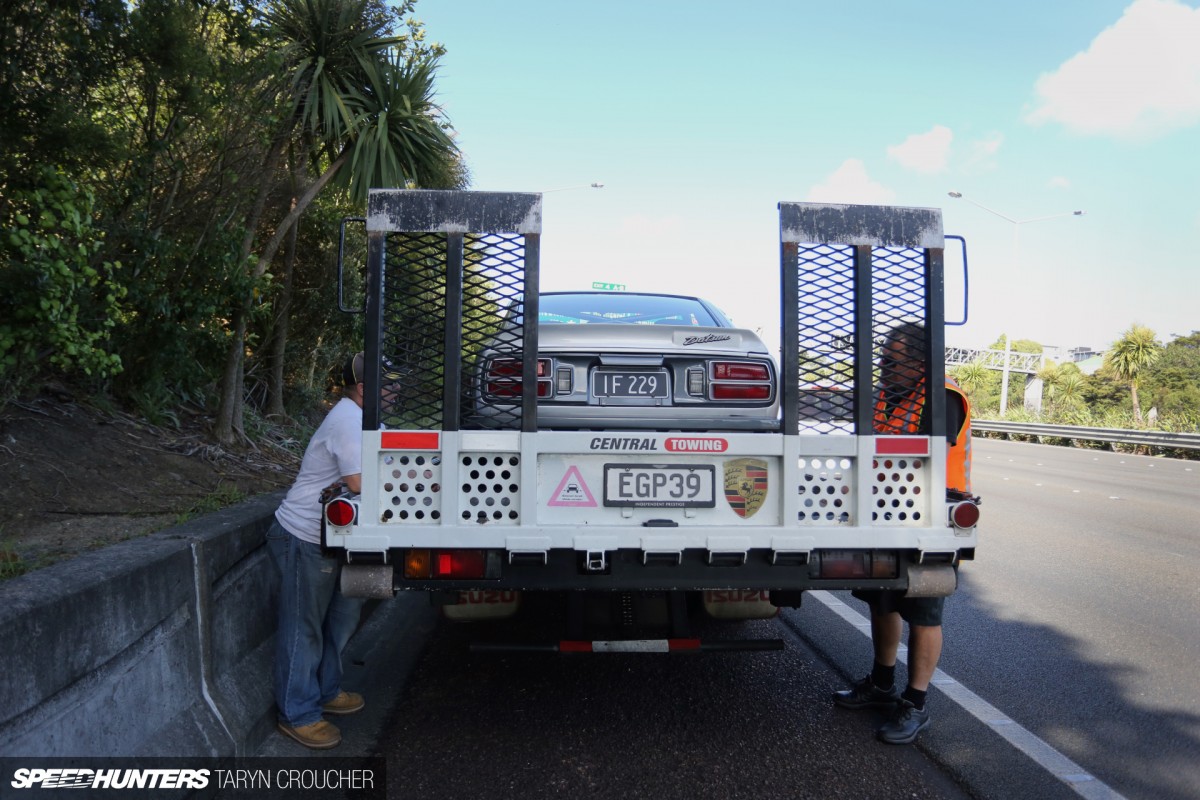 I honestly don't know what happened; the L28 sounded strong – it was just begging me to drive it. Perhaps I'm slightly brainwashed by Wangan Midnight, as my instincts just took over and the urge to drive fast on an open stretch of road got the better of me. I swear, I don't even remember getting on the motorway! In retrospect, this was a terrible rookie move and I learnt an extremely valuable lesson from it.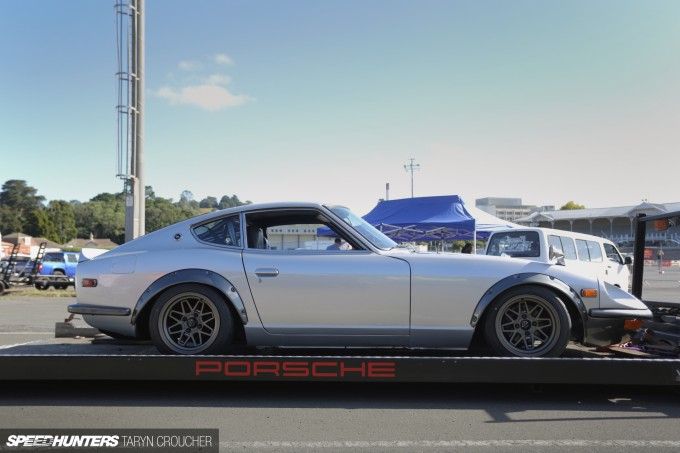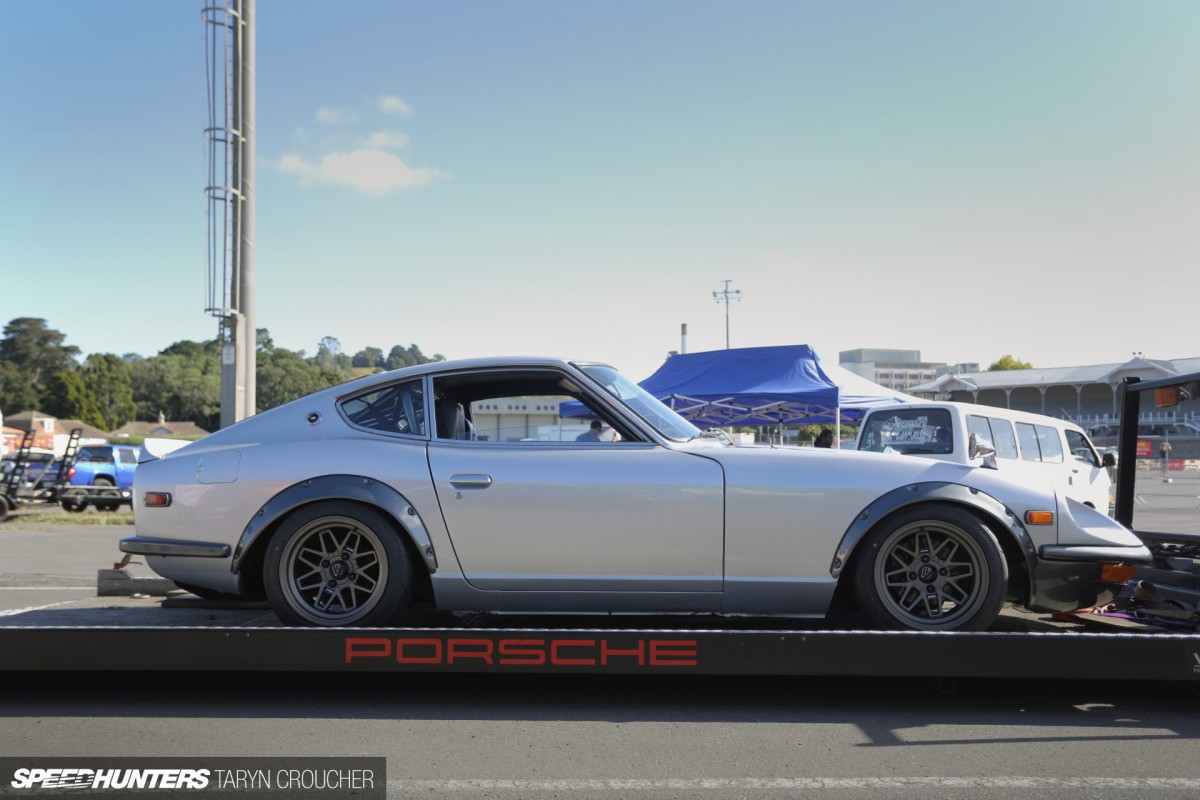 Two hours later, the Z eventually arrived on the back of a tow truck to the 4&Rotary Nationals venue in one piece, and it even managed to start up and drive into the hall under its own power. I'm still not sure why it had failed to start, but it appeared that carb number three – the one that had previously given us issues – was once again kicking up a fuss.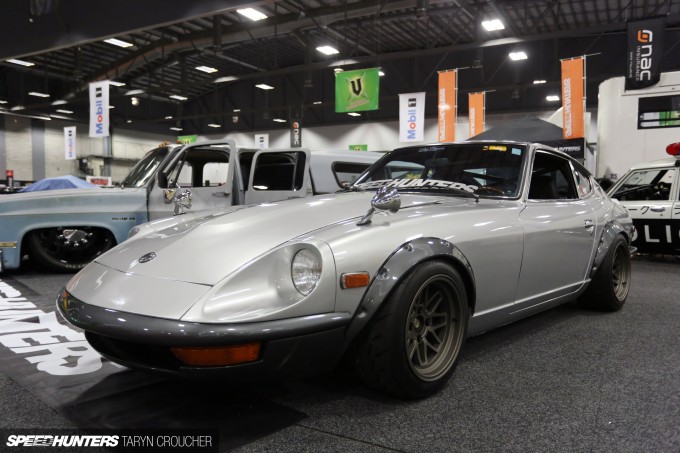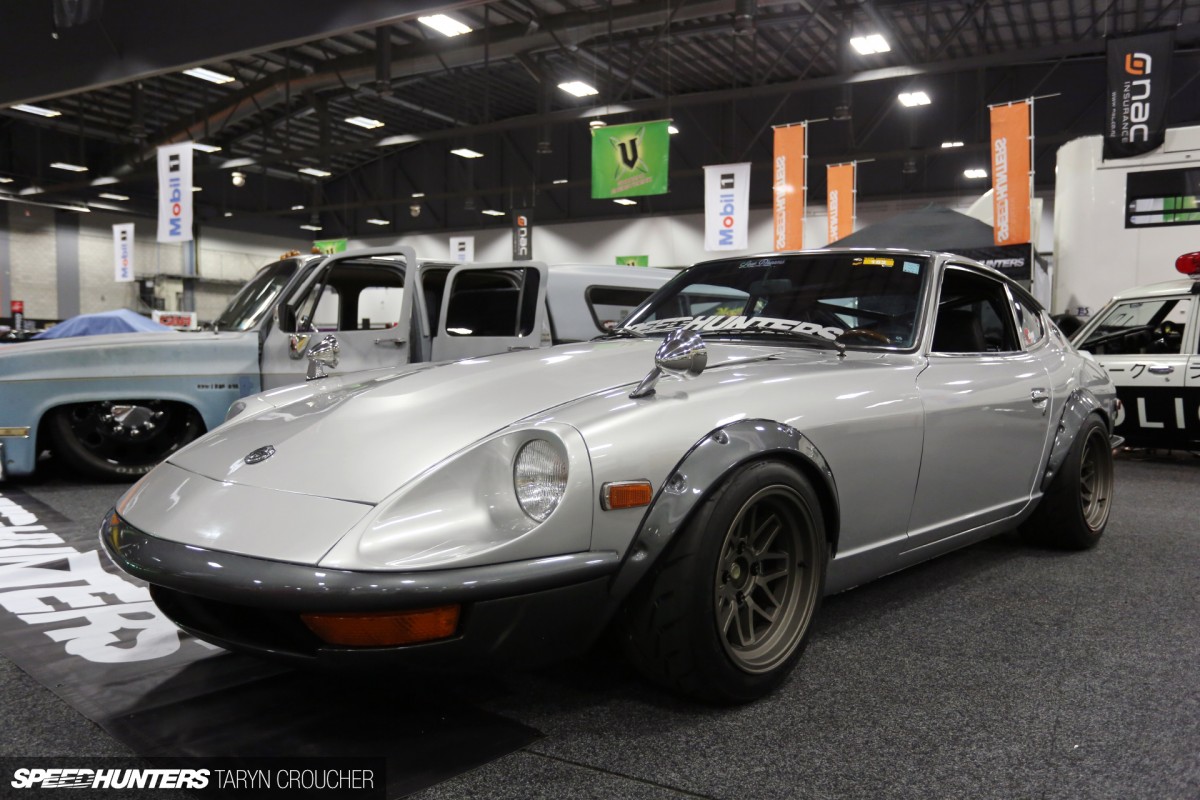 After telling people at the show what had happened, a few of them responded with, 'You should've stuck with the EFI system'. Sure, I could've done that but to me that would have felt like giving up, and I'm not willing to settle for a less desirable solution just because a small, fixable challenge has presented itself. If modifying cars like this was easy, then everyone would do it. The triple Mikunis fit in perfectly with the overall vintage theme of the car, and help it stay true to its classic heritage.
Everyone likes different things and I respect that, but I can't help but feel as if I shouldn't have to answer to those sort of remarks. Maybe you think that something would work better or look better, but people should trust in the fact that I always put a lot of thought and research into the decisions I make, and above all, I like what I like and I can't help that.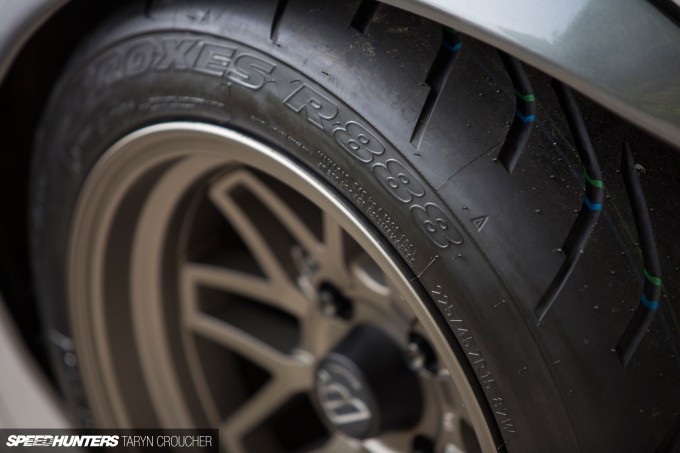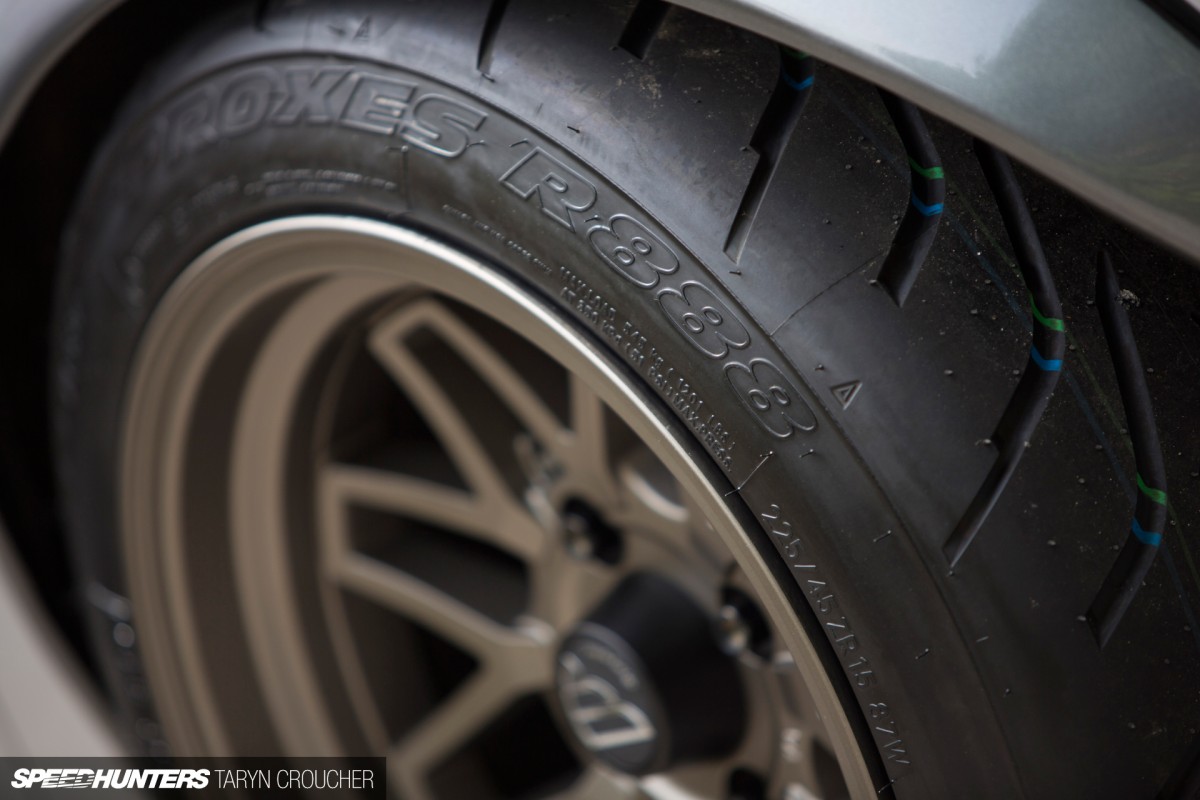 I'm really happy with the Z's 'new look' with its new 15×9.5-inch Fatlace FZero2 wheels too. I still love my Work Meister CR01s, and they are still my street wheels of choice, with the huge dish and high polish giving the car more of a squat, show-ready look. But I'd also really been wanting to buy a second set of wheels to give the Z a more functional, track-ready vibe, and the bronze FZero2s wrapped in sticky Toyo R888 semi-slicks give it just that! Not only do they look badass, but they'll actually serve a purpose out on the track as well.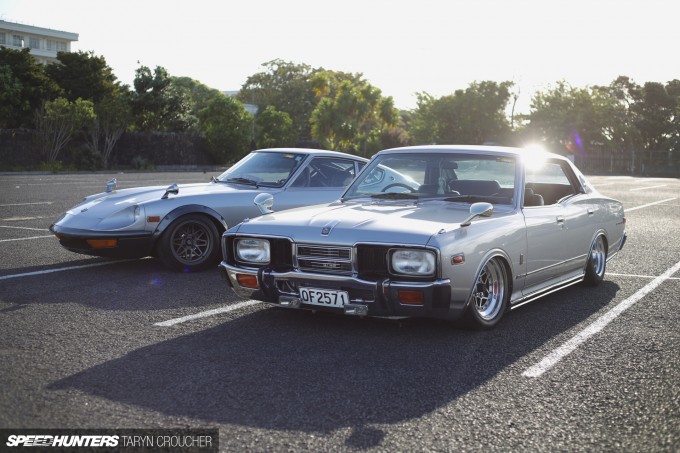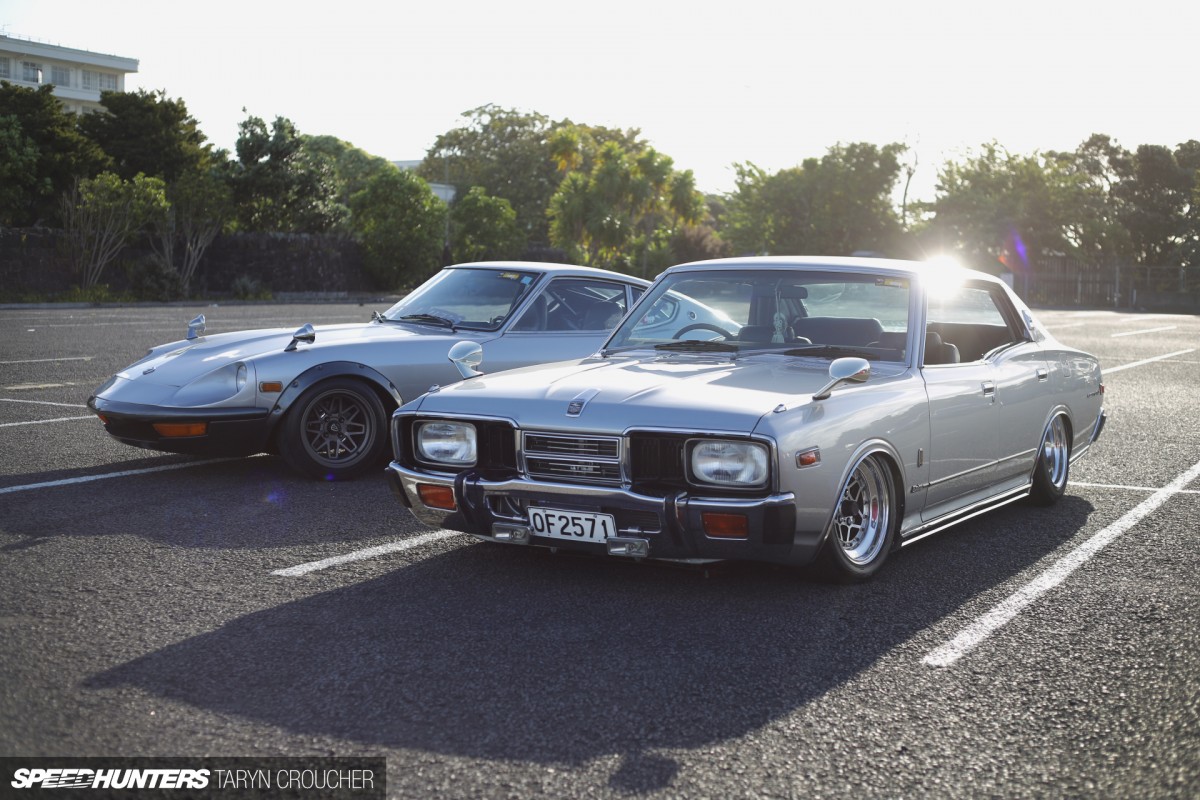 It was disappointing having to organise another truck to collect Project Z after the show, especially considering the amount of times we've had to pay for tow trucks over the last few months. $100 a trip adds up really quickly. My mood soon improved however when one of my favourite cars from the show pulled up and parked next to me. I couldn't have asked for a more beautiful subject to capture in the evening sunlight than John Van Beek's immaculate '78 Nissan Cedric. The perfect impromptu photoshoot!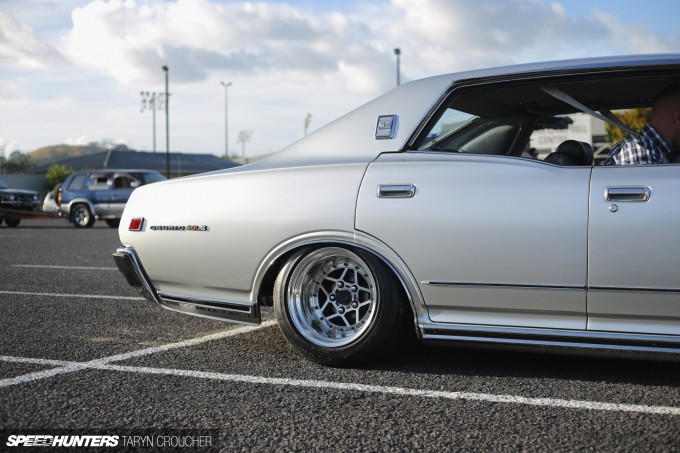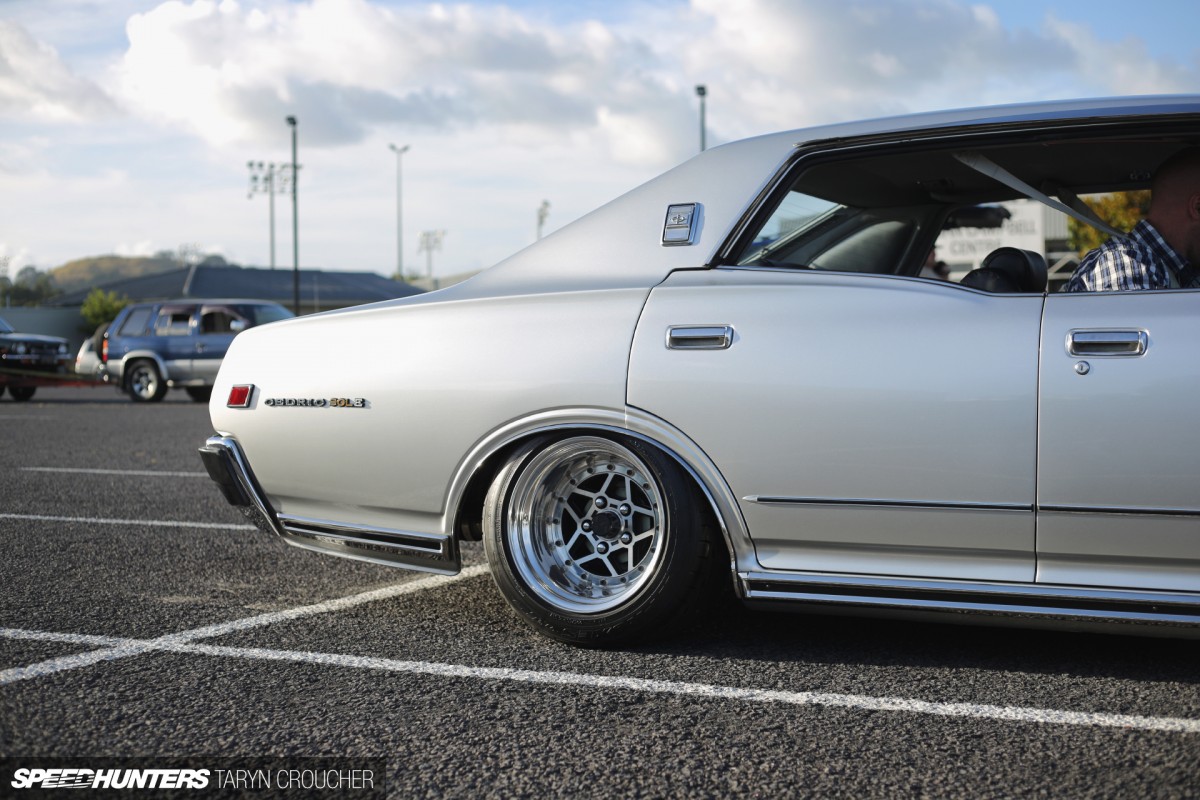 To those not in the know it may just look like an old lowered Nissan, but aside from its beautifully restored exterior and intricate custom suspension set-up, an impressive VH41 V8 conversion has taken place under the hood. With their aggressive offsets and delicate centre designs, the August Feroce wheels perfectly complement the retro lines of this '70s chassis. I think we need to see more of this car here on Speedhunters, don't you?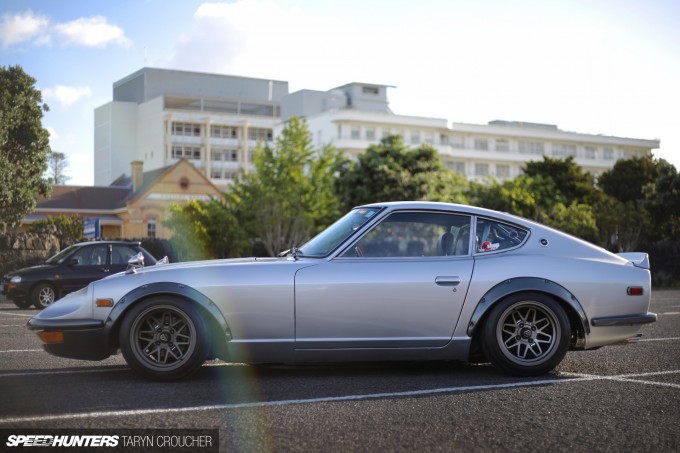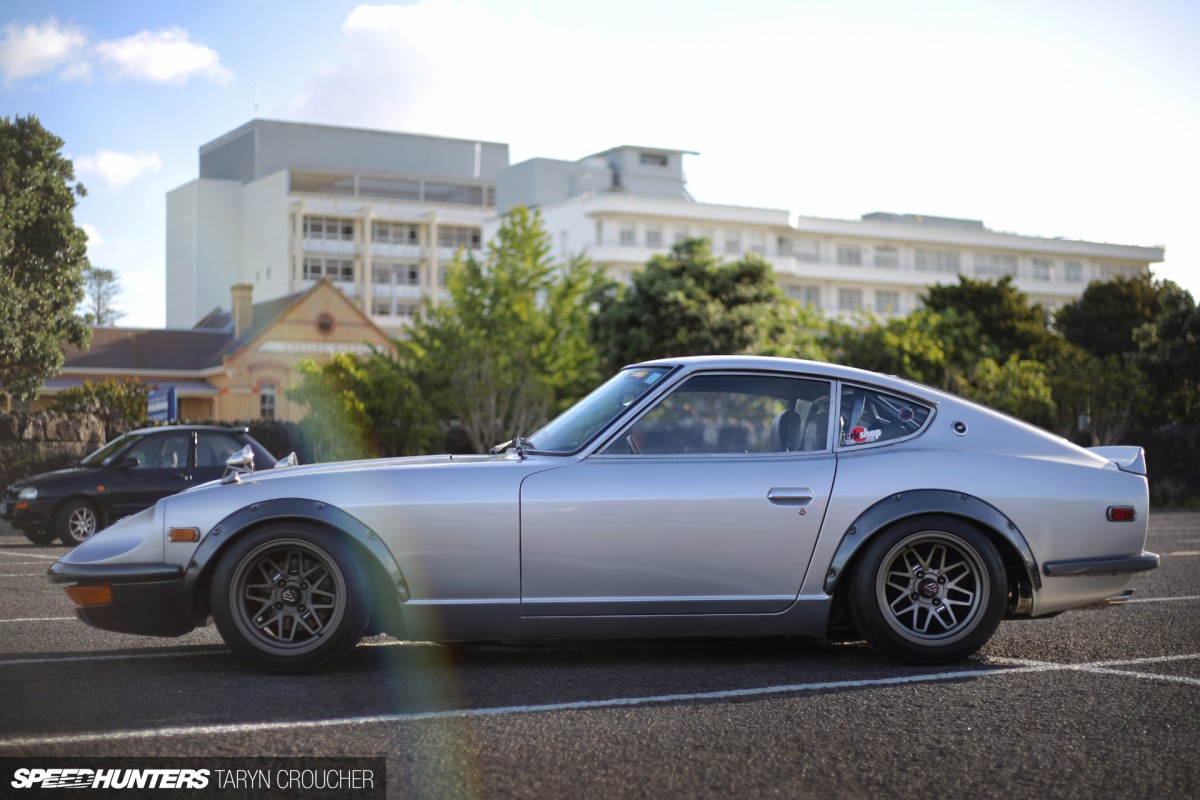 I know it sounds silly, but I can't help but feel an immense sense of pride in being responsible for giving this Z a new lease of life. Maybe it's not running right yet but it will be soon, and then my dream will be completely fulfilled.
As I sat and waited for my tow truck, once again I became immersed in the thought that somehow the pieces of steel, glass, aluminium, rubber and rust that make up this old Datsun made their way into my garage, and as a result, I'm standing here right now, in this very moment. Surely this can't all be just a coincidence?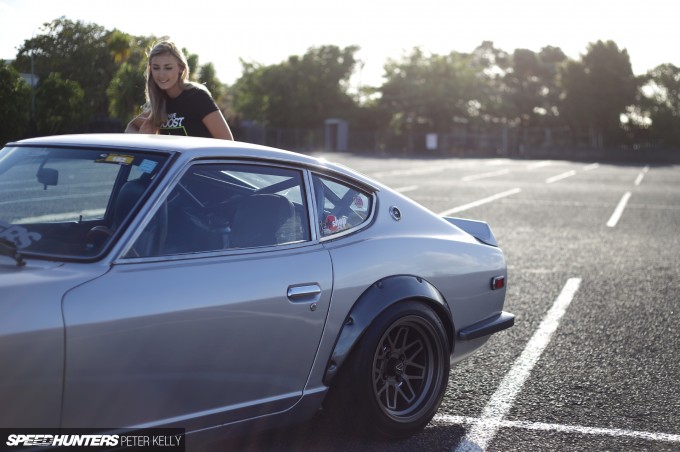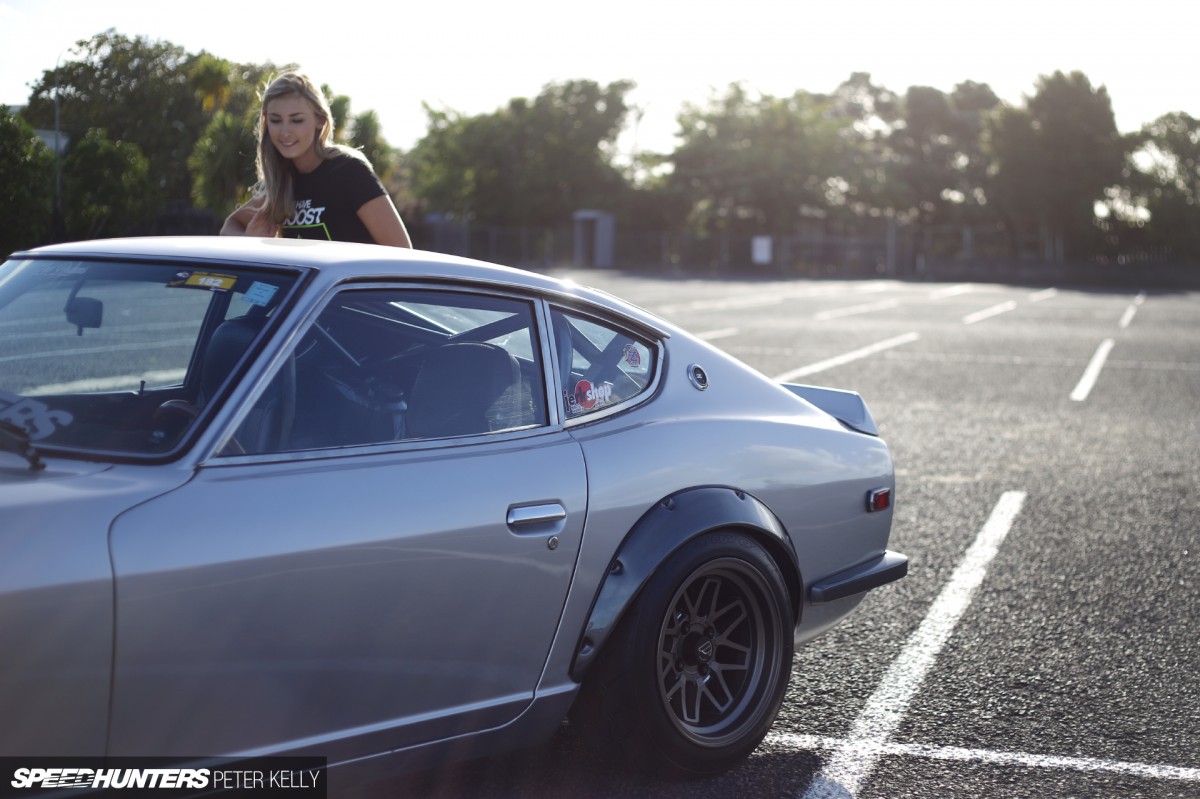 If this specific car can somehow get shipped into New Zealand from America on a special permit, go through eleven different owners over thirty-eight years, find its way onto my computer screen and into my life, and have all the things go wrong with it that have led me to be in this exact position I'm in right now, then surely this fate was already laid out for me? I guess that's one question I'll never know the answer to. But what I do know is that giving this old soul a second chance has given me a new life too, and I've never been happier.
As always, a huge thank you to all my good friends who have helped get the Datsun to this 'oh so close' point. The fact that these guys have probably spent more time in my garage over the last few months than their own is not lost on me, nor is it unappreciated.