Getting ready for the longest day
The 2014 Daytona 24 Hours was my first ever 24-hour race. 24 hours is a long time – I mean, it's a really damn long time if you just had to sit down and think it out. But then you think about how much you can get done in a whole day. Maybe a marathon video gaming session, watch back-to-back-to-back-to-back episodes of your current TV addiction, run all your errands and still have time to do a bunch of other things; set your mind to it and there are a myriad of different things you can do. Different being the key word here. Now imagine driving for a whole day. Driving at full race speed with 66 other cars rotating around you, all of whom are also going flat out around a 3.81 mile course. All the time keeping focused, fighting fatigue and feeling that time is operating on a different level. That, in a nutshell, is a 24-hour race, so in the days leading up to my virgin experience at Daytona, I felt a mix of emotions about covering a daunting race like this. I was nervous, scared, excited…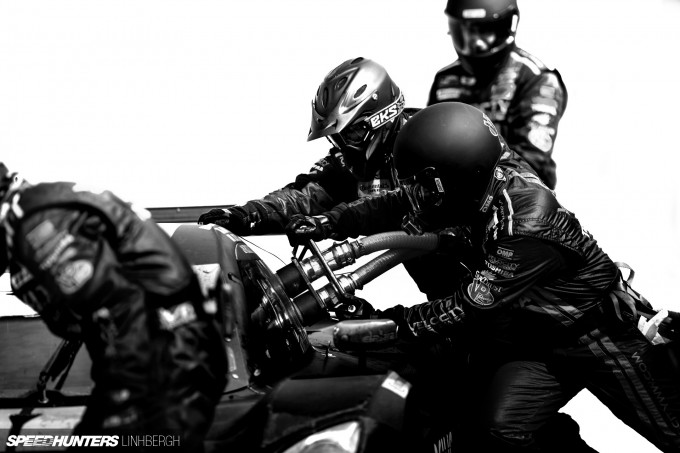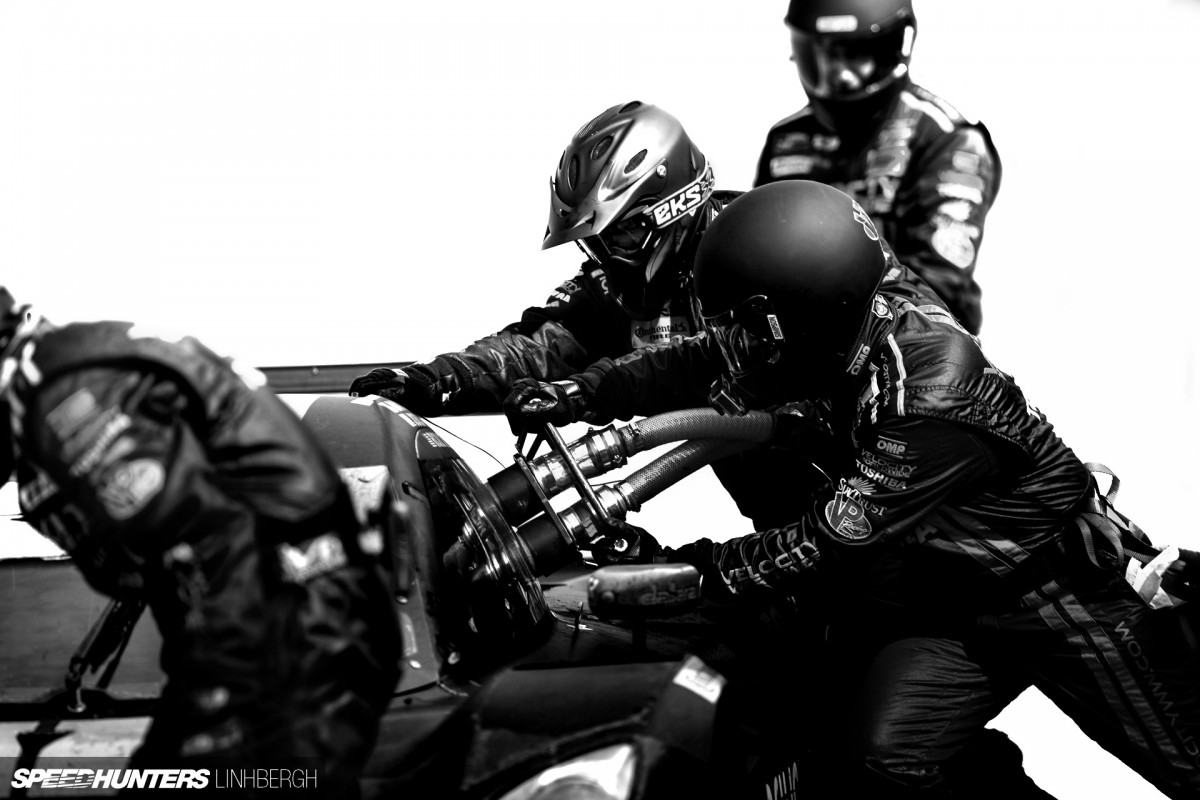 I'd taken advice and found that preparing for an endurance race starts a long time before the lights go green, even if you're not competing. A week before the race I started drinking a lot more water than I normally would to hydrate my body and I tried to take it easy whilst also taking in as much energy as I could. Those of you that have attended a race event before know that track food isn't the most healthy, so in a nutshell, my food game plan was as follows: good food days in the lead up, then binge out on really terrible, yet delicious, greasy food at the track. For once, getting my camera gear ready was the easy part. I just had to make sure batteries were charged and that I had enough memory cards to last the entire time, no matter what I encountered. Because of course that's another factor: you can plan all you want but trying to predict what's actually going to happen? I'd be a fool to try, so a quick dust wipe of the lenses and I was good to go. Babying camera equipment? Nope. Not for me.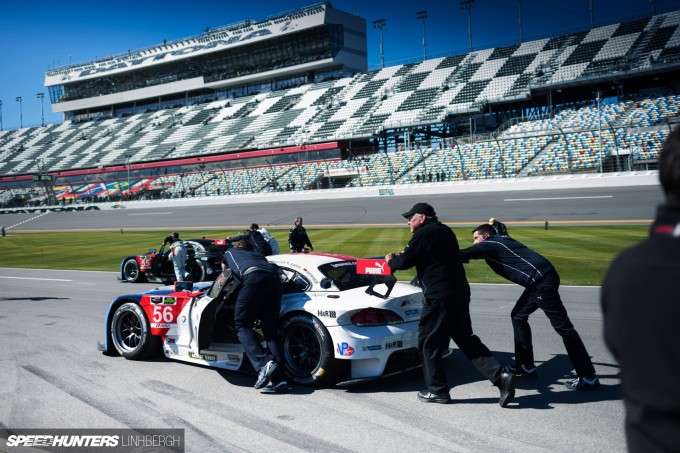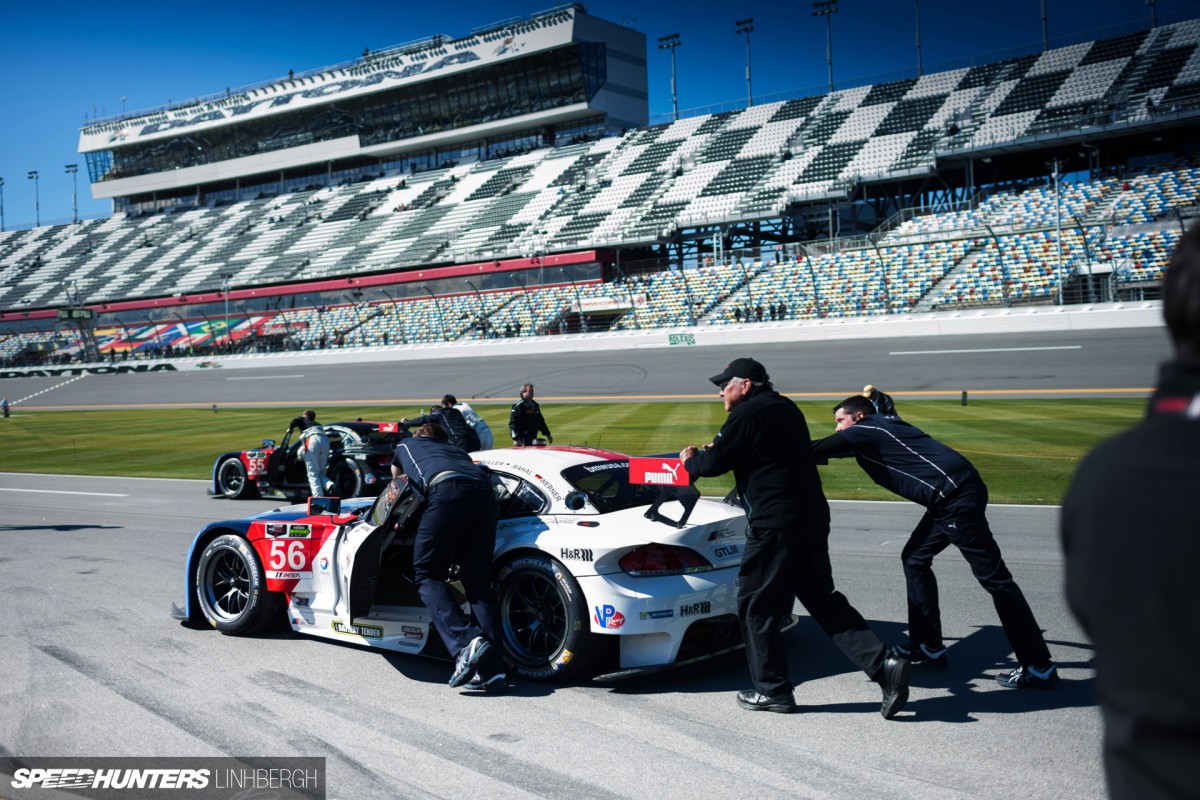 The 2014 race marked the 52nd running of this, the most prestigious of American endurance races. It was also the first race under the new banner of the TUDOR United Sports Car Championship. This series has united both Grand Am and IMSA and their respective series, the Rolex Sports Car and American Le Mans Series, under one happy roof. In short, this means four different classes racing on the same strip of track: Prototypes, with both Daytona Prototypes and Le Mans-style LMP2s; Prototype Challenge baby prototypes; and then the GTLM and GTD street-car derived classes. I naturally leaned towards the GTLM as I was an avid follower of the ALMS' GT class: fast, loud, sexy and mean-looking. Being the first race of this new series, it was going to be quite the spectacle to watch the four different classes jostling it out all at once on the same stretch of tarmac. Remembering this would be as much a spectacle for the drivers as well, enemies and old new all around them.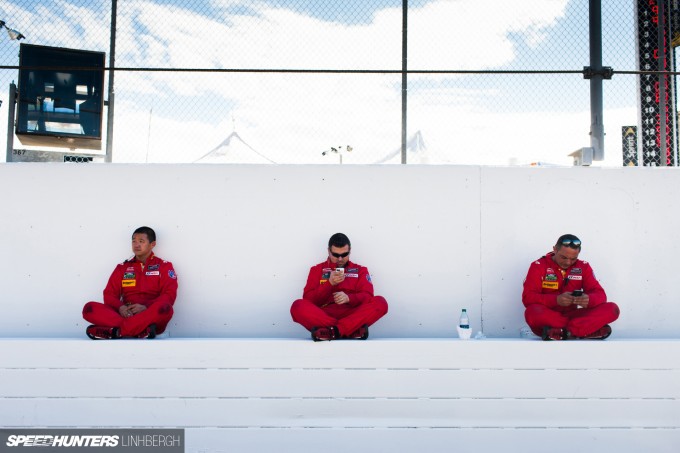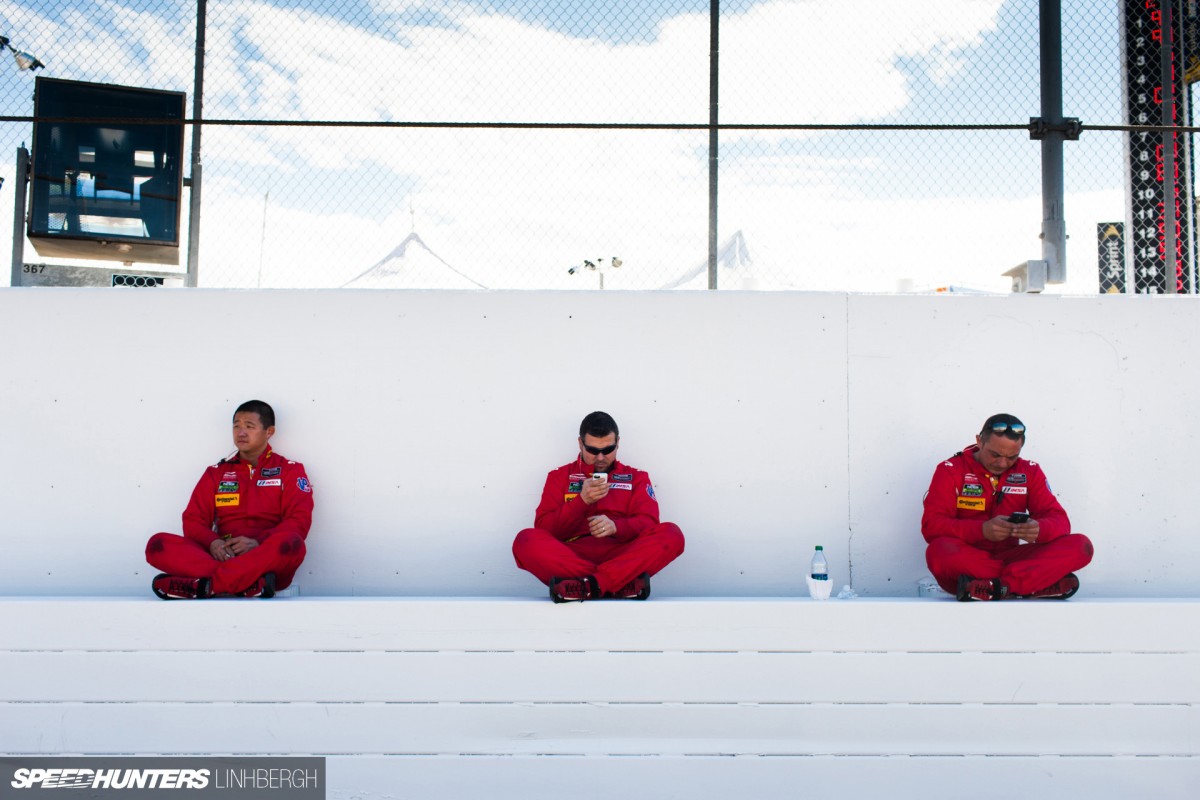 Walking, wandering, pacing and preparing in the final hours leading up to the race, it struck me that everyone around the track, no matter what job they had, took a moment to get that last bit of relaxation in before the green flag. I mean, everyone needs to get those last minute Instagrams and tweets up before you go racing for 24 hours, right? 'Gah, photographer pointing camera at me already, like right now #notevenjoking #daytona #dayandnightjob'. Or something like that.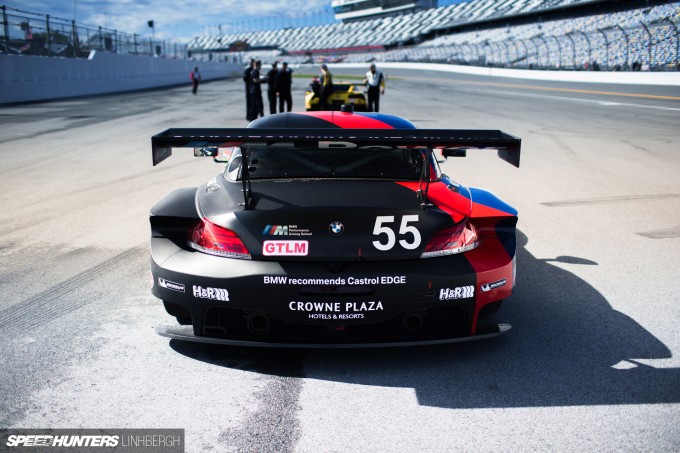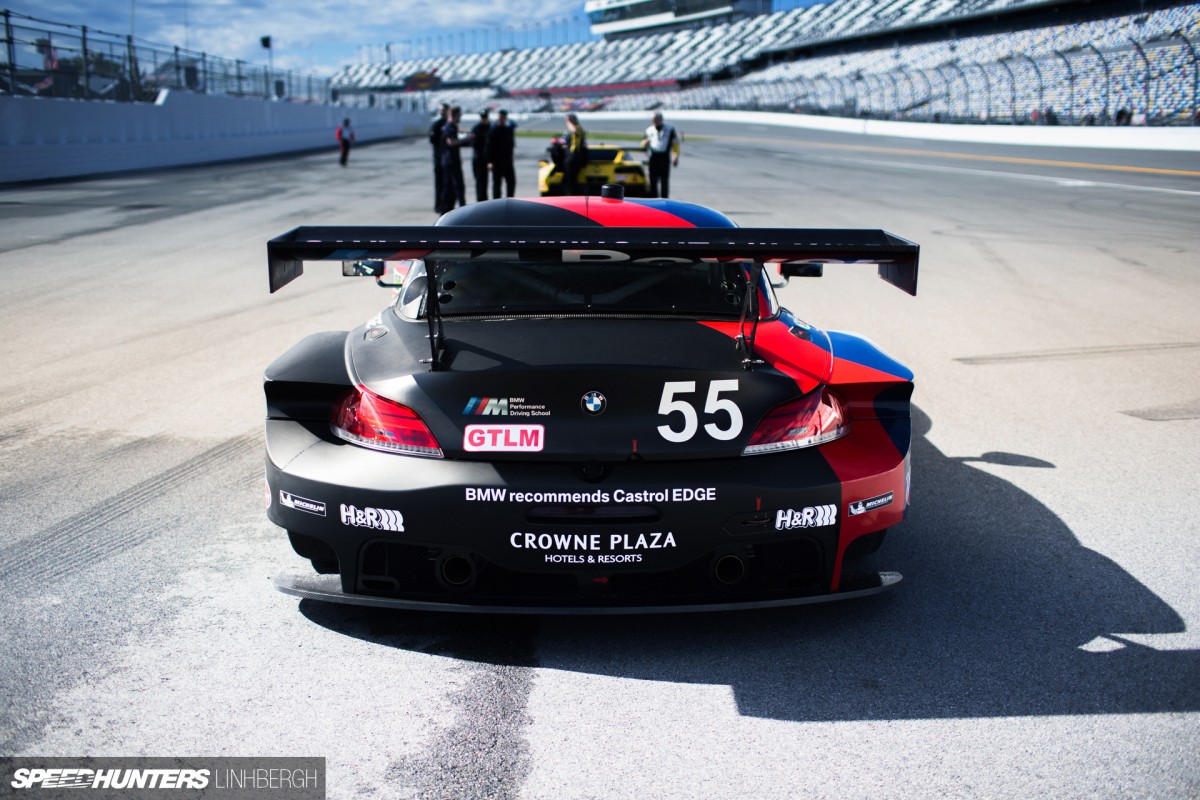 It's all well and good covering an event from a personal perspective but on a scale such as confronted me here, it made far more sense to focus in on one team's experience. So when I was invited by BMW and Rahal Letterman Lanigan Racing for the weekend, I knew I would have a great opportunity to see the inner workings of the racing team. At all levels of competitive motorsport, the struggle to stay on top is always the same: hard-fought-for and unpredictable in its path.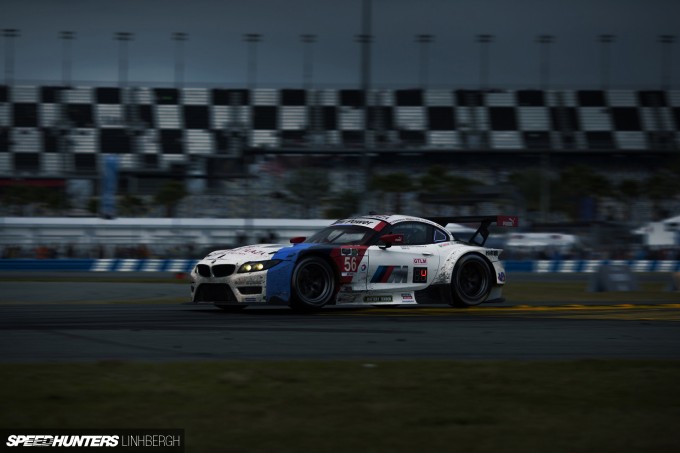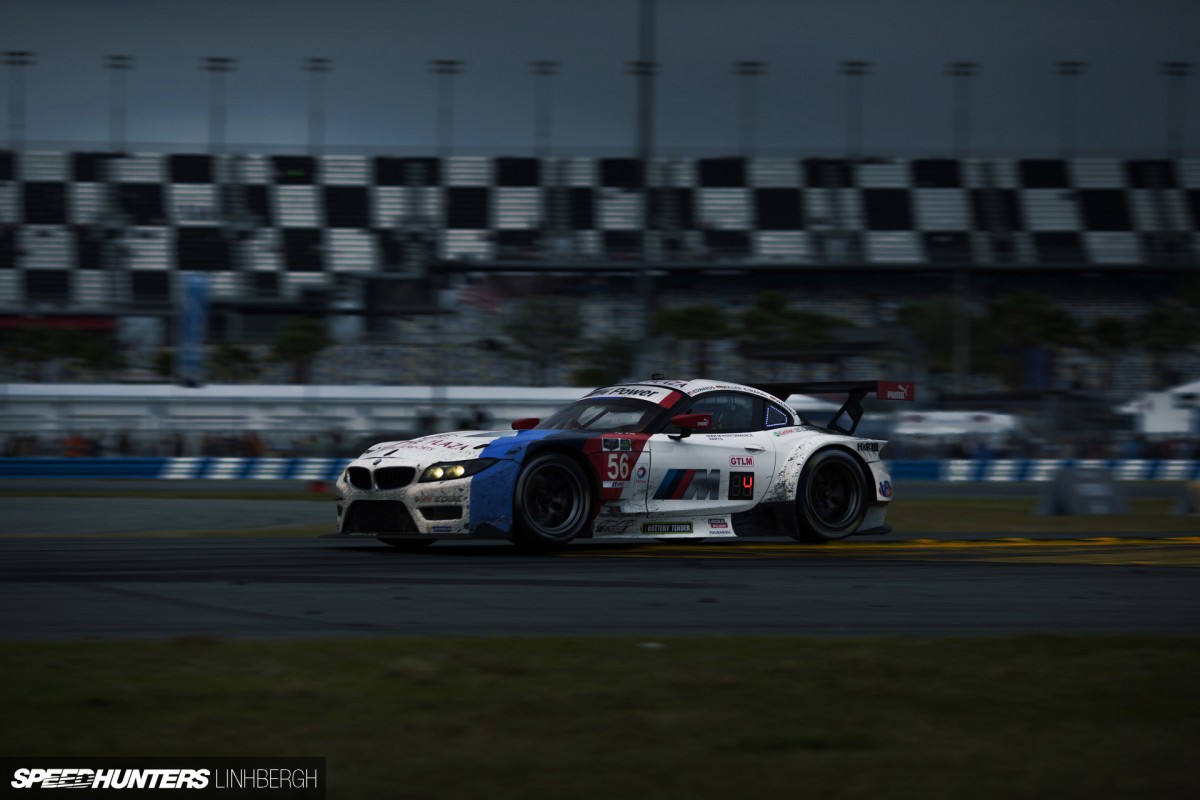 Of course their race cars and in fact the whole team were pristinely clean before the race, but what interested me was how beat up they would become as the race progressed and the hours ticked by. How everything must continue to function no matter what happens; the oily film of fatigue covering panels and crew suits mustn't slow anything down. Going into the race, BMW was the underdog as their rivals are in brand-new, faster cars like Chevrolet's Corvette C7.R and Porsche's 911 RSR. This just means smarter tactics though: remember the fable of the hare and tortoise? No? In short, winning is all about finishing.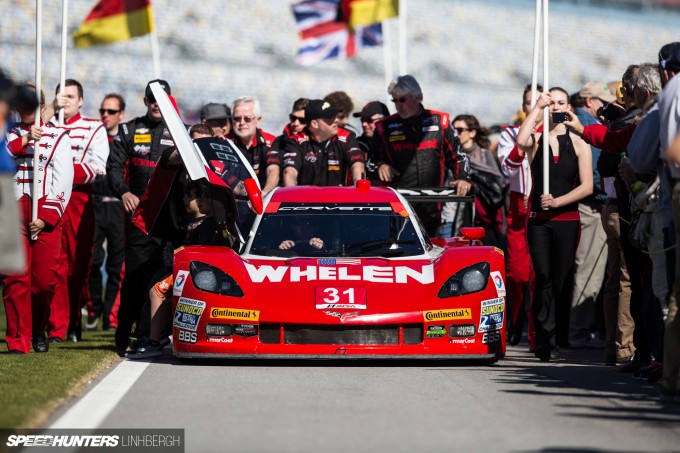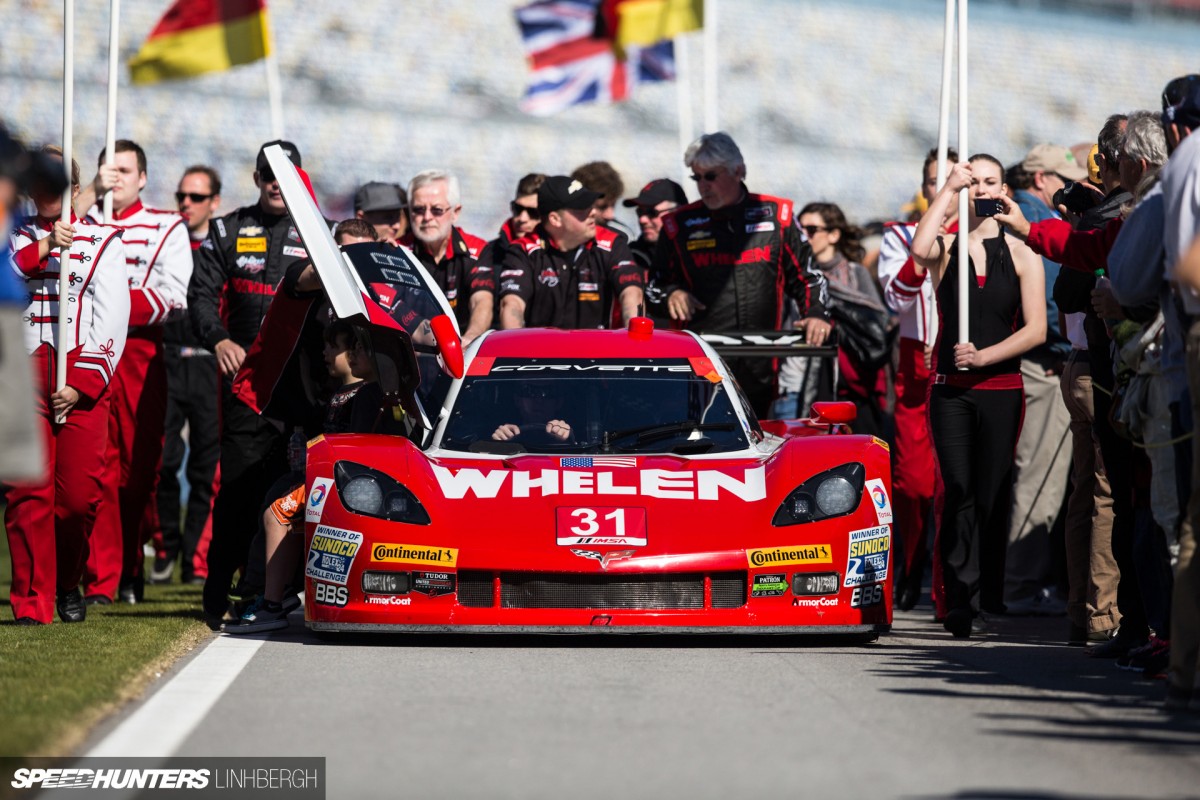 This race is also my first encounter with the Daytona Prototypes. I have to admit that I had never been a fan of them prior to now, but seeing them in the material definitely warmed me up. You want a purposeful race car?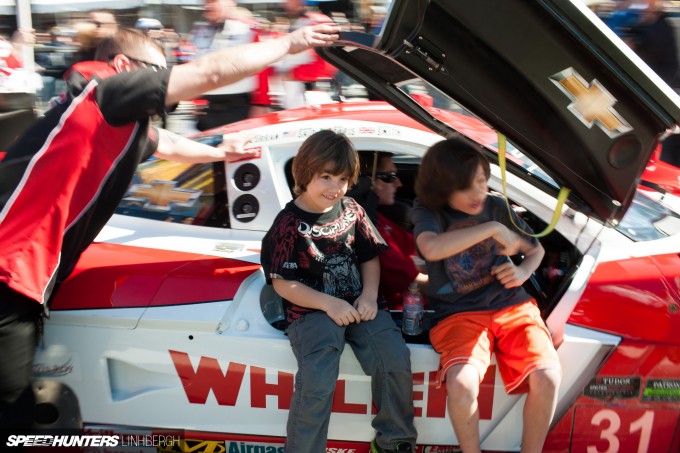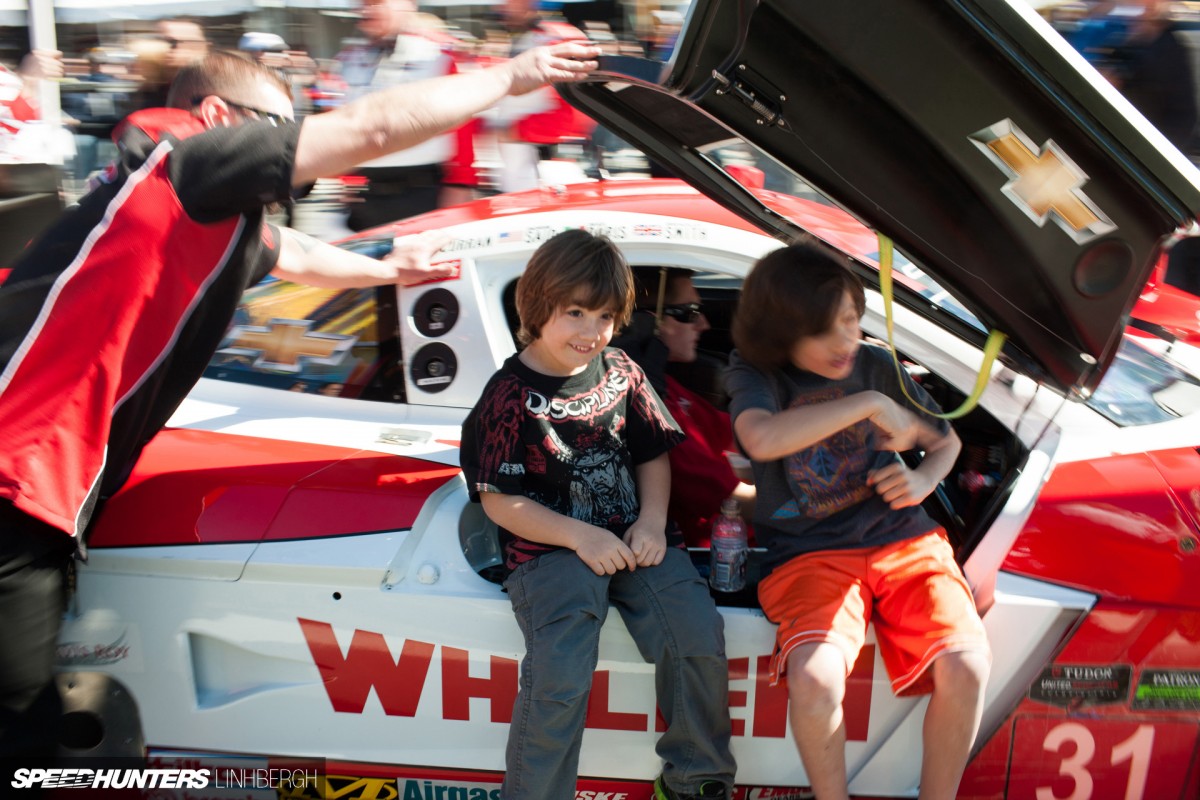 The #31 Whelen Corvette Daytona Prototype passed by during the pre-grid ceremony, and I saw these two kids with the biggest grins on their faces as they were riding on the car. They're going to remember this for a long time. Seeing them reminded me why we go racing: the smile is a powerful thing and the act of passing down our love of racing is one that we tend to forget. This is especially true when we become distracted debating power-to-weight ratios, engine compression, drag coefficients and engine management algorithms…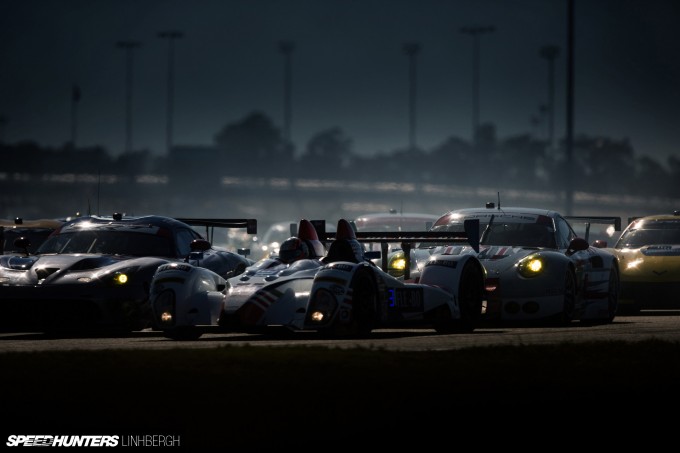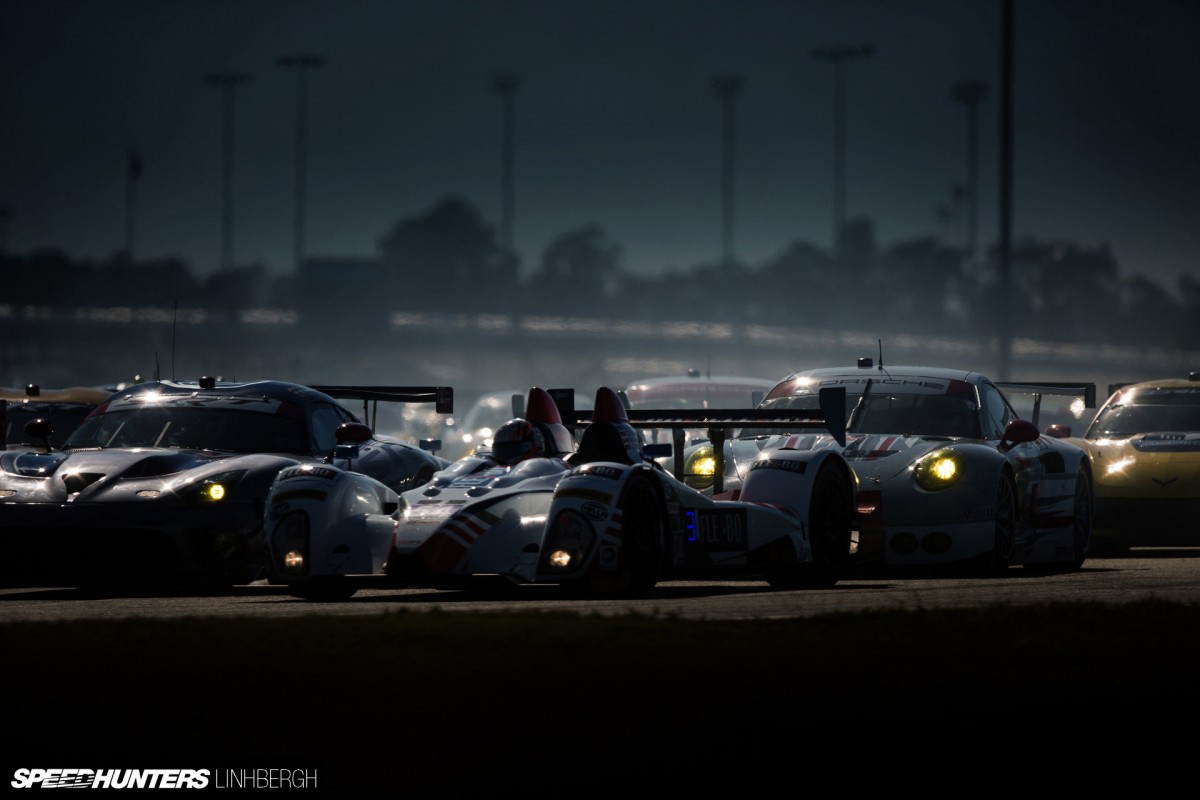 For all my pondering, the clock kept ticking and here I was, already hours into my schedule and staring down the barrel of an entire 24-hour race. The green flag was flying and the 52nd running of the 24 Hours of Daytona had officially started. It was exactly 2:10pm and although I knew there were 67 cars on the grid, it was easy to forget just how many there were until you see them packed up together going full race speed; traffic management is always the name of the game for these kind of marathon races. It's now that I started to think about what it must be like inside one of them.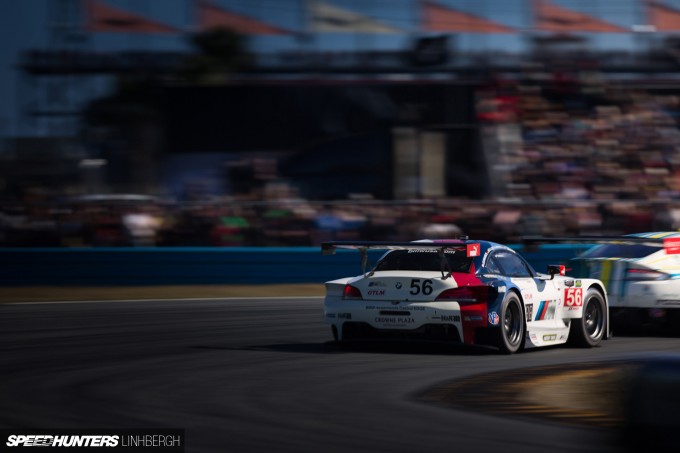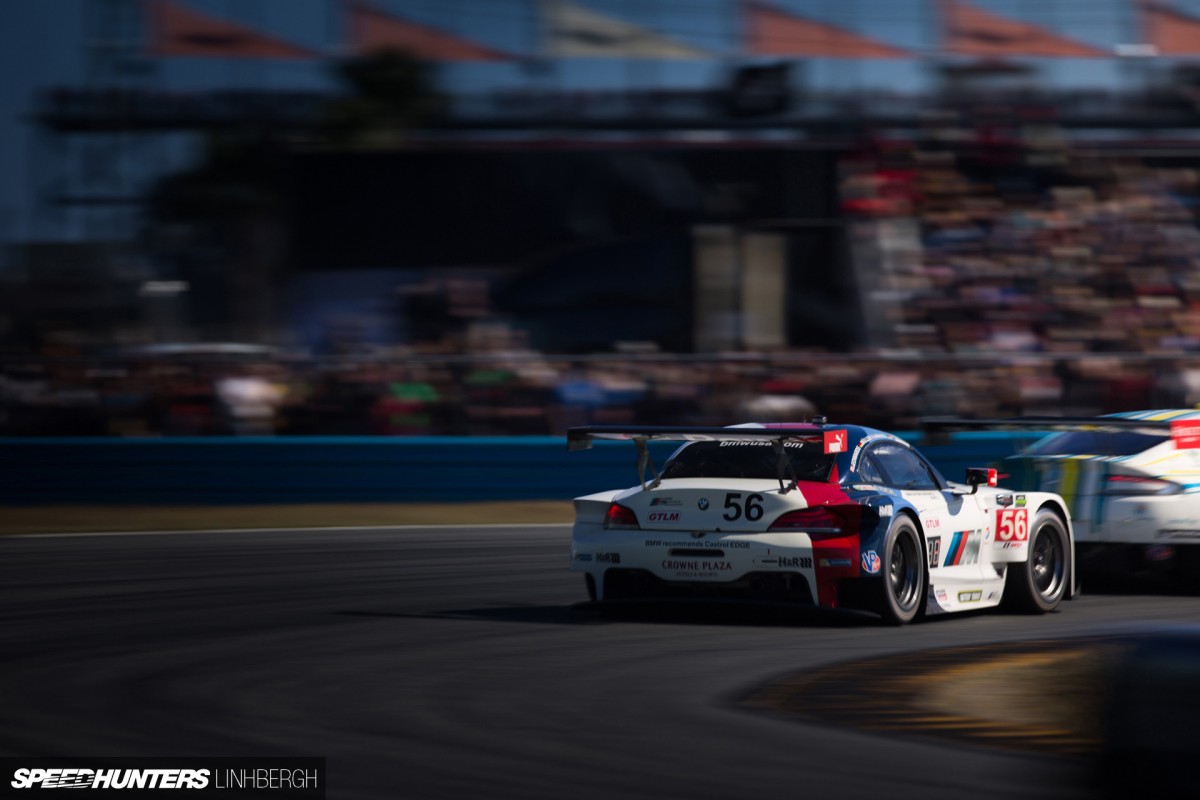 Immediately after the green flag, the #56 BMW Z4 made a clean getaway. The palpable relief I felt must be nothing compared to what the pensive pit crew must go through during these moments. Just one corner in, a massive effort can define the whole race.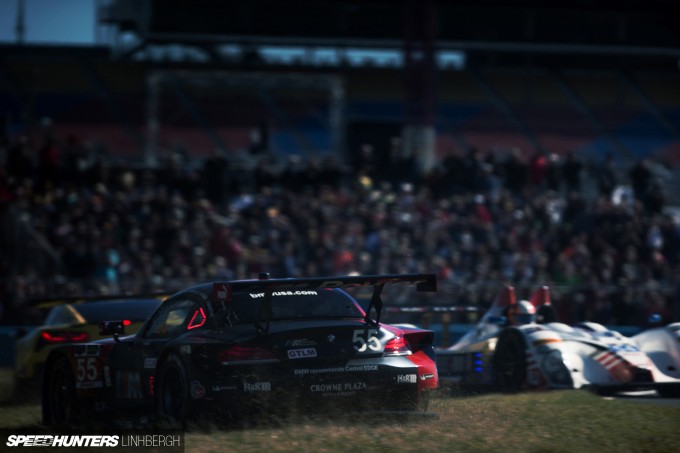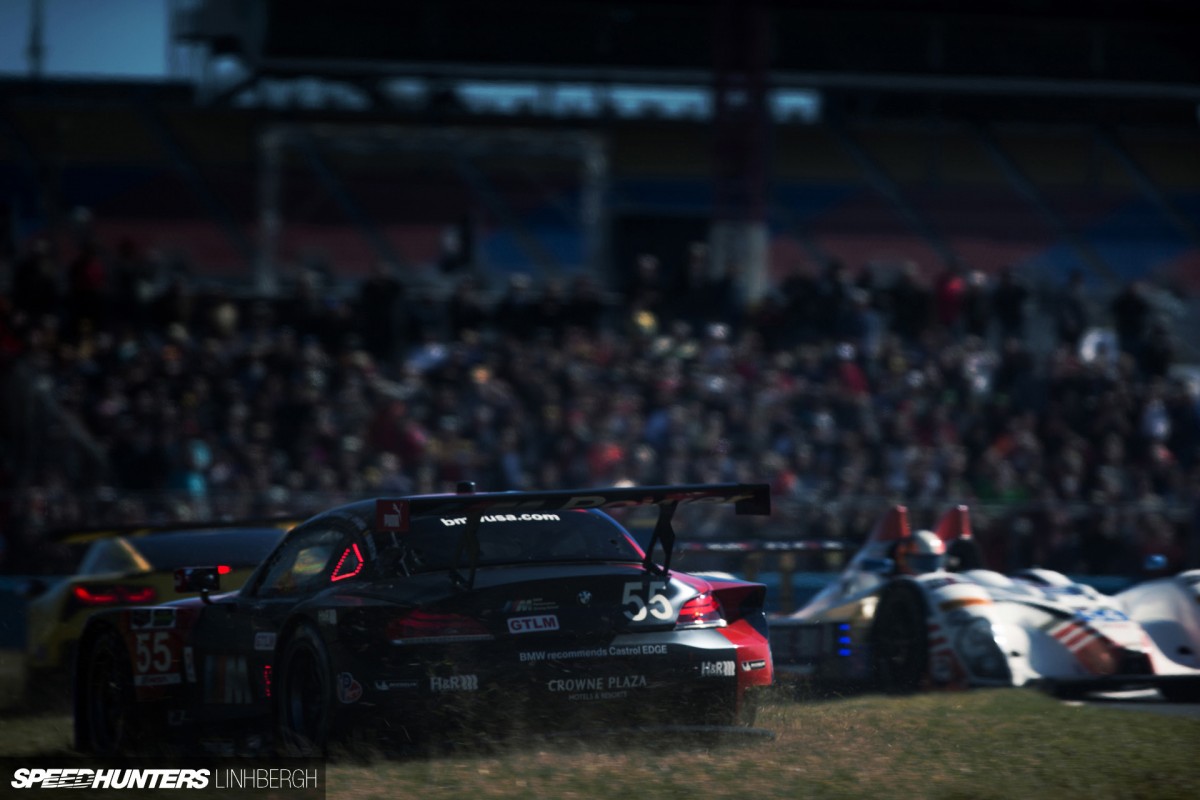 Of which I'm reminded very quickly, as behind, the #55 BMW was forced to dodge a spun-out Prototype Challenge car. Messy? Yes. Thrilling? Of course!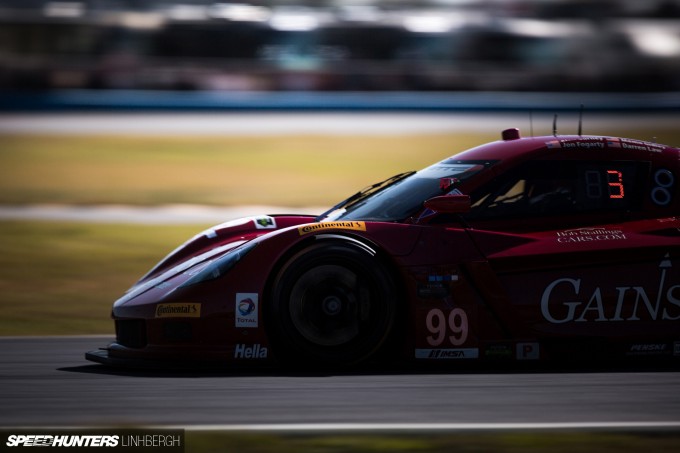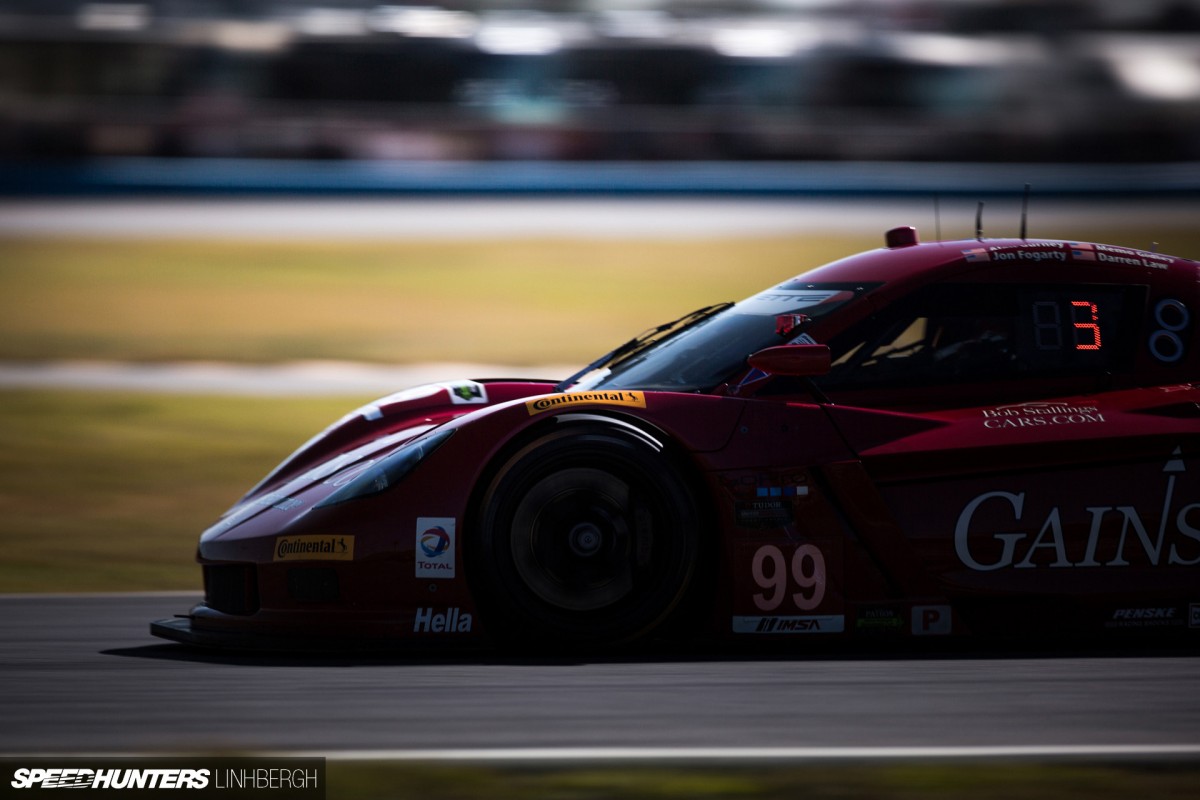 The rest of the field was filled with a good portion of really good-looking race cars and the new GTLM C7.R Corvette went straight to the top of my list. A few of the Daytona Prototypes also caught my eye. The #99 GAINSCO Corvette DP was one of them. Unfortunately the car got into a horrific two-car crash when it slammed into a stalled Ferrari 458 in the early hours of the race. The #99 driver, Memo Gidley, suffered a broken back and injuries to his left arm and left leg which required surgery. Thankfully he's now on the road to recovery and I hope to see him race again soon.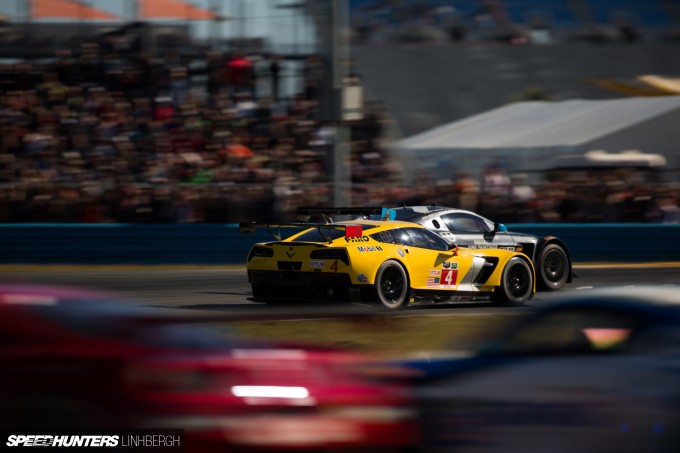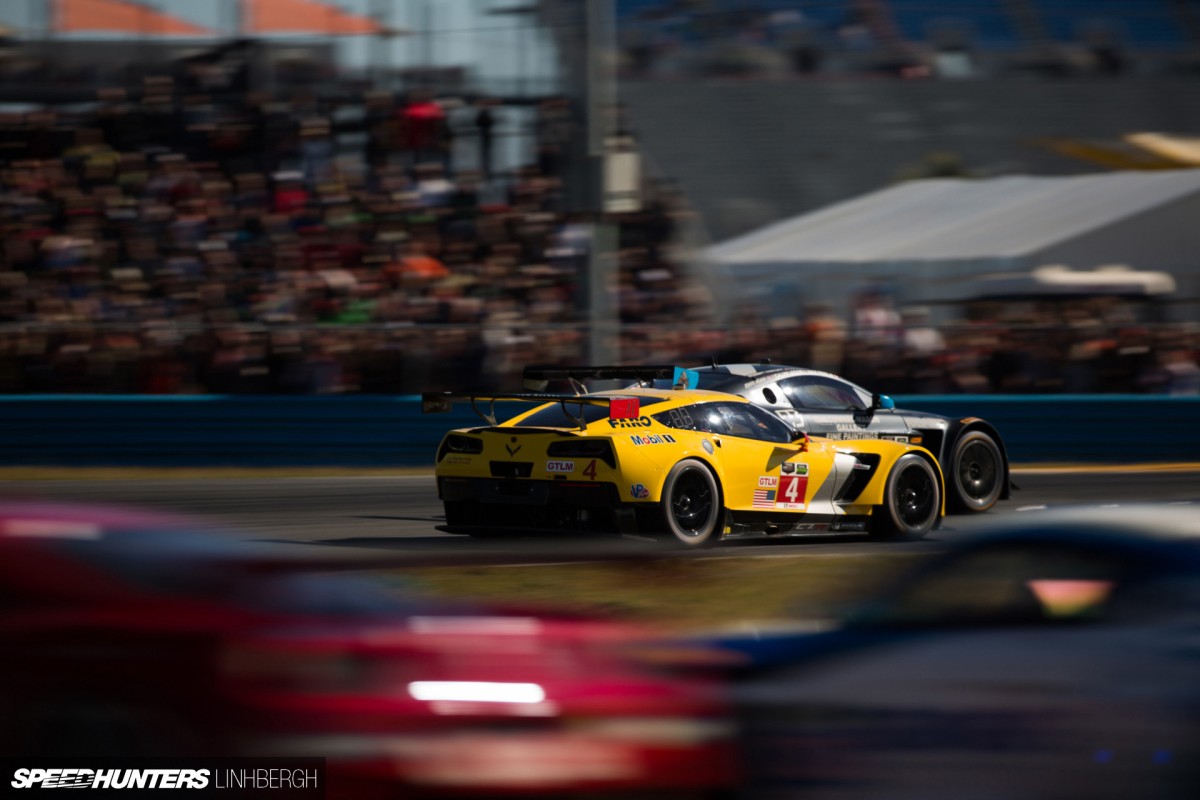 One of the great things about this race is that you know exactly which car was coming by without looking. It could be the high-strung yet elegant noise coming from the Porsches, or it could be the loud thunder from the C7.R Corvettes. Each was distinctly different and the visual treats compliment the aural when you turn around.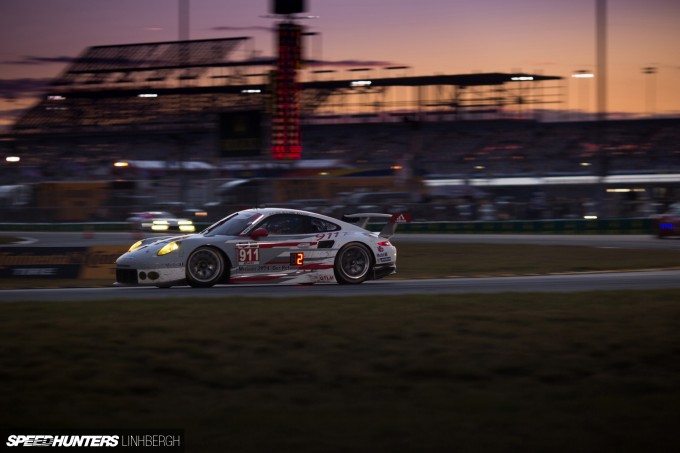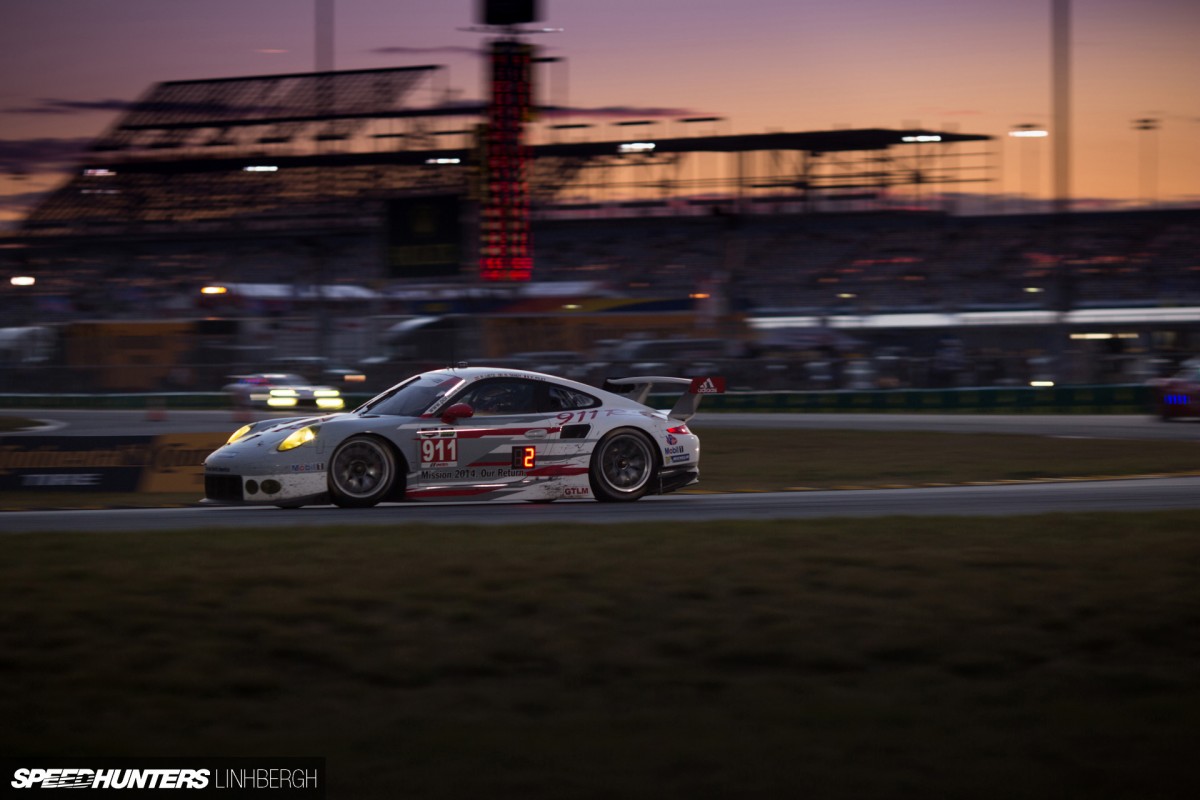 As the first few hours ticked by, I made my way around the track in a considered fashion. Already the sun had started to sink below the horizon, reminding me that this was no normal race experience. The first three hours were gone so quickly but by usual standards, that would be a long race on its own. Remember earlier how I said that 24 hours is a long time in normal life? Well, during a race like this, it goes by very quickly, yet intensely and now darkness would add a new element…
The night time is the right time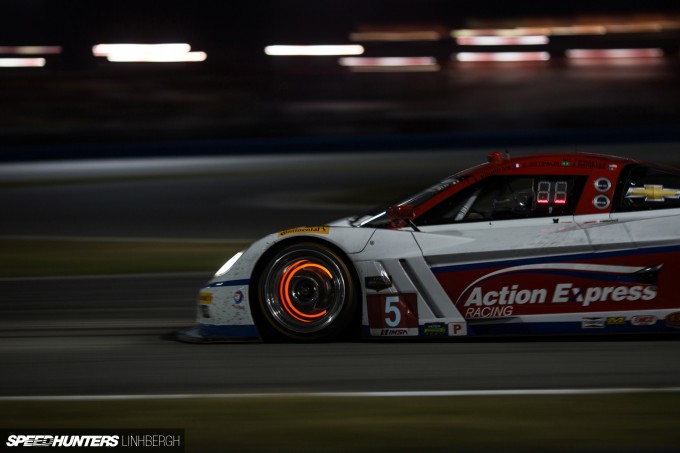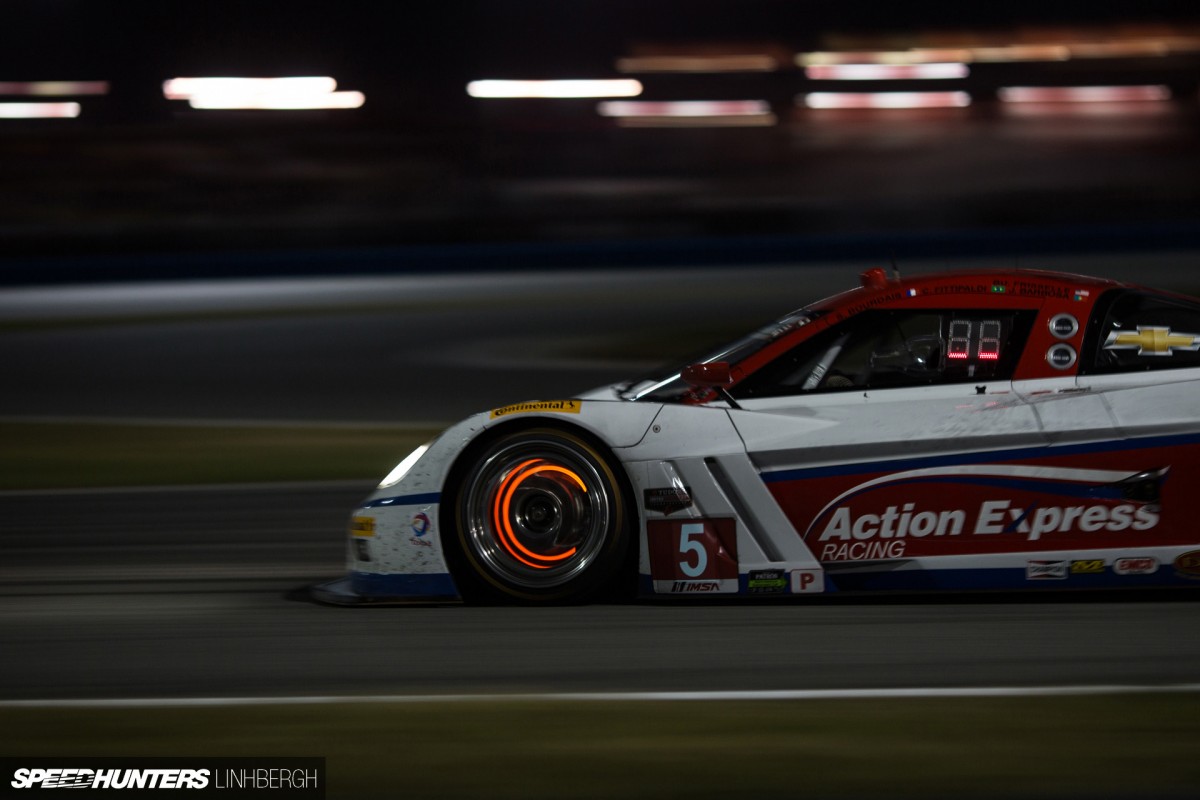 With the sun banished below the horizon and darkness spread across the speedway, I set my sights on the magic of glowing brake disks. There's an almost luxurious sense to being able to indulge in different aspects of photography; too often it's a case of rushing between points and corners to capture whatever you're presented with. I wonder if it's the same for the drivers? Can they relax and revel in their craft?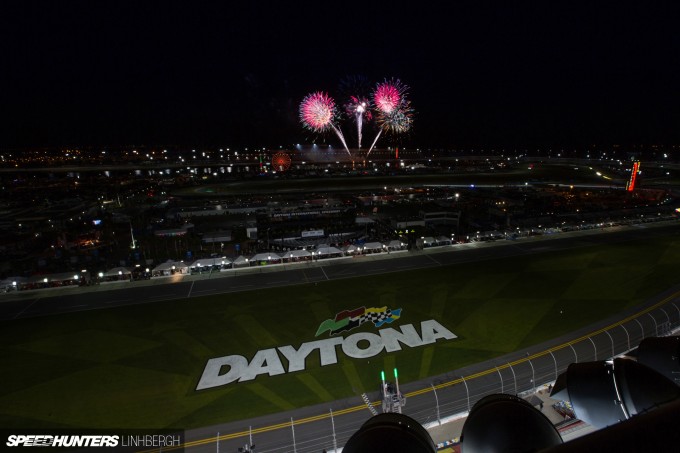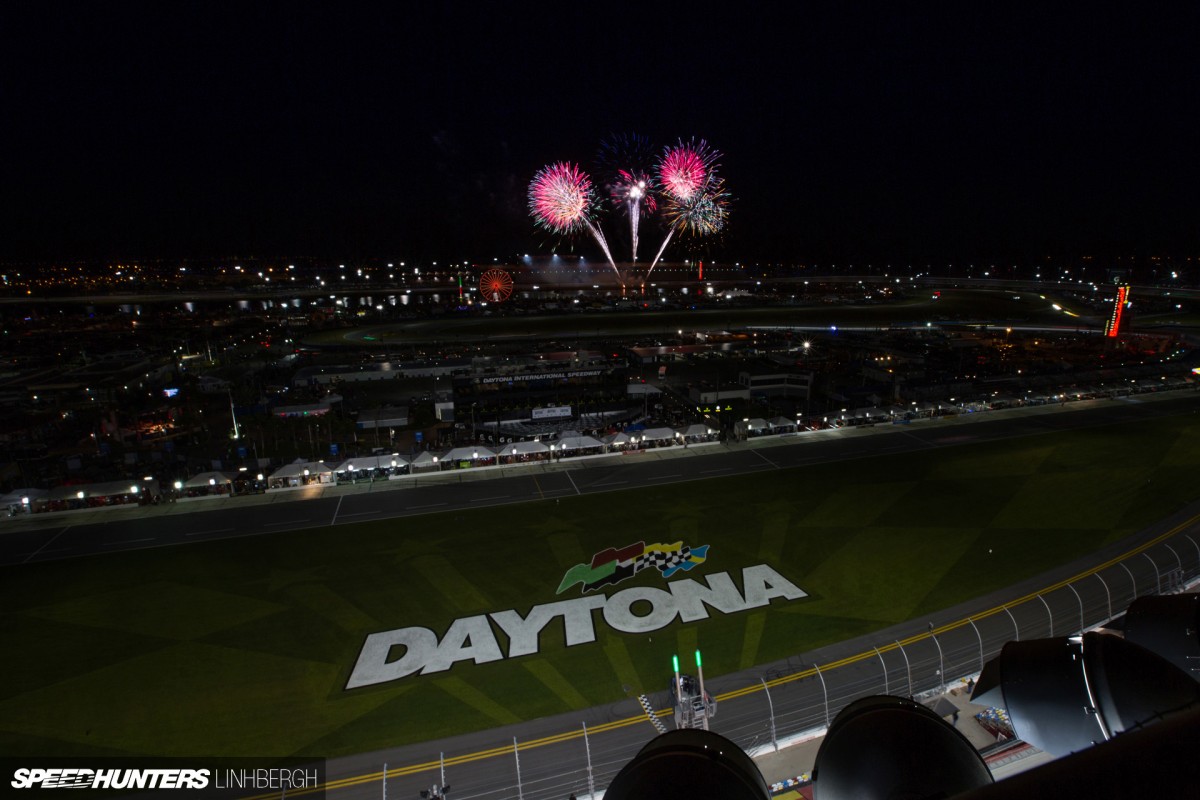 At 8:57pm exactly, fireworks exploded in the sky over Daytona. It wouldn't be a 24-hour race without an evening celebration! But the sense of party was abating and the stands were thinning out as I worked my way back down. It occured to me that maybe the drivers sense or even see some of the display and know they still have so far to go. The party is far from over for them.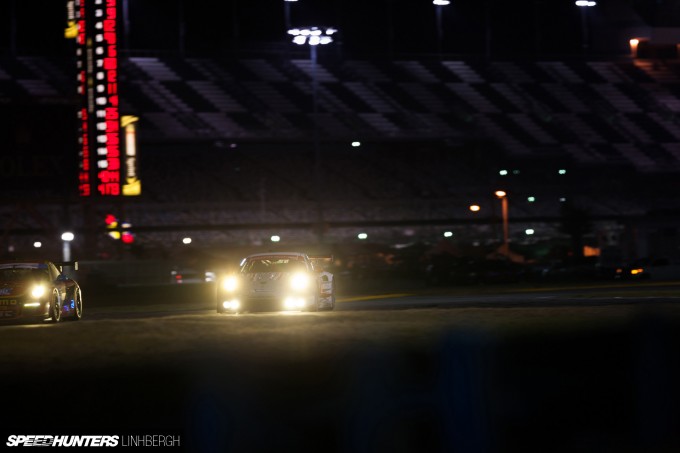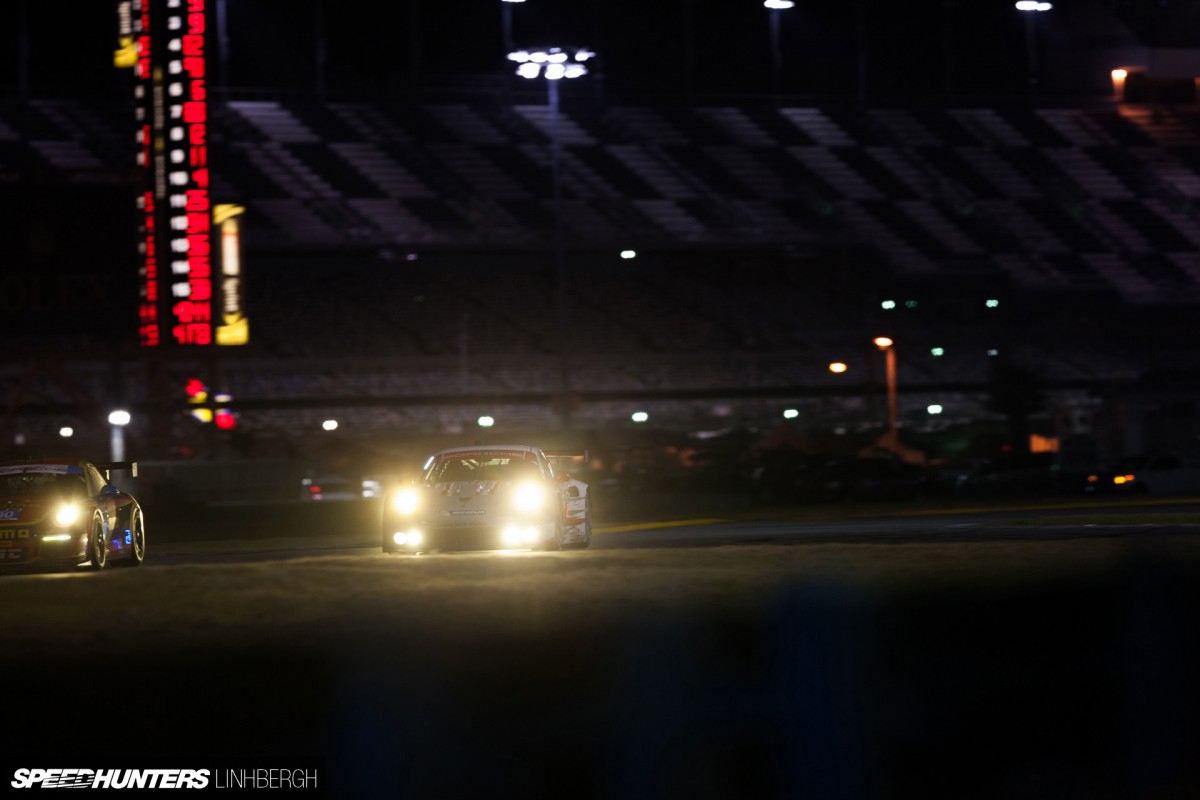 With the event taking part during the winter season, the race will take place mostly under the dark of the night. This didn't bother me but as we all started to descend deeper into the darkness, the temperatures started to dip and it got cold. Snowpocalypse be damned. 35 degrees Fahrenheit is cold for this Californian!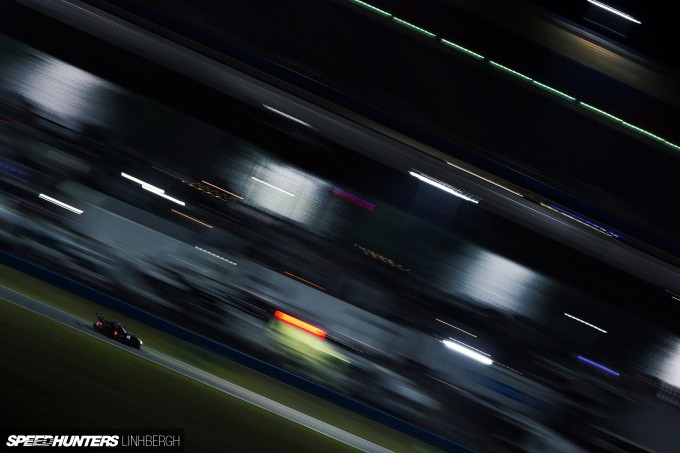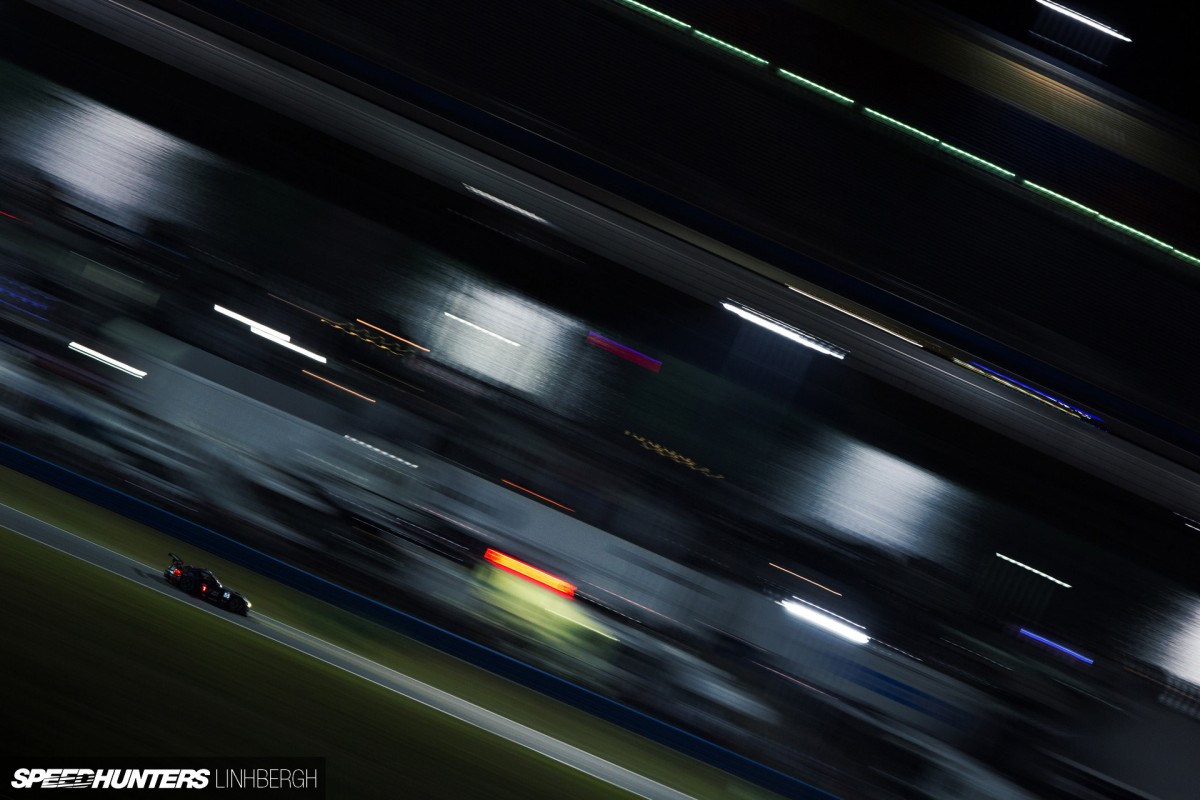 With the long night ahead of me, I took the time to practise a now rusty photography technique: extremely slow pans. The great thing about shooting a race at night is that you don't have to worry about what position the sun is in or when magic hour will be. It's just you, the endless night and your perseverance to try out new shots and new techniques. Didn't get it right the first time the cars passed by? Don't worry, the car will be back again in around a minute and a half.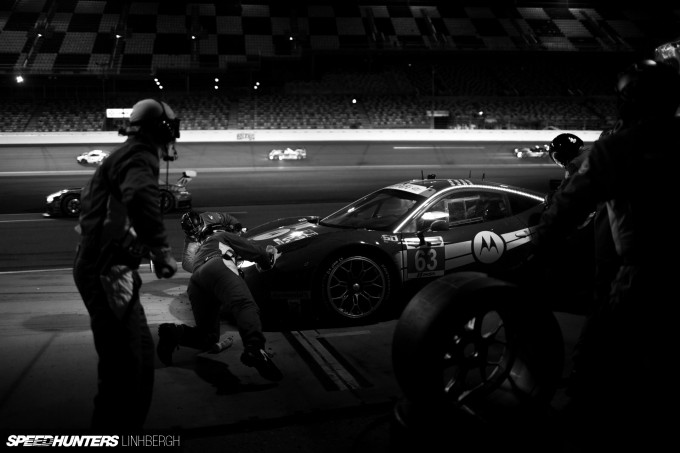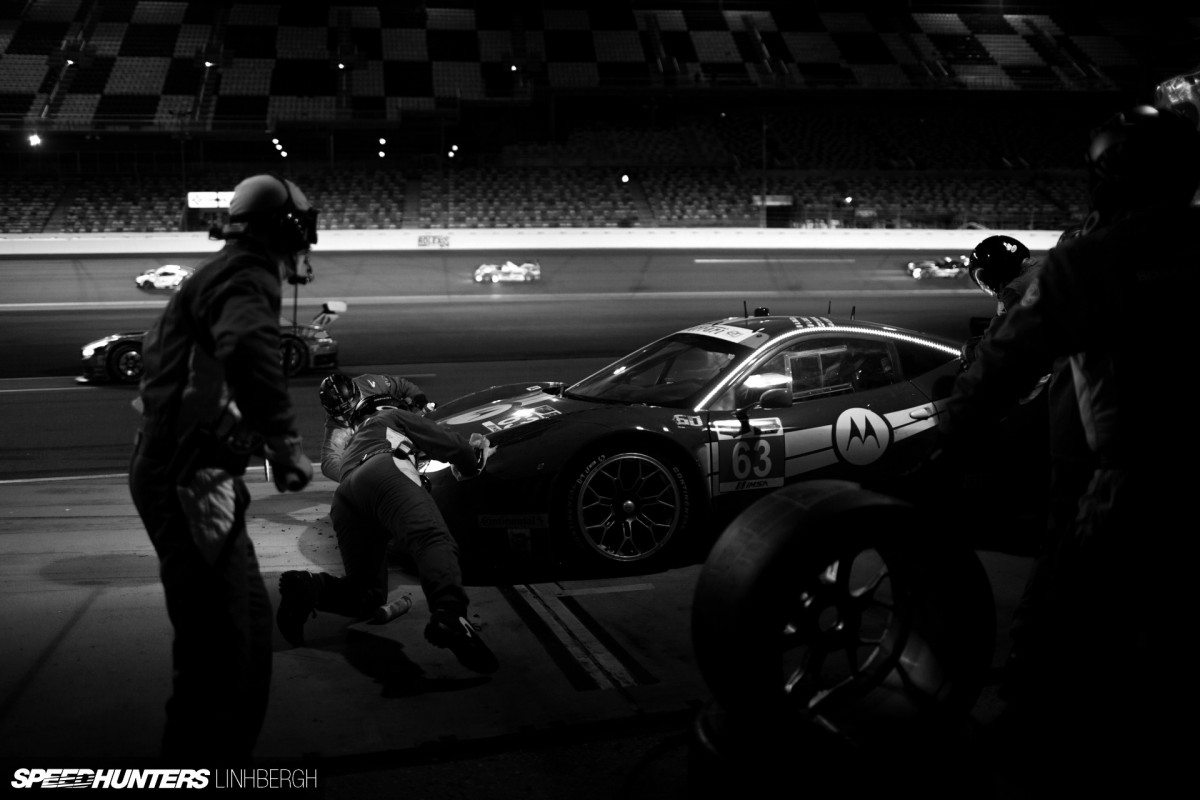 The one thing you do have to worry about is when to come into the pits to capture night-time stops. It's usually best to head to the pits when the safety car is out, as that's when you're pretty much guaranteed some action. The only thing is that you don't know which team or which car will pit, so it can be a gamble.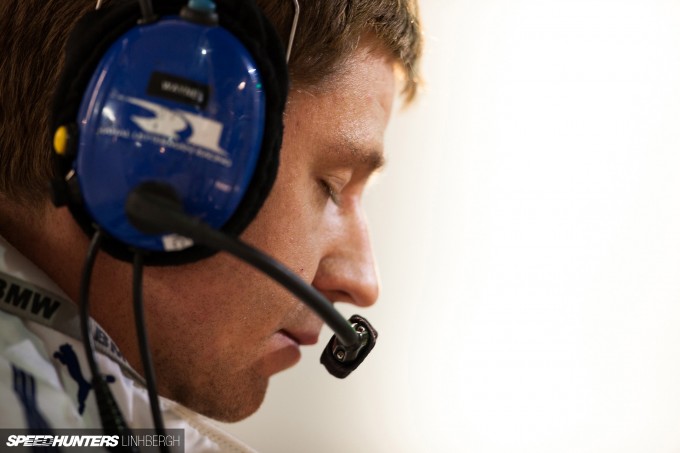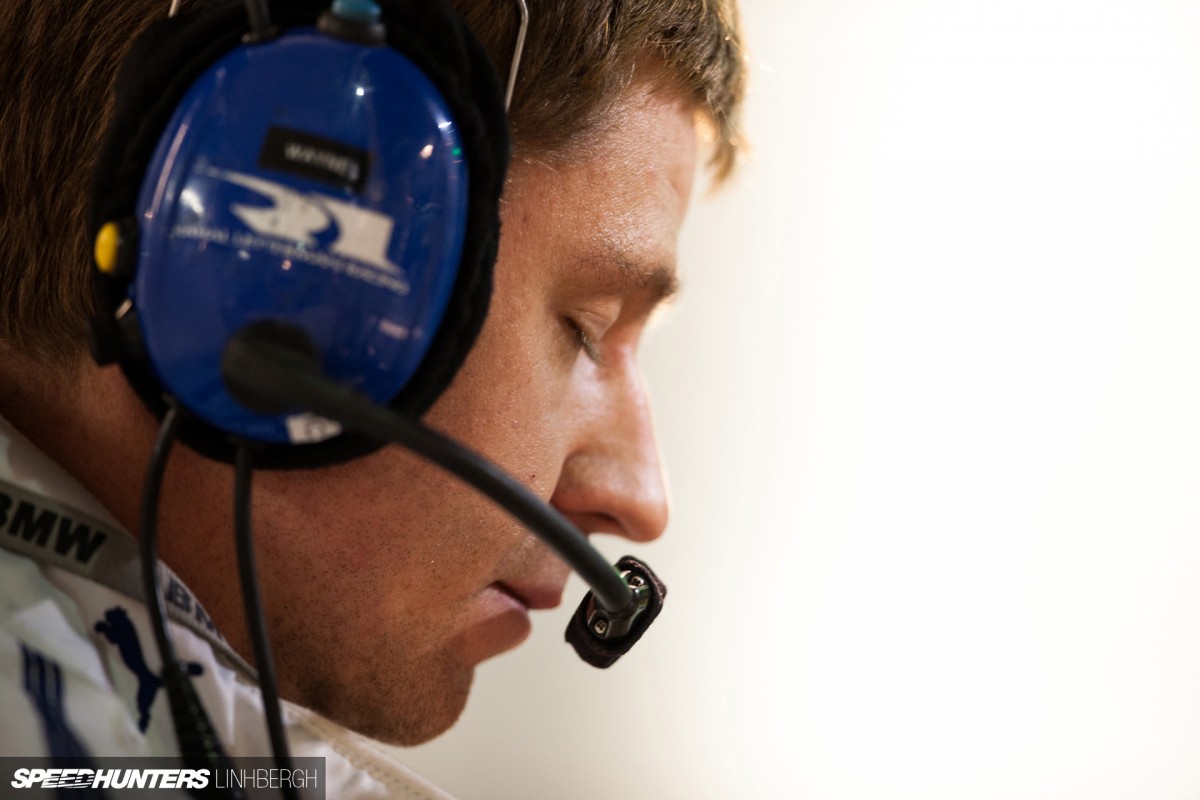 As the night stretched on, I took a few walks up and down the pits, witnessing team members starting to slow down, slipping in and out of of consciousness as tiredness settled in. Under normal race conditions this would be totally unacceptable, but this is different – it makes you realise that although we're all on our own personal journeys through this period of time, we also have to get through it together. A few seconds of shut-eye is better than nothing – even when you're standing up.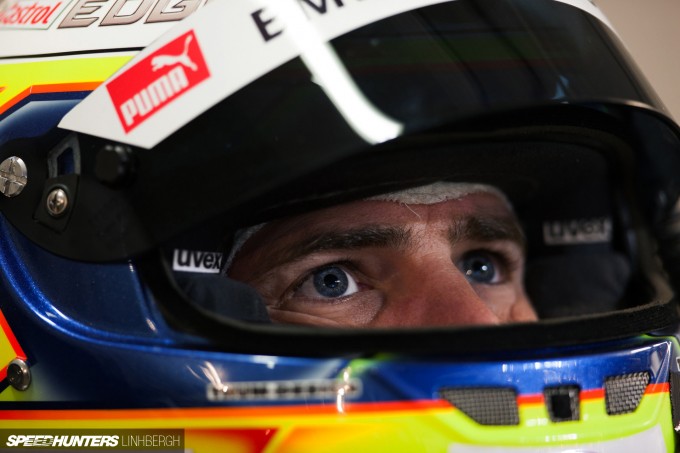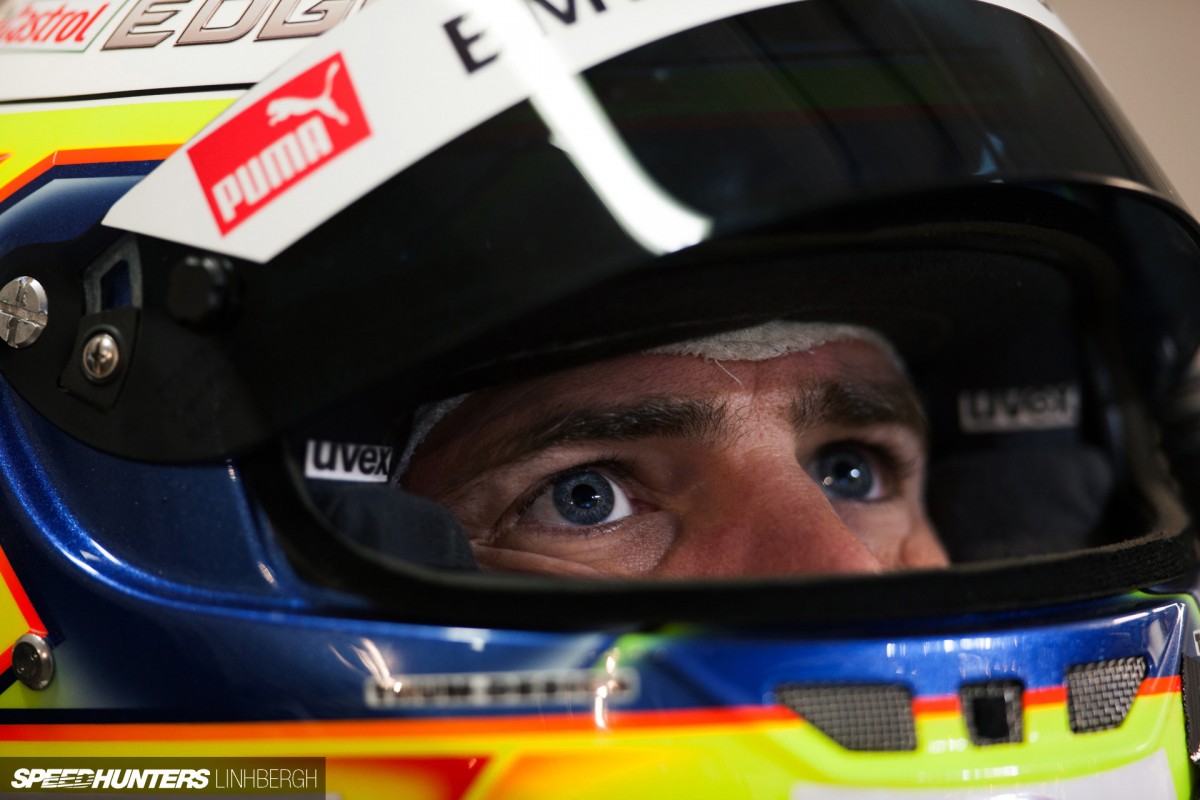 Though the one person in the pits that can't afford to be tired is a driver that's about to take the wheel. This is Graham Rahal, alert and awake as he waited for his #56 BMW Z4 to pit. Eyes pinned on the update board. His fireproof balaclava and helmet must be supremely comfortable and perfectly fitting, because in an instant there will be no time to make adjustments.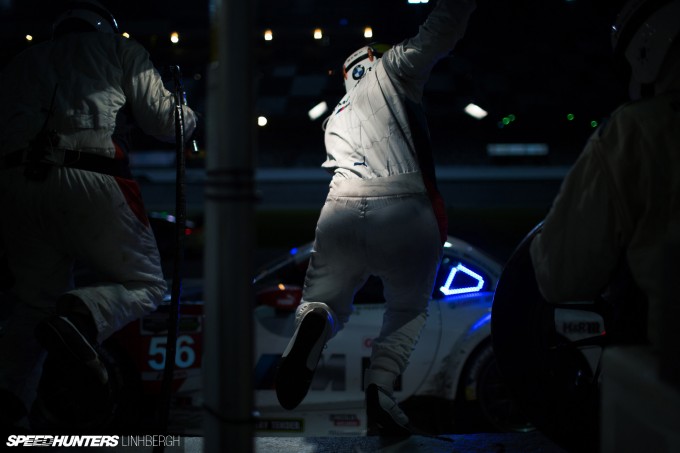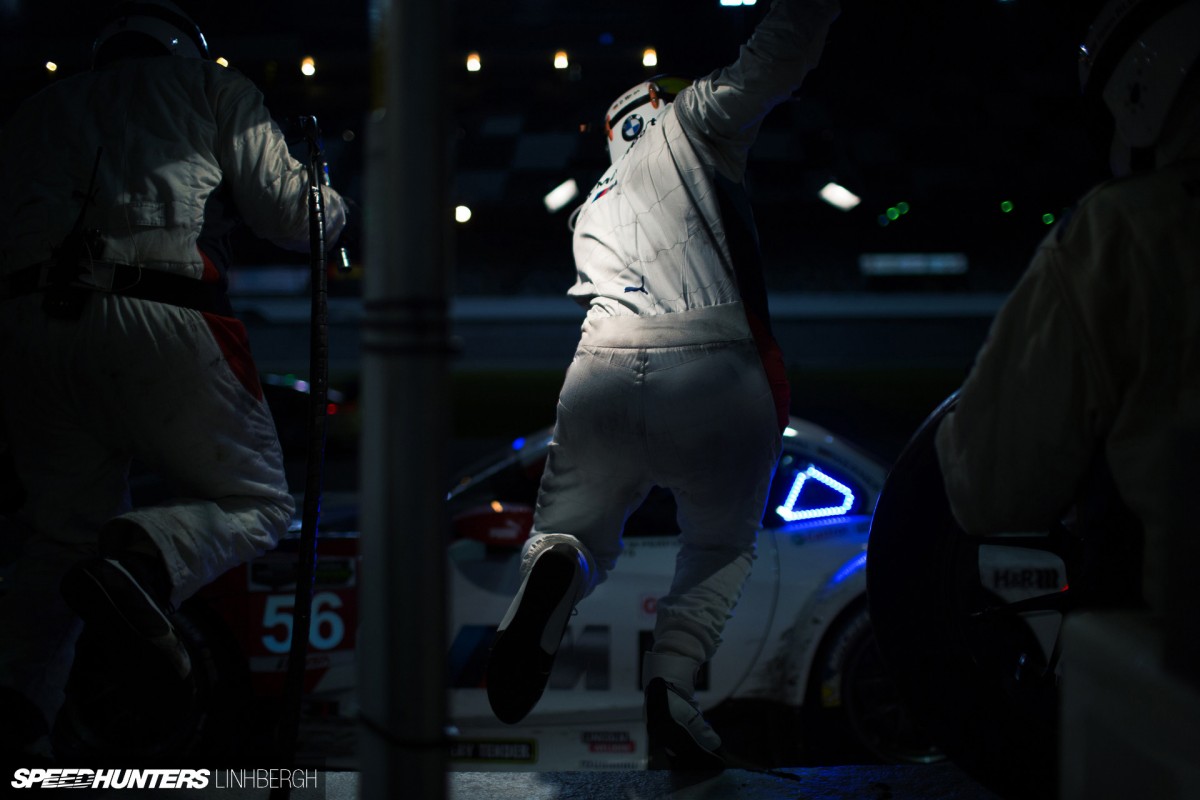 The second the car stopped in the pit, he sprung into action. Like boarding a plane before take off, this would be the last time his muscles moved in this way for a while. Time to settle in for business and focus the mind.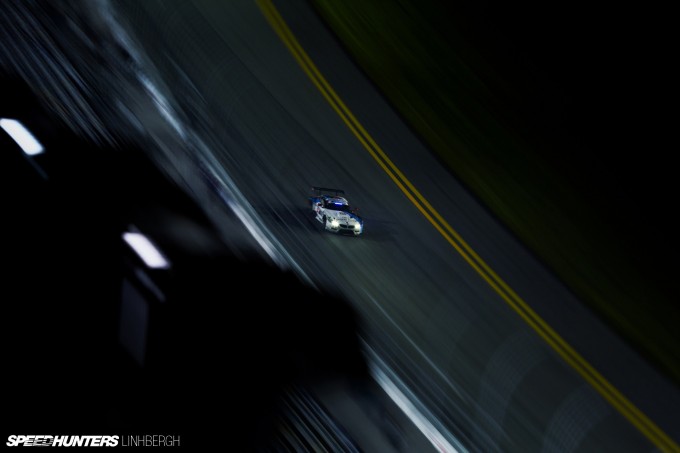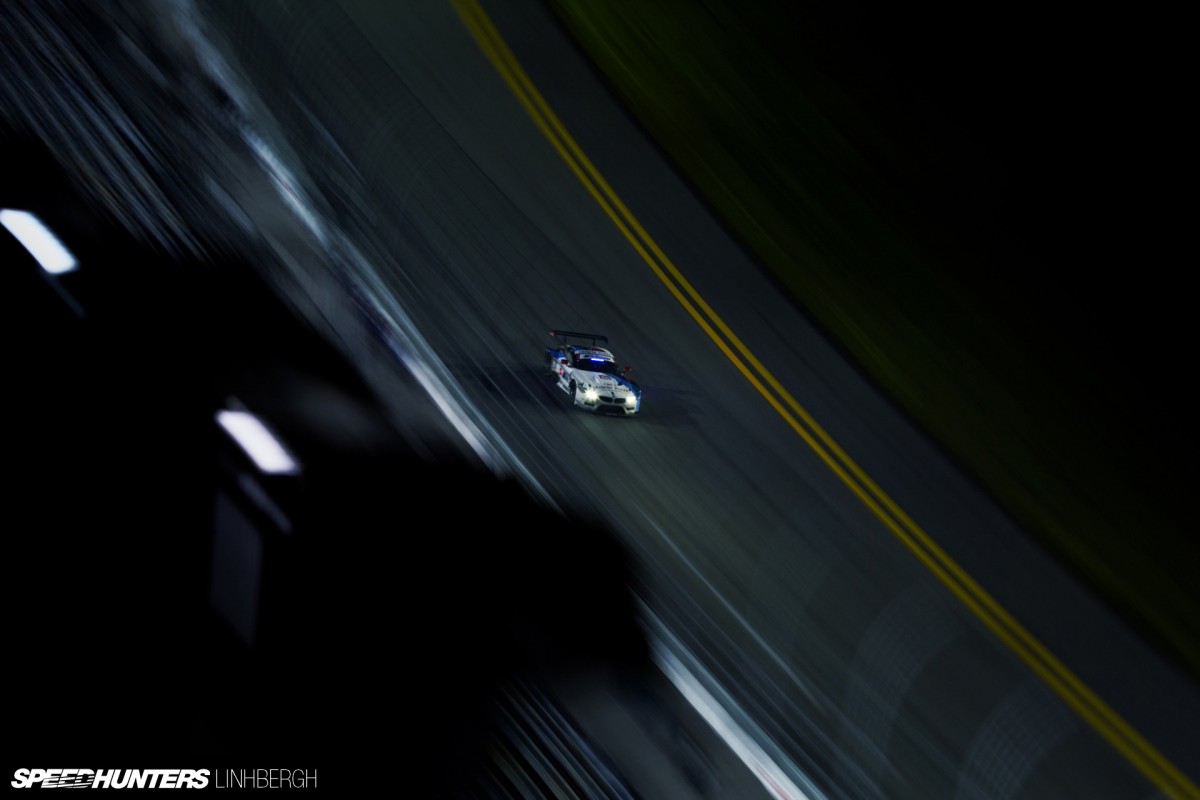 With the tanks replenished again, he was out on track and up on the fearsome Daytona banking. From rest to full speed in seconds, the transition from stationary to #MaximumAttack was relentless.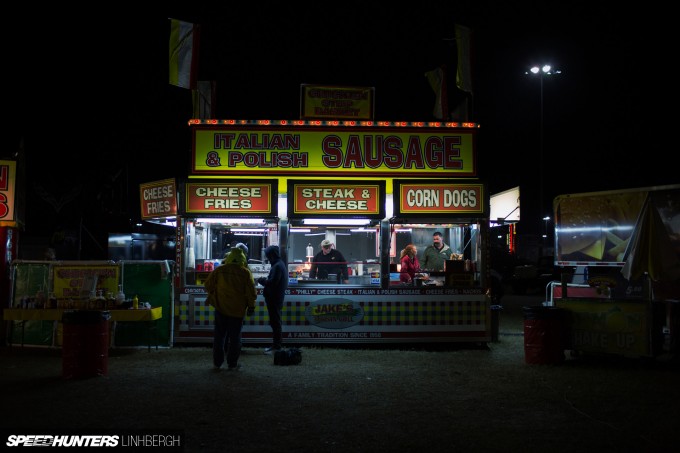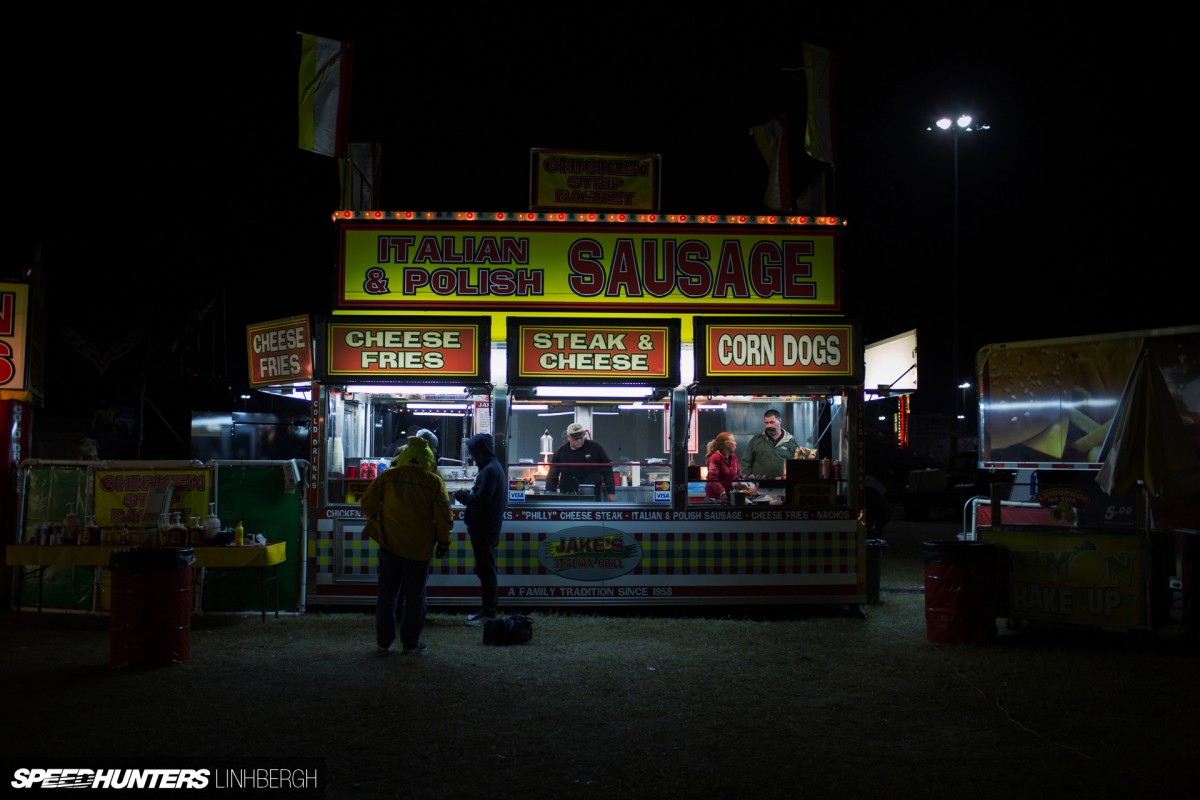 It's 3:04am and the food vendors are surprisingly still open. Remember what I said about greasy track food? Well this is track food at its most gourmet so I indulged myself with a Philly cheese steak, complete with melted nuclear-orange nacho cheese and a paper tray of chilli cheese fries. I'd like to say yum…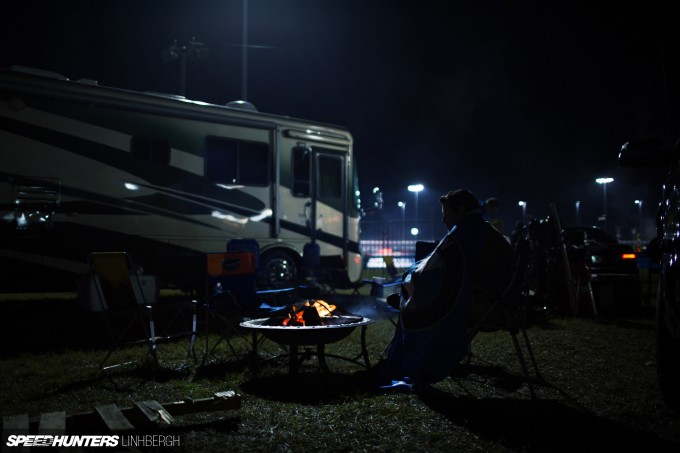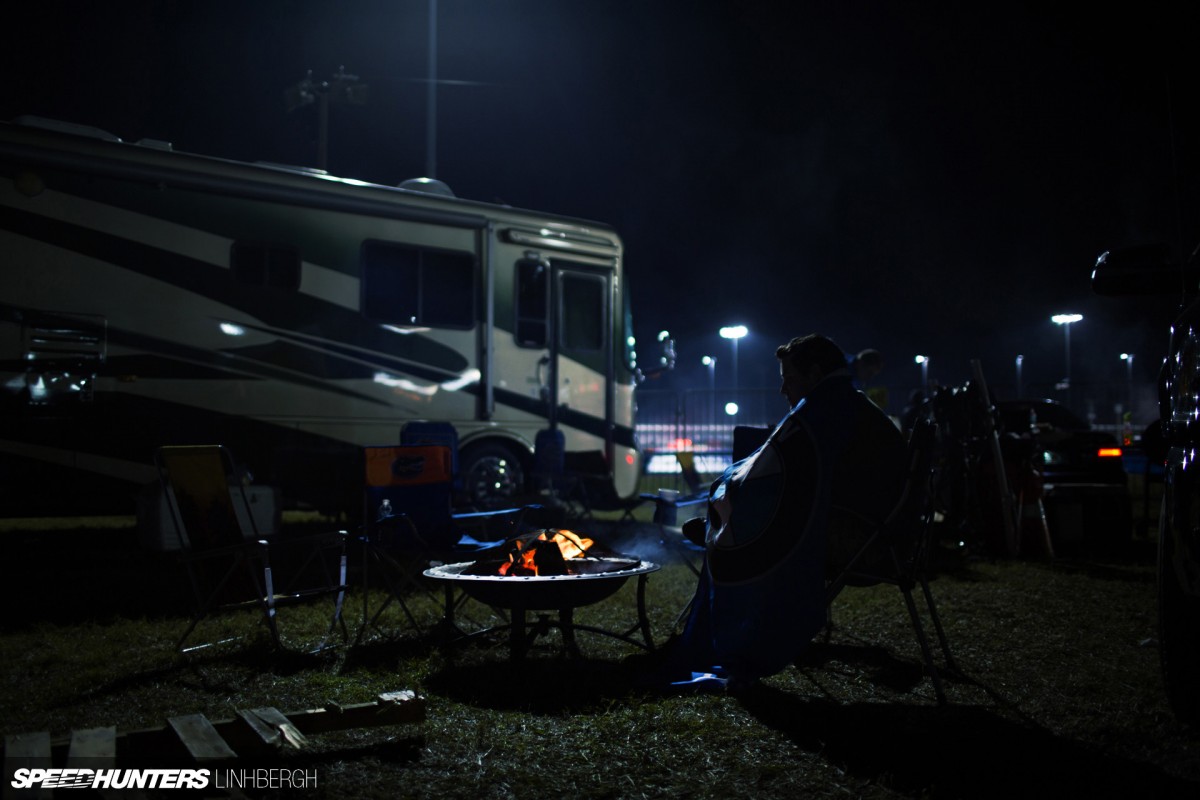 With greasy food in my belly to keep me warm, I decided to walk the speedway's camp grounds. Again I was surprised to see people still up at 4am! Whoever chose this camp site had it made. A roaring fire and a view of the lake with the gentle howl of passing race cars in the background. What a lullaby!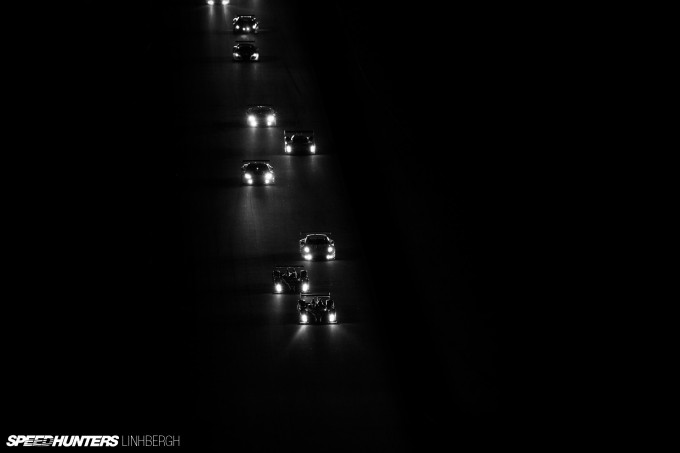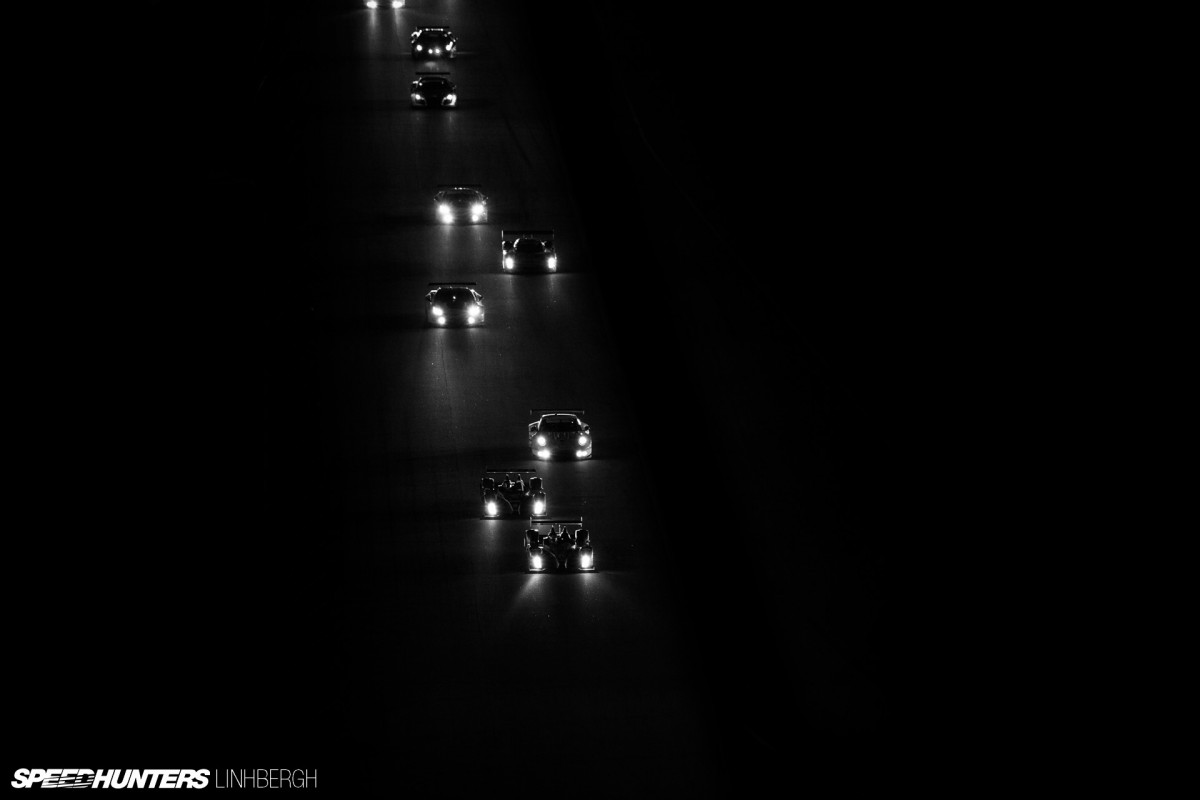 Given that there's still a race going on at 4:45am, the track is what you could call surprisingly still – and I was surprisingly still up and walking around. I could only deduce that my body needed more conscious time to digest the radioactive melty cheese I'd eaten a couple of hours ago; that stuff probably has a half life measured in years after all. I think I was probably pushing myself on as a kind of test too, just to see how hard this is.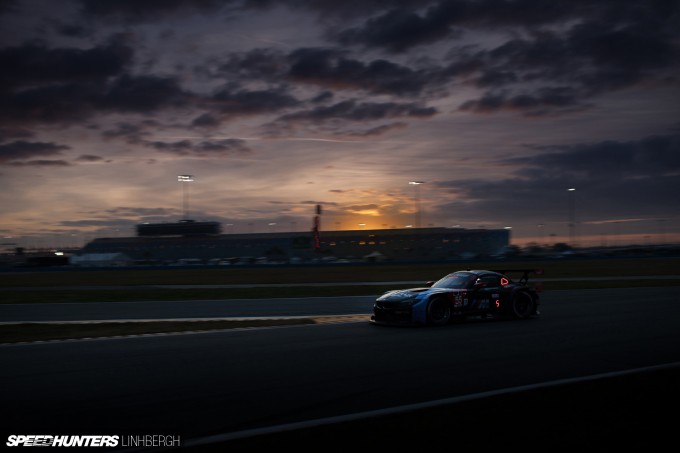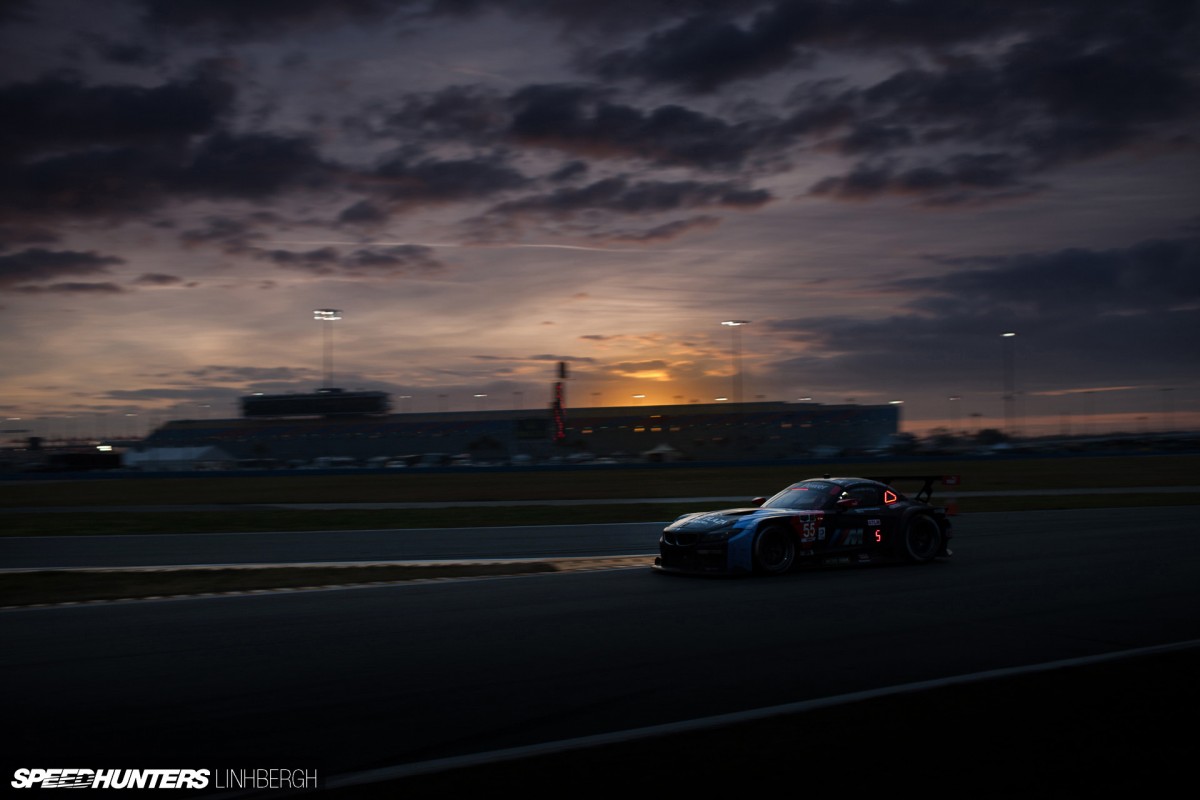 Then there it is! The sun! The sky starts turning from a deep black to a navy blue, to violet and then to a reddish orange. The glow of daylight was officially on its way back. As the #55 car arced past me, I was flashed back to that first corner drama and how far we've come in such a short time. The darker livery of the two cars hides the dirt better, but the duress the machinery is under is never far from my mind.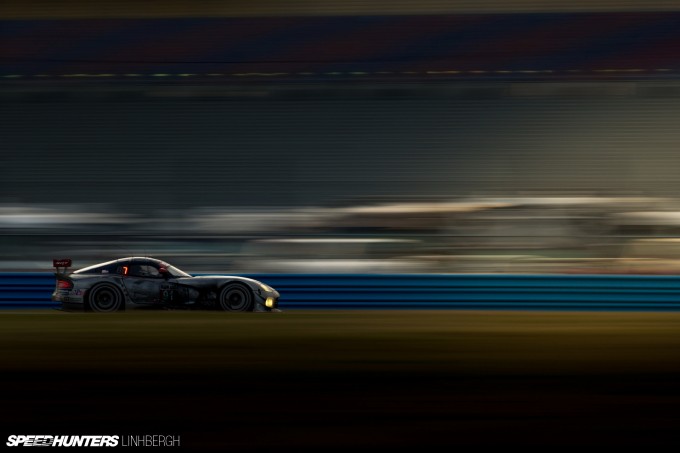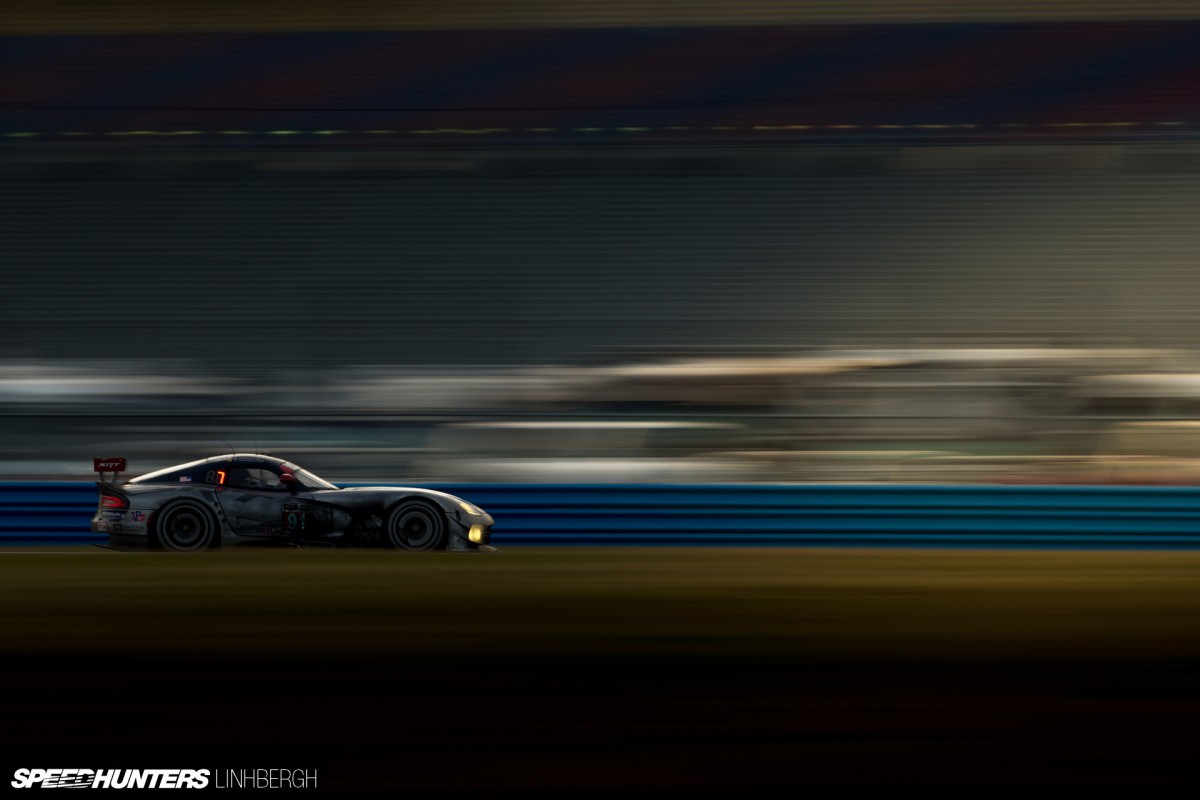 The night had felt endless. But with the sun breaking through the clouds and onto the Speedway, it brought with it a new sense of energy throughout the track. Realising I'm on my fourth (maybe fifth or sixth?) wind at this point, the sun helped me pull through even more. Now, during this early morning light I smiled, as you really couldn't get an ugly photo. It was roughly 8am now and I gave up; exhaustion had finally enveloped me and I crashed in the BMW motorhome.
Sleeping is cheating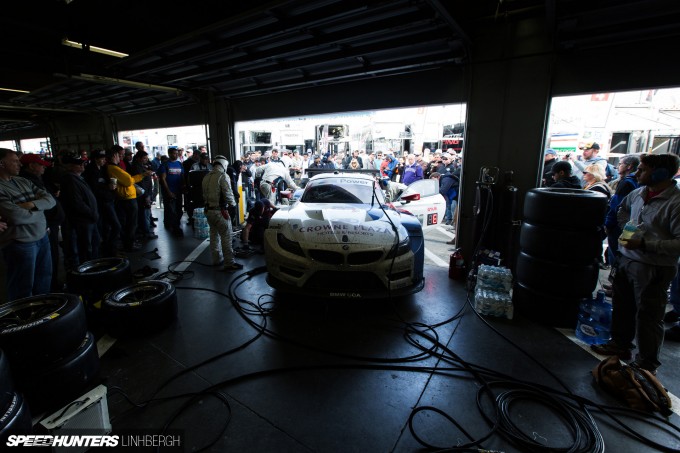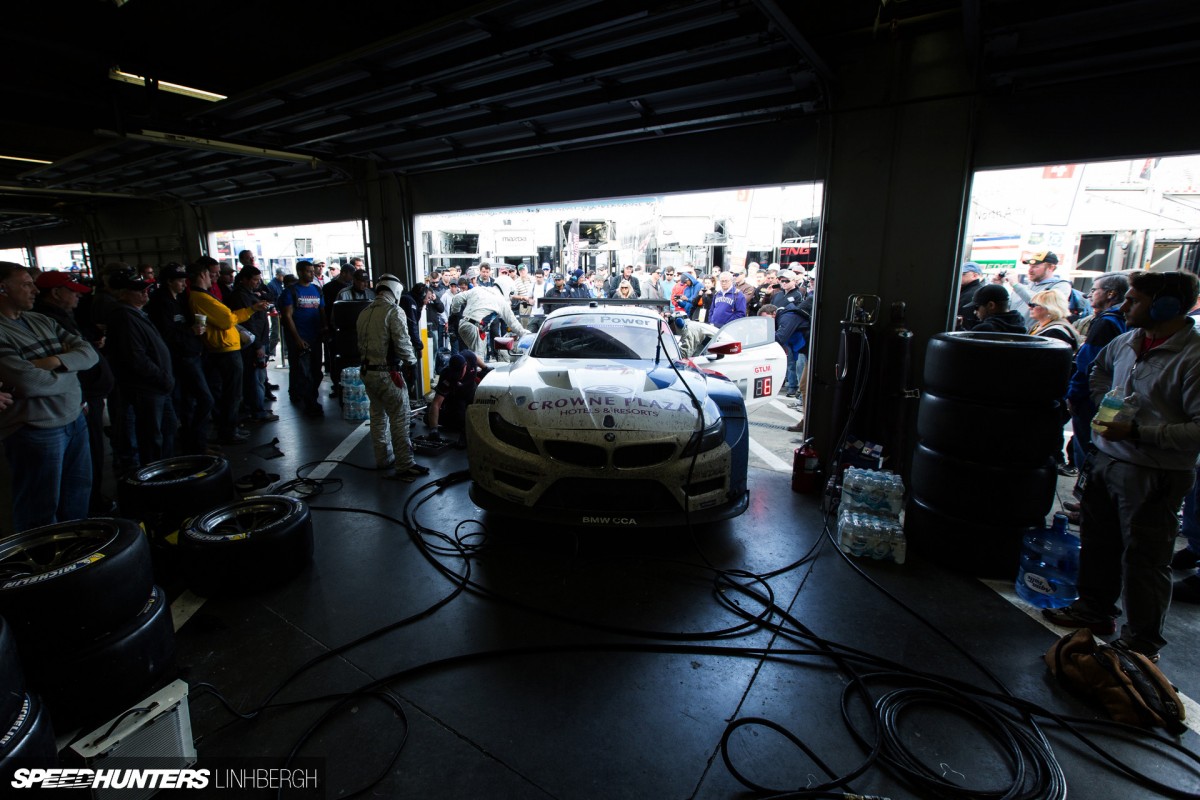 It's 9am and I was woken abruptly by one of the guys in the motorhome. The #56 Z4 had a problem and is being pulled into the pit garage. I quickly wiped the tiredness from my eyes, groggily gathered my gear and headed out to BMW's garages. Suddenly this was all a bit real; surely having made it this far means we can all make it to the end, right? This isn't one of those crappy films where the hero actually dies is it? Notice the crowds gathered around: each car has earned their respect now and regardless of affinity, the BMWs are very much a part of this race and the consciousness of each and every spectator, and now one of them is wounded.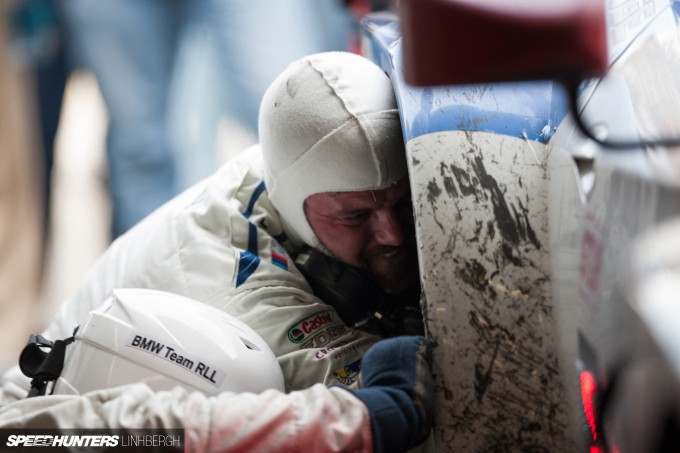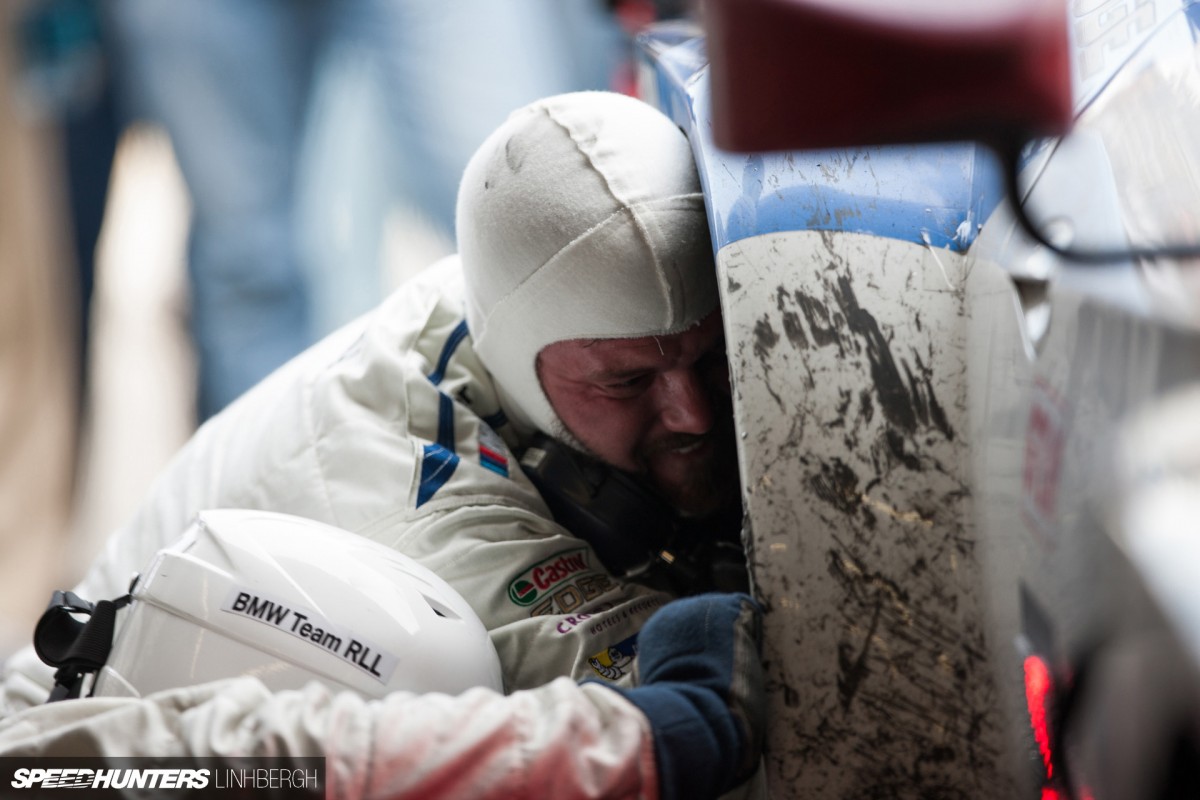 #56 has a broken wheel bearing which needs to be replaced; a small part that's absolutely vital to continuing needs a fast response from the entire team. Not only that but it's then got to get the go from the race marshals to get back out on track. Now the weary mechanics swing into action – this is a team effort and they're all in it.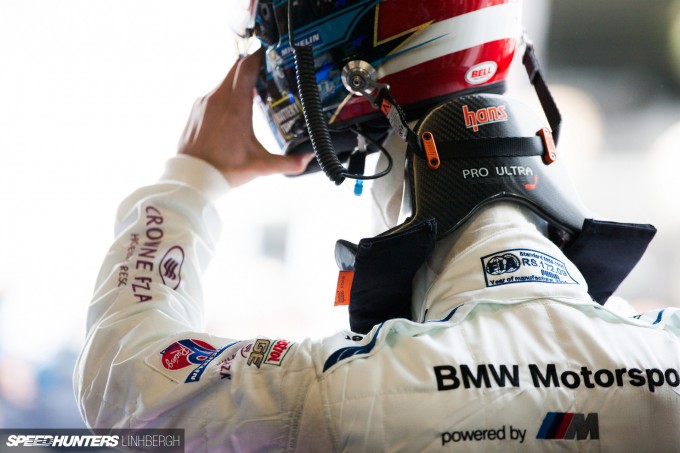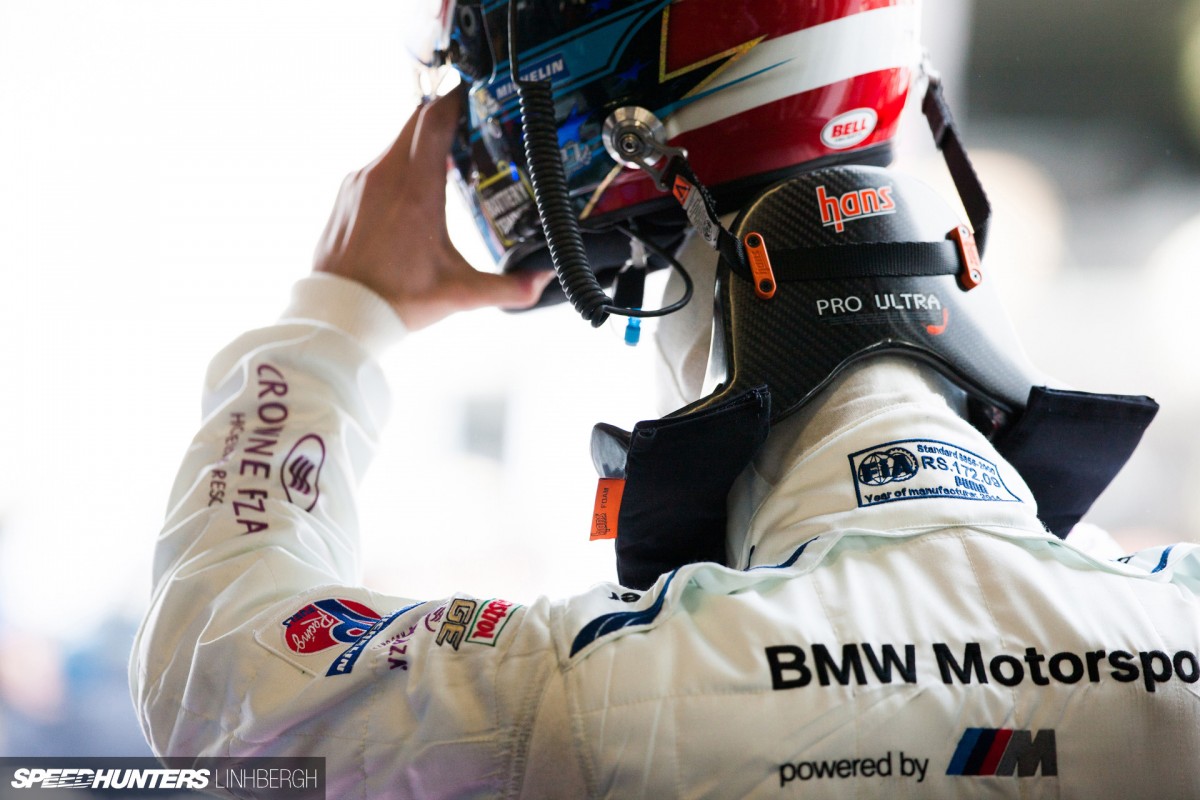 Graham Rahal got out of the car wanting to help his crew, but ended up just pacing back and forth. I sympathized with him as there are moments during some of my photo shoots where I can do nothing but sit back and wait for certain things to be done. Not having the power to do something is a frustrating feeling, so he leaves his crew to get on with their work and gets back into the car, confident they'll be back under way soon.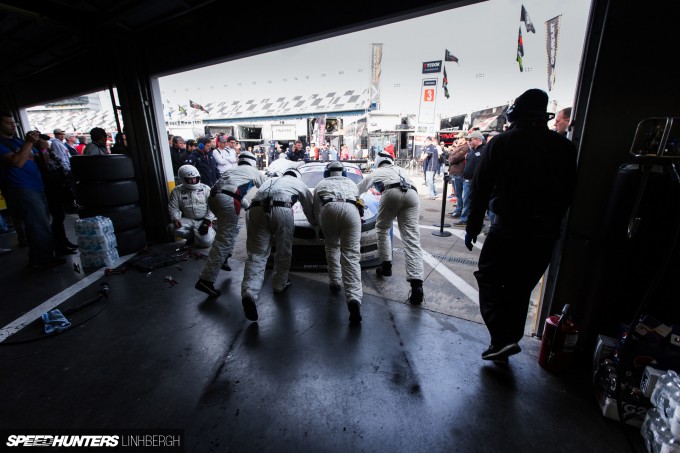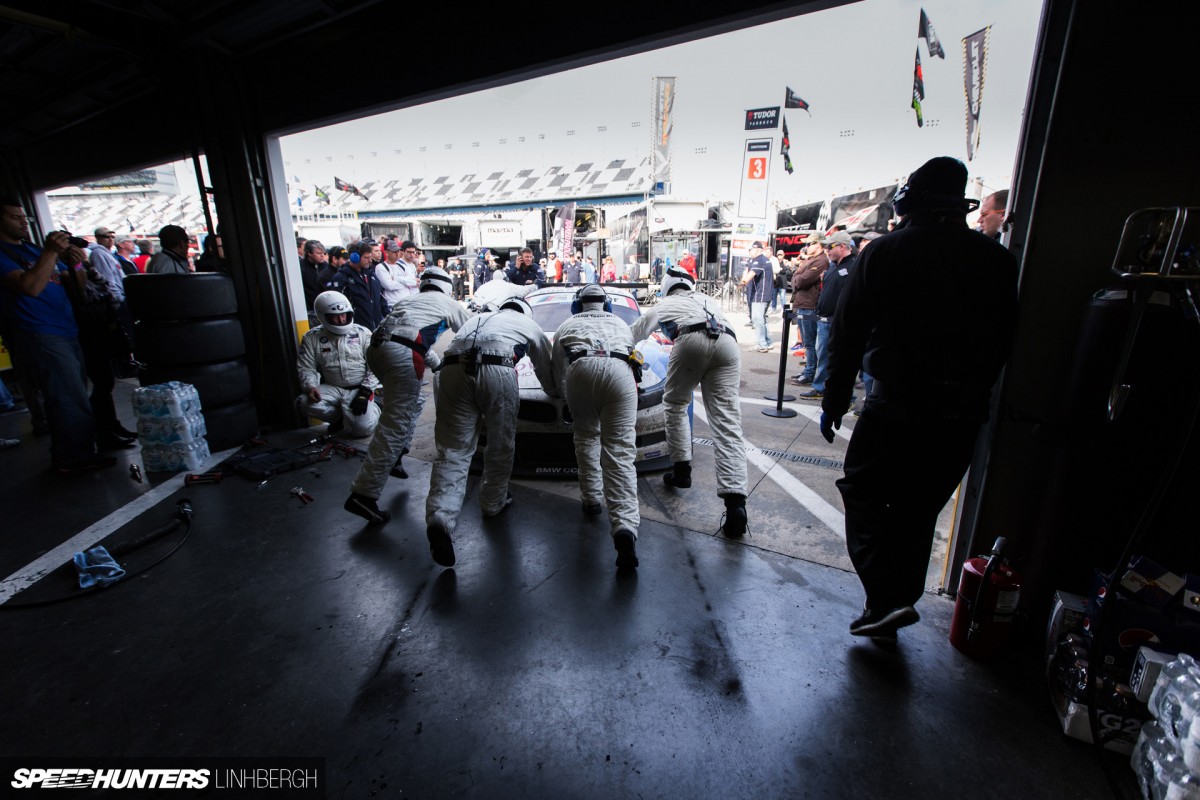 By 10:30am, the car is buttoned up and pushed back out…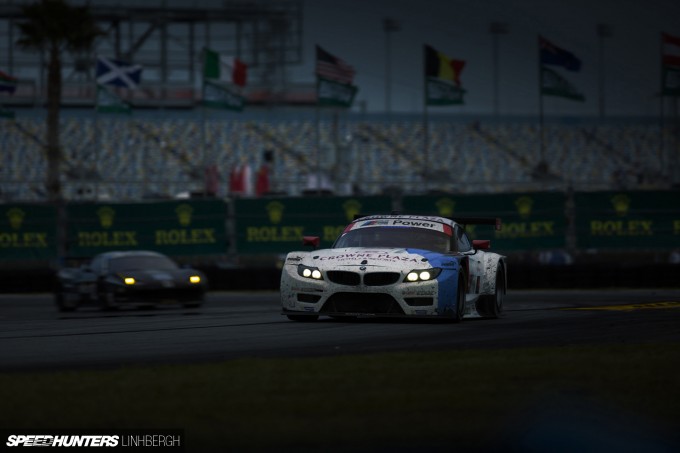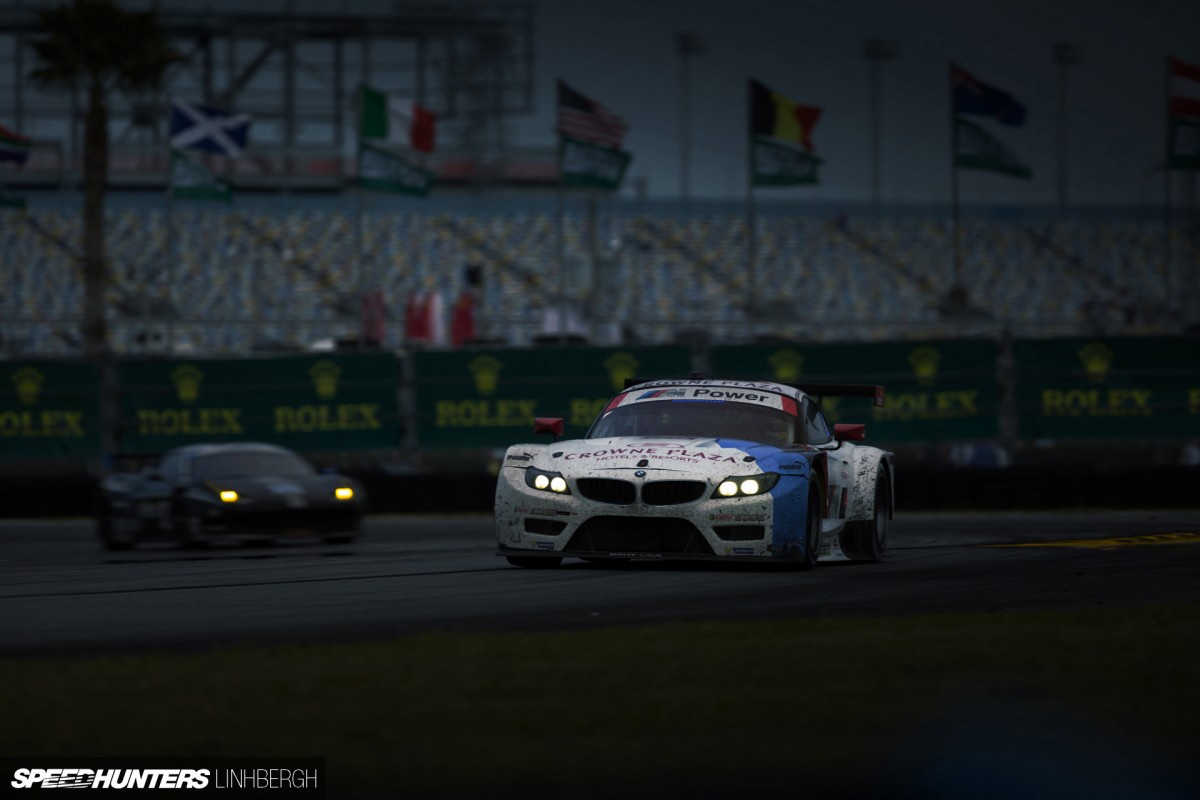 Now there are less than four hours left on the clock. What seemed like an eternity yesterday, is coming to an end.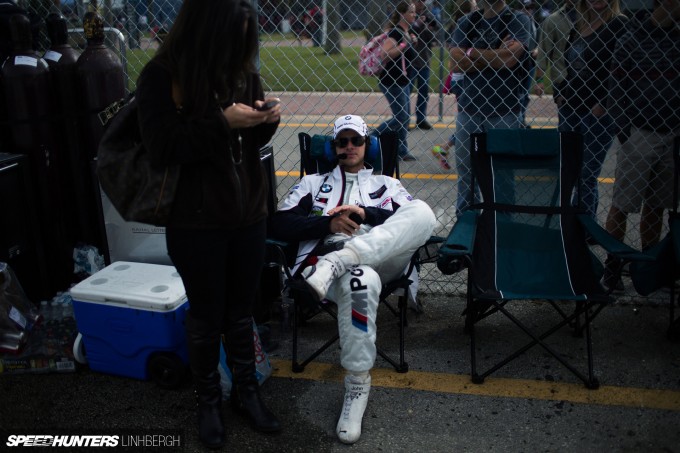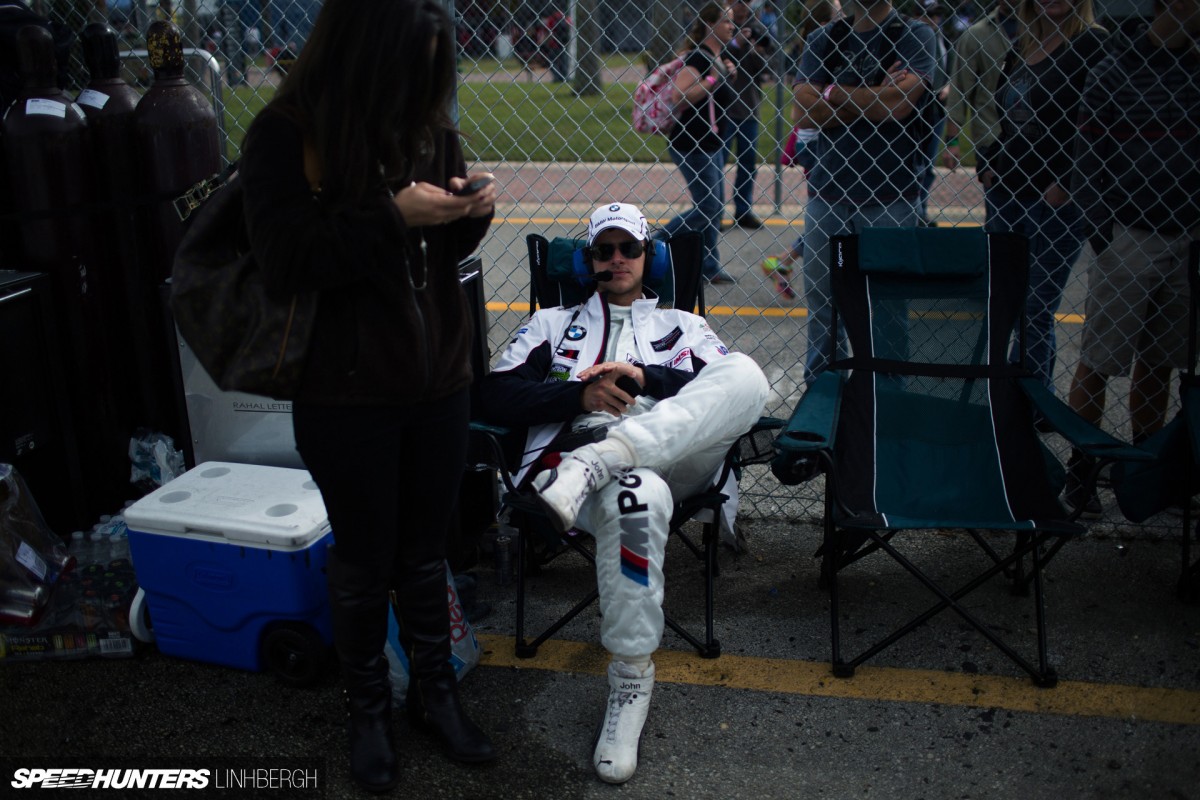 With the excitement of the #56 BMW gone, I decided to take one last stroll down the pits to see the state of the teams there. Of course whenever I saw a driver, they were always looking fresh and alert. How do they do it? Take note of the #56 BMW driver, John Edwards, looking as refreshed as ever. Even his white race jacket looking freshly cleaned and pressed! The composure is incredible; to maintain such a heightened sense of awareness for so long is massively impressive.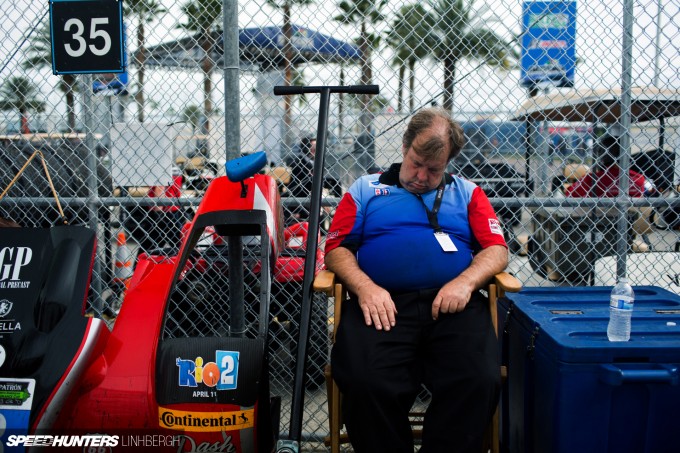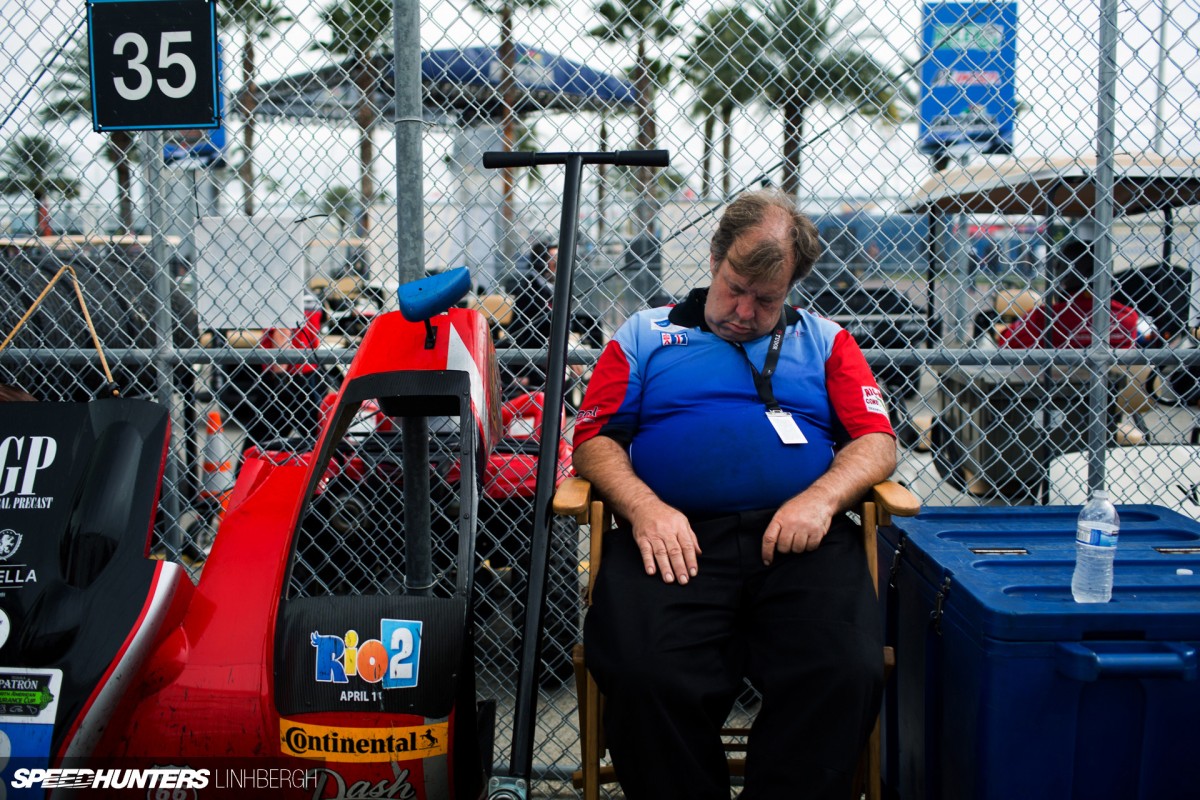 I wish I could say the same when I walked into the pit area. Exhaustion was everywhere, with evidence of a long night's battle around every corner. I kept finding crew members standing around at the point of exhaustion and taking naps wherever they could. Again, this is so alien to a 'normal' race day, but that's the wonder of these endurance events and the marathon effort they demand of all who take part.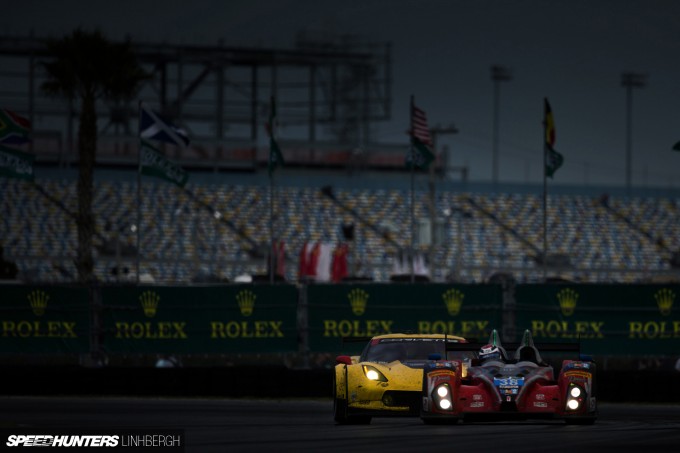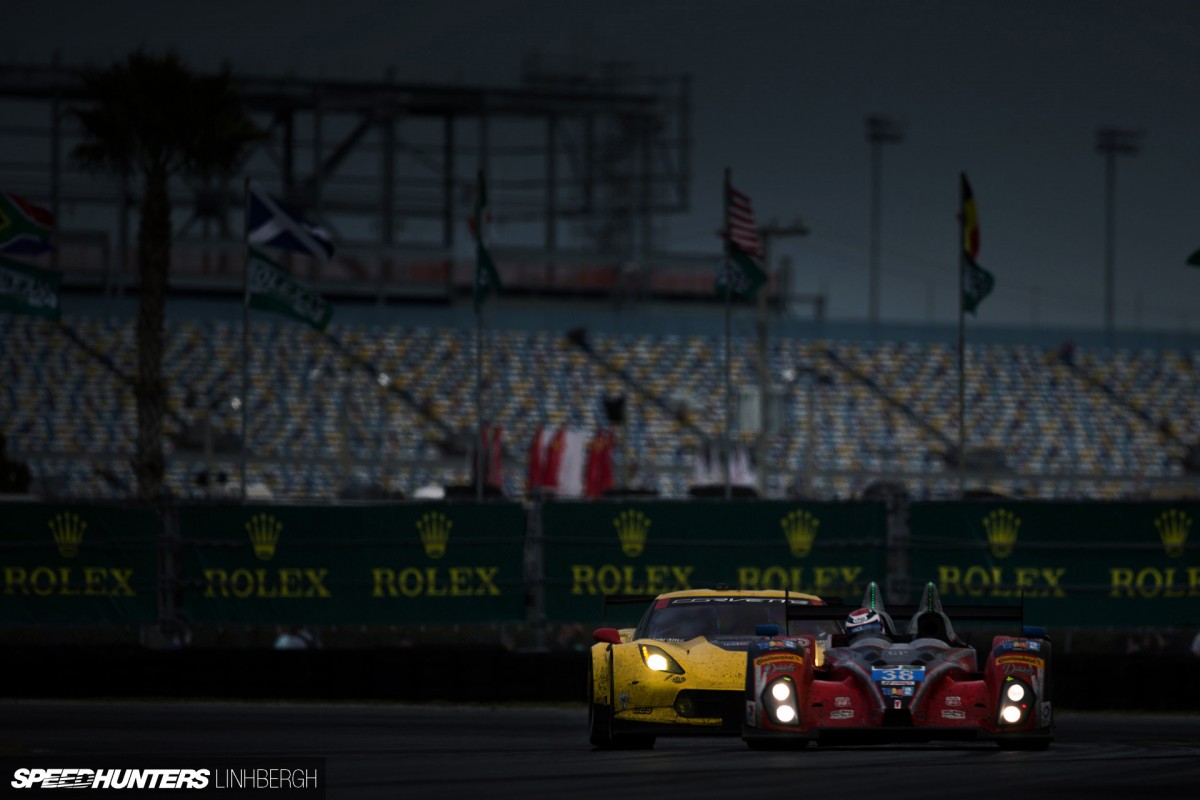 With the race starting to wind down, the action on track started to feel somewhat subdued. The drivers were still racing as hard as they could, but at the same time they brought it down just a notch, starting to nurse the cars home in the knowledge that the checkered flag was coming. It was near, so close.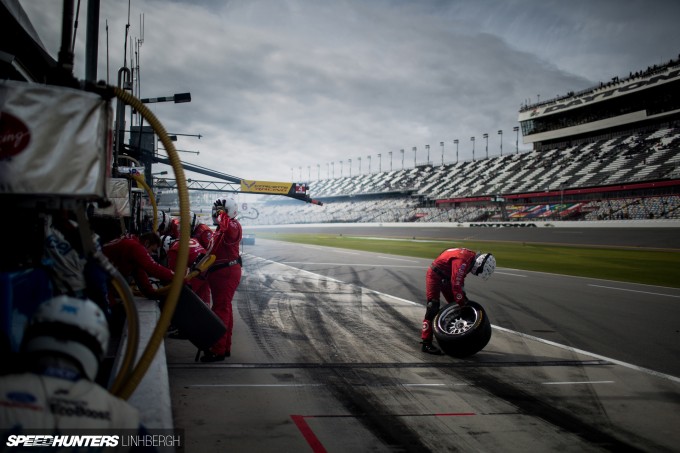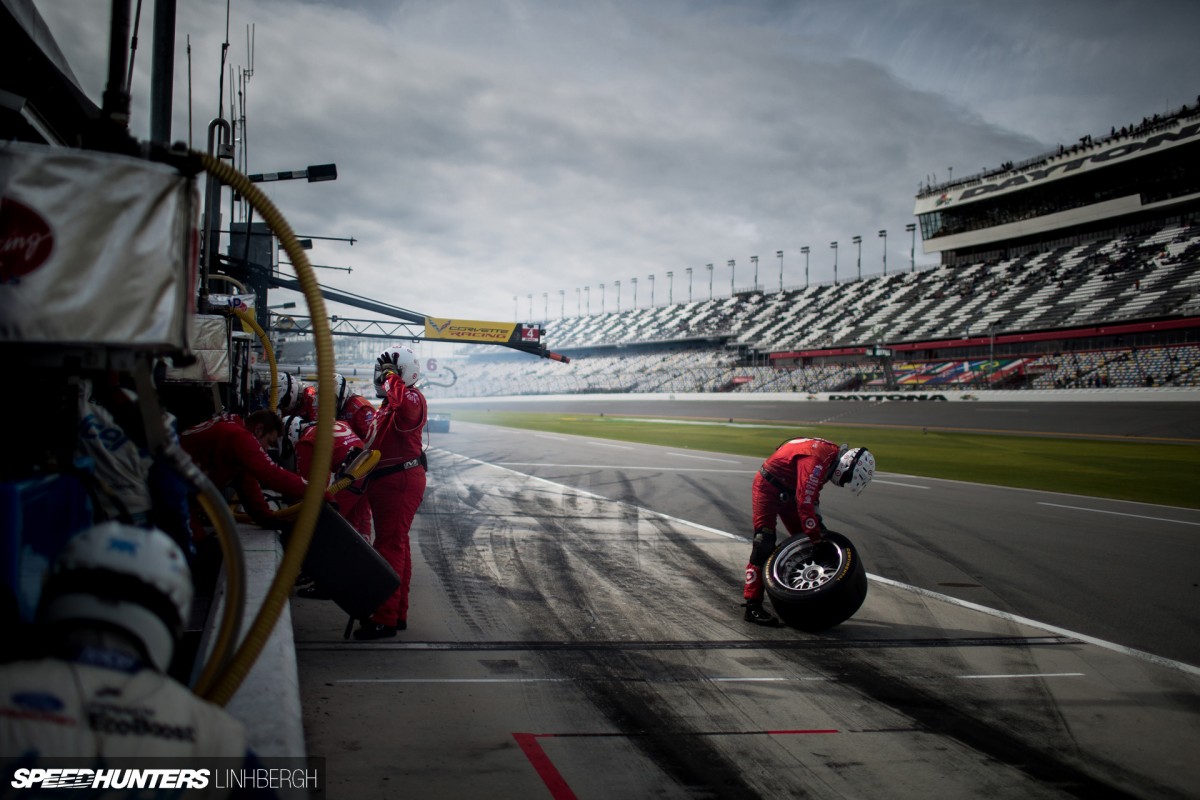 Cars that needed that last dash of fuel came in for their final pit stop. Incredibly, the teams then started the process of packing everything up. So soon? But this has been such a journey! Don't say it's nearly over.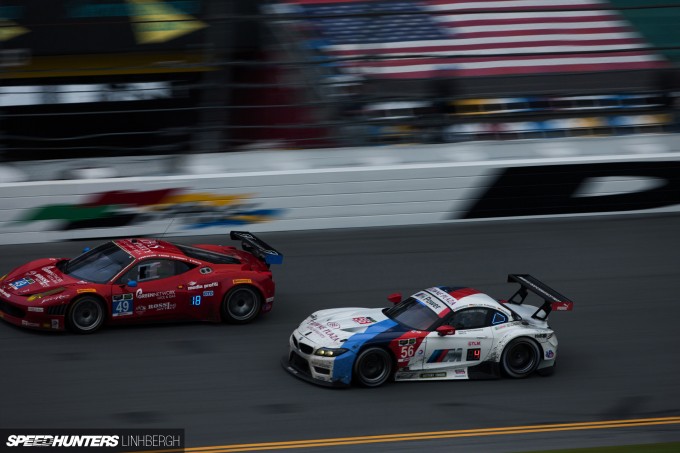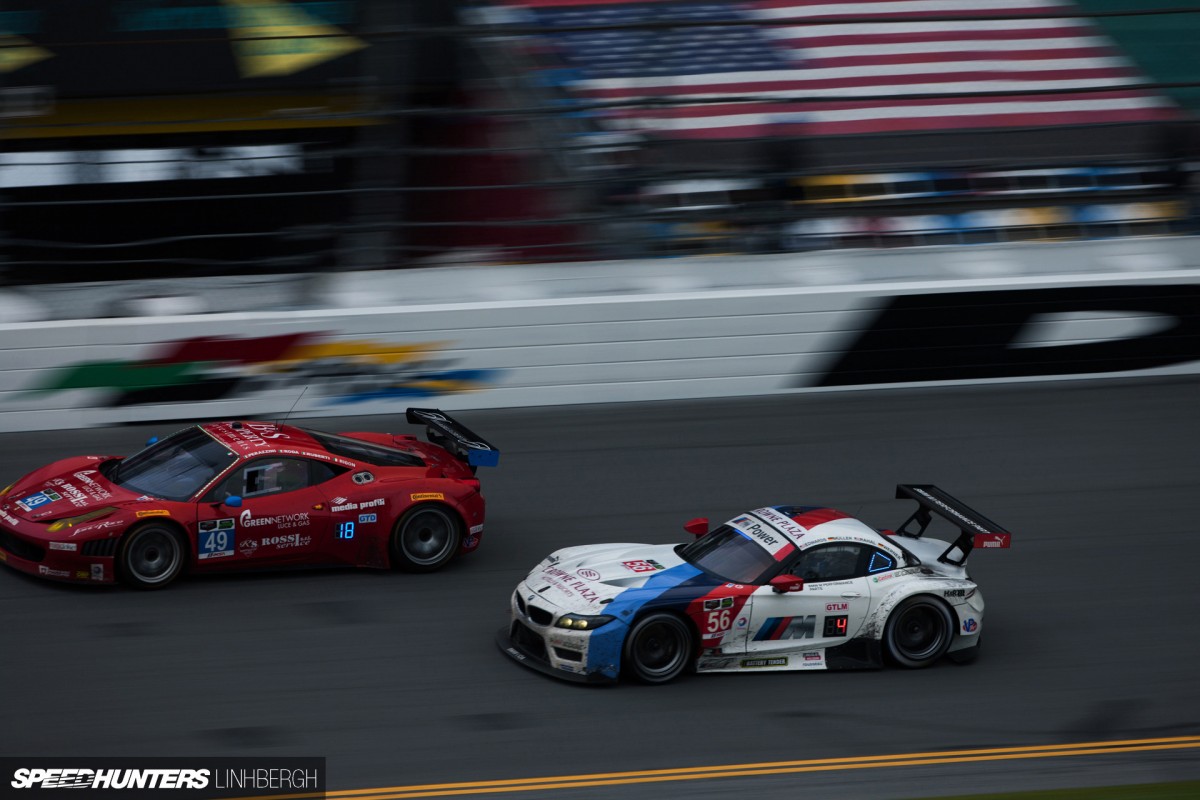 This is the #56 BMW Z4 at hour 23 of 24. It's been through so much during each of the preceding hours, battling at every turn. That hunkered down shape sucked to the historically important surface beneath it; with my tired eyes I start to see these race cars as I do historic ones – each with its own character, strengths and flaws. Just as you become attached to a road car over a period of years, here I am feeling the same for a race car I met just yesterday.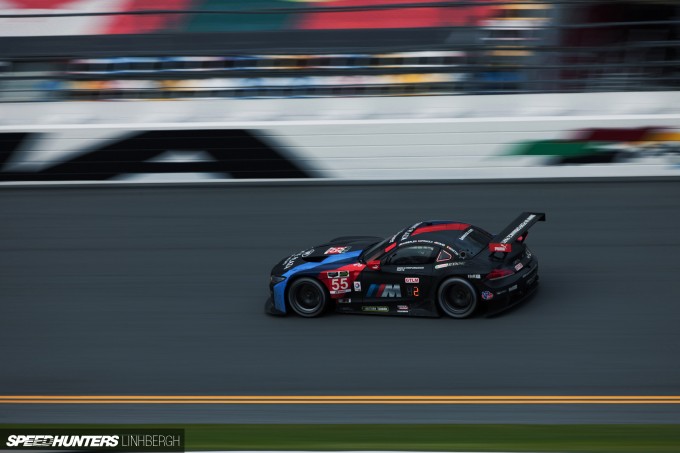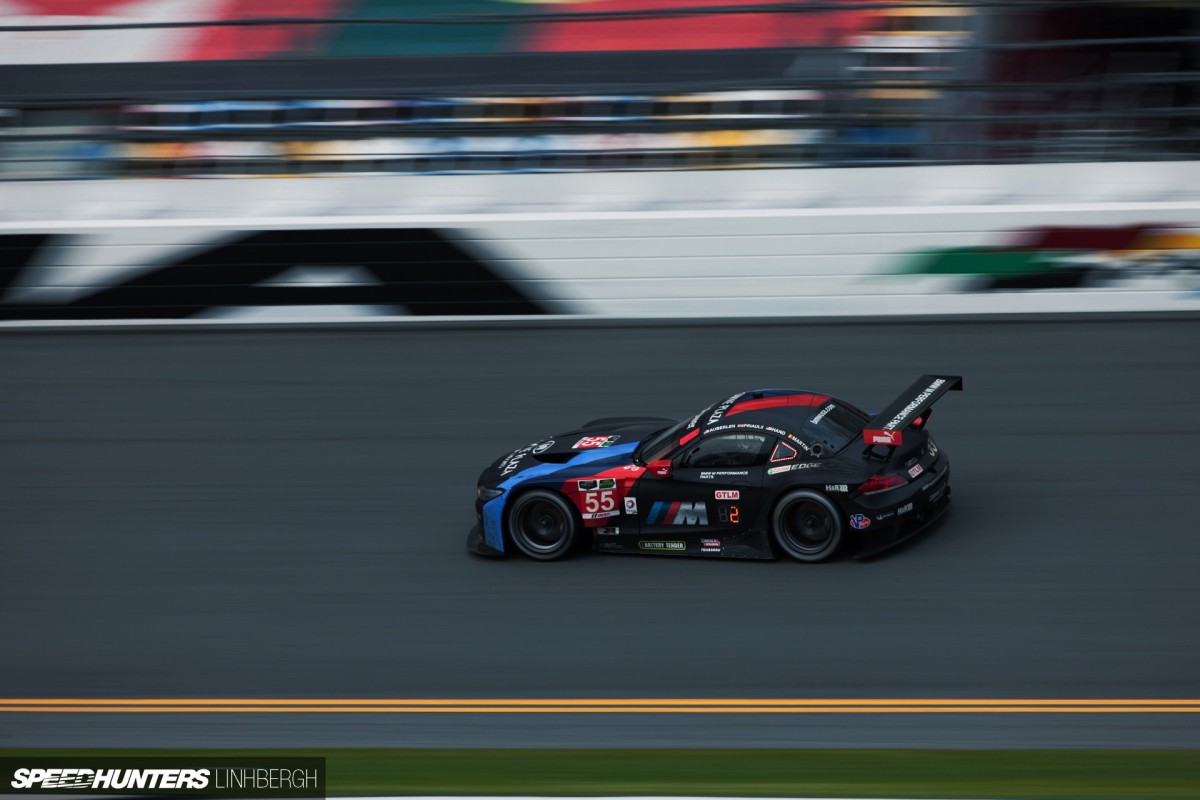 2:10pm on January 27 and the checkered flag was waved, bringing the 52nd running of the 24 Hours Of Daytona to a close. I can't even begin to imagine what it feels like to cross the finish line after 24 hours of racing and I was there. BMW's 'slow and steady wins the race' mentality proved sensible. The #55 Z4 never saw any mechanical problems and was only in the pits for a total of 14 minutes – the rest of the time it was out there on the track at full race speed. #55 crossed the line taking second place on the podium in the GTLM class. Congratulations guys! It might seem like that's what you do when you're a manufacturer… enter races, win and carry on, but this is more, this has been different.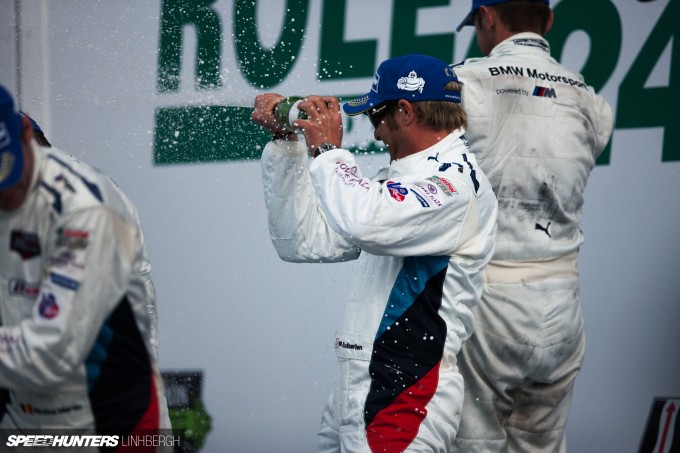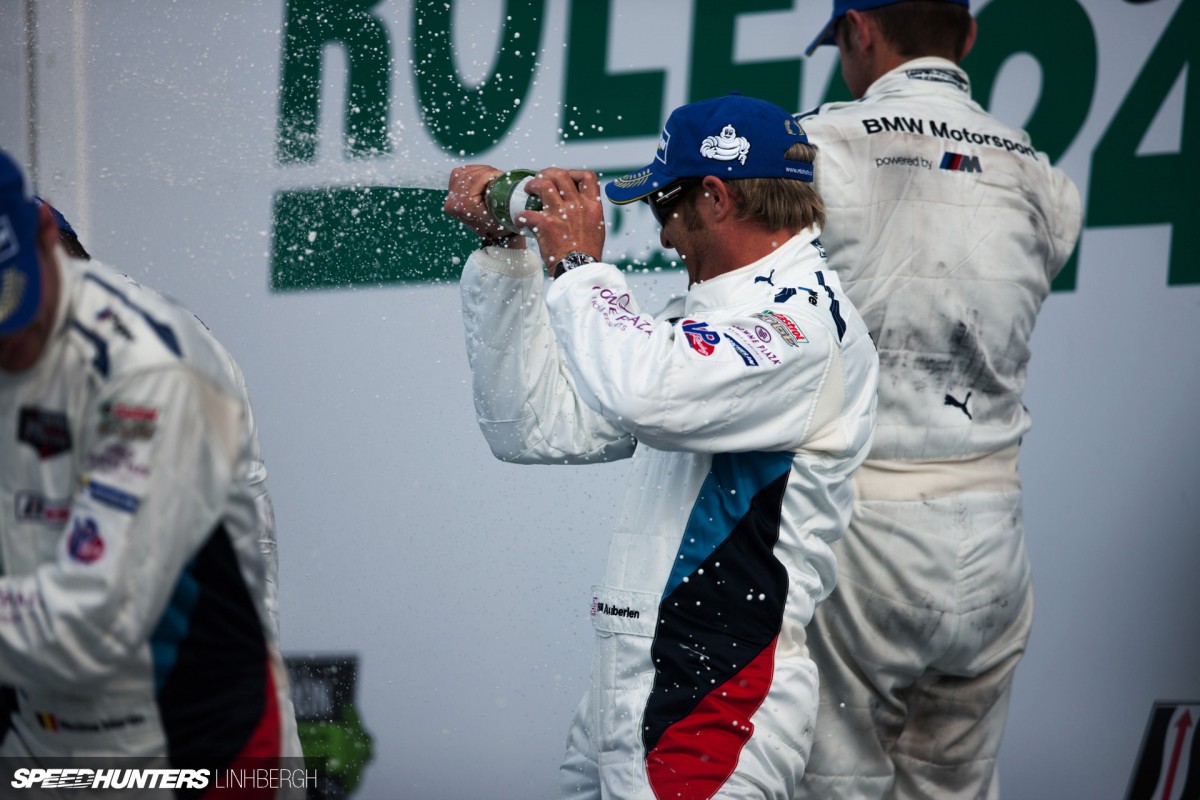 Looking back, I'll say that 24 hours goes by a lot faster than you can actually realize. This is especially true when you're looking through the viewfinder of a camera. You lose your sense of time and the moment becomes what you're trying to capture. Everything else gets zoned out other than the conscious effort to know when to click the shutter button. Is it the same for the drivers? Maybe. The effort shows everywhere around me, from the faces of those that went through it, to the now stationary vehicles all around us. But we made it, all of us. Good work BMW.
Would I do another 24 hour race? In a heartbeat. I feel I'll be much more mentally prepared for the next one. Seeing how this race was my first motorsport event I've shot in nearly a year, it felt great to feel the rumble of engines surround me. Though I had to dust off the skill of shooting a race. For a good portion of the event, I found myself feeling a bit rusty until I got warmed up during the middle of the night. But I'll tell you what – it feels damn good to be Speedhunting again.
Linhbergh
Twitter: @Linhbergh
Instagram: Linhbergh