A new chapter begins
If you've followed my stories over the years, you've probably heard that my personal favorite car event of all time is the Japanese Classic Car Association's New Year Meeting, which has been a winter time tradition in Japan for a couple of decades now. Whenever possible, I try to arrange my visits to Japan to coincide with the NYM, and this trip was no different.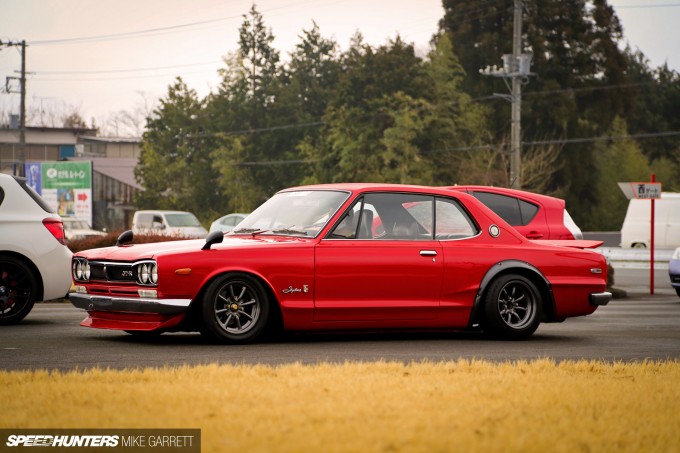 However, the JCCA New Year Meeting as we've known it in the past might be gone for good. This isn't a bad thing though, and I'll explain why in a moment.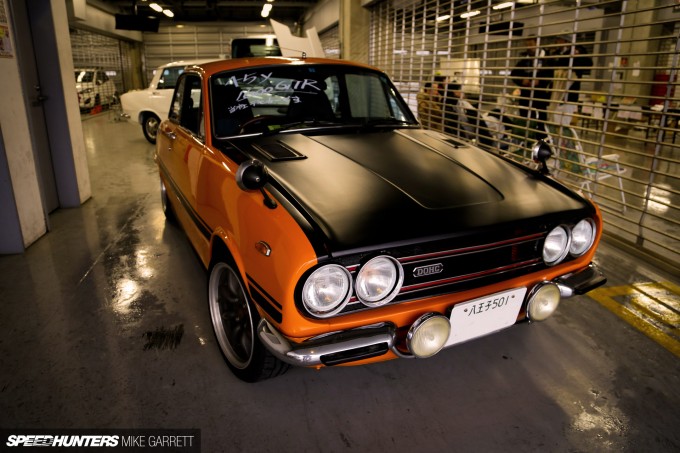 For as long as I've been attending, the New Year Meeting has always been held in Odaiba, right smack in the middle of Tokyo. Odaiba's wide parking lots have long been popular spots for car gatherings thanks to their central location and ease of access via highway or public transportation – but things are changing…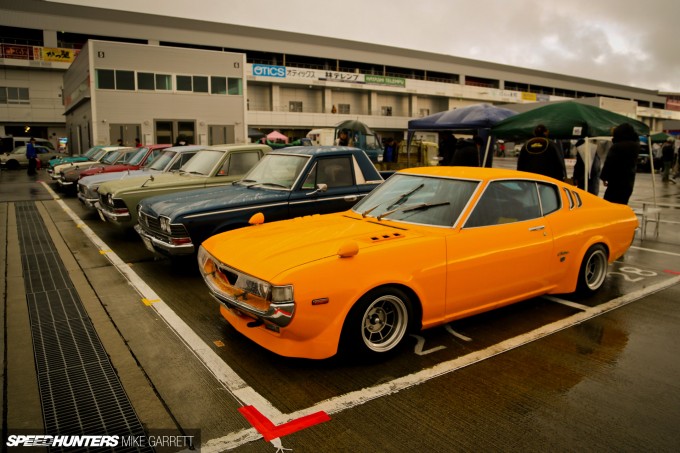 As you know, Tokyo has been chosen to be the host for the 2020 Summer Olympics, and it seems the Odaiba area will be seeing heavy development over the next several years as preparations for the games ramp up. It's primarily because of this that the JCCA decided to move its popular New Year Meeting to Fuji Speedway this year.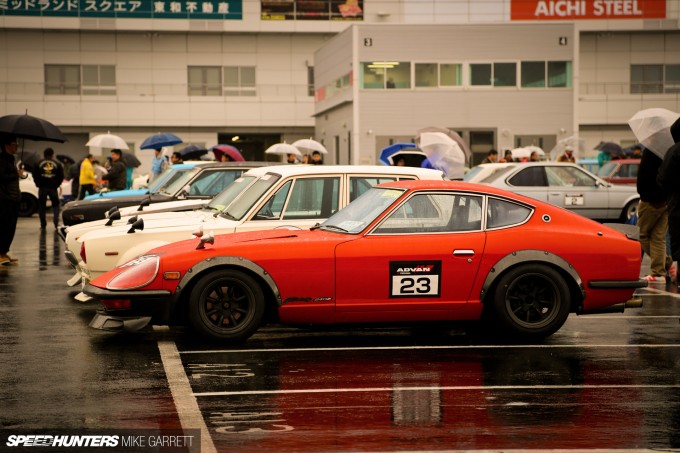 JCCA is no stranger to FSW, with their annual Fuji Jamboree event being held at the circuit every spring – but what would the famed New Year Meeting be like at a new venue? That's a question I set out to answer. On top of that, the forecast at Fuji called for rain on Sunday, which would make for an even bigger departure from recent NYM events.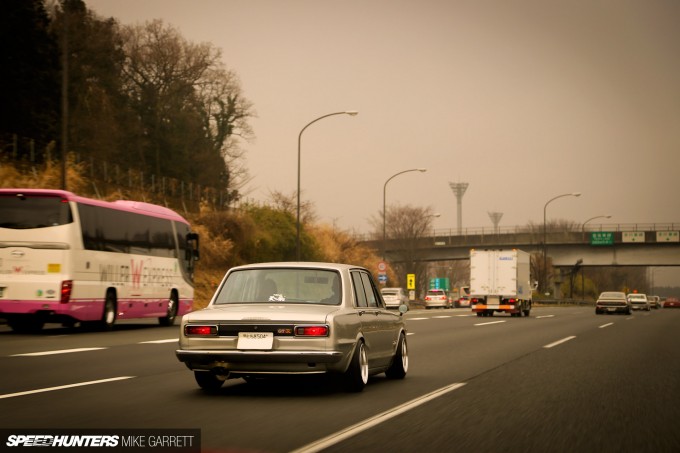 The day's excitement began well before we reached the race track. While rolling west down the Tomei Expressway out of Tokyo, we began to encounter lines of vintage machinery that were  obviously heading towards the circuit. Originally I was worried that many of the kaido racers and other shakotan machines that make the New Year Meeting so enjoyable wouldn't make the longer journey to Fuji, but once we got on the highway and heard those distinct exhaust notes, all fears subsided.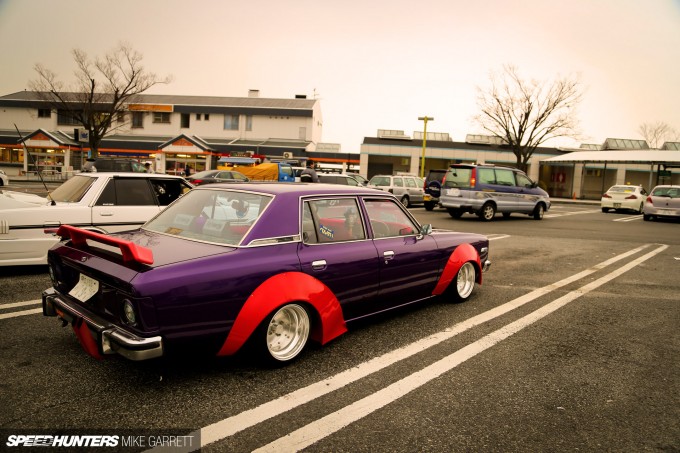 We hopped off the highway at Nakai Parking Area for a quick break, and the lot was filled with kaido racers and other cars that were gathering before heading to the track. For me, even a dozen cans of Boss Coffee can't match the early morning excitement that this stuff brings.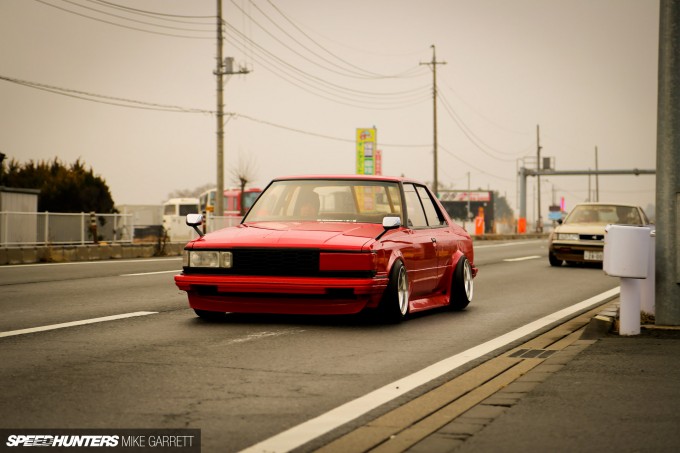 Once we got off the expressway and began to make our way through Gotemba, there was an even higher concentration of modified machinery that had taken over the town. It was sort of like that Marlon Brando film The Wild One, only with Skylines and Mark IIs instead of old Harley Davidsons.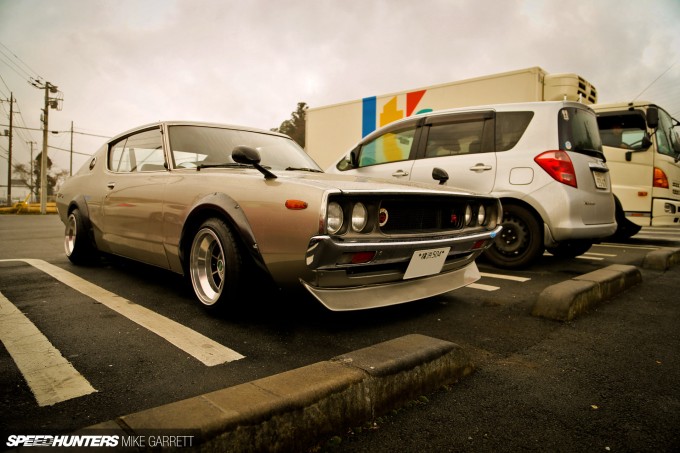 During a quick pit stop at a Seven Eleven store near the track, we met the owner of this bitchin' Kenmeri Skyline. He was stopping at the store to pick up some last minute beverages for the day's festivities. Party on!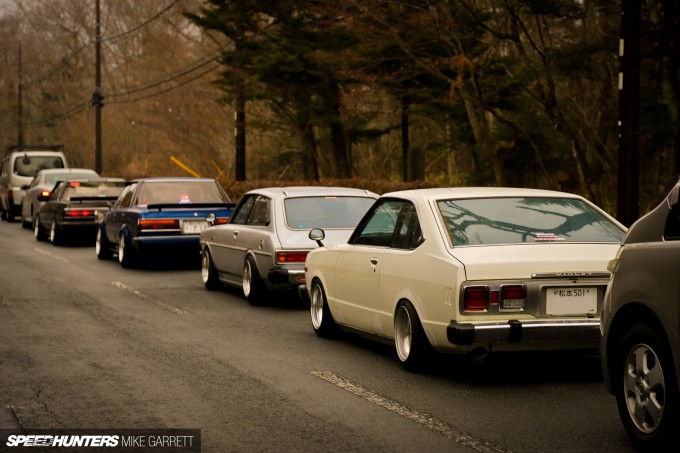 While the track was only a couple of kilometers away, it would end up taking quite a while to actually reach the gate because a massive queue of cars had formed on the roads leading into the speedway. At this point, I decided I'd hop out of my friend's car and walk to the gate.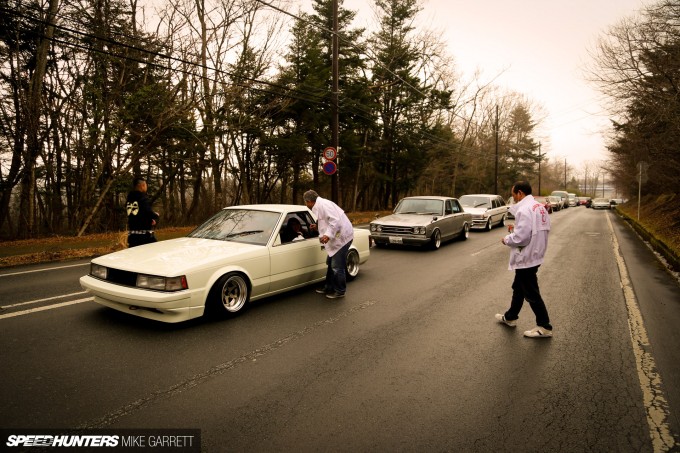 Not only would this be faster, but it also gave me the chance to check out some of the cars that were waiting to get in. Even with the big traffic jam, everyone seemed to be in good spirits.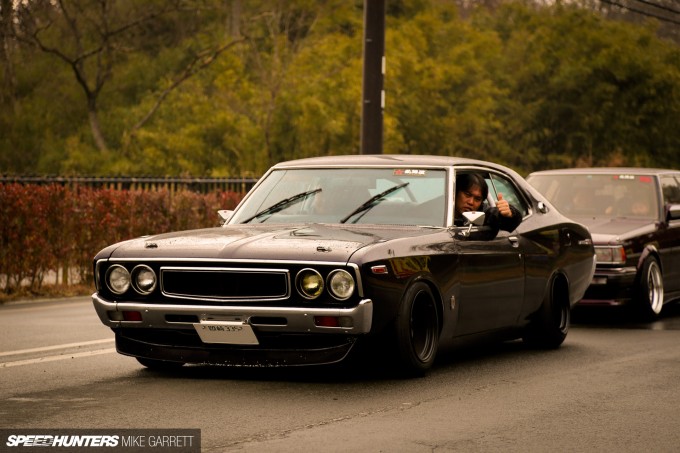 That easy-going attitude is something that so many members of the kyusha community share. While I'll be the first to say that some of these guys (and their cars) can look a little intimidating at first, they are actually some of the nicest and friendliest folks you'll ever meet. Such is the kyusha brotherhood.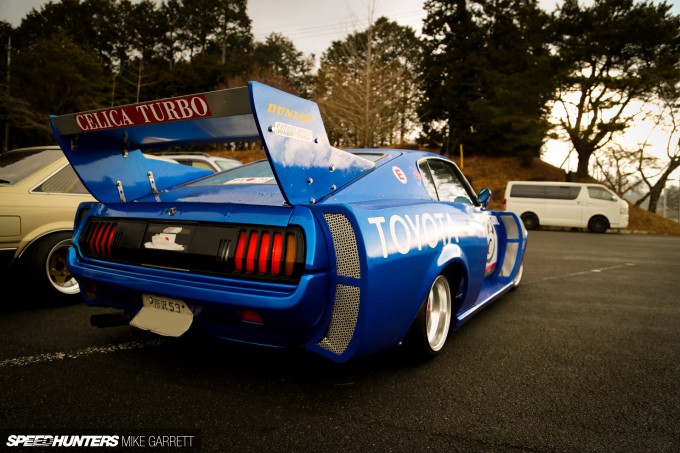 Speaking of friendly guys, once I made it through the gate I ran into Mizuno-san of Mizuno Works. He had just arrived with a group of his friends and the famous Celica LB Group 5 replica. But the Celica wasn't the craziest car they brought out.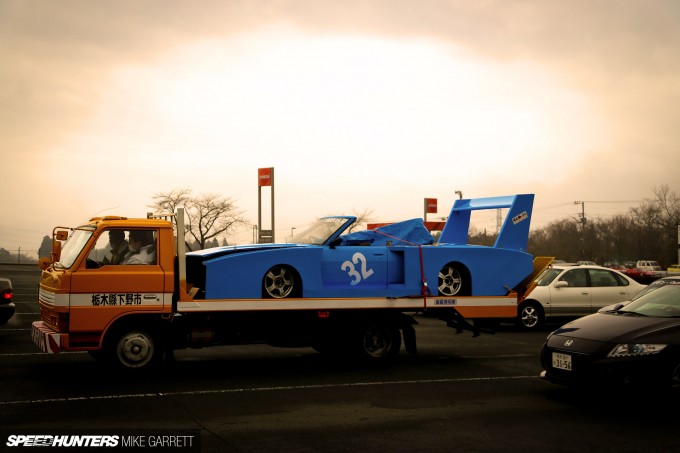 Nope, that distinction would go to this mad contraption that arrived on the back of a flatbed transporter. More on this sucker during the next post…
This is what heaven looks like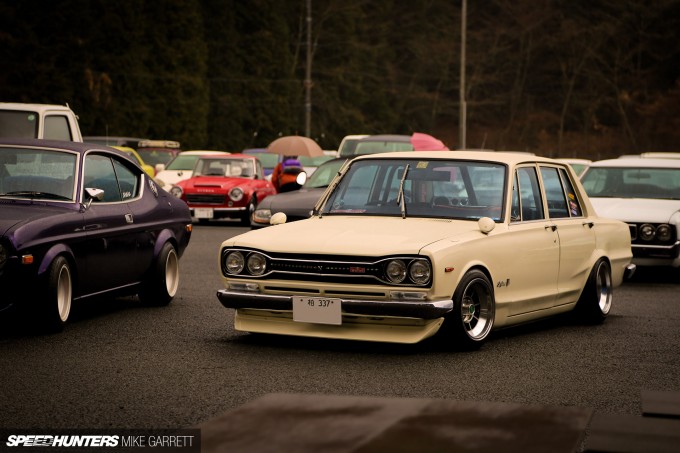 Shortly after that, I made it to the main parking lot behind the grandstand – where a large number of stunning street machines were gathering.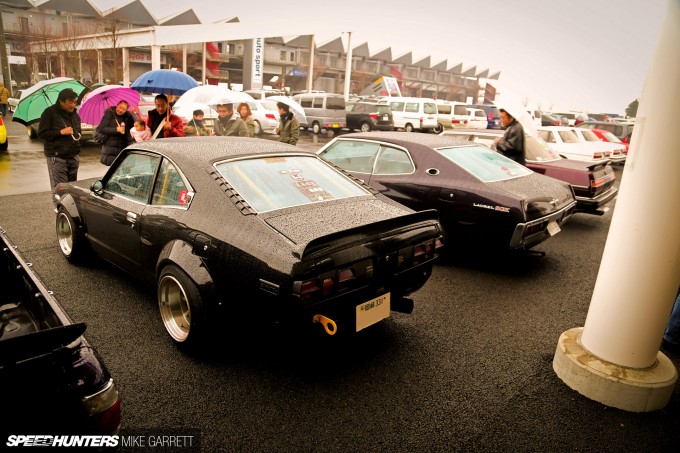 This was one thing that hadn't changed from the Tokyo venue. There may have been a lower number of cars this time (largely because of the weather) – but this unofficial part of the New Year Meeting was as great as ever.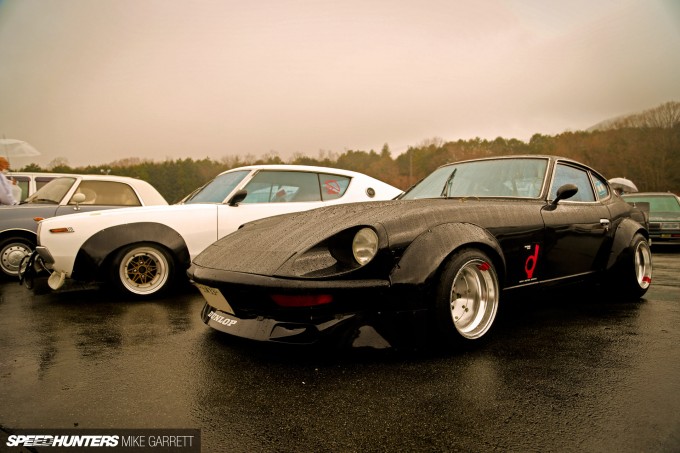 Speaking of the weather, it was around this point that a steady rain began to fall. This forced most of the kyusha fans and owners to take cover in one of FSW's drier areas.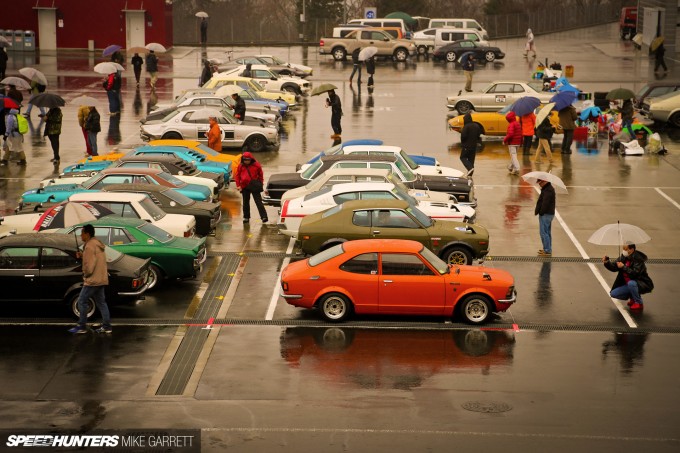 I figured this would be a good time to head beneath the track and into the paddock where the 'real' New Year Meeting was already under way.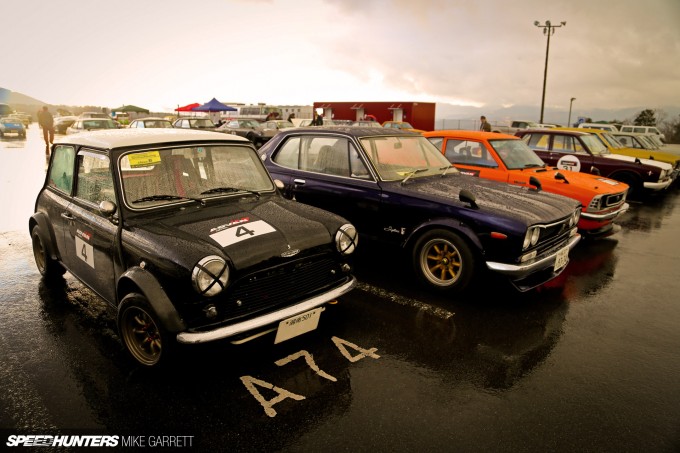 This brings me to one of the coolest parts of the 'new' New Year Meeting: the racing. While previous NYMs were static-only affairs, this time the gathering featured open track sessions for enthusiasts to run their machines through Fuji's corners and down the immense front straight.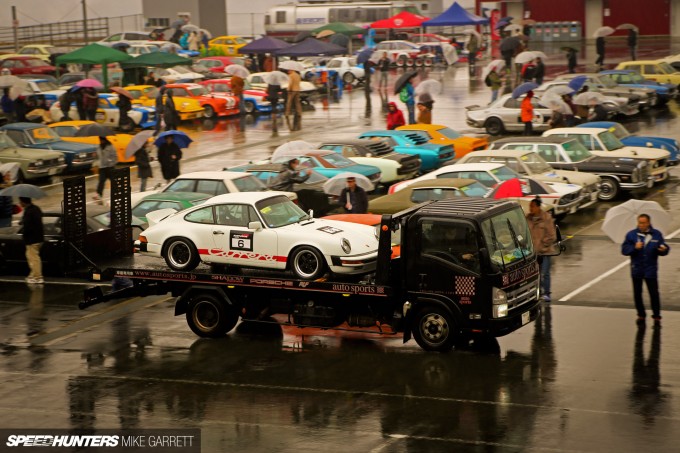 While the wet weather may have kept some racers away, it was obvious that a little water wasn't going to stop these guys from running, and running hard. That's what I love about Japan – wet or dry, hot or cold – these guys will be out there enjoying their cars.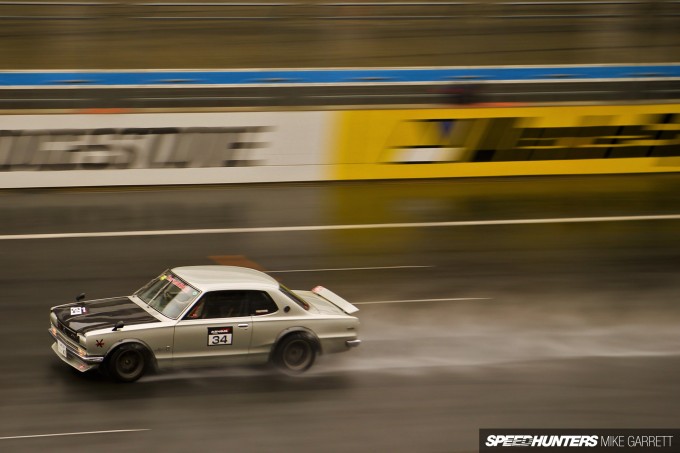 And perhaps the only thing more thrilling than watching Hakosukas, S30s, 510s and others screaming down Fuji's front straight is watching them do it while throwing up rooster tails of water. I would have loved to have spent the entire day shooting trackside, but this was one of those events with just too much stuff to fit into one day.
Collect and enjoy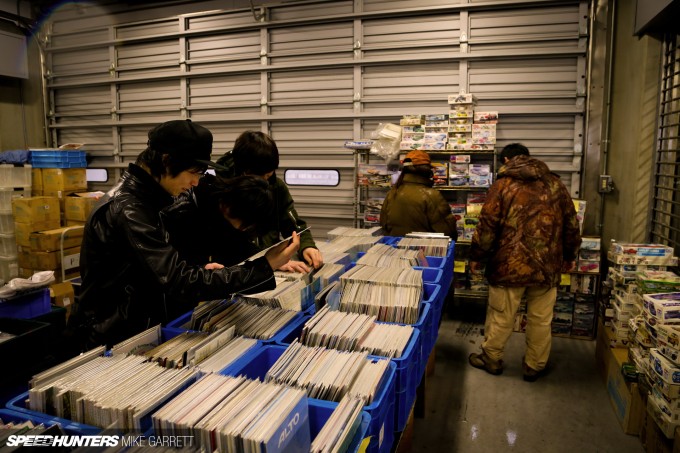 The flea market area was back, and digging through the stacks of car parts and collectables provided a nice break from the rain that was falling outside the pit garages.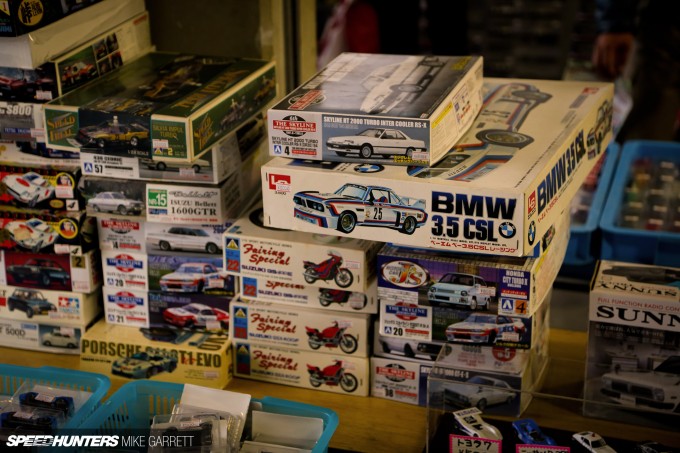 Once again, I didn't have enough time to take a proper look through these goodies. That's probably a good thing though, as my trip isn't even halfway done and I've already filled up most of my extra suitcase space.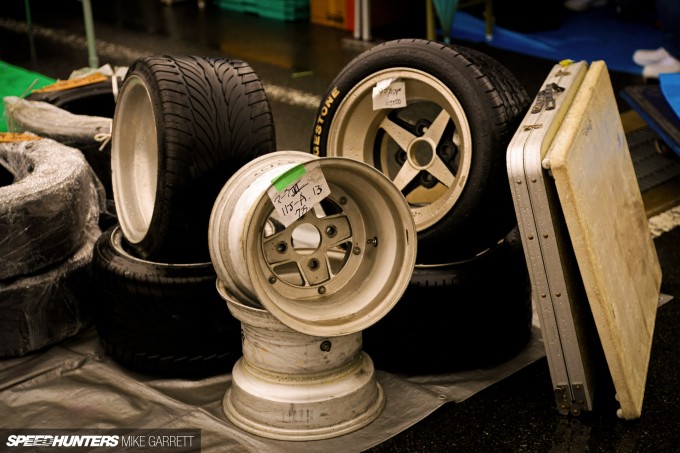 But surely I could have found some extra room in my luggage to accommodate a pair of SSR MkIIs or old school one-piece Work Equips. Right? Right?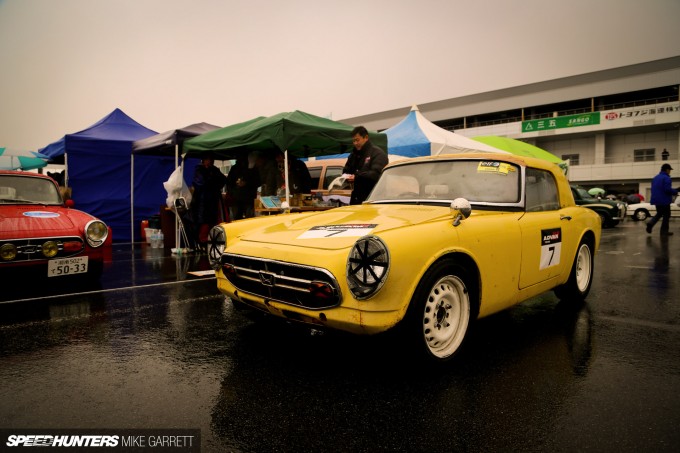 The car club area was also back, and once again I really enjoyed getting a look at what some of the brand specific and regional owners' groups were up to.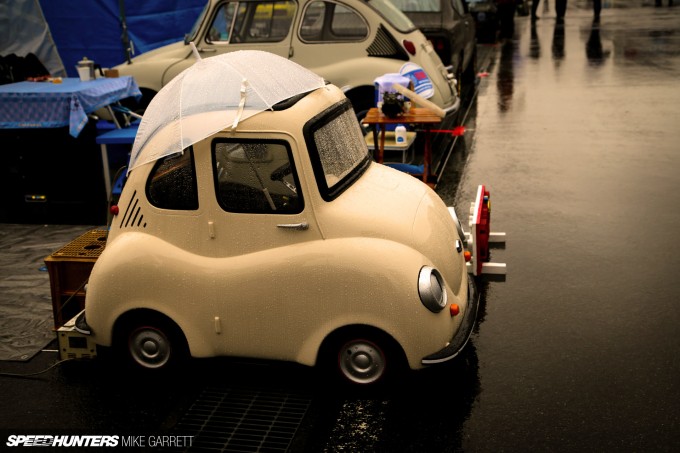 I mean, where else will you see something like a miniature Subaru 360 go kart? Then again when you think about it, even a real 360 sort of looks like a miniature go kart…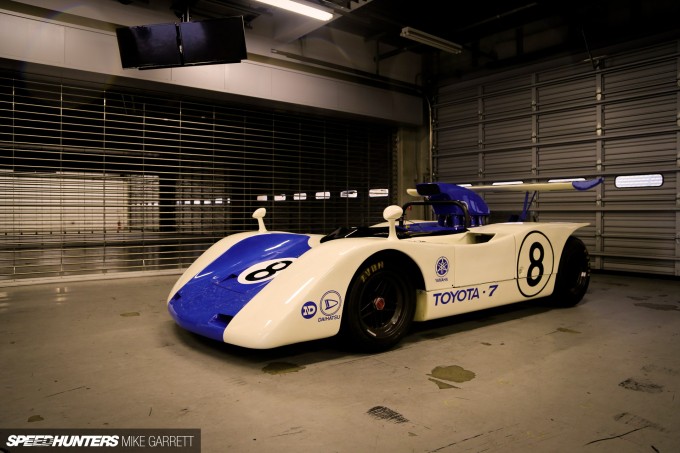 Seeing as how the New Year Meeting had relocated to one of Japan's most legendary race tracks, it was only natural that some historic competition machinery would be present. This is a '69 Toyota 7: a car which originally made its racing debut right here at Fuji.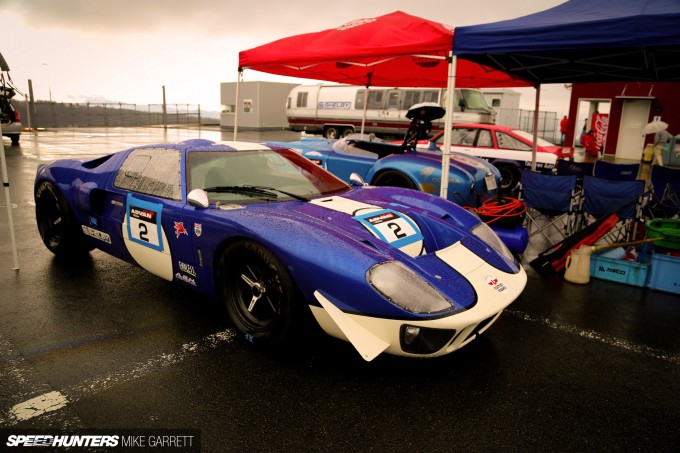 Elsewhere, there was this Ford GT40 replica which added a nice V8 rumble to the sea of four and six-cylinder music that was echoing off Fuji Speedway's enormous grandstands.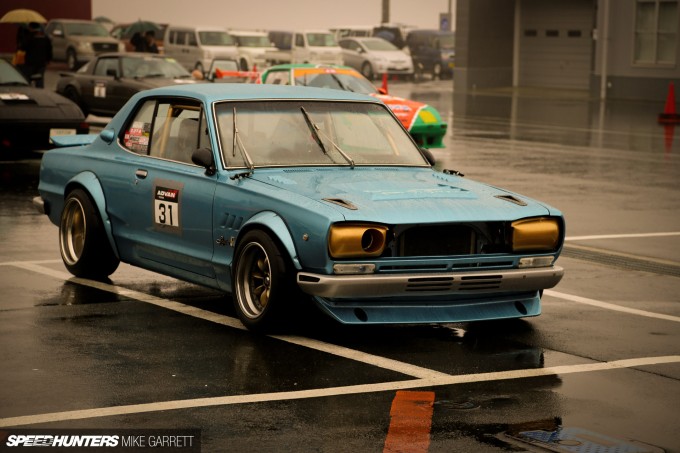 While there was a decent showing of European and American machines, it was really the domestic machinery that was dominating the free-run groups.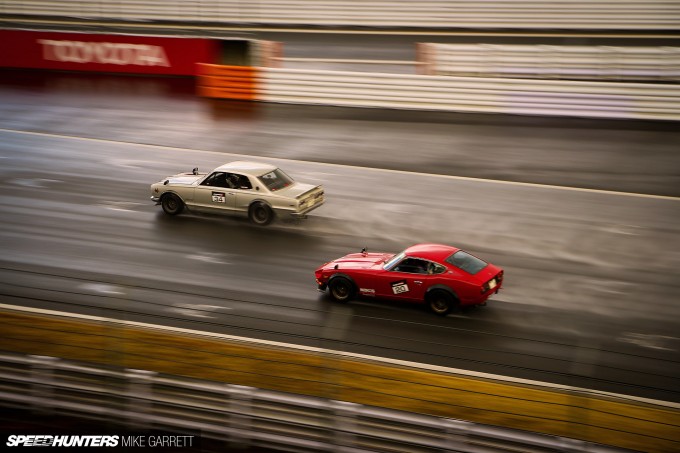 No complaints here though. How can you not like seeing vintage JDM machinery being put to good use on the circuit?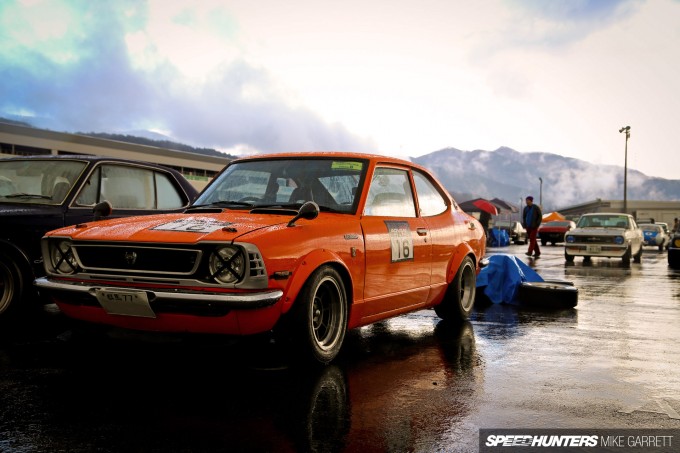 Eventually, the rain went away and sunlight began to peak through the low clouds, though by this point most of the racers had either headed home or were getting ready to finish for the day.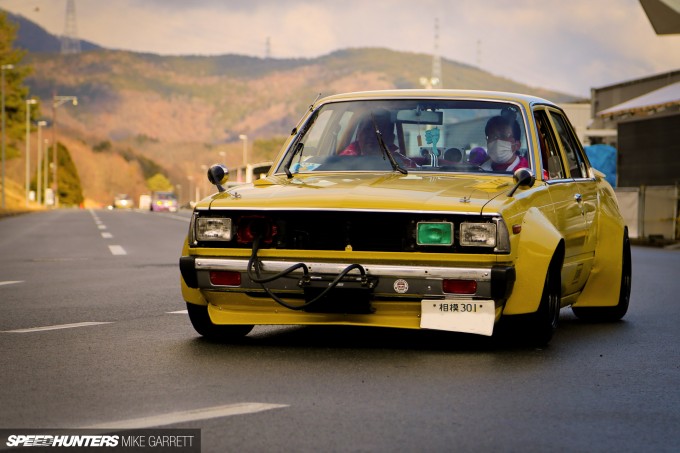 By the time I headed back up to the parking lot, most of the crazy machines had already departed the track. The cars that stuck around however, were putting on a nice show for the group that had assembled to watch the action. Thanks to these guys, I now have the sounds of screaming OHC sixes and musical horns looping in my head.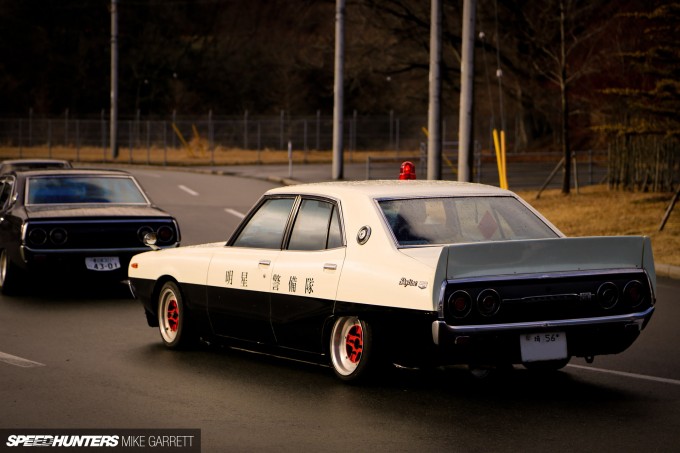 So, is the JCCA New Year Meeting still my favorite event after the venue change and crappy weather this weekend? As you can probably tell from this story, the answer is a resounding yes. In fact, I think even if this event was held on the surface of the moon, Japanese enthusiasts would find a way to bring out their cars out and have some fun.
Make sure you stay tuned, because next time I'll talk a little more about the cars that made the 2014 New Year Meeting so great…