Crazy in Kansai
Osaka is a place where you'll find that a lot of Japanese stereotypes are thrown out the window. You might have an image of Japanese being people being quiet, conservative and keeping to themselves – not in Osaka though. This is the place that's known as the birthplace of Japanese comedy, the place where ladies love their leopard print clothing and the place where strangers are quick to strike up conversation with each other.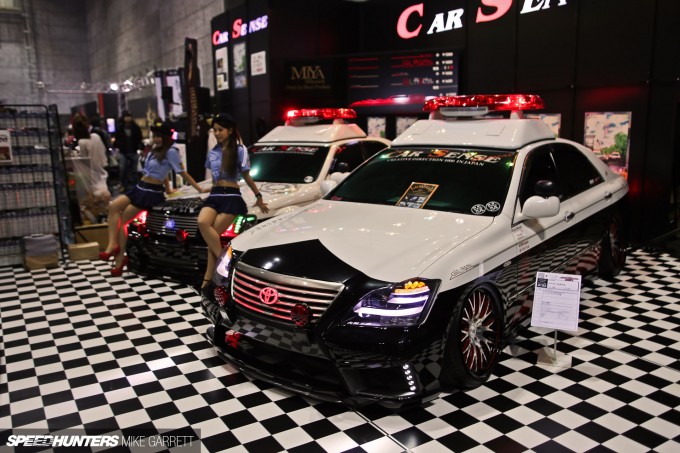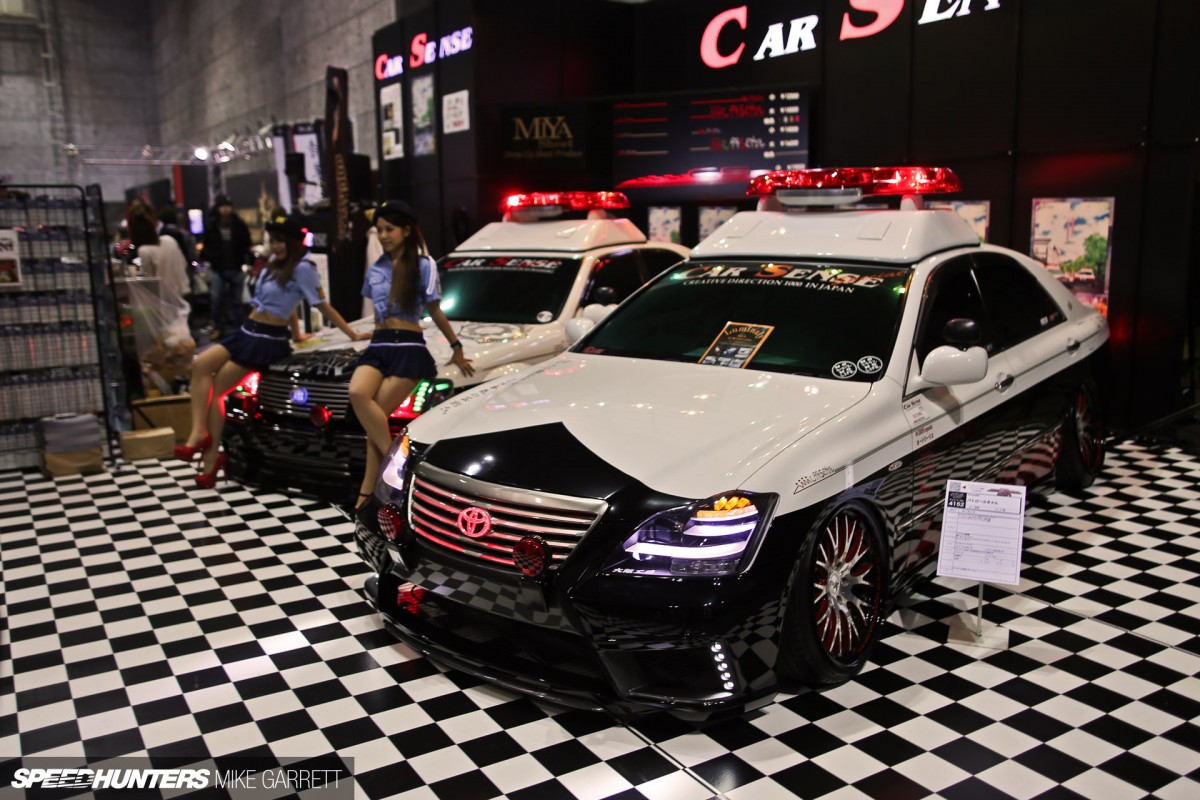 It's not surprising then, to find that a lot of this carries over to Osaka Auto Messe. Sure, Tokyo Auto Salon has its fair share of crazy builds and over the top show cars, but Auto Messe is really on another level when it comes to the wild stuff. So for this post, I thought I'd focus on some of the crazier aspects of this year's event – from slammed VIP cars to jacked-up kei trucks and more.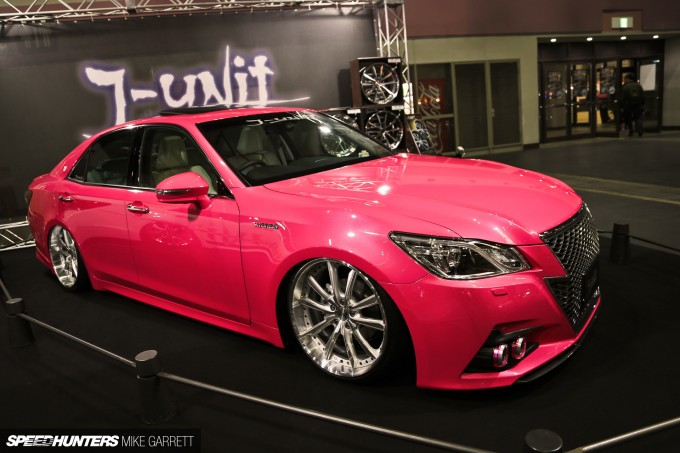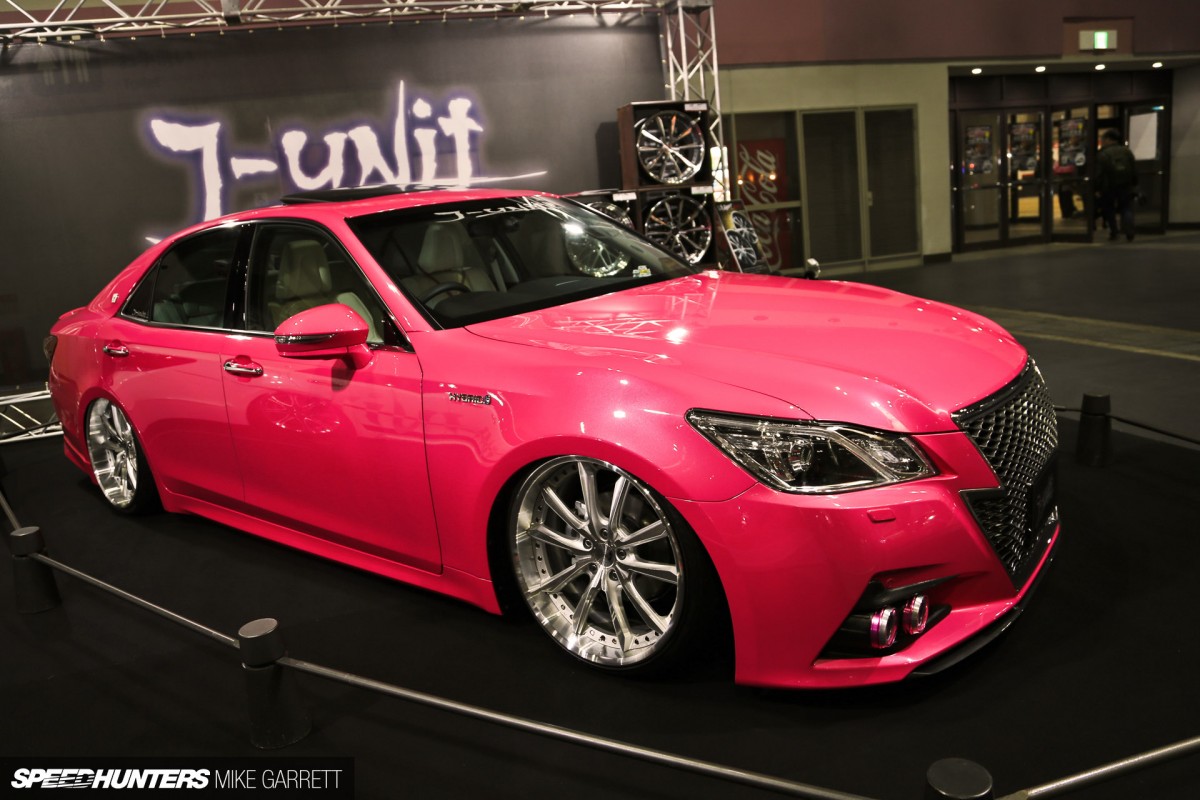 The pink Crown – which can be ordered directly from Toyota in Japan – seems like a car that was designed specifically for Osaka. There were a handful of pink Crowns on display at Auto Messe this year, including this example for J-Unit. In stock form this color might be a little outlandish, but with some wheel and suspension work, it all comes together.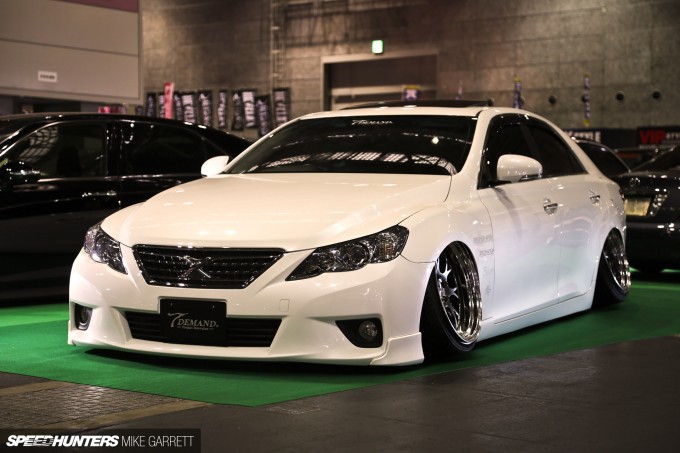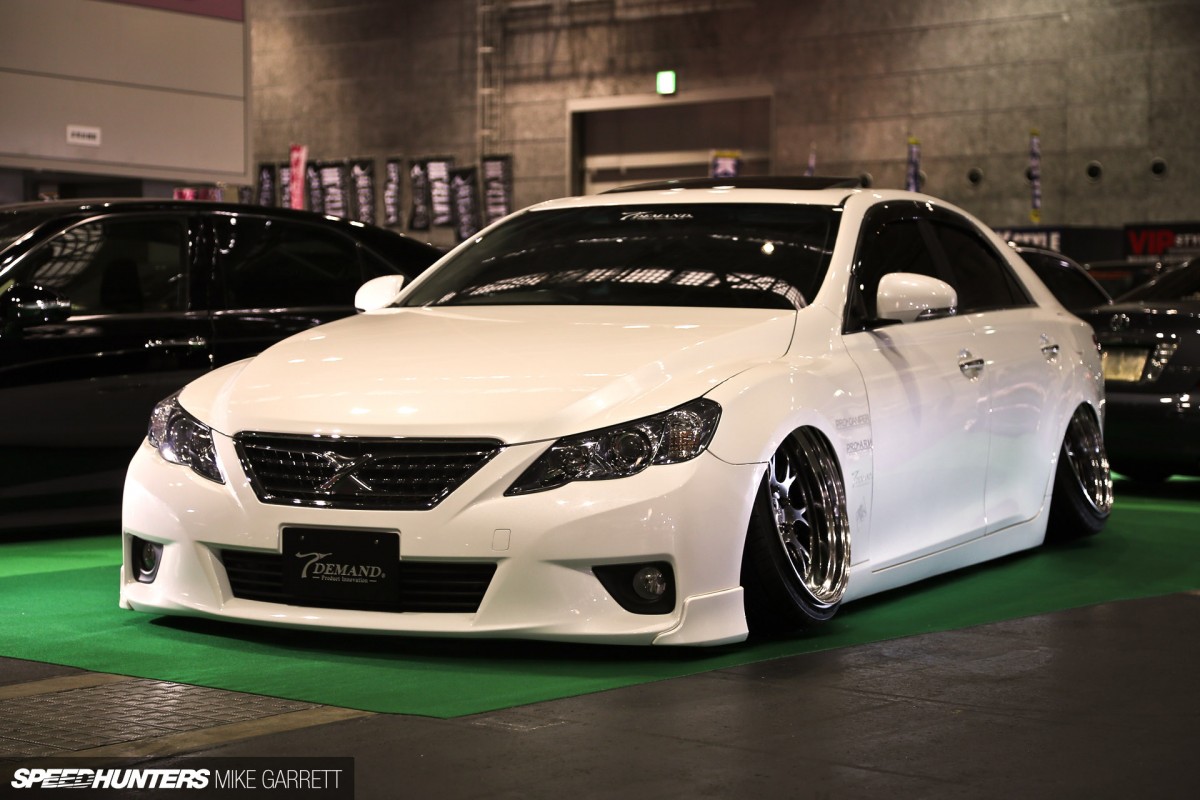 Here's another view of the T-Demand Mark X as seen in the opening post. Amazingly, this car is sitting not on air suspension but on a set of T-Demand Pro Dampers with matching T-Demand arms to achieve that maniacal camber. The wheels are SSRs measuring 19″x9.5 in the front and 19″x11 in the rear.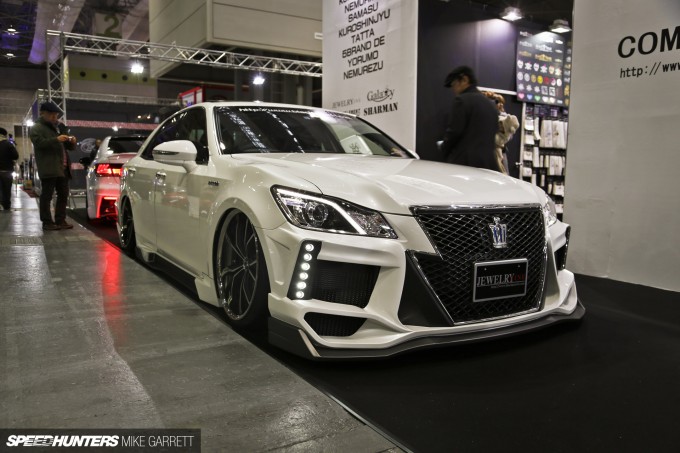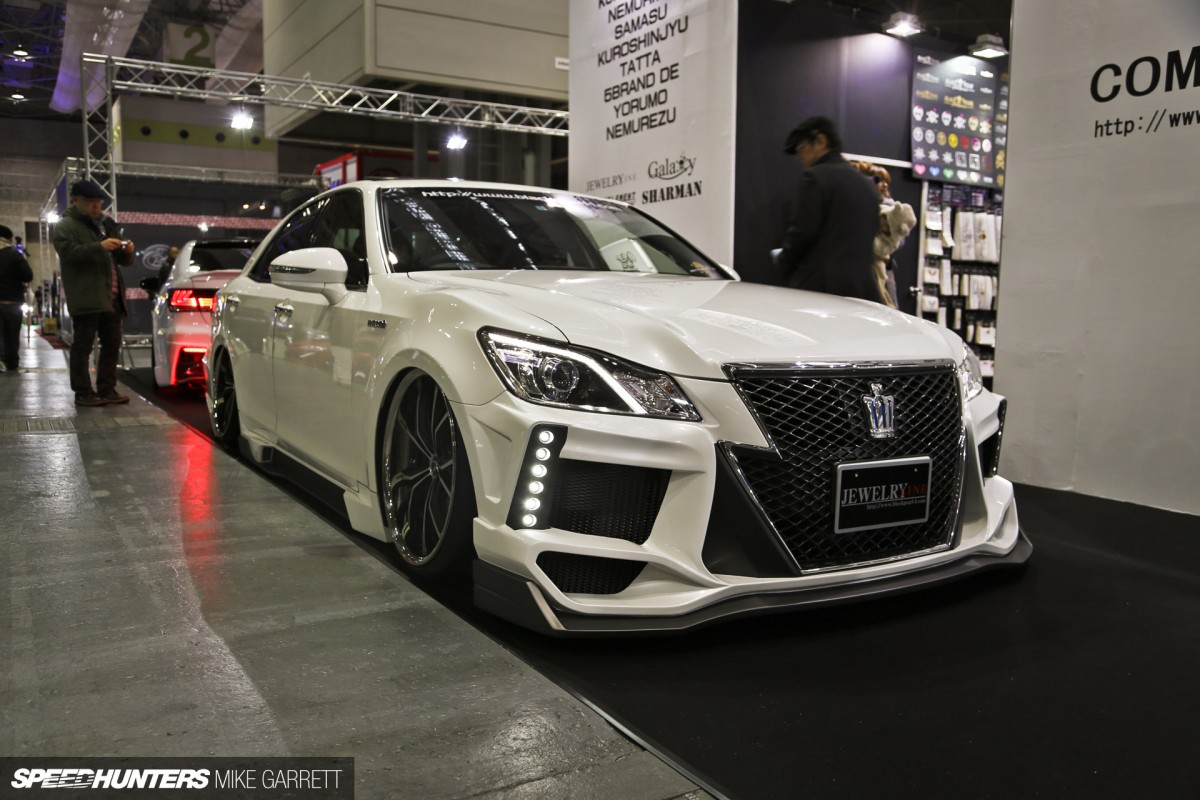 When talking about the crazy state of today's VIP sedans, it's hard to get crazier than this new GRS21 Crown Athlete equipped with Black Pearl's Jewelry Line aero.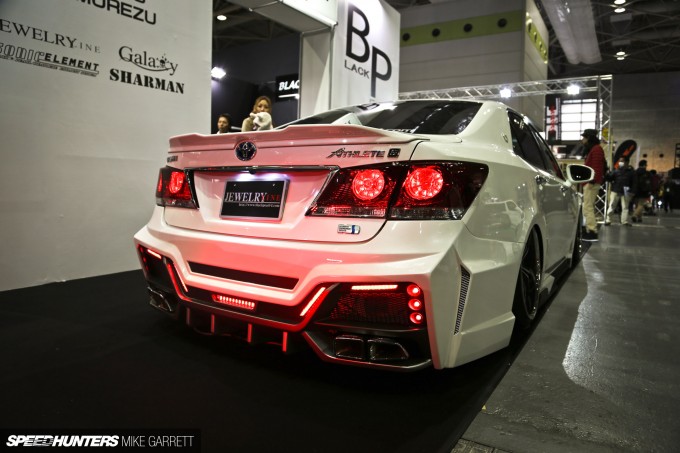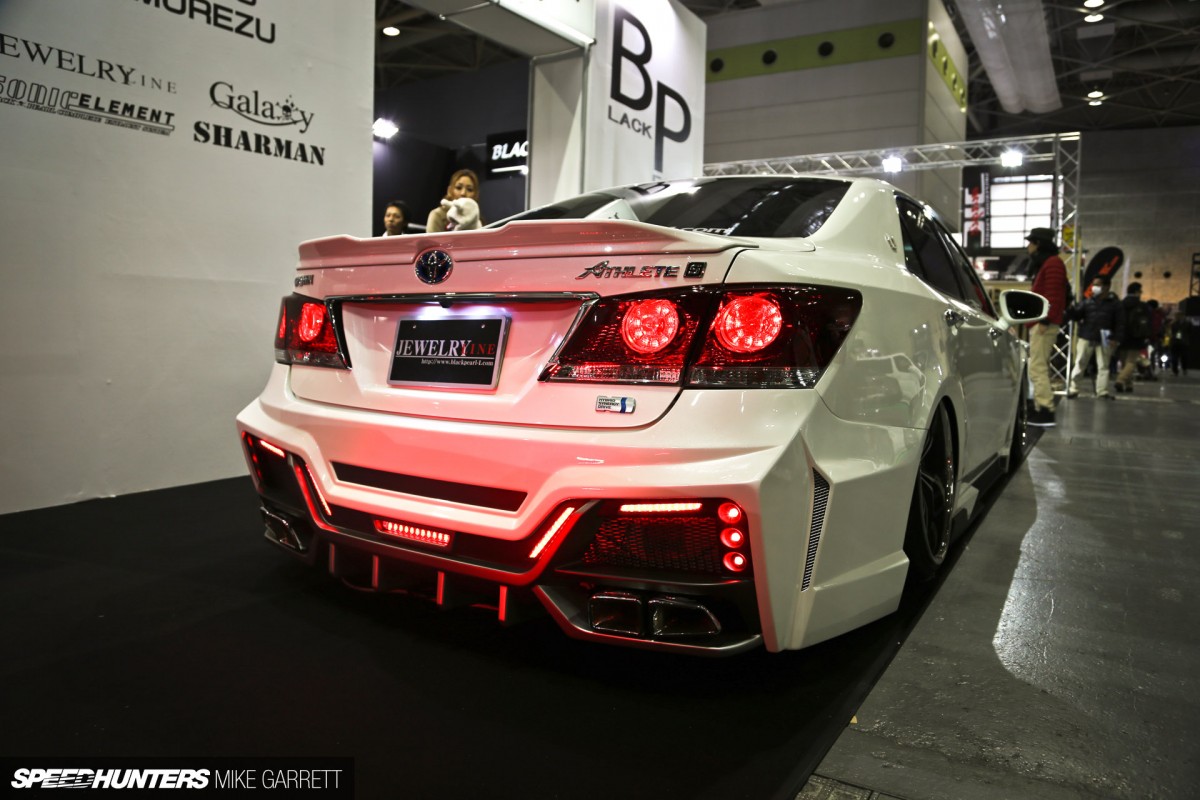 The Crown has a look that was clearly inspired by modern supercars, achieved not just through its body parts but by its matching LED lighting and custom exhaust system.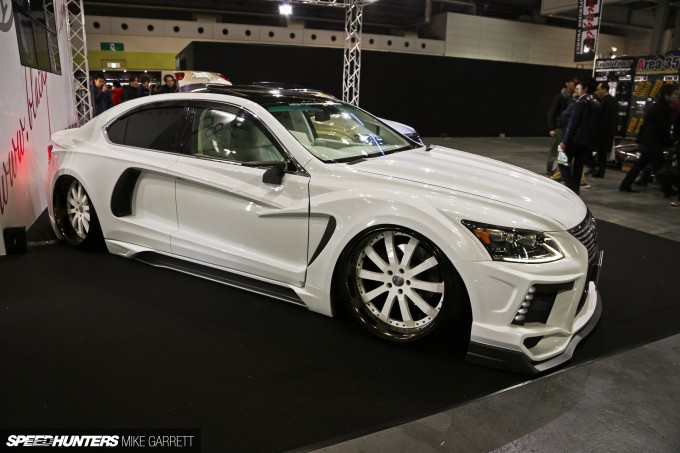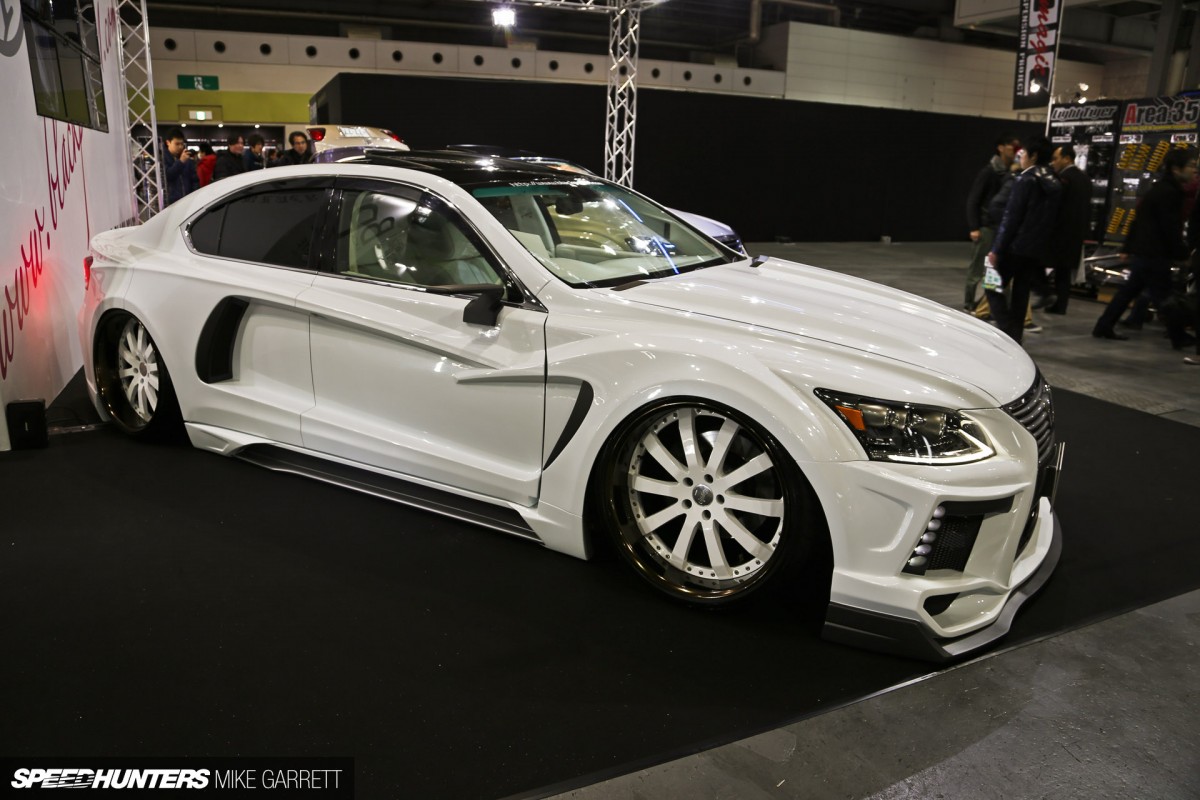 If there was one car crazier than the aforementioned Crown, it would be Black Pearl's Super LS, which thanks to its aggressive widebody conversion, bears almost no resemblance to the mild Lexus LS that it was built from.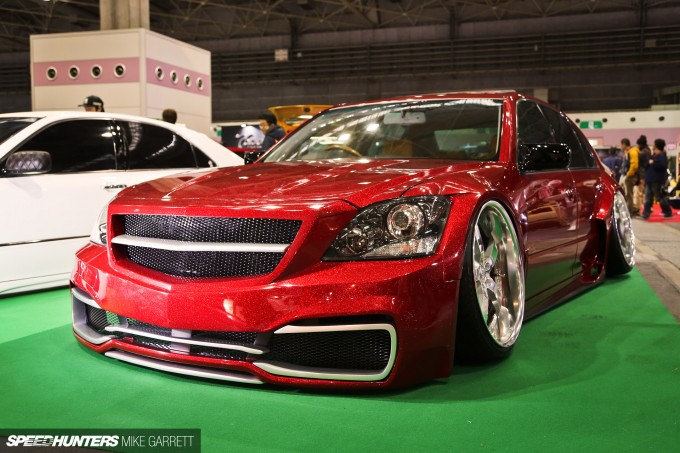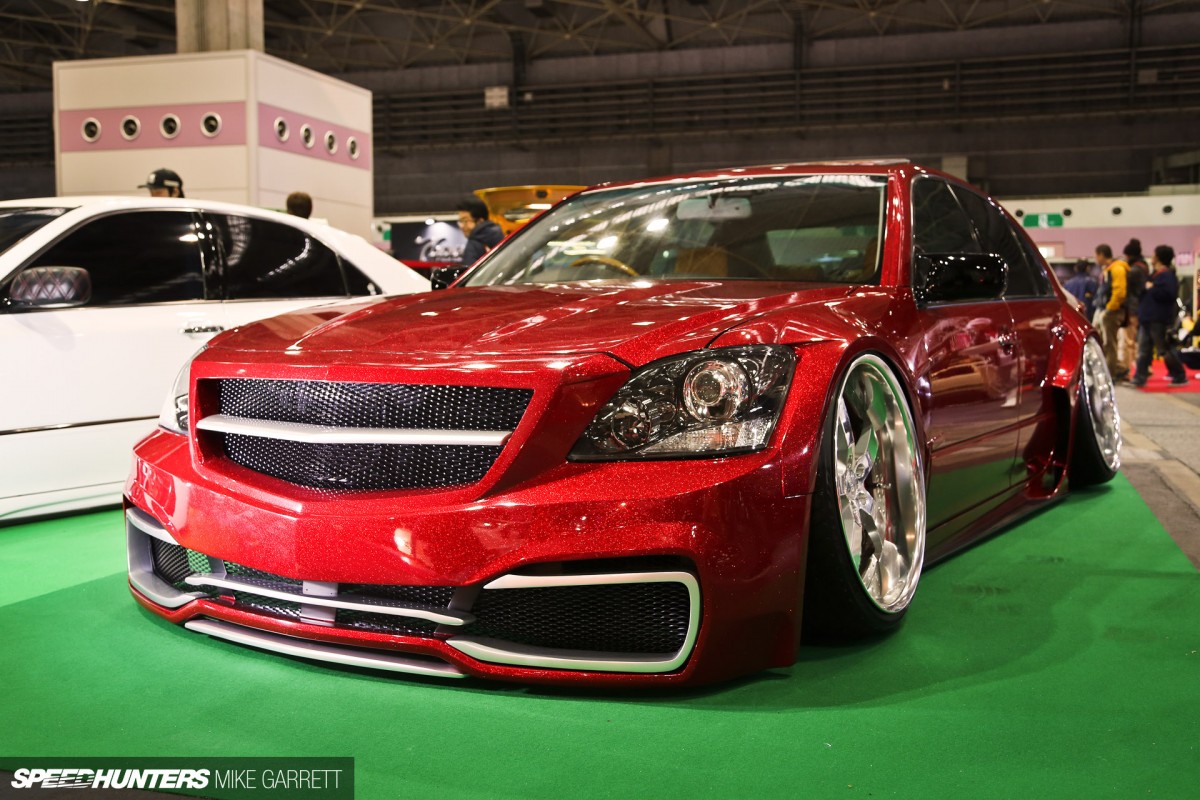 Wanofu (one-off) is a word you'll hear often around the halls of Osaka Auto Messe – especially when it comes to the VIP cars. This is Garage Excellent's UCF30 Celsior with a ton of one-off bodywork and a set of 22″ Work Equip E05 wheels.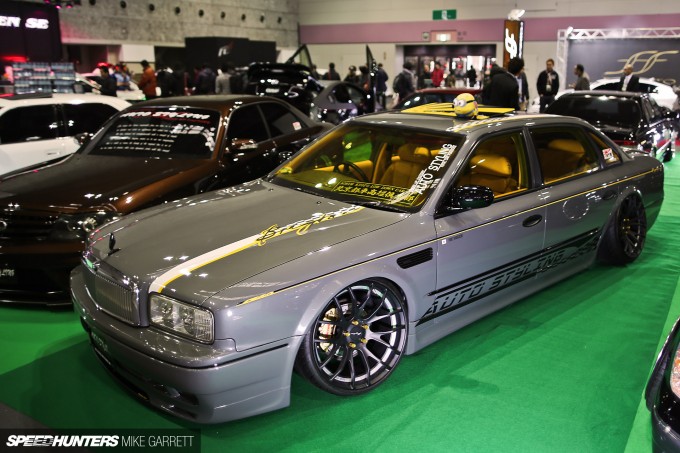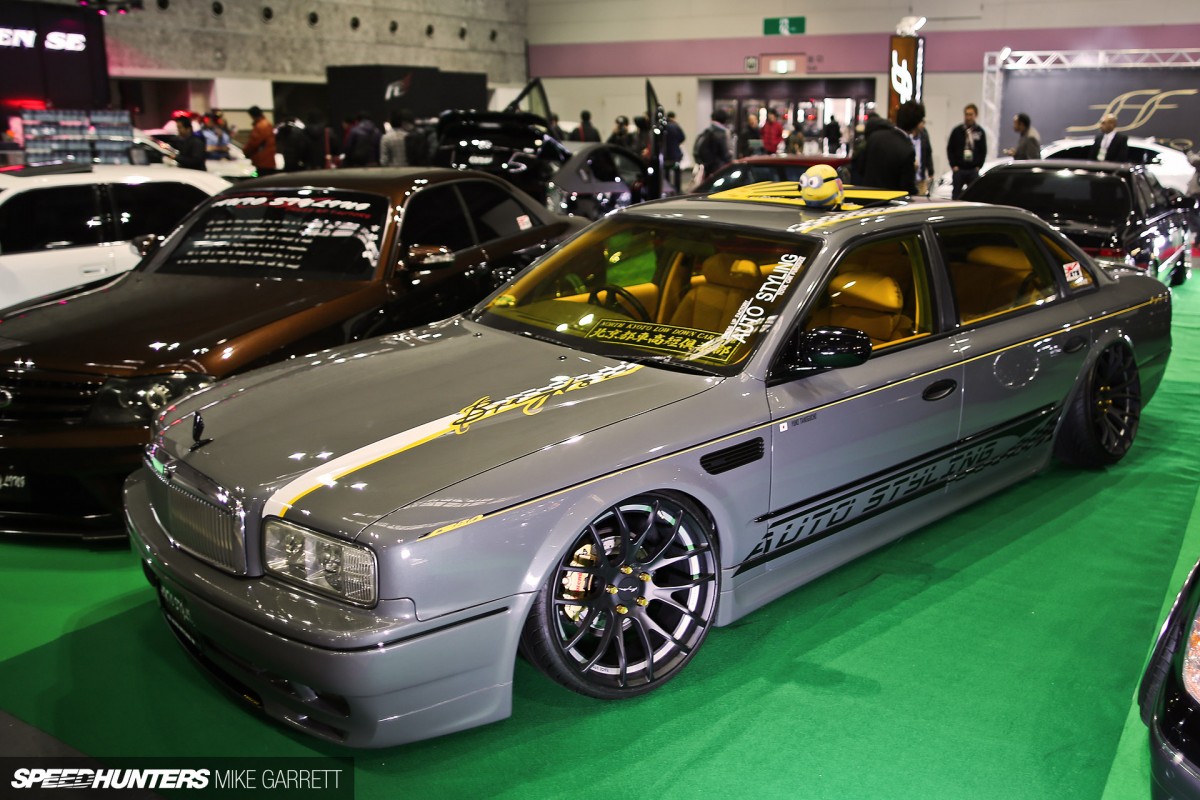 The G50 Nissan President is an old school VIP platform, but as this example from Auto Styling shows, this car has plenty of life left in it. It was definitley nice to see to this classic long wheel-base sled injected with some modern VIP styling.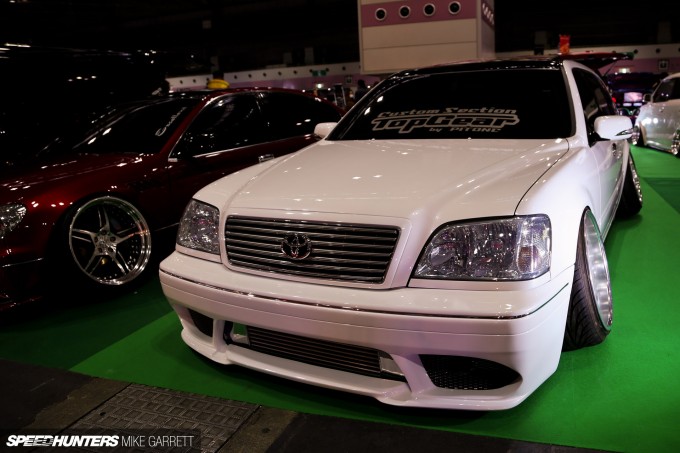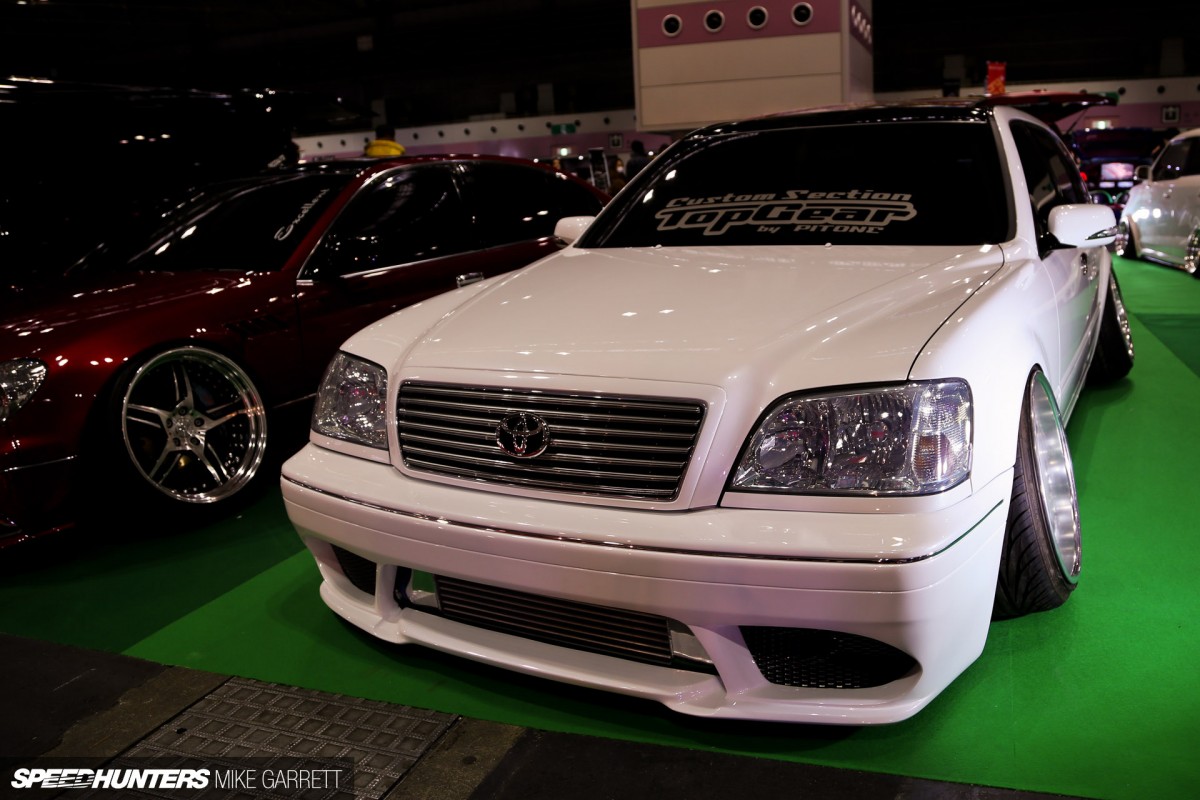 Party in the front, business in the back. That's basically how I'd describe the Pit1 Toyota Crown Estate.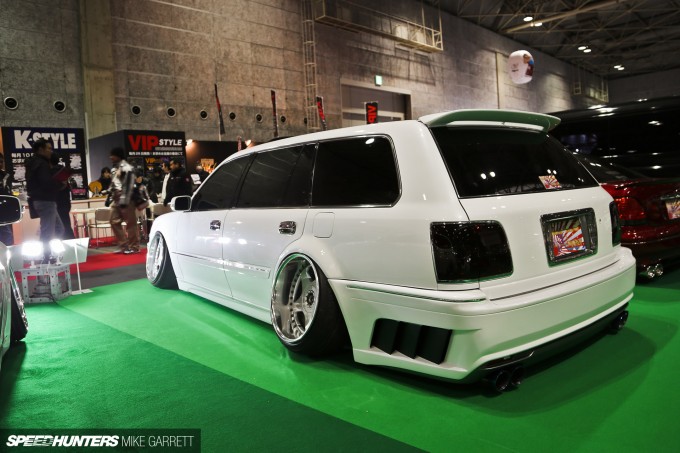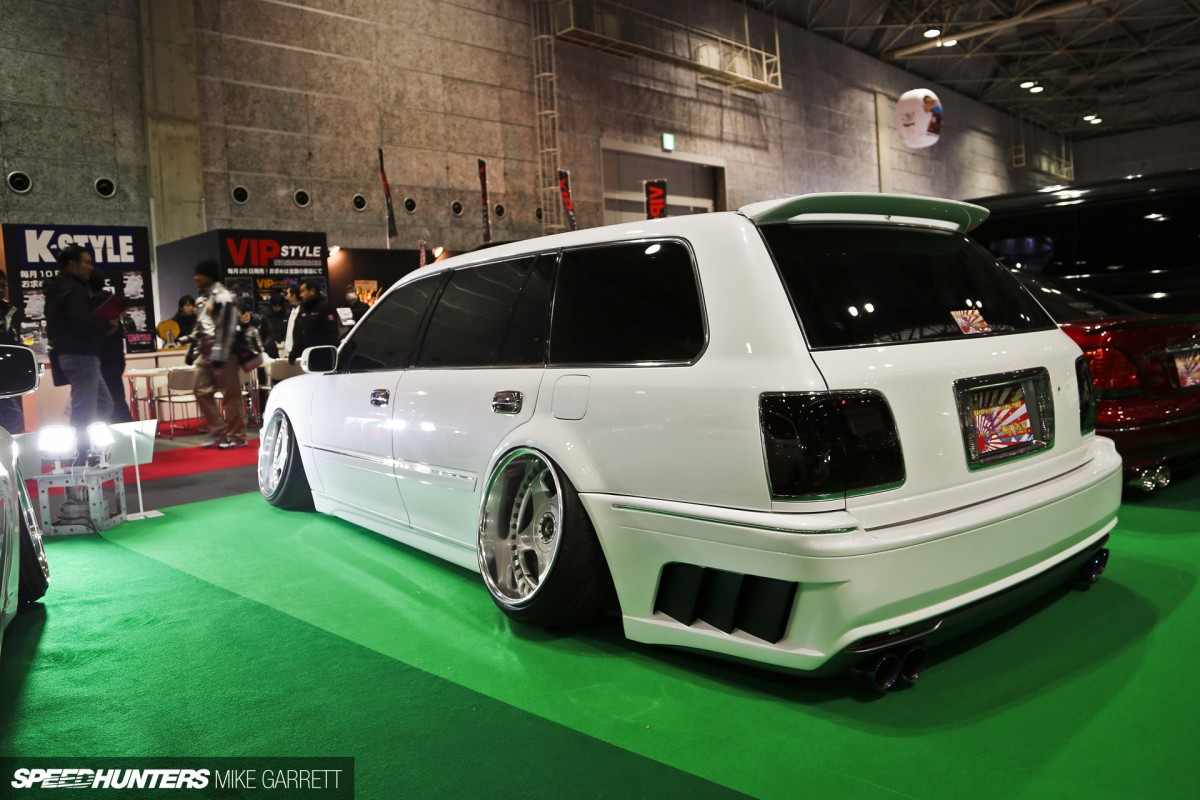 The Toyota Crown is of course one of the essential VIP platforms, so it's always cool to see a builder have some fun with the long roof version of Toyota's popular luxury machine.
High or low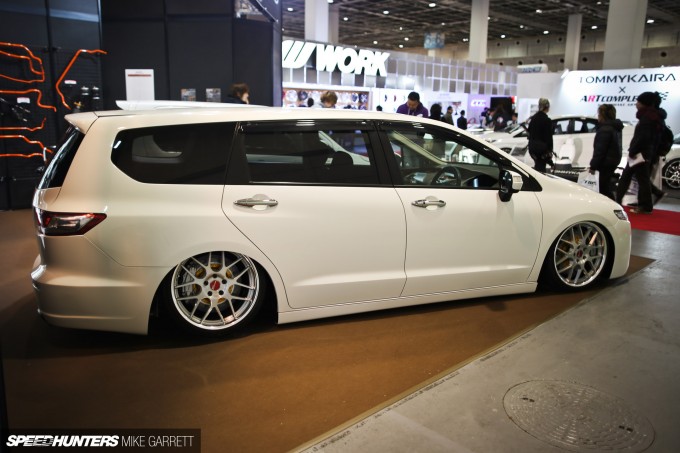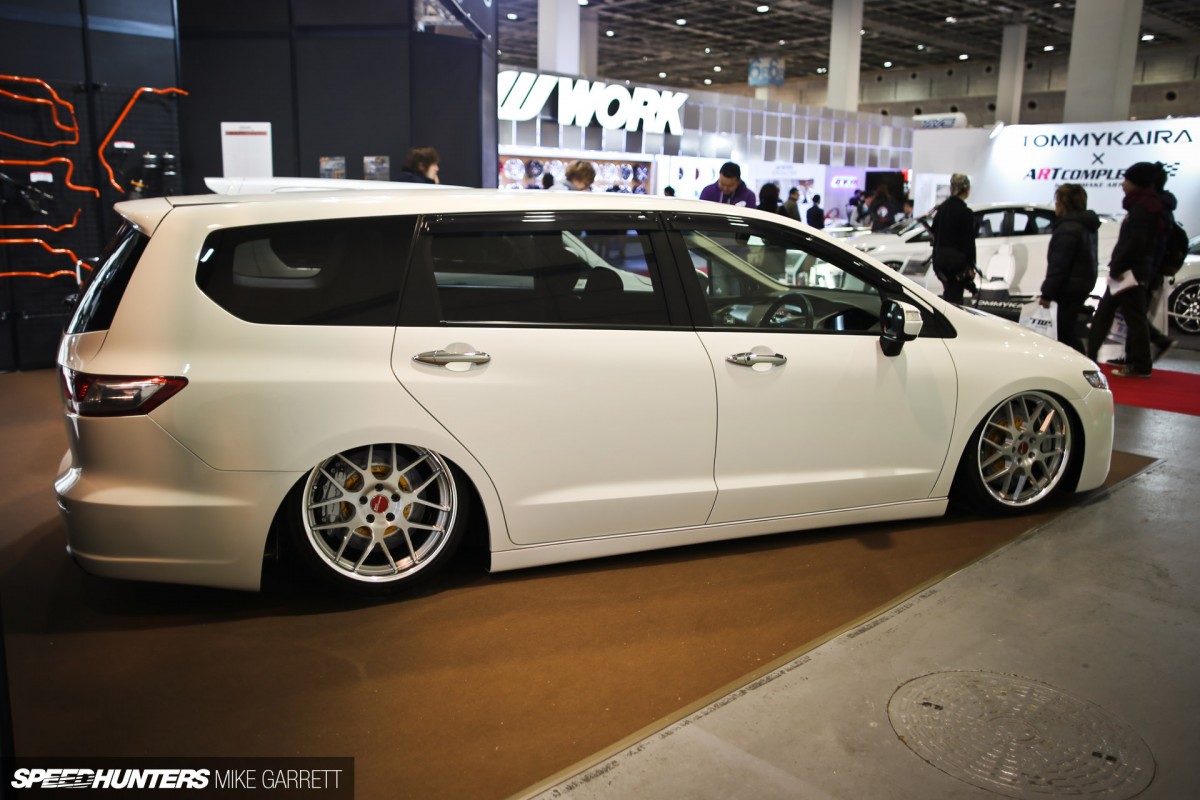 Speaking of people-haulers, I also quite liked this Honda Odyssey displayed by Kaz-Sus. Now if only we had this sleeker, more compact version of the Odyssey in the United States…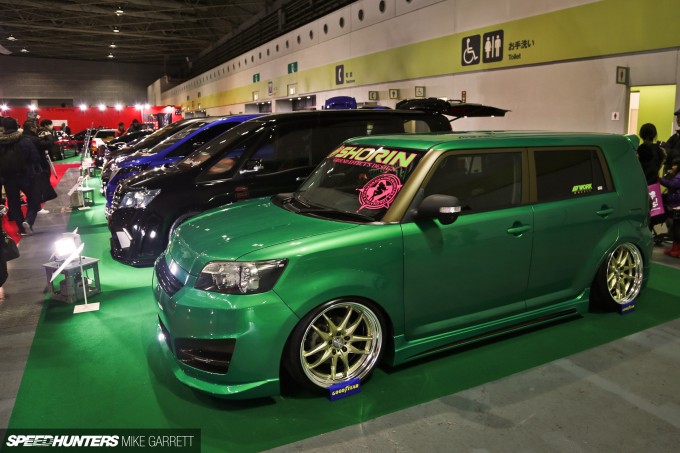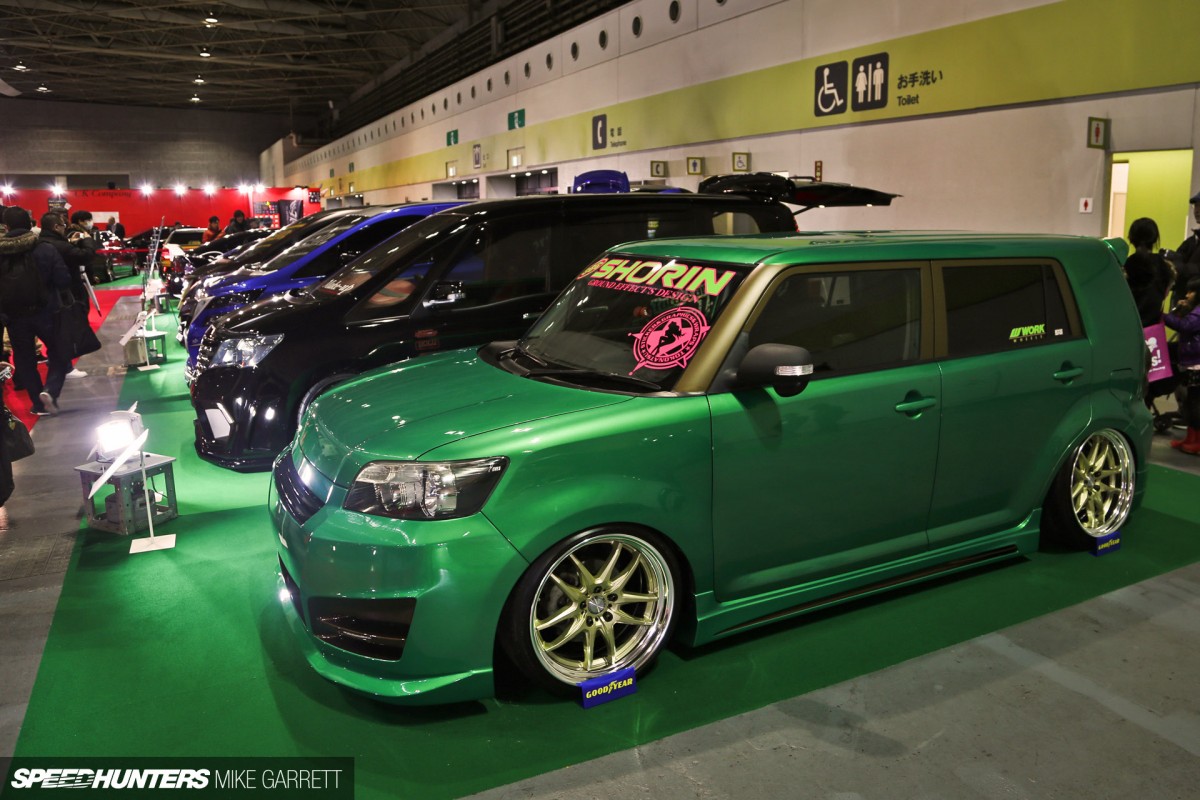 In the US, the car you see here is known as the second generation Scion xB, but in Japan it's called the Toyota Corolla Rumion and it's not a vehicle you see too often. That's why it was cool to see this customized Rumion from SHORIN, an aero parts maker which made the trip all the way from Tochigi, northeast of Tokyo.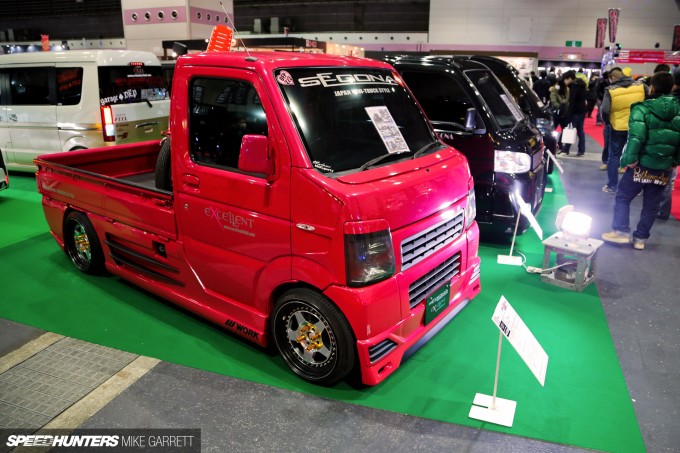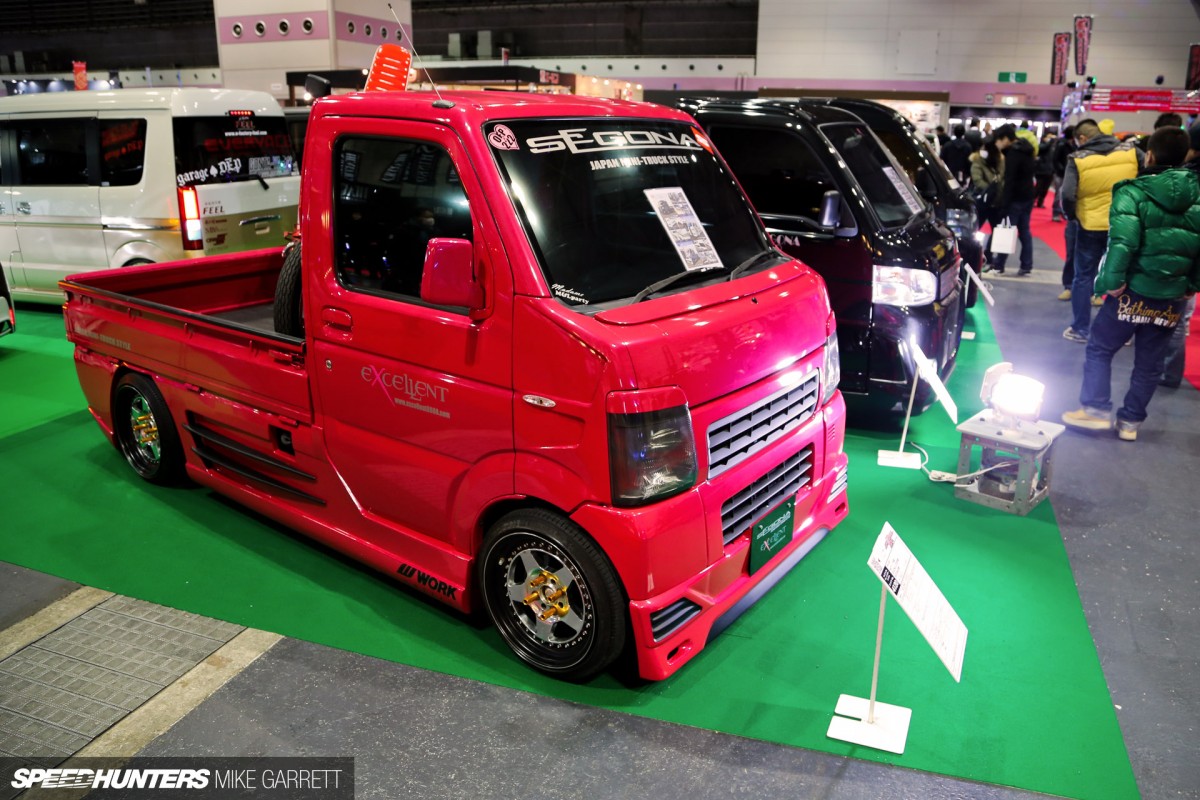 In Japan, the kei truck is about the simplest and most utilitarian vehicle one can buy, yet for some reason this year's Auto Messe was filled with customized kei trucks of all types. That's one of the things I love about Japan – there's really no vehicle that's off limits when it comes to modification.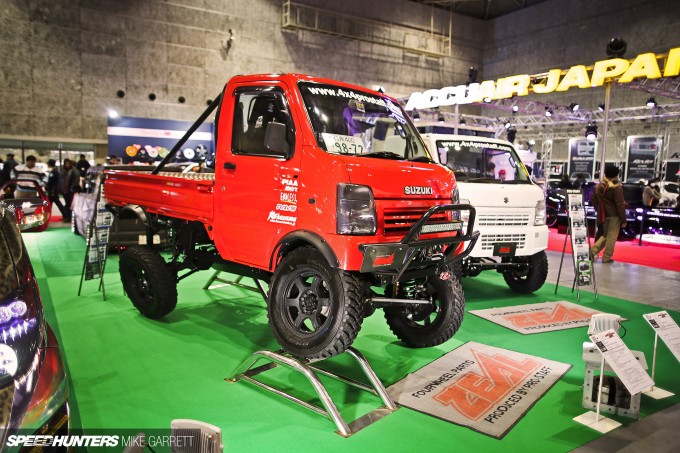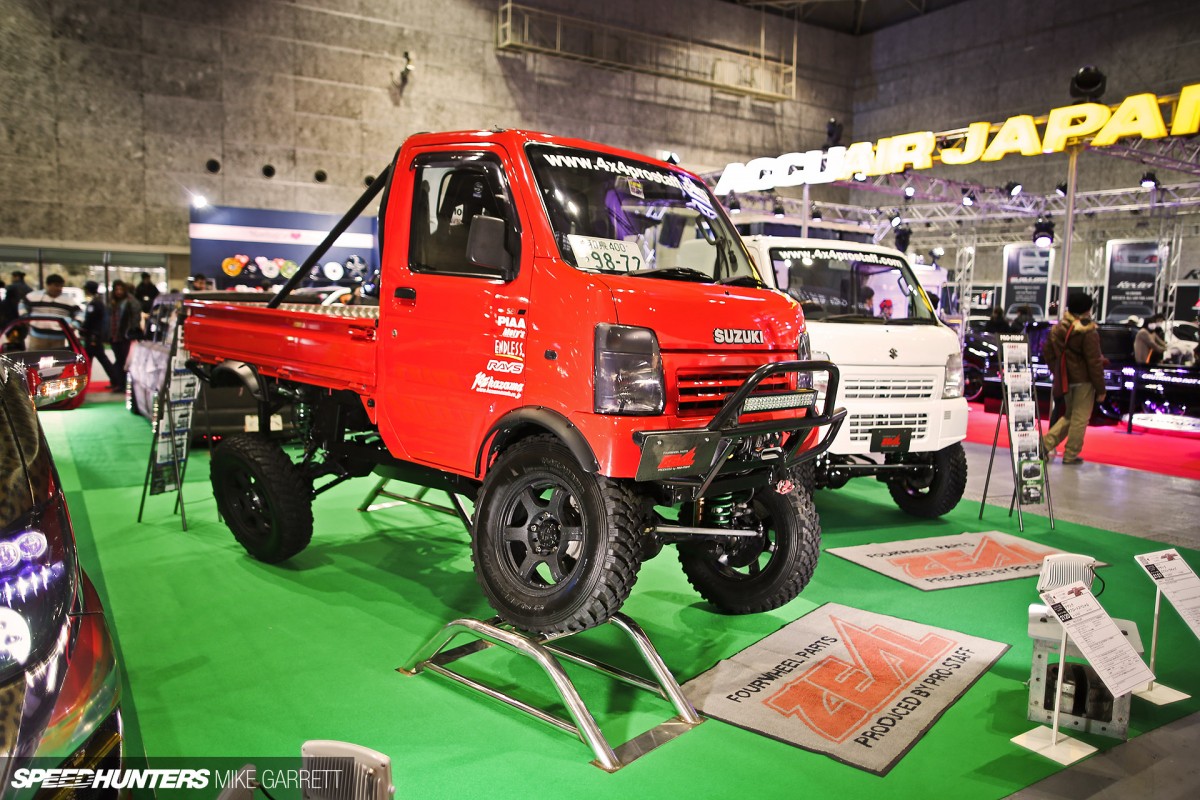 While the traditional route may be to lower these kei trucks for a more VIP or performance-inspired look, Japan's off-road scene includes companies like Zeal, who displayed this all-terrain capable Suzuki Carry.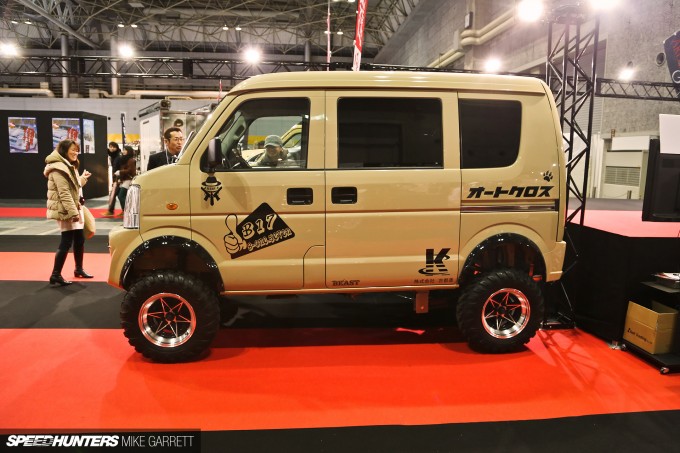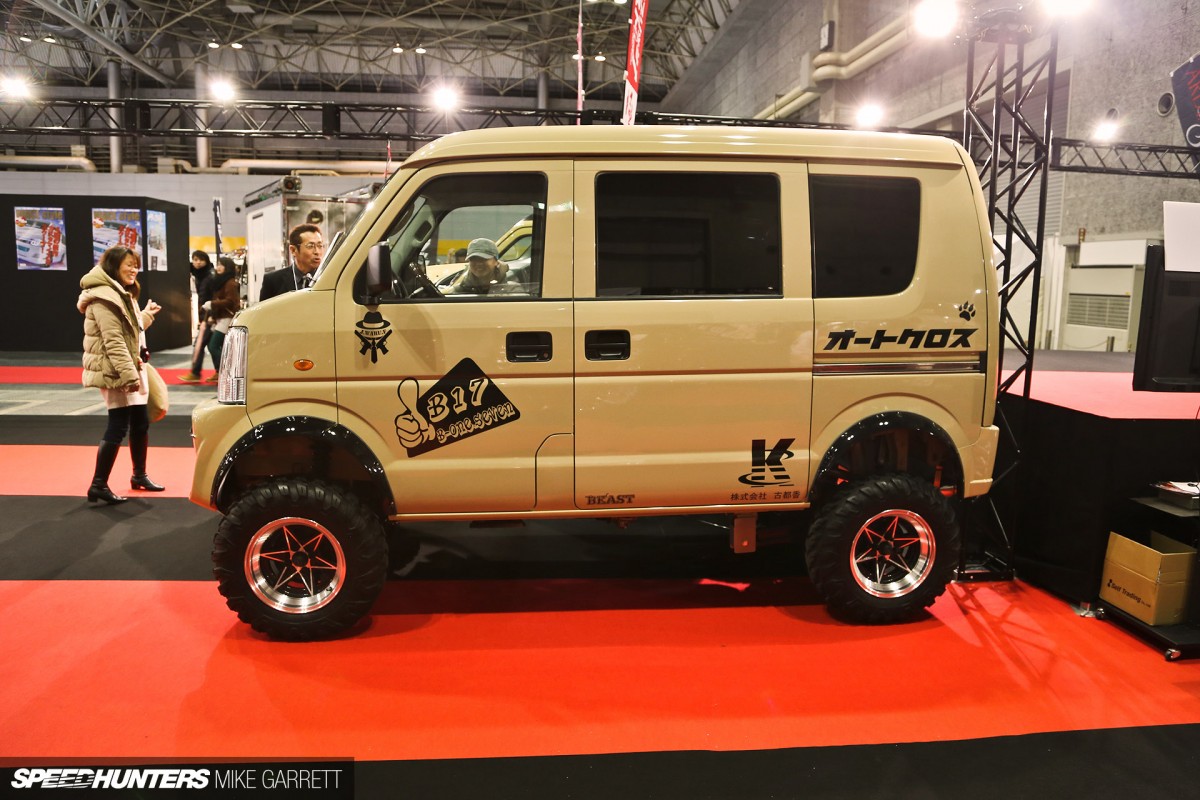 Even kei vans were getting in on the fun, like this Suzuki Every built by an outfit called B17.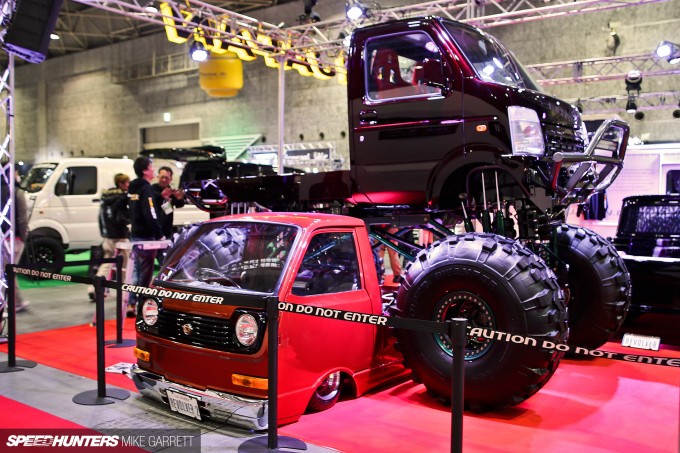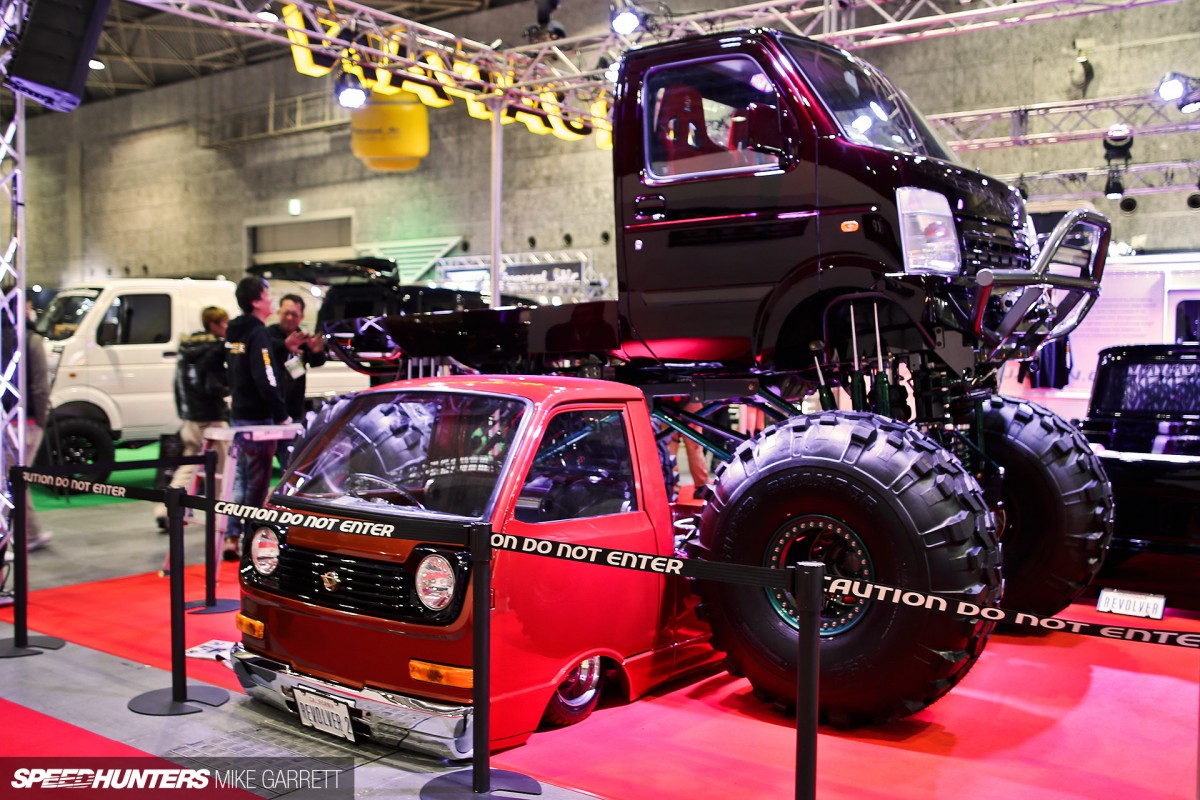 There were actually a few moments when I thought I was at the SEMA Show. Only rather than lifted Silverados and F150s, these were Suzukis and Daihatsus.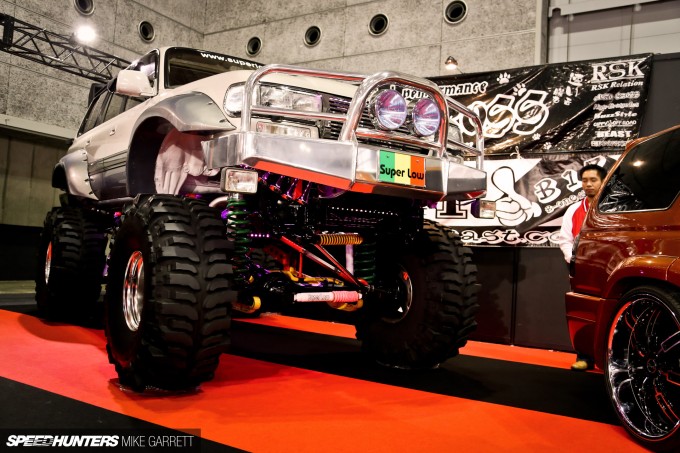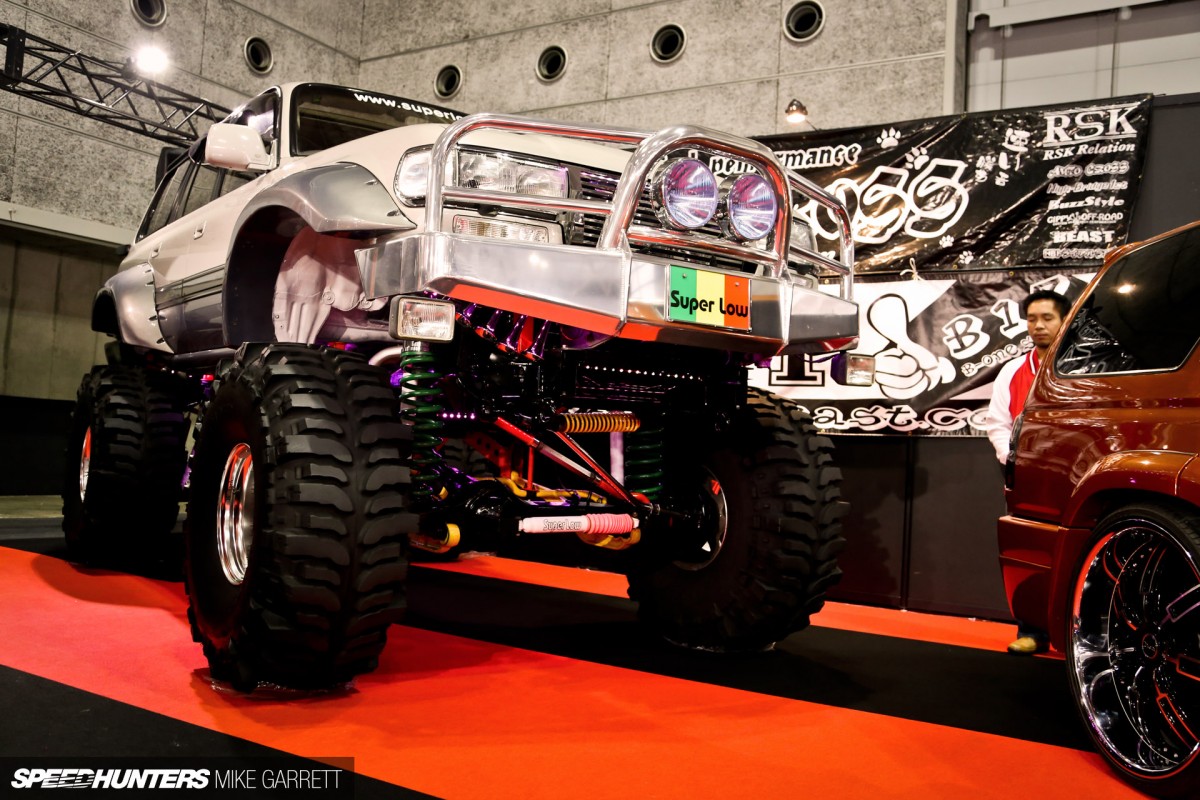 Check out this enormous Toyota Land Cruiser displayed by a shop from Nara called Super Low. Just a little bit of irony there, eh?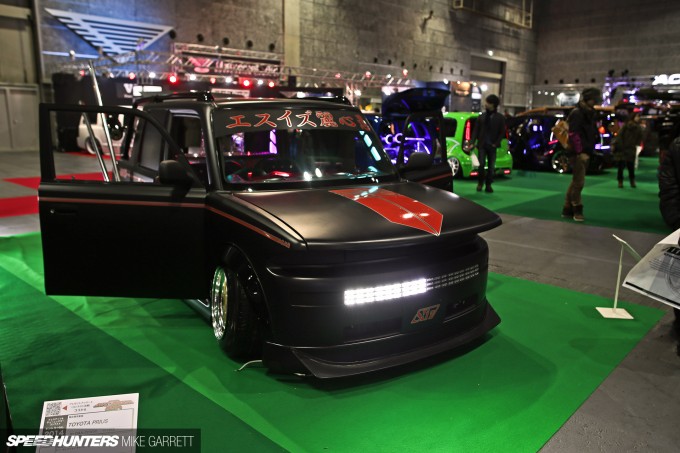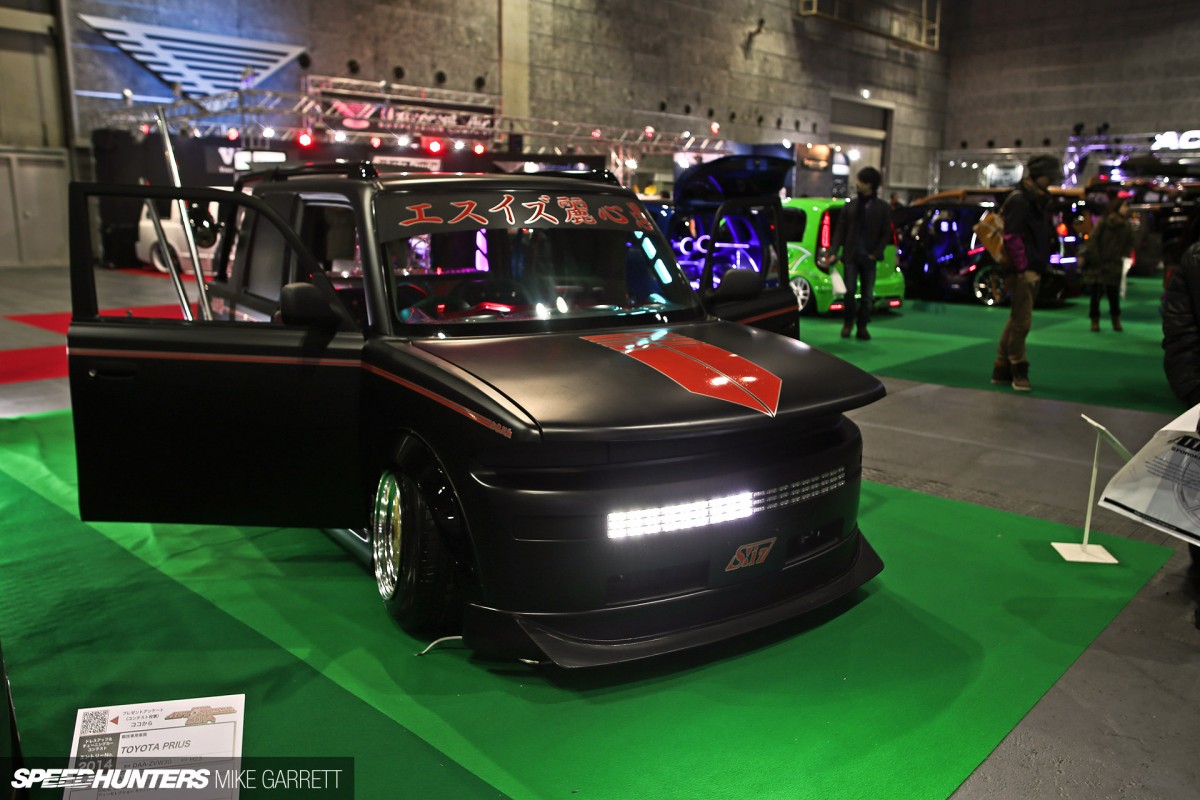 Adult Toy - that's the name given to this kyusha-influenced Toyota bB Open Deck from Ideal. Up front you can see the custom long nose conversion and wild LED set-up in the front bumper.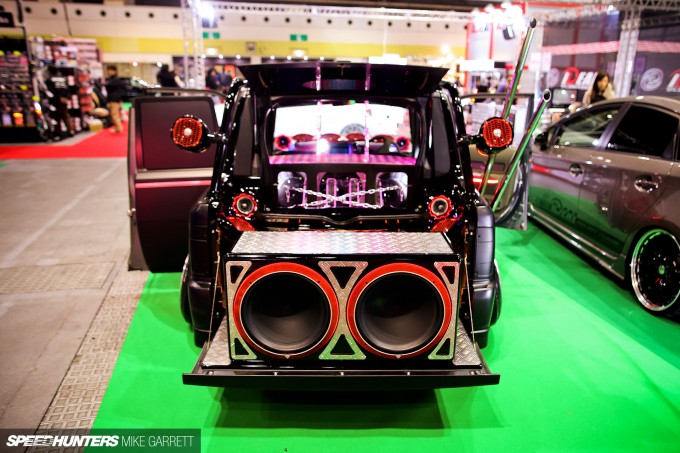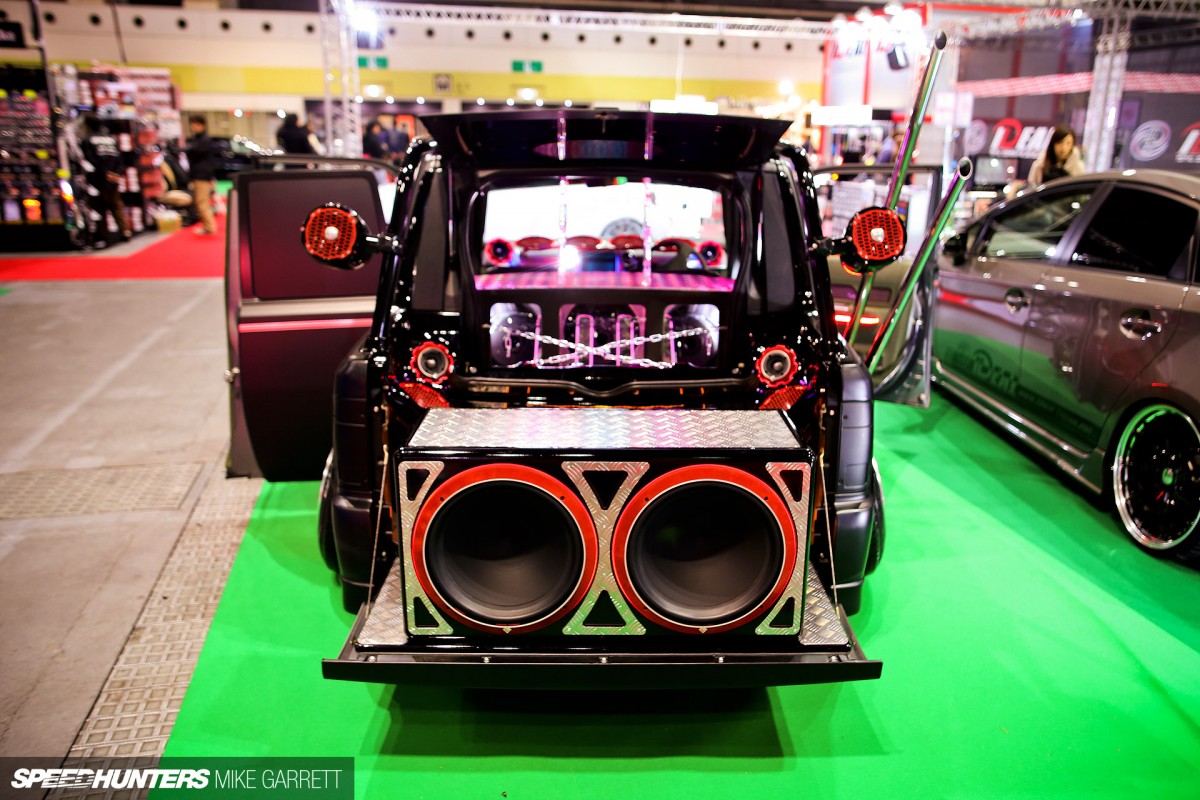 In stock form, the bB Open Deck was designed to provide some additional utility, but in this case the rear bed and tailgate area have been completely filled with audio equipment.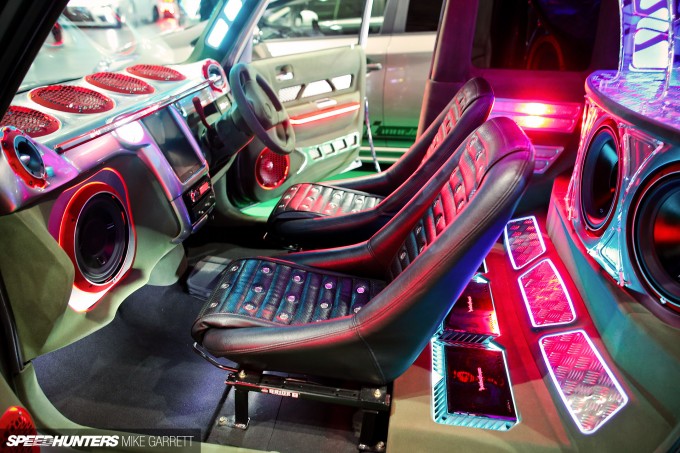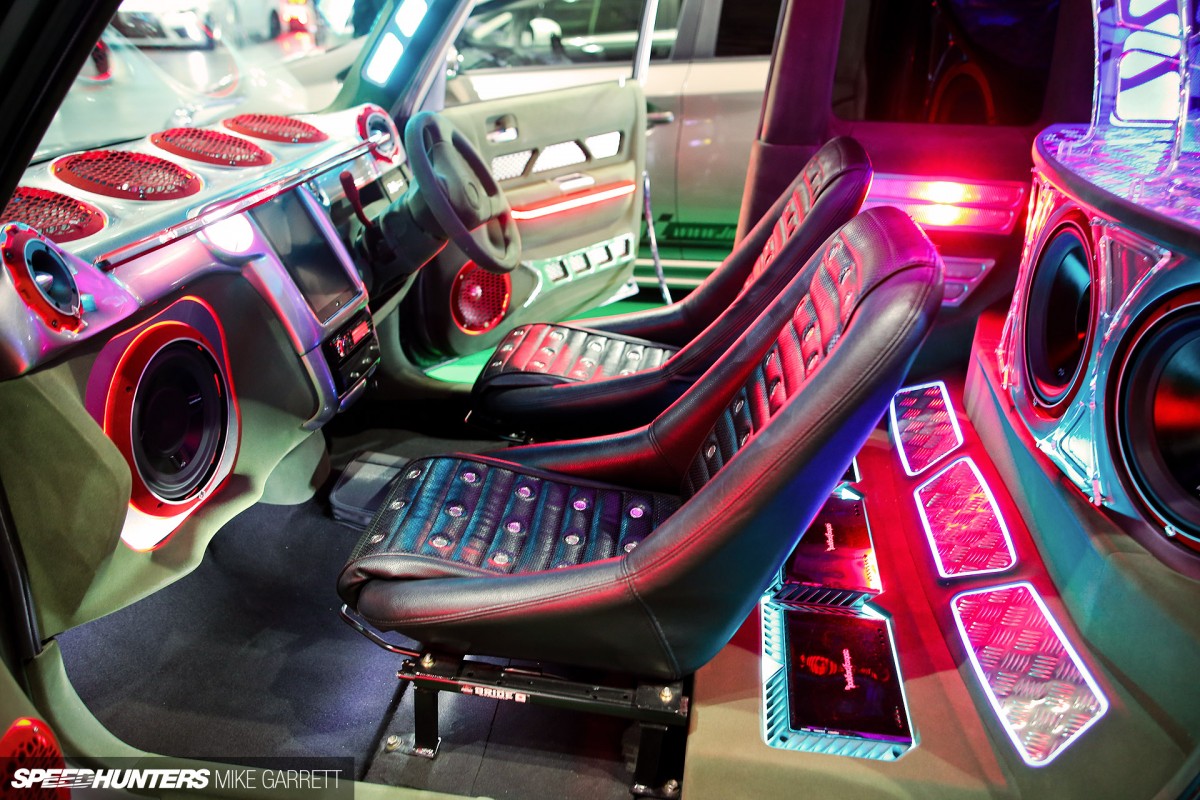 Likewise, the interior was also packed full of audio bits along with a couple of lowback bucket seats to keep the vintage theme going.
Next level custom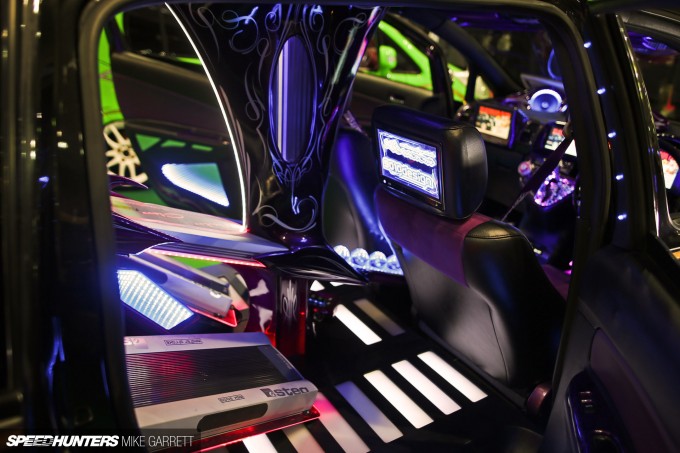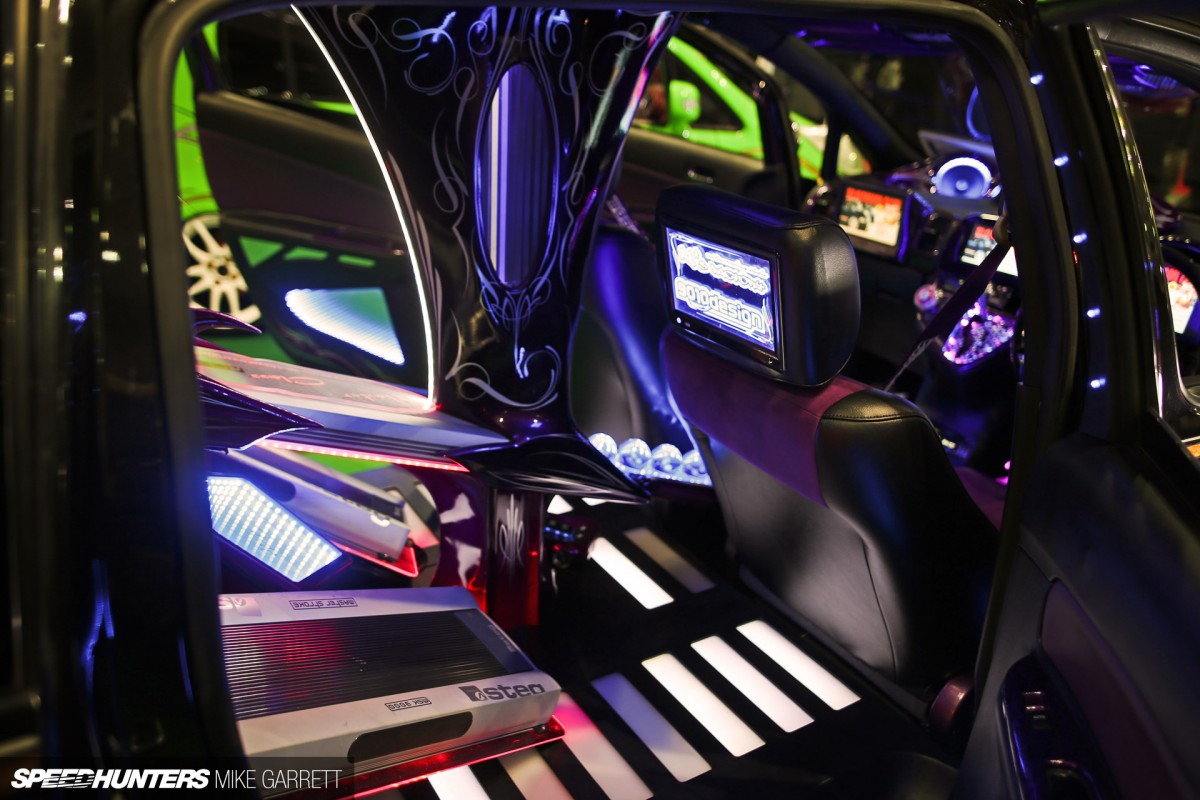 While on the subject of interiors, this year's show featured some rather extreme cockpits. We are talking things like custom upholstery and speaker housings, pulsating light set-ups, and more LCD screens than you can imagine.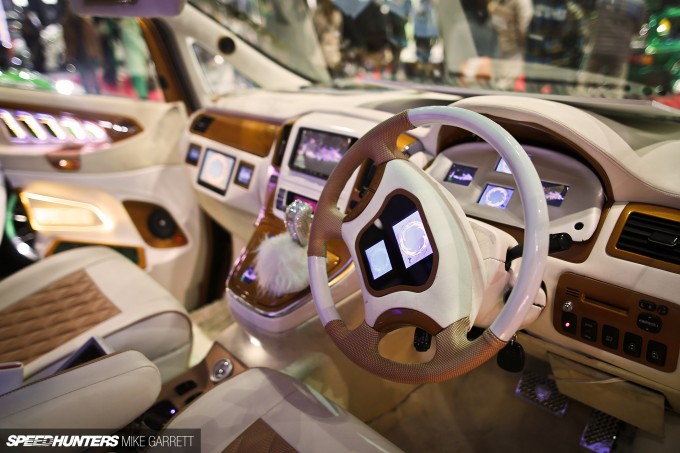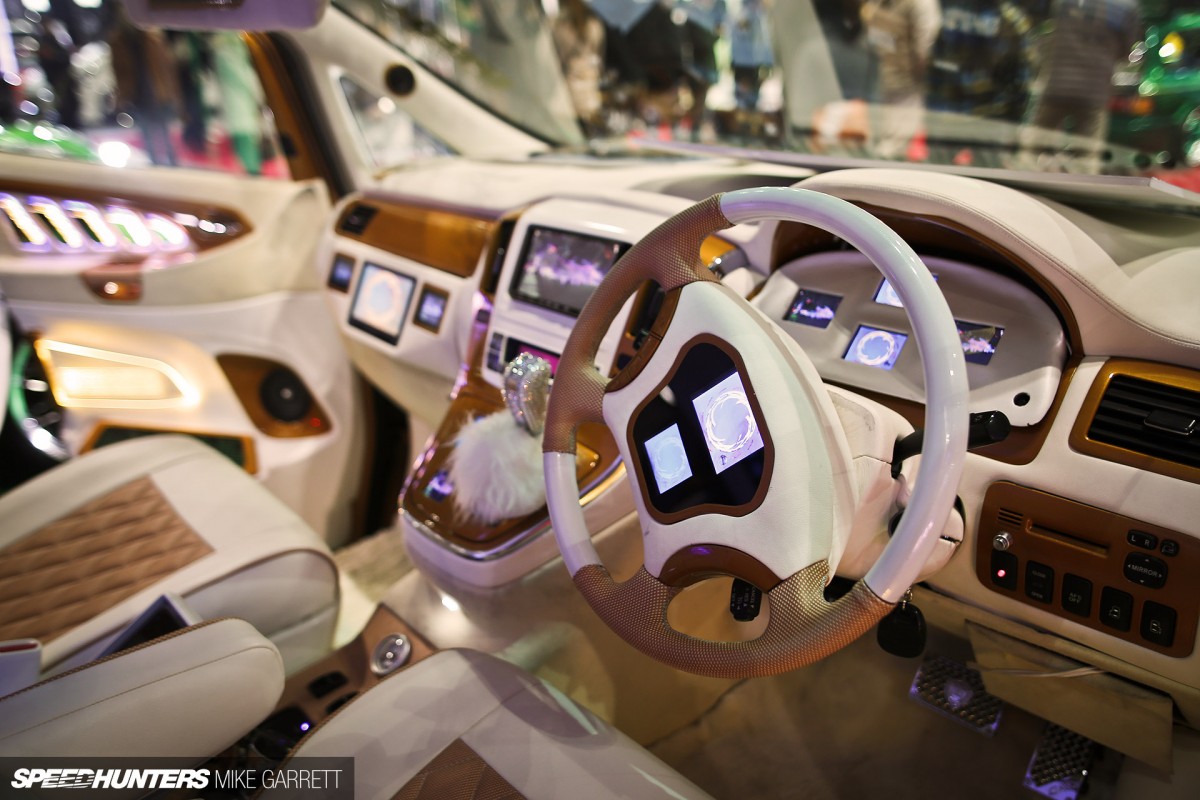 Running out of space for screens? How about filling up the gauge cluster and steering wheel with them?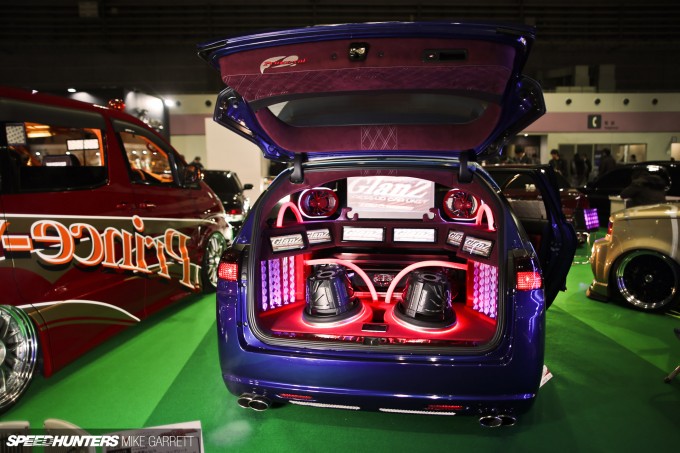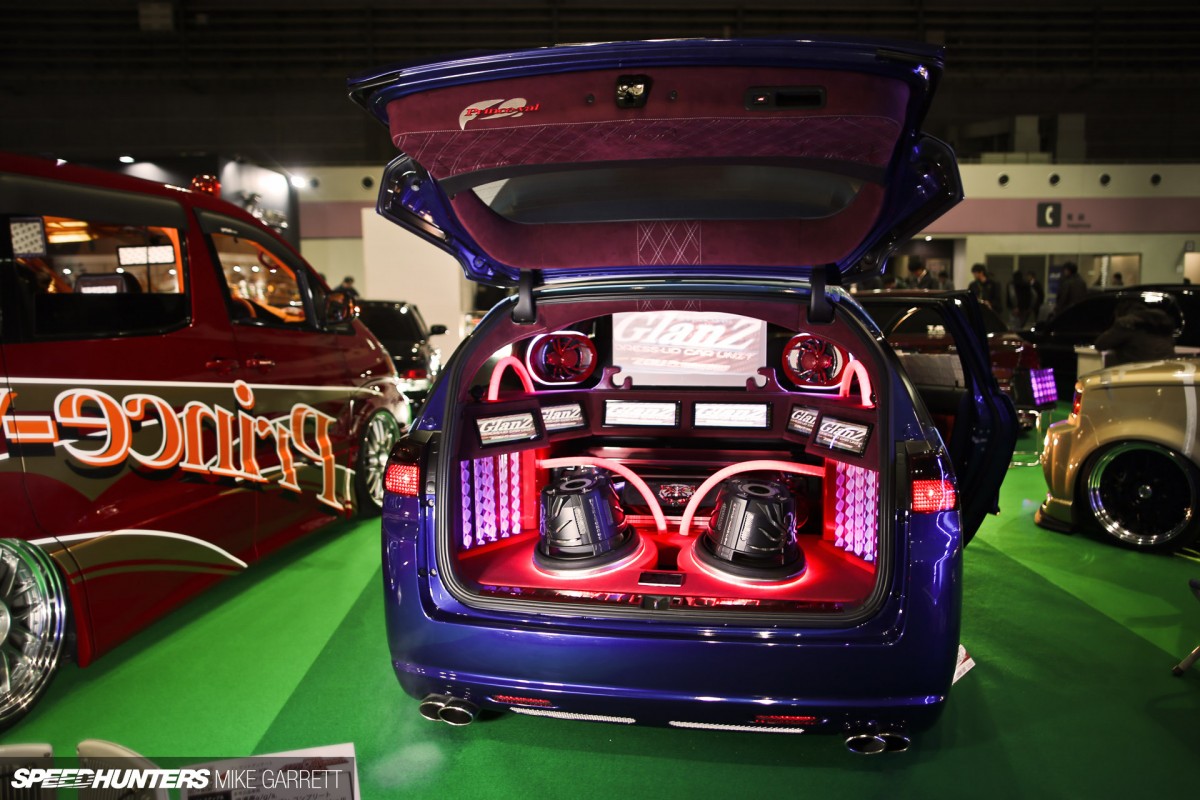 While I'm personally not a huge car audio guy, it's really impossible not to appreciate the work and creativity that's gone into these set-ups. It's all part of keeping an open mind and enjoying cars on a broader level.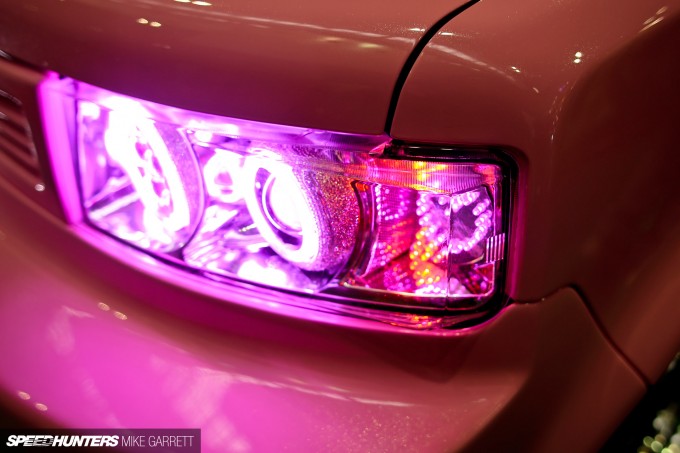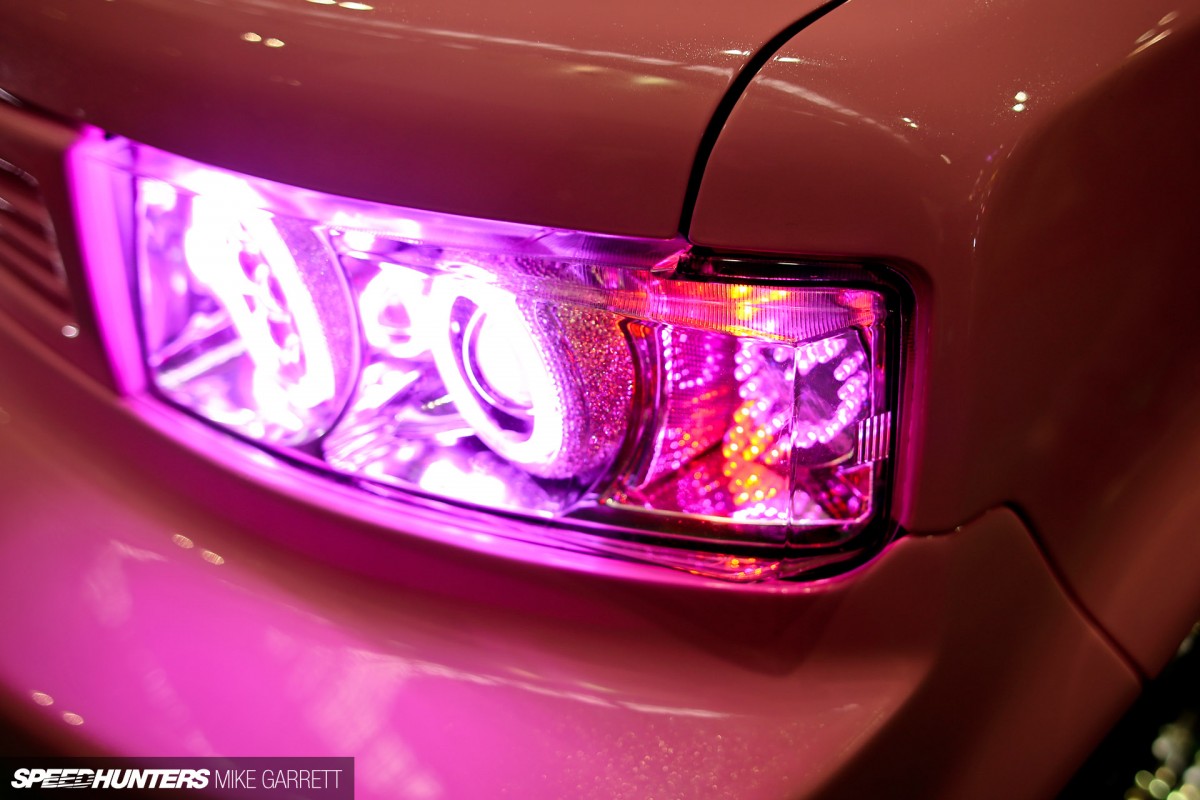 One thing I love about visiting Osaka Auto Messe is seeing all the little custom touches people have done on their cars. LED hearts in headlights for example.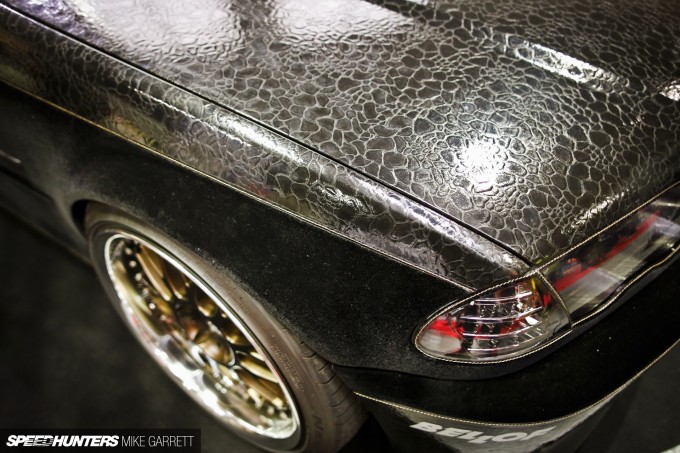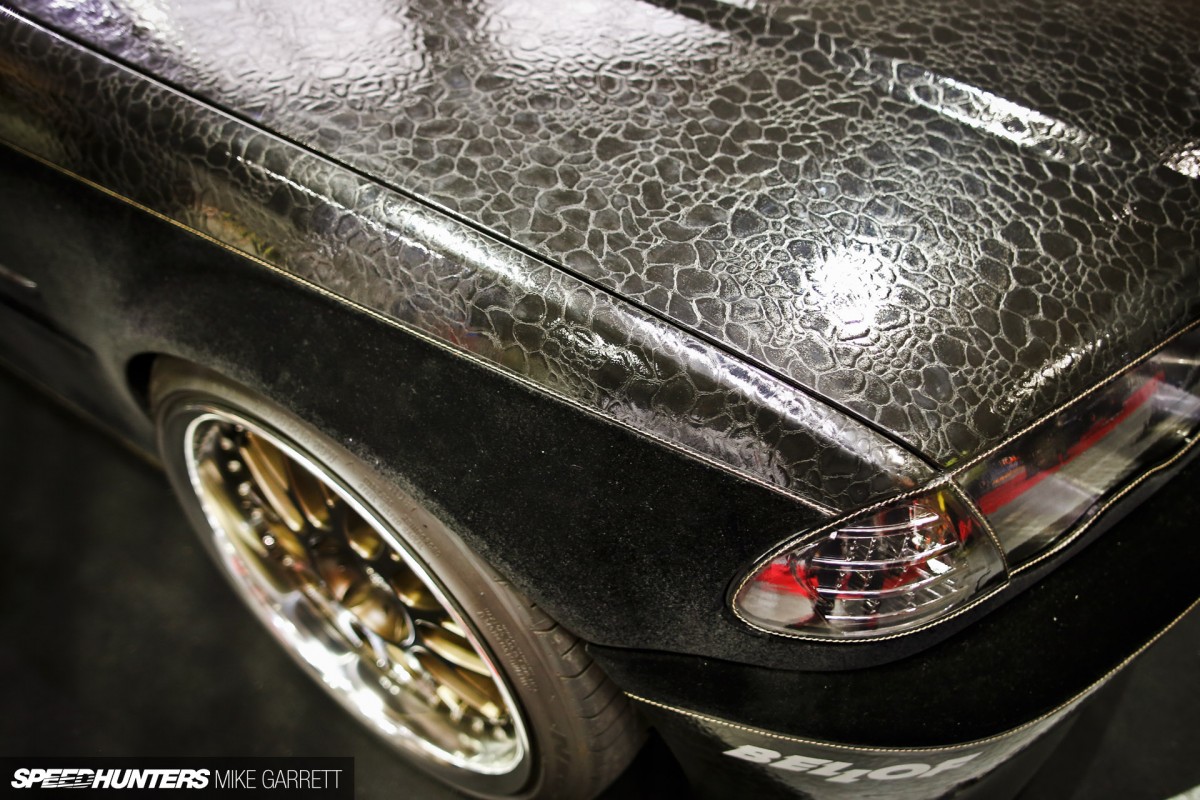 These days it's not just the interiors where you'll find custom upholstery and stitching. This year's show featured bodywork covered in all sorts of different materials.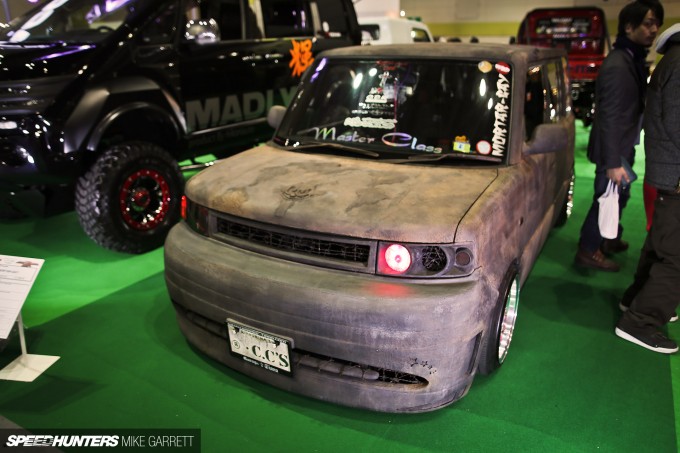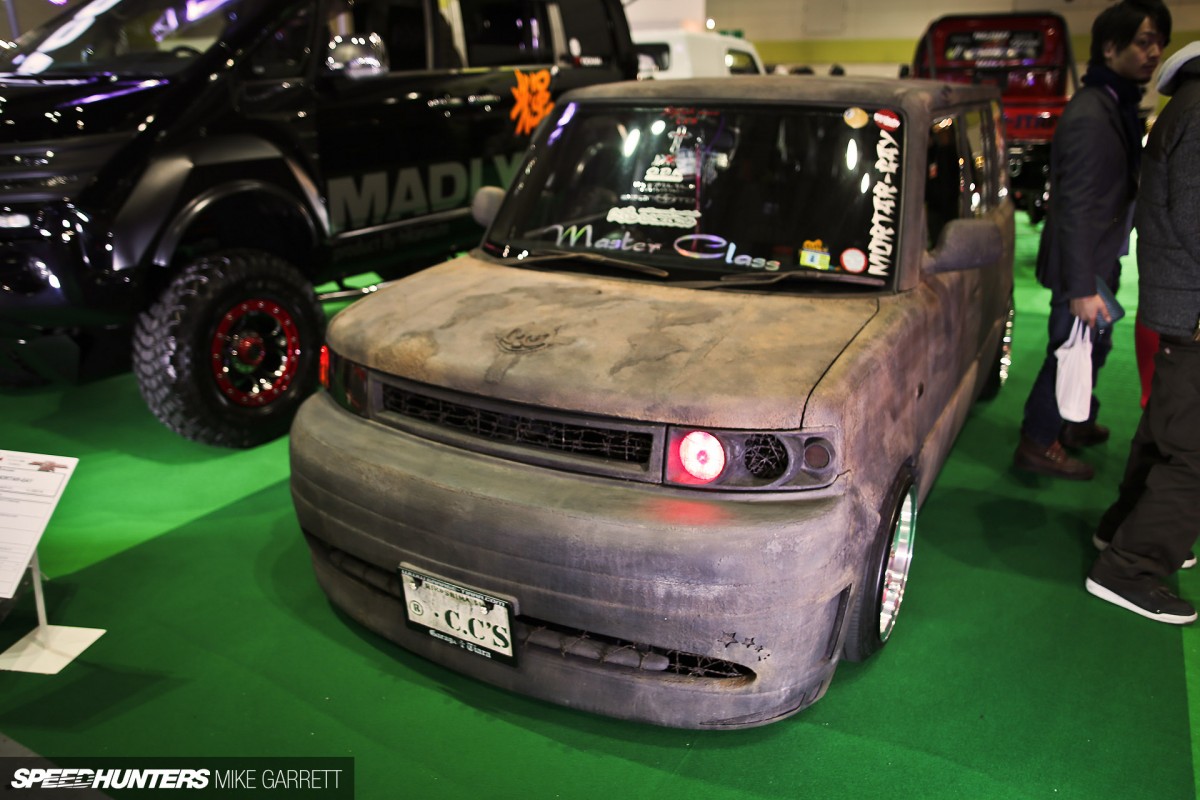 The builder of this Toyota bB from Hiroshima took the creativity one step further by coating the entire body of his car in cement. Yes, cement.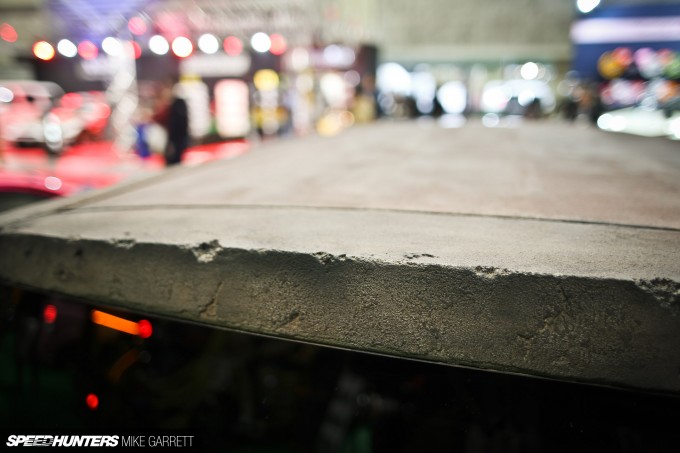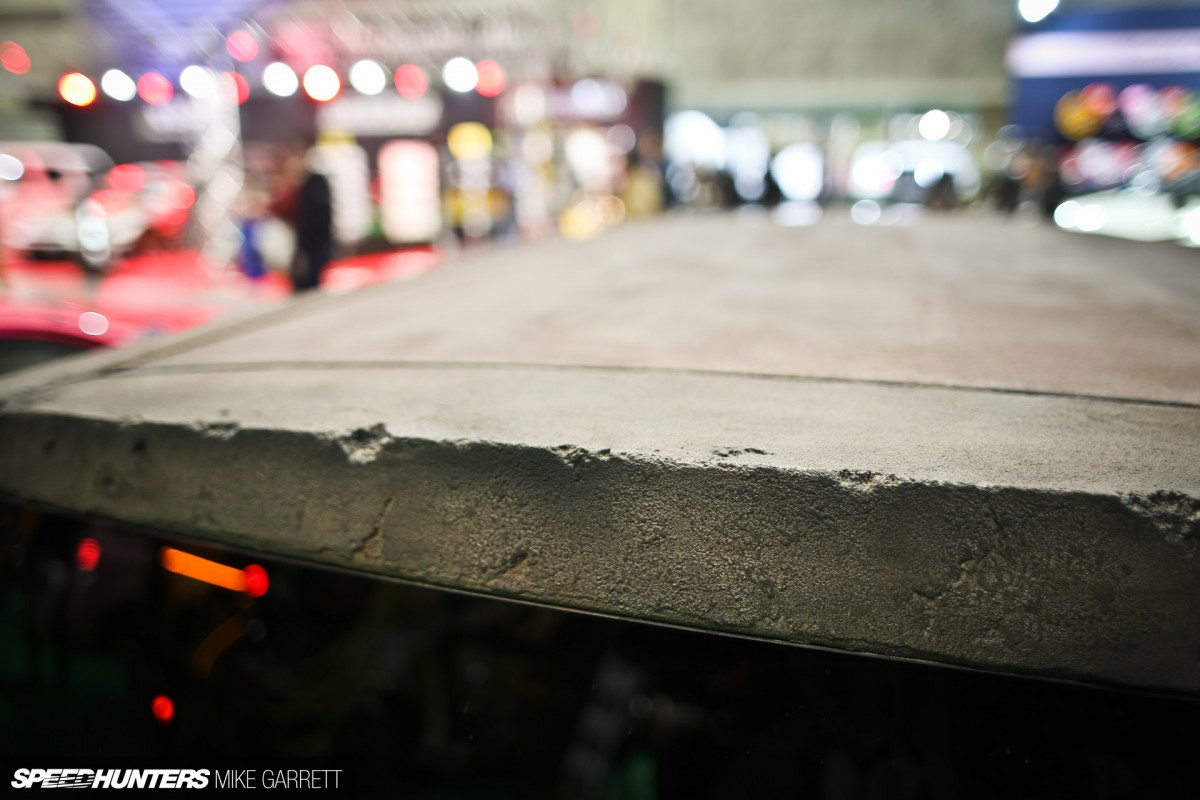 While it might not be the best choice for those looking to save weight, it's certainly one of the most unique exterior treatments I've ever seen.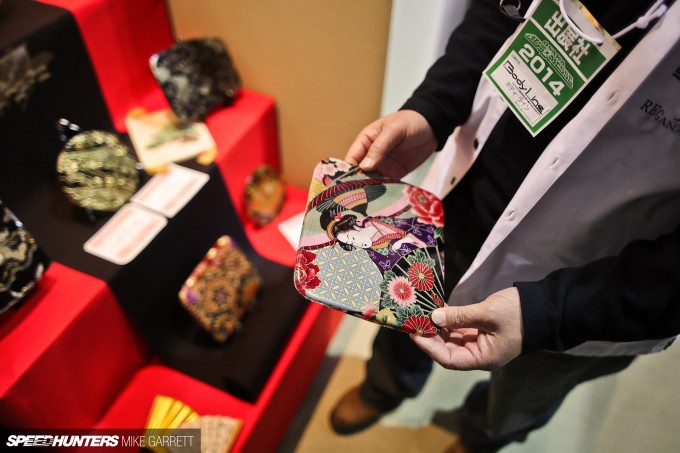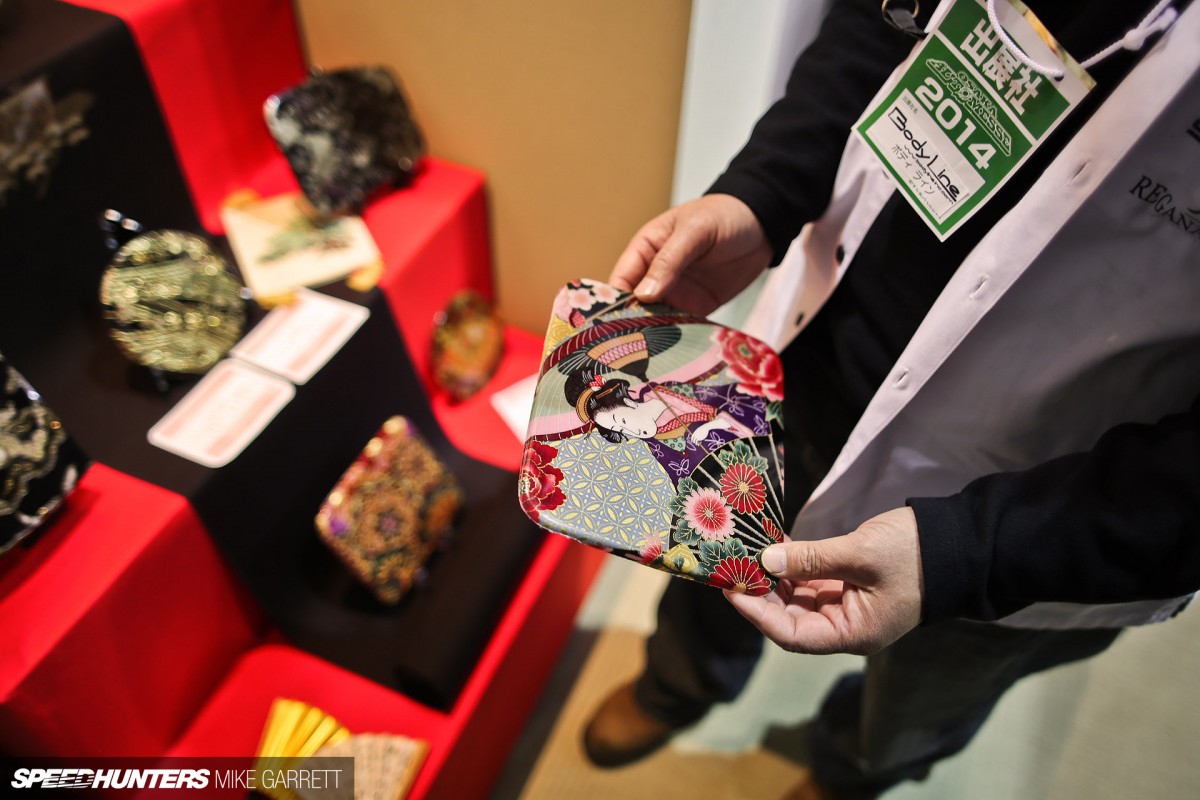 This isn't paint, nor a vinyl wrap – it's actual traditional Japanese fabric that's been glassed over onto various body parts like gas lids and trim pieces.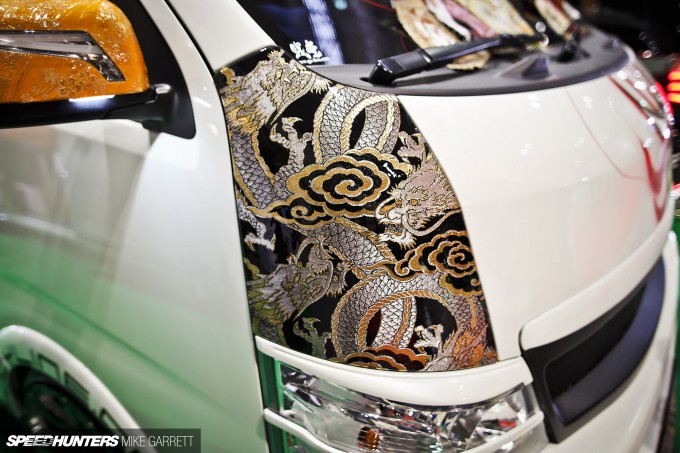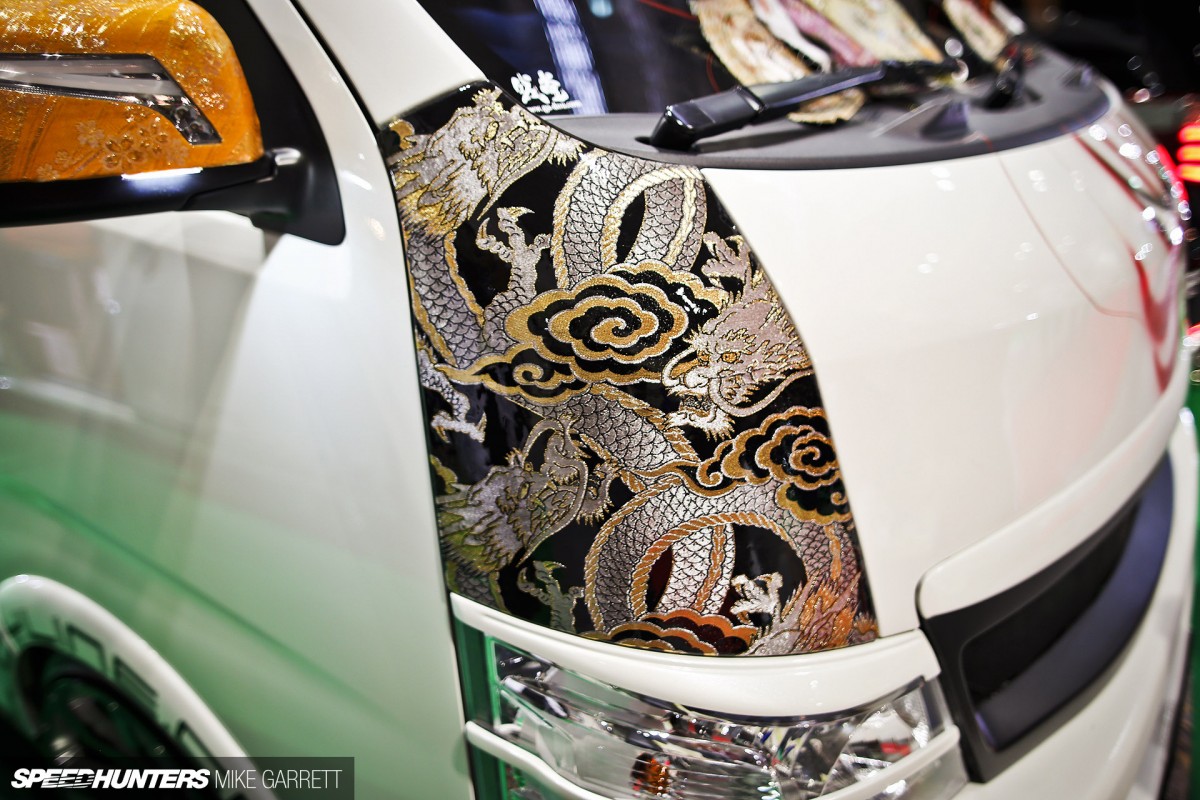 While covering an entire car like this would probably be too much, it works perfectly for highlighting a single panel as seen here on this van.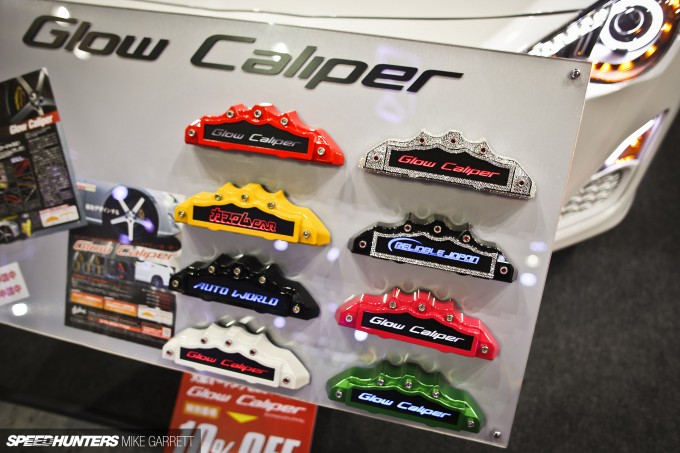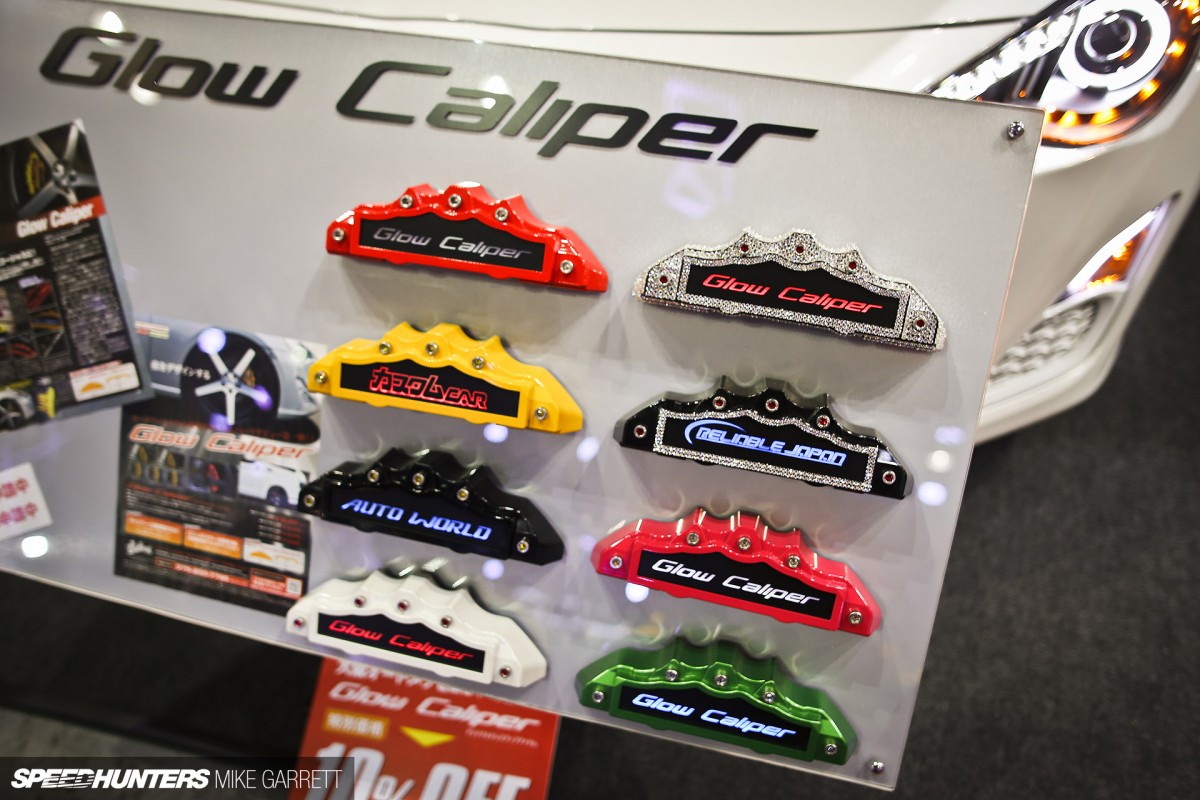 Glowing brake calipers? Sure, why not?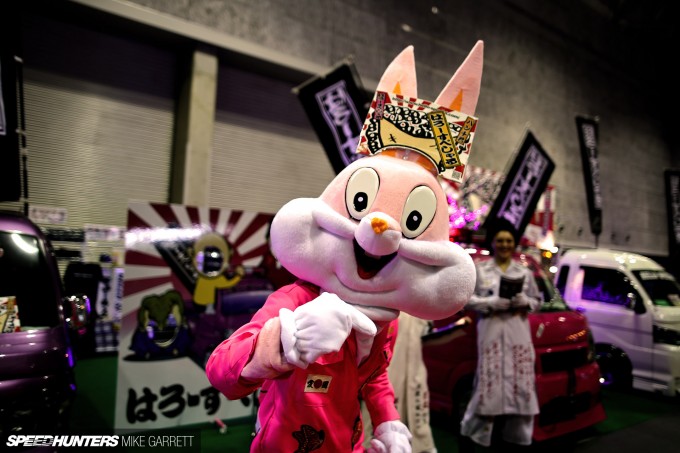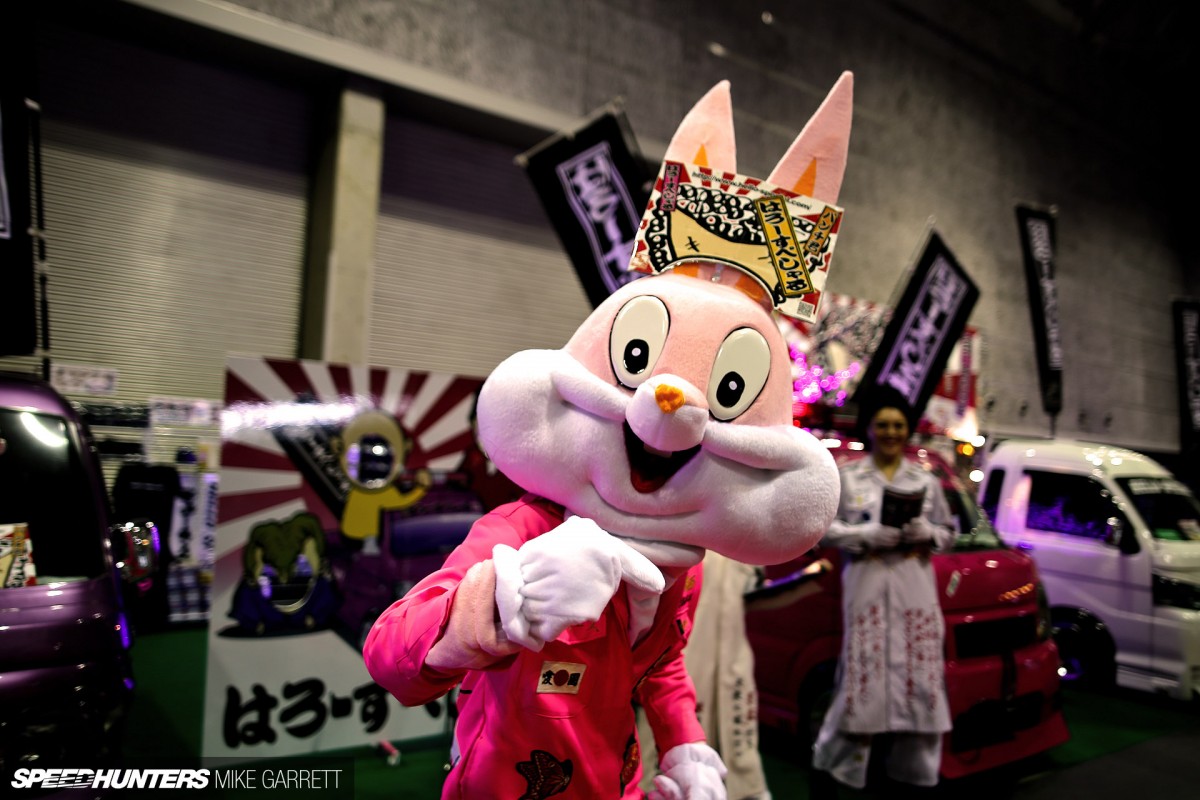 There you have it. Just a little bit of the stuff that makes Osaka Auto Messe one of the craziest car shows on earth. Next time we'll step outside and take a break from the madness with a look through the Auto Messe parking lot.
Mike Garrett
Instagram: speedhunters_mike
mike@speedhunters.com