Left my heart in Osaka
Good morning from Tokyo, Japan everyone. As I write this, I'm currently on a train heading out to visit some family before flying back to the United States tomorrow, but I think my heart is still a few hundred kilometers away, back in Osaka where I spent the weekend.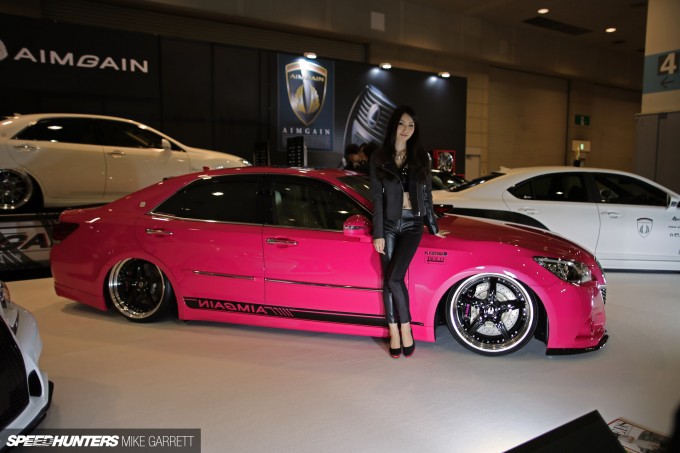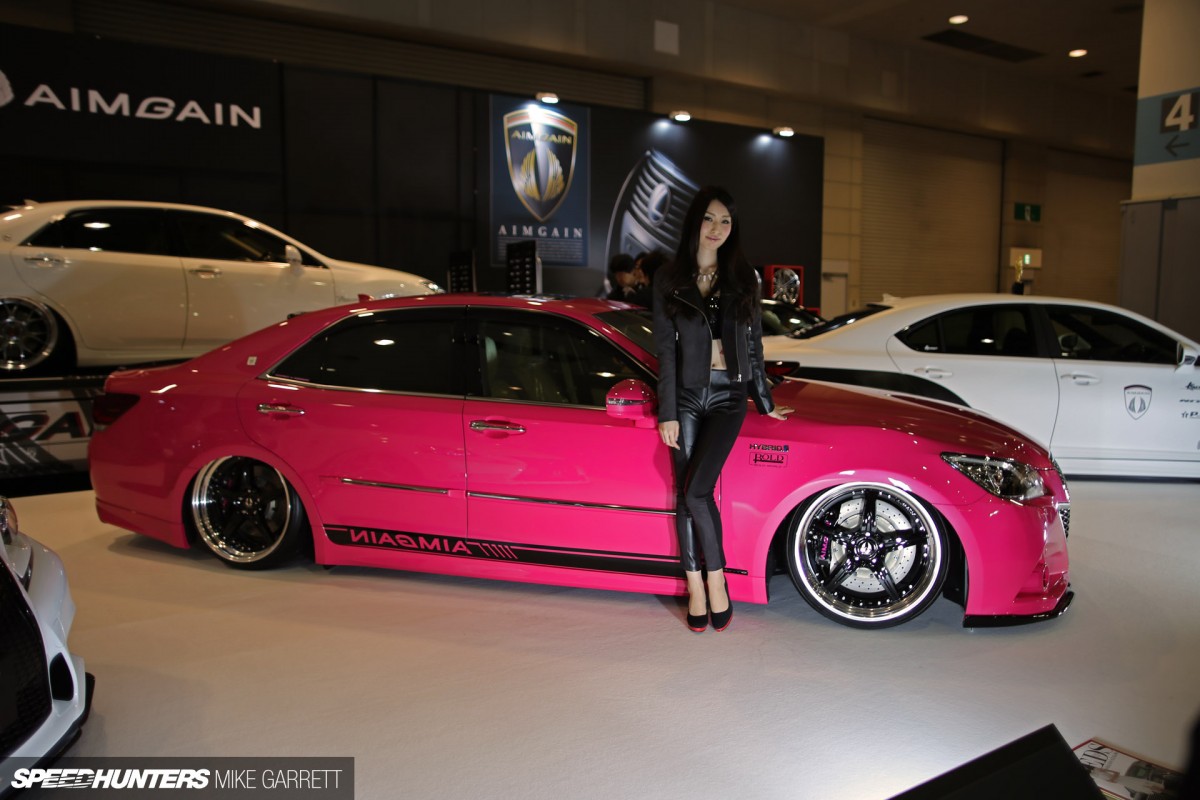 For the past couple of years, visiting the Kansai area has been a big part of my Japan expeditions. As I've continually discovered, the car culture from West Japan is incredible and there's really no better place to experience it all than at Osaka Auto Messe.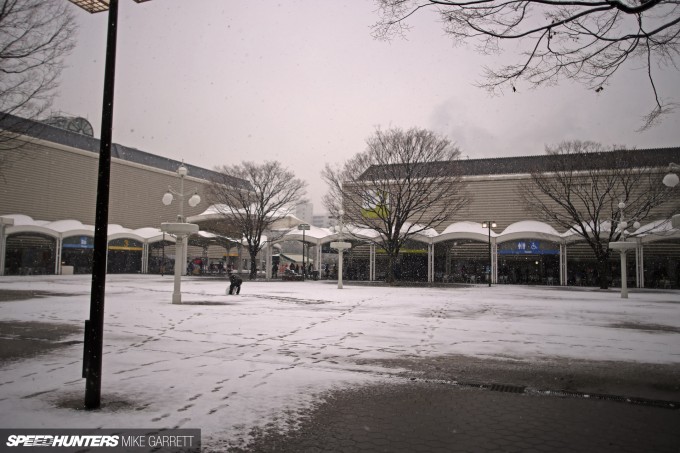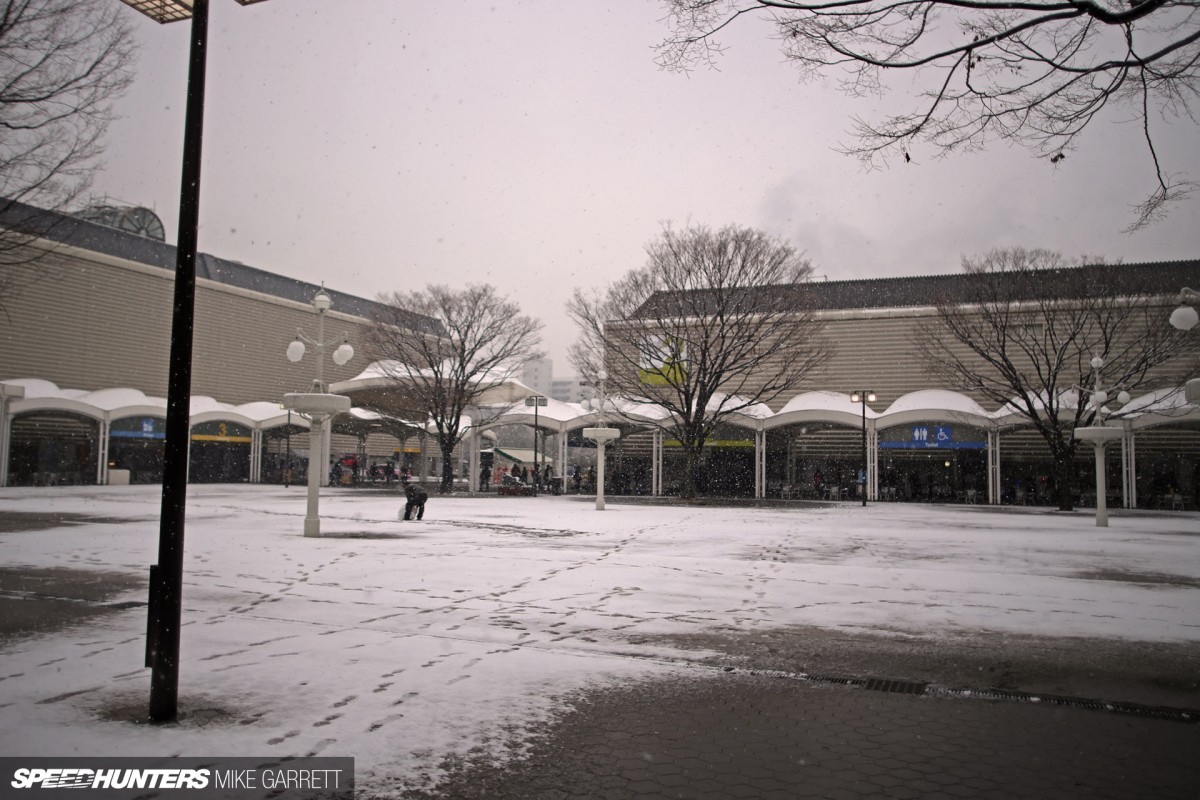 Auto Messe opened on Friday and as you might have heard, that was the day Japan was hit by the second large snowstorm in as many weeks. It was another big dose of the white stuff which brought business and transportation to a halt across much of the country but while the Tokyo area was overwhelmed with snow, things weren't quite so bad in Kansai.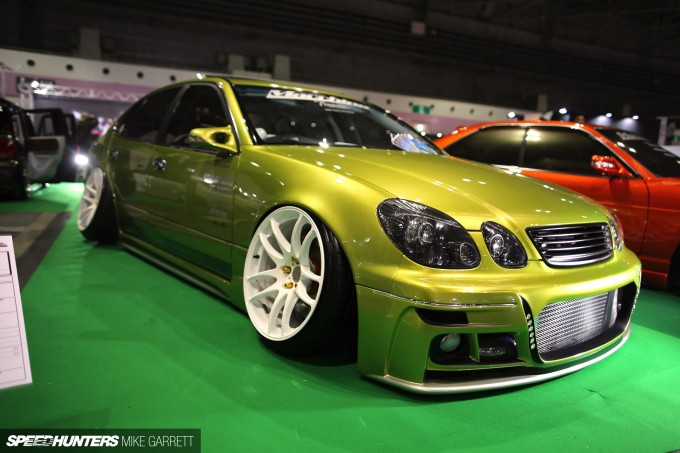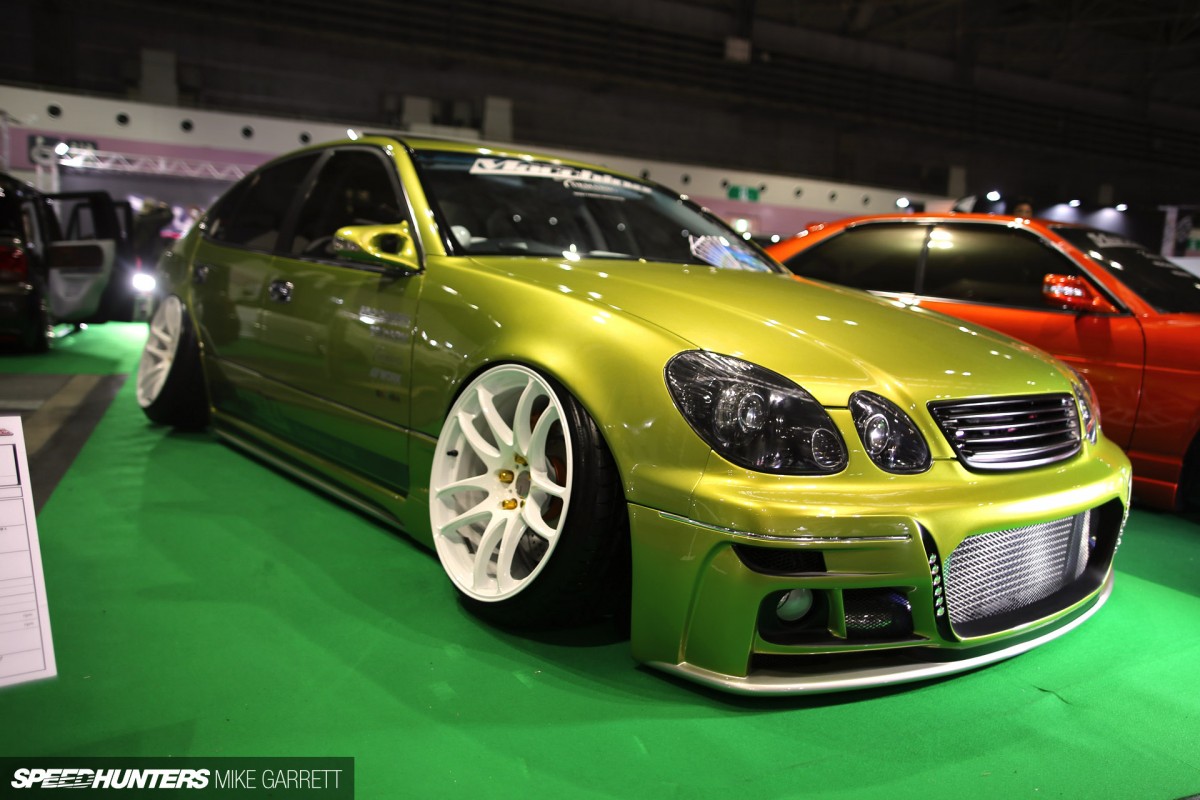 Once we made it through the highway traffic to Intex Osaka, we found that inside it was pretty much business as usual. Sure the weather had kept some of Friday's showgoers away, but the photographer side of me was actually happy there'd be a little less crowd to shoot through. If you've ever tried to take photos at a big show like this, you'll know exactly what I'm talking about.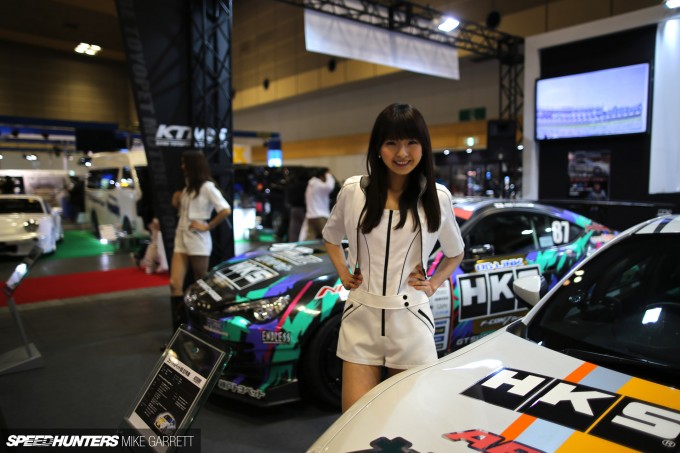 Yep, this is the Auto Messe I remember. Within just a few minutes of walking through the door, I was fully immersed in the cars, the booming music, flashing lights, guys in suits and of course, the campaign girls and the crowds that follow them.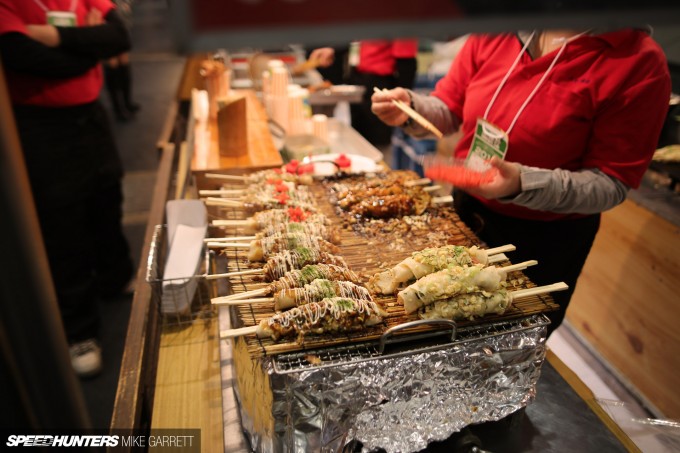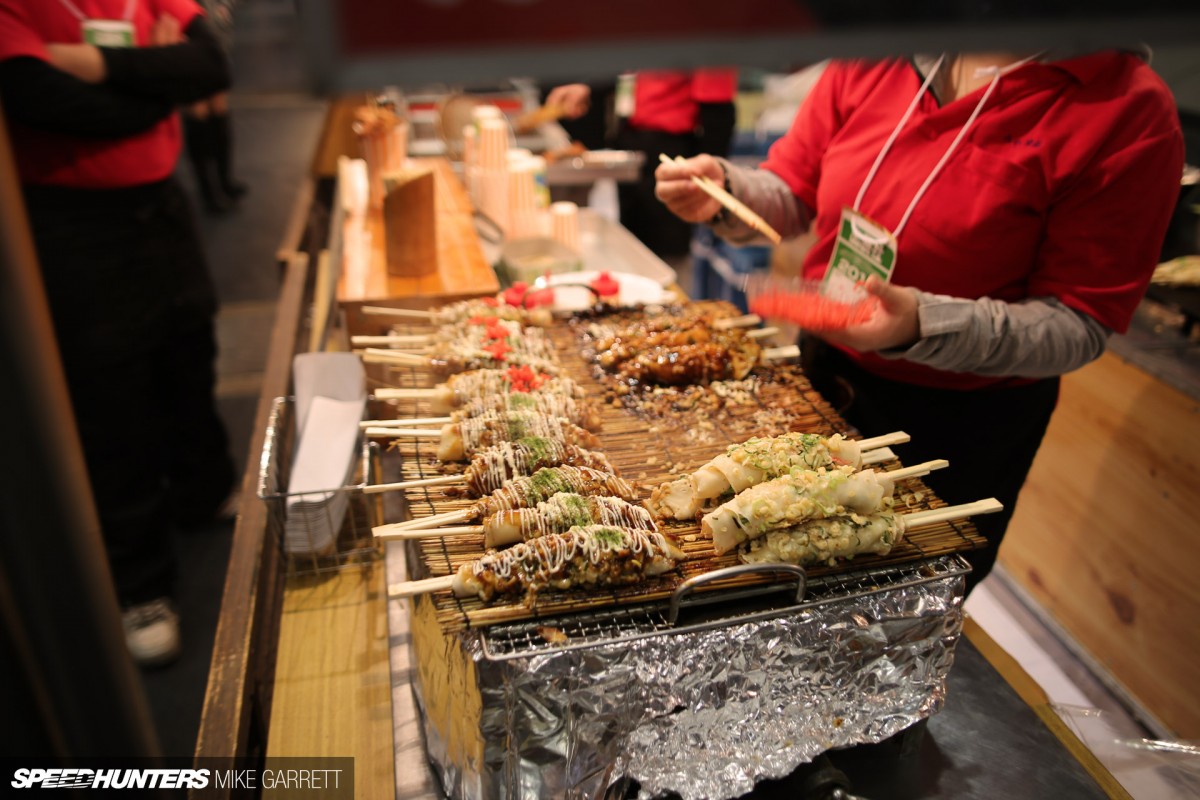 People often ask me what Osaka Auto Messe is like and it's actually not an easy question to answer. You could say that it's just Osaka's version of Tokyo Auto Salon, but really the show has its very own unique character – whether it's the cars, the people or even the food.
Show and go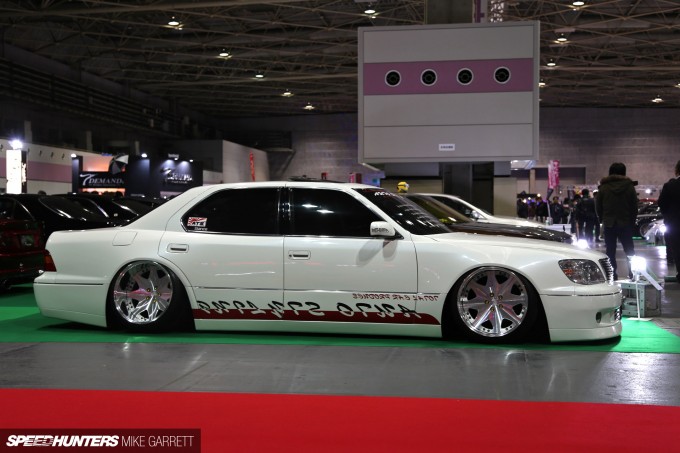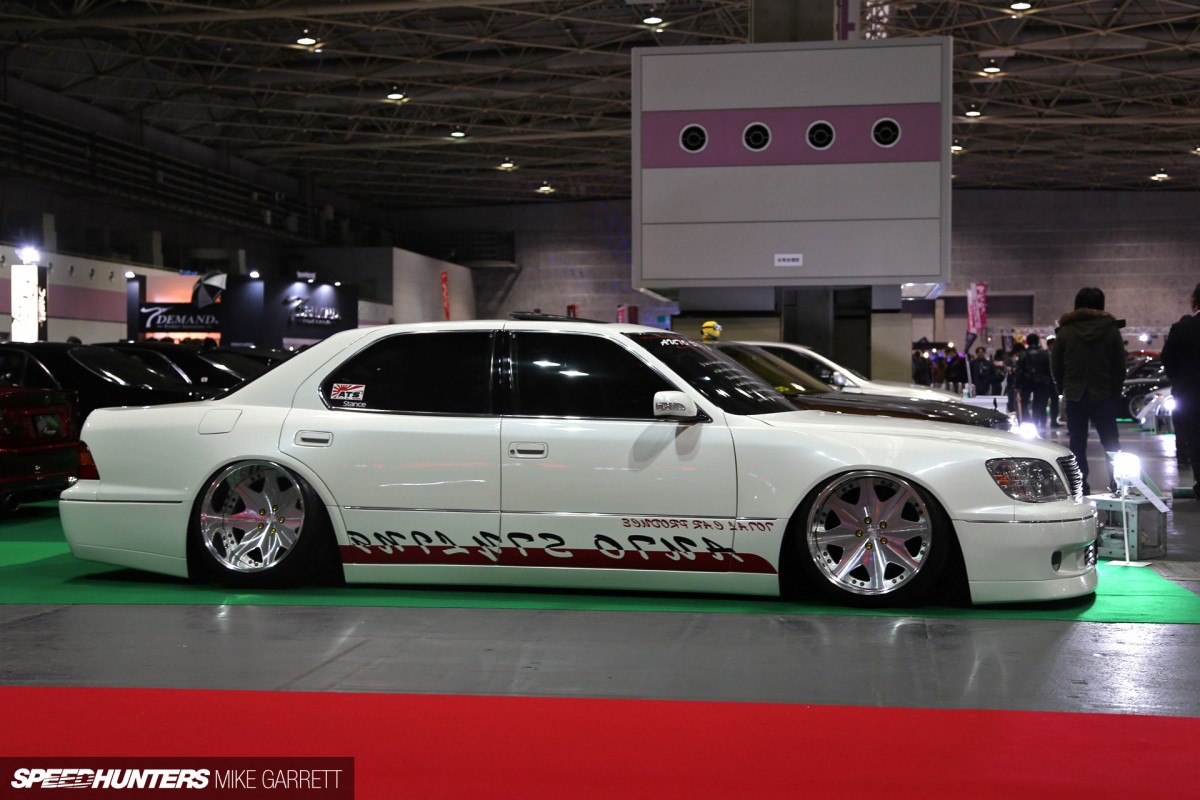 As for the cars, it was once again Auto Messe's showing of VIP machines that truly made the show stand out from TAS and other big shows held across Japan. Osaka has long been the epicenter of Japan's bippu style, and this year's selection of wide and low sedans did not disappoint.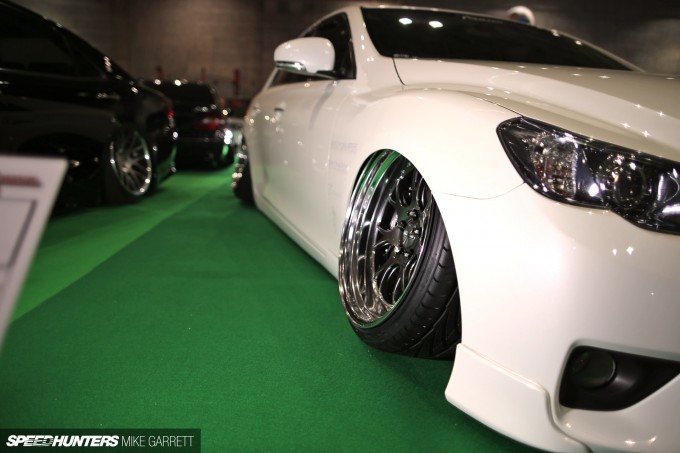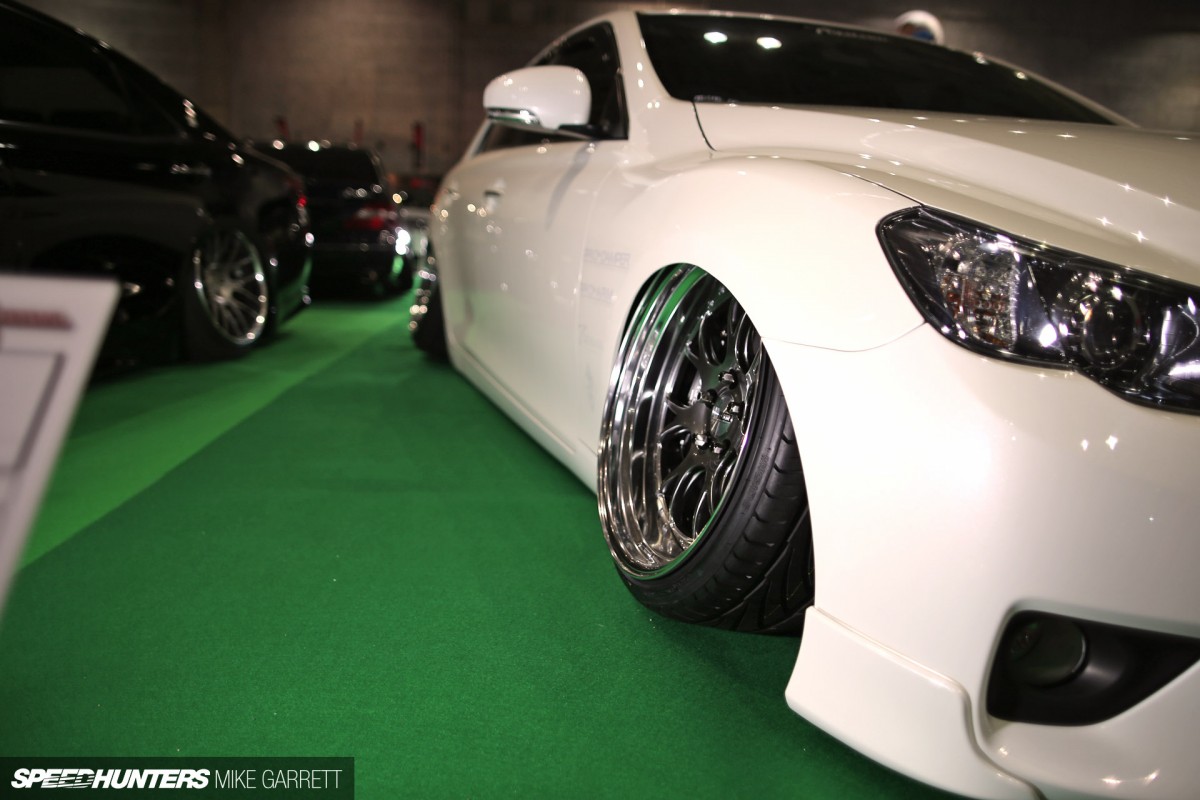 Even if frame-scraping suspension and ridiculous camber isn't your cup of Japanese green tea,  I have to say Auto Messe would not be Auto Messe without this stuff. Personally I quite enjoy watching these builders try to outdo each other, regardless of whether I'd do this sort of thing to my own car or not.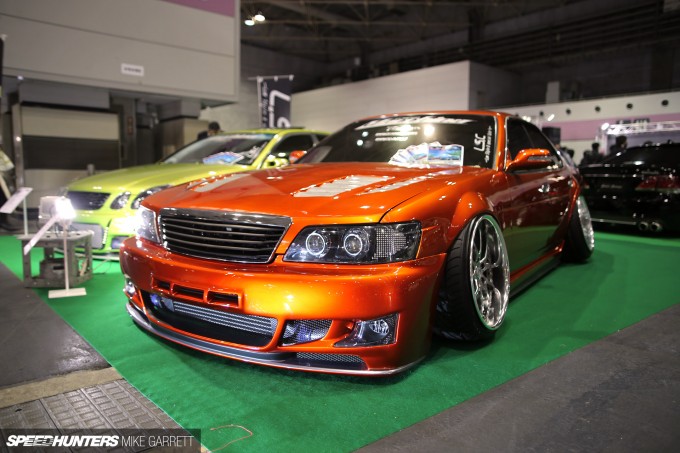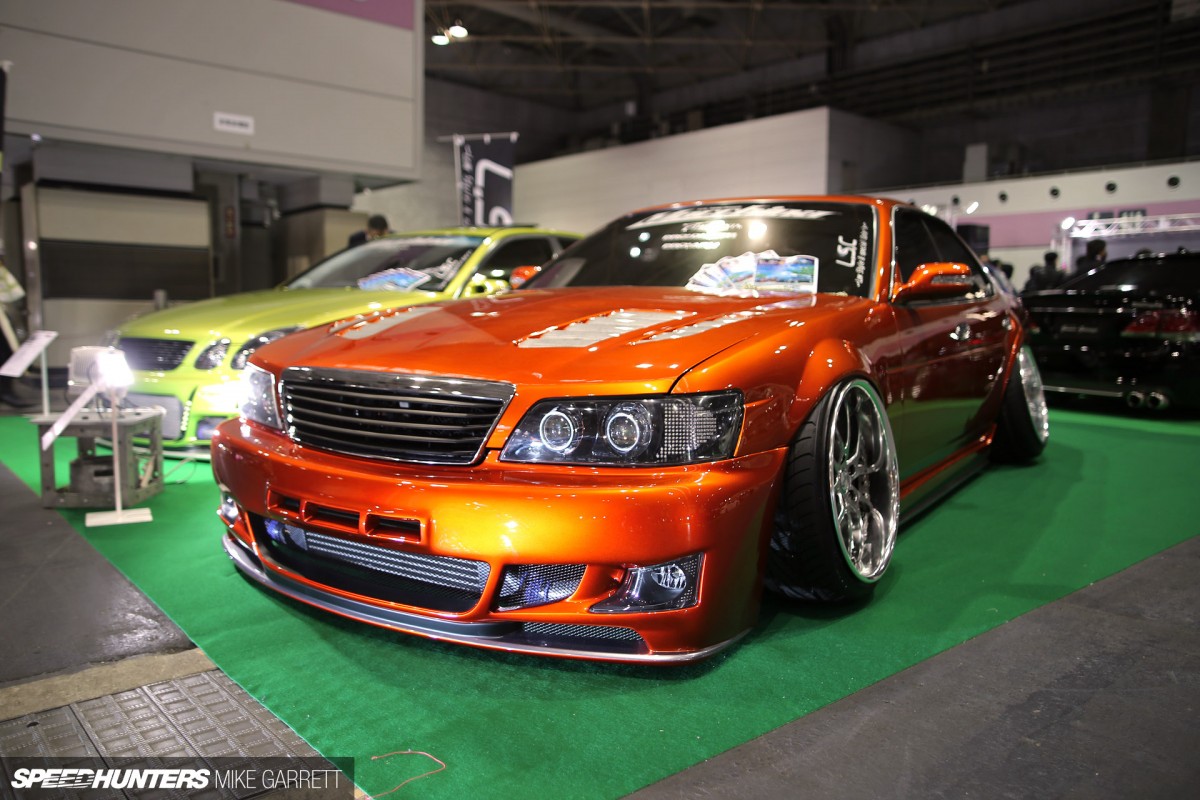 It's also cool to see VIP builders work with some of the lesser common platforms. The C35 Nissan Laurel for example is a popular choice amongst drifters but it's not often you see one with the full VIP treatment, like this car from L.S.C. As with many of Auto Messe's VIP machines, this one is sporting a ton of one-off body and suspension work.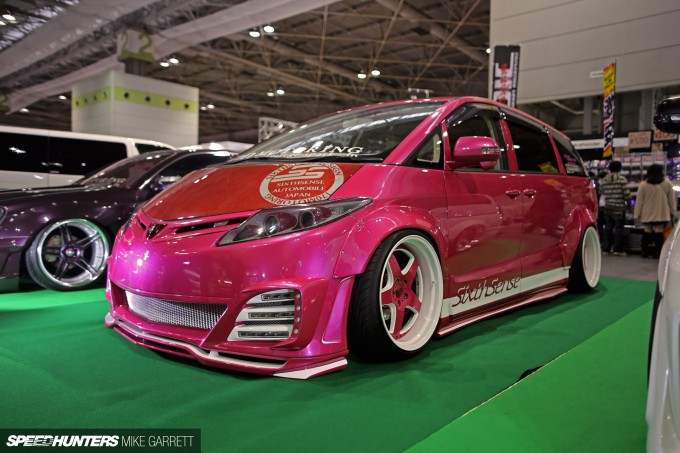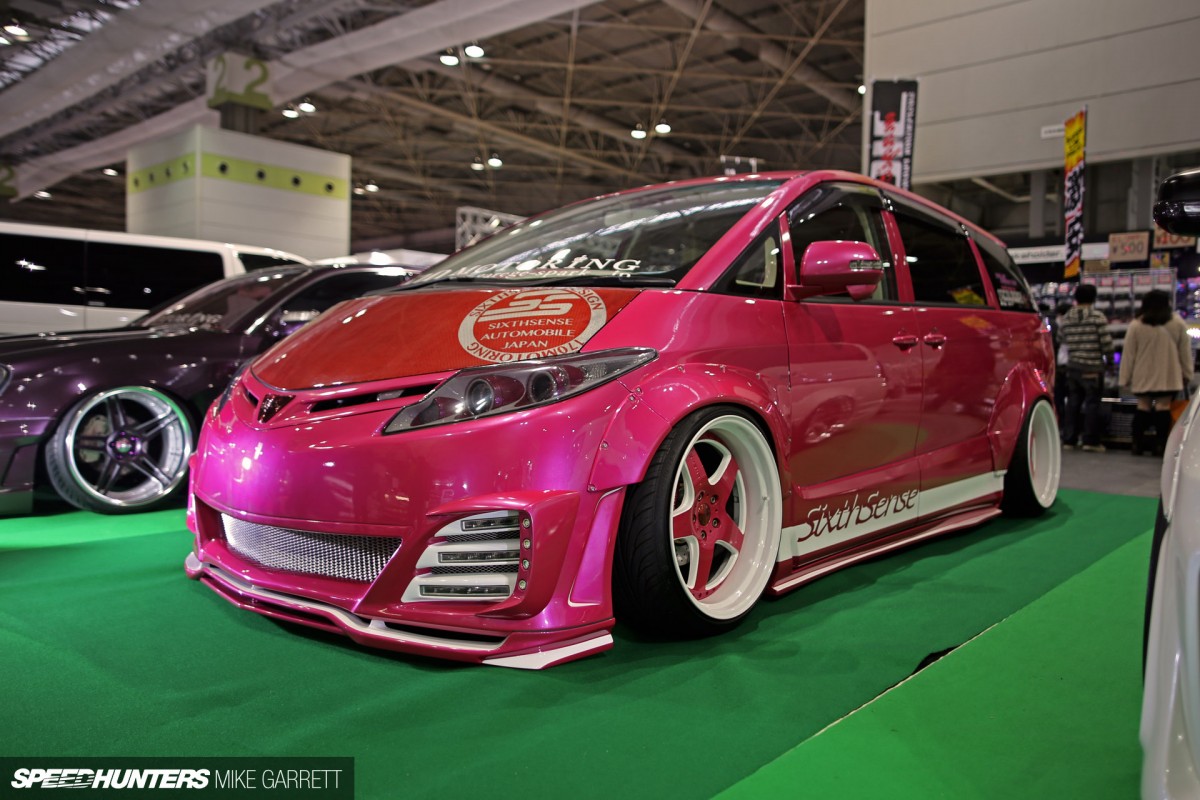 It also needs to be said that anything that can be done to a sedan can also be done to a minivan, as this wild Toyota Estima from Sixth Sense demonstrates.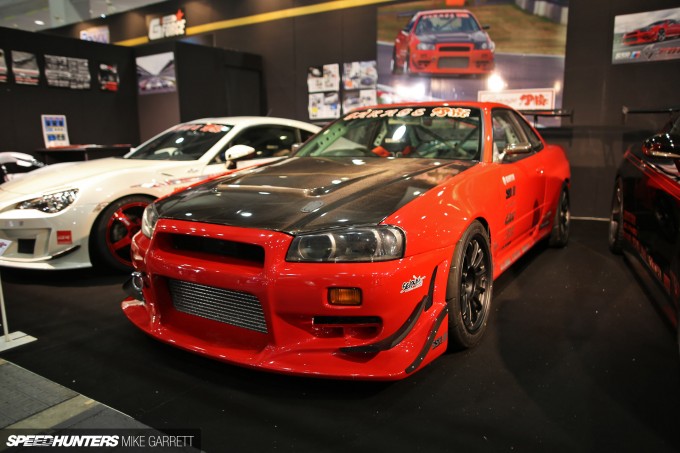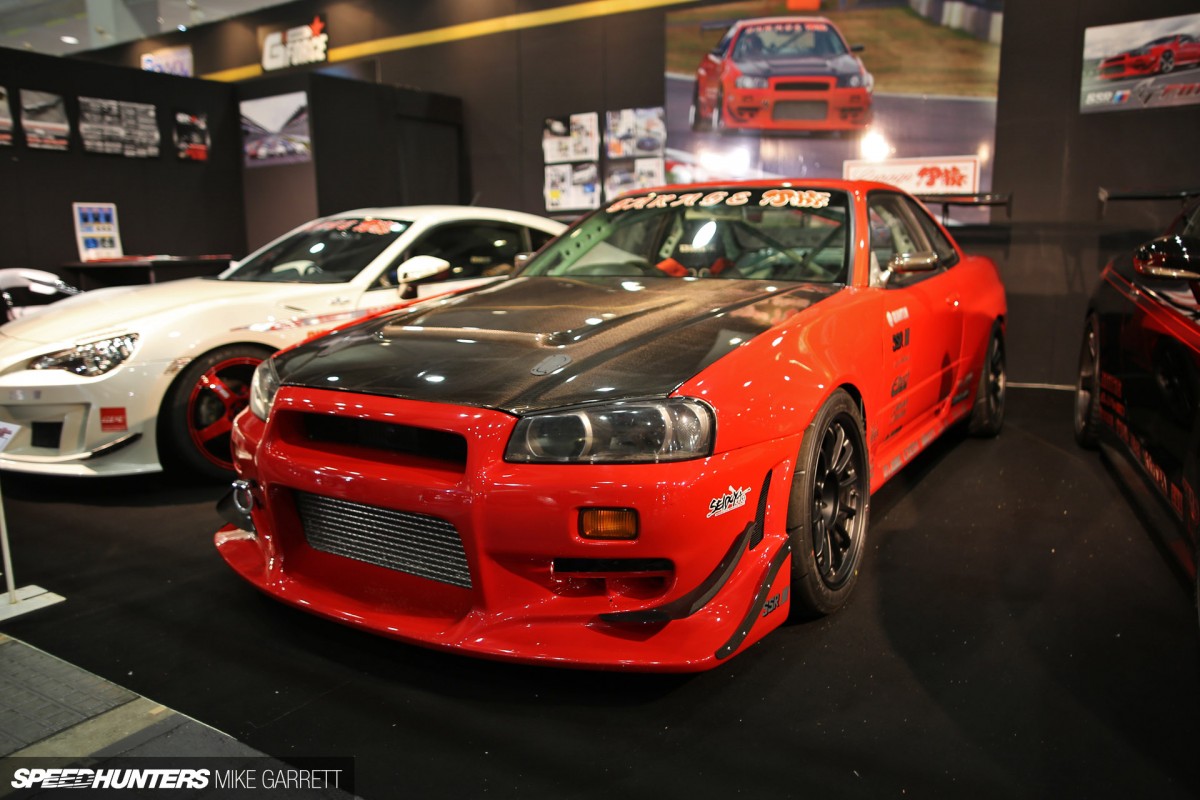 Even if VIP cars and custom minivans aren't your thing, Auto Messe still provides plenty of cool stuff when it comes to the more performance-oriented side of Japanese car culture. There's the Garage Ito BNR34 Skyline circuit monster looking pretty tough on its home turf.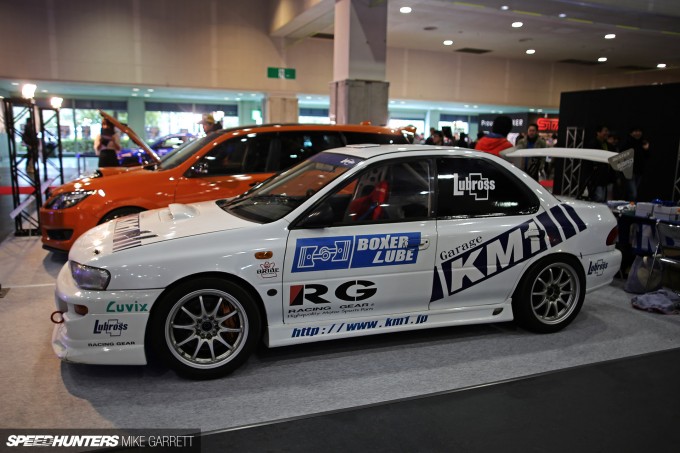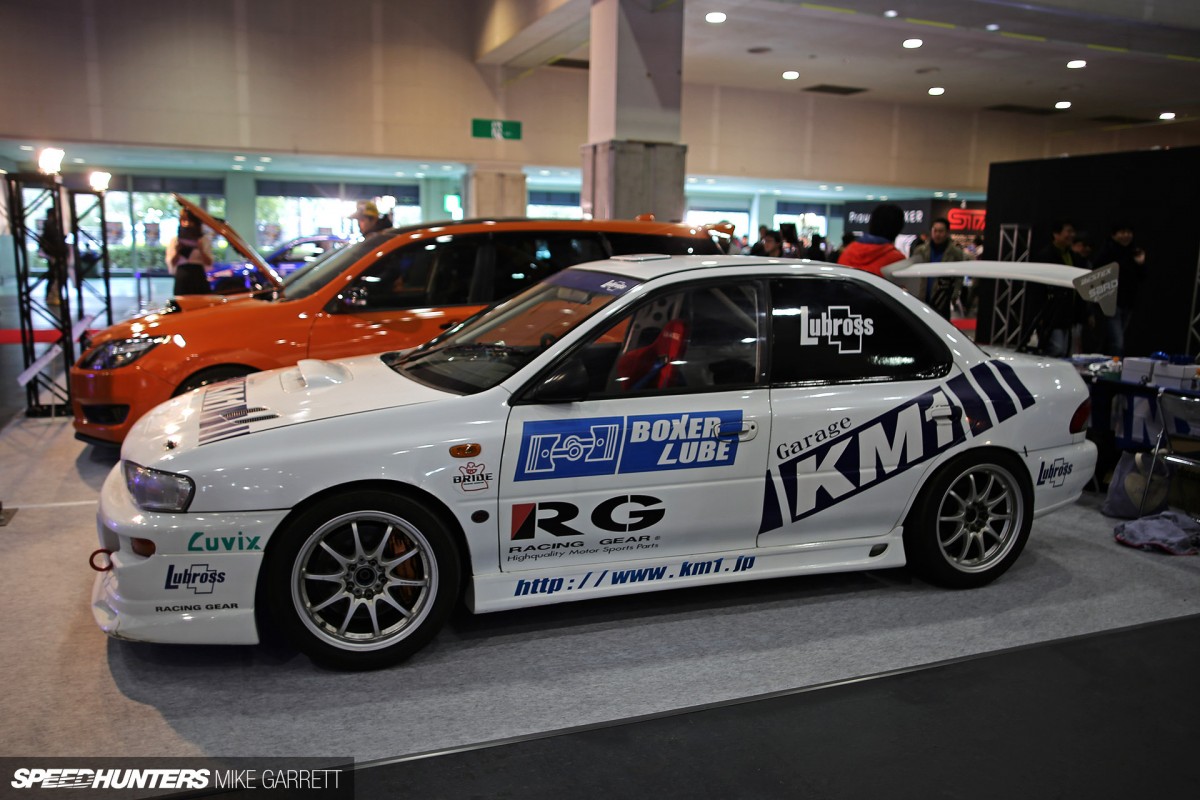 The GC-chassis Subaru Impreza might seem like a fairly modern car but compared to most of the machines at Auto Messe, the Garage KM1 time attack Impreza might as well be a classic. It's definitely cool to see a shop like this deciding to develop an old chassis alongside the newer Subaru models.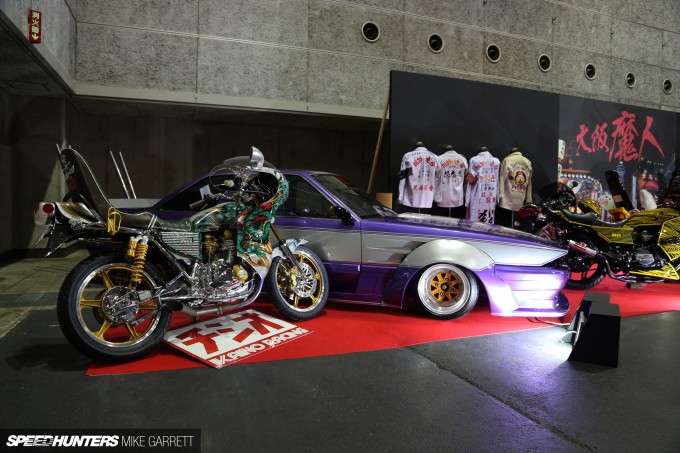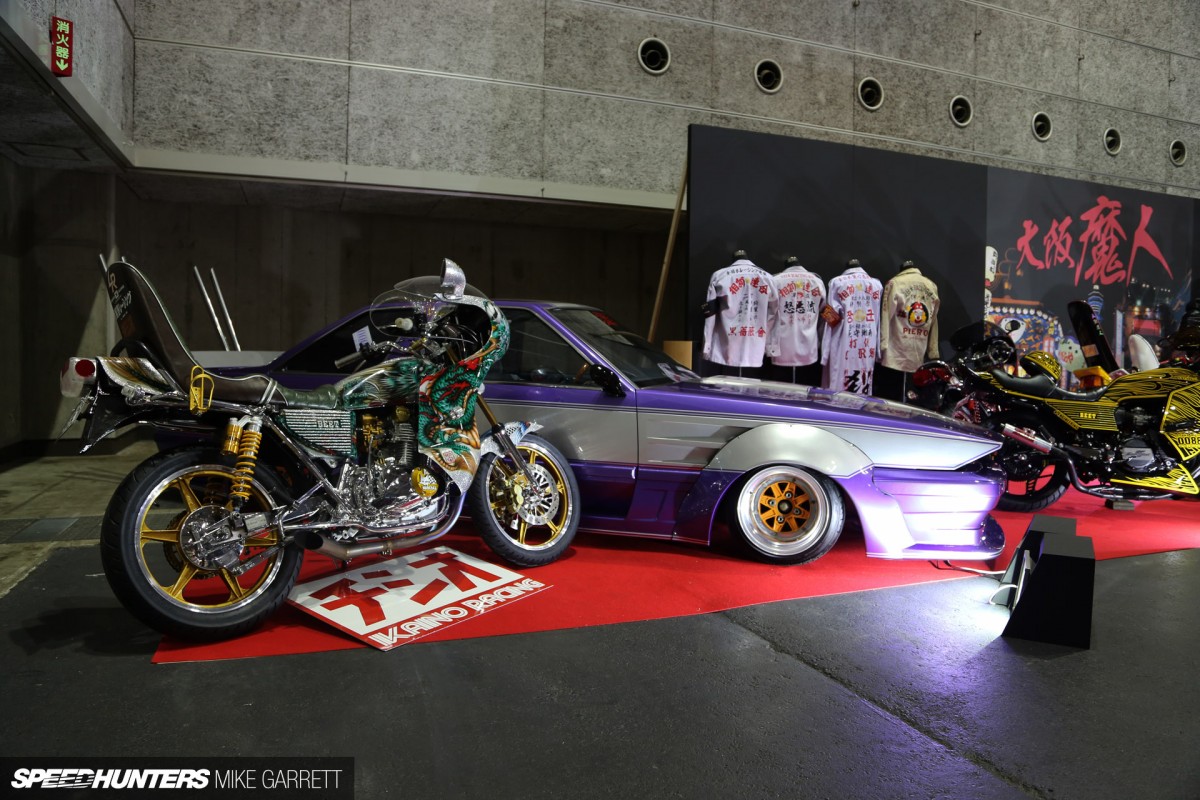 Want real classic? How about this Z10 Toyota Soarer kaido racer, which was displayed alongside an incredible selection of show-quality, vintage bosozoku bikes in the TSH booth.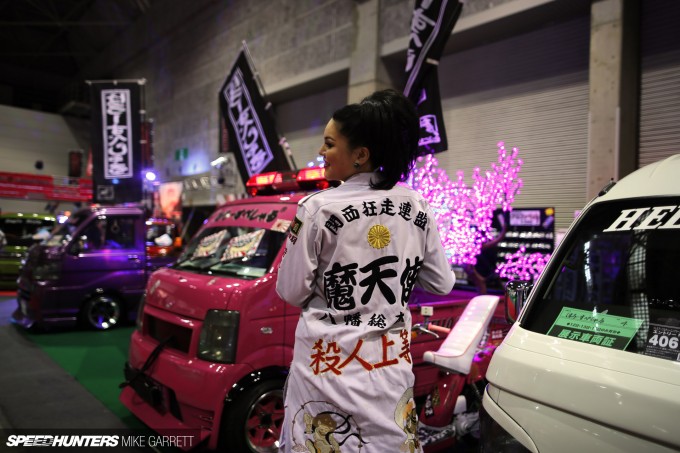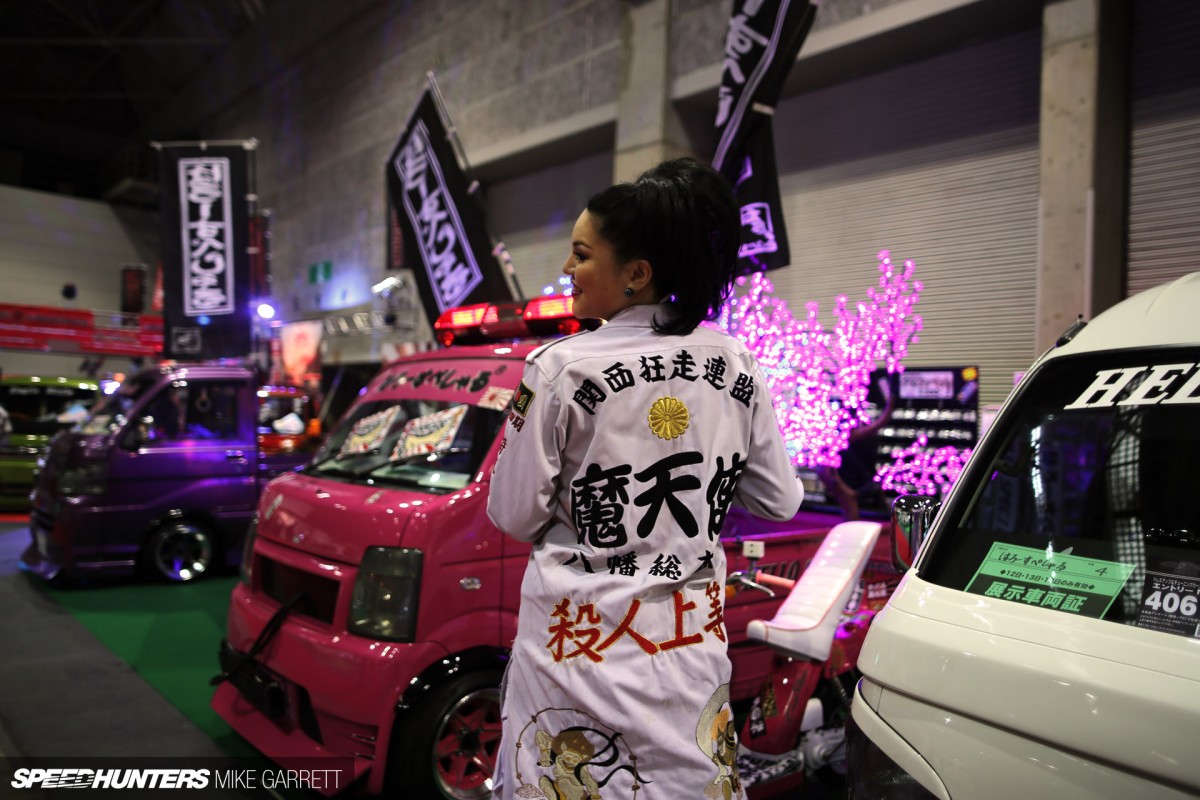 Even the campaign girls were getting in on the fun, like this tough-looking lady from the Hello Special booth. This company has quite a name for itself with a line of kyusha-inspired parts for kei trucks and vans.
Something for everyone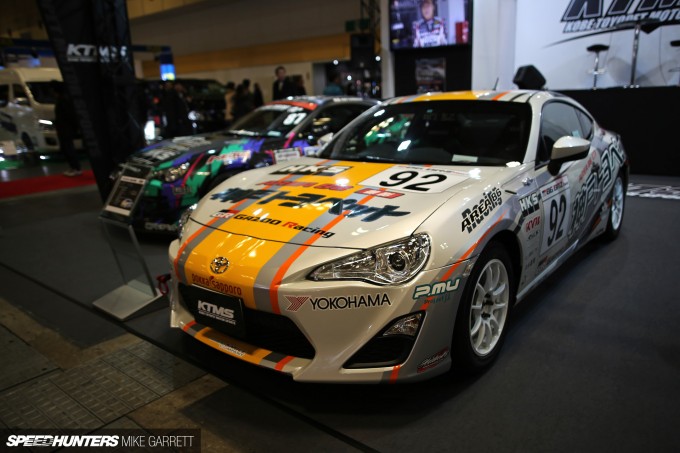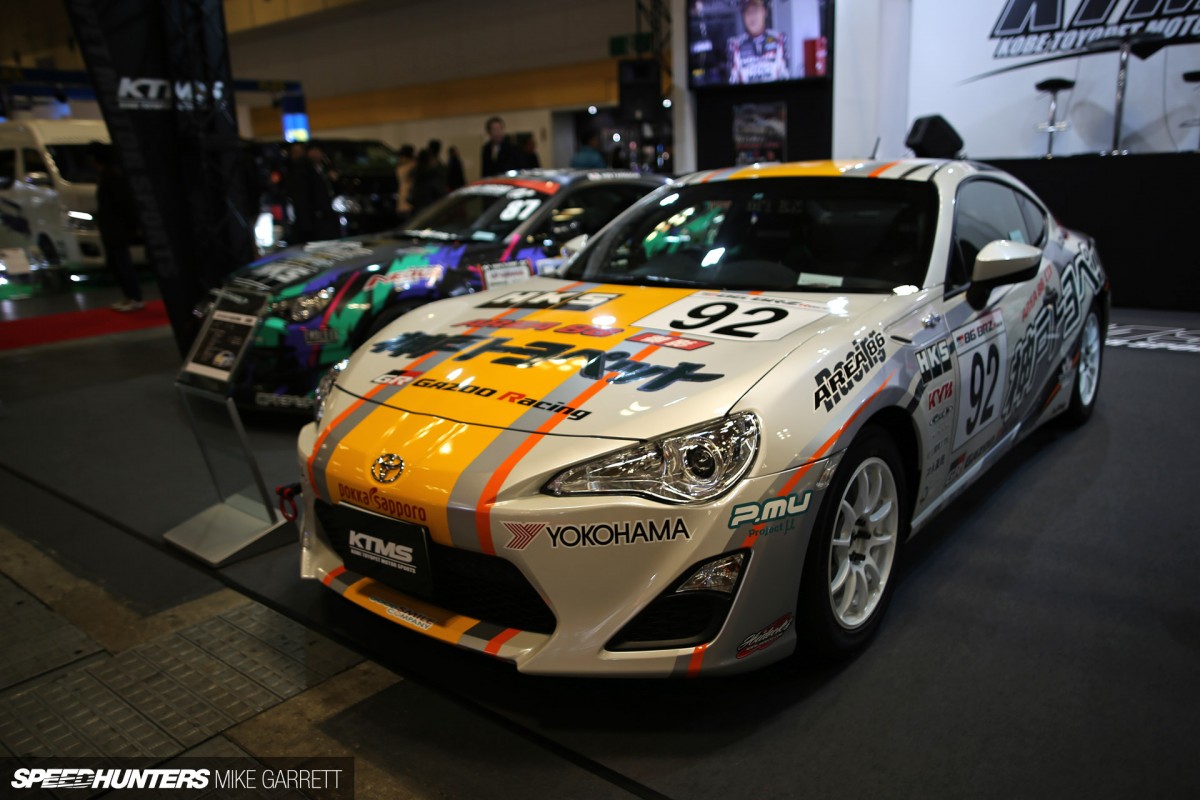 It should go without saying that the Toyota 86 and Subaru BRZ once again had a strong presence at Auto Messe. Just like Tokyo Auto Salon last month, there was an entire section of the show dedicated just to these cars.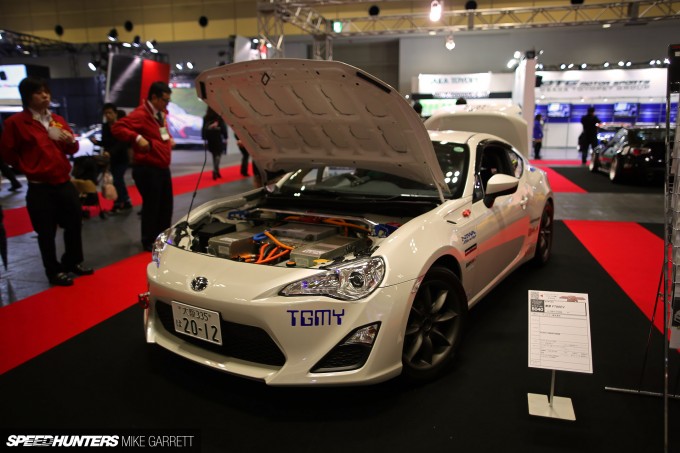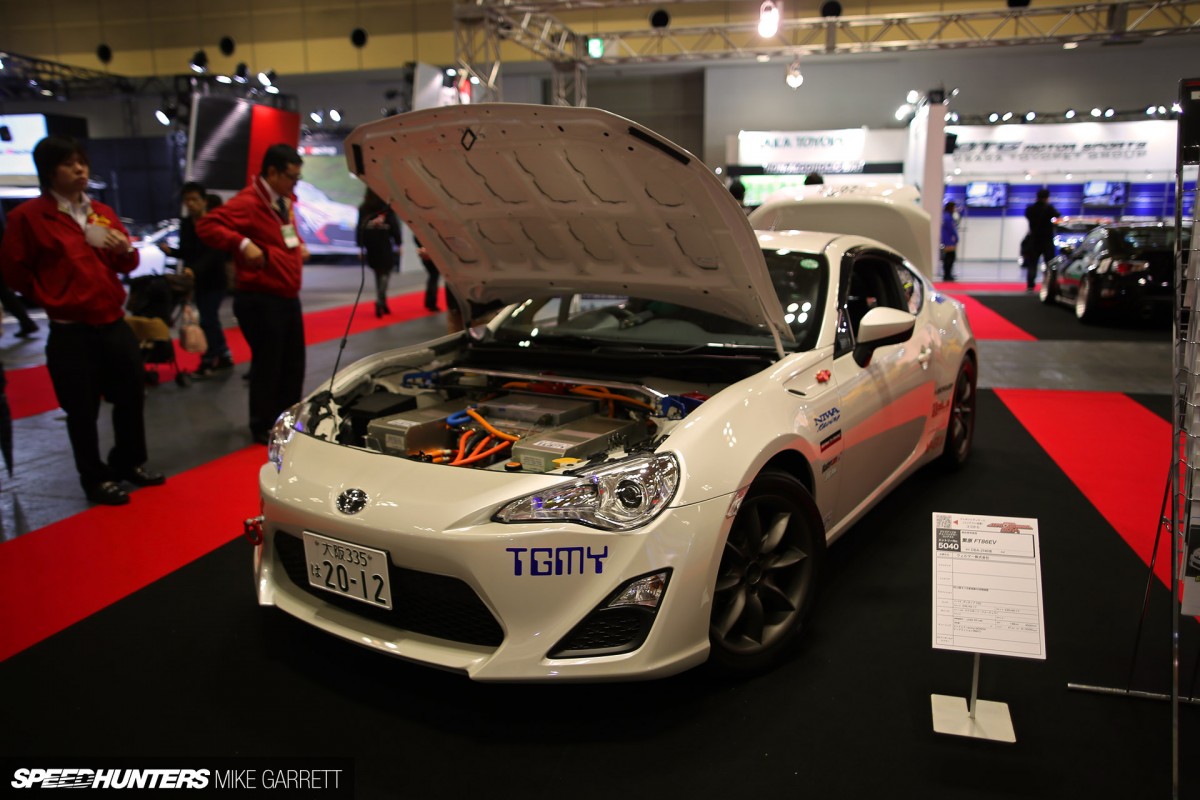 In amongst the large group of them that were at Auto Messe, there were a few in particular that struck my eye, including this example from an outfit called Whelmer. No, your eyes aren't deceiving you – this car is actually running a full EV drivetrain conversion.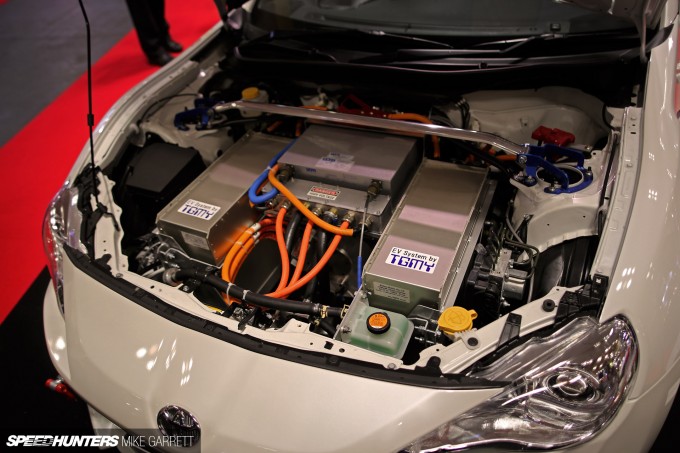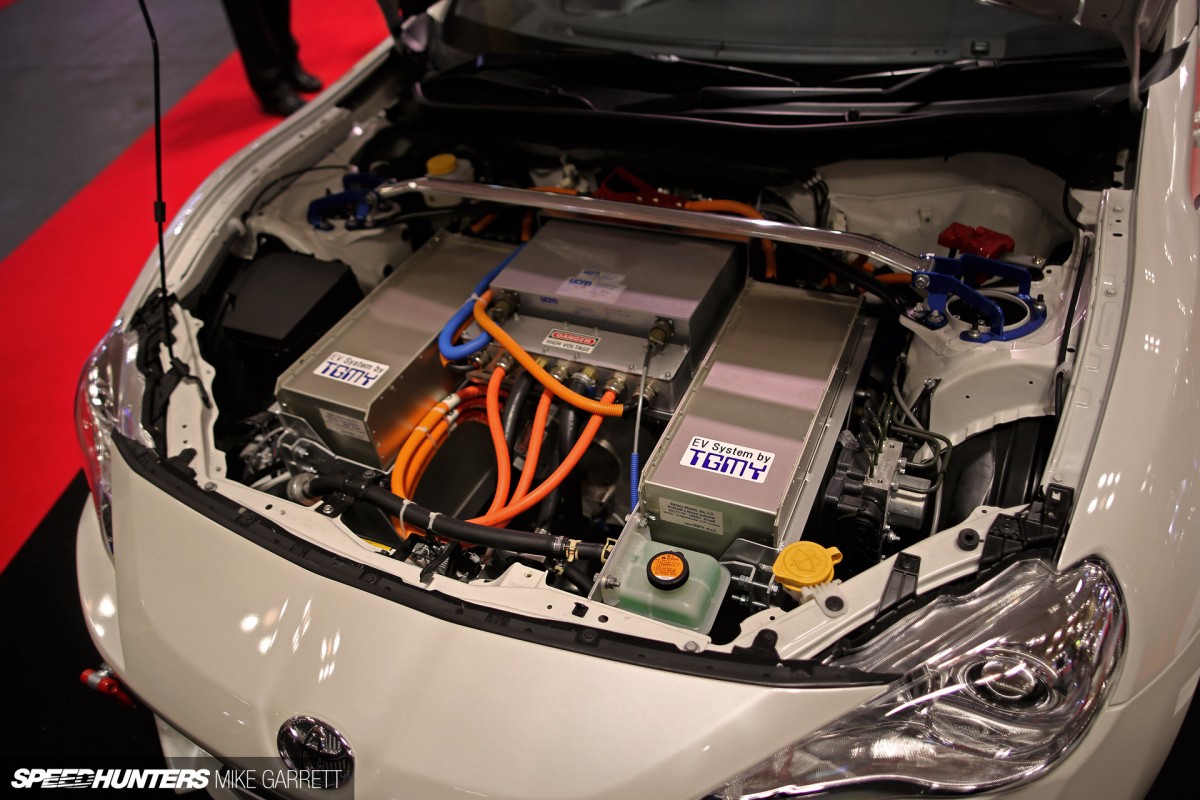 But what's even cooler is that the car was built not just for show but for actual race use. I'd certainly be interested to see how this thing runs on the circuit.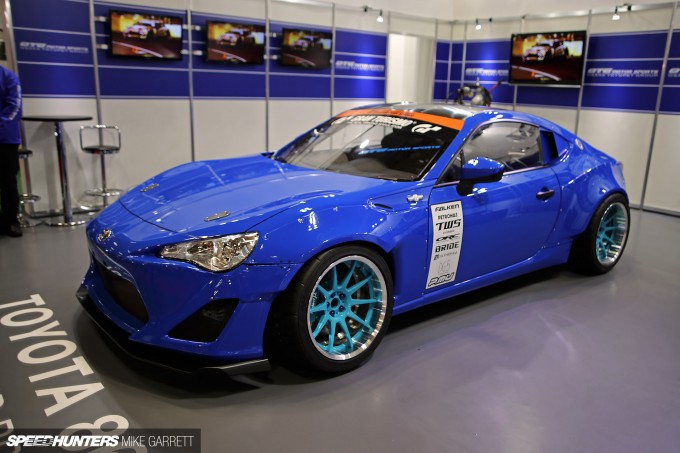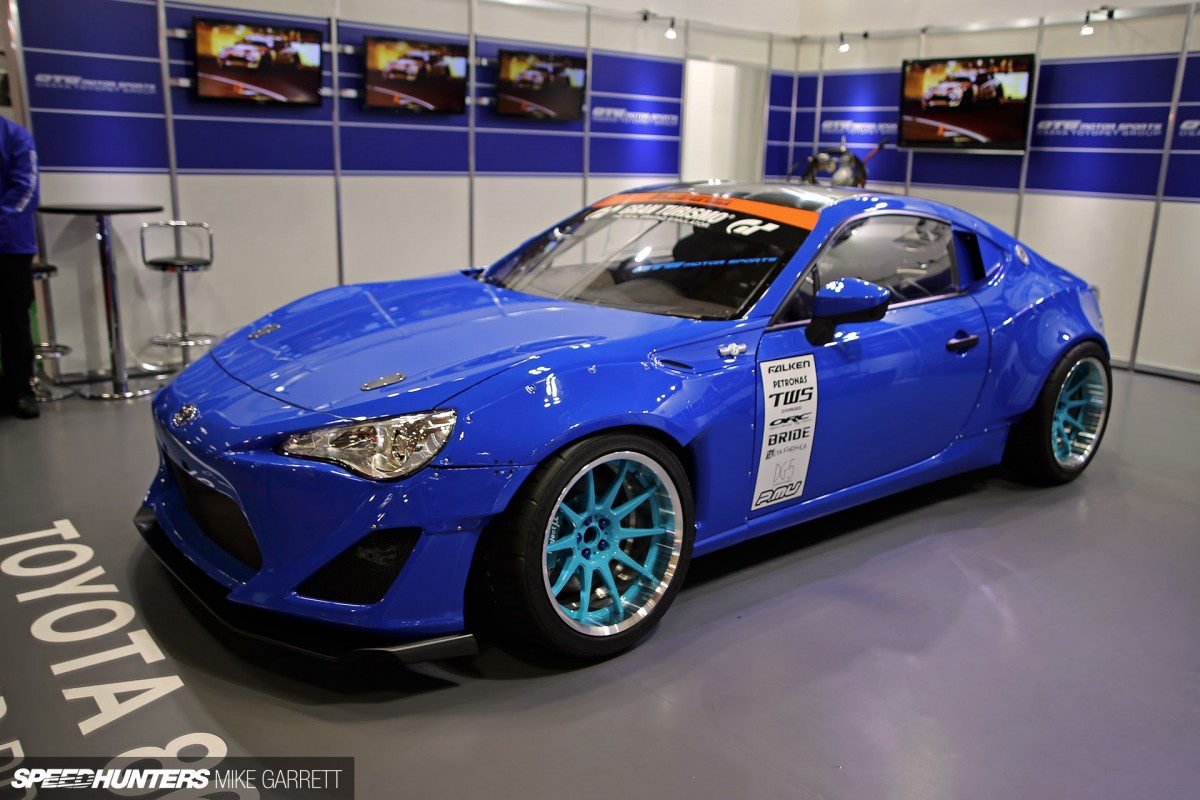 This 86 meanwhile, is about as far from eco-friendly as it gets. It's Osaka Toyopet's D1GP entry for 2014, with D1 veteran Youichi Imamura serving as the pilot.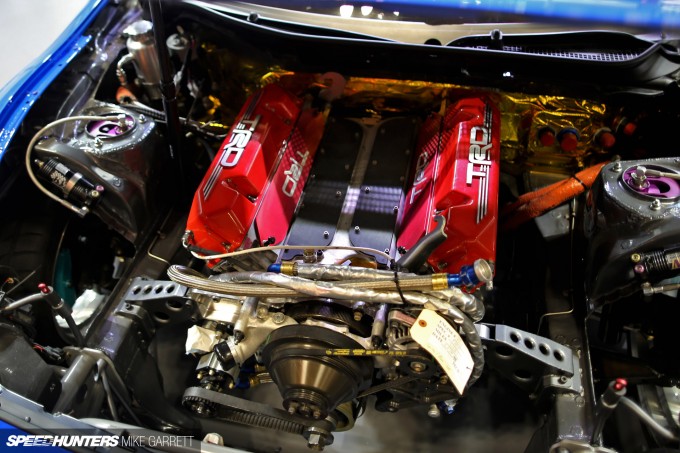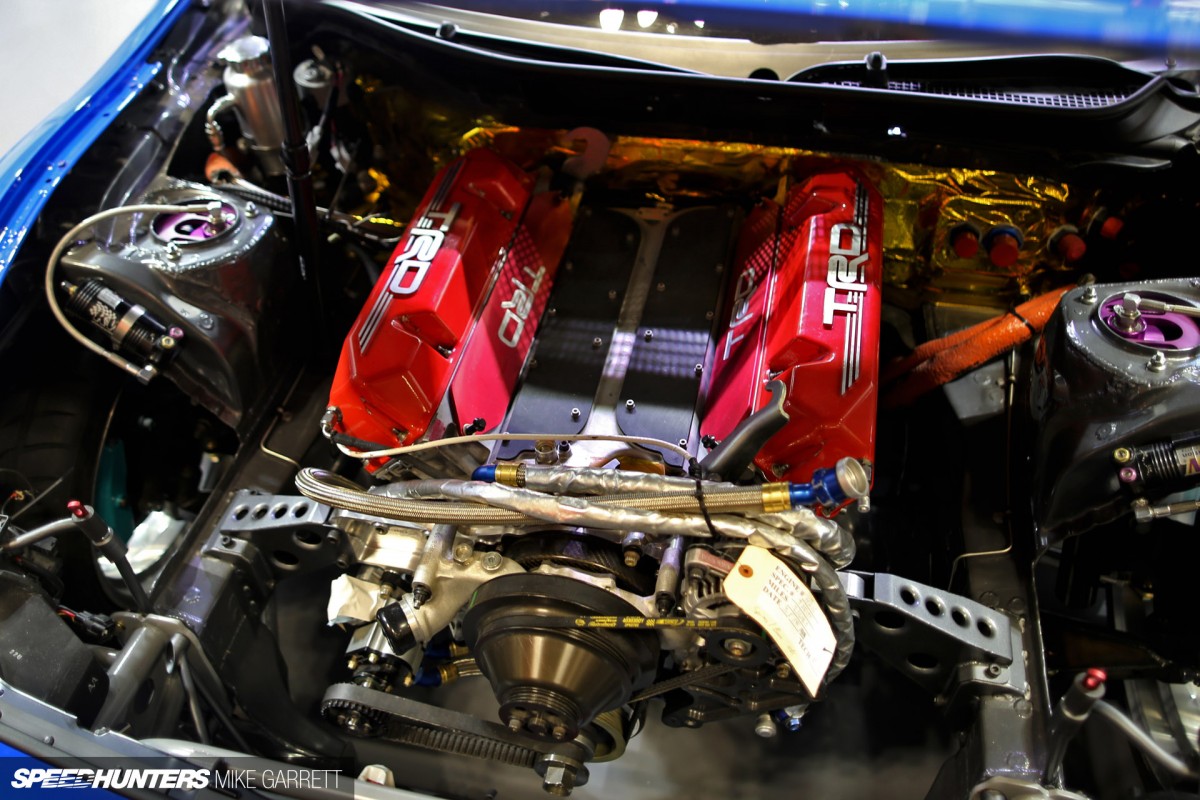 Under the hood sits a TRD NASCAR engine – yet another sign of the V8 movement taking hold in Japan. Based on the crowd's reaction, Japanese drifting fans are quite excited to see this thing in action.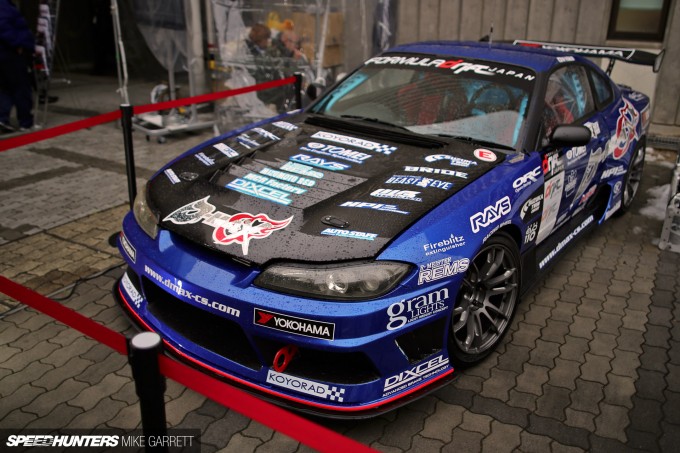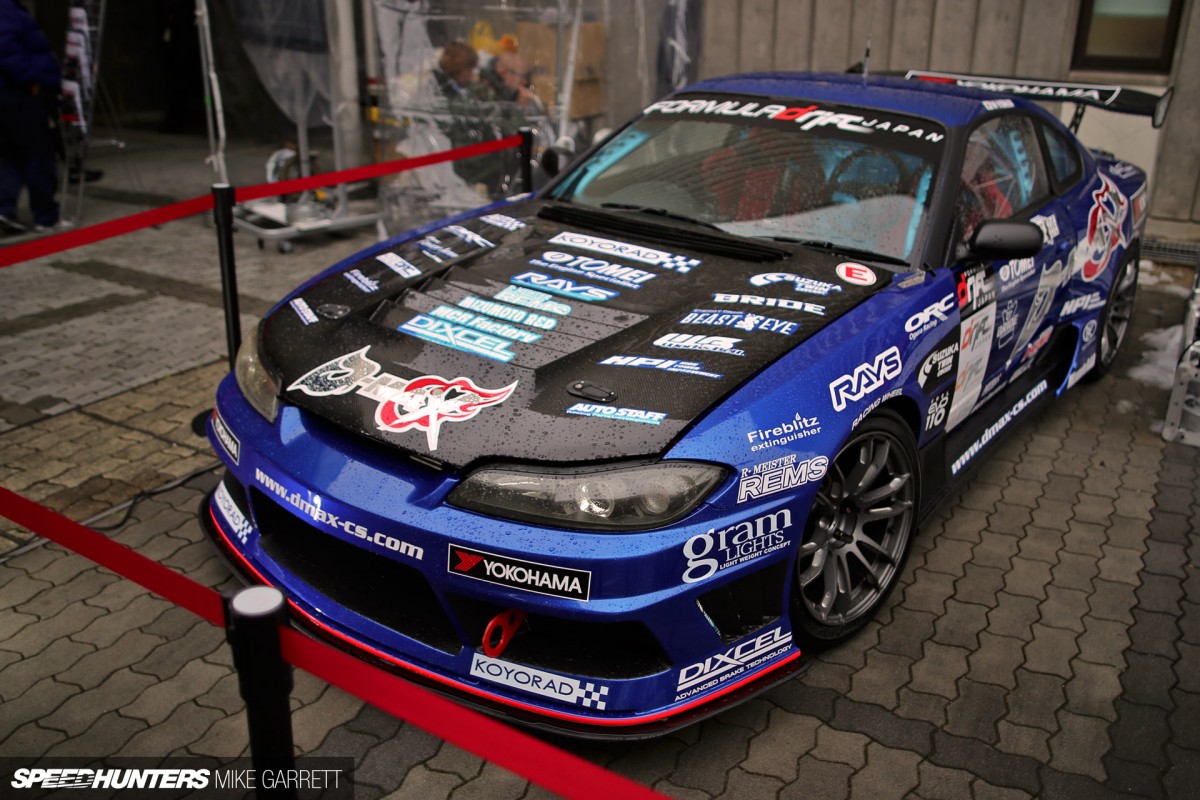 And speaking of drifting, Auto Messe was also the place where Formula Drift Japan began its promotion. FD Japan will be included in a pair of events called Motor Games to be held at Fuji Speedway and Okayama Circuit later this year.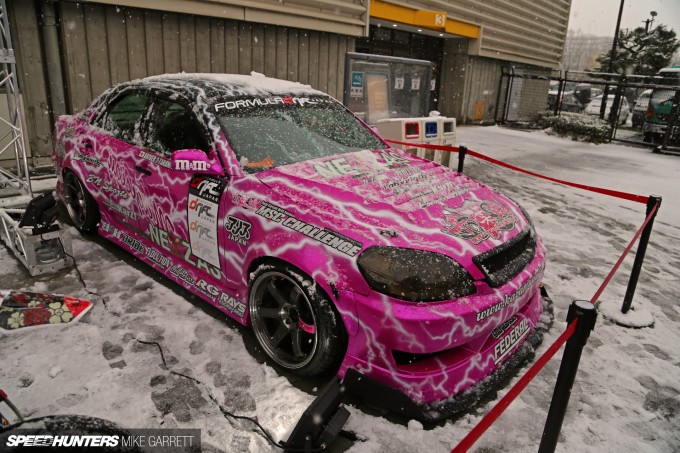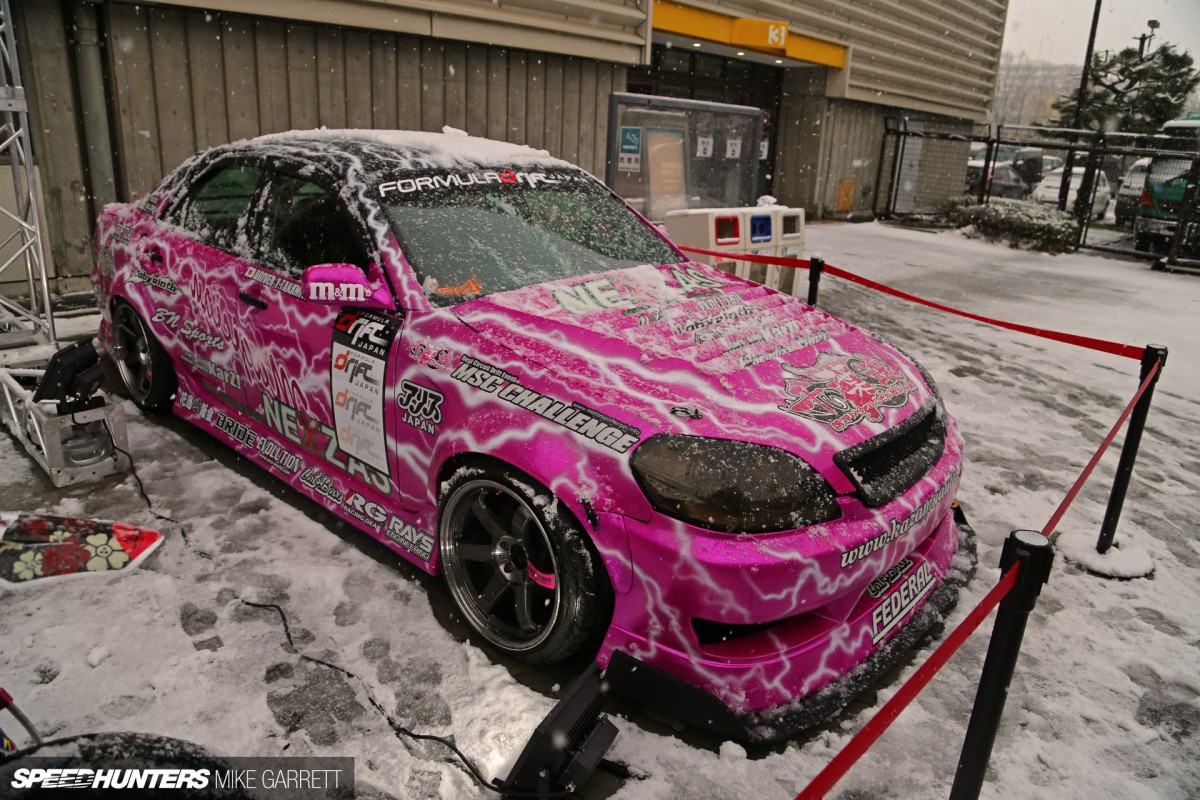 I'm not sure if you'll be able to recognize it but the vehicle seen here is Yuki Takamiya's JZX110 Mark II, the same car which I featured on Speedhunters last year. With a new look, the car appears ready for its Formula Drift Japan debut and we can't wait to see what's going to happen at Fuji in July.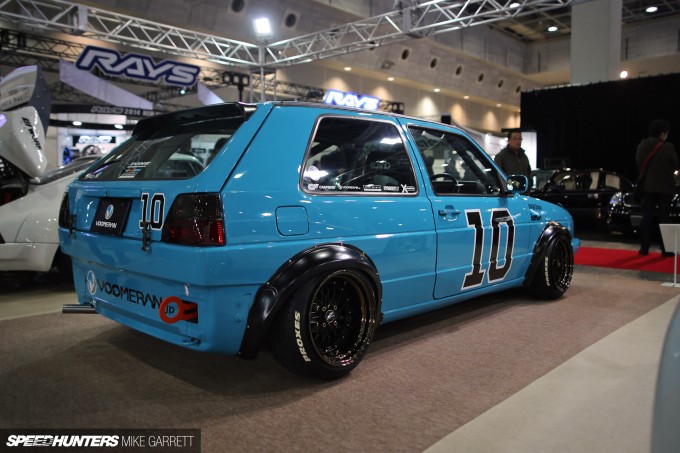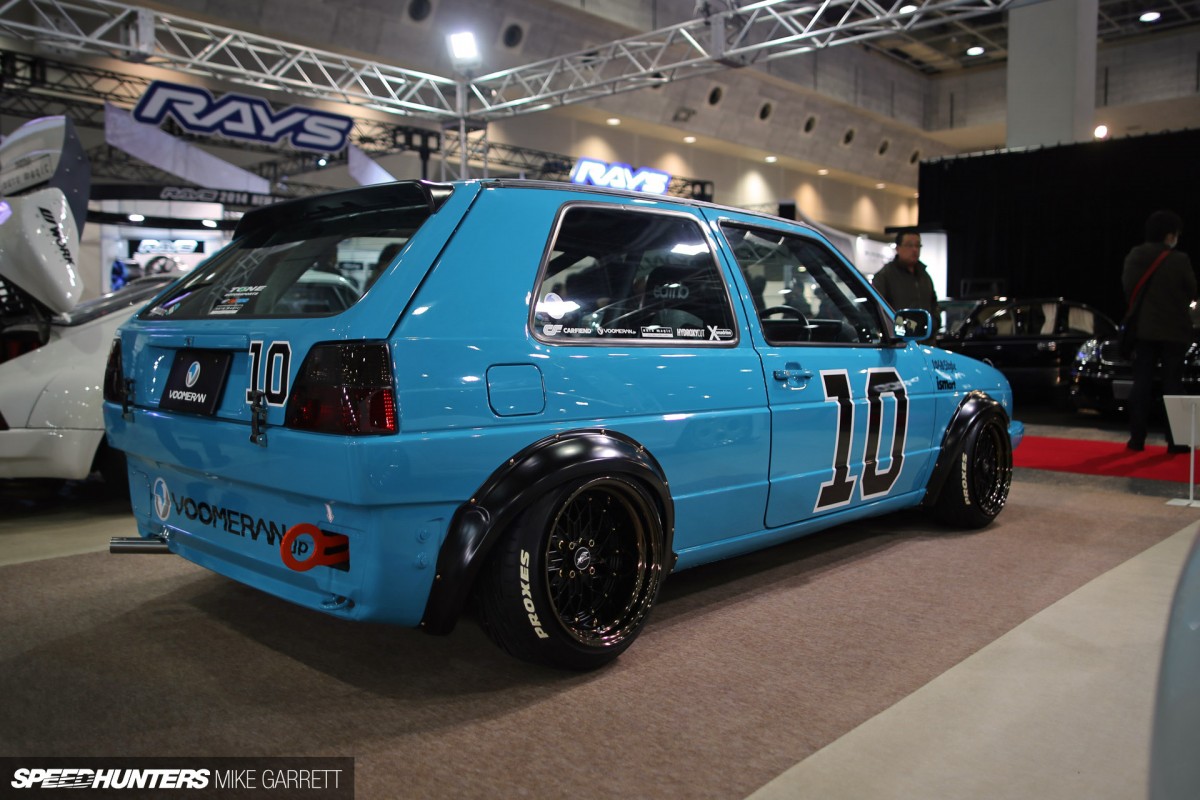 Auto Messe's selection of European cars is another area that's always impressive, and this year one of the most talked-about cars was this Mk2 Golf from Euro Magic/Voomeran.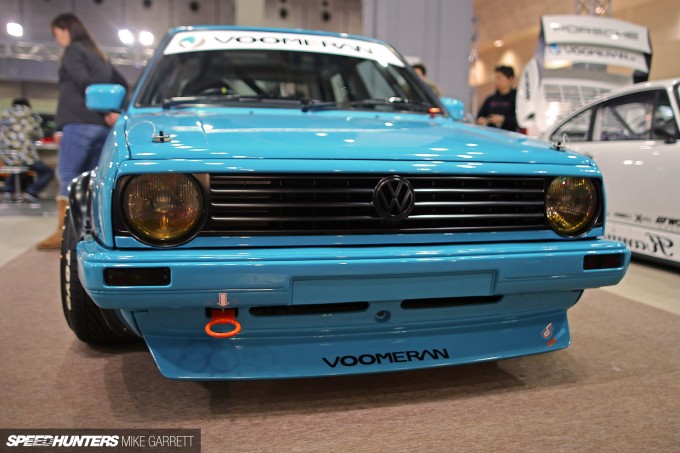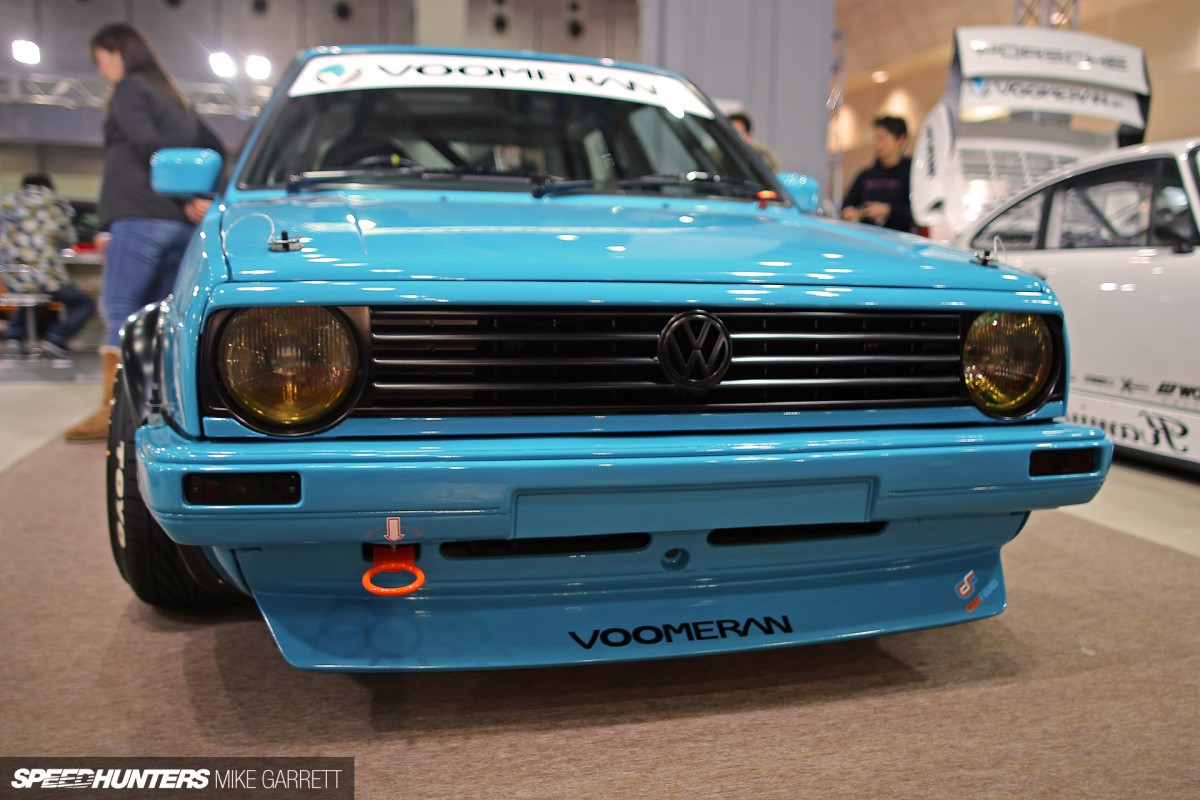 The Golf is sporting some very cool race-inspired bodywork, including a bumperless rear end, front chin spoiler, and a set of Voomeran original over fenders.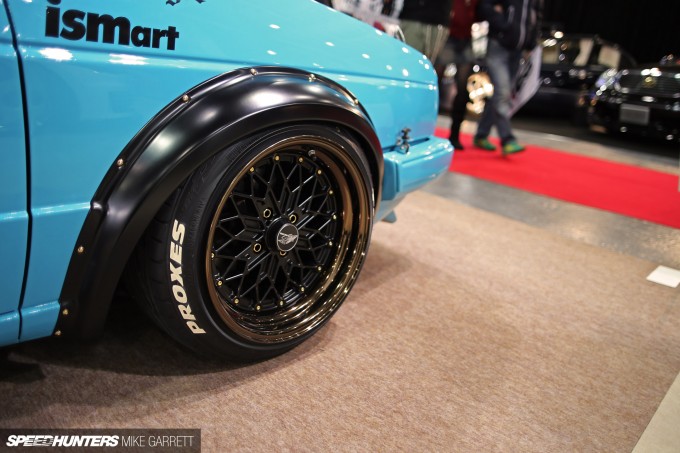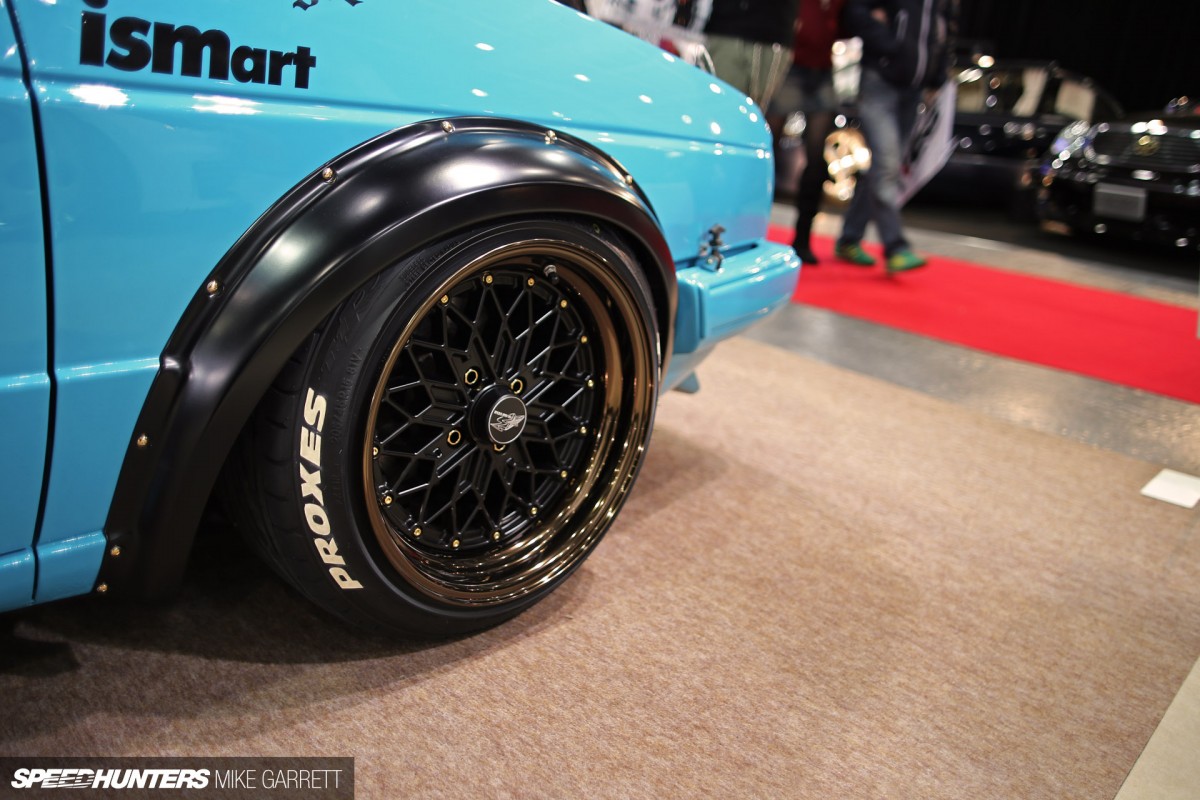 Filling up the fenders are a set of 15″x10 Work Glow Star mesh wheels, which perfectly complete the Golf's vintage race car vibe. More than that, it's always cool to see Japanese companies giving life to older model cars like this, rather than just the newest models.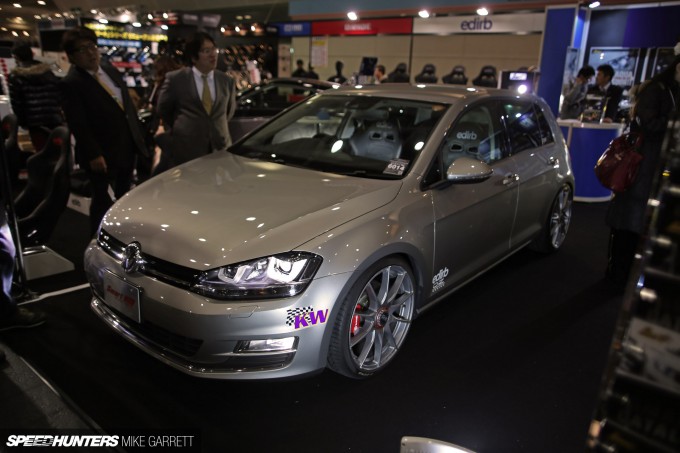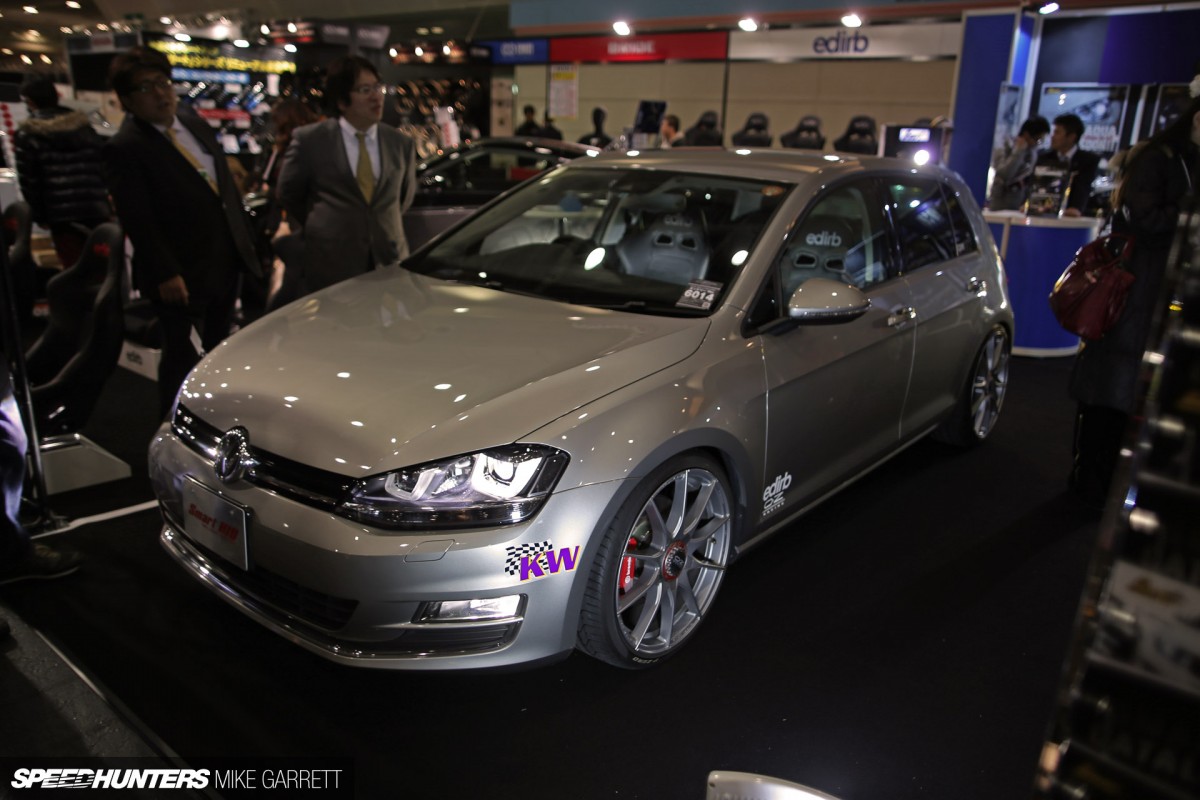 Ah yes, the new models. Five generations later, we have this Mk7 GTI which was displayed in the Smart HID booth. The new Golf has yet to go on sale back in the states, so I was very interested what Japanese tuners had done with the new model so far.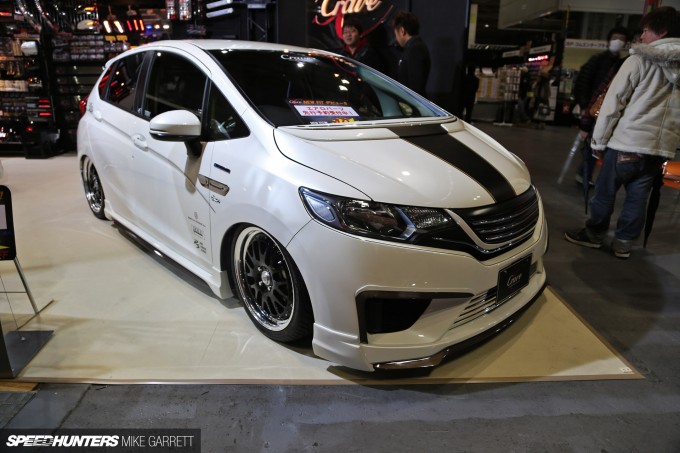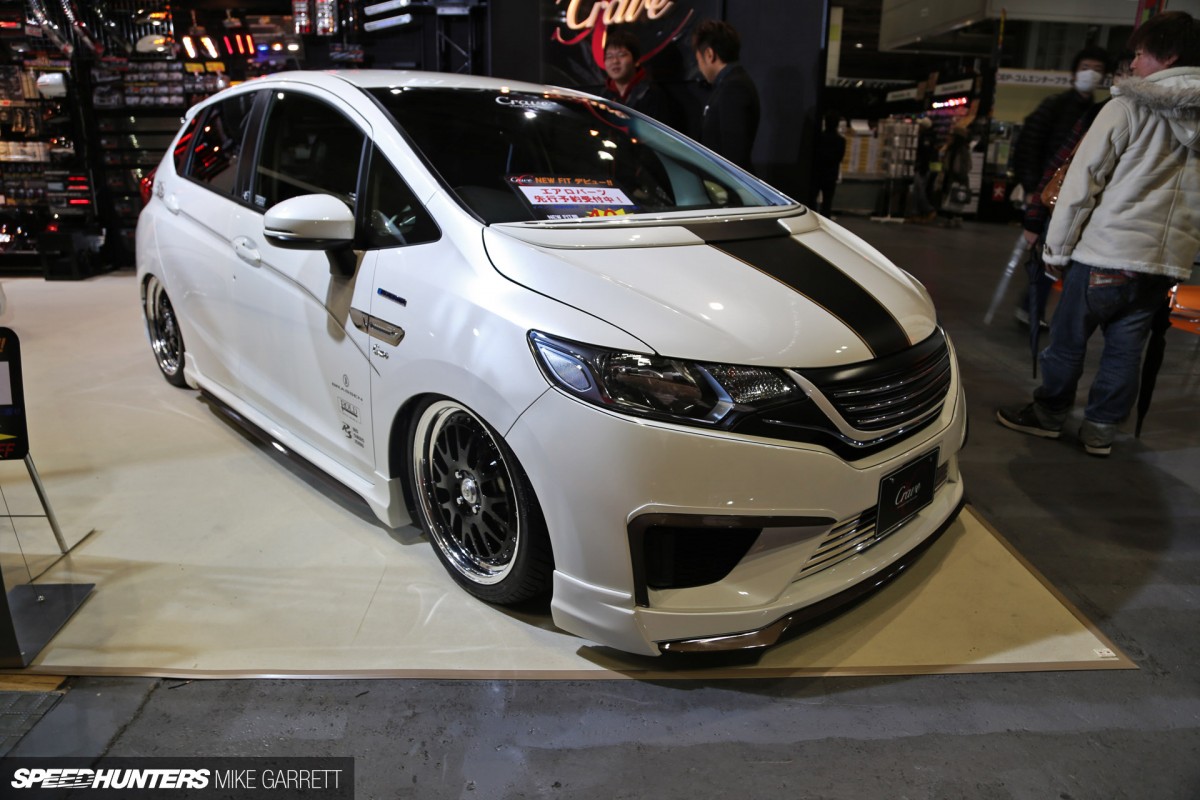 Another car that has yet to go on sale in the US is the newest version of the Honda Fit. This car has been topping sales charts in Japan since its debut last year, so it's not surprising to see companies showing off their parts for the new model. This particular example is modelling some of Crave's stylish aero parts.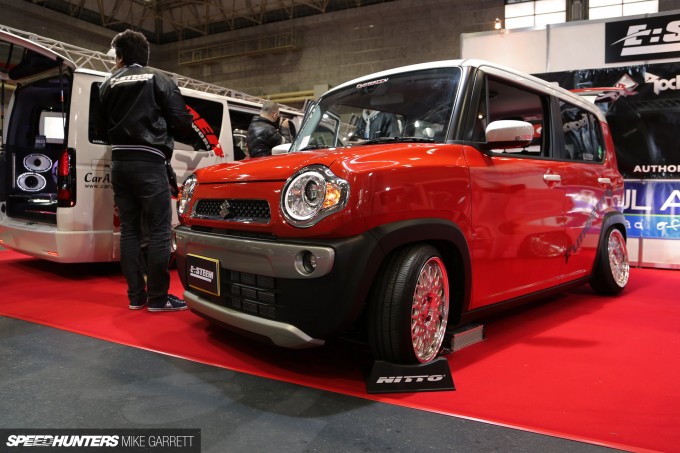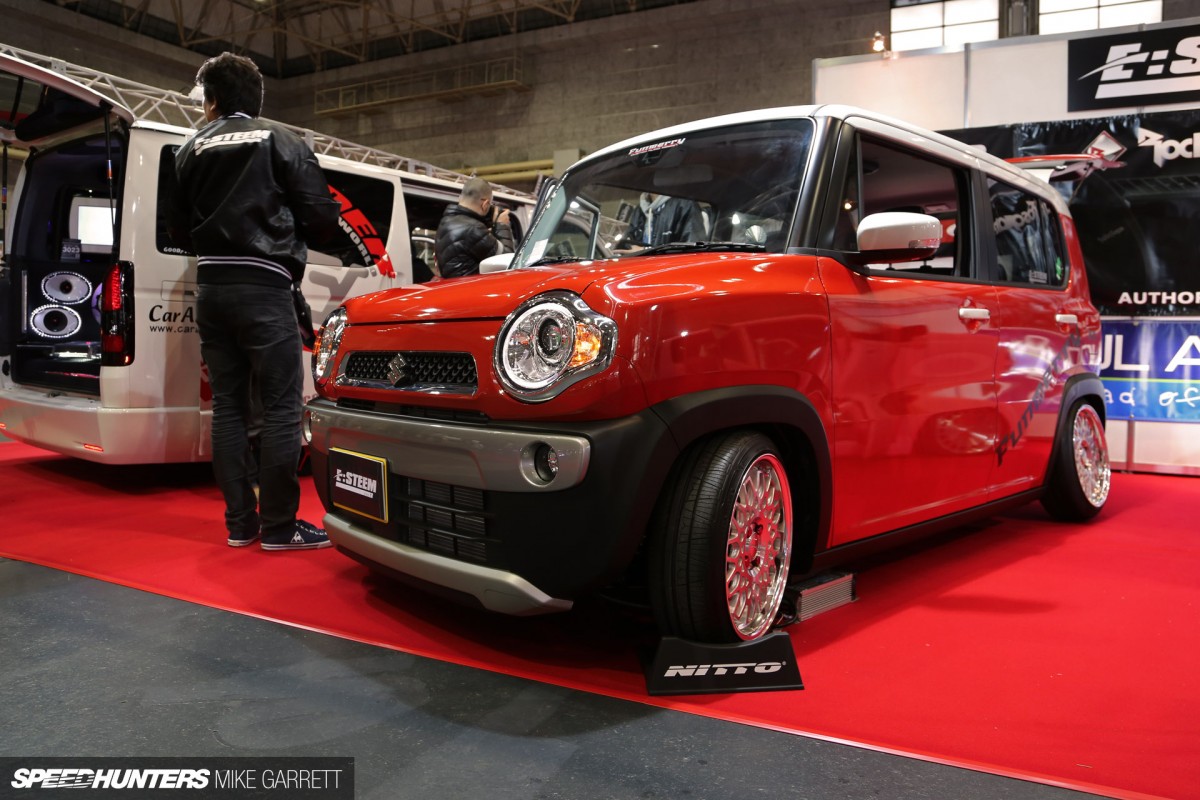 The Suzuki Hustler meanwhile is a car that I can guarantee will never be sold in the USA. As you can see, it's styled like a kei car version of the Toyota FJ and I think it actually looks pretty neat lowered down on some cool wheels like this.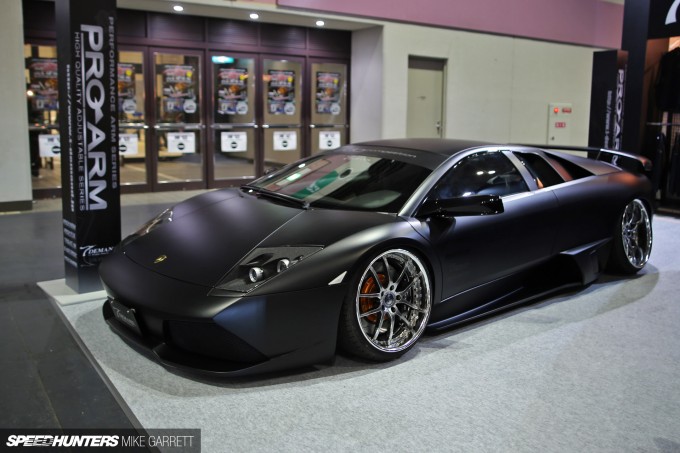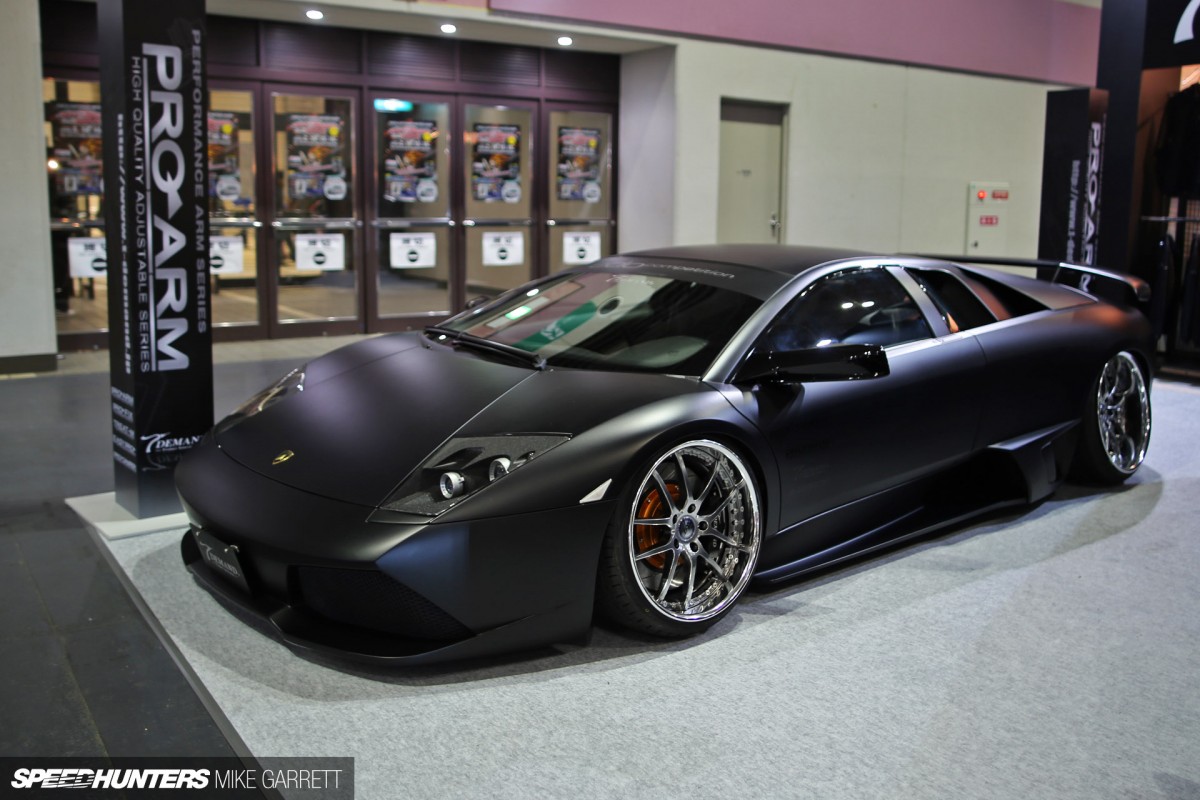 I'm sure you've been wondering about the T-Demand Lamborghini Murcielago seen in the opening shot. While it's not quite as crazy as the Liberty Walk Lambos, this car's dumped ride height, stretched tires and negative camber are still sure to upset the purists out there.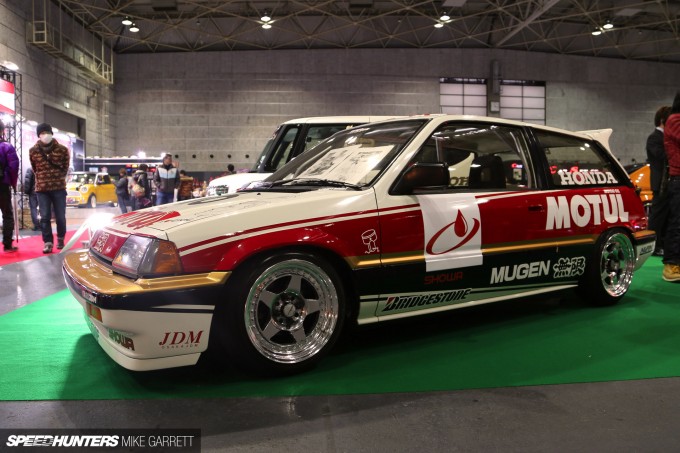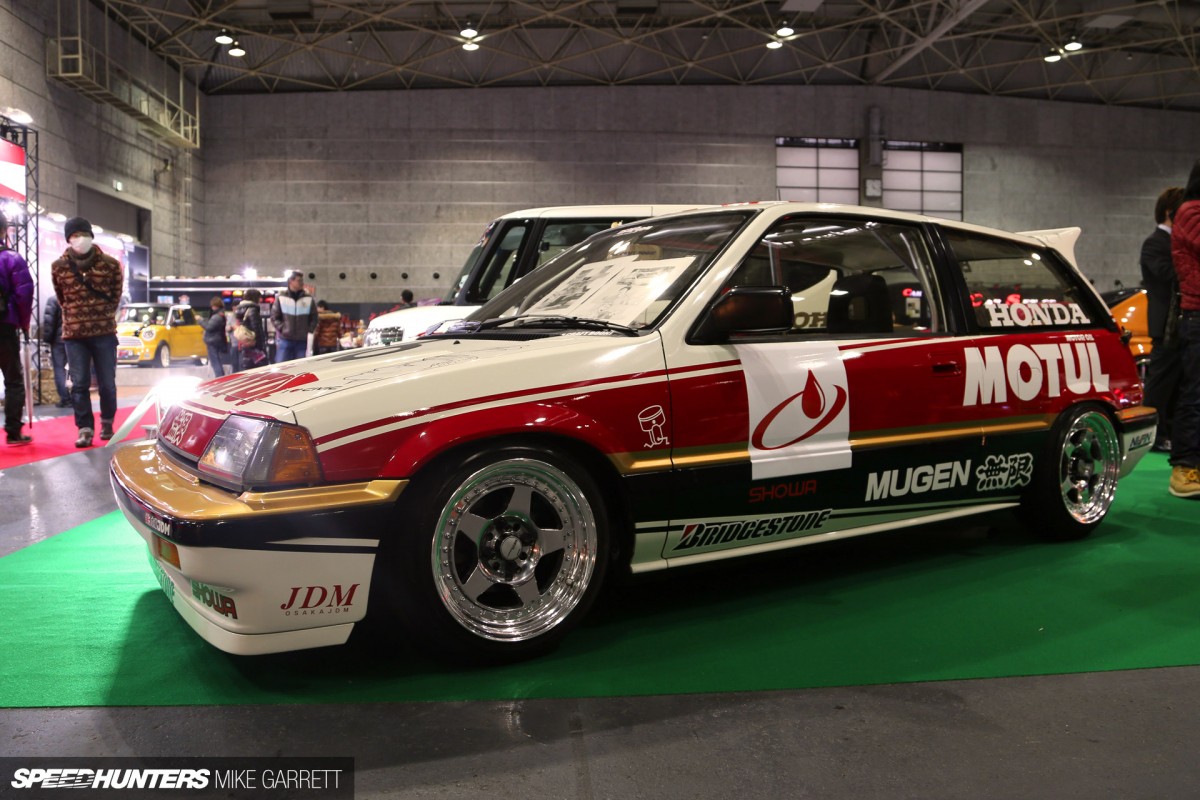 Last but not least we have this 'Wonder' Civic from K-Break, styled directly after one of the cars featured in the Japanese comic Naniwa Tomoare. It's hard to get more Osaka than this.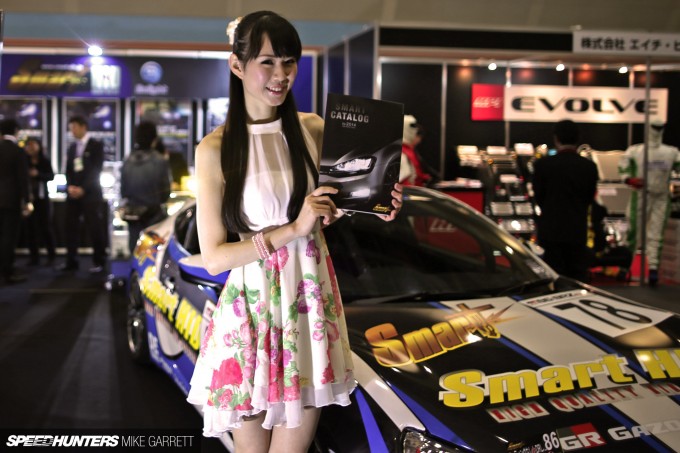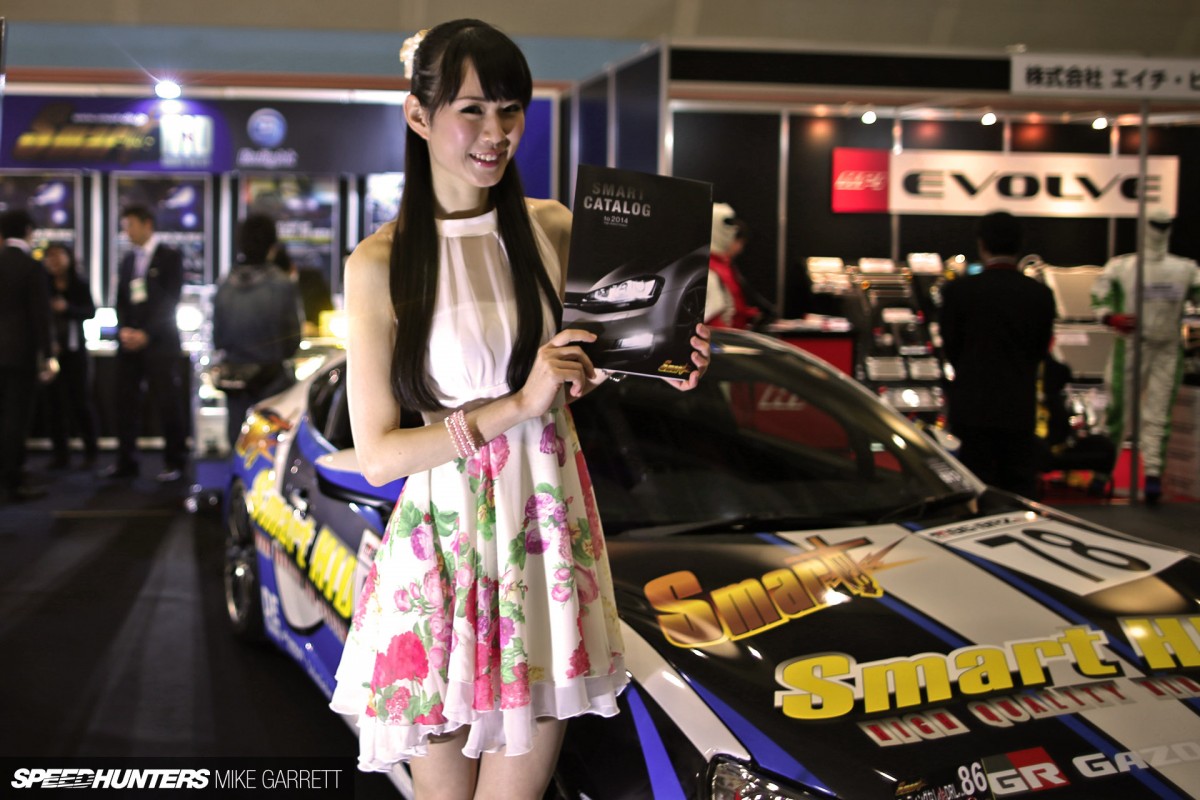 While some of the stuff in this story is pretty crazy, it's actually mild compared to what you'll see in my next post from Osaka Auto Messe. Make sure you stay tuned!
Mike Garrett
Instagram: speedhunters_mike
mike@speedhunters.com