Party all night
I hope you guys have enjoyed the 2014 Osaka Auto Messe coverage I posted last week. Auto Messe is always one of the highlights when I visit Japan in the winter, but to be honest what I look forward to just as much is the action that unfolds on the Saturday night after Auto Messe closes. I'm talking of course about the M&L Party – one of the world's most insane car meets and an event I've been covering since its inception in 2012.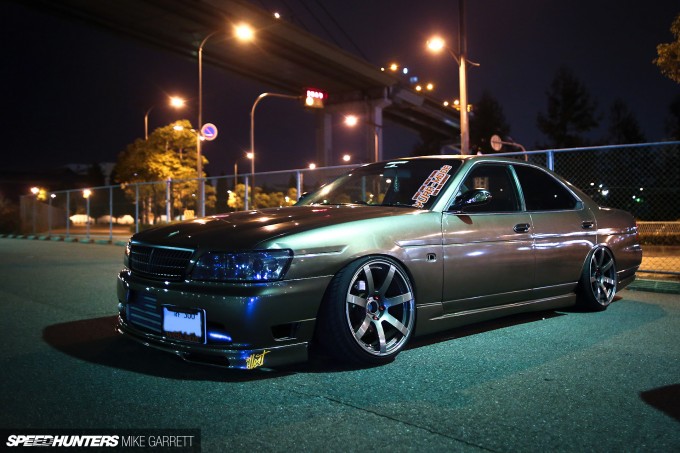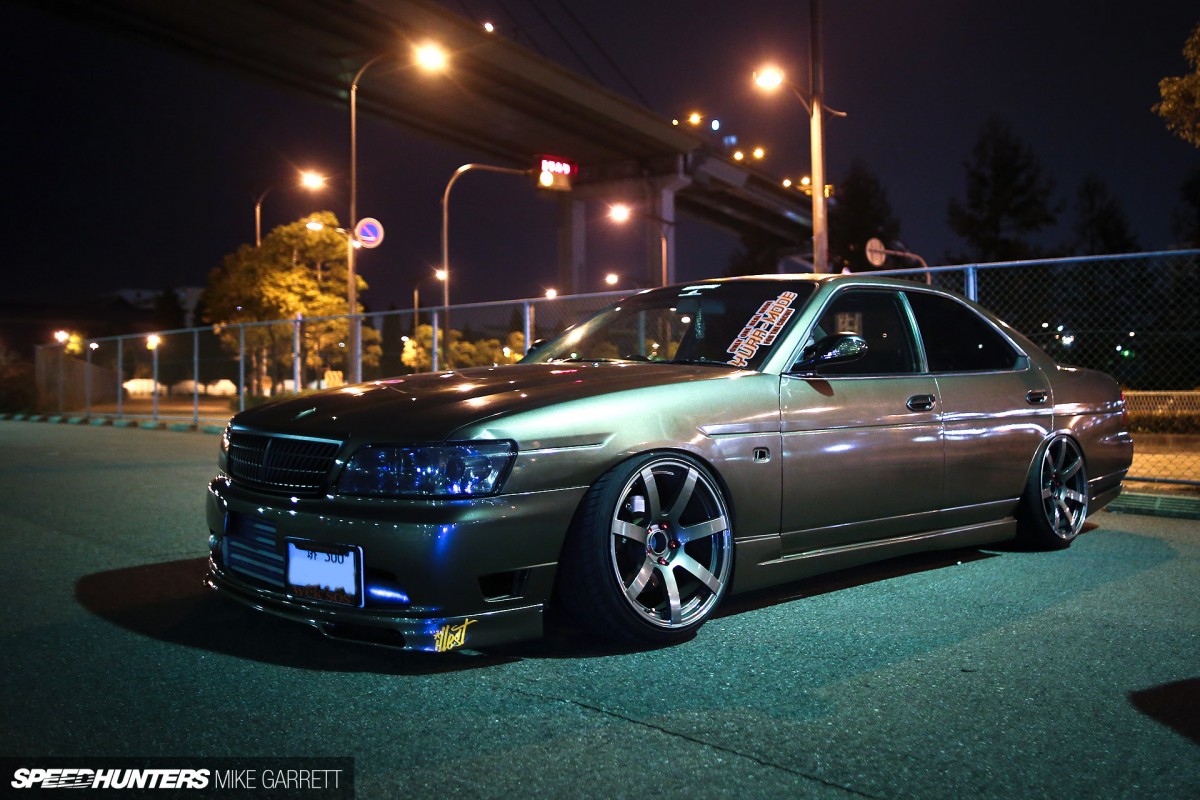 But this year, there was a sense of mystery that came with it. In the past, the guys and girls from Osaka's Team Madame did everything they could to promote to the meet, publishing the details well in advance and trying to gather as many car enthusiasts as possible for a wintertime night meet on Osaka's waterfront.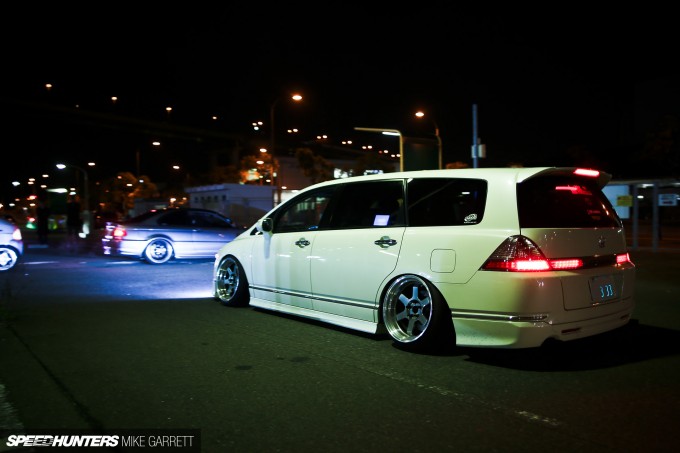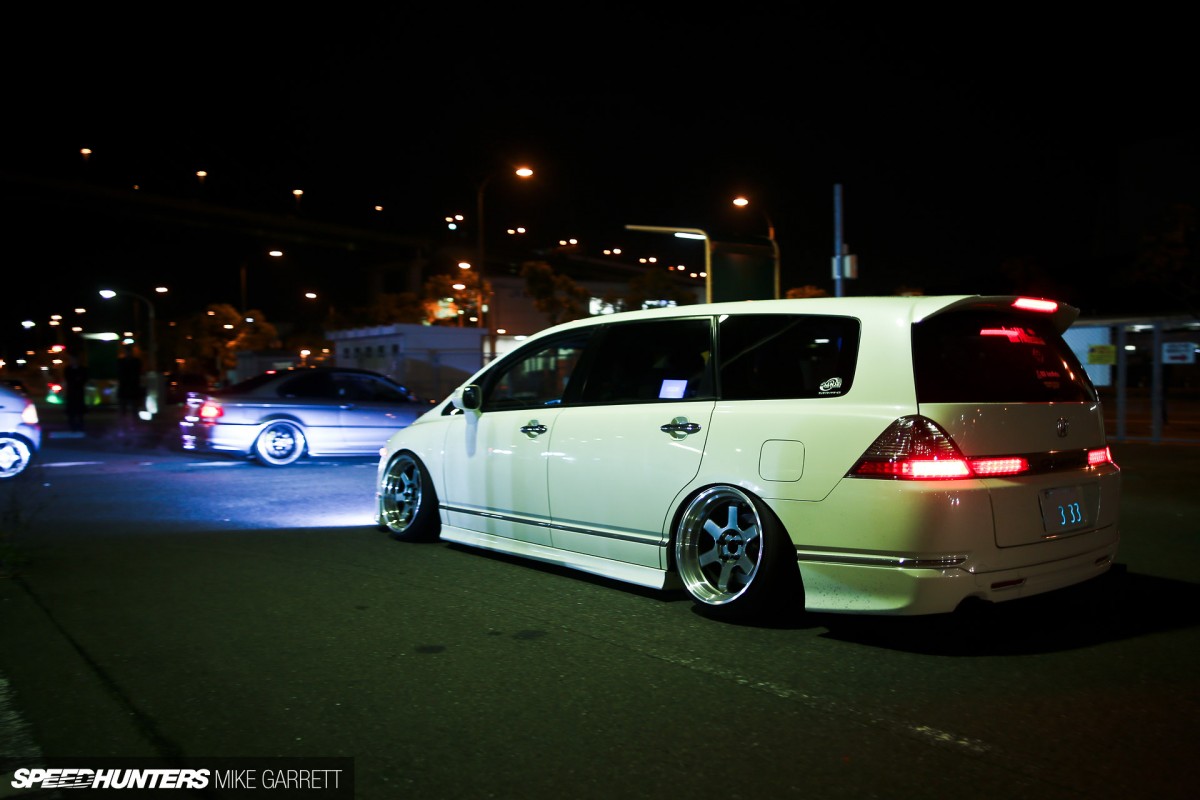 For 2014, details were a little more obscure. Even before I left for Japan, I asked my friends from Team Madame whether the event would happen this year. The response I got was not particularly definitive.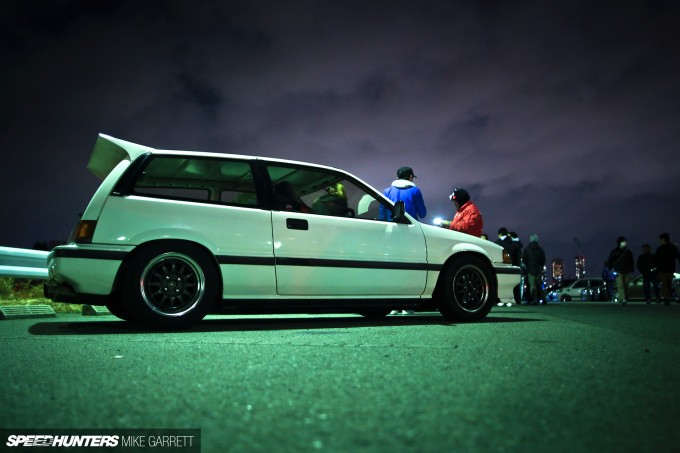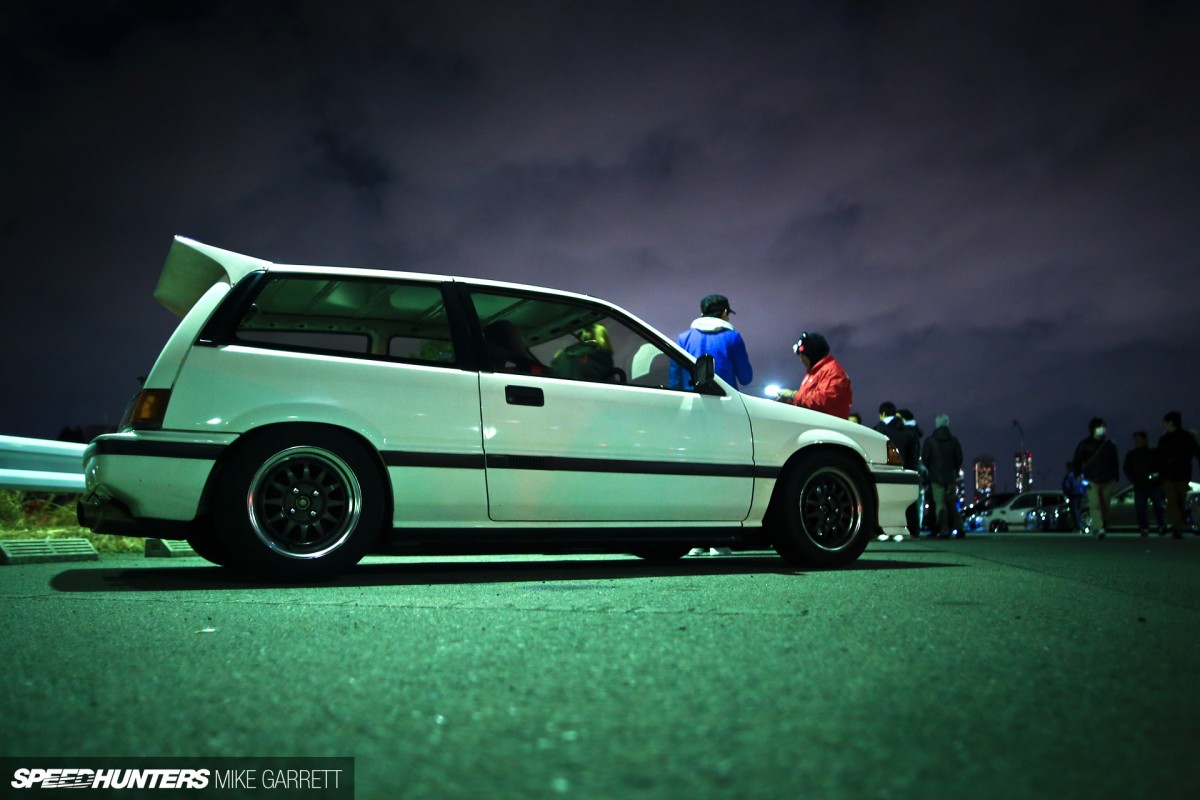 After I arrived in Japan, I met up with Team Madame's Masashi Kameoka when he came to visit Yokohama in January. It was there that he confirmed that the M&L Party would in fact happen this year, only the group would use a slightly different strategy in advertising the meet.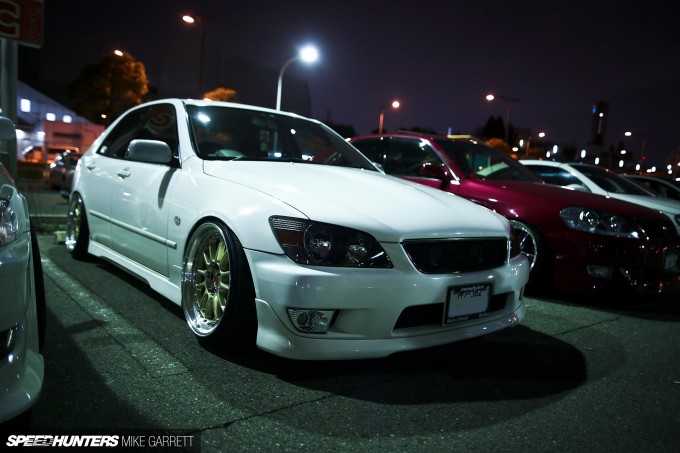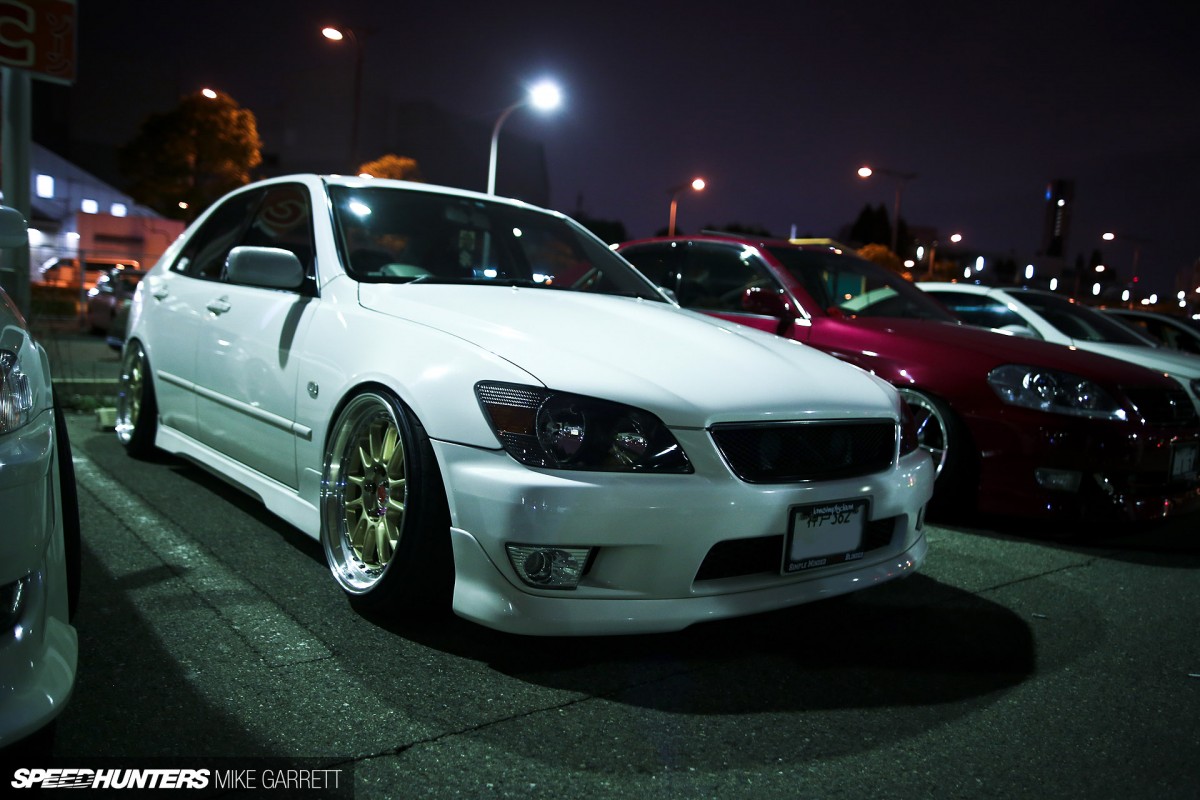 In just one year from 2012 to 2013, this night-time meet had almost grown too big for its own good. Last year there were well over a thousand modified cars that squeezed into the Sakurajima Parking Lot outside of Osaka's Universal Studios Japan, and needless to say, the local authorities weren't too pleased with the traffic and noise that came with such a gathering.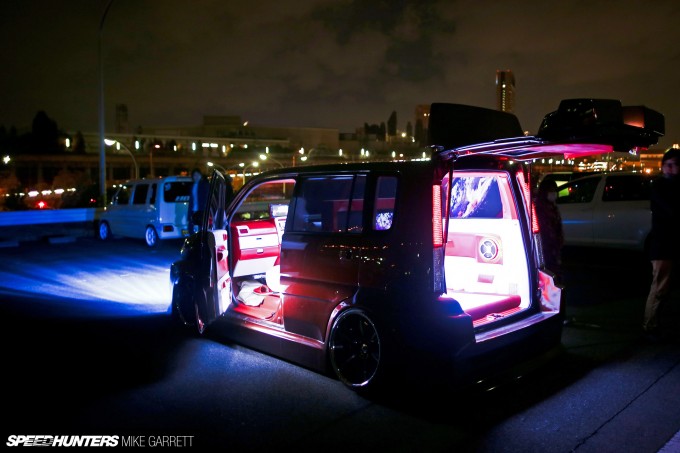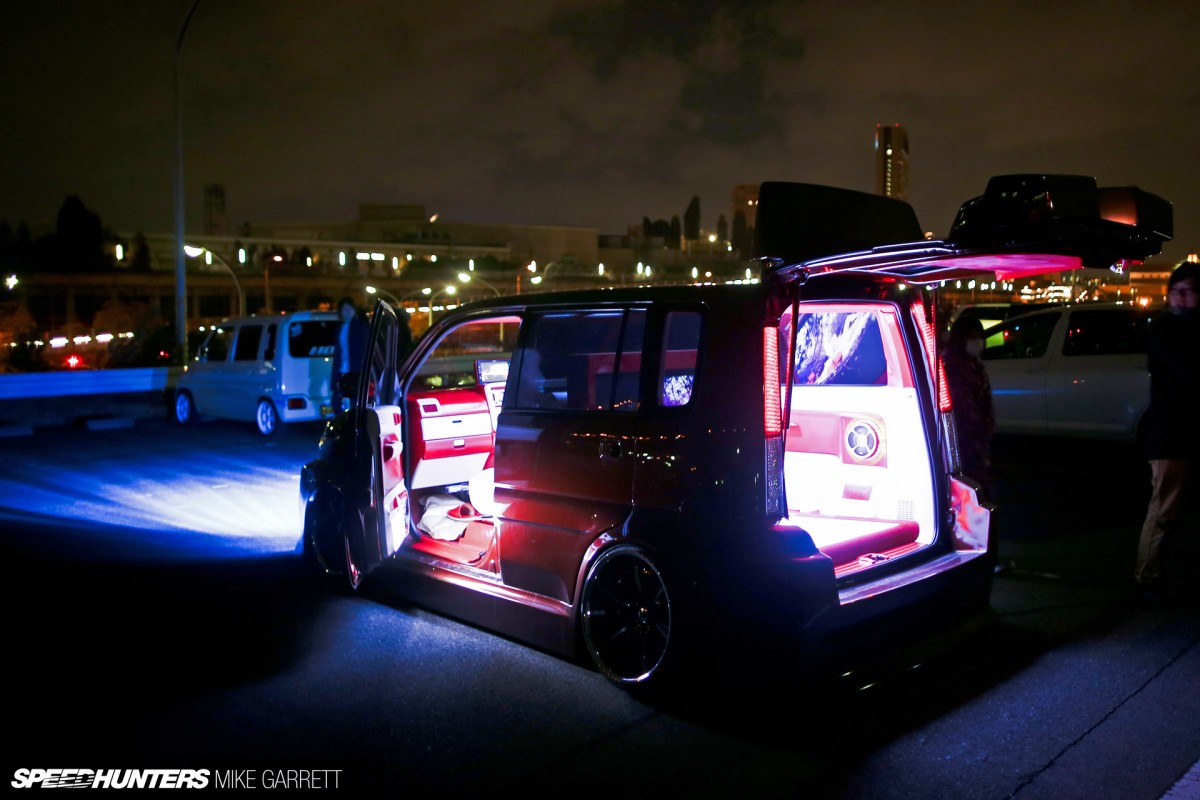 Aside from that, there's also the immense amount of work that comes with hosting a gigantic car meet like this. For the Team Madame family, the M&L Party is anything but a relaxing evening.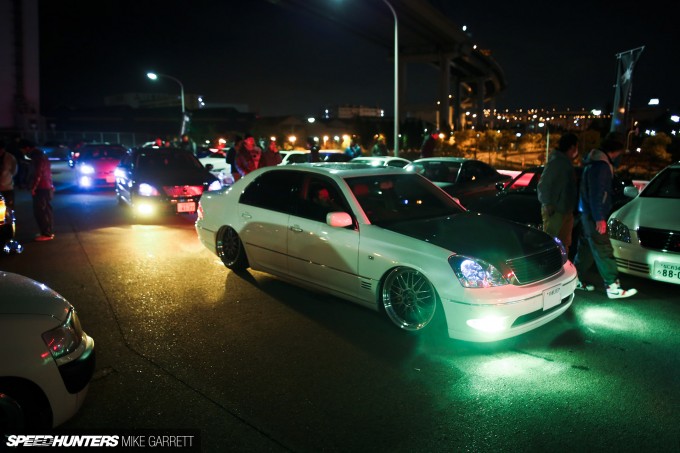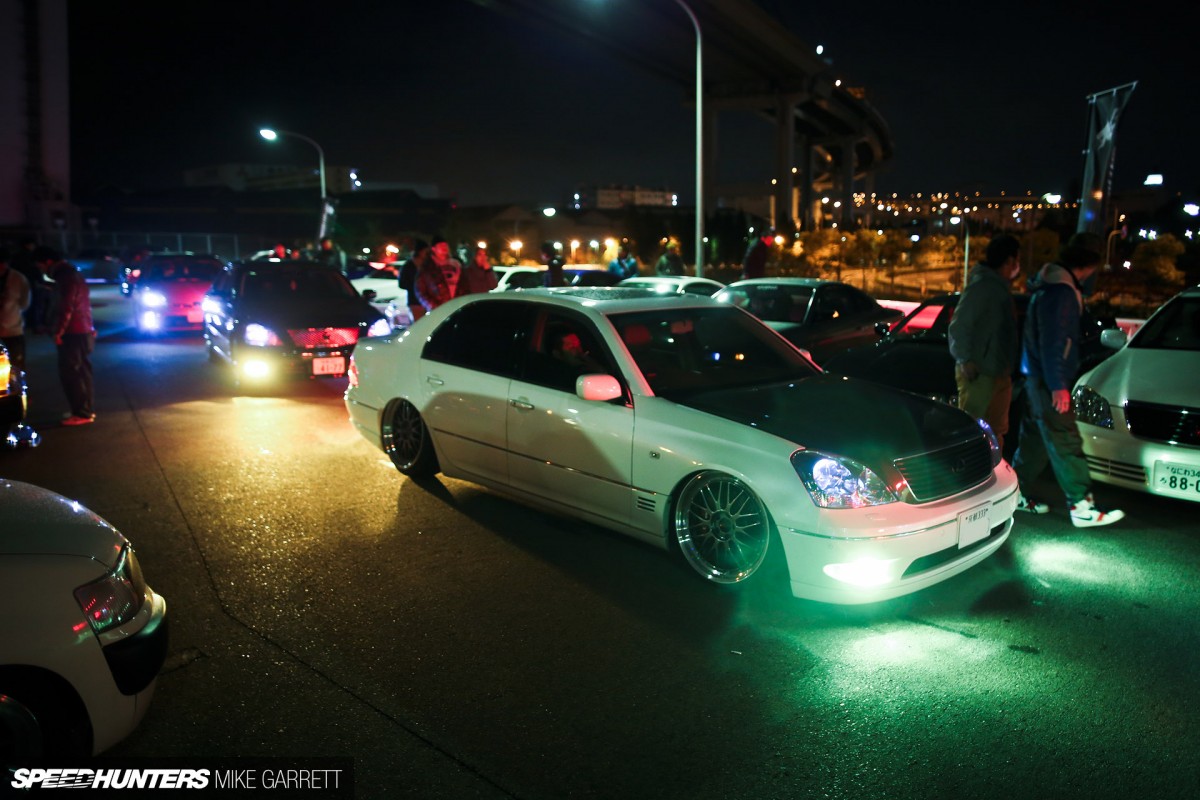 So when it came time to announce this year's meet, it was decided to purposely leave out most of the details. They simply posted across social media that the 2014 event was on – with no details about the specific time or location.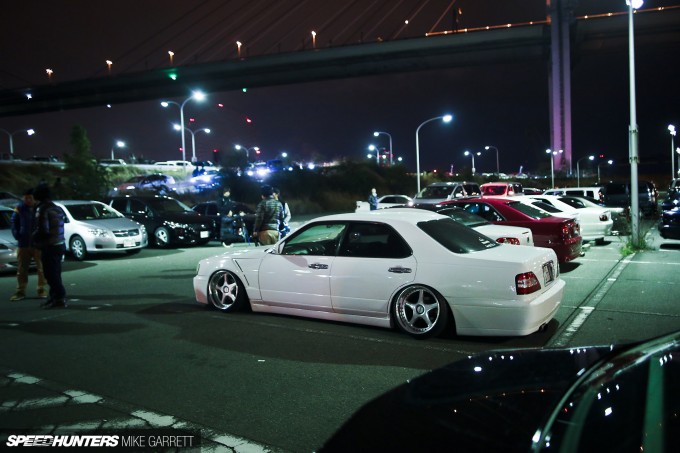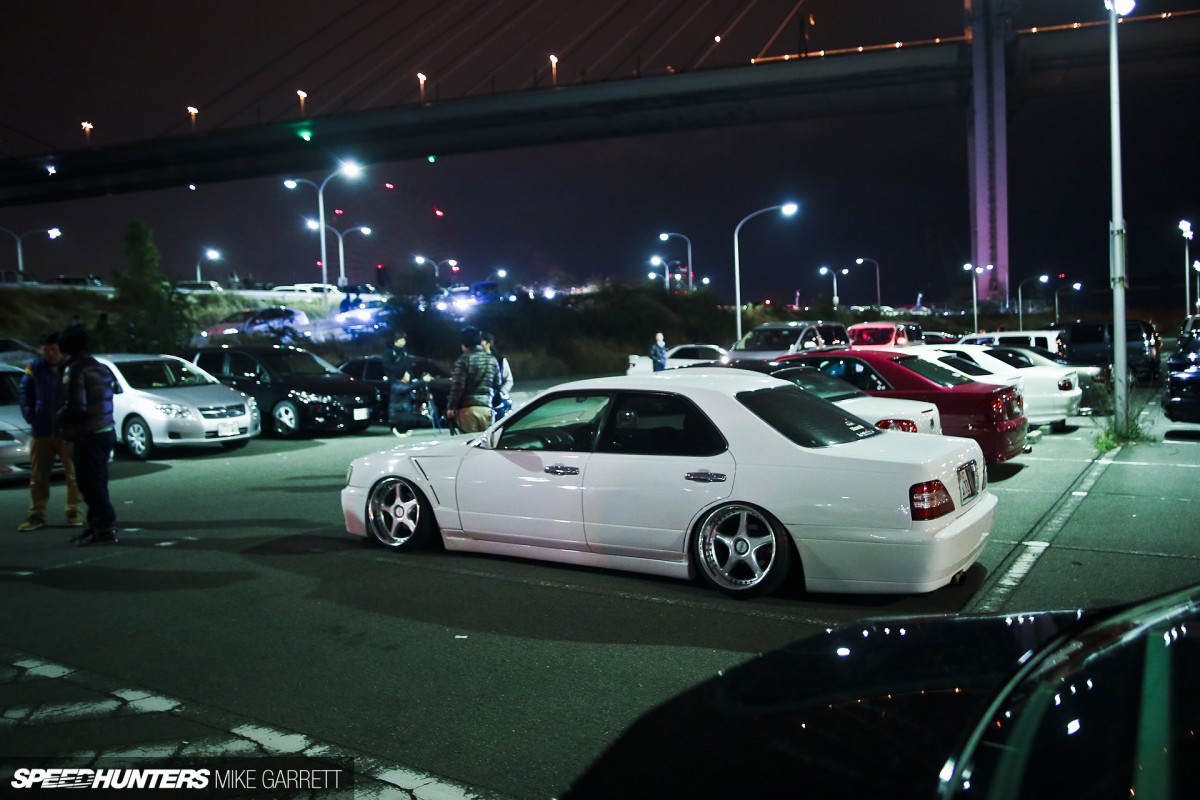 It really didn't sound like a bad strategy to try to keep things under control. The time and place would be the same as before, and if one wasn't able to deduce where and when the meeting was, they probably didn't need to be there anyway.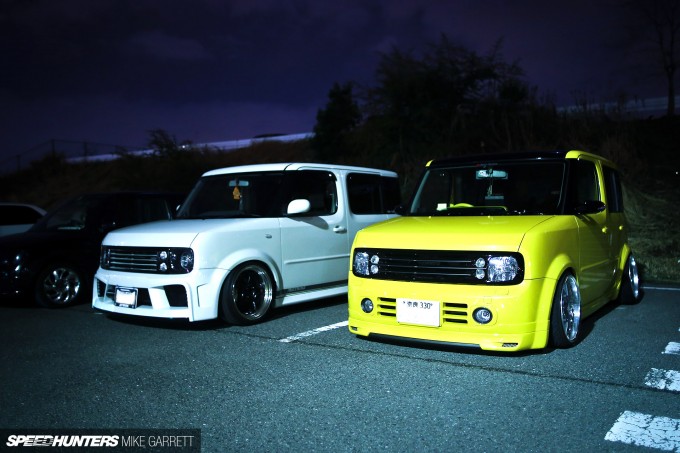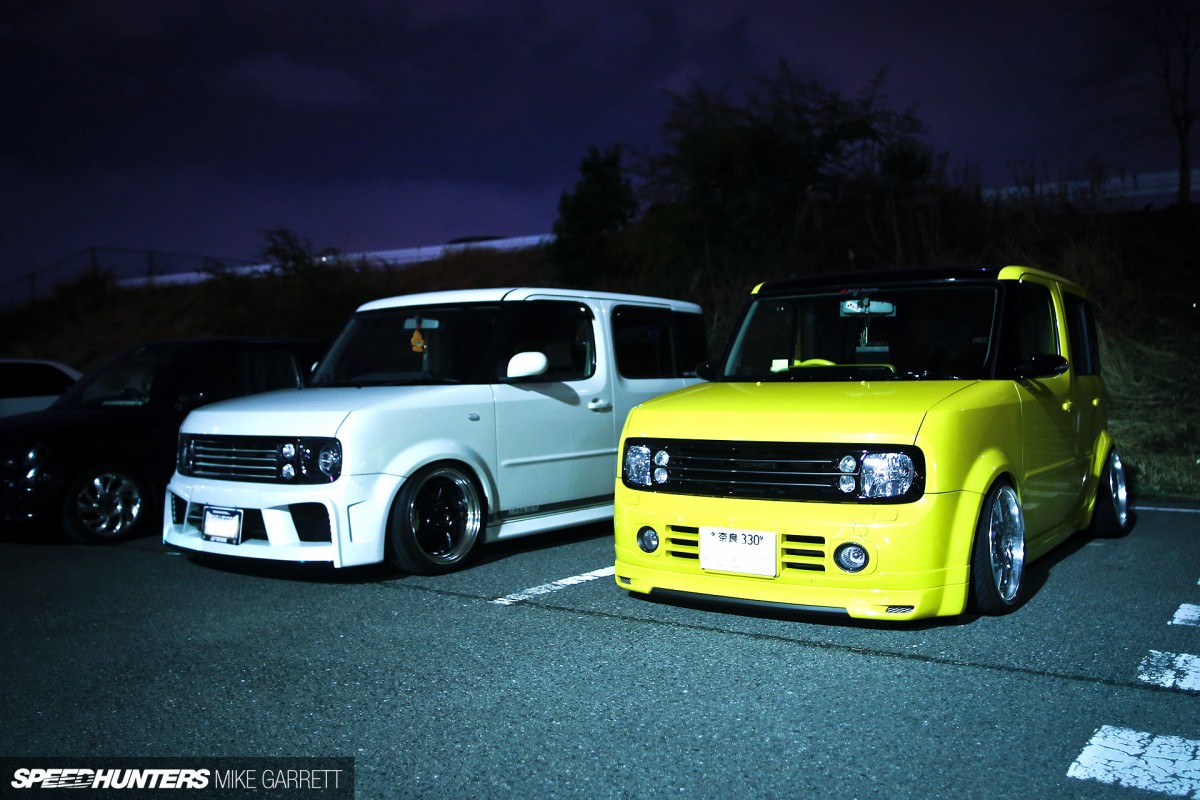 So what was the result of this new style of promotion? Would the meet be smaller and more manageable than before? Well, it seems word travels fast in Osaka because I couldn't detect much difference between this year's party and the 2013 version.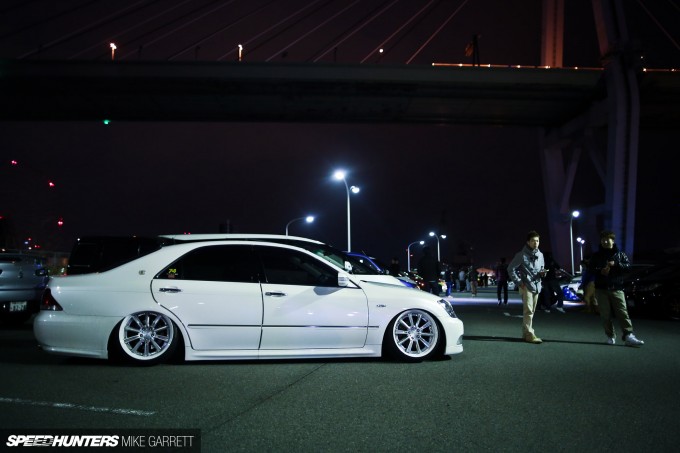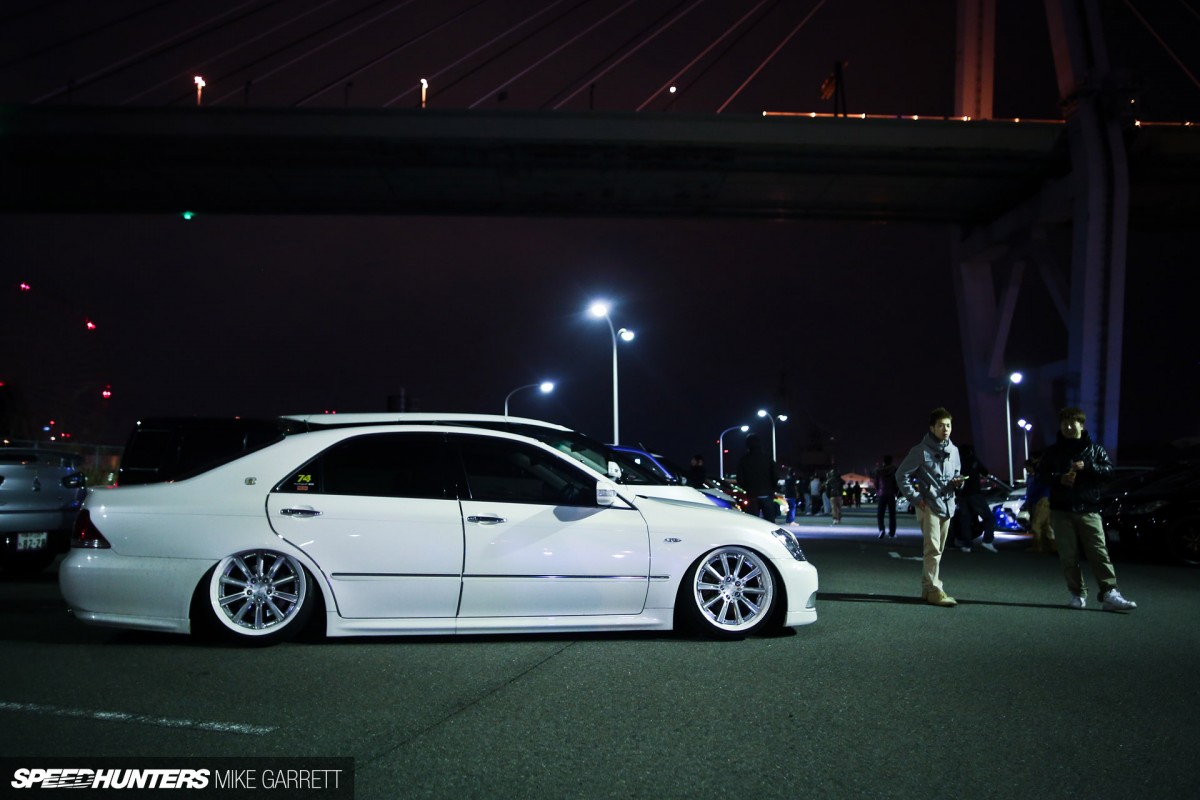 It seems the M&L Party has become such a thing of legend in Osaka that once it was announced, everyone immediately knew when and where it would be.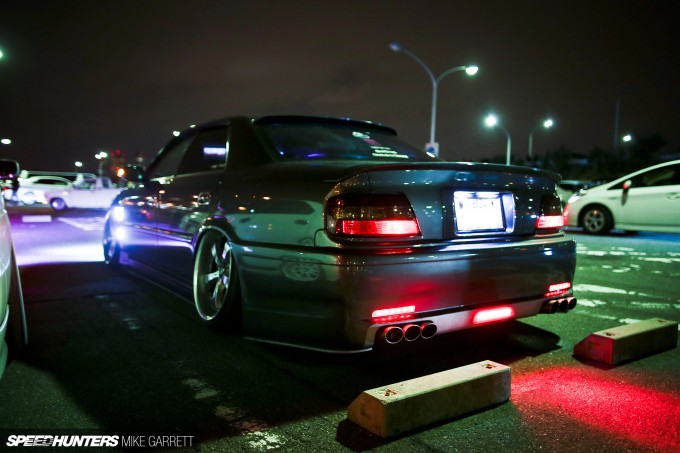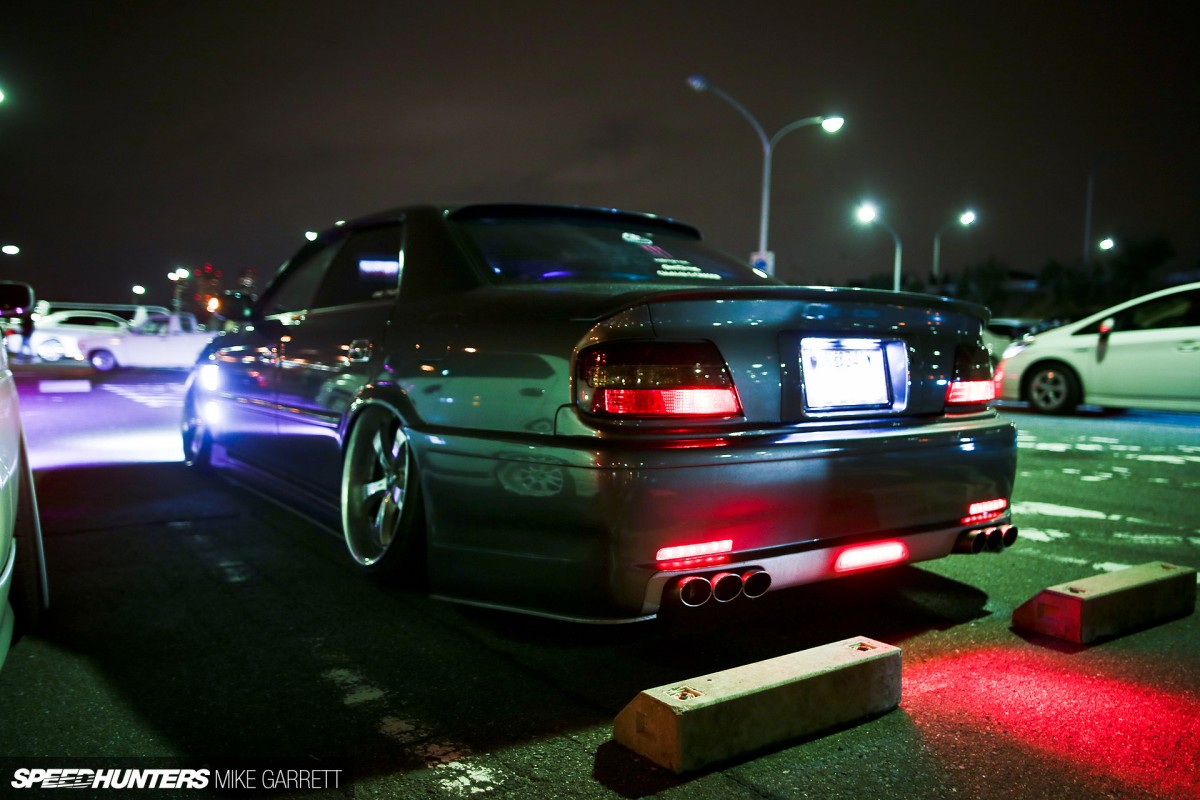 While I was told that the number of cars was in fact smaller this year, it was really hard to tell.
Something for everyone, literally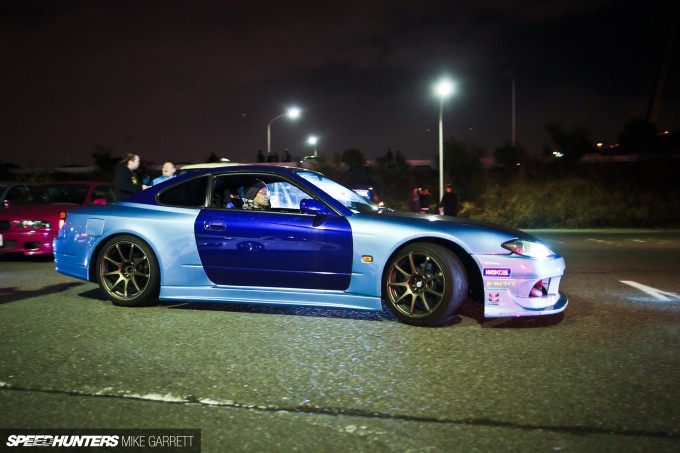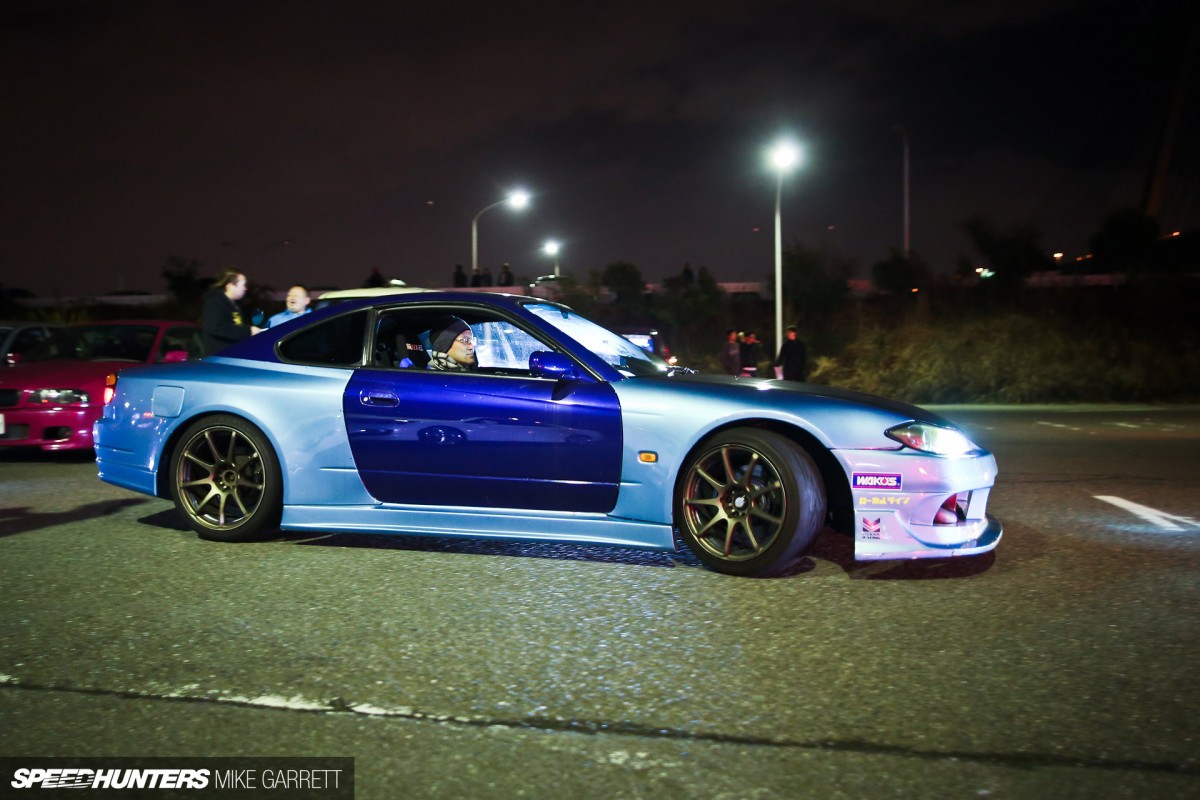 To me, the M&L Party is still the largest, most diverse and most unbelievable car meet in the world. Perhaps it's because it always follows a long day of shooting at Osaka Auto Messe and extends deep into the following morning, but I always feel like I'm in a bit of a dream state while I'm there. I often have to pinch myself and ask if this is really happening.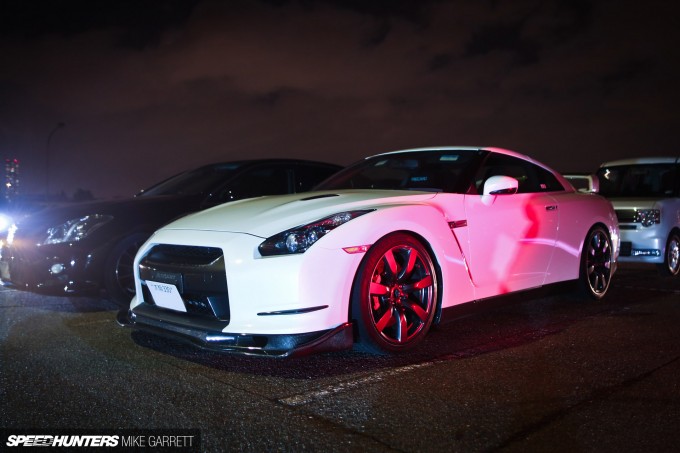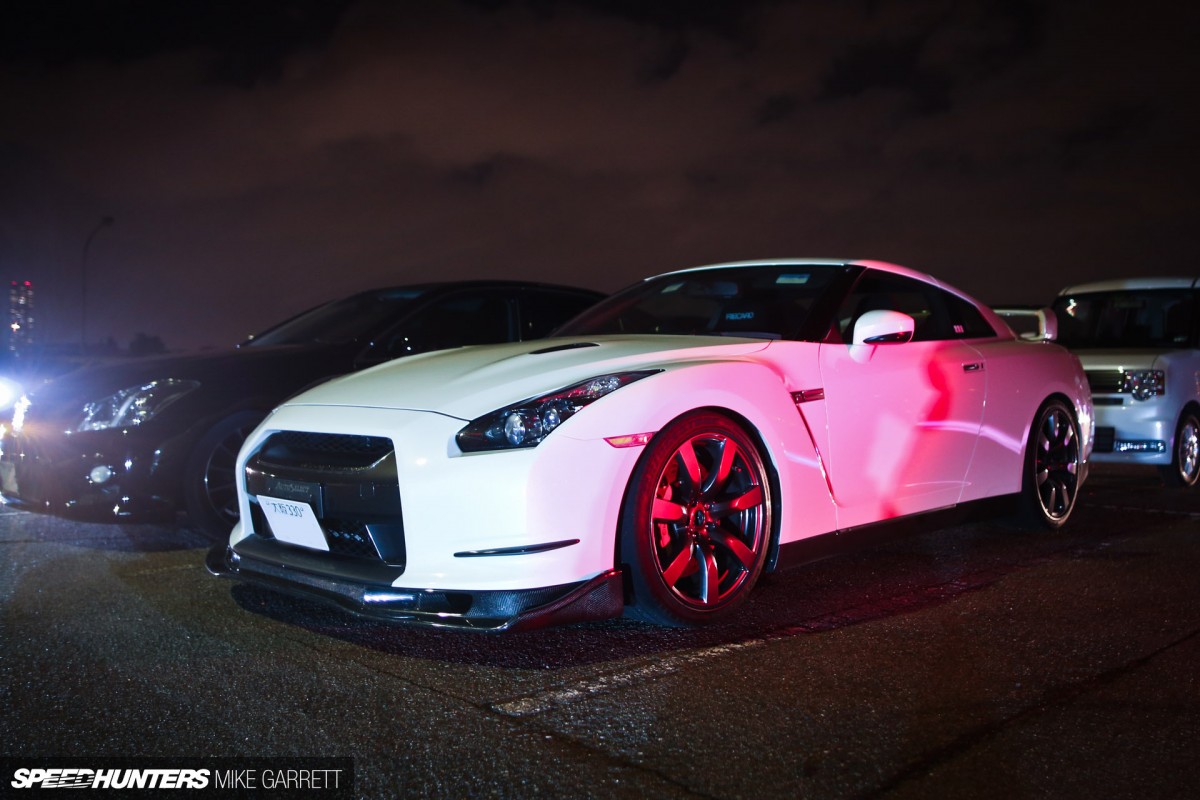 When it started two years ago, the idea was to have a meet that was open to all genres of cars – a place where you'd see tuner machines, USDM style cars, VIP cars, pickups, vans, classic cars and everything else all in the same place. I think that's really the thing that's made this event so well known.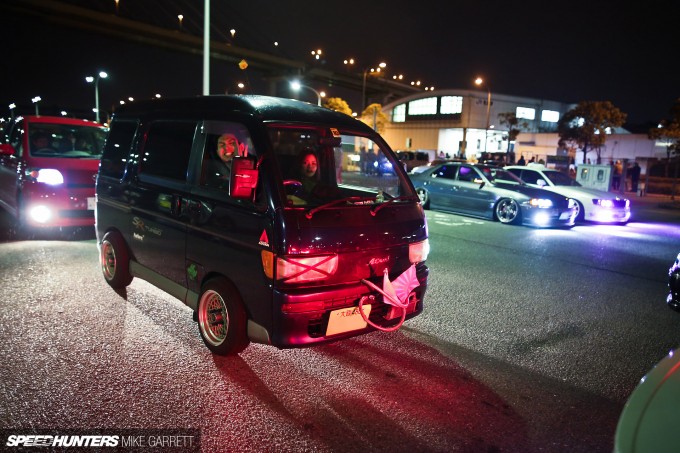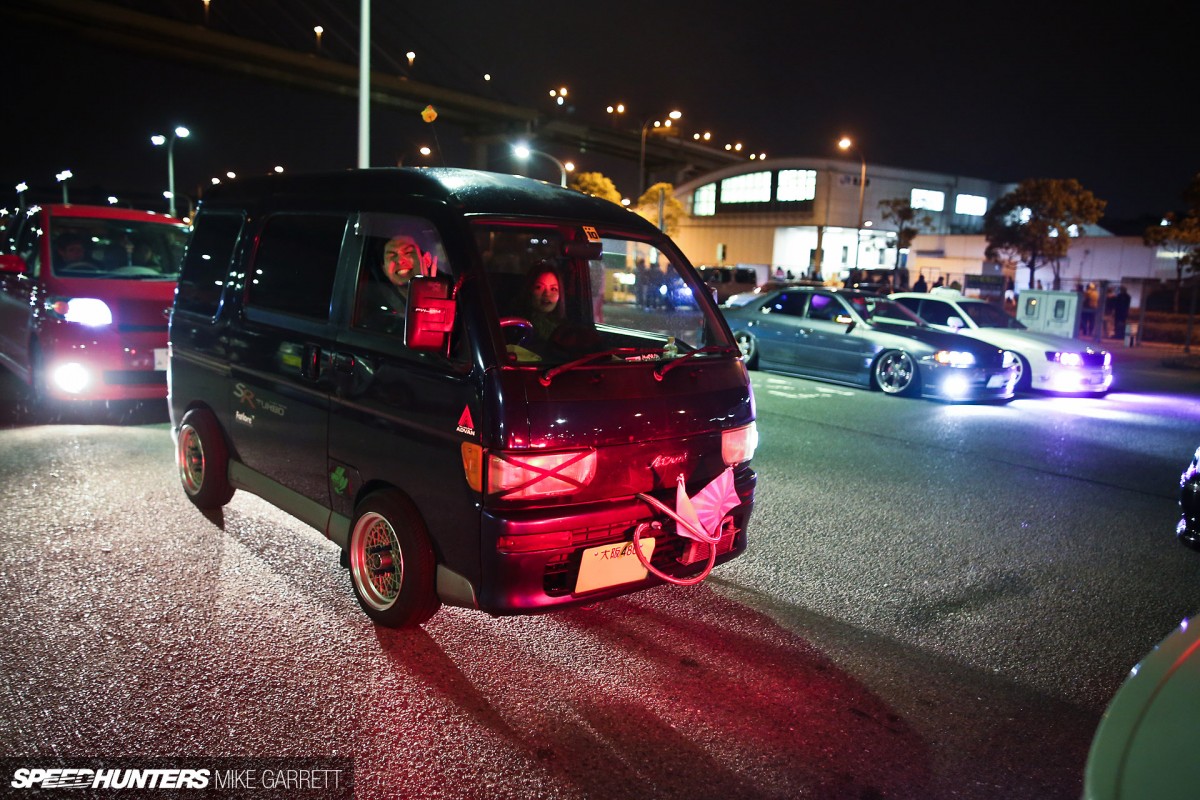 I mean, where else can you twist your head one way and see a cool little Japanese kei van with old school wheels and an external oil cooler…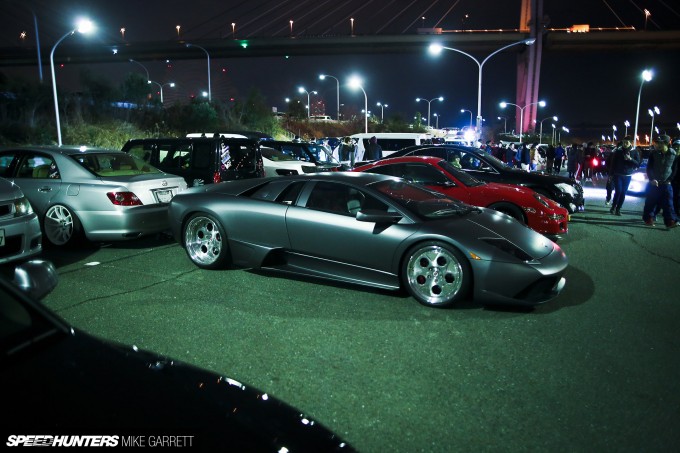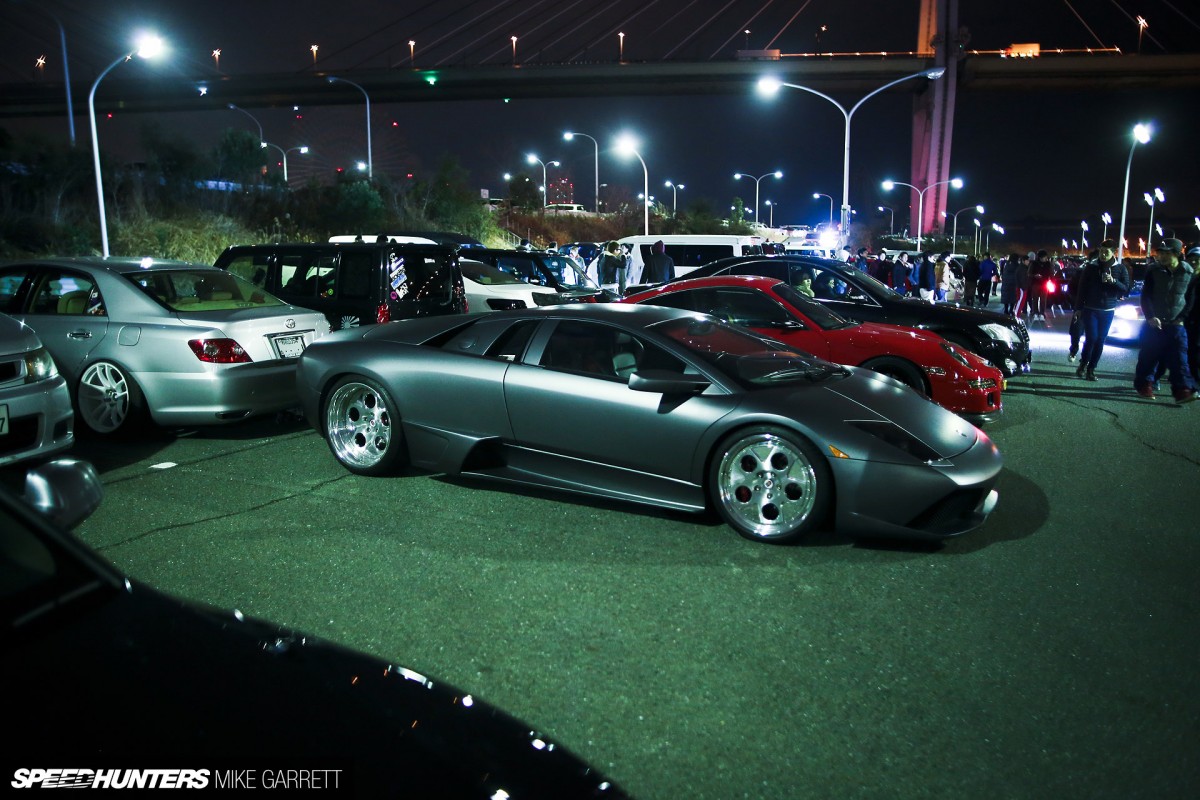 Then twist your head another way and spot a stunning Lamborghini Murcielago parked up among the crowd. This is what the M&L Party is all about.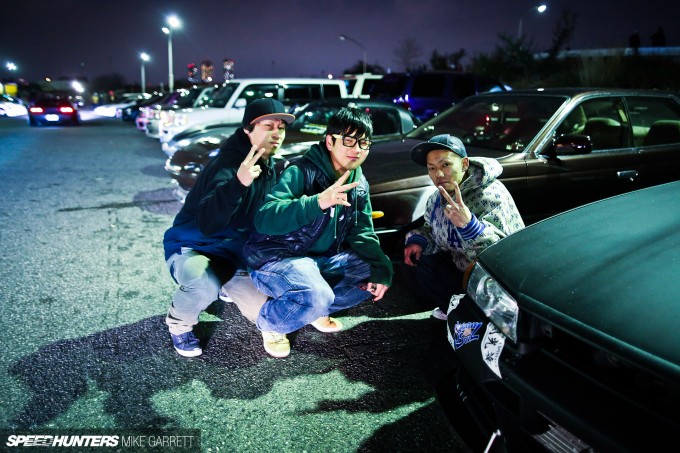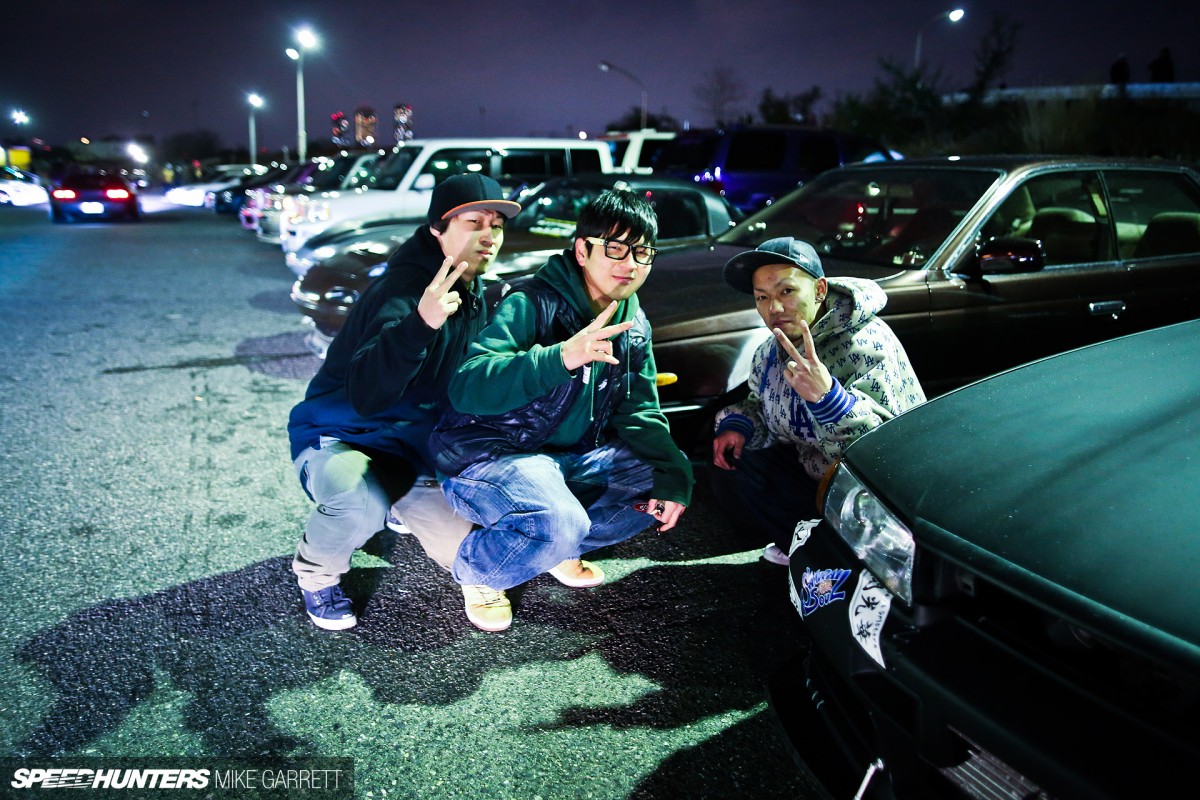 But more than that, it's about having fun and meeting people. It seems that everywhere I went, I'd be greeted by friendly people who were eager to chat about cars and share a laugh. My less than great Japanese language skills certainly had a big test.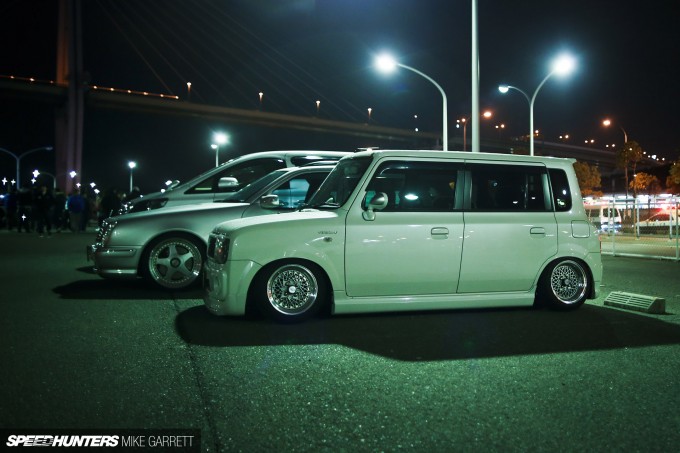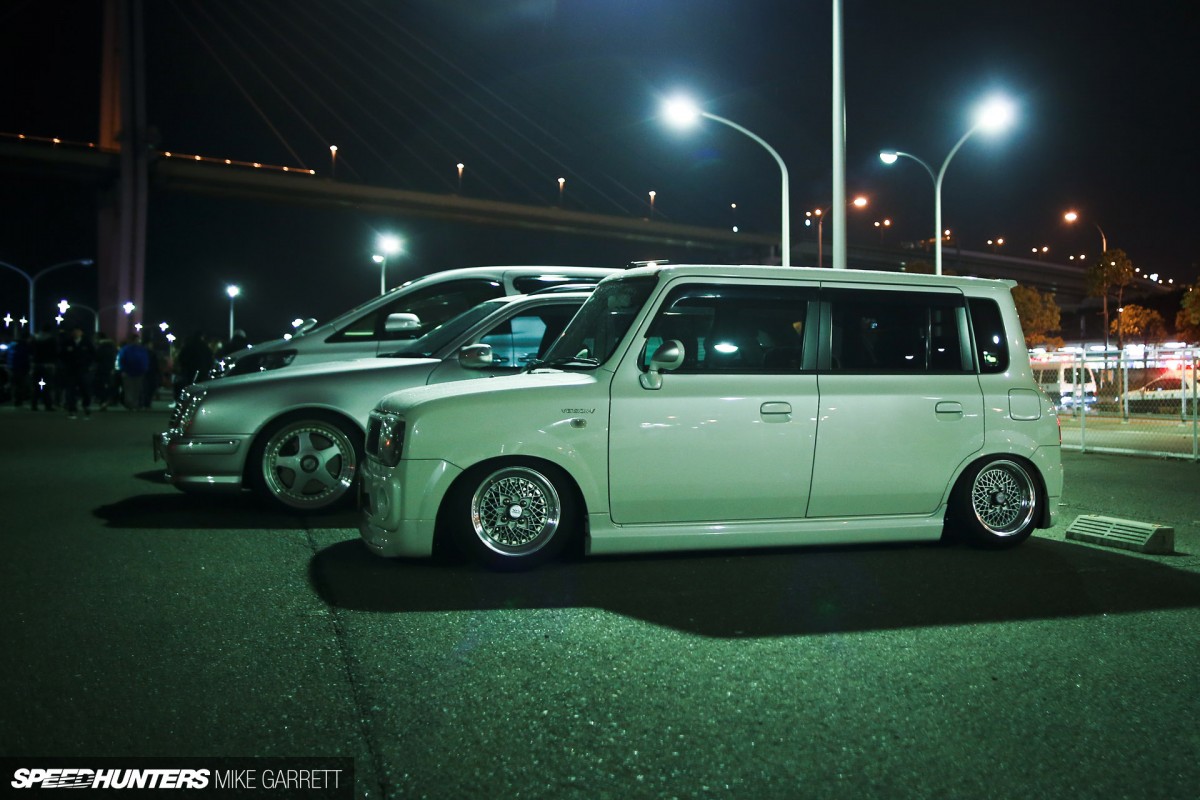 Among the people I met at the event this year was Mie Ueda from Hyogo Prefecture, the driver of this super cool Suzuki Lapin. In addition to the little kei wagon, she also owns a properly badass F31 Nissan Leopard, so it's not surprising to see the kyusha influence on the daily driver Suzuki.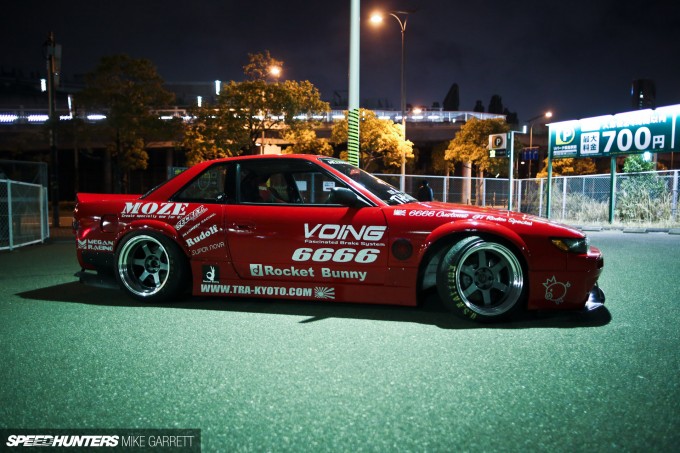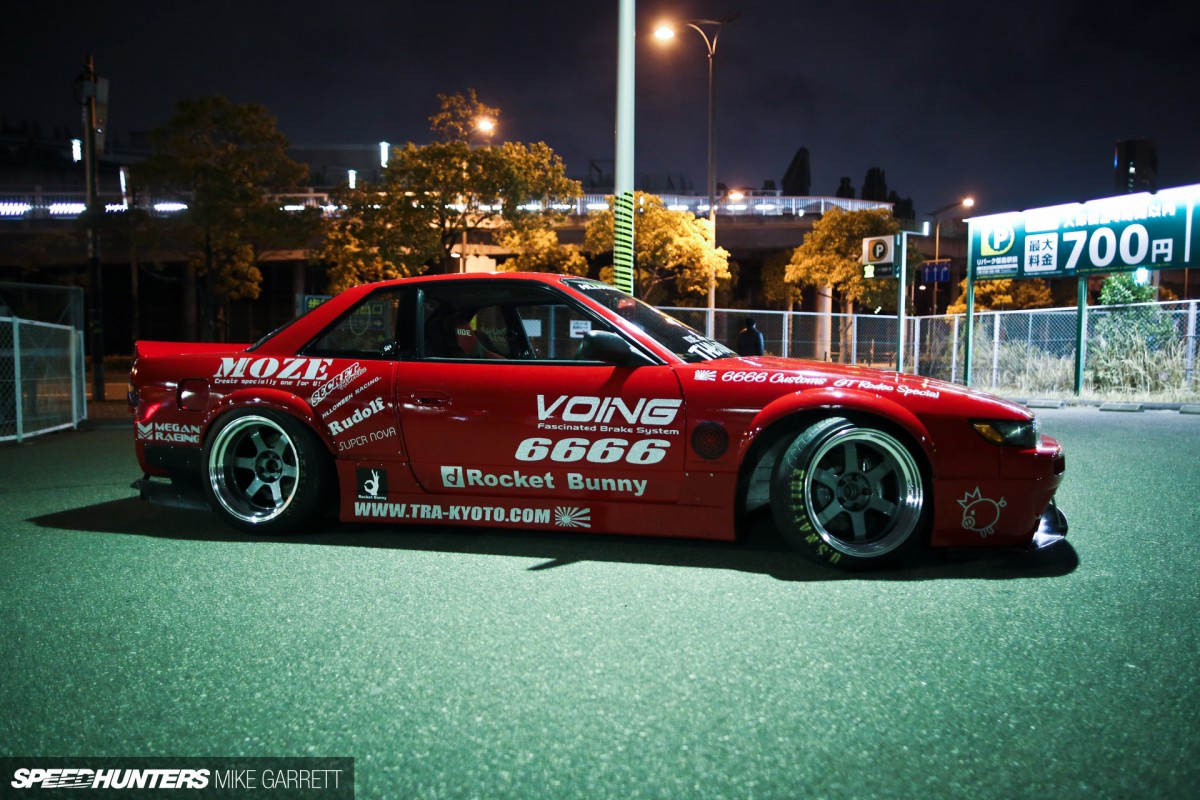 Another person I ran into was Mr. Takashi Mine of Kobe, who drove out in his badass Rocket Bunny-equipped S13 Silvia.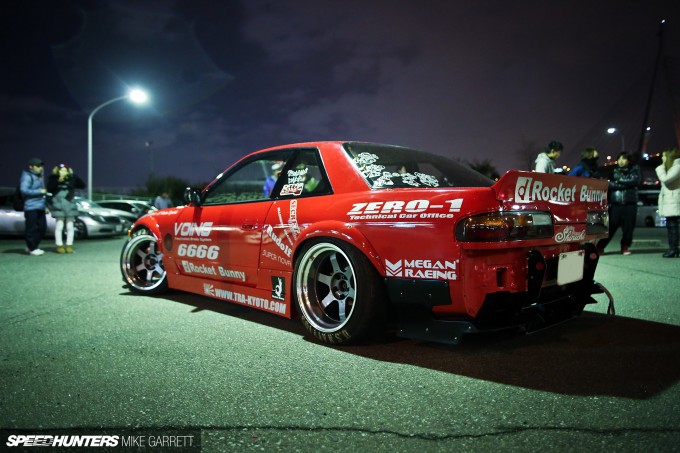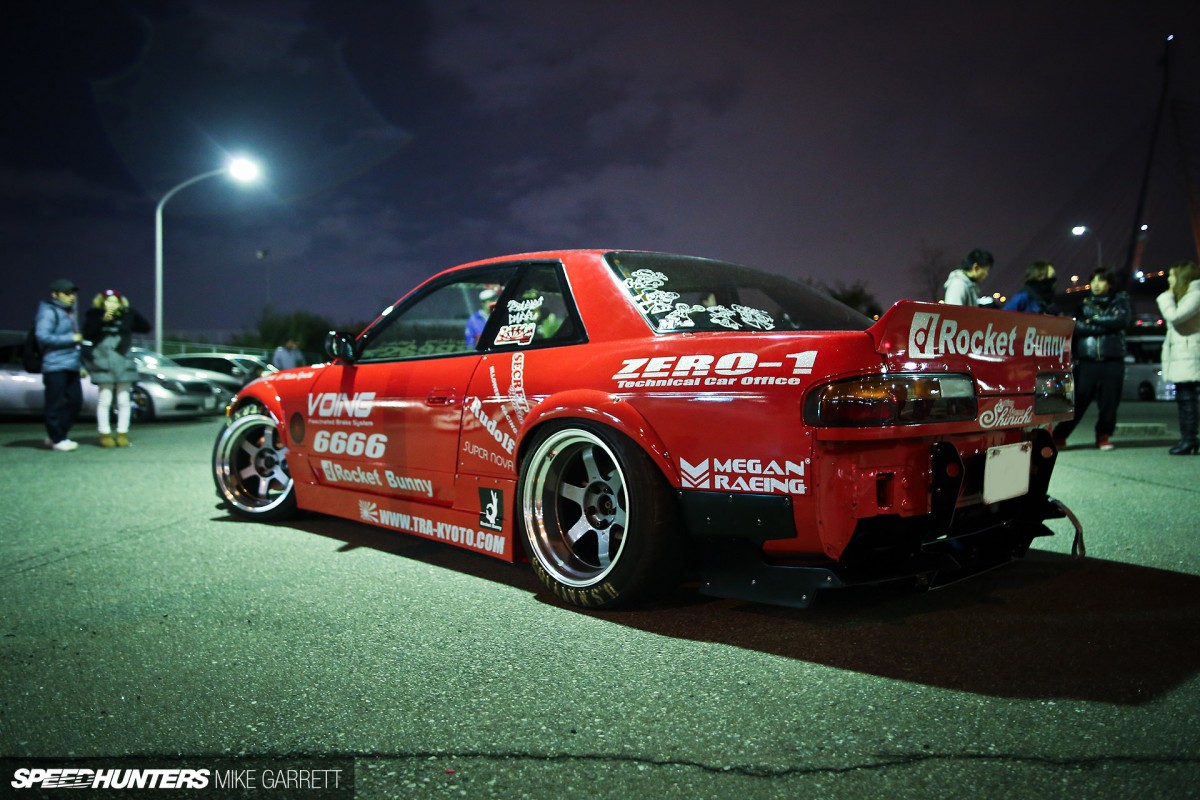 If the car looks a little familiar, that'd be because Mine-San is also the creator of the US Navy-themed S13 that I featured here on Speedhunters last year.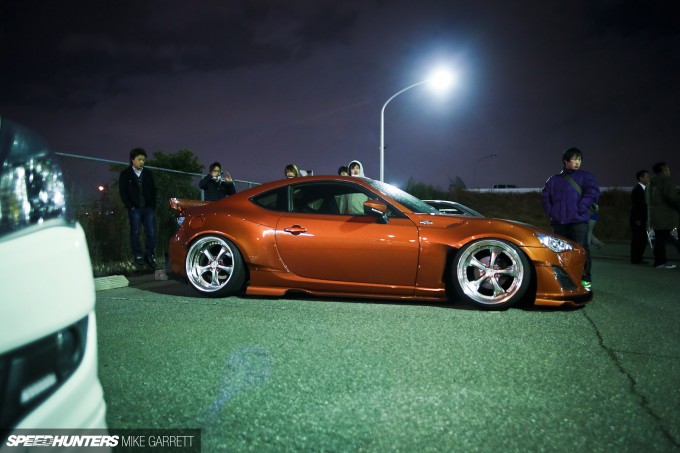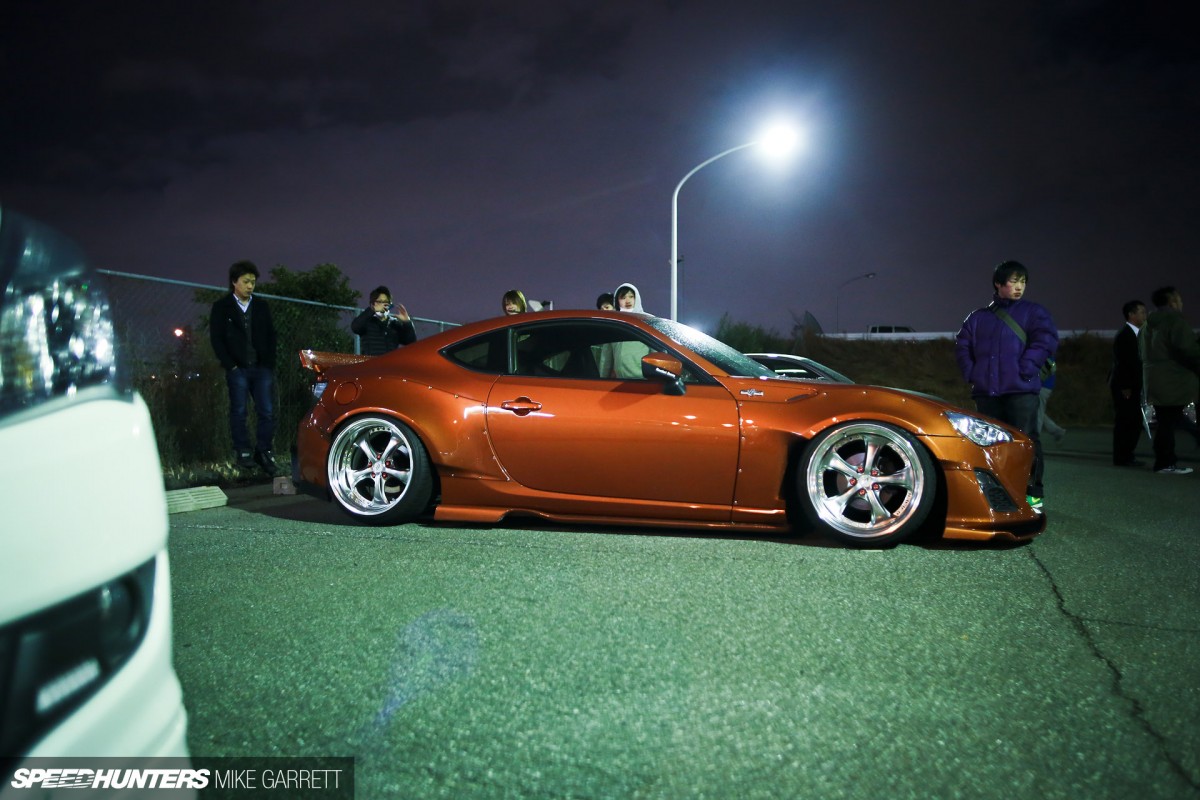 Another familiar face that came out was Satomi-San, who is well known for a military-inspired Silvia of his own. This time though, he came out in his beautiful Rocket Bunny-equipped Toyota 86 on Work VS-KFs.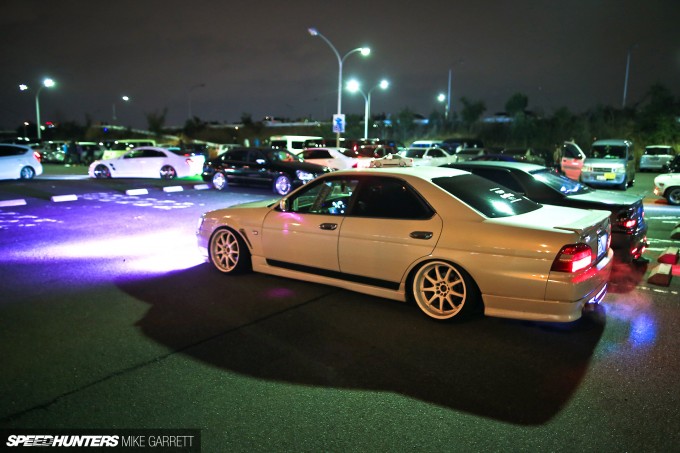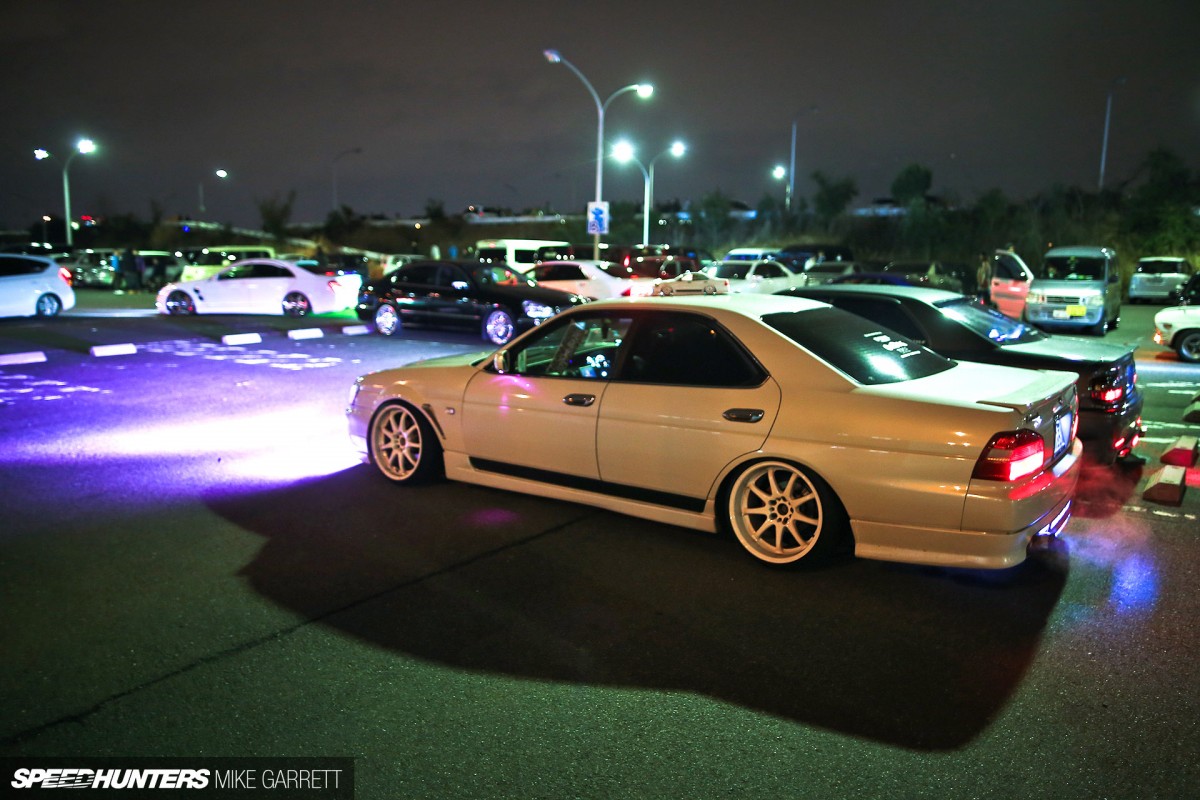 I also met Hasegawa-San from Kyoto, who drives this C35 Nissan Laurel with a cool mix of VIP and drift car elements.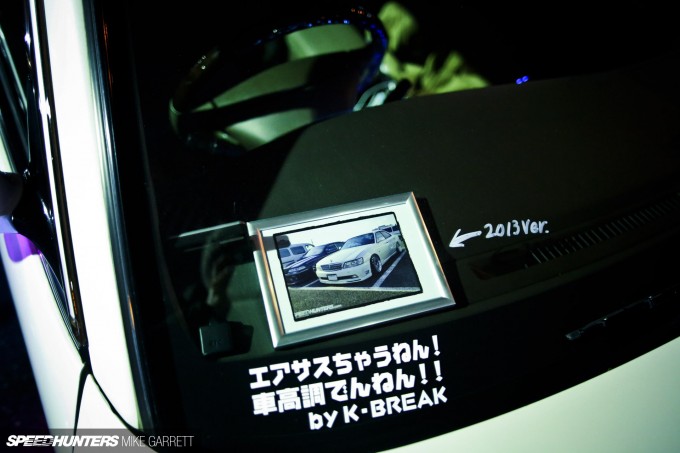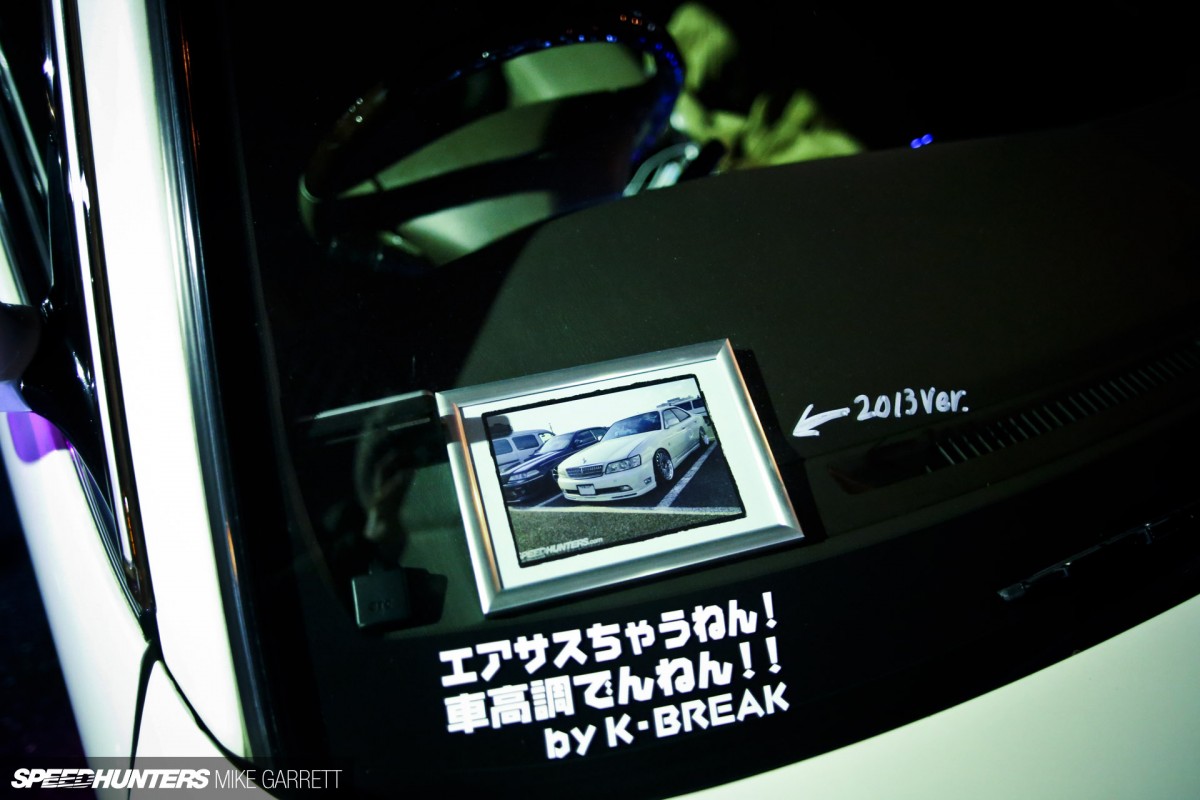 He was even displaying a photo of the car that I took last year to demonstrate some of the changes he's made to the Laurel since last winter. I have to say this is the first time I've seen anything like this.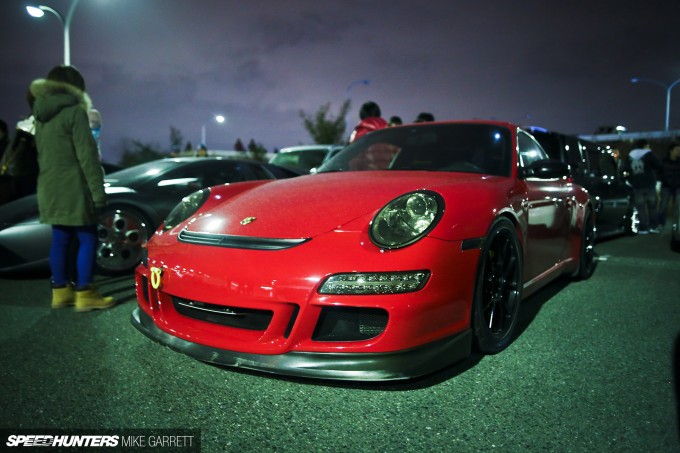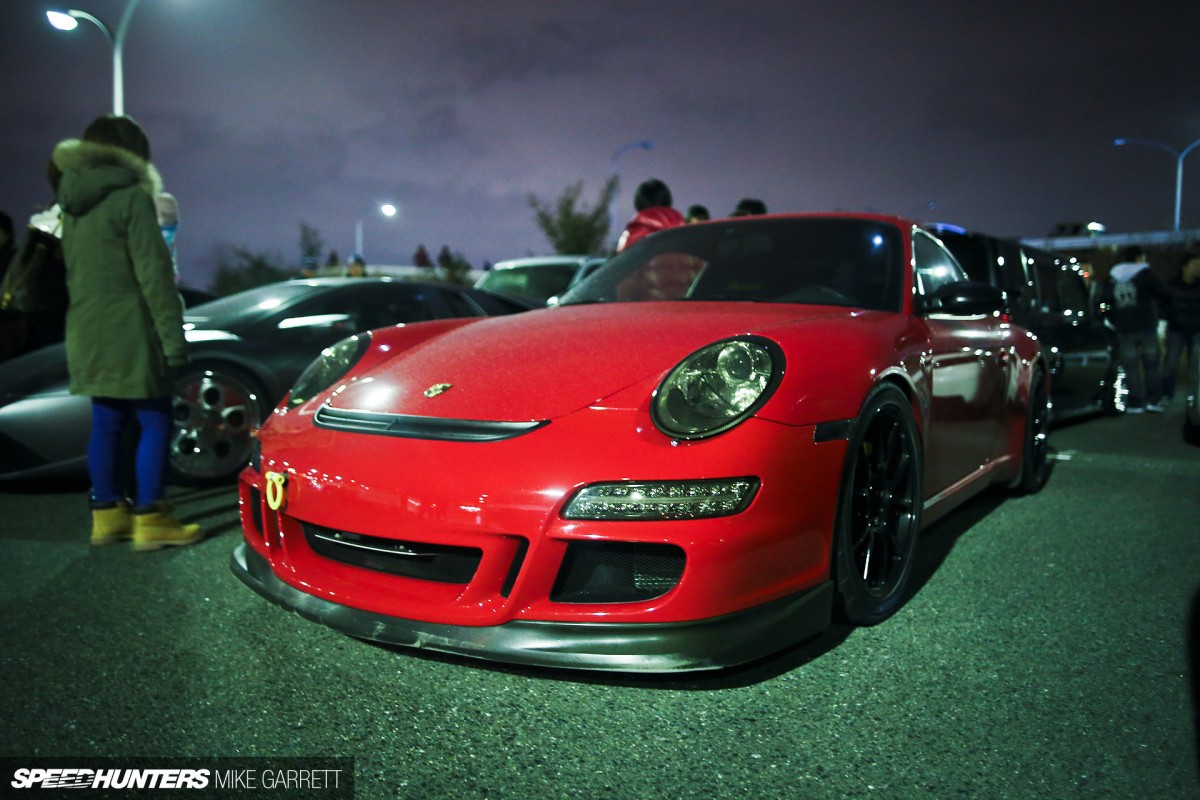 Because there are so many cars that come to this meet, and such a short time to see them all, I always find myself running around like a crazy man with my camera.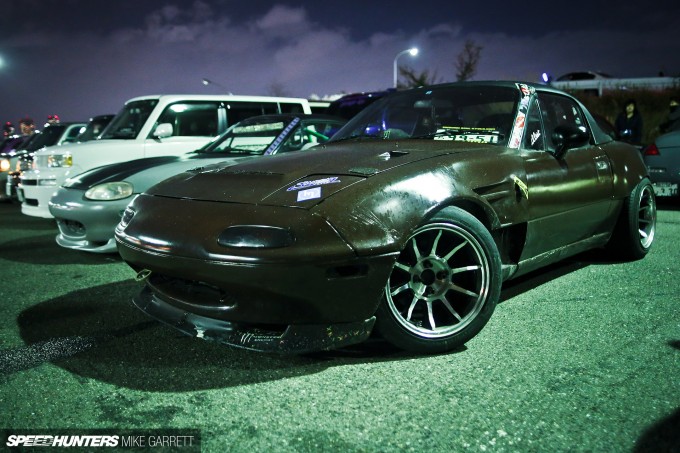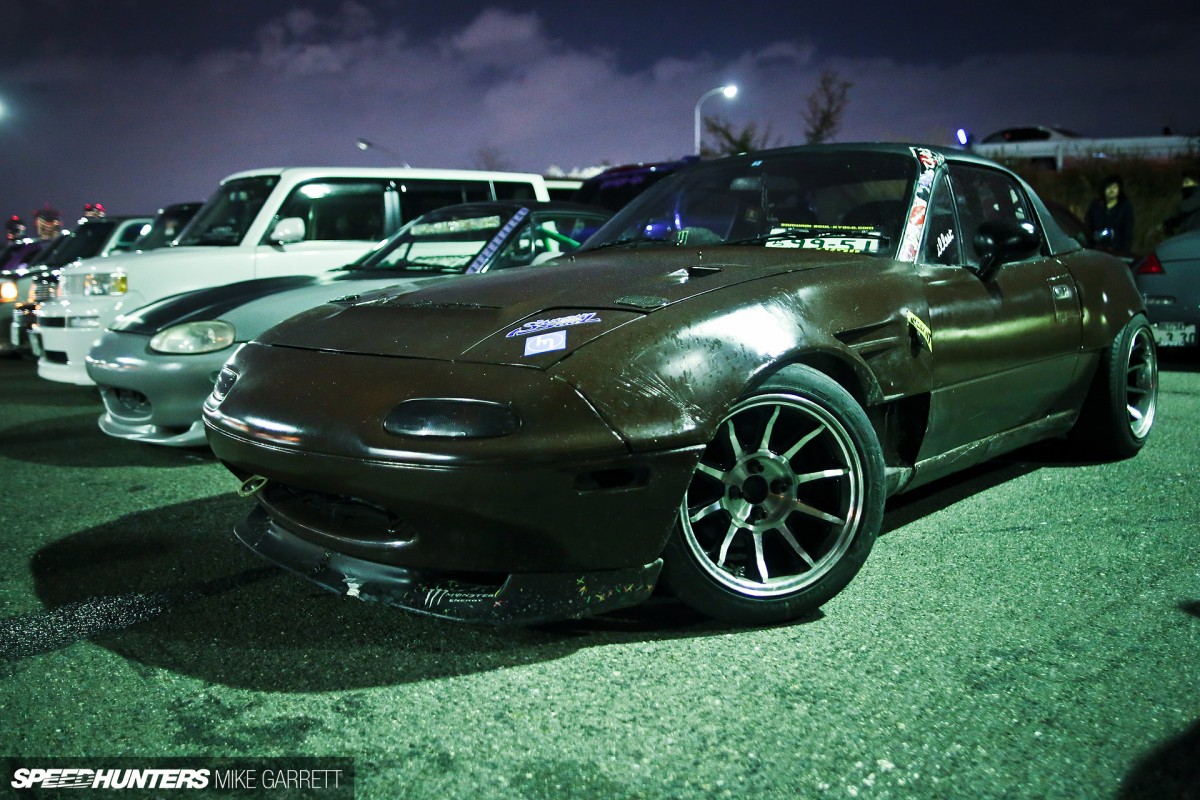 But I think this might actually be a good thing. It was bitterly cold and windy in Osaka last Saturday night, and I think the only reason the weather didn't affect me more is because I was moving around so much.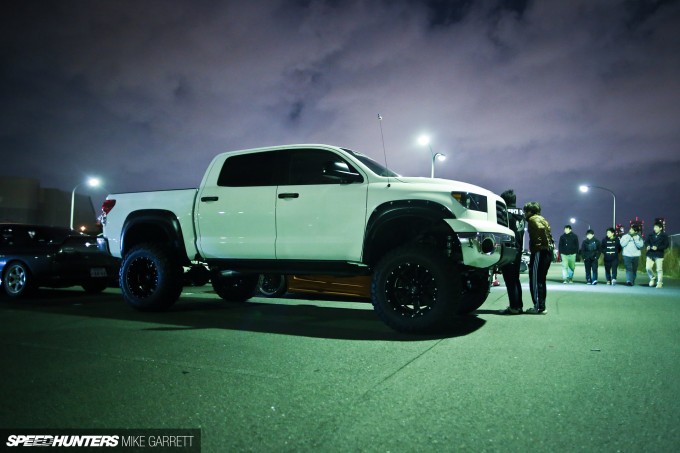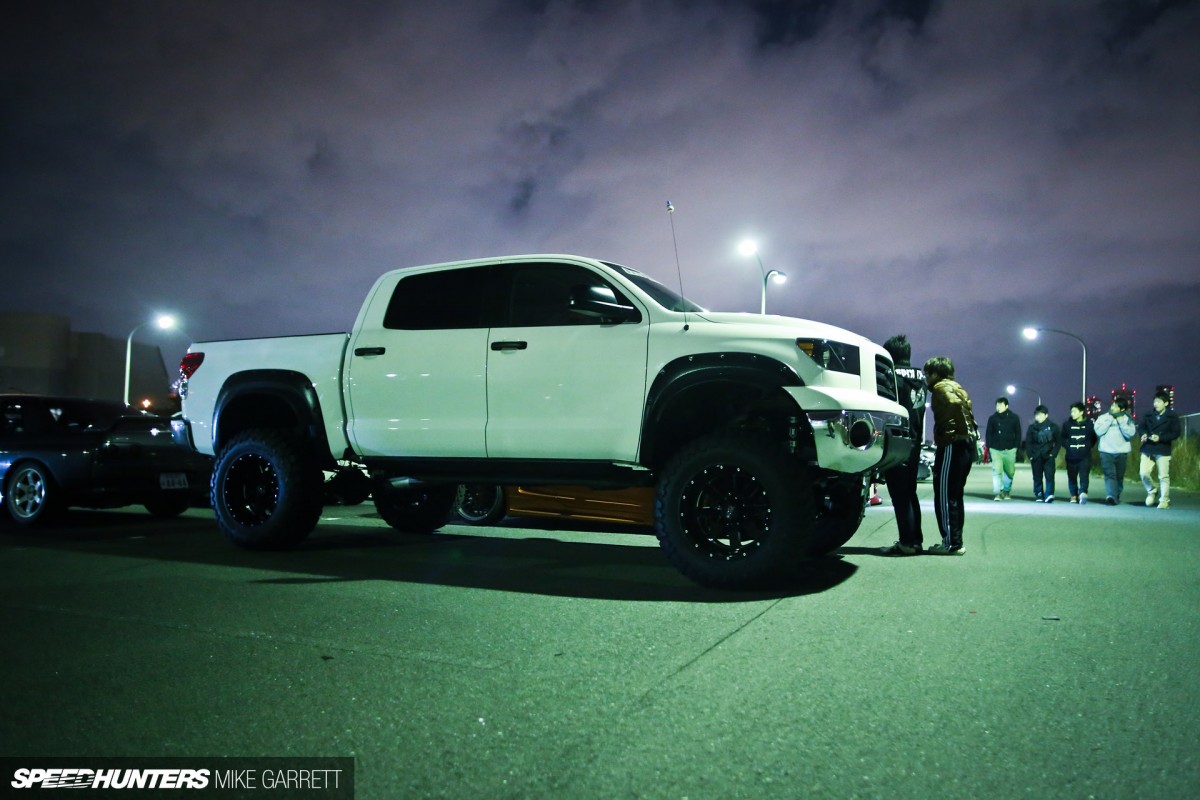 Here's a Toyota Tundra pickup, imported from the US and lifted into the sky. See the variety I'm talking about?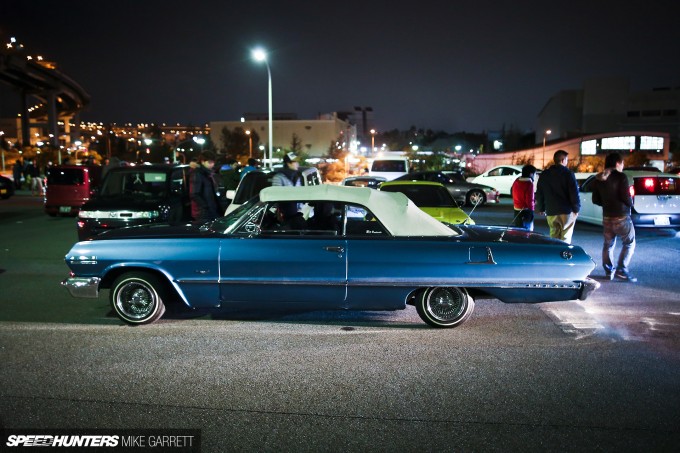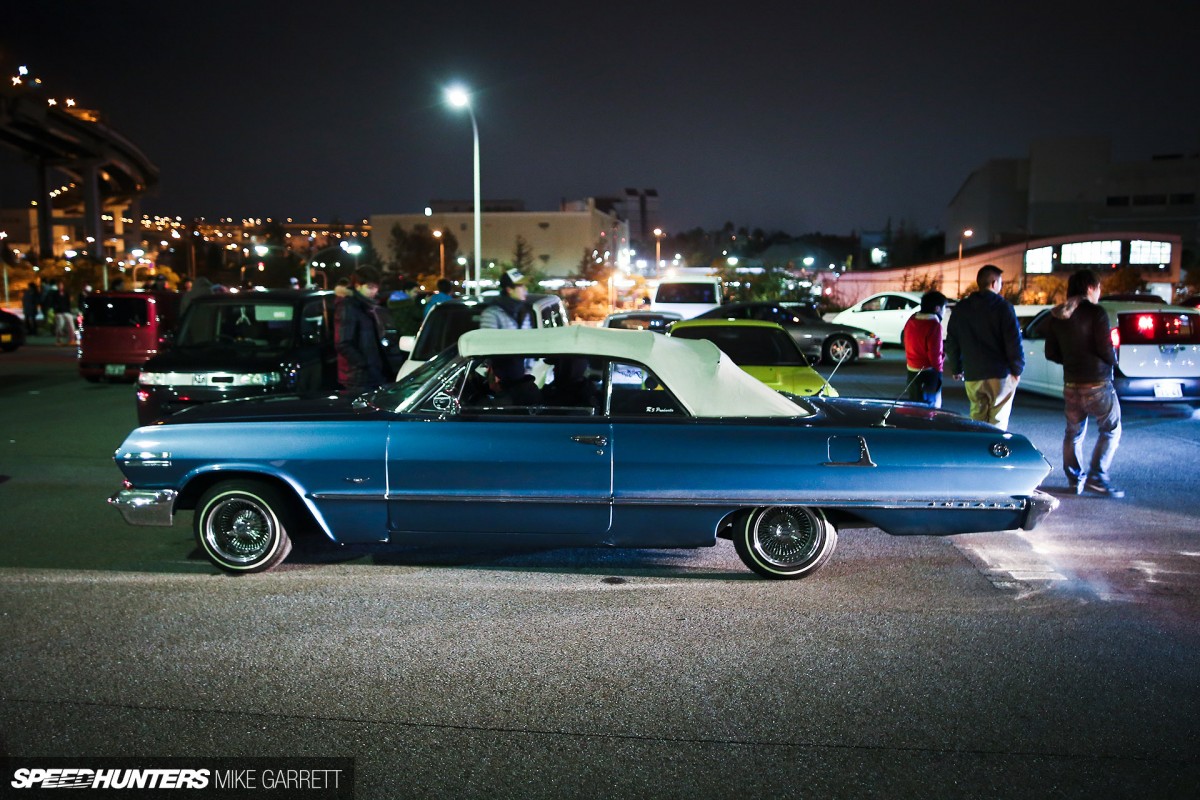 Or maybe you like things a little closer to the ground, like this Impala ragtop from the Three Ride Family Lowrider Crew?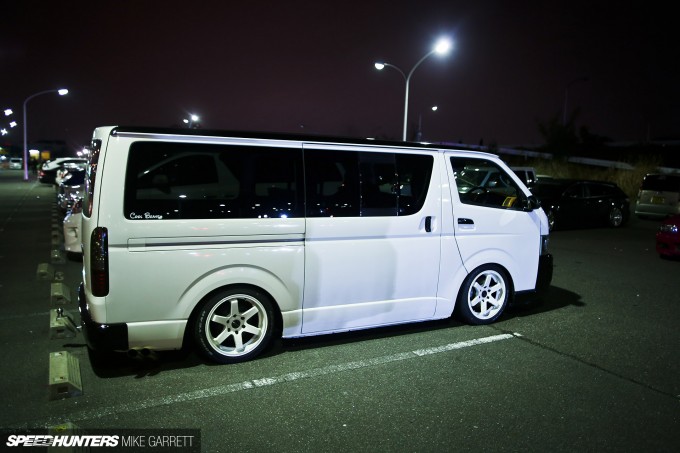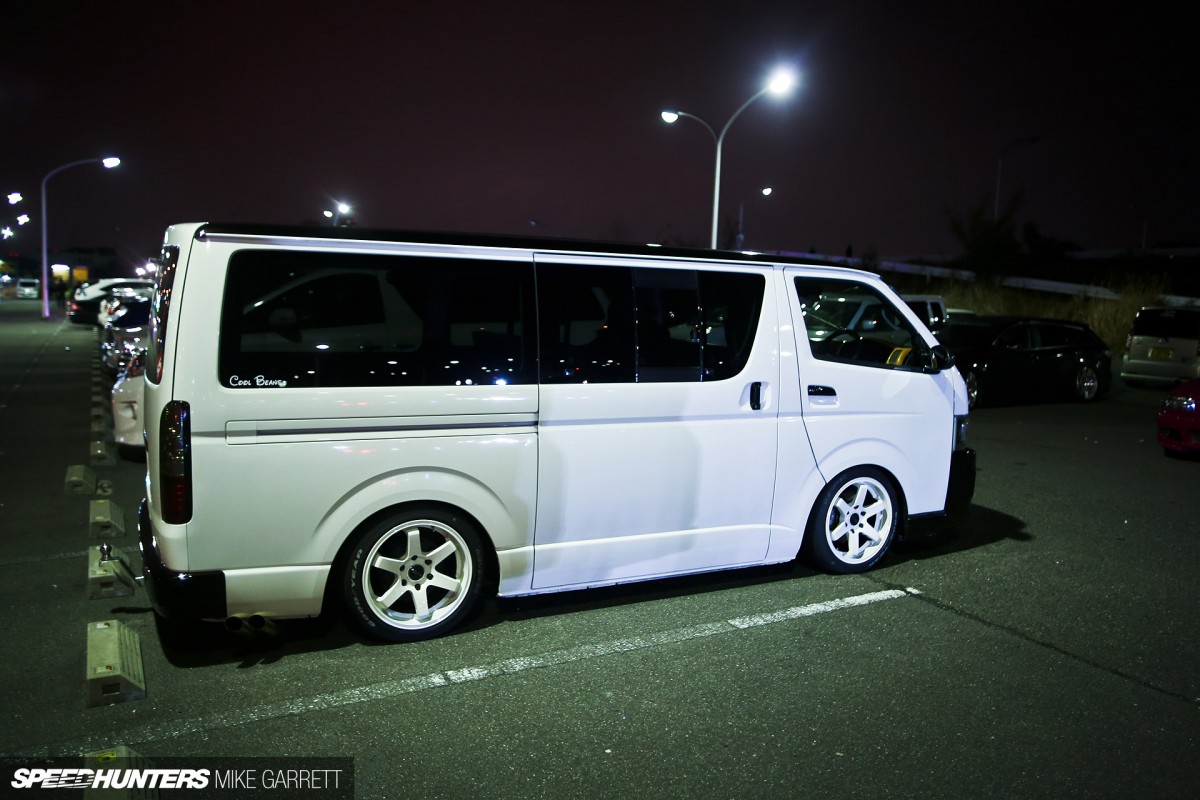 Like Japanese vans? There were oh so many of those. Whether it was the large ones like the Toyota Hiace…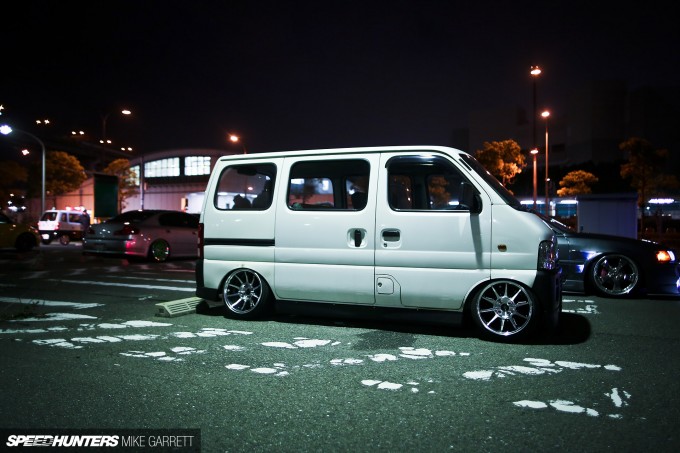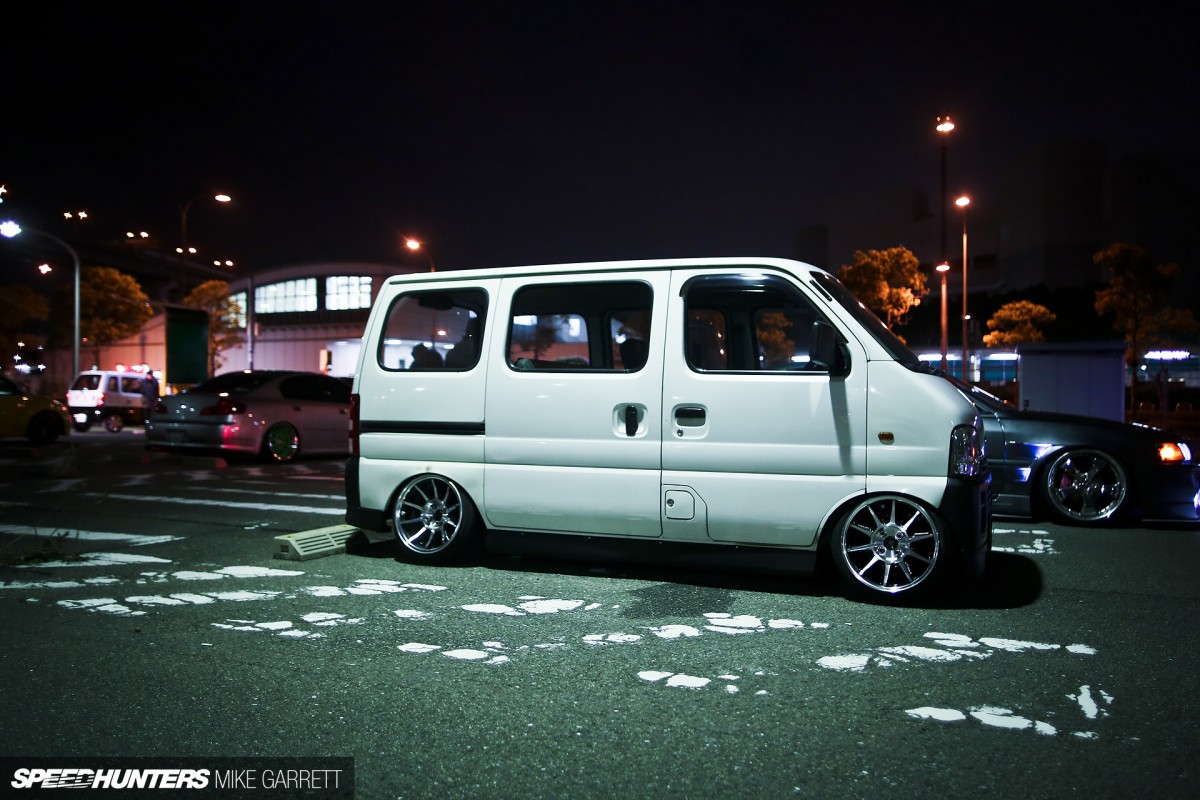 Or smaller ones, like this kei-class hauler sitting on a set of Enkei Barrel wheels.
Kanjo racers, drift cars and more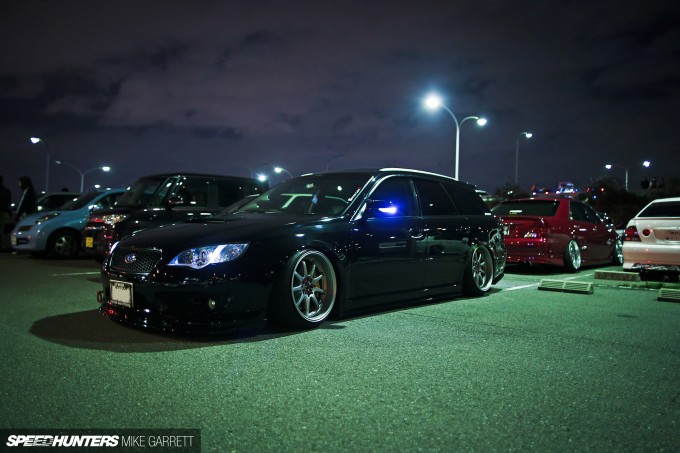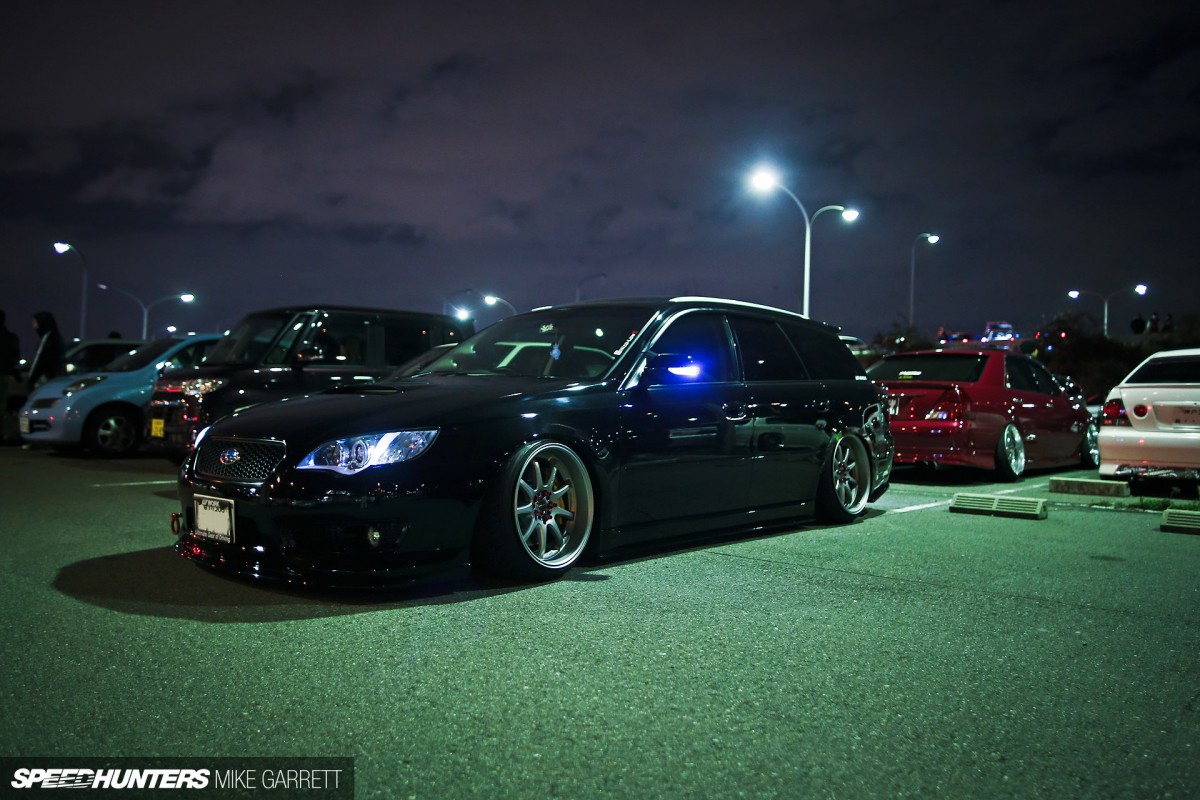 I have to say that it's just impossible not to love a slammed wagon – whether it's something like this Subaru Legacy…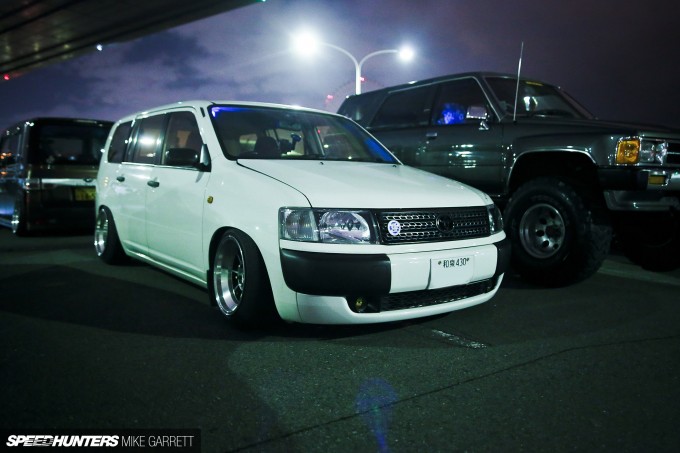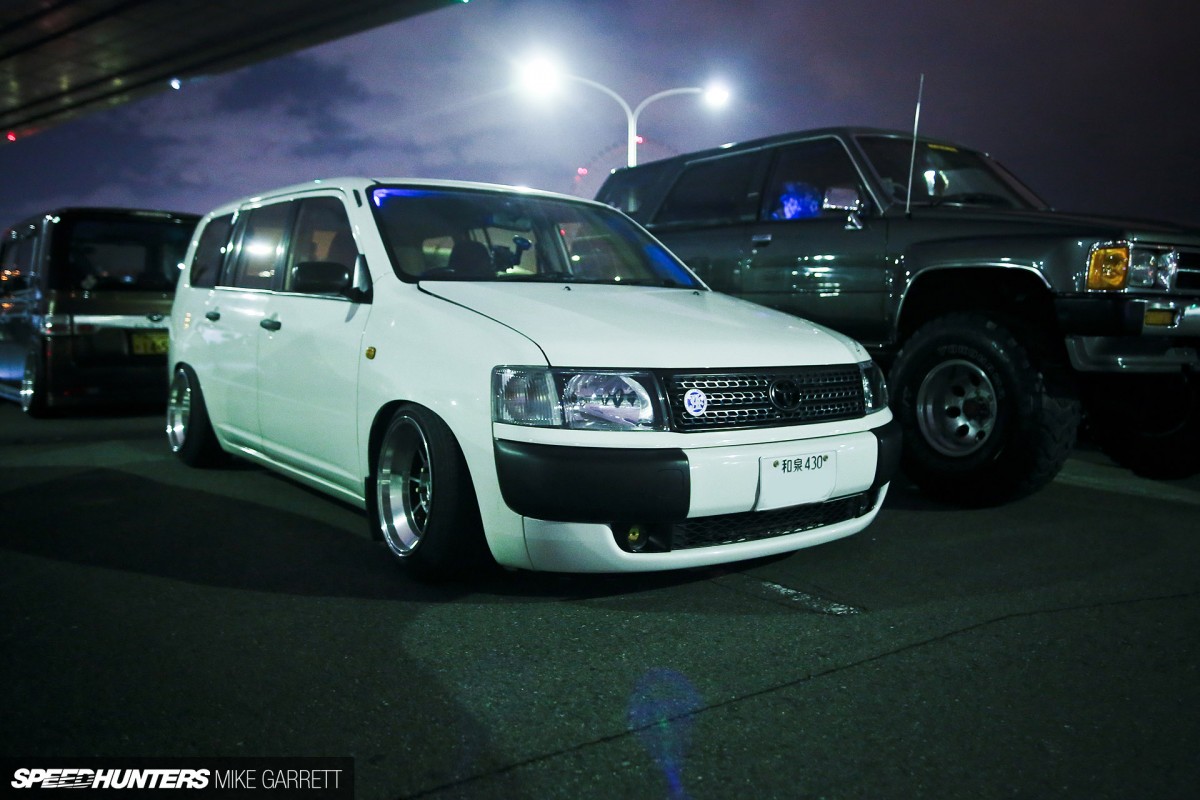 Or even a Toyota Probox, a popular working vehicle in Japan that happens to look quite cool dropped on a set of Hayashi Street wheels.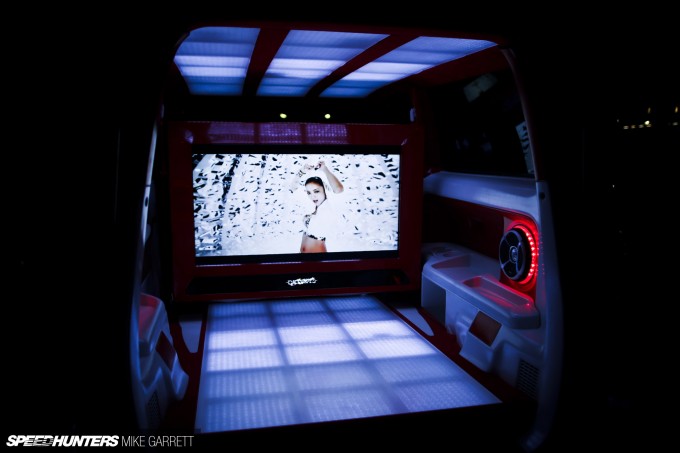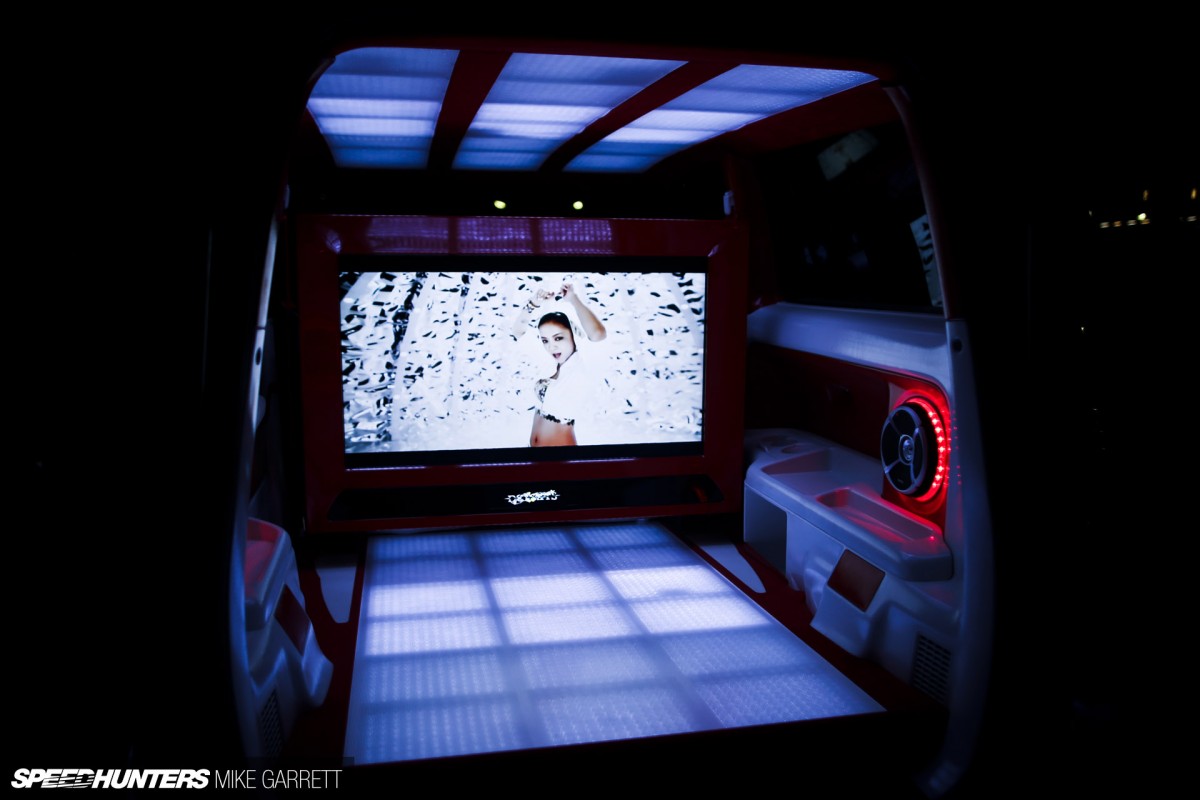 UFO sighting? Nope, it's just a Honda S-MX that's been converted into a mobile theater.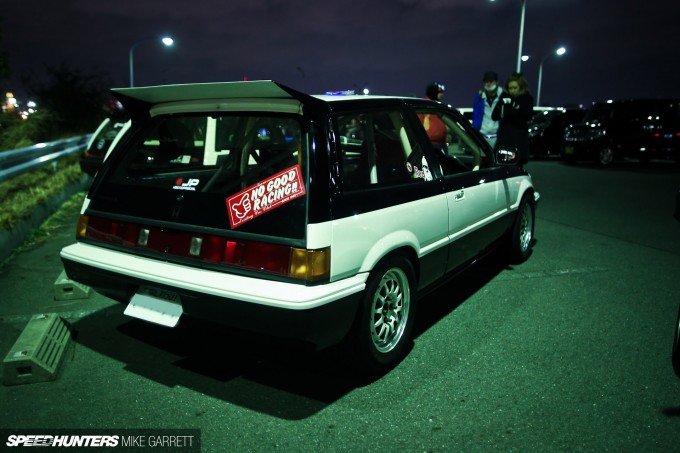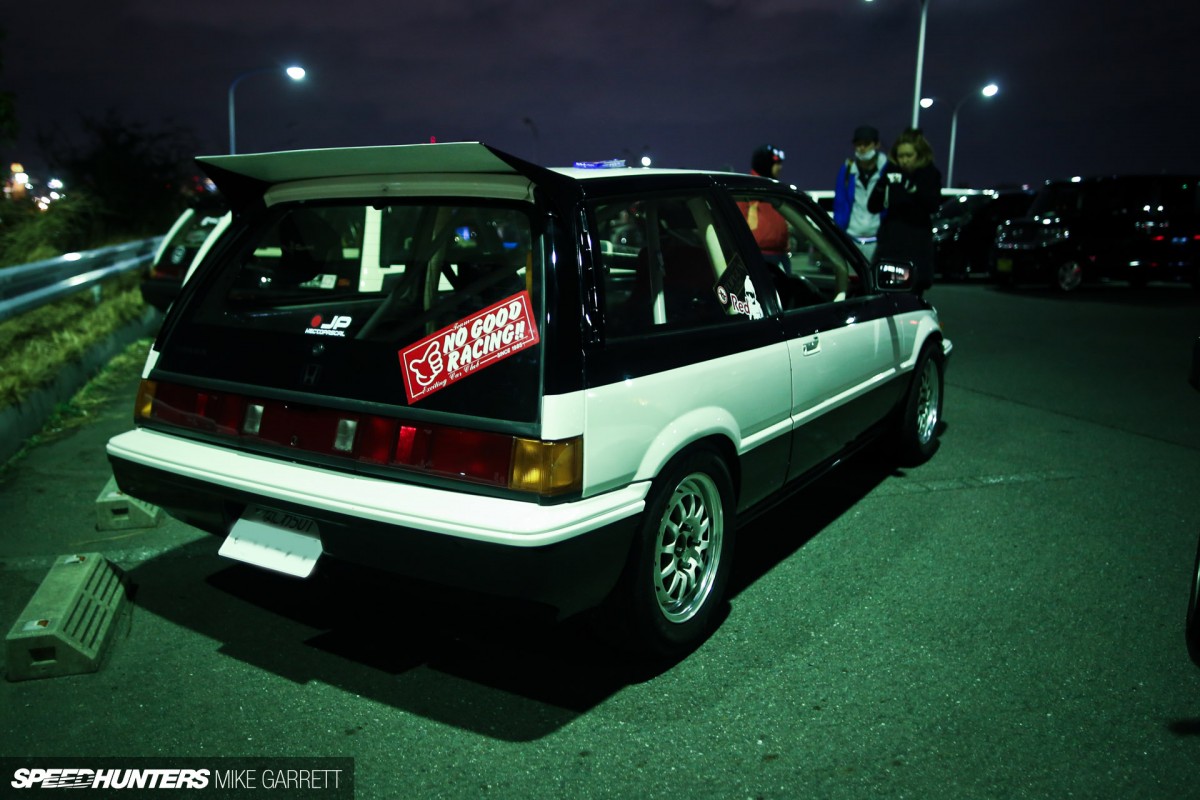 It was also no surprise that this year's event once again included a sizable collection of Honda Civics heavily laced with Kanjo DNA.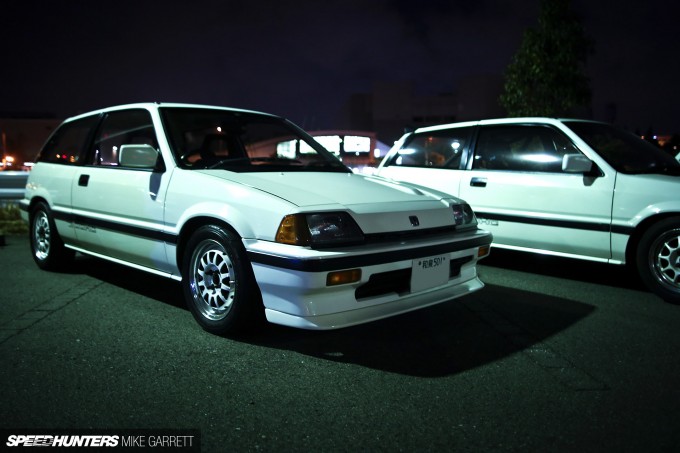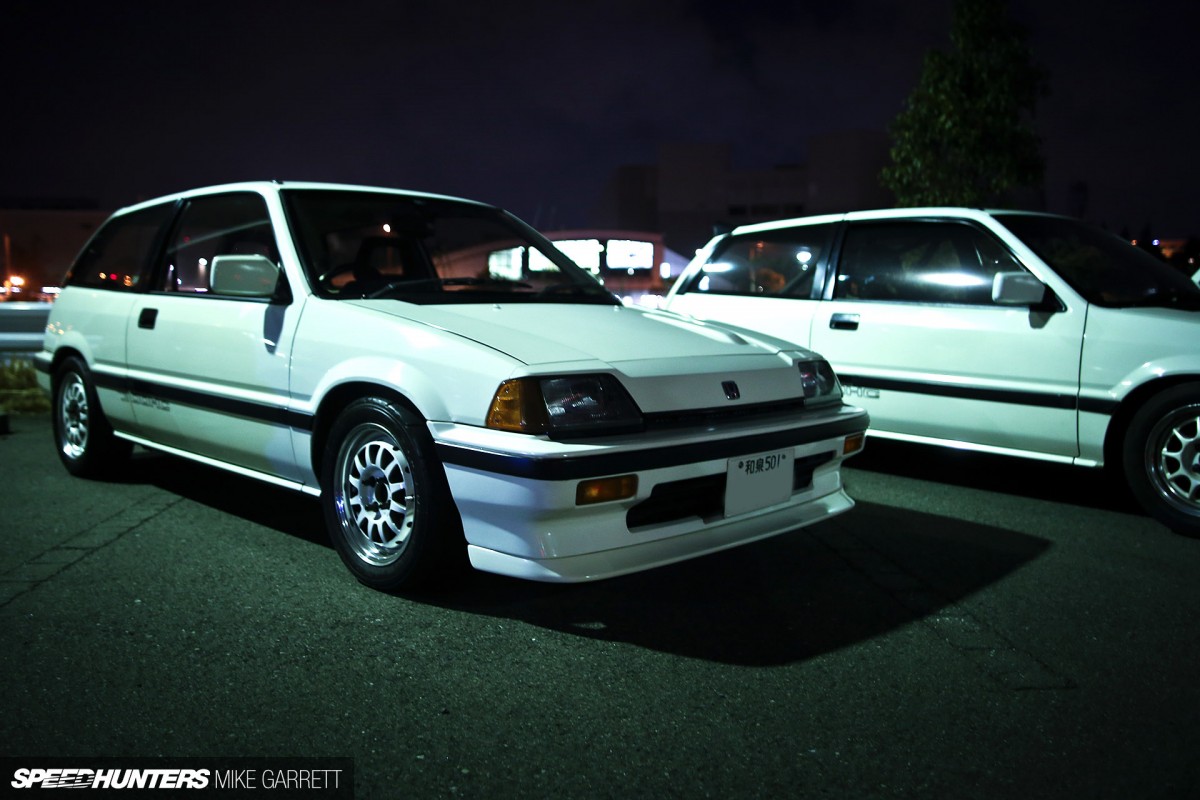 It's always nice to catch up with the guys from Loose Racing and their group of immaculate Wonder Civics that fly the flag of Osaka's street racing culture.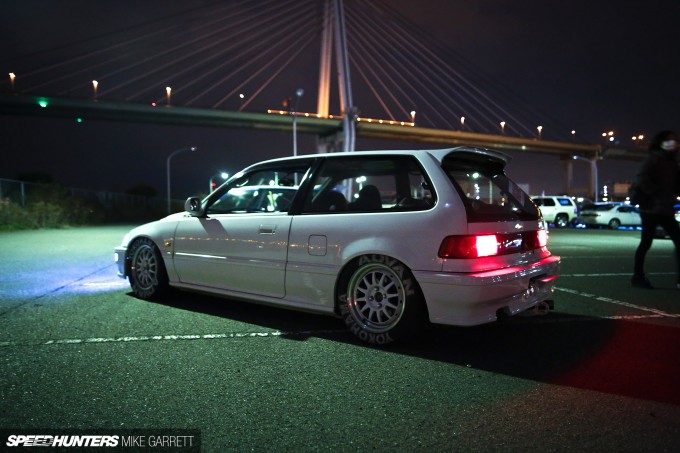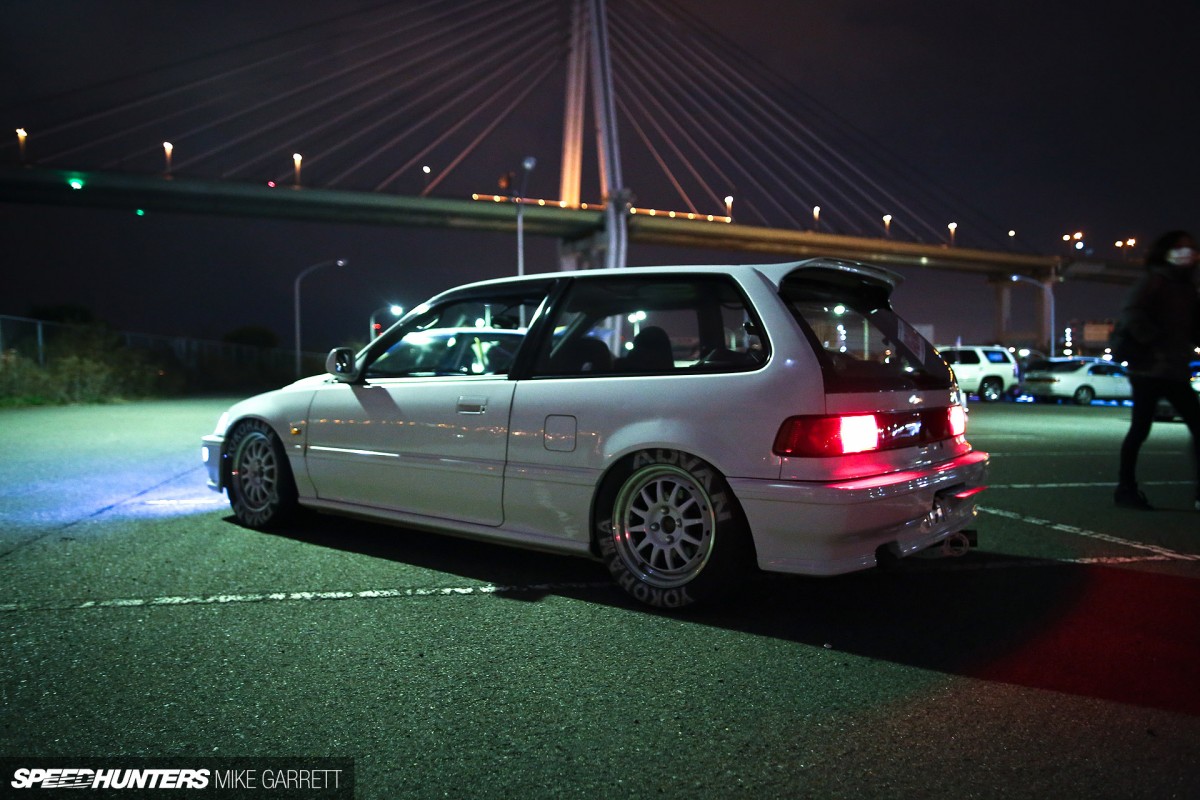 While today a lot of these guys have retired from actually running the loop, that doesn't mean that the actual Kanjo runners didn't make an appearance.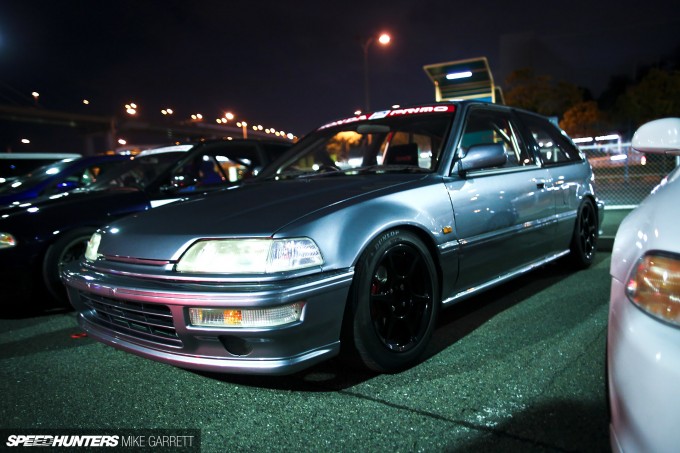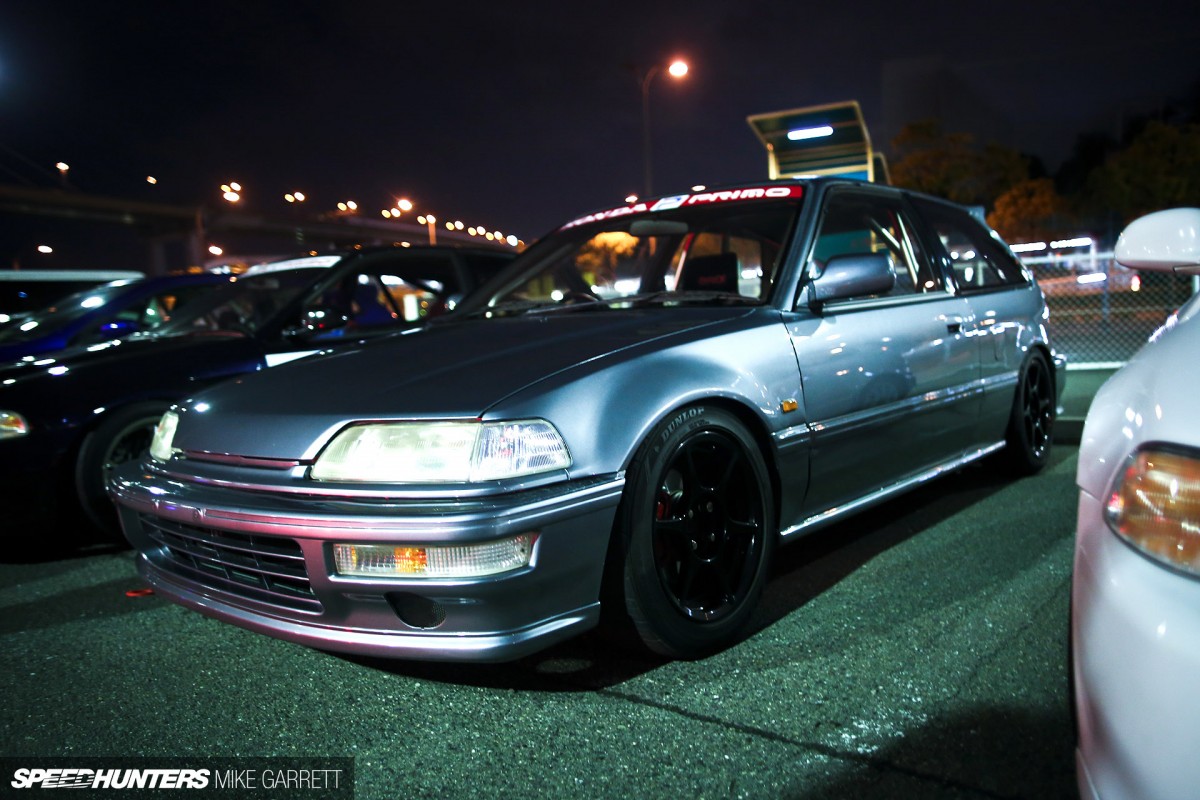 This is really something you'll never see outside of Osaka, and the presence of these cars just brings the M&L Party's greatness to a new degree.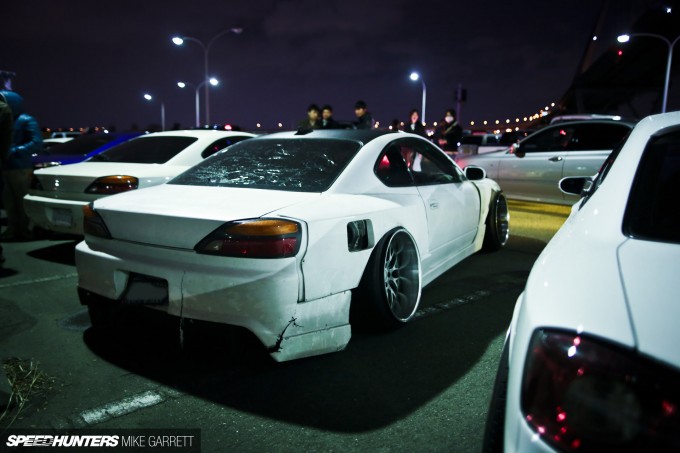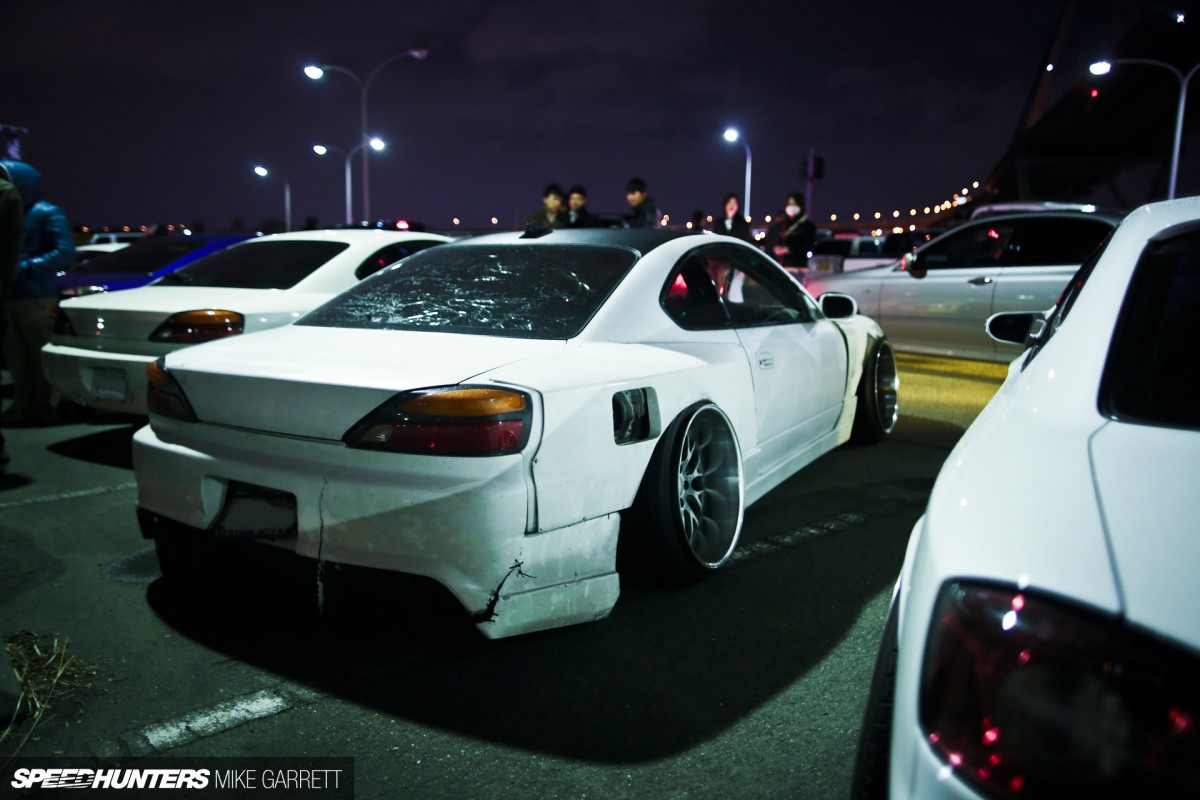 This year's meet also featured a big group of S15 Silvias, which is where I found this project car that's looking to push the boundaries of wheel fitment to a whole different level. Wow.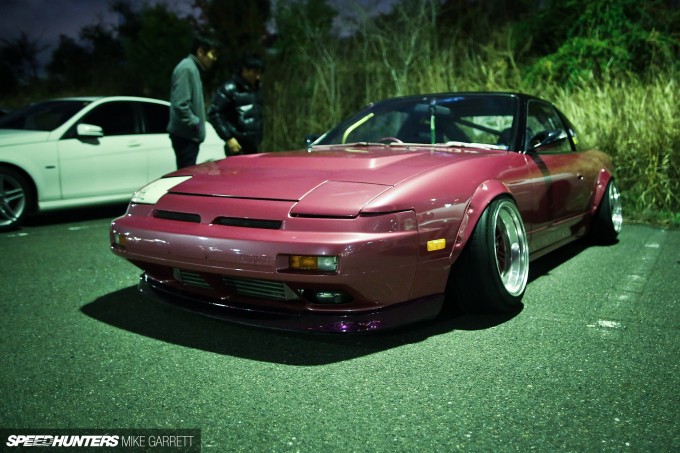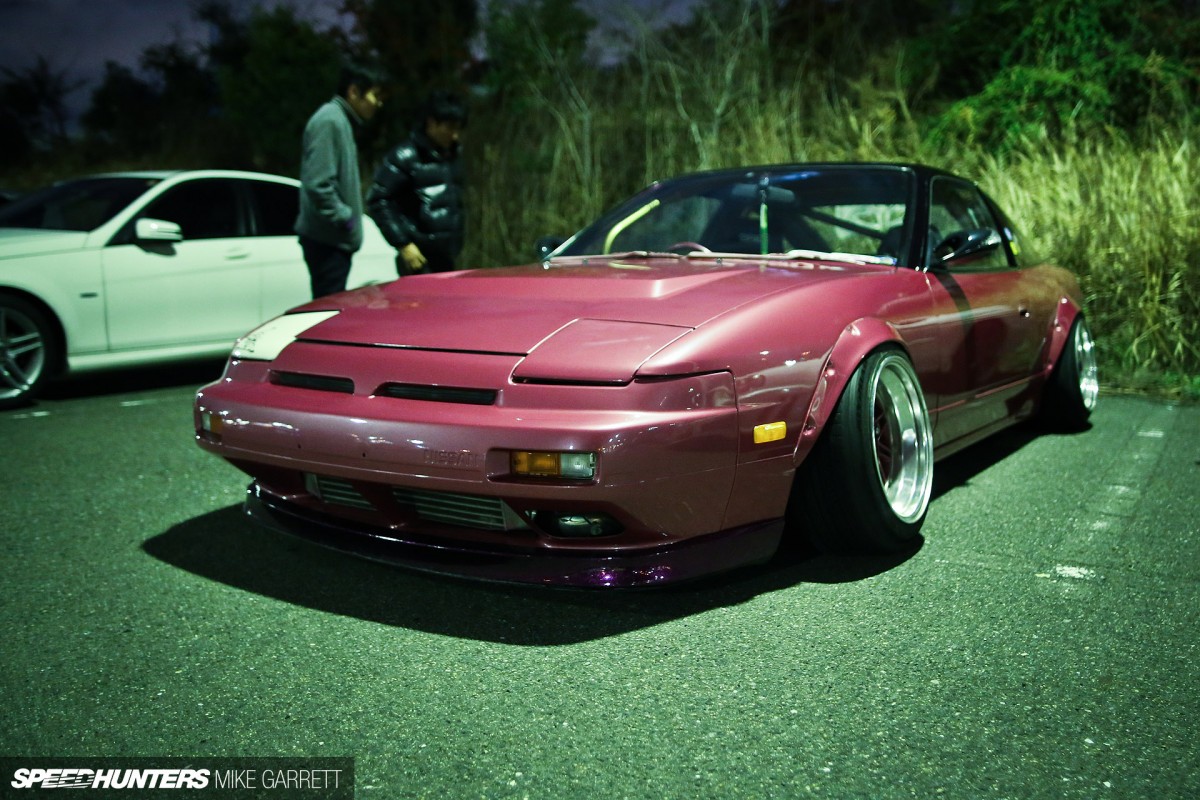 Personally though, I think my favorite S-chassis from this year's event was this zenki model 180SX done in full retro street style. Sometimes these cars just look best without the big wheels and aggressive aero parts.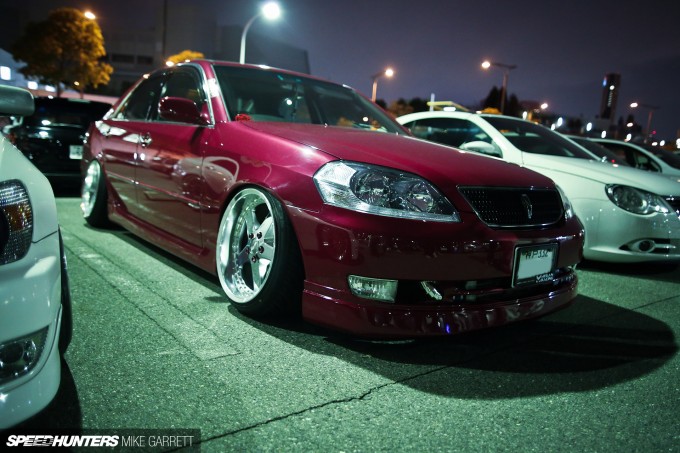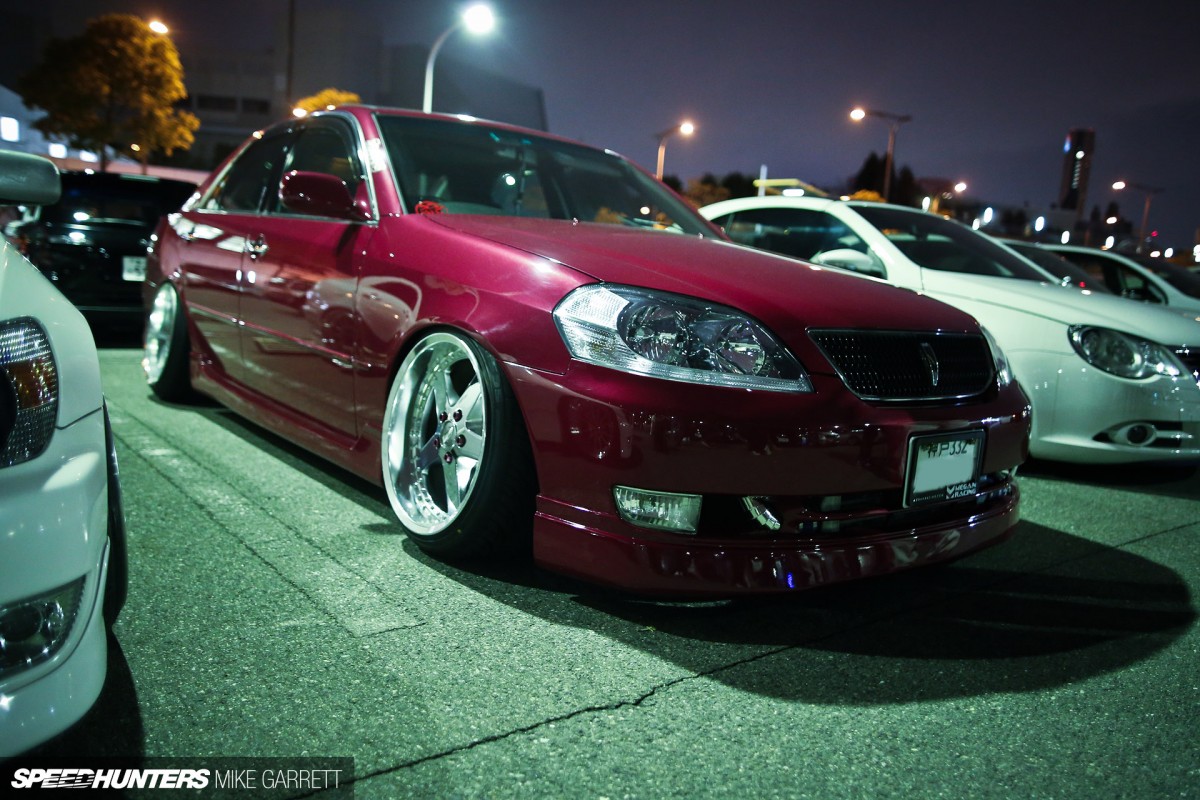 JZX110 Toyota Mark II with subtle exterior modifications and a gleaming set of Work Equips. Dare I say perfect?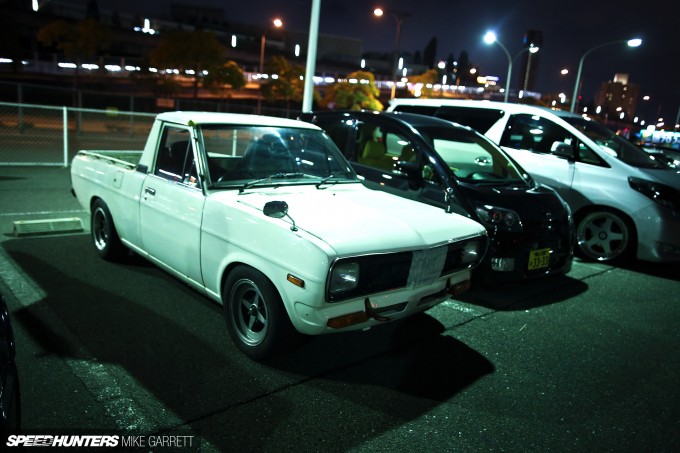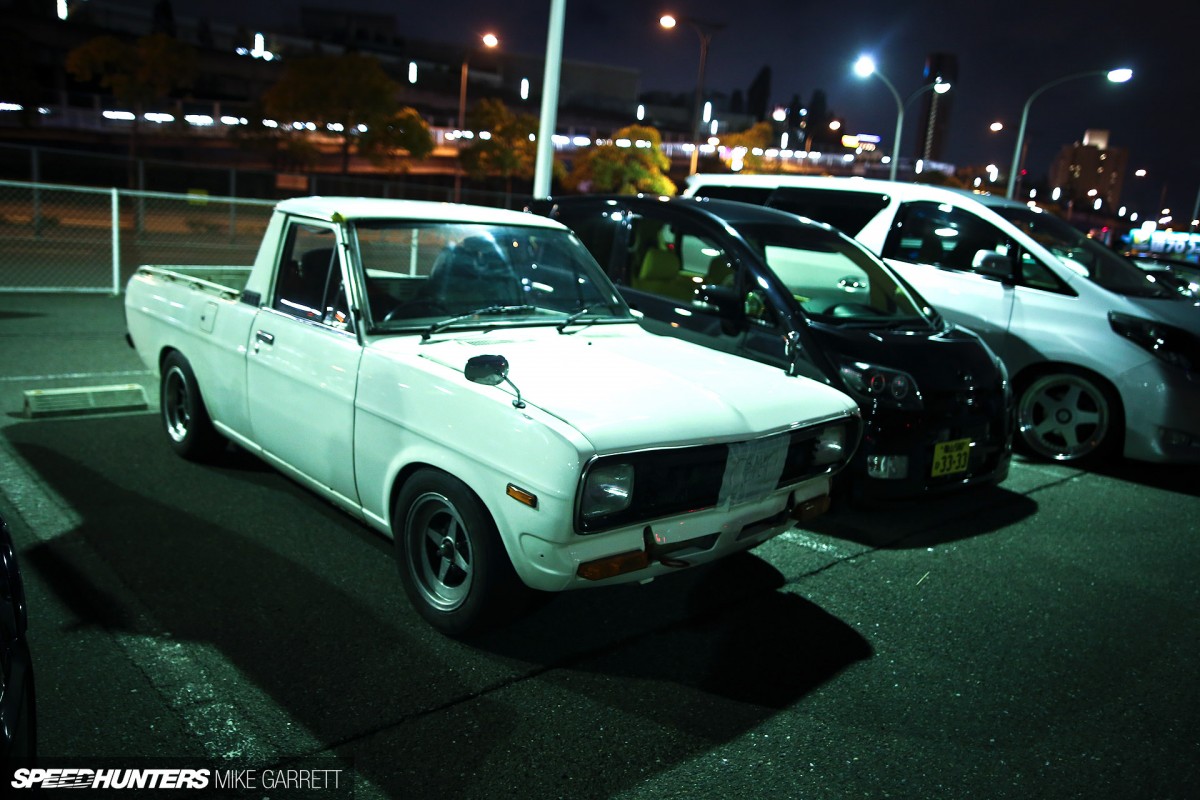 As a classic car geek, I was also pleased to see that a decent amount of vintage Japanese machinery came out this year, including this cool little Nissan Sunny Truck.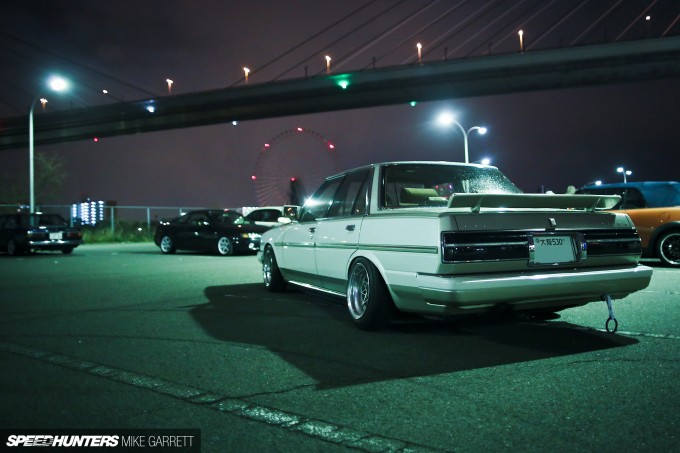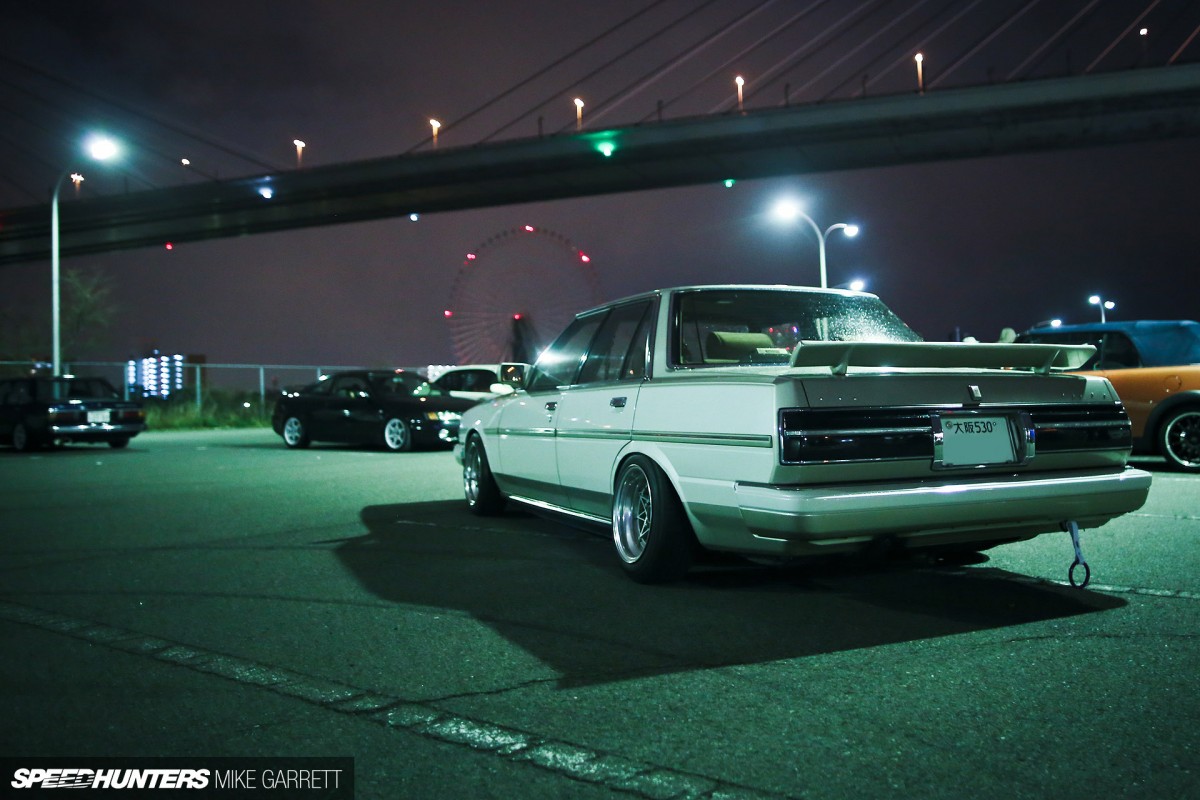 Here we have a Toyota GX71 with a long nose conversion, two-tone paint and all the right details. Yep, Osaka plays the kyusha game quite well.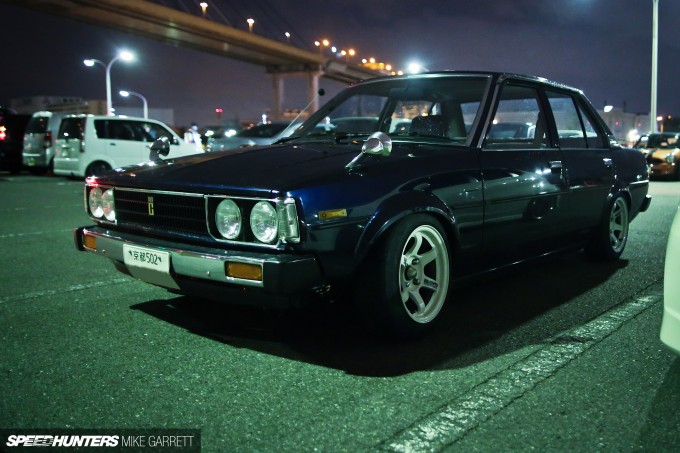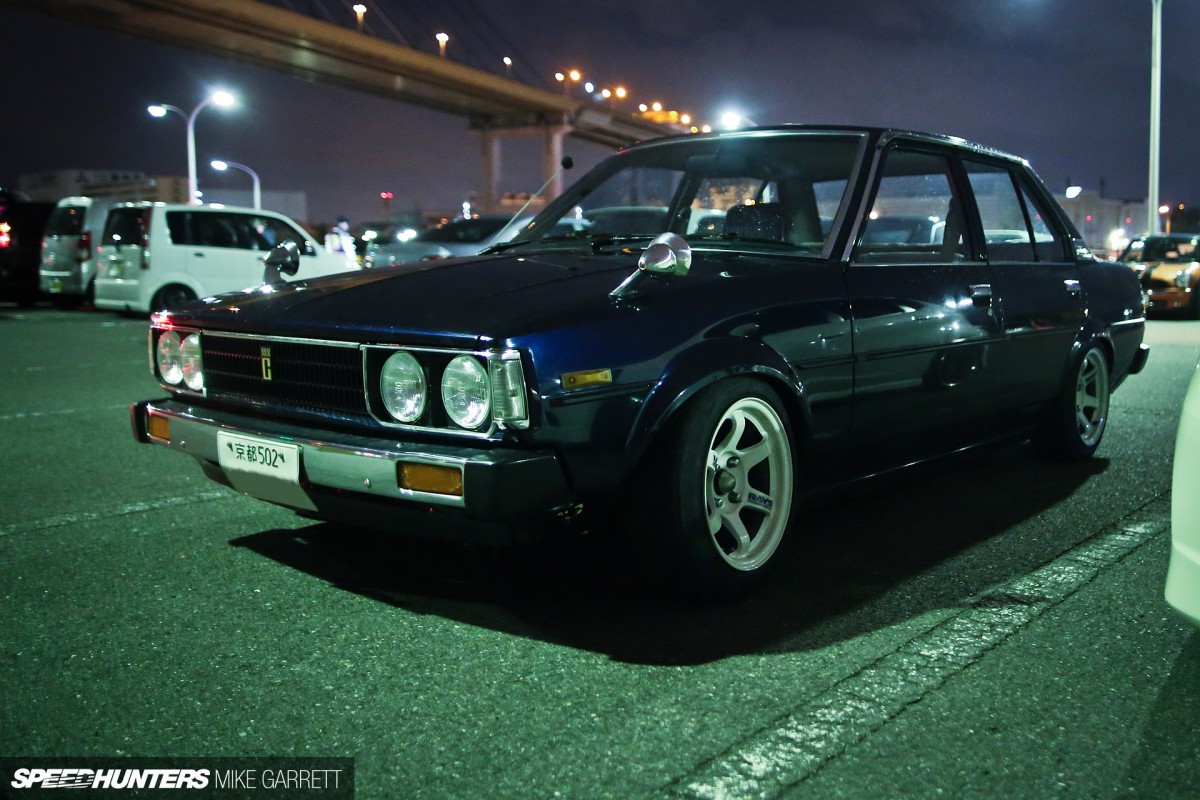 Super tidy little 70-chassis Corolla sedan on a set of old school 14 inch zero offset TE37s. It's impossible not to love a simple car like this.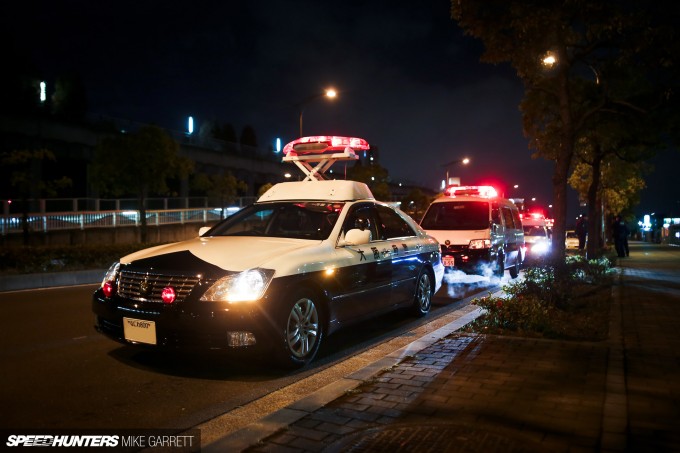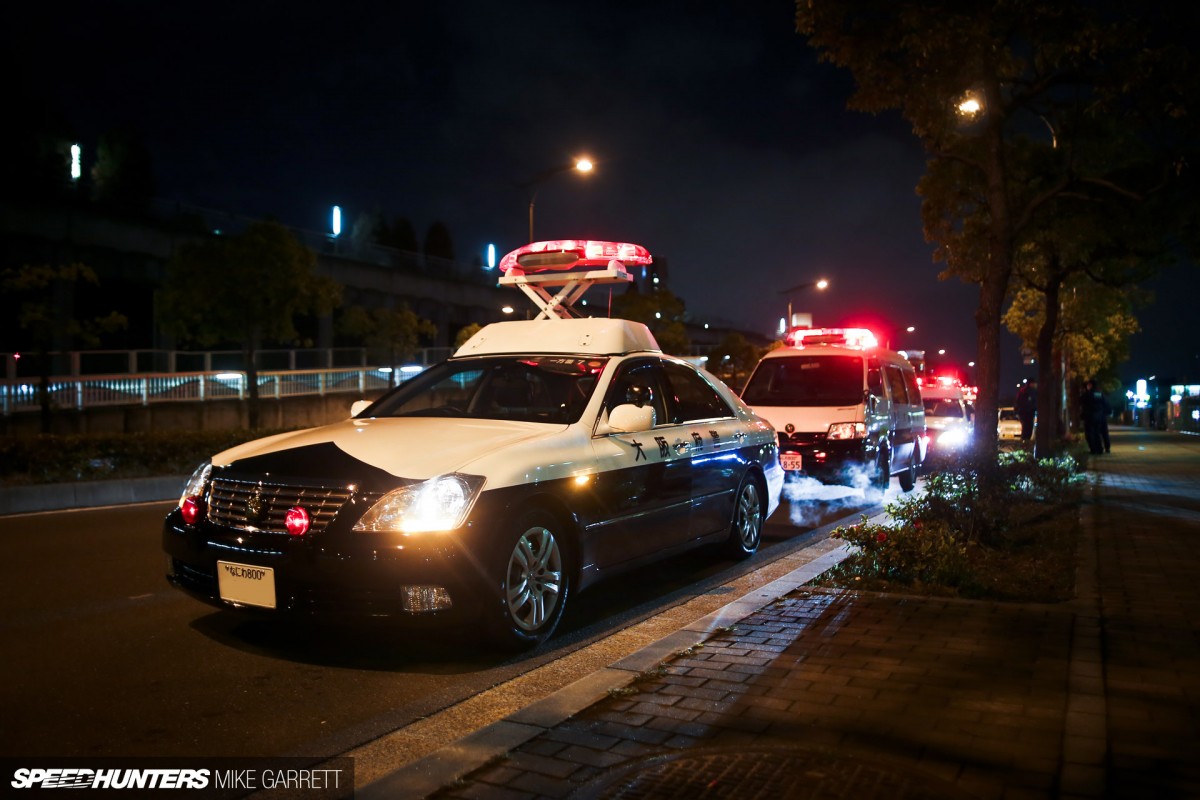 With all the excitement going on, it wasn't shocking to see a long line of police vehicles lined up outside the parking lot. Fortunately though, these guys were simply supervising and making sure nothing got out of hand, rather than really bothering anyone.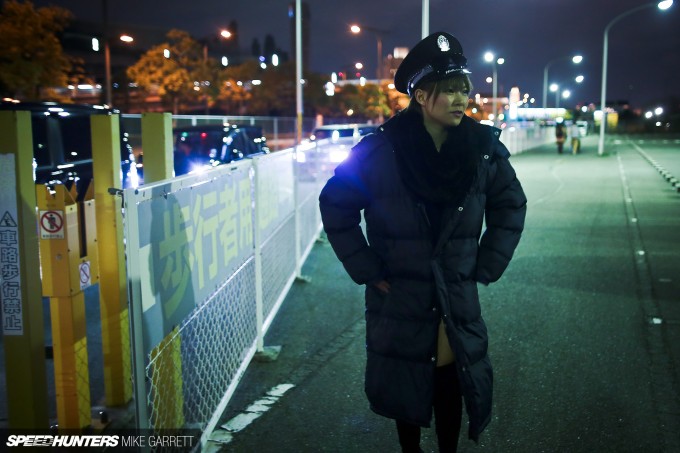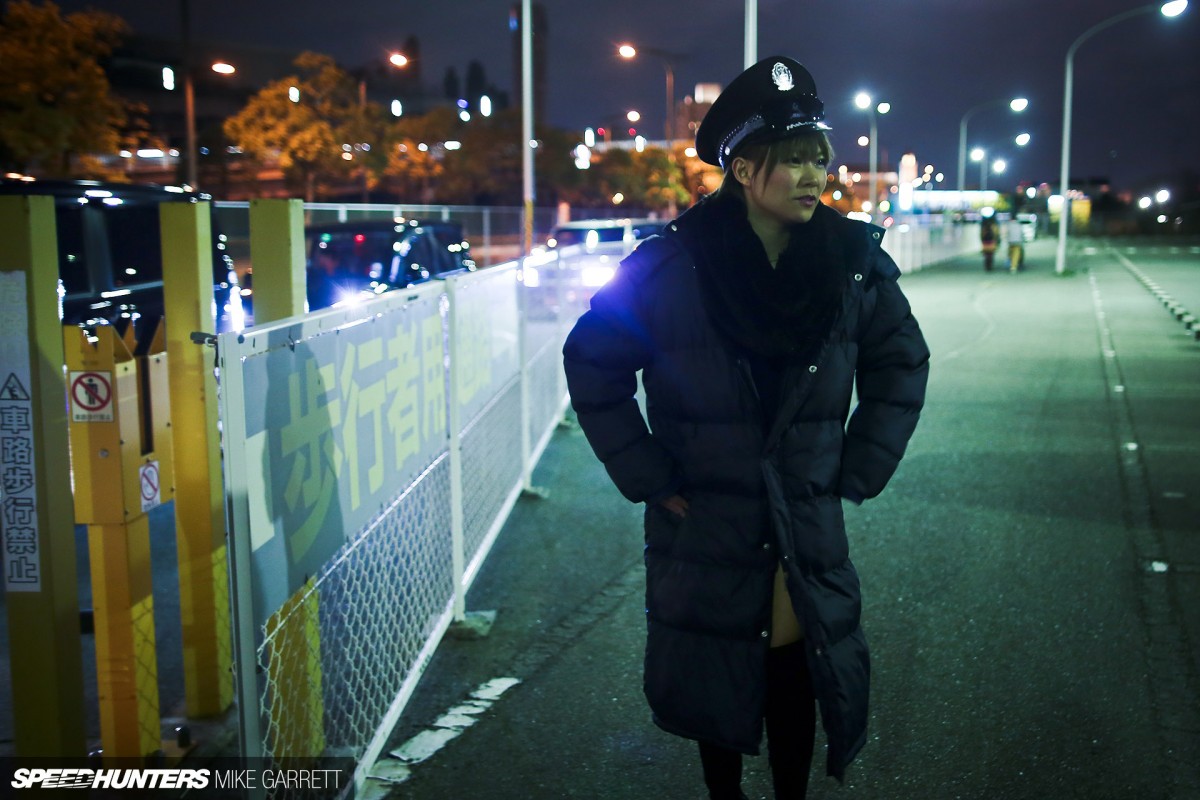 Is that one of Osaka's finest? Nope, it's one of the lovely volunteers that came out to help with directing traffic and make sure everyone had a good time.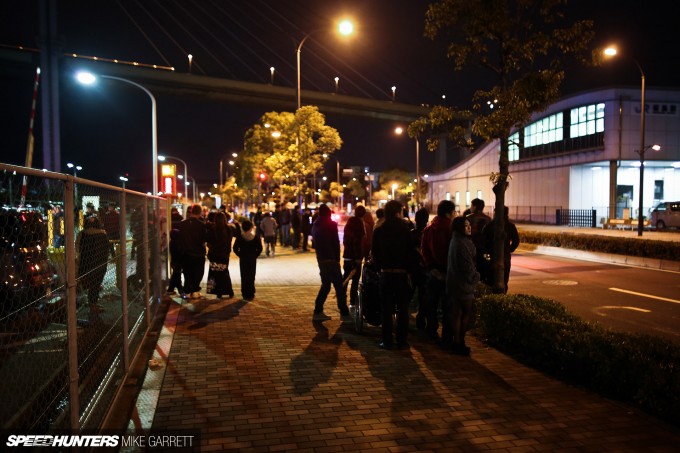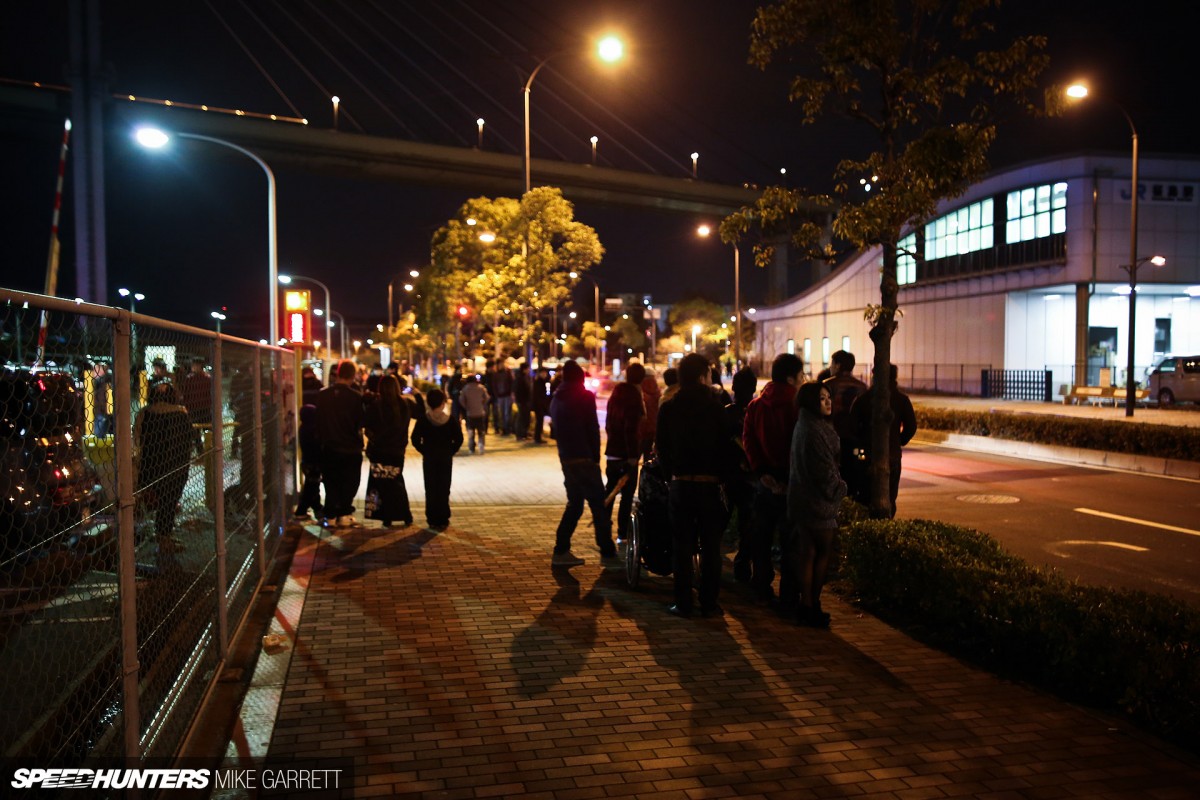 Hey, what's going on? What are all those people looking at?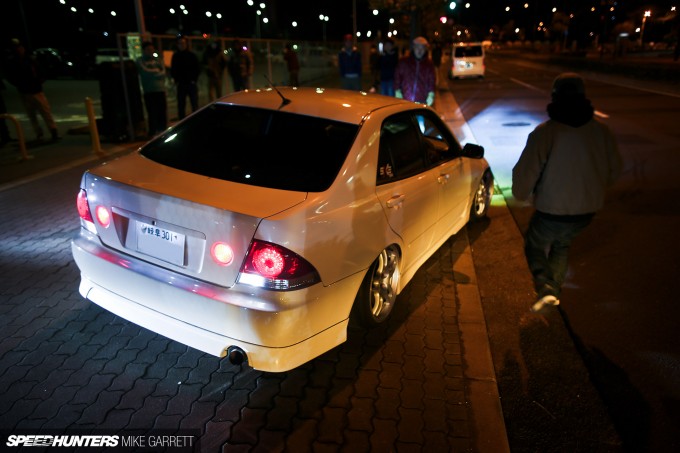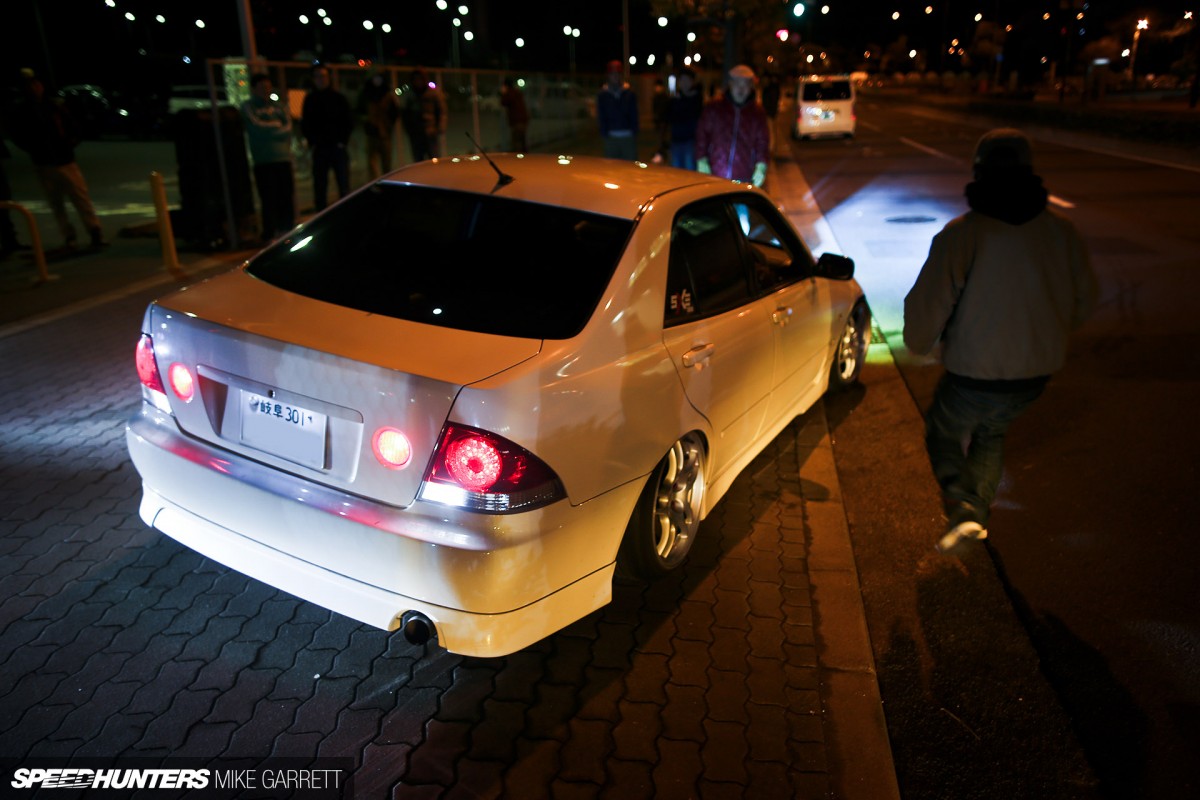 Well, they're actually watching the cars leave the meet – which, thanks to some absurdly low ride heights and steep driveways, was quite entertaining. This could really be a competition in itself.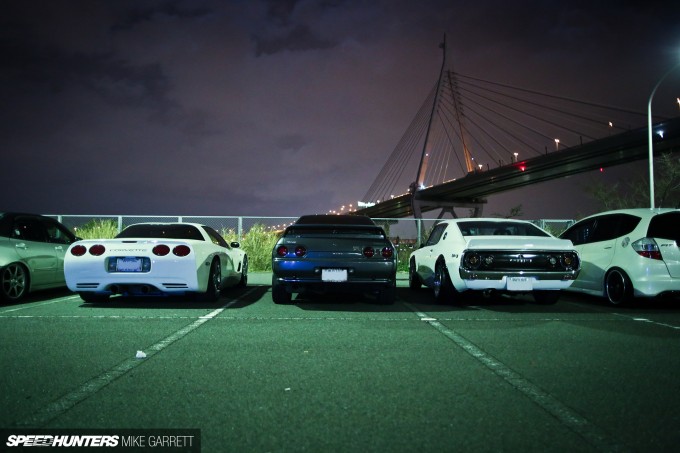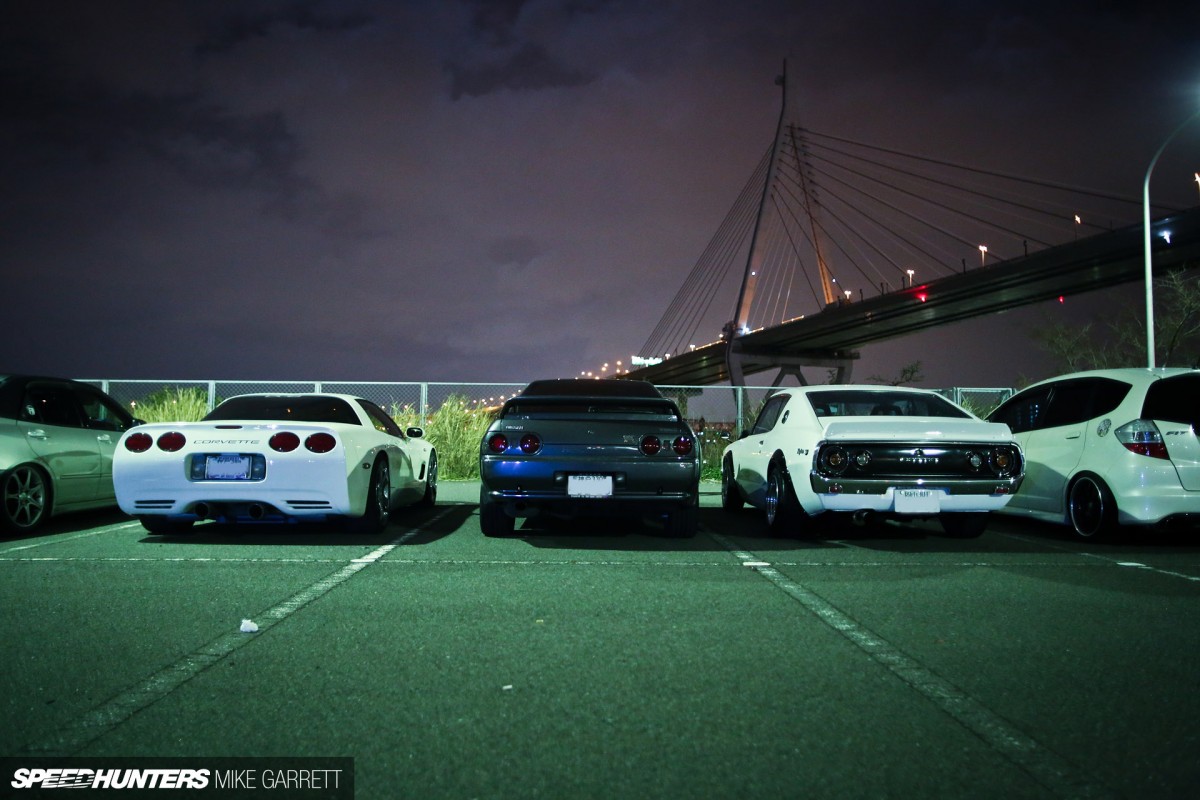 And so another edition of the M&L Party comes to an end. Even with an effort to keep things low-key, this is still the world's best night meet.
A big otsukaresamadeshita goes out to all the folks from Team Madame for making this amazing gathering possible year after year. See you next time.
Mike Garrett
Instagram: speedhunters_mike
mike@speedhunters.com